Also called " SEO on-site ", " on-page SEO " or " on-site ", " SEO on-page " brings together all the common natural referencing practices that apply directly to the website. This aspect of SEO consists of optimizing everything on web pages. So, if the content represents the main object of on-page SEO, it is certainly not the only one.
An essential component of any digital marketing campaign, SEO (Search Engine Optimization) is undoubtedly one of the most effective ways to improve online visibility and increase traffic to your digital brand.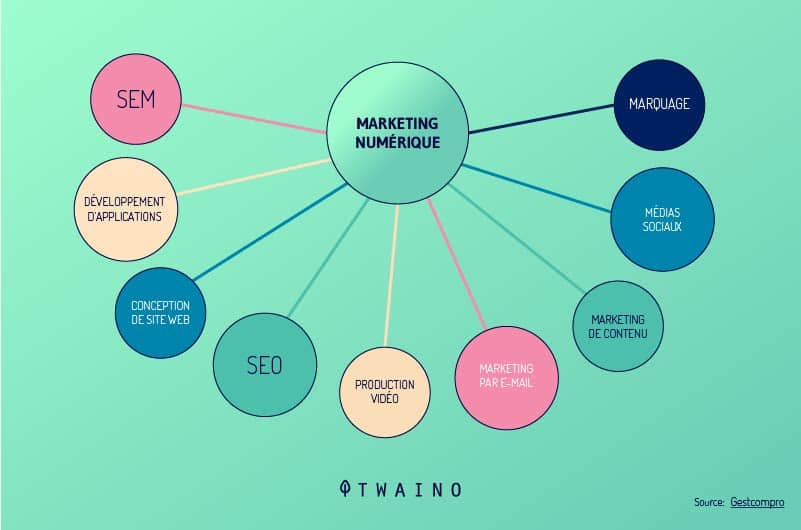 Optimizing a website for users and search engines requires the direct implementation of various measures on the website. We then speak of on-site SEO.
This is an essential step to ensure the presence and correct ranking of your website in the search results (SERP).
In order to help you have a practical and complete knowledge of on-page SEO as well as the different techniques specific to it, this mini guide answers quite exhaustively the following questions:
What is on-page SEO?
Why is on-page SEO a must for your website ?
What are the key elements of on-site SEO?
How to concretely optimize the on-page SEO of your website?
And many more.
Because this is a crucial aspect of natural referencing, I invite you to follow this content with the greatest attention.
With that, let's get started!
Chapter 1: Introduction to on-page SEO – The basics of on-site SEO
Before we dive into the very heart of the specifics of on-page SEO, let's first make sure we understand what it is and why. it is important to take an interest in it.
In this first chapter you will find the answers to the various basic questions that can arise when starting out with on-page SEO.
1.1. What is on-page SEO really?
Simply translated into French, the acronym SEO (Search Engine Optimization) literally means "search engine optimization" or "natural referencing" in common practice. On the other hand, the expressions on-page or on-site mean "on the page" and "on the site" respectively.
Based on this little breakdown, we can simply say that on-page SEO refers to the search engine optimization of web pages.
In other words, the term on-site SEO corresponds to the natural referencing of a website directly by optimizing its own components. It is a set of techniques which make it possible to build web pages that comply with the requirements of search engines and respond perfectly to the requests of Internet users.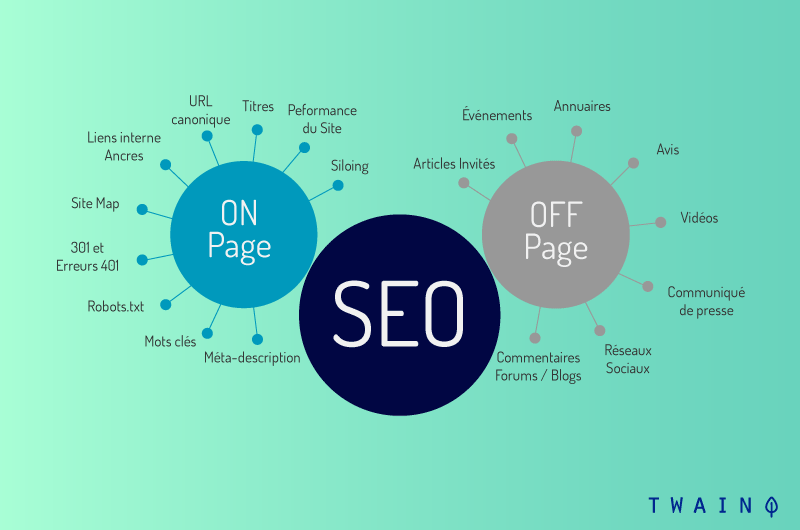 From the structure of the site to all of its content (written texts and others), on-page SEO refers to the many elements that can be controlled on the site itself to improve its online presence.
Thus, this practice covers the optimization of both the content and the HTML source code of the pages of your website (the optimization of everything on the site).
This is how on-site SEO allows search engines and their users to:
Understand the content of web pages;
Consider Internet pages as relevant for one or more given search queries (keyword or group of keywords);
Judge the pages useful and worthy of appearing at a good position in search engine results;
Etc.
In short, on-page SEO focuses on creating and perfecting the internal components of websites, as opposed to off-page SEO which only deals with signals outside of sites.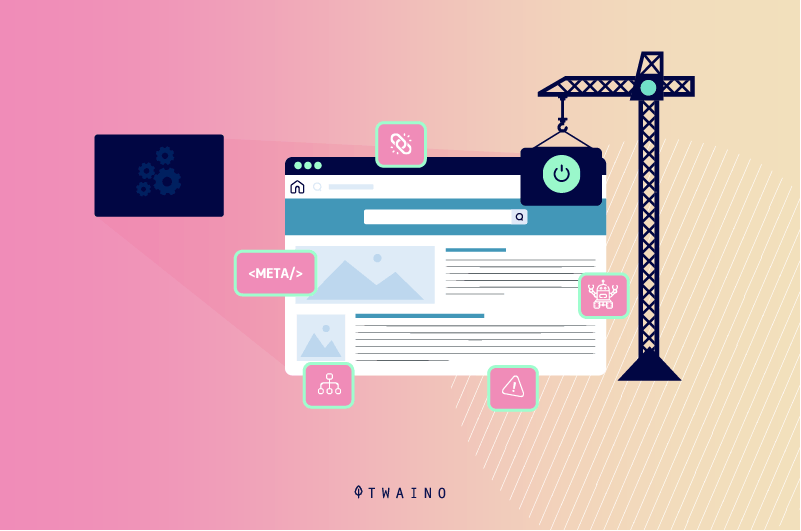 We often compare natural referencing to a big bowl of soup where:
Off -page SEO represents all the external elements that are added to the soup (backlinks for example);
And on-page SEO represents the bowl of soup (the technical aspects of the website) and the soup itself (the content).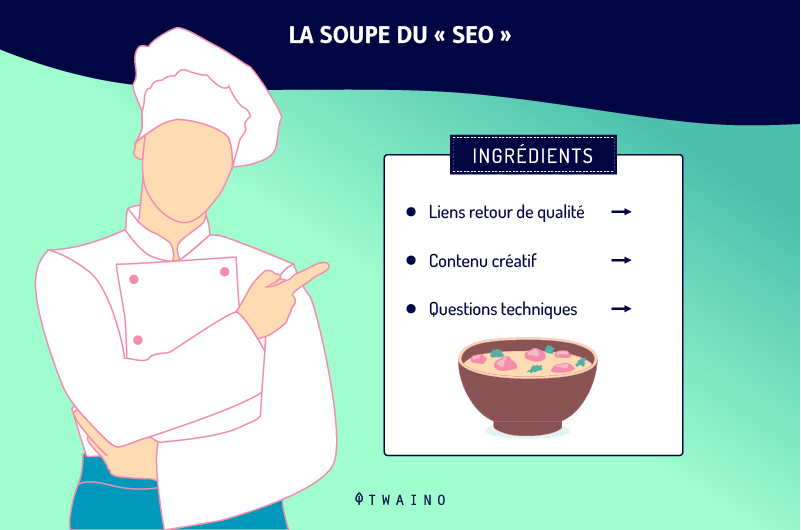 Apart from the off-page part, on-page tactics are the very stuff of SEO.
How do on-page and off-page complement each other?
1.2. On-page SEO vs. Off-page SEO: What are the differences?
Like two unique pieces of a puzzle, on-page SEO and off-page SEO fit together harmoniously to determine the authority and positioning of a website in the SERPs.
By comparing these two sections of natural referencing, it is clear that the two strategies agree and complement each other perfectly to strengthen the website and build a strong online presence.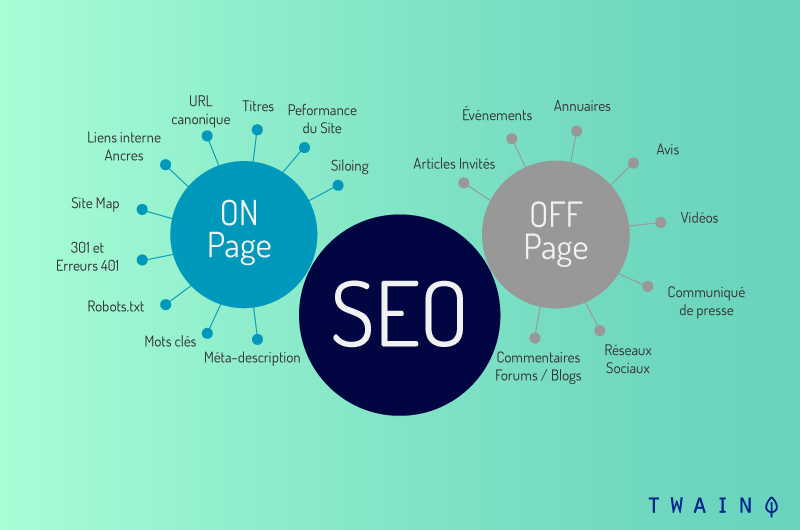 Contrary to popular belief that these two aspects of SEO are interchangeable, the contributions and areas of definition of on-page SEO and off-page SEO are clearly different.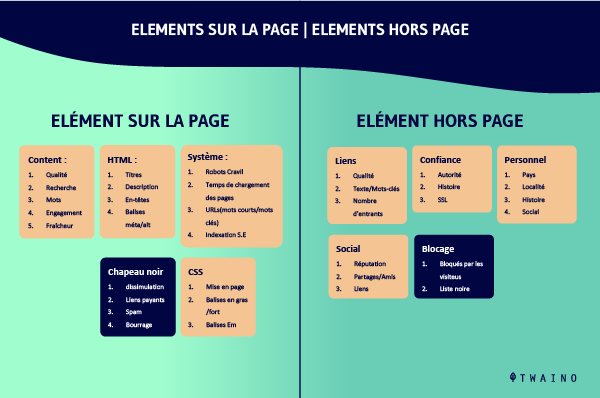 In addition, their respective importance is equal and it would be harmful for the website to prioritize one to the detriment of the other.
1.2.1. On-page SEO: Contributions and domain of definition
You certainly want the big Google, Bing and other search engines to be able to easily and correctly understand the content of your web pages and then associate it with the most relevant search queries.
This is where on-page SEO comes in.
Indeed, an effective on-page SEO campaign organizes the content of the website in a way that makes it easier and more accessible to search engine crawlers. The latter are then perfectly capable of exploring and indexing it.
In addition to helping search engines optimally crawl and interpret the content of your web pages, a good on-page SEO strategy also helps people quickly understand your website.
Visitors then easily understand what the pages of your website are about and they are able to quickly know if they really meet their search intent.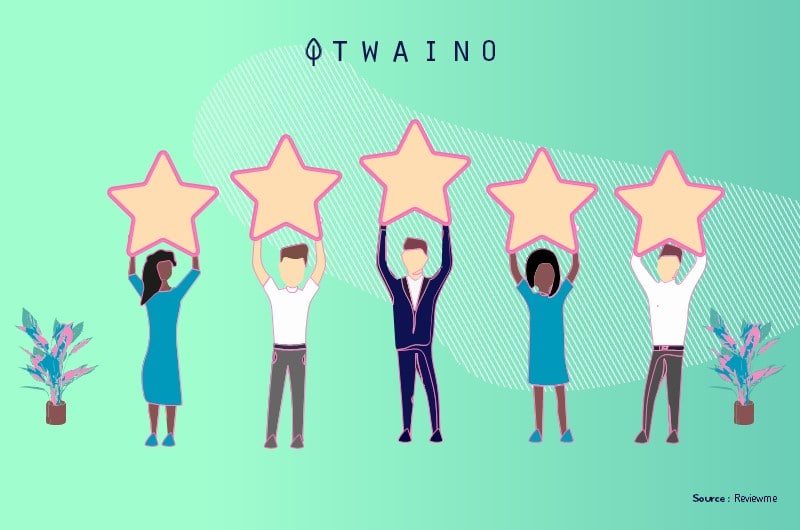 At the same time, search engines are able to understand what a human would see and the added value they would get from visiting your website pages.
From there, search engines get a pretty good idea of ​​what quality content means to internet users. This is how they are able to offer them the most relevant results for a specific search query (keyword).
In order to maintain this level of understanding as much as possible, on-site referencing focuses, among other things, on optimizing:
Content (textual, visual, etc.) offered on the website;
Ergonomics of theuser interface ;
Website performance in terms of speed;
The security offered on the website;
And many other elements.
One key thing to keep in mind is that on-page SEO is a process that can be described as an exact science.
Unlike off-page, you have control over the deployment and results of your on-page SEO strategy.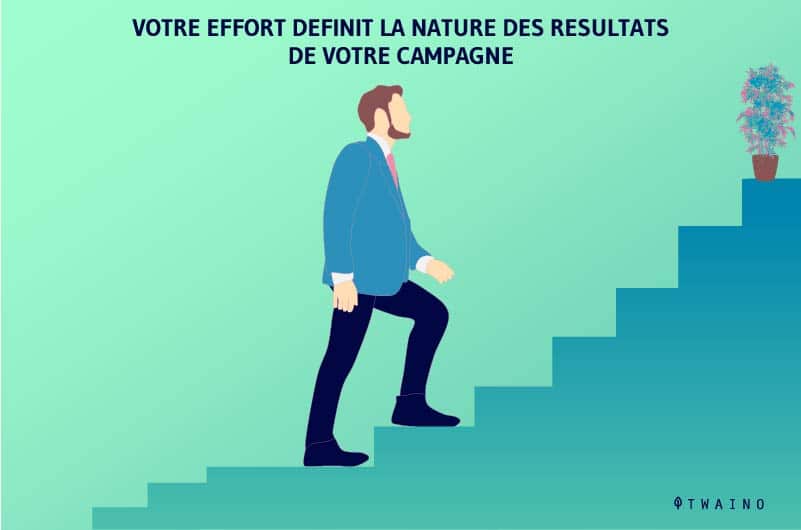 1.2.2. Off-page SEO: Contributions and field of definition
Off -page SEO is intended to be an unpredictable process. And for good reason, you have practically no control over the eventual results of your various efforts.
This off-site section of SEO focuses on:
Like its on-site counterpart, off-site SEO combines a number of SEO tactics, the difference being that these techniques operate outside of your website.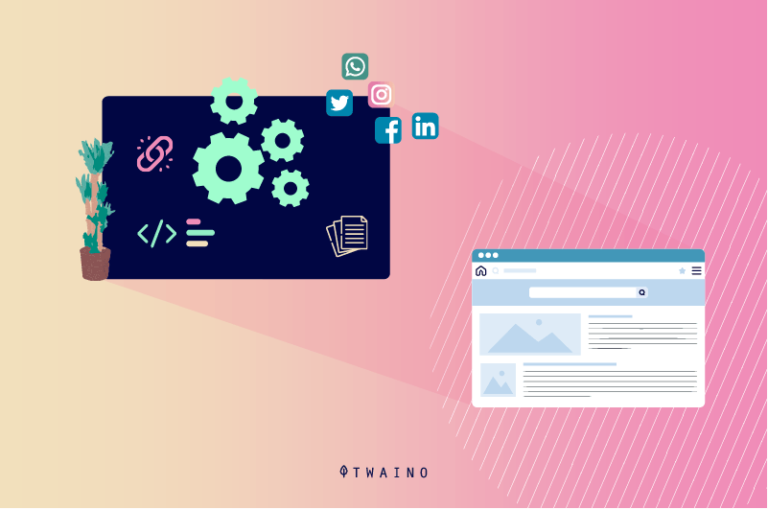 Indeed, with off-page SEO, your website itself is very rarely modified. All actions are carried out outside the website or more precisely on third-party sites in order to increase the visibility of your digital brand.
The principle of off-page SEO is to prove the credibility of your website by highlighting:
Its authority;
Her popularity ;
Its relevance;
And its reliability.
The goal here is clearly to assure the search engine that your website is trustworthy, useful, and loved by users.
As Wendy Piersall says, " Google only loves you when everyone else already loves you ."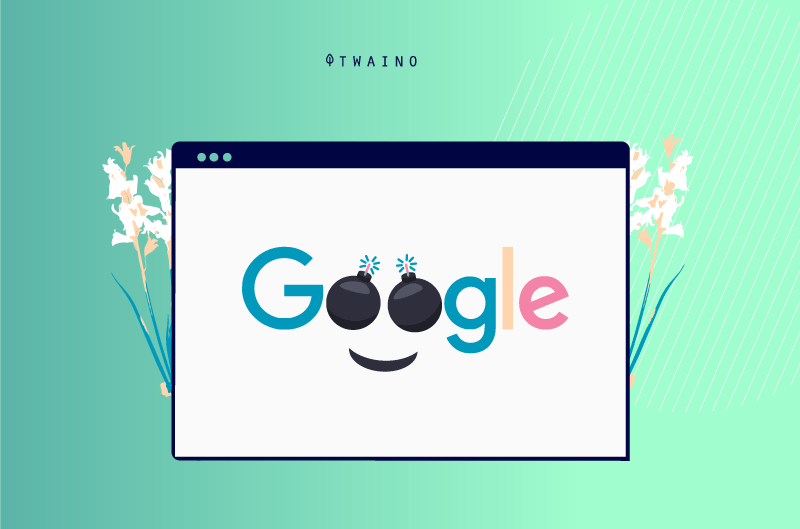 To achieve this, the main off-page SEO is link building.
And for good reason, the simple fact that already reputable third-party websites point inbound links to your website is enough to prove to search engines that your site is considered relevant and useful for others.
In addition, backlinks (their number and quality) are one of the main factors for ranking websites in Google's SERPs.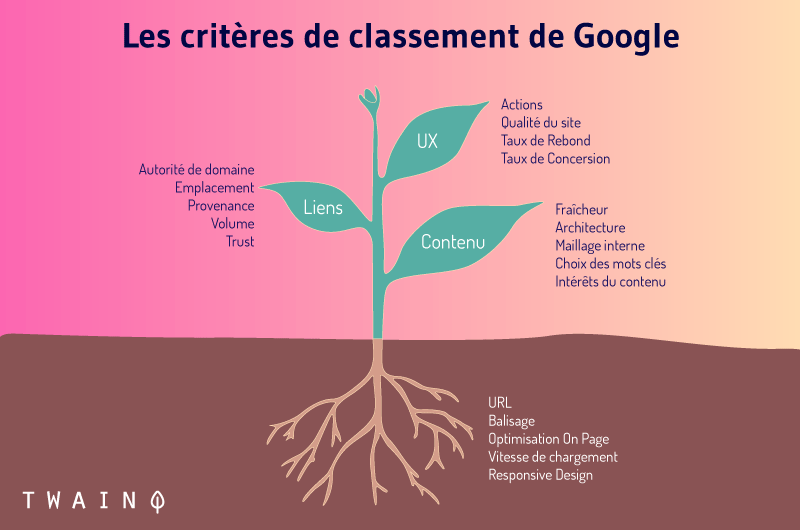 To better estimate the authority of your site's web pages, Google's algorithms also check its apparent reputation across the web.
It is now clear and obvious that the association on-site SEO and off-site SEO is necessary for the construction of any effective SEO campaign. The reason for this is simply that when executed together, these two SEO strategies work in complete synergy to improve your website's traffic and organic ranking in the SERPs. This will then result in an increase in the conversion rate and therefore in the revenue generated by the website.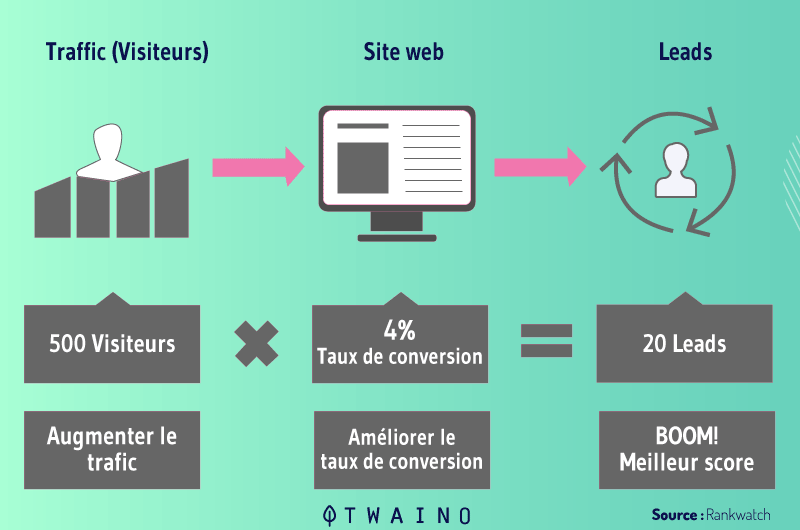 In short:
Off-page SEO refers to what "other websites say about your website" and is responsible for attracting the right visitors to it.
On-page SEO is what "your website tells search engines" and it converts your visitors into proven customers.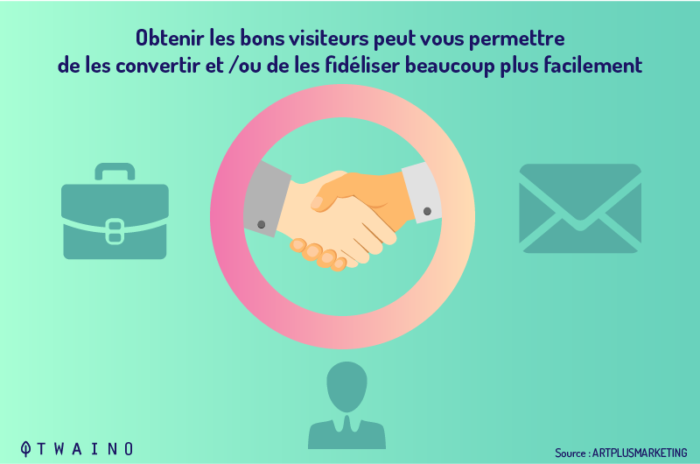 To each their own role!
1.3. The importance of on-page SEO: Why is it essential?
If on-page SEO is considered essential, it is primarily because it is an integral part of any SEO strategy. Therefore, it helps to:
Improve the ranking of the website;
Reach a wider and specific audience;
And gain more organic traffic qualified
In addition to this general aspect of the question, let's see in more detail the interest of on-page SEO optimization.
1.3.1. On-page SEO: An essential facilitator of Internet research
At the start of 2021, the web already had just under 2 billion websites.algorithms search engine, this represents a huge mass of data to sort and analyze to organize Internet data, and then provide users with the content that best suits their needs.
In this context, effective on-page SEO optimization helps search engines match the relevance of your website content to the keyword you are trying to rank for.
In doing so, on-page SEO can be seen as an attempt to make it as easy as possible for search engines to deliver the best content to satisfy searcher intent.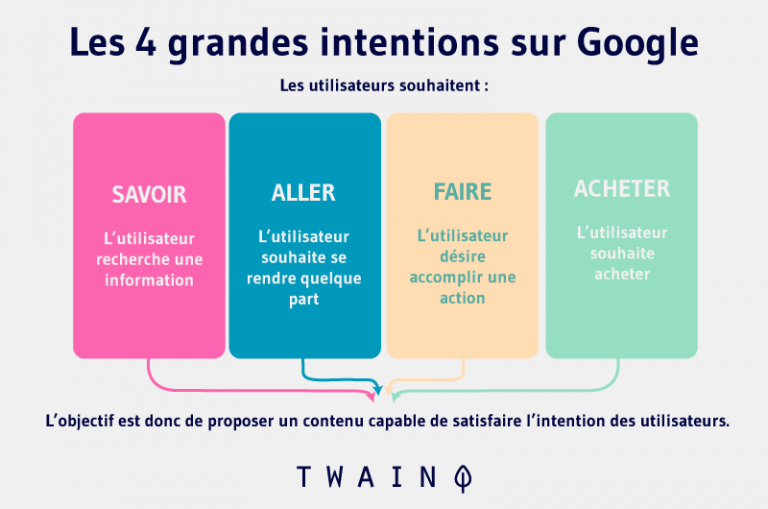 1.3.2. On-page SEO: A necessary precaution to appear in Google's SERPs
Thanks to regular updates to its algorithm, Google is improving both its ability to understand the intent behind each user query and its ability to evaluate websites. and theuser experience they provide to their visitors.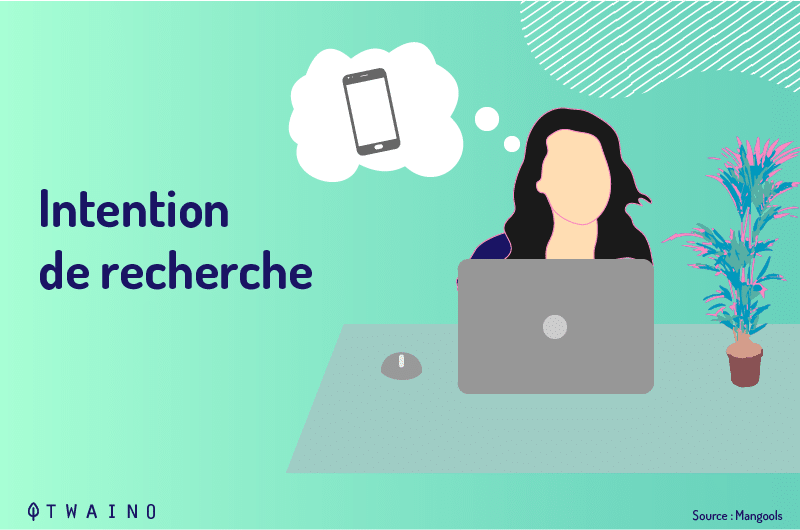 The American giant has indeed taken decisive steps in this direction with:
Update Google Panda to combat low-quality content, duplicate content and spammy content;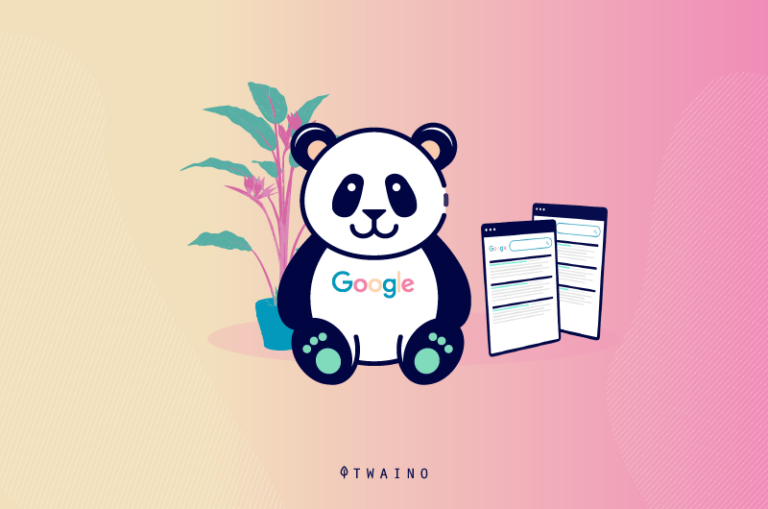 The update Google Penguin to identify and penalize websites that violate Google's webmaster guidelines;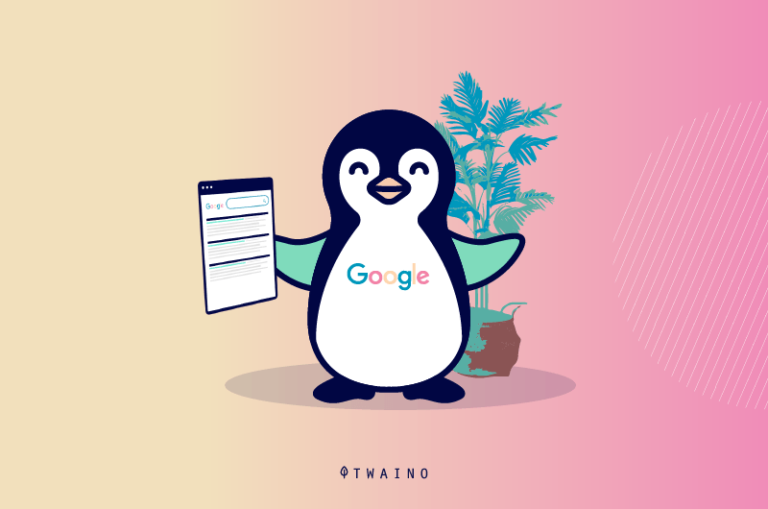 The Google Hummingbird or colibri 2013 update for the complete and contextual analysis of user requests;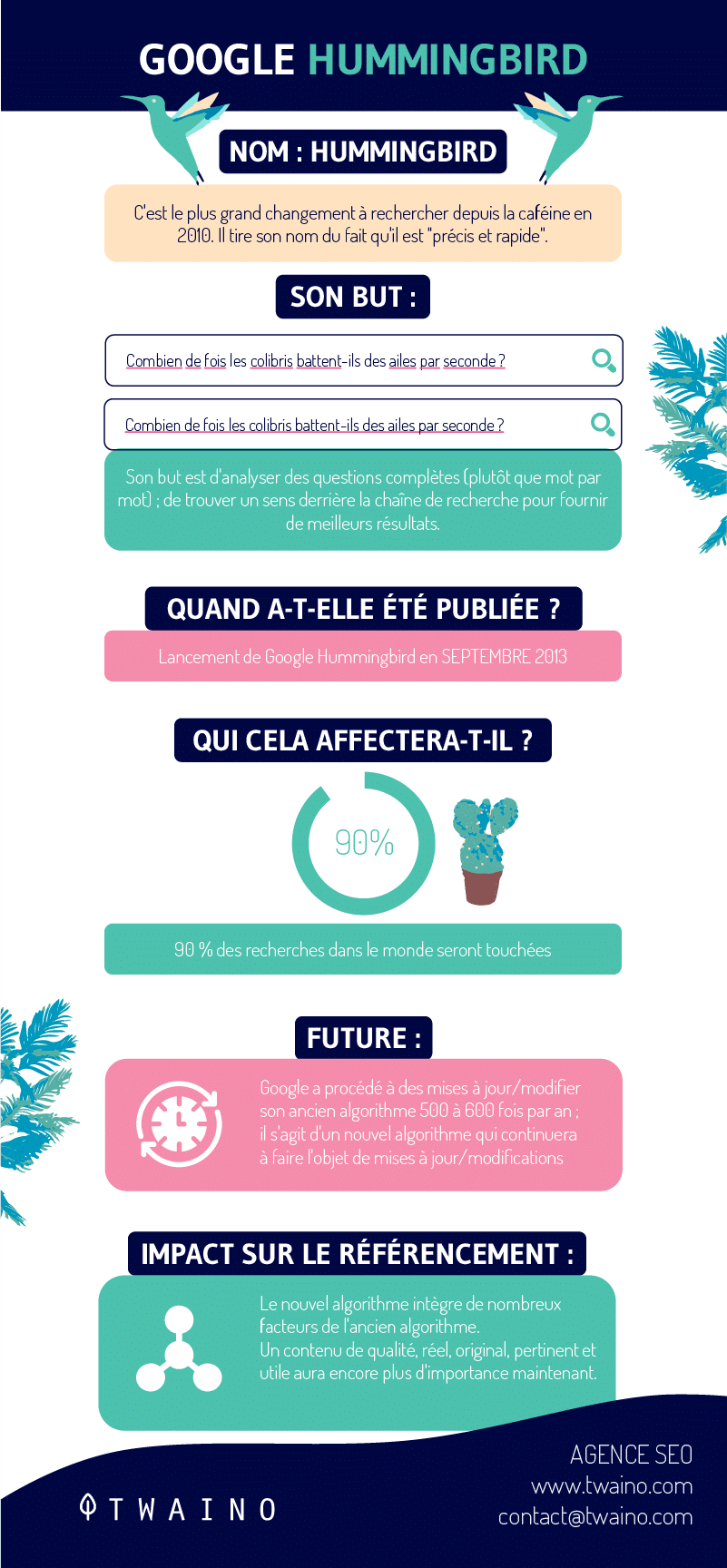 The 2015 Google Quality or Phantom update to penalize websites without any added value for Internet users or those that only display advertising;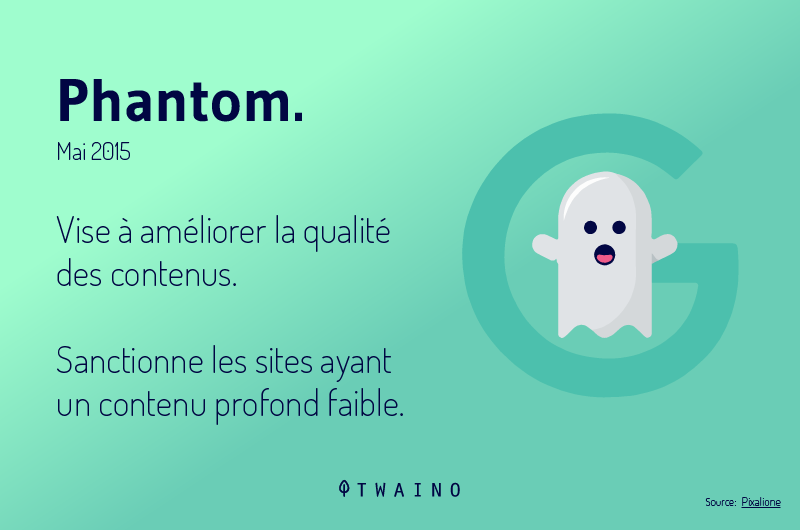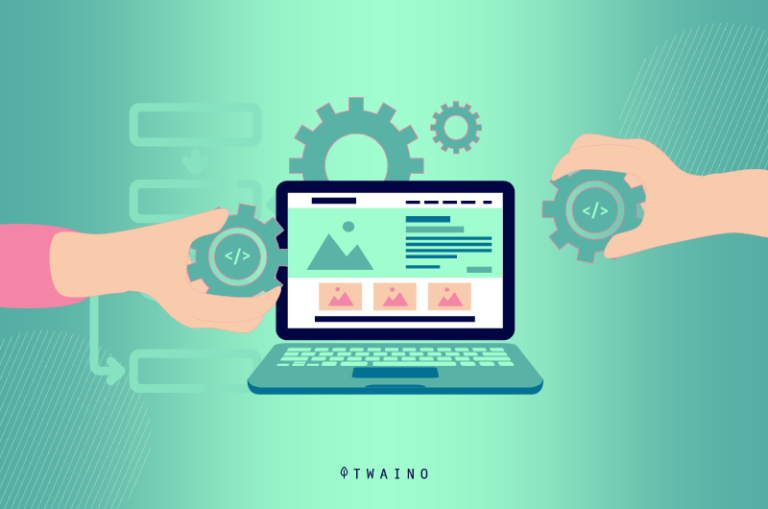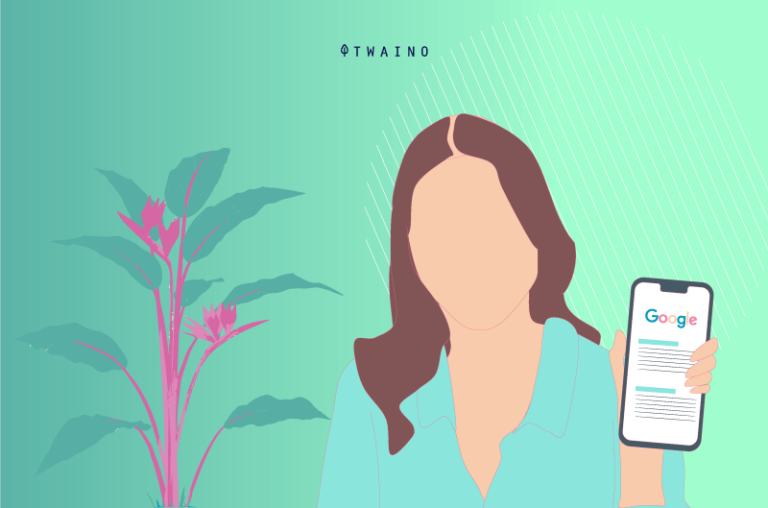 These various updates are used to filter the web so that Google can offer its users the best possible content in terms of Internet search. To better anticipate the action of these filters and guarantee the presence of your website in the ultra-select spheres of Google's search results, it is essential to ensure the quality of your content.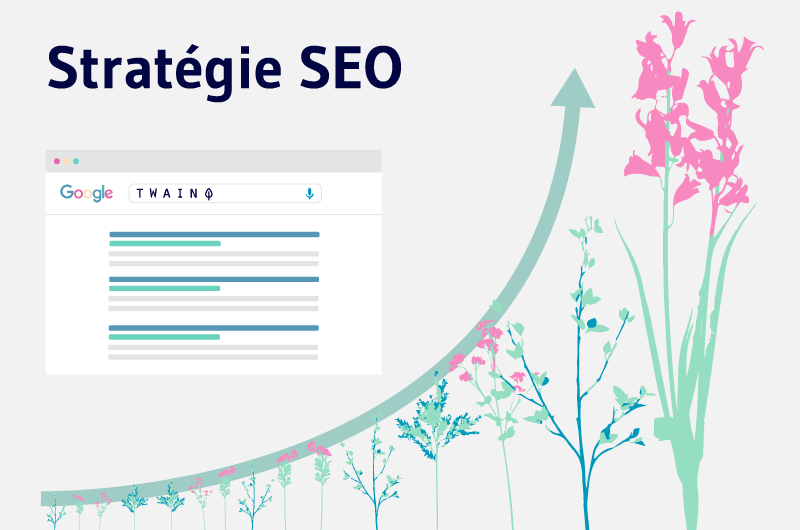 Who says content quality clearly says on-page SEO. In other words, proper on-page SEO optimization is a necessary precaution to take when looking to appear in Google's search results.
Always keep in mind that how your web page is optimized can have a huge impact on its ability to rank.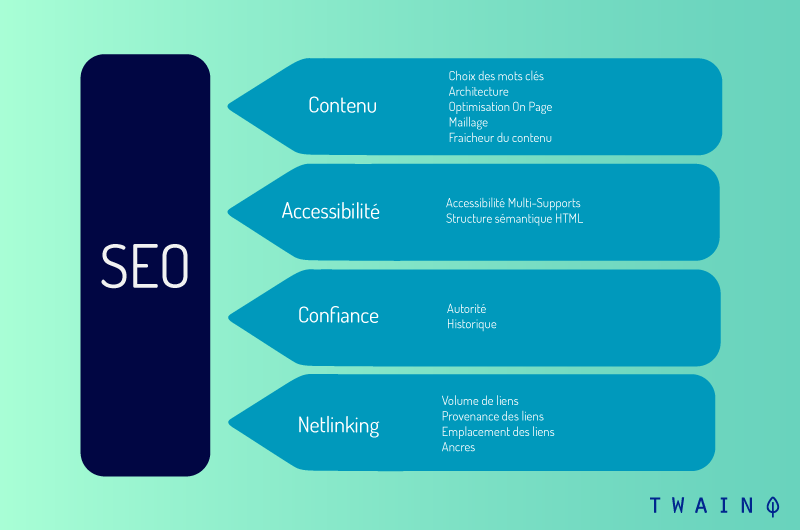 1.3.3. On-Page SEO – Relevance and Keywords
Today, many people question the impact and merits of using traditional on-page SEO practices.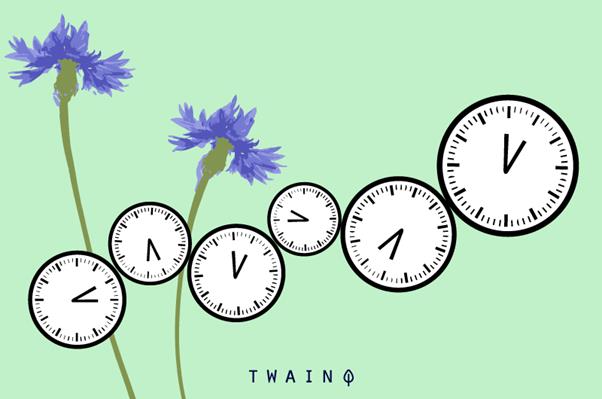 Well, even though Google is clearly much more advanced than it was back then, you should know that it still uses some old-school practices.
And for good reason, part of the process by which Google assesses how relevant web pages are to search queries always searching for specific keywords.Quite rightly, in their description of how search works, Google says:

Another glaring fact that proves the value of keywords in on-page SEO is the presence of the same keyword in almost every title tag top-ranking pages for a given search.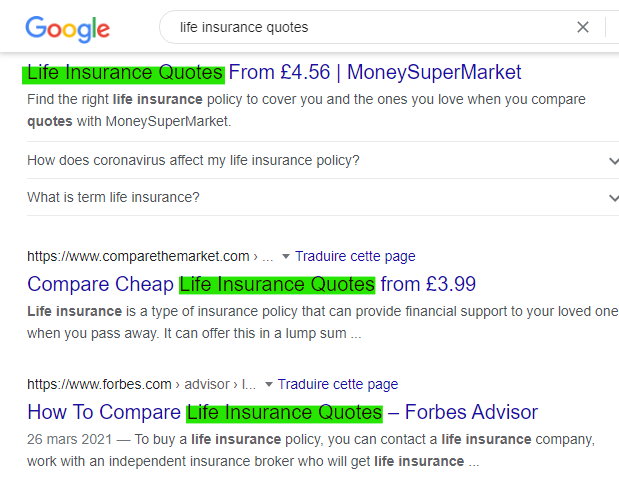 That said, some people come to think that on-site SEO is just about inserting a few keywords here and there into the content of web pages to ensure quality. But this is not true !
Although the clever placement of these keywords is still important, it is much less so than before. What matters now is relevance.
Content relevance is certainly one of the most essential elements of on-page SEO and it goes far beyond the simple inclusion of keywords in your content. You need to ask yourself if your content is relevant to the intent of the user doing the search.
Seen in this new light, on-site SEO is more about understanding your target audience than repeating or inserting keywords.
In doing so, on-page SEO takes into account the needs of your users by focusing on what they are looking for as well as topics (keywords) that they might be interested in and around which you can build your content.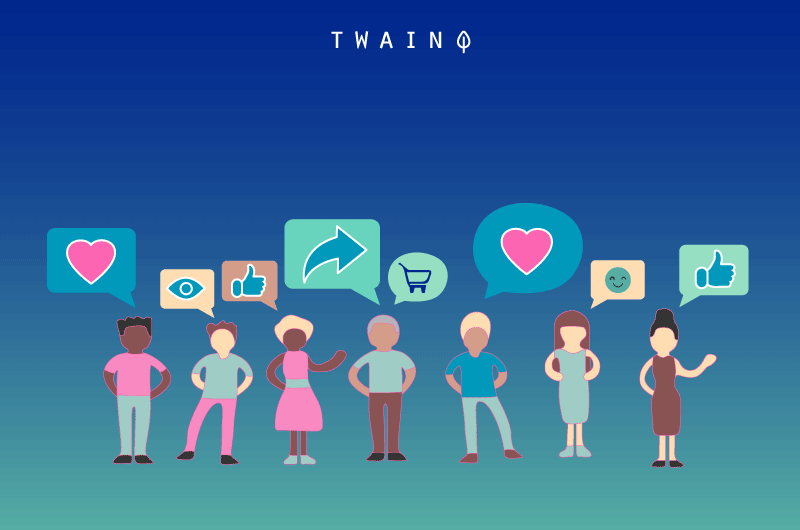 This is how web pages properly optimized for on-page SEO present quality content that is:
Deep or rich (as opposed to thin and poor content which is the target of Google Panda);
Convivial or user-friendly (perfectly readable, organized, uncluttered and clear);
Unique (original and authentic as opposed to duplicate content);
Reliable and authoritative (verified sources and specialized subject)
In accordance with the search intention of the Internet user (meets the expectations of Internet users and corresponds to the queries or keywords for which it is classified)
Etc.
There is no longer any doubt that mastering on-page SEO strategies is crucial or you risk not ranking in Google's SERPs due to content gaps.
Now that you understand the importance of on-site SEO to Google, let's take a closer look at the various on-page criteria that influence your website's success in the SERPs.
1.4. What are the main on-page factors of SEO?
On-site SEO is a branch of SEO that combines multiple facets. Here are some of its main factors.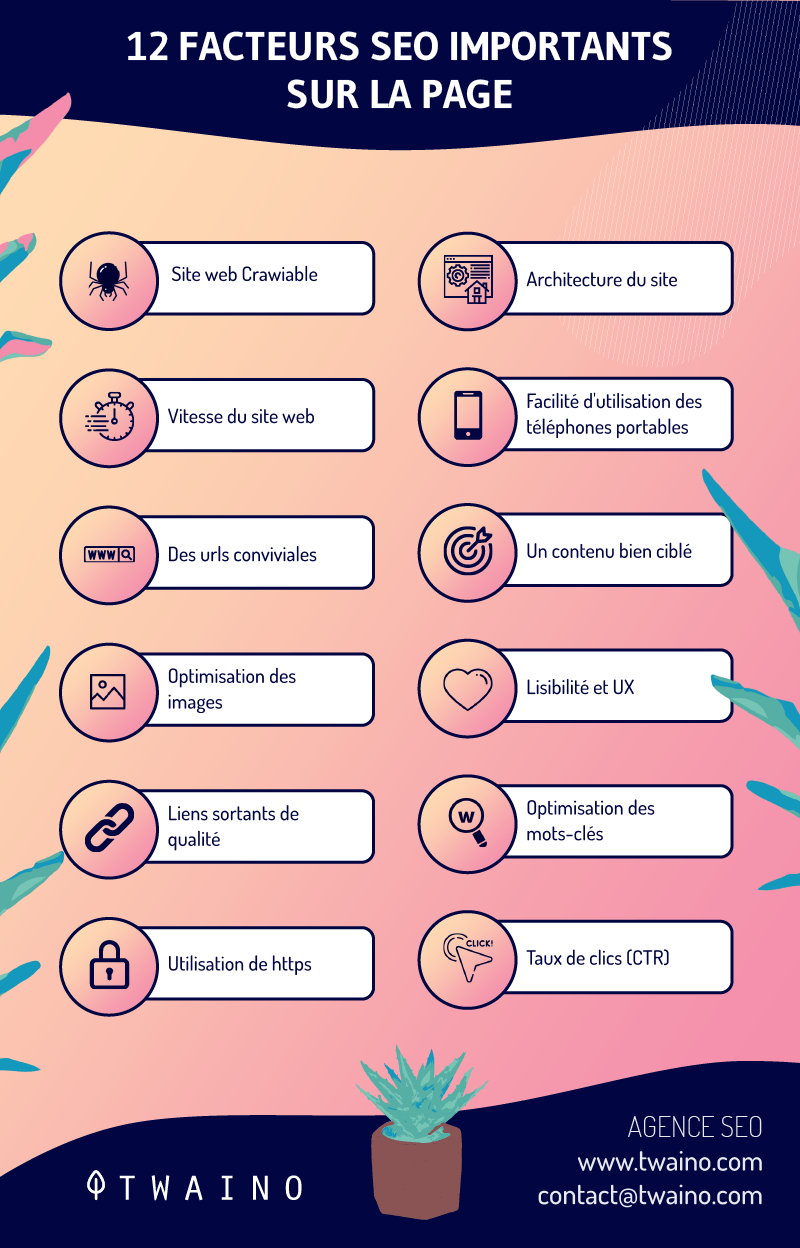 As you may remember, on-page SEO focuses on both the content and the technical sphere of the website. Logically, the different factors that govern this part of SEO come into play:
Either for content optimization (the main subject of this article);
Either for technical SEO.
In this section, we will focus on specifying the on-page factors indirectly and directly related to the content of the website.
As for the technical aspect of on-site SEO, I invite you to consult this detailed guide to Technical SEO. You will find there perfectly developed, the various technical factors of the referencing on page and their tactics of optimization.
With that, let's run through the on-page factors related to content.
1.4.1. The Key "Non-Technical" On-Page Ranking Factors
There are countless web page ranking signals in Google's SERPs. However, no one knows for sure what it is and how they really work.
Indeed, Google has everything of a Blackbox and its leaders remain very discreet about the formulas and operating principles that govern the search engine.
That said, for the SEO optimization of websites, SEOs establish and deploy their strategies based on the various official statements and announcements that the Mountain View giant is willing to give on certain partial aspects of its algorithms. To date, it is estimated that more than 200 ranking factors influence the appearance of websites in Google search results.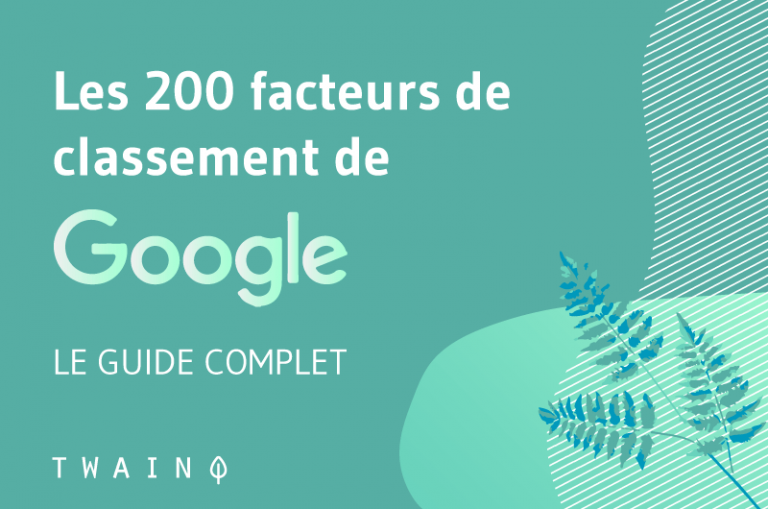 Among all these criteria, we note that of the 15 most important ranking factors in 2019, 11 represent on-page SEO criteria.

This tells you how crucial on-page factors are for a web page to qualify for SERPs Google'sAnd for good reason, when properly optimized, these on-page ranking factors have a big impact on the ability of web pages to rank well.
At the same time, an SEO strategy without content creation and optimization is meaningless and cannot deliver any conclusive results. Rightly so, since the content of a website is what makes it worthy of ranking in the SERPs.
It is obvious that without on-page SEO, it would be very laborious or even impossible to position your website well in the SERPs.
The main on-page factors that affect the ranking of pages in the search engine SERPs are grouped in the following points.
1.4.1.1. The actual content of the web page
The content is what the Internet user has come to see. As a result, it is one of the priorities of the search engine when establishing the ranking of web pages in its SERPs.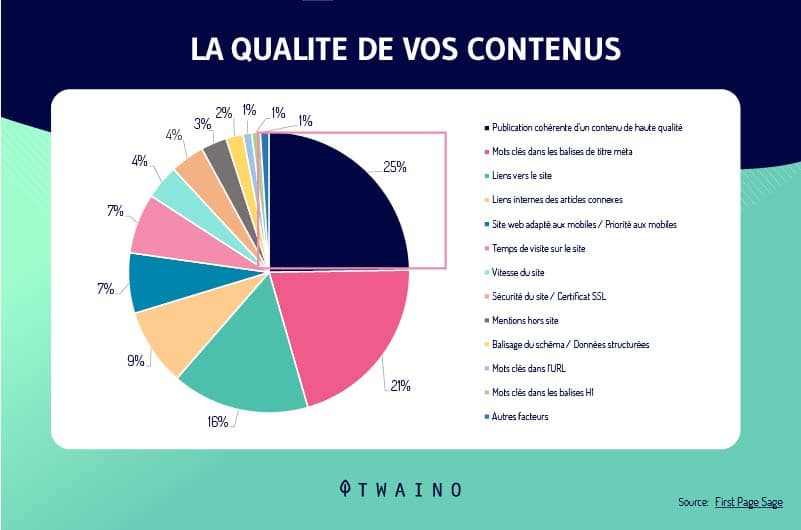 It is therefore essential to have on exceptional quality content
The various on-page ranking factors that are considered for content are:Content length (longer is better);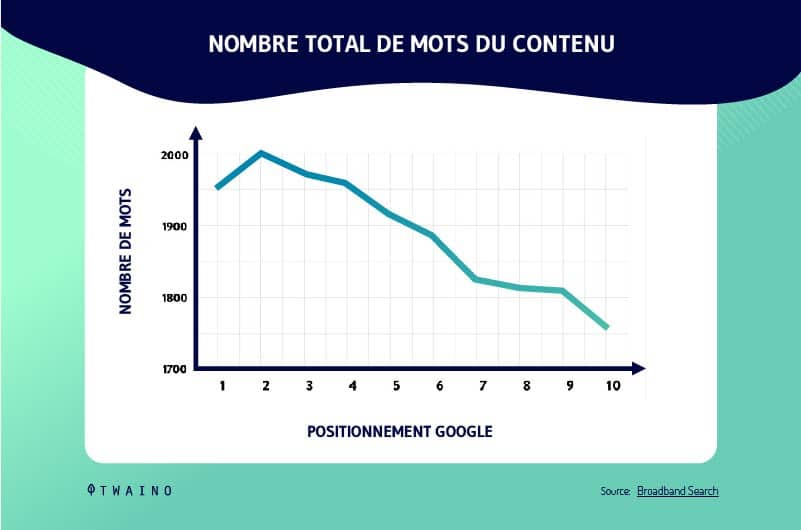 The presence of a table of contents ;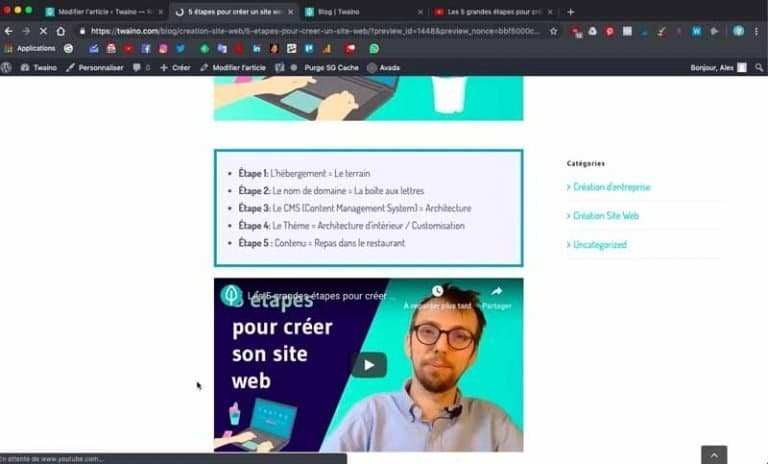 The coverage or depth of treatment of the subject;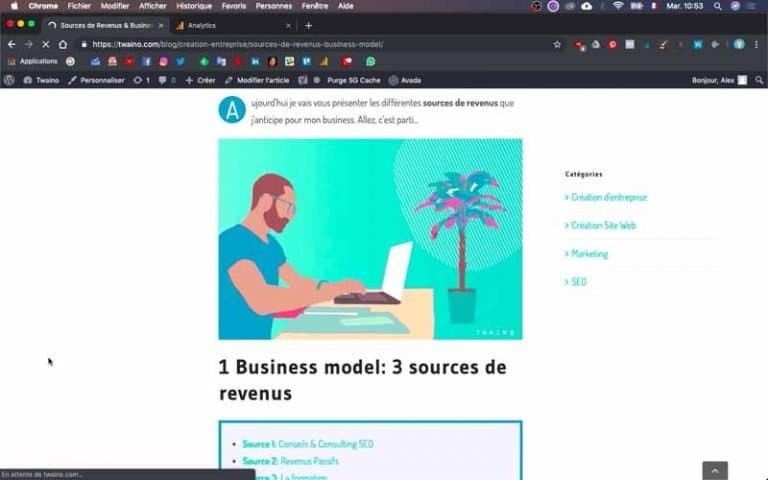 The prominence of keywords;
The density of keywords (to determine the theme covered by the content);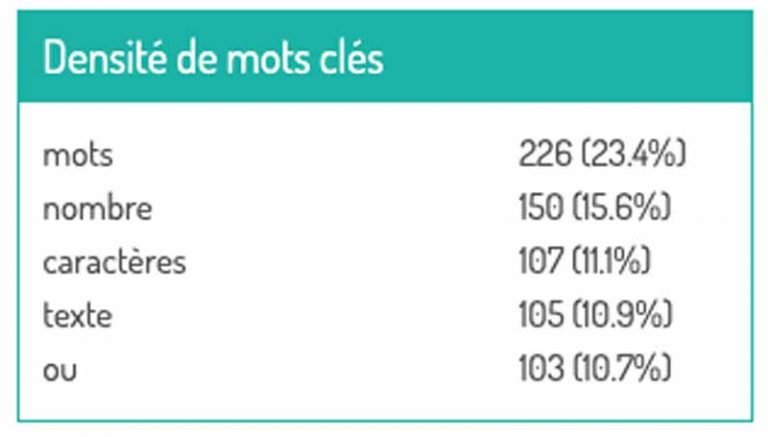 LSI latent or semantic indexing in content (to understand the meaning of words with more than one meaning);
The TF-IDF or Term Frequency-Inverse Document Frequency (for content relevance);
the Useful content target;
The presence of duplicate content (to be avoided);
The freshness of the content;
Theextent of content updates ;
Changes to core
content Grammar andspelling ;
Bullets numbered and lists ;
_ References and sources ;
The editorial level easily understandable
The use of multimedia ;
;optimization Image
1.4.1.2. The Title and Description tags
This is the second category around which the on-page "not techniques" for natural referencing. This is how to classify web pages in its SERPs, the Google takes into account in particular:
The presence of a keyword in the Title tag ;
Keywords at the beginning of the Title tag;
The presence of a keyword in the Description tag;
The presence of LSI keywords in the title and description tags;
The presence of a keyword in the H1 tag;
The presence of a keyword in the subtitles or tags H2, H3… H6;
Etc.
1.4.1.3. URLs
Along with content and title and description tags, URL structure is also very important. Because it allows search engines to understand the relative importance of a given web page, it adds a relevance metric to the page.
The "non-technical" on-page ranking factors considered by the search engine for URLs include:
URL length (shorter is better);
The URL Path or URL path (to help explain the website architecture); 
The presence of keyword in the URL;
URL String or URL String (friendly URLs will indeed have a positive effect on pagerank);
Brand anchor texts;
Etc. 
1.4.2. Other "non-technical" on-page ranking factors
Apart from the main on-page criteria relating to content, title and description tags or URLs, there are other on-page ranking factors that are "non-technical" and just as important.
Optimal use of Google Analytics
Correct analysis of Google Search Console ;
The organic click-through rate for a keyword;
Organic CTR for all keywords;
The bounce rate ;
The presence of YMYL keywords (your money, your life);
Content whose subject is trending;
The Panda Penalty;
Automatically generated content;
And many others ;
In order to help you understand how these various "non-technical" factors of on-page SEO influence the ranking of web pages in the Google SERPs, I urge you to consult my complete guide to Google ranking criteria.
In the following chapters, we will see step by step how to implement the main factors mentioned above in order to optimize your on-page SEO.
Chapter 2: How to create and optimize content for SEO?
Now that you have acquired the basics of on-page SEO, it is time for us to take a concrete look at optimizing your web pages.
As I previously told you, this guide only covers the non-technical sphere of on-site SEO.optimization Technical SEO is developed in another guide.
Long before thinking about performing "technical" optimizations, it is necessary to focus on creating and optimizing the content that search engines will have to rank.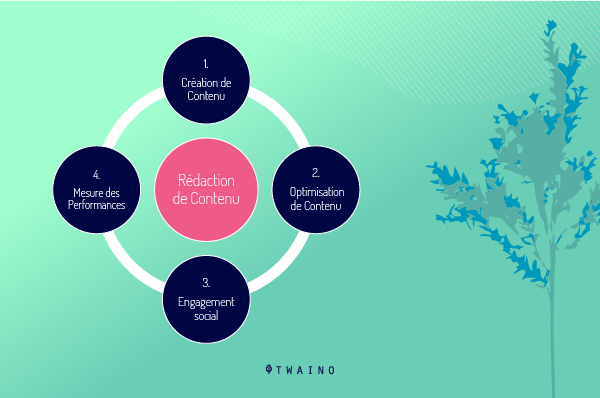 2.1. How to produce content suitable for on-page SEO?
In this section of the guide, I explain how to create content that Google wants to rank in its SERPs. Even if your website is well optimized, it will not rank well if it does not meet the quality criteria in force for content. You have to remember it once and for all: there is no SEO strategy without quality content.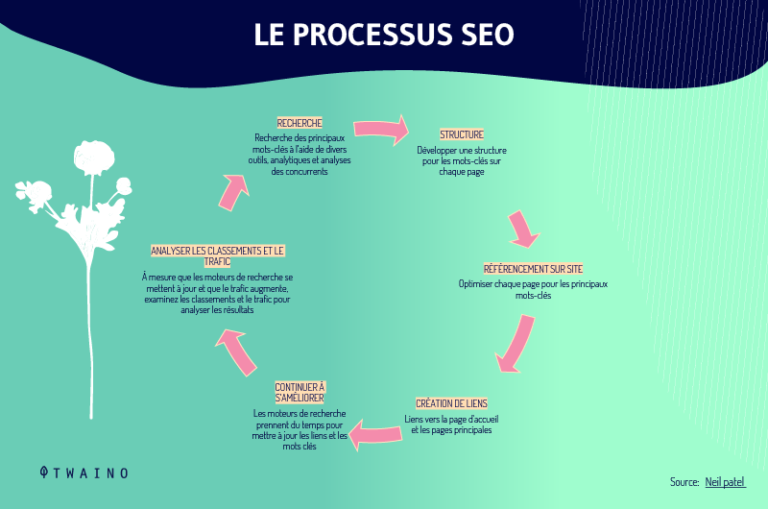 Before you start, it is necessary that you already have in mind a main target keyword for your content. If you haven't already, read my guide to keyword research to easily do this.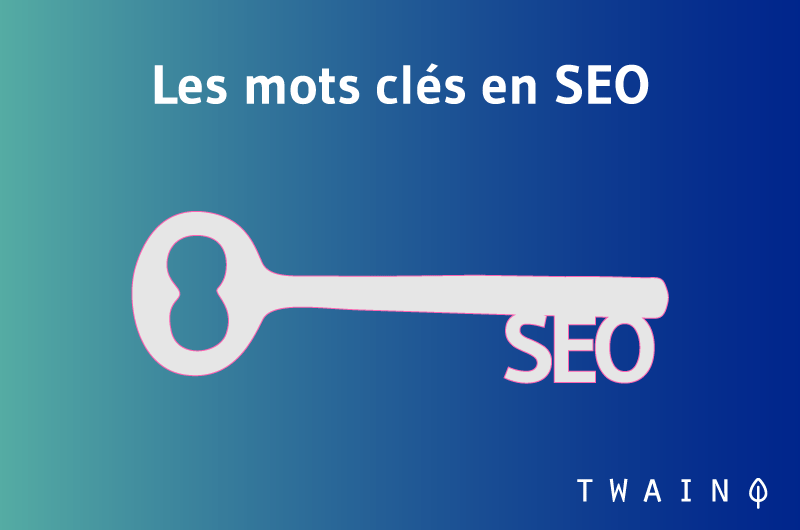 Now here's how to create SEO-friendly content:
Relevant that satisfies search intent;
Unique ;
Exhaustive with added value;
And clear.
2.1.1. Relevant content that meets search intent
It's no longer a secret that relevance is clearly the most crucial part of on-site SEO. This relevance actually consists of aligning your content with the search intent of the Internet user.
If your website don't offer Google users the information they're looking for, your chances of ranking in the search engine'sare slim to none.
It is therefore necessary that your content is in accordance with the intention of the Internet user.
Since Google is in the best position to understand search intent, the best way to do that too is to start by analyzing the current top-ranking results for your target keyword.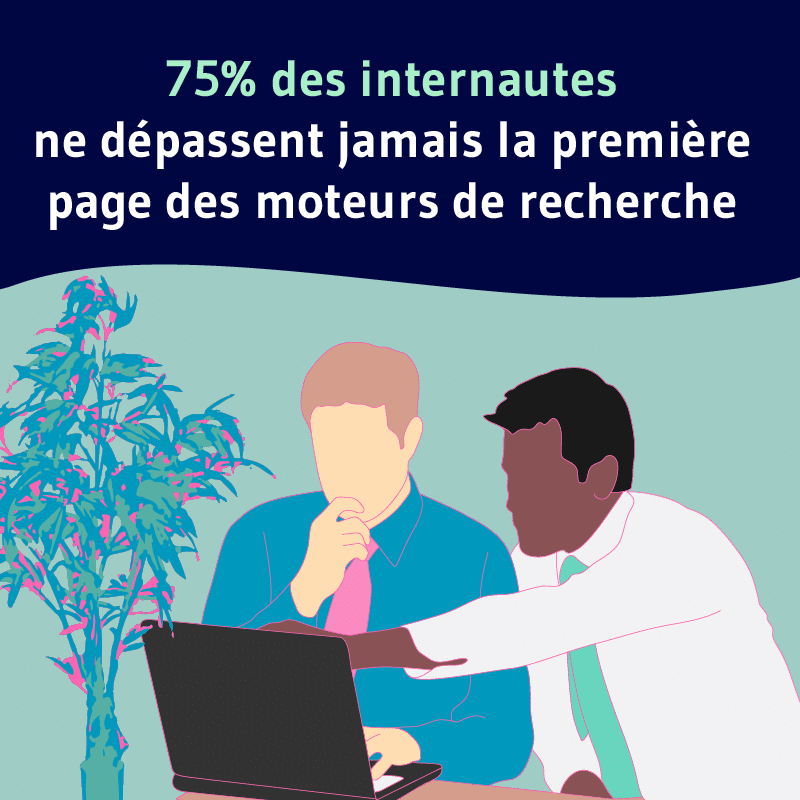 To do this, the following three elements must be considered:
The type of content;
The format of the content;
And the approach angle of the content.
2.1.1.1. Types of content
There are most often five types:
Blog articles;
Product sheets;
Category content;
Content for landing pages;
And the videos.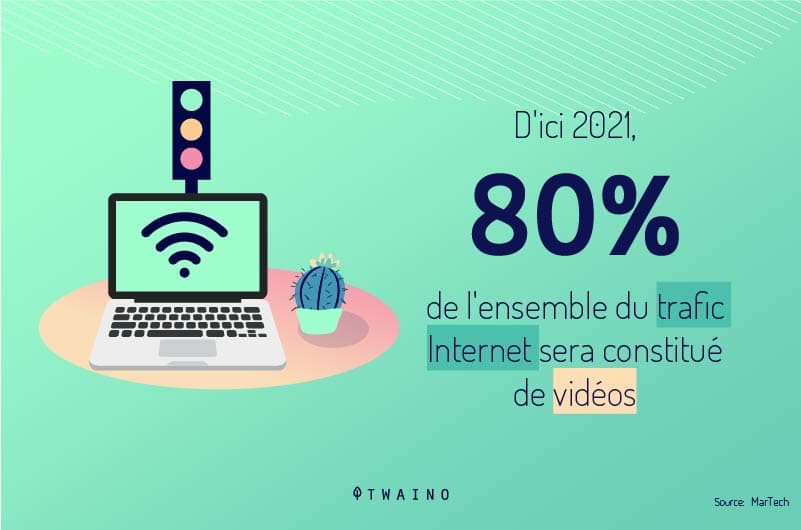 For example, the top-ranking pages for the query "red maxi dress" overwhelmingly feature e-commerce category content for famous stores.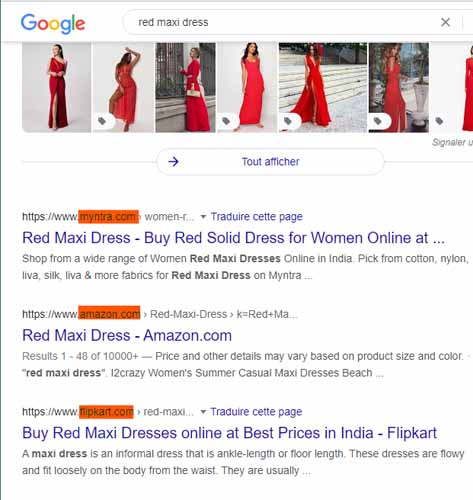 From this observation we understand that if you want to position yourself for the keyword "red maxi dress", it is unlikely that you will be with a blog article. And for good reason, in this specific case, Internet users think of buying and not learning.On the other hand, for some keywords, things are not so obvious. For example, when looking at search results at the top of the SERPs for the query "plant," we notice a mix between e-commerce category pages and blog post pages.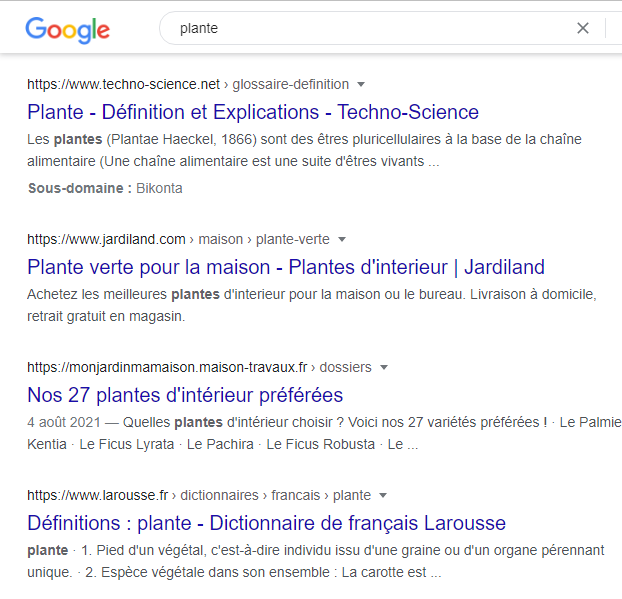 In the latter case, use your sense of discernment.
Rightly so, because if roughly we find a proportion of 50% for blog posts and e-commerce pages, the first two results are respectively a blog post and an e-commerce page.
This tells us that even if for this keyword, most Internet users seek to learn, a large majority seeks rather to make purchases. You will likely have the same level of chance of ranking for that keyword with a blog post or e-commerce page.
2.1.1.2. Content formats
We mainly talk about content format when it comes to blog articles. Among the formats available for this type of content, we most often find on the web:
Practical guides or tutorials;
The lists ;
News articles;
Opinion pieces;
And the magazines.
Let's take a few examples. For the query "force restart iPad", all of the results on the first page of the SERPs are how-to guides.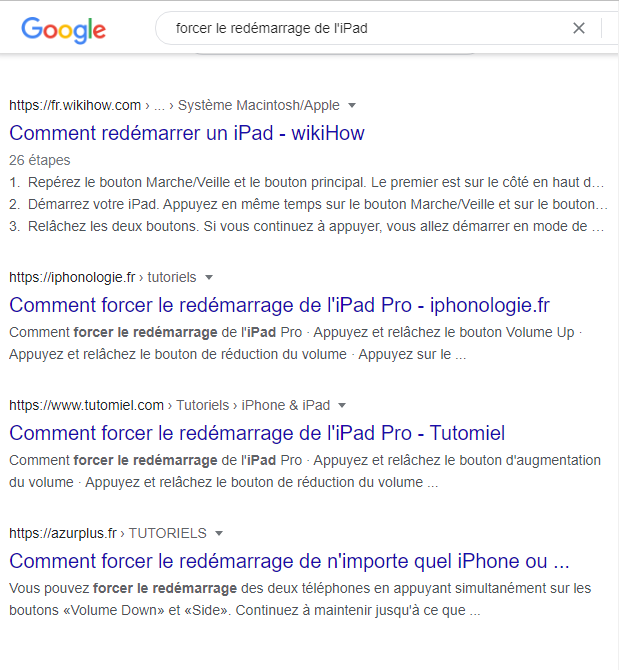 On the other hand, for a search on the keyword "marketing ideas", the first results of the Google SERPs are rather lists.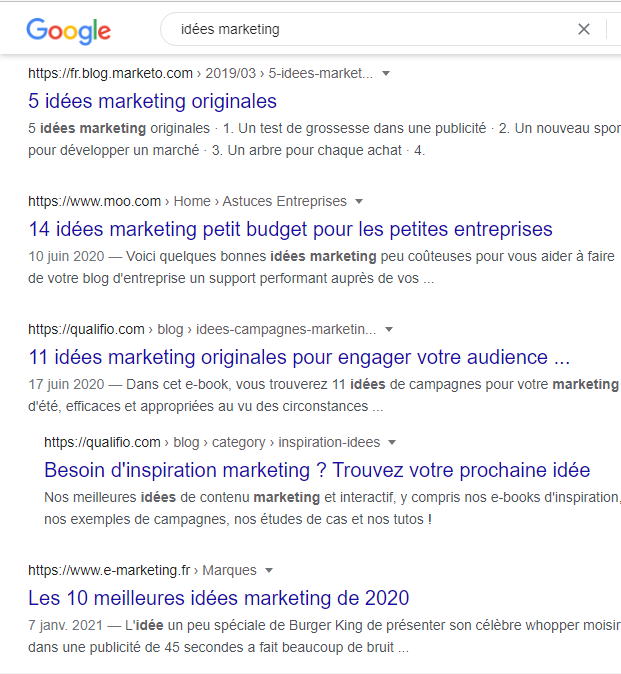 To have the best chance of positioning yourself in the SERPs for one or other of these keywords, for example, you must apply the format corresponding to your content. And for good reason, it would be difficult and even vain to classify a tutorial in a place where Internet users expect a list.
But as you know, nothing is ever all black or all white. Just look at the top ranking pages in the SERPs for the query "how to get more views on youtube" and you will agree.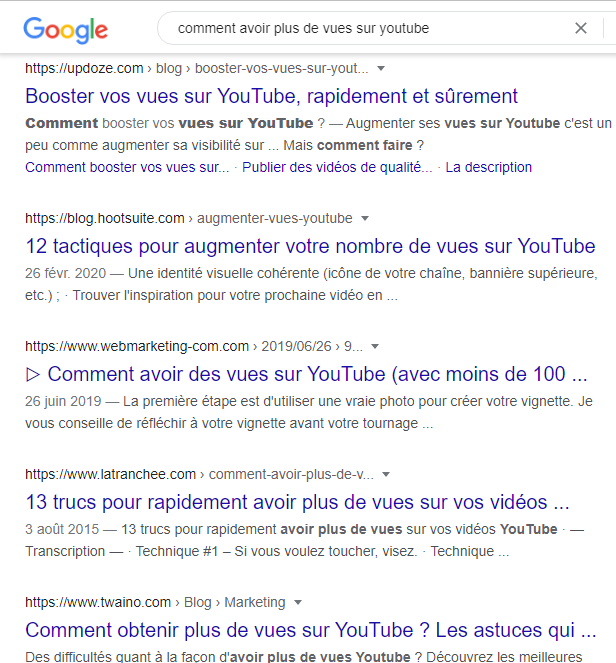 Indeed, for such a request we expected mostly blog articles in the "how to" format, now we get a fairly homogeneous mixture of practical guides and lists on the first page of the SERPs.
In this case, since the term "how" is part of the keyword, we would be tempted to opt for a classic tutorial format as a priority. But in reality there is no dedicated format for this type of article.
It's up to you to choose what fits best with the information you want to share. Everyone has their own perception of things and you can choose one or the other of the solutions, and why not even both as Twaino.
To talk about the increase in the number of views on YouTube, Twaino first produce a practical guide that explains the principle of views and the different factors likely to lead to its increase. Secondly now, I have compiled a list of the top 20 tricks to boost YouTube views.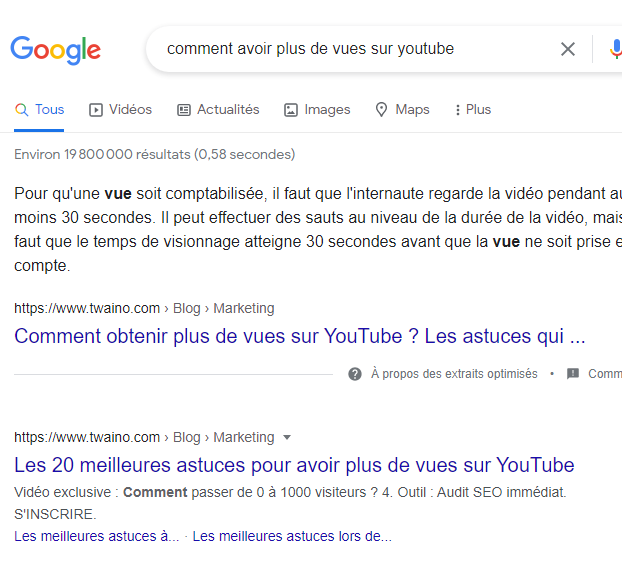 2.1.1.3. The content angle of attack
When we talk about content angle, it refers to the main selling point of the content.
For the query "how to make a good latte" for example, cybernauts seem to want to know how to do it at home without any specialized equipment.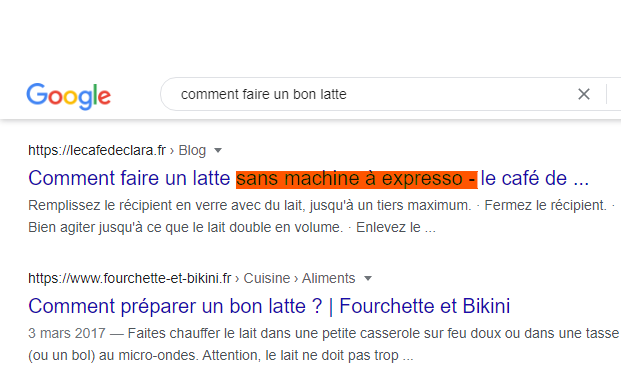 On the other hand, for the query "best Samsung" people are clearly looking for the latest smartphone results for the Samsung brand.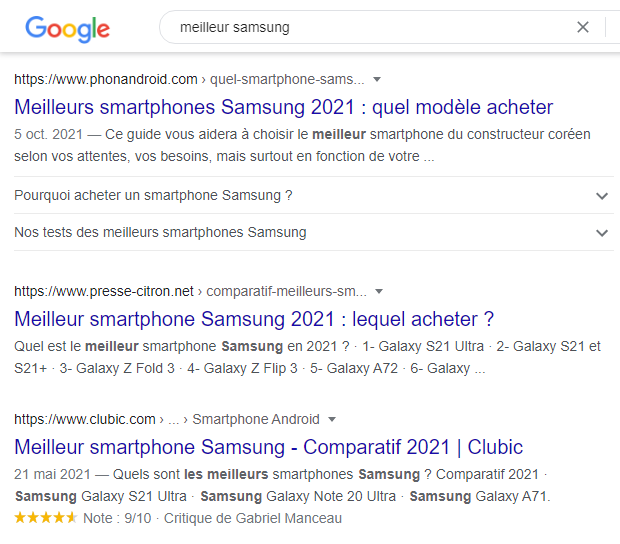 Be aware that the content angle isn't always as sharp as the previous examples. Indeed, as with the type and format of content searched by Google, the angle of the desired content can also vary for the same query.
Considering the first results for the query "rice pudding recipe", the angles of approach are multiple: simple, easy, better, etc.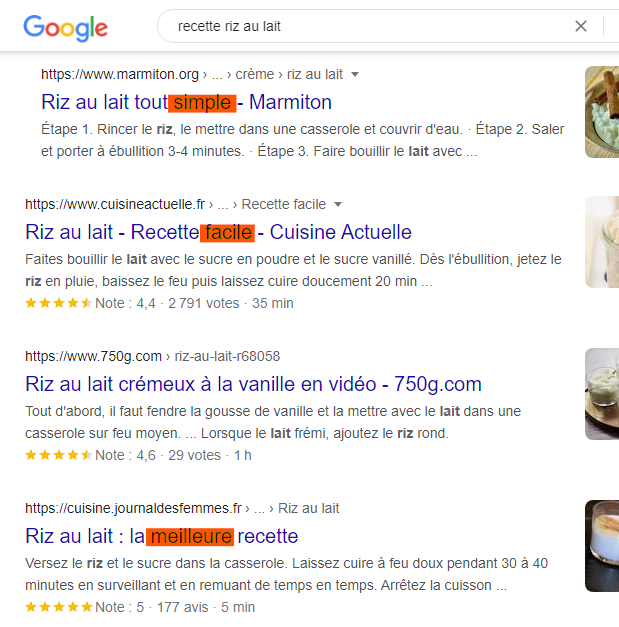 It goes without saying that the ideal content angle for this keyword is not obvious. It is therefore appropriate to choose what seems to you the most pleasant and the most useful for someone who is looking for "how to make rice pudding".
While aligning your content with user expectations is very important, you don't always have to follow the herd.
And for good reason, if you are convinced that you can capture the attention of Internet users with a type of content, a format or an angle of approach different from those of the mass, do not hesitate to try your luck.
2.1.2. Comprehensive Content with Added Value
Publishing content that broadly matches the user's search intent is certainly a good start to claiming a good ranking, but it's clearly not enough.
Indeed, analyzing search intent through content type, format, and angle only gives a vague insight into a user's true intent.
To better understand the different aspects of the subject that your content should cover, you must prospect more by carefully analyzing the most relevant and top-ranking pages. However, if you are targeting the keyword "SEO strategy", and you plan to write an article on SEO optimization, there is no point in analyzing or drawing inspiration from the top-ranking articles foroptimizationSEA. Instead, you should analyze web pages similar to yours.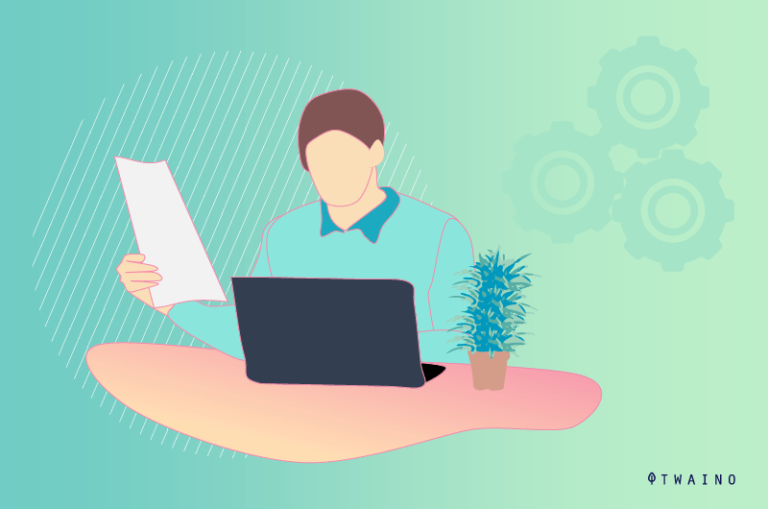 For example, suppose you write about "how to install Google Analytics on WordPress" and after analyzing the top-ranking pages you find that the first contents are mainly aimed at beginners.
So you automatically know that it probably wouldn't be a good idea to explain in great detail theadvanced use of the Analytics tool for tracking an online marketing.
Yes, to deserve to appear on the first page of the SERPs of Google, your content must keep all its promises without overdoing it. That is to say, it must be exhaustive and fully cover the elements that the Internet user hopes and wishes to find without going off topic.
In addition, be aware that millions of blog articles appear daily on the web. For your content to stand out and be noticed by Internet users, it must have real added value.
In other words, your SEO content must be useful, profitable and above all attractive.
To do this:
Add details (images, screenshots, etc.);
Adopt a solid writing style for more engaging content;
Update your content regularly and prefer new strategies, processes and examples;
Promote content written by specialized and experienced authors;
Etc.
2.1.3. Unique Content
We've seen that it's essential to give people what they want in great detail, but it's also up to you to give them something original. Thanks to this touch of novelty, your content will be different from all the others.
The term "unique" is not only put here in opposition to duplicate content, it mainly refers to content that does not merely transcribe the same ideas as existing content.
Thus, the uniqueness of your content can take the form of:
For example, this complete guide to the winning SEO campaign ranks in position 0 for the very competitive keyword "SEO campaign".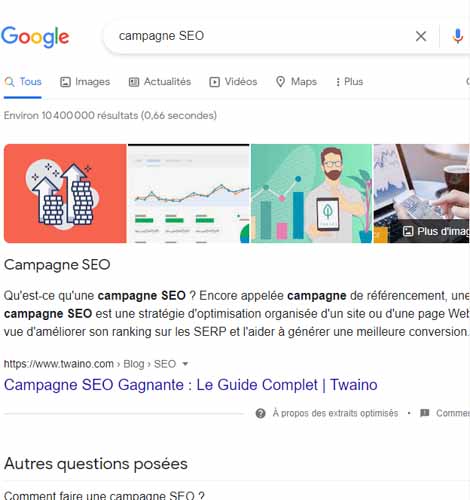 You think Twaino ranked there because the keyword "SEO campaign" was used multiple times in the content?
That certainly helped. But for a query as competitive as this, incorporating and repeating keywords n is not enough.
In fact, if my page ended up at the top, it is simply because it is unique.
Of course, my guide contains tips and strategies that you can find everywhere else.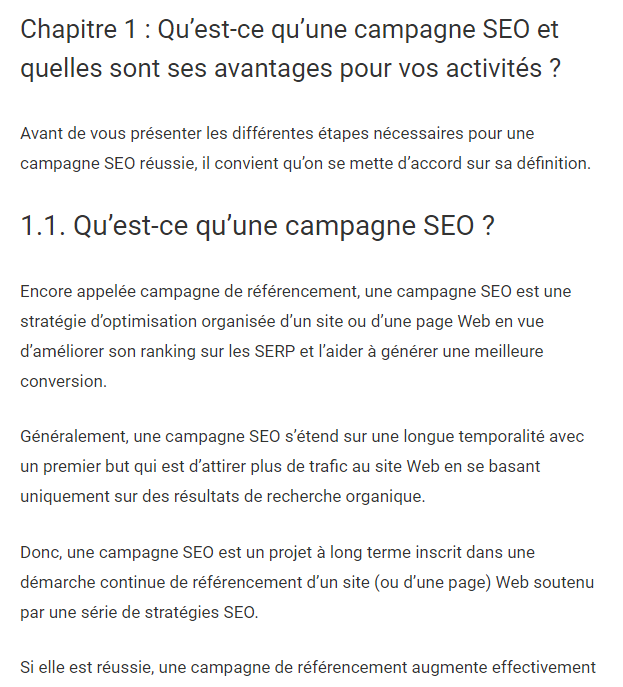 But it also contains a lot of advice, tips and new examples. In addition, the methodology that is proposed there to launch your SEO campaign is very optimal.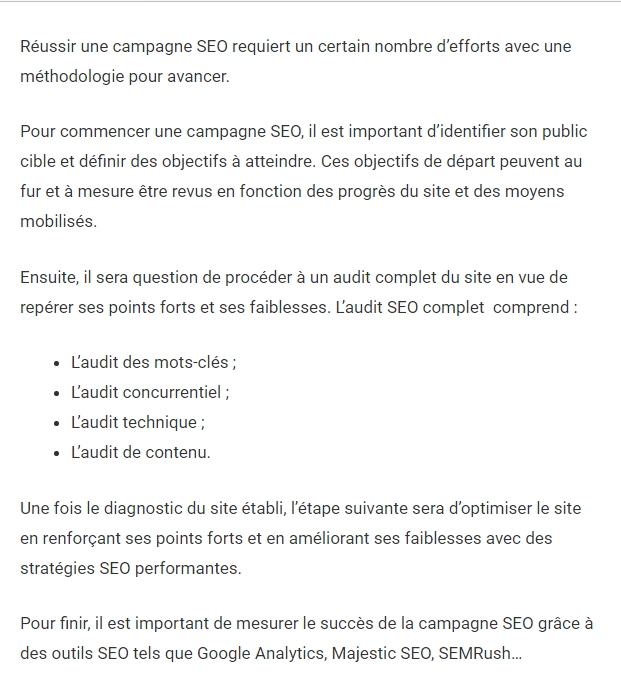 2.1.4. Clear content
It does not matter whether your content corresponds to the search intent, that it is complete and unique, no one will read it if it is not clear
For example, even if the SERP result below for the query "all grain brewing" meets search, it still leaves a tiny, compact wall of text that no one don't want to read.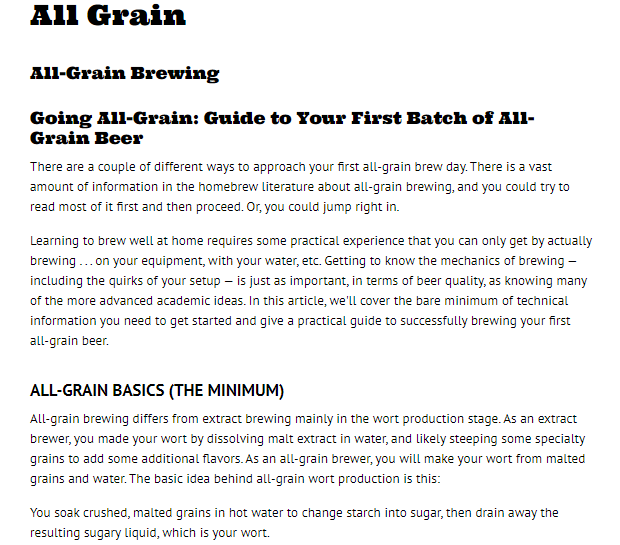 So, to make your content clear and engaging, use:
Bulleted lists ;
Bold italic and fonts ;
Descriptive subtitles (H2-H6) to establish a hierarchy;
Images , graphs or infographics to illustrate ideas and break up the text;
Integrated videos to explain certain concepts;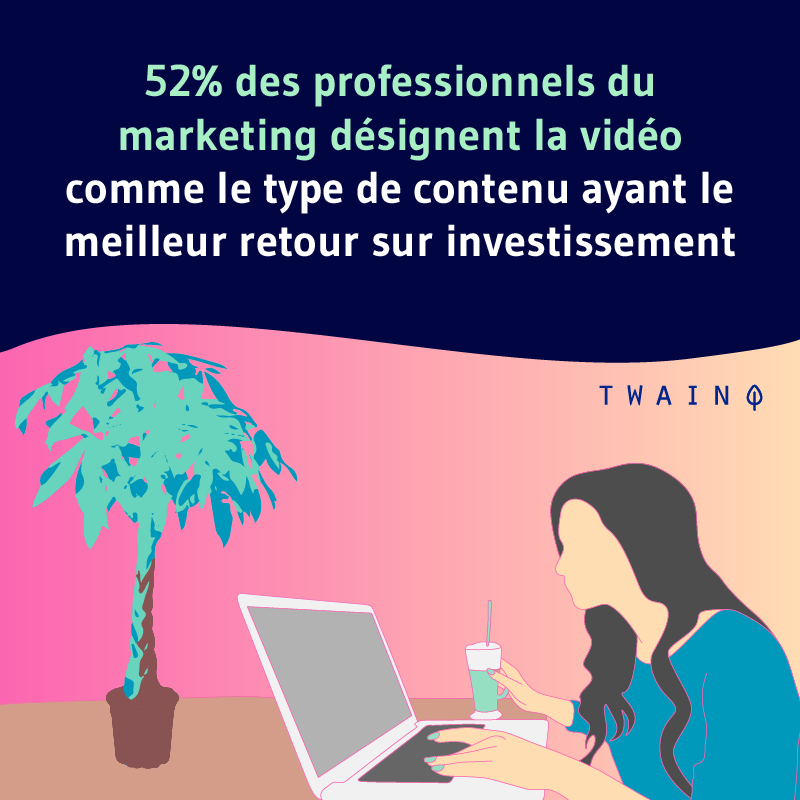 Information boxes to summarize, notify or highlight important information;
Simple words and easy to understand
Short sentences and paragraphs so that the text is fluid and airy;
Grammatically correct sentences and stylistically
A large typeface to avoid eye strain for readers;
Etc.
In addition to these various measures, the copywriter is advised to write the content as if speaking directly to the Internet user in order to make things a little more entertaining and conversational.
More concretely, it's about making it as easy as possible for Google users to find what they came looking for in your content.
Rightly so, because if you cover the subject in its entirety, but the Internet user does not find what he is looking for, he will simply press the "back" arrow in search of a clearer and more digestible page. .In addition to the previously mentioned tips for clarifying your content, I recommend that you apply the famous inverted pyramid method : putting "the need to know before the good to know".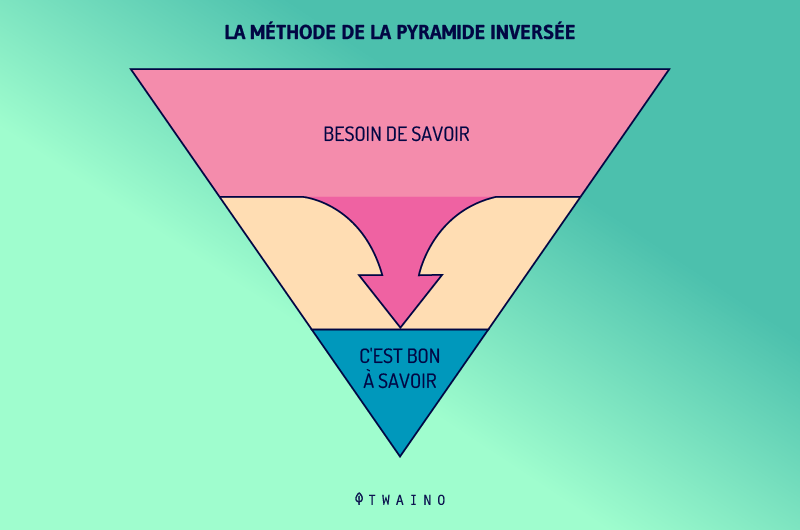 For example, when writing the article Google Search Console definition, there was a lot to cover. But after analyzing the SERPs, I knew that most people mainly want to understand what GSC is.
That's why, although this is a comprehensive guide explaining in detail the Search Console, its features and how to use it, I made sure to define the tool and summarize its overall function in a small box of information at the beginning of the article.
This is what is traditionally done for each of the "Definition" type articles on the Twaino SEO blog.
If you can't clearly distinguish between what you need to know and what is good to know for the subject you are dealing with, analyze the top-ranking web pages again.
Everything we've covered so far in SEO content creation should provide you with the winning combination to create your own well.
Now that you know the different ingredients needed to create quality content, we'll see how you should proceed in order to best optimize this content for SEO.
2.2. How to optimize your content?
That's it, you know the guiding principles of creating SEO-friendly content, it's time to really start optimizing your content.
In this chapter, I show you in a practical way how to optimize your web pages using keywords.
As you will certainly have understood, on-page SEO is not just about finding a keyword and placing it at each turn of the sentence. However, it is customary to target a central keyword and use it in key places on the page such as:
The title tag (meta title);
Subtitles ;
The body of the text;
Anchor texts for URLs;
Etc.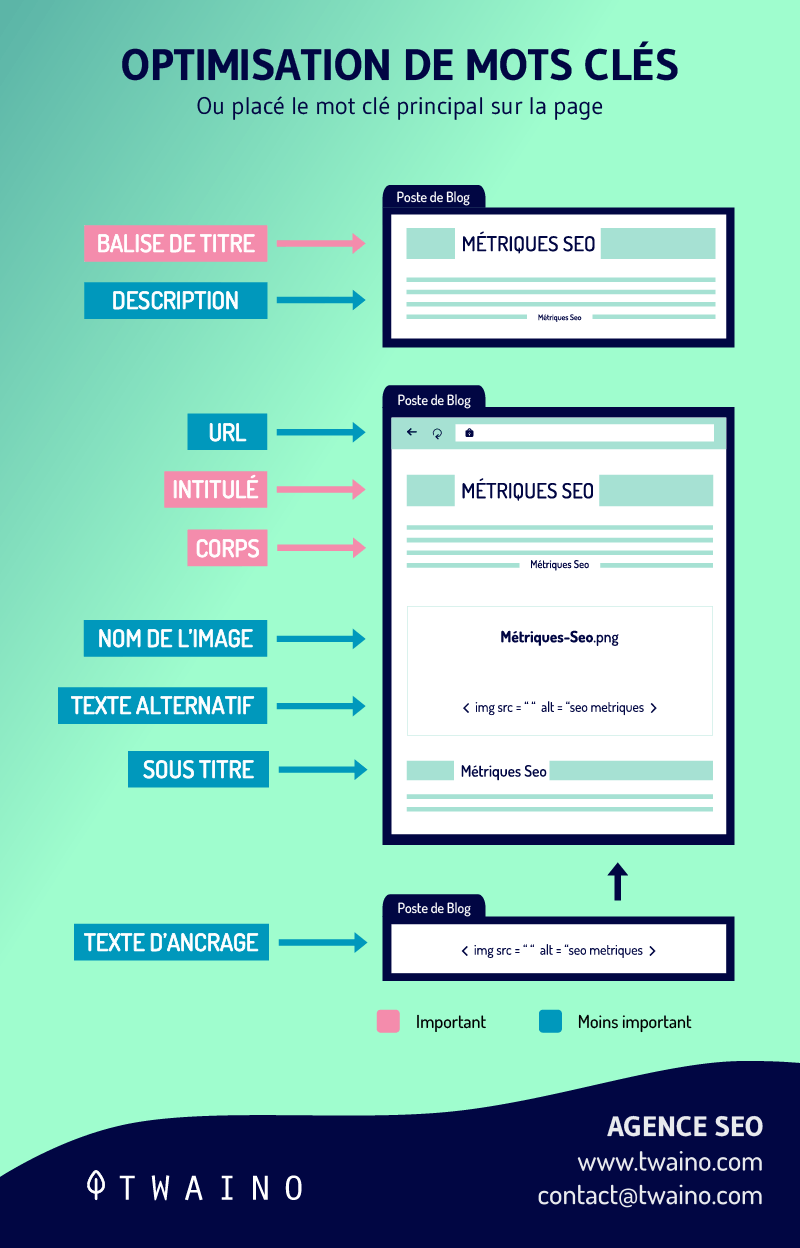 To do this, here are some practical tips that you will love.
2.2.1. Optimize your title and description tags
Of all the possible uses for the main keyword, the best practice is to use it in the title and description tags of your web page.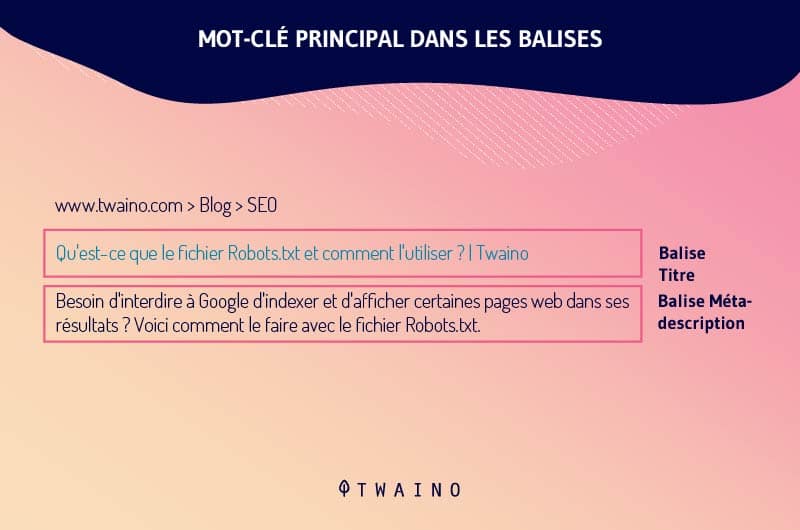 Indeed, when your potential visitors search for "homemade chocolate pancakes", they probably expect to find the keyword in the meta title of the web page.
This also goes for the meta description.
Keep in mind that Google may replace your meta description with any portion of text from your page if it deems it more appropriate for the user.
As you will have understood, these two elements strongly influence your click-through rate (CTR). It is therefore crucial to ensure that they are as attractive as they are convincing.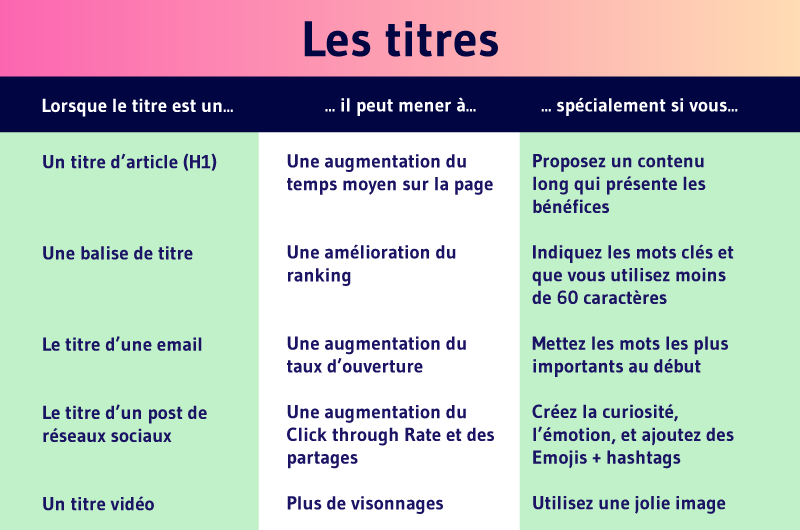 2.2.1.1. How to optimize your meta title?
It is the first element of your web page that is seen by the Internet user in the SERPs.

Rightly, it must be optimal. To do this, the easiest way to create its meta title is to define it as the title of your article or your web page. In other words, for your article, the title and the meta title will be the same.In any case, this is the strategy has adopted Twaino for the vast majority of his SEO blog posts. For illustrative purposes, the article above has an identical title and meta title.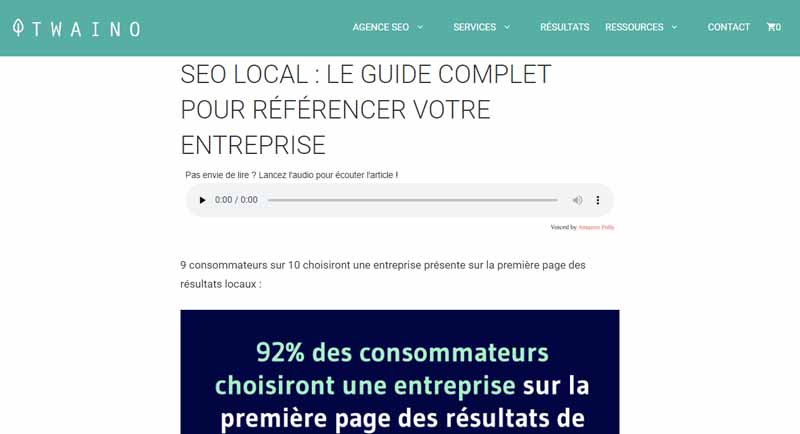 However, sometimes it is recommended to tweak things slightly. Indeed, when the title of your article is too long and you use it as is as a meta title, Google will simply truncate in the SERPs.

In this case, it is advisable to use common sense to shorten titles that are too long as best as possible before using them as a meta title. For example, in my guideto SEO auditing a website, I simply removed the end of the title and then rephrased it for the meta title.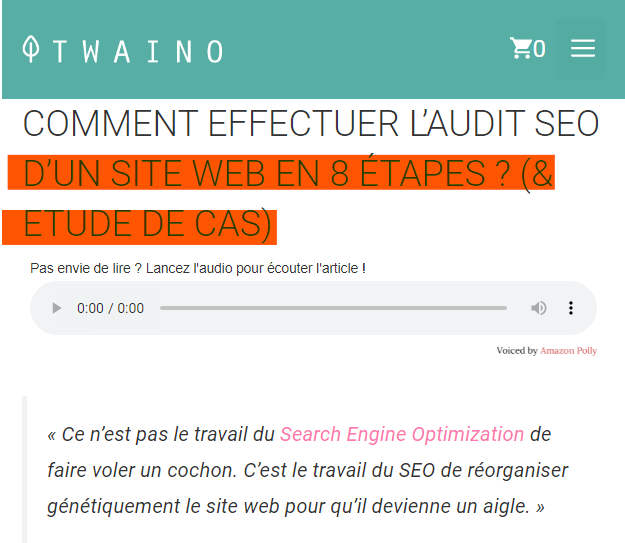 Always in relation to the length, the meta title must be less than 600 pixels to be displayed entirely, i.e. less than 60 characters (including spaces).
In addition to precautions regarding the length of your meta title, improve it by:
Using emotional terms such as awesome, unexpected, weird (people react to both positive and negative emotions);
Preferring question words like why, what, how (people are looking for answers, show them you have them);
Using numbers (they attract attention);
Encouraging the Internet user to click with a call to action (calls-To-Action);
Dating your content with the current year;
Etc.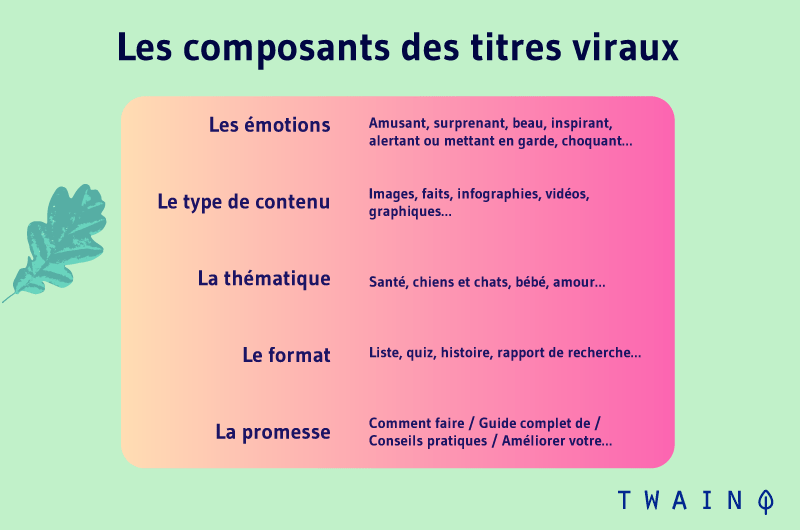 2.2.1.2. How to optimize the meta description of your content?
It's been proven that pages with a meta description get 5.8% more clicks than those without.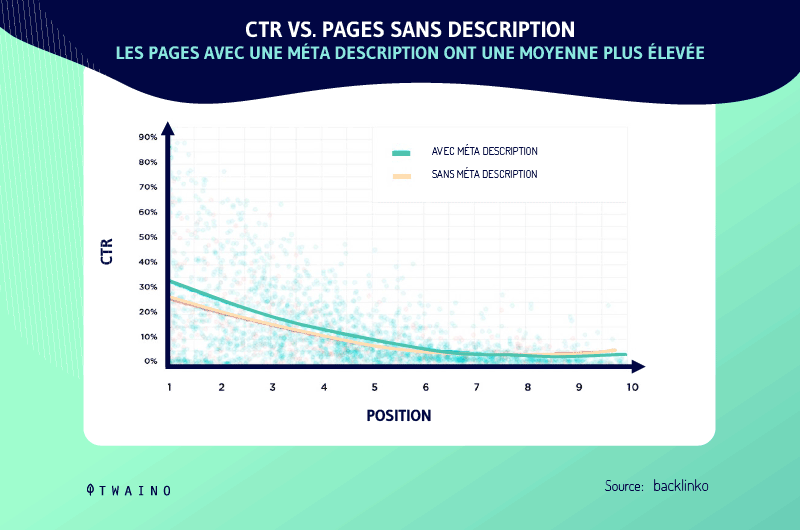 It's showing you how important they are.
If you do not provide any meta description, like the meta title, Google will take care of randomly taking a portion of text from your page instead of the meta description.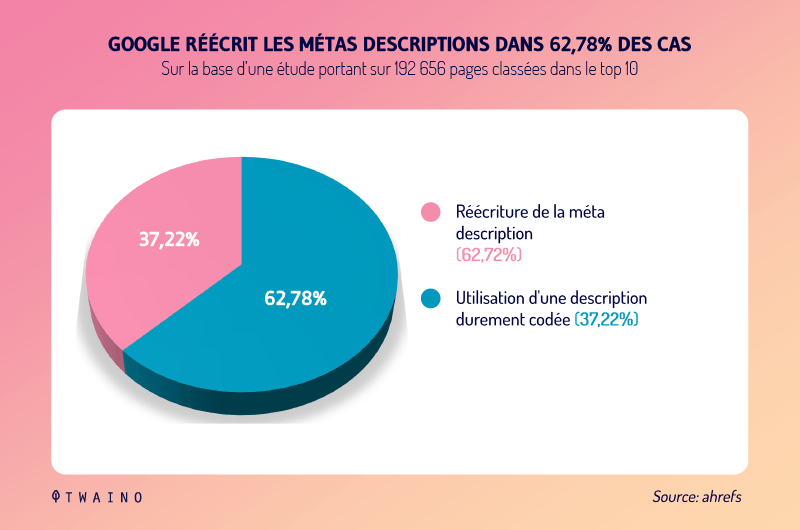 This also applies if the description you provided is not relevant to the search query. Of course, this text snippet probably won't look as good as an optimized, hand-written description tag.Regarding the length, the meta description is truncated by the search engine when it is more than 960 pixels on desktop and more than 680 pixels on mobile.

In terms of characters, it is advisable to stay between 140 and 160 characters (including spaces).

Although it is not a ranking factor, it is still important to optimize them well, because a captivating description can sometimes lead to an increase in the click-through rate (CTR) and therefore organic traffic.
To achieve this, produce a compelling description by applying the following tips:
Match your description to the search intent;
Use a keyword or its reformulation in your description (Google bolds words similar to the user's query);
Prefer the active voice by addressing the user directly;
Stay concise and precise;
Etc.
However, don't invest all of your time and energy into writing the meta description, because, no matter what, it's still relatively unimportant to the overall process.
2.2.1.3. How to check and guarantee the correct optimization of your title and description tags
After implementing the various optimization measures for your meta tags, it is wise if not essential to ensure that the actions taken are effective. To do this, you have the SERP simulator offered by Twaino.
This free, online SERP simulator lets you see how your web pages appear in Google's SERPs, long before your content is published. By doing so, you avoid any unpleasant surprises and optimize your click-through rate at the same time.
2.2.2. Include your keyword in the H1 title and subtitles of your content
Including your main keyword in the title of your page or article is now common sense in SEO. As John Mueller of Google in 2020 :
" And when it comes to text on a page, the title is a very strong signal that tells us that this part of the page is about such and such a subject. »
The H1 tag should be applied to the article title and the H2 to H6 tag applied to the corresponding subtitles.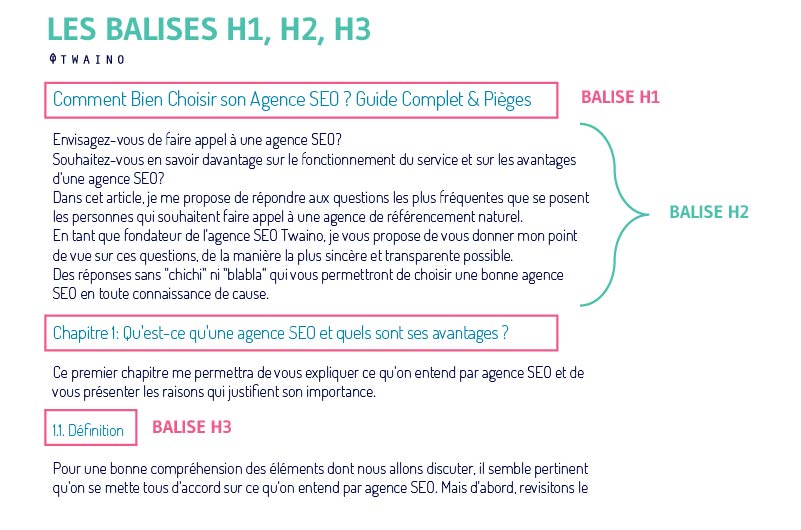 If you use a CMS such as WordPress, the platform does this automatically for you. If not, you will have to do it manually.
The H1 tag is very important because it helps Google as well as readers to understand the structure of your content.

Make sure your H1 title has the keyword or one of its many variations. Like the title tag, it helps confirm to search engines and visitors that your content is indeed about the subject matter.
It is also a good idea to strategically employ other keywords, synonyms or related phrases in the subheadings (H2-H6) if desired. You are free to do so, because you lose nothing by not doing it.
2.2.3. Optimize your URLs and anchor texts
It's true, putting your keyword in your URLs probably doesn't influence your SERP rankings. However, it is still a good initiative that can eventually allow you to improve theuser experience and the CTR of your web page.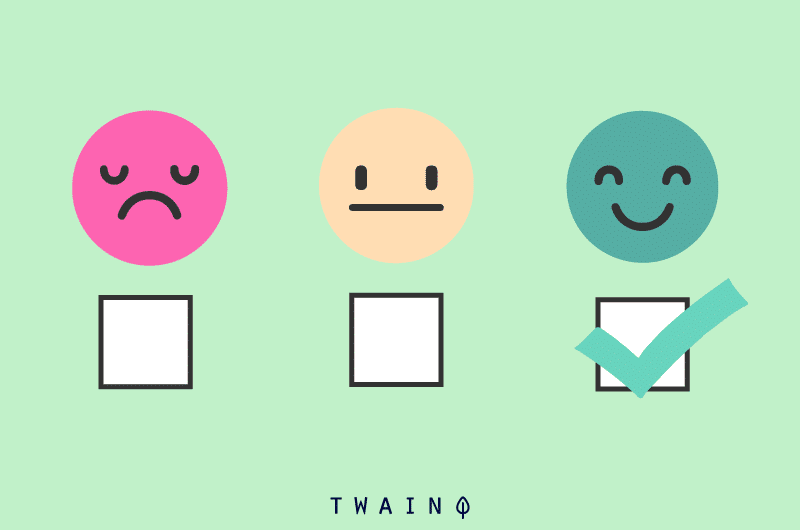 And for good reason, with the presence of your keyword in your URL, Internet users already have a vague idea of ​​the content of your page from the SERPs before clicking.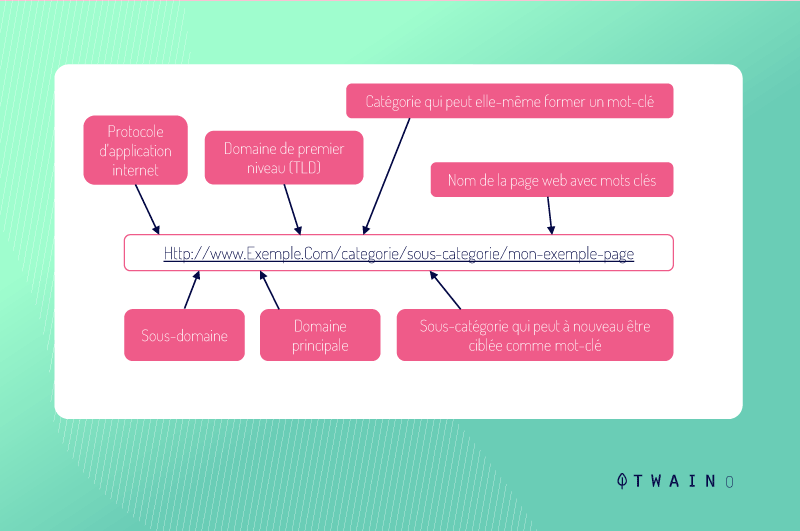 How to create SEO-friendly URLs?
As you probably already know, your URLs should be as short as they are informative. It's like anything presented in the SERPs, when it's too long, Google truncates it.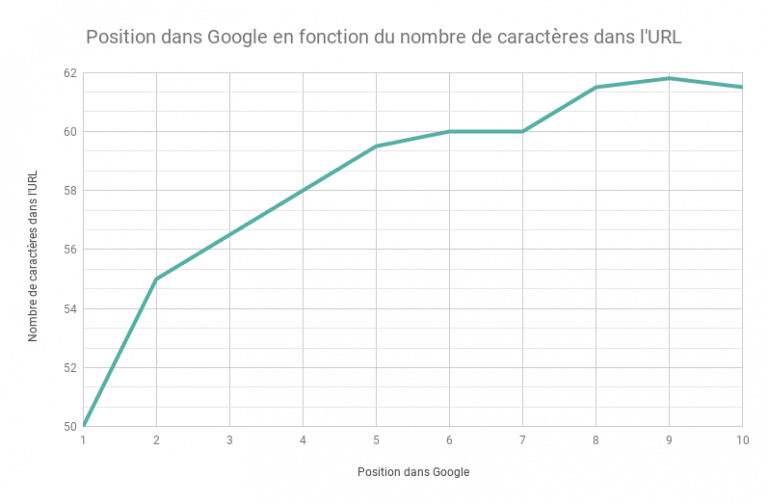 As for anchor texts, it is recommended that they be represented by keywords. Anchor texts let Google and visitors know what the linked content is about.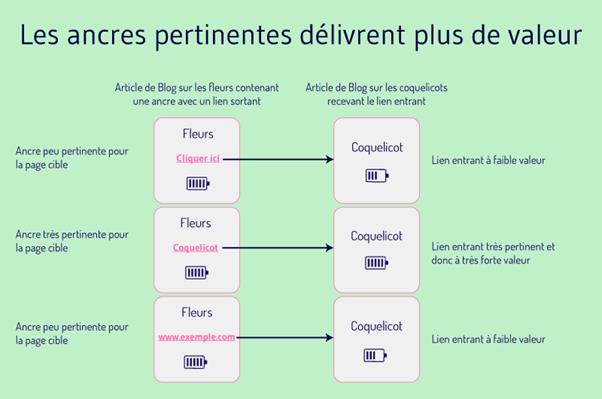 If the anchors of URLs that lead to other pages on your website are keywords, this is possibly a signal for Google to rank those pages higher for those keywords.
To properly optimize your anchors, you should, among other things:
Avoid as much as possible anchor texts such as "click here" or "this article";
Describe the linked web page in some way;
Not to repeat the same anchor texts over and over again in your content;
Etc.
2.2.4. Use your main keyword in the first 100 words of your content
This tactic is old school, but it still makes a difference.
Why is it important to mention your keyword in the first 100 to 150 words of your article?
Simply because Google pays special attention to words that appear early on your webpage. When you think about it, it almost makes sense.
Suppose you have just published an article that discusses "pastry cream". If your article was really about "cream pastry", do you find it logical that the term is only mentioned for the first time in the middle of the page or even worse at the bottom of the page? Well no.
That's why it's a good idea to include at least one keyword in the first paragraph of your content.
2.2.5. A few crucial things to remember
We've talked about this earlier in this content and it's worth clarifying once and for all: On-page SEO is not about researching a keyword and just incorporating it as much as possible into your the contents.
The central keyword in its function simply helps you to converge the ideas of your content on a particular subject. While it's a great tool in tracking optimization best practices, it can easily become a double-edged sword.
Indeed, when it comes to optimizing your content for a keyword, the rule of thumb is: Don't force things.
For example, if your main keyword is "best local SEO optimization strategy for SMBs", it would clearly be foolish to repeat it in each of the previously mentioned strategic places.
You also don't have to fill your page with the same phrases over and over again just because it's your target keyword. And for good reason, Google fully understands that "cheap running shoes", "cheap running shoes" and "cheap running shoes" market" have the same meaning.
If you over-optimize your content, it can actually hurt your Google SERP rankings.
So, relax and know how to measure the occurrence of your keywords. To do this, when creating your content:
Use common sense;
Stay natural;
Be reasonable ;
And don't think about the number of keywords.
Chapter 3: Other on-page SEO optimization techniques
This chapter is a list of some on-site SEO techniques that should be applied in addition for a perfect and complete on-page SEO optimization of your website.
Once you've created and optimized your content, here are a handful of jumbled-up tips that will take your on-site SEO to the next level:
Increase the organic CTRs of your web pages through the correct optimization of title and description tags as well as URLs.
Optimize your content for UX signals by implementing a comments section below your content.
Optimize your content for featured snippets.
Decrease the bounce rate
Prefer . unique, original and compressed (small size) images to stock photos
Optimize images by giving for each image on your website, a file name in accordance with the image and the keywords as well as a descriptive alt tag.
Boost the internal mesh of your website by adding internal links in your content that lead to the best ranked pages of your website.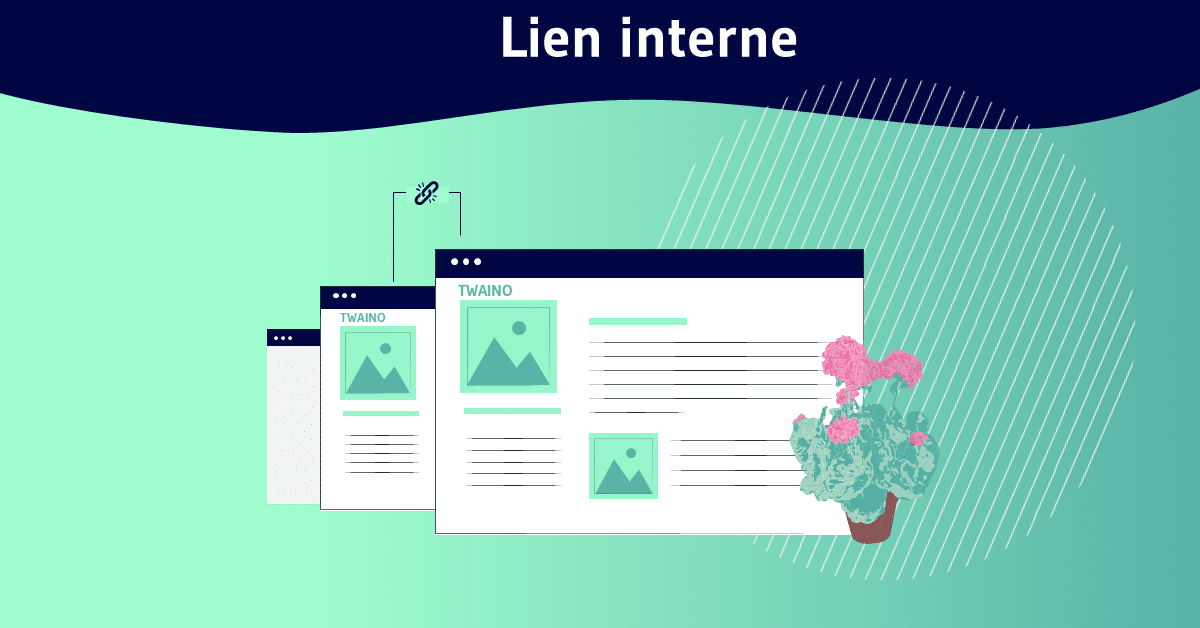 Optimize your content for voice search by creating FAQs (frequently asked questions) in your content and throughout your site.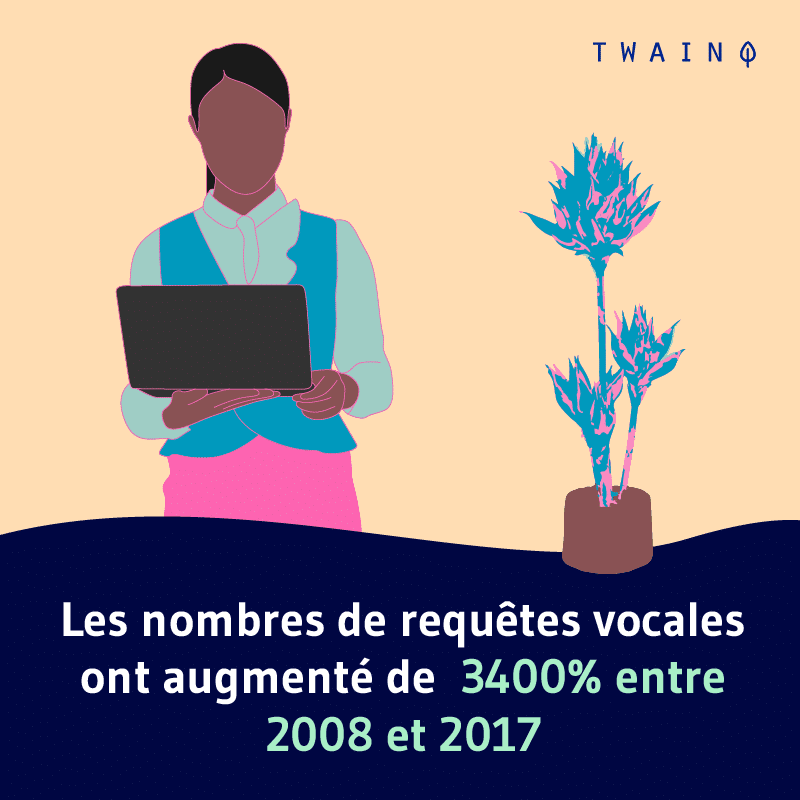 Respect the various content creation rules in force for web writing.
Properly optimize the technical SEO of your entire website (page speed,site architecture, security, mobile friendliness, etc.).
From now on, you have all the necessary elements to have a page optimized for on-page SEO.
Chapter 4: Frequently asked questions about on-page SEO
4.1. When and for whom is on-page SEO indicated?
It goes without saying that to master on-page SEO, it is essential to have extensive knowledge, because this part of SEO covers many aspects.
If technical SEO optimization only requires a single configuration, on-page content optimization is the opposite. Indeed, each of the aspects that we have just dissected above will have to be taken into account each and every time you want to publish content on your website.
Since SEO is a continuous and ever-changing process, it should be done even if your webpage is already sitting at the top of the SERPs.
Moreover, it is the business of any website operator, web editorspecialist webmarketing or SEOIn fact, it concerns anyone trying to rank a website in the search engine SERPs.But if you're having trouble executing some of the steps needed to properly optimize your pages, don't hesitate to hire an on-page SEO professional like Twaino.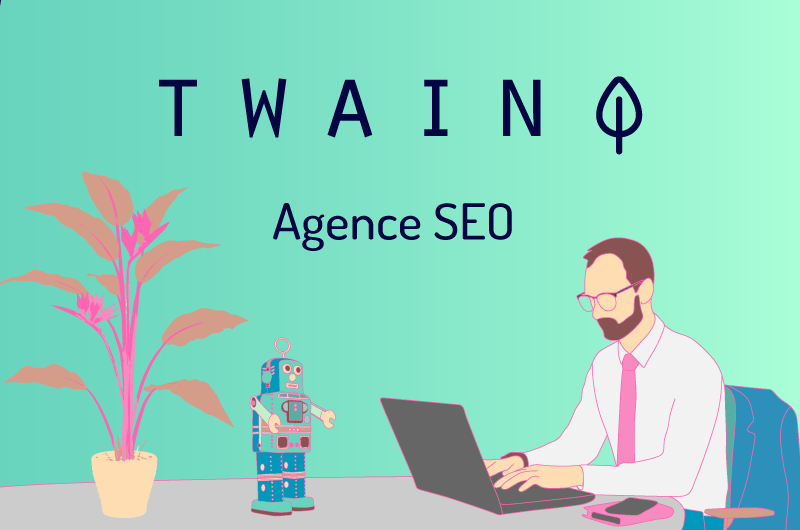 4.2. What are the characteristics of an ideally optimized web page for SEO?
In view of everything that has been developed above, we can easily say that an ideal web page must meet a certain number of conditions.
And for good reason, in addition to optimizing the technical sphere of on-page SEO, the perfectly optimized web page must:
Be hyper relevant and centered on the search intention for a specific subject;
Properly prioritized with a short URL and including a keyword;
Perfectly optimized with keywords strategically and intelligently included in the title and description tag, the alt text of images as well as the first 100 words of the body text;
Provide well-structured content with H1 headings and H2-H6 headings;
Provide unique, comprehensive and clear content;
Etc.

4.3. What are the main stages of on-page SEO optimization?
There is indeed a lot to take in when it comes to on-page SEO. However, if you choose the following overall plan, you should be able to get out of it without any difficulty.
factors on-page ranking 's Google.
Search and wisely choose your main keyword.
Understand the search intent hidden behind the user's query (keyword).
Create content and optimize it according to the principles defined above in this content (a process that must be repeated when publishing each new content).
Optimize all the technical aspects of the website (a process that begins with the creation of the site and which is implemented only once).

In summary
If you've come this far, it's because you're rightly convinced that on-page SEO is, in many ways, an essential and effective solution for climbing the SERPs of search engines.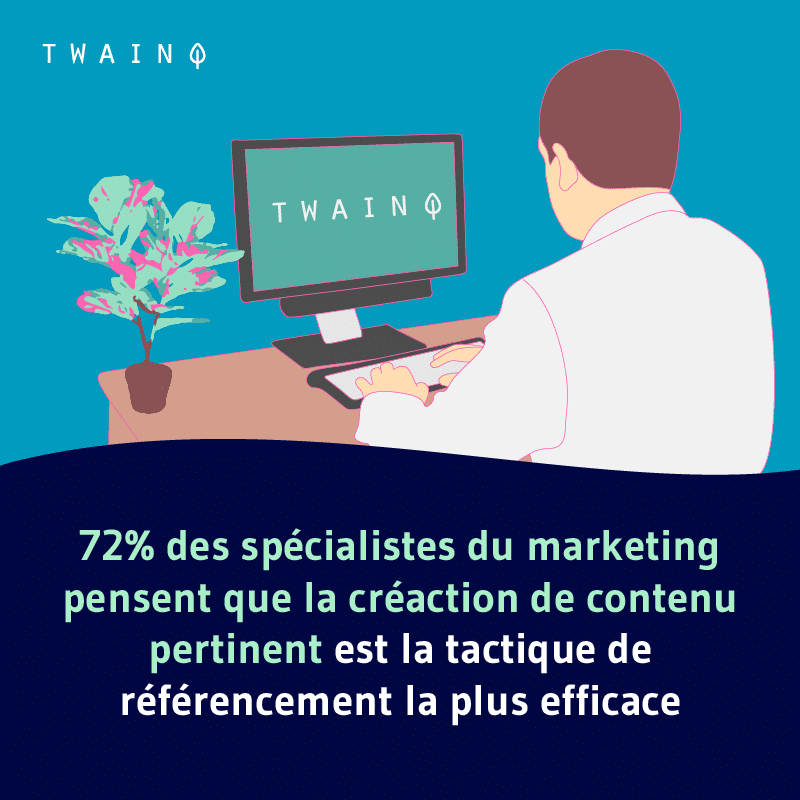 In this guide, I have explained to you step by step and in detail the various success factors as well as the most important tactics for the correct on-site SEO optimization.
Follow the tips above and your pages will likely be better optimized than the competition. I hope this mini guide to on-page SEO will be very useful to you.
Now, I would like to have your opinion on the matter. Tell me about your experiences with on-page SEO and share your tips in the comments.
See you soon !