Still called " SEO off-site" or "off-page SEO " in French, the "SEO off-page " represents all the efforts and techniques deployed outside a website to optimize its positioning in search results . Among the various measures used, stands out clearly the creation of quality external links (external netlinking). But off-site SEO is not only a question of links
As an essential lever of digital marketingthe primary objective of natural referencing is to raise websites to the top positions of the SERP.
L'sEO optimization optimization of a website most often involves various practices conducted on the website to improve the website itself and its content. This is called on-page SEO. However, to stop at that alone is to do an incomplete job.
Indeed, it happens that despite the correct implementation of these various measures, it remains difficult to rank the website in the SERPs. Faced with such a situation, we must ask ourselves. Is the off-page SEO of the website existing and well optimized?
If you have a correct and clear answer to this question, you certainly already know what measures to take to optimize your website.
If not, it is essential to acquire a solid understanding of off-page SEO, its interest, its scope and the different techniques needed to optimize it.
To help you, this content covers in great detail:
What is off-page SEO;

Why should you care?

What is the difference between off-page SEO and on-page SEO?

What are the best practices inherent to off-page SEO?

How to design an effective backlinking?

What are the ways to optimize off-page SEO apart from linkbuilding?
If you are ready to have a complete mastery of the subject, I invite you to stay tuned.
Chapter 1: Off-page SEO – Definition and distinction
The optimization of a website for search engines is undeniably an elaborate and partitioned process. Indeed, SEO is clearly a set composed of two compartments: on-page SEO and off-page SEO.
What about off-page SEO? You will learn a little more in this chapter.
1.1) What does the term off-page SEO actually mean?
When we talk about off-page SEO, what exactly are we referring to?
1.1.1. Off-page SEO in the literal sense
By breaking down the term off-page SEO we get
SEO

(Search Engine Optimization), which means optimization for search engines or even more commonly, natural referencing.

Off-page

or literally, off-page.
From there, we can safely say that the off-page SEO is simply the section of natural referencing that is done outside the website.
More concretely, off-site SEO is everything that is done away from the website so that search engines give your website a prominent place in the SERPs.
1.1.2. What is the purpose and principle of off-page SEO?
The primary goal of off-page SEO is to improve the perception that users and search engines have of your website. With this aspect of SEO, it is more precisely to focus its efforts to clearly highlight :
L'

authority

of the website;

The

popularity

of the website pages ;

The

relevance

of the website from the users' point of view;

And the

reliability

of the website.
To do this, countless levers sometimes harmless and subtle are operated here and there outside the website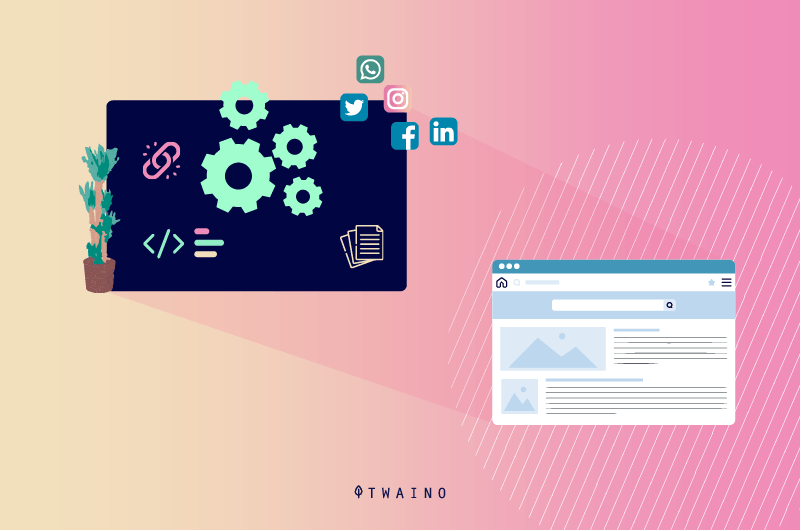 In other words, in terms of off-page SEO, it is about generating backlinks and qualified traffic to your website in order to highlight your company.
To achieve this goal, many people have the misconception that off-site SEO only involves link building as a technique. As you will have understood, it goes far beyond.
We also remember that off-page SEO is an indicator that simply shows that you are doing what it takes to prove to search engines what others think of your website.
That's right, in SEO, how others view your business matters a lot. As Wendy Piersall said
"Google only loves you when everyone else already loves you.".
1.2. off-page and on-page: what are the differences in SEO?
SEO is a combination of:
On-page SEO (focused on the content of the website) ;

And the off-page SEO (focused on the promotion of the website).
Like off-page SEO, on-page SEO also combines a set of techniques and practices to boost the website's ranking on search engines.
Many people mistakenly think that these two components of SEO are interchangeable or that it is better to prioritize on-page over off-page.
It has been observed that the vast majority of website operators only invest 30 % of their time to off-page SEO, compared to 70% for on-page SEO. For the small minority of remaining website owners, these percentages are reversed.
Exclusively dedicated to the optimization of the internal components of web pages, on-page SEO focuses on
The quality of the content proposed on the pages of the site;

The ergonomics of the website;

The loading speed of the website pages;

The level of security offered by the website;

And much more.
On the other hand, off-page SEO focuses on
Obtaining links pointing to your website

Optimizing the local SEO of your digital brand;

Optimizing your presence on various social networks;

And so on.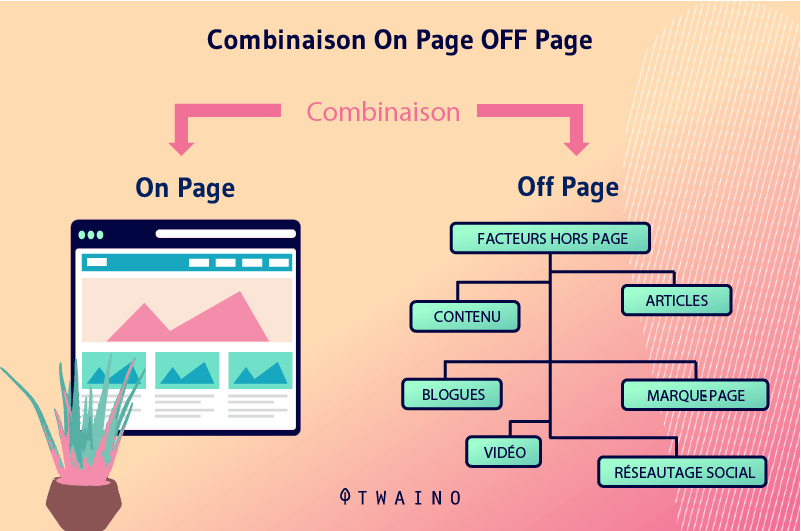 An important fact that should be emphasized is that on-page SEO is an exact science over which the SEO has full power and control. However, the same cannot be said for off-page SEO.
For example, creating a great infographic, it may not bring you as many backlinks as you want. You don't have full control over the impact of your various actions.
With off-page SEO, you rarely modify the website itself during the process. Everything is done remotely in order to attract more visitors to your site.
The visitors attracted through off-page SEO will then be transformed into leads, then into actual customers depending on the effectiveness of the on-page SEO of the website.
In other words, upstream of a good conversion and therefore of the increase in revenue is a combination of off-site SEO and on-site SEO strategies executed in perfect synergy.
It goes without saying that these two facets of SEO are resolutely complementary. We understand that it is crucial to combine on-page with off-page when it comes to SEO.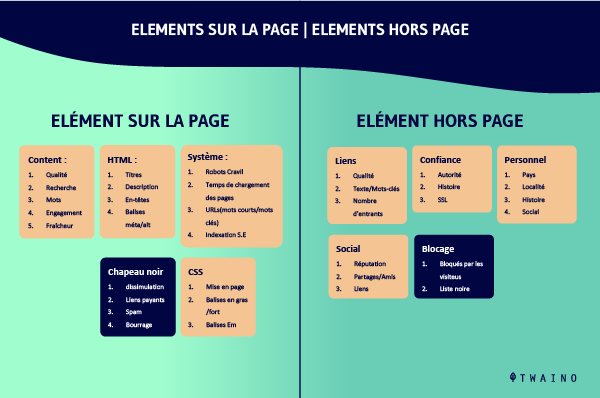 These two compartments of SEO thus launched in unison will allow you to make the most of the benefits of an effective SEO campaign.
Chapter 2: Interest and composition of off-page SEO
As introduced, off-page SEO is an aspect of SEO that is intended to be decisive, but unfortunately is too often neglected or even ignored.
Discover in this chapter the importance and anatomy of off-page SEO.
2.1. Why is it important to optimize the off-page SEO of your website?
In this day and age where it is becoming increasingly difficult to stand out from your competitors, it is essential to know how to look beyond your own website in order to progress. This is where off-site SEO comes in!
2.1.1. Off-site SEO: A non-negotiable condition in natural referencing
2.1.1.1. The great importance of off-page factors
2.1.1.1.1. The off-site factors: A must to be seen by Google
The motivation behind the search engines' SEO efforts is the same for everyone: to provide the best results to users.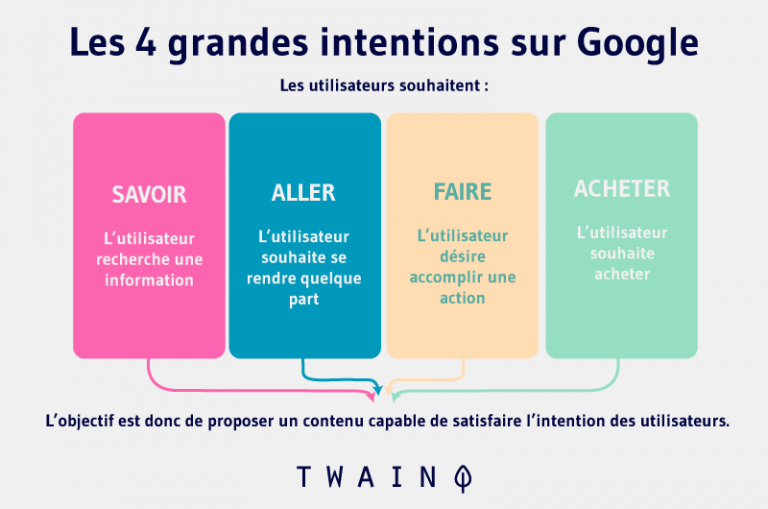 To achieve this goal, Google relies on an algorithm that is as powerful as it is complex and, above all, secret.
To this day, the exact functioning of Google's algorithm remains a real mystery even for SEO specialists. This is justified by the fact that the search engine makes a point of keeping its algorithm in a real Blackbox.
Nevertheless, to facilitate the task of SEO consultants, Google has taken care to communicate a large number of factors that govern the ranking of search engines in the SERPs.
The various studies conducted are unanimous, the off-page SEO (all the different ranking factors that make it up) certainly accounts for more than 50% in the decision-making process of the algorithm of the search giant.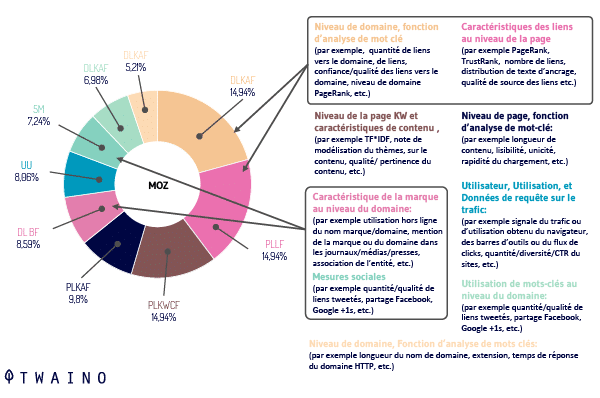 Indeed, the vast majority of criteria used to measure the authority or reputation of websites are taken into account in the off-page SEO.
It is good to know that the reputation of your website is actually proportional to the number of existing references for your site on other websites.
The principle is identical to that of a vote of confidence. As soon as this trust is gained, individuals will instinctively mention, share or refer to the content of your website
From there, search engines automatically assume that your website's content is excellent – the kind that adds value to users and that Google is very fond of.
It's easy to see why the pillars of off-site SEO are rigorously focused on promoting the website in order to gain authority and visibility.
When you think about it, without building this authority, your website would not be able to outrank the already reputable and authoritative websites in your sector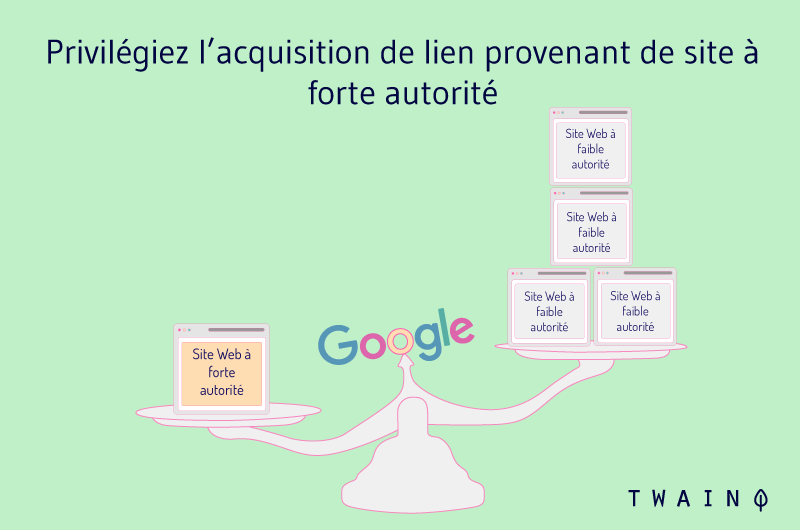 And it is well known that the contents of websites with high authority are generally ranked higher than others in the SERPs.
2.1.1.2.2. Off-site SEO criteria: Premium criteria
It is therefore clear that search engines give constant and perpetual importance to the off-site part of SEO.
And for good reason, despite the many regular updates to the Google algorithm as well as the various changes made to the ranking factors, the premium place assigned to off-site SEO criteria remains unshakeable.
For example, an SEO strategy without linkbuilding (a key off-page SEO criterion) would not provide conclusive results, since backlinking is the top 4 of Google's main ranking factors.

It is certain that without off-page SEO, it would be very difficult to rank your website for competitive keywords based solely on the merits of your content.
2.1.1.2. Proof that off-page SEO weighs heavily in the balance
Here is a slightly clearer illustration of the inescapable role of off-page ranking factors.
At the time, in the United Kingdom, for the query "best places to live", it was this page from The times which is in first place in the SERPs.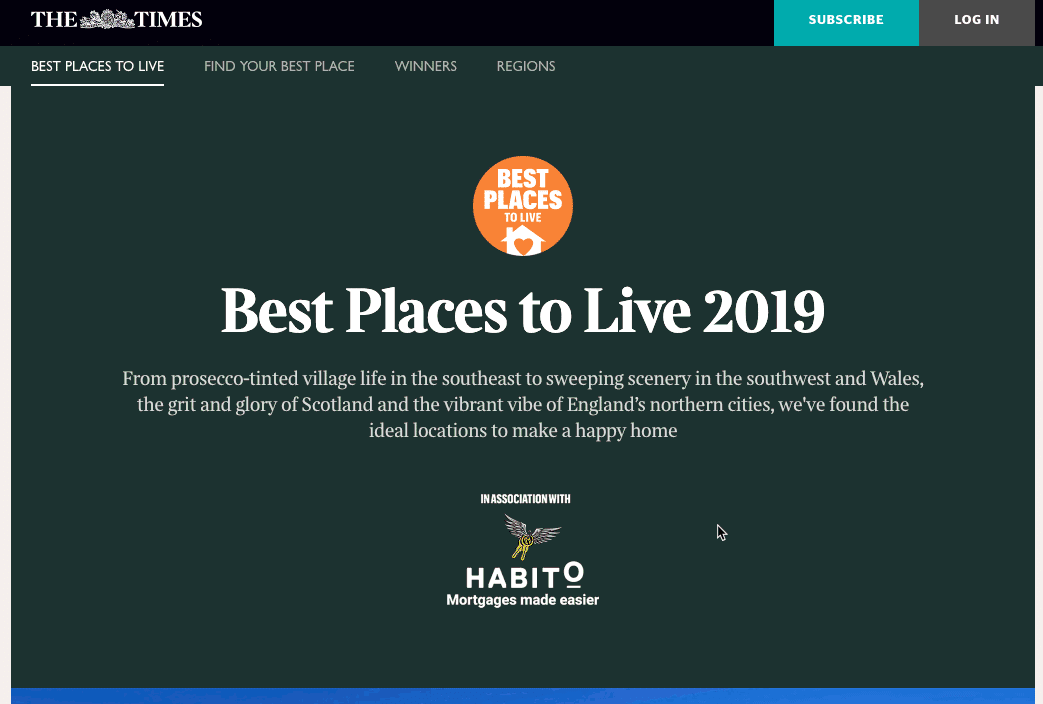 Source thetimes
Logically, it would seem that this page resolutely offers quality content that combines relevance and originality. It is therefore understandable to think that this page is at the top of the ranking because of the quality of its content.
Well, it is not! We have to admit that when you click on one or the other of the different places proposed, you end up with what is called gated content (content only accessible after subscription).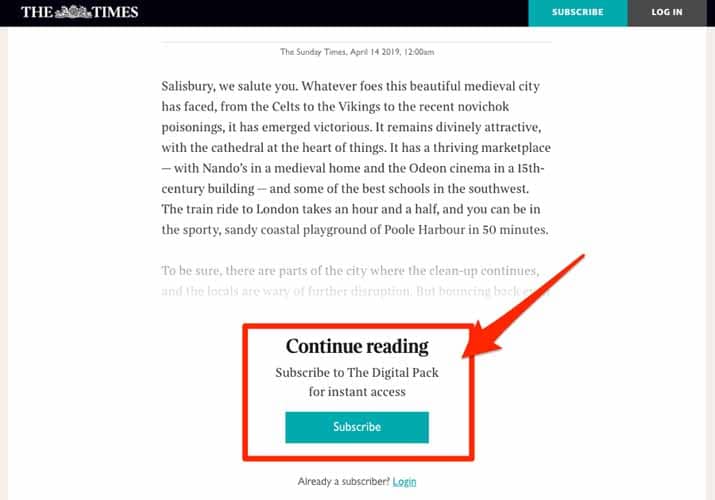 Source thetimes
Contrary to appearances, this page, with its inaccessible content, does not really bring any added value to the Internet users who land there. After reflection, it would not deserve its rank.
A page that would be more entitled to sit at the top of the ranking would have been this one.

It offers the results of a survey of 1000 individuals on what would be the best place to live in the UK.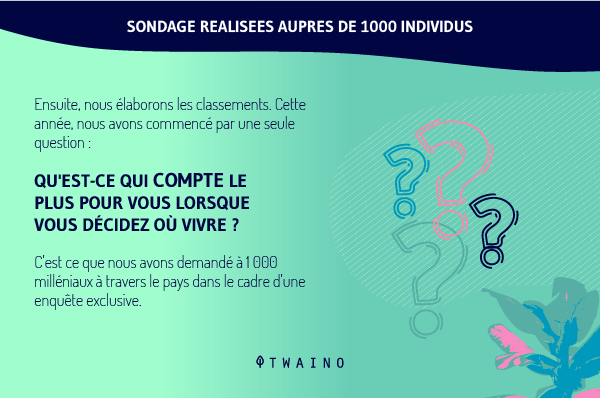 It is obvious that the optimization of off-page factors is the reason why the first place in the ranking was given to the page of The Times. This even at the expense of the second website's page. A situation that is certainly not due to the strength of the content.
2.1.2. The main advantages of off-page SEO
Off-page SEO of your website goes hand in hand with the creation and development of your brand.
Since off-site SEO is about improving the authority of your website, the different techniques and practices that are employed also allow your business to build a strong online presence.
The acquisition and development of this authority will naturally increase the positioning and traffic to your website.
Especially since by optimizing the off-site SEO of your website, your ranking in search results will naturally rise.
On the other hand, your traffic will also increase as a result of your links being exposed on third party websites
The reason is that you will de facto gain a certain portion of the traffic from each of the websites where links are put to your website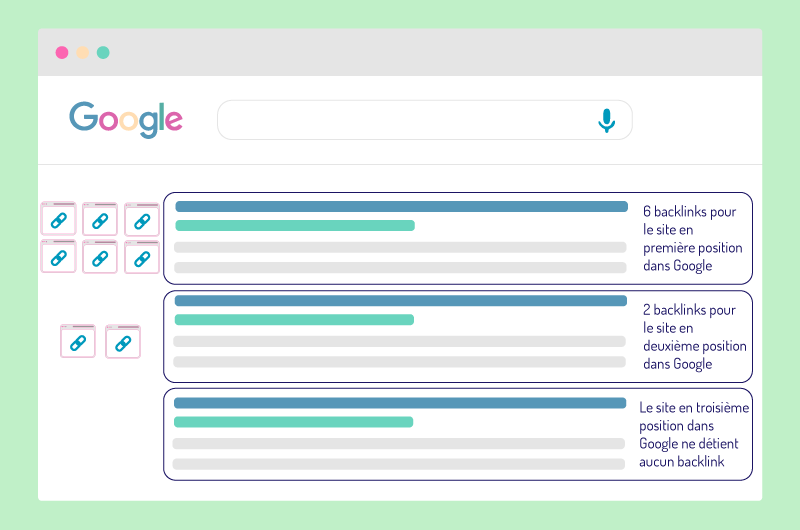 In short, off-site SEO allows your company to:
Be well positioned on Google;

Build a strong online presence;

And increase traffic to your web platform.
There is nothing wrong with that, you will all clearly understand, it is super important to work well on the off-page SEO of your website.
2.2. The off-page factors: What are the components of off-page SEO?
As you may have already guessed, off-page SEO employs many tactics that are commonly classified into two main groups:
Off-site SEO techniques or factors related to links;

And off-page SEO tactics that are independent of links.
The first category includes various practices and activities to generate effective backlinks.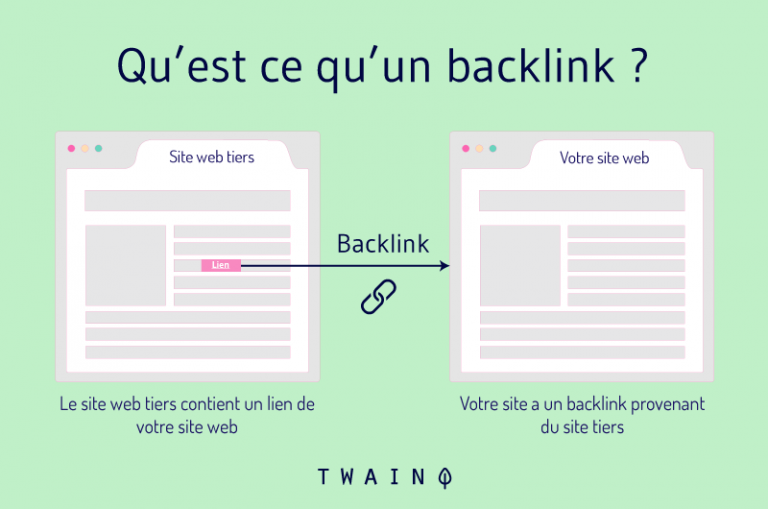 On the other hand, in the second class are listed the other various actions to optimize off-site SEO without necessarily involving the creation of links.
For a correct and comprehensive understanding of off-page SEO, the following chapters will be dedicated to the development of these groups of techniques.
Chapter 3: The off-page factor related to links – Creating relevant, friendly and authoritative backlinks
If the internet is nicknamed the web, it is entirely due to links. Indeed, links are the glue that holds the web together
In SEO, links have a capital importance, because they serve to prove the value of websites and their contents for the rankings
Therefore, it is important to understand link building as an off-page SEO technique.
3.1. Backlinks in off-page SEO: a story of PageRank
The netlinking calls for a concept considered as fundamental in the world of SEO: the PageRank.
The term PageRank refers to the calculation formula initiated by Larry Page and which the Google algorithm uses to assess the reputation of web pages by examining primarily the quality and secondarily the number of incoming links.
In other words, it is the PageRank that allows the search engine to rank web pages in order of importance. To do this, Google assigns a score ranging from 1 to 10 to web pages after evaluation.
The numerical value of PageRank is calculated for individual web pages and not for websites as a whole.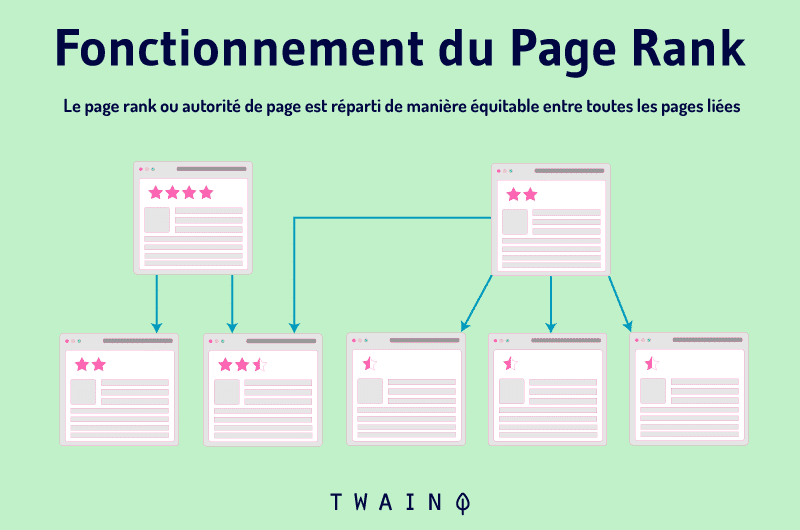 This entirely backlink-based scoring system is one of the key ranking factors that Google relies on to determine the relevance and position of web pages in the SERPs.
When it comes to off-page SEO, we understand why it is essential to ensure the construction of backlinks combining quality and transparency.
3.2. How to recognize a good quality backlinking ?
As we have seen, backlinks are a proof of value and trust for Google.
The creation of external links for the account of off-site SEO seems important only when the links generated are of quality. In other words, backlinks are only really useful because of their quality and not necessarily their quantity.
It is estimated that one high quality backlink is worth several low quality backlinks.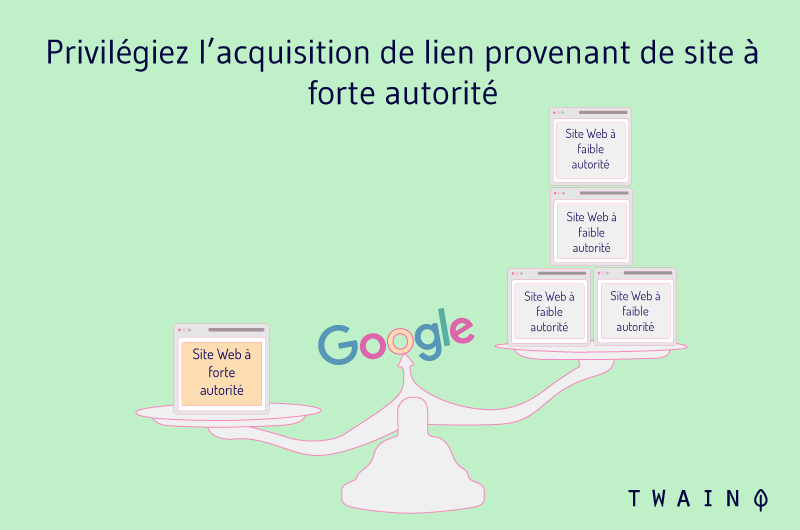 So what is a quality backlink?
Well, it's simple, the quality of an external link is determined according to several criteria related to the sender of the link.
Thus, quality external links must among other things:
Come from

reliable and authoritative websites

and have a high reputation with a high traffic and a high referral rate. As you already know, relevance and link authority count for a lot.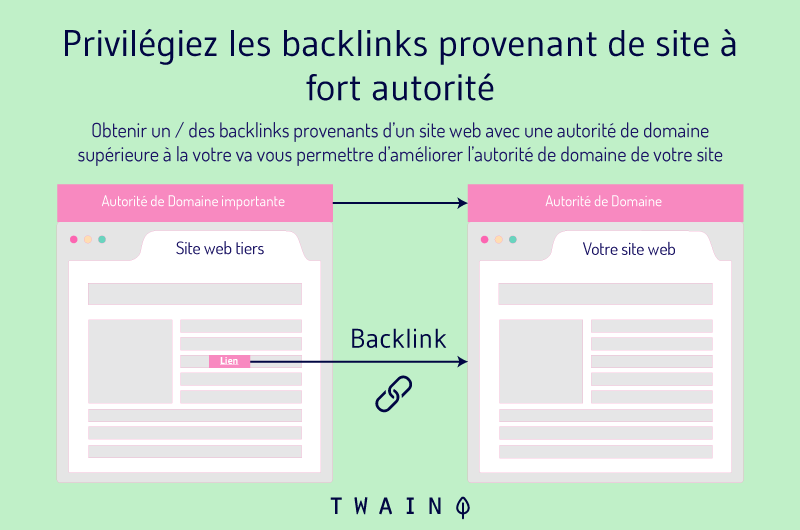 Also come from

websites dealing with the same or similar topics

as your website or similar topics with close semantic fields. The intention here is to show Google that you are recommended by experts in your field.

Come from web pages that do not offer an immeasurable number of outbound links. The reason is that the reputation of a web page dissipates as it points to countless websites.

Coming from a

large number of sites

that meet all the criteria described above. Have an optimal number of referring domains. The idea is to favor a strategy of gaining at least one backlink per site from several sites, rather than having a string of backlinks from only a handful of websites.

Be placed as naturally as possible in a relevant textual content on a suitable anchor text (a keyword)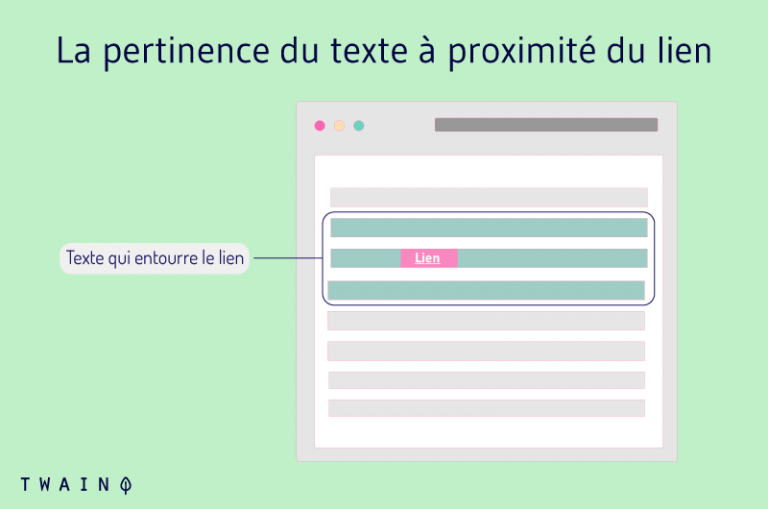 Be integrated in an advantageous position on the web page.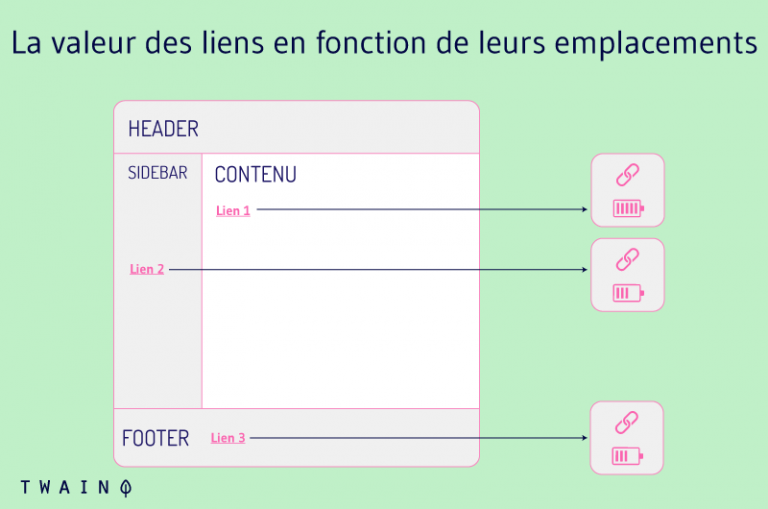 Be

generated in a sustainable way

in order to prevent unexpected and exaggerated increases of backlinks, often considered as spam by search engines.

Be an outbound link followed by Google. That is, be accompanied by a dofollow tag rather than a

nofollow
Getting quality links is clearly a great way to boost your website's ranking in the SERPs
For an in-depth understanding of the essential characteristics of high quality backlinking, I invite you to consult this article
In the rest of this content, you will see the main techniques used today for ethically creating excellent quality backlinks
3.3. Linkbuilding : How to create effective backlinks ?
In view of all the above, creating backlinks is probably the most critical and crucial step in off-page SEO.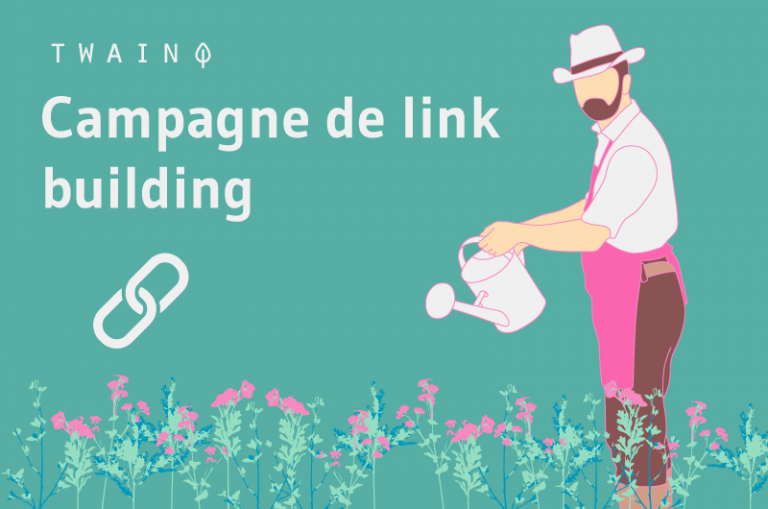 Knowing how to create quality backlinks is therefore an imperative for an ideal off-site SEO optimization of your website.
But how to do it?
3.3.1. Prepare your website for the creation of backlinks
You are aware that for the completion of all strategies, it is essential to know how to prepare well in order to avoid going too fast and thus ruining its chances of success.
This rule applies in every way in the field of off-site referencing
When building their external netlinking, website operators have the annoying tendency to want to skip the preliminary phase of preparations. This is a very important step in the link building process, as it guarantees the tracking and verification of the various backlinks generated.
A study conducted in 2015 on the brands that have gained or lost in Google rankings shows that, the websites that have lost places in the organic search rankings had no solid foundation.
That's right, they lacked the various building blocks that would allow them to increase the link building power of their web pages tenfold.
Now that you understand why the preliminaries are paramount, how do you guarantee that your site's web pages are truly linkbuilding ready?
There are a number of things you can do to ensure that your web pages are ready for link building, and these are all related to on-site SEO.
An optimal layout of your web pages internally
This means ensuring that the web pages are correctly linked. The organization of the pages in silo allows the juice of external links to have an adequate extension on the site starting from the homepage.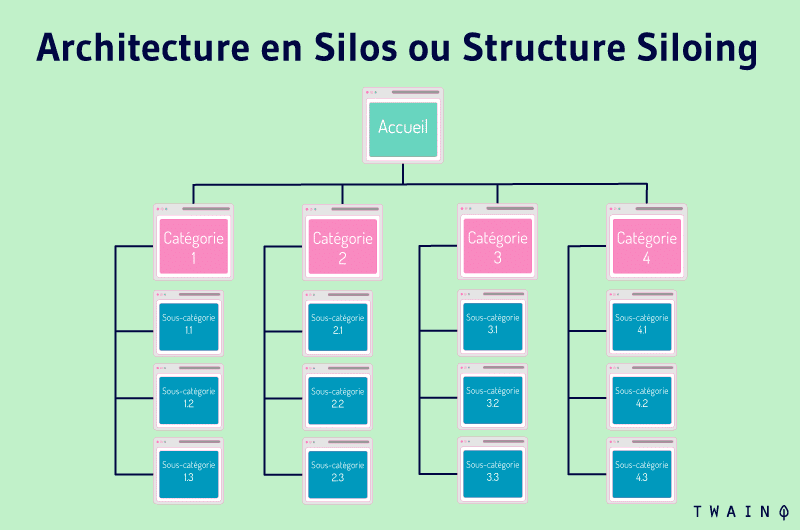 A complete optimization of the basics of on-page SEO
From meta tags to the keyword densityon-page SEO should be meticulously optimized. It is crucial to ensure that:
The web pages of your site are well structured;

That

the keywords

are well defined and specified

That the website as a whole offers an

exceptional user experience

(optimal loading times, ergonomics, relevant content, etc.);

And that Google receives the various on-page signals emitted by your website as it should.
Well-chosen thematic keywords
Crucial elements of any content campaign, keywords are also important in off-page SEO. Indeed, it is the research of keywords that actually allows you to find the third party sites and individuals from which your inbound links will be placed.
To find the right thematic keywords for your off-page SEO strategy, check out the complete guide on keyword research.
3.3.2. What are the approved off-page linkbuilding SEO practices?
3
.3.2.1. Why should we choose the right method for creating backlinks?
There are many methods used to generate backlinks. Of all these practices, some are approved by consensus and others are considered Black Hat SEO.
The major updates of Google such as Panda, Penguin or Hummingbird have quickly changed the algorithm that is now able to identify these unnatural links
Then follows the penalty stage where websites using these unethical practices are penalized. Depending on the severity of the infraction, the penalty can go as far as the pure and simple de-indexation of the website.
At one time, the number of links generated to a page is exactly proportional to the level of authority of that page. Moreover, the means by which these links were generated hardly mattered
If in the past, the quality of backlinks had little weight compared to their number, today things are perceived differently.
And for good reason, for each backlink, Google now performs a thorough and complete analysis. To do this, the search engine asks itself:
What is the source of the link?

Why did the owner of this site decided to create a link pointing to your website?

Is the source website an authority site?

How fresh is the backlink in question?

How natural does your backlink profile look?

And many more.
It is therefore more important than ever to use only ethical tactics for the natural creation of quality backlinks.
3.3.2.2. How to get valuable links nowadays ?
The techniques for creating backlinks are diverse and varied.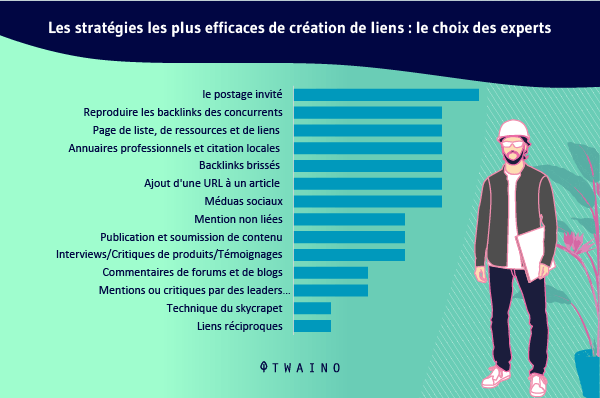 I actively invite you to read the complete guide on how to create backlinksyou will find all the linkbuilding techniques, thoroughly developed.
However, here are some key tactics you can use.
3.3.2.2.1. The classics of off-page SEO are still relevant
These are well-known techniques that have always proved their worth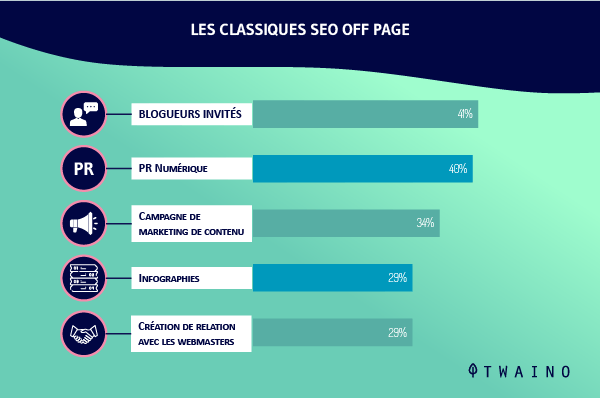 The

Guest posting

: The guest posting strategy
Referring to the previous diagram, we understand that Guest blogging is a very effective technique for generating backlinks and therefore still used
It is a traditional off-site SEO tactic that consists in publishing content on other websites. In simpler terms, you post articles containing links that point to your platform on third-party blogs.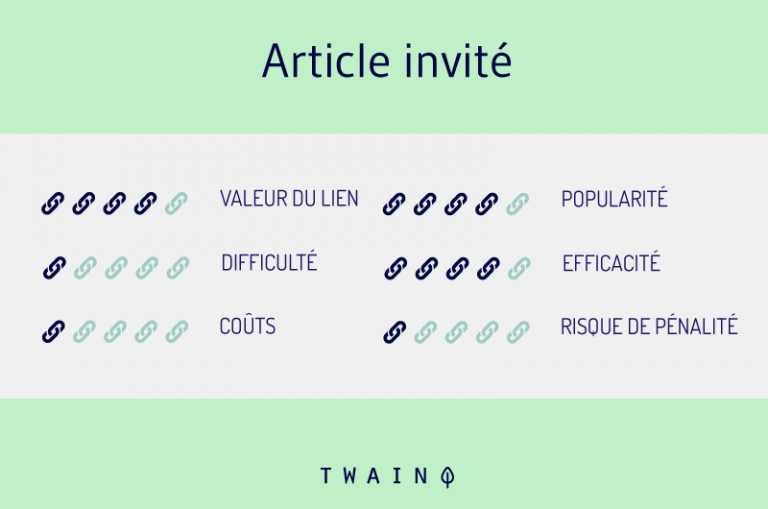 In addition to creating backlinks and thus increasing awareness of your website's domain, this technique also introduces your brand to a new, targeted audience.
It is however good to know that the implementation of this technique can be tiring. And for good reason, its application requires an enormous amount of thematic research work (subject and corresponding blog). Then you have to produce content, submit it, wait for its validation and publication.
The

public relations

(PR)
Until recently considered as a totally separate discipline from SEO, public relations is now used to optimize it. It is indeed the tactic to obtain backlinks the most adored by SEOs
The principle here is to manage to contact influencers for example, then convince them to deal with your platform
Indeed, PR allows you to gain quickly and consistently, quality inbound links. But that's not all. Public relations also helps to
Raising brand popularity and creating trust signals;

Meeting your target audience;

Drive referral traffic;

Promote you as a thought leader in your field;

And so on
It is therefore important to take care of your public relations.
3.3.2.2.2. Trendy and effective techniques
This is what is best done today for the generation of quality inbound links.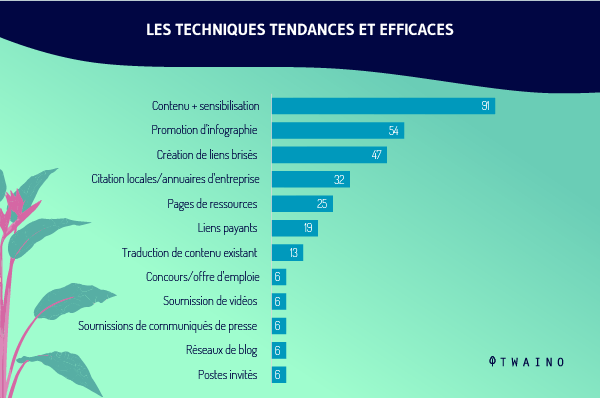 The exploitation of

broken links
Substantial means of gaining quality links, this technique has the advantage of being faster and easier to perform than guest posting.
A broken link is a link that leads to a404 error page. Still called dead links, these links are for some reasons frequently encountered on most authority blogs.
If these links do not threaten the referencing of the pages that carry them from the point of view of search engines, they seem at least unpleasant for Internet users.
This is where this tactic comes in. It consists in
Analyze the outgoing links present on a website considered relevant

Identify the broken links that are present;

Contacting the website operator and notifying him;

Obtain in return the favor of including a backlink to your web page in place of the broken link;
It is advisable to use this method of linkbuilding as a first step.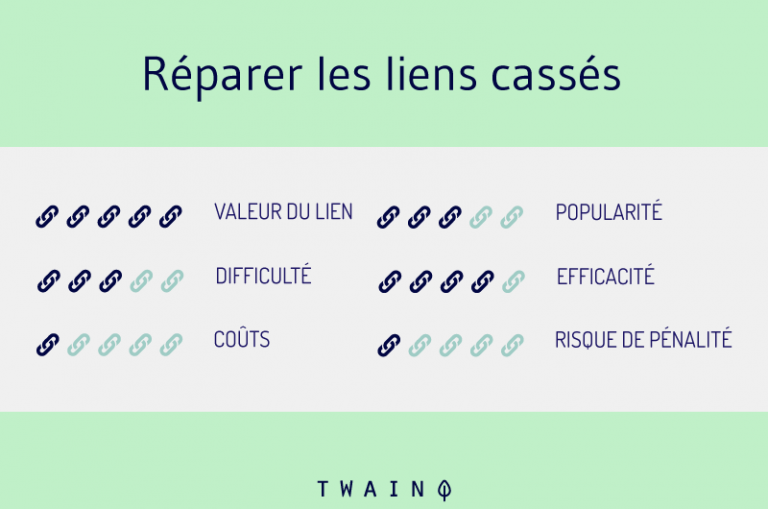 The creation and distribution of

infographics
This practice of visual marketing is nothing new, it has proven itself and continues to do so
You will surely have understood that it consists of the creation and distribution ofhigh quality infographics. With infographics, you will succeed in stimulating the engagement of your target audience in addition to obtaining authoritative editorial links.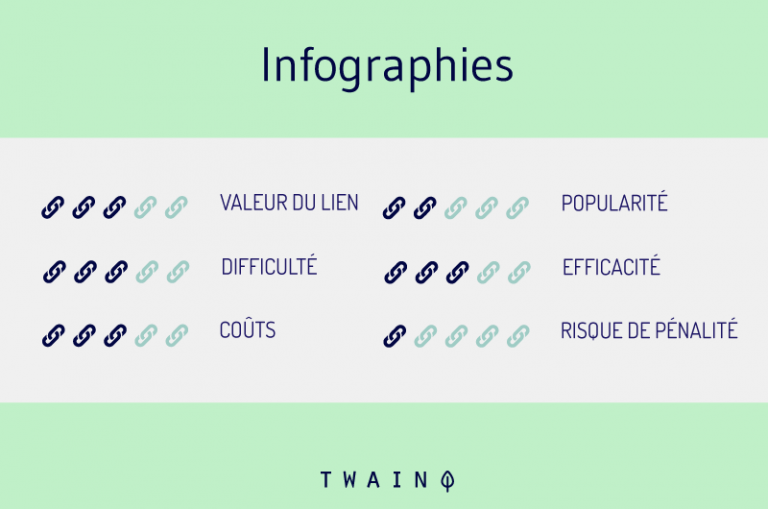 Some SEO specialists report that infographics can gain 37,5 % more inbound links than a standard blog post.
Of course, these are just a few linkbuilding techniques. There are many ways to earn backlinks

Because not all external netlinking tactics can be properly developed in this content, it would be better to learn a little more by carefully reading the complete guide of backlinks creation.
Chapter 4: Non-Link Off-Page Factors – Other Ways to Optimize Off-Page SEO
As you already know, the success of a good off-page SEO strategy undoubtedly involves the optimization of off-site criteria related to backlinks, but also the optimization of factors independent of links.
The list of levers available in this category is large and almost endless. We distinguish among others
The

Local SEO

(Google My Business and NAP Citations);

The

social networks

(ad campaign, Facebook post, etc.);

Brand building;

Reviews;

Content marketing;

Influencer marketing;

And so on
These different levers must be activated in parallel with the creation of quality inbound links. So many ways to optimize the off-page SEO of its website.
In summary
In the development of this content we have gone through the off-site SEO.
You now know what it is and you understand the crucial importance of its optimization. In addition, you know how to distinguish off-page SEO from its counterpart on-page SEO with which it is complementary.
In short, to be well referenced on Google from the point of view of off-page SEO, it is necessary to work on the other aspects of off-page SEO (local SEO, social media) in parallel with the creation of quality backlinks.
One essential thing to remember is that before looking at the off-site side of SEO, it is essential to take care of the on-page SEO of your website.
Did you like this article? Was the information contained in it useful to you?
Please leave a comment with your opinions on the matter.
See you soon!