SEO Agency | Twaino
Twaino is an SEO agency located in Paris, with branches in several other cities in France. Since its creation, we have been committed to supporting companies of all types and sizes in improving their visibility on the Net.
Our first objective is to help business owners obtain higher traffic on their site and a better conversion rate, in order to make their investment profitable and increase their turnover.
But before presenting the services we offer, we invite you to discover all the reasons to prefer Twaino.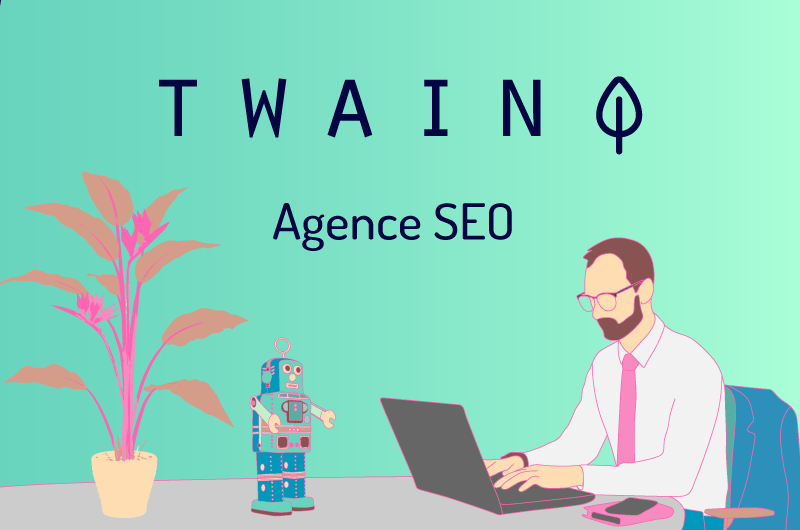 Why to choose the services of the Twaino agency?
Here are some aspects that differentiate the Twaino agency from other SEO agencies on the market:
White Hat SEO strategies according to Google guidelines
In SEO, a large number of fraudulent, so-called Black Hat strategies are used to try to manipulate the search engine algorithm.
Some SEO agencies are quick to resort to these Black Hat strategies to try to deliver on overly optimistic promises. It can be, for example, the " guarantee " of acquiring an impressive amount of backlinks in a very short time.
Sometimes, the client's site may actually show an apparent improvement in its ranking on Google. But very quickly, the search engine algorithms end up identifying these fraudulent strategies.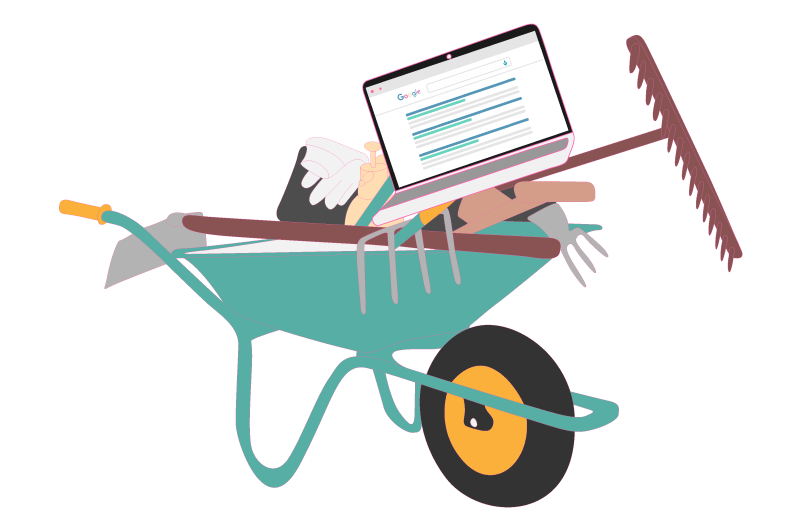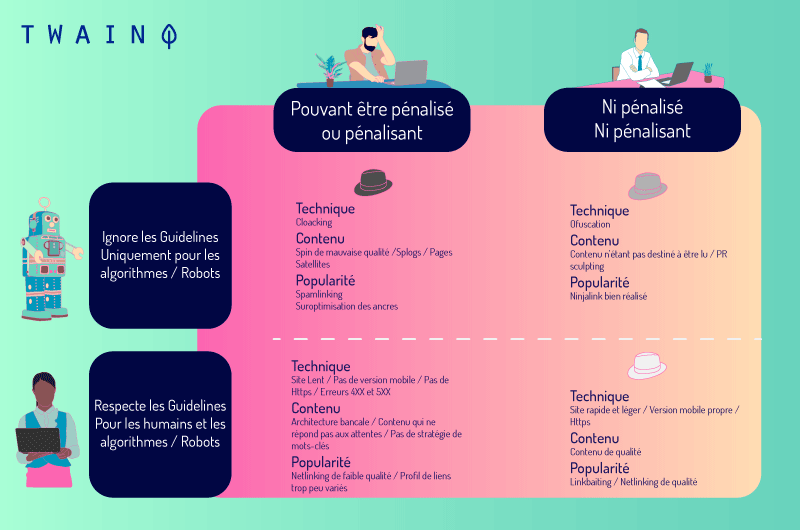 The site concerned is then hit by a sanction that can go as far as its de-indexing from Google as long as the strategies are not withdrawn.
At Twaino, we are aware of the serious repercussions that the use of these little recommended methods can have. This is why our agency is committed to using only ethical techniques, recommended by search engines.
This is our way of ensuring our customers quality and sustainable traffic over time, but within a reasonable time. SEO is a discipline that requires time and consistency in efforts before obtaining concrete results.
In addition, we are constantly informed about SEO news. This allows us to always be aware of the updates that Google makes to its algorithms, as well as the latest trends in SEO strategies.
Combining SEO performance and digital ecology
It is true that our primary objective is to help our clients' businesses register more traffic and increase their turnover. But that does not prevent us from remaining faithful to an eco-friendly approach.
We are convinced that it is entirely possible to combine SEO performance and digital ecology, for a healthier environment.
This is why the Twaino agency works with non-polluting logistics, in order to participate in the protection of the environment. You have probably heard that each email sent is equivalent to an amount of CO2 dumped somewhere in nature from polluting servers.
Preserving nature is everyone's business, which is why we recommend green servers to our customers. These are servers that use renewable energy and offset their carbon footprint by planting trees.
By entrusting us with the referencing of your site, you ensure that you benefit from excellent SEO performance, while contributing to the fight against global warming.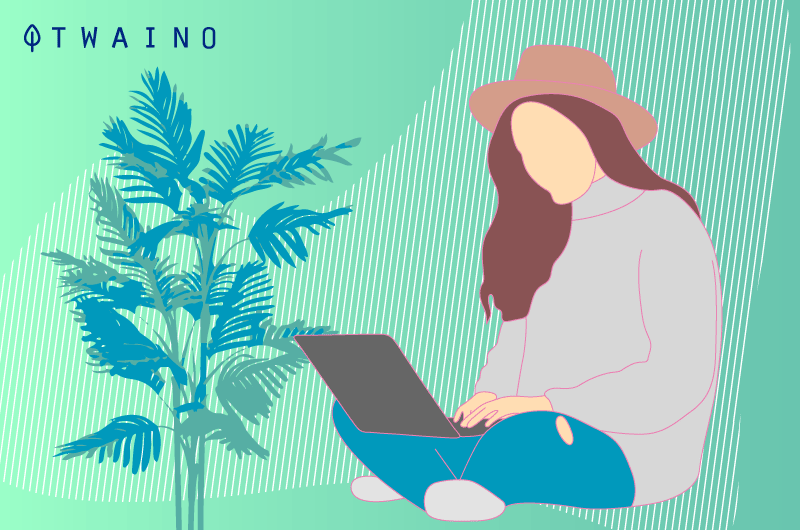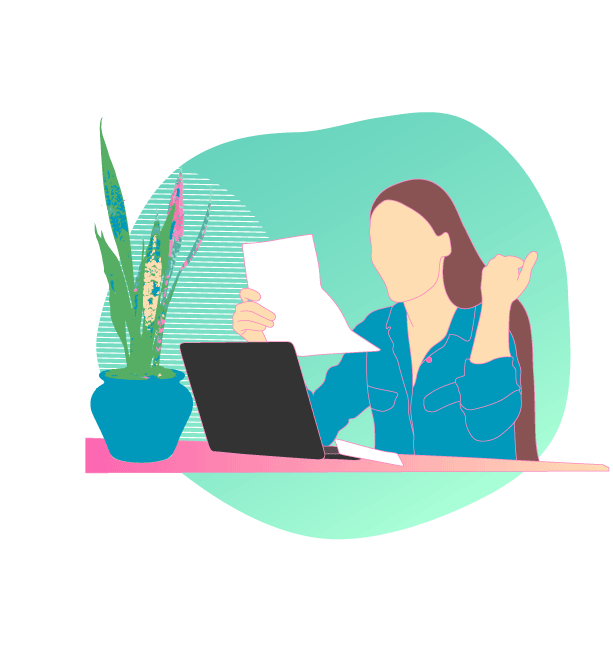 Detailed periodic reports, for transparent collaboration
When we start an SEO campaign with you, we believe it is important to share with you, in real time, the data recorded, to measure the results of the campaign as you go.
This is why, periodically, you receive very detailed reports, possibly accompanied by one-on-one sessions, to review the deliverables and enlighten you further if there are any gray areas.
Since this is your project, we also remain attentive to your suggestions and, together, we find common ground to take them into account in the next strategies.
A methodology that delivers results
One of the things that sets us apart from other agencies is our ability to deliver the projects we receive on time, no matter how complex.
Whether it's SEO services, illustration creation or web writing, we know how to organize our teams to meet the agreed delivery date.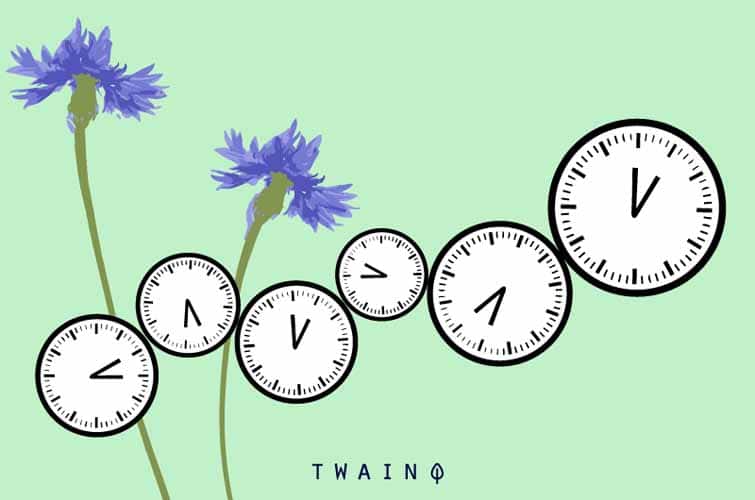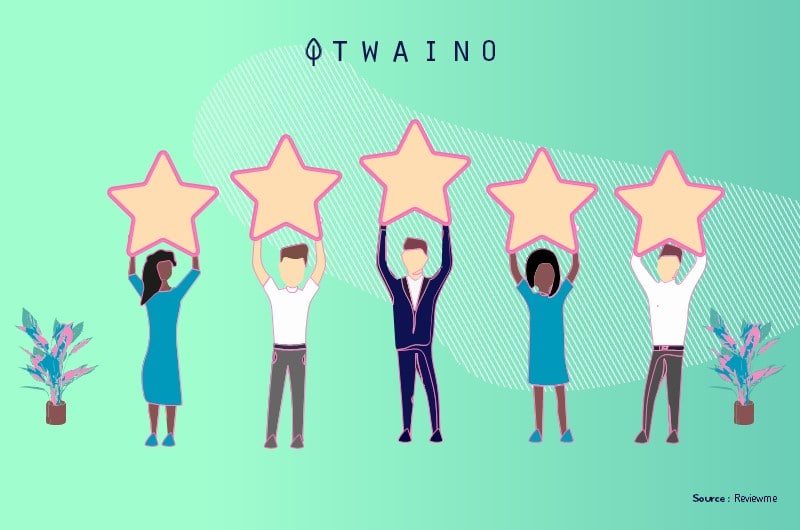 The best value for money
Benefiting from quality SEO services is very good. But getting the same quality of work at an affordable price is even better. As web entrepreneurs, we know that one of your priorities is to have the most interesting return on investment possible.
For this, we assure you services with the best quality-price ratio that you will find on the market.
Every service we provide is priced based on the needs of the client. Explain your needs to us and together we will find a compromise for a win-win collaboration.
SEO : More than a specialty, a passion
Twaino is a purely SEO agency, run by seasoned and passionate SEO specialists.
Although paid search strategies abound on the Net, we have decided to use SEO exclusively to help our clients improve their visibility, despite all the difficulty and attention that it requires.
Unlike 360 ​​agencies that do a bit of everything, at Twaino, we prefer to focus all our resources on what we know how to do best, SEO.
And this choice is not trivial. Inbound marketing alone generates 54% more leads than traditional marketing, despite being the most affordable solution.
In digital marketing, it has been proven that an advertising campaign can be more expensive than an SEO campaign.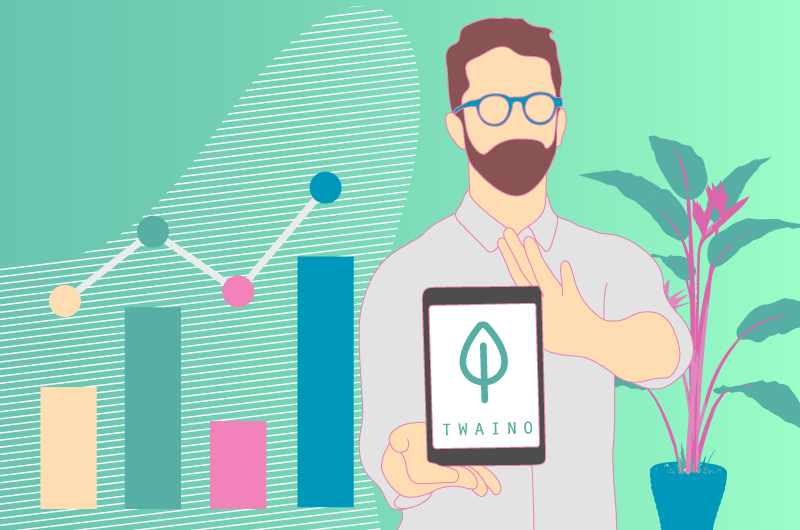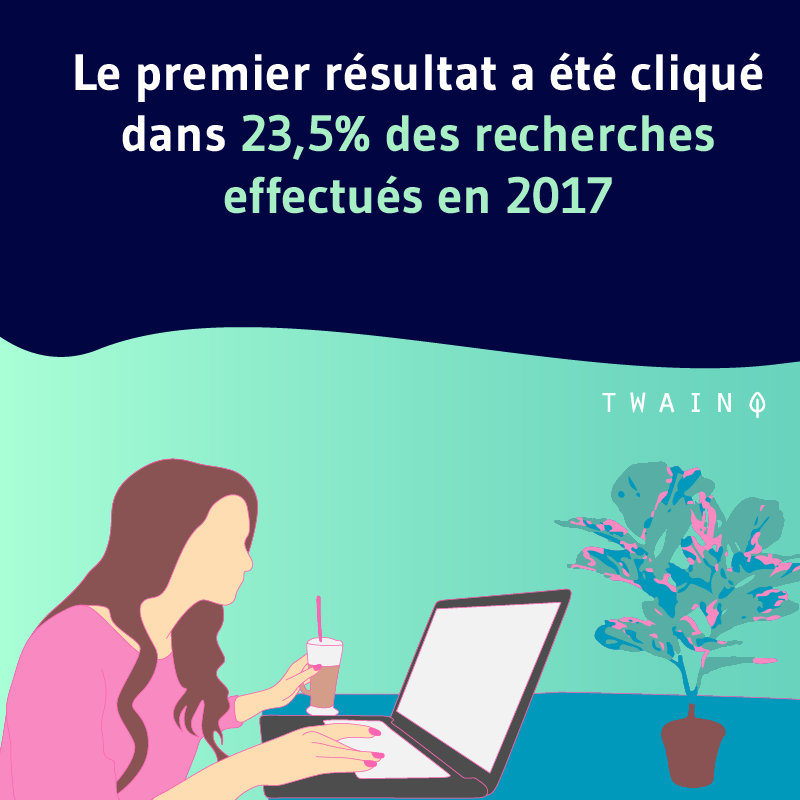 No wonder the overwhelming majority of marketers (nearly 90%) love SEO and recognize it as a successful strategy.
This is why choosing SEO as a specialty goes far beyond simple questions of preference: it is unquestionably the best solution for quality and sustainable SEO over time.
At Twaino, we won't ask you to allocate extra budget to buy any advertising space, before helping you win the first pages of search engines.
Our strength is to work on your site, from the technical problems that undermine its performance to the creation of new content fully optimized for search engines.
We are convinced that a company should not depend on passing advertisements to be visible on the web, but rather learn to develop its assets. And we help it spread its wings.
With a team of passionate SEO experts, the Twaino agency provides you with quality services to help your company achieve its objectives and make a name for itself in your field on the Net.
SEO Performances
Since its creation, the Twaino agency has always adopted a transparent approach regarding the results recorded.
We start from the principle that when selling SEO services, it is quite normal to show the figures obtained on our own site, a bit like a well-shod shoemaker.
Periodically, we thus share with our users videos presenting the figures of the evolution of our agency.
In the video below, you will discover how the Twaino agency went from 0 to 19,000 active visitors per month, without using advertisements or any other form of paid marketing strategy.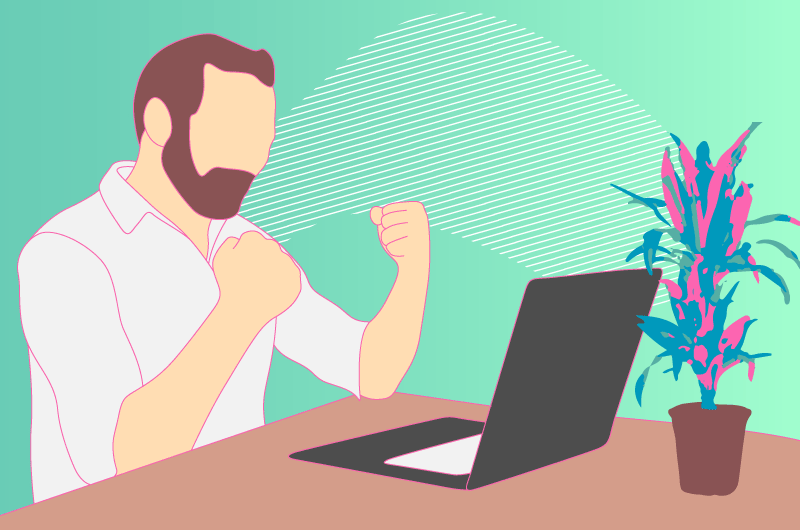 With this great growth recorded in a sector as competitive as SEO in Paris, we are even more convinced that natural referencing remains a discipline where efforts always end up being rewarded.
So no matter your industry or region, you can rest assured that the Twaino agency has the skills and means to help you improve the digital growth of your business.
Ours services 
Our first goal as an SEO agency is to offer a top-of-the-range natural referencing service, masterfully carried out by qualified specialists to support clients in the realization of their projects.
And to achieve this goal, we adopt a rigorous and methodical approach, in order to remain efficient in the execution of all our services.
SEO is a vast and complex discipline, which is why, at Twaino, we have implemented a well-phased intervention process. This is an SEO campaign that takes place in 3 stages, to better cover the needs of our customers:
SEO audit ;
optimization ;
creation and promotion of new content.
But what exactly do these 3 steps of our SEO campaigns include?
SEO Campaign
For each SEO campaign carried out by Twaino, we always take these 3 steps into account: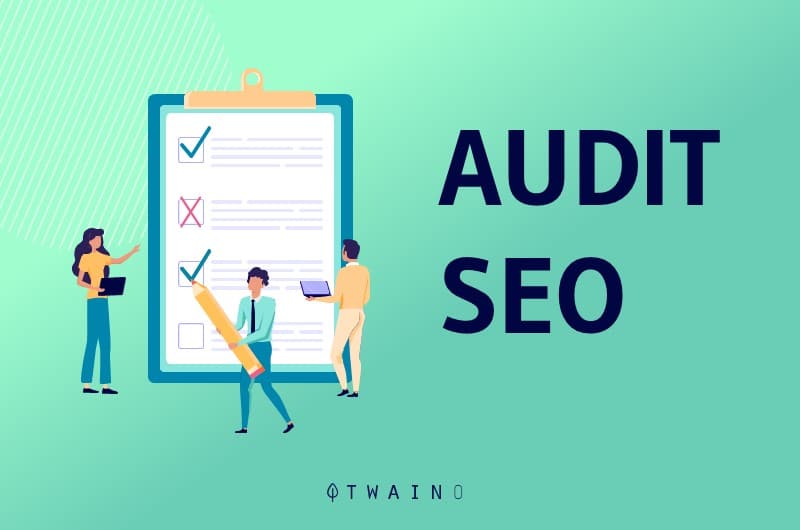 SEO Audit
For all our clients, we start SEO campaigns systematically with an SEO audit. Why ? Quite simply because it is thanks to the audit that our SEO gardeners will be able to identify the assets and exploitable opportunities of your site, in order to improve its growth.
It is also the audit results that will allow us to identify the weaknesses and threats that undermine the performance of your site.
Starting an SEO campaign without having carried out an SEO audit beforehand would be counterproductive and would not lead far, like driving on a highway with the handbrake on.
Moreover, although two companies can operate in the same sector of activity, this is not enough to claim that they are alike. Each society has its own resources, difficulties and challenges.
And it is precisely thanks to the audit that our SEO experts will be able to learn about your reality and your personal challenges, to better help you meet them.
The SEO audit therefore really appears to be a complete diagnosis of your site. The purpose of this diagnosis is to have a precise idea of ​​the existing problems, as well as the aspects that deserve to be optimized to maintain and improve your current growth.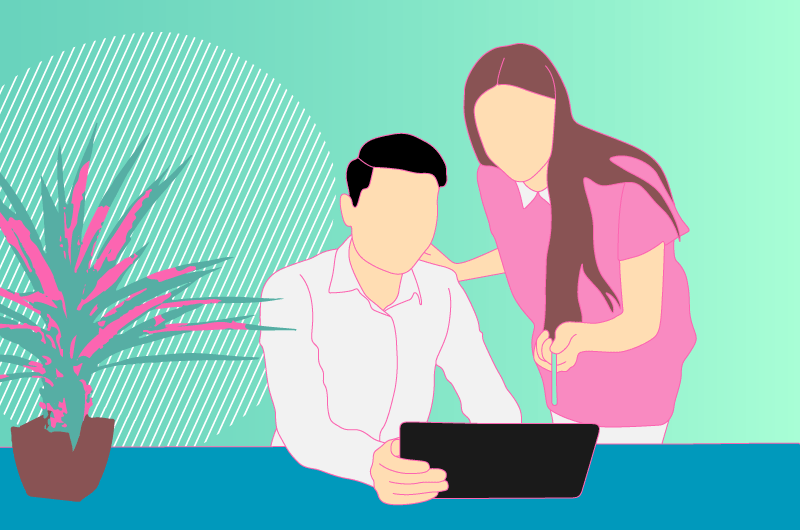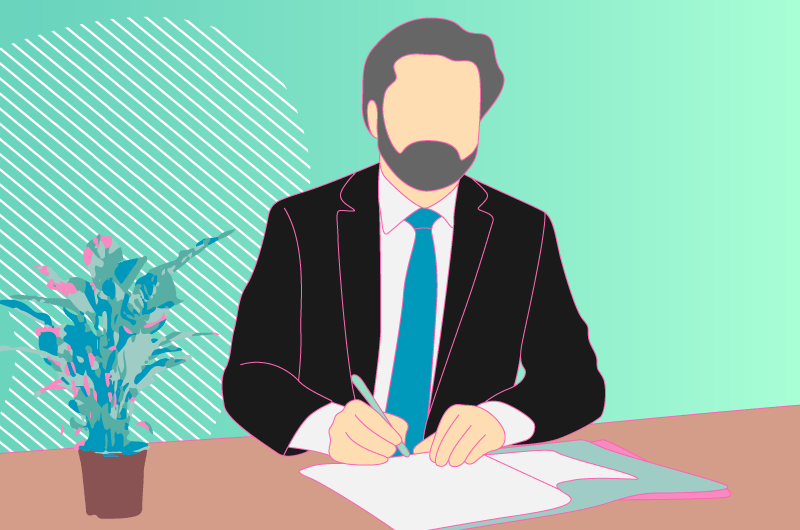 Optimization of the existing
This optimization step is based on the data we were able to collect during the SEO audit of your site. Here, it will be a question of proposing a short and long-term action plan, based on the audit results.
This action plan brings together a set of SEO strategies meticulously selected and adapted to the problems encountered on your site.
Optimization also takes into account the implementation of the various SEO techniques chosen to effectively improve the current capabilities of your site.
In performing these optimization techniques, priority will be given to resolving technical issues identified on the site.
The idea is to quickly cut the evil off at the root, to prevent it from further ruining your site's SEO. Once the "health" of the site has been restored, our SEO experts can then turn to On Page optimization.
Here, the objective will be to improve existing content, which is already attracting traffic, so that it attracts more. And for that, it will essentially be a question of studying the relevance of your keywords and the way they are used on your pages.
You probably already realize the importance of keywords for the visibility of your brand on the Net.
These are the terms or phrases that your customers type into Google to search for your services.
It is therefore important to methodically target the right keywords so as not to waste your resources unnecessarily and miss your target audience.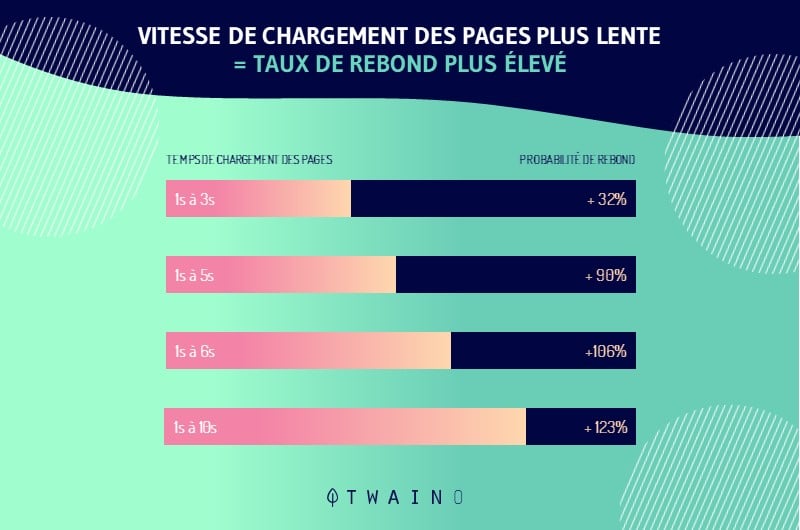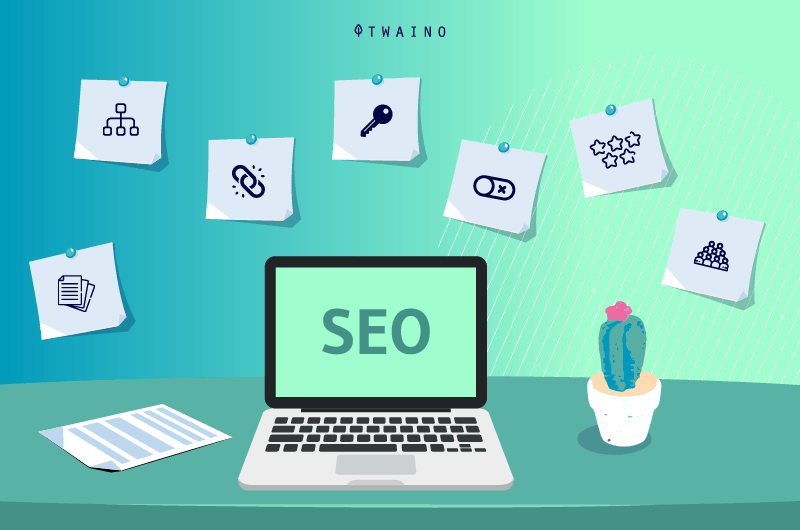 For this, many tasks come into play. But it is essentially a question of inserting these keywords in strategic places of your content, in the URLs of the pages, without forgetting of course the title and meta description tags.
It is a way of indicating to search engines the theme of your content, so that it is well classified in the results, exactly when Internet users launch a search on this theme.
Summing it up this way, the task may seem simple, but it's actually quite tricky.
By wanting to optimize content, one can easily fall into keyword stuffing, a practice prohibited by Google and which can downgrade the positioning of the page concerned.
This is why, at Twaino, we take optimization to heart, while ensuring that we use the best practices recommended by search engines.
Creation and promotion of new content
After the optimization step comes that of creating content and acquiring backlinks. The objective during this stage is to feed the new performance acquired on your site to gradually reach the objectives of your company.
It is also a particularly delicate step since the slightest typo can be fatal and ruin the optimization efforts made so far. That's why every piece of content delivered is written strictly following White Hat writing techniques.
Once the writing is finished, the content is subjected to optimization techniques to facilitate its indexing by search engines.
Some people may wonder why new content needs to be created, if the second step already solves site problems and optimizes old content.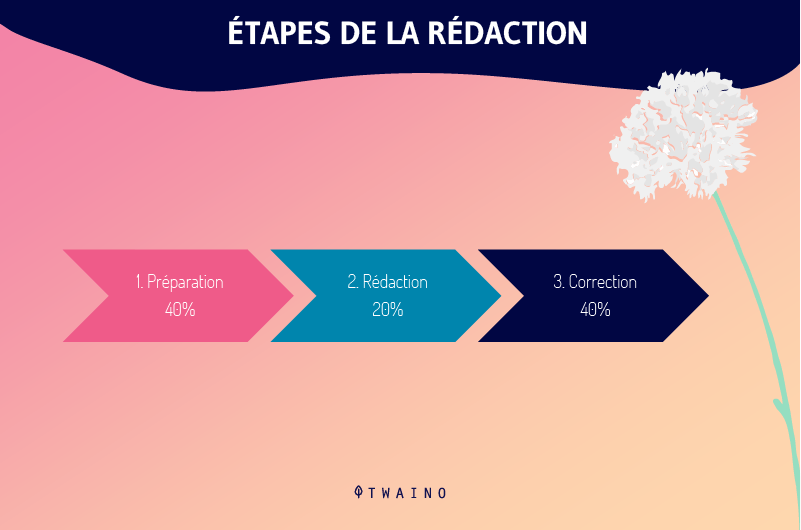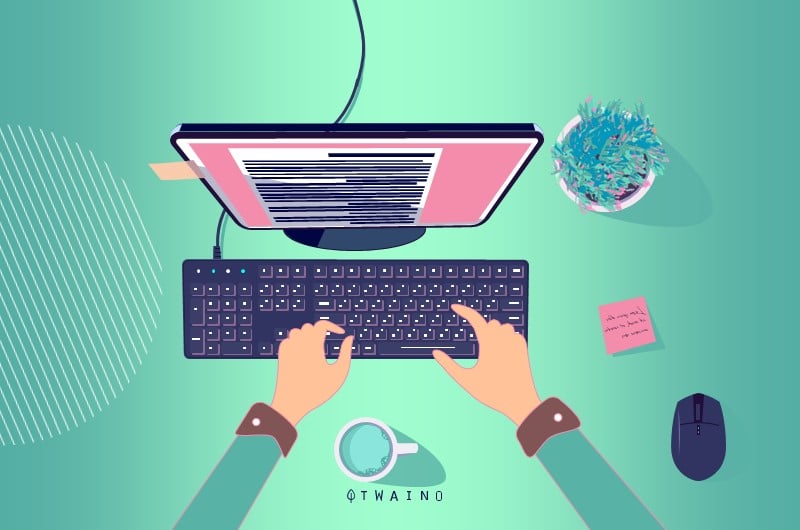 In fact, it is important to understand that to rank a website, Google necessarily needs content to present on its results pages. We cannot therefore claim to do SEO without creating content.
In addition, more than 4 million articles are published daily on the Net. While not all of this content comes from your industry, you still need to post regularly to stay in the game.
It is an immutable rule in SEO, the more quality content you publish, the more you maximize your chances of ranking well on Google.
It is for all these reasons that we integrate the creation of quality content into our SEO campaigns, to put the odds on your side in the conquest of better visibility.
Although at Twaino, an SEO campaign always takes place in 3 stages, the list of strategies offered may differ from one client to another.
But generally, here is a selection of the SEO services we offer to our clients within our agency:
Detailed SEO audit
To perform a complete analysis and cover all aspects of your site, the SEO audit is approached from several angles: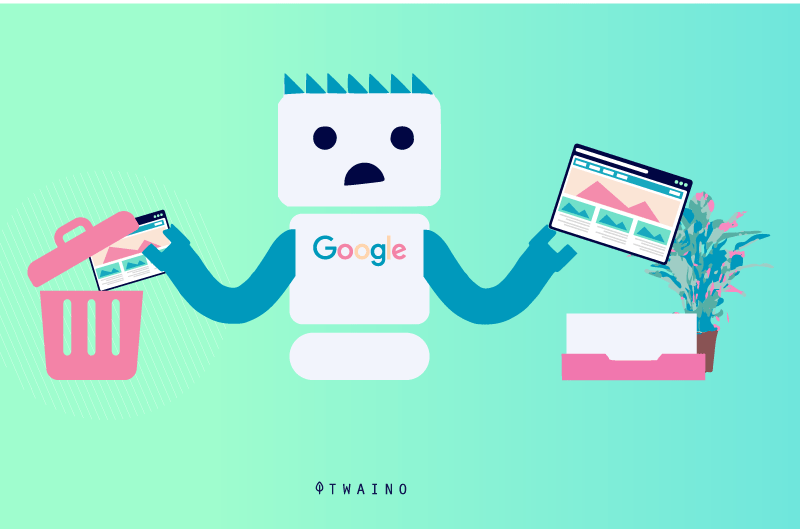 Technical SEO Audit
As the name suggests, during the technical SEO audit, all technical aspects of your site are tested, to assess the quality of the user experience you offer.
And for that, our SEO specialists are interested in a few technical factors of your site such as:
broken links;
HTML markup issues;
information architecture;
server response codes;
the lifting of Google's manual actions;
the sitemap and its submission to Google Search Console;
page loading time;
checking for duplicate content;
canonization;
the bounce rate;
the total number of indexed and unindexed pages on the site;
responsive design;
etc
But that's not all, our SEO experts also examine the activity of crawlers on your site to find out if your content is easily crawled or if it has indexing problems.
To do this, they sift through a number of server files:
the .htaccess file;
the robots.txt file;
the sitemap;
etc
All these files are audited and correctly configured if they contain syntax errors. And even if a file is missing, our SEO experts take care of creating it in strict compliance with search engine guidelines.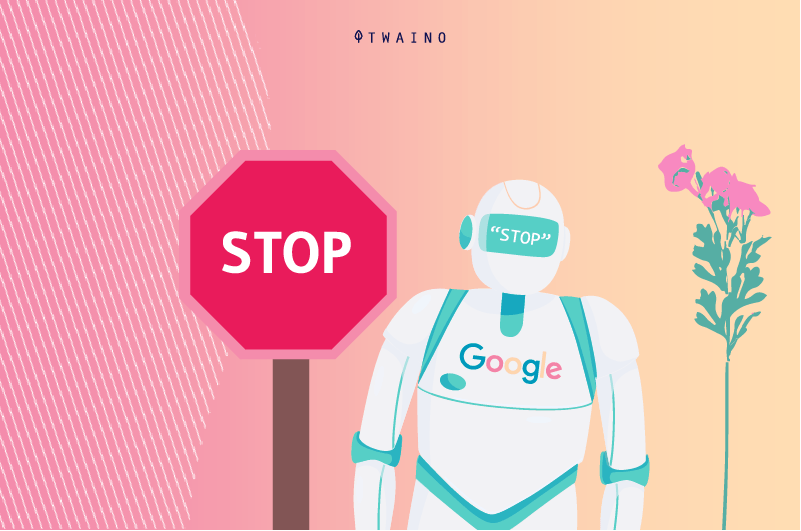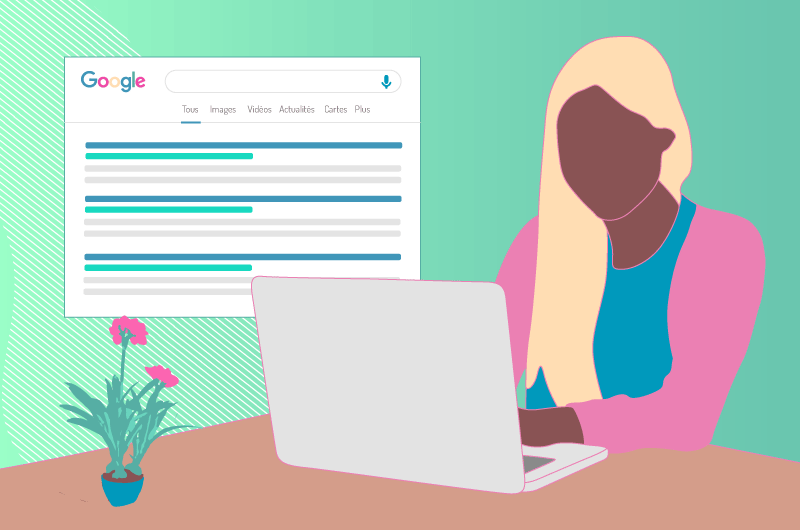 On-Page SEO Audit
During the On Page SEO audit, we look at the rankings you already hold on Google and the quality of the content that has been published to achieve those positions.
On Page analysis is quite influential in the overall audit process because it helps to spot issues that come directly from the pages and are preventing them from getting a good ranking on the SERPs.
Imagine your frustration if one of your important, hard-built pages doesn't show up in Google search results.
Indeed, there are many websites that contain pages with a perfect design, but which nevertheless encounter difficulties in ranking well on Google.
Through the On Page audit, our SEO experts can identify these difficulties by taking into account a number of factors such as:
la structure des URLs ;
la mise à jour des contenus ;
la densité des mots-clés ;
la qualité des contenus ;
l'expérience utilisateur ;
la cannibalisation des mots-clés ;
la convivialité et le style de navigation ;
la structure des pages ;
le duplicate content ;
le contenu des balises title, Hn et meta description, entre autres ;
etc.
the structure of URLs;
updating content;
keyword density;
content quality;
user experience;
keyword cannibalization;
user-friendliness and style of navigation;
page structure;
the duplicate content;
content of title, Hn and meta description tags, among others;
etc
The audit result of these On Page factors can confirm the presence or absence of possible ranking difficulties related to the composition of the pages themselves.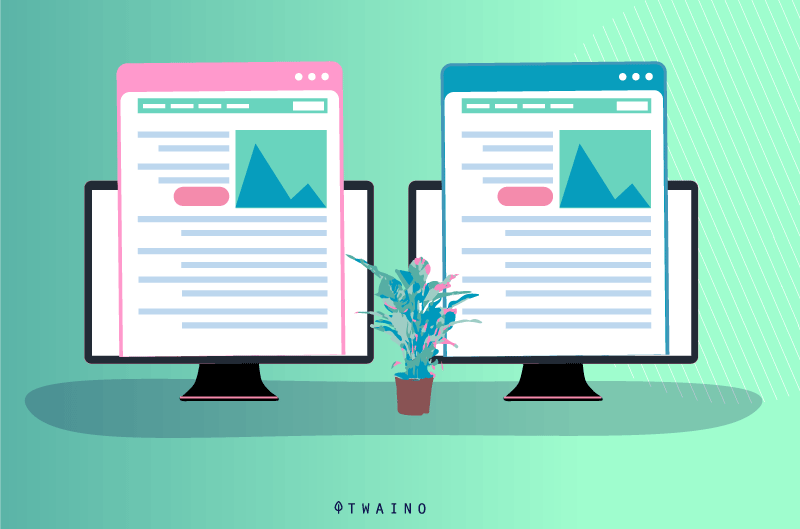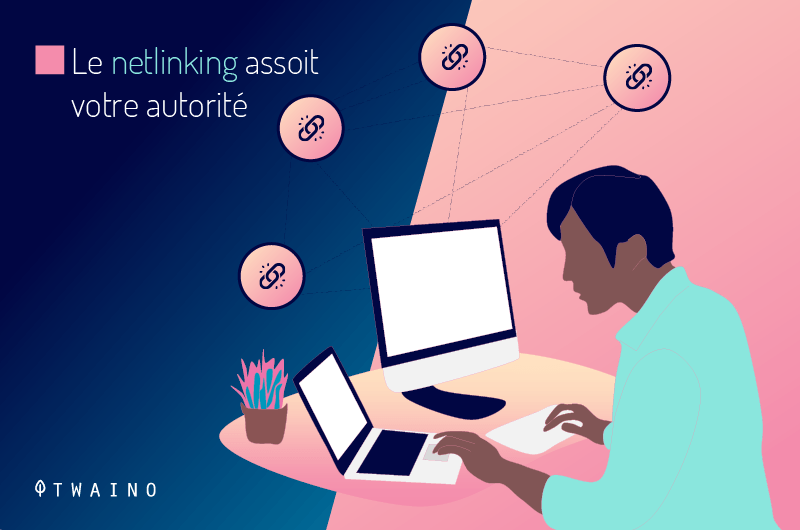 Off-Page SEO Audit
In addition to the On Page analysis, the Twaino agency also carries out an Off Page audit which this time will focus on all the external factors that can influence the SEO of your pages.
While several details come into play when it comes to off page auditing, particular emphasis is placed on your backlink profile.
Backlinks may not be directly noticeable on your pages, but they are still a decisive factor in Google's list of ranking criteria.
In the SEO industry, it is common knowledge that the more quality backlinks a website receives, the more its authority on the web increases.
As a result, it is preferred by search engines when it comes to offering results from a reliable source.
And you, is your backlink acquisition strategy productive enough? How many backlinks does it generate? And what is the quality of the backlinks obtained?
Twaino's job, during the Off Page Audit, is to provide precise answers to these questions, sifting through all SEO factors outside of your site.
Among them, some are absolutely essential to build a solid domain authority:
the quality and number of backlinks your site receives;
the domain authority of your referring sites;
spammy links and Negative SEO attacks;
the anchor texts and their context of insertion;
optimization on social networks;
the domain authority of the client site;
etc
Thanks to the data collected, we can evaluate the domain authority of your site and propose an appropriate strategy to help you strengthen this authority.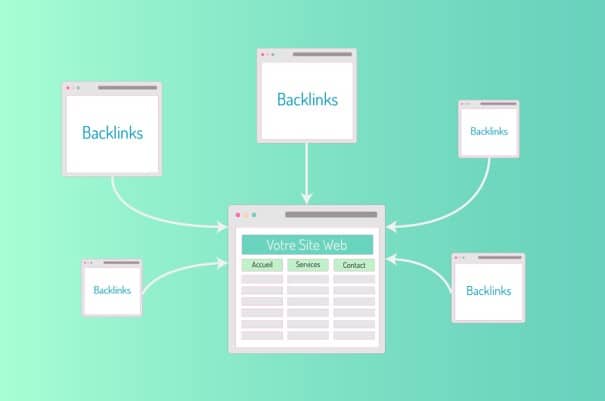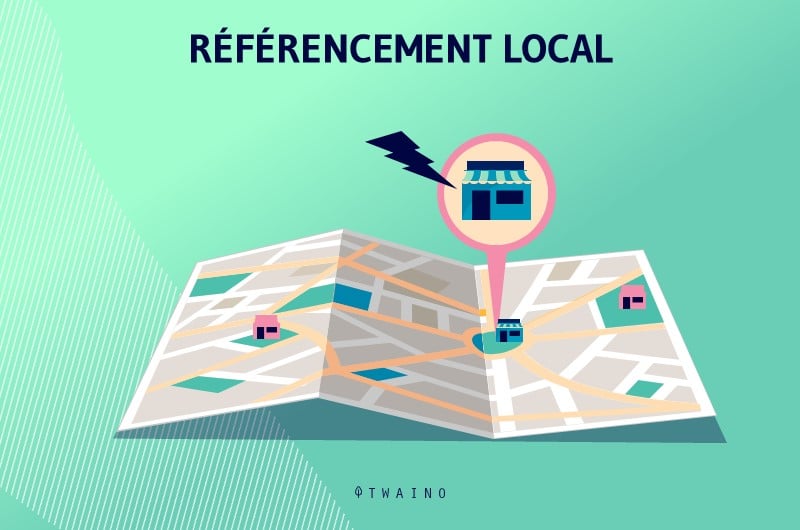 Local SEO Audit
Did you know that the number of times people have used phrases like "near me", "nearby" or "tonight" has literally exploded by increasing by 900% in recent years?
This is proof that local SEO is in full progress. And in your municipality too, there are probably thousands of Internet users who are looking for the products or services offered by your company.
It would be a shame to miss this opportunity to increase your turnover.
If you don't have a local audit strategy in place, Twaino can help you create one, to get closer to the target audience in your locality.
If, on the other hand, you have a local SEO strategy that is struggling to bear fruit, our experts can also audit your site and provide you with a detailed report on what is really going on.
This audit consists of inspecting your weaknesses and strengths as a local business, in order to propose an effective action plan adapted to your difficulties on the ground.
All this requires an analysis of several factors:
updating Google My Business, Bing Places and Apple Maps listings;
optimization of product sheets;
geographical consistency in the strategies adopted;
consumer reviews;
local competition;
researching local keywords;
structured data markup;
configuring local citations (NAP);
etc
Once all of these factors are combed through, we can have a clearer idea of ​​the effectiveness of the local SEO strategy already in place.
Based on the audit report, our local SEO specialists decide on any additions and changes to be made to enhance this effectiveness and increase your visibility on Google in your region.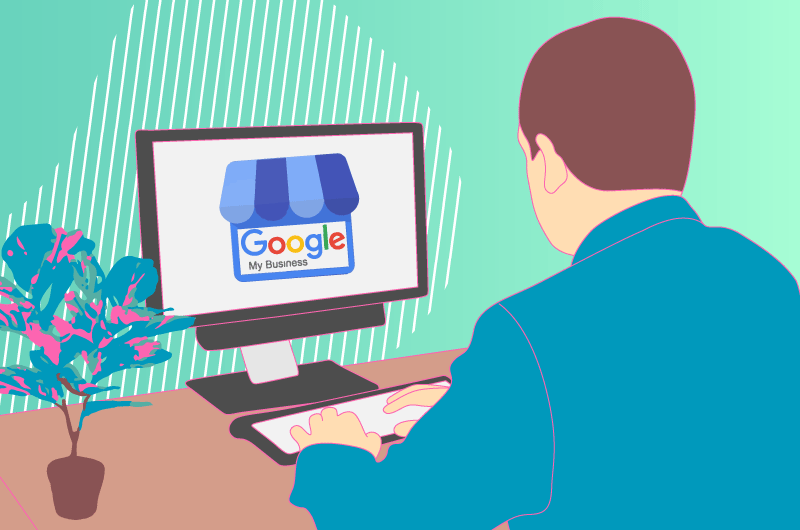 Keyword research
90% of online consumers start by looking for a product on a search engine before making a purchase.
Thus, if an Internet user wishes to have a bouquet of flowers delivered to Paris, he is likely to type in "flower delivery paris" on Google, for example.
And Google will actually offer him a list of flower delivery agencies in Paris. It is obvious that the agencies at the top of the list will be more likely to be seen by the Internet user and therefore to be visited, with the possibility of leading to a sale.
And this is precisely where the Twaino agency can be useful to you: identify the profile of your target audience, then find precisely the words and expressions that they enter on Google to search for a product or service.
But how is it all organized? For keyword research, we also use a methodical approach:
first search for terms and expressions;
analyze and then filter these keywords;
finally use the chosen keywords.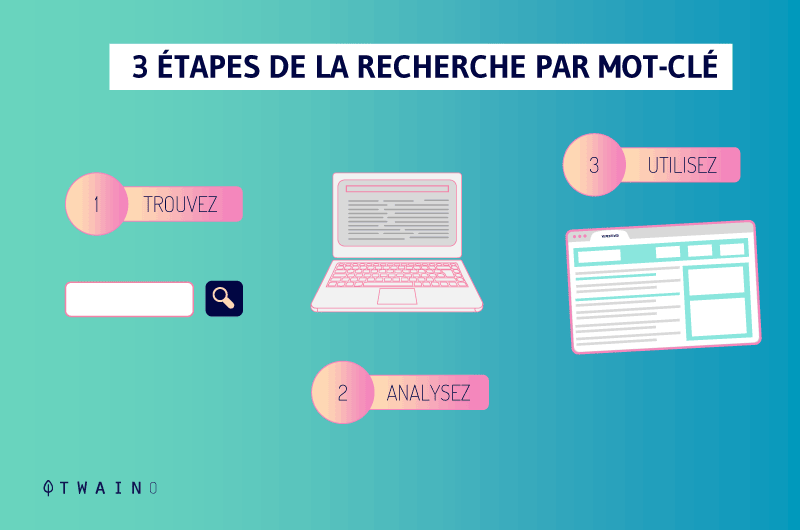 The most common mistake at this stage is to rush into the most searched keywords. However, a keyword with high search volume is not always synonymous with profitability for your company and your business.
To prevent you from falling into this kind of trap, our SEO gardeners are expanding the analysis of keywords with other filters. This way, we make sure to only list keywords that are relevant to your business.
This is why, apart from the search volume, all the keywords we target are also filtered by other "metrics":
the behavior of search volume over time;
The conversion rate;
the difficulty score;
etc
During a keyword research, the goal is to succeed in targeting the most quickly accessible terms for you, in order to obtain the first results in the short term.
Competitor SEO analysis
The SEO analysis of your competitive environment is all the more important as it allows you to discover what is already working in your market. It's a safe bet that what works for a competitor would also work for you.
The idea is therefore to spy on the strategies that perform with your competitors, in order to reproduce them and adapt them to your business.
But who are your competitors on the web? And what are the types of content that attract the most traffic to them?
Using SEO analysis tools, our experts draw up a list of the best pages of your competitors to deduce: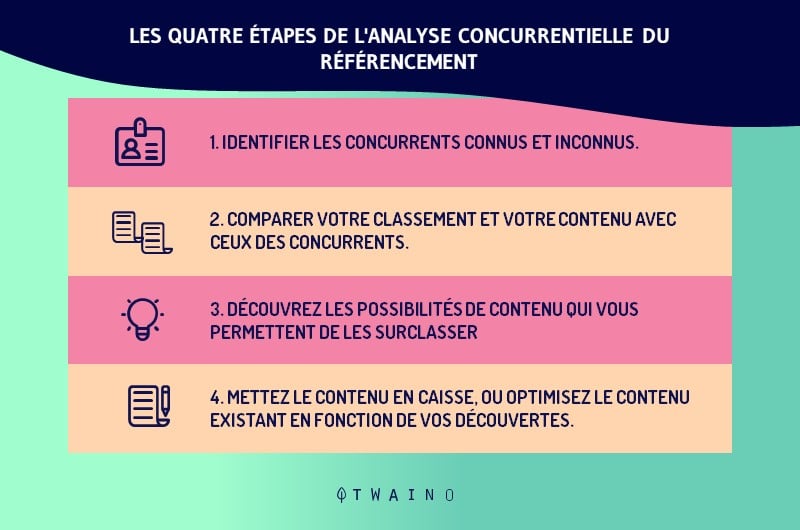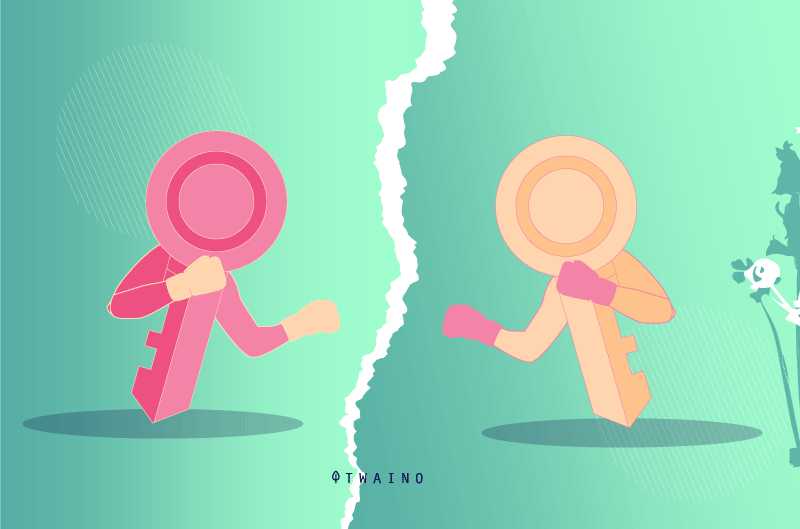 the most viewed types of content;
the most successful SEO strategies;
the tools used;
etc
However, it is not just a question of looking for the strategies that work with your competitors, but also those that have not produced good results.
But why bother with unsuccessful strategies? Well, precisely, to avoid making the same mistakes.
Learning from your mistakes is a good thing, learning from the mistakes of others is even smarter.
Ultimately, SEO analysis of your competitors avoids mistakes already made in the market and replicates winning strategies.
But be careful, it is not a question of simply copying the strategies of others in the hope of obtaining good results.
What do you think will happen if a fledgling company mindlessly copies the SEO strategies of a giant like Amazon for example? She will run out of resources to sustain this long-term strategy, long before the first results are visible, and the company will likely sink.
At Twaino, we identify your most important competitors and know if some of their strategies can be effectively adapted to your business, even if it means producing something even more competitive.
The goal is to keep tabs on what's happening on the other side of the competition without sacrificing your own corporate personality.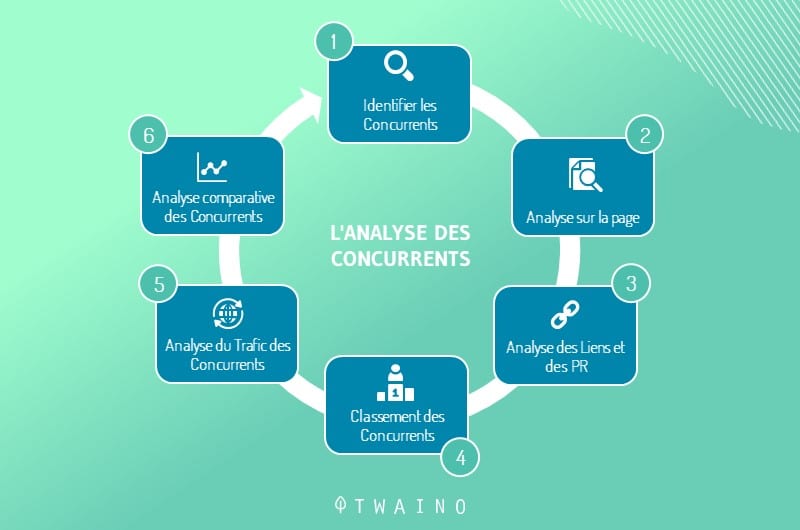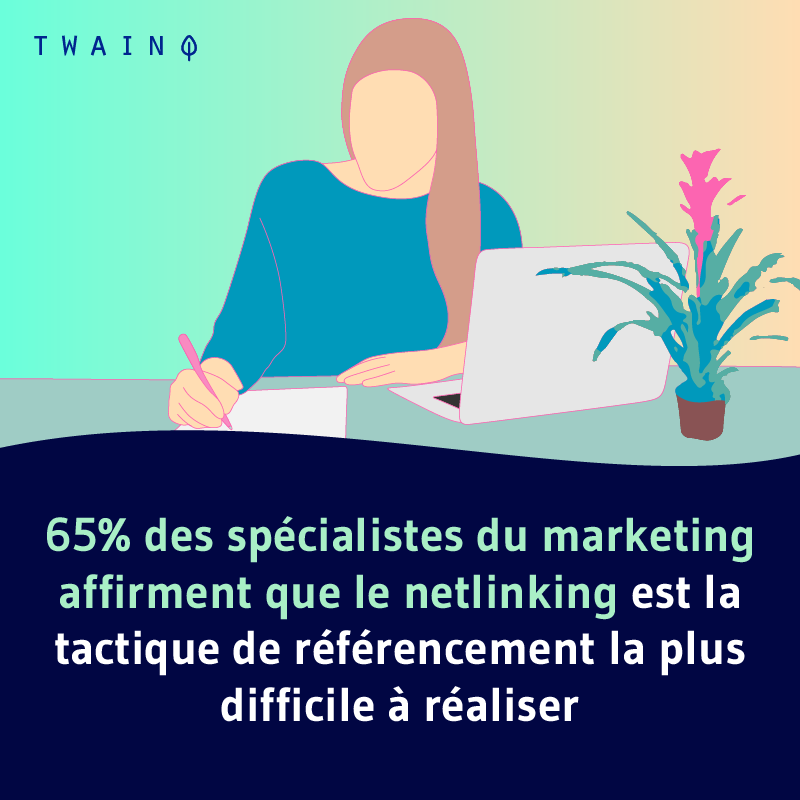 Backlink building campaign
The results obtained at the end of the Off Page audit allow us to evaluate your backlinks profile. It is then necessary to propose an effective action plan, to be executed during a backlinks campaign, in order to improve your current profile.
But concretely, what kind of actions do we take during our backlink campaigns?
Before citing the usual interventions, it is important to remember that the goal of a backlinks campaign is to generate as many backlinks as possible from authority sites.
The fact is that each authority site that sends a backlink to your pages also transfers some of its authority to you, we speak of link juice in SEO jargon.
The real challenge of our experts during the backlinks campaign is to attract you as much link juice as possible, in order to increase your domain authority, while of course favoring influential sites.
Because one backlink from a high authority site is proven to generate more link juice than multiple backlinks from spammy or low authority sites.
During a backlinks campaign, several actions will be carried out:
writing guest articles;
the search for influencers on social networks;
etc.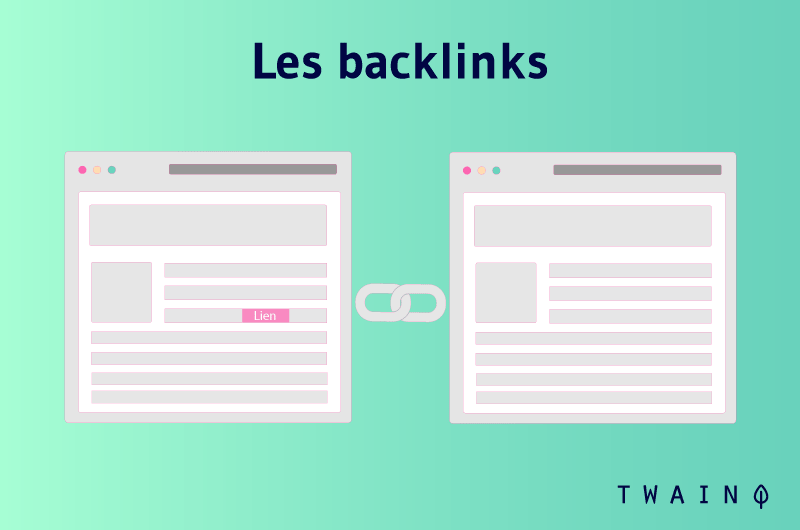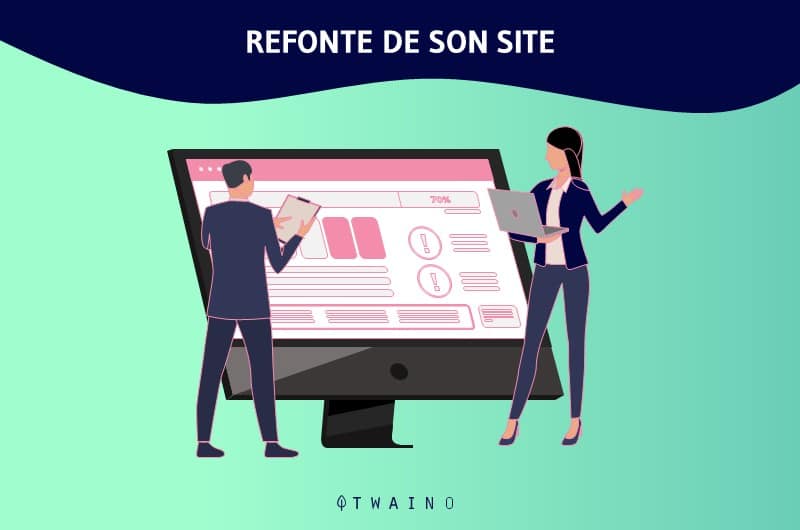 Consultation on website redesign
It may happen that for one reason or another, you decide to redesign your website. This is a good thing and we can only encourage you to do so.
However, many clients come to our agency for SEO services after they have redesigned their site.
And it is by looking at their site that we notice structural inconsistencies that could have been rectified during the redesign.
It may be, for example, an architecture that is too deep that buries certain pages of the site more than 4 clicks from the home page.
However, in SEO, it is recommended to use flat architectures, to allow visitors to quickly find your content.
For all your website redesign projects, the Twaino agency offers you to take stock, in order to list the elements that need to be reworked during the redesign.
Here is what this balance sheet consists of:
examine the structure of the site;
check the quality of the content;
identify redirects;
etc.
And it is after this inspection that our SEO consultants can really decide. They provide you with a list of recommendations to improve the user experience, the backlink profile… In fact, to improve the ranking of your site.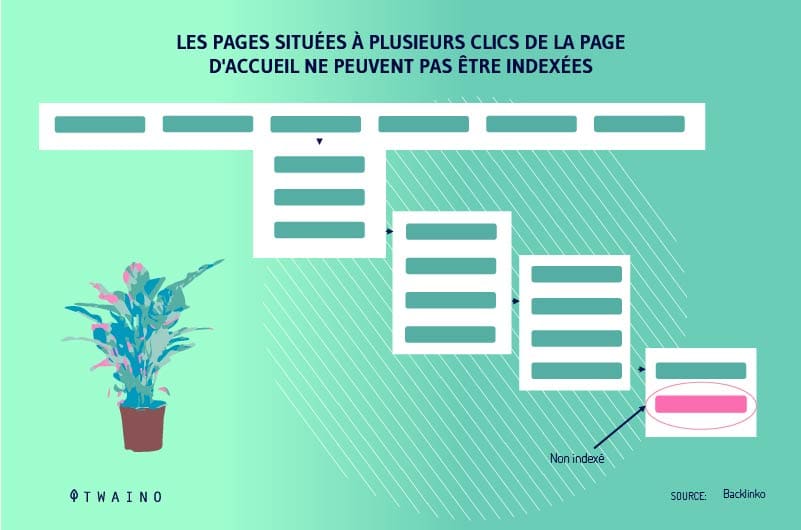 Copy Writing
During an SEO optimization campaign, the vast majority of the strategies employed are applied to content, especially written content.
Thus, to offer the most complete SEO service possible to our clients, we also offer web writing services within our agency, because these are two intrinsically linked areas.
And to meet the greatest number of needs, we have sequenced our writing services into several services: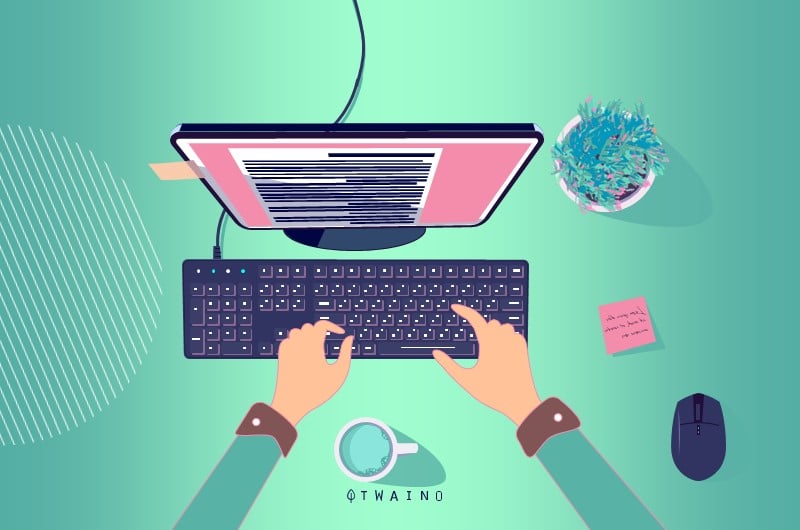 Web content writing
The Twaino agency has an in-house team of professional writers, able to meet all your content writing needs for web pages.
Maybe you lack the time or staff to write content for a new page. Or maybe you have a redesign project that you want to outsource to a competent copywriting agency.
In any case, our editors know how to find the right words to carry out your project and help you reach your audience.
All we need is for your project to be clearly presented. This includes how you want the message delivered to your audience.
Accustomed to writing quality content for clients across France, our writers know how to adopt the appropriate tone and style, in order to attract the attention of your readers and generate the desired commitment.
Once the contents are delivered, you can appreciate all our know-how and, of course, formulate possible suggestions.
Corrections are then made to take these suggestions into account, as far as possible, always with the aim of satisfying you, but also your visitors.
Writing blog posts
Articles are at the heart of a good part of SEO methods. And as we have seen, you need to regularly publish quality content, especially blog articles, to improve the visibility of your business on the Net.
Google and all other search engines are constantly looking for quality articles that provide real value to internet users in order to provide relevant and useful search results.
At Twaino, we know how to create this kind of articles, which appeal to Google and users. But to maximize your presence on the SERPs, it is important to bet on consistency.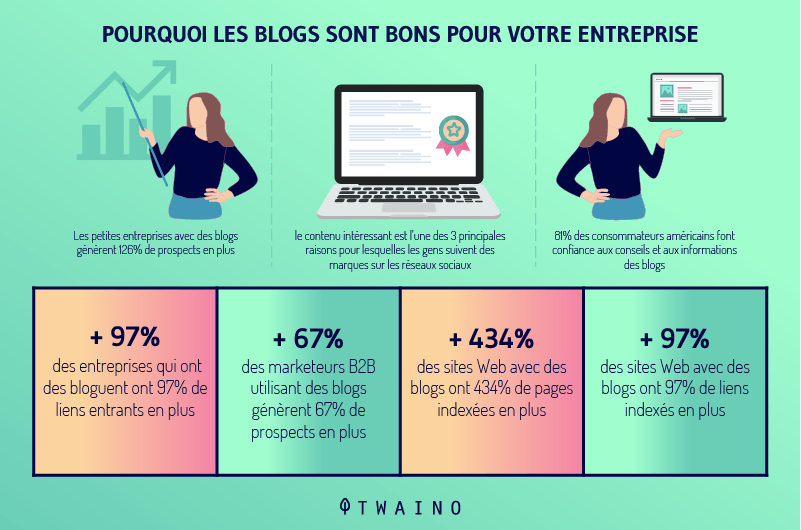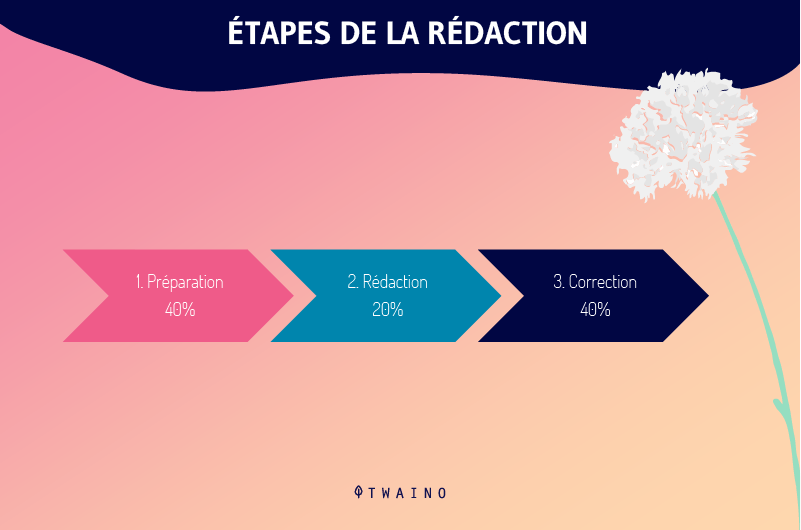 It is more beneficial for you to publish articles on a regular basis, in order to be referenced for several keywords in your niche.
Thus, Internet users are used to seeing your content in the first results for several queries. Gradually, your brand becomes a reference in your niche and a reliable source for finding information, products or services.
Twaino editors can help you establish an editorial calendar, with a schedule of articles to be delivered to cover all the keywords important to your business.
You can also enrich this calendar by offering suggestions for topics that you find relevant to your business. Our team of editors being versatile, they know how to do the research necessary to develop these subjects as well as possible.
Writing product informations
If you have an e-commerce site, there is no need to remind you of the importance of a product sheet on your sales. A product sheet must be subtly and effectively written, in order to make Internet users want to put the item in their basket.
The days when you could be satisfied with pretty pictures and hope to sell a product are well and truly over. Today, competition has invaded the sector and Internet users are asking for more than just photos to make an online purchase.
That's why, in addition to the beautiful images, you also need to provide an attractive and comprehensive description to really hook the consumer.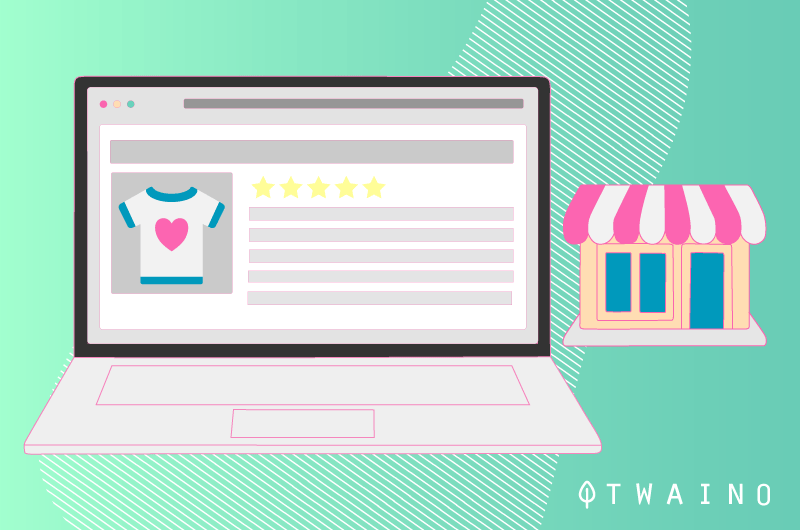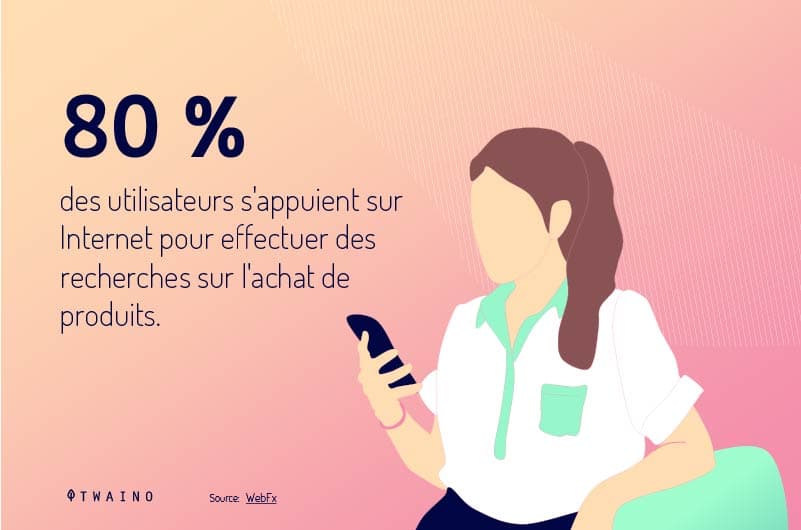 But that seems easier said than done. Indeed, the writing of product sheets must be more precise and impactful than that of other types of content, since customers generally take a few seconds to read it.
Each word must be well chosen and the slightest error can lead the customer to abandon your site to consult that of a competitor.
At Twaino, we are well aware that writing product sheets requires real know-how, which is why we take care to find out about all the characteristics of your marketed products.
Then, these characteristics are analyzed in order to highlight the benefits that the user can derive from using your product. The presentation of these advantages constitutes a solid sales pitch, which inevitably impacts visitors.
Once the product sheet has been carefully written, our SEO experts take care of applying the optimization techniques necessary to boost the visibility of the page in the search results.
Statistically, a product sheet optimized for search engines is 7 times more likely to result in a sale.
To optimize our customers' product sheets, our SEO gardeners take care of:
optimize the image of the product;
strategically insert product keywords in title, meta description and Hn tags;
create impactful calls to action;
offer effective sales techniques such as cross-selling or up-selling;
etc.
Because you deserve the best product sheet there is, our SEO consultants are also responsible for conducting a competitive survey of your market, in order to draw inspiration from similar product sheets.
The idea is to glean the strategies of product sheets that work, in order to offer something even more interesting.
Internal networking is also part of our know-how. We can thus link your product sheets together, in order to make navigation more dynamic and to lead visitors to discover more products.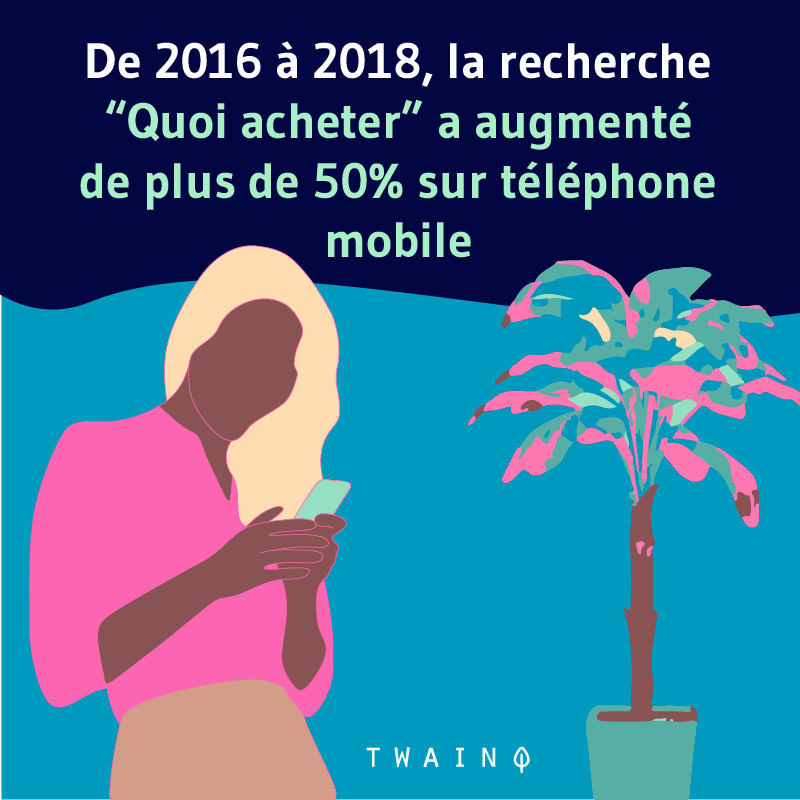 Creation of visual content
To provide you with the most complete SEO service possible, the Twaino agency also offers visual content creation services, produced by talents passionate about graphic design.
And to meet all the needs of our customers, here are the services you will find with us: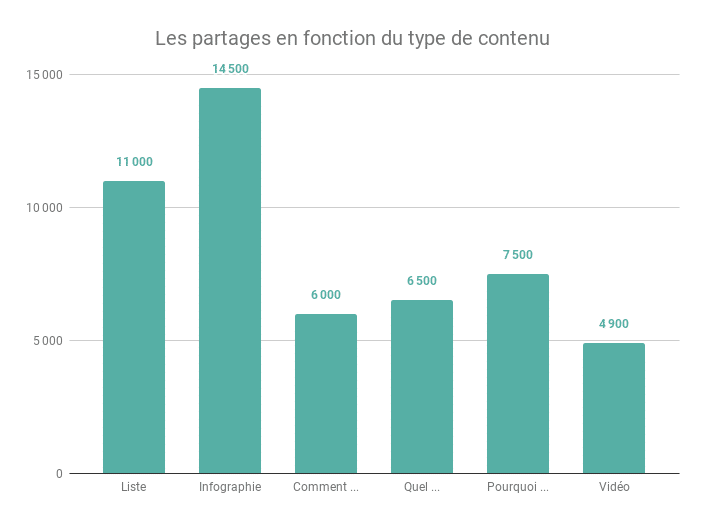 Creation of custom infographics
Today, SEO and UX are concepts that complement each other to improve the visibility of a company on the Web.
As an SEO agency, we have therefore decided to complement our SEO services with the design of visuals, in order to make our clients' content creation process more efficient.
Why would an SEO agency be interested in creating illustrations? Quite simply because visual content is not only used to brighten up a text.
Some infographics, in particular, represent a real opportunity to attract backlinks and increase the authority of a site. It is also the type of content that is most easily shared on the Web.
To integrate the use of infographics into your content marketing strategy, the Twaino agency provides you with experienced graphic designers who produce detailed infographics, featuring your company's brand.
Thus, for each infographic shared, it is also the image of your company that is shared, gradually increasing your notoriety on the web.
Create engaging slides
Even with a good speech, it is often difficult to captivate your audience without any visual presentation.
This is the reason why it is more interesting to present slides, in order to illustrate its point and to help the public to better assimilate the message.
Whether it's a commercial or informative presentation, our expert graphic designers create attractive slides to liven up a presentation and make it more impactful.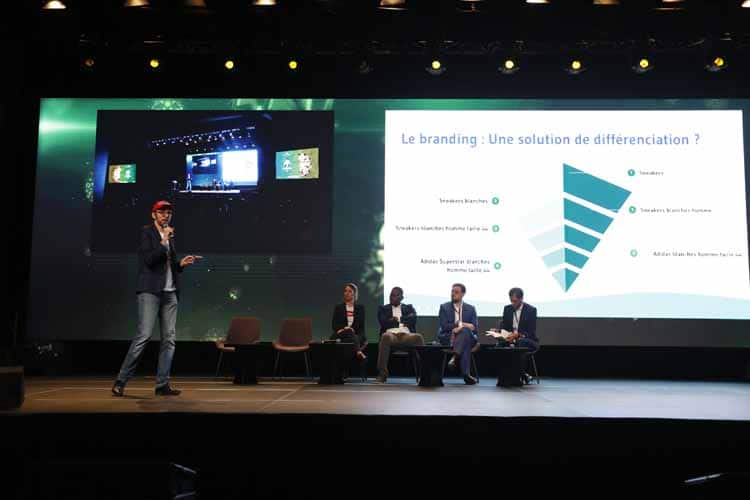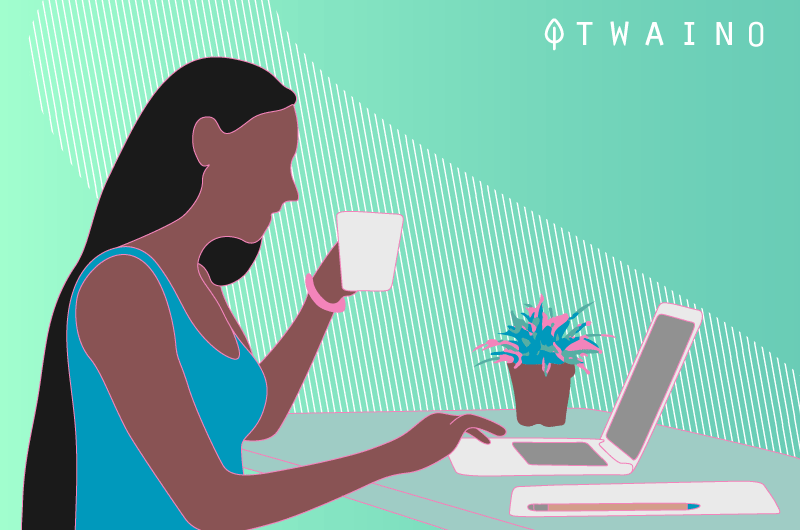 The Twaino agency helps you bring your speeches to life and attract the attention of the public more easily, whatever the type of intervention:
sale ;
business presentation ;
conference ;
webinar;
online presentation.
Depending on the occasion, our graphic designers know how to find the harmony of colors that brings out the personality of your brand while respecting your graphic charter, in order to make your projection a successful presentation.
Create illustrations for your eBooks
Creating an eBook is not just about writing the book. Some illustration mistakes can undermine all your writing efforts and prevent you from achieving goals.
To avoid this, our graphic designers create attractive covers to make your eBooks presentable and boost your sales strategy.
And even without being for sale, an eBook, free or not, must be pleasant to look at, in order to encourage the consumer to download it or add it to the basket.
In addition to its cover, an eBook should also contain infographics that make reading easier and encourage the user to continue reading.
Indeed, technology may make our lives easier, but reading a book on paper is often more pleasant than on a screen. That's why we help you put the odds on your eBooks' side.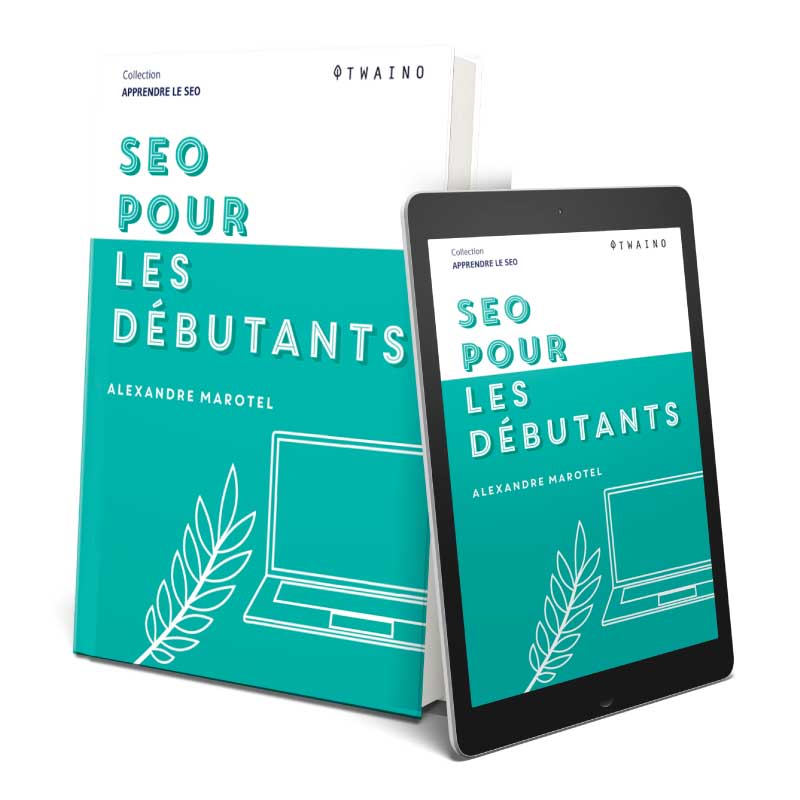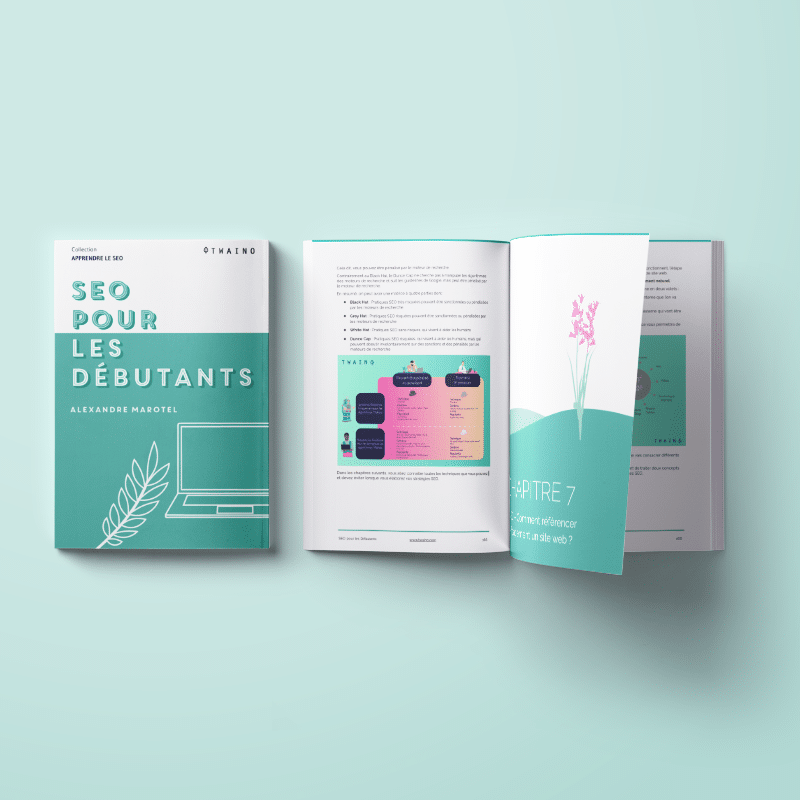 Thus, we recommend that you add images to your eBook, so as not to tire the Internet user, which could lead him to give up reading.
And a user who abandons reading your eBook doesn't have the opportunity to take advantage of all of your sales pitches, including the calls to action that are essential for conversion.
At Twaino, our graphic design specialists help you by creating illustrations for your eBooks, in order to make their reading more pleasant and fluid.
Thanks to quality visuals, your eBooks gain in professionalism, from the cover to the last page.
With an experienced team of SEOs and writers, we can take care of the entire development of your eBooks, from their design to their optimization for search engines.
Creation of image galleries
Not everyone has the same approach to reading. Some people need illustrations to go with it. Also, understanding a message is most of the time easier on an image than in a text.
The ideal would therefore be a combination of text and images, in order to allow all user profiles to find themselves while reading your content.
To set an example, the Twaino agency has its own image gallery that we use to add color to our blog posts.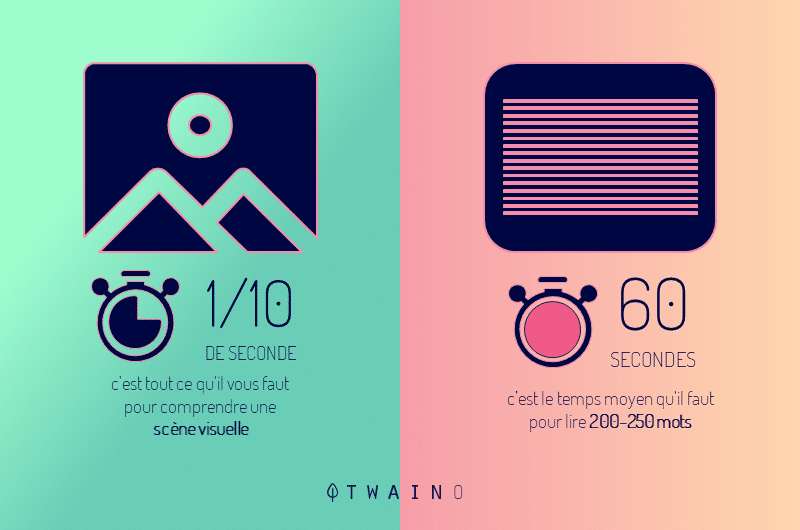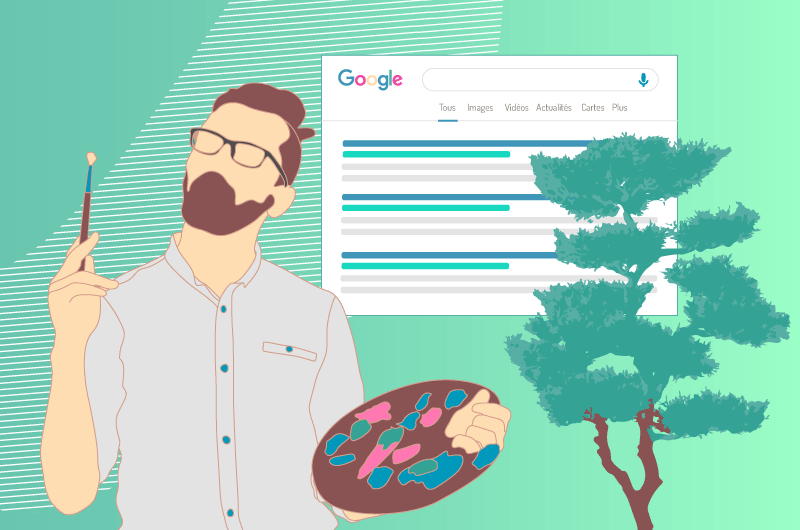 And the positive feedback on this subject seems to confirm that it appeals to our readers.
You have no doubt noticed that the style of our illustrations is particular and our graphic charter is uniform. This is, among other things, what makes it possible to distinguish our illustrations from those of the competition and to immediately identify our agency.
We can thus help you design your own gallery, in order to stand out from your competitors and strengthen your notoriety in your sector of activity. It also improves the user experience of your site.
Creation and promotion
Go get tomorrow's traffic…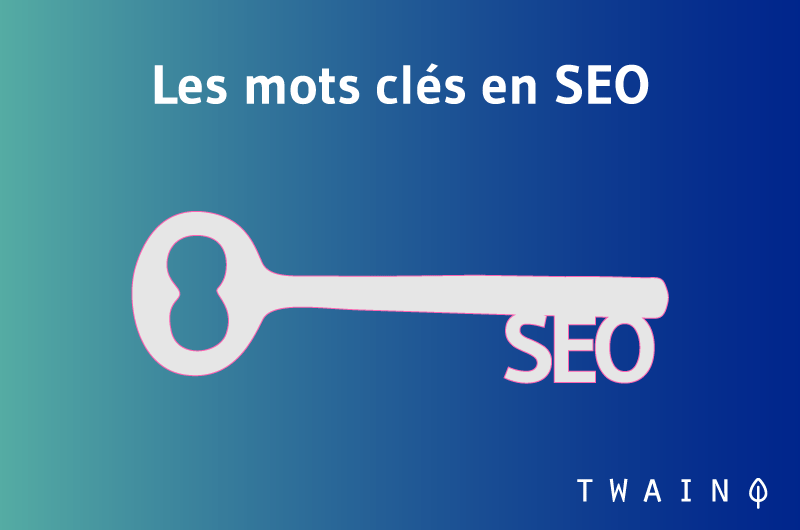 Target high potential themes
Before embarking on content creation, it is important to have a strategic approach. Indeed, the objective here is to provide an effort that will have the maximum impact in terms of visibility.
Therefore, the SEO consultant begins by identifying the themes and topics that have the best traffic potential. This list is then presented to the client, who can prioritize the most relevant points for their development.
Finally, from all this information, we can group together both business orientations and SEO opportunities.
Writing quality content
Creating quality content allows you to stand out from the competition.
The mission of Google and other search engines is to present users with the most relevant and useful results. This is why the best content is the one that ranks best in the SERPs.
Our team of experts supports you in creating quality content.
They take all the time necessary to know your business, in order to create blog articles, landing pages, video scripts… So much quality content, which enhances your credibility and convinces your prospects.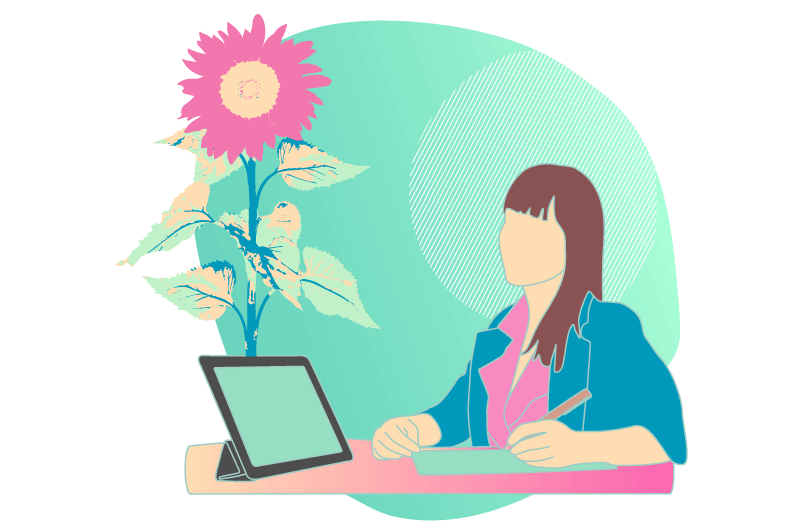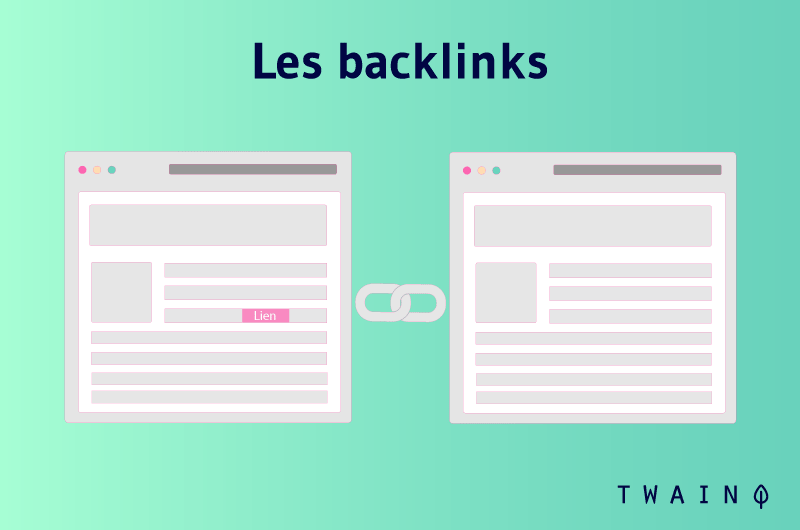 Creation of quality backlinks or netlinking
For your content to be effective and outrank others in the SERPs, it needs backlinks.
The best link building strategy combines effective internal linking with getting links from other authoritative websites.
Backlinks
When authority websites link to yours, it tells search engines that your pages are relevant to your industry, which helps increase your visibility.
Using tools like Ahrefs, we refine your backlink profile taking into account that of your competitors.
Our SEO agency implements the most appropriate strategies to allow you to have quality backlinks. This way users and search engines see you as an authoritative website.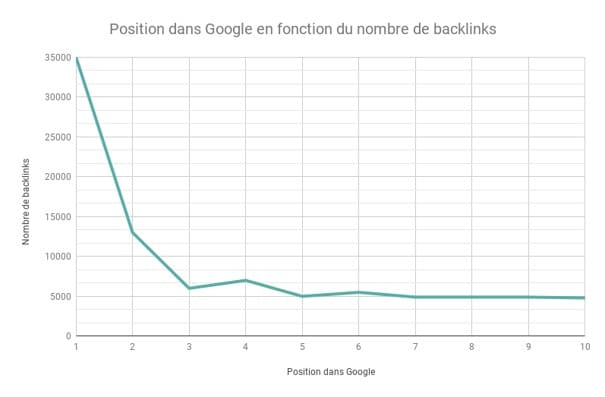 Twaino : the personal SEO Agency you need
We believe that there is no magic recipe to be well positioned in search engines, which is why we always develop a personal approach for each of our clients.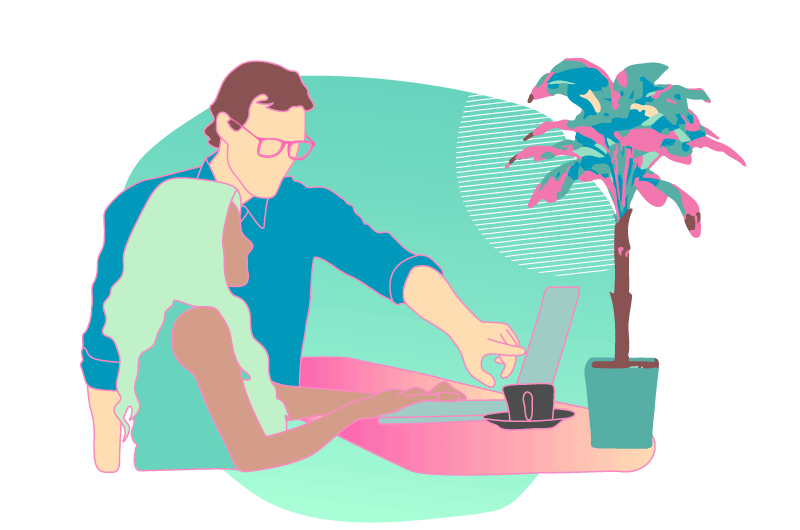 This is why with our SEO experts:
we assess your business;
we analyze your level of reach, influence and authority;
we do a complete audit of your website;
we develop potential growth paths;
we check all sources and scenarios;
we present a roadmap to success.
In this way, Twaino's SEO consultants will help you reach new audiences, increase your website's performance and accelerate your reputation.
We have experience working with many clients and know how to operate in most industries.
If you need an SEO service, do not hesitate to contact us.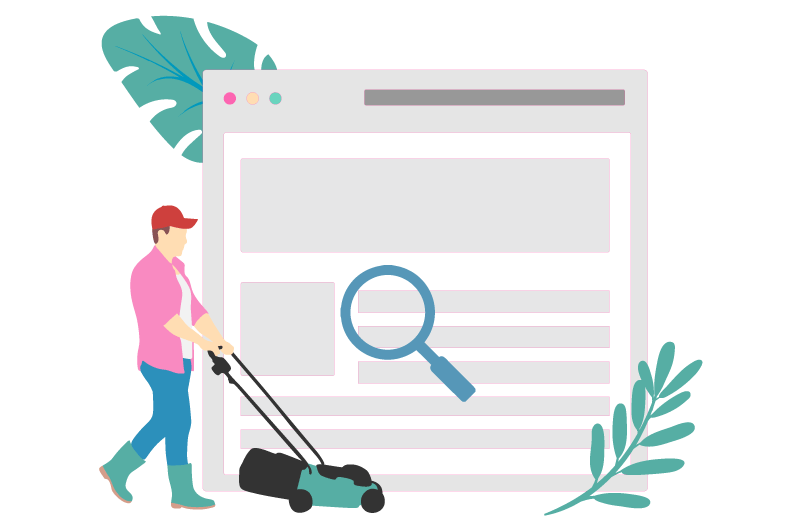 Increase your visibility on the web with Twaino
Our goal is to help you gain authority in your field with users and search engines.
Thanks to different strategies, our SEO experts:
place your brand in the top positions of search results;
ensure that your prospects only receive relevant information;
increase your conversions by attracting quality traffic;
ensure that you become a reference, with the creation of quality content.
Twaino can help you grow into a benchmark and a brand people trust, which is probably your main goal, like most businesses on the Net.
Frequently asked questions about natural referencing
How long does it take to get SEO results?
We cannot give a fixed answer, because it depends on each site and each sector.
Sites with technical problems and in very competitive themes will probably take longer. And those in less competitive sectors can gain the top spots very quickly.
Some say SEO should show results within 6 months, others within a year. Either way, it's important to consider the type of strategy you're implementing.
For example, technical improvements to a site can quickly produce results, while building links and content can take longer to show signs of effectiveness.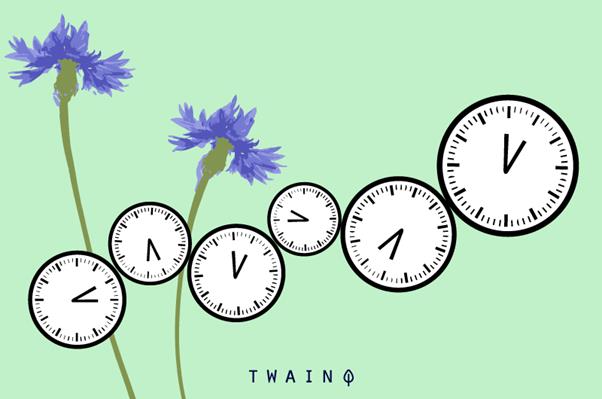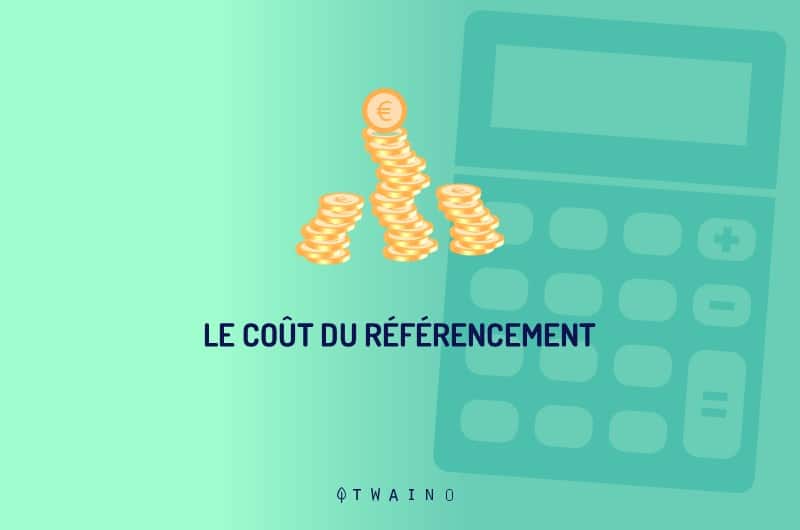 How much does SEO cost?
The cost of SEO depends entirely on the work done and the agency or specialist who takes care of it.
Monthly rates can range from €1,000 to €10,000 depending on the tasks to be performed on your website.
Are there reliable and safe techniques to obtain results "easily" and "quickly" in SEO?
No not at all. Even though SEO results may seem time-consuming, the process is still the same and cannot be bypassed. Always with the intention of speeding up the process, you may be tempted to use practices prohibited by Google. This is called Black Hat SEO.
Be aware that while these practices yield results quickly (when "done right"), they should be avoided, as they are not sustainable. As soon as Google notices them, your site will be severely punished and demoted in the search results.
Twaino always favors White Hat SEO practices that adhere to search engine guidelines. So you can be sure of getting an increasing SEO over the long term.
The same is true for partnerships, we favor long-term ones, with trusted and relevant sites.
It is for this reason that, whatever the strategy put in place, we first take the time to get to know you, in order to offer you the most relevant and, therefore, the most effective leads.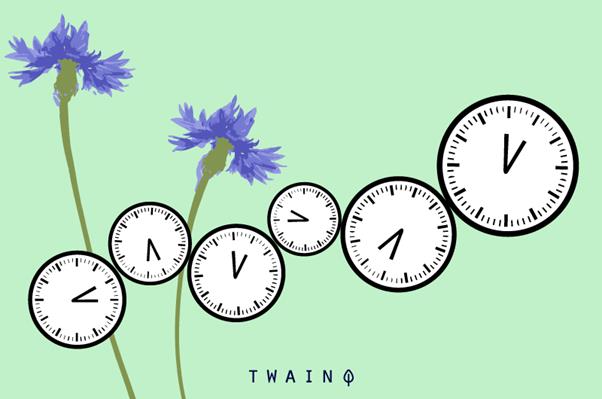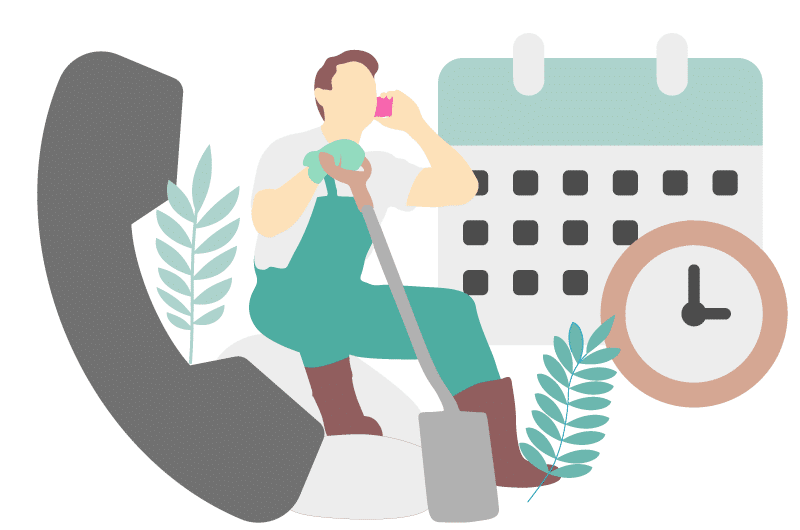 Contact us
Join us by phone or by email :