According to a survey conducted by the Pew Research Centeronly 10% of videos attract 79% of all views on YouTube :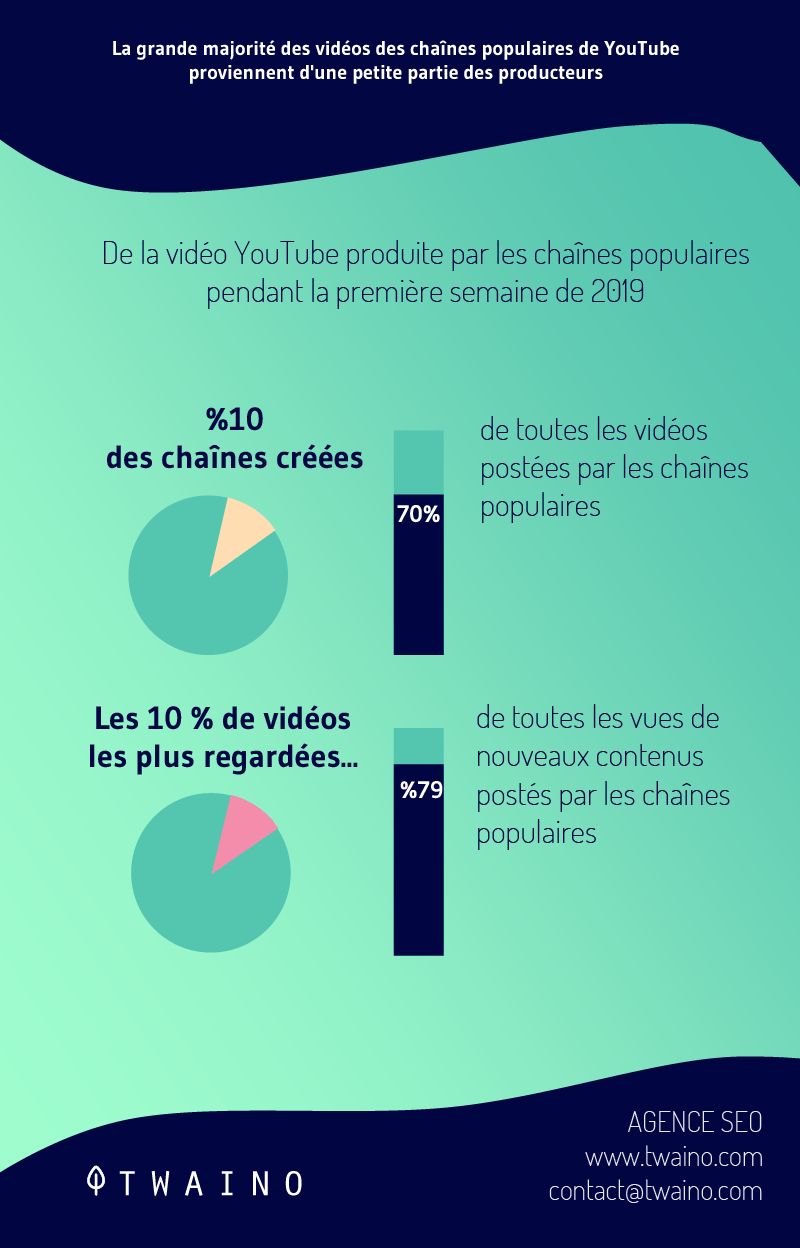 This statistic is proof that most Youtube users have a hard time attracting visitors to their video
If you are currently facing this problem or simply want to improve your performance,
It is necessary that you put in place the right strategies to increase your views.
What is a view?

How are views counted on Youtube?

What are the best tips to get more views on Youtube?
These are some of the questions you will find answers to in this guide
Chapter 1: What is a Youtube view and how is it counted?
In this chapter, I explain what a Youtube view is and its importance.
You will also find
The criteria according to which they are counted;

The way they are counted;

The reasons that can prevent them from being counted

And how they can be verified
1.what is a view on Youtube and why is it important for you?
On the Youtube level, a view can be defined as the time spent watching a video
In concrete terms, it is the amount of time that a user spends on a video when he selects, clicks and starts playing it.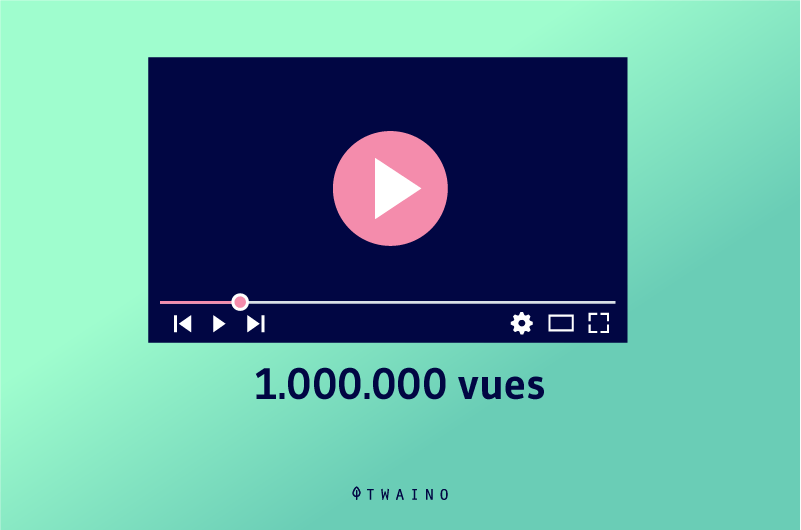 Views play an important role in the display of your video since they are a ranking factor used by the algorithms to position your video on the homepage or in the search results.
Views are an important factor since they allow you to:
Analyze the performance and popularity of your video;

Get more interactions for your videos;

And earn more money.
1.what are the criteria according to which YouTube videos are counted?
The main criteria used by YouTube to count your views are
1.2.1. The time
For a view to be counted, the user must watch the video for at least 30 seconds.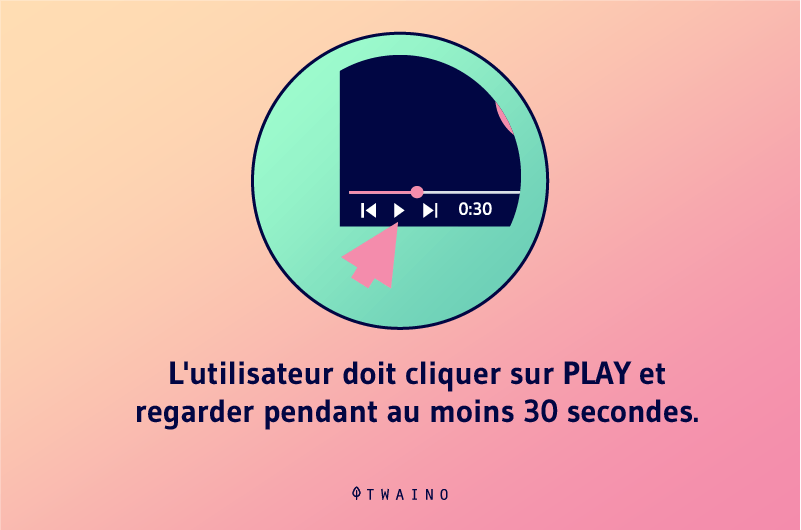 It is possible to jump around in the length of the video, but the viewing time must reach 30 seconds before the view is taken into account
1.2.2. The IP address and cookies
The IP address makes it possible to uniquely identify a device or computer in a network and to know the class of the network. Cookies make it possible to trace activities carried out on a site
Cookies and IP addresses allow us to count the video only once per user, in order to avoid artificial growth of the counter.
1.3) How does Youtube count the views for your videos?
Once a video is uploaded, YouTube uses its algorithms to analyze and check for viruses and malware.
When nothing is detected, the YouTube counter is turned on. The views are then counted according to the number of people who watch your video for at least 30 seconds.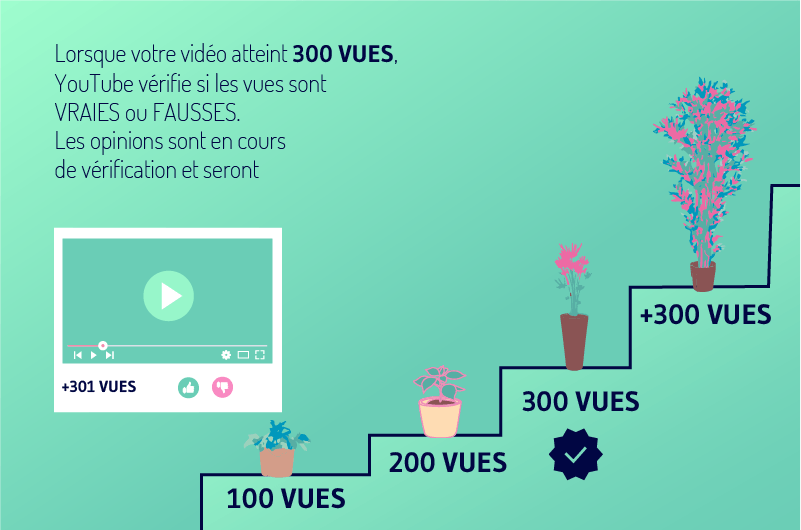 When you reach a total of 300 views, Youtube stops the counting and deploys new algorithms that check if :
Your way of acquiring views is legitimate or not;

Your videos comply with the platform's requirements.
As soon as this verification takes place and the deployed algorithms do not detect any problem, the view counter is unlocked.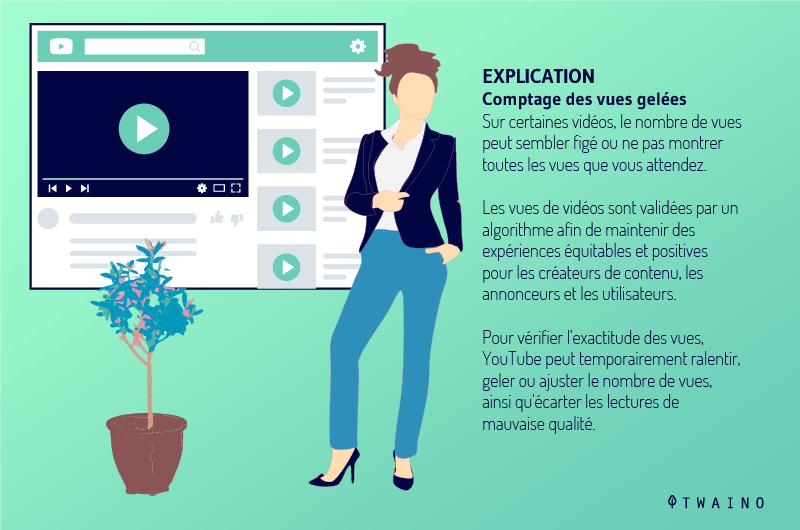 When the algorithms are checking your videos, you may find that you have the same view for hours.
It is only after they have passed that they decrease or increase.
In case the number of views increases, this is because during the blocking process users still continue to watch the video
If the number of views increases, it may be that no one was interested in your post or that the algorithm detected that the views obtained were not legitimate
In any case, note that this verification will occur most often and will last depending on the evolution of your number of views
For example, the time it takes for the algorithms to separate real views from fake views for a video with over 356,408 views will not be the same for one with 500 views
If you follow live videos on the Youtube platform, their counting is done in the same way as pre-recorded videos
However, the count is determined and adjusted within 24 hours when Youtube notices that
Users use the same IP address on several devices at the same time

The user opens several different windows and watches the same video;

The viewer refreshes the page after watching 30 seconds or less.
1.4. What are the conditions under which your views are not counted?
Repeat playback of the same video also counts for a given number of views and this for a certain number of times defined by YouTube
When this threshold is exceeded, your view will no longer be considered. So there is no point in watching the same video over and over again if the goal is to increase the number of views.
Moreover, YouTube does not take into account your view when you switch from one video to another randomly (even if you take care to watch each video for 30 seconds).
Indeed, for such an action, the algorithms consider that the viewer is a robot.
Moreover, your view is not taken into account when :
You leave spam comments on the videos;

Videos are embedded in a page and automatically started when someone arrives on that page
This is because YouTube's algorithms stop counting lives on your video when they see that users are trying to falsify/increase the number of views in a fraudulent way
1.5. How to find the view numbers on Youtube?
To find your YouTube view statistics, just:
Log into your YouTube account and click on the profile icon in the top right corner, then on Youtube studio ;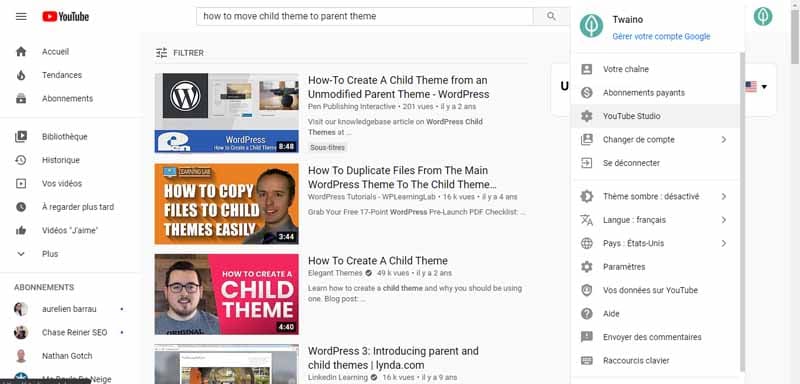 This will take you to the youtube dashboard. You should see some basic analytics in the middle of your screen (viewing time, views, subscribers and estimated revenue, etc).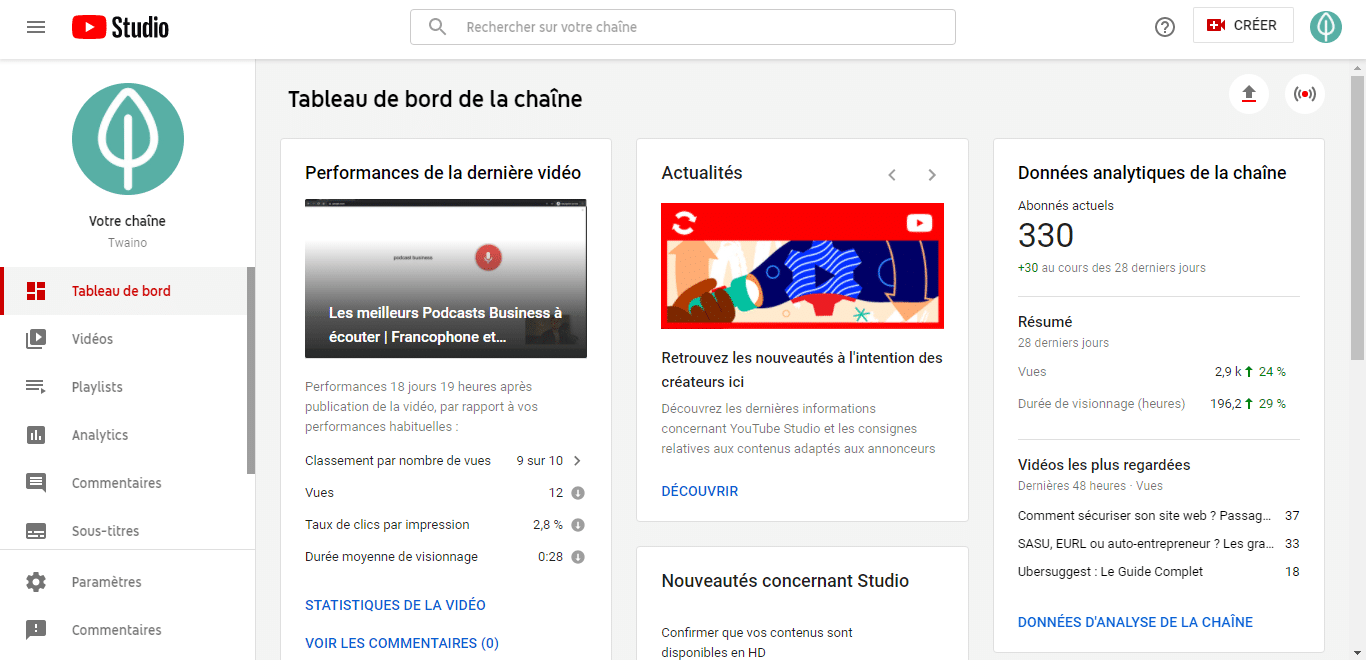 To the left of this panel, you will see a menu. Click on Analytics to access the main YouTube Analytics dashboard.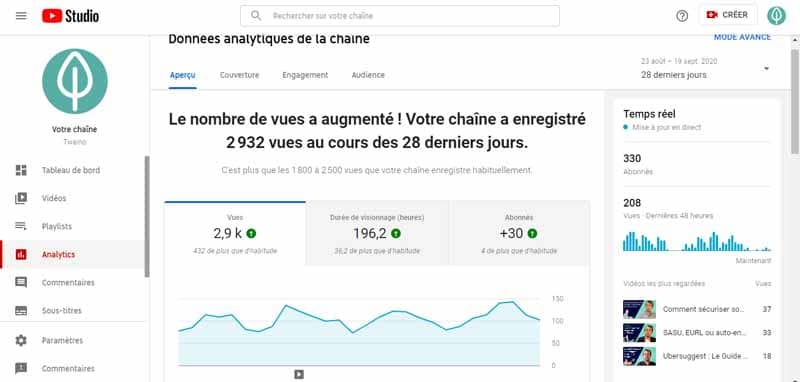 Now that you know what a view is and how they are taken into account by YouTube, I invite you to discover the best practices to get more views.
Chapter 2: The best tips to get more views on Youtube
Indeed, there are several tips to follow to get a lot more views on YouTube. These tactics can be classified into three main categories namely
Tips before editing,

Tips when uploading the video,

Tips on how to promote your videos.
2.1. Tips to adopt before editing your YouTube videos
Before editing your YouTube videos
2.1.1. Get users to touch or click on your video
Before you even think about making a video, it's important to think about a specific topic and your SEO angle
When users launch queries on search engines like YouTube or Google, they mostly ask questions like:
"How do I become a web writer?"

"How to start a business from scratch?

"Which laptop should I buy?"
It is then up to you to evaluate, identify the most relevant, more usual or frequent questions that users often ask in each field in order to answer them in the best possible way in your video
You can use tools such as Google Trends or keywordtool.io to find trending ideas or use YouTube's idea autosuggestion.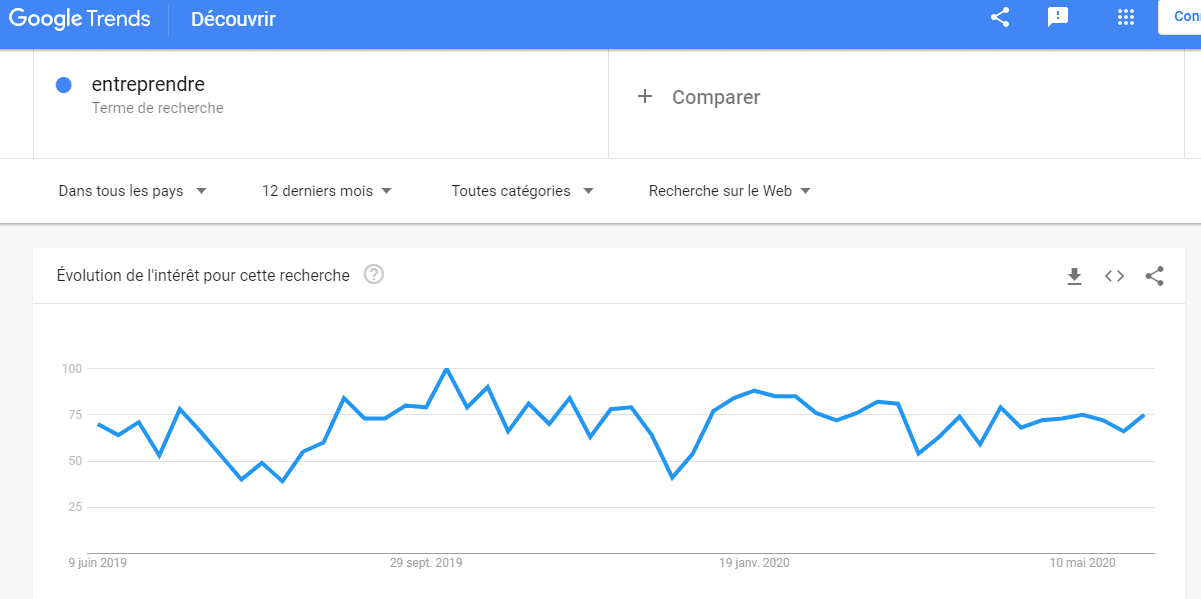 Next, you need to go to the results of previous queries related to your topic to determine if there are enough people interested in that kind of content
You can enter in the YouTube search bar "How to start a business from scratch?", among the results displayed there are several, thousands, even millions more videos that all answer this question.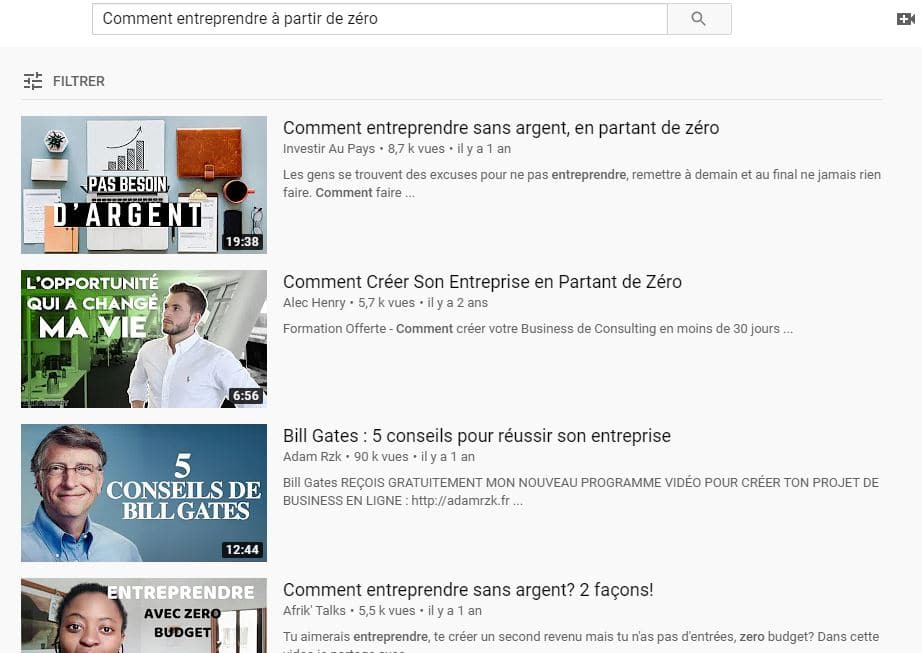 Well, this is an indication that there is a good number of Internet users who are interested in this subject. To make a video, we must therefore study the demands, expectations of Internet users so that the video will be visible even after months and avoid focusing only on the instantaneous
2.1.2. Use YouTube cards to keep users on your channel.
When playing videos, you have the possibility to show several overlays also called YouTube cards. They are usually links, a call-to-action button, a clickable image or a title.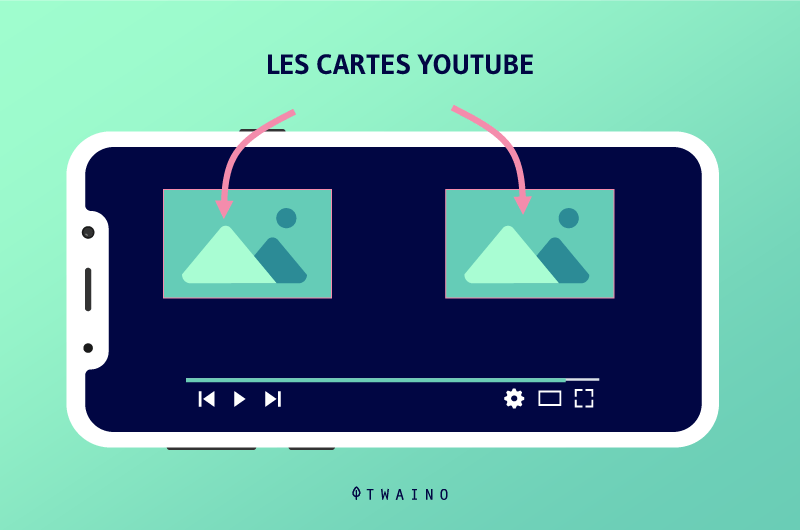 For example, when you publish videos, you have the ability to create a YouTube card displaying links that can help your audience go directly to the associated web page. The same goes for any playlists associated with that video
Check out this guide from Google for more information on how to use maps.
2.1.3. Add value to your video content
To get a lot of views on YouTube, the content you offer must arouse curiosity, i.e. be interesting to the viewer. The added value takes more into account the quality of the content.
When you offer quality content on your channel, viewers will tend to know more about you and watch more of your videos because you will have caught their attention.
It should be educational, entertaining, interesting, meet the expectations of the viewers. You can also make viral videos that generate positive or negative emotions, make people smile, shock, create a debate, arouse curiosity, bounce off the news..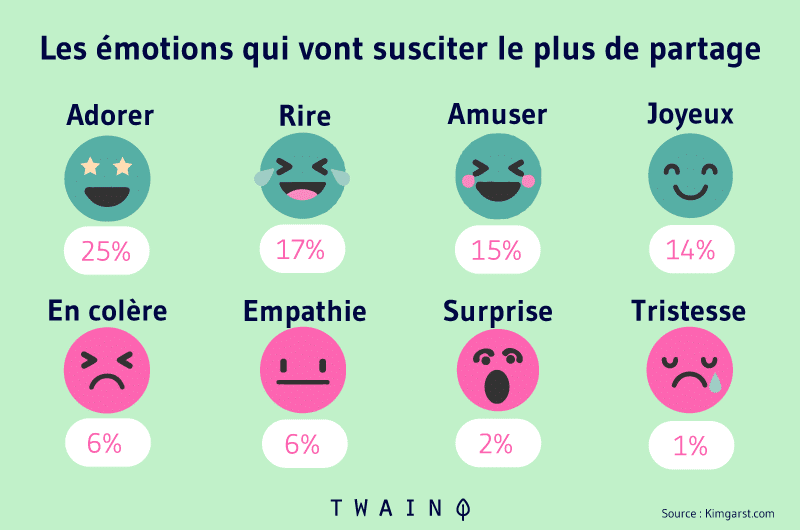 When the ideas developed in your video are unique, original, you attract more users to follow your channel. When you offer quality content on your channel, people will tend to want to know more about you and watch more of your videos, because you will have caught their attention.
2.1.4. Stay true to your commitments throughout your video
YouTube has the tools that can measure the exact size and know the content of your video. So it's important to stay honest to your original ideology throughout the editing process to gain more exposure
In other words, only address specific ideas that relate to your title and also meet the expectations of the visitor.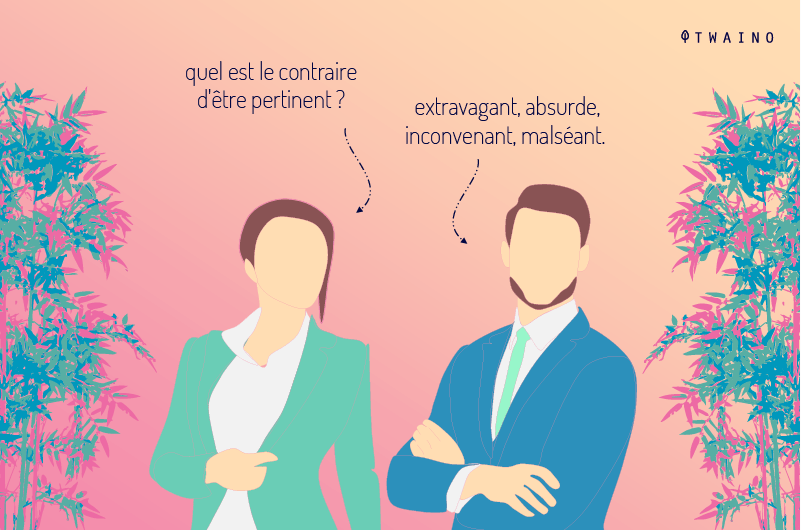 Engagement also includes the amount of time a viewer spends watching your video
If most users spend the average amount of time on your video, YouTube will not hesitate to show you in the first results of its searches, so you will get an excellent engagement score
2.1.5. Get people to comment on your post
When viewers leave comments on your video, it makes YouTube more interested in it, see if it is relevant and accurate.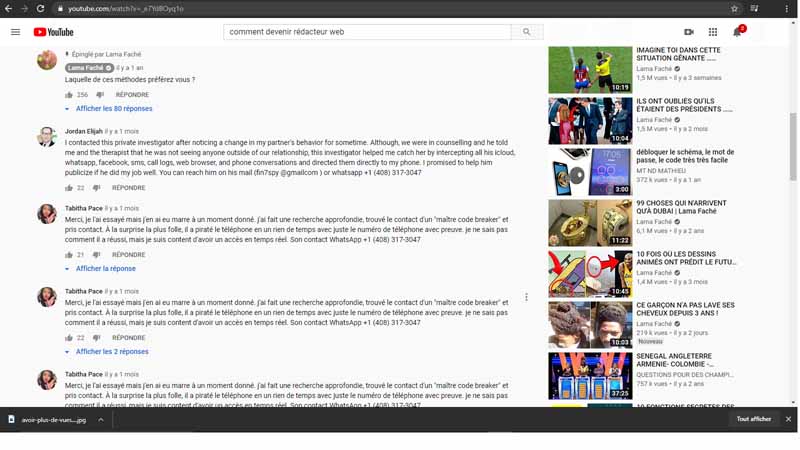 It takes two things into account:
The percentage of viewers who watch your video and leave a comment,

L

he number and content of comments.
In your videos, it is therefore advantageous to invite and encourage users to place remarks, instructions, appreciations in order to increase the visibility of your audience.
2.2. The best tips for uploading your YouTube videos
Here are the best practices to adopt when uploading your video
2.2.1. Create an attractive channel
Creating a channel on YouTube is very important when you plan to upload your videos. You also benefit from a public presence i.e. you can be seen by everyone when you have a YouTube channel. To create a channel on YouTube, you can use a computer or a phone. Also think about adding an icon on your channel.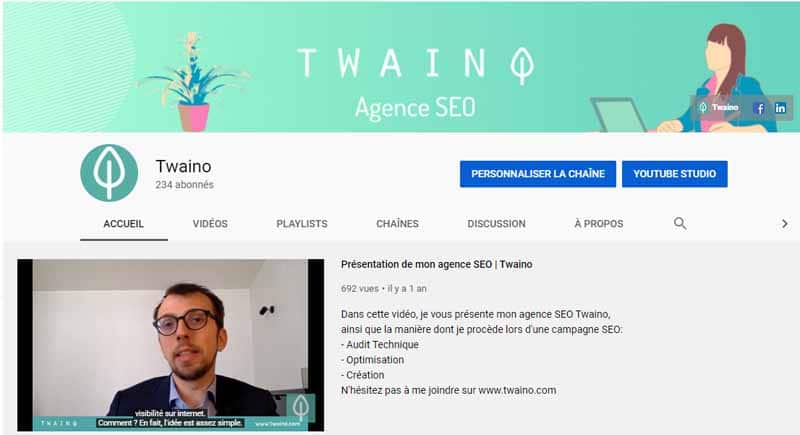 How to create a channel on Youtube?
You must first have a

google account

Sign in to

YouTube

from your computer or your cell phone.

Go to your Youtube settings, click on "my channel".

Check your data used on your Google account (the name and photo used) then confirm the creation of your channel.
2.2.2 Name your file correctly
The name of the file allows YouTube algorithms to quickly find you when a user launches his request, it represents the subject addressed, the objectives to achieve in the video. It is therefore essential to check if you have changed the name of your video before putting it online and to make sure that it includes keywords used in those of your competitors.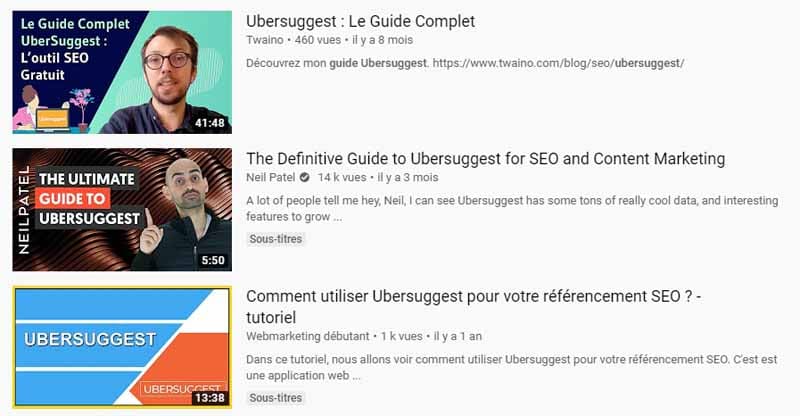 If your file is edited as mov_003_2020.mp4, you are missing a great opportunity to tell YouTube what your production is about. Your file name should accurately describe the query you are targeting on YouTube. For example, let's take this article, you can name its video "20 tips to get more views on YouTube.mp4".
2.2.3. Ask for feedbacks (like / dislike) to the users
Finally, we have the famous little Tumb up and Tumb down or like button on YouTube to indicate that you like, or dislike a video
When editing your video, you can ask people to click on the little blue thumb at the bottom of the video to give you a mention, like.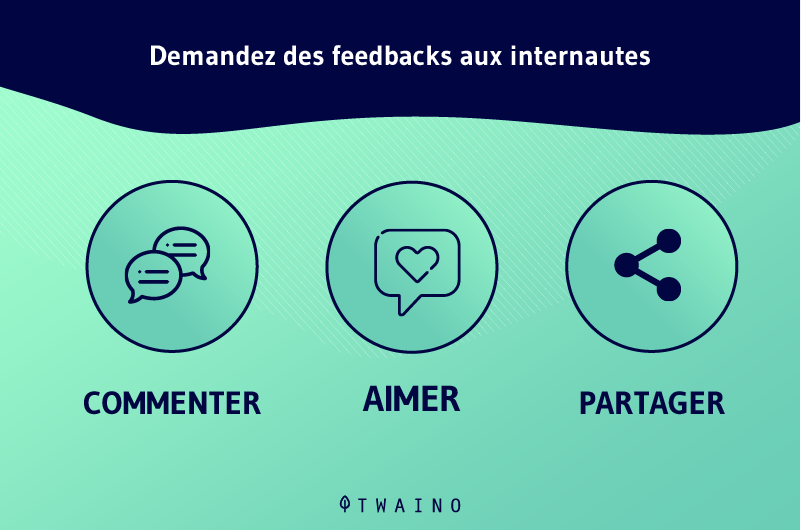 You can also ask for feedbacks in your video, do it by asking directly, or by annotations, comments, on social networks. This technique used when making your videos allows you to remind the user or push him to give his opinion by "like" or "dislike".
2.2.4. Be findable by YouTube
One of the best ways to get views on YouTube is to make sure that you can be found by users and by YouTube. Users will only click on a video that appears in their search results
If you want users to be able to target you, to see your posts, your productions, you need to customize the titles, the descriptions so that they appear in searches.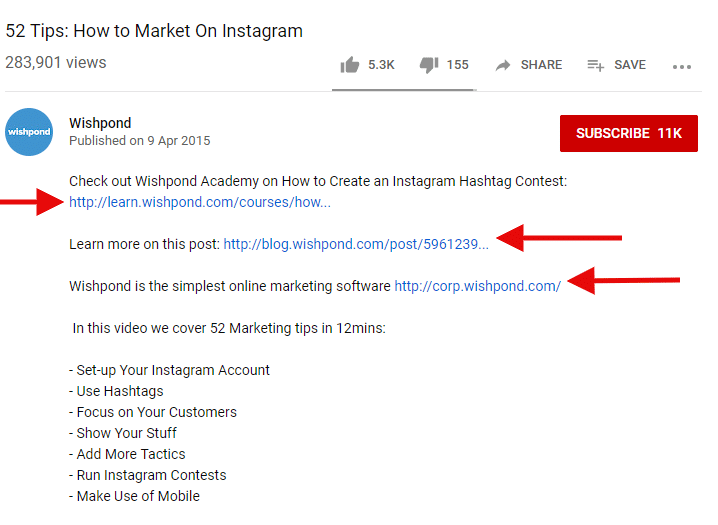 Source: Business2community
To facilitate the visibility of your video, you should do a research on the subject you have addressed and check how the most popular videos of your query appear in order to integrate some of their keywords in the title of your production. Also take a cue from their description file. This method allows Google to have an idea about your video.
You should also choose an icon representing your channel that can attract the attention of users, as it improves your image on YouTube
2.2.5. Make playlists of your videos
Playlists consist in gathering a list of videos dealing with the same ideas and playing them in continuity, i.e. one after the other. The particularity here is that the playback of the videos is automatic, once the current video is finished the user does not need to click on the next one.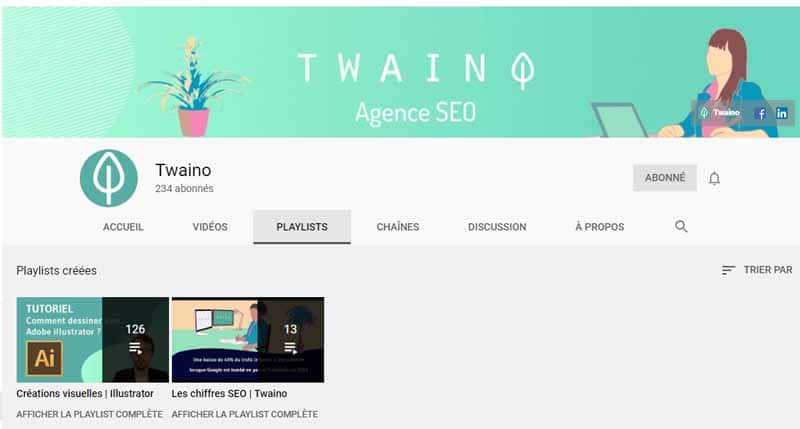 Creating a playlist allows you to get or increase the number of views for each video without the visitor having to leave the player. If the user doesn't like the content they are watching too much, they can change that video to yours perhaps, as it is in that playlist
How to add your video to a playlist?
Go to the start menu and select the stream ;

Then click on the YouTube stream tab;

Click on add to playlist ;

Select a playlist from the list that appears.
2.2.6. Add end screens to your videos
End screens are like announcements proposed by YouTube that appear between the last 20 and 5 seconds of your video to suggest users to watch another video similar to the one they just saw.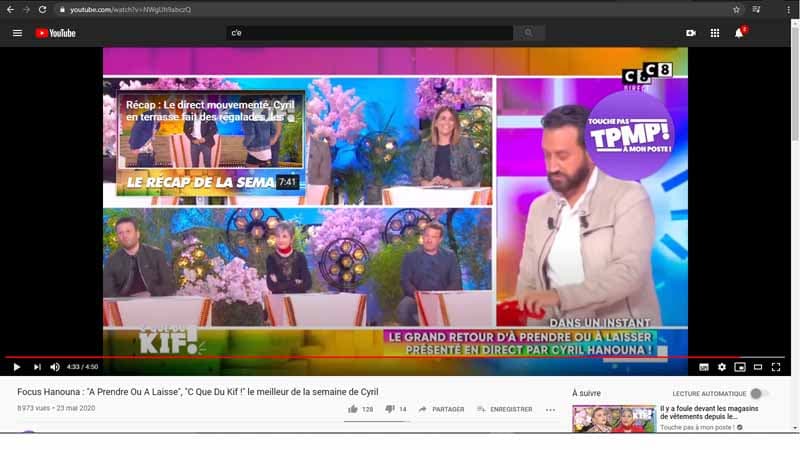 Steps to follow to insert an end screen in your videos?
Go to YouTube Studio, go to the Video page and select the video you want to add the end screen to;

In the left-hand menu, select Editing Application ;

Click Add End Screen.
You can, however, add a personal touch to the end screens according to your desires, tastes or those of the audience to attract the end screens while your video is online
Customizing an end screen means making your video attractive, adding content, elements, applying templates, shapes or modifying them, changing the time at which they are displayed and choosing its location in the video.
2.2.7. Optimize thumbnails to attract the audience
The thumbnail is a kind of profile picture of a video like the cover photo on Facebook and also has a considerable impact on the referencing of a video
It is an image related to the title and description of your video.

The fonts must be visible, clear, you can create your own thumbnails on software and insert them in your video
The more attractive your thumbnail is, the more the viewer clicks and spends enough time on your movie and this makes you increase the number of views, publicity. It is in fact the showcase of your production.
A good video thumbnail helps you to stand out from the crowd, to get out of the section or the list of several suggested videos.
Some criteria to have good thumbnails, you must :
Have a resolution of 1280 x 720,

Upload your video in .JPG, .GIF, .BMP or .PNG,

Remember to use the most used format, popular in the players.
2.2.8. Choose the most attractive title for your video
Just like Google, YouTube sorts its videos into those that meet the user's expectations. The title of your video must be concise and clear to everyone.
It is therefore essential to have an excellent title that strongly encourages people to click in order to be more visible and referenced by YouTube. It describes in a way the ideas developed in the production and allows you to be referenced.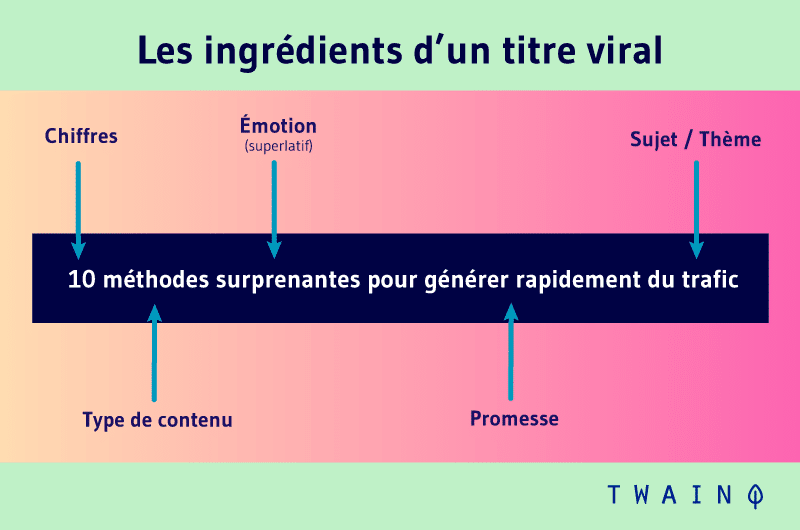 At this level, you need to look for the most used words in the user's query related to the subject of your video. Use these words to formulate your title.
There are several tricks to find the keywords that are more used than others of these words, you can use tools such as
To make your title more attractive, you can use tricks like :
Numbers,

Adjectives,

Brackets,

Symbols,

Capital letters or

Brackets.
2.2.9. The complete description of the content of your video
The description consists of making a short text of about 300 words briefly describing the content of your video while inserting several keywords, links pointing to your sources
It also participates in the good referencing, the visibility of your video by Youtube.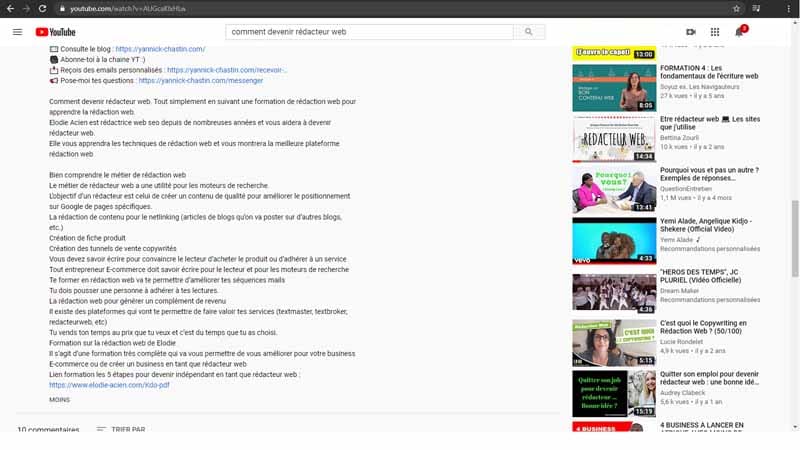 The description is often neglected by many Youtubers when uploading videos, so its use can turn to your advantage and also improve your profile on YouTube
It can be written as a blog post. You should also not confuse visitors, the description and content of your video should be on the same wavelength.
It answers questions like:
What type of business are you in?

What kind of videos, topics, contents you want to publish to your subscribers, audiences will be able to on your channel?
2.2.10. Put attractive images in front of your video
To get your video online, it's not enough to just make and share it, you need to make sure the quality and format of your images. Internet users are only interested in attractive videos
Our eyes are much more attracted to beautiful things, you can customize your images yourself by adding unusual text, out of the ordinary, arrows to arouse the curiosity of users.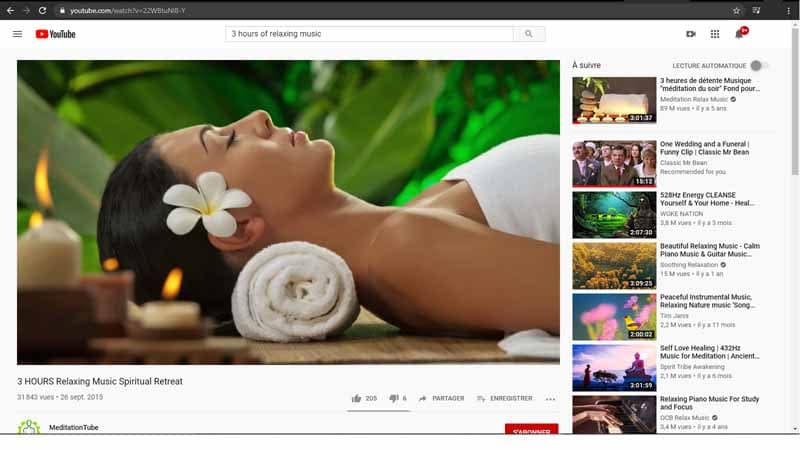 Each time a user clicks on your video, your number of clicks increases, which shows that your content is useful to users and therefore to YouTube. YouTube is more based on user behavior to rank your publication
When a user launches a search, several results are presented to him, among them, we can see images, titles, description, date of publication of the video the number of views the challenge is to make your video stand out from the rest.
2.2.11. Use the best tags
Tags are tags added to your videos that are always related to the ideas in the video.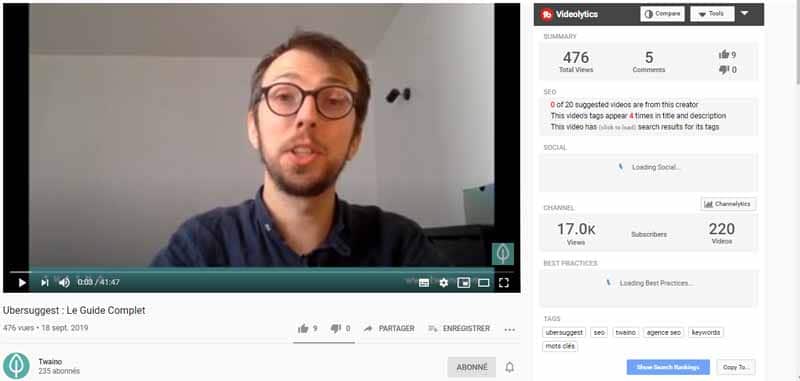 When a user makes a query in the search bar, all videos with that word as a tag appear. This makes it easier for YouTube to see your videos
2.2.12. Make a good transcription of your video
YouTube is constantly evolving, it has several analysis tools in order to more or less meet the requirements of its users to interpret each of their actions
For example, the platform has voice recognition tools that automatically transcribe or translate the words of the video into words.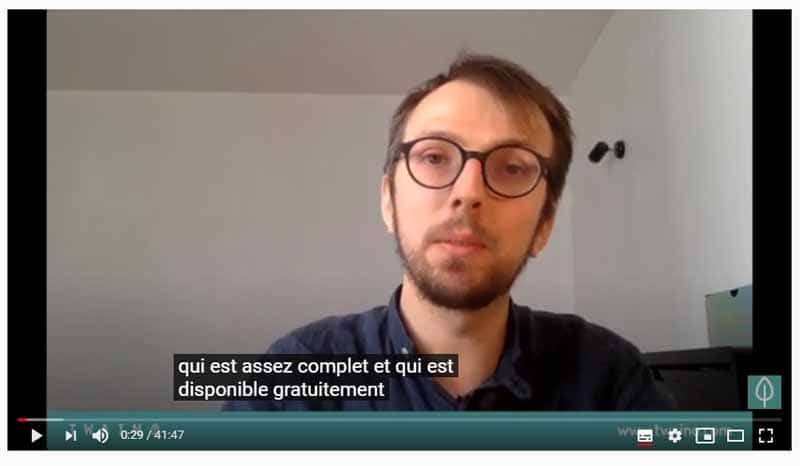 If you are used to using YouTube, you will notice that the transcription is usually not correct. It is full of mistakes that are very easy to spot
From a usability point of view, the experience is not optimal when the subtitles contain mistakes. Especially since not all viewers are going to follow your video in quiet, noiseless places.
Also, one of the most important rules in YouTube SEO is to always have correct subtitles.
Therefore, it's important to proofread your transcripts to provide the best user experience and boost your videos' SEO
2.3. The best tips for promoting your YouTube videos.
Once your videos are created and uploaded you need to promote them. Here are 3 tips for a good promotion of your videos
2.3.1. Direct users to your videos
When someone watches your post and likes the content, they will probably want to watch other similar content. It is therefore advisable to always include at the end of your videos one or more links to one of your current videos or to your playlist
If a user watches your video until the end, there is a good chance that he will click on your link
You can also use, as said before, YouTube cards or simply annotations redirected to your other videos
Just be careful not to include more than three lines, lest the lazy viewers ignore it.
2.3.2. Use the YouTube analytics tool to track your video statistics
Video analytics allows you to track your videos in real time and correct inconsistencies. It measures the popularity and content performance of your published videos. Thanks to video analytics, you will know where your videos have been seen, the number of users who have watched your publication and their reaction.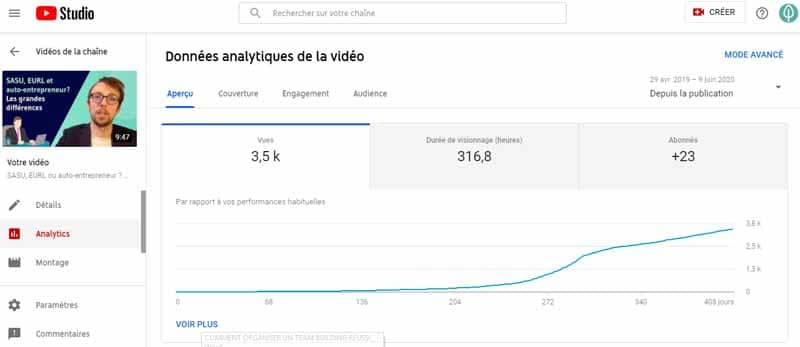 It allows you to answer questions like:
Who watched my video?

In which country was my video viewed?

What is the total viewing time in hours, minutes, seconds each time a user clicks on the play button of my video?
2.3.4. Respond to your comments
You can interact with your audience by responding to them when they ask questions or express concern.
If someone has taken the time to click, watch and share their opinion or ask you questions about your video, it's important not to leave it unanswered
This tip can help you increase your popularity rating.
To address their concern, however, you can host a Q&A video or make a call to action on social media by inviting other members of your audience to share their concerns and opinions
By sharing your videos on your other social media accounts while addressing each of your visitors' concerns, you are expanding your community.
You can also publish your videos, your channel on websites, in forums or groups, by word of mouth and even on other social platforms
Promoting your channel starts with the design of the video, the content, the ideas to develop. It is therefore important to look for the types of videos that have potential in terms of views on YouTube.
Here are some social channels on which you can share, talk about your videos or put links back to your YouTube channel:
In summary
There are many ways to increase the performance of a YouTube channel and everyone can do it in their own way
In this article, you had the opportunity to discover the best tips to improve the performance of your videos in order to get more views on YouTube
These tips will not only help you get views, but also boost your channel's popularity and get more subscribers.
Feel free to share with us your experience on how these tips have improved the performance of your YouTube channel
See you soon!