URL
Titre
0caractéres-(0px/600px)
Description
0caractéres-(0px/960px)
Mots clés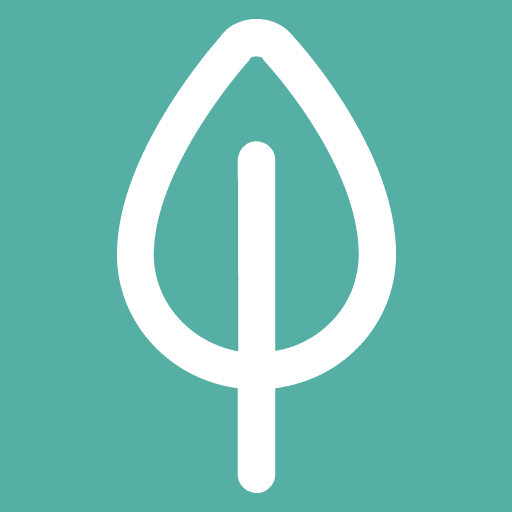 Exemple.com
Le titre devra faire entre 150 et 600 Pixels de longueur
La Description devra faire entre 600 et 960 Pixels de longueur
Twaino's SERP Simulator – A free and simple tool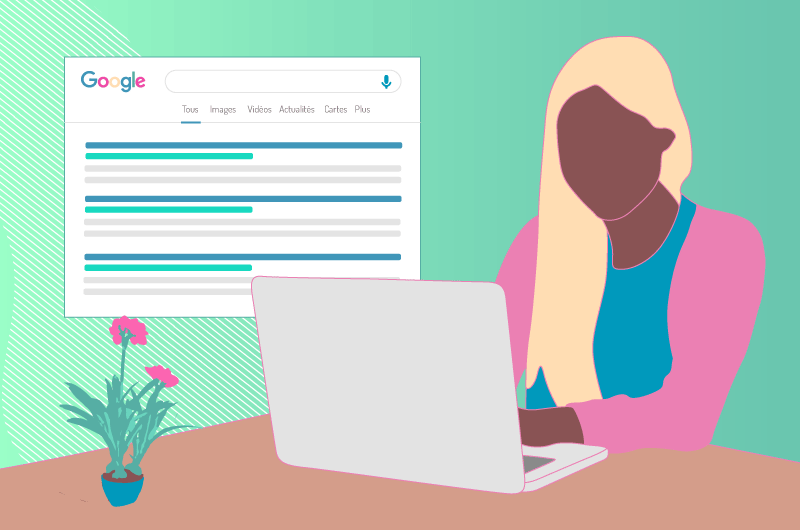 The title and description you provide for each of your pages is the first card you play to stand out from your competitors on Google's search results pages.
Yet, just when you think you're doing it right, the post-publication process can throw up some unpleasant surprises.
To make things easier, Twaino offers you its SERP simulator to test and optimize the display of your titles and meta-descriptions, even before the publication of your articles.
Find out how to use this simulator and get ahead of your competitors.
Chapter 1: How to use the Twaino SERP simulator?
The Twaino SERP simulator has a simple and user-friendly design that adapts easily to all screen resolutions. So you can use it from a cell phone or a desktop computer.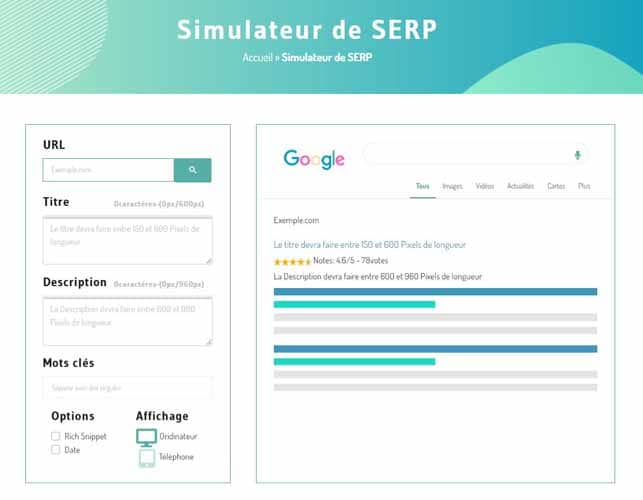 Moreover, Twaino's SERP simulator is very easy to use and it is important to note that this can be done in two contexts:
Insert a URL and directly import the data to test, the display of a content already published on the SERP;
Insert directly a text to test the display of a content to be published on the SERP.
1.1. insert a URL and import directly the data of the page
To see the behavior of the title and meta description of an already published article:
Just copy the link of the article's page;
Then paste it in the URL bar of the simulator;
Then click on the search logo.

The simulator will retrieve the content of the title and meta description tags and display them in the corresponding fields. Each field has a gauge ink with the exact number of words and pixels used.
If the gauge ink is green, it would mean that the tag is within the word limit.
If, on the other hand, the ink turns purple, then the tag in question has just exceeded the required pixel limit. You must therefore play with the words until you reach the recommended number of characters.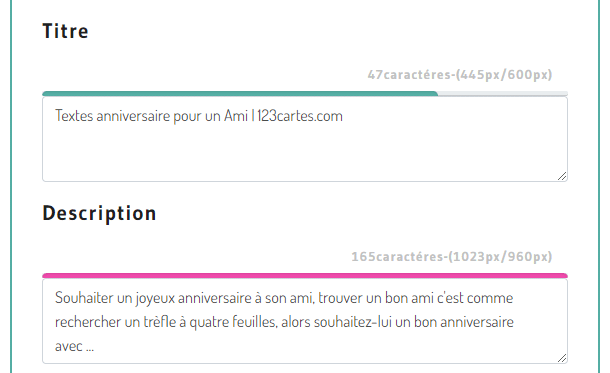 When adjusting the words, the tool offers you a simulated SERP where you can see and appreciate the changes you make.
1.2. enter text directly
If it is a ready to publish article, ignore the first field of the simulator and follow these steps:
Type (or paste) the title and meta description of the article into the corresponding fields;
Enter the keyword(s) of the article;
Then check the optional boxes "Rich Snippet" and "Date" if you want to display them in the simulation;
Finally, choose the type of resolution you want to test (phone or computer).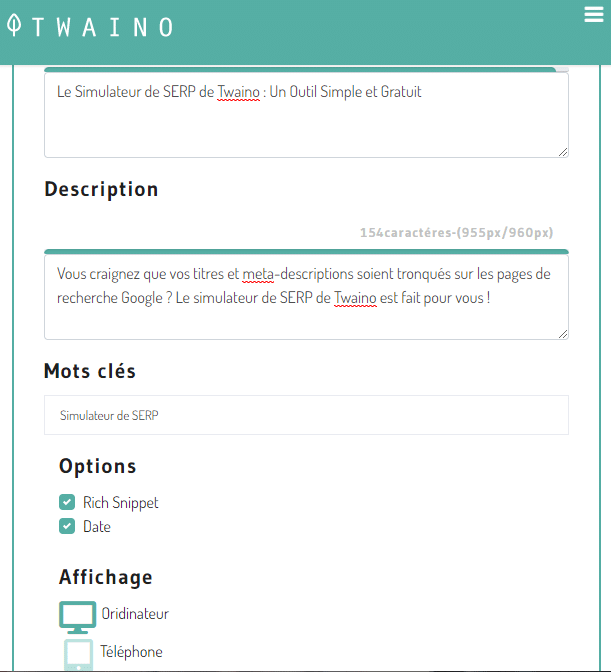 It must be said that as you fill in the form, the SERP of the simulator is gradually built. No need to finish everything and click on a button to get a rendering.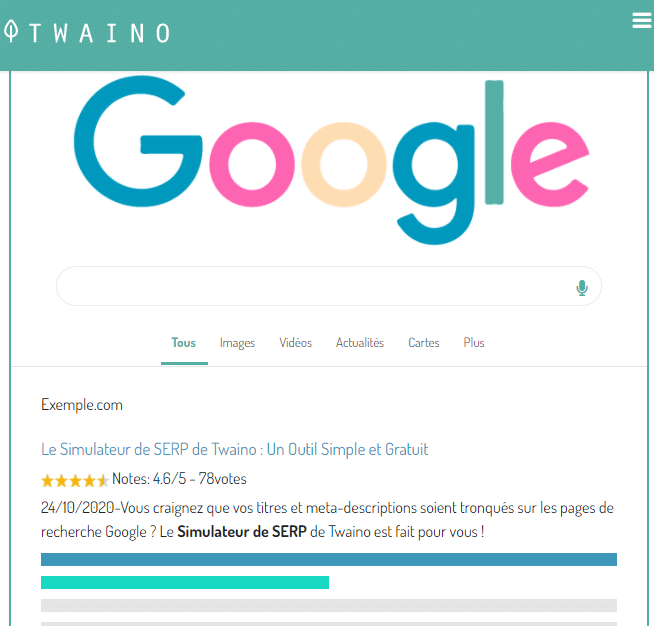 The system is dynamic and the words you fill in the fields are automatically displayed on the SERP.
As you can see, Twaino's SERP simulator is easy to use and very practical. In just a few seconds, you have a preview of your title and meta-description with the possibility to readjust them for a better display.
However, did you know that a Google SERP is not only limited to a title and a meta-description? Discover in the rest of this guide, all the other elements that can be displayed on a SERP.
But first, what do we mean by a SERP?
Chapter 2: SERP – Definition, components and best practices
2.1. Definition
A SERP is a page of results returned by Google or any other search engine (Yahoo, Bing, etc.) in response to a request made by an Internet user.
So, as an Internet user, it is very likely that you have already browsed several SERPs in search of an information, a product, an establishment or a service.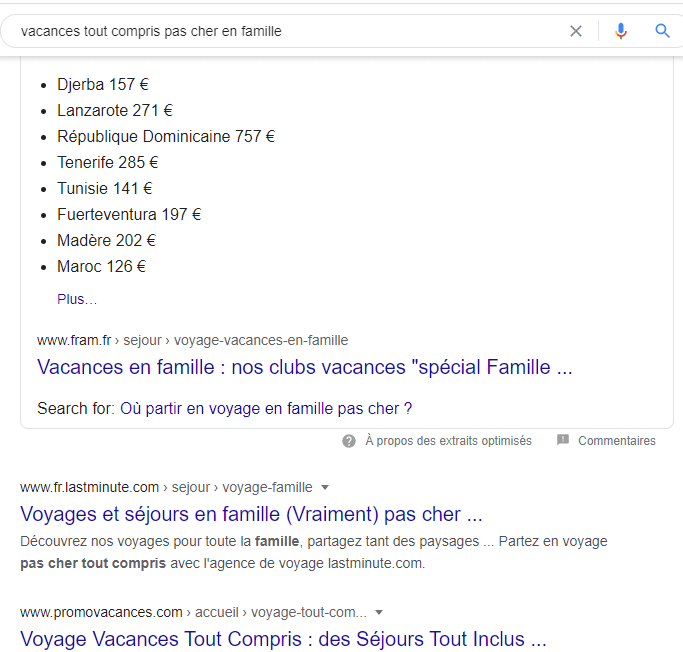 SERPs are often presented in the form of a selection of Web sites deemed relevant by search engines. While surfing on the Internet, you may have noticed that there are several types of SERPs:
2.1.1. SERP 1
Generally, search engines, especially Google, prioritize the display of SERPs whose contents can really bring a relevant answer to the Internet user.
The SERP 1 is therefore nothing more than the first page of results that a search engine returns after each request.
It contains on average about ten elements of answers that are often interesting and really practical, unless the subject of the search does not have enough information or the Internet user has formulated it badly.
This is the famous page on which all websites aspire to be referenced. And we can understand why it is so coveted.
SERP 1 alone accounts for almost all the clicks that a search can receive. Nearly 75% of Internet users never get past the SERP 1 of search engines: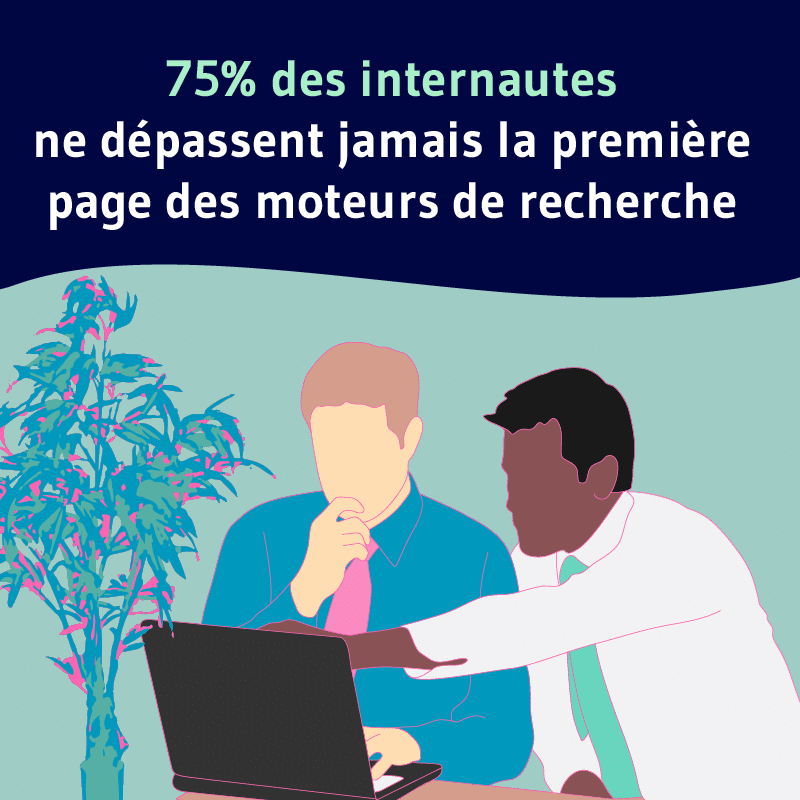 Websites that manage to stand out from the crowd and position themselves on SERP 1 are therefore the most likely to be consulted by a large number of Internet users. However, this race of referencing on Google pages continues even on SERP 1.
Indeed, studies have shown that the click rate drops very quickly between sites positioned on SERP 1. The first one retains 36.4% of clicks, 12.5% for the second, 9.5% for the third and so on.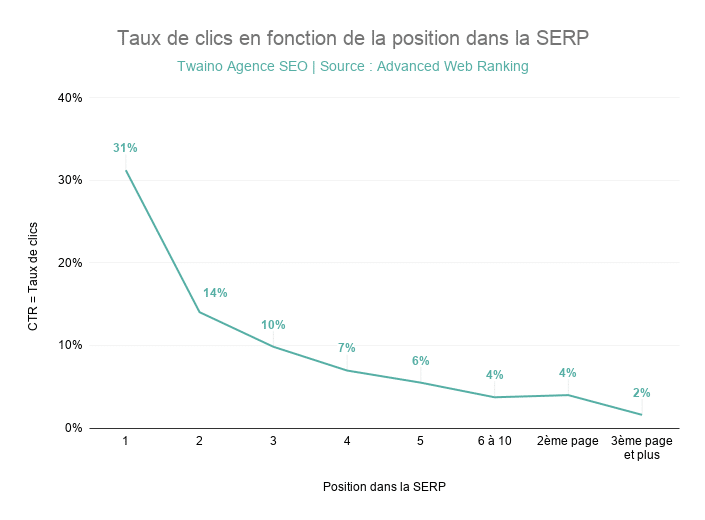 Hence the importance of SEO which remains the most effective and affordable way in the long term to reference your site on the Google SERPs.
2.1.2. The SERP 2
SERP 2 is the next page that also allows you to consult the proposed answers. But to consult the SERP 2, the user must scroll the navigation bar to reach the footer and click on the number of page 2.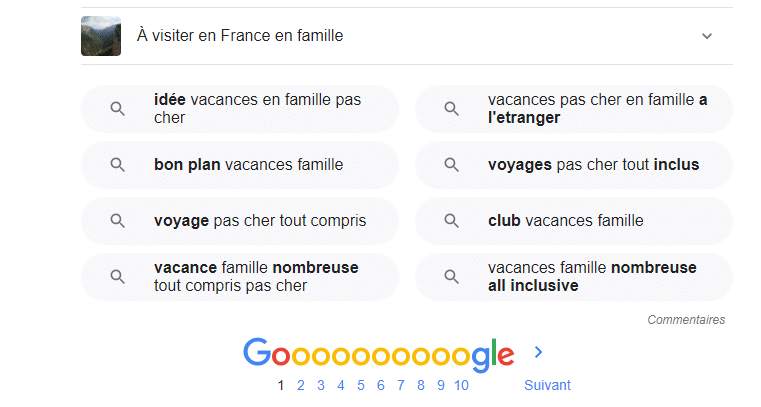 Same scenario to discover SERPs 3, 4, etc.
2.2. Factors that influence the display of SERPs
Initially, all Internet users could see the same order of results on a SERP.
Simply because at the time, search engines relied solely on a site's statistics to know which SERP to display it on and what ranking to give it.
Today, things have evolved and other referencing criteria have been added such as:
Device;
The connected users;
The geographical position of the user;
The user's browsing history.
As a result, two users can launch the same search, identical word for word, and have slightly different results on the SERPs.
If a user connects from a phone, Google tends to offer URLs whose mobile version has been improved enough to ensure a smooth and pleasant navigation on smartphones, tablets and other mobile devices.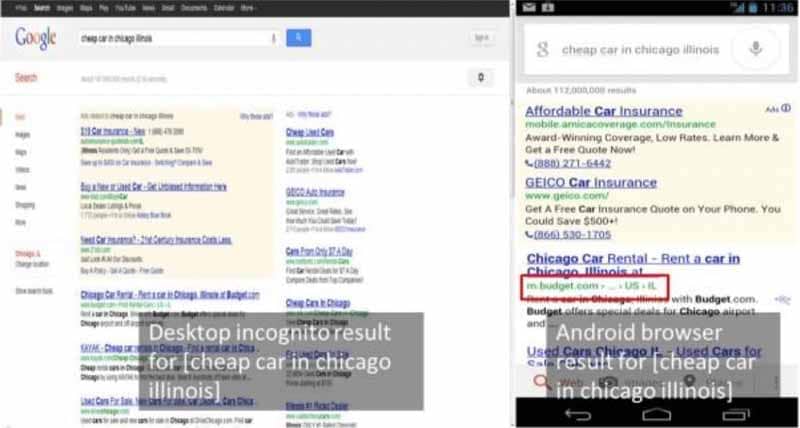 Source : Market Motive
Moreover, even between two mobile users who each have a Google account, the search engine can also display different sites based on the history retrieved from their browser.
The search results can therefore differ depending on your previous connections unless you hide your data.
Finally, your location may also affect your Google search results if the phone has location enabled.
Google's algorithms will automatically detect your location and suggest establishments that are closest to you.
Let's say you are in downtown Marseille and you are looking for a station to take the metro. Without specifying your location, Google will suggest metro stations that are nearby.
However, if you have conducted searches from a given area and then change your location, you will still get the same SERP display for your usual searches.
What happens is that Google will tap into your browsers cookies to reload your old searches. So the SERP interface will stay the same as long as you don't clear the cache.
2.3. What is a SERP made of?
In the 90's, search engines could only display simple passages of web pages to compose their SERPs.
Today, SERPs have evolved a lot and now contain various very important sections to satisfy the needs of Internet users:
2.3.1. Natural links
Generally, search engines propose a list of about ten websites after each request made by a user.
Each site is represented on the list in the form of a blue clickable anchor that redirects users to a page of the site in question: This is the Title tag of the page.
Just below it is another tag called meta-description which contains a brief description of the destination page.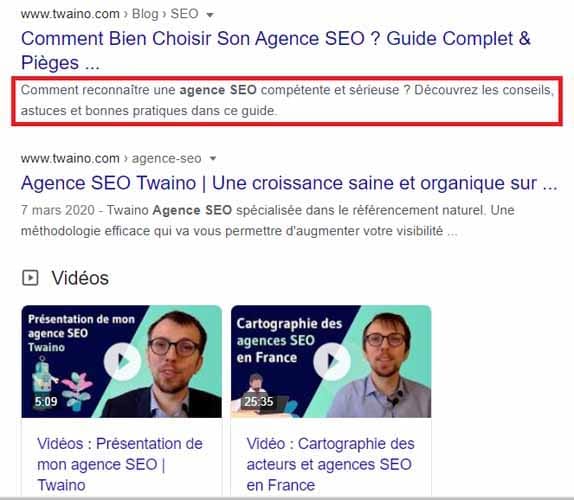 It must be said that Google does not always return exactly 10 links to constitute the history of its SERPs.
Depending on the query made, the search engine may return 8 links, sometimes even 6.
Also, it is important to add that these links are "natural" links, that is to say that they have managed to occupy their place on the SERP only through SEO.
2.3.2. Adwords links
A SERP can also include links called Adwords. These are actually advertisements. Unlike "natural" links, Adwords links occupy a position on a SERP in exchange for payment.
Adwords links can be up to 4 on the same SERP page and are usually ranked before natural links. They are recognized by the mention Ad: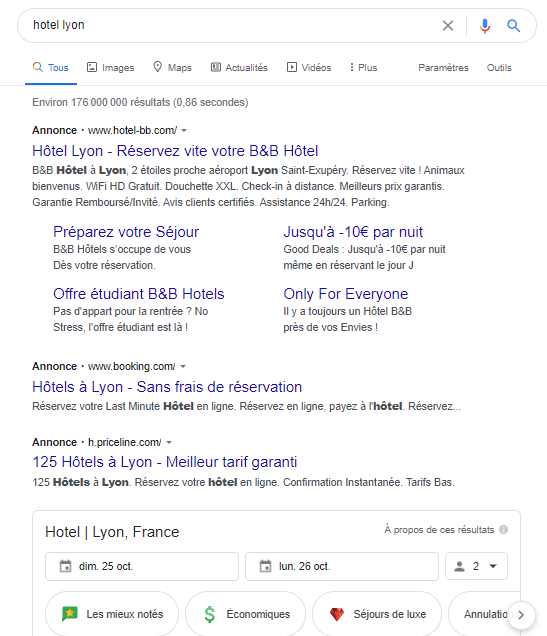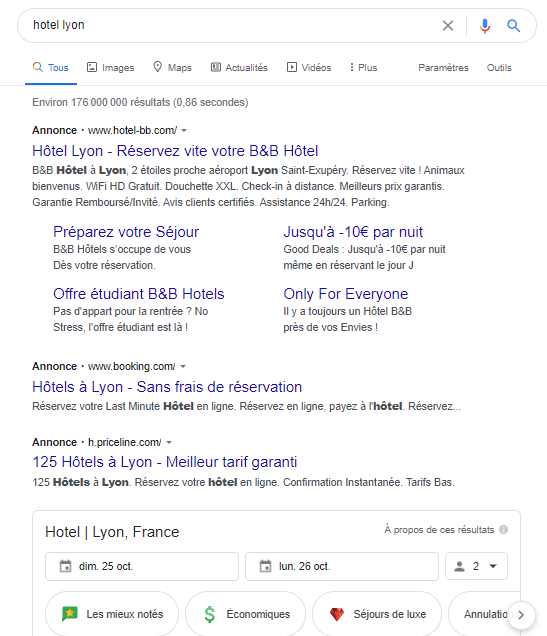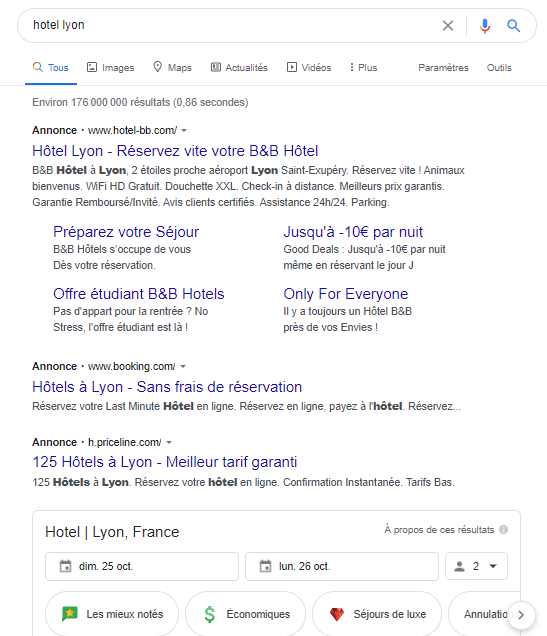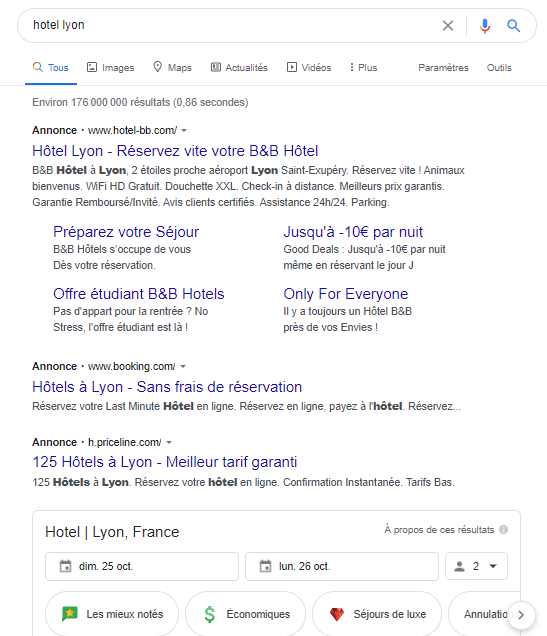 It is not uncommon to see Google also display some Adwords links at the bottom of its SERPs.
2.3.3. The Knowledge Graph
The Knowledge Graph is a small section that offers a carousel of images related to the subject searched. It is often positioned at the top of the page or on the right side of a SERP.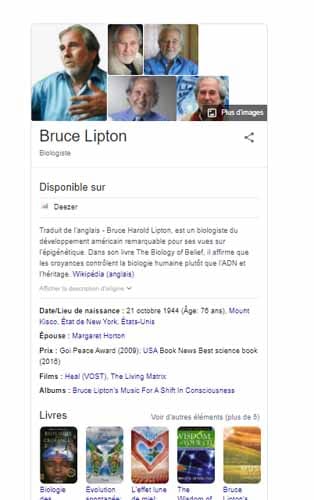 2.3.4. The "One box" or "Direct Answer
It can also happen that after a search, the search engines display a One box.
This is a block of information placed at the top of the page of a SERP and which directly answers the user's query.
Google can choose to take an extract from a page of a site that it deems relevant to form the One box of a search or another partner site.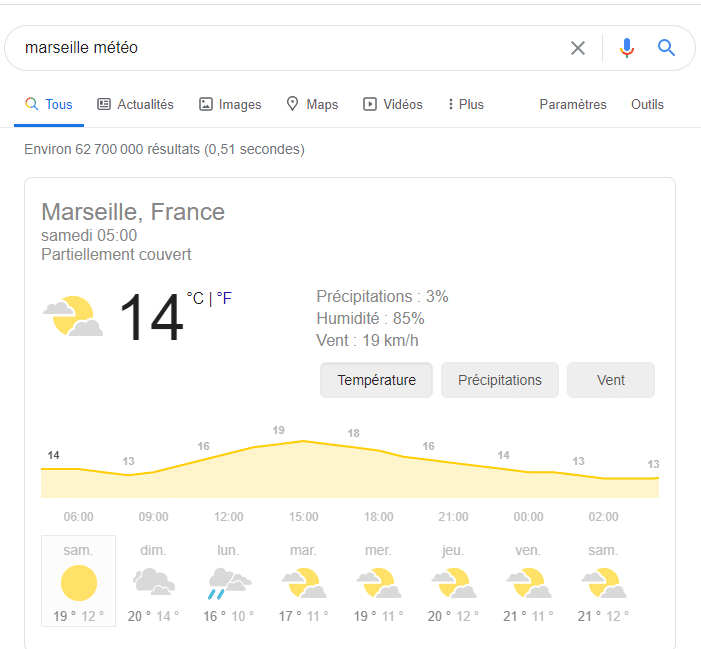 2.3.5. Point of Interest (POI)
The POI is proposed by search engines for certain queries. We have for example the Google POI which is a block of information and links generally on places.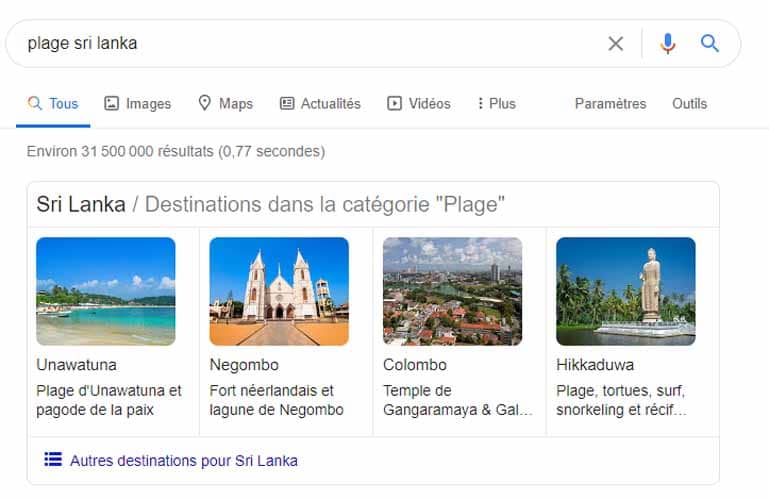 2.3.5. Featured Snippets
When we ask a question on Google, the search engine may decide to display a block of information called "featured snippets" and placed at position zero.
This means that the featured snippets are placed even before the advertising links and organic links. It consists of the title of the page of a site, the URL of the page and an excerpt of the content to answer the question of the Internet user.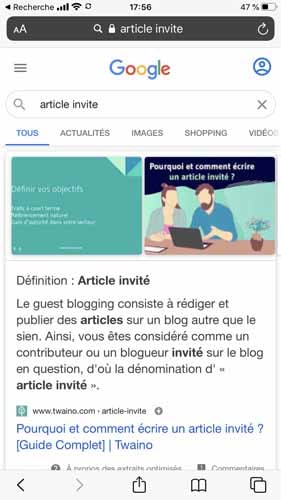 If a site is chosen by Google to serve as featured snippets for a query, the site will see its click-through rate increase dramatically. The fact is that most Internet users are satisfied with featured snippets to find the answer to their query.
2.3.6. Universal search
This section groups together the other Google tools that also tend to provide answer proposals to Internet users.
2.3.6.1. Google News for searches related to current events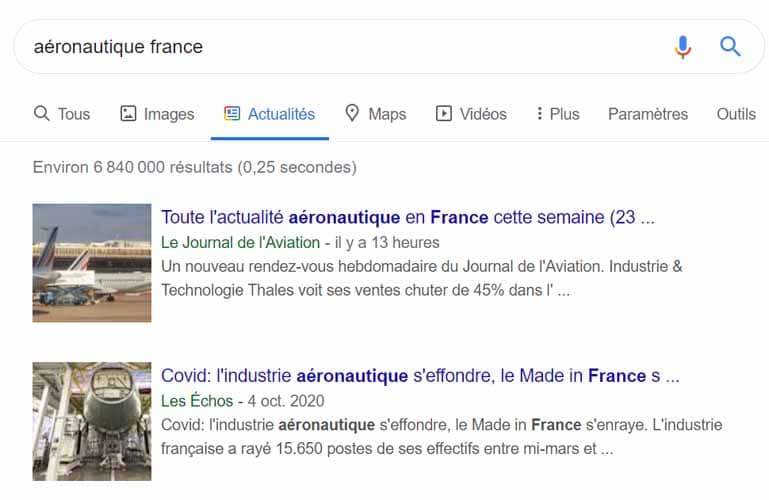 2.3.6.2. Google Images to quickly see what an object looks like or consult infographics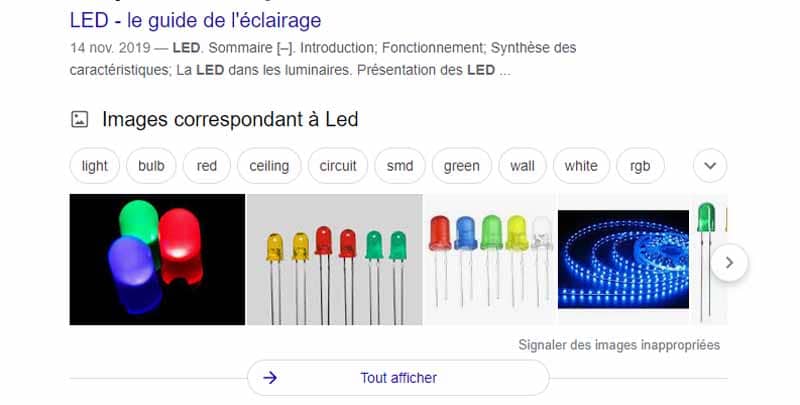 2.3.6.3. Google Maps & Google MyBusiness to find the exact location of an establishment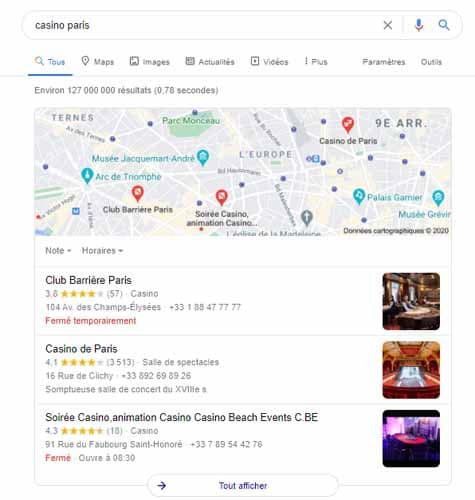 2.3.6.4. Google Shopping to discover good online shopping offers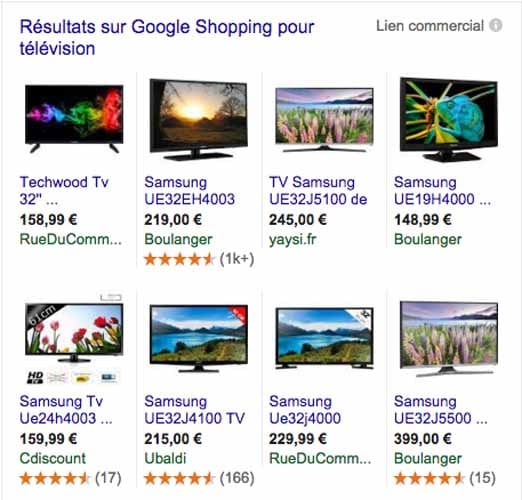 Now that we have a clear idea of a SERP and its components, we can clearly look at the SERP simulator.
Chapter 3: What is a SERP simulator?
The SERP simulator is an online preview tool designed to improve the presentation of a site on a search engine results page.
In practice, the SERP simulator allows you to try several displays of the site to choose the tags that will have the most effect and attract the most clicks.
This essentially means checking if your title and meta-description tags are catchy enough and especially if part of their content will not be truncated on the screen of Internet users.
3.1. Who is a SERP simulator for?
Well, almost anyone can use it. The SERP simulator is not a difficult tool to use. It is convenient and very easy to use.
You don't have to be an experienced webmaster or SEO specialist to use a SERP simulator.
Whether you are a blogger or even an individual who writes his own articles on his website, you can perfectly use a SERP simulator.
The purpose of the SERP simulator is to help anyone who is ready to publish content on a website, to test the display of title and meta-description tags before publishing.
The idea is to help the different actors involved in the creation of web content to optimize the display of their site on the SERPs, both on mobile devices and on desktop computers.
3.2. The SERP simulator to know precisely the size of its titles to better optimize them
As explained above, the title of a web page is filled in its Title tag which allows the user to know in advance the main theme that has been developed on the page.
It is very useful since it is the first element of your site that users will see on a SERP.
The title must therefore be in line with the user's search intention and contain at least your main keywords to really catch the visitor's attention.


But what would you do if despite all your efforts, a good part of your title remains truncated and hidden from users? Indeed, it is not uncommon to see Google hide the last words of a title and simply replace them with three suspension points (…).
The fact is that the search engine imposes a certain size that all page titles listed on its SERP must have. Beyond 600 pixels, or about 75 characters including spaces, your title will be truncated.
A badly displayed title will certainly be misunderstood by Internet users, which will have a negative impact on the page's referencing.
But thanks to a SERP simulator, you can avoid these kinds of incidents and optimize the display of your titles.
As you enter the title of your page, the simulator automatically informs you of the number of characters used and the size of the pixels they occupy.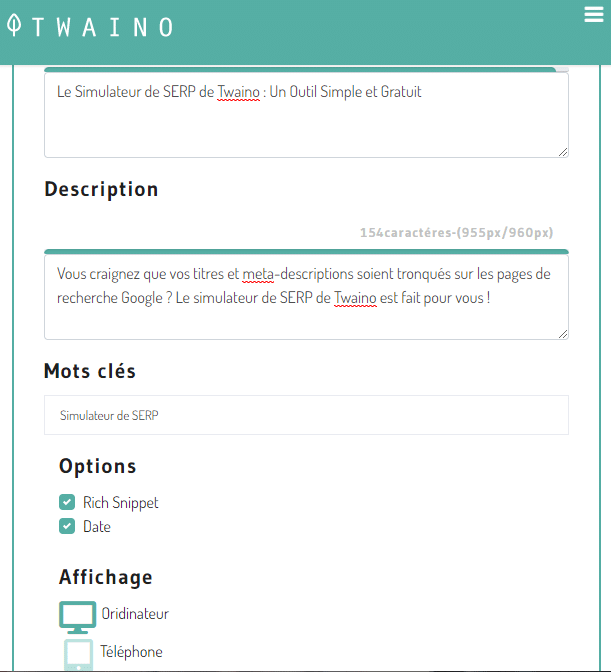 From now on, you will not have to finish a publication to know if the title of the page has been displayed in full or not.
3.3. The SERP simulator to know precisely the size of your meta-descriptions to better optimize them
The meta-description is the brief description that you fill in to guide users on the content of the page and encourage them to click on your site.
If it is poorly presented, users may simply leave your site and click on another with a more enticing and well presented meta description.
Just like titles, Google also imposes a limit on the content of meta descriptions. This time, beyond 960 pixels, or about 120 characters, the search engine replaces the rest of your meta descriptions with ellipses.

Still with a SERP simulator, you can have an exact idea of the number of characters or pixels that your meta-descriptions occupy and predict the rendering on a SERP before publishing the article.
3.4. SERP Simulator: Number of pixels Vs Number of characters
There are many tools available on the Internet that count only characters. But the reality is that Google counts the number of pixels and not the number of characters.
The fact that not all characters take up the same amount of space. An "m" will surely take up more space than an "i". This is why Google decides to base the limit of title and meta description tags only on the number of pixels.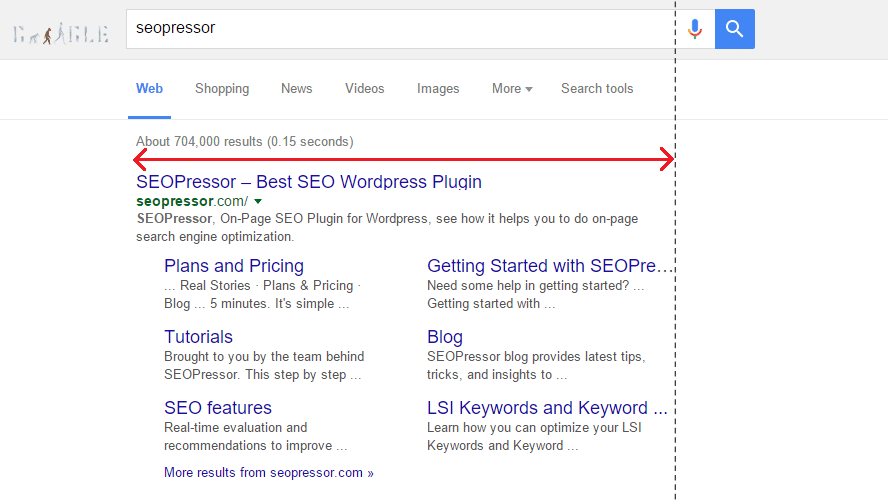 Source : SEO Pressor
But we have to admit that unless you have a compass in your eyes it would be a bit difficult to know when writing how many pixels your text occupies. That's why it's a little more convenient to count characters.
Even if this doesn't give you an exact idea of how many pixels you are occupying when typing, you will still have an approximation. Generally, 1 pixel (X) = 0.125 characters (X).
To make it easier for you, Twaino's SERP simulator counts the characters, but also the number of pixels. So you have both possible measures to evaluate the size of texts.
However, I advise you not to use the maximum recommended pixels for fear of seeing part of your title tags and meta descriptions truncated.
Always keep a margin of difference, especially since sometimes some keywords can be displayed in bold, which is a few extra pixels you probably didn't plan for.
3.5. Twaino's SERP simulator: A free tool to improve your visibility
Twaino is an SEO agency that helps companies improve their visibility on the Internet.
In addition to the services we offer and the articles we publish on our blog, we also provide our users with free SEO tools to fuel this quest: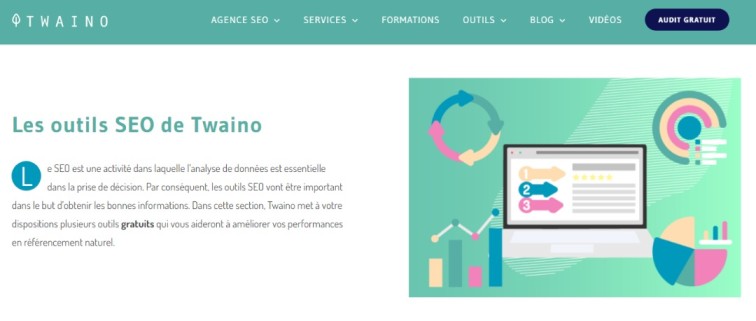 Twaino's SERP simulator is a completely free tool that you can use without any limit to test the display of your titles and meta-descriptions.
Available online 24 hours a day, we do not require any registration or payment to use our tool.
To finish this guide to using Twaino's SERP simulator, we will discuss in this last chapter the best practices to follow to get your site on the SERPs.
Chapter 4: What are the best practices to improve your results in the SERPs?
Although you now have the Twaino simulator, there are still some good practices that should help you improve your position on the Google SERPs:
4.1. write catchy title tags
Title tags are of great importance in improving the click-through rate of your site.
Not only do they represent the link that directs users to your site, but they also allow search engines to understand the theme of your page to better reference it.
To improve your results on the SERPs you must make your title tags as catchy as possible and for that, here are some tips:
Do not exceed the 75 characters recommended by Google.
If your subject allows it, insert numbers in your titles, preferably odd numbers. Users love numbers. Example: 5 tips to go to sleep quickly:
Your titles must be in phase with the search intention of the Internet user. You must therefore first conduct a keyword search.
Give preference to titles in question form.
Numbers have proven that a catchy enough title can significantly increase your brand's engagement and help make your content go viral.
Simply because most internet users often don't have the time to browse through multiple sites and are in a hurry to find a quick solution to their needs.
So, if you manage to catch their attention with an attractive title, it is quite possible that they will click on your link to discover your content. That means more clicks and a higher traffic rate.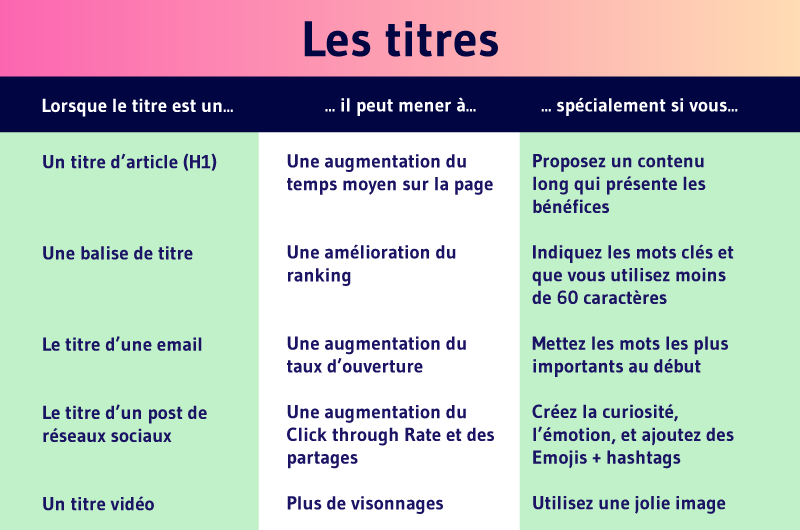 Simply put, the quality of your headlines can help you attract or lose visitors. However, this is not a reason to produce overly cheesy titles with "empty" content.
Try to honor the promises you make in your titles.
4.2. Offer meta description tags that call for action
Meta description tags are not in themselves a search engine optimization criteria. However, they are of great interest to Internet users.
After the titles, it is the last card you have to really incite the user to consult your page and improve your CTR. So you must not miss it!
They must be well written and project a clear idea of the main lines to discover on the page. The idea is to provide a clear overview of the content.
Moreover, this is the second piece of information about your company that is visible on the SERPs. So this is your chance to charm readers and give them a taste of what they might discover when visiting your site, but at the same time prove that you have the solution to their concerns.
You should also make sure to produce a unique meta description for each of your pages to prevent them from competing for the same keywords.
Your meta descriptions must also incite users to take action and for this it is recommended to use verbs such as :
Discover ;
Come ;
Booster ;
Etc.
Get into the habit of involving readers in your meta descriptions by using the pronoun "you". It's a way to prove to them that you are interested in their case and they will feel more confident.
In addition, in the 120 characters you are allowed to build your meta description, make sure to insert your keywords. Google will display these keywords in bold, which will attract the attention of Internet users and reassure them that your page is indeed about the subject they are looking for.
In short, an ideal meta description is one that manages to attract the attention of the Internet user, that presents a good image of your company and that respects the number of characters recommended by Google.
4.3. A fairly explicit URL structure with the main keywords of the page
One of the best practices you can apply to improve your ranking on SERPs is to always put your keywords in the URL of your pages. This makes it easier for the page to be indexed and gives it a better chance of being listed for the targeted keyword.
In addition, to make reading easier for Internet users, you can use certain punctuation such as bars or hyphens to separate the words that make up your URLs. But avoid unusual characters (%, @, =, etc.) and spelling mistakes.
It is also important to keep your URLs as concise as possible. A short URL will be easier to read and remember. This will make it easier for people to use it again when they need it.
Finally, you can use breadcrumbs to help the user find their current location on your site.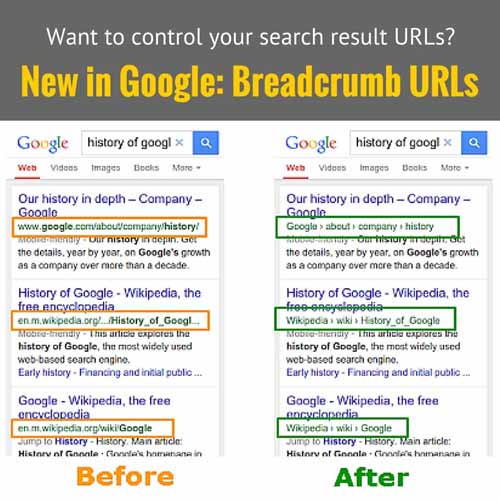 Source : Bruceclay
4.4. Use Rich Snippets
Rich Snippets are recommended because of their ability to generate traffic.
Indeed, some users are more likely to click on sites that have configured their Rich Snippets because the information they are looking for is quickly revealed.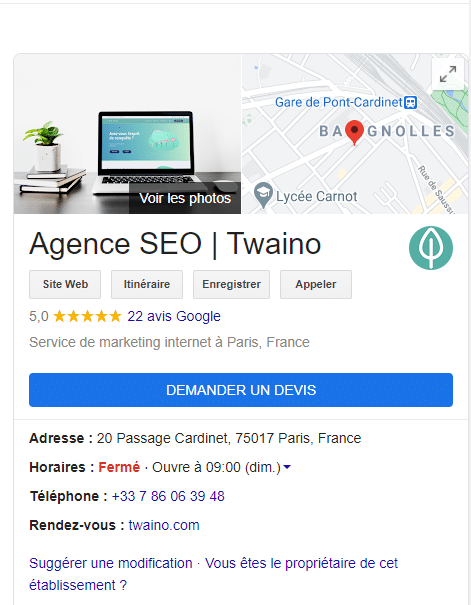 But take care to remove the dates if you have publications that are too old. Seeing the date in the rich snippets may cause some users to abandon the idea of visiting your site in favor of another with more recent content.
This would reduce the click rate of your page. Internet users are always on the lookout for new information and hate outdated data or obsolete techniques. If you are using WordPress, the CMS offers you plugins to easily remove the date from your Rich Snippets.
Apart from the date, you can also put in your Rich Snippets all the important information that will be of real interest to Internet users and prevent them from gleaning information from several sites before finding what they are looking for.
This way, your site's display on the SERP will easily stand out from the others and users will appreciate your efforts to gather all the relevant information in the same space.
And for that, you are free to add a lot of things. Whether it's the price of a service, user reviews, upcoming events… you can really add any information you deem useful to make you stand out from the crowd.
4.5. Improve page load time
The loading time of your site's pages is important, especially since every second that passes increases the probability that the user will close the site.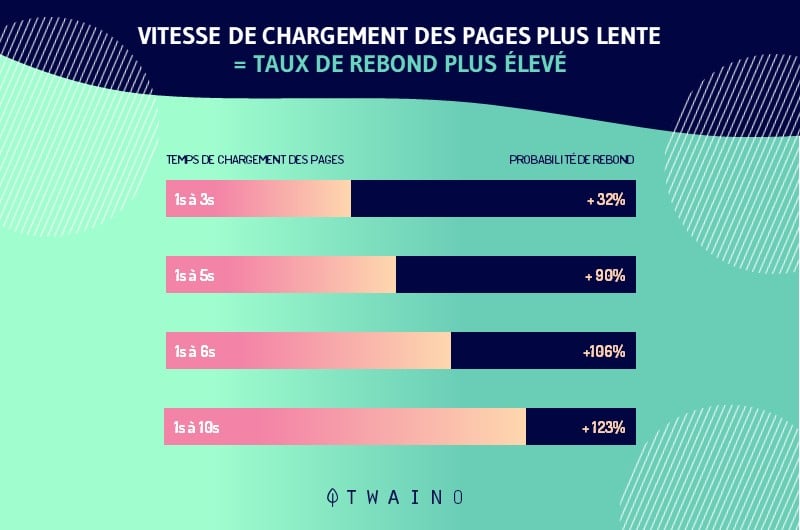 What would be the use of all these efforts if you managed to incite the user to click on your link and the page takes forever to load. It is very likely that this user will abandon his session and not come back again.
They might even share their bad experience with others, which tarnishes your brand's image.
To avoid this, you must optimize the technical aspects of your site by setting up a caching system and optimizing the visual content of the page.
The choice of your web host can also have an impact on the speed at which your page loads.
A cheap host or one located thousands of miles away from your customers, without any CDN feature, will certainly take longer to serve all the data on the site.
So you need to choose your web host well for a quicker accessible web page.
4.6. Write relevant and web-friendly content
The classic writing used for novels and magazines is a bit different from the one intended for the Web.
Here, it is essentially a matter of convincing the reader and inciting him or her to take desired actions such as buying a product, subscribing to a subscription, etc.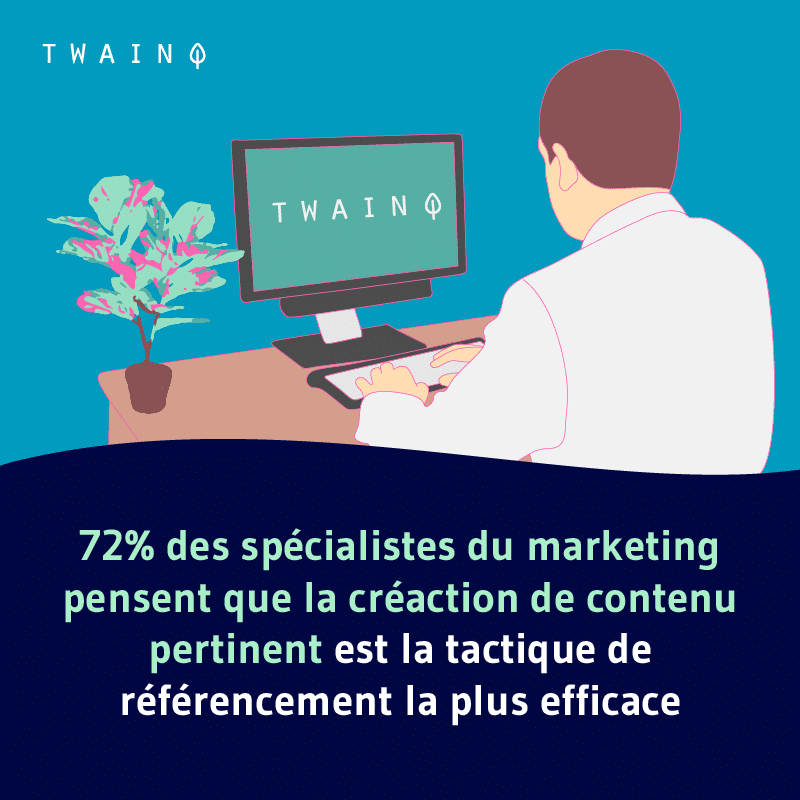 And to really convince your readership to consume your services through writing, you need to follow a number of steps:
Identify your target audience;
Do a study to find the keywords that people often search for;
Find a theme of interest for your target audience;
Browse through your competitors' content to come up with something better;
Propose a writing plan according to the content format to be written;
Proceed to the actual writing;
Proofreading;
Successful conclusion;
Optimize the content to facilitate its referencing.
Discover all these steps in more detail in my article on writing content for the Web.
4.7. Offer a mobile-friendly site
We live in a digital age where more than half of Internet users use mobile devices to connect. In 2019, there were 5.07 million mobile users worldwide: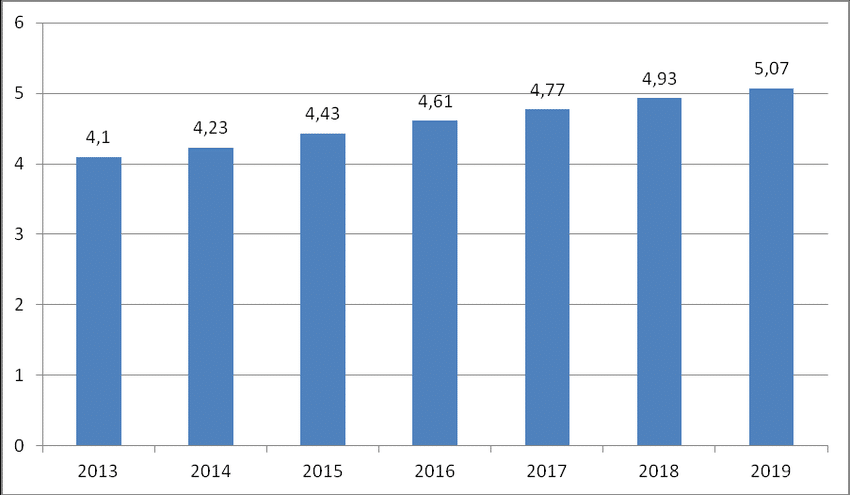 Source: Reseach Gate
So if you really want to have traffic, to be well referenced on Google SERPs and convert your visitors into loyal customers you must imperatively offer a mobile-friendlysite.
That is to say that you must improve the mobile version of the site to make its navigation more fluid and more pleasant on mobile devices.
There are a number of criteria to respect to offer a better experience to mobile users:
4.7.1. Offer a responsive site
Responsiveness is an approach to programming that aims to automatically adapt a website to all screen resolutions.
Therefore, making your site responsive means reserving a completely ergonomic design for all possible screen resolutions while keeping its unique URL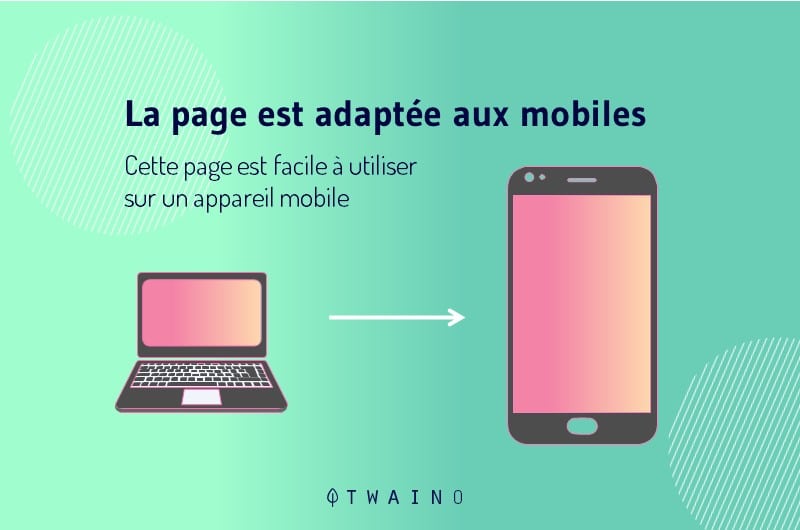 Whether the user connects from a desktop computer, a smartphone or a tablet, the site will always display correctly.
If you are not familiar with web programming, you will still find WordPress themes or other CMS that allow you to have a perfectly responsive site and guarantee a good experience to your users.
4.7.2 Integrating Google AMP on your site
Accelerated Mobile Pages (AMP) is a program essentially initiated by Google to help webmasters speed up the loading speed of websites on mobile devices.
It is a portion of HTML code to be injected into the source code of the site to tell Google's bots that you have complied and in return get preferential treatment from the search engine.
Google will then store your web pages in cache to serve them at a lightning speed as soon as a user wants to access them. It's a tool that remains accessible to everyone.
The leader of online search just wants to encourage sites that improve their mobile version and disgrace those who do not comply with its recommendations.
For those who have a site made in WordPress, they can simply install the official plugin.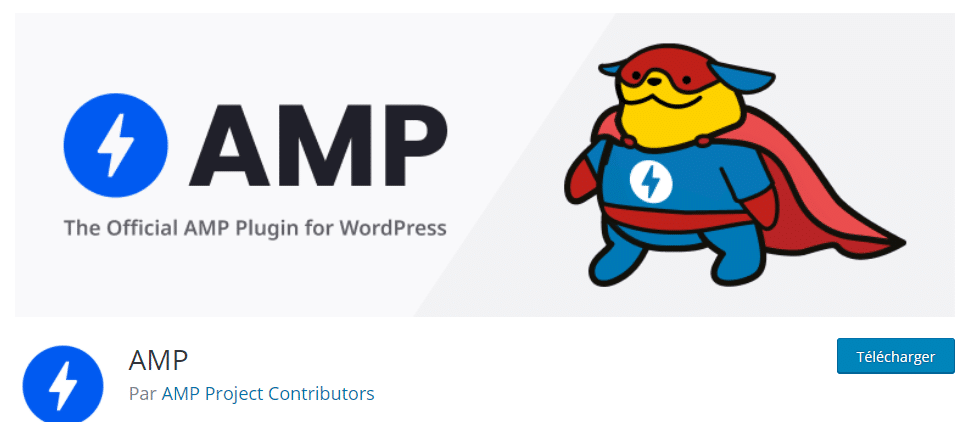 However, since it is a fairly new program, AMP may not be fully effective for some types of sites, especially those that offer advertising revenue.
4.7.3. Simplify your source code and make it easy to use the cache
You may not know it, but every request a user makes of your site affects its loading speed in some way. The more the requests increase, the less your site can process them.
To remedy this, the most effective solution would be to simplify the source code to speed up its execution. This is particularly easy to manage with WordPress thanks to the WP Rocket plugin.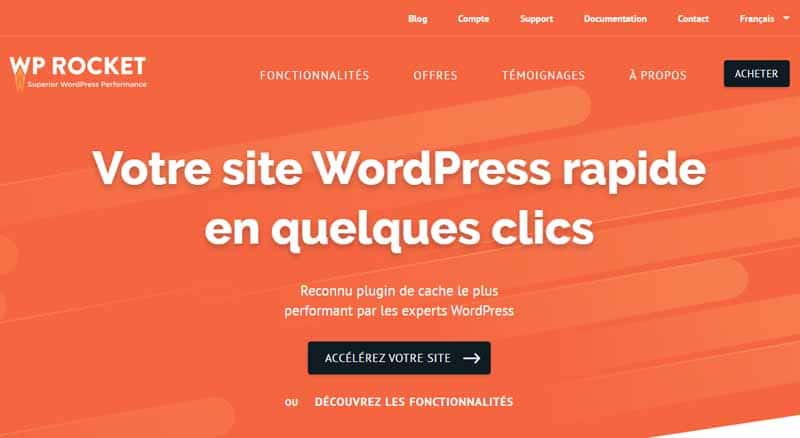 Not only does the plugin allow you to reduce the code, it also facilitates the use of the cache. This way, the browser remembers your frequently visited pages so that you don't have to reload them entirely the next time. This makes the connection to these pages faster.
4.7.4. Do not abuse pop-ups
Since the setting of its algorithms in 2017, Google punishes sites that misuse pop-ups. We all know, those big windows that pop up and occupy your whole screen with ads and prevent you from continuing the navigation.
Since Google always prioritizes the user experience, it decided to penalize sites that abuse these unwanted ads.
It doesn't totally ban the use of pop-ups, you just have to use them sparingly and let users discover the content that interests them.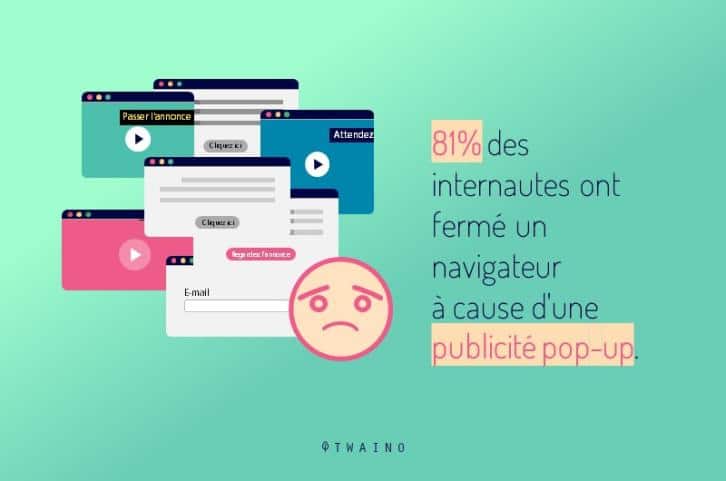 Attention: The Twaino simulator was designed with 600 pixels as the limit for titles (about 75 characters) and 960 pixels as the limit for meta-descriptions (about 120 characters).
However, when publishing your content, it can happen that Google arbitrarily chooses an extract of your page and displays it as your meta-description.
Our simulator can help you to have an estimation of the size of your titles and your meta-descriptions, but can in no way guarantee that Google will display them.
In summary
The title and the meta-description are two tags of great importance for the visibility of your brand. They appear as the window of your site on the search engine results pages.
To improve them, you must take care of several aspects, including their length.
And to do so, nothing better than using Twaino's SERP simulator to preview the look of your titles and meta-descriptions before publishing your content.