Used to create more than 40% of all sites on the Internet, WordPress is by far the most widely used CMS today. 
This popularity is justified by the ease it brings to everyone, from the beginner to the expert, for the creation of a website. 
However, there is no point in building a site if it cannot rank well on search engines. For that, you need to optimize it for SEO. It starts with setting up and optimizing your CMS for SEO.
WordPress SEO will ensure that your website follows all search engine guidelines to provide a great user experience and achieve the top spot in the SERPs.
WordPress gives you almost all the tools you need to get there, but it's also going to take some work on your part, and that's what we'll be talking about here. 
In this WordPress SEO guide, you'll learn exactly what you need to do to give your WP site the best possible chance of ranking at the top of Google.
We begin !
Chapter 1: WordPress – Definition, advantage and disadvantage
In this first chapter, we will see:
What WordPress SEO is;

The basics of WP;

The advantages and possible disadvantages of the software.
1.1. WordPress SEO: What is it?
WordPress SEO refers to the art of increasing your website's organic traffic by improving its ranking as well as its visibility on various search engines like Google, Bing, Yahoo, etc.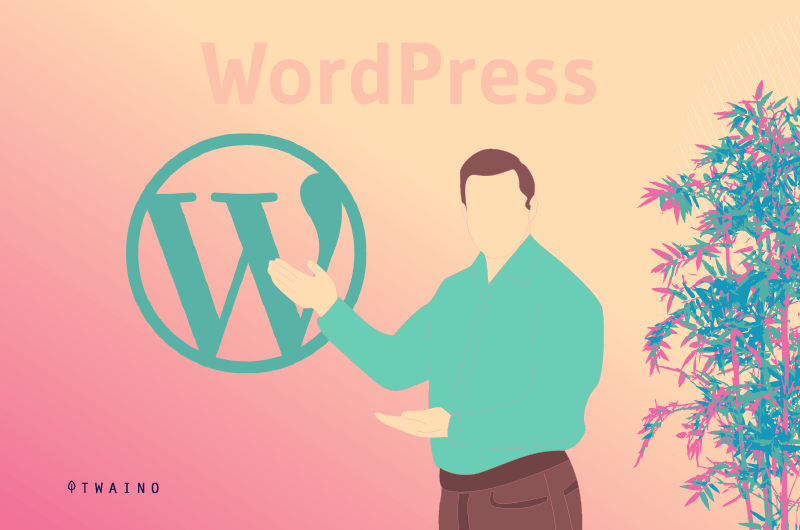 This mainly refers to the work done from the software to improve the performance of your site in the SERPs.
But before moving on, let's talk a bit about the WordPress software itself.
1.2. What exactly should be understood by WordPress?
WordPress is a Content Management System (CMS) used by millions of websites around the world, from small blogs to large websites.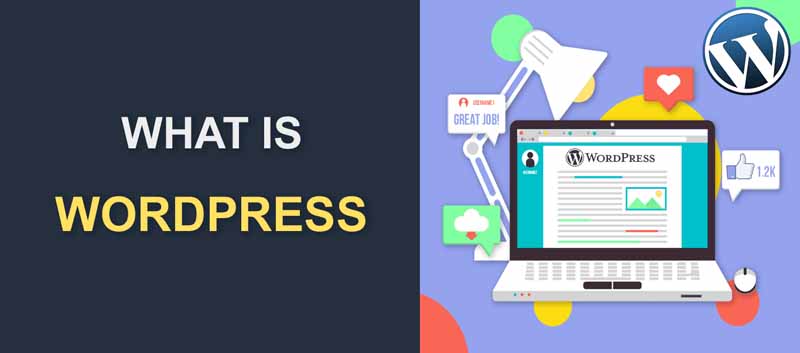 Source : Fixrunner
It is an excellent content manager, as it allows you to upload and manage multimedia content, text, blog posts or products for sale on the Internet.
Its first version (V 1.0) was announced on May 27, 2003 by Matt Mullenweg (creator of WP).
Today, more than 40% of all sites on the web are created with this CMS and it is only increasing day by day. It seems a bit crazy, especially considering that it was only created in 2003.
Its great popularity lies in the fact that it is a simple, but very powerful platform that offers us many possibilities to create, customize and bring our websites to the level we want.
In other words, WordPress is much more than a platform that allows us to create and publish content on the Internet.
It is designed for you to create web pages, blogs, business sites, online stores, etc. 
The other biggest advantage of WordPress over other major CMSs is its open source nature completely free 
This means that anyone who understands coding and software programming can work on WordPress code, make changes to it, and improve its functionality.
But don't worry, that doesn't mean you have to know the code to use it. 
It just means that WordPress is constantly being worked on by coders all over the world, for the perfect experience and anyone, beginner or expert, can download WordPress and use it.
And that's just a handful of its benefits. Let's see more in detail in the following section. 
1.3. The main advantages of WordPress
We already know that WordPress is the most used and popular CMS. 
This is mainly because it is very intuitive and focuses on creating all kinds of websites with a very professional appearance. There are many reasons that led him to success.
Here is indeed a list of the main advantages of WordPress as a content manager for the web.
1.3.1. Open source
This is one of its greatest advantages and that few know:Open source.
This means that its source code is accessible to everyone, that it can be shared and modified by anyone who wishes to contribute to its development.
Thanks to this philosophy, WordPress has become what it is, since other technologies that are pillars of its development are open source.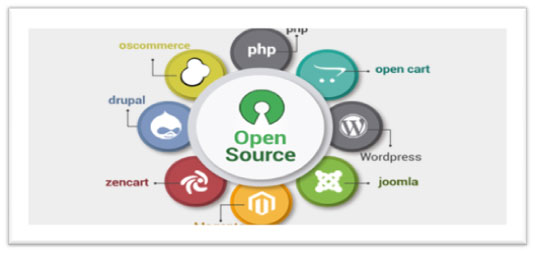 Source : Madhav University
This is Apache web serverserver MYSQL database or PHP.
1.3.2. Free
It's one of the best things that made WP so popular: it's 100% free. It allows its download without having to pay 1 cent. 
All the resources offered by this software are free, although there is a paid version of some of them. 
This includes:
The sound WP source code (Free); 

Thousands of design themes to decorate your website (Free and Paid);

Tens of thousands of plugins to extend WP according to your imagination (Free and paid);

Etc.
You may never have to pay to use this CMS.
1.3.3. Easy Installation Installing
WordPress is very easy, although you have to install it manually by:
Uploading files via HTTP to an FTP server;

Connecting the database manually by editing the wp-config.php file.
You don't need any programming knowledge or be a technician to install it. If your host has an automatic installer like Softaculous, installing WordPress becomes even easier, just a few clicks and you're done.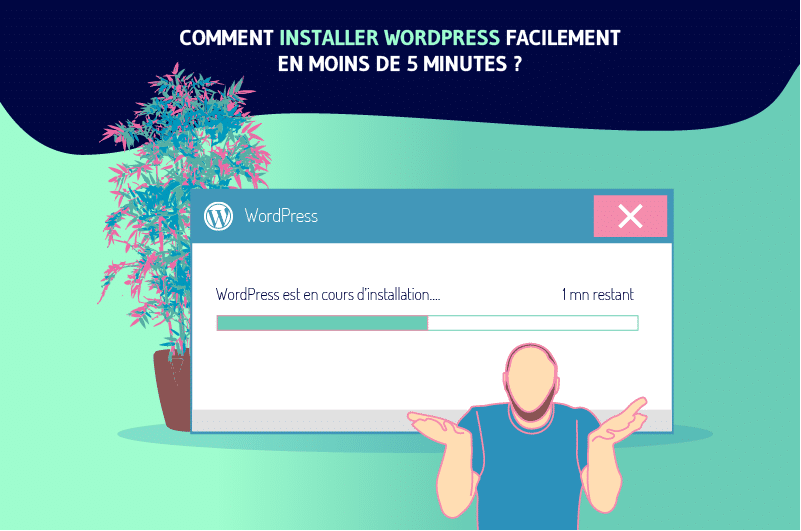 Here is a video in which I show you how to install it quickly: Videos: How to install WordPress easily in less than 5 months.
1.3.4. Simple Initial Setup Setting
up WordPress is super easy, you just need to fill in a few things like site name, general tagline, your email, etc.
Even for setting up any type of plugin, menu, template, pages or posts, you don't necessarily need any technical knowledge. 
Everything is configurable and extendable in WordPress in a simple way, without any twists or complications.
1.3.5. Easy Installation of Themes
After installing and further configuring WordPress, the next step is to install a template or visual theme to change the look of your site.
By default, WordPress comes with its own theme, which is functional, but not very aesthetically pleasing. 
If you're trying to build a personal website, for example, for a property, restaurant, or e-commerce, you should install a theme that's related to your service or business.
WordPress makes this very easy for its users.
Just go to the " Appearance – Themes " section in the left menu, and search for any WordPress template that suits your needs. In the extensive catalog of WP themes, you can find one that suits your needs.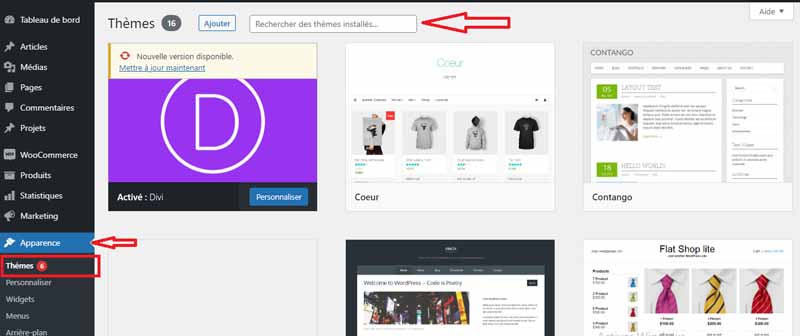 There are also hundreds of websites that offer premium themes for WordPress at low cost like Mythemeshop or Elegan Themes.
To install an external theme in WP, just:
Download the zip on your PC;

Go to "Appearance" – "Themes" in your WordPress administrator;

Click on "Add new";

Click on "Download the theme";

Click on "Activate the theme".
1.3.6. Ease of administration
Besides being easy to install and configure, another great advantage of WordPress is that it is easy to administer due to its very intuitive interface. 
From your management/admin panel, you can perform any task without complications. You can easily include things like:
Add new post or pages;

Add categories or tags;

Edit posts or pages;

Install plugins and themes;

Configure menus and widgets;

Etc.
This allows people who are passionate or new to the WordPress universe to do things without having great computer skills.
Learning WordPress is making mistakes, testing, succeeding, making mistakes again, it's an endless chain. 
That it's simple doesn't mean that things won't go wrong, so the ideal is always to have a host that will allow you to make backups of your site, its files and databases. Keep this last point in mind, because it is very important.
1.3.7. Easy Hosting Migration
Migrating a website from one hosting provider to another can be a real nightmare if you don't know how to do it right. You normally have to download files on the one hand, databases on the other hand, etc. 
However, WordPress has easy ways of site migration from one web host to another.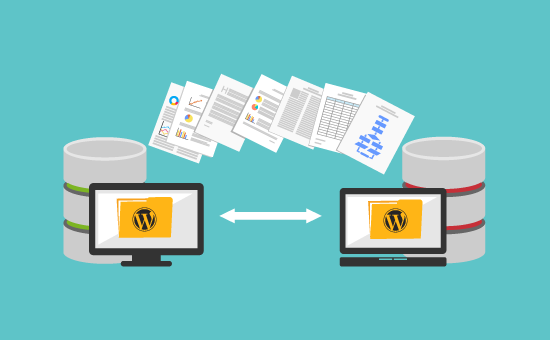 Source : WP Beginner
If you are not comfortable with your current provider and are looking for one that is 100% compatible with WordPress, you can migrate it in three easy ways:
Export your posts, pages and other information into an XML file, then import it from your new provider.

Use plugins that help you migrate everything seamlessly and without complications.

Or using a full backup of cPanel if you use this control panel.
1.3.8. HTTPS Compliant
With the recent boom in SSL certificates following Google's repeated announcements of their intention to make the web a safer place, many webmasters have had to start migrating WordPress from HTTP to HTTPS.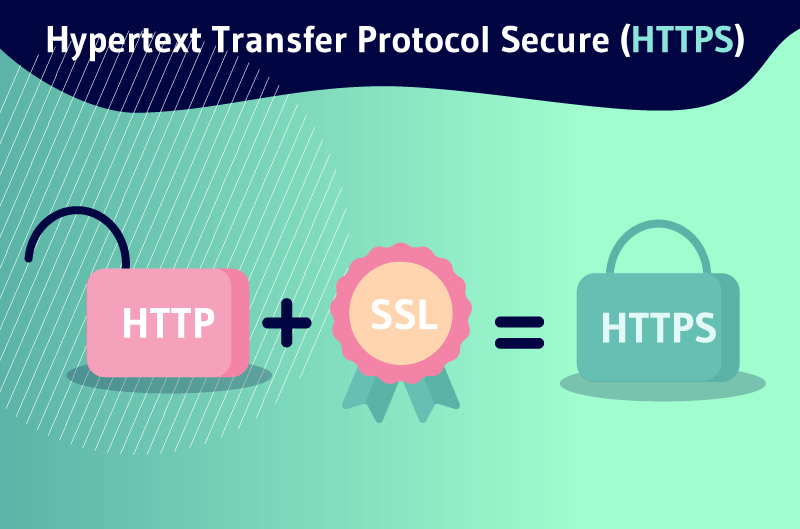 Faced with this situation, they realized that WP already had native support for HTTPS, which made it much easier to transition from a website without encryption to a 100% encrypted site.
Thus, it allows you to improve the trust and security of your website, and therefore especially the feeling of your visitors.
When changing your WordPress to HTTPS, you will find that it is above all an easy, fast and native process.
1.3.9. Constantly Evolving
One of the things we love about WordPress is its constant process of updating and improving. 
It is a CMS which, being so widely used, needs and must always have a continuous cycle of updates, corrections and improvements. Otherwise, serious problems can be generated on the web.
Week after week, the WordPress.org works tirelessly on improvements and security fixes. 
Additionally, hundreds of thousands of developers are constantly contributing themes, plugins, and hacks to improve the world's most popular publishing platform.
1.3.10. Great for SEO 
WP is one of the preferred platforms today when it comes to optimizing a site for SEO in a short time. It is well liked by search engines because its code is very clean and simple. This feature simplifies the crawling and indexing of content.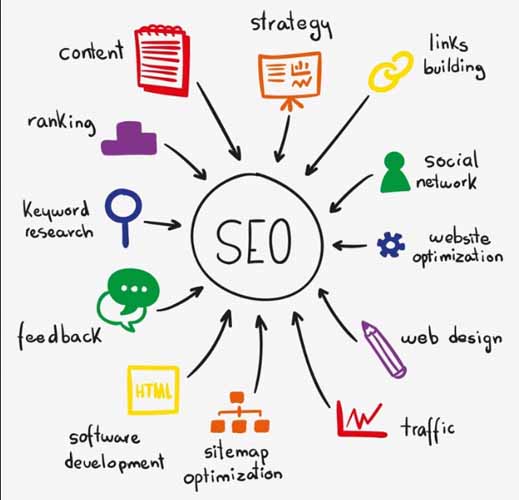 Source : Lyfe Marketing
Moreover, thanks to its friendly URLs, plugins such as Yoast SEO or All In One SEO Pack, and popular themes already optimized to improve search engine positioning, this task becomes relatively easy.
For example, plugins like Yoast SEO, in addition to recommending an SEO-friendly writing style, helps check the keyword density, grammar, and tags of the article to be published.
There are also plugins that can be used to:
Speed ​​up web pages;

Optimize images and caching;

Promote the mobile responsiveness of the site pages;

Generate sitemaps and automatically submit them to Google;

Etc.
That's why it's the CMS of choice for marketing agencies, web developers, and webmasters looking to quickly rank their websites in Google, Bing, and other search engines.
1.3.11. Other notable benefits of WP 
You can work from any device
You can access WordPress from any internet-connected device to manage your website. This makes it easier to create content on a regular basis.
Another of the advantages of WordPress is that the appearance of the templates is generally customizable. It offers multiple possibilities for customization, which makes WordPress sites rarely look the same. 
This allows everyone to adapt their web pages to their needs.
It provides us with a large number of plugins that can improve the user experience on your website. In addition, it allows the integration of other company platforms (such as social networks) on the site.
It allows a 100% responsive design adapted to all types of mobile devices.
Its flexibility means that itcan be used to create any type of website. It can be blog, forum, online store, etc.
To facilitate teamwork, it allows the creation of multiple users with different permissions. Roles range from subscribers who can only edit their profile to administrators who have full access to the website.
In short, using WordPress will make your life easier. We are talking about an accessible and very intuitive CMS that is currently used by companies of all sizes.
As you know, nothing is perfect in life. Despite its advantages, the software also has some significant disadvantages, but manageable anyway.
1.4. Some Disadvantages of WordPress
Now that we've analyzed the pros, let's start doing a core operation of WordPress to see if it looks as good as it looks. 
So, let's see what its disadvantages are. This will allow you to have a real overview of its two sides and to weighup to determine if it is the right CMS for your site. 
We begin !
1.4.1. Too much resource consumption
This is one of the most criticized drawbacks of WordPress: "It consumes a lot of memory and CPU resources". 
Even though all CMS and web development using PHP tend to consume resources, WordPress beats them all.
It has become so heavy that even to make it work with some plugins and themes you have to increase the PHP memory to 512MB, a huge if you really think about it.
By adding some of the most functional plugins, you will notice that your website becomes slow. 
Since not everyone knows how to program php-mysql, installing plugins in these cases is something extremely necessary. You have to sacrifice performance for functionality.
If you are going to install plugins such as Yoast SEO, Woocommerce, Better WordPress Google XML Sitemaps, Contact Form 7, JetPack, NextGEN Gallery, Visual Composer or WPML at once, keep in mind that your blog can become a real turtle. 
It also wouldn't be strange if you got a warning from your web host for too much resource usage.
Luckily, you can measure the performance of each plugin and detect which one is causing you slowness by using (yes, another plugin) P3 Performance Profiler.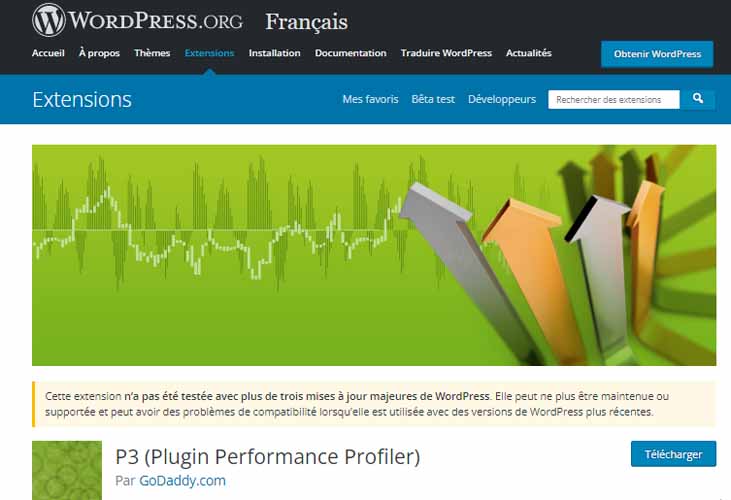 Just remember to run it, analyze your WP and uninstall it after use, because ironically this plugin also consumes a lot of resources.
1.4.2. Low speed
The excessive use of resources at the PHP-MYSQL level, RAM and CPU of your WordPress ends up causing the slowness of the CMS.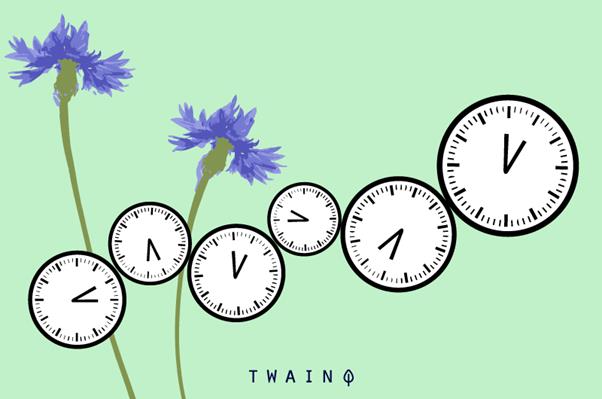 In these cases, the best solution would be to install a caching plugin to improve the performance of the CMS. 
The cache plugin will allow you to generate a copy of your WP at a static level, i.e. without interpreting PHP-MYSQL instructions when someone visits your website, this will help it load faster and logically consume less server resources.
A few plugins we recommend you try:
W3 Total Cache

: The best known cache plugin for WP, it allows disk and RAM caching, it is generally the most recommended.

WP Fastest Cache

: It is the most recommended, fast, it consumes few resources and it will literally make your website fly quickly.
Besides using a caching plugin, another measure you will need to consider is to use a CDN to accelerate anything that is static content on your website, i.e. JavaScript files, css, images, etc.
1.4.3. It is the most attacked CMS
No doubt that since it is the most popular CMS in the world, which currently powers more than 40% of the web, it will also be logical that it is the most popular content generation platform attacked.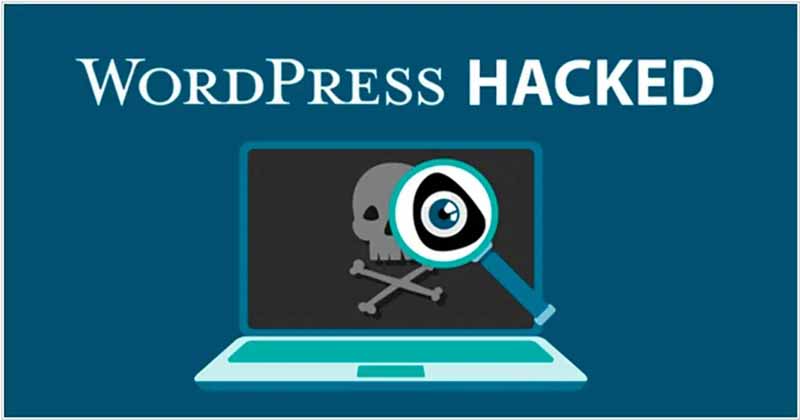 Source : Prog.word
Moreover, as it is open source and free, hackers can download the source code, analyze it and thus find vulnerabilities in all its versions. 
So, WordPress installed by default can fall prey to many problems if you don't secure it properly.
Unlike the latter, the other CMS are generally very robust in terms of security, and offer many defense mechanisms already programmed into their core. 
To avoid these vulnerabilities, it is vital that you always consider updating WordPress periodically. 
Minimizing the use of plugins and keeping them up-to-date are also excellent remedies to avoidinfection of your WordPress blog  malware. 
1.4.4. Unstable Plugins
As mentioned above, installing plugins for almost anything is obviously a big plus. However, a big problem can arise from this advantage. 
It is about the fact that while customizing the site with so many plugins sometimes the web page may stop working completely.
Seeing the infamous 500 error in WordPress is not at all unusual these days.
Almost all of these errors are caused by plugins and incompatibilities they have with other plugins or themes you are using. 
1.4.5. Sometimes requires programming knowledge
It's true that WordPress has a huge repository of plugins and themes to customize your website. But the truth is that your requirements may be so specific that no plugin or theme will be able to meet your needs.
This is where web development in php-mysql plays a fundamental role. If you don't know programming, you will need to hire a programmer or web development company that can do this job for you.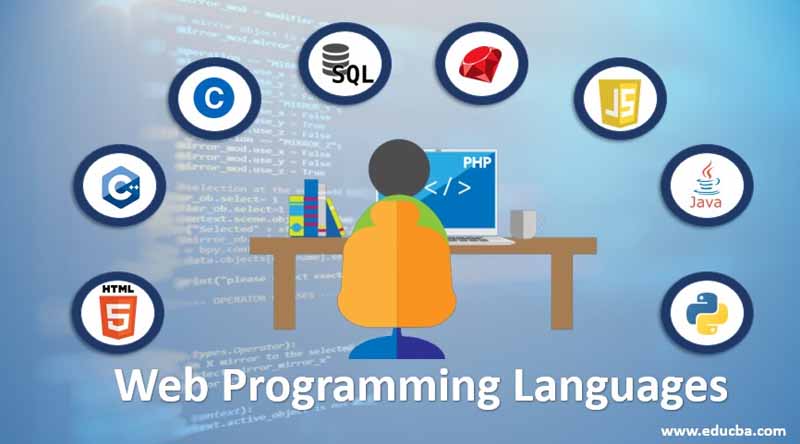 Source : Edu Cba
Although most of the time you can find solutions in existing plugins, this is a scenario that can happen to you. This is where you will need to have money earmarked for customizing your website.
The same thing happens with themes, although there are many of them, the most beautiful, efficient and functional are paid. They allow you to customize almost any aspect of your website's appearance. 
Of course, if this is not considered, again you will need to hire a web developer if you want to give your site a bespoke look.
This is something that is not just a downside of WordPress, but of every CMS in the world.
1.4.6. Constantly Evolving
While one of the good things about WordPress was that it never stopped, this is also becoming one of its downsides. Looking at the changelog of this software, we realize how fast it is progressing.
WordPress is moving too fast, so much so that updates to the core code and plugins are released week after week. When you think you have an updated WP ready to prevent threats, you will realize that it is old, vulnerable and outdated.
Speaking of themes, tons of updates are also released, which then can cause you to lose all the custom code if you don't use a child theme.
Many times we also find that while updating the WP core, there are incompatibilities with plugins that have not been updated for that new code that you have already updated in the core. 
So sometimes, although it is strongly recommended to update, it can become a headache because your website can be damaged any second.
This can be solved by reducing the number of plugins you use, this is one of the best tips. Only install strictly necessary plugins.
Now, do you know that WordPress is of two types? This is what we will see in the next chapter.
Chapter 2. WordPress.com vs WordPress.org: Which to Choose for Your Website?
Since the beginning of this content, we were only talking about wordpress. But there's one question you'll probably be asking yourself: What makes WordPress.com different from WordPress.org?
WordPress.

com

: The WordPress sites here are 100% hosted and managed by

Automattic

.

WordPress.

org

: Here, site owners will have to choose their own hosting company (eg OVH) and install the software themselves.
However, which one is the best for building your website? Read this chapter till the end to get the answer.
Here are the main points that will be covered:
The main differences between WordPress.com and WordPress.org;

A summary of which platform is best for you;

WordPress.com vs. WordPress.org: Final ideas.
2.1. The major differences between WordPress.com and WordPress.org
2.1.1. WP.com vs WP.org: Installation and Setup
Now that you know the main difference between WordPress.com and WordPress.org, you should already have a good idea of ​​which option is best for you. Clearly, WordPress.com is the easiest solution, since it handles everything for you.
However, now let's break down the steps to start using both solutions.
Getting started with WordPress.com
Sign up at

WordPress.com

;

Choose the type of page you want to create;

Give your website a name;

Buy a domain or use the free option with the suggested URL;

Choose a free or paid plan;

Start building your website.

Getting started with WordPress.org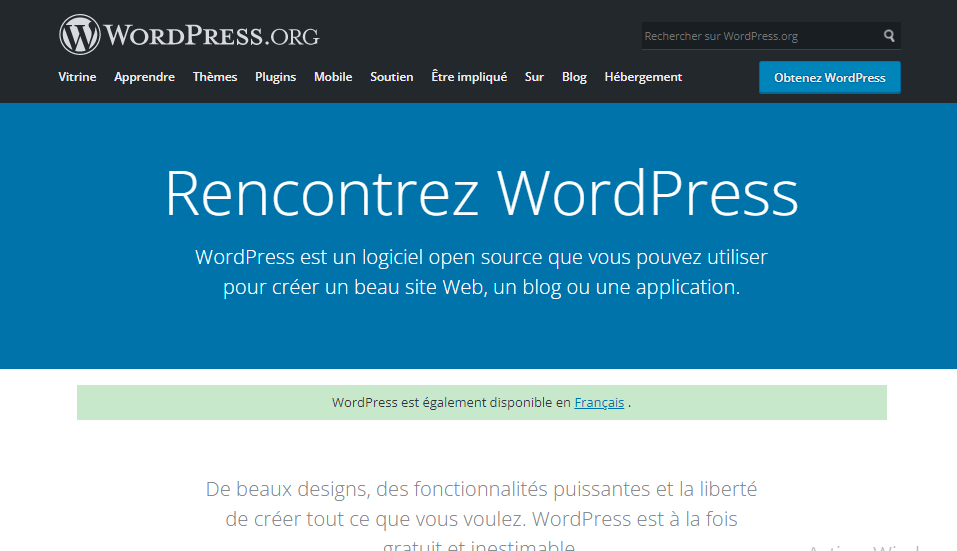 With WordPress.org, it takes more prep work:
Buying a domain;

Find and hire a web hosting plan;

Create a database for WordPress on your server;

Download and extract the WordPress software;

Upload the software to your domain with an FTP client;

Access a URL to run the installation script;

And finally start building your website.
I know it sounds like a lot of things, but the good news is that WordPress has detailed, well-written guides, so in the end it's not as hard as it looks.
It's also worth mentioning that many hosting companies offer 1-click WordPress installation. If this is your case, you can skip steps 4-6 from the list above.
Winner: In terms of ease of installation, WordPress.com comes out on top because you don't have to install and configure it yourself. 
2.1.2. WP.com vs WP.org: General Ease of Use
Once installed, both versions, WordPress.com or WordPress.org, work similarly (because they run on the same WordPress software).
For me, the only difference is that WordPress.com has a smaller number of features, so it may be easier for beginners.
Winner: WordPress.com is probably easier to use precisely because of its limitations.
2.1.3. WP.com vs WP.org: Design and Customization
This section is about creative control. Can you easily change the look of your website? And what options are available for out-of-the-box themes?
Let's start with WordPress.com : 
With it, you will have hundreds of ready-to-use themes in various fields, but some templates can only be purchased if you have a paid plan.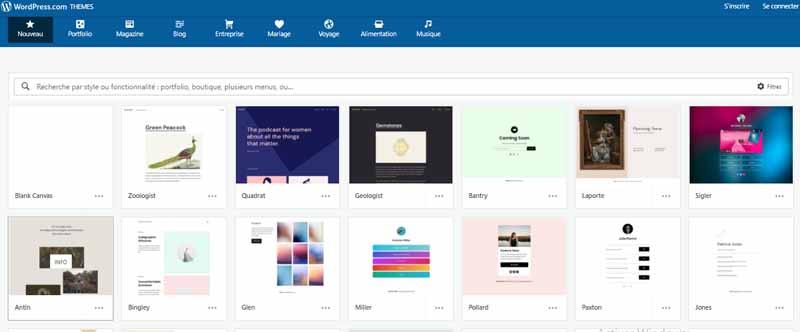 This severely limits the selection for free plan users. Of course, they are all adaptable to screens of all sizes.
Another thing to keep in mind: you can modify them, but you can only customize the CSS code if you are subscribed to a premium plan.
With WordPress.org, the limit depends on you: 
You will find thousands of free and paid templates all over the Internet, for example in elegantthemes, Themeforest or Templatemonster. The possibility of modifying the code to your liking depends on the model chosen. 
You can even use plugins to create your own template with drag and drop tools.
Winner: Hard to find a solution with more design flexibility than WordPress.org, even considering all the other web builders. It might take a little more work to customize them to your liking, but it's worth it.
2.1.4. WP.com vs WP.org:
Some of the most popular WordPress plugins you may already be familiar with. WooCommerce is great for creating an online store, and WPML  allows you to create versions of your website in multiple languages.
There are thousands of free or paid plugins. Not all of them are good (any developer can put their plugin in the directory), but there is always a huge choice.
And the important thing is that with WordPress plugins, you can create absolutely any type of website: real estate site, photography portfolios, online journals, blog… and other websites of business.
On WordPress.com it is only possible to install a few, and only if you have a paid plan. It already has about ten pre-installed (social media buttons, SEO, form builder…), but there are still few to choose from.
The philosophy behind this restriction is that WordPress.com pre-selects plugins based on your website's purpose. 
So, in the case of a blog, you will have advanced commenting plugins, while for an online store, you will have to contract its e-commerce plan, which includes its own selection of plugins.
Winner: In terms of selection, WordPress.org winsbecause it doesn't restrict what you can install.
2.1.5. WP.com vs WP.org: Blog
WordPress software was originally designed for blogs, which means they have everything you need to make uploading content as easy as possible, preview your articles and publish them.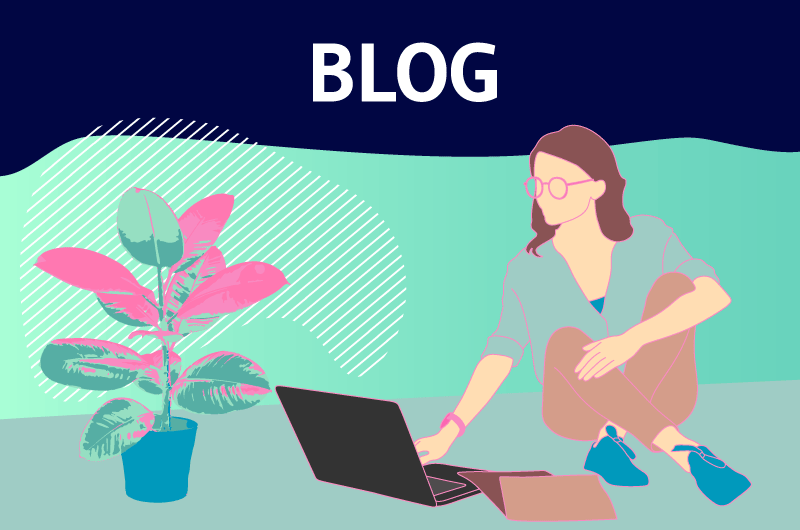 You can:
Create posts and schedule when they will appear;

Upload photos and videos to your library;

Integrate images, links, text, videos and sound on your pages;

Manage your publications from a control panel;

Customize the font;

Manage comments;

Detect spam;

And many other things…
In fact, I dare say that WordPress is the most powerful blogging platform in the world, whether you install it yourself or use WordPress.com
Winner: Given that the features of blog are the same, it is difficult to decide between them. However, when considering ease of use, I might lean towards WordPress.com.
2.1.6.Online Stores
As I already mentioned in the features section, thanks to plugins like WooCommerce, it is very easy to turn your WordPress site into an online store with everything you need.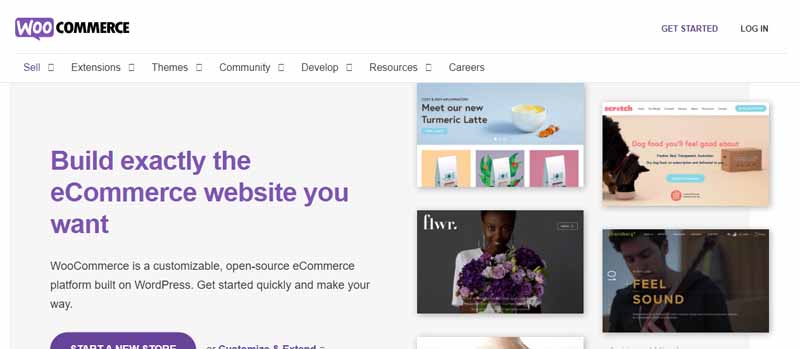 You will have complete flexibility on how to accept payments, change products or change shipping options.
In fact, with WordPress.org and its plugins, you can create any type of online store, as well as improve and extend it as you wish.
With WordPress.com you can also use WooCommerce, but only if you rent the premium eCommerce plan. 
For web shops that are starting, this platform has selected several other plugins with which you can continue to do the following things:
Receive payments or donations;

Include products, text, images and other media elements;

Set prices, taxes and shipping costs;

Accept payments with Simple Payments Block… Simple Payments
Block is one of the pre-installed plugins that you can easily integrate, but you won't have many options like with WooCommerce, which for example offers you more 100 payment gateways.
Winner: Again, WordPress.com sacrifices flexibility for ease of use. You can do a lot, but only if you have the most expensive eCommerce plan. 
With WordPress.org, you'll have a lot more control over your store, no matter what you pay.
2.1.7. WP.com vs WP.org:
Selling products isn't the only way to make money from your website. You can also work with affiliates or advertising networks. With WordPress.org, you can earn money the way you want.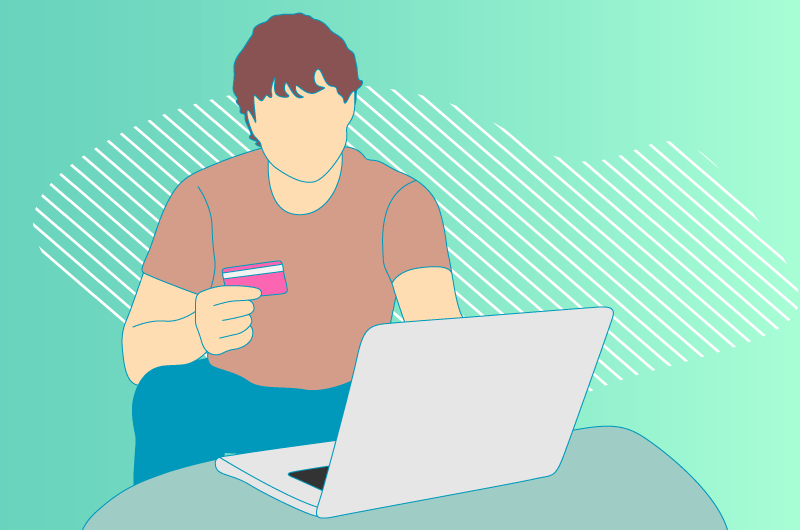 Instead, WordPress.com has restrictions.

Businesses are allowed to include affiliate links, but certain industries, such as gambling and get-rich-quick websites, are excluded from affiliate marketing.

With the free plan, they don't allow you to put ads.

With paid plans, you can use AdWords or other networks such as WordAds (WordPress.com's own advertising program).

Winner: WordPress.org, as it has no restrictions.

2.1.8. WP.com vs WP.org: SEO Options

Search Engine Optimization (or SEO) has two components: one is related to the keywords you want to rank well for in search engines, and the The other relates to the technical parameters. 

The good news is that WordPress is one of the best platforms when it comes to SEO.

To ensure that your site is well optimized, you can use built-in tools and various plugins, including Yoast SEO (which you can also install on WordPress.com if you have a paid plan).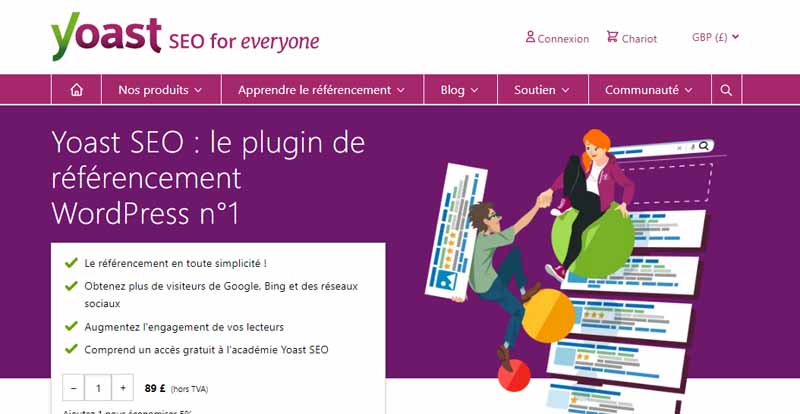 Both give you great control over your SEO, since you can edit metadata, titles, headings, and alt text.
Winner: WordPress.com pages rank well in search engines, if you do a good job of course. But nothing beats WordPress.org when it comes to having full manual control over your SEO. 
2.1.9. WP.com vs WP.org: Security and Maintenance
Protecting your website is very important, especially if it's your way of making a living. And part of that is making sure you update the software regularly.
WordPress.com does it all for you. You won't need to update it, worry about compatibility or read the release notes. This is one of the biggest benefits of managing your hosting.
With WordPress.org you will have to take care of keeping the software and plugins up to date. But it's not as difficult as it seems. 
Normally you get notifications in the control panel and you just have to hit the update button more or less every two weeks.
If you have a hosting provider managing your WordPress installation, they often perform updates for you as well.
Then there is the subject of SSL and HTTPS, which help you encrypt your website and make it more secure. They are also useful for SEO, since Google prefers the most secure websites. 
Again, in this case too, WordPress.com does it for you.
With WordPress.org, you'll need to make sure your host offers these options. They will normally be included in your plan, but it is your responsibility to check.
Winner: Since WordPress.com simplifies everything, it deserves this point.
2.1.10. WP.com vs WP.org: Support
People new to WordPress.org are usually surprised to find that they don't have a proper support team. 
Well, yes, it is, and you have to find the information yourself in the forums and among the frequently asked questions created by other users.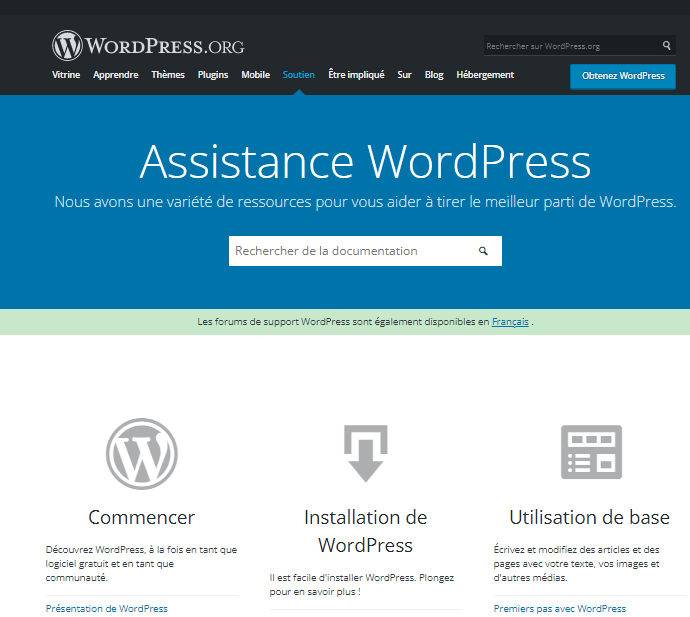 It can be a little daunting having to wade through pages and pages of information until you find what you need. Or, posting questions and receiving confusing answers from users, instead of professionals. 
Also, the answers are usually quite technical, so it's important that you don't get scared off by this jargon.
Depending on the hosting provider you choose, you may also get support. Some with good support and some not so good. 
Of course, you should always contact the support team of the company you purchased the theme from or support for one of your plugins if the error is related to one of these products.
Support is one of the big advantages of using WordPress.com, as long as you have a paid plan. If you are using their free hosting, then you should search the forums. 
Paying a monthly subscription entitles you to receive email and chat support, depending on your plan level.
Winner: WordPress.com, if you have a paid plan of course.
2.1.11. WP.com vs WP.org: Price
As I mentioned at the beginning, the WordPress software is open source and completely free. 
However, realistically, you'll have to install and host it somewhere, and that costs money whether you do it yourself or want WordPress to take care of it.
Apart from this cost, paid themes cost between €25 (US$30) and €110 (US$150) which you pay only once when you buy it. In addition, paid plugins have very different prices, from 5€ (5$US) to 130€ (150$US) per month.
Let's try to simplify it by taking a look at WordPress.com's pricing plan: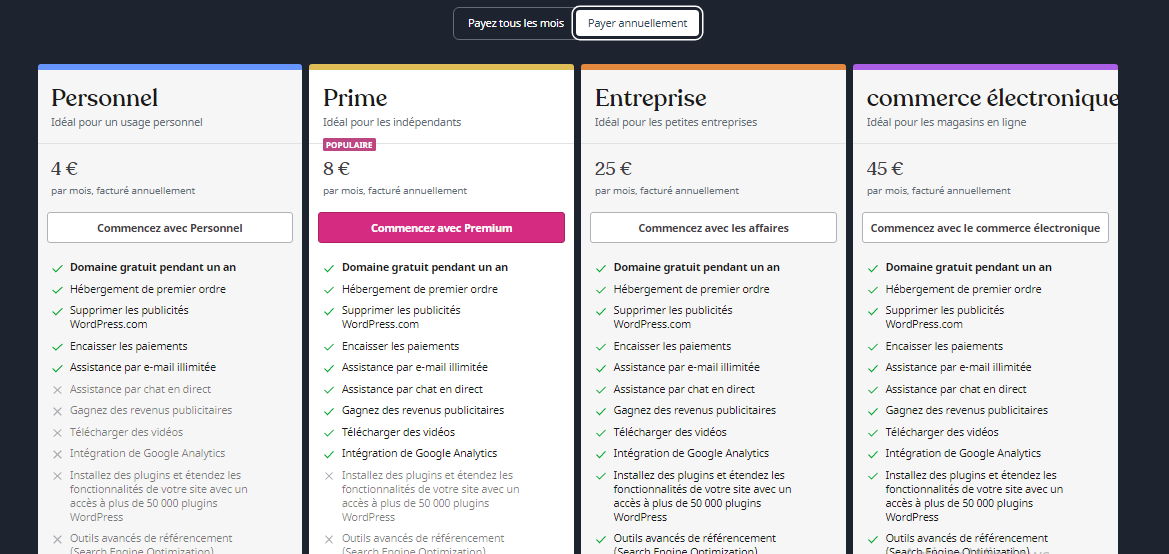 With WordPress.org, your domain prices will be the same, but you have control over your web hosting costs, which can range from 1 € to €40 per month with the cheapest providers.
Winner : WordPress.org gives you a lot more flexibility. Moreover, the prices of the .com version are in a high range compared to other similar web builders such as Wix, or other alternatives.
2.2. Summary table of comparison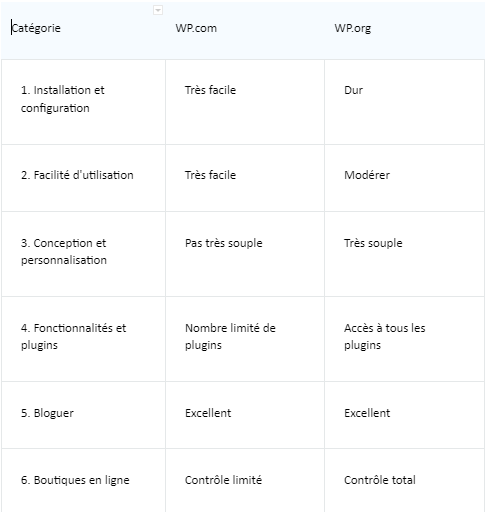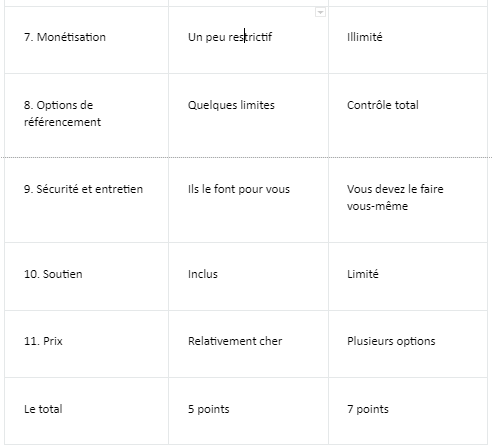 2.3. WordPress.com vs. WordPress.org: Final Ideas
We hope you now have a better idea of ​​the differences between WordPress.com and WordPress.org.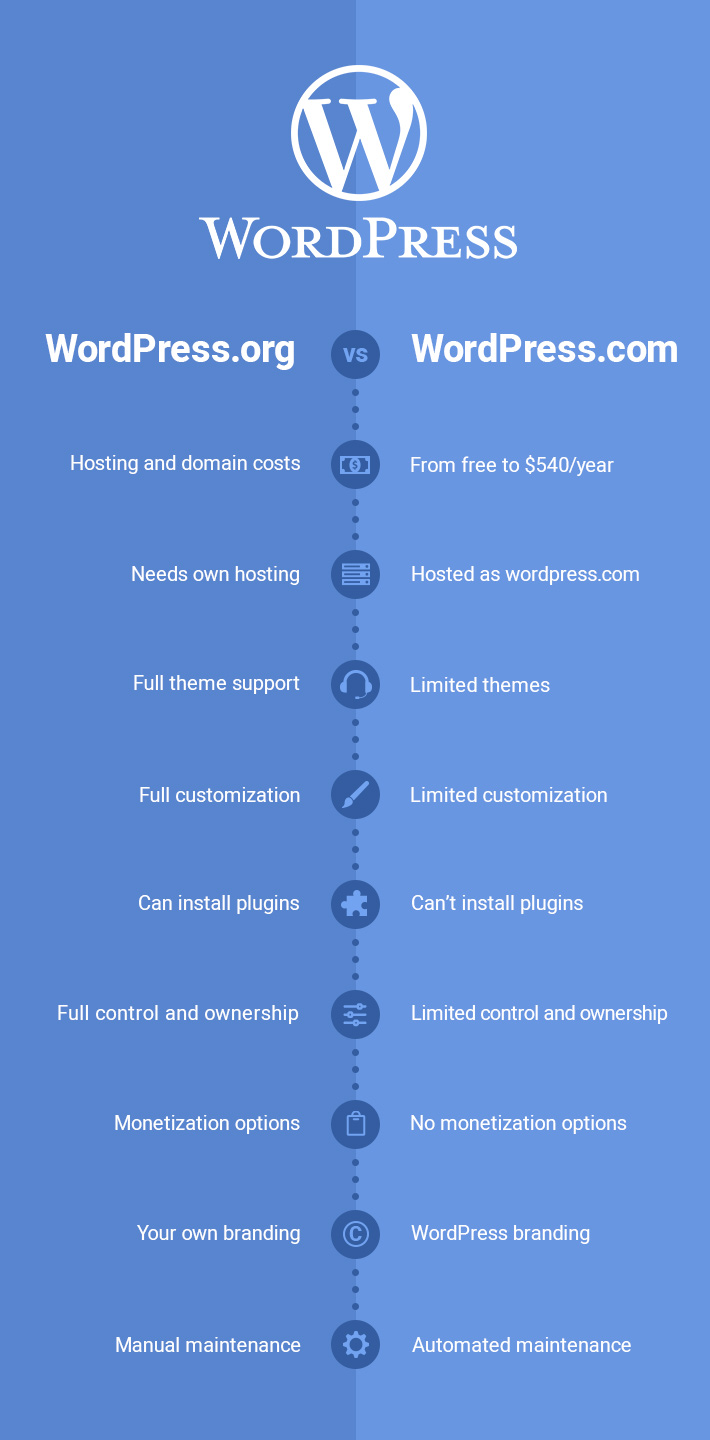 Source : Qode interactive
Although in our comparison WordPress.org prevails, both have advantages and disadvantages, and I wouldn't dare tell you which one will be better for your business, except in these cases:
You want the solution the simplest, with everything prepared: In this case, it's hard to beat

WordPress.com

;

You're looking for total control and flexibility: That's exactly what you'll get with

WordPress.org

;

You don't want to pay a dime for your website: You can get it with the

WordPress.com

;

You need very specific features for a business website:

WordPress.org

will suit you better with its various plugins.
Now let's talk about the myths that often revolve around WordPress.
Chapter 3: WordPress SEO – What to Know Before Launching a WordPress Site
Many believe that using WordPress automatically gives them good SEO. As the belief goes, all you have to do is start a WordPress site and your SEO will take care of itself.
It doesn't work that way. If you are about to launch a new WordPress site, you need to understand this part before you get started. 
For this, we will see in this chapter, why:
WordPress is not an automatic SEO solution;

Your theme is not automatically SEO optimized;

An SEO plugin does not make a site optimized for SEO;

It's up to you to optimize your SEO.
3.1. WordPress is not an automatic SEO solution
First, let me reiterate that WordPress is not an SEO silver bullet. The beauty of WordPress for SEO is that it's simple and intuitive. 
The platform doesn't require a lot of coding, nor a ton of difficult customization. Thus, it is easy to be up and running for SEO when it is well optimized.
So here are some of the reasons why WordPress doesn't automatically do the SEO for you:
bevery important research factor. 
Since WordPress does not automatically provide caching, users must install their own caching feature.
Plugins like Wp Super cache and the W3 total cache allows a faster loading of the site.
Requires manual permalink
settings WordPress permalink settings are not optimized. You should therefore modify them to make them easier to find. The default permalink ("http://example.com/?p=N") is not the solution. 
You will need to adjust your permalinks to something human-readable, and therefore more user-friendly.To
need to be created manually
WordPress does not automatically create xml sitemaps. Creating a sitemap is an integral part of optimizing for search.
sum it up, WordPress does not guarantee any miracles of SEO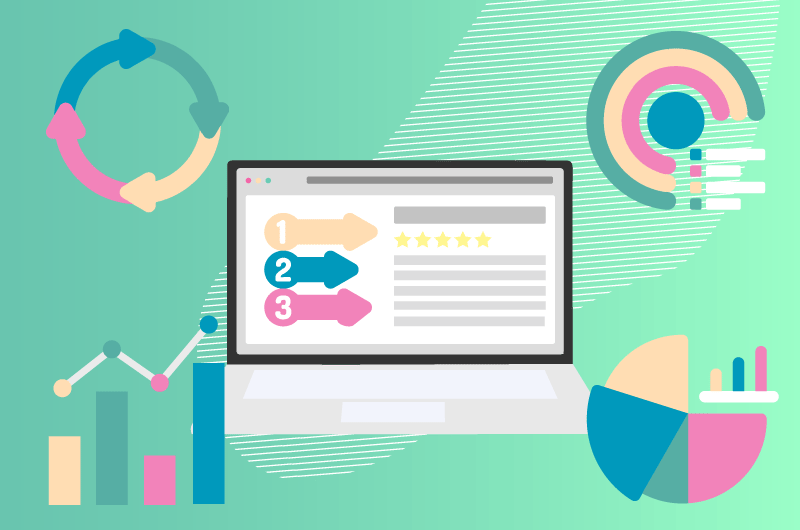 However, it easier for you with the tools it puts at your disposal. 
3.2. Your Theme Isn't Automatically SEO Optimized
One of the best things about WordPress is the wide variety of themes to choose from. In minutes, you can make your website look stunning by choosing a theme from its library of free themes.
But what about SEO? Many free themes claim to be "optimized for search", which is not true. Just because a theme says it's optimized for search doesn't mean it is. 
Here are several things you should look for in a WordPress theme:
Speed

: As mentioned above, speed is a critical factor for search success. Focus on finding a fast loading theme.

Light code:

A sign of an amateurish theme is bloated code. Coding errors can slow down a site and reduce its SEO capabilities. Find a trusted theme with a simplified code, even if you have to pay for such a theme.

HTML5

: Most new themes are developed in HTML5, which is best for SEO. However, some themes have multiple H1 tags on a page, which is bad.

Responsive and Responsive

: With

Google's mobile algorithm

, it's essential that your site is mobile-optimized. A good theme will have built-in responsive capabilities.
3.3. An SEO plugin does not make an SEO optimized site
Here is what you need to keep in mind. Just because you're using an SEO plugin doesn't mean your site will be automatically optimized without any action on your part.
Indeed, a plugin only allows you to do SEO, but does not optimize the SEO of the site for you. A plugin does not change your website.
Instead, a plugin makes it easier for you to modify, customize, or improve your site.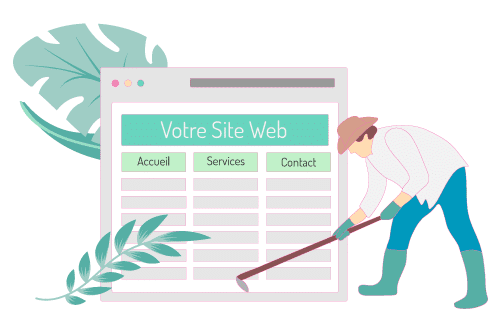 With a plugin, you don't need to access any code files or have any development knowledge. You just need to tell the plugin what to do, and it will do it.
It's the same with SEO plugins. An SEO plugin may, for example, claim to optimize your site's meta descriptions, but it's up to you to write that meta description.
3.4. It's up to you to optimize your SEO
If you want a truly optimized site, it's up to you to do it by using the tools and features that WordPress makes available to you.
Search engine optimization is not just about installing the right plugins or choosing the right theme. This step is just the beginning. You need to take control by making your website user-friendly.
This brings us to the final chapter of this guide.
Chapter 4: 35+WordPress SEO tips to reach the top position
There are sort of two "levels" in these WordPress SEO tips.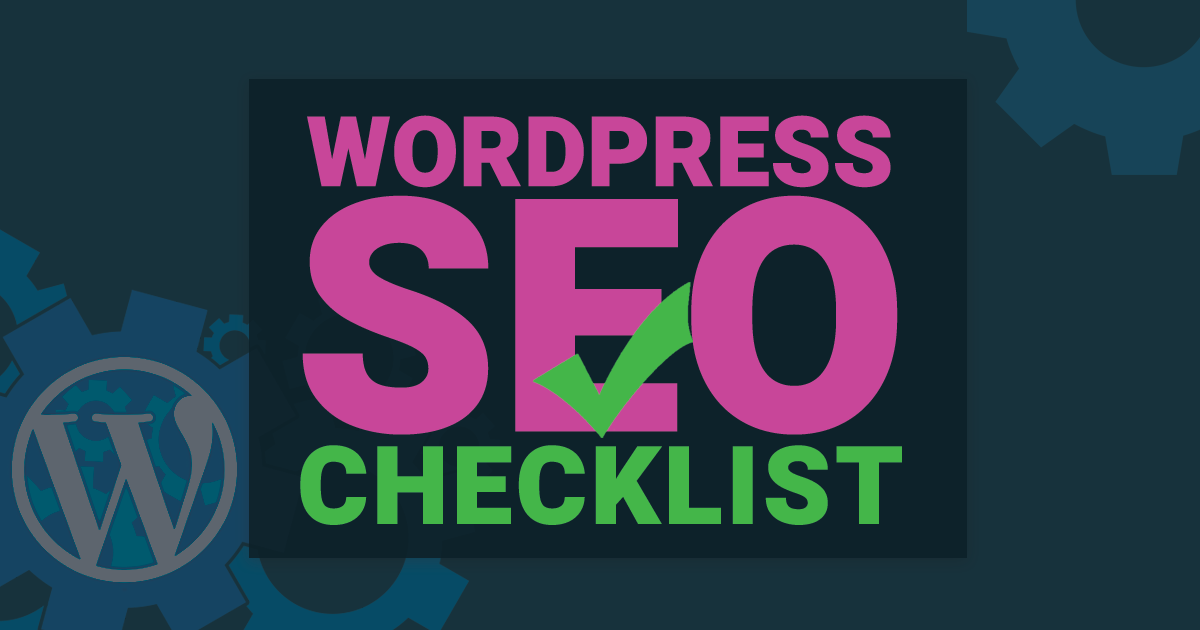 Source : Js-interactive
First, you have the basic site-wide settings that will define how your entire WordPress site works. I'm talking about practices like:
Choosing a quality SEO plugin so you have the ability to control important aspects of your site;

Choose an SEO-optimized permalink structure;

Create a sitemap;

Set up the right analyzes (such as Google Analytics and Google Search Console);

Improve the loading time of the pages of the site;

Switch to HTTPS;

Etc.
Then you have SEO settings for individual posts or pages such as:
Performing keyword research so you know which keyword to optimize for each piece of content;

Actually optimize your content for this keyword and incorporate other related keywords;

Choosing a good slug for individual content items;

Add a quality title and meta description;

Optimize your images with alt text and filenames;

Use nofollow for affiliate links;

Etc.
And then there are other points that you might not consider directly related to WordPress SEO, but not insignificant. 
To help you do it all, I'm going to divide this article into four sections that correspond to what I've outlined above:
Basic site-wide SEO functionality you need to implement;

SEO for individual posts and pages;

Other WordPress SEO tips that are also important;

Some WordPress SEO plugins for a good SEO base.
We begin !
4.1. Part 1: Basic site-wide SEO functionality you need to implement
Some of these tips will use basic WordPress settings, while others will require the use of your SEO plugin.
1. Get Reliable Hosting
You need to choose a fast and reliable web hosting service for your website.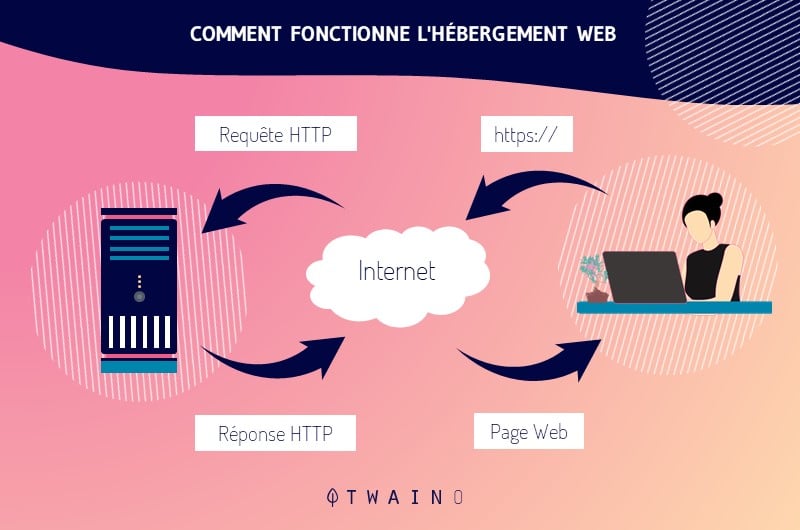 Your web hosting will determine how fast your website loads on users' browsers.
WordPress recommends a few hosting services like Bluehost, siteground, etc.
To succeed in this step, I would personally recommend that you consult this guide in order to have the right bases for choosing a host: 27 criteria for choosing your web host? [& Being Green].
2. Opt for a well SEO optimized WordPress theme
This part is very important because a non SEO friendly theme will provide a bad user experience and therefore less chance of getting a good ranking. 
The theme of a website basically represents the layout and design of the site on the net.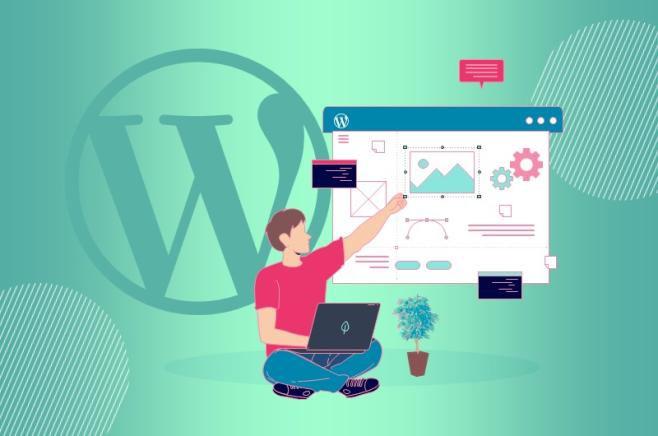 Unfortunately, many people for lack of experience have no idea of ​​the characteristics of a good theme. Others don't even matter to size, which is not without consequences on the performance of the site some time later.
For example, some theme authors often don't use the recommended image size or media format, which can lead to poor SEO results. 
For this, you must take into account some essential details when choosing your model. 
A good WP theme will have at least the following features:
Mobile friendly;

Loads very quickly;

Supports basic On-page SEO concepts such as: Use of only one H1 tag per page, correct use of canonical URLs and many more.
There are thousands of free and paid themes you can use in WordPress, but make sure the one you download and use meets the basic criteria listed above.
If you are a beginner, I would advise you to browse our selection of the 45 Best WordPress Themes [15 Ecological Themes]. This will save you from novice mistakes and save you time.
3. Choose a good permalink
structure The permalink structure of your WordPress site affects the appearance of your site's URLs. 
Not only does choosing the right permalink structure make things clearer for your human visitors, but it also helps boost your site's SEO because it also helps search engines.
According to a study backlinko shorter URLs tend to rank higher than longer URLs, not because Google treats the shorter URL page better, but because it's easy to understand what is web page for users.
Let me give you an example. Let's take these two URLs:
monsite.com/?p=58

monsite.com/wordpress-seo-tips/
You will see that the second URL offers a good understanding of the page to humans as well as to search engines.
Well, it's all about your site's permalinks, and you need to pick one structure that works for this one. 
To configure them, you need to go to your WP dashboard and select Settings → Permalinks.
In most cases, the structure "Title of the publication " is recommended, because it is the simplest.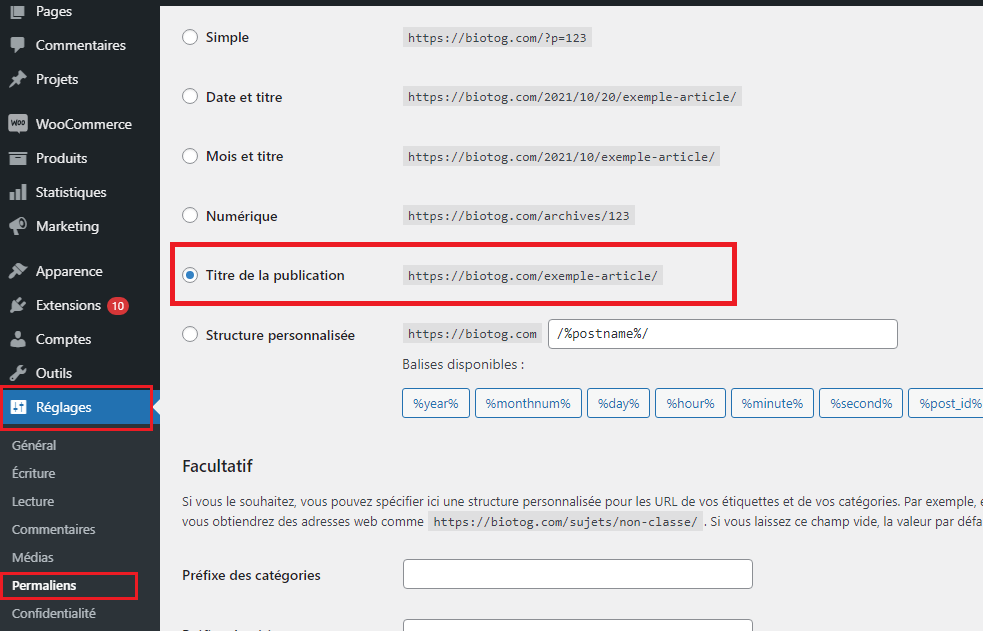 However, if your blog posts are all time-sensitive (like any kind of news site), you can use the "Month and Title" or "Date and Title" structures.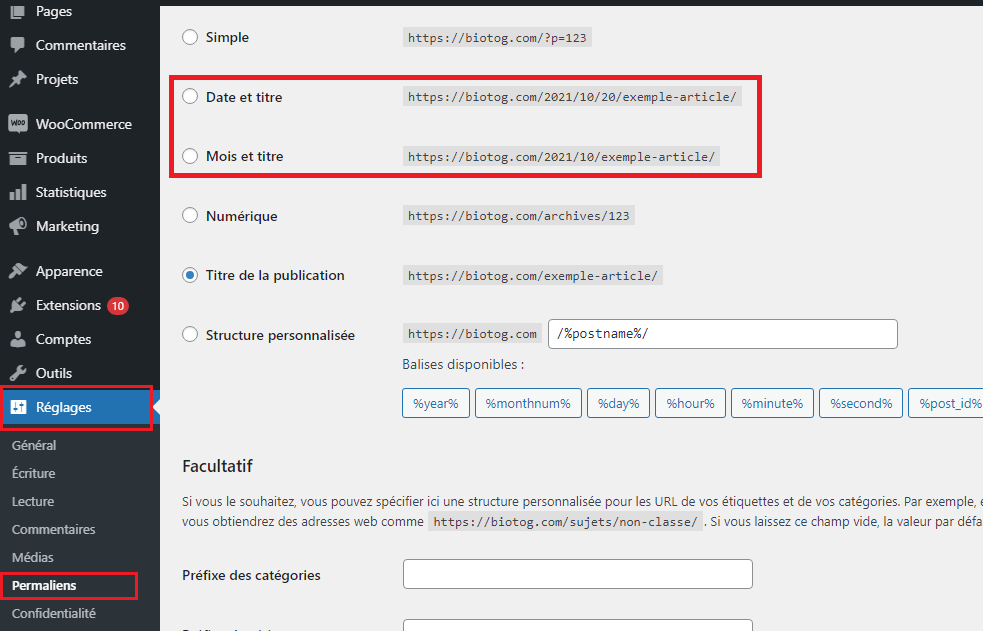 These last two structures allow you to include the date in your URLs, which is good if the date is relevant to the content of the article.
Indeed, the tips above are recommended if you have just installed wordpress on your hosting account.
However, don't do this after publishing a bunch of blog posts, as it will create a lot of clutter and broken links on your website, which is not good practice.
If you want to change your permalink structure to a professional website with lots of blog posts, then you should probably hire a wordpress developer. 
The latter will take care of setting up the appropriate redirects so that all the old permalinks and URLs on your site are redirected to the new ones without damaging the backlinks created or without generating broken links or other damage.
I created a video on setting up settings and permalinks in WordPress. Don't hesitate to visualize it to avoid some rookie mistakes.
4. Add your site to Google Search Console
Once your WordPress website is up and running, you need to connect it with the Google Search Console. The latter allows you to:
Control certain aspects of the appearance of the operation of your site in the search engine;

Display important analytics about your site's performance in the Google SERPs;

See data on all technical issues with your website and how you can improve them to improve your search rankings and drive more traffic to your website.
To use Google Search Console for the first time, you must do the following:
Go to

Google Search Console

;

Choose the "URL prefix" property and add the url of your site;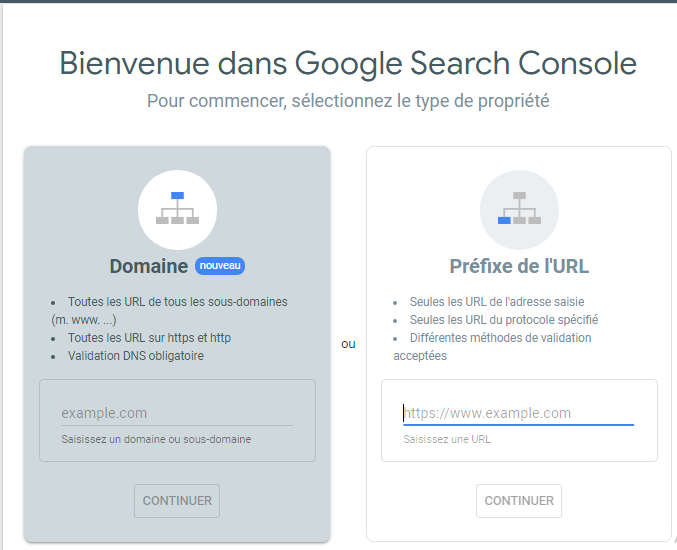 Choose the HTML tag verification option and copy the meta tag provided by GSC;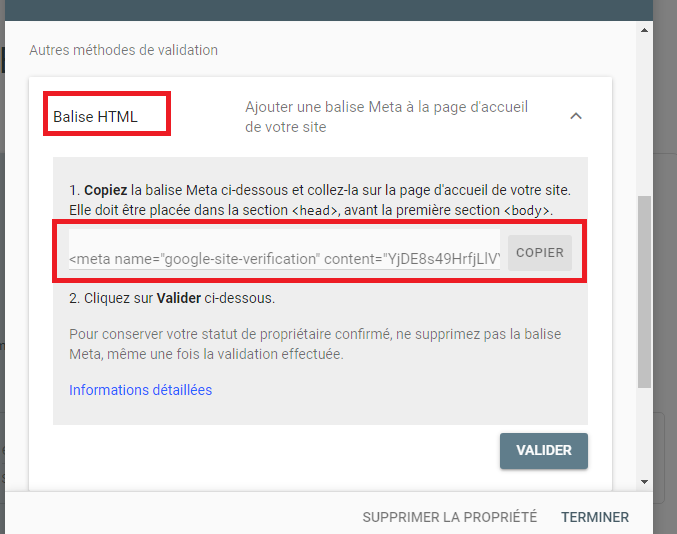 Click on the

SEO option

in your WP dashboard (if you are using Yoast SEO, otherwise you will need to consult your SEO plugin documentation) and navigate to

the Webmaster Tools

;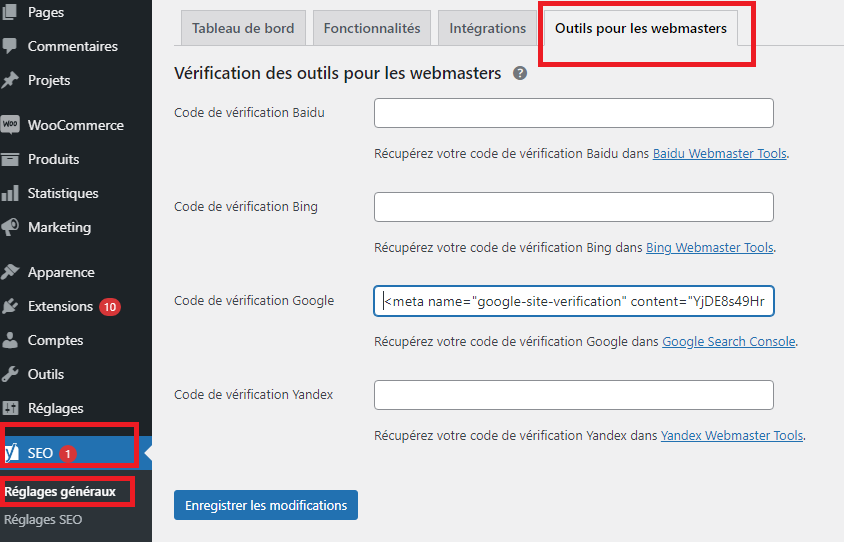 Paste the code snippet into the Google verification code box;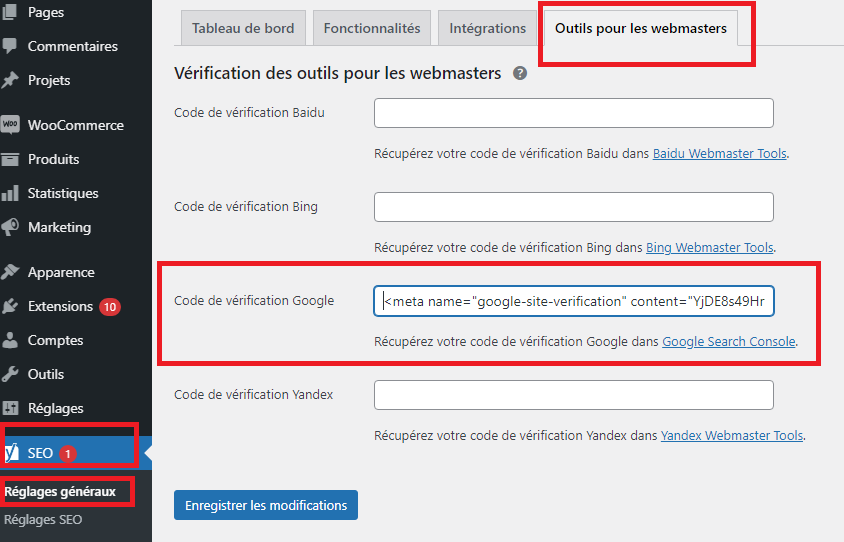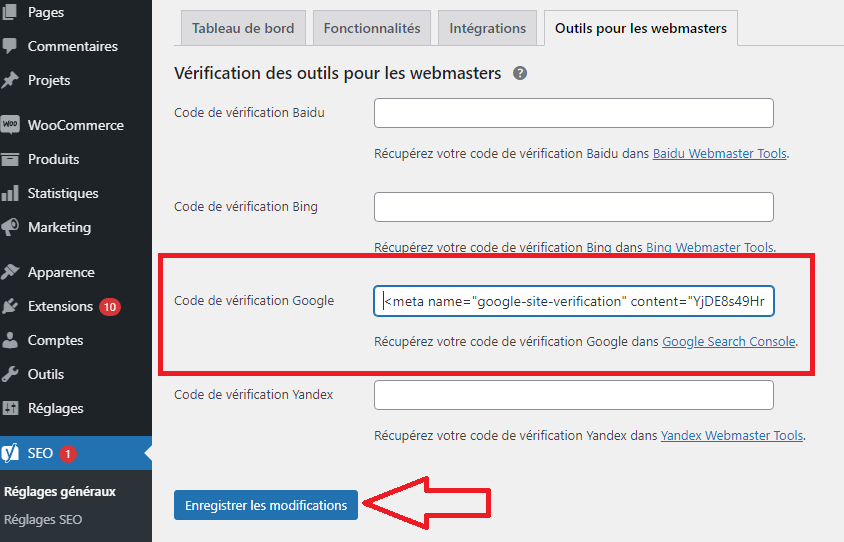 If you want more details on setting up Google Search Console on your site, please take a look at this guide. 
5. Configure your site with Google Analytics
Like GSC, you need to create and connect your WP website with Google Analytics.
The latter is another indispensable tool provided by Google. It is a totally free tool that provides the different data and measures regarding how users interact with your website, such as:
Dwell time;

The bounce rate; 

Etc.
You will also have a clear idea and picture of how your audience visits your website, the device they use, their location, where they come from, etc.
All of these steps will help you optimize your blog post and website to rank higher in the SERPs.
Here is a guide that can help you install GA on your site: How to install Google Analytics on a WordPress site ?
6. Set your preferred domain: WWW or non-WWW 
Beyond choosing your permalink structure, you also need to make another site-wide URL choice.
You have to make the decision whether or not to include WWW in your domain URL, like this:
It doesn't matter which one you choose (no good or bad ), it will have no effect on your SEO performance. However, it is important that you choose one.
To do this, first go to Settings → General and make sure your WordPress web address (URL) and site web address (URL) use your preferred format: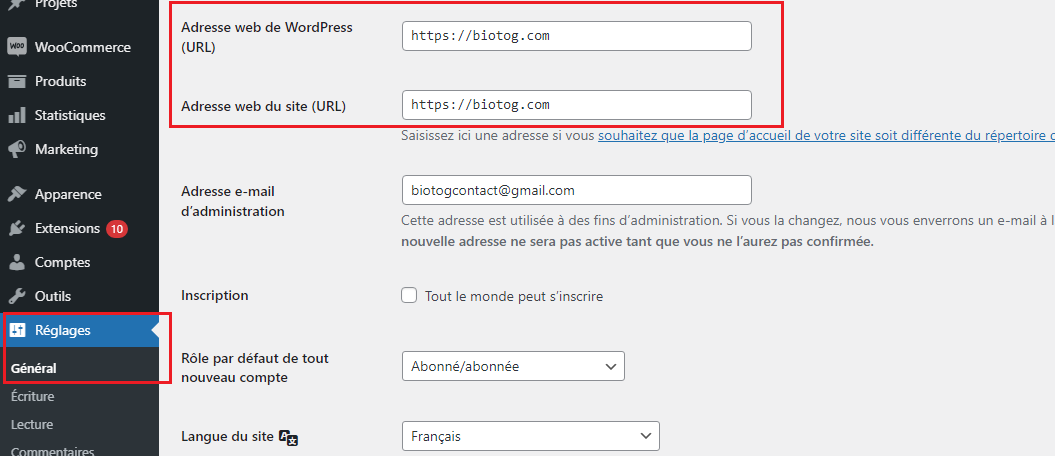 Then you should also redirect all traffic to your preferred version with a 301 redirect. If you want help, you can check out our complete WordPress 301 redirect guide.
7. Add your XML Sitemap to Google Search Console
The XML Sitemap is a file that groups together the main pages of a website to make sure Google finds and crawls them easily. 
This helps Google understand your website map and therefore the most relevant pages when determining rankings.
Submitting a sitemap can help speed up discovery of recent posts and also lets Google and other search engines know that your site has been updated. 
Although WordPress has native XML sitemaps, the best would be to use an SEO plugin that will generate them automatically and make it easier for Google to retrieve them. 
The WordPress SEO plugin (e.g. Yoast SEO) you chose should automatically create a default sitemap for you, like mysite.com/sitemap.xml. 
Here's an example of what it looks like with Yoast SEO: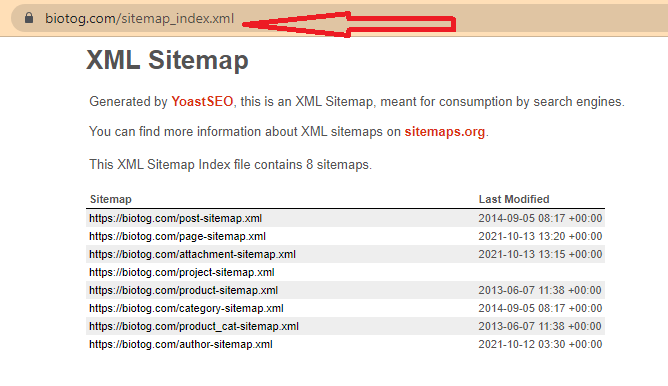 All you have to do is submit this sitemap to Google through your Google Search Console.
To do this, navigate to the Sitemaps tab of Google Search Console, enter your sitemap URL, and click Submit. It's already sent from my side.
All you have to do is submit this sitemap to Google through your Google Search Console.
To do this, navigate to the Sitemaps tab of Google Search Console, enter your sitemap URL, and click Submit. It's already sent from my side.

On your side, you just have to paste the URL of your sitemap and click on Submit.
Once Google has processed your sitemap, you will be able to see statistics on how Google is indexing your sitemap content, as well as any errors that Google has encountered, by clicking Coverage :

8. Check the visibility of your website

You agree that when you just installed wordpress on your hosting account, your site design would still not be top notch and there will definitely be no content. 

Then you must not allow Internet users to visit the site, because it is not ready yet. To do this, you must prevent its crawling and indexing to search engines. 

In such situation, you can use this feature in WordPress which is to tell search engines not to crawl and index your website. 

To do so:

Visit the

Settings >>

WordPress Playback section;

Click on the box in front of "

Ask search engines not to index this site

"; 

And finally "Save Changes"..

Warning: If you forget to uncheck this option after designing your site, search engines such as Google robots will not be able to crawl and index it. 
Therefore, you will not get traffic to your website from Google and any other search engine. 
The option should only be used when you need it. So if your website is ready to go live, make sure this box is unchecked.
4.2. Part 2: SEO Optimization for Individual WordPress Blog Posts or Pages
While the basic site-wide settings above are important, most of your SEO optimization will happen at the page or page level. publication.
That is, you will optimize the SEO of each piece of content while you are editing that specific piece of content.
Let's run through our SEO checklist for each individual piece of content:
9. Do keyword research so you know what you're targeting
If you want your site to rank well, keyword research is essential.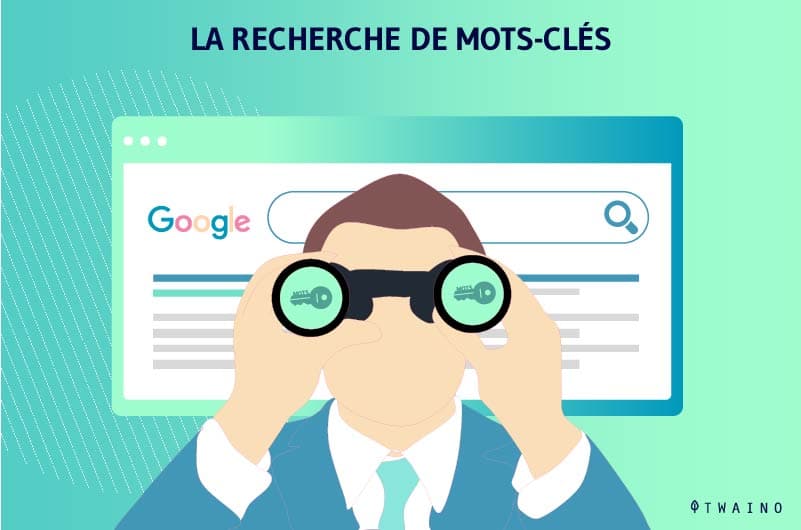 Basically, keyword research helps you match your post content to the actual words and phrases people are searching for (based on actual data).
Even a small change can make huge differences.
For example, let's say you're writing a great guide to Photoshop. You can call it a Photoshop guide or a Photoshop tutorial. At a glance, we can say that the two mean almost the same thing and therefore make a choice at random.
But by doing the keyword research, you can find out that:
10,000 people search '

Photoshop Guide

' on Google every month

35,000 people search '

Photoshop Tutorial

' on Google every month
Now it's pretty clear that you need to absolutely use the "Photoshop Tutorial" because it will give you a better chance of reaching 25,000 more people.
So what once seemed like insignificant word choice is now actually quite significant after analysis.
To perform keyword research for WordPress, there are quality free tools such as:
Google trends

;

KWFinder

;

Moz Keyword Explorer

;

And more.
There are also paid-only tools like Ahrefs.
The nice thing about these tools is that you just have to enter a seed keyword and then the tool will generate a bunch of suggestions related to that keyword.
Keyword research is quite a broad topic, so I recommend checking out our comprehensive guide to keyword research.
10. Optimize your content for this keyword
Once you have found the best keyword for your article, you should optimize and target it so that Google can make the connection.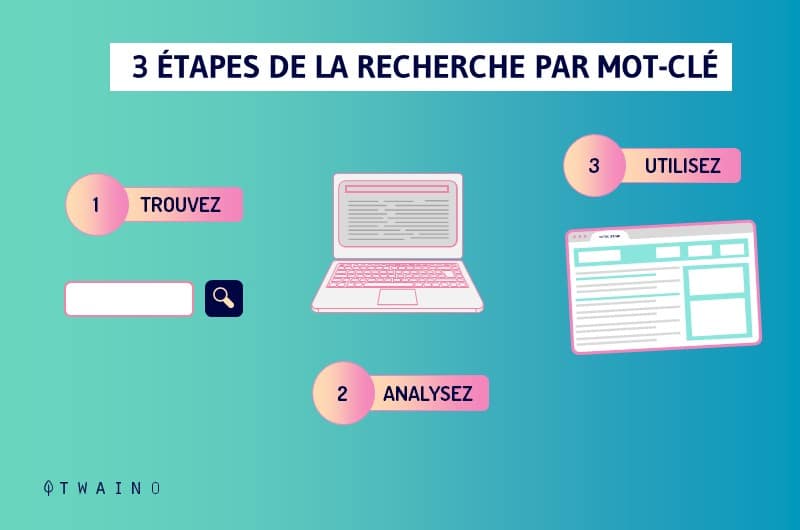 This is where things can get derailed. The main keyword should not be in as many places as possible. Not only does this feel unnatural to your human visitors, Google hasn't rewarded keyword stuffing for quite some time.
For this, your target keyword must be used intelligently in your content. It must appear in:
The different headlines: H1, H2, H3;

The introduction, the body of the content and the conclusion according to the number of words of the content;

The description of the images (the alt attribute).
However, only insert your keyword if it is natural. You should never sacrifice human readability just to fit your keyword.
If you have no knowledge about checking keyword density in content, this guide can help you: Keyword Density Definition.
If you are a beginner, I advise you to take a look at this detailed guide on how to write a good blog post from start to finish: Web Writing: The Complete Guide.
11. Include your keyword in your title, meta description and slug (if possible)
Beyond including your target keyword multiple times in your content, you should also try to include it in:
The SEO title; 

The Meta Description;

The URL Slug. 
All of this information appears in Google's search results: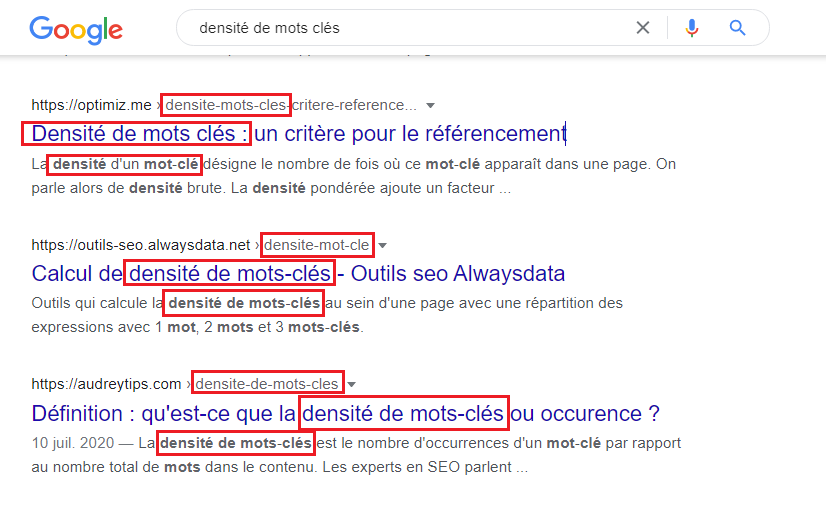 This not only helps Google assign relevance to your content, but also allows your human readers to see that your content matches their query. Thus, there is a higher chance that they will click on your site in the SERP.
Again, keyword stuffing is not advised. You have to do it naturally. 
For your slug, you can simply use your target keyword. For your title and meta description, come up with something that will entice people to click through to your site in Google search results. 
Then try to incorporate your keyword. Remember that you are writing for humans first! 
You can set your title, slug, and meta description using the Yoast SEO meta box. To do so, simply click on the 'Edit' the article :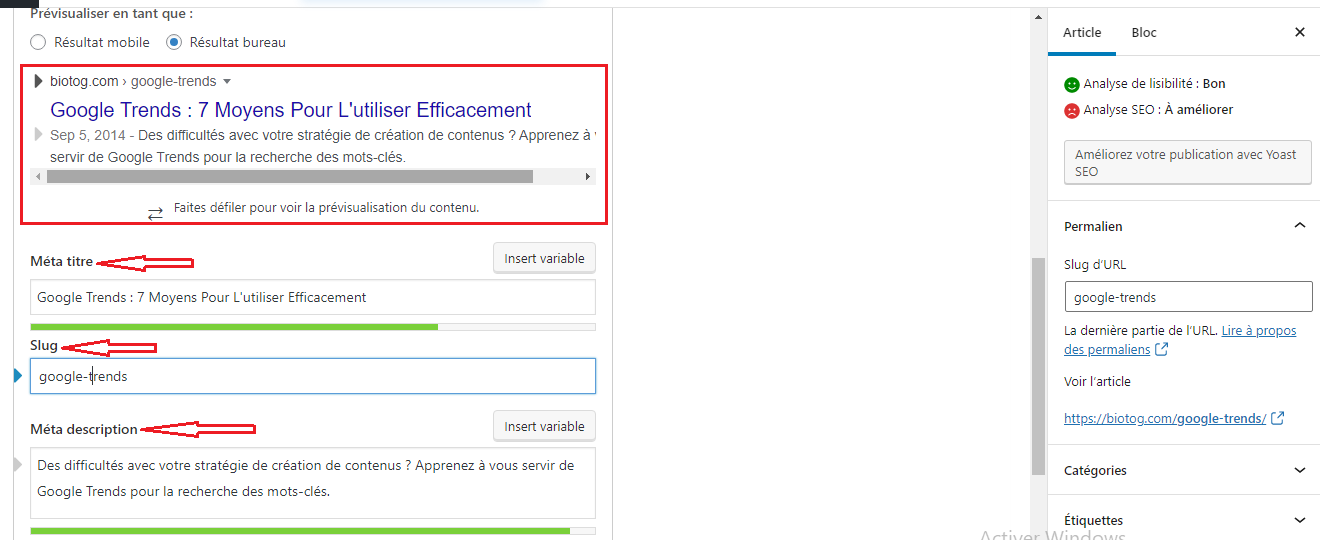 Make sure to pay attention to word limits, as Google will cut off your title or description if you make it too long. Green means the length is good and red means it is too long.
12. Incorporate other related keywords (LSI keywords)
Before, it was possible to achieve SEO success by optimizing your site for a single keyword. Things have changed over time.
Now, Google likes more content optimized for an entire topic, rather than for a single keyword.
One way to do this is to also use keywords related to your main keyword. This lets Google know that your content is highly relevant to the topic you are discussing.
Now, if you write a well-researched article, you will naturally incorporate many related terms without any special effort.
But if you want to optimize even more, you can use tools keyword research. They will generate a set of keywords semantically related to your main keyword.
Once you get those keywords, try to integrate them naturally into your content. Again, there's no need to stuff these, always write for humans first. 
Even just using some of these related keywords once will already have a better chance of getting an SEO boost for your content in Google.
13. Optimize Title and Meta Description for CTR
Whenever you write a title and meta description for your blog post, always make sure that you are not only optimizing for SEO, but also for click-through rate.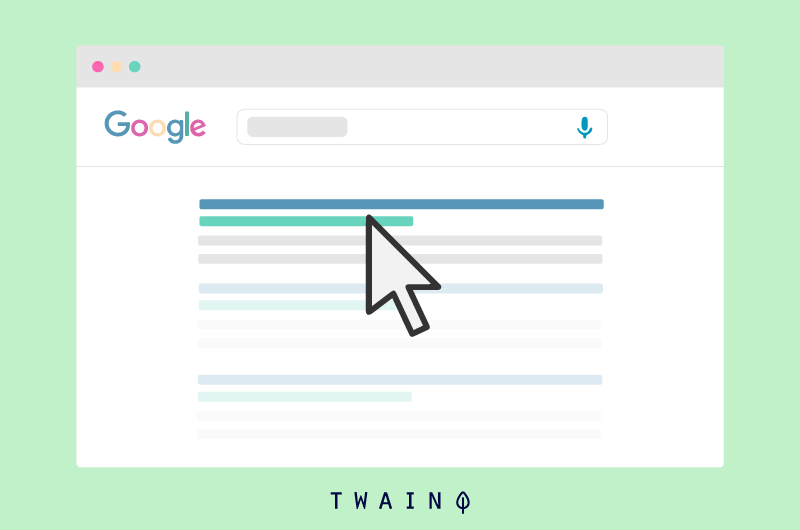 You shouldn't just include your blog post's target keyword in the title and meta description and then sit back.
There's no point in getting a good ranking if people don't click through to your page in the SERPs.
By properly optimizing the title and meta description for CTR, you can increase your chances of getting more clicks and traffic to your webpage compared to other pages in the SERP.
Also, when more people click on your result compared to others, Google will increase your ranking in search results because it is assumed that your website gets more user engagements.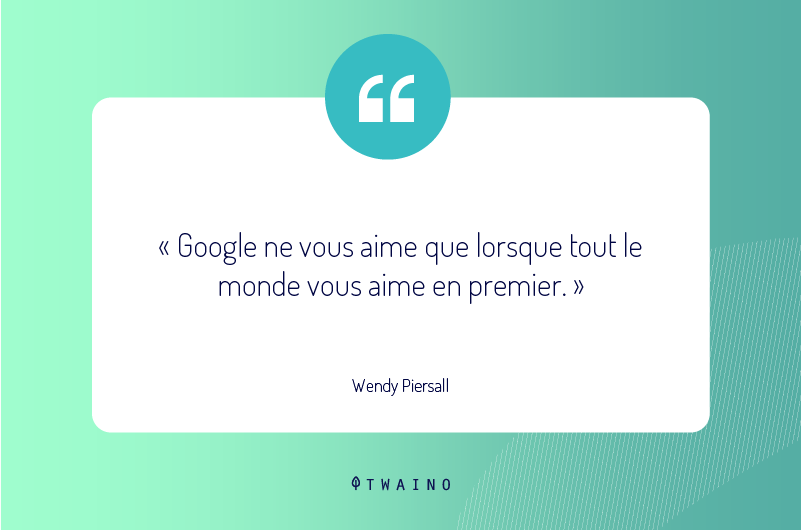 In order to optimize your title tag and meta description for click-through rate, you need to do quite a few things like:
Include

a number

in the title tag and meta description to spark curiosity in the reader's mind;

Include emotional words in your titles and meta description, like:

amazing, discover, secret, top, best, fast

, etc.
Because of its importance, let's once again talk about length. 
Make sure the title does not exceed 60 characters and the meta description does not exceed 160 characters, otherwise it wo n't fully show up in Google search results.
You can use free tools like Mangools SERP Simulator to check the effectiveness of your titles and meta descriptions.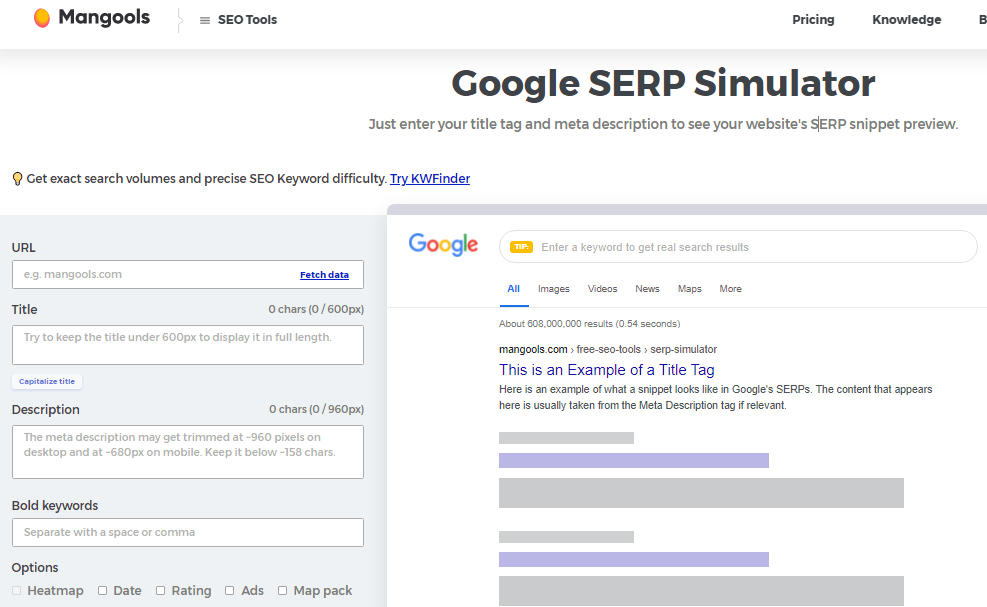 While you're improving titles and meta description, don't make it a clickbait. This can:
Harm the user experience on your website;

Cause lower rankings in Google in the future; 

Make your website less credible in general.
If you want more tips on creating catchy headlines, feel free to check out this guide: Writing Impactful and Catchy Headlines (Methods & Tools).
14. Define a Proper Structure of Titles 
When creating your blog post in WordPress, you need to use different title tags correctly, like H1-H2-H3-H4-H5-H6.
You should use these tags in different areas of your blogs to divide your blog post into parts so that it is easily readable and understandable for the reader.
The H1 tag should only be used as title of your article and the other tags (h2-h3-h4-h5-h6) as subtitles and micro subtitles for your article.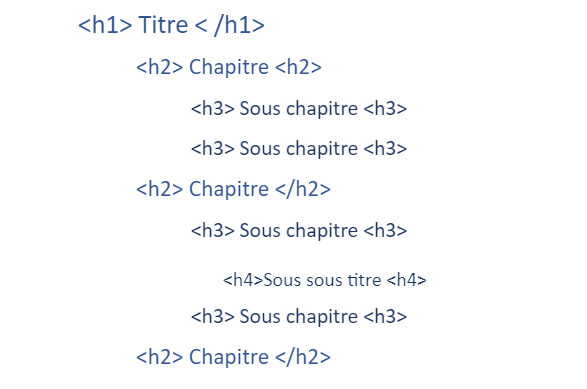 This structuring will create a good user experience for people who read your article and will directly impact your search engine rankings positively.
15. Give your images quality and relevant alt text file names
If you use images in your content, you should make sure to include relevant alt text for each image. 
Not only does this make your site more accessible to users with screen readers, but it also lets Google know the context of the images, which provides another small boost to your article's relevance.
Again, don't just put your keywords in the alt text. Instead, write meaningful and accurate descriptions. 
You can set the alt text for each image in your dashboard's media library: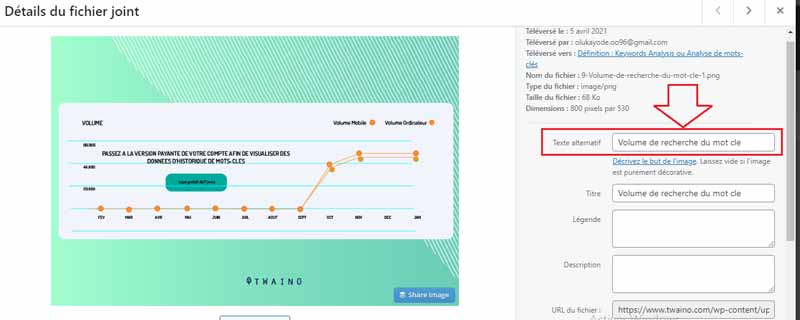 And if you don't want to do it manually, there's a really nice free plugin called Automatic Alternative Text that uses Microsoft's Computer Vision API . 
This tool can automatically apply a unique and relevant description to most images you upload.
Beyond alt text, you should also try to make your actual filenames match what the image is.
That is, instead of sfsdfsd44234423.png, try putting something like photoshop-sidebar.png.
16. Optimize Your Site
's Images Images are a crucial part of blogging and SEO because they make your blog post attractive and user-friendly.
When you upload images to your website, you need to optimize them not only for users, but also for search engines.
Apart from adding the alt text to your images in WordPress, you also need to consider their size and format.
The size as well as the format of the image will have a huge impact on the loading speed and performance of the website.
So, whenever you upload images to your wordpress website, always make sure to compress them and decrease their size before posting. 
Also, always make sure to use image format or webp instead of PNG to improve site loading speed.
You can install the smush wordpress plugin to automatically compress your images.
17. Use Nofollow for affiliate links or low quality sites Including
links to external sources in your content is a very good practice, but you must ensure that they are quality sources.
For this, you should apply the nofollow tag on links from bad sources or affiliate links. Essentially, this tells Google that "you do not vouch for the quality of this link". 
You can add the nofollow attribute by going to the Text tab of the WordPress editor and adding rel="nofollow" to the link's HTML or simply using a free plugin like Ultimate Nofollow.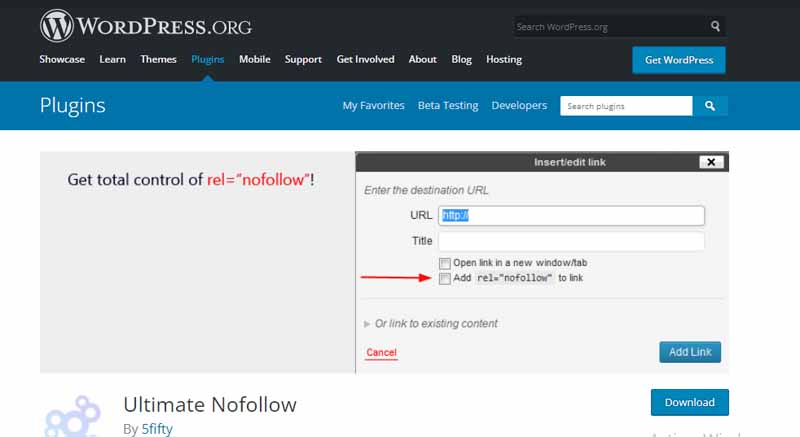 If you want to know more about the Nofollow attribute, I created a specific guide about it. 
18. Write longer content (but only if the topic is worth it)
While I'm not suggesting that you start increasing your word count in an unnatural way, longer content is proven to be correlated with higher SEO rankings.
For example, Backlinko found that the average word count for a first page result is 1,890 words. And the top results usually have the highest word count. 
Here is a graphic illustration of this Backlinko analysis: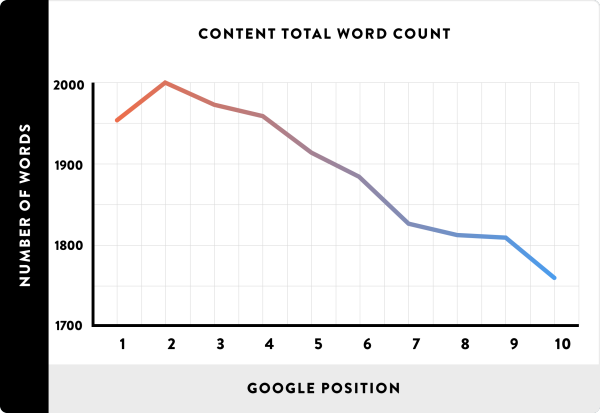 Source : Blog du modérateur
Since Google does not publicly publish information about its algorithm, there is no definitive judgment on this subject. 
For example, longer content might just get more backlinks, according to John Doherty. 
Either way, the data is still compelling. So, if the subject you are addressing is rich, do not hesitate to search the net well to create complete and above all qualitative content. This can really have a positive effect on the ranking of that content.
4.3. Part 3: Other Important WordPress SEO Tips to Increase Your Site's Rankings
Beyond these basic site-wide settings and optimizing individual pages, there are also many other strategies that will have a positive impact on the SEO ranking of your WordPress site.
19. Try to get other sites to link back to you
This one deserves its own guide, so we won't be able to say much about it in a short section like this.
Much of your site's SEO success relies on the links you get from other sites: Backlinks or backlinks.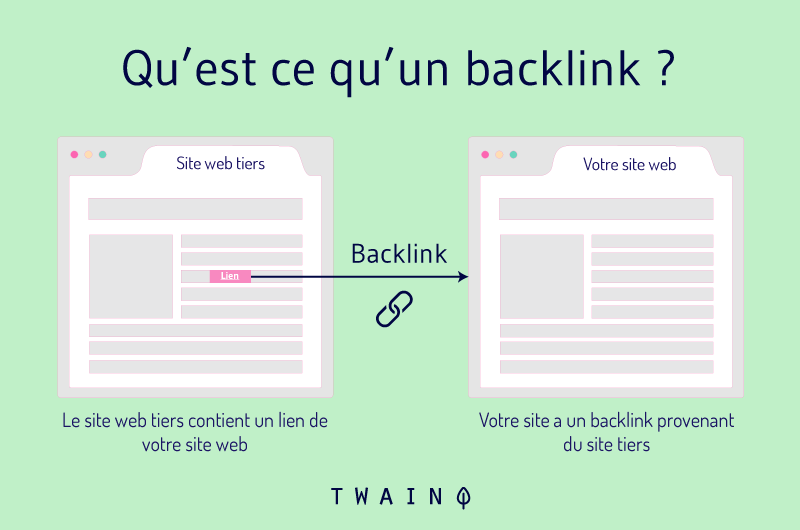 Basically, backlinks are hyperlinks that point to your website from other websites. This means that each time a visitor from the other site clicks on this link, he will be automatically redirected to you. 
This shows Google that your blog post or website is really interesting. 
In general, links are like votes, more links from different websites means more votes and more chances to rank well on Google.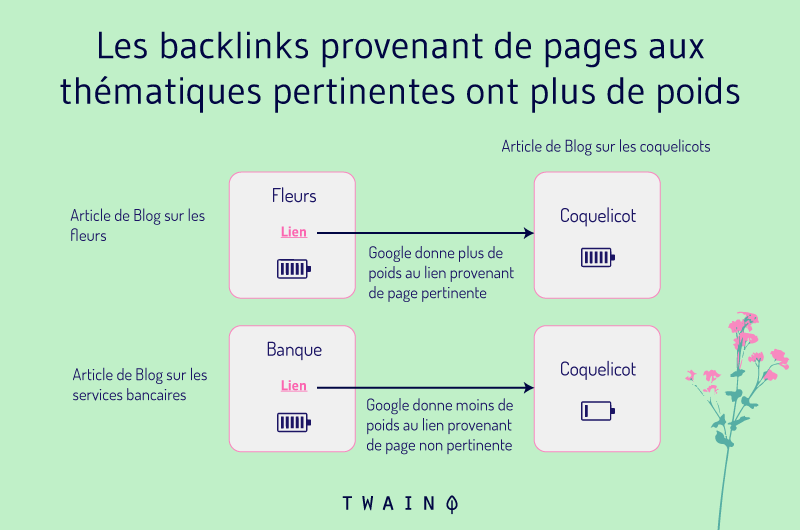 One way to get links is to simply create content that is so great that other people are going to want to link to it. Another way is to write guest posts on other people's sites with a link to your site.
There are still more tricks to get backlinks on your site. Rather than write more, I'm just going to say that once you've finished this article on WordPress SEO, read our guide to building backlinks. 
Thus, you will learn everything you need to know about getting backlinks to your site.
20. Add internal links to your content
Beyond linking to other sites, you should also link to yourself with internal links.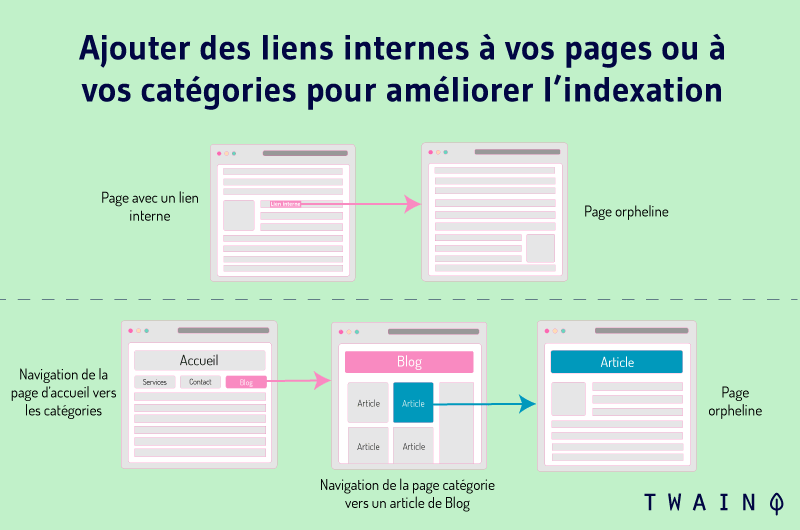 For example, if you skip back a few sections, you'll remember that I linked to our own keyword research guide when I talked about selecting a keyword.
This is an example of an internal link, and it can actually have a positive effect on Google rankings. In fancy terms (according to Moz), they "help spread link equity (ranking power) around websites."
So whenever you reference something you've written about before, be sure to link to that content as well.
You should also regularly go back and check old content to see if you have any chance of adding internal links to newer content you've written. 
In short, interlinking your blog posts on your wordpress website has three main benefits:
By focusing on your website's internal linking, you can increase the time users spend on your website. This can help you get more conversions for your business.

By focusing on internal linking in your blog posts, you can pass link juice as well as authority to different pages on your website and also improve the search engine rankings of those pages.

By focusing on internal links on your blog posts, you improve the site structure and all your pages will be indexed faster in Google.
You can dramatically increase the number of views on your blog posts through internal linking.
21. Update Old Content to Boost Rankings
Google loves fresh, updated content. As your site ages, you're going to end up with articles that haven't been touched in years.
Although these contents are always classified, it is common that they start to fall little by little after years without attention.
One of the easiest ways to get content back in the rankings is to simply update it.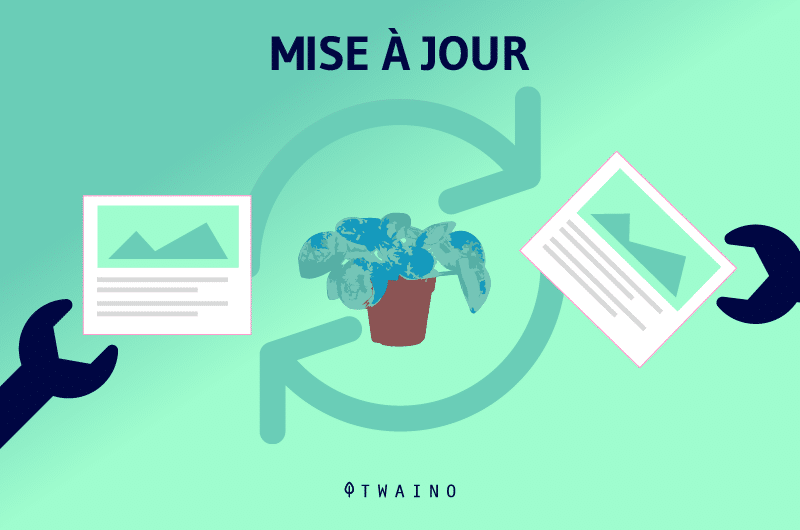 To do this, you can:
Completely rewrite your old content if you think you can do better;

Update a section or add new sections to this old content;

Correct outdated links and statistics that are no longer up to date;

And more…
You can also use tools like Ahrefs or Google Analytics to find your valuable articles that need updating. This is an advanced topic, but here's the basic idea:
Analyze your site to find articles that rank on the second or third page of Google for high-value keywords (the main goal is the first page, so you can do better); 

Then update those contents.
It's an effective way to get Google to push your content to the first page.
22. Optimize Your WordPress Site's Loading
Speed ​​A site's speed is actually a ranking factor in Google's desktop and mobile search indexes!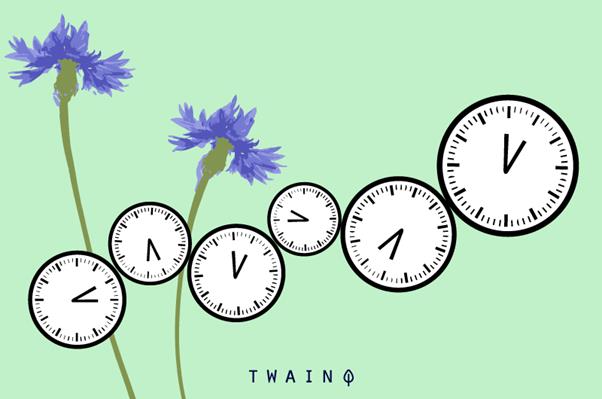 So if you want your site to rank as highly as possible, you need to make sure it loads fast.
A site's performance and loading speed are among the most important factors when it comes to ranking a website in Google. The fact is that wordpress is not the CMS the fastest by default, even if it is the largest.
So, you need to optimize your blog posts and WP websites to improve speed as well as performance consistently.
There are enough things you need to do to effectively improve the speed and performance of your wordpress websites, and the most popular ones are:
Use a good web hosting company that has good uptime and loading speed;

Use the latest PHP version of your wordpress site;

Reduce the number of plugins you use on your wordpress site;

Use a better, simple and lightweight wordpress theme optimized for speed and SEO like

Divi

;

Use a caching plugin like

W3 Total Cache

;

Improve your website speed by minifying HTML, JavaScript and CSS using plugins like

wp-rocket

;

Compress your images before uploading them to your WordPress site;

Use a

.

Content Delivery Network (CDN)
You can test your website in website speed checkers such as:
Then, optimize your blog posts and website based on the recommendations you get from these tools.
 In fact, a website's bounce rate increases by 32% when the page load time is between 1 and 3 seconds.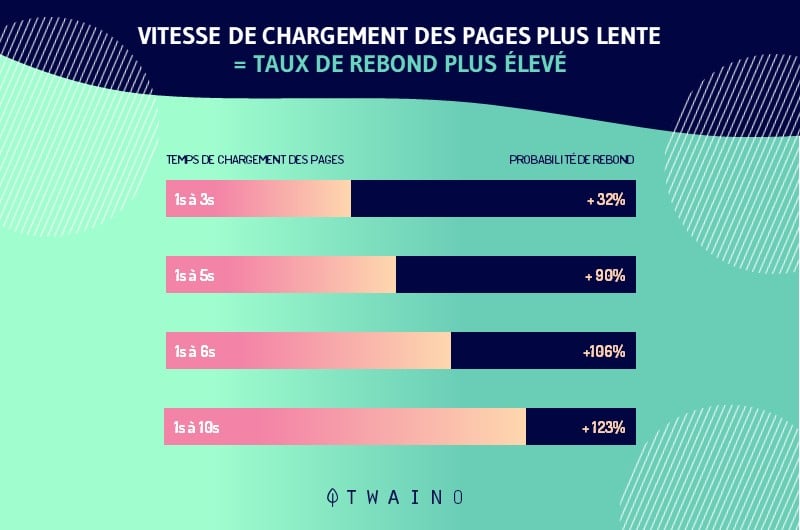 More bounce rate means less traffic, fewer conversions and fewer sales.
If you want to learn more about increasing the speed of a WordPress site, feel free to take a look at this comprehensive guide dedicated specifically to this topic.
23. Add Schema Markup for Rich
Snippets Schema markup (or structured data) does not directly improve your SEO rankings (at least according to Google's public announcements). 
But it's still useful because it can make your site stand out in organic search results with rich snippets.
If you're unfamiliar, rich snippets are things like those eye-catching review stars:

By making your site stand out in the SERPs, you can increase the chance that someone will click through to your site.
Accordingto the Ahrefs study, only around 12.29% of search queries featured snippets in their search results.
So, if there is no snippet ranking in the Google SERPs for your target keyword, you should consider using schema markup for your blog post.
There are three main benefits of using schema markup:
By using schema markup, Google can better understand your content and learn more about your business;

By using schema markup, you can increase the CTR in search results compared to other search result pages because it grabs users' attention and takes up more SERP space;

It can also sometimes increase the ranking of your pages in search results.
If you install ranking math SEO on your wordpress website, you will be able to benefit from many schema markup options such as job posting, FAQ and many more.
Alternatively, you can separately install the schema plugin on your WordPress site and add schema markup for your posts.
If you implement schema markup correctly on your blog posts, it can significantly improve the click-through rate of your blog post in search results.
24. Make sure your site performs well on mobile
In March 2018, Google officially switched to mobile-first indexing.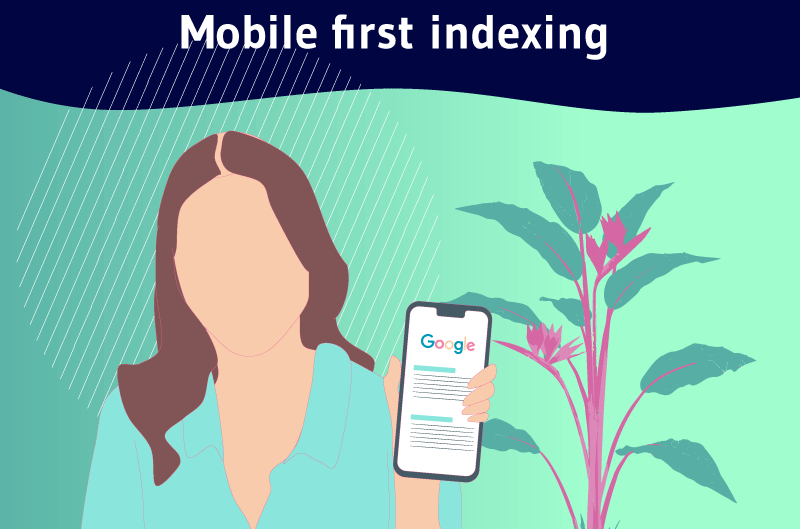 Here's what he says : " Mobile-first indexing means we'll use the mobile version of the page for indexing and ranking, to better help our – primarily mobile – users find what they're looking for.proble
because it means the mobile version of your site is very important to Google.
So if your mobile site has issues, like a big annoying popup, your rankings can drop.
For this, be sure that:
You are using a high quality responsive theme;

You're not using full-screen mobile popups (

here's why

);

Your mobile site loads quickly.
You can also consider using Google AMP.
25. Keep your WordPress site secure
Security is a very important aspect for maintaining a wordpress website because even though it is the biggest CMS, it is also one of the biggest software which is very vulnerable to piracy, as many studies have shown.
Malicious actors love to access WordPress sites to inject their own spammy links. This inevitably impacts the referencing of these sites.
So, keeping your site safe and secure is one of the biggest challenges to ensuring it can continue to rank in the SERPs.
Not only does Google take this factor into account when ranking a website, but users also consider unsecured sites to be unreliable.
Luckily, there are some important tips to secure your wordpress website and rank it higher in search engines:
Obtain an

SSL certificate for your website

and redirect all non-SSL URLs to your SSL URL;

, Always take backups of your website using a

WP plugin like updraftplus

even if the web hosting company takes care of it;

Use two-factor authentication to protect your wordpress account;

Pay attention to the type of plugins you install on your website, only install plugins that have high ratings and have been recently updated by a well-known author and developer;

Choose a good web hosting company and consider using a wordpress security plugin like

Wordfence

for extra security.
Of course, these tips are not so detailed, here you can follow my wordpress security video where I explain how to secure your wordpress website from hackers and malware and never get hacked again.
The security of your website will have a direct impact on your search engine rankings.
26. Use HTTPS for a little ranking boost
HTTPS is another one that may not seem related to SEO. But beyond securing your site, using HTTPS is also a small positive SEO factor, according to Google.

Since HTTPS is already so valuable for its non-SEO benefits, this one is a no-brainer. Most web hosts today offer free Let's Encrypt SSL certificates. 
And once you've installed an SSL certificate, you can follow our guide here to set up HTTPS.
27. Don't Forget Social
Media People have long speculated that Google cares about how popular your content is on social media. Although Google has not intervened on the subject, there is data indicating that this is true.
For example, Hootsuite did a large study and found "a strong correlation between social activity and rankings." 
This can be justified by the fact that the type of content that performs well on social networks is also more likely to obtain natural backlinks.
Consider adding social sharing buttons to your content pages.
If you want to know more about social media marketing, you can take a look at this comprehensive guide: SMO Definition or Social Media Optimization.
Even if it does not directly boost your SEO, you will still benefit from more and more traffic from social networks!
28. Optimize the structure of the WordPress site
The structure of a site facilitates the understanding and the navigation on the site to the users as well as to the web robots. It shows the hierarchy of your pages (according to their importance) and your site.
Proper organization of your site helps users find their way from your homepage, to your category pages, to individual posts…and back again! 
Aside from using sitemaps, a well-placed site structure is the best way to make it easier for Google to index your site's URLs.
So how do you keep your site optimally organized?
Here are some tips for improving your site structure:
Make sure

your homepage is clear and easy to navigate

: 
Overloading the homepage with so many options can make understanding the site a little more complicated. 
Add

a clear menu and breadcrumbs

:
This will allow your visitors to navigate your site wherever they are. 
Breadcrumbs are the links that should refer to the homepage and the category the post is in. 
They will look like " Homepage > Category > Subpage " on the SERPs.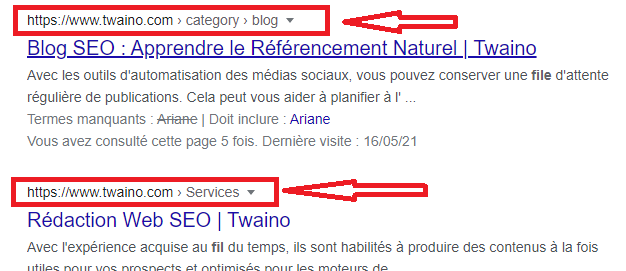 Create categories and subcategories:

Categories prioritize your content and broadly list the topics as well as themes of your site. 

The best approach is to place all relevant pages in the same category and linking them to each other.

For example,on a travel website, the " Europe" could be a category. If your categories are getting too many, you can create subcategories. 

Example: "France" as a subcategory in "Europe".

Other tips:

use tags or tags, put the content in a readable and attractive way, avoid keyword cannibalization.

29. Make Sharing Your Content Easier

These social media icons you see around website content are meant to make content sharing as convenient as possible for website visitors.
You can add these buttons through social media sharing plugins. It's definitely not certain that social shares help with SEO, but they will drive more traffic to your website.
If you want to know more about these social network buttons and how to integrate them on a website, this guide can help you: Why and How to integrate Network Buttons ?
30. Promote your blog
Once you have a lot of content on your blog, you need to promote it. It can be done on social media, with your mailing list and other means.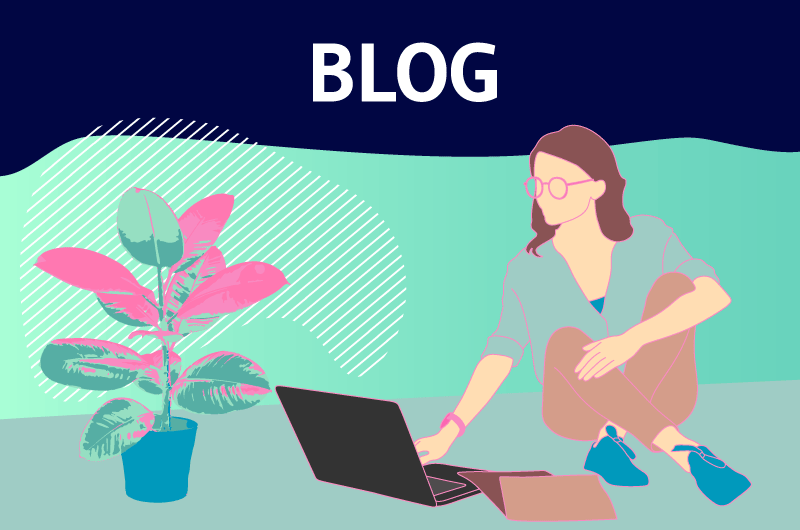 You can read my ultimate guide on tips for achieving great results with your blog over the long term.
31. Check for broken links and redirects
Basically, broken links are links to pages that no longer exist. Most of the time when you click on these links you will see a 404 error page.
In fact, having multiple broken or dead links on your website can lead to poor user experience. So you should always make sure to check them in order to repair or remove them outright.
So, you can use tools like Broken Link Checker plugin to automatically identify broken links on your website to finally remove or fix them.
If you have a lot of internal broken links, you can use a 301 redirect to redirect all the broken links on your website to the relevant pages.
32. Fix Cannibalization Issues
Keyword cannibalization is an important SEO mistake that you should avoid because it involves targeting similar keywords in multiple blog posts on the same site.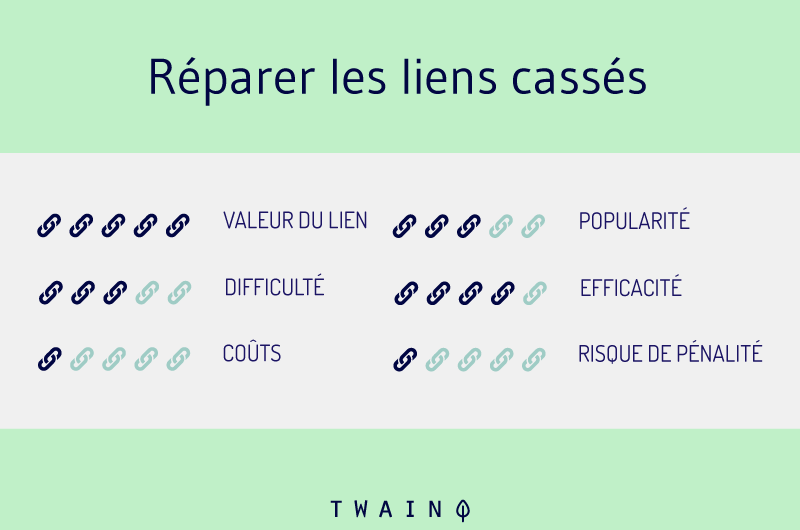 So, you can use tools like Broken Link Checker plugin to automatically identify broken links on your website to finally remove or fix them.
If you have a lot of internal broken links, you can use a 301 redirect to redirect all the broken links on your website to the relevant pages.
32. Fix Cannibalization Issues
Keyword cannibalization is an important SEO mistake that you should avoid because it involves targeting similar keywords in multiple blog posts on the same site.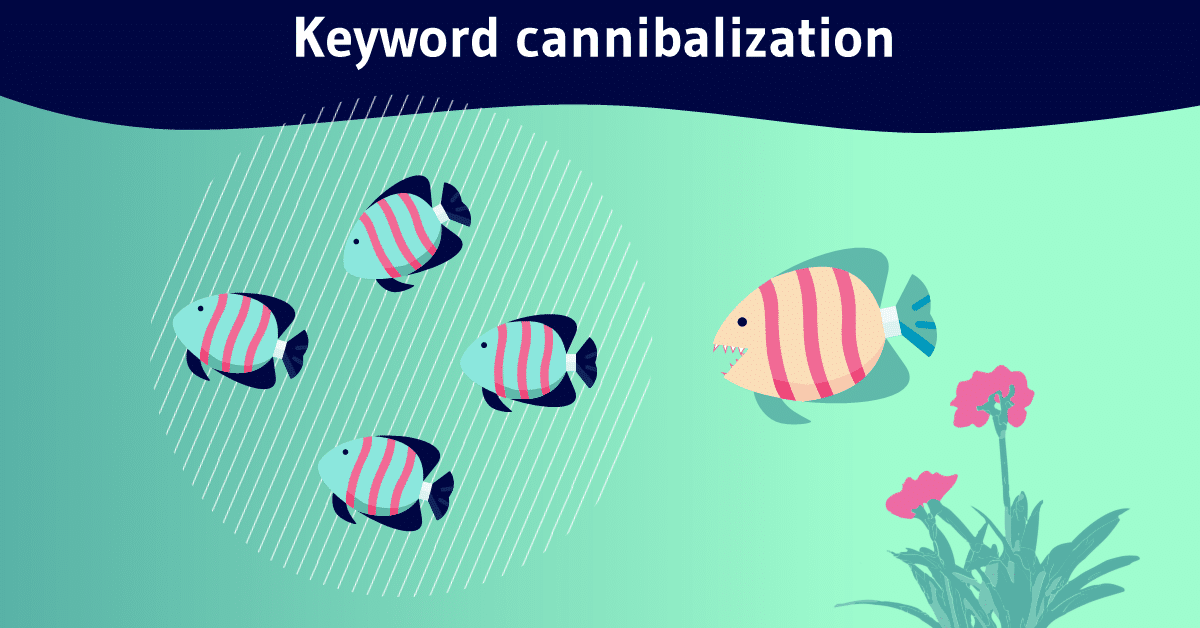 This creates a sort of competition between pages on the same site and causes duplicate content issues, which can hurt your rankings in Google.
You can read this guide to learn more about keyword cannibalization and how to fix it in detail.
33. Optimize Your Blog
comments on your WordPress website play an rankings your blog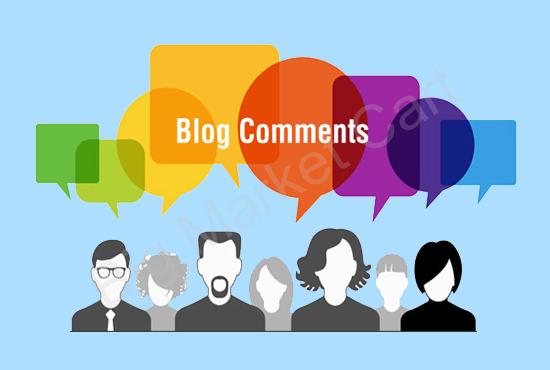 Source : SEOClerk
Indeed, when users engage with a web page by commenting on its content, it gives the impression that this web page is good and attractive. Thus, this indirectly acts positively on its ranking in search engines.
But you have to be very careful. If you allow visitors to comment on your blog posts, you should also make sure to properly moderate and remove all spam comments.
Indeed, there are many people who try to get backlinks to their websites by commenting on your blog posts. So, if you are not careful in removing or adding the nofollow attribute to these links, it can harm your SEO.
To remove all spam comments on your website, you can use the popular wordpress plugin called Akismet Spam Protection.
Be sure to respond to everyone who comments on your content, this will build user loyalty and engagement on your blog.
On the other hand, if your blog attracts a lot of comments of a very genuine nature, you can divide these comments into several pages to reduce the size of the main page.
34. Configure the Robots.txt file
Robots.txt is a text file used to tell search engines how they should crawl certain pages on a website, i.e. what things they should and shouldn't crawl .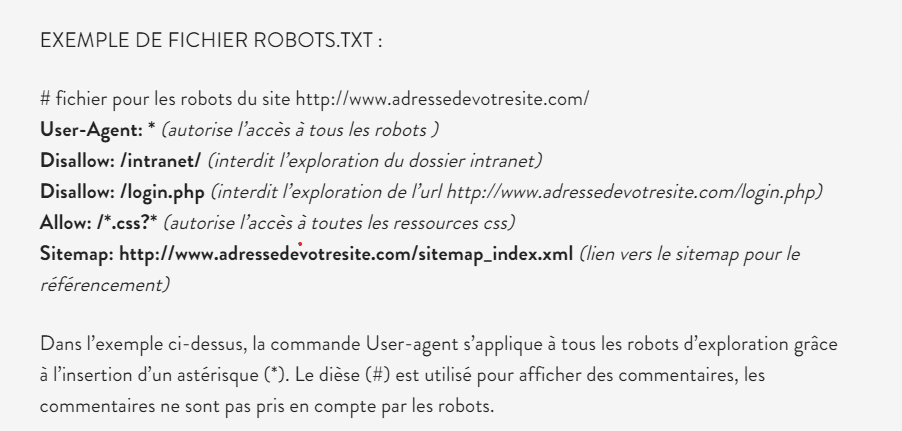 It is a very powerful tool to optimize the way Google crawls your WordPress website.
Also, it will ensure that Google's crawler does not waste its time crawling and indexing all unnecessary pages on your site. These are pages like plugins, admin pages, etc. Thus, this can improve the site's exploration speed.
Also, if you have pages or posts on your WordPress site that you don't want search engines to index, you can use Robots.txt to stop them being indexed.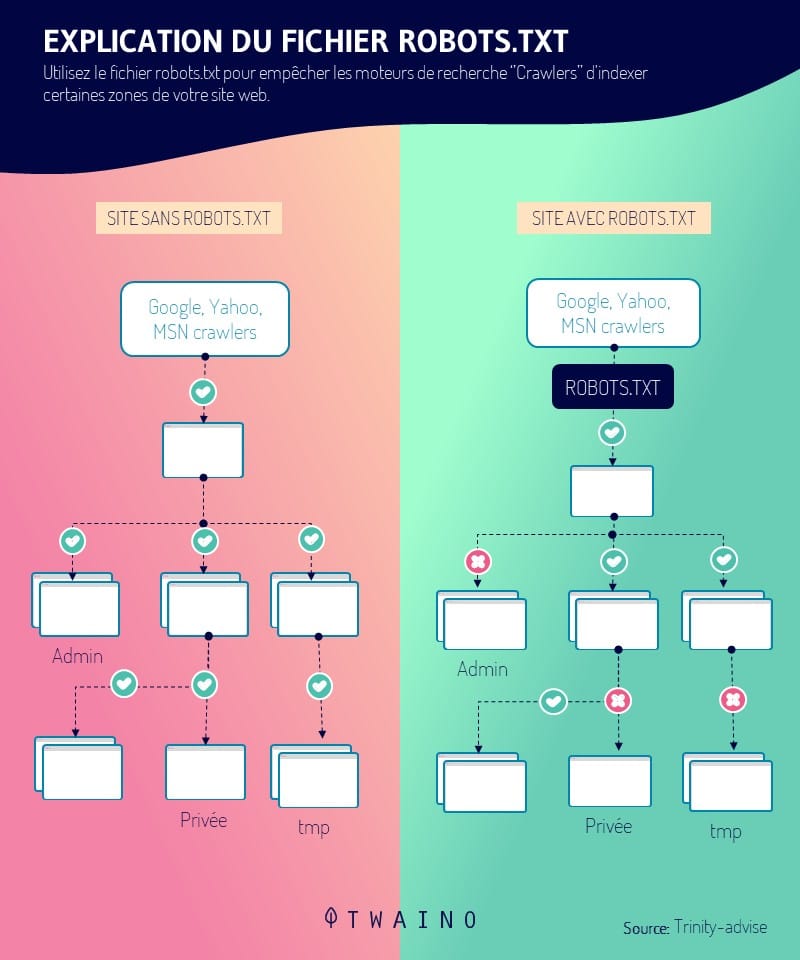 You can create, add, or modify a Robots.txt file on your WordPress website either using a plugin like Yoast SEO or manually using FTP.
Here are some tips for keeping your Robots.txt file simple and organized:
Use the simple, standard Robots.txt file format;

Allow the indexing of images, videos and other multimedia content on the site;

Ban unnecessary pages and folders, including plugins, wp-admin…;

Include sitemaps in the Robots.txt file to make it easy for robots to find other pages on your WordPress site.
Here is a guide specifically devoted to this subject and which can help you create your robots.txt file yourself.
35. Use Canonical Tag on Duplicate
Pages Two pages with the same content on your website can cause a bad impression with search engines, especially Google. The latter does not like duplicate content and does not hesitate to penalize sites that contain this type of content.
The best way to deal with these duplicate pages on your WordPress website is to use the canonical tag.
This HTML attribute is used to redirect Google to the master page when multiple versions of the same page are available.
This way, he can identify the preferred version of the page he should use for indexing and ignore all other versions.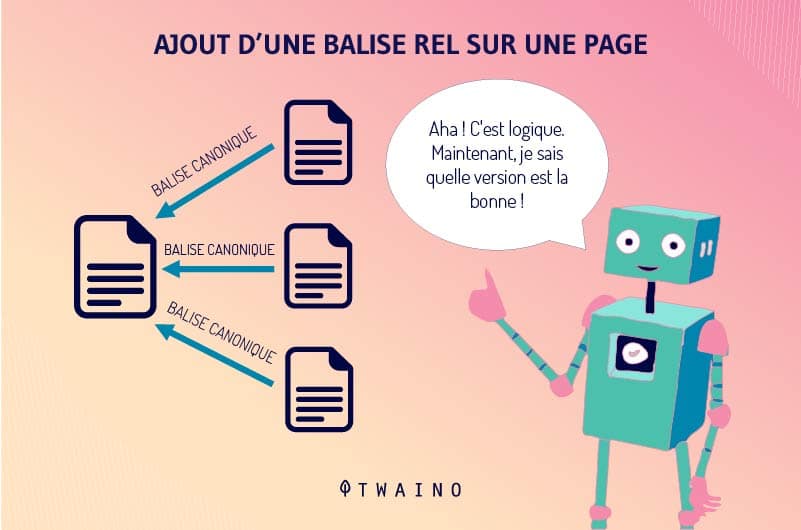 Using this tag on your WordPress site will help avoid duplicate content and improve your site in terms of SEO.
Duplicate pages issue is very common on eCommerce websites which may have different versions (URLs) of a product page. Adding a "rel=canonical" will do the trick.
You can place a canonical tag either manually by editing the page code or by using a plugin like Yoast SEO.
Don't you know how to proceed? This guide can help you enormously : Canonical Tag Definition or Canonical URL. You will find in the latter all the methods for implementing this attribute on a website.
36. Use the Hreflang Tag for Multilingual Pages
If your WordPress website contains pages in different languages, you should use the Hreflang tag to tell Google the language of each particular page. 
So it will be able to rank that page for users searching in that particular language.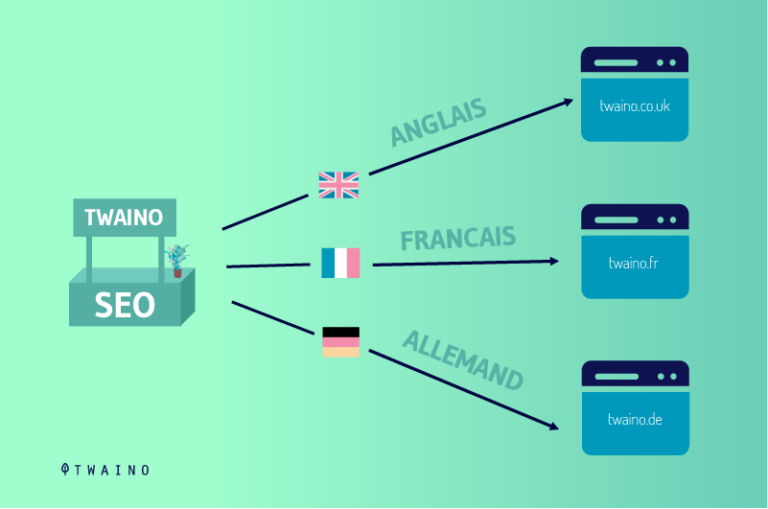 Format: link rel="alternate" href="page URL" hreflang="language" />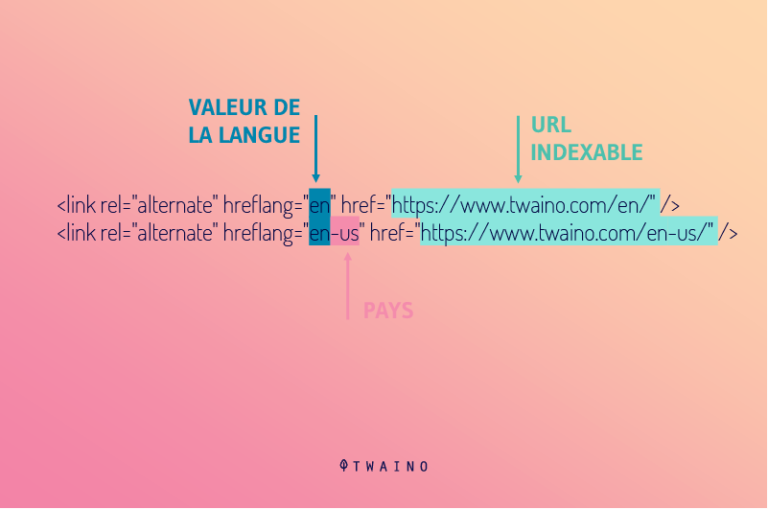 Global websites that serve users in multiple countries may have different language versions of the same website.
In this case, it is useful to put Hreflang tag attributes to distinguish a specific language page.
You can manually place the Hreflang attribute in the header section of the page or in the sitemap file.
My detailed article on the hreflang tag can help you a lot if you want to learn more about the subject.
37. Use Pagination
Pagination is used to divide long content into multiple pages and link them together.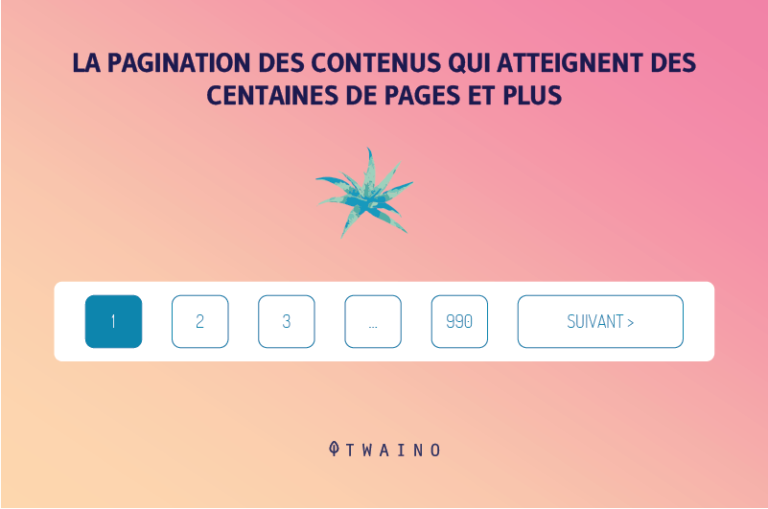 It is commonly used in list-type articles, where different points are placed on different pages and then linked together. The idea is to make the content more readable and interesting.
Before, it was the rel="next" and rel="prev" tags that were used to inform users of the relationship between paginated pages of the same content. 
These tags indicate that paginated pages should be treated as a single piece of content, but only one (usually the first page) should be indexed by Google.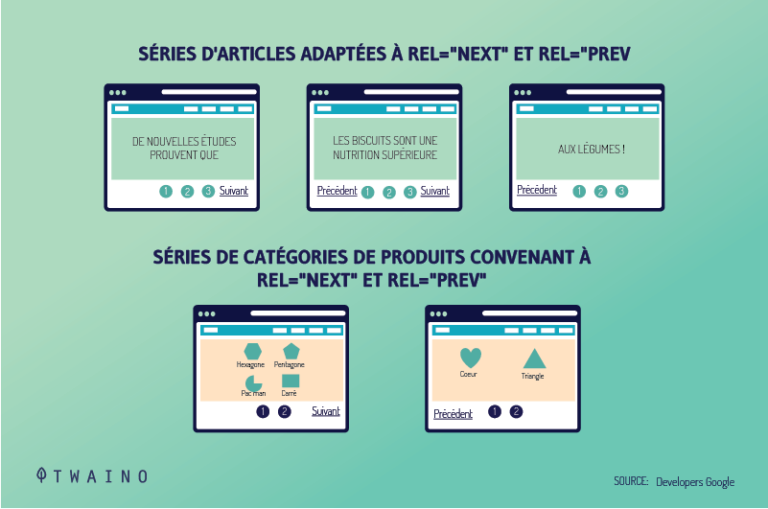 However, Google recently stopped using the rel="next" and rel="prev" link elements for indexing paginated content.
The search engine has confirmed that it now treats paginated content as individual pages.
So if your content is split between, say, 10 pages, they will be treated and indexed as 10 separate pages by Google.
You can take a look at my guide dedicated specifically to the Pagination Tag to learn more.
38. Be sure to track performance
What many website owners and managers fail to understand is that optimizing website performance is an ongoing effort.
You can't optimize it once and leave it as it is. Some WordPress core, plugin, and theme updates may improve site performance.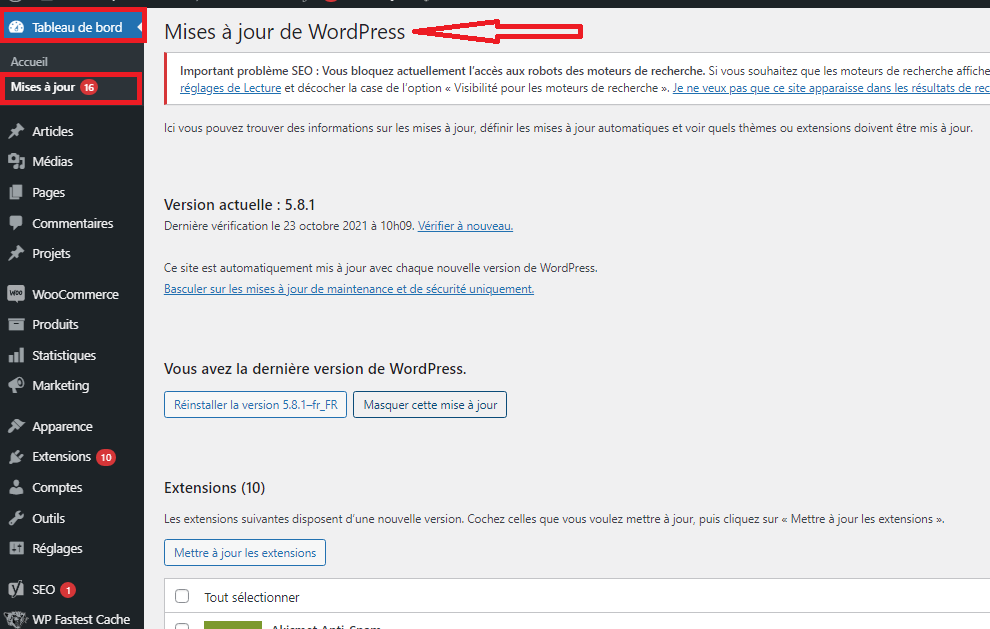 It is therefore essential to regularly monitor the performance of your site to continue to impress your visitors and send a strong ranking signal to search engines. 
4.4. Part 4: Some WordPress SEO plugins for a good SEO base
A plugin is a small piece of software that allows you to perform a specific function and you can install it to improve or extend the functionality of your site. 
Plugins can add functionality (simple and complex) to your website without even knowing a single line of code. Whatever touch you want to bring to your site, there is a plugin for it.
WordPress gives you a way to streamline your SEO efforts through these plugins. You can use various WordPress SEO plugins to automate your SEO strategy. 
There are more than 50,000 plugins on wordpress, but only a few thousand are useful.
Keep in mind that you don't need to have multiple SEO plugins at once.
To install a plugin all you have to do is, from go to your Dashboard >> Extensions >> Add >> Install Now :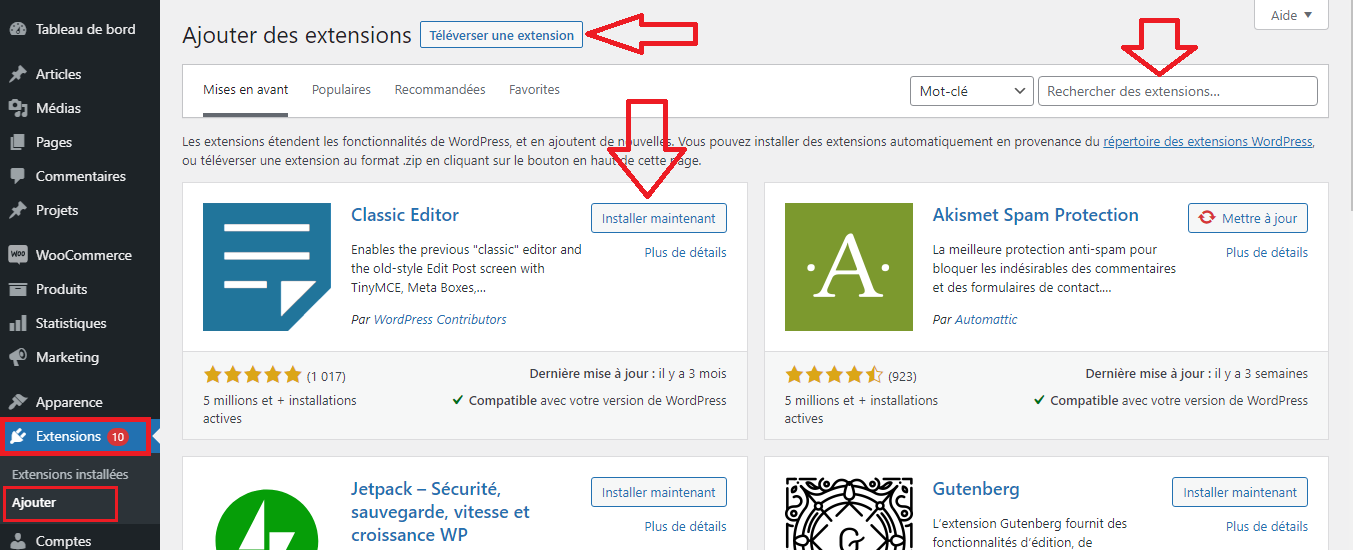 You can also upload a plugin from your computer.
Once the plugin is installed, you will need to activate it from your dashboard.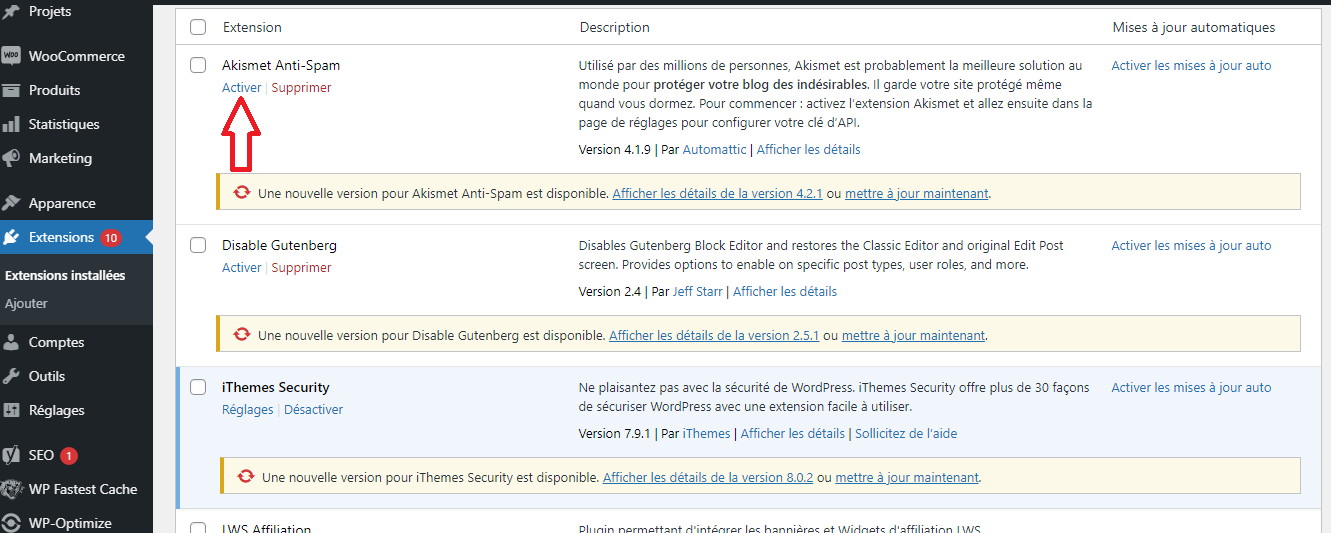 Here are some best WordPress plugins directly and indirectly related to SEO that are worth considering.
4.4.1.
Akismet
: Anti-Spam plugin
Akismet is an anti-spam plugin with over a million installations and is one of the most famous and widely used plugins.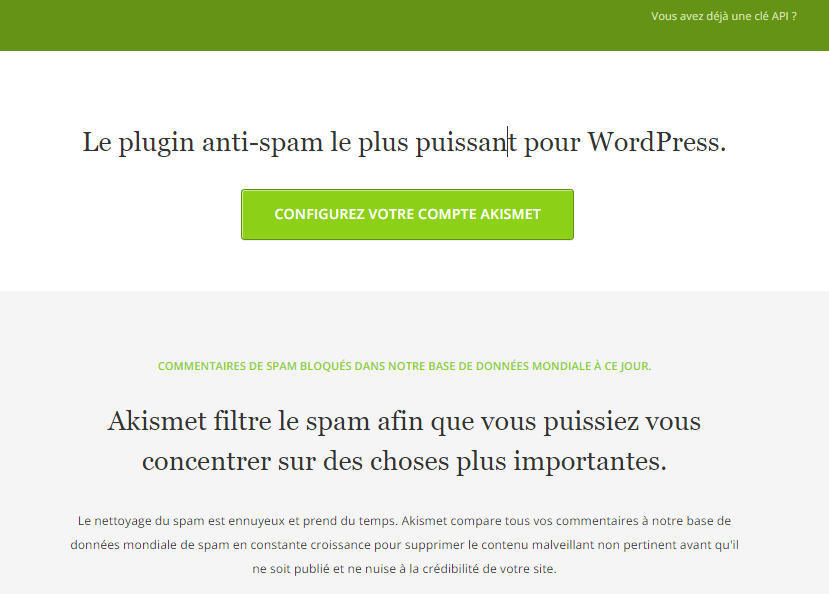 It protects your site from posting malicious content and filters spam from comments and contact form messages. 
This plugin blocks millions of spam comments every hour. 
If Akismet thinks a comment is spam, it will move it to the spam folder. Otherwise, the comment will be posted to your website as usual.
Akismet plugin features are: Misleading 
links:

You can detect hidden or misleading links in the body of the comment.
Automatic spam filter:

You will get automatic checks on comments without the need to add extra lines of code.
Comment History:

You can quickly view the comment history and see which comments were taken as spam by Akismet.
Yoast SEO is one of the best WordPress SEO plugins, if not the number one. It helps you in optimizing your website. This plugin is easy to use, flexible and provides a good foundation for SEO. 
If you are a blogger or want to rank on the first page of search engines, this plugin will surely help you. 
Here are some features of Yoast SEO:
Breadcrumb:

You can enable breadcrumb for your website using Yoast SEO plugin. Breadcrumbs are a way to help your users better navigate your site through the structuring of site pages. You can also customize breadcrumb title using this plugin. 
No Outdated Content:

You can update old content on your website without changing its date using the Yoast SEO plugin. It keeps your data fresh and up to date.
Keyword Optimization:

Using this plugin, you can analyze and optimize your website pages for your target keywords, which will help drive qualified traffic to your website.
Readability Check:

Also with this plugin, you can check the current readability of your website content pages like transition words, paragraph length, sentence length, etc.
4.4.3.
Contact Form
Contact Form 7 is a plugin that helps you manage multiple contact forms. It also allows you to customize your forms. It is one of the most popular plugins for creating lead generating forms.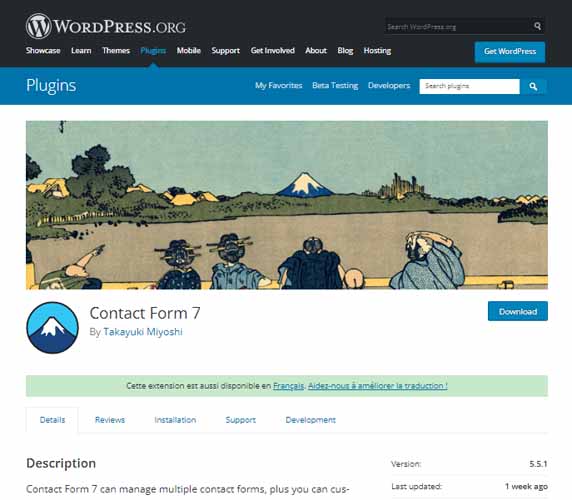 This plugin is even used with themes that have built-in contact forms, as these forms don't offer high-level customization and options. It is very easy to integrate and just as easy to deploy.
Features of Contact Form 7: Form
Notification:

You will receive instant notification after form submission and for any form related query. 
Mobile friendly:

You can get a 100% responsive form without needing to add any additional code.
Third-Party Extensions:

Contact Form 7 includes many third-party extensions to add additional functionality. You can also insert forms into any page or post using Shortcode.
Spam protection:

By using Contact Form 7 plugin, you can also get spam protection, as it uses CAPTCHA method to protect your website from form submission spam.
Form confirmation:

You can add a custom success message or redirect to a custom thank you page after form submission.
Wordfence is a firewall and malware scanner that protects your website. This plugin has comprehensive security plans against malicious IP addresses and malware. 
The Wordfence plugin provides free enterprise-class WordPress security, protecting your website from hacks. Its role is mainly to identify and block malicious traffic. 
It is built and maintained by a great team that is 100% focused on WordPress security.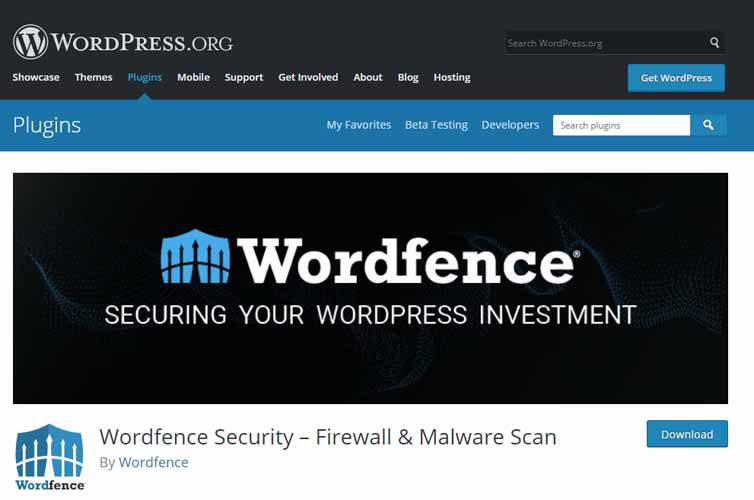 Wordfence Features:
Security Scan:

This scan will include plugins, themes and other files from your website for vulnerability checks.
Login security:

You can get two-factor authentication to improve login security. If someone manages to guess your password and tries to log in, the second authentication step will be requested and will be sent to your mobile phone.
WordPress Firewall:

By identifying malicious traffic, this plugin protects your site from hacking. If an attack is detected by this plugin, the Wordfence plugin firewall will block the hacker before he can even access your website.
BigCommerce is one of the largest managed e-commerce platforms in the world today. It is a leading cloud-based e-commerce platform, allowing you to create an online store. 
Everything you need to run a profitable eCommerce store is included in this plugin, no additional extensions are needed.
You can customize your website, easily manage shipments and payments in the frontend in the backend part. 
Using BigCommerce's built-in features and apps, you can not only sell physical and SaaS products, but also list them on Amazon, eBay, and Facebook.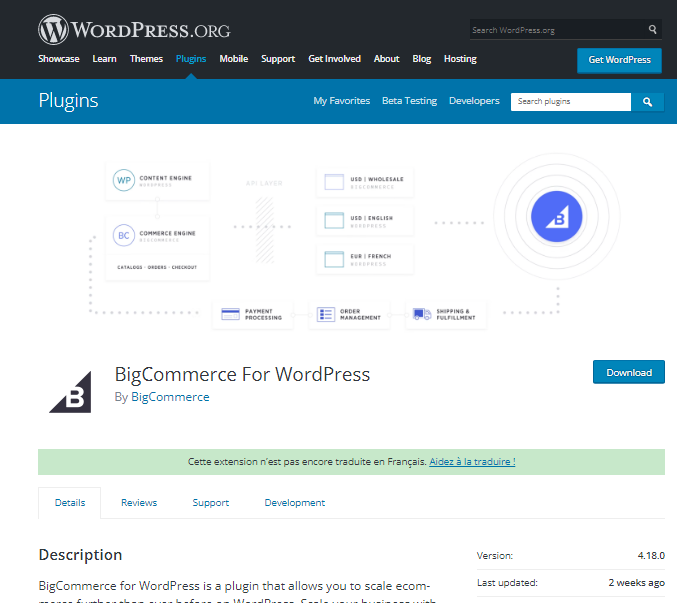 Main features of BigCommerce:
Product catalogs:

You can build large catalogs and manage a large number of orders. There are over 250 options to create a fully customized product catalog using different currencies and languages.
SEO:

You can increase your businesses' organic exposure by using the BigCommerce plugin's built-in SEO features. Its analytics dashboard offers customer insights and visibility into page and product performance.
Plugin files:

You can edit all elements including products, shopping cart information and others on your website using this plugin. Unlimited access to plugin files ensures that your changes are secure and won't disappear after new updates.
4.4.6.
All in One SEO
: All in One SEO for WordPress
AIOSEO is one of the most popular WordPress SEO plugins.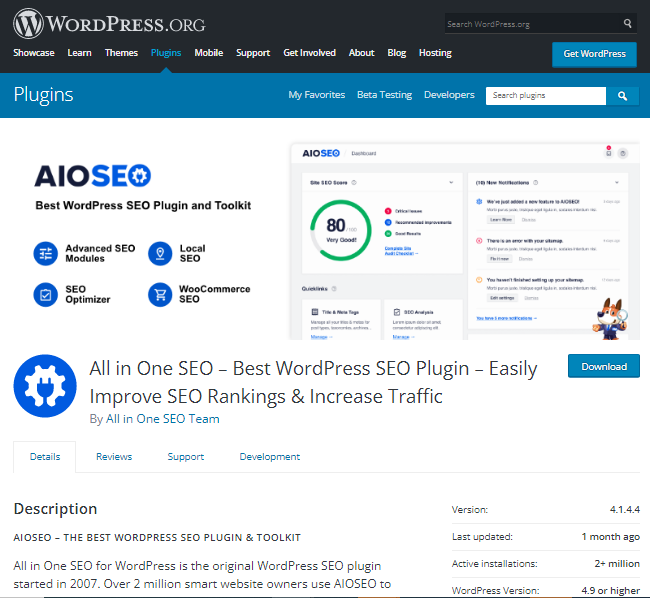 Like Yoast SEO, it is a complete solution for the majority of SEO challenges. It downloads with an excellent setup wizard that lets you optimize your website right from the start. 
4.4.7.
Semrush SEO Writing Assistant
:
If you are doing your keyword research, the Semrush SEO Writing Assistant WordPress plugin can help you better optimize your content.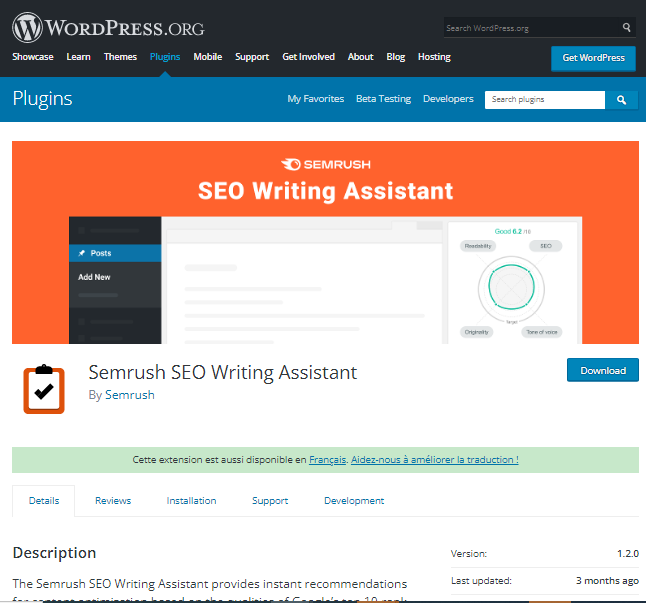 You can use it for free with a free Semrush account that still has some limitations. 
4.4.8.
SEOPress
SEOPress is a beginner-friendly WordPress SEO plugin.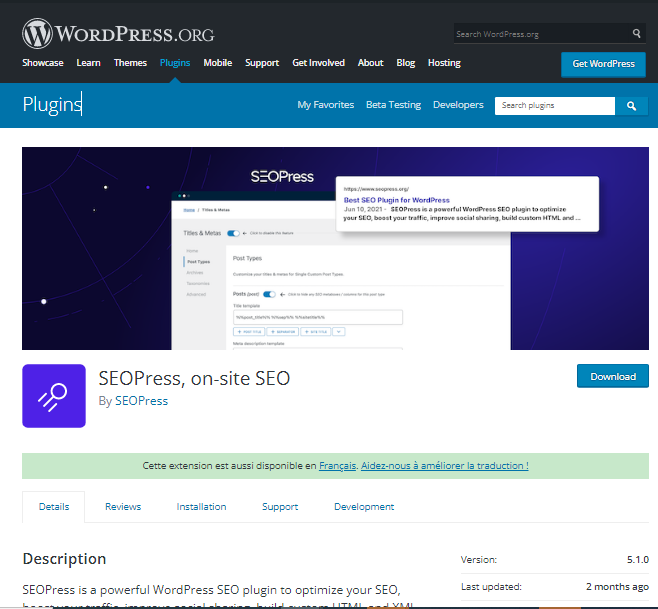 It comes with SEO features like: meta titles, descriptions, images and content xml sitemaps etc. It also has advanced settings more suitable for experienced WordPress users.
4.4.9.
Rank Math SEO
Rank Math is the latest addition to the WordPress SEO plugin family. It's very easy to use.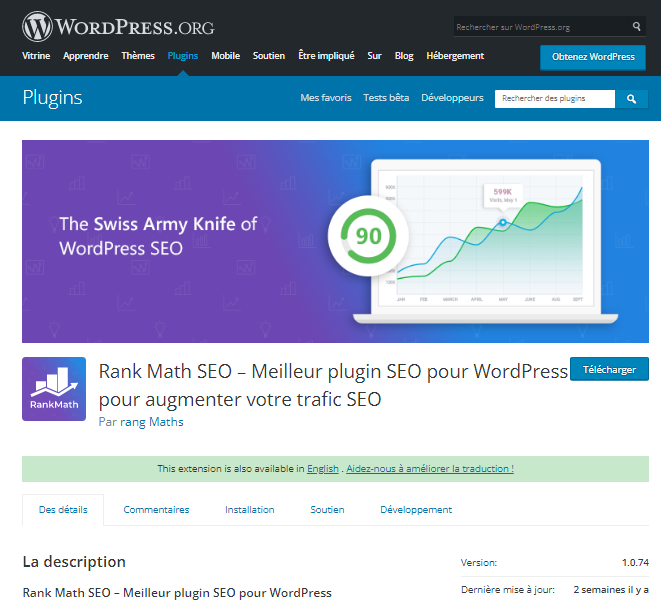 You can use it to optimize your site for social media and search engines. It comes with a lot of features including XML sitemap generation and content optimization.
4.4.10.
MonsterInsights
MonsterInsights allows you to effortlessly install and use Google Analytics with your WordPress website.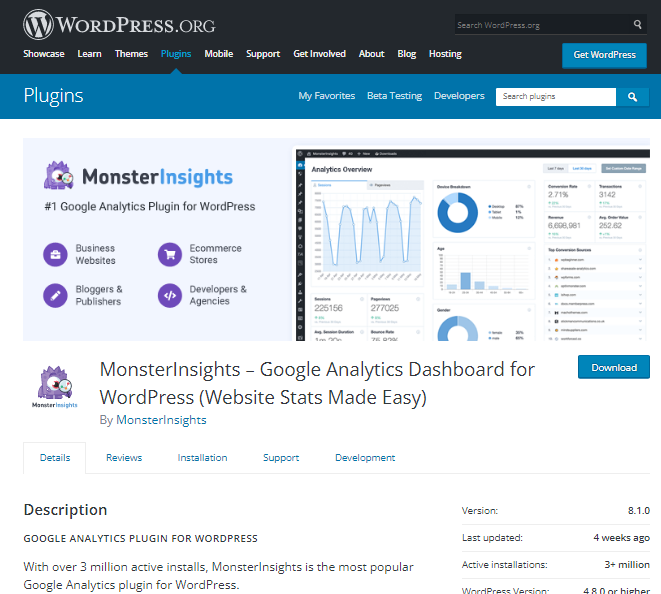 You will be able to read comprehensive reports in your dashboard. With this tool, you can learn more about your website visitors and the top performing content.
4.4.11.
Checker
Link
This plugin will allow you to effortlessly check links or images that are no longer functional on your pages.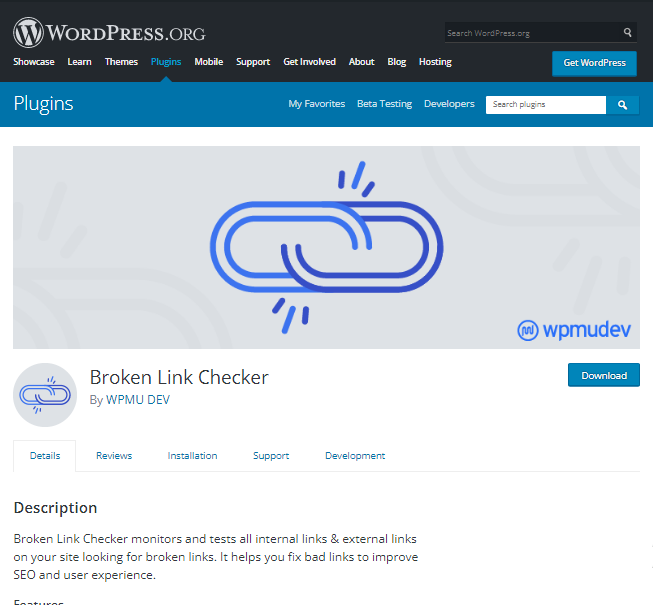 The plugin will alert you whenever it discovers a broken link. You can fix it manually or configure the plugin to prevent search engines from crawling it.
4.4.12.
YARPP
: Visitor Related Content Display Plugin
If you want to retain your visitors and make them spend more time on your site, the Yet Another Related Posts plugin would be an excellent choice.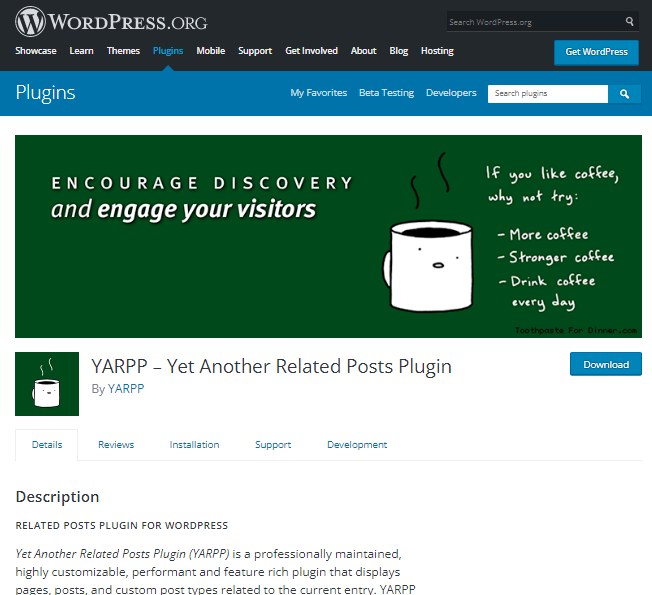 It will automatically display content related to content currently consumed by your site visitor.
PRO TIP:
Always keep your plugins up to date to keep your site secure and only install the plugins you need. Many plugins can slow down your website. Also, it's a good idea to regularly review plugins and remove any you no longer need.
This is the complete SEO checklist you need if you have a wordpress website.
With that said, let's conclude the content of the blog.
In summary:
Being the most popular and widely used CMS, WordPress allows all types of businesses to create professional and unique websites. 
It is true that this CMS promotes the optimization of many elements such as mobile responsiveness, permalinks, SEO plugins, etc. 
However, it is up to you to consider the best practices for WordPress SEO (as mentioned above) to make your website more popular and more visible on the SERPs.
If you need help, all you need to do is find a good SEO agency that can improve your WordPress business website from a search engine perspective and make it more user-friendly.
Give me your opinion on this guide in the comment section and don't forget to share it if you found it useful.
Thank you and see you soon !