Did you know that 65% of marketers believe that link building is the hardest SEO tactic to achieve? This statistic shows that if you manage to master this lever, you are likely to outrank both your competitors and certain SEO experts. 
But what exactly are we talking about? Link building is an SEO practice that consists of increasing the number of incoming linksthat your website will receive from third-party sites.
Indeed, Google considers more than 200 factors to rank websites in its results. Of these, backlinks or inbound links are among the 4 most important factors. 
It is for this reason that it is essential to have an effective strategy to optimize both their number and their quality. Especially since apart from a better ranking,netlinking allows you to:
Develop your professional network;
Obtain highly qualified traffic;
Build your brand image.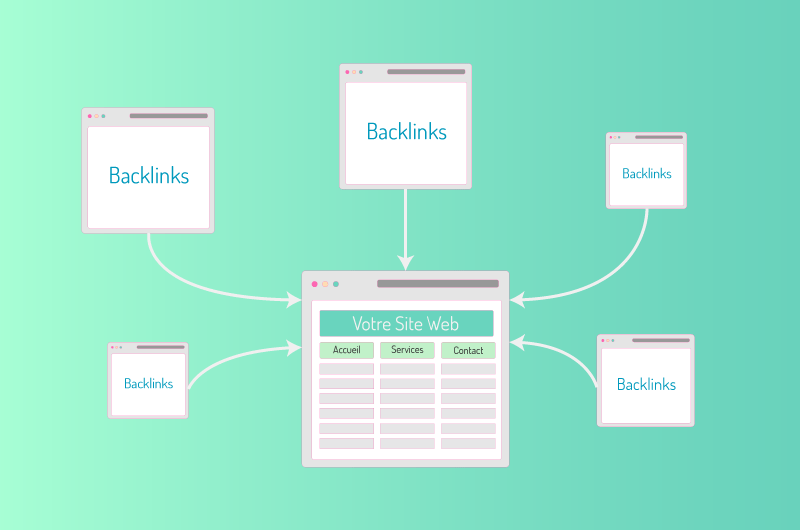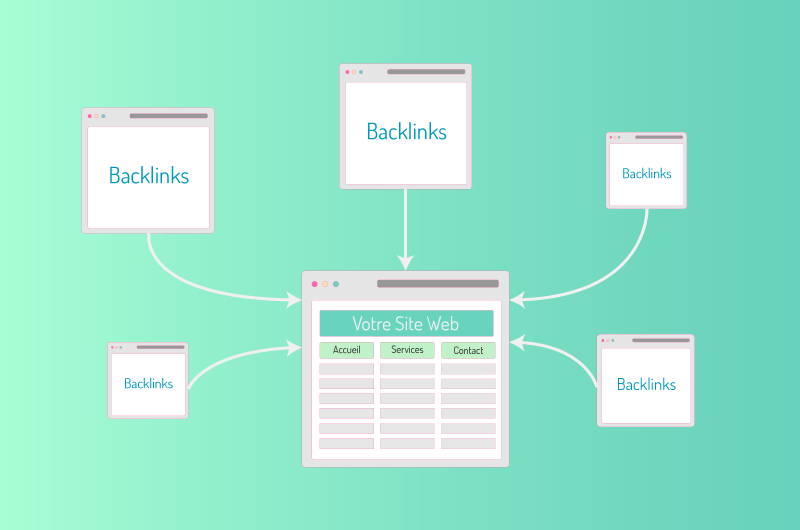 In order to help you, I have put together this practical guide which covers all aspects of an effective link building campaign. So follow!

Do you like this image? Integrate it for free on your website.
---
Chapter 1: What is link building and why is it important for SEO?
---
1.1. What is link building?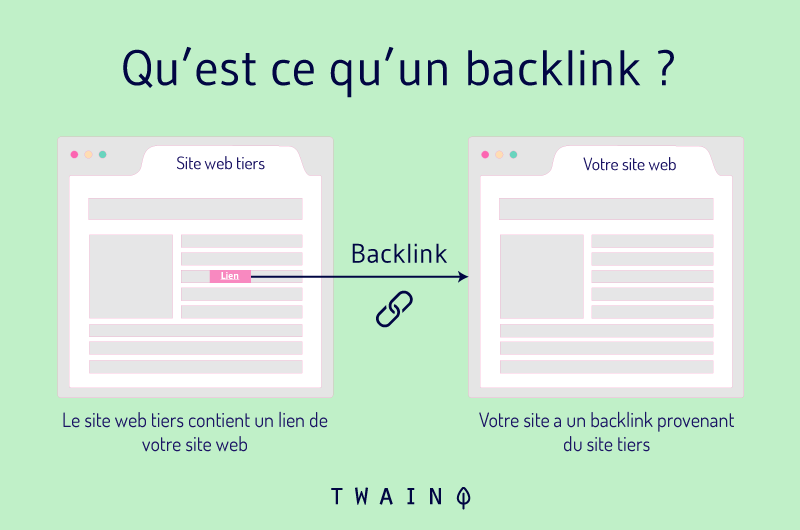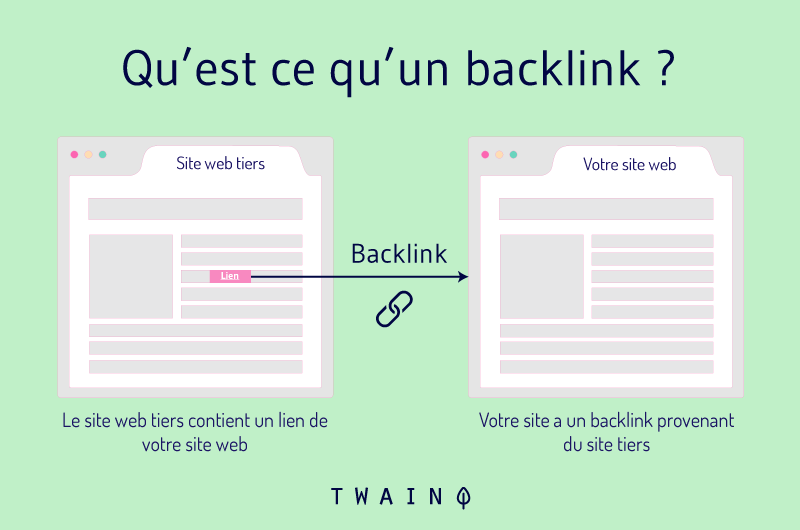 Link building or netlinking refers to the process of acquiring hyperlinks from other websites to yours. Commonly called "links", hyperlinks allow Internet users to navigate from one web page to another within the same site or on third-party sites. For their part, search engines use the links toexplore the web and index the pages they find on their journey.
In this logic, a backlink allows Internet users and search engines to leave another website to land directly on yours. A backlink looks like this:
Beginning of the link tag : Known as the anchor tag or "anchor tag", it begins with the "a". It opens the link tag and tells search engines that a link to another page (or something else) is about to follow;
Location of the referral link : The "href" designates "hyperlink referral" or literally in French "hyperlien de reference". Inside the quotes is the URL to which the link points, this can be a web page, an image or many other things. This structure can sometimes be different and you will see a text starting with the sign #. When there is this sign, know that they are local links in that they take you to a different section of the page you are already on. There is for example the clickable table of contents of this article
Visible anchor text of the link : This is the piece of text visible on the web page, and on which users must click before opening the link. Typically, anchor text has a format that sets it apart from other surrounding text. It is often underlined and colored, indicating to users that it is a clickable link
Closing the link tag : Like the beginning of the link, it designates the end of the tag for search engine robots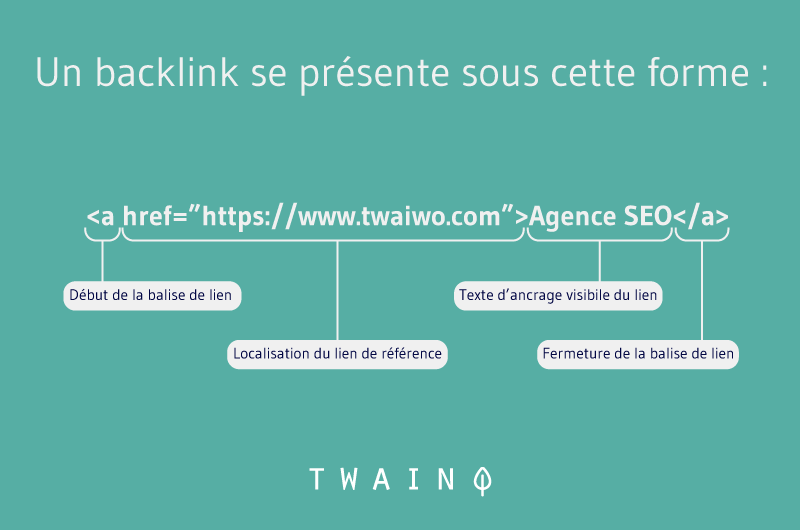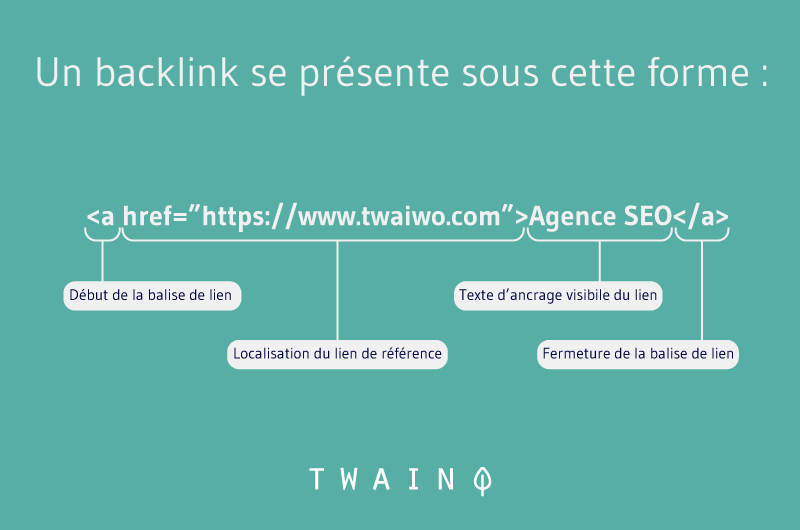 Now that you know how a backlink is composed and it is legitimate to explain to you why you should start acquiring them.
1.2. Why is link building important for SEO?
In order to properly understand the importance of backlinks, I suggest you discover:
The reasons for the existence of backlinks;
What backlinks mean for search engines;
The interest for your website to launch a netlinking campaign.
1.2.1. When and why did backlinks become a ranking factor?
In the 1990s, Google began to dominate the search engine market. To make the results more precise, one of the founders of Google in particular Larry Page invented the PageRank.
Early Google algorithms primarily used the number of links pointing to a given page to measure its quality. This measure was very effective in that an acquired external link could be considered a vote of confidence. In other words, the more backlinks a web page receives is likely to be considered a good resource in the eyes of Google.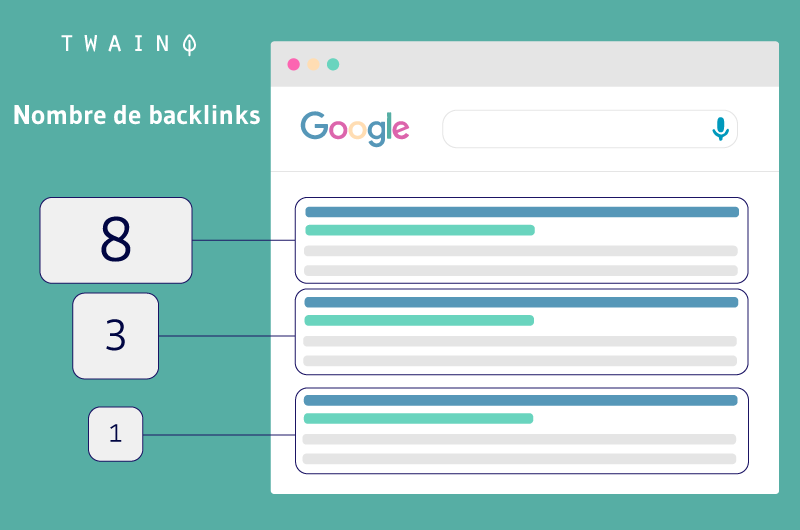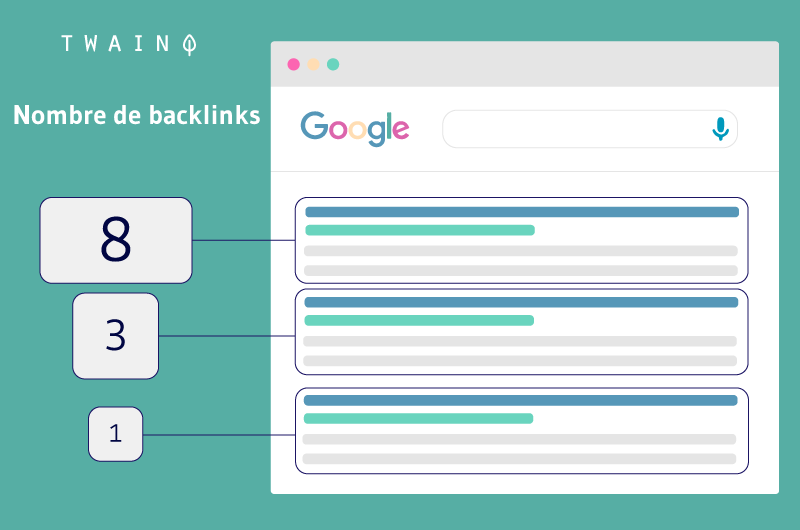 Unfortunately, once the functioning of PageRank was known, some SEO specialists tried to manipulate the algorithm with the abusive creation of artificial or low quality links. The consequences were materialized by the display in the first results of content that was irrelevant and of little use to Internet users.
To correct this problem, Google has launched regular updates to filter out websites using practices that aim to manipulate its algorithm. At times, the search engine even had to backtrack by asking SEOs to no longer take into account certain practices that had been previously recommended.
For example, the practice of submitting a website to a web directory in order to easily obtain a backlink. Since this practice has been abused and overused, Google now places less value on these types of links.
Google goes even further, insofar as thanks to its algorithms, the search engine penalizes a number of link building practices. We will see this part in more detail in the next chapters. In any case, there is no doubt that backlinks are important to search engines, but how do they use them?
1.2.2. What do backlinks mean for search engines?
Search engines use links in two different ways, namely:
Discovering new web pages and indexing them;
Determine where to place a page in search results.
Through links, search engines crawl pages on the web and store them in their index. Then, the algorithm will determine the position that the website will occupy according to its relevance to a given query.
In the following video, Matt Cutts explains how search engines work:
Among the ranking factors that Google uses, backlinks are among the most important criteria.
Domain-level link characteristics : Includes quantity of links to domain, trust/quality of links to domain, PageRank at domain level…
Characteristics of link at page level : PageRank, TrustRank, quantity of links, distribution of anchor text, quality of link sources…
Characteristics of keywords and content at the page level : TF*IDF, topic modeling scores, content, quantity and relevance of content…
Characteristics at the level page content : Content length, readability, uniqueness, loading speed…
Characteristics at the brand domain level : Offline use of the brand or domain name, mentions of the brand or domain name in news, media, press, association of entities…
User experience and traffic data : Traffic signals/browser usage/toolbars/clickstreams, quantity/diversity/CTR of queries …
Social metrics: Quantity/quality of tweeted links, Facebook shares…
level keyword usage : Exact Match Domain, partial keyword matches…
Domain and keyword level agnostic features:Name length domain, extension, http or https domain….
The performance of your website in the SERPs depends on all of these factors. Given the importance of backlinks, it is essential to have strategies to obtain them.
1.2.3. How can link building benefit your business?
The benefits of link building aren't just limited to performance in the SERPS. Indeed, even if these benefits are less obvious, they should be taken into consideration.
Advantage 1: You establish very useful professional relationships
In your link building campaign, you will come into contact with other blogs and websites on the same theme as you. These contacts sometimes relate to the promotion of an item that you have created. These include, for example:
A content;
A video ;
An infographic;
A podcast;
Etc…
Apart from the backlinks obtained, the promotions will allow you: To establish long-term relationships with influential people in your market. Such relationships allow you to quickly and effectively build your brand image. Therefore, you will be able to accelerate your authority and thus become a reference in your sector.
Advantage 2: You get highly qualified traffic
In addition to improving your organic traffic through high quality backlinks, you will also get traffic directly from these links. Indeed, a backlink from a website with very high traffic can lead to an increase in your referral traffic or referral traffic in English.
If it is a website relevant to your topic, you are likely to have highly qualified traffic. This well-targeted audience will allow you to generally improve the conversion rate since these visitors know what to expect when they land on your website.
So, it's not just about ranking in the SERPs, it's also about leads and customers.
For example, let's say you sell sports equipment and you post a guest post. In the article, you recommend your equipment by inserting a link to your pages.
Readers who click on your link know that they will find sports equipment on your site's web page. Therefore, they will be easier to convert to the extent that they have had the opportunity to read you on a site that they know. They will therefore be likely to trust you more than a new visitor who lands on your website by other means.
Advantage 3: You build your brand image or brand building
A good link building strategy can help you build your brand image. This allows you to establish yourself as an authority in your niche. Some methods can help you do this, including guest posting. This is a very good approach to prove your company's expertise.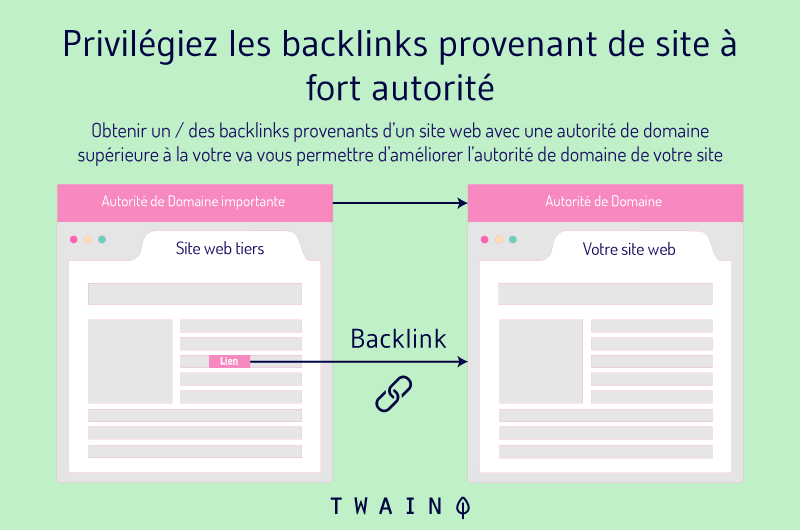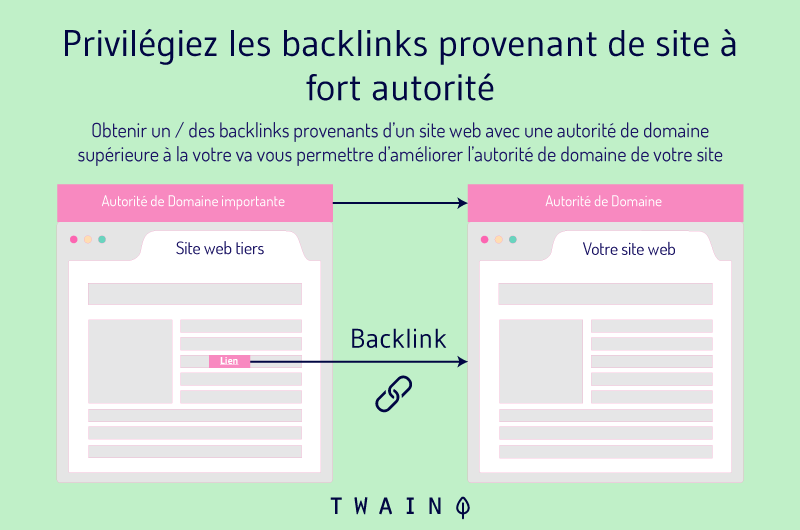 When you create quality content based on data from your industry, you will be able to stimulate discussion and even debate within your community. You thus build the image of your brand while obtaining backlinks to your website.
---
Chapter 2: When to launch a netlinking campaign?
---
---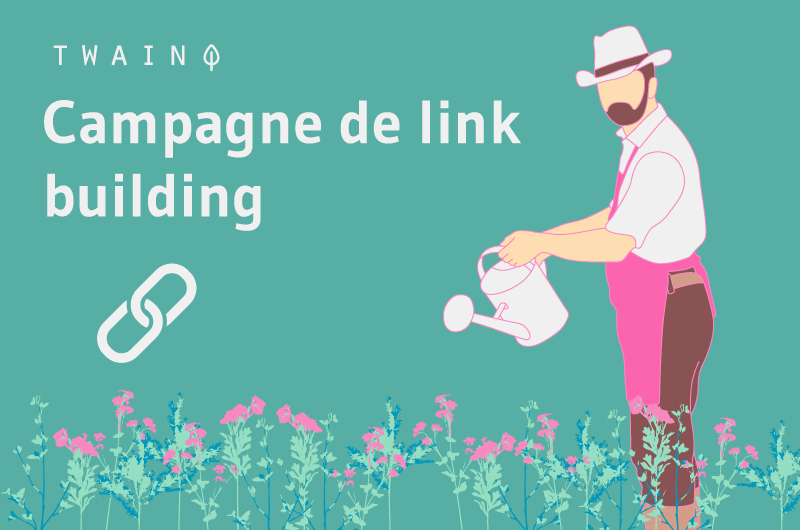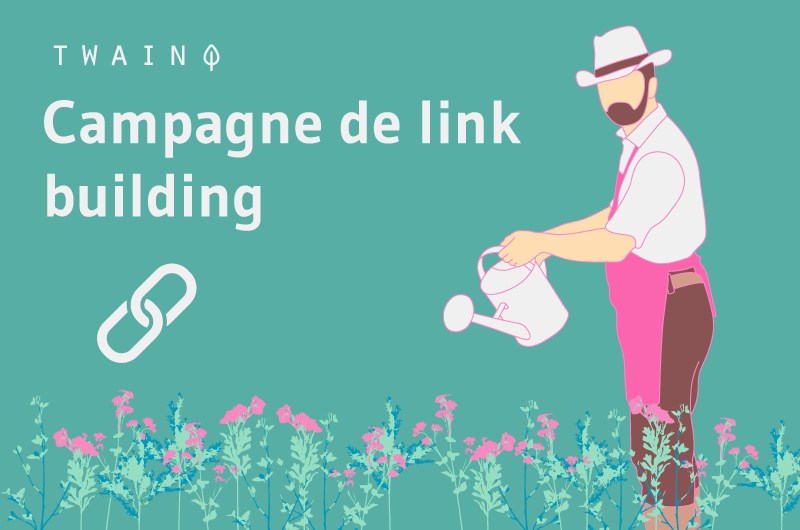 A common mistake is to jump into link building before you have established a solid foundation. It's important to understand that having a well-optimized website makes your link building easier and more effective. Which ultimately saves you time and money.
2.1. Fix any technical/UX issues with your website
Before embarking on a netlinking campaign, it's important to make sure it's flawless. To do this, determine the possible technical problems that can affect the user experience (UX).
Keep in mind that this is a fundamental step as UX is highly correlated to a website's SEO performance. In addition, technical problems could discourage third-party sites from granting you backlinks.
For this, examine the following elements:
2.1.1. Is the loading speed of your site optimal?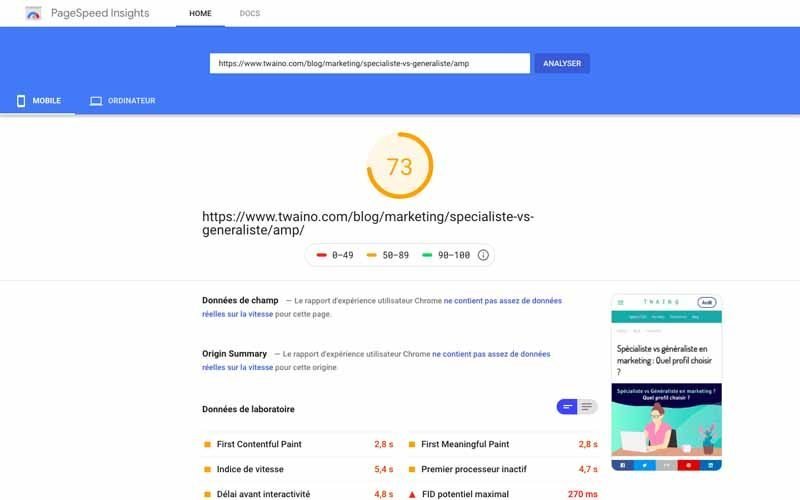 Loading speed is one of Google's official ranking factors and you should pay close attention to it.
Also be aware that there is a strong correlation between loading speed and position in search engines.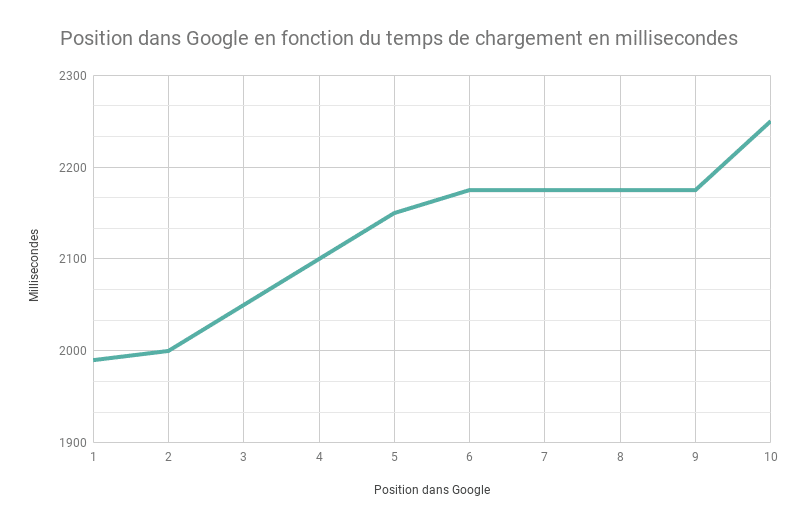 Additionally, the top-ranked sites have 1.9s an average load speed ofWhere is your website?
To answer this question, you can use PageSpeed ​​Insights Google's
2.1.2. Is the website responsive and does it display well on mobile?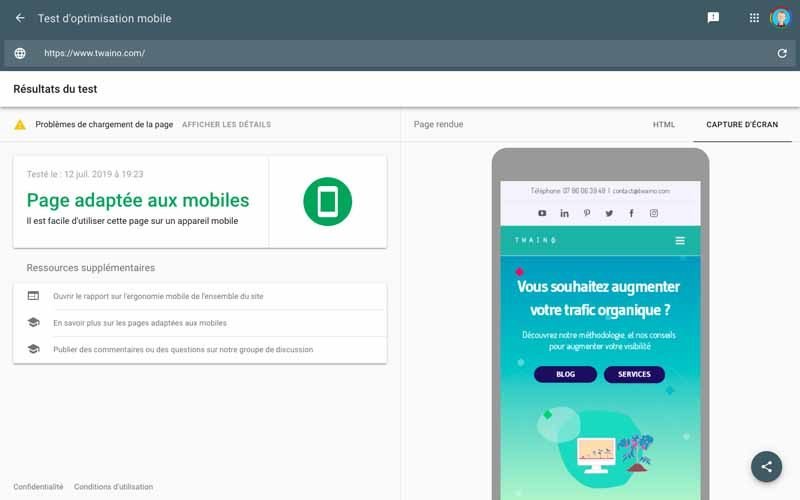 We are in the era of mobile-first indexing and 60% of consumers are likely to never buy from a brand again if they have a negative mobile experience. It is therefore wise to think about making your website responsive.
Is your website mobile friendly?console Mobile Friendly Google's
2.1.3. Does the site contain duplicate content?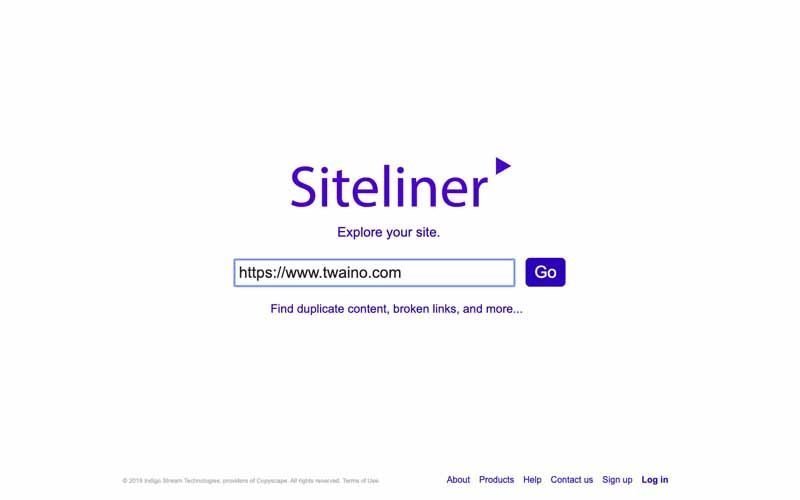 It is important to ensure that there is no duplicate content on your website. Search engines intend to severely penalize websites with duplicate content.
Google says: " We will also make appropriate adjustments to the indexing and ranking of affected sites. As a result, the site's ranking may suffer, or the site may be removed from the Google index entirely, in which case it will no longer appear in search results. »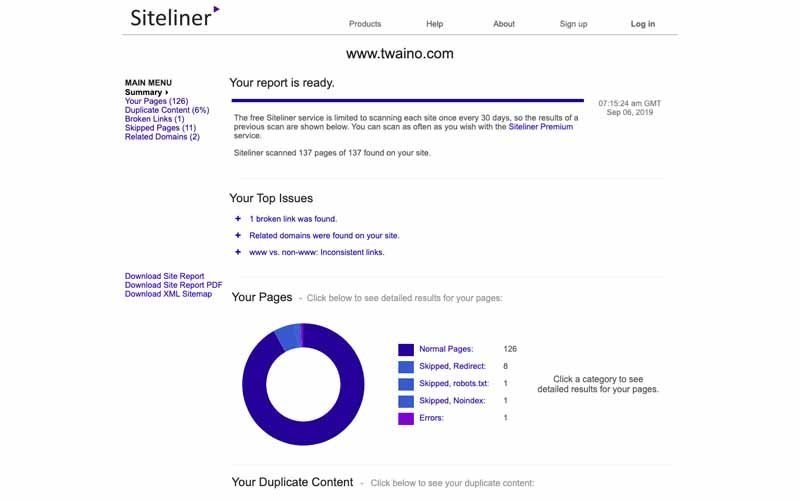 Do you have duplicate content on your website? Or, do you have duplicate metadata? Use Siteliner to see your overall score and what content on your website is duplicated.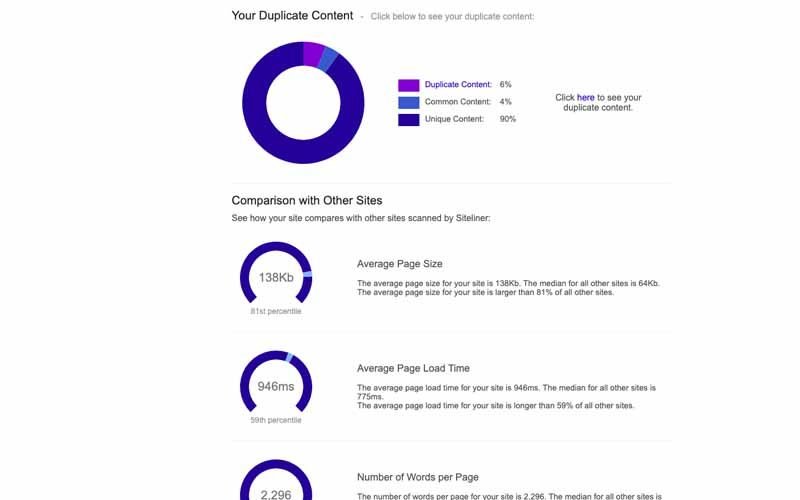 2.1.4. Do an SEO audit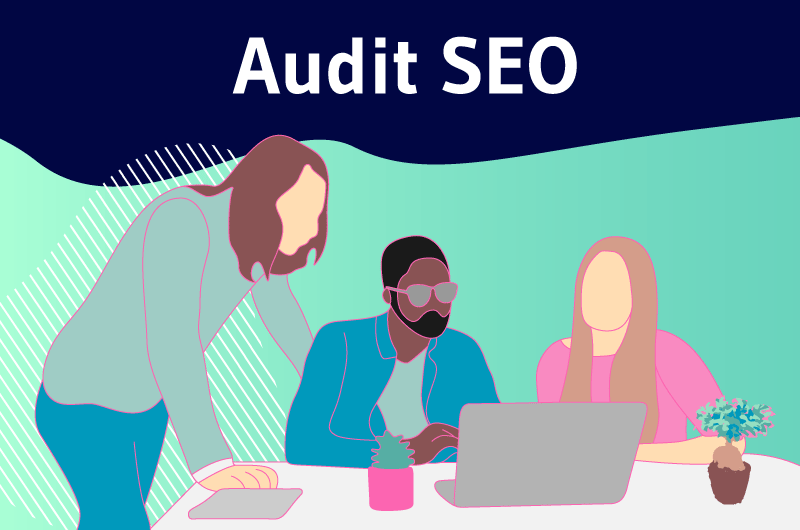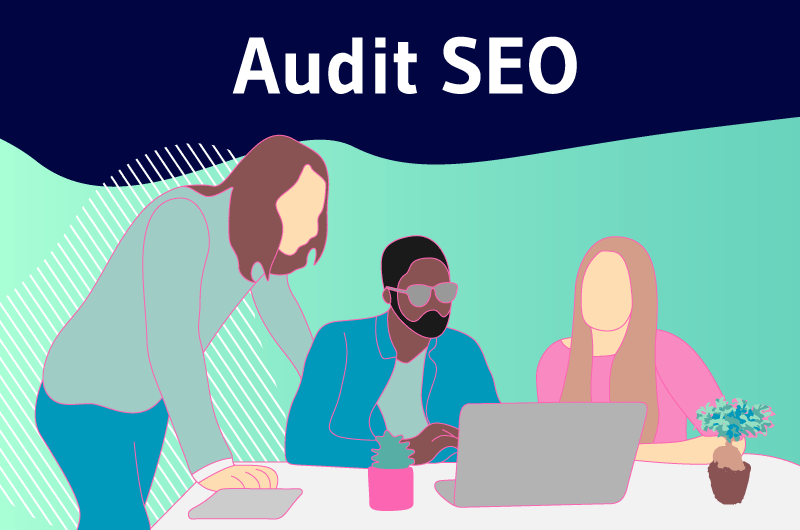 En dehors de ces problèmes courants, il y a d'autres qui peuvent impacter le fonctionnement de votre site web. Il s'agit par exemple :
Des erreurs canoniques ;

De l'utilisation incorrecte des directives noindex, nofollow…

Etc…
Si vous n'êtes pas un spécialiste SEO, je vous conseille d'auditer votre site web. A ce sujet, j'offre un audit SEO gratuit que vous pouvez utiliser pour connaître l'état de votre site web.
2.2. Corrigez les longues chaînes de redirection
Les chaînes de redirection sont de simples problèmes qui peuvent renforcer l'autorité de votre site une fois réparé. Voici à quoi ressemble une chaîne de redirection :
Aside from these common issues, there are others that can impact the operation of your website. These include, for example:
Canonical errors;
Incorrect use of the noindex, nofollow directives…
Etc…
If you are not an SEO specialist, I advise you to audit your website. On this subject, I offer a free SEO audit that you can use to know the state of your website.
2.2. Fix Long Redirect Chains Redirect
chains are simple issues that can boost your site's authority once fixed.is what a redirect chain looks like: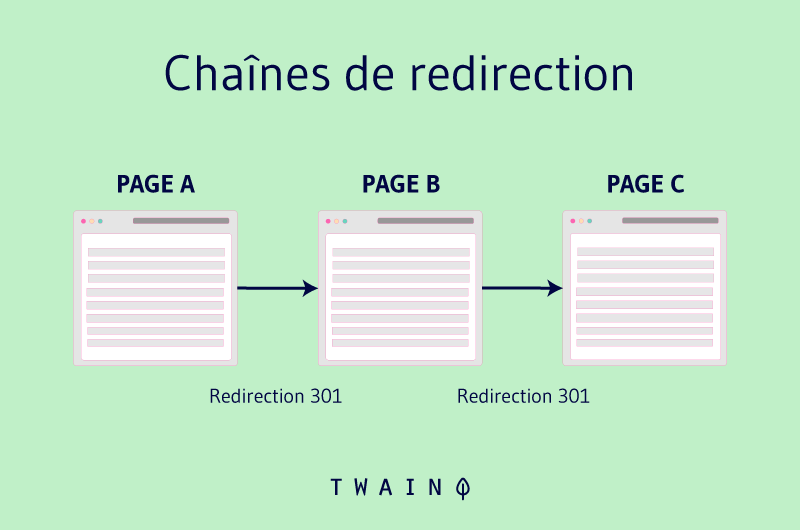 Considering the example of this image, you can see that there is a problem with the chain, it is long. In fact, page B serves as a buffer between page A and the final destination C.
The authority of page C is impacted and Matt Cutts indicates in the following video that 301 redirects are not beneficial for the authority of a page.
Additionally, Google states, " Avoid chaining redirects…keep the number of redirects in the chain low, ideally no more than 3 and less than 5. "
To this extent, it is important to fix your redirect chains before acquiring links to your pages. Considering the previous example, it makes sense to redirect page A directly to page C.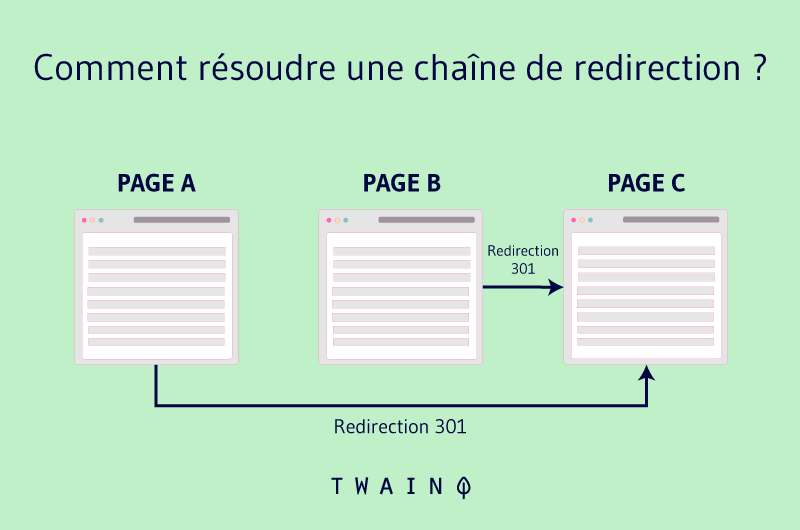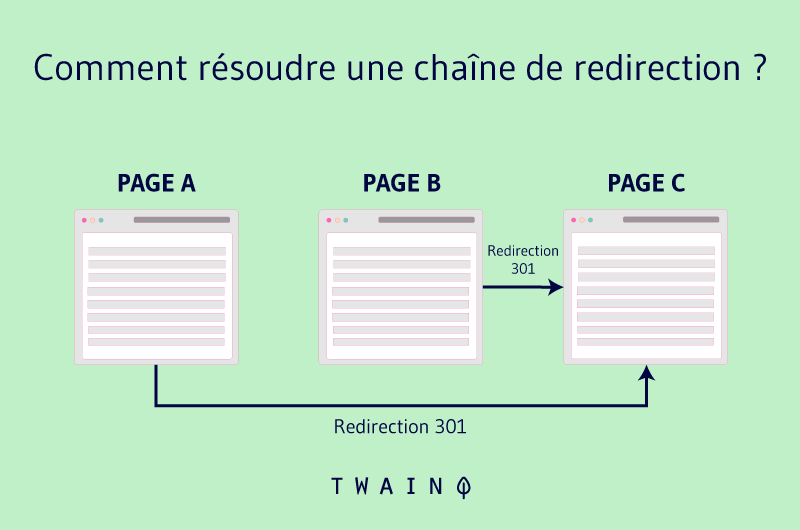 Fixing a redirect chain will send link authority/equity directly to the page.
2.3. Check that 302 redirects are used correctly
For many years, SEO specialists have believed that it is better not to change 302 redirects to 301. In fact, there is a lot of controversy / controversy about the fact that PageRank goes or not by 302 redirects
. On this subject, Gary indicated that: "30x redirects no longer lose PageRank. ".
Despite this claim by Gary, many SEO experts don't think that's always the case. For this reason, I suggest you use 302 redirects for their real purpose: The temporary redirect.
In case the redirect will not be temporary, simply use the 301 redirect.
2.4. Fix Broken External Links
Every external link you place on your site is important to your website's authority. It is for this reason that auditing your website to find broken external links is essential. You can easily find these broken external links using: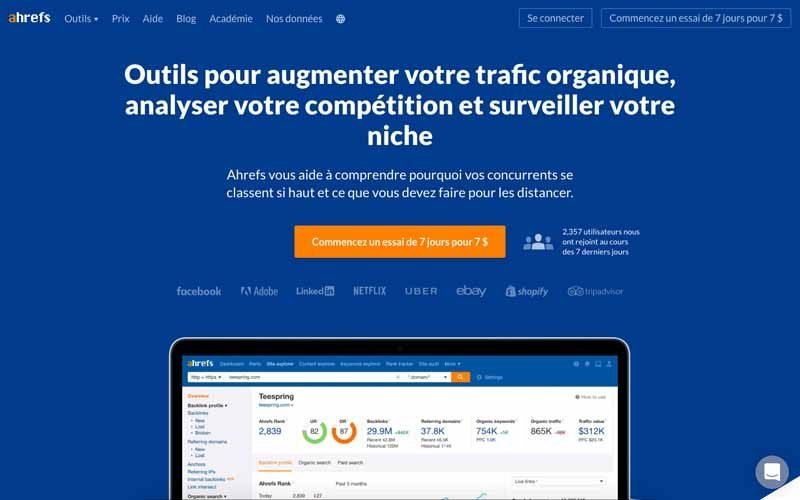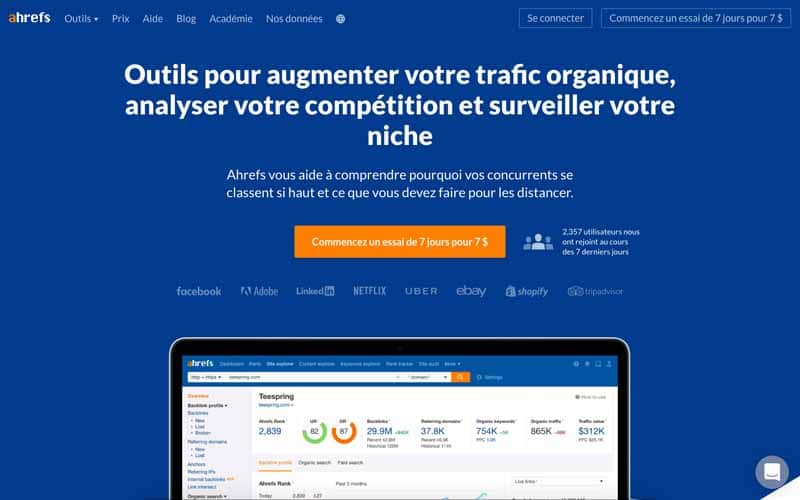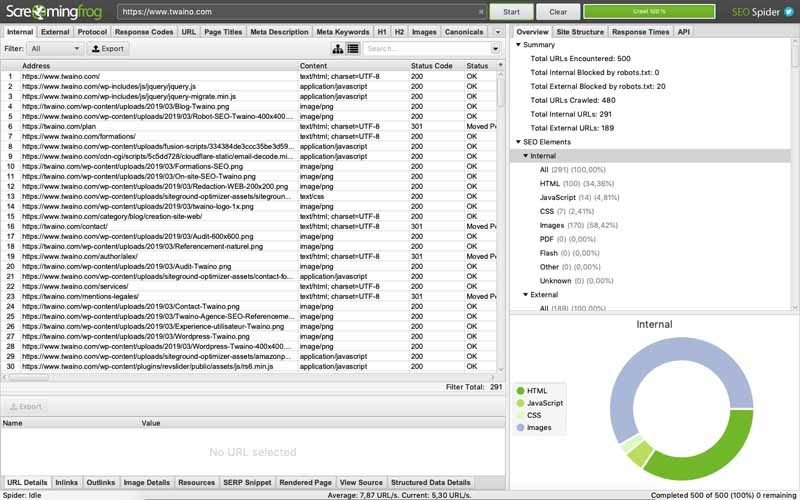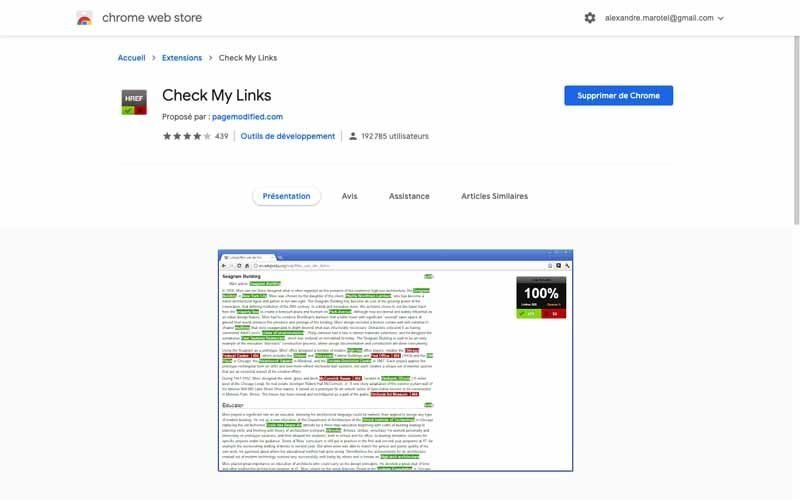 These tools help you spot issues such as:
302 redirects;
Redirect chains;
404 errors;
Canonical errors;
Duplicate metadata;
Misuse of noindexe directives…
Etc…
2.5. Develop a solid site architecture
Developing a smart site architecture is the best way to maximize the results of a netlinking campaign. Indeed, the architecture of a site and the mesh which constitutes it will make it possible to distribute more effectively the "juice" coming from the backlinks.
In addition, it contributes enormously to the user experience and facilitates the indexing of pages by search engines.
Personally, my favorite site architecture strategy and indeed the one I use for Twaino is the reverse silo. This technique makes it possible to acquire backlinks to content-rich pages instead of non-linkable pages such as:
Home pages;
Category pages;
Product pages;
Contact pages;
Etc…
It can be a blog post or individual pages focused on information.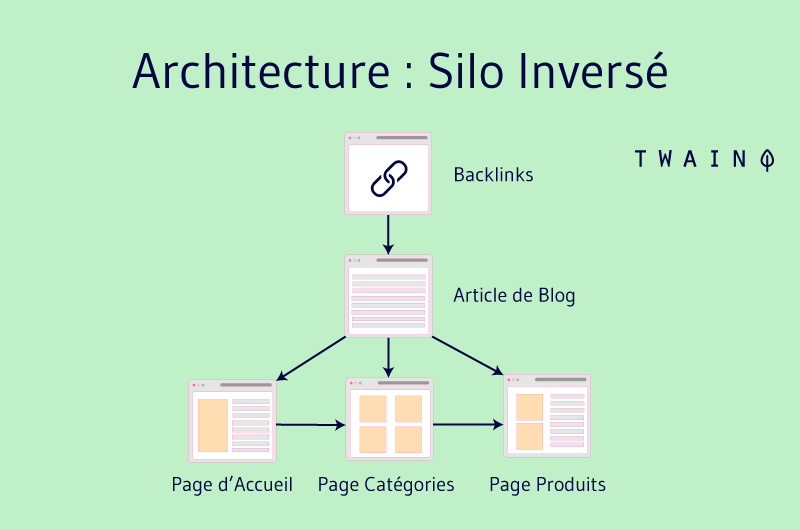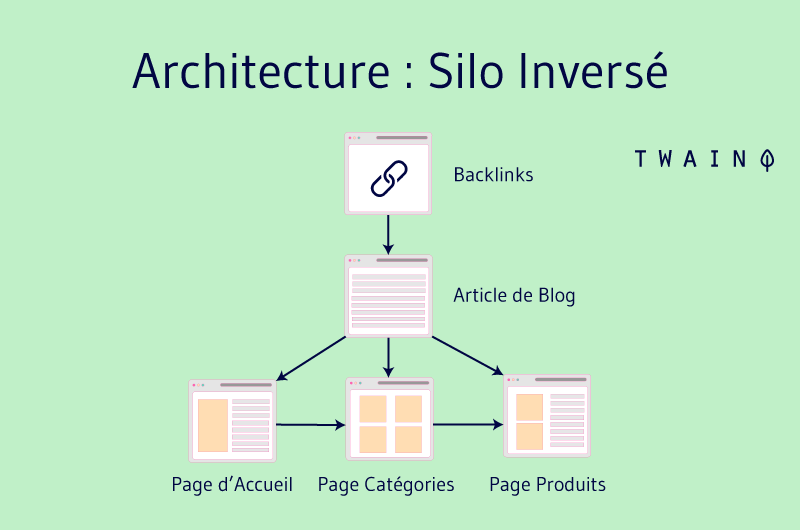 Keep in mind that the ultimate goal of reverse siloing is to distribute link authority. This, via internal links present in your content to your sales-oriented pages. In other words, you can acquire links to your articles and in these articles, insert links to your sales pages.
I believe this content-centric approach is the surest way to increase your site's overall authority.
Once you've sorted out all the technical issues on your website, you can move on to your link building campaign.
---
Chapter 3: What skills are essential for getting backlinks?
---
With the current development of Google, the SEO who wishes to obtain new links must have a certain number of skills. These include:
Being able to provide logical and analytical thinking: Competitive analysis and strategy development;
To have a creative mind: Ideas for content and bait links;
To have excellent communication skills: Networking and promotion.
Before we get to link building campaigns, let's take a closer look at one of the most important skills in link building: Competition Analysis. The other two will be much more developed later in this article.
3.1. Analyze the competition & come up with content ideas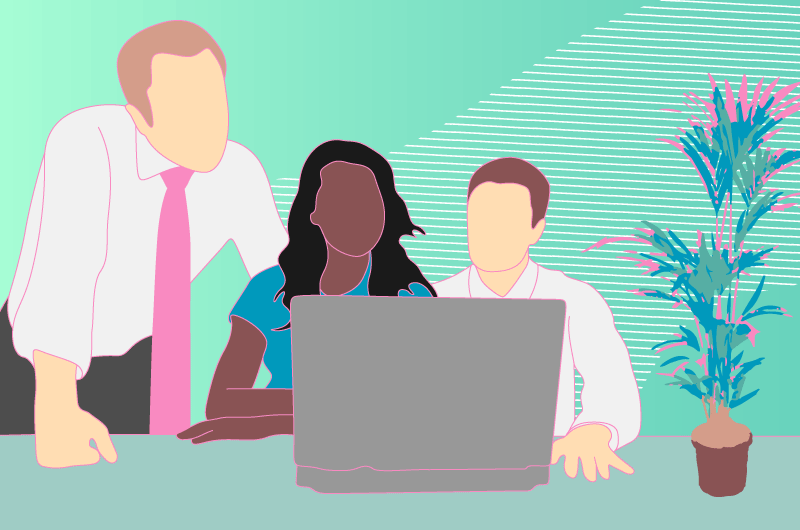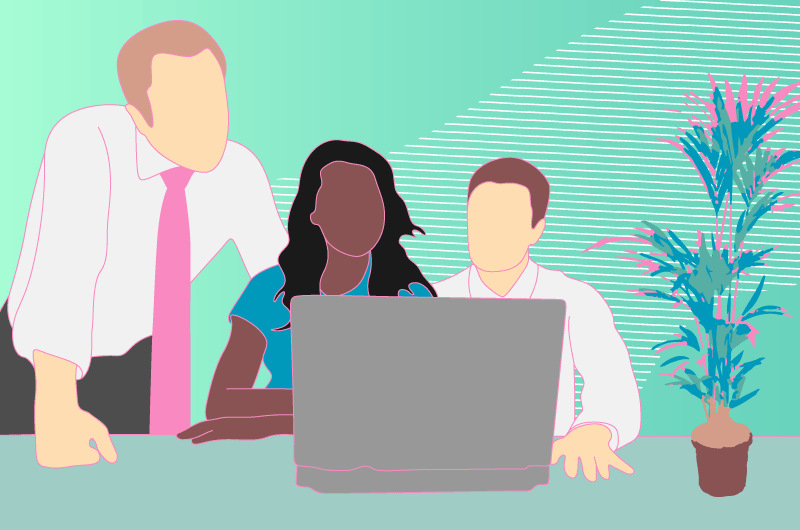 A good starting point for most link building campaigns is to perform a competition analysis. In particular, a review of the link profiles of competing sites.
To perform this analysis effectively, it is important to make use of certain tools. Note : Most of the tools cited in this article are cited and detailed in chapter 12 reserved for this purpose. You can go directly to them if you wish. That said, I show you how to use them whenever needed.
At this level, Moz and Ahrefs will allow you to perform a complete analysis of your competitors' backlink profiles.
In Ahrefs, this data is accessible in the "Referring Domains" or "Referring Domains" section. Analyzing multiple competitors' backlink profiles will allow you to:
Gain insight into their link building strategies;
To have the opportunity to reproduce their links or their strategies.
The idea is to find out how/why your competitor received a link from this site. Then you will try to determine if you can reproduce the same strategy. Which will allow you to start with some quick and encouraging wins such as:
User generated links : Via their social profiles, blog comments, etc.
Guest post links : Like your competitors, you can contact the host website and ask if you can also post your guest post;
A link from a resource page : Also ask if the resource site can add a link to your website.
What will be hardest to replicate will be genuine editorial links to popular pieces of content on your competitor's site. With Ahrefs, you can find out which content has the most backlinks on a given domain.
Just check out the "Best By Links" report.
In order to replicate such editorial links, you have to do better than your competitors. And this, by creating quality content and conducting a good awareness campaign.
This is a lot of work, but keep in mind that the more difficult a link is to acquire, the more likely it will be to positively influence your ranking.
3.2. Networking and promotion
Also, for a link builder, promotion is probably the most important skill. But it remains one of the most difficult to master.
Regardless of the rare cases where content naturally goes viral or spreads on its own, you will need to promote your content to acquire links.
And although social media has been on the rise, email is still the most effective means of communicating directly with your audience. I will give you all the steps to follow in the next chapters.
---
Chapter 4: How to assess the quality of backlinks?
---
It is important to know what makes a good or bad link before we dive into netlinking strategies. As I pointed out in my Guide to SEO, backlinks are considered votes on the web. The more votes a site accumulates, the more likely it will appear for a given query.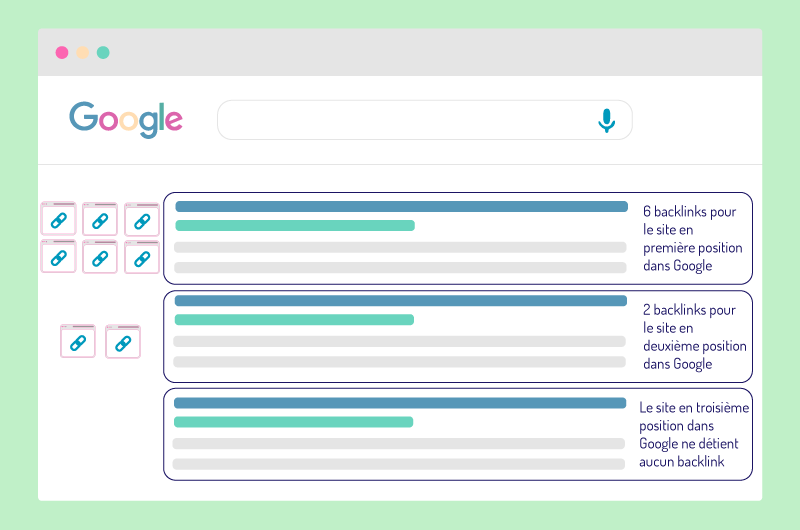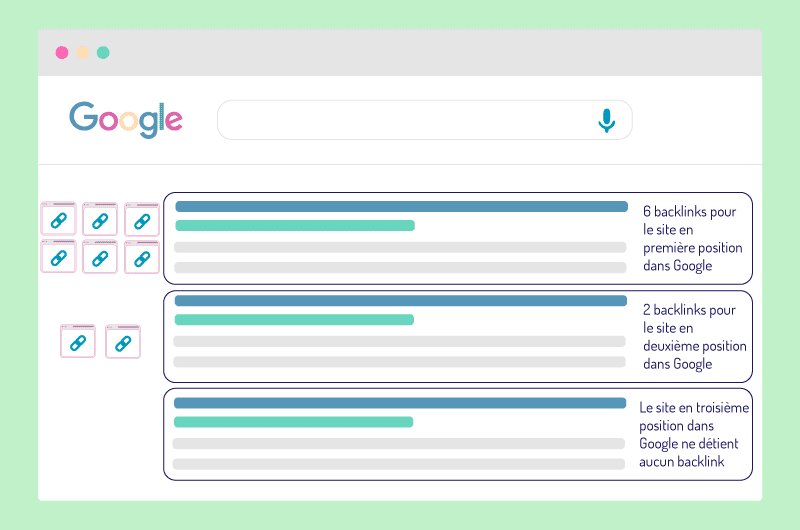 But it is not a fixed system where only the number of votes is considered. In fact, a number of factors determine the weight that Google will assign to a particular link. In other words, there are a number of parameters to consider when judging the quality of links.
4.1. Select relevant blogs for your netlinking campaign
When it comes to backlinks, the authority of a site is an important factor, but the relevance of this site in relation to yours is also crucial. According to the interview of an ex-Googler " …getting a link from a high PageRank page has always had value, today it is more the relevance of the theme of the site compared to yours , relevance is the new PageRank ".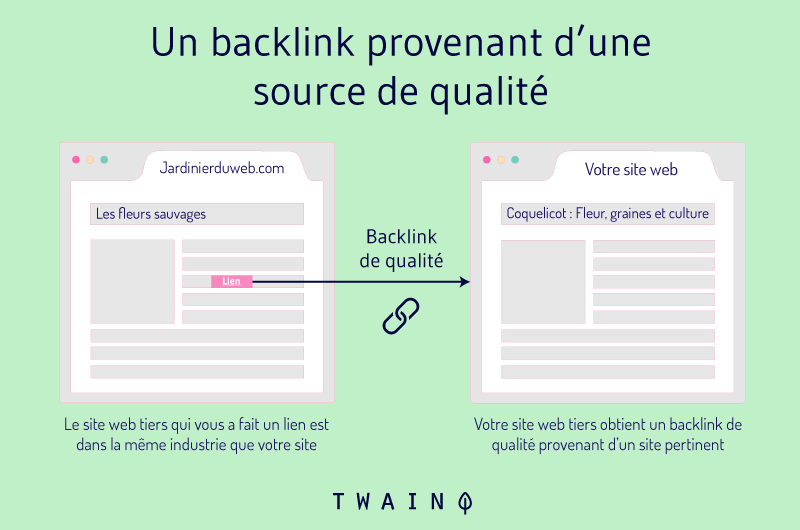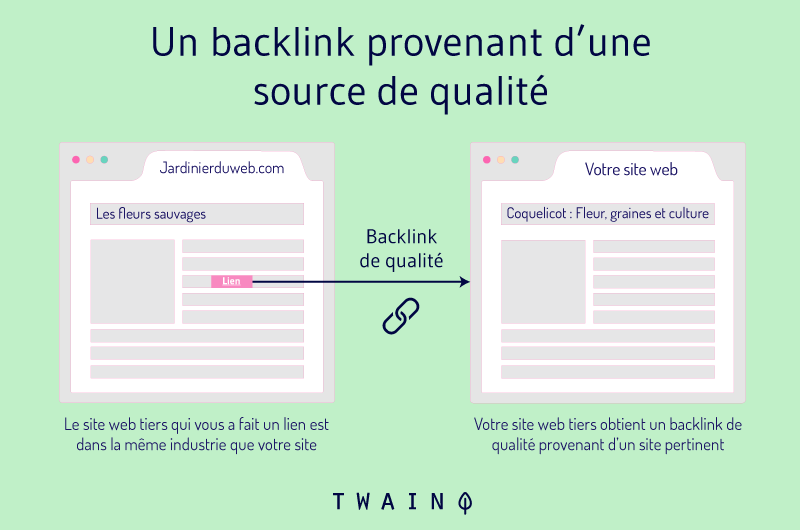 In general, your first goal should be to get links from authority sites that are closely related to the topic of your website. In other words, websites that are relevant to your netlinking campaign.
But there's a problem with this approach: It's very difficult to get 100% accurate relevance for every link. That's why I suggest you imagine the Relevance Pyramid so you can prioritize your link opportunities. There are two types:
Classical or general relevance pyramid;
Local relevance pyramid.
4.5.1. Thematic relevance
pyramid The idea of ​​the relevance pyramid is quite simple. You're not always going to find websites that are entirely relevant. As you broaden your search, there will be many more opportunities that you are sure to grab.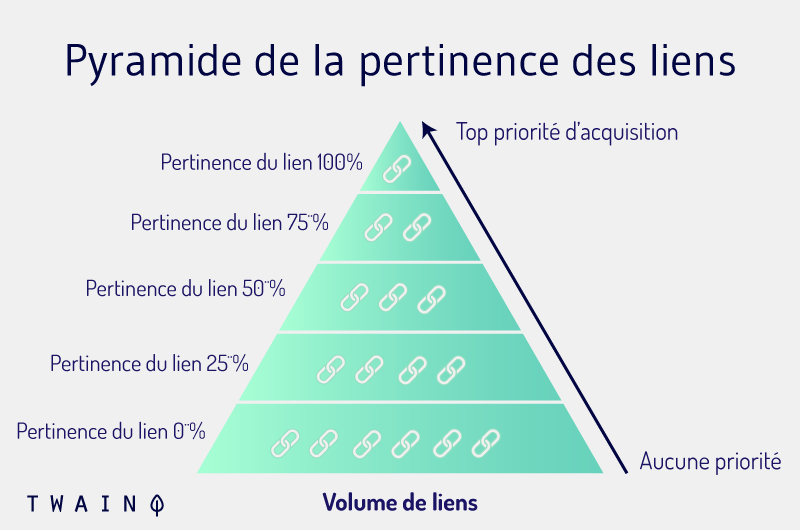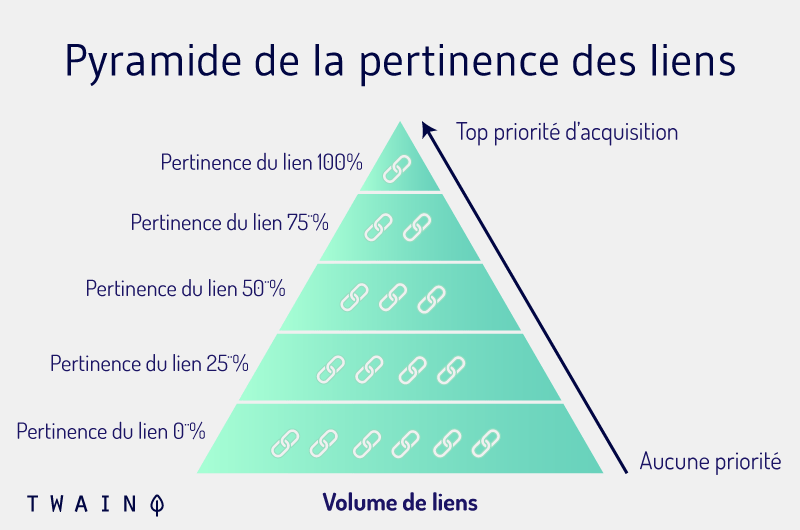 However, the key would be to prioritize blogs with 100% relevance to your campaign. In other words, you will prioritize opportunities at the top and work up the pyramid towards less relevant opportunities.
Let me go into a bit more detail to show you what this is all about. I will take my SEO agency with a 1 to 5 rating system to assess the relevance of opportunities.
Level 1: 100% Relevance
For all opportunities that are 100% relevant to my SEO Agency, I will rate "1". This is for example a niche website that also deals with SEO or a specific aspect of SEO.
Blogs or websites with 100% relevance are obviously not very numerous.
Level 2: 75% Relevance
A score of "2" is given to all opportunities that are 75% relevant. These are, for example, websites that all address SEM (Search Engine Marketing) or digital marketing. Such sites are slightly less relevant as they are not just about SEO. 
Level 3: 50% Relevancy
At the third level, you can focus on blogs that discuss marketing in general, and you rate them as "3". Such websites do not only deal with digital marketing, they also deal with traditional marketing.
Since traditional marketing is still very important in the digital age, it makes sense to join websites that cover related topics.
Source: Dunegestion
You will notice that as we move away from the strongest relevance, the field of possibilities widens. For this reason, you are likely to have many blogs as you approach the least relevant level.
Level 4: 25% relevance.
At the fourth level, you focus on opportunities addressing online business by assigning them a score of "4". Online businesses such as e-commerce can address themes around SEO.
For this reason, posting content that shows the importance of SEO on such blogs can be interesting.
Level 5: 0% Relevance
At this stage, you will focus on more " general " opportunities such as news sites. For example, you can select charities that often have great authority. When you are a sponsor, it is possible to be registered on their website and therefore have backlinks.
It won't be as effective as a link from a level 1 site, but that doesn't mean the acquired link won't have any effect. You just have to make sure that these websites are of high quality.
I have just shown you how the concept of a thematic pyramid can be used for a classic campaign. Now let's get to how to use it for a local campaign.
4.5.2. Local Relevance Pyramid
Geo-targeted backlinks are the holy grail of local SEO. That's why it's important to use the relevance pyramid to take full advantage of it. This pyramid can look like this: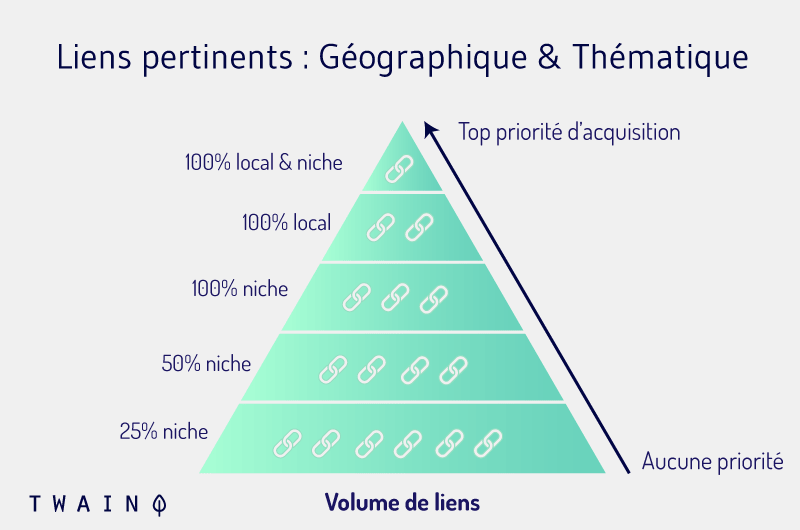 For this example, I will use the establishment of a veterinarian in Paris.
Level 1: 100% relevant geo-target and niche
This level is full of qualified prospects and you will make the effort to find as many backlinks as possible. Like the classic pyramid, you will give a score of "1" to websites in this category.
Such sites are rare since they are both relevant in terms of geographic targets and themes. This is, for example, a quality directory of veterinarians in Paris.
Level 2: 100% Relevant Niche
This level and the next one are interchangeable, but I choose to address the relevance to the niche first. This category may include but is not limited to:
Veterinary blogs;
directories of veterinarians;
Associations of veterinarians;
Etc…
Level 3: 100% relevant
geo-target In the third part, geo-targeted opportunities are the elements on which you will focus your efforts. You can orient yourself towards the directories of Paris.
Level 4: 50% relevant
niche You will now select the blogs or websites present in related niches. Blogs that may fall into this category include:
Pets in general;
Health in general: both human and animal;
Etc.
Level 5: Niche 25% Relevant
In the fifth part, you can go to websites that cover:
The sale and purchase of pets;
pet food;
Pet accessories;
Etc….
The relevance of the link is very important, but how do you know if an opportunity is worth it or not? Vous pouvez évaluer les points suivants :
Le « thème » général des contenus du domaine de référence : Est-il pertinent pour votre site web ?
The relevance of backlinks pointing to their domain : Are websites with links pointing to their website relevant to yours?
I recommend you use Majestic to answer these questions. You can check out articles from Gotchseo or Anthedesign.
4.2. The co-occurrence of links: Context matters!
In addition to site relevance, Google considers co-occurrences. Hits are the terms that appear around your link and Google uses them as a relevance signal. It makes perfect sense as the text around your link also gives clues about what your page is about. So why wouldn't Google use it?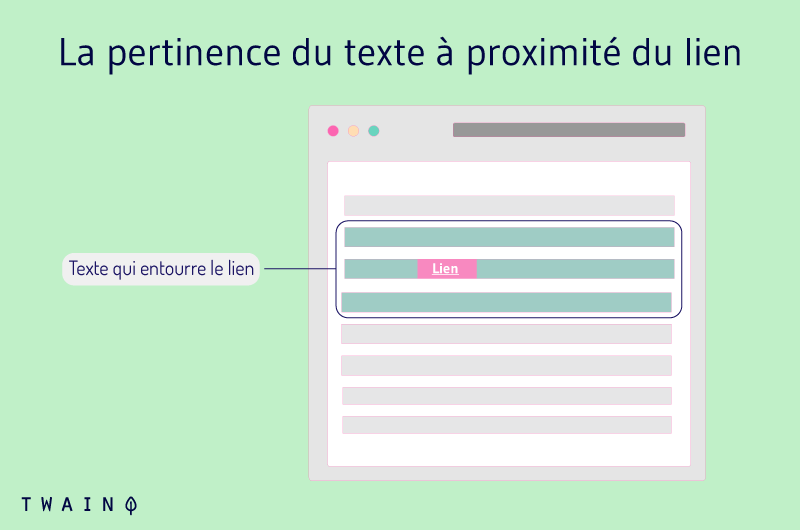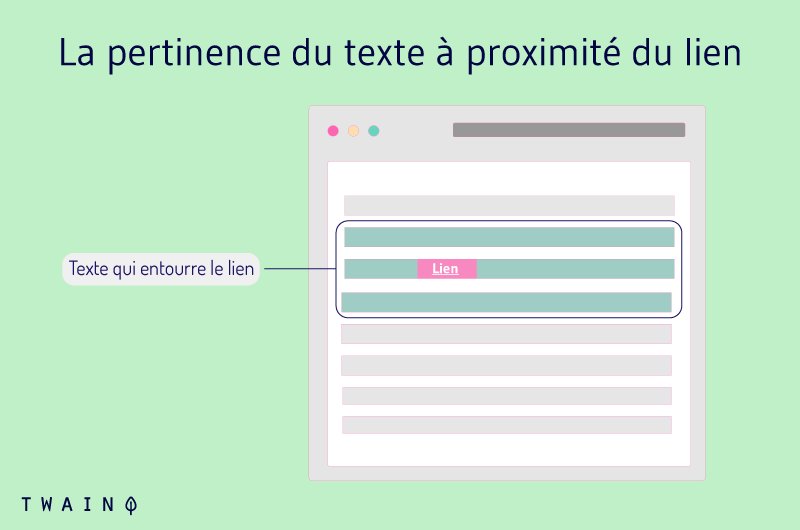 Indeed, Google holds a patent called "Ranking based on reference contexts", which allows it to interpret the context of the text surrounding a link.
4.3. Examine the authority of the referring page or site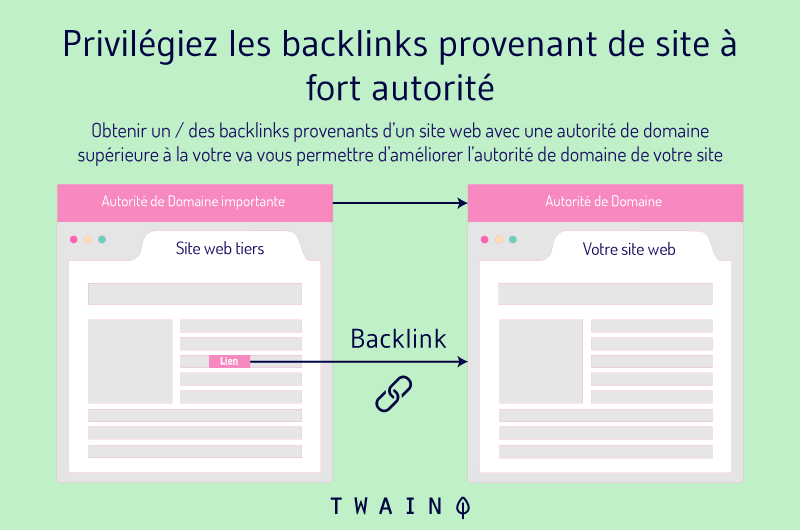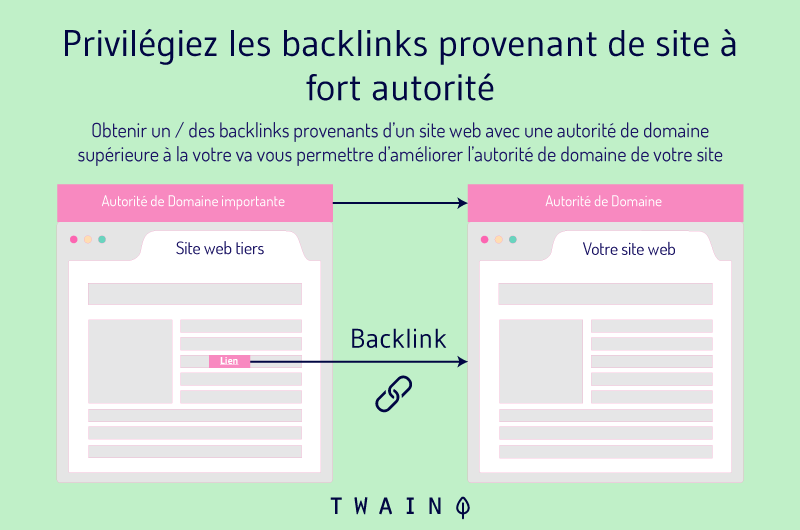 As a site accumulates links, its authority increases. From there, it is in turn able to convey more authority (votes) when it links to other websites.
In this logic, a link from a high authority site like Journaldunet.com is more powerful than a link from a low authority site.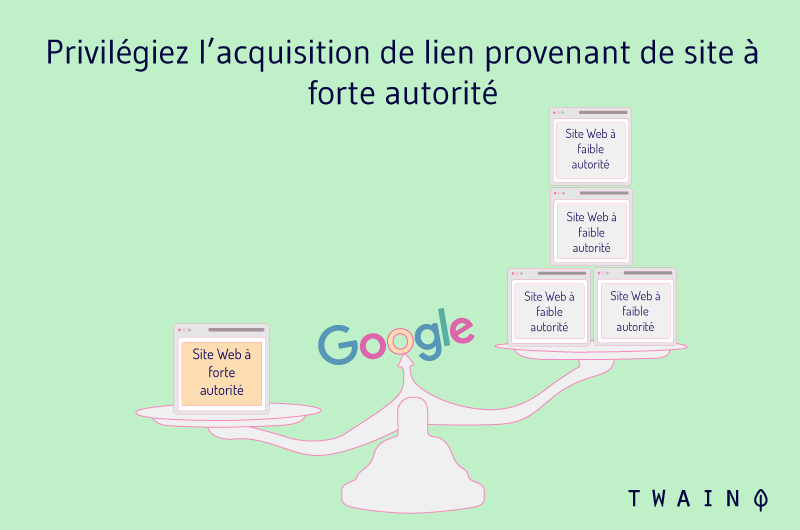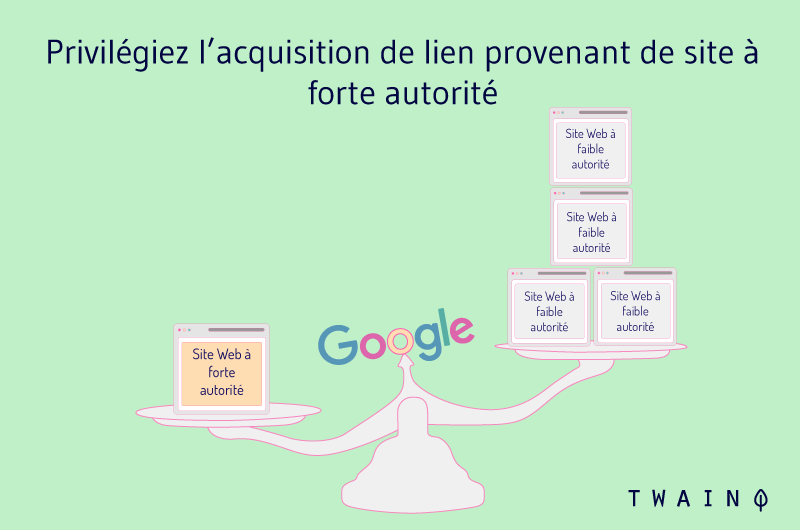 In order to determine the authority/weight of a referring page or site, there are two parameters you can consider:
Domain Authority (DA) or Domain Rating (DR) : Refers to the strength or l global authority of a site. This is a score between 0 and 100, with 0 being no authority and 100 being the highest authority.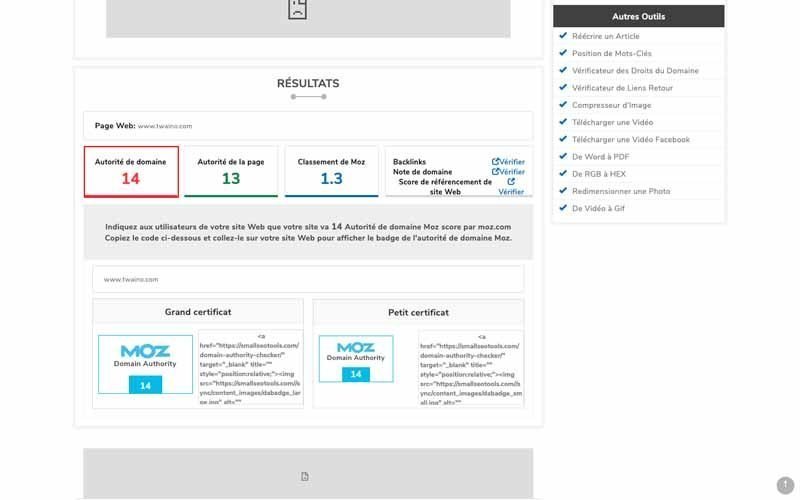 Page Authority (PA) or URL Rating (UR) : Refers to the strength or authority of an individual page. It is also a score between 0 and 100.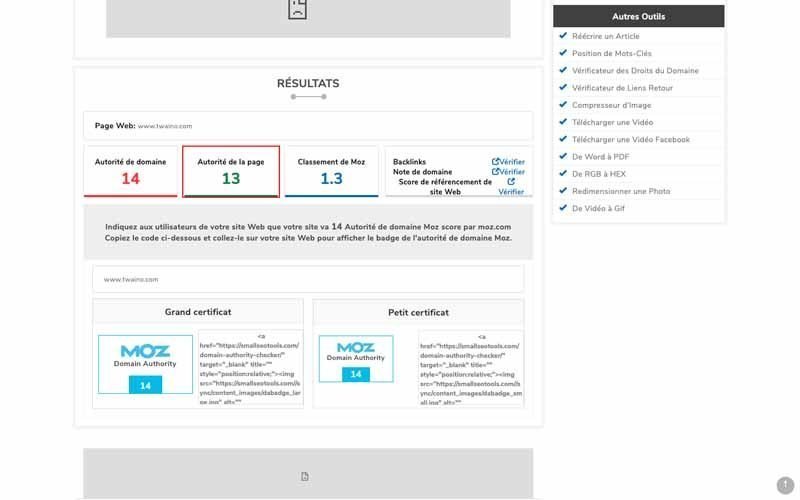 In the example below from this Journaldunet page, you can see that the DA score is 89 while the PA is 60.
4.4. Determine if links out of the website are "nofollow"
Not all links are created equal even if they come from the same website. In fact, some links may have the rel="nofollow" attribute applied. This attribute is of the form:
<a href="example.com" rel="nofollow"> Anchor text </a>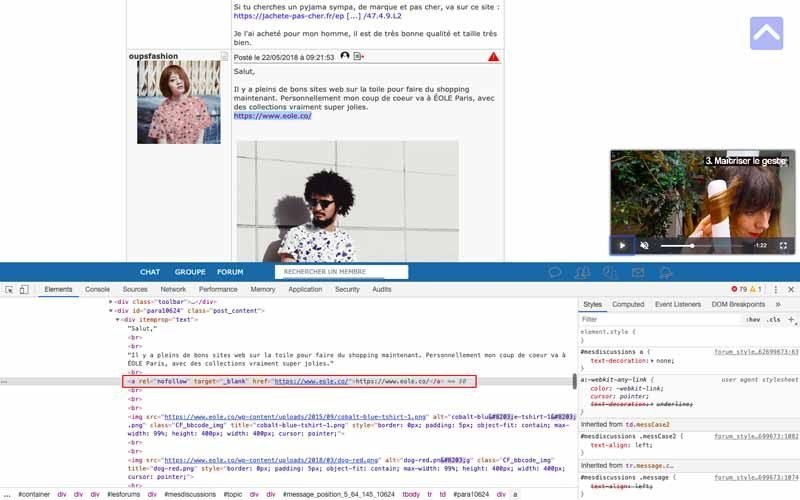 This attribute is typically used for links placed in blog comments or sponsor links . Google also wants any paid link to have the rel="nofollow" attribute, otherwise it can penalize sites that deviate from this rule.
This is because the nofollow attribute tells search engines not to follow the link. In theory, links with this attribute should not contribute to rankings. That said, Google says, " Generally, Google doesn't follow these links. which implies that he is likely to follow them sometimes.
Note that opinions differ on whether such links can impact SEO. For example, Wikipedia links are nofollow and many SEO specialists consider these links beneficial for SEO because of its authority.
I agree with link building expert Eric Ward : " I think it's entirely reasonable to assume that any search engine can give credit to any link it wants to give credit to. , if he feels there are enough signals to indicate that it is a credible link. And that means even if the link is nofollow.
In my entire career, I've never made a decision about whether or not to follow a link based on whether that link would follow or not. I pursue links if I feel they will help my client achieve a certain goal or objective. "
dofollow" links are preferred, a high-quality nofollow link can also help your SEO and is therefore worth acquiring. Also, remember that a mix of "nofollow" and "dofollow" links is recommended for your link profile so that it looks natural.
Also, note that there is no "dofollow" attribute. This is the term most SEOs use to refer to links without the "nofollow" attribute.
4.5. Evaluate the location of links
Search engines may assign more weight to certain types of links based on their location on the web page.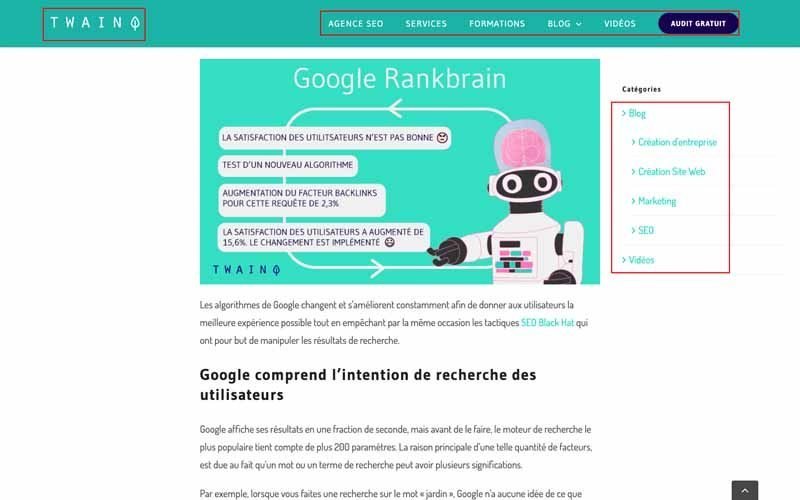 For example, a link in article content can convey more authority than a link in a sidebar or footer.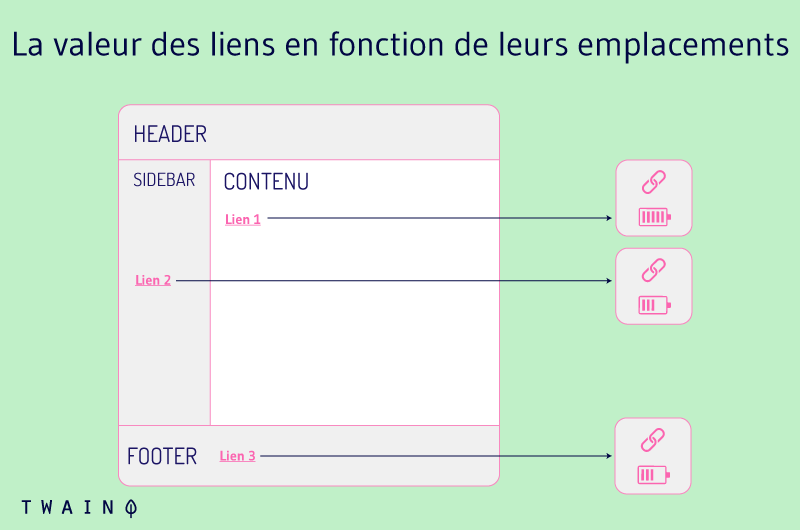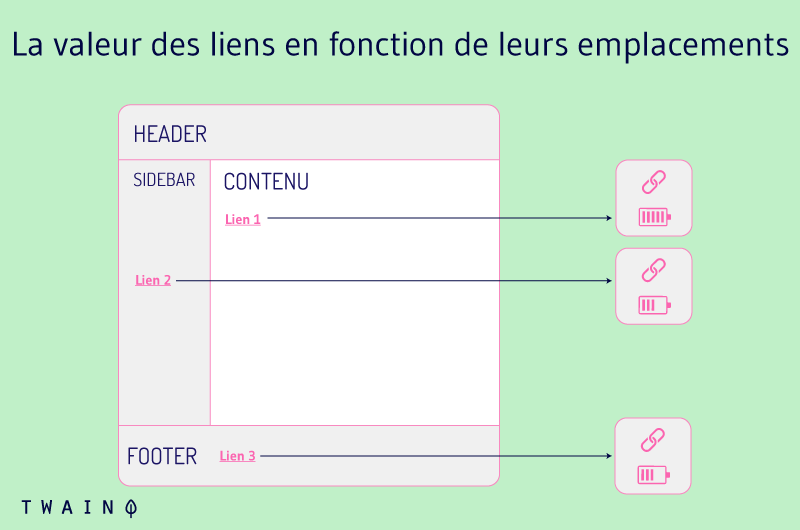 This is because a link in content is more likely to be editorial and surrounded by relevant text. Moreover, Moz research shows that a link that is located at the beginning of a given content has more weight than a link located in the later parts.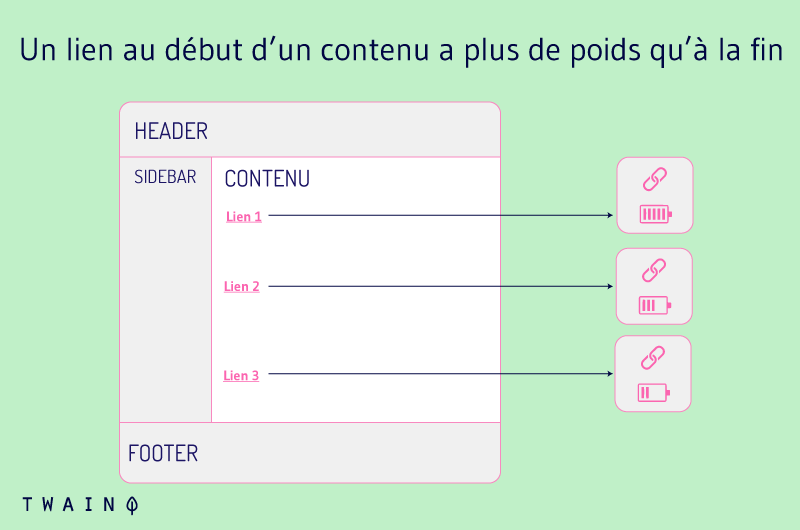 In fact, Google is able to determine the probability that a link will be clicked on a page. It therefore takes this into account when evaluating the juice that a link transmits. That said, there is anecdotal evidence that Google continues to give weight to links in footers, sidebars…. Especially when the referring site is considered an authority.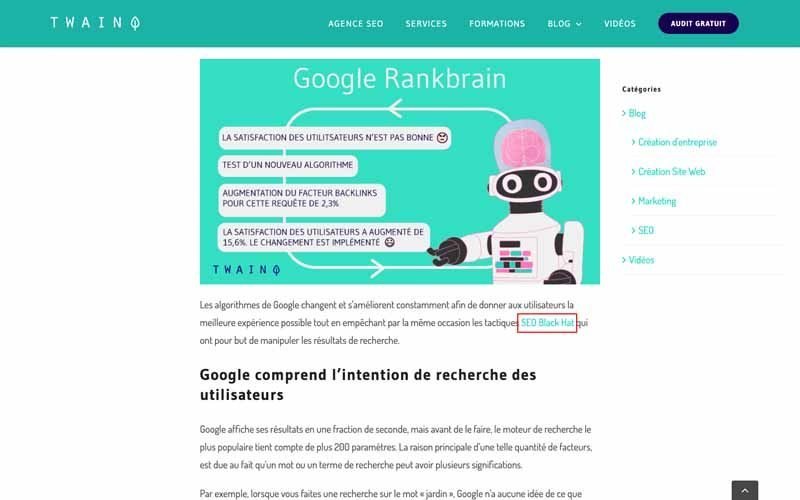 For example, Viperchill conducted a study that demonstrates how big brands use footer links to influence (and dominate) search results.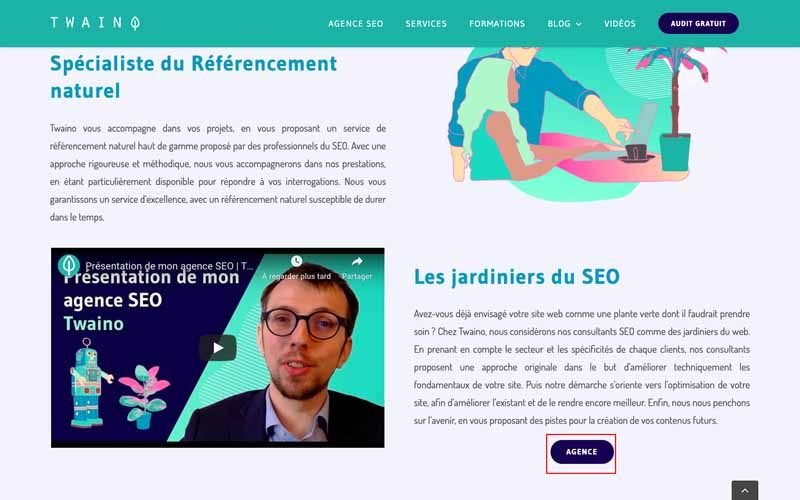 4.6. Choose the right anchor
text text is an important factor that search engines use to judge the quality of a link. Google believes that: " Anchors often provide more accurate descriptions of web pages than the pages themselves ."
For example, a web page with the target keyword "SEO agency" is likely to have a bonus with backlinks having exact or partially matched anchor texts such as:
SEO agency : Which is an exact match;
This page on SEO : which is a partial match;
Etc…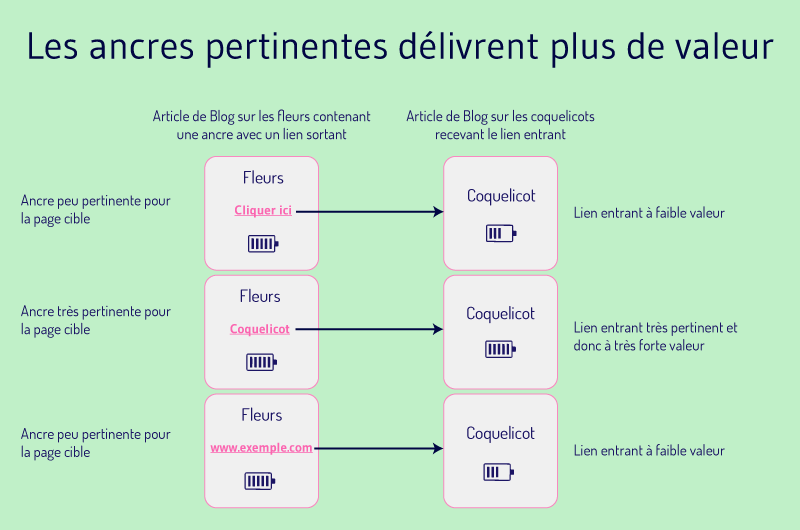 After a study of 16,000 keywords, Ahrefs came to the conclusion that there is a strong correlation between rankings and the presence of keywords in the anchors.
(graph)
In this graph, the pages that occupy the first place in the SERPs have on average:
13% exact links;
24% partial links.
So there is no doubt that using keywords in anchors has a positive impact on rankings. But when you abuse it, you have the opposite effect.
Indeed, too many links with the same keywords can be considered by Google as an attempt to manipulate its algorithm. This is likely to lead to penalties, especially with the Penguin.
4.7. Internal Backlinks vs. External Backlinks
Search engines seem to follow the idea that " what others say about you is more important than what you say about yourself ". In other words, external links pointing to your web page are more influential than internal links pointing to it.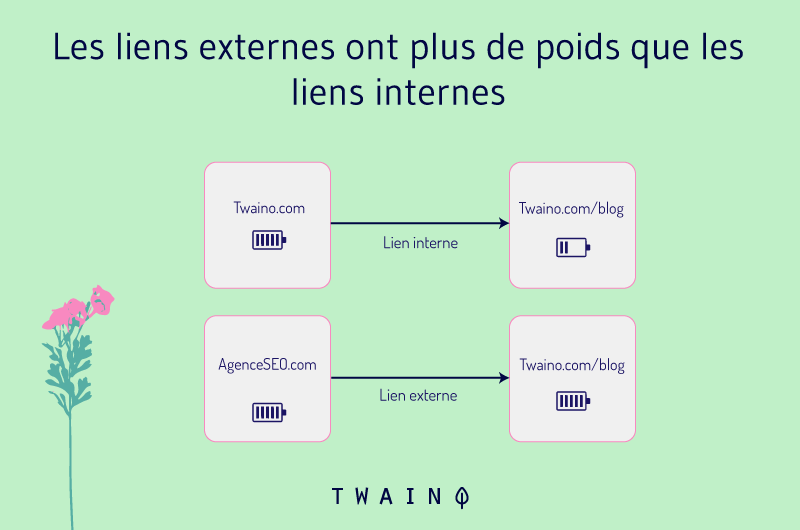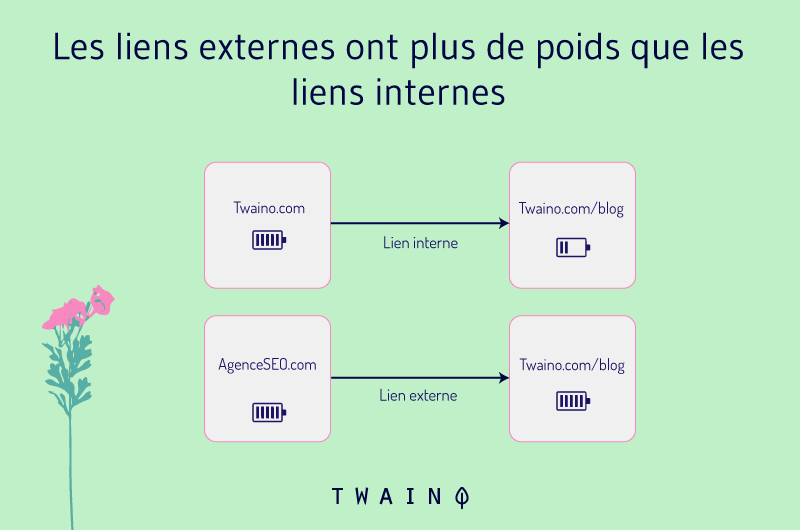 That's not to say that internal links don't count. On the contrary, internal linking and good site architecture can have a huge impact on Google rankings.
In fact, web pages that have no links pointing to them are considered to be in "orphan pages". This is a real SEO problem that can affect the performance of your site and should be detected in order to adopt the appropriate strategies.
But, building external links is often the fastest way to get better rankings and more traffic.
During your various analyses, these are some parameters that you can take into account in order to evaluate the quality of a given link.
---
Chapter 5: What type of backlinks should you try to build?
---
With its Penguin algorithm, Google does not hesitate to penalize websites with spammy or low quality links. So what types of links should you try to focus on? In other words, what kind of links does Google give the most credit to?
5.1. Favor editorial or natural links
This type of link is considered the "holy grail" by SEO experts. Indeed, editorial links are the links that you did not need to ask for and which were naturally placed by other blogs in their content.
These are the best kind of links to have, but to acquire them you need to give people a good reason to backlink to your website. To do this, find ways to ensure that a large number of bloggers can be encouraged to link to your content.
One of the simplest and most effective approaches is to create unique, high-quality content. These types of content are time consuming and difficult to create. This is why they are very popular and the enthusiasm they arouse causes the creation of many inbound links.
Google prefers this type of links and states: " The best way to encourage other sites to create relevant and quality links to your site is to publish unique and relevant content, which will allow you to naturally gain popularity with Internet users. . Creating quality content is rewarded. Links generally constitute voluntarily assigned editorial votes. The more useful the content on your site, the more likely you are that another person will find that content interesting to their readers and link to your site. »
5.2. Manually Build Your Backlinks
As an SEO, this is the backlink building approach you'll use often. This approach involves manually contacting other bloggers or websites and explicitly requesting links to your website.
Again, keep in mind that you need to give a good reason for them to agree to do this. Also, reaching people who are in the same industry as you is crucial, and we'll go into that in detail in the next few chapters.
5.3. Use Self-Generated or Non-Editorial Links with Caution
Non-editorial or self-generated links are sometimes black hat SEO that aim to manipulate search engines. They are generally used to make algorithms believe that content is relevant when it is not. For this reason, Google began by devaluing these types of links and penalizing websites that abuse them.
It is important to understand that these backlinks, by nature, carry less weight than other types of links. Since they are not earned or editorially given. It is true that they have been useful in the past, but a great deal of caution is called for now.
These are links from:
Article directories;
Signatures on forum;
advertisements;
Embeddable widgets;
Unmoderated directories;
Unmoderated blog comments;
Press releases with optimized anchor text;
Etc.
It is wise to avoid or be careful with links acquired in a non-editorial way. Instead, you should focus on tactics that will give you editorial links, adding value to your website and business.
5.4. An important note on link building vs. link earning
Before you start your backlink building campaigns, you need to make sure you have things that are worth linking to. These are mainly resources such as:
Tools;
research studies;
blog posts;
Videos;
Infographics;
Etc…
If you don't have such resources yet, consider creating them in advance. Keep in mind that all link building campaigns should start with something worth.
Indeed, if you direct readers to low quality pages or ones that provide very little added value, you risk annoying them and negatively impacting your brand image.
Conversely, when you start with something really valuable that readers find useful, link building will be successful. You will have editorial links (link earning) that you have earned without making a request and the other links that you have solicited or created (link building).
---
Chapter 6: Which content generates the most backlinks?
---
It's no secret content is often the key that unlocks the acquisition of backlinks. But simply posting content won't get you links.
You've probably noticed that a lot of SEO guides focus on creating high-quality content. There's a good reason for that: It's much easier to link to high-quality content than just pages.
Especially since companies and individuals are constantly looking for reference content to go to. This, to have something of value to offer visitors to their own website. As you'll notice, not many people link to a homepage, product page, or shopping cart.
Of course, there's a huge difference between creating content that's just stuffed with keywords, links, worthless information, and creating top-notch articles that are meant to help your audience.
6.1. Find the types of content that actually
When it comes to content marketing, you generally have two options:
Create content that might work;
Create content that has already proven itself.
I think the most effective and easiest option is to find what is already working in your industry and build on it. I show you how to do it step by step.
6.1.1. Use Google to find content that works
The first thing to do is to do a simple Google search to find the topics you are going to write about. The reason is very simple: You need links to place yourself on the first page of Google. And what could be better than knowing which content ranks in the top positions of Google?
The strategy that works and that I personally use is to take inspiration from content that already works in Google. This, in order to offer something better than what already exists. By adopting this strategy, you are somehow outbidding the quality.
Indeed, there is a strong correlation between the number of backlinks and the ranking in the SERPs.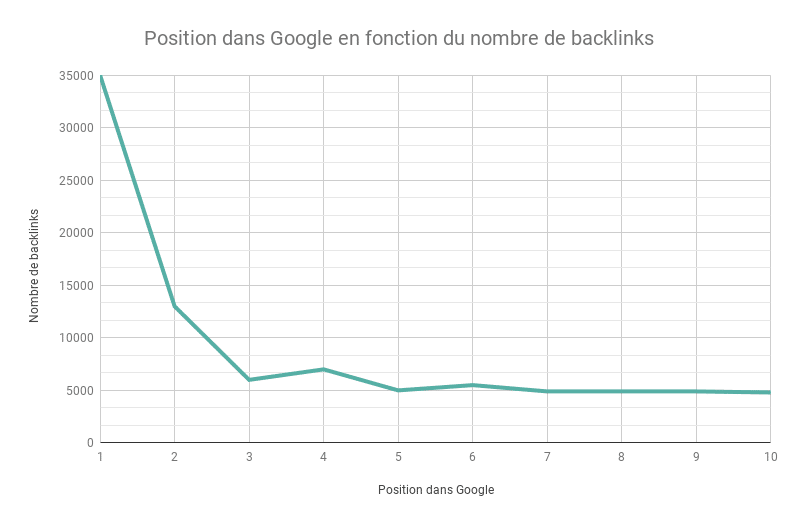 Therefore, the results you go to in the top positions are likely to have a lot of links. For example, suppose you want to write an article about article writing.
I noticed that with the query "Article writing tips", there are lists ranging from 2 to 25 tips. Now you know that even a list of two tips can rank on the first page. You also know that the list that occupies the first position stops at 25 tips and tricks.
With this knowledge, you can choose to stay within the range of 2-25 tips or exceed that number. Personally, I will voluntarily choose to exceed this number.
6.1.2. Find the pages with the most links
With Ahrefs or Moz, you can find the pages with the most links on a website. Ahrefs offers, for example, the "Best by links" feature which allows you to have a list of the pages with the most links.
It's a good idea to filter the results with "200 ok" to ensure that you only have a list of pages that are actually active and not redirected.
By analyzing the pages with the most backlinks, it is useful to check what they have in common. Whether on the same site or different sites, determine:
The most common type of content : Check if it is the articles in the form of a guide or lists that come up most often;
Most common topic : Determine if there is a topic that is common to many pages that have had a lot of backlinks.
Now you know what type of content and what topic you can talk about. But let's go a little further in the search.
6.1.3. Find the most shared content
At this level, you can proceed manually by browsing the blogs you are targeting. Most blogs have social media icons that show the number of content shares.
You can browse around 20 blog posts to determine which post is the most successful. Here you have something to inspire you with content that really works.
Il suffit de renseigner le domaine d'un blog que vous ciblez afin d'avoir le mail pour contacter directement le site web.
On the other hand, there is BuzzSumo which allows you to automatically detect the most shared content of a website.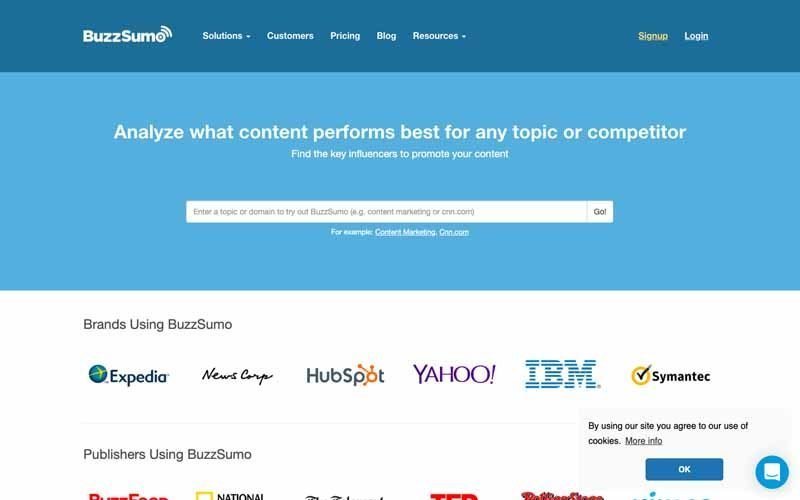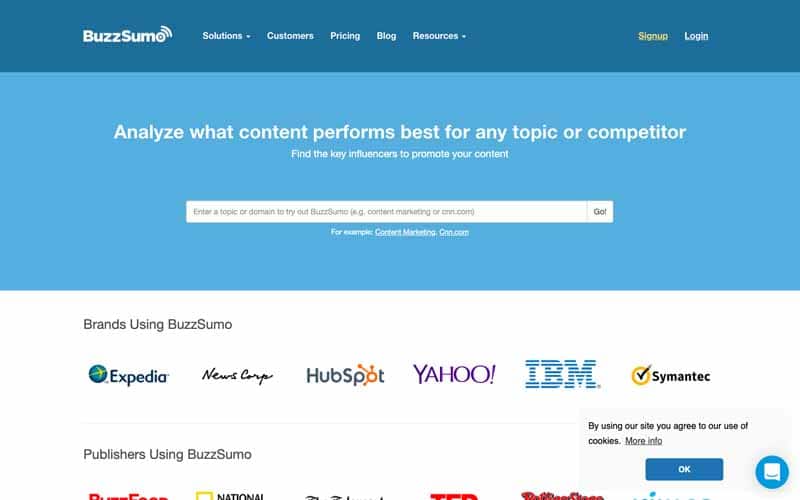 You can also carry out a search by theme in order to have a list of the most shared content on social networks. Note that you have the possibility to sort the results according to social networks such as:
Facebook;
Twitter;
Reddit;
Etc.
6.2. Select the ideal format for your content
After determining the content to write, you must choose its format before starting to create it.
6.2.1. Design an Ultimate Guide that Goes In-Depth
Comprehensive guides are highly qualitative in that they cover all aspects of a given topic and more. An Ultimate Guide gathers an insane amount of information in one place.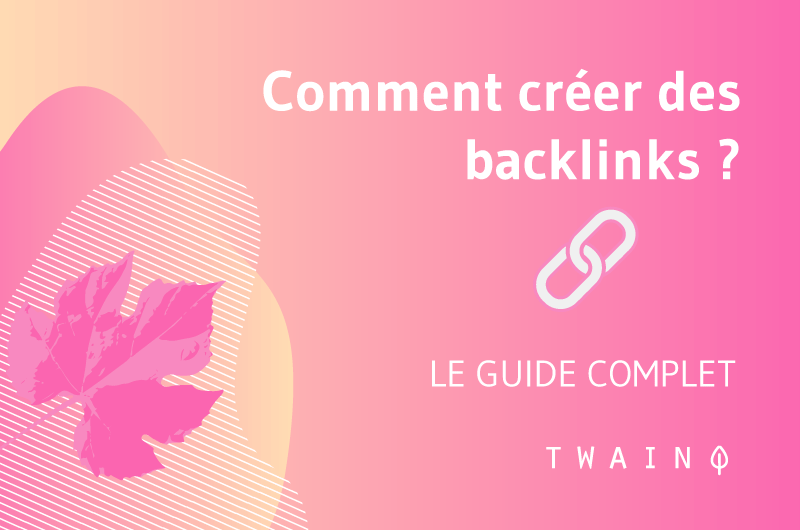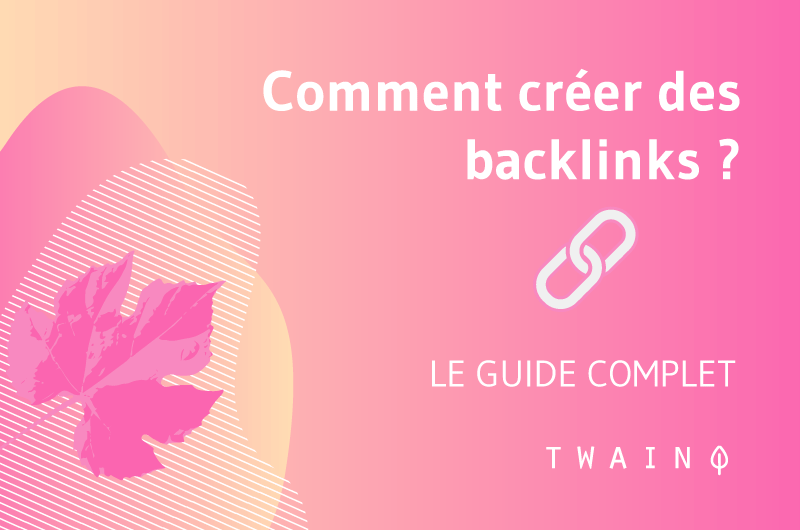 This allows Internet users and bloggers to find literally all the information they want on a given subject. You then become a source of reference insofar as your content has authority on the theme it deals with.
For example, the guide you are reading aims to deliver as much information as possible on backlinks and netlinking. If he pleases his audience, he may be able to figure as a source of authority (at least I hope so).
Note that according to a Backlinko study of 1 million search results, there is a correlation between the authority of content and its ranking in search engines.
In addition, long content performs very well in terms of engagement. According to the BuzzSumo study cited above, the correlation between shares and content length is very strong.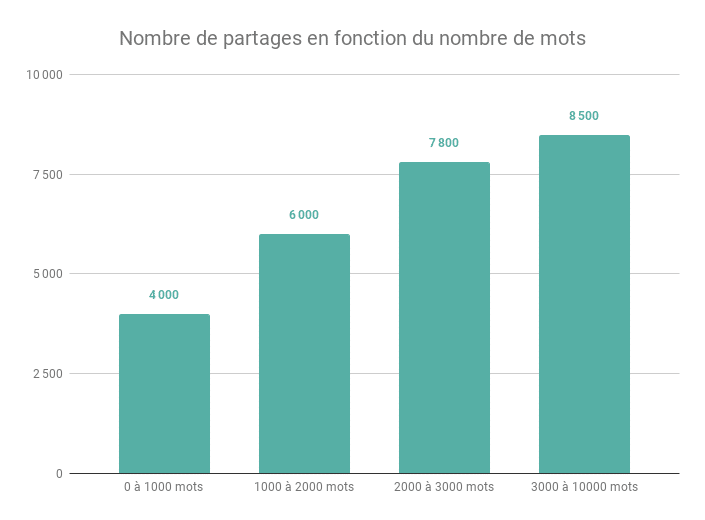 6.2.2. Do case studies, studies, statistics and polls
Most of the content on the web is rewrites of existing content. You can break out of this routine and craft a truly unique case study. This kind of content works well for two main reasons:
It instantly stands out from traditional articles;
It is based on concrete facts.
A quality case study gives bloggers a reason to leverage your content and make links. The same goes for studies and surveys.
While you can do case studies of your own experiences, studies and/or surveys are particularly difficult to do. But it's one of the best ways to get quality backlinks.
In fact, BuzzSumo found that 74% of marketers cite "more website traffic" as a result of the release of data from studies and surveys.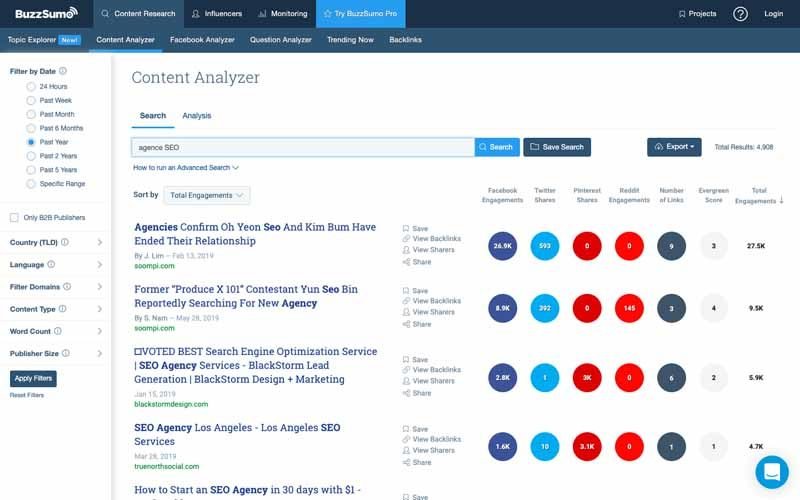 Additionally, 49% of them agree on the fact that this type of content is excellent for obtaining backlinks. This is a highly linkable resource and when bloggers cite your data, they tend to link to you.
6.2.3. Create visual content Visuals
very easily receive backlinks and you have, among other things:
Images;
Diagrams;
Infographics;
graphics;
Etc…
For example, when you publish an infographic on your site, it is enough that somebody shares it or inserts it in its contents and you obtain a link.
According to a BuzzSumo study of 100 million articles, infographics are the content format with the most shares.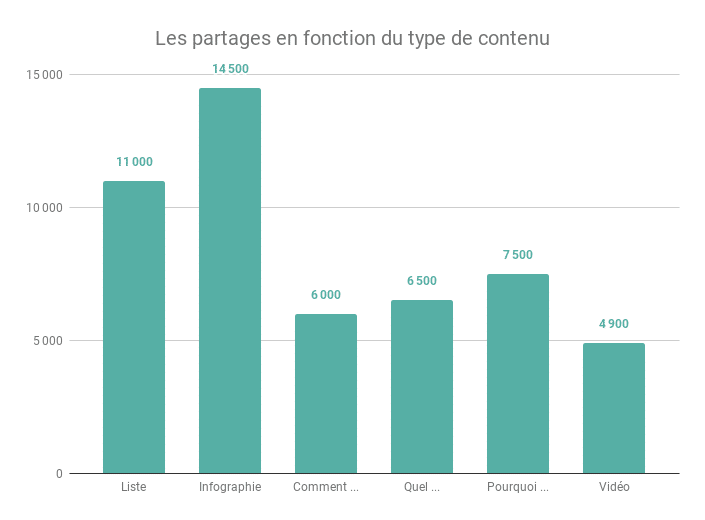 Do not hesitate to create such content when you want to launch a link building campaign.
6.2.4. Consider
List Posts Numbered list posts drive a lot of engagement. These lists can be:
Advice;
Techniques ;
Reasons ;
Tools ;
Etc…
When BuzzSumo analyzed 1 million articles, they discovered that list articles generate more backlinks than other content formats such as:
Quizzes;
Videos ;
Infographics;
Etc…
In addition, you have a better chance of appearing in the featured snippet when your article is of high quality and the layout is well done.
6.3. Create highly linkable content
At this stage, you already know how your content will look. In addition to preferring long content, follow the following tips.
6.3.1. Make a good presentation for your content
The presence of visuals in content generates more engagement and therefore backlinks. You can opt for custom visuals like me.
Don't worry if you can't create one yourself. Call on professionals who will be happy to produce good visuals that you will insert into your content.
The advantage of illustrations will be to make your content more digestible for your readers.
6.3.2. Publish actionable content
People want to read actionable content! If you want a lot of people to read and share your article, use for example:
Step-by-step techniques;
Screenshots and visuals;
Concrete examples;
Video tutorials and animated GIFs;
From easy-to-use tips;
Etc.
6.3.3. Make your content easy to read
It may sound like common sense, but Google uses readability as a criteria in its rankings. I strongly recommend that you avoid text walls which are detrimental to the user experience.
All you have to do is follow these 3 simple rules:
Use 1-2 sentence paragraphs;
Divide your content into sections: Sections make your content easy to follow;
Use the right 15-17px font: If your content is hard to read, readers won't read it.
Additional resources for viral content:
Ahrefs.com/How To Go Viral: 2 Step-by-Step Case Studies/ ;
Singlegrain.com/The ultimate guide to link building with content.
Now you know what type of content performs well when it comes to link acquisition. Now let's move on to the actual conduct of a netlinking campaign.
---
Chapter 7: How to start a backlink building campaign?
---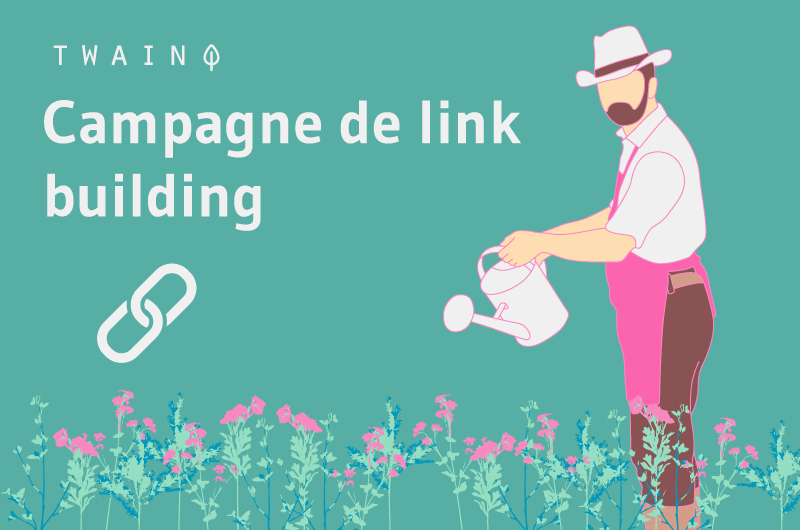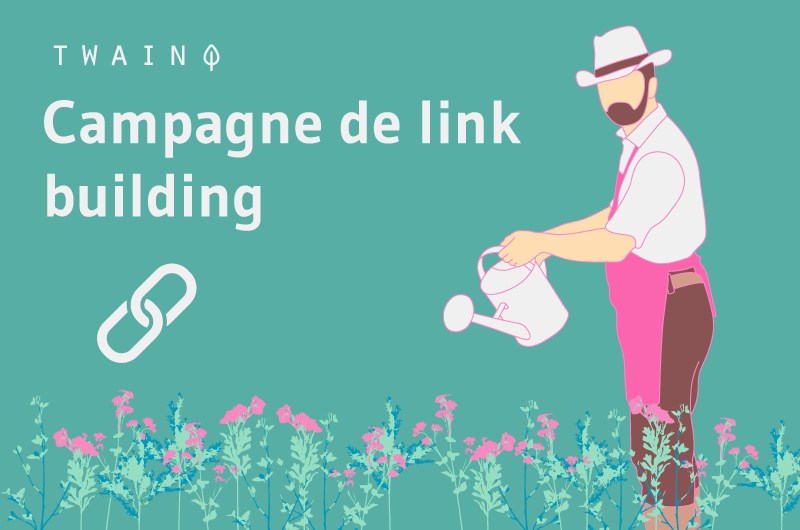 7.1. What is a link building campaign?
A link building campaign is the process by which you try to increase the number of links pointing to your website. This process is generally accompanied by an objective and uses the resources of the website in order to achieve its ends.
There is a certain approach to adopt when you want to have significant results for your netlinking campaigns.
7.2. Structure your netlinking
campaign A link building campaign has several stages, some of which are more important than others. Keep in mind that your choices will depend on the resources/assets you have. Let's start with the most basic.
7.2.1. Set yourself precise and clear objectives
Link building deserves to have defined objectives, if you really want to be effective. By setting goals before launching your campaign, you give yourself the chance to create a good strategy that will be followed through.
Make sure your goals are fully aligned with your overall business goals.
For example, suppose you have a large site with over 100,000 backlinks. A goal of 10 backlins will have no impact on the overall success of your business. On the other hand, obtaining 10,000 backlinks is likely to have a much greater effect.
Given the importance of backlinks, you may be wondering: Why wouldn't a goal of getting more links help?
It's important to note that while just having "more links" sounds beneficial, the problem is thatit sometimes takes time for the backlinks you build to start having a clearly visible effect on rankings.
Building links today will not improve your position the next day, especially in sectors where competition is strong. Moreover, even if a netlinking campaign achieves its objectives, it is sometimes difficult to show that it is a success.
Therefore, intelligently set realistic goals that actually contribute to the organizational/financial goals of your business. Just like SEO in general, you need to focus on long-term gains, not instant overnight results.
7.2.2. Find the Highly Linkable Articles
At the heart of any link building campaign is an asset. This is the "hook" that you will use to get enough people to consider what you have to offer and link to your site. The assets vary according to the companies and the objectives that you set for yourself. These include, for example:
Content;
Of products ;
Provision of services;
Etc…
In most cases, this is content and you can choose one of the types of content from the previous chapter. It's important to make sure that what you are going to offer is going to be relevant enough to your audience to pique their interest.
That said, when using black hat SEO, campaigns do n't necessarily include content or products. Money is the main asset since this type of SEO generally approaches link acquisition as a purely financial transaction.
Indeed, some people resort to buying links which is a practice strictly against Google's guidelines, and if a website is caught in the act, it can be heavily penalized or even de-indexed. That's why I advise you not to use it.
7.2.3. What types of links do you need?
There are several types of links that you should consider when defining your netlinking campaign strategy:
Links to your home page;
Links to "deep" pages: Product or category pages;
Links containing your brand/company name;
Links containing the keywords you are targeting;
Etc…
These types of links are not fixed and you can make combinations. For example, you can create a branded link to a deep page of your brand or a keyword link to the homepage.
This analysis is important insofar as it leads you to make an inventory of the current links of your website as well as an examination of your ranking compared to your competitors for certain keywords.
For this last point, you can use several tools including Open Site Explorer and Ahref, which allow you to evaluate your link profile and see your positioning in relation to certain keywords.
For example, if you find that for one of your main keywords you are not present in the ranking, you can take advantage of your campaign to use links with targeted keywords in order to improve your ranking with respect to this keyword.
The same is true if you find that your most important page has no links pointing to it or if you have no backlinks featuring your main keyword.
These different situations are real problems SEO to which you must be able to find an adequate solution, and a link building campaign lends itself perfectly to this.
Once your objectives have been defined, you must move on to the search phase for bloggers who will create backlinks to your website.
---
Chapter 8: How to find opportunities for the creation of your backlinks?
---
Conducting a link building campaign leads you to search for people who may be interested in your content.
If you created a piece of linkable content, don't take the time to ask yourself: Who will like it enough to add a link to redirect the audience to you?
The answer to this question allows you not to waste time soliciting uninterested people.
To find the most relevant opportunities, follow these steps.
But above all, note that these identification steps can be performed before creating content. For example, you can determine the reference sites from which you want to have backlinks. Then you create content that they are likely to like enough to create backlinks to your website.
That said, I'm going to stick with the classic approach illustrated by this infographic: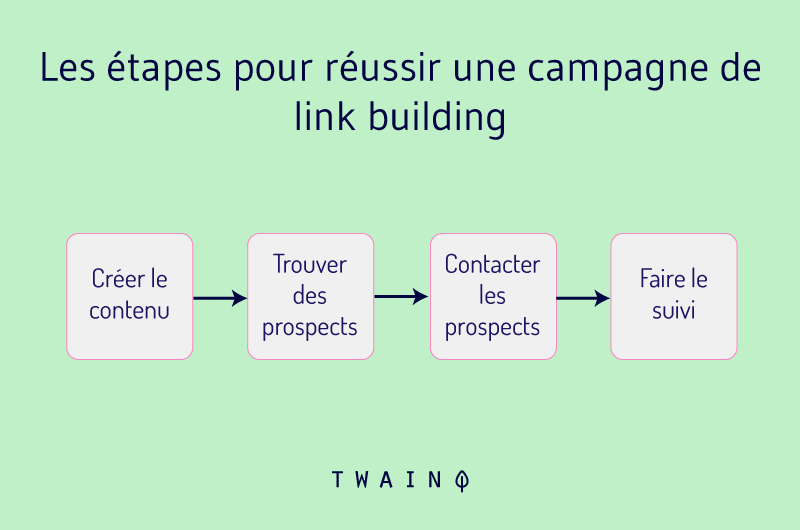 8.1: Identify your target audience for link building
Once you've identified the content you want to promote, it's a little easier to figure out who will part of your target audience. For example, let's say you've written a comprehensive, in-depth guide to SEO. You designed this guide because you have an SEO agency that offers many services.
Those who are likely to be interested in your guide include:
Blogs specializing in SEO;
Blogs on digital marketing in general;
Websites specializing in online business;
Etc…
These are three types of websites that might be interested in a comprehensive guide to SEO. Now you have to go in depth to make your list of blogs that are likely to create backlinks to you.
To do this, I'm going to walk you through some simple techniques you can use to create a comprehensive list of websites you can contact. Here are the tips you can use:
Tip 1: Find lists of relevant bloggers
The easiest approach to finding the bloggers you are targeting is to go to Google and do a search. Regarding the example I just gave on SEO, it is possible to search:
SEO bloggers;
SEO bloggers;
Etc…
This very simple technique can be of great help insofar as you are likely to come across articles that have already listed the types of blog you are looking for.
Still for my examples on SEO, the queries "SEO bloggers" allows me to have the following results:
You can see that there are articles that provide lists of blogs among which you can search and retrieve the URLs of which you you need. For more convenience, you can use the extension of Google Chrome Scraper which allows you in one or two clicks to recover all the links of a web page.
All you have to do is right-click on one of the URLs and click on "Scrape similar" to get a list of URLs that you can paste into a Google sheet or Excel. Then you'll go through all of those links and see if they're relevant to your content.
Tip 2: Use advanced search queries
There are several ways to search Google, but most users are only used to the classic search with sequences of words. In fact, Google allows you to perform much more targeted and specific searches in order to find exactly what you are looking for.
These are Google's syntaxes and you can use them in your netlinking campaign to filter only the websites that will be useful.
Here are some examples of the use of these advanced searches:
"inurl" : It allows you to display the results with a particular mention in the URLs. For example, for "blogger inurl:SEO", the results that will be displayed will necessarily include the term SEO in their URL;
"intitle" : Displays results with a special mention in the title. For example, for "blogger intitle:SEO", you have the results whose pages contain the term "SEO" in their title;
Quotation marks (" ") : This syntax tells Google to only offer pages with a given mention in their content. For example, for "SEO blogger", the results that will be displayed will necessarily include the term SEO on their page.
These syntaxes are very useful because the search for "SEO blogger" would probably be a little too broad. And you risk wasting precious time with websites that are not relevant to your search.
Tip 3: Use the backlink analysis tools
Ahrefs and Moz allow you to carry out an effective analysis of the link profile of your competitors. You also have the opportunity to know their referrers and this is an invaluable source for finding blogs that are likely to be open to linking to you.
In fact, if these sites have created links to the competition, there is a good chance that they will also create links for you. If you do your analysis of the competition correctly, you will be able to detect the strategies used by your competitors and exploit them.
With this method, you will be able to obtain a list of high quality blogs that you can exploit.
Tip 4: Use BuzzSumo to find influencers
BuzzSumo is a very powerful tool that is generally used to determine the content that performs the most according to each theme. It also has a feature that allows it to know the influencers who have shared your competitors' content.
In this way, you will create a list of bloggers that you will be able to contact to ask them to share your own content. Some influencers will even have blogs you can ask to be featured on.
Tip 5: Find bloggers on Twitter
To carry out this technique, you must use Followerwonk which is a powerful tool for Twitter. Among its many features, it allows bios to be searched on the social network.
By searching SEO or natural referencing, you will find people who have mentioned these terms in their bio. Better, you have the possibility of filtering according to:
The number of followers;
The number of followings;
Geographical location;
The name ;
The URL;
Etc…
With these results, you can create a spreadsheet and sort according to the criteria you have chosen. Note that the tool also gives you the Social Authority of each account, allowing you to judge their value against each other.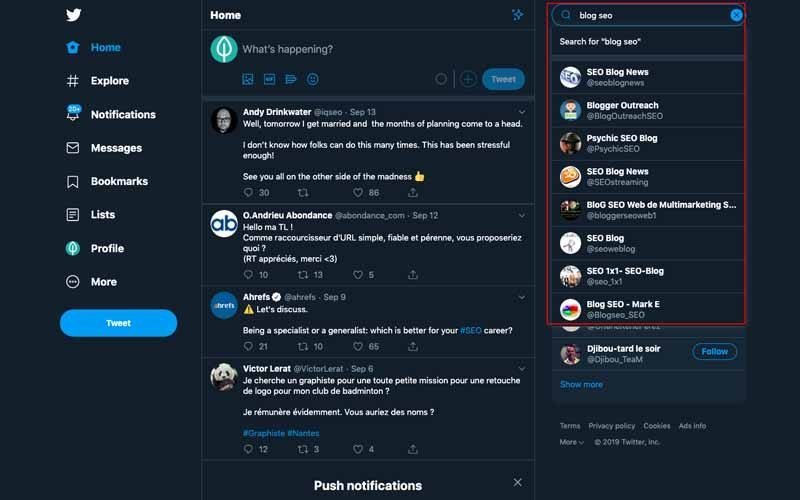 Remember to select profiles that include links to their website to facilitate the success of your link campaign.
You now have 5 tips that allow you to find relevant link targets. However, there are still other actions that you must take before contacting the owners of the websites.
8.2. Get to know the bloggers you have selected
After finding opportunities for your links, the next step is to sort them and select only those that are most relevant to your campaign. To do this, take the time to learn more about them by:
Visiting their website;
Browsing by reading their content;
Glancing at their social media account;
Etc…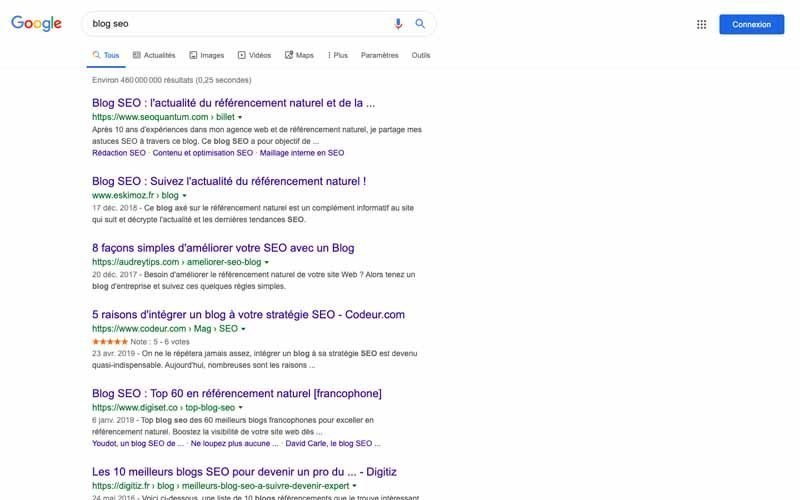 These actions allow you to know their target audience and discover the types of links or content they like to share. It's important to know whether or not your target bloggers share other people's content, since you're going to ask them to do so.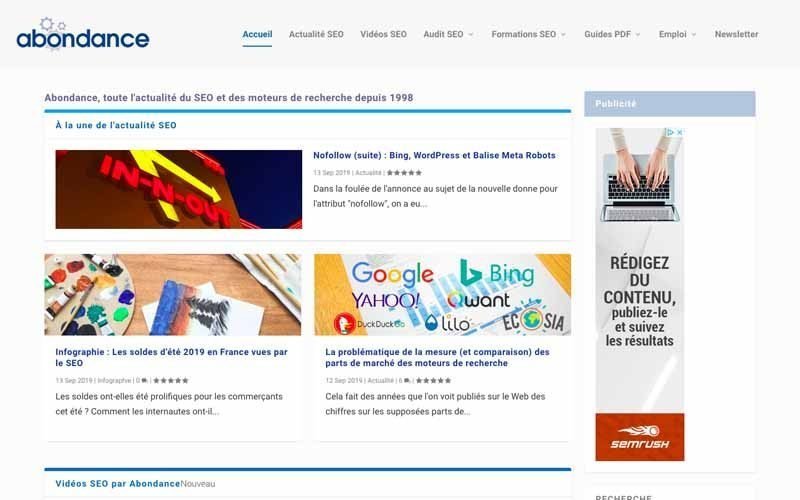 Ideally, it's better to find clues that your targets are sharing or promoting other bloggers' content than just their own.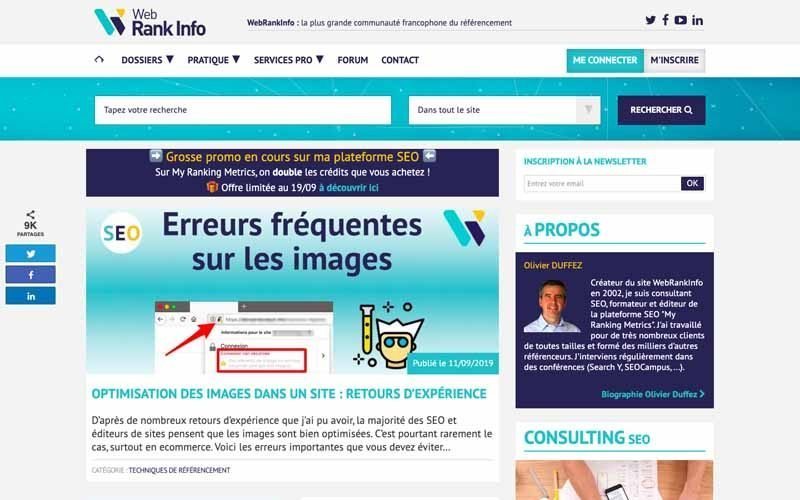 As you go through each website, take notes on what they shared and what interests them. This is a crucial point since you will later use this information to contact and communicate with them.
8.3. Find the contact details of your targets
You have identified the most relevant websites to have your links. Now you need to find the contact details to reach them. Generally, it is very easy to find such information, but I come back to the little tricks to identify them quickly.
Tip 1: Check their website
's header and footer first The header or footer is often where you'll find a link to a contact page. Some websites may also put their contact information on the "About" page, check and click on it to access what you are looking for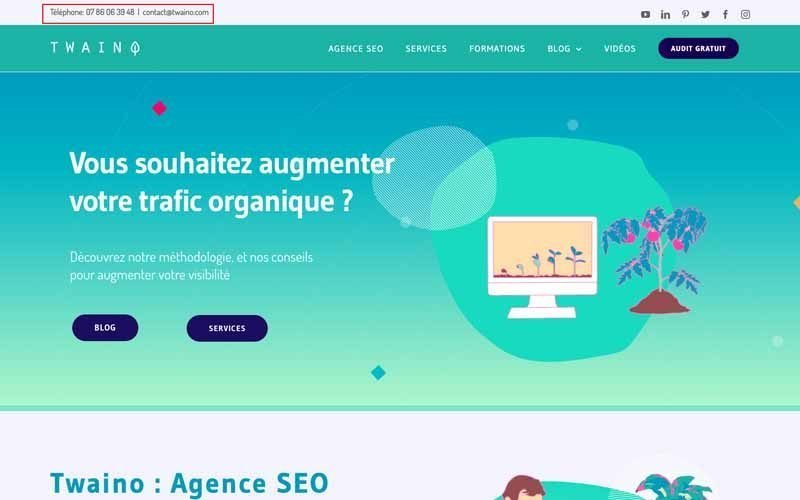 Note : I agree with Brian Dean who recommends not going through the contact form on websites. Use this option as a last resort, otherwise you'll look like you haven't bothered to do some research on the blogger.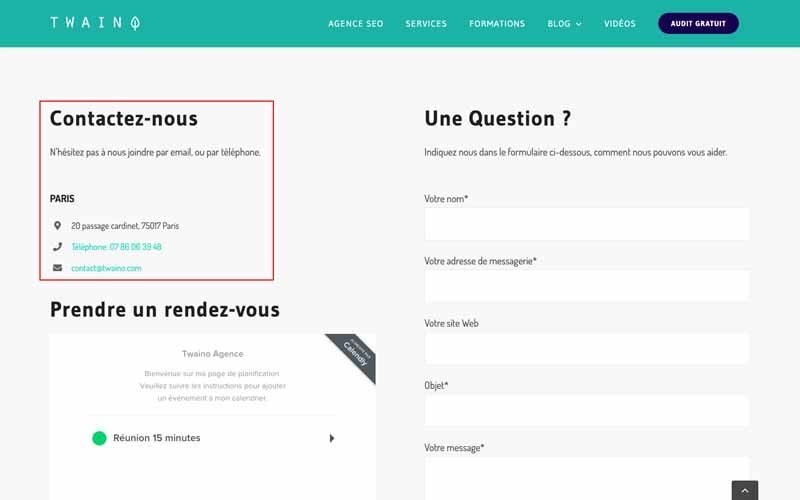 Tip 2: Use Hunter.io to find emails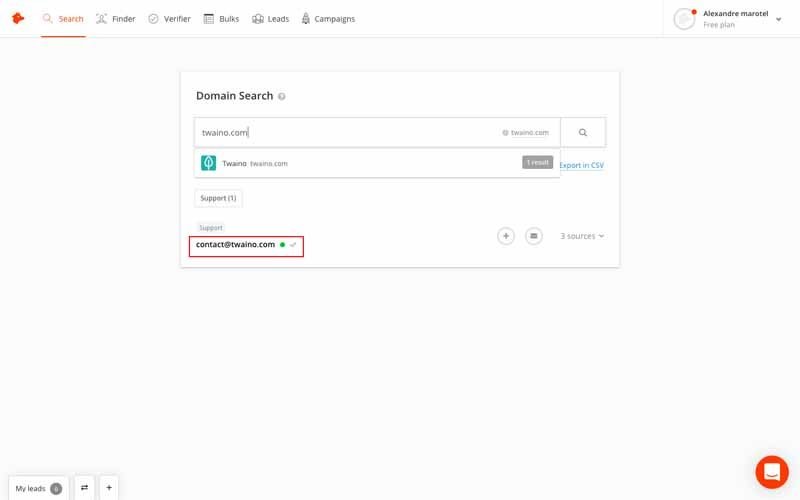 In order to quickly find the email addresses of the websites you have collected, you can use Hunter.io.
Tip 3: Install ToutApp or hunter for Google Chrome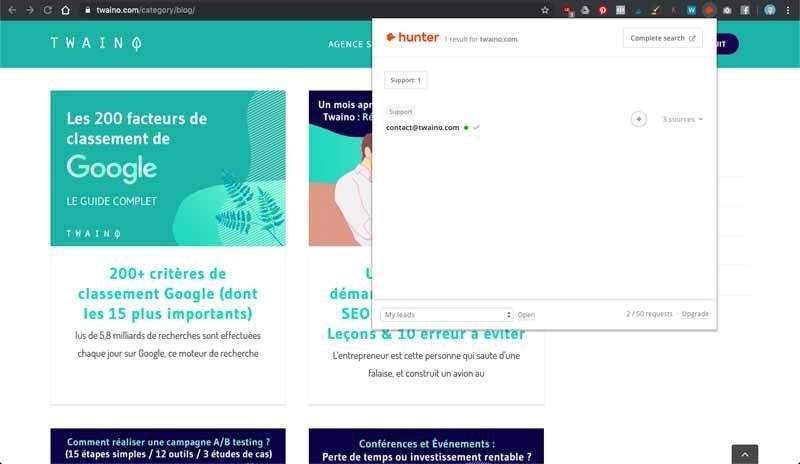 If you cannot find the contact information you are looking for, which is often unlikely, you can use ToutApp.
This is a Google Chrome plugin that allows you to find email addresses on the pages you browse. It will use your Chrome toolbar to highlight found emails.
Once you have the relevant blogs and their contact details, you can now start sorting through the most important sites to consider for your campaign.
8.4. Sort and choose the most important blogs for your campaign
To be effective in managing your list of bloggers, you will now prioritize and categorize them. For this, there are several parameters that you can take into consideration:
Domain-related factors : Page Authority and Domain Authority;
The influence of bloggers : The number of people who follow them on social networks;
The relevance of the site to your topic : An SEO blog vs an online business blog. The first is more relevant and offers more chance of having a quality backlink than the second.
8.4.1. Analyze Domain
factors are very important. You can review these criteria in more detail in my article on Google's 200+ Ranking Factors. 
At this level, I will address the two main ones that you just have to consider to sort and classify your targets:
Domain Authority;
Authority page.
You can use for example Moz or Ahrefs to determine these two parameters. Of course, you have the option of gathering domain metrics for each website one by one, but that would take a lot longer.
In fact, there are tools available that allow you to gather data in bulk through Microsoft Excel. These include, for example: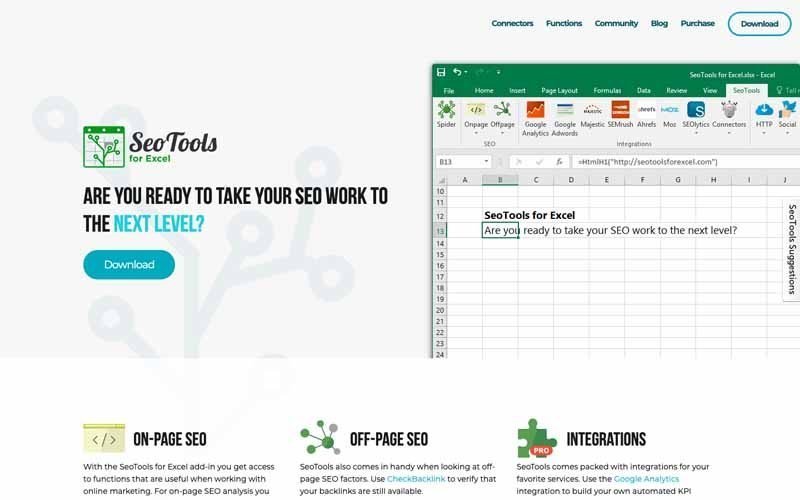 After having collected all this data, you will be able to do a simple sort in Excel in descending order. You can simply use the Domain Authority by eliminating websites that do not reach an acceptable score according to the list you have.
8.4.2. Assess the influence of bloggers
If you want to drive a lot of traffic to your content, it's important to have influential people doing the sharing. Indeed, when a sufficiently influential person shares your content, many of their subscribers will in turn view your content and share it. This greatly increases your reach.
Therefore, in addition to checking the previous parameters, it is very useful to examine the influence of bloggers on social networks. In this case, even if his domain is not very strong, you can choose him because of his influence on social networks.
You have the option to check accounts one by one, but if you've used Followerwonk, you've probably had time to jot down metrics on each person including influencer score and number of followers.
You also have BuzzSumo and Little Bird which can help you build a comprehensive list of social media influencers.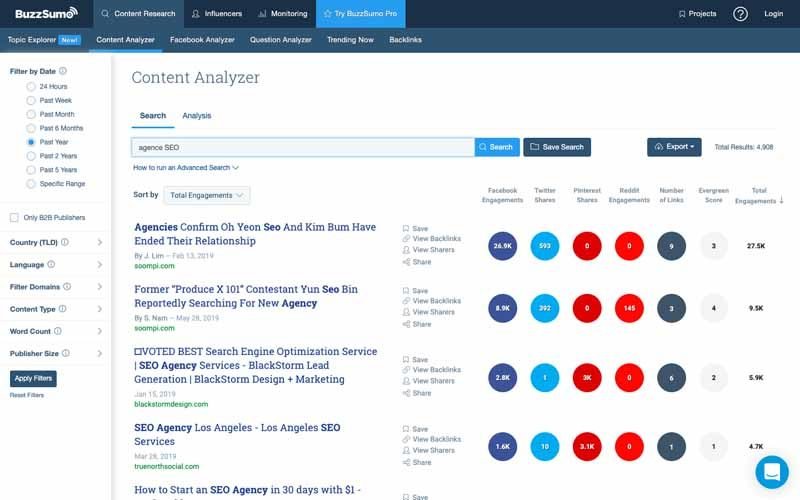 By considering only the influencer score, you will ease the burden on yourself and select the most influential people who have the opportunity to share your content with a large number of engaged people.
8.4.3. Evaluate the relevance and the probability of establishing a link with bloggers
At this level, you will carry out a manual analysis, especially since no tool will be able to do it for you. As you go through your potential targets, try to gauge how relevant bloggers are to your content.
For this, you can use a rating system, from 1 to 10 for example, which will allow you to assess the probability of having links from these bloggers. The 10 being very likely to establish a connection and the 1 very unlikely to do so.
Questions to keep in mind when scoring them are:
Have they ever shared external content? : A blogger who regularly shares external content will have a higher rating than one who does not;
Is the content you offer relevant to them? : An SEO blogger will have a higher score than another who approaches digital marketing in general;
Is their blog active? : Do they regularly publish content? If so, how often ? Since too low or too high a frequency is not ideal for you. Frequency is a factor that depends on your industry. If you're into the news, daily posts might be ideal. But a handful of monthly publications would be penalizing since the news has a fairly short lifespan.
The answers to these questions should help you determine the likelihood of you getting links from these bloggers.
With the three parameters you are now able to have a list of bloggers who:
Are likely to link to you;
Have high domain scores and are references in your topic;
Have a great influence on social networks.
At this point, you should have a list of quality websites that are likely to be interested in the content or asset you are offering for backlinks. Since you already have their contact information, it's time to contact them.
---
Chapter 9: How to promote your asset by contacting bloggers?
---
It's time to promote your great content and reach out to the bloggers you've targeted. I recommend that you start with the most qualitative opportunities for you since they are likely to give you very good results in terms of traffic or backlinks.
Plus, these opportunities can serve as social proof later when you reach out to smaller websites. In fact, if less popular websites realize that big influencers liked your content so much that they shared it, they'll be much more likely to agree to do so when you contact them.
To succeed in your first contact with bloggers, it is important to adopt a certain approach.
9.1. You are contacting a real person!
The websites or blogs that you contact are managed by real people, likely to receive a lot of collaboration request emails, especially when they have reached a certain level of popularity.
So you need to approach them in such a way that they think you deserve some of their time. Remember that bloggers have their own priorities. They don't wake up in the morning needing to create backlinks to other bloggers, especially those who are less influential than themselves.
For this reason, don't approach them assuming they're bound to link to you, regardless of what you're offering them. It's up to you to show that you deserve their time, attention, and support.
If you are nervous about talking about your content to bloggers with a lot of influence, you need to be convinced of the quality of the content you are offering.
Make sure it's high enough to be liked and shared by other people. If you have relatives who can be objective, you can ask their opinion to make sure.
If you find that there are things to improve, be sure to do so until your content is as perfect as possible.
9.2. How to write a powerful first message?
Before composing your letter, keep in mind that the people you are contacting are probably very busy. To do this, you will detail your message enough to explain why you deserve attention.
At the same time, it should be quite short so that the mail is fully read without being boring. Here is what an ideal letter should contain:
The reasons why you are contacting them;
The actions you would like them to take;
Show that you are genuine and not a spammer.
9.2.1. Clearly explain why you're contacting them
If you've followed the previous steps, you shouldn't have a problem with this. You know why readers will care enough about your content to share or link to it.
It is time to bring out these reasons explicitly.
To make this approach work, if possible, take a look at recent posts from bloggers you want to contact. Thus, you will find an element that you will use to show him that you have read his work.
For example, you contact a blogger who is a big fan of video games. You see that he recently wrote about a new game that he particularly liked.
If he is an opportunity for your link buildind, you can mention that you like his article on the game in question. That said, be sure to bring out a few unique points from his article.
By doing so, you will show that you have taken the time to read his blog, which reinforces the attention he will pay to you.
9.2.2. State what action you'd like them to take
Some people don't dare mention the term "links" in their message because they believe that if they do, they will be rejected or considered spammers.
It is true that if you say it the wrong way, you risk being considered as such. But it's important not to sidestep the topic and find a way to get the blogger to know/do what you desire.
The action can be indirect and go further than a simple link request. It can be:
Share your content on social networks such as Twitter, Facebook…
Integrate your content if it is an infographic or a widget;
Accept a guest post from you that contains a link to it;
The blogger writes an opinion piece about your content and links to it.
These are just a few examples and each of them at different difficulty levels. For example, sharing on social networks usually only takes a few minutes. While writing editorial content with a link to yours takes a lot more effort and time.
You need to take this into account when crafting your post and be aware that the more you ask a blogger, the more compelling and interesting your content should be.
Moreover, you can combine the previous actions if you have the possibility. For example, a blogger who likes what you do enough to write content that links to yours can share on social media. This will allow you to have excellent results for your link building campaign.
In the event that some bloggers refuse an action you request, but they nevertheless like your content, you can come back and ask them for a much simpler action.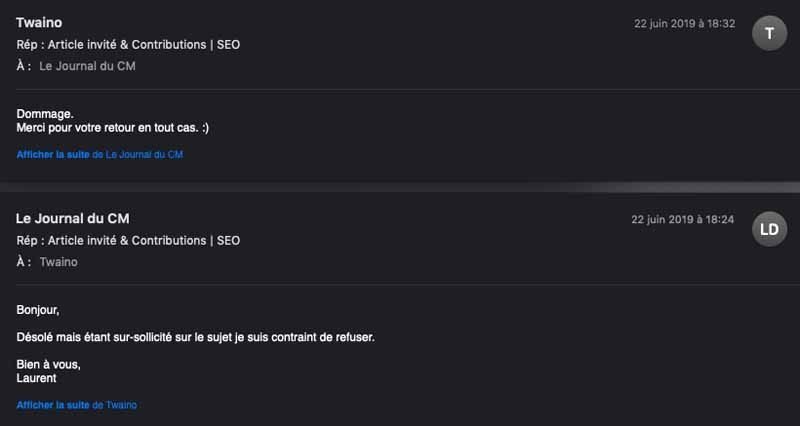 In many cases, you can resort to writing aguest article that they will simply publish. Especially since they don't necessarily have the time to write content themselves that contains links to yours.
That said, it's a good idea to only reserve this option for the strongest websites on your list. Since creating such content will require additional time and resources from you.
9.2.3. Show that you are authentic and not a spammer
Personalizing your message is a point that deserves great attention. Remember that bloggers are likely to receive many emails of the same type as yours. For that you have to make it different so that it doesn't end up in spam or deleted.
There are many ways to achieve this without adding too much time to your process and without compromising on quality. For example, you can:
Use a genuine email address;
Use a good object;
Use their name;
Mention something specific about their work;
Use your location (if applicable);
Use an appropriate email signature.
Tip 1: Use a genuine email address
To send your message, make sure that the email address you use is professional. For example, you can use the email address of your website: name@website.com.
It is best to avoid free solutions such as Gmail, Yahoo and Hotmail. Such addresses are more suitable for discussions with your relatives.
Also, avoid "Led254@…" addresses. that don't send a professional image to your recipients and are likely to land you in spam quickly.
Tip 2: Find the right subject for your mail
Did you know that 47% of email recipients open emails based on the subject of the message? The subject line is the first thing the blogger will see when they get your email.
This is the element that will determine whether he will bother to read your mail or not. If it can't find your relevant subject, it just won't open it and may even delete your post.
Also, a bad subject may automatically direct your mail to the spam folder, which is not the ideal place for your mail.
Here are some tips for writing a good subject line:
Keep it short and to the point;
Mention the name of the website if you can;
Avoid overuse of capitals;
Mention something specific on their site (like the name);
Avoid things like "link exchange" or "link request".
Resource to go further on the subject: 100 objects to boost the opening rate of your emailings
Tip 3: Do you know their name? Use it!
Even though it doesn't take much time to mention the recipients' names, many people don't. So mentioning the blogger's name can make a difference and get you the attention you need.
Indeed, the presence of the addressee's name in an email increases its opening rate by 18.30%. If you do not have the names of your targets during your previous research, remember to:
Consult the about page;
Check the author's name in blog posts;
Click on their social accounts to see if their name is listed there.
Enter their email into a tool such as Sales Navigator for Gmail that searches for additional information related to an email address.
Tip 4: Mention something specific about their work
If you want to show that your post is not a template that you've sent to multiple bloggers, it's very important to mention something specific about the blogger.
This shows that you took the time to research and that the email is specifically for itself. In order to be able to find what to mention, you can consider the following actions:
Check the topics of their recent blog posts;
Look at their recent tweets/retweets;
Look at the comments they made on blog posts:
Check out their personal interests page;
Check out their biography on their Twitter page;
Etc…
All of these can provide you with valuable information about the blogger, which you can then naturally integrate into your email. Here's an example of what that might look like in an email:
" I just read your article on Google's most important ranking factors of 2019.
I enjoyed your content immensely, and I agree with you. to say that the authority of the site is a determining factor to be well positioned in the SERPs.
I also noticed that you didn't really talk about page authority in your article, which is also very important to me.
On this subject, I also had the opportunity to write a complete guide on " Google's 200 ranking factors " in which I talk about this point.
If you find this content interesting for your audience, do not hesitate to share it on your article."
Such a post doesn't take much time to write and I can say it unique in that I mentioned one of his recent posts. It is probably impossible for spam software to compose this message.
Tip 5: Use your location (if applicable)
Opportunities to use this tip may be rare, but if given the chance, it can help sow the seeds of a good relationship.
The idea is to contact a blogger who lives in the same city as you and mention this information in your email. It really allows you to work the local angle:
" As we're also based in Paris, we wanted to take the opportunity to talk to local bloggers like you and try to share some of the content we've been working on that could be interesting for your audience. You
can go further and even meet local bloggers for lunch or coffee. There's no better way to show that you're a real, authentic person than to meet face-to-face.
If you find that there are a lot of local bloggers in your area, then hosting a local meetup could be a great way to build real relationships and get them on board with your brand.
Tip 6: Use an appropriate email signature
This is one of the best ways to prove that you are a real person, which also increases the confidence that the reader of the email will have in you . Insert your signature at the bottom of your emails by including the following elements:
Your full name;
Your job title;
The URL of the website you represent;
Your phone number ;
Your social media accounts (if work-related);
You might end up with something that looks like this:
Alexandre MAROTEL
SEO Consultant
www.twaino.com
07 86 06 39 48
twitter.com/Alex(………..)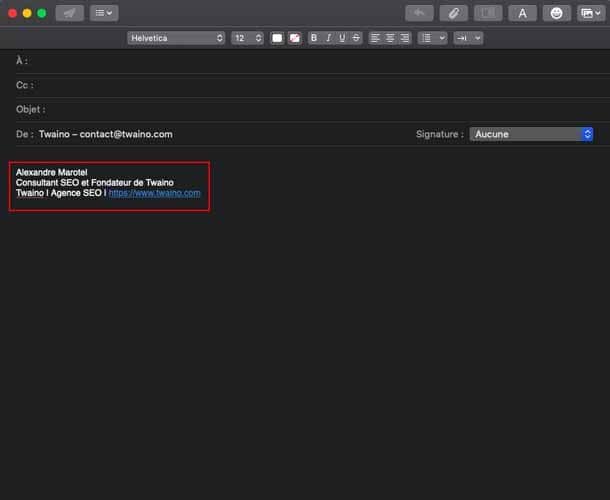 Whoever receives your message will be able to visit your website, your social activity or even call you.
Additional Resources and detailed on the promotion by email :
Backlinko.com/email-outreach-study.
9.3. Follow up properly
You know that popular bloggers are likely to receive a lot of messages and some posts may be quickly forgotten. For that reason alone, it's worth following up if you don't get replies to your first post.
By reminding those who have not given you an answer, you confirm the fact that you are a real person and that you want to get in touch with them. That said, it's important to organize your campaigns well and distinguish between those who responded to you and those who didn't. It would not be friendly to send a reminder message to someone who has already sent you a reply.
For this, you can use an Excel spreadsheet or automated systems.
9.3.1. Opt for an Excel spreadsheet
If you are working on a small link building campaign, a simple Excel spreadsheet or Google Sheet can help you. But when you're working on multiple campaigns at once, such tools will quickly become cumbersome.
Remember to add other parameters if you deem it necessary.
After, when you want to launch a big campaign or other campaigns afterwards. It is a good idea to use tools other than a spreadsheet to distinguish between those you have already contacted or not.
9.3.2. Become efficient with a specialized tool for managing your campaigns
When you run a large link building campaign or multiple campaigns simultaneously, it makes more sense to invest in a more solid system to manage your promotions.
There are a few options here like BuzzStream, which is probably one of the most popular for this kind of task. I described it in the section of the tools for the netlinking which you can consult.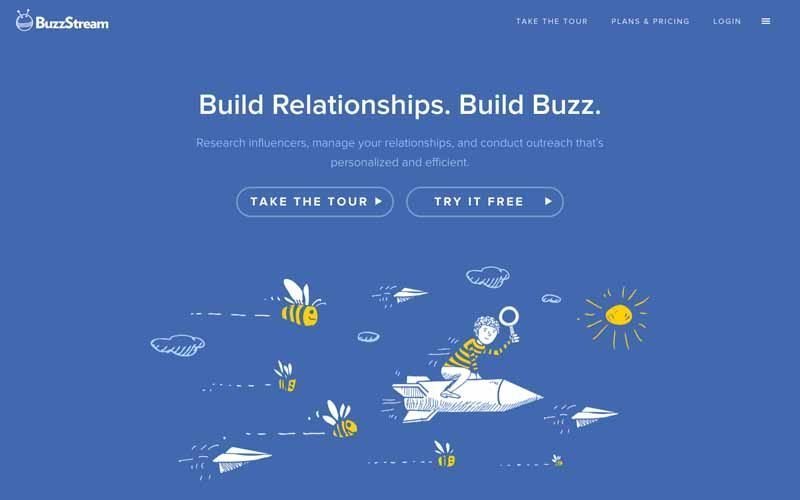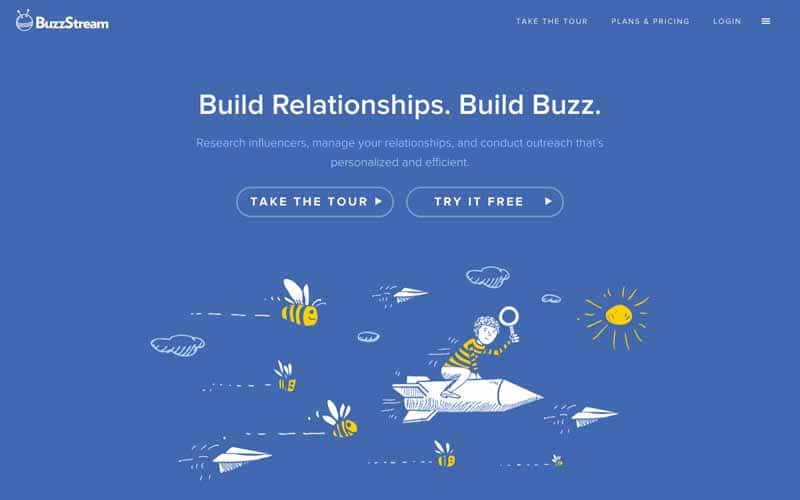 In addition, there is also Boomerang which is a free Gmail plugin. This tool allows you to track your delivery targets and when you send an email, you can set it up so that if you don't get a response within a certain time, a reminder email will be sent.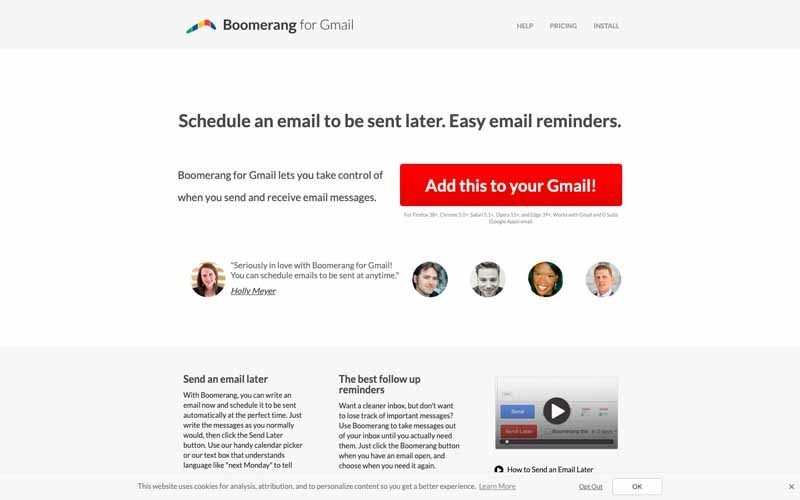 With such tools, it is possible to do accurate tracking and you can be sure that you are not sending emails to the wrong person.
9.3.3. How do you keep track of your contacts?
As for exactly how to follow up with people, I recommend keeping your reminder emails short and to the point. You've already emailed them to give them all the details they need, so you don't need to repeat it again.
Also, when you send a new email, most email programs usually include the original email, making it easy for the person to find it if they want.
As for your message, you can simply say,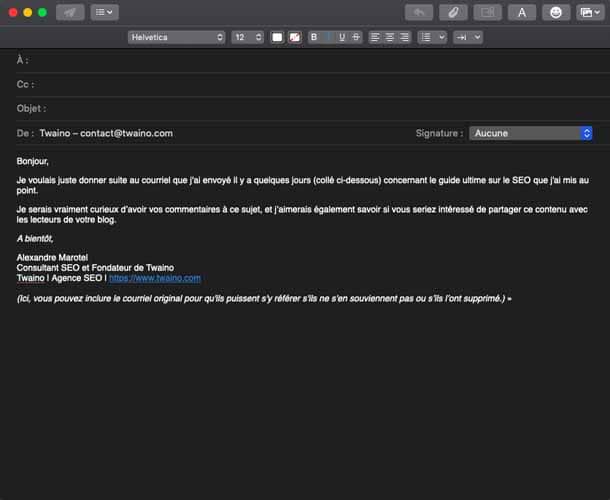 " Hi….,
I just wanted to follow up on the email I sent a few days ago (pasted below) regarding the ultimate guide to SEO that I have developed. I would be really curious to have your comments on this subject, and I would also like to know if you would be interested in sharing this content with the readers of your blog.
soon,
thank you!
Alex
(Here you can include the original email so they can refer to it if they can't remember it or deleted it.) »
If you follow up with someone and he still does not send you a response, it is better to move on and not contact him again. If you make yet another reminder, you might annoy them and end up in spam.
9.4. Handle negative replies appropriately
When you send messages to several people, you are likely to get negative replies, which is completely normal. You shouldn't worry as it can be a very good opportunity to exchange with a blogger.
I give you some principles to keep in mind when you have such answers.
9.4.1. Always Respond and Don't Ignore Negative Responses
If you have negative responses, it can be tempting to want to ignore them and move on. This, especially if you put your heart into it in creating content, finding blogs and making contact.
Keep in mind that ignoring such a response means you're hurting your chances of ever building a good relationship with that person. Even if they don't like the work you've done, there's no indication that they wouldn't like any other content you'll create in the future.
If you don't respond to their message, you reduce the chances that the person will pay attention to you in the future.
9.4.2. Get as much information and feedback as possible
When you get the wrong answer, try toget the reasons why those people don't want to link to you.
For example, ask for their feedback on possible improvements you could make to your content. These can give you valuable information on how to present your content or statistics that could make the content more useful and effective.
However, the problem is not always the content itself since the negative answer can be sent because the blogger does not have time to complete a blog post which could contain a link to you.
In this case, you can offer the blogger help writing a paragraph to complete their post so they don't have to spend time on it. If he accepts this proposal, ask you for a topic on which you will create the new content he needs to link to yours.
This agreement allows you to create content that the blogger is likely to like and therefore actively promote. Plus, you've just gained a new professional relationship.
9.5. Tips and tricks to make your prospecting campaign more effective
Personalizing emails can take time and to speed up the process, you can use certain tools without compromising the quality of your message.
9.5.1. Schedule the sending of your emails
Boomerang and Buzzstream have already been mentioned in this article for the functions they offer to easily manage follow-ups.
You also have the possibility of planning the sending of your letters so that they are delivered at the right time.
When your messages need to be sent to various people from various countries, it is sometimes a good idea to schedule different sendings in order to optimize its chances of being opened.
For example, let's say you are in Paris and you are talking to bloggers based in Los Angeles in the United States. There is a 9 hour time difference, so if you send your email home in the morning, it's almost the end of the working day in Los Angeles. Now might not be the best time to email a professional in that city.
According to several studies , including that of Campaign Monitor, 10 a.m. seems to be the best time to send emails to professionals.
Thus, it would be more efficient to arrange so that your emails reach your targets at around 10 am. Use the tools mentioned to plan the sending of all your emails, without wasting any time.
9.5.2 Be efficient by using canned replies Canned
replies is a feature of Gmail that allows you to quickly insert pre-written templates that you have had the opportunity to save into an email. Apart from Gmail, professional tools like Buzzstream can allow you to have such templates.
This is a very practical feature insofar as you no longer need to go through your emails each time in order to copy andpaste. Instead, you can simply select the Canned Responses option and insert the corresponding text.
For example, you can create a canned response for your follow-up message.
The parts underlined in yellow are the ones you will customize each time. If necessary, you can customize it a little more.
9.5.3. Use the information you get from bloggers effectively
Sales Navigator is a plugin for Gmail and Outlook that gives you quite a bit of information about the person you are emailing.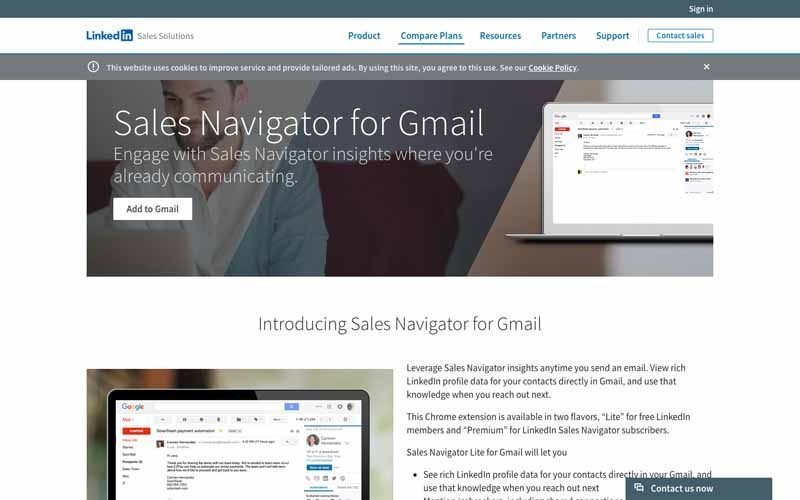 (source Hypestar)
Other tools can also provide you with such information and I recommend that you use them to further personalize your emails.
For example, if he recently tweeted an article that you know about, you can comment on it. It shows that you know him and that his work really interests you.
Keep in mind that personalizing your posts is your only chance to stand out from the dozens of posts that bloggers receive. If you do it right, you will gain valuable relationships that will be useful even outside of your link building.
9.6. Avoid the pitfalls that will make your netlinking campaign fail
There are a few common mistakes that can ruin your efforts when you commit them. I have collected the ones that seem to me the most important.
9.6.1. Use caution with mass emailing software
There are many tools that allow you to send emails to many people at once. However, when it comes to link building, it's generally not a good idea to use such tools.
Or at least it is very important to use them with great care.
Here are a few reasons:
It is much more difficult to personalize mass emails;
If you make a mistake, not just one recipient sees it, they all see it;
You can be blacklisted if lots of people spam your emails;
You may be breaking the law if you send mass emails to people who have not opted in to receive emails this way.
In addition, you compromise the reputation of your website and your brand. This can ruin all your chances of building a relationship with the recipients of the email in the future.
9.6.2. Not personalizing your template
Let's assume for a moment that I send my standardized mail to someone without editing the underlined areas that should be changed. It is very unlikely that I will get a positive response!
We have just seen how you can conduct a classic link building campaign. But as you can imagine, it's not the only way to get links. There are many tactics and I am giving you an almost exhaustive list of link building strategies.
---
Chapter 10: The 20 effective netlinking
---
strategies There are several strategies for obtaining links, each of them has advantages and disadvantages. The ones I'm going to list in this guide are the ones that work and are used by SEO specialists.
For each tactic, you have a brief overview since I will later develop complete guides on which ones are the most effective.
You also notes for each strategy regarding:
The level of difficulty: low / medium / high;
The cost: low / medium / high;
The value of the link: low / medium / high;
The risk of penalty: low / medium / high;
Recommended: yes or no.
Strategy 1: Link Bait Link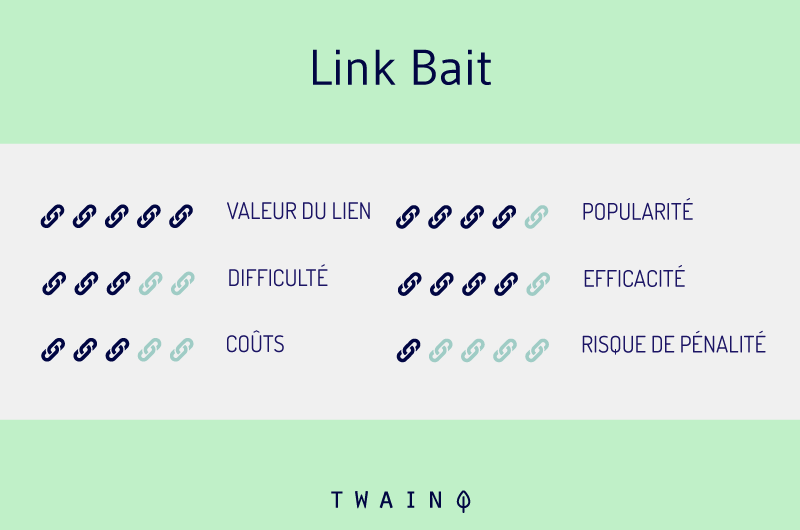 bait refers to creating content that automatically and naturally attracts links because of its high value or unique proposition. With this strategy, the backlinks you get are totally earned.
Link Bait requires a high quality resource that is going to aim to please and engage readers. Interesting content is likely to be widely shared and therefore have a lot of backlinks.
Keep in mind, however, that such a strategy does not necessarily exclude promotions. That is to say, if you create your content, you can share it yourself on social networks or your various channels, which can be considered "promotion".
To have such content, you can:
Perform extensive research;
Provide unique data;
Carry out a survey;
Create unique and attractive graphics;
Offer a free tool;
Etc…
Link bait is a purely white hat SEO strategy, since it corresponds exactly to Google's recommendation when it comes to establishing backlinks.
Strategy 2: The Ego Bait or ego bait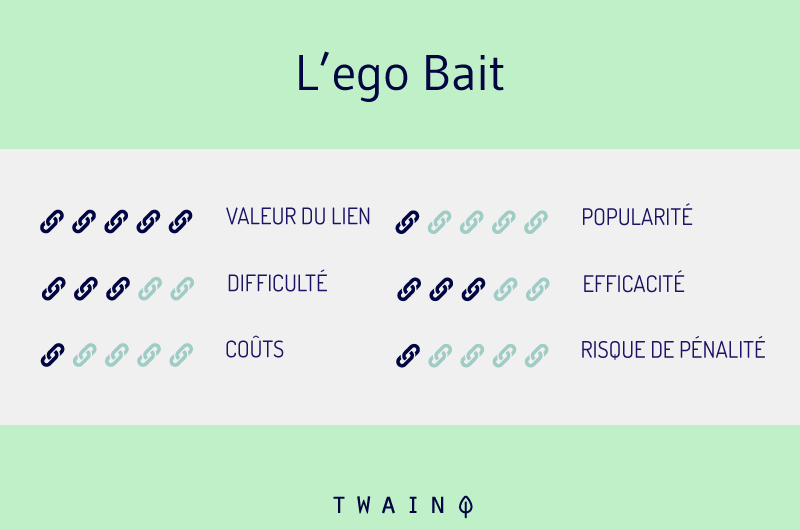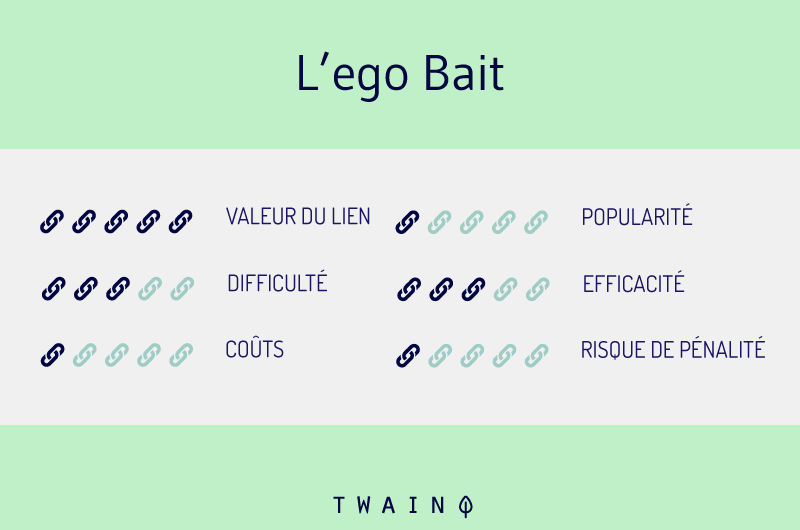 Influencers can sometimes seem unapproachable, especially when you have just started your business and you are not known at all. But don't forget that they are also marketers and they will take great pleasure in being quoted, mentioned or presented as an expert in a piece of content.
Indeed, most influencers will be happy to share and amplify the reach of content that showcases them or shows them in a positive light. This will allow you to get in touch with these known influencers, and to obtain backlinks from them more easily in the future.
I agree with Jesse Stoler of upspringseo.com when he says, " In my mind, Ego Bait is really just an attempt to engage influencers to amplify your work and build connections. It's a basic tenet of marketing and psychology – the element of reciprocity. If you present another person positively, they are more likely to reciprocate. ".
Ego bait tactics that perform the most include:
Interviewing influencers on your site;
Including an influencer in a top 10 or 5 list for example;
Creating a link to the site of an influencer or cite it in your content;
The invitation for an expert podcast;
Strategy 3: Broken Link Building or construction of broken links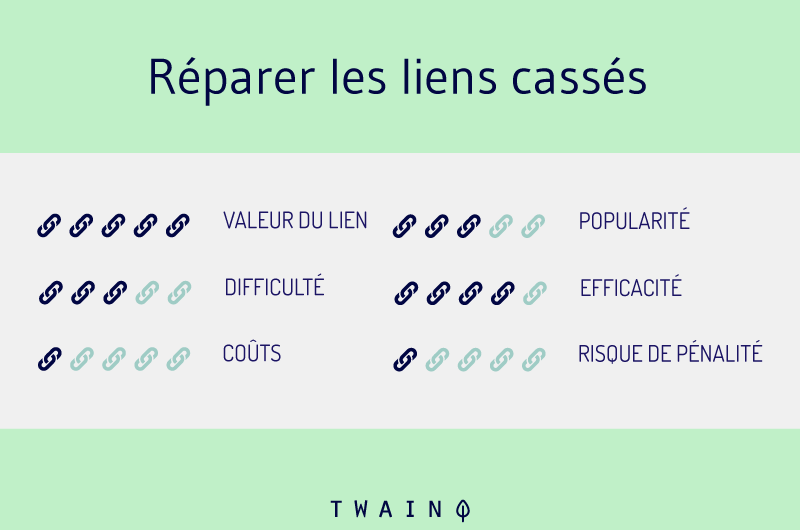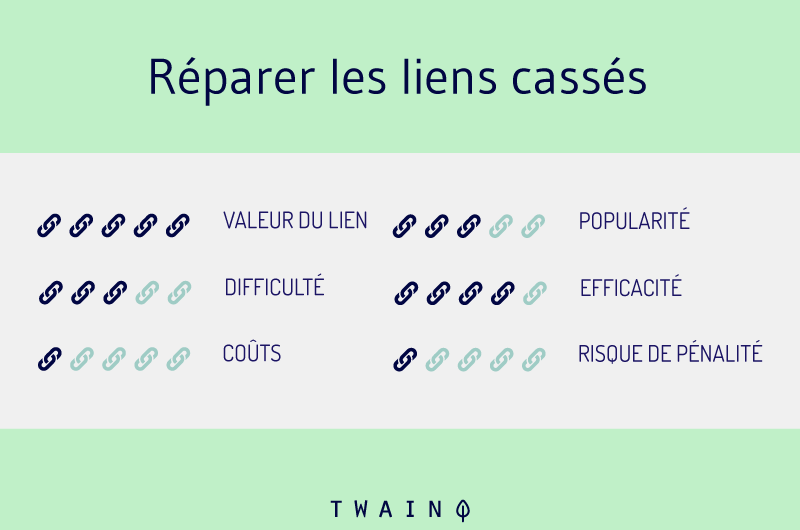 The broken link strategy is a tactic that consists of finding links from broken, i.e. dead, links on an influencer's site.Then alert the owners that they have a dead link on their site, and offer that they swap that broken link with a your own website.
For example, you are browsing an influencer's blog posts and you see that there is a link that points to an article on another blog. Except that the link is dead and sends to the page with the mention "Page not found".
Following this, you will send a message to the blogger for the let him know by also offering him a quality article related to the broken link. The latter will simply take care of replacing the broken link with yours and you will thus obtain a new backlink from this site.
This technique works well because it helps owners remove dead links that contribute to a poor user experience.
Imagine that you consult a practical guide on the creation of a website and that the link which can allow you to choose the right domain name does not work.
You are likely to get very frustrated and it is for this reason that when you tell people about broken links on their site, they will gladly replace them with working links.
When you start a link building campaign, this is a very good opportunity to consider.
That said, as Jon Cooper dotblankseo.com : " Broken linking is starting to get a bad rap. People think it's a narrow and direct strategy, when in reality it's not. You can become more creative with this strategy than any other link building technique. ".
In this logic, you should not expect influencers to automatically consider your link. You must be able to establish a relationship of trust and show that your content is worth having a link.
Strategy 4: The Link salvage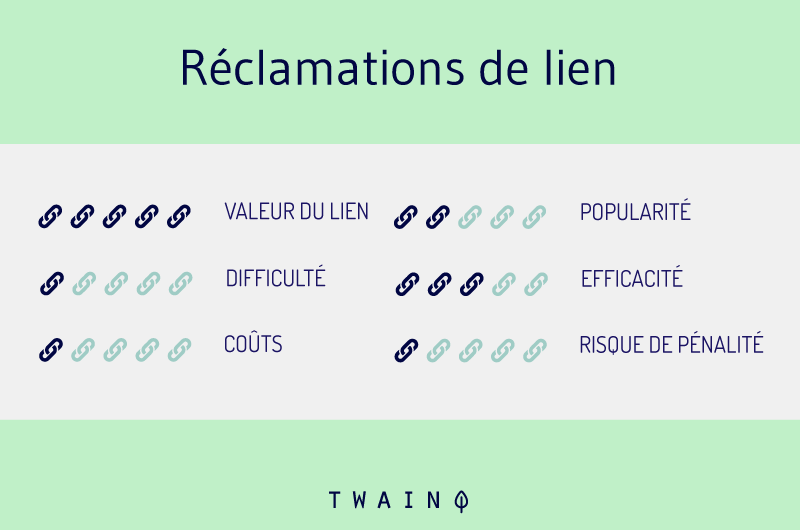 A link building campaign is not only about building new links, it is also about exploiting opportunities that already exist Link salvage can be broken down into three sub-strategies:
Fixing broken links pointing to your site
Actively find and monitor mentions of unrelated brands
Identify uncredited use of copyrighted material
10.4.1 Fix broken links pointing to your site
You lose link juice if you have broken links that point to 404 pages. The good news is that you can easily fix them in two steps.
Step 1: First find the error pages with strong backlinks
Use Google Search Console to find 404s errors.
You can also use tools such as:
Screaming Frog;
Majestic's;
Ahrefs;
Etc…
Once you have all the 404 error pages that have backlinks, you can opt for redirects.
Use the WordPress Redirection and create 301 redirects for each broken link.
And here you are, you have just regained the link juice that you had lost and it is always a plus for your link building campaign.
10.4.2. Unlinked Brand Mentions
When someone mentions your brand on the web, they have already actively engaged with your business, but there may be cases where the author does not include a link to your site.
You can go to such websites and ask if they plan to add a link on your brand mention. Be courteous, however, to increase your chances of getting positive responses.
To do this, you can use different tools such as:
Moz;
Ahrefs;
Google Alerts;
Mention ;
Etc…
Do not forget the chapter reserved for the tools in order to have a little more detail on each of them.
10.4.3. Claim Your Copyrighted Materials
If someone uses any of your copyrighted materials, you have every right to demand accountability. It can be:
An image;
From a photograph;
From an infographic;
From a video;
Etc…
Instead of asking them to remove the resource, you can use the situation to your advantage to get a backlink. Send them an email informing them of their error, followed by a request to mention your brand and the url of your site, which will allow them to obtain a backlink.
For images especially, you can use Google's image search to find sites that use your images.
Strategy 5: Newsjacking or diversion of information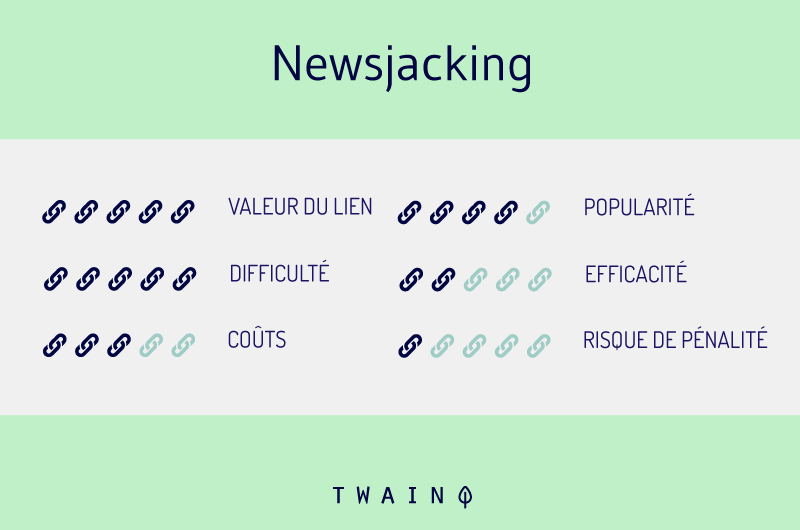 Newsjacking is a practice that consists of taking advantage of current events or news in order to promote or publicize one's product or brand.
Keep in mind that " timing is key in newsjacking ". As important news emerges, journalists will be eager to cover unique angles and gather commentary from experts who might be able to add their perspective.
It is at level, known as the second paragraph, that you come in. You will create quality and original content covering previously unaddressed issues.
But you have to hurry, because the speed of today's news goes very fast. This can be a very effective way to get high quality links from top publications.
For example, David Meerman Scott, a leading marketing expert believes that: " Journalists are always looking for the second paragraph of the story. The first paragraph introduces the reader to the story in question.
The second paragraph, however, is where the most notable quotes and reactions to the news and the event will be found. This is where you want to be.
Brands that are quick to produce content around the news, that adds a unique perspective or thought leadership to the discussion have the best chance of being featured in this all-important paragraph. »
Strategy 6: Guest blogging or guest posts Guest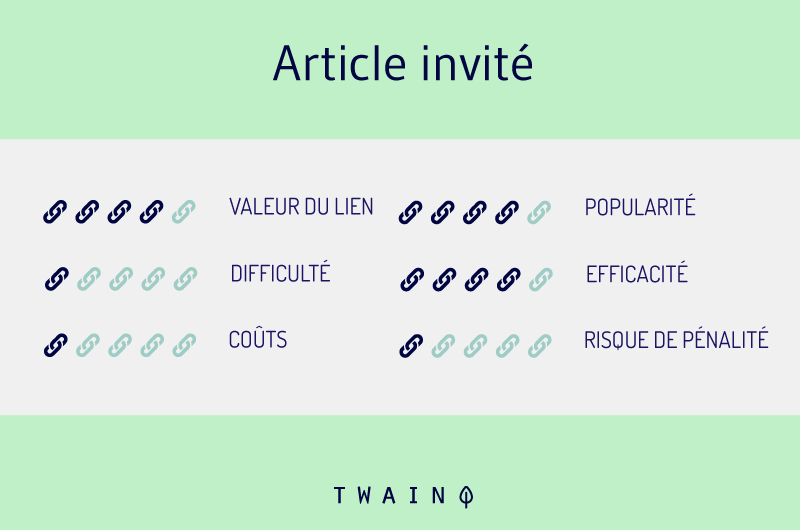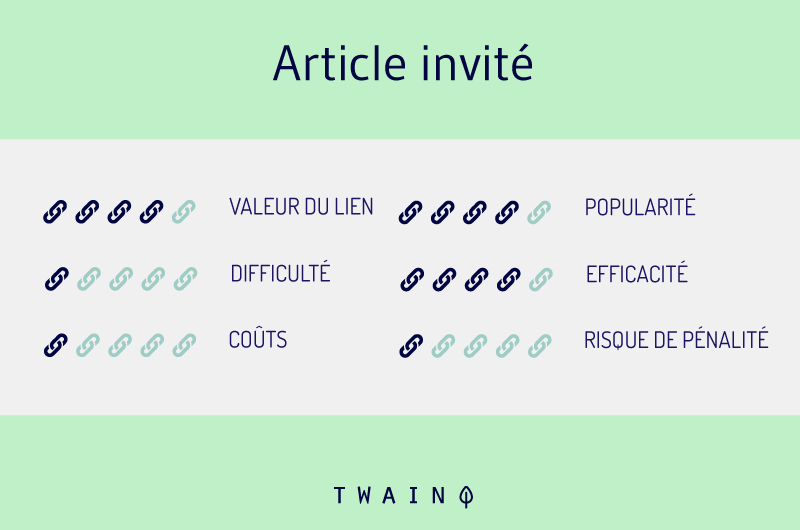 posts continue to be an effective way to both acquire links and introduce your website or brand to a new audience.
The principle is very simple: You write an article that you publish on another blog in exchange for a backlink.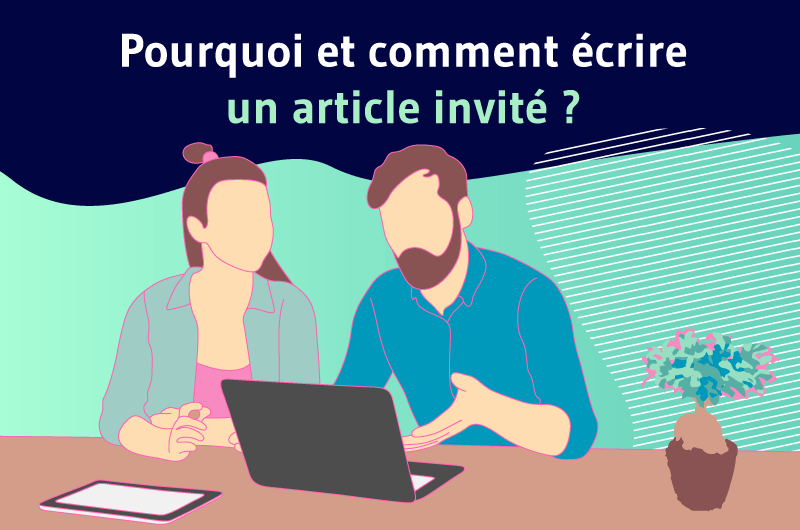 If you want to use this strategy, I advise you to read my guide to guest blogging in which I detail step by step how to carry out this approach. 
As a bonus, you will find a list of more than 144 French-speaking blogs on which you can publish your guest articles.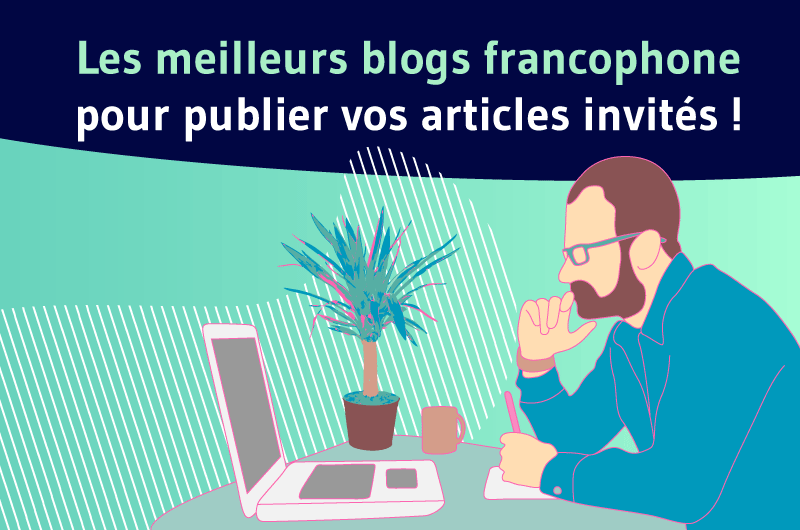 Keep in mind that using guest blogging correctly is still an effective way to get white hat SEO backlinks. Also, in most niches, there are high-quality blogs that accept guest posts that you just need to check out.
Strategy 7: Participate in interviews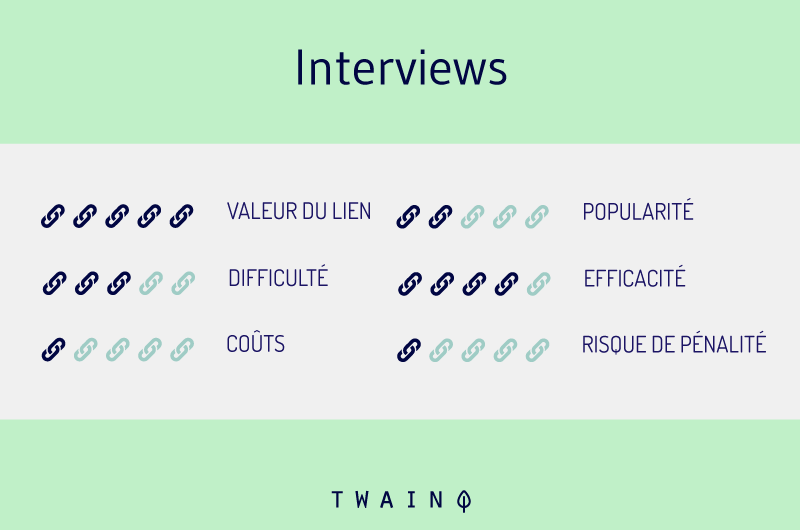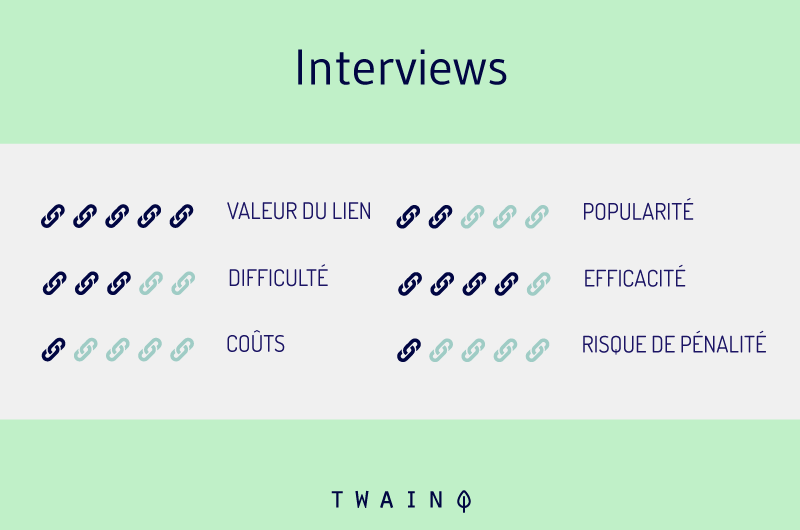 "In this golden age of thought leadership, interviews will allow you to gain greater brand authority, professional credibility and even authority in the field.
Being interviewed on podcasts, news sites, blogs, and in other publications is also a simple way to build natural backlinks, and yet it's one of the most overlooked and underrated strategies. used to create natural links. », Myles Vives of Ereach.net.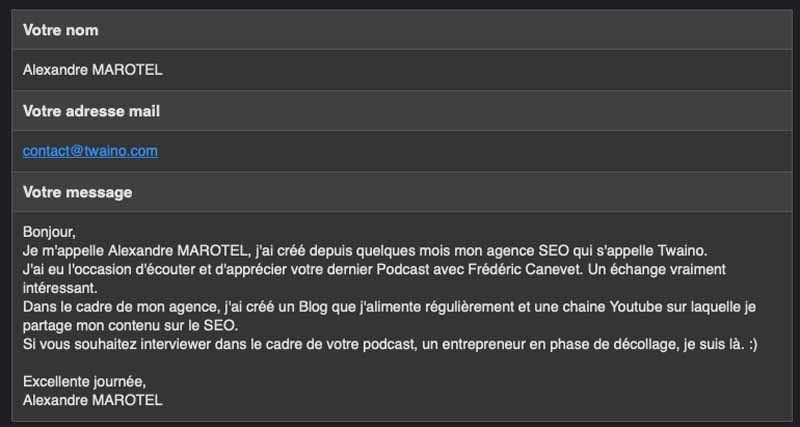 Modern netlinking does not exclusively involve computer-related techniques. Traditional approaches like interviews also work.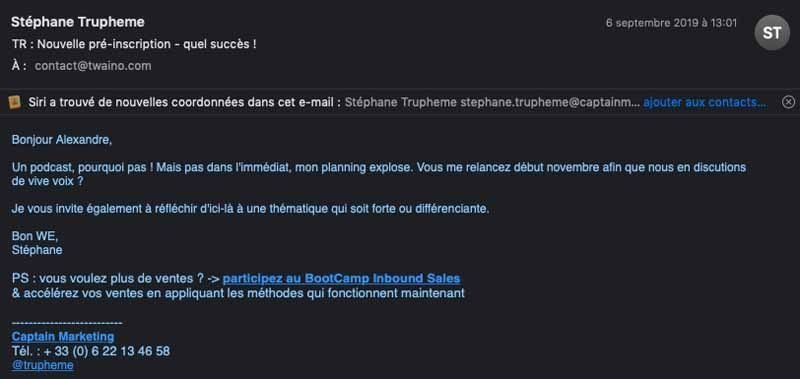 There are different types of interviews you can participate
in: Blog interviews;
Participate in expert roundups;
Podcasts;
Webinars;
Etc…
The objective of each of these options is to build your reputation in your niche and at the same time obtain quality links along the way. This practice is obviously white hat and you can use it as much as you can.
Strategy 8: Use your infographics to get links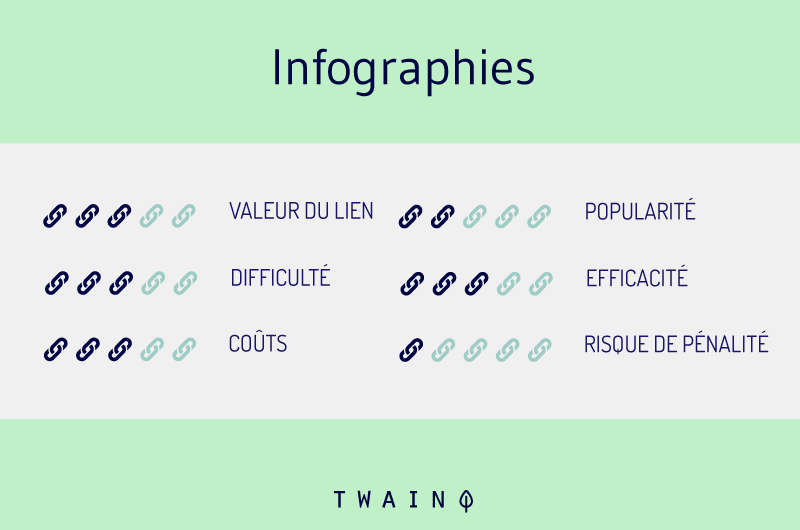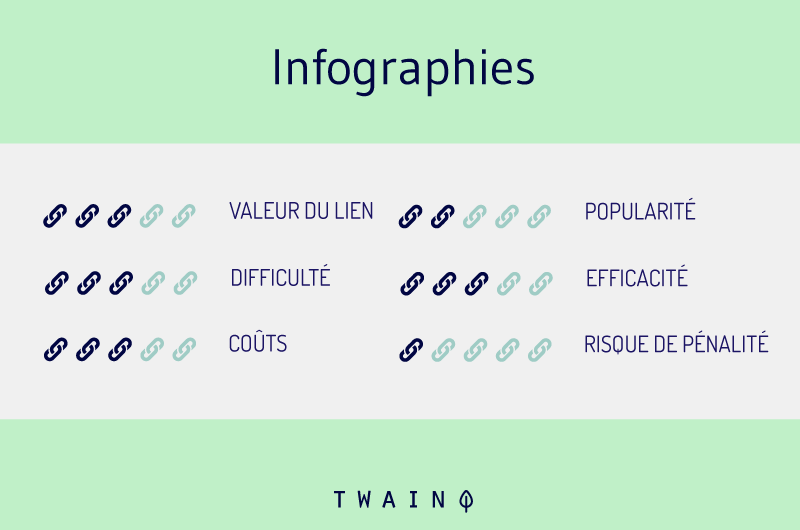 As we saw in the section on content that gets the most shares and backlinks, infographics are a content format to consider.
Indeed, infographics usually contain a considerable amount of information presented in an educational way. This type of visual has several advantages:
They are very easy to decipher;
They are very easy to share ;
Their integration in the contents makes it possible to avoid the problem of plagiarism;
The insertion in a content requires very little effort and time for the bloggers contacted.
It's probably for these reasons that they tend to get a lot more backlinks and shares than other types of content. Also note that content that contains relevant visual images or infographics is able to generate 650% more engagement than standard textual content.
The statistics are without appeal! Using infographics to acquire links is a very good strategy. If you do not know how to proceed and you have a little budget, I really advise you to go through a professional.
Strategy 9: Content syndication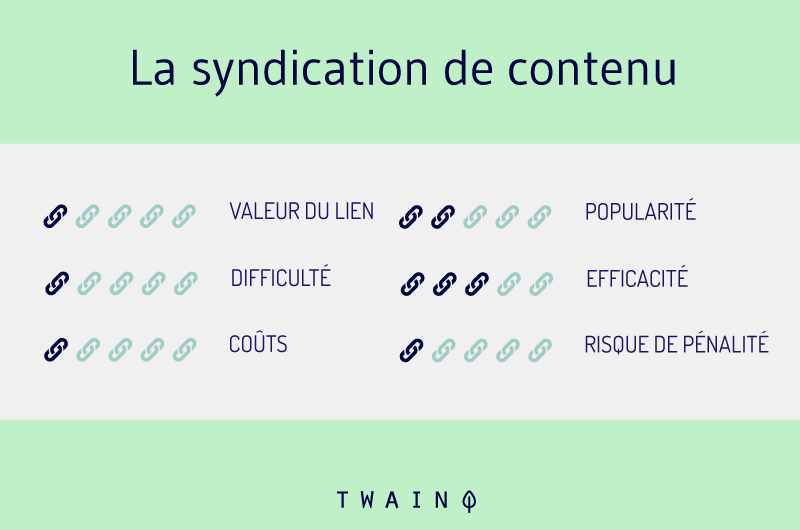 In order to promote your content, you may need to syndicate it. It is a question of using them on several occasions , in particular by publishing them on different channels.
For example, you create high-quality content that you post on your blog. Then you or others republish parts or all of the content on other websites, which increases your reach and earns you backlinks.
There are caveats in using this practice, as Eric Enge of stonetemple.com puts it: " well, syndication can be a very effective way to build your online reputation and visibility. For many, this is a controversial subject, but it shouldn't be. You just need to know why it can help you, when to do it, and how to do it right. ".
Do not syndicate your content anywhere or anyhow, at the risk of being penalized for plagiarism or spam. You can syndicate your content, especially for social networks.
To get the most out of this approach , it's a good idea to consider custom titles and intros for each platform. You can check out this article from Mysiteauditor which shows 23 ingenious ways to use syndicated content.
Strategy 10: Reuse your content in other formats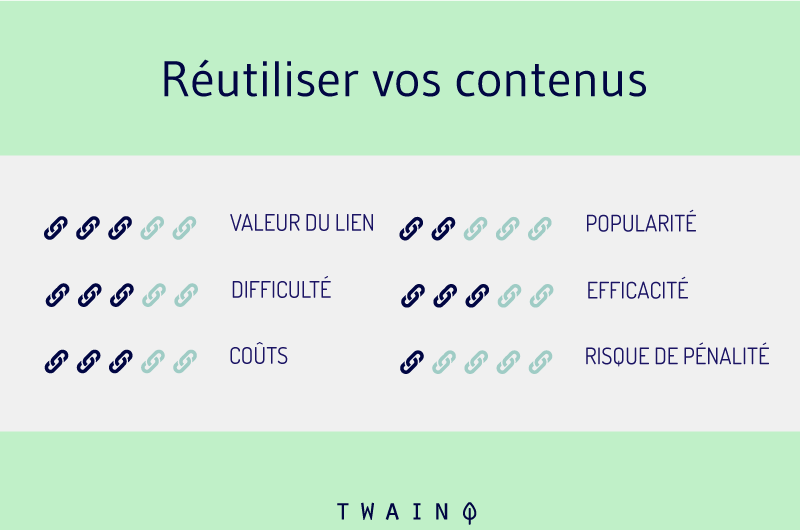 All users do not have the same tastes when it comes to content format While some like texts, others like:
Videos
Infographics
Podcasts
Ebooks
Etc…
When you choose to transform your content into multiple formats, you're giving yourself the chance to expand your reach and reach a wider audience.
In fact, repurposing your content can be a great way to both:
Extract more value your content;
Acquire high quality links;
For example, you can transform a successful blog post into:
A video;
An infographic;
An electronic book;
A slide presentation;
Etc…
These different types of formats are opportunities to have backlinks when they are shared on the relevant channels since each platform has its own way of operating.
For this reason, you can use a single content that you will present in several formats for your different channels, which allows you to amplify your reach. This is obviously a white hat SEO practice, but it's a good idea not to overdo it.
The reason is very simple, each format must be of high quality and must stand on its own, which sometimes requires a lot of effort and time. This guide from Buffer can help you in case you want to go deeper on the subject
Strategy 11: Create links with your images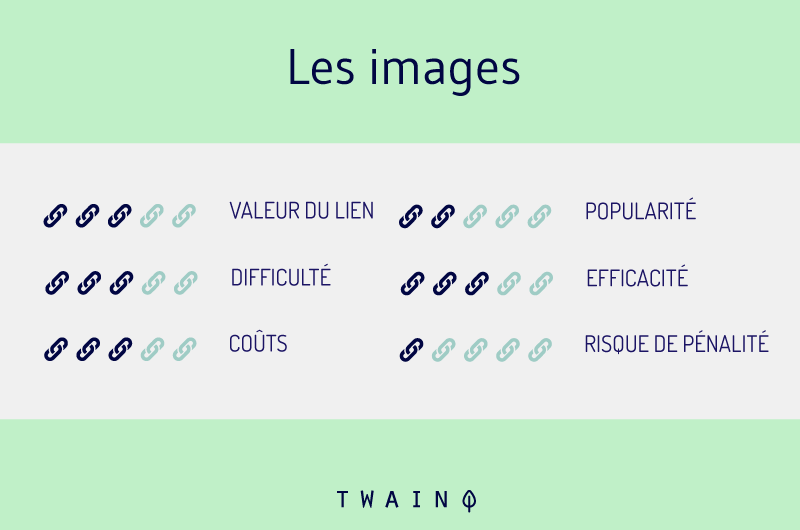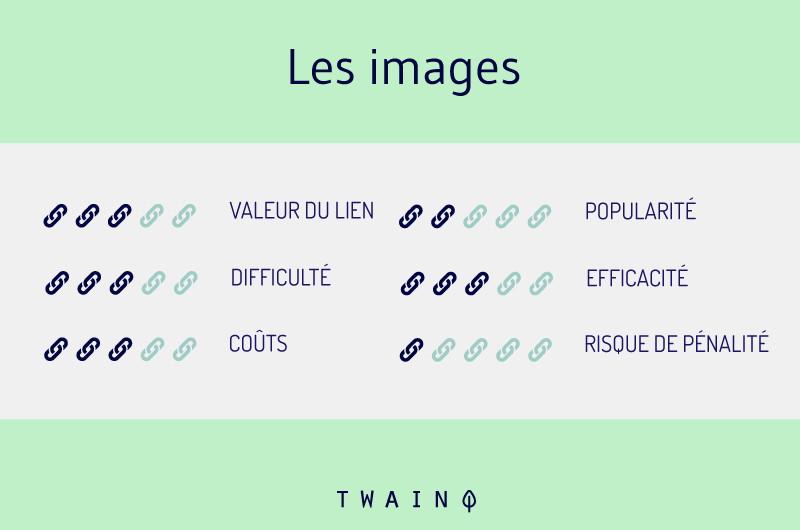 There are several ways to take advantage of personalized images to get backlinks to your site. With this in mind, consider creating:
Data graphics;
Images with quotes from popular celebrities or bloggers in your niche;
Etc…
When you add such images and actively encourage your readers to download or share them, you are very likely to have very good links to your website.
Strategy 12: Submit your website to directories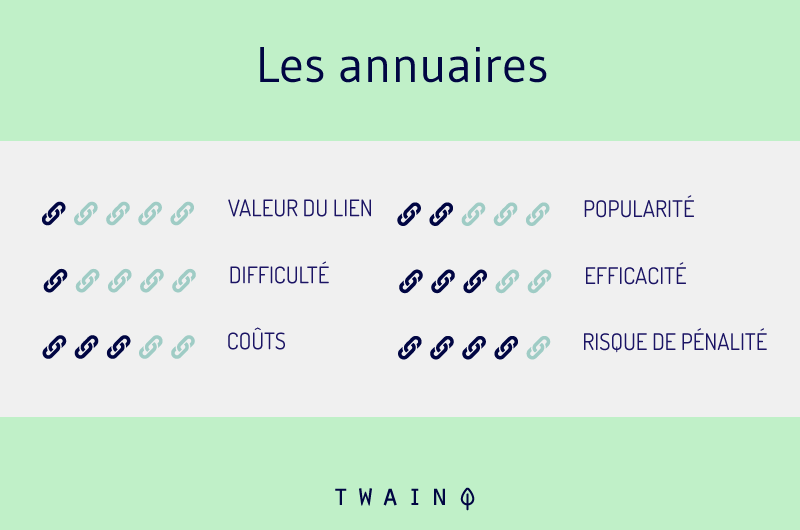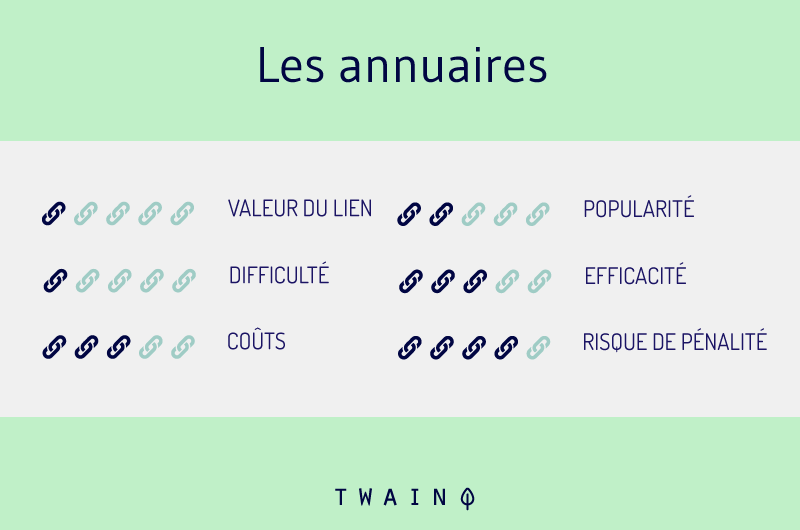 Submitting your website to directories in order to have backlinks can be an effective but also very dangerous strategy. Indeed, Google does not hesitate to penalize websites that have links from " poor quality directories ".

For this reason, you should ensure the quality of the directories you choose and use them sparingly. To make sure the link you're going to get has real SEO value, start by choosing directories specific to your niche.
Instead of limiting yourself to the Domain Authority, it would be more useful:
To examine the presence of a human : Is there a person who examines the links before they are added to the directory? A positive answer to this question is desirable;
Evaluate the quality of the sites present in the directory and the anchor texts used for the links : If you find that it has over-optimized anchors with keywords, it would be wise to avoid such a directory ;
Directory backlink profile : Use tools like Moz or Ahrefs to ensure the site has a relatively clean link profile and no spammy links;
The age of the directory : You can usearchive.org to ensure that the directory you want to use is old and future-proof.
I suggest you minimize the use of this practice, given the risks it entails.
Strategy 13: Use Press Releases Carefully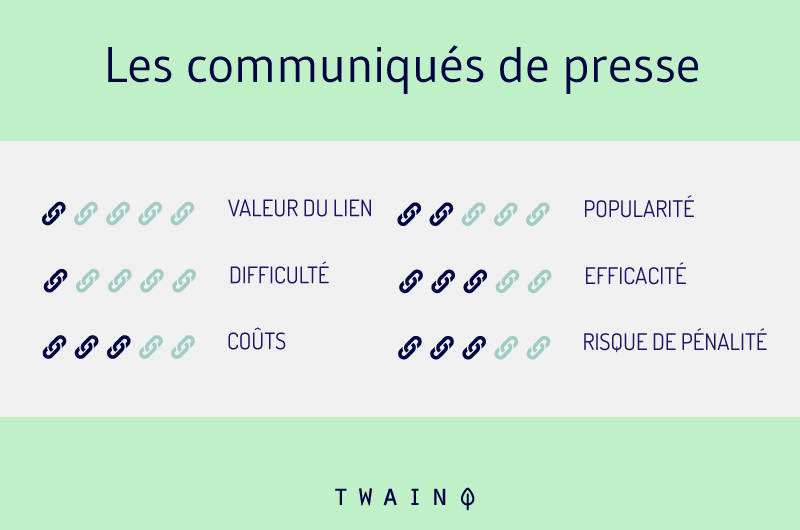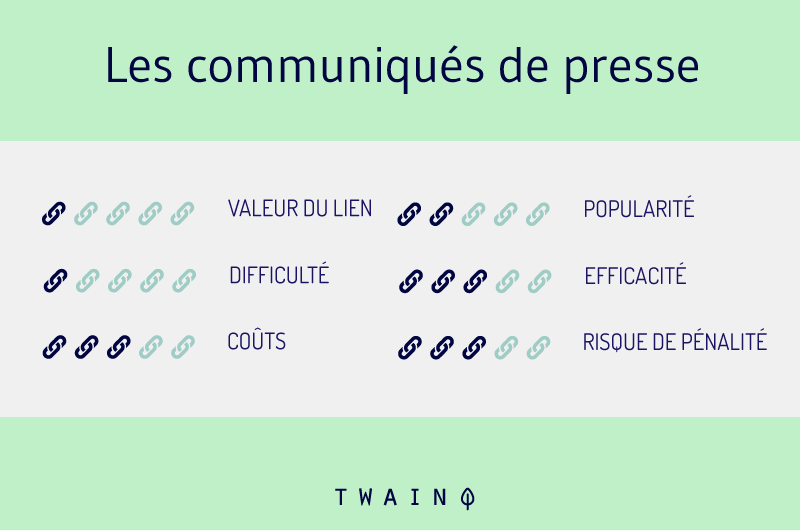 Like directories, mass distribution of press releases is a link building tactic that now offers little benefit and can sometimes be seen as manipulation of the algorithm .
However, when you have something newsworthy, you can resort to a high quality. This guide on Linkedin can be of great help in knowing how to apply this tactic.
To increase your chances of getting lots of backlinks with this strategy, it's a good idea to promote your release through your different channels. Also, note that branded links are more valuable for this approach than regular links.
Strategy 14: Use local citations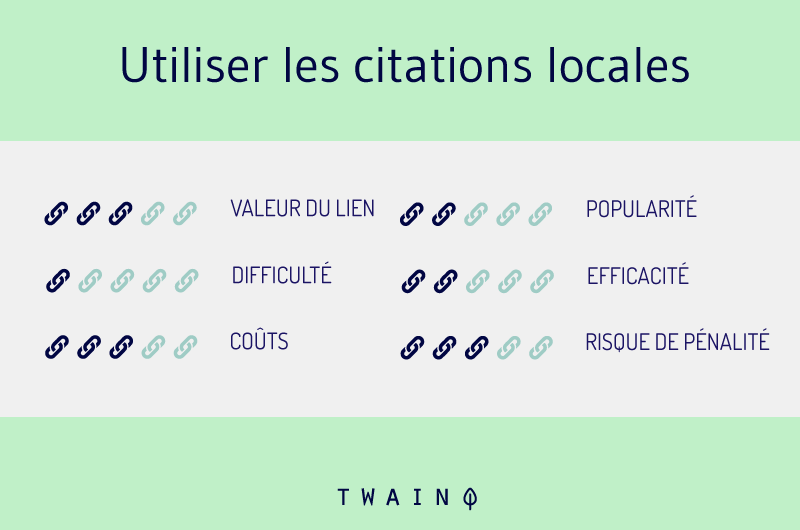 Building citations on local business directories and portals is still an effective tactic for boosting local SEO. It is important to note that these kinds of directories tend to have higher acceptance standards than general web directories.
They usually only list legitimate businesses, so Google is likely to place much more trust and weight on links from such directories.
In order to be successful with this strategy, ensure that there is consistency of information across all the directories you use to list your business.
Darren Shaw of whitespark.ca advises, " For some potential customers, this will be the first interaction they have with your business. Be sure to take the time to create an ad that best reflects your business and what you do/offer. »
Strategy 15: Use blog comments, but with care!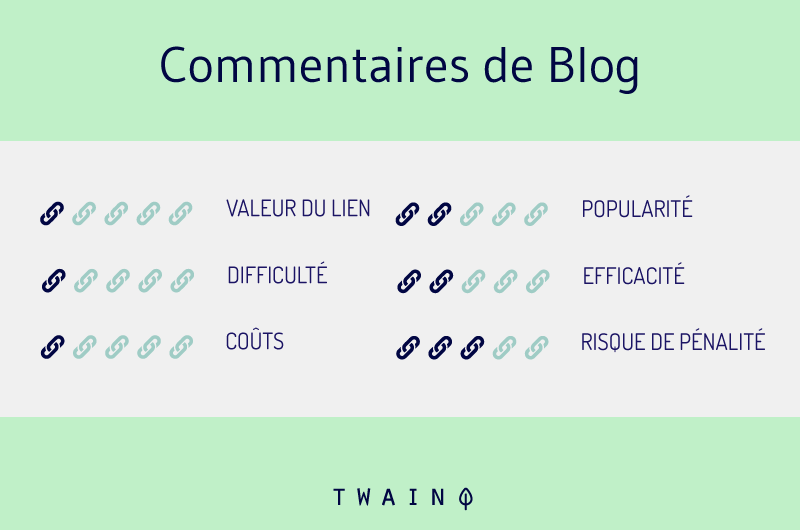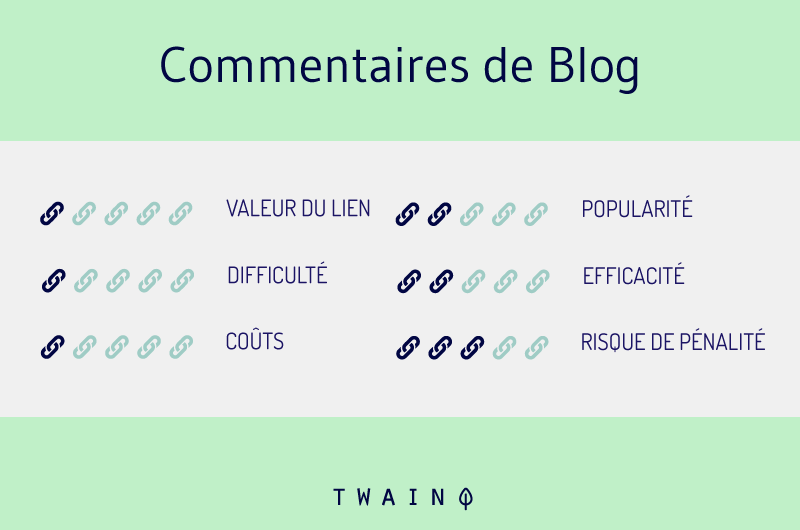 This is one of the easiest ways to get backlinks and if you adopt an effective strategy, your backlink profile will be constantly enriched.
Participating in blog comments is a good approach to show that you are a committed member of your niche. This also allows you to easily establish relationships with other bloggers and will facilitate your future promotional activities since you are already known!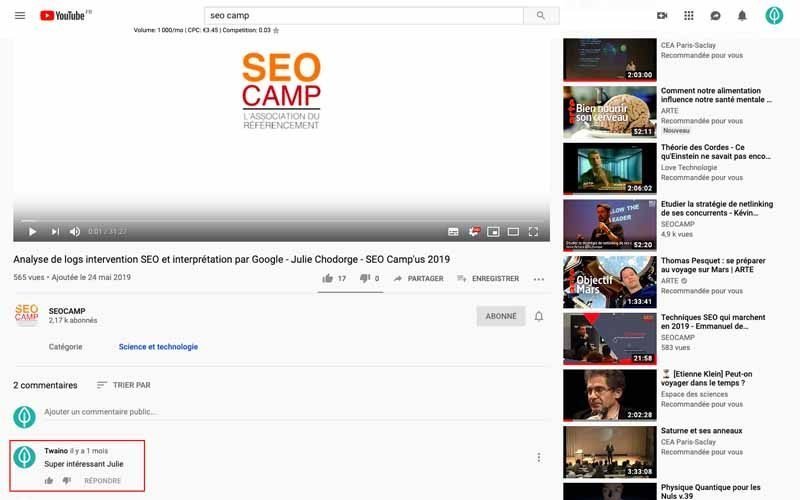 However, you must be very careful in the use of comments so as not to spam and damage your rankings as well as your reputation.
Google says it doesn't appreciate: " Comments on forums that include optimized links in the post or signature.Example:
Thank you for this valuable information!
– Paul
pizza at Paul pizza Paris best pizza Paris »
It is important to ensure the quality of your comments before sending them. Contributing your expertise through comments is a great way to go, but refrain from mass comments.
Strategy 16: Contribute to specialized forums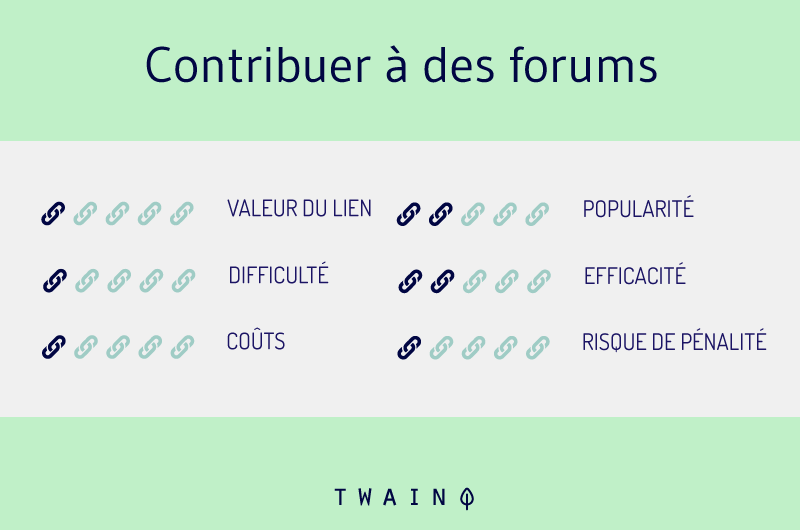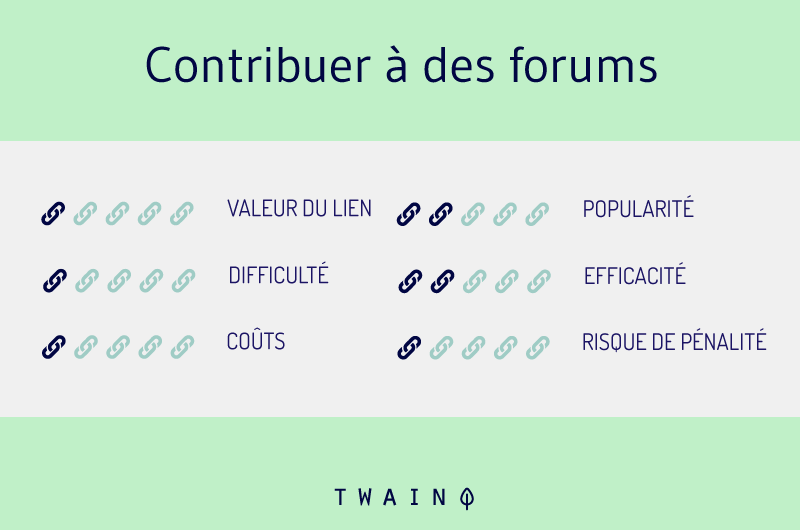 For your backlink creation campaign, it is relevant to consider specialized forums insofar as your potential customers are likely to be there. Indeed, there are forums for almost all topics and by obtaining links on these sites, you will reach a very qualified audience.
If you're an active participant in a forum, you should have no problem dropping the occasional link to your site, including answering a question or providing real member value.
Backlinks from forums are therefore good opportunities to get traffic and increase conversions. Participating in discussions and showing your expertise will help you establish your reputation in the community. Thus, anyone who knows you and clicks will already be more or less convinced of your expertise.
It is also a very easy way to build relationships that will allow you to build quality backlinks in the future.
Strategy 17: Participate in specialized community places like reddit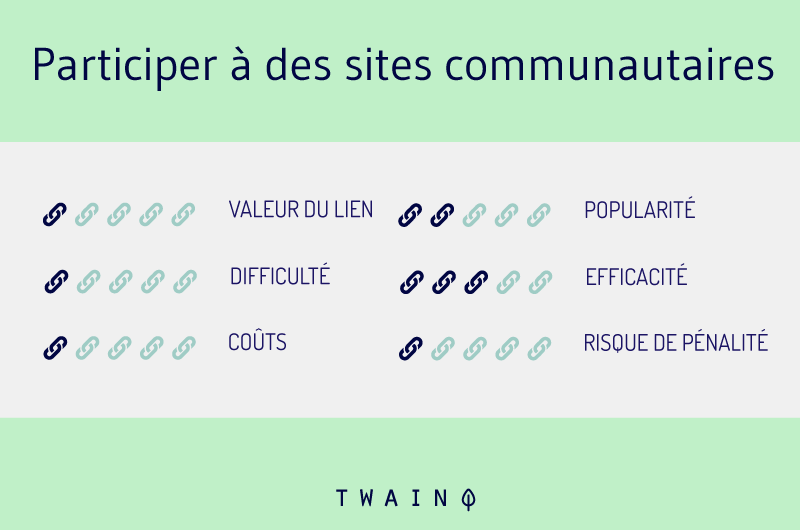 Like forums, there is a sub-reddit for almost all topics. Jack Simpson of havard.co.uk says the social network is a " gold mine " if you know how to use it correctly.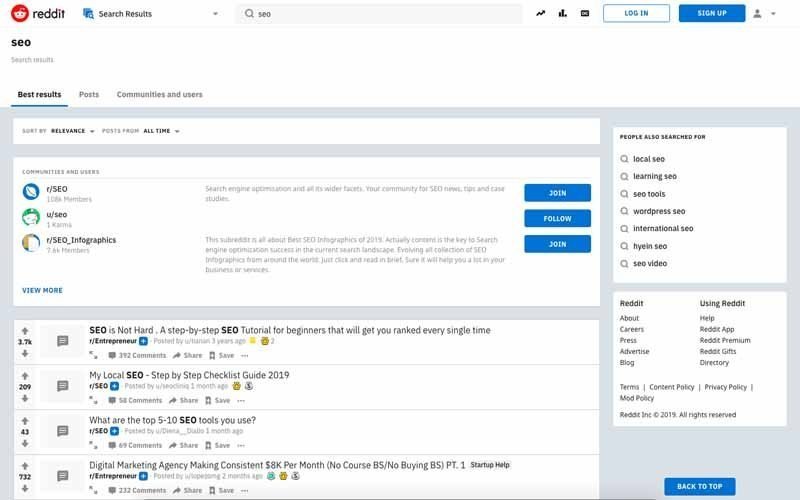 First, identify the most relevant subreddits for your niche. Then, participate in discussions and occasionally share links to your most interesting and useful content.
This is a completely legitimate option for building links and driving traffic to your website at the same time.
Most interestingly, your link can become "dofollow" when you reach a given number of "upvotes". Note that the threshold varies from subreddit to subreddit, but the SEO value of such links is worth revealing the challenge.
Also note that many sites use Reddit as inspiration for creating content, which increases your chances of getting more editorial links.
Once again, active participation, without overdoing it, will be an opportunity to establish links and relationships. You can consult this article if you want to go a little further on the subject.
Strategy 18: Answer questions about Quora, Yahoo…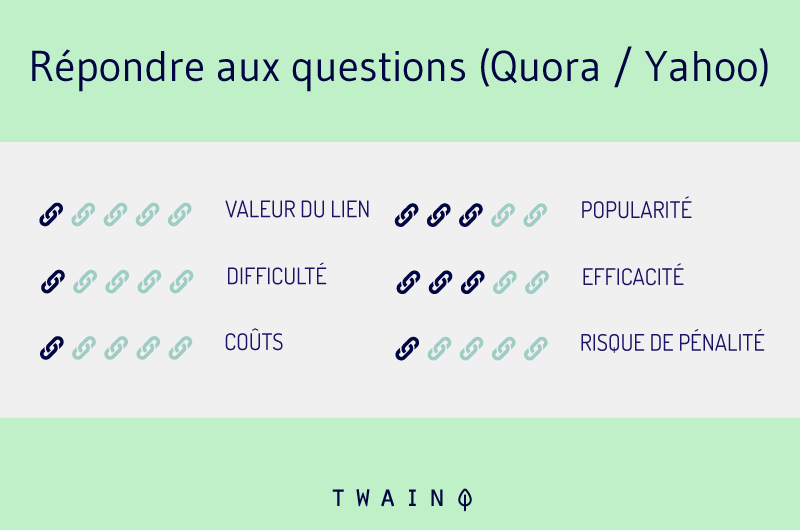 " Quora links are marked as 'nofollow' which means they don't pass 'link juice' to your site.
However, adding links to answers on Quora is a great overall inbound strategy because you'll increase your authority, increase traffic to your site, and increase brand awareness.
Additionally, nofollow links can help build a well-rounded backlink profile. », Rebecca Babicz.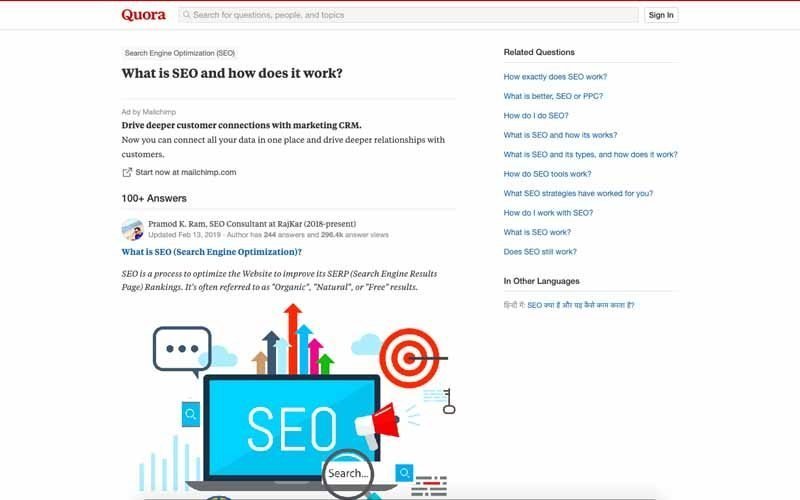 While their direct SEO value is up for debate, links from Q&A style sites like Quora and Yahoo Answers are definitely a good way to drive traffic to your site and build your authority in a niche.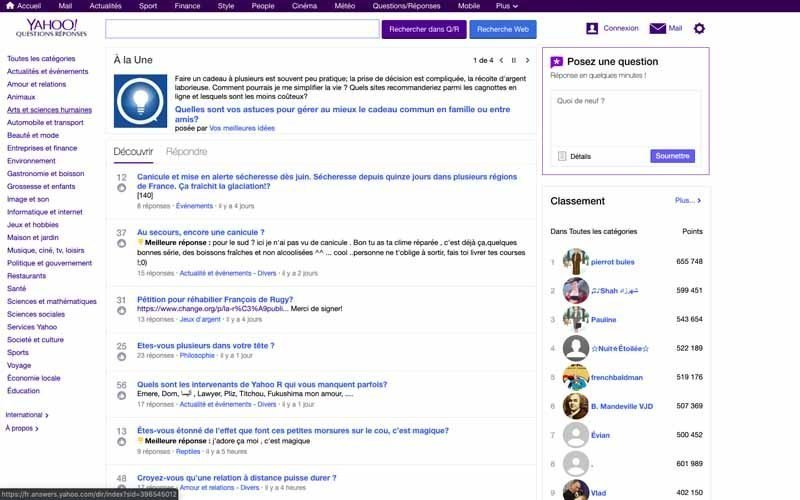 They can also be a great way to identify trending topics in a niche. If you notice that a particular question is being asked regularly, there's a good chance it's because those asking the question haven't found an answer in Google.
Creating content on your own site that fills that information gap on Quora or Yahoo presents an opportunity for both search traffic and future link building.
Strategy 19: Sponsorship with charities, events…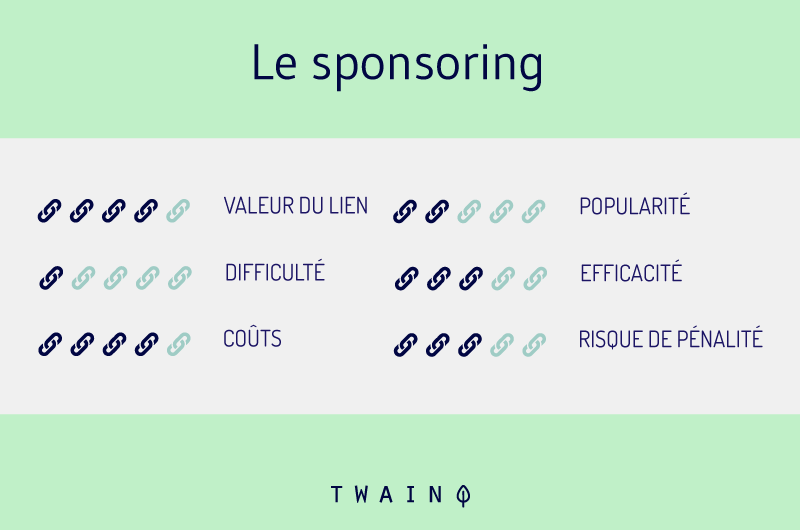 Charities tend to list their sponsors by sometimes linking to their websites. Since charitable organizations often have a high domain authority, you will be able to benefit from links with high SEO value.
Although these are technically paid links, this method of link building has fairly low risks when talking about link buying schemes.
You do not necessarily have to take money out of your pocket, you can opt for theexchange of service against a registration on the site of the charity.
For example, if you are into photography, you can choose to photograph the event for free in exchange for a registration with a backlink to your website.
I agree with this statement by Brian Dean of backlinko.com : " Whether you're a world-renowned philanthropist – or a miser – you'll be giving like crazy when you realize that your donations can earn you premium links from authority sites. :
on guidelines.
Note buying links, which is against Google'sGoogle states that buying or selling links in order to influence ranking: " includes buying links or postings containing links, exchanging goods or services for links, or sending 'free' product in exchange for a comment including a link ".
If you are caught using these practices, you risk being penalized.
Strategy 20: The use of sponsored content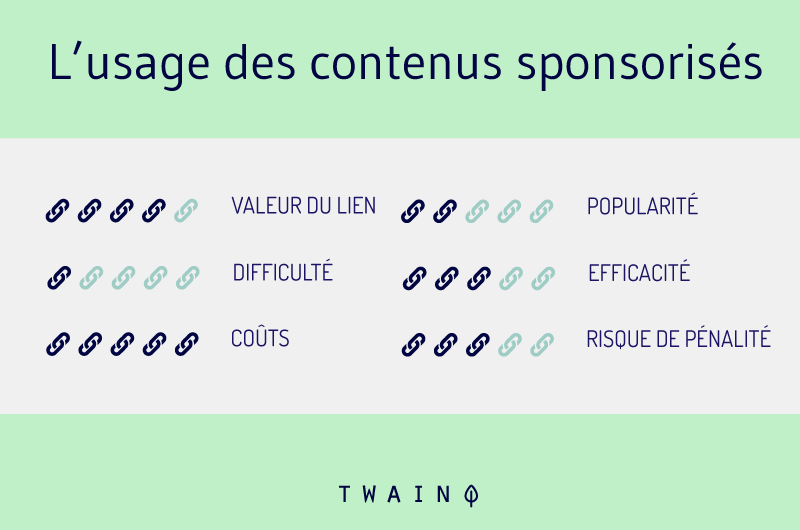 Many bloggers will a pleasure to write about your product or service in exchange for compensation:
Monetary;
Free samples;
A license for your software;
Etc…
To comply with Google's guidelines for webmasters, any link of this type must be clearly indicated as sponsored and the links must have the nofollow attribute. I recommend that you use this approach with caution following the guidelines given by Google to avoid being penalized.
If used correctly, reviews from bloggers and online content creators can make a huge difference in the success of your new product or business.
In addition to getting significant referral traffic, links from authority sites can help you with rankings. Kissmetrics has some tips for asking bloggers for backlinks and reviews, so check it out if you want to go in-depth.
---
Chapter 11: What netlinking strategies to avoid?
---
Link building strategies to avoid are those that use Black Hat SEO practices. To learn about these practices, I invite you to consult my guide on SEO.
However, be aware that Black Hat netlinking is fairly easy to spot: The links go against Google's webmaster guidelines. Does this mean that you should definitely avoid using Black Hat link building?
Everything depends on you ! Personally, I don't recommend Black Hat practices, after that you are free to go your own way!
I will now show you what you "risk" by not respecting Google's guidelines.
11.1. Google penalties to be aware of
11.1.1. The Google Penguin
This penalty algorithm primarily targets sites that use spammy link acquisition techniques. These include, for example:
Spammy blog comments;
Keyword stuffing;
Abusive exchanges of links;
Etc…
In order to avoid being penalized by the algorithm, I simply recommend the use of white hat SEO practices that respect Google guidelines.
11.1.2. The manual penalty
Unlike Penguin which affects your website without warning you, Google will send you a message via Search Console as part of a manual penalty.
For example, when you receive a lot of artificial links, you risk having a manual penalty.
Google advises that: " If a site is subject to manual action, it will not appear (in whole or in part) in Google search results ".
This is therefore a serious SEO problem that you must avoid or, at worst, quickly resolve. In fact, unlike Penguin, you can recover from a manual penalty. All you have to do is take the required actions and then file a request for reconsideration.
To know the practices that Google penalizes in terms of netlinking, you can consult its guide to link systems. Nevertheless, I describe two strategies considered as back hat.
11.2. Netlinking strategies to avoid
11.2.1. Don't Buy Links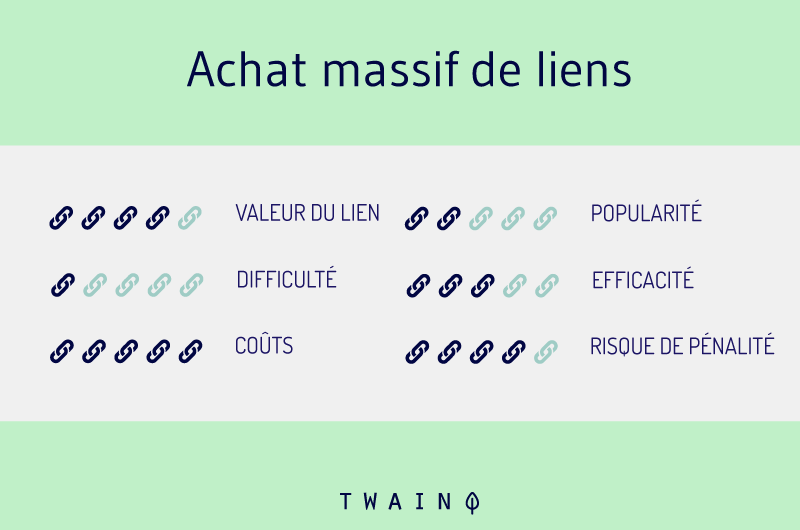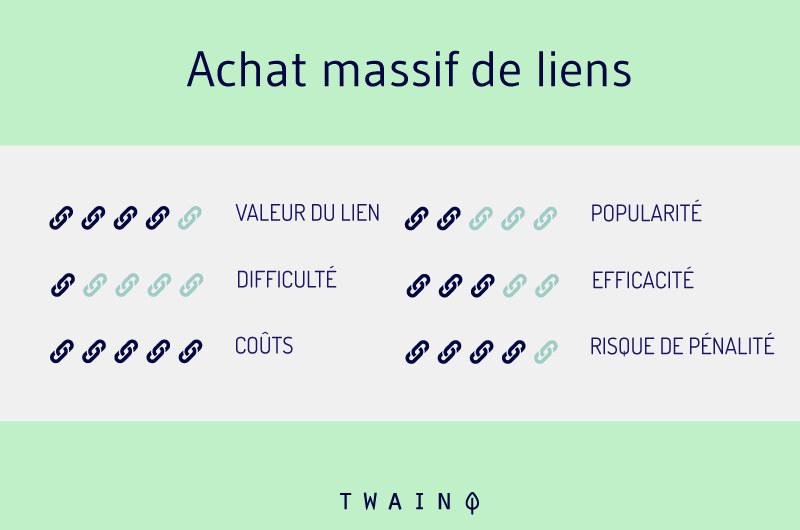 Buying links is considered the fastest way to get backlinks. For many companies, this is the most attractive alternative. Indeed, the additional revenue generated by a good ranking can cover and exceed the cost of buying the links necessary to reach them.
But it's important to note that Google is waging an all-out war on paid links, since they go against its guidelines. If you get caught in alink buying, your site and the site concerned will be penalized.
Although there are risks, there is still a significant market for buying and selling editorial links for SEO purposes. The approach that is currently in vogue is guest posting for a fee
. Note that such a practice may leave clues to Google. For example, when the same authors create links to the same sites from a large publication campaign, the algorithms can detect attempts to manipulate the system.
11.2.2. PBN links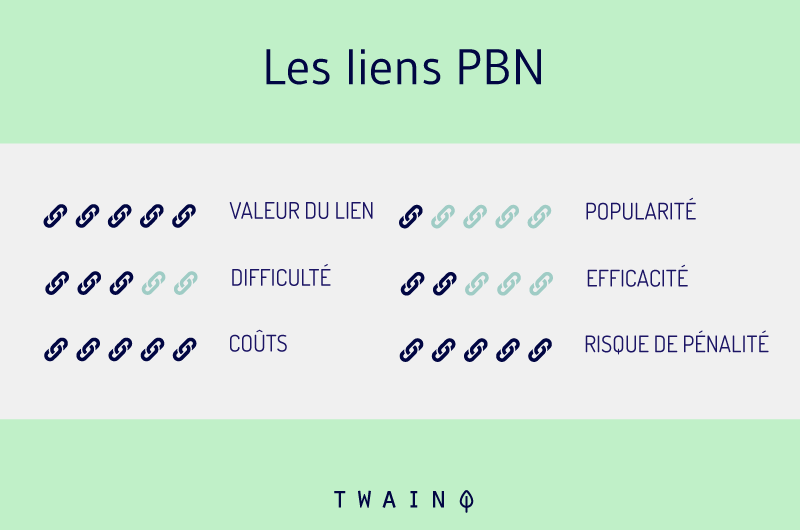 The use of private blog networks / Private Blog Networks (PBN) is a subject that divides the SEO community. There are many advocates of this technique who believe that creating a truly private blogging network is a good way to rank a site.
While this approach may work, there are plenty of sites that were penalized in the SERPs when their network was discovered.
Simply put, creating a PBN involves:
Registering expired domains with good link/authority profiles;
The creation of sites on these domains;
And adding a link to your own site.
It's hard to keep the network private. This task includes:
Using different domain registrars for each site;
The use of a separate host for each site;
Using different themes/platforms for each site;
The use of different plugins for each site;
The creation of links to sites external to the network on each of the sites;
Prevent crawlers from Ahrefs, Majestic… from indexing the links.
The key is to make sure there's no obvious footprint for Google, or your competitors, to follow. As you can see, running a blog network is hard work and expensive.
I think it makes sense to invest that time and budget in acquiring white hat links and creating quality content.
---
Chapter 12: What are the best tools for link building?
---
It is easier these days to run an effective link acquisition campaign because of the number and power of the tools available. To go faster in your analyzes and the implementation of your strategies, it is wise to make use of it. I've put together a list of tools that I personally recommend.
But before jumping into using any given tool, it's important to ask yourself these questions:
What budget should I be working with? : If you have the means to buy powerful tools, you will be able to effectively and quickly achieve your goals. Otherwise, you will have to limit yourself and perhaps use Excel or Google Sheet spreadsheets;
How many people should use the tool? : If you are the only one leading your link building campaign, the team features will not be a concern for you. But if you're promoting with a team, tools like BuzzStream are a must;
How many links can I see? : Paid backlink analysis tools like Moz, Ahrefs and Majestic give you most of your competitors backlinks.
How important is reporting? : Do you report to clients? If so, detailed (and attractive) reporting functions can be extremely useful.
Note : Some tools have already been mentioned several times in the guide. So I'm putting together a list here for you to refer to when you need to take a look at what tools to use in a campaign.
12.1. Backlinks analysis
tools Some tools allow you to easily spy on your competitors' backlinks. This allows you to have an overview of their link acquisition strategies that you can exploit.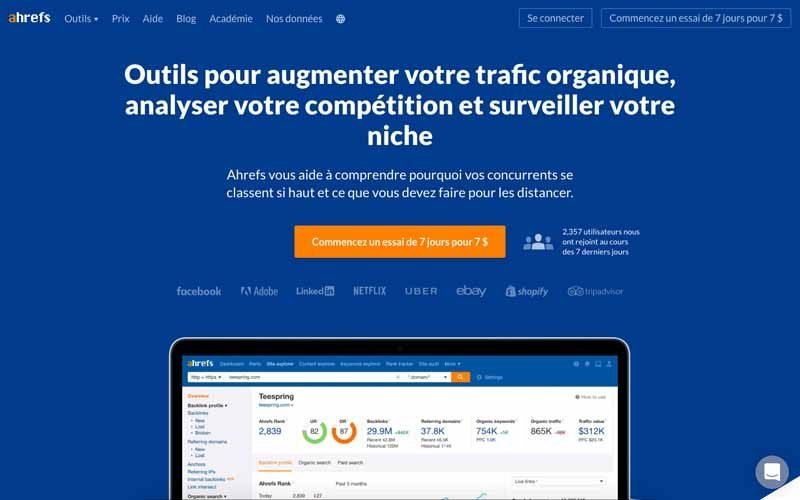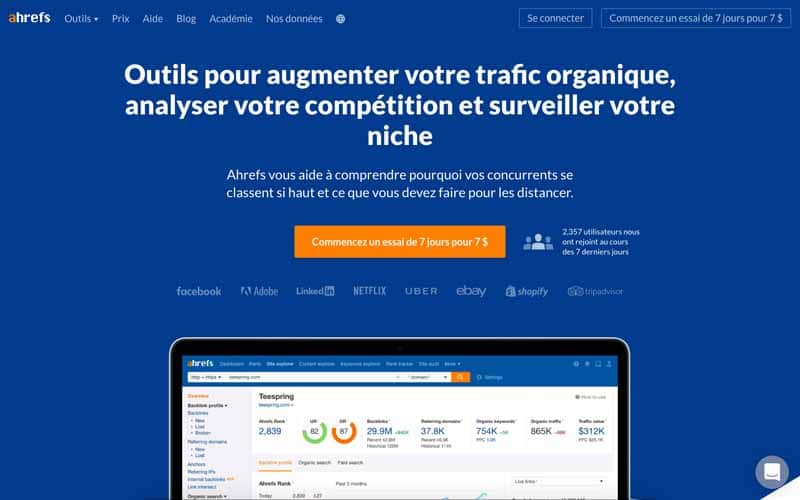 Ahrefs is considered the most world's largest backlink index. It is a tool designed for SEO professionals and therefore offers a lot of functionality. In addition to its use in link building campaigns, as described in the guide, it offers:
A very solid keyword research tool;
Content Explorer: A tool to find popular content like BuzzSumo;
A rank tracking tool;
Site technical SEO audits;
Etc…
One of the most interesting features is the "Link Intersect" which allows you to see which sites are linked to your competitors, but not to you. Indeed, if someone links to your competitors, it does not necessarily mean that he has linked to your site. It is therefore an opportunity to be seized.
In summary, if you want to invest in a single link building tool, I personally recommend Ahrefs, because it is very complete. It's by far my favorite.
However, its cost is a bit high: $99-$999 per month.
Two comprehensive guides to Ahrefs:
12.1.2. Moz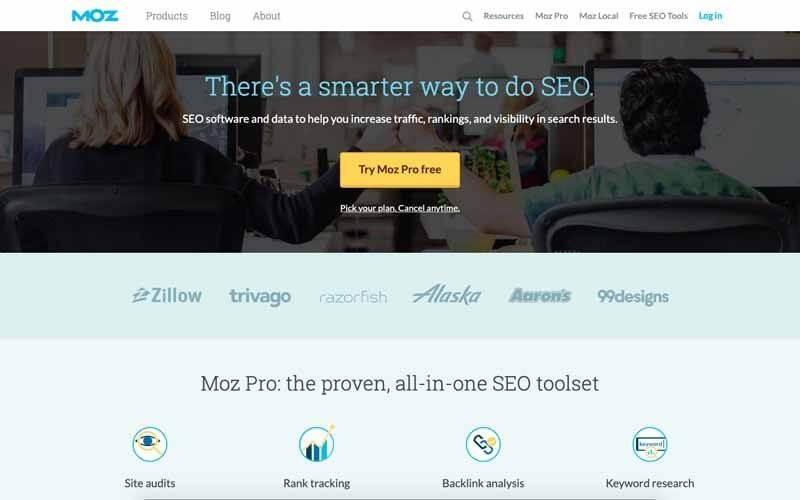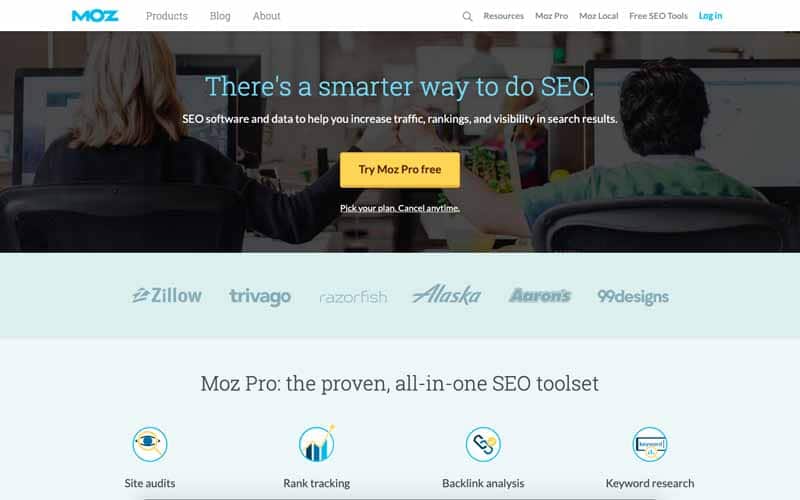 Moz is the 2nd best link analysis tool on the market, but its database still falls far short of Ahrefs. Like its competitor, Moz also offers several tools that can make the investment satisfying.
In addition to backlink profile analysis, Moz offers other relevant SEO tools. For example, it can analyze anchor texts, allowing you to see the most common anchor text in your website's link profile.
Price: $99 – $999 per month
Full guide to Moz Pro : Backlinko.com/moz-pro ;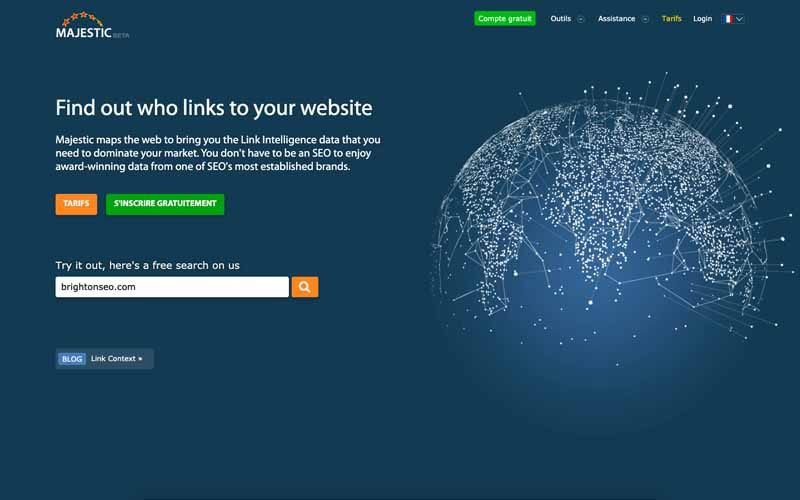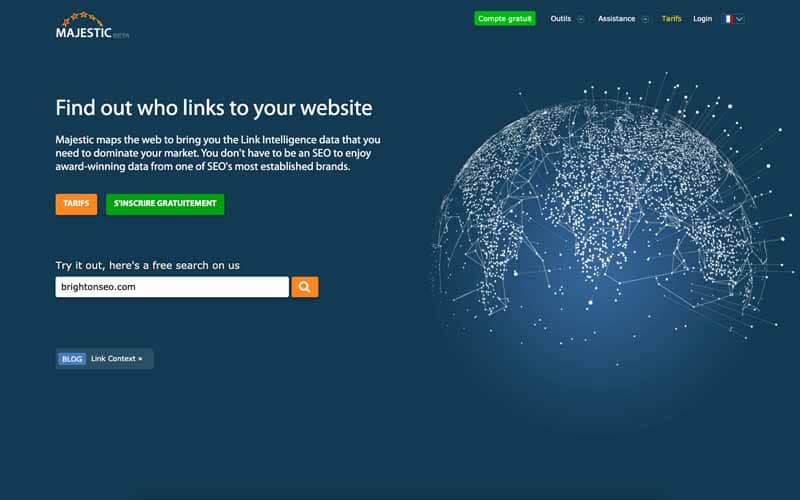 Majestic SEO est un autre outil d'analyse de backlinks avec une base de données de liens massive. Personnellement, j'ai un peu plus de difficulté à utiliser cet outil du fait de son ergonomie.
A l'instar des outils précédents, vous avez aussi :
Le nombre de backlinks ;

Les domaines de référence ;

L'analyse des textes d'ancrage ;

Etc…
Il offre la fonctionnalité « Topical Trust Flow » qui permet de mesurer le nombre de liens qu'un site a obtenu à partir d'un ensemble de site web d'autorité très fiables.
Son coût est relativement bas : de 49 $ à 99 $ par mois.
Guide sur Majestic SEO :
Reputationvip.com/majestic-seo-pour-une-analyse-complete-des-backlinks
Majestic SEO is another backlink analysis tool with a massive link database. Personally, I have a little more difficulty using this tool because of its ergonomics.
Like the previous tools, you also have:
The number of backlinks;
Reference domains;
Analysis of anchor texts;
Etc…
It offers the "Topical Trust Flow" feature which measures the number of links a site has obtained from a set of very reliable authority websites.
Its cost is relatively low: from $49 to $99 per month.
Guide to Majestic SEO :
Reputationvip.com/majestic-seo-pour-une-analyse-complete-des-backlinks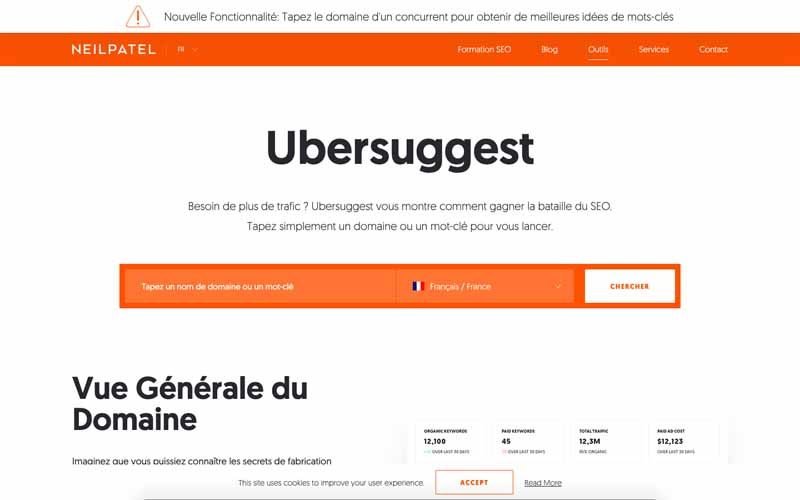 A free tool (for now) offered by Neil Patel.
Using Ubersuggest, you can: Audit
your site
Check the overall traffic of the competition
Look at the most traffic-generating pages for the competition
Find the keywords of the competition
Determine the backlinks of the competition
12.2. Viral Content Search
Tools Content search tools take the guesswork out of creating shareable, backlink-worthy content. Use them to find previously popular content based on your target keyword. After discovering them, you can try to do better for your own campaigns.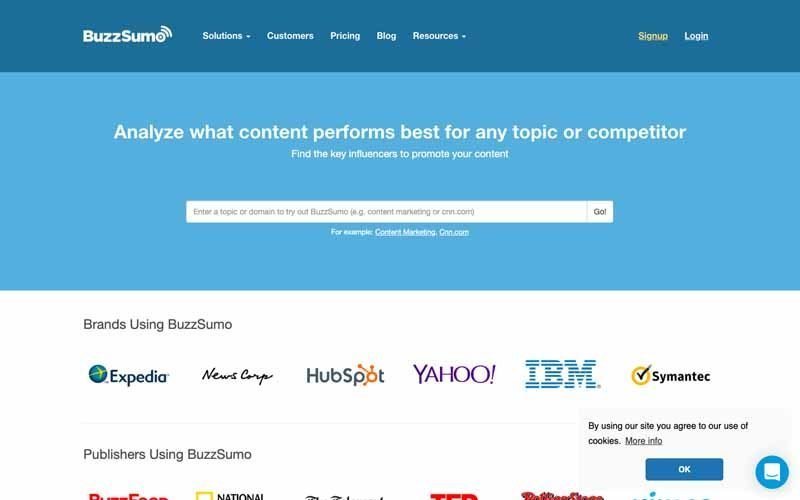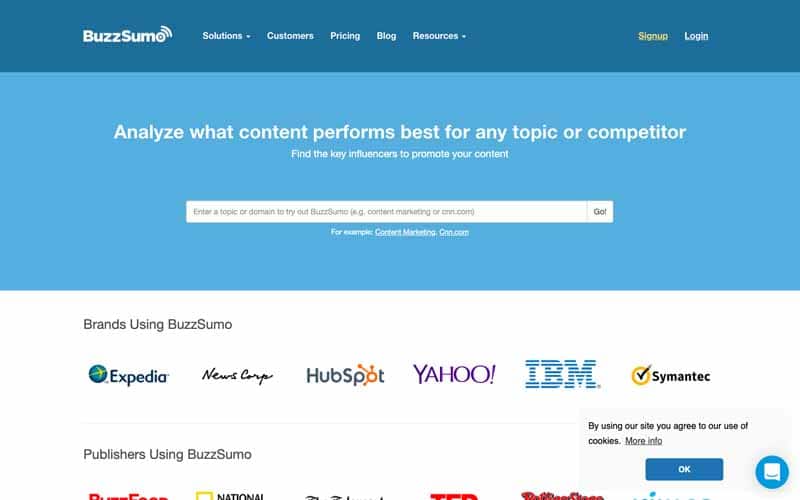 BuzzSumo is specifically designed for content marketing. For this, many SEO professionals use it to detect the types of content that generate shares and backlinks.
You can also use BuzzSumo to find influencers who have recently shared your competitors' content: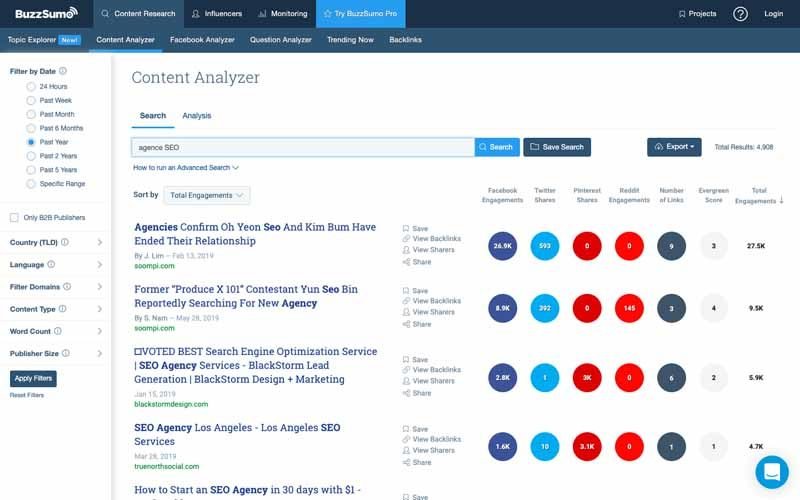 In addition to the previous features, BuzzSumo offers "Brand Mentions" which lets you know when someone mentions your brand in a blog post without having to link to your site.
Price: from $79 to $239 per month.
Complete guide to BuzzSumo : Backlinko.com/buzzsumo-guide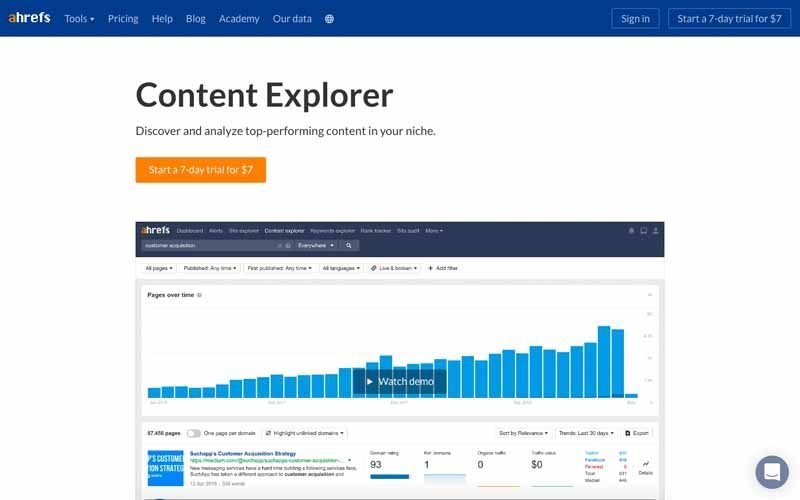 Simply enter a target keyword or topic into the tool and you'll get a list of the most popular content. You can even sort them by number of shares and/or backlinks.
12.3. Tools for monitoring the web
It is important to actively monitor the web for new mentions of your brand or that of your competitors. This approach allows you to act quickly and certainly double the results of your awareness-raising work.
Here is a selection of the best web monitoring tools.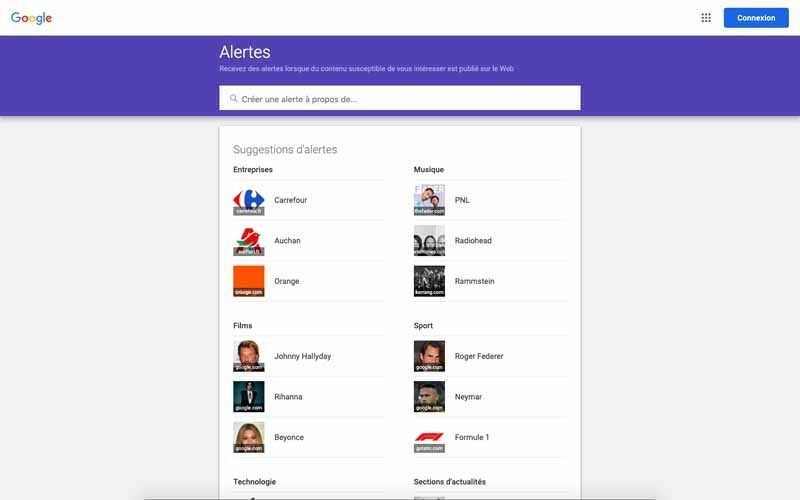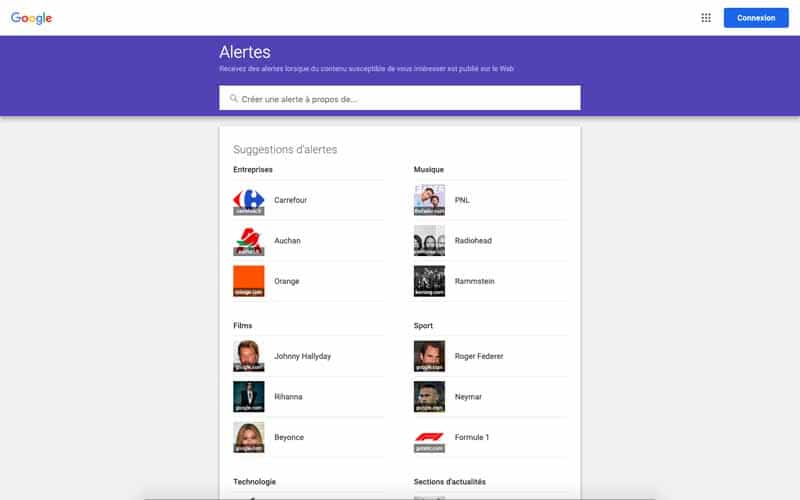 free tool from Google that can be set up to email you when they index new content with your chosen keyword.
Full guide to Google Alerts :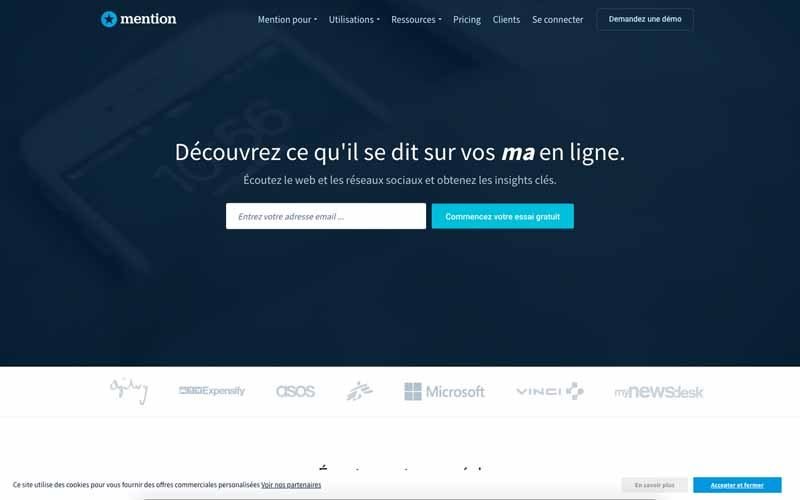 Monitor the web and social media for new mentions of your keyword or brand.
Guide to Mention: Mention.com/tutorials
12.4. Tracking Tools
A promotional campaign can be run with your standard mail service, but there are a number of specialized tools that will help simplify the process:
Creating a database of contacts;
Correspondence follow-up.
Instead of spreadsheets and Gmail inboxes, you can use the following tools. They will allow you to track conversations and effectively manage campaigns across multiple projects. Which makes them especially useful for teams and agencies.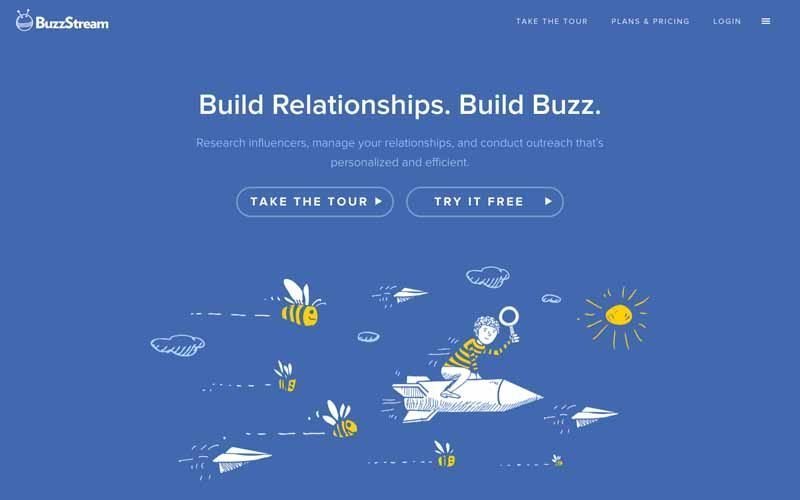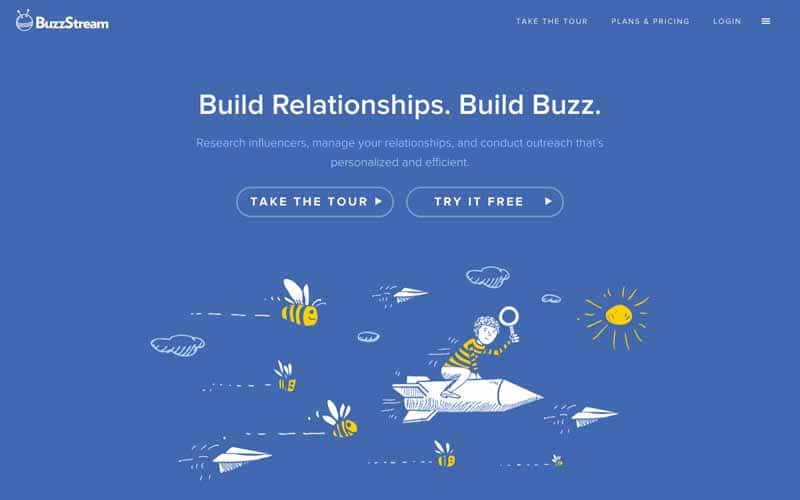 BuzzStream is a broadcast platform that helps you stay organized in your email campaigns. It offers plenty of tools and its use is quite easy.
At first, you can find the blogs you need using its "Discovery" tool.
Then, it offers the possibility to directly download the list of sites you want to join.
BuzzStream also gives you the option to find their contact details.
To use it, simply connect it to your email to get in direct contact with your targets.
Price: $24 to $999 per month
Complete guides on Buzzstream :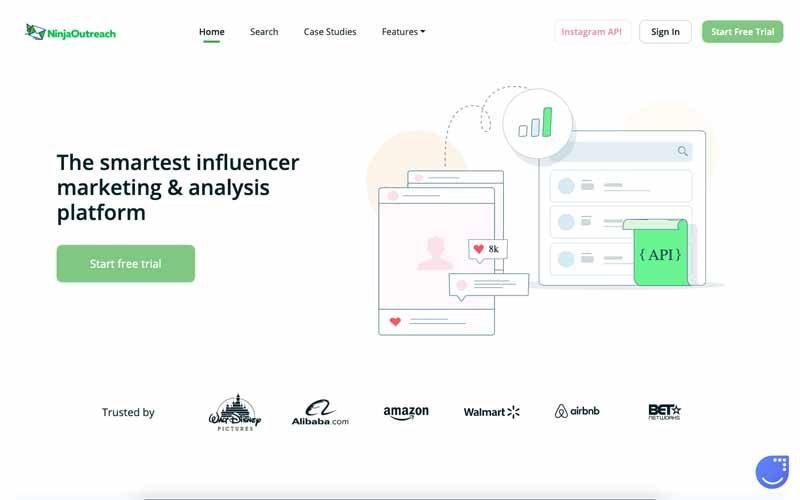 NinjaOutreach is a tool quite similar to BuzzStream. the two points that differentiate them are:
Its huge database of influencers;
It is much more SEO focused.
For example, it gives the possibility to sort the results by Domain Authority, Page Authority and/or number of backlinks.
NinjaOutreach comes with templates for different types of link building campaigns:
Link building broken links;
Promoting infographics;
Etc…
Of course, you will have to customize these templates before sending them. But at least you have a starting point when it comes to writing emails.
Price: $69 – $599/month
Link building guide with NinjaOutreach :
Ninjaoutreach.com/tactics-to-build-links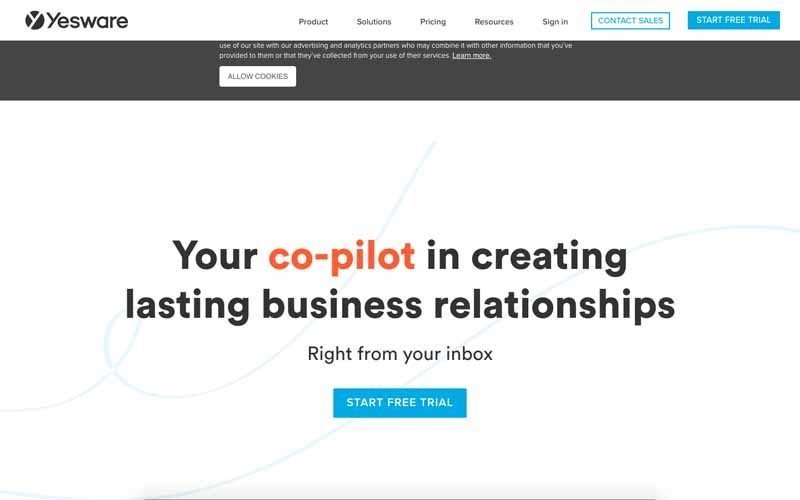 Yesware is a Google Chrome extension that lets you track email opens and link clicks in Gmail. Useful for performing simple A/B testing for your email campaigns.
Complete Yesware guide : Yesware.com/yesware-jumpstart-guide
12.5. Freelance Websites
There are a lot of repetitive tasks in link building and some can be done by freelancers or virtual assistants. For example, some link building projects may require creating custom graphics, or writing step-by-step guides.
Under these conditions, calling on professionals in each field can help you enormously. Here are three sites where you can find freelancers for your work.
Dans ces conditions, faire recours à des professionnels de chaque domaine peut énormément vous aider. Voici trois sites où vous pouvez trouver des freelances pour vos travaux.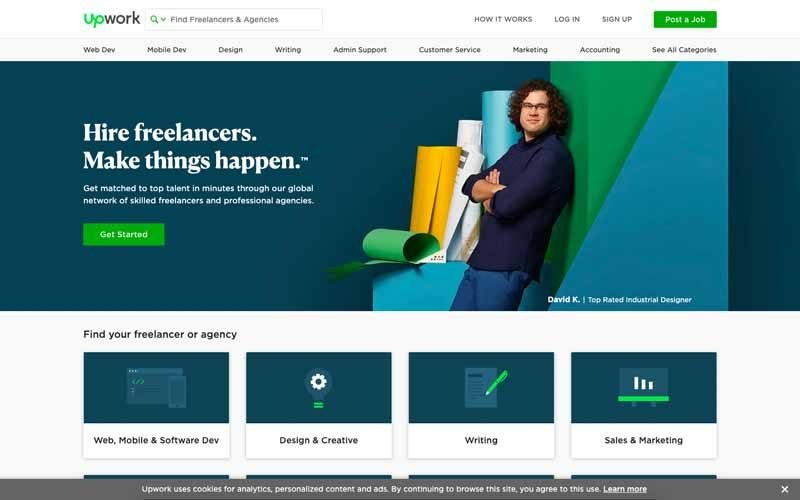 A large database of freelancers, covering various skills and levels of expertise.
Upwork Client Guide : Upwork.com/client-guide-to-upwork.pdf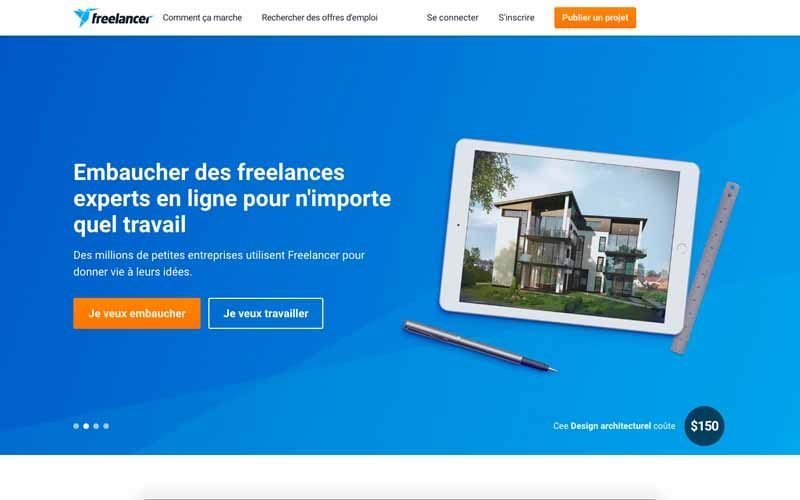 These two platforms allow you to solicit freelancers for various link building tasks.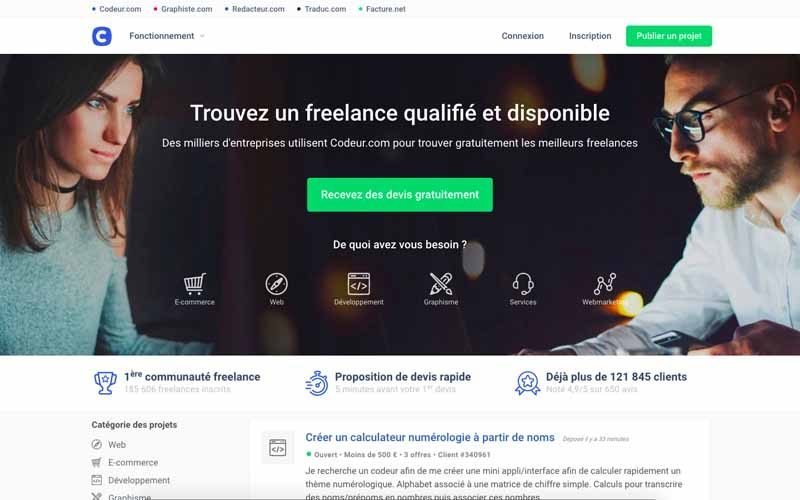 Guide to finding the right freelancer :
These are the tools you can use to carry out your link building campaigns. However, be aware that this list is not exhaustive and that there are obviously many other tools that I have not mentioned in this guide. That said, you already have enough to be effective in acquiring backlinks.
---
Chapter 13: How long will it take for link building to improve your site's ranking?
---
As mentioned at the start in the early chapters of this guide, it usually takes time for link building to have a positive effect on your website's rankings. The length of time can vary considerably and is dependent on a number of factors:
The competitiveness of your industry as a whole;
The competitiveness of your target keywords;
The types of links you create;
The history and strength of your domain;
The activity of your competitors, i.e. whether they are also actively building links;
Etc…
Your ranking can be improved depending on all of these factors. It may take a few days or even months…it is important to factor this into your goals. In other words, all team members need to be made aware that immediate improvement is unlikely to occur.
However, I recommend that you keywords the most importantThis way, you will be able to gauge how those rankings change once your link building campaign evolves.
The use of tools such as Moz and Ahrefs, can be of great use to follow your positioning in the SERPs in relation to the keywords you are targeting.
A realistic expectation to set is that you will see an increase in traffic if you are constantly working on improving your website. Indeed, you shouldn't try to think of link building as a one-time activity, because you might be disappointed with the results.
Instead, link building should be a constant activity coupled with other initiatives such as:
Creating great content;
Good management of social networks;
Excellent customer service;
Etc…
It is the combination of these activities and a constant desire to help your audience that will allow you to improve your results.
---
Chapter 14: What is the future of link building?
---
Although Google's algorithm continues to evolve, I believe that links will continue to be very important ranking factors. Indeed, Matt Cutts suggested that Google had tried internally to disable links as a ranking signal, and the results were bad.
" We don't have a version like that on public display, but we've been running experiments like that internally, and the quality seems much worse.
It turns out that backlinks, while a bit of noise and certainly a lot of spam, are for the most part still a pretty big win in terms of the quality of search results.
So we toyed with the idea of ​​turning off backlink relevance and at least for now, backlink relevance still really helps us get the best, most relevant search results ."
No doubt about it: Link building will continue to be a big part of SEO. But I don't think all types of links will stand the test of time.
Indeed, white hat SEO approaches should be immune to any future Google algorithm updates. These include editorially given links which are the types of links recommended by the search engine itself.
On the other hand, I think that in the near future, Google will be able to detect manipulative or spamming links. You can expect Google's artificial intelligence to better determine what is a "real" site and what is a site built as part of a link network.
Conclusion: Netlinking – An unstoppable SEO lever
The success of a business on the web is conditioned by its presence in the first results of search engines. The reason is quite simple: 93% of online experiences start with these! That's why, it's a good idea to get to know them and find out what factors they use to rank their results.
Thanks to several studies, SEO experts have been able to determine more than 200 factors including obtaining quality links. These links known as backlinks are among Google's most important ranking factors. This is why it is essential to seek to optimize them: This is called a netlinking.
In this guide, I had the opportunity to show you in detail several aspects of this important SEO lever, namely:
The steps and strategies to build your backlinks;
Practices to avoid in order not to be penalized;
The tools you can use to run your campaigns.
With all these elements, I am convinced that you have all the weapons and knowledge to succeed in your various netlinking campaigns. Keep in mind that results are not going to materialize overnight and you need to be consistent.
And you, what are your best strategies to get backlinks for your website?