More than 5.8 billion searches are carried out every day on Google, this search engine holds more than 79% of the global market share. Needless to say, Google is a strong leader and if you want to perform well in organic search results, you need to know what factors Google considers when ranking. The only problem, Google has never publicly listed all of the factors it considers when ranking pages in its results. Knowing these factors can optimize your SEO and therefore lead to an improvement in your visibility on given queries. The presentation of these 200 factors therefore aims to improve your site, and to make a difference compared to the 1.94 billion websites and 10 million pieces of content published daily. Also be aware that Google officially recognizes a few factors that may impact their algorithm, but the vast majority are not communicated directly. This is why SEO specialists have counted, with various studies and analyses, more than 200 SEO factors. There are factors related to:
The site;
At the domain;
To web pages;
To the user experience;
Referencing techniques.
That said, 200 factors is a very long list and it would be particularly difficult to have them all in mind. For this, before enumerating the complete list, I give you the 15 most important factors determined from a study based on 1 million search results. But first, let's start by defining a few concepts. Then, we will see together the importance of algorithms and how they work.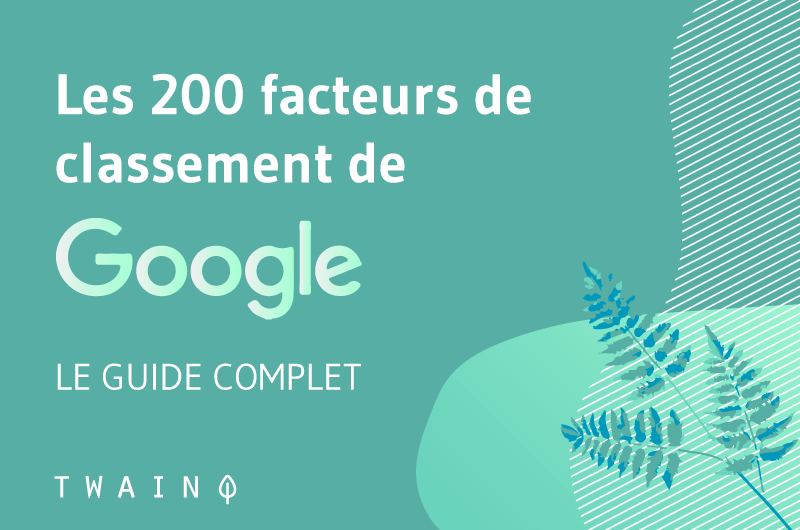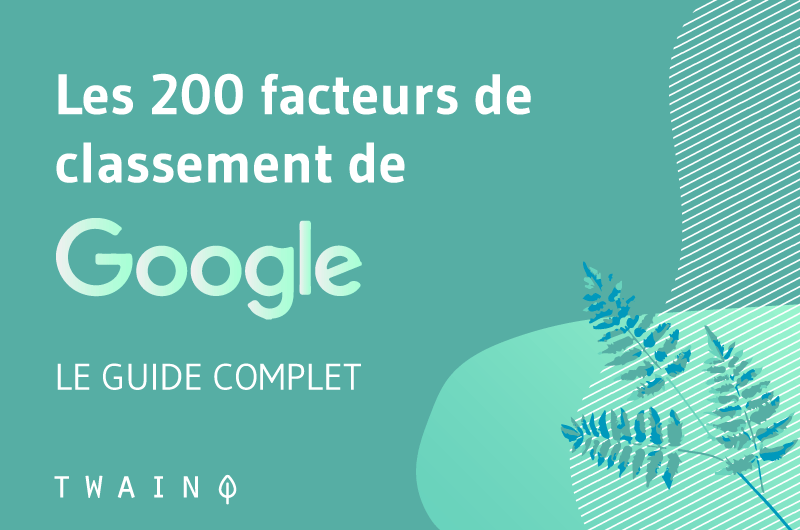 Google Ranking Factors
Ranking Factors Definition: Ranking, Ranking Factor & Visibility
Ranking refers to the process used by search engines to determine where a piece of content should appear in search results.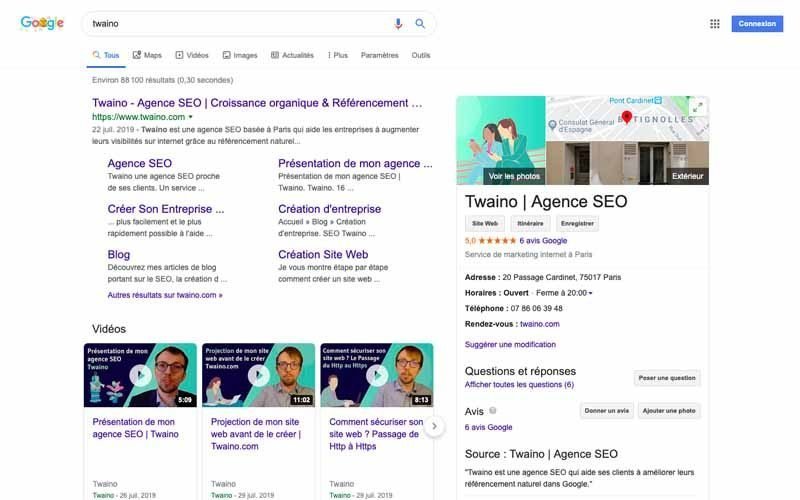 In fact, search engines use algorithms to rate websites by topic and relevance. This evaluation is then used to structure the pages of their index in order to display to users the best results ranked in order of relevance and usefulness. The criteria for evaluating web pages and developing this ranking are generally referred to as ranking factors.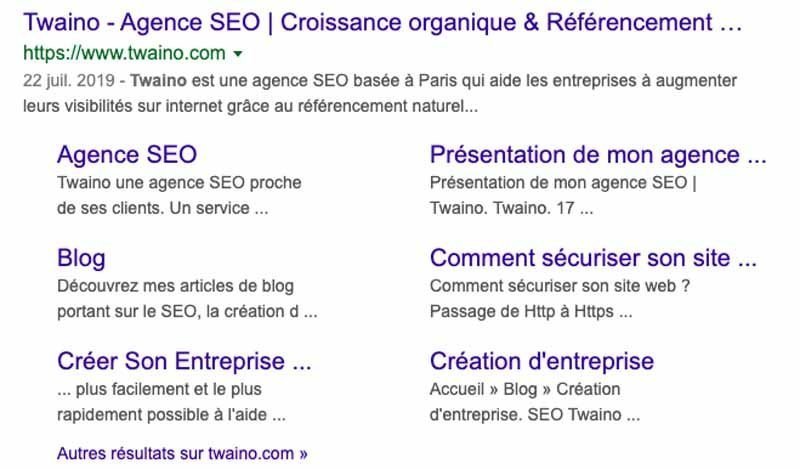 As for visibility, it refers to how prominently a content is displayed in the SERPs. Therefore, the most visible content in a SERP takes the top position in the organic results or appears in the featured snippet. In the same logic, the least visible content of a SERP occupies the last position, especially on the last page.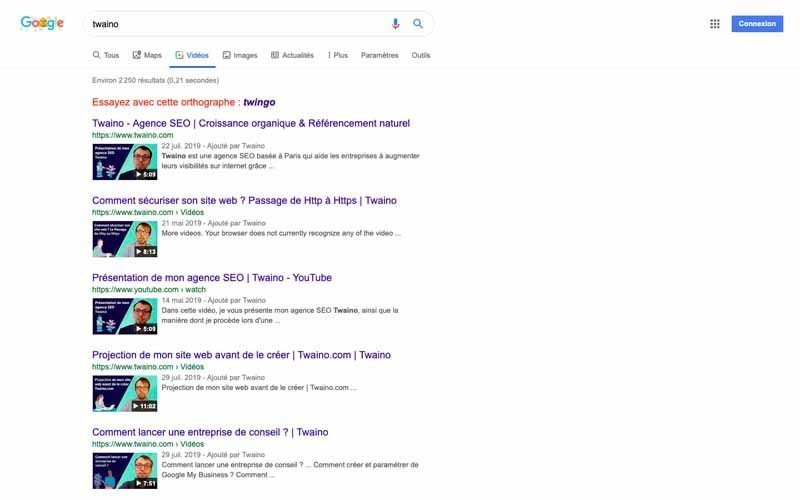 In summary, improving your visibility in the SERPs comes down to working on ranking factors or SEO in order to be ranked at or near the top position. But at this level, it may be legitimate to ask why content or sites need to be classified on the web.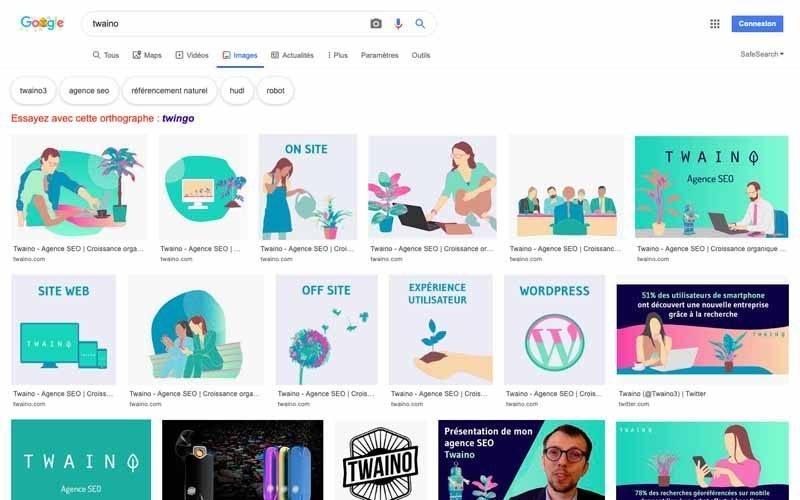 Why is website ranking necessary?
The exponential increase in the amount of content on the Internet makes it almost impossible to find information specifies if they are not sorted and organized. It is for this reason that Google and other search engines use algorithms that sort through billions of web pages to give, in a fraction of a second, the most useful and relevant results.
To these algorithms, Google adds thousands of human evaluators who allow it to perform quality tests on the search results it provides to its users.
Algorithms nevertheless remain the most important components to search engines and at the same time, their functioning is the best kept secret in the world of the Internet. For search engines such as Google, it is essential to keep the underlying factors that make up its system strictly confidential.
In reality, this secrecy is not primarily due to competition between search engines. The most fundamental reason is the fact that if the ways to get better rankings were widely known, the existence of search engines and their algorithms would become meaningless, as they would be constantly manipulated. Therefore, no one but Google knows the true ranking factors.
This is why SEO experts constantly carry out analyzes in order to determine the various factors considered by the most popular search engine. Allowing them to better position websites in search engines.
How does Google ranking work?
Google is constantly improving its results
Google has built its current algorithm around RankBrain, an artificial intelligence (AI) program that allows it to constantly sort and improve search results. Backlinko indicates that RankBrain adjusts the functioning of the algorithms on its own.
Depending on the keyword or query, RankBrain will increase or decrease the importance of certain factors such as:
The freshness of the content;
Backlinks;
The length of the content;
Domain authority;
Etc…
The program then evaluates how Google users interact with new search results and if users prefer the new algorithm, it is maintained. Otherwise, RankBrain overrides the new algorithm and maintains the old one.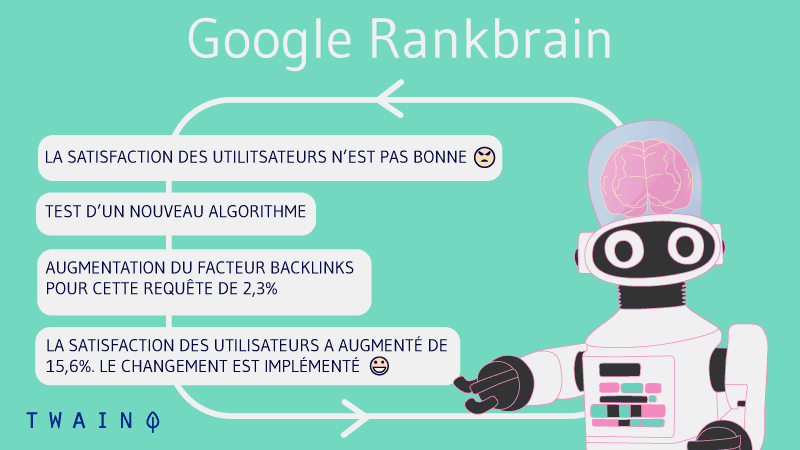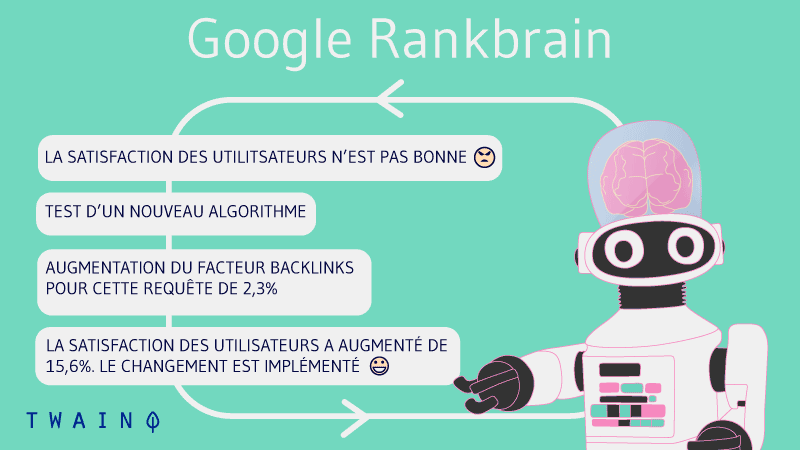 Google's algorithms are constantly changing and improving to give users the best possible experience while at the same time preventing Black Hat SEO that aim to manipulate search results.
Google understands users' search intent
Google displays its results in a fraction of a second, but before doing so, the most popular search engine takes more than 200 parameters into account. The main reason for such a large number of factors, is due to the fact that a word or a search term can have several meanings.
For example, when you search for the word "garden", Google has no idea what you are really looking for. The possible results could vary enormously, namely:
Definition of what is a garden;
Gardening news articles;
Websites specializing in gardening;
Gardening tips;
Garden maintenance products;
Tools for gardening;
Etc…
What Google is trying to do is guess your intent and then tailor the results to what it thinks is the most useful result.
Over time, Google's algorithms have continuously studied and identified the search intent of users, which has determined four main types of intent :
Know : These are queries where the user wants information on something. For example: "Why is my site not visible in Google?" » ;
Do : Corresponds to requests where the user wants to perform an action. For example: "How to prepare chocolate";
Website requests : The user wants to go directly to a specific website or webpage. Example: " Twaino.com ";
In-person visit requests : The user wants to locate and visit a physical address. For example "SEO agency in the 17th arrondissement of Paris".
These intents for using Google on desktop are slightly different from those identified by the mobile search index, which focuses on micro-moments.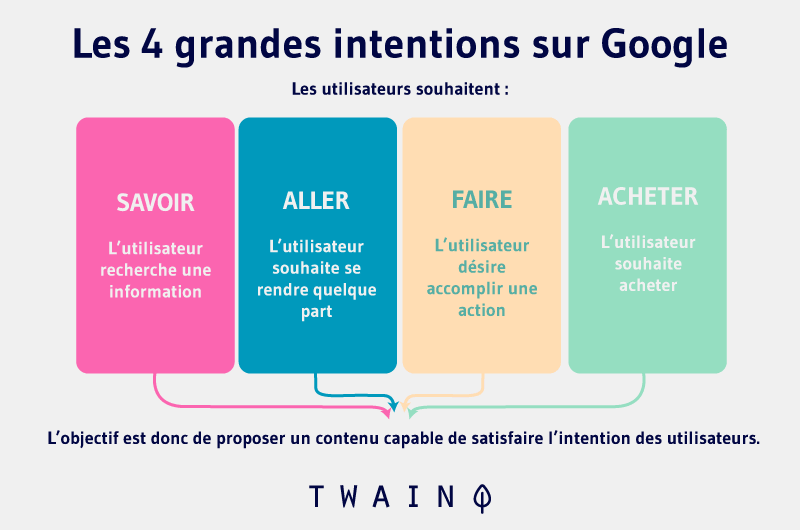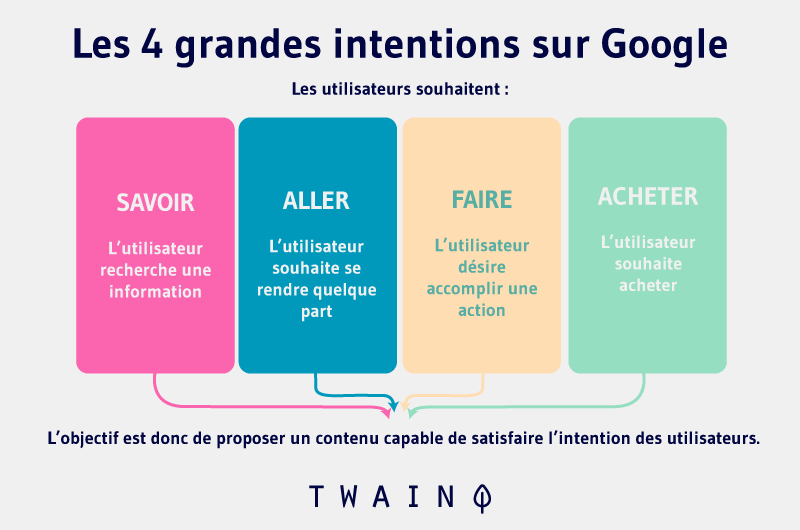 Micro-moments are the instants when a user turns to a mobile device for an immediate need. They focus on:
Knowing : The user is looking for information;
Go : The user is looking for a local establishment or wants to go to a nearby store;
Do : The user needs help to complete a task or do something new;
Buy : The Internet user is ready to buy a product and wants to know which one to choose or how to buy it.
Whether for mobile or desktop search results, Google's algorithm has adapted to produce results based not only on ranking signals, but also on historical data. This allows it to provide the most useful and relevant answers according to the intentions of its users.
For example, when you search for the keyword "bakery", the best results will probably be bakers located in your area. This means that Google has learned that the most common intent of its users when searching for "bakery" is "I need a nearby bakery to make a purchase."
Another fact that proves the search engine's ability to understand search intent is its Google suggest. You have probably noticed that when entering your queries, Google tries to guess what you are looking for and offers words/phrases to complete your sentence as it goes.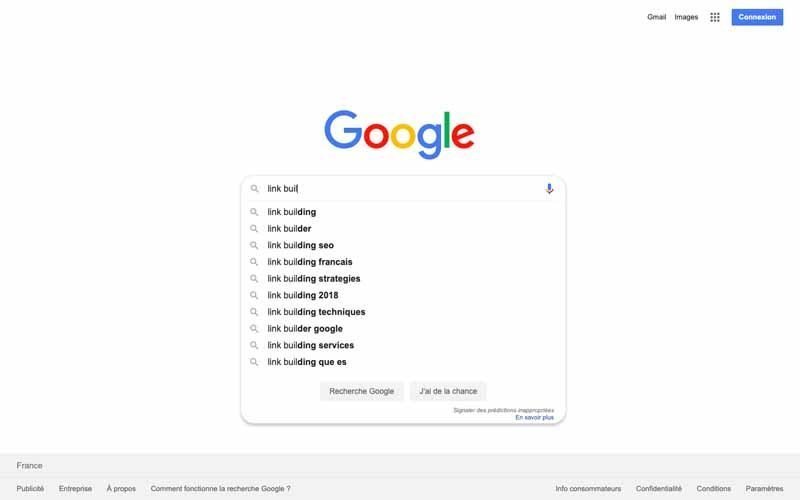 Also, Google offers associated searches for certain queries in order to guide its users in the event that they do not find the information they want.
It is important to note that these different proposals or suggestions come from the millions of queries most frequently used by its users.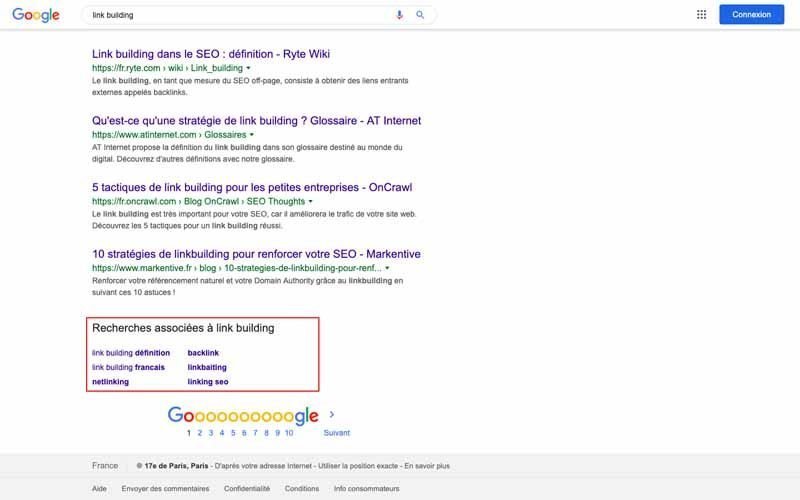 Understanding user intent is an important element that can help you create relevant content for users. Taking into account user intent, as well as Google factors can help you significantly improve your position in the SERPs.
How many ranking factors are there for Google search?
Nobody but Google knows the exact answer to this question. In addition to officially recognized factors, SEO specialists make assumptions and tests to determine this information. They arrived at a list of over 200 factors used by Google's algorithms to rank sites or web pages.
But don't let this list overwhelm you! Google's 200 ranking factors do not all have the same weight. So what are the most important search engine ranking factors for your SEO efforts?
To answer this question, I will rely on a study by Blacklinko based on 1 million Google search results. The purpose of the study is to determine the factors that have a strong impact on the ranking of first page results.
The 15 most important ranking factors

1. The number of referring domains has a very strong influence on ranking
A referring domain or "referral domain" is any website that hosts a backlink or a link that points to your website .
Having strategies for with many backlinks is good, but you have to be careful about the origin and the quality of your backlinks. In fact, the diversity of referring sites is a factor that strongly impacts the ranking of your website. For example, having 20 backlinks from a single website is less valuable than having 1 link from 20 different websites.
The more domains that link to you, the more valuable you are to Google.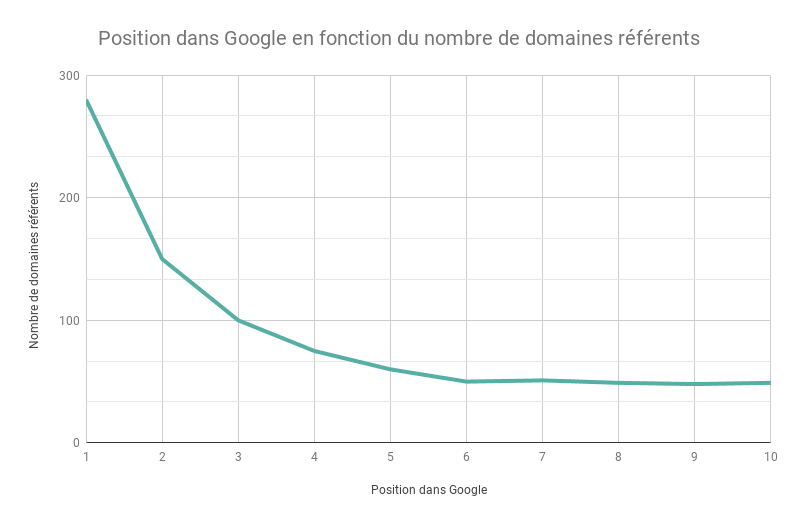 The number of unique referring domains was the strongest correlation according to the study. In your strategies for obtaining backlinks, consider diversifying as much as possible the sites that link to you.
2. Authority Domains Tend to Rank Higher in Google Search Results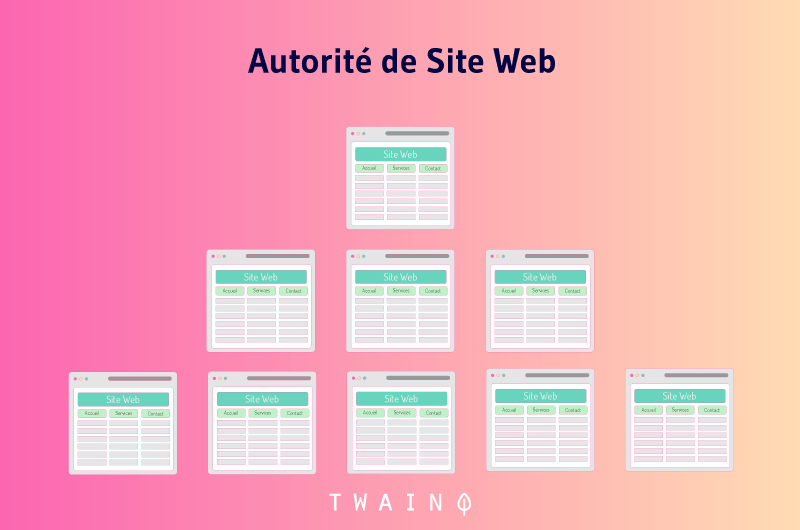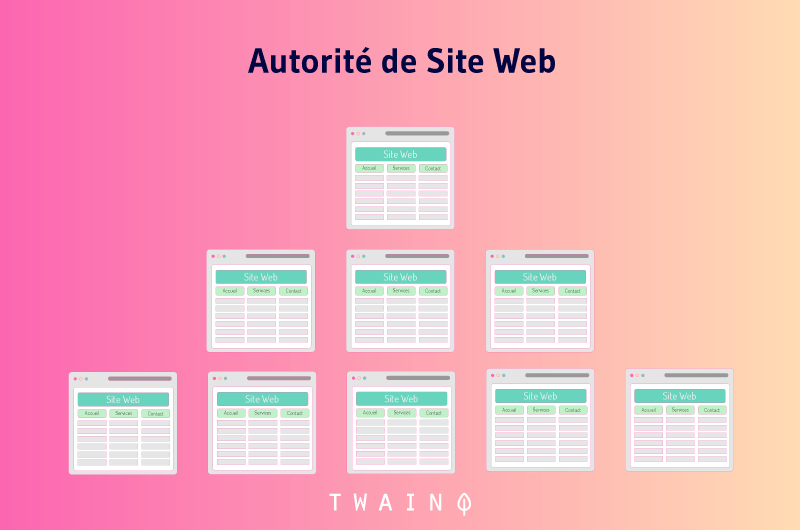 Domain Authority or Domain Authority (DA) is an authority score that determines a site's overall ranking ability. website in the SERPs. This score ranges from 1 to 100 and is calculated by evaluating several factors, including the total number of links. The higher your DA, the more Google considers the site to have authority or be a benchmark in its industry, which increases the chances of being ranked higher.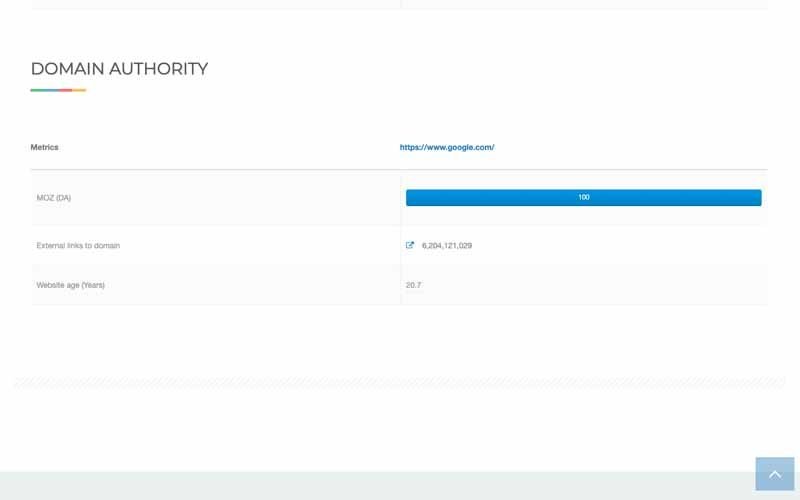 Pages can also be evaluated individually with authority scores, this is called PA or Page Authority. In summary, domain authority refers to the authority of an entire domain, and page authority, refers to the authority of a single page on that domain.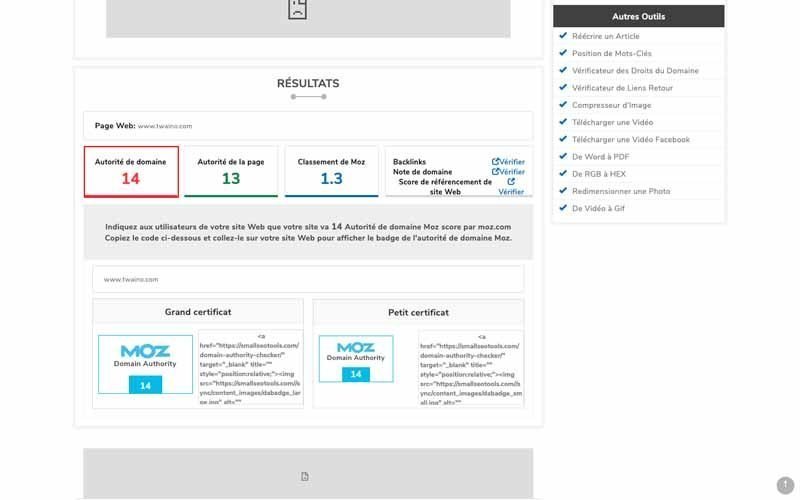 You have the option of determining DA and PA using tools such as Moz Link Explorer.
Based on research from Ahrefs, the overall authority of a website has a strong impact on that website's ranking in Google. Site authority therefore appears to be a very important criterion of trust in the eyes of Google, which will tend to highlight content from such a site.
To be more precise, the authority of a page influences its position in the SERPs less than the overall authority of the site.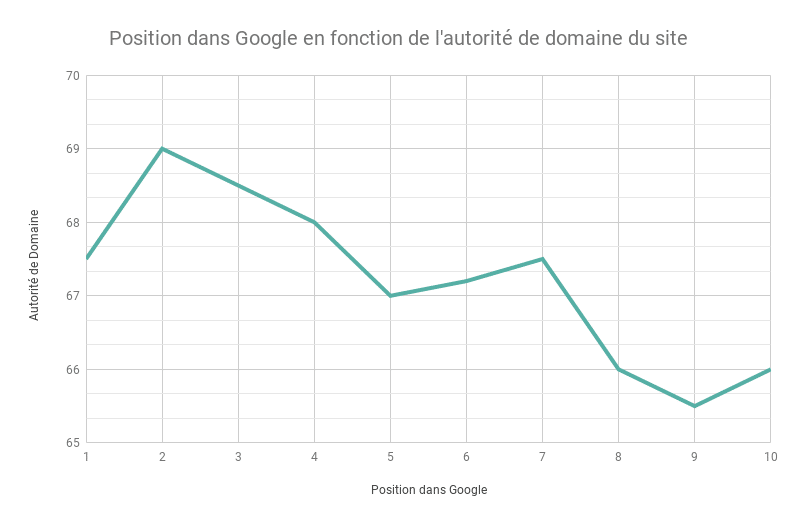 For example:
Page A with authority 50 on a website with global authority 90;
Page B with 70 authority on an overall authority 60 website.
According to the study, page A is likely to rank higher than page B. So, the domain your page is on is very important in classification.
To improve the overall authority of your website, consider increasing the number of backlinks to your site, which will improve the ranking of all pages on your site.
3. More Backlinks Means Higher Ranking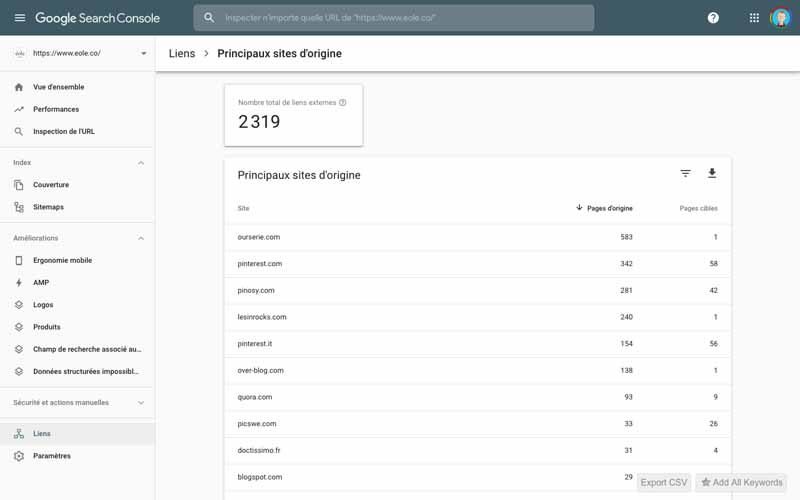 Pages with more backlinks tend to rank higher in the SERPs than pages with fewer backlinks.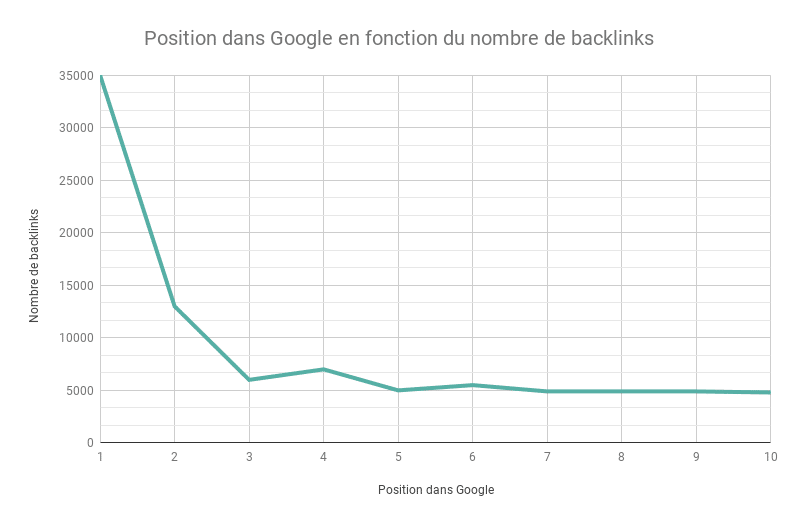 Although the number of backlinks has less impact than the number of referring domains, it is important to have as many links as you can. That said, Black Hat SEO practices should be avoided as they can lead to penalties.
4. Google Rankings Are Closely Related to a Page's Overall Link Authority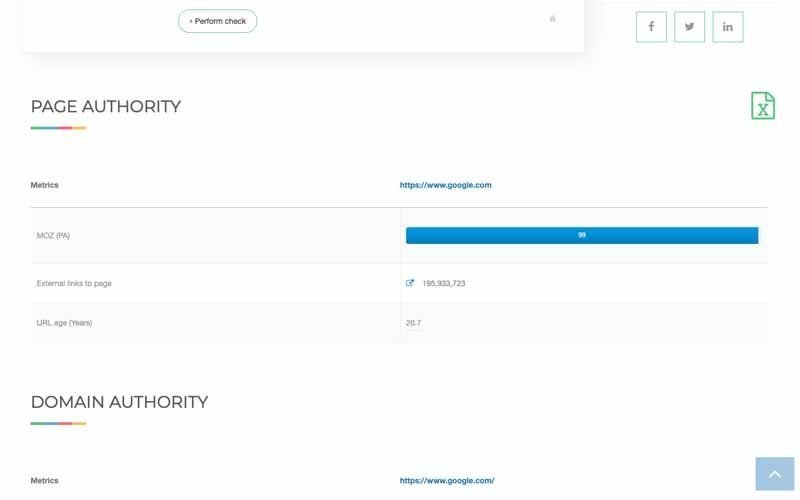 Although this correlation is not as strong as the impact of the total number of referring domains, it does come close to the number of backlinks. In fact, pages with authoritative linking outweigh pages with little authority.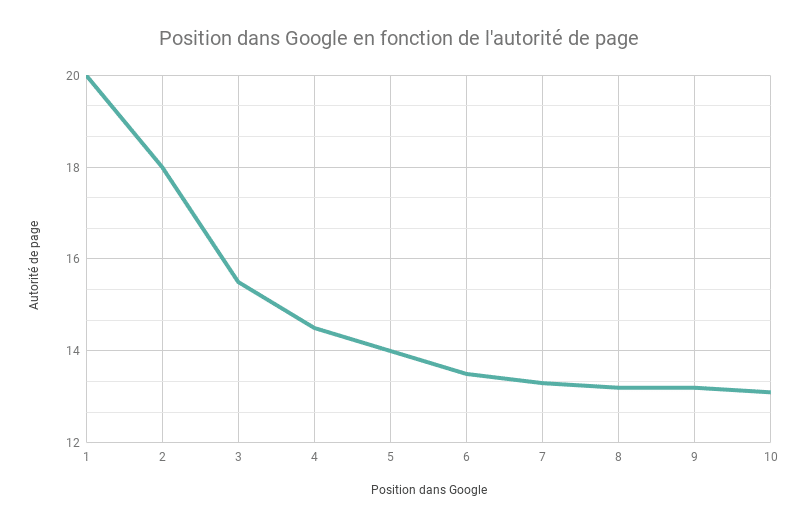 In other words, the quality of backlinks is a very important factor in the ranking of pages in the results. It is more useful to have 1 link from a high authority page than 10 links from 10 low authority pages.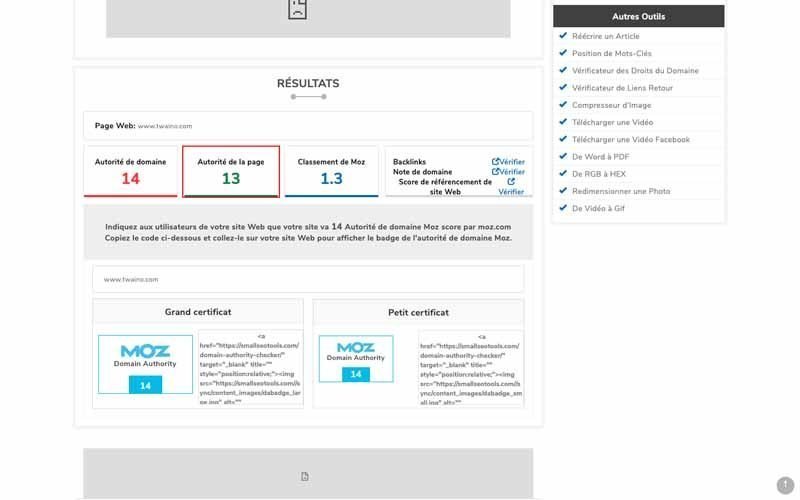 This fourth factor on backlinks proves how crucial it is to build your link profile well in order to benefit from a good ranking in the SERPs.
5. Pages on fast loading websites rank significantly higher than pages on slow loading websites.
Website loading speed is an official ranking factor at Google. Explicitly, the firm states: " Speeding up websites is important – not just for site owners, but for all Internet users. Faster sites create happy users and we've seen in our internal studies that when a site responds slowly, visitors spend less time there. ".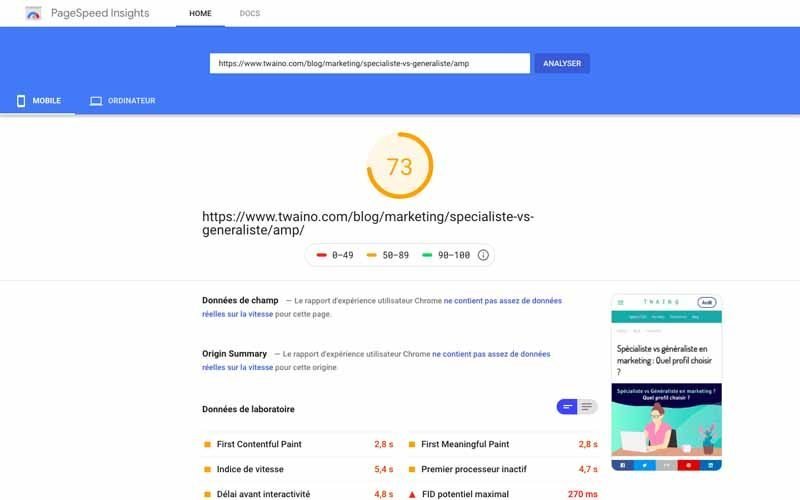 There is indeed a strong correlation between the loading speed of websites and the ranking of websites in the results.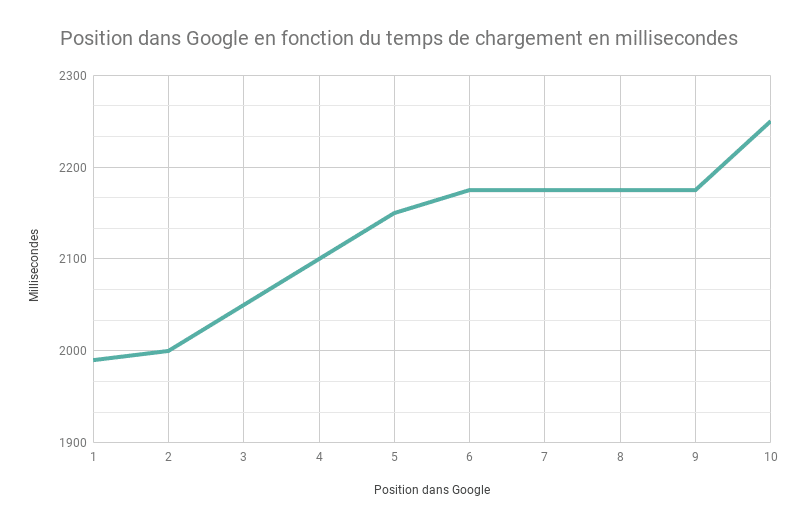 Keep in mind that the average load speed for top ranked sites is 1.9s and 53% of users will leave the page if it takes longer than 3 seconds to load.
In summary, make the effort to increase the loading speed of your websites in order to improve your ranking in the SERPs.
6. Publishing comprehensive and in-depth topical content can improve rankings
Previously, Google used a page's keywords to determine the topic covered on the page. In this logic, it was enough for the SEO specialists to include a certain number of the keyword to indicate the relevance of the pages to Google.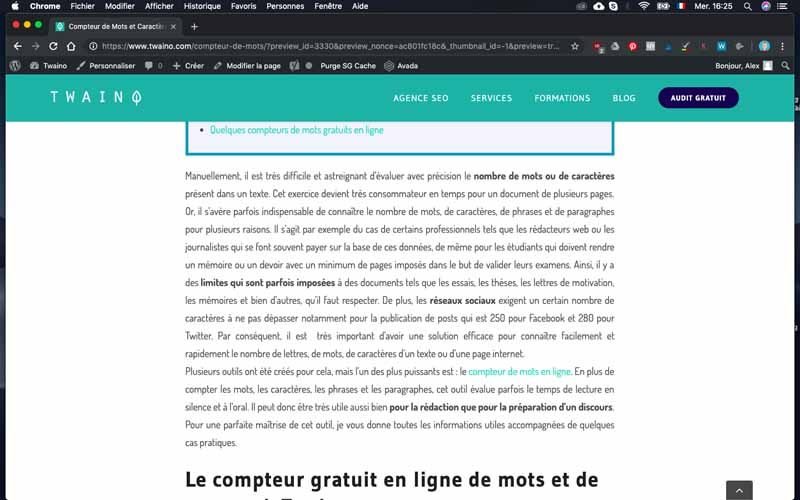 Google has improved its tools and with its Hummingbird, the firm is able to understand the subject of each page without necessarily the keywords. This fact has a significant impact on how content is optimized for SEO, keywords are less important and no longer enough.
Google now prefers content that covers a given topic in depth. In fact, the more your content covers a topic, the more authority it has and the more likely it is to rank higher in search results.
According to the study, you can even use no keywords in your content and still rank #1. Giving the example of a page that had comprehensive and in-depth content on 'stay sauce', the study states: " Although this page does not use the term 'Indonesian stay sauce' on the page, it ranks on the first page for this keyword ".
In summary, writing comprehensive and detailed content can help you rank higher in Google.
7. Long content ranks better in the SERPs than short content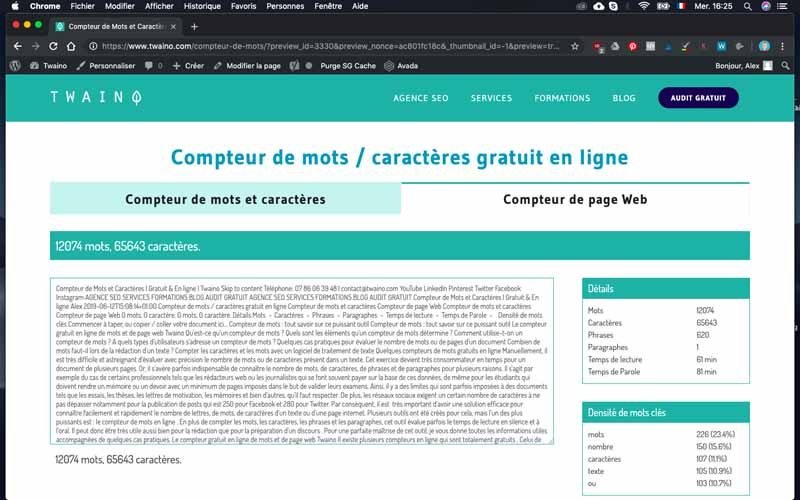 Let's take the example of the query how to monetize a blog, it is more interesting to find all the information on the same page than to have to browse the web looking for information bridles. Who likes wasting time looking for information?
It is now proven that pages with long content rank significantly better than pages with shorter content.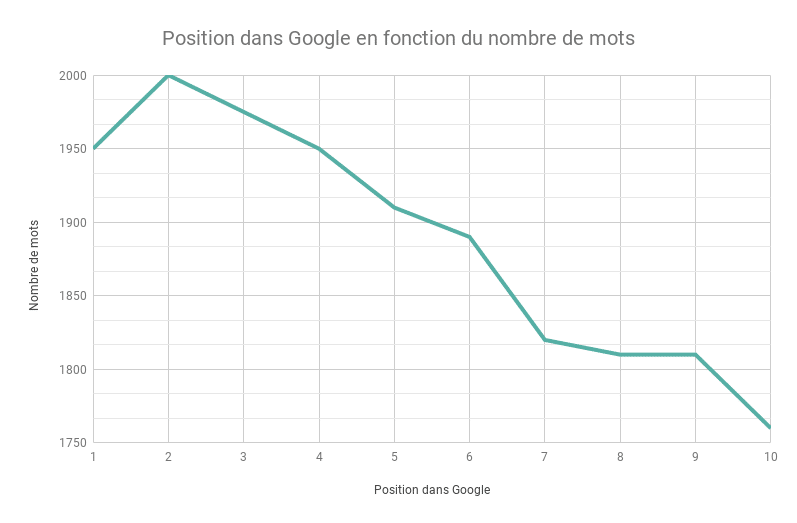 To be more specific, the average word count of a Google first page result is 1,890 words, but Okdork recommends having a minimum of 2,000 words. Keep in mind that the longer your content is, the more likely it is to perform well.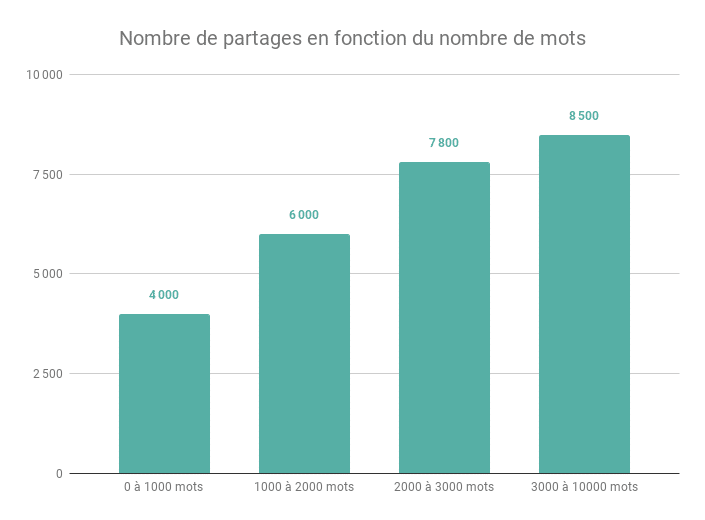 This correlation between ranking and content length may be due to the fact that these types of content tend to see a lot of engagement especially in terms of sharing. Also, your content is likely to be more relevant if it's long, which can help Google pick it up a lot more.
Also remember that long-form content is considered quality content as it typically contains:
Media;
Examples ;
Statistics ;
Real facts;
Etc…
There is no doubt that adopting long content in your content marketing is a real plus for your SEO.
8. Content with at least one image ranks better than content without an image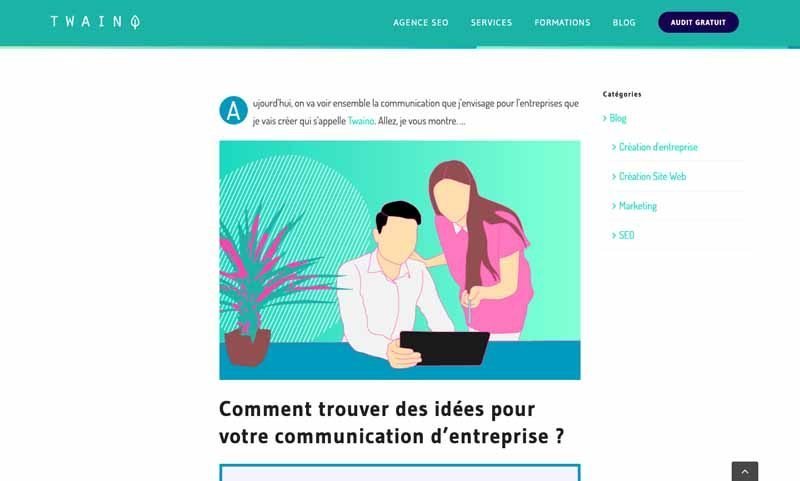 According to a BuzzSumo study based on 100 million articles, it was shown that articles with at least one image more engagement and more specifically more shares than articles without images.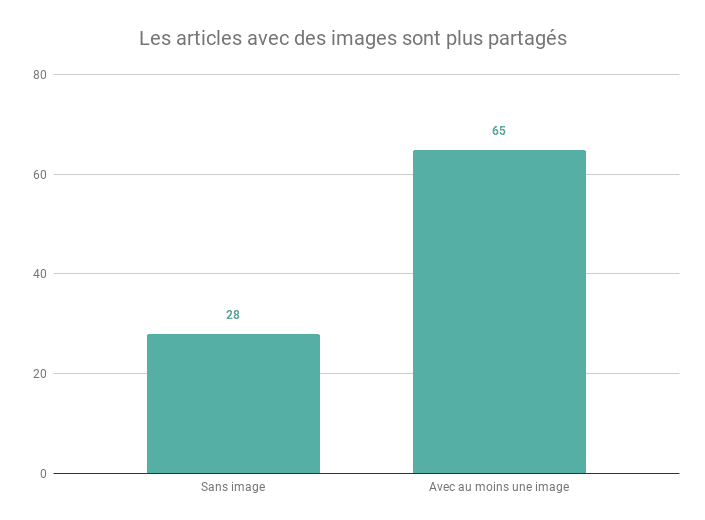 This fact has an impact on the ranking in the ranking in the SERPS.
That said, using more than one image seems to have no more effect on ranking.
In summary, using at least one image in your content seems like a good content marketing strategy for your SEO.
9. The use of a keyword in the meta title tag of your page has a small correlation with rankings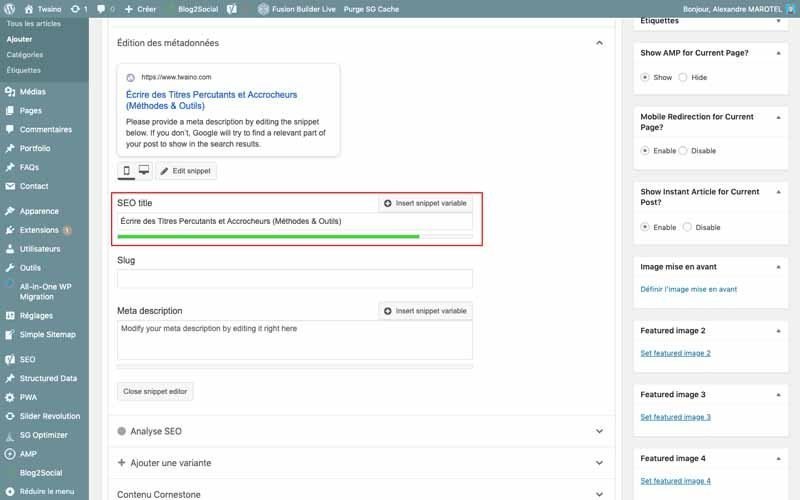 The title tag has remained for years a very important element in On-Page SEO. The reason being that it allows you to give both Google and Internet users an overview of the general subject of your page.
The words that appear in your title tag have a significant impact on rankings. The study showed that keyword usage in title tags is still slightly correlated with rankings.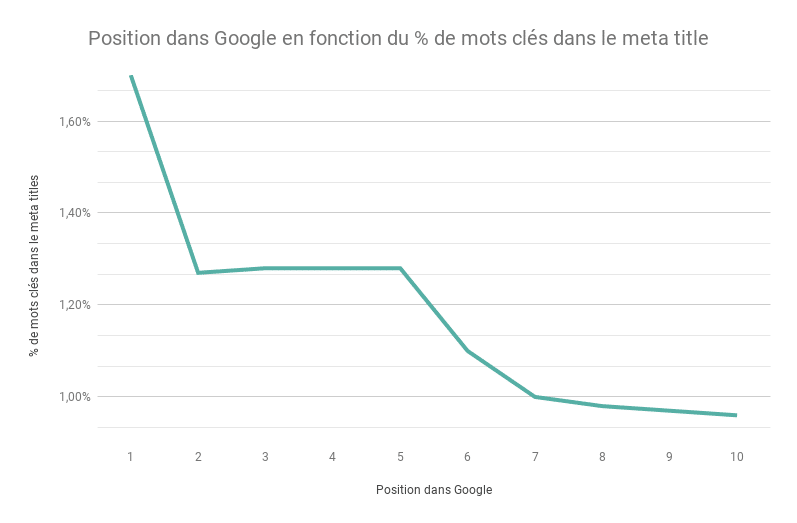 Previously, the correlation between keywords and rankings was greater. The decline may be due to Google's move towards semantic searches.
In fact, the firm's algorithms do not need to see exactly the main keyword in the title tag to understand the subject of your content.
In summary, including your target keyword in your title tag can help you rank for that keyword. However, due to semantic search, the impact does not seem to be as great as it was before.
10. HTTPS is moderately correlated with top rankings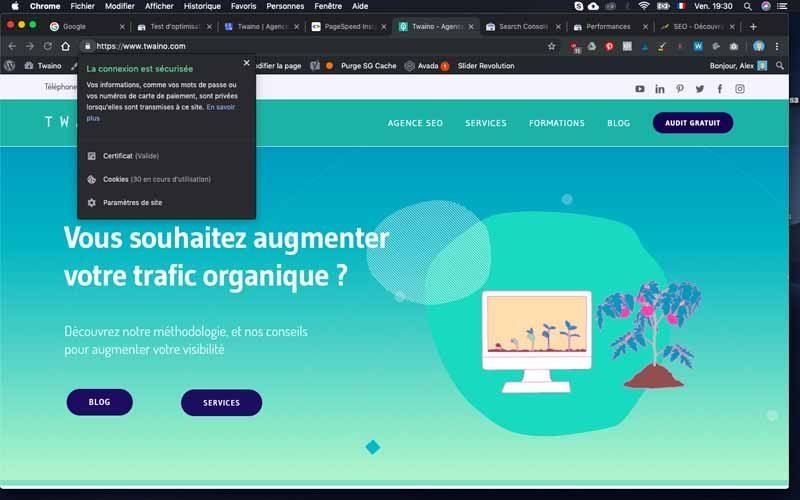 Google considers the use of the HTTPS protocol a ranking factor. Google says, " So we're starting to use HTTPS as a ranking signal. For now, this is only a very light signal – affecting less than 1% of global queries, and carrying less weight than other signals such as high-quality content – ​​while we give webmasters the time to switch to HTTPS. But over time, we may decide to strengthen it, as we would like to encourage all website owners to switch from HTTP to HTTPS to keep everyone safe on the web. » https://www.youtube.com/embed/cBhZ6S0PFCY?feature=oembed&enablejsapi=1&wmode=opaque
So it's not a crucial factor at the moment, but its influence is likely to be reinforced. Thus, it will be more and more useful to switch from HTTP to HTTPS in order to guarantee its good ranking in Google.
In addition, most browsers now put the mention "Not secure" at the level of the pages which are still under HTTP, a message which arouses mistrust at the level of the users.
Therefore, it is wise to quickly switch to HTTPS, but be careful, there are precautions to take and I invite you to consult my article on the switch from HTTP to HTTPS.
11. Shorter URLs tend to rank better than long URLs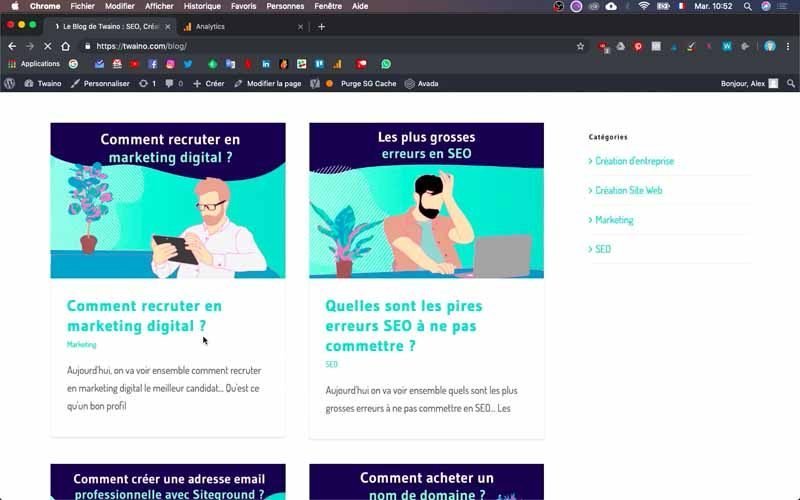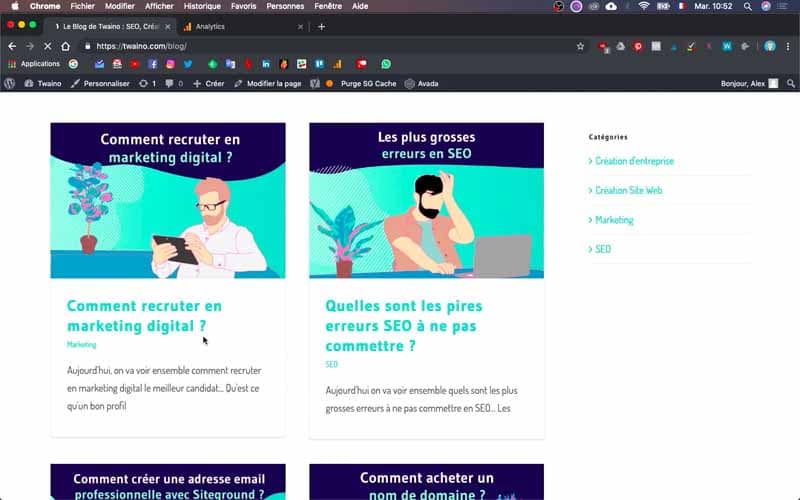 In an interview, Matt Cutts said, " If you have three, four, or five words in your URL, that can be perfectly normal. As it gets a little longer it starts to get worse. Now, our algorithms will generally weight these words less heavily and won't give you as much credit. .
The observation is clear: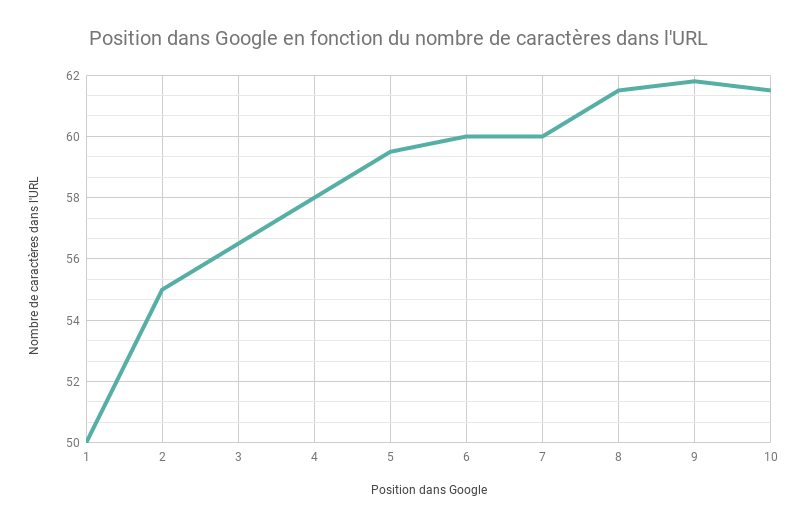 It is important to reduce the length of your URLs, while making them look naturalFor example, a URL like twaino.com/blog is better than a URL like twaino.com/20145/jd?ijs.
However, it is important not to touch the URLs of your existing pages without thinking, especially if they are already bringing you traffic. For your future URLs, remember to put this technique into practice.
12. Low Bounce Rates Are Strongly Associated With Higher Google Rankings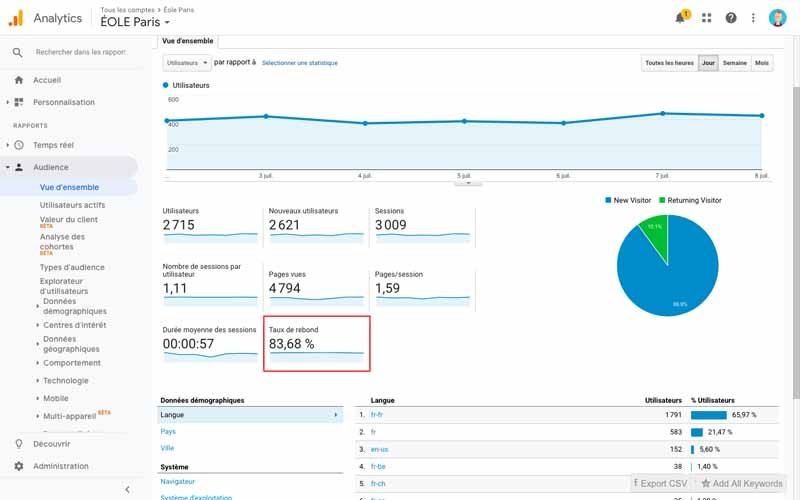 Many people in the SEO world have speculated that Google uses "user experience signals" as a ranking factor.
These include:
The bounce rate;
Time spent on the site;
Click through rate from the SERP.
The study confirmed the hypothesis by showing that there is a strong correlation between a low bounce rate and a high position.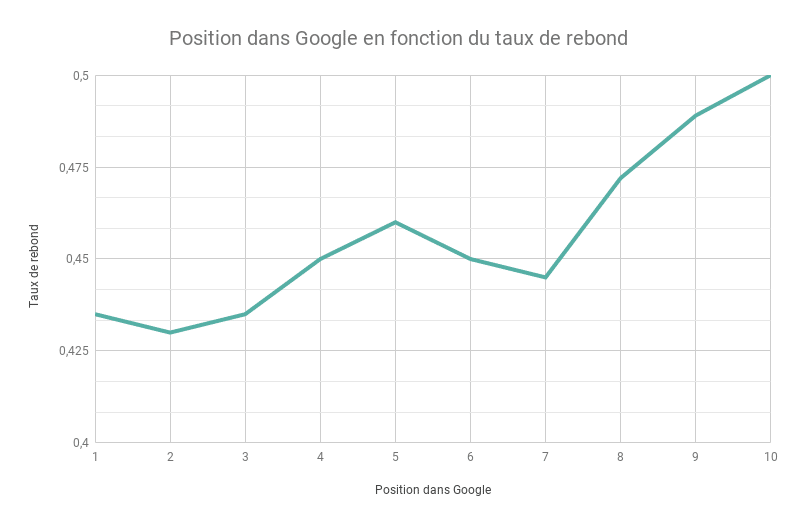 Note, however, that a high bounce rate does not necessarily mean a high position in the SERP. Especially since if you have a website like Wikipedia where visitors don't need to browse other pages on your website, a very high bounce rate isn't necessarily bad.
It could nevertheless be that Google uses it as a ranking factor, even if the firm had denied. This may be an indirect factor since a low bounce rate indicates that users spend more time on the website, synonymous with quality content which is, on the other hand, a direct factor.
Apart from these 12 factors from the study, there are three other very important factors to consider.
13. Direct Website
Traffic Direct traffic comes from users typing in the exact URL of your website or coming to your site from a bookmark. Direct traffic is important because it has a significant on the top 10 positions of Google results.
Significant direct traffic is a sign of trust and brand awareness among consumers. Indeed, this traffic shows that users know your brand, which leads them to go directly to your site in order to:
Find information;
To purchase products;
To use your services;
Etc.
That said, direct traffic can be skewed in that Google Analytics considers traffic to be direct if it doesn't have data on how a visitor ends up on your website.
If you want to accurately assess this type of traffic, it is useful to exclude IPs that you know, including your own IPs and those of your employees. To this extent, you will have a better understanding of your audience and the exact number of users on your website.
Since you want to increase your organic traffic, you need to provide a powerful user experience. In fact, people tend to revisit a site that's easy to navigate and answers their questions in an easy-to-digest way.
Once the user experience is solid, you will then grow your brand awareness. Doing branding campaigns is a very good idea and you can use social channels such as:
Facebook;
Twitter;
Instagram;
LinkedIn;
Etc…
Increasing brand awareness allows more people to know about your brand and therefore type your site URL directly into their browser.
14. Improve user experience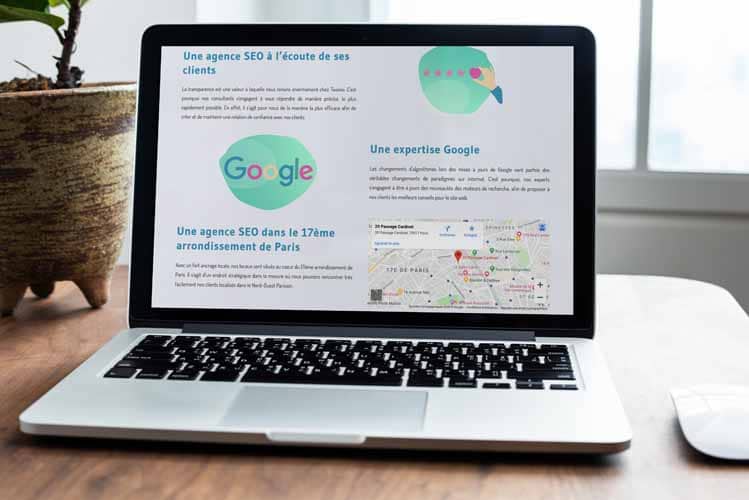 Did you know? 38% of users will stop engaging with a website if the content and layout aren't engaging. In fact, user experience (UX) has an impact on SEO and you need to take care of it at the risk of not having much engagement from your visitors.
After improving its UX, the company Ezoic, for example, increased its revenue by 186% per 1,000 visitors. Designing a user experience that aligns perfectly with your SEO is vital if you want to succeed in the SERPs.
At this level, particular attention must be paid to three different parameters:
The architecture of the website;
The structure of your content;
A mobile-friendly website.
Website Architecture
This is a related component of user experience that influences a website's position and performance in the SERPs.Founder Credo, John Doherty, says, "One of the biggest changes I can make is fix the architecture of their site. ".
He gives the example of a website for which he has raised the URLs of a subcategory in the architecture of the website no more than 3 levels deep.
The results are clear:
+74% organic sessions in this section of the site;
+41% pages per session;
+148% new users.
With better navigation, a good architecture helps users find what they are looking for easily and quickly. In addition, it allows robots to quickly crawl many more web pages, which is a big plus for your performance in the SERPs.
A user shouldn't need more than three to four clicks to find any page on a website. Therefore, you need to make your web pages and navigation on your website as easy as possible.
Content structure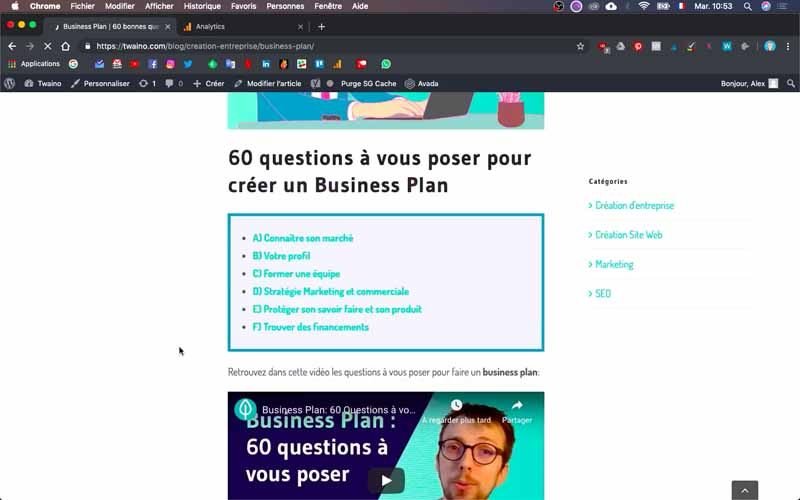 It is not enough to provide visitors with the information they are looking for. In fact, how that response is structured is an important factor when ranking content under more competitive keywords.
A good content structure includes a variety of headings and subheadings to make it easier for a person to digest and understand information.
To keep readers interested in your content, consider things like:
Bullets;
numbered lists;
Medias ;
Etc…
According to a Buzzsumo study of 100 million articles, list content and infographics enjoy significantly more engagement than other types of content.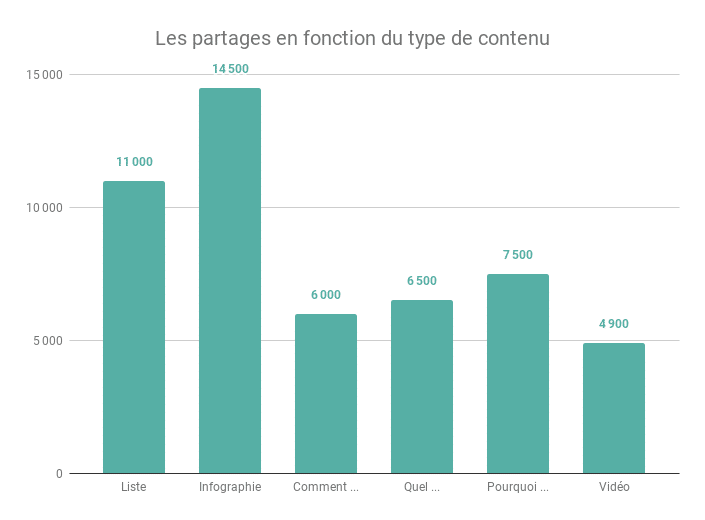 The more engaged a reader is with your content, the longer they will stay on your website, which increases so-called " session duration ," another relevant Google ranking factor that comes from creating great content.
A Mobile-Friendly Site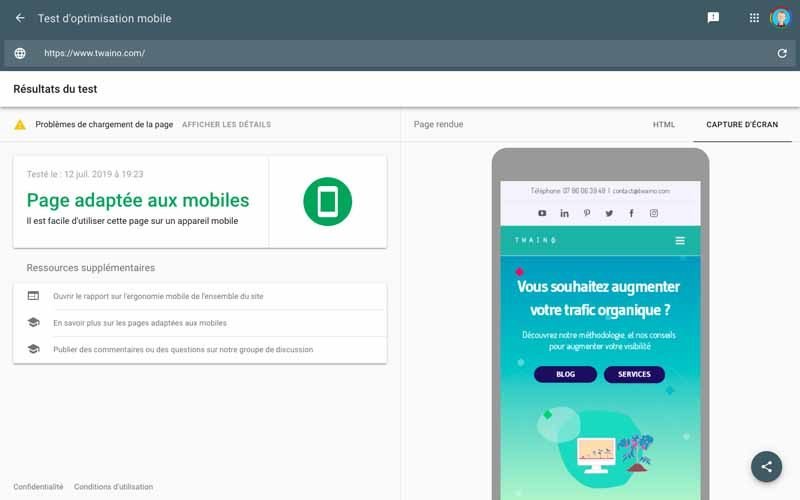 While 90% of shoppers who had a great mobile experience would buy from the same seller again, 60% are likely to never buy again if they have a negative mobile experience.
These figures show how a website suitable for all media is very important for the user experience. Since Google wants to satisfy its users, the firm has started to favor responsive sites or websites that adapt to all media.
Google indicates that " responsive design is the model we recommend ". One of the reasons cited by Google is that this format: " helps our algorithms accurately assign indexing properties to the page instead of having to report that there is a match between the mobile and desktop pages . In
the age of mobile-first indexing, having a responsive website is vital to your SERP rankings. For this, make sure that the pages of your website adapt perfectly to the screens of mobile phones.
15. Voice search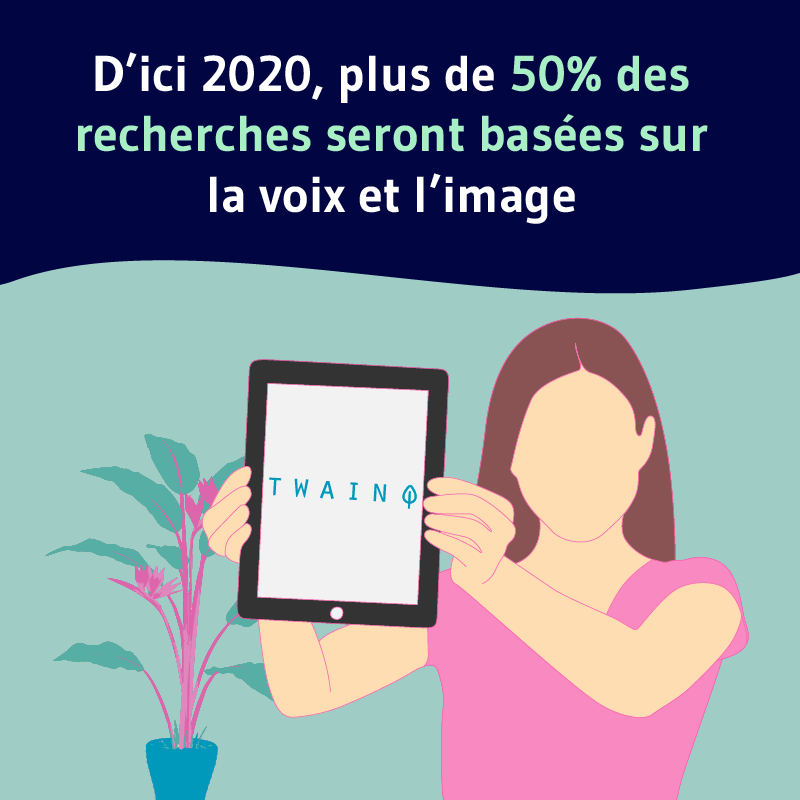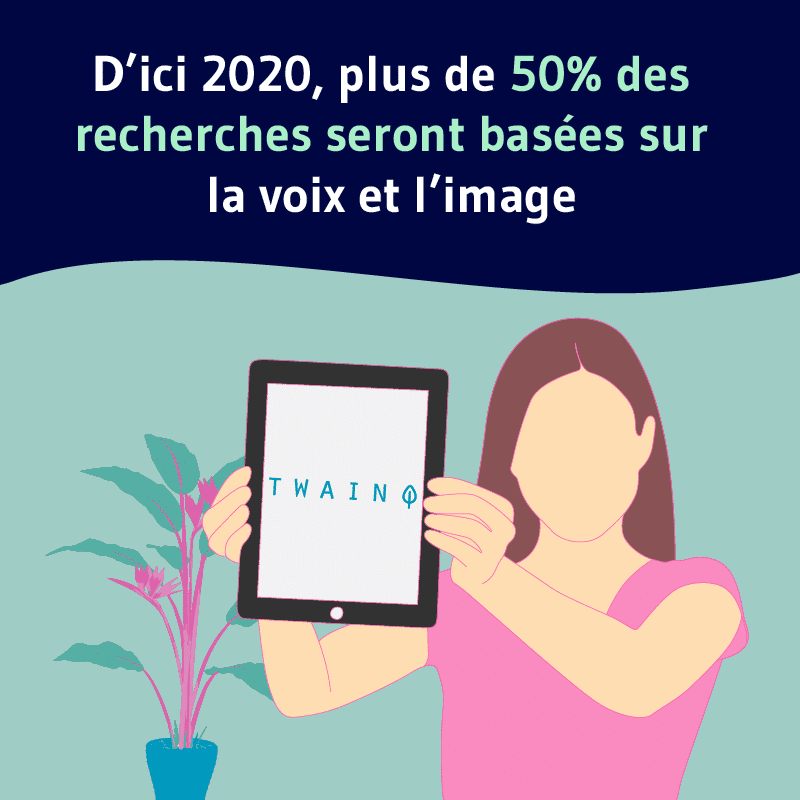 The number of voice queries has increased by 3,400% from 2008 to 2017 and this evolution does not seem to be fading since by 2020, more than 50% of searches will be based on voice and image .
Voice search is gaining momentum and Google estimates that 72% of people with voice-activated speakerphones, Amazon Echo/Dot and Google Home say their devices are used often as part of their daily routine .
In addition, 41% of these people believe that using the voice service is similar to asking a friend or another person.
According to users, there are four main reasons for using voice assistants:
" 1. It makes it easier for them to multi-task;
It allows them to do things faster than other devices;
It allows them to instantly get answers and information;
It makes their daily life easier. 's
obvious that with the growth of assistants like Siri, Alexa and Cortona, a new way of searching is taking hold. For this, it is important to start optimizing SEO for voice search so that you do not get outdone by your competitors. I will do a full article on SEO for voice search soon.
Complete List of SEO Ranking Factors
This list includes the 210 search engine ranking signals known to date. While some of them are demonstrated by proofs and others are for discussion.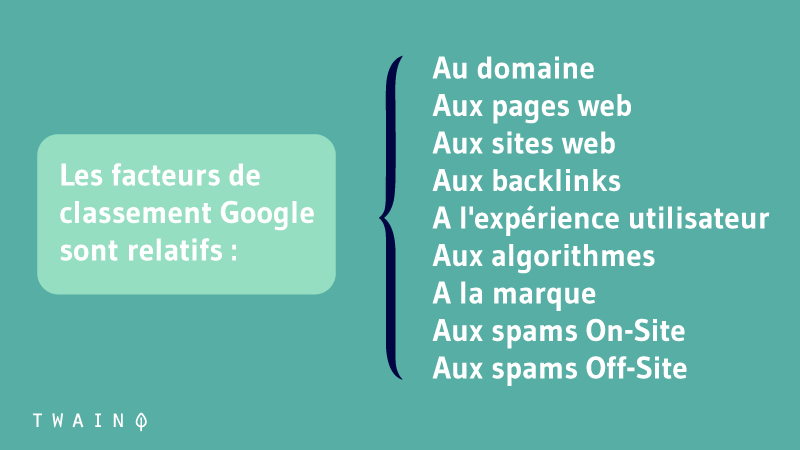 For ease of understanding and navigation, I have categorized the 200+ SEO ranking factors into 9 groups, namely:
A- Domain-related ranking signals;
B- Ranking signals associated with web pages;
C- Ranking signals related to websites;
D- Ranking signals relating to backlinks;
E- Ranking signals associated with user experience;
F- Algorithm-related ranking
signals G- Brand-related ranking signals;
H- Classification signals associated with On-Site spam;
I- Ranking signals related to Off-Site spam.


A- Domain Ranking Signals
1. Domain Age
"The difference between a six-month domain and a one-year domain isn't that big. Google's Matt Cutts. https://www.youtube.com/embed/-pnpg00FWJY?feature=oembed&enablejsapi=1&wmode=opaque
_ important in the ranking factors.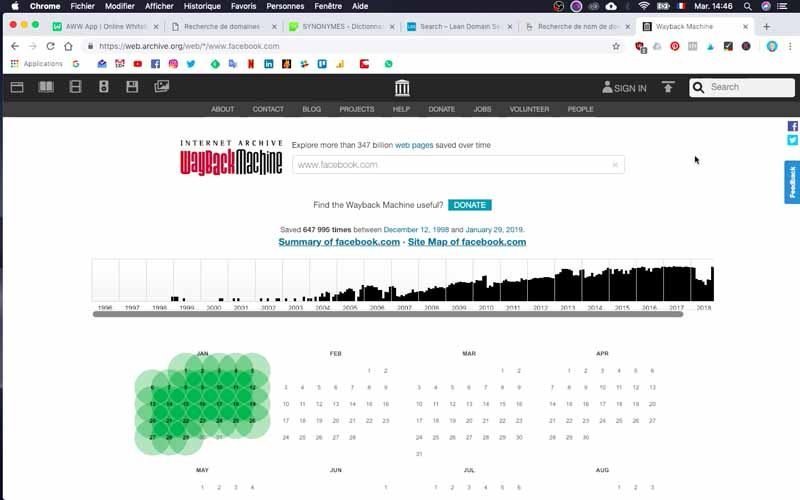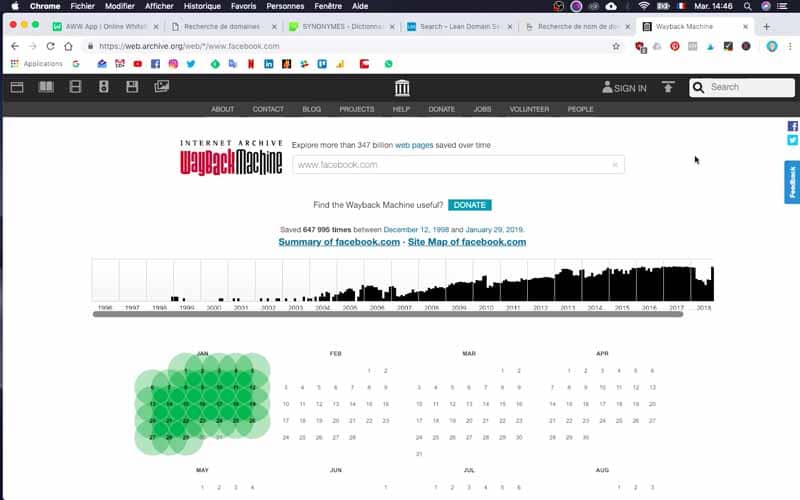 2. Domain Registration Length
Google states that: " Valuable (legitimate) domains are often paid for several years in advance, while doorway (illegitimate) domains are rarely used for more than a year. Therefore, the expiration date of a domain in the future can be used as a predictor of the legitimacy of a domain. .
Even though this is a low importance signal, paying for your domain name several years in advance has a certain advantage over SEO
3. The keyword in the domain
Nowadays, the weight of the keyword in the domain is not as important as in previous years. That said, its presence acts as a relevance signal and gives a slight edge in the SERPs.
According to Jeremy L. Knauff of Spartan Media: " From an SEO perspective, a keyword in a domain has very little direct impact today, but it plays a huge role in the anchor text of links that a website wins. In this regard, it can provide an SEO advantage.
Another, perhaps more important, factor is its role in branding. A unique and memorable domain is good, but a unique and memorable domain that also tells people what the website is about is infinitely better. ".
Google's Matt Cutt adds: " For example, if you have 15 sites on Android and they all have Android, Android, Android, Android, Android, Android, it's going to be a bit difficult to remember, to rise to the above the fray, to rise above the lot.
Whereas if you have something a little more customizable, people will remember it. They will be able to come back. Even sites like TechCrunch, there is no indication of tech news. ". https://www.youtube.com/embed/rAWFv43qubI?start=100&feature=oembed&enablejsapi=1&wmode=opaque
In a live, Google's John Mueller says, "…just because the keywords are in a domain name that it will automatically rank for those keywords. And this is something that has been the case for a very, very long time. […] it takes time like any new website. […] Obviously, there are many websites that rank for the keywords in their domain name. But they worked on it for years and years…" https://www.youtube.com/embed/a9dzpSfFVvc?start=1310&feature=oembed&enablejsapi=1&wmode=opaque
In summary, using keywords in your domain name is a relevance signal for both search engines and Google. But you have to be careful with your branding because if you are not original enough, your target audience may not be able to clearly differentiate you from competitors.
4. The keyword in the top-level domain or Top-level domain
Like the previous point, the keyword in a top-level domain acts as a signal of relevance. Note that top-level domain (TLD) is the formal term for the suffix that appears at the end of a domain name.
Here are some examples of top-level domains:
You have for example:
Etc.
Although we are probably all familiar with the above TLDs, there are actually over 1,000 possible TLDs for webmasters to choose from. This includes things like:
.book;
.clothing;
.dog;
Etc.
There are also country-specific TLDs which are known as country code top-level domains, or ccTLDs:
.fr: France;
.uk: United Kingdom;
.dk: Denmark;
Etc…
5. Keyword as the first word in the domain
The position of the keyword in the domain is important. In fact, when your domain name starts with the target keyword, you have an advantage over websites that don't have the keyword in their domain or have it placed in the middle or at the end.
6. Keyword in Subdomain
Subdomains are the third level of a domain hierarchy and are part of a larger top-level domain. They are added in front of the root domain and separated from the domain name by a dot.
For example, "blog.example.com" and "english.example.com" are two subdomains of the root domain "example.com". Subdomains can be created under any root domain that a webmaster controls.
As with a domain, the presence of a keyword in the subdomain can improve rankings in the SERPs, according to experts at Moz.
7. Exact Match Domain or EMD
If you have an Exact Match Domain, you will benefit from a relevance signal compared to other websites. But, if you have a site with very good quality content, you risk being penalized by the EMD Update.
In a tweet
Matt Cutts
✔@mattcutts
Minor weather report: small upcoming Google algo change will reduce low-quality "exact-match" domains in search results.
6910:43 PM – Sep 28, 2012Twitter Ads Information and Privacy 780 people are talking about it
Matt Cutts of Google says: search results. ".
Like keywords in the domain, an Exact Match domain is only beneficial if you correctly use SEO practices including creating high quality content.
8. Domain history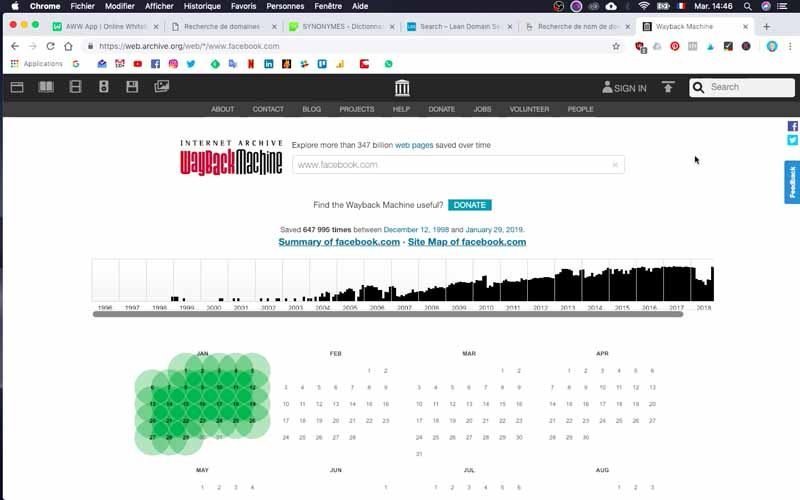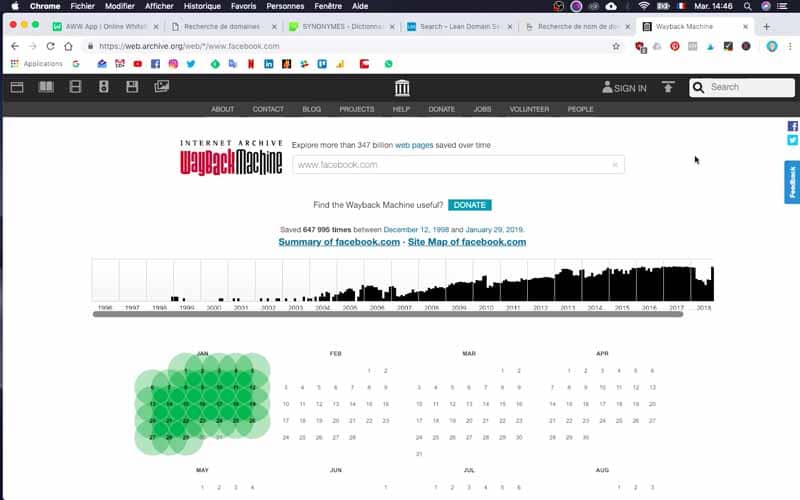 Search engines analyze the behavior of your site or domain in the past. If you purchased a domain that was penalized, you will carry the penalty with it.
In fact, domains with a poor track record can take a lot of effort to gain rankings, even long after past issues have been forgotten. Always check your domain's history before registering it, in case it was spammed by a previous owner.
9. Public vs. Private Whois:
According to Wikipedia : " Whois (who is?) is a lookup service provided by Internet registries, e.g. Regional Internet Registries (RIRs) or domain name registries, allowing information on an IP address or domain name to be obtained. This information has a wide variety of uses, whether it is coordination between network engineers to solve a technical problem, or the search for the holder of a domain name by a company that would like to obtain it. ".
Otherwise, Whois information is public, but there are mechanisms to make it private. On this subject, Matt Cutts of Google says: "When I checked the whois on them, they all had a 'privacy service' on them. It is relatively unusual. […] Having "Whois Privacy" enabled isn't automatically bad, but once you put many of these factors together, you're often talking about a very different type of webmaster than one who just has one site. ".
In fact, private WhoIs information can be a sign of "something to hide," which can significantly affect rankings.
Redflymarketing shows,
"Don't hide behind domain privacy services if you don't have a legitimate need for them.
There is evidence that search engines can see through this "wall" anyway and it makes your site less trustworthy to normal (albeit technically savvy) visitors/customers.
Make sure the whois data matches the contact details on your site and in your privacy policy. WhoIs
Owner Penalized Since
Google identifies a particular person as a spammer, it makes sense that it carefully scrutinizes other sites owned by that person.
11. Country Extension TLD or Country TLD extension
To improve the ranking of your site in a particular country, you can use a country code top-level domain or country code top-level domain often ending in:
However, this can limit your website's ability to rank globally.
B. Ranking Signals Associated with Web Pages
12. Content Length Content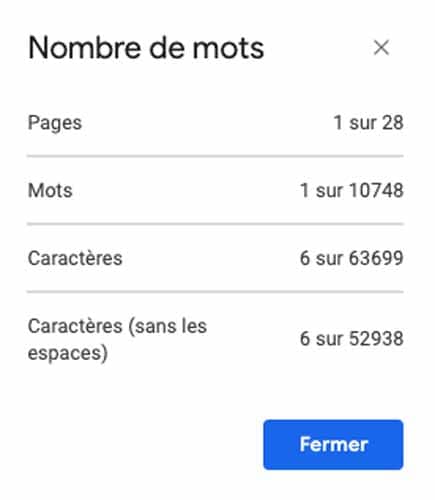 length is among the 15 most important factors that have been previously detailed. In fact, when content is long, it is likely to fully cover a given topic, which Google prefers over short content which is often superficial.
Note that content length is correlated to position in the SERP.
13. Table of Contents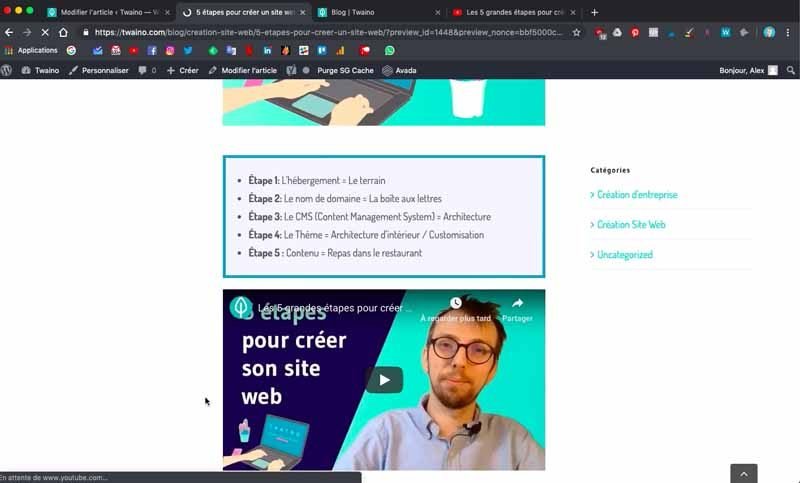 Using a table of contents for long content allows you to improve the experience of your users since they will be able to go directly to a particular section of the content of the page.
In addition, Google likes the table of contents as it improves the user experience and helps Google better understand the content of your page.
I noticed that the use of the table of contents for long articles allows Google to display at the bottom of its "search snippet" or "search extracts", links to the different sections of the content. If a user clicks on one of the links, he finds himself directly on the corresponding chapter.
In its official blog, Google states: "Normally, a search snippet shows how a page, as a whole, relates to your query by snippets content that appears near and around where your query terms appear on the page. But what if only one section of the page is relevant to your search?

That's where these new features can help, by providing links in the snippet to relevant sections of the page, making it quicker and easier to find what you're looking for.
Itsvicky performed a test between contents without a table of contents and contents with a table of contents.
His conclusion: "My last post which includes a table of contents, is ranked at the 4 position on the first page. Now, if this has to do with the additional table of contents only, I'm not convinced, but to me, it looks like the post got a little boost and ranked well…. Using a table of contents can have a positive impact on your new content..
By setting up your tables of contents correctly, you will also have a chance of appearing in the zero position
14. Topic Coverage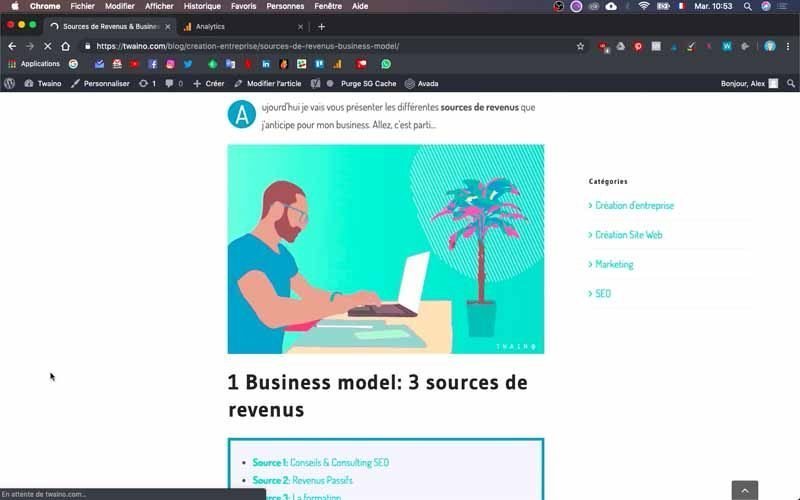 There is a close relationship between Google rankings and the depth of coverage of a topic. The more you cover the various angles of a theme on the same page, the more authority it will have on the pages that only partially cover it.
This is a very important factor among the 15 most important.
15. Keyword in the Title Tag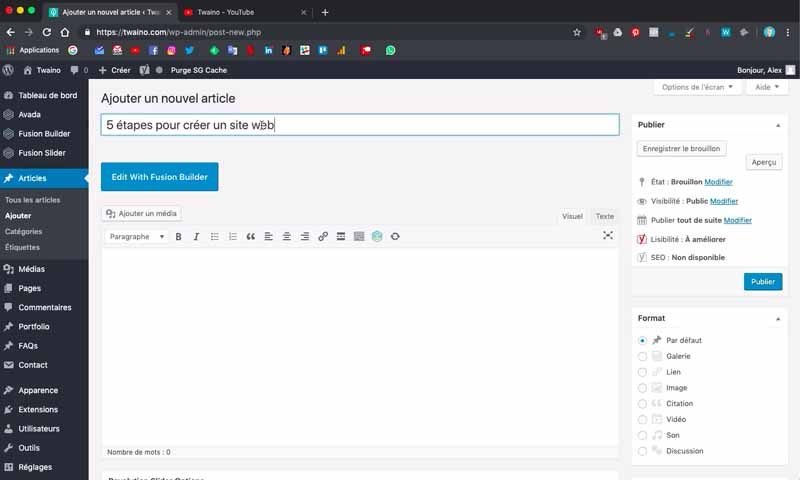 The presence of a keyword in the title tag is no longer important than before, but it is one of the 15 most important signals for on-page SEO.
Note that Meta title tags are important elements that help search engines understand what your page is about. In addition, they are the first impression that readers will have of your page as they are used in three key places:
Search engine results pages: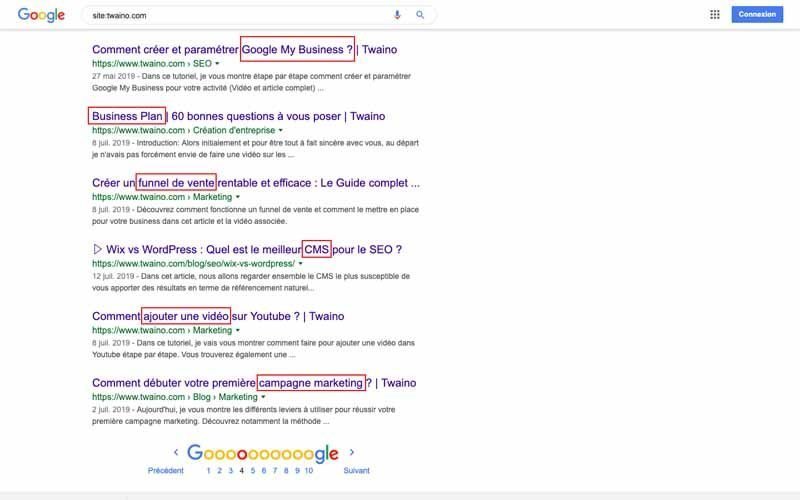 Web browsers: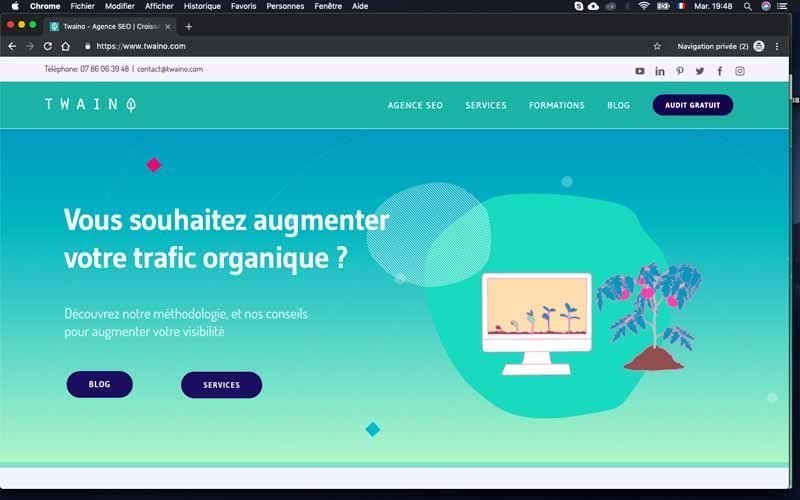 16. Keyword at the beginning of the title tag
According to Moz, when you put your target keyword at the beginning of your title tag, it will tend to perform better than a title tag whose keyword is placed near the end of the tag.
17. Keyword in Description
The meta description tag is an indirect ranking factor in the SERPs. In fact, Google has indicated that it does not use this tag in the ranking of results. https://www.youtube.com/embed/jK7IPbnmvVU?feature=oembed&enablejsapi=1&wmode=opaque
But note that this tag impacts click-through rate, which is a direct ranking factor.
18. The keyword in the H1 tag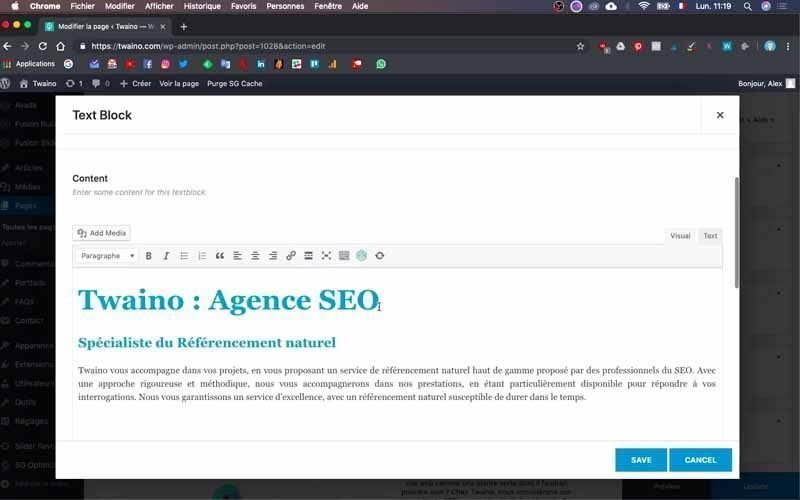 In addition to your title tag, Google uses your H1 tag as a secondary relevance signal. In fact, the H1 tag is the main header of the web page content and it is one of the first things that the user and the search engine will notice.
Having a targeted keyword in the H1 tag will improve the site's visibility in search results pages. If you want to write headlines that get a lot of traffic, check out my post on the subject.
Keyword
Ahref shows that: "When we studied 2M keywords in 2016, we found that there was still a weak correlation between rankings and strategic keyword placement 'exact -match". ". In fact, the presence of a keyword in the first 100 words of a page's content has an impact on Google rankings.
20. Keyword in subtitles or H2, H3 tags…
" These heading tags in HTML help us understand the structure of the page. Google's John Mueller. https://www.youtube.com/embed/i_xnKznRNCc?feature=oembed&enablejsapi=1&wmode=opaque
The presence of your keyword in your subtitles is a weak relevance signal that allows you to help Google understand the structure of your content.
21. Keyword Density Keyword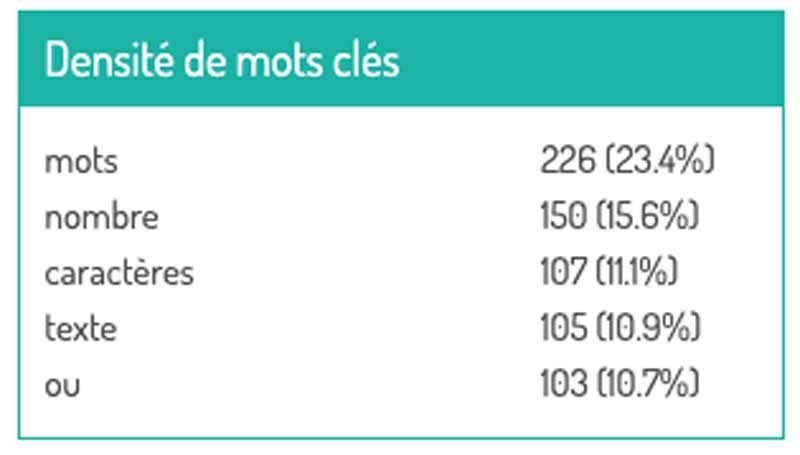 density isn't as important as it was a few years ago. Currently, Google mainly uses it to determine the theme treated on a web page. That said, overuse of keywords can hurt your SEO since sites with high keyword density will be penalized by Google's spam checker algorithm. https://www.youtube.com/embed/Rk4qgQdp2UA?feature=oembed&enablejsapi=1&wmode=opaque
Matt Cutts says that of course you have to repeat the strategic words a certain number of times, but he does not exaggerate at the risk of falling in the keyword stuffing. In short, you just have to write naturally since it is proven, thanks to the study cited above on the 1 million results, that even without the appearance of keywords, your content can occupy the first place if it is of high quality.
Indexing in content
Semantic LSI keywords help users and search engine crawlers to understand web page content clearly. In fact, these keywords allow search engines to apprehend the meaning of words that have more than one meaning.
For example: Magnet (from the verb liked) vs magnet (magnetic).
The presence of these keywords will improve the quality score of the content of your web page. You can check out this resource to learn more about LSIs.
23. LSI Keywords in Title and Description Tags
The relevance of web page content with targeted keywords increases when you include LSI keywords in the title and description tag.
Putting LSI keywords in these tags will therefore help Google discern words with multiple meanings, which can serve as relevance signals.
24. TF-IDF or Term Frequency – Inverse Document Frequency TF-IDF or Term Frequency/Inverse Document Frequency
, is a numerical statistic used by a search engine to analyze the relevance of a website to a user query.
This is a way of knowing the number of times a term appears in a document. Generally, the more that term or keyword appears on a page, the more content on the page is likely to revolve around that word. Google probably uses a sophisticated version of TF-IDF since Wikipedia estimates that: " Variations of the original formula are often used in search engines to assess the relevance of a document according to the search criteria of the user. ".
25. Entity Keyword Match
Content on the page that exactly matches the query or an entity associated with multiple queries that the user is looking for can get a ranking boost for that particular keyword.
For example, if a user uses the query "how to drive direct traffic" and your keyword is for that phrase, you are likely to rank higher in the SERPs.
26. Treat a subject by theme rather than by keywords | Google Hummingbird
Launched in 2013, Hummingbird is an algorithm that allows Google to go beyond keywords to understand the subject treated on a page.
HubSpot shows that: " Since the implementation of this new algorithm, it is possible to obtain precise answers for queries such as: "Which is the nearest bakery" or "Which doctor is on duty today " .
To be better ranked, all you have to do is ensure the quality of the content you publish.
27. Duplicate Content
According to Google, " Duplicate content generally refers to substantial blocks of content within domains or between domains that completely match other content or are substantially similar. ".
In the event that the content has been duplicated in order to manipulate the algorithms, the firm indicates: " We will also make the appropriate adjustments in the indexing and ranking of the sites concerned. As a result, the site's ranking may suffer, or the site may be removed from the Google index entirely, in which case it will no longer appear in search results. ".
That said, if you are going to use similar content, it is recommended to use the canonical tag.
28. The Canonical tag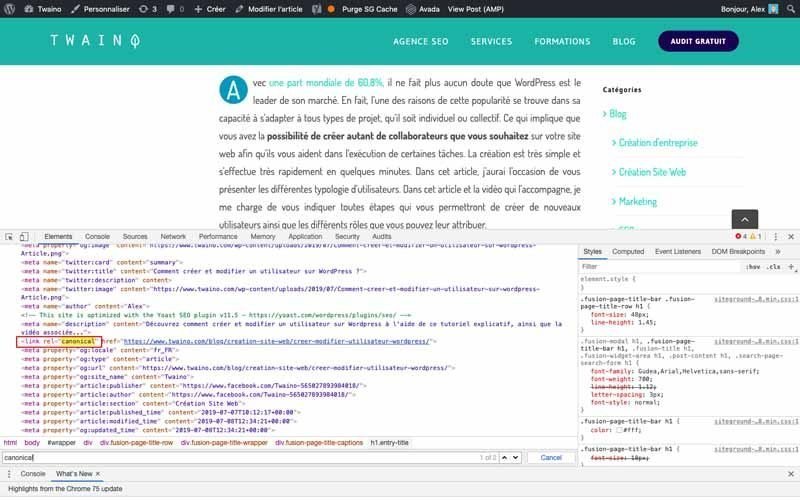 The use of the canonical tag makes it possible to avoid the penalization of a Web page having duplicate or similar content.
In its guide to using the canonical tag, Google states: " If you have a single page accessible by multiple URLs or different pages with similar content (for example, a page with both a mobile and a desktop version ), Google considers them duplicate versions of the same page. Google will choose one URL as the canonical version and crawl it, and all other URLs will be considered duplicate URLs and crawled less often.
If you don't explicitly tell Google which URL is canonical, Google will make the choice for you, or consider them both equally, which could lead to unwanted behavior. you
use this tag correctly, you will prevent Google from penalizing your rankings for duplicate content.
29. Image optimization
The presence of media or more precisely images in your content is a bonus for your ranking in the SERPs. But it is not enough to add images to your content, you have to think about optimizing them for search engines.
In its Image Best Practices, Google states, " By adding more context around images, results can become much more useful, which can lead to higher quality traffic to your site. You can make the discovery process easier by making sure your images and site are optimized for Google Images. ".
Indeed, when you take the time to optimize your image with the alt attribute, title, description and caption, you send relevance signals to Google. The latter is likely to show it when Internet users do searches for which your image is relevant. https://www.youtube.com/embed/3NbuDpB_BTc?feature=oembed&enablejsapi=1&wmode=opaque
30. Freshness of content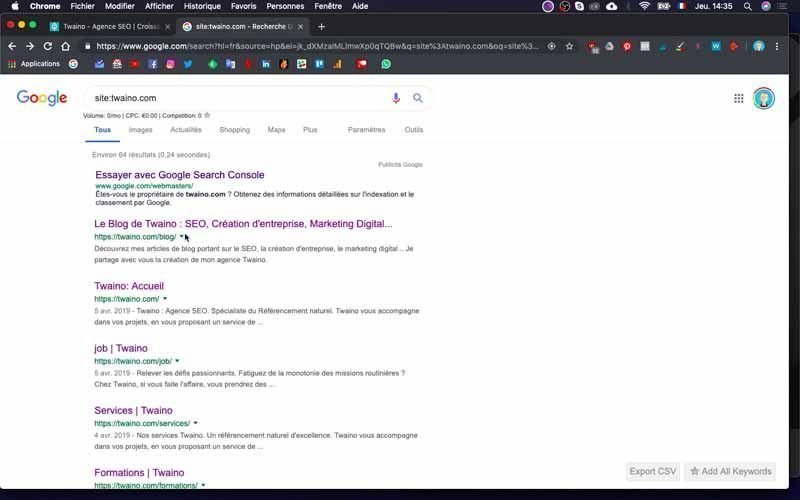 Freshness of content is important to search engines, which is why the date of the last available modification in the sitemap will be used as one of the ranking signals by Google Caffeine.
While doing your various searches, you have probably noticed that Google displays the date of the last update for certain pages in the SERPs.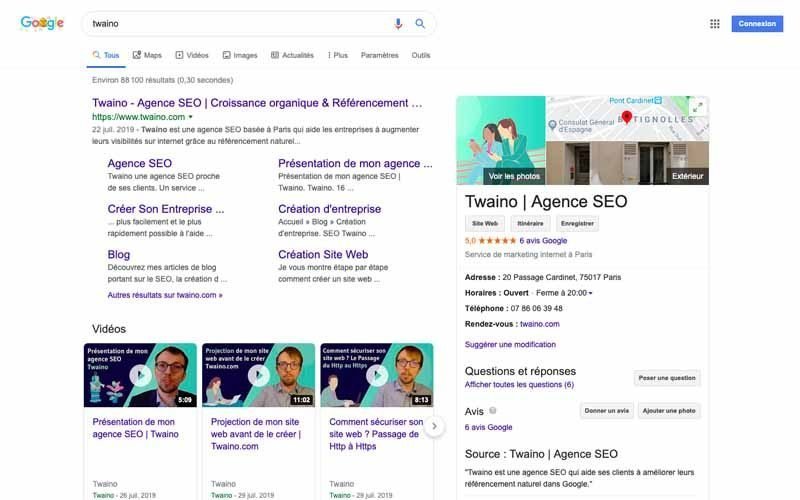 Google gives the reason for considering such a factor: " Content on the web is booming. It is not only growing in size and number, but with the advent of video, images, news and real-time updates, the average web page is richer and more complex. Also, people's expectations of research are higher than they were before. Searchers want to find the latest relevant content and publishers expect it to be found as soon as they publish it.
To follow the evolution of the web and meet the growing expectations of users, we created Caffeine. posting
new content or updating your old content can be a great content marketing strategy. Especially since the performance of content in the SERPs tends to decline over time.
31. Extent of Content Updates
The extent of edits and changes you make to your content also serve as indicators. When you fix just a few word mistakes, it doesn't matter as much as adding or deleting entire chapters.
altogether small changes. This is one of the reasons why when you update, for example, a link on an old page, also update the text around it. This way, Google might be less inclined to ignore the change.
32. Changes to core content matter more
Changes you make to your web page matter differently depending on the content being changed. Low-value content includes:
JavaScript;
Comments;
Advertisements;
Browsing;
Date/time labels;
Etc…
The very body of your page is the most important content and any changes are likely to have the most impact.
33. The frequency of updates of your pages
The frequency of updating a page plays a determining role in the freshness of a page insofar as if you update the page every day, it does not will not have the same importance as if you do it once a month or a year.
For example, a document whose content is edited often may be scored differently than a document whose content remains static over time. In addition, a document with a relatively large portion of content updated over time may be rated differently than a document with a relatively small portion of content updated over time.
34. Changes to Anchor Text Can Devalue Links
If the topic of a webpage changes drastically over time, it makes sense that any new anchor text pointing to the page will change too. But be aware that by making drastic changes, Google may consider that your site has changed so much that the anchor texts are now stale and devalue links that it considers old.
The lesson is that if you update a page, don't stray too far from the original context or you risk losing your pre-existing link equity.
35. Bullets and Numbered Lists
Using bullets or numbered lists helps break up content and makes it more reader-friendly. Google seems to appreciate this type of content which tends to appear frequently in its featured snippets.
After infographics, list content is the second most engaged type of content, according to a BuzzSumo 100 million articles.
36. Grammar and spelling
In its guide to SEO, Google shows that you should avoid:
" Neglecting the writing of a text and leaving grammar and spelling mistakes. Using clumsy or poorly written content.".
37. Syndicated content
To ensure that your page will benefit from a good positioning in the SERPs, it is important that your content is original. If it is just copied or similar to other content that already exists, the page may not rank well.
According to Sistrix : " Content syndication uses specific (media) content on many occasions. This can be articles, interviews, blog posts, studies as well as other types of text with content (media) as well as infographics, videos, podcasts, etc.

Anyone offering content syndication gives their content, of which they are the author, to third parties who will use it. So, for example, one publishes an article on his blog first and republishes it a few days or weeks later on another website, which perhaps has a wider audience and coverage. This is called content syndication.
In its guide to ingesting syndicated content, Google shows that: " Syndicated content detection is currently only available for content that originates from your master CMS in an MRSS feed and in a syndicated third-party content, such as YouTube, Brightcove, or Ooyala. ".
You can follow Google's guide to see how to avoid being penalized for syndicated content.
38. Number of internal links pointing to a page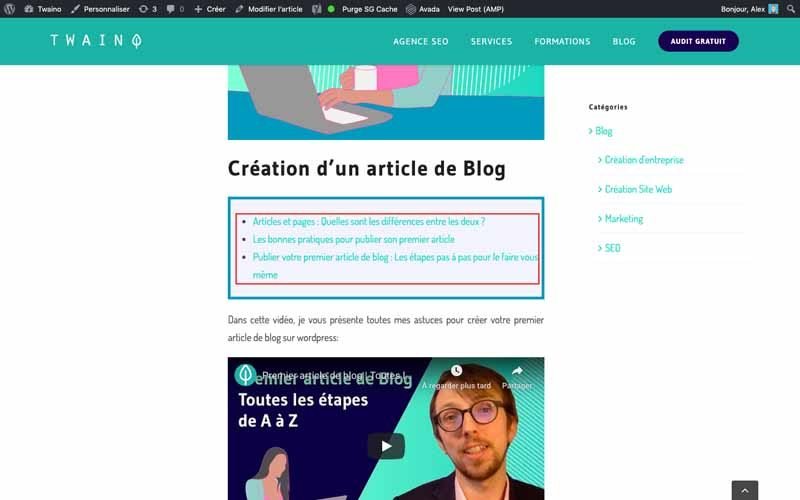 The number of internal links to a page on your own website indicates its importance in relation to other pages on the site. Therefore, the page of your website that has the most links from other pages is the one that is considered the most important.
It is very important to use internal links or to link your web pages together since the most popular search engine says: " Google must constantly look for new pages and add them to its list of known pages.Some pages are known because Google has already crawled them before. Other pages are discovered when Google follows a link from a known page to a new page. SEO
Be aware that pages that have no links pointing to them are considered "orphan pages" and this is an problem that needs to be fixed quickly.
39. Quality of internal links pointing to a page
The authority of an internal page linked to another allows it to have more performance in the SERPs. In fact, not all links are created equal and with this logic, links from authoritative pages on your website will boost the ranking of other pages in the SERP.
40. Broken links
Search engines don't like pages that have too many broken links. If search engine crawlers find too many links to "404" error pages, they consider the site neglected or abandoned.
Keep in mind that Google also uses broken links to rate the quality of a page. You can use tools to find broken links on your website to fix them.
41. Quality of the outbound link
A recent study by Rebootonline proves the fact that the use of outbound links, particularly to authority sites, can send signals of trust to Google, which is likely to influence your SEO.
Rebootonline's conclusion is: " The key takeaway from this test is that while we don't know and haven't proven how powerful outbound links are in the scheme of things, we have proven that they have a positive impact if used correctly.
42. Number of outbound links
The ratio of inbound and outbound links will be monitored by the search engine. The site that has too many outbound links can hurt the page's ranking. https://www.youtube.com/embed/QHG6BkmzDEM?feature=oembed&enablejsapi=1&wmode=opaque
In the previous video, Matt Cutts shows: "Limit the number of links per page (a few thousand at mos)" or "Limitez le number of links per page (a few thousand at most".
43. Theme and quality of the content of the outgoing link
The content of the pages to which your outgoing links point is considered as a signal of relevance by Google thanks to its Hillop Algorithm.
For example , if you sell shoes and you have a page that talks about these shoes with a number of links to football, Google will consider that the page in question is about football shoes, and not simple shoes
..
Using affiliate links is not a bad practice in itself, but when you have too many affiliate links, Google's algorithm may pay more attention to other quality signals to get bettermake sure you're not a " thin affiliate " or a bad affiliate.
Remember that search engines prefer sites with original content that adds value for users. Sites that have low quality content and lots of links from affiliate networks will suffer in search rankings.
45. Page load speed via HTML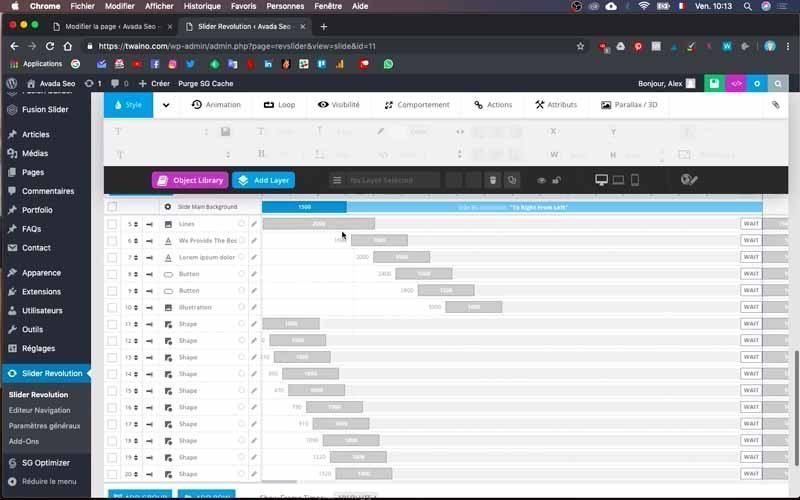 Search engines measure the response time of your site. How fast your website loads is an important SEO ranking factor used by both Google and Bing.
Note that these can fairly accurately estimate the speed of your site based on the HTML code of your page.
46. ​​Page load speed through Chrome
To better understand page load speed, Google also uses Chrome user data. This approach allows the search engine to measure how fast a page actually loads for users.
47. Use of AMP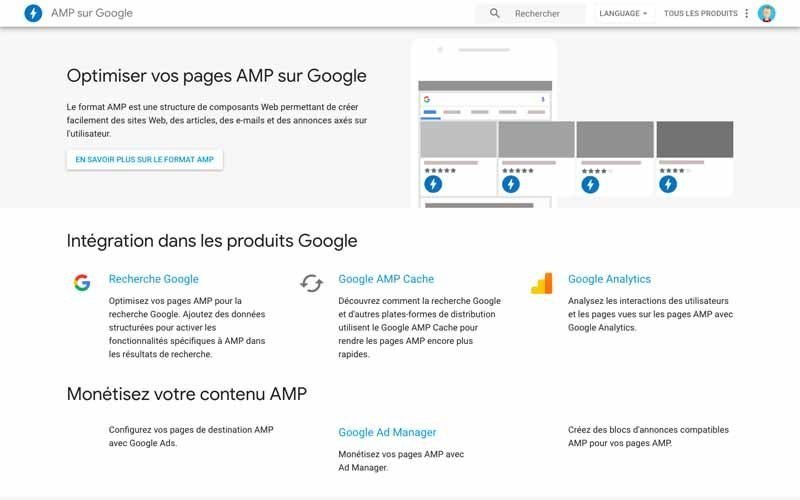 Mostly applicable for mobile SEO ranking factors, pages with AMP are likely to rank higher in mobile search results. https://www.youtube.com/embed/lBTCB7yLs8Y?feature=oembed&enablejsapi=1&wmode=opaque
Note, however, that AMP usage is not a direct Google ranking factor, but it may be act as a ranking requirement in the mobile version of the Google News Carousel.
48. Mobilegeddon
Launched in 2015, Mobilegeddon is the nickname given to the Mobile-Friendly update. The responsiveness and reliability of a web page on mobile devices has become an essential factor in Google rankings, as seen in the top 15 factors. Note that the Mobile-Friendly Update is an update that rewards pages that have been properly optimized for mobile devices.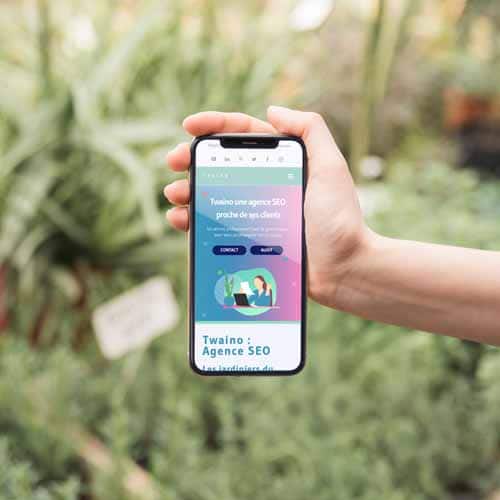 49. Mobile usability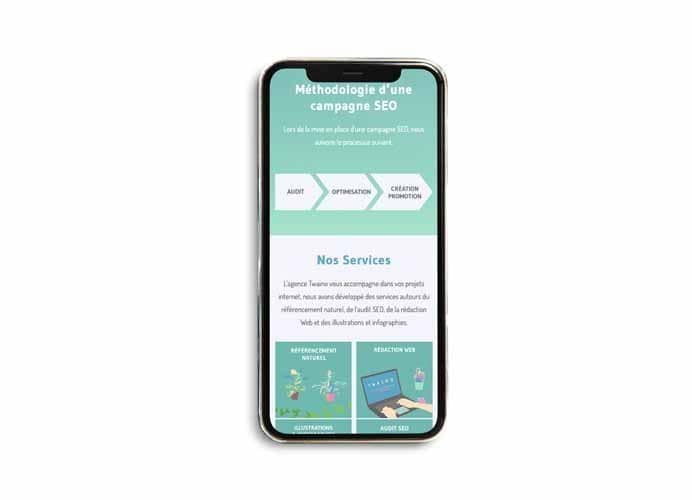 Usability Websites that are optimized for mobile users to use easily have an advantage in Mobile-first Index Google'sTo achieve good performance in the SERPS, it is important to have a responsive website.
50. "Hidden" content on mobile
The display size on mobile is small and it is legitimate to want to hide certain content that will only be accessible on a computer. Note that hidden content on mobile devices may not be indexed compared to fully visible content.
Although Google considers this technique acceptable, it also indicates that if the content is important, it must be made visible. https://www.youtube.com/embed/XOGOhWyNSf8?feature=oembed&enablejsapi=1&wmode=opaque
51. Useful additional content
In one of its Guidelines, Google shows that useful additional content is a quality signal of a page which could therefore affect the ranking in the SERPs.
For example, in this recipe screenshot from AllRecipes, there are links to:
Save the recipe to a recipe box;
Add ingredients to a shopping list;
Add the recipe to a menu;
Edit the ingredients and save it;
Change the recipe from the original serving.
The recipe also contains links to:
Recipes;
Critics ;
Assessments;
Similar nutritional information.
Obviously, not every website will have this kind of extra content, but there are things related to every industry. For example, a realtor might have a mortgage calculator and a budgeting site might have family budget calculators; the idea is to provide useful additional content.
52. Content hidden behind tabs
If users must click on a button or tab to reveal some of the content on your page, be aware that Google does not index this type of content. Without indexing some of your content, your position is likely to be affected. https://www.youtube.com/embed/tFSI4cpJX-I?feature=oembed&enablejsapi=1&wmode=opaque
53. The use of multimedia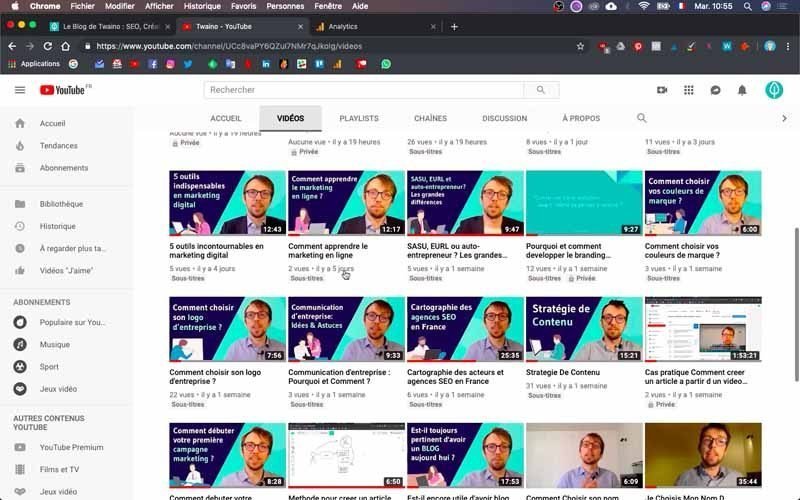 The use of different media formats such as images, videos and others can act as a content quality signal. This is one of the top 15 ranking factors that was mentioned above.
The correlation between media usage and rankings is as follows:
54. HTML Errors/W3C Validation
Make an effort not to have a lot of HTML errors or sloppy coding as these are signs that a website is bad quality.
This subject is controversial in the world of SEO, but several specialists believe that a well-coded page can be a signal of quality for search engines.
55. Domain Authority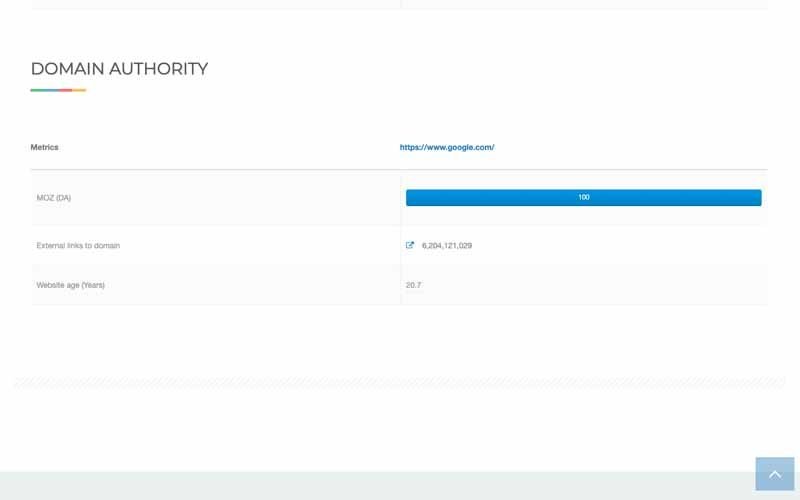 When you have an authority website, the pages you create will enjoy a certain privilege in search results. Domain authority is one of the most important factors in rankings.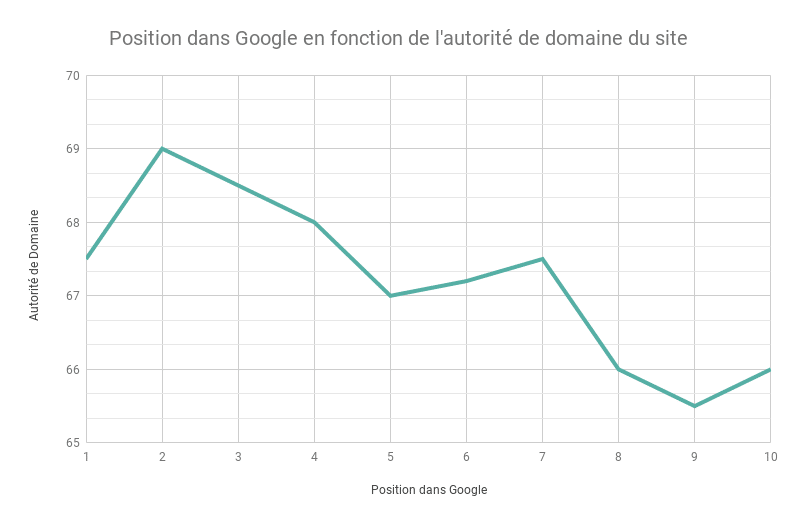 A page on an authority site is likely to have more value in the rankings than a page on a site with lower authority.
56. The PageRank of pages or authority of pages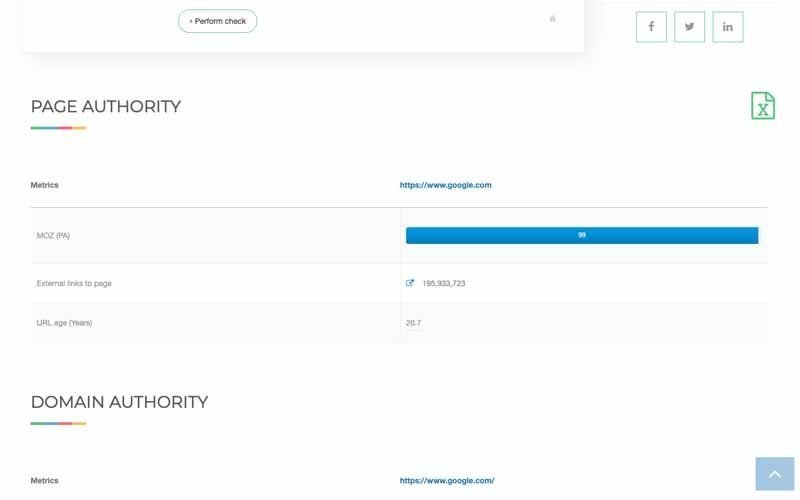 In the same logic as the previous point, authority pages tend to outrank pages with less link authority.
57. URL Length URL length
is an important factor in positioning your website. If you have URLs that are too long, you risk damaging your visibility. For this, it is better to choose short URLs which tend to perform much better.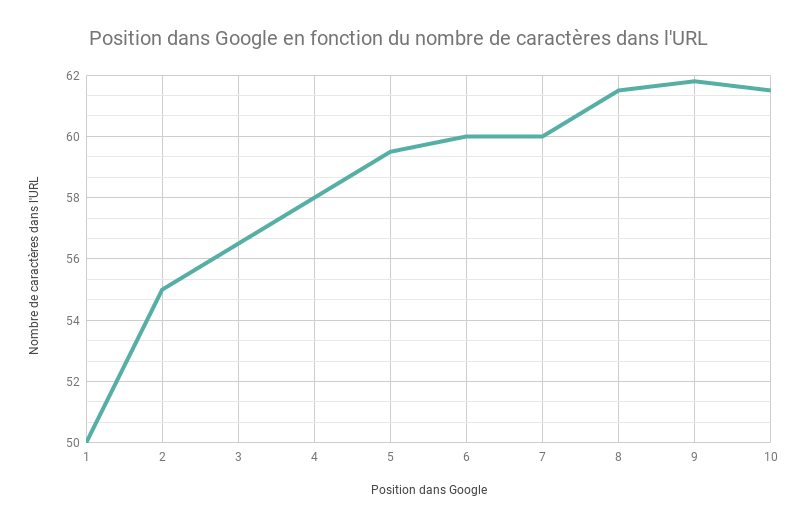 58. URL Path or URL
path The URL path indicates the location of the page in the server and interprets the architecture of the site which is an important SEO factor. Pages that are closer to your homepage have the advantage of having more visibility than pages that are far away.
59. Keyword in URL
When you have a targeted keyword or query in the URL, it acts as a relevant ranking signal and expresses the content of a webpage. That said, this is a low importance signal since Google deems it to be a " very small ranking factor ". Nevertheless, it is a classification criterion that must be considered. https://www.youtube.com/embed/4FkSZIW6d48?feature=oembed&enablejsapi=1&wmode=opaque
Having the keyword in the URL will significantly improve the search visibility of the website.
60. URL String or URL String
Friendly URLs will have a positive effect on PageRank. An unorganized URL structure that contains special characters and numbers will affect a webpage's SEO.
URLs are read by Google and can provide a thematic signal about a page's topic:
Fuzzy URLs can affect the enthusiasm of users to visit your page, so it is important to make them clear and understandable to Internet users.
61. Human Editors
Although never proven, some speculate that the search engine company assigns human editors to influence search results and ranking in the SERPs.
In fact, Google claims for example that: " In 2018, we conducted over 654,680 tests with external reviewers and real-world users, resulting in over 3,234 improvements to our engine. of research. ".
Therefore, human editors may well influence rankings in SERPs.
62. Categorization of articles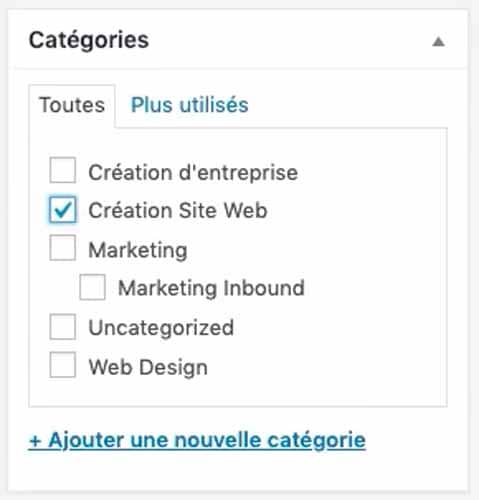 The classification of articles into categories is a relevant SEO ranking factor. Categorizing articles improves site structure and can give a boost in rankings compared to a page that is not organized.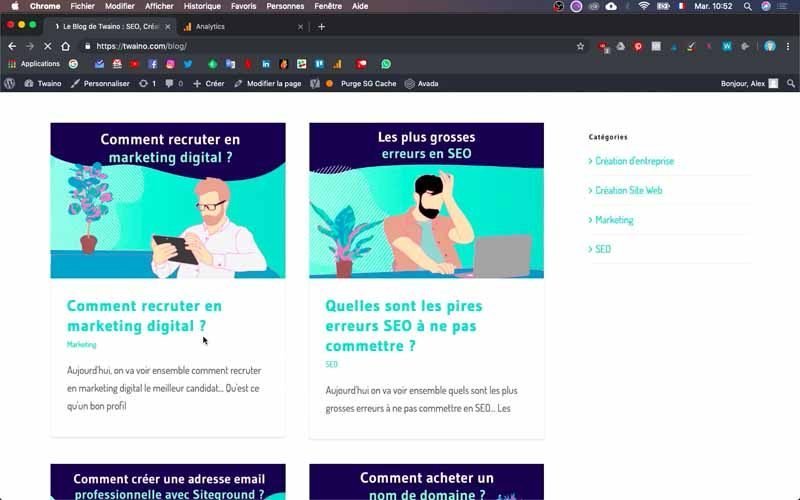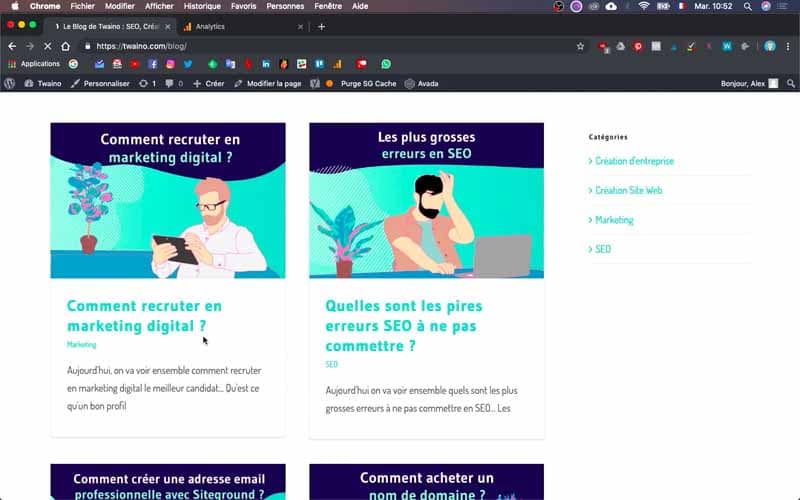 Note that the relevance of a page is also determined by the category in which it is located. For example, when you write an article about backlinks and put it in the SEO category, it brings more precision to Google.
Yoast shows that: " We often come across sites with category and tag structures that are not maintained at all. Even large news sites can suffer from overuse of tags and categories. Tags and categories are two examples of a taxonomy system. When used correctly, a good taxonomy system can boost your site's SEO. The reverse is also true: when misused, it breaks things. In
63. WordPress Tags
its guide to SEO with WordPress, Yoast.com believes that: " The only way to improve your SEO is to link one piece of content to another, and more specifically a group of posts to each other. . ".
Note that tags are relevance signals specific to WordPress and if you are on this CMS, it is a good idea to make use of them.
64. References and Sources
When you cite quality references and sources, you increase the quality of your own content for Google and readers. In Google's quality guidelines, evaluators must also evaluate the sources and references that pages contain.
65. Priority of the page in the sitemap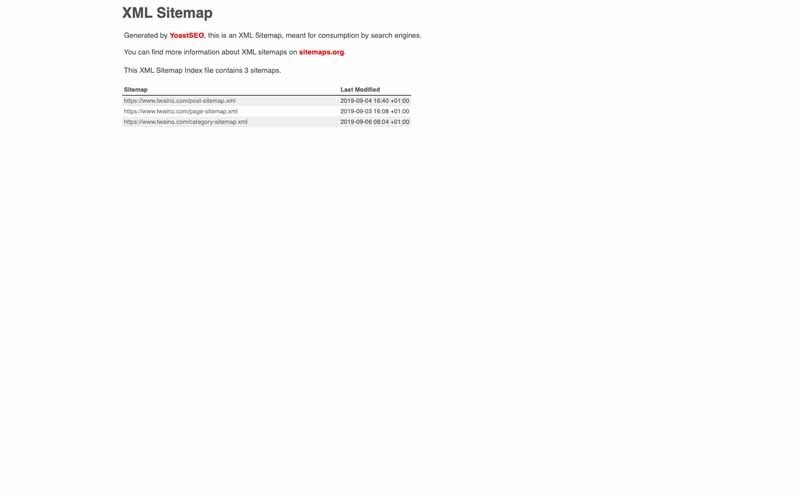 In developing your sitemap, it is important to highlight the most important pages since the priority you give to a page in the sitemap.xml can influence its position by relative to other pages.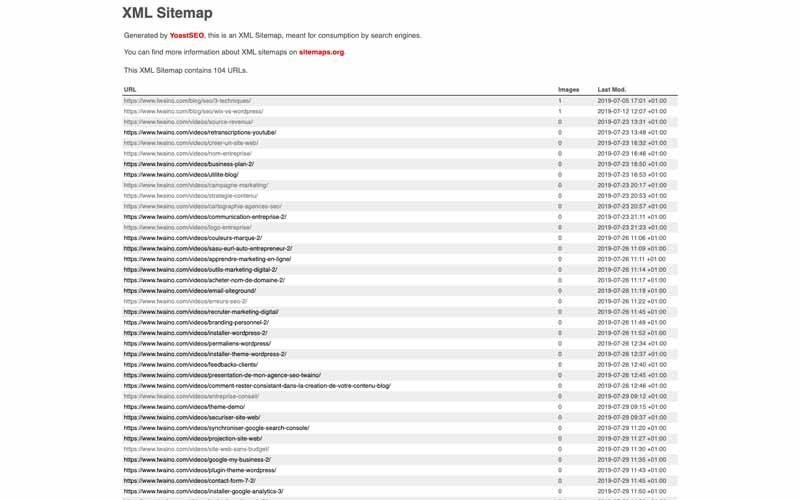 66. Too Many Outbound Links
In its Quality Rating, Google states that: " Some pages have far, far too many links, obscuring the page and distracting from the main content ."
In fact, web pages that contain a lot of outbound links will contribute less to PageRank than pages that consist of a handful of external links. The lesson from this point is that you can use outbound links, but it's important to think about user experience by only placing links where necessary.
Additionally, you can make outbound links open in another browsers tab so that visitors don't leave your site. Otherwise, you risk having a high bounce rate, which can negatively impact your SEO.
67. The amount of other keywords the page ranks for
If a page ranks for multiple other keywords, it will trigger an internal quality signal and could increase the rank for a main keyword in search results.
On a study by Ahrefs based on 3 million search queries, here is the average number of keywords for which the top20 pages also rank:
The finding is that: The first page of the ranking will also rank well for about 1000 other relevant keywords.
68. Page Age
An old page that you update can perform very well against a recent page. In fact, Google prefers fresh content, but good, regularly updated content can maintain a good spot in the SERPs.
69. User-Friendly Layout to Improve User Experience
Think about the layout of your website to provide a good user experience, which is among the top 15 factors. By having a good layout, the main information of your pages will be clearly visible.
In its Quality Guidelines, Google shows: " The highest quality layout makes the main content immediately visible. »
70. Domain parking
Infowebmaster indicates: « We speak of domain parking (translation in the context: domain name parking) when a site is not yet online and a page is still displayed. In concrete terms, when a domain name is registered but the site is not yet ready, it is possible to display a "site under construction" message or to place advertisements. Therefore, the domain name is "parked". In
December 2011, Google made an update that allowed it to reduce the visibility of parked domains in its results.
71. Useful content for your target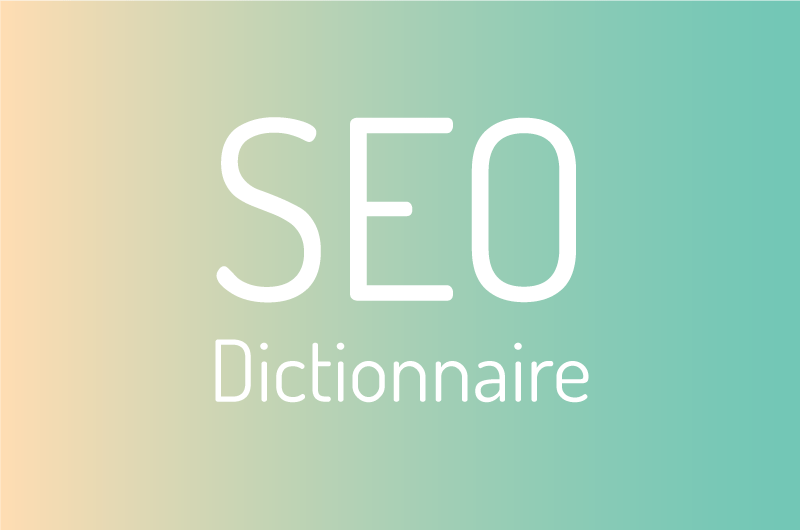 Google makes a distinction between "quality" content and "useful" content. You can check out my SEO guide to find out where I give this example to illustrate: " Let's say you search for 'tags in SEO'. Which brings you two different results, "A" and "B". The "A" content was written by a computer genius who is very good at programming and since it is of very high quality, a lot of people have shared or referred to it. Which generated a large number of backlinks and therefore a fairly high authority. Except that it is not well structured and includes a lot of technical terms that most people will not be able to understand easily.
On the other hand, the content of "B" was written by a person relatively new to SEO, but the latter took care to structure his content well and to make sure to formulate it in such a way that its understanding is easier for everyone. the biggest number.
Although page "A" seems relevant with a higher authority than page "B", the latter will perform very well in Google results because it will have the merit of "popularizing" complex content, to make it intelligible to the greatest number. It is also possible that he performs better than "A" and therefore finds himself at the top of the results. ".
72. Easily understandable editorial level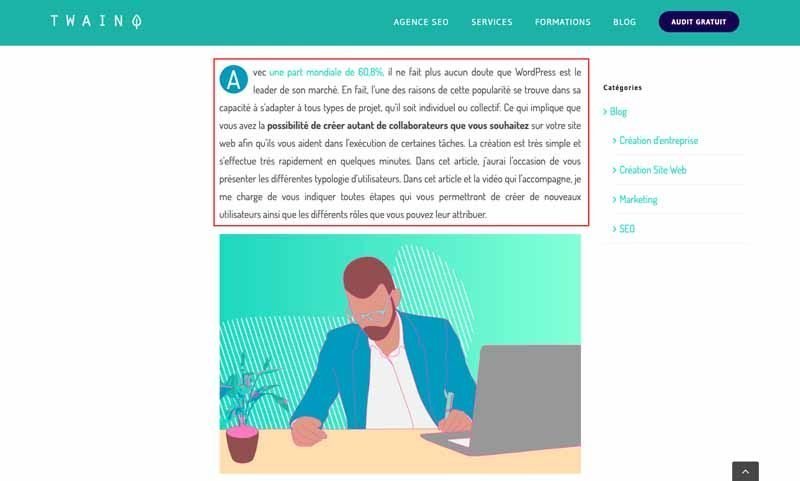 Google uses readability as a factor in ranking pages in the SERP. Is your content easy enough to understand for your target audience? This is the question you need to answer to ensure your content provides the best user experience.
For which level to adopt, marketers disagree. The important thing is to make sure your content is easy for your readers to understand. Note that easy to read and understand content will maintain user engagement and improve time spent on the website.
C. Ranking signals related to websites
73. Domain Trust/TrustRank or trust rank
According to Definitions-seo : "Trustrank is a term used most often to designate the notion of trust that a search engine has in a site. web. ".
That TrustRank is a ranking factor was a guess until Google filed a patent titled " Search result ranking based on trust " to confirm it.
Google's TrustRank algorithm measures the quality and trustworthiness of web pages. The trust factors are used to generate the information search scores of the web page and the search results are ranked according to the trust scores obtained.
74. Site Architecture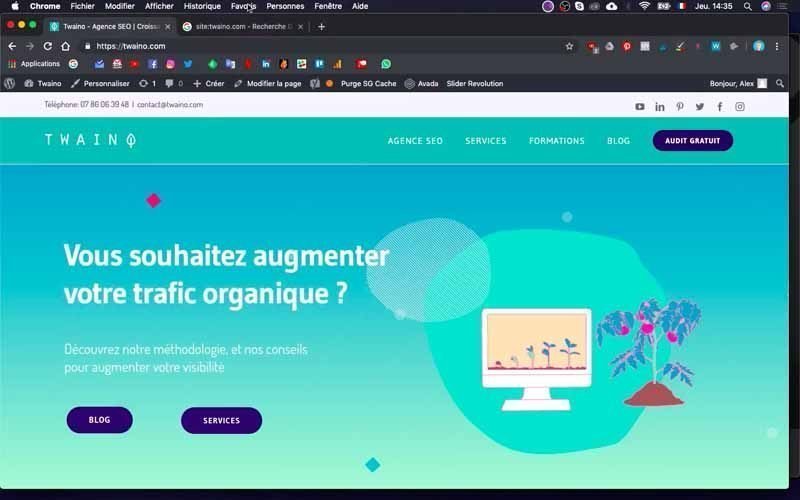 This is one of the 15 most important SEO ranking factors. When you have a well-structured site architecture, you allow users to easily navigate from one page to another and Google to properly categorize your content by topic. In addition, indexing the pages of your website is done much faster and easier.
75. Site freshness
Like updating content, many SEO specialists believe that website updates can influence rankings. This is for example the addition of new content such as articles or new pages.
However, Google denied that freshness of a site's content is not considered a ranking factor.
Matt Cutts
✔@mattcutts
Minor weather report: small upcoming Google algo change will reduce low-quality "exact-match" domains in search results.
6910:43 PM – Sep 28, 2012Twitter Ads Information and Privacy 780 people are talking about this
76. Presence of the sitemap
Google said: " A sitemap is a file in which you provide information about the pages, videos and other files on your site, and the relationships between them. Search engines like Google read this file to more intelligently browse your site. A sitemap tells the crawler which files you think are important to your site, and also provides valuable information about those files: for example, for pages, when the page was last updated, how often the page is changed, and any other language version of a page. you
will therefore help Google to better understand your site, which is likely to improve your visibility.
77. Server issues | Site
uptime When your website goes down very often due to site maintenance or server problems, you risk being penalized in the rankings or if the problem persists, being de-indexed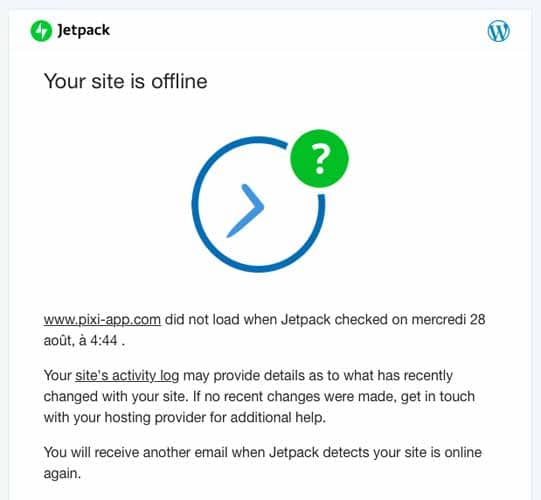 John Mueller says, " The nice thing here is that if we recognize that a page is important to your website, we'll usually crawl it a bit more frequently. So if it goes off the index because of an outage like this, then we'll usually crawl it a little more frequently and index it a little faster than a random page on your website that doesn't. has ever changed in the last few years… ".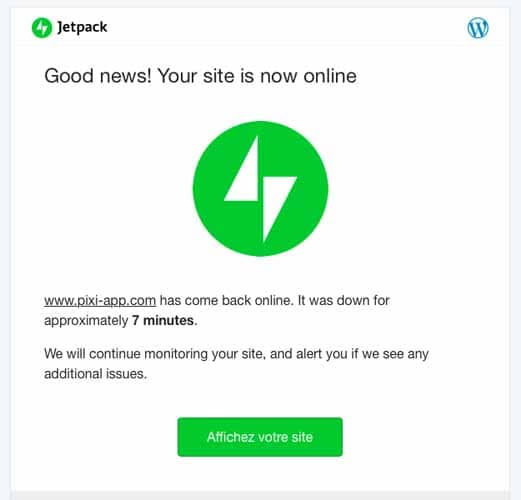 78. SSL Certificate or HTTPS Encryption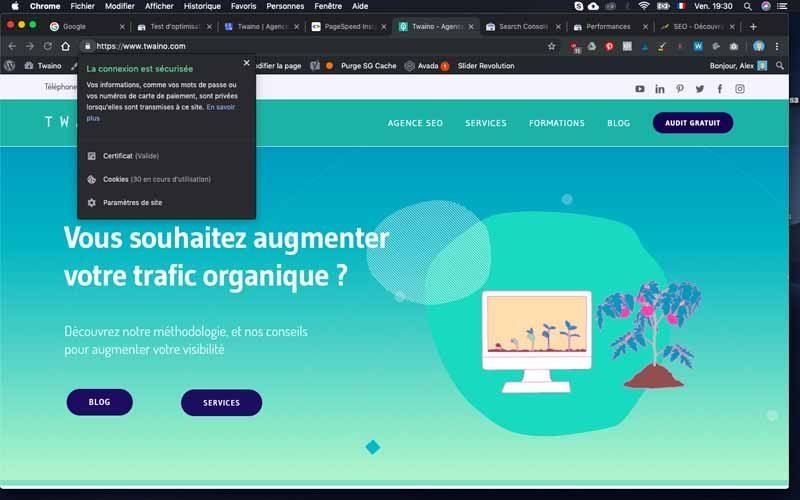 The correlation between a secure site and ranking in the SERPs is significant, making this factor one of the top 15. Note that sites under the HTTPS protocol are preferred over those under HTTP.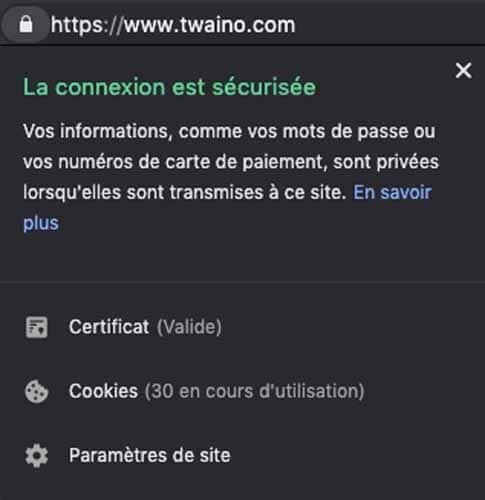 79. The Terms of Use and Privacy pages
Have you already created these two pages on your website? If so, this is a way of telling Google that your site is trustworthy. Some believe that these two pages strongly emphasize a website's authority, expertise, and trustworthiness, which improves EAT .
80. Duplicate Metadata
As with content, each page should have unique meta title and meta description tags. In fact, your page's visibility can be negatively affected if you duplicate these tags on your site.
To determine if you have such duplicate content on your site, you can use Search Console to be notified.
81. Breadcrumb or Breadcrumb Navigation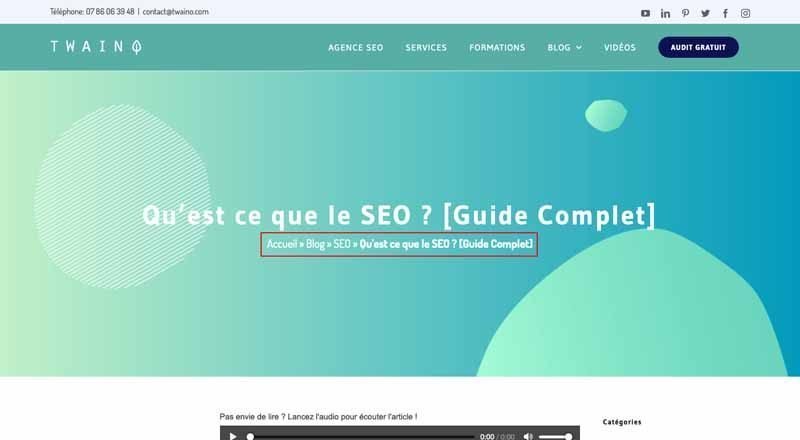 According to Google : "A breadcrumb on a page indicates that page's position in the site hierarchy. A user can navigate through the site hierarchy, one level at a time, starting with the last breadcrumb […] Google Search uses breadcrumbs tags in the body of a web page to rank page information in search results.Breadcrumb
navigation is therefore a user-friendly means that helps users as well as search engines know exactly where they are on a site.
82. Mobile-optimized site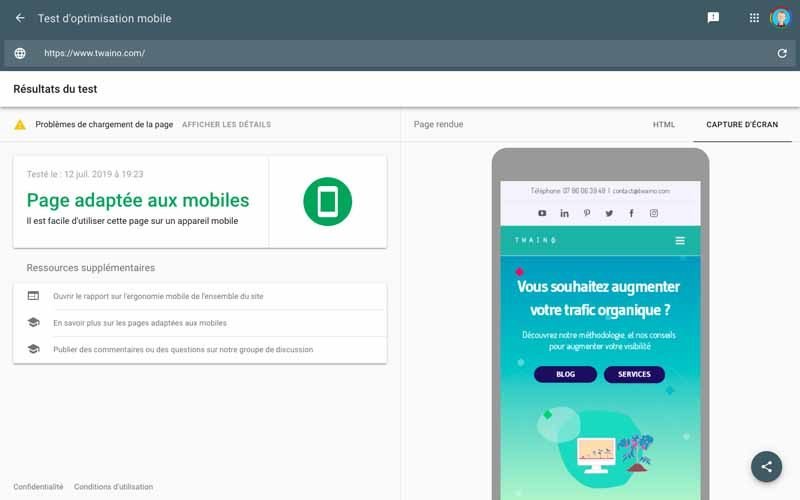 Nearly 60% of searches are made from mobile phones and your website should be adaptable to all devices. This is one of the most important factors, especially since Google now penalizes websites that are not mobile-
83. YouTube
For the past few years, YouTube videos have been appearing in the SERPs and sometimes occupying the top positions. Therefore, the visibility of YouTube videos has a preferential impact on search results.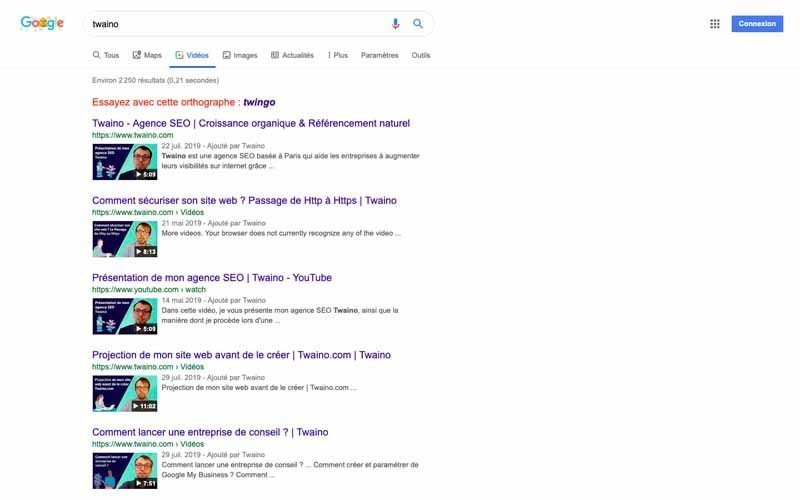 Pages that incorporate video content will develop a high viewability score for a wide range of keywords.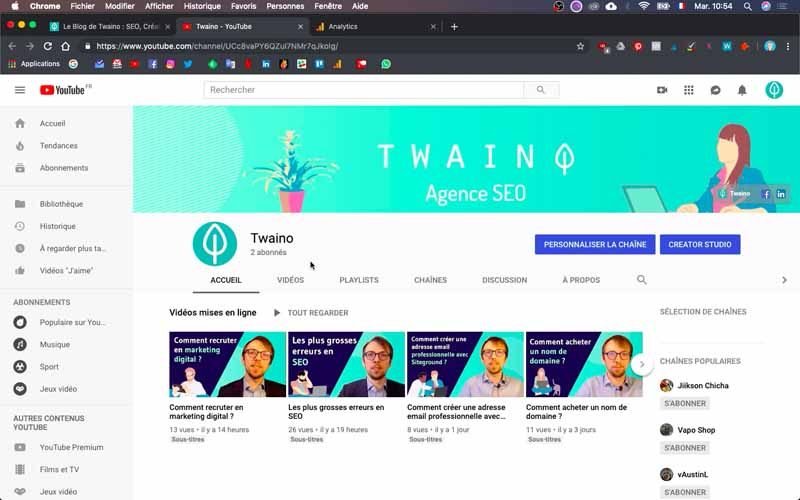 By 2021, 80% of all consumer traffic will be videos and it's a good idea to start adapting your content marketing strategy by including videos. Web giants such as Facebook are already adapting, particularly with live videos, which are powerful marketing tools.
84. Site Usability
A site that is difficult to use or difficult to navigate may indirectly harm rankings by:
Reducing time spent on the site;
The bounce rate;
Page views;
Etc…
These are factors related to the user experience and it is essential to make your website easy to use.
85. Use of Google Analytics and Google Search Console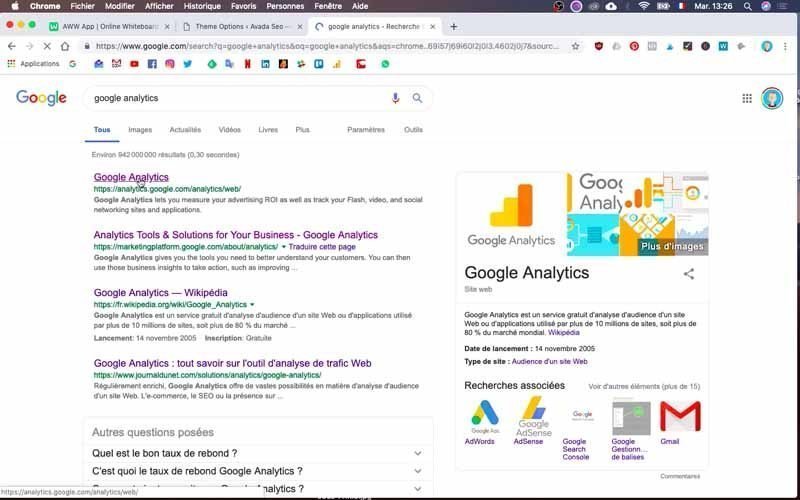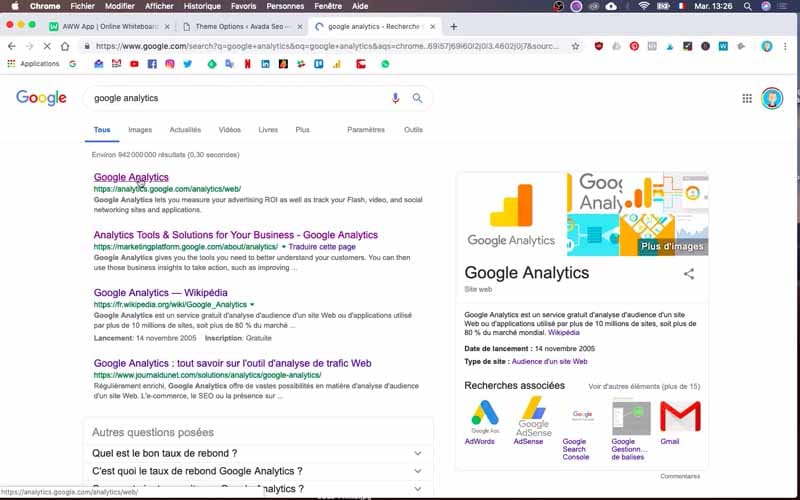 SEO specialists believe that installing these two tools from Google improves the indexing and ranking of pages. This insofar as they will give the search engine much more precise information for its various evaluations:
The audience of the site;
The traffic source;
User behavior;
The cover;
The performance ;
Site links;
Etc…
Google Search Console: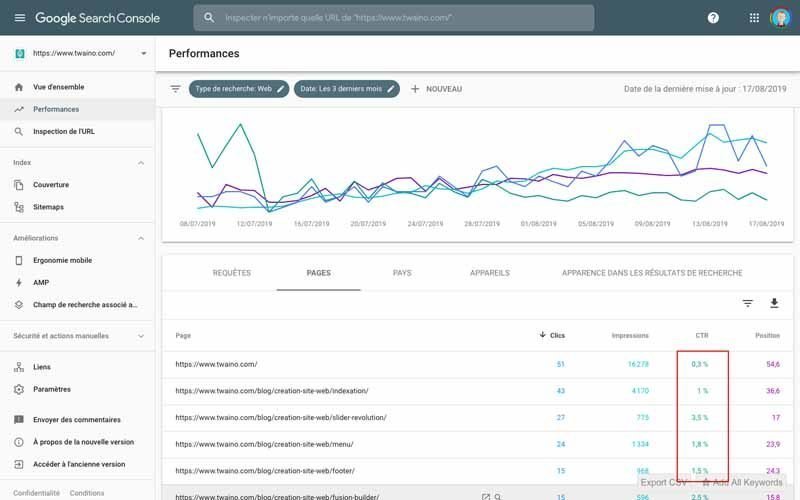 However, the American firm states that it does not use data from Google Analytics as a factor in its rankings. https://www.youtube.com/embed/CgBw9tbAQhU?feature=oembed&enablejsapi=1&wmode=opaque
86. User Reviews/Site Reputation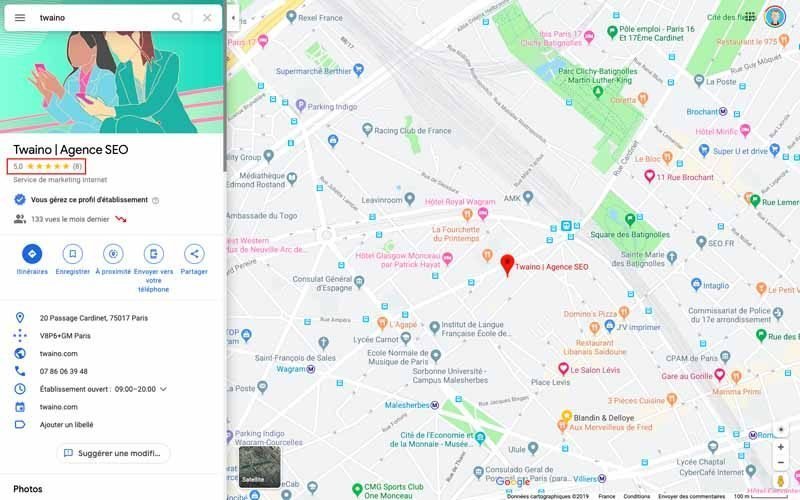 Google's algorithm considers a site's reputation on sites like Yelp. com to make its classifications. Initially, even negative consumer reviews on other websites were beneficial to the offending site as the latter received backlinks, which played a favorable role in the ranking of SERPs.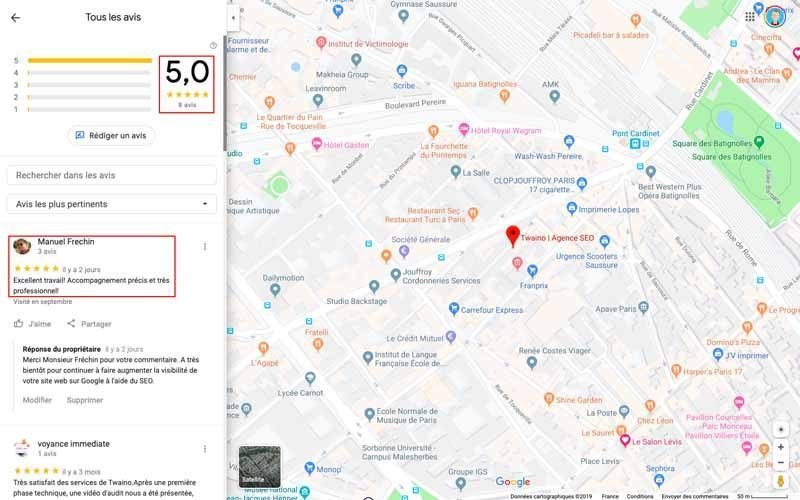 One of Google's representatives said : " A recent New York Times article tells a disturbing story. By treating your customers poorly, one marketer told the newspaper, you can generate complaints and negative reviews that result in more links to your site, which, in turn, makes it more prominent in search engines. The main premise of the article was that being bad on the web can be good for business. We were horrified to learn of Ms. Rodriguez's terrible experience. ".
87. Affiliate Content
The search engine prefers original content that adds value for visitors. But low-quality sites that feature mostly content that promotes affiliate networks can suffer in search rankings.
In fact, if you don't offer useful content that adds real value to readers on your site, you risk being penalized by Google's Panda algorithm.
88. IP Location
Google states that: " In our understanding of web content, Google considers both the IP address and the top-level domain (eg, .com, .co.uk). Because we try to serve geographically relevant content, we factor in domains that have regional significance. For example, ".co.uk" domains are likely highly relevant to user queries from the UK. In the absence of a meaningful top-level domain, we often use the web server's IP address as an additional clue in our understanding of the content. location
of the server can therefore impact the ranking of the site, especially for geo-located search queries.
89. Contact Us Page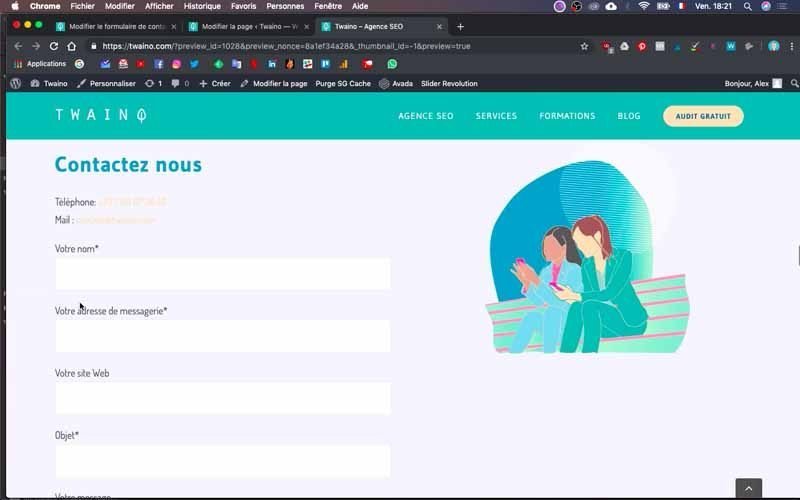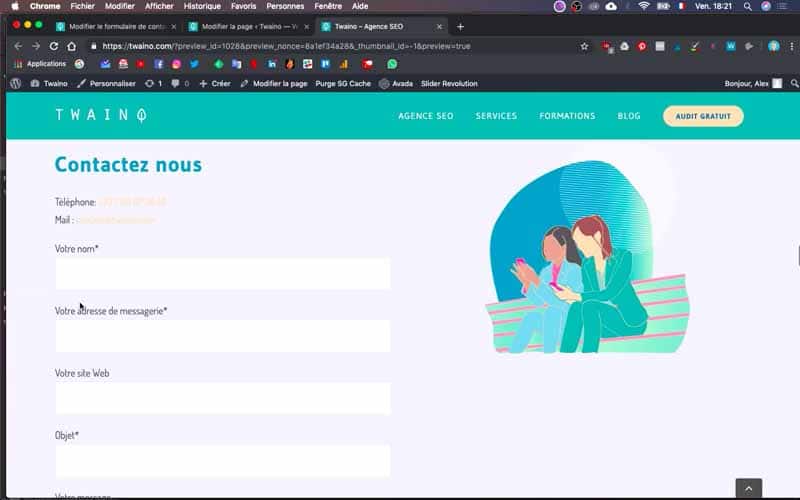 Some SEO experts believe that search engine crawlers prefer sites that have a sufficient amount of contact information. Make sure your site contact information matches the domain registration information.
In fact, the problem with most contact pages isn't what's on them, but what's missing. Most companies don't think about including keywords and keyphrases on their contact pages for the purpose of improving their SEO. This is also a trick to differentiate yourself from your competitors and you can take inspiration from the 30 examples of contact pages that HubSpot gives.
Also, don't forget that contact information helps Google know your business and show your pages, especially for geolocated queries.
D. Ranking signals relating to backlinks
90. The age of the linked domain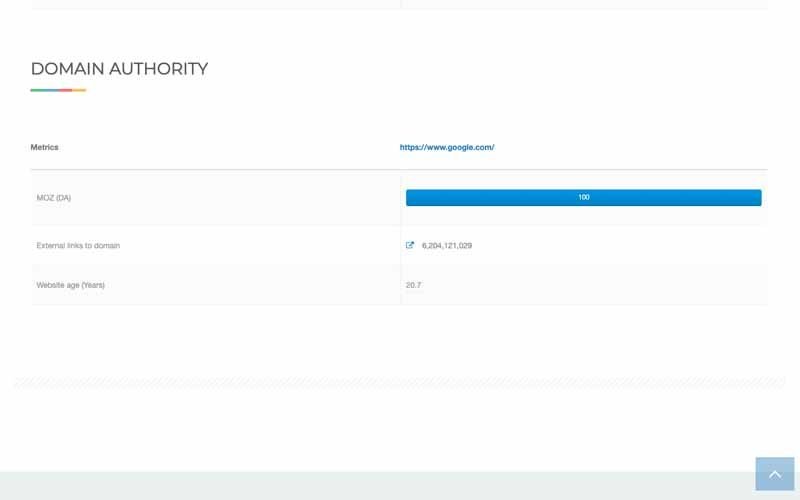 Just as the age of a domain has a slight importance in the rankings, having backlinks from older domains can be more useful than those much older domains. young people, insofar as they are likely to have more authority.
91. Number of referring domains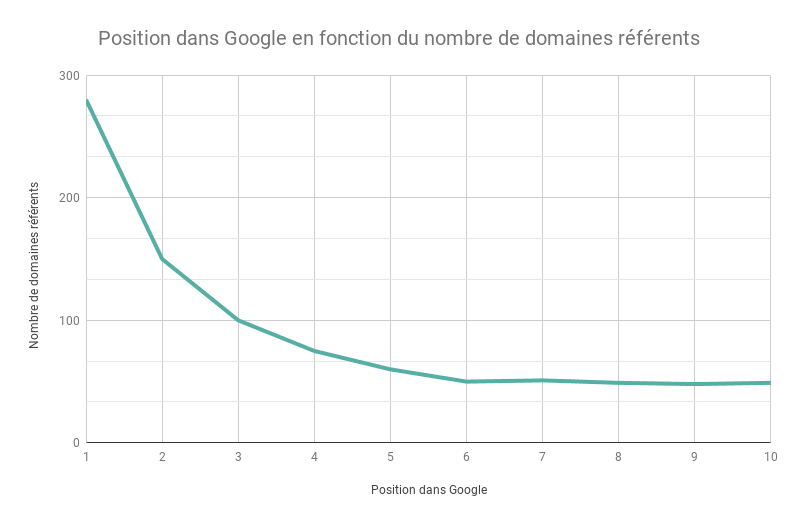 This is one of the 15 most important ranking factors for search engines, especially Google. The more different domains you have that refer to yours, the more likely you are to approach the first position, as this graph from a study of over 1 million Google results.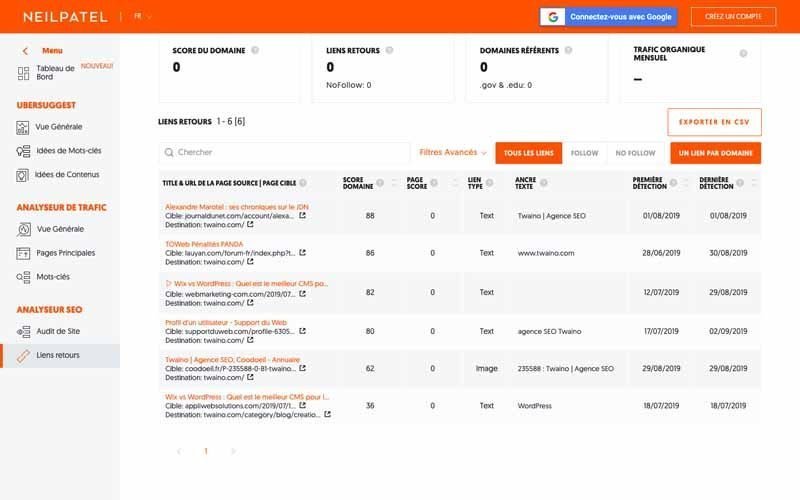 92. Number of links from distinct
Your position in the SERPs can be improved when you have multiple links from class-c IP addresses distinctGreg Niland, an SEO expert shows, " In case you were wondering, Google will give a lot more power if your inbound links are on different class c IP addresses. I just finished a project and it was a huge ranking boost when we made this change. lesson
to be learned is to have as many backlinks as possible, but from different websites.
93. Number of Linked Pages
The total number of inbound links to a site from the same domain will be considered by the search engine to rank pages in search results.
94. Backlink Anchor Text
Google says, " Link text is treated in a special way in our search engine. Most search engines associate the text of a link with the page it is on. In addition, we associate it with the page to which the link points. This has several advantages. First, anchors often provide more accurate descriptions of web pages than the pages themselves. Second, there may be anchors for documents that cannot be indexed by a text search engine, such as images, programs, and databases. This allows web pages to be returned that have not yet been crawled. anchor
text is less important than before, it sends a relevance signal when it includes keywords. That said, you have to be careful not to over-optimize it too much so as not to be penalized for spamming.
95. Referring Page Authority Referring Page
Authority or PageRank is an extremely important ranking factor and is one of the 15 listed above. In its blog, the American firm shows that: " Google interprets a link from page A to page B as a vote by page A for page B. The votes cast by pages which are themselves "important" weigh more heavy and help make other pages "important". ".
96. Linking Domain Authority
Like page authority, referring domain authority is a very important factor. Moz says Referring domain authority can play a role in the value of a link.
97. The relevance of competitors' links
When you receive links from pages that deal with the same theme as yours, know that these links have more value than those from other pages that do not specifically deal with the same theme.
98. Expertise Website Backlinks
Search engines can determine the relevant industry of the website. According to some SEOs, if you manage to get a backlink from websites that are experts in your field, search engines will trust you more.
99. Backlinks from toxic sites
Website inbound links that practice spam or black hat strategies to rank pages will be harmful to your rankings.
If you want to detect those kinds of links that are considered toxic, you can check out this guide from Semrush.
100. Paid Ad Links
Google insists that ad links have the nofollow attribute: " A site's ranking in Google's search results depends in part on analyzing the sites that link to it. this. To prevent paid links from affecting search results and negatively impacting Internet users, we strongly encourage webmasters to use the nofollow attribute on these links. ". https://www.youtube.com/embed/x4UJS-LFRTU?feature=oembed&enablejsapi=1&wmode=opaque
That said, it's likely that Google is able to identify and filter "follow" links from ads.
101. Link from home page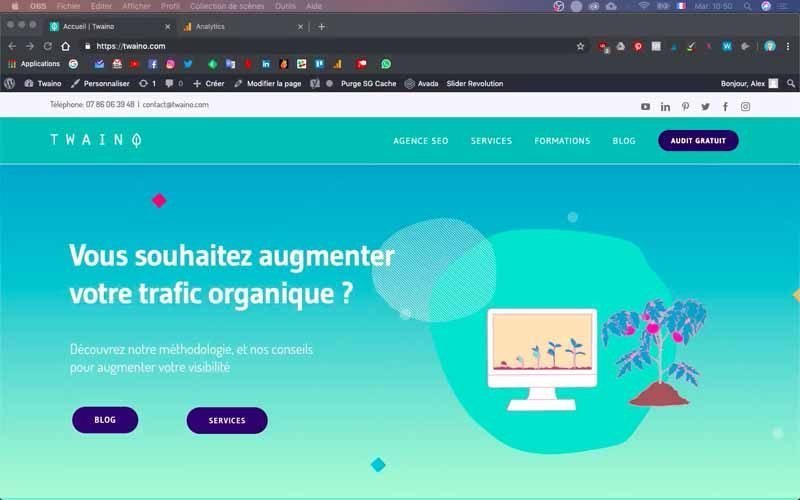 Links from a home page may have special priority in the ranking algorithm when evaluating the weight and authority of the referring page.
102. Nofollow Links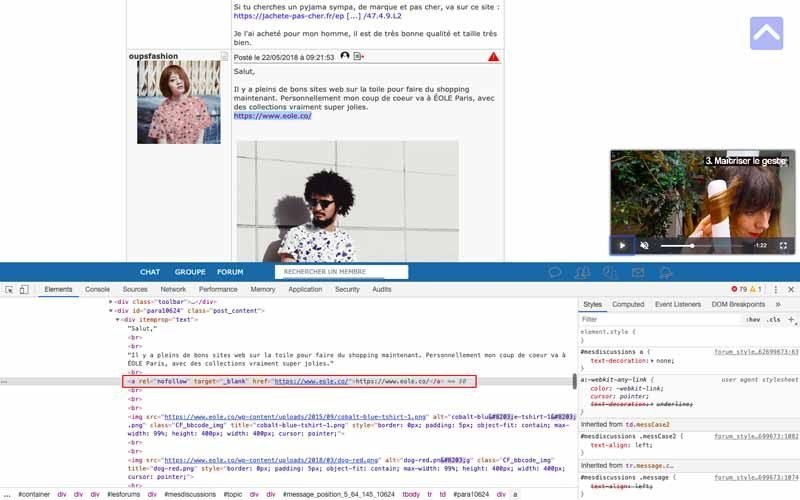 Officially, Google says about nofollow links: " We usually don't follow them. hotly
debated topic in SEO and this statement implies that Google does follow nofollow links nonetheless, although in some cases it might. Having a number of nofollow links in your link profile is important and is still a good indicator that your link profile is natural.
103. Type of incoming link
In your strategies for obtaining backlinks, it is essential to ensure that they come from a variety of sources. In fact, when you have a high number of links from a single source like forums, you risk being considered a spammer. This can greatly penalize you in the rankings or lead to sanctions. To do this, make sure that your sources of backlinks are diverse, so you will have a natural profile.
104. "Sponsored links" or other words around the link
The use of certain expressions around a link can literally diminish its value. These include, for example:
Sponsors;
Link Partners;
Sponsored links;
Etc…
Note that backlinks from sponsorship or a partnership program, to increase sales and notoriety can decrease the PageRank of the pages.
105. Contextual links
When you include links in your content, they are more valuable than when you put them on an empty page or alone outside your content.
106. Excessive Redirect Links to Page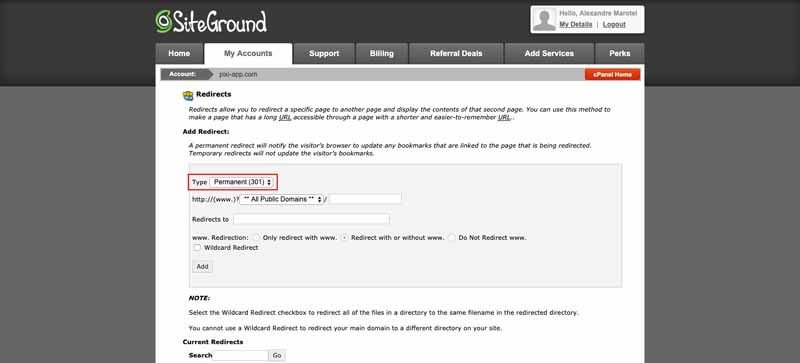 Google's Matt Cutts made it clear through one of his videos that backlinks from a large chain of 301 redirects (more than 3) are not beneficial to the authority of the page. https://www.youtube.com/embed/r1lVPrYoBkA?feature=oembed&enablejsapi=1&wmode=opaque
107. Internal Link Anchor Text
Whether for an external or internal link, anchor text is a signal of relevance for search engines. That said, the anchors of links from external sites have more weight than the anchors of internal links.
108. Link title
The text that appears when you hover over a link is the link title can be used as a low relevance signal.
According to Moz : " The title attribute can be used to describe almost any HTML element. A beneficial way to use the title attribute for SEO purposes would be to use it in the link element to provide descriptive text in an anchor (which gives you more space for your targeted keyword phrases) . I suggest you don't duplicate your anchor text (for usability reasons). It is supposed to provide additional information and tell users where the link will take them if they click on it. When creating your link titles, optimize the keyword phrases you are targeting on the page linking to the page (just like you would with anchor text). Search engines only use them based on the page they link to, not the page the link is on. )
109. Domain TLD Backlinks
extensions can help your linked pages rank better in those countries. These are domains ending with:
For example, if you receive backlinks from several domains ending in ".fr", the page having received these links is likely to be better ranked in France for the keywords on which it is positioned.
110. Location of the link in the content
The links that you place at the end of your content and those that you put at the beginning, are not equal. In fact, links that appear early in your content have more weight than links placed at the end of the content.
111. Link Placement on Page
Where you place your links on your web page also matters and according to Moz, a link you put in the footer or sidebar will be worth less than a link included in the content.
112. Relevance of the referring domain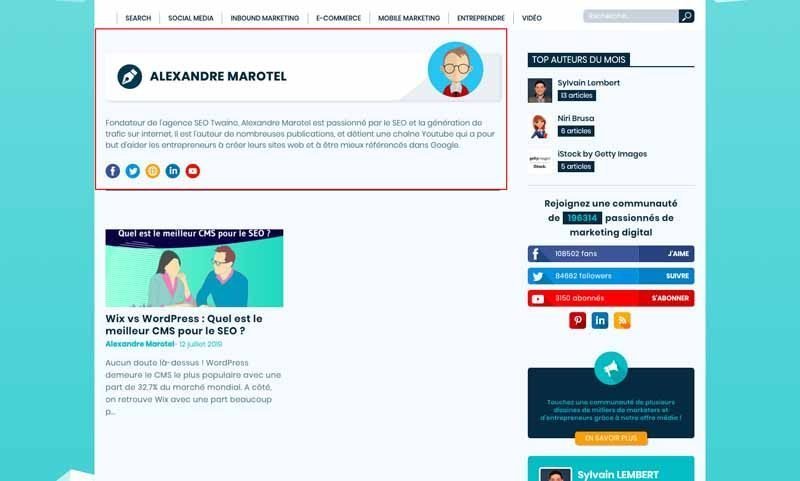 A link you get from a site in a niche similar to yours is much more powerful than a link from a completely unrelated site.
113. Relevance of the referring page
As with the previous point, a link you get from a relevant page has more value than a page that deals with a completely different subject.
114. Keyword in title and URL
When the main keyword of your page is present in the title or URL of the page that links to yours, Google will give more importance to this link . It's kind of like an expert-to-expert link on the same subject.
115. Speed ​​of positive backlink growth
Ranking algorithms evaluate the growth of the site's inbound links. When your site exhibits a positive link growth rate, its ranking in the SERPs will improve as search engines consider your site to be more and more popular.
Seroundtable gives an example of a website that after building nearly 10,000 spammy links in a single day held the top position in Google for three weeks before being penalized.
You have to have a positive growth rate, but it is essential that it happens naturally. If you have too many backlinks at once, you risk being mistaken for a spammer and being penalized in the rankings.
116. Negative backlink growth speed
In the same logic as the previous point, a negative backlink growth speed is a signal of declining popularity and risks significantly reducing the positioning of your website.
117. Backlinks from "Hub" pages
Links from pages considered to be the best resources on a given subject receive special treatment from search engines.
118. Backlinks from authority sites Backlinks from authority
sites that have good popularity in its topic will pass more link juice than links from an unpopular site.
119. Links from Wikipedia as a source
Backlinks from Wikipedia are often nofollow, but some SEOs believe that search engines give you more trust and authority if you have a backlink from Wikipedia.
120. Co-Occurrences
Pay attention to the words you tend to use around your backlinks as they help Google determine what this page is about.
121. Backlink Age
Strong backlinks that have been there for a while carry more weight in the rankings than newly appeared links.
According to Searchenginejournal : " Age is the factor that cannot be faked; that is why it has always been a sign of trust. If you have a bunch of strong links that have been around for a while and stay in one place, that's a good signal to trust your site — and you'll avoid potential penalties. ".
122. Links from genuine sites
The search engine can easily distinguish between genuine sites and spammer sites. Due to the increase in unethical link building techniques in blog networks, web crawlers may give more weight to links from genuine or branded sites than affiliate blogs.
123. Natural Link Profile
Using prohibited practices or Black Hat SEO can get you a lot of backlinks, but most of the time it's low quality links that lead to a bad link profile. This type of profile can penalize you in the rankings.
On the other hand, if your link profile looks natural with quality links, nofollow links like follow, you are more likely to rank well in the SERP.
124. Reciprocal link
exchange It is legitimate to exchange links between you and your partners, but Google warns against: " Excessive link exchanges ("Link to me and I will link to you") or partner pages exclusively in the purpose of creating cross-links. 125.
User Generated Content or UGC Links
Google is able to differentiate between user generated content and brand generated content. This is usually spam content generated by users on free hosts, discussions on forums or in comments.
Google nevertheless makes clear that: " If you receive a warning from Google about this type of spam, the good news is that we generally think that your site is of sufficient quality that we do not see the need for a manual action on the whole site. However, if your site contains too much user-generated spam, it may affect our rating of the site, which may possibly lead us to take manual action Site-wide. 126.
301 Links
Although Matt Cutts points out that 301 redirect links are similar to direct links, some SEOs believe that 301 redirect links may carry less weight than direct links. https://www.youtube.com/embed/Filv4pP-1nw?feature=oembed&enablejsapi=1&wmode=opaque
Google adds: neverthelessexploration. Redirecting a user to a different page with the intention of displaying content other than what was made available to the search engine violates Google's Webmaster Guidelines. When a redirect is implemented this way, a search engine can index the original page rather than following the redirect, while users are directed to the redirect target. Like cloaking, this practice is misleading because it attempts to display different content to users and Googlebot, and may take a visitor somewhere other than where they expected to go. ".
It is important to use redirects well because if Google finds that you want to deceive it, it will penalize you.
127. Use of Schema.org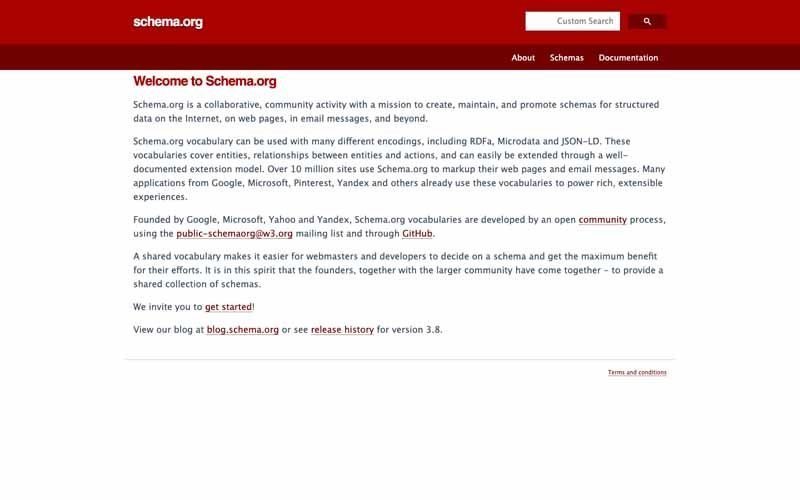 Using microformats on a page such as star ratings can improve a page's ranking in results. The cause may be the click-through rate which is generally high on these kinds of pages, which is a direct ranking factor.
128. TrustRank of the linking site
The trust score of the referring site will have an impact on the ranking of your linked pages in the SERPs.
129. Number of Outbound Links on Page
Web pages that contain a lot of outbound links contribute less to PageRank than pages that consist of a handful of external links.
130. Unnatural Backlink
Due to spamming, Google can significantly devalue forum links. To use the terms used by Google, these are: " Forum comments with optimized links in the post or signature, for example:
Thanks, that's great information!
– Paul
paul's pizza san diego pizza san diego pizza best pizza san diego ".
The American firm gives guidelines and recommends thinking twice before activating comments: " Pages full of spam do not give users a good impression of your site. If this feature doesn't add much value to your users, or if you won't have time to regularly monitor your comments, consider disabling it. Most blogging software, such as Blogger, allows you to disable comments for individual posts. Referring
Page Word Count
A link within a 10 word sentence is not as valuable as a link within 500 or 1000 word content. By this logic, an inbound link from a page that has 1000 words of content is more effective than a link from a page that has 200 words of content.
132. Quality of the content of the referring page
The quality of content is a very important SEO factor and it obviously impacts the value of the links that the page contains. If content is of poor quality, its outbound links will be worth less than those of good quality content.
A backlink from low quality content will not pass as much value as a backlink from well written, high quality content.
133. Sitewide links
Definitions-marketing : " A sitewide link is an external or internal link present and identically repeated on almost all the pages of a website. Sitewide links are generally present in the structural elements of a page (footer, navigation menu, reassurance banner, etc.). The return link to the home page (homepage) is a typical example of an internal link that is generally found on all pages of a website. 's
Matt Cutts confirmed that these types of links are "compressed" to count as one link. https://www.youtube.com/embed/mTjN9x-by-I?feature=oembed&enablejsapi=1&wmode=opaque
134. Image Backlinks
Similar to the previous point, web crawlers exploit the alt text of the image as anchor text to understand the relevance between the image and the linking page.
135. Links from .edu or .gov domains
Few hypotheses suggest that backlinks from a domain with an ".edu" or ".gov" TLD extension have a special place in the ranking algorithm. Only universities and government organizations were able to get their hands on these TLDs, so backlinks from these domains were considered more valuable.
However, Google believes that this factor is not taken into account when judging the importance of a website. https://www.youtube.com/embed/UxTmZulcQZ0?feature=oembed&enablejsapi=1&wmode=opaque
136. Guest Posts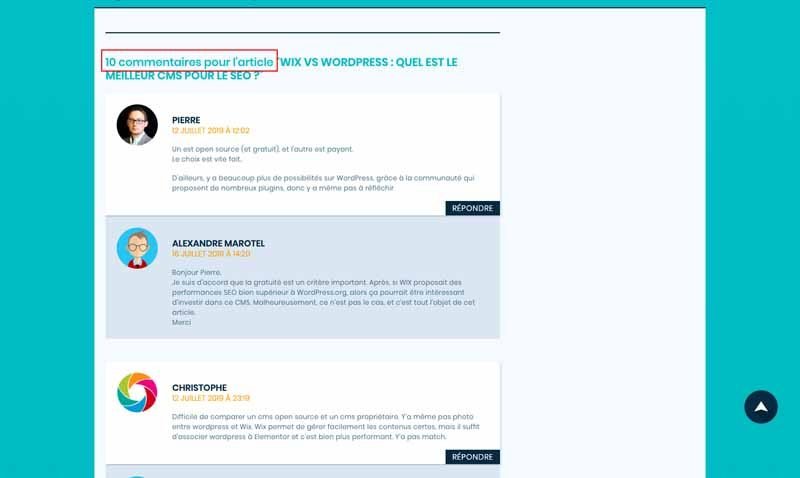 The links you get from guest posts are important for your ranking in search results. They certainly do not have the same value as editorial links, but they can help you considerably. I give you more than 144 French-speaking blogs where you can publish your guest articles.
That said, note that a large number of guest post backlinks in a relatively short period of time can hurt your website's overall ranking.
E. Ranking signals associated with user experience
137. RankBrain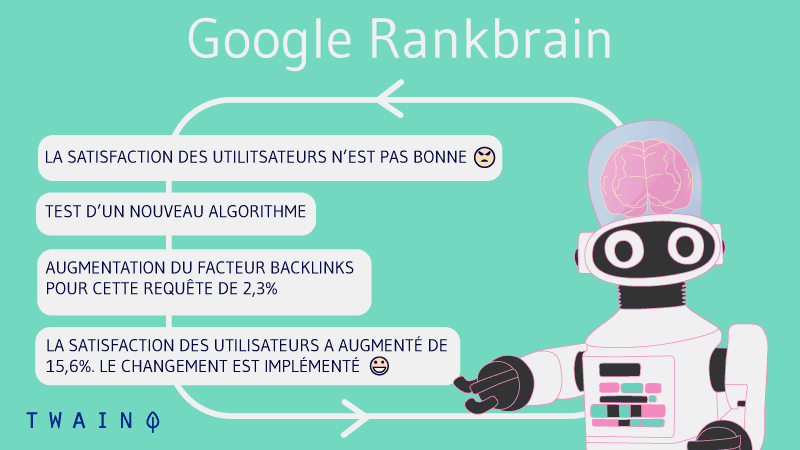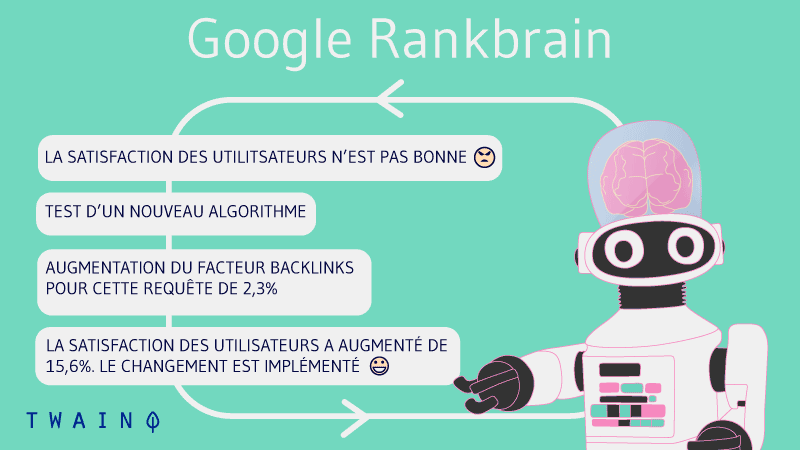 RankBrain is Google's AI algorithm, or artificial intelligence program. Many specialists believe that its main purpose is to assess how users interact with search results in order to rank the results accordingly.
Pages with satisfying user responses will rank higher in search results.
138. Organic click-through rate for a keyword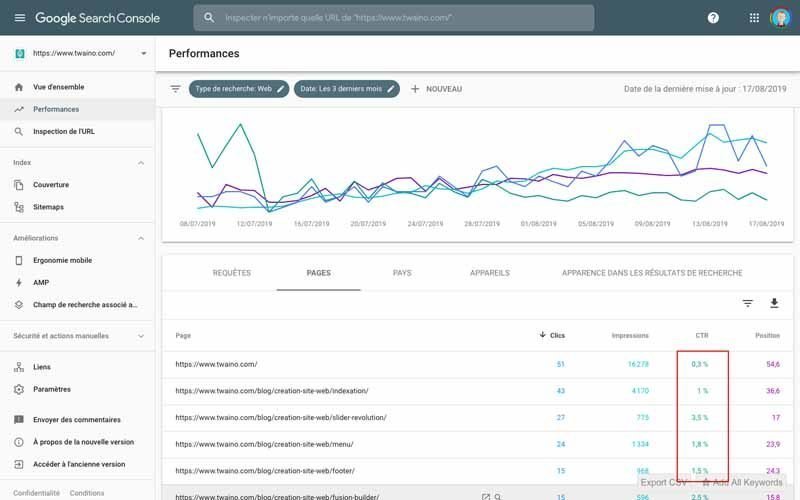 When a page gets more clicks for a particular keyword, its position in the SERPs can improve.
There is a strong correlation between click-through rate and organic results as the graph from a WordStream :
Moz states: " Whether or not RankBrain becomes the most important ranking signal (and I believe it one day it will be), it's a good idea to make sure your pages get as many organic search clicks as possible. This means more people visit your site and it sends important signals to Google that your page is relevant and impressive. 139.
Organic CTR for all keywords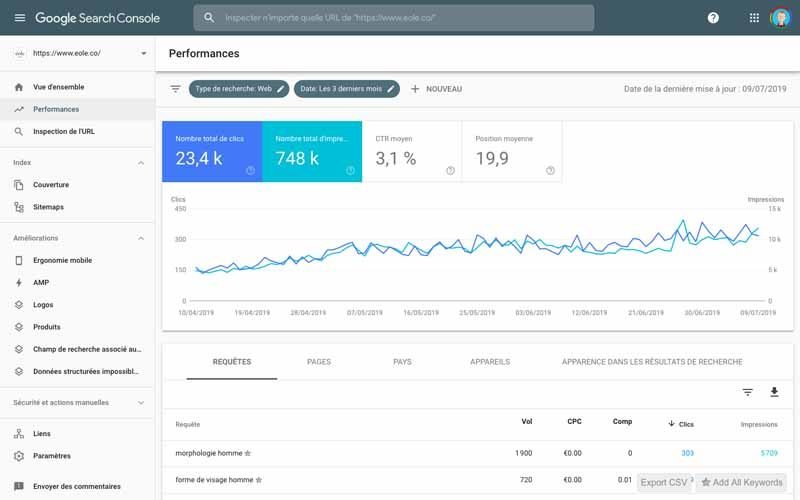 The click-through rate of all keywords a website ranks for can be a signal of user interaction. This is sort of a quality score for organic searches.
Google's Matt Cutts says, " Your frequency doesn't matter. It's important to know how often you get clicked on and how often you convert them into what you really want (sales, purchases, subscriptions)… Take the time to look at your title, URL and snippet that Google generates, and see if you can find ways to improve it for users since then they will be more likely to click. You will get more visitors, you will get a better return on your investment. » https://www.youtube.com/embed/THYguer_JrM?feature=oembed&enablejsapi=1&wmode=opaque
140. Bounce rate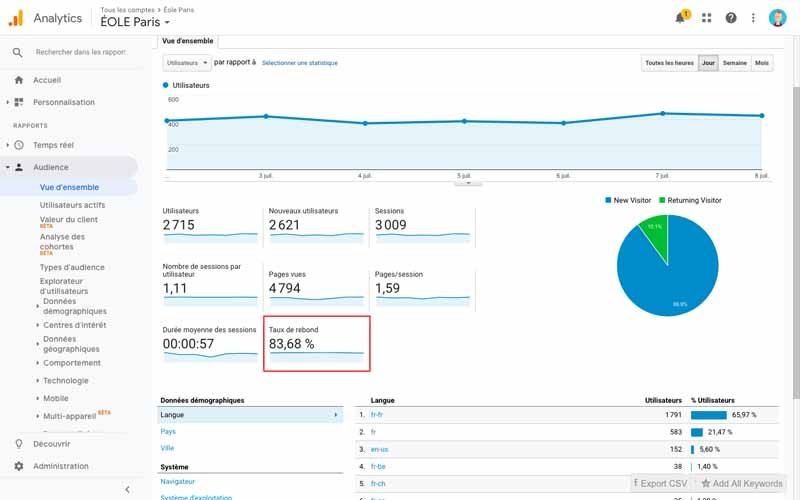 This is a controversial subject, but the bounce rate can be a means used by Google to test the quality of a page or content. Most of the time, a very high bounce rate is not very good for an online business. The correlation between ranking in SERPs and bounce rate has been proven by Blacklinko and also by SEMRush in one of their studies.
141. Direct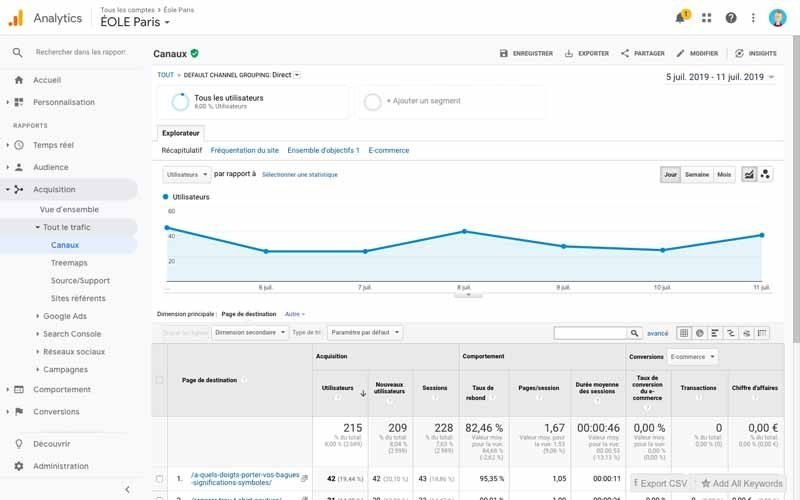 traffic Direct traffic is an SEO factor that is one of the 15 most important mentioned in the previous chapters. This fact is confirmed and sites with a lot of direct traffic are probably of higher quality than sites that receive very little direct traffic. The previously mentioned study by SEMRush confirms the importance of the correlation between Google rankings and direct traffic.
Additionally, note that Google uses data from Google Chrome to determine:
The number of people visiting a site;
The frequency of visits;
Etc…
142. Repeat traffic
Sites with many repeat visitors can benefit from an improvement in Google rankings. In other words, if the same people regularly come to visit your website, it is a good signal that your content is arousing interest among users.
143. Number of comments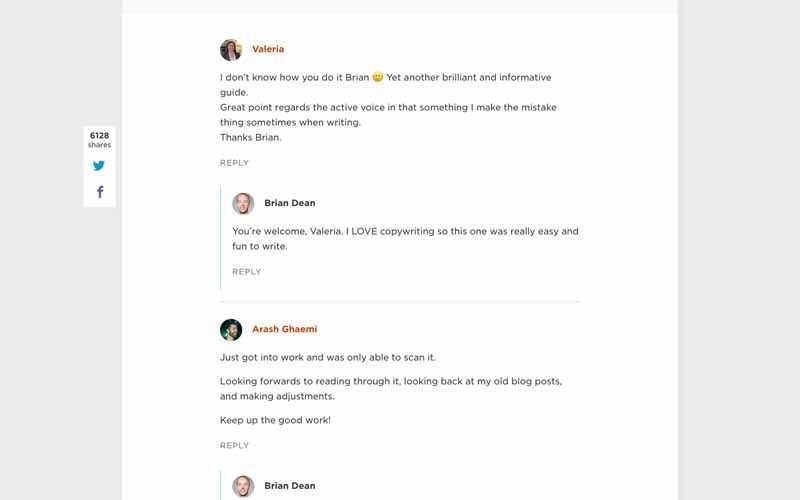 A lot of comments on a blog post can be a sign of quality and user interaction. Which can " a lot" help in page rankings.
In a discussion on Twitter, Garry from Google says:

@methode The same applies to comments on blog posts, correct? Esp since we do see content in comments ranking (and helps show authority).
Gary "鯨理" Illyes
✔@methode
@jenstar yep. In general if we see that there's a healthy, thriving community on a site, that can help a lot
1207:44 – Apr 27, 2016 · Zurich, SwitzerlandAdvertisements Info Twitter & Privacy See Gary's other Tweets « 鯨理Illyes
Regarding the importance of comments in content:
(comment importance)
144. Dwell time
How long do visitors spend on your page when they come from a Google search? " Wait time " is a factor that Google considers important for its ranking. In fact, Google measures the time people spend on your page and the longer the better.
145. Pogosticking
"Pogosticking" is a special type of bounce in that the user clicks on other search results in an attempt to find the answer to their query.
A less ranked page on which Internet users regularly find answers concerning a certain keyword can see its position improved. On the other hand, the pages that Internet users often "pogostick" are likely to experience a drop in ranking.
146. Blocked Sites
Some web browsers allow users to add sites to their personal block list and search engine algorithms collect this data to improve user experience, and help people find better quality results.
Needless to say, if your site is blocked by certain users, you may be penalized in the rankings.
147. Bookmarked Sites
Since Google collects Chrome browser usage data, pages that are bookmarked in Chrome may receive a ranking boost.
F. Algorithmic Ranking Signals
148. Query Deserves Freshness
Freshness of content is a ranking factor and for some queries, Google gives new pages a boost with its Caffeine.
149. The query deserves diversity
When a term is ambiguous like Apple (the company) and Apple (the fruit), Google can add diversity to its SERP. The more multiple things the keyword can mean, the more diversity Google will add to its results. In other words, it will provide multiple information on as many different websites as possible.
150. Featured Snippets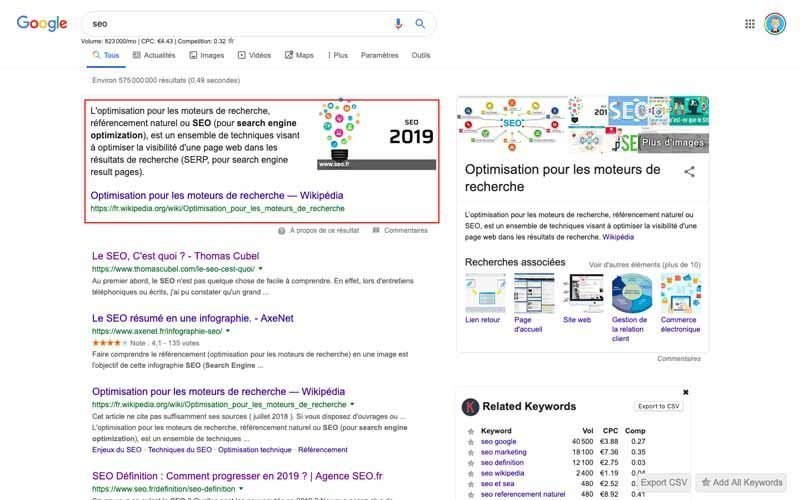 According to SEMRush Google chooses content for Snippets based on a combination of:
Formatting;
Content length;
Page authority;
Use HTTPs.
Questions are the types of queries that have the most featured snippets.
For the most successful question types, "how…" is the most likely query type to appear in featured snippets.
151. Geo-Targeting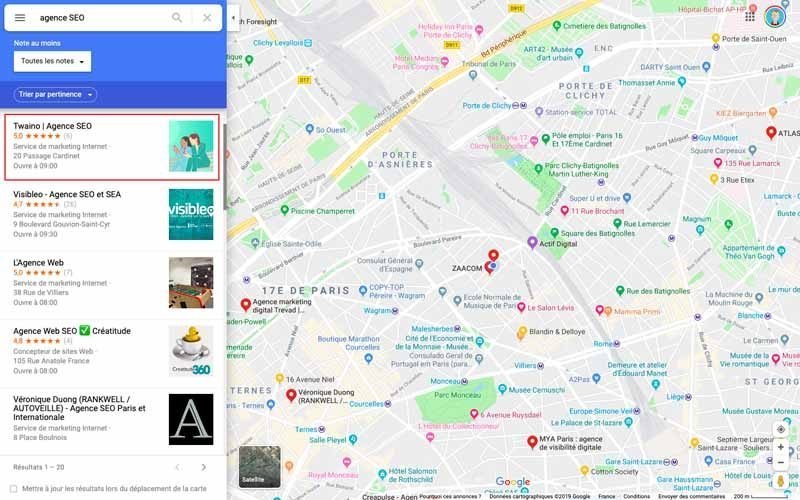 For geo-located searches, Google gives preference to sites with a country-specific domain name extension and local server IP address.
152. SafeSearch
When the SafeSearch is enabled, pages with adult content or malicious words will not appear in search results. In its guide on this option, the American firm says: " When SafeSearch is activated, it helps filter out explicit content in Google search results for all your queries on images, videos and websites. Although SafeSearch isn't 100% accurate, it's designed to help you block explicit results, like pornography, from your Google search results. "
YMYL" Keywords
Google has higher content quality standards for the keywords "YMYL" or "Your Money Your Life" literally translates to "your money, your life". In fact, sites that solicit personal information, monetary transactions, medical information, and provide important life decision advice should maintain higher quality standards to rank for YMYL keywords.
In its quality assessment guide, Google shows: " There are pages for which PQ (page quality) is particularly important. We call these pages "Your Money, Your Life" (YMYL). These are pages that may impact your current or future well-being (physical, financial, security, etc.). YMYL pages should come from trustworthy websites and content should be created with a high level of expertise and authority. 154.
DMCA Complaints
Google sanctions pages with legitimate DMCA or EUCD. This is a law that aims to fight against copyright violations in the digital sector and according to Wikipedia: " If the complaint of the aggrieved author is confirmed, the pages concerned are either removed or the blog concerned having violated the copyrights is closed. 155.
Bigfoot Update
Google wants to provide as much relevant information as possible to its users. For this, the firm now displays no more than two pages of the same site in its results, for certain requests of course.
In fact, there are exceptions to this rule, particularly in the case where the user searches with a particular domain name or brand. To this extent, Google will display several pages of the same website.
156. Transactional Searches
Pages containing information that indicates an intent to complete a transaction, such as a purchase, will rank higher for transactional search queries.
157. Local Searches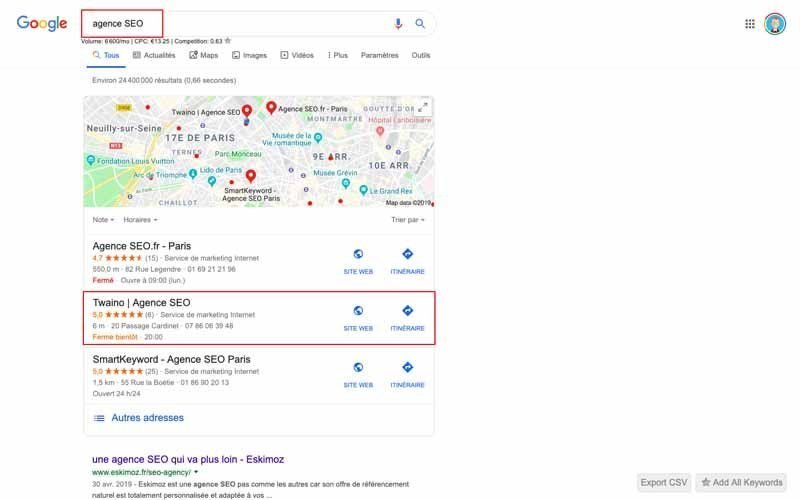 For location-related keywords, the search engine often promotes results that allow people to physically connect with a physical business. Additionally, Google often places local results above organic results for local searches.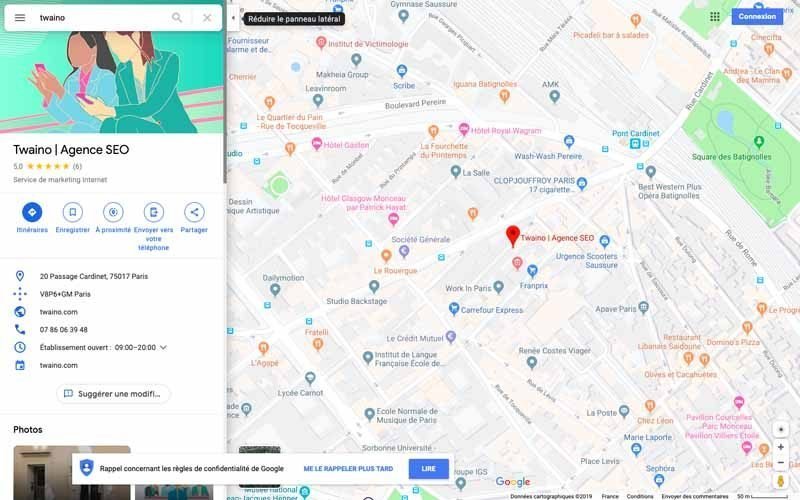 While 46% of searches on Google have a local setting, 88% of consumers will visit or call the business within 24 hours of performing a local search on mobile.
Local referencing is a very important lever in SEO, especially for physical establishments. If you don't have your place in Google Maps yet to allow your target audience to find you, it might be time to create your Google My Business.
Help Guide Local Ranking, Google states: " If you provide and update information about your business in Google My Business, you can improve your local ranking on Google, as well as your presence on Maps and of research. ".
158. Trending Topic
Some keywords are going to be more or less trending and deserve to be present in the "Top Stories" search results panel.
159. Vince Update
Webmasters started noticing significant changes in rankings after Google's algorithm update, which gives big brands a major boost in search results.
This is the " Vince Update " and Matt Cutts explains more in this video: https://www.youtube.com/embed/LMfWPWUh5uU?feature=oembed&enablejsapi=1&wmode=opaque
160. Purchase results
Sometimes , sites that sell the product people are looking for will be displayed in the Sponsored Shopping results panel.
161. Image Results
Google sometimes displays images in its organic search results when it finds it relevant to show them for certain keywords.
When you optimize your images correctly, they are likely to appear in the SERPs if Google finds them relevant.
162. Google "Easter Egg Results"
Easter Egg Results provide access to specific results. In fact, hidden functions or messages can be found in search results for certain keywords. For example, if you search for "tic tac toe" or "Pacman" in the search box, then the playable game can be found on Google.
They are a dozen in number and allow you to experience the search engine in another way.
163. Single site results for brands
A single brand can dominate search results as users can find a large number of results from the same site for queries that indicate strong interest. of these for a particular theme.
Google gives this example of a result:
The firm explains: " Before today's change, only two results from www.amnh.org would have appeared for this query. Now we determine that the user is likely interested in the "Museum of Natural History" website, so seven results from the amnh.org domain appear. As the user is looking for exhibits at the museum, it is much more likely that they will find what they are looking for, faster. The latest results for this search come from other sites, which preserves some diversity in the results. »
164. Payday Loans Update
This algorithm is specially designed to clean up very spammy queries. https://www.youtube.com/embed/xQmQeKU25zg?feature=oembed&enablejsapi=1&wmode=opaque
165. User Browsing History
Have you noticed that websites you visit frequently get a boost in SERPs ? In fact, Google and search engines can look at your browser history and when you run queries for sites that you visit frequently, they will be placed a little higher for you to access them quickly.
166. User Search History
The searches you perform at a given time may influence the results you will have later. For example, if you search for "chocolate" and then "swiss", there is a good chance that Google will highlight sites related to Swiss chocolates during your next search.
In its guide to viewing and monitoring web activity, Google states: " If 'Web & App Activity' is enabled, searches and activity on a number of our other services are stored in your Google account. This information allows us to offer you a more personalized experience: the search is accelerated, and the applications and recommended content are more relevant. Brand
-Related Ranking Signals
167. Branded Anchor Text
We have already seen the importance of anchor texts for search engines such as Google. Instead of using simple anchor texts, you can make use of your brand name to reinforce brand signals.
When taking the above example of Ahref, the "ahrefs" anchor text that represents the brand performs much better than other anchor types.
168. Trademark searches
When users search for the name of a website in the search box, search engines consider the searched domain to be an actual trademark.
Using your brand name in a search shows that the user already knows who you are, or has heard of you, and is looking for your business specifically. This means that they want to go directly to your website and for these reasons Google is likely to place a lot more trust in you.
169. Brand + Keyword Search
If its users tend to search for a specific brand + keyword, Google is likely to rank the brand higher on that particular keyword. Thus, the site benefits from a positioning on the keyword even if afterwards, people only search for the brand without adding the keyword.
For example, if a lot of people search for: Twaino + SEO Agency, my website will get a boost for the query "SEO Agency".
170. The site has a Facebook page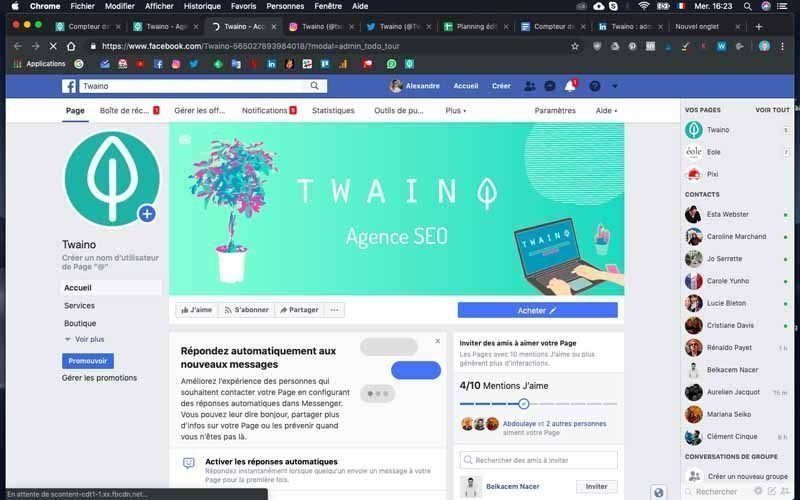 Brands that tend to have Facebook pages with a lot of followers or engagements tend to enjoy higher rankings. According to cognitiveseo, there is a strong correlation between social media presence and positioning in the SERPs.
That said, the degree of correlation is not the same for all social networks.
Moreover, the activity on the most popular social network Facebook, presents a correlation with the position.
171. The site has a Twitter profile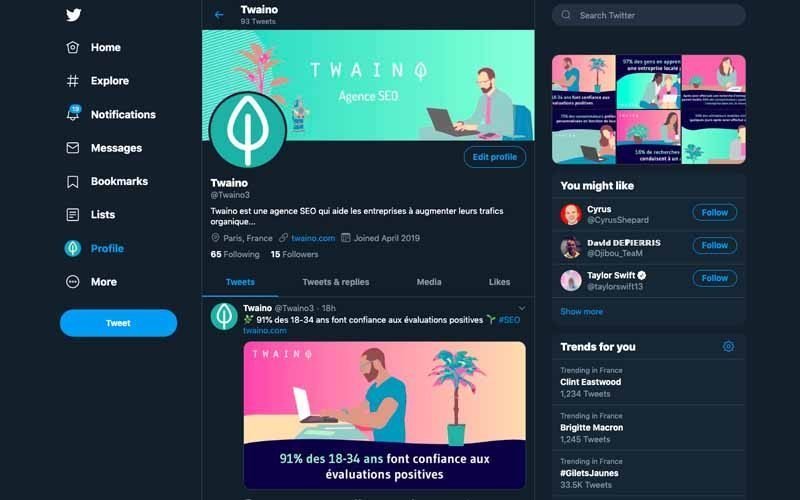 Like Facebook, having a Twitter profile with a lot of followers sends a popularity signal to Google, which is beneficial for rankings.
172. Official Brand Page on Linkedin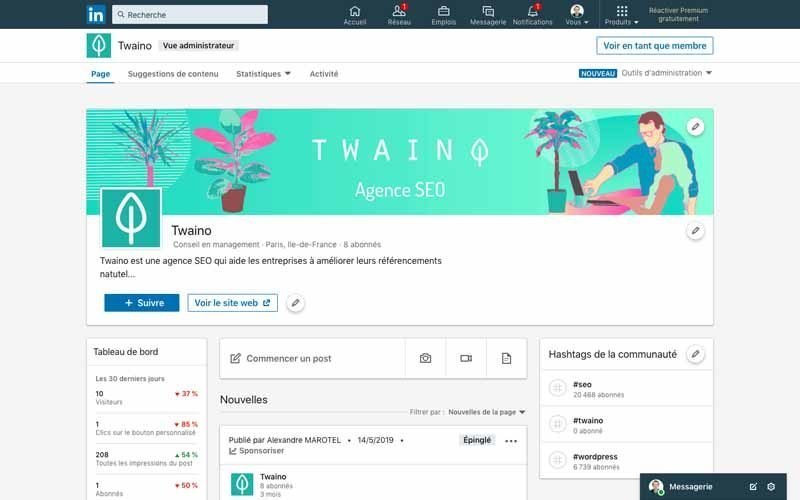 Most real businesses have corporate Linkedin pages, which is likely to work in your favor when ranking.
173. Known authors
Most social networks now mention the verified mention to certain personalities or companies. In this regard, Google CEO Eric Schmidt said in February 2013:
" In search results, information related to verified online profiles will rank higher than content without verification, which will cause most users will naturally click on the best (verified) results. So
note that in search engine results pages, information related to verified online websites will rank higher than websites that have not been verified.
174. Legitimacy of social media accounts
Search engines have implemented various methods and systems to detect fake accounts in online social networks. Sites with a real audience with lots of interactions will be interpreted differently by search algorithms.
Obviously, a social media account with 20,000 followers and 2 posts is likely to be interpreted in a totally different way than another account with the same number of followers and a lot of posts or interactions.
175. Mention of the brand in the News
Very big brands such as Apple are regularly mentioned on Top Stories sites. In fact, some brands even have a continuous flow of information from their own website.
Note that these kinds of sites will get a boost for trending keywords and will also be treated well in the top organic results rankings.
176. Brand Mentions Without Links
Google says, " If someone randomly mentions your brand in text somewhere ⦏…⦐ we don't take it as a link.
We don't give out any pagerank just because someone mentions your brand. If you have a URL of course, that's something people can link to if they want to. But if someone just mentions your brand, that's not something we could take as a link.
There can be indirect effects, where if someone talks about your brand, that's something that could indirectly bring traffic to your website, which could indirectly bring more traffic to your site…. ".
Ultimately, when brands are mentioned without a link to their site, they can act as a brand signal.
177. MyBusiness Profile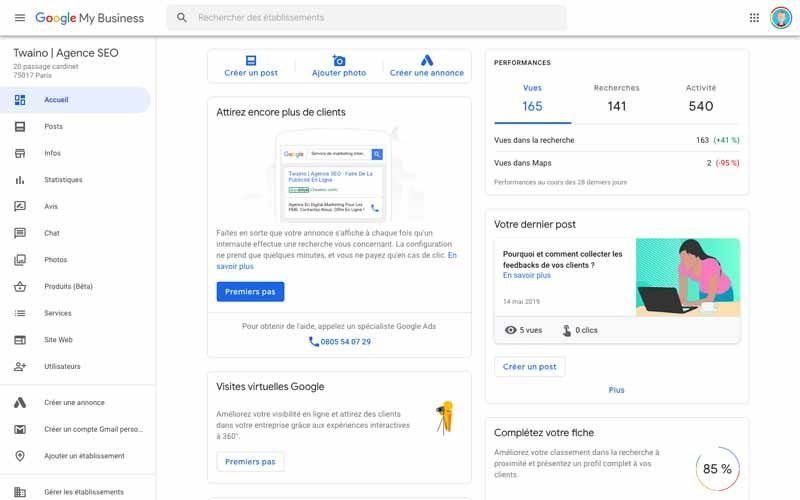 Having a Google MyBusiness profile will help the search engine validate the authenticity of the site's brand. Additionally, customer reviews and ratings on the business profile will play a major role in the site's overall ranking in the SERPs.
H. Ranking Signals Associated with On-Site
Spam 178. Panda Penalty
When a website with poor quality content receives a Panda penalty, it becomes less visible in search results.
In fact, sites that publish a large amount of textual content that is not unique are considered spammy content. This may result in penalties from Google's Panda algorithm.
179. Linking to poor quality websites Linking to
very poor quality websites, such as those belonging to link farms, can harm your site's visibility in search results.
180. Interstitial pop-ups
Google cares about the experience of its users, especially those on mobile. For this, websites that use full-screen ads on mobile phones and overly entice users to click on ads will be negatively impacted in search results.
Google states that: " Pages that show intrusive gaps provide a poorer user experience than other pages where the content is immediately accessible. This can be problematic on mobile devices where screens are often smaller. To improve the mobile search experience, after January 10, 2017, pages whose content is not easily accessible to a user when transitioning between mobile search results may not rank high. ".
181. Over-optimization of the site
Site that optimizes the pages more than necessary, risks being penalized by Google. This includes:
Keyword "stuffing" or keyword stuffing;
Too many targeted keywords in the links;
The stuffing of the various tags with keywords;
Etc…
In a Twitter conversation, Gary says:

Bob Gladstein@bubba_ji May 24, 2017Replying to @methode
Is "over-optimization" really a thing, and if it is, can you please come up with a name for it that isn't an oxymoron?
Gary "鯨理" Illyes
✔@methode
That is totally a thing, but I can't think of a better name for it.09:32 PM
11– May 24, 2017Ads Information Twitter & Privacy View Gary "鯨理" Illyes' other Tweets
182. Gibberish content or spinned content
To avoid being penalized because of duplicate content, some websites rewrite the same text hundreds of times, especially during their backlink creation campaign.
Google holds a patent that allows it to identify and then sanction such a practice, particularly when the texts are self-generated and of poor quality.
183. Satellite pages or Doorway pages
Wikipedia indicates: " A satellite page contains one or more keywords in a very repetitive way to the detriment of the editorial which generally remains very poor or without interest.
It is placed alone or in a site, but it remains an orphan. It is used as a hook only to capture visitors or to deceive search engines. ".
Google does not appreciate websites that do not show the same content to users as much as to its robots. The firm says these kinds of sites: " are bad for users because they can lead to multiple similar pages in users' search results, where each result ends up taking the user to essentially the same destination. They can also lead users to intermediate pages that are not as useful as the final destination. Google
184. "Above the Fold" Ads
's layout algorithm penalizes sites that feature lots of ads above the fold of their page without much content.
The firm states that: " …We have heard complaints from users who complain that if they click on a result and it is difficult to find the actual content, they are not satisfied with the result. experience. Rather than scrolling down the page past a slew of ads, users want to see content immediately. So sites that don't have much "above the fold" content may be affected by this change. If you click on a website and the part of the website you see first doesn't have a lot of visible content or devotes a lot of the site's initial screen real estate to ads, it doesn't is not a very good user experience. Such sites may not rank as highly in the future. 185.
Hide Affiliate Links
Pages that hide links under images, background or modify links to look like text format may be penalized for spamming. To this extent, you risk being penalized if you try to hide affiliate links, particularly with cloaking.
186. Fred
Fred is a nickname given to a series of Google updates from 2017 that targets sites with low value-added content that put revenue before user experience.
187. Affiliate Sites
Search engines recommend creating websites with original content that adds value to the online audience. Websites that feature mostly content from affiliate programs are likely to suffer in SERPs ranking.
Google isn't the biggest advocate for affiliates, and a lot of SEOs believe that sites that monetize with affiliate programs get more scrutiny than a normal site.
188. Auto-Generated
" Auto-generated content – ​​or "self-generated" – is content that has been generated by a program. In cases where it is intended to manipulate search result rankings and not to help users, Google may take action on such content. », Google.
Google rightly hates self-generated content and if they suspect your site is using generated content, you may be penalized.
189. Excess of PageRank sculpting
Webrankinfo indicates: " PR Sculpting is a technique of optimization of the referencing having for objective to distribute the PageRank in an optimal way on a site in order to make benefit from it to the maximum all the pages of the site. One of the ways to sculpt your PageRank was to use this famous nofollow. you
overuse this practice by using too many nofollow links, you risk being penalized.
190. IP address marked as spam
If your server's IP address is marked as spam, it may affect all sites on that server. https://www.youtube.com/embed/AsSwqo16C8s?feature=oembed&enablejsapi=1&wmode=opaque
191. Spamming meta tags
If you stuff the title and description meta tags with keywords, the Google algorithm may penalize you since he will think that you want to manipulate him.
192. Cloaking
Presenting separate links or content for users and search bots is a violation of Google's guidelines. For example, serving an HTML text page to web crawlers, while redirecting users to an image page can penalize a site if Google detects it.
Note that redirects are to be used with caution and that if you use cloaking which is a Black Hat SEO practice, you risk being heavily penalized or even de-indexed.
193. Popups or "Distracting Ads"
Pages with ads, pop-ups, or other features that distract or interrupt readers from using the main content will receive a low rating from Google.
I. Ranking Signals Related to Off-Site
Spam 194. Penguin Penalty
Although Google Penguin focuses more on filtering out low quality links than penalizing entire websites, the websites it hits are less visible Search results.
195. Link profile with a high percentage of low quality links
When you have a lot of links from Black Hat practices and you are detected by the algorithms, your positioning can be negatively impacted. For example, if you get a lot of links from forums and comments that are often considered spam, you will hurt your SEO.
196. Irrelevant Backlinks
Many backlinks from sites that are not related to your niche or topic can increase the chances of a manual penalty.
197. Unnatural link warnings
Through Search Console, Google can send messages about unnatural links it detects. If you receive multiple warnings like this, be aware that your ranking in search results may be affected, although this is not always the case.
198. Low Quality Directory Links
According to Google, backlinks from low quality directories can result in a penalty, and they are best avoided. In fact, the search engine considers links from low quality directories to be "unnatural" links.
199. Links from Widgets
Google is not too fond of the links that are automatically generated when a webmaster embeds a "widget" on his site: " Widgets can help website owners enrich the experience of their site and engage users. However, some widgets add links to a site that a webmaster has not editorially placed and contain anchor text that the webmaster does not control. Since these links are not naturally placed, they are considered a violation of Google's Webmaster Guidelines. ".
It is therefore important to be careful when using widgets so as not to be penalized by search engine algorithms.
200. Links from the same class C IP address
Having a large number of website backlinks present on the same class C server IP address, can help the search engine determine that the links are self -generated.
This is a cause of spam which is heavily penalized by search engines.
201. "Poison" Anchor Text
Hyperlinks that are placed throughout a website with identical anchor text could be a sign of spamming and could hurt the site's ranking in the SERPs.
202. Backlinks Spike
Search engine ranking algorithms can easily identify whether an increase in inbound links to a website or page is legitimate or not. In the event that links appear to be unnatural, they will be devalued.
203. Links from articles and press releases
It is no longer a good idea to have backlinks from press releases or article directories. In fact, these two systems for obtaining links have been abused to the point that Google often considers them to be " link schemes " or "link schemes" which it sanctions.
204. Manual Actions
When an official human reviewer determines that site pages do not follow the guidelines, Google will post a manual action report in Search Console. This is one of the reasons why it is very important to install the Search Console on your site in order to be alerted if there is possibly a manual action.
Google explains the reason for such action: "Ever since there have been search engines, there have been people who have dedicated themselves to making their way to the top of the results page. It's bad for searchers because more relevant pages get buried under irrelevant results, and it's bad for legitimate websites because those sites become harder to find. For these reasons, we've worked since the early days of Google to fight spammers, help people find the answers they're looking for, and help legitimate websites get traffic through search. https://www.youtube.com/embed/8MfPe1NbsoA?feature=oembed&enablejsapi=1&wmode=opaque
205. Link Selling
Not only will buying backlinks penalize a site, but also selling links can hurt the visibility of a site. searching for the site in SERP.
206. Google Sandbox
Competitive keywords used in links and an unusual influx of inbound links could cause a "sandbox" or "sandbox" effect, which temporarily maintains page rank to properly determine page relevance and also filter it through the anti-spam mechanism.
This effect usually applies to new sites that receive a sudden influx of links.
207. Disavow Tools
Web pages that fall victim to negative backlinks can manually remove the penalty from the algorithm with the disavow tools. Care must be taken since improper use of the feature can also affect the ranking of the site.
In its guide to disavowing backlinks, the most popular search engine shows: " If you have manual action against your site for unnatural links to your site, or if you think you are about to get such manual action (because of paid links or other linking schemes that violate our quality guidelines), you should attempt to remove such links from the other site. If you cannot remove these links, then you should disavow these links to your website..
208. Reconsideration Request
Following manual action, sites that are penalized may recover and start appearing in search results once the reconsideration request has been approved
209. Temporary Link Schemes
Search engines catch and penalize sites that spam the web with the creation of temporary backlinks that are promptly removed to avoid penalties.
210. Hacked site
If your website contains hacked pages or pages with malicious code, the entire site may be indexed from search results. For example, Search Engine Land was de-indexed for a day after Google thought it had been hacked.
211. Unnatural flow of links
When there is a sudden influx of links in an unnatural way, Google may be on alert to check the quality of the links, increasing the chances of being penalized if you have used unnatural practices. Black Hat.
Conclusion
The amount of data on the web is phenomenal and without search engines, it would be almost impossible to quickly find the most relevant and useful information. But to provide such a function, these search engines are forced to consider a large number of factors when ranking pages in their results. And for anyone who wants to improve their performance in the SERPs, knowing these factors is crucial. Although some factors are completely secret and only search engines really know all the ins and outs of their ranking system, some have been identified by SEO experts. For the most popular search engine Google, there are over 200 ranking factors to consider. Some are much more important than others and you will see them in the list of the 15 most important factors in this article. Having said that, there is no doubt that the consideration of other factors is also crucial since it is at this level that you will have the opportunity to outperform your competitors. If you don't yet fully understand all of these Google ranking factors and still don't know where to focus your SEO efforts, my SEO Agency Twaino can help.