Wix is ​​a popular website builder used around the world with over 4.5 million websites under its belt.
The platform is especially appreciated for its intuitive interface and its flexibility which make it particularly easy to use, especially for novices who are taking their first step in creating websites.
But the platform is also criticized for its SEO features. One of the questions that often comes up is whether Wix is ​​really effective in optimizing a site to occupy the top positions in search engines.
So what is it really? What are the advantages and limitations of Wix?
Can You Really Get High Search Engine Rankings With Wix SEO?
Which optimization strategies to use step by step to improve the SEO of your Wix site?
Find the answer to these different questions in this complete guide to Wix SEO.
Chapter 1: Wix – Advantages, limitations and SEO features available
Before seeing the strengths and weaknesses of Wix, let's find out together what it is:
1.1. What is Wix?
Wix is ​​a CMS (Content Management Systems) like WordPress, Shopify, PrestaShop and many others. The platform allows you to create websites on all kinds of media, whether desktop or mobile devices.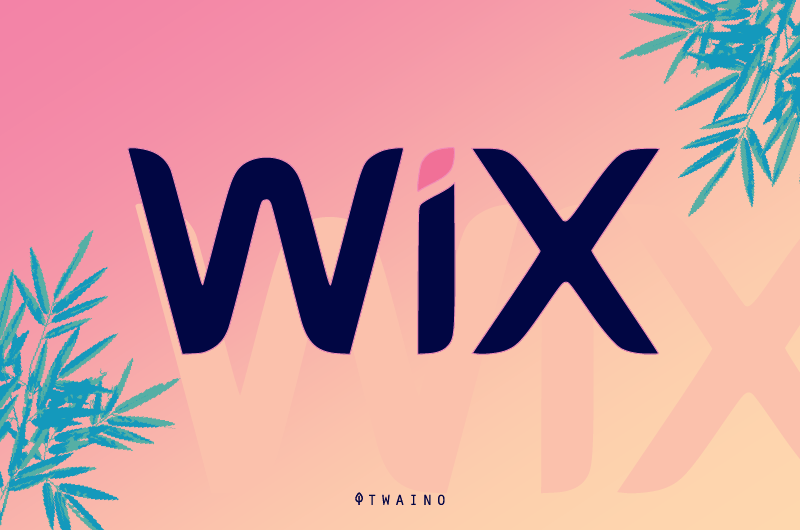 Like any CMS, building sites on Wix is ​​faster and requires no programming or HTML/CSS/PHP skills.
That is, you don't have to enter a single line of code before you develop a fully functional website with Wix.
And this is possible thanks to the drag and drop functionality offered by the CMS and which offers users the possibility of creating and arranging the constituent elements of a website with just one click.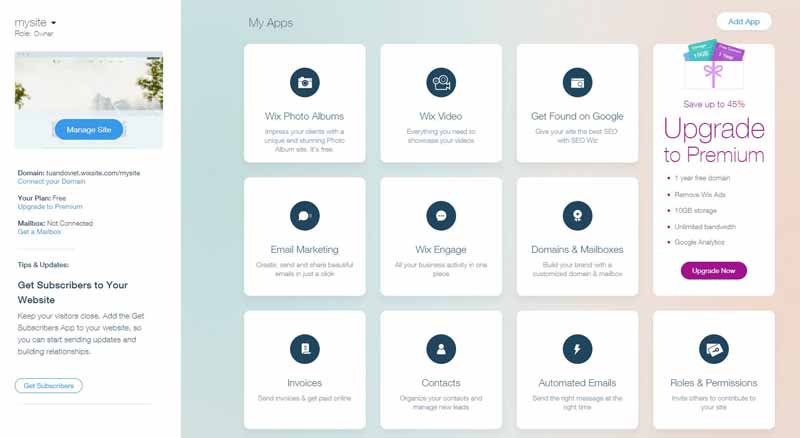 Source : Tech Walls
So if, for example, you need to display text in a specific place on your site, you just need to drag and drop a text box and write whatever you want there.
The principle remains the same for images or any other element of a website. Which would require lines of code with the traditional method of creating websites.
In addition, like WordPress, Wix allows you to add external functionality to your site through modules to manage, for example, contact forms, an online store or a newsletter.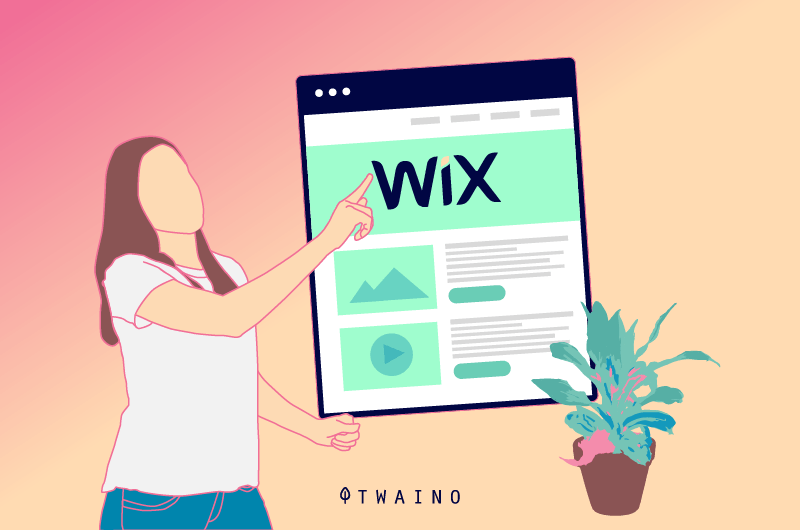 Many of these modules are available free of charge in the platform's library, but it should be noted that to access all the features offered, it is necessary to subscribe to the premium version of these modules.
1.2. Is Wix good for SEO?
SEO is a long process with many steps to make a website search engine friendly.
It improves the user experience (UX) of the website and boosts its relevance for many targeted keywords. This results in higher rankings in search results, higher traffic and conversion rate.
But is Wix good for SEO? This is a question that comes up very often and the least we can say is that the platform is struggling to convince users about it.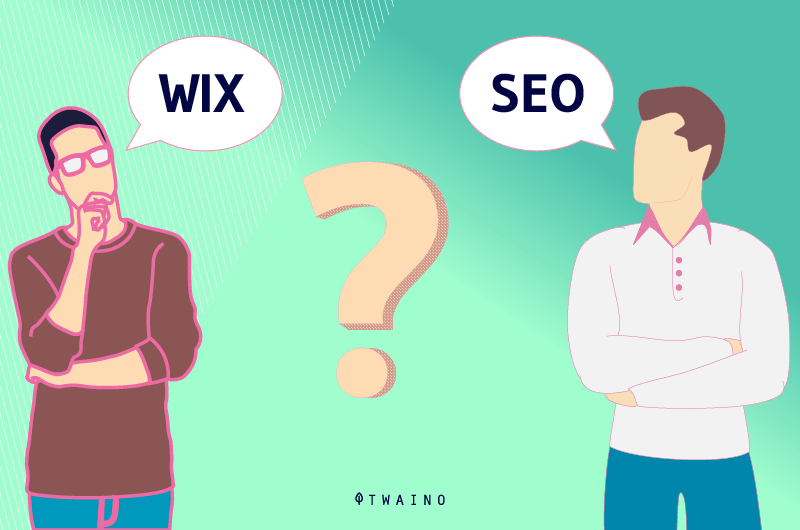 The fact is that there is a bad reputation on Wix due to some SEO issues that have been noticed by several users of the platform.
These included:
Poor URL structure: The CMS was generating URLs containing fancy characters such as hash marks (#), which is not very SEO friendly.
The impossibility of adding ALT tags: Which made the referencing of images impossible.
The impossibility of optimizing URLs, Title tags and Meta description: This represents a major SEO problem, especially for blogs that publish a large number of articles.
The inability to add structured data markup: This can potentially cause lost clicks.
The fact that Wix used Flash technology: This is also an SEO problem for sites created with Wix.
With all these flaws seen on the platform, Wix was highly unrecommended in terms of SEO since at the time, Wix sites were indeed struggling to find good rankings on Google Pages and other search engines.
But it must be said that the CMS has improved considerably since then and SEO on Wix is ​​no longer that much of an impossible mission.
Today, it is quite possible to optimize your Wix site to rank well in Google search results.
As proof, Google itself has looked into the matter and to hear the reassuring words of John Mueller, one of the employees of the search engine, "Wix sites work well in search".
In addition, the platform has again had the support of an influential figure in the world of SEO. This is Rand Fishing, SEO expert and co-founder of Moz who ran a marketing campaign to prove that it was indeed possible to optimize his Wix website on search engine pages.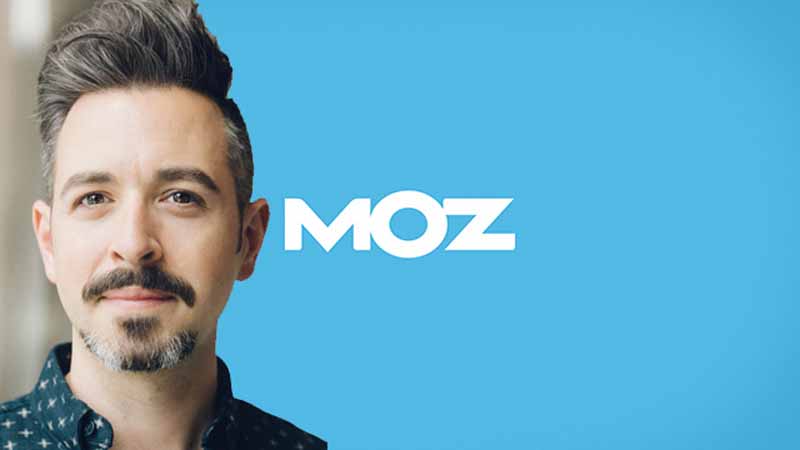 Source : Rise seattle podcast
There's no denying that Wix has improved its platform significantly over the past few years and if you have a small local establishment, you should have no problems getting your Wix site listed.
However, it is important to clarify that the platform only allows you to perform basic optimization techniques. Which is just the starting point for a successful SEO campaign.
But the truth is that to successfully rank well today in 2022 on Google, you also need to consider other important SEO techniques such as:
Thorough keyword research;
A backlinks campaign;
The creation of relevant and quality content;
And a broader digital marketing strategy.
By successfully combining all these elements to your Wix SEO strategy, the platform should not be an obstacle to your ranking on the search results pages.
1.3. SEO on Wix: Advantages and disadvantages
It must be said that the efforts of the platform do not seem to improve its reputation in terms of SEO solution.
While some support its effectiveness, others still continue to level criticism against Wix, including former users who are likely still brooding over their bad experience with the platform.
So what is it really? We have therefore deemed it useful to present to you the strengths and weaknesses of Wix when it comes to working on the referencing of a website:
1.3.1. The Benefits of Using Wix
The Wix SEO Wiz Integrated SEO Tool
The Wix platform offers Wix SEO Wiz, an integrated SEO tool that allows SEOs to optimize their websites for search engines.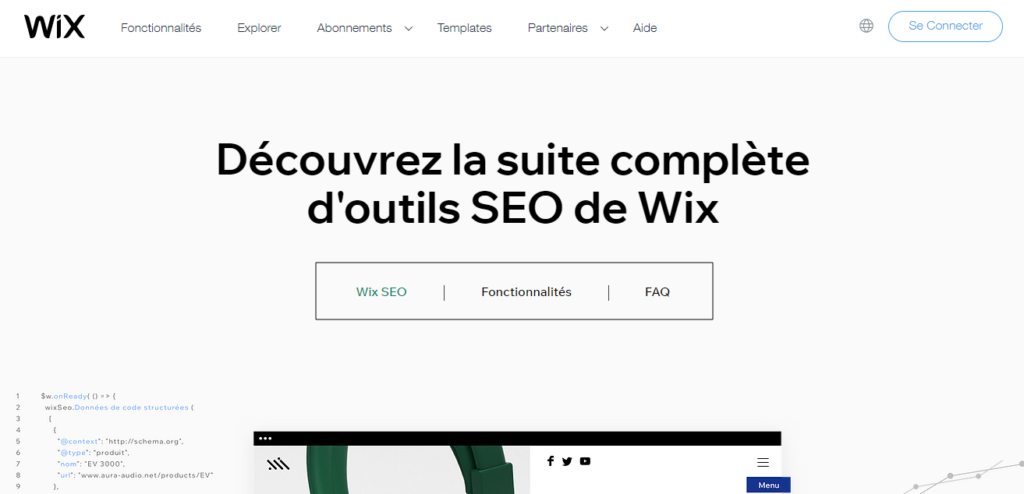 The use of the tool remains quite simple. It suggests a proposed referencing strategy based on certain information that you have previously provided, such as:
The location of your establishment;
The keywords for which you want to be referenced on Google;
Etc.
The strategy offered by the tool can be a great help for users, especially beginners who have trouble knowing where to start an SEO strategy.
Easy SEO Optimization Requires No Programming Knowledge
Just like building your Wix site,you don't need to enter a line of code to optimize it for search engines. And this is possible thanks to its editor which works with drag and drop. This particularly facilitates SEO referencing on Wix.
Easy Connection to Google Search Console and Google Analytics
With Wix, you can easily analyze your site data to Google Search Console and Google Analytics, two essential tools for an SEO campaign.
To take a deeper look at Wix's benefits, you can check out this table provided by Websitebuilder Expert :
| | | |
| --- | --- | --- |
| Search Category | Wix Rating /5 | Expert Opinions |
| Ease of Use | 4.4 | Wix is ​​completely beginner-friendly. It uses drag and drop, so you don't need any coding skills, and even has Wix ADI, which builds a custom site for you. |
| Value for | 3.4 | Wix is ​​not the cheapest website builder with a starting price of $14 per month (billed annually). But, it offers excellent value for money thanks to the number of features it includes. It also has a free plan that you can use for as long as you want. |
| E-Commerce | 4.5 | Wix is ​​perfect for small online stores, but not for large businesses. You can sell from Wix's Business Basic plan ($23 per month) and above. There are no transaction fees and abandoned cart recovery is included in every e-commerce plan, which is an important feature not often included in starter plans. |
| Design Flexibility | 4.4 | Wix has over 800 templates to choose from, and they've all been professionally designed. Some are better than others, and it's a shame you can't change templates once your site is live, but overall, Wix's designs will provide a great canvas for your site. |
| Features | 4.9 | Wix has an impressive number of features included in its plans, and its templates come with built-in features relevant to their industry. For example, a restaurant template would already have a reservation feature included! |
| Help and Support | 4.3 | Wix integrates its support features into the editor, with question mark buttons to guide you through the build. Each button opens a step-by-step guide on how to use the item you're working on. Not only that, Wix also offers articles that effectively answer the most generic questions, as well as an email you can send all sorts of questions to. However, it lags behind other platforms as Wix does not offer live chat support. |
| Customer Rating | 4.6 | In testing, our participants were more likely to recommend Wix to a friend, even though the platform didn't get full marks yet because some of its editing elements took too long to load. |
| Overall Rating | 4.8 | Wix is ​​a powerful professional website builder that makes creating and managing a website easy for everyone. He would score even higher if he allowed the model change. |
Basically, we can see that the advantages of Wix are found much more in its ease of use, both in the creation of the site and in its search engine optimization.
1.3.2. Disadvantages of using Wix
Apart from the advantages mentioned, the platform also has some disadvantages, namely:
Lack of advanced SEO features
If you are looking for advanced SEO features, the platform is unlikely to meet your expectations. Apart from the basic SEO features, it's a bit difficult to do extensive optimization with Wix.
Impossibility of optimizing your site for the AMP version
AMP means in SEO, the use of accelerated mobile pages to improve the user experience of mobile users.
It is an open source project that was launched by Google in February 2016 with the aim of improving user experience on mobile devices by making web pages load faster. The other downside with Wix is ​​that the platform does not support optimizing sites for the AMP version apart from the latest version of Wix Blog.
1.4. How popular is Wix?
Today, there is no doubt that Wix is ​​one of the best solutions for website creation today and the numbers speak for themselves. The platform claims an audience of around 200 million users in 190 countries around the world.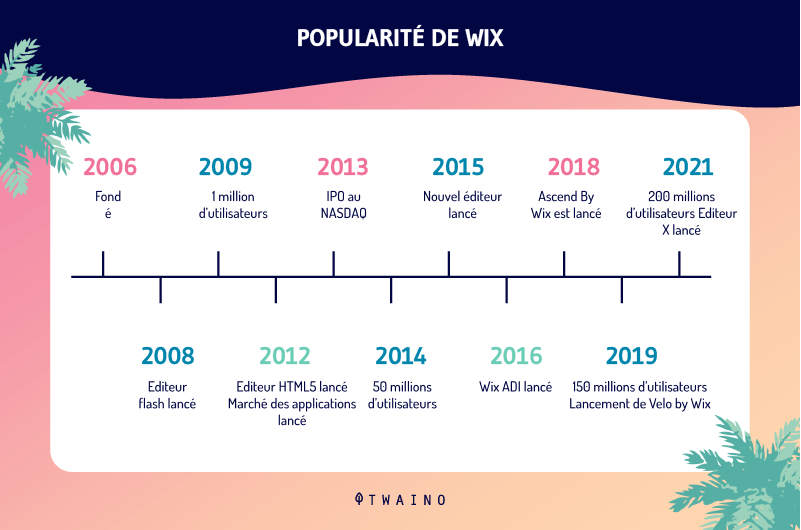 Due to the ease of use of its features, Wix is ​​particularly appreciated by:
Small businesses
Startups
Liberal professionals (hairdressers, plumbers, photographers)
However, it should be noted that Wix is ​​not suitable for everyone . If you want full control of your website, Wix probably isn't the tool for you. For example, you do not decide which web hosting service will be used. Clearly, Wix is ​​ideal if you want an easy-to-manage system since the platform takes care of almost everything for you.
1.5. SEO Features Available on Wix
Here is a list of important SEO features available to you when building your site with Wix:
1.5.1. Editing Title Tags
The content of the Title tag is the main clickable title of a web page that users can see in search results.
This is an important element in SEO since it is thanks to the Title tag that search engines manage to understand the theme addressed on the page to better classify it when an Internet user launches a patient request.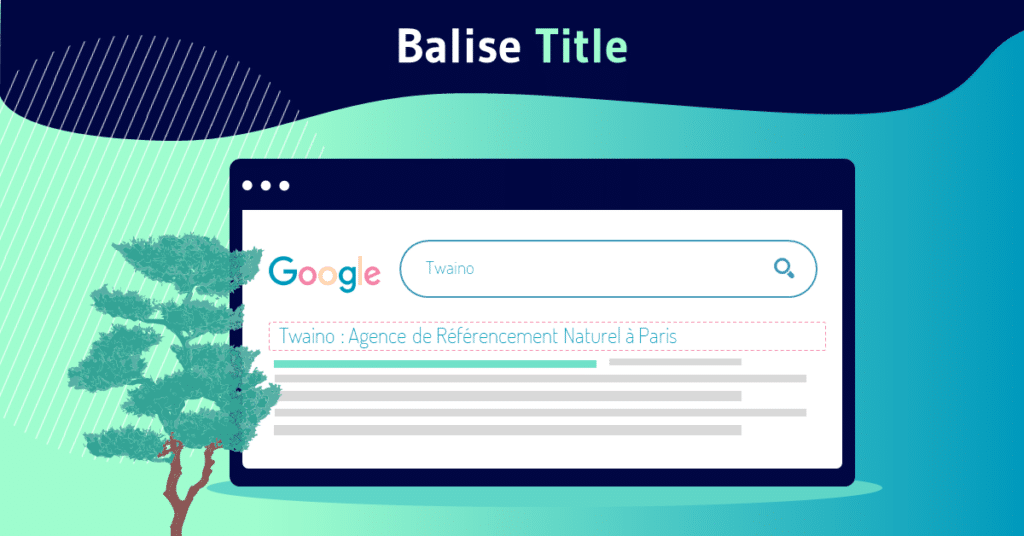 Wix offers the ability to edit the Title tag of every webpage you create. You can then control the number of characters in your titles and insert your main keywords for SEO.
1.5.2. Editing the meta description
tag The meta description tag is important for SEO because it provides a summary about the content of a web page. Which can be used by search engines to respond to user queries.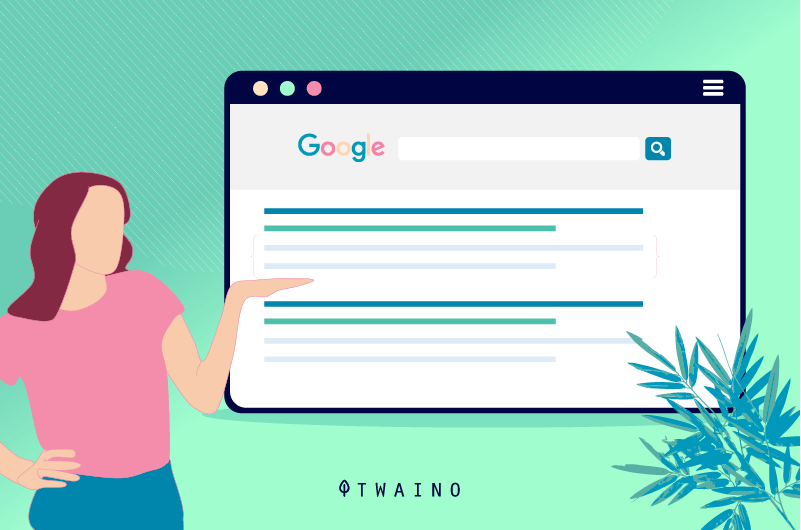 This is why it is important to include keywords in the meta description tag to improve the ranking of your web pages on the SERPs.SERP
Optimizing your meta description tags is not an issue with Wix because the platform allows editing.
1.5.3. Modify Hn tags (H1, H2, H3…)
Unlike Title and meta description tags, Hn tags are not directly visible in search results. They are visible inside the page and allow the text to be structured into sub-chapters.

This structuring with Hn tags facilitates understanding for Internet users, but also for indexing robots during the crawl.
For better SEO, it is advisable to insert the main keyword of the page as well as other secondary keywords in the Hn tags.
With Wix's editability, you can easily optimize your Hn tags for relevant keywords, from H1 to H2 for blog posts and from H1 to H6 for other pages.
1.5.4. Define personalized page URLs
Just as it is recommended to have the main keyword in the various aforementioned tags, adding it in the structure of the page URL would also be a great SEO asset.
It is in a way a way of reiterating to the search engines the theme developed on the page and thus facilitating its referencing in the search results when an Internet user makes a search related to this same theme.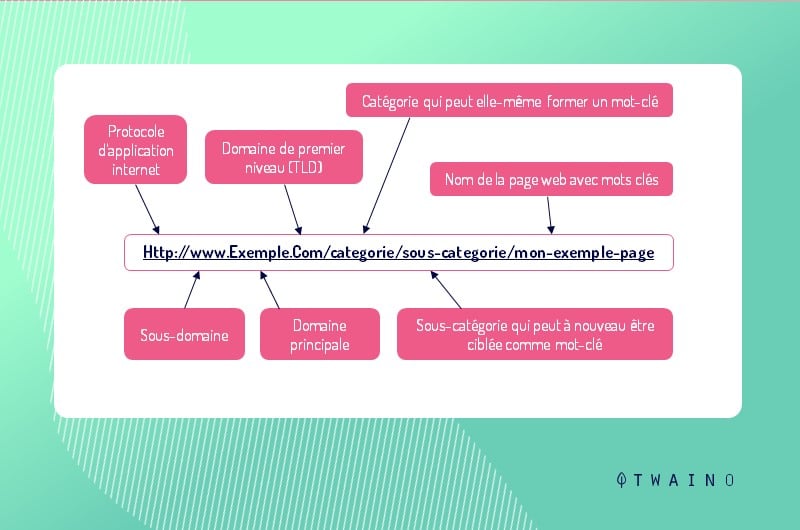 Customizing page URLs is possible on Wix sites, but it is important to note that Wix also generates some special characters. Which is not beneficial from an SEO point of view.
1.5.5. Editing Image Alt Tags
When it comes to optimizing your website for search engines, image alt tags are an often overlooked element. Yet they can be a very important part of your optimization efforts.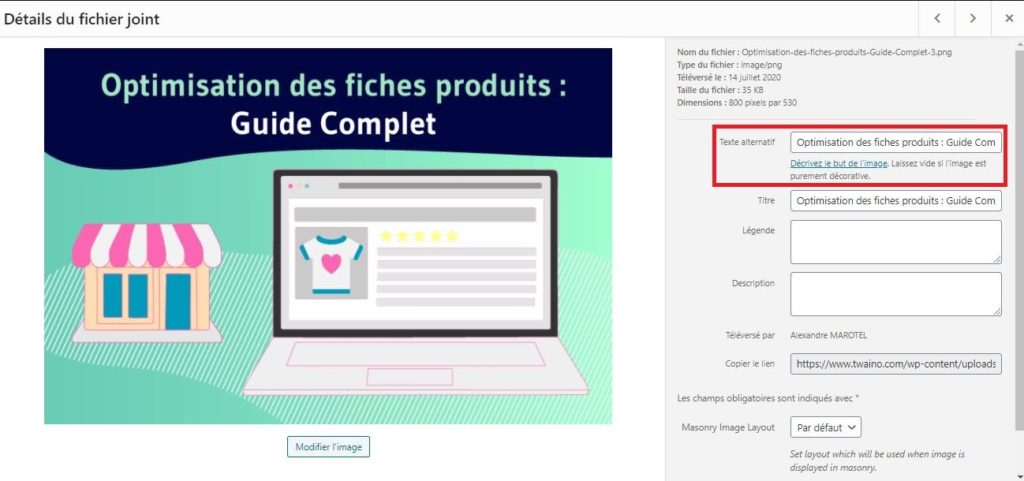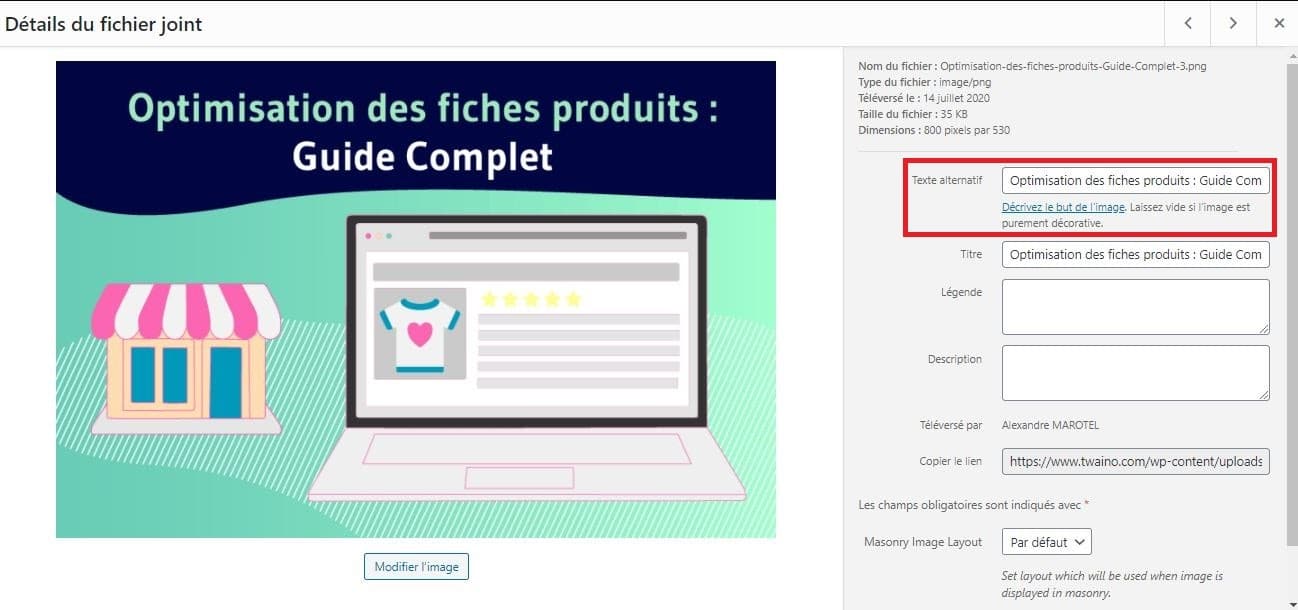 The main purpose of an alt tag is to provide a text alternative to an image for those who cannot see it. This is especially important for people who have certain visual difficulties and use a screen reader.
Screen readers will read the text contained in the alt tag of the image for those visually impaired people.
Additionally, image alt tags also serve another purpose: they help improve your SEO efforts. When you include appropriate keywords in your image alt tags, you can improve your website's ranking in search results, especially on Google Images.
Customizing image ALT tags is possible on Wix, which will increase your site's visibility in image results.
1.5.6. Setting up 301
redirects 301 redirects are a way of telling a web browser to go to another web page when a user tries to access a certain web address. When you set up a 301 redirect, the original web page is automatically redirected to the new page you specified.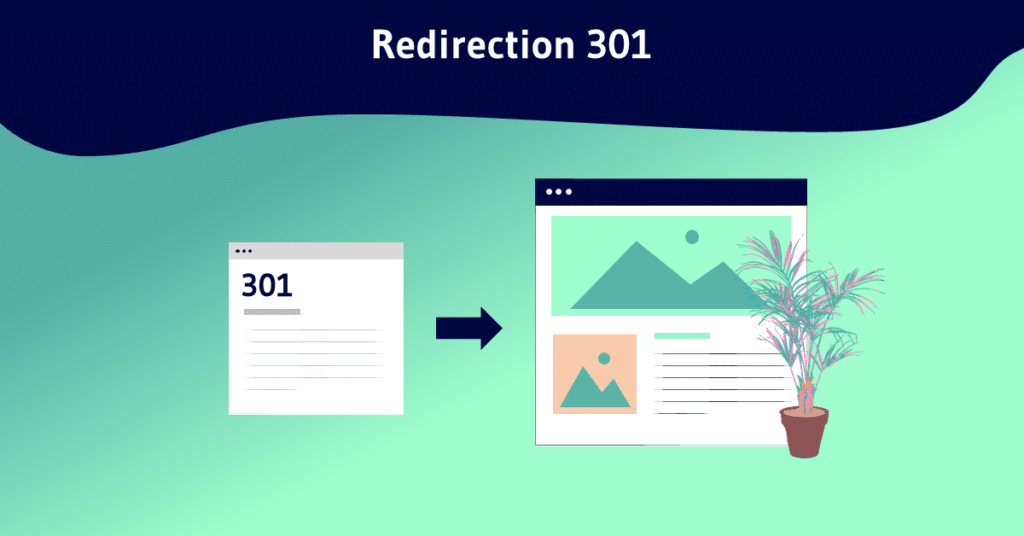 This method is usually used when you want to move a website to a new domain name or when you have changed the location of your website.
It is a common practice in SEO that allows you to retain all the authority acquired on the old URL address and automatically redirect Internet users who try to access it to the new address for a better user experience.
If for some reason you need to set up 301 redirects on your site, well, that is possible with Wix.
1.5.7. SSL/HTTPS
The SSL certificate is important because it allows websites to communicate securely with their users and protect their privacy against data hacking techniques.
This is essential if you have an online store where customers must enter bank details to make purchases.
The sites protected by the SSL certificate are recognized by the HTTPS protocol marked at the beginning of their domain name.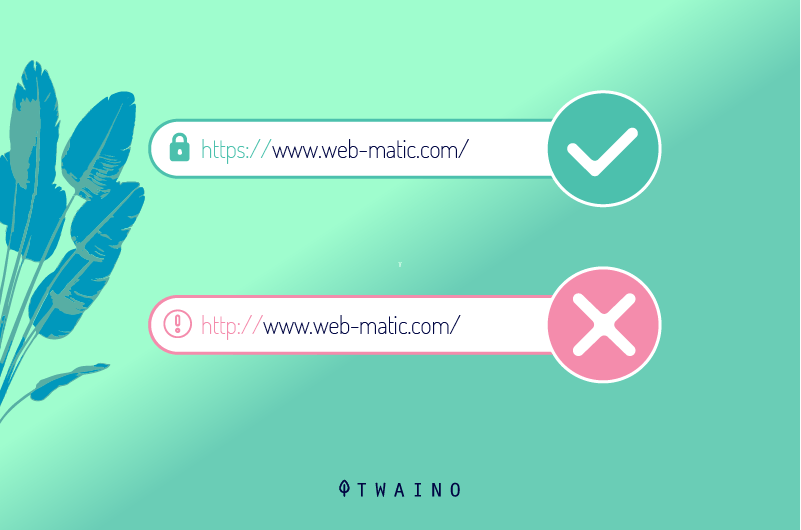 It is also a decisive SEO criterion taken into account by search engines, in particular Google, since it always advocates a better experience for users.
One of the advantages with Wix is ​​that SSL encryption is available no matter what plan you have subscribed to.
1.5.8. The sitemap or sitemap
A sitemap can be seen as a document that describes the content and relationships between the pages of a website. It can be used as an aid to web developers to determine the navigation of a website and quickly find technical problems with the site.
The content of a sitemap can be as simple as a list of links or it can also contain additional information such as page summaries, crawler history, etc.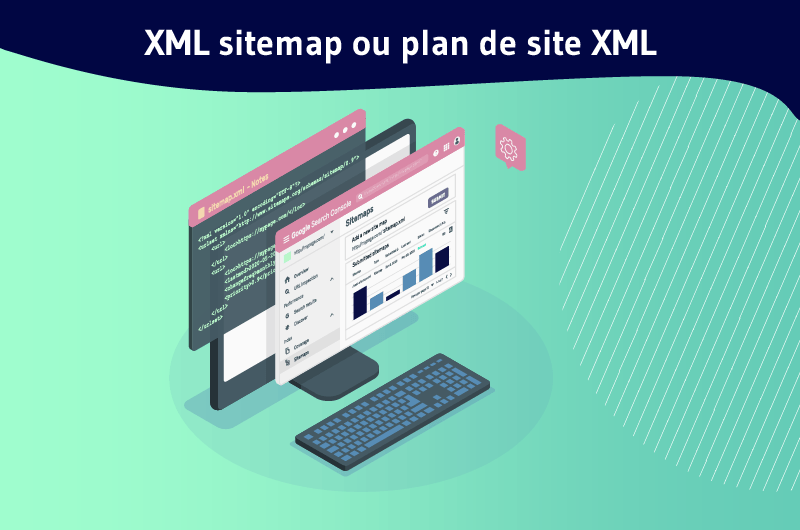 Indeed, search engines can also access your sitemap to understand the organization of your site to better explore it.
This is an important SEO factor that is also available on Wix sites. It automatically generates a sitemap file for each site created with its platform.
But it must be said that you cannot access your Wix sitemap or customize it for that matter.
For novice users who don't have coding skills, this doesn't change much, but if you're an expert in the field, not having access to your sitemap can be a real hassle.
1.5.9. The mobile version Mobile
optimization ensures that users can find your website on their phones and tablets quickly and easily.
With the growing number of Internet users who use smartphones or tablets to connect to the Internet, it is crucial for all companies to have a mobile version of their site.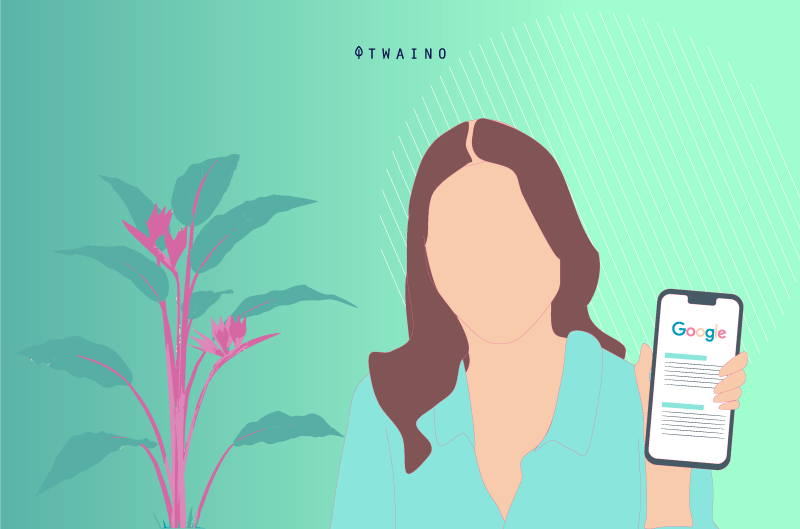 This is what Google recommends to increase your chances of being well referenced in search results, especially in mobile searches.
Wix provides its users with a mobile editor to customize the mobile version of their site. However, this possibility of personalization is not possible for the tablet version.
1.5.10. Page load speed and site availability
In 2010, Google announced that web page load speed would be included as one of the ranking factors in its search index. Ever since, the SEO industry has taken loading speed to heart.
It must be said that Wix does not have a particular feature to improve the loading speed of your pages. It all depends on the page template you have chosen and the elements added to the site.
1.5.11. Canonical
tags Canonical tags are used in SEO to help search engines distinguish between similar content, the original version from copies.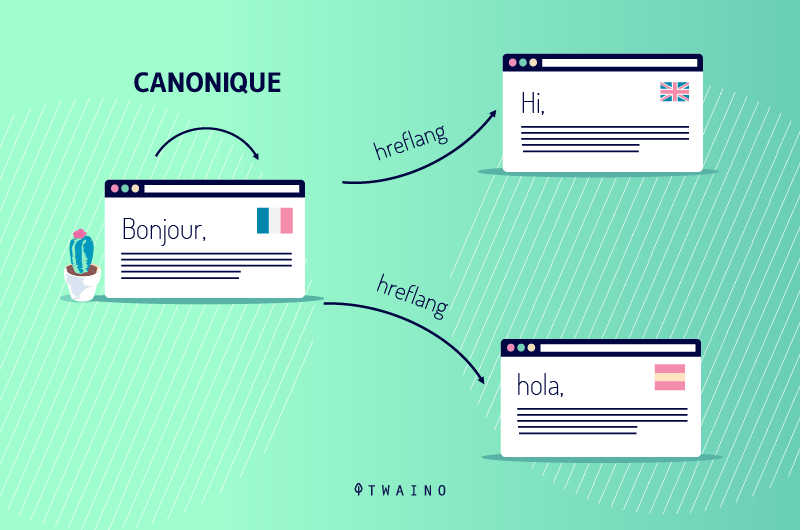 The original version will then be prioritized during the indexing phase and the others are considered to be copies in order to avoid problems related to duplicate content.
These tags are of great importance for the referencing of your site because partially or totally identical content is punishable by search engines.
This is a black hat practice that could affect your SERP rankings if search engines find duplicate content on your site.
With Wix, you don't have to worry too much about this since the use of canonical tags is available on the platform.
1.5.12. Integration on social networks
Although search engine results pages are the source that generates the most traffic for many websites, being present on social networks can also increase your traffic and build a new community.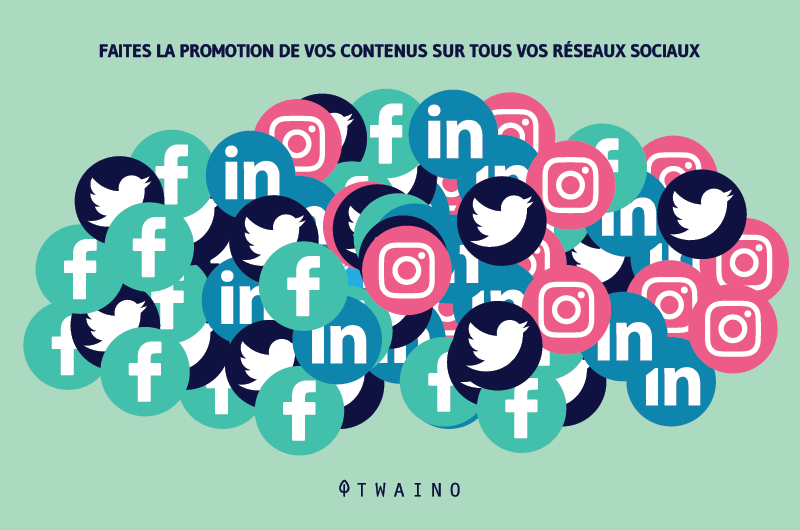 And one of the strategies used for better visibility on social networks is content sharing.
With Wix, it is possible to integrate sharing buttons to distribute your content on popular social networks such as Facebook, Instagram, Twitter, etc.
1.5.13. Structured Data
In SEO, structured data is useful information that can be added to a page in the form of code snippets.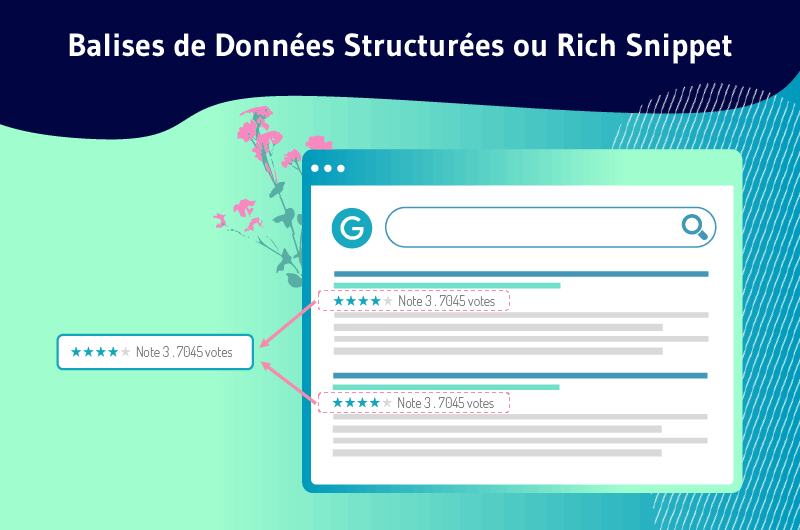 They help search engines to better understand the theme of a website.
Sometimes, if the search engines find that the structured data of a website is relevant enough, they can use it to answer the queries of Internet users directly on the SERP in the form of rich results. Which naturally constitutes a real asset of visibility on Google.
It is possible to add structured data to your Wix site, but it should be noted that the platform does not provide native solutions for this. Clearly, you should use third-party solutions before adding structured data to Wix.
1.5.14. Indexing/De-indexing
It is true that as a website owner, one of your wishes is to see your pages indexed by search engines for better referencing.
But sometimes it can happen that you prohibit search engines from indexing a given page specifically. This may be, for example, a duplicate page or a page of little value that you no longer want to be visible to Internet users.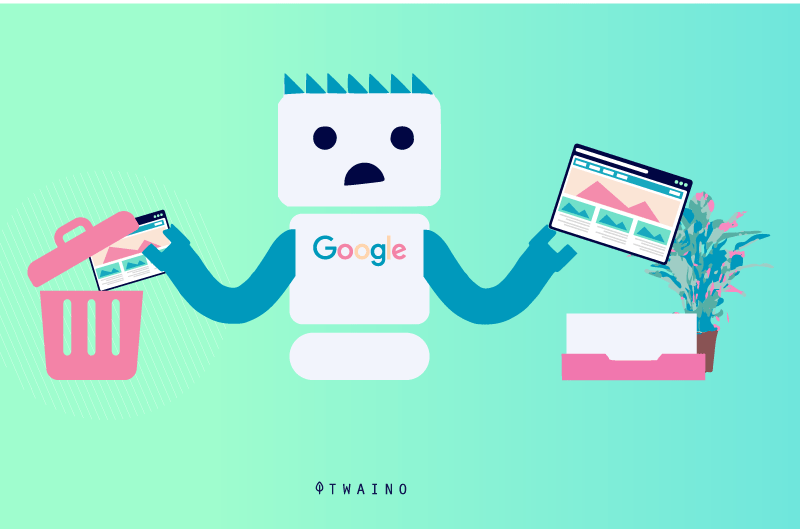 In any case, for one reason or another, you can formulate instructions to Google on how you want your pages to be indexed, in particular through the Robots tags or the Robots.txt file. Which is also possible with Wix.
1.5.15. Google Analytics integration Google
Analytics is a very popular SEO tool in the world of SEO that allows you to analyze the audience of a site or a web application.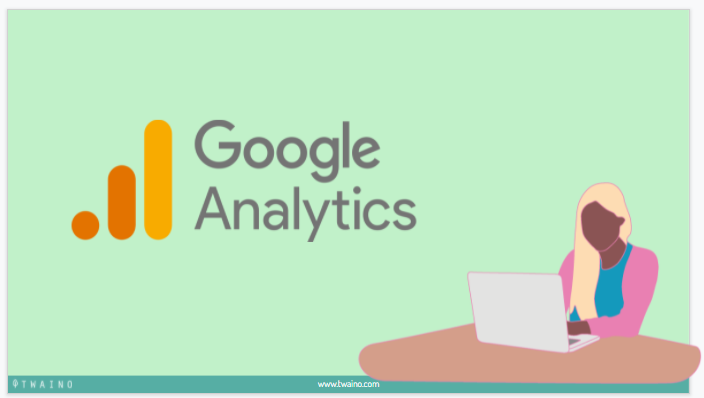 But integrating Google Analytics on your site has no impact on your ranking on Google pages, it is just an analysis tool to assess the effectiveness of your SEO strategy.
Which is very useful to know if you should continue in the same vein or if your SEO strategy needs readjustments.
Integrating Google Analytics into your website is available with Wix and is very easy to do.
1.5.16. Google Search Console
Like Google Analytics, Google Search Console is also an SEO tool with the particularity of helping you get information about your link profile, indexing issues and more.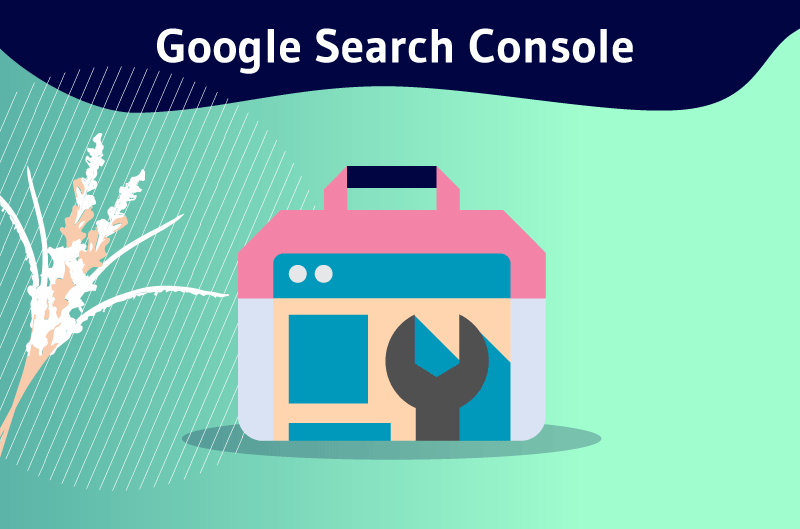 This is useful SEO information that can be leveraged to improve your SERP rankings. Google Search Console integration is also available on Wix.
Here we are at the end of our list of SEO features that Wix offers for the SEO of its users' sites. But it is important to add that a successful SEO strategy is not based solely on the functionalities of the CMS used.
You also have to do your part because a website created with the best CMS in the world has no guarantee of winning the first places in Google if no SEO effort has been provided.
Clearly, you can only really take advantage of the SEO features of your CMS if you produce personal efforts such as the creation of relevant and quality content, for example.
Chapter 2: How to Set Up SEO for Your Wix Site?
Before discussing the actual optimization techniques to get your Wix site listed on Google, let's first look at the different configurations needed for a successful and complete listing.
2.1. Is your Wix site indexable by search engines?
One of the first things to do before starting your Wix SEO strategy is to make sure that the site will be visible to search engines in order to be indexed well.
The fact is that Google and other search engines have indexing robots that crawl the web looking for newly created or recently updated content: this is called the exploration phase.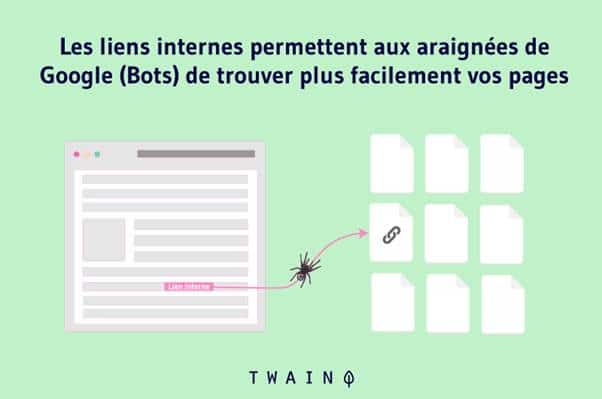 When these robots visit a web page and encounter no problem, the exploration will take place successfully and the page in question will indeed be listed in the index of the search engine: we will then speak of the indexing phase.
These are two phases that are essential for content to appear in search results because only the pages ranked in the index are taken into account to respond to the request of Internet users.
Simply put, no matter how much SEO effort you put in, if your content isn't crawled and then indexed by crawlers, that content has no chance of ranking in search results.
This is why it is always important to ensure the indexability of your site before starting your SEO strategy. With Wix, this verification can be done easily from the dashboard.
To do this:
Click on "SEO tools" and on "General SEO settings".
Then make sure that the option "Let search engines index your site" is activated.

2.2. Setting up Wix SEO Wiz for your website
The next step will be to take advantage of the benefits of the Wix SEO Wiz for your site's SEO.
This is a free tool offered by Wix itself to help its users by generating a step-by-step SEO plan that covers the first basic SEO tasks.
The tool can be especially useful for beginners because it helps them take their first step into SEO.
To set up Wix SEO Wiz on your site:
Access the Wix dashboard and select the "Marketing Home" option from the left sidebar;
Then click on "Get started now" under the Be visible on Google option.

You will be asked to provide certain information such as:

The name of your site;
The address(es) of your establishment;
And a list of 5 keywords you want to rank for on Google. (We'll come back to keyword research to help you decide which terms are really profitable for your business).

Once this information is provided, click on "Create an SEO plan";
Now you can start using the Wix SEO Wiz tool with the rest of the steps presented as a wizard to complete the various tasks in chronological order.
This is a checklist of tasks to implement basic SEO for your website with short descriptions that walk you through each step.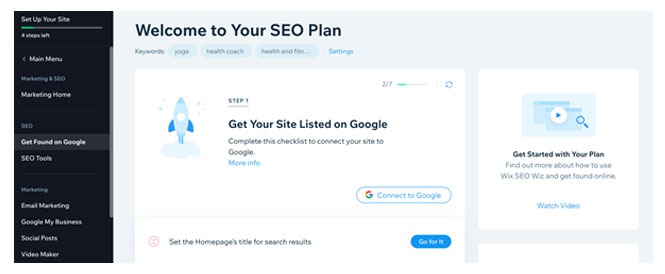 The work to be done here will simply be to go through the checklist and perform each task offered by the tool.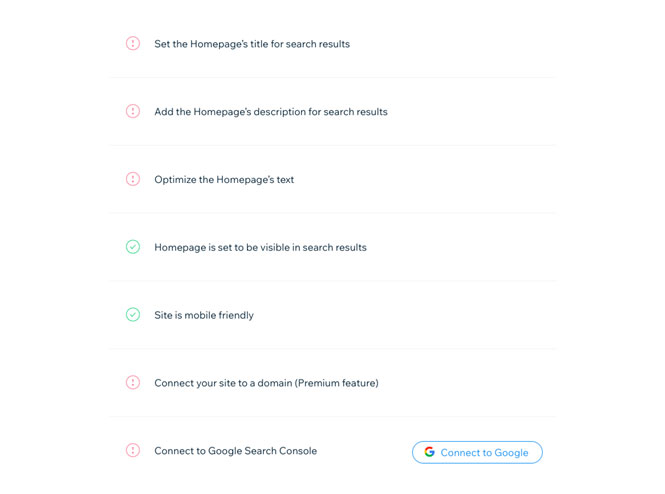 For example, to create a meta description for your home page, the tool tells you to:
Access the site editor;
Click on Main Pages;
Access the home page;
And choose the SEO (Google) option.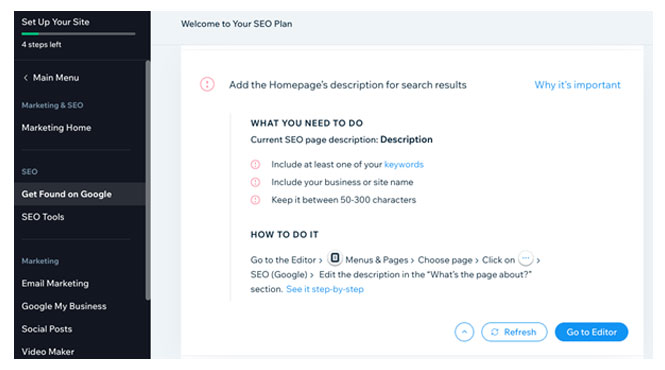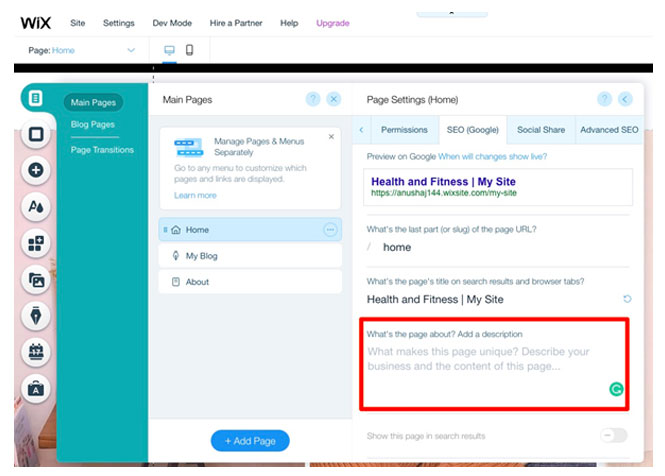 By actually following these different steps, you will come across this text box where you can write a description for the home page of your site.
2.3. Installing and activating the SSL certificate
The importance of the SSL certificate has been previously explained. It allows you to encrypt your users' data against possible computer attacks.
With Wix, you don't have to worry about the security of your users' data because the SSL certificate is already pre-installed for all sites created by the platform.
2.4. Integrating Google Search Console into Your Wix Site
Integrating Google Search Console into your Wix site is pretty straightforward. To start, you need to verify your site and for this: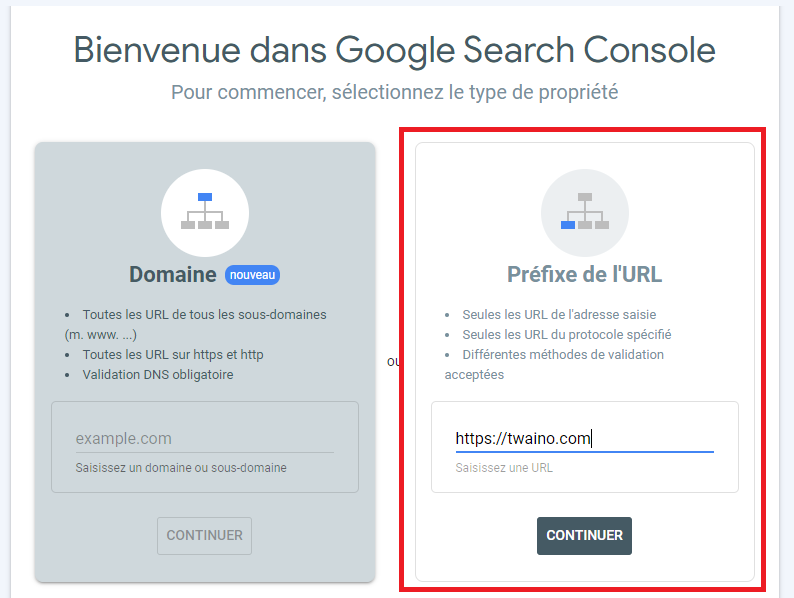 Enter the domain name of your site;
Click on "Continue";
Copy the meta tag code.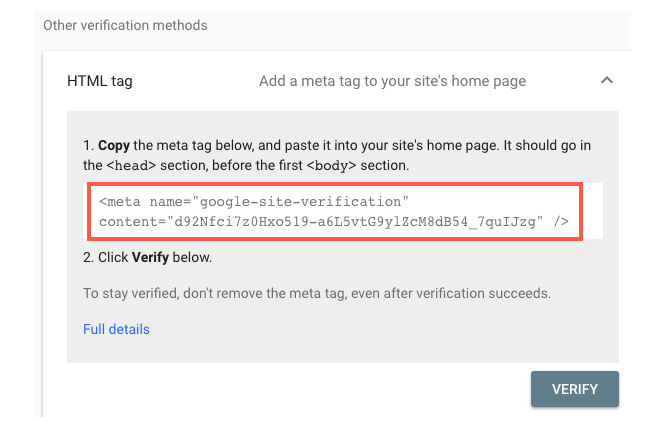 Then leave this window open and navigate to your Wix dashboard. Once in Wix:
Click on the SEO Tools > Site Verification > Search Engines > Google Search Console , then enter the site verification code you copied earlier.

Next, go back to your Google Search Console window and click Verify. .
Your site verification is complete and your Google Search account will be successfully integrated into your Wix site.
2.5. Submitting your sitemap to Google
After integrating Google Search Console with your site, the next step will be to submit your sitemap to Google to facilitate the passage of indexing robots for the crawl. You can access your Wix site's sitemap by simply adding /sitemap.xml to your website's URL: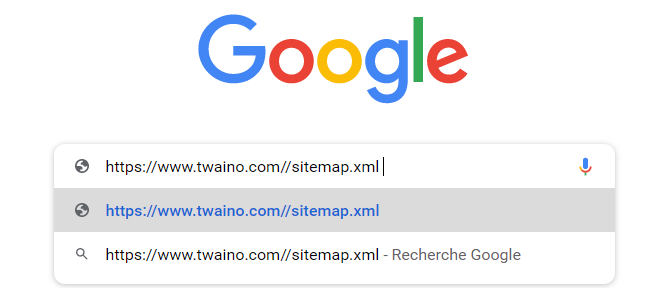 To submit it to Google:
Go back to your Google Search Console account dashboard;
Click Sitemaps in the sidebar.
Add sitemap.xml to the URL and click submit.
You have thus just integrated the Google Search Console tool into your site, the search engine will then be able to index it.
2.6. Configure Google Analytics
Google Analytics is an SEO tool that allows you to study the behavior of Internet users in relation to your content. Among other things, it allows you to know:
The number of active visitors;
The average duration of visitor sessions;
The different sources of traffic acquisition;
Etc.
As you can see, this is useful information that can help you evaluate your SEO strategy and understand how to optimize it for better results.
The integration of Google Analytics on your Wix site will be done through a tracking code and to obtain it:
Log in to your Google Analytics account ;
From the Dashboard click on Admin modules > Property > Tracking Info > Tracking Code;
Then copy the displayed code.

Then go back to your Wix dashboard and click on Marketing modules > Marketing integrations > Google Analytics > Connect.
Now paste the previously copied tracking code;
Check the IP anonymization then click Save.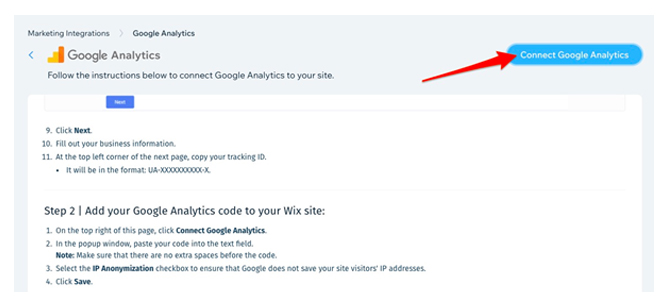 You have just linked your Google Analytics account to your Wix site and will now be able to study the engagement of Internet users on your content.
2.7. Propose an optimized structure for your Wix site
Choosing the structure of your site is an important step in our Wix SEO process since it determines the usability of the site.
Concretely, proposing an optimized structure for your site amounts to organizing the different pages so that the information can be easily accessible to visitors.
A good structure should allow easy navigation to the different pages and sections of your site. This is a positive signal to search engines.
Conversely, when users have difficulty finding the information they are looking for on your site, it will hurt your user experience with potentially a loss in your rankings.
Generally, a good structure starts from your main pages such as:
The home
page The about
page The contact us page.
But sometimes, depending on the profile of the company, certain pages can be added such as:
Service pages;
The Meet the Team page;
Etc.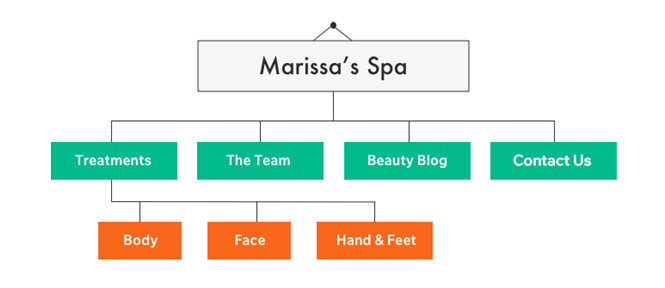 Source : Wix
When it comes to an e-commerce site for example, the structure can contain more or less this:
A home
page Category pages
And product sheets.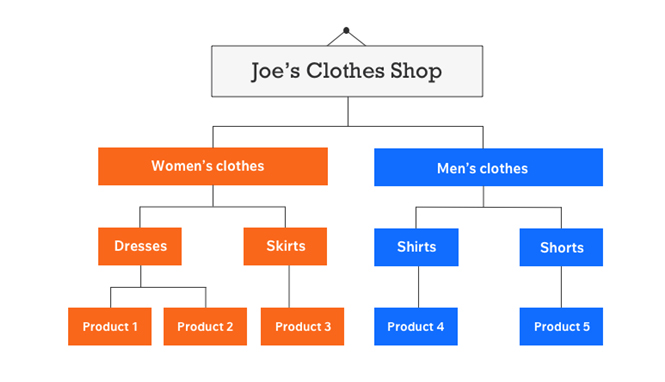 Source : Wix
As you can see, the structure to adopt on your Wix site can vary from one industry to another.
If you're struggling to come up with a good structure for your site, you can scour your top competitors' sites for inspiration on what's already working well in the field.
2.8. Make sure your Wix website is mobile
-friendly After defining an SEO-friendly structure for your site, the next step will be to make sure it's usable on small screens because it's also a decisive ranking factor on Google.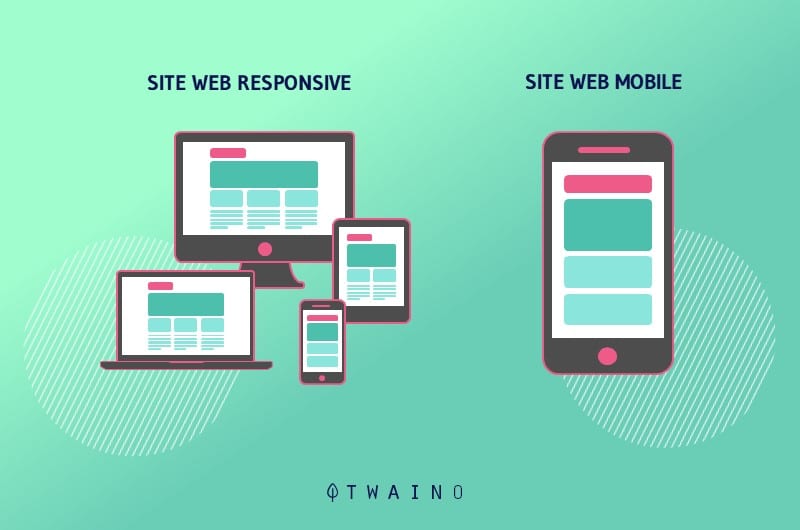 You may not know it, but 60% of Google requests are launched from mobile devices. So if your site does not adapt easily to smartphones and tablets, you will potentially lose traffic.
In addition, Google could downgrade you in its search results since the engine has always advocated a better user experience, especially for mobile users.
The advantage with Wiw is that all available templates are already adapted to mobile devices.
But it is always possible to check and make sure that the Wix template you have chosen is well suited for mobile devices. To do this:
You can check the Mobile preview option and then click on "Publish on any page". You can also test how your site looks on different devices to see how responsive it is on mobile devices, or use Google's free mobile testing .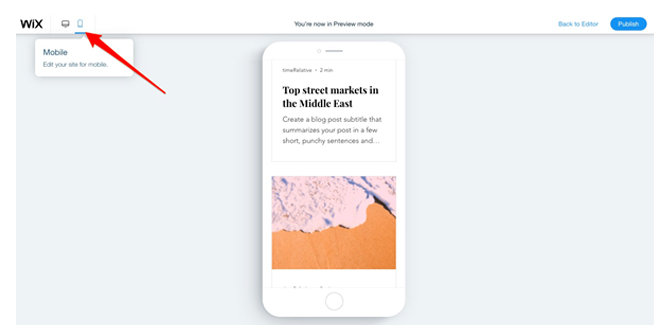 2.9. Robots.txt
file The robots.txt file is used to indicate to indexing robots the parts of your site that you want to see indexed or not.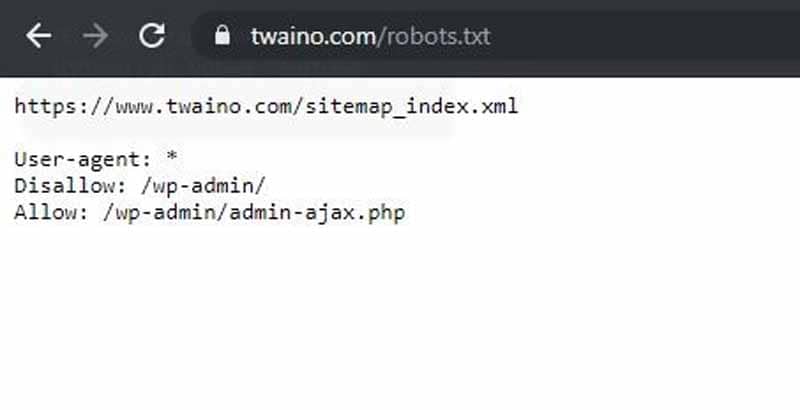 When you create a Wix site, this file is automatically generated with the possibility of modification.
To do this:
Go to your Wix dashboard;
Then navigate to Marketing & SEO Modules > SEO Tools > Robots.txt File Editor > View File.
You can then make the desired changes here and click Save to save them.
Chapter 3: How to On-Page SEO Your Wix Site?
After the various configurations presented in the previous chapter, the work here will be to show you the different On-page SEO optimization techniques that you can apply to your site.
But concretely, what is On-Page SEO? Unlike Off-Page SEO, On-Page includes all optimization techniques that can be applied directly to the pages of your website.
Here are some optimization strategies you can use for On-Page SEO of your Wix site:
3.1. Do Keyword Research
The process of a good On-Page SEO strategy begins with thorough keyword research.
This first step is to identify and prioritize the terms and phrases people use to search for your business's services online.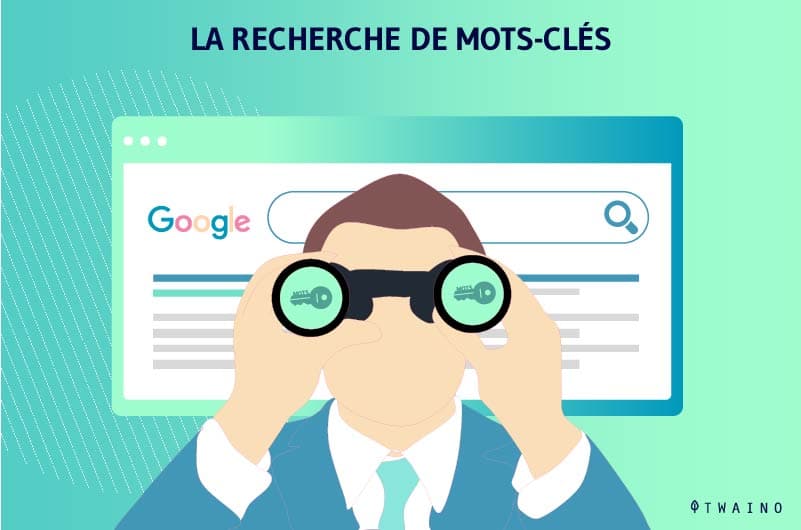 To get started, you need to create a list of potential keywords related to your business that you want to rank well for on Google.
To help you collect as many keywords as possible, you can use tools such as:
Browsing through these tools will help you scrape together some potentially relevant keywords to create a tentative list of keywords for your site. To complete this list, you can also copy some keywords targeted by your competitors.
After this collection phase, the keywords will be analyzed and then sorted according to several factors including:
Search volume
And SEO difficulty
Only keywords that have managed to obtain a large search volume and an affordable SEO difficulty score will be truly classified as relevant to your site.
Throughout the keyword research process, here are some tips to keep in mind:
Single-word keywords are too vague and competitive. It would therefore be more difficult for you to succeed in occupying a good position on these keywords in the search results.
Use long-tail keywords (composed of at least 2 words). They are less competitive so easy to get a good ranking.
Prioritize keywords that have a low or medium SEO difficulty rating before targeting highly competitive keywords with high SEO difficulty.
To learn more, I invite you to discover my complete guide to keyword research. You will discover all the steps and tools necessary for a thorough and complete keyword research. 
3.2. Optimize your website pages for target keywords
Once you have your list of keywords ready, it's time to put it to use, i.e. start the actual optimization of your pages for those words. -keys collected, analyzed and then sorted.
To do this, you can start with the home page and gradually descend to the other pages according to the structure you have chosen.
As for optimization, you may have already done it during the SEO plan generated by Wix SEO Wiz with keywords that are not necessarily beneficial for your site.
Now that the keyword research has been done, you can go back and make changes with the new keywords you've chosen.
And for that, nothing very complicated:
Go to the Wix editor then review the texts that you had planned for the different sections of your home page.
This time, take care to insert the keywords that are really beneficial for your site.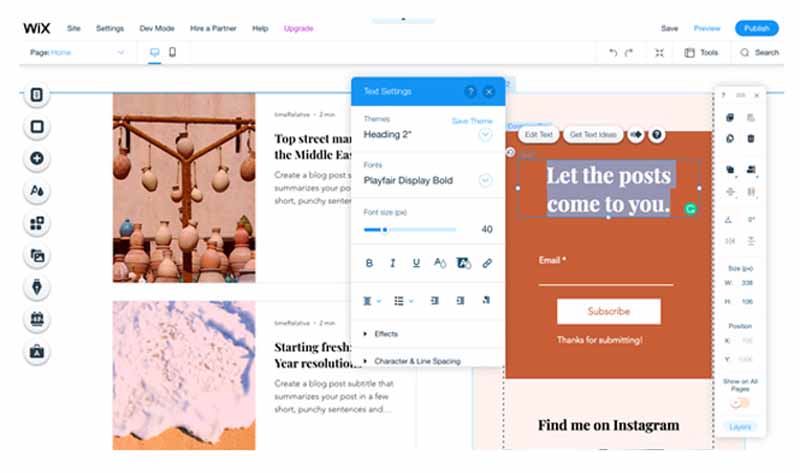 However, be careful not to force the insertion of keywords because Google may suspect keyword stuffing and penalize your site.
But how do you know if you are inserting the keywords correctly according to the recommendations of the search engines? Just be natural and prioritize understanding the user.
Of course you have to insert your keywords, but make sure you use them in a good context that is really useful for the user.
After optimizing the home page, you can repeat the same procedure for the other pages of the site while keeping a clear view of the understanding and satisfaction of visitors.
3.3. Optimize Title tags, Meta descriptions and URL Slugs
In addition to the texts that can be found in the sections of your pages, you must also optimize the title of each page, its meta description and its URL address.
It's a way to remind Google of your main keywords and thus increase your chances of getting a place in the search results.
Exactly like the previous section, you need to modify the previously filled Wix SEO settings.
To do this:
Go to the Wix editor and click on "Main pages";
Click on the page you want to modify and then on the SEO (Google) option;
The tool will give you the hand to edit the page title, meta description and slug (URL). You could then try to insert your keyword in these three parts.
But be careful not to repeat the same keyword everywhere, it could also be suspected for keyword stuffing. If the main keyword is flexible enough, you can alternate it at times with variations or synonyms.
3.4. Create blog posts on your site
When it comes to blogging, most people think of bloggers and influencers, but the truth is no matter what industry you are in, you can have a blog section on your site.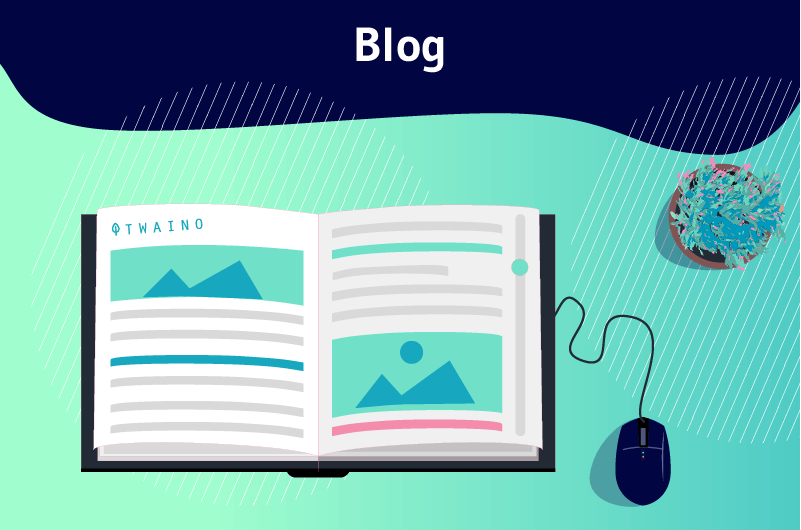 This is also what is recommended in SEO since it is an opportunity to target new keywords for which your blog posts could be ranked on search engines.
The thing is, search engines like Google prioritize websites that post valuable information that is helpful to users. And posting blog posts regularly is a great way to do that.
This is why the idea of ​​creating a blog section on your site can be added to your SEO strategy for more efficiency.
By writing interesting topics for your target audience, you will attract more leads that could convert into new customers for your business.
So, what topic should you write your blog posts about? Well, the keyword research you did earlier will still come in handy here. You can use your keyword list to come up with relevant ideas for writing your blog posts.
You can also take inspiration from the topics covered by your competitors and the type of content they use to offer something more competitive.
To create blog posts on your Wix site:
Go to the Dashboard;
Click on "Blog" then on "Create a new article".
The tool will present you with a text editor where you can start writing your article. You also have the possibility to add other types of content such as images, videos, GIF animations, etc.
Once you've finished writing your article, you just have to click on the "Publish" button to put the content online.
For each new article you write, take care to insert the keywords in strategic places such as:
The page title (H1);
The different headers (H1, H2, H3, etc.);
Image ALT tags;
In the body of the article (introduction, development, and conclusion);
The meta description;
And the URL slug.
If you want to learn more about writing techniques for the web, you can check out this comprehensive guide to web writing. 
3.5. Propose a well hierarchical structure for your pages
In the previous chapter, we saw some models which you can adopt for the structure of your site and all the importance that this assumes. But apart from the site, each page must also have a well-organized structure to increase its chances of SEO.

The thing is, without a consistent structure, crawlers will have a hard time crawling your pages and fully understanding their content.
In addition, it can also affect the user experience you offer because Internet users will also find it difficult to find each other when reading.
So, whether it's the homepage, a product page, or a blog post page, always make an effort to come up with a well-organized structure.
And for that, the rules are very simple:
Each page must have a single and unique H1 level title;
A page can have several subtitles, i.e. H2, H3, etc. level titles.
The H6 heading must be nested under the H5 heading, the H5 under the H4, the H4 under the H3 and so on;
To make a full-paragraph list, get into the habit of using bulleted lists or numbered lists.
3.6. Add Structured Data or Schema Markup
Structured data is a kind of format used to mark up useful information on a website and basically has two major advantages.
For one thing, schema markup helps crawlers better understand the context and content of your site.
On the one hand, it can also improve your click-through rate because it makes your page more attractive with real useful information in the search results.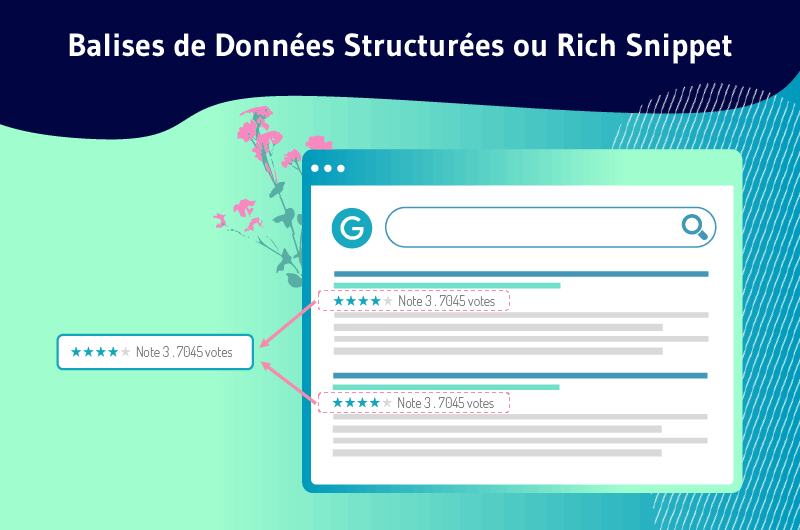 With your Wix site, some of your pages have structured data by default, namely:
Blog posts
Product pages (if you have created a Wix e-commerce site)
Event
pages Booking pages
And forum posts
The platform also offers you the possibility of adding other types of structured data such as:
Culinary recipes;
A breadcrumb trail;
An FAQ;
An event ;
Etc.
But for that, you have to resort to external solutions such as:
FAQ Schema Generator
Schema.dev
Technical SEO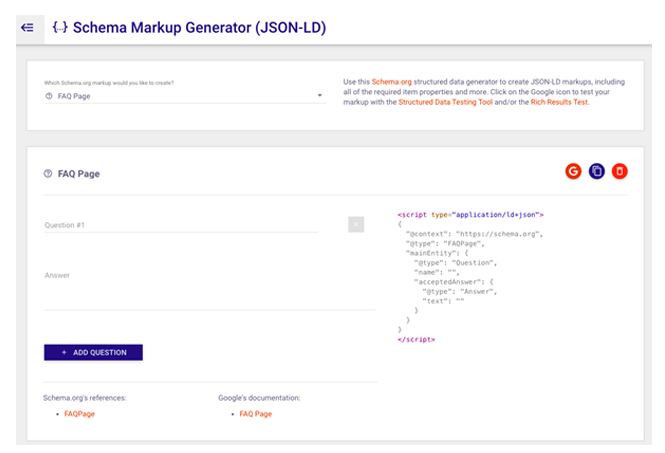 Once the tool is chosen, copy the structured data code then return to the Wix editor;
Then click on the Pages > Master Pages or Blog Pages > Advanced SEO > Structured Data modules.
The platform will present you with a field where you can paste the structured data code you copied.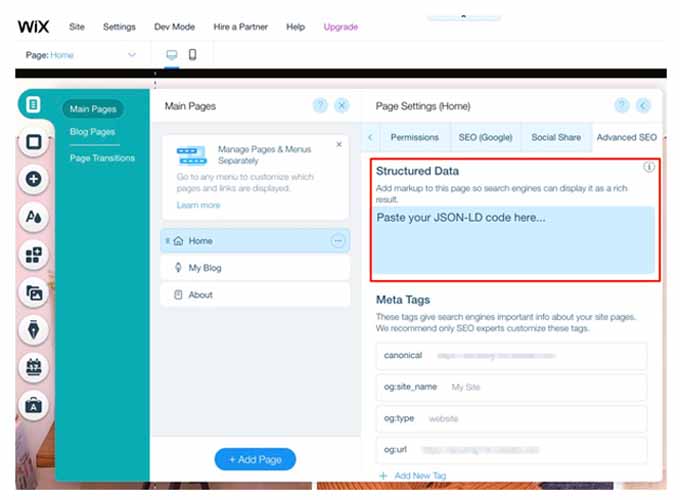 3.7. Optimize your content for better UX signals
Search engines and especially Google place a lot of importance on user experience as a ranking factor.
And to better assess the user experience that each website offers, Google uses certain UX signals that you should optimize on your pages.
Among these UX signals we have:
3.7.1. The readability of content
When writing your articles, avoid dense blocks of text. Form small paragraphs of no more than 4 lines. Don't hesitate to insert images, videos, screenshots, GIF animations, graphs, tables, infographics, etc. to enhance your content and make it even easier for Internet users to read.
The bounce rate refers to the number of Internet users who leave a website without performing another additional action such as clicking on a link or making a purchase, for example.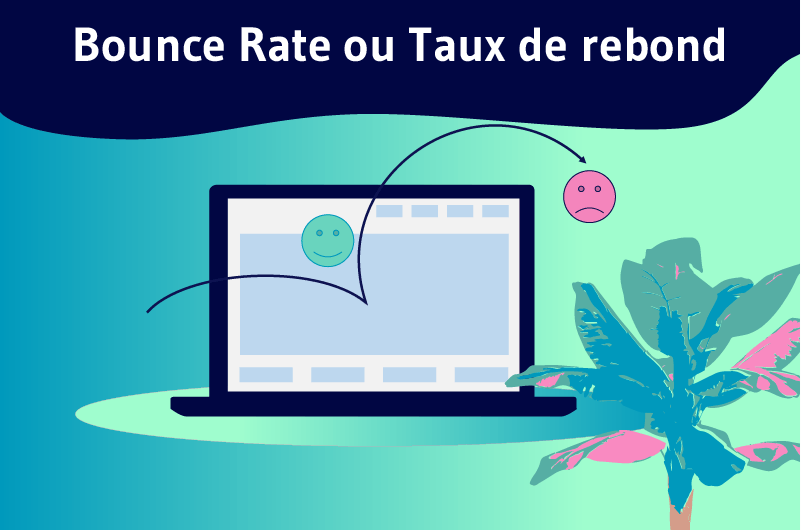 It is true that a website will always have a bounce rate, but when this rate becomes too high Google deduces that the site concerned offers a bad user experience.
The search engine might then downgrade it in favor of other sites that have reasonable bounce rates.
To reduce your site's bounce rate:
Focus on making your visitors happy;
Be sure to provide them with what they are looking for;
Make it easy for them to navigate;
Create calls to action to drive more engagement;
Etc.
3.7.3. Session duration
This is the time people spend on your site. The higher this time, the higher your chances of ranking on Google. To increase the session duration of your visitors, you can create quality content on your site and insert attractive elements such as images, videos, etc.
3.7.4. The organic click-through rate (CTR)
The CTRdesignates the percentage of Internet users who saw your site's link in the search results compared to the number of Internet users who clicked on it to discover the content of the page.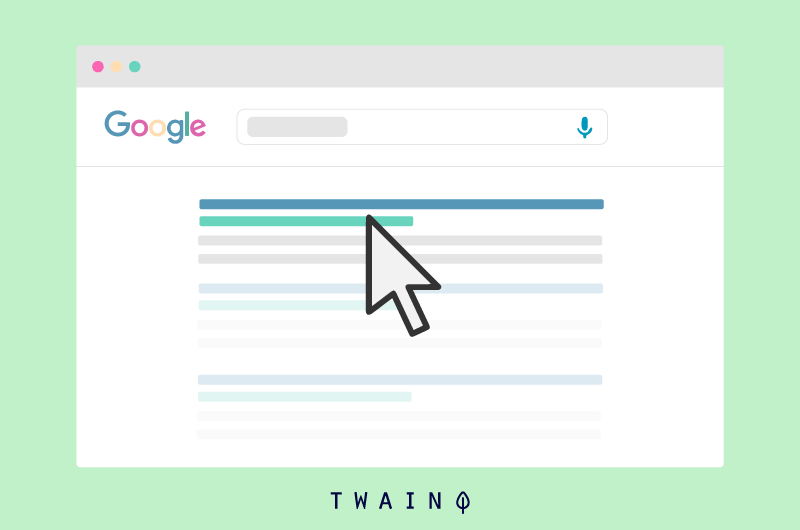 This is an important factor in the Google ranking criteria. The optimization of the title and meta description tags that we have seen previously can improve your click-through rate.
For best results, make sure your meta description page titles are descriptive and catchy enough to entice people to click through to discover the content of the page.
3.7.5. Loading
speed Page loading speed is also a decisive ranking factor that is very seriously taken by Google.
Moreover, studies have proven that if a website takes more than 3 seconds to fully load, its bounce rate could increase by 32%.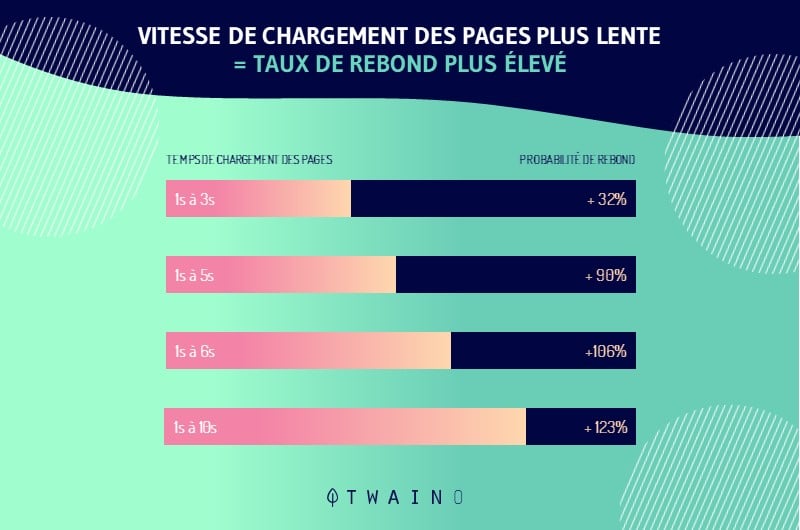 This is why it is important to optimize the loading speed of your website for better referencing on Google.
By default, Wix offers a number of features to improve the loading speed of its users' sites:
The platform has a CDN network that significantly reduces your site's loading time;
It also offers automatic or manual page caching functionality to optimize the loading speed of Wix sites. To use it, head to your Wix dashboard and click on the Pages > Main Pages or Blog Pages > Settings > Advanced Settings modules.
Wix also offers automatic image optimization. Usually, large image files are the number one factor that slows down a page's loading speed. The platform has therefore thought of automatically compressing the images that you insert on your pages for faster display.
Apart from the features offered by Wix, you can also use Google 's free PageSpeed ​​Insights to test your site's speed status on desktop and mobile devices.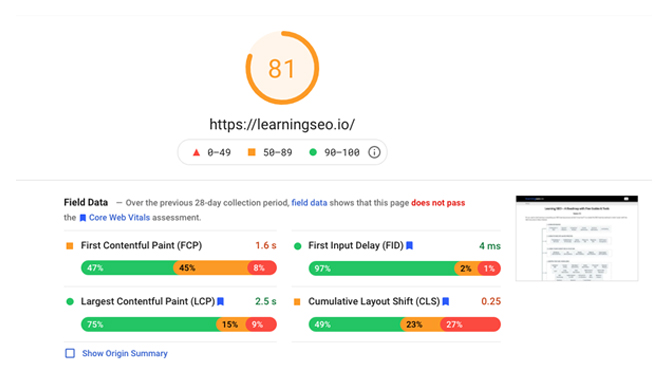 The tool will generate an analysis report on window performance and some suggestions for optimizing it.
3.7.6. Avoid duplicate content or duplicate content
Having partially or completely identical content on your site can significantly affect your site's ranking in Google results.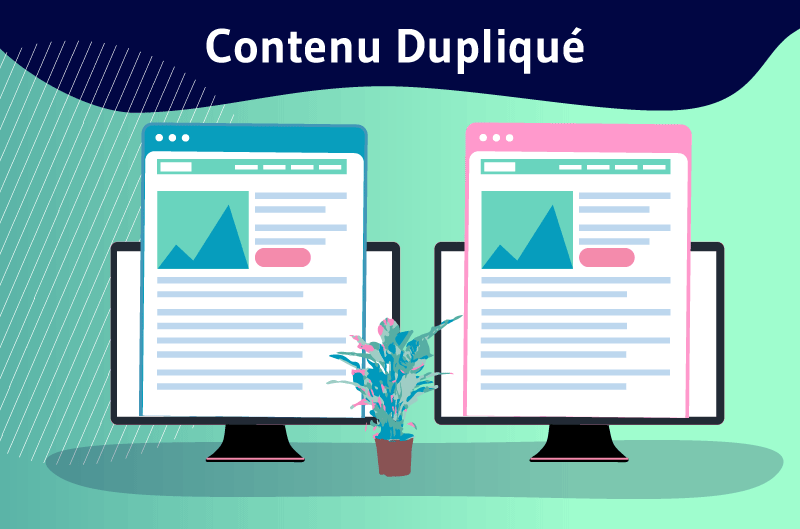 Despite even the Google penalties that may come with it, the fact is that all identical versions of a page compete with each other for a good ranking on Google, undermining your SEO efforts.
But how do you know if there is duplicate content on your site and how do you fix it? Learn all about duplicate content in this guide.
3.7.7. Set up an internal
network Internal linking is an SEO strategy that consists of inserting relevant links into your content to direct Internet users to discover other interesting pages on your site that are related to the current content. 'they read. Here are some tips to consider when building internal links on your Wix site:
Link to posts or pages that relate to the original content;
Use relevant and catchy anchor texts containing at least the main keyword of the landing page;
Prioritize the creation of internal links to important pages of your site;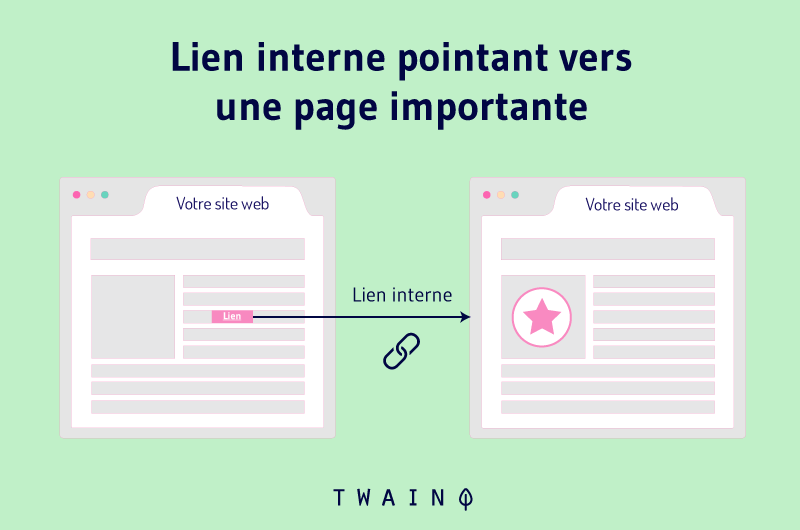 Don't overuse internal links, as this could hurt your SEO.
Chapter 4: How to Off-Page SEO Your Wix Website?
Off-Page SEO is all the optimization techniques you can use outside of your pages to improve their ranking in search results.
Unlike On-Page SEO which is rather easy to set up, Off-Page SEO seems more complex and can have a significant impact on your website ranking.
This is why a complete and effective SEO strategy must take into account these two aspects of SEO for best results.
In this chapter, it will be a matter of introducing you to the best off-page SEO strategies that you can implement on your Wix website and help it to occupy the top positions on search engines.
4.1. Offer a better content marketing strategy
As explained above, creating quality content is one of the effective ways to rank on search engine results pages.
In off-page SEO, content marketing will mainly be used to gain backlinks from authority sites in your industry. This represents a great SEO advantage with Google since the search engine considers backlinks as one of the three main ranking criteria.
Although there are many other ways to earn backlinks to your site (which we will see in the next section), creating high-quality content allows you to earn them naturally without necessarily having to take any additional action.
The fact is that by creating qualitative and interesting content, other sites in your niche could be seduced enough to mention your brand in their content with backlinks that redirect to your site so that their audience also discovers the content. question.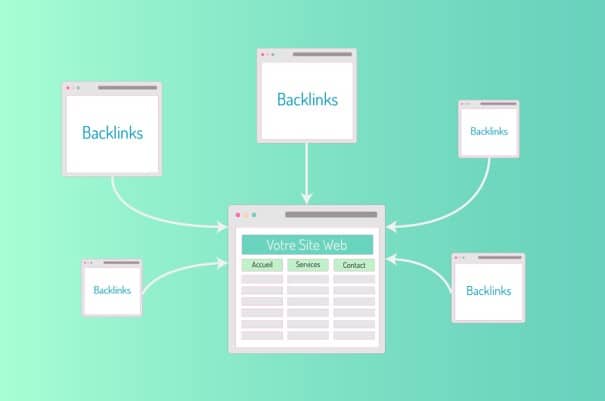 This is an excellent way to attract new visitors, but also to gain notoriety. The more your content will be relayed by other sites in your niche, the more Internet users will consider your brand as a reliable and reference source.
To force the admiration of other sites in your niche and gain backlinks, you can also conduct research studies to create your own statistics and your own infographics.
The thing is, sites are constantly looking for statistics from case studies to back up their claims. They will therefore not hesitate to cite your work if you publish original statistics.
4.2. Share your content on all social networks
Although SEO allows you to occupy good positions on search engines without having to invest a penny in advertising, it is still a strategy that requires a lot of time and effort. .
After applying all the optimization techniques presented so far on an article, you cannot expect it to rank well on Google immediately after publication.
It takes a few days or even weeks for your SEO efforts to bear fruit, especially if you are a website with low Domain Authority or if you are in a highly competitive industry.
This is why promoting your content on social channels would boost your SEO and allow you to have an additional source of traffic other than search engine pages.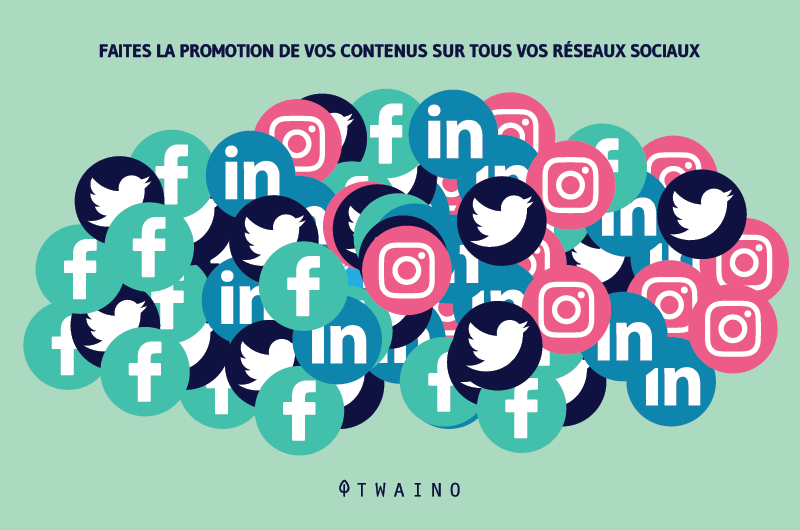 Depending on your sector of activity, you can target the social networks that seem most relevant to you, then publish content on these networks on a regular basis to gradually build an audience there.
4.3. Generate Backlinks for Your Wix Website
You already know that backlinks are one of the most important factors for improving your website's ranking on Google. Here are some strategies you can put in place to get backlinks to your website:
Linkbait or link bait ; 
Link Building or building broken links
Content syndication Content
Etc. 
If you want to learn more about these techniques, you can check out my complete guide on how to build backlinks. 
Chapter 5: Some Advanced Wix SEO
Strategies After the on-page and off-page SEO strategies, here are some other strategies you can apply for more advanced SEO on your Wix site:
5.1. Setting up 301 redirects
Sometimes, it may happen that you need to redirect Internet users who visit one of your pages to another. This can happen when the first page has been updated or is no longer accessible.
In such situations, setting up a 301 redirect can be useful to ensure that Internet users do not come across the old URL, but are automatically redirected to the new address. 
To set up 301 redirects for your Wix site:
Go to your Wix dashboard;
Click on the modules SEO Tools > URL Redirection Manager > Create New Redirect.
The platform will show you a page on which you can easily configure your 301 redirects: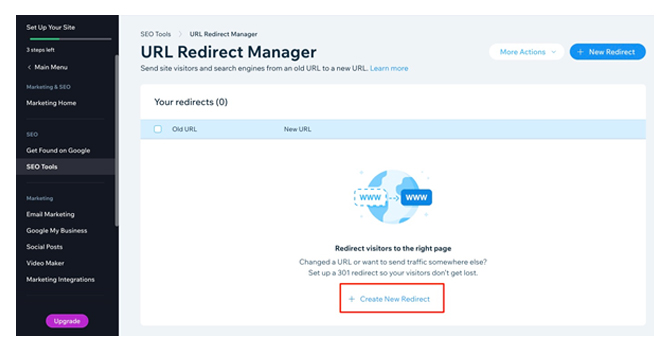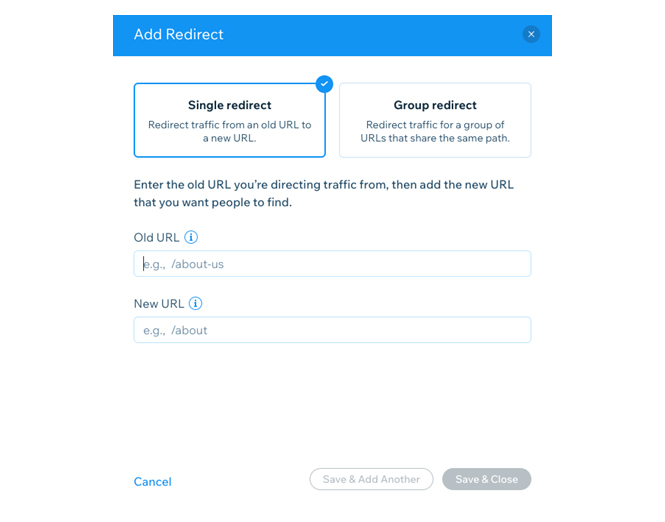 Once the 301 redirect has been set up, you will have to test it to ensure that it actually works. For this, you can simply attempt to access the old URL.
If all goes well, the browser should automatically redirect you to the new URL address.
5.2. Adding Canonical Tags
When discussing on-page optimization strategies, we discussed duplicate content and its impact on website rankings. This is because when multiple URLs share identical or similar content, search engines can struggle to know which of the duplicate versions to add in their index.
This represents a serious indexing problem that can cause the ranking of the sites concerned to drop. Sometimes the solution may be to remove these duplicate contents or rewrite them into something unique.
However, sometimes duplicate content can be maintained on the site, such as the case of identical e-commerce products but available in several variants.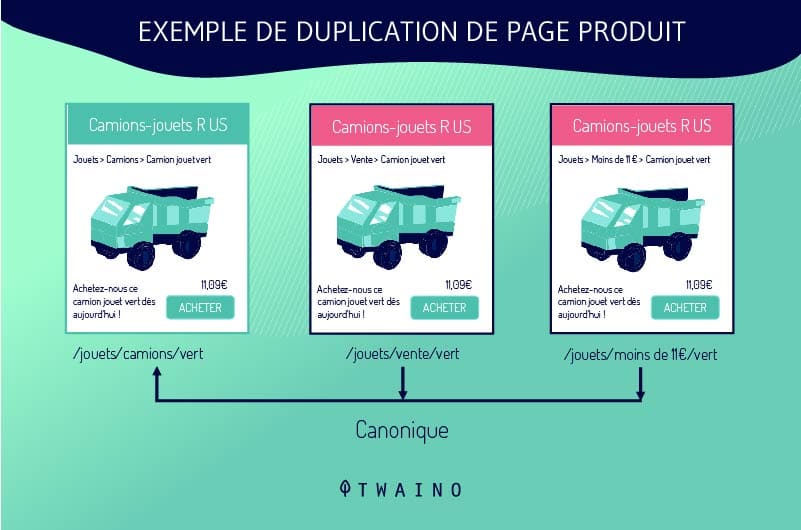 In such circumstances, it can be tedious to write different titles and descriptions for each product variant.
And that's where canonical tags can be useful because they let Google know which URL should be considered the original version.
This allows the search engine to prioritize the original version in its index and classify the others as copies, which protects the site from penalties related to duplicate content.
To add canonical tags to pages on your Wix site:
Going to the site editor;
Then click on the Pages module > Master Pages or Blog Pages > select a page > Advanced SEO > Meta Tags > Canonical > Edit > Tag Settings > Tag Value and add the canonical tag here.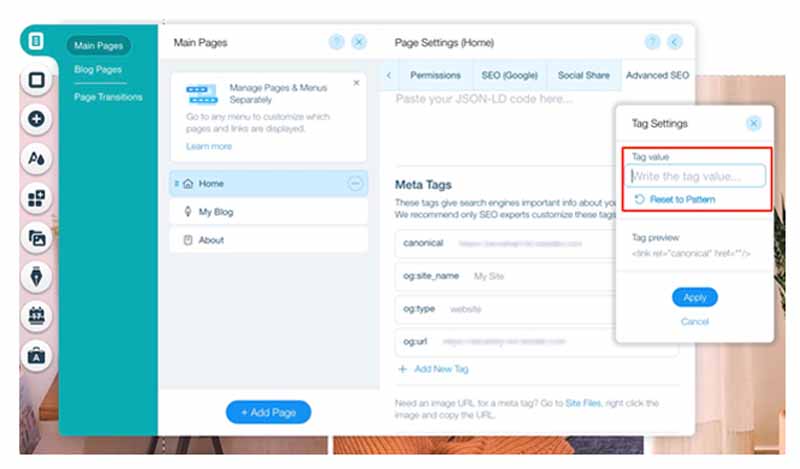 5.3. Configure your site for Accelerated Mobile Pages (AMP) Accelerated Mobile Pages
(AMP) is a program launched by Google to allow website owners to speed up the loading of their pages on mobile devices and thus provide a good user experience. .
Google also uses AMP as a ranking criterion for rich results and carousels on mobile devices.
To enable AMP for your Wix blog posts:
Go to your Wix dashboard;
Then navigate to SEO Tools > SEO Templates > View Templates > Edit Template modules under Blog Posts > Accelerated Mobile Pages (AMP) > Edit > Enable AMP on your blog posts.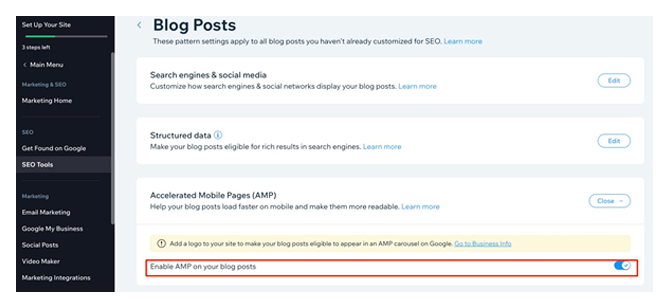 5.4. Optimize Open Graph (OG) Tags for Your Wix Site
OG tags are used to control how your pages display when shared on social media.
They are necessary to define images, names and descriptions and to make the appearance of your pages more attractive on social networks.
To set OG tags for pages on your Wix site:
Go to the platform editor;
Then click on the Pages module > Master Pages or Blog Pages > select a page > Advanced SEO > Meta Tags.
Wix will show you a page where you can edit and set the OG tags you want to add.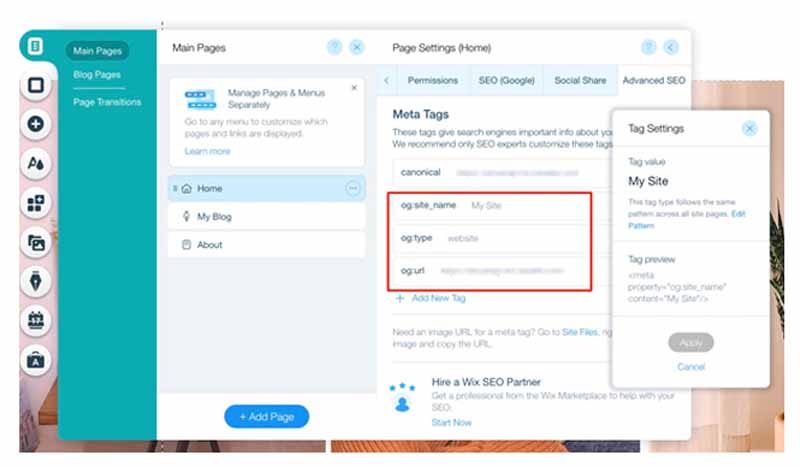 5.5. Configuring Google My Business for Your Wix Site's Local SEO
If you have a local business with a physical location, it would be important to optimize your site for your site's local SEO . 
It is a very promising aspect of SEO because of its high conversion rate. Research has found that 4 out of 5 consumers use engines search to find local information. When you optimize your site's local SEO, it's more likely to rank in search results when people search the net for your services with local keywords such as not far, near me, at [name of a city], etc.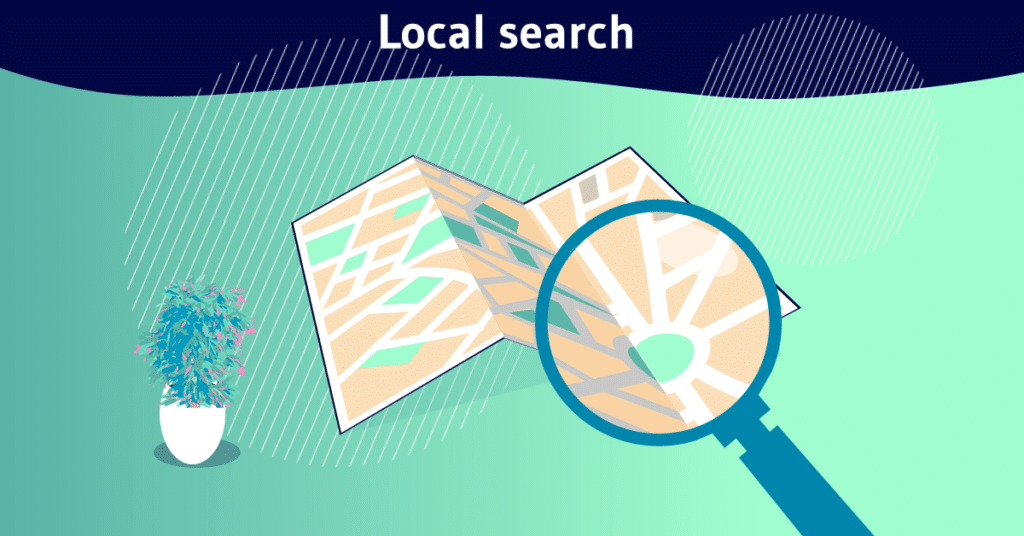 And one of the essential steps in local SEO is creating the Google My Business for your business. This is an online directory offered by Google to help companies better reference themselves in their region. 
The Google My Business listing has certain advantages such as generating local traffic or appearing:
To connect your Google My Business to your Wix site:
Access the Wix Dashboard;
Click on the modules Marketing Tools > Google My Business > Start Now.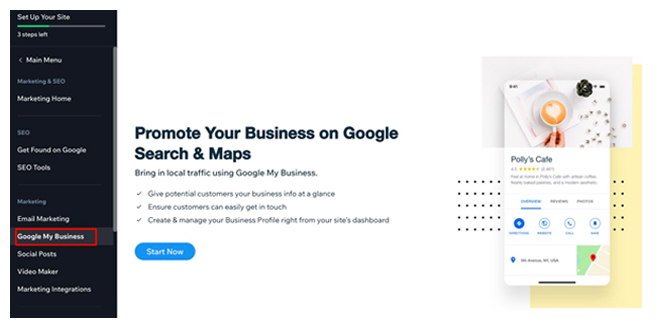 By integrating your Google My Business listing with your Wix site, you can track its performance and user engagement.
Still for the local referencing of your site, Wix also allows you to manage and respond to GMB reviews from your dashboard.
5.6. International SEO for your Wix site
If your activities allow you to target customers abroad, international SEO should be added to your SEO strategy.
And one of the things to do in SEO is setting up multilingual versions of your Wix site.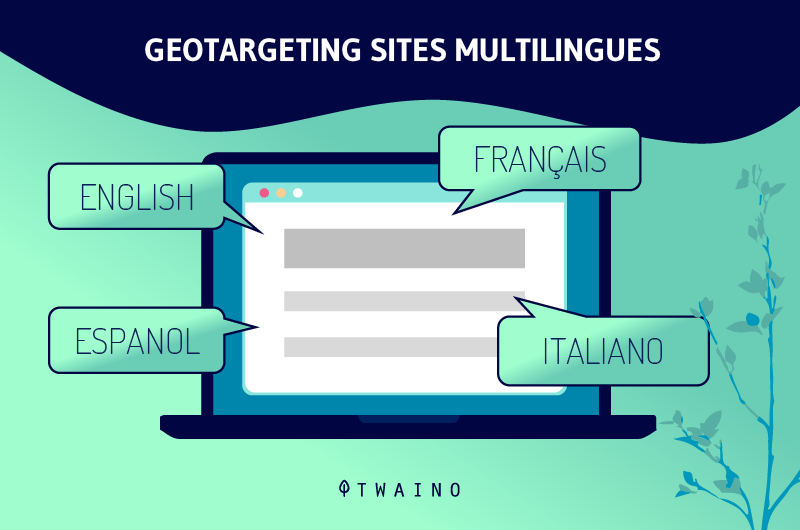 The platform offers you the possibility of manually translating the content of your site into several languages.
It is also possible to add an automatic translation feature on your Wix site so that it loads according to the language spoken in the region of the Internet user.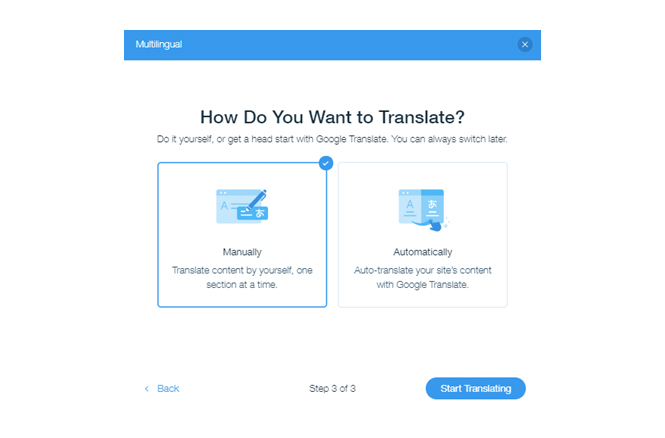 You can access and edit all multilingual versions of your site from the Wix editor. Each language version of your Wix site will have its own subdomain with the language code (en, fr, etc.)
5.7. Use Wix Analytics to track the results of your SEO
strategy A good SEO strategy should be measurable in order to assess its effectiveness and make adjustments if possible.
It is true that with the integration of Google Analytics and Search Console, you can access most of the metrics on the performance of your site.
But Wix also offers a native solution that you can use and have valuable insights such as:
Sales;
Site traffic;
Internet user engagement;
Etc.
To access these analytics reports:
Go to your Wix dashboard;
Then in the Main Menu and click on Analytics and Reports.
The platform will present you with a visual summary of your website traffic, sales recorded, and user behavior over a date range.
You can also generate reports always from the Main Menu;
Then by clicking on Analyzes and reports and Reports.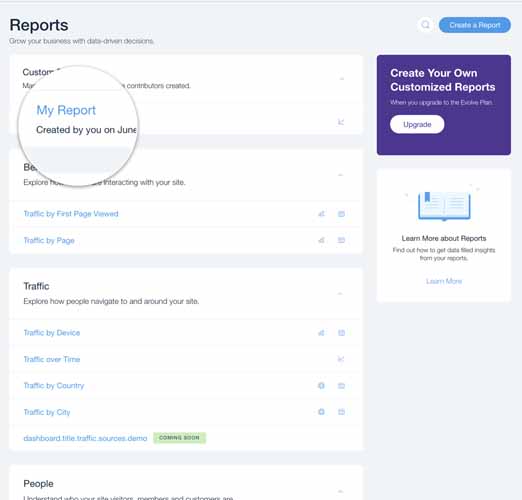 Here, the tool offers you the possibility to generate reports in the form of tables, graphs or in several other forms.
5.8. Optimizing Your Wix Site for Voice Search
With the advancement of technology and the many gadgets featuring voice recognition, the number of voice queries Google receives daily has increased dramatically.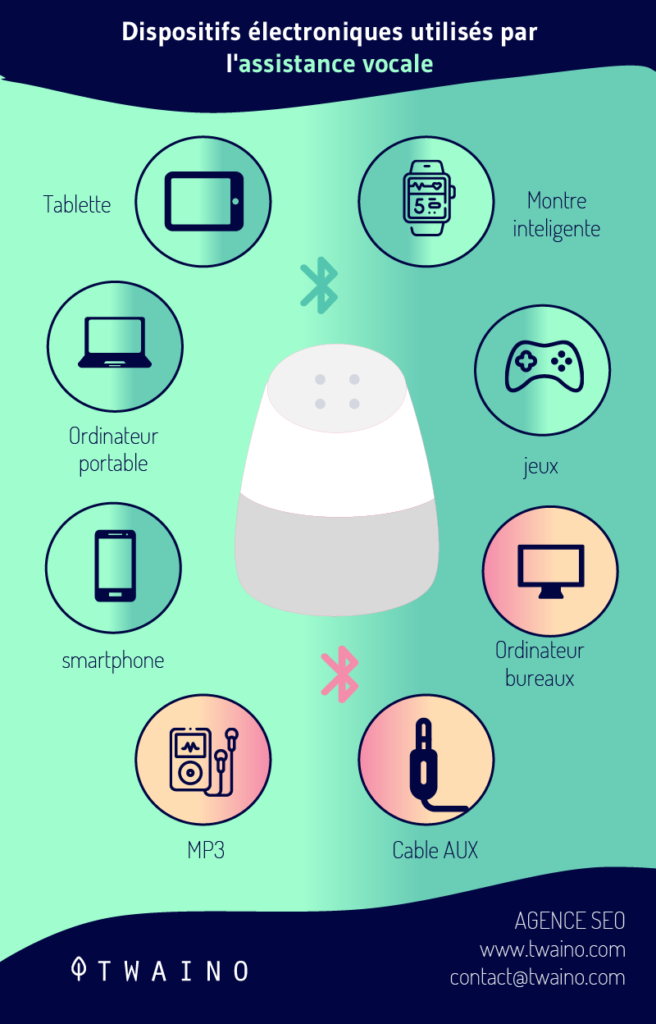 As a website owner, it would also be important to optimize your site for voice referencing to increase your traffic and attract new visitors.
To do this, here are some useful tips that you can observe:
Target conversational keywords in your content used by Internet users for voice search;
Optimize your content for featured snippets, as these are more likely to be picked up by Google for voice search queries.
You can add an FAQ schema to your pages. It also increases your chances of being ranked in voice search results.
Improve the speed of your site. This is an important factor in voice search optimization.
Don't forget to optimize your content for local search queries such as "___near me", "___not far" if you run a local establishment. These queries are common in voice search.
5.9. Don't forget to add social network sharing buttons on your Wix pages
. Networks are a great melting pot where Internet users from all walks of life come together and for more impact SEO, you can also covet these networks. One of the effective ways to do this is to add share buttons to your web pages.
This will allow visitors to easily share your content on social channels, which is a complementary source of traffic to those of search engine results pages.
To add social media sharing buttons to your Wix site:
Go to the editor;
Then click Add and Social Networks.
You will see a window appear on the screen with buttons of the most popular social networks that you can choose from.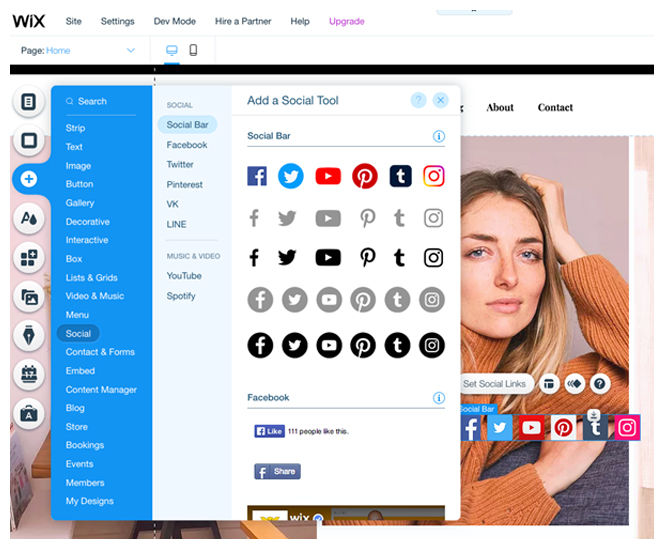 5.10. Aim for Other Marketing Channels to Boost Your Wix SEO
It's true that SEO is a great way to gain web visibility, but there are also other marketing solutions you can explore and combine to achieve better results. results.
For example, you can associate with your SEO strategy:
 Social Media Optimization (SMO); 
 PPC advertising; 
Etc. 
5.11. Wix SEO for e-commerce sites
If you are in the business of selling products online, Wix can also be a good choice for the creation of your e-commerce store. The platform offers a range of e-commerce site templates that you can choose from and set up your online store much more easily.
These Wix templates designed especially for e-commerce have important features such as:
Adding new products;
The possibility of online payment;
And other important features for the proper functioning of an e-commerce store.
To learn more, you can check out this official platform documentation on setting up Wix e-commerce sites.
Conclusion
Wix is ​​a SaaS-based online platform that offers all-in-one site building solutions and hosting service. It has interesting and easy-to-use features for creating your website and hosting it.
One of the particularities of Wix is ​​to provide suggestions to help its users to easily rank their site on search engine pages.
Together in this guide we have covered several concepts to help you:
Configure the SEO of your Wix site;
Optimize your Wix site for on-page SEO and off-page SEO;
As well as some optimization techniques for further Wix SEO.
I hope you liked this guide and that it will be especially useful for you to improve the SEO of your Wix site.
And if you have any questions, suggestions or experience to share about Wix SEO feel free to leave a comment.
Thank you and see you soon!