According to RAND FISHKIN, a highly regarded expert in the UK SEO community:
"Keyword research is one of the most important, valuable and profitable activities in the field ofSearch Marketing. Ranking for the "right keywords" can make or break your website.
with RAND in saying that keyword research is one of the most important steps in SEO. That's why I don't fail to do it every time I want to launch an SEO campaign.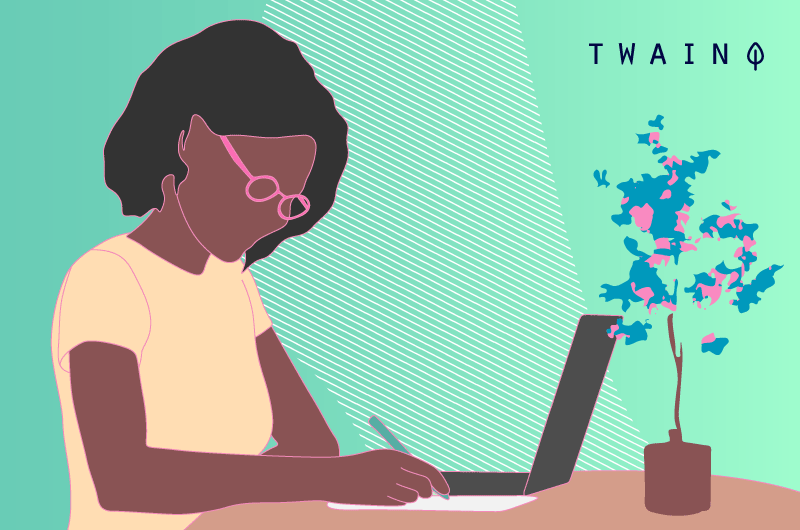 In my articles, I have had to deal with this subject several times. But today, I'm bringing you a guide that includes all the things you need to consider for effective keyword research.
Therefore, we will discuss several concepts, the most important of which are:
What is keyword research;
The perfect time to do it;
The different techniques for finding keywords;
The different methods for sorting keywords;
The best way to use your keywords in the creation of your content;
Some tips and best practices when researching keywords.
Ready for the road? Let's go!
Chapter 1: What is keyword research and what is its history?
1.1. What is Keyword Research?
Before defining keyword research, one should understand the most important concept: Keywords.
So what is a keyword?
A keyword is any word or phrase that a user types into a search engine to find certain information on the Internet.
For example, if I type in a search engine the expression "garden boots", this can be considered as a keyword. Especially since Google will show me the web pages that have optimized for this term: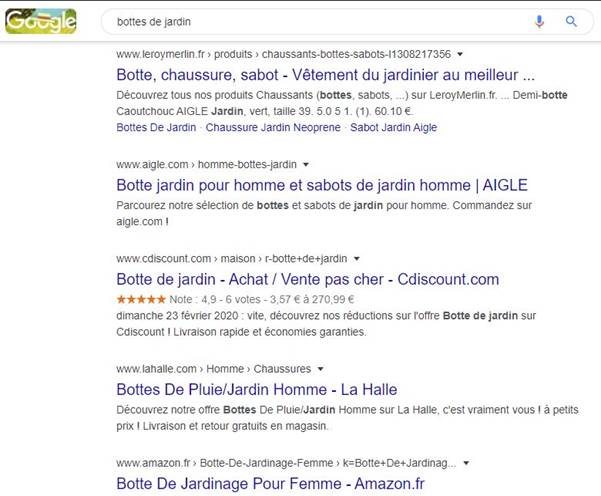 Now, what is the search for keywords?
Simply put, keyword research is the process of finding all the queries your target audience is likely to use in search engines to find what you offer.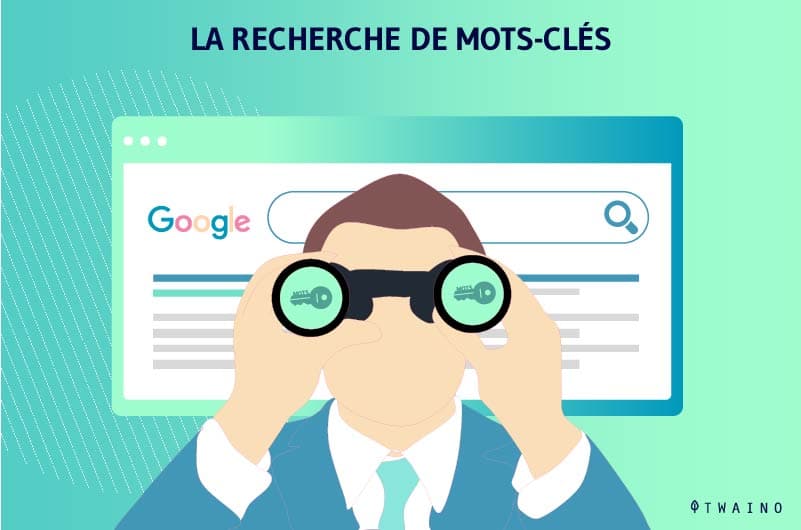 In my previous example, keyword research will consist of finding all the terms that users will use when trying to buy or get information about garden boots.
However, it should be noted that keyword research is not limited to finding the terms used by users.
This practice also consists of sorting the keywords and prioritizing them.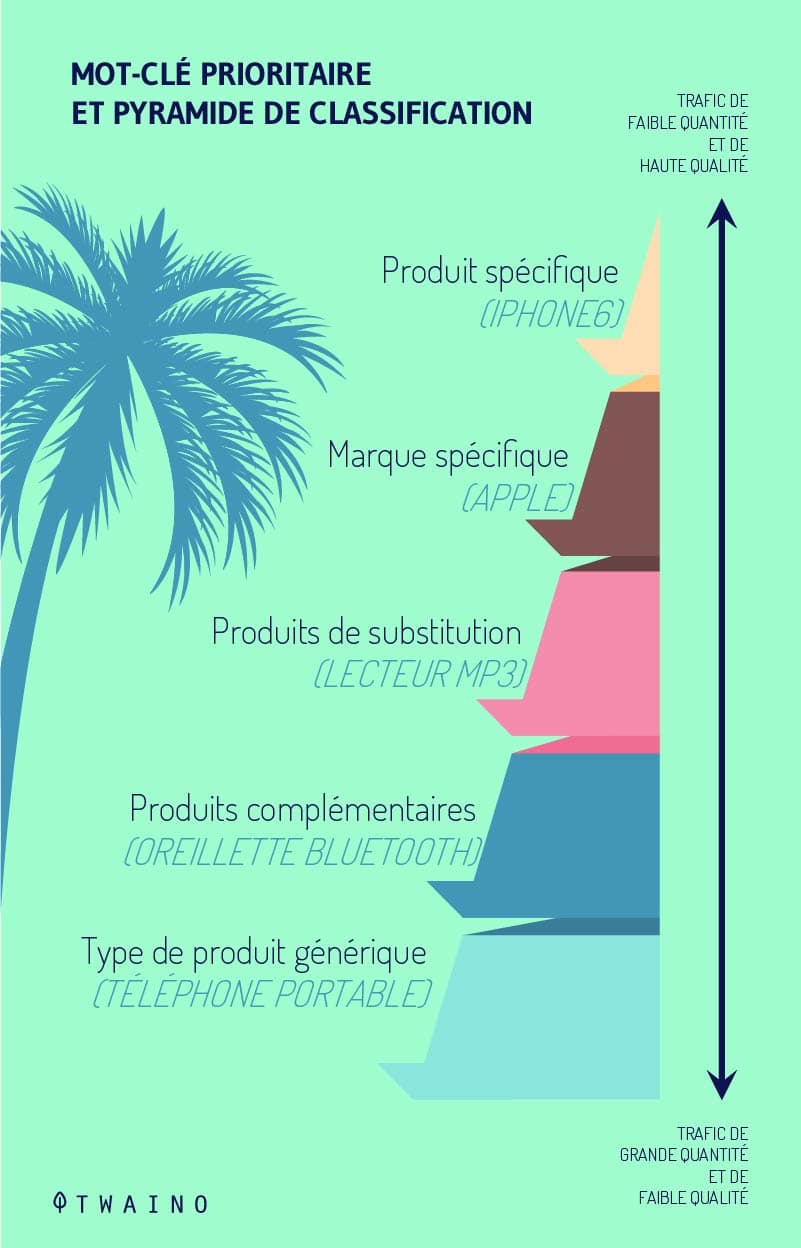 Once the relevant keywords have been selected, they can help you optimize existing pages on your site or create new content.
This in a nutshell is what keyword research in SEO is all about. What will you say now to a brief history of them?
1.2. What is the history of keyword research?
Like SEO, keyword research is a practice that has evolved over time.
In its early days, keyword research was often reduced to three very simple steps, namely:
Visit the Google Keyword Planner;
Find the keywords with the highest search volumes;
Insert the keywords found in the content of web pages.
And voila, you can expect an evolution in the ranking of your pages.
That was in the 2000s and many people used it to rank in the first positions, content without added value to users.
Google responded by updating its algorithm several times. The goal of these updates was to understand what users want in order to offer them the best possible results.
First, we had as major update that influenced the way Google processes queries and offers its results:
Google Panda;
Google Penguin.
Google Panda allows the search engine to penalize or lower rank web pages with poor quality content as well as duplicate content. As for Google Penguin, it allowed the firm to penalize spamming, in particular keyword stuffing: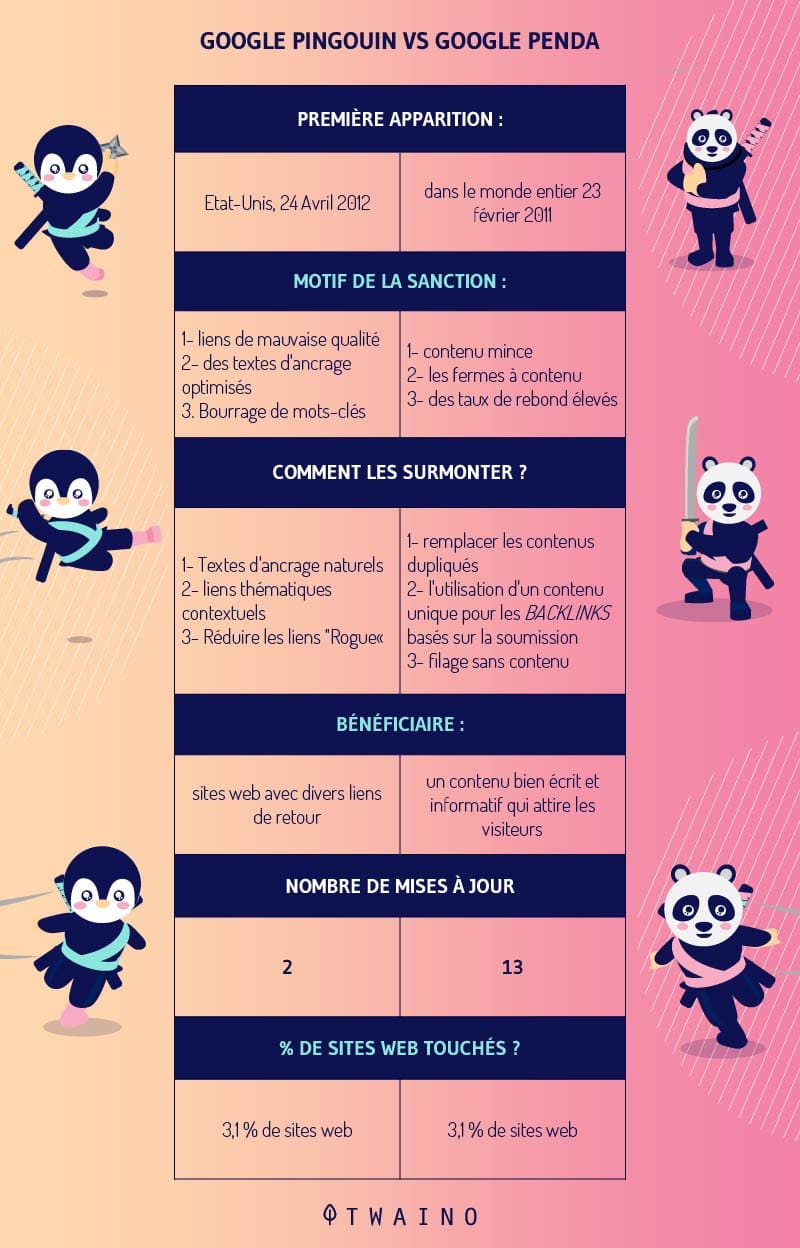 It will be with Google Hummingbird that we will have a real breakthrough in improving searches that become semantic. Google now focuses much more on the search intent of its users.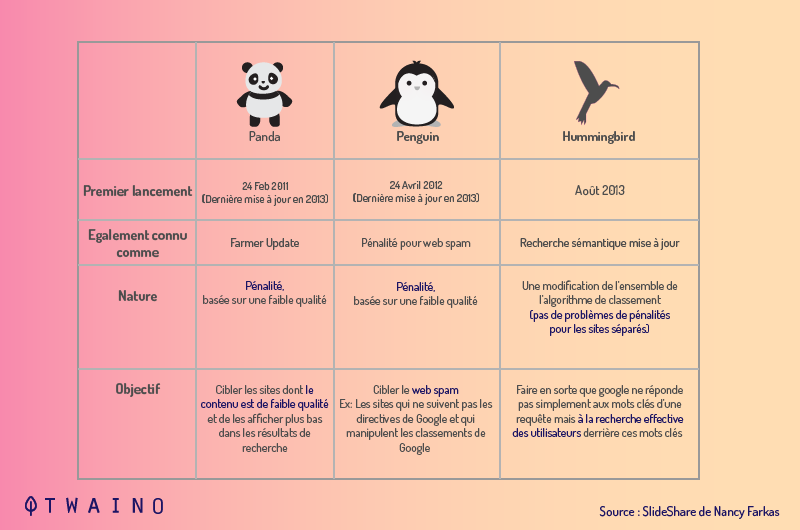 Today, keyword research is much more than just finding the "right" keywords to put in the "right" places because of two other updates from Google:
RankBrain in 2015;
BERT in 2019.
These two components of Google's algorithm are based on artificial intelligence and are constantly improving themselves: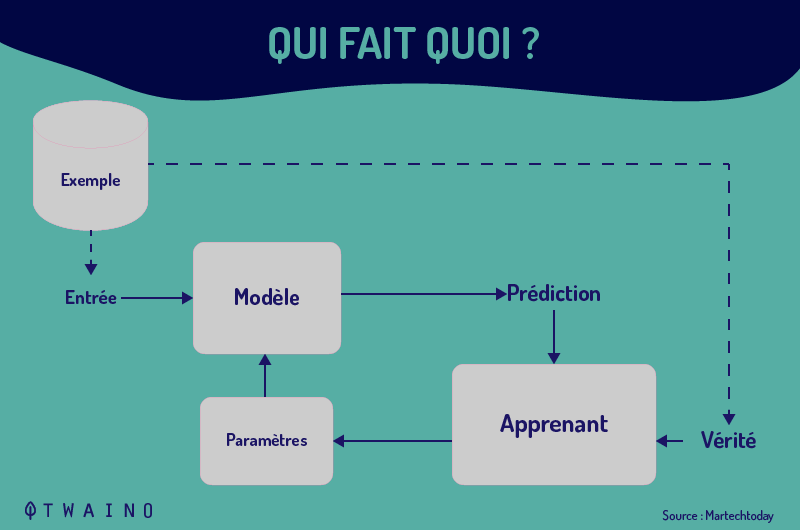 With these two AIs, Google understands better and better:
How users interact with organic search results;
What is the search intent behind the query.
In other words, keyword research is no longer about finding an ideal keyword. Rather, it's about understanding the audience and delivering high-quality content.
This does not mean that keyword research has become obsolete, quite the contrary. It has evolved and is now used in a different way than in the past: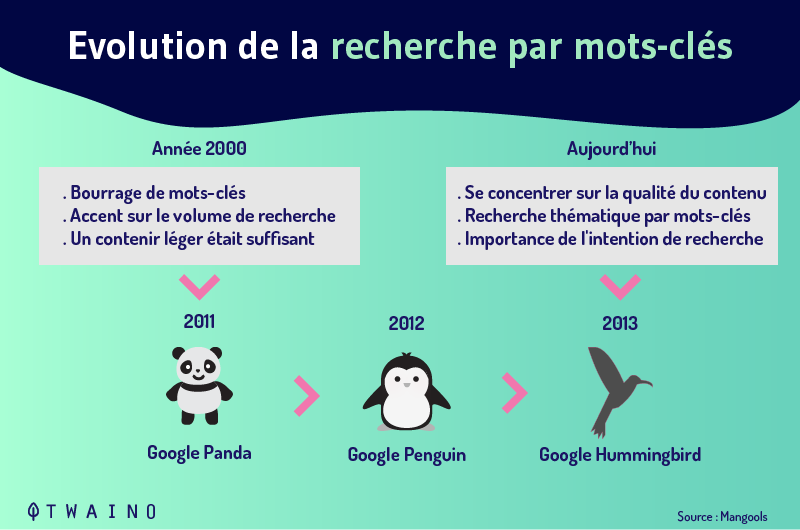 To put it simply, the rules have changed and you can even rank for keywords that you have not used in your content.
This is exactly what we are going to discover together!
Chapter 2: Why keyword research is (still) important for SEO and when to do it?
I've repeatedly asserted that keywords aren't as important as they were a few years ago.
This statement is mainly about how keywords are used.
Including keywords at all costs, sometimes mechanically, in content is no longer important and / or does not allow it to be well referenced.
We realize that old-school generic keywords and optimizing a single page for a particular keyword are no longer relevant.
However, using groups of keywords with the same semantic field and examining the relative opportunities they offer can allow you to do a lot.
This is why this process will remain essential as long as people search using search engines with both text and voice queries.
2.1. Why is keyword research still important?
2.1.1. Keyword research helps you find the best terms to rank for
. If you use keywords that aren't directly related to your site, you won't attract a relevant audience to what you're offering. Search engines will not position you on the keywords that you consider to be important for your business either.
Using the right keywords for your site is very important and the keyword research process helps you understand:
The queries users use to find your product/content;
The importance / desirability of these keywords for your website;
How you can create the best content to meet the intent of the query.
Indeed, you will have an overview of the extent to which these keywords will allow you to generate more organic traffic or conversion on your site.
Better, they will help you understand the intention of your potential users which is a very important concept when creating content.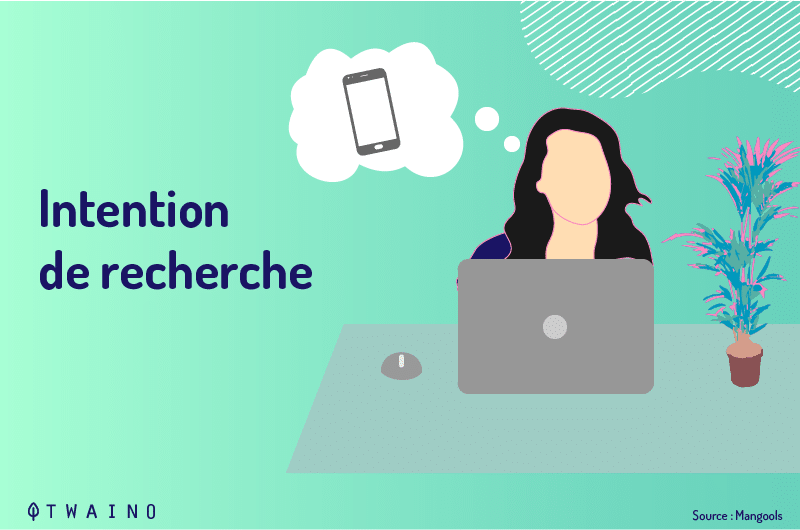 Data from effective keyword research can help you better optimize your website in general and more specifically:
Your blog posts;
Your web pages;
Your products ;
Navigation ;
Etc.
Keywords are like a compass for your SEO campaigns since they tell you where to go and whether you are making progress or not.
When you optimize your web pages correctly, you can expect:
2.1.2. Researching keywords to get qualified traffic for your content
If you're having trouble increasing your search engine traffic, it may be because you're not choosing the right keywords for your business.
Without using the keywords your audience is searching for, how can you increase your traffic? Keyword research therefore plays a crucial role in getting your content to rank higher and therefore get qualified traffic.
Getting visitors isn't the main thing, but getting the right visitors can make it much easier for you to convert and/or retain them.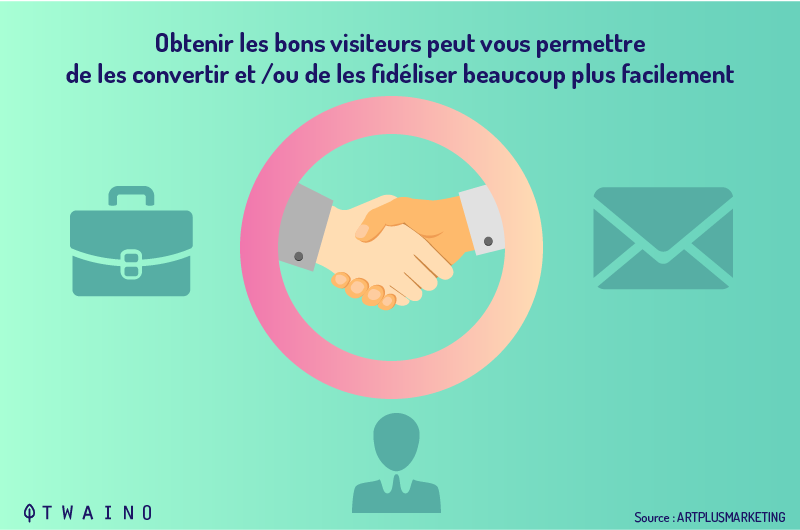 A loyal customer likes to regularly visit and buy his brand's products and he also refers the product to other people.
If it is a blog, this loyal visitor will not hesitate to recommend your articles to other people.
So it is high time to focus on repeat visitors and the one and only solution is keyword research.
2.1.3. Keyword Research to Increase Sales/Leaders
Earning money with your website becomes easy if you can attract qualified visitors to your website.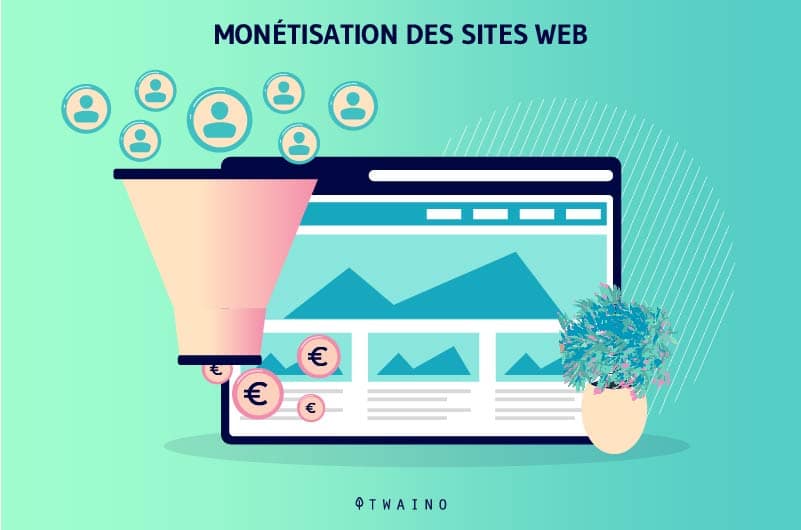 For this you need to find and use highly profitable keywords with great potential.
Again, keyword research plays a vital role in finding the best phrases.
2.1.4. Keyword Research Saves Money
Keyword research is more than just a list of terms. It also includes traffic and competition estimates for each keyword that allow you to allocate resources in the most efficient way possible.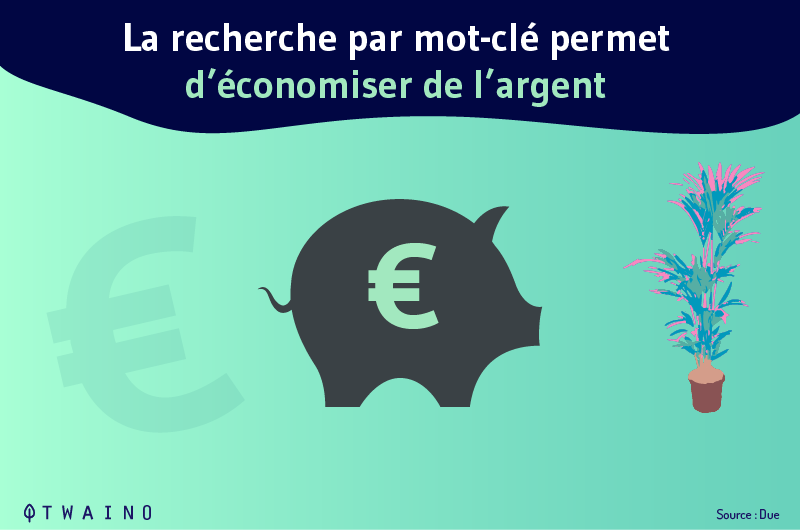 Ideally, you'll spend your time and money on terms that are less competitive and have potential.
If you've just launched your site, you're going to bankrupt yourself trying to rank #1 on terms that over 10,000 other sites are competing hard against.
Likewise, PPC cost information can influence your keyword advertising spend. Which can also save you a lot of time, money and effort in advertising campaigns.
1.1.5. Keyword research can be used to measure your progress
Whatever your digital marketing strategy, it's always important to measure your progress.
One way to measure the impact of your content marketing and SEO initiatives is to track how your website ranks for the keywords you are targeting.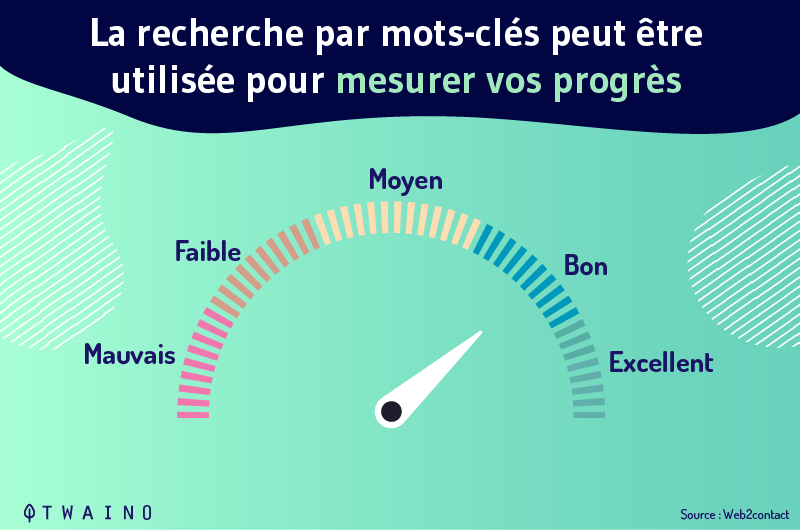 If, for example, you are about to start a website redesign project, it is useful to measure the ranking of the old site for your target keywords and use this data as a reference for the 'coming.
These are a few reasons why you should always do keyword research, but when should you do it?
2.2. When to do keyword research?
As I had to mention, keyword research is usually the first step for all search engine optimization campaigns.
Additionally, it is necessary when trying to perform tasks such as:
Researching new content ideas;
Optimizing your existing content;
The creation of a new product;
Etc.
As for who should perform keyword research, it should be noted that not everyone will be able to do this.
Website owners who know the process can do this, since they know their website and will know how to choose the most relevant terms.
Otherwise, you have to call on a natural referencing specialist to be completely satisfied.
Especially since if you miss this step, the rest of your optimization process will not yield the expected results. It will look like you haven't done any keyword research and your website performance may suffer.
2.3. What do you risk if you skip or do the wrong keyword research?
Now that you have an idea of ​​the benefits of keyword research, it's important to mention the risks of missing out on this process.
Rather easy to imagine since it is the exact opposite of the benefits that have been listed.
Indeed, if you do not do keyword research, you risk targeting keywords and research topics that are of little or no interest to your audience.
Therefore, you will have little qualified traffic and obviously little conversion. However, these two factors are very crucial for the survival and development of a website.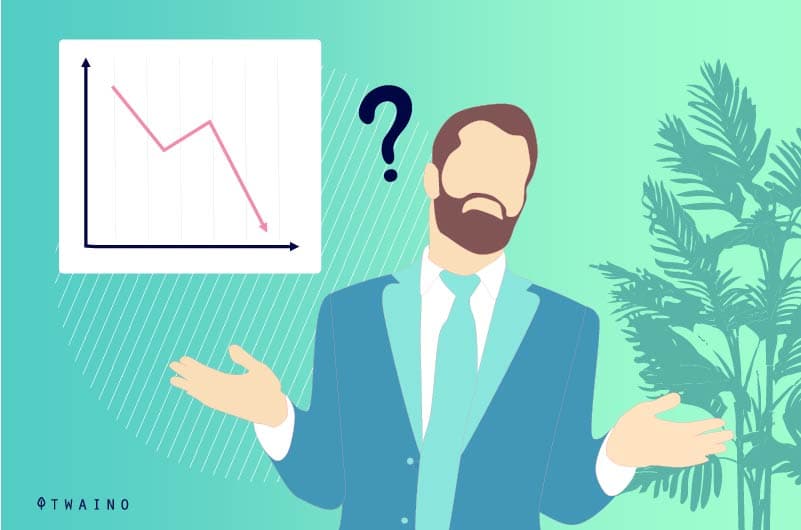 The second risk is wasting money and time creating content for keywords and topics that are simply too competitive.
The SERPs for these keywords are usually occupied by authoritative domains, which leaves little room for a newcomer.
That said, there are keywords that present real opportunities to new websites most of the time.
You have to follow the process of keyword research to find them.
Chapter 3: The Three Steps of Keyword Research
I've divided the whole process into three main steps:
Find the keywords;
Analyze keywords;
Use keywords.
Typically, these are the different steps to follow when performing keyword research.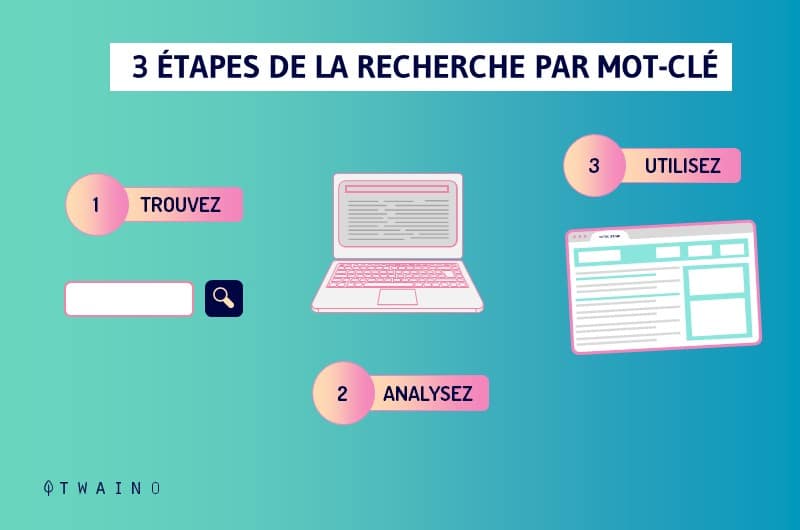 As they are dense, I will address them in different chapters.
Let me give you an overview of how the process will unfold:
First, you will create a large list of potentially relevant keywords. Especially since most tools generate a large number of keywords that may or may not be relevant to you.
Then the list should be narrowed down to terms that are actually relevant to the site you are researching and its potential users.
Finally, the terms you find need to be grouped, sorted, and prioritized.
Note that we are focusing here on organic keyword research as opposed to keyword research for PPC.
Although the two may be similar, there may be significant differences, especially in terms of competitiveness.
For example, if you have a small e-commerce website and your direct keyword competitors are Amazon or ebay, the strategy is not the same.
Indeed, organic ranking on this term can be a longer-term strategy with lower priority for organic ranking and traffic.
Whereas for PPC, the decision you need to make is simply whether you can afford to bid competitively on that term.
Therefore, it is at the level of the choice of keywords that there is a profound difference. We will obviously remain in a perspective much more oriented towards SEO and SEA.
Chapter 4: How to find keyword ideas?
This step consists of gathering all the possible variations of keywords that could be relevant for your audience and your business.
It's really just brainstorming for an initial list of keywords.
To do this, you can create a spreadsheet that allows you to better manage your list.
You can use Google Sheets or Microsoft Excel trying to add things to your list such as:
The keyword;
The monthly search volume;
The difficulty of the keywords;
Competitiveness ;
The cost per click;
The current rank of your website;
Etc.
Note that most keyword research tools can allow you to download CSV keyword results: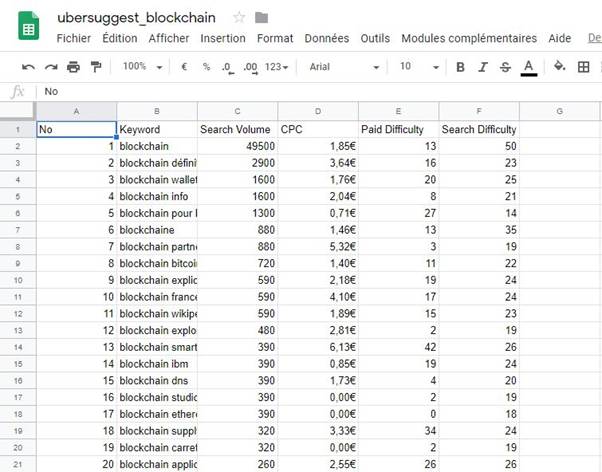 For your website's rank, you can use Search Console. We will see how to do it later.
There may also be times when you need to "normalize" some data to be able to compare data from one source to another.
Indeed, some tools rank the competitiveness or difficulty of keywords on a scale of 0 to 1. While others may use a scale of 0 to 100, it would obviously be difficult to perform an effective comparison.
When you merge this data into a single spreadsheet, you may need to normalize these values ​​to a scale of 100 or 1.
You will have a greater facility for the comparisons you will need to make.
The first thing to do at this level is:
4.1. Get to know the company and its target audience
4.1.1. Get to Know the Website and Business Goals
The first step in any new keyword research project should be to fully understand the business or website you are trying to rank for.
It is essential that you understand:
The products or services being offered;
The needs and difficulties of the client and his target audience;
The goals the company is trying to achieve.
This step is very important, especially when you are a consultant or an external agency. You will probably never understand the business as much as the owner and those who deal there daily.
Without this understanding, you may not be able to generate a truly relevant keyword list.
It becomes important to soak up the company and its website: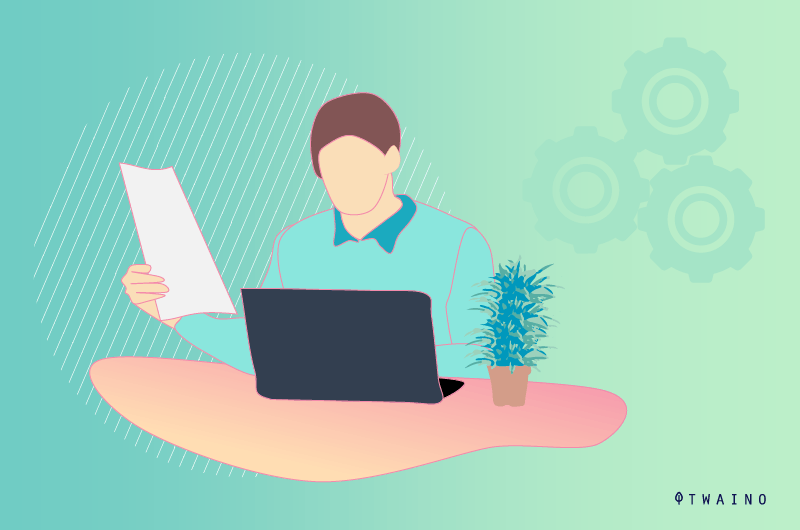 To know a website in order to perform a relevant keyword analysis you must spend at least a few hours exploring and using the website. During this process, remember to take notes of the keywords that seem important.
Next, you'll send a questionnaire to the client or company you want to perform keyword analysis on. If it's your own website, you'll try to answer these questions instead.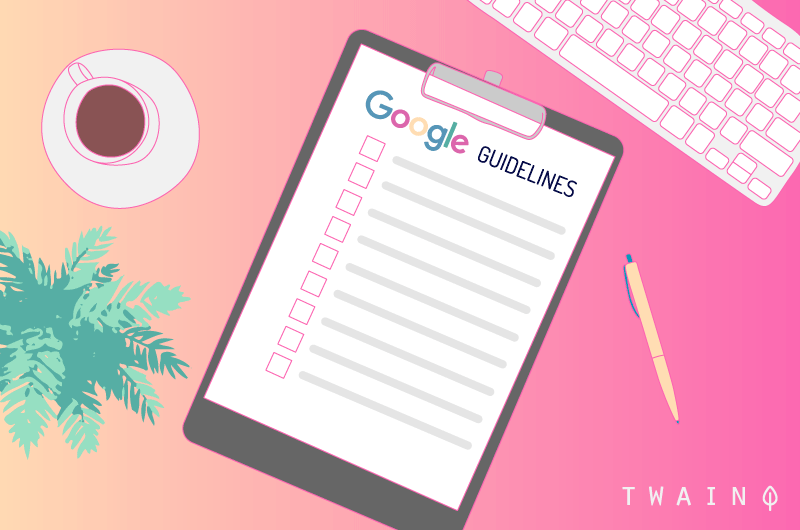 Ask for information such as:
The list of company objectives;
A list of keywords they deem very important;
A list of main competitors;
The targeted geographical area;
The nature of the activity, offers or traffic: Seasonal or not;
Etc.
Ask all the questions you deem necessary to understand the company and which could help you in the search for relevant keywords.
Once you have a better understanding of the company, you should try to know its target audience.
4.1.2. Determine the profile of the company
's buyer persona The buyer persona is very important in the process of keyword research. Especially since it allows you to have a precise idea of ​​the ideal customer or user of the website:
While some companies have already created it and use it in their strategy, others do not.
If the company already has it in place, you just need to leverage it. If not, it is advisable to elaborate it and you can use my guide on the Semantic Cocoon.
Reviewing these profiles can only help you come up with really relevant keyword ideas.
Pass the list of keywords that you generate to the filter of the profiles that the site tries to target to see if they are really relevant.
Let's take the example of a garden that sells flowers and creates a profile for its buyer persona:
Passez la liste des mots-clés que vous générez au filtre des profils que le site tente de cibler pour voir si elles sont vraiment pertinentes.
Prenons l'exemple d'un jardin qui vend des fleurs et qui crée un profil pour son buyer persona :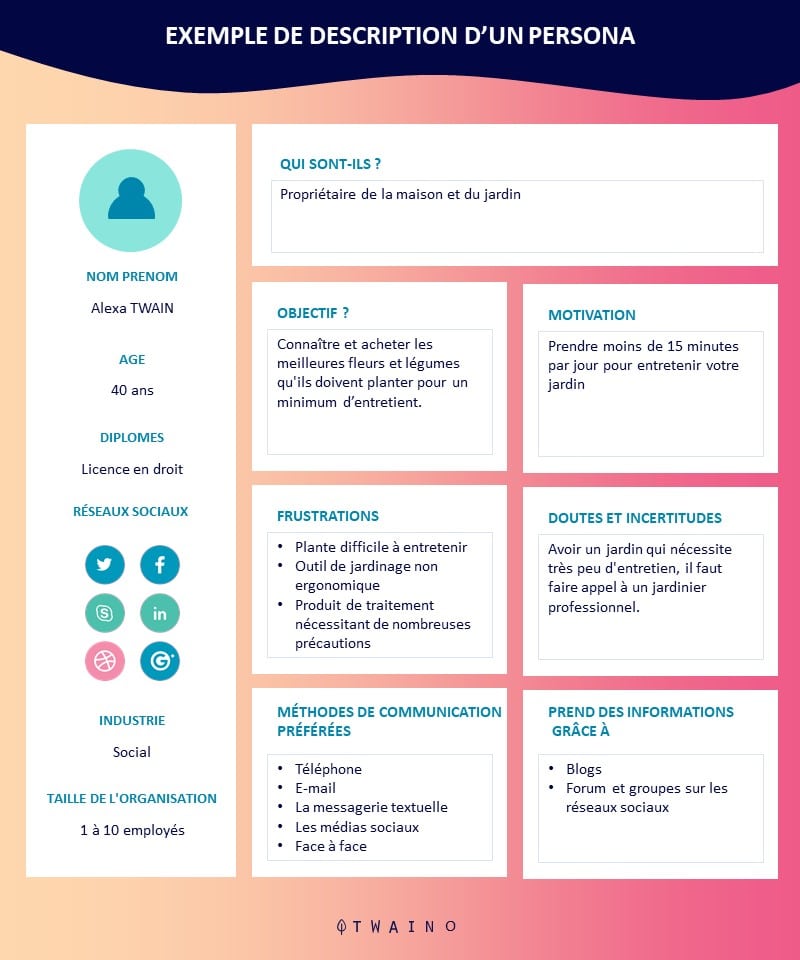 Although the site sells a wide range of garden flowers, it is useful to know that its ideal customer is looking for flowers that don't need a lot of maintenance.
Which will not give the same results in the case where it is a standard customer who does not have a specific need in terms of flowers.
This information, taken from the profile, allows you to filter search queries to find the most relevant terms.
Whenever possible, consider seeing users, current or potential customers of the site to fully understand the problems they are trying to solve by visiting the site.
If you do this, you now have a better idea of ​​the website and the challenges it is trying to solve.
Even better, you already have dozens of keyword ideas:
4.2. Brainstorm Your Keyword Ideas
The brainstorming stage involves gathering all the keywords you find.
If you're working with a team, now's the time to get them thinking about keyword suggestions. Sometimes you are going to find more relevant keywords than you could find on your own.
Organize short brainstorming sessions with the client to have them find the terms that they believe are the most relevant terms based on their understanding of their website.
At this stage, feel free to include generic keywords in your list.
Indeed, even if we try to make it clear that it is not relevant to go after them, that does not mean that the shorter generic keywords should be forgotten.
They can serve as a foundation to kick off your keyword research and help uncover many variations of long-tail keywords.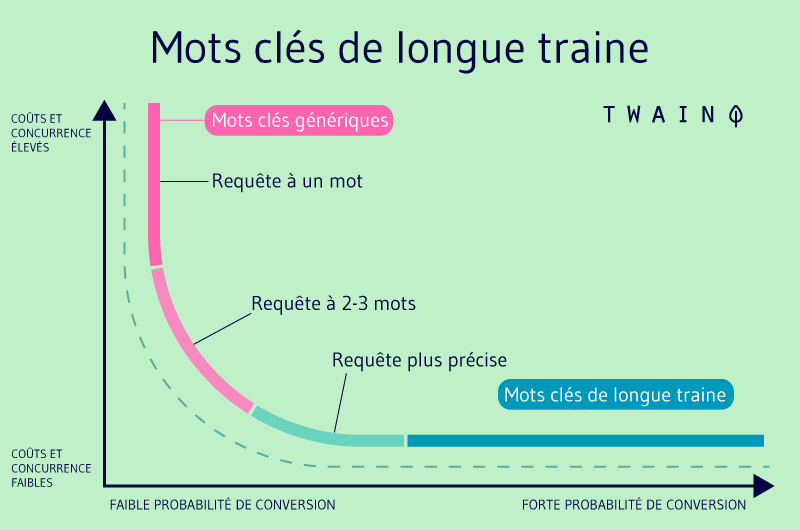 This is partly because Google draws from the same database to provide its results. And this whether the search is classic or whether it is vocal with long queries.
In other words, Google sends essentially the same results for a voice query as it does for a written search.
For many of these long queries, Google will simply analyze the most important terms of the query and return the corresponding results.
For example, you will get this result if you vocally search for "Hey Google, what are the highest monuments in Paris":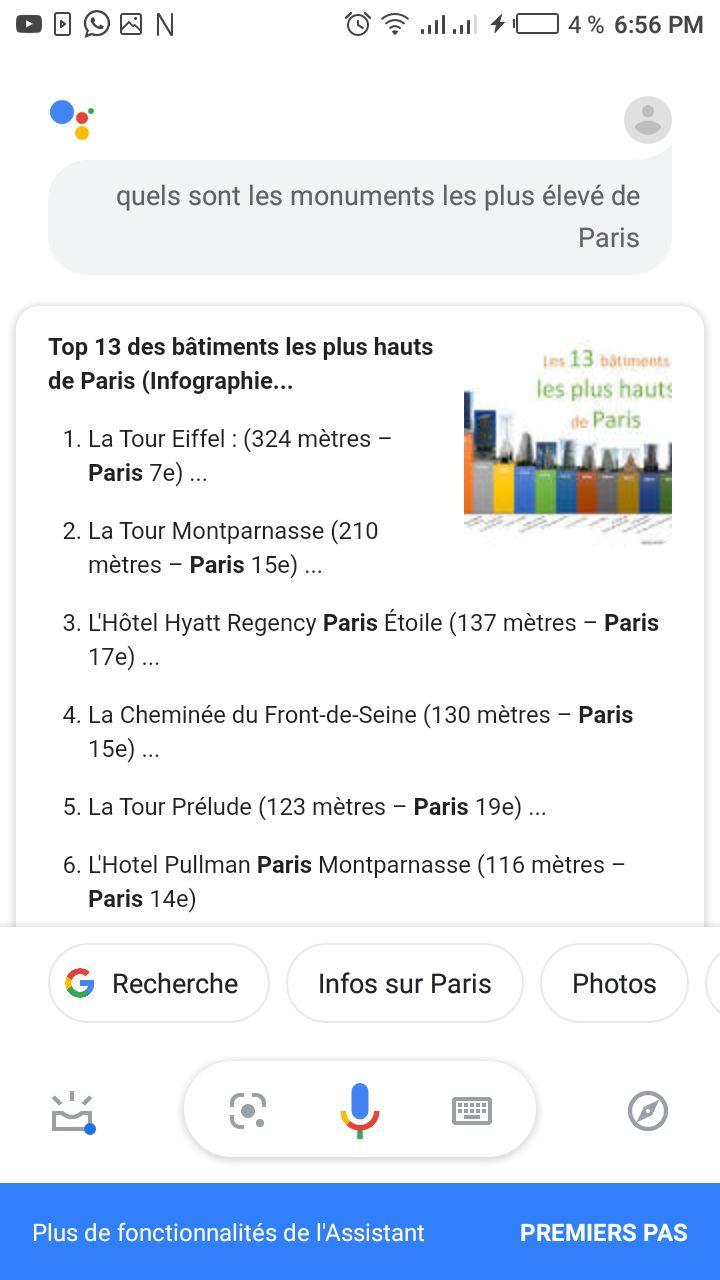 It is easy to see that Google returns the exact same set of results for the classic query "highest monuments in Paris" :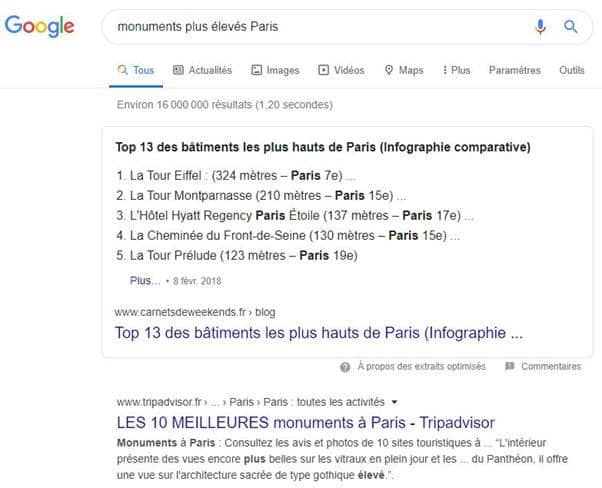 This does not mean that you will optimize your web page for the generic keyword "higher monuments in Paris".
The fact that the expression "higher monuments in Paris" is the subject of a significant volume of research is an excellent indicator.
You will be able to capture search traffic for many variations where searchers have the same search intent. This will require creating authoritative content.
At this level, you have a list of keywords that will serve as a basis and benchmark for your keyword research.
But instead of launching you into the use of keyword generators, we will rather seek to know your current keyword profile.
4.3. Determine your current keyword profile
If you want to carry out keyword research, it is often interesting to know the keywords for which the website already ranks.
This allows you to:
Discover keyword opportunities;
Rank keywords by priority;
Avoid keyword cannibalization where two different web pages try to rank for the same keyword;
Etc.
Knowing the keyword profile has many benefits and sometimes keyword research can stop at this level because of the discovered keyword opportunities.
You can use tools such as Ahrefs, Moz or SemRush to know the keyword profile: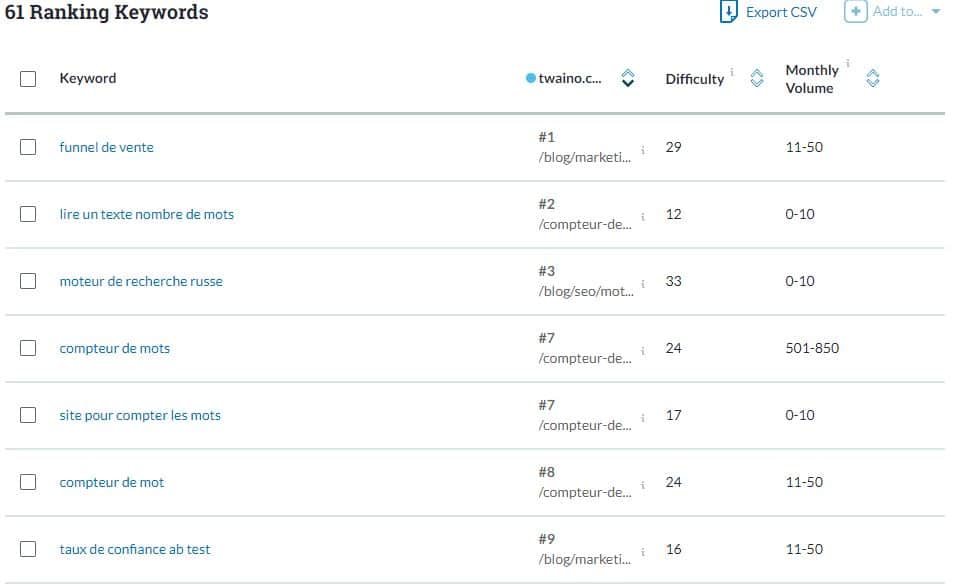 But we will use Google tools here which are often much more precise and accessible to everyone.
4.3.1. Find your keywords with Google Search Console
The main source for finding keywords that you already rank for is to use Google Search Console.
GSC is definitely a good place to start finding keyword ideas. This is all the more important when you are unfamiliar with the site and want to do some keyword research.
If you are unfamiliar with Google Search Console, you can check out my detailed guide on the subject.
You will know how to use Search Console in your content creation strategies.
I will nevertheless take the main steps to find your keywords:
Go to the performance reports, by selecting "Queries":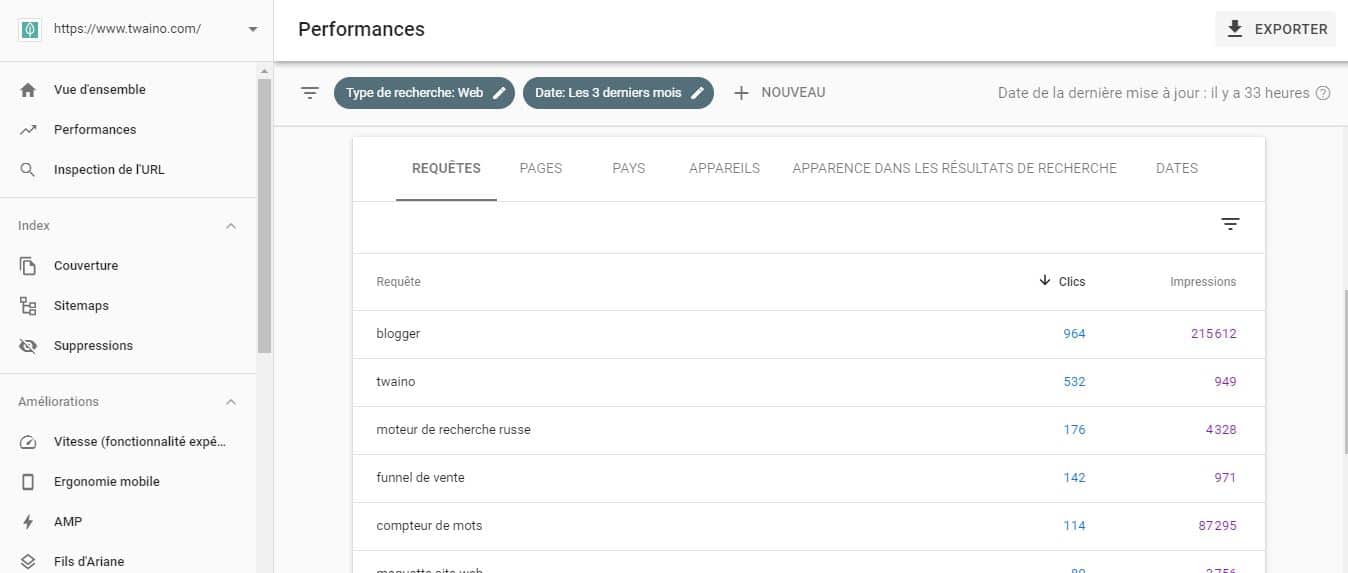 These are the keywords for which your site is positioned in the SERPs.
You can then download all the data as a spreadsheet: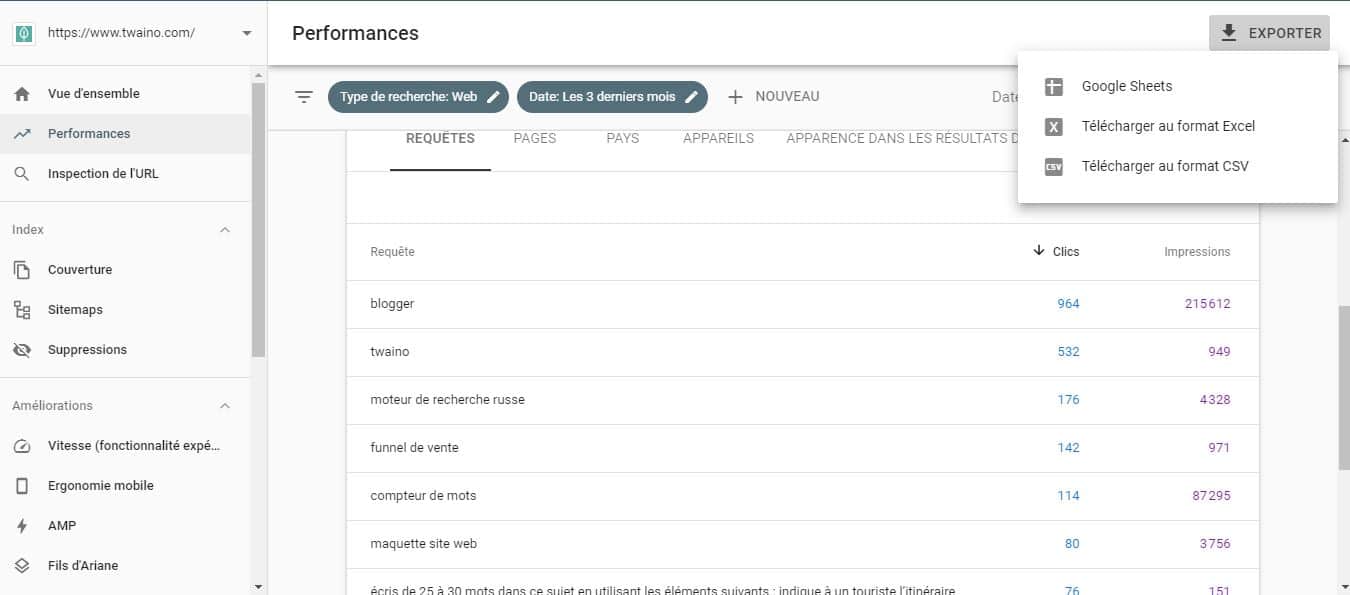 You then have a Google Sheets file that looks like this: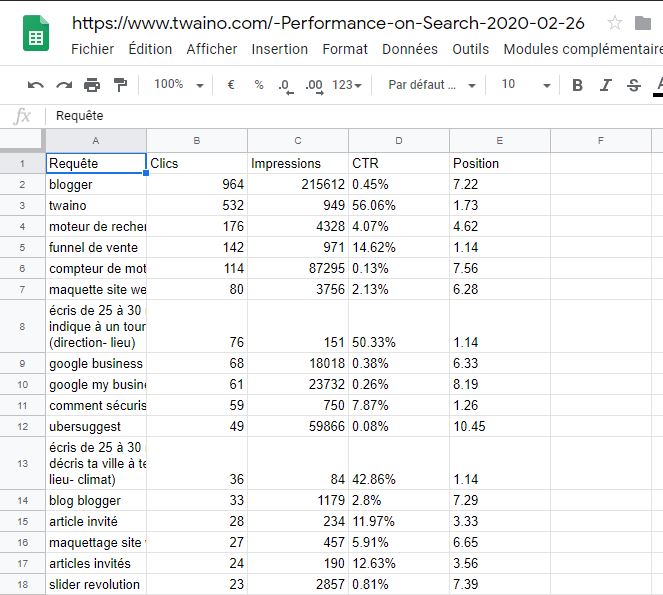 You may not think that Google Analytics can give you the same data when it comes to these key words. Well, it is!
But this is only possible if you have linked your Google Analytics to Search Console.
All you have to do is go to the "Acquisition > Search Console > Queries" section:

You have the same information that you can use in the next steps.
Again, note that this is not your final list of keywords. It should definitely give rise to ideas for researching similar keywords.
If you are used to running advertising campaigns, the next step can be of great help. If not, i.e. you haven't used Google Ads to advertise yet, you can skip this step.
4.3.2. How to find keywords with high conversion potential with Google Analytics?
If you already have a list of keywords for paid advertising, now is the time to tap into it.
Here we will target the terms that should be prioritized in your list and are the ones that are currently driving conversions.
If you pay to get traffic with those keywords and the traffic converts, you should try to rank for those keywords organically to get that traffic "for free".
You can get this Google Ads PPC data from your Google Analytics account.
Like Search Console, this is possible if your Google Analytics and Ads accounts are connected. Which is not the case with me!
As mentioned in my articles on how to go from 5000 to 6000 visitors, I have never launched advertising campaigns before.
For this, I will use the Google Analytics demo account :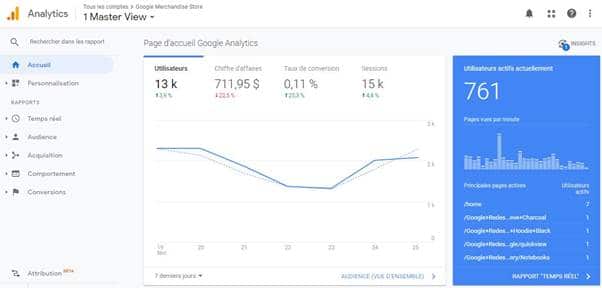 If you have already linked your two accounts, go to Google Analytics and navigate to the "Acquisition > Google Ads > Search queries" section: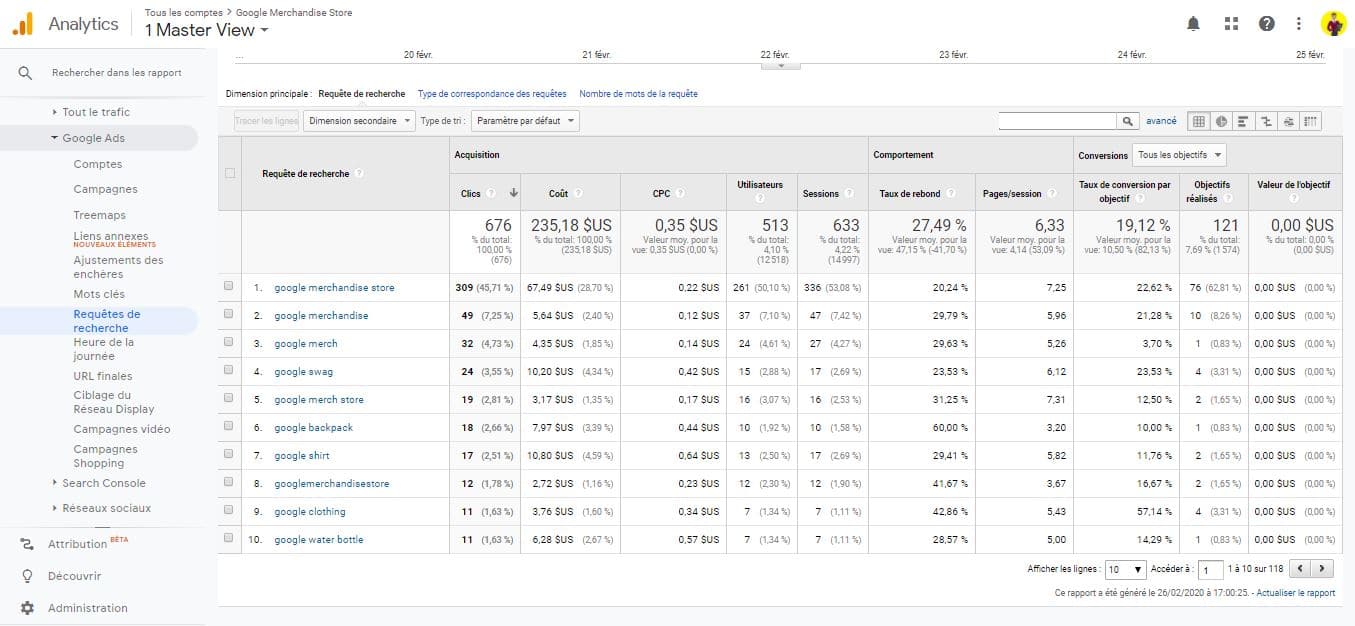 This process allows you to find the actual terms people type when searching Google before finding and clicking on your ad.
This is not the case for the "Keywords" report which shows the terms on which the site is bidding in Google Ads.
Here, think about the period you want to analyze. It usually varies depending on:
The volume of traffic and conversion the site gets: The more traffic, the shorter the period you should use so as not to manipulate too large numbers;
Seasonality;
The variety of keywords;
Etc.
When you have the ideal "Search Queries" report, you can try exporting the data for the time period you want to analyze.
To do this, simply click on the "Export" button: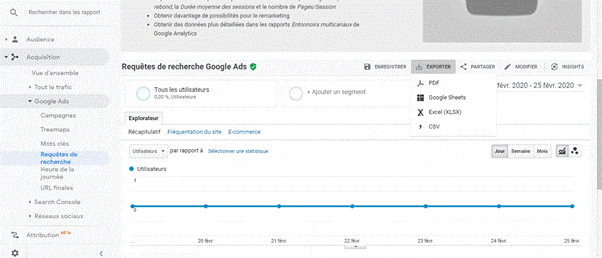 Then choose the format that suits your needs:
PDF;
Google Sheets;
Excel (XLSX);
CSV.
If you click on Google Sheets, then you have this interface and you will have to click on "Import data" to continue: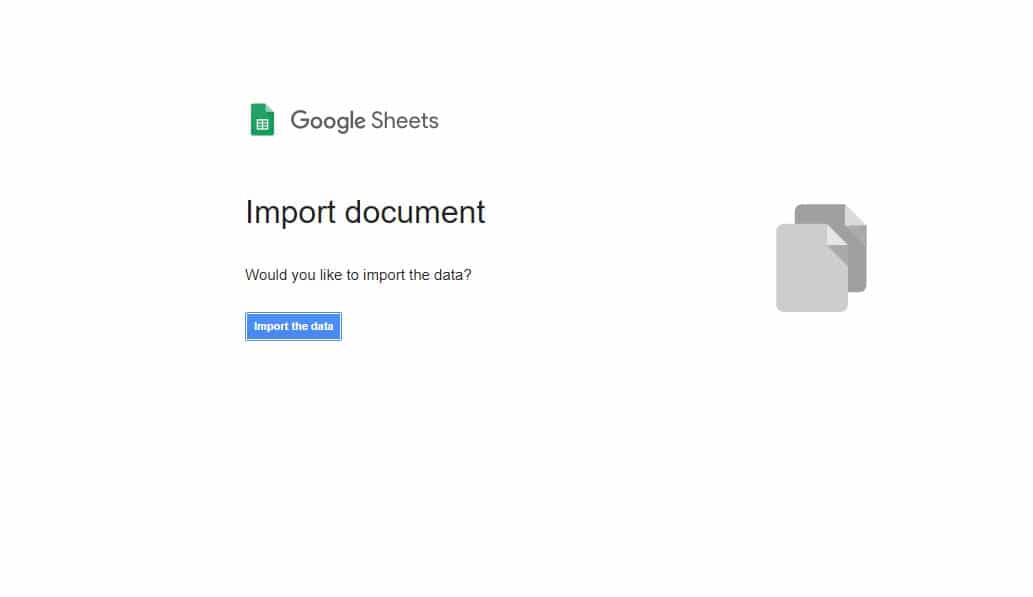 will have the ranking of keywords according to the number of clicks: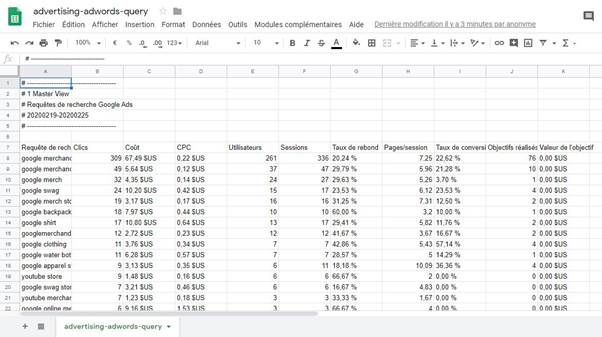 Youkeywords that have real potential for your campaign with, for example:
A low bounce rate;
A good level of conversion;
An acceptable level of cost;
Etc.
Go and review these terms to see if they are actually relevant to the business.
For example, with the Google demo account, you have this: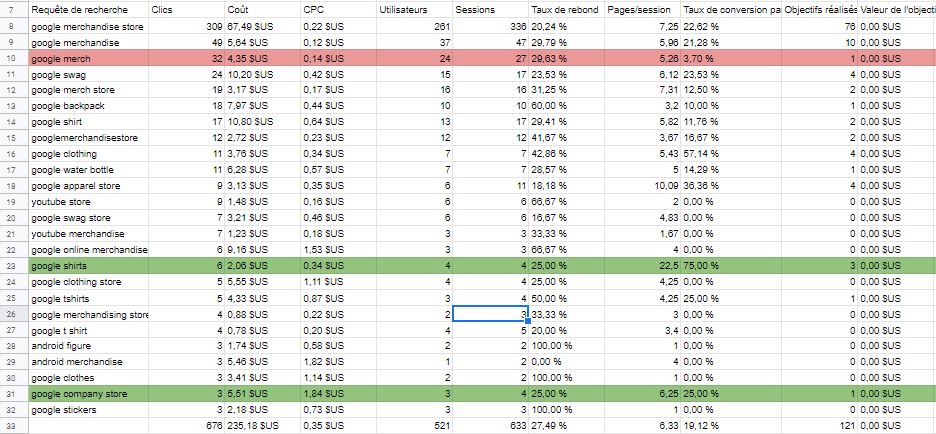 As you can see, we have two types of keywords here.
The former are those that have a lot of traffic and average more pages per session than the other terms, but they don't convert.
I colored the page in red to indicate that it is sometimes better to avoid them in case you want to have conversion.
If your goal is to have traffic, you can take them into account! Therefore, you should carefully examine these terms to see if they are relevant or not.
The latter get a higher conversion rate than most, but don't attract much traffic.
It is the latter that it is more interesting to consider and if possible to look for variations to enrich the semantic field. Thus, you are sure to increase your conversions and therefore your turnover.
However, some terms that are on the PPC keyword list may be too competitive for you to rank for short-term with SEO. It is at this level that you will seek to have ideas for related keywords.
At this level, you know all the keywords that allow you to have traffic and convert your users. It's time to use generators to get more keyword ideas.
4.4. Use keyword generators to get more ideas
You have a solid base of the types of keywords you want to enrich your list.
You will now use the specialized tools to get ideas for keywords and especially statistics such as:
Average monthly search volumes;
The difficulties of keywords;
The shot by click;
Etc.
This information should also be included in your master keyword list. Next, you'll use generators to come up with keyword ideas.
I had the opportunity to describe them in my article on the 21 keyword research tools in which I explained how to use each of them.The only change is Ubersuggest 's move from free to paid. Indeed, it now requires a monthly subscription of $9 when you want to use all the features of the tool:
The idea at this level is to take the main keywords, generic or not, that you have collected so far and research keyword ideas.
For example, I take the keywords for which I am currently ranked from the Search Console: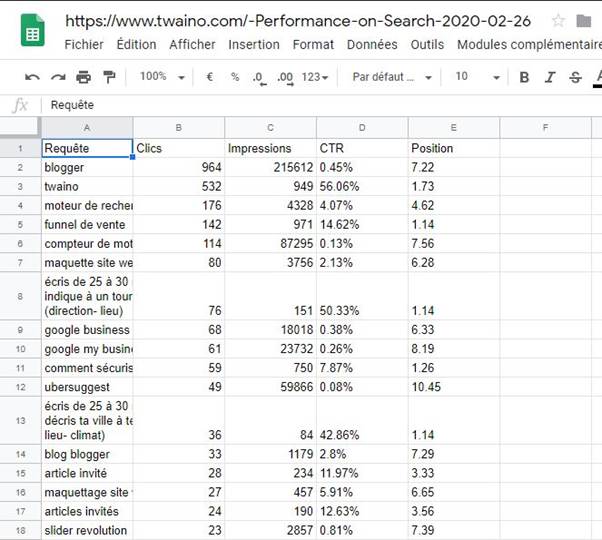 I consider for example the keyword "website model" for which I am positioned at 6.28th place.
During this step, I will research the related keyword ideas. By using Semrush, I have this result: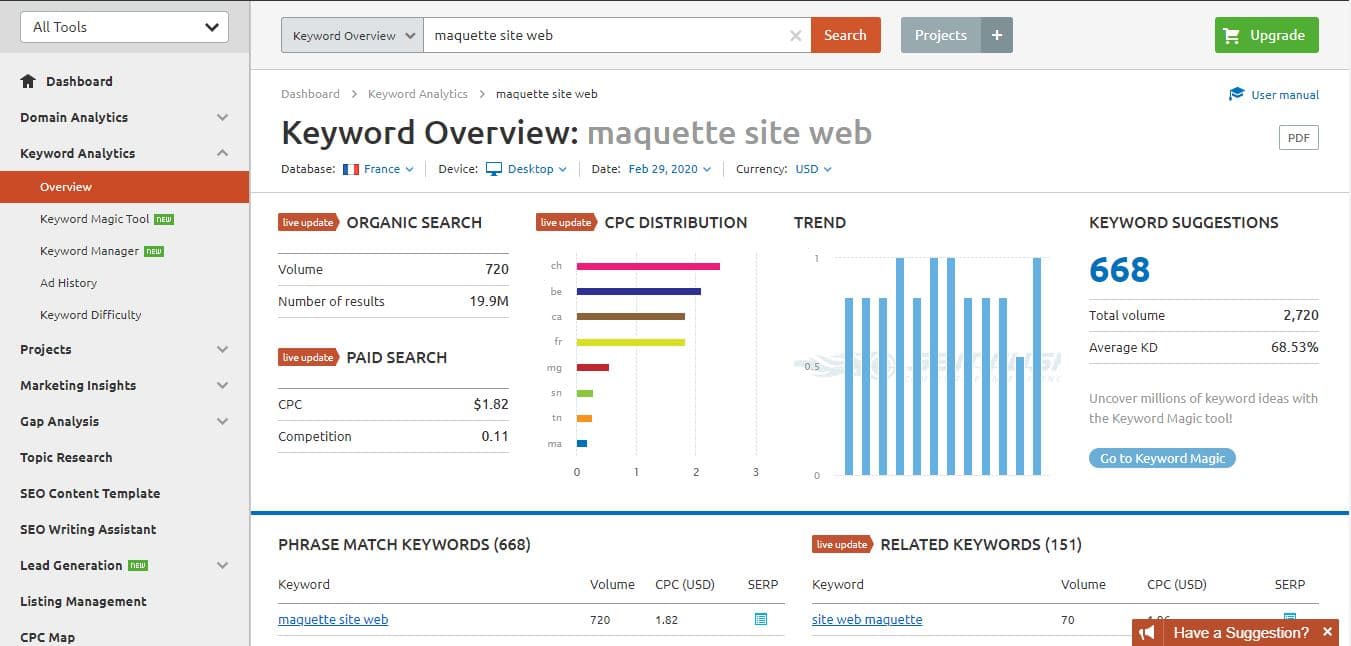 It allows me to have an overview of the keyword and the traffic potential it represents.
By clicking on the keyword suggestions, I will have other word ideas: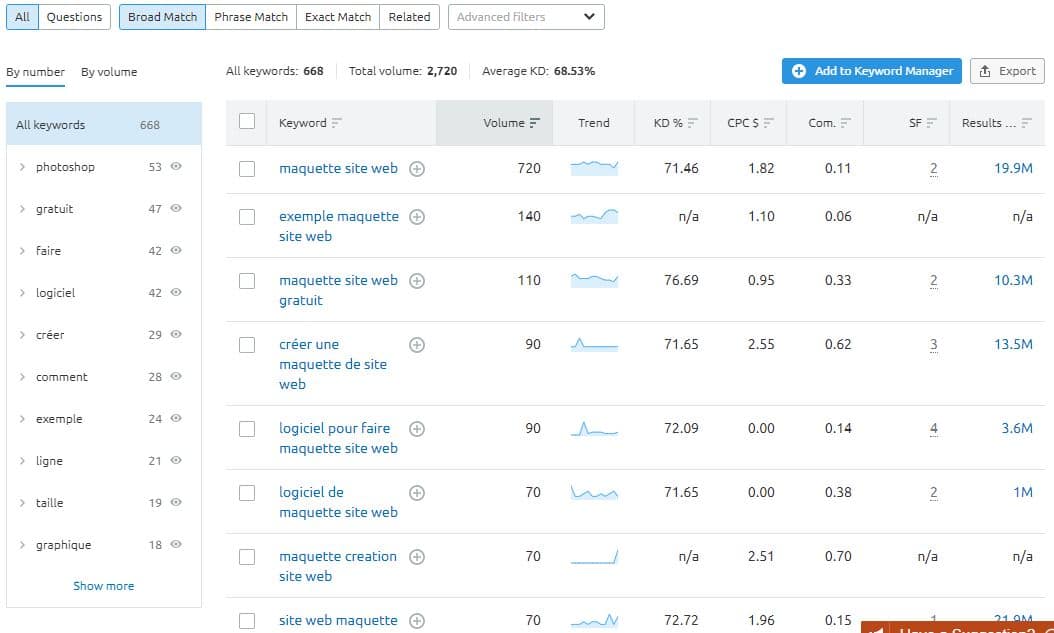 I can also find related terms: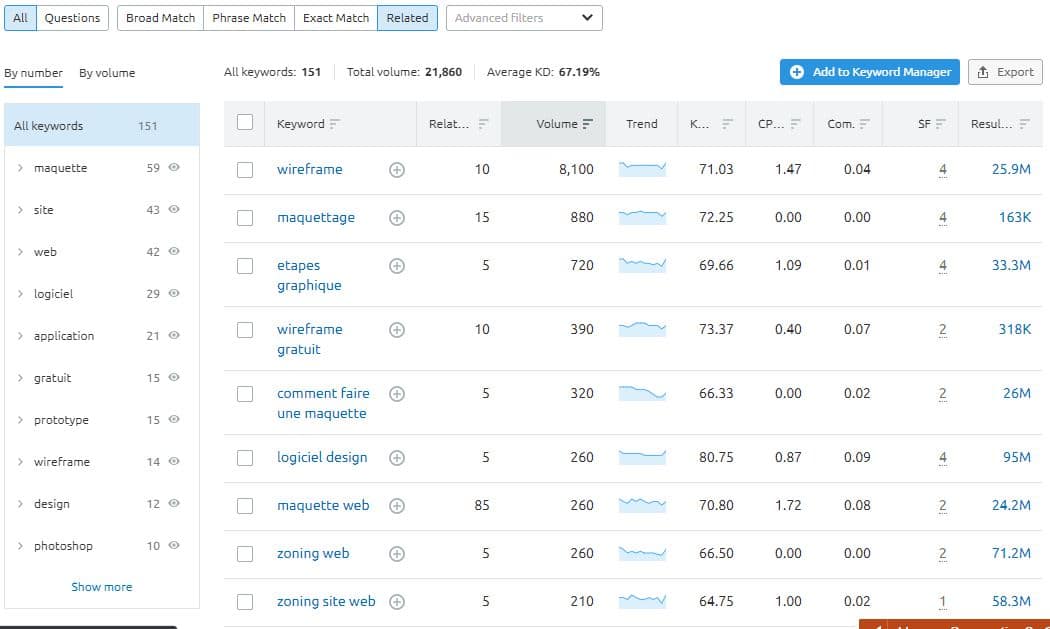 You can see here that there are keywords that have quite interesting search volumes.
We could use them when we want to create authoritative content so that it is positioned on several keywords.
We are not yet in the analysis phase, so we will only export the keyword ideas.
Do this for all the main keywords that you collect thanks to the previous steps.
To easily identify yourself, you can color the line of your main keywords. This allows you to find them easily when sorting.
There is one last place to look for keyword ideas:
4.5. Determine Your Competitors' Keyword Profile
It's important not to just consider your own keyword ideas. You need to take a look at the competition to find the keywords they are ranking for.
Most SEO tools allow you to have a precise idea of ​​the keywords on which your competitors are positioned: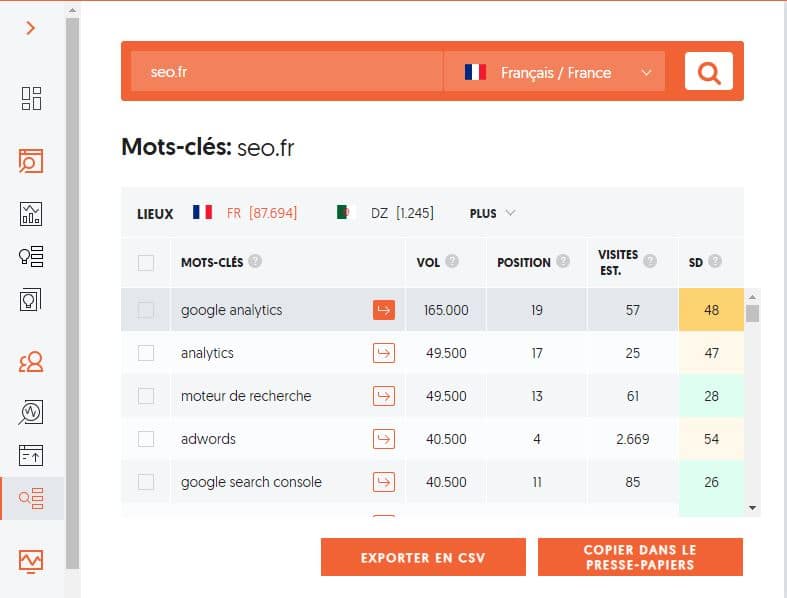 Perform this analysis for your direct competitors and add the keyword ideas to your list. 
Once the large list of keywords has been established, you will evaluate them to find those that are relevant.
Chapter 5: How to evaluate your large list of keywords?
This step involves examining each of these words to see if they are relevant to the website and its users.
Although some use automated processes for this, I think you need to review and think about each keyword to be really accurate.
It can be a laborious process, but getting your keyword list right is worth it.
At first, you do not prioritize the potential of each keyword. You're just going to wonder if it's a good idea to attempt to rank at some point for these keywords.
5.1. How to evaluate the relevance of your list of keywords?
There are several factors to consider when determining if a keyword is relevant.
5.1.1. The number of terms your final keyword research list
The way you will evaluate keywords will not be the same whether you need to have a list of 20 keywords or a list of 1,000 keywords.
While for the first case you will tend to be very strict, you will be less so in the second case.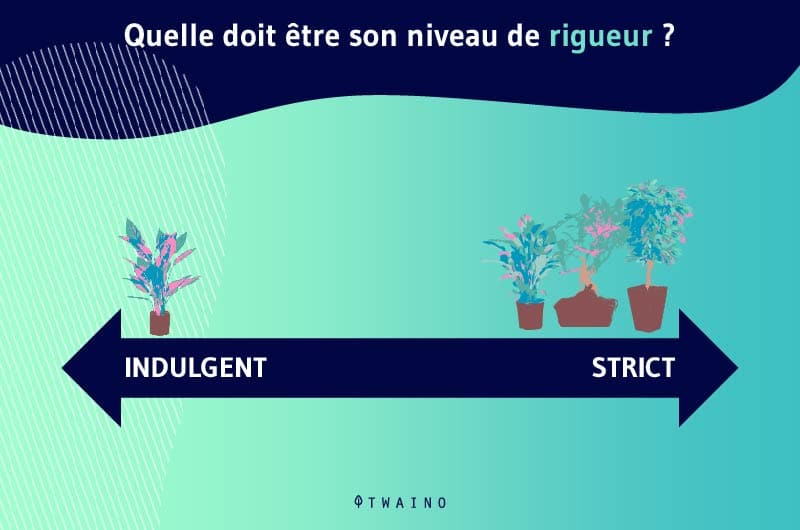 We can therefore consider the number of terms included in your list of keywords as a filter that allows you to assess their relevance.
However, the answer to the question of how many terms you should have in your list is typical of SEO: It depends.
Indeed, the number of keywords you should have will depend in part on the purpose of your keyword research.
When this practice is used to define the keyword profile of an entire site, one can expect to have more terms than if it applies to the creation of an article.
On the other hand, the resources allocated to keyword research can influence the number of terms your list will include. Especially you sometimes have to use paid tools, otherwise you will have a lot of trouble with free tools.
Finally, the number of keywords may vary depending on the nature of the keywords themselves. Indeed, the keyword profile of a website that only sells shoes will not be the same as that of a website that sells all types of clothing and accessories.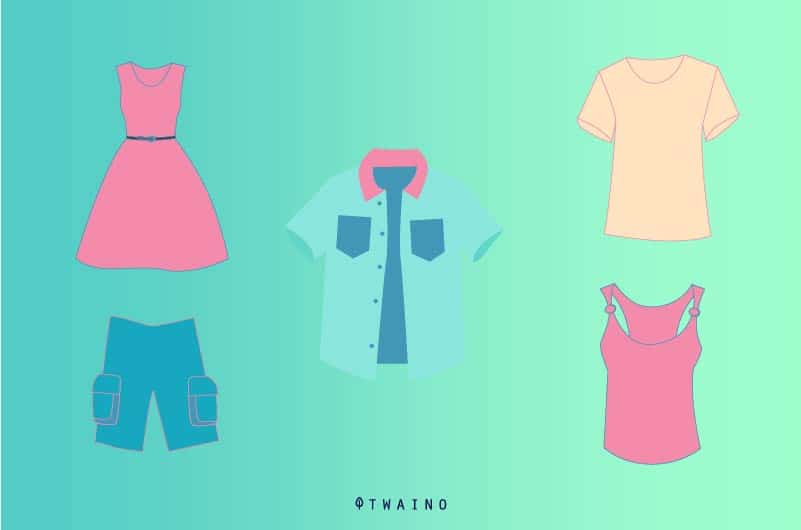 By starting a keyword research project, you won't always know how many keywords will be relevant for a particular strategy or site.
As an SEO professional, you may end up with a few tens to thousands of keywords.
The keywords themselves and the initial research you will do determine the final listing size.
Let's now move on to the second relevance filter:
5.1.2. Examine keywords based on search intent
At this stage, you should be able to examine a term and determine whether or not it is important and whether it can be eliminated from the list.
This is where your initial work of understanding the website and its users becomes invaluable.
To easily eliminate irrelevant terms, you must have a thorough knowledge of:
The content of the website;
Products and services offered by the company;
Business needs and the problems its users are trying to solve.
Go back to Chapter 4 if you think you missed the tips for getting this knowledge.
If you have access to the buyer persona, review them before evaluating your keywords.
Mentally pass each keyword through the filter to find out if it is likely to meet the needs or questions of one of the site's potential users.
During this process, you can mark terms that are not relevant to preserve your original list.
Color the line or mark with an "X" for these less relevant terms so you can keep an eye on them and come back to them later if you need to.
In addition, all you have to do is filter your spreadsheet to get the list of relevant terms: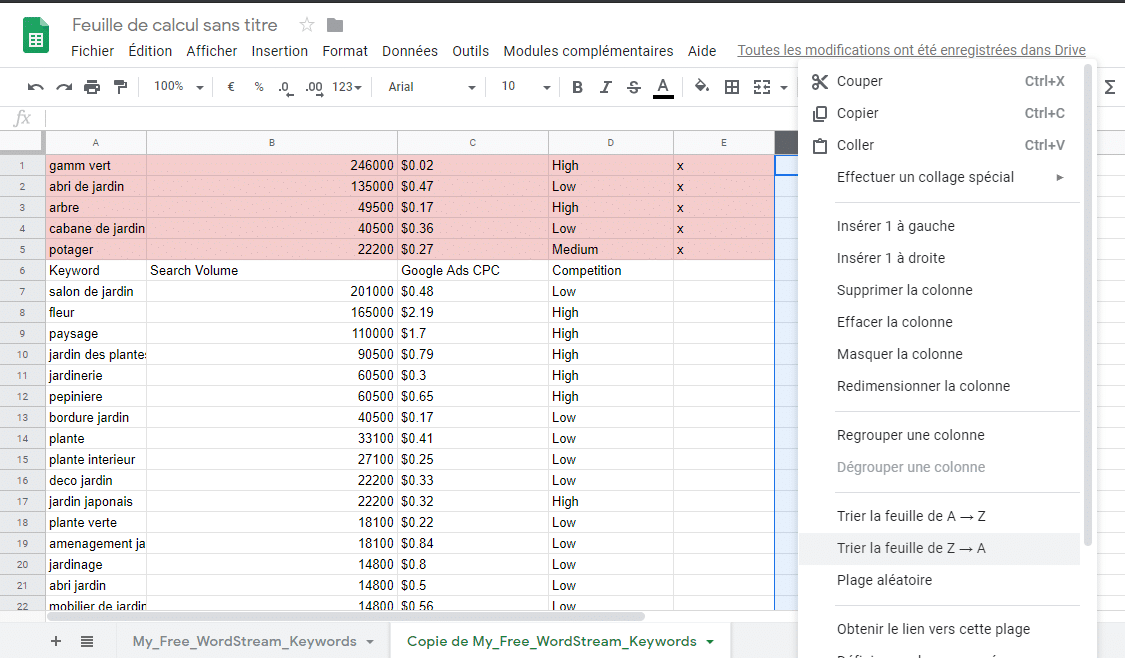 All you have to do is right-click and sort the column according to the values ​​you have used.
To finish with the relevance of keywords, you have one last step to take:
5.1.3. Review initial list of keywords with clients or team
You've reviewed your list of keywords and spotted those that you think are irrelevant.
Before moving on with the rest of your keyword research strategy, it's time to review the initial list with the client or your team.
If you are a consultant, this is an opportunity to review the list with your client. The latter can detect obvious omissions or find that there are relevant keywords that have been neglected.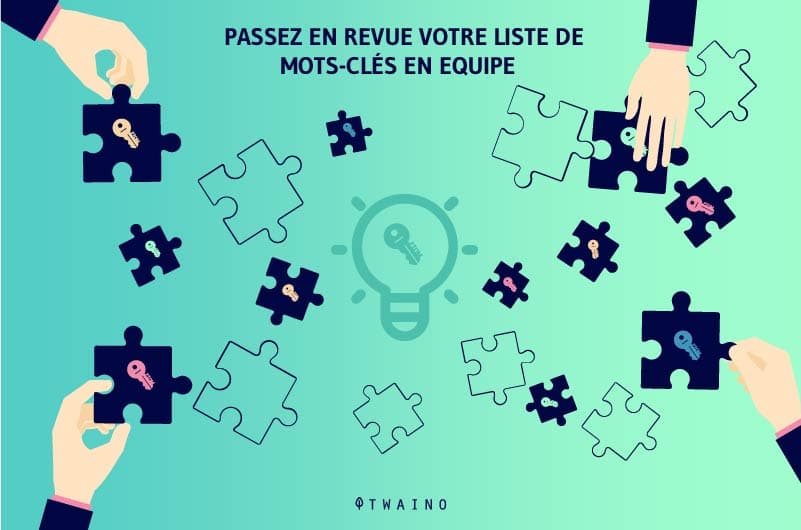 Getting buy-in to the list at this stage helps reduce the number of questions or objections later.
Best of all, this approach allows you to avoid terms being added or deleted later so you don't have to rework the list.
Let's move on to the next step, which is generally the densest of the whole process:
5.2. Do a thorough analysis of your keywords
You have compiled a list of keywords that seem relevant to your website. It's time to give them a relative value beyond their relevance.
Several metrics are taken into account to rank the importance of an organic keyword. This is to evaluate your different terms through these different factors.
A keyword that has a very high score for a particular metric may be excluded or ranked lower if it does not have a minimum score for another metric.
For example, a keyword with a high search volume and too low click-through rate should not be more important in your strategy. Unlike a keyword with a high CTR and lower search volume.
Here are all the metrics to consider at this stage:
Keyword Research Metrics: Monthly Search
Volume Average monthly search volume is arguably the single metric that is universally used for keyword research.
It is generally found on most generators that offer metrics in relation to keywords.
Monthly search volume tells you the overall search demand for a given keyword. In other words, the number of times that Internet users in the world or in a specific country have typed this keyword into Google.
Being an approximation, it is usually calculated as a monthly average based on the last 12 months.
The search volume for the query "garden" is 33.1k according to Semrush:

Interestingly, there are two basic sources of search volume data that keyword research tools use.
These are:
Googledata: This data comes from the Google Keyword Planner database;
Clickstream data: This is based on user behavior from browser extensions, plug-ins, etc.
None of them are 100% accurate and both sources have their pros and cons. As Mangools describes in their article on search volume.
Moreover, keyword generators use one or the other of these two sources with different data processing methods.
As a result, you will see differences in the search volume values. This is why it is important if you want to have a good approximation to:
Choose the type of exact match;
Choose the appropriate region if your site depends on geography.
Obviously, the more volume a keyword has, the better it will allow you to get traffic. But consider the following metrics:
Keyword research metrics: Search volume over time
Another important metric in keyword research that is often overlooked is how search volume changes. over time.
If you want to be effective, it may not be wise to invest in content creation for a keyword that will only capture traffic for a short period of time.
Google Trends is a great tool to help you with this task.
Just enter a keyword and the tool will take care of showing you interest over time on a scale of 1-100.
For example, we have over a year: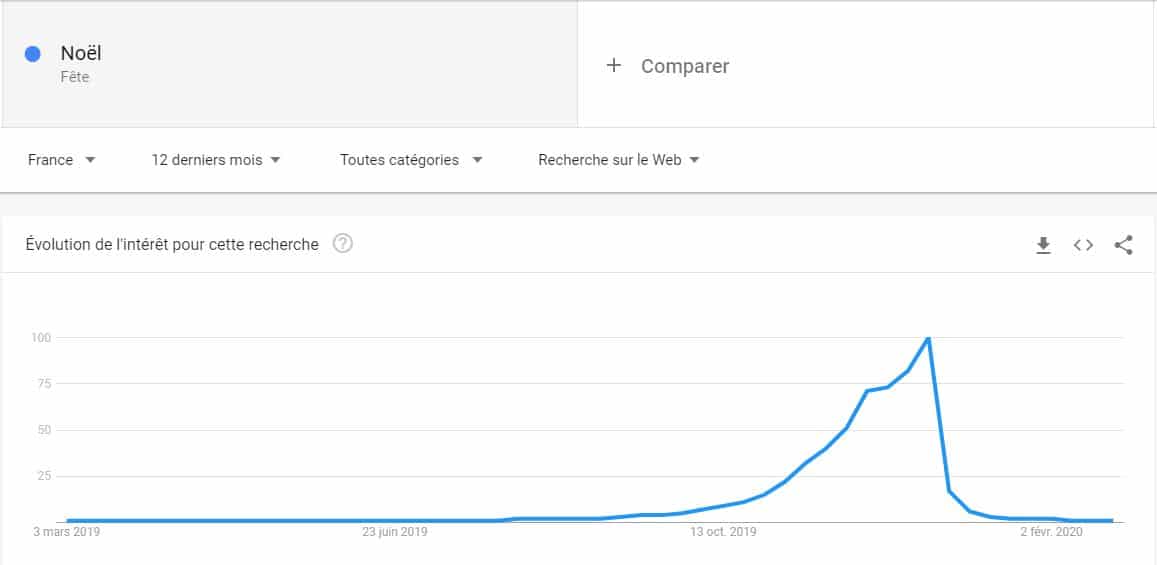 &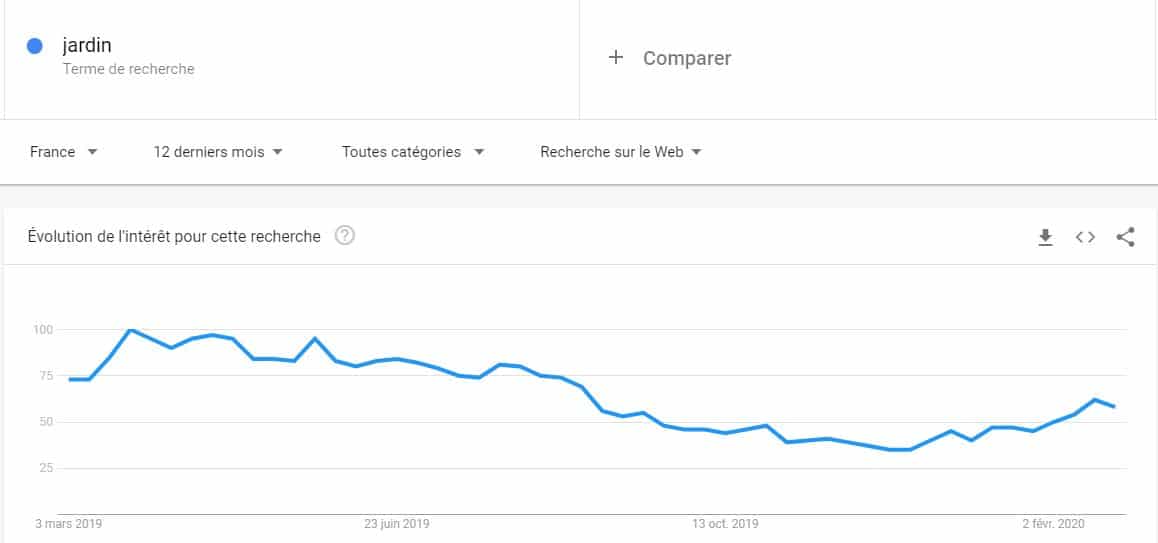 &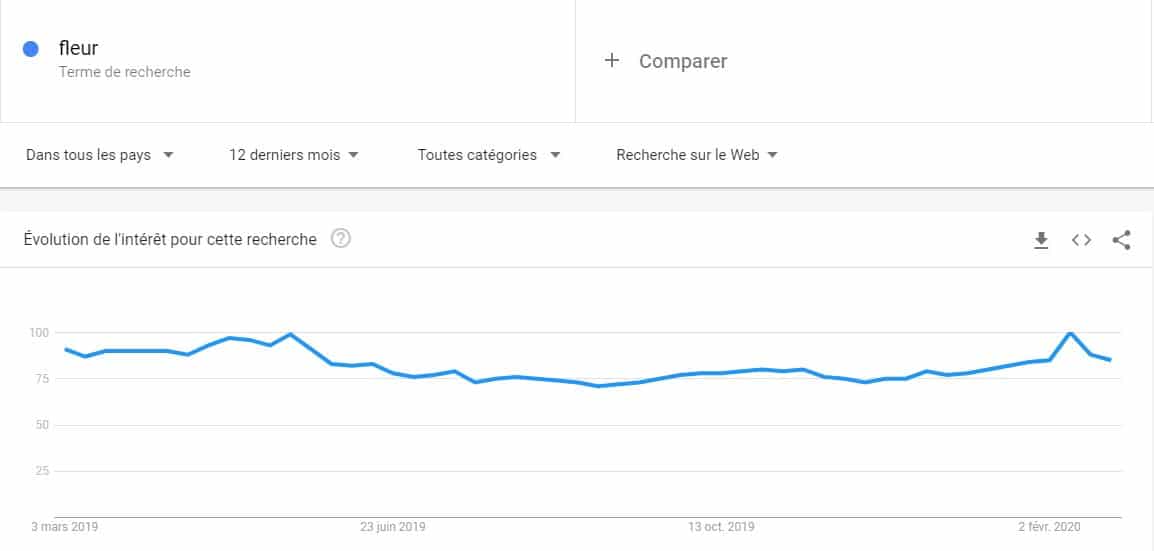 &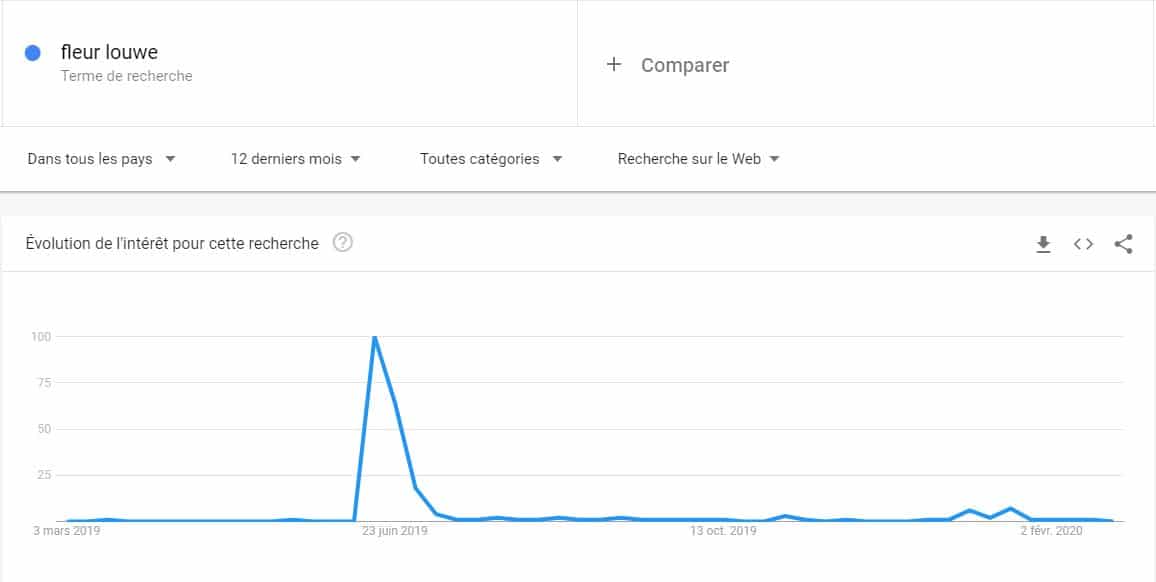 Vous pouvez choisir une période élevée pour apprécier la saisonnalité des termes :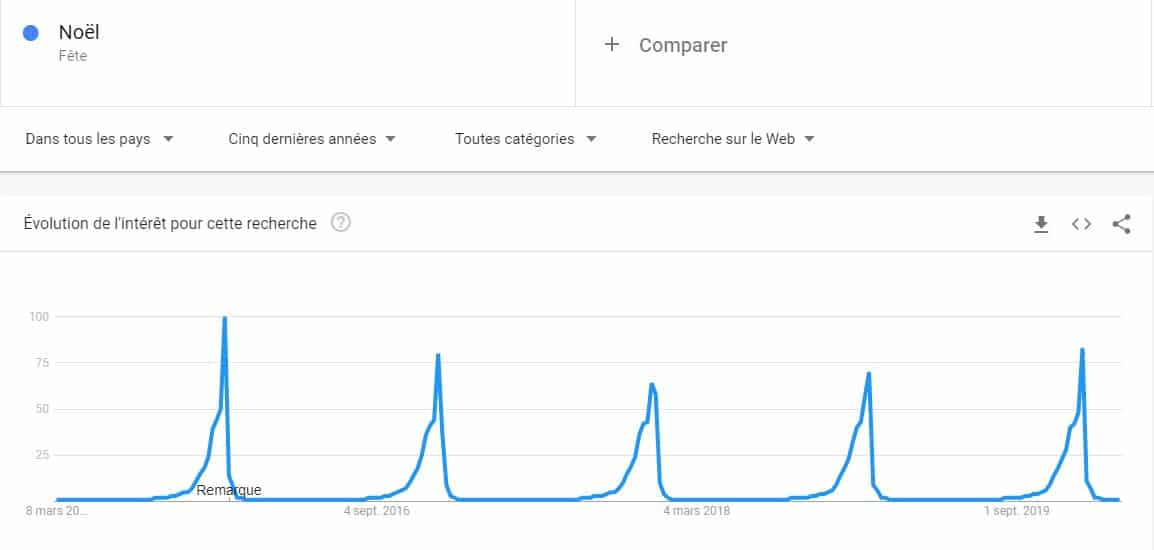 &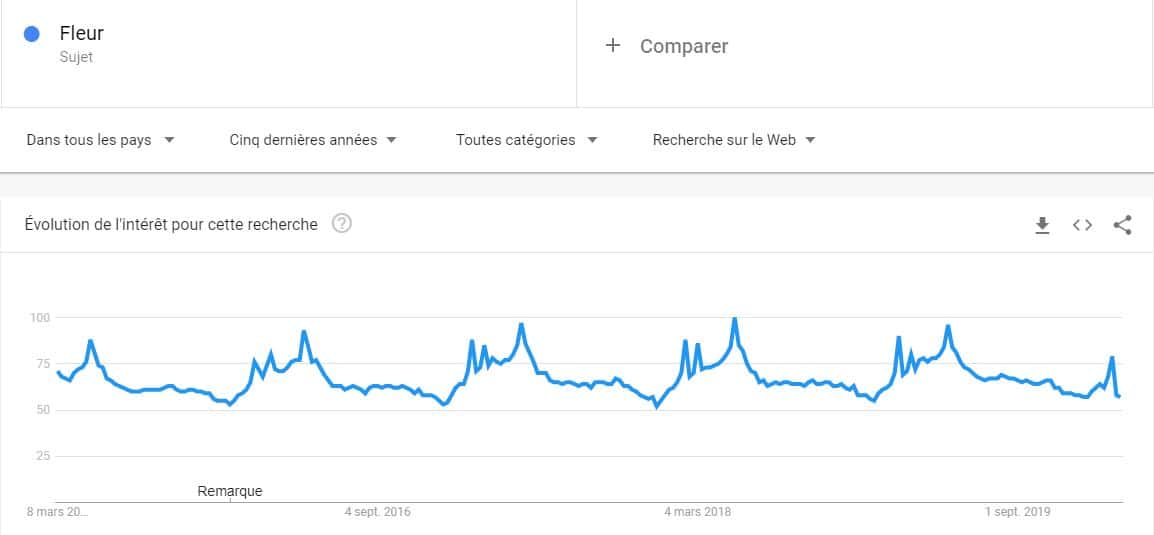 &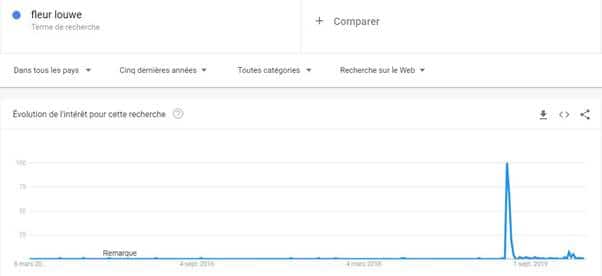 With these different graphs, you have a precise idea of ​​the keywords that are worth targeting.
You will see, for example, that "Christmas" is not a term on which you can position yourself to obtain traffic throughout the year.
If you also find that certain keywords are declining in terms of search volume, it means that they are of less and less interest to Internet users. It will be up to you to decide whether to maintain them or not.
At this level, consider adopting a 1 to 10 or 1 to 100 scoring system, depending on the standards you use.
So, for a keyword that has a good search volume throughout the year, you give an excellent score. Similarly, for keywords with irregular volume, you give the corresponding rating.
Keyword research metrics: Click through rate or CTR
Search volume only gives you an overview of what there is to know about a keyword.
To get a full estimate of how many clicks you will get from a first page Google ranking, you also need to estimate the organic CTR.
This metric depends on your website's position and other elements, especially featured snippets or anything above the organic results.
These include:
Google ads;
Answer boxes;
Purchase results;
Image packs;
Of all featured snippets;
Etc.
Obviously, if you automatically find the answer to your query in the SERP, you will no longer be forced to click on a particular web page.
I'll take a very simple example: The word "use" which has a search volume of 14,800: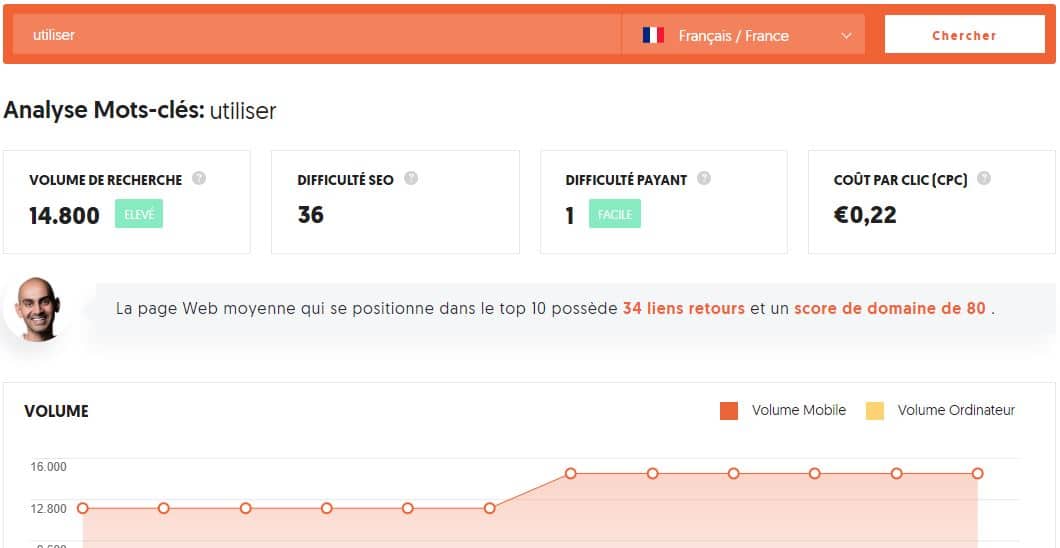 If I have a linguistic website, it might be tempting to position myself on this word, especially with content that defines it or which explains its origin.
But unfortunately, this strategy is not going to work because of Google's featured snippet.
Indeed, just type "use" in Google to get its definition: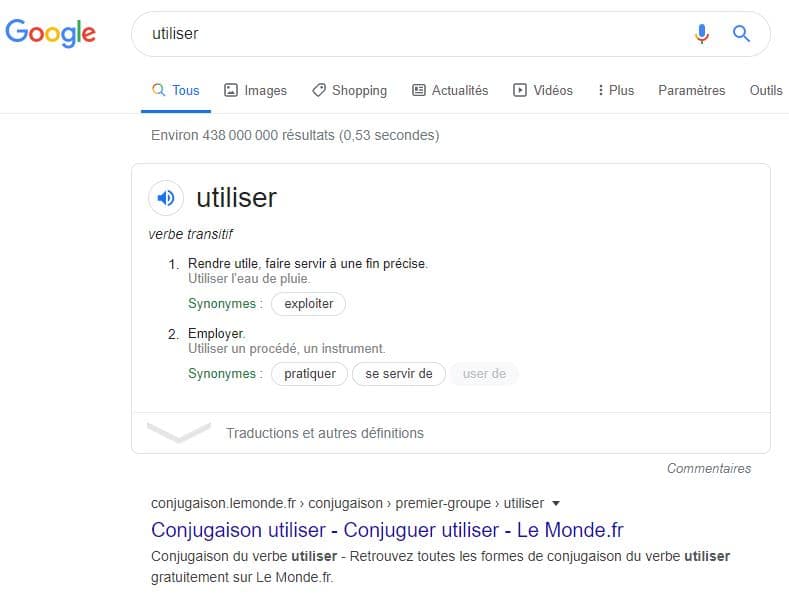 Google users automatically have what they are looking for and do not need to click on its results.
If you try to position yourself on this keyword, it will be difficult to get clicks even if you manage to occupy the first position.
The same goes for most entities that benefit from the Knowledge Graph which provides several information to Internet users: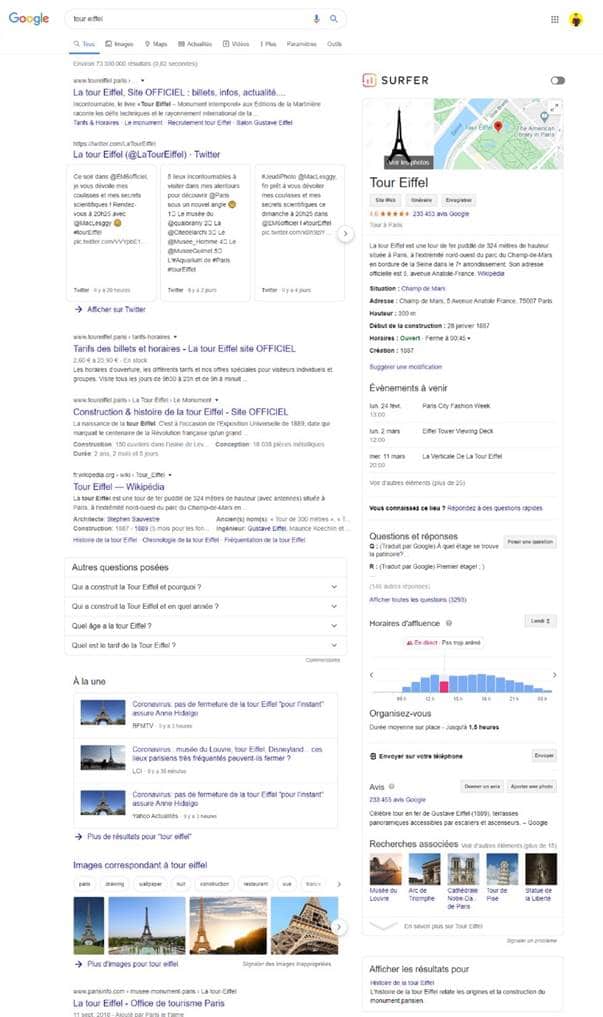 For the query "Eiffel Tower", Google already provides enough information on the first page. Internet users will click less on the results, especially if they want generic information.
The first method to perform this analysis is to look at the search results for your keyword.
If you see a lot of stuff on the first page, like a featured snippet and several Google Adwords ads, then you know you won't get many clicks even if you're in the top position of organic results.
The second option is to use tools such as Moz Keyword Explorer which allows you to have the CTR for each analyzed keyword: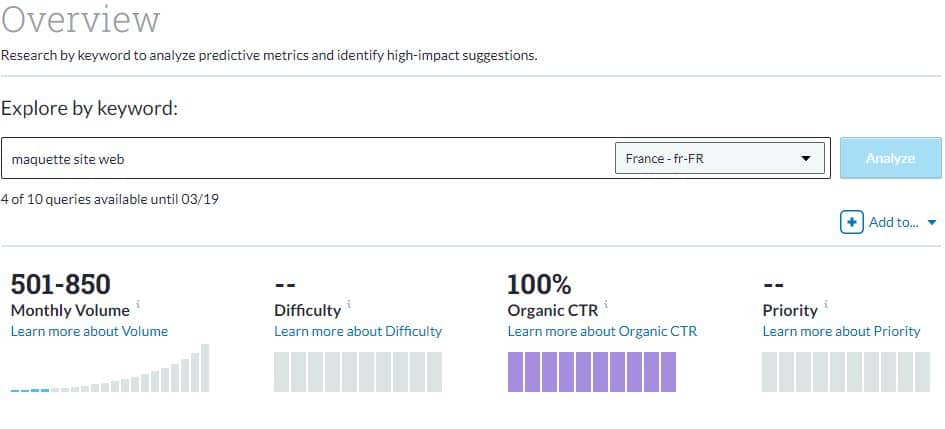 If you don't use a tool, consider using a rating system so that you can easily find your way around later.
Keyword Research Metrics: Keyword Difficulty
The best way to gauge a keyword's ranking difficulty is to manually analyze search results through your SEO experience.
If you have a small list of keywords, you can go to Google to search for each of them:

At this level, the MozBar can be of great help in determining whether the first page is composed authority sites like Wikipedia. If your site is new, it is best not to target or prioritize these keywords.
This exercise can be done with the Surfer: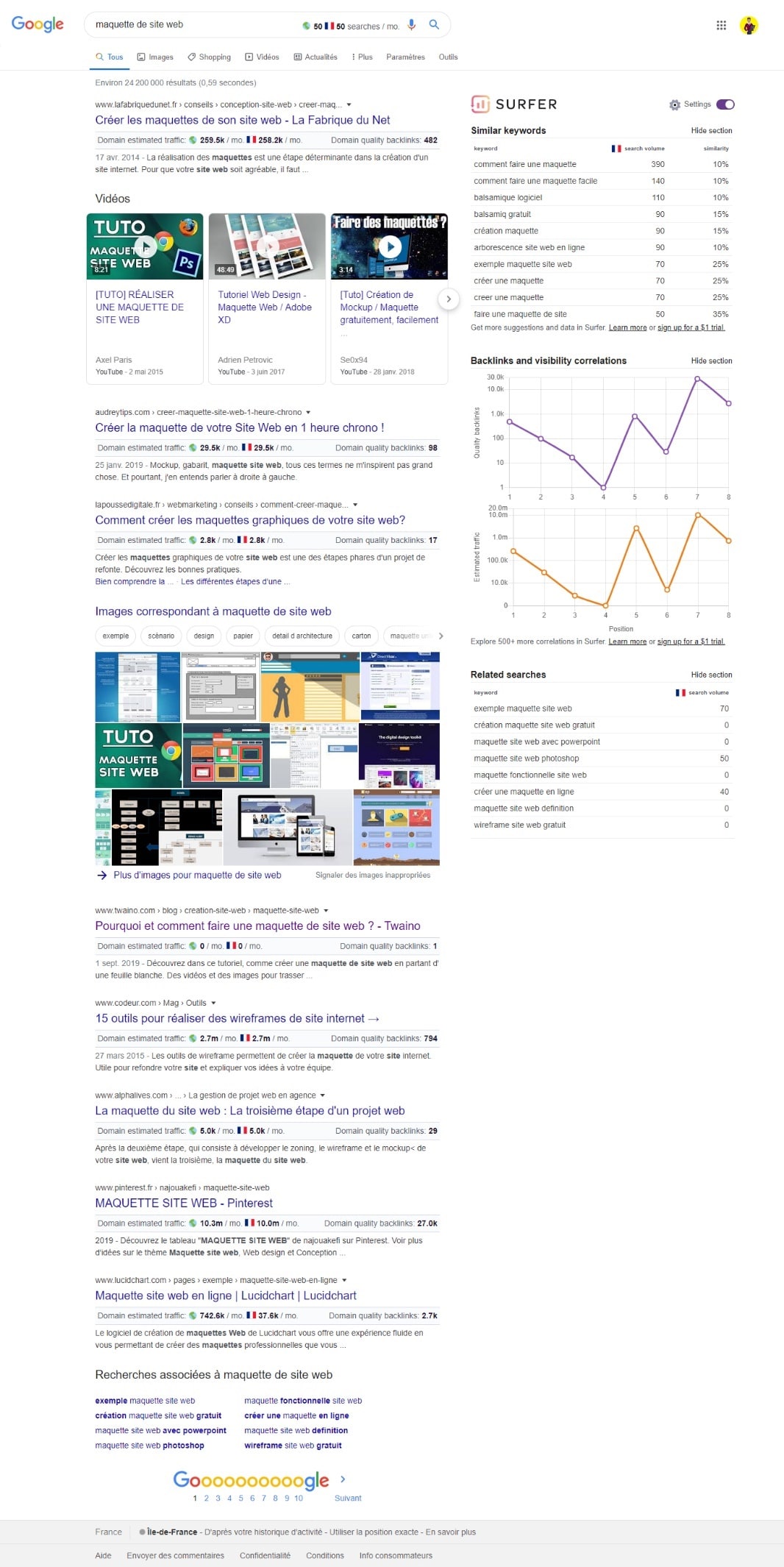 It allows you to have other keyword proposals in case you have missed some that have potential.
But if you see a handful of websites with a relatively small authority on page 1, that's a sign that you have a chance of reaching the first page too.
But that's one thing you can't do if you have hundreds of keywords to process.
That's why the Keyword Difficulty Measurement System with Tools is so handy.
Note that each tool has its own methods of calculating the ranking difficulty score.
But in most cases, the calculation takes into account two elements for the top 10 ranking pages for a given keyword:
Number of backlinks from the SERP pages;
The quality and relevance of the backlinks of the SERP pages.
Therefore, the more quality links there are to the first 10 pages of the SERPs, the more difficult it will be for you to outrank them: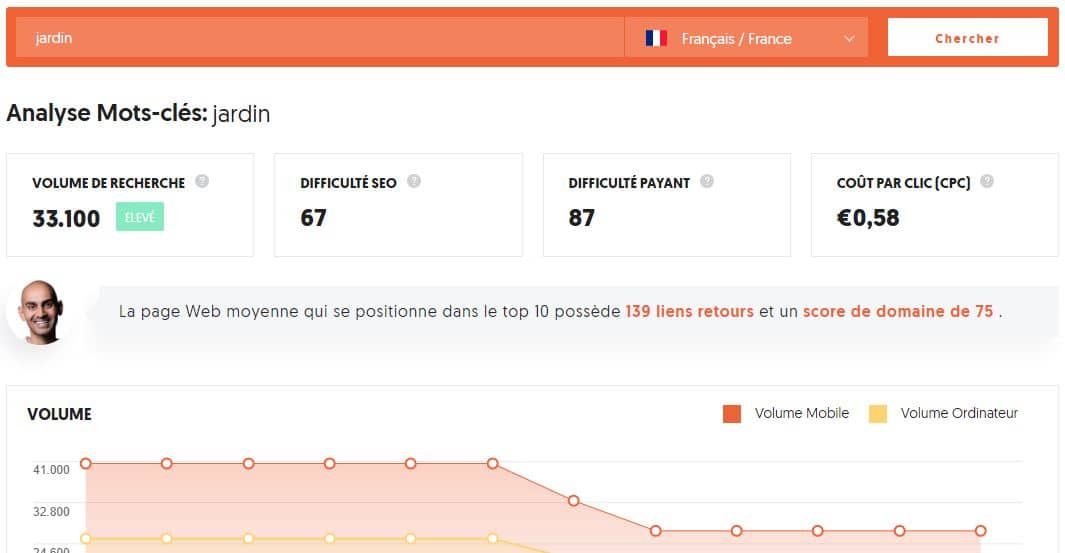 In some, you have a different rating estimate for difficulty for natural and paid SEO .
However, note that high competition is not always a reason to give up a keyword.
Indeed, you have to try to find the balance between the commercial value of the keyword and its difficulty in ranking.
Ranking for some keywords can be super easy, but the visitors they bring to your website will never become customers. It would therefore be counterproductive to try to position yourself on these requests.
On the other hand, certain extremely competitive keywords may be the best terms that will allow you to have more conversions. They are therefore well worth your investment of time and money.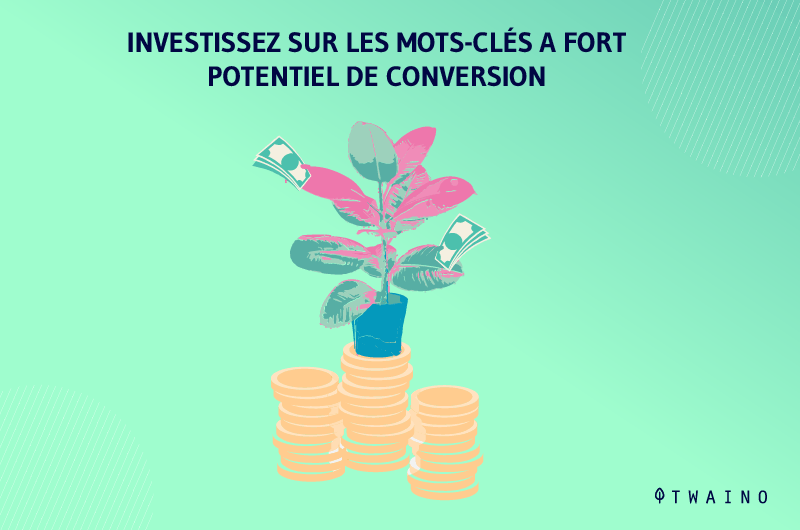 This is why we must consider the difficulty of the keyword as an index that serves as a guideline.
If your content is better and more relevant, you can outrank higher authority websites.
Be aware that if there is no relevant content, Google sometimes just shows semi-relevant websites with high authority. So, if you see high numbers don't conclude that it will be impossible for you to outrank them.
Another tip is not to compare numbers between different tools.
This is because each keyword research tool uses different data to calculate keyword difficulty, so the values ​​differ.

&
Instead, compare difficulty metrics between keywords with a single tool.
A final point to consider is that no metric can tell you exactly how difficult it will be for you to rank for a certain keyword.
There are many factors to consider, namely:
Your SEO skills;
The authority of your website;
The relevance of your content; 
Search engine updates can sometimes work in your favor if your content is authoritative.
Keyword research metrics: Cost per click
CPC is mostly important for advertisers rather than SEO. However, many professionals view CPC as an indication of the commercial intent of keywords or their relative importance.
If you assume that the people bidding on the keywords are rational people, then the higher the average bid on a term, the more likely it is to lead to a conversion.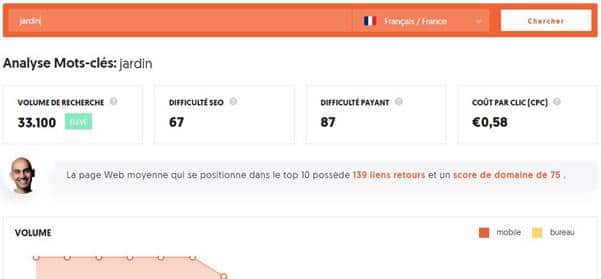 &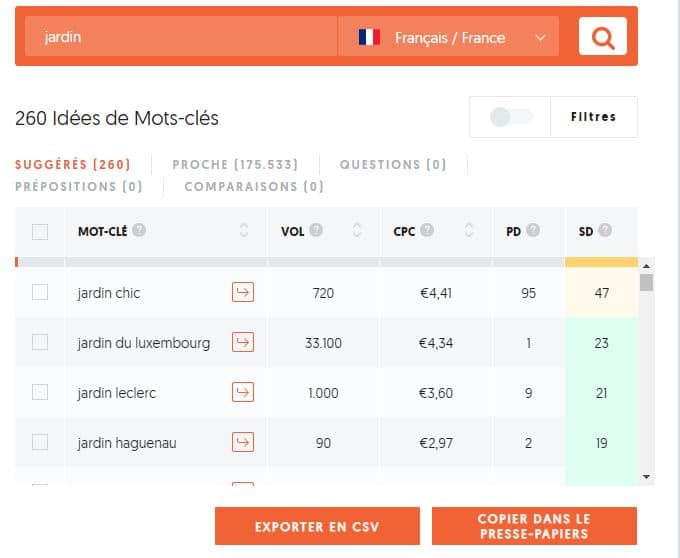 An important thing to know about cost per click is that it is much more volatile than search volume.
While the search demand for a keyword fluctuates on a monthly basis, its CPC can change almost at any time.
Keyword Research Metrics: Conversion Potential
As with cost-per-click data, the more likely a term is to lead to a conversion, the higher its priority.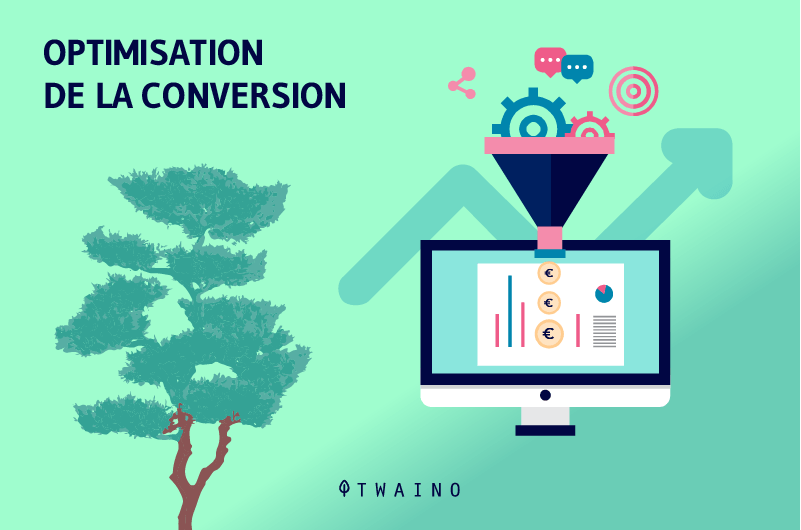 If you have enough data for your ad campaigns, you can pull conversion data from Google Analytics as described in previous chapters.
At this stage, you have a list of really relevant keywords for your future SEO campaign. There is one last step before using them:
5.3. Categorize your keywords
As we mentioned before, the way we optimize for keywords has to change. It is no longer a one or two keyword strategy for a web page.
Therefore, you need to keep in mind how the keywords will be used.
5.3.1. Brief overview of how keywords will be used
With the evolution of Google's algorithm, the best strategy is to categorize keywords into related topics and groups.
Indeed, a single subject or theme will have to lend itself to a single content that will meet all the needs of this subject. Thus, a single page will be optimized for the entire group of keywords that serve similar intents from a searcher.
In other words, a web page should allow you to cover a subject completely and respond to the intentions of keywords sharing the same semantic field.
For example, if you write an article on "How to create backlinks" a single article could satisfy the intent of all the keywords around this "theme".
These are for example:
What is a backlink;
Importance of backlinks;
Referring sites;
Backlink Building Strategies;
Etc.
But if the topic is broad enough, it may require an entire section to be devoted to it in order to create many pieces of content aimed at meeting different user intents.
For example, SEO is a fairly dense theme, which forces me to devote an entire section to it on my website.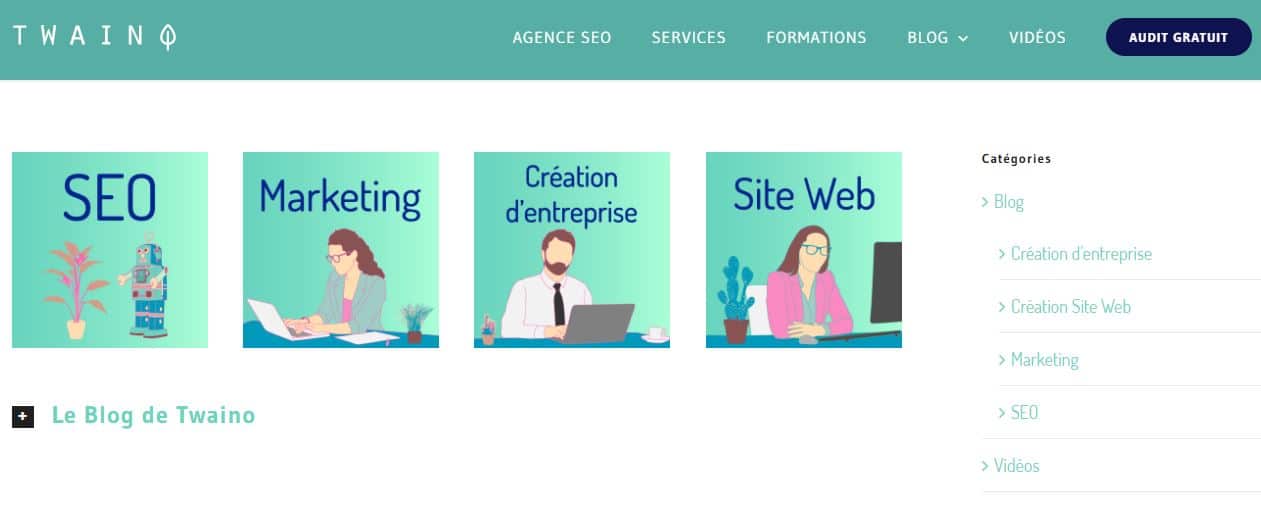 With this scheme in mind, it is easier to manage keyword sorting and ranking.
At this point, if you haven't yet added your current ranking for each keyword, now is the time to do so.
This is because if the keywords are categorized in similar topics or categories, you might find that you already rank well on most of the terms in a particular category. This could make them less of a priority when you want to implement your strategies.
Conversely, this process may make you discover that you are not ranking well for a particular keyword topic.
This indicates that you will have to prioritize strategies to rank better on the theme, especially when it is one of your main targets.
This step will be based exclusively on your judgment.
In-depth knowledge of the business or site, its users, goals, etc. should give you some insight into how a term should be categorized.
5.3.2. Factors to consider when categorizing your keywords
There are several factors to consider when you want to structure your keyword list.
While some factors are essential for effective keyword research, others are less so. You must take into account the objectives to be achieved in order to succeed in this step.
Categorizing Keywords by: Topic
Sorting your keywords, semantically/contextually related and grouping them under a 'parent topic', is one of the most laborious yet essential facets of keyword research.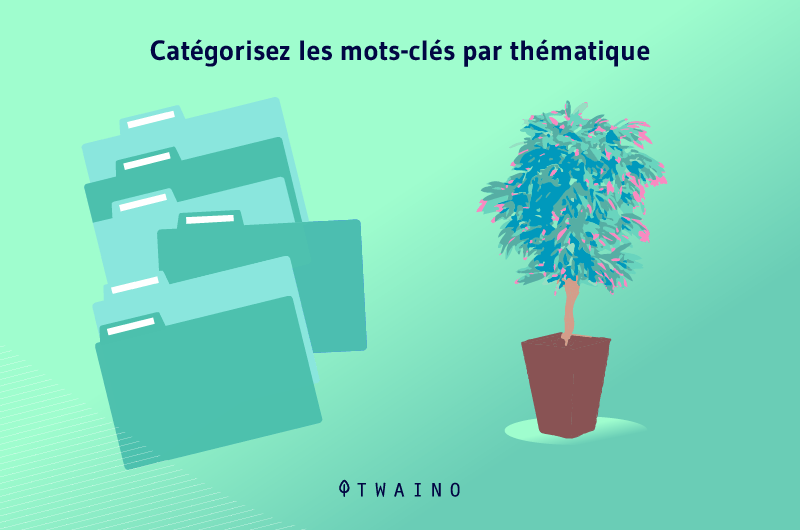 Google s'améliore sans cesse pour déterminer l'ensemble des mots-clés pour lesquels une page mérite d'être classée. Au travers des mises à jour majeures telles que Hummingbird, RankBrain et BERT, le moteur de recherche essaie de comprendre le langage naturel.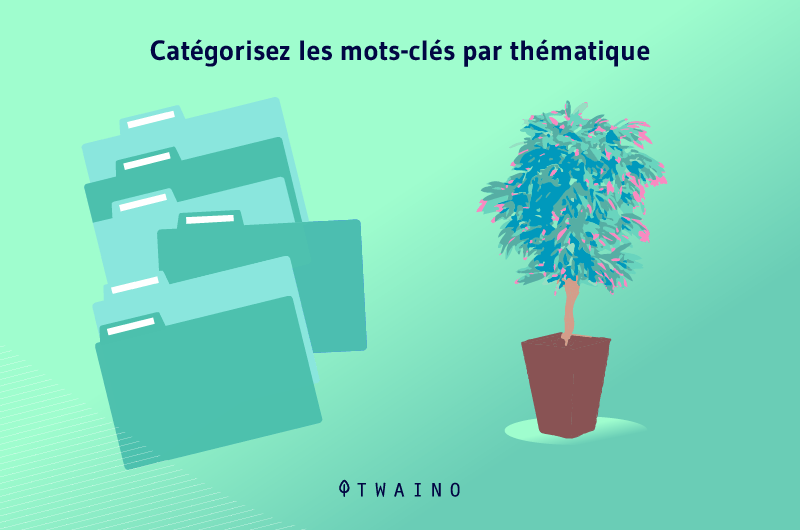 Google is constantly improving to determine the set of keywords for which a page deserves to be ranked. Through major updates such as Hummingbird, RankBrain and BERT, the search engine tries to understand natural language.
This involves understanding how concepts relate to each other. This is why some pages position themselves on queries that do not even appear in their content.
At this stage, it is generally easy to identify the themes and determine the keywords that should fall into each category.
By doing so, you will create authoritative content around each theme by integrating the different semantically related keywords. By doing so, your content will be positioned on several keywords that you have defined.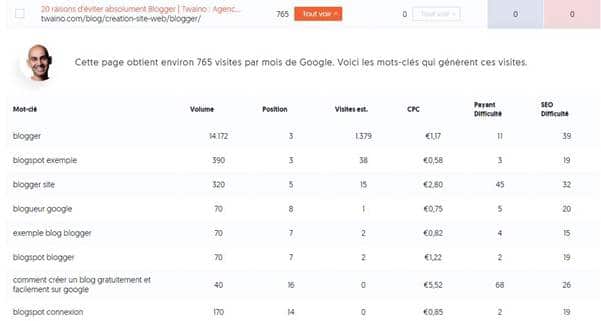 The categorization of keywords by: Their variation
The number of categories varies according to the nature of the site and the variety of all the keywords that you consult.
The categories for a camping site will not be the same as those for an e-commerce site.
While the former will only need something to describe their website, the latter may end up with thousands of keywords which may include:
Color;
The size ;
sex;
The style ;
Etc.
Thus, after defining themes, you may be required to define sub-themes or sub-categories.
Generally speaking, you can have variations such as:
Marks;
General product or service categories;
The models ;
Geographical location;
Etc.
Sorting keywords in this way allows you to effectively filter your overall list so you can determine relative strategies and priorities.
For example, you will be able to select multiple values ​​and get a small set of related keywords for which you will create authority content.
After classifying the keywords by theme and by variable, you will reflect on their search intent.
Categorizing keywords by: Search
intent Searcher intent as Google understands it is also crucial. I have discussed this notion several times in:
For example, let's take the term "garden boot" and suppose that on my site I write about gardening and garden boots.
A quick look at Google search results shows a bunch of e-commerce sites selling garden boots: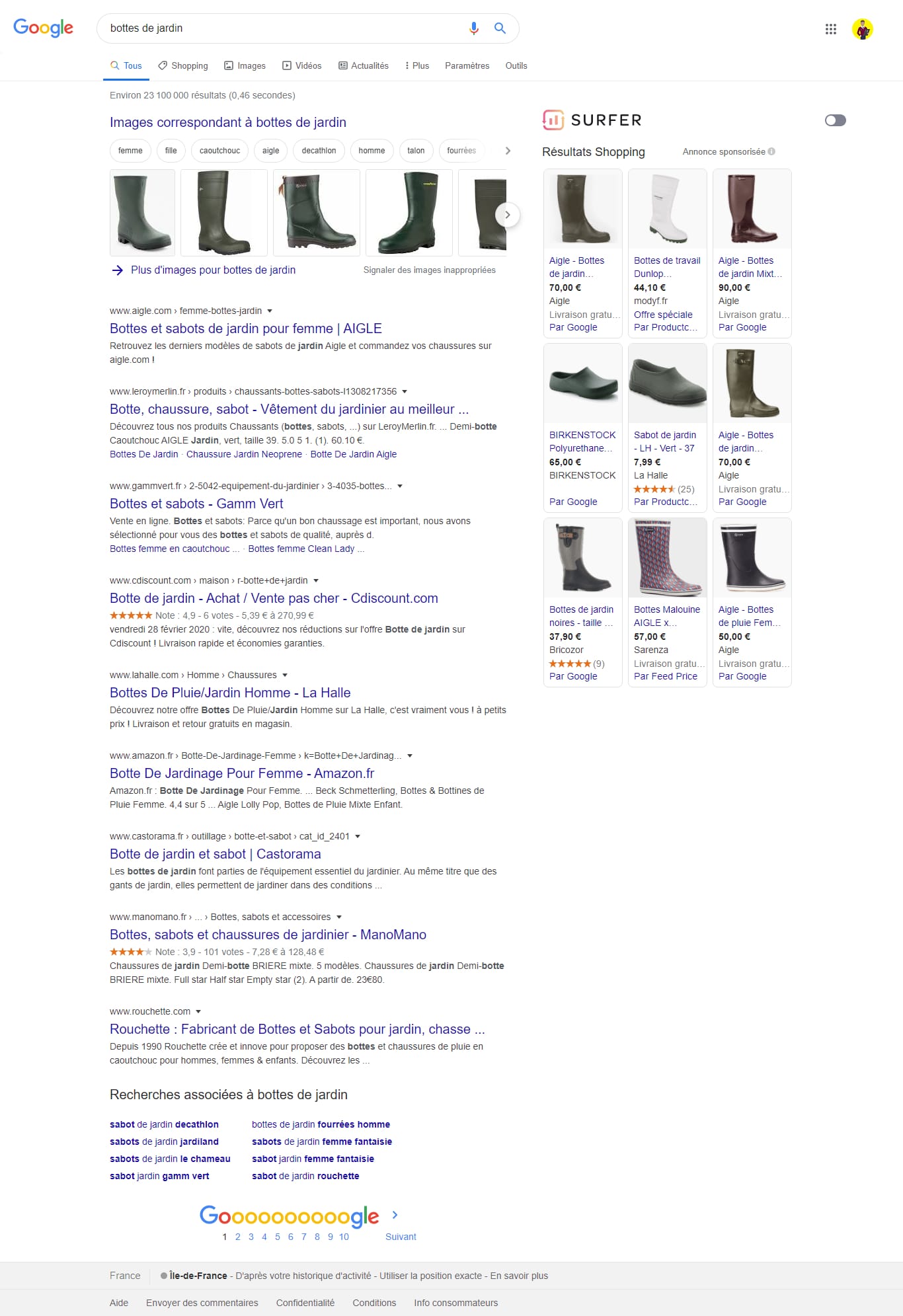 Google sends you a pretty clear signal assuming that when someone searches for "garden boots" they think is looking for a place to buy them.
If the website is a blog that only creates content, the search term "garden boots" (which has a very high volume) should not be a priority.
This keyword is probably a "transactional" keyword.
Indeed, keywords are classified into four different groups according to their search intent: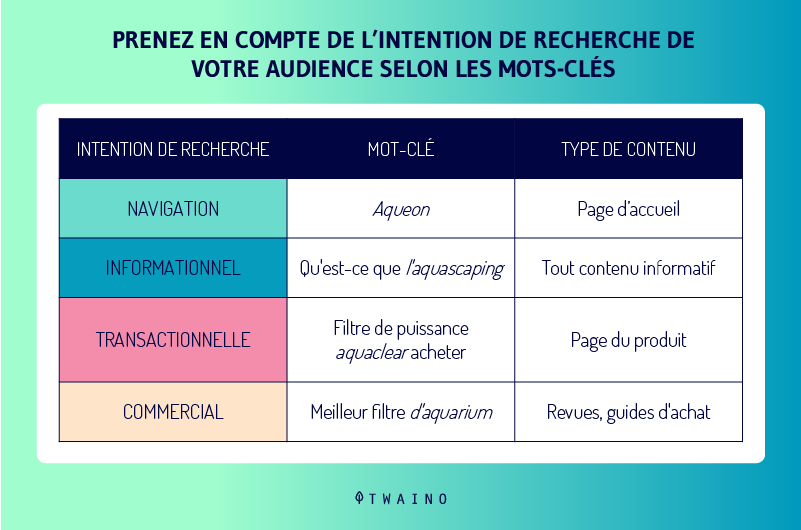 Thus, we have:
Navigation keywords: They are used to find a specific brand or site;
Informational keywords: They are used when Internet users want to have general information on a subject;
Transactional keywords: These keywords are related to an imminent transaction or conversion by a user;
Commercial keywords: They are generally used to encourage or facilitate the purchasing process of users.
The main goal here is to match the intent behind the query with your content type. Which brings us to the next point:
Categorizing keywords by: Position in the search funnel and/or in the sales funnel In
addition to the general importance of a keyword, you need to be able to sort out the keywords and determine where they are in the conversion funnel. 
This step should be done if you are selling a product or offering a service.
In a simple template, the keywords could be categorized:
Awareness;
Consideration;
Conversion;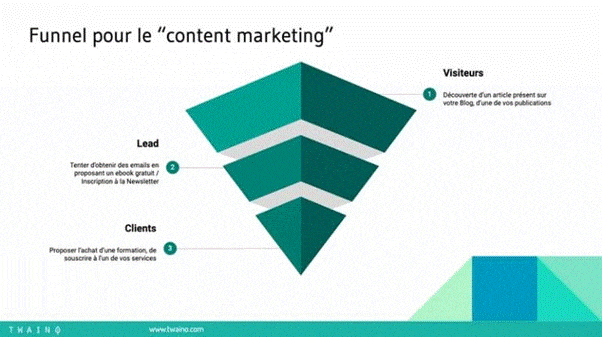 It's up to you if you want to adapt your keywords to one of the existing templates or if you want to create your own. Following the funnel model above:
The first level should consist of terms that aim to:
Promote a product or service;
Respond to questions from users that may be useful to them;
Etc.
The second level should include terms that allow you to:
Present your product categories;
Compare products;
Etc.
At the last level, users already know they want your product/service and they are looking for additional information to close the sale.
At this stage, you can also use your rating system (rank on a scale of 1-5 instead of 1-3) in a separate column.
This should make it easier to filter or sort groups of keywords that share the same level in your sales funnel.
The categorization of keywords by: Periodicity with Google Trends
Knowing seasonal trends can be advantageous for defining a content creation strategy distributed throughout the year. 
This step is especially useful if you sell products or offer services seasonally.
For example, if you know that the "Christmas tree" starts to soar from September to December, you can prepare the content months in advance: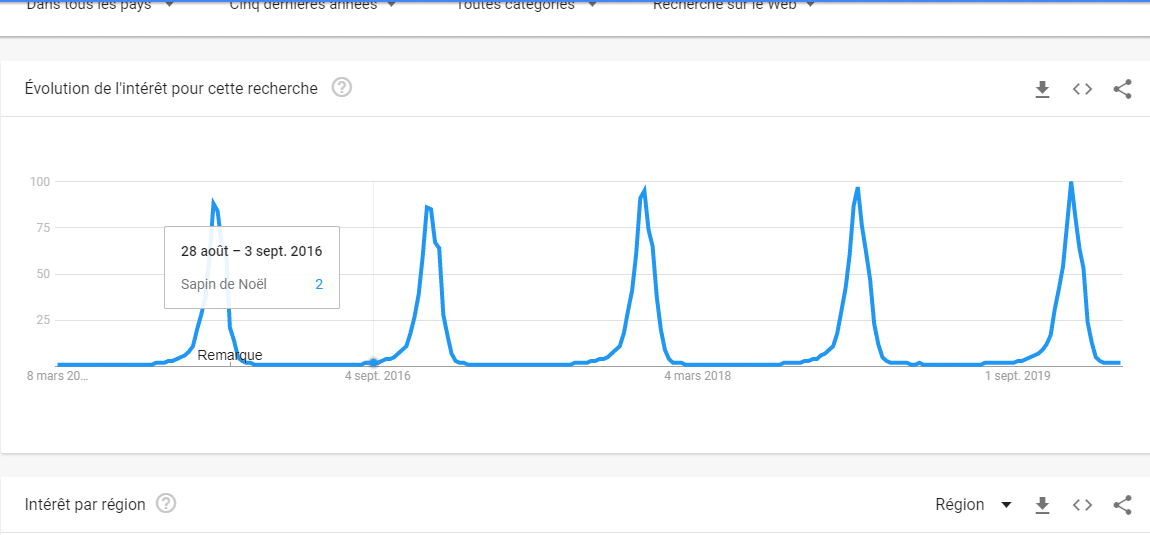 Just create a column in which you will mention the months in which keywords or themes are likely to peak.
You can go further and target a specific location more strategically by limiting your keyword analysis to specific regions.
Rate "interest by sub-region" in Google Trends to make your content more relevant to your target audience.
For example, as strange as it may seem, the term "Christmas tree" is much more popular in Poland than all other countries, including France.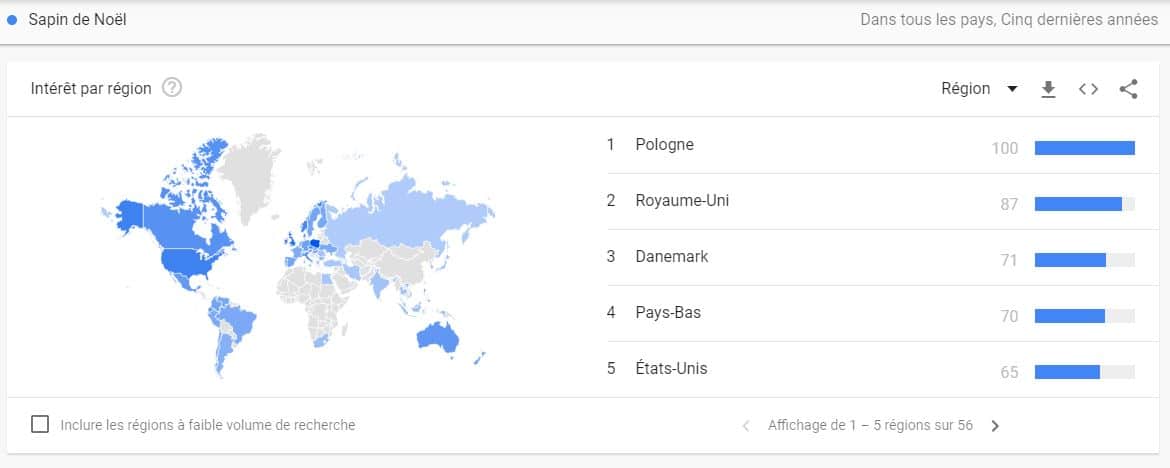 At this point, you have a clear idea of ​​the types of keywords you have. There remains an important question that we must answer:
Chapter 6: How to use the keywords resulting from your research?
Now that you've analyzed the keywords, you can start thinking about how to use them in your content creation strategy.
If you find the keywords, you have to be able to use them in the right way. We have already had an overview of how to use them.
Let's now go into the details:
6.1. Write long content
If you've been following me for a while, you've noticed my "passion" for long articles. If I like them so much, it's because they cover an entire subject.
Better, they offer several advantages from an SEO point of view which is not negligible. I had the opportunity to show all the evidence and reasons for creating authoritative content in my article on the one -upmanship technique.
What to keep in mind is that:
Long content naturally attracts more links than short, mediocre articles: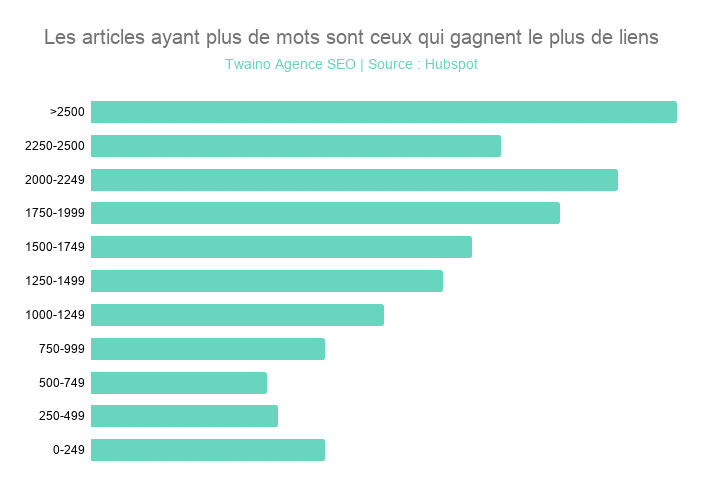 Long content is generally more engaging because it answers the user's question (or solves the problem) in an exhaustive way, which makes it more shared;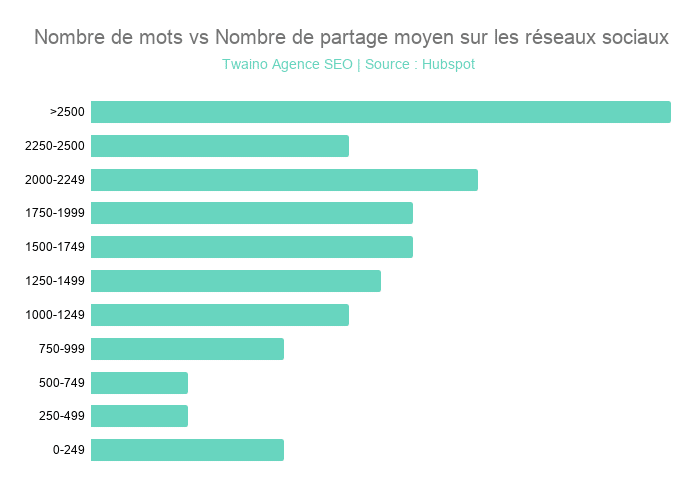 Long articles allow you to have more traffic: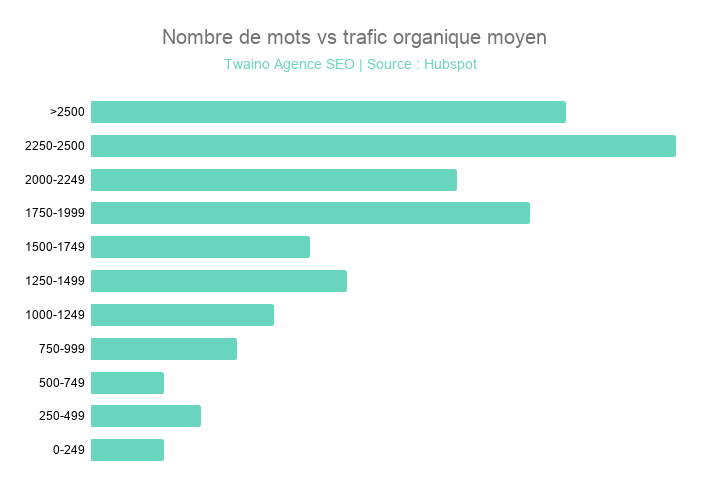 The most interesting in the context of using keywords is the fact that you will naturally find places for all your terms in a long content.
This, even if you don't necessarily need to use every keyword in your category.
Google can rank you for keywords that you haven't even used in the text.For example, take my article on 20 Reasons to Avoid Blogger. An analysis with Ubersuggest allows me to see that Google positions me on more than 20 queries: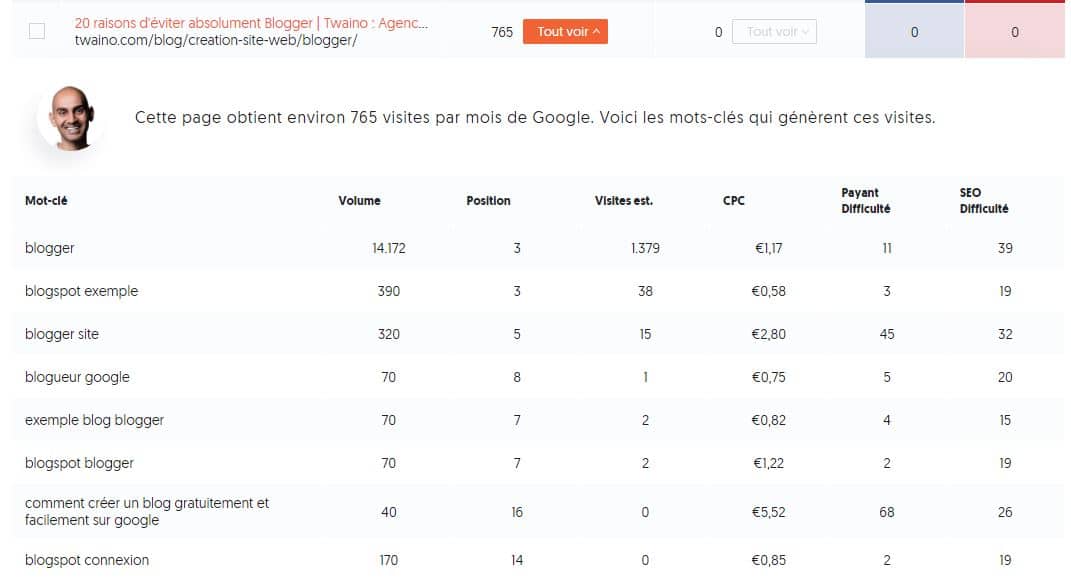 Some of these keywords do not even appear in my article: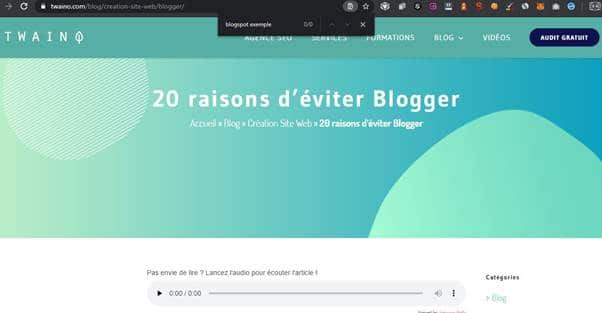 You can see that the keyword "blogspot example" is not in my article while I occupy the 3rd. position for this keyword according to UbersuggestTo be more specific, I rank 4th: position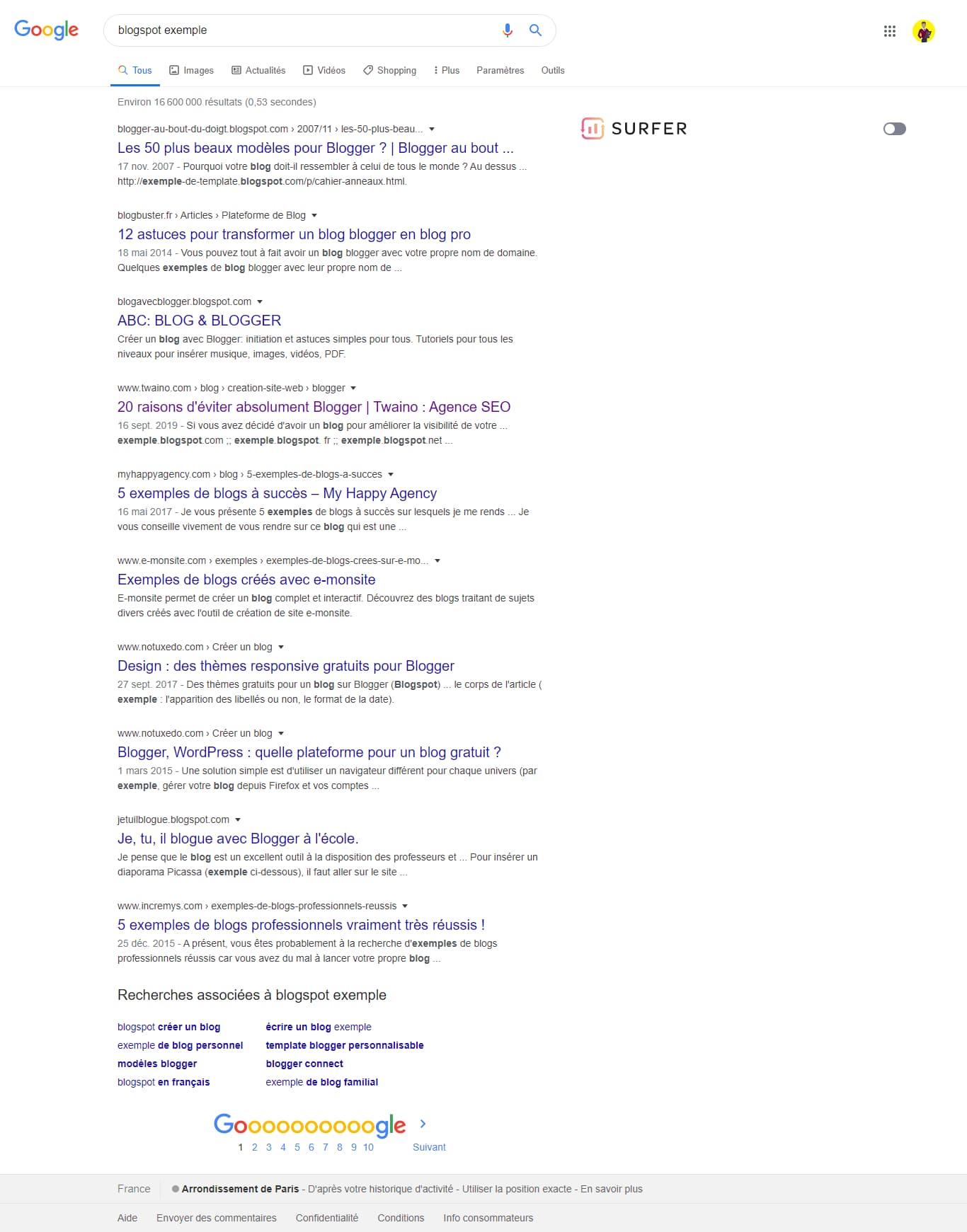 Incidentally, a study by Ahrefs in the SERPs ranks on average for about 1000 other relevant keywords: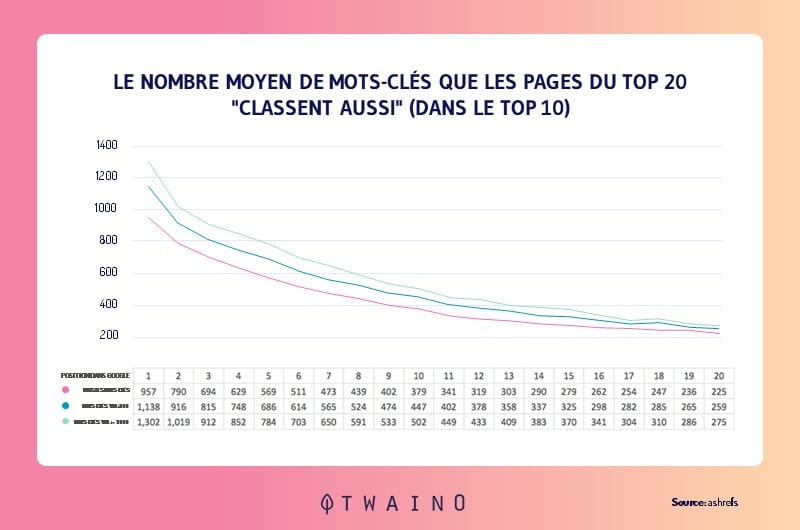 Whatwhat it means ?
If Google finds your content to be top-notch and relevant, you may rank for keywords that you haven't optimized for at all.
However, there may be times when you don't have much time to devote to creating authority content. It is here that all the previous steps that you have followed will find all their importance.
6.2. Use the semantic cocoon or
"topic clusters" Topic clusters represent the basic content structure of your website: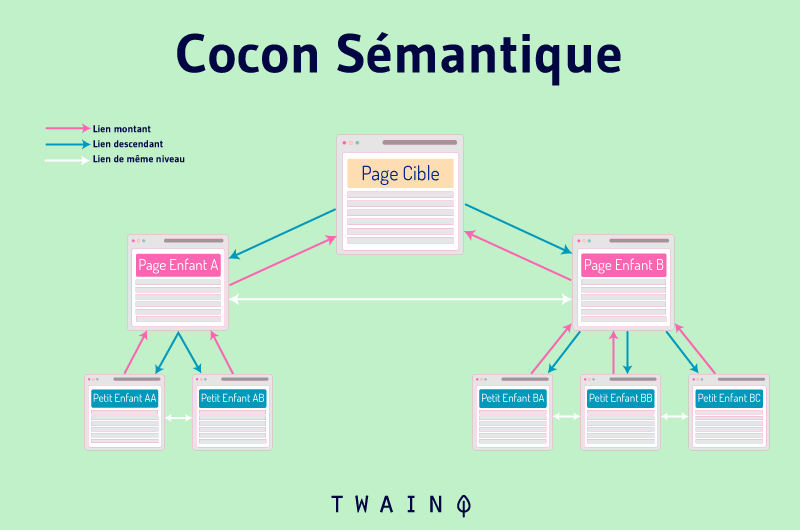 There are two main types of content in the cluster model:
Pillar content or target page: This content is the one you want to perform in the SERPs and it covers the subject extensively by targeting broader keywords;
Cluster contents or child pages: Support the target page and explain sub-topics in detail. They target more specific keywords.
The semantic cocoon method reinforces the thematic relationship between articles. This can help Google better assess the relevance of articles.
Since the internal linking is done in such a way that the target page collects all the link juice from the daughter pages, it quickly rises in authority. As the relevance as well as the authority of the page will evolve, the performance of the page in the SERPs will also evolve.
You can use this template to dedicate keyword categories that you have created. In other words, one category = 1 group of subjects: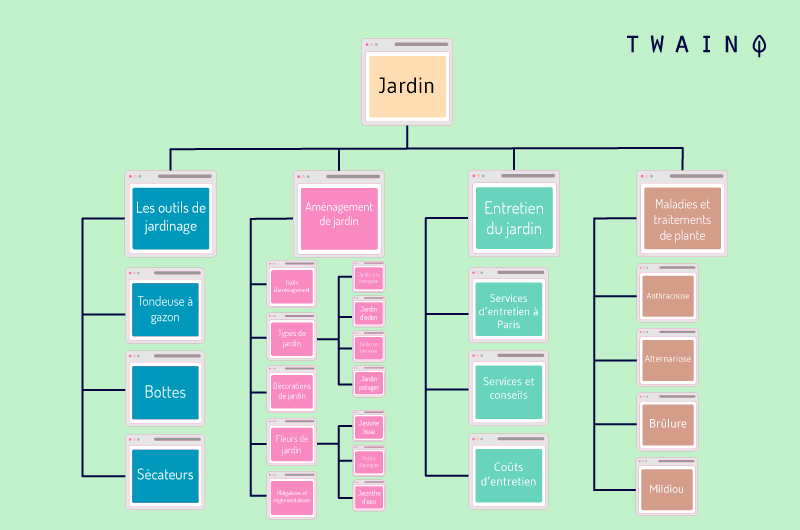 Let's take a specific example:
Suppose you have a website dedicated to gardening.
Your search for keywords allowed you to find a category of keywords called: "Landscaping". Inside you have the following keywords:
Types of garden;
Garden decoration;
Development cost;
Etc.
In this condition, your mainstay article might be a "Complete Guide to Garden Design".
You will have child pages which will bear the title:
Complete list of the different types of gardens;
How to decorate your garden;
What are the different costs of landscaping a garden.
The semantic cocoon helps you understand how people search and think on the internet.
Then, to use this knowledge to create content that covers the subject in depth and meets the needs of users.
To learn how to do the internal meshing well to make the target pages effective, consult the semantic cocoon: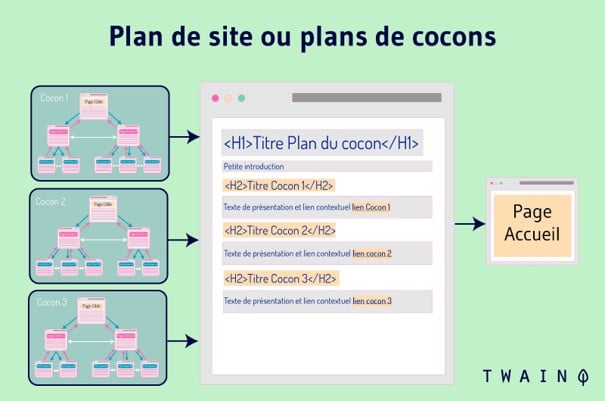 Since the content here is much less dense than the authority content, you will make sure to use certain types of keywords:
6.3. Use specific keywords in your content
6.3.1. Using Low Competition Long Tail Keywords
If your site is brand new or you want to focus 100% on non-competitive keywords.
So you're going to target long-tail keywords, which are great for child pages.
Indeed, SEO professionals generally divide keywords into three main categories: Generic, precise and the (long) tail: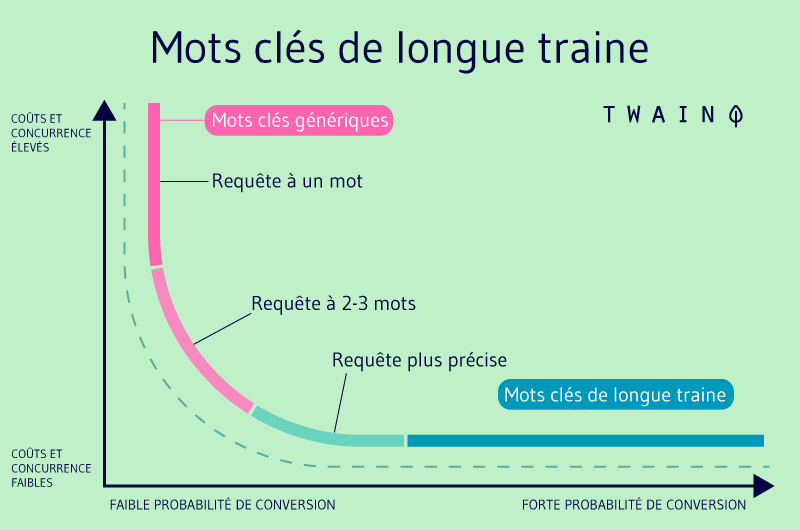 Here are some details on each type of keyword:
Generic queries
These are generally keywords- single-word keywords with a lot of search volume and likely competition.
Examples of head terms are keywords like "shoe" or "football".
While they can sometimes get you a lot of traffic, lead terms usually don't convert very well. Especially since someone looking for "shoes" can look for:
A shop selling shoes;
A soccer shoe;
Know how to choose the right shoe;
Etc.
Precise Queries
These keywords are 2-3 word terms that get decent search volume, but are more specific than generic keywords.
Keywords like "soccer shoe" or "running shoe" are examples of specific keywords.
They almost always have less competition than generic keywords.
tail queries Long
-tail keywords are phrases of 4 or more words that are usually very specific.
Phrases like "women's 42 soccer shoe" or "men's 45 running shoe" are examples of long-tail keywords.
These terms don't get a lot of individual searches, but when you add them up, the long tails make up the majority of searches online.
And since they aren't searched as much, long-tail terms aren't usually very competitive.
There is no single best category of keywords to focus on since all three have their pros and cons.
In our scheme, you can use long-tail keywords for child pages and specific and generic keywords for target pages.
Long-tail terms are generally the least competitive of the bunch. Which brings us to the second type of keywords you probably have in your list:
6.3.2. The use of LSI (Latent Semantic Indexing) keywords
In a long-form article, LSI keywords are used naturally and you don't have to worry too much about it.
Latent semantic indexing is a term that refers to keywords that are closely related to your main keyword. In other words, they often appear with your main keyword: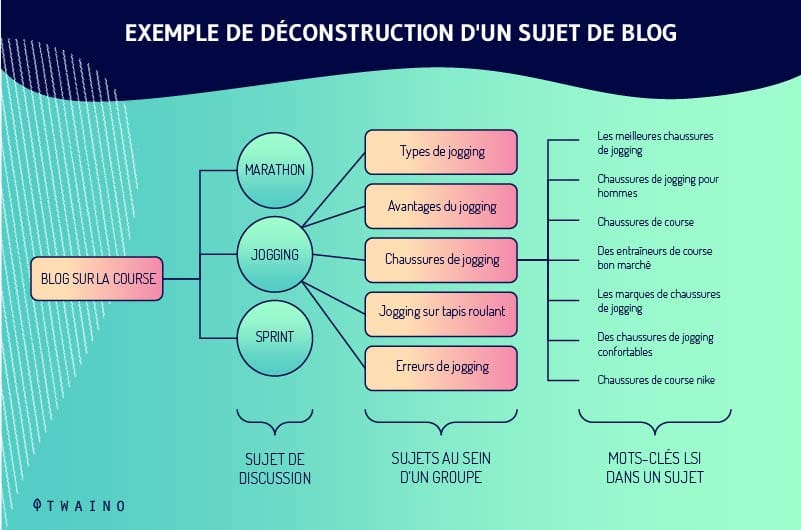 Generally, LSI keywords and long tail keywords can be confusing. While they are very different especially in the way they are used.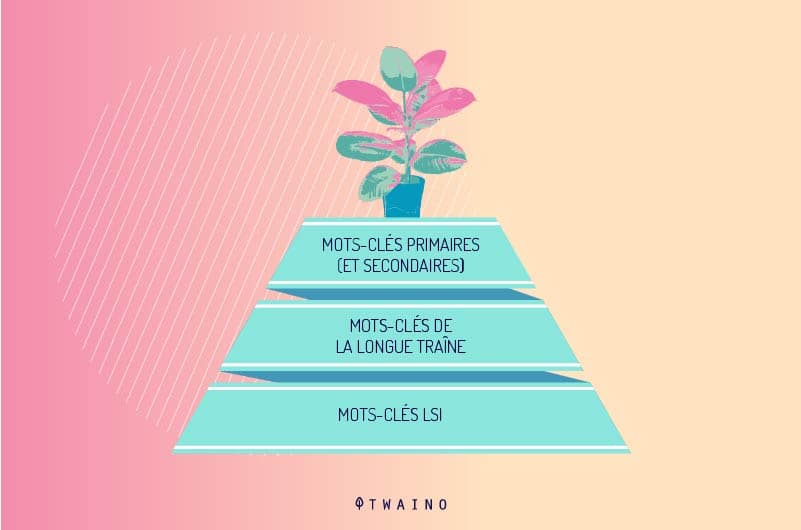 LSIs are semantically related words, while long-tail keywords tend to be stretched versions of keywords that searchers often use.
Long-tail keywords are search terms that we all use and often show a searcher's intentions (how, why, what, who, cheaper, free, etc.)
Having keywords Long tailing on an optimized website results in higher rankings for those terms, which is usually followed by increased traffic to your website.
LSI keywords, on the other hand, help search engines better understand the content of your page.
Therefore, the primary goal is not to rank for every LSI keyword you use. Rather, you are going to let Google know how well you cover a certain topic.
For example, let's say you've written an article on the subject of "landscape design".
If inside Google finds expressions like "cost of landscaping" and "steps to landscaping a garden", the search engine will first assume that you have covered the entire subject.
Thus, when a person searches for "garden landscaping", the search engine is likely to offer your content since it considers that your content can satisfy the searcher.
Google can also position you on the queries "cost of landscaping a garden" and "steps to landscaping a garden", if it finds that you have treated these aspects well.
This is how LSI keywords can help Google better understand the relevance of your content.
Let's move on to the golden rule in the use of keywords:
6.4. Use keywords in a natural way
It cannot be repeated enough, Google is constantly evolving towards understanding natural language.
You no longer need to repeat a keyword a certain number of times in your article for Google to know what topic you are talking about.
This is why you will insert a keyword if the connotation of the sentence or paragraph in which is natural.
If it is mechanical, RankBrain and BERT may understand your content less and consider it irrelevant. This will result in a drop in position or great difficulty in obtaining a good ranking.
Worse, you risk being penalized by Penguin and Panda who "hate" keyword stuffing and poor quality content: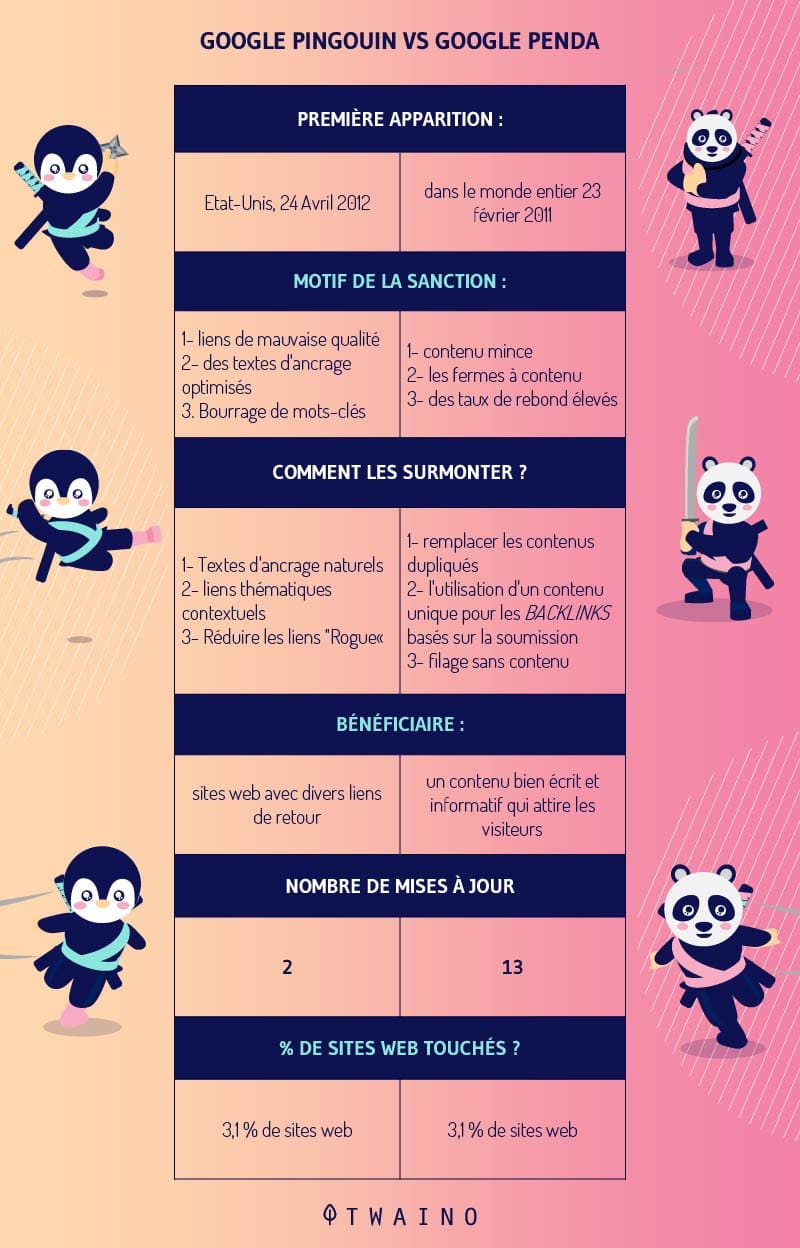 Google's algorithm helps to better understand the content and know what the content is about. page. Therefore, it is no longer necessary to use every keyword from your search.
Besides, some SEO plugins like Yoast SEO suggest the optimal keyword density.
It is important to take it only as a hint and to highlight the user experience.
Finally, let's do a little recap:
Things to do when using keywords in your content strategy:
Think of your main keywords as themes;
Write authoritative and in-depth content that covers the entire topic;
Use long-tail keywords to increase your traffic potential;
Use LSI keywords to increase the relevance of your content;
Use keywords in a natural and non-mechanical way;
User experience takes precedence over the use of keywords.
Don'ts when using keywords in your content strategy:
Stop following the 1 article = 1 keyword strategy;
No longer define the number of times your keywords must appear in your content;
Stop following keyword density recommendations;
Do not place keywords if you find that they have a mechanical connotation;
Don't stuff keywords into the text.
In order to finish this guide well, let's see some best practices that could be useful to you.
Chapter 7: Good practices for effective keyword research
In this chapter we will review some tips and good practices that complement everything we have had to say so far.
Best Practice 1: Choose the format that best suits searcher intent
The concept of search intent is critically important. Google mentions this several times in its Search Quality Evaluator Guidelines.
It is a document that allows you to understand what Google considers to be high quality content.
This is because the format in which Google chooses to display search results depends on intent and each query has a unique format.
In the keyword research process, probe the SERP for the keyword you want to target to better gauge searcher intent.
Simply put, if you want to know what kind of content your target audience wants, check out the SERPs!
Indeed, Google has had time to sufficiently assess the behavior of its users. This allows it to provide the most appropriate content for each search.
For example, let's take the search for "shoes":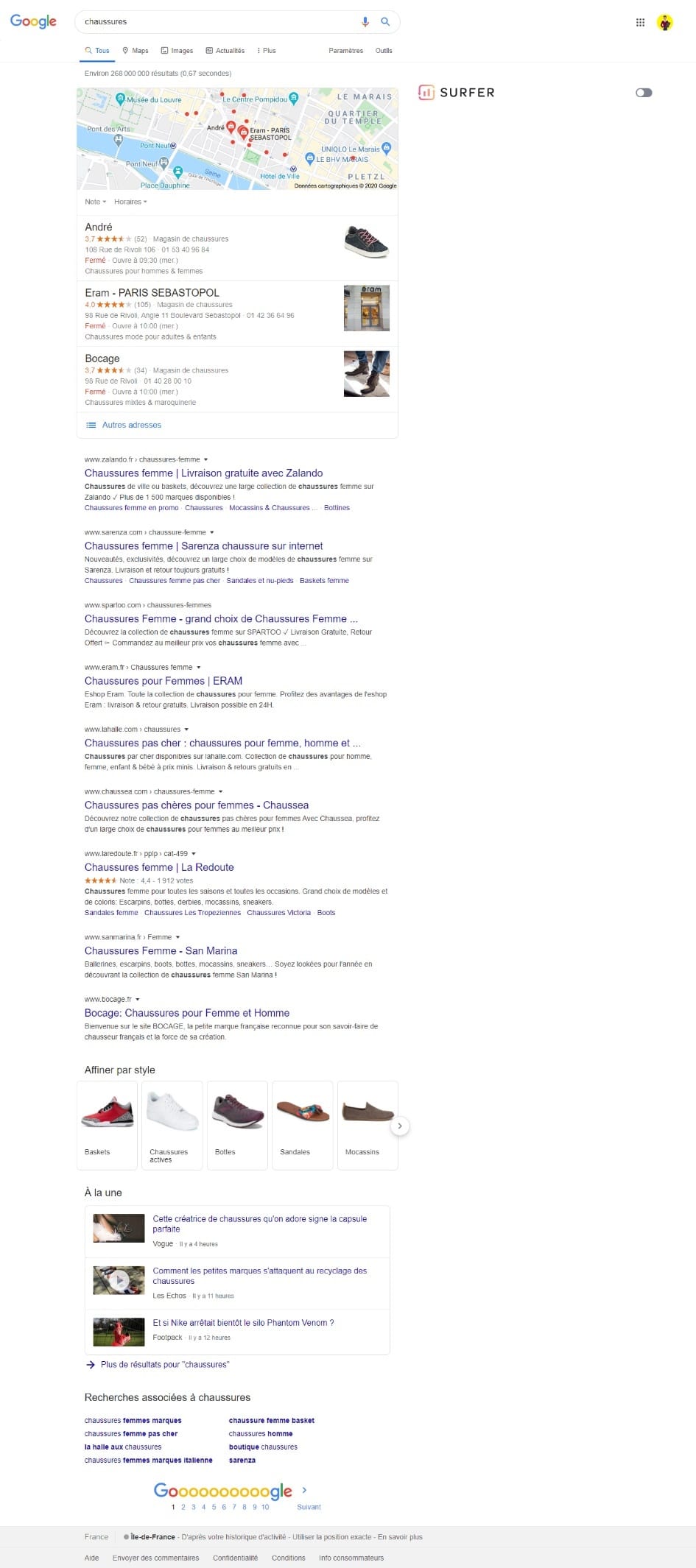 You can infer that Google has determined that many people who search for "shoes" want to buy this kind of item near their home or in an online store.
Although there are several types of requests, let's examine the broad categories of intents:
7.1.1. Information requests
With this type of request, the user needs information such as the name of the President of Spain or the steps to plant a tree: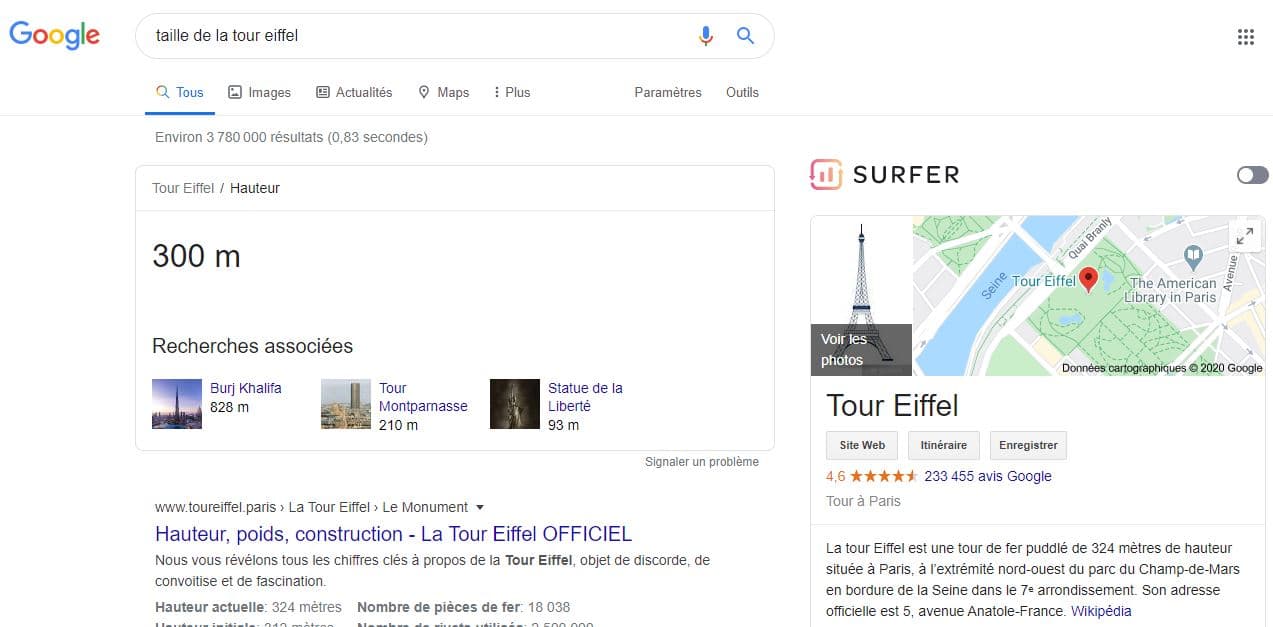 Keywords in this category are often appropriate to describe entities or create guides like the one you are reading now.
7.1.2. Navigation queries
The searcher wants to go to a particular site or webpage like the Twaino homepage or one of my articles: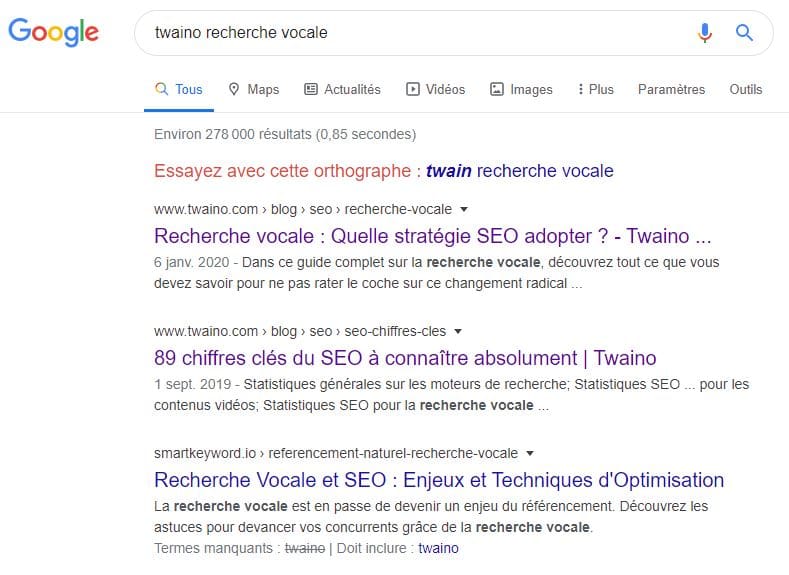 If you have keywords related to your brand, that's here you are going to use them.
7.1.3. Transactional queries
The researcher wants to make an expense, such as buying a garden haystack or booking a hotel: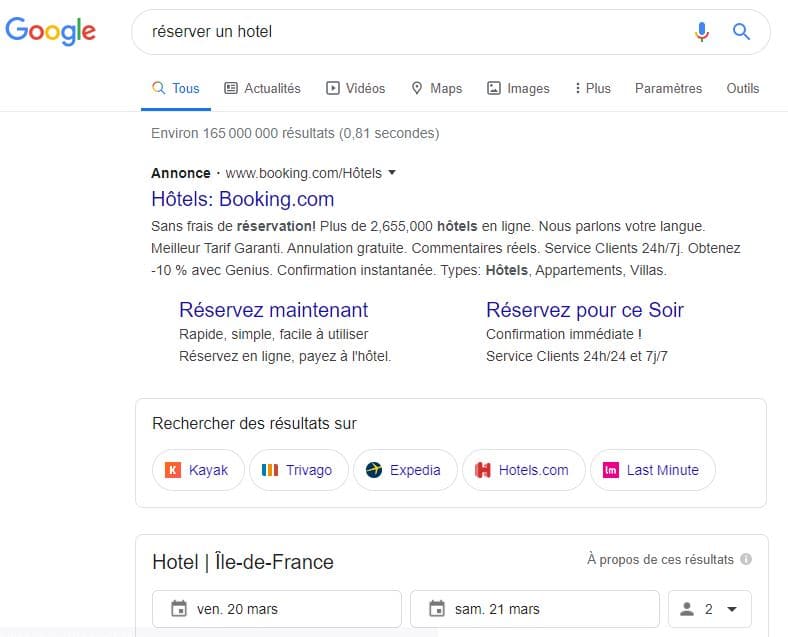 The keywords you have categorized here should allow you to present your products or the services you offer.
7.1.4. Commercial queries
At this level, the user wants to compare products and find the one that best meets their needs. For example, choosing the best mower: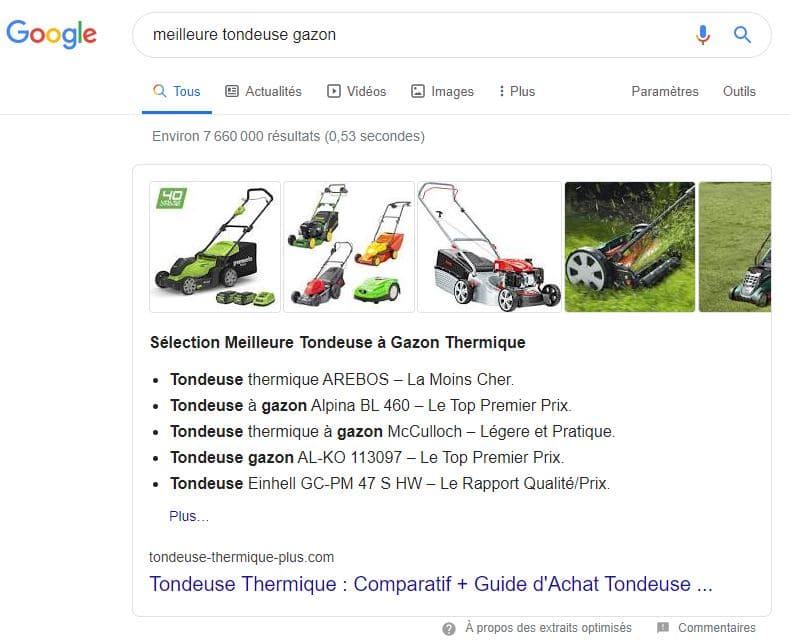 This is an opportunity to show the specifics of your products so that users can know how they are different from those offered by the competition.
7.1.5. Local queries
As one might guess, the user is trying to find something located in a geographical location, such as a restaurant or a cinema: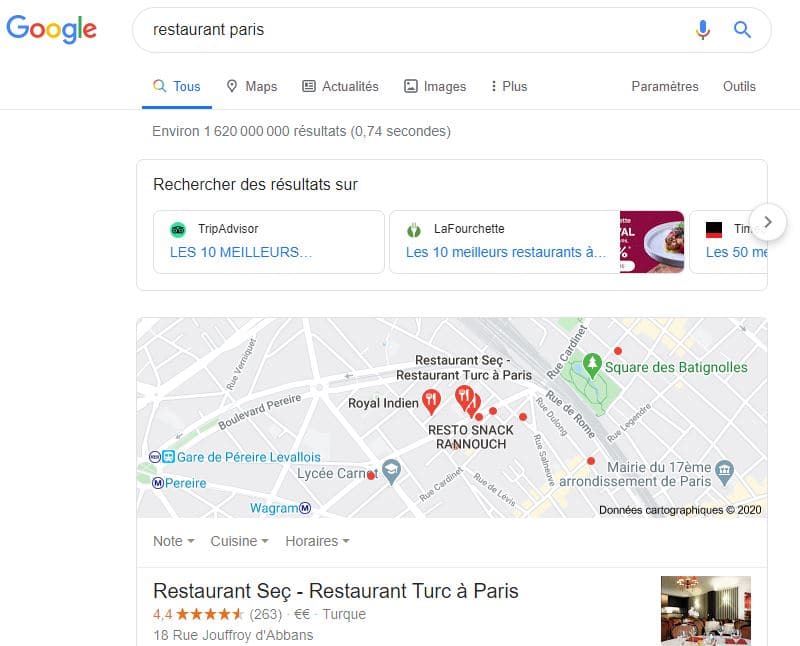 You probably already have an idea of ​​how to use the keywords in this category.
Google offers a wide range of result types depending on the query. If you want to target a keyword, check the SERP to find out what type of content you should create.
Best Practice 2: Frequently review and refine your keyword research
A thorough keyword research campaign is an important element that underpins your SEO strategy and your content creation strategy.
Like most SEO practices, this is not a one-time activity or a static document.
You should go back to your keyword research and refine it as you learn more about:
The website;
The target audience;
The company;
Etc.
Indeed, an e-commerce site can decide to add or remove products from its catalog. Or a company may decide to add a service to those it already offers.
These different actions make certain parts of Keyword Research obsolete and you need to refresh it.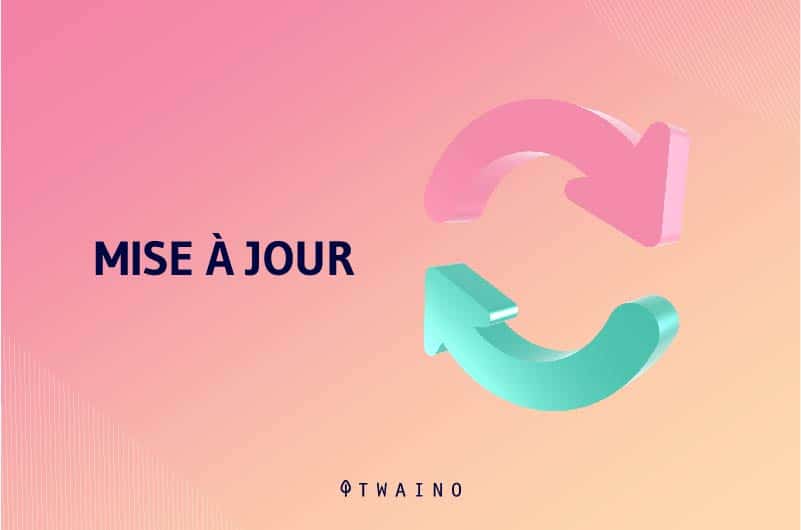 Another factor that may compel you to refresh is changing search trends.
The implementation of the featured snippet reduced the click rate on several themes. We don't know what the future holds and we will have to adapt if Google decides to add other features to the SERP.
Note that a high quality and useful keyword research should be reviewed at least quarterly to keep it up to date.
Best Practice 3: Always combine generic keywords and long-tail keywords
It is important to have a mixture of generic terms and long-tail keywords so that you can achieve your long-term objectives and without missing out on short-term gains.
Indeed, generic terms are generally much more competitive than long-tail keywords.
The former are part of a long-term strategy, unlike the latter.
In addition, it is sometimes more interesting to opt for long-tail keywords because of their tendency to convert quickly.
Someone looking for something specific is more likely to buy your product or service than someone looking for something really generic.
For example, someone searching for "men's size 42 garden boot" is more likely to make a purchase than someone searching for "garden boot".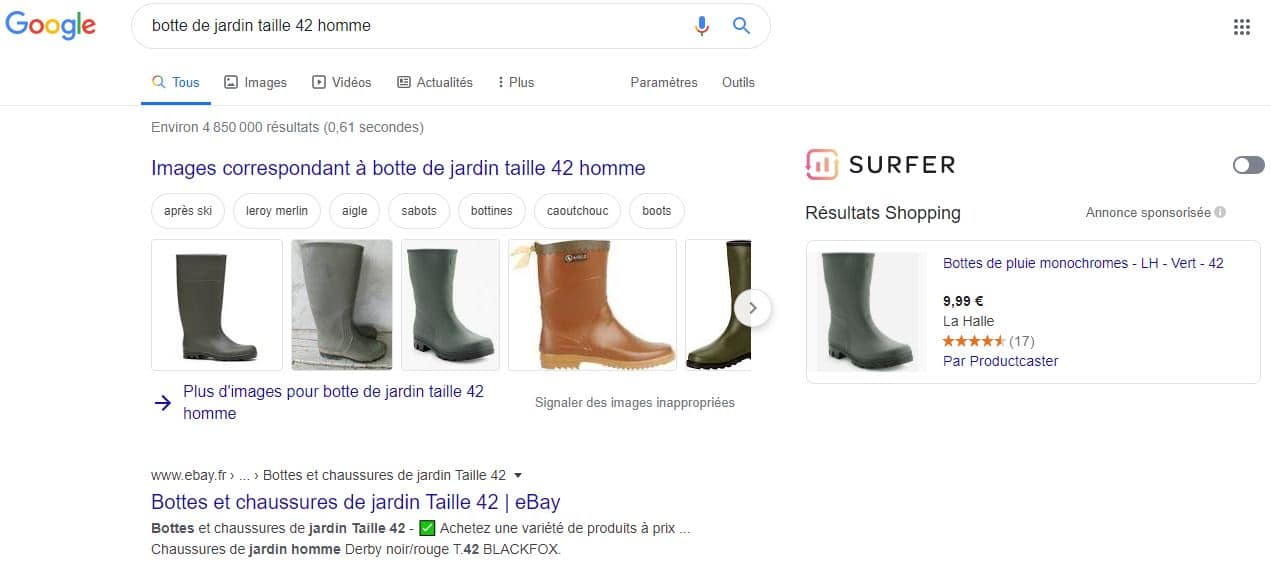 VS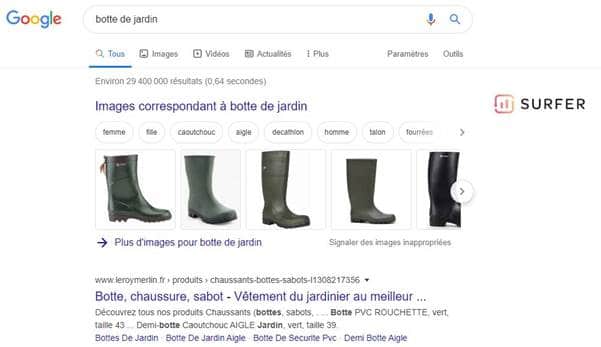 So check your keyword lists to make sure you have a good mix of generic keywords and long-tail keywords. You definitely want to get quick wins that long-tail keywords will allow you to achieve. But you should also try to position yourself on competitive terms that are more competitive over the long term.
Best Practice 4: Start with high-potential keywords
When developing your plan, start by attacking the groups of terms that offer you a definite advantage.
If you have a small website, it's important to prioritize terms that you can easily and quickly reference.
If, for example, you can improve your existing pages to better position yourself, it makes sense to start with this task.
You already know that these contents perform well and that if you improve them, you will allow them to occupy better positions or convert much more.
Finish with them before you start creating other content to try to position yourself on other keywords.
Generally, Google takes several days to position content. Getting it to the top positions still takes much longer, from weeks to months.
Starting with content that Google already considers to be of high quality should bring you results in the short term.
That said, if you don't currently have a page on your site for a large group of keywords, you can prioritize developing a plan for content creation.
Good practice 5: Use the advanced functions of Google Sheets or MS Excel
Knowing the advanced functions of Google Sheets or MS Excel can save you a lot of time when analyzing your keywords.
I will probably create a complete guide on the subject to allow you to use the spreadsheets in your various analyses.
For now, you can follow these YouTube channels which offer very useful tutorials. Note that Google Sheets and Excel are almost the same and you can use the formulas in either.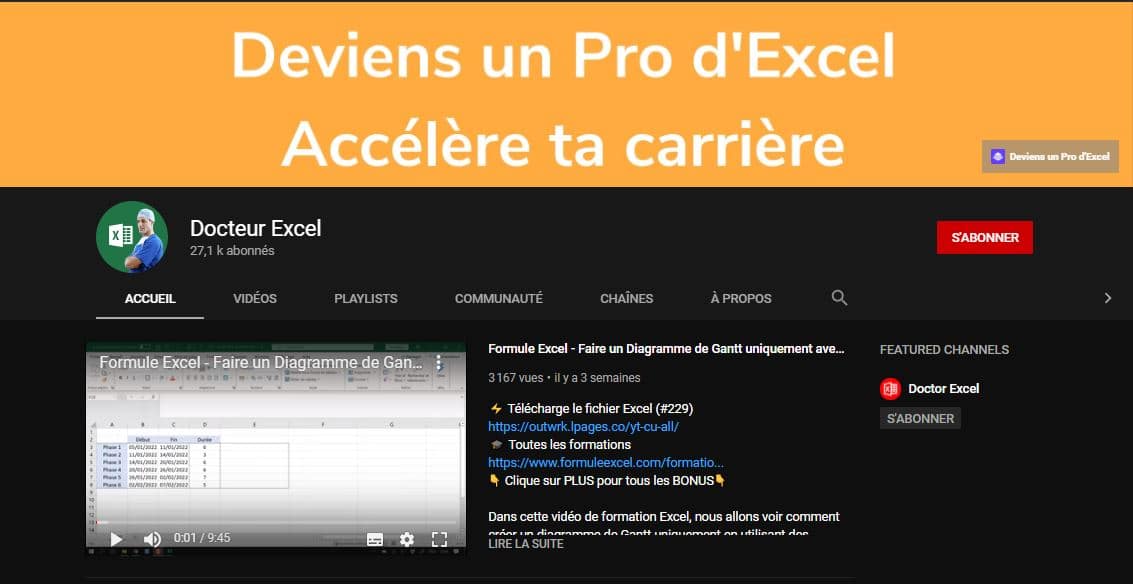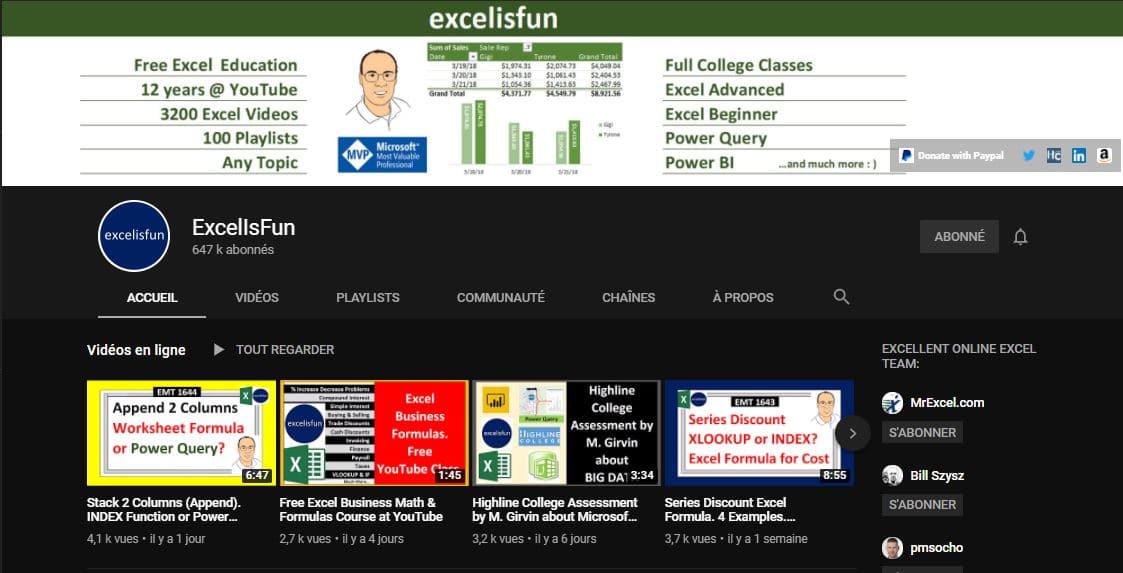 And that's it, we're at the end of tips that can help you perfect your keyword research campaign.
Conclusion: Keyword Research – The First Step to Google's
Top Positions Occupying the top positions in the SERPs is absolutely no easy task. And this, even if the principle remains fundamentally quite simplistic: Satisfy Google users with better quality content.
Indeed, we are currently in a pattern where Google only likes you if its users like you: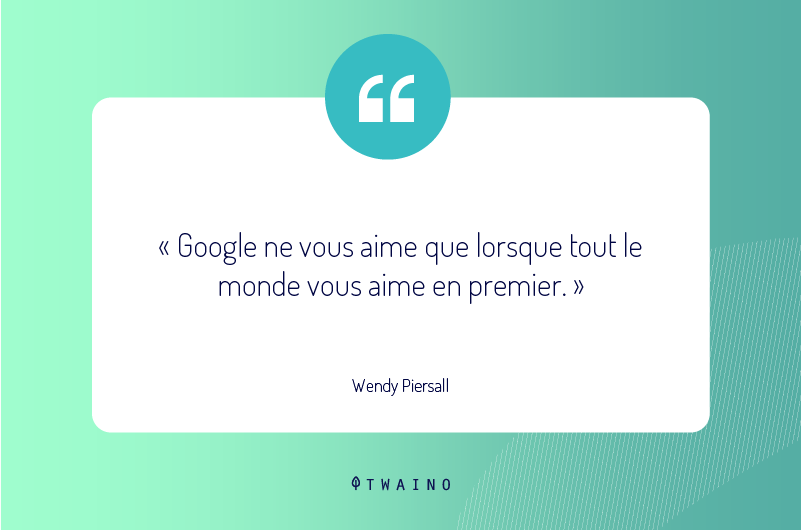 With this in mind, you must try to understand your target audience in order to know the terms and expressions they use to find answers on search engines. of research.
It is within this framework that the search for keywords which makes it possible to discover the terms that Internet users use to find the content / products / services that you offer.
This same process also allows you to detect search intent, which is a concept that Google now attaches great importance to.
In its early days, keyword research and usage was limited to finding keywords and inserting them into content.
But as Google standards have evolved, keyword research and search intent have become two inseparable concepts.
After finding your keywords, you need to understand what users expect to find as answers when they type them into a search engine.
This way, you will know the type of content or page to create to satisfy them.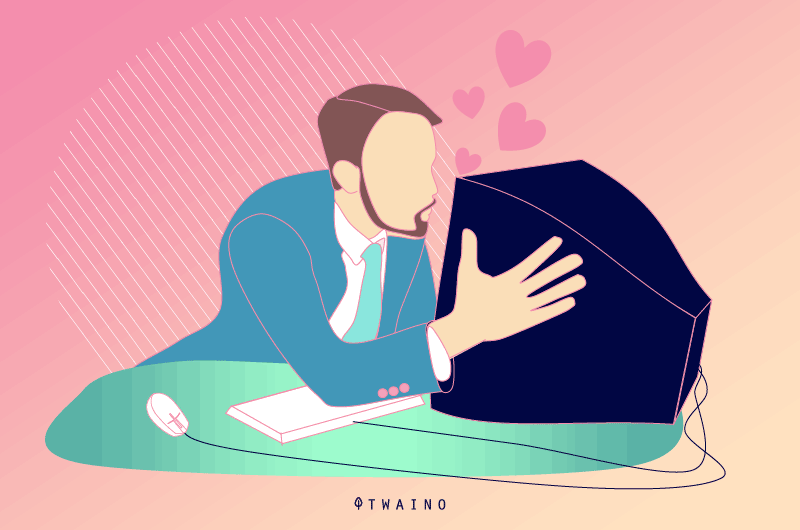 In this guide, we've covered all the steps that come into play when doing keyword research. You also have tips and techniques that allow you to correctly use the terms that you consider to be relevant.
It is up to you to implement them, but remember to always stay natural to provide an optimal user experience.
I am convinced that this way, you will create content / pages that are really relevant to your audience and that will perform in the SERPs.
Do you have other interesting tips, do not hesitate to share them with me!
See you soon !