International SEO refers to all optimization practices aimed at generating traffic for a website from foreign countries. It can include traditional SEO techniques followed by some adjustments to improve the visibility of the site in several languages or in several regions of the world
Did you know that 4 out of 10 consumers in the world would only buy a product or service if it is presented in their native language?
These figures prove the importance of adding international SEO to your current marketing strategy if you serve customers in several countries or if you are looking for customers in a foreign language
So,
What is international SEO?

Why is it important?

How to implement international SEO strategies?

What are the tools to help with international SEO?
So many questions to develop throughout this mini guide to help you understand international SEO and optimize your site to gain customers abroad
Chapter 1: What do you need to know about international SEO?
Before we introduce you to the different optimization techniques for international SEO, it will be helpful to review some of the basics of the concept
1.1) What is international SEO?
International SEO brings together all the SEO techniques aimed at improving the organic traffic of a website from several countries. In other words, it is optimizing your website enough for search engines to offer it as a search result to users located in other countries or speaking foreign languages.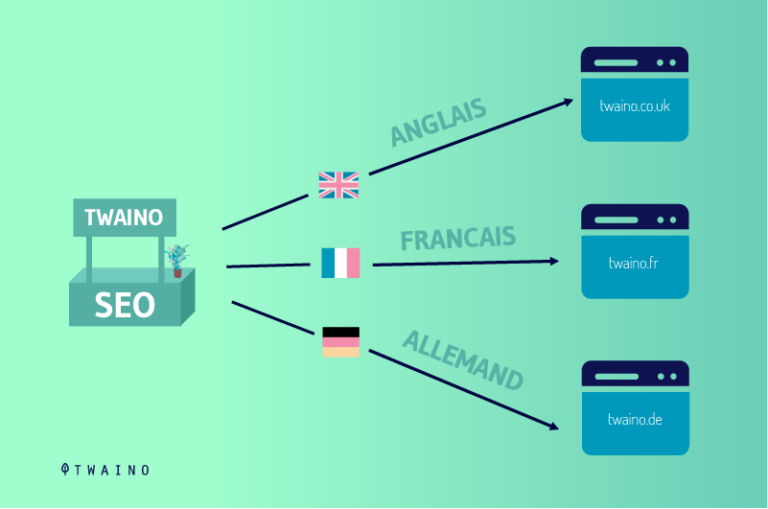 This SEO technique essentially provides you with opportunities to expand your audience base on a language basis.
In international SEO, there are essentially two SEO techniques:
Multilingual SEO

this type of SEO generates organic traffic from several languages. If you are targeting the French with a website in English or Spanish, you will certainly need multilingual SEO;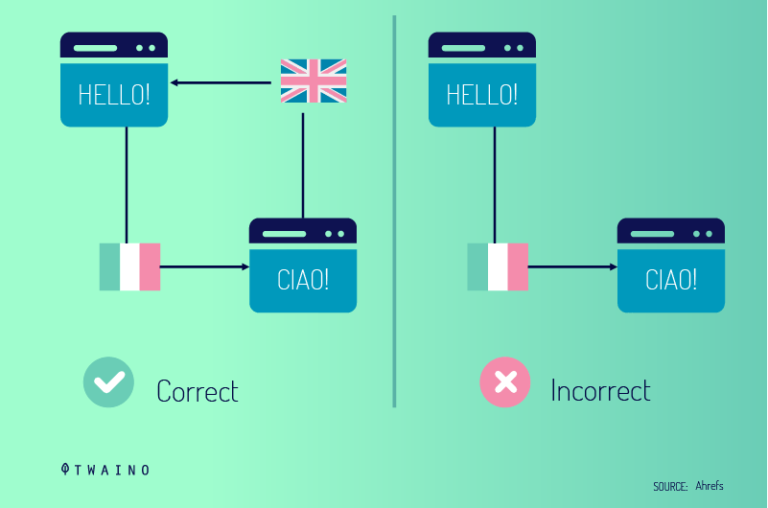 Multi-regional SEO

multi-regional SEO: This type of SEO targets people in different countries who speak the same language. For example, targeting the US, UK and Brazil with an English website.
1.2) How does international SEO work?
Google's algorithm can automatically determine if a website or webpage has alternative versions. But as Google admits but as Google itself admits, it is better to inform Google of the variations.
The way international SEO works is that search engines match search results to the language and region of the user when they make a query.
To do this, search engines rely on specific signals, such as hreflang tags and other localization techniques, to provide users with content they can read and understand easily.
That is, when you have a website with content in different languages, search engines choose the version that matches the user's language to display as part of the response to their query.
1.3. What is the difference between local SEO and global SEO?
Global SEO focuses on targeting key phrases and traffic in a broader environment
This means that you are trying to attract the attention of potential customers from all over the world to your website.
There are some very obvious benefits to this strategy, including the huge potential sales if you can provide the product or service to people who are not in an area from which they can physically get to your store
But you will also face global competition with this type of SEO
As for local SEO, the level of competition for the products you sell on the website is limited only to your locality
This means that if you own a physical store with a specific location in a city, you can optimize your site so that Google's algorithm will offer it to users who search for your services in that specific area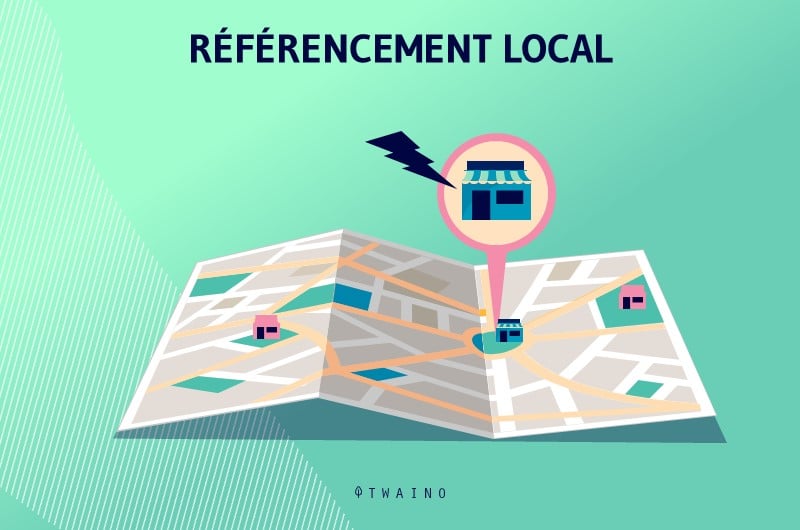 So, if you also sell certain products online, people in that area will be able to see you and buy from you.
If you are targeting potential customers outside of your store's physical region, the localization effort or local SEO cannot help you rank globally
Global SEO focuses on generic keywords on a large scale to be able to drive traffic to a website
Chapter 2: Top 6 Benefits of International SEO
Here are 6 reasons why you should invest in international SEO
2.1. Customers tend to search for products and services in their own language
Most people in a country are usually used to searching for a product, service or information in their native language.
One study showed that 42% of respondents in the EU never use other languages when searching for products and services online
This is quite reasonable because purchasing products or services from foreign sites can result in expensive shipping costs and extended delivery times, or services not available in the user's home country.
When you target a specific language, you will also have the ease of communicating with your consumers in their own language.
2.2. International SEO builds brand credibility
As a business, being a trusted brand is crucial to generating revenue. Your products or services may be the best, but if your brand doesn't inspire confidence in customers, they will simply move to your competitors.
Localizing your content online and making sure it is perfectly optimized to automatically provide relevant information to users in their own language is a signal of a good user experience.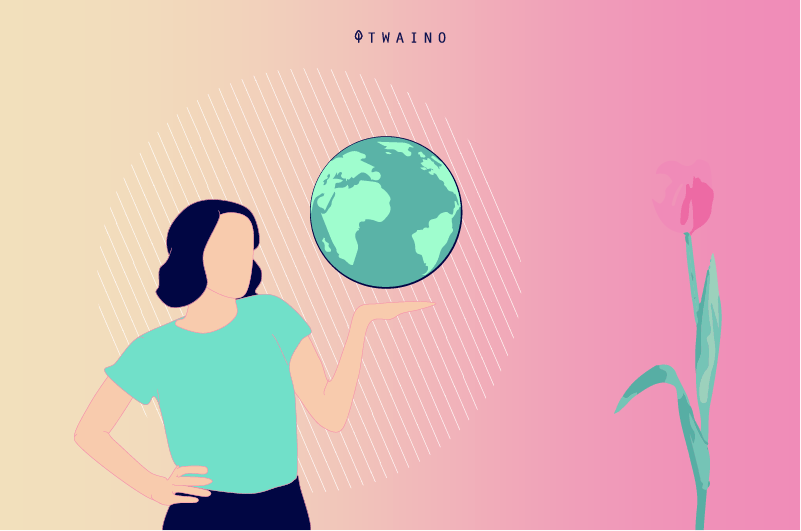 Making your content easily accessible to your customers in this way makes them feel good about your brand and more likely to buy your products or services.
2.3. SEO generates a higher conversion rate than traditional marketing channels
If you thought SEO was an inadequate tool, channeling an insignificant number of additional leads to your website, you might want to read this
Statistics show that online content optimized for SEO generates a conversion rate of 14,6%as opposed to the 1.7% conversion rate of traditional marketing channels
This means that the number of leads that come to a website from SEO and make a purchase is more than 8 times that of traditional strategies.
The explanation is simple: SEO, being a pull strategy rather than a push strategy, generates leads that are already interested in learning more and may already be interested in buying a certain product or service
Thus, optimizing translated content for SEO is an effective way to take advantage of global competition with a growing customer base, which means faster revenue growth.
2.4. Reach new audiences around the world
International SEO allows your business to gain audiences around the world by expanding your business' reach across many countries at once.
If you have a business ready to be recognized as a global brand, you need to include international SEO in your marketing strategy.
2.5. Acquire massive organic traffic
Most websites often target audiences only in their home country, which is like settling for traffic from a single country
Depending on the reach of your business, you can target as many countries as possible to acquire more organic traffic to your brand.
The US market for example is very competitive, but it is relatively easier to acquire traffic from other countries
Therefore, a carefully planned global SEO strategy is one of the best ways to increase the organic traffic your website can generate.
2.6. Become an international brand
Becoming a reputable international brand is a big challenge. But with powerful international SEO strategies, your brand can evolve to rule the global market like Amazon.
An international brand sells in multiple countries, so it must adapt to different cultures
International SEO strives to improve the usability of your website, focuses on native language-based content marketing, and implements CRO (Conversion Rate Optimization) strategies to acquire and convert good customers.
And, when combined with reputation management, SEO also helps manage your company's reputation internationally.
Chapter 3: How to do international SEO?
International SEO can refer to an extension of your content marketing strategy for an international audience
When done right, it can provide a seamless user experience for visitors from different languages, so they automatically see your site in their target language.
There are two different aspects of international SEO that website owners need to consider when developing an overall strategy
You can focus on the technical aspects of the website, also known as technical SEO
Structure

Coding

Tags;

And the hierarchy
The second aspect is to focus on:
Content

The keywords

Readability ;

And quality
For best results, you should adopt both techniques. Any multilingual SEO strategy should take into account:
The target markets that are important;

Cultural differences within and between these markets;

The search and browsing behaviors within those markets

Where people get information about your industry in that market;

The competitive landscape in that market.
Once you know how you will grow and where you are ready to start optimizing your website. Here is a step-by-step process to get started with multilingual SEO.
3.1. identify your target customers
To define your strategy, you need to know where to start, this is the basic requirement to define your goal and priority.
You need to know the potential of your website for different international markets
To start, identify your current international organic search result. It includes your visibility, traffic and conversion rates.
Now, there can be two reasons to target international SEO.
First, it will help you grow globally;

Secondly, you will start attracting international visitors to your website.
You need to identify the countries where your website is well received. Also, the languages that bring more organic traffic.
Identify the keywords, pages and links that have attracted people to these markets. However, a particular keyword may not work well in global markets. Also check the conversion volume from each of these markets.
3.2. Research region-specific keywords
An even more important point for any international SEO effort is researching which keywords to target.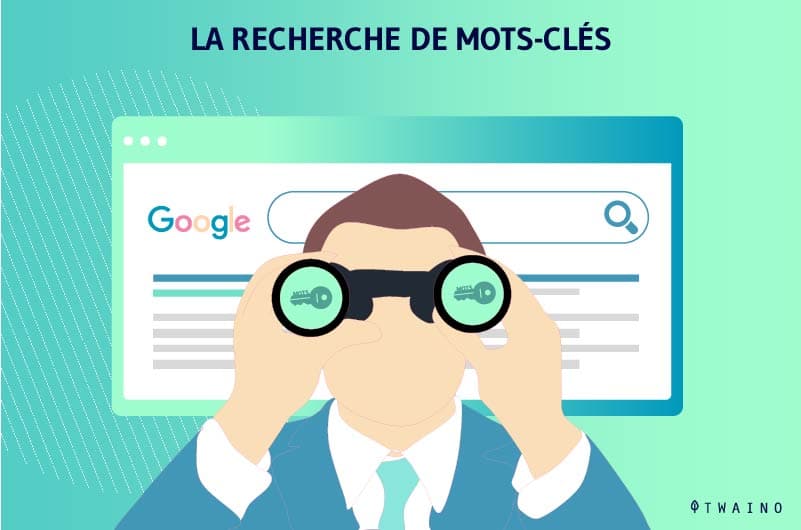 The best way to rank on search engines, regardless of the countries you want to rank in, is to target a specific audience to your content.
Successful international SEO requires using keywords in your content that are tailored to specific countries. This also applies to local SEO.
A direct translation of a given word or phrase may be technically correct, but if that's not the way people type the term into Google, you're unlikely to generate traffic for those keywords
If you are targeting Germany, for example, you need to know how Germans talk about your product or industry
This comes into play in the keyword research phase with tools such as:
Google Keyword Planner ;

Ahrefs

SEMrush

Moz ;

Etc.
Just as you do your keyword research in your native language taking into account your target audience, what they are looking for and how they search, you should also do the same for each market
It won't be a matter of systematically targeting the keywords in your current SEO strategy because similar words may well have very different meanings in another language.
3.3. Use dedicated URLs for each targeted language
Once you know your markets and the key terms to optimize, it's important to prepare your website structure for multilingual content
Focus on the languages, rather than the countries, of a given market, as multilingual speakers exist in every country.
Without adapting the structure of your website, you risk creating a duplicate content problem. This is when Google registers two or more pages with content that is too similar even though each is written in a different language
This is a problem because Google won't know which article to choose for the given keyword, which means that website owners can suffer penalties leading to a loss of traffic and ranking.
Avoid this by adjusting the URL structure you use by language. Site structure is the foundation of any proper international SEO strategy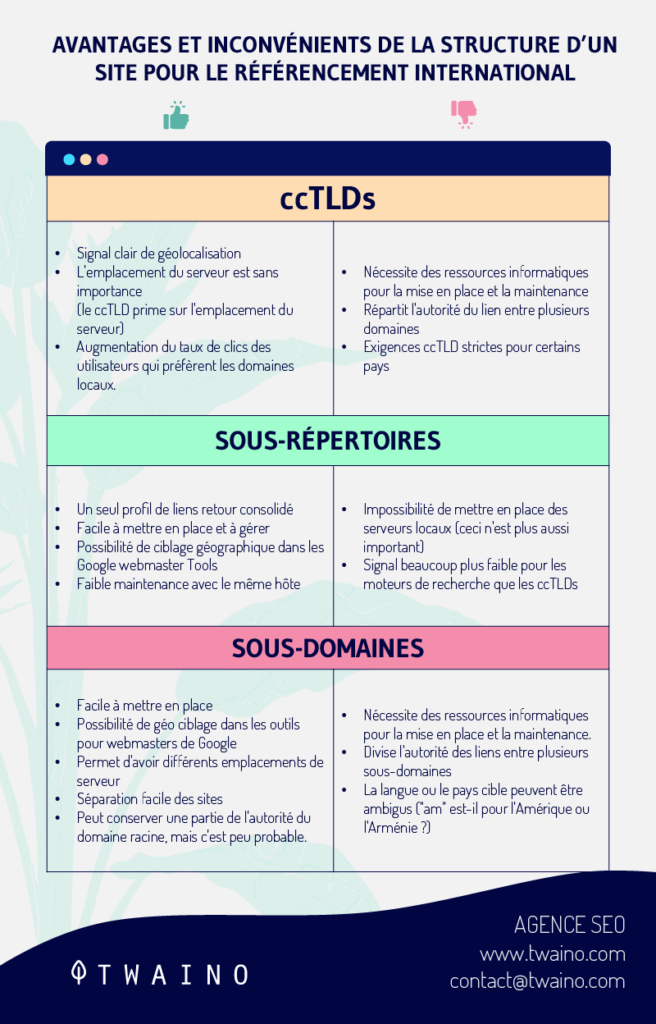 You have several options when it comes to site structure for international SEO.
ccTLD "Country Code Top Level Domains"
This is an increasingly popular strategy used to separate sites with a two-letter code to assign a different domain name to each language version, such as
yourwebsite.de

yourwebsite.es

yourwebsite.com

And so on
This makes the geographic targeting clearer and automatically redirects the searcher to the appropriate version of your site
However, this option is primarily intended to target a specific country, rather than a language, and requires a greater financial investment.
gTLD "Generic Top Level Domains" with sub-domains
This is similar to site.de, site.es or site.uk, which differentiate specific languages within an international site
This is another way to easily separate your sites, but it may be more difficult for users to distinguish between languages.
Also known as subdirectories, this is another popular option, although it can make separating your sites a little more difficult
This strategy takes the same host site, .com for example, and uses a sitemap to create a language network within the site.
It looks like yoursite.com/de, yoursite.com/es or yoursite.com/uk. The biggest drawback to this approach is that it is not as clear to search engines, although of the three options, it is the easiest to maintain.
3.4. Build a link network with international link building
An often overlooked element of international SEO is link building. Like traditional SEO, you will need to build a network of internal and external links that show the relevance of your content to search engines.
3.4.1. Internal links
Internal link building is relatively easy since you can control it. It would always make more sense to link elements of your site, whether it is products, services or more information on a particular topic in another blog post.
For international SEO, it would be better to link to translated pages in different languages, otherwise it will create a bad user experience.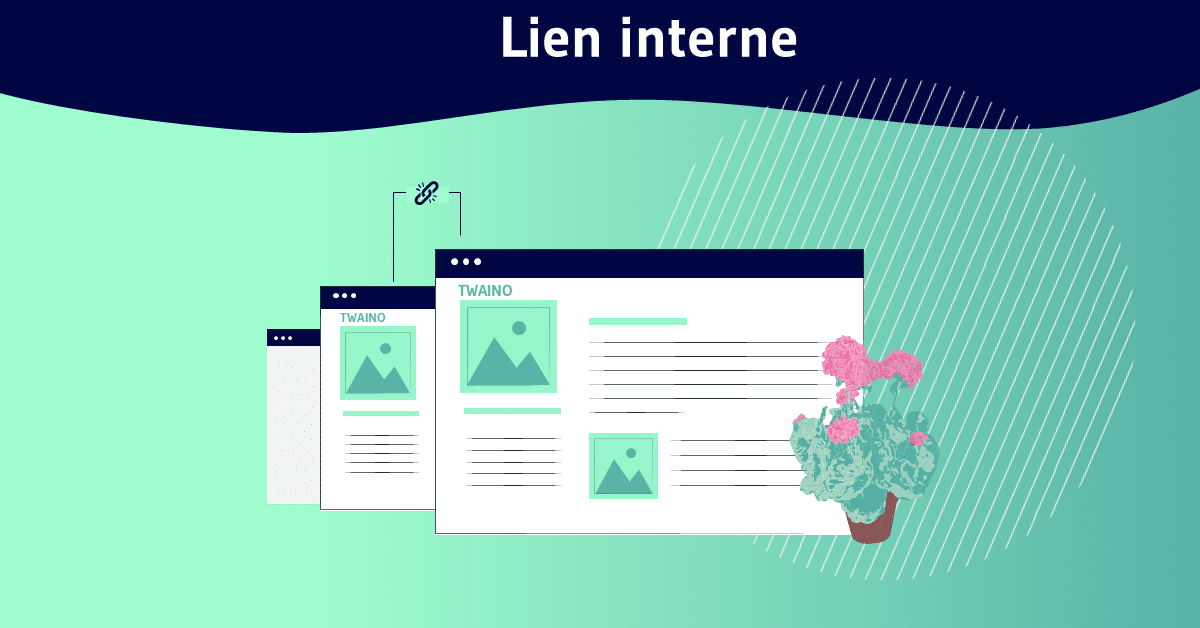 The most important thing to keep in mind with internal linking is to make it natural and relevant to the reader, whether it is
Citing a statistic with an internal search

Including links to product pages

Help documentation or other related articles.
3.4.2. External links
Compared to internal links, building external links requires a little more effort
In your international SEO campaign, you should determine the most valuable and relevant websites and publications from which you want to receive links before you begin outreach.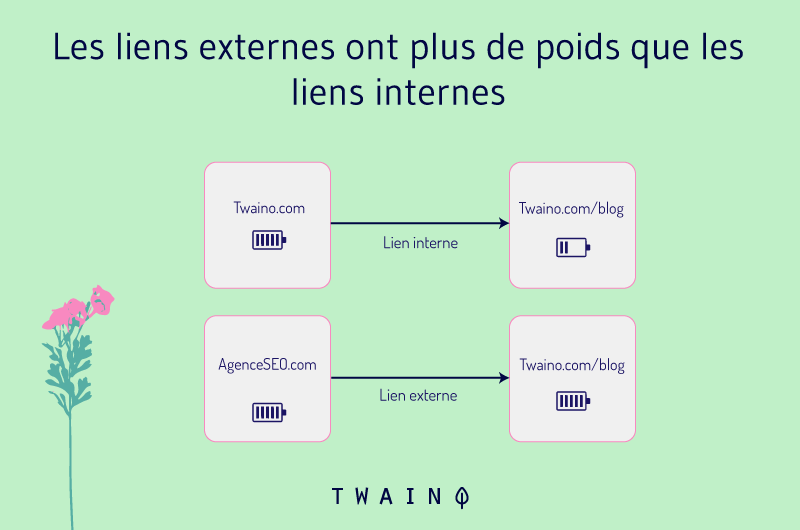 Building external links requires patience and relationships with partners and customers. To get started:
Identify key partners, media outlets and customers with enough reach in your target market to make it a high-quality link. One way to do this is to track mentions of your brand or competitors on social networks and in your target markets ;

Write an email template that introduces your product or service and why your content is worth linking to, which relates to each language you are targeting
You will use this in your communication with website owners when requesting links
Note that each market may have different cultural norms for communication, so be sure to research beforehand who you can work well with when requesting a link.
Work with partners in your target markets to create content together, referring links to each other
This may take more effort, but the quality will be much higher, especially if you both localize your content to the same target markets.
3.5. Maintain the quality of your content, regardless of the language
Keep in mind that you should always write for people and prioritize their reading experience
After updating the BERTupdate, Google's algorithm has become more powerful in terms of understanding semantics and context, which means you need to focus on quality and white hat SEO practices
Multilingual SEO requires a dedicated localization strategy and translators are an essential part of the process.
To do this, you need to leverage an effective and easy-to-use translation management system (TMS)
A translation management system is a software tool that supports the management and automation of the translation process
It helps organize the localization workflow, track the progress of translation projects and reduce text through automation.
To maintain the quality of your blog, regardless of language, you need to consider the entire user experience
The best way to do this is to use a TMS that gives you the ability to tailor your blog and web page design to each language
3.6. Adding hreflang tags
Once you've decided how you're going to organize your URLs, add hreflang tags to tell Google and other search engines which languages a given piece of content is available in
The hreflang tags are a way to allow search engines to understand the language you are using on a given page, which creates a map showing where to send users based on their browser language
Then they are directed to the correct content URL based on their preferred language or region.
If you plan to use hreflang tags, make sure every piece of content on your website contains them, from your navigation pages to your sitemap
To do this, add hreflang tags to your site's or XML map in the HTML code. Each available language variant should have its own line of code, including the native language version of the page. The general format looks like this:
When no language matches, use hreflang="x-default". This is not supposed to be set on your home domain, but only if you have no translated content available for that content.
3.7. Don't just translate
Your international website should not just be a collection of translations of your main content into a few languages.
Typically, each region and culture responds to different content, designs, color schemes, images, etc.
For your website to work best with each region, culture and language, your local pages must contain original material that appeals to different cultures.
In addition, it is important to consider that a design must be specific to each region. It is not only the content of your website that is culturally sensitive, but the way you present it is also an important factor of appreciation
The meaning of colors changes with country, culture and religion. Therefore, you should carefully consider your color scheme before you start designing your website.
Navigation is another one of the most notable issues. Some cultures read from left to right, some from right to left, some vertically. All of this must be taken into account when designing your navigation systems.
3.8. Think about the mobile version of your website
Google has announced that it is now rolling out "Mobile First", which means that it will crawl and index the mobile version of your website first before thinking about the desktop version
If you have a mobile website, you need to make sure it's not just a scaled-down version of the desktop version.
If, like most websites these days, your website is responsive, you won't have many problems with this
However, make sure that your website still provides a great user experience on mobile, with no hidden elements, no pop-ups that cover the entire mobile screen, and most importantly, that the mobile page load speed is good. Otherwise, you could lose rankings and traffic
Also consider which mobile devices are most popular in different countries and test how your website performs on those devices.
Chapter 4: Some tools to improve your international SEO strategy
If you're just getting started with defining your international SEO strategy or are looking for tips on how to improve your existing SEO, here are some effective tools you can use.
4.1. search engine optimization tools
Before you jump into this world of internationalization, you need to establish a fairly solid foundation for your overall strategy which should include at a minimum
Keyword research

Trend analysis.
And to do all this, here is a list of popular and effective tools you can use: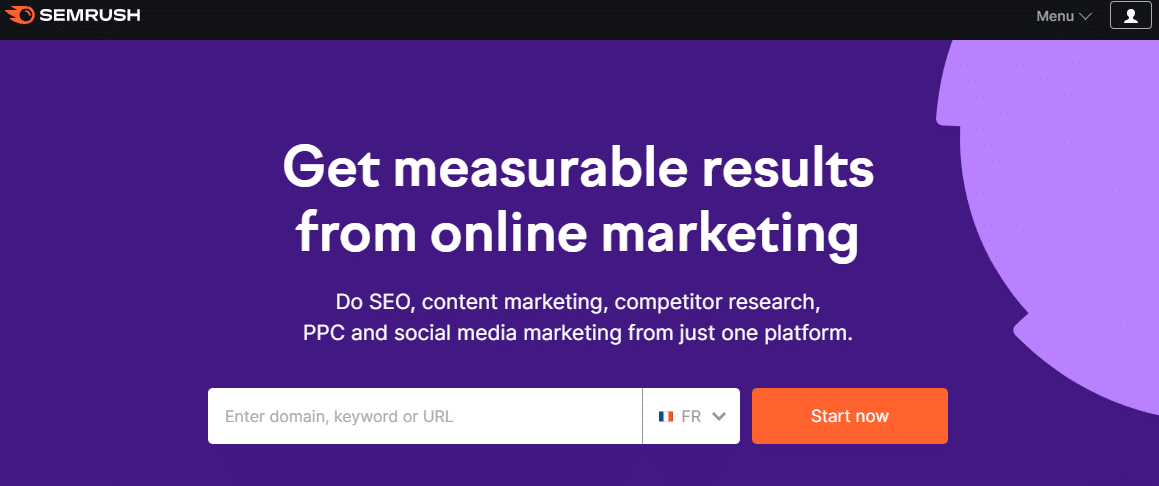 Giving access to 20 billion keywords in 130 countries, SEMrush is a popular tool that allows you to discover relevant keywords for searches.
This very advanced and useful tool allows you to quickly identify your competitors and outrank them in the search results.
In addition, you can track keywords in your target language or view historical rankings in your target market.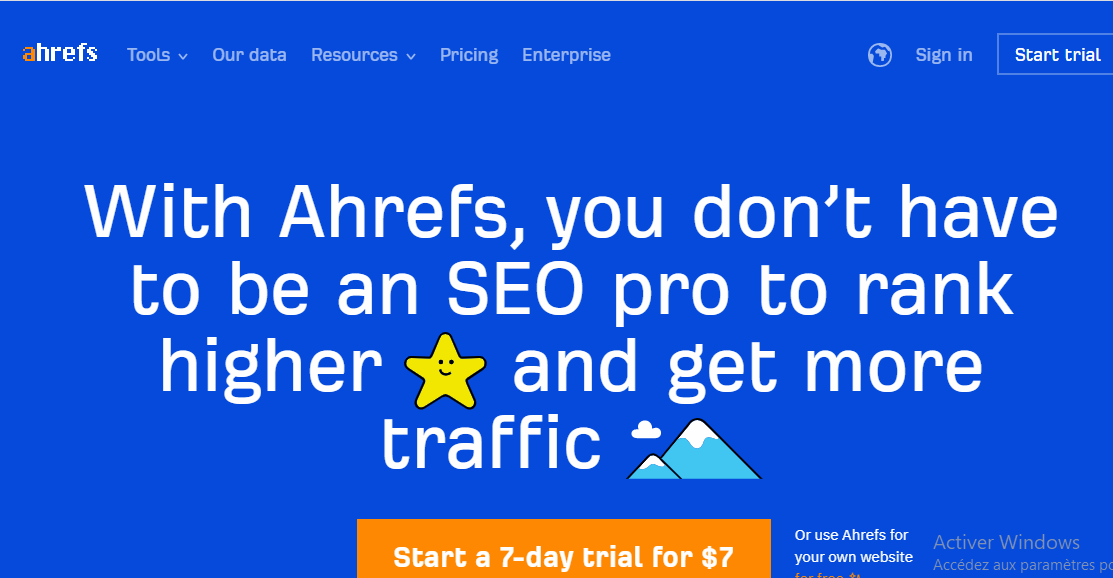 Ahrefs is a toolkit that gives webmasters the ability to perform site audits and research on competitors and keywords.
In terms of backlink analysis, Ahrefs is an excellent tool that allows you to discover the sources from which your site attracts more backlinks.
The tool also offers another interesting feature that allows you to compare your backlinks to those of your competitors
Being a tracking tool, Google search console is the best source of your website's evolution data.
This tool shows you how you rank for certain keywords, user behavior and includes the clicks you earn.
Google search Console allows you to filter your data to see how it is performing by location and some keywords you can optimize for.

Like SEM and Ahrefs, Moz is a well-regarded, but older SEO tool.
This comprehensive SEO analysis tool allows you to fully understand the competitive aspect of search results.
For most online marketers, this is the best tool that can help you know your position in the competition.
4.2. tools for tracking your SEO strategy
After leveraging search tools to better understand your competitive rankings in your target market, you should also think about tools that can help you execute your strategy.
As described above, an important part of this execution is to properly configure your hreflang tags or sitemap, especially when you have pages in multiple languages
This allows Google to provide the correct version of your website to users based on their language or region
For this, it is therefore wise to explore tools to help you validate your hreflang tags or sitemap
4.3. Tools to track your SEO results
If you are implementing a global SEO strategy, it is important to track the progress of your strategy by analyzing keyword rankings and traffic
In summary
International SEO is an important step that can build your brand's authority abroad
However, to really take advantage of international SEO, it is important to have a solid SEO strategy in place. This requires time, but also the use of certain tools, both paid and free
In this article, we were able to provide a complete definition of international SEO with a chronological list of techniques to use to optimize your website to conquer foreign markets.
I hope this content was useful to you and if you have any questions or other SEO tools to suggest to complete the list, feel free to mention them in comments
Thanks and see you soon!