Local SEO or local referencing refers to all SEO techniques aimed exclusively at improving the ranking of a site, a web application or an establishment in the search results (SERP) after a local query.
Did you know that? 75% of all global smartphone queries have local intent and result in a physical visit within 24 hours.
In other words, more than 7 out of 10 people who initiate a local search on their phones end up visiting a found business within the same day
That's a pretty impressive number, and it speaks to the necessity of local SEO for any business that operates in a specific geographic area.
But in concrete terms,
What is local SEO?

What is the difference between local SEO and organic SEO?

And how to succeed in local SEO for a better visibility of your business in your locality?
These are the three main questions around which this article will revolve, I invite you to pay attention.
Chapter 1: The basics to understand local SEO ?
In this chapter, we will discuss in depth the local SEO and its different optimization techniques
To do so, it is important to understand some basic concepts:
1.1. what is local search?
We talk about local search, when a user types a query on a search engine to look for a product or a service in a specific area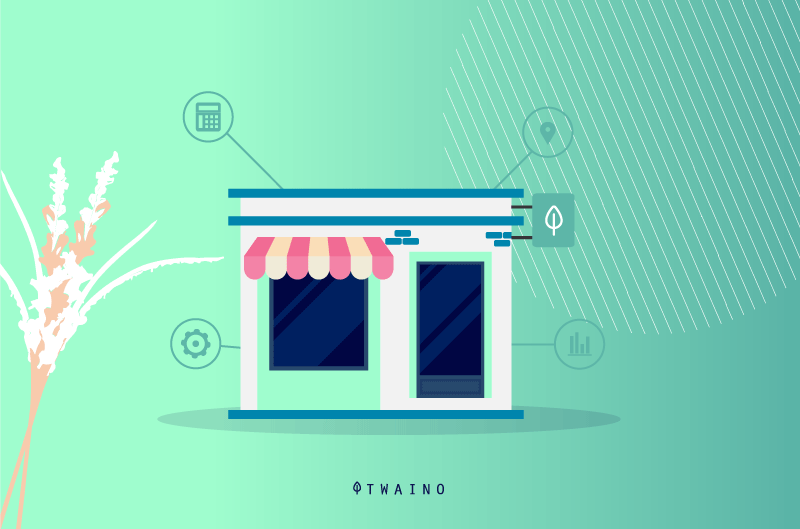 For example, let's say you want to have a bite to eat in a new area that you don't know.
You can quickly Google "restaurant near me" and the search engine will suggest a list of nearby dining establishments.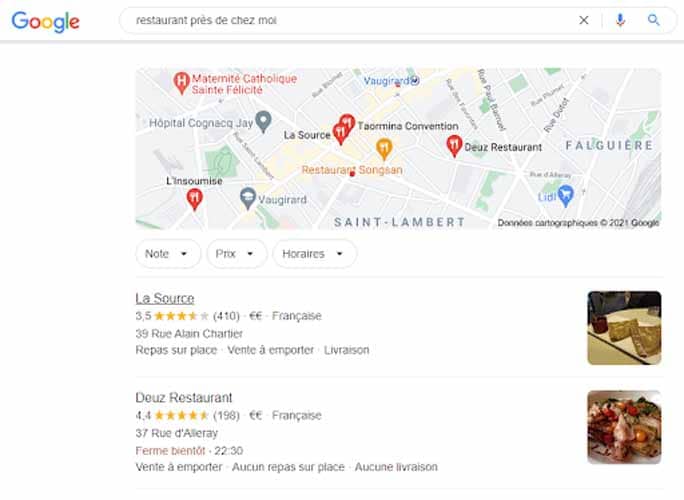 This group of words (restaurant near me) is what is commonly known in SEO as a local search.
1.2. Local SERPs
Globally, a SERP refers to the page(s) of search results that Google or any other search engine returns to try to answer the user's query
We speak of a local SERP when the search result page is proposed following a local query
For example, if you try the query "Restaurants in Paris", Google will show you restaurants that are actually located in Paris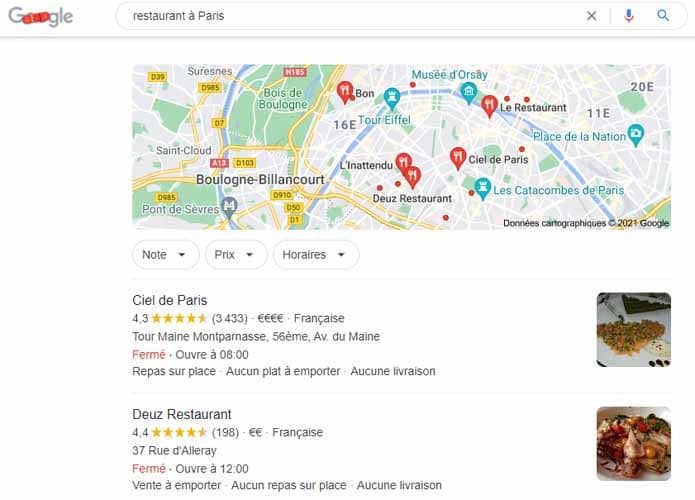 As you can see, Google may decide to add on the local SERP, a map of the region to help users easily locate businesses
To better answer the user's query, the search engine may also find it useful to add to the local SERPs other elements such as
Directions

Business hours

Phone number

Reviews and ratings

Etc
1.3. What is local SEO?
Local SEO, as the name suggests, is an SEO specialty that aims to help local businesses improve the visibility of their brand on search engine results pages
For example, a supermarket, a law firm or an auto repair shop may want to rank high on SERPs when someone near their location searches for their services online
The same is true for tourists or travelers who want information about local establishments before visiting the area
In other words, we could say that Local SEO gathers all the natural optimization techniques that a local business can use to increase its sales or services by improving its visibility on the Net
And for this, it will be necessary to use a number of strategies that we will return to later.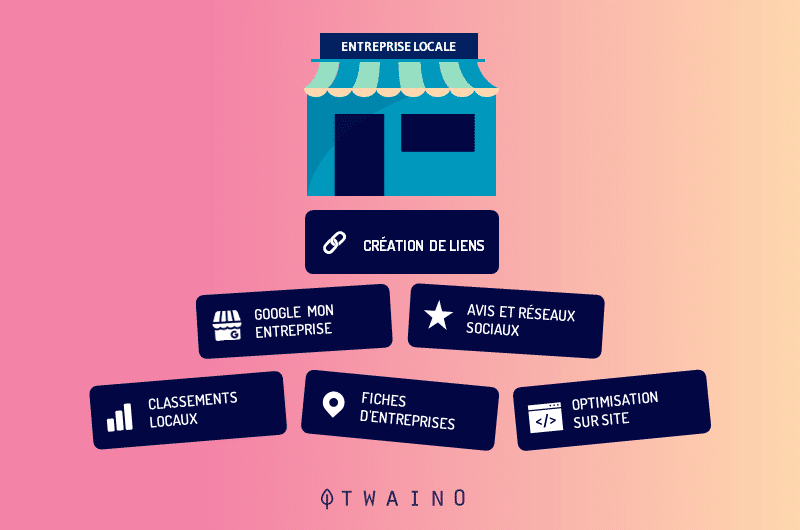 But in general, the idea would be to prove to Google that your establishment deserves to be in the top SERPs when people search for your products (or services) online
1.4. Who is Local SEO for?
If you have a business with an actual location where customers can come to enjoy and purchase your products or services, then yes, local SEO is for you
We can mention grocery stores, restaurants, beauty salons, hair salons, etc. As you may have understood, in short, any business with a physical location can do local SEO to improve the visibility of its establishment
The same is true for professionals who serve a specific area in the exercise of their profession. We have for example plumbers, deliverymen, cab companies, etc
All these businesses should add local SEO to their branding to increase their customer base and brand awareness
1.5. Who benefits the most from Local SEO?
While local SEO is basicly recommended for any local business, some seem to be more favored than others and you'll understand better why
Here is the list of corporations that benefit the most from local SEO
1.5.1. Lawyers and law firms
Initially, the French bar was not allowed to promote their services to the general public. But since 2014, this sanction has been lifted, giving lawyers the opportunity to legally promote their law firm on the Net
In addition, the advantage with lawyers is that Google integrates in the search results, a call button to allow mobile users to directly contact the proposed firm
So if you enter for example "law firm" on your phone, the search engine will list the law firms close to your location with a button marked "call us"
This is not offered to all corporations. The fact is that Google assumes that a user may have an accident or find himself in a complicated situation with the need to urgently contact a lawyer nearby
So optimize your site for Local SEO for lawyers will allow you to get your site in the first Google results when a user searches for your services in your locality, which will increase your address book and the visibility of your firm
1.5.2. Doctors and medical centers
Usually, when someone is looking for a health specialist, he or she would prefer that the doctor be the closest to his or her home
We agree that no one would want to travel for hours before getting a consultation
Google also understands this, which is why when you search for "a doctor near me" for example, the search engine adds several additional elements to the search results that further improve the visibility of medical practices, such as
The name of the doctor

Directions to the medical center from your current location

Opening hours

The official website of the center

And a phone number to reach them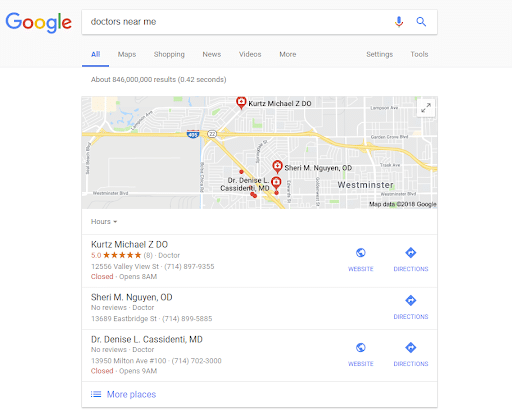 As you can see, all these measures that Google takes to enhance its search results increase the engagement of Internet users, which could easily generate more patients to health centers
1.5.3. Plumbers
Plumbers are also one of the corporations that benefit greatly from local SEO. When you have a water leak in your facilities, what you usually do is quickly Google "plumber near me" to save time
Going around the neighborhood in search of a plumber will probably take more time with the risk of finding your room completely flooded. Google has therefore anticipated the urgent nature of these requests and offers its users the possibility to call a plumber directly on its SERP and consult the reviews to easily locate the most competent plumbers.
1.5.4. Restaurants
We can't mention the most favored businesses in local SEO and fail to mention restaurants. The advantage with these establishments is that they are presented on SERPs with consumer reviews and important local address information
Both of these elements are known to hook users because they quickly distinguish restaurants that offer the best quality of service and are liked by other internet users
As a restaurant establishment, you should consider adding local SEO to your marketing strategies to enjoy better visibility on the web and thus attract potential customers who are in the vicinity
Chapter 2: How does Google's local algorithm work?
The complex system that decides what should appear in search results for a given query is called an algorithm.
Local search works in much the same way as normal search. So when someone performs a search, Google crawls its index to provide the best search results for that person
The reason local SEO sometimes seems unique as a strategy is because Google leverages a different set of ranking factors to display local results
To display local results, Google bases its review on three key elements :
2.1. Relevance
Relevance is actually an important factor in Google's standard algorithm, so it's not just specific to local SEO
Naturally, Google wants to do its job well, and it wouldn't do its job well if it presented irrelevant results.
To ensure that search engines, especially Google, find your business relevant enough to show up in search results, you need to be sure that your keywords look like or are exactly what your potential customers are using.
For example, if you are a business that sells pizza in Paris, you need to make sure that Google associates your business with keywords such as "pizza Paris", "best pizza" or maybe even "cheap pizza Paris"
You can inform Google about the relevance of your business through tactics such as:
Informing the niche of your business on directories

Targeting profitable keywords for your business in the title and meta description tags and in the body of your content

Create relevant content that demonstrates your company's expertise and the quality of your services

Use schema markup

Obtaining quality backlinks from local websites that are relevant to your business

Etc.
In short, these are the practices that will prove to the search engines that your business is relevant to the query made by the user
2.2. Prominence
In local SEO, prominence refers first of all to the notoriety of your company, as well as to the way your brand stands out from the others, in particular from your competitors
Here, it is about proving that Google can trust your business. This way, other search engines will have an easy time finding and validating you.
Brands that have high online awareness not only seem credible, but also trustworthy in the eyes of Google's local algorithm.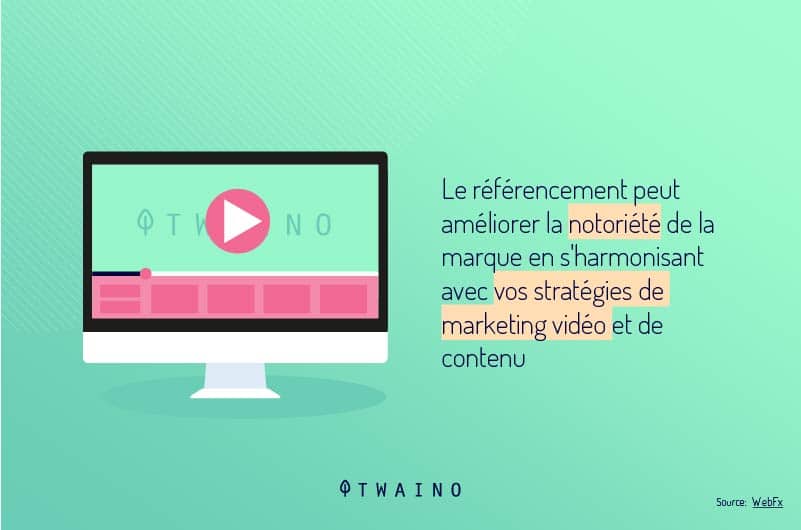 As you know, search engines, especially Google, pull data from all over the web. So, essentially, if your brand has a presence on the web, the search engines will try to find that data and rank you based on your authority
If they can't find you or if there aren't enough prominent signals, you are much less likely to rank well.
Your online prominence can be demonstrated by:
Building relevant local links;

Creating and sharing relevant content;

Your presence on online directories;

Getting positive reviews

Your presence on social networks;

Being mentioned by local media or government sites

Etc
2.3. Proximity
Of course, when someone does a local search, proximity to relevant businesses is the most important factor. In fact, this is the ranking factor that is especially specific to local SEO
While awareness and relevance matter a lot in traditional SEO, you don't need nearby e-commerce stores and the like to buy from them.
A user can perform a local search in three different ways
Non-geo-modified;

Geo-modified;

And "Near Me"
To showcase your proximity to Google, you should always consider optimizing for different user search methods.
Chapter 3: The benefits of Local SEO
If you're still on the fence about the importance of local SEO, here are a few reasons that should persuade you otherwise
3.1. how does local SEO benefit local businesses?
It's important for your business to appear in relevant local searches, as 88% of internet users visit businesses within 24 hours of a local search.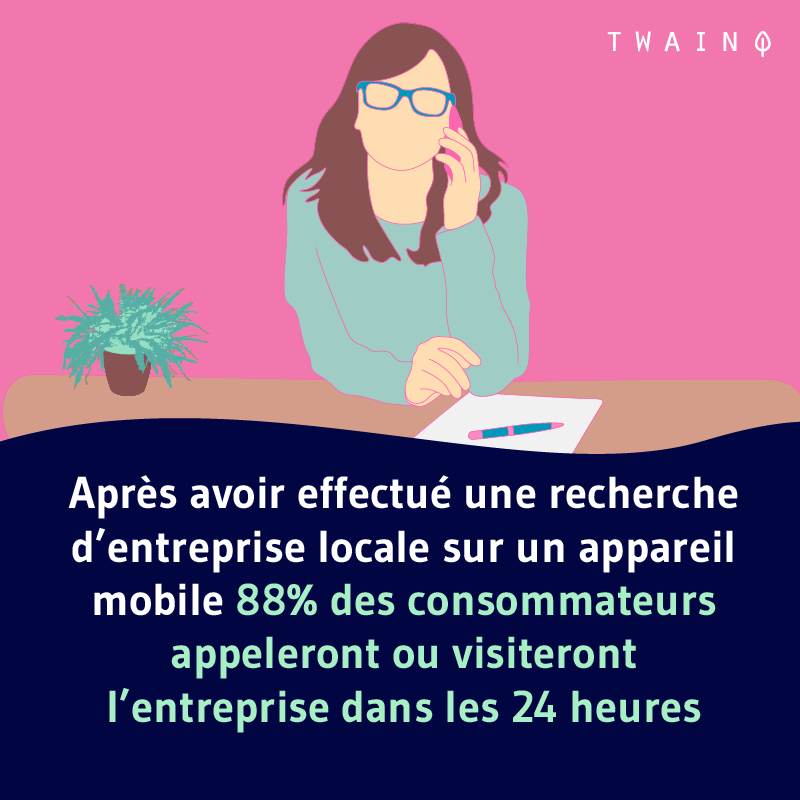 Naturally, optimizing a business for local SEO has a lot to do with location. Search engines need to know exactly where your business is located so that when someone searches for a location, the search engine can find the businesses there.
In addition to this, it has several other benefits which are as follows:
Those who are looking for a local business do so via the Internet Actually, there are those who still consult the various telephone directories or paper newspapers. But today, most people looking for a local store or service, search on Google or other specialized platforms.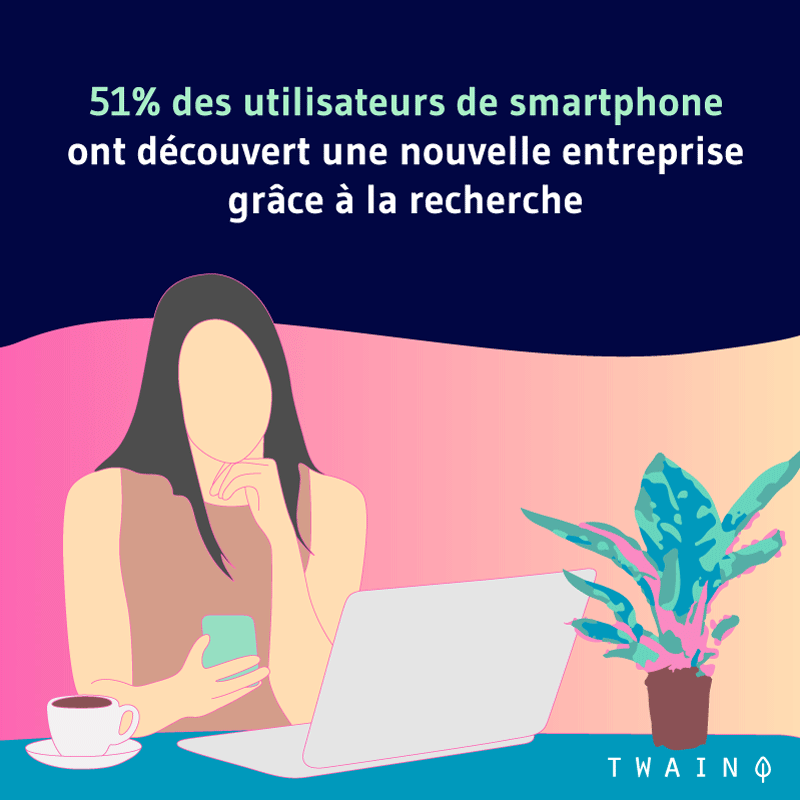 This way, you can reach a very specific audience, one that actually cares about what you offer. This greatly increases your chance of reaching people who will actually become your customers.
Traffic on mobile devices is constantly increasing: About a third of searches made by smartphones or other mobile devices are location-based
Therefore, the increase in searches from these devices can only mean greater revenue potential for those who have gained visibility on these searches.
You also have some excellent free tools for business You can actually take advantage of great free services like Google My Business or a local business directory like the famous Tripadvisor.
Most people trust online business reviews Reviews are a very important part of local SEO and people value them highly before they buy a product or service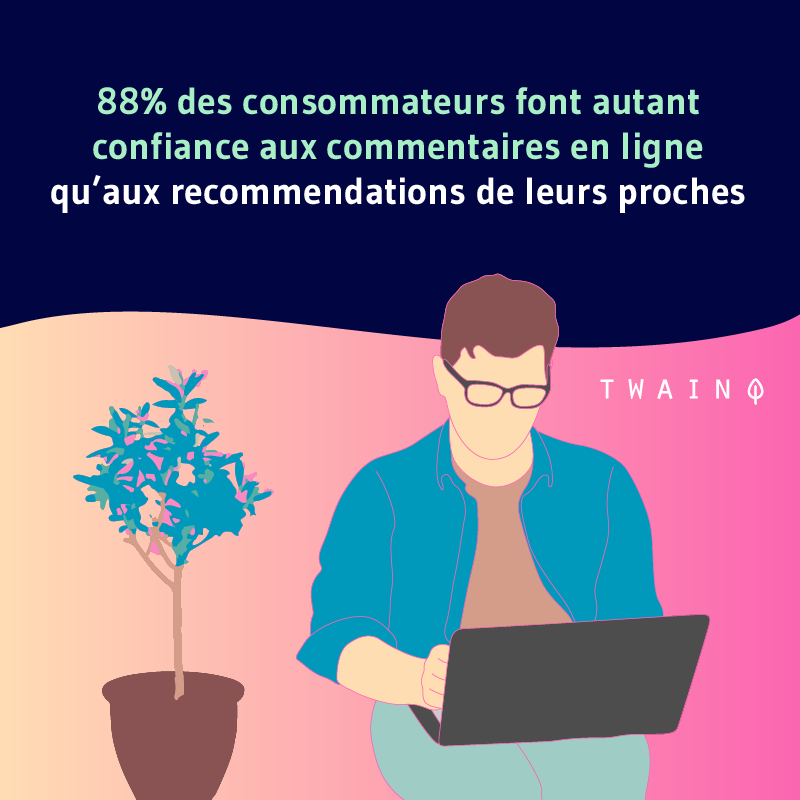 That's why local business websites and free tools like the ones mentioned above incorporate a system of reviews that are often already displayed in the search results.
3.2. Some factual statistics to understand the importance of Local SEO
Nothing better than numbers to realize how important Local SEO is for businesses
50% of Internet users

who perform a local search on their phone visit a physical store within a day;

34% of Internet users who conduct a search on a computer or a tablet also visit a physical store within 24 hours

18% of local searches conducted on a mobile device result in a sale within the day;

50% of mobile users who conduct local searches have already searched for a local business address;

78% of local searches on a mobile device result in offline purchases;

71% of respondents admitted to searching for a business location to confirm its existence before visiting for the first time;
Chapter 4: Organic and Local SEO
Since the techniques are not the same, we will first discuss the difference between local and organic search engine optimization and their relationship.
4.1. Organic SEO and Local SEO: Clarification
Organic SEO is a marketing practice that involves optimizing your website to make it search engine friendly and rank for relevant keywords
It may or may not include a local element, but is not usually associated with a physical business. It essentially revolves more or less around a website
Websites aiming for organic SEO can therefore be a full-fledged internet-based website that may or may not have a geographic location.
Bloggers, internet marketers, affiliate marketers, internet based businesses and some physical businesses use organic SEO to improve their rankings and increase their traffic.
4.2. Organic SEO and Local SEO: Difference
Organic and local SEO are both techniques to improve a website's ranking, but they do not do it in the same way.
The difference between organic and local SEO can be seen on several levels:
4.2.1. Difference related to the location
Organic SEO is used by websites that may or may not have a geographical location. It can be influenced by location, but is certainly not tied to a physical business.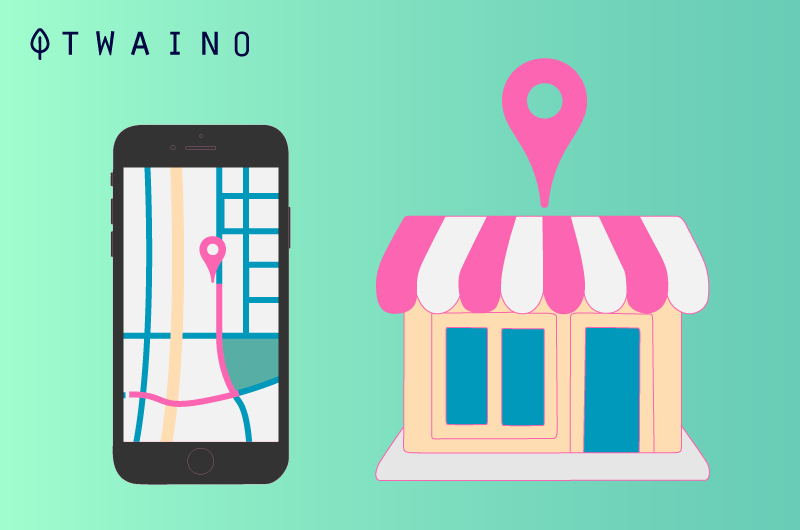 Purely organic results are a mixture of
Businesses

Articles

Blogs

News

Social media profiles

Etc
Organic search and results are therefore totally independent of locations.
Whereas local SEO is essentially linked and associated with a physical business with necessarily a geographical component
For example, if someone searches for "Car service in Lyon", search engines will understand that the user is looking for a local company in Lyon, which can service his cars
They will then be able to propose as an answer to the user, a list of structures that actually offer car services that are in Lyon or in the surroundings
4.2.2. Difference linked to SERPs
While organic SEO aims at ranking a site as high as possible for a specific set of keywords, the main objective of local SEO is to get into the local ad packs
In addition, local SEO is about being present or listed, with consistent citations, in all other places where the potential customer might search, including niche directories, a forum, etc.
4.2.3. The difference between links and citations
Quality links are votes in the SEO world that could get you higher rankings and increased traffic
In organic SEO, high quality and relevant links help you increase the relevance and authority of your website in the eyes of Google.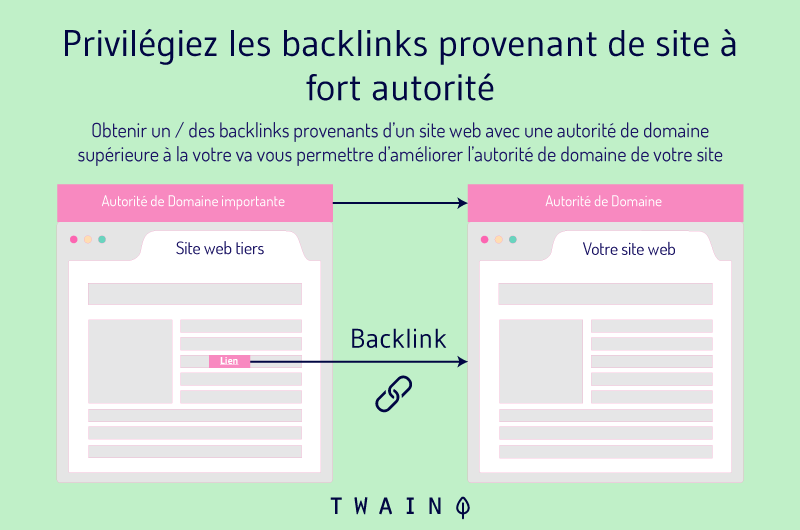 In addition to other ranking factors, a large number of quality links amounts to getting a better website ranking on SERPs
Local SEO, on the other hand, does not deal with links in the traditional way, that role is played here by Citations
Citations are simply the mentions of your business name, physical address and phone numbers(NAP) on the web
Being consistently cited in all the relevant and important places in your niche would increase the relevance and authority of your business in the eyes of Google
This would not count as a vote, but would certainly validate the existence of your business in a certain geographic location
This will increase the chances of your business appearing, if a query related to the business and similar locations comes up.
That said, if the business has a website that needs to be well positioned, links become an important factor.
4.2.4. Difference in approaches
As mentioned earlier, the goal of organic SEO is to reach the top positions in the SERPs
To achieve this, on-page and off-page optimization techniques are required on the website.
These two branches of SEO take into account
Title and meta description tags;

The optimization of anchor texts;

The creation of relevant content

The creation of a link building strategy;

And so on.
Local SEO, on the other hand, aims to appear in all places that display local results and to achieve this, the strategy used is different
In addition to optimizing your title tags and keyword density, you must first create a Google profile. To do this, you need to:
Be listed in all the important directories in your niche

Verify the consistency of your NAP on the web,

Encourage customers to write good reviews about you

Write local content

Etc.
We will go into more detail on these different points in the next chapter for more clarification
4.3. What is the interaction between Organic SEO and Local SEO?
It is true, there are several organic SEO techniques that undoubtedly benefit local SEO. This can already explain the first interaction that can exist between the two strategies.
In local SEO, it is necessary to submit business pages on local directories, which represents an opportunity to create links to your website.
These local listings of citations (your business name, address and phone number) help spread the word about your business and its specific location
They create links back to your website, which counts as a backlink building strategy that helps your organic SEO efforts, as search engines take into account the number of backlinks when ranking websites in search results.
In addition, local SEO strategies such as writing a locally-focused blog post or updating a page with your company's address can also help your organic SEO
As we all know, search engines love good quality content, that said, while local SEO helps send local relevance signals, it can also help boost your organic SEO efforts.
When done correctly, both local and organic SEO efforts will help improve your website's rankings, but when done poorly, both can have an extremely detrimental effect on your digital marketing efforts.
Chapter 5: 10 Best Ways to Do Local SEO
While local SEO techniques sometimes depend on organic SEO, there are specific ways to do local SEO.
5.1. Claim and optimize your Google My Business listing
GMB or Google My Business is essentially the most important part of your local SEO strategy. With this tool, you can create your business listings for free and submit them to Google
And according to Mozthis is one of the main factors that the search engine will consider when ranking businesses in organic and revenue local search results.
To get started, go to the Google My Business to claim or create your listing.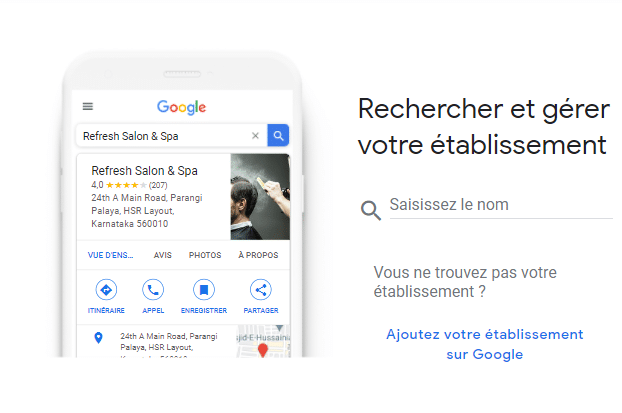 You must provide the following details for your GMB listing:
The full and correct name of your business;

The address of your physical store/office;

Your exact location on a map;

Your business category;

Your phone number and website.
Once you have filled in this information and uploaded your listing, you will usually have to validate it by phone or postcard. Next, here's how to optimize your Google My Business listing after verification:
Upload photos of your business. These can be photos of the interior of your store or office or even around the premises;

Include your business hours;

Provide additional categories that can enhance the relevance of your business;

Provide additional phone numbers if available.
You can further optimize your GMB profile by sharing regular business updates and new content
5.2. Create a landing page for each of your business locations
Each of your locations should have an individual page on your website, a page to optimize. By having a separate page, all elements can be tailored to that specific location and thus maximize your chances of ranking well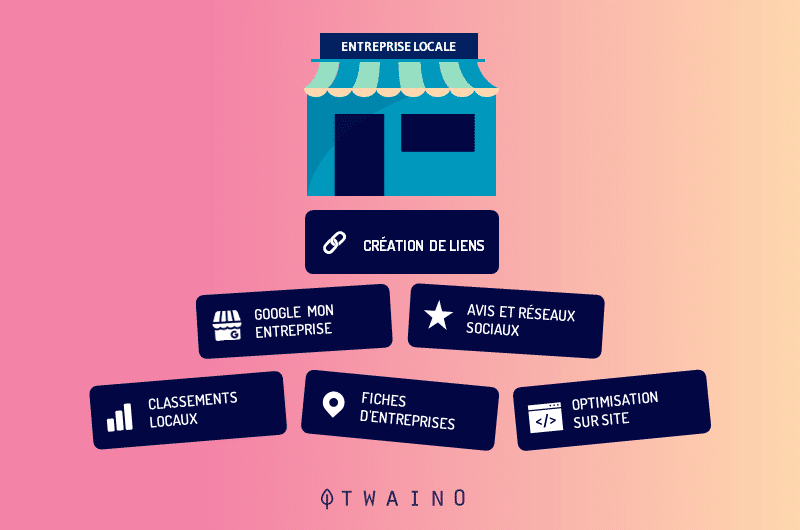 Next, make sure your site is set up in a logical structure of area, city / town, then locality. If possible, have your URLs reflect this structure, such as example.co.uk/region/city/village or neighborhood.
A good location page should contain a combination of practical information, such as maps and hours of operation, as well as details about why someone should visit
Make sure these pages are unique and useful, as a number of pages with nearly identical content can be a problem if Google thinks you're creating them for SEO and not for users. Give each location a custom description.
So here are some ideas on what you could include:
Address and contact information ;

Hours of operation ;

A link to the location's Google My Business listing;

A brief presentation of the products and/or services available;

An embedded Google map with your location pin in place

Social media accounts if the individual location has any

The service areas of each location.
For each page you want to rank for a specific location, be sure to add your location, in the format "city", "county" to the title tag.
5.3. insert geographical terms in the meta descriptions of your pages
Although the meta description tag is not used as a ranking signal, all the words used by the searcher will be emboldened in the search results, which will make them stand out
Thus, the inclusion of geographic terms can help draw the searcher's attention to your listing in the results.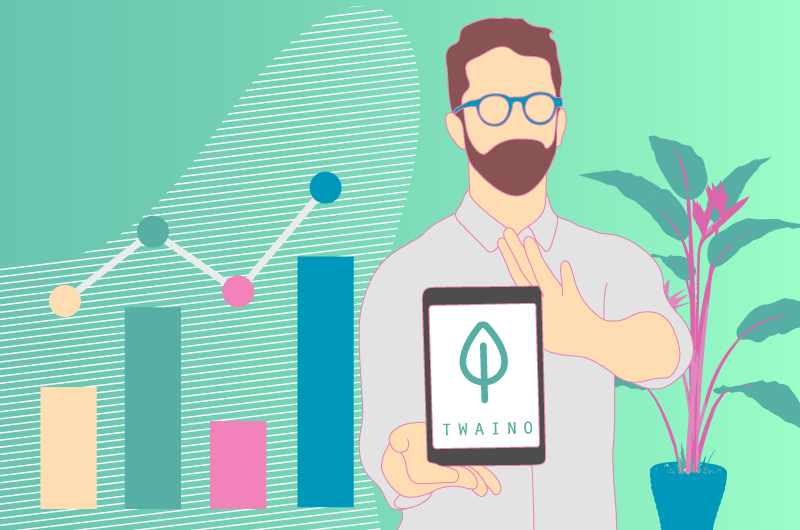 Indeed, considering your "meta description snippet" as an advertisement is a great mindset. This is a chance to make a good impression, so create a title and meta descriptions that show what you have to offer.
5.4. Have a correct and visible NAP
NAP stands for name, address and phone number, and it's an important concept in local SEO. It is vital to have it correct and consistent.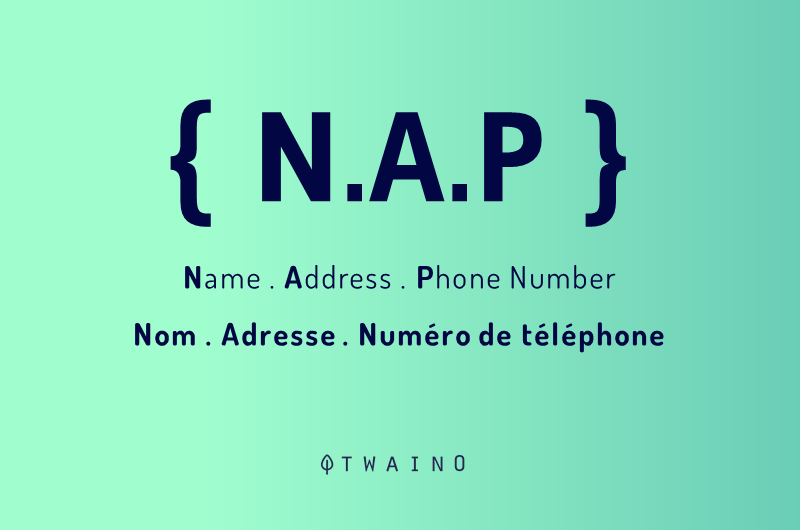 If you have a location, getting it on your homepage and contact page is the minimum, but also getting it on every page should be your goal
Just like a real user, Google wants to find your contact information easily. If you have multiple locations, those individual landing pages should contain relevant NAPs.
It's critical that Google understands where you're based and uses the NAP information it can find on your site and on external sites as a ranking factor
If you have a toll-free number, cell phone number or call tracking number set up for your site, consider switching to a local number. Again, this can help demonstrate your location.
5.5. Keyword Research
As with traditional SEO, local SEO also requires an accurate analysis of which keywords to use. Locating the right keywords for your business is essential to local organic ranking.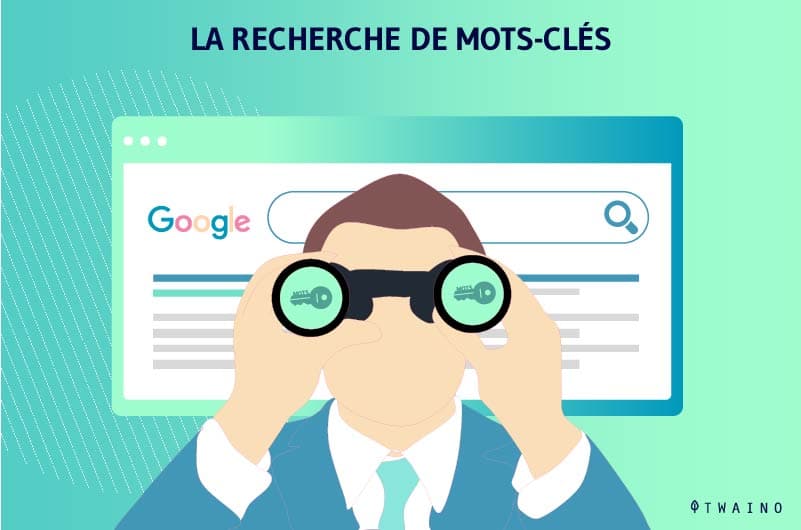 You need to know which search terms you want to rank for before you can begin optimizing your business or undertaking these ranking tactics.
Keyword research is also of necessity for a few other reasons:
To create landing pages that focus on query words and phrases;

To better understand search behaviors and, overall, better understand your target audience;

To find related markets in which to develop or refocus your products and services;

To discover other ways to attract target customers, by providing answers to their questions.
You need to know what phrases are being searched for in relation to your business.
To better succeed in your keyword research, you can use the free tool Google Keywords Planner or other paid tools like Semrush or Seozoom.
For more details on the subject, I invite you to follow my complete guide on keyword research
5.6. Create localized website content
Finally, one of the most important local SEO tactics is to create localized website content on your website
There are several ways to do this. First, make sure your name, phone number and address are easily found on your website. Most companies include this information in the header or footer of a website, as well as on the Contact page.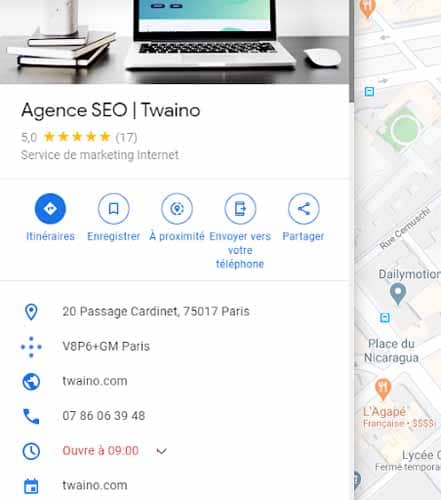 Next, you can create website and blog content focused on local keywords. For example, if you're a dentist and you want to rank for the term "Paris dentist," you can incorporate that phrase into your service page content.
In fact, many web marketers who launch a local SEO strategy for the first time make the mistake of stuffing their pages and blog posts with keywords
While in the eyes of search engines keyword stuffing is considered manipulation or spam. Instead, integrate the keywords naturally into your content
Don't forget to also add them to your page title, headers, meta description and image alt tags for best results.
5.7. Optimize your GMB form and website for mobile devices
With smartphones becoming a part of our daily lives, it's natural that many people use their phones to search for local information and businesses.
In fact, it has been shown that 82% of Internet users had used their mobile devices to conduct a local search. This proves how much people use their phones for local search.
So it's essential that you think about these internet users when optimizing your website for mobile screens. Create a mobile-friendly website so that mobile visitors have no problem navigating it or finding the information they need.
Don't forget to add direct call buttons on your site and on your GMB listing. This could make a huge difference, as it's been proven that many mobile users have developed the habit of contacting a business directly from search results.
5.8. Collect customer reviews
Naturally, businesses that want to rank in local search will need to focus on online reviews.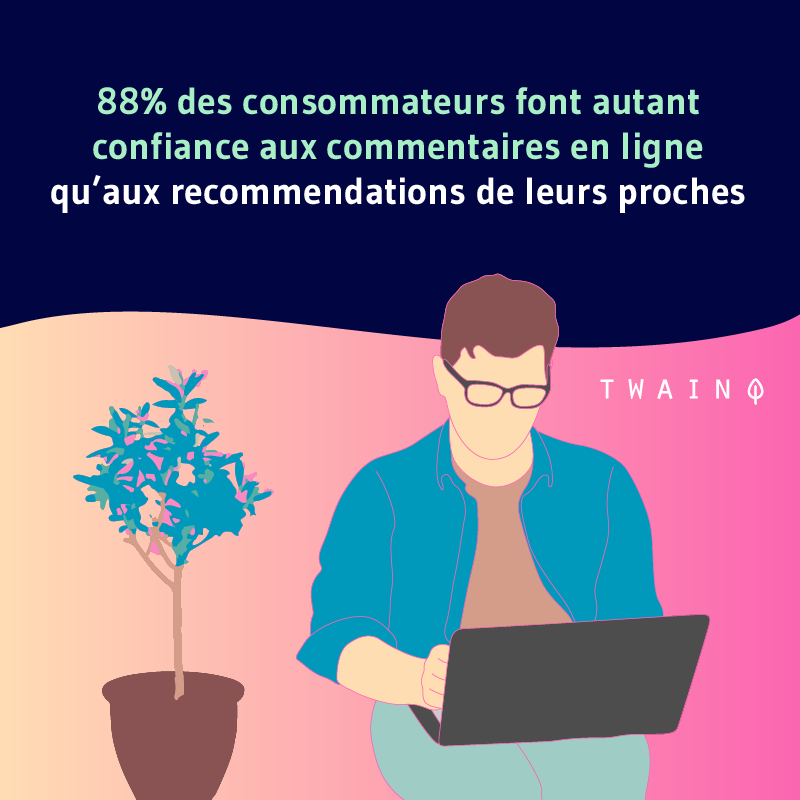 But, many businesses are reluctant to be proactive about growing reviews, fearing that it could lead to negative reviews. But if you make it a regular part of your local marketing routine, you'll be rewarded with search engine rankings and increased consumer trust.
Before you jump into growing online reviews, you need to make sure that you are truly confident that you are providing a product or service worthy of excellent reviews
In local SEO, online reviews help you to:
Get higher rankings;

Convert your customers by building their trust in your business;

Showcase your brand personality by responding to reviews.
However, there are a few methods you can use to get reviews, but they all have one thing in common, it's asking. To do this, you are called upon to:
Interviewing customers face-to-face at the point of sale;

Emailing customers;

Send text messages to customers;

Be creative. Leave short links to your review profile on business cards, receipts, printed materials in store, etc.
In general, it would be even better if you used a variety of methods for maximum impact.
5.9. Build links from local and relevant directories for your niche
Try to enter your business into industry portals and try to gain links by offering quality content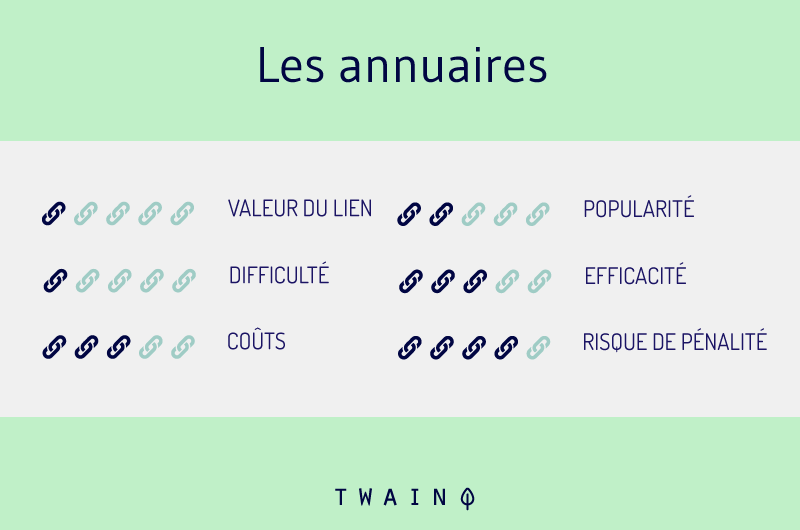 For example, if you have a hotel or restaurant, look for sites where you can place your business. Not only will you get an inbound link, but also visits.
5.10. create social media profiles
In addition to Google My Business, create a business page on Facebook, open a profile on Twitter and, if you want, also on Instagram.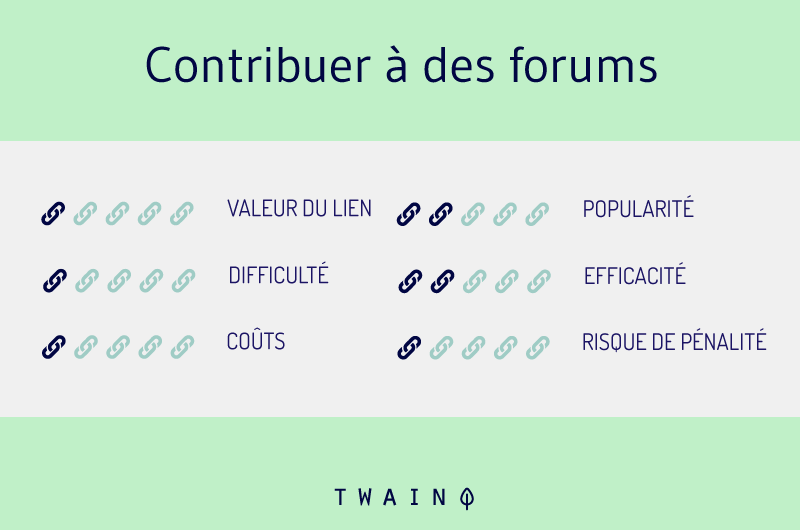 Be careful to fill out your business form and constantly update your profile. Insert your blog posts and create an effective editorial plan, which not only talks about your business, but also promotes events and fairs in the field you are interested in
Chapter 6: Frequently Asked Questions
6.1. How to do Local SEO?
To succeed in local SEO for your business, you will essentially need to
Create and regularly optimize your Google My Business listing

Create a landing page for each of your locations if you have several for your business

Insert geographical terms in your titles and meta descriptions

Fill in your N.A.P. and keep it regularly updated

Perform keyword research to target profitable terms for your niche;

Create quality content that adds value to your audience

Optimize your site for mobile devices

Collect consumer reviews

Register on directories relevant to your industry to gain visibility and domain authority

Create company pages on social networks to develop a community
6.2. How does Local SEO work?
Local SEO consists in helping a website to occupy the local results of a SERP after a query that contains city names or proximity terms. Typically, Google offers mapping in the search results to help users locate the business of the companies they are looking for
6.3. Why do Local SEO?
The main purpose of local SEO is to help your website appear in search results whenever someone near your business location searches for your services or products on the Net. Local SEO also allows your establishment to be easily found on Google Maps or any other online location program.
6.4. What is the difference between Local SEO and SEO?
The notable difference between these types of SEO is that Local SEO focuses solely on local searches. That is, local SEO depends entirely on what people are searching for on the web
Local SEO is when the user is looking for a product, service or business in a specific area
Generally speaking, the two types of SEO target different audiences. Local SEO addresses users in the vicinity while SEO answers everyone regardless of the query.
Since the objectives are different, each type of SEO is governed by dedicated optimization strategies. In this guide, we will only present the techniques of local SEO
If you want to learn more about SEO, you can check out this complete guide to a winning SEO campaign.
Conclusion
Local SEO is a form of online marketing that is particularly suited to the needs of small and medium-sized businesses
In recent years, it has become increasingly important as a web marketing strategy for small, local businesses, which can gain visibility for a moderate investment.
With the few tips we have listed above, you are sure to get great results.
If you like this article, please let us know in the comments.
Thanks and see you soon!