Successfully creating new content on the net often requires a lot of effort. From finding an interesting topic to promoting the finished content, several actors are involved.
Writers, designers, SEOspecialists, social media marketers… So many actors who make content marketing a real investment.
Fortunately, there is a method to efficiently reuse the same quality content in several ways and which considerably limits the investment.
It's about content repurposing, which is a strategy used by 90% of marketers: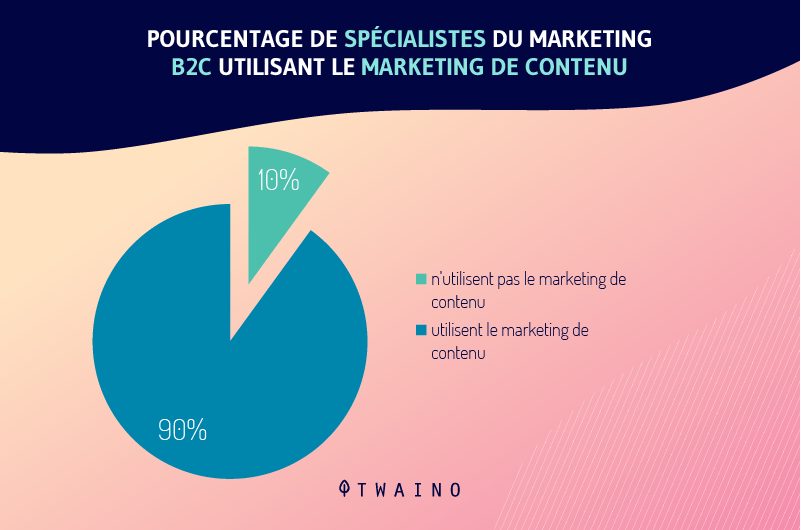 I have looked into the matter to introduce you to this famous method. Definition, scope, advantages, procedures, tools, practical cases… Absolutely, everything will be revealed to you in this ultimate guide dedicated to content repurposing.
Chapter 1: What is content repurposing and why should you do it?
Let's start by establishing the basics by seeing in detail the notion of content reassignment. As a bonus, we reveal more than twenty methods to reassign any type of Web content.
1.1. What is content repurposing?
Content repurposing or content recycling is a concept of repurposing all or part of old quality content in order to extend its reach to more people.
This strategy of "bringing new life" to old web content is a secret used by many content marketers to increase traffic for the websites they manage.
Generally, reassigning content amounts to repackaging it in another format or adapting it to another target audience. The idea is to work on the content to help the site gain visibility and leads.
In what formats can you repurpose your content? You can do it in several formats, but mainly 6 to find the desired effect:
Podcasts;
Videos;
Checklists;
Infographics;
Series of emails;
eBooks.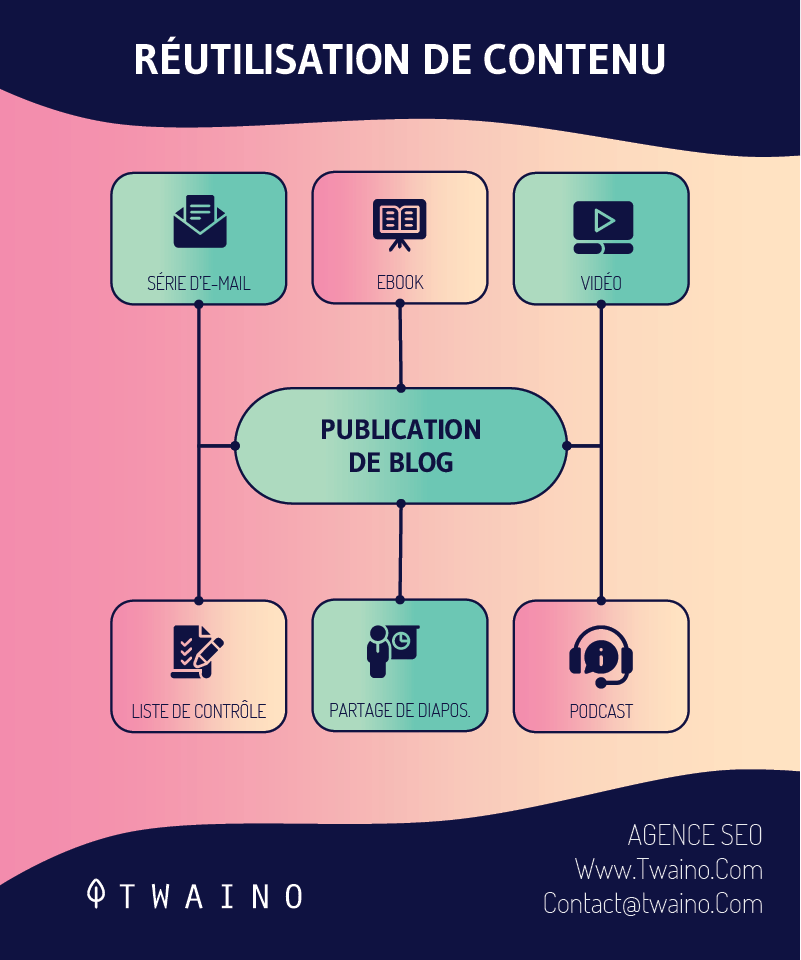 Thanks to the repurposing, your favorite articles, podcasts or videos will not end up in oblivion. You can breathe new life into them so that they can conquer new Internet users.
1.2. The goal of content reassignment
Before taking any action, it is important to keep in mind the goal to be achieved. What do you want to repurpose your content for?
If you haven't decided yet, this is an opportunity to discover the criteria to evaluate in order to set a very specific goal before starting your content reassignment.
1.2.1. Repurposing content and redesigning content: Beware of confusion
Many people confuse repurposing and redesigning content. Even if it must be recognized, the nuance is not easily perceptible at first sight. As far as you are concerned, why should you nuance these two terms?
For the simple reason that the distinction between a reassignment and a redesign will allow you to clearly define your objectives and the strategy to be put in place.
When you decide to reorganize content, you do not change its original purpose. You are simply trying to update it to maintain its relevance over time while making it attractive to your visitors: We are talking about redesigning content.
It's usually about taking old content and updating outdated designs to bring its offering into line with current trends. Or to complete other components on offer to stand out from the competition, for example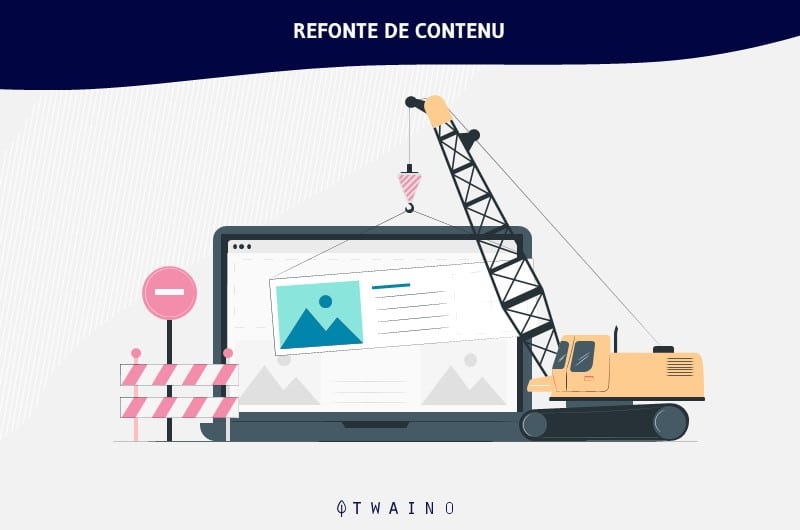 On the other hand, reassigning content means doing one of two things (or maybe both):
Change the format of the content;
And/or change the target audience for the content.
You can change the format of content by dividing, for example, an eBook into a series of small blog articles. Or turn important content from a webinar into a succinct infographic to make it easier for people to consume it.
To illustrate how you can change the target audience for content, let's take the example of an e-book originally written and dedicated to SMEs. Then, we decide afterwards to restructure it to adapt it to the PMI.
If, depending on your sector of activity, you want to reach more prospects of the same type of buyer, but always within the same framework of the journey of this type of buyer, redesigning the content is the best solution to take.
On the other hand, if you want to reach or convert more prospects in a segment other than the initial one, reassignment remains the best option. In the rest of this guide, we'll focus specifically on content repurposing.
1.2.2. Repurpose content to reach prospects at different stages of the buyer's journey
First, what do we mean by the buyer's journey? Have you ever heard it once? What's your idea on that?
1.2.2.1. What is a buyer's journey?
Also known as the " marketing funnel ", the "buyer's journey" refers to what marketers will translate as the active research process undertaken by a potential buyer before finalizing the purchase.
This process has three different stages:
Awareness;
The consideration ;
Decision.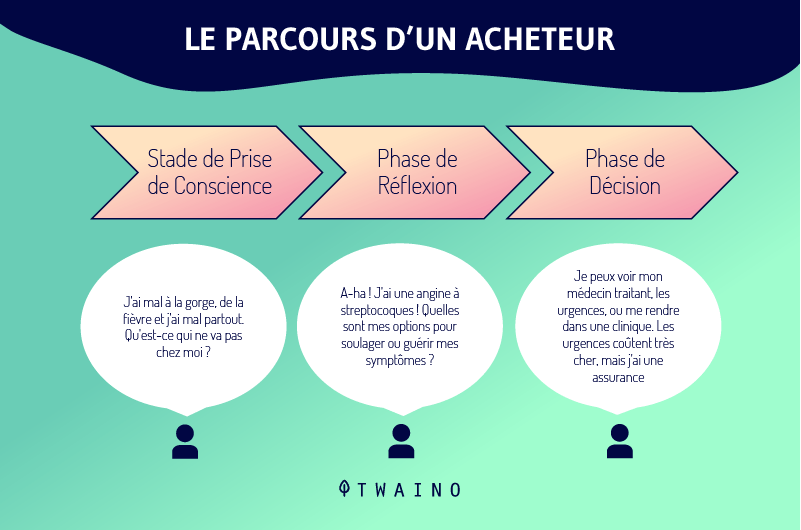 Through these different stages, the buyer's journey makes it possible to understand the Internet user's state of mind.
1.2.2.2. How do you repurpose content to attract more leads at different levels of the buyer's journey?
The buyer's journey map will be slightly nuanced based on each business model and industry. But the basic schema remains the same: Each section points to a set of prospect needs, preferences, and behaviors.
For example, a potential buyer in the awareness phase would appreciate more general content because they are about to discover a product, solution or topic.
On the other hand, people in the decision-making phase are looking for content that would help them decide between you. Who to choose between you and some of your competitors that they have already listed? They will therefore appreciate your content that sets you apart from the crowd.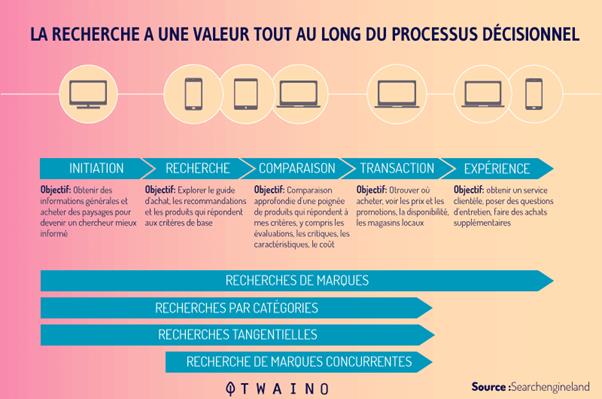 Hence the importance of knowing how to reuse content to be as effective as possible. If the goal of repurposing your content is to appeal to your target audience at a specific stage of the buyer's journey, changing the format would be ideal.
But also to direct the content so that it respects the needs and preferences of the consumer. Let's say you want to repurpose content from an SEO audit e-book, originally reserved for individuals in the awareness phase.
You can turn this book into less dense content like a blog post or infographic that discussesSEO auditing, but without giving away too much of how your service or product could help them.
If this new content is attractive enough, these users will not hesitate to contact you to find out more and try your services.
1.2.3. Repurpose Content to Reach Prospects in Different Personas
Aside from the phases of the buyer's journey, it's entirely possible to repurpose content to attract more customers in your different personas. But first, what is a persona?
1.2.3.1. Definition of persona
In marketing, creating a persona means imagining a character that represents a target group or segment when considering a new product, marketing activity or service as a whole.
Each persona will be characterized by a first name and psychological and social traits.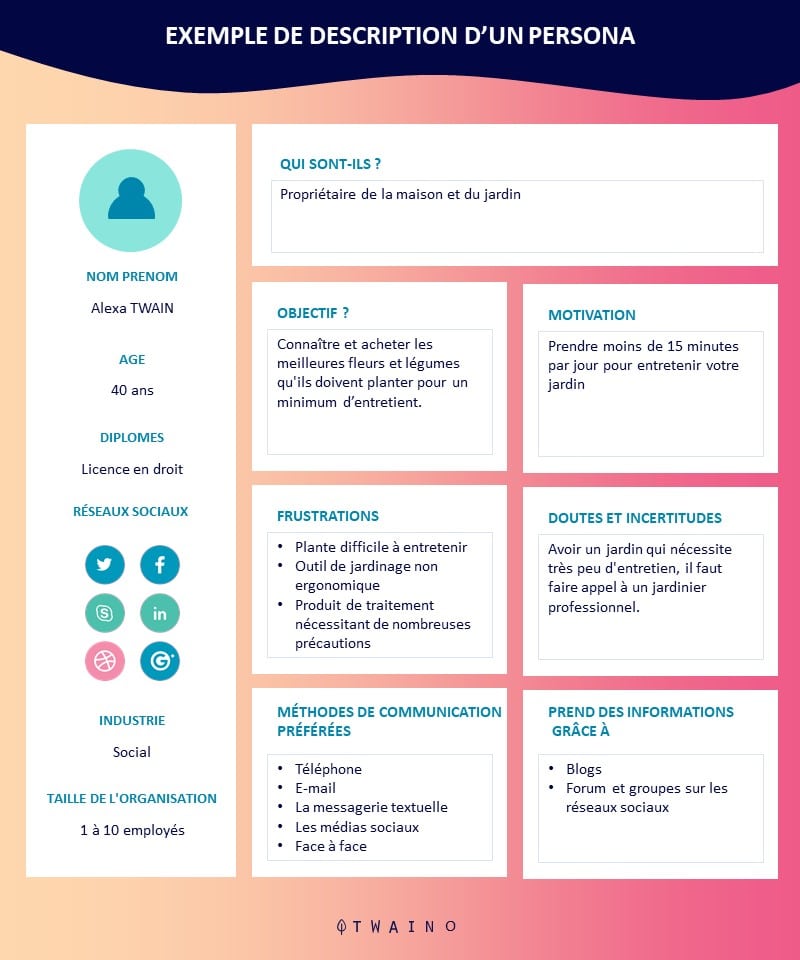 A single study project can include one or more personas. These personas can even go further and take the form of a story board in real conditions of use of the service or product concerned.
In the current context, a persona can be used when studying the characteristics of a product or service with the aim of improving the content of the site, but also to optimize the buyer's journey.
Check out my Semantic Cocoon for the persona creation process.
1.2.3.2. How do you repurpose content to attract more leads in different personas?
Typically, a business has multiple buyer personas, otherwise known as multiple personas.
To make the most of its activities, the company may decide to take content originally intended for one persona and reassign it to extend its reach to another persona.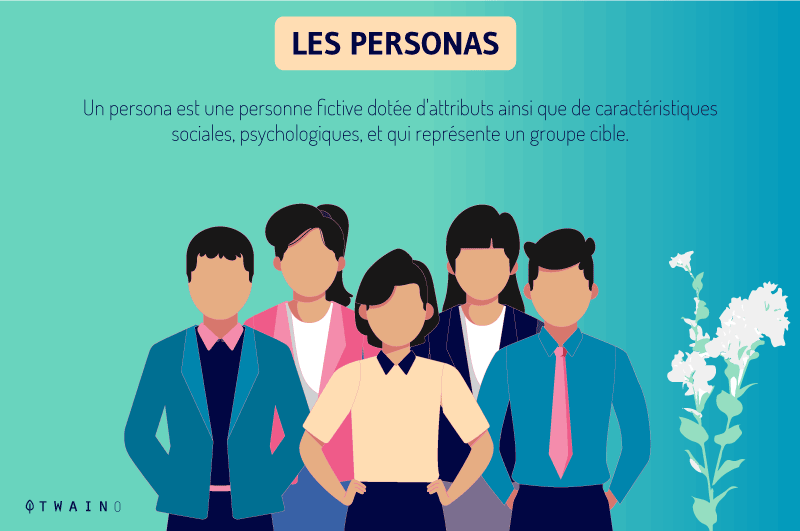 Suppose the company in question recently created a well-detailed infographic on the behavior of Google's SEO algorithm and dedicated it to one of its personas.
Let's call this persona "Persona 1" and recall that they are at the AWARENESS stage of the buyer's journey.
"Persona 1" is a geek, a new technology junkie and is constantly on the lookout for new things to stay up to date and expand his knowledge. His thing is much more visual and sensational content.
So information-rich content with some infographics is the content that catches him the most.
Now, let's look at "persona 2". He is not very up to date on the new things that Google brings to its SEO algorithm. His concern is just to understand the basic principles of SEO.
The company can therefore intelligently take some of the content of the basic infographic and cut it into small dice. The idea is to bring out how Google's SEO algorithms work.
The company may also decide to briefly add a few examples of recent changes so that "Persona 2" doesn't lag too far behind what's new from Google. This also represents a good keyword strategy for the company.
This repurposed content for "Persona 2" doesn't necessarily require a change in format. It can remain in its original version, but just positioned differently.
However, if the company wants to change its format, it can transform the content into something else, a short SlideShare presentation for example.
1.2.4. Repurpose content for prospects of different personas and different levels of the buyer's journey.
Repurposing content for a single purpose is good, but doing it to achieve multiple goals at once is even better. In this case, your content repurposing becomes a bit of an all-purpose matrix.
You can choose content that has been successful and say: "Hey, I plan to reuse it to attract someone X". Except here, X denotes a combination of personas and stages of the buyer's journey.
Here is an example to understand how this kind of repurposing is possible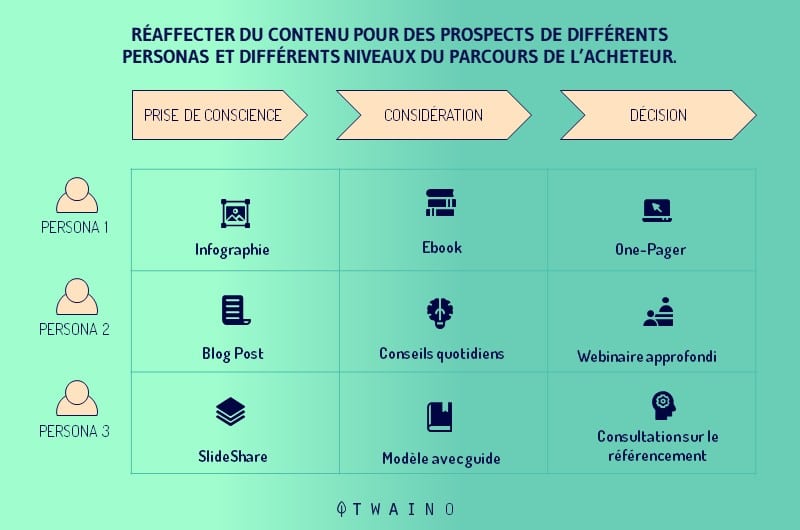 On this content repurposing example conducted by the Hubspot team, we can see that they started with a series of blog posts focusing on SEO and targeted towards "Persona 2", at the AWARENESS stage of their buyer journey.
Then they repurposed those blog posts into a set of daily SEO tips that they send to the inbox of all business owners who have signed up to the site and are considering an SEO solution for their inbox. .
Finally, they thought of creating an enriched webinar, but inspired by the initial blog posts. The idea is to reach people who already know SEO, but who hesitate between our offer and those of some competitors.
So far, it's a simple repurposing of content with the goal of attracting more Persona 2 leads, but across multiple stages of its buyer journey.
To go further, the team decides to expand the reassignment of these same blog posts to other personas, but keeping the same starting stage (awareness). To achieve this, original articles are transformed into other more consumer-friendly formats like a SlideShare and infographics.
Then they thought "if it worked for one row and one column of this matrix, why not go ahead and fill in the blanks?". The team is therefore set as a goal to realize all the remaining possibilities of reassignment that the matrix offers us.
The procedure was therefore repeated by repositioning just the blog posts of persona 2 in alignment with personas 1 and 3: each content is transformed into different formats to align with the different sequences of the buyer's journey.
This efficient way of repurposing your content allows you to obtain 9 possibilities to recycle old content and make a significant return on investment. However, the list is far from over!
Chapter 2: The benefits of content repurposing
One should not lose sight of the main objective when creating a blog or a website. Every blogger or e-merchant hopes to win as many visitors as possible and have their blog or website top of the bill.
So, what does content repurposing add to the march towards the goals of any online business?
2.1. A considerable saving of time
Of all the contents, those which are really adapted to the reassignment are those recognized as being "permanent contents". These contents are more relevant because they have no "expiration" date and do not relate to current events.
Generally, the issue addressed in this content is part of a more global framework or is limited only to substantive issues related to your sector of activity.
It must be recognized that it is not always easy to create a new subject, especially for these permanent contents. The reassignment comes not only to create almost new content, but above all faster than if you start from a blank sheet.
And to federate your visitors, it is important to constantly publish new, unique and unpublished content. Which requires enough inspiration and a lot of time to invest.
Those who already own a blog or an e-commerce store can attest to all the time it takes to create quality content.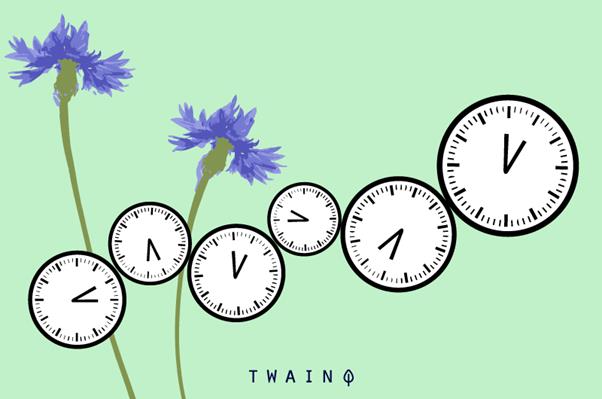 Time is what content repurposing saves you. Instead of thinking about an idea to reinvent the wheel, you might as well use this time to make more content by repurposing.
Just new information to supplement or transform the content into a new format. No need to completely rethink it.
So you'll be more productive with less effort than it would normally take to create new content.
2.2. Reinforces the credibility of your website
Always to help you achieve the main objective which is to have more visibility, the reassignment of content takes the blogger (or the e-merchant) and his site to another level.
It makes them grow in authority. It makes sense in the sense that he manages to publish content that deals with the same subject, but from different angles.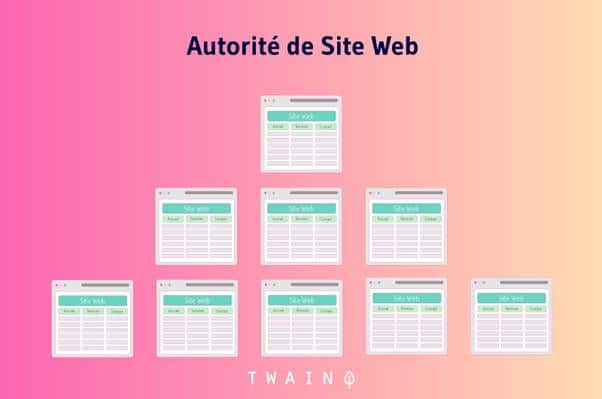 This reinforces the credibility of his site and he becomes an expert in this field. At the same time, it gains the trust of readers and attracts new customers.
2.3. Help with the referencing of your website
A site which has authority is first and foremost a site which enjoys a good referencing on the net. And obviously, natural referencing is not only limited to the quality of the content, but also takes into account the quantity distributed.
But how can reassigning content contribute to the site's SEO?
Already, remember that the repurposing of content offers the public a variety of content, that is to say a quantity of content, which addresses the same subject, but differently. The advantage is that you are more likely to enrich the semantic field of the important keywords that you are targeting.
So recycling web content that was successful 6 months ago is giving it every chance and helping it to increase site traffic again.
The new content thus obtained by reassignment will directly benefit from all the SEO optimization efforts mobilized on the original content. They too can be interpreted and easily indexed by search engine bots.
Also, we have all been, at least for once, disappointed by a website because of its content that is a little too old or simply of poor quality. The reassignment comes to revive those cheesy contents and provides a good browsing experience to your users.
Which is highly appreciated and encouraged by Google. Indeed, the user experience represents a significant SEO criterion in the Google algorithm.
If through the reassignment of content, you guarantee a good user experience, your site will become friends with Google's indexing robots who will not hesitate to recommend it when a user launches a request related to your sector of activity. .
Additionally, your content being repurposed and published on other platforms earns a good number of backlinks to your website. Which implies some earning traffics.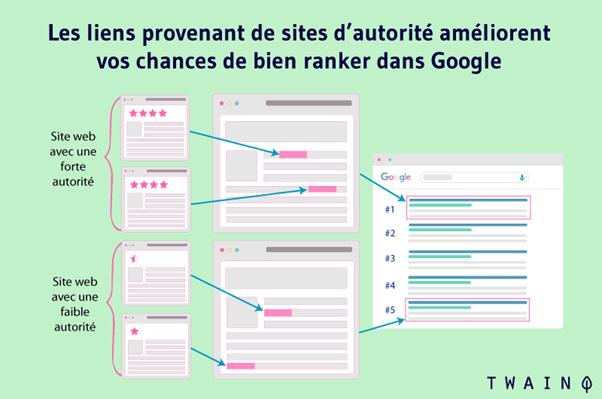 Clearly, the repurposing of content actively contributes to improving the SEO of your website.
2.4. Gaining a new audience
Generally, users do not consume information in the same way. While some love visually rich content, others prefer to understand your concepts through reading.
And even in terms of reading, some users do not have too much time for you and seek the essentials. These will simply go around the main lines or sub-chapters. Unlike others who will devour all of your content with interest and enthusiasm.
Some prefer written content of one or two pages at most. Others prefer it big, complete and voluminous articles. Others prefer to dwell on images, infographics or quotes, etc.
One thing is for sure, you were able to recognize your audience in this variety of leads. Does the idea of ​​conquering other audiences and expanding your audience not appeal to you?
This is exactly what repurposing offers by taking an item and making it suit everyone's taste to serve everyone. By reassigning your content, many prospects will join your audience, which will continue to grow.
2.5. Stay ubiquitous on the NET
It is clear that not everyone explores the same channels on the Internet. While one Internet user is more focused on this channel, another leans more towards another channel.
But how to be everywhere and at the same time? Well, content repurposing isn't just about changing the format of content, it's also delivering it to other channels such as:
YouTube;
LinkedIn;
Spotify;
SoundCloud;
SlideShare;
Twitter;
etc
If you're already using one of these platforms in addition to your website and you find that's already enough to attract leads, think again, it's not!
Just because an article has a lifespan, sometimes much more limited than you can imagine. Every day, there are tens of thousands of content that are broadcast on the Web.
Likewise, approximately the same amount of content ceases to generate traffic and falls into web oblivion every day: real media of the moment.
From a social network point of view, it is estimated that in 70% of cases, Web content reaches its traffic peak in:
About twenty days on YouTube;
24 hours on Linkedin;
9 p.m. on Instagram;
5 hours on Facebook;
18 minutes on Twitter.
Even if it must be recognized that a coherent and timeless content that you broadcast on your own site can have a lifespan of 2 years on average. You must still play on the other tables to have more visibility.
It is not said that all your users will necessarily discover you via search engines.
For example, you can indeed develop a community on SlideShare that will join you on your site for more details or to consult other similar content.
Or on Linkedin which is the first platform to find professional prospects in your sector of activity.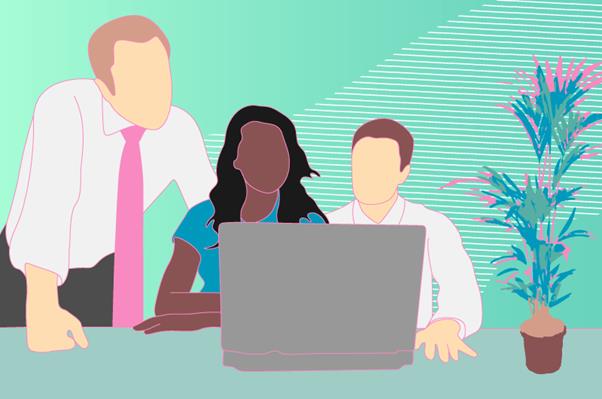 Content reassignment therefore allows you to be omnipresent on all these channels and to distribute your content there. If they are of good quality, new audiences will join your audience.
2.6. Reinforce your message
The repetition of the same information is a marketing strategy that ends up imprinting itself in the minds of Internet users and encourages them to adopt the targeted service or product.
However, repeating the same message without any tact can very quickly annoy Internet users. What needs to be done to get the same message across effectively is simply to reassign it.
It's a subtle and elegant way to loop the same information without tiring your prospects and increasing the credibility of your content on the web.
At the same time, your users who are still hesitant to take action will end up being seduced and will buy the product or adopt the desired service. For example, the rule of 7 in Marketing states that to decide, your customers must hear the same message 7 times.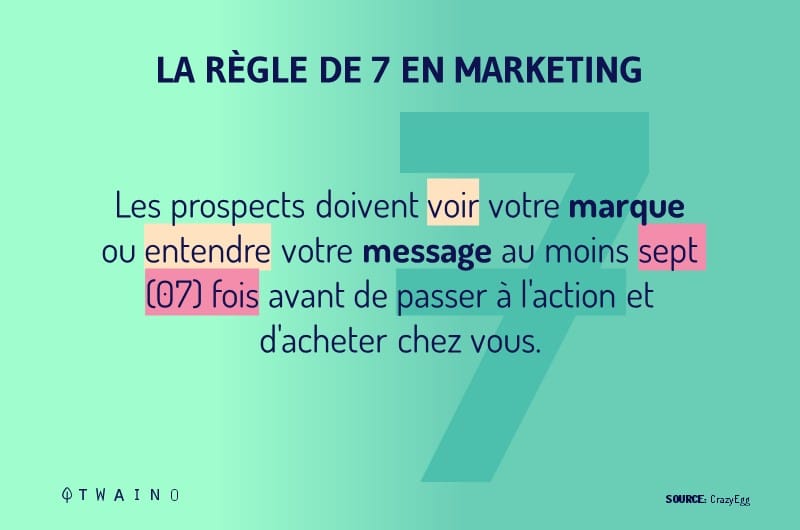 A number that you will achieve very easily and efficiently through content repurposing.
2.6. Offer different learning styles
You would have probably already noticed that, regardless of your daily life and your sector of activity, not everyone studies in the same way.
Some would prefer written content like articles, while others would lean more towards more audible content like podcasts and videos.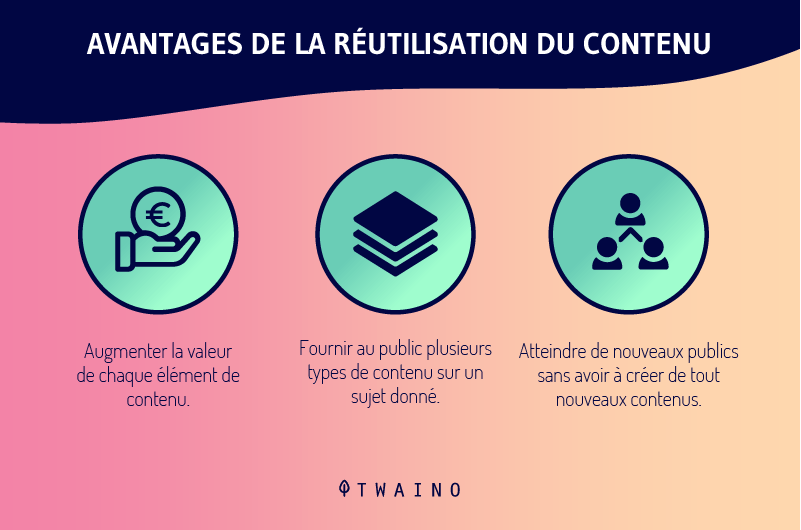 If your site offers training, reassigning content is a good trick to distribute your training to all learner profiles.
2.7. Give a second chance to those who hadn't been able to read your post
Reassignment allows you to offer a second chance to your potential customers who hadn't had the chance to read your content to catch up.
The Internet is very busy these days and we would understand if your content had escaped them. It may be the fault of "no time" or just the amount of spam that floods their emails.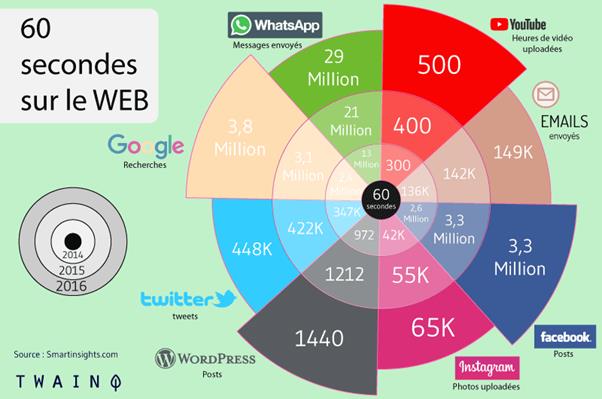 At least this way, you give them the opportunity to discover or rediscover your best content in this race of thousands of content published daily.
Because once the content has been read and your readers have obtained what they are looking for, they lose interest in it.
By recycling your content effectively, you retain your readers with modified content, while providing them with a whole new experience.
2.8. Increase site conversion rate
We already know that repurposed content increases the site's target audience. But it also increases the chances that this same content will be shared all over the web. This implies a good reputation of the site and its activities on the Web.
Indeed, the services or the products diffused on the site can benefit from this notoriety to make the turn of the NET. Gradually, the brand will remain in the minds of Internet users and will become a reference in its sector of activity.
As the famous Seth Godin said:
"Delivering your message in different ways, over time, not only increases retention and impact, but it gives you the chance to describe what you're doing from several angles".
The former Yahoo executive's comments, collected on his blog, support the fact that a message delivered in different ways improves its retention and impact over time.
So many reasons that certainly make you want to reallocate your content as soon as possible to the delight of your Internet users and your business.
But how to concretely reallocate content? What are the steps to follow and where to find content to reassign?
Chapter 3: Where to find content to reassign?
Why look far if you already have your own gold mine? Comb through your site and you will come out with nuggets.
However, it is clear that all the contents of your site are not equal from an "information" point of view. Some are surely richer in information than others. There will be content that has been a dazzling success, others not enough.
To save time and above all to set up an effective search strategy, it is important to know how to recognize the content suitable for reassignment and its location.
If you already have a website with a community and content, you are sure to find suitable content for repurposing. Here are some of these recommended contents for reuse:
3.1. Evergreen
content Evergreen content, also known as " authority content " or "permanent content" has nothing green about it.
It is recognized thanks to its capacity to be almost timeless after its publication and does not undergo any pressure of time. Whether you read it 3 years ago or just 2 days ago, it remains just as captivating and topical.
Generally, these are:
Case studies;
Articles and practical guides;
Unpublished research;
In-depth informative articles;
Collections of statistics.
These contents remain timeless and always retain the interest and relevance of the first day in the eyes of the users. They are mainly recommended to help the site generate organic traffic over the long term.
These contents are usually complex and well-crafted and require quite a lot of work compared to other common contents such as infographics, tutorials, videos, etc.
It goes without saying that authoritative content is also quality content, original, useful, which knows how to meet the expectations of Internet users. It attracts an audience and is generally a great success.
This is the kind of content you can proudly share on social media or send out in newsletters.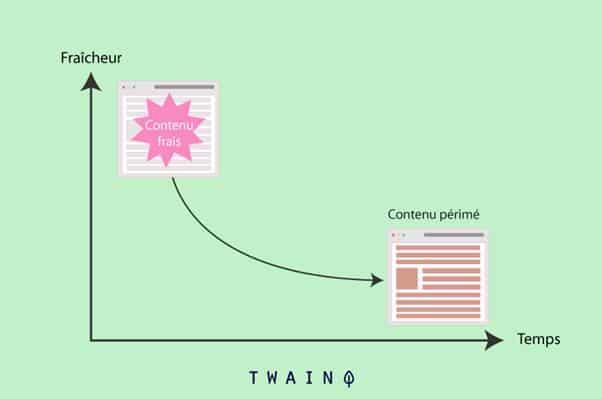 For example, let's say you post an ad for a major brand such as Apple. After a while, you decide to reuse it in another format, you won't gain anything, or at least not much.
An announcement is dynamic information that can change at any time. And it wouldn't be very interesting for your users if you share yesterday's information that has already perished in time.
On the other hand, let's say you publish an article about how to clean an iPhone. You can reuse it almost countless times. Because no matter the year or season, there will always be a hot iPhone model.
3.2. The most popular posts on your site
After the evergreen content, the next task will be to review your most popular posts. This task is more intuitive and the only effort it requires is knowing how to read.
However, this is a task that can quickly become tedious if you have a large amount of content on your site. To help you save time while getting the same results, you can view your website analytics graphs.
You will find enough statistics that will guide you. Including the best publications of the last month or the last year.
See if they all follow a well-established pattern, this will give you a more reliable benchmark.
If, for example, they all deal with the same subject, you can deduce the tastes of your readers.
Here are some tools that make the exercise a lot easier:
Google Analytics : check your "all pages" report in the Behavior ⇒ Site Content section.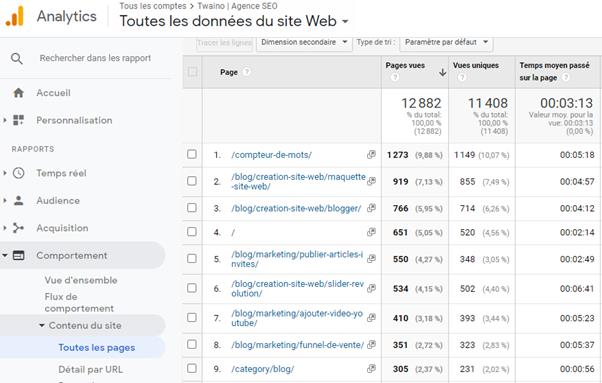 This report shows you which pages are generating the most traffic. Which means people LOVE these types of content. And there are probably other people on other platforms who would like to check them out.
YouTube Analytics: It's the same approach, but with YouTube Studio. Find videos that performed well…and turn them into podcast episodes or blog posts.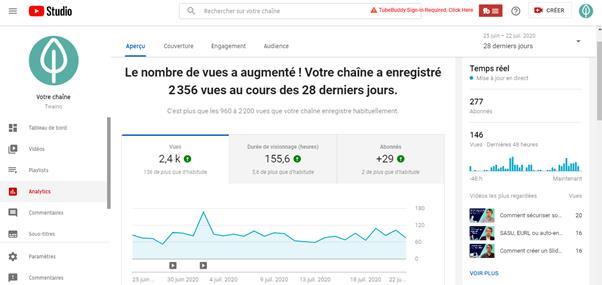 Apart from the most popular posts, there may well be content that has potential, but still did not last long. Or a section of content that didn't grab the attention it should.
Don't think that all hope is lost, this content can indeed be repurposed and regain all the attention it deserved.
3.3. The most popular posts on social media
If you already have a community on social networks and publish content, you can find posts there that can still be used. Go around these spots and identify those that have totaled a significant number of comments or shares.
If you find any, these pieces of content are prime candidates for content repurposing. However, it is important to go back in time and put yourself in your past situation in order to fully appreciate whether a post is popular or not on social networks.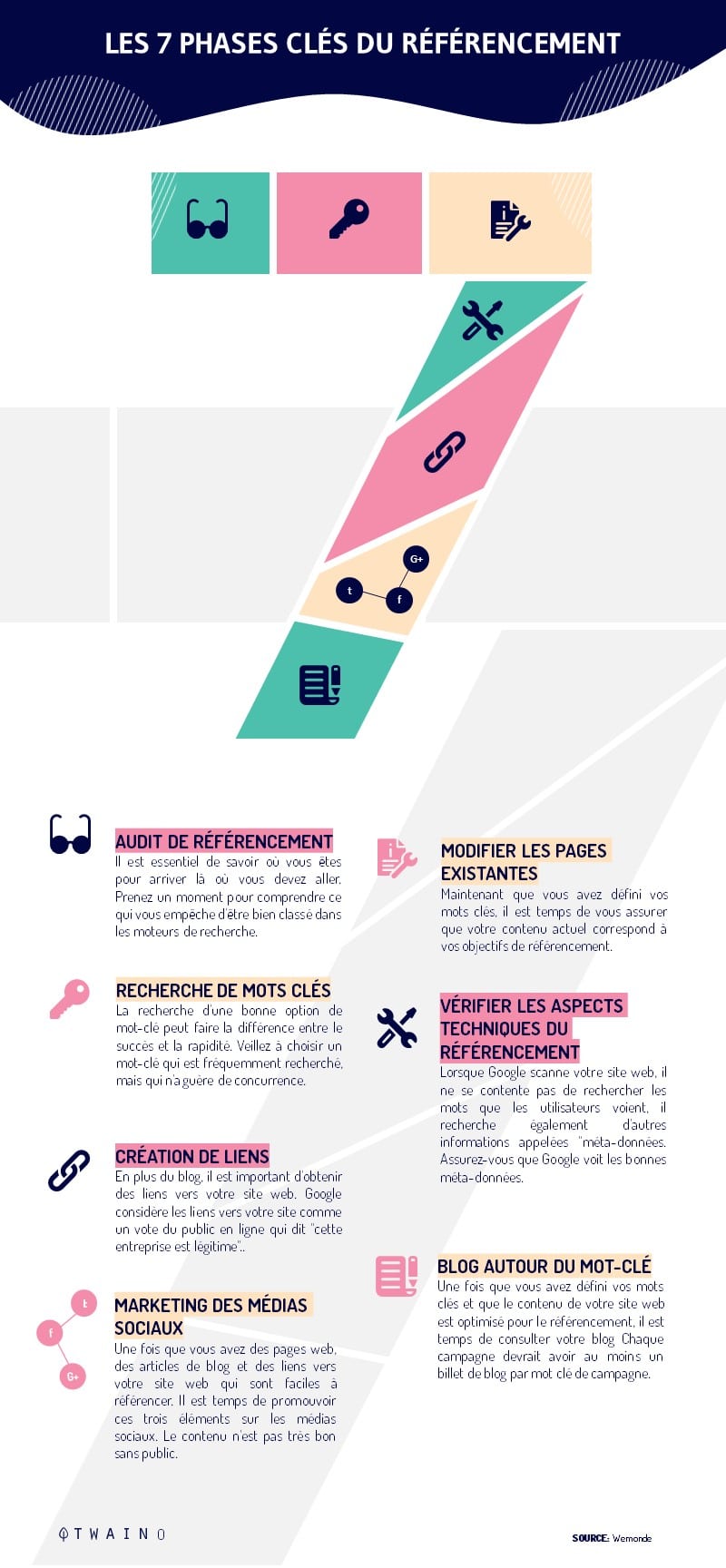 Consider for example the Tweet above which is on average 1 year old. At the time, 22 Retweets and 26 Likes might seem like a lot to the author.
On the other hand, if he considers his current notoriety he might think that this content is not popular enough to be reassigned, yet it is. This content can indeed generate interest if it is reused and bring traffic to the site.
The author can even contact the Internet users who had expressed their interest on the post and send them this new content, they can also publish it.
3.4. Your website's archives
Another tip for finding good content to repurpose is to scour the articles in your archives for gaps to fill.
In other words, it is a question of checking if you have nothing to add to it. Perhaps some information has changed in the news over time. You will therefore be responsible for updating them.
You can also augment the content by supplementing new resources, relevant graphics or images, or simply further develop a section that was lacking in detail.
If you have passed all these steps without finding anything in your catalog, then you will have to create one.
Chapter 4: How to create easily reusable content in the long term?
Creating easily reusable content in the future necessarily involves creating quality content.
4.1. How to create quality content?
Anyone about to create content must always ask themselves how to make it easily understandable to Internet users. A user will not hesitate to abandon content if they find it too complicated or too boring.
To achieve this, quality content must:
Improve brand awareness;
Obtain a good ranking on the engines;
Generate traffic;
Get social shares.
And with all the amount of content published daily on the web, you have no room for error. Here are some essential tips for creating quality content:
4.1.1. Choose a subject that arouses interest
It is important to understand the state of mind of the user, to imagine himself in his place to propose a catchy subject. To do this, you need to ask yourself these questions before you start:
What are my visitors looking for?
What do they want to know?
How can I help them effectively?
Of course, the answer to these questions varies according to the sector of activity and especially according to the different personas that the site has.
Once the theme has been chosen, you must then find a starting point relevant enough to inspire the visitor from the first lines. You can seek advice from those around you or work colleagues to collect opinions on the subject.
If these preliminaries are successful, you should have enough material to start producing your content. Imagine that your e-commerce site specializes in the sale of running shoes.
Your users will surely be interested in topics related to running. Admittedly, this is a fairly broad theme that can be approached in several ways.
But in your industry, topics like "how long running shoes last" or "best running shoes for marathons" would be a good idea.
4.1.2. Do keyword research to optimize your content
Keyword research is a very important step in creating quality content. Unfortunately, it is very often overlooked by a large number of people.
However, keywords make it possible to give good relevance to your content and at the same time to attract the attention of readers to it.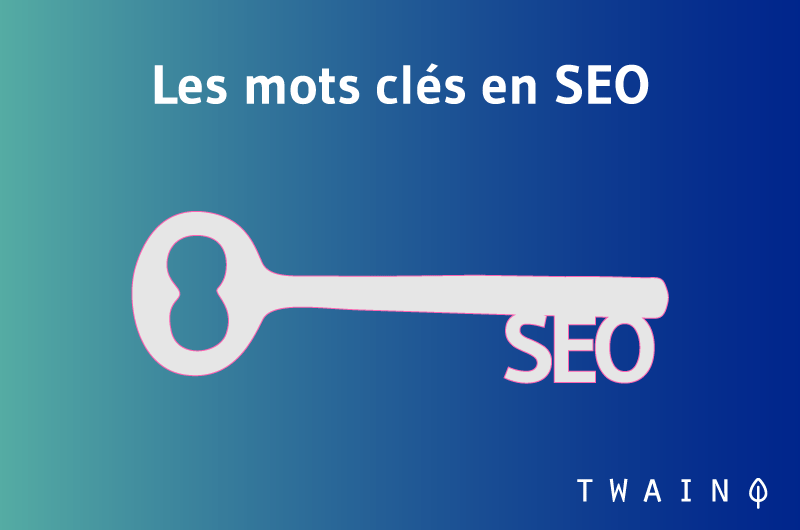 You will be able to obtain at this level a good amount of keywords that will allow you to attract traffic to your website.
It is important to list all the keywords of the chosen subject in order to be able to optimize the content. It will not be a question of creating keywords as we please, but of listing those used by users.
Clearly, the keywords we are looking for here are nothing more than the words, groups of words and even phrases that users are used to typing into search engines.
Fortunately, there are many SEO tools that allow you to consult the list of keywords entered by users to search for a subject, service or product. To find out which keywords your personas type in frequently, you can use Google Trends, Moz and many more .
However, good optimization of your written content does not consist of inserting the keywords as many times as possible. Google might take it as sassy keyword stuffing and penalize you.
Keywords should be inserted periodically in a natural and friendly way throughout the body of the content and also in the headings if you find it useful. It will not be a question, for example, of embarking on a race for the best number of keywords to insert.
The real purpose of keywords is to be easily spotted by search engines and by users. To avoid repeating the same words all the time, you can use the alternative keywords of the lexical field of the main keyword.
A subtle way to use a maximum of keywords without giving the impression of having forced the insertion.
For example, to avoid lining up "content repurposing" throughout this article, we periodically alternate with "content repurposing".
Check out this comprehensive guide to keyword research to learn the secrets to this indispensable SEO practice.
4.1.3. Shorten your URL
The URL is a uniform string of characters that allows access to a website or a specific page of a site. To remain as understandable as possible, many agree to create mileage URLs such as a full title of nearly 30 characters.
You don't have to use the exact title of a page to form its URL. Especially if this page is going to be reassigned in the long term. What needs to be done is to shorten the URL without making it ambiguous.

Let's take the example of the page you are currently on, its URL does not entirely make up the title of the content. It has been deliberately shortened in order to be easily reusable in the long run.
Finally, do not include numbers in your URL addresses to serve as an indicator of the different stages or the year of publication, for example. This way of creating your URLs forces you to update them during an update of the page itself.
However, updating a URL returns a 301 redirect error which affects the SEO of the page. Which we wouldn't want in the least. 
4.1.4. Optimize image alt text
Search engines don't yet have the ability to interpret the content of an image the way humans do. But they rely on the content of the image's ALT tag to understand its context and better reference it as soon as a user launches a request.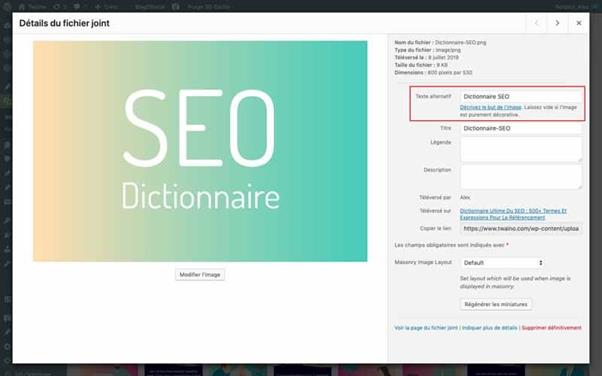 It is therefore essential to correctly inform the ALT tag of the images that you insert in your content. Not only for crawlers, but also to help people with reduced mobility to understand the context of the image.
Indeed, it is this same ALT tag that will serve as a guide for visually impaired people. The ALT tag is therefore very important, if not mandatory for all your images. In any case if you want to have quality content.
4.1.5. Create a teasing meta description
The meta description is also a tag, but it has the particularity of defining the header of a website and is very important for the optimization of the site. Initially, it only served as an indicator for indexing robots to properly reference a site.
Today, the meta description tag is mainly used to attract the Internet user and encourage him to click on the site link by giving him an overview of the content to be discovered.
What would be the use of well-developed content, but which is not read by Internet users? Hence the importance of following a few guidelines for a successful meta description.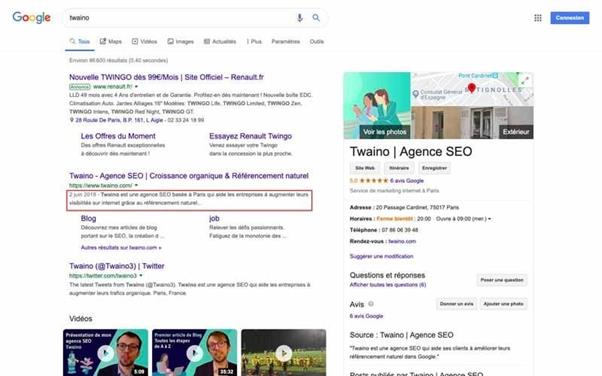 Already, it is recommended not to exceed the bar of 150 to 160 characters for a meta description. Just because the excess will be cut off and will not be visible to Internet users.
Next, the content of the meta description tag must be catchy enough and satisfy the user's intent in order to bring clicks to the site.
For this, the meta description should contain the main keywords of the content or variations to provide more usability and relevance to the tag.
4.1.6. Reviewing the Last Piece
The big problem with creating quality content is lack of time. When your editorial calendar no longer leaves you too much time to publish content, you will be under pressure and can probably miss the quality of your content.
The good habit to keep is to always create your content a few days in advance to have enough time to proofread it and review the small typos that taint its quality.
When you write content and publish it immediately, it's like publishing a first draft. And all the writers will tell you, a first draft is always of low quality.
Leave the item and move on for at least 24 hours before returning. You will have a better perception of the subject and will be able to easily spot the sentences which need to be improved, those which unnecessarily weigh down the content and which deserve to be deleted altogether for more clarity.
Although this is written content, the remark remains just as relevant for other types of content. Audios, videos, infographics… you need to review the content to make sure it's flawless before publishing it.
4.1.7. Measure the performance of your content
Once your content has been created and published, you are reassured that you have produced quality content. While it's a good thing to stay positive, the best way to know if your content is really great is to track the numbers after it's published.
Have the initial objectives been achieved? How does the content perform against these goals? No matter what your starting goals are, here are some common marketing goals to consider:
Ranking on Google;
Improve customer engagement;
Strengthen your brand awareness;
Get a better conversion rate.
So to really achieve these goals, you need to measure the performance of your content. This comes down to looking at the time people spend on the page and shares on social media.
4.2. The overbidding
The method is derived from the so-called Skyscraper method, initiated by Brian Dean a few years ago.
Today, it has become essential in the world of digital marketing and helps every website promoter to offer only quality content to its users.
Essentially, the outbidding method consists of three main steps:
Finding the best content in relation to a specific theme;
Improve these contents to obtain something better from a qualitative point of view than what existed;
Promote this content.
The one-upmanship method therefore consists of drawing inspiration from content that has potential and strengthening its quality as much as possible.
The best way to picture the one-upmanship method is to imagine yourself in a big metropolis with huge skyscrapers.
Although there will certainly be very luxurious small buildings, instinctively all our attention will be directed towards these skyscrapers which overlook the city.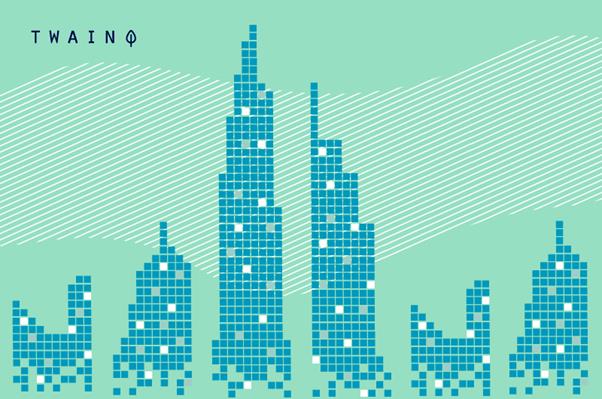 The principle remains the same for a user who launches a request on a search engine and receives in return a stack of response proposals.
This user, and almost everyone else, would rather see the headline results. So take the one-upmanship method as a strategy to make your content stand out from the crowd and grab the user's attention.
To learn more about this method and above all to become a fine master of the field, consult this complete guide on the one-upmanship technique. Advantages, procedures, tools… Absolutely everything is developed there.
Chapter 5: The 27 Effective Ways to Repurchase Content
There are many ways to reuse content because of the possibilities that repurposing offers. Some were briefly presented to you a little earlier, in particular to explain the concept of the objective of the reassignment.
Here, we'll dive deep into 27 essential ways to reuse your content and bring it back to life:
5.1. Schedule a series of emails based on popular content
Series of emails are still an effective way to share content, even if they still seem a little difficult for some. In any case, they won't have any more secrets for you after this section.
Emails are truly one of the quintessential marketing channels that can get you more traffic to your site. Although it's been around for years, email continues to be seen as the primary marketing channel.
Moreover, 87% of B2B marketers and 77% of B2C use emails to feed their audience.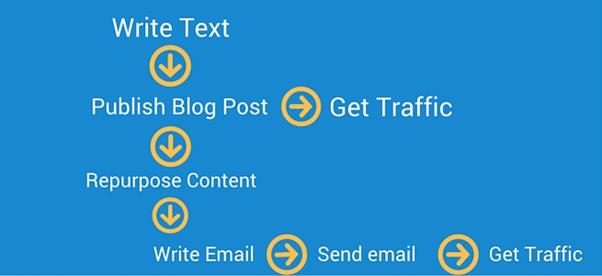 Source : Email Manager
The reason is quite simple: Not everyone on your mailing list reads every post you post on your website. Using emails would be a great way to get them to join in the dance.
Moreover, everyone does not share the same taste and the ideal for a blogger or a Web entrepreneur is to find his audience wherever he is.
To reach your audience through series of emails, the first step would be to break up the content you have chosen for the occasion.
By doing so, you make it easier for yourself, but at the same time for your audience. As for your audience, you should know that people are more willing to read a small content of a few lines by email than to read a post of thousands of words.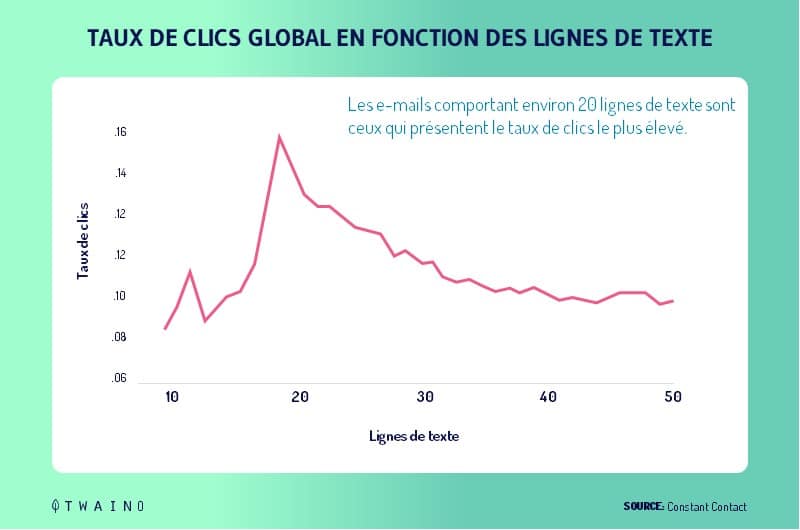 As far as you are concerned, the sequencing of the original article will allow you to obtain a fairly large number of contents to publish by email.
Another advantage is that you will be able to write your messages in such a way as to insert leading links to the original content. Thus, the most curious will lend themselves to it and you will make new visitors who could convert into new customers.
Once you've developed your outgoing email list, you can begin distributing and your audience will receive your posts sporadically like a TV series.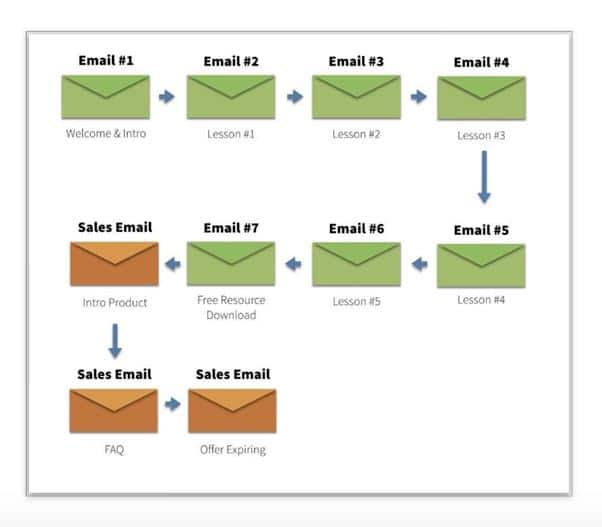 Source : Videos Fruit
To do this, you have many free online tools designed specifically to distribute content by email to your address book.
To have more features and better track your emails, you can opt for premium plans like MailChimp or Campaign Monitor.
Daily, send the content of the day to everyone. After just a few days, you will notice the change in your activities.
For your first time, it is true that you will have a little trouble properly sequencing your content in a series of emails. But the fact is that there is no all-encompassing formula that recommends a specific pattern to follow.
However, no matter how you do it, it's important to have two big sequences: the welcome sequence and the sales sequence.
Welcome sequence: In this first sequence, all the content inserted must contribute to the presentation of your company. It will also be a question of psychologically preparing your audience for the next step, if they wish of course.
Sales sequence: In this sequence the contents must present the offer or the product that you propose. What are the advantages ? Who are the people who can use it and in what context? In short, develop all your arguments to encourage your audience to buy the product or subscribe to the offer. Finally, you can attach an FAQ page and remember the expiration date of the offer.
5.2. Write an eBook using previously published articles
An eBook is one of the best ways bloggers use to monetize their work.
Indeed, the sale of eBooks has exploded in recent years all over the world: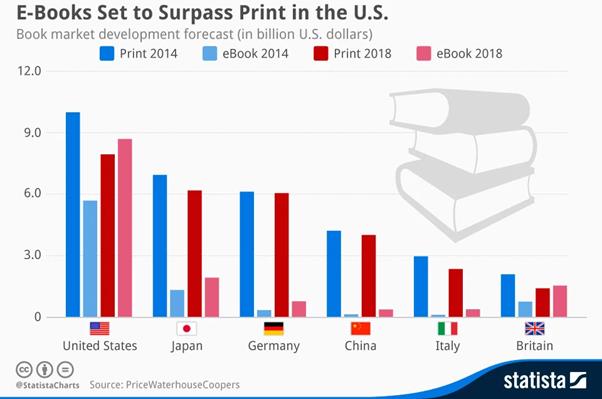 Source : Statista
You can also get into the race and make your content profitable, but you will first have to make sure that they are impeccable and quality.
The good side of eBooks, although it is usually a large document, it is no longer a question of thinking about a new subject or starting writing at the very beginning. You will just have to use your old content, combine them harmoniously to make an eBook.
The only criterion to take into account would be to make sure to take content that already performs well. If they're already loved by your audience, chances are your eBook will be too.
However, it would be redundant to keep verbatim the same information that already appears in the basic articles. Try here to deepen this information and reveal secrets to make a difference.
Especially since a user will wonder what interest does he gain from buying an eBook when he could well be satisfied with what you already offer for free on your website.
It is therefore important to ensure that the document is really worthwhile and that your users are satisfied with their investment.
Next, think about the design of your eBook. It should be pleasant and inspire something valuable. It comes down to finding the right font, style, and images.
You also need to adopt a good writing style so that your eBook is easy to read.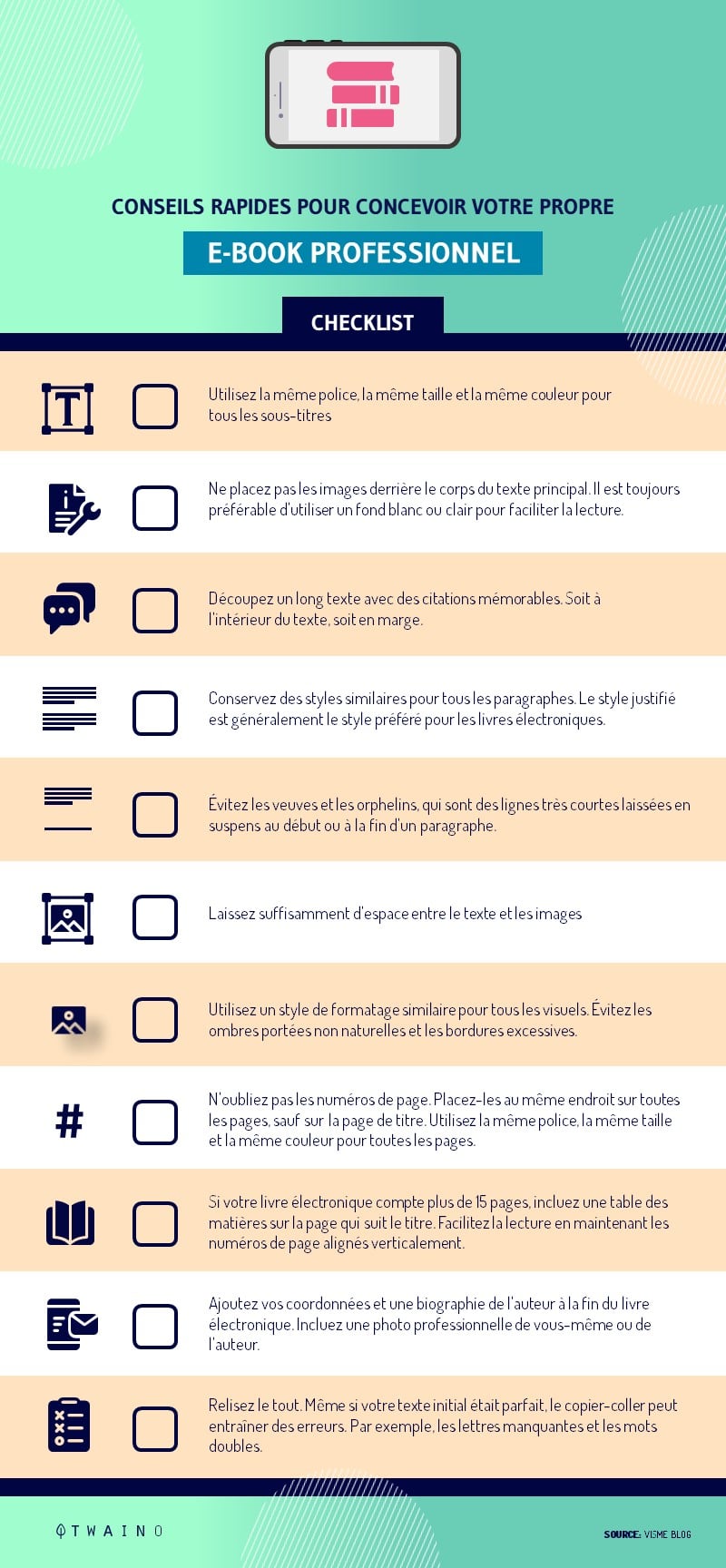 But an eBook isn't just about making money for its owner. Aside from the direct income side, you can also use your eBooks to grow your number of newsletter subscribers.
You can offer your eBook as a kind of welcome gift for all users who subscribe to your newsletter. This is a strategy that will earn you a lot of subscribers. And why not, these subscribers may well convert later into prospects.
5.3. Record a podcast inspired by a blog post
are Podcasts audio content that is mostly inspired by blog posts. This is quite a promising method that easily builds blog user loyalty.
Moreover, several bloggers indulge in it and it seems to please their subscribers. To understand this success of podcasts, let's take the example of what happens in real life. Most people enjoy listening to others talk and the internet is no exception.
However, not everyone can be available at the same time to listen to audio content streamed directly online.
The advantage with podcasts is that they are accessible to everyone, at any time and you can listen to them again at will. They can be equally entertaining or instructive, or perhaps both.
You can listen to them while driving, running or cooking. In short, you have understood, podcasts are only interests for your users. However, you should already know how to make a podcast well.
But don't worry, it's nothing to complicate in the end, you don't need to be a rock star before doing a podcast, even less to have extraordinary eloquence.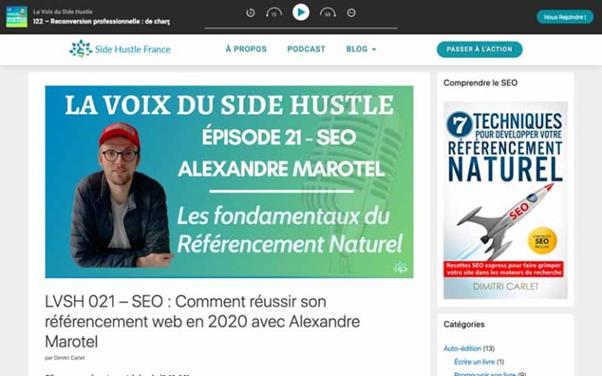 The other advantage with podcasts is that you have time to prepare them and do several tests before publishing. It's not like you're on live TV and the slightest mistake is irreparable.
So take the time to reread your content well in order to have sufficient inspiration before writing your script. The idea is to retain the most important points of your article and transcribe them in writing.
So first you come up with a plan to follow, then second go to the tape recorder to make your recording.
Today there are several very intuitive tools for sound processing and you don't need to call on an expert or have advanced knowledge in the field before putting on a quality podcast with good results.
Just stay calm and you will be proud of yourself. Once the work is done, all that remains is to upload it to your blog post page. In this way, you offer the possibility to your audience to choose between textual and audio content.
By adding this option to your content bank, you broaden your field of action and offer this majority of users a reason to adopt you.
So imagine the percentage of people who would prefer your blog to that of a competitor who publishes text-only content.
5.4. Create a series of YouTube videos
are Videos content that is gaining more and more popularity on the web. And let's face it, we all appreciate videos, especially when they're presented well. 
The difference with the other methods is that the videos create an atmosphere that puts the readers at ease so that they easily learn the concepts that are complex to explain in a textual way.
Already, the Oberlo site predicts that videos will occupy 82% of all internet traffic by 2020: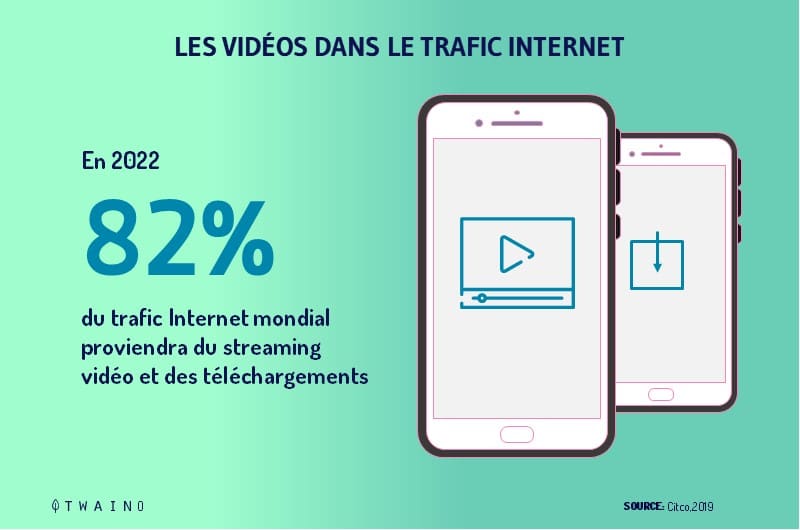 The process is pretty much the same as podcasts. The principle is to take one of your successful written content and transform it into a video.
We maintain the same procedure for podcasts: Build a plan based on the fundamentals of the text and go to recording.
However, unlike podcasts, the value of video designs is higher due to the cost of the equipment to be used.
But for a start, no need to worry about a colossal investment. You can make do with a tripod and your mobile phone.
But if you have the means and want to go big, you can get a professional camera, mic, light, and teleprompter.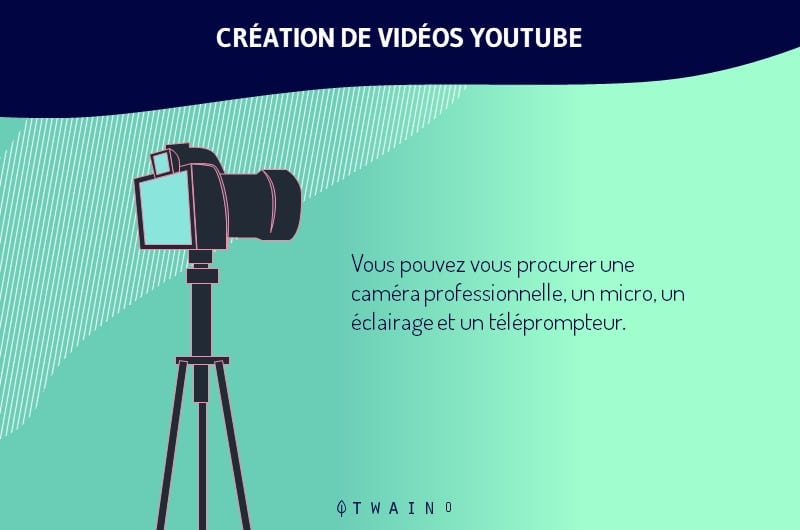 The advantage with the teleprompter is that it scrolls your script in line with the camera. So you can read the script without really giving the impression of reading. You just have to play the actor while remaining as natural as possible.
This provides a certain ease and mastery of the subject during your presentation. Your audience will only be seduced and will be able to trust you.
Also, it is important to remember that the audience following your video will not necessarily be the same as the one reading your content. So don't feel embarrassed to repeat the same things developed in your written content in the videos.
This is a new audience that also needs to consume the same quality of information in the same way as the others.
5.5. Convert a Listicle to Individual Blog Posts
To do this, take a list post you've created and turn each list item into a post of its own.
This allows you to expand, in detail, on different aspects of the original article and add tutorials or more examples to better illustrate.
For example, my article on the list of 21 keyword research tools can be broken down into 21 articles that will take care of the presentation of each tool.
Conversely, you can start from a selection of small articles to build another larger one. You can take for example a group of 5-7 semantically related articles and collect them into a single summary article.
Especially for blogs that post fairly often, this can be an opportunity to easily create new, more comprehensive content.
5.6. Create infographics
The same information can be presented to users in several ways with different renderings each time. Well, you already know that. But when it comes to a document's ability to be easily shared across the Internet, nothing beats a well-organized statistic.
This is why a successful infographic, in addition to being a delight for the eyes, is also a tool for learning and understanding much appreciated by Internet users. Reuse your content into infographics and they will be shared on the net like hotcakes.
So to our list of content repurposing methods, you also have the option of creating infographics which are nothing more than complete visual summaries of your content.
This method is especially ideal for sites that include content rich in figures and statistics.
You can link this data to make a well-illustrated infographic or sequence a large article into important sections that will be repurposed into infographics.
Let's take the example below, it is a visual summary of a complete article that discusses the evolution of Google's favicons.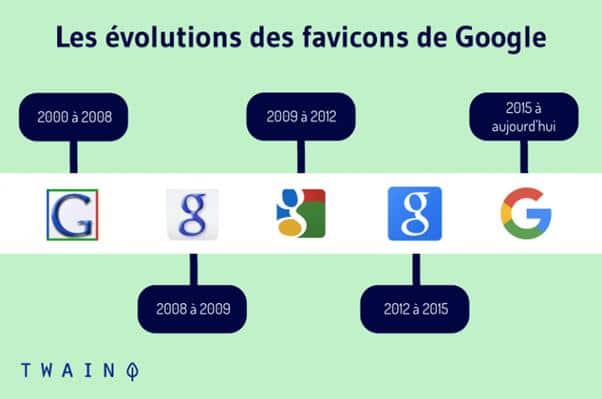 Here too, you are not obliged to call on a specialist or undergo any particular training before making your infographics.
Programs like Piktochart provide ways for non-designers to create their own infographics that are just as illustrative and enjoyable to read as a professional's.
5.7. Update and Republish an Old Blog Post
From time to time, when reviewing the content of a blog, you may come across quality posts held together by information that has remained relevant over time.
However, change is happening, and even those articles written with great precision a few months ago might not ring true today. In these cases, you might find it useful to reassign this content as a new article.
Entrepreneur Danny Boice of Speek understands this and keeps a Dropbox folder full of blog posts he himself has never written with his own hands.
Still, Speek and his team draw inspiration from this record to create ideas and to follow up on posts that could be better through follow-up or edits.
In this way, they simply modify old content to form something new. For your part, you can for example recover a good part of one of your contents and decide to modify only a few details.
Blogger Sarah Von Bargen also understood the concept and added her little twist to freshen up her old posts. She carefully selects the images to be inserted and rewrites the titles.
To do the same, go to Flickr Creative Commons which is a quality image bank. It is mostly appreciated for its good copyright-free images and its enhanced search system with an advanced filter that sorts results by "most interesting".
Besides Flickr, you can also check out Unsplash which also offers good quality images that can be downloaded legally. Once the image is downloaded, think about renaming it not only for user-friendliness, but also for referencing.
This therefore amounts to avoiding automatic naming such as "Image 2020-08-09 183852.jpg". Or even ambiguous names that do not sufficiently explain the context of the image.
Prefer more personalized names such as "woman using a computer".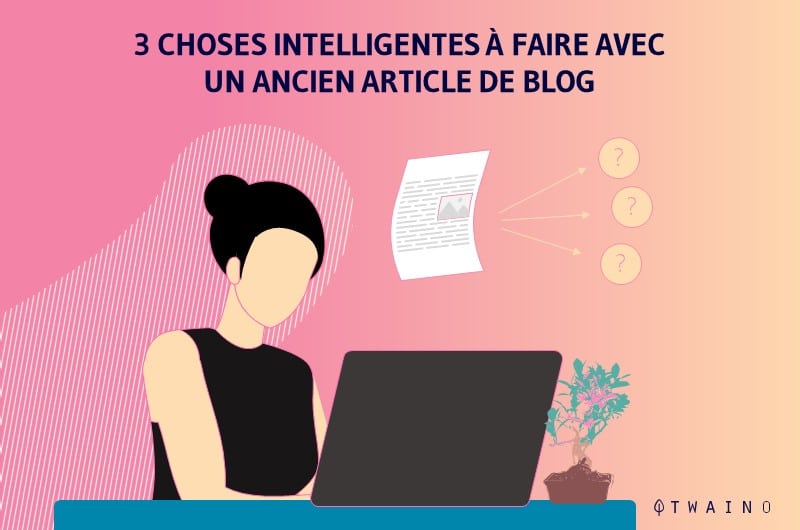 It is also advisable to place the title of the article at the top of the image. This way of arranging an image will make its Twitter or Pinterest feed more user-friendly.
Don't forget to add bold, spaces, and headers to air out your message and make it easier to read.
When you are ready to publish your new content, you can add a little note at the beginning or the end to remind readers of the source of the publication.
Note: There may be times when you come across a well-constructed piece of content that is bringing a high rate of traffic to your site, and you decide to repurpose it anyway to give it a facelift.
In this case, do not dwell on the substance of the content, just try to circumvent it. Hubspot is a great tool for this kind of repurposing. It allows you to update the content without touching its URL. A way to retain the SEO value of content.
Other blogging platforms go so far as to offer to change the post's publication date so that it appears recent to your visitors.
5.8. Turn your blog post into a presentation and post it on LinkedIn SlideShare
A slide can be made up of interesting statistics, meaningful quotes, practical tips. Repurposing your blog posts into a slide is a viral strategy especially on professional networks such as SlideShare.
SlideShare brings together a community of mainly professional Internet users who will appreciate your slides if they are rewarding and well done. It is a channel that can bring you traffic and strengthen the authority of your site on the NET.
Today, creating slides has become easy with free photo editing tools like Canva.
What's special about Canva is that it already has pre-made templates of social media images, blog graphics, and presentation slides ready to go.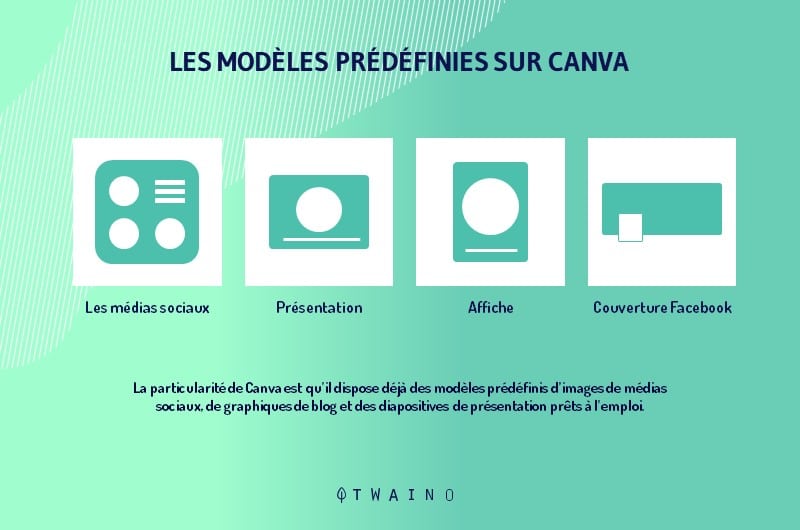 You will therefore just have to choose the slides and slightly customize them before starting the actual presentation.
Even for the presentation, there are many tools such as PowerPoint, Prezi or Google Drive to arrange the final rendering in minutes.
So if you write enough stat-rich, research-backed articles on social media, you can take those articles and reuse them in presentations or slideshows. It's a way to hook your users and at the same time conquer others.
5.9. Create posts on social networks to promote your content
Social networks are among the communication channels that dominate the web. So, you might as well use it to promote your content.
5.9.1. FACEBOOK
Many people think Facebook is dead, but it's the old Facebook as we used it that is dead.
The way many use Facebook is to post to groups with links to articles on their site. Which doesn't tend to work since usually few people go to this type of post.
The reason is that people prefer to consume information directly on Facebook without having to leave the application. It is therefore preferable to create content that does not force the user to visit another site before understanding the message.
So here are some ways to effectively reuse content from your site into Facebook posts that will help you get more engagement:
5.9.1.1. Share the main points of your articles into valuable content in Facebook groups.
Most groups on Facebook don't allow promotions, but here's what you can do: Don't include links to articles on your site in your posts.
It may sound strange, but on Facebook you don't need it! Or at least not directly in publications posted in Facebook groups.
If you think about it, what is your blog content for? It is generally to share valuable information, inspire your Internet users and stand out as a reference in your sector of activity.
And for that, you don't necessarily need a blog post to do that. You can achieve the same effect by constantly sharing valuable content in Facebook groups.
Now, to reference your brand on Facebook, the recommended method is to link the page of your company or your site directly to your personal Facebook account, the same one that you use to place your publications.
To link your site to your Facebook profile, you must of course log into your account and then go to "About". Next, click on the "Contact Information" section and add your site's URL.
That way, when people start finding your content in relevant and useful Facebook groups, they'll click on the link to see what you're up to internally.
And if you do things correctly, Internet users will appreciate your seriousness and your know-how and will end up subscribing to your site or your blog.
Here is an example of someone doing this very well. Shelsey is a Facebook user and let's briefly analyze one of her group posts: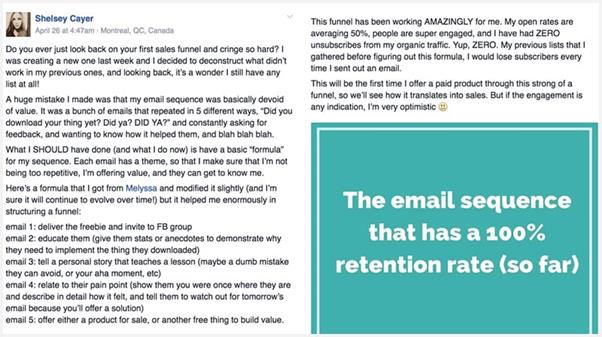 You can see that her group post is sharing value ONLY and does not include any links to her site. It also does not include marketing techniques, it just publishes value.
We can also notice that she inserted a rather relevant image that sums up the whole publication in one sentence. Which helps him quickly stand out in the group feed.
Now, if you read Shelsey's post and find it valuable, then chances are you'll push your curiosity and seek to know what else she posts on her site.
You'll probably click on his personal profile to see if you can get the link to his website. And he is there! She has indeed linked her personal Facebook profile to her box The Scrappy Entrepreneur: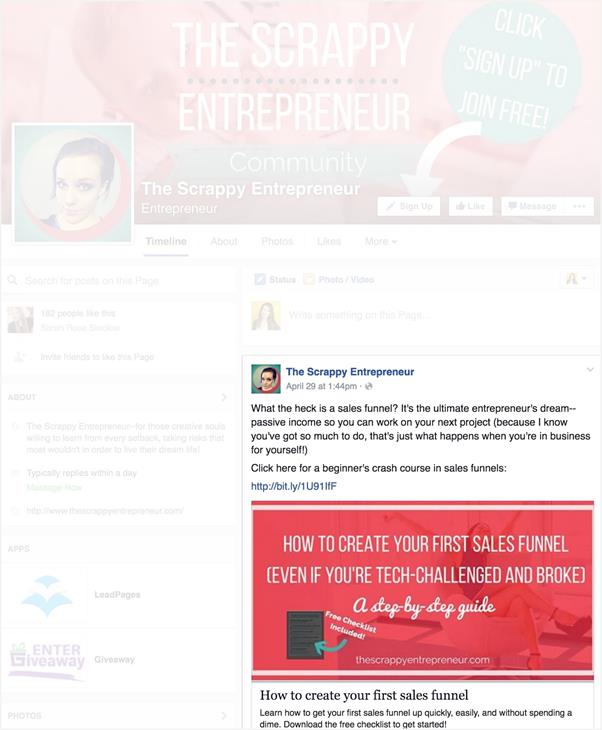 And it is here, on her own Facebook page, that she inserts a link directing to her blog post on the same subject, and not directly in the Facebook group. And here too, let's analyze how it welcomes its visitors.
So you just read Shelsey's helpful pitch in a Facebook group, then you decide to check out her Facebook page because you want to know more about her. You will immediately be greeted with a longer post on the same topic.
A strategic way to make you gradually discover his universe without invading you.
5.9.1.2. Repurpose chunks of your blog posts into Facebook page posts.
Here is another way to reuse content on Facebook, very simple way, it should be noted. You choose a post from your blog that is already a hit and simply repost it to your Facebook page.
Here is an example fromAlexi Panos to better illustrate the technique: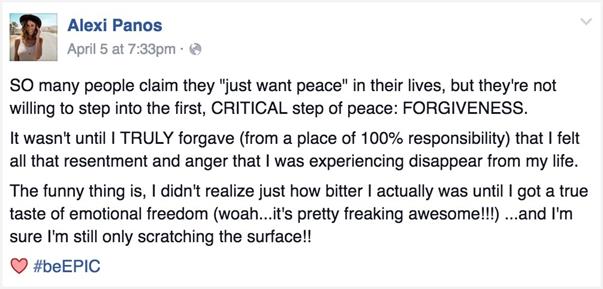 Alexi frequently posts content about personal development on his page. These are usually videos or quotes with slightly longer text as you can see in the screenshot above.
We can't say for sure that his Facebook post was ever a blog post, but doesn't it sound like it could be the foundation of a great article?
So even a short snippet of your original content that touches on major points can be very influential for your Facebook page. And this, without really needing to create a link to your blog post.
This little snippet can often lead to a lot more engagements than just a link to your blog post.
Again, this is because people on Facebook are looking for information to consume on Facebook, rather than clicking on a link to an external website.
You shouldn't focus so much on your site traffic that you forget that you also need an authority on the NET.
Traffic is certainly important to your website and we're not denying that. But if you can also have followers on other platforms such as your Facebook page to interact and share your content, it can be just as useful for developing your brand.
5.9.2. TWEETS OR SNAPCHATS
I thought of pairing these two networks together because they're essentially the same thing, just in a different format. Twitter is where you share brief written content and Snapchat is where you share brief visual content.
On Twitter, you can repurpose a blog post into multiple tweets, spread throughout the week. Try creating a tweet that shares a brief tip from your blog post or a helpful quote from the article. Adding a link is optional, but we encourage it here.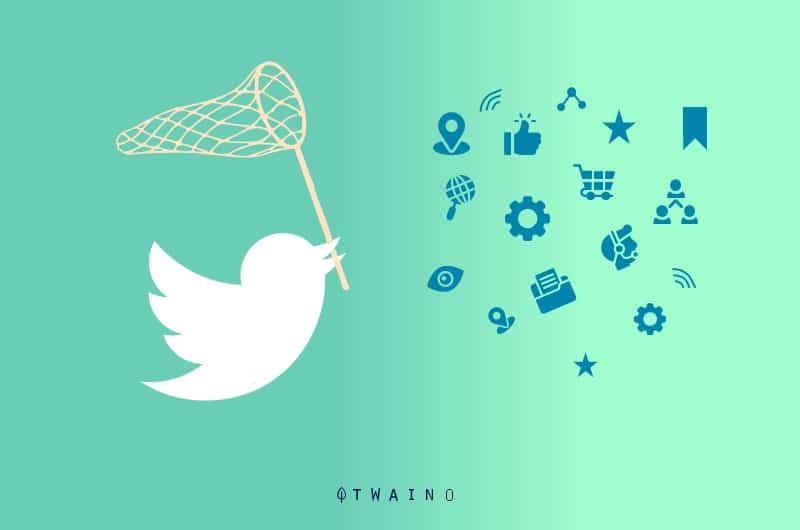 As for Snapchat, I find the platform works well if you share a mix of your personal life. For example, you can reveal some behind-the-scenes stuff. Or display your personality along with occasional tips or advice for your audience.
So you can again take the main points from one of your blog posts and share one tip a day.
Remember to consider the platforms you post to when repurposing your content. Snapchat is not designed for 15 minute workshops. You can use Periscope or Facebook Live for these kinds of workshops.
But it is recommended to share small tips that someone can consume in less than a minute.
5.9.3. INSTAGRAM
Oh, you thought Instagram was only for posting pretty pictures? Well, think again! While it's a great place to share beautiful visual content, it can just as easily be a place to share rich and useful captions.
Along with your regular Instagram content, I also encourage you to add your blog content to some of your Instagram posts.
When repurposing your content, it's important to consider the platform. Personally, I would never copy/paste a blog post directly into my Instagram caption because I know people on Instagram aren't there to read long posts. Besides, it's not very interesting to see the same content written exactly on several platforms.
Content repurposing is not about copying and pasting the same thing all over the NET. It's about taking parts of a piece of content and reshaping it so it works on other platforms as well.
Pinterest is both a social network and a photography sharing platform. This is ideal for easily reassigning content. So you can take images you've created for other content and pin them to your board on Pinterest.
If you've created an image you're proud of, this is your chance to share it and build a community on Pinterest. If you also have graphics inspired by quality articles, you can use them to enrich your Pinterest space.
Take for example Rachel Ngom, a blogger who also relies on other platforms like Pinterest to develop an external community.
On her blog, she wrote a guide that explains how to reuse content on Pinterest. To set an example, she decided to turn the article in question into an image that she posted on Pinterest.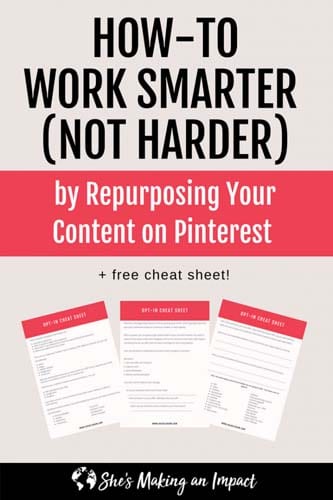 Source : Rachel Ngom
Like most of the platforms seen so far, you can also create a link that redirects your visitors to your original article, but it is not mandatory.
Successful content isn't just about reading it and sharing it on the web. It is also to open the content to free and ruthless debates. This is exactly what you expect when you share your designs in answers on Quora.
Quora is a platform that has the particularity of offering its Internet users the possibility of creating and leading questions and answers.
We could also associate this atmosphere with what is happening on Reddit where your content can also spark a heated discussion.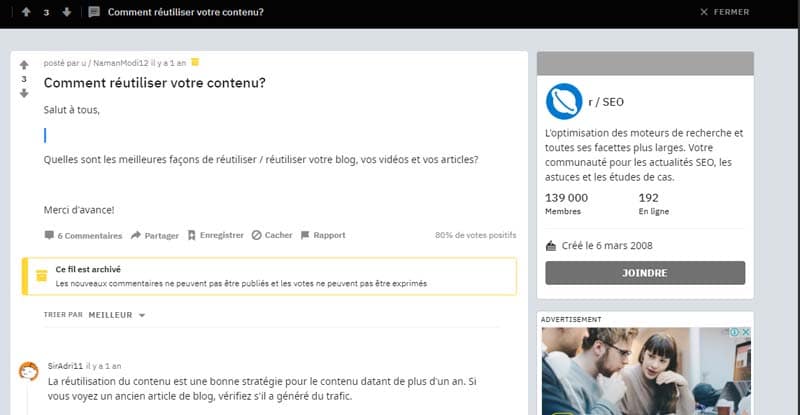 Source : Reddit
Reddit is a large and very popular forum that offers its users the opportunity to share their own posts or comment on others' posts. This year, the site is ranked 20th most popular in the world and 6th in the United States, according to the Alexa ranking.
Becoming popular on such a viral platform can allow you to generate significant returns to build your notoriety and increase your site traffic. The only catch though is that Reddit does not tolerate inactivity.
So if you're only betting on Reddit and not posting content regularly, you risk losing your post long before it has a chance to reach a good number of users.
The thing to do to stay in the race is to spend each week on the forum to post a new publication. Or at the very least bring back some of your old content into a thread to give it some new attention.
Although they are two different types of platforms, Reddit and Quora still have certain points in common:
A large community composed mainly of experts from various fields who frequently animate the two platforms;
A sense of listening, sharing, mutual aid and ethics very much shared by the members of the two platforms.
Thus, if your conception of a subject is erroneous or has some limits, you can be sure to collect only suggestions and criticisms centered on a serious collective reflection.
So if you have enough textual content, like a blog, you can copy and paste small sections of your articles to answer relevant questions and participate in discussion on Quora.
If you want, you can change the labels a bit before bringing them back to Quora, but you don't have to. The idea is just to actively participate in the discussion and share your knowledge on the subject.
Here is a clear example of repurposed content on Pinterest. The author answers the question "What are your favorite ways to reuse content?" ".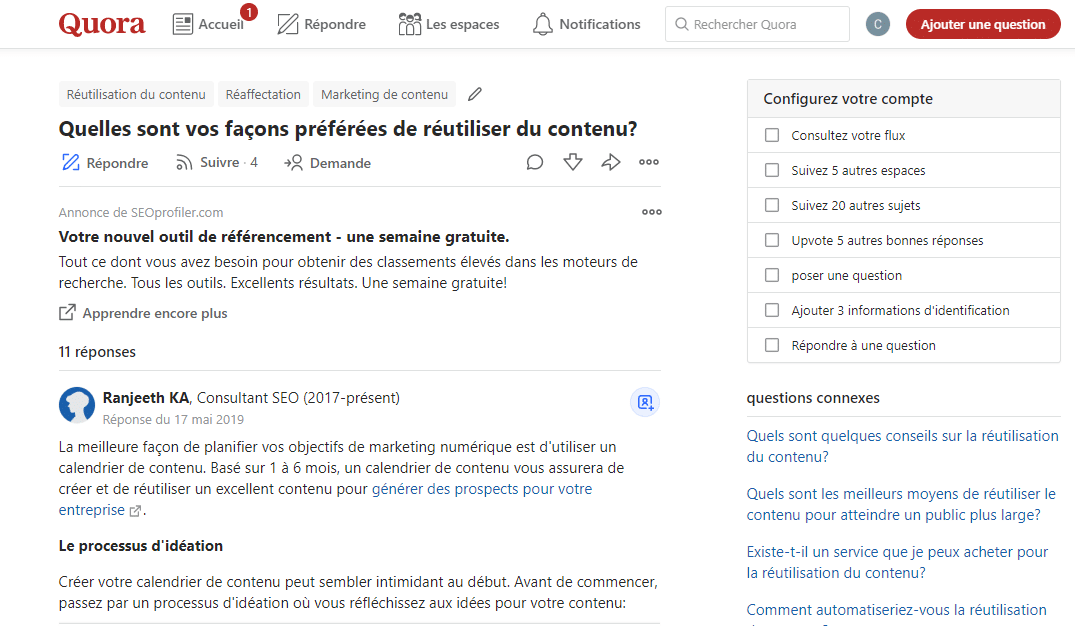 Source : Quora
As we can see, the first Internet user decides to start from the notion of content calendar to try to answer the question.
Even if it is not a direct answer to the question asked, we feel that the Internet user has a certain level of knowledge in the field. This makes it possible to have an idea of ​​a discussion on Quora.
Imagine participating and providing practical information in such a discussion and which relates to your sector of activity. Naturally, people will be interested in your profile.
This responsiveness will help you build credibility on Quora and get more attention on your online profile. You can then use your reputation to promote new content in the future.
5.10 Transform your old blog articles into practical guides
By dint of regularly creating content on themes in the same field, it is clear that you will end up accumulating information, experience and ence and expertise. In any case, enough resources to train people in the field.
Even if it is not necessarily about advanced notions, you will still have the ability to teach the basics of the field in a practical context.
And we are not only referring to SEO on the Internet, it can be for example cooking, programming, DIY, etc.
So what are you waiting for to put your know-how at the service of your users? All that content you've been posting for quite a while can be organized into the perfect user guide or manual, no matter what industry you're in.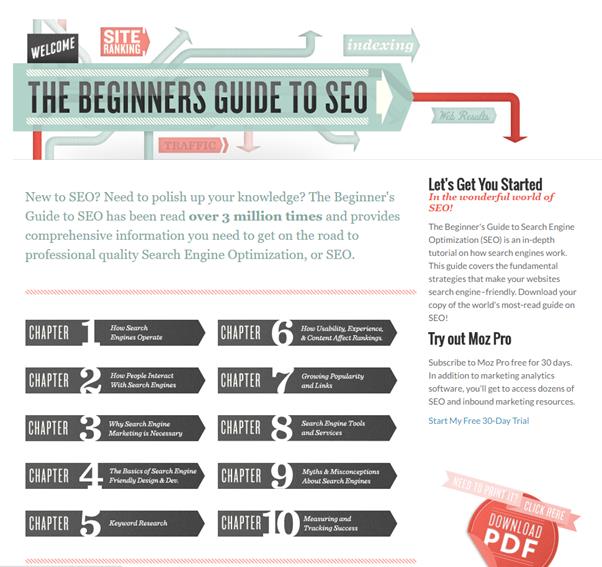 Source : Cognitive SEO
Try to be as clear, as intuitive as possible, and your user guides will very quickly become a reference for beginners, and why not even for experts in the field.
5.11. Turn your blog post into a webinar No matter
how much dedication you create your blog content, there will always be one that will be more appreciated by your audience. So why not take advantage of its success to attract more prospects?
You can take this article and repurpose the topic it covers into a conversion event, such as a webinar.
Already, the term webinar is a combination of the words Web and seminar so a webinar is a seminar that takes place on the NET. Beyond the instructive aspect of a webinar, it is also used to promote a service or product and is a good way to make sales.
The advantage with a webinar is the proximity to your audience. For starters, if you can't decide which repurposed topic for your webinar, you can ask your audience directly.
Also, throughout the webinar and even after, you should invite your users to ask all kinds of questions. Answering these questions brings you closer to your audience, including knowing their needs, opinions, topics of most interest, and more.
You can take inspiration from these questions to choose the topics that you can develop in your next articles to interest your audience.
The other advantage with webinars is that you will just have to take what you taught in one of your blog posts to create the webinar. But to succeed, here are some steps to follow:
Develop an outline of your blog post, which you will turn into a webinar;
The webinar outline should include the main ideas of your blog post, as well as any sub-ideas that you find useful;
Each sub-idea can be presented as a different slide in the overall webinar presentation;
Think of a small introduction to start and a pitch at the end and you will have created a good structure for your webinar.
Once the creation of the webinar plan is complete, you can decide to create the slides yourself or simply use a virtual assistant to go quickly.
5.12. Reassigning Content to Periscope or Facebook Live
Many people are still hesitant to join Periscope or don't start Facebook Live because they feel they're running out of ideas to present.
Now, thanks to content repurposing, that excuse no longer holds. Get inspired by one of your blog articles, a priori an article that has been acclaimed, to produce your video.
Let's take the example on this same blog post, the one you are currently reading. It could well and truly be reassigned to a Facebook Live or Periscope session.
In the video to be posted on both platforms, I will also discuss each of the reassignment methods, exactly as in the article.
Also, if your blog post is large enough like this, you can expand on each main point in a spread. Thus, starting from a single article you can create a series of content that can be broadcast over several days.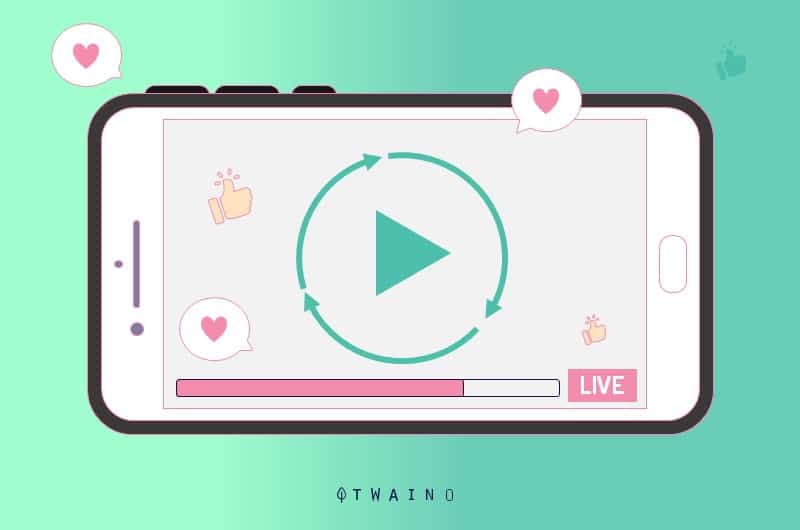 Some would say it's a bit redundant to bring the same topic from a blog post to Periscope and Facebook. Well not really, for the same reasons stated for podcasts and videos.
Tastes differ and while some like written content others prefer videos. While others come to view your content directly on your site, others prefer to follow you on video on Facebook or Periscope.
It's up to you to serve everyone. Also, live video is not exactly like written content. In a live video session, you instantly answer your audience's questions and dig deeper into the concepts you're teaching.
So, I recommend starting live video sessions on the same topics as your blog posts. See your written content a bit like written documentation and live video sessions a bit like real class.
5.13. Write guest posts
What Internet users expect from quality content is that it also brings new ideas or new stories. This sometimes requires writing free articles for other influential sites or blogs: We talk about guest articles or guest blogging.
At first glance, it seems counterproductive to leave your site to write for another, but this method is far from without benefit. And you will understand why. Explanation !
For a little reminder, the so-called Hub and Spoke method remains one of the best of the best in the field of guest articles. The term has its origin in mechanics and means hub (hub) and spokes (spoke).
By analogy, your original content is the hub and your guest posts are the spokes.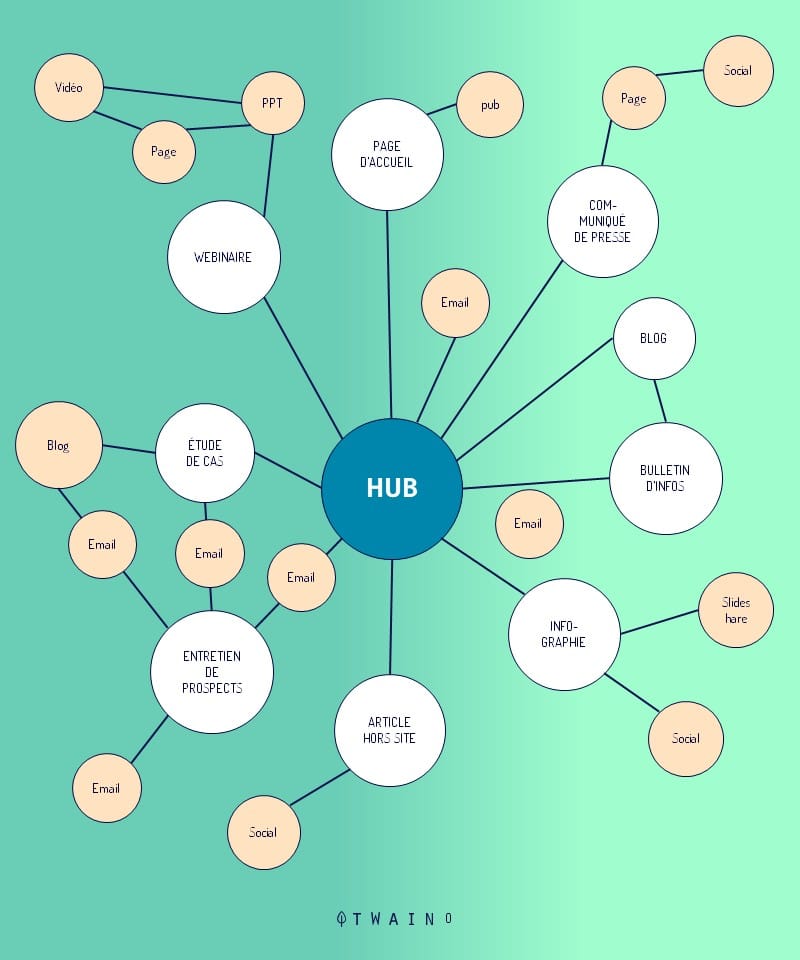 Just like on a wheel, these guest items are connected to one and the same center. Which means that your content on other sites will eventually drive readers and traffic to your own site.
The advantage with guest posts is that they are easy to create. Indeed, you already know all the important things to say and you are not required to detail them as in the original content.
But the big advantage is that they allow you to get targeted referral traffic that will convert better than other online marketing channels. This considerably improves your SEO thanks to the relevant links that you place on these influential sites and which redirect to yours.
If you don't have enough time to write these guest articles, you can hire a blog writer, or ask a member of your team to write quick summaries and complete new facts to give a new look to the contents.
5.14. Write an expert summary
Content without evidence is worth next to nothing in the eyes of readers. And in terms of evidence that can be inserted into an article, we have statistics, infographics… and especially expert opinions.
So to bring more credibility to your content, you can ask a group of experts to answer a few questions related to your subject. Then you can base on all collected responses to create new content and insert URL of old content.
Not only will you have enough to post for a long time to animate your mailing list, but you also get to know experts in your field. A most useful collaboration for a promoter of a website.
Admittedly, it is not obvious that all the experts you contact will not be available to answer your questions, although you will find that the majority love to share their knowledge.
5.15. Gather your internal data to form case
studies Case studies are a compelling piece of content that attracts enough leads if done well. It is a kind of long, in-depth and more effective testimony that reinforces your statements.
Conducting a case study therefore amounts to gathering and analyzing data that attests to an argument or a concept in order to make a qualitative study of it.
It is widely used in the field of science and the academy, in particular by researchers, professors, students or professionals.
In the context of web entrepreneurship, the notion of a case study is not so different. It generally takes the form of an article which aims to clarify and justify the author's choice on a given theme.
So if your content contains large amounts of fairly compelling data, know that you have value to reuse and that case studies are really for you.
Of course, to ensure good animation on your site, you may be more concerned with the quantitative aspect of your content. But the quality of the case studies can interest your users and are very informative for them.
So to carry out your case study, you must first seek to understand why something happened in a cause and effect approach. For this, you have the right to search your content that addresses the subject, to collect all the weight data to make it a convincing article, a case study.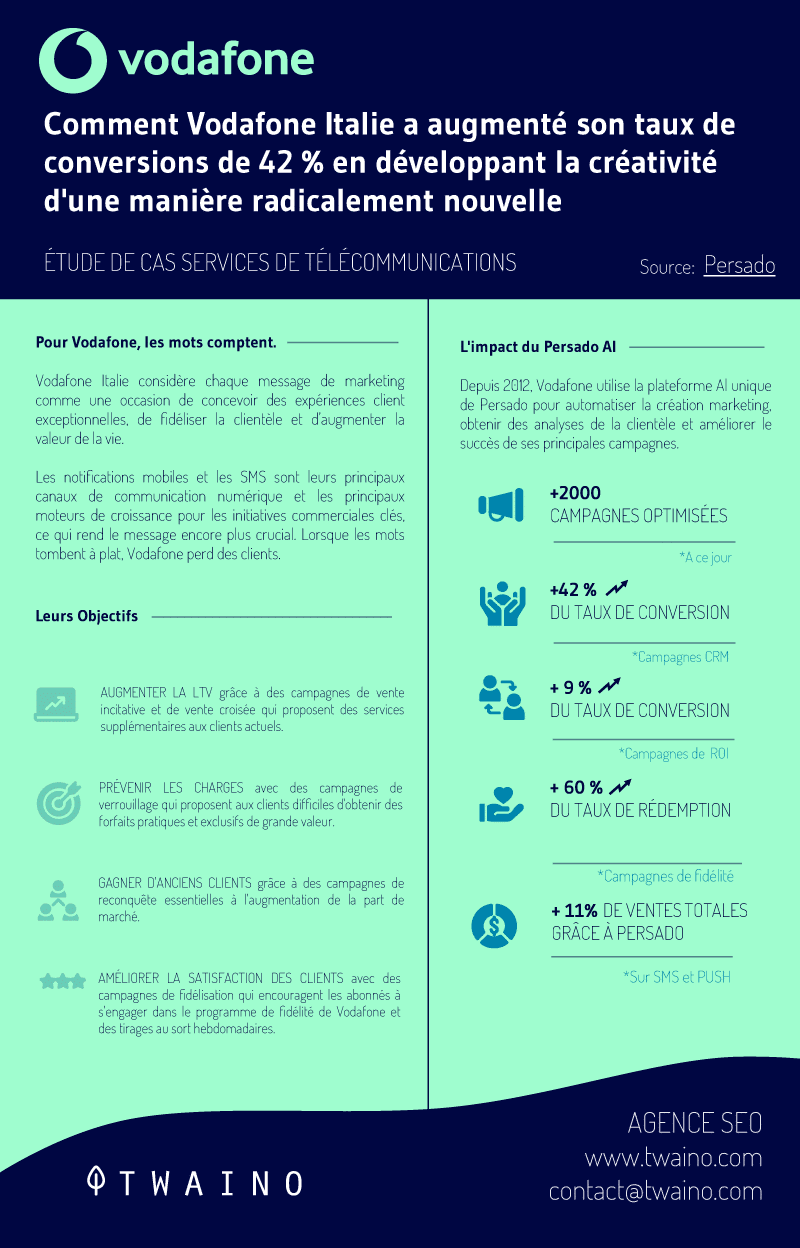 It is quite an interesting exercise both for the reader and for yourself. Both of you are rediscovering a phenomenon or a fact that was perhaps not fully interpreted.
If a case study is done well, it can help boost your reputation on the internet and get relayed by so many other websites. Here are the steps to follow to reassign content to a case study:
Start from a broader topic of written or visual content;
Form a set of practical cases with all the information to better illustrate the idea developed;
Report this set in a new article;
Link this new content to the old one by inserting the URL of the base content.
Not only does repurposing your case study content increase website traffic, it also dramatically increases your conversion rate.
5.16. Repurposing your blog posts into a physical book
This method of repurposing content takes a little more work than the other methods. But the game is worth the candle.
If you have a collection of old written content that's "rusting away" in your site's archive, why not repurpose it into a physical book to sell or give away? Some will think they are not artistic enough to be a book author.
But the greatest resource needed is precisely that collection of old items that you already have. For the rest, you'll just need to collect, put together, and format everything properly. Or to put it simply, just hire a freelancer to do all the work for you.
Once the document is ready, there are many tools on the NET such as Lulu which serve to repurpose your blog posts into a physical book.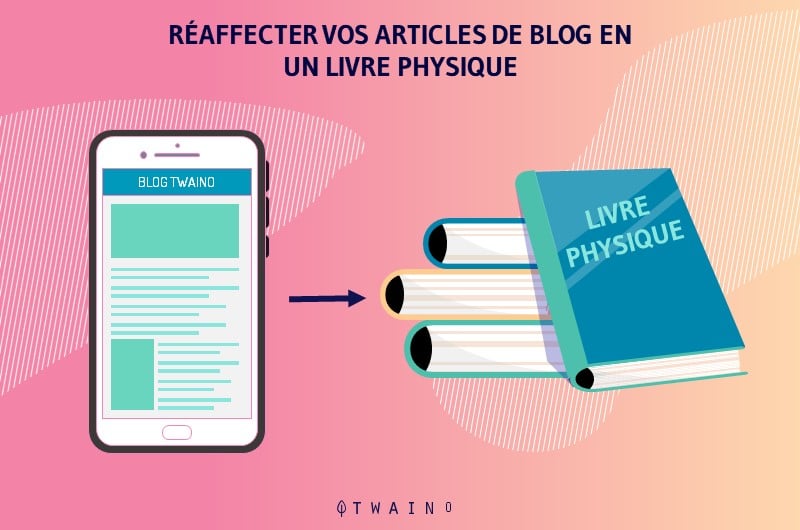 A paper book will make you more credible in your field in the eyes of your readers than any other type of document. It is a kind of insurance that proves that the author is knowledgeable and represents a reference in his field.
If you already have a collection of old articles, why not release a book that bears your name?
5.17. Transform your blog posts into valuable online courses
The best way to learn is to successfully encourage the learner to apply himself by giving him challenges or objectives to achieve.
With some research into learning methods and some effort in editing your content, you'll manage to take interviews, blog posts, Q&As, and the like into a proper online course series.
Of course, the creation of online course platforms has continued to increase in recent years. But the sector is far from being saturated, even less flawless. Indeed, there is still work to be done, particularly on the content offered and the learning methods used.
Most sites that provide online courses use just one or two learning methods. Very few of them actually manage to integrate all the methods into their program.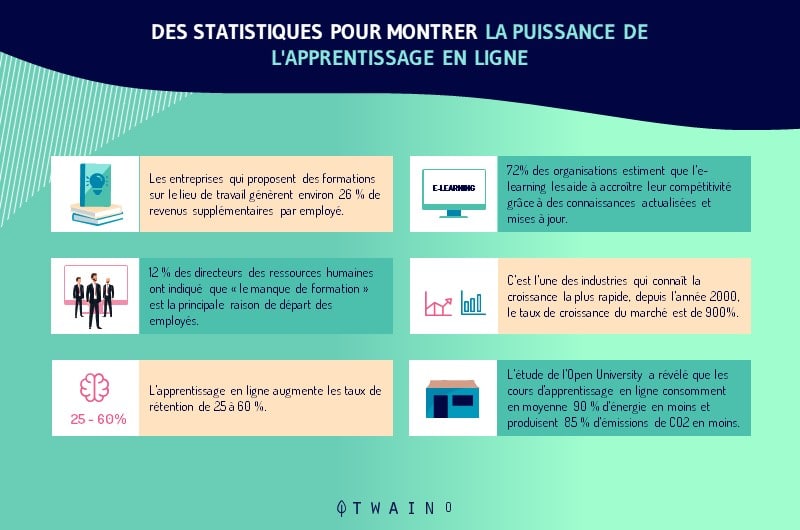 You can therefore grasp this flaw in the system and offer a solution that suits all learner profiles. Find that little missing thing that will make all the difference. Perhaps the level of interactivity between the learner and the course?
Or maybe some easily digestible examples? If necessary, seek the advice and opinions of an expert in the field.
But find that detail that others have missed and make it your selling point. You can prove from your content that there is more to learning than reading.
So where to start ? First of all, there are those who just want to see their courses downloadable on educational platforms. Just take your best blog posts on a specific topic, then repurpose them into course materials and upload them to sites like Udemy.
But if you already have a WordPress-based website, you can use an LMS plugin to start a webinar or online course. Here is a selection of LMS plugins to help you:
Now, with content to repurpose and a list of dedicated IT tools, you have no excuse to turn your blog posts into an online course curriculum.
Give it a try and you'll have more to gain, both financially and on your brand awareness on the NET.
5.18. Turn your blog posts into a downloadable PDF document
Among the possibilities to repurpose web content, you can also turn textual content into a PDF document. It is a type of document widely used on the NET, particularly in the teaching environment, and which is also known to bring in traffic.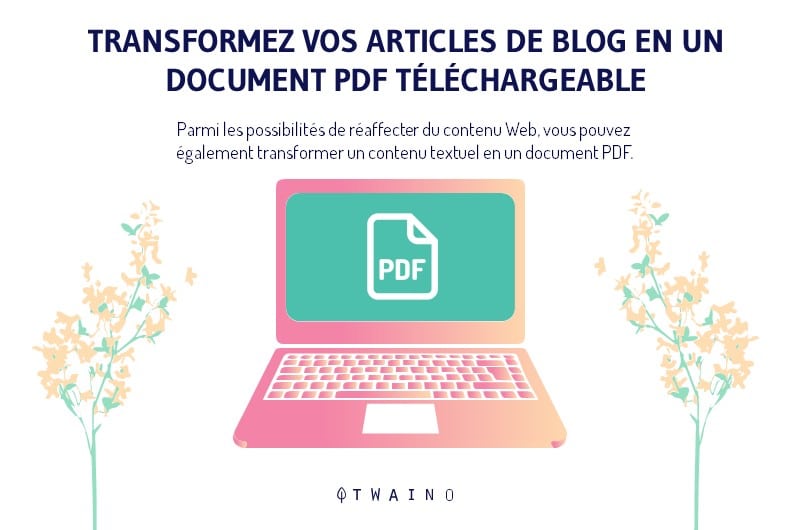 It is also used to request the email addresses of your users in order to better offer them targeted services. The procedure to offer to your visitors is to claim their email address against a free downloadable PDF document.
You also have the option of attaching a downloadable PDF checklist to accompany a blog post and get more downloads.
5.19. Repost your posts
There are many platforms today where you can post your posts and gain new audiences. For most of them, it will first be a question of registering before being able to publish content.
As far as you are concerned, once registration is complete, be sure to properly format your content before publishing it.
The question that many people have about posting the same content on these platforms at once is whether it is a form of duplicate content.
These concerns seem very logical, especially when we know that duplicate content is penalized by search engines and can harm the site's referencing.
That, we understood, that's why we only listed platforms that add canonical links in their HTML tree.
For those who do not know what it is, canonical links are tags initiated by these same search engines to precisely escape these problems of duplicate content.
Here is a list of platforms that you can use to repurpose your content and attract more traffic without worrying about creating duplicate content:
Hacker News is a platform that works much like Reddit and is mostly reserved for programmers and entrepreneurs. So if you often offer content related to IT or entrepreneurship, Hacker News is definitely a platform to explore.
On the other hand, it does not require constant activity as required by Reddit. You also have the option of submitting your URL to try to get traffic back.
Well, let's warn you from the start, the design of the site is not that attractive, but that does not affect its ability to bring you traffic if your content is popular.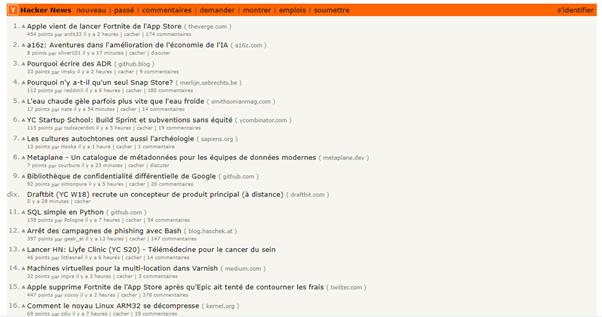 Source : Hacker News
Medium has a fairly large community and also allows you to share your blog posts. The site estimates the number of its readers at 120 million.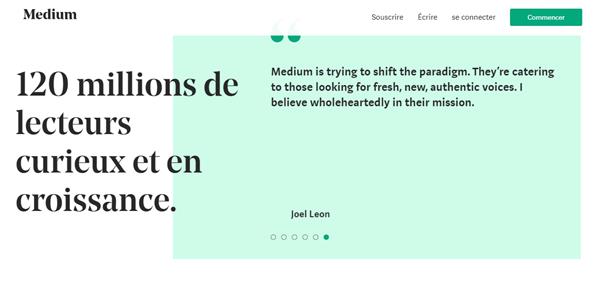 Source : Medium
With such a community, you have enough to boost the visibility of your site if you manage to attract their attention.
Registration is simple and free with the possibility of connecting via your Twitter, Facebook or Google account.
BizSugar is a site that offers tips and news for small businesses. The platform categorizes republished articles by topics such as finance, startups, technology and marketing.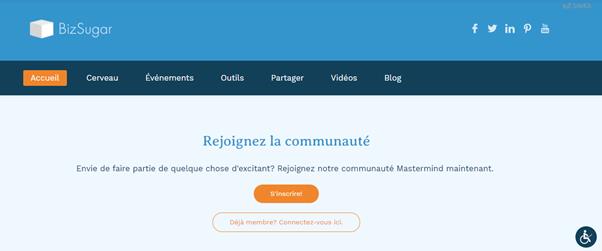 Source : BizSugar
In recent years, BizSugar has renovated its platform with new improvements. We can notice in particular quality self-guided courses, reflection groups, online events, etc.
You can therefore republish elements of your content in relation to the different sections of the site.
SocialMediaToday gives you the option to manually submit your content. You also have the choice to automate submission via your RSS feed. If you are a publisher, you can select the best of your content and feature it on their homepage.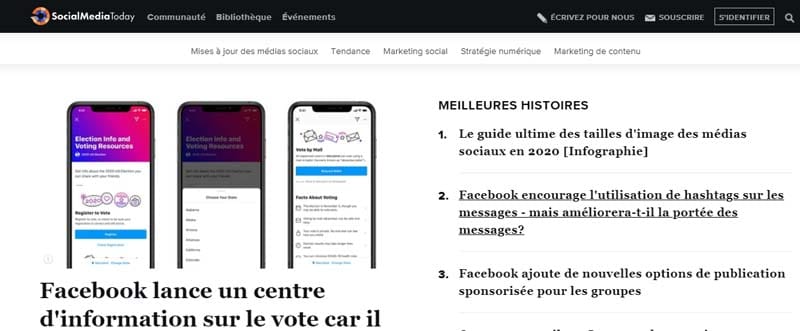 Source : Social Media Today
If your content gets picked on the first page, you can drive loads of traffic to your old content without changing anything.
If you publish articles about inbound marketing, Growth Hub is really your platform and your content will generate a lot of interest. However, it is important to consult the management policy of the site so as not to violate the standards of the site.
If you write articles for other bloggers, you'll love Blokube. It is a platform created especially by bloggers for bloggers. A kind of melting pot where bloggers from all walks of life come together to share ideas and tips.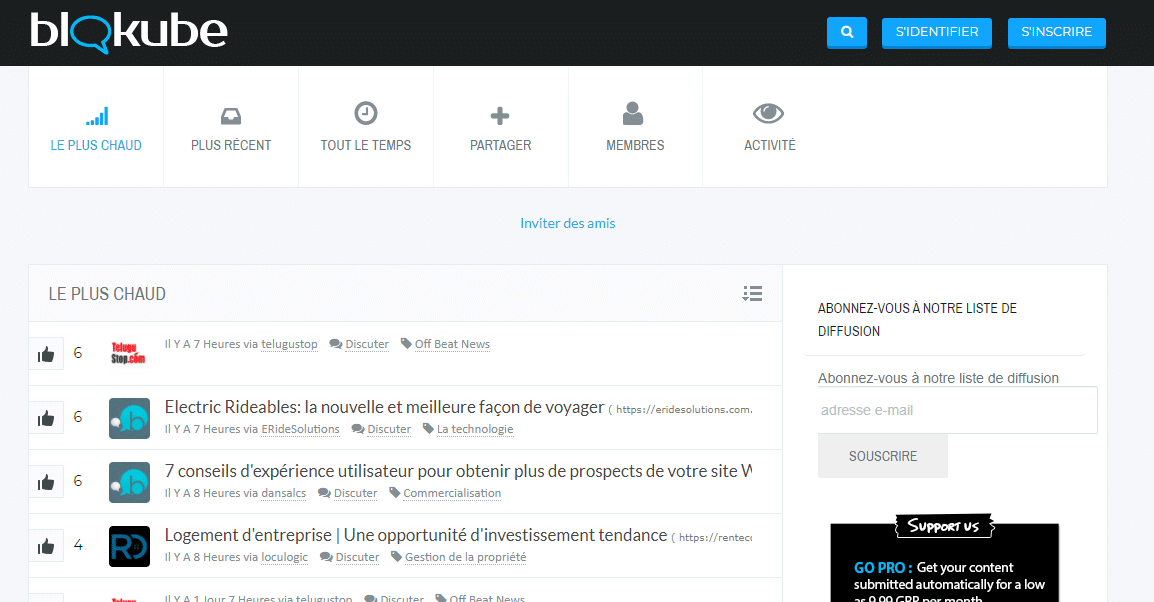 Source : Blokube
Each blogger participates in the animation of the site by sharing with their peers advice and strategies to improve the success of blogging in general. You can also post your old blog posts there to gain a targeted audience to your site.
For those who do not yet offer blog-related content, they can still take advantage of the Blokube community to improve their blogging skills.
Are you looking for a site to publish content that deals with a bit of everything? Business 2 Community is really what you need. You can post content about news, marketing, business, finance, entertainment or technology.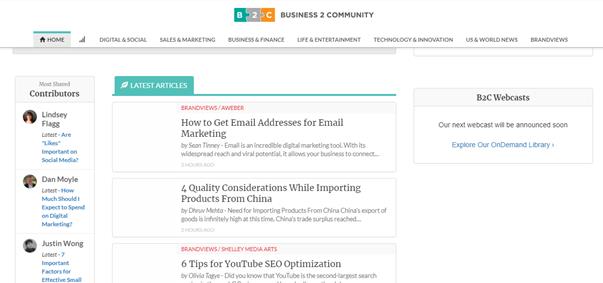 Source : Business 2 Community
Even if the design of the site needs a little overhaul, Business 2 Community is nonetheless an excellent channel for publishing your content and gaining traffic for your site.
5.20. Syndicate your posts
Content syndication networks allow you to position your blog posts in front of readers who are already reading other content.
It's a pretty interesting strategy that can quickly divert a user from reading to your content. Your blog posts will be categorized as "recommended reading" or "related posts" on other blogs.
However, it requires a small financial investment. Indeed, syndication networks claim payment for each click you receive through their system.
Here is an example of a "Sponsored Stories" section under a blog post on CNN :

Source : CNN
Here is a list of 6 content syndication networks you can use to reuse your content:
Outbrain claims to have helped over a billion people discover new content, services and products. But there's no denying that the platform is quite a popular content syndication solution and used on influential sites like BBC, CNN, and The Washington Post.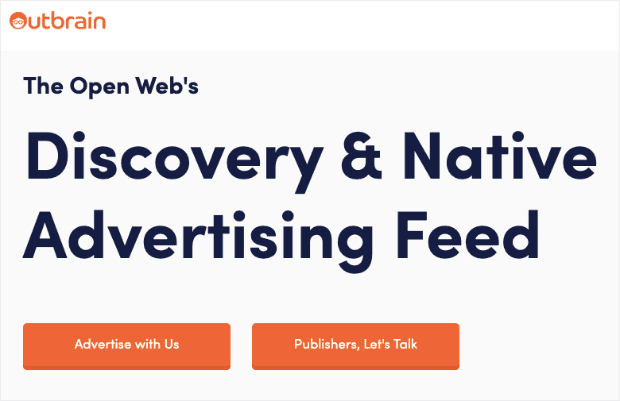 Source : Outbrain
And why not? Maybe one day your site will gain so much notoriety that you'll decide to use Outbrain on the publisher side to earn some passive income.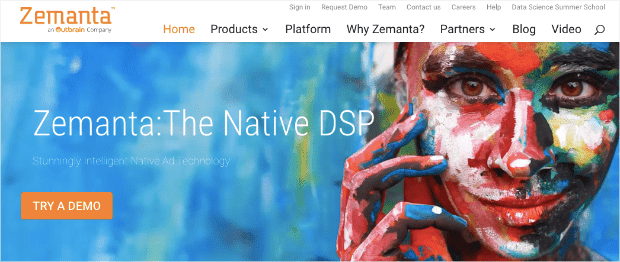 Source : Zemanta
Zemanta is a content syndication network that goes so far as to give you control over the image and headline you want to display in your native ads. The platform also has a very easy to use client dashboard to easily manage your media advertisements.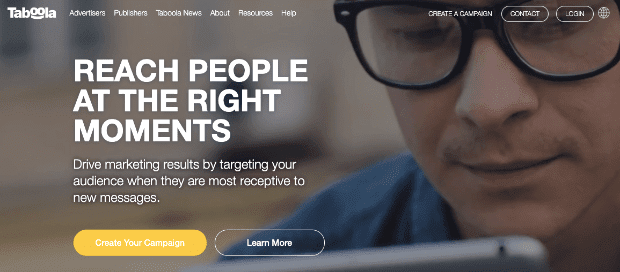 Source : Taboola
We can assimilate the functioning of Taboola to that of Outbrain. The site also has a large audience to read your blog posts. Thanks to Outbrain, your articles can appear on reference sites such as NBC, Insider or USA Today.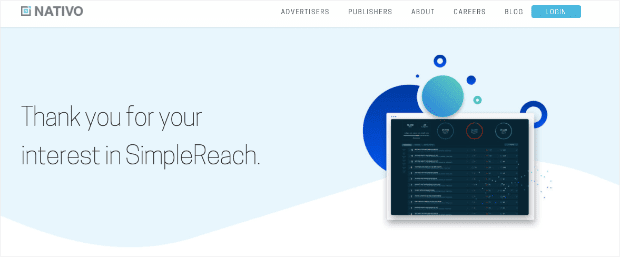 Source : Nativo by SimpleReach
Nativo recognizes which of your content is most likely to be shared to make the most of it to promote it. This feature can help users target content that has more potential and can bring enough traffic to the site.

Source : Cision
Cision provides companies with a wide range of communication strategies. Also their media content distribution is perfect to get more readers for a great article that you have in your content collection.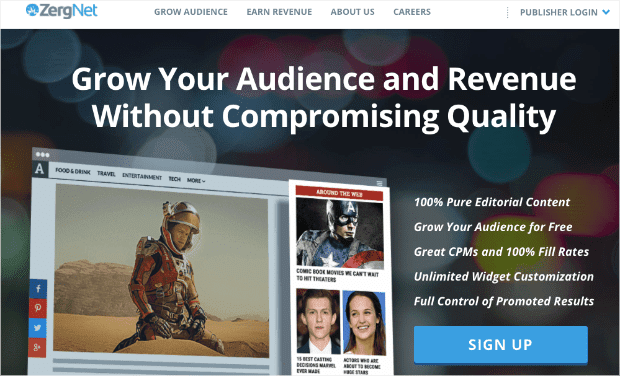 Source : ZergNet
With ZergNet you can promote your publications on authority sites. It is used by major brands such as AOL and MTV. The site has more than a billion article recommendations every day.
With such traffic on the site, you are sure that your publications will go around the small screens of a good mass of Internet users.
5.21. Collect all your interviews in an e-book of expert advice
This way of reassigning content is especially recommended for those who are accustomed to delivering interviews frequently. If this is your case, then you can put these interviews together and form an e-book of expert advice for your users.
The advantage with an e-book of expert advice is that they are rare on the NET unlike an ordinary e-book. Which implies a virtual absence of competition if you get into this type of content.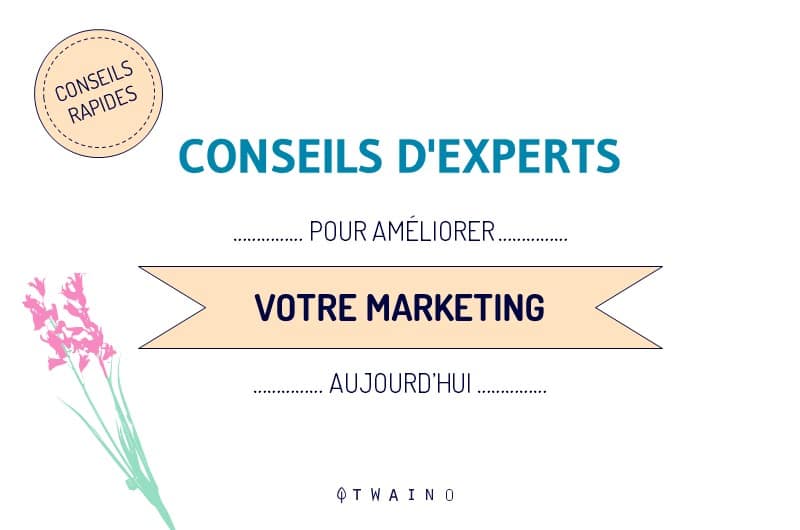 Indeed, it is difficult to have an expert opinion in the response elements offered by Google. So if you manage to find expert opinions, especially the most famous ones, users will be able to give more credit to your content.
It is clear that a book that brings together expert advice from different sources seems more relevant or more convincing than if it were based on a single source. Of course, it will not just be a matter of mechanically aligning expert opinions to pretend to create an e-book of expert advice.
Your next step would be to successfully structure, design, and harmoniously compile the different sections of your book into a more cohesive whole. All this without forgetting of course the content of your interviews.
5.22. Reusing content on Reddit
For those who haven't tried it yet, Reddit is a content platform with a very active social community.
According to its slogan, we can immediately deduce that one of Reddit's strengths is the responsiveness of its community: "A network of communities based on people's interests" or "Find the communities that interest you and join an online community! In
February 2020, the platform occupied the 18th place of the most visited websites in the world according to the Alexa ranking. You can already imagine how many users you can convert to leads on your site by regularly posting content on Reddit.
But before I show you how to use Reddit for your reassignments, it's important to draw your attention to a few mistakes, if not the only big mistake to avoid.
The best way to get off on the wrong foot on Reddit is to try hard to promote your brand. Seeking to gain traffic or sell a service or product will systematically diminish your community on Reddit.
The platform has never been very advertising and itself sets an example. Most of its revenue comes from advertising banners and user purchases through the platform.
So in short, your priority on Reddit would be authenticity and honesty in all the content you share. They should place more value on internet users rather than being beneficial to your brand.
You are probably thinking that Reddit is a difficult platform with very little interest in your business. Yes I grant you, except that it is the impression that one has at the beginning.
As soon as you start offering better answers to topical questions on the platform, your community will grow and your brand's success will naturally follow.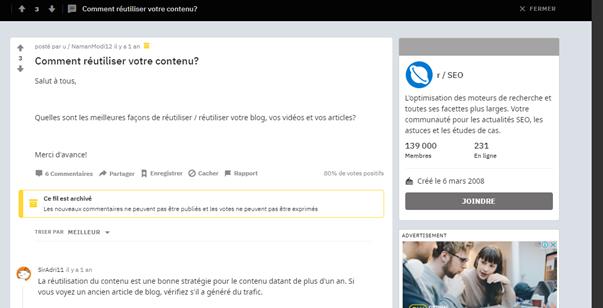 Source : Reddit
It was really important to review the vibe of Reddit because it's a bit of a unique platform. As for how to reassign content on Reddit, nothing much different from the methods seen so far.
You can post a small snippet of your podcasts or videos in which you discuss a certain topic. To be more welcoming, you can start your snippets with a little acknowledgment to be able to participate in discussions on Reddit.
If you're good at entertaining people, you can exploit that skill. By posing for example for your videos or your podcasts, you probably make some blunders, small mistakes that happen to everyone.
Well, don't delete them again! Make a compilation of it that you will insert at the end. Many appreciate these kinds of jokes. It's a way of reassuring them and showing them that behind a good presentation, there may well be some typos. And that ultimately, you're not so different from them.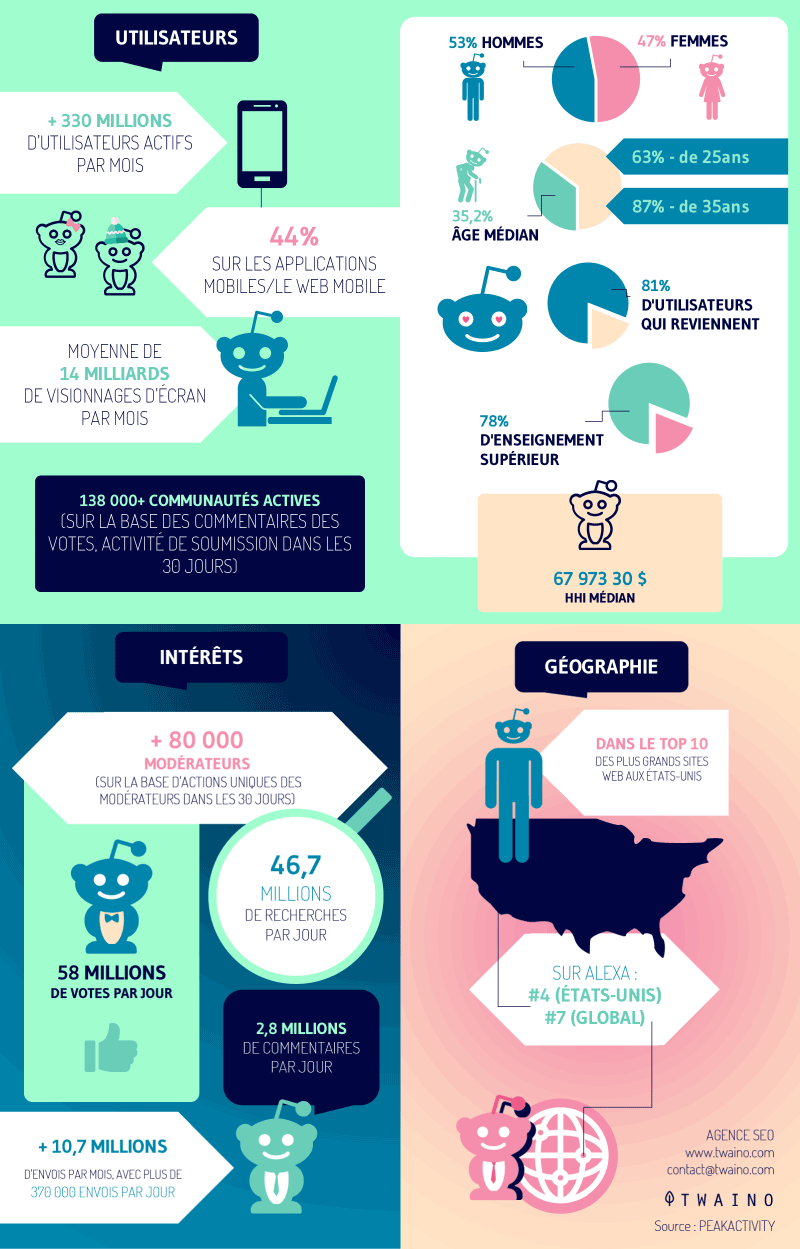 Also, don't forget to ask users what topic they would like you to cover in your next posts. They may ask for your reviews of a movie, or ask for an exotic cooking recipe or advice on having a dream vacation.
Basically, use Reddit to start discussions with the community and repurpose those discussions into new content.
5.23. Compile your customers' questions to create an FAQ page
Many websites don't have an FAQ page. Yet this is a strategy very desired by Internet users. When an Internet user has difficulties or would like to know more about an aspect of your site, his first instinct would be to quickly consult the FAQ page.
Maybe his problem has already been asked by another user and solved. Which saves him time.
So you can collect the answers you provide to your users in comments to make an FAQ page. However, if you don't have a comment option on your site, you can directly search for universal questions related to your industry to build your FAQ page.
Say you run an online doctor's practice, you need to answer questions like, "What should I bring for my first consultation?" or "Is the ABC procedure covered by insurance?" ".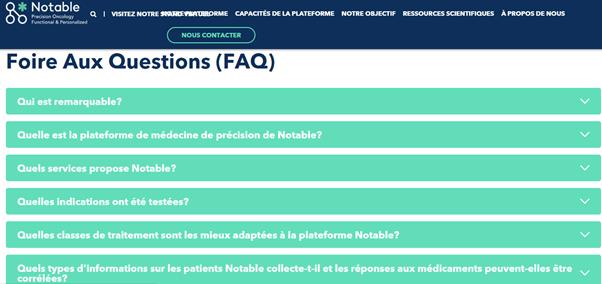 Source : Notable
Then in your way of answering, you must be clear and concise. You must use terms that are easy to understand and relevant at the same time, a bit like if you were on the phone with a customer.
Also, customers avoid unnecessary risks and are constantly looking for insurance on the sites they visit.They want to know everything about how your services work or your refund, delivery, warranty or complaints policies.So
if you have a e-commerce store, your FAQ page should assuage these feelings of risk from your visitors. And there is no better way to do this than to provide social proof to your FAQ.
Social proof here, can refer to a lot of things: statistics, logos of brands that trust you, customer names, etc. In short, anything that can help build your credibility in the eyes of current and future users
. users into quality content
Of course, some people will think that it is not very fair to build content by collecting testimonials from its users. That it is a way of exploiting the testimonials of Internet users for commercial purposes. But we don't recommend this method of repurposing content to feed your ego.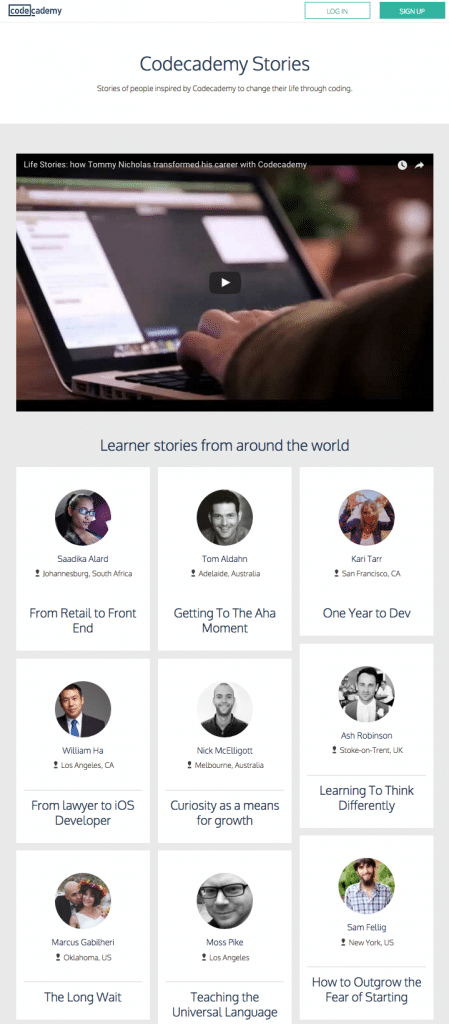 Source : Cognitive SEO
Let's look at the bright side instead. When you produce your content, you appear as the creator of a particular blog, website or service. So your readers will follow you as simple users.
And no matter how you approach them, there will always be this hidden gap between the creator and the users. Clearly, there is always some difference between the way an Internet user learns from the experiences of his peers and the way you explain it to him.
Reading another user enjoying your product will likely reassure a visitor that all the stats you can present to them.
5.25. Use photos or videos of your customers in a situation of use
This method is a little different and above all more effective than that of the testimonial. Here, it is not a question of a proactive approach, but of tangible proof that the product or service really worked.
It's a pretty strong message that will convince any reluctant client. However, the videos and photos should be real, honest and not montage-like.
Also, the users present on these visual contents must not give the impression of having been paid to invent or pretend things that are not true.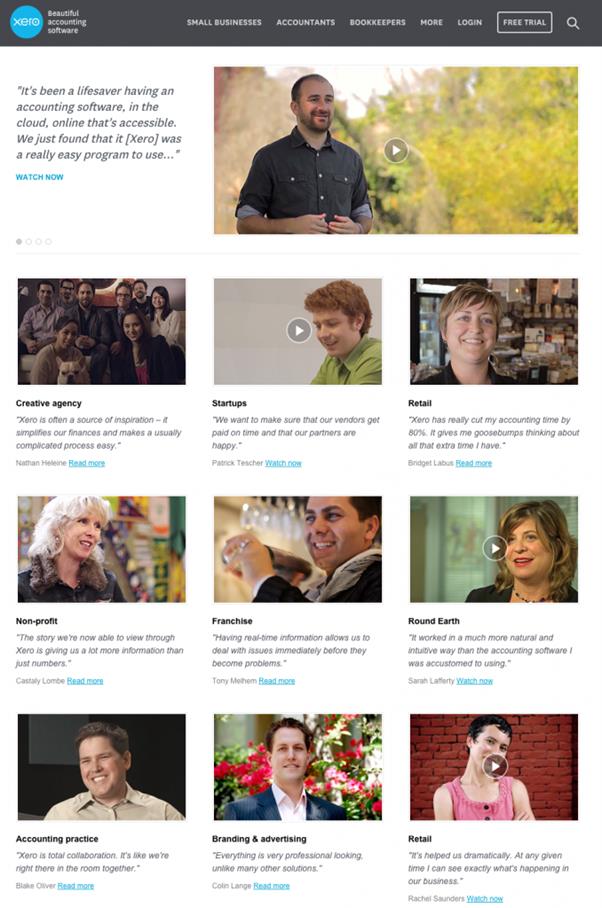 Source : Cognitive SEO
Indeed, these photos and videos will inspire more trust if, for example, the user experience is not entirely positive.
He may have difficulties at first and overcome them later. Or maybe they don't know how to go about a feature, but eventually get help from your help desk.
5.26. Pull quotes as micro content to promote to your target audiences.
Internet users love quotes. In any case, much more than the statistics, certain blog articles and perhaps… Not as much as the cats. Well, still, the quotes are everyone's favorite and are quick and easy to share on the internet.
This collective interest in citations is so great that they have become one of the most viral methods of reusing content. In today's context, a quote can refer to important advice drawn from experience or the conclusion of an in-depth study.

Source : Cognitive SEO
The advantage with citations is that they work as a simple advertising tool, but very effective and above all inexpensive. Your job is just to bring out those quotes that you've used in your articles that you're proud of.
Or if you have video content, all you have to do is capture a moment from the video and accompany it with an engaging quote from the video. Of course, it will be necessary to ensure that the screenshot is of very good quality.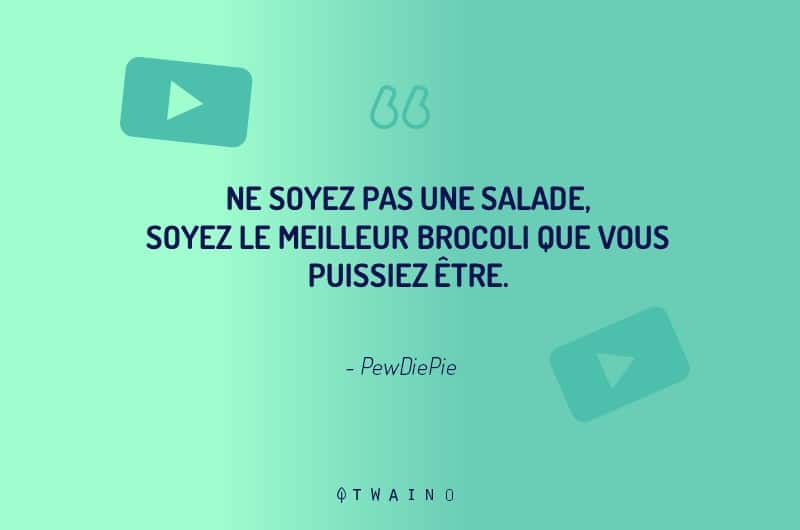 Take these quotes and post on the networks of your choice, Facebook, Twitter, etc. However, your challenge will be to create a quote that is both unique and memorable and you have to admit, it's not a piece of cake.
5.27. Create and share a tutorial to reach a new audience
Start with a how-to article and a step-by-step guide and even an infographic, combine it all and you have what we call instructographic content. In other words, you will get a tutorial.
So, if you have a fairly large and well-enriched "how-to guide" in written form, you can turn it into easy-to-consume and share content.
Let's take the example on the image below, which describes step by step the process to link Pinterest to Facebook: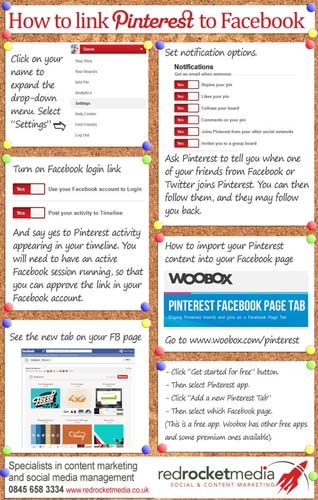 Source : Cognitive SEO
It must also be said that reassigning content to tutorials is a method that is not widespread enough, which implies fewer tutorials on the NET and that yours can be referenced very quickly without too much effort.
To help you achieve your tutorial better, you can use dedicated tools such as Folge.
With these tools, you can easily capture steps with every click, edit screenshots, create annotations, and download your final guide in .Doc, HTML, PDF, and more.
Once your tutorial is finished, you can decide to publish it on the platforms of your choice.
Either on social media or sharing websites. In any case, this tutorial will be a bit like added value to your site and contributes to the authority of your brand on the NET.
Chapter 6: Some concrete examples that give meaning to the reassignment of content
As Albert Einstein said:
" In theory, theory and practice are the same thing. In practice, they are not. A way to show the complementarity of theory and practice to better understand a concept.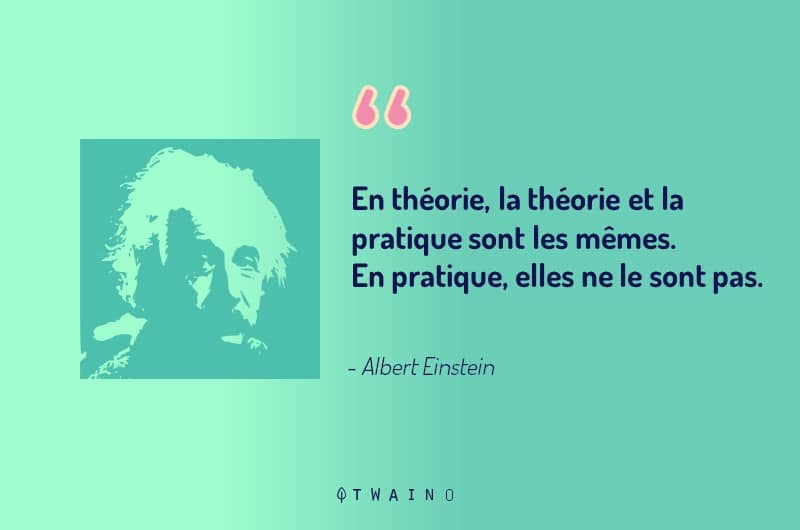 Even if here, we are not going to reassign content together from start to finish, we still found it interesting to list some concrete cases of content reuse that have succeeded and that exist in real life.
6.1. Epic Content Marketing – From blog posts to books.
Content Marketing Institute (CMI) is one of the reference platforms that offers effective services to support structures that have embarked on network marketing.
It must be recognized that the techniques offered by the platform have had plenty of time to prove themselves. Which precisely explains the success of CMI and all those marketing professionals who adopt it.
In this first example we will focus on its founder Joe Pulizzi or at least one of his works. This is his book Epic Content Marketing.
Initially, the realization of this work had been a little difficult for Joe Pulizzi because of his lack of time. But he was able to bend over backwards and seek a strategic solution to carry out his project.
The idea is to be able to find an effective solution that will save him time in writing his book and compensate for his lack of time problem. So he thought of digging into his archives and collecting articles he had already written for the Content Marketing Institute.
He then sorted all the items collected and selected those that were suitable for his subject and started recycling. Recycling began first with a consistency check of the content of the article using a grammar tool.
Once the text has been corrected, he integrates it into the plan of the book and obtains a book in due form available on Amazon and many other online sales platforms.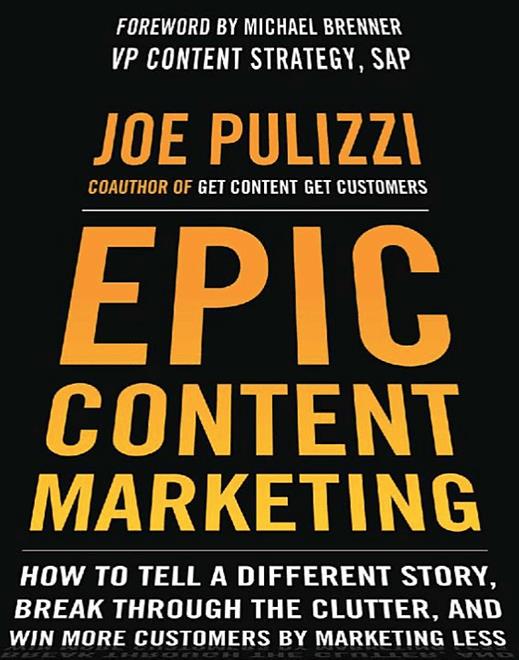 Source : Amazon
Of course, it didn't all happen magically. But the fact remains that he started from a first draft. Then he made sure that the ideas were consistent throughout the document.
In the end, the first edition of the Epic Content Marketing book came out and was a real hit. Many bloggers should take inspiration from the work of Joe Pulizzi to try to revive all those old quality articles that hide in the archives of their blog.
You've already managed to write quality content that may have had its day, but why abandon it when you have a chance to "resurrect" it and still make money.
6.2. Copyblogger – From blog post to slide sharing.
Copyblogger remains an icon and is renowned for its marketing best practices that it offers to its users.
The platform has created a particularly successful blog post that bears the title of "The 3-Step journey of a Remarkable Piece of Content".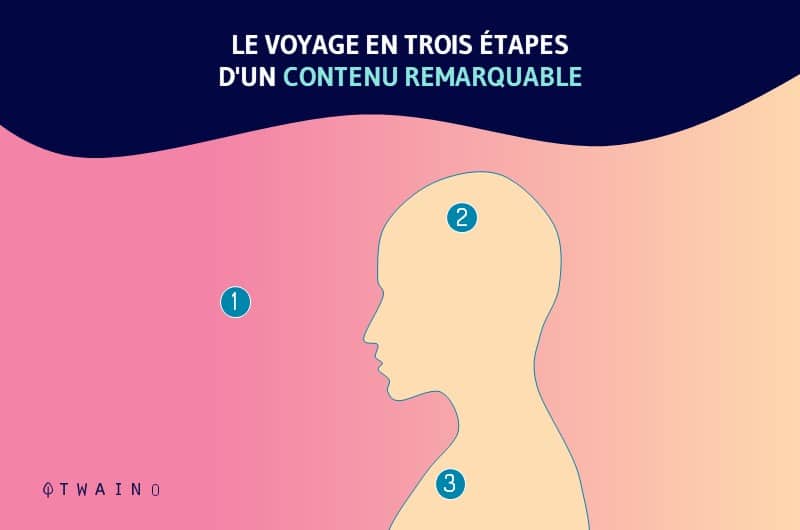 Once the platform realizes the magnitude of the success of its article, it does not decide to stop there. On the contrary, she repurposed the article into SlideShare content that she posts on LinkedIn, keeping just the title and main points of the article.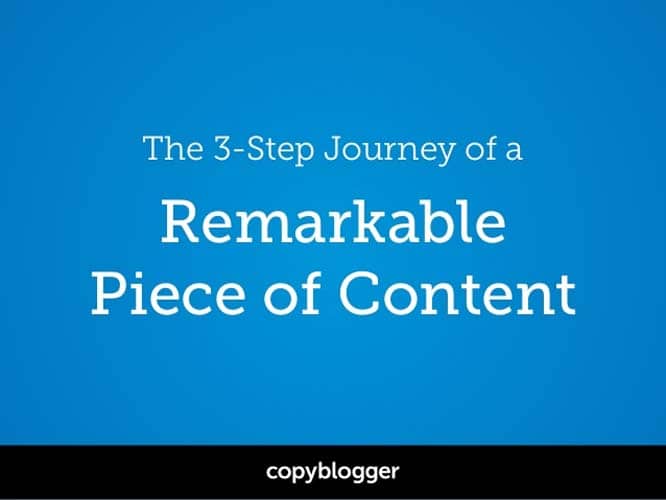 Source : SlideShare
As you can see, you don't necessarily need to go through an entire article before using it again. Just take the original content and present it in a new way.
A blog post can be turned into a podcast, if it's a SlideShare you can insert it into a blog post. If, on the other hand, an infographic is your basic content, insert it into a post and publish on social networks.
The goal is not to RECREATE new content, but to redirect it to another format or another target audience for the sole purpose of making it more present on the NET. The beauty of content repurposing is that your users can consume the same information in multiple forms without noticing redundancy or getting tired of it.
6.3. Ben Hardy – From blog to medium.
Ben Hardy is now a blogger with a huge following. He is followed for the quality of the content he posts on his blog. But that's not all. Ben also owes his buzz to the Medium platform.
Indeed, the blogger understood very early the importance of Medium and takes advantage of its public blogging space (recognized for its large community) to build its own community.
He therefore decides to take his same articles that he publishes on his blog and redirect them to Medium. The result was spectacular, he was able to gather in the space of only 6 months, a list of subscribers of 20,000 people. Recall that he was just starting out on Medium and had no subscribers before he started.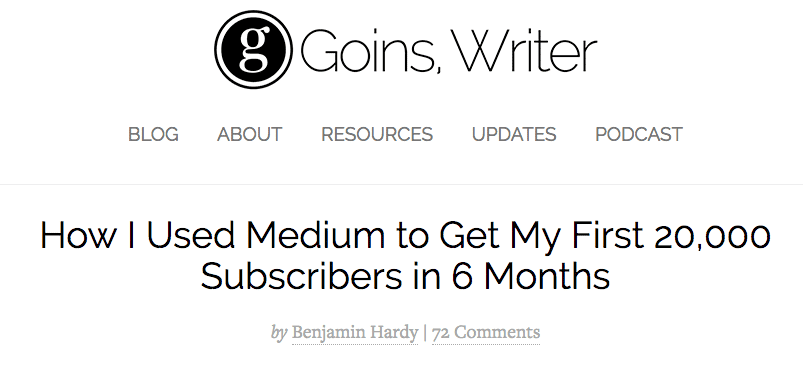 Source : Goins Writer
It is therefore important, if not essential, that you stop betting only on your site to hope for traffic. Even if it seems to work for you, it will work even more if you play on the other tables.
On the internet, you need to be everywhere at once and content repurposing is the best way to do that.
You have to get the idea of ​​creating a fully optimized site out of your head and wait for people to come to you. If they don't come, it's up to you to get them, regardless of the channels they use on the NET.
Why not start with Medium for example? Or maybe your LinkedIn space. As long as you have the copyright on your content, you can reassign it as many times as you want, and on all the public platforms of your choice.
It's for the interest of your brand, its authority on the web and all that it can bring to you.
6.4. Internet Business Mastery – From Blog Post to Podcast
Both Jeremy and Jason are bloggers with their own blogs. But they decide to experiment with a strategy. They decide to experiment with the reassignment of content to check whether all the praise that revolves around the method is true or false and to form their own opinion on the matter.
To do so, they are not too fussed and decide to opt for reassignment to audio recordings.
In practice, they simply took and reread an old blog post that they had already written for quite a while. This has drastically reduced the time spent recording podcasts.
So the result? Well, their podcast downloads have increased by over 60%. They were so happy and proud that they decided to share the trick with other Internet users in another content.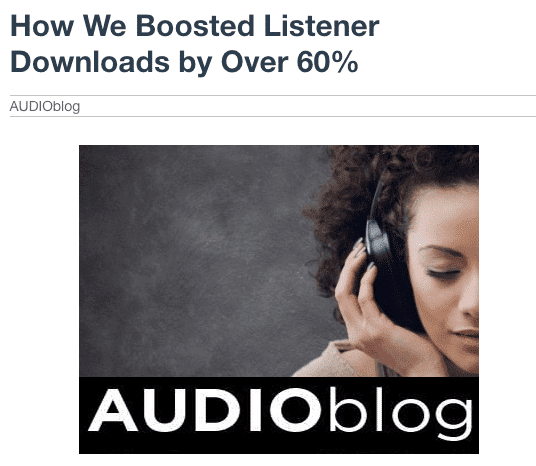 Source : AudioBlog
What explains this increase in their audience is of course the diversity of user preferences. Some are more inclined to read, others to listen, others to watch.
What happened with Jeremy and Jason, it's just that some of the Internet users who want to listen to audio content came across their podcasts and got hooked.
So repurposed content offers your audience a variety of formats so that each user profile finds their taste and consumes the content in their own way. This necessarily implies a wider audience.
As the saying goes, "tastes and colors are not discussed".
Each person being unique, the ways of consuming the same information are different. It's up to you to fill in the blanks and offer all the options.
Although all this does not require a lot of time, it is just a reuse and not a new creation of content. If the method worked for both bloggers, why won't it work for you?
Anyway, there's only one way to really find out and you don't pay anything to try. On the contrary, you have everything to gain.
6.5. Matthew Woodward – From blog post to LinkedIn.
The example of Matthew Woodward comes a little closer to that of Ben Hardy seen above. He also reassigned the content of the blog section of his site to Medium.
Although already an authority in SEO, Matthew Woodward still decides to explore the Medium platform and begins to publish his blog articles there.

Source : Matthew Woodward
Gradually, he publishes new posts on Medium which are nothing more than a reuse of his most popular blog posts.
Very quickly, his community began to grow and reached the bar of 300 new subscribers with an incredible conversion rate of 76% as can be seen in the screenshot below. Pretty unbelievable, but true!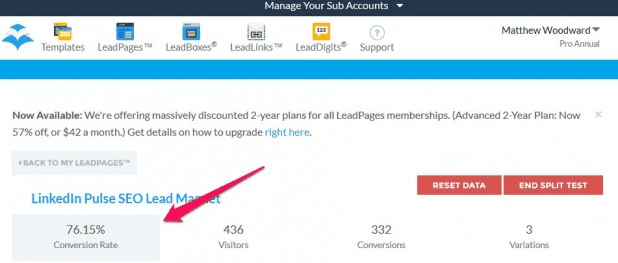 Source : Matthew Woodward
When you think about it, you realize that the effort he put in is nothing compared to the results obtained.
This technique is within your reach. This number of subscribers and this conversion rate are also within your reach. Just reassign your old blog posts to Medium or LinkedIn and you're good to go.
If your site lacks traffic and is struggling to take off, a few reassignments of content on other public platforms are enough to boost its traffic and bring in more visitors.
6.6. Backlinko – From old blog post to new blog post.
Brian Dean is an SEO expert on the Backlinko platform. He, too, recognized the power of content repurposing if done right. And his techniques for doing so are sometimes disconcertingly simple.
In his article '21 SEO Techniques', he explains how he repurposed a piece of content and the remarkable impact its reuse had on his traffic.

Source : Backlinko
To prove that the method is not reserved for experts, let's take the example of Emil. This is a user who also applied the content repurposing technique and the result he got is just as spectacular.
Emil has been successful and his site has been well referenced with a good ranking according to the ranking of Alexa.
Brian will go even further and decide this time to seize the opportunity to reuse a case study.
But instead of creating a case study as a brand new blog post, he simply inserted the case study into an older post, White Hat SEO Case Study: 348% More Organic Traffic in 7 Days.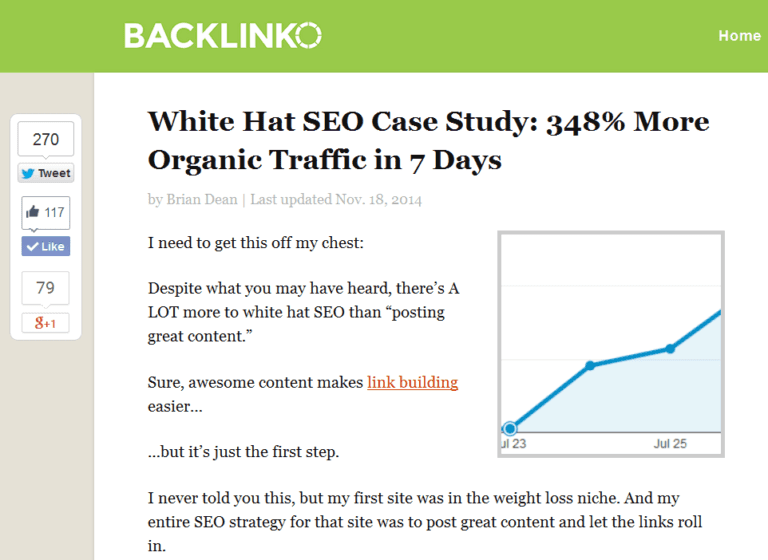 Source : Backlinko
He completes the article anyway with some advice related to the case study.
But he kept much of the core content and just renamed the title, White Hat SEO Case Study: How To Get a #1 Ranking.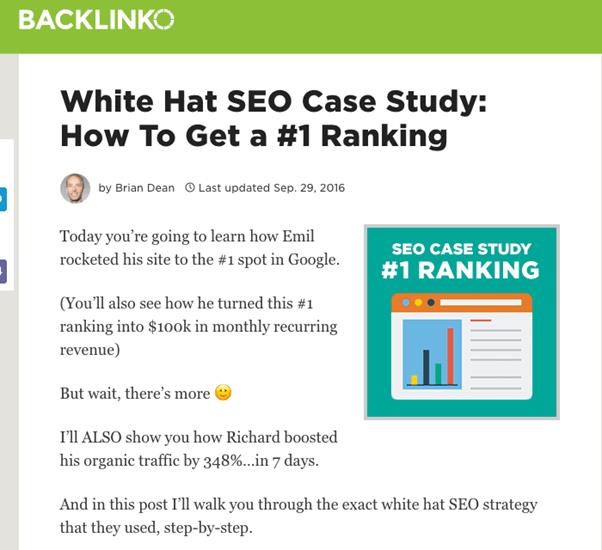 Source : Backlinko
What happened to this content? After updating and publishing, the article brought in up to 111.37% of organic traffic to this blog post.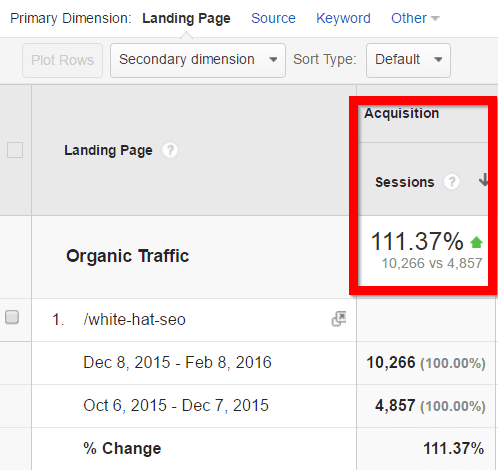 Source : Backlinko
This not only shows the power of repurposing content, but the power of always being on the lookout for new opportunities to reuse content.
Already, the simple act of repurposing old content makes PR cheap and incredibly easy. This represents an additional reason to raise awareness among Internet users who have already shared or linked it before.
All that old content you have on your website is a real untapped goldmine that just needs a few tweaks to shine again. And you don't have to wait to redo all the work.
Just add a few complementary tips to bring them up to date and get you started on winning new audiences.
6.7. Moz – From video to transcription.
Moz is a platform perceived as a master in SEO. It, too, relies on content repurposing to grow its audience, far more than one might imagine.
Moz repurposes each of its videos (from Whiteboard Friday) to transcript blog posts.
To see what all of this looks like, here's one of the videos she posted: Paid Social for Content Marketing Launch – Whiteboard Friday .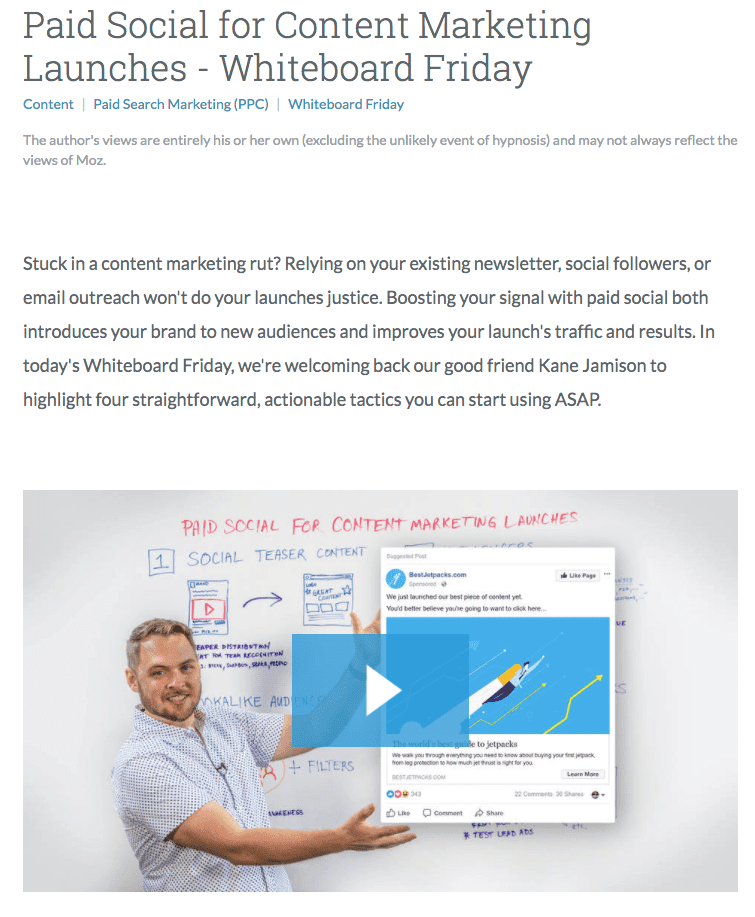 Source : Moz
And here is the resulting transcript:

Source : Moz
Some might wonder what the point is of preferring a written transcript to a well-edited video. And it must be recognized that the question is very relevant. The majority of viewers will watch the video rather than read the transcript.
Still, others, even if it's a minority, others would prefer transcription to video. But the thing is, not all people are capable of viewing videos.
People with reduced mobility with a visual impairment, for example, will use the transcription to understand the message conveyed.
But that's not all a video transcript can add to content, it's even more important. Transcription gives your video a better ranking in the Google SERPs.
The thing is, Google, and all search engines for that matter, can't interpret the content of a video, but the transcript can. Meaning, no matter how good the video is and how much effort you put into making it, Google is just going to prioritize the articles.
Because indexing robots just have the ability to determine the most relevant articles related to a subject. They cannot embed the content of a video to better reference it, other than the title of the video.
So clearly, reassigning a video into a transcript improves its ranking with Google and generates more organic traffic for it than any other method.
This is also why each online video course is always accompanied by a written transcript to serve as an indicator for Google robots for referencing the course.
It's an easy, but necessary strategy for all serious SEO content creators.
Orbit Media is adopting a similar technique for its Content Jam livestreamed
When the event was over, the team immediately repurposed the conference into a blog post, just like they did for another post titled "34 Ways to Get the Most Out of a Conference ".
6.8. LandBot – From content to conversations
LandBot is probably the best platform in the realm of conversational marketing. And the title is not exaggerated since recently in TechCrunch, the site raised 2.2 million dollars for their conversational chatbot :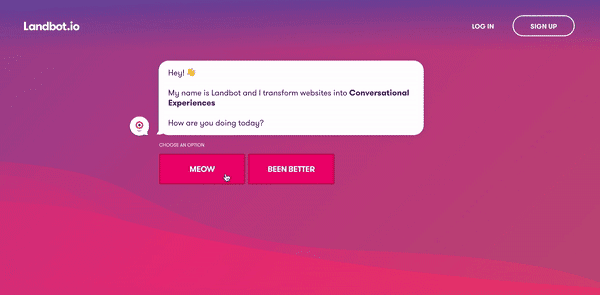 Source : LandBot
As soon as a user logs into the platform, he will not see a page of traditional welcome, but he will be welcomed by a direct conversation with a chatbot.
Which is pretty cool and fun. But the reality is that this way of welcoming its Internet users was not planned by LandBot, it is adopted accidentally.
In fact, the platform was trying to develop a chatbot for their old box when it ended up taking up the entire homepage screen by accident.
This crash brought in 4x more same-day conversions and continued to skyrocket their main generation.
Perhaps it is due to the beauty of the page? This is simply because content was repurposed from existing user qualification documents and blog posts before the chatbot in question was created.
Since this happy incident, the platform has adopted this homepage experience. Personally, this is the best example that shows the power of content repurposing.
So what are you waiting for to launch your own content repurposing? Whatever excuse is holding you back, you have more to gain and you need to get on with it. Right now !
Summary
Content repurposing is a very effective way to get the most out of web content. Each quality content can be redirected into several formats, each aimed at a specific audience.
Today, content repurposing benefits from several tools and platforms, which makes it particularly convenient and efficient.
The content reassignment process has proven itself and is especially appreciated for saving time and saving on investment.
This is a very interesting strategy used by large companies to stream content.
I hope this guide has helped you in your content creation strategy with potentially much more traffic.