Google Maps is the name of the tool developed by Google that is responsible for providing users with all the information they need about their location, as well as that of any specific address. The tool is available in application version, but also accessible via the Google Maps website.
Google Maps has been a staple of the Internet for over a decade now, but few really know how it works and how to use it effectively. For the rest of us, Google Maps is about one step away from magic.
For example:
How does Google create such accurate maps for so many different regions?
How can it collect so much data on so much of the world?
Who works to keep the maps up to date?
And what about real-time traffic conditions, temporary speed limits, and the hours of operation of nearby businesses?
Somehow, all these complex features work very well, which is why millions of people rely on it every day for daily navigation. Statistically, the app already has over a billion downloads on Play Store
So, isn't it time we learn how it all works and how to use it as a business or an individual?
Continue reading this guide to get some very specific answers to your various questions.
Chapter 1: What is Google Maps?
In this chapter, we will discover the most essential aspects of Google Maps that will allow us to better understand what it is.
1.1) What is Google Maps?
Google Maps is a mapping tool that allows you to geotag a specific point, estimate the distance between two points, find the nearest places of interest and more.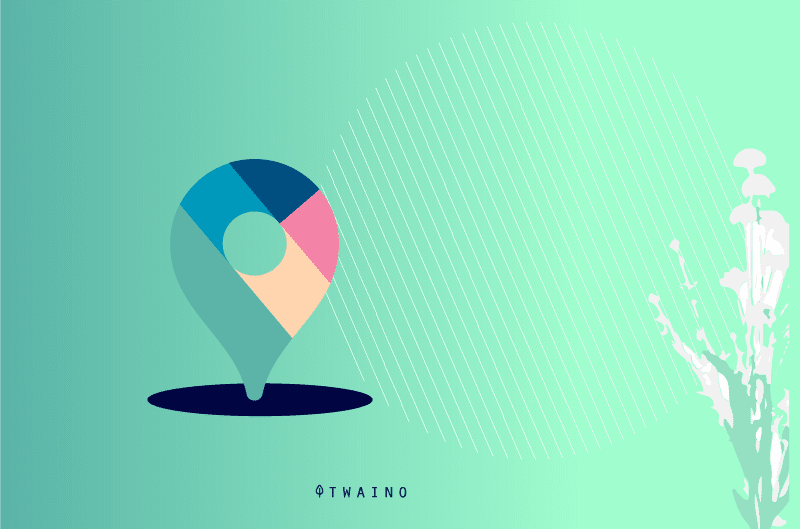 Although it is also accessible via the official website, the application version of Google Maps is more widely used.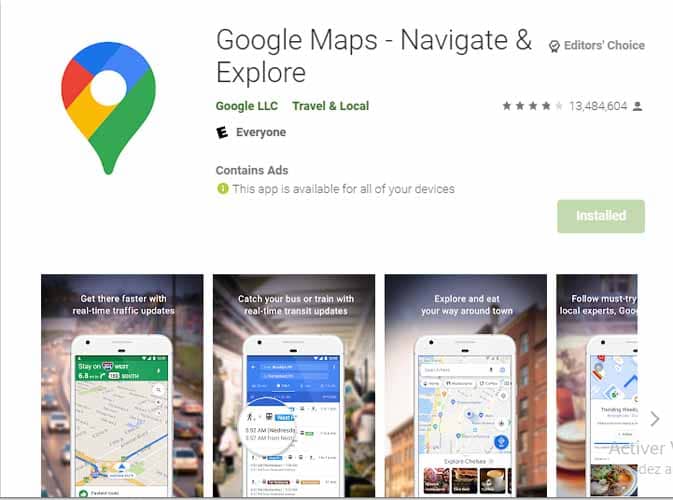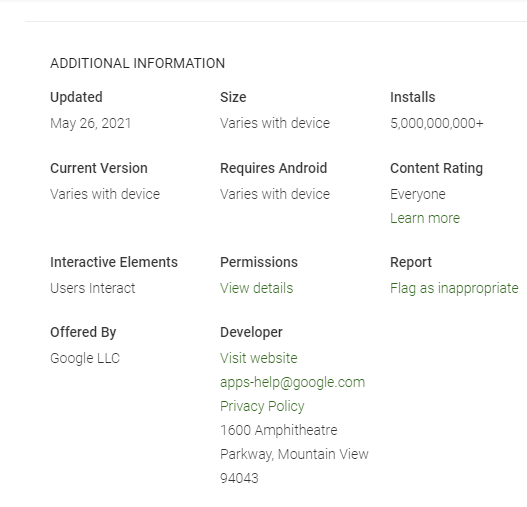 The latest released version of this application includes new and even more useful features:
Offline map access
Street View;
The visualization of the interior of some important places like airports and stadiums;
And more.
Once the application is downloaded to your mobile device, you can define your personal settings by entering certain addresses such as your home, work or other frequent destinations.
This way, they can be found using quick searches, avoiding having to write down the entire address each time
In addition, you can measure the distance between two destinations, search for a place on the browser, zoom in on an image or enlarge a frame…
When you activate your phone's location, you can also see your geographical position, so you know where you are at all times. The application also displays all the places of interest near your position, thanks to the GPS signal.
1.2 Google Maps: Map, satellite, Street View and browser
The maps displayed on Google Maps can be of different types.
Globe View: Used by default, this interface displays the streets as on a normal topographic map.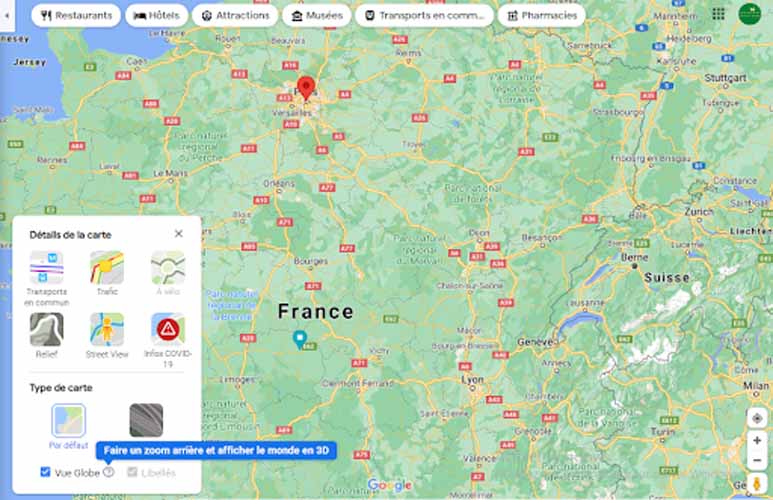 Depending on the zoom level you choose, it displays more and more detailed information, up to displaying the icons of all the places of interest on a street.
Google Maps Satellite: Here the application uses satellite images to present the Maps.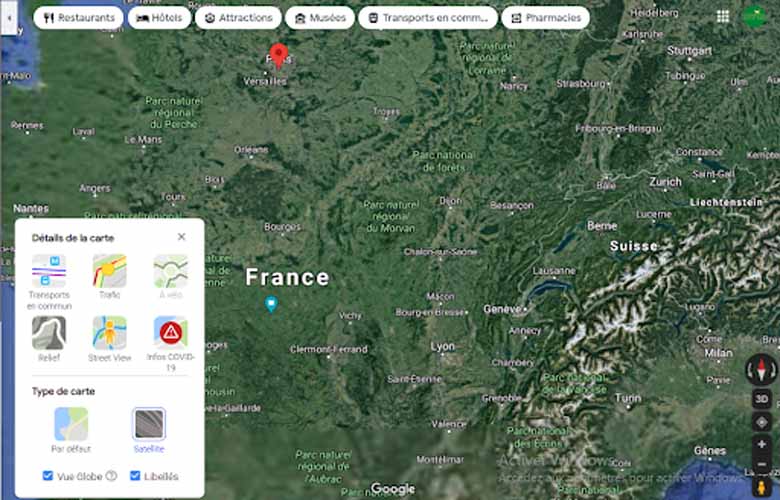 Satellite maps are not often up to date. They will not show, for example, unfinished construction sites in real time.
Street View: It displays the street in photographic detail, using 360 degree images. You can then see the road from ground level, as if you were in the place.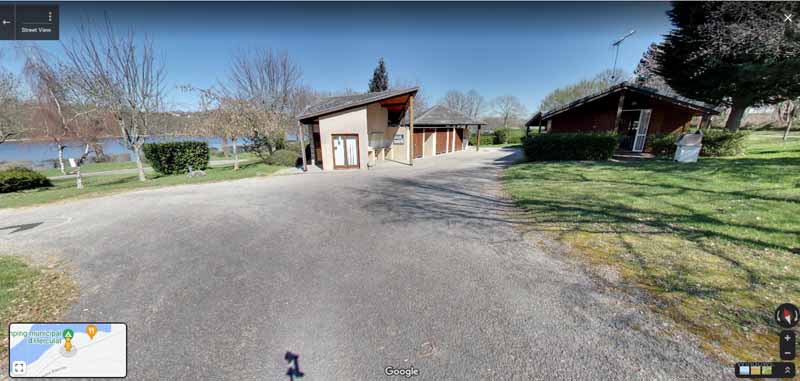 Google's algorithm hides people's faces and eliminates details that could create privacy issues. Not all areas may be covered by Street View.
Google Maps Navigator: When you choose to follow Google's navigation, the interface changes to show your movement and point the way.
1.3. What Google Maps is used for
Google Maps is used to locate a place, person or object anywhere on the globe. It allows you to see topographic maps in real time and to move around so you know how to get to any place.
For your travels, Google Maps also allows you to know which means of transportation will get you there sooner and which route you can take.
Granted, we're talking mostly from a user's perspective, but when you look at the big picture of a business, Google Maps brings more benefits
In this case, it is a tool that makes it easier for businesses to physically identify where they are.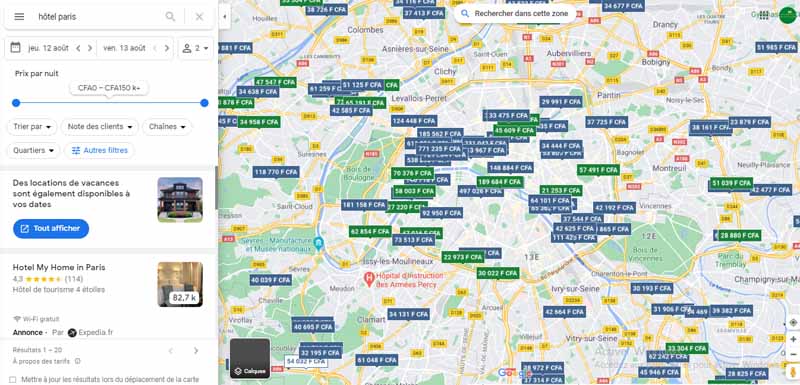 By effectively combining search engine optimization strategies with the use of this application, you will likely see a positive improvement in web traffic and customer conversions.
1.4. Some feature improvements after the latest update
With the Google Maps update, the old features were improved, but the focus was on developing 4 important features
Explore: When you're looking for a nearby place to eat, listen to live music or have fun with friends, this tab lets you find information, ratings, reviews and more on millions of places around the world ;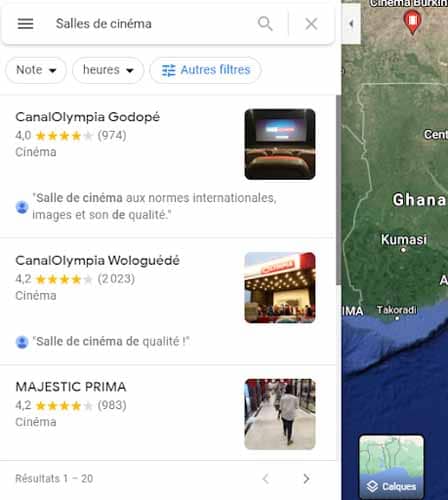 Itinerary: If you are traveling by car or public transportation, the "Itinerary" tab will suggest the optimal route.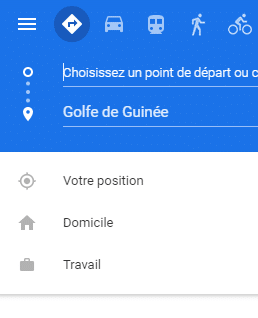 You can configure your route to get real-time updates on traffic, travel times and suggested alternative routes;
Saved: This tab is a central location for users to find their saved locations, plan group events and share recommendations on places they have visited in the past;
Contributions: Every year, hundreds of millions of people contribute to keep Google Maps up to date.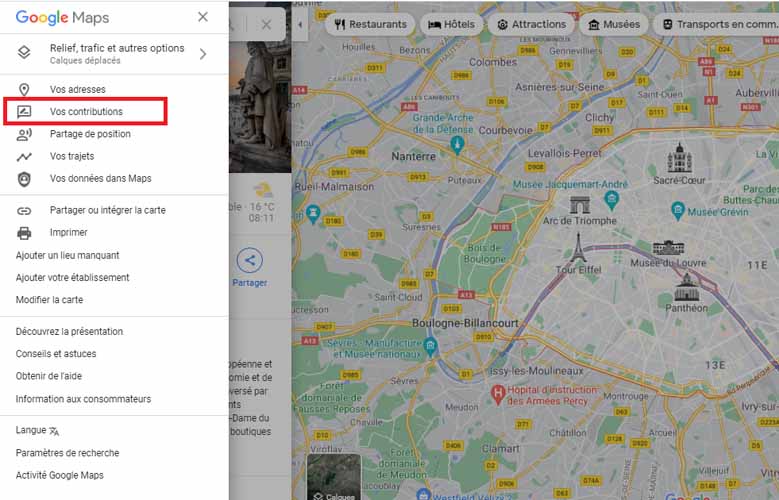 With the new Contributions tab, you can easily share local information such as street or address details, missing addresses, business reviews and photos
Each of your contributions is valuable, as it helps other users discover new places and decide what to do;
So far, this is just a small part of the features of Google Maps. Let's go into more detail now:
Chapter 2: Functionality and use of Google Maps
Google Maps has been around for a while, but many people are not aware of the full range of services it can afford
Its functionality is extensive and Google is constantly adding to it to make it a very accurate tool that can do anything.
Now, let's take a look at some of the main features of Google Maps that you can use when needed.
2.1. Measure the distance between several points
Want to plan your morning jog or maybe just know exactly how far you need to go on a particular trip?
The distance measurement feature in Maps makes it easy to determine the precise distance between any number of points.
On your phone, press and hold your finger on your starting point. This will cause a red pin to appear with a white bar indicating more information about the location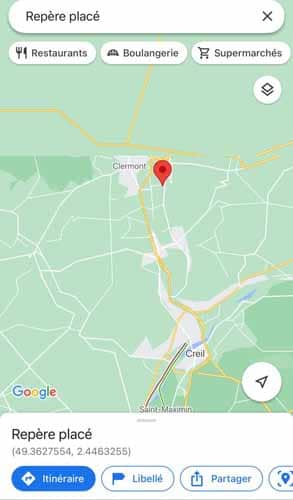 Swipe up on the bar in iOS or tap on the bar in Android, then select the "Measure a distance" option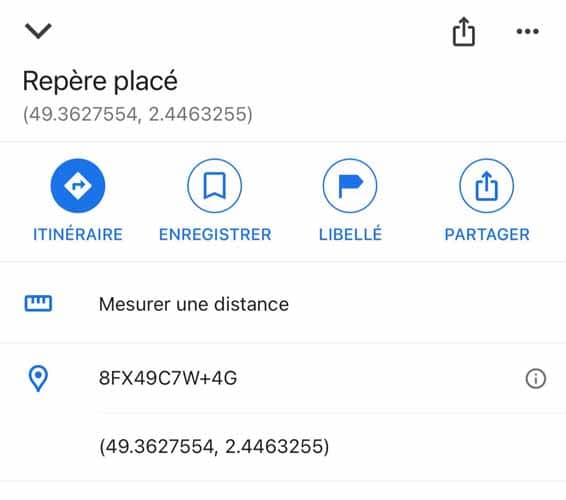 After that, click the blue (+) icon to search for the second point. Repeat as many times as possible to measure your entire route.
On a computer, simply right click on your starting point and select "Measure Distance" from the menu that appears: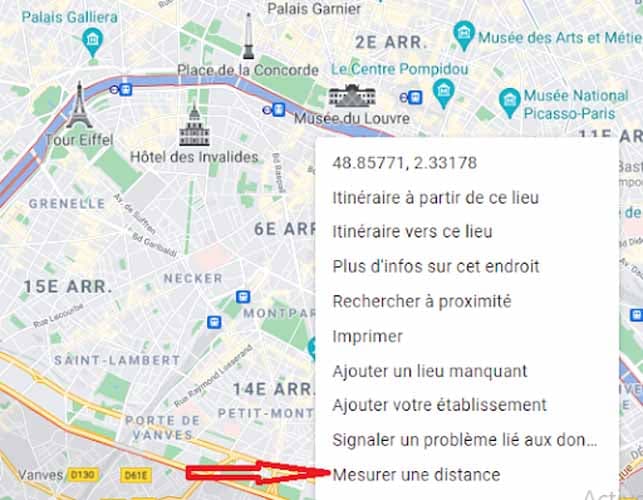 Then click on each subsequent point on your path to get measurements.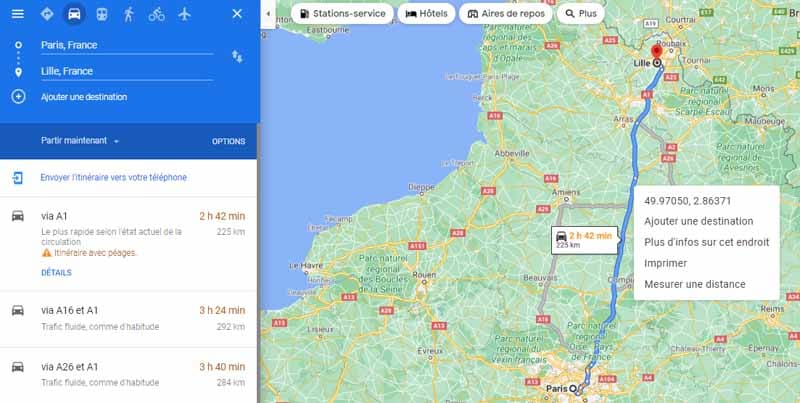 2.2. save time with advanced gestures
Beyond pinching to zoom, Maps offers many other useful gestures to help you navigate the app on your mobile device
Try these advanced maneuvers:
To zoom in or out on a map with one hand, double-tap and then, without lifting your finger, swipe up or down on the screen.
Rotate a map to change your orientation by placing your index finger and thumb on the screen, then twisting them together to the left or right.
Change your perspective by placing two fingers on a map and dragging them both upward on the screen. This will bring you into a "flyover" view of the area you're looking at, with three-dimensional buildings in many places.
Want to save a stop the next time you're ready to navigate? After searching for a location, press and hold the blue "Directions" button at the bottom of the screen. This will take you directly into navigation mode, using Google's best guess for the route and mode of transportation you're likely to use.
2.3. Become (or consult) a Local Guide
Think you know your neighborhood better than Google's algorithm? Then you can become a Local Guide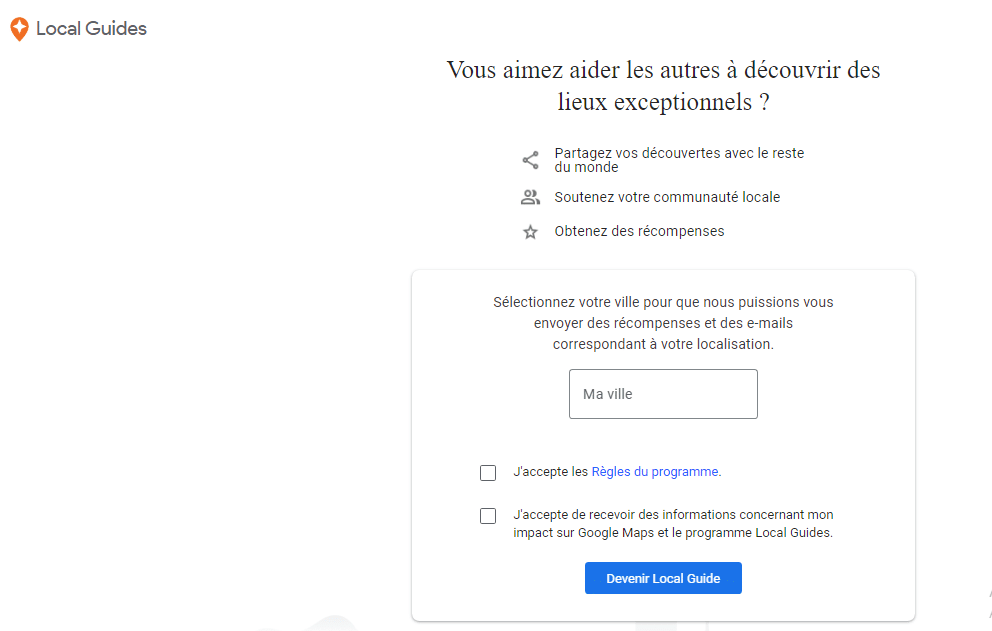 While anyone can leave reviews and tips in Google Maps, Local Guides allows you to earn points by leaving more information and data that, as you grow, Google says can lead to
Higher levels of the program;
Benefits such as early access to Google features;
Special partner benefits.
2.4. Go unnoticed
Like most Google services, Maps uses your in-app searches and actions to personalize your future suggestions
But if you go somewhere you don't want to check in or associate with your account, Maps has a useful new feature that lets you go unnoticed and avoid checking in.
To access it, simply tap your profile icon in the upper right corner of the Maps interface on your phone, then tap "Enable Private Browsing Mode" from the menu that appears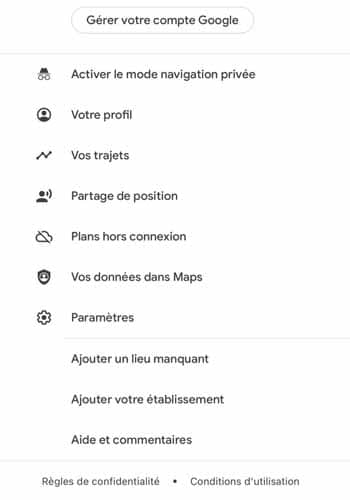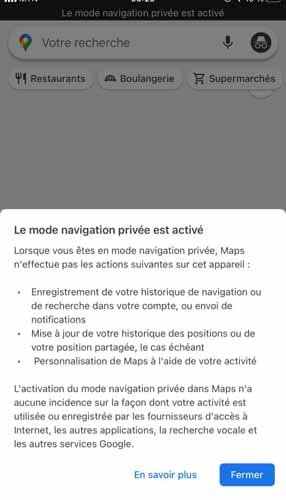 The app will reload and you'll see a gray bar at the top of the screen informing you that private browsing mode is enabled, as well as a dark private browsing mode icon in place of your usual profile picture

When you are ready to return to normal, tap the private browsing mode icon and select "Turn off private browsing mode".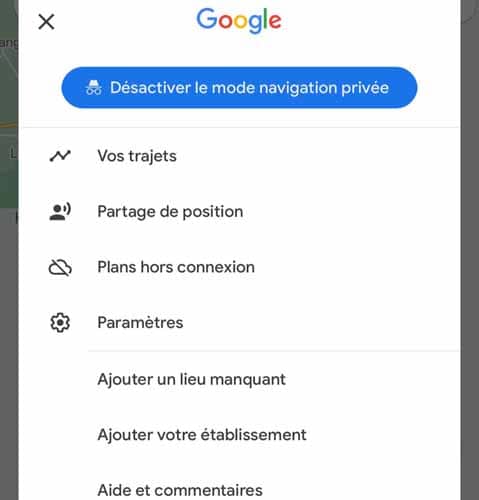 2.5. Traffic Check
Getting stuck in traffic is a horrible experience. It's just a universal truth. Google Maps helps you avoid this car hell by letting you know the routes with the most traffic and the routes with the least traffic.
2.6. Beneficial for lesser known businesses
Being listed on Google Maps with accurate information is now a crucial factor for any business with a physical location
The free advertising is incredible. Plus, users can find what they want and instructions on how to get there.
Users can add reviews and photographs to the listing. But one of the most beneficial features is that people can see what time a business opens and closes, and even what time and day it is busiest.
2.7. Globe view
If you open Google Maps on your computer and access Globe View, you can see the Earth just like a satellite would. You can rotate and zoom in on places, and even look at other planets in the solar system.
You'll see the Earth mapped as it really is, because a 2D map can never be accurate in larger views
The feature is not available on the smartphone app, but the globe view and more are accessible via the Google Earth app.
2.8. Google Maps Partner Program
Google Maps collaborates with other organizations to obtain data on:
Places of interest;
New roads; and
Aerial imagery;
Public transit routes;
Timetables;
Fares;
And more
Partners include thousands of government and non-government organizations around the world.
The problem with using third-party sources is that government restrictions and policy changes can negatively impact map quality
Problems also arise when marking borders for disputed territories.
2.9. Satellites
Google Earth and Google Maps use satellites to capture views from above. Satellite views are also used to verify data collected from other sources, ensuring that they have not been reported incorrectly or out of date.
Satellites capture:
Street markers;
Building locations;
Spacing;
Etc.
2.10. Crowdsourcing
Crowdsourcing for mapping is particularly important in developing countries or countries with government restrictions. That is, countries where Google may not be able to obtain accurate data directly.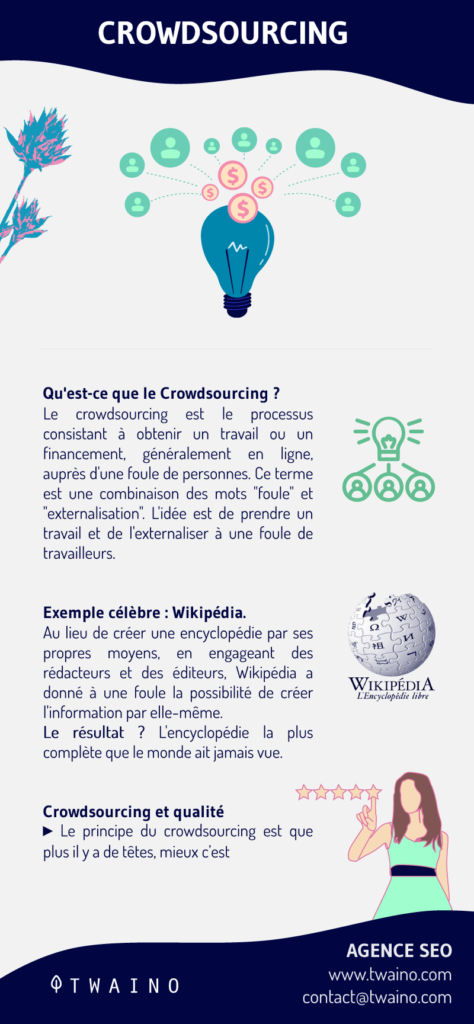 Previously, Google Maps had a feature that allowed users to make changes to maps, but this feature was removed from the platform after reports of vandalism
The Locale Guides community helps add additional information to maps, but not indirectly edit maps. Also, business listings are usually generated from third-party sources
But to avoid duplicate or inaccurate information, businesses are encouraged to register on the Google My Business platform and provide up-to-date information
User contributions provide additional details to businesses, such as reviews, photos and opening and closing hours
Google data shows that users submit more than 20 million check-ins every day.
2.11. Street View
As one of the features of Google Maps, Street View presents the world virtually through tons of images. It offers users close-up views of breathtaking locations and landscapes around the world.
To allow users to explore the world virtually from anywhere, Google uses two sources to collect 360-degree panoramic photographs
These images come from both Google's Street View devices and user contributions.
The Street View fleet that Google uses to collect the images includes:
Source: Google Street View

Source: Google Street View

Source: Google Street View
A stroller-style camera system called a Chariot;

Source: Google Street View
And a portable backpack called Trekker.

Source: Google Street View
Custom configurations like underwater cameras are used for special circumstances. For their first underwater expedition, Google captured the Great Barrier Reef.

Data from the Street View machines is also used to verify and correct existing data from other sources
Street signs captured and processed by technologies such as OCR can even be used to correct business listings with accurate addresses.
It is estimated that there are currently over 250 Street View cars on the streets of the world.
Google focuses primarily on the United States, Europe and other popular tourist destinations for its mapping tours
Here is an overview of the areas covered by Street View: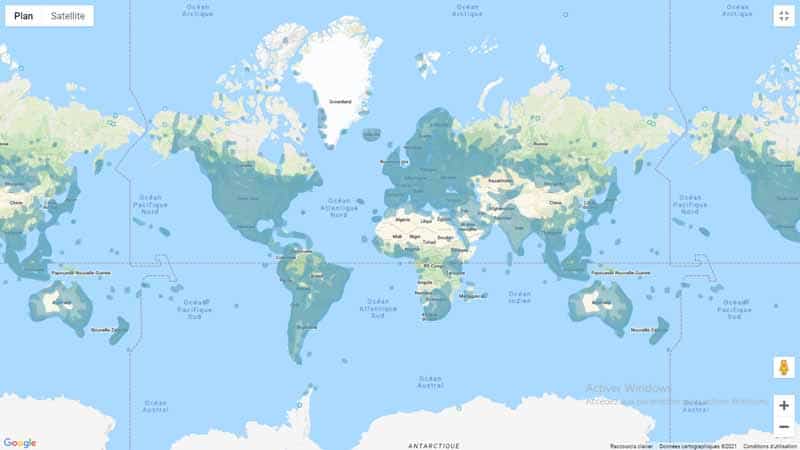 2.12. add your own Street View images
Google allows Android users toadd their photos to the mapping feature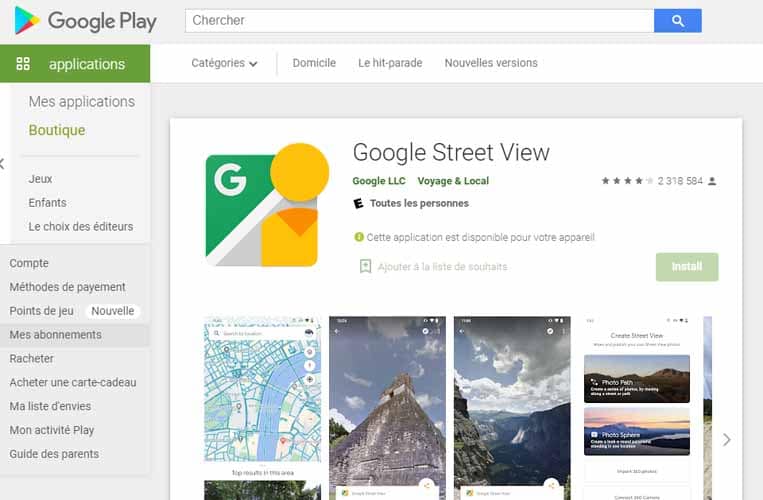 But first, you must have the latest version of theStreet View app on an Android that supports ARCore
2.13. User location data
If you use Google Maps and keep location services on your phone, whether you know it or not, you are providing your data to Google Maps.
Back in the day, Google used data from traffic cameras and the like to estimate traffic conditions, but now a much more efficient system is in place.
Google receives the location and speed of travel from every smartphone that uses Google Maps, and the data is collected from a number of those phones on the road
This real-time data, combined with historical data on the usual traffic at a location can be used to predict the traffic density of a location with a fairly good accuracy.
This is how you get your real-time traffic updates. This user data is also used to determine the times of day when lanes are more congested.
2.14. Quickly find the various services nearby
For example, in case of an emergency, if you're looking for a hospital near your area, just click on the Google Maps search bar (make sure the field is empty) and tap on a service of your choice at the bottom of the screen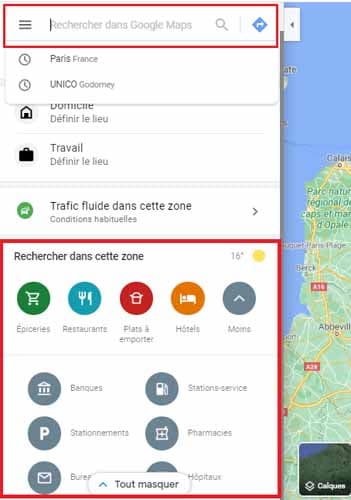 You will see the hospital that is near your current location. In the same menu of service choices, you will find:
Gas stations;
Grocery stores;
Pharmacies
Restaurants;
Hotels;
And other businesses.
2.15. save a cool place to remember later
The next time you discover a cool new bar, search for the location on Google Maps and click "Save" on the business information map.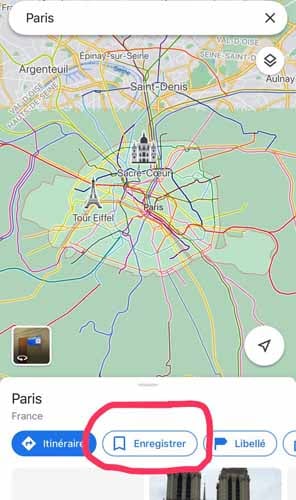 Saved locations appear as favorite locations on your maps and can be accessed by selecting "Your Places" from the Google Maps menu, then "SAVED ADDRESSES: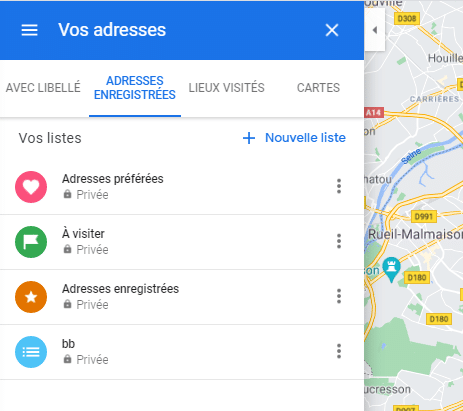 On iOS mobile, you will see: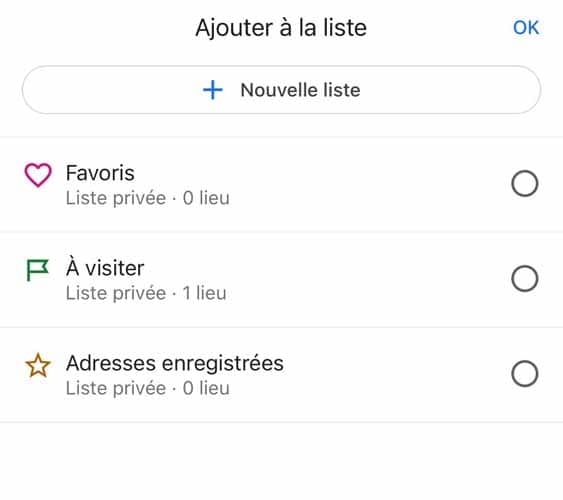 2.16. Consult train and bus schedules
There are many apps dedicated to tracking public transportation schedules, but often Google Maps is all you need
Ask for directions to a location and Maps will automatically queue up a variety of transit options, including scheduled departure times for different buses and trains
You can also tap the bus, train or subway icons on the map itself to display departure and arrival times.
2.17. Share a position or location with friends
If you're in a hard-to-find place, such as a large park, you may get lost. Indeed, Google Maps allows you to easily mark a pin at any location, and then share that location with friends
But, there are two cases:
The first option is to simply click on a fixed point of interest on the map. Then, a menu will appear at the bottom of the screen, where you simply click on the "Share" button at the bottom of the screen.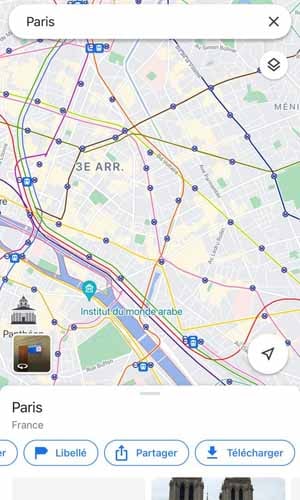 After clicking this button, simply choose the contact or application you want to share the location with.
For example, you can share with your friends a restaurant where you are going to dine, or a casino center where you are going to gamble.
In the second case, it will be about sharing your location in real time for a certain period of time, so that the person who receives your link will know where you are going at all times.
You can share it for certain hours or indefinitely until you disable the option.
To share your location, click on the blue Google Maps dot that shows your current location.
A list of options will then open at the bottom of the screen, just press "Share your location"
You will be taken to a screen where, at the top, you can choose how long to share your location, and below that, you can choose who to send the link to:
The share link can be sent via SMS, email or via social networks.
By pressing the Save icon, you can choose to put the location in:
Favorite addresses
To visit ;
Saved addresses;
Or create a New List and name it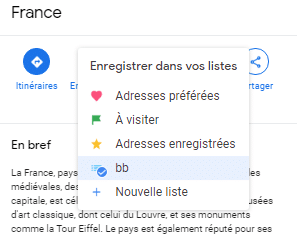 You can find them under "Your Lists" by going to Menu >> Your Addresses >> Saved Addresses: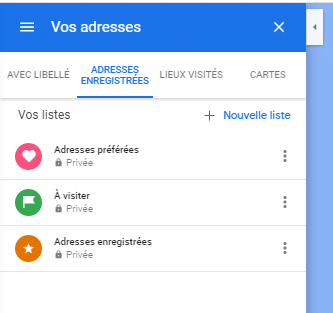 2.18. Plan a multi-stop route
If you're going on a trip, you can use the desktop version of Google Maps to combine routes for multiple stops into a single route with multiple stops
Click on the search box in the upper left corner of the screen, then click on "Directions"
Then click on one of the icons at the top of the screen based on your mode of transportation.
Let's use the example of a road trip. After entering the first location you want to go to, a plus sign (+) will appear under the last destination
Click on the sign to enter the next location for your trip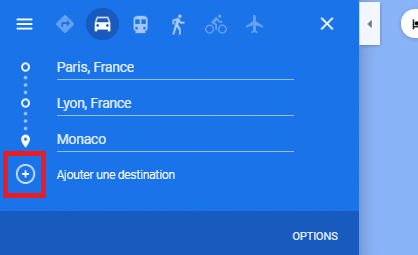 When you finish, Maps calculates the total mileage of the trip and provides detailed instructions that are easy to print.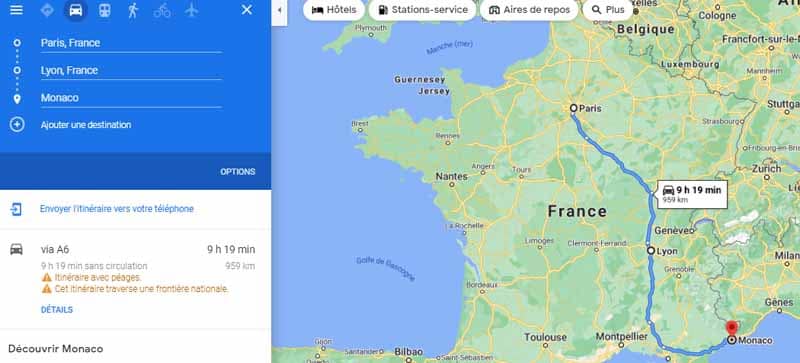 2.19. Delete your map history
Google uses a feature called Location History to track the movements of Android users logged into their Google accounts. You can see your own location history map here.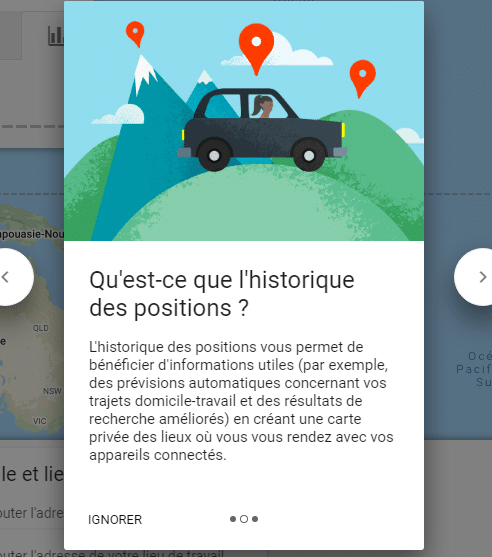 If you didn't know the feature was enabled, the tool is able to track the steps of your crazy last night.
You can turn off location history tracking, by going to Settings on your Android device, then Location.
The other option is to visit the Google websiteAccount History which allows you to enable or disable various data collection services.
2.20. Travel back in time with Google Maps
Street View has amassed a huge collection of street images over the years. In 2014, Google introduced Time Travel (a sort of machine that virtually goes back in time) to allow users to see how Street View has changed over time.
It's a little-known feature that lets you look at the street view of any area as it existed at various times in the past.
This one only works from the desktop site, so open Maps on your computer and choose a location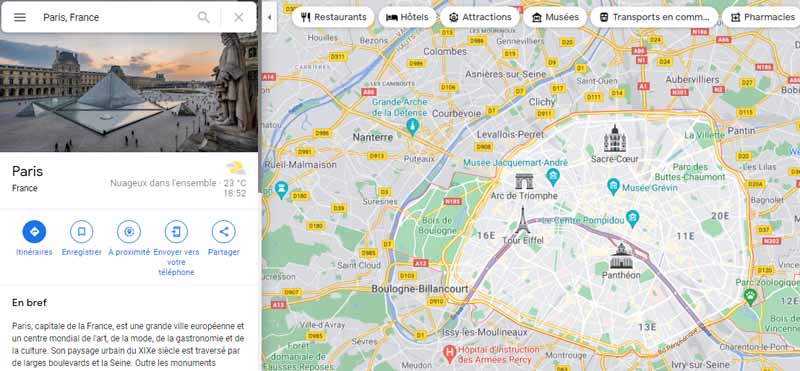 You'll see a little yellow guy in the lower right corner, known as Pegman: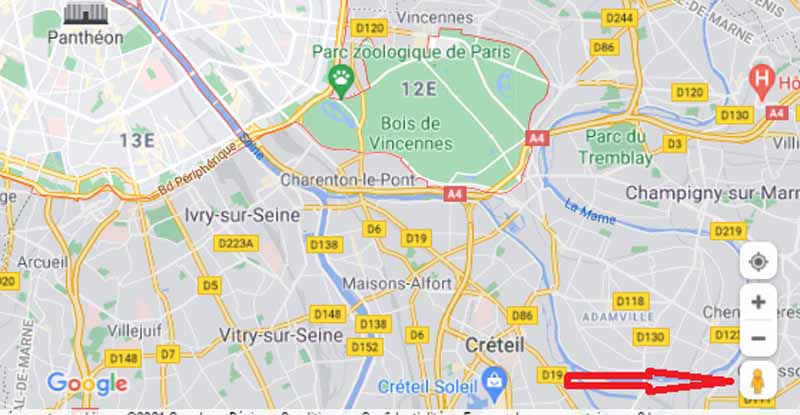 Drag it with your mouse and drop it where you want to go.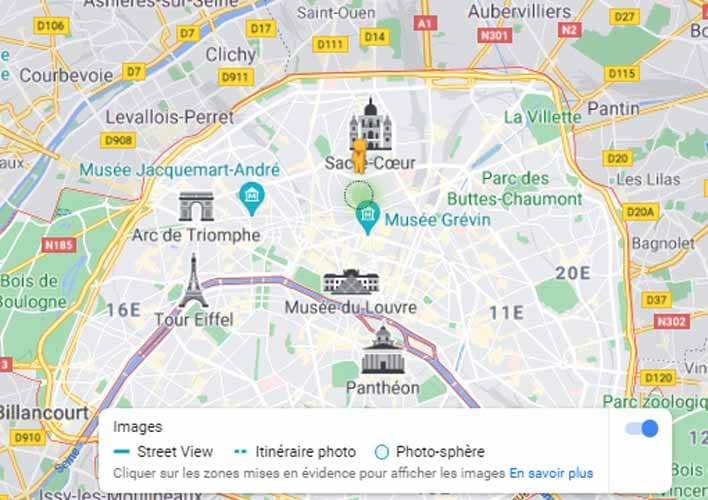 Then look for the clock icon in the gray area at the top left of the screen.
Press it and you'll be able to drag a slider back in time to see 360-degree views of previous years
The feature isn't available for every possible location, but it's fairly widespread and many locations have a full decade of data.

For more details on changes to the Earth's surface between 1994 and 2018, see Google Earth Engine.
2.21. Get parking information before you start
Nothing is more annoying than arriving somewhere at the last second, then struggling to find where to park
Maps can help: Before you hit the road, search for your destination in the Google Maps app on your phone
On Android, tap the Directions button at the bottom of the screen, then tap "Stops & Parking" and look for the "Find Parking" option
On iOS, tap the "Steps" button at the bottom of the screen, then look for the "Find Parking" link toward the center of the screen.
Just note that the parking feature isn't available in some cities, and Google doesn't specify them. So if you don't see the "Find Parking" option, it may not be available in your area at this time.
2.22. Automatically delete your Google Maps location history
Google allows you to periodically delete your location history from the company's servers. You can set the data to be deleted every three months, every 18 months, or keep the data until you manually delete it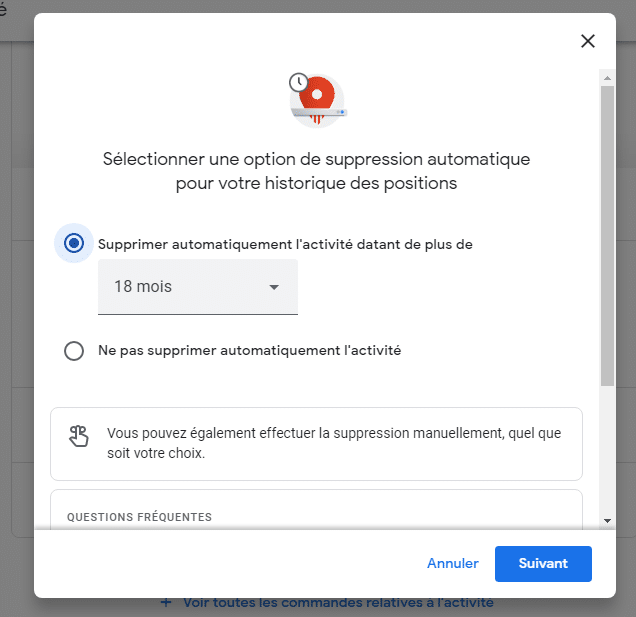 Go to myactivity.google. com and click Location History > Auto Delete, where you can choose how often to delete your data, including where you've been on Google Maps
2.23. Use voice commands
Many people have a habit of checking their mobile device while driving, either to check the next turn or to see how much time is left for a trip
To avoid this, Google Maps offers a variety of useful voice commands that will work whenever you have active navigation.
Just press the little microphone at the top of the search bar:
And you'll land on this page: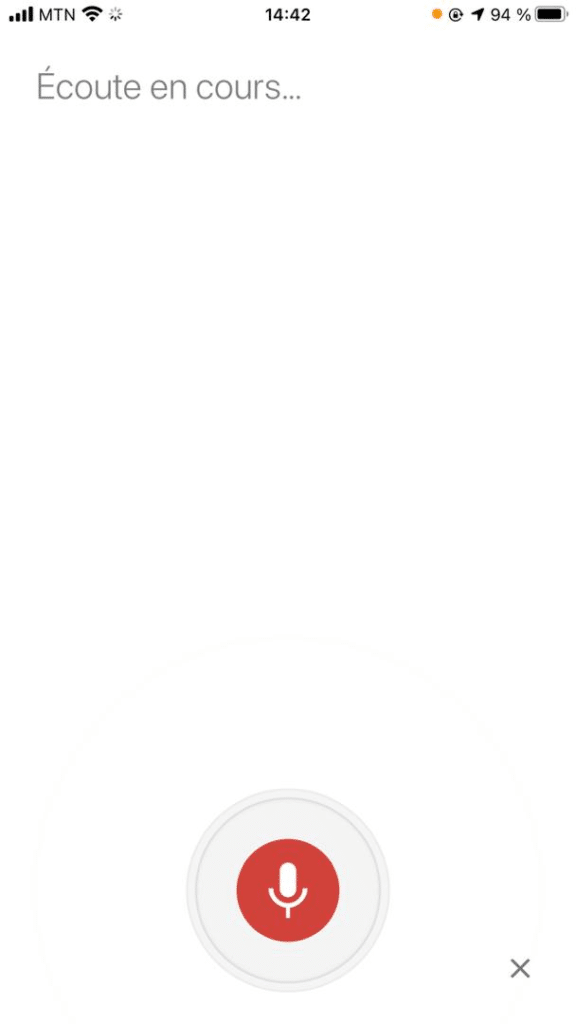 Then speak as you try variations, such as:
"What road is this?"
"What is my next turn?"
"What is my ETA?"
"How is the traffic?"
"How is the traffic?"
" Avoid tolls "
" Avoiding highways "
" Find gas stations "
" Find restaurants "
" Get Back Home "
" Take me to McDonald's "
" What is the nearest hotel? "
"Exit Navigation"
You can also have your phone make calls, send text messages, listen to music or search for your next appointment, all without taking your eyes off the road.
2.24. Remind you where you parked
Open Maps on your iPhone or Android phone and tap the little blue dot that represents your current location

This will bring up a hidden menu with some handy options, including the ability to save your current parking location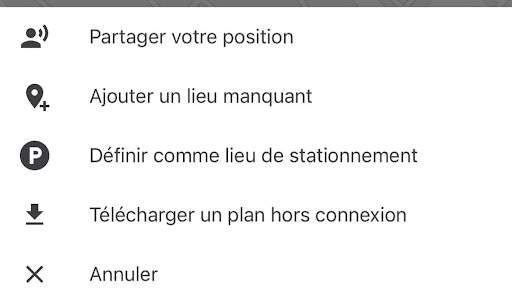 You can add your own additional notes or photos and even set a timer to remind you when it's time to move your car.
Everything you need to remember where you parked is right in the Maps mobile app.

When you're ready to return to your spot, look for the saved parking notification on your phone or simply open Maps and tap the "Parking Location" map at the bottom of the screen.
2.25. Receive personalized commute notifications
When it comes to your standard commute, let Maps help you avoid headaches by proactively alerting you to travel times and any heavy traffic or delays on your route
To set up your custom commute notifications
Tap the menu icon in the upper left corner of the mobile app and select "Settings" and then "Home or Work Address" :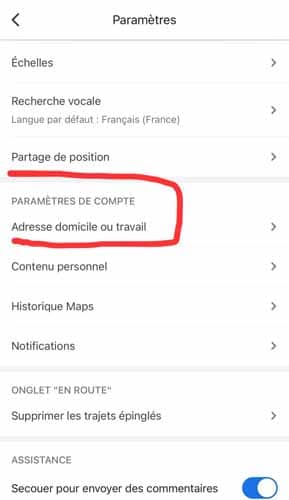 This will bring up a screen where you can specify (or confirm) your home and work address and then give Maps information on how as well as when you typically make your trip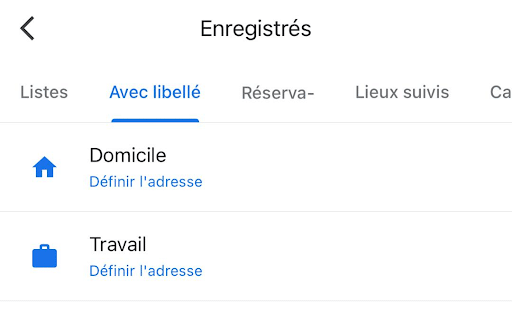 Fill in all the fields and be sure to enable the "commute info" notification button.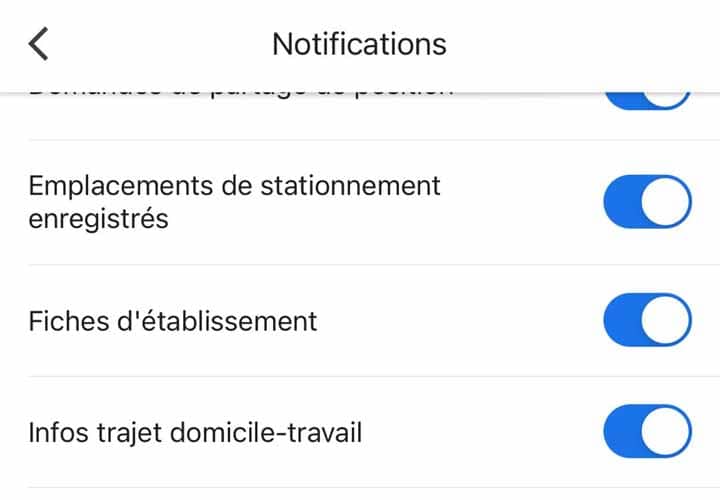 2.26. View time-specific traffic estimates
You can find out how long a trip is likely to take at any given time with Maps' smart traffic estimation tool
Simply search for a location in the desktop version of Maps, then click the "Route" button and enter your desired starting point.
At the bottom of the same box where you typed the address, you'll see a line labeled "Go Now: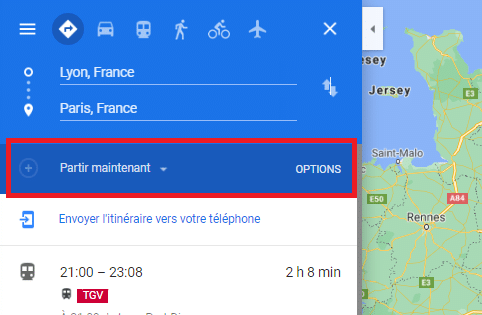 Click on the downward-facing arrow next to it, then select "Leave At" or "Arrive At" to view the likely traffic conditions and estimated trip total for a specific day and time.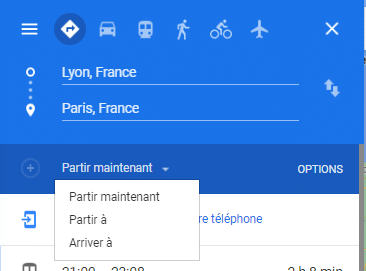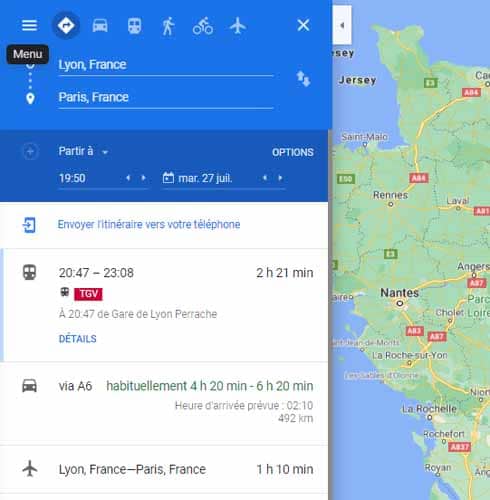 The Maps traffic estimator will help you determine how long you need to drive, even if you don't hit the road right away.
2.27. Google Maps for offline directions
This feature allows you to use maps even when you don't have an internet connection. But to download a map for offline use, you need an active connection first.
To download, simply click on the desired location and press the "menu icon" in the upper right corner of the mobile screen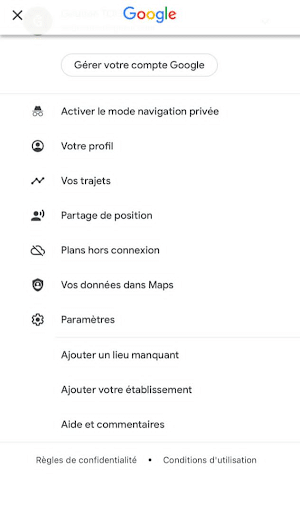 Then, start the download by clicking on "Offline maps":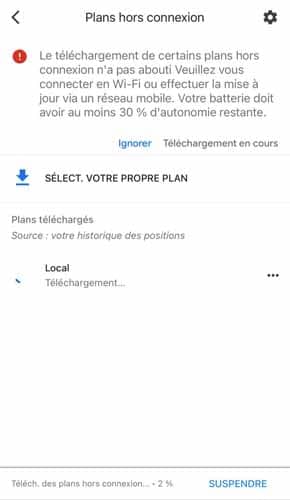 Once the Google map is downloaded, you can see it even when you are offline
Note that maps can only be downloaded using the Google Maps applications for smartphone or tablet.
Chapter 3: Google Maps for Business
Google Maps offers many features for businesses to improve their visibility.
With the technology, you can make your business have an impact on the user when they access your informational content, greatly increasing conversion
3.1) How does Google Maps Marketing work?
Google Maps Marketing, or Marketing on Google Maps is the section of digital marketing that focuses on Google's location-based services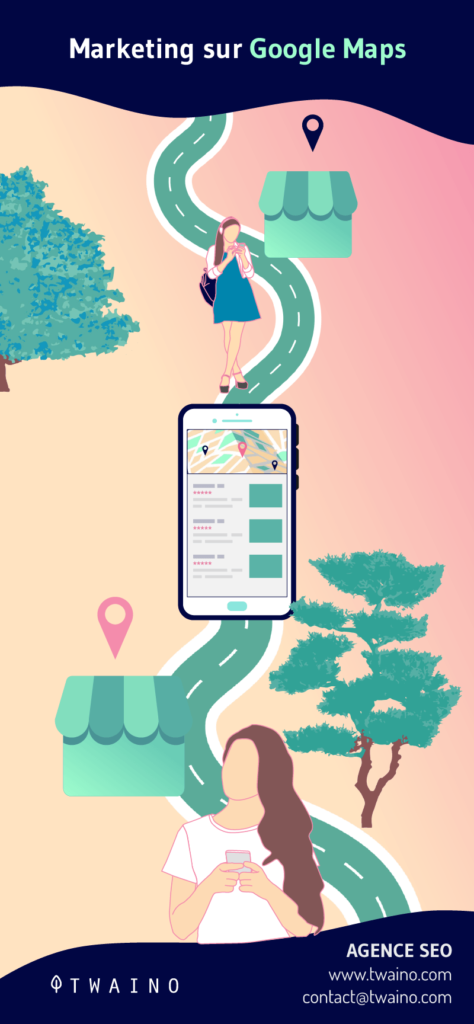 Far beyond the insertion of the address of local businesses on the map, their strategies involve promotion, advertising and customer relations.
All address management is done using Google my business, the free Google tool developed to serve local businesses and help them promote their brands, products and services.
In addition to the fact that Google Maps is the most used location-based service in the world, several other applications, such as Waze and Facebook, use it on their platforms. The best part is that it costs almost nothing to use.
3.2. The main benefits of Google Maps for your business
Speaking of the benefits of marketing on Google Maps, it is important to highlight some important elements that justify the importance of starting a marketing strategy on Google Maps.
3.2.1. Online visibility
Even if you are just starting out on the internet and don't have a website or a social media strategy, Google Maps allows you to have a quality online presence at no cost.
The exposure the platform offers is impressive. Just think that your business could appear on millions of GPS-enabled cell phones, tablets, smart TVs in your area
Decades ago, for an organization to get that kind of exposure would have required investments unimaginable to most entrepreneurs.
According to research, 53% of consumers always look for information about a business before buying something online or visiting a physical store.
3.2.2. Data measurement
Another benefit of having a presence on Google Maps is the ability to analyze information and metrics from users who visit your online profile
This data measurement is essential to better understand your customer and build a more realistic profile of your target audience and personality.
In marketing and sales strategies, knowing your potential customer in depth, in as much detail as possible, is one of the most important sciences
In this way, your company can develop actions and campaigns to achieve better results in both sales and customer relations.
3.2.3. Relationship with your customers
Trust can be a determining factor in whether or not a consumer buys from your company. But customer feedback can also be a determining factor in that purchase choice.
So, one of the possibilities of Google Maps combined with Google My Business is that customers can rate and write reviews about your business
Therefore, it is recommended to respond to reviews and prove to users that you are striving to improve your services.
3.2.4. Traffic and conversion support
Google Maps offers great features that improve traffic and business conversion. This is especially relevant for users who prefer to search for information on the Net first before going to the physical store to make a purchase.
If the user accesses information about your company, you have the possibility to inform him/her about some decisive aspects when visiting or buying one of your products or services in a physical store
We can find the section on the indicative price range for the customer or a graph that shows the influx of the public at certain times or days of the week. These two functions can be decisive in increasing the traffic and sales of a company.
3.3. how to rank better on Google Maps?
The biggest advantage of doing Google Maps marketing is that no matter where you are, users will identify you
However, there are a few suggestions that can help you get even better results
3.3.1. Describe your business as best you can
Geographical distance is undoubtedly the most important factor. However, company details such as business area, address, hours of operation, website and main offerings also have an impact on the ranking
So, it is necessary to provide as much information about your company as you can, in order to make it more complete in the eyes of the users.
3.3.2. Take advantage of the Street view feature
Thanks to the Street View feature, which has the role of presenting a picture of the searched places, Google is able to present your company in full image to your customers
For this, it is important to add the most relevant photos of your business and your company logo
If you run a hotel, for example, it would be a good idea to insert photos of the rooms
Another suggestion is to hire a photographer to create a tour inside your establishment and make it accessible via Street View
3.3.3. Ads on Google Maps
Relying on advertising is always an interesting alternative to increase the visibility of your business and attract more customers to your physical store
For this, Google Maps has an advertising system called Google Maps Ads to make it much easier for your target audience to find you
Another tip here is to never see Google maps marketing as a random expense. In fact, it is another important investment your business can make to reap the benefits we mentioned above.
Chapter 5: Other questions about Google Maps
In this final chapter, I will provide clear and specific answers to some frequently asked questions. If you can't find an answer to any of the questions discussed here, the Google Maps FAQ platform can help.
5.1. In what year was Google Maps created?
Google maps has been around since 2005. But since then, this tool has evolved a lot and keeps improving year after year.
5.2. How does Google Maps work?
GPS technology and a group of satellites collect all images and data from space.
Local governments and users help tag places and locations.
Android devices in motion help share the data with Google to give an accurate traffic status.
The last point is why Google Maps is more accurate than Apple Maps.
5.3. Why did Google launch Maps?
Google's public mission is "to organize the world's information and make it universally accessible and useful." Many, but not all, of the company's current projects focus on this mission.
A mission that relies on collecting, organizing and interpreting millions of gigabytes of data.
But the information Google is trying to organize is not only online. Much of it is offline
Speaking to The Atlantic, Manik Gupta, senior product manager at Google Maps, recalls, "As we go about our lives, we're trying to bridge the gap between what we see in the real world and [the online world], and Maps really plays that role."
From the beginning, Google Maps has taken a huge amount of offline information and published it online. This includes things like road networks, street signs, street names and business names
Google hopes Maps can do much more in the future.
5.4. How is it possible for Google Maps to make mistakes?
Every day, many changes are made to Google Maps. Some of these may be the addition of new locations and routes, while other changes may involve the correction of errors.
Many of these are fixed by chance by members of the public: changing place descriptions, adding roads, etc
Yet on top of that, Google has a large team of people working on the thousands of reports that are submitted to it every day.
A good portion of these reports are reviewed and processed manually. This is done usingAtlas, Google's own map editing program. New routes are drawn by hand, roads are connected, new buildings are drawn, etc.
It's a project that will never end. With thousands of new roads being built every day and cities changing traffic rules as necessary, Google Maps will always struggle to stay accurate.
5.5. How does Google Maps work offline?
To get the most out of Google Maps, you need to make sure you have a reliable Internet connection. But that doesn't mean you can't use the navigation app in dead zones.
Google Maps allows you to download maps of certain areas to your phone so you can access them offline. It is important to note that you need to be connected to the Internet to save these maps to your device
But once downloaded, you can access them at any time, whether your phone is online or offline.
5.6. What are the limitations of Google maps offline?
When downloading maps for offline use, you will only be able to access driving routes, as public transportation, biking and walking routes are only available online
With offline maps, you won't receive the latest changes to routes or locations unless you turn on the auto-update feature.
In addition, you need to have a good amount of storage space on your cell phone to download an offline map.
Conclusion
In general, Google Maps is a web-based platform that allows the user to have all possible information about their location and any other places in the world
Moreover, it allows businesses to gain visibility and be easily located by new customers.
In addition to being a powerful location tool for users, Google Maps is also considered a good way to improve local SEO for businesses.
To take advantage of the benefits of this tool, we have listed in this article some ways to use Google Maps to succeed in your local SEO strategy.
I hope you found this guide useful! Feel free to leave me comments on your various impressions!
Thanks and see you soon!