As ofJanuary 2019, there were over 1.94 billion websites on the Internet! A somewhat crazy number that indicates that almost 2 out of 7 people on the planet own a website. You can already imagine how particularly intense the competition is. In fact, it is also one of the main reasons why it is very difficult to stand out and have visibility on the web . That said, this goal is not impossible to achieve since there are several techniques and approaches to do better than the competition in order to enjoy a good visibility. However, you will agree that in order to succeed in such a challenge, you must first of all know who your competitors are and what they are doing, hence the importance of conducting a competitive analysis. In fact, this analysis will allow you to know what is already being done well or poorly and to put strategies in place to do better. Capitalizing on the competition's experience cansignificantly improve your revenueperformance. To do this, I have developed this guide that will allow you to know the elements of comparison to consider, the tools that will allow you to collect the necessary data to make your comparisons and those that are preferable to avoid.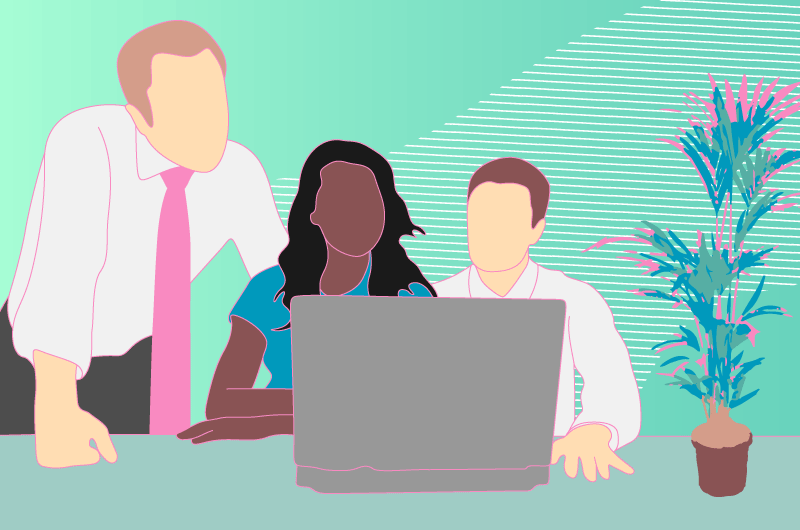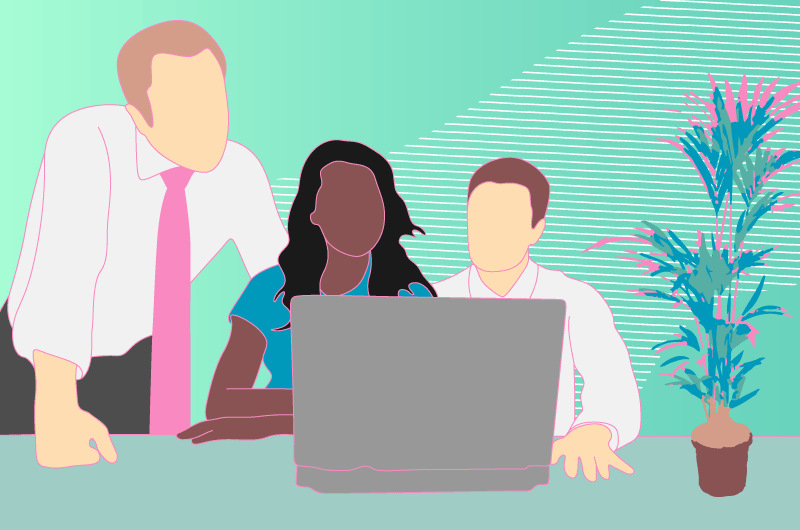 Competitive Analysis
In this Youtube video, I present you the essential points to succeed in a competitive analysis
:
Find my presentation on the analysis of the competition :
What is a competitive analysis?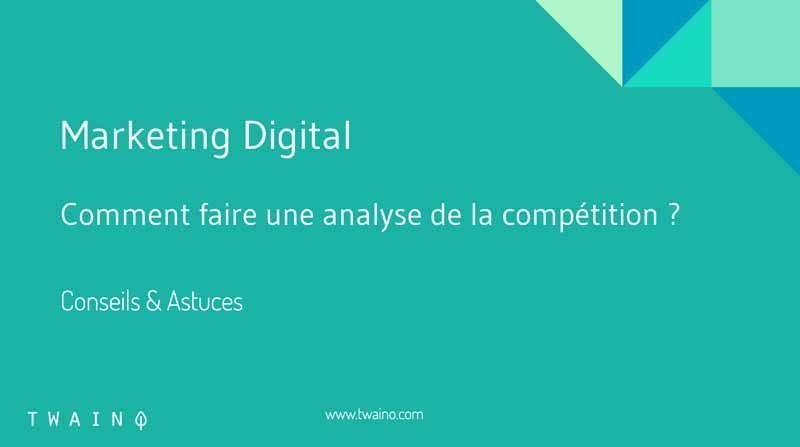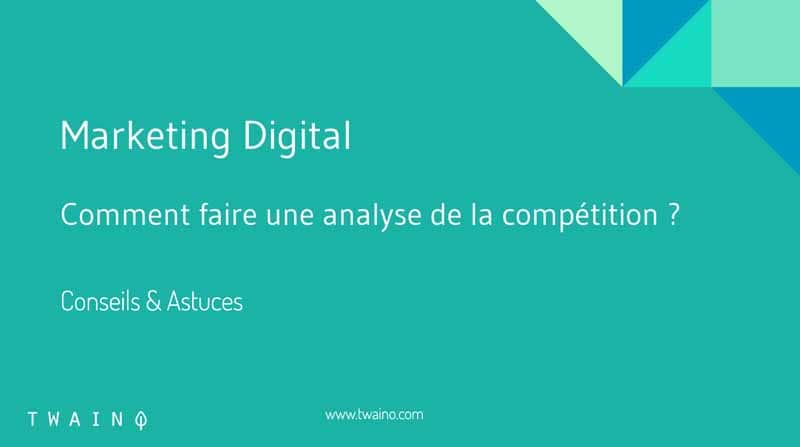 Competitive analysis consists in identifying the players present in your market, in order to take note of
Their performance ;

Their communications;
Their results;
Etc…
It is often a starting point when you want to launch your business. In fact, understanding what works well with the competition is a great way to start a business, by offering services / products that are quite similar, or even similar at first. You can also take inspiration from the competition and then reinterpret it to apply it to your business.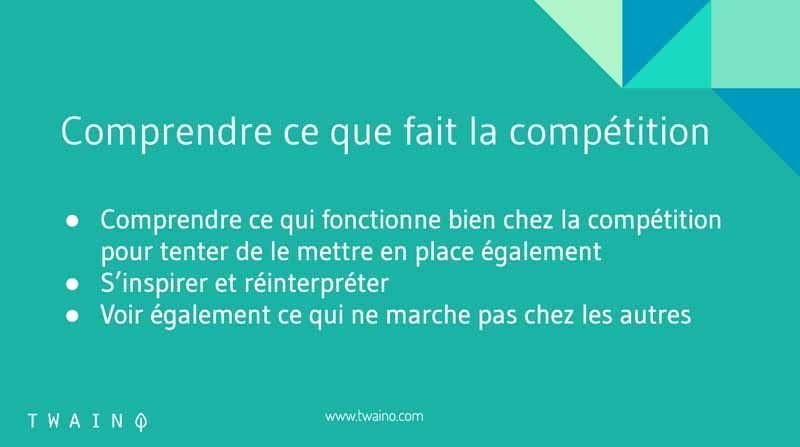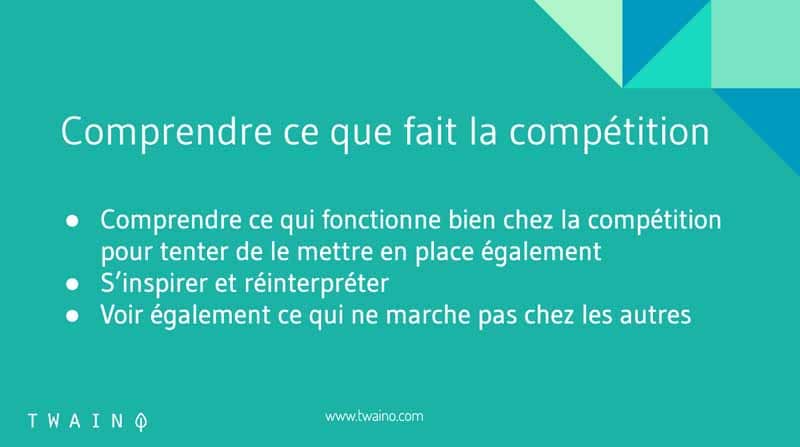 Therefore, the analysis of the competition is a privileged moment to understand how your competitors manage to meet their customers' needs
This practice goes beyond simply visiting your competitors' social networks and websites. This is obviously a starting point, but you will need much more data to get a complete picture that will allow you to make relevant decisions.
To this extent, you will try to understand what works well with the competition to try to implement it at your level as well. On the other hand, you will also see what doesn't work for the others in order to get away from them as much as possible.
Having said that it is not a question of replicating exactly what your competitors doyou have to do things your way so that you don't put aside your personality and branding. In addition, competitive analysis is very well suited for a company that is about to launch, but also for an established company. In other words, you can use this approach at any stage of your business development, especially since there are many reasons to do so.
Why is competitive analysis important?
The main reason why this practice is important is the fact that it is very it is very difficult to offer a better or more competitive product when you are completely unaware of what the competition is doing. If you want to be better than the competition, you need to know who your opponents are, otherwise, you will have no way to gauge your service/product against the others
Also, it will be very difficult for you to stand out if you don't know what really makes you different from other companies.
For example, when I wanted to set up my SEO Agencyagency, Twaino, I took the time to study the SEO Agencies that already exist in France. In addition to the services they offer, I analyzed their different marketing strategies. This allowed me to identify what already works, the limits and the opportunities that I can seize on the market. Of course, I used the data from these analyses to differentiate myself from other agencies.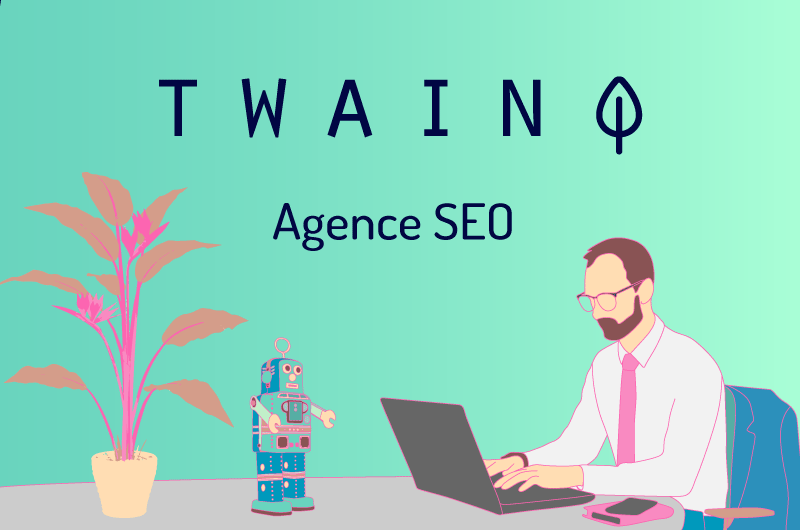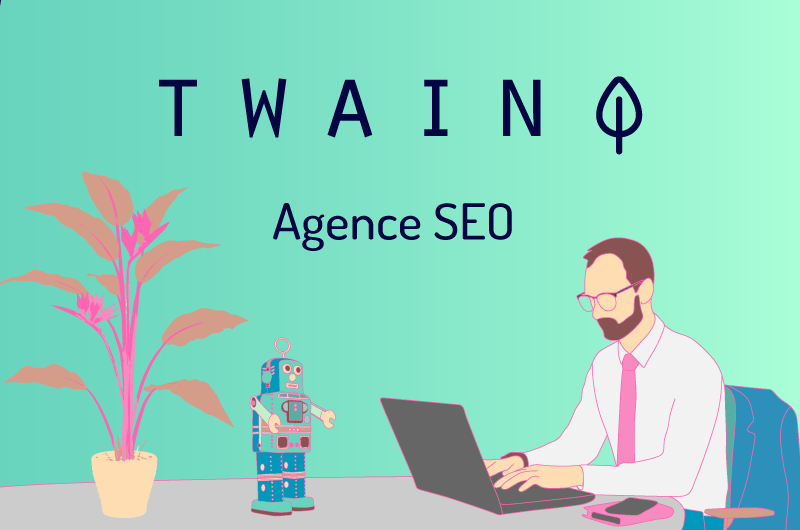 Apart from these generalities, this analysis allows you toevaluate the strengths and weaknesses of the competition in order to find a formula to give your company the advantage. This materializes through 4 main objectives:
Find the marketing formulas that work so you can apply them to your own business;

Determine where you already have a competitive advantage and where you want to strengthen your position;

Identify opportunities within your target market to develop new products or services, for example;

Identify potential obstacles in order to avoid actions that do not work or that penalize your efforts.
These four different objectives allow you to discover what annoys or delights your target customers and toto make the necessary improvements. This is why it is important to perform a competition analysis regularly in order to adapt your strategy to the development of your business.
Competitive analysis in 5 steps
Step 1: Identify your real competitors
Before you can make a relevant comparison, you must first determine who your competitors are. To succeed in this step, it is easier to make a list of all competitors in your sector and then choose the most relevant ones.
1.1. create a list of 7 to 10 competitors
To identify the most relevant competitors for your analysis, simply use tools such as :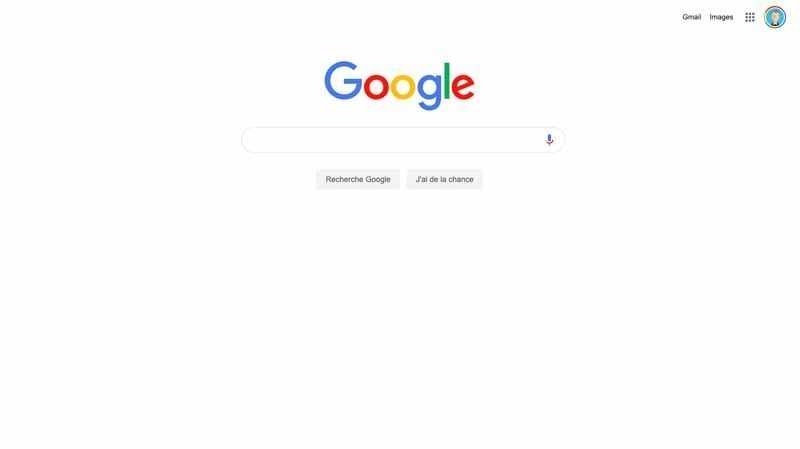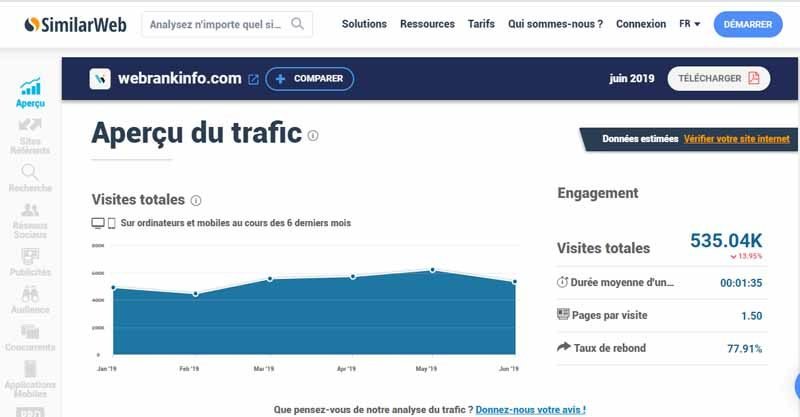 While Google allows you to do a generalized search, Alexa and SimilarWeb allow you to find similar businesses or those in the same field of activity. In addition, with the various traffic and ranking information they provide, you can rank your competitors. However, make sure that there are companies that:
Offer similar products or services to yours;

Have a similar target audience to yours;

Target a slightly different audience than yours demographically for example;

Are new to the market or older.
It is best to limit yourself to a list of about 10 competitors to make your analysis more effective. In fact, the more competitors you choose, the more work you will have to do in terms of data collection, which may reduce the relevance of the insight you gain into the competitive landscape.
1.2. identify primary/secondary competitors
Once you have compiled your list of competitors, you should now try to rank and categorize them. In other words, you should identify who your primary, secondary and tertiary competitors are, which allows you to clearly determine your company's relationship with these companies.
Primary competitors

primary competitors are companies that offer similar products or services to yours and operate in the same geographic area as you. These are actually the brands that your audience can compare you to. For example, BMW and Audi are primary competitors.

Secondary competitors

secondary competitors: These are companies that sell similar products or services but to a different audience. However, their product can sometimes solve the same problem or satisfy the same customer need. For example, these companies may focus solely on high-end or low-end products. Louis Vuitton and Amazon are two secondary competitors.

Tertiary competitors

these are related companies that may market to the same audience, but do not offer the same products or services as you do. In short, they are not in direct competition with you and can be considered potential partners or future competitors if they choose to expand their business. For example, there is Microsoft and Amazon.
The difference between these three types of competitors can sometimes seem ambiguous, which often leads companies to focus solely on direct competition. Of course, the weight of the primary competitors is more important and they should be given a lot of attention, but the other two types of competitors should not be neglected either.
Let's say you have an e-commerce where you sell men's clothing and you have a given competitor who also sells it. In your analysis, you realize that the competitor in question focuses only on selling beachwear. Whereas you focus on trendy everyday clothing.
In this case, it is a secondary competitor since you sell similar products, but to a different target audience. Therefore, you don't have to watch him too closely. That said, you should keep an eye on him since he can change his position at any time by including the types of clothes you sell and thus become one of your primary competitors.
This is one of the reasons why you should regularly conduct a competitive analysis to keep an eye out for changes and trends in the market. Otherwise, you will often notice these changes quite late, which could hurt your performance.
This first step is very important and I invite you not to neglect it so that your analyses and decisions are really relevant. You now know who your competitors are and you have succeeded in ranking them in order of importance, now we will see together the elements of comparison to consider.
Step 2: Define the elements of comparison
The analysis of the competition can vary considerably over time depending on the dynamism and responsiveness of the competition. You can conduct a competitive analysis around a specific aspect of your opponents' business such as their website or social media presence. You can also conduct a high-level analysis on their entire approach.
To do this, I'll list the different types of information commonly found in this type of analysis, but first, know that three factors are primarily involved in this approach:
Products or services;

Sales;

Marketing.
These are the three main parameters to consider, but before addressing them, I recommend you to have a methodical approach by using a spreadsheet like Google Sheet or Excel, in order to collect all the necessary information.
2.1. Create a document or spreadsheet
Creating a spreadsheet is very important when you are conducting a competition analysis. Indeed, when you collect data on your competitors, organizing them in a table or a spreadsheet, allows you to find, analyze, share easily afterwards your analysis and also to and update them over time.
To do this, I invite you to build it by inserting the competing companies and the data you want to analyze. You have tools such as Excel or Google Sheet that can help you.
As you collect your data, establish a scoring system to quantify the different elements of comparison. This will help you compare yourself with your competitors using a similar ranking scale.
Now let's move on to the different elements of comparison you can consider.
2.2. Your competitors' products or services
For your analysis, it is much more effective to start with your competitors' products or services since they are the core of their business. To do this, you can consider the following:
Their market share;

The full range of products they offer;

The quality of the products or services they offer;

The characteristics and needs of their ideal customers;

The pricing strategies they apply and the discounts they offer;

What differentiates each company from its competitors in terms of products or services.
2.3. Your competitors' sales strategies
Analyzing the competition's sales seems a little trickier than analyzing their products. You should focus on questions such as:
What does their sales process look like?

What channels do they sell their products through?

Do they have partner resale programs?

What are the reasons their customers don't buy?

What is their revenue each year and what about total sales volume?

How involved is a consumer in the process?
The answers to these questions are very important and allow you to set up an effective sales process.
In addition, you can also set up a system to find out why customers choose you over your competitors. If not, also determine why your prospects choose another brand than yours. To do this, you can use the forms or sales conversations conversations. Consider asking questions such as:
What services or features attracted the prospect?

What is the prospect's impression of your sales process?
The answers to these questions allow you to get honest feedback from your customers about what seems attractive from their perspective and what might turn them away from your brand.
2.4. Competitors' marketing strategies
To evaluate your competitors' marketing strategies, you need to go through a number of things regarding:
Their website;

Their social media presence;

Their email marketing.
Analysis of your competitors' websites
The website seems to be the first element you can quickly analyze regarding your competitors' marketing strategies. To do this, go to their website and look to evaluate:
The content of the websites
At this level, look to see: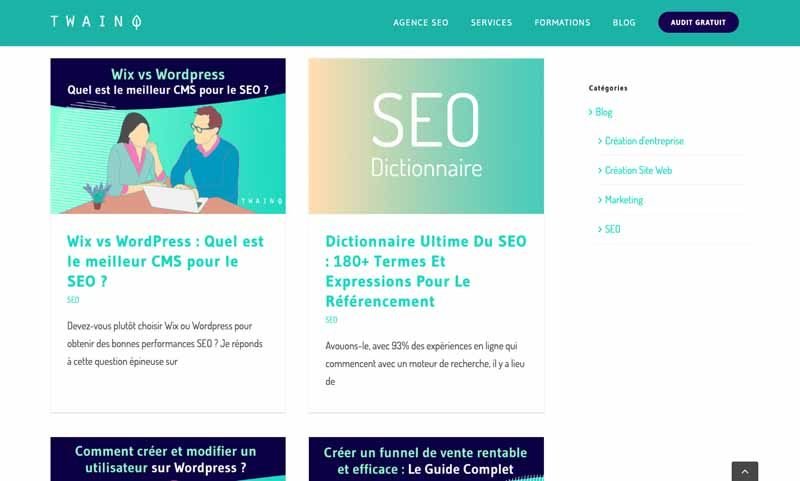 If they have a FAQ;

If they publish case studies or buying guides;

The offline and online campaigns they run; and

The types of visual content they use: Videos, webinars, infographics, images, cartoons..

Etc..
At this stage, it is very important to also look at the content management of your competitors by considering :
The frequency of publication of new content or articles: Daily, weekly, monthly ;

The size of the articles.
Apart from the volume of content, you should focus on the quality of the content. After all, if the quality is lacking, no matter how often new content is posted, the target audience will not find much value in it.
Instead of tackling all the content on websites, take a small sample for your analysis to make it easier for you. That said, make sure your sample can include content covering a variety of topics, allowing you to get an accurate grasp of the types of topics your competitors are covering.
To that extent, seek to answer questions such as:
How accurate is their content and does it contain syntax or spelling errors?

How in-depth is their content?

Is the content structured in a way that is readable?

Who writes their content: One person, a team or multiple contributors?
These different questions give you a very good understanding of their content, but you need to go a step further by considering the visuals they use. In fact, find out if the visuals they use are custom or if they are the standard visuals.
Once you have a good understanding of your competitors' content marketing strategy, it's time to find out if it's really working for them.
Commitment to content
Publishing content is great, but it still needs to appeal to readers enough to get them to respond. To gauge reader engagement, consider the number of:
Comments: Are they negative, positive or mixed?

Shares: On Twitter, Facebook or any other social network.
This allows you to determine the types of content that truly resonate with the target audience.
Content promotion
After the level of engagement, the focus should now be on the content promotion strategy used by competitors. Consider checking
Which content has had the most shares and interactions;

The social network platforms used to promote the content.
A mini SEO audit of the website
The good SEO strategies allow to obtain a good positioning in the results of the search engines. This implies that it is a very important point that you must monitor. For this, try to know
The keywords used and their density in the content;

The use of internal links and tags;

The age of the site or the age of the domain name;

The display speed of the site;

Is the site responsive?

The design of the site to evaluate the user experience;

The number of pages on the website;

Top 10 or Top 20 inbound links and referring websites;

Guest articles and the sites on which they were published;

The keywords on which you and your competitors have positioned themselves.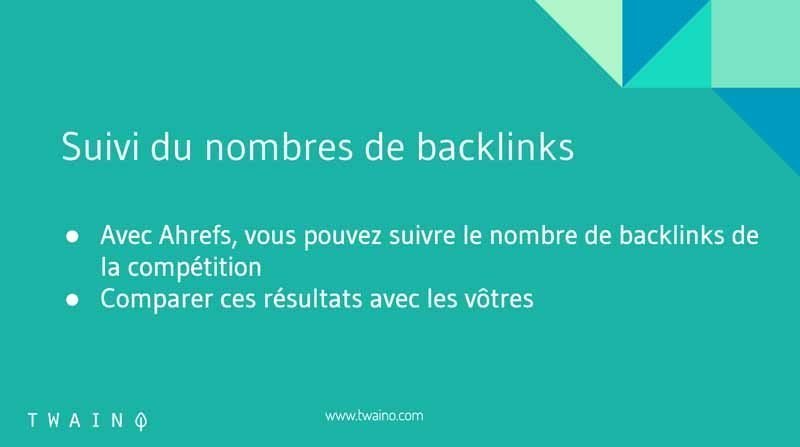 Apart from the website, you can now focus on email and social media strategies.
Emails and newsletters
Take a look at the different strategies in place for collecting emails from your competitors. Determine the presence of :
Pop-ups;

Newsletter sign-up;

Registration forms;

Different call to action buttons;

Etc..
This allows you to see how your competitors manage to get the emails of their visitors and get them into their sales funnel. In addition, you need to monitor the tools used by other companies and the different campaigns they run, the tools presented below will help you.
Managing their presence on social media
Still in marketing, it is important to monitor the presence of your competitors on social networks, as well as the rate of engagement of their followers.
To evaluate this aspect, consider points such as:
The presence and location of social network buttons in their content on their website;

The social networks on which you are not yet present and that your competitors use: Analyze the extent to which these platforms can be beneficial to your business.
You can go directly to the different social networks such as:
Facebook ;

Twitter; ;

Instagram; ;

YouTube;

LinkedIn;

Snapchat;

Pinterest.
To quantify the engagement and interest that on these platforms, note:
The number of subscribers or fans;

Frequency and consistency of posts;

Content engagement: The number of comments and interactions;

Virality of the content: The number of shares.
The different answers to these different points can help you in setting up your accounts on social networks. That said, you can go further by analyzing their social media strategy. In other words, determine if they focus on redirecting their target audience to landing pages or if they try to promote engagement and brand awareness with interactive content.
Other questions also deserve to be analyzed at this level:
What is the overall tone of content on social networks?

How do your competitors interact with their followers?

Etc..
2.5. The SWOT matrix
The acronym SWOT stands for :
Strengths: Strengths;

Weaknesses : Weaknesses ;

Opportunities: Opportunities;

Threats: Threats.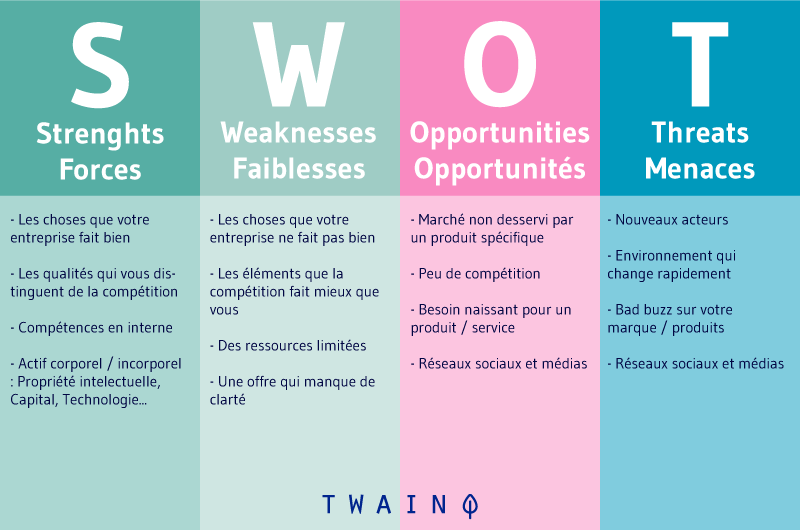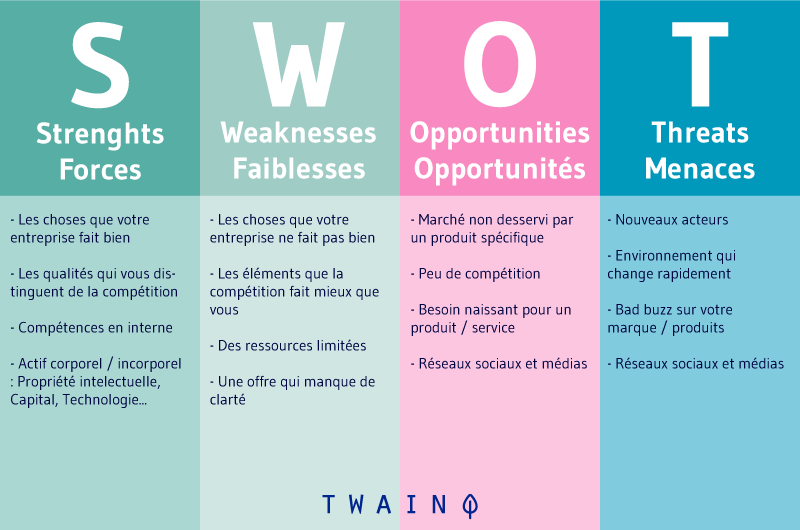 As you can see, it is a matrix that allows you to effectively process the different elements of comparison. To use it well in competitive analysis, you should fill it in as you evaluate each parameter of your analysis.
This means that you will note the strengths, weaknesses, opportunities and threats of:
Products or services;

Sales strategies;

The various marketing strategies.
Also use your scoring system to make your analysis complete. Here are some questions you can use to help you:
What is your competitor doing really well: Regarding products, sales, content marketing…?

Where does your competitor have the advantage over your brand?

What is your competitor's weakest point?

What is your brand's advantage over your competitor?

What can you do better with?

In what areas do you see this competitor as a threat?

Are there any opportunities in the market that your competitor has identified?
2.6. How does your company compare?
With the SWOT matrix, you will be able to make an effective comparison between your competitors and your own in order to find the best formula to improve your own business. That said, in order to establish a good analysis, you need to be objective about evaluating your own business with respect to also:
Your product or service;

Your sales strategies;

Your marketing strategy.
Do this evaluation with the same measures used for your competitors. In addition, use a rating system as you did with your competitors, which will serve as a benchmark for your various comparisons.
Step 3: Collect data using tools
Once you know which competitors you're going to do your analysis with, you can now move on to research and data collection. The good news is that data collection has become quite easy due to the evolution of technology.
In fact, there are many powerful tools available today that allow you to have a more efficient and accurate competitive analysis. First of all, you should know that the most powerful tools sometimes require subscriptions or require subscriptions or fees.
So if you already have a company with a large budget, it is relevant to focus on these tools. That said, there are also options that are much more accessible and that can allow you to do your collections for free.
Above all, note also that most of the tools present in this article are very easy to use insofar as all you need to do is indicate the URL of the websites you wish to analyze.
3.1. For traffic and visitor behavior
Alexa
Alexa helps you identify the demographics of a website's audience and its ranking on the web. It also allows you to learn about similar websites, which allows you to complete and refine your list of competitors. To go further, you can consult Kinsta which gives details about the tool.
SimilarWeb
SimilarWeb offers an estimation of the monthly visits and the main traffic sources for a website. This tool can help you determine the channels on which your competitors are focusing their marketing efforts.
In addition, you have the ability to compare multiple websites and see for each one the time spent on the site as well as the bounce rate. In addition, when you search on your own site, you have the ability to discover other websites like yours.
The article from Leptidigital
on SimilarWeb can help you in using this tool.
3.2. SEO Analysis: Measure backlinks and keywords on which your competitors rank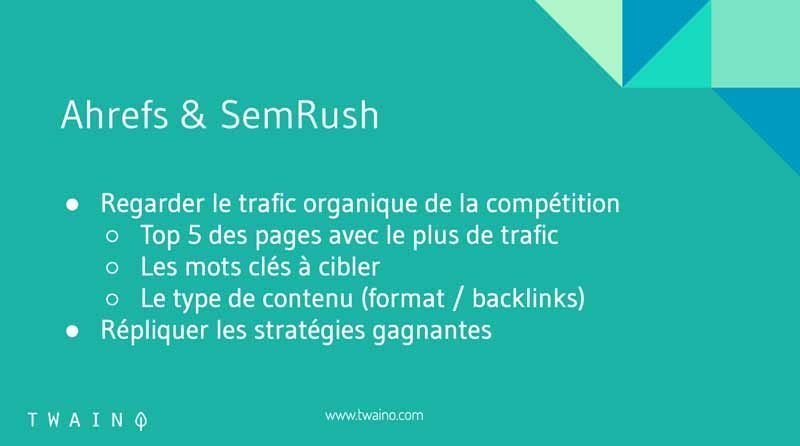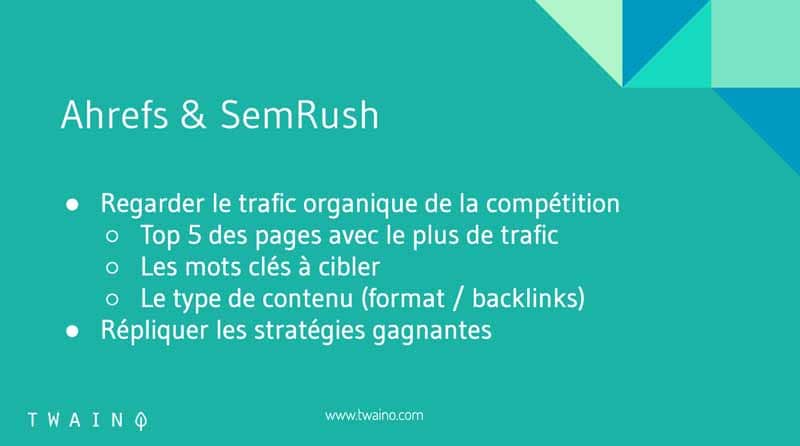 Ahrefs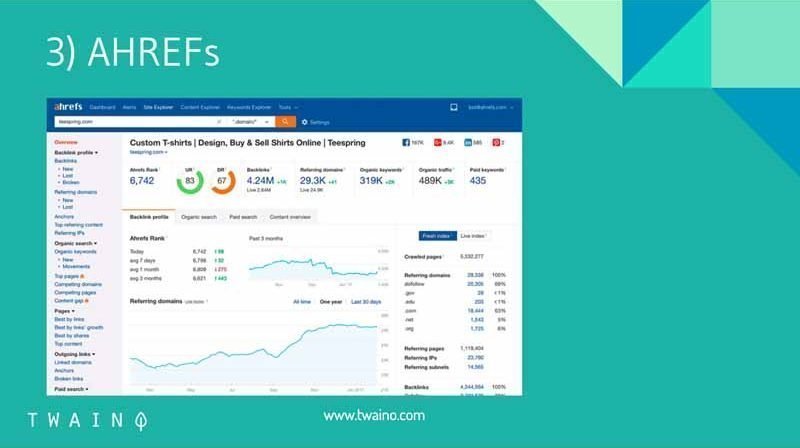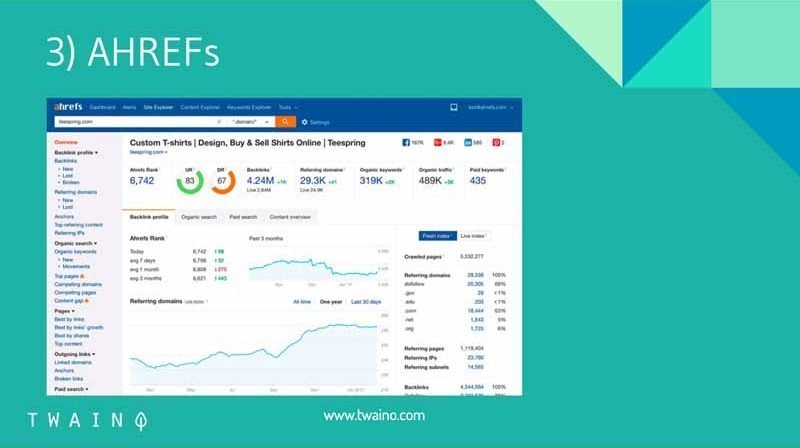 Ahrefs is an excellent tool in the SEO field and using it to analyze your competitors' backlinks gives you very accurate data. Like other tools, just enter the Url and you will get in details :
The total number of backlinks of the site ;

The volume of natural traffic;

The number of organic keywords;

The number of referring domains or sites that have made backlinks to the site analyzed;

Etc..
Just go to the tool page to understand how it works.
Semrush
Semrush gives access to valuable information on several factors:
SEO ;

Advertising; and

Content marketing;

Social marketing.
Its use is quite simple, especially since you just need to use the domain name of the websites. The data that you will be entitled to are among others:
The main keywords: Organic and paid;

The number of backlinks;

The number and names of referring sites;

Etc..
Semrush actually includes a wide range of tools and very efficient tools. However, its free version is limited and you must upgrade to the paid version to enjoy all the features.
Moz Open Site Explorer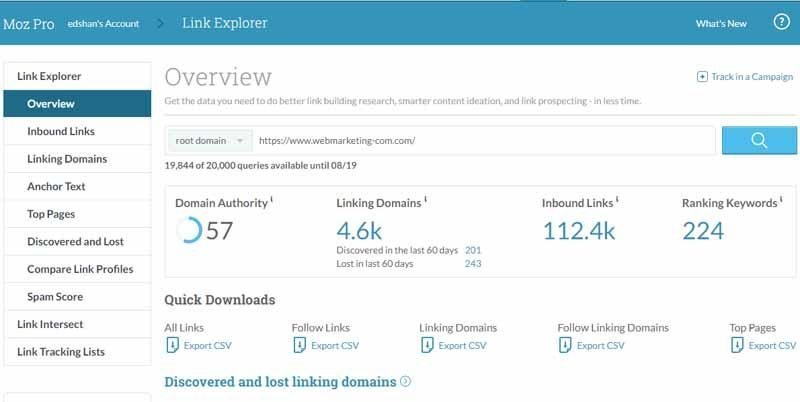 Like Semrush, Moz also offers several tools that you can use during your analysis. You have for example theOpen Site Explorer which also gives you much more information in terms of SEO. In addition to the previous keywords and backlinks, you have the Domain Autority which allows you to compare the weight of different websites.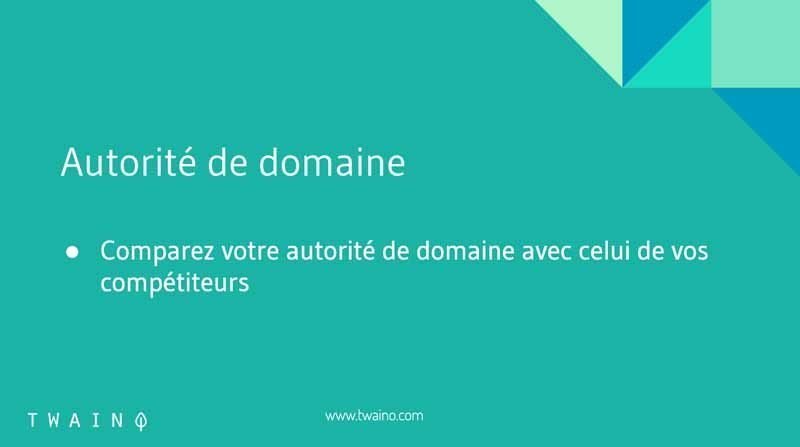 Audreytips makes a comparison between Semrush and Moz that you can consult in order to choose the tool that suits you, especially since you have to make a payment to enjoy all the features of these two tools.
Majestic SEO
Majestic SEO is a very good tool that will also allow you to have information such as:
The number of backlinks ;

The number of referring domains;

The trust flow by theme: Which allows you to assess the quality of your backlinks;

Etc..
Apart from these tools, you also have other tools that you can use, such as :
3.3. The analysis of the global performance of a website
WooRank
WooRank is an SEO tool that allows you to have an overall score on your website and detailed information on all strengths and weaknesses in terms of SEO. You also get recommendations on how to improve your website.
SiteAlerts
With SiteAlertsyou get a global overview of the different domain names you will be listing. These include:
The volume of traffic ;

The origin of the traffic;

The presence on social networks;

The tools or technologies used;

Information about the site;

Etc..
3.4. Measuring the speed of websites
The speed is a very important factor in the user experience and it should be paid very close attention, especially since it influences the ranking in the SERPs. By the way, Google estimates if a page takes more than 3 seconds to load, 53% of users will leave it.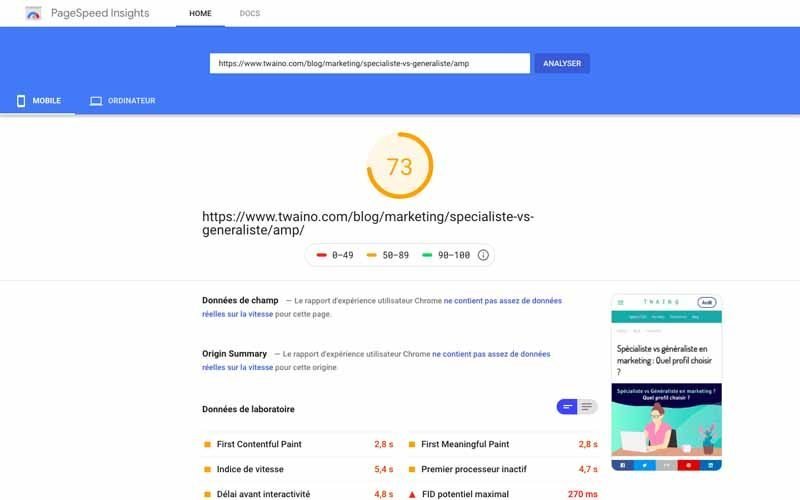 To evaluate this parameter, use Google PageSpeed Insights to evaluate your own speed and get recommendations to improve it. You can also use it to see where your competitors stand. The guide of Smartkeyword.io guide to the tool can help you better understand how the tool works.
Besides, you can also use Pingdom which gives in addition to an overall score, an evaluation of the average loading time of your pages and many other useful information.
3.5. Check if the sites are mobile-friendly
" 57 % of consumers said they would not recommend a company with a poorly designed mobile website ". In addition, thehe responsive websites or websites that automatically adapt to the screens of different media are favored by Google.
It is therefore interesting to check if some of your competitors have not yet implemented it. Google has set up the Mobile-Friendly to perform the test for free.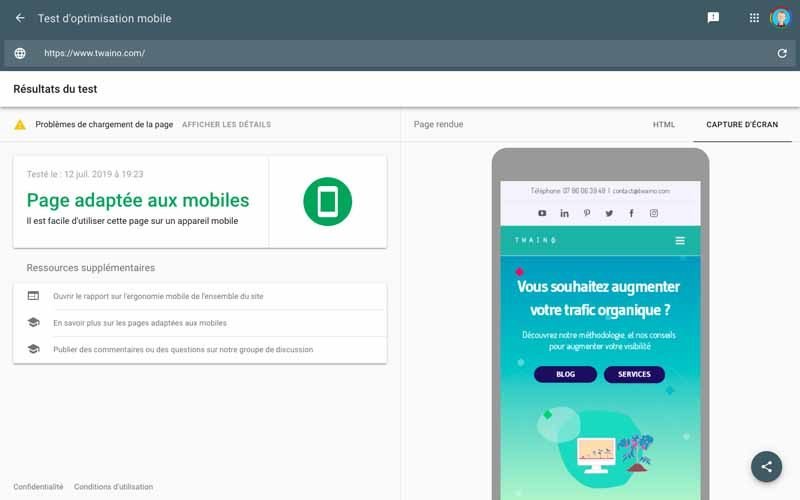 3.6. Follow the activities and mentions of your competitors on the web:
At this level, you have Google Alerts which allows you to be aware of the activities of the competition on the web. Even if you are not necessarily going to be aware of everything that is going on, you will be alerted every time there is something new with your competitors.
You can consult Wikihow which shows the steps to use Google Alerts properly.
3.7. Know the tools used by your competitors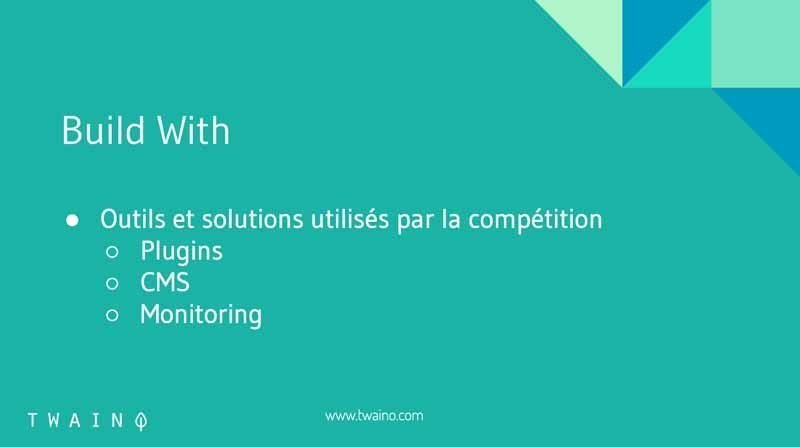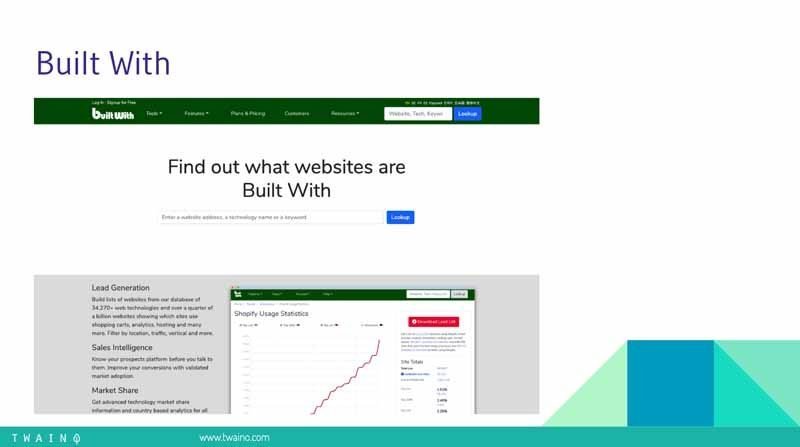 Built With is a platform that allows you to see the tools and solutions used by the competition. You will know: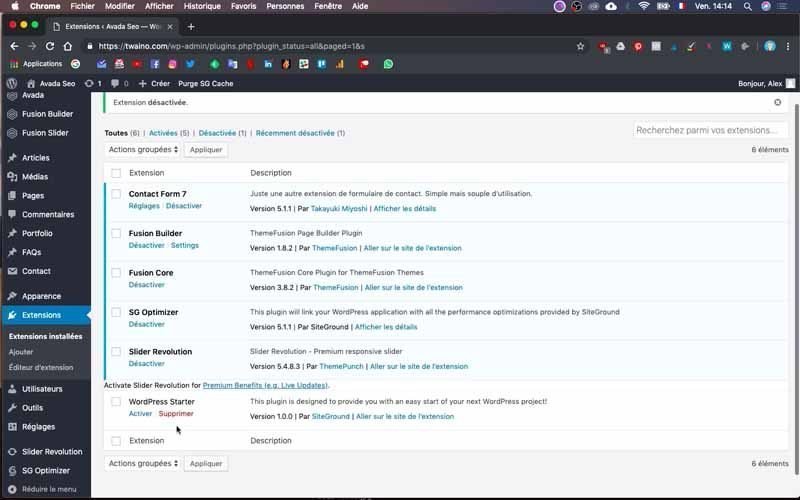 Their CMS ;

Their analysis tools ;

Etc..
With this information, you will be able to use the same tools and try to get the same results.
3.8. Track content performance
There are mainly two tools that can help you track the best content of your competitors:
With these two tools, you will be able to know the contents having known the most :
Readers' engagement ;

Shares.
You can also use Buzzsumo to discover other websites that produce content in your space. In addition, use the filters to perform your analysis over specific time periods.
For example, you can look at the last six months or filter results by content type. However, there are other tools that can help you in this regard, including Kapost Content Auditor which allows you to have a global view of all the content of a website.
3.9. The social activities of your competitors
Several tools are currently available to measure the activity of a brand on social networks. But for your competitive analysis, you can opt for these:
Facebook Audience Insights
Facebook Audience Insights can give you a variety of audience insights from one of the largest social networks. For many established competitors, you can even see the breakdown of their Facebook page followers, including age, gender and geography.
This is a tool that allows you to automatically determine the extent to which competitors have more followers than you, as well as the engagement of those followers. Use Fanpagekarma allows you to effectively evaluate the level of competition on social networks.
Followerwonk is a very good alternative, if you want to focus on Twitter, since it allows you to know which tweets have the most engagement.
3.10. Track your competitors' advertising campaigns
Mailcharts
Mailcharts is a tool that allows you to get an overview of your competitors' email marketing strategy. This will give you insights to improve your strategies with reliable data.
What Runs Where and Spyfu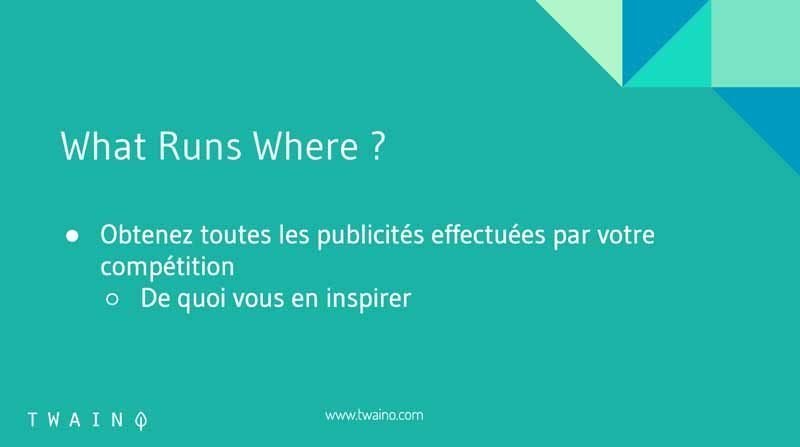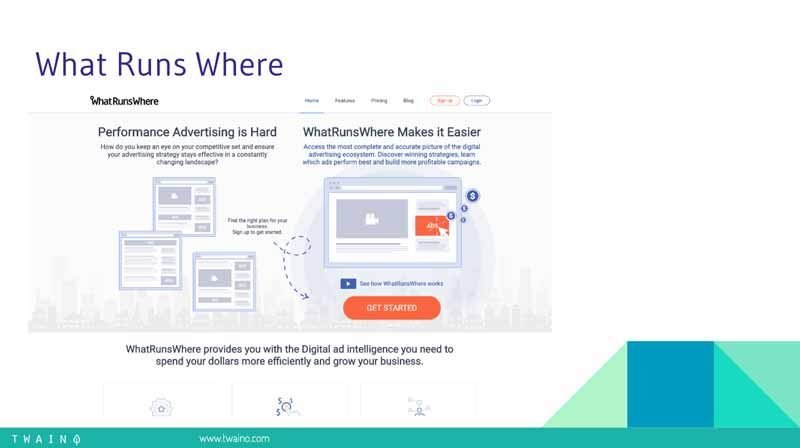 What Runs Where and Spyfu are very good alternatives to monitor your competitors' advertising campaigns. By knowing your competitors' ads and marketing strategies, you can use them to improve your own.
Using these tools, you can start collecting data and entering it into your competitive analysis spreadsheet so that your results are all stored in one organized space.
Step 4: Do some hands-on research
In addition to collecting data with the tools, it's also important to do some hands-on research with your competitors. To do this, pretend to be a potential customer and analyze how your competitors implement their marketing strategy.
This step can be done in different ways, you can:
Subscribe to their blog ;

Follow them on social networks;

Abandon, in the middle of the purchase process, a product in your shopping cart;

Purchase the product to evaluate the customer experience.
Just like the data collection step, it is also important to note your analysis in order to detect the tactics used by your competitors. In fact, you will determine their approaches when potential customers abandon products in their shopping cart. In addition, you will get an idea of how they support their subscribers via social networks and their approaches to attract more customers and boost sales.
Analyzing this information can help you make smarter and more informed choices that will ensure the sustainability of your brand.
Step 5: Analyze your results and create a plan
5.1. Analyze the results
Once you've collected all the data, move on to analyzing your data by highlighting the data that stands out in your file in your file. This can be the areas where your competitors are strong or weak.
This step is not as easy as it sounds since you have to make an effort to think strategically in order to detect the real causes that could explain the differences between the data. Once you have done this, you need to put an action plan in place.
Creating an action plan
At the analysis stage, you already know your strengths and weaknesses compared to your competitors. If they are not doing better than you, perhaps this is an opportunity to be seized, but if they are doing better than you, try to note the strategies that will allow you to achieve the same or better than what is already working. Then, describe specifically the steps you will take you will take to improve your current position.
At this level, you should break down your main strategy or goal into daily or weekly tasks. Please write your action plan and the exact steps you will take in your document. This action allows you to perform a weekly or monthly evaluation which allows you to gauge your progress in carrying out your plan.
These different actions allow you to perform a complete analysis of your competitors, but you must be careful not to fall into certain traps.
7 common pitfalls to avoid during a competitive analysis
In order not to ruin all your efforts in the complete realization of your competitive analysis, it is important to know the things that you should necessarily avoid.
1. Competitive analysis is not a one-time exercise
To be able to make the right decisions for your company, it is important to regularly update your analysisit is important to update your analysis regularly, as companies are constantly evolving. It is therefore more useful and efficient to keep an eye on your competitors in order not to be totally overtaken by them. In this logic, competitive analysis is a continuous process.
2. Create more work than you need
Nowadays, there are many tools that are quite relevant and simplify the data collection process enormously. This makes competitive analysis rather easy, accurate and qualitative.
Don't try to reinvent the wheel, just use the tools that are available and that allow you to have reliable information. You will speed up the process and you will be able to make informed decisions.
3. Ignore your own biases
To conduct your analysis effectively, it is very important not to rely on what you "think" is true about your company and your competitors.
The effectiveness of your analysis depends on your ability to let the data inform you.
4. Data without action is useless
One of the main reasons to conduct a competitive analysis is to help you significantly improve your performance. It would be a shame to conduct your study and not put in place a strategy or plan to optimize your performance.
For this reason, establish strategies that are clear and specific enough to be implemented and monitored.
5. Work on clear objectives
There are many types of information you can collect from your competitors and the work will be difficult if you don't have a clear objective. In fact, you need to know exactly what you want to learn from your competitors and the final objective that this information will serve.
6. Ignoring the evolution of competitors
When looking at competitor data, consider how companies have developed and progressed over time rather than just looking at their approaches at a single, fixed point in time.
Sometimes it's more useful to have the data on how your competitors have successfully evolved their tactics than what they're doing right now
For example, if one of your competitors has a high conversion rate with two call-to-action buttons on their landing page, it would be more useful to know that they conducted A/B testing before ultimately choosing two CTA buttons instead of one.
7. Be obsessed with the competition
Don't be obsessed with the competition as you may neglect or forget your own personality, branding and even your own strategy. The idea is to find the right strategies and adapt them to your business.
Also, don't try to replicate a strategy of a large corporation if you are a startup since the ROI is totally different. In fact, you risk applying strategies that are not adapted to your business if you are not careful. And for good reason, budgets are not the same and you can quickly run out of resources without getting any results.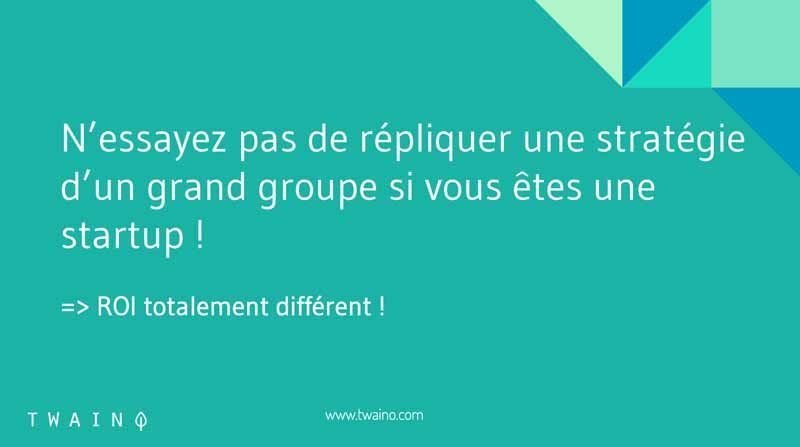 When you are a big company for example, you can have the logic of Branding, in other words, make ads where you simply highlight your logo. To this extent, the ROI is completely different from a startup that wants to have an immediate ROI.
Conclusion
Launching a business and making it sufficiently visible is not an easy task, even if it is a sine qua non condition for the survival and development of any business. In fact, the competition is intense and it is difficult to position oneself correctly. But since most of the competitors already exist and will always be present, it is wise to study them in order to differentiate from them. This study is calledcompetitive analysis or competitive analysis which allows you to know what is best, the risks to avoid and the opportunities to seize on your market. For its realization, I presented you the tools to collect your data and to make the necessary comparisons. That said, it is essential to to put in place strategies to improve your performance to improve your performance and follow up, otherwise your efforts will be in vain. Also, keep in mind that the goal is not to replicate every move your competitors make, but to reinterpret it in a way that is appropriate for your business.
See you soon!