The anchor text, also known as the link anchor, is the only part of the link that users see on a page. This hypertext snippet of the sentence leads to another online source once you click on it. The anchor usually consists of one or a few clickable words, usually underlined and colored blue (it can also be any other color). These words act as keywords and should accurately describe the linked or landing page.
If you're a fan of SEO, you've probably heard of anchor text or link anchors. Often overlooked or misused by many SEOs, this term may seem insignificant at first glance, which is a real mistake that can cost a website's SEO.
So :
What should we understand by anchor text and why is it important for SEO?
What are the tips and best practices to optimize it effectively?
By the end of this guide, you will know when and how to effectively use anchor text to avoid Google penalties and improve your SEO.
Let's go!
Chapter 1: What is anchor text and what are the different types that exist?
In this first chapter, I will explain:
What the anchor text is;
What it looks like;
And the different types that exist.
1.1. What is anchor text for SEO?
On a web page, the link anchor represents the clickable part of a link.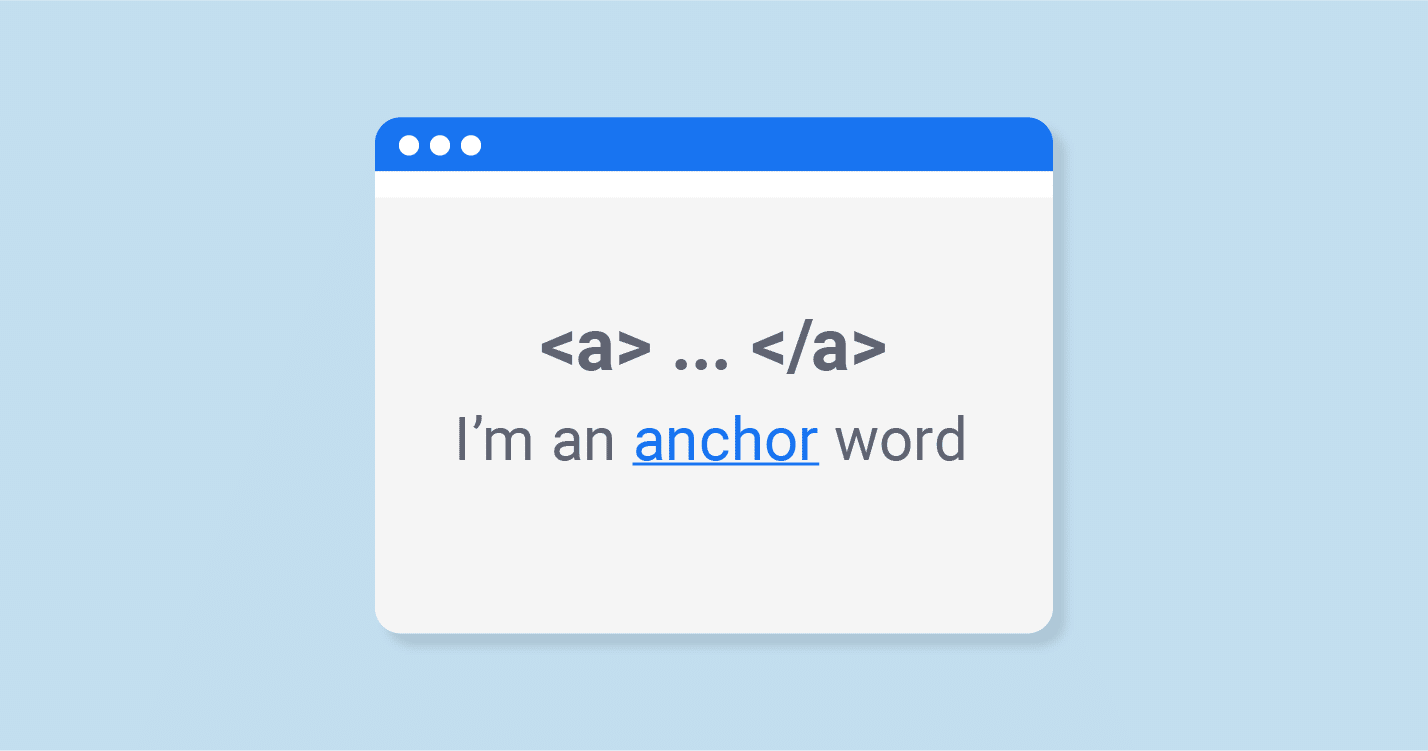 Source : Sitechecker
It is visible to users, giving them a clue about the destination of a link before they click on it.
In other words, the link anchor is somewhat descriptive of the linked or landing page so that users know what to expect.
It is important to remember that readers are not the only ones who read the anchor text.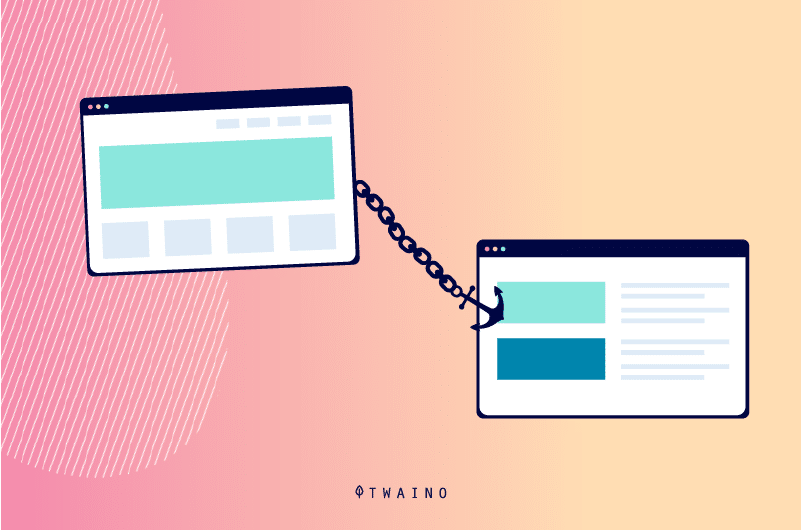 The search engine robots that crawl the web indexing the right pages also examine the link anchor.
The information these crawlers find ends up playing an important role in how search engine algorithms characterize and evaluate a particular website or page.
.However, the exact role played by anchor text and its weight varies from one search engine to another, and even from one update to another.
Essentially, anchor text is one of the many factors search engines take into account when trying to understand what a page is about and, therefore, what keywords that page should be ranked for.
1.2. What does the anchor text look like?
On a web page or in a blog post, the link anchor usually appears to the reader in a different color than the rest of the text. It can also sometimes be bold or underlined.
Anyway, this is what you can click on to go to another page or site.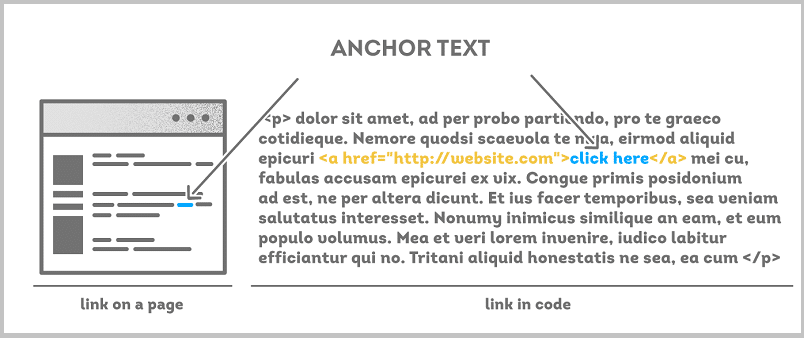 Source : Website Rescue
If you were to look at the HTML code of a page, a link would look like this:
<a href="https://www.website.com/">Le texte d'ancrage</a>
The URL that occupies the first half of this code is where the link redirects you. The text in the second half (in this case "Anchor Text") is the clickable text that appears to a reader.
On a web page or article, our example of anchor text might look like this:

In the example above, it is only the simple anchor text.
If you are used to visiting web pages or reading content, you will certainly know that anchor text does not always look like this.
There are various other types of anchor text that are commonly used.
1.3.

What are the different types of anchor text?

To create a diverse anchor text profile and avoid being penalized by search engines, you must understand all types of link anchors.

Let's get started!
1.3.1.

Brand Anchor

A brand anchor uses your brand name (or a variation of it) as anchor text.

If your link profile is well balanced, your brand name should be among the most used, if not THE most used anchor text pointing to your website.

When you create a brand, website owners will naturally link to you using your brand name when citing your business.

Take Ahrefs, for example:

More than 50% of the linked websites use the Ahrefs brand name in the anchor.
Or Buffer:

41% of their referring domains use brand anchors.
This is to say that branded anchors should make up the bulk of your anchor text profile.
And here's the reason:
Google expects branded anchors to be the most frequently used anchor text to link to your site.
This is because if you are a known authority in your industry, it is your brand name that most websites will use to mention you.
Branded anchors are the most commonly used, unless you have an exact match domain (EMD).
The latter is a domain name that corresponds precisely to a search query that will generate traffic to your website.
For example, if your branded domain is LaptopsNotOnline.com, you need to be careful and use the branded anchor as little as possible or you may be penalized.
Indeed, too many keyword-rich links pointing to your site are likely to result in penalties from search engines.
Here are some examples of brand anchors without an exact match domain:
Twaino ;

Backlinko by Brian Dean ;

Neilpatel ;

Etc.
1.3.2. LSI Keyword Anchor
LSI also known as "latent semantic indexing", uses various terms from your target keyword.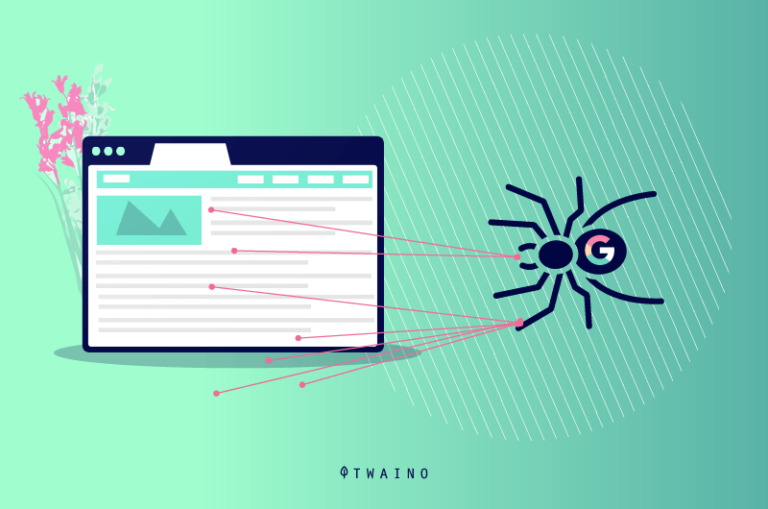 If your target keyword is "online store", then LSI keywords could include :
E-commerce store;
E-commerce store;
Open online store ;
Etc.
You can easily find LSI keywords by typing your target keyword in the Google search bar.
1.3.3. Exact match anchor
This type of anchor uses the exact target keyphrase or specific keyword you want to rank for. This is the type of anchor text that has the most power to improve your ranking.
For example:
If the page you link to targets the keyword "buy wedding dresses", the exact match anchor text would also be "buy wedding dresses".
Here are some other examples of this type of link anchor:
Referencing company;
Buy soccer shoes;
Best restaurant in Miami;
Cheap flights London Paris ;
Etc.
While it can be helpful to earn links for the exact keyword you are targeting, you must be careful not to have too many exact match anchors. This is because it could result in a penalty from Google, as they may consider it as keyword stuffing.
To do this, reasonably use the exact matching anchor on your pages. Which brings us to our next type of anchor text:
1.3.4. Partial match anchor
Partial match anchors use text that includes a variation of the target keyword as well as generic terms.
If the linked page is about "link building", a partial match anchor text could be "link building strategies" or "how to build links effectively".
Or if you are trying to rank for "Instagram marketing", partial match anchors would be:
Helpful Instagram Marketing Tips;
Learn more about Instagram marketing;
Etc.
Here are some other examples of this type of link anchor:
Top restaurant in Miami;
Buy cheap flights from London to Paris;
Our referral company.
The interesting thing about partial match anchor text is that it communicates to Google about the topic of the linked page in a natural way.
1.3.5. Associated anchors
Like partial match anchors, the associated anchor text uses variations of your keyword.
But, unlike partial match anchors, related anchors never include the keyword itself.
Let's assume that an article is about "image SEO". The main target keyword is "image seo" but among the most used anchors, we can see :
Optimizing images for search;
Ranking well on Google images;
Detailed guide on image optimization;
Etc.
None of them include the term "seo image" itself.
Associated anchor text is useful for creating a more diverse link profile and helping you avoid over optimization.
There is no real science to using related anchor text. Just make sure you use a good mix of LSI keywords, plus synonyms and you're done.
1.3.6. Generic anchors
This type of anchor text uses a generic word or phrase that does not provide useful context about the topic of the linked page and often serves as a call-to-action anchor.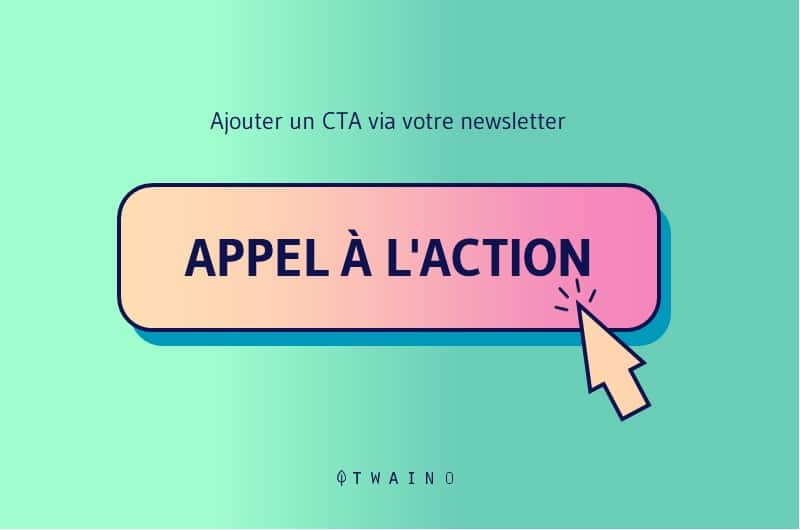 Since generic anchors typically use action verbs, they are a powerful way to encourage more readers to click through to your page.
Frequently used generic anchors include:
Click here ;
Read more;
More information;
Buy now ;
Register;
Check out ;
Discover more ;
Visit the website;
Learn More;
This Website;
This page;
Go here;
Etc.
Nevertheless, avoid creating too many links with generic anchor text on your pages, as this can become annoying for users.
1.3.7. Random anchors
Like generic anchors, random anchor text uses phrases that do not include any particular type of keyword.
What separates random anchors from generic anchor text is that random anchors do not use any usable language.
Selecting random anchor examples is a bit complicated, as they are only spontaneous and subjective to the page using the anchor text.
Nevertheless, here are some examples of what random anchors might include:
Feature article;
New blog post;
Recent change;
From this article;
Etc.
Since there is only so much a search engine can determine from a random anchor, you may be wondering what impact random anchor text has on ranking performance.
The answer is, not much, if anything.
According to a study by Ahrefs , there is no significant correlation between random use of anchor text and high keyword ranking :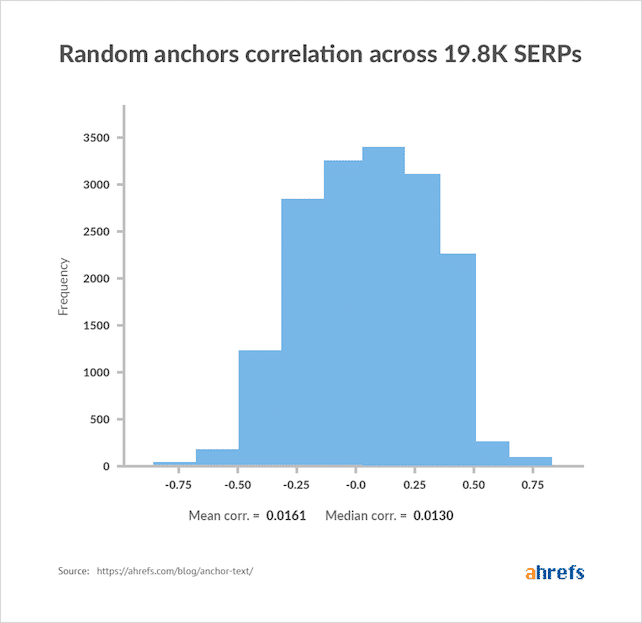 Does that mean you shouldn't use them?
Not at all.
There is information that Google bots can get from the text surrounding the anchor.
For example, according to Google's patents:
"The data surrounding the link, the data to the left of the link or to the right of the link, or the anchor text associated with the link can be used to determine the context associated with the link."
United States Patent – March 15, 2004
In other words, if the actual anchor text is random or unrelated to the linked page, Google will examine the text surrounding the link to help understand what the page is about.
So, the lesson here is to incorporate generic and random anchor text, but always make sure to place the anchor in the surrounding text with relevance.
1.3.8. Naked Anchor
When the raw URL is used as an anchor rather than a word or phrase, it is called a bare anchor.
Let's take the example of the Twaino SEO homepage:
The https://twaino.com/ clickable is a bare anchor text.
Bare anchors are usually found at the bottom of press releases or in author bios on blog posts.
Very little contextual information is included in the bare anchor text, unless your domain name includes a keyword.
Under these conditions, the use of naked anchors is completely safe. Compared to exact match anchors, no deceptive practices are used to manipulate search rankings with the use of specific keywords.
And, like generic and random anchors, when text near a bare anchor contains contextual information, it can have a ranking advantage.
1.3.9. Brand anchor + keyword
This type of anchor text uses brand names plus partial match keywords. Typically, brand name plus keyword anchors are used when a site is trying to optimize for a keyword while reinforcing your brand image.
In simple terms:
By including the brand name next to the keyword you want to rank for, you help Google connect your brand to the main products and services it offers.
Here are some examples of brand + keyword anchors:
Buffer for social media management;
Ahrefs for keyword research;
SEO services by Twaino;
Travel bags by Tumi ;
Etc.
The goal here is to correlate your brand name (or brand phrases) with your target keyword phrases.
Let's move on to our ninth type of anchor.
1.3.10.

Long-tailed anchor

Long-tail anchors are another variant of partial match anchors, except that they are composed of several words, usually four or more.

Source : Edtech
In addition to including your keyword in the anchor text, long-tail anchors also include descriptive, generic or branded terms.
An example of long tail anchor text could be "why should ecommerce stores invest in local SEO?" with the link pointing to a page about local SEO strategies.
More long tail anchor text examples:
Learn more about rich snippet on Twaino blog;
This new social media marketing tactic gets you more followers;
Instagram marketing is part of the marketing mix;
Why ecommerce stores should invest in Instagram marketing ;
Etc.
These types of anchors are created naturally when other websites link back to you. Sometimes writers use a subheading or full title as a long tail link anchor.
Since long-tail anchors are most often created naturally, they don't need to be the primary focus of your link building strategy.
Nevertheless, they can be useful to diversify your link profile and help you rank higher for long tail keyword terms.
1.3.11. Anchor of images
Text anchors are not the only type of anchors. Images can also be used to anchor two pages together. Search engines interpret the alt tag of an image in the same way as anchor text.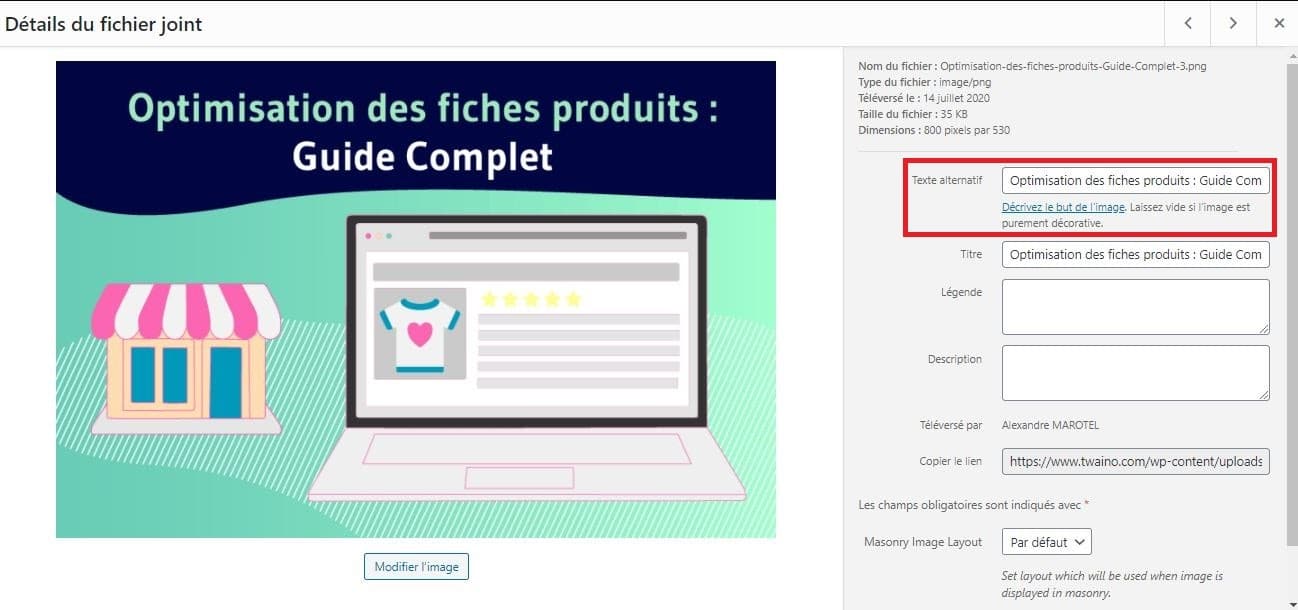 Since there is no clickable text in an image anchor, Google uses the Alt text of the image to understand the context of the linked page.
For this reason, it is important to write descriptive and keyword-oriented alt tags for your images.
If you are new to writing alt text, you can refer to our image SEO guide for a step-by-step tutorial on alt tags and the whole optimization process.
Like the other anchor types above, image anchors play an important role in a good link profile. In fact, a well-balanced link profile can expect 5-25% of all links to come from images.
1.4. Some uses of anchor text
There are some places and cases where it is a good idea to use anchor links. Here are four examples, some of which link to the same page:
1.4.1. Inside the content
This is the most common case. In this case, the link anchor is used to direct the visitor to another page on the same site or on another site.
1.4.2. Table of contents
Just like in books, it is easier to navigate the article with a table of contents in place.
The difference is that you can make your table of contents clickable. If your site visitors are looking for a specific section to read, they can access it by simply clicking on it.
1.4.3. Call to action
When you create a sales funnel, all actions on your site should lead to the next step. Anchor links can help you push the user towards taking that next step.
As a site owner, you can place various call-to-action blocks on your page that link to the desired action.
1.4.4.

Landing pages and page layouts

Some landing pages are composed of several sections reaching thousands and thousands of pixels to browse.

To make life easier for your visitors, it is a good idea to integrate the navigation (menu) at the top of the page to make it easier for them to navigate. Such an approach will improve the user experience and also help structure the information.
1.4.5. Scroll up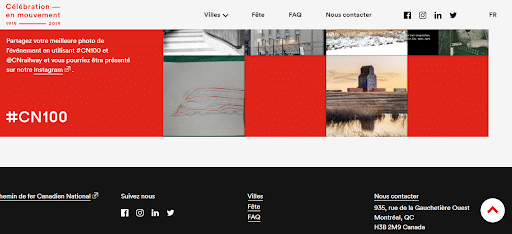 You probably remember the case where you scrolled all the way to the bottom of the page only to find that there was something at the top! To get back, you had to scroll all the way to the top.
With anchor links, you can add an anchor at the very bottom of the page and link back up. This will help your site visitors get back to the top faster.
In fact, many e-commerce stores use this Scroll to Top approach to improve the user experience.
Now that you know what anchor text is as well as tips on how to diversify your link profile with different types of anchor text, let's take a look at the reasons behind its importance and impact on SEO.
Chapter 2: Why is the anchor text important?
Before I discuss the importance of the link anchor itself in this chapter, I will first explain its impact on SEO before and after Google's Penguin algorithm update that took place in 2012.
2.1. How does anchor text affect Google search before and after the Penguin update?
Backlinks have played an important role in the Google search engine algorithm since the very beginning. So it's not surprising that anchor text, which is a key feature of any link, has also played an important role.
Before Google's 2012 Penguin update, anchor text was not only easy to manipulate, but also considered a key factor in SEO.
At that time, exact match anchor text was a way that black hat SEO practitioners often used to manipulate the Google search engine.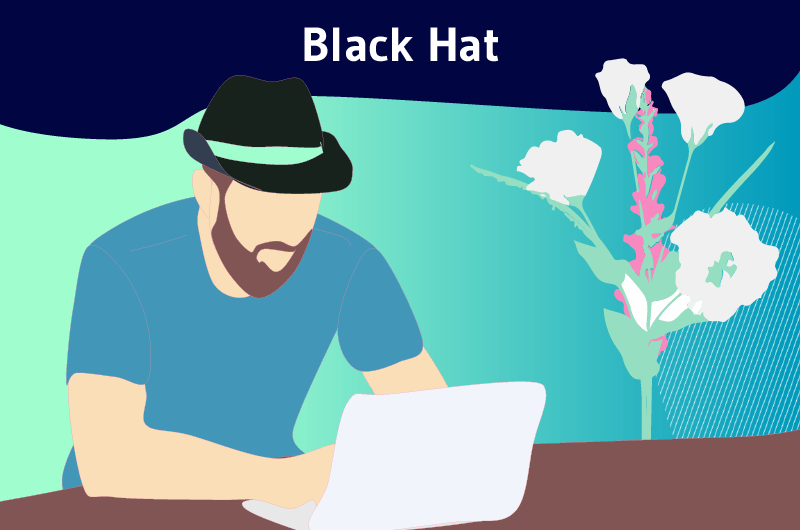 By creating anchor text, both on- and off-site, that exactly matches the keyword they wanted to rank for, these SEOs could prompt Google to present their pages as more relevant for a particular keyword or set of keywords.
This practice was known as "Google Bombing" and resulted in a ton of irrelevant or low quality pages skyrocketing in the SERPs.
Fortunately, this tactic stopped in 2012 with Penguin 1.0. The first Google Penguin algorithm update focused on spam in search results.
The result being that websites that deliberately manipulated search results with link anchor spam (among other Black Hat SEO strategies) ended up suffering ranking penalties.
As a result of this update, many websites lost their ranking and traffic overnight.
Similarly, subsequent Penguin updates have continued the war against manipulative anchor text practices.
Therefore, effective anchor text optimization is simply about avoiding spam anchor text profiles, not creating them.
2.2. Why is the anchor text important?
Now that you have an idea of its impact on Google search before and after the Penguin update, why should you really care?
Here's what Google's John Mueller says in a tweet about this topic: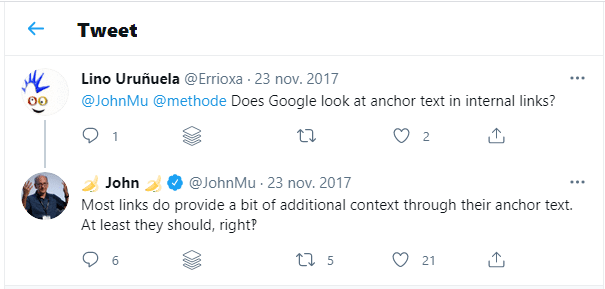 The latter states that Google uses the anchor text to help understand the context of the link and, therefore, this can impact the ranking.
Here's another tweet from John where he says that anchor text (and image alt text) goes a long way in helping Google understand the context of the link: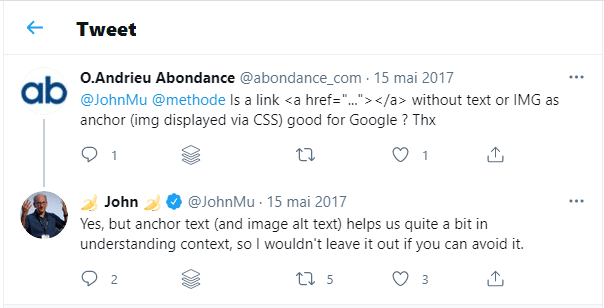 In short, Google relies heavily on anchor text to determine what your pages are about. This reflects how other domains and pages see your content.
Suppose a page receives many links with an anchor text related to "chocolate cookies". Google will then know that the page is probably about "chocolate cookies".
The simple fact is that the search engine uses anchor text as one of the factors in determining the relevance of a page.
Since the launch of its Penguin update in 2012, Google has also been using anchor text in a different way. The update targeted a number of questionable SEO practices, including unnatural link building.
One of the ways Penguin helps Google identify unnatural links is through anchor text. The search engine's algorithms look for and can recognize unrealistic or artificial anchor text.
Therefore, it is crucial to optimize your link anchor to avoid losing your SERP ranking. This is one way to avoid Google penalizing you for unnatural links. This brings us to the next chapter!
Chapter 3: Best practices and tips for optimizing your anchor text
Knowing about anchor text and its importance is great. But if you want to leverage anchor text to improve the user experience and rank higher in search, you need proven anchor strategies.
Below, I'm going to share some tips and then anchor text tactics that you can use on your site today to get a ranking advantage and escape any penalties.
Let's start:
3.1 Keep it short and descriptive
Concise and descriptive anchor text helps users understand what the linked page is about.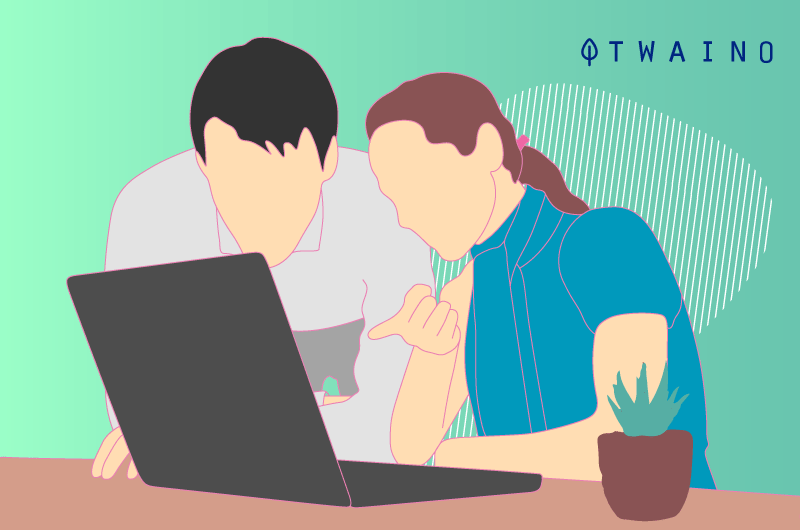 While there is no optimal length for anchor text, it should provide accurate information about the linked page in a few words so that users (and search engines) can quickly understand what it is about.
"I don't think we do anything special for word length…you probably need to focus more on things like: how can you make it clearer to your users that when they click on this link, this is what they're going to find."
You should always try to write the most accurate and concise anchor text using relevant and descriptive words.
Here is an example:
The anchor text in this example provides a concise and accurate description of the linked web page and clearly tells users what to expect when they click on the link.
Note: If the web page contains 2 or more links to the same page using different anchors, Google can use only one anchor text for contextual information, as was the case until 2009.
However, it is still not entirely clear what anchor text will be used by Google:
"… on our end, it's not something that we've defined … it's something that our algorithms might choose to do in some way. So my recommendation would be not to worry too much about that." ( John Mueller)
3.2. Do not deceive your visitors
Never use misleading or irrelevant anchor text to intentionally manipulate your users.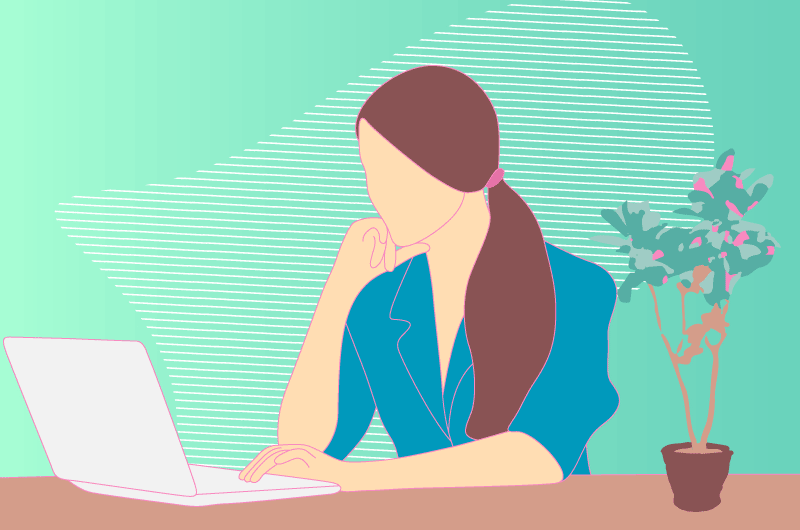 Google always checks if you are linking to spam or irrelevant websites by using misleading anchor texts.
If the link anchor or the context around the link has nothing to do with the web page you are linking to, Google will rate you as a low quality website and impose penalties if necessary.
For example:
If your anchor text is "make money", but the linked website is about online gambling, the search engines will perceive this as a red flag for your website.
3.3. Improve your exact match percentage
Having too many exact match link anchors on a single page is dangerous and can lead to a disaster in search engine rankings.
But don't get me wrong.
I'm not suggesting that you completely give up on exact match anchors. The exact opposite is true.
As I mentioned above, exact match anchor text helps readers and search engines accurately identify the topic of the linked page.
And precisely in the case of search engines, this determines the specific keyword for which the page should be ranked.
But since exact match anchors worked so well, many SEOs spammed their site with them until Google released the Penguin update. That's when the penalties against this manipulative practice began.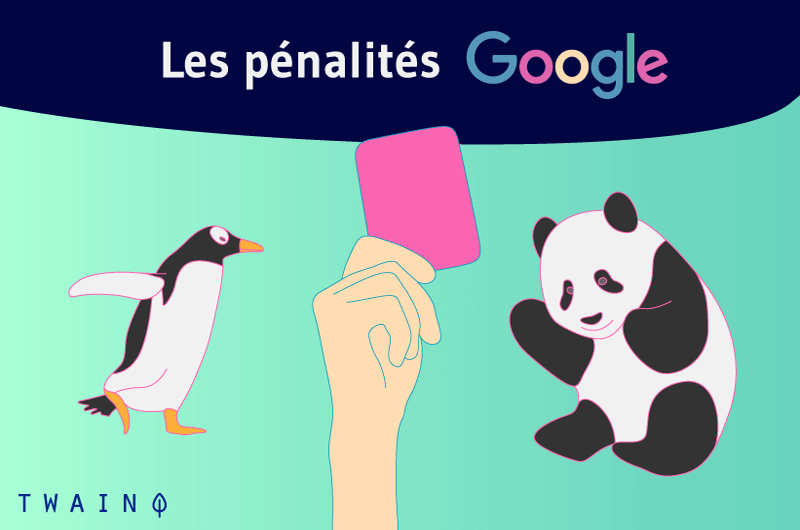 This foreshadows the following question:
How should you use this type of anchor text as part of your link profile today?
Well, according to Google, matching the exact text of the page you are referring to is a good practice to some extent.
Google prefers exact match anchors or partial match anchors to generic and random anchors. They provide a better user experience by presenting a more explicit description of the linked page.
However, just because Google recommends using exact match anchor text doesn't mean you have to abuse it on every page of your site or on the sites you post on. Instead, use them sparingly and with great care.
But how?
In their analysis of anchor text types and rankings, Ahrefs found a "relatively weak correlation between the percentage of exact match anchor links and rankings."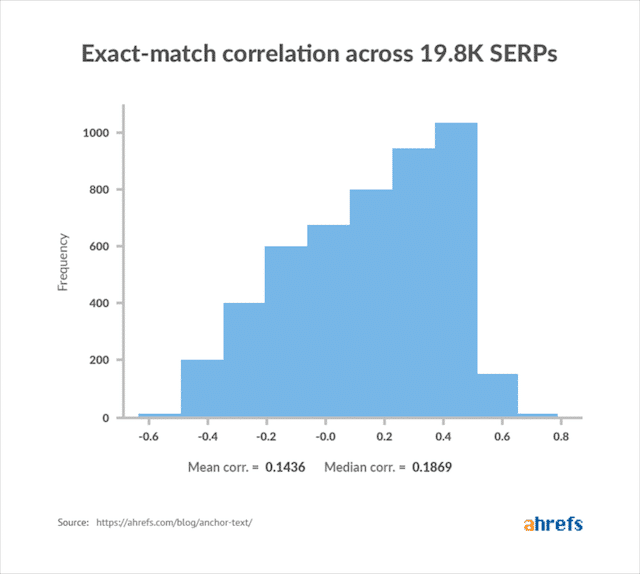 Some members of the SEO community have gone even further and recommend using exact match anchors only about 1% to 5% of the time.
But this is a sweeping generalization. If the exact keyword is natural, percentages much higher than that will be reasonable.
But, now let's assume that your target keyword is "best physiotherapist Dubai".
Do you think that half of the websites that reference a page on this topic would use "best physiotherapist Dubai" as an anchor?
Of course not.
This term would never be used naturally in a sentence.
Since Google no longer relies on keyword frequency to determine a page's relevance, the point here is to use exact match anchor text sparingly.
Also, use them ONLY when they fit naturally into a sentence.
3.4. Choose the right type of anchor text for your content
How Google and site visitors interpret your links comes down to the type of anchor text you use. And with the release of the BERT update, Google has significantly improved its understanding and ranking of pages.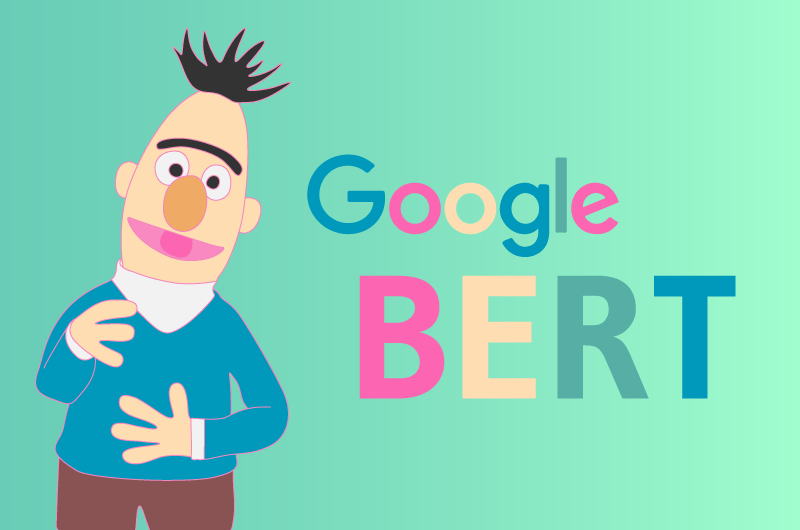 With this natural language processing update, Google's use of text around the link anchor when matching content to search queries has improved.
With that in mind, use a good mix of anchor text types and avoid relying solely on exact match anchor text which can penalize your website.
However, it's not just the exact match of the anchor text that you need to consider. There are other types of anchors that are bad in some link building cases.
And, when you use the wrong type of anchor in the wrong scenario, your SEO performance will be compromised.
So how do you know what type of anchor text to use and when?
Let's break it down in detail with a few examples:
3.4.1. Profile links
When it comes to profile links, opt for branded or naked anchor text.
These links are not used for direct ranking, but rather to help support your brand's overall link profile.
3.4.2. Directory links
For directories or online citations, branded, naked or generic links like "click here" or "visit website" are the most natural anchor texts you can use.
Since you want to encourage readers to your site, a generic anchor with actionable language adds an extra incentive for directory users to visit your website and explore your products or services.
3.4.3. Contextual links
Contextual links, on the other hand, can be organic or naturally earned. Since you have no real control over organic backlinks, especially if they come from the press, you'll probably see anchors of :
Brand;
Naked;
And long-tailed.
Occasionally, you can also get generic anchors like "learn more".
On the other hand, earned contextual links give you the ability to use exact or partial match anchors.
Read any guest post or blog online and you will rarely come across naked or branded anchors in the page content.
That's because naked and branded anchors look self-promotional. Google does not like self-promotional links and limits their effectiveness in its algorithm.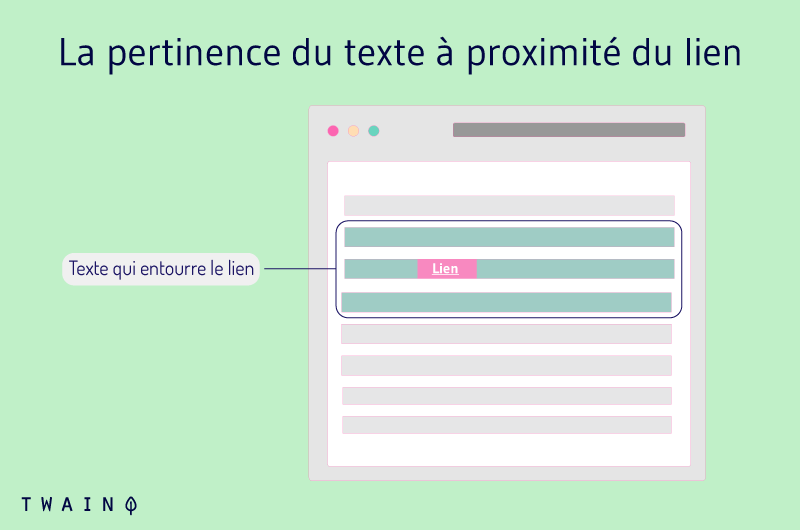 Which brings me to this point about constructed contextual links:
When guest posting, link back to your own site with caution and only when it adds value for the reader.
If your guest posts are not helpful to the reader and are littered with promotional links, chances are you are hurting your brand more than helping it anyway.
And finally, regarding anchors for contextual links: Use by default, the partial match anchor text.
You can occasionally use exact match anchor text, but only where it fits naturally into the content.
3.5. Avoid gaining links from toxic or spam sites
When it comes to backlinks, any link that violates Google's webmaster guidelines is considered manipulation.
Links that are considered a link scheme by Google should be avoided. Using manipulative links can result in lower rankings or, worse, manual action and complete removal from search results.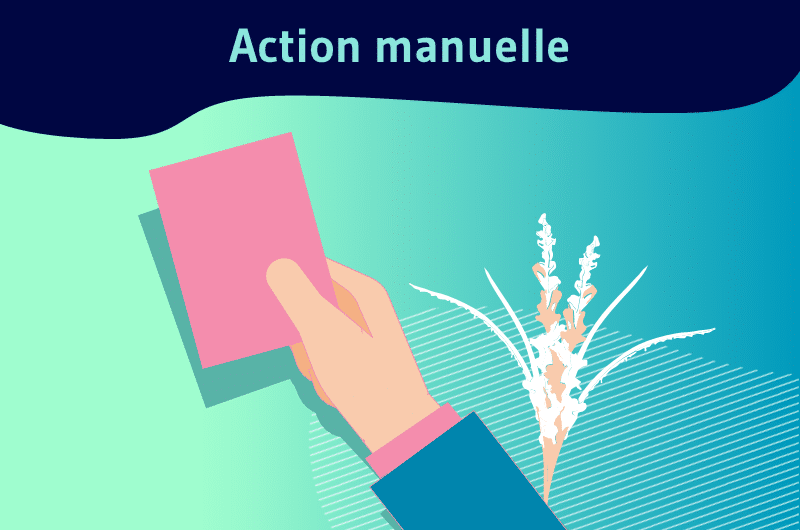 Google is explicit about the unnatural use of anchor text:
Unnatural anchor text "violates Google's guidelines" and violators will be penalized.
If you create links that are "designed to manipulate PageRank or your Google ranking", whether they are unnatural anchors or otherwise, you are really at risk.
Toute forme de création de liens manipulatrice peut entraîner une pénalité manuelle ou algorithmique entraînant une baisse significative :
Organic rankings;
Visibility ;
Traffic;
Leads;
And sales.
And worse, recovering from a Google penalty is arduous and tedious. In fact, after addressing link manipulation practices, most websites almost never return to their pre-penalty traffic levels.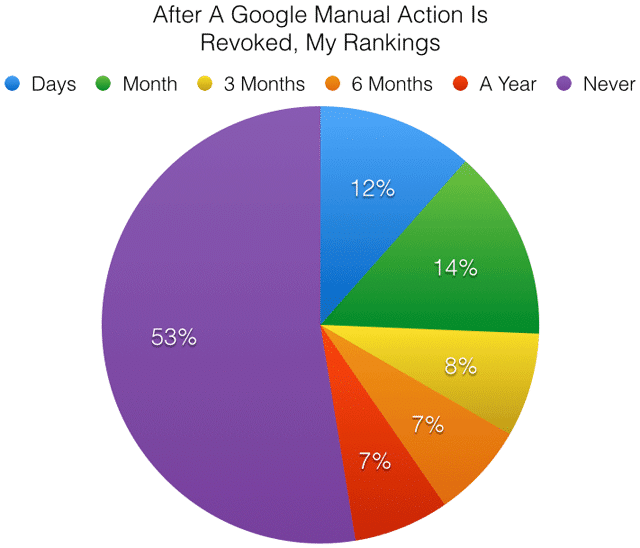 Source : Seroundtable
Since your chances of recovery are less than fifty percent, when evaluating a potential link opportunity, you must be very careful.
So how do you stay safe, while differentiating between good and bad link opportunities?
Well, here is a quick checklist of backlinks to avoid:
Links from sites built for the sole purpose of making backlinks;
Links coming from sites that are not thematically relevant;
Links from sites not indexed by Google;
Links that are placed unnaturally in blog comments;
Links that are hidden in the footer of the site;
Content marked as sponsored, but using tracked links;
Links used from private blog networks (PBNs).
If your site receives one of these links, be sure to contact the webmaster and request its removal. If the link has traffic potential, an alternative would be to keep it with a no-follow attribute (rel="nofollow") added to the link.
You can also disavow all links that you are not able to modify.
3.6. Focus on relevance when choosing anchor words
Google's search algorithm has changed a lot over the years, but one ranking factor remains as vital today as it was in the beginning. That is link relevance.
If you are not familiar with the concept of link relevance, here is a quick explanation: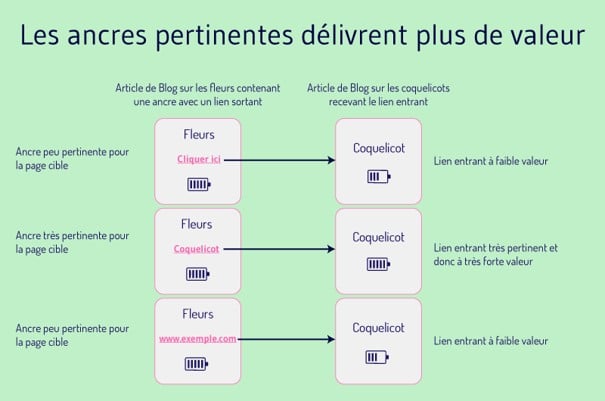 The links you send to websites (or receive from websites) are considered "votes". The more votes a web page gets from authoritative websites, the better its chances of ranking well in the results pages.
In fact, Google doesn't just look at the number and strength of links (for example, link popularity) to determine a page's ranking. It also looks at the relevance of those links to the context of the linked page.
For example, let's say you operate a pizza shop. A link from a food or travel blog tells Google that your website is a trusted authority in its field.
On the other hand, getting a link from a financial site or an automotive blog will not have as much impact, regardless of its authority. The reason for this is that a financial site or an automotive blog is not relevant to a pizza shop.
Context also matters.
As Siege Media points out, a blog post about teaching kids about money would be less relevant on a financial site than on a mom blog.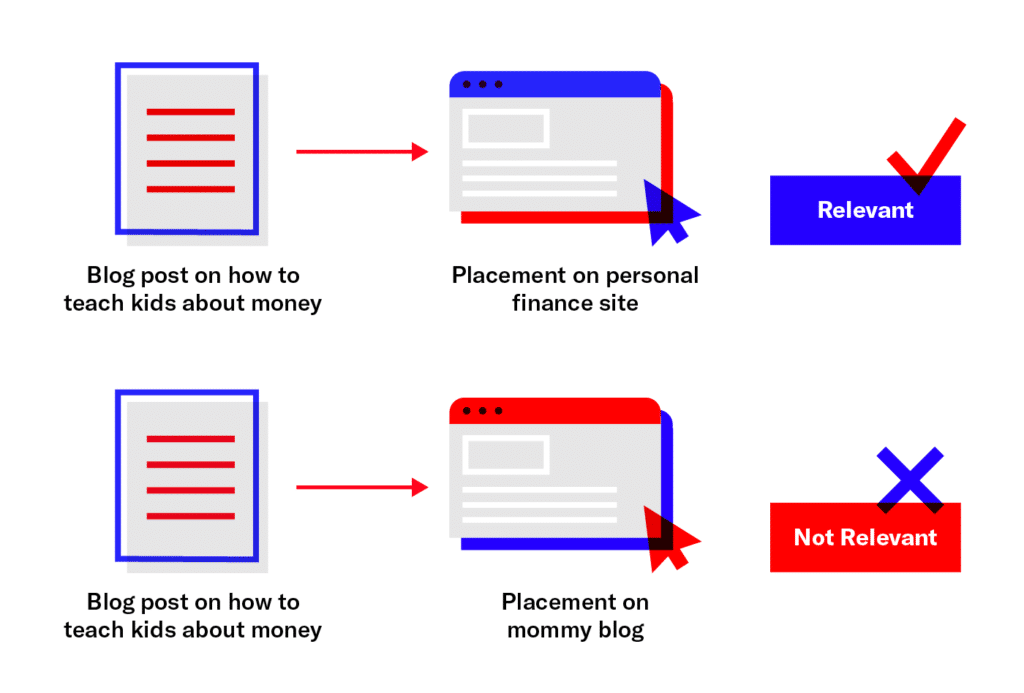 Source : Siège média
When selecting words for your anchor text, make sure that the anchor text clearly indicates the content it is linked to.
The lesson here is that aside from accessibility, users and search engines use your anchor text to preview the topic of the linked page.
3.7. Optimize the content surrounding your anchor text to take advantage of the BERT algorithm
With the 2019 BERT update, Google has become even more proficient at understanding language as humans do.
Before BERT, Google relied heavily on matching search terms to web pages.
But after BERT, Google returns more relevant answers, even if the query is not contained in the page.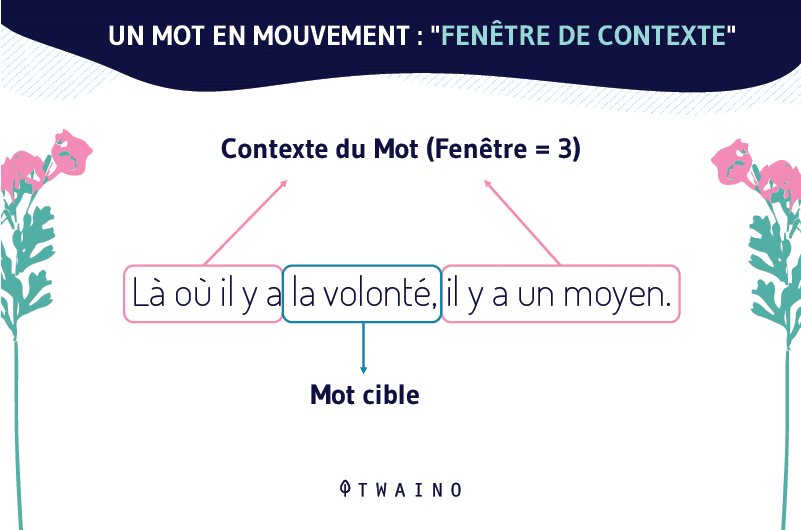 This innovation is called natural language processing and is one of the biggest changes known to the Google search engine.
But what exactly does this have to do with anchor texts?
This simply means that you can pretty much forget about keyword targeting in your anchor links and you will still rank well.
Whether or not you include a keyword in the link, Google will determine the context of the link based on the natural language surrounding it.
In other words, providing additional context around the anchor text gives users and search engines more useful information about the link.
This is especially useful when you use generic words.
Here is an example:

Although the anchor text "detailed guide" is not very specific, the surrounding text makes it clear that the linked webpage is a Google Analytics guide with information on how to set it up.
3.8. Use different types of anchor text
Although various studies try to provide the optimal ratio of anchor texts. The truth is that there is no definitive answer to this.
The best solution is a natural mix of different anchor types containing relevant and descriptive terms that will help you diversify your link profile.
Focusing only on a few types of link anchors (usually keyword-rich anchor text) can do more harm than good. It leaves an impression of over-optimization, which is bad for SEO.
3.9. Don't forget the image anchors
Even though it is not a separate search engine, Google Images records 4 times more search volume than YouTube, making it an undeniable search heavyweight.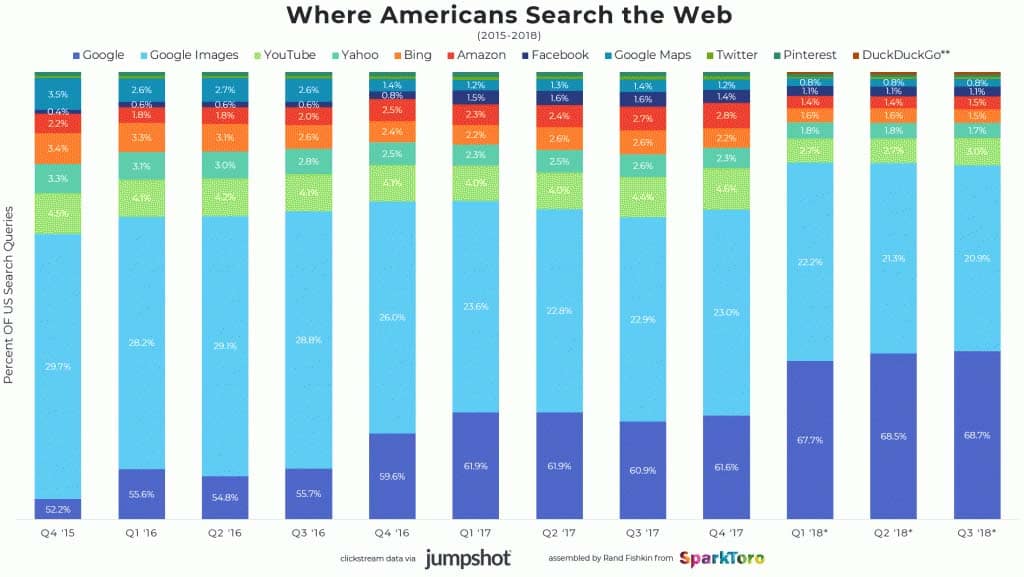 Source : Sparktoro
One of the most important facets of image SEO is ALT text.
This text alternative is used for accessibility purposes when the image is not displayed and as a descriptive tool for Google's robots to better associate the right keywords with your images.
As Google states, adding more context to your images can lead to "higher quality traffic to your site."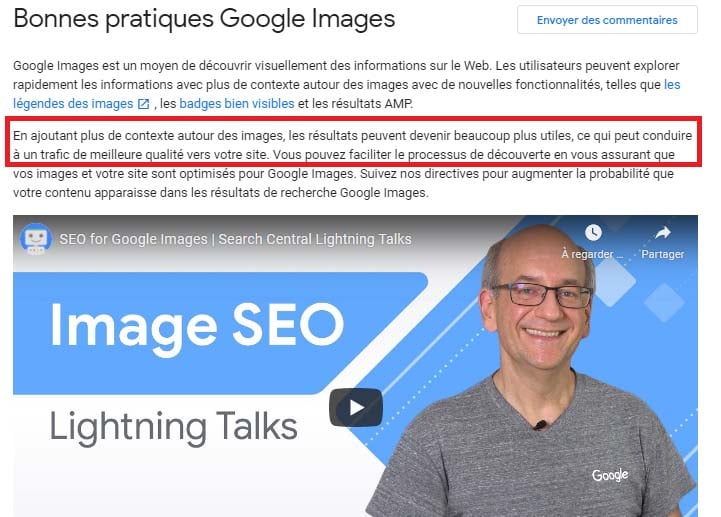 The ALT text of your images also has a third function.
Since Google cannot "read" images in the usual sense, your image's Alt tag acts as the anchor text when that image links to another resource or page.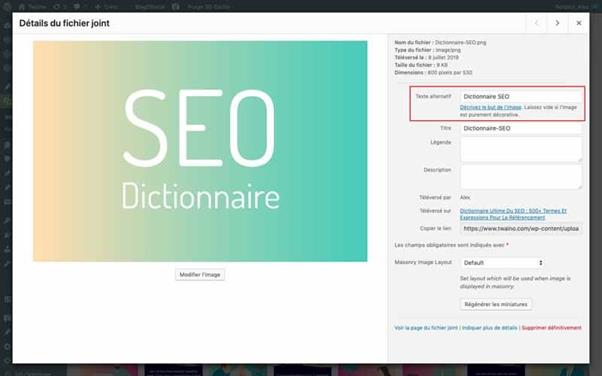 Here is a 5-step process for writing descriptive ALT text and optimizing it for SEO:
Ask what information would be useful to someone who cannot see this image?
Remove any conjunctions or connections (e.g. a/an).
Include your target keyword in your ALT text near the beginning of the tag.
Keep your ALT text under 125 characters.
By following these five steps, your image's alt text will be descriptive and provide more context for search engines (and the visually impaired) about the image itself as well as the page it is linked to.
3.10. Change what you can and accept what you can't
Like many search engine ranking factors, writing good anchor text is a delicate balance between providing a good user experience and practicing good SEO.
However, unlike many other search engine ranking factors, this is a balancing act that is sometimes within your control and sometimes beyond your control.
When you write your own content or create your own links, you can control (or at least influence) the anchor text used to link to your pages.
However, when other people link to you, you often have to make do with the anchor text you are given. In these cases, it's important to remember that links from high-quality domains are, in general, a good thing.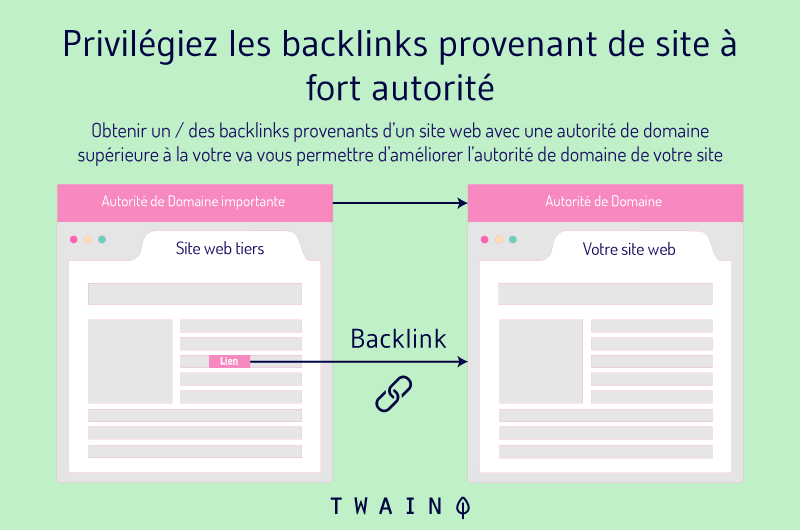 Even if they don't use exactly the anchor text you want, you can only agree. Again, natural backlink profiles are varied, which means diverse anchor text and context.
Just focus on writing anchor text that informs your readers and answers user questions.
If you do this, you have a good chance of improving your link anchor profile and not falling into any search engine penalties.
3.11. Calculation of the perfect anchor text ratio
By now, you are well versed in anchor text best practices.
But again, you may ask:
What is the ideal percentage for each type of anchor text?
As mentioned above, there is no exact percentage for anchoring texts.
However, we can deduce the ideal anchor text ratios based on SERP analysis and various SEO studies.
In the Ahrefs analysis on anchor text types and rankings, they found that there was little correlation between exact match anchors and rankings.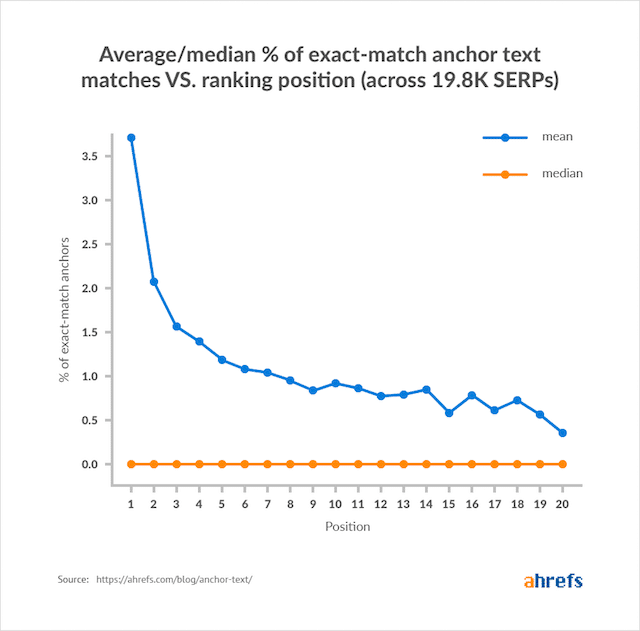 Source : Ahrefs
The Ahrefs study went further by analyzing other types of anchor text such as random and generic anchors.
For example, if the keyword was "link building", then the random/generic anchors would be something like "click here" or "this article".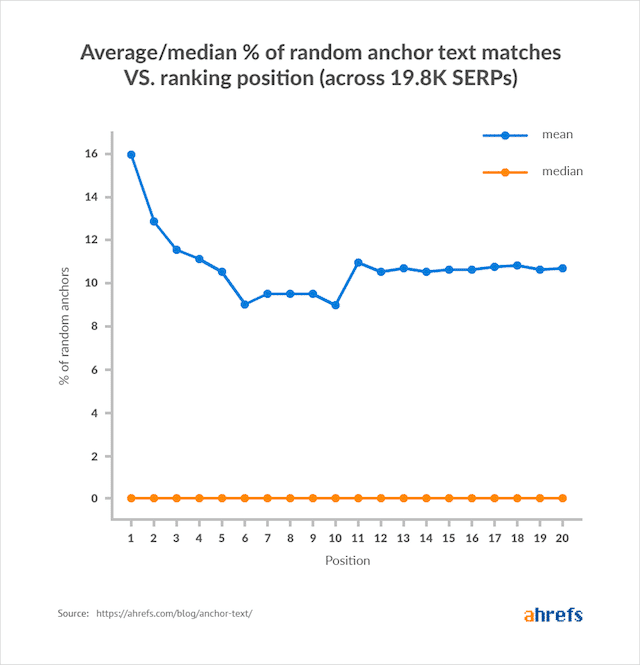 Source : Ahrefs
The graph above shows that the average percentage of random and generic anchors pointing to the top ranked pages is higher than that of exact match anchors.
In fact, although Google has stated that it uses anchor text to get the context of the page to which the link is linked, the search engine has never been transparent about the weight given to certain types of anchors in its algorithm.
With that in mind, we look to the SERPs for clues.
Clayton Johnson of The HOTH, analyzed thousands of links for various number one ranking results (number undisclosed) to determine the ideal anchor text ratio.
Its objective was to determine the model relationship of anchor types for versions of two pages: Home Pages and Internal Pages.
For simplicity, Clayton classified each link he analyzed into three categories:
Exact match anchors ;
Partial match anchors;
Natural and bare marker anchors.
Here's what he found:
3.11.1. Home page anchor text reports
For your home page, your anchor text should look like this:
80%-95% of all anchor text must be branded, generic, and bare anchors;
Up to 10% of all anchor text must be partial match anchors and associated anchors;
Up to 5% of all anchor text must be exact match anchors.
This data makes sense. A trusted brand will be referenced frequently, and when it is, the most frequently linked page will be the home page.
3.11.2. Internal page anchor text ratios
For your site's internal pages such as product, category and blogs, the anchor text ratios should break down as follows:
50%-60% of all internal page links should be partial matches and associated anchors;
35-45% of all internal page links should be branded, generic and bare anchors;
Up to 10% of all internal page links should be exact match anchors.
To make sure you fall within these anchor text ranges, let me show you next how to audit your site.
Chapter 4: Audit your current anchor text ratios
There are several tools you can use to audit your site's anchor profile. I'll share three of them here:
If you use Ahrefs, type the page you want to audit in Site Explorer and go to "Anchors" on the left side.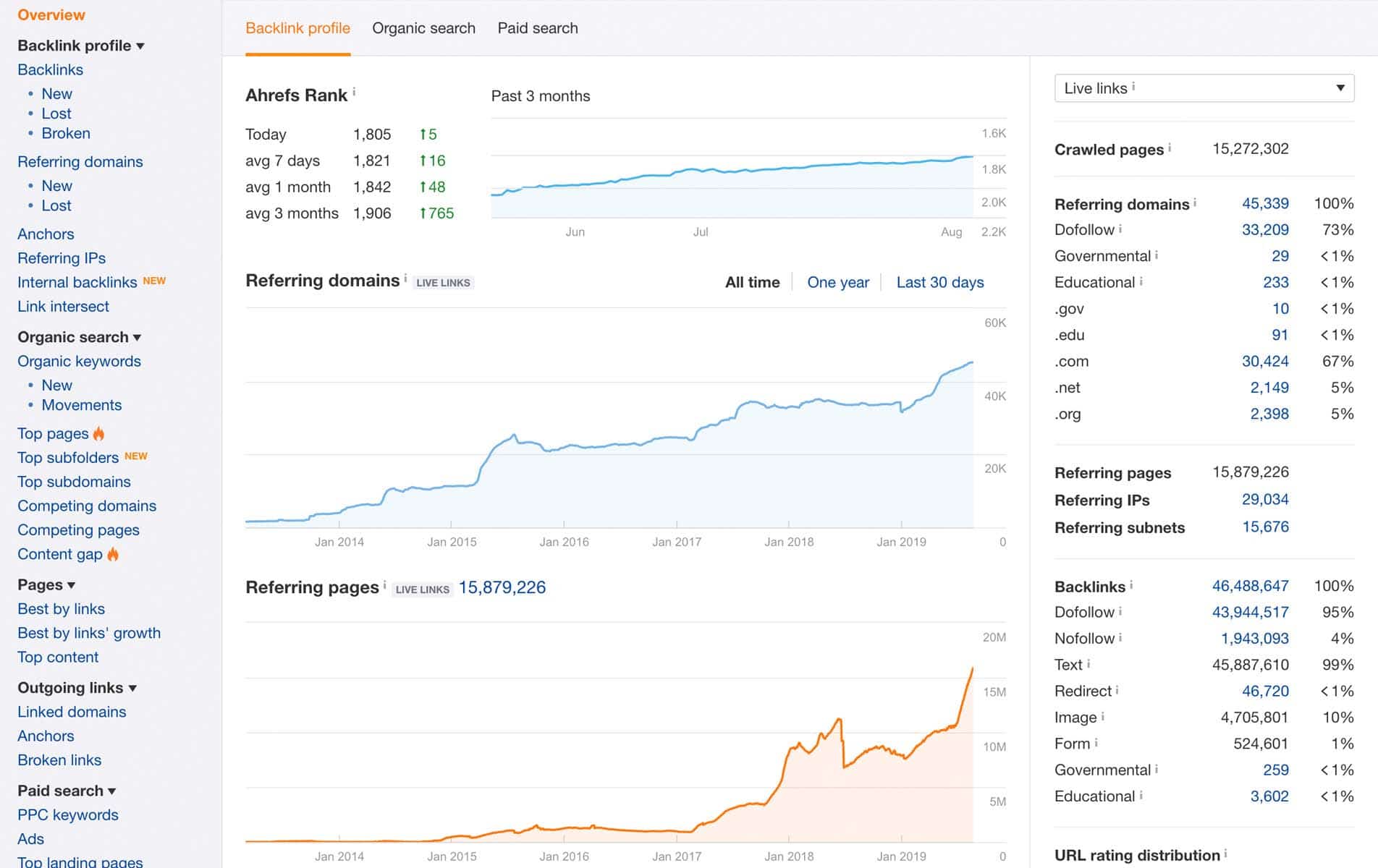 Now take a look at your anchor profile and see if the page has a healthy balance of anchor text types for the appropriate page format.
When you use Majestic, insert the URL of your page in the site explorer and access the tab "Link anchor".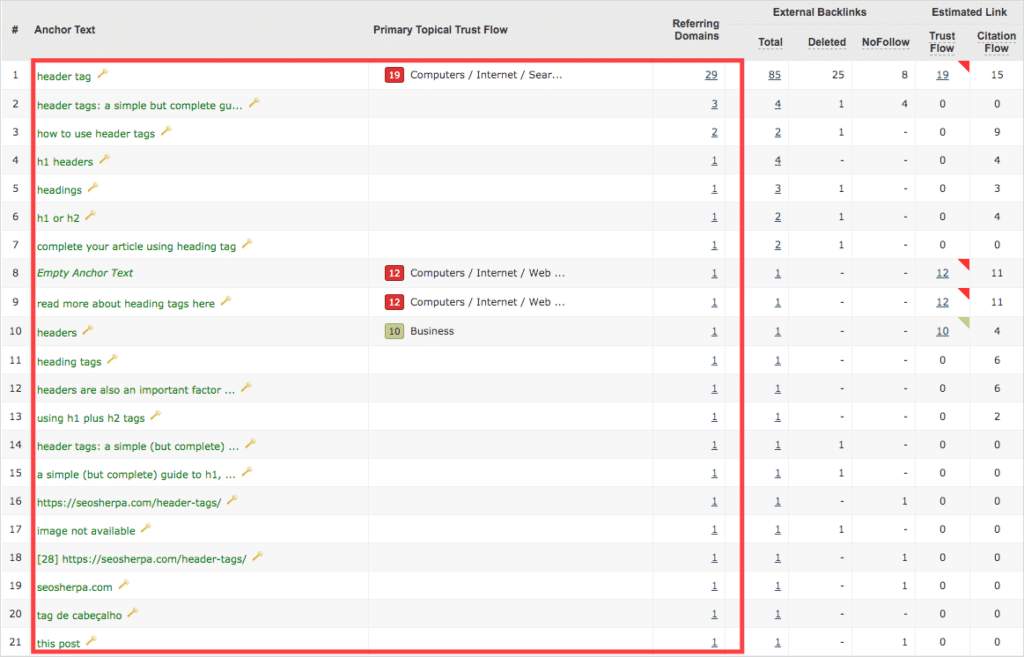 Once your anchor text data appears, you can either manually scan it or export the data to an Excel spreadsheet.
The advantage of Excel is that you can then categorize all the anchors in your data according to their type (brand, bare, exact, etc.).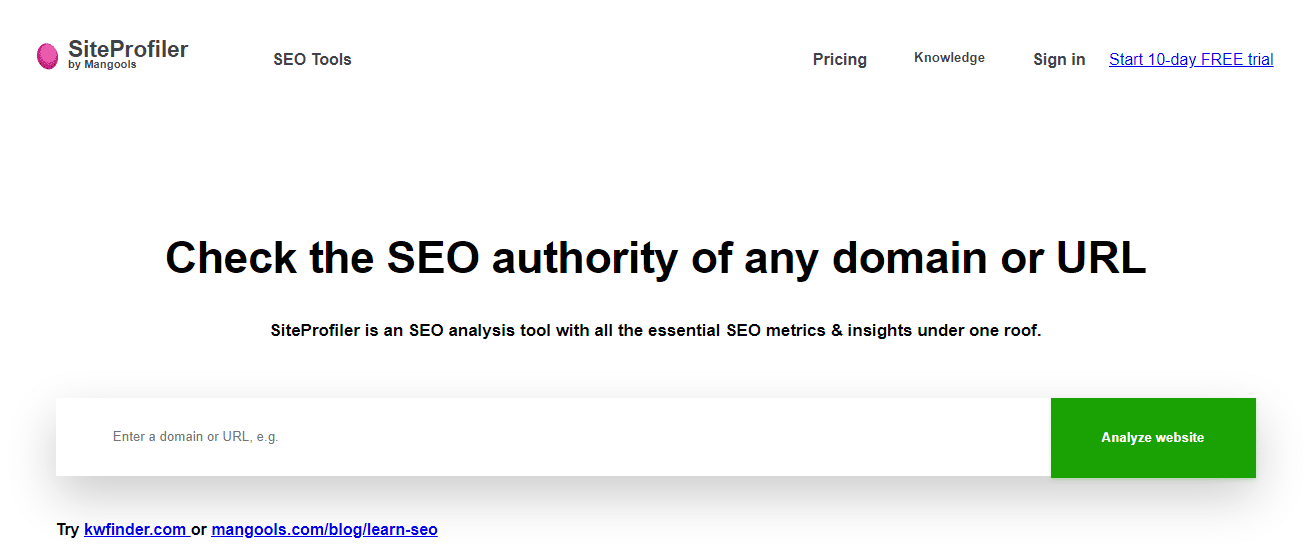 Like the previous two tools, SiteProfiler allows you to get a quick overview of anchor text types and their distribution on your website.
After this step, if you find that you have too many of a certain type of anchor, then you should put my strategies listed above to work.
After auditing your anchor text profile and applying the necessary good practices, you should avoid some bad practices in the future. Which brings us to this last chapter.
Chapter 5: Summary of some handling practices to avoid with anchor texts
In this penultimate chapter, we are going to talk about some bad practices that some SEOs have the habit of applying without being aware of the risk they are running.
These are:
Internal links with keyword-rich anchors;
Excessive anchor text;
Spammy anchor text;
Links to spam sites.
Let's go into more detail now:
5.1. Avoid internal links with keyword-rich anchors
While internal links are generally encouraged, using keyword-rich anchors can have a negative impact on your link profile.
Instead, try to create a long anchor text and spread the keywords in it to maximize its impact.
For example, rather than using your target keyword "Instagram marketing tips," go with something like "tips to improve your Instagram marketing."
5.2. Avoid excessive anchor texts
Tout comme le bourrage de mots clés, il est aussi possible d'avoir un excès de texte d'ancrage sur une page donnée.
Just like keyword stuffing, it is also possible to have an excess of anchor text on a given page.
Generally, we talk about excess anchor text when there are several links on a page that link to other pages inside or outside the site, or to the same page with a variety of anchor text.
This practice on a website can have negative consequences on the ranking of the page concerned, as it is considered by Google as an undesirable practice.
5.3. Avoid spam anchor text
When a link anchor has no relation to the page on which it is created or the one it links to, it is called spammy anchor text.
Not only does this practice not work anymore for a few years, but it is also considered by search engines as a black hat SEO tactic.
5.4. Beware of links to spam sites
Just as high authority sites linking to your site can improve your rankings, your site linking to toxic and spam sites can damage your link profile.
The sites you link to have real impacts on how search engines see your page.
Chapter 6: Other questions about the link anchor or anchor text?
6.1. What is an anchor text in SEO?
An anchor text is a clickable button or piece of text on a page or website article that allows you to navigate from one page to another.
6.2. What is an example of anchor text?
For example, if you click on the anchor text "seo for beginners", you will be redirected to the page on this website that explains the basics of SEO to beginners.
6.3. What are Anchor links for?
An anhor link is a hyperlink on a page that, when clicked, directs the visitor to a specific area on that same page or a different page.
This not only makes it easier for users to navigate, but also for crawlers. It allows visitors (robot or human) to easily discover new pages related to the anchor page.
6.4. Are link anchors good for SEO?
Anchor text is very important for SEO, as it can tell Google what a page is about. In fact, the use of anchor text as a ranking signal is included in several Google patents.
Not using anchor text or using generic anchor text, such as "click here" is generally considered bad SEO practice.
6.5. What is the most effective anchor for SEO?
The link anchor that has the most positive impact on a page's ranking is: The exact match anchor. This type of anchor is when you use exactly the target keyword of the landing page as anchor text.
However, it must be used in moderation on a page to avoid being considered as keyword stuffing by the robots. For this, it is advisable to mix it sometimes with the partial match anchor which consists in using variations of the target keyword.
6.6. Quelle est la différence entre Ancre et Hyperlien ?
Anchor text and hyperlinks are very loosely related, as both are part of the link from one page to another. A hyperlink is the link itself. Anchor text is the text or name given to the link when the hyperlink is added.
6.7. Do anchor links work on mobile?
In most cases, anchor links unfortunately do not work properly on mobile.
6.8. What is a quality link?
A quality link is a link that comes from sites considered qualitative and trusted by search engines. It is considered a vote and brings popularity, one of the main pillars of SEO.
In summary:
Although the role of anchor text has diminished over the years, it should not be overlooked. In the eyes of Google, anchor text continues to play a vital role in the order and ranking of search results.
But, remember, anchor text is only one piece of the overall SEO puzzle.
Whether you're developing your link building strategy, writing SEO content, or listening to your on-page SEO, keep anchor text best practices in mind.
With a little time and effort, you can get the right anchor text distribution to help your SERP ranking.
By following our step-by-step guide, you can be sure that your anchor text will appeal to users and Google.
Now, I hope this guide has helped you learn more about anchor text, its importance and best practices to optimize it.
Thank you and see you soon!