Do you have Google Analytics? That's great, but do you want Google Search Console as well? You're right, because having both is even better! There are several ways to get a Google Search Console account to track your website's performance. For me, the smartest way is by using your Google Analytics account. In addition to saving you time, this method will allow you to synchronize these two powerful, which will allow you to improve the accuracy in the analysis and monitoring of the performance of your website. By opting for a synchronization, you will be able to centralize your information and make much more accurate analyses. To do this, I indicate in this article and in the video that accompanies it, the steps to follow to succeed in this synchronization.
Setting up Google Search Console
In the following video, I show you the different steps to get Google Search Console by synchronizing your account with Google Analytics:
Google Search Console and Google Analytics: what is it all about?
Before moving on to the steps to synchronize these two powerful tools, I think it is important to briefly review these two tools.
Presentation of Google Search Console
Until 2015, Google Search Console was known under another name: Google Webmaster Tools. This change of name did not change the role and performance of the tool, since all functions have been maintained.
This very powerful tool, which is also one of the main tools used by webmasters and web marketers, offers a very interesting function. It is to follow the indexation of your website by search engines.
Indeed, Google Search Console allows you to follow the passage of the Google robot. This allows you to know, at first, if there are problems on your website such as :
Server inaccessible ;

Inaccessible pages, etc.
As a result, you can ask Google to remove certain pages from your site directly. But the most interesting thing is to be able to monitor the keywords thanks to which your website has appeared in search engines. Note also the access to elements such as :
Links pointing to your website;

Security alerts;

The areas of improvement for your different pages.
You have probably understood it: this free and very powerful tool allows you to improve and follow the referencing of your website.
Presentation of Google Analytics
To put it simply, Google Analytics is one of the best tools to study and analyze the behavior of your website visitors. This takes into account their arrival until their departure from the latter. You will therefore have valuable data on their interaction with your website to improve and monitor its performance.
This tool allows you, once you have established objectives, to follow in real time the data of your website and to see the impact of certain actions. My article on the subject shows you, step by step, how to install Google Analytics on your website. Once it is done, you will have a lot of information including among others:
The number and type of visitors ;

Their connection medium (mobile, computer, tablet, etc.);

The channel through which they came to your website;

How long they spend on average before they leave;

What they did there and what interests them the most, etc
This second tool is also very powerful and you will only benefit by adopting it. But to expand the data it gives you access to, it is fortunately possible to link it to other tools. I recommend linking it to Google Search Console for several reasons.
Why link Google Analytics and Google Search Console?
There is no doubt that both tools are very useful and provide access to valuable information. Linking them will obviously give a powerful combination in order to have much more relevant and sharp analyses. The idea is to have as much information as possible in one place.
From a data analysis point of view
This association allows you to have in your Google Analytics reports, the data from Google Search Console. You will therefore easily visualize information related to natural referencing coupled with those of your web pages
In simple terms, your analysis will be more accurate and you will know the impact that SEO has on your website. With this link, you will have access to behavioral data such as conversions, browsing devices, landing pages from natural results, etc. With all this information and with the knowledge of the keywords that bring you the most traffic, you will be able to make the best decisions on the optimization of your website.
From a technical point of view
The data collected by Search Console is sometimes different from other tools such as Google Anlytics, for several reasons:
A secondary processing of the information by the Search Console: which allows to manage the visits of the robots and the duplicate contents for example.

Tracking only possible for Internet users who have activated JavaScript on their browser by Google Analytics: this tool only tracks pages that have been correctly configured with a JavaScript code. Otherwise, it does not track, unlike Search Console, which does so using data from search results and other means.

Keyword management: Search Console takes into account the most significant terms of your website, while Google Analytics adds outside the search engine queries, the keywords purchased AdWords.
The easiest way to create a Google Search Console account?
In addition to the advantages of synchronizing Google Search Console and Google Analytics, this is also the easiest way to create a Search Console account.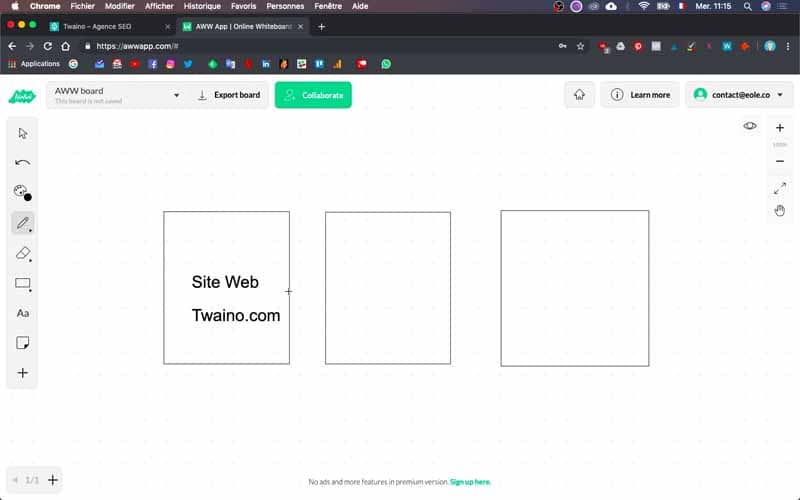 Indeed, when switching between the two Google tools, the steps I will present to you later are automated / semi-automated, which is a particularly nice help to make the join. As a result, the risk of error is much lower, and you are more likely to see the two tools working properly together.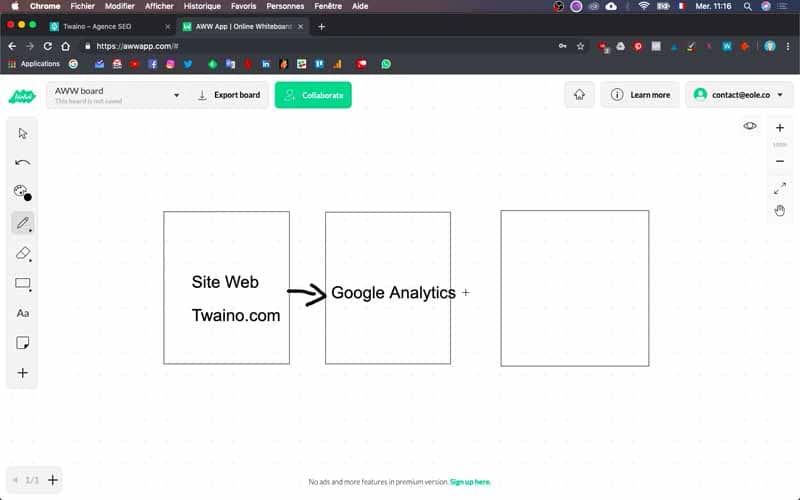 That's why I recommend you don't go through plugins, or insert extra codes on your website, and trust in the synchronization of the two tools. For me, this is the best method to follow.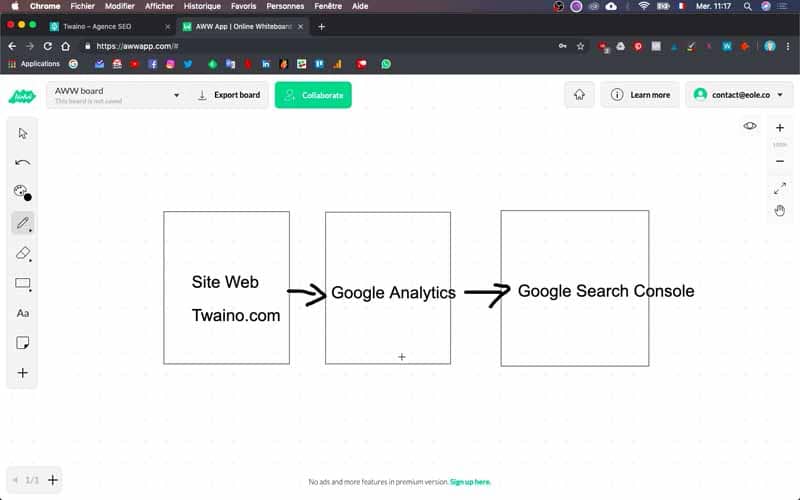 Data brought back from Search Console: what you need to know
The data: is it available immediately or not?
When combining Google Search Console with Google Analytics, I want to remind you that the data will not be retroactive to the second tool. That is, you only have access to Google Search Console data from the day you activate the Google Analytics view.
And this, when the Google Analytics view was activated after the creation of your Search Console account. Otherwise, the data will only be accessible from the date the Search Console account was activated, even if the Google Analytics view is earlier.
On the other hand, be aware that every 48 hours the Google Search Console data is updated. Also note that in your Google Analytics Search Console reports, you only have access to data from the last 16 months.
SEO reports available in Google Analytics
At the level of this tool, you are entitled to three different reports. These are the :
Queries report: it helps you to know the main queries typed by the Internet users that allowed the pages of your website to have the most impressions in the search results or SERP. You can therefore, thanks to this report, identify the search queries or keywords that allow your site to have an interesting position, even if the click rates are low. These queries are the ones that attract the most visitors to your pages. An improvement of their content is therefore likely to lead to an increase in the number of users for your site.

Landing Pages Report: With this report, you can easily find out which pages generate the most impressions in the SERPs. For example, pages that have a good click-through rate or those that have a bad position. This allows you to adopt strategies for improvement.

Geographic Summary Report: It shows a summary at country level and includes impressions, clicks and click-through rates.
On the other hand, Google Search Console also presents reports linked to Google Analytics. But in this case, you have links in your Google Search Console account that direct you to the right place to view certain information in the Google Analytics account. So you'll have links followed by directions like:
"Popular site links may appear in the Top Landing Pages report in Google Analytics.";

"The Referring Sites report shows the number of visits to your site from other sites.
Steps to create a Google Search Console account from Google Analytics
So that you can master the steps, I will use the website of my SEO Agency, Twaino.com on which I have already installed Google Analytics. So I'm going to synchronize the two tools through the Google Analytics settings. On that note, let's go!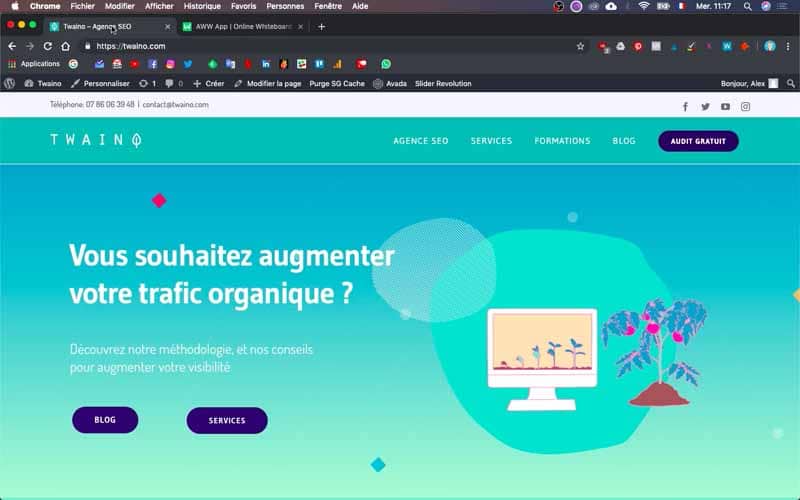 1) Log in to your Google Analytics account
At this point, log in to the tool with your credentials. In case you don't have an account yet, follow my video that shows you the steps to follow to install Google Analytics on a WordPress site.
2) Access your website statistics
In case you have several websites, you must go to the Google Analytics homepage with the statistics of the site for which you want to synchronize.
To do this, click on "All accounts" which is located at the top right corner and right next to Analytics and its icon. Once in the menu, take care to select the site that will be the subject of this synchronization. For my SEO Agency, I select Twaino.com.
3) Go to "Administration
On the homepage of Google Analytics, you will find the statistics concerning the traffic of your website. Of course, the figures will be poor if you have just created your website, like mine Twaino.com.
Then click on the "Administration" button in the lower left corner of your browser. This button is preceded by a toothless wheel and is very easy to spot.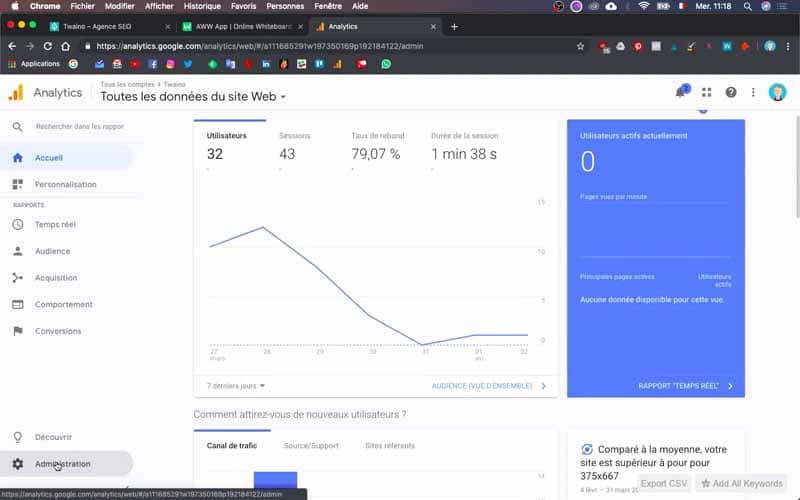 4) Go to "Property Settings
On the interface that comes next, you will find "Property Settings" right in the middle and a little below the blue "+ Create Property" button. Select it to proceed with the configuration.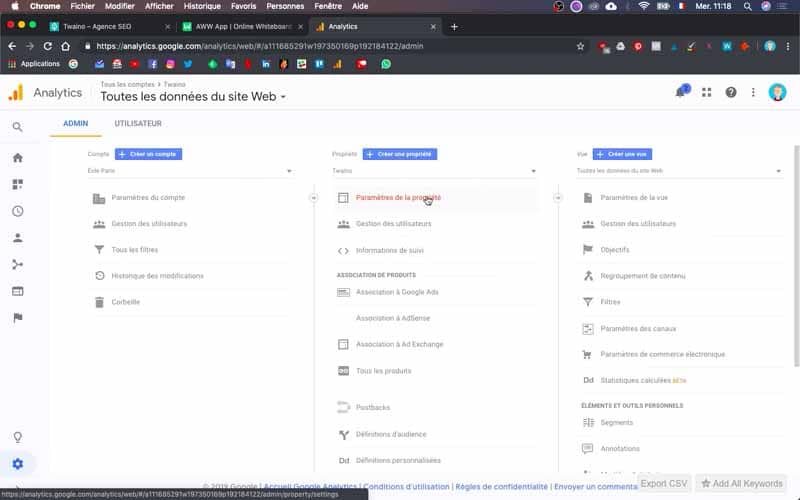 5) Proceed to a verification and click on "Set up Search Console"
Take the time to check the accuracy of all the information and by scrolling down, you will find "Search Console" followed by "Set up Search Console". You need to click on the latter button which takes you to the "Search Console Settings" page. To move forward, click on "Add" which is in blue.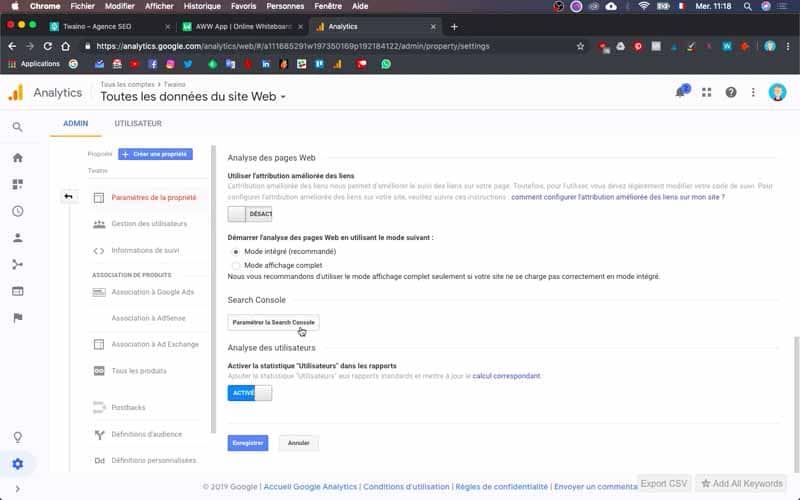 6) Add a site to the Search Console
When you get to the "Enable Search Console Data in Google Analytics" interface, go ahead and click on "Add a site to Search Console" which is all the way down and next to "Cancel". Then select "ok" in the dialog box that appears.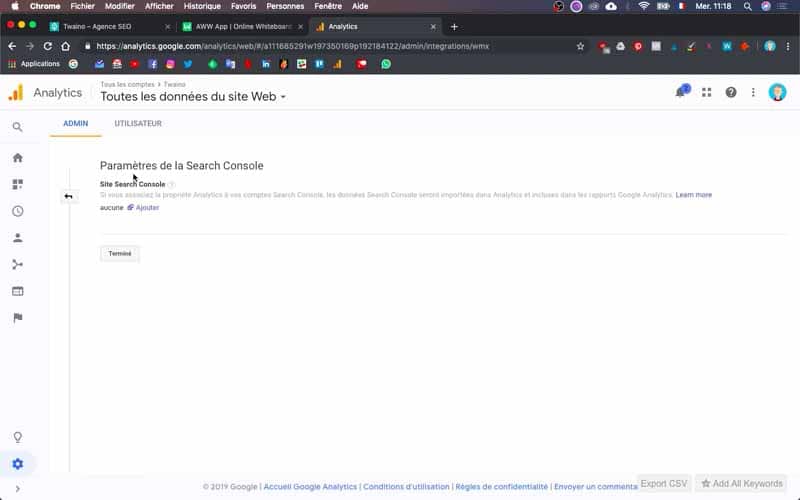 7) Add a new property to Google Search Console
On the Google Search Console page, select the red "Add Property" button. This is located in the top right corner and just below the toothless wheel icon.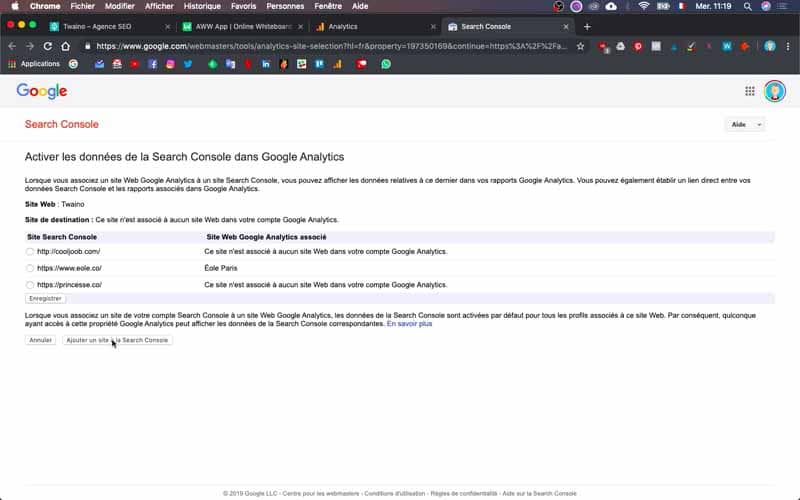 A dialog box appears and you fill in the URL of your website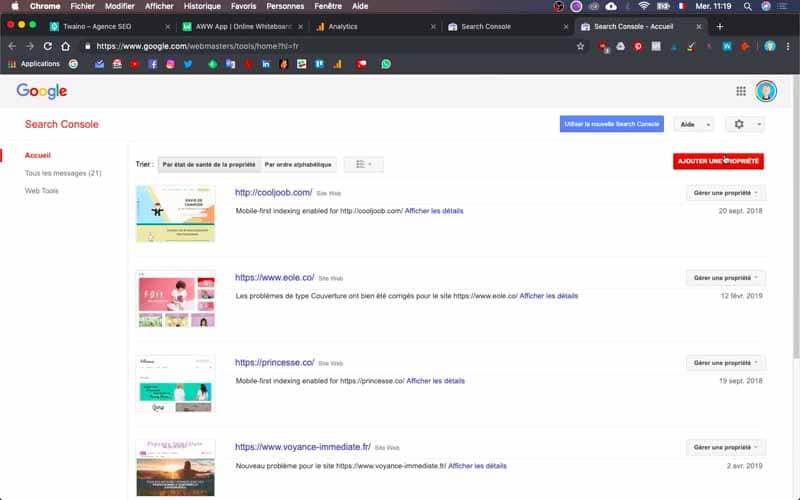 For mine, it is https://www.twaino.com. Then click on the blue "Add" button and on the page that appears you will find the message "Property added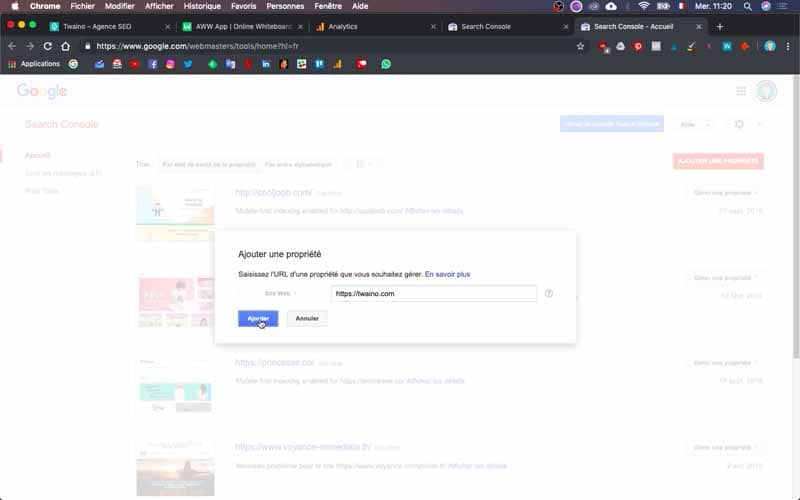 You should have received an email with the next steps. Please check your mailbox". Go to your mailbox and check the instructions.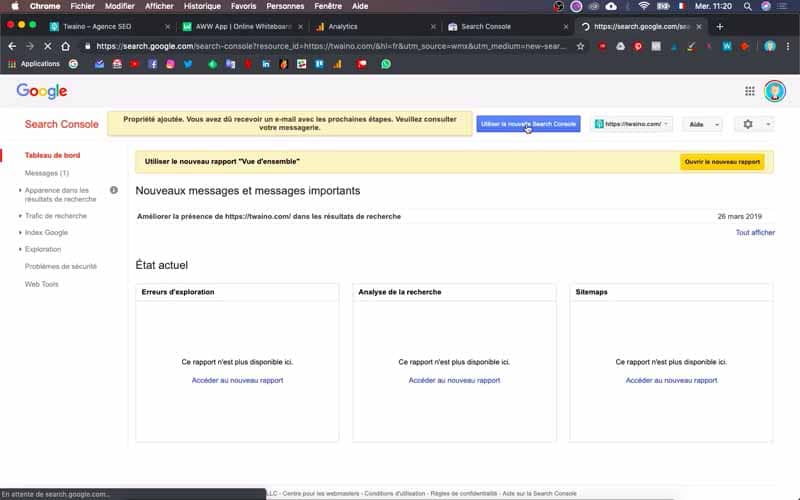 If this is not the case as it is for my website, click on the blue button "Use the new Search Console" to get an overview.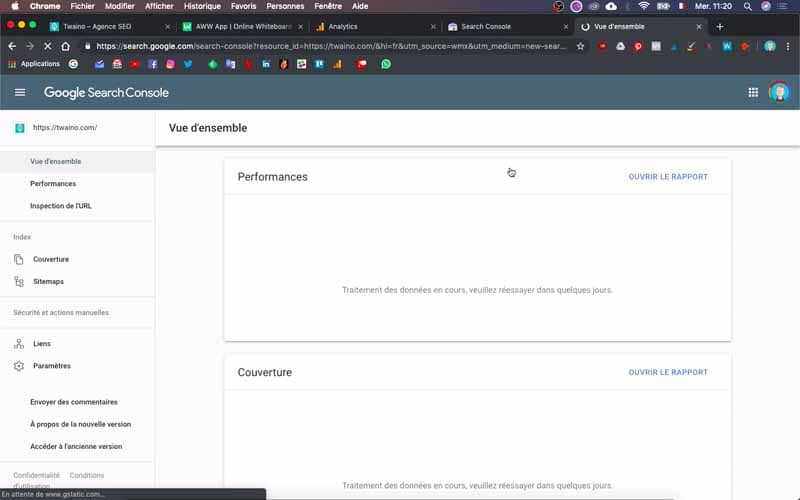 8) Go back to Google Analytics
Then go back to the Google Analytics "Search Console Settings" page and click on "Add" again. This time, you will see the URL of your website in the list of sites, if you have several. In my case, I have https://www.twaino.com at the bottom of the list.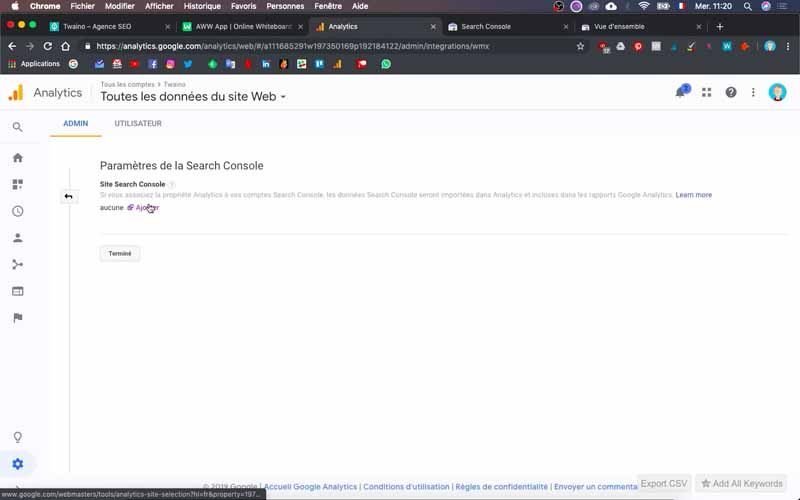 9) Register your website
Once you have found your website, check it and click on "Save" which is probably right at the bottom of the website URL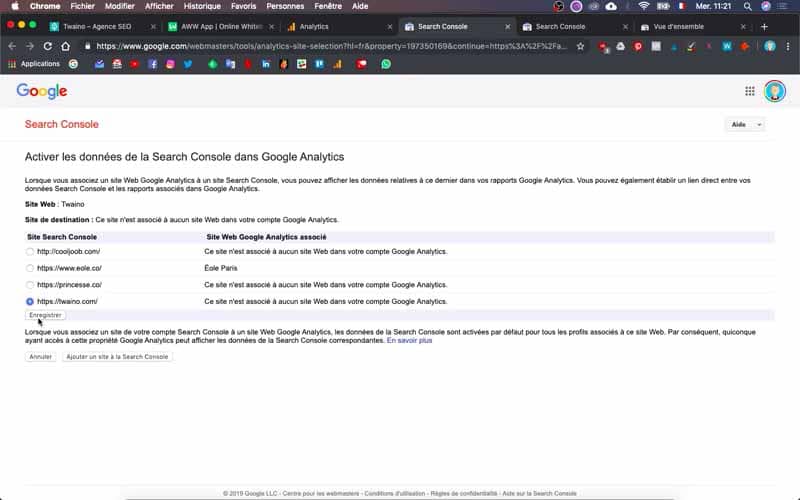 At the next dialog box, click on "ok".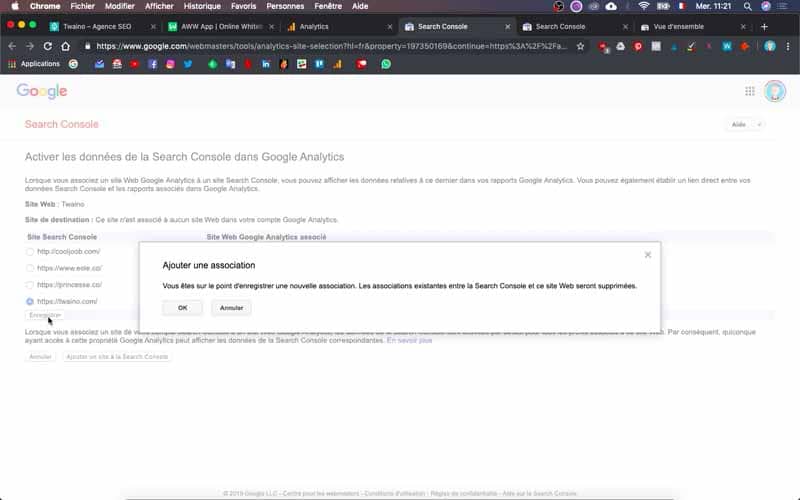 10) Check the configuration
Go back to Google Search Console to find your site on the home page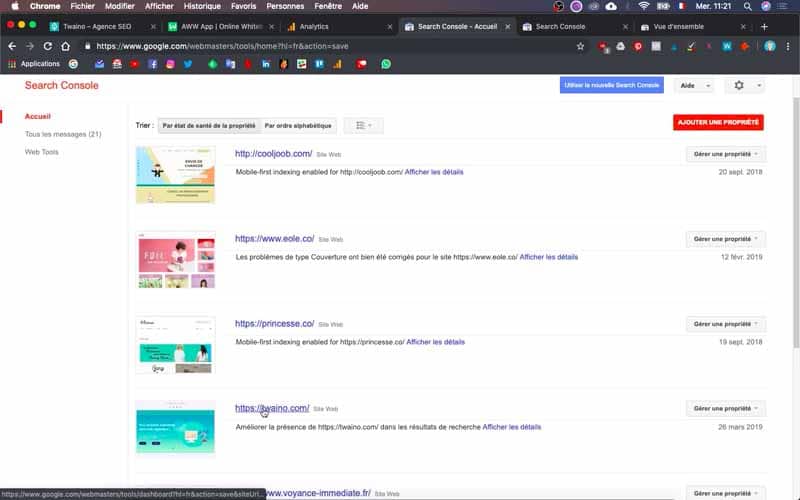 By clicking on your site, you will have an overview of the data collected. But since you just added it, don't be surprised if you don't have any statistics.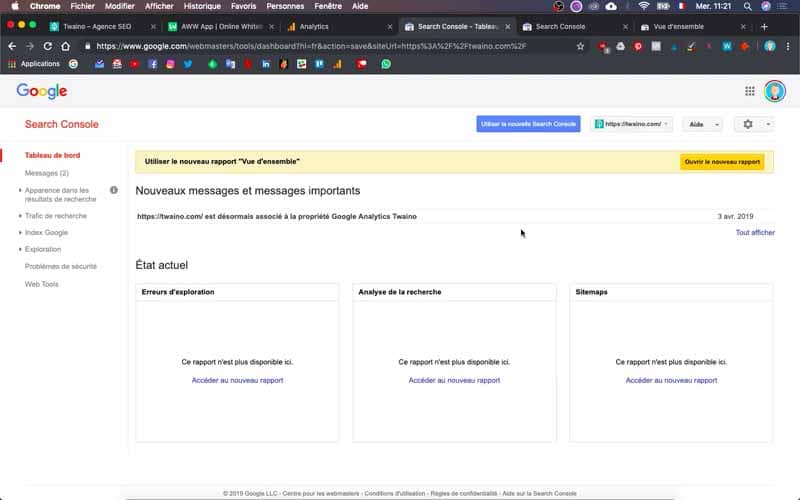 Also, go to Google Analytics, under "Acquisition" and then "Search Console". You will find four options including:
Landing Pages;

Country;

Devices;

Queries.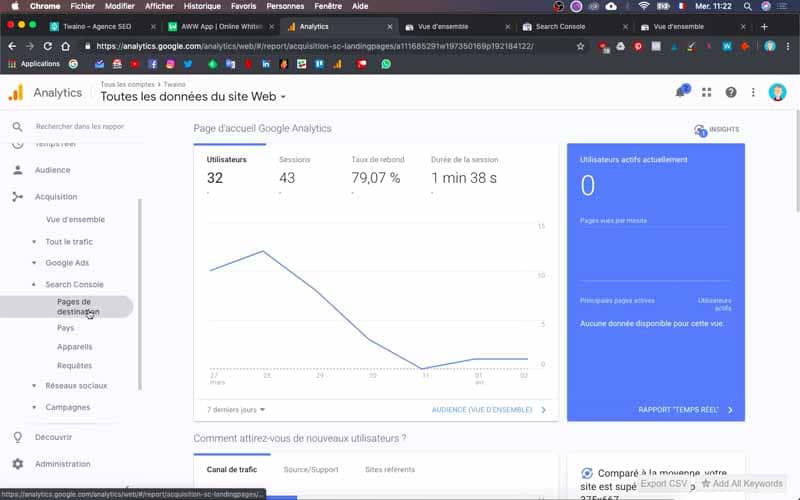 Each option obviously allows you to have certain information depending on what you want. Once all the checks are done, you can already expect to have data.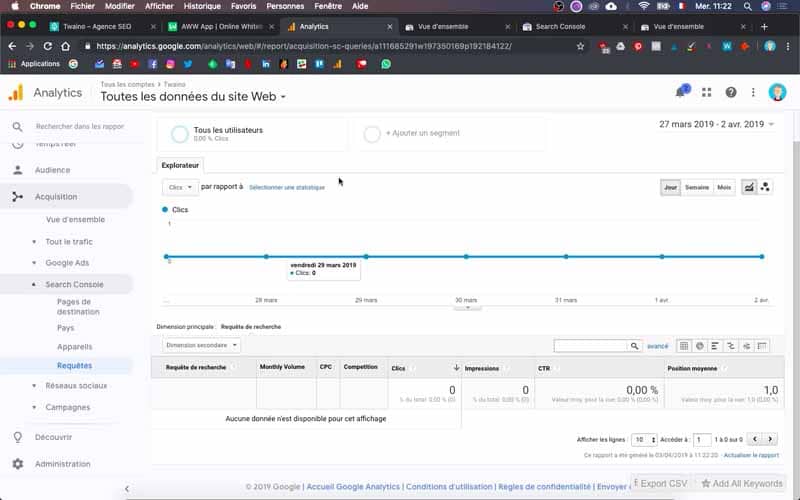 And that's it, the synchronization is complete and you have seen that it is just a few clicks to link the two tools.
Conclusion
To know what changes or improvements are going to be relevant for your website, you need to have quantitative and qualitative information. And this is precisely what the two tools of Google Analytics and Google Search Console allow you to have. Indeed, they give you access to a ton of information that is valuable to improve the traffic of any website. Moreover, these two tools are completely free, which is a good reason to adopt them. I therefore recommend you to install them and use them by interpreting the results in order to detect the real issues for the success of your website.
See you soon.