With 79,49% of the market shares in June 2019, Google remains the undisputed leader in its sector. Indeed, the American firm is constantly improving its services in order to provide the most relevant answers to its users' questions.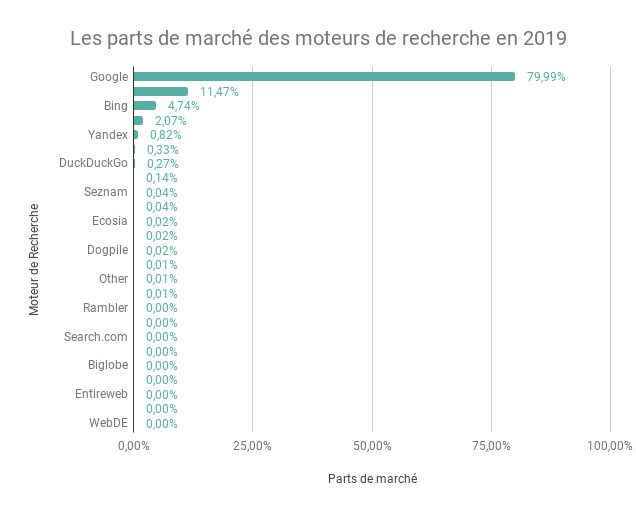 In addition to this, there are several tools that are very useful and that bring a real added value to the daily life of Internet users. Without surprise, we can say that Google has managed to make itself a place of choice in our daily lives. Despite its hegemony, Google is not the only search engine and has several competitors. Although they are much less popular, they can provide solutions and fill certain limitations that Google does not meet today.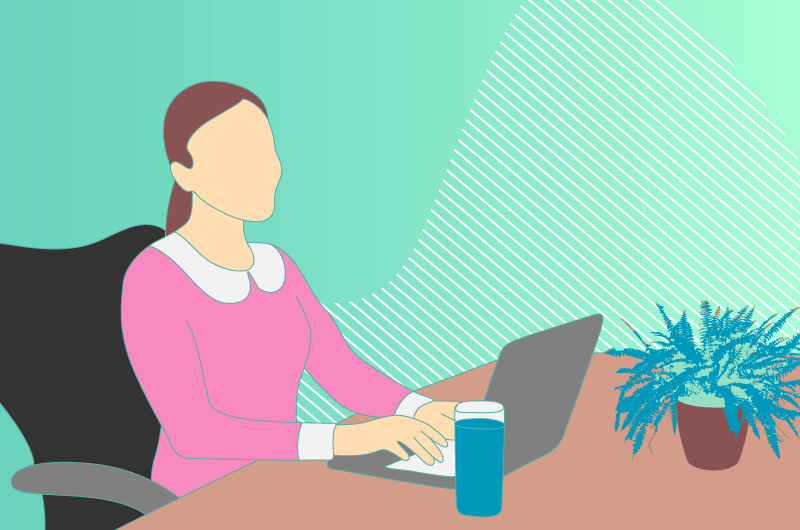 For example, they can provide specific local services, ensure the protection of children or user data, deal with specific themes or simply participate in social causes. To this extent, these engines can become very good alternatives to Google. For this reason, I propose you a list of 19 alternative search engines that will allow you to do without the American giant.
Generalist search engines
For this, I decided to categorize the search engines in two main sections:
Generalists

which provide answers to all types of queries;

The specific ones

the specific ones: which bring answers dedicated to given themes.
Moreover, note that I made the choice to mix search engines that occupy the first places in the world as well as less popular search engines, but which deserve to be better known. To this extent, you will have search engines with different functionalities that can serve you for your different purposes
1. Baidu: The Chinese giant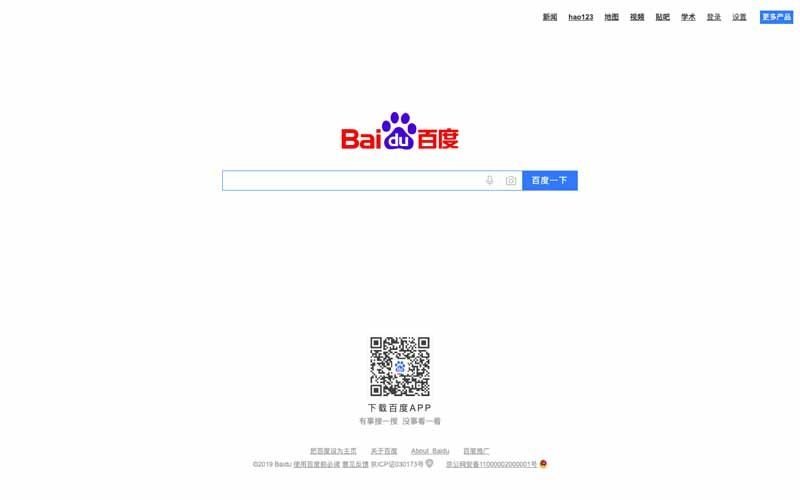 Baidu is the most used search engine in China. In fact, the firm holds in June 2019 72.74% of the market share
against 2.64% for Google which is in fourth place.
Designed in the Chinese language (Mandarin), Baidu provides text and image search results. Wikipedia estimates its index at more than 740 million pages with nearly 100 million images and multimedia files available. In addition, Baidu processes over 200 million searches divided into web results, news, images, music, forums and questions/answers It must be said that since its creation in 2000, the Chinese giant has experienced a galloping evolution.
Undisputed leader in Chinabaidu is also trying to win the international market. In July 2011, the Chinese brand joined forces with Microsoft to set up a reciprocal extension in America and China. The agreement was a success and Baidu is becoming known on other continents.
In just a few years, the Chinese baby grows up and is today and is today ranked 2nd search engine worldwide after Google with a share of 12,11 % !
Baidu is also a collaborative encyclopedia like Wikipedia known as Baidu Baike. After strong administrative censorship, Baidu Baike remains and counts nowadays more than 3 million detailed articles available.
The Chinese giant has also seized the market of its neighboring country, Japan, by creating Baidu Japan. This project started in beta version in 2006 and was finalized only one year later. Despite these efforts, Baidu does not enjoy a good popularity in Japan since in July 2019, it occupies the fourth place with a small market share of 0.3%
2. Bing: Microsoft's search engine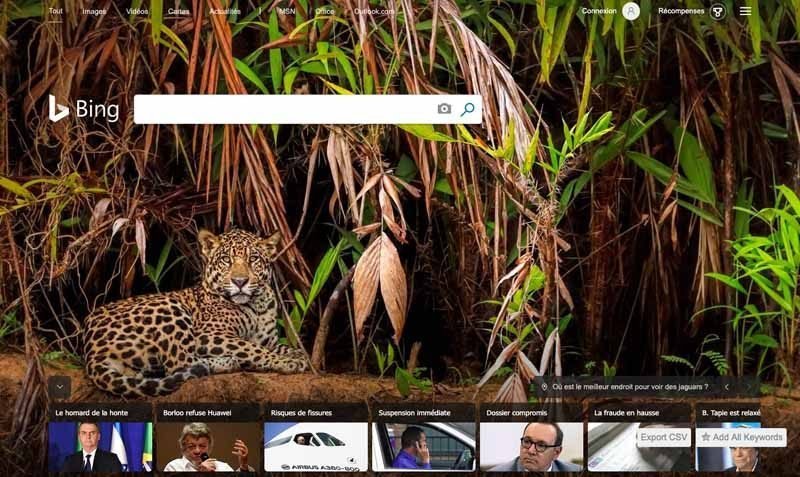 Initially known as Live Search, then Windows Live Search and MSN Search, Bing is developed by the multinational computer company: Microsoft Corporation. The engine is especially known as the most serious competitor of Google especially in France where it has 3.3% of thes market share in June 2019.
However, it is important to note that Bing is more successful on fixed platforms than mobile: about 6% on desktop and only 1% on mobile.
The success of Bing is explained by the fact that it offers services almost similar to those of Google. Indeed, Microsoft had to revise Bing's algorithm to cover more interesting features by diversifying its SERPs in search:
On the web;

Images ;

Videos ;

In the news ;

Travel ;

On a map with Bing Maps.
In addition, its new algorithm has added other specialties to Bing, including the famous price comparison.
The firm does not intend to be satisfied with simple Internet users. Bing has also thought about webmasters by offering a space dedicated to SEO, the Bing Webmaster Toolsjust like Google's Search Console. Bing SEO offers a good visibility of websites with advanced indexing methods, a sitemap and a permanent monitoring of SEO actors.
3. Yahoo! : The 4th giant of search engines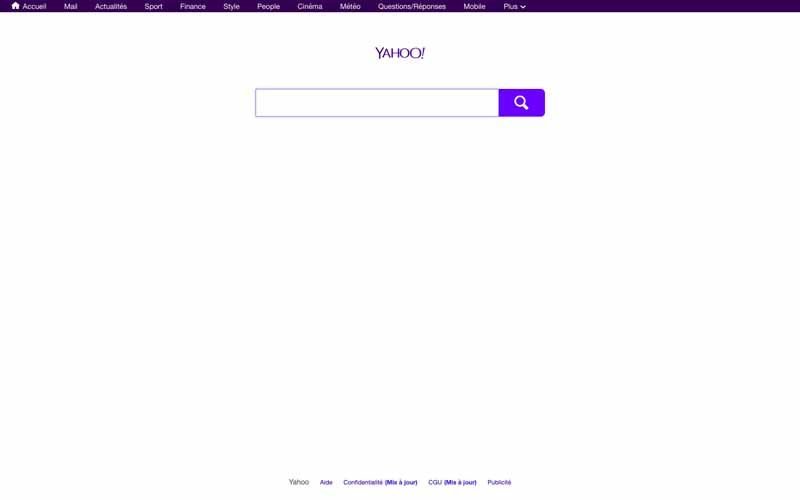 Founded by Jerry Yang and Davi Filo in 1994both students in computer engineering at Stanford University, Yahoo was initially a web directory. Over the years, the popularity of Yahoo s popularity grew with new services transforming the directory into a real web portal. The idea is to to gather all the needs of Internet users on a single portalthis led to Yahoo! mail, chat, games and online blogs.
Then in 2005, the brand decided to launch into social search by creating its own search engine with the particularity of allowing users to select and comment on the pages and websites that have aroused their interest. They also have the possibility to share favorite pages between Yahoo! users through the My Web or Yahoo!
In 2011, Yahoo is trying to make its search engine more competitive by adding some specific features:
The "direct search" option

the "direct search" option: It is brought inspired by Google Instant associated with the multilingual search that provides automatic translations in several foreign languages;

The Yahoo! Video service

video service: It gives access to all the videos available on the web in simple reading or in free downloading;

Flickr (US)

: It is a fun service for sharing digital photos in the form of slideshows between Internet users. The service was bought by Yahoo! and integrated into the search engine.
In 2006, Yahoo is the 2nd French-speaking search engine and the favorite of some companies like Veosearch or GoodSearch. In June 2019, it is ranked 4th with 2.11% of of the global market share, against 1,37% on the French market.
4. Yandex : The Russian search engine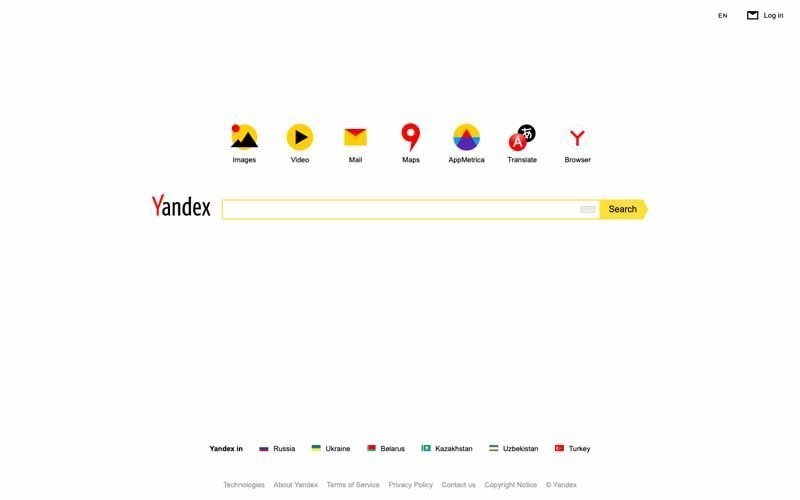 Operational since 1997, Yandex is the idea of a computer scientist named Arkady Volozh. Today, this search engine has won the hearts of Russians as it is the most used in the country. In fact, Yandex surpasses the Mountain View firm with 49.39% against 46.95% in June 2019 in June 2019
In agreement with The Mozilla Foundation, Yandex was able to win the title of default search engine for the Mozilla Firefox browser in Turkey and Russia. Still seeking more popularity, Yandex signs for the same title with Microsoft, that is, default search engine for Microsoft Edge in Turkey and Russia.
The Russian company is not only a search engine, but has developed other services to consolidate its usefulness to its users.
In 2002, Yandex.money was created and is presented as an online payment service. This service is now booming in Russia and is accepted by more than 76,000 partners, including the famous Chinese company Alibaba as well as Skype, Nintendo and Apple iTunes.
In 2011, the machine translation service, Yandex.Translate was launched to automatically translate content into several foreign languages. Especially in Europe, Yandex is in demand in the field of virtual navigation with its Yandex.Panoramas program.
The list is far from over, especially since the engine has launched more than 50 applications in almost all sectors. Recently, the Russian brand launched its first smartphone developed under Android with all its services incorporated.
Its evolution means that it occupies the 5th place in the world in June 2019 with 0,83% of the market share.
5. DuckDuckGo: The search engine that doesn't spy on you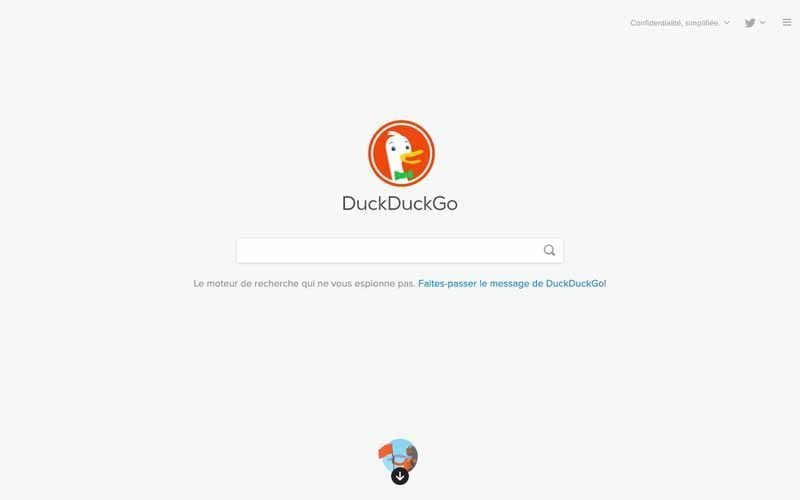 DuckDuckGo is a metasearch engine that doesn't take kindly to the use of user data for advertising or security purposes. So it joins the list of search engines that respect your privacy.
DuckDuckGo assures that it does not record user data and does not hide its disagreement with tracking. In 2013its founder, Gabriel Weinberg reaffirmed the intention of the site by reassuring that it will never provide, under any pretext, allegedly legal, personal information of its users. However, DuckDuckGo does not totally protect you from global or individual surveillance often orchestrated by certain secret intelligence services.
Available in Lite and mobile versions, DuckDuckGo automatically loads in the browser's language, which can be changed from the settings. Like Google, the brand slightly changes its duck logo periodically, which is a fun solution to support certain events.
In terms of global search engine market share, DuckDuckGo is ranked 7th with 0.25%. Ranked in May 2019 at 166th by the research firm Alexa based on its traffic, DuckDuckGo provides an average of 37,831,751 search results per day on average
Even though Google is the most used search engine today, DuckDuckGo holds its record for popularity and is listed as the default search engine for several browsers such as:
GNU IceCat ;

Palemoon ;

Dillo;

Rekonq ;

SRWare Iron ;

Midori ;

K-Meleon.
The engine is also among the search engines recommended by:
Google Chrome ;

Opera ;

Mozilla Firefox ;

Safari ;

Vivaldi.
6. Qwant : The search engine made in France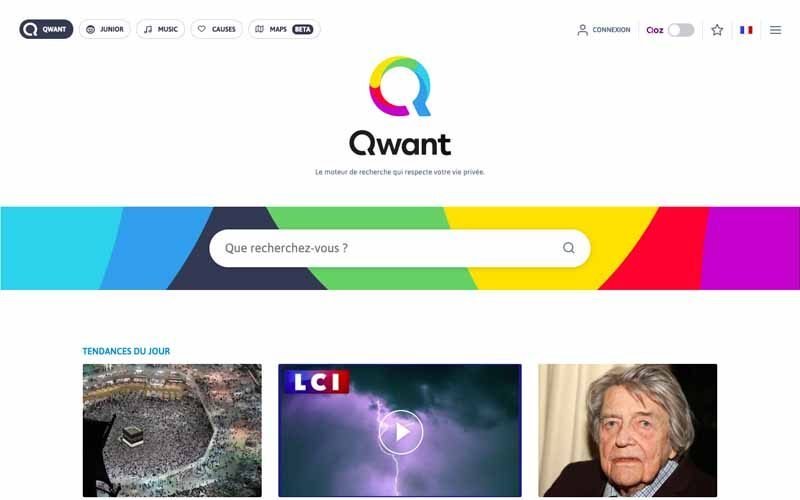 First launched in beta version in February 2013 then finalized in July, Qwant is the project of 3 French developers. According to its slogan, the engine is different from others by promising to respect the privacy of its users.
In fact, the principle of Qwant is not to exploit the personal data of its users for advertising purposes or to spy on them in any way. An idea that comes as a relief to the mass of Internet users who complain about Internet services that can use their personal data without asking their opinion.
The French engine does not intend to stop only on this aspect of data protection. Since 2014, Qwant has invested in developing its services to offer even more tools to its users.
After its one-year experimental period in several French schools and under the authorization of the Ministry of Education, the final version of Qwant Junior has been launched. This extension of the brand provides simple and well-illustrated search results targeting teenagers aged 3-13.
Since 2005, Qwant has been available in a Lite versiona solution for browsers and devices used by Internet users who do not have access to a good quality Internet connection. This low-resource version is not developed in JavaScript or CSS3, which reduces page loading time as much as possible.
Moreover, in collaboration with the streaming and download site Qobuz, Qwant Music allows you to search for artists, albums and tracks online.
Previously announced, Qwant Maps is released in beta version with the principle of protecting its users' data, this online mapping information service does not collect or analyze any movement of Internet users. Moreover, based on the OpenStreetMap cooperative map, Qwant Maps provides a regularly updated background map that will soon be available in mobile version.
The French search engine has not finished surprising its users and promises to launch other extensions very soon, notably QwantMed and Qwant Science, dedicated to medicine and science respectively.
All these efforts have enabled it to become the 4th largest search engine in France with a share of 0.74%, compared to 0.02% worldwide with the 11th position.
7. Ecosia : The green search engine that plants trees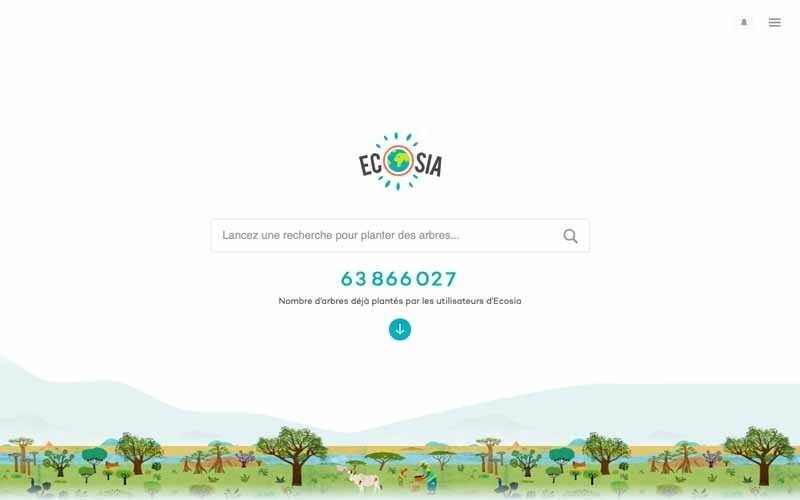 You may not have known it, but each of your queries on Google or any other search engine is a source of CO2! In other words, the servers of search engines are direct or indirect emitters of CO2 with each click for a given search.
According to Planetoscop0.2 to 7g of CO2 are released into nature for each search performed on Google. Fortunately, this state of affairs is limited thanks to Ecosia which is known for its participation in a reforestation program.
The German metasearch engine is in collaboration with ecological companies:
In Africa: WeForest and OZG in Burkina Faso, Eden Projects in Madagascar;

In South America: PUR Project in Peru;

Etc..
Thanks to its partnerships, Ecosia is all over the world and invests a part of its revenues to plant trees. Since last February, Ecosia has reached the mark of more than 50 million trees planted around the world.
Indeed, Ecosia gets its revenues from advertisements and Ecolinks dedicated to voluntary user donations. This is how a part of its revenues is dedicated to the reforestation of strategic areas.
So what about Ecosia's servers? Well, to set an example for the American giant Google, Ecosia has affiliated with Myclimat to set up a carbon offset project that aims to neutralize all CO2 emissions from its servers and infrastructure.
On a global level, Ecosia is currently ranked 13th position with 0.01% of the market share.
8. Yippy: For classified search results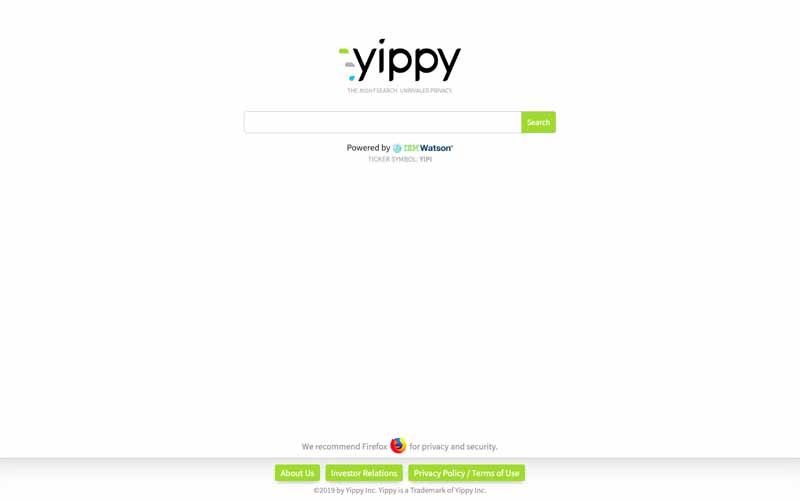 Originally known as Clusty, Yippy is a metasearch engine that classifies the elements of its items in its SERPs into folders. For more specific searches, optional tabs are available including:
News ;

Employment ;

Images ;

Blogs ;

Etc..
You can also customize Yippy by indicating the engine sources. According to Wikipediayippy has about 225,000 unique visitors per month and in 2011, Alexa estimates that 30% of its Yippy users are Americans.
Moreover, for more portability, Yippy is available in PC, Tablet PC, Smartphone and Nintendo Wii versions.
9. Lilo: A search engine committed to social causes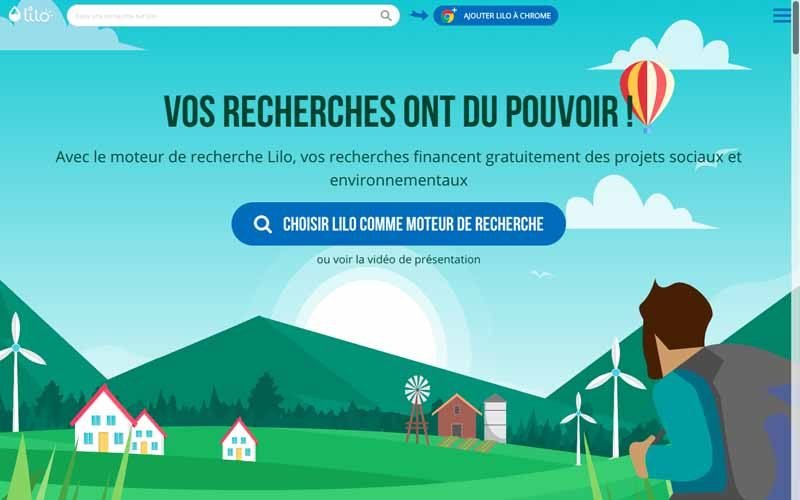 Lilo is the project of two young Frenchmen, Clément Le Bras and Marc Haussaire, who were not indifferent to people in difficulty and to the environment. So they decided to create their startup in 2014 in order to reinvest 50% of the profits in environmental and social projects.
The principle is similar to that of Ecosia since each request launched on Lilo generates "a drop of water" to its user. The drops of water will then be monetized through advertising links at a rate of 0.002 and 0.003 € per drop of water.
The user will be able to dispatch his drops of water on social projects of his choice. Each week, a project is chosen and receives monthly funding from Lilo until it is completed.
Being a metasearch engine, Lilo is affiliated with Google, Bing and Yahoo! to provide its SERPs. In addition, the French startup does not collect the personal information of its users for advertising or security purposes.
Lilo is not only a search engine, the French charity brand is also an email service: The lilo webmail. In addition, Lilo is launching in 2017 its own mobile browser named Lilo Browser available on Android and iOS.
10. Quora: The collaborative question and answer search engine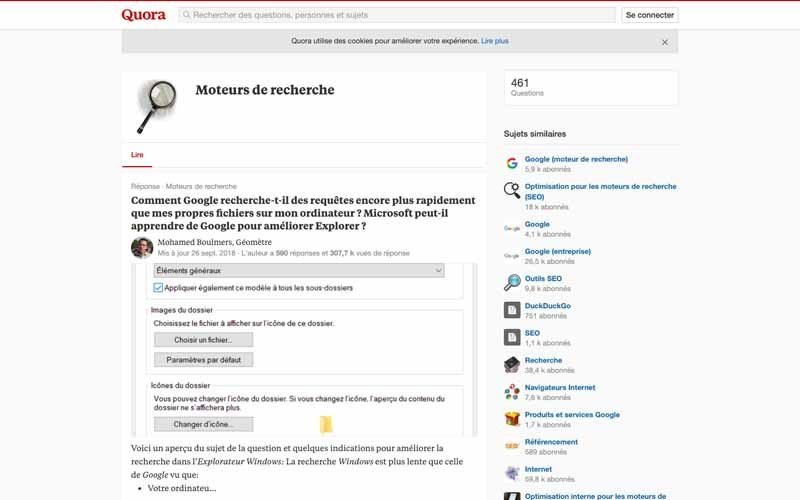 Qora was created since 2009 by Adam d'Angelo, CTO and co-founder of Facebook. It is a subsidiary of the parent company Qora Inc. and was made available to the general public in June 2010.
The particularity of this search engine, which aims to be unique from others, is to offer Internet users the the possibility to participate in the search results. It offers questions classified by theme and lets users provide participatory answers.
For its seriousness, the registration requires the real identity of Internet users using for example Google and Facebook accounts. That said, the answers provided on the engine can be anonymous.
Famous personalities have a Quora account such as:
Jimmy Wales ;

Justin Trudeau ;

Barack Obama ;

Hillary Clinton ;

Adrian Lamo ;

Paul Krugman ;

Etc..
11. SearX: The open source meta engine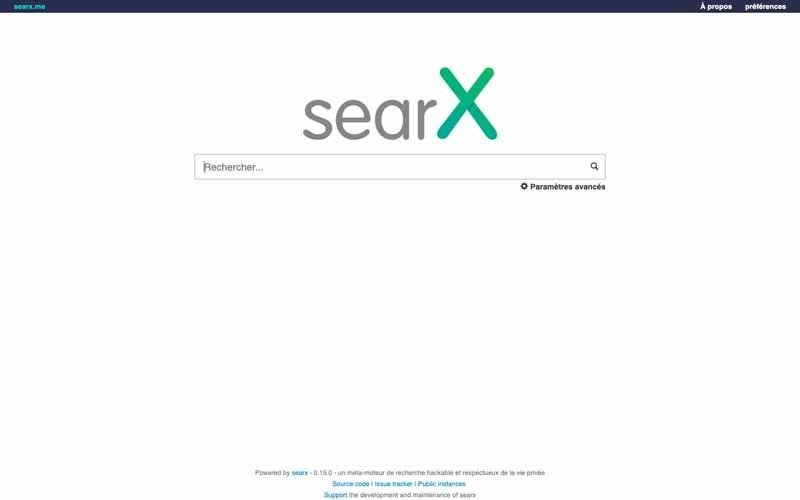 SearX is a free open source meta search engine that aims to respect the privacy of Internet users. Being a meta-search engine, it draws most of its information from primary engines such as Google or Bing
Also featuring "vertical search" functionality, its results can be sorted into 10 different search categories:
General;

Files ;

Images ;

Computer ;

Map; Music; and

Music; News; ;

News & Events ;

Science ;

Social Networks ;

Videos.
Specific search engines
As opposed to the previous search engines which are more generalist, others are specialized in a given search field.
Corporate search engines
12. Autonomy
Created in 1996 by Michael Lynch and Richard Gaunt, Autonomy is a computer company that offers enterprise search applications. The principle of Autonomy is to use the research work of the University of Cambridge to feed its Intelligent Data Operating Layer (IDOL) technology based on pattern recognition techniques.
13. Datafari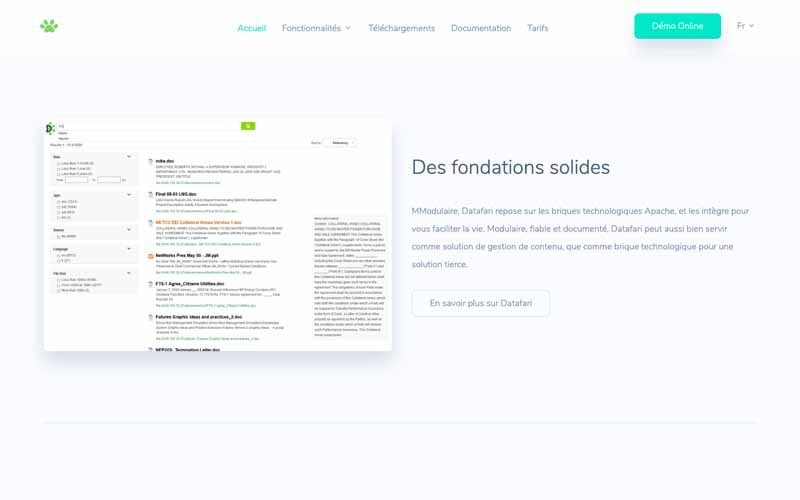 Datafari is also a search engine dedicated to businesses. Datafari's indexing techniques allow for the most accurate retrieval of corporate data, regardless of corporation or location.
In fact, it is a modern solution with user and administrator friendly interfaces. Datafari also develops other concurrent solutions for enterprise security that are available in 2 versions. The first one is a free version called "Datafari Community Edition" with Apache V2 license and the second one is "Datafari Enterprise Edition" which is a proprietary version with interesting offers
You can consult this guide which will help you get started with this search engine.
Search engines for children
14. BabyGo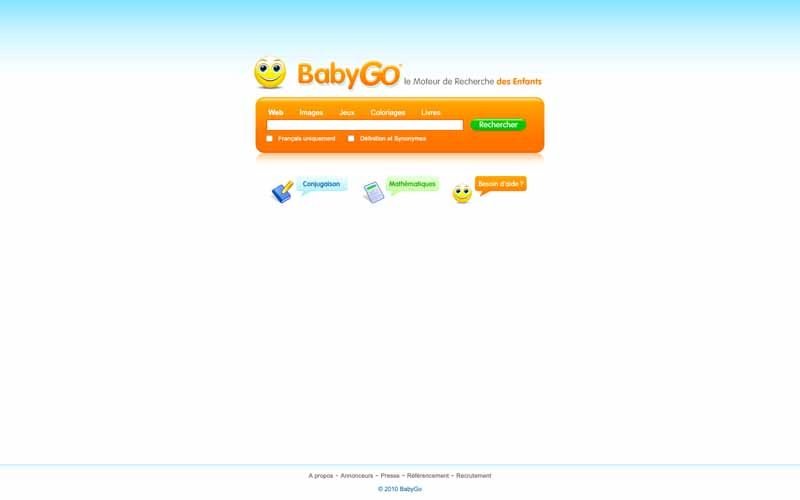 Launched in November, BabyGo is a search engine for teenagers developed by French engineers. The engine has been designed with carefully selected web pages to protect the youngest from the risks of the Internet.
15. Qwant Junior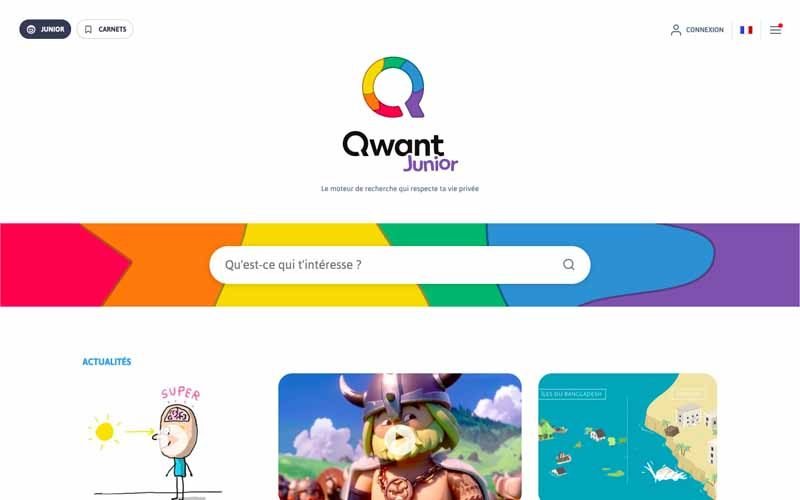 Qwant Junior is an extension of the French search engine Qwant that is dedicated exclusively to children. The aim of this branch of Qwant is to protect the youngest from the violence and vices that abound on the web.
Aware of the vulnerability of its users, the engine blocks all online purchases and operates on a prohibited list of websites, provided by the University of Toulouse, especially those of a pornographic or violent nature. On the other hand, instructive sites for teenagers are promoted to animate the engine.
Recruitment search engine
16. RegionsJob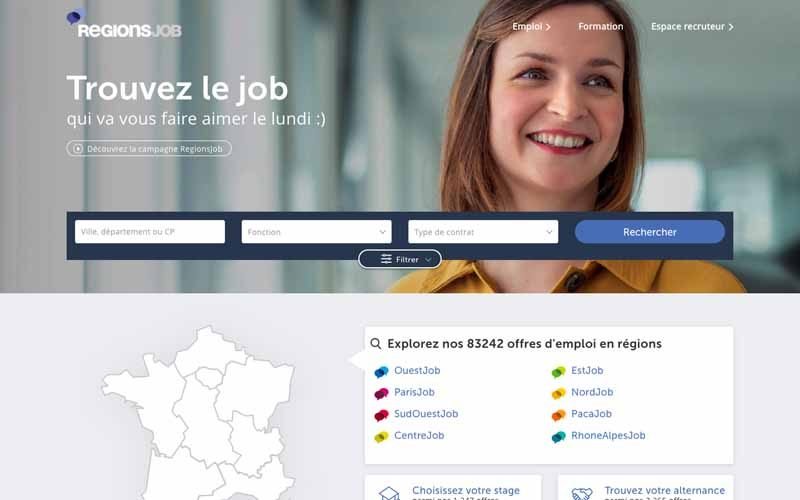 Today called HelloWorkregionsjob is a French platform that offers job offers in several corporations with career management advice. Launched in 2000, RegionsJob is committed to helping job seekers and offering them a panel of available job offers according to their professional skills and geographical location.
With its network of 8 job boards, RegionsJob covers all the major regions of France and makes many employees happy.
17. Cadremploi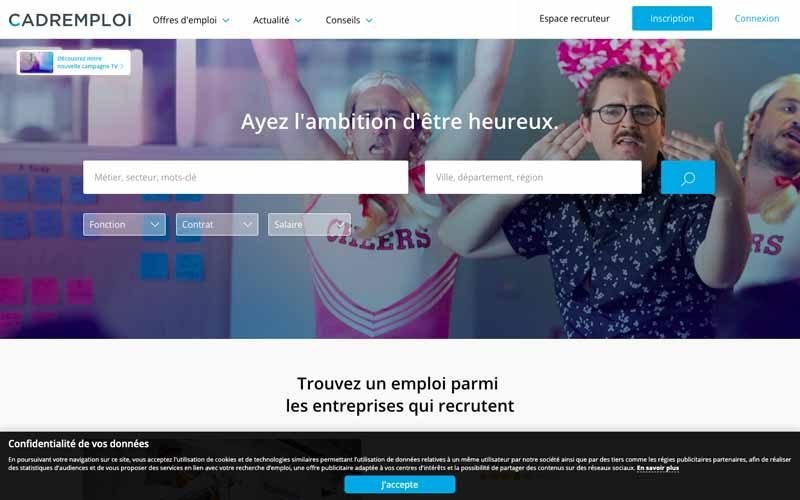 Cadremploi is a site designed for executive recruitment and run by several recruitment firms since 1991. In collaboration with more than 800 recruitment firms, Cadremploi is a large channel offering thousands of job offers, 80% of which lead to contracts.
In addition to posting job offers, Cadremploi also assists its visitors by offering professional recommendations and guidance. Its online account creation and CV submission service is entirely free and currently has more than 4 million unique CVs.
Image search engine
18. TinEye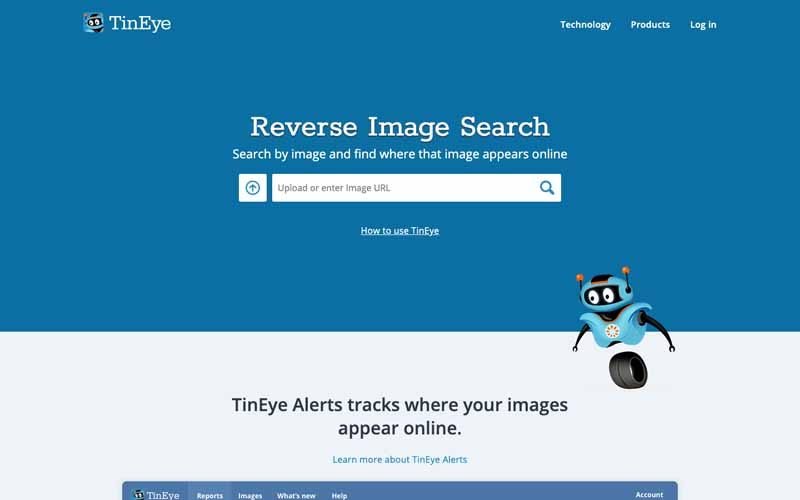 Created in 1999, TinEye is a search engine with the functionality of image search by content with a very simple operating principle. In fact, the user provides the site with a URL or an image loaded from his gallery and TinEye does the rest.
With a rich database of more than 2 billion entries, TinEye provides better quality photos or even complete if the source photo has been cropped for example.
19. Pinterest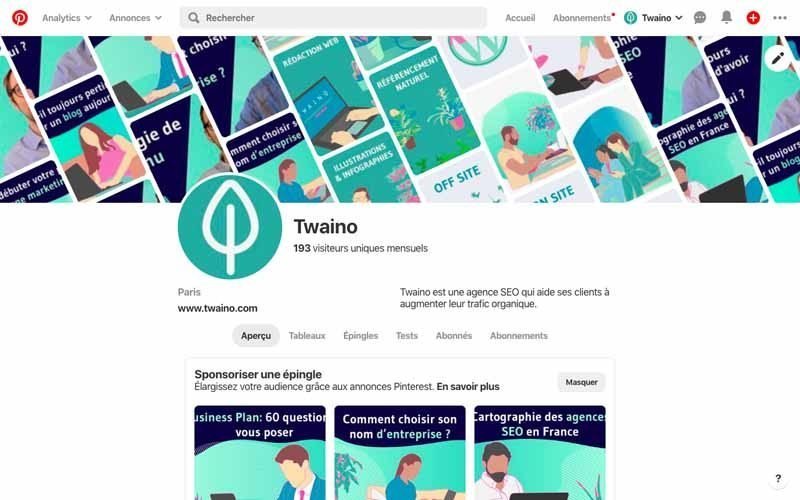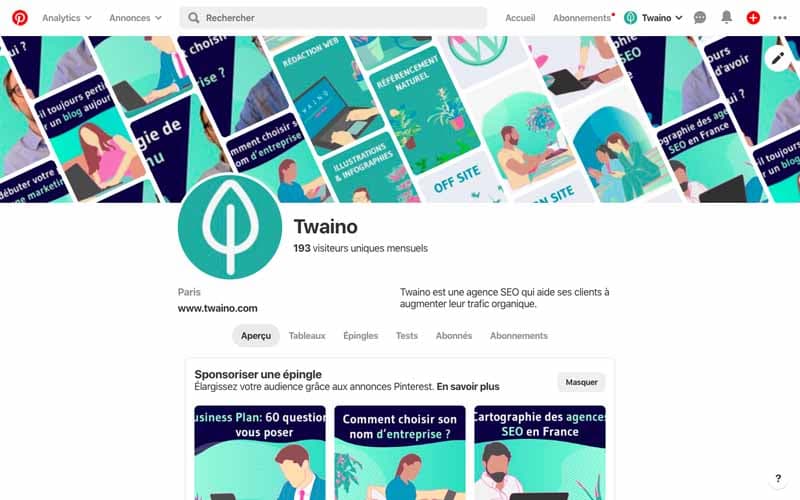 Pinterest is a platform originally designed to be a social network and photo sharing space. The project was officially launched in 2010 by its three co-founders: Paul Sciarra, Evan Sharp and Ben Silbermann.
The site has been a success and has become a reference in terms of sharing photography on the Internet. Recently, Pinterest has developed a advanced algorithm for identifying objects which allows to have information about objects that appear on a photo.
So nowadays it is easy to retrieve the name, provenance or price of an object just from a photo with Pinterest. The same goes for the dedicated search engine Google Image.
Conclusion
Google is the most famous and most used search engine in the world. Especially since the American firm offers a wide range of tools to its users and continues to improve the quality of its results. However, Google has limits that other alternative search engines have exploited and filled. The geographical location is one of its main weaknesses since its biggest competitor offers local users services that seem more relevant to them. In addition, Google generally loses the advantage when it comes to issues related and the protection of children while browsing the web. And let's not forget the search engines dedicated to specific themes or fighting for a social and/or environmental cause. In these different conditions, the use of alternative search engines to Google can be more efficient and useful.
And you, would you like to contribute to a social cause, protect your data or protect your children more efficiently from the dangers of the web?