Hostingtribunal estimates that 10 million blog posts are published every day ! The profusion of content explains why it is so easy to be drowned in the mass and at the same time, so difficult to get known on the web. While at the same time without some visibility, any online business will struggle to perform well. To remedy this situation, several tools, methods and techniques have been developed to allow a given entity to get a good positioning on the web. You may then be confronted with alot of technical terms, especially when it comes to webmarketing. A jargon, which can sometimes be an obstacle when you want to implement certain tools or techniques. In this regard, you will often be confronted with the major pillars of online marketing namely :
These four terms can often be confused and today, I will explain them to you by highlighting their differences and issues.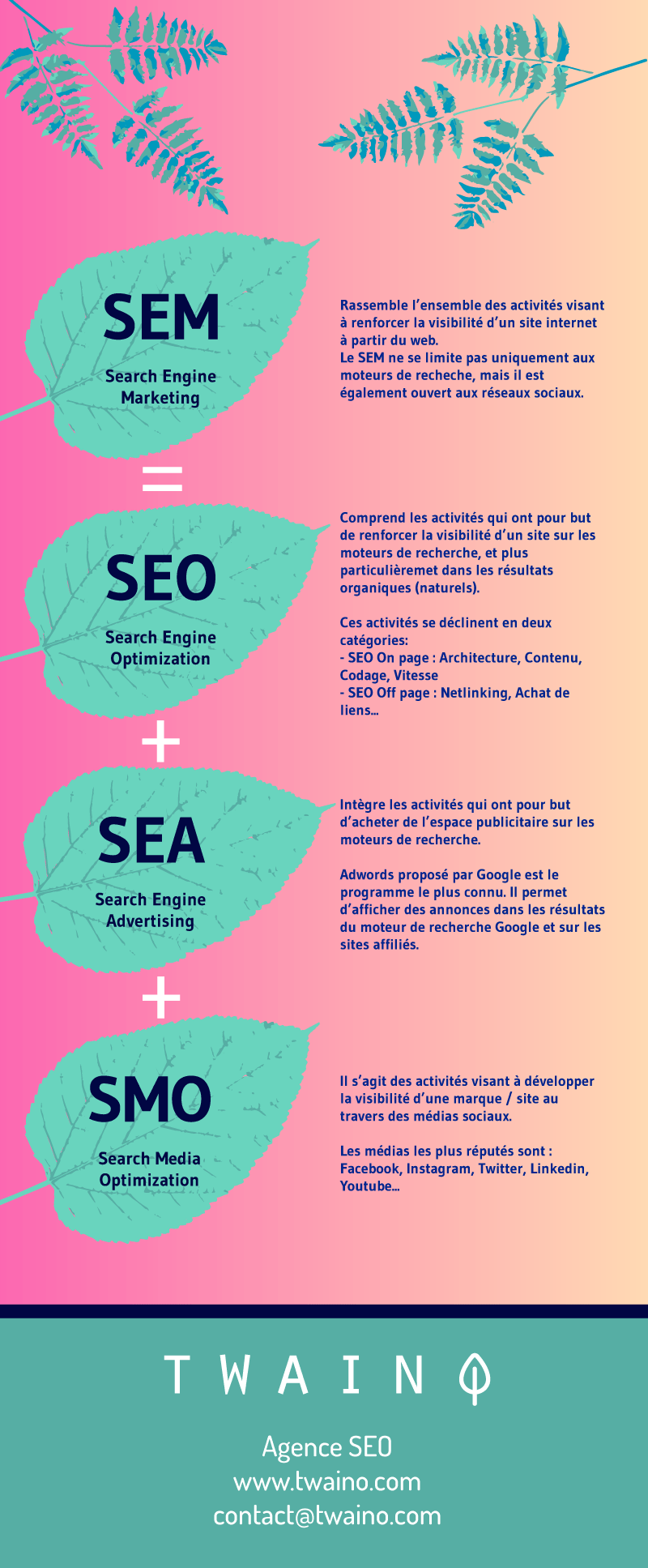 SEM = SEO + SEA + SMO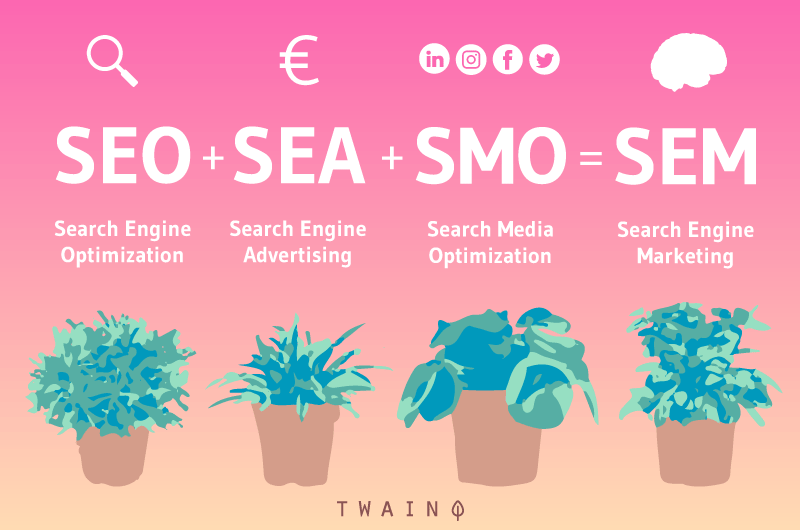 The SEO or natural referencing
The SEO or " Search Engine Optimization in English and "natural referencing" in French, refers to all actions and strategies whose implementation aims to improve the visibility of a website in the natural results of search engines.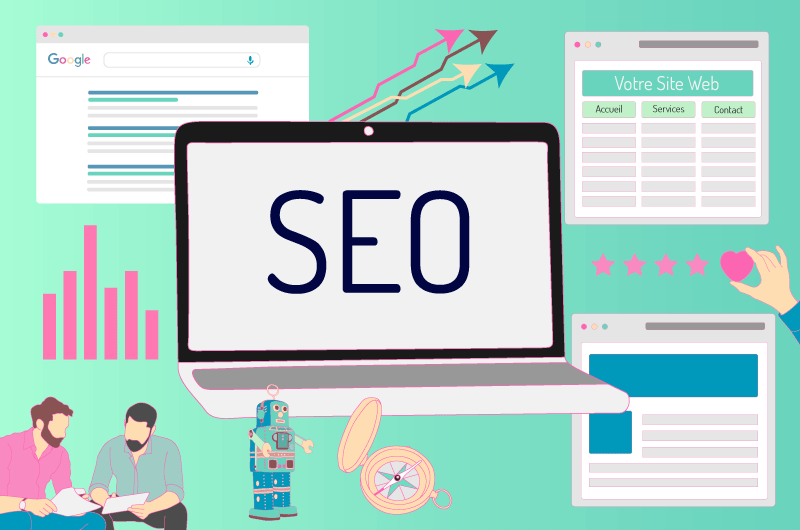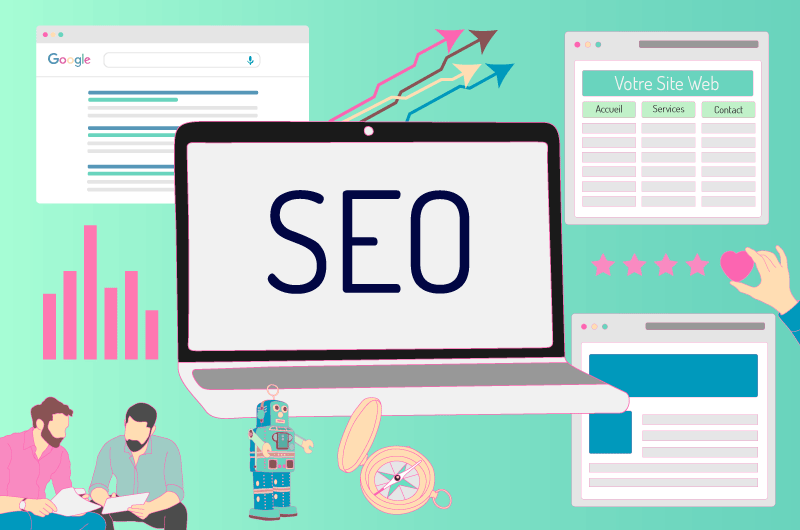 It is the organic results where the ranking is done by merit according to the criteria of search engines. This automatically excludes the results from advertisements or ads.
1. How does SEO work and what is its purpose?
To properly understand SEO, it is crucial to understand how search engines work. In this regard, I have developed a complete guide on SEO that I invite you to consult.
Search engines, especially Google, have only one objective: to provide the most relevant and useful answers for users. To do this, search engine robots are constantly crawling the web looking for new content to crawl and index. This indexing allows them to have content to propose to the different requests of the Internet users
But before proposing results, the search engine algorithms take the time to classify the results according to :
Their relevance ;

Their usefulness ;

The authority of the pages;

Etc..
Indeed, there are several underlying factors that come into play in the ranking of pages in search results. The SEO professional takes these factors into account and develops strategies to improve the ranking in search results.
In this logic, the main objective of SEO is to optimize a site to achieve a good ranking in the SERPs especially on the first page. Especially since the results of the first page receive about 70% of clicks with 67% for the first five results of the SERP
2. The techniques of natural referencing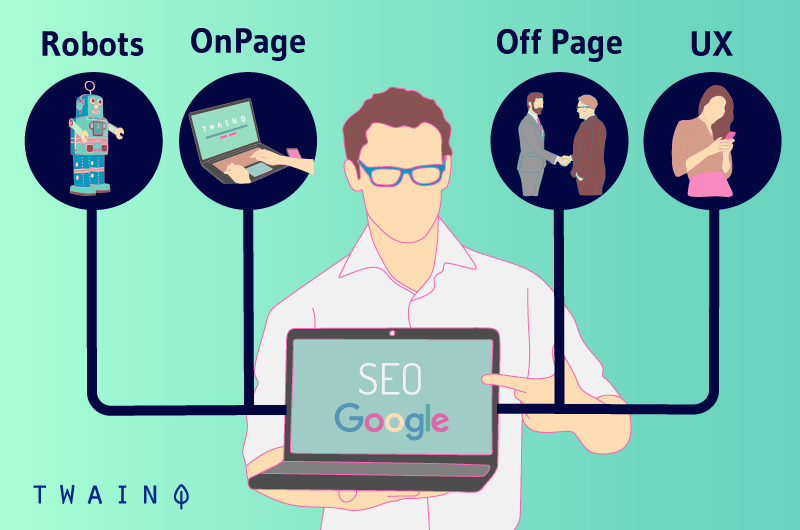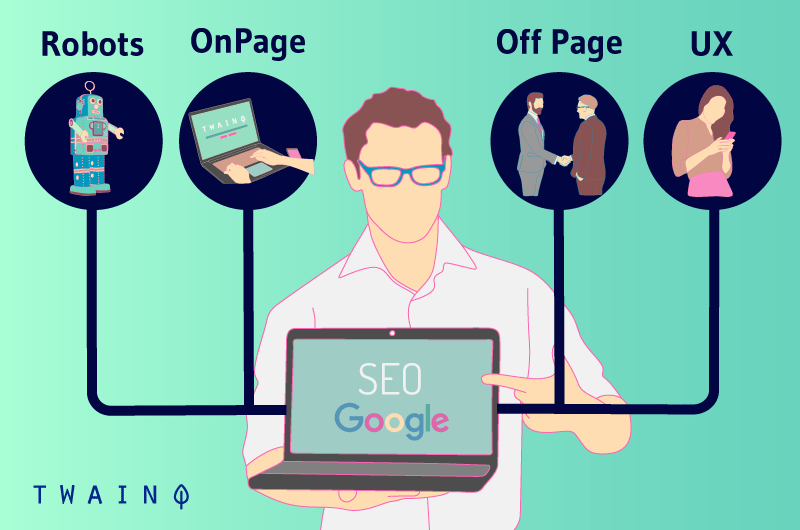 The SEO is divided into two parts including :
The

On-Page SEO

on-Page SEO: It includes all the practices applied on the website and includes technical improvements and content creation through the stage of keyword research;

The

SEO Off-Page

off-Page SEO: Refers to all the practices carried out outside the website to improve the ranking in search engines. It consists mainly of the creation of external links or netlinking in order to increase the authority and reputation of the website.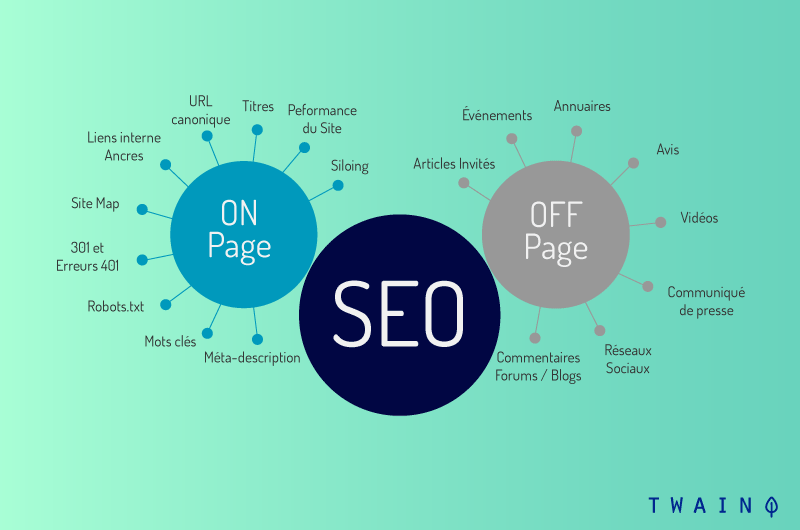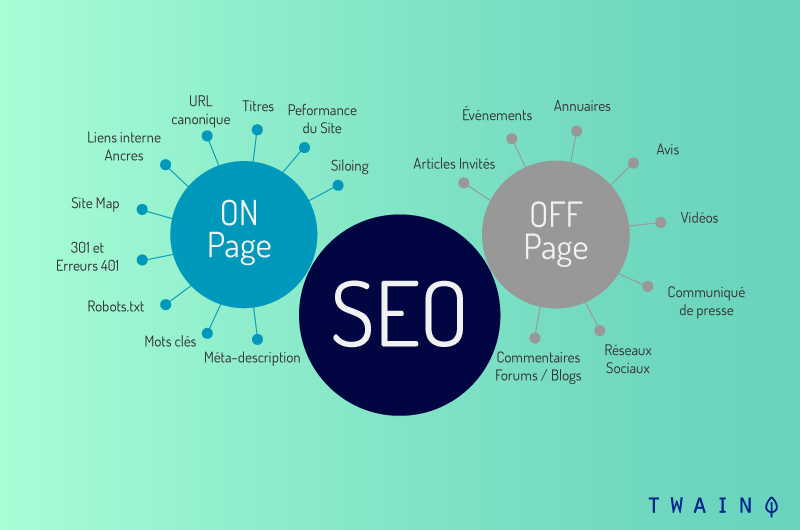 Many of the SEO practices are simply common sense, especially those of On-Page SEO. In fact, in addition to knowing your target audience in order to determine the most relevant keywords to use, the creation of quality content is a very effective strategy in SEO. In addition to this, choosing the right format for the presentation of your content and making technical improvements to the website in order to provide an optimal user experience.
Off-Page SEO essentially includes link acquisition campaigns to improve the authority of the website. Authority is a very important factor in page rankings in SERPs which is basically evaluated by the number and quality of external links.
The more links you have, the higher the authority of your website. But be careful with the quality of these links which are appreciated thanks to the websites that have made backlinks or external links to your website.
For example, if you sell soccer shoes and FIFA refers to your website by creating a backlink to it, you agree that it does not have the same value as if it is a small local club that mentions you on its website.
That said, for the implementation of any SEO strategy, do not forget to perform an sEO audit audit that allows you to diagnose the current state of your website in order to make informed and relevant decisions.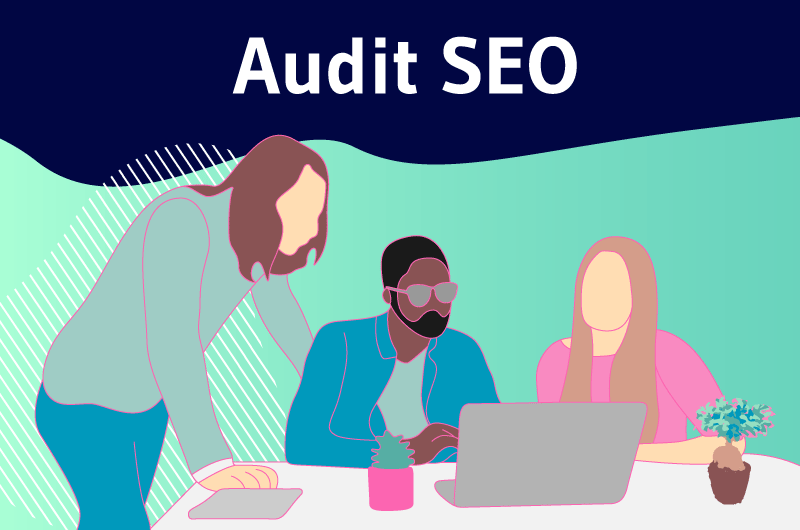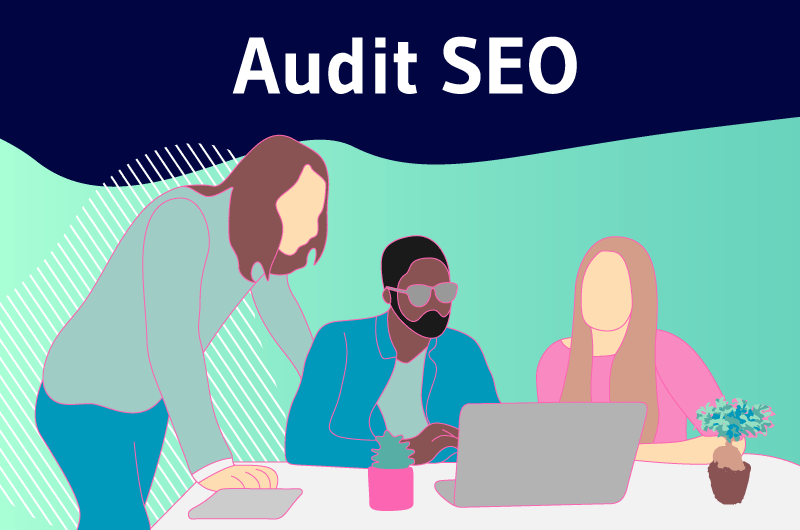 The risks of natural referencing
Not all SEO practices are allowed by search engines. In fact, they believe that SEO professionals should use SEO practices that prioritize user experience over algorithms. In this logic, search engines including Google has established guidelines to follow.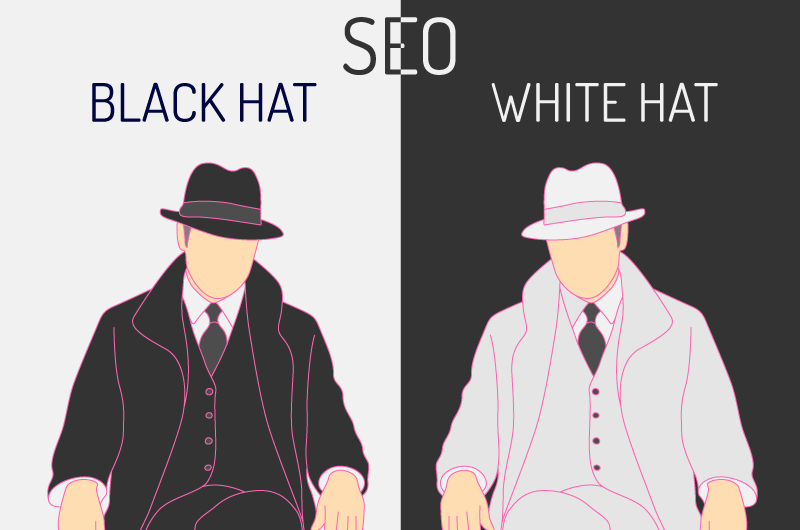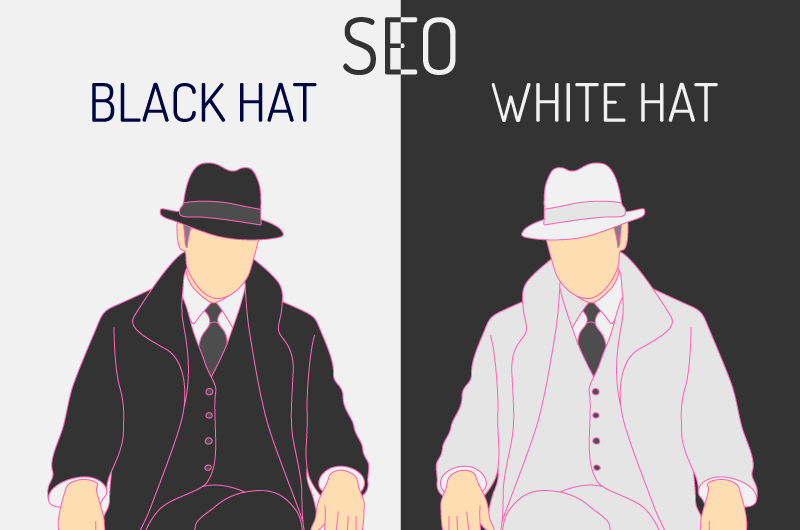 This does not prevent some SEOs from using non-recommendable practices, which divides SEO into two main categories:
SEO Black Hat

black Hat SEO: Only the optimization for the search engine algorithms counts for this type of SEO. The techniques in this category are exposed to penalties from search engines because the guidelines are not respected;

White Hat SEO

the user experience is at the heart of this type of SEO, which is obviously accompanied by strategies aimed at the search engine algorithms. White Hat is risk-free since it scrupulously follows Google's guidelines.
In addition to these two categories, there are two other types of SEO:
Grey Hat

which favors only the algorithms without the risk of sanctions;

The Dunce Cap

which favors the users, but can be penalizing.
To know more about the nuance between these types of SEO, you can consult my guide on SEO.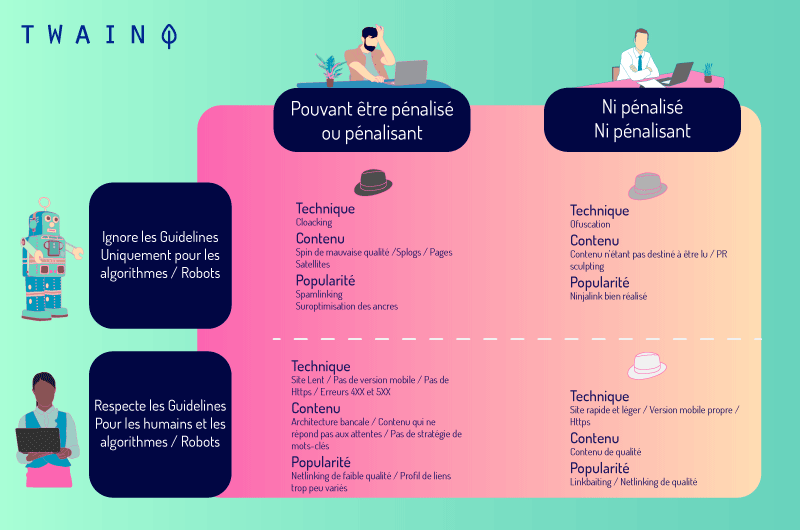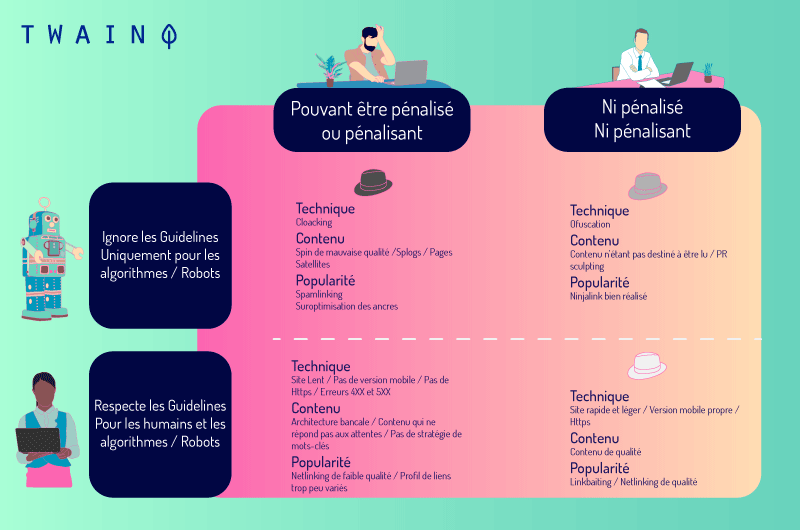 4. Costs in SEO
Technically, you don't need to have a huge budget when you master SEO practices. In fact, SEO strategies are usually long term and ROI is not achieved overnight. You need to put your action plans in place and take the time to execute them.
That said, some powerful tools are often made indispensable to execute certain strategies. Therefore, you can expect to spend some money to acquire certain tools.
Furthermore, if you are not familiar with SEO practices, you have two options:
You

train in SEO

this will give you all the tools you need to develop your business yourself;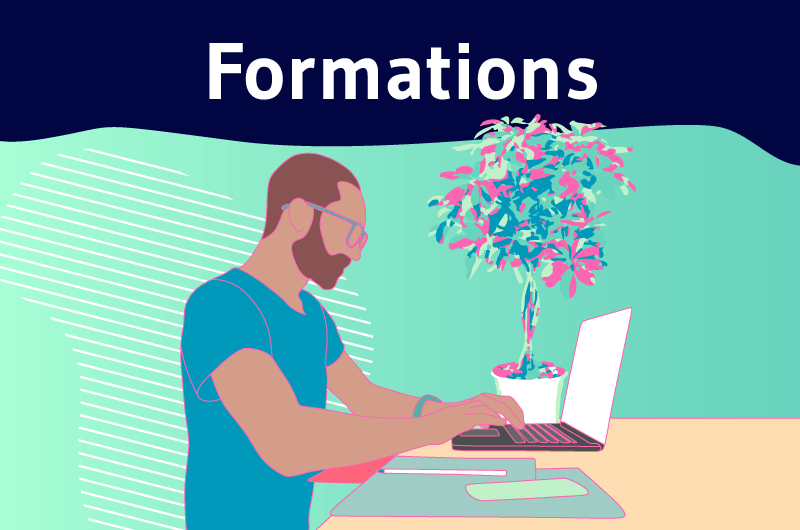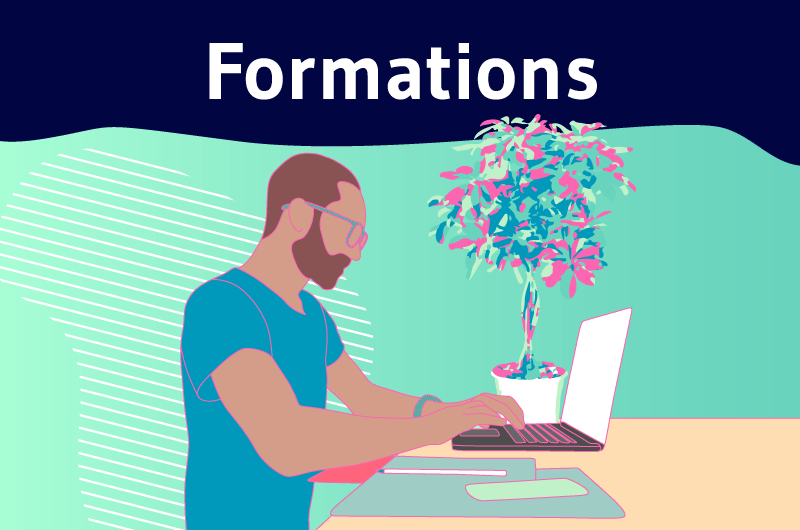 Call on a

professional in SEO

professional: At this level, you are assisted by an expert who helps you to implement the right strategies for your business.
Whichever option you choose, you will have to invest your time and money. You should also know that results will come if you use the right tools and strategies to increase your online visibility.
5. The pros and cons of SEO
Benefits of SEO
Generating traffic with SEO can be free or done at a fairly low cost;

When a website is correctly referenced and ranks high in the results, it inspires confidence and reliability in the eyes of Internet users and Google

In the long term, SEO is one of the most important sources of traffic since if you reach and maintain a good position in the SERPs, you will have a large amount of traffic continuously;

SEO has perennial benefits or benefits that last over time. In fact, if your site maintains itself on strategic keywords, you will have continuous traffic even if you stop your SEO efforts temporarily.

SEO practices allow you to improve the usability and accessibility of your website on the different media used by your audience;
The disadvantages of SEO
Despite its many advantages, SEO also has its limitations:
The natural referencing of a site, is done essentially over the long term and requires a constant effort.

The creation of content on a regular basis is an integral part of SEO and it is necessary to be able to spare time to create it;

It is not possible to have total control over the position of a website in the SERPs. In other words, the loss of position is a permanent risk since Google's algorithms are constantly improved;

There is no formula to automatically rank first for most queries. For this, you must select the keywords on which you can have a better positioning.
The SEA or the paid referencing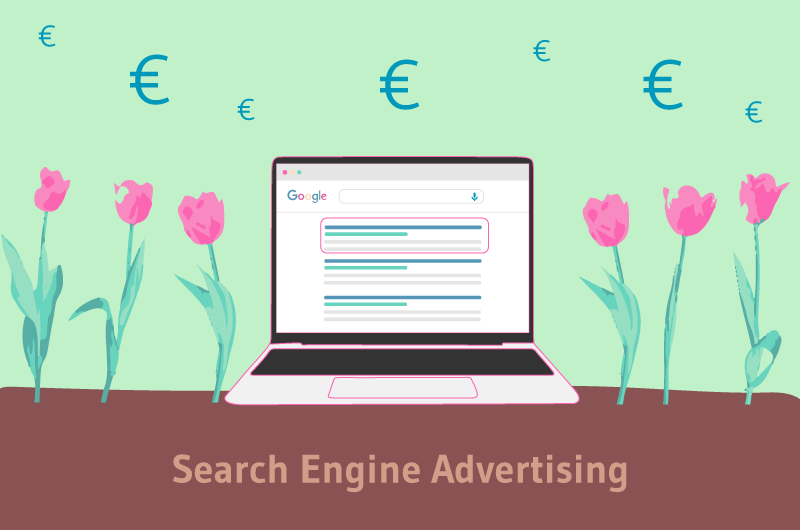 The SEA is an acronym that stands for " Search Engine Advertising and known in French as "référencement payant". It refers to all the means and techniques used to create and optimize advertisements in search engines.
In fact, SEA is one of the main sources of income for search engines and is considered profitable for companies that use it insofar as it allows them to have a good position in the results of search engines. This makes the brands and products resulting from its campaigns very visible.
1. The objectives of Search Engine Advertising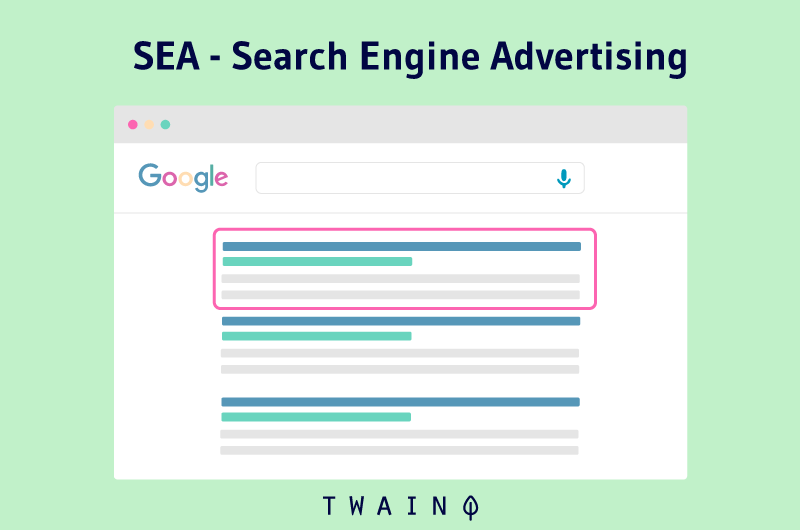 Search engine advertising is usually part of a marketing or branding strategy. In fact, one of the main objectives of SEA is toincrease the click-through ratesince traffic to a website can be quickly increased by displaying it on advertising spaces.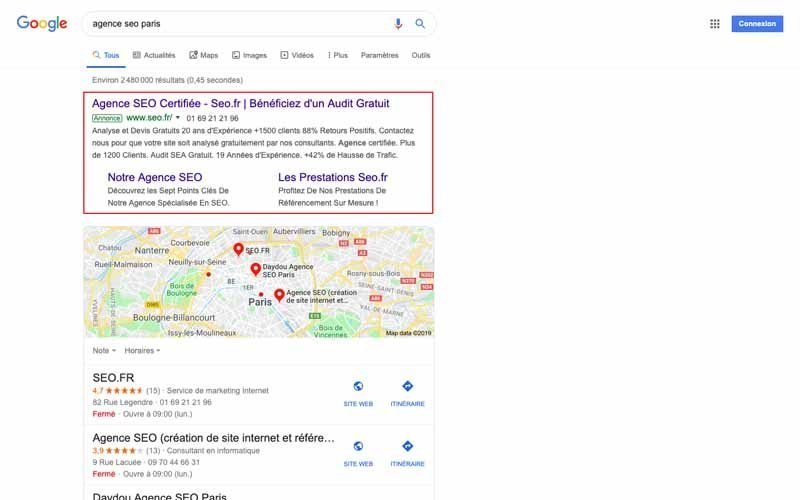 Search engine advertising can also be used to generate conversions. In fact, SEA is generally used in e-commerce since it gives the opportunity to encourage users to make purchases. This makes one of its main objectives to increase conversions in the form of sales. However, conversion can take many different forms depending on the objective:
Free trials;

Registrations;

Registration to events;

Newsletter subscriptions;

Etc..
2. Platforms to do SEA and how they work
Google Ads
Google Ads is the most used SEA tool in the world, especially since the search engine of the American firm holds 79,49% of the global market share. In addition, Google offers advertisers a wide range of advertising opportunities in SEA
Google has also set up a guide that can help you understand its tool. That said, the principle of ad placement is based on auction.
Basically, advertisers choose specific keywords, then they pay for clicks or impressions on the displayed ads. But as you might expect, there are certain factors that can influence the performance of an ad and these include:
The quality of the ad text;

The relevance of the keywords;

The quality of the landing pages;

The history of the AdWords account.
Bing / Yahoo ads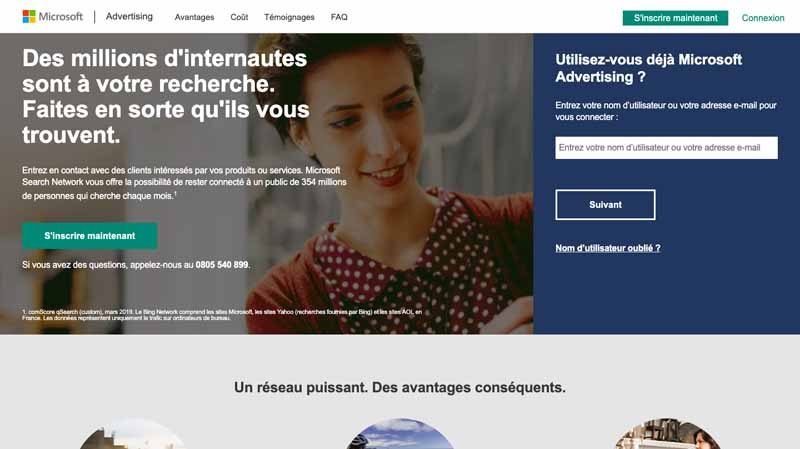 In collaboration with Yahoo, Bing also offers its own SEA platform called Bing Adsand their ads work in the same way as those of Google.
However, due to Google's dominant position in the market, Google Ads is the most used tool for SEA especially in Europe. A global strategy should nevertheless include advertising opportunities on Bing and Yahooespecially in countries where Bing has a large market share, such as the United States.
Other SEA platforms
Instead of the big search engines, you can use the specialized platforms which are often advantageous depending on the targeting. One example is Amazon, which you can use to promote your products.
Depending on the target markets of a company, it is important to know the largest local advertising platformsthis will increase your chances of performing well. For example, if a website also wants to succeed in China, focus on Baidu for SEA, is a much more relevant option.
3. How are the ads displayed?
Google or the search engines do not display ads as they see fit. In fact, ads are displayed when they are sufficiently relevant to the users' queries.
For example, if you search for chocolate and Google shows you ads about concrete batching plants, it would make no sense at all
Moreover, don't forget that there is competition and that most of the competitors are positioned on strategic keywords. You also need to conduct a small analysis of your market in order to identify the the most relevant keywords to reach the type of target audience you want. Also keep in mind that the competition on the level of the targeted keywords is a very important factor in the SEA and you must particularly take care of it.
On this subject, you can consult my guide on SEO where I explain the right steps to find the right keywords. In addition to the keywords, the budget plays a big role in the SEA.
4. What is the budget for SEA?
In SEA, the budget is defined according to different provisions:
PPC/CPC or cost per click

here, the advertiser specifies how much he is willing to pay per click;

CPA or cost per acquisition

cPA or cost per acquisition: The advertiser specifies the amount he is willing to pay per conversion achieved through advertising measures;

CPM or cost per thousand

the advertiser specifies how much they are willing to pay for 1,000 ad impressions;

Cost per call

cost per call: Some advertising platforms offer the ability to specify how much an advertiser is willing to pay per visit;

Cost per lead

depending on the web portal, costs for leads such as newsletter subscriptions or PDF downloads can also be agreed upon.
Depending on the arrangement, you only pay when the condition is met. In other words, you only pay when a user clicks on your ad and when there is no click, you pay nothing.
Moreover, you can set a maximum budget and once reached, your ad is no longer shown. By taking the provision of the click, Google Adwords allows you to set a maximum cost per click in order to reach a given number of people.
For example, when you set a cost per click of 10 cents and your maximum daily budget is 20 €, your ad can be clicked by 200 people. This gives you control over your reach.
5. The different forms and positions of ads
The ads published by Google Ads or other search engines often come in different forms, namely
The classic textual ads

an advertiser chooses one or more keywords with which its text ads will be displayed on a good position in the SERP. If a user searches for one of these keywords, the corresponding AdWords ad is displayed.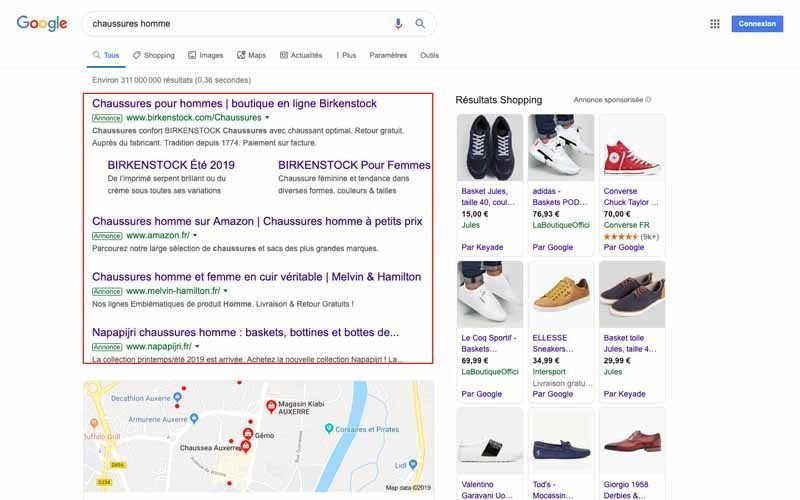 Product Listing Ads

product Listing Ads: Google Ads offers the possibility to place product ads created from product listings. This is done in particular with the help of so-called "Shopping Ads".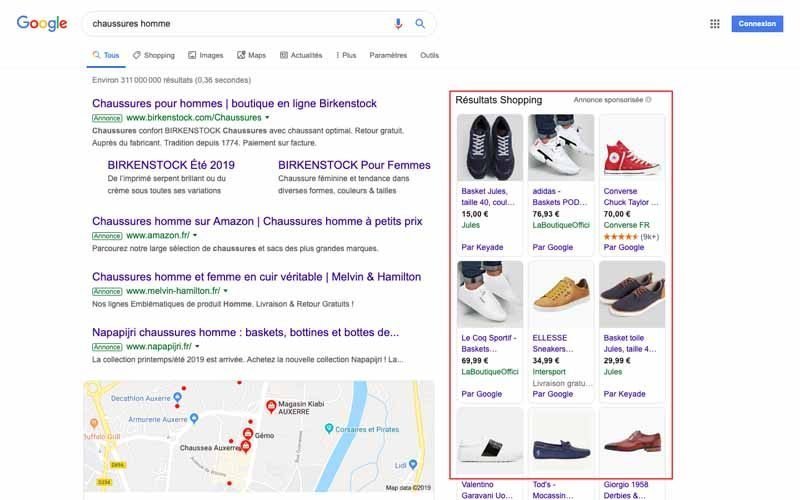 In addition, you can choose between several options regarding the placement when you want to launch an ad. You have the possibility to opt for :
A "search only" campaign

a "search only" campaign: Allows you to display the ads above or next to the natural results

A "display only" campaign

a "display only" campaign: Your advertisement will be displayed in different places such as the platforms belonging to the Google advertising network like YouTube, Gmails and many others;

A "search with selective display" campaign

in this case, you choose a combination of the two previous options.
6. Impact of SEA on natural referencing
Although search engine advertising is not considered part of SEO, SEA can have an impact on the ranking of a website in the SERP SEA impacts SEO in an indirect way.
Google or other search engines, receive via the SEA data about the visits to a website. This includes, for example, the click-through rate and the bounce rate, which are also taken into account when evaluating a website.
In fact, the behavior of Internet users in relation to a website is a very important factor in its ranking in the search results. And if, for example, a website can increase its brand awareness with the help of SEA or a successful advertising campaign, it can generate more traffic via organic search.
This is because the brand will now be known to many users and they are more likely to click on the brands they know, even if it doesn't rank first in the results. By the way, Lesechos estimates that 62% of consumers turn exclusively to brands or products they already know.
Successful ATS measures also lead to an improvement in the quality of a website. By doing so, a website or an online store can become more famous and lead to direct word-of-mouth traffic.
7. Advantages and disadvantages of ATS
The advantages of paid search
The guarantee of results or positioning is more important than with SEO: The more you spend, the more visible you are on the keyword you target;

If you have catchy ad texts, you can have a high traffic and conversion rate;

As soon as you launch your campaign, you are automatically visible so you don't have to wait like with SEO;

You can measure your ROI more accurately;

You are not only visible on search engines, you are also visible on other channels. For Google Ads, you can be present on all sites of the AdSense network.
The disadvantages of paid search
After the end of your campaigns, the traffic from the SEA also stops. This implies that you all the traffic disappears and as long as you continue to make expenses, you will have results.

Requires a significant financial investment and sometimes leads to a strong dependence on ads;

The competition is much higher than in SEO since there are several advertisers.
The differences between SEO and SEA
A short summary is necessary to show the clear differences between SEO and SEA
SEA:
Publishing ads on search results pages or other websites using methods such as CPC or cost per click ;

Booking ads in SERPs based on bids on the keywords for which the ads are placed;

Good ranking can be achieved through optimization of text ads and bids;

Clear control of ad campaigns with measurable performance;

Ways to increase traffic quickly;

Can be part of a temporary marketing campaign;

Numerous targeting or retargeting possibilities;

ATS usage is automatically noticed by users.
If you wish to be accompanied on the SEA part, I can only advise you to get in touch with Geoffrey Pin
.
SEO:
Includes measures to optimize websites for crawling and indexing by search engines using on-page and off-page optimization ;

Good rankings can be achieved by optimizing the On-Page and Off-Page factors of the website.

No decisive guarantee that the optimization measures will lead to better positions for certain keywords;

Branding is more a secondary part of an SEO strategy;

SEO is often long term;

Targeting can only be done through testing, evaluation and estimation which leads to content adaptation;

Is not noticeable by users.
SMO or search engine optimization on social networks
The SMO is an acronym for " Social Media Optimization and known in French as " Optimisation pour les médias sociaux ". As its name indicates, it refers tothe set of practices that allow to improve the visibility of a brand or an entity on social networks. In addition to the marketing opportunities it offers, SMO is often part of customer relationship management.
At the beginning, social networks were not considered as tools that could be used in marketing or public relations for a company. But as the number of users started to rise drastically, marketers quickly realized the usefulness of these platforms for businesses.
Today, social networks have improved to the point where they have become almost indispensable to improve the reach of a company and its relationship with its customers. Moreover, the tools they offer make it easy to achieve business goals.
The 7 objectives of SMO
1. Drive traffic to your website
Social networks are traffic acquisition channels and your presence on them helps you to increase your visibility as well as the contact points with your audience. This allows you to generate traffic insofar as users will use the links present on your posts or your profiles to land on your website.
2. Reach potential customers
Social networks increase your reachwhich literally allows you to reach many more people, some of whom may become your future prospects or customers.
3. Improve your e-reputation
On social networks you have an easier time managing your reputation as you can make inputs on what is being said about you and what is being shared. This also means that you can perform three actions simultaneously:
Be on the lookout;

Participate in exchanges;

Act immediately if necessary.
4. Create an active community
Social networks are recognized as platforms where people from different backgrounds have the opportunity to around a common interest. This allows them to give their opinions, share their ideas or simply discuss.
SMO allows you to create this kind of interest that will federate a community around your brand, which is likely to promote the exchange of experience and opinion related to your sector and your business.
5. Add value to your content
With your social accounts, you have the possibility to highlight your blog articles, your products or other elements. However, it is important to adopt the right formats for each channel in order to optimize the results.
6. Acquire backlinks
When another website has a link that points to a page on your website, you have an inbound link or backlink. In SEO, this is a very important criterion for the ranking of web pages in of web pages in search engines.
In fact, the more inbound links you have, the more likely you are to enjoy a good reputation with Internet users and Google. However, you must be careful with the quality of the links since the reputation of the site making a backlink to your site counts a lot.
7. Improve your SEO
SMO is not part of SEO, but it can serve as a complement to the latter. Indeed, a good SMO strategy will have an indirect impact on the authority of your website, especially through the creation of backlinks and traffic that can improve your ranking in search engine results.
How social media optimization works and the rules
Like SEO, the implementation of SMO is done on two levels:
On the website: This involves actions taken directly on the website that include adding social features such as sharing buttons for social networks, community content such as videos and images or links to your social profiles;

Outside the website or on social networks: Community management, promotion and content distribution.
These two aspects of SMO are broken down into 8 different rules for an effective strategy:
1. Create content for sharing
In addition to ensuring the quality of your content in the sense that it must really add value to your audience, it is important to create content that encourages sharing.
Content formats
At this level, it is important to note that visuals are the most appropriate formats for social networks, especially infographics and videos.
Currently, the most shared most shared content format on social networks is nothing else than the infographic. That said, videos have been growing in popularity in recent years. In fact, 85% of the most shared posts on Facebook are videos. In addition, the daily time that Internet users spend on video content has evolved from 14 minutes in 2013 to 67 minutes in 2019which is really huge.
The type of content
According to Promo's study, there are four types of emotions that drive sharing:
Astonishment: Which accounts for 25% ;

Laughter: 17%;

Entertainment: 15%;

Joy: 14%.
With these numbers in mind, you can tailor your content to evoke any of these different emotions in your audience. In fact, a New York Times study found that:
94% carefully consider how the information they share will be useful to the recipient;

68% share to give people a better idea of who they are and what they care about;

73% share information because it helps them keep in touch with others who have the same interests;

59% share information because it makes them feel more involved in the world;

84% share because it is a way to support causes or issues they care about.
These statistics reveal valuable information about the types of content that can get a lot of shares and therefore go viral on the web. Take note and try to include them in your content marketing.
2. Simplify sharing
In addition to creating content that encourages sharing, it is crucial to make the process easy. In other words, make it quick and easy for your audience to share.
Adding sharing buttons is therefore a very good solution, as well as "clicks to tweet" inside your articles. Obviously, these are actions to be performed on your site since on social networks, all these features are already accessible.
3. Rewarding engagement
Engagement in marketing refers to all actions performed by users towards your content. This includes for example:
Comments;

Retweets;

Shares;

Etc..
In SMO, this is a very important issue that you must try to improve in order to qualify your audience. To encourage them to continue and to do more than they already do, it is important to reward them with thank you messages for example.
Try to thank them for reaching a record number of shares or "likes".
4. Use different types of content formats
Don't just limit yourself to one content format, do combinations if possible. This allows you to energize your content and always keep your audience interested. You can also present the same content in different formats in order to distribute them on several platforms.
Moreover, try to know the best times to broadcast your content on social networks. Know that each social network performs better on certain days than others:
Monday: Instagram;

Tuesday: LinkedIn ;

Wednesday: LinkedIn & Tweeter;

Thursday: LinkedIn, Instagram & Facebook;

Friday: Facebook ;

Saturday: Facebook;

Sunday: Facebook.
For hours:
Facebook: 9am, 1pm & 3pm;

Tweeter: 12pm & 5-6pm;

LinkedIn: 7 to 8, 12 & 5pm;

Instagram: 2am, 8 to 9am & 5pm.
Infographic posts (JDN).
5. Be a source of inspiration for Internet users
Just like in SEO, don't expect immediate returns when you start SMO. You must remain consistent in your efforts and provide quality content for your audience.
This way, you will become a real source of a real source of information and a valuable help for your users. Moreover, it is important to encourage the audience to take ownership of your content.
In fact, optimize your content in such a way that they can add their personal touch, their voice or their opinion. They will not only share your content, but they will make it their own. You thus become a source of inspiration in addition to being a source of information.
6. Participate in conversations
Social networks are made for this, so don't hesitate to participate in conversations on topics related to your theme in order to bring your expertise and increase your visibility and credibility.
When your interventions are relevant enough, the users with whom you discuss can go on your pages or your website to know you better. Then, they are likely to talk about you to other people, which only increases your reach.
7. The importance of user generated content
Content creation is quite natural on social networks and you can go further by also promoting co-creation with your audience. Indeed, one-way branding is no longer relevant and you should now focus on User Generated Content or UGC.
It's all about involving your users in thinking about :
An idea ;

A design ;

An image ;

An article ;

A subject ;

Etc..
The advantage is to :
Know your audience better ;

Have original content to feed your channels;

Increase the engagement of your audience and the conversion rate;

Etc..
By the way, consumers are
2.4 times more likely to consider user-generated content or UGC as authentic than content created by the brands themselves. To implement UGC, this guide from Wordstream is likely to help you.
8. Be dynamic
Social networks are dynamic and evolve quickly. You must therefore be on the lookout and quickly detect :
The trends ;

New tools;

Etc..
This allows you to adapt your SMO strategy to potential changes and to be one step ahead of the competition or in the worst case, not to be overtaken.
However, it is important to make sure that this dynamism does not negatively impact your business identity. In other words, maintaining a coherent identity on all your channels is a must. So use special networks as spaces to consolidate your image, your values, or anything that is part of your personality.
9. Use promotional tools
Like SEO, you don't necessarily need to make an investment to implement SMO. That said, you do need to be committed and devote a minimum amount of your time to it in order to get consistent results
SMO is more than just posting on your social accounts the articles you have published on your website. In fact, you need to set aside time to interact with your community and produce content for social networks.
That said, you can optimize your results by making some investments in social networks. You can use ads on: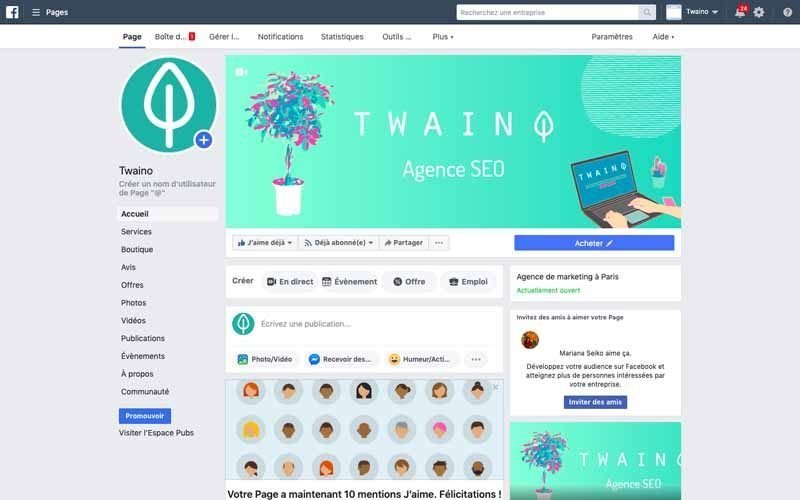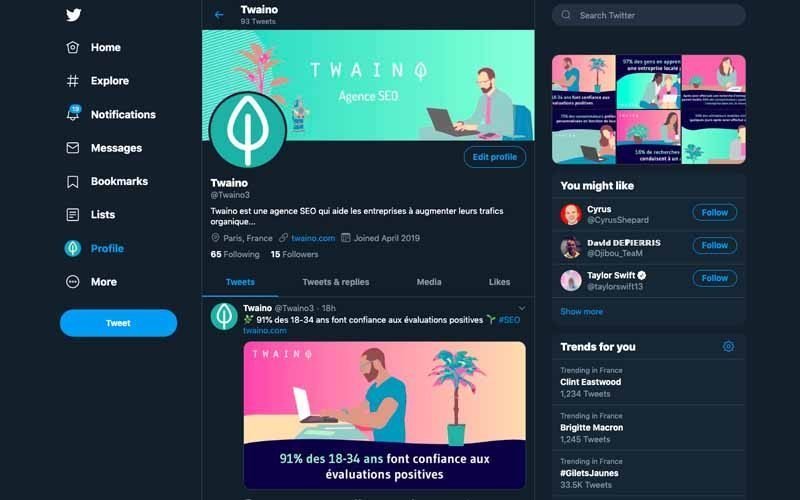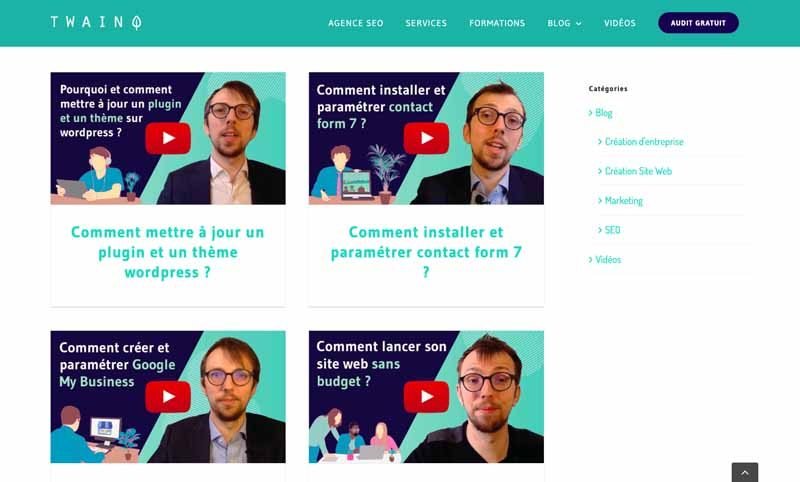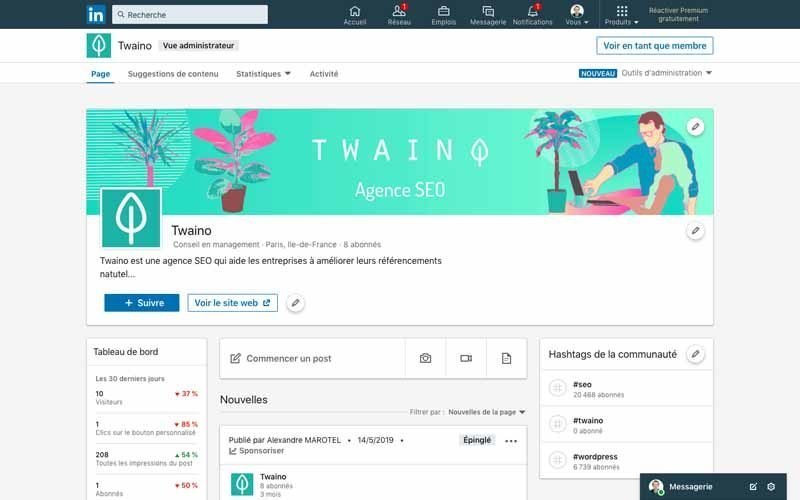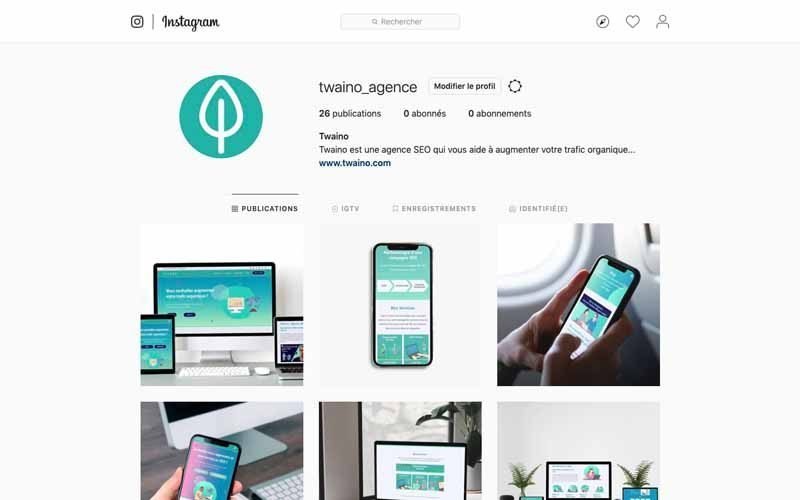 You can consult this resource from Blogdumoderateur which presents a comparison of advertising tools.
The advantages and disadvantages of SMO
The advantages of SMO
Although SMO operates in a different environment than search engines, it also allows you to get visibility and additional traffic to your website;

When your content is sufficiently captivating and shared, you are likely to get backlinks from websites that have taken notice of your content. This improves your website's authority;

You can improve your e-reputation since social networks are considered as direct dialogue spaces;

Your reach can be considerably amplified thanks to your subscribers who act as ambassadors.
The disadvantages of SMO
It is very important to use the right relational codes since the community can positively or negatively impact your e-reputation. In fact, you risk taking a lot of money if there is a bad buzz about you on social networks.

Some sectors have a harder time finding an audience on social networks than others. Industrial production for example will have a hard time getting a large audience. That said, it is possible to proceed with the purchase of advertising space to compensate.
SEM or Search Engine Marketing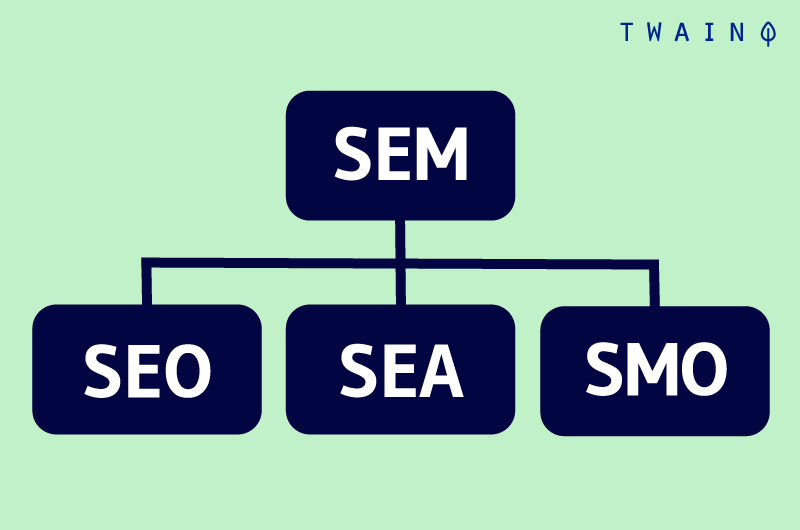 Search Engine Marketing or SEM refers to all the practices and techniques whose implementation aims at generating traffic and visibility from search engines. To this extent, it includes natural referencing, paid referencing and optimization on social networks.
SEM = SEO + SEA + SMO
SEO and SEA are two traffic acquisition levers that have a direct relationship with search engines. This makes them a natural part of SEM. SMO, on the other hand, is mainly based on social networks whose strategies generally revolve around user profiles.
Initially, SMO was not part of SEM, but given the rise of social networks and the fact that they are increasingly used as real engines to search for information, SMO has been added to SEM.
For example, Google now offers content from social networks in its results, such as YouTube videos, which sometimes take first place in its results. Qwant, on the other hand, displays various social feeds in its results.
Conclusion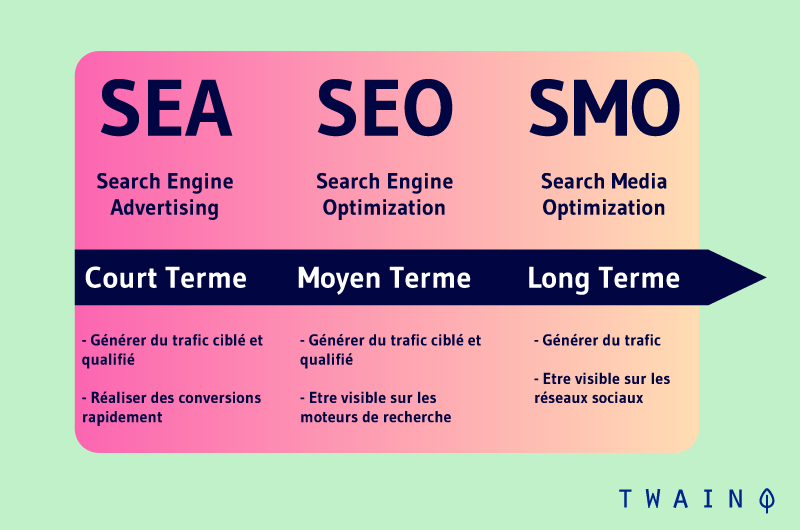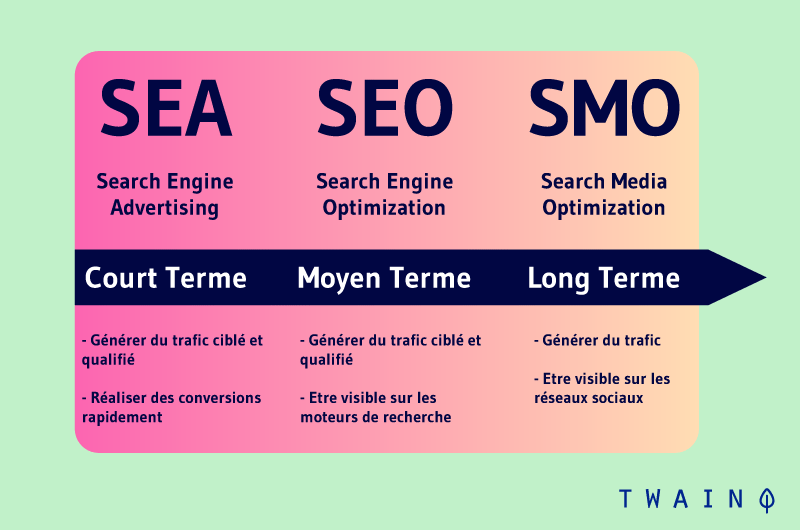 Due to the ever-increasing difficulty of gaining visibility on the web, several tools, techniques and strategies are constantly being developed. This has finally led to the creation of a multitude of technical terms which can sometimes bring confusion. Among these, we distinguish SEO, SEA and SMO which are considered as pillars of online marketing. At their head, there is SEM which has a greater scope since it groups all these three levers together. Now, if you're wondering what to choose between SEO, SEA or SMO, you should know that it's simply ideal to rely on these different media in your visibility acquisition strategy. In fact, the three levers are complementary and if one source of traffic encounters obstacles, it will be compensated by the others. This way, you minimize your dependence on a single approach and significantly reduce the risks of losing visibility. Ideally, it is much wiser to make your decisions based on your objectives and especially your situation in terms of time and money