Wouldn't it be great if you had the possibility tolive only from the income of your blog? Certainly yes! But only, the web is full of more than 1.6 billion websites including more than 500 million blogs. With such a quantity, it is difficult to get visibility quickly and therefore to develop your business. However, be reassured that something "difficult" is not necessarily "impossible" and if you want to monetize your blog you can do it. In fact, there are many methods you can use to achieve your goals. To do this, you must adopt anentrepreneurial posture and take certain actions that will guarantee the success of your blog.
These are the points that we will deal with throughout this article in order to effectively monetize a blog.
Monetize your blog
Today, I present you the different ways to monetize your blog
Find in this presentation the levers of monetization of your blog:
What is blog monetization?
A blog is simply a web page on which you regularly publish and update content. It mainly allows you to create an authentic link with an audienceit allows you to have a much more personal approach than other types of publication.
Several reasons can lead to the creation of a blog:
Sharing information, opinions or experiences;

Developing a personal brand;

Building a community;

Etc..
These different reasons can make blogging a very lucrative activityespecially when your audience trusts you and starts consuming your content. However, the results are rarely obtained immediatelyhowever, the results are rarely immediate, which makes it a big challenge. For that, you need to show a real commitment to make it a real source of income.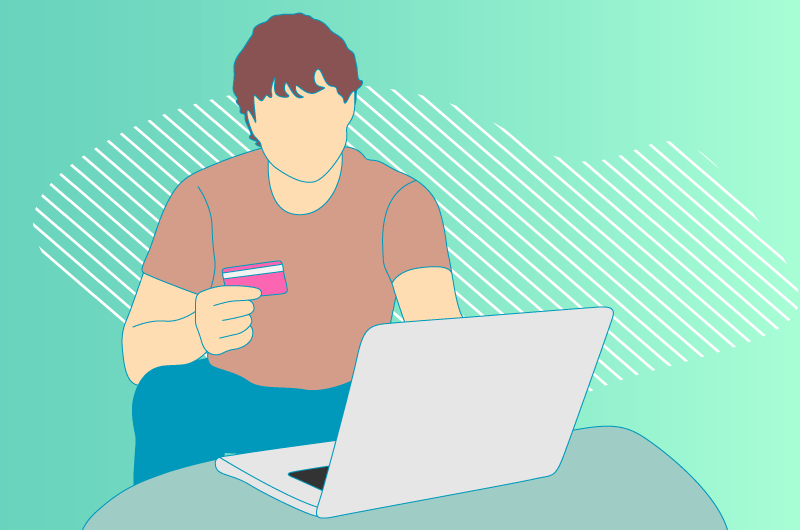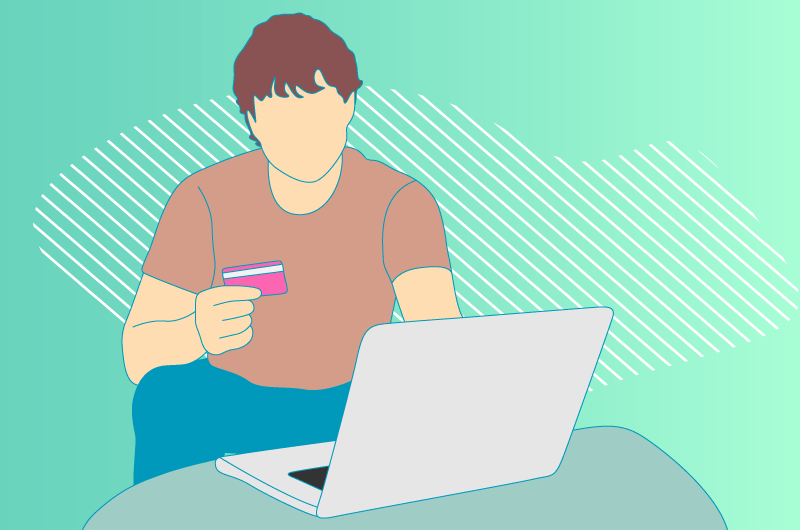 Establish a business plan for the monetization of your blog
To ensure the monetization of your blog, you must behave exactly like an entrepreneur. Therefore, you can first establish a business plan before moving on to the actual monetization phase.
The points I strongly recommend you to consider are:
Defining the basics for monetizing the blog;

Developing a blog growth strategy;

Choosing the best monetization method.
These three different points bring together a number of factors that are important to factors that are important to consider if you really if you really want to make your blog a real source of income.
Defining the basics for blog monetization
Defining the basics for monetizing your blog means clearly establishing your objectives, your skills, your target. This step contributes greatly to the choice of the ideal monetization method as well as the best strategy to improve your visibility.
Have a clear objective
If there is one step that should not be neglected, it is this one. You need to know where you are going in order to be as efficient as possible. To do this, I invite you to answer questions such as :
What is the monthly income you want to achieve?

What is the time and effort you plan to put into it?

How long do you want to achieve this goal?
Devoting only a few hours a week to your blog and then expecting to earn enough to live on is not really obvious. For this reason, be reasonable and set goals that you can reach. Moreover, you don't need to define everything precisely, I advise you to go by trial and error.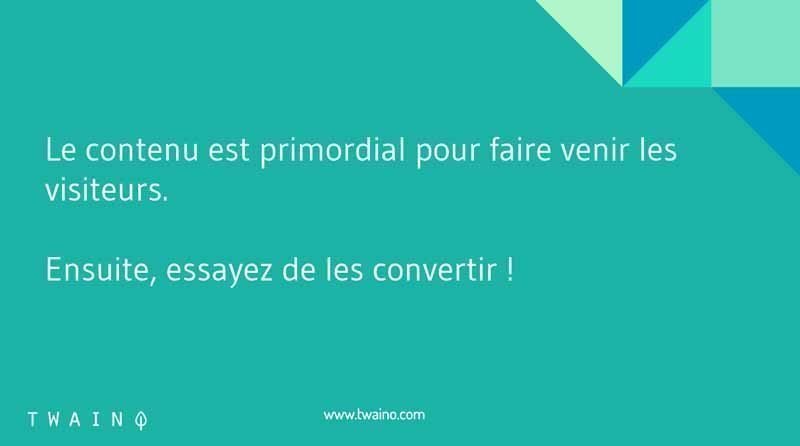 For example, you can decide to make your blog a secondary source of income and devote only a few hours a day to it. This does not require too much effort and allows you to be "relaxed".
Determine your strengths and skills
After having clearly defined your objective and everything that goes with it, the identification of your strengths and skills will also contribute to the choice of the ideal monetization method.
At this level, determine the area in which you excel and that you can use to run a blog. I strongly urge you to avoid areas where you don't have the skills yet. You risk wasting a lot of time and not being effective or reliable with your audience.
Moreover, these are not necessarily the classic areas of activity, but for example skills such as:
Building a community;

Influencing or inspiring people to take certain actions;

Simplifying processes;

Creating or designing good visuals: images, videos, illustrations..

Etc..
You can be competent at different levels, the most important thing is to identify the elements that will help you monetize your blog in a concrete way. Don't forget also to identify precisely what you like and what you don't like to do. If you are not passionate about an activity, it is not worth choosing it because it will end up making you unhappy.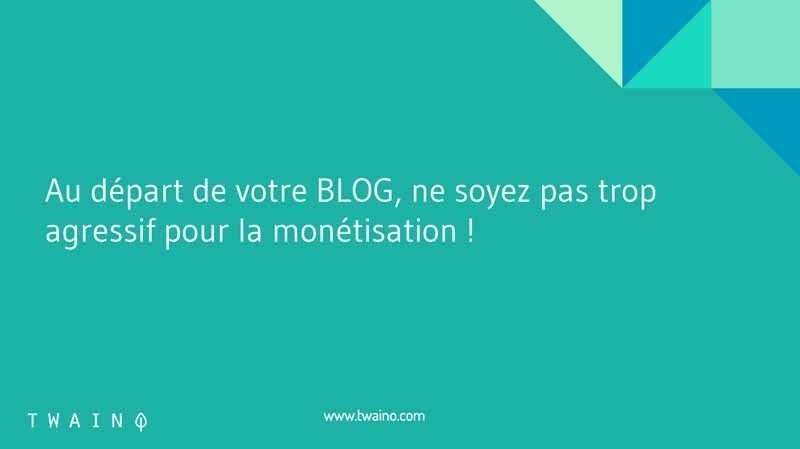 For example, ask yourself if you like :
Social networking ;

Writing articles;

Managing stocks;

Etc..
Fortunately, you should know that even if you don't like certain things that seem essential, you can entrust them to other people who have made them their passion.
Define your target or know your audience
If you already have an active blog, it is now time to know why people come to see your content your content. But in case you haven't created your blog yet, it is essential to target a category of people.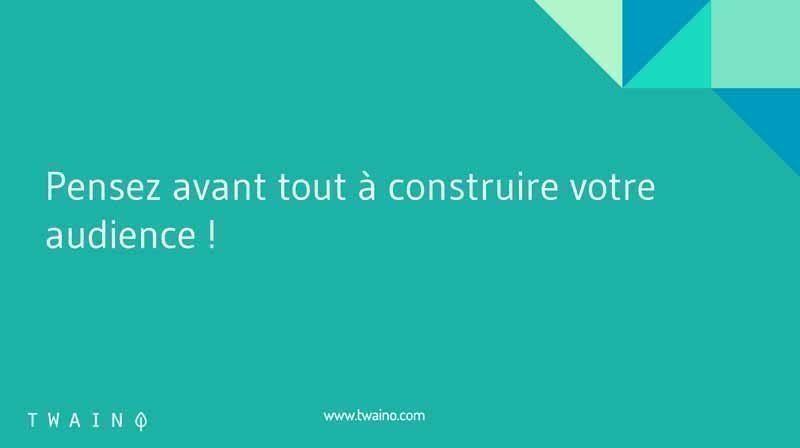 To do this, you need to answer questions such as:
Who you are addressing: their age, their sex, their place of origin… ;

What do they expect from you: inspiration, information, your opinion

How do you differ from others or from your competitors?
For example, most of my readers are people who want to create a business and have much more visibility on the internet. So I propose these types of content starting from the basics of creating a businessthrough the creating a website or blog and the implementation of a good strategy to significantly improve its visibility. Understanding your audience and trying to meet their needs is the best way to effectively monetize a blog.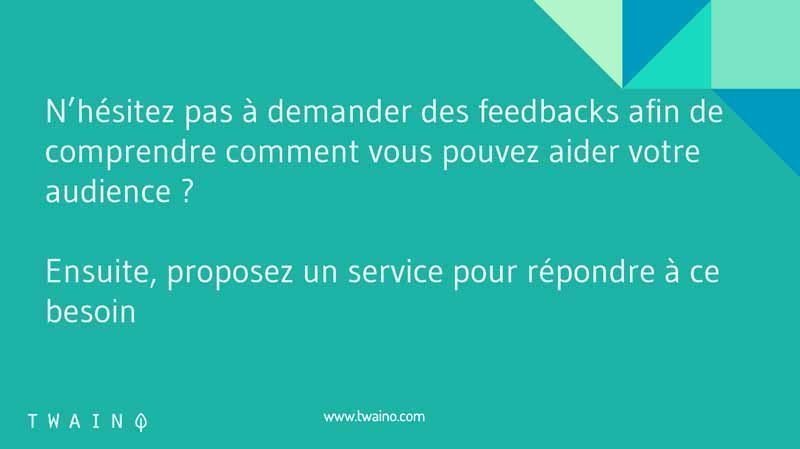 Evaluate the potential of your blog
The influence and visibility of your blog will determine the level of income you can achieve. To do this, it is important toevaluate approximately what your blog will become in the short, medium and long term.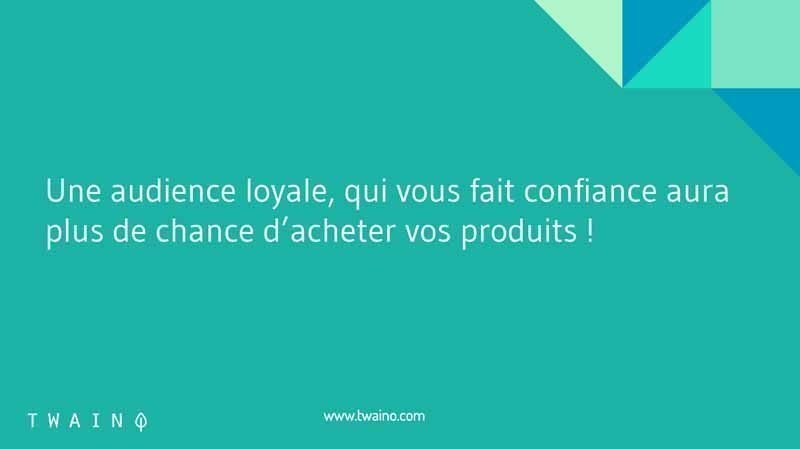 Several questions will be part of your analysis:
Your level of influence: Can be evaluated by considering the amount of your traffic, the average time on your pages, the size of your niche ..

Your community engagement: The number of comments and shares on your site, the number of subscribers and reactions on social networks..

Your natural referencing: The position you occupy in search engines;

Etc..
To correctly perform these analyses, you have very powerful tools such as Google Analytics and Google Search Console that will certainly help you. Find this article which introduces you to these two free devices offered by Google.
By considering these different points, you can easily choose the monetization option that will suit you the most and in which you are likely to excel. But in case you can't answer most of the above questions, I recommend you to take some more time to clarify everything.
Otherwise, you may not be able to monetize your blog in the best way. In the same logic, there are a few actions to put in place.
Develop a growth strategy
For gain momentum and reach your goals much fasteri invite you to establish a good growth strategy.
Set up a content strategy
The role of a blog is above all to pass on certain information to your audience, usually in the form of articles. But, you can opt for other types of content, namely:
Infographics ;

Videos;

Content for social networks;

Product pages;

Etc..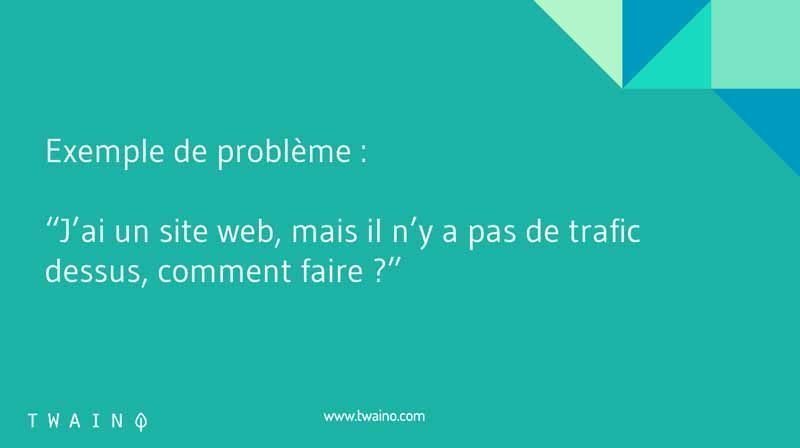 Obviously you can combine these different media, but whatever your choice, you must remain consistent in the creation of content for your blog. Otherwise, you risk not retaining your audience and therefore, greatly compromise your source of income. This is a very crucial point and I recommend you to consult my article which covers the whole subject.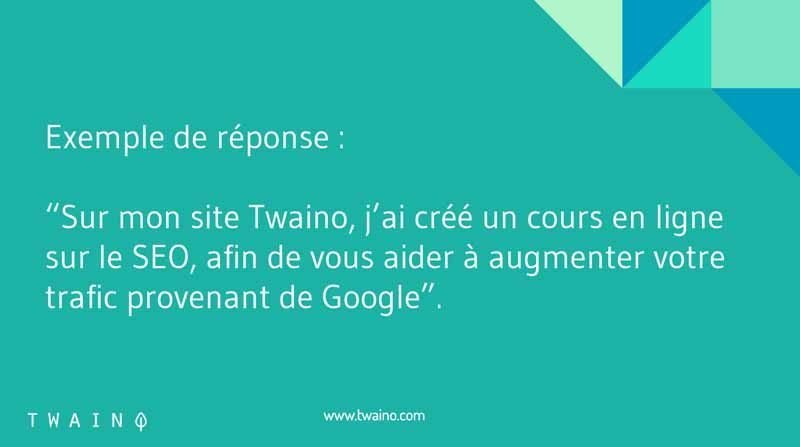 Collect emails as soon as possible
In web marketing, there is the expression " the money is in the list
" and it is obviously about the email list. Indeed, each new subscriber can be easily contacted by email, which makes him a customer and therefore a potential source of income.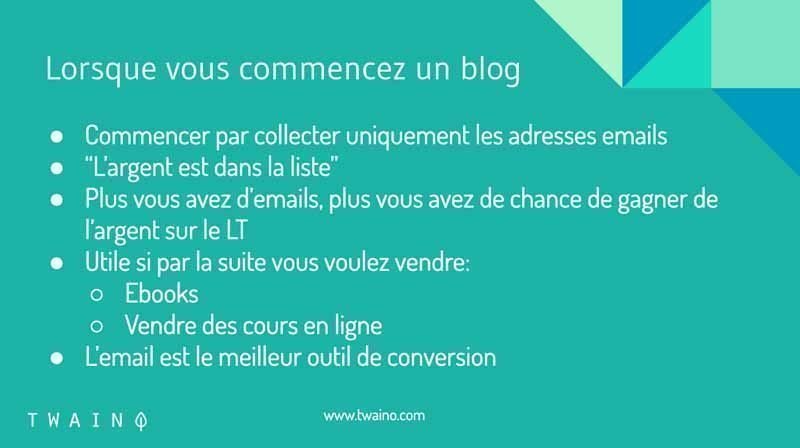 By the way, 60% of marketers from various fields affirm that email marketing allows to have a good return on investment. For this, it is priority to build a list of emails whatever your theme or your platform.
In order to build this list, you have the choice between several methods including :
The use of forms: subscription, contact, feedback..

The implementation of a free tool on your site that can only be used in exchange for an email;

Offering a free ebook in exchange for an email;

Setting up promotional campaigns;

Etc.
Also keep in mind that theregistration process must be simple and fastif not your readers will not sign up. Moreover, make sure to explicitly and really highlight links or calls to action links or calls to action that lead to your email collection tool.
In addition, you can use marketing tools such as Mailchimp which offers you the possibility to send free emails to up to 2000 subscribers Opt for a good SEO strategy
According to vendastaaccording to vendasta, 93% of online experiences start with a search engine, hence the importance of establishing a good SEO strategy. Especially since 75% of users
never scroll to the first page of search results.
This means that if you are not in the the first places of the search results according to the theme of your website, you will not have a good organic traffic. This can have a huge impact on the performance of your blog or website.
Since there are many aspects to consider in this regard, I invite you to consult my articles on SEO
. However, the best solution that I recommend if you are still a novice, you do not have time and you want to have effective results, is to use a professional who will to make your pages go up in the search results.
There is also another very effective alternative Get trained ! Indeed, it is the best way to have full management of your blog because you know better than anyone where you want to go. So don't hesitate to take advantage of my practical online training which will give you all the keys to optimize your blog efficiently.
Note that this is a flexible training with different modules and a schedule adapted with your needs.
Have a social marketing strategy
For orbitmediasocial networks remain the most popular way for 96% of bloggers to drive traffic to their posts. Note that this is not the share of social networks compared to other traffic sources, but only the portion of bloggers who say they use them
And while the approach of having several social accounts may seem interesting, it is often complex and inefficient. For this reason, focus on only on the channels your audience prefers. An analysis may sometimes be necessary to know these channels, do not deprive yourself of doing so, since you have everything to gain.
On the other hand, don't forget to to take advantage of your personal network through your relatives and your immediate entourage which can be an excellent audience.
The best methods to monetize your blog
After taking into account the different factors that have been listed so far, you can now select and implement the ideal monetization method. There are several and you can obviously test several and see what seems to be the most profitable.
1) Affiliate marketing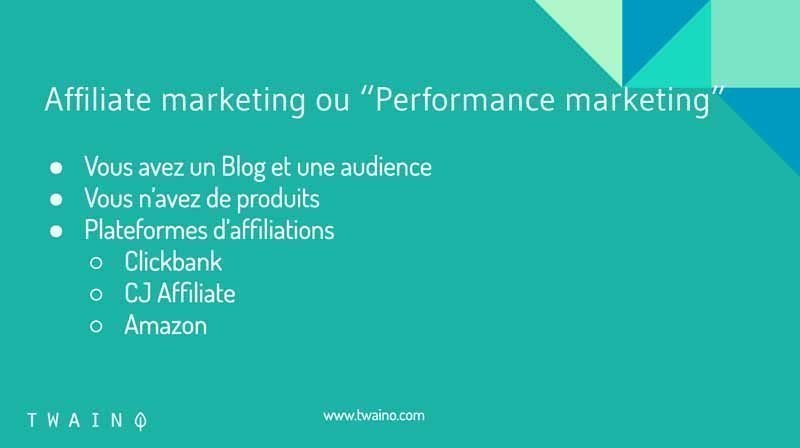 Affiliate marketing is one of the most common methods to monetize a blog or a website. Indeed, its principle is quite simple, its principle is quite simplethis makes it one of the fastest ways to earn money.
To do affiliation, you must find a product that you are able to recommend and that you like. Once you have chosen it, the next step is nothing less than promoting it to your audience by including its link in your content.
In case some of your loyal readers and visitors are interested in the product in question, they will click on your affiliate link, you will receive a commission on the sale price. This is often low for physical products as opposed to electronic products such as ebooks which offer up to 70%.
For example, if an e-book costs 10 euros and is sold through your link, you will pocket 7 euros if the commission is 70%. If you are looking for products to promote, you can go to :
2) Sell your own digital product
Instead of doing affiliate marketing with other people's products, you can sell your own products. The easiest way is to create digital products such as an ebook, so you don't have to deal with inventory and shipping issues.
This approach is quite simple and allows you to get paid directly from your website. But in reality, it is a very complex methodespecially with :
The creation of a good product ;

The formatting and design;

Setting up a payment method;

The management of taxes;

Shipping and inventory management, especially for physical products.
In addition to these points, you must take care to design compelling landing pages so that your conversion rate is high.
3) Pay Per Click Advertising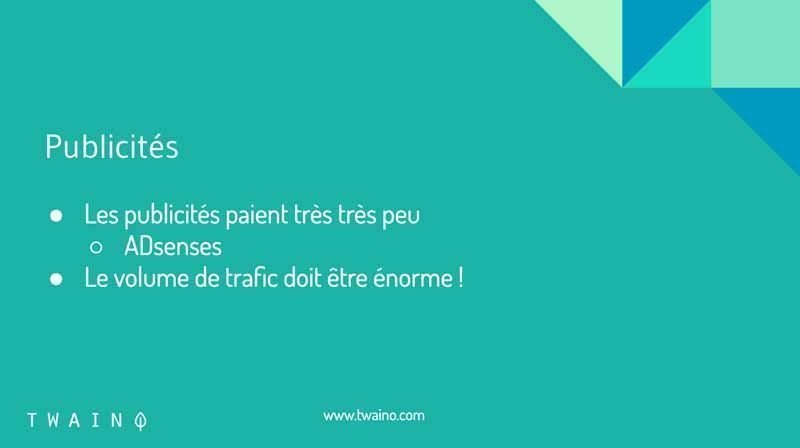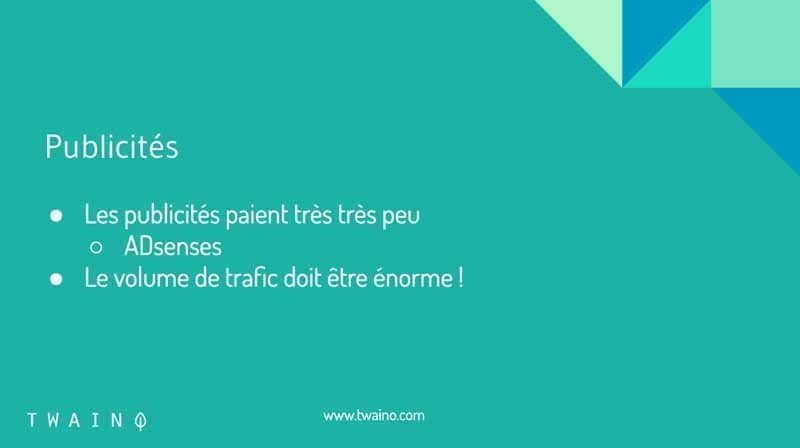 Another way to get income with a blog is through advertising with for example Google Adsense. Indeed, the firm offers several types of advertising, but it is this one that can allow you to have regular income when you subscribe to the service
The principle is very simple, a code will be installed on your site so that the ads that will be displayed on your blog are relevant to your theme.
So don't worry, you won't see travel ads scrolling on your blog if your theme is only pets. As far as payment is concerned, it is only made according to the number of clicks.
I don't recommend this method, especially if you have just started your blog because the rates are quite low. On the other hand, it becomes very interesting when you have several hundreds of thousands or millions of visits per month. Nevertheless, don't forget to respect the strict rules of Google if you want to take advantage of this service.
4) Accepting donations
This method is particularly effective when you have a very engaged community. To this extent, you can accept donations, even if you don't have a very large volume of traffic.
You may not be able to make a living from it, but you will be able to cover some expenses, and this only if your audience likes what you offer.
To accept them you can use the solutions offered by systems like PayPal. Indeed, this one offers small buttons that are very easy to configure.
5) Sell advertising space
Another way to earn income through online advertising is to sell advertising space directly to companies. In fact, all you have to do is offer a price for the advertising space you are willing to that you are willing to dedicate on your blog.
As for Google Adsense, I don't advise you to use this method when you are just starting your blog. Indeed, it is also based on the volume of traffic you have that you have and if you don't have a large amount, you will not have much.
On the other hand, if you have hundreds of thousands or millions of visitors per month, you can set a monthly amount that can even reach €5,000. If you are looking for platforms on which to sell your ad space, there are AdvertiseSpace which is a good alternative.
6) Accept sponsored articles
Instead of ads, 70% of consumers prefer to learn about a company from a blog, which leads many brands to seek many brands to look for blogs that will that will feature sponsored content. Sponsored articles or native ads work very well when the topics are relevant to your business.
Like the other methods, your depends on the amount of traffic your blog is able to that your blog is able to attract as well as the influence you have on your audience. However, it is very important not to treat a sponsored content that deals with another topic than what your readers are used to, in order not to lose them.
Also, note that there are certain rules that govern this monetization method. So always make sure to clearly indicate that it is a sponsored content at the risk of incurring a criminal penalty. Google also requires the use of nofollow" links
that you are required to respect, otherwise the firm could punish you if it finds that you do not use them.
7) Resell your websites
After creating your website, you are able to sell it even after you have used it for several years. For example, if your website earns approximately $10,000 monthly, perhaps including the sale of advertising space, you may be able to sell it for $100,000 to $200,000, or 10 to 20 months of revenue.
There are several platforms that allow you to sell your website. These include:
After having created a blog, it is quite normal to think about to make it a source of income. In fact, there are many ways to do this and there are bloggers who excel in each of them. And when you see how much money some people make every month, it's tempting to start your own blog. Unfortunately, this rush can result in failureespecially when you don't take the time to develop the right strategies according to your goals. For this, I invite you to behave exactly like an entrepreneur and to establish a clear and precise business plan. This will allow you to select the monetization method that suits you and your audience perfectly. Performance also requires training, and I recommend that you learn regularly in marketing and SEO for example in order to improve your performance in the long term.
Conclusion
See you soon for another article!