Let's face it, yourself in the first results of search engines is difficult, especially when you have just started your business for a short time. And yet, this is a factor when you want to have good visibility, especially since 93% of online experiences begin with search engines. It is therefore crucial to familiarize yourself with Google's expectations in order to generate as much traffic as possible to your website and thus improve your income. A good strategy to improve your SEO becomes a valuable axis for the development of your website. This is materialized by all the practices and methods that can allow you to do it, and that's often when we talk about SEO. But besides SEO, what is it exactly? ? Why is it so important? What strategies should be put in place to optimize its referencing? These are some of the questions that the statistics gathered in this article will help you to elucidate. 
SEO in Numbers
What is SEO?
While waiting to write a complete article on SEO and the tips to use to significantly improve your natural referencing, let's first go through the simple definition of SEO.
Indeed, Search Engine Optimization or SEO is theaction of influencing the online visibility of a website in the free results of a search engine. The principle is to increase the organic traffic of a website or a web page by using several levers and techniques.
Keep in mind that SEO has become a necessary skill for anyone working online who wants to grow their sites' visibility. If you are a novice or want to improve your skills, it would be interesting to consider these two options:
Take a training course : In order to then apply your knowledge in your business. This is the cheapest option but the longest in time invested. The advantage is that you will be able to control your project and the objectives to be achieved better than anyone else;
Calling on a professional : Allows you to have immediate expertise for your website in order to significantly improve its referencing.
These are two relevant alternatives and you can choose either one depending on your needs. With that, let's move on to the numbers that won't leave you indifferent when it comes to building a good SEO strategy.
6 Important Stats You Should Know
Of the many stats, here are a few that I think are particularly important. Note that this is obviously a personal choice and that I give much more detail as well as the sources of each of them in the rest of the article:
93% of online experiences start with a search engine ;
Search engines drive 300% more traffic to content sites than social media;
82% of marketers see an increase in SEO effectiveness;
46% of all Google searches are local;
21% of users access more than one search result;
By 2020, more than 50% of searches will be based on voice and image.
General statistics on search engines
Google largely dominates the world market as far as search engines are concerned and for this reason it is the tool on which SEO specialists rely the most to do their analysis.
1) 80% of Google users ignore its ads (Source: SEO Round Table)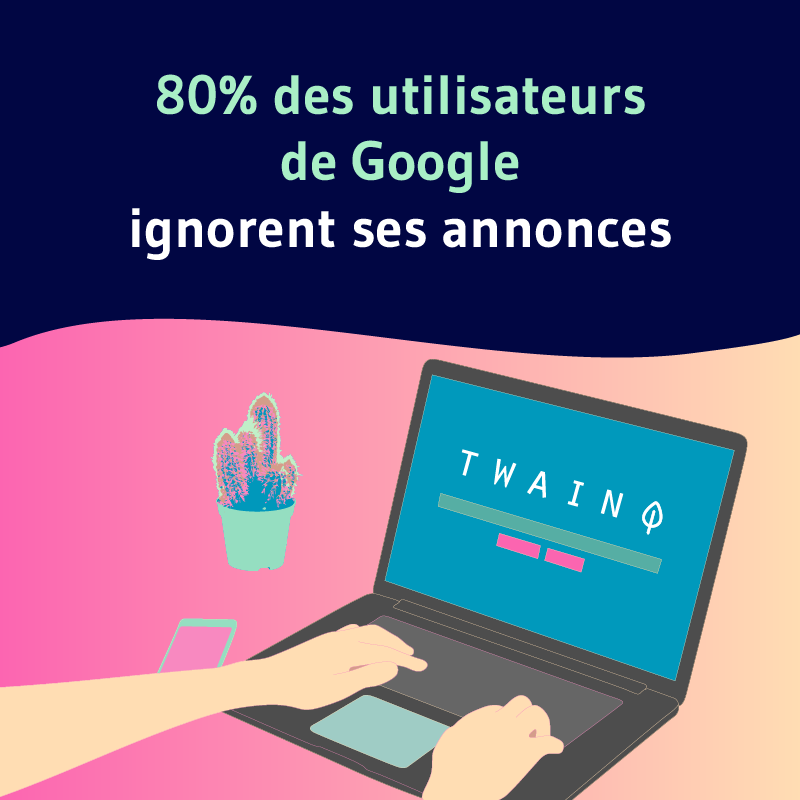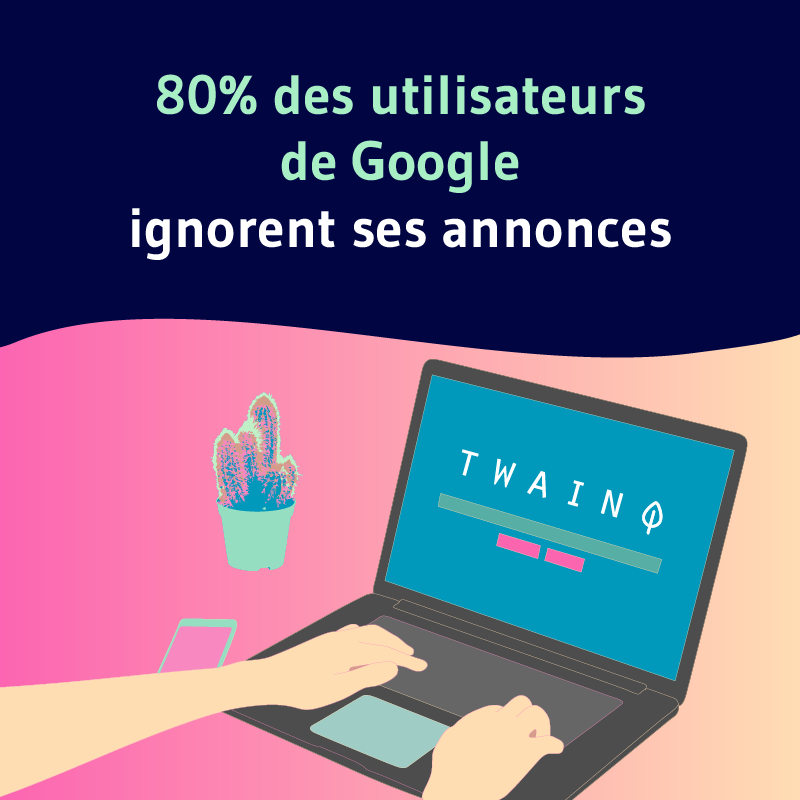 Google keeps emphasizing that its ads have an impact. However, four out of five people ignore its announcements. It therefore appears that it is more beneficial to invest in the development of your organic results rather than in Google advertisements. It's the organic search that's the most important thing here.
2) A 40% drop in internet traffic was seen when Google went down (Source: CNET)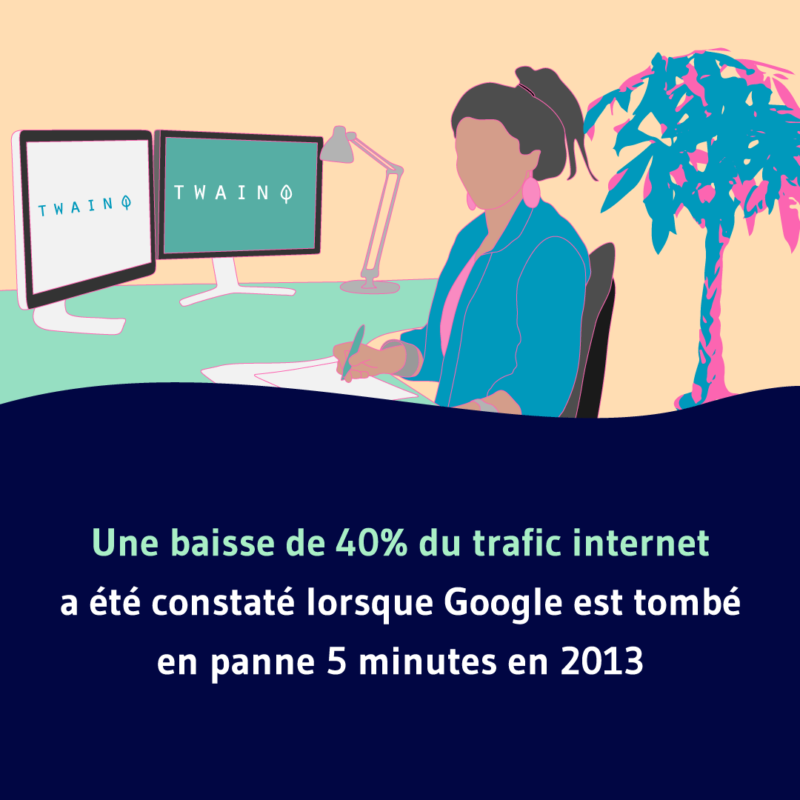 In 2013, Google experienced an outage that lasted less than five minutes, but its impact was very significant. Indeed, there has been a 40% drop in internet traffic worldwide, so we can understand how important this search engine is, particularly in its role of directing us to other websites.
3) 93% of online experiences start with a search engine (Source: SEJ)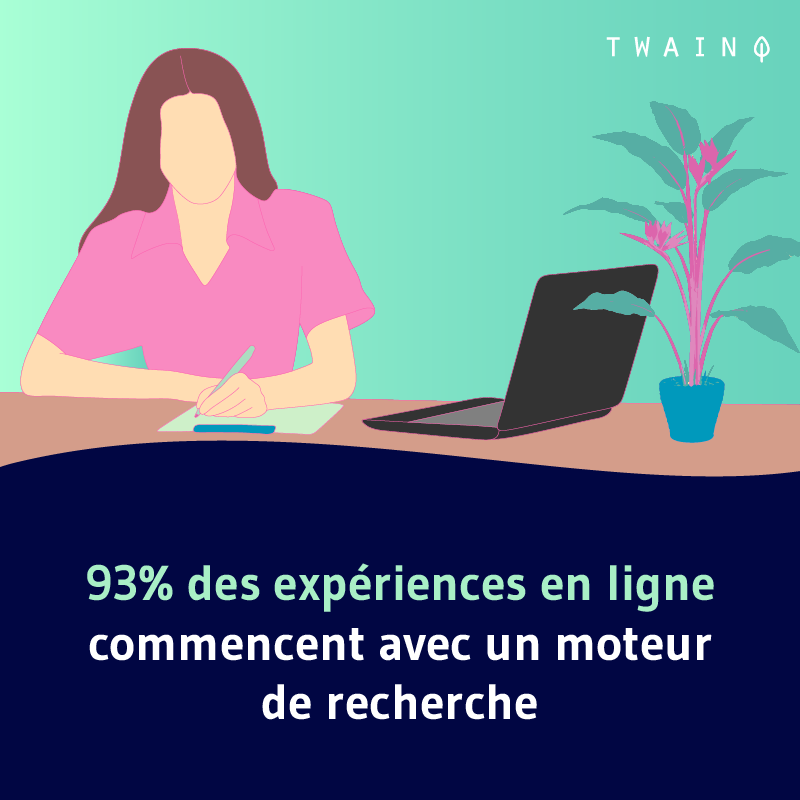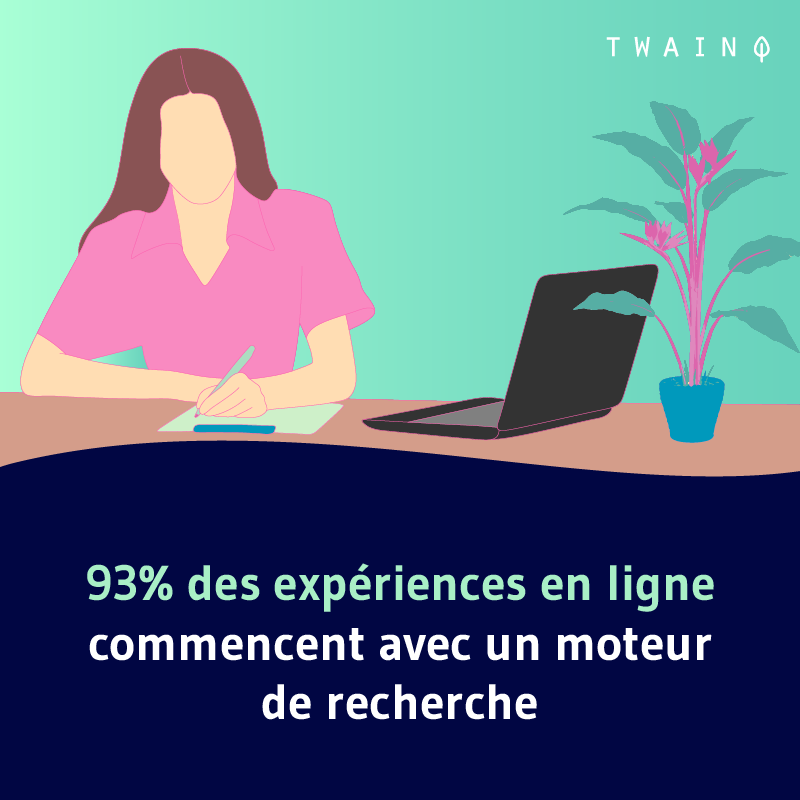 Another factor that goes in favor of investing in a good SEO strategy is the fact that 93% of all website visits start with a search engine.
Getting your page to rank in the top results of the relevance list, for a given search term, can be more beneficial and useful than any form of advertising.
4) 21% of users view more than one search result (Source: MoZ)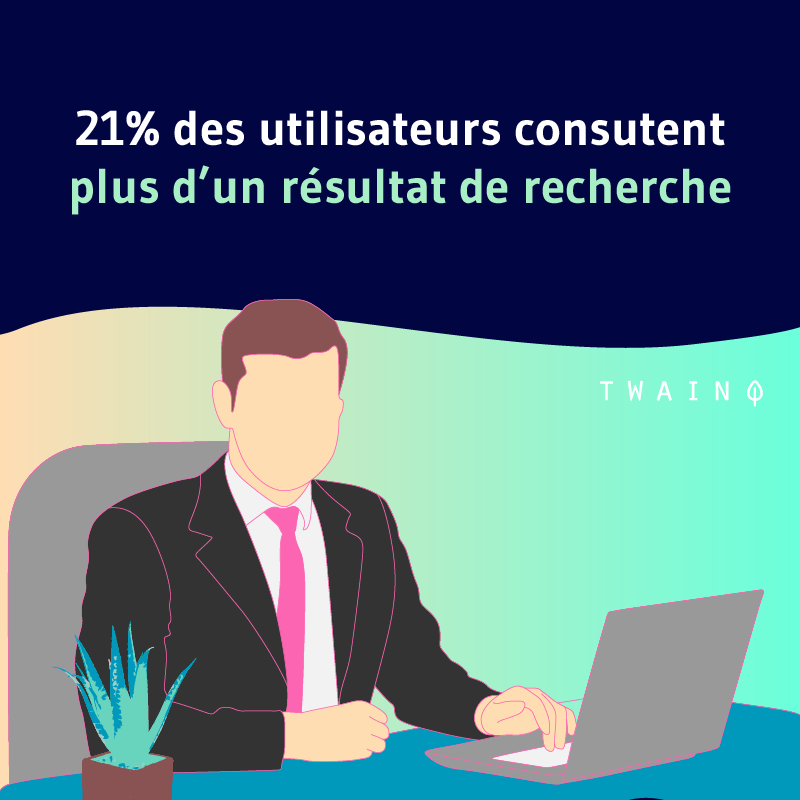 This figure means that one in five users clicks on several results for multiple reasons, of course. For example, because the visitor did not get the information he was looking for on the first link or because he is trying to verify the information present on several pages.
At this level, it is easy to understand that even if you are not in the first place, you can generate traffic on your
website. Especially since pages that rank lower can also get a lot of visitors.
Indeed, factors such as the appearance or aesthetics of a website are very important to some Internet users and they do not hesitate to click on other results to find the website that visually appeals to them.
5) Google accounted for over 73% of all desktop searches in 2018 (Source: Net Marketshare)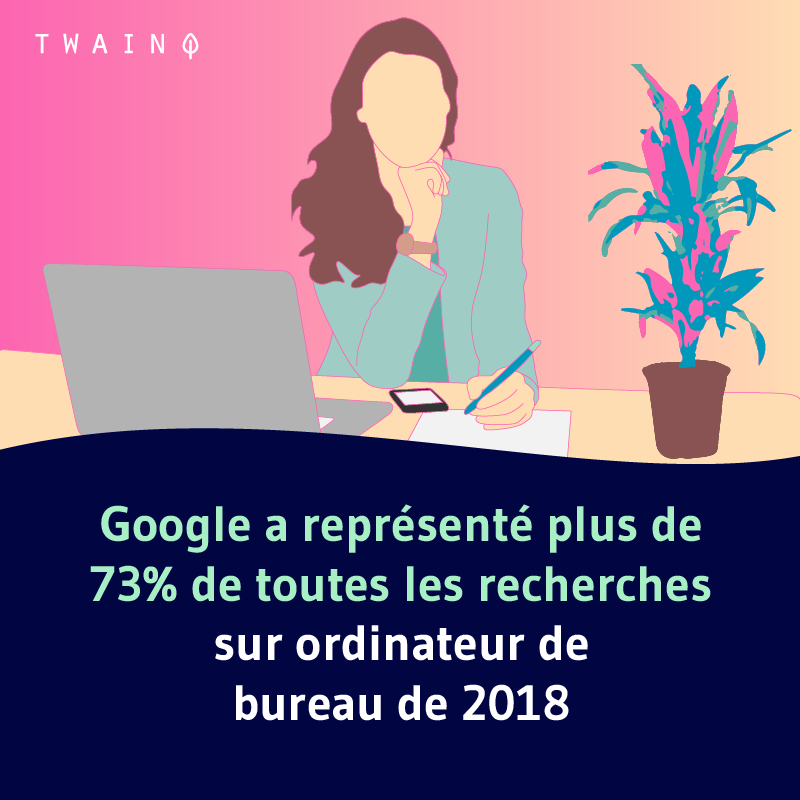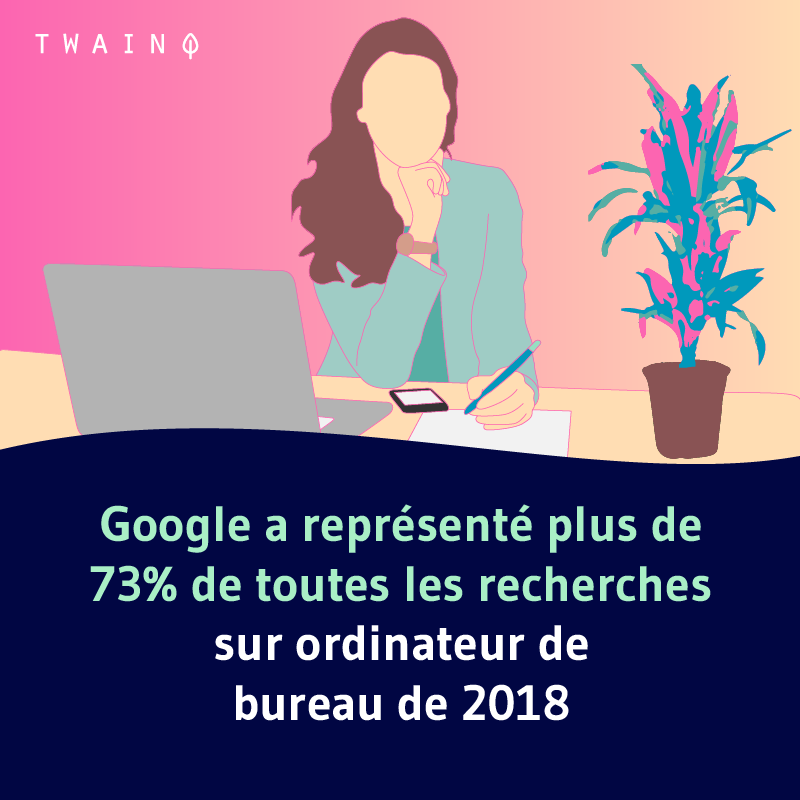 From January to December 2018, Google search engine has a 73.28% share of all desktop and laptop searches. It further confirms its popularity in the world compared to other platforms.
Moreover, the most popular search engine in China, Baidu, ranks second in the ranking with a share of 13.19%.
In third place is Microsoft-owned and operated search engine Bing with a 7.85% share.
6) 96% of mobile search traffic is through Google (Source: HubSpot)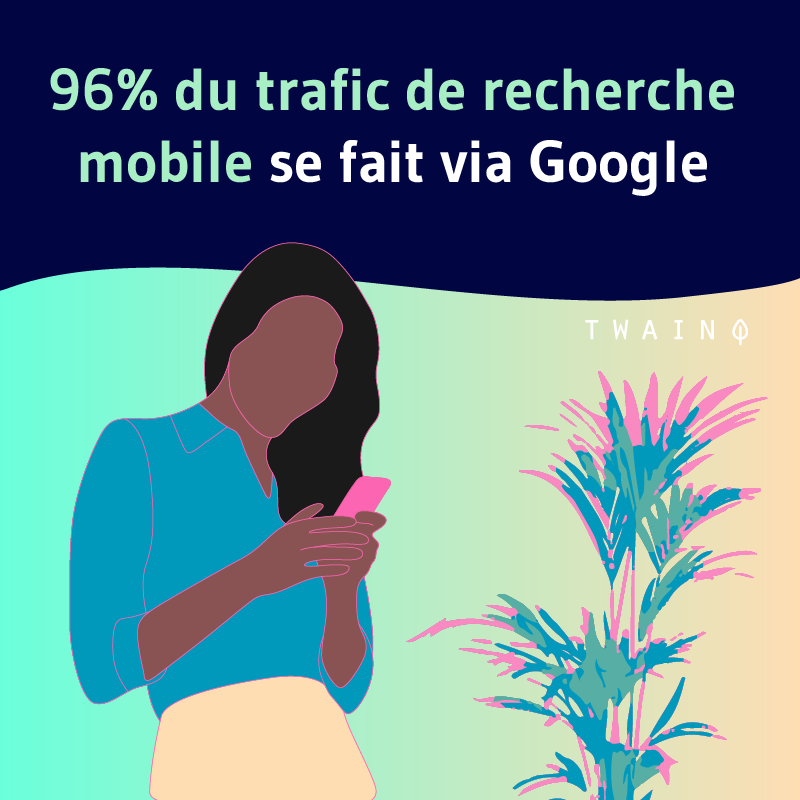 Mobile SEO stats show that searching using Google is even more prominent among smartphone users. While Google has a 90% share of mobile searches, the Bing engine is in second place.
7) Search engines drive 300% more traffic to content sites than social media (Source: Ironpaper)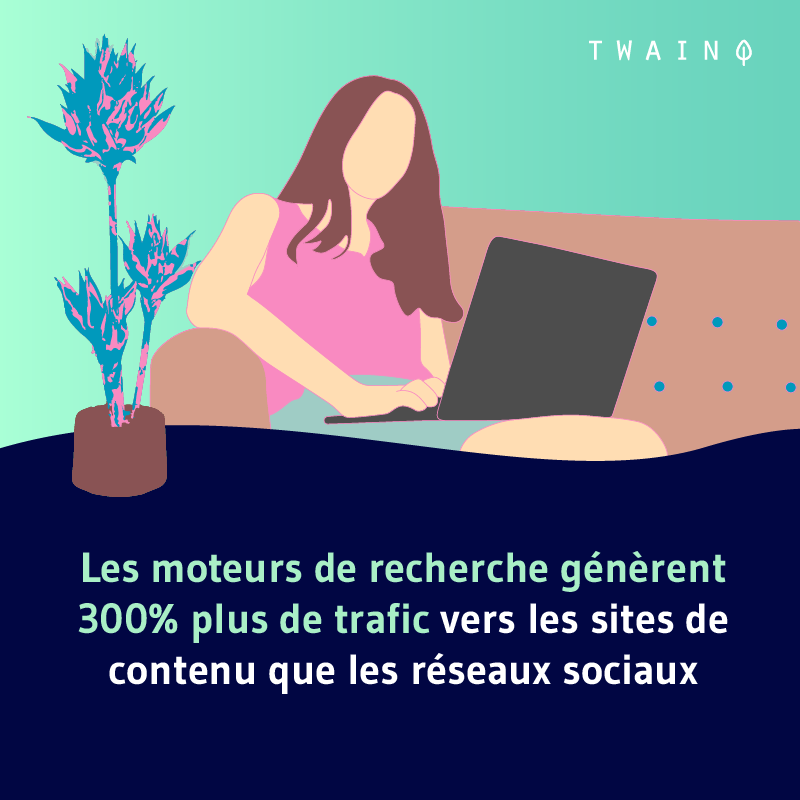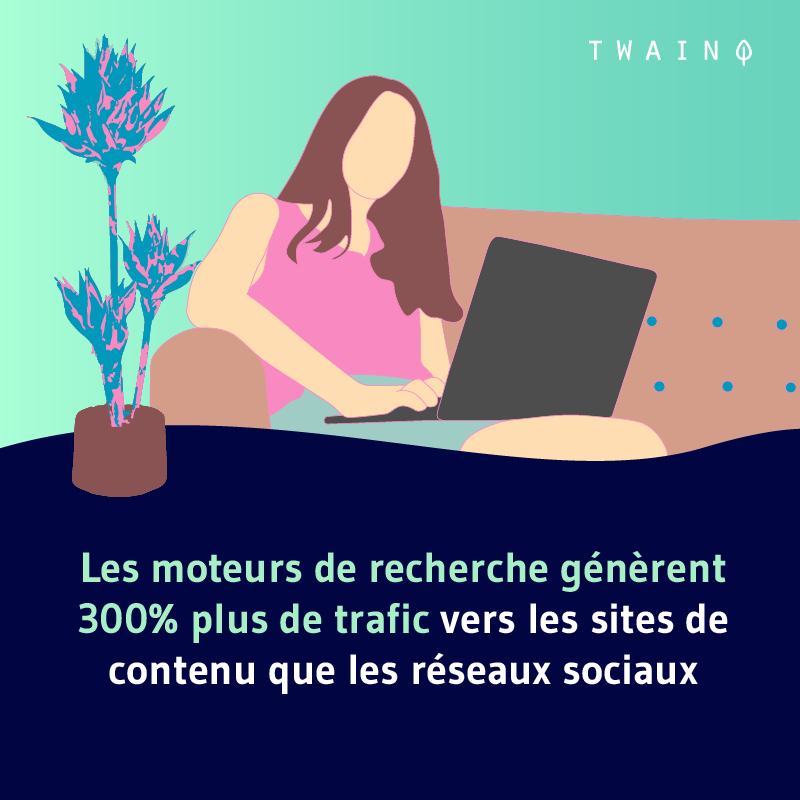 Although social networks are considered the main communication channel for Internet users, search engines beat them on one point. Indeed, they drive up to 300% more traffic to websites than social media.
This is another element that goes in favor of the importance of optimizing your content for search engines.
8) 60% of users click on one of the top three search results (Source: SEJ)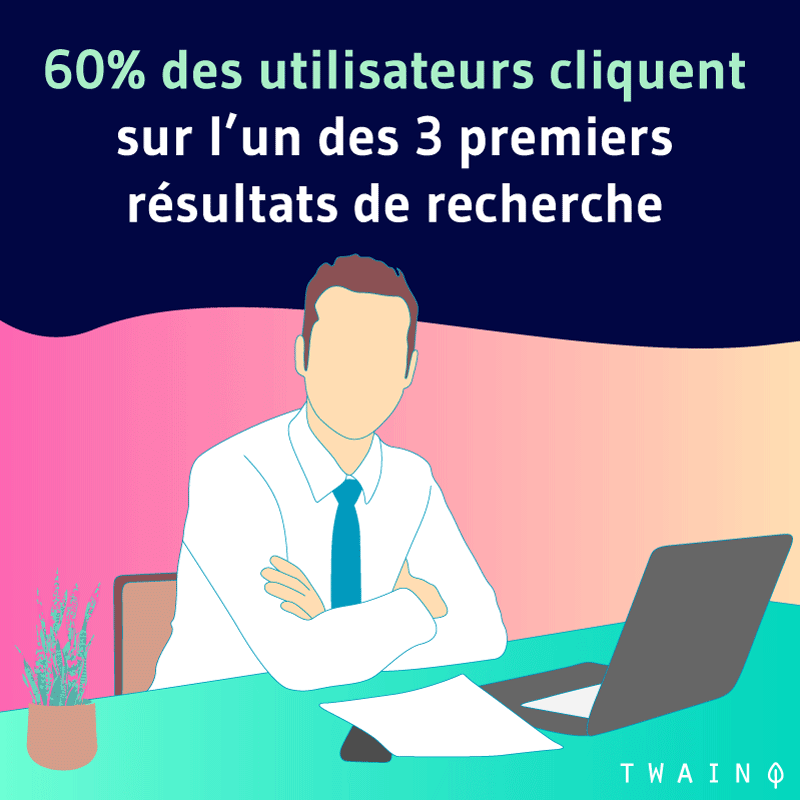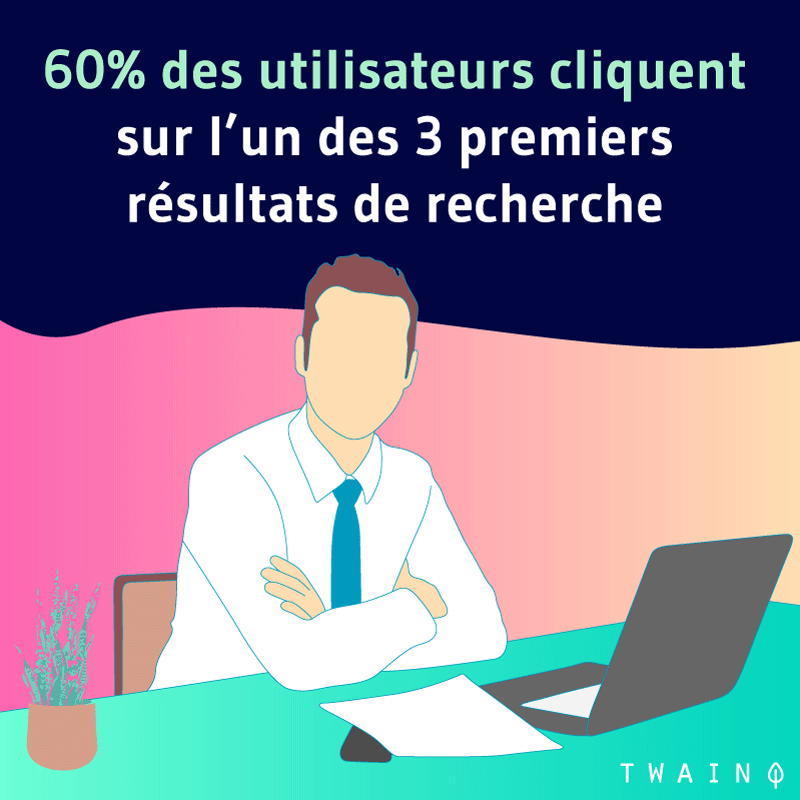 After performing a search on a given theme, 60% of users click on one of the first three results, which indicates that if you are part of this ranking, you increase your chances of having more traffic.
9) The first result was clicked on in 23.5% of searches carried out in 2017 (Source: WiredSEO)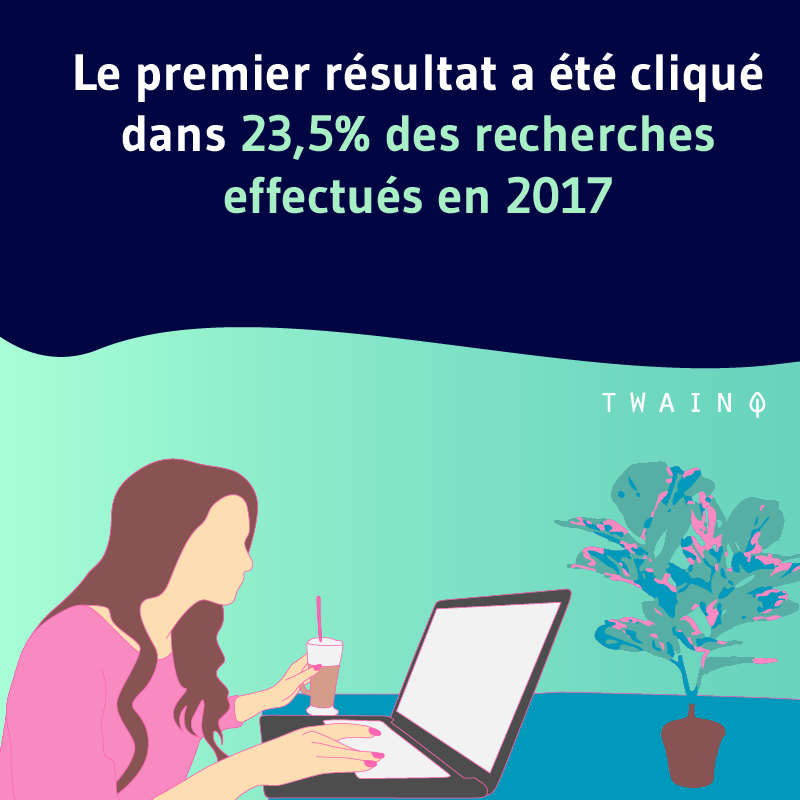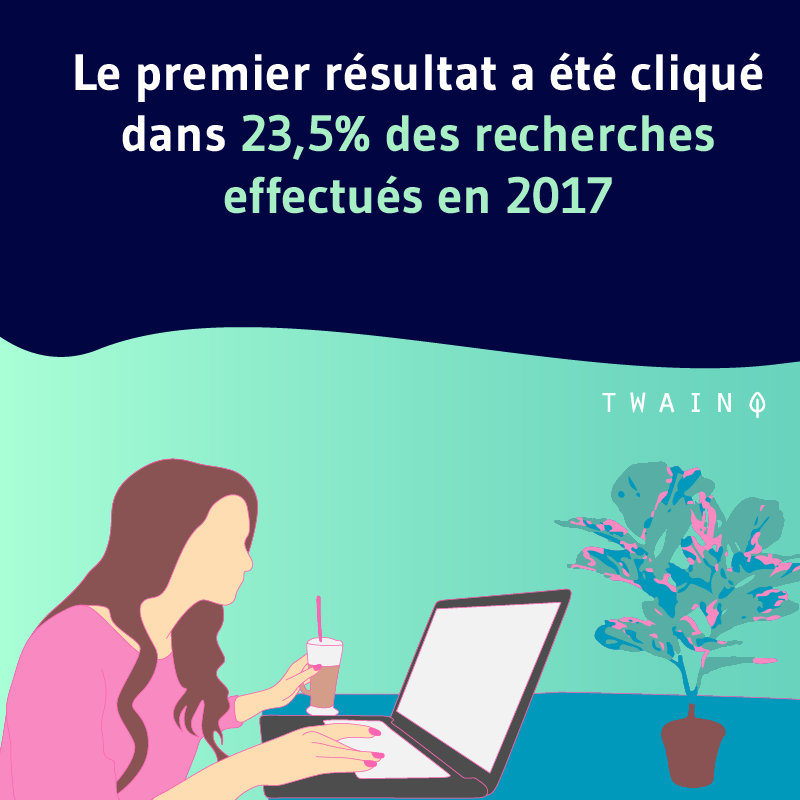 SEO statistics show a drop in clicks on the first search result since in 2015, the rate was 28.6% while in 2017, it was 23.5%. Being at the first position in search results remains an essential element to generate traffic on your website.
10) Only 7% of users will go to the third page of search results (Source: Omnicore)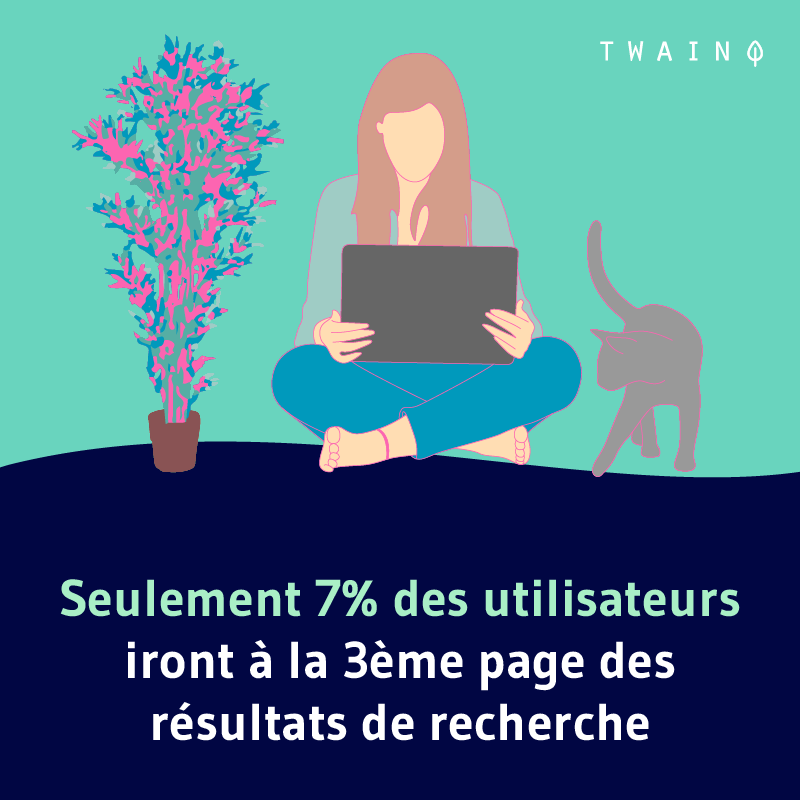 The further your website is from the first page of Google, the less likely you are to get visibility with your content. A principle that is demonstrated with this figure.
11) 75% of Internet users never go beyond the first page of search engines (Source: hubspot)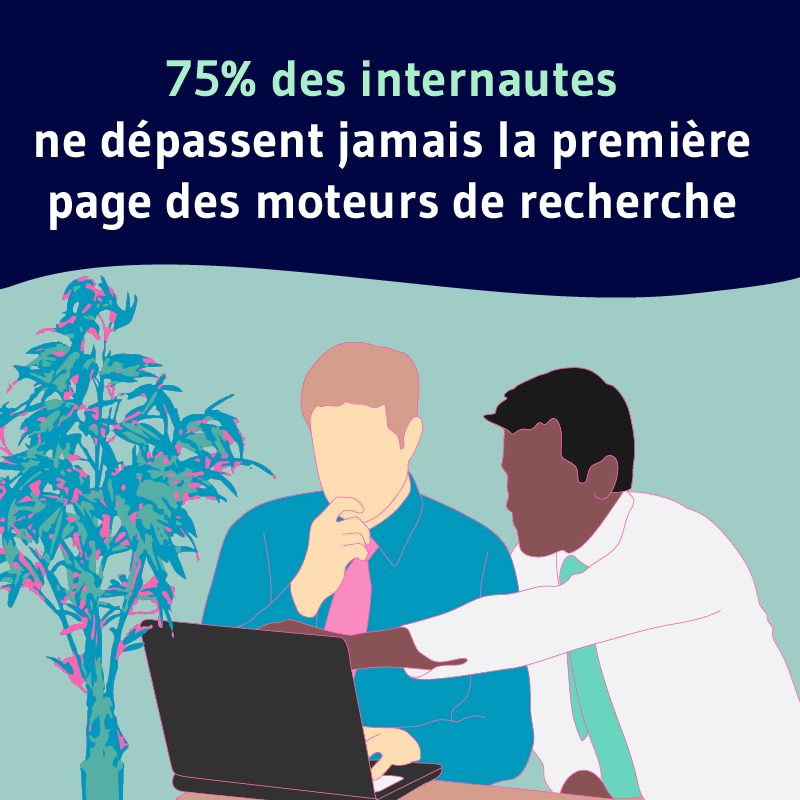 This stat isn't terribly surprising, considering how quickly we parse our results and click through a few page links. Putting all the strategies in place to be well ranked on this page is therefore crucial.
12) 50% of searches contain four or more words (Source: HubSpot)
During an Internet search, Internet users no longer hesitate to type specific and targeted queries in order to find an exact answer to their requests or needs.
Therefore, the queries indicated in the search engines can be longer than 4 words
13) Google's algorithm changes more than 500 times a year (Source: Wikipedia)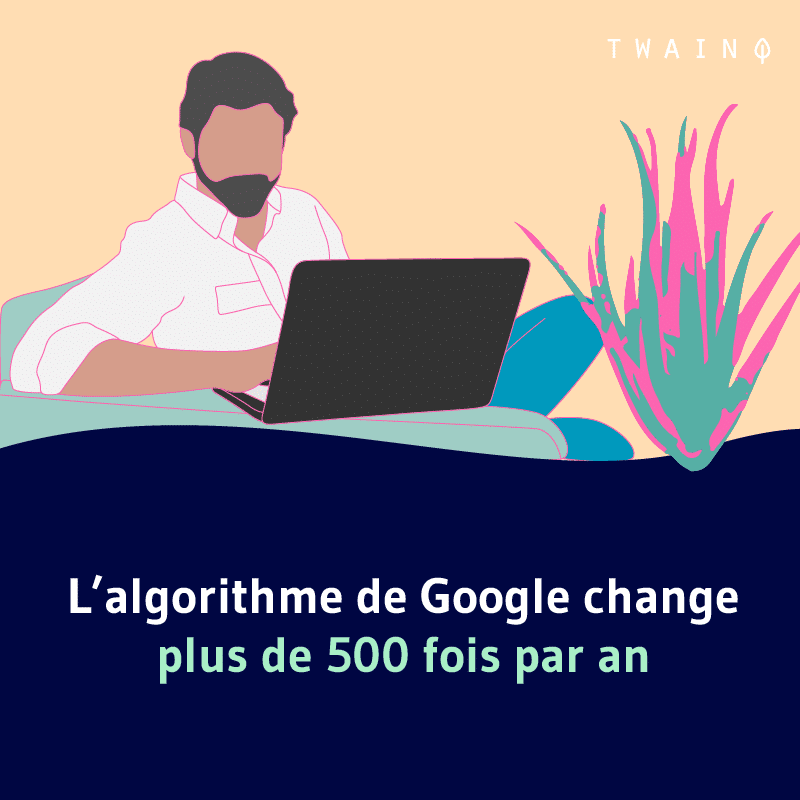 Given this figure, Google SEO insights claims that it is not possible to track all changes in the algorithm.
14) The leading search engine, Google, handles at least 5.8 billion search queries per day worldwide. Of these requests, 15% are new and have never been searched before (Source: Website Hosting Rating)
The 15% of new searches prove that there are always new combinations of keywords to explore. Internet users constantly change the word requests to do their research. What changes is not so much the subject, but the wording. So get off the beaten track.
15) On average, Google receives more than 63,000 search queries per second (Source: SEO Tribunal)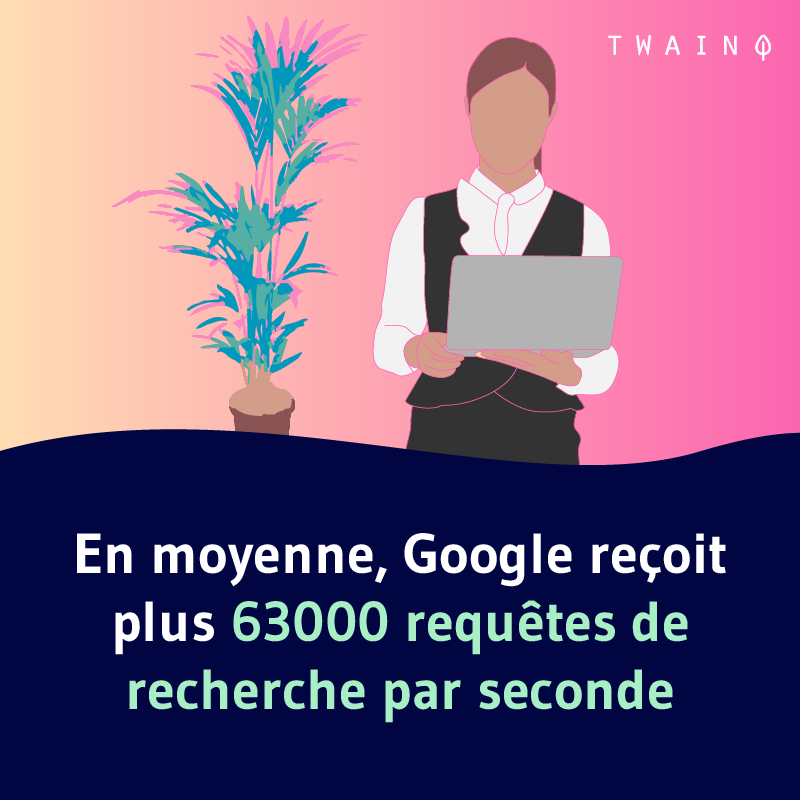 This is an impressive number that leads to over 3.8 million searches per minute, 228 million searches per hour and a total of over 2 trillion searches per year.
This is just proof that Google is in high demand and you are likely to get a massive amount of traffic if you manage to rank well in their results.
16) The number of people who use search engines on a monthly basis exceeds one billion (Source: Website Hosting Rating)
This is an impressive number of users and it is estimated at around 40, even 60 billion, the number of searches each month on Google.
17) There are 234 million search engine users in the United States (Source: Statista)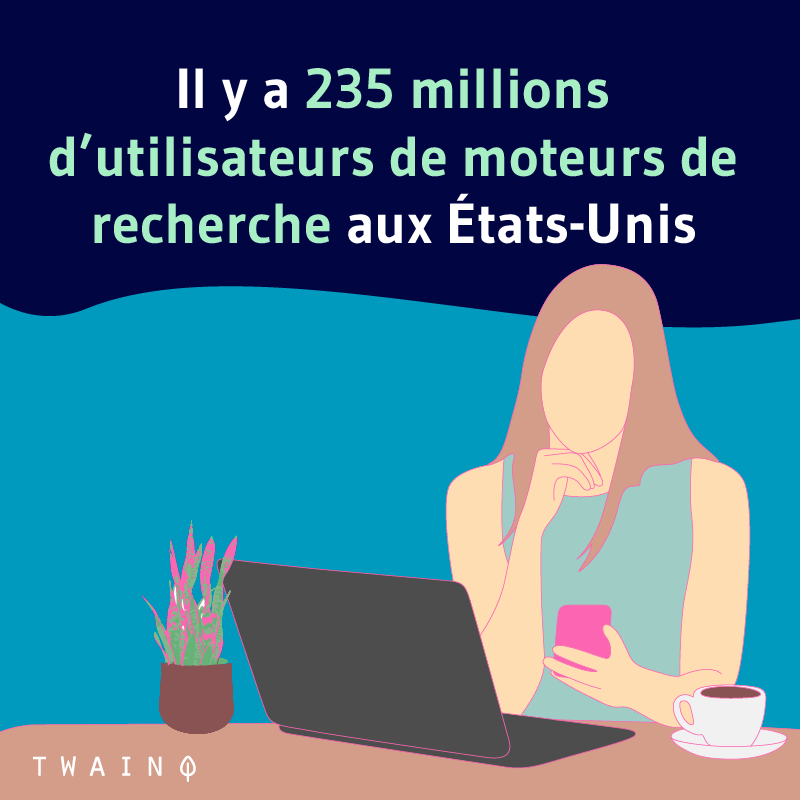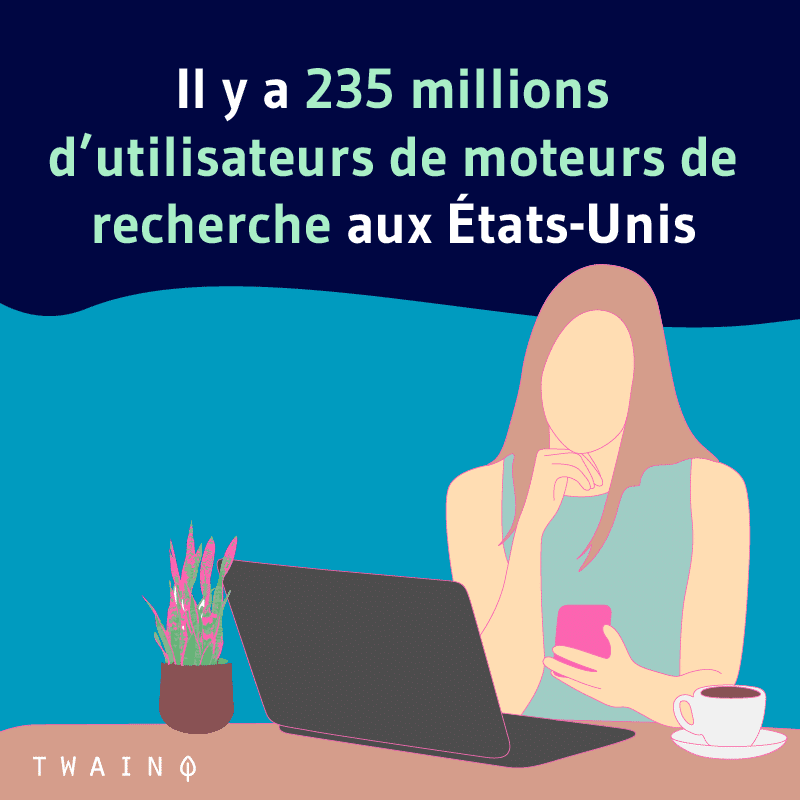 In the United States alone, there are 234 million search engine users, or more than 70% of the population. Imagine what it is like for the rest of the planet. And note that this number is constantly increasing.
18) Search queries in the format "__ to avoid" increased by 150% (Source: Smart Insights)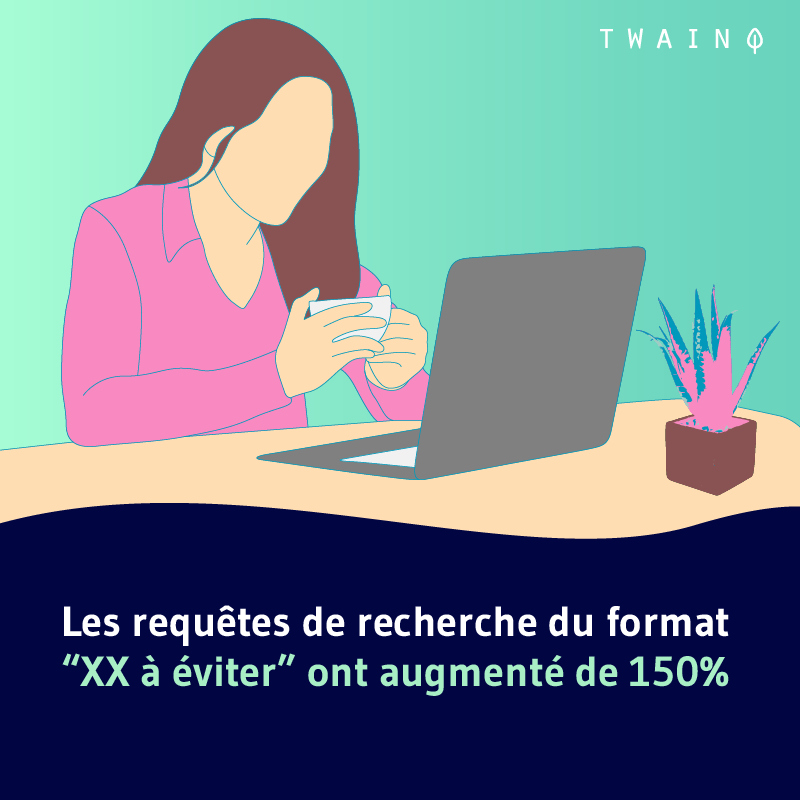 It was revealed at Google Marketing Live 2018 that search queries have become more conversational. There was a significant increase in the query "___ avoid" (150%) and the query "worth ___ worth" (80%).
It is therefore clear that users tend to apply the process of elimination to determine the products to avoid. They then decide which product or service they want to buy.
Local SEO statistics for businesses
19) Local searches are growing 50% faster than mobile searches (Source: Search Engine Land)
This year, the growth rate of mobile search has been exceeded by 50% by that of local search. Hence the importance of a local SEO approach.
20) 4 out of 5 consumers use search engines to find local information (Source: Google)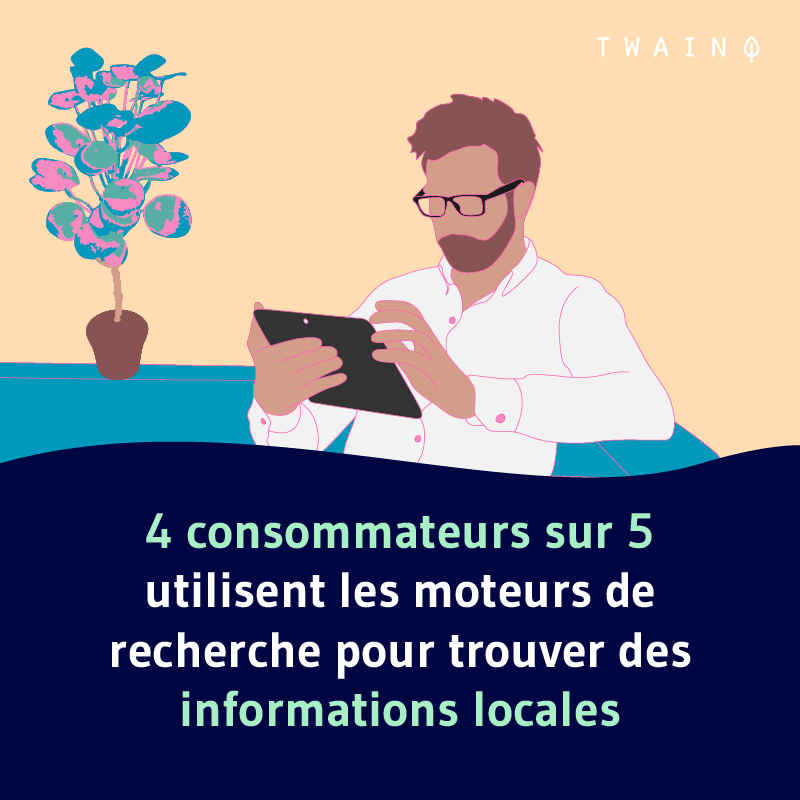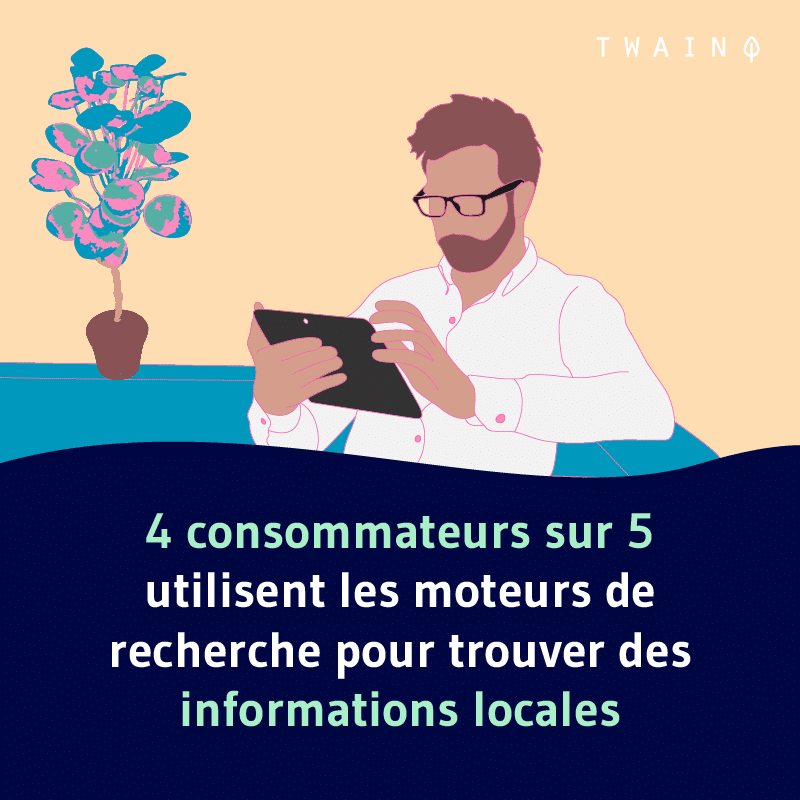 Nearly 75% of consumers search their phones, tablets and computers information local such as :
Local stores;
Events ;
locations
21) 50% of mobile users visit a store within days doing a local search (Source: Google)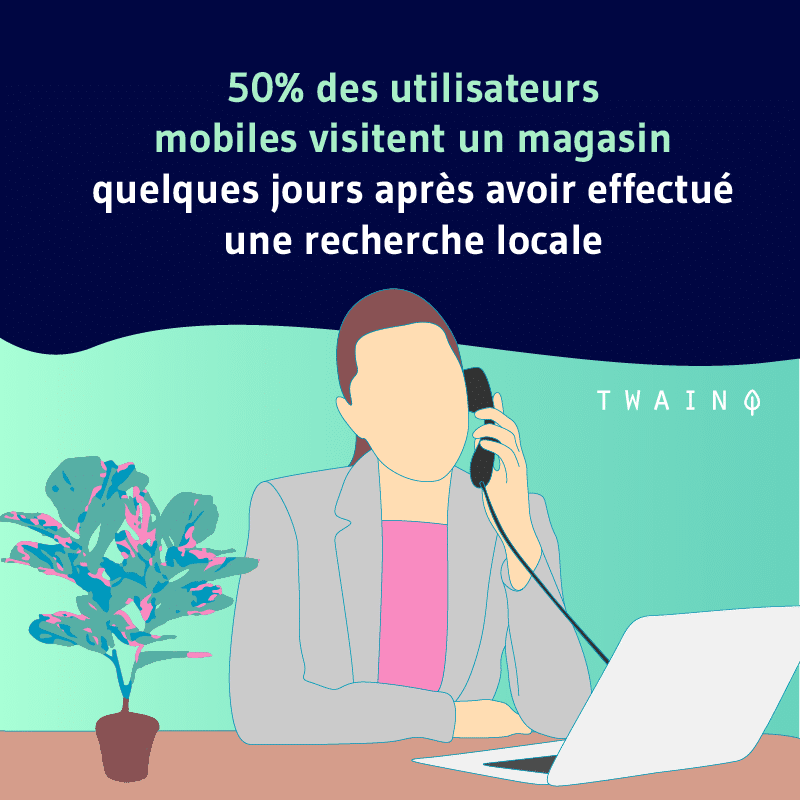 Internet users do local searches to find places close to where they are. Through applications such as Google Maps, they can find a route to follow, as well as opening hours, telephone numbers, etc.
Therefore, optimizing for Local searches should be an intrinsic part of your marketing strategies. Keep in mind, however, that the percentage drops to 34% when it comes to desktop and tablet users.
22) 18% of local searches lead to a purchase (Source: AL)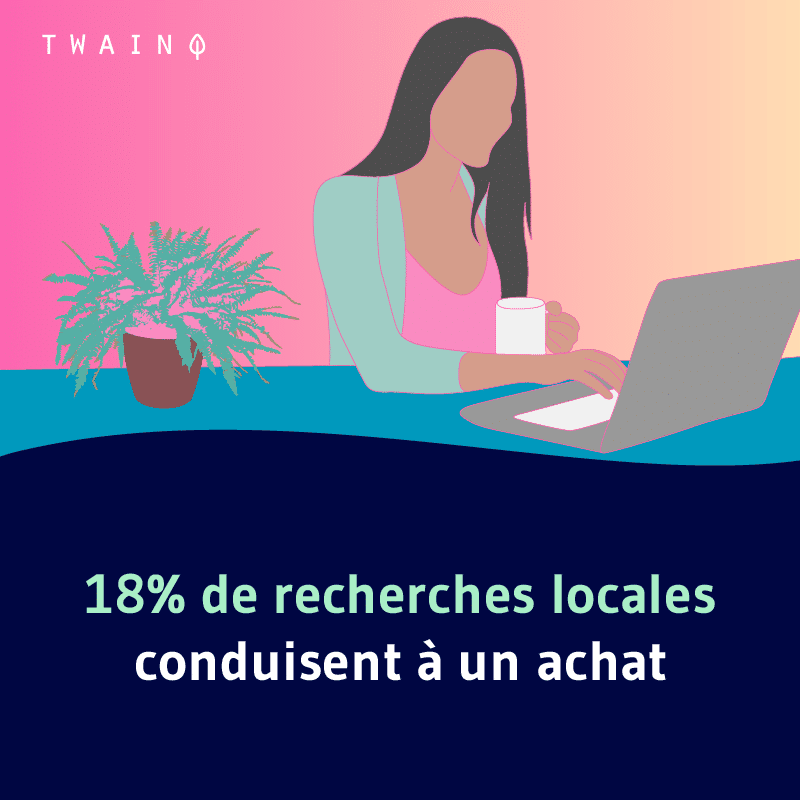 Another piece of data that backs up the benefit of optimizing your pages for local searches is the fact that those 18% of local searches lead to purchase on the same day of the search. This means that one in five people make a purchase within a day after performing a local search.
On the other hand, the number of non-local searches that lead to a purchase in a 24-hour period is 7%, which is very low compared to the previous one.
23) 75% of consumers prefer personalized ads based on where they live (Source: Google)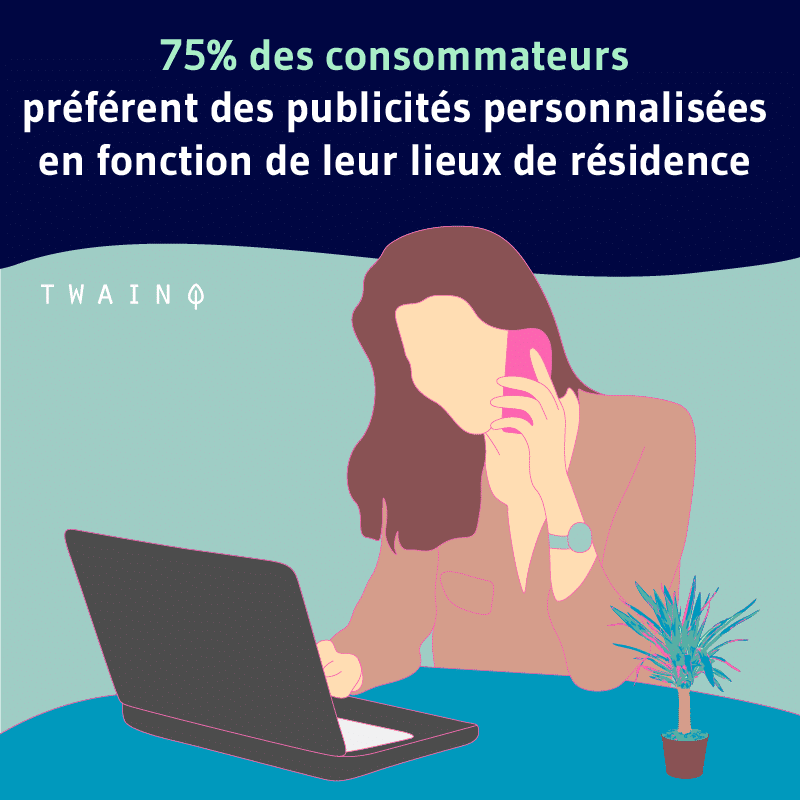 The vast majority of consumers believe that an ad that refers to their city, neighborhood, etc., is much more convincing and useful. This is very relevant that will allow you to effectively carry out your campaigns.
24) After searching for a local business on a mobile device, 88% of consumers will call or visit the business within 24 hours (Source: Front Burner Marketing)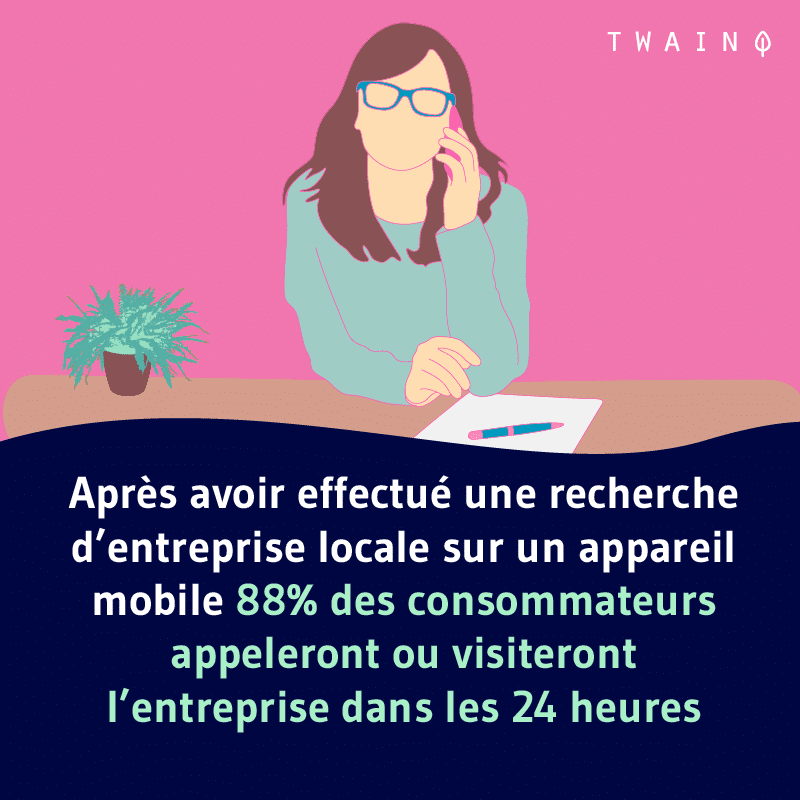 Most of the time, the user who searches first on a local business turns into a potential customer. The step that follows this search is therefore to contact the said company. It is therefore obvious that whoever has not respected local SEO practices will lose an opportunity, because it will not appear in the search results.
25) 97% of people learn more about a local business on the Internet (Source: SEO Expert)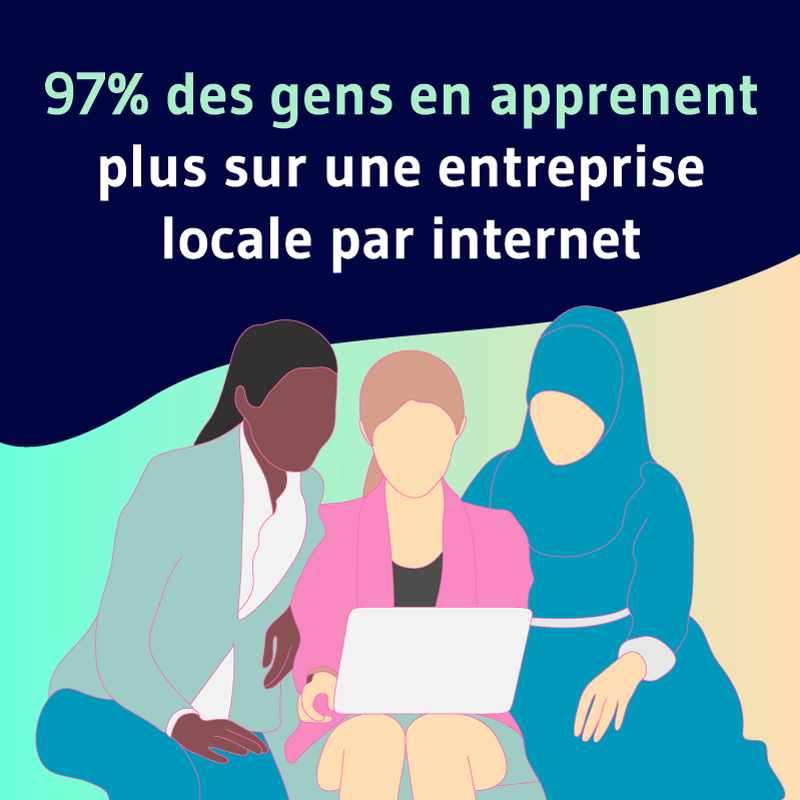 It is important for a business to have visibility on the net. Indeed, many people use social media, opinions and others to know more or less about the company before contacting it. If you don't have a website or you have one but it's not optimized, you risk losing a lot of potential customers.
26) 91% of 18-34 year olds trust positive reviews (Source: SEO Tribunal)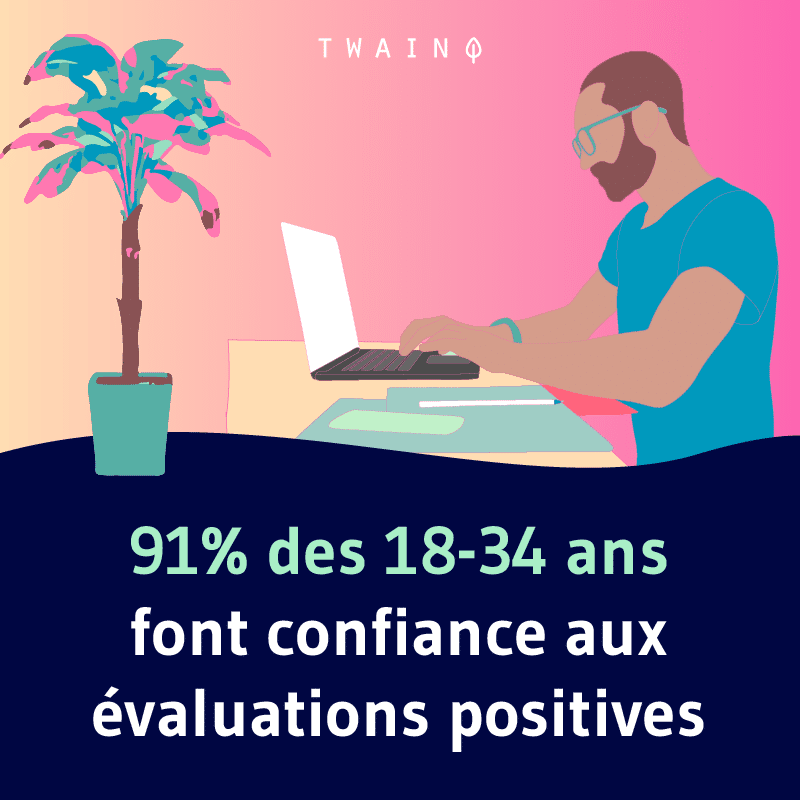 Providing accurate and consistent information is very important for local optimization. Additionally, reviews make up 7% of the total ranking factors and user-generated content, also earns you extra points with Google.
55) 72% of consumers who perform a local search visit a store within 8 km of their current location (Source: SEO Expert)
It appears from this study that when we talk about local SEO, we are really talking about " local" in terms of location. Most people will first look for businesses that are near them and that best suit their needs and budget.
27) According to 2018 local SEO stats, 82% of smartphone shoppers search for "near me" (Source: Uberall)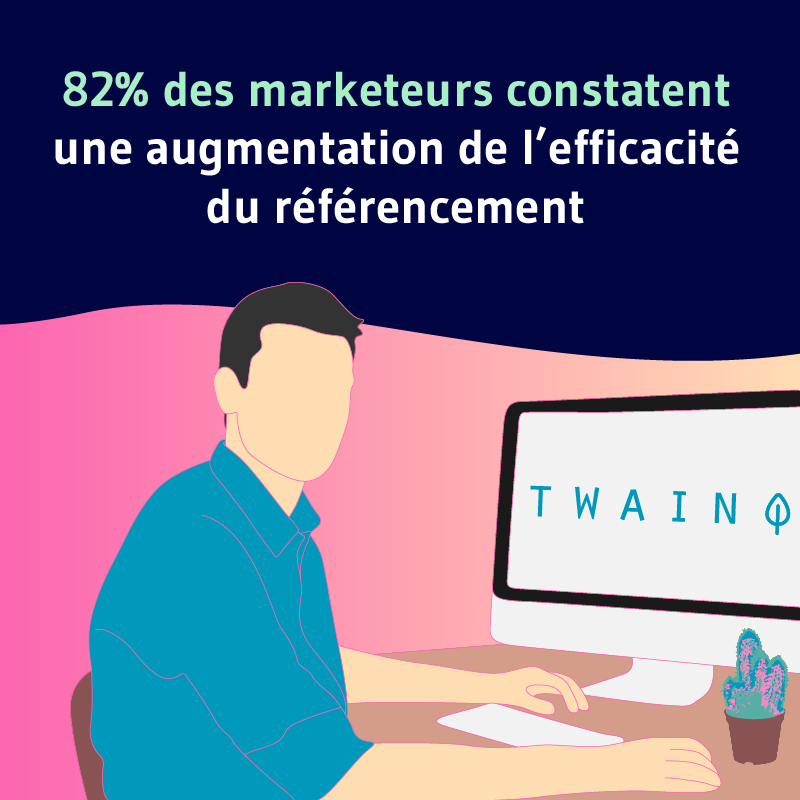 A study found that "near me" searches have skyrocketed. Proximity searches are the new consumer trend thanks to new technologies. 
In fact, 82% of respondents searched "near me". Among millennials, this number is higher; 92% of respondents said they have embraced "near me" searches.
Restaurants and the quick service industry get the majority (84%) of these searches. Entertainment, banking and clothing are also among the top "near me" searches.
56) 78% of location-based searches on mobile result in a purchase made offline (Source: SEO Expert)
Your local SEO should be multifunctional. It must take into account not only the "online" aspect, but also the "offline" aspect. It should encourage people to shop online and similarly strengthen offline shopping.
28) Over 60% of consumers used location information from ads (Source: Google)
In order to discover new restaurants, shops or establishments in their surroundings, many users use local referencing. One more point to integrate your business on Google Maps. If you haven't done so yet, this guide will help you.
29) 54% of consumers look for opening hours in local information (Source: Google)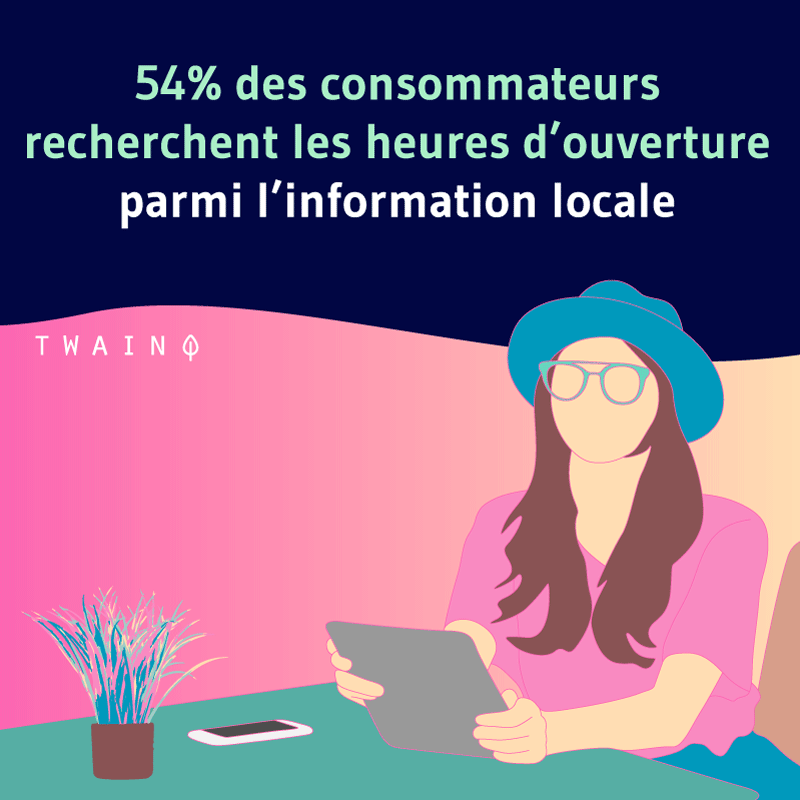 According to Google, local searches for nearby business hours account for 54% of total local searches. In addition, of the total number of these same users:
45% seek to know the availability of products in local stores;
53% look for directions to local stores.
Including this information in your profile can improve local search traffic.
30) 56% of local merchants have not claimed their business listings on Google (Source: SEO Expert Brad)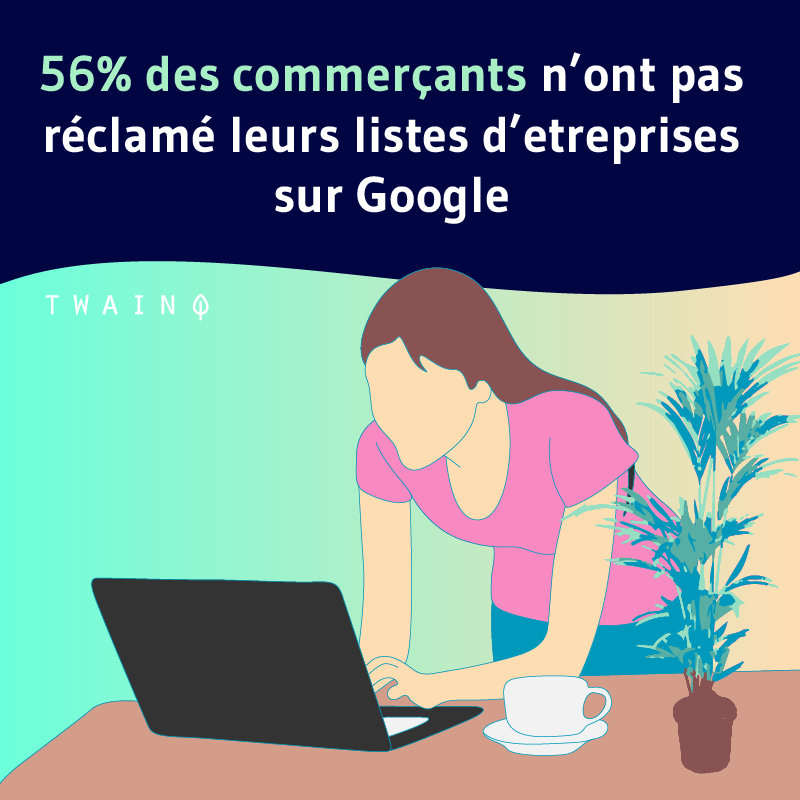 The process of claiming your business listing on Google is very easy and by doing so, you will be able to control the information Google will display when people search for you.
In addition to providing accurate and consistent information, you can add images and videos to further improve your rankings.
31) 82% of businesses have not claimed their Bing listings (Source: Local Marketing Institute)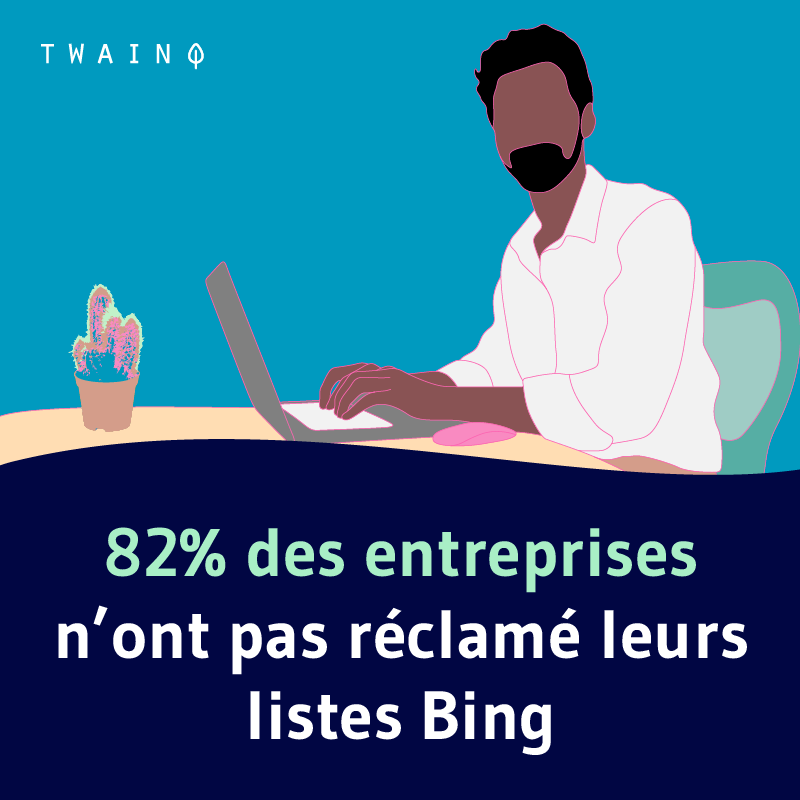 There is no doubt that Google is the most popular search engine and if you have a business, it is completely legitimate to focus only on it. However, consider also using othersearch engines since it would be a shame to miss the potential traffic that you can draw from them. To do this, also claim your company's file on him in order to be present there as well.
32) 51% of smartphone users discovered a new business through search (Source: HubSpot)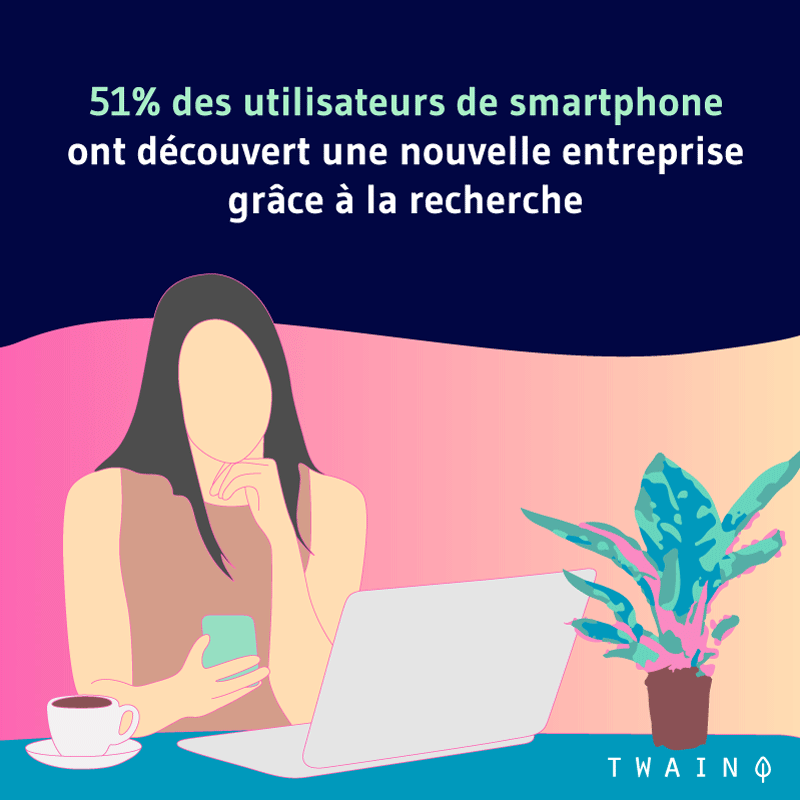 SEO stats show that among smartphone users, one in two say they discovered a new product or business online while they were looking for something else.
Another point that reinforces making your responsive website and optimize it for local SEO in order to attract new visitors by accident.
33) 53% of smartphone consumers look for local information at home (Source: Google)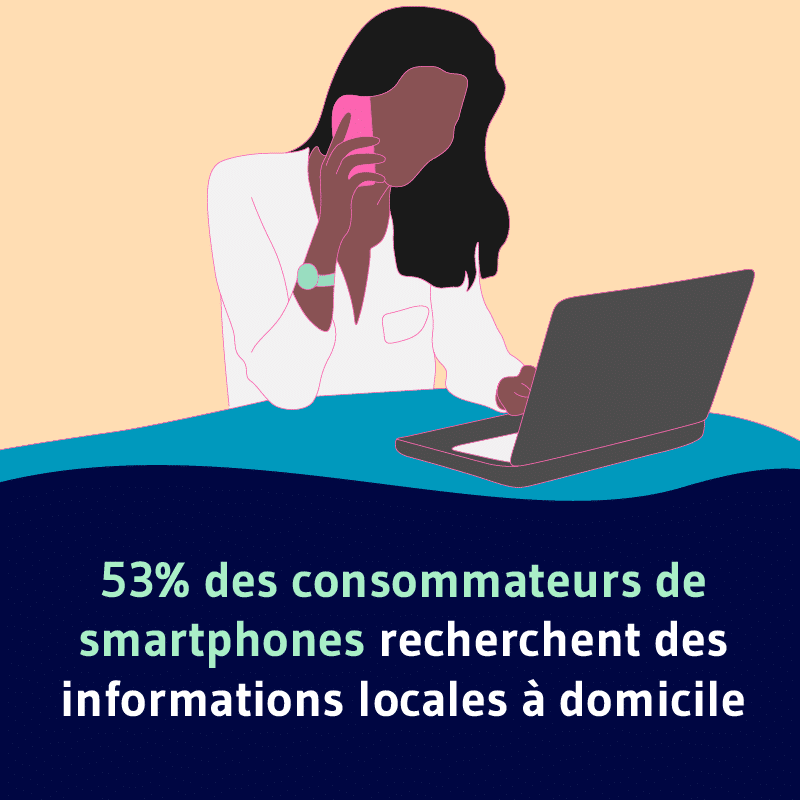 According to data collected by Google:
76% of laptop and desktop users search for local information from the comfort of their homes;
53% of smartphone users search for local information from home;
51% conduct research during transport;
41% of them search while they are in the store.
34) 92% of consumers will choose a business on the first page of local search results (Source: SEO Expert)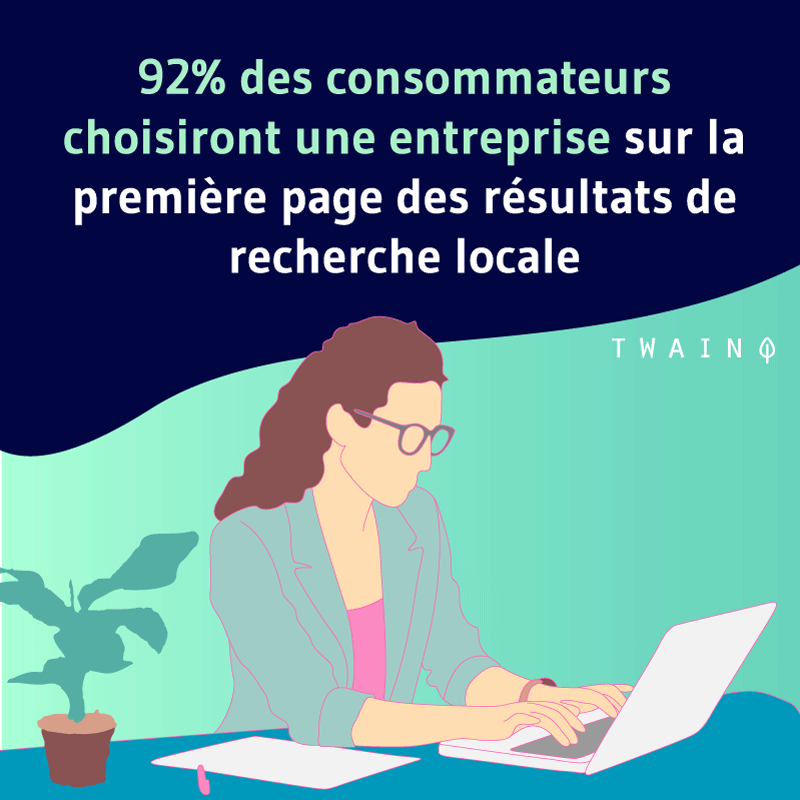 When you have a local business, one of the best strategic marketing choices is to optimize your local SEO and this figure illustrates very well the importance of doing so.
35) 46% of searches on Google have a parameter local (Source: Main Street ROI)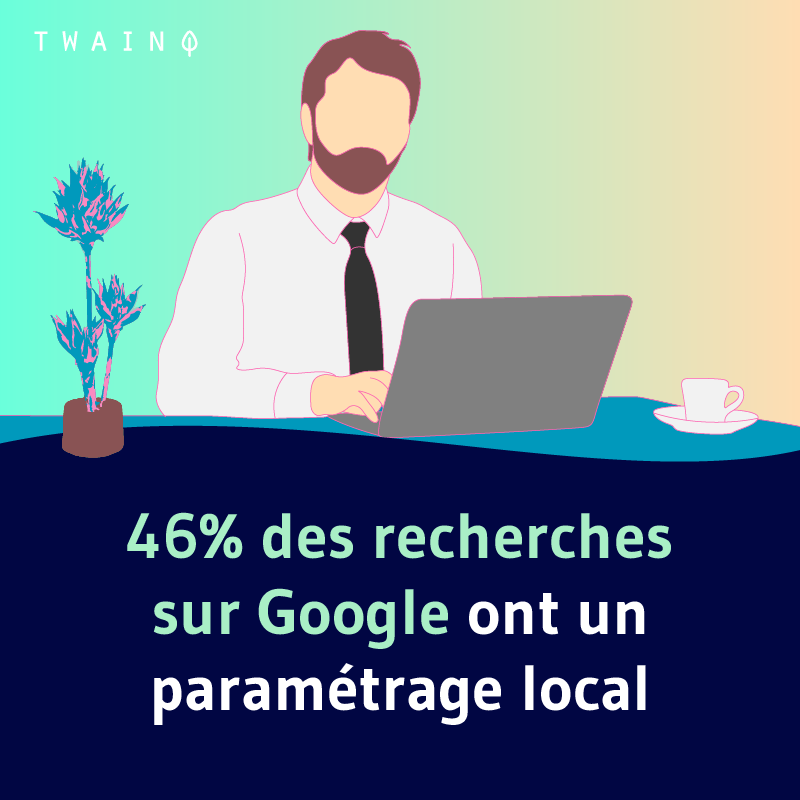 46% of all Google searches have local geographic parameters, that's what the statistics say and it's clear that having a Google My Business profile is likely to give you several advantages.
36) 88% of consumers trust online reviews as much as recommendations from their relatives (Source: Search Engine Land)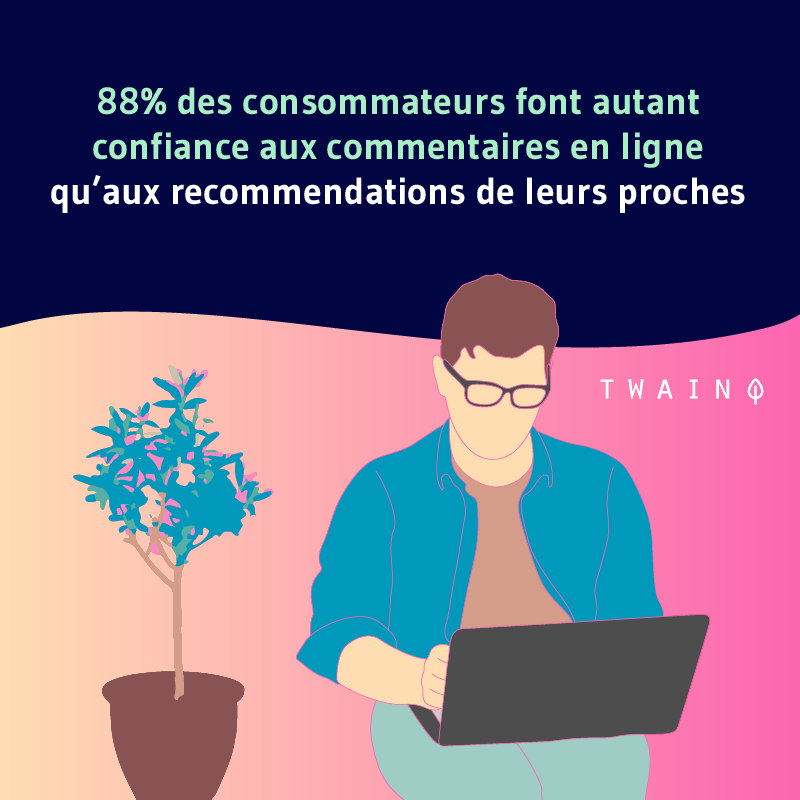 Building a good online reputation can greatly help drive traffic to your business even if it's not online. Especially since online ratings hold the same values ​​for consumers as physical recommendations from loved ones.
SEO Stats for Business industry
37 is on the verge of reaching $80 billion in the United States (Source: Forbes)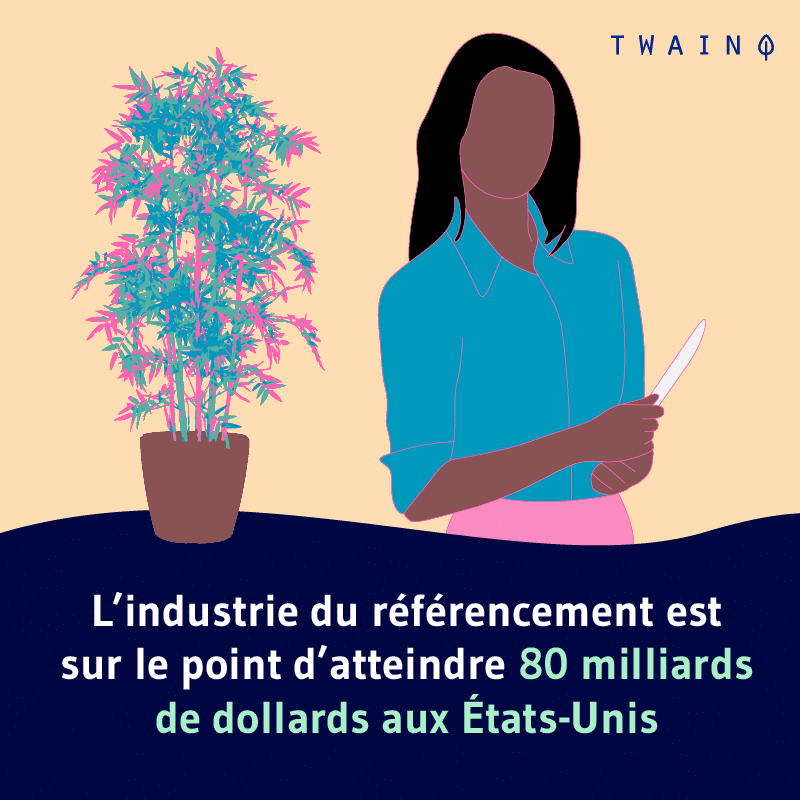 SEO Statistics quotes Borrell Associates to indicate that by 2020, businesses in the United States will spend up to $80 billion on SEO services.
This figure is higher than in 2016, when companies spent $65.26 billion on search engine optimization.
38) 45% of companies invest more than $20,000 in SEO each month (Source: B2BMarketingZone)
With this figure added to the previous ones, there is no longer any possible doubt: investing in SEO is a strategy that works . So feel free to do the same to rank better in search results.
39) By 2020, online advertising will be 70% larger than TV advertisingby 2020 (Source: SlideShare)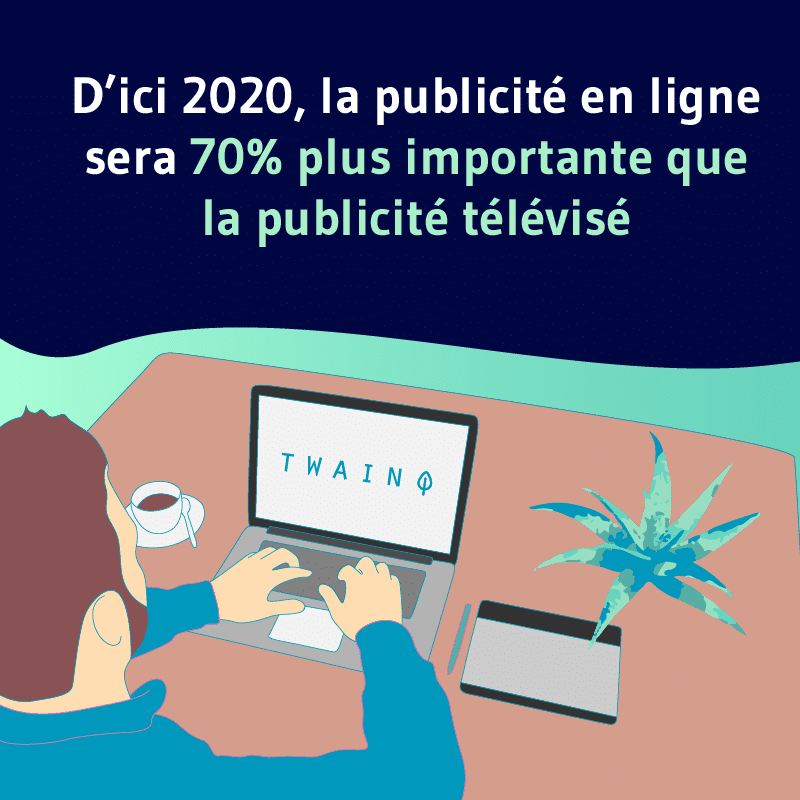 Since the advent of the internet and the possibilities it offers in terms of marketing, traditional television-based advertisements have received a major blow and continue to fade. This statistic confirms this state of affairs.
40) 82% of consumers expect negative reviews (Source: Spiegel.)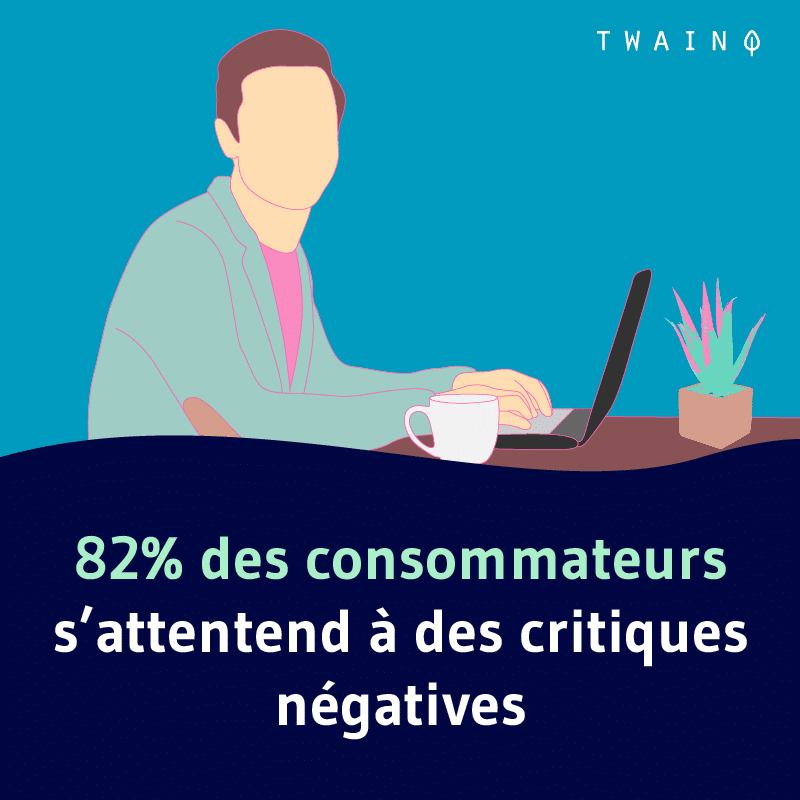 When considering buying a product or using a company's services, the majority of consumers look for negative reviews or comments online about the establishment.
Indeed, they take these criticisms very seriously, which can have a very significant impact on the establishment, especially when you do not put in place a good policy to manage them or to avoid them, which is not easy.
While some companies use all means to remove them, others adopt a good strategy allowing them to give effective and relevant answers in order to mitigate their effects.
41) 82% of marketers see an increase in SEO effectiveness (Source: MarketingDive)
Of those 82% who say this advertising method increases in effectiveness, 42% noticed that this increase was significant.
As people learn more about SEO, its effectiveness will continue to climb.
SEO statistics for websites
Several factors such as the speed or ergonomics of your website can significantly impact the user experience. While they don't directly affect SEO, visitor behavior in relation to your website can make you rank high or low.
42) 69% of all digital media usage time is spent on a mobile device (Source: Inet Solutions)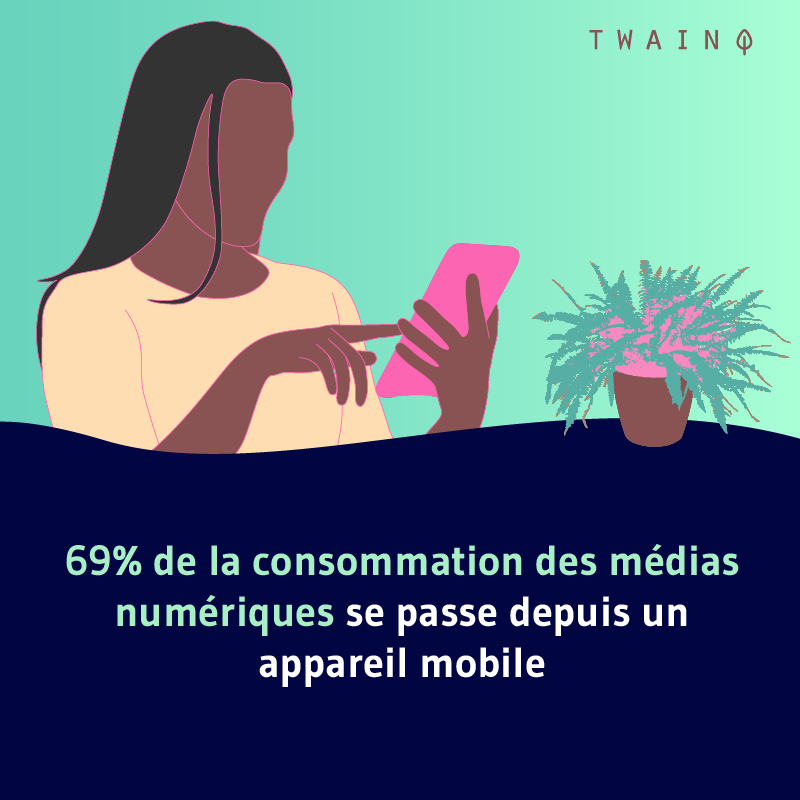 All that digital media time spent on the phone means you should optimize your content for phone users. You need to ensure that your content is readable on a portable device and ensure that SEO practices are properly implemented.
43) 66% of e-commerce time is done on smartphones (Source: Statista)
The number of smartphone or other mobile device users keeps growing every year. Because of this, businesses that once ignored mobile SEO practices are now being forced to step up to boost their organic search results.
Indeed, e-commerce through which one can find various products online, is an activity that is becoming more and more established. Revenues from this trade would already reach 693.36 billion dollars in the United States.
44) By 2020, more than 50% of searches will be based on voice and image (Source: Recode)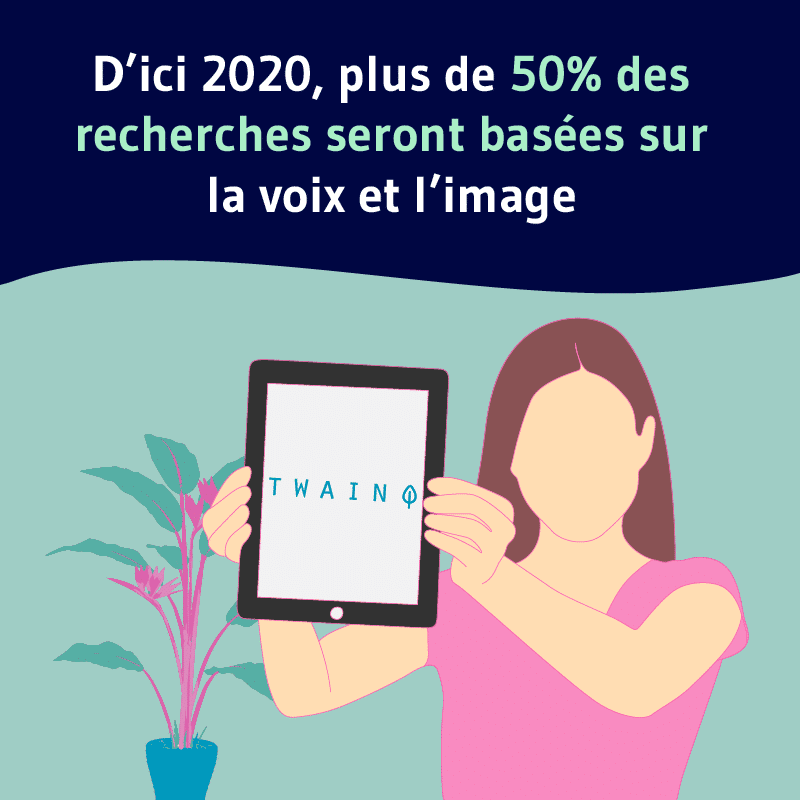 This data already calls out the importance of using relevant images on your website since the trend is only growing with regard to image and voice-based search. This indicates that typical keyword searches will be less than half and it may be time to revise your strategy.
45) Local sales of $1.4 trillion will be influenced by mobile devices by 2021 (Source: GeoMarketing)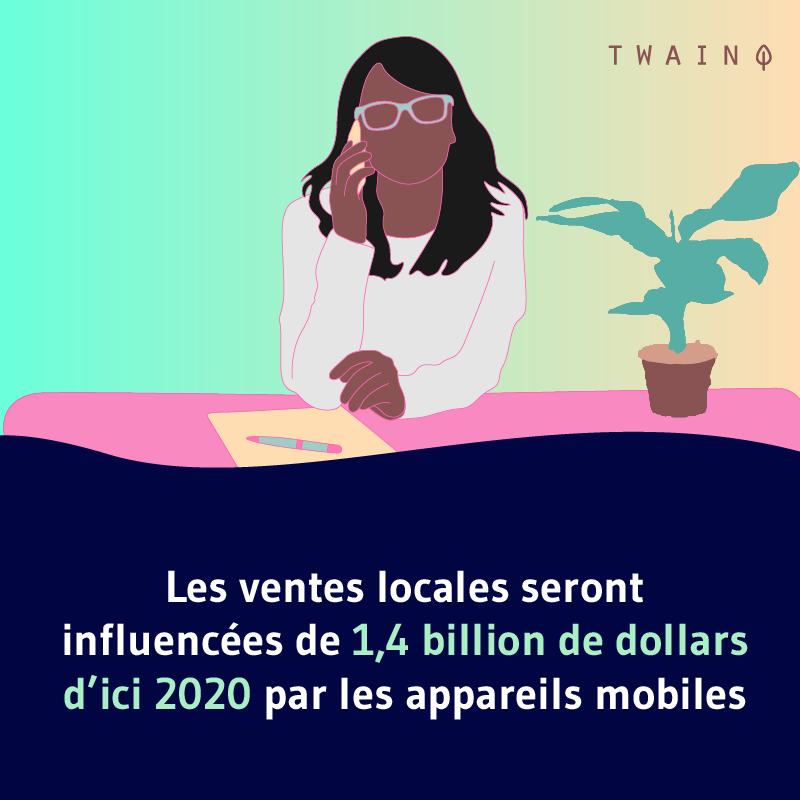 At this stage, there is no longer any doubt that mobile devices are very important and should be considered when you want to improve your online visibility. Especially since this influence will not stop growing over time.
46) 57% of consumers said they would not recommend a business with a poorly designed mobile website (Source: Think With Google)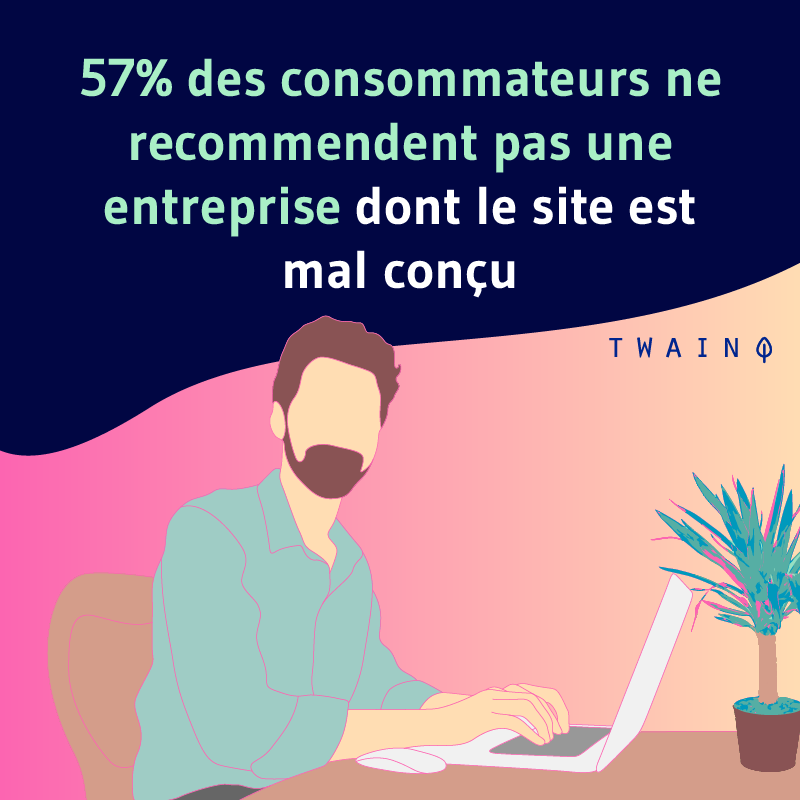 The user who is unable to navigate and read your content effortlessly on their mobile device, is likely to abandon the page. You will then have lost not only a potential customer, but also others since he will not recommend your site to his relatives.
47) 50% of B2B search queries today are made on smartphones, and this percentage will increase to 70% by 2020 (Source: HubSpot)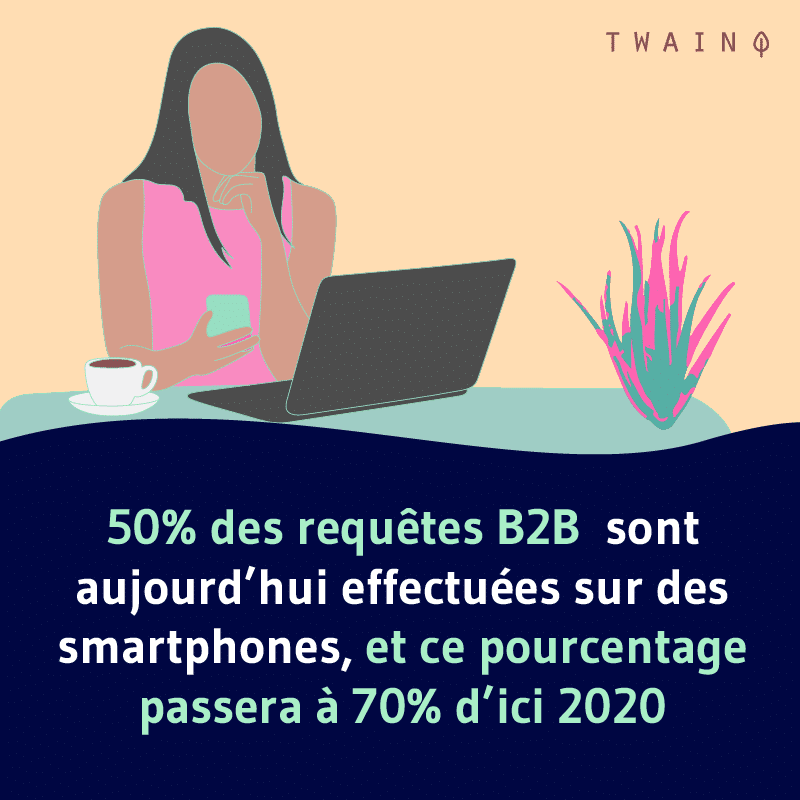 This figure is hardly surprising, given that 52.2% of Internet traffic is mobile in 2018 and the number of people using mobiles is constantly changing. Once again, making your site responsive can only bring you benefits.
48) From 2016 to 2018, the search for "what to buy" increased by more than 50% for mobile phones (Source: Google)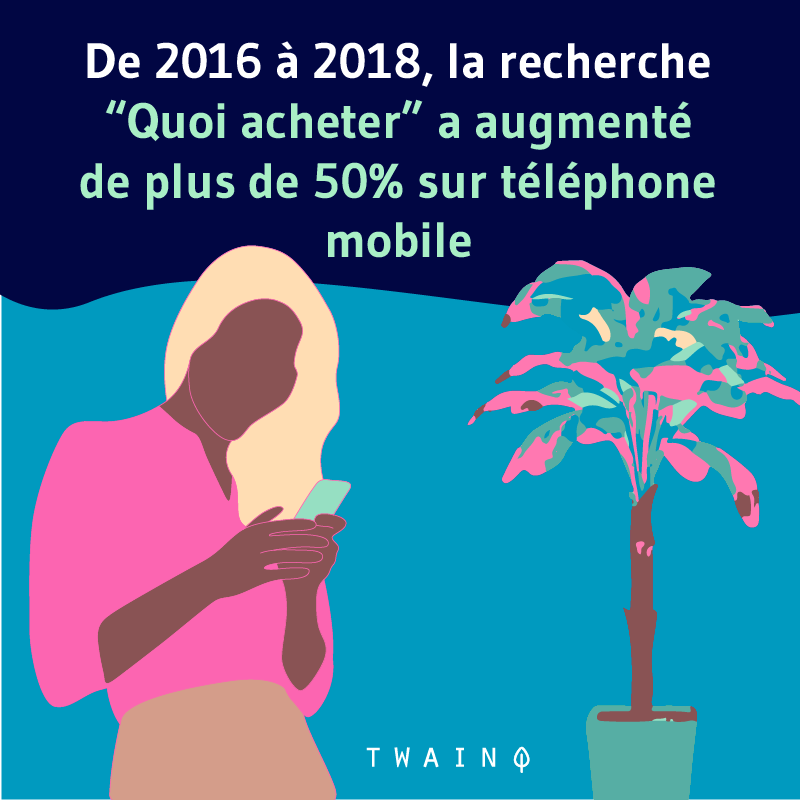 If you have a blog or e-commerce, using the term "what to buy" in your content or campaigns can be really helpful, as this number indicates. Therefore, make good use of it and don't overdo it so you don't get penalized by Google.
49) Mobile searches for shopping lists increased by more than 150% between 2016 and 2018 (Source: Google)
Have you already optimized your e-commerce site so that it displays correctly on mobile? Have you already added your product catalogs to Google My Business? If you haven't done either of these two actions yet, it might be time to think about it.
Additionally, consider incorporating some of the following phrases into your strategy as they become increasingly popular:
school shopping list;
Newborn shopping list;
Secondary school shopping list;
BBQ shopping list;
Etc…
50) The average loading speed for the best ranked sites is 1.9s (Source: SalesHub)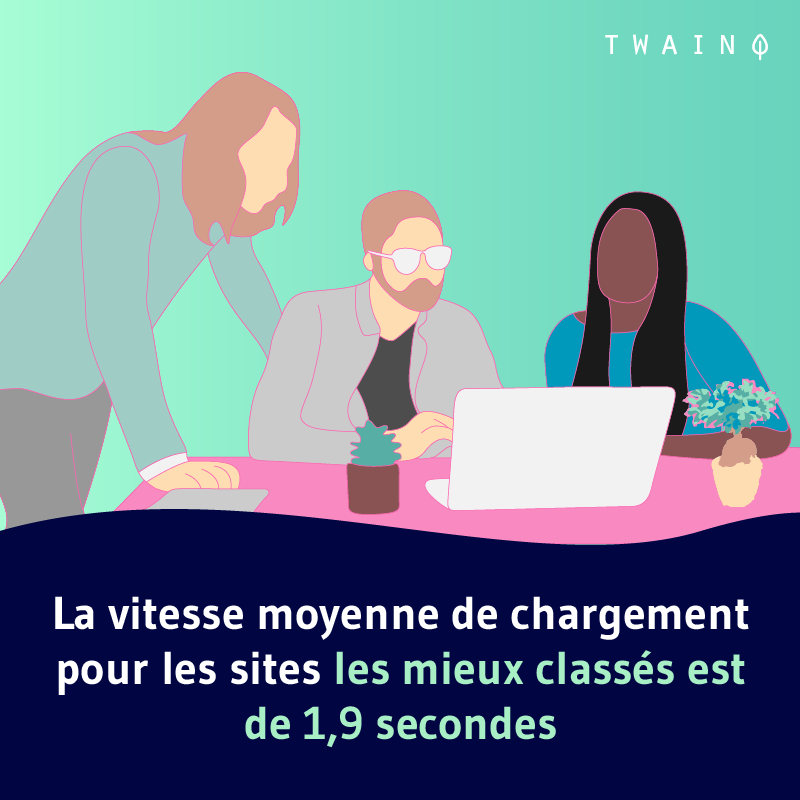 1900 milliseconds is the time it takes for the pages with the best positions to display. Spending time on improving your website's load time is going to go a long way towards improving your SEO.
51) 53% of users will leave the page if it takes more than 3 seconds to load (Source: Google)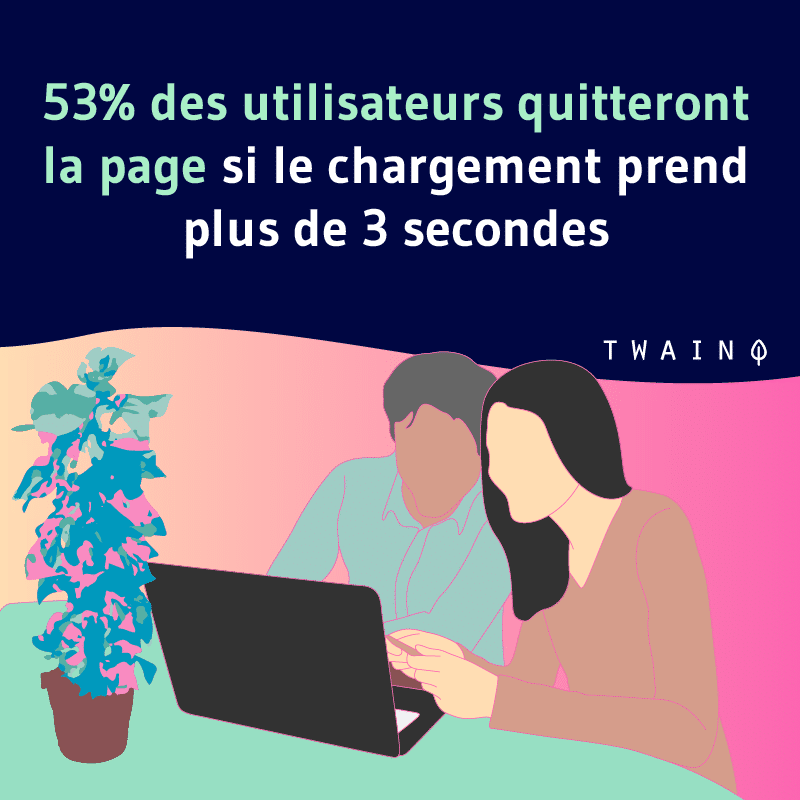 In addition to this data, Google reports that pages that take 10 seconds to load have a 123% higher bounce rate compared to those that take less than 5 seconds to load.
52) Mobile-optimized sites are more reliable for 51% of consumers (Source: Green Geeks)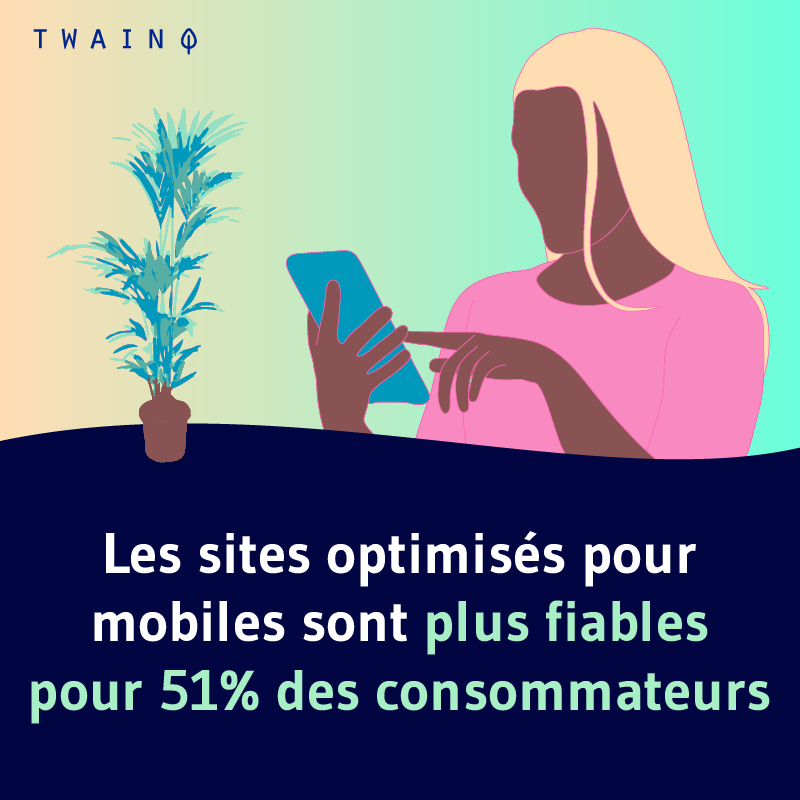 More than half of internet users don't trust websites that aren't optimized for mobile phones.
Therefore, they will simply avoid you if your website looks bad on their smartphone. To have a successful business in 2019, optimize your website for mobile devices, even if you have a physical business.  
SEO Stats for Content Creation
53) 55% of marketers say blogging is their top priority (Source: HubSpot)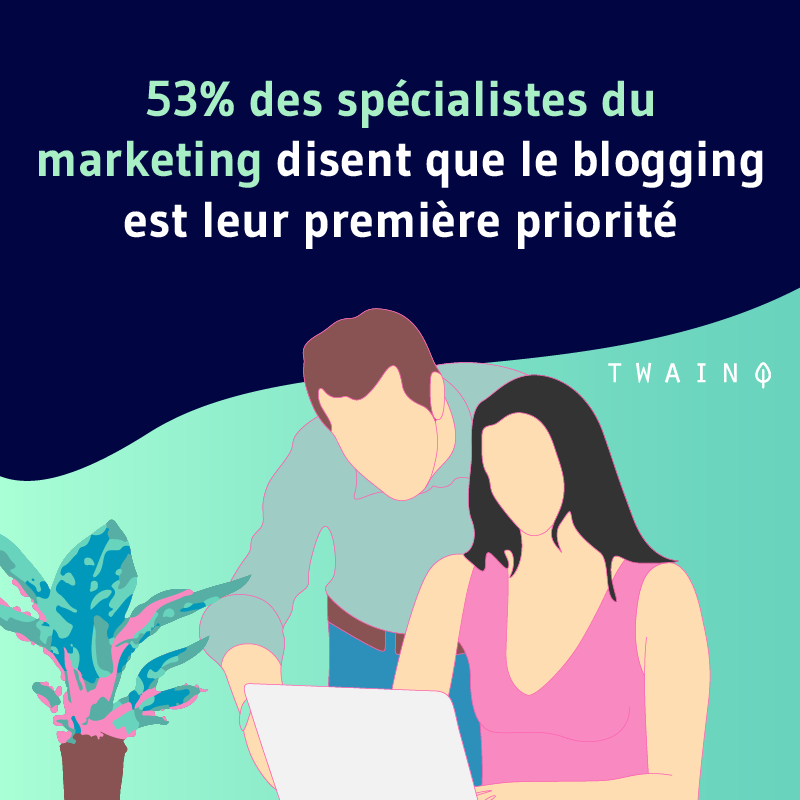 It's time to think about setting up a blog for your business and as you can see, more than half of marketers say it's their top marketing priority. For this year, set up a good content strategy and be consistent to get good results.
54) 72% of marketers believe that creating relevant content is the most effective SEO tactic (Source: seotribunal)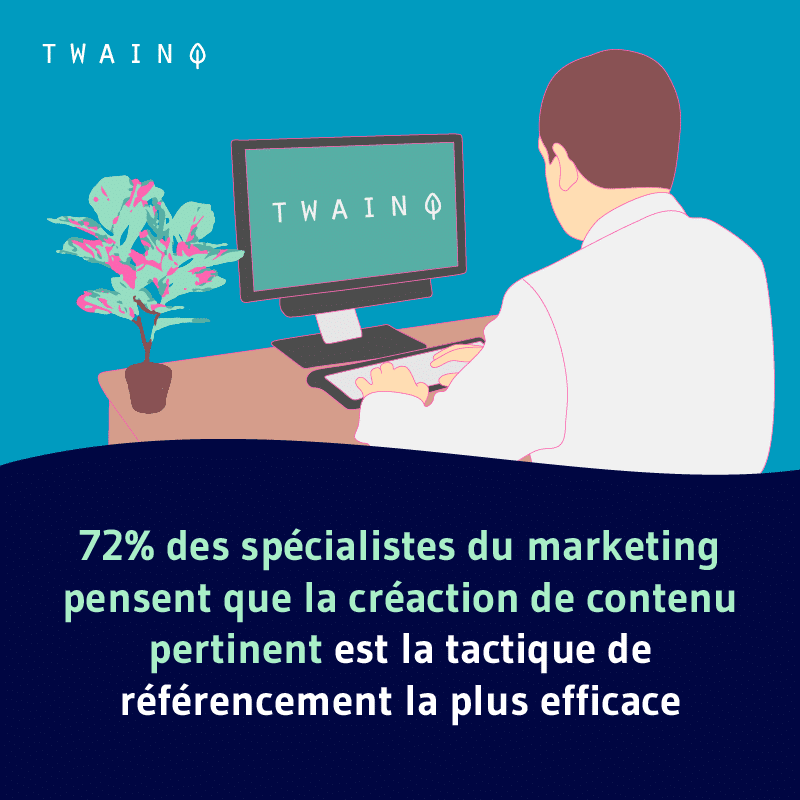 The very core of your SEO strategy should be relevant content. The latest statistics show that the substance to be offered to readers is crucial. The keywords that you will therefore have to use must be placed in a natural way. They must in no way diminish the relevance of the content. 
55) Better content can drive up to 2000% traffic to a blog (Source: Theme Isle)
If your content is relevant, it can not only drive more views, but also get shared. This will automatically lead to an increase in links to your website and therefore, you are likely to have a lot more traffic. Note, however, that you would have to be consistent in your content creation strategy to have satisfactory results.
56) 81% of American Internet users consider blogs to be a reliable source of information and advice (Source: Marketpath)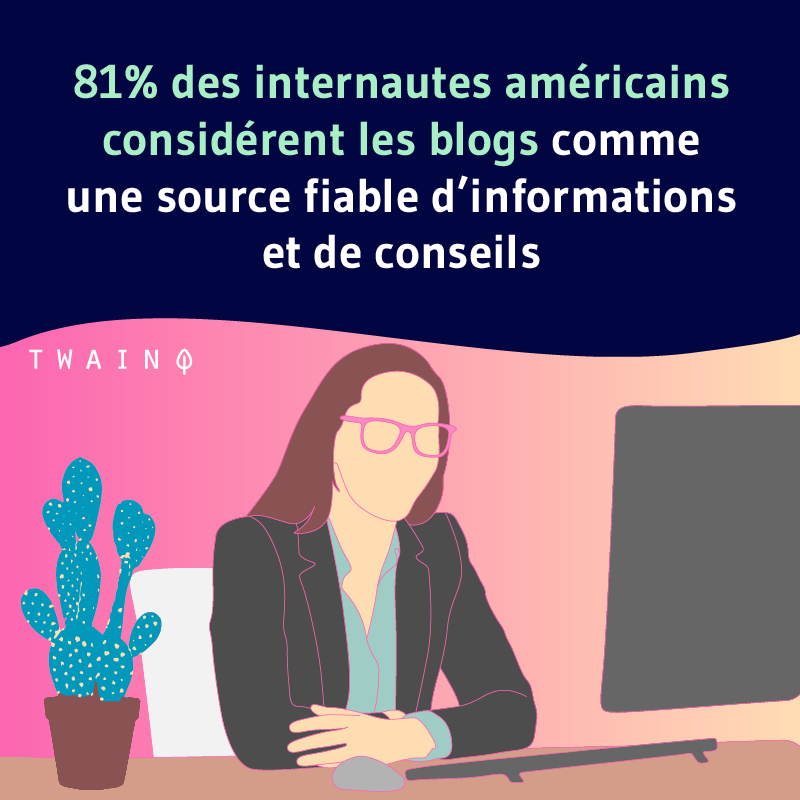 In addition to a description, consumers are now looking to know the usefulness and added value that a product can bring them before you buy it. And what could be better than putting all this information and valuable advice in the content of your blog?
57) Updating old posts with new images and content can increase traffic by more than 100% for bloggers (Source: Impact)
By updating old posts with new images and SEO-optimized content, you can generate more organic traffic. So remember to regularly update your old articles to bring them back to life.
58) Blog posts with images get 94% more views (Source: Jeff Bullas)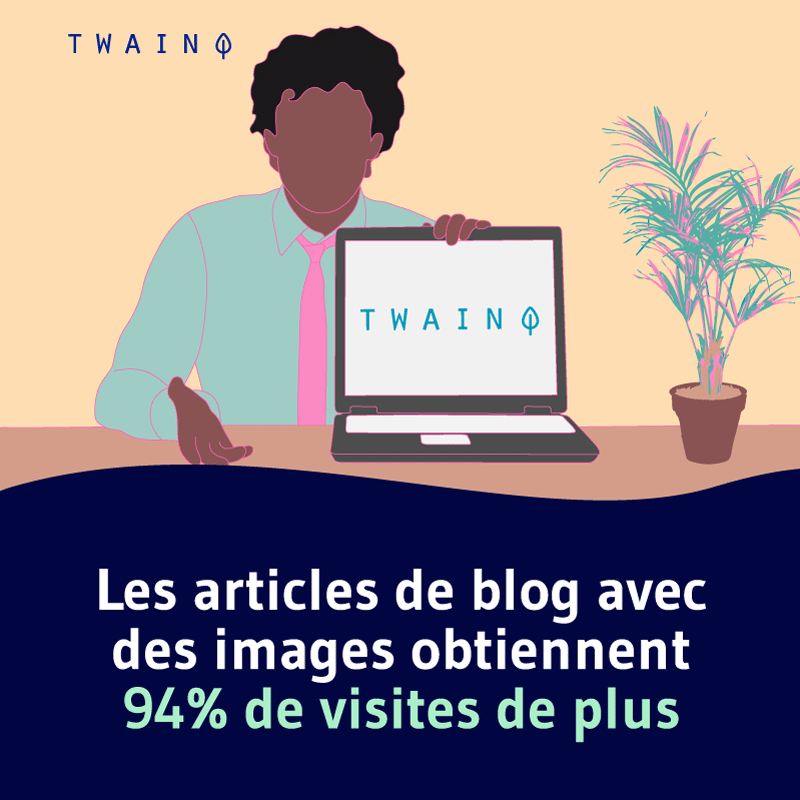 Posting a message without a compelling visual isn't the most effective practice and I suggest you don't. Indeed, visual content is more engaging than text and ignoring it can be very detrimental to your business.
59) The results on the first page have 6 times more links than those on the second page (Source: SalesHub)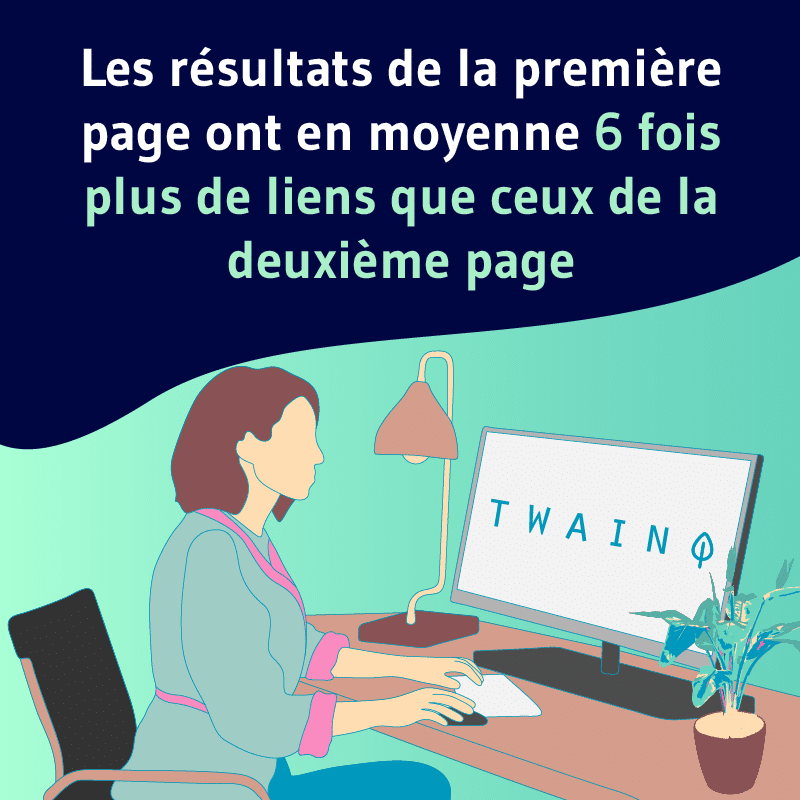 Another very important aspect to consider when it comes to SEO trends 2019 is the fact that more links on your webpage can lead to better website rankings.
60) 65% of marketers say netlinking is the hardest SEO tactic to pull off (Source: Edit.co)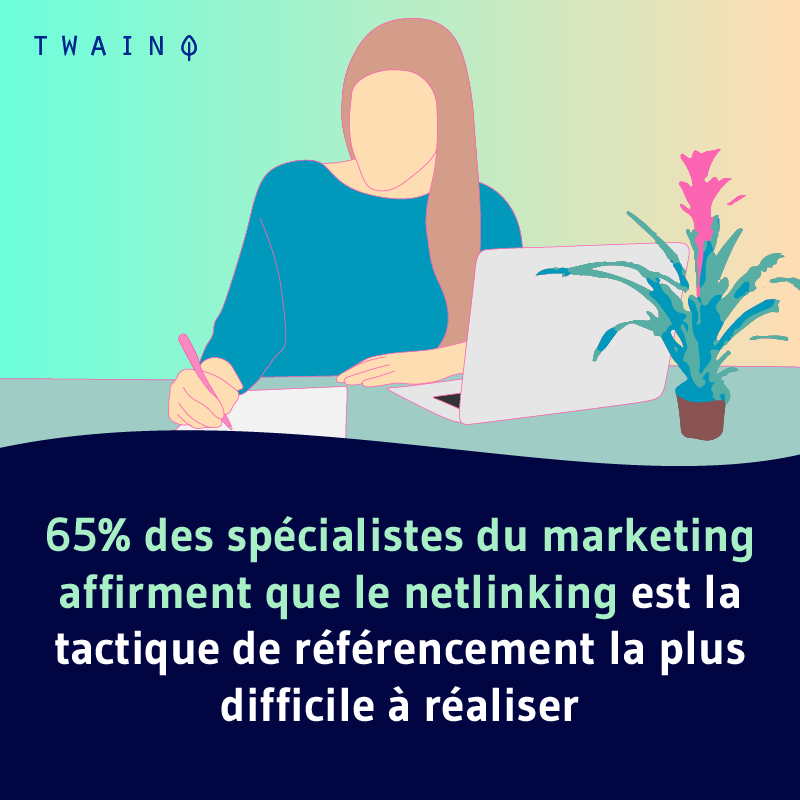 It's not just entry-level marketers, but also those who are experienced in the art of SEO and link building. Since Google's view of how practical it views links often changes, your focus needs to become constant, and this state of affairs can quickly become stressful.
61) 56% of companies said they plan to increase their content marketing budget (Source: Omnicore Agency)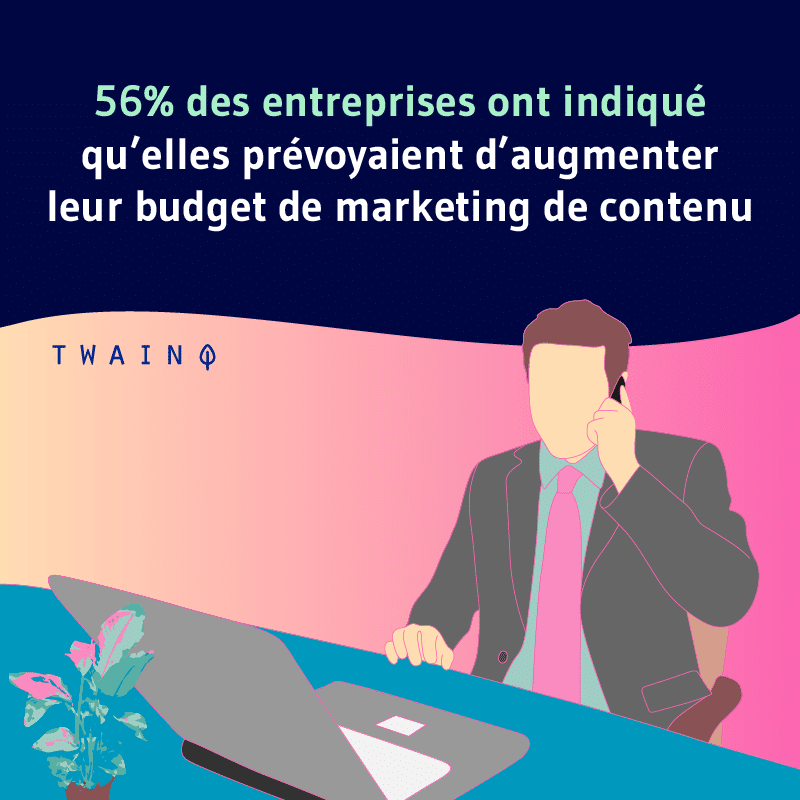 In recent years, there has been a marked increase in spending on content creation. A recent survey showed that 56% of respondents are likely to spend more on content creation. 37% of companies surveyed said they plan to increase their spending on content marketing staff, followed by 36% of companies who plan to increase their spending on paid content creation.
62) On average, pages ranking in the top 10 results for any keyword contain more than 2,000 words (Source: Ironpaper)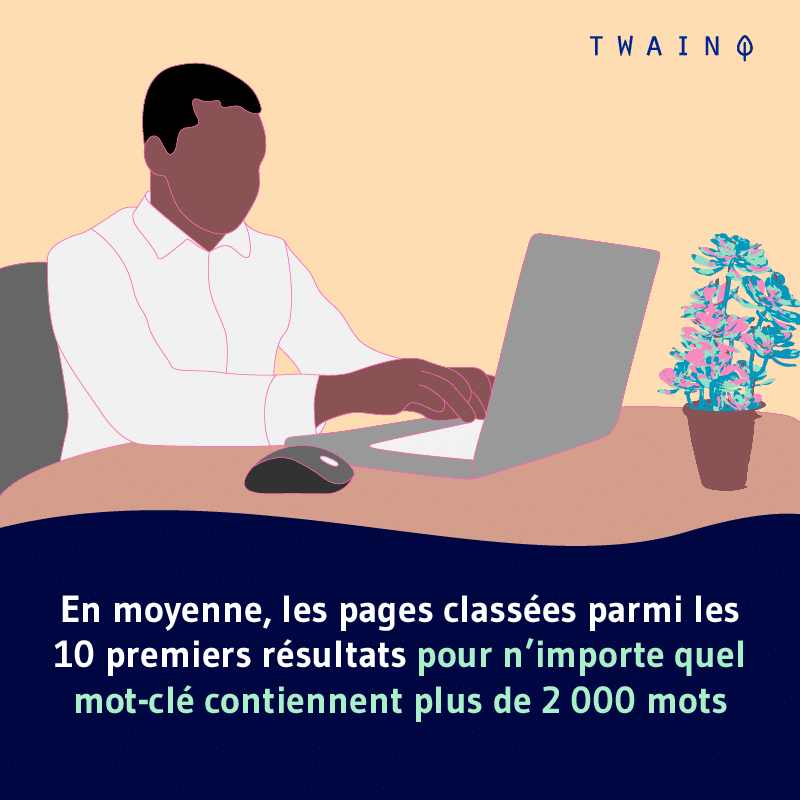 These figures show one thing, users and therefore the Google algorithm seem to favor pages with long content over those with short texts. Therefore, be sure to enhance your content to exceed or approach the word average, in order toimprove your SEO.
63) The average page in first position has more than 35,000 external backlinks (Source: monitorbacklinks)
It turns out that backlinks remain among the most important ranking factors. Google is known for the priority it gives to the most relevant results for a search query.
What will give your website a boost is that Google sees it as a site that shares valuable information. This can only be done if thousands of people visit it often.
64) 35% of customers spend $1,000 per month or less on netlinking (Source: seotribunal)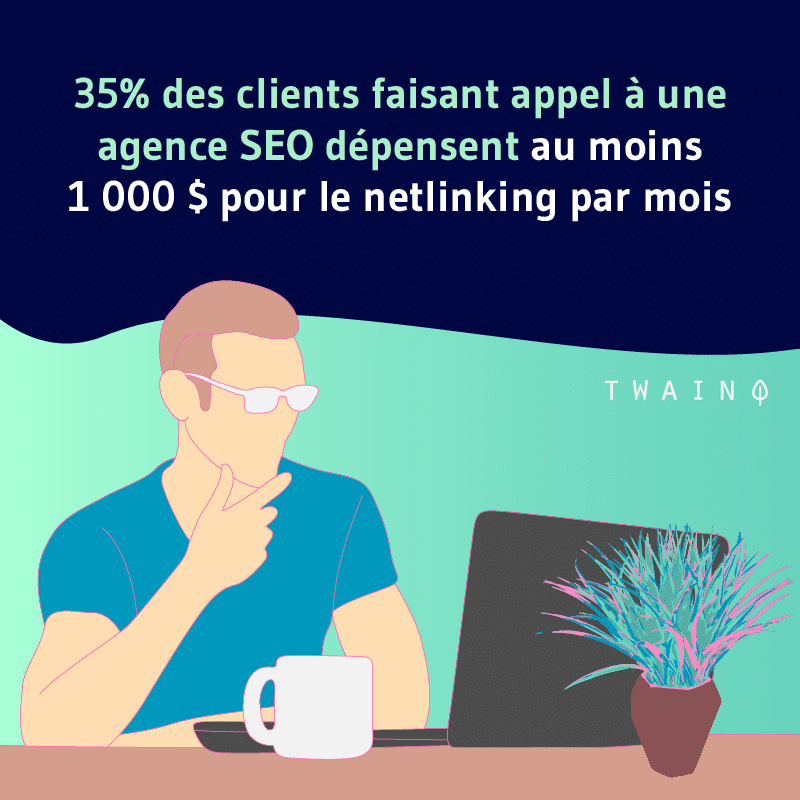 A link building or netlinking strategy can significantly increase your monthly turnover. But to achieve this result, you must be ready to invest your money in a specialist in the field. 
Even if the sum of 1000 dollars per month may seem enormous for netlinking, it is possible to increase your turnover several times thanks to quality links.
65) As for their SEO budget, 53% of clients spend a quarter or less on netlinking (Source: DSIM)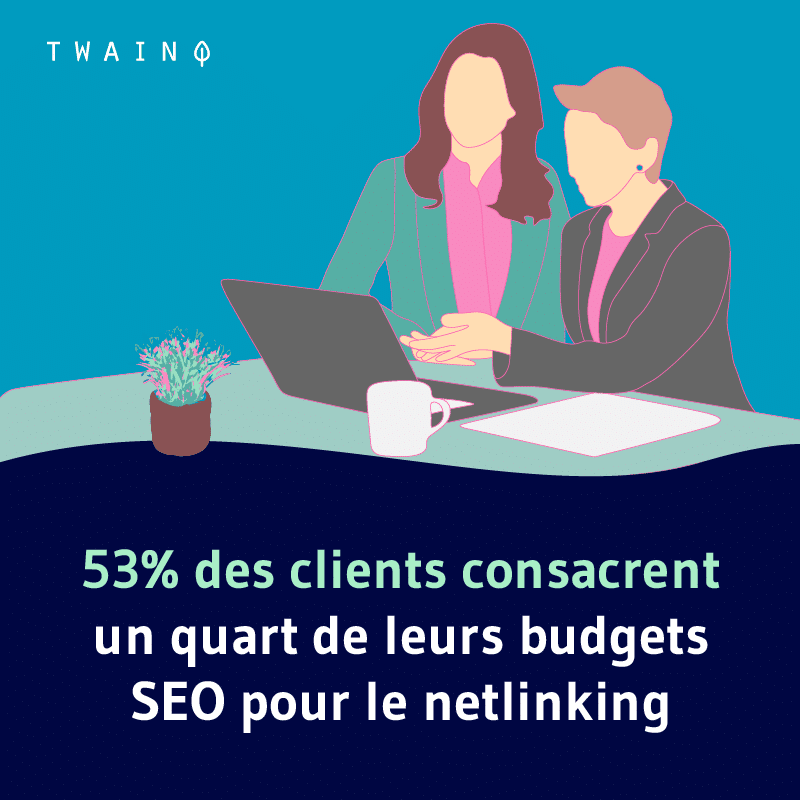 Withdrawing what you have invested is a rule that applies when it comes to a good netlinking strategy . Thus, you can also devote 25% or more of your allocated budget to SEO. But note that if other techniques can allow you to go up in the search results, it is the link building that will keep you there.
66) Using the phrase "because" in emails can increase response rates by 45% (Source: Backlinko)
While it's amazing that just one word can get you huge returns, a Harvard University study has shown that it does. In fact, 89% of people said they would let a stranger get ahead of them in line if they explained why they needed to make their purchase using the phrase "because."
Giving reasons why your service is needed by using the word "because" at the beginning creates the same psychological effect and your response rate is likely to increase by up to 45%.
67) Google's first page results average 1,890 words (Source: Net Market Share)
Feel free to use padding in your articles so that first page visitors have as much information as possible. In addition, I invite you to choose your keywords carefully and to insert them both in the text and in the titles.
68) 57% of SEO experts believe content creation yields the best results in 2019 (Source: Digital GYD)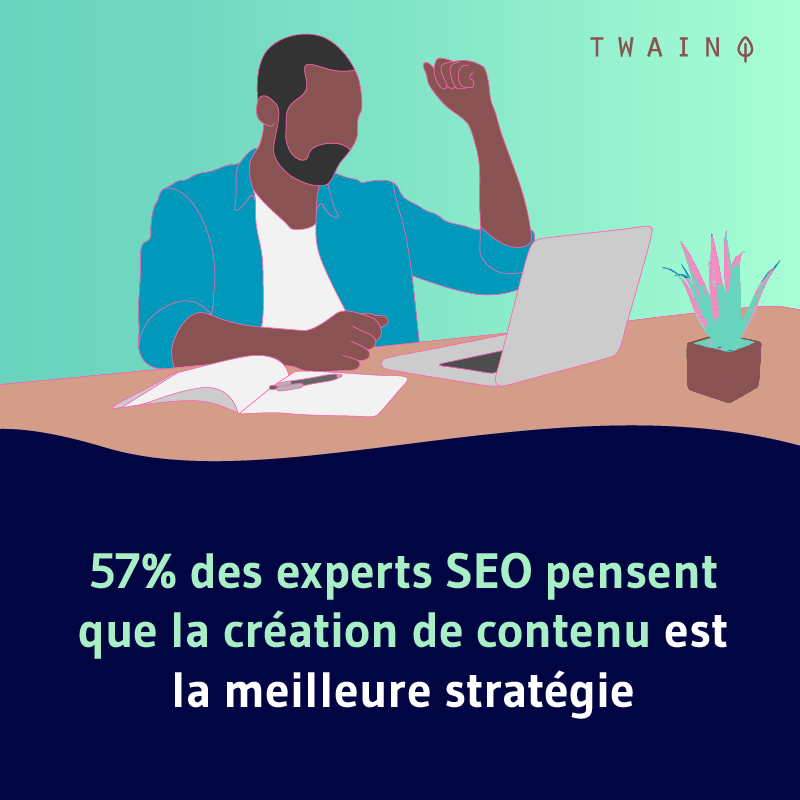 Almost half (49%) believe that keyword research is the most successful practice. On the other hand, social media marketing and link building are the best SEO tactics for 39% and 36% of SEO experts respectively.
69) Companies that produce a blog have 434% more pages indexed on search engines than those that do not (Source: Inet Solutions)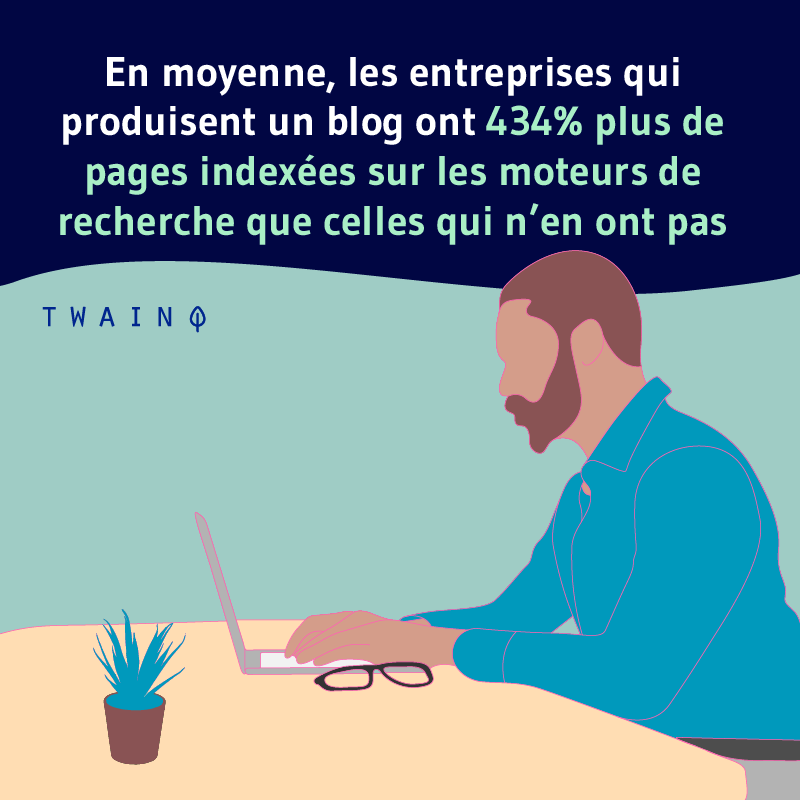 Google policy requires it to crawl every page of a site website. This therefore means that each blog post you publish is an opportunity for you to improve your SEO strategy. 
But the content will therefore be of no use to you if it is not of high quality. Additionally, adding images or videos, keywords, internal links on your website, and external links to your social media profiles can further boost the indexing process.
70) B2B (business-to-business) marketers get 67% more leads if they have a blog (Source: SearchEnginePeople)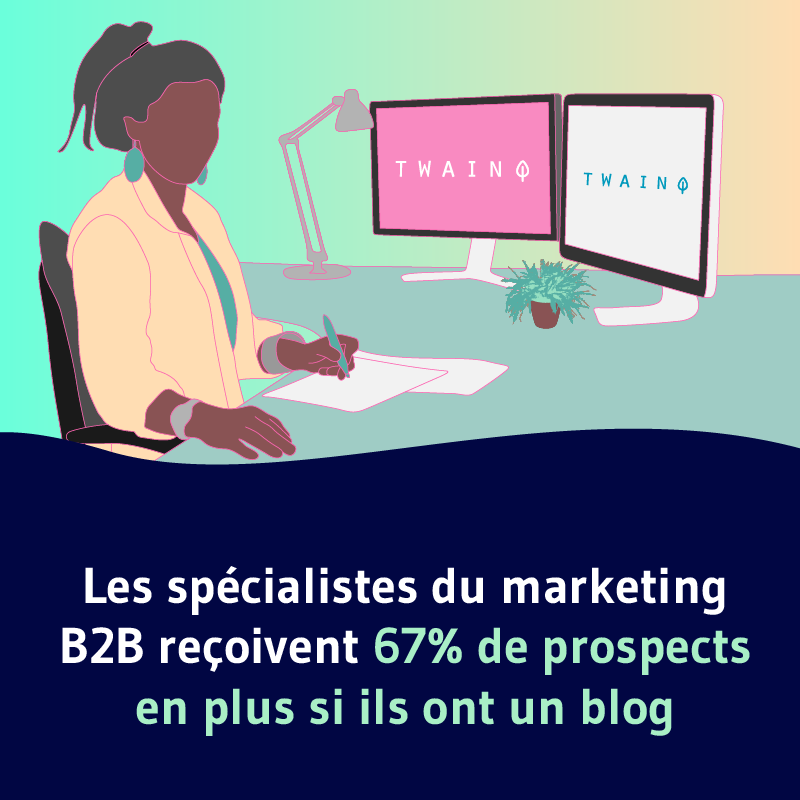 Having a communication tool through which people can find out about you like blogging can increase the number of potential customers. Since they are likely to be interested in what you offer, you must therefore ensure that your content is really relevant.
72) Content marketing gets three times more leads than paid search advertising (Source: Content Marketing Institute)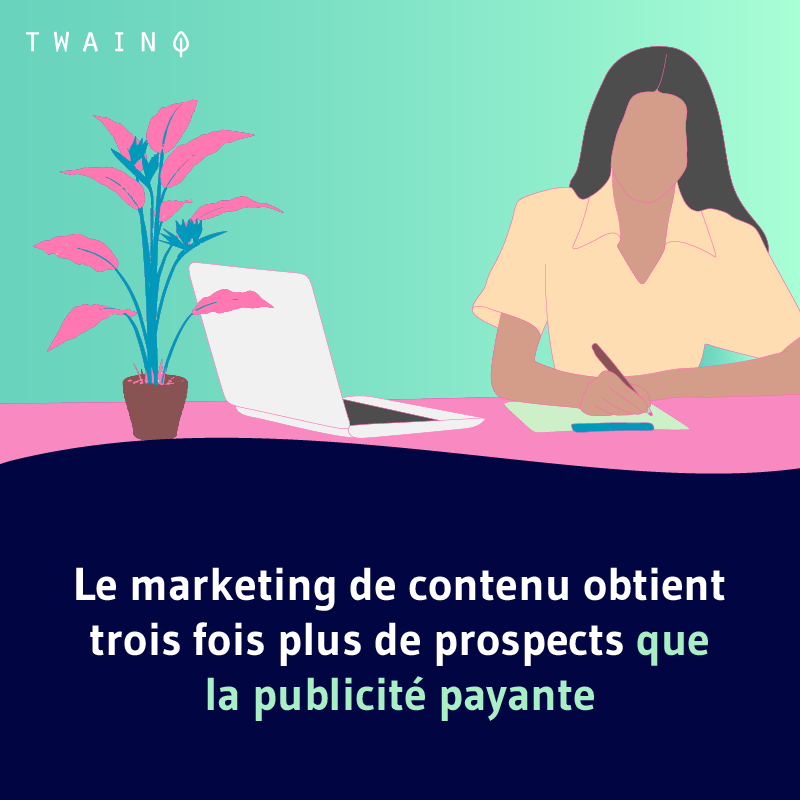 Marketing is arguably the most cost-effective way to promote your business. You can triple the number of leads you generate. All you need to do is create relevant content of impeccable quality. It would be better than sometimes spending money unnecessarily on paid advertising.
73) 38% of marketers post content at least once a week (Source: Slide Share)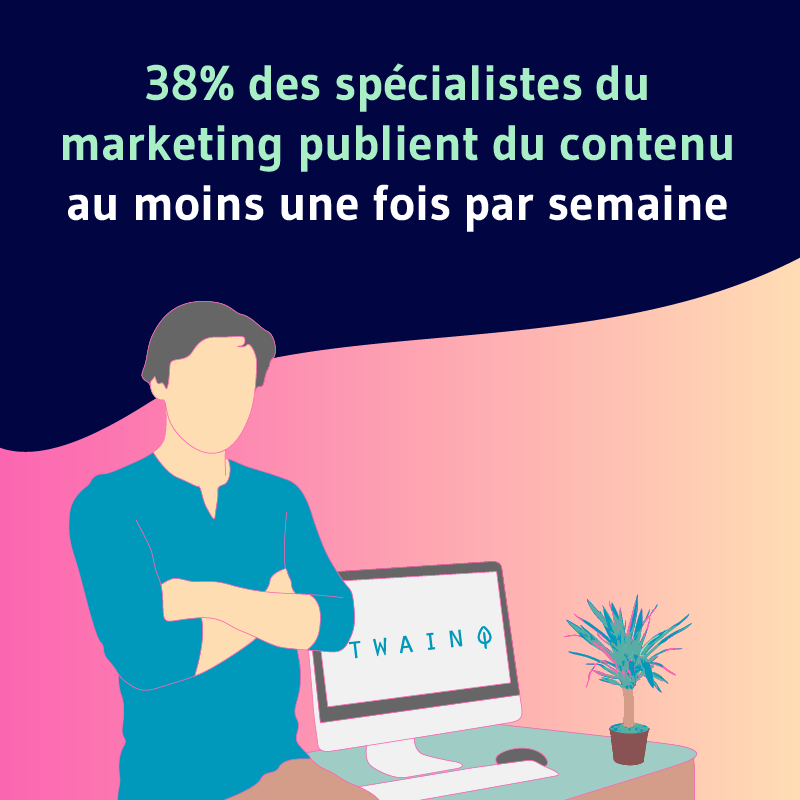 Marketers have begun to recognize the potential of content to increase brand awareness and build audience loyalty. The lever in which they invest now is the creation of original blogs, videos and podcasts. Their goal is to publish content at least once a week.
74) 81% of businesses think their blogs are an important tool for their business (Source: Inet Solutions)
The primary purpose of blogs is to allow the business to better engage with visitors to its website. The posts that are published there allow it to assert its point of view, to describe its products or services, or any other element that it deems relevant, it is then that the reader will be able to get to know the company.
75) 50% of visitors are more likely to click on a result if the brand appears several times in search engine results (Source: SearchEnginePeople)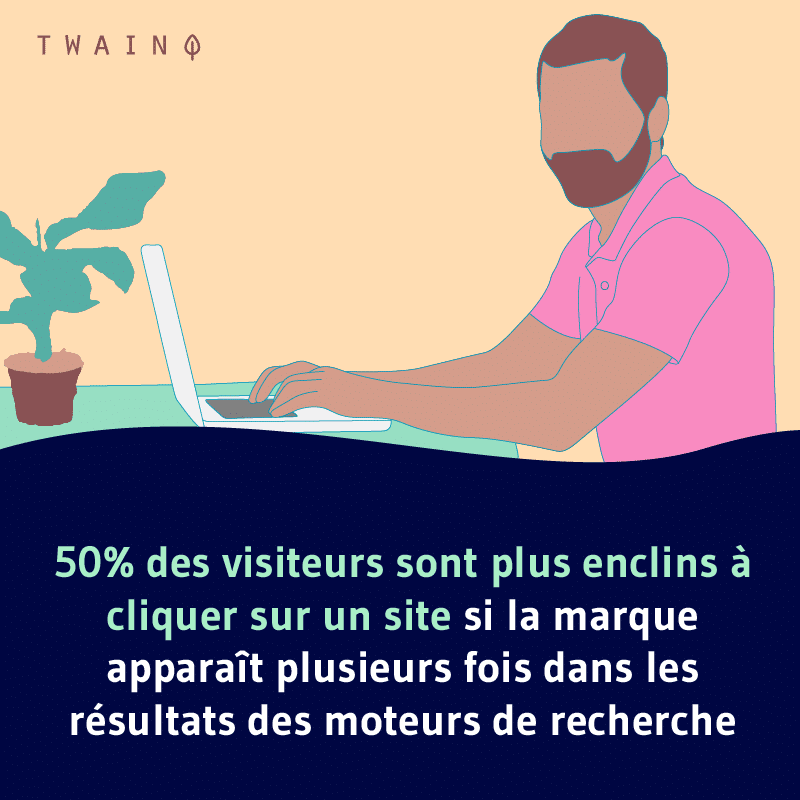 This statistic confirms once again the importance of having a blog. By implementing a good content strategy, you will be able to cover the semantic field of your sector of activity and related activities in a much broader way.
This is a factor that can be very useful to you since you will likely appear several times in search results when the user uses different terms for the same result.
76) 69% of smartphone users are more likely to buy from businesses whose sites easily answer their questions (Source: BigCommerce)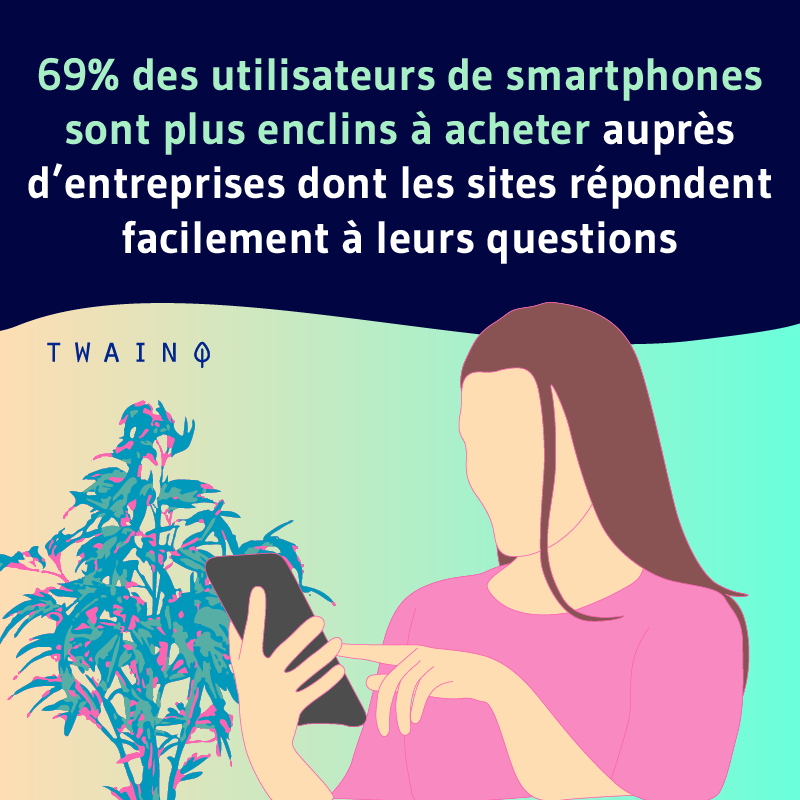 What consumers want is to find answers to their questions effortlessly and they are likely to look elsewhere if this is not the case. For this, it is very useful to set up a responsive support service accompanied by quality content on your website.
SEO statistics for video content
77) If there is a video on the home page of your site, you are 53% more likely to appear on the first page of Google (Source: HubSpot)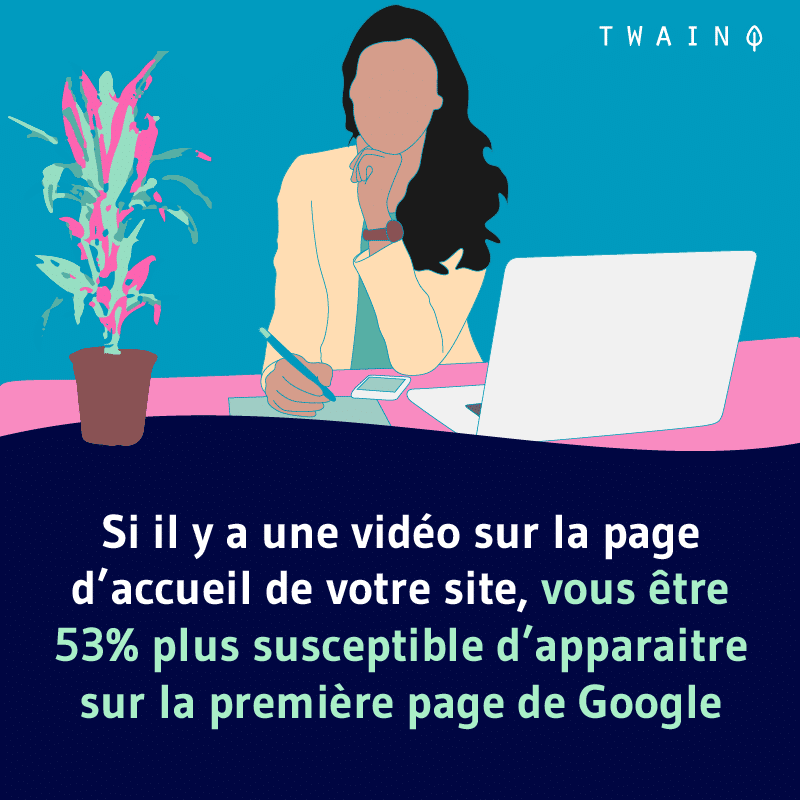 If you optimize like it is necessary the content of your pages by integrating videos as well as relevant images, they will be seen in a more favorable way from the SEO point of view. When doing so, make sure that the video does not compromise the loading or functioning of the site, it could increase the bounce rate and thus, harm you.
78) In 2019, 85% of US Internet traffic is expected to be devoted to video (Source: Web Presence Solutions)
Since you already know the percentage of Internet traffic when it comes to video, it would be good to implement the right strategies in what concerns them. Always being one step ahead is one of the most important factors in SEO.
79) Video content is 50 times more likely to drive organic search results than plain text (Source: Omnicore Agency)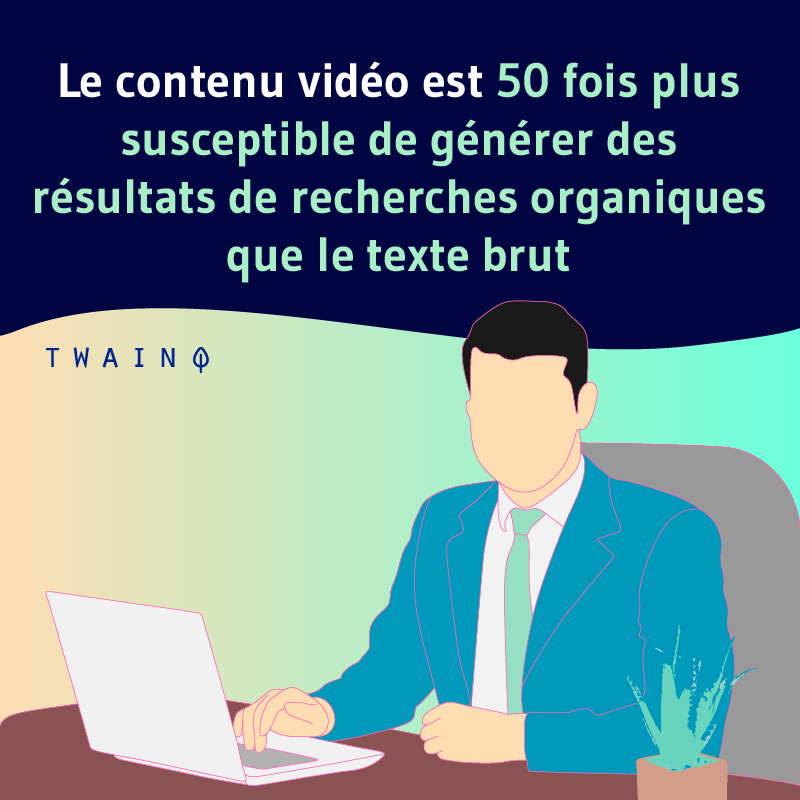 From this statistic, you can imagine how valuable video content can be to consumers. 'actual hour. This is the reason why this aspect should not be overlooked in your strategy.
80) Click-through rates for emails with video are 96% higher than emails without video (Source: Omnicore)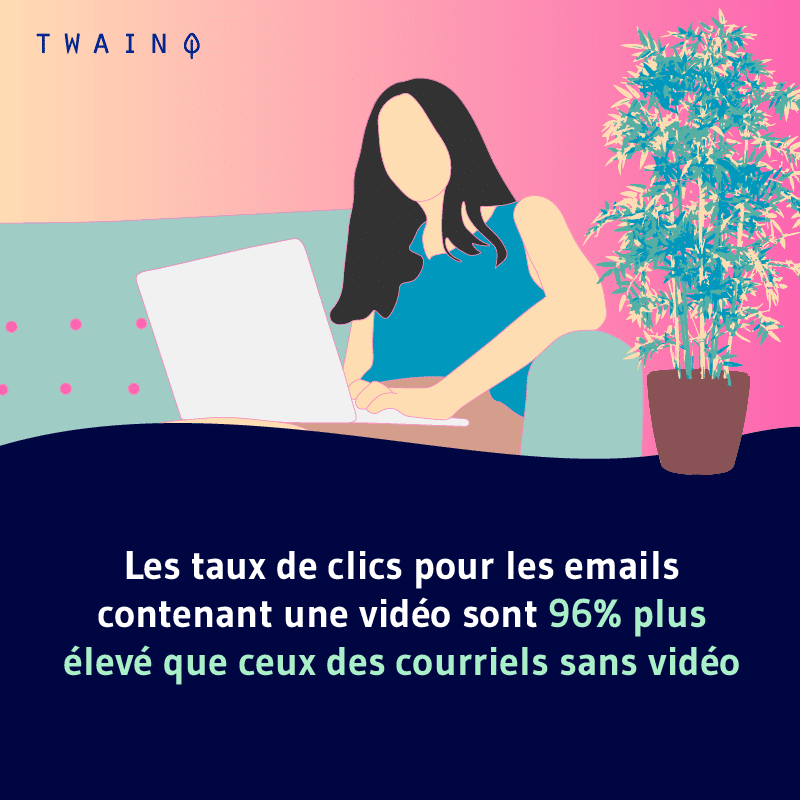 AgencyWeb, it is also the case at the level of emails. People pay more attention to the video and since it intrigues them so much, there's no reason the CTR shouldn't increase.
81) While only 20% of people will read the text on a page, 80% of them will watch a video (Source: Omnicore Agency)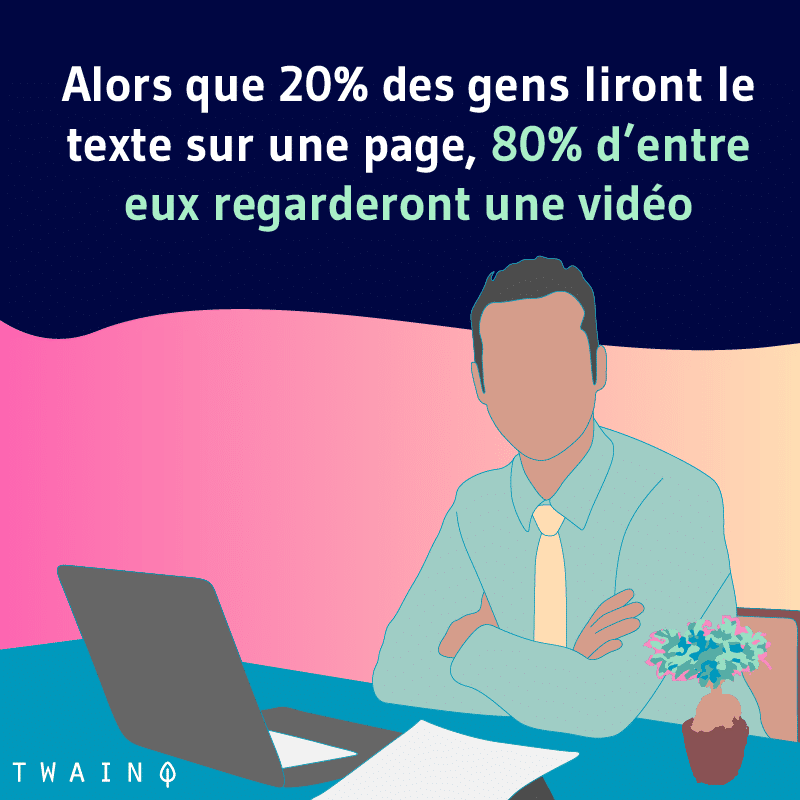 If need be, here's yet more proof of how powerful video is. Only 1 out of 5 people will read the text on your site while 4 out of 5 people will watch the video. A video that contains a relevant message is therefore more useful for you.
82) 52% of marketers cite video as the type of content with the best ROI (Source: HubSpot)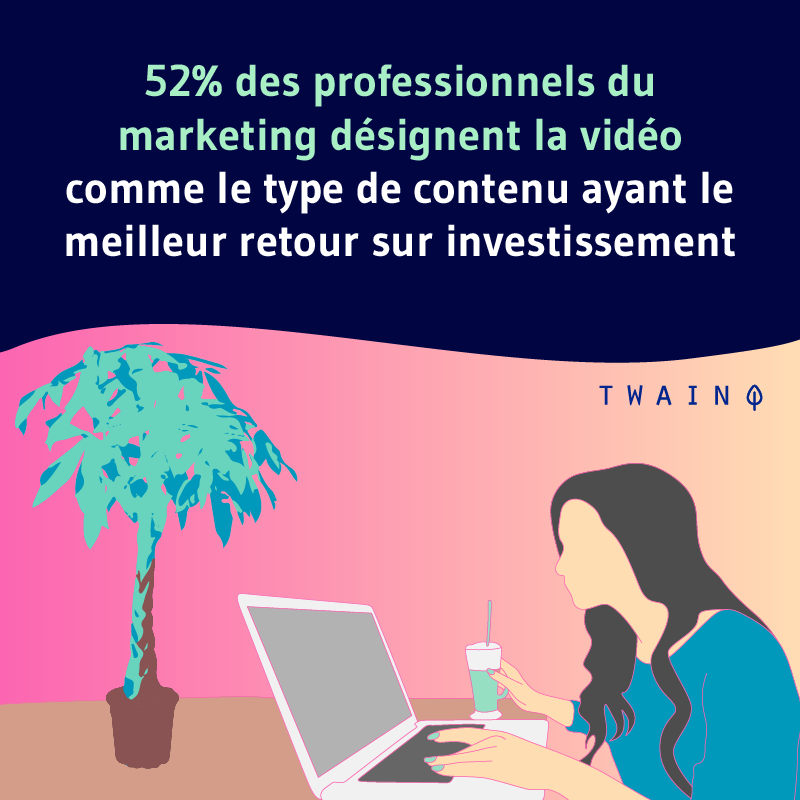 Given this statistic, it might be time to think about a content creation strategy that includes videos. This way, you are likely to have a good return on your investments.
83) 4 out of 5 consumers think demo videos are useful (Source: HubSpot)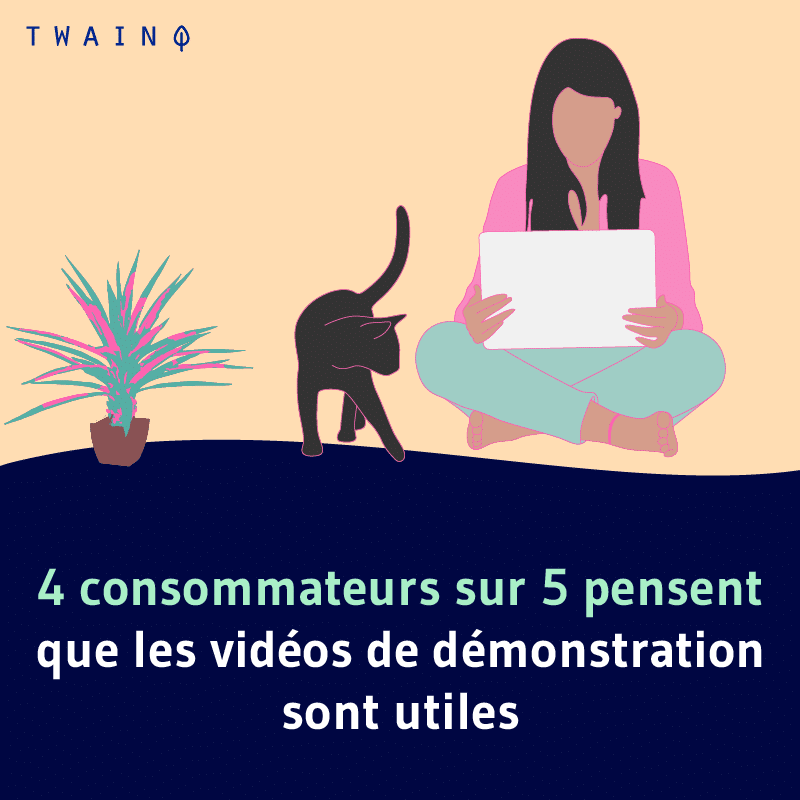 Consumers have a real enthusiasm for video content, take advantage of this fact to present your flagship products.
Thus, you will increase your chances of having more conversions.  
Voice Search SEO Stats
84) 13% of all households in the US owned a smart voice assistant in 2017, and that figure is expected to rise to 55% by 2022 (Source: OC&C Strategy Consultants)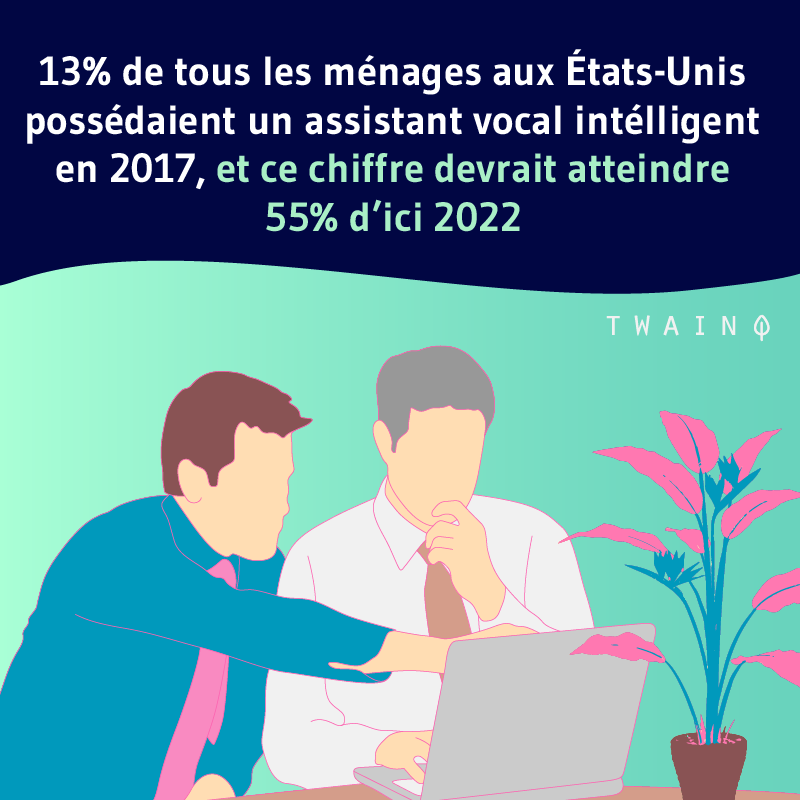 Voice search is a new trend that is gaining considerable momentum since it is obviously more practical than traditional search, which is done with text input.
Since this research method is likely to spread a lot more, you will have a lot to gain by factoring it into your strategy.
85) 9 out of 10 consumers use a voice assistant on their smartphone; 41% say they use it daily (Source: SearchEngineLand)
This is one more point in favor of adapting your SEO strategy to voice search. Especially since it is not written, it is actually based on a conversational tone. For example, adopting natural and conversational language in your blog posts can be a real bonus for your SEO.
86) Mobile voice searches are 3 times more likely to be local searches than text searches (Search Engine Watch, 2017)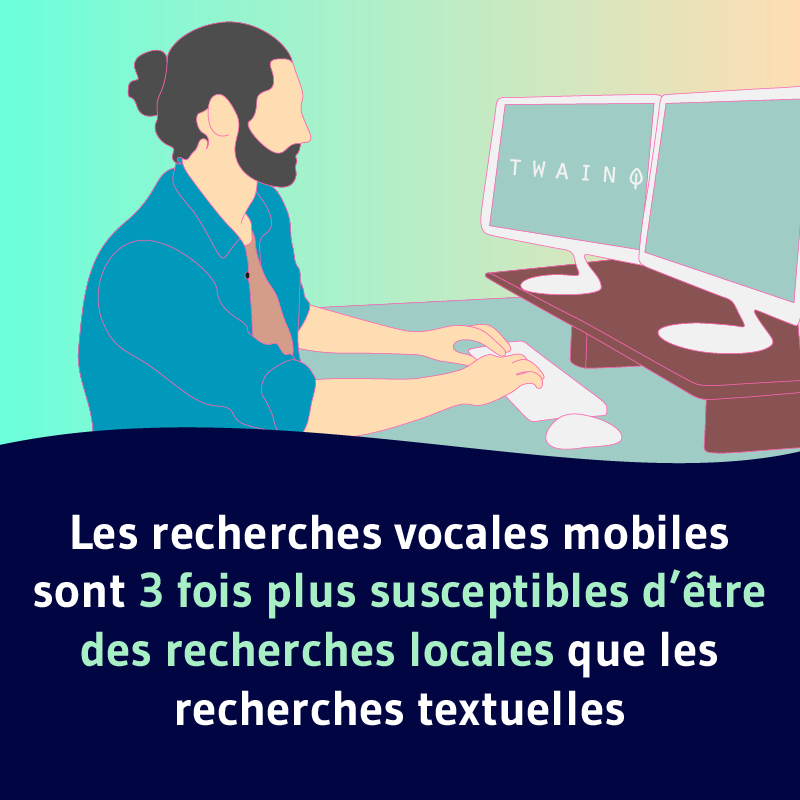 Voice search is gaining momentum according to statistics and since most are local searches, creating already a profile on Google My Business is already one more step in adapting to this new trend.
87) 88% of voice search users say they are likely to use it to get driving directions (Search Engine Land)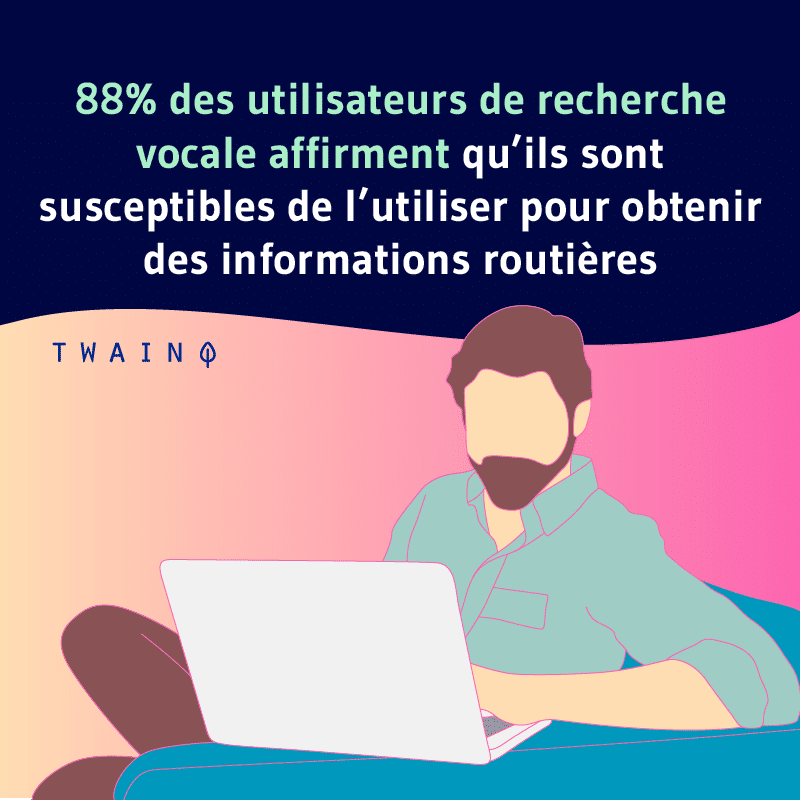 This Stat supports the previous one and that you are likely to get more traffic by Listing your business on Google My Business.
88) The number of voice requests increased by 3,400% between 2008 and 2017 (Source: bluecorona)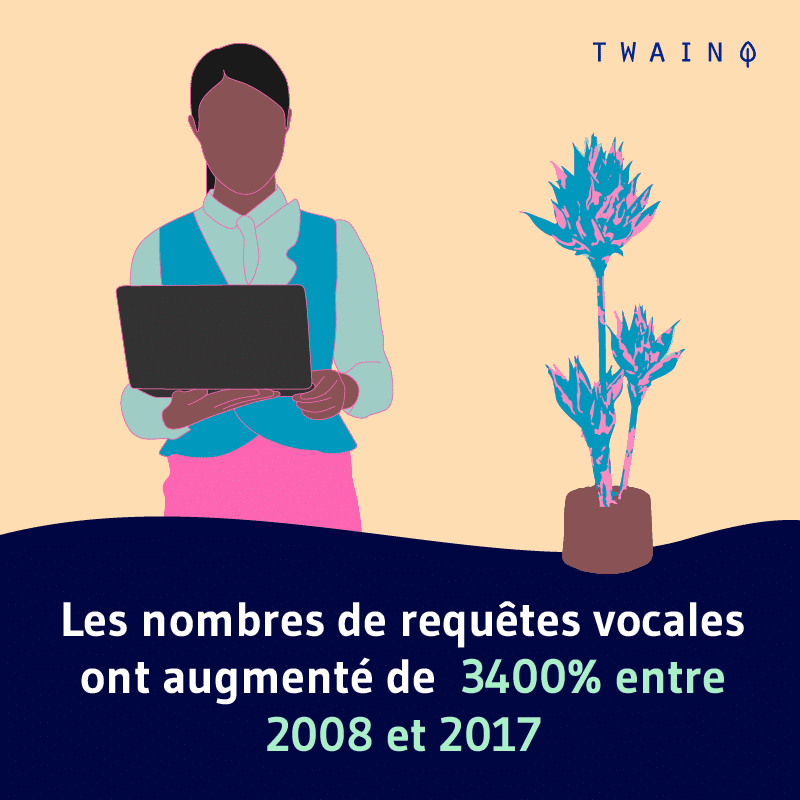 This development in less than a decade is quite impressive and is a wake-up call to improve SEO strategies with this in mind.   
89) Google claims that its voice recognition accuracy is now 92%. (Source : bluecorona)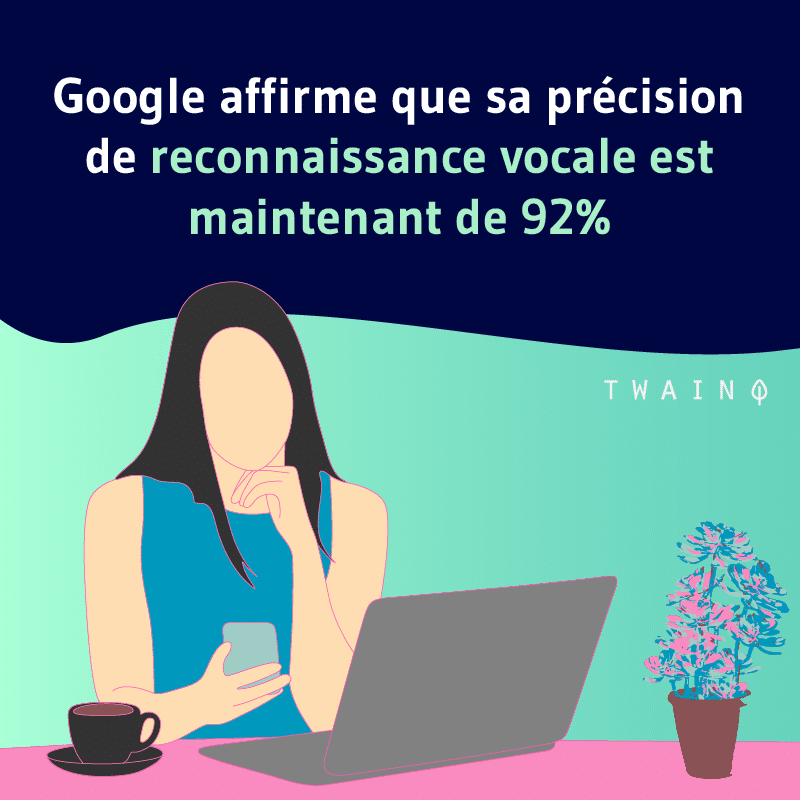 Google attaches great importance to the user experience and for this, the firm is constantly improving its products. The same goes for its voice search, which is constantly evolving to provide the best possible experience to users and thus allow Google to maintain its leading position.
90) 72% of consumers who conduct a local search visit a store within 5 miles of their current location (Source: SEO Expert)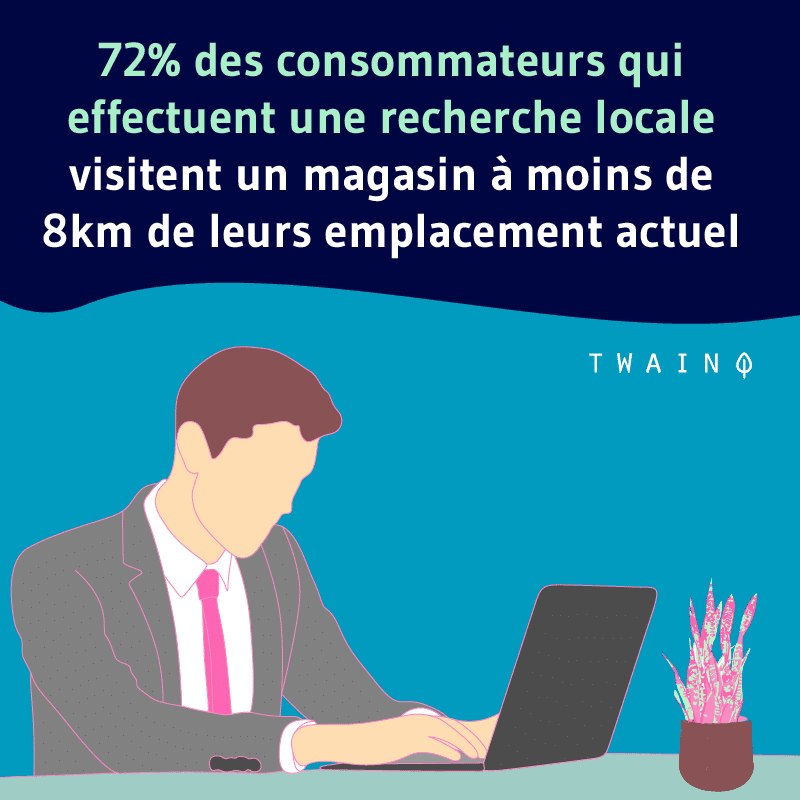 This study shows that when we talk about local SEO, we are talking about "local" in terms of location. Most people will first look for businesses that are close to home and that best fit their needs and budget.
91) 78% of geo-referenced mobile searches result in an offline purchase (Source: SEO Expert)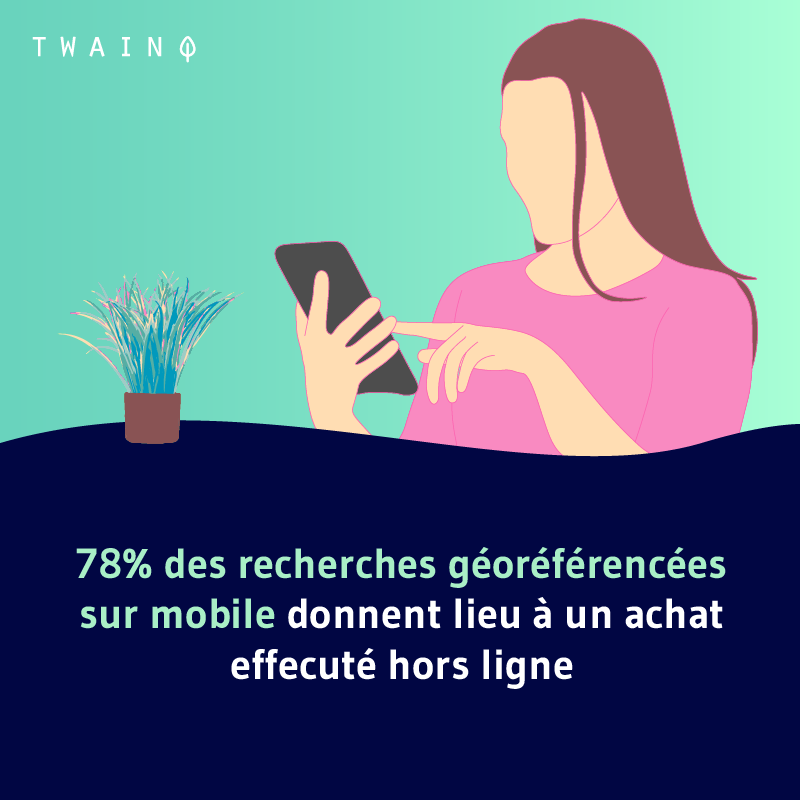 Your local SEO must be multifunctional. It must take into account not only the "online" aspect, but also the "offline" aspect. It must drive people to shop online and, in the same way, reinforce offline shopping.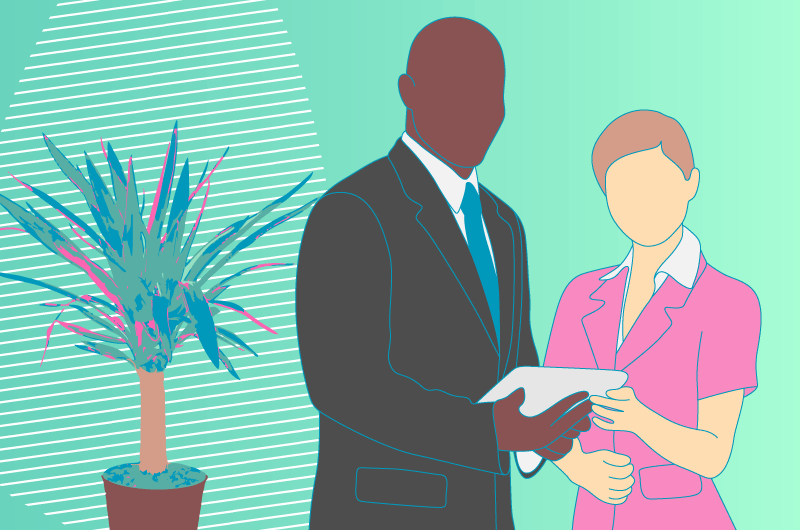 Conclusion
Having visibility is one of the most important objectives when you launch a business or a website. To achieve this objective, there are fortunately several solutions including SEO and as you have seen with the statistics, it is by far the most effective method. But to implement it, there are several parameters to consider. For this, train yourself or call on a professional who will take care of getting you up in the search engine results in order to benefit from a very important organic traffic. In any case, I hope these figures can help you implement a good SEO strategy.