Challenge most important marketingto develop my SEO is content creation. 
Indeed, I am like that 53% specialists who believe that blogging is their first priority.
But according to the same study, content creation only ranks second in terms of priority:
However, an in-depth analysis reveals that content creation is a major element present at the level of all these priorities, obviously with different proportions.
In addition, a study conducted in the United States revealed that blogs are considered reliable sources of information and advice for 81% of American Internet users.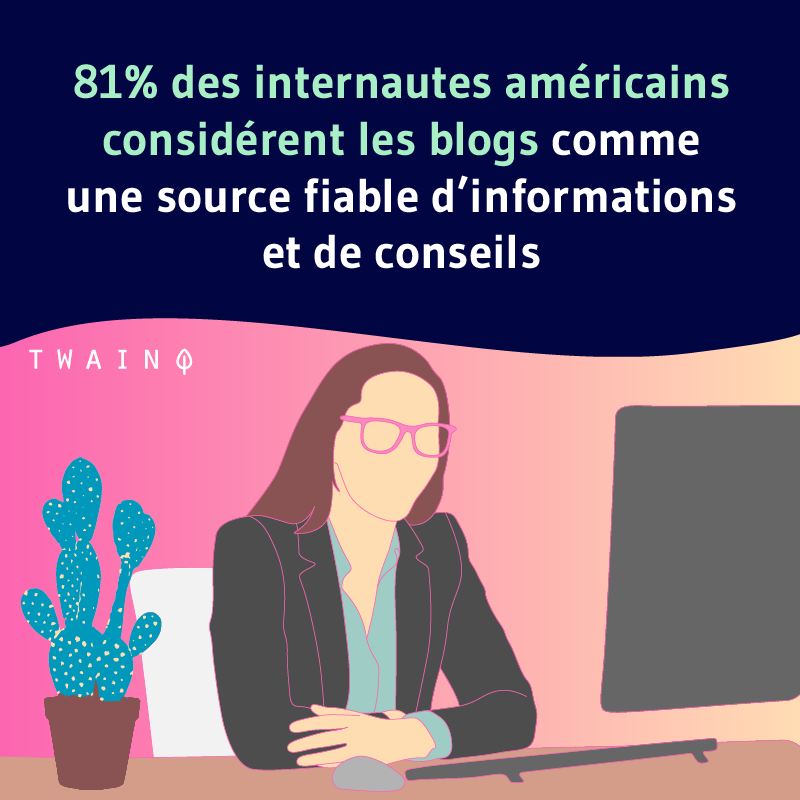 Creating content can be considered a very important pillar of development for a business that wishes to have online visibility.
But as you can imagine, it's not enough to create and publish any content to get results. That being the case, how do you create successful blog posts that can help you achieve your goals?
This is exactly the objective of my present article which will take care of showing you the technique of one-upmanship.
This is a powerful approach that allows you to create content quality, allowing you to get a lot ofauthority. The latter are likely to occupy the best positions in the SERPs, in particular thanks to the backlinks they generate.
The content creation process of my SEO agency Twaino is mainly based on this strategy. To prove to you its effectiveness, I will share with you the results that I obtained by using it. 
To go further, I describe the steps to follow, step by step, so that you can be able to create high-performing and useful content for your audience.
Chapter 1. What is the one-upmanship technique and why adopt it?
1.1. What is the one-upmanship technique?
The overbidding technique originates from the skyscraper developed by Brian Dean a few years ago.
To put it simply, this strategy is divided into three main stages, namely:
Finding the best content on your theme;
Create more qualitative content than what already exists;
Promote your content.
Thus, the one-upmanship technique consists of basing oneself on the best existing content to offer something even more qualitative.
To use Brian Dean's metaphor, suppose you go to a city that has several skyscrapers.
If you're like me, you're definitely not going to care which building ranks fifth in terms of size or prestige.
sYou will probably focus your attention on the tallest and most imposing skyscraper.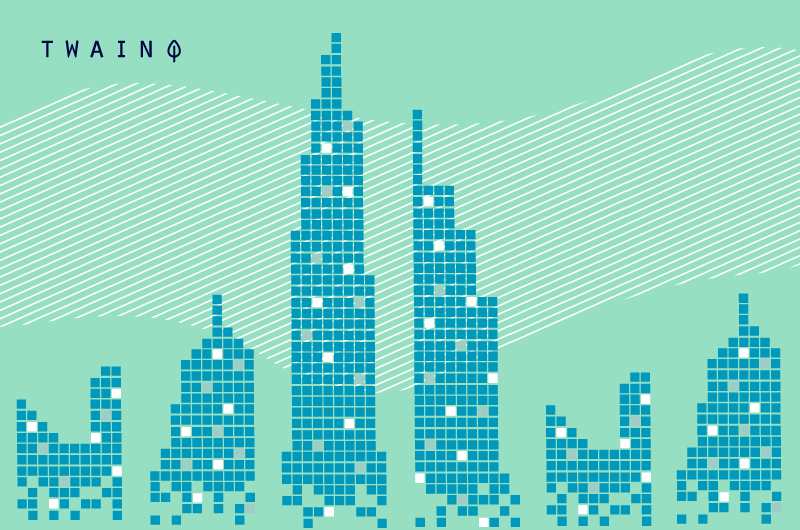 The same goes for content, you're not going to worry about which article ranks fifth when you search. You want the best existing content for your query, like all search engine users.
The one-upmanship technique is to create the most outstanding content that will be able to clearly stand out from the others.
Personally, I prefer the metaphor of an auction to better describe this technique.
Indeed, exactly in the same way as at an auction, it will be the buyer able to offer the best offer or the best content, which will be likely to win first place in the search engine.
1.2. Why should you adopt the overbidding technique?
In SEO, the best approach to take is one of pragmatism and testing.
Thus, rather than contenting myself with vague elements, I will concretely base myself on the results that I have personally obtained within the framework of my Twaino Agency by using the one-upmanship technique.
As two examples are better than one, I will present to you later the results of Brian Dean, with his Backlinko site.
1.2.1. Twaino's results with the one-upmanship technique
This is practically the only strategy I've used since launching my website.
It allowed me to go from 0 to 1,000 monthly visitors in 5 months in a fairly competitive sector, SEO.
I also published an article on how to go from 0 to 1,000 monthly visitors  which shows in detail the results I obtained and the levers I deployed. 
The duration may seem long for some people, but it must be understood that the results will appear more or less quickly depending on the competition in the sector.
Additionally, it takes an average of 6 months to 1 year for a website that launches to actually start getting traction.
I had the opportunity to explain and detail these two points in the article I just quoted on the 1,000 monthly visitors. On this, what is there to understand?
Indeed, the SEO industry is made up of Agencies who know how to effectively optimize their website and occupy the right positions in search engines. Also, it should be noted that the Agencies are numerous and that most are already firmly established.
So a priori, a new site that has no authority and starts from scratch should have a lot of trouble getting results.
Result 1: Increase in the number of visitors
A long start, which tends to accelerate insofar as thenumber of my visitors evolves rapidly.
Last September 21 I was still at 1,002 monthly visitors and today, October 22, I am at 2,094:
Therefore, I almost doubled the result I had in 5 months in 1 month. In other words, I managed to gain 1,000 more visitors in the space of 1 month!
I assure you, I have not changed my strategy. The creation of out-of-the-box content in terms of quality and quantity remains my main asset.
As you can see, my campaign counter is still at zero!
I also allow myself to confirm that this evolution in the number of visitors is essentially due to my organic traffic and therefore without the purchase of advertising or emailing campaigns.
So purely a result of an SEO campaign that is beginning to bear fruit.
Moreover, the number of visitors is not the only indicator of success.
Result 2: Content in featured snippet
The technique of overbidding allowed me to place my content in Google's zero position.
This is my article "Creating a Profitable and Effective Sales Funnel: The Complete Guide". It can be found in the feature snippet for the competitive keyword "Sales funnel":
Quick reminder : "Still known as "position 0" or featured snippet according to Google, the featured snippet is a feature that allows Google to display a direct answer to a request without the user having to click on a link. This is a brief overview that Google usually shows when it deems the answer relevant, the user can then click on the link to get a lot more information.Featured snippets are in the form of a text box located above the results and are sometimes accompanied by an image, this is a privileged position to increase your visibility.".
So, among the many results that are available for the keyword "sales funnel", Google has deemed it relevant to offer its users the following excerpt from my article:
"Once trust has been established with your content and decision, this prospect becomes your customer by making one or more purchases. These are the key stages of this journey that the sales funnel makes it possible to analyze and optimize.".
Really relevant, isn't it? For now, my content will be in the featured snippet until Google deems there is a better snippet for its users.
But, how long did it take for my item to appear in this position?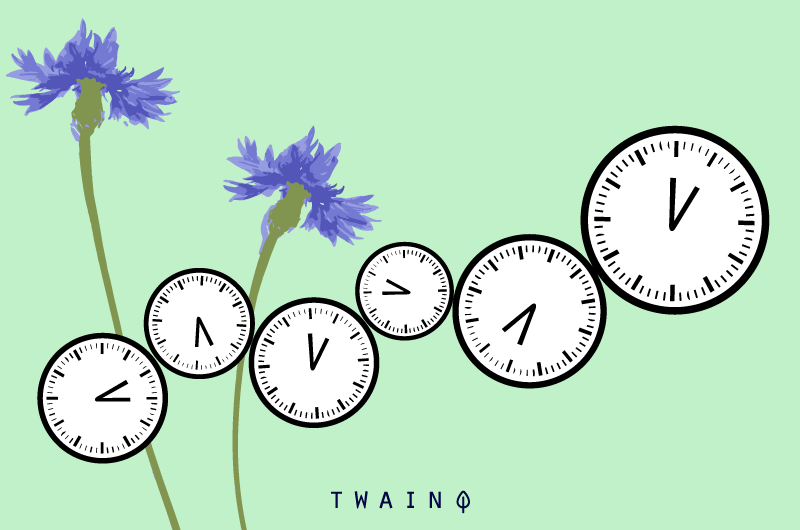 To be honest, I couldn't tell exactly when my article started showing up at position zero. Unfortunately Google does not send a notification when it places content in such a position☺
That said, I published the article at the beginning of July so it took about three months for my content to rank at this level !
This remark allows me to tell you that the overbidding technique is absolutely not magic, it will take time and a lot of effort.
If you want results overnight, this is not the right technique for you. Becauseyou will have to devote time to it, especially for the creation of quality content.
Once published, it will also take some time before you get any results or traffic.
However, if your website is already established and you have high monthly traffic, you are likely to see results quickly!
That is, the waiting time should be relatively shorter than someone who just started.
So, does the one-upmanship strategy work? I answer yes, with the proofs that I have just shown you.
1.2.2. Brian Dean's Results
That said, strategy author Brian Dean also had great results when using his technique.
In the space of 14 days, his traffic doubled:
Note also that this is not the only impressive statistic. His number of referring sites or sites having created backlinks to his website took off very well:
Which allowed Dean to have more than 300,000 visitors…
I think at this stage you have enough evidence that the overbidding technique is very effective.
Now, before moving on to the process of using this strategy, I think it is essential to clarify a few notions. Including backlinks and the definition of quality content.
1.3. What is the link between the overbidding technique and backlinks?
Backlinks or links from other websites are important factors in search engine rankings.
1.3.1. The importance of backlinks for SEO
According to a study of 1 million search results, there is a strong correlation between the number of referring domains and the position in search engines:
Which implies that the more unique sites you have linking to your website, the more your pages will tend to rank higher in the results.
In the same logic, the more quality backlinks you have in general, the more your website is likely to experiencean improvement in its position in search engines.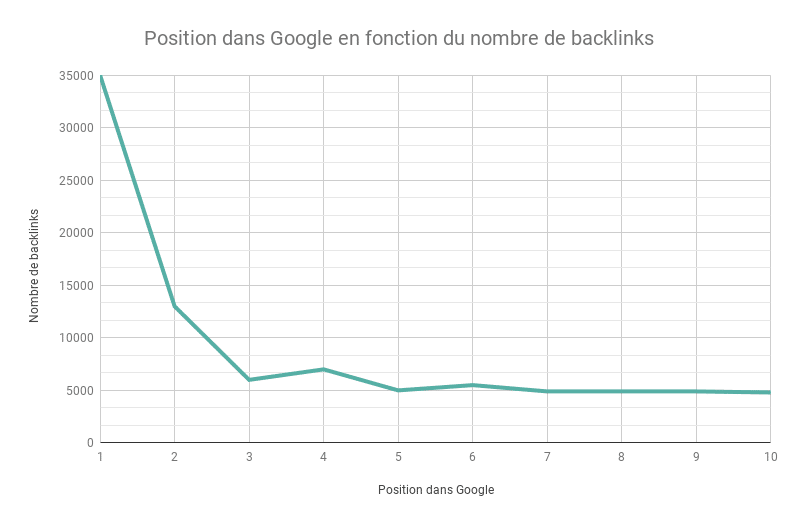 However, you have to be careful in the types of sites that link to your web pages. You have to make sure they are of high quality so that you are not penalized by search engine algorithms.
When you have a lot of links from referring sites, your website authority (DA) will be improved and this is also an important factor for rankings:
To a lesser extent, the authority of a individual page (PA) is taken into account by search engines for their ranking:
To go further, HubSpot conducted a study of 6,192 blog posts. The observation is that there is a significant correlation between the number of backlinks and organic traffic:
By taking these different statistics into account, it is easy to understand that a good strategy for creating backlinks can allow you to improve the visibility of your website on search engines. 
Practical example
Let's take the keyword "plant a tree".
I will use the Moz toolbar to determine the Domain Autorithy (DA) or authority score of websites in the SERPs:
Just install the extension, register and refresh the results from Google to have the same interface as me.
Click on the small arrow next to the Moz logo to export the results of the page to CSV for analysis.
To see a real difference, I will compare this result with that of the third page.
You can already see that the title of the pages is less relevant to my research:
In addition to the relevance which is less, there is a drop in terms of:
Backlinks (links);
From the Page Authority (PA);
From the Domain Authority (DA).
Obviously, these are not the only elements that are taken into account during the rankings.
There are more than 200 ranking factors at Google level. This is why you have sites with high DA that are outclassed by websites with low DA:
1.3.2. The correlation between backlinks and the outbidding technique
According to a study by some Google Search Quality Strategist, the second most important criterion apart from netlinking is the content!
It is exactly for this reason that despite the low DA of my site at the moment, my article on the sales funnel is positioned well: Featured snippet and second position in the organic results.
Therefore, if you create high-quality content, there is a good chance that your content will rank among the top results.
A good ranking obviously allows you to have a considerable number of click-through rates, in particular depending on the keyword on which you are positioning yourself.
So what is the relationship between the overbidding technique and backlinks?
If you've looked at my article on building backlinks, you've seen that of the 20 or so strategies listed, link bait is considered the most effective. 
This consists of creating content that brings great added value to the reader. Link bait content is high enough quality to attract backlinks on its own because site owners will be interested in linking to this quality resource.
This is sort of the idea behind the one-upmanship technique, an approach absolutely aligned with Google:
" The best way to encourage other sites to create relevant and quality links to your site is to publish a unique and relevant content, which will allow you to naturally gain popularity among Internet users. Creating quality content is rewarded. Links generally constitute voluntarily assigned editorial votes. The more useful the content on your site, the more likely you are that another person will find that content interesting to their readers and link to your site. ".
To go further, you can watch Matt Cutts who demonstrates how the search engine works:
Outbidding allows you to have quality content that encourages other bloggers to link to you . Nevertheless, you will promote your content to maximize the number of backlinks to your site.
When your content is more qualitative and has more links than existing content in the SERPs, you increase your chances of being ranked in the top positions. Especially since these are two very important criteria for ranking in the SERPs.
You now know that my strategy can help you achieve your SEO goals. It's time to really understand what quality content is before describing the process.
Chapter 2: What is high quality content?
This is a very important concept in content marketing that deserves an entire chapter.
I think we all agree on the fact that the quality ofcontent is a very important element, but concretely what do we really mean by quality content?
2.1. What is quality content?
I had the opportunity to mention several times in my articles that it is important to create quality content without concretely explaining what it is about.
I can answer that question with the statement of B2B marketer Doug Kessler :
" A content resonates with its audience. If not, it may be smart or beautiful or funny, but it's not quality.".
There you go, the quality of content can be summed up with these two sentences. It is very important to know that your audience is the sole judge of your content!
In other words, you will not be able to be sure that your content is really qualitative unless you have submitted it to your audience.
On this subject, John Bell says:
"Quality is really determined by our audience – prospects, customers and agents. If they find it useful – which we can tell from the data and feedback – it could be quality content. Our goal is to rely on data and create content that is highly usable and/or inspiring for our audiences. It's quality!.
We can therefore conclude that whatever your efforts, you will not be able to confirm that your content is of quality without having published it and seen real performance
Based on this premise, let's see the main factors that can help you qualify content as being of quality.
2.1.1. Quality content can be recognized by the data
It is imperative to base yourself on statistics or data in order to affirm that content is of quality. This is in my opinion the only way to know if you have authoritative or quality content.
Indeed, authority content is the type of content that performs extremely well in relation to the theme it deals with. They usually occupy the first three positions in the SERPs and lead to the most traffic and leads.
Obviously, they are not numerous and Larry Kim the CEO of WordStream estimates that they represent approximately 3% of all content. This illustrates the level of difficulty that these types of content require.
To go further, let's see the 4 factors that can allow you to affirm that content is of quality.
With these elements, you will be able to determine what type of article or content to consider to create your overbid content.
In other words, you will know which type of article you should upgrade.
Factor 1: Quality content ranks high in the SERPs
If you have content that is not ranking well in the SERPs, there may be an issue with its quality.
Indeed, authority content tends to rank well in the results.
The reason for this is relatively simple: Google's algorithms, in particular RankBrain, use a reward system based on engagement.
RankBrain is an artificial intelligence which learns constantly and which is based on the satisfaction of the users to modify the results which it proposes:
Thus, the more the content knows engagement on behalf of the Net surfers, the more RankBrain will try toimprove the position of the content.
That being the case, you may wonder how does Google know that a given content is engaging its users?
The search engine is mainly based on the click rate, the bounce rate and the dwell time (or the time your visitors spend on your web page).
1. Click-through rate or CTR
As we have already seen, quality content that occupies the first positions has a higher CTR or click-through rate:
Authority content that constitutes a tiny part has nearly 7 times more CTR or click-through rate than most of the content occupying 5thplace on the last page.
Additionally, the CTR based on rank gain is as follows:
To interpret this chart, consider that: For every 3% increase or decrease in CTR, your position may increase or decrease by one place.
The click rate is therefore an important parameter in SEO and Matt Cutts adds on this subject:
" Your frequency of appearance does not matter. It is important to know how often you are clicked and how often you convert them into what you really want (sales, purchases, subscriptions)".
2. Dwell time and bounce rate
Dwell time is also common sense! The more time people spend on your website, the more Google will consider this content to be of high quality.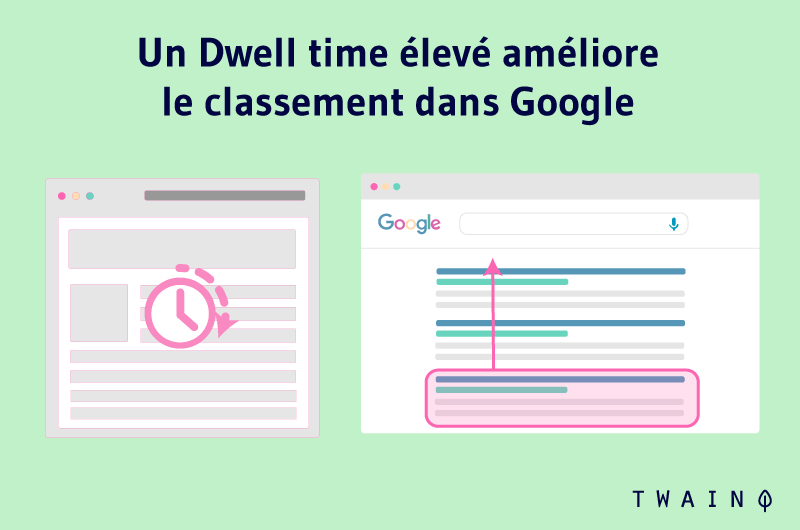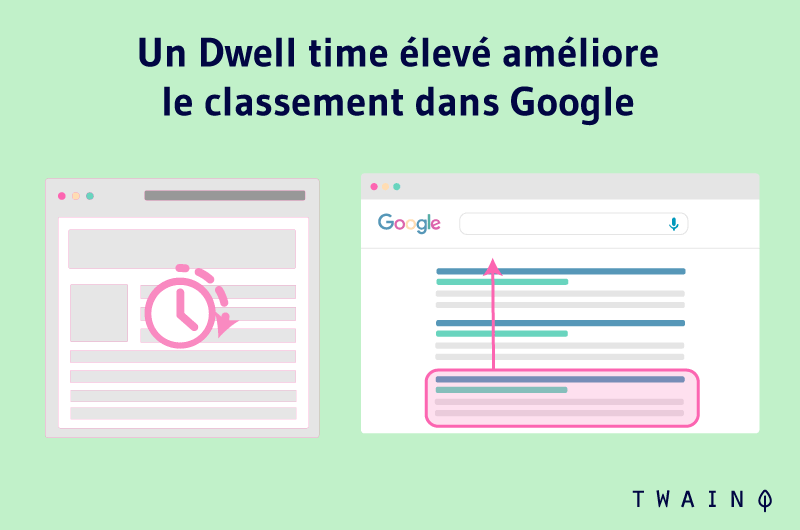 In addition, a high bounce rate can be a sign that your website does not offer a good user experience.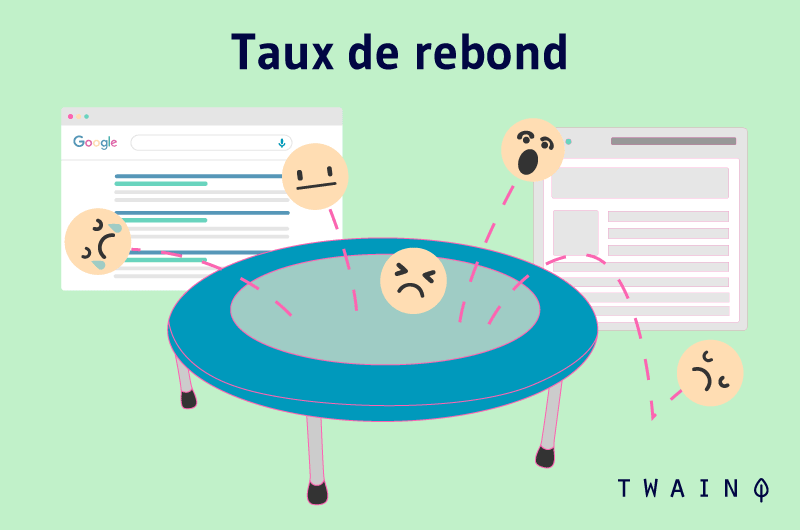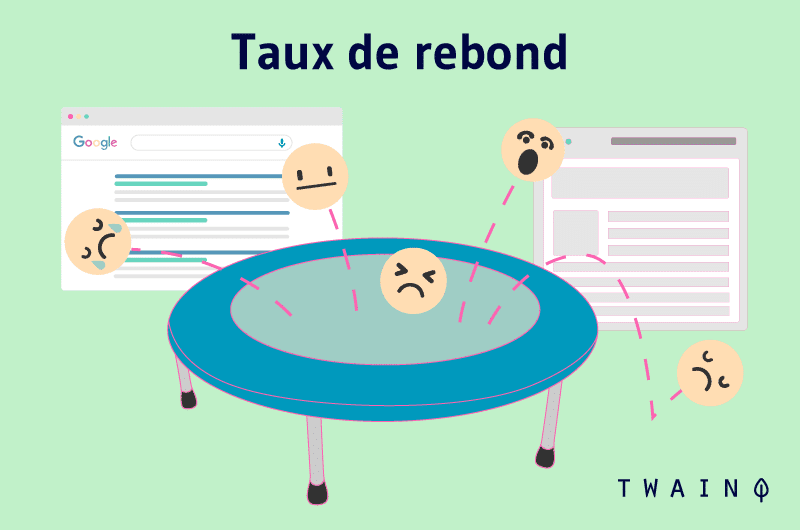 These include pogosticking which can show that content is of low quality.
Indeed, pogosticking: "is a special type of bounce in that the user clicks on other search results in an attempt to find the answer to their query. ".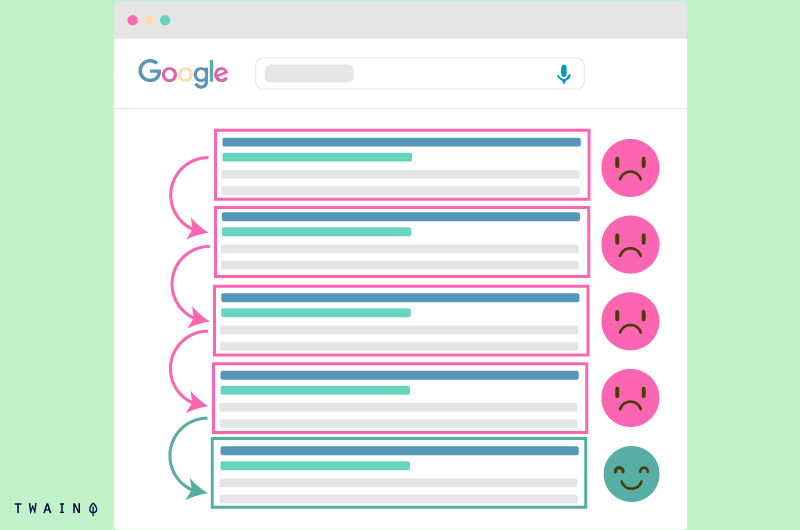 During searches, it often happens that we return to the results page in order to consult another page in order to find a solution to our request.
If a significant number of Internet users bounce in this way for a specific page, there is a good chance that the algorithms will consider it low quality and downgrade it.
Conversely, the pages that are the most consulted or that benefit from pogosticking will experience an improvement in their position.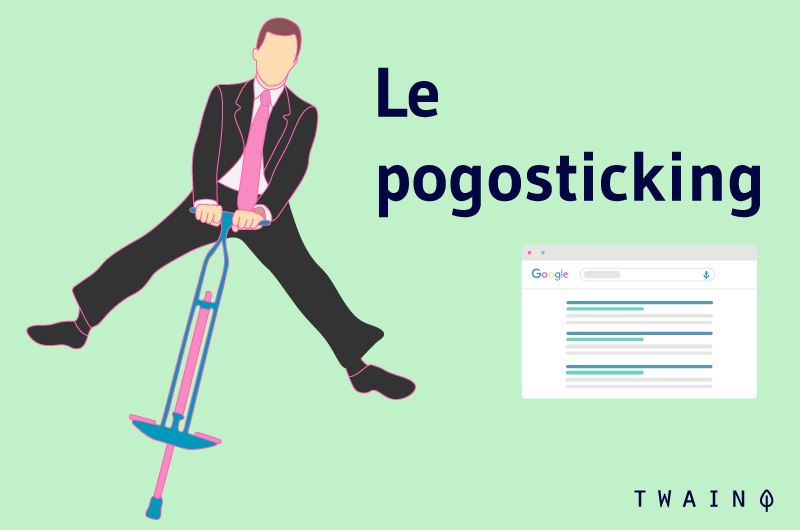 In the image above, search engines are likely to rank better soon on the last page.
Factor 2: Authority content has a high level of engagement
On social networks, the engagement generated by authority content is significantly higher:
According to the graph, it can be estimated that authority content that is 3 in number have 10 times more engagement than the remaining 127.
The difference is simply huge!
It should also be noted that social networks such as Facebook use algorithms like RankBrain. Here's Larry Greatty's diagram of it:
As you can see, Facebook's algorithms favor content popularity over content quality. To capture the attention of users on social platforms, you need content that triggers an emotional response.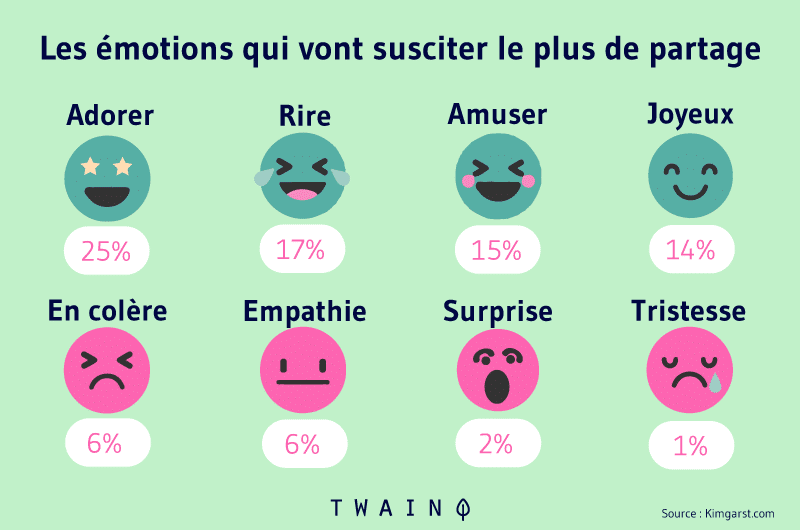 It is for this reason that even fake news is very popular on social networks. They arouse strong emotions among Internet users!
Only content that achieves high engagement on social media can truly be considered quality. And you can judge it through the following 5 elements:
Factor 3: Authority content performs well on all channels
Authority content is that which performs well on almost all channels, namely:
Engines of research ;
Social networks ;
Emails;
Etc…
Authority content:
Has good results on social networks;
Tends to rank well in search engines;
Tends to convert well.
By the same token, content that fails in one channel is likely to fail in another.
Factor 4: Quality Content Achieves Goals
did you get Whatof the content you posted?
This is the most important question you should ask yourself if you want to determine if your content is quality.
It is the return on investment or ROI that will allow you to affirm that you have produced truly qualitative content.
Suppose you want apples and you plant the seed.
The plant may or may not bear fruit under certain conditions.
The relevance of your efforts will only have its full meaning when you have reached your goal: that of having apples.
The same goes for content: Whatever your investments or your estimates, it is its performance and the extent to which it allows you to achieve your objectives that will allow you to consider it to be of quality.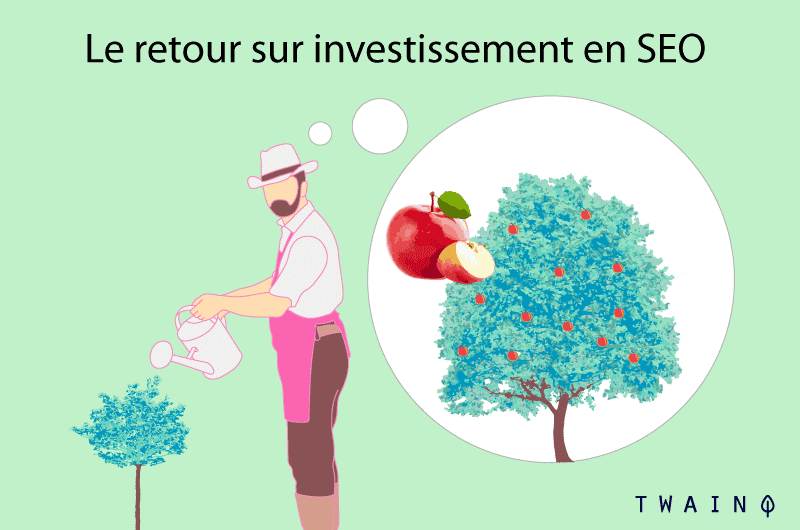 It is for this reason that quality content does not have fixed attributes.
It can:
Be long or short;
Have dozens of images or none;
Have impeccable grammar or a few spelling errors;
Contain examples or statistics or not;
Etc…
The important thing is to know if your key content achieves its marketing objective in terms of:
Traffic;
Ranking ;
Commitment ;
Conversions.
However, you don't have to operate blind.
Marketers have found that certain types of content tend to perform better than others.
It will therefore be possible for you to capitalize on these attributes or similarities in order to create content that is likely to perform well in the results.
That's what we'll see in the next chapter, but first let me show you how my sales funnel article helped me achieve my goals.
2.1.2. Practical case of quality content
It's always a bit of a pretentious act to take your own work to talk about "quality content", but my real goal is to be able to show you the statistics behind this result, information that is not necessarily accessible for content better than mine.
In my case, I can probably say that my article on the sales funnel is of quality.
The proof is that it ranks at position zero in search results: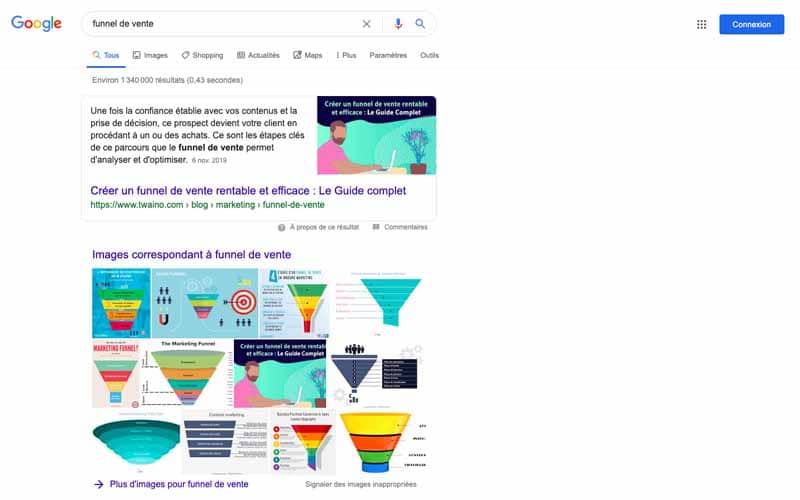 Moreover, it is the fourth most viewed page on my website right now: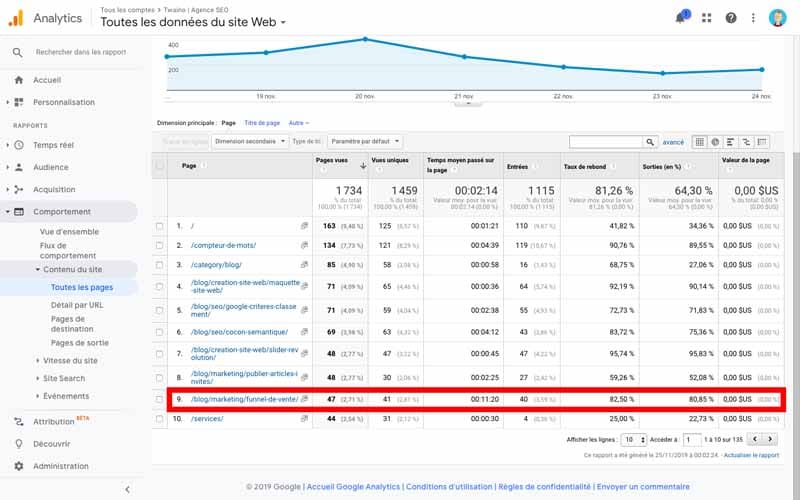 In other words, it is the one of the pages that drains the most traffic on my website.
It is not necessarily the one that achieves the most performance in Google Analytics.
If I consider the "word counter », we can see that in addition to the traffic, the average time spent on the page is considerable: 6 minutes 34 seconds, against 2 minutes 09 seconds.
That said, I consider the "sales funnel" to be of quality since it meets the qualification criteria that I have listed in this section.While the "word counter" page is still in 11thposition and therefore occupies the first place of the second page: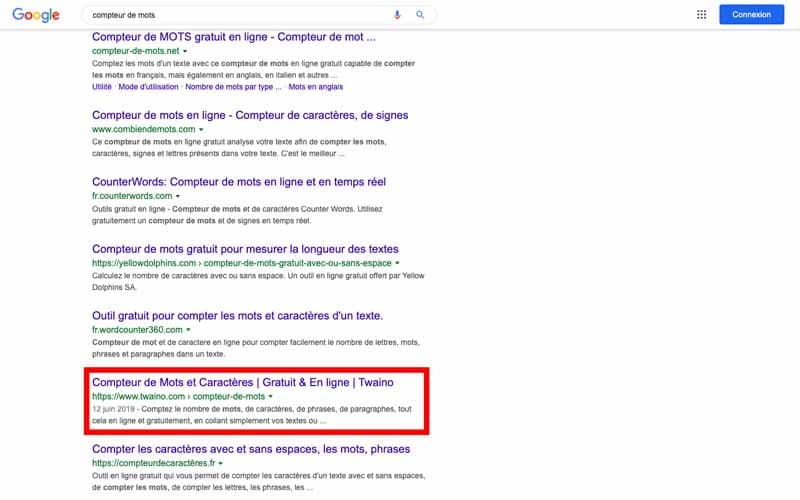 It is important to note that if you have just launched your business, the frequency of publication also has a very significant impact. on your performance.
If you create one piece of authority content and wait several weeks before posting another, you'll struggle to see meaningful results.
You need to be consistent in your content creation strategy. 
To this end, let's go around the subject by deepening the habits of successful content marketers.
This, in order to maximize your tendency to succeed with your content marketing strategies.
2.2. What are the qualities of the best content marketers?
If you take inspiration from the best, it's a safe bet that you can also create authoritative content.
But firstof all, we can ask ourselves why it is crucial to learn how to create quality content?
2.2.1. The importance of knowing how to create authoritative content
The amount of information published on the web every minute is phenomenal. In 2017, insights smart published this infographic to show what happens on the net in 60 seconds on the web: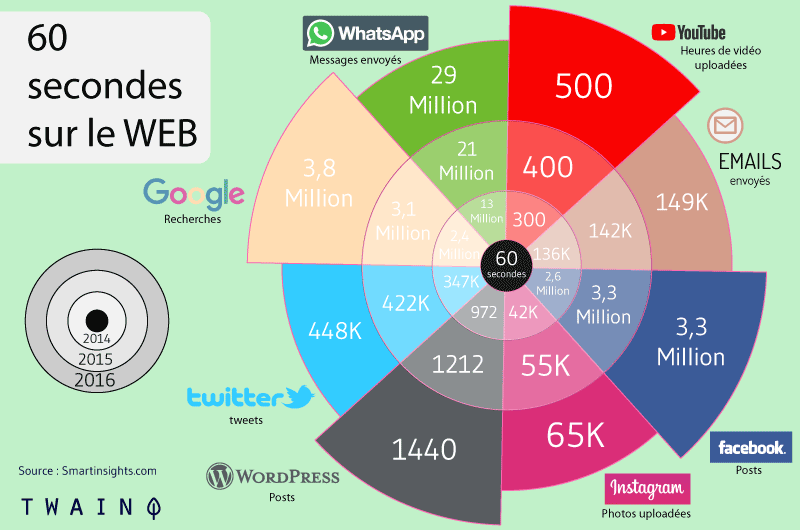 As you can see, every minute in 2016, there were 1,440 WordPress articles published. The difference is not huge with previous years, the same for emails. But the numbers are different with social media and Google almost doubling in size.
What are the statistics for this year?
VisualCapitalist takes stock with this infographic:
As you can see, the differences are huge and if I take emails alone, there are 149,513 in 2016 compared to 188 Million in 2019.
Unfortunately, the study did not indicate the number of blog posts published every minute. But it is possible to make an estimate with data from Hosting Tribunal.
Indeed, it is shown that more than 10 million blog articles are published every day in 2019 against 2 million in 2012.
If we consider that a day is 24 hours and an hour is 60 minutes, we can say that there are 6,944 articles published every 60 seconds.
With these figures, you can estimate the astronomical amount of information that Internet users have to deal with every minute. Without forgetting the quantity of data already existing and that which will be added.
As you can imagine, only a minority, especially authoritative or extremely qualitative content, will be consumed.
Here are the 6 qualities that make successful content marketers stand out every time:
Quality 1: Desire to be a source of information
There are many things a marketer should do to attract and retain their audience . But having the desire to be the ideal source of information for your audience is one of the absolute priorities.
Most unsuccessful blogs don't have this desire embedded in their actions.
Indeed, it should be kept in mind that you are not only in competition with the competitors that you have identified in your sector of activity.
Your indirect competitors are:
Traditional media;
Social networks ;
Google ;
Netflix;
Etc…
All the other distractions and concerns in the life of your consumers are elements that you will have to take into account.
To become the favorite resource of your users, you have to put all the chances on your side to succeed.
In fact, it must be recognized that it is not easy to create extremely qualitative content for the audience.
If you've just launched your website like I did a few months ago, chances are you won't see results right away. Almost every successful blog or influencer has been through this.
You should also keep in mind that you will have to hang in there to take the necessary actions until you get the results you want.
Quality 2: Know your audience and produce the most useful content for them
With this amount of information available on the web, it is almost impossible to stand out if you do not offer different content that plays a specific role.
Chuck Hester says,
"Anything that adds value to the reader is quality content. It allows the reader to better understand a subject in a way they may not have been aware of. To "guarantee" quality content, put yourself in your reader's shoes and ask them these questions: Is it relevant? Is it educational? Does it add value?".
In other words, the blogger who fills his editorial calendar with everything he thinks is relevant will not have significant results.
It is essential to create content with a specific objective. According to a study by Businessesgrow , only 42% of B2B marketers believe that their organization's content marketing is effective: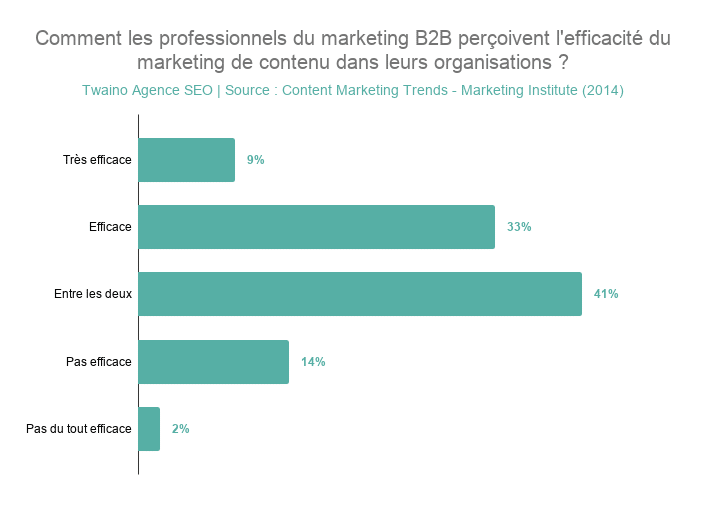 One of the most important causes is the creation of content with no clear objective
The best content marketers, try to understand their audience target by directing content to what their audience needs according to their objectives. You can see this thanks to this statistic from a study by:
Content Marketing Institute;
Marketing Profs;
Hightail.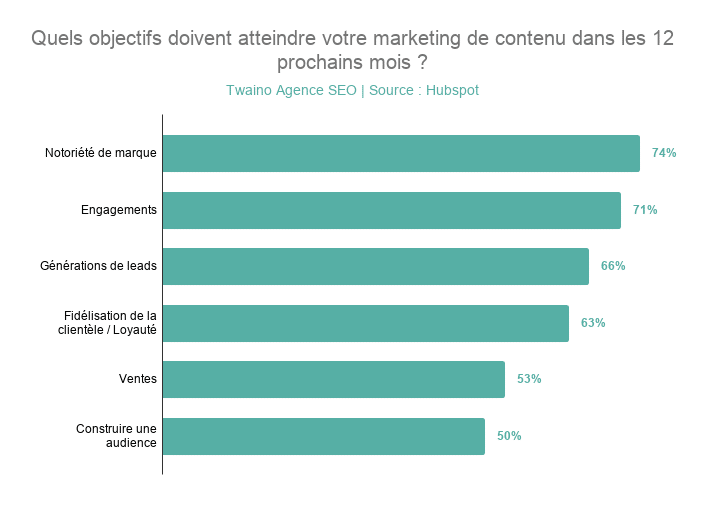 In fact, if you write content for everyone, you're not writing content for anyone.
For example, suppose you're selling fruits and vegetables on your website. In your blog, instead of primarily addressing gardening, you also approach your beloved sports activities with the aim of reaching a large world.
This strategy has every chance of not working!
It then becomes relevant to do a study to determine who your customers are and what they really want.
You can use the semantic cocoon to plan your content creation strategy according to the needs and intentions of your audience.
You will be able to tackle subjects as specific as:
How to choose vegetables and fruits;
The nutritional values ​​of fruits and/or vegetables;
The best seasons to grow fruits and vegetables;
Etc…
You need to be focused on the value your content brings and have an eye for quality.
It is important to listen to your audience and base your strategy on what they want, it is an important factor that defines a successful marketing strategy.
Statistics show that the audience's point of view is what makes a successful content strategy.In fact, 61% of consumers' purchasing decisions are influenced by personalized content or content that is aimed at them.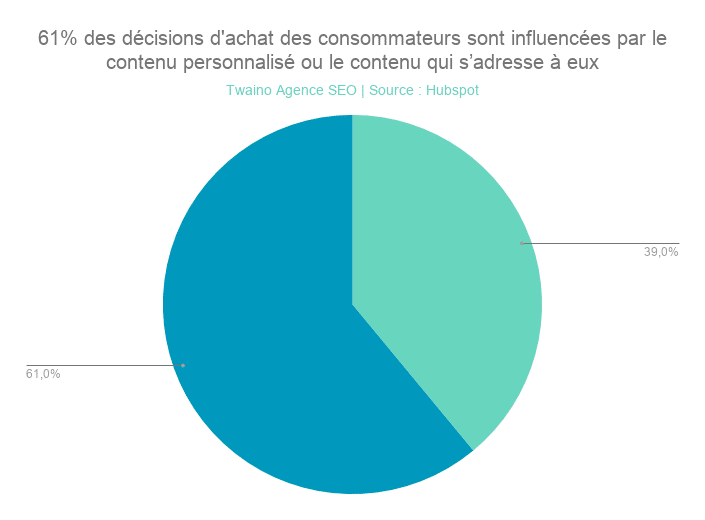 In addition to this figure, it is important to know that 90% of consumers prefer personalized content from the brands they follow.
When creating your content, speak directly to your audience by addressing the problems or difficulties they are facing.
When your content brings real value to Internet users, you are more likely to create a relationship of trust.
So, one of the best habits you can develop as a content marketer is to ask yourself the question several times: Does this content offer real added value ?
Personally, when I create content, I focus on the value I bring to readers. If there is a lot of value to share, I don't hesitate to create long content so that nothing is forgotten.
Example with my article on the sales funnel
My website was launched about six months ago and I will not hide from you that my main objective at first is to get traffic to my website and create a loyal audience.
To do this, I opted for the one-upmanship strategy in order to offer content that will allow my audience to understand all aspects of web marketing and business creation.
You will find that the length of my article on creating the sales funnel is significant and exceeds that of the other two pages in the top 3: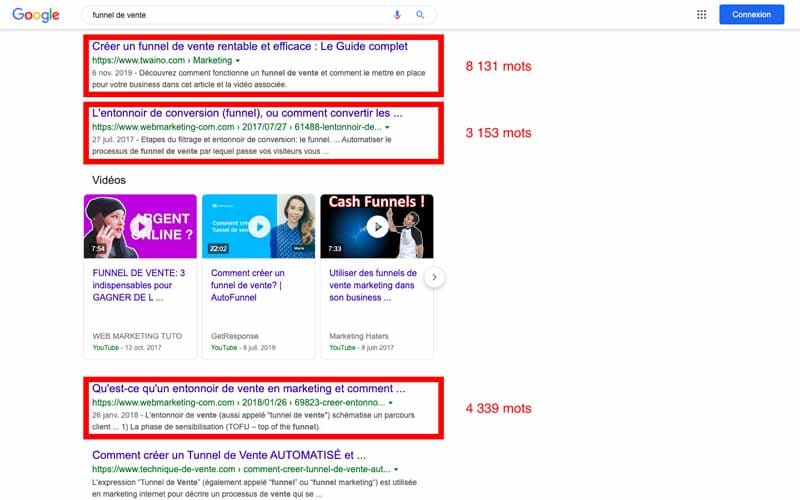 Dans l'intention d'être utile au lecteur, je réponds aux questions essentielles sur le funnel de vente comme vous pouvez le constater à travers mon plan :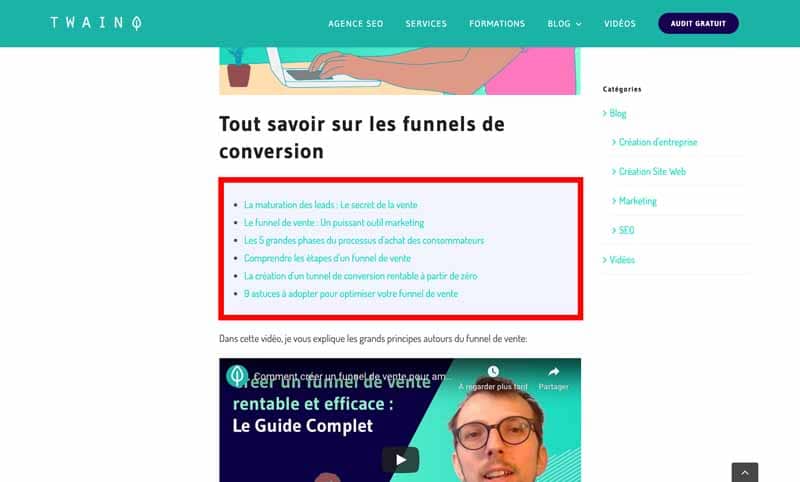 I also explain the reasons why the conversion which is a vital element, can have problems on a site: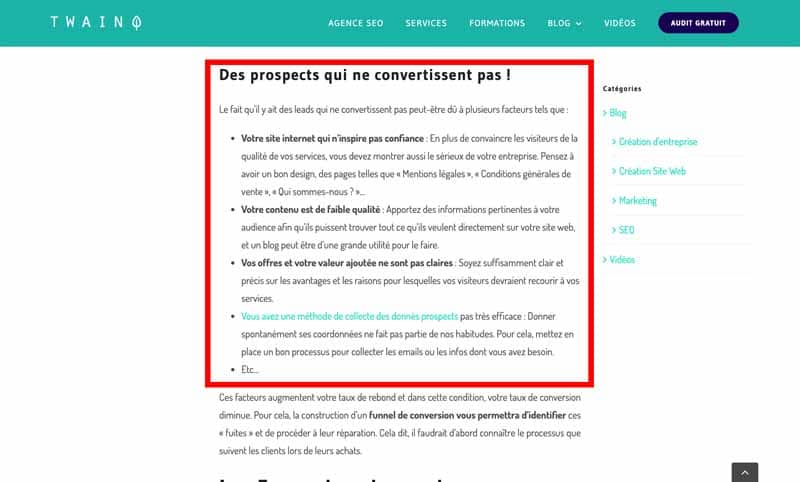 I also give practical examples of sales funnel: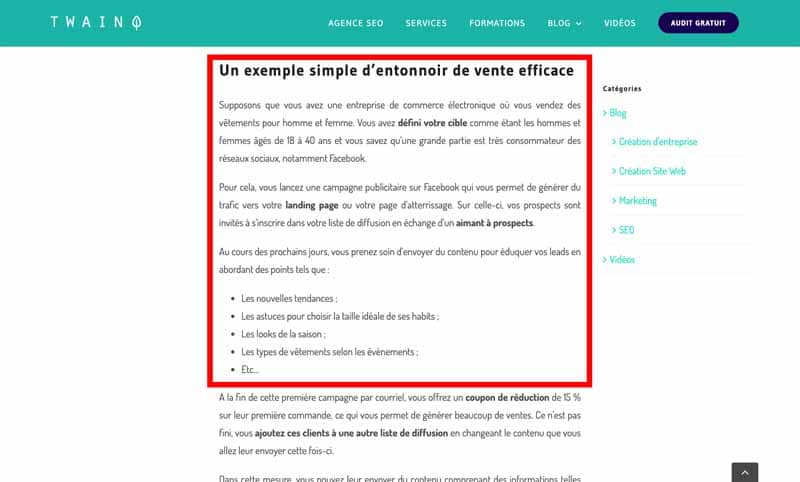 I detail also the creation of a sales funnel from scratch: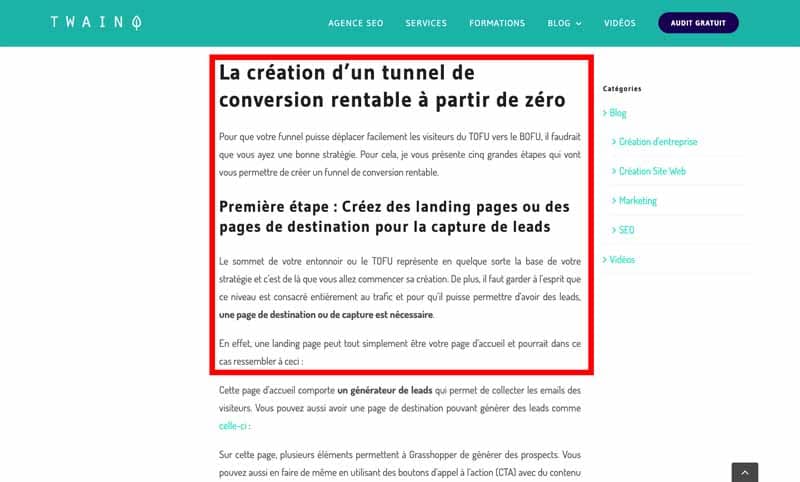 The reader is also entitled to tips for optimizing his sales funnel: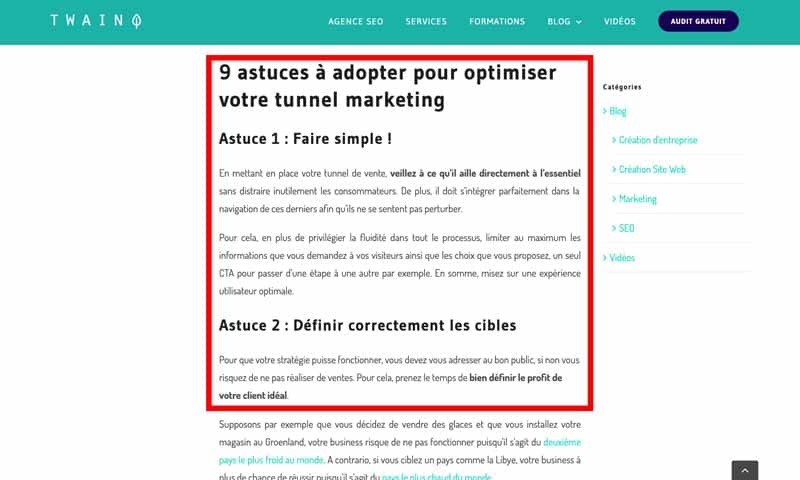 In addition to to be useful, it is important to be creative in trying to present your content in a different way than what is done.
You can use other content formats such as:
Videos;
Images ;
Infographics;
Podcasts;
Etc…
I have rarely seen successful blogs with only textual content and/without simple images.
For my article, I opted for: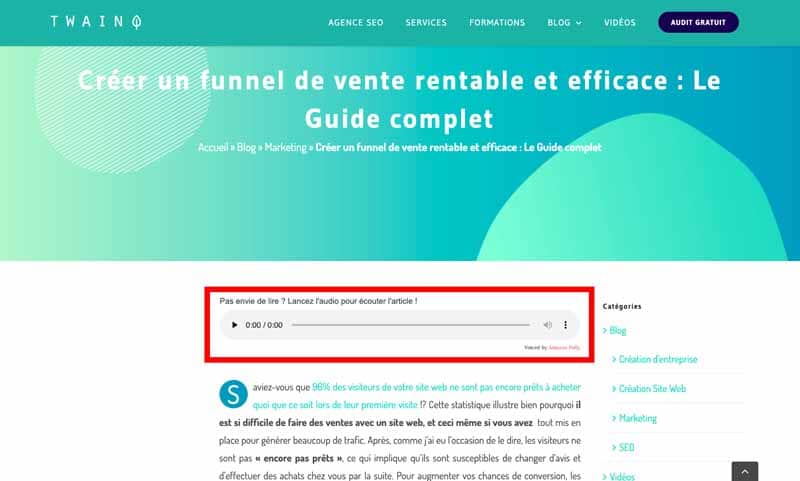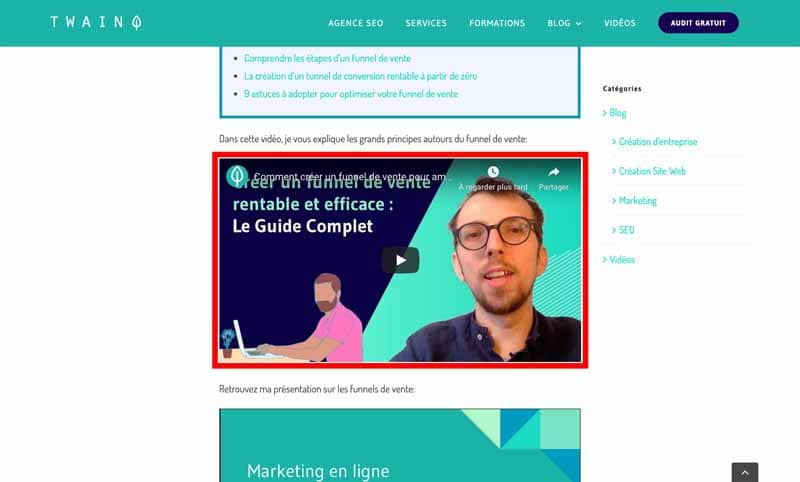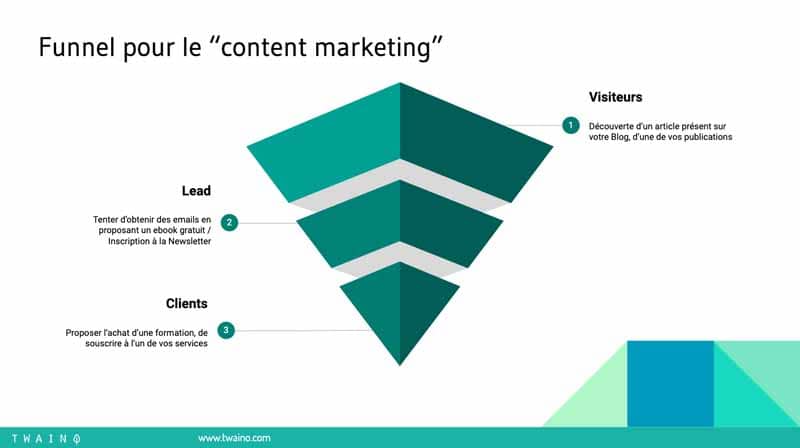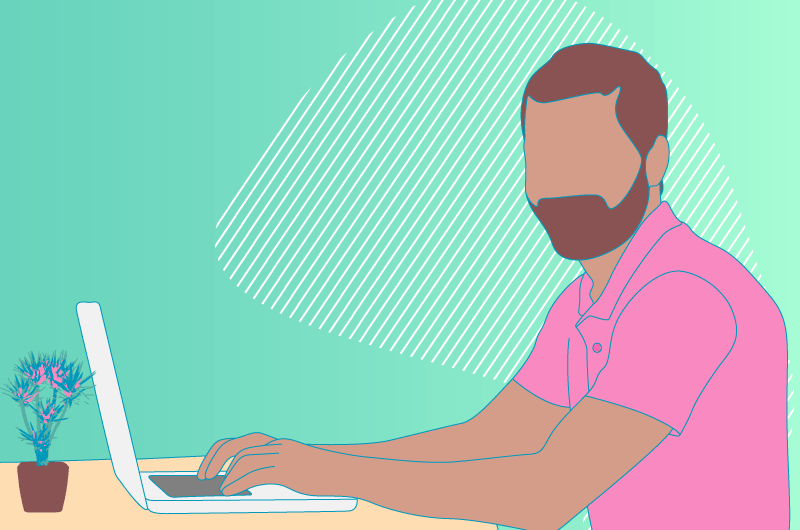 I think this article offers great value to the reader and I intend to update it soon to improve it.
In summary, it is important to keep your audience satisfaction in mind and to ensure that your content is:
Teaching something;
Enlighten the reader;
Provides practical advice;
Inspire change;
Etc…
Thus, think as much as possible to diversify the types of media that you will use. A detailed and precise text is the bare minimum in my opinion.
Consider adding visuals, videos, and audio as well. In short, offer your audience the maximum possibility to consume your content as pleasantly as possible.
Quality 3: Influencers analyze their performance
We have had the opportunity to see that content can only be evaluated thanks to data. The best influencers constantly measure their performance, which is not the case for more than 51% of content marketers: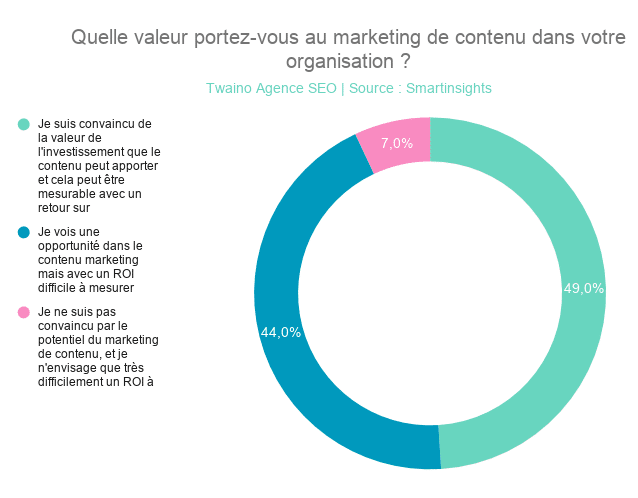 When you do not measure the effectiveness of your content, you have no idea what is working and what is not . of what you should do next.
For example, did you know that around 85% of marketers reuse their content as part of their strategy?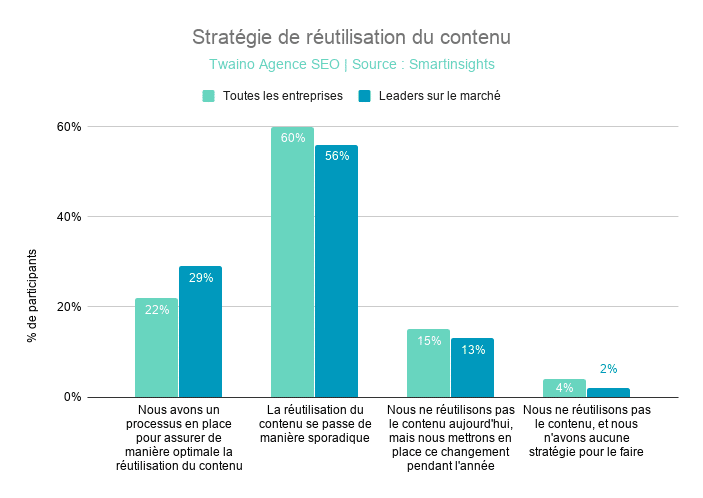 And only 56% of leaders or marketers align their different teams on the same content creation strategy: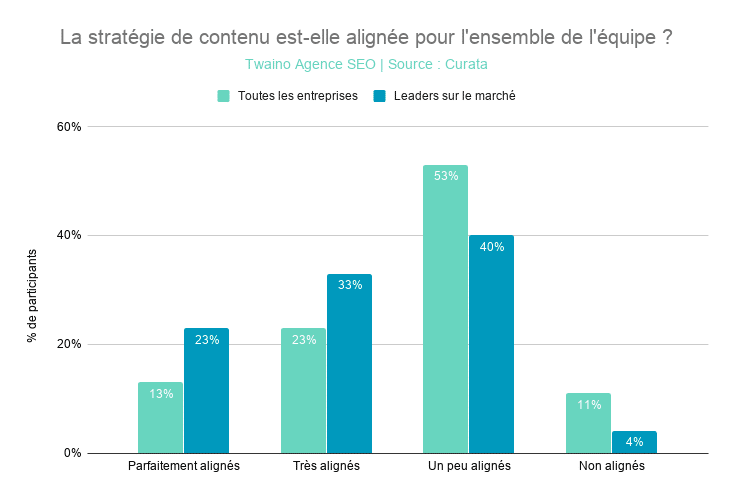 These content marketers can take a best-selling article and reuse it in:
A video;
An infographic;
A podcast ;
Etc…
Or they could take the top performing articles on a specific topic and combine them into a high performing lead magnet.
If you don't measure your content marketing success and make data-driven decisions, you won't be able to optimize your performance.
Success comes from a creative and business mindset that embraces data: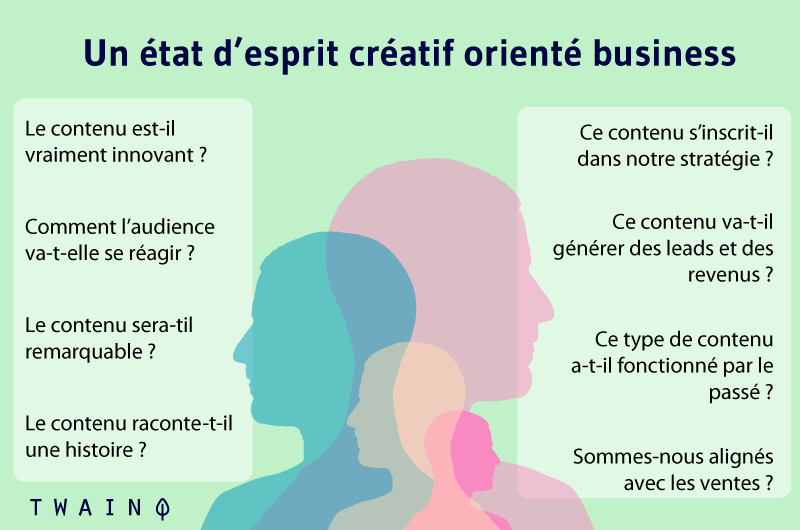 Quality 4: Organization
creatorsSuccessful are very well organized in their strategies.
What will you answer, if I ask you the question: Do you plan next year to create a higher number of content, equivalent or less?
To really answer this question, you should know the status of your content creation strategy. In other words, you base it on concrete data.
Indeed, it is important to:
Know who produces the content;
Be on the lookout for content opportunities;
Track engagement indicators to adjust your strategy and editorial calendar;
Have an editorial calendar;
Evaluate the step-by-step content production process to rule out any issues.
If you follow these different points, you will be able to make the most informed decisions. What 56% of marketers fail to do: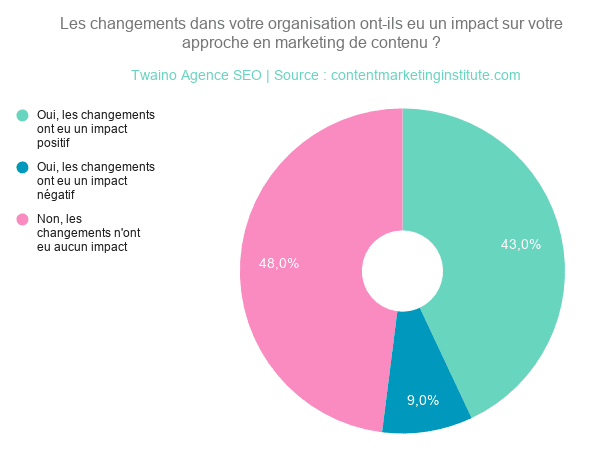 The best content marketers are highly organized and know how to use content to sync it with the consumer journey.
This helps measure the effectiveness of contentstages: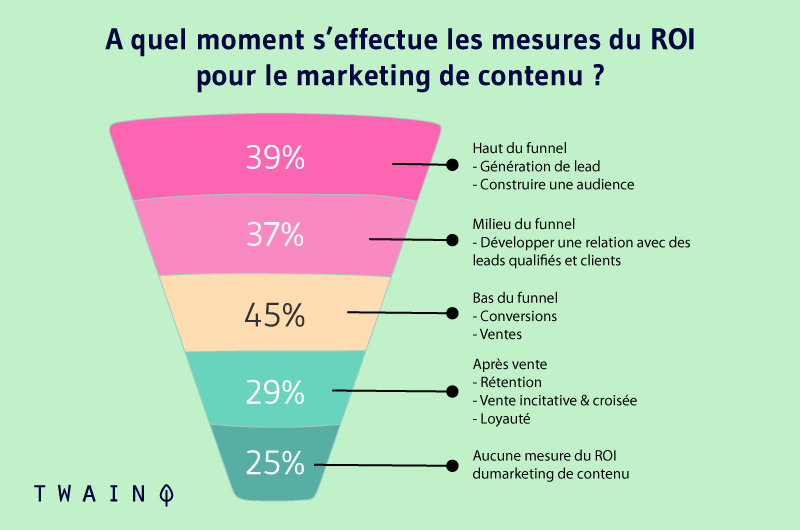 The channels on which you promote your content can also have an impact on its success.
If you want to have authority content, you should be able to manage the distribution of your content on the channels that your audience uses the most: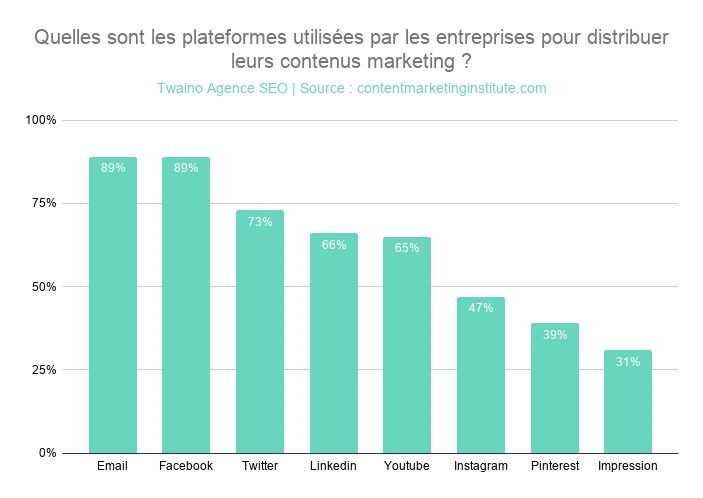 And know what works for you:
This also means knowing the strategy of content you use and how much each of them works for you.
Also know what to optimize next:
All of these can only be known if you are organized.
If you're not organized and just put content together on a whim, without a proper distribution plan, your performance won't be optimal.
Quality 5: Storytelling
We all love stories and it's one of the reasons why the film industry is so successful and you can also make it a very effective tool.
Indeed, the richness of the story as well as the authenticity of your voice will generate enthusiasm and confidence in your target audience, which will make them take action.
Storytelling is very powerful! Buffer proves it well in one of their articles by showing how they got up to over 300% readership with this strategy.
Indeed, the team conducted an A/B test on two different articles. One with a story and the other without a story with only the steps to have 1,000 new subscribers in 24 hours: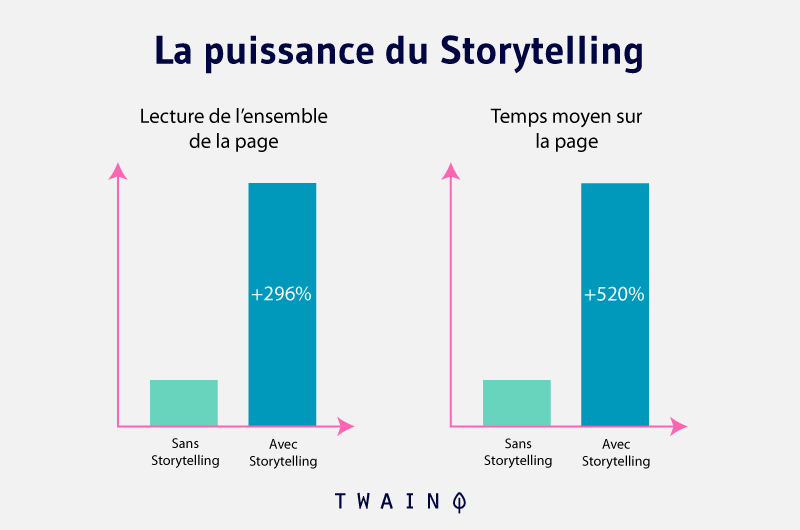 The results are clear:
"When we hear stories, our brain acts as if we are living them..
This is why so many brands are smartly incorporating storytelling into their advertising
Here are some examples: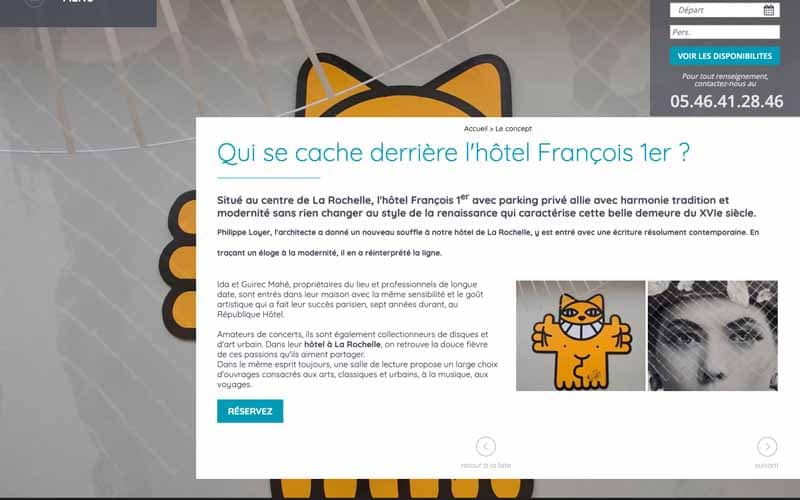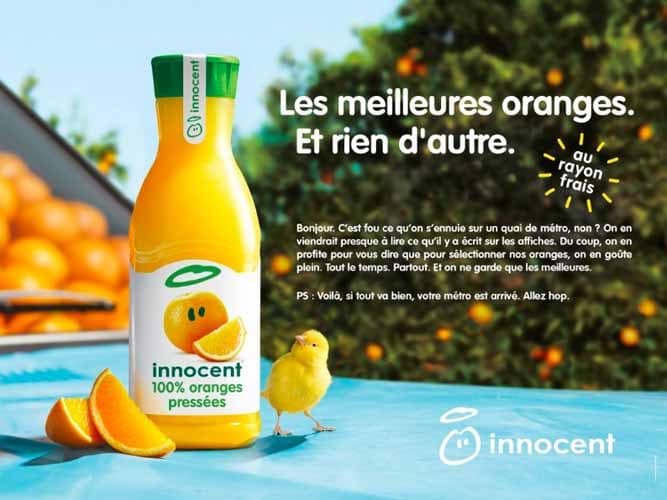 Stories help people audience to make a personal connection, which is key to engagement.
Keep in mind that your customers don't want to read textbooks and won't engage with abstract text that doesn't speak to them.
They want stories they can relate to, stories that evoke empathy and emotion.
Your audience will always remember how you made them feel, and you can do that by telling stories that are both persuasive and memorable.
However, there are rules to follow so as not to scare away your readers instead of captivating them. While waiting for my article on the subject, consult the 5 types of story telling that you can use in your strategy.
Quality 6: Regularity
The results of marketing content sometimes take a little time to come, and you have to be patient.
You need to be consistent in your content creation efforts if you want to see results.
When Joe Pulizzi, a content marketing expert, launched the first content marketing strategy for hisContent Marketing Institutein 2007, there were less than 1,000 visits in the first six months.
By pursuing its efforts with perseverance, it has become a reference in its sector and has now reached more than 335,900 monthly visitors: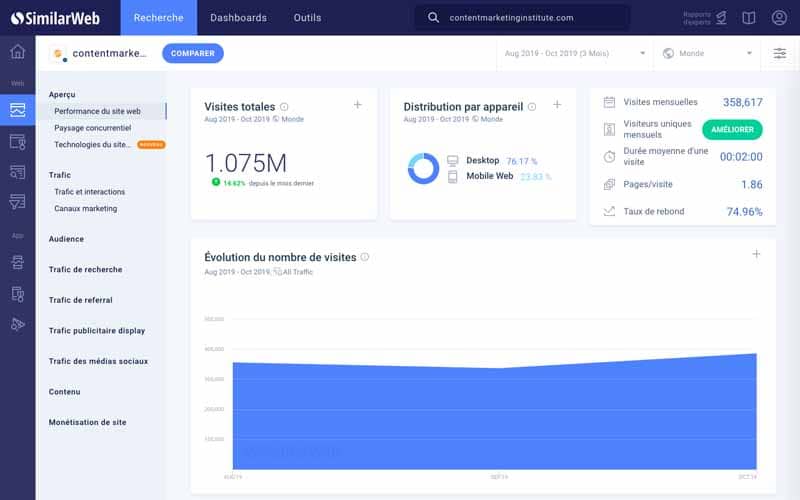 And many subscribers on social networks: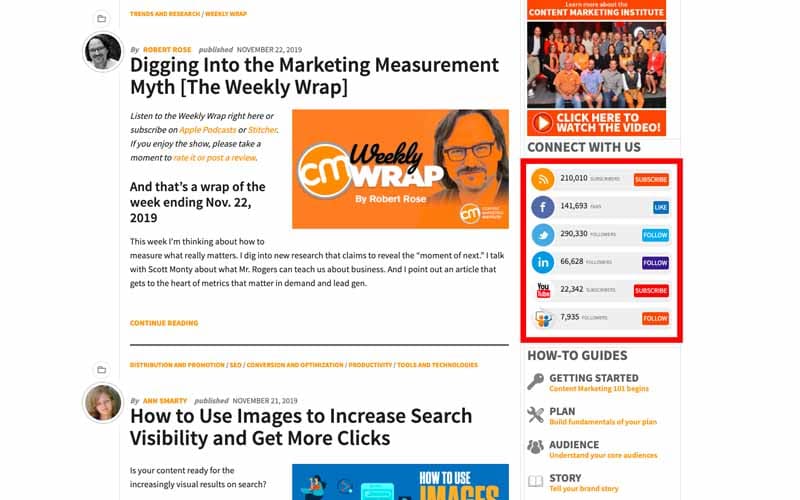 My website also follows the same pattern, except that I had my 1,000 monthly visitors with just under 5 months.
You now understand the challenges of content marketing, it's time to see how to create content likely to perform well in the SERPs.
Chapter 3: How to set up the one-upmanship technique?
Now that you understand the benefits of the one-upmanship technique and what constitutes quality content, you need to put it into practice.
The following steps will help you create your high-quality content in order to have backlinks that will have a direct impact on your website.
Step 1: Check popular content
If there is no audience for your content, no matter how good it is, no one will read it.
It is important to make sure that the content you are going to create allows you to have results. For this, you will focus only on the types of content that are already popular.
How to find such content? You can use several tools and methods to do this.
Tools for finding successful content
3.1.1. BuzzSumo
This powerful tool allows you to identify content that has had the most engagement on social networks.
This is exactly the type of content from which you will build your own content.
Here's how you can use it:
Let's take our previous example about "planting a tree"
A search with BuzzSumo gives me the content with the most engagement:
All this content can inspire you to choose the topic you are going to treat.
BuzzSumo also gives you the ability to filter content by:
Language of publication;
Country ;
Publication period;
Content formats:
Quizzes;
Infographics ;
Lists;
Etc…
Thus, you have an overview of the types of content that work best according to a specific theme.
To go further, don't hesitate to try different variations of the same keyword to find the ideal content you are looking for.
BuzzSumo also allows you to see the influencers on the theme that is the subject of your research.
To do this, click on the "influencers" section located next to "content".
You will be able to take a look at their account to see the content they have published and gauge their popularity. These are real backlink opportunities that you can exploit.
Don't forget to go to the pages of the "content" section in order to do in-depth analyses: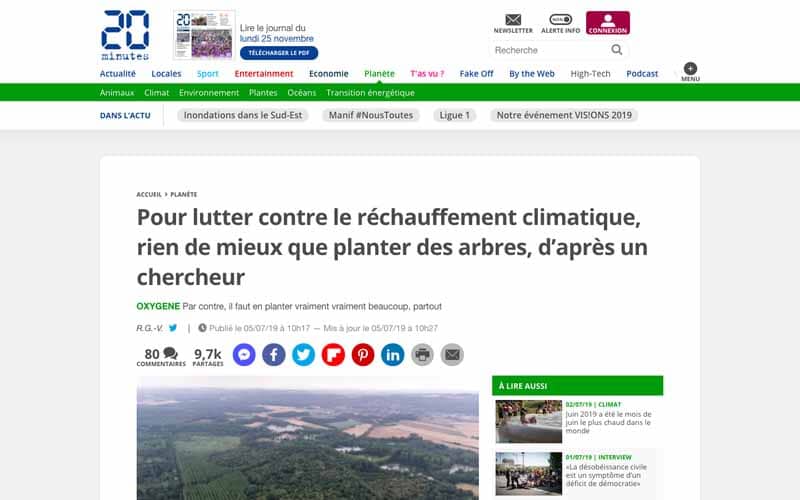 Better still, BuzzSumo allows you to find content that performs well among your competitors.
I'll just take the example of the website in the previous image which is in the third position for the keyword "plant a tree":
It is obvious that this is not a website specializing in planting trees. But you get the idea, just enter your competitor's domain to see the content that got the most engagement from them.
It should be noted that the tool is paying and offers 14 days of trial with the basic functions:
To use all the functionalities of BuzzSumo, it will be necessary to go through a paid subscription.
Additional resource: Baclinko.com/BuzzSumo – The Definitive Guide
3.1.2. Quora
If you want to write an article that speaks to your audience, what better than to know their real concerns?
Quora is a community platform that works much the same way as forums. That said, it's a real social space like Facebook or Twitter where you can ask questions and get answers from other members.
The questions and answers cover a range of topics ranging from the most general to the most specific. It is important to note that Quora's algorithms always try to offer the best content or discussions for the different searched keywords.
This is a real source of inspiration for content likely to arouse great interest among your audience.
Let's still use our example with the keyword "plant a tree":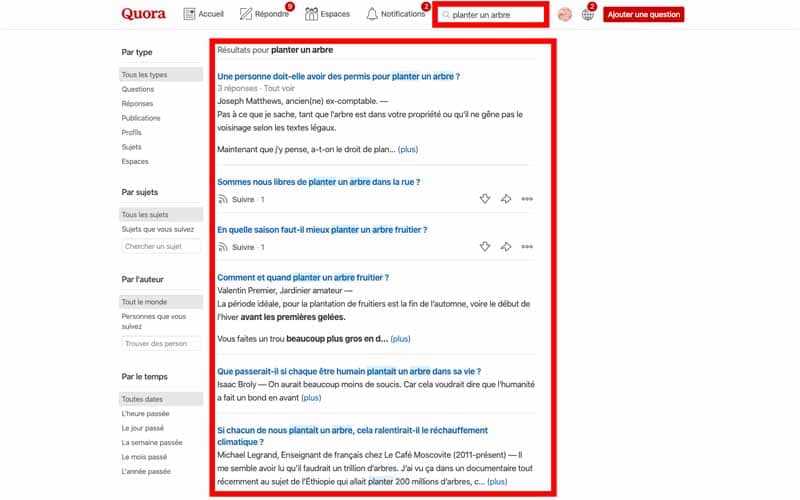 I strongly recommend that you also carry out searches in English since the English community is generally more active: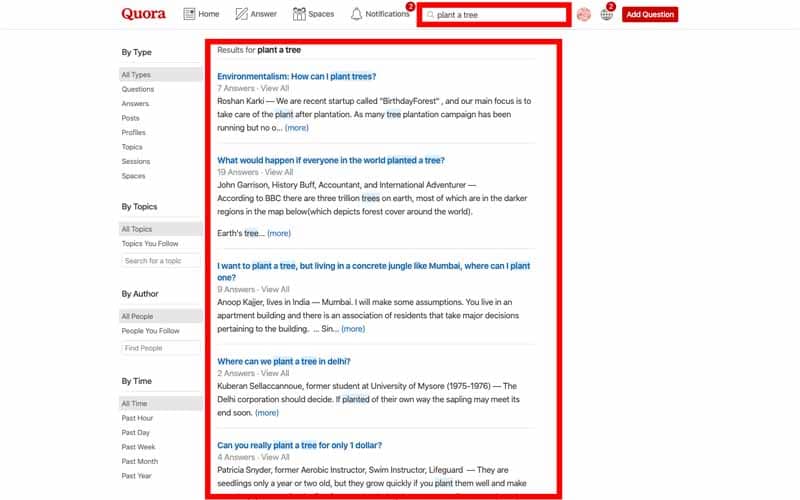 You have the possibility of using filters in order to refine your searches: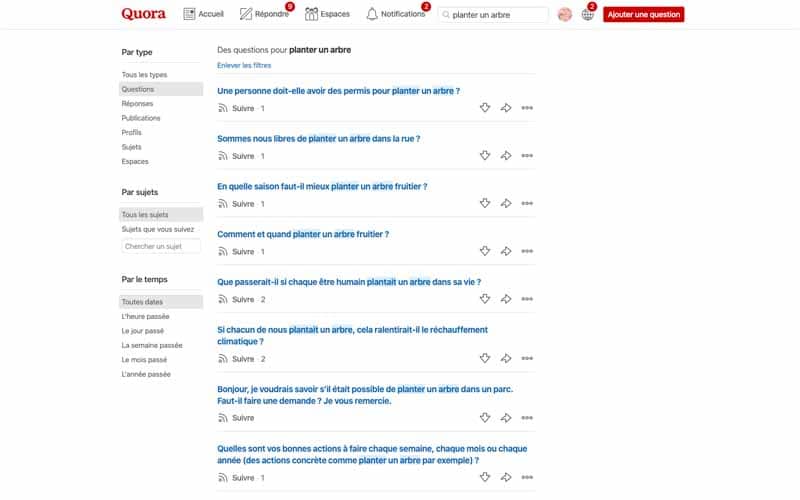 You can filter the results by "subjects":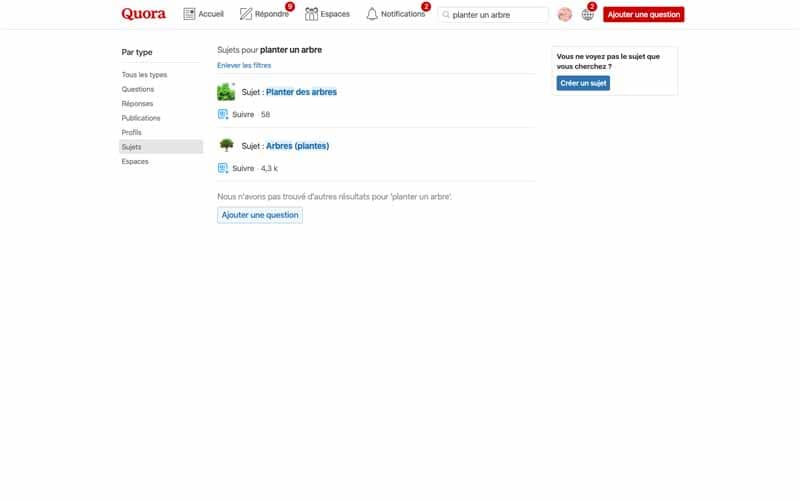 Note that the term "plant a tree" is not very popular. But since this is just an example, the idea is to show you how to do it.
When I click on the first topic, I have the following result: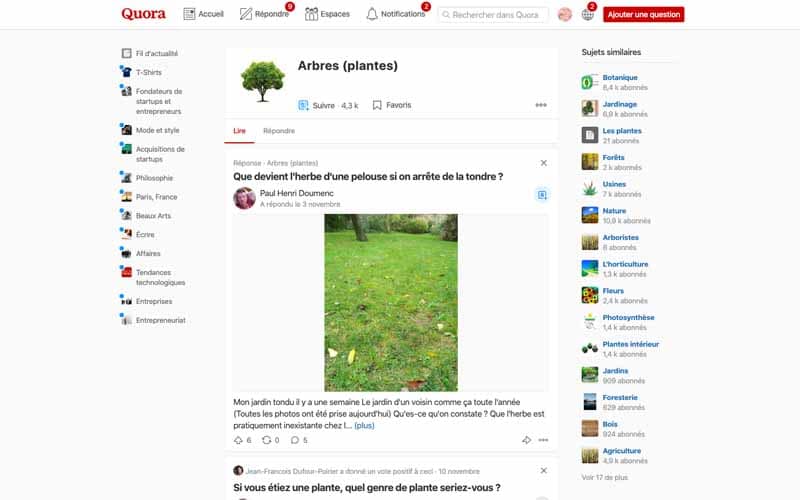 With popular topics like this: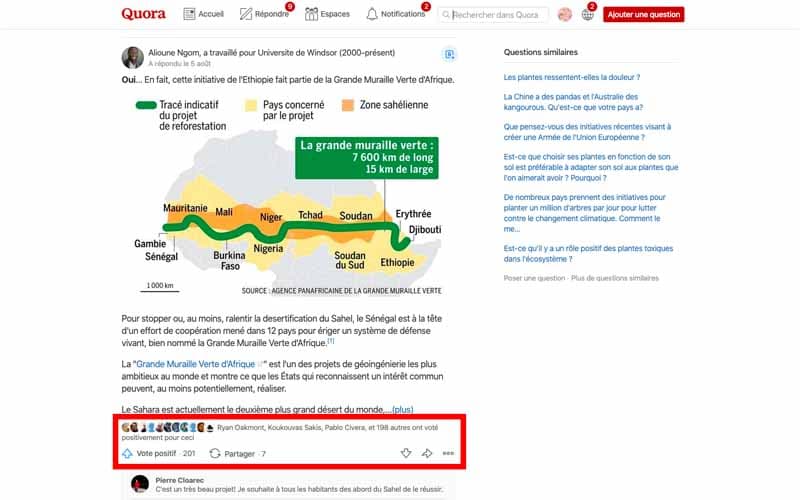 As you can see, there are some questions that have remained unanswered: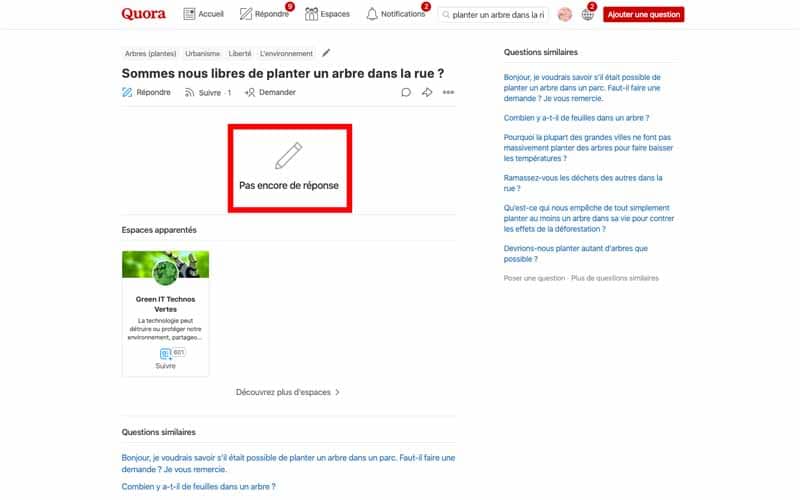 While others have few answers :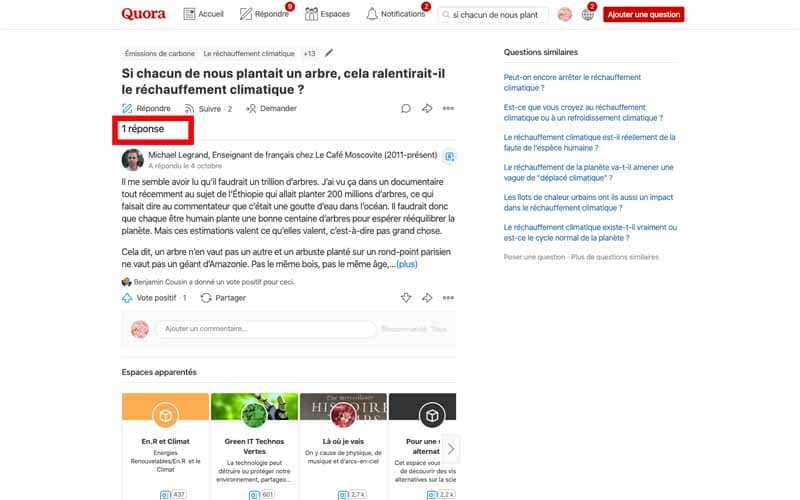 It is important to note that most of the questions asked on these kinds of platforms generally result from unsuccessful searches on major search engines such as Google.
This is an opportunity for you to address various concerns and if possible to include a link to your relevant content in your responses on these platforms.
3.1.3. Reddit and the forums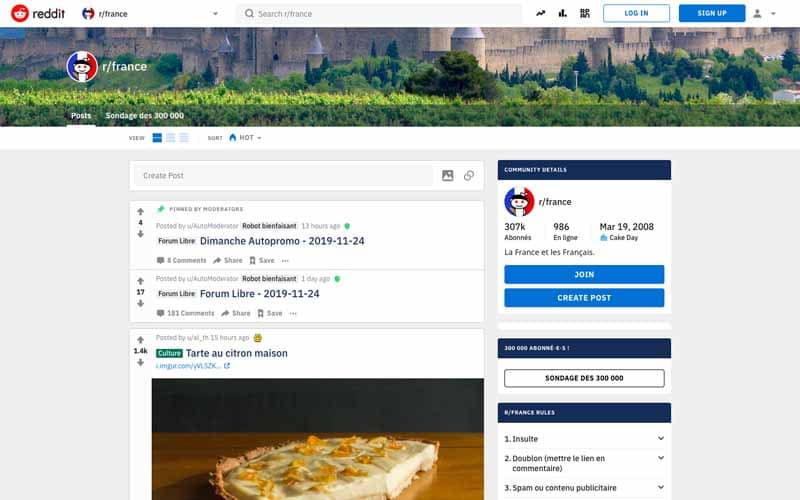 Another effective tactic for finding popular content is to take a look at Reddit and the forums. The principle is practically the same as with Quora.
Indeed, Reddit uses community voting to increase the visibility of content, which can give you great ideas for best-selling topics.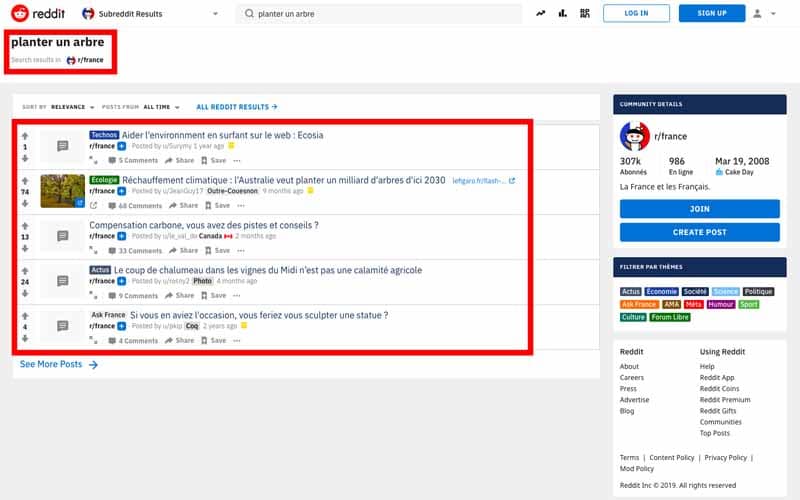 Score topics with a high number of upvotes to gauge what content is popular within a given community, and use this as your baseline.
There are also the forums that can give you ideas for authoritative content in your niche: Women's Journal: With 33 answers for a tree planting question: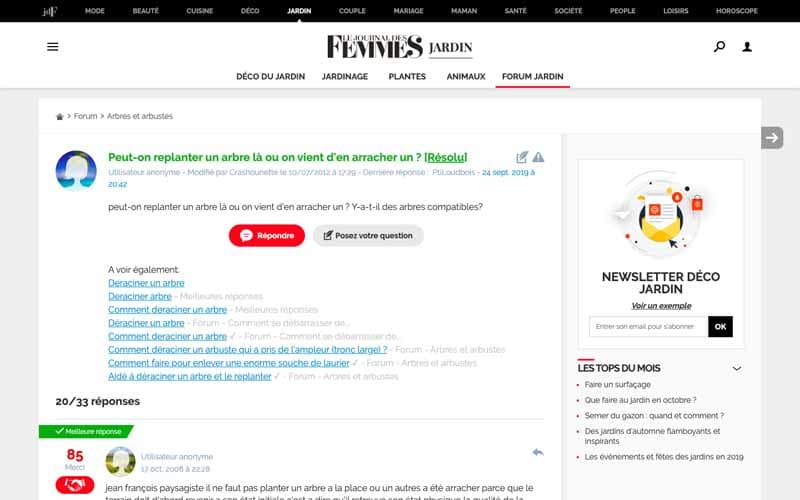 Or, Andilil with 4 discussion pages :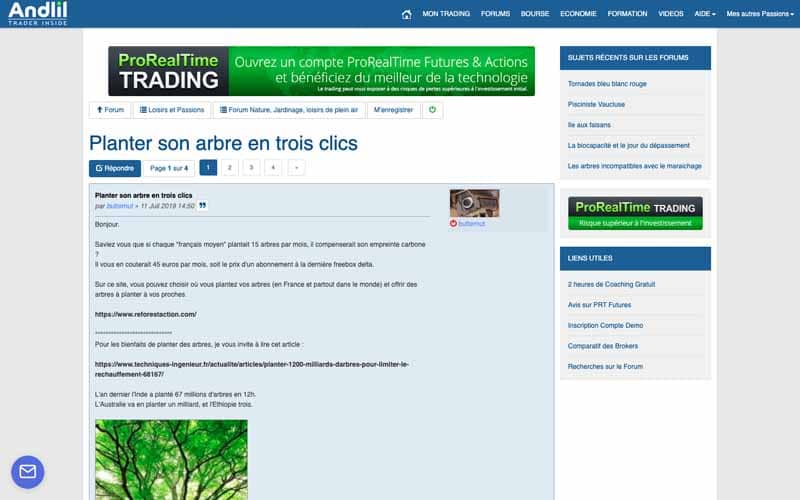 With all these elements, you have ideas about the formats and types of content that have the most success regarding the theme you want to address.
Now, you have to go to the search engines, especially Google, to see the pages that rank best.
3.1.4. Figure out what content ranks best on Google
Once you've identified a topic you're going to cover, do some research in Google to find out which content ranks high in the SERPs.
Indeed, you don't just want to create content likely to have high engagement from your audience. It would have to rank well in search engines in order to effectively reach your audience.
No matter how good and engaging your content may be, it won't perform well if it doesn't rank well in search engines.
Note that 93% of online experiences start with these web pillars.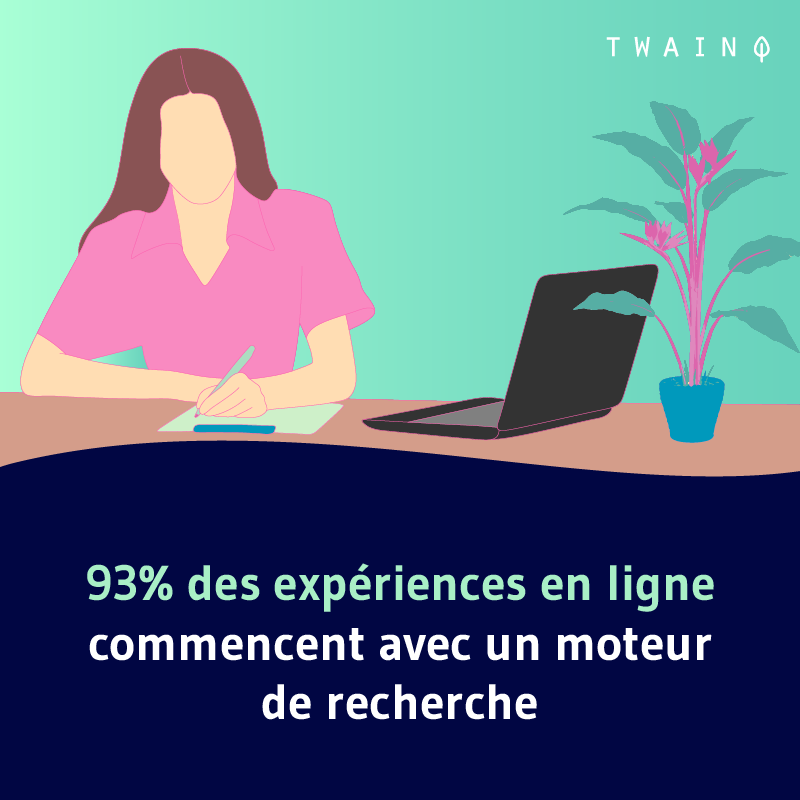 In other words, an Internet user performs an action on the web 9 times out of 10 thanks to search engines.
Bottom line, being visible comes down to making sure your target audience can easily find you.
You will therefore ensure that your authority content outranks those that already occupy the good positions of the SERPs.
But to do this, you have to analyze those pages that Google considers the most relevant for the theme.
Suppose you have finally chosen to deal with the subject: "how to plant a tree?" ".
Here are the results that appear after a Google search:
Once you know the best pages for your theme, do an in-depth analysis.
Step 2: Do an analysis of the content of your competitors
At this level, I advise you to take into account all the elements of results offered by Google.
It is a good idea to evaluate the performance of the content formats that Google already offers.
3.2.1. Analyze the different types of formats offered by Google
Google generally offers several result formats depending on its users' queries.
Its results may include:
Videos
Images
Infographics
Google Maps profiles
These are hints about the format in which you should present your content. If you want to optimize your performance, you can make combinations of formats.For example, if the results of your search bring you geolocated results, it might be interesting to optimize in addition to your authority content, your Google My Business to increase your chances of ranking higher.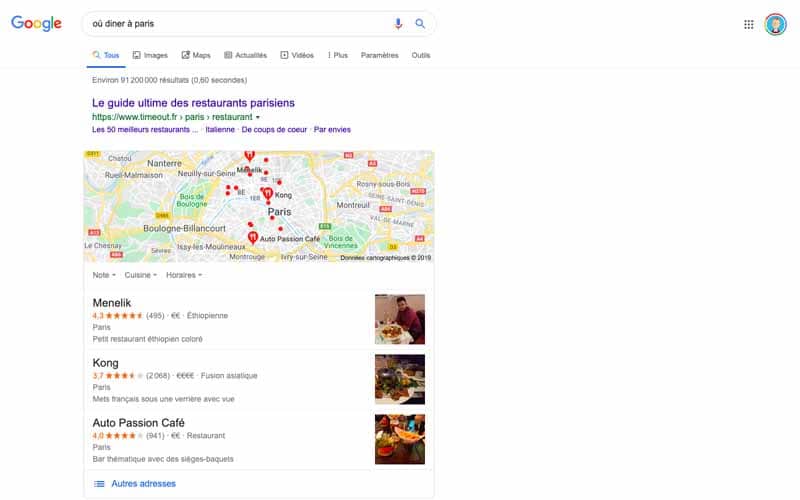 In my case, YouTube videos rank first. It's a good idea to take a look to gauge the number of views and add a video to your content if possible.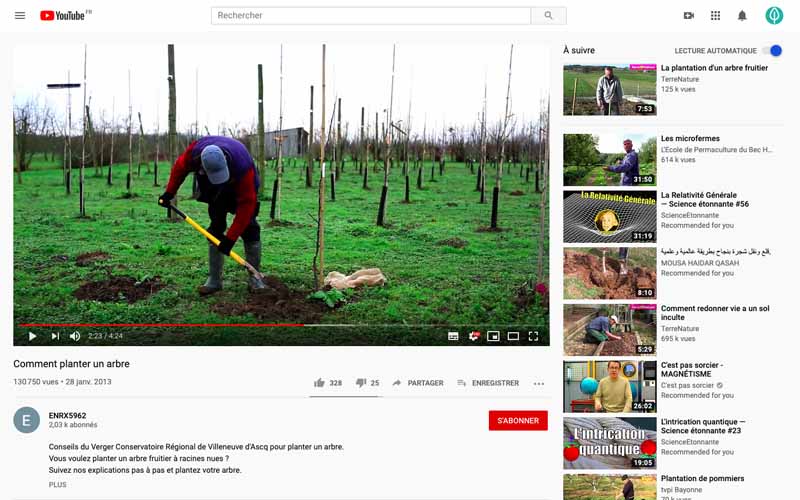 This is the first video in the search results and the number of views is quite high. It would be relevant to already think about adding a video to the authority content you want to create.
These small actions are very important in that they will allow you to create mixed content that can outperform all types of content present in the results.
It's time to take a look at the contents of the organic result pages.
3.2.2. Analyze the pages of the organic result of Google
This part is very important since you will sift through the results of the first page.
To master the complete process to adopt for competitive analysis , I advise you to consult the article on the 5 steps you absolutely need to know for an SEO strategy.
However, I will touch on some essential aspects.
What you should try to do here is to collect as much information as possible about the contents of the pages on the first page.
You will take into account elements such as:
The position;
The title ;
The URL;
The meta description:
The authority of the page;
Domain authority;
Number of backlinks;
Number of shares;
Number of words ;
Quality of visuals;
The design of the page;
Etc…
To avoid mixing things up, you can use Twaino's competitive analysis model.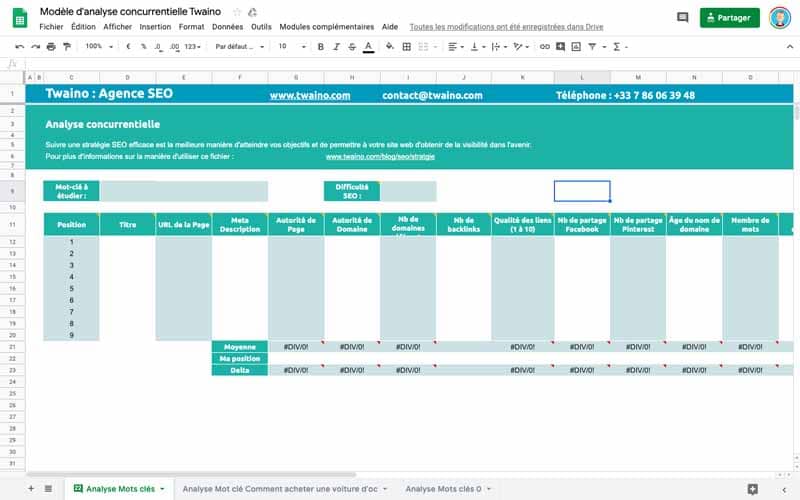 Note that all these data are factors taken into account by the Google algorithms in the rankings.
If you have difficulty filling it out, consult the article I cited above on the 5 steps in addition to the following description.
For the keyword "how to plant a tree", here are the first three results: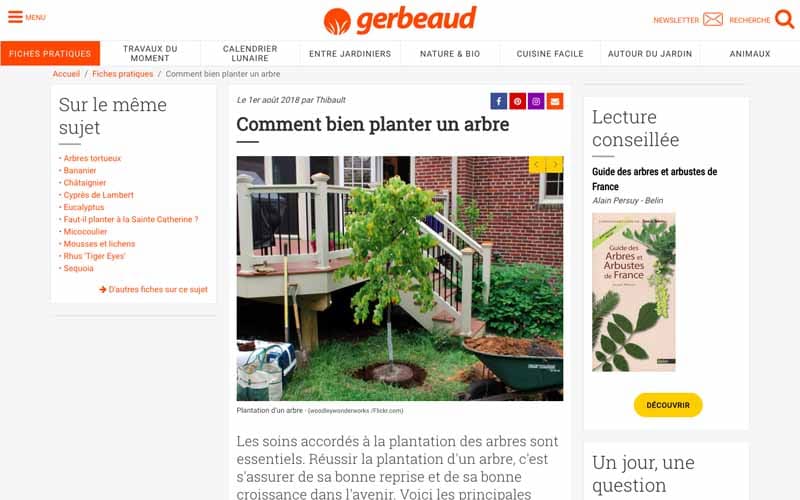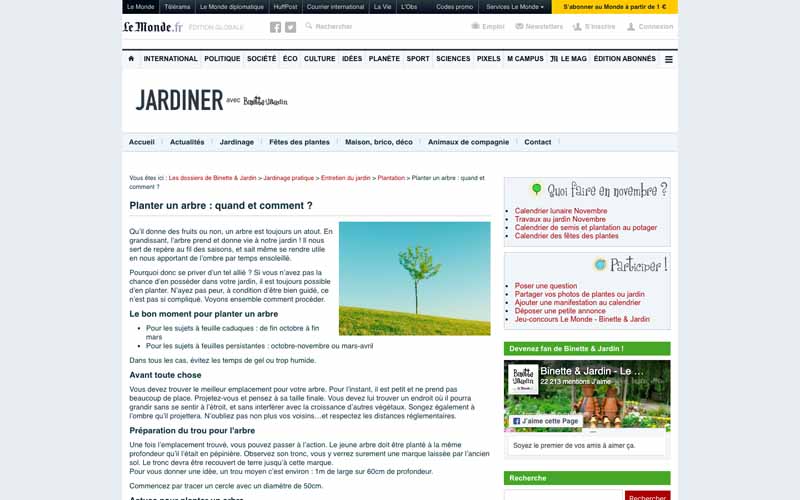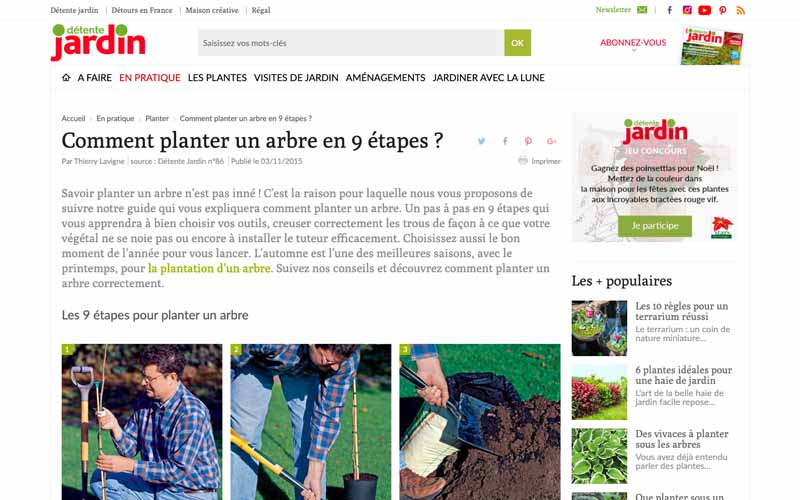 You will use the Moz Toolbar that I mentioned earlier to automatically retrieve most of the information.
Activate it and click on the arrow to import the information in CSV: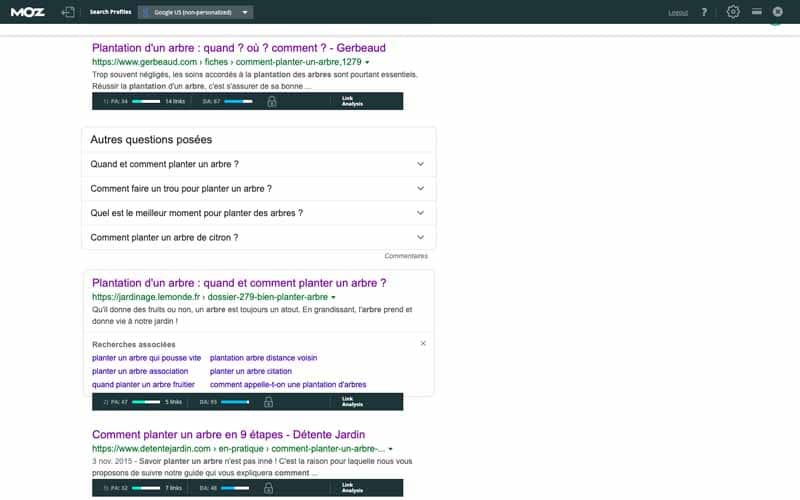 You have the following Google Sheet file:

You just need to take the data and fill in your analysis sheet:
The remaining information can be collected through several SEO tools such as Ahrefs and Moz.  For this example, I will use the free solution Ubersuggest: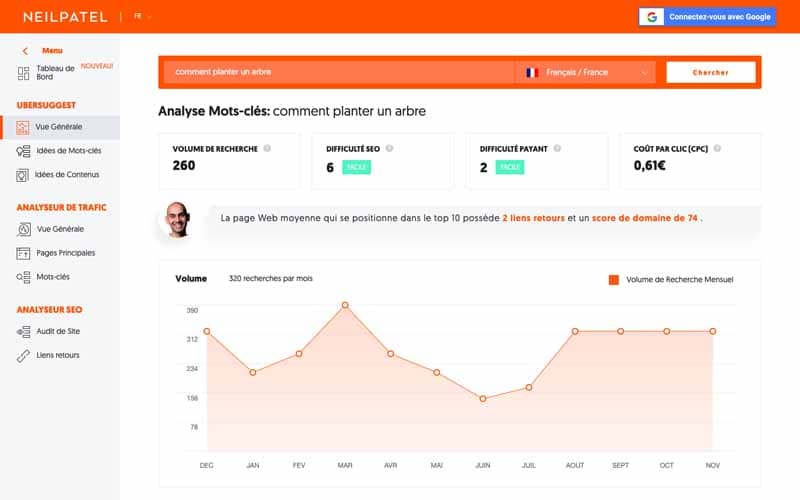 At this level, you can already note the SEO difficulty which is an estimate of the level of competition for organic search. The higher it is, the more difficult it will be for you to position yourself.
It is 6 for the keyword in my example, which is relatively low.
To find out the number of referring sites that have linked to the page, click on the "Keyword Ideas" section: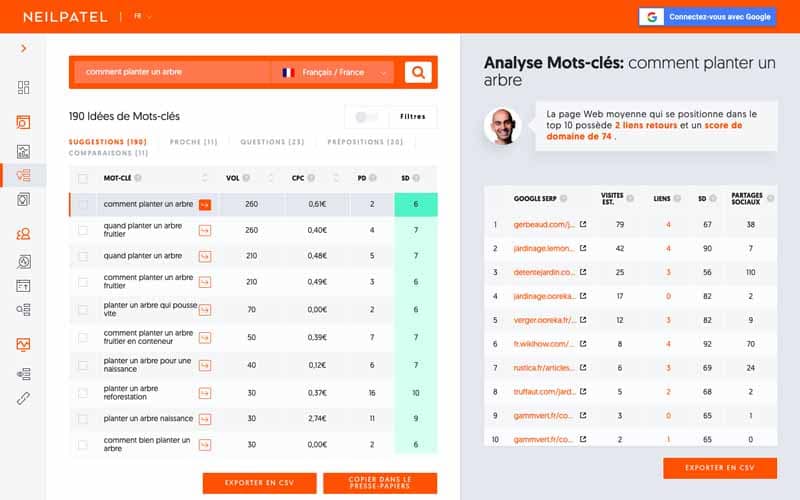 In the right column, you have the pages of the SERPs and you just have to click on the number of links. At my level, I click on the number 4 and I have the following result: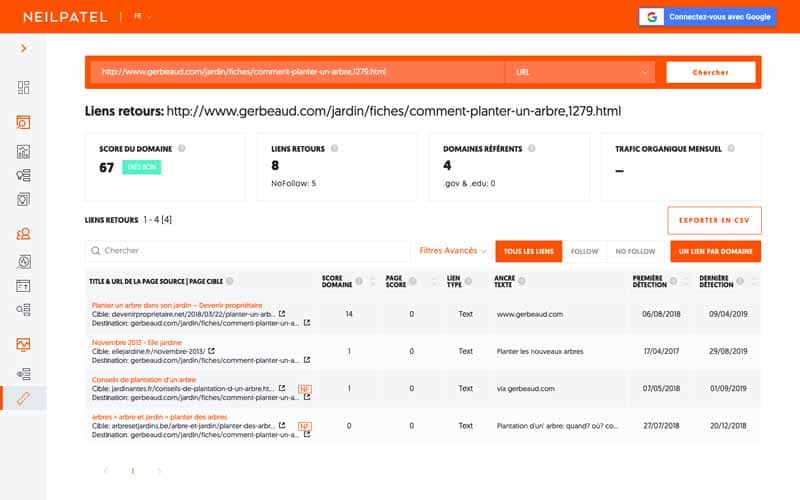 It is important to note that the numbers given by the different tools are sometimes different. That said, you have a fairly rough estimate of reality that you can rely on to do your analyses.
At this level, there are 4 different domains that have linked to the page. However, this is not a website with high domain scores.
For this reason, I can give a rating of "2" for link quality.
To know the number of shares of the article on social networks, you can use Ubersuggest which gives the total number: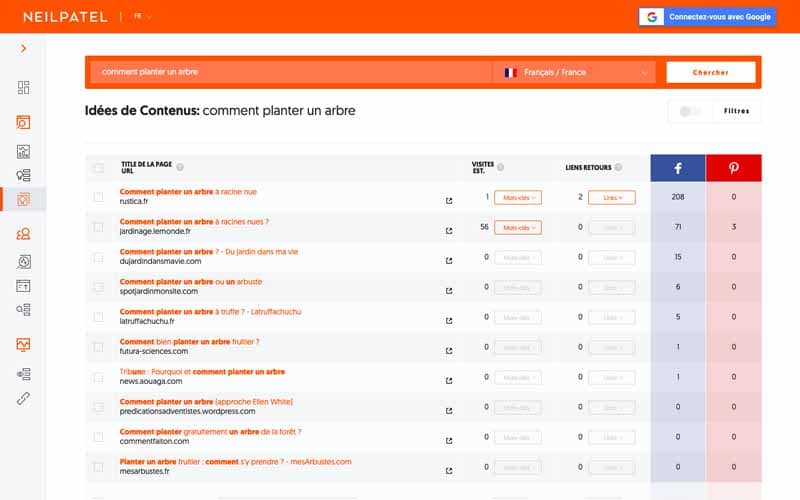 Or, you can enter the URL of the page in BuzzSumo:
Now that you have these figures, you must use Bulk SEO Tool which allows you to know the age of your competitors' sites. Just enter the domain name and click "Submit":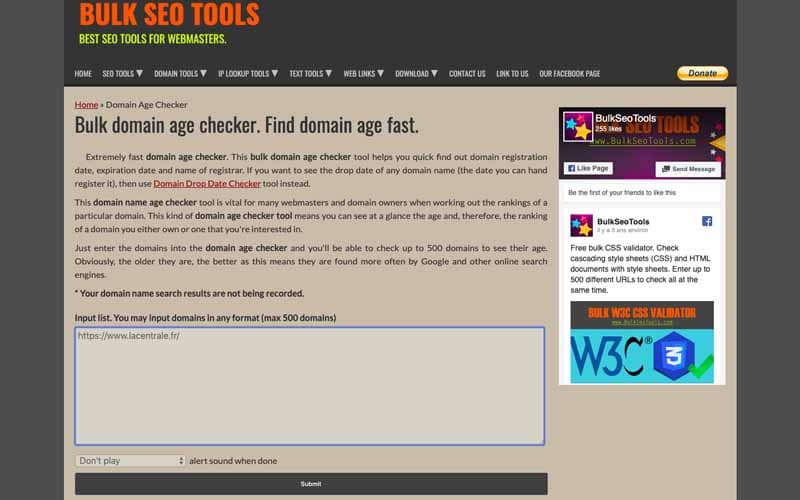 Next, determine the number of words on the page. To do this, use my web page counterand enter the URL: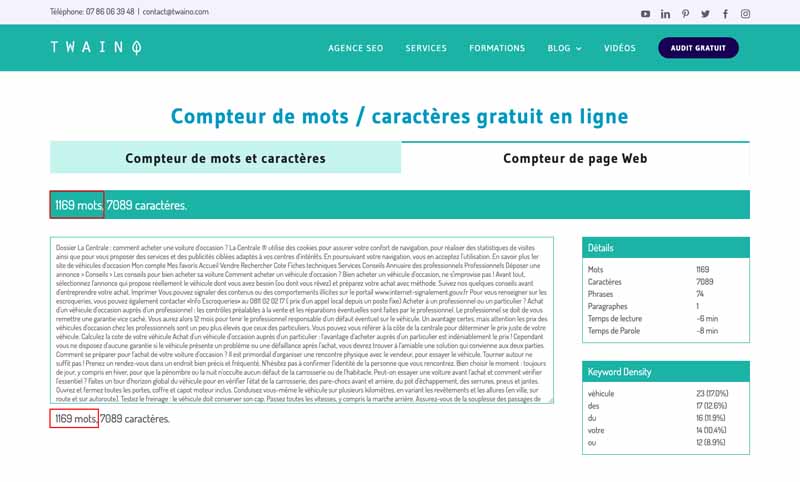 The page has 1,563 words, which I enter in the spreadsheet:
Now let's determine the number of links in the content (outbound link) in order to appreciate the resources to which the article refers.
For this step, use the Chek My Link which allows you to quickly detect the links present in a content.
The tool colors text anchors, allowing you to quickly locate links.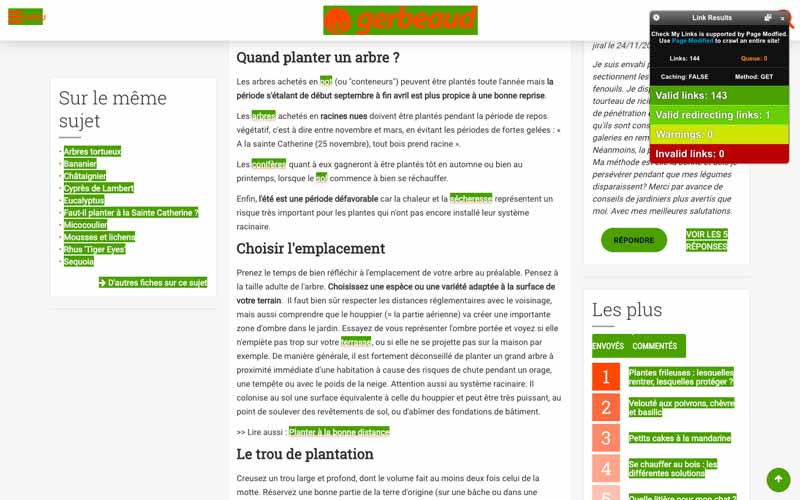 Note that this is only determining the number of outbound links. The links placed in the menus are not to be considered.
Once Chek My Link allows you to locate them, count them manually.
In my case, I count 17 outgoing links.
If possible, take a look at the pages to which these links refer to possibly enrich your content with them.
The rest of the data to be collected will be done manually. In other words, you will go to the web page and evaluate the content.
Count the number of images, videos on the page and evaluate their quality by giving a score.
Gerbeaud's page contains only one image, which is very little if you want to have authoritative content.
Next, appreciate the general design of the page and the presentation of the content. Don't forget to also consider the readability of the content as well as the reader's experience in general.
The penultimate point is the freshness of the content, that is to say the age of the content. The older the post, the more likely you are to upgrade it with new content.
Finally, evaluate the level of optimization of the page with the main keyword.
In my case, the article is well optimized with the keyword "Plant a tree" since it is in:
The URL;
The title ;
Some subtitles;
In the text.
All of these elements are intended to measure whether or not it is interesting for you to start creating this content by targeting the keyword "plant a tree".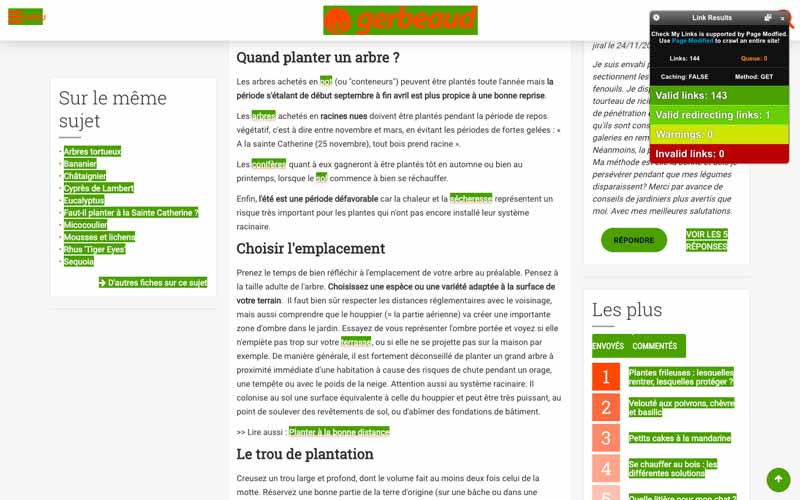 I enter the latest information in the spreadsheet:
This is how you can collect effective data to evaluate existing web pages.
Step 3: Evaluate if you can offer better content than what exists
Now that you have a clear idea of ​​the content offered by your competitors, you should take a step back and ask yourself if you can create better content.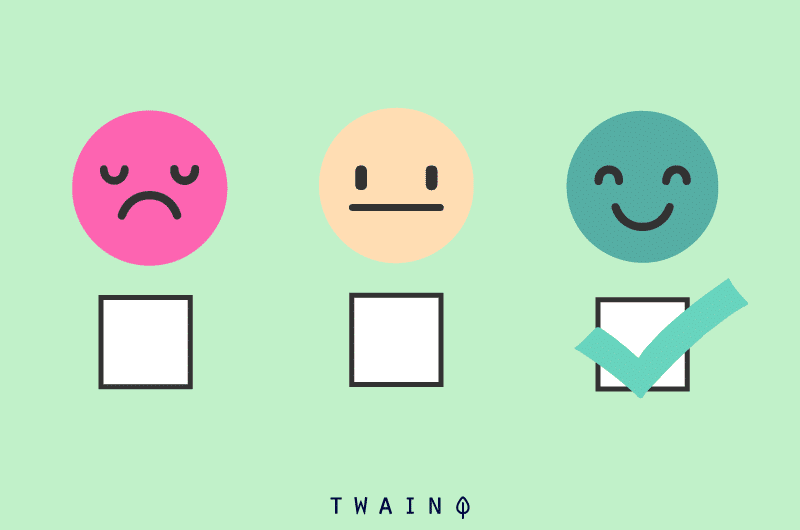 Use data collection to see how much you can do better than what already exists.
You know the average of the different attributes of the best content and you can determine the elements that will make your content betterthan what is offered.
For my example, the idea would be to have maybe 10 times more:
Referral sites;
Backlinks;
Number of shares on social networks;
Number of words ;
Number of images and videos.
To also have a score of 10/10 on:
The quality of backlinks;
Images and videos;
Keyword optimization;
Design ;
The level of detail of the content.
Ifmost of the content you review has excellent ratings across the board, it might be a good idea to choose another, less competitive topic.
Before deciding, however, consider to what extent you can do things differently. Indeed, if most of the content is text, you can opt for visuals:
Or offer another type of content such as articles in the form of:
Lists;
Case studies;
Industry data;
Etc…
In conclusion, explore all the options you have to build the most remarkable skyscraper.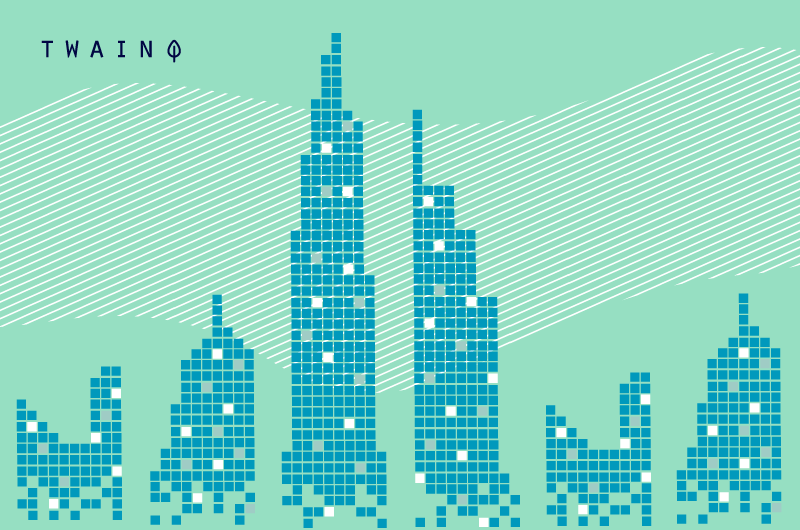 I like long content just like Neil Patel:
In case you find that it will not be possible to have 10x better content, it is better to simply change the subject.
If you're only making 2x better content, chances are you're not getting the results you want
Also, the risk of being quickly outclassed by another competitor is high. The idea is in a way to make it very difficult for the competitors who are going to take the initiative to want to get ahead of you.
The objective is then simple " to win without fighting".
If you think you can offer better content, then it's time to roll up your sleeves in an effort to come up with a major article.
Step 4 : Choose Evergreen Content Types:
There is very little point in writing authority content that has a limited shelf life.
It will attract readers, engagement and links for a short period of time, but its effect will quickly wear off.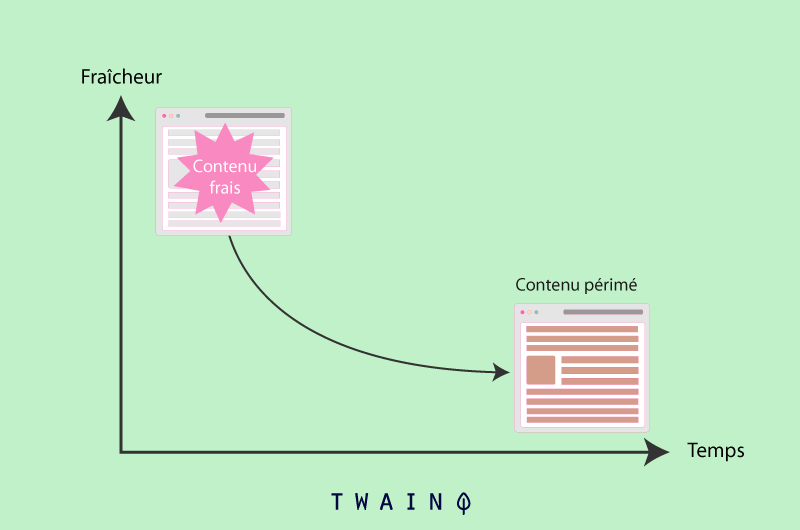 And because content performance declines over time, your content is likely to be quickly outranked when other, fresher content is released.
This is why I would tend to advise you to chooseevergreen subjects whose effect lasts over time and which can be considered as timeless.
My example "How to plant a tree" can be considered timeless. The process for planting a tree is not likely to change over time.
On the other hand, a subject on "The Town Hall of xxxx plants trees on the occasion of xxx" is likely to lose impact over time.
So here are the types of content to avoid if you want to create authoritative content:
News articles;
Articles concerning a given season;
Articles oriented towards current trends;
Statistics that can quickly change or become obsolete.
Now, let's see which types of content are best suited to your strategy:
3.4.1. How-To Guides and Tutorials
Process-based articles often lead to great successes. You just need to make sure that the techniques you describe won't change in the near future.
This is the case with my article on the "sales funnel":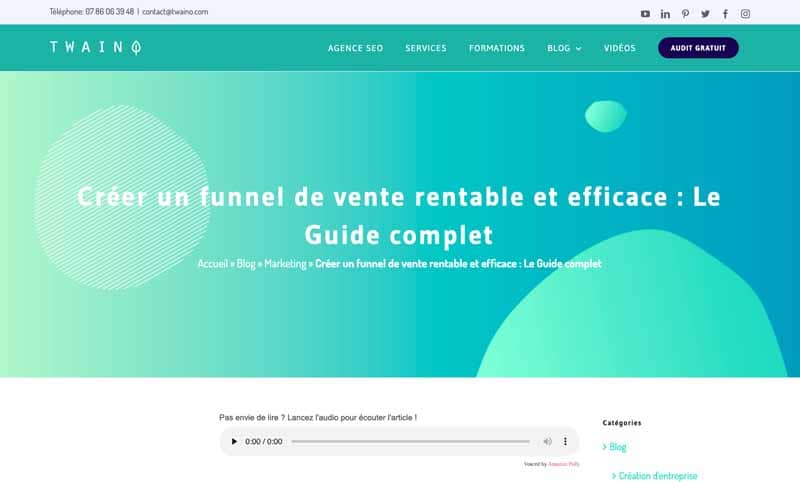 As well as several other articles of mine that have already been published.
3.4.2. Industry Definitions
This is about the easiest format to make on my list. Indeed, you can't go wrong with the definitions of common acronyms and phrases from your industry jargon.
These definitions are not likely to change in the future. Which means you can write this content once and benefit from it over time.
3.4.3. Resource/Tool Lists
Making a list of popular resources in your industry is a great starting point.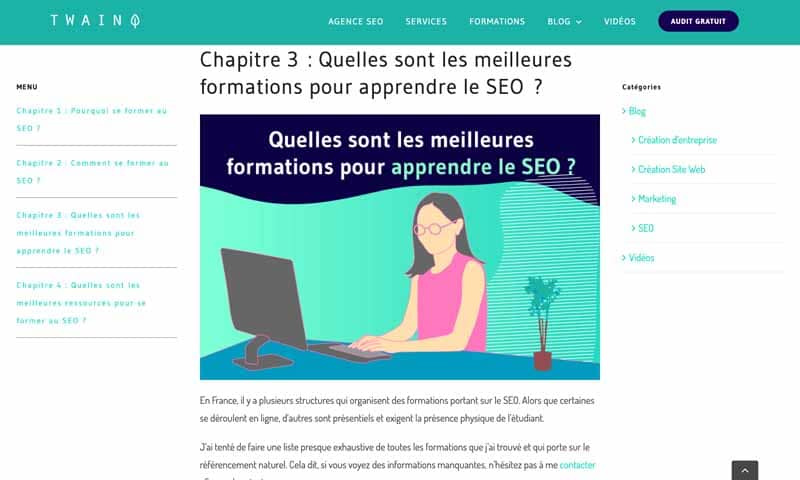 That said, you should periodically check your links to make sure that none of the resources you refer to are taken offline.
3.4.4. Unchanged positions on industry issues
This type of content is the most difficult to find since it involves analyzing the various subjects in order to find those that will have a long lifespan.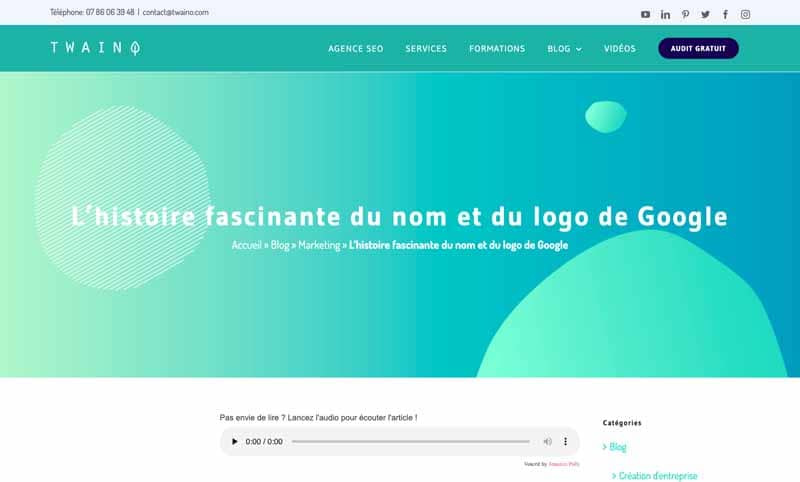 Although few things in this world are truly set in stone, you should be able to find at least a few general topics that aren't likely to change significantly in the near future.
3.4.5. Frequently Asked Questions (FAQs) FAQ
articles can provide useful tips for beginners in your field, making these articles important parts of your content campaigns.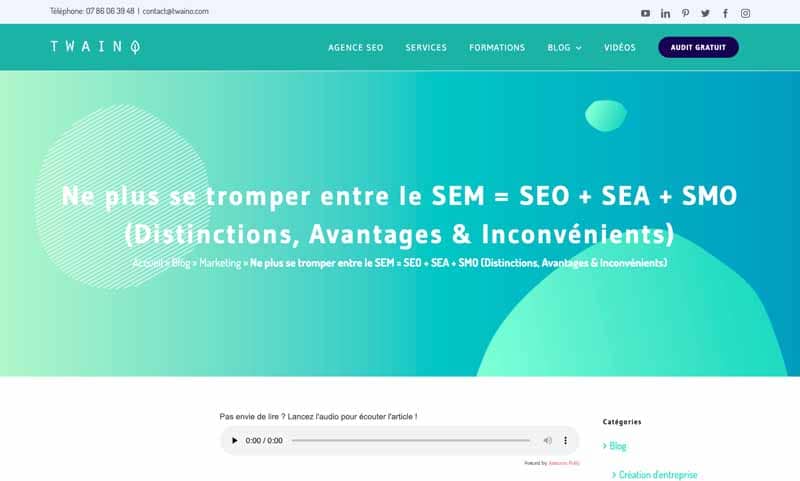 Once you have decided on the type of content to create, you must move on to one of the most important phases in SEO: Keyword research.
Step 5: Do a keyword research
At this level, it is important to use SEO tools in order to have an accurate analysis of the keywords.
Indeed, writing content that ranks well for a high-potential keyword is the best way to help your website boost its SEO. But wouldn't it be better if your content ranks on several keywords ?
Indeed, Google now takes into account the context of the content as well as the words and expressions used. In other words, Google tries to understand all the content it processes in order to offer its users the best results even if they are not optimizing for a particular keyword.
Let's take for example the request "visit Disneyland Paris without paying":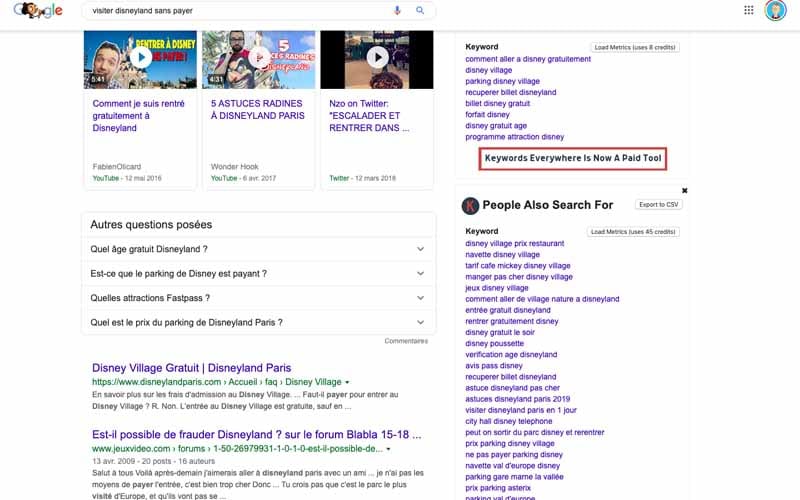 You will see that Google has understood my request or my research intention which is to know the good plans to visit Disneyland.
Keep in mind that search is changing and optimizing content for a specific keyword is a strategy that is losing more and more effectiveness.
This subject will be the subject of one of my next articles, but you can already read my article on the SEO strategy to know. I had the opportunity to explain there how to take search intent into account for effective keyword research.
Targeting a few keywords with a similar semantic field can help Google better understand your content and improve your content's ranking on multiple queries.
You want to create authoritative content that addresses different aspects of the topic you are dealing with. It is relevant to target more than one keyword, although you can consider one keyword as primary and the others as secondary.
Doing keyword research can allow you to:
Include different facets of a given topic in your content;
Evaluate the traffic of the keywords you have chosen.
I always consider my example on "how to plant a tree".
To put it simply, I can go to Quora and integrate into my article a part that deals with certain questions asked by Internet users:
For this step you can consult the community platforms to get ideas on certain aspects that you will deal with in your content and use SEO tools to capture traffic from keywords.
Another effective solution is to use keyword generators such as UberSuggest in order to find similar keywords: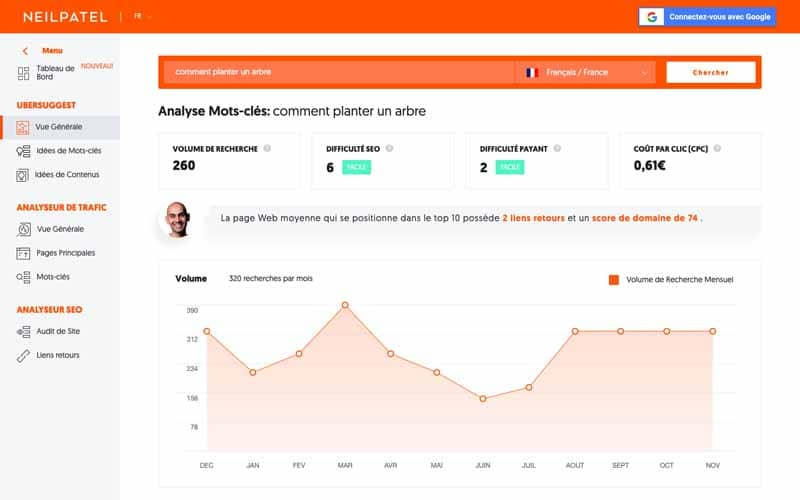 In the image I have the approximate volume of traffic for the keyword.
Click on "Keyword Ideas" for other suggestions: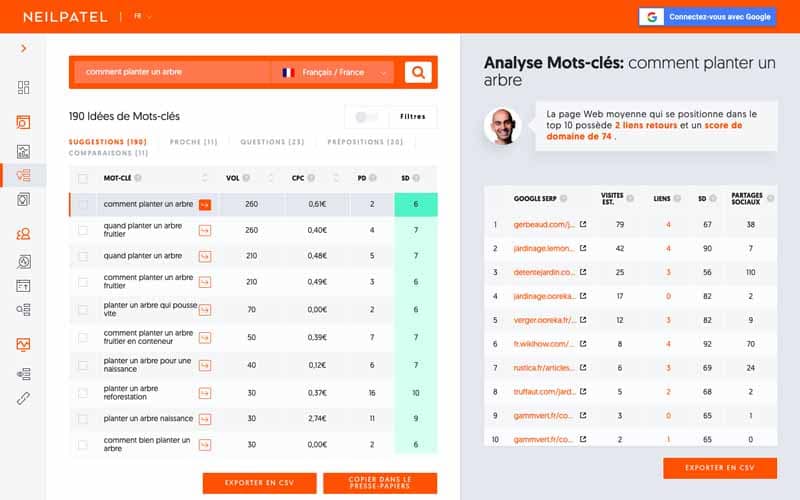 Or also on "Content Idea" for other terms or aspects to discuss: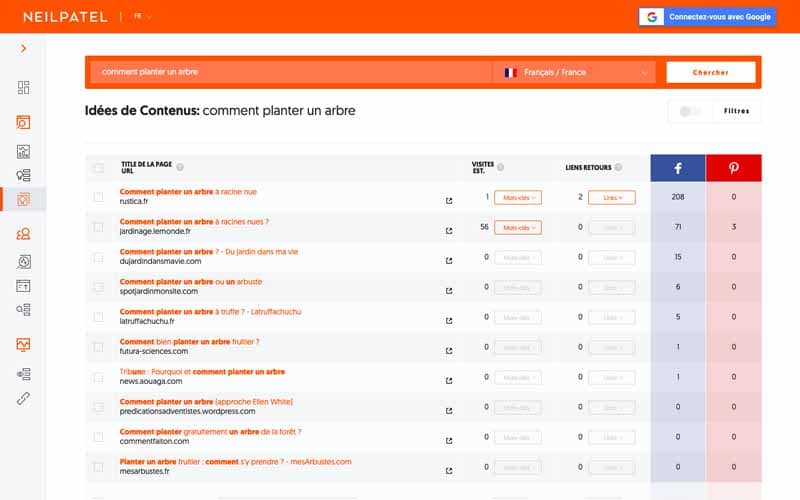 After selecting the keywords on which you want your content to rank, evaluate their monthly traffic to determine if they will attract a lot of your audience.
You have no interest in positioning yourself on a keyword whose monthly search volume is 10 or 100. Similarly, it is wise to avoid keywords with too high search volumes or a level of quite significant difficulty.
The ideal would be to opt for long-tail keywords that allow you to have qualified traffic. They will also be the subject of a future article.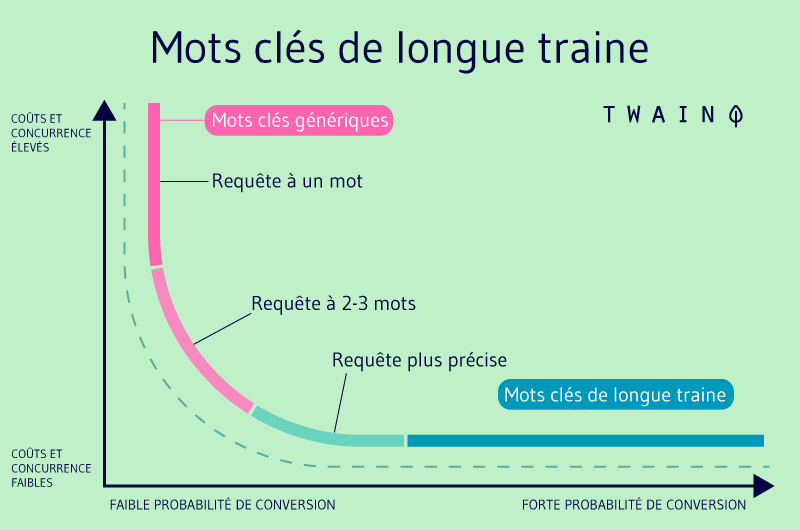 As a bonus, you can also use Google trends to analyze the trends of the words and expressions you have chosen according to the periods of the year.
This tool is very easy to use and allows you to discover the popularity of themes over a period and in given geographical areas.
It should be noted that the tool is based on the requests of its users and it is a very good way to sort the keywords on which you will position yourself.
Let's take my example "how to plant a tree":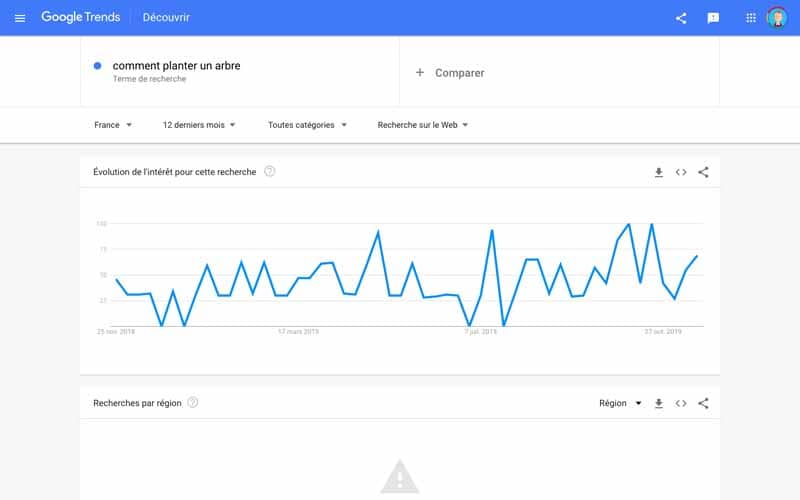 You also have interest by region and related topics:
You can add filters to get more precise results.
At this level, I am only interested in France and data over a period of at least 5 years:
Better, you have the possibility of making a comparison between several keywords.
In my case, I'm going to take the keyword "buy a tree"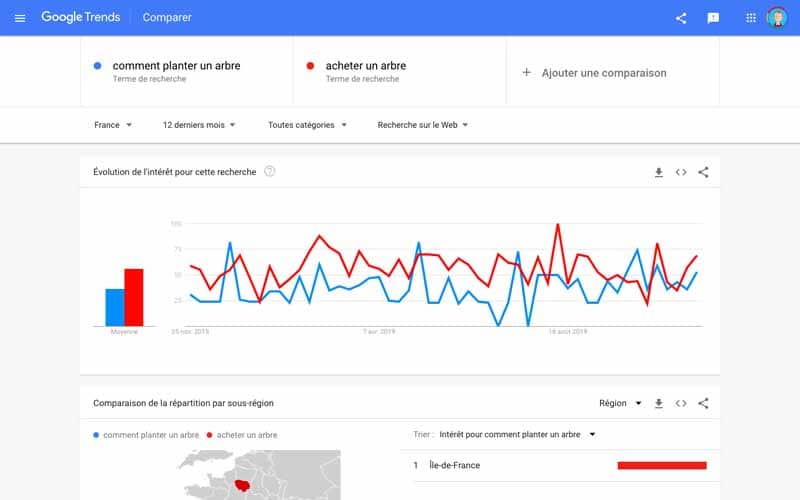 That's roughly how you can refine your choice of keywords. Or, schedule the publication of your content according to the periods when they arouse the most interest.
Once the keywords have been selected, determine the search intent of your audience. Simply put, it's about considering the needs of your audience and defining the angle from which your content will be created.
Assuming my audience is gardeners, they're likely to ask "plant a tree" to find out the best tools and times to plant their trees.
If my audience is made up of people with an interest in ecology, the query "plant a tree" may indicate that they want to know the environmental benefits of planting a tree.
These are two different perspectives on the same theme. An in-depth study is therefore essential before you move on to the actual phase of creating your content.
Do not hesitate to read my article on the semantic cocoon to deepen the subject.
Once you're set, start by creating your authority content.
Step 6: Create long content that is authoritative on its topic
Unless you already have a great authority and you are considered a reference in your field, it is wise to avoid small content.
I like long content just like Neil Patel: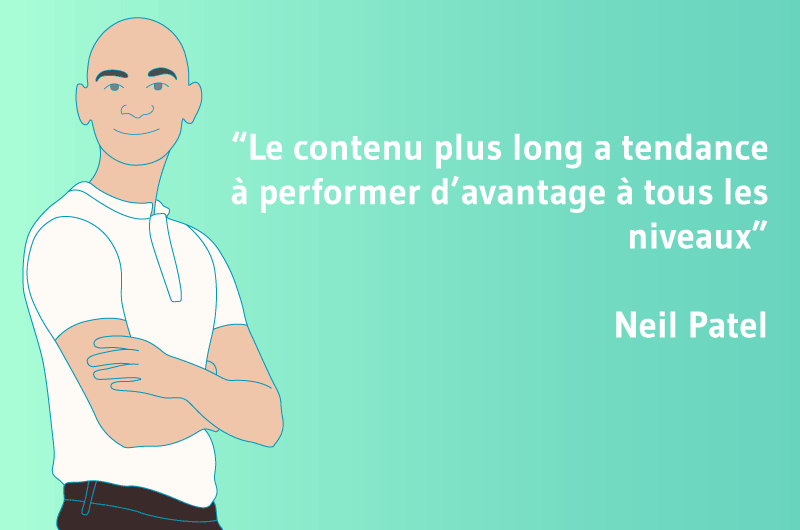 If I had posted 500-1000 word content on the sales funnel, my article is highly unlikely to rank as well.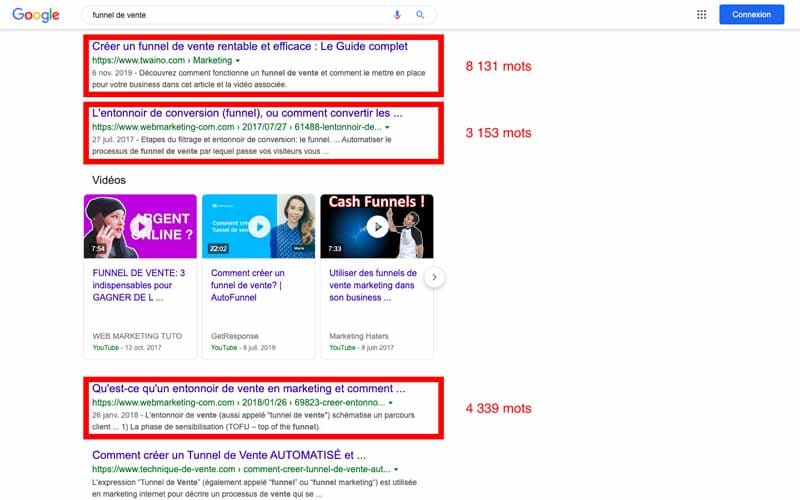 Writing a longer article than what already exists is a great way for you to stand out.
Indeed, most published articles are between 500 and 1,000 words in length. Which is relatively little when you want your articles to perform well.
Size is therefore the first element to consider for your authority content.
Note that there are many advantages in creating long content:
You will be considered by your visitors as a person who has put more work / research into the production ofcontent and you will be perceived as an opinion leader on the theme. They will no longer need to browse 10 different websites for information on the same topic.
Long -form content is sustainable since you can launch multiple marketing campaigns just by reassigning them;
articles generate opportunities over a longer period of time. Indeed, you will attract backlinks and organic traffic from Google in a timeless way.
I will propose to show you the statistics that will certainly make you adopt this format.
3.6.1. Why create long content?
Factor 1: Long Content Brings Huge Added Value to the Audience
Unlike very short articles, long content doesn't just scratch the surface for a topic. They bring value to readers by covering all angles of the topic.
It's important to note that like search engines, the way people search is also changing.
Indeed, Internet users now want answers to specific questions. What makes the number of queries with long-tail keywords important: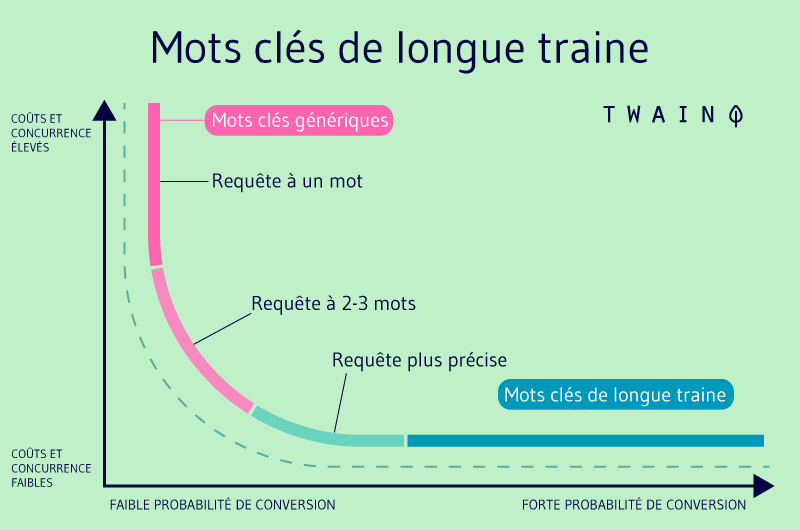 As a content marketer, you will therefore have to painstakingly compose more words in order to optimize your content for search engines.
It should not be forgotten that users who use such specific keywords are generally at the decision stage to make a purchase.
For example, an Internet user who searches for "Cheap men's evening shoes size 42" is likely to be closer to buying than someone who searches for "Men's shoes".
Long content makes it easy for you to target these types of keywords, which makes them much more likely to convert.
Factor 2: The longer the content, the more engagement
Moz and BuzzSumo conducted a study of 1 million articles and found that 85% of the articles in the study had less 1,000 words:
The same study found that the longer the content, the more it has:
Shares;
Likes;
Backlinks.
It is important to note that there is a pronounced correlation between the length of the articles and the positioning of the pages in the SERPs: 
Not to mention the Moz which shows the correlation between the length of the contents and the number of links: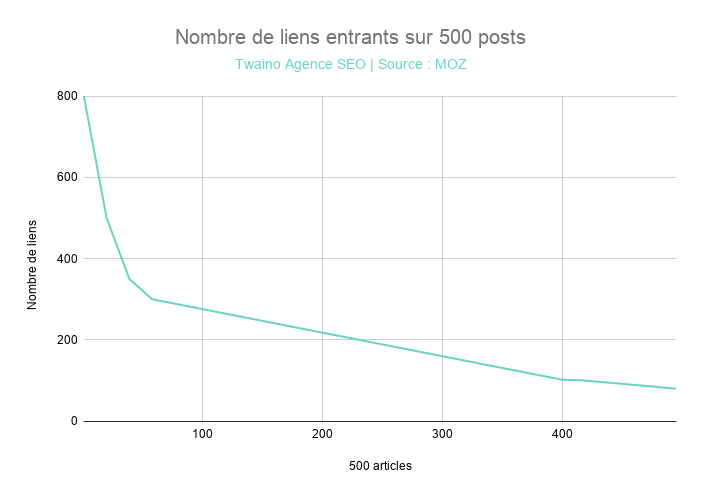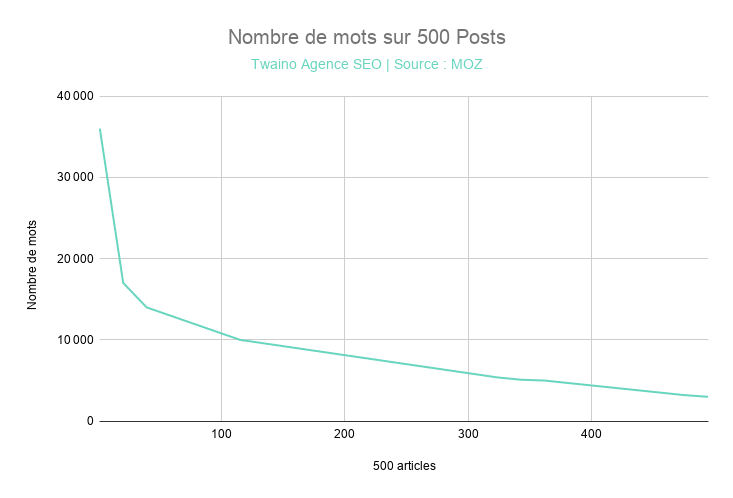 In Using the same logic, HubSpot performed an analysis on 6,192 of its articles.
The observation is clear: Articles with more than 2,500 words are those that gain the most links: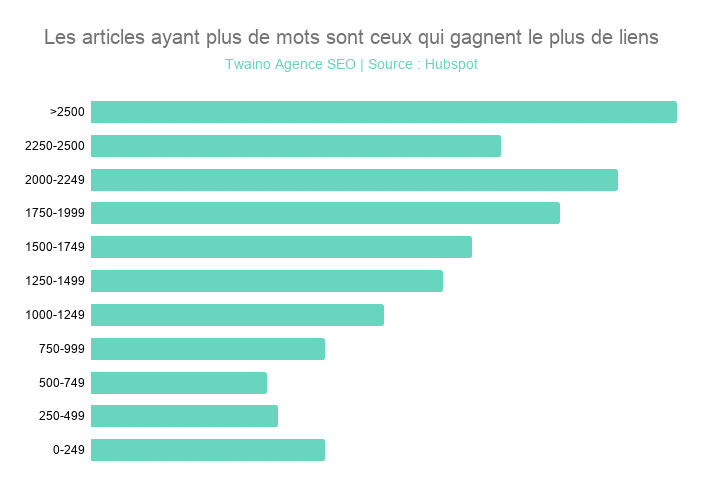 The same goes for the number of shares on social networks: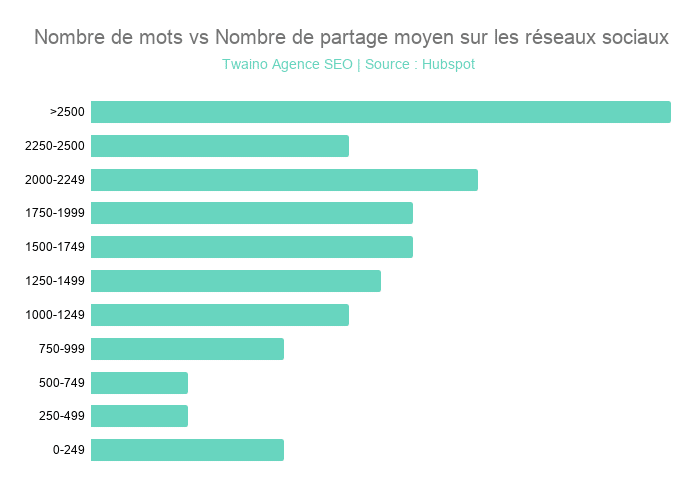 That said, these are articles with a length between 2,250 and 2,500 who experience the most traffic: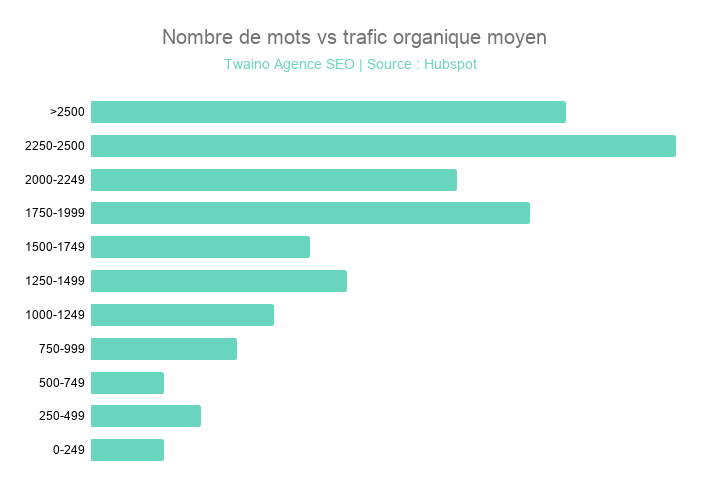 Let's take it even further with BuzzSumo 100 million articles. The observation that has been made is that the longest articles have had the most sharing on social networks: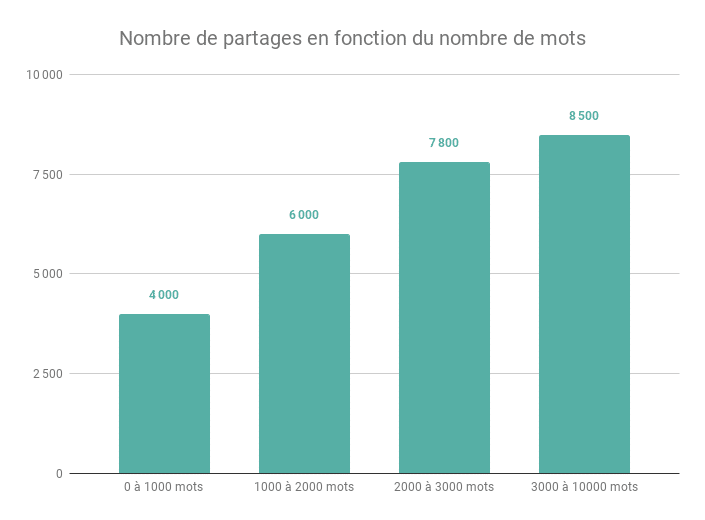 Industry research does not stop at this level since Garret Moon of CoSchedule's analyzed 6 long-term keywords drag, the query format most used by Internet users.
He found that the best-ranking content is around 2,000 words.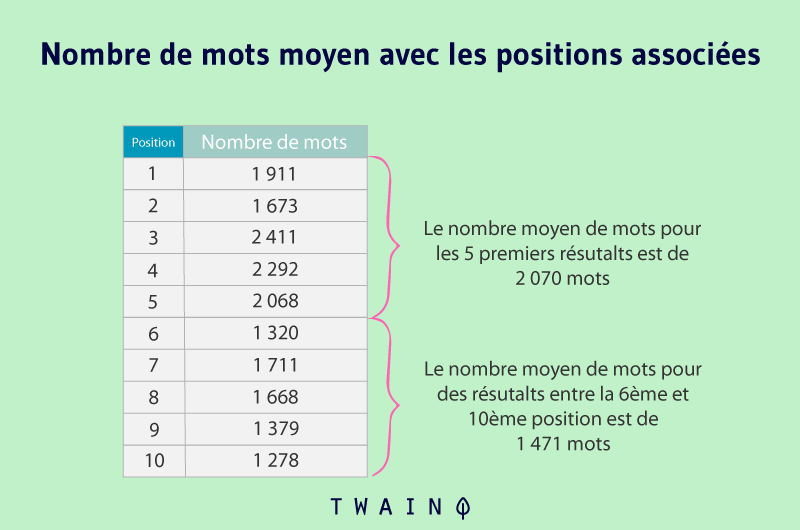 Consider also the case of WordStream , which was reluctant to publish long content or articles with more than 1,000 words.
After experimenting with such content, they found an increase in the time users spend on their web pages.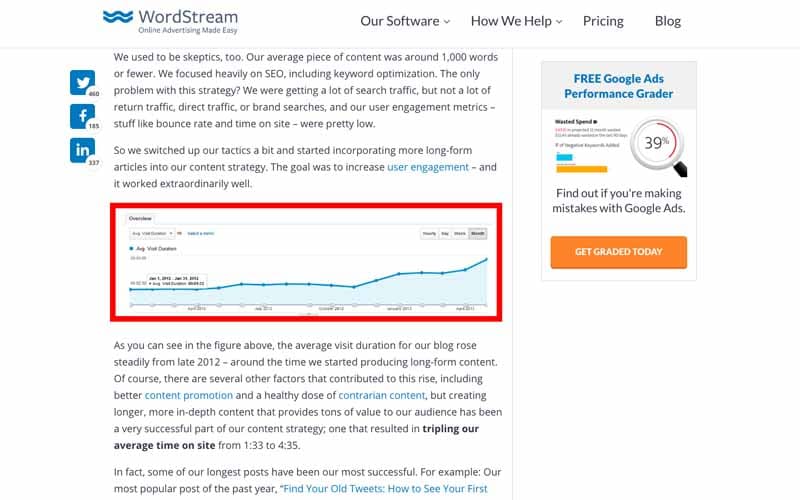 The same goes for my website since most of my articles are over 10,000 words:
My record so far is an average of 20 minutes 44 seconds on my Google Search Console. 
Here are the statistics and industry data that confirms the performance of long-form content. Obviously, this is the form to go for when you want to create authority content.
So, how to create long content, I give you all the details.
3.6.2. How to write a long article of more than 3000 words?
I advise you to create articles with a large volume of words, but it is obvious that you must avoid inflating your article only in order to see it denser than the existing publications.
Indeed, statistics reveal that:
"72% of marketers believe that creating relevant content is the most effective SEO tactic".
I recommend thinking length and relevance simultaneously!
Make sure your long content actually adds value to your readers. Remember that Google takes into account the relevance of articles and the interaction that readers have with your content. 
If it is not useful and relevant, it will not be considered authoritative content: Neither by search engines, nor by readers.
So here is a simple and clear process on how to build a large article.
Phase 1: Do some intensive research
There are no 36 solutions to writing long, high-quality content. It is mandatory to go through the stage of in-depth research.
Even if you are an expert on the topic you want to write your content on, it is still worth doing some in-depth research.
This allows you to discover new aspects to cover in order to make your article even more complete and interesting.
For example, take a look at my article on the 89 key SEO figures you absolutely need to know: 
Although I already know some SEO statistics, it would have been impossible for me to produce such long and qualitative content without doing research.
That said, how do you get all the information you want without wasting a lot of time?
Tip 1: Use Google's syntax
For your research, you will obviously use Google and that's normal.
But did you know that you can use syntaxes on Google that will allow you to have precise results?
If you didn't know, check out this video by Matts Cutt which gives you some simple tips:
Your searches will then be more precise and you will be able to quickly find the information you need. you are looking for.
Tip 2: Use search engines other than Google
I recently published an article onother search engines that you don't think of. You can consult them in order to choose the search engine that corresponds to your theme. 
You can for example make use of Google Scholar which allows you to have scientific content according to your subject.
Here is the result for the keyword "how to plant a tree":
It is always good to support your arguments with scientific information so as not to leave the slightest doubt in the reader.
Tip 3: Do research in English
In most sectors, there is a lot more information in English than in French. So if you are lucky enough to understand English, when you read it, then do not hesitate.
English blogs provide a lot more information and I advise you to use this language when you go headlong into research.
Also, the English community tends to publish a lot of studies and industry data.
It is therefore an excellent option to enrich your content.
Phase 2: Create a structure for your content
You now know what information you will cover in your article. It's time to define the structure you are going to follow so that there is consistency in your ideas.
There is no golden rule in this matter, since some editors prefer to define the structure of their article at the end of the writing. Others, on the other hand, prefer to follow a strict plan.
Whatever your preference, it is nevertheless important to have a rough of ​​the structure you will follow.
Of course, it will be adjusted as and when necessary.
Your structure can look like this:
Moreover, if you want to add elements to your plan, ask yourself these questions:
Will your target audience be interested in the subtopic you plan to cover? An assessment of search volume for the subtopic can help you decide
. Does including a particular research study in your content present your idea convincingly?
Take a final look at your plan to make sure it reflects your content creation goals and adds value to your readers.
Phase 4: Write your article in draft
recommends SlidShare, write only at this stage without worrying about sentence construction or whether or not to add such images or resources.
You will take care of the correction when editing your content.
Since you did intensive research in phase 1, you probably have a lot of ideas to develop. The more search items you have, the more you will be able to achieve the word count you set for yourself.
Moreover, it is recommended to write the introduction and the conclusion at the end of your essay. Indeed, it allows you to have enough elements to make a good summary of everything you had to say.
This approach also allows you to properly introduce the content of your article since several elements of which you had no idea will certainly be added to your article. We tend to present well what we master, they say.
However, always choose the writing approach that works the most for you!
Phase 5: Treat the subject in depth
There is no precise limit of the number of words to reach and I do not set myself one. Be as complete as possible by covering all the aspects that are important to your audience.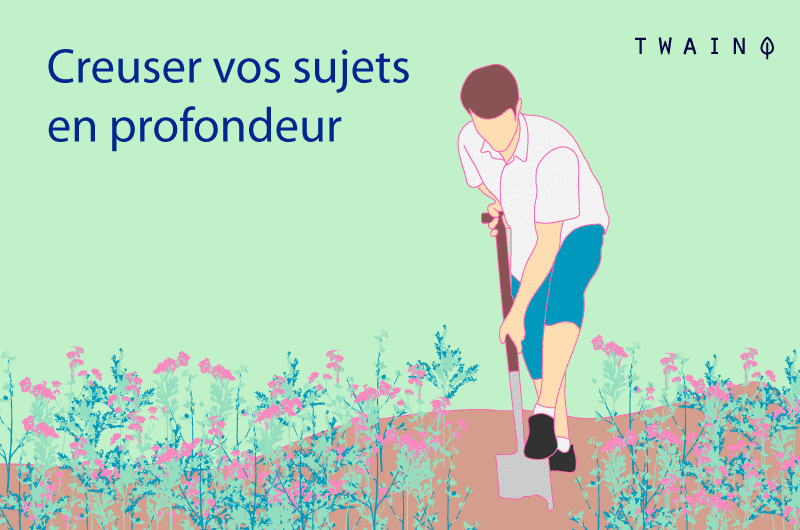 Digging deeper into a topic helps create more comprehensive content and thus offer more value to your readers. Your goal should be to create the ultimate source for the topic in question.
Put yourself in your audience's shoes for a moment.
Would you like to:
Browse multiple resources for snippets of information?
Or would you rather have a solid resource that gives you all the information you need without ever giving you a reason to leave the page?
If you're like me, the second option seems the most obvious to me.
Keep in mind that people are busy and no one has time to sift through the internet in an effort to find information here and there.
This means that you must:
Take the time to do in-depth research:
Address all the important points of the theme;
Add up-to-date statistics;
Complete with case studies to illustrate concrete results;
Etc…
All this requires time, a significant investment and patience. But your efforts will be rewarded later.
Phase 6: Enrich your content with data
"The data-driven approach focuses on creating high-quality content that addresses issues or questions that concern the audience by offering evidence and backing up each claim with findings. up-to-date science, data and research", Pawel Grabowski.
This aspect is very important and I invite you to use a lot of statistics and data to support your assertions.
Who doesn't like the scientific approach or figures serving as proof for arguments?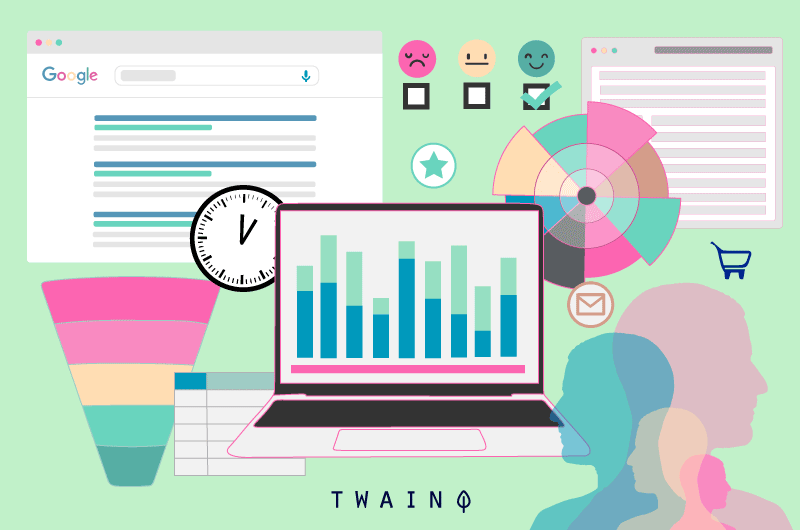 Some bloggers are starting to use it in their content strategy, but your authority content will need to do better. This is where competitive analysis really comes into its own.
When you find that your competitors are using data, case studies, and statistics in their content, you should provide more of that in your article.
When people invest their time in consuming content, they want the best. So provide references to resources that are relevant to the topic you are covering.
I will dedicate a special article on the creation of "data-driven content".
At this level, you have finished writing the draft of your article, you must go to the corrections stage.
Step 7: Edit your content
At this step, you will focus on three essential elements:
Titles;
The readability of the text;
Optimization for SEO.
3.7.1. Compelling titles and subtitles
The title is your greatest asset in attracting visitors to your content.
All the effort you put into creating your content will be for nothing if no reader clicks on your article to read it.
It is important to know that 80% of people will only read the title and only 20% will read the rest of your content. But once a visitor starts reading, there's no indication that they'll read your entire article. Indeed, if you do not impress a user in the 10 to 20 seconds, they will not hesitate to leave your page.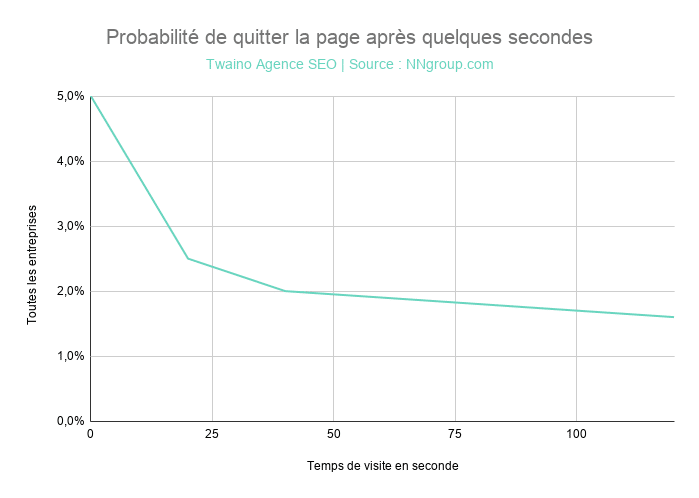 This statistic is all the more true since we all have the habit of skipping pages whose content does not attract us at first glance.
A captivating title is an integral part of the one-upmanship technique and if you're not good at creating compelling titles, you can check out my guide on creating captivating titles. 
You will find there:
Methods that work;
Formulas that have proven themselves;
Effective tools to assess the impact of your titles.
Also, don't forget to choose the subtitles carefully, since they are the guiding threads for a reader looking for specific information about your article.
If a visitor does not find what they are looking for, they will be disappointed and leave your site. Which brings us to the second point of the editing phase.
3.7.2. Make sure your text is pleasant to read
This step can come before or after finding captivating titles and subtitles. Here, you will review the construction of your sentences and paragraphs.
If you find you have long sentences, try breaking them up into multiple sentences to make it easier to read. The idea is to have sentences of about 10, 15, or even 20 words maximum.
Short sentences help the reader to digest your content well because they increase the readability of the content by 58%.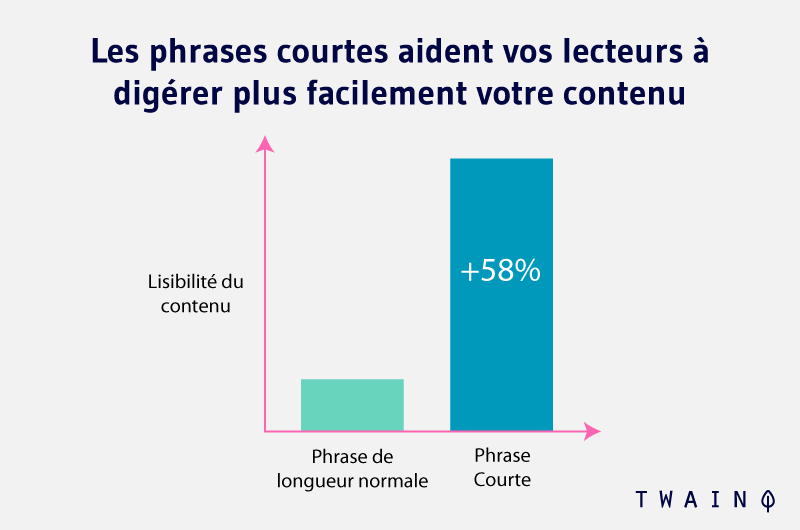 Take this opportunity to correct any mistakes you left in the first drafting phase.
It is also necessary to ensure that your content is readable, in particular by managing the spaces well.
Consider the following two examples, which one will you choose to read? :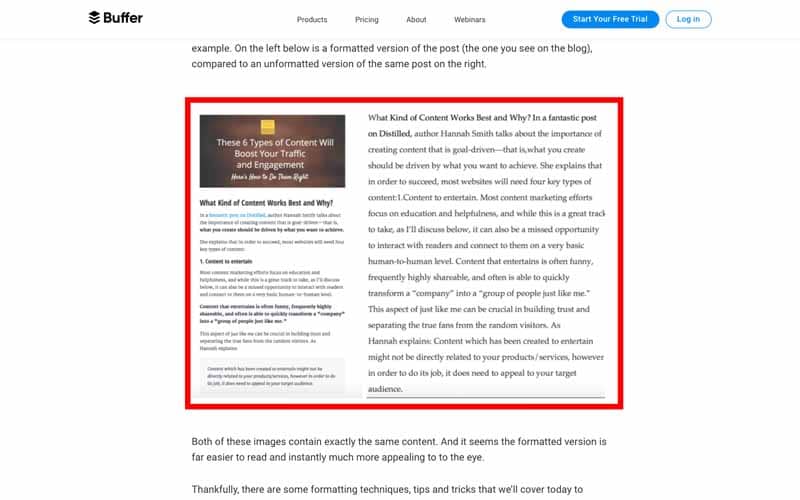 The one on the left is much more attractive than the one on the right, isn't it?
Although the one on the right offers valuable information, I think many readers will choose not to read it. All they have to do is leave the page and go to another website.
Do not make a similar mistake in your article especially when it is long!
You should also use shorter paragraphs of 3 to 6 lines maximum.
Also, leave extra space between your paragraphs to provide a better reading experience for your audience.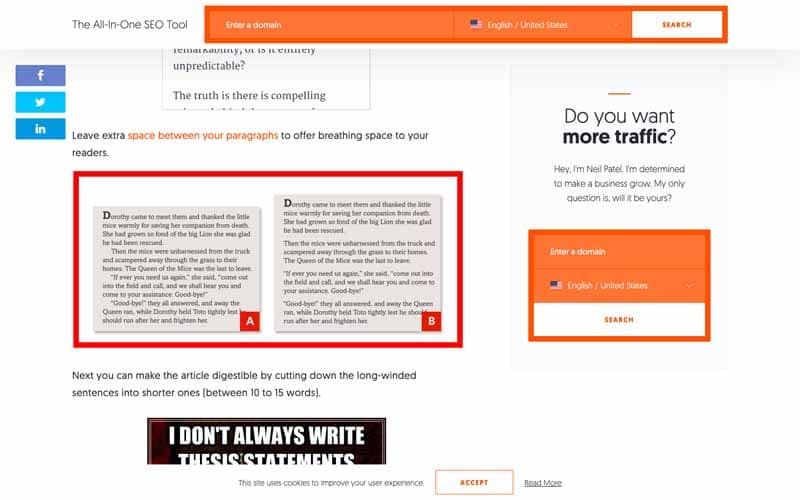 Where possible, you should also use bullet points for to-do lists. They help the reader process information faster than grouped paragraphs.
If you have a blog that is not B2B like mine, you can use contractions since they correspond to the way we conduct conversations.
Your readers will appreciate a conversational tone of writing rather than a formal one. That said, you have to take precautions as recommended by Bkacontent which indicates that you should only use abbreviations "
a
Direct quote from an individual;
When using an idiom that already contains a contraction (removing the contraction would probably detract from the simplistic appeal of the idiom);
When writing footnotes to a formal text, where a break in formality is not frowned upon;
When it comes to a personal writing style;
When you write about the contractions themselves.
Also increase the UX of your article by creating a table of contents.
Also consider coloring certain sections of your article to make the text easier to read: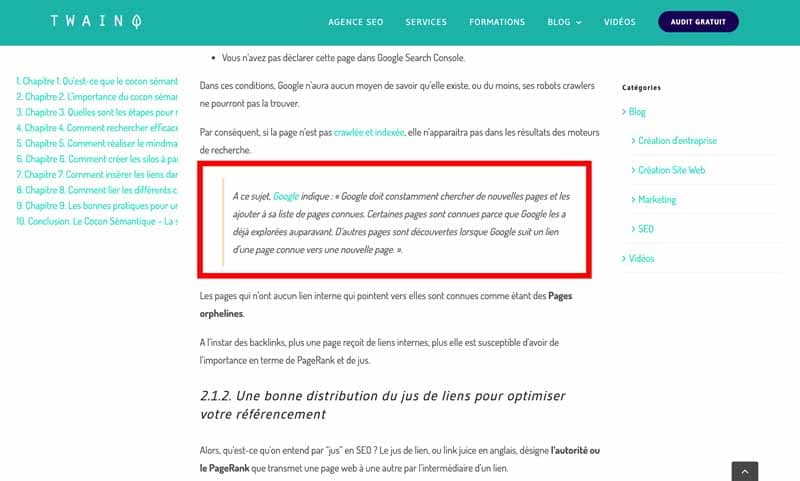 3.7.3.

Optimize your content for SEO

Your optimized for your target keywords. You can try to include in certain sections of your content your main keyword:
The URL;
The title;
Certain subtitles;
Meta tags;
In the text
Don't forget to also use long tail keywords to attract qualified traffic to your website.
To go further, check out my guide on SEO to know all the On-Page optimization you can implement for your content.
To make sure your content is properly optimized, you can use an SEO plugin such as Yoast.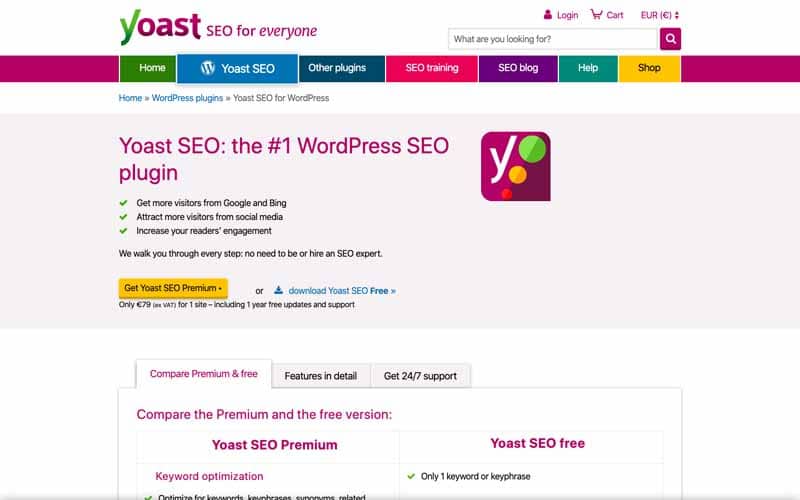 In addition, enrich your authority content with relevant external links. This allows your readers to have additional sources if they want to deepen their knowledge.
That said, caution should be exercised since it is not recommended to link to websites or very low qualityOtherwise, your website's performance in the SERPs will be negatively impacted and the other links on the page will not have much value.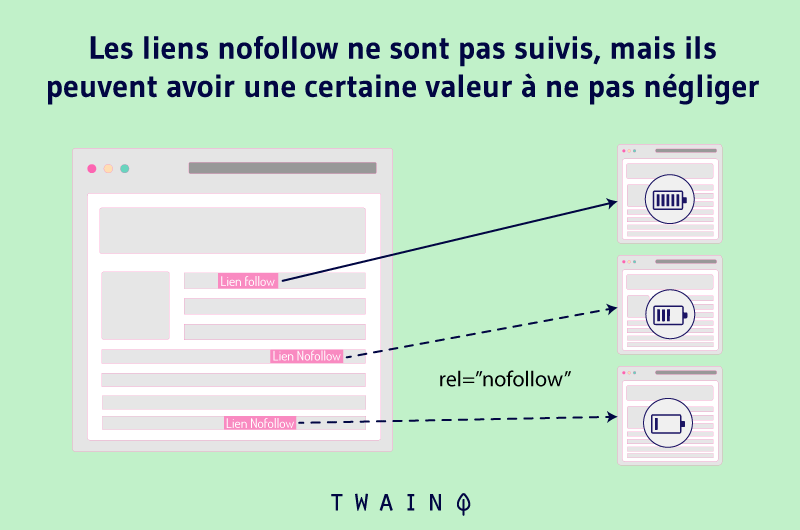 Googler Matt Cutts says,
"Just as Google trusts sites less when they link to spammy sites or bad 'neighborhoods', some parts of our system encourage links to good sites.".
It is for this reason that when you enrich your content with links to authority pages, you have a better chance of ranking well in the results.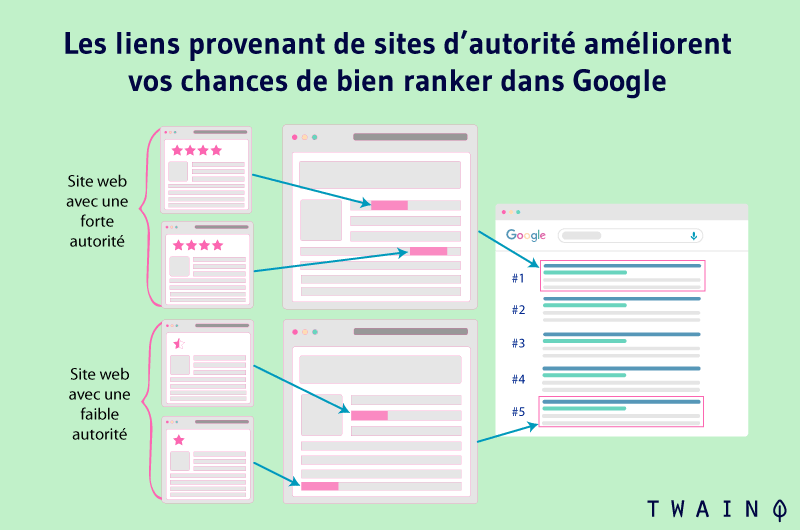 use the "nofollow" attribute. 
This signals to Google not to consider the link in its evaluations. If you are not skilled in evaluating the value of a website , only use normal links when the website is industry-leading and trustworthy like Wikipedia.
Be aware, however, that nofollow is not an alternative for linking to low-quality websites.
follow links are not not followed, but they have some value and no need to waste :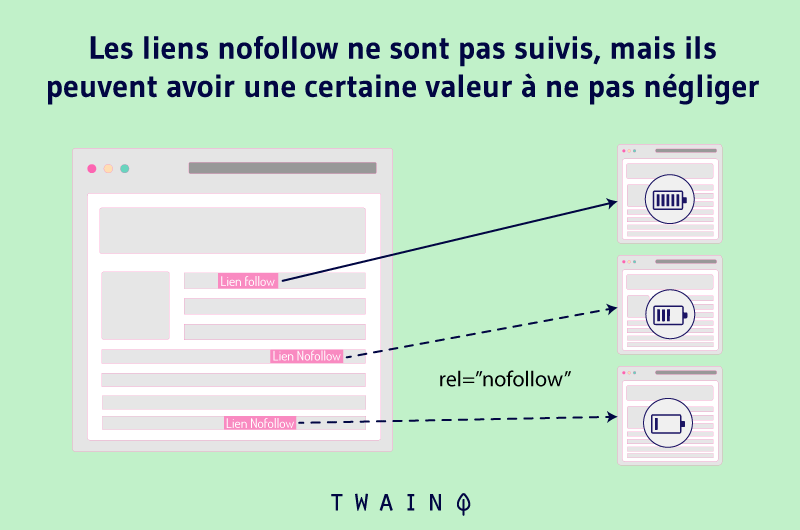 As for internal links, do not use the nofollow attribute Opt for normal links in order to pass link juice to the various web pages of your site web.
To do the internal meshing correctly, you can use the cocoon semantic.
Here are some best practices for optimizing your content to increase its chances of ranking well in the SERPs.
Step 8: Offer a rich multimedia experience to readers
The Internet has become very visual:
As well as the interest of Internet users for videos:
After identifying this trend, Google began to value visuals in its results. Thus, in all keyword searches in the United States:
55% return at least one video;
40% return at least one image.
For long content, visuals make even more sense as it's hard to imagine reading a block of text over 3,000 words.
Videos and images allow you to breathe your content by making it easier to digest.
In this regard, keep in mind that a study showed that a person can only retain between 10 to 20% of oral or written information, against 65% of visual information.
Take this example from my article on SEO training: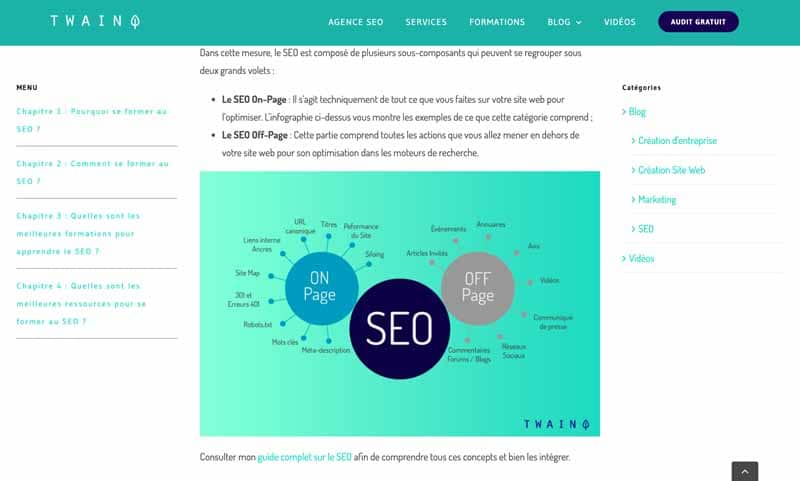 This infographic on SEO allowed me to synthesize the data in such a way that the reader can grasp in a few seconds the information that I am trying to convey.
In addition to images and videos, I use relevant screenshots, charts and infographics to make the long content I usually post more enjoyable and digestible.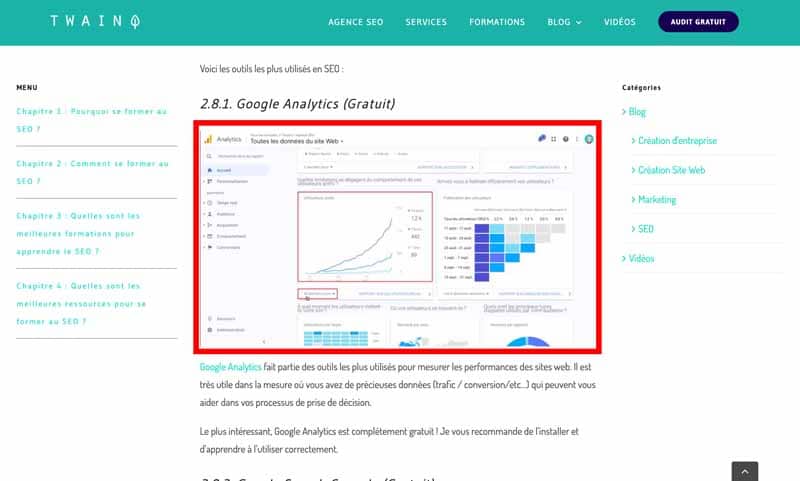 Take screenshots of relevant articles and create links to those articles.
Download images from image banks or create original images
Find relevant videos on YouTube and embed them in your articles.
These are some tips for enriching your content with visuals. You can also add animated GIFs since they are entertaining and are shared the most on social media according to Buffer: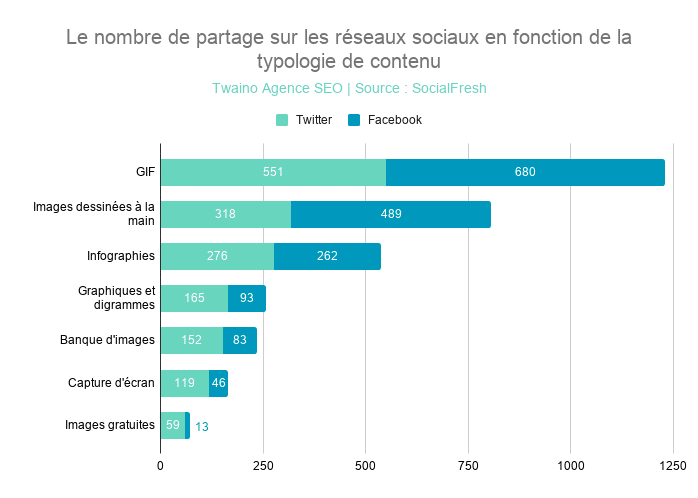 Overall, visuals increase the perceived value of your message and optimize your content for social media.
So be sure to include them in your long articles.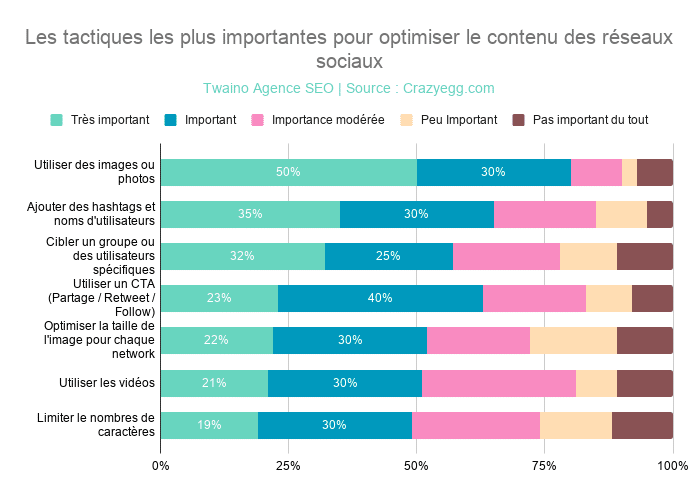 After integrating the visuals, your article is ready to be published.
But before putting it online, reread it one last time to correct:
Grammar and spelling errors;
Punctuation errors;
The syntax of sentences and their construction;
The consistency of the visuals with your content;
Etc…
If you use Microsoft Word or Google Doc, you will have the privilege of being informed of the presence of some faults. That said, these tools aren't always perfect, and you have to proofread your copy yourself.
It is also recommended to call on an outside person who, with a fresh look, will allow you to correct the faults that you have omitted.
Step 9: Publish your content and promote it
Once your article is totally ready, all that remains is to publish it and promote it.
At this stage, you have already put in a lot of effort, but writing alone will not be enough to make your content an authority overnight.
To get the most out of your quality content, you need to make sure it reaches influencers in your community.
For this, you can get into influence marketing or Influencer Marketing in English.
Moz says,
"Influencer Marketing is our name for the process of building relationships with influencers who can help you create exposure for your product or service. This type of marketing depends on you having something great to offer your potential customers, and the influencer's audience, and it also depends on building a good relationship with the influencer..
However, it has to be done the right way
In fact, only 43% of bloggers believe that soliciting influencers to promote their content gives good results.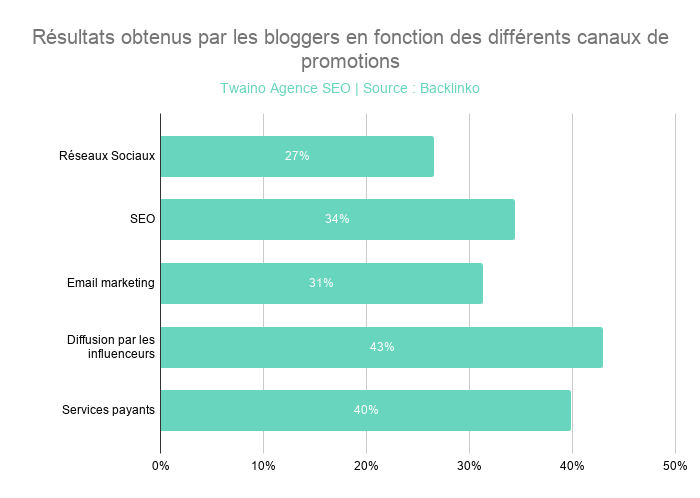 Indeed, sending automatic messages to hundreds of people will not allow you to have effective results.
Personalize each email you send since they are 20.3% more likely to get replies than automated emails: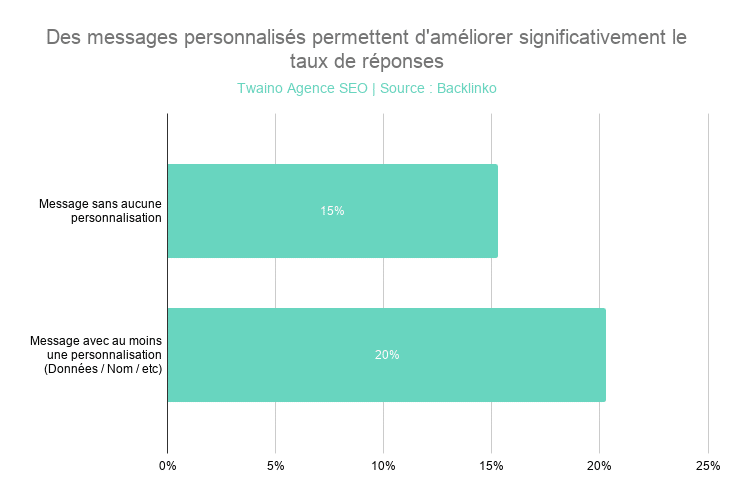 Don't be pushy in the first email by asking everyone to share your article directly.
The success rate of this strategy is lower regardless of the quality of the content.
Spend some time interacting with the influencer and adding value to their blog or business.
They will appreciate it and since they trust you, they are more likely to share your content.
For this part, I suggest you check out my guide on building backlinks. You have all the steps and tips to carry out your promotional campaigns.
Don't forget to spread your message on social networks such as:
Facebook;
Twitter;
Reddit
Etc…
This is how you can set up the one-upmanship technique. If you follow the steps, you are likely to have very good results as the statistics tend to prove.
There remains one last step to confirm the effectiveness of the strategy.
Chapter 4: Analyze the performance of your content
The last part will consist in analyzing the performance of your content.
This is a step not to be taken lightly, because it is precisely the analysis of this information that will allow you to understand the content likely to appeal to your audience, and therefore to offer even more. advantage thereafter.
Because as Lord Kelvin said,
"If you can't measure, you can't improve".
There are several metrics you can track when analyzing the success of your content. But it's a good idea tofocus on those that are most relevant to your strategy.
To do this, think about your marketing and business goals to determine what success means to you.
If you want to do branding and make your brand known, then indicators such as the number of leads or conversions will not necessarily be your priorities.
In this condition, the most important factors would be:
The number of new subscribers;
The number of likes;
The number of comments;
The number of shares;
Etc…
All the indicators that can allow you to measure the notoriety of your brand should be considered.
Don't forget to also assess the distribution channels you use. If the channels aren't relevant to your target audience, you may not get good results.
Here is the complete list of indicators that you may need to follow. It's up to you to choose what is most relevant to your strategy.

There are mainly 4 main categories of indicators:
Audience engagement;
User behaviors;
SEO settings;
Company performance.
4.1. Audience engagement indicators
4.1.1. The number of likes and shares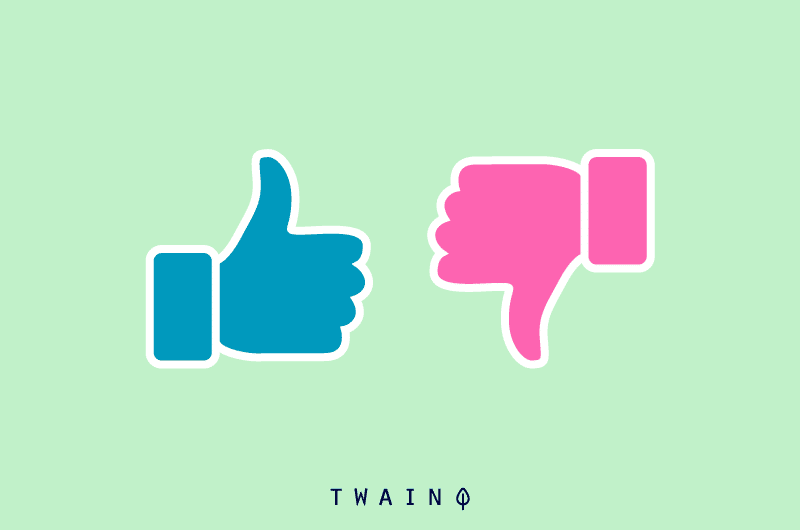 The number of likes and shares are the first two indicators of your popularity and the engagement of your audience with regard to your content.
However, these two parameters are not equal since sharing your content shows that the subscriber has liked your content enough to widen its reach.
Therefore, having a lot of shares is more interesting than having likes.
4.1.2. Comments
on content requires a lot more effort than sharing it or making a "like" mention.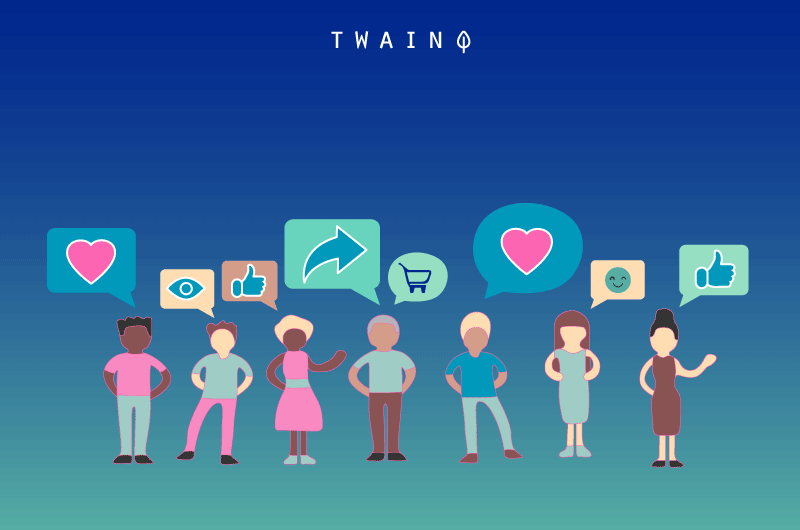 Comments are a good metric to gauge the audience's level of engagement with your content.
If your content has motivated your readers enough to express their opinion, it is important to take this into account.
4.1.3. Mentions
Mentions are a great way to measure the performance of your content as well.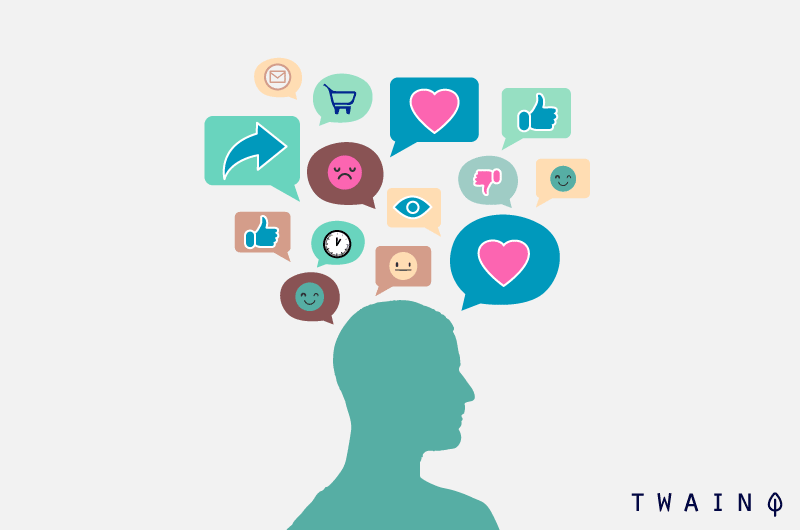 If someone mentions your content on social media or in their content without linking to your content, it's a good idea to find out.
Indeed, you will know the contexts in which your audience mentions you.
Do they talk about you good or bad?
If there are influencers mentioning you in their content, it can bea good opportunity to create new relationships that will expand the reach of your campaigns.
4.1.4. Reposts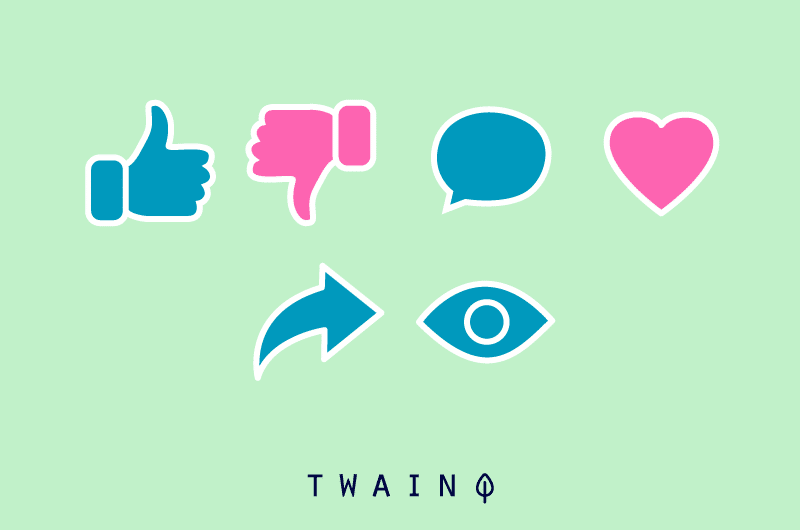 Unlike mentions, a repost is when some or all of your content is republished in its entirety on a third-party site.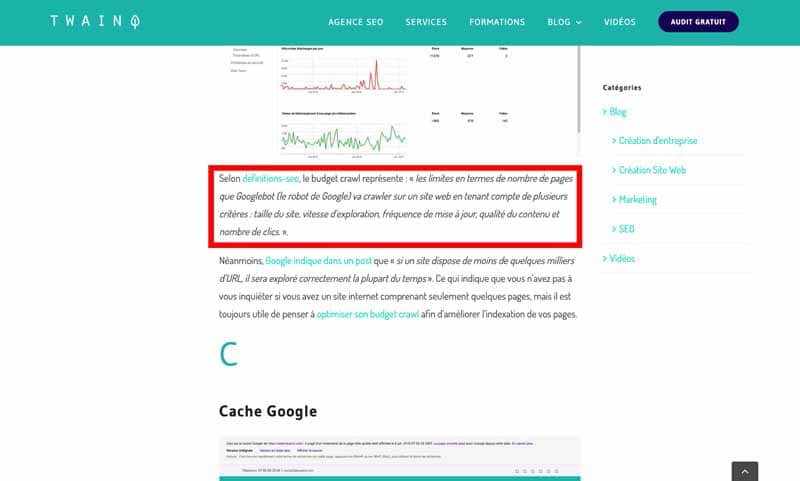 It can be:
A text;
From an infographic;
From a video;
Etc…
If you find that there are republications of your content, check that the author has included your link. If not, you can ask them to do so to get more referral traffic to your website.
4.1.5. Requests received
Requests from your audience after the publication of your content is an excellent parameter for evaluating their success.
Requests can be of various types:
Interview;
Writing content on a given topic;
Knowledge sharing;
Cooperation ;
Etc.
4.2. User behavior measurements
4.2.1. Pageviews
This is the total number of times a particular page on your website has been viewed over a given time period.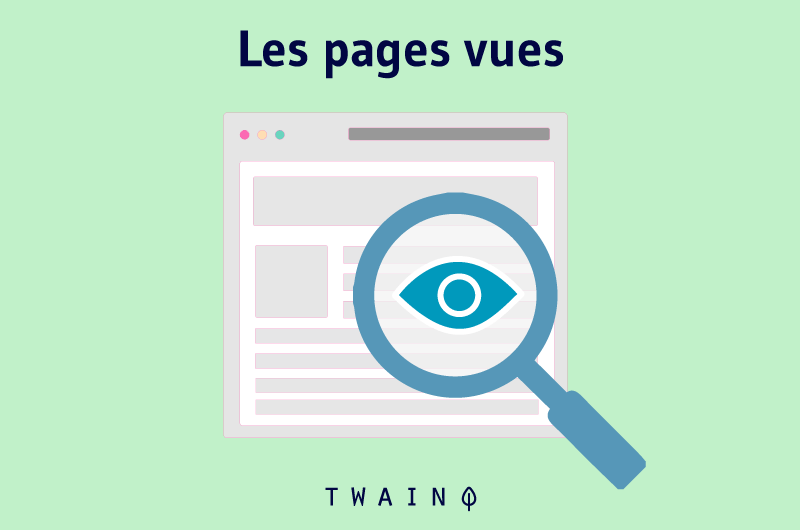 This is the total number of times a particular page on your website has been viewed over a given period of time.
This parameter allows you to automatically evaluate the quality of a content compared to others.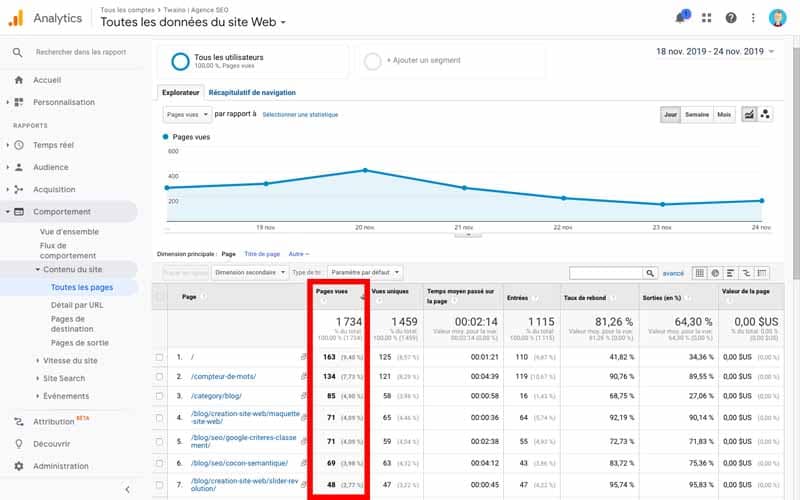 With this metric, you can determine the types of topics your audience likes to consume. This allows you to then offer similar types of content.
As you can imagine, this is the total number of visitors who have viewed a particular page on your website, even if they have viewed it multiple times.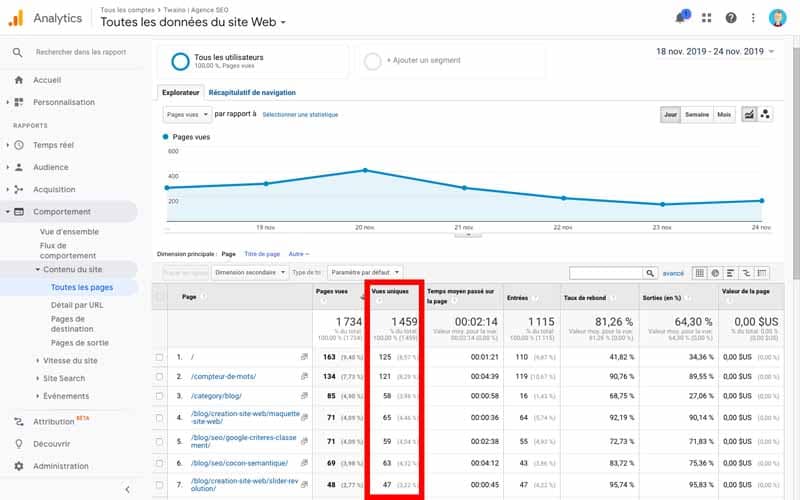 If the same visitor revisits the same page, the count counts as only 1 unique visitor. Unlike Pageviews, you will be able to determine if new visitors are landing on your content and how many readers have taken notice of the content.
4.2.3. New and returning users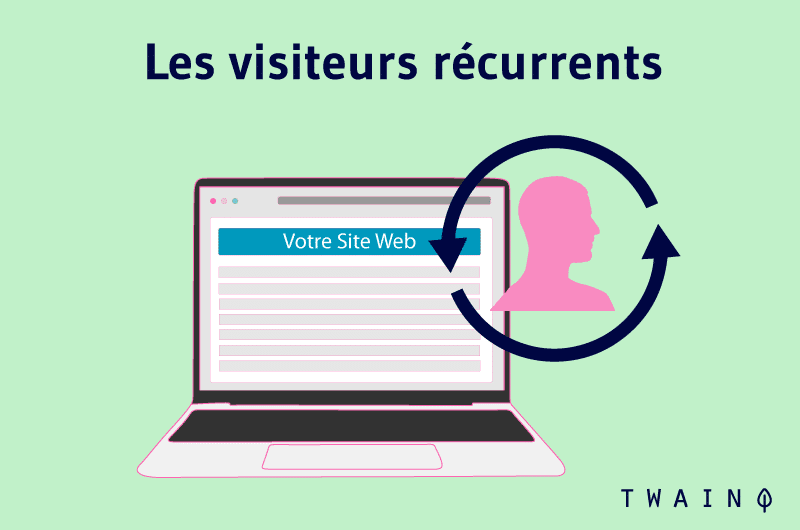 Distinguishing the number of new visitors from returning visitors can help you gauge whether your content and website are considered trusted sources.
Indeed, having new visitors is a good thing, but getting visitors to come back to your website is a bit more complicated.
Your content must be really qualitative so that you not only have new visitors, but that you can retain old ones.
4.2.4. Average Time on Page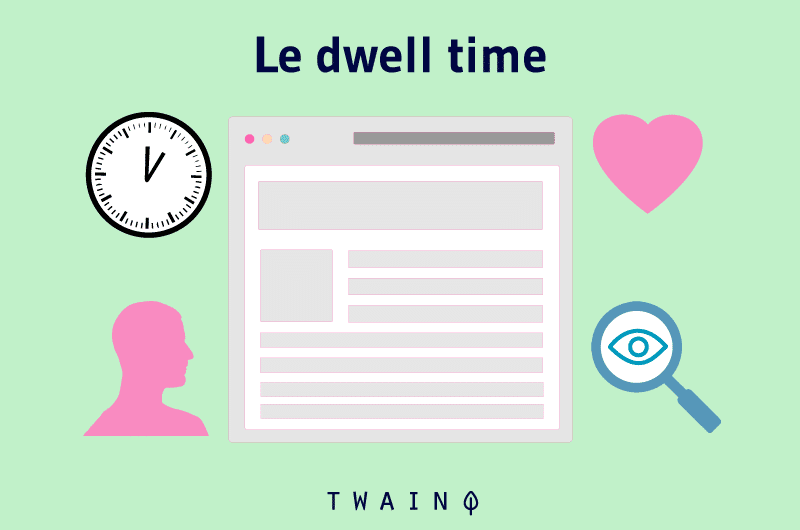 This is the ideal parameter to know if visitors are reading your content or not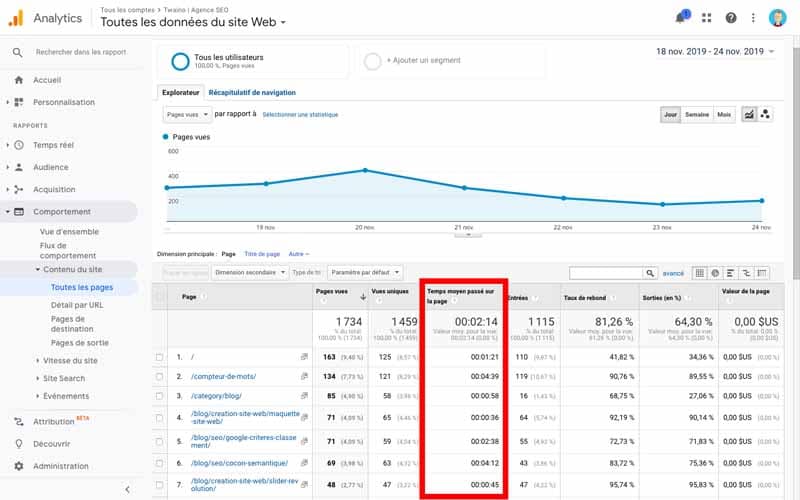 All the pages of your website will certainly not have the same duration. For example, visitors are likely to spend less time on your contact page than on one of your articles.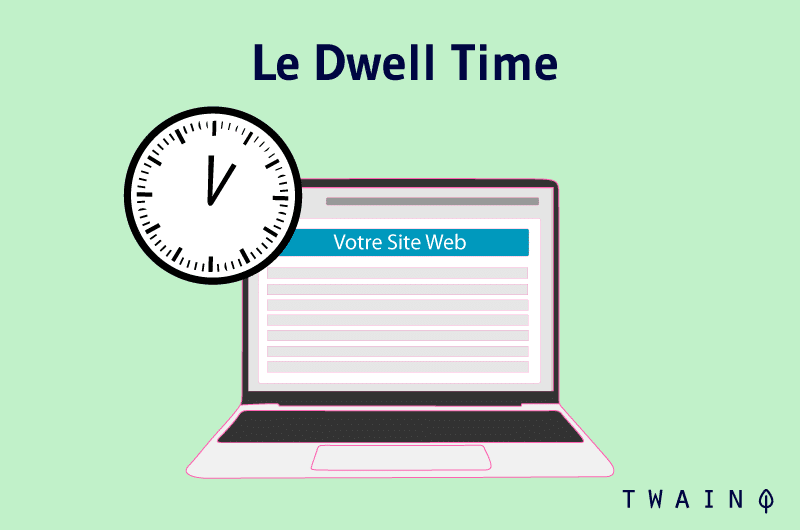 This is a good indicator of the types of content appreciated by your audience. If you find that there are pages that perform better than others, you can make comparisons to optimize those that are struggling to hold your readers' attention.
4.2.5. Bounce rate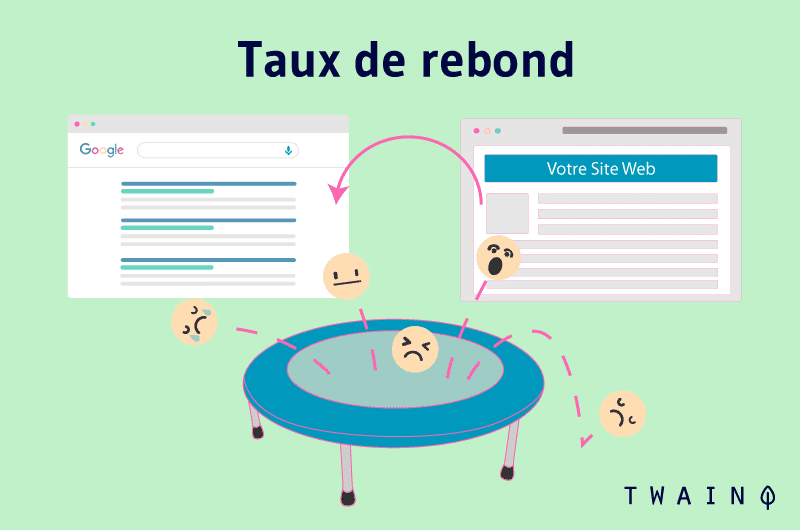 The Bounce rate lets you know the proportion of users who leave the page they landed on without consulting other pages.
In some cases, a high bounce rate may indicate that something is wrong with the page.
If your website allows visitors to check the time or the weather, a high bounce rate might not be an issue given the point purpose of the page.
However, if you have an e-commerce site, a high bounce rate is worrisome since most customers leave your pages without making a purchase.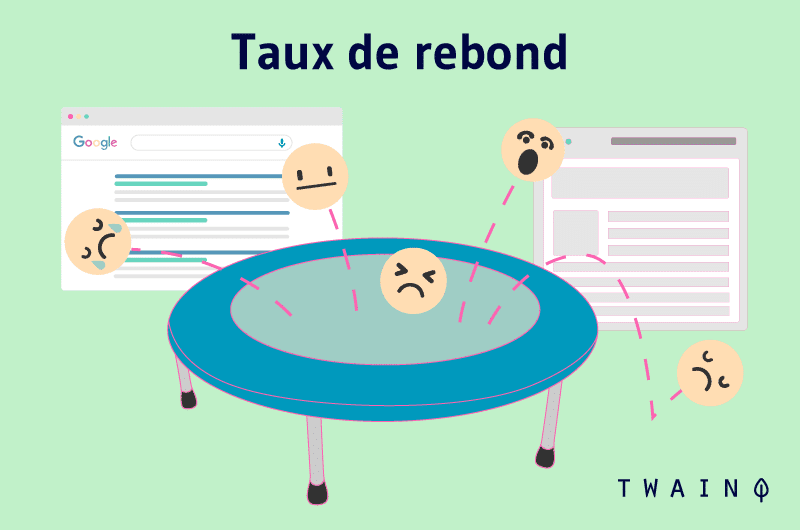 Especially since there is the purchase page is generally independent of the product page.
If it's a blog, the high bounce rate may not be a real problem as some visitors may leave and return multiple times to the same page. As soon as the information sought is found, they automatically close the page.
4.2.6. Pages per session
This figure indicates the average number of page views during a session on your website.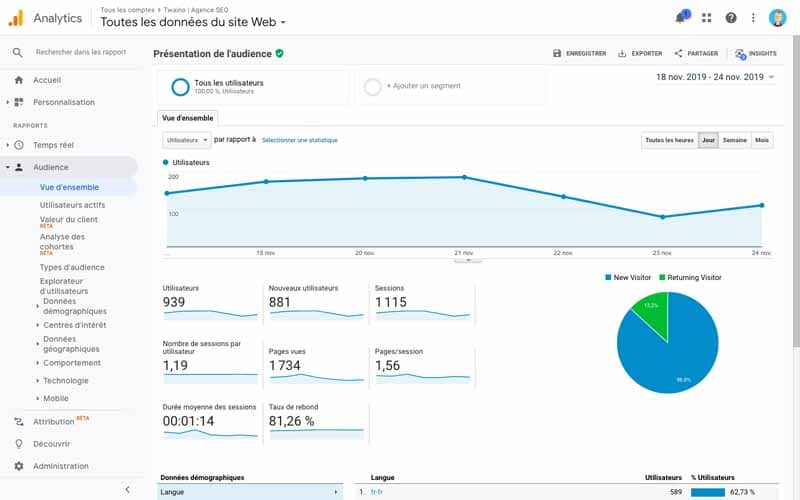 This metric indicates whether your content is engaging and organized enough to motivate a visitor to check out another web page.
If your blog or website has relevant and helpful links, users are more likely to visit more than one page.
4.2.7. Page Depth
This statistic lets you know the average number of pages your users visit per session beyond the homepage.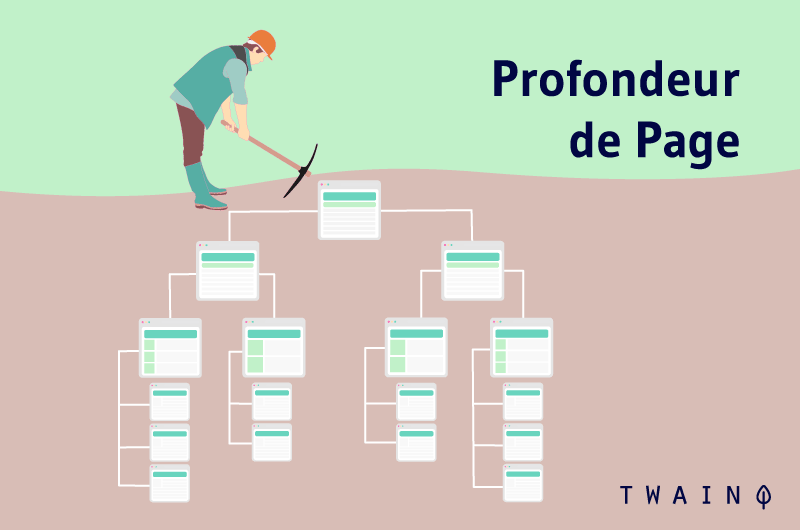 This statistic lets you know the average number of pages your users visit per session beyond the home page.
This metric indicates how engaging your overall content is. If this number is too low, it could be a sign of poor content interlinking or poor website design and navigation.
4.2.8. Traffic Sources
This statistic lets you know which sources are driving traffic to your website.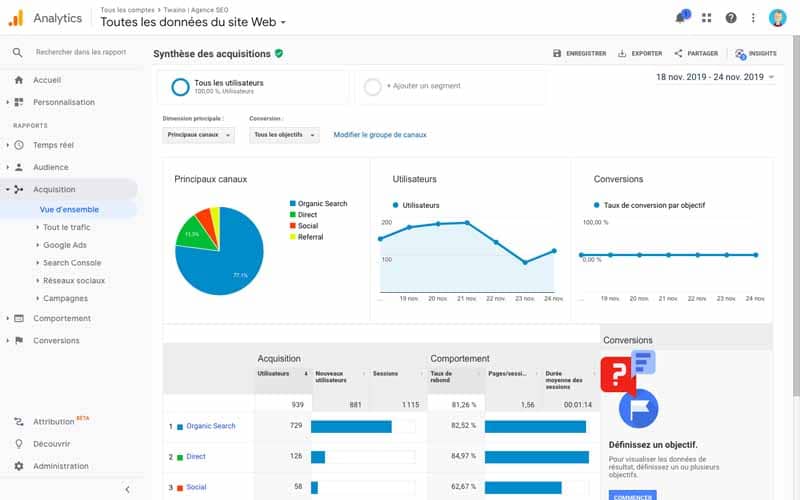 When you have an idea of ​​which channels bring you the most traffic, you will be able to optimize them and stop wasting your efforts on channels that bring you almost no visitors.
Determine if your new social media strategy paid off or if your link building campaign was effective.
You can also identify channels and strategies with good potential. Perhaps a greater investment in resources or an adjustment in strategy would make a huge difference.
4.3. SEO indicators
4.3.1. Organic traffic
Shows the number of people who found your website through a search engine.
Low numbers may indicate that a post or page was not optimized properly. So, to increase organic traffic, you need to pay attention to SEO content optimization.
4.3.2. Dwell Time visitorindicator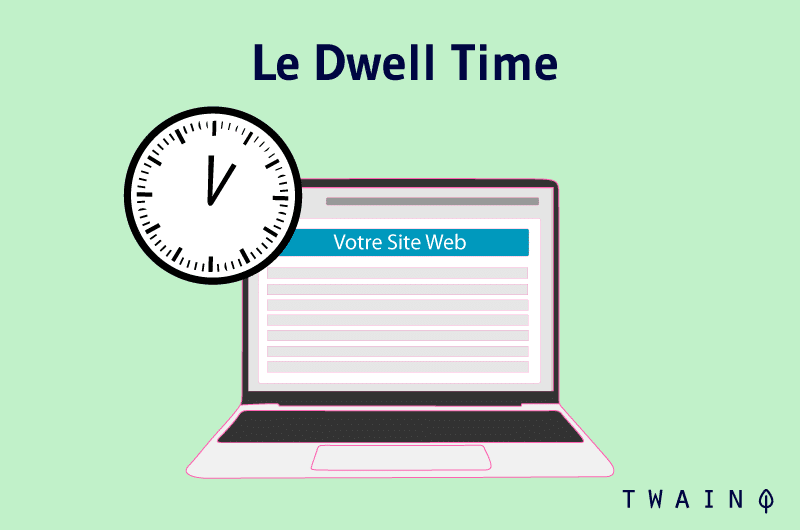 This indicator shows the average time a visitor spends on the website before leaving it.
If your visitors leave your web page or your site quickly, its referencing will be negatively affected.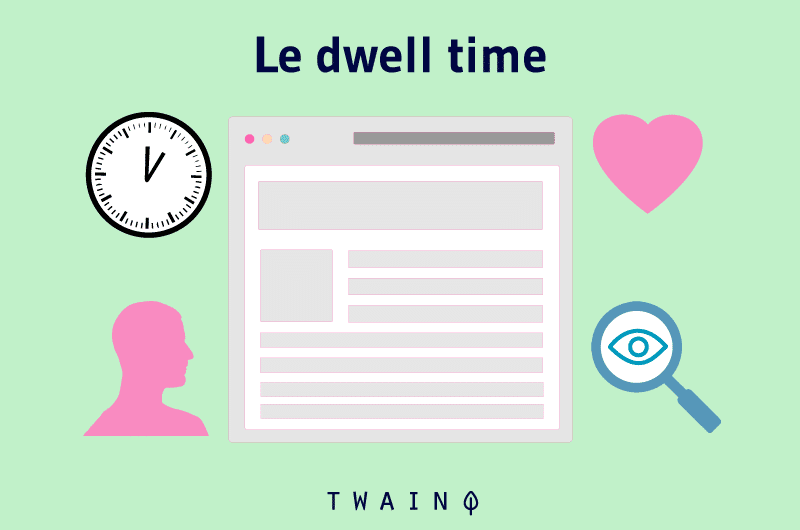 Unlike the average time spent on a page, you will not be able to have precise statistics.
You will need to analyze the following three statistics:
The duration of the session;
The bounce rate;
Time spent on the page.
A high dwell time means you have a low bounce rate and a fairly high time on page.
4.3.2. Backlinks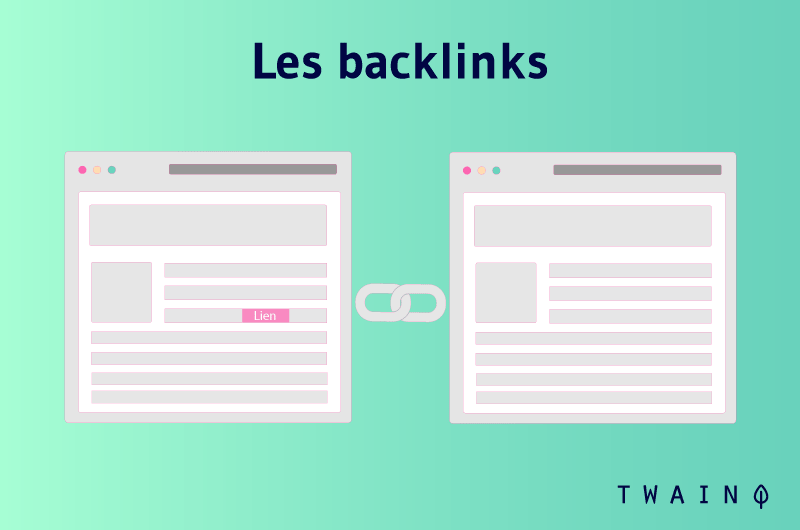 This is one of the most important search engine ranking factors.
This is why you should keep an eye on the quantity and quality of links you receive from other websites.
4.3.3. Mots-clés
Check your article's performance for the keywords you are targeting. You have to be able to answer the following question: For how many keywords is your content ranked in the top 3 of Google?
It's also important to know how competitors' pages are performing against those keywords. Like other SEO tools, Ubersuggest is able to help you with this analysis:
4.3.4. Le nombre d'impression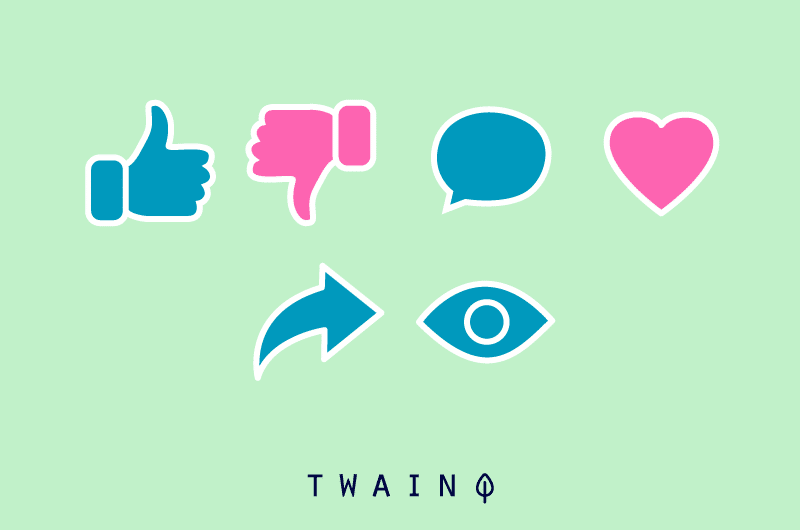 This is the number of times your content has appeared in search results.
Knowing the queries that allowed your content to appear in search results is relevant. You will know how to effectively optimize your content when you are going to want to update it.
4.3.5. Click-through rate – CTR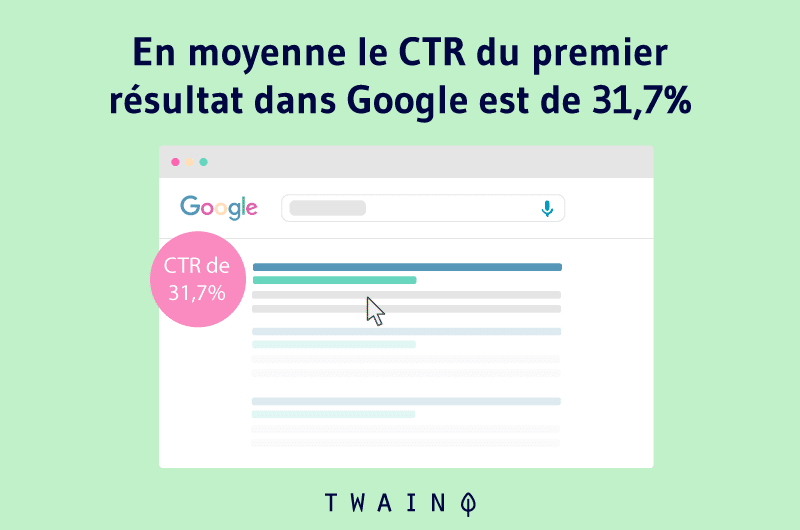 As described in previous chapters, click-through rate is a great way to gauge the success of your content.
If your CTR is low, you might consider another title or meta description to attract more searchers.
4.4. Indicators according to the turnover of the company
4.4.1. The number of prospects
It is important to know the number of potential customers that allows you to generate your content.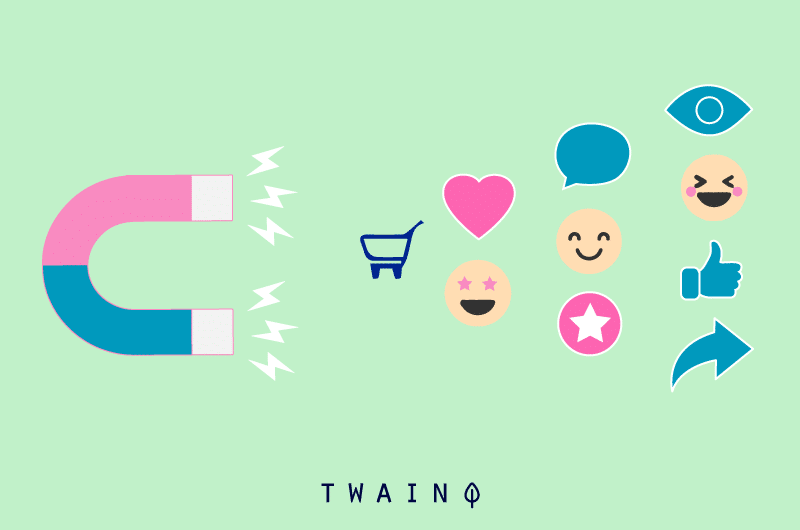 This allows you to determine the types of content that inspire your audience to take action and optimize all other content that does not allow you to achieve this goal.
To do this, you must configure Google Analytics to measure this parameter for each of your content.
4.4.2. The Number of Existing Leads Reacting to Your Content
Having new prospects is not usually enough to reach marketing and sales objectives. It is very important to accompany your prospects in their buying process.
By analyzing the number of existing leads that have interacted with your content, you can evaluate and develop better lead nurturing.
To evaluate this metric, track the number of returning users in Google Analytics.
Also track users who interact with your content on a regular basis.
4.4.3. Le taux de conversion
This is the proportion of visitors who have performed the action you want after reading the content:
Click;
Purchase ;
Registration ;
Download;
Etc…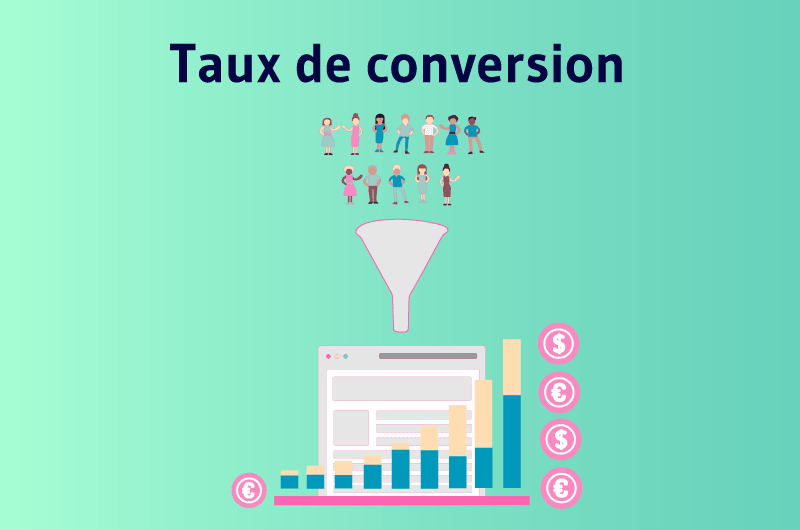 Take the number of conversions and divide it by the total number of clicks on your CTA during the same period.
Conversion rate = Conversions/Total clicks …….. (in infographic)
4.4.4. ROI or Return on Investment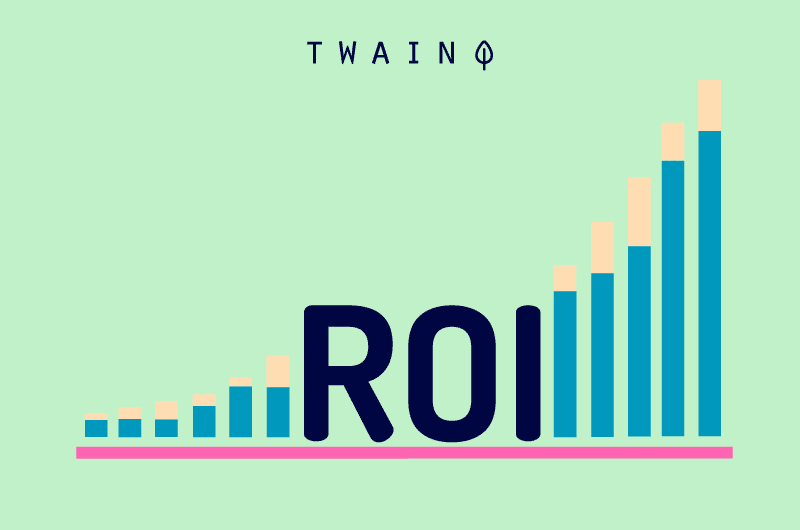 The ROI is the proportion of income that we derive from the different actions:
At this level, it is income linked to the content that you have created: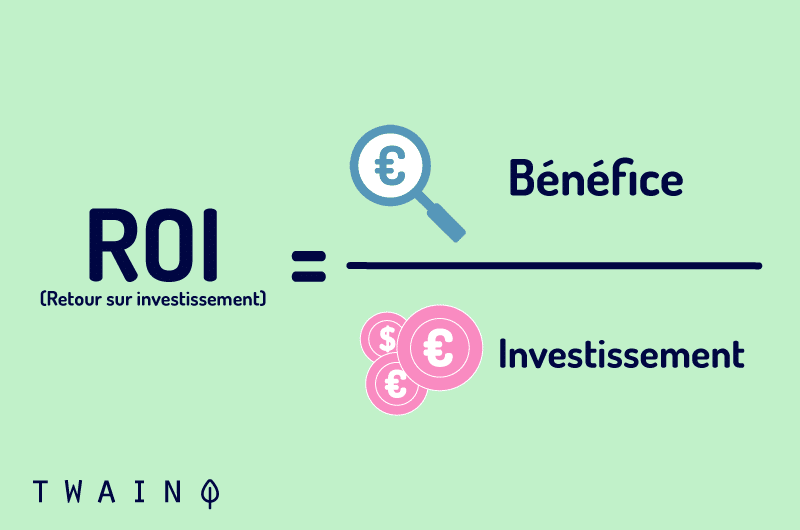 4.5. Tools to measure the performance of your content
4.5.1. Google Analytics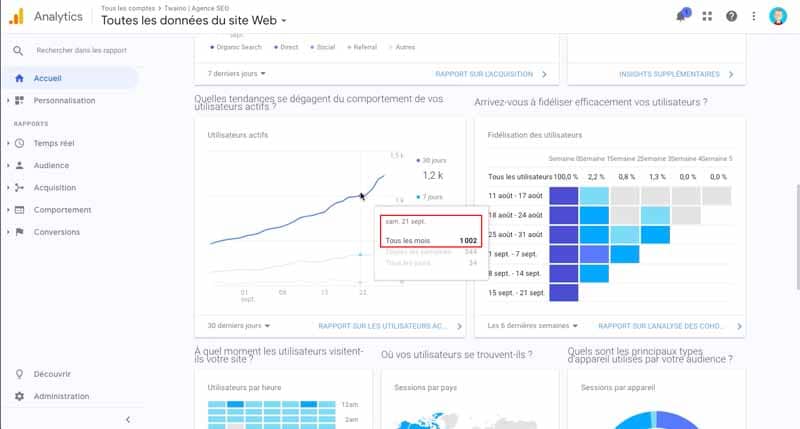 This is probably the most important tool that every website manager or marketing expert should be able to use.
Google Analytics is one of the best ways to get vital insights into the performance of your website and its content. 
Google Analytics allows:
To have complete demographic data on the audience;
Measure audience engagement;
Determine which topics are the most popular;
Identify where the audience is coming from;
Etc…
You can rely on Google Analytics to measure the effectiveness of your marketing efforts across the different channels you use.
4.5.2. Google Search Console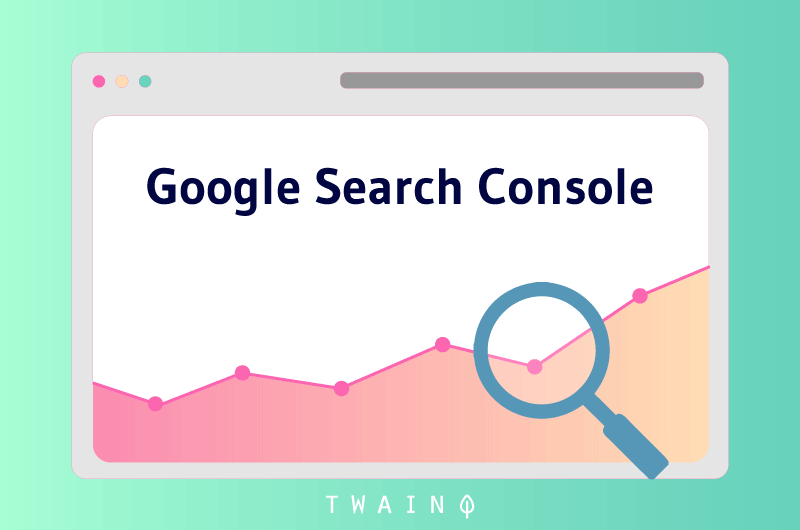 Google Search Console is equally important for measuring the results of your marketing efforts.
You can track:
The keywords your website has ranked for;
The number and quality of backlinks;
The number of indexed pages;
Etc.
You receive error messages and reports that can be used to improve your website's performance and increase the effectiveness of your SEO efforts to reach the right audience.
4.5.3. Facebook Page Insights
Since Facebook is the largest social network, it becomes even more important to know what works for your audience and what doesn't on the platform.
You can also install a Pixel which will allow you to see more precisely the characteristics and specificities of your audience.
Facebook Page Insights is a tool where you can track the success of your campaign and study the behavior of your followers.
The tool is completely free and you can use it to:
Measure notoriety and social engagement: You will have detailed information on the views, comments and shares that your content generates. You'll also see where your fans are coming from: Your website, Google, or other websites that link to you.
Know your fans: The tool will tell you when your followers are most active, who views your posts, where they live, and which buttons they click more easily than others.
4.5.4. YouTube Analytics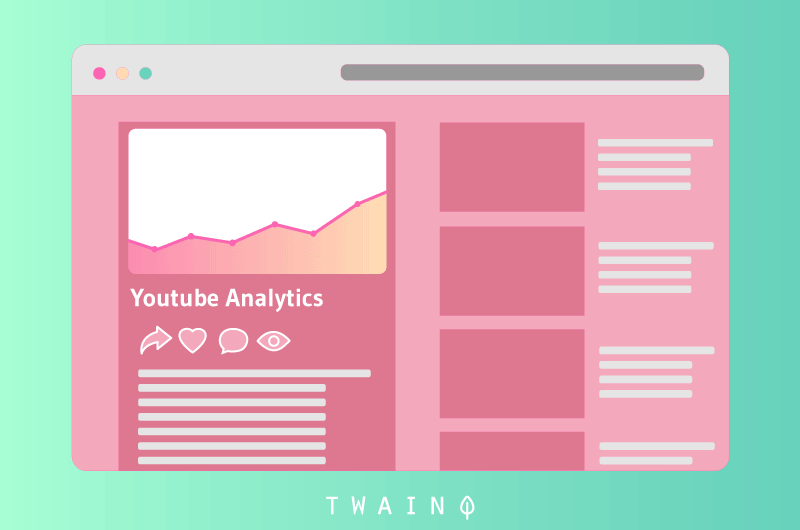 Like Google's tools, YouTube Analytics is completely free.
The tool can let you know if your viewers are enjoying every minute of your video or if they are leaving after just a few seconds.
You'll also:
Measure your audience's engagement: Audience retention reports, engagement reports, and play locations will tell you how viewers are engaging with your video content. You will not only learn how many people clicked on the play button, but also how many watched until the very end, commented or shared your videos on other channels.
Time on page measurement: The "Watch time" tab shows you how long your visitors spend on your page watching your videos. Also, you'll know what minute they click and what brought them to your channel (suggested videos, Google, or other sources).
4.5.5. Twitter Analytics
Twitter Analytics is a tool that allows you to see how your followers react to the content you share.
You can:
Track all of your monthly performance;
Analyze each tweet separately;
Get information about your followers.
See how many times:
People have seen your tweets;
They have visited your profile;
People will follow/not follow you;
Etc…
These statistics help you measure the return on investment of content marketing on Twitter.
There are obviously other powerful tools to track the performance of your content.
I recommend that you check out chapter 12 of the article on building backlinks. 
You have a description of several powerful tools such as: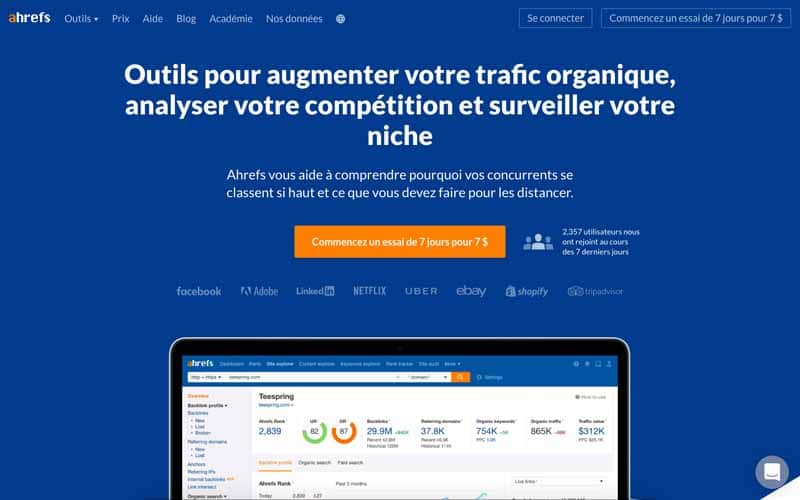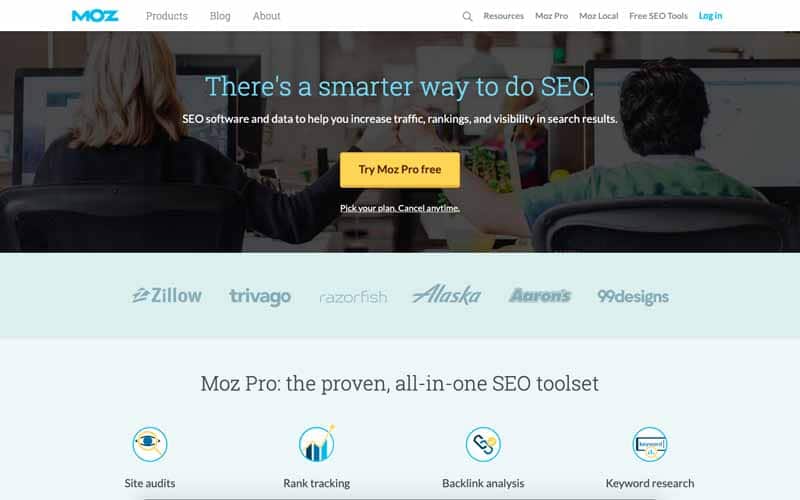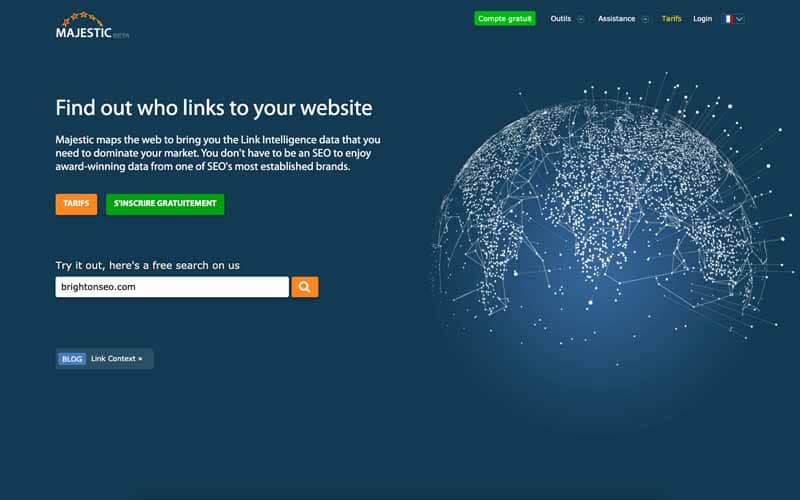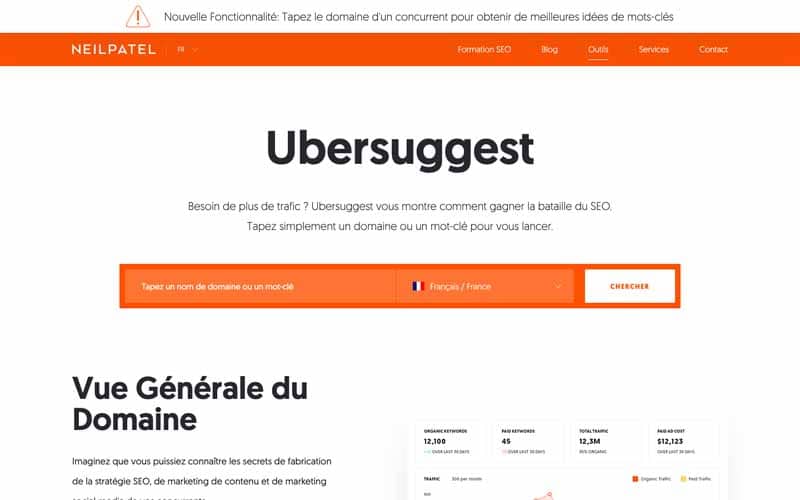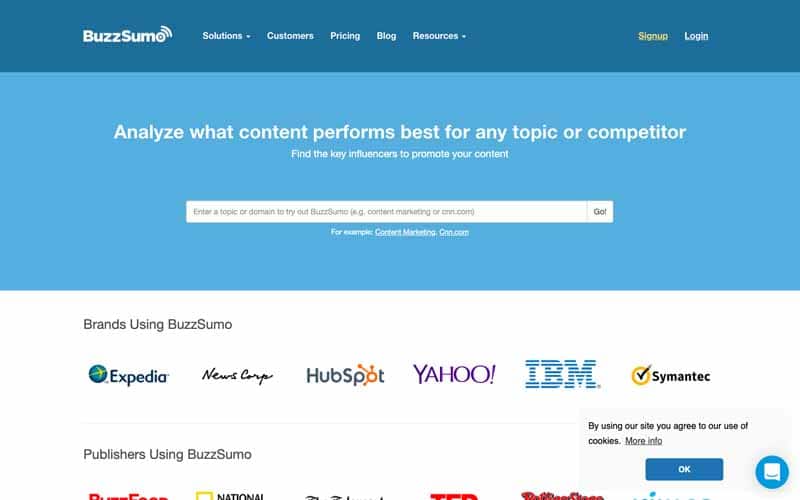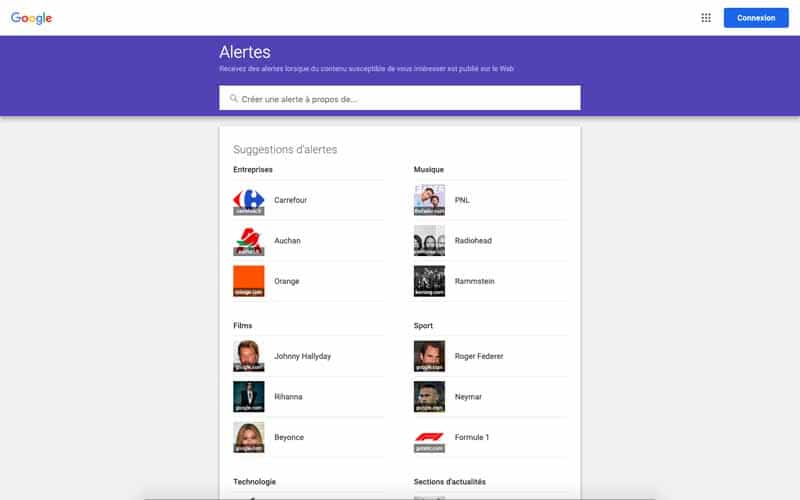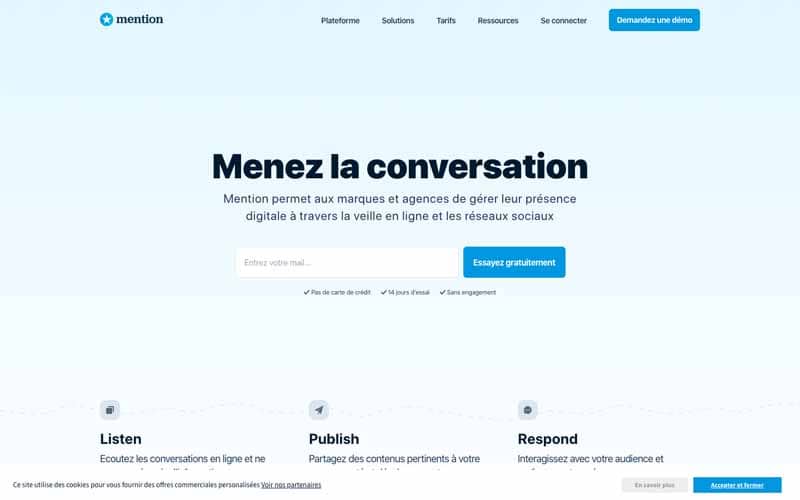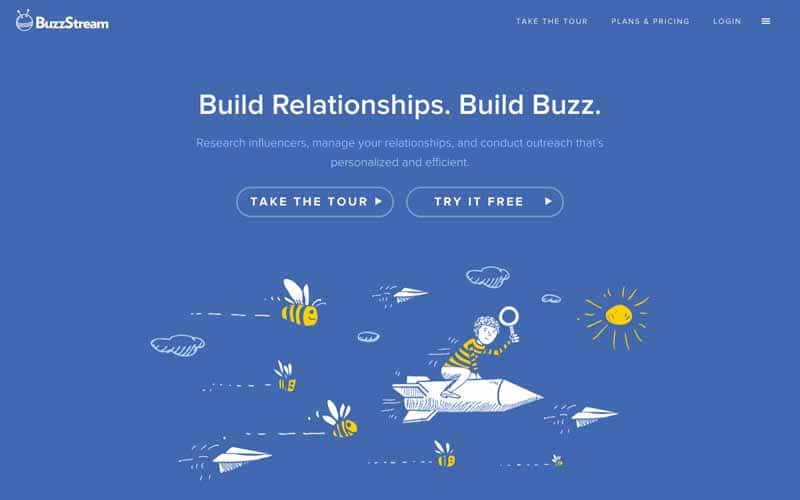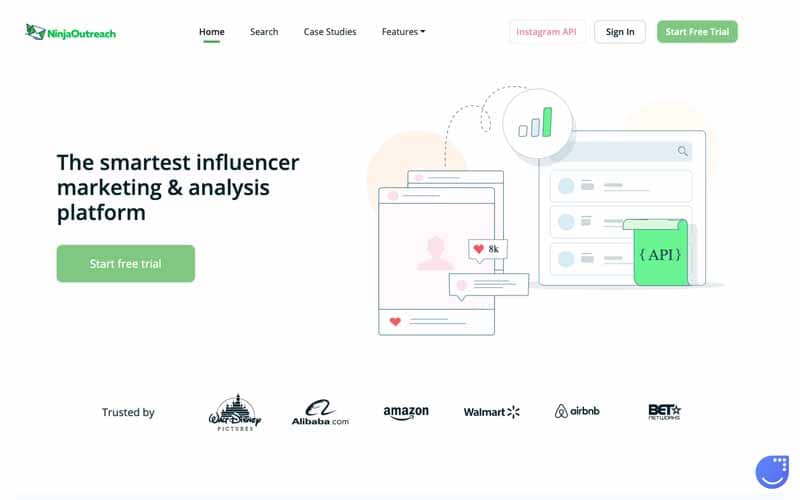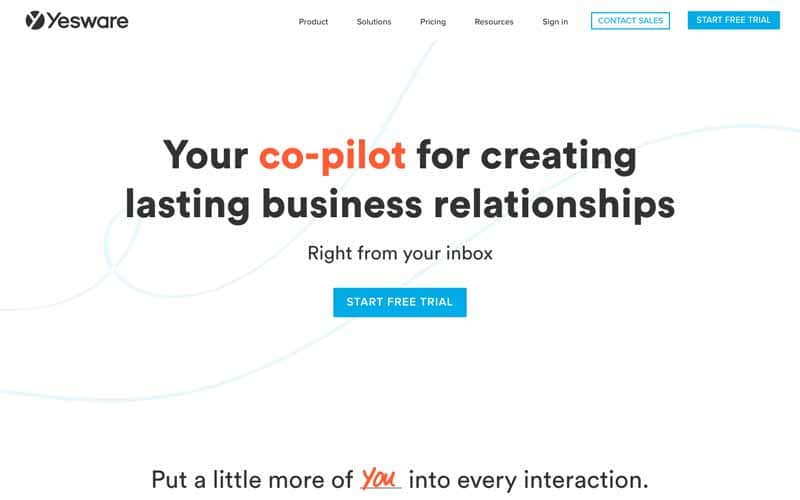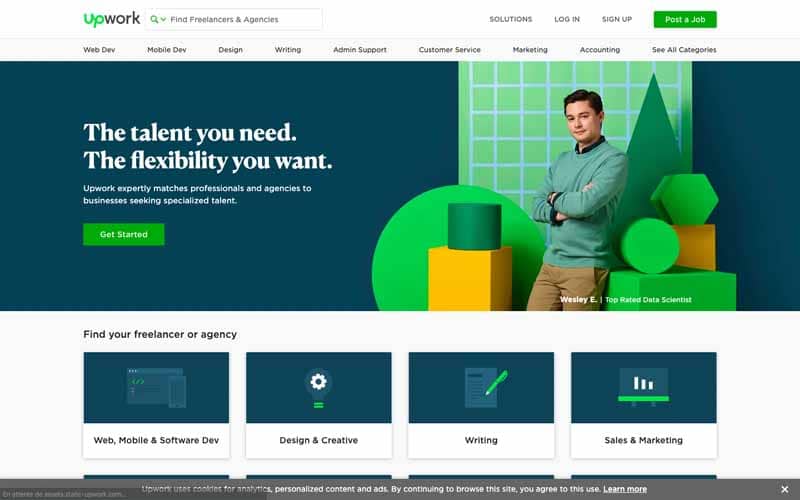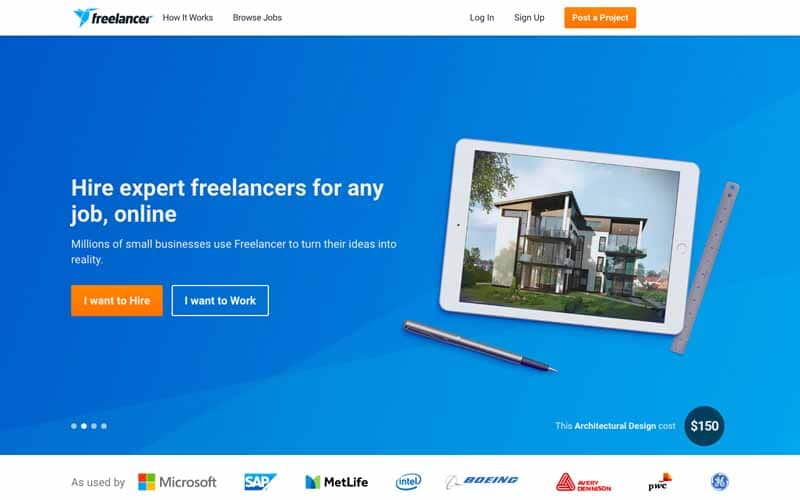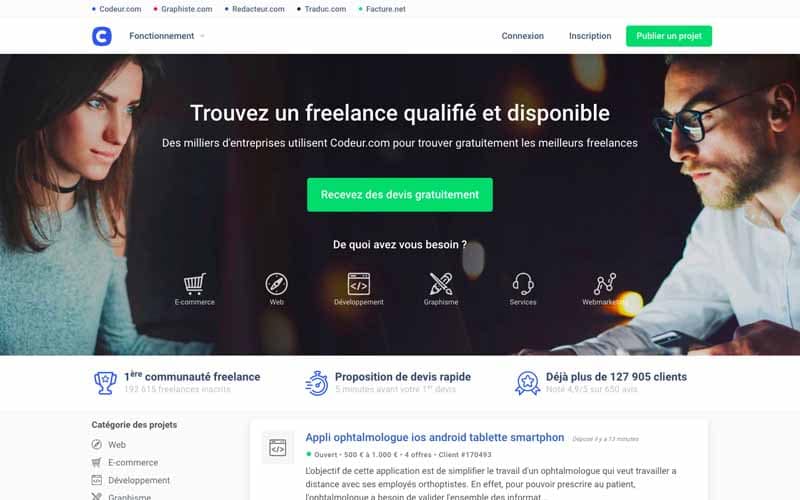 Chapter 5: Keep Your Content Fresh and Avoid Some Pitfalls
5.1. Follow trends and regularly update your content
Over time, the relevance of your content may decline and so will performance.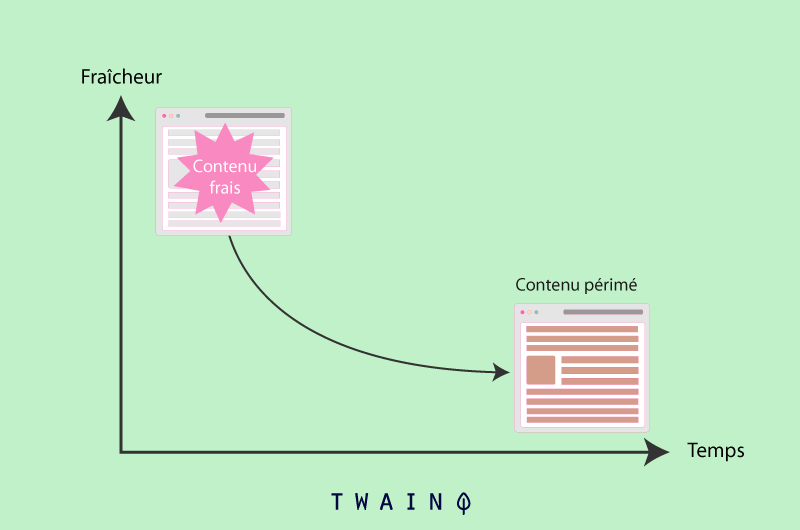 Indeed, the date of publication is also one of the search engine ranking factors. 
On this subject, Google indicates:
" Content on the Web is booming. It is not only growing in size and number, but with the advent of video, images, news and real-time updates, the average web page is richer and more complex. Also, people's expectations of research are higher than they were before. Searchers want to find the latest relevant content and publishers expect it to be found as soon as they publish it.To follow the evolution of the web and meet the growing expectations of users, we created Caffeine.
In addition, other players will publish new content on the subject, the industry will change and new alternatives will emerge.
Updating your content to stay relevant to your audience is crucial to maintaining the value you've put so much time and effort into creating.
That being the case, to what extent should you update your content?
To answer this question, Moz conducted a study that allowed it to determine the factors that can influence the impact of an update.
I will soon devote an entire article to it, but you can already use these tricks.
5.1.1. Magnitude of update
Google may choose to ignore updates that affect only a very small portion of content. If you update just one sentence in your authority content, it will have less impact than changing an entire section.
5.1.2. The Changes Area
As you might expect, making changes to the on-page menus has less impact on SEO than changes to content.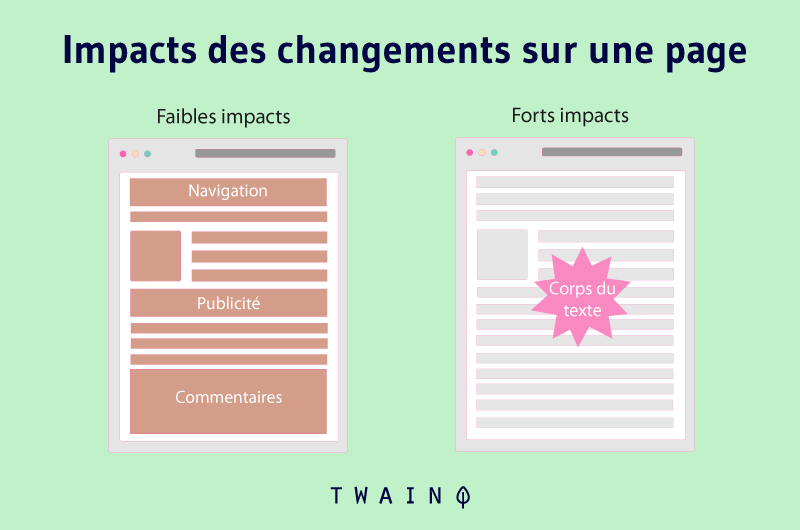 Consequently, updates will not really be considered if they occur at the level of:
JavaScript;
Comments ;
advertisements;
Navigation;
Date/time;
Etc.
5.1.3. Update frequency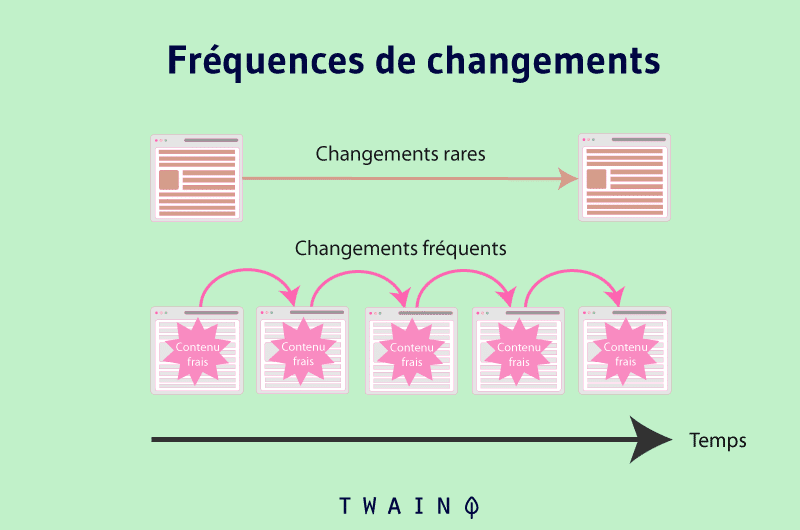 All other things being equal, content that you update regularly will have more impact than content that you update infrequently.
That said, you have to be careful at this level by keeping the appropriate rhythm according to the theme.
If, for example, I make changes every week to this article, I think a lot of people will decide not to read it anymore. But contributions every 6 months for such content would be acceptable.
5.1.4. The frequency of creating new web pages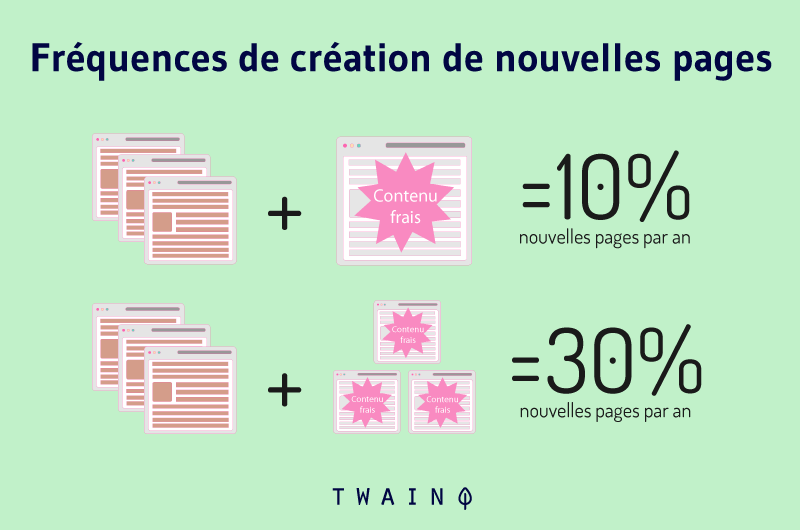 Surprisingly, creating new pages regularly can improve your website's freshness score. In other words, if you regularly publish new articles, it will have an impact on the old ones.
5.1.5. Getting New Links
Getting new links is a signal to search engines that your content is still relevant.
Additionally, when your website receives links from websites with a high "freshness" score, your website score improves.
After analyzing the content, it may happen that there are no new elements to bring to update it.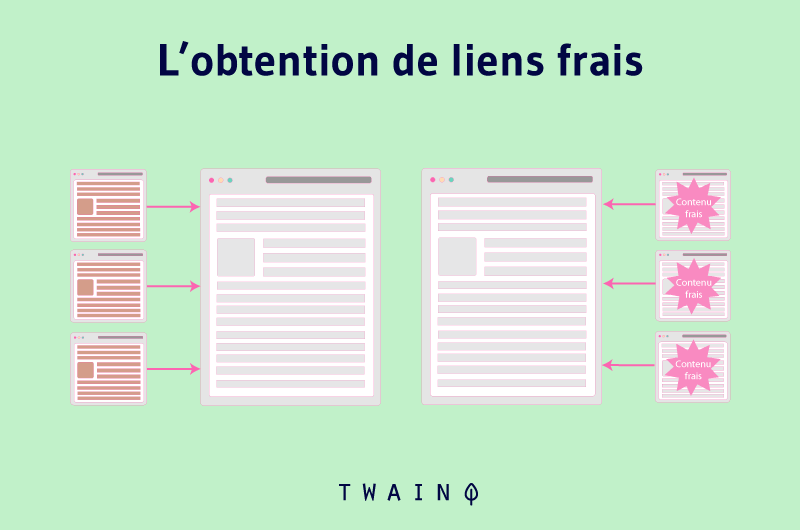 In this case, you can choose to put it in another format (video or computer graphics) and try to relaunch another netlinking campaign in order to have much fresher backlinks .
5.1.6. User Behavior Can Influence Content Freshness
When people interact well with your content, Google considers your content to be fresh.
It is for this reason that having authoritative content that stands the test of time is essential.
5.1.7. Modifying the anchor text may decrease the value of the link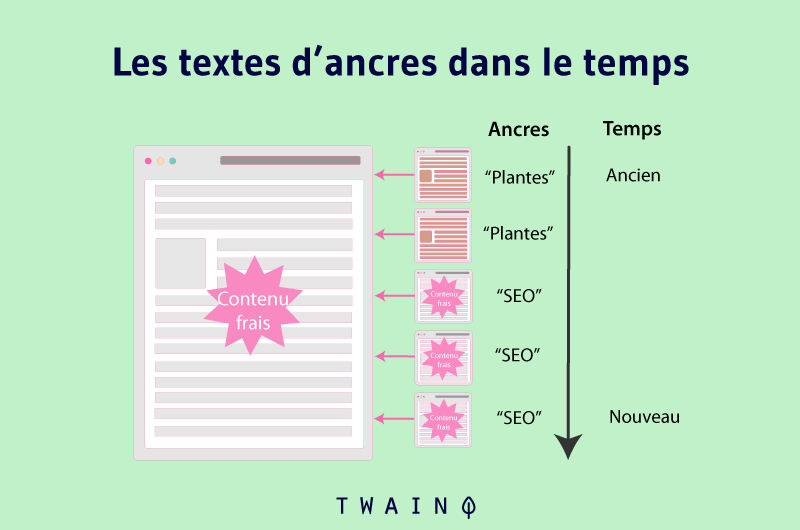 Whenever possible, it is recommended that you do not modify the anchor text of links during your updates. Especially since it diminishes the value of the links.
However, if the page the link points to is broken, you can change the anchor text as well as the link.
These are a few factors to keep in mind when you're going to want to update your content.
5.2. Pitfalls to Avoid When Creating Authority Content
5.2.1. Not choosing the right keyword or the right subject
It is very important to know how to choose the right subject for your audience.
When you want to create authority content, it's important to choose a topic that addresses a very important issue for your audience.
Consider the "Google 200 Ranking Factorsthat Brian Dean created with the one-upmanship technique.
The content has been very successful insofar as it responds to a very important issue in SEO and which did not yet have a complete answer until then : All the factors that Google considers to rank pages in its results.
My advice : If you are going to use the one-upmanship technique, choose a subject that allows you to fully address a real problem in your sector.
5.2.2. You'll have a if people don't know you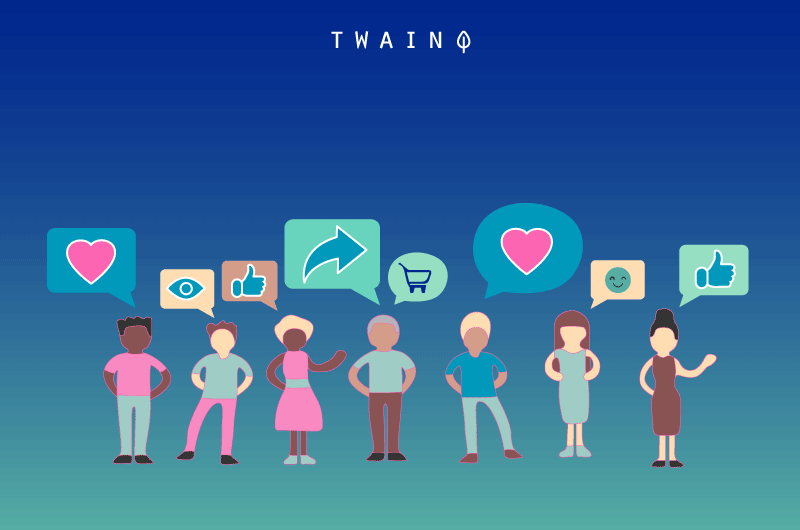 If you're just starting out, you're most likely in the situation where you need to gain authority, which means it's going to take you longer to get results.
If you're like me, it will also take some time for your authority content to start performing.
Therefore, the less popular your brand is, the higher the quality and quantity of content you need to deliver initially.
To date, my blog has less than a hundred large posts. It is thanks to a constant effort that I have been able to obtain the results that I have presented to you.
If you have just started, the one-upmanship technique will therefore not be limited to creating a single content and waiting for it to perform.
You have to create a lot!
5.2.3. Content is all about investment
With the one-upmanship strategy, content success is just the tip of the iceberg.
If you're following the strategy, make sure you're executing each step to the best of your ability:
Choose the right keyword;
Publish a great article;
Properly promote your content.
Although there is no guarantee that you will obtain spectacular results, the one-upmanship technique allows you to drastically increase your chances of success.
Conclusion: The one-upmanship technique – Create powerful content
Let's face it, it is extremely difficult to position a website in the first results of search engines. And despite the existence of a multitude of SEO strategies, there is no guarantee that these positions will be occupied.
The main cause is obviously the tens of millions of content that are published every minute on the web:
Among the many methods and techniques of SEO, one of the most effective is undoubtedly content marketing. This is a fact that is confirmed by 57% of SEO experts: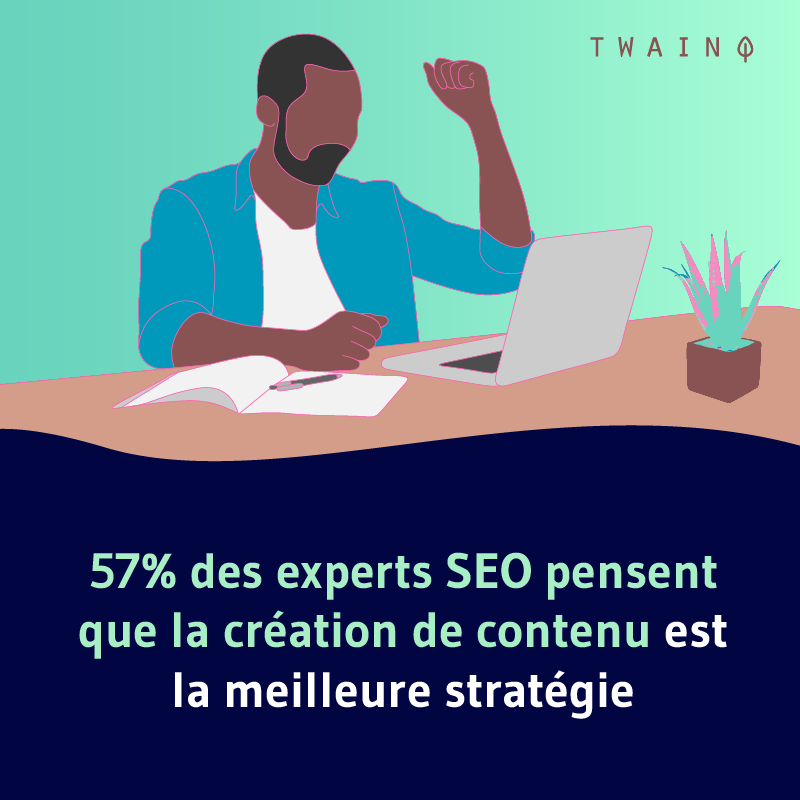 However, as you can guess, not all content is created equal. While others perform excellently, some bring no results.
It is for this reason that I have proposed the one -upmanship technique to you.
This strategy allows you to focus your efforts only on content that is likely to perform well. Both in terms of search engines and in terms of your audience and your business objectives.
In this article, I had the opportunity to provide the evidence that aims to show the effectiveness of the overbidding technique. The different chapters have also allowed you to know the whole process of creating content that can be authoritative in your theme.
This technique of one-upmanship therefore makes it possible to obtain results from the moment we work diligently on it.
In addition, you must leave enough time to assess the return on investment of your efforts because it will largely depend on the visibility and current notoriety of your website.
While a relatively young site will have to wait longer, an already established site will see results much faster.
In the end, whatever your situation, a constant and sustained effort will allow you to achieve your goals.
With that, see you soon!
Wishing you lots of traffic and visibility!