Did you know that 96% of your website visitors are not yet ready to buy anything on their first visit? This statistic illustrates why it isso difficult to make sales with a website, even if you have done everything possible to generate lots of traffic . After that, as I said, visitors are not "ready yet",which implies that they are likely to change their mind and make a purchase from you later on. To increase your chances of conversion, marketers have developed several tools, one of the most effective of which is the sales funnel. This powerful tool not only allows you togenerate many more sales or conversions when used correctly, but also to create a community of loyal customers. In this article, we will take the time to see what a sales funnel is, why it is important to have one, how to build a profitable sales funnel and how to optimize it.
All about conversion funnels
In this video, I explain the main principles around the sales funnel:
Find my presentation on sales funnels:
Lead nurturing: The secret to sales!
Generating traffic or leads on your website is a method that often proves ineffective. Then comes theconversion optimization of an online business, goes beyond the layout of your website, the design of forms, the implementation of irresistible offers, etc..
In fact, your customers are not machines, they are real people and prefer to be treated that way. For this reason, I invite you to consider in your strategy, a temporality of conversion of a customer which will materialize by the maturation of prospects or lead nurturing.
As we saw at the beginning of the introduction, most prospects are not ready to make a purchase on their first visit. In fact, when visitors come to see your offer for the first time, they adopt a position of mistrust, which manifests itself as a refusal but is not necessarily firm.
You can translate this attitude as a " Not now "rather than a "No No, never "categorically. This change in perspective will allow you to think of strategies to try to convert this refusal into a positive response.
In fact, companies that take care to cultivate their leads, see a 450% increase in the number of qualified leads. And this is far from over, those who take care to maintain and develop customer relationships see their sales increase by 50% at a 33% lower cost.
Better yet, with the right nurturing process, 15 à 20% of the 96%, who were not ready to buy, become customers and typically make 47% more purchases than those who were not nurtured
In summary, thendividuals will reward you if they feel that you care about their needs and especially that you anticipate them. At this point, the real question is: How do you anticipate what the prospect wants and deliver it before they ask for it? The answer is simple A sales funnel.
The sales funnel: a powerful marketing tool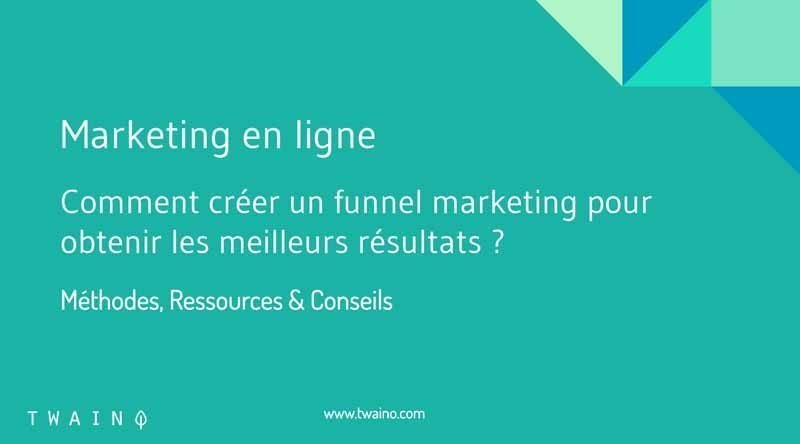 Definition of a sales funnel
A sales funnel, conversion funnel or sales tunnel is simply the path that a lead takes to your website the path that a lead takes to your website and that ends in a conversion or a purchase. In other words, the sales funnel allows you to break down the customer journey, from the first contact with your brand to the purchase and retention.
To illustrate this journey, let's take the example of a visitor who arrives on your website through a Google search. At this point, he is one of your visitors who will take the time to browse your product list or blog posts.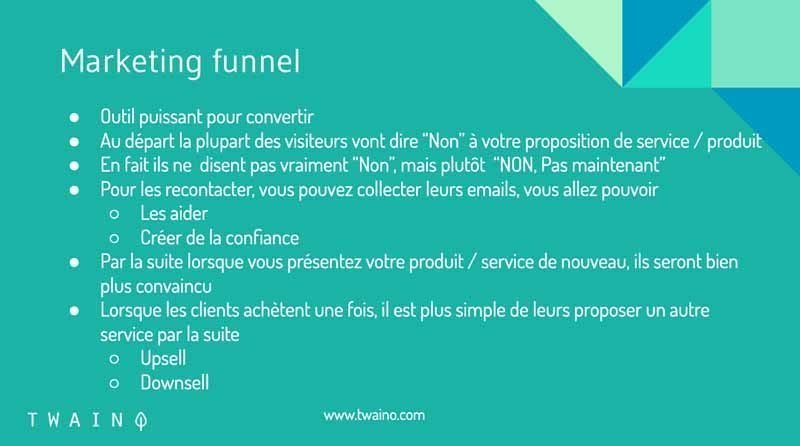 While browsing, you set up an email collection system that he uses to sign up. By filling out this form, the visitor becomes a prospect to whom you can promote your products or services outside your website.
They will tend to return to your website if you send them special offers or information they find irresistible. Once trust is established with your content and a decision is made, this prospect becomes your customer by making a purchase or purchases.
These are the the key steps of this journey that the sales funnel allows you to analyze and optimize. Besides, how can you optimize a process if you don't know how it works?
Moreover, this funnel is nothing more than a schematization of the fact that although you have a large number of visitors, those who actually convert are generally fewer.
Leads that don't convert!
The fact that there are leads that do not convert can be due to several factors such as:
Your website not inspiring trust

in addition to convincing visitors of the quality of your services, you must also show the seriousness of your company. Think about having a good design, pages such as "Legal", "Terms and Conditions", "About us"..

Your content is of low quality

your content is low quality: Bring relevant information to your audience so that they can find everything they want directly on your website, and a blog can be a great way to do this.

Your offers and added value are not clear

be clear and specific enough about the benefits and reasons why your visitors should use your services.

You have a method of collecting lead data that is

not very efficient: Giving out contact information spontaneously is not part of our habits. Therefore, set up a good process to collect the emails or information you need.

Etc…
These factors increase your bounce rate and in this condition, your conversion rate decreases. For this, building a conversion funnel will allow you to identify these "leaks" and repair them. That said, you should first know the process that customers follow when they make a purchase.
The 5 main phases of the consumer buying process
We all follow a similar path when we want to make any purchase. Indeed, it is John Dewey who introduced this buying process and which has been used as a basis for the design of sales tunnels since 1910.
Phase 1: Recognition of needs
In the buying process identifying the "need" for a service or product is an element that you must first understand and put forward. In fact, upstream of the "need" there is often a "problem" to solvefor example, your car breaks down while driving (the problem), which leads you to want to repair it (the need).
They can also be caused by desires which usually manifest themselves by an external stimulusthey can also be caused by desires, which are usually manifested by an external stimulus, such as an advertisement, or by the observation of a person enjoying the product. For example, you have seen a colleague driving an irresistible Mercedes (desire), you also decide to buy this same car or another car of the same brand (need).
This emotional state of identifying a need is the one in which buyers will be in to purchase your products or services. At your level, you must be able to identify the circumstances that trigger the need for your products in your target.
Think about gathering information about how stimuli generate interest. Based on this data, you can then develop marketing strategies to generate consumer interest at will.
Phase 2: Information research
Information research is the step that directly follows the recognition of a problem. This search can take many forms depending on the type of need:
Google search;

Requesting recommendations from friends and family;

Checking for coupons;

Reading online reviews;

Visiting stores for hands-on demonstrations;

Etc..
Of these options, Google search is the one that comes up most often, especially since 70% of shoppers turn to Google at least two to three times during their search. And this is to find out more about their problems, the solutions to consider and the companies to turn to.
At this point, consumers are looking for tactical information they can use to solve their problem. To this extent, you can offer informative content that will aim to help as many people as possible who need it
This action allows your visitors to know exactly what they need to solve their problems or desires. To do this, it is pertinent to research keywords related to your business to know what types of content to create.
At this stage, you should identify the sources used by consumers and the value of each. Based on this, you will be able to develop an effective communication strategy
Phase 3: Evaluating alternatives
This step is sometimes intertwined with the previous one, but here we will consider that it simply follows the information search. In fact, the length of time this evaluation takes varies according to the type of purchase the consumer is about to make.
For example, choosing a restaurant can sometimes be as simple as choosing between an Italian or Chinese restaurant. However, if you were to buy a new car, the evaluation process is likely to be much more time consuming since a purchase requires a significant investment. You may go to different dealerships to take several free test drives and see what offers come with each product. This will obviously take more time than choosing a restaurant
In addition, the criteria that are often considered for the evaluation stage include:
Product qualities, characteristics or attributes and performance;

Price variation across brands;

Brand history;

Popularity, image or reputation of brands;

Product-related services offered by the brands, such as after-sales service, warranty and free installation;

Availability of brands and dealer ratings

Etc…
In our previous example of vehicle purchase, we can distinguish criteria such as:
Price;

Performance;

Equipment and comfort;

Design and appearance;

Speed per hour;

Average per liter of gasoline ;

Maintenance costs;

Image, status and novelty;

Safety;

Special offer, guarantees,

Etc…
The consumer is likely to prefer the brand that adequately meets his evaluation criteria. To do this, you must take care to highlight the points that differentiate you from the rest of the market. For example, you can make a comparison chart to help consumers evaluate the different brands.
Phase 4: Purchase decision
After identifying the problem, evaluating the different alternatives and choosing the best option, the purchase is nothing but the natural conclusion. This is the stage where the consumer the consumer chooses the brand that they feel offers the most satisfaction and benefits. Thus, the decision to actually make the purchase is made, but some factors can influence this intention.
The first factor is the attitude of other customers and the motivation of the consumer to accept this attitude. Indeed, the purchase intention can be impacted if other customers have a negative attitude towards the brand or product chosen by the consumer.
For example, you want to buy a car that seems to be perfect for you, but you notice that there are negative reviews on several websites about the car of your choice.
You may decide not to make the purchase. That said, always assume that all reviews on the internet should be taken with a grain of salt.
The second factor is related to unforeseen situations such as:
Sudden price increase;

Illness;

Accidents;

Loss of employment;

Unavailability of the product;

Etc..
Under these conditions, it is wise to create content that will allow you to persuade your audience that your product or service will work in their respective situation. Perhaps you can do case studies of some customers that reflect different demographics of your ideal customers.
Phase 5: Post-purchase behavior
The buying process goes beyond making a decision. In other words, the stage that comes after the sale is as important as those that led to the consumer's decision to buy.
The consumer buys the product with certain expectations, even though he or she recognizes in advance that there is no guarantee of total satisfaction. Indeed, there is usually a variation between the expected level of satisfaction and the actual satisfaction after the acquisition.
In this sense, the customer can be satisfied or dissatisfied, which which can have a great influence on the on the decision making process for similar purchases from the same brand in the future.
In case your customer is satisfied, this can translate into brand loyalty. As a result, future searches for information and evaluation of alternatives will often be accelerated or completely ignored for your benefit. On the other hand, when the customer is disappointed or dissatisfied, they may ask for refunds or counter advertise to you.
Note however that based on their dissatisfaction or satisfaction, consumers tend to give their positive or negative feedback on the product or service. They can be through reviews on websites including yours if you add the option, social networks or word of mouth.
Therefore, you must be attentive to the creation of an effective communication after the purchase of your customers in order to keep them loyal. Don't forget that at this stage, your greatest strength is your product which must be of very good quality to solve any problems by itself.
In addition, you can put in place a support service or content that will improve consumer behavior after the purchase. These include:
Demo videos;

Frequently asked questions;

Etc…
Finally, be aware that some consumers may not enter your sales tunnel from the top and enter at other stages. This usually depends on their level of information, but the process remains the same regardless of where a consumer enters the sales funnel.
Understanding the stages of a sales funnel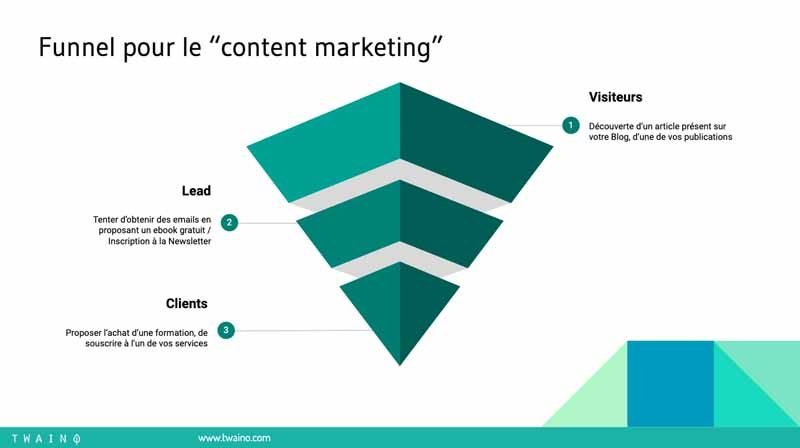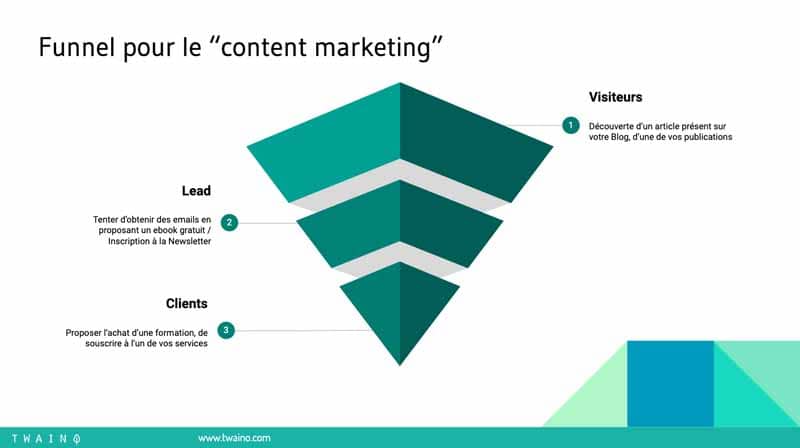 You now know how the buying decision is made by consumers and you can use this information to build an effective sales strategy. This will be represented by the traditional or digital sales funnel.
The traditional sales funnel
Basically, the sales funnel is composed of four steps that are also known by the acronym, formulated in 1898 by E. St. Elmo Lewis, A.I.D.A :
Awareness

Attention

Interest

Interest

Decision : Decision

Action : Action
They are directly linked to the consumer buying process and each one each of them requires a different approach from your sideyou should not send the wrong message at the wrong time.
Take the example of a waiter asking you what you would like for dessert, when you haven't even ordered the appetizers and drinks yet, it obviously wouldn't make sense. So what do these four different steps involve?
Step 1: Getting Attention
This is when you first get a consumer's attention through, for example:
A search on Google ;

A tweet;

A post on Facebook;

A social network message shared by a friend;

Etc..
At this stage, the consumer becomes aware of your company and what it offers. Sometimes, some consumers proceed immediately to a purchase and in this case, it is usually because they have already done some research and see that your product and its cost are suitable for them.
You can consider this first step as a "seduction" phase since you will try to convince them to come back to your website and to involve you in their buying process.
To do this, you can create content that talks about the problems that arise from his problem and how your product solves it. You can also develop content that points out the attributes of your products and that is likely to make the prospect include you in their future evaluation. Besides, don't forget to introduce your company to increase your credibility.
Step 2: Generate Interest
At this stage, consumers are researching, evaluating or comparing and thinking about the ideal option to choose. This is the ideal stage to create content that actually helps them without trying to sell them the product.
The idea at this stage is toestablish your expertise in order to help, as much as possible, the consumer to make an informed choice.
To do this, you can create a product comparison chart that clearly indicates the strengths of your product or service compared to those on the market. Also, do case studies of a few customers who have had success with your product.
Step 3: Make the decision
At this stage, the customer has finally chosen two or three options and is ready to make a purchase. This is the perfect time to make your best offer, which can be:
An extra product;

A promotional code;

A gift;

A free delivery;

Etc..
Take care to make your offer so irresistible that the consumer is eager to take advantage of it
Step 4: Drive to Action
This is the last level of your funnel and is where the consumer buys your product or service and becomes part of your brand environment. However, don't consider your job done with this purchase.
In fact, the idea at this stage is to build customer loyalty to turn this one purchase into 5, 10 or even 100… To do this, think about
Expressing your gratitude for the purchase made;

Invite them to share their criticisms;

Provide them with technical support;

Etc..
The digital conversion funnel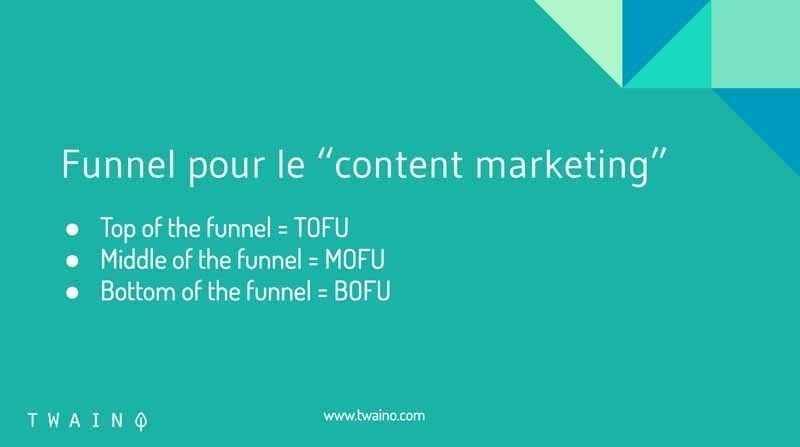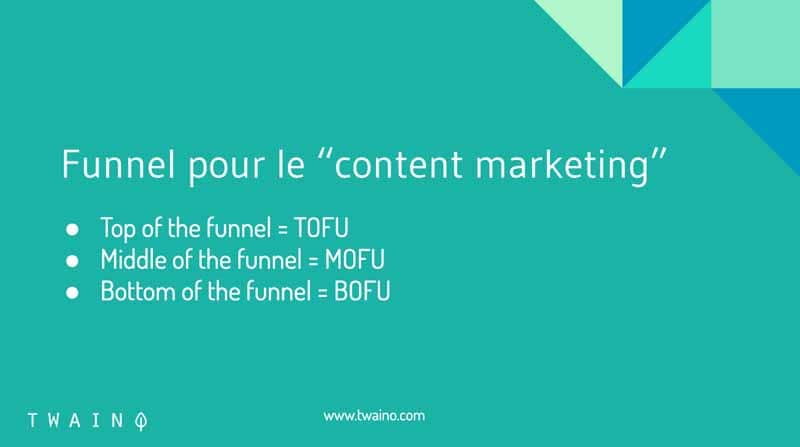 The establishment of a digital conversion tunnel allows you to identify the different entry points on a web page in order to lead your visitors to progressively go down towards a purchase.
This process is broken down into three different parts that join the four previous ones:
Top Of funnel or TOFU

Middle of funnel or MOFU (Middle Of funnel)

Bottom Of funnel or BOFU
1) Top of funnel or TOFU
The top of the funnel is also known as TOFU or Top of the funnel. This is the point of entry where most of your visitors first become aware of the existence of your online store.
This is the stage where most of your visitors first become aware of your brand. Therefore, this phase also does not aim to make direct salesbut to make sure that Internet users can first land on your website. This can be a landing page or your homepage
Then, you use content to address the consumer's problem or need with the support of your product or service that addresses that problem. Also, consider setting up systems to collect information about them, including their email address.
2) Middle of the Funnel or MOFU
People who reach this stage are generally more invested, familiar with your brand and wondering if you have anything of value to offer. To this extent, they are questioning whether to walk away or engage with you.
This stage, similar to the "Generating Interest" stage, means that you need to focus your efforts on creating quality content, targeted offers and follow-up campaigns. This is the moment, where trust is created with the visitor, and the ideal situation to get the visitor's email in exchange for a newsletter or an ebook. The objective at this level is to strengthen the relationship so that the lead goes to the final step : BOFU.
3) Bottom of the funnel or BOFU
Also called Bottom of the funnel, BOFU is the final stage of your sales funnel and leads to the consumer's decision. It depends on the strategies you have used in the TOFU and MOFU, as well as the buying behavior of the consumer.
This stage combines the actions of the two stages "Provoke Decision" and "Prompt Action". Therefore, reminders, retargeting and incentive offers work best here.
But after the customer has purchased your product, you need to manage the experience of your customers in order to retain them and if possible turn them into ambassadors.
A simple example of an effective sales funnel
Let's say you have an e-commerce business where you sell men's and women's clothing. You have defined your target audience as men and women aged 18 to 40 and you know that a large part of them are very much consumers of social networks, especially Facebook
For this, you launch an advertising campaign on Facebook that allows you to generate traffic to your landing page or your landing page. On this page, your prospects are invited to subscribe to your mailing list in exchange for a lead magnet.
Over the next few days, you make sure to send out content to educate your leads by addressing points such as:
New trends;

Tips on how to choose the right size for your clothes;

The season's looks;

Types of clothing for different events;

Etc..
At the end of this first email campaign, you will receive a discount coupon of 15% off their first order, which allows you to generate a lot of sales. You don't stop there, you add these customers to another mailing list changing the content you're going to send them this time.
To that extent, you can send them content that includes information such as:
Tips on how to properly care for their clothes;

How to renew their wardrobe;

Etc..
In addition to giving them these ideas, you can offer them gifts, which allows you to ensure that they come back again to make purchases.
In short, we have :
TOFU

you have created a Facebook ad to drive people to your website;

MOFU

: You offer something of value in exchange for their email address and your content informs your audience and prepares them for a purchase;

BOFU

: You offer a coupon that your prospects can't resist, and you stimulate their loyalty
There are several tools that can help you optimize this whole process, so let's take a closer look at how to create a sales funnel.
Creating a profitable conversion tunnel from scratch
In order for your funnel to easily move visitors from the TOFU to the BOFU, you would need to have a good strategy. To do that, I'll present you with five main steps that will help you create a profitable conversion funnel.
Step One: Create landing pages or lead capture landing pages
The top of your funnel or TOFU represents the base of your strategy and this is where you will start creating it. Also, keep in mind that this level is all about traffic and for it to get leads, a landing page or capture page is necessary.
Indeed, a landing page can simply be your homepage and could in this case look like this:
This landing page includes a lead generator which allows you to collect emails from visitors. You can also have a landing page that can generate leads like this one :
On this page, several elements allow Grasshopper to generate leads. You can also do the same by using call-to-action (CTA) buttons with quality content. The idea is to provide relevant information and a demonstration or test to curious visitors.
Furthermore, you can set up landing pages that will reach visitors regardless of their level in the funnel. Indeed, the Grasshopper page can reach a person who has just entered the funnel as well as a person who is at the MOFU and who would like, for example, to have a little more information about the product.
Let's take my Twaino.com homepage as an example
The main text on the homepage allows me to capture the top of the funnel and the CTA "Free Audi" is a lead generator that helps me to capture my visitors' emails already.
In addition, the navigation menu and the two CTAs "BLOG" and "SERVICES" allow those who are the most curious to have direct access to the most important pages and thus to access the MOFU.
The same applies to the hubSpot homepage :
At this level, there is also a main message to capture at the top of the funnel and the navigation menu that provides access to the most important pages. Looking at their pricing page, you'll see that all of the content is geared towards those in the MOFU stage as well as those in the BOFU stage with the "Talk to Sales" CTA :
So it becomes obvious that the landing page is a very important factor that can influence the profitability of your sales tunnel. Therefore, it is the first thing you should think about setting up in order to drive buyers through all the steps of the process, one landing page might not be enough
Step Two: Drive traffic to your landing pages
According to a study by HubSpot, generating traffic and leads is the number one challenge for companies in cloud marketing. Indeed, without traffic, even the best landing page in the world will not allow you to generate sales.
For this, you need to implement a good strategy to effectively generate traffic to the landing pages you have set up and make sure that the visitors reach BOFU.
To this extent, there are several methods you can choose depending on your budget, audience and objective.
1) Generate traffic: Content marketing
Search engines generate 300% more traffic to content sites than social media. This proves that it would not be wise to settle for social networks or ads alone. Plus, 71% of B2B buyers say they consumed blog content during their buying process in 2018, up from 66% in 2017.
Without a doubt, adopting an effective content creation strategy will help you convert even more visitors. Indeed, thanks to its rich and detailed content it is by far the ideal tool to influence consumers especially at the MOFU level.
But to be effective, I invite you to be consistent in the creation of your content and this article is likely to help you.
These three methods are the most used to generate traffic and by adopting a good strategy regarding each of them, you will attract many visitors. However, it is not enough to have visitors to hope to generate sales, remember that most prospects are not ready to make a purchase on their first visit. For that, you need to set up a process to make them come back.
2) Generate traffic: Pay per click ads (PPC)
Did you know that businesses earn an average of $2 in revenue for every $1 spent in AdWords in 2019 ? This statistic shows that it would be interesting to consider this option. Indeed, PPC advertising is still popular since it allows you to reach Internet users on several channels including social networks or search engines.
Nevertheless, keep in mind that this option can sometimes be very expensive and it is wise toanalyze the return on investment before taking action. In addition, it would be wise to accompany it with another method of generating traffic since there are more and more phones and computers that block these types of ads. In 2017, the number of
these electronic media that can block Ads reached 142 million.
3) Generate traffic: Social media
At the level of your TOFU and MOFU, social networks are a great option to generate traffic to your landing pages. In fact, the 2019 social media statistics show that there are 3.2 billion social network users in the worldand this number is still growing. This is currently equivalent to about 42% of the current population. In addition, it is estimated that to 2 hours 22 minutes, the average time of daily use of social networks per person.
There is no doubt that it is an important marketing lever, which is confirmed by 73% of marketers who believe their social media marketing efforts have been "somewhat effective" or "very effective" for their business.
Moreover, this channel has a huge influence on customer choice since 48% of consumers are prompted to make a purchase or conversion just by answering a customer's question on social media.
Step 3: Collect email addresses
After you have your strategy in place to attract traffic, you need to make sure you have attention-grabbing content. This will make it easier for you to collect emails from your visitors.
To do this effectively, find good lead magnets to provide something valuable to consumers in exchange for their email address. This address will be used to send them content that will lead them to make a purchase.
In this regard, I discuss the 9 unstoppable methods to collect emails in one of my articles which I invite you to consult as it also includes valuable tips.
Step 4: Set up an email marketing campaign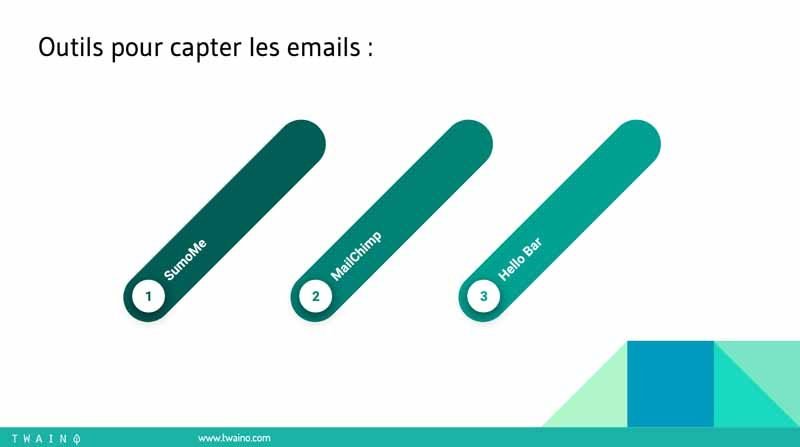 Once you have collected the emails, the next action is to establish a relationship with your leads. To do this, you will use the valuable weapon of collected emails.
According to statistics, the proportion of b2B marketers who use email marketing to generate leads is 87%. Moreover, 31% of them believe that this type of marketing has the biggest impact on their revenue.
Moreover, email is a channel that can be used for many purposes other than driving your prospects to the UBO
Showing that using your service is easy;

Thanking them;

To announce the launch of a new product/service;

To promote new features;

Send greetings;

Promote new blog posts;

Send personalized updates;

Inspire your prospect;

Show what you stand for;

Etc..
At this stage, the idea is to remind your prospects that you still exist with a series of emails that tell them you are ready to do business. However, you should not harass them with a lot of messages since 78% of consumers unsubscribe because a brand sent too many emails. It is therefore important to respect a certain time margin between each email sent.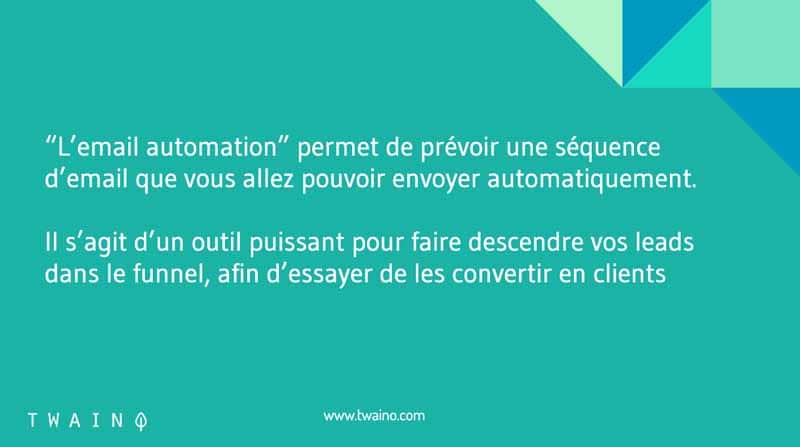 Regardless of the time interval between two emails, Neil Patel indicates that a typical campaign would look like this:
Email 1

welcome the prospect and thank him for his interest in your products;

Email 2

email 2: This email may offer another important lead magnet such as an eBook, a valuable blog post, a trial version, etc

Email 3

an email that features a customer testimonial about your products;

Email 4

: You present stories at this level that show how your products have helped people without forgetting to mention how they can use your product or service.

Email 5

this last email will take care of the "hard sell" or the next step in your conversion funnel.
By designing these types of campaigns, you will allow prospects who don't yet know why they should use your services or products to be convinced and take action.
There are several tools that can help you automate the whole process so that you don't have to send all those emails manually. They are for example :
Drip

a powerful tool with an easy handling and paying;

Infusion Soft

a powerful tool with a bit of complexity to use and paying;

MailChimp

a free tool up to a certain limit.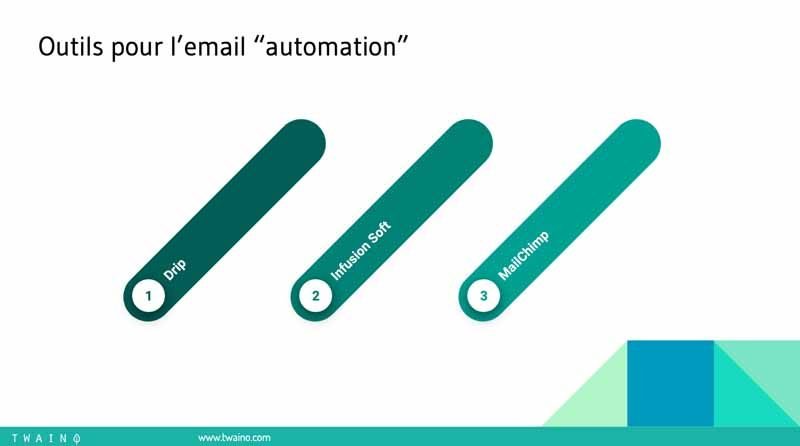 Once your email marketing strategy is in place, you should now evaluate the success of your approach in order to make the necessary changes to refine the process.
Step five: Track and optimize the conversion tunnel
After creating your email campaign, you should already be starting to generate sales if your sales funnel moves into the active phase. However, monitoring each step will be very important to make sure that there are no leaks in your tunnel. In most cases, these holes are often found in the MOFU.
Indeed, if you can't get traffic, can't get emails from your visitors or can't manage more sales, you will know that there is something wrong and the level at which the problem is located. Therefore, you need to analyze your numbers and monitor your statistics to effectively track the success of your tunnel.
There are some tools that can help you do this, for example:
Customer Relationship Management or CRM software

software: It will allow you to track all the new leads, the offers you make and the customers you currently have;

E-mail tracking software

this is software such as Drip, MailChimp or Infusion Soft that can be integrated with your CRM;
In case you don't have the appropriate tools such as a CRM to track the progress of your lead generation, you can use Google Analytics. Indeed, it is a very powerful tool completely free that you can discover and install with this article.
Moreover, you can configure Google Analytics with your conversion funnel so that it can serve as an analysis tool, which will help you to :
Analyze the progression of the visitor in your sales funnel;

Know where your visitors are coming from;

Determine which landing pages generate the most leads;

Measure the conversion rate
This allows you to identify the areas of your funnel that need to be improved and that can generate even more conversions. To do this, it is useful to also adopt some tips that will allow you to constantly optimize the performance of your funnel.
9 tips to adopt to optimize your marketing tunnel
Tip 1: Keep it simple!
When setting up your sales tunnel make sure it goes straight to the point without unnecessarily distracting consumers. In addition, it must be perfectly integrated into their navigation so that they do not feel disturbed.
To do this, in addition to favoring fluidity throughout the process, limit as much as possible the information you ask your visitors as well as the choices you offer, a single CTA to move from one step to another for example. In short, focus on an optimal user experience.
Tip 2: Define your targets correctly
For your strategy to work, you need to address the right audience, otherwise you risk not making any sales. To do this, take the time to . define your ideal customer's profit.
For example, let's say you decide to sell ice cream and you set up your store in Greenland, your business might not work because it is the second coldest country in the world second coldest country in the world. On the other hand, if you target a country like Libya, your business has a better chance of succeeding since it is the hottest country in the world.
Several elements can help you define or improve your targeting. These are for example :
Polls or surveys ;

Statistics from your website using tools such as Google Analytics;

Interactions with your customers;

Data from your CRM tools;

Etc..
Tip 3: Optimize SEO
Given that 93% of online experiences start with a search engineit is very important to become familiar with its powerful tools. This meansadopting a good SEO strategy strategy, and for that, consider :
In fact, SEO is a major issue and if hiring a professional is not yet one of your options, I invite you to train in order to significantly improve the traffic of your website.
Tip 4: Use trigger marketing
This is a powerful practice that allows you toavoid losing leads along your lead tunnel. Indeed, it is also known as trigger marketing and refers to the practices by which a marketing action is automatically triggered when an event occurs or when a prospect takes a given action.
In other words, it is about automating your marketing actions so that automatically :
A welcome email is sent to a new customer;

A reminder email is sent after a shopping cart is abandoned;

A reminder email is sent to an inactive customer.

And so on..
Tip 5 : Down-selling, Up-selling and Cross-selling
These are three marketing techniques that can allow you to generate even more sales. Indeed, cross selling allows you to increase the average basket by proposing a complementary product to the product that the customer buys.
Let's suppose that the customer buys a cell phone on your e-commerce site and that you also sell protective covers for cell phones. If you manage to offer him an additional offer of a cover in addition to his laptop, there is a good chance that he will buy both products.
The down-sell, on the other hand, is used to offer another product with inferior characteristics instead of the initial product. This is the opposite of up-selling, which offers a product with superior characteristics. For example, in e-commerce, these types of articles are often found under the heading: "Customers who looked at this article also looked at it".
Tip 6: Personalize the customer relationship
To promote customer loyalty, humanize your company by being sociable and available. To this end, social networks are excellent tools you can use.
You can also personalize the emails of your email campaign. Indeed, a survey indicates that emails have 22 % more likely to be opened if the subject line is personalized with the recipient's first name. This statistic is not very surprising since we generally prefer emails that are personally addressed to us than traditional emails.
In addition, you can also make use of chatbots or webinars which are formidable weapons to formidable weapons to the brakes of purchase.
Tip 7: Reassure the audience
Whatever the type of business you have, trust is the #1 criteria that will drive visitors to the BOFU. For this, it is important to implement a strategy that allows you to control, at all levels of your tunnel, the mistrust of Internet users
To do this, integrate content that shows your seriousness and professionalism, which will allow your visitors to be reassured.
Therefore, use elements such as:
Easy to identify contact information;

Labels ;

Customer reviews;

A website and quality contents;

Etc..
Tip #8: Offer really good deals
In order to entice your website visitors to buy your product or service, it is important to make irresistible offers. Think about offering free trials or gifts to attract them and offering discount coupons or free shipping to keep them coming back.
Tip #9: Create impactful calls-to-action
Your conversion funnel is a kind of chain and you have to make sure that the Call To Action that will lead consumers to the next step are irresistible. To do this, take care to work on its design and choose the most impactful expressions.
This resource by Neil Patelwill help you set up an irresistible CTA.
Tip 10: Constantly optimize funnels
A sales funnel is far from being a static tool, it must be constantly refined in order toconstantly optimize its performance. To do this, constantly monitor your statics to detect leaks and also test between several strategies to choose the one that works best.
Conclusion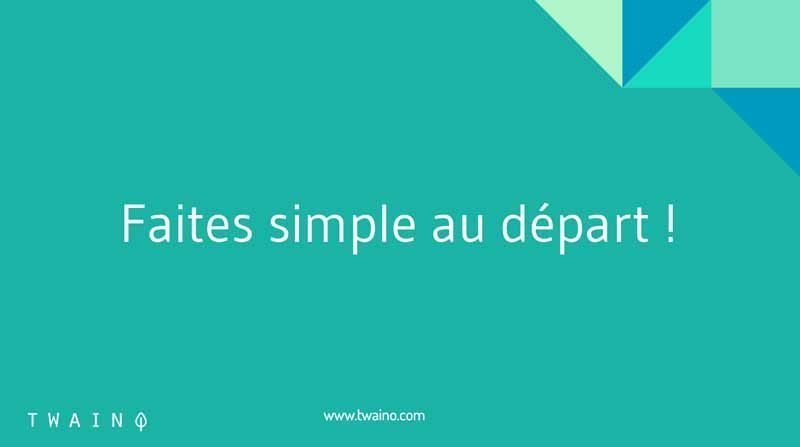 For a business to survive and grow, it must be able to make continuous sales. This is not easy, especially when the company has just been launched. For this, a good marketing strategy is needed to generate sales quickly and to stand out from the competition. In this regard, there are several marketing tools and methods, one of the most effective being the sales funnel one of the most effective is the sales funnel. In addition to generate a lot of sales or conversions when it is well designed and used effectively, this approach allows you to track the entire sales process. This allows, thanks to powerful analysis tools, to detect where leads are leaking and provide effective and provide effective solutions. Moreover, the sales funnel must be constantly improved and refined, in order to follow the evolution of the customer need and demand.
See you soon for another article!