The term unique visitor is often used in marketing analytics to refer to a user who has accessed a website at least once in a given period of time. This period can be daily, weekly or monthly. The unique visitor is counted only once during the reference period, regardless of how many times they land on the site. This means that if the user visits the website more than once during the specified period, it will only count as one visitor.
The success of any website in terms of organic referencing the success of any website in terms of unique visitors or paid visitors depends on the number of visitors it receives over a predetermined period of time. However, it is imperative to fully understand who the unique visitors are among this group of visitors

Often overlooked, the unique visitor metric provides important information about the value and marketing strategies of a website to improve its traffic.

So:

What do we really mean by unique visitor?

Why is it important to know how many unique users access a website?

What distinguishes the term unique visitor from the term visit?

In which cases can this metric be used?

How to interpret this metric in Google Analytics?
Here are quite a few questions that I will try to answer during this guide.

Let's start!


Chapter 1: What is a unique visitor?
In this first chapter, we will see:

A more detailed explanation of the term unique visitor;

Why you should care about the number of unique users on your site ;

The difference between unique visitor and visit;

And finally, some use cases of this metric.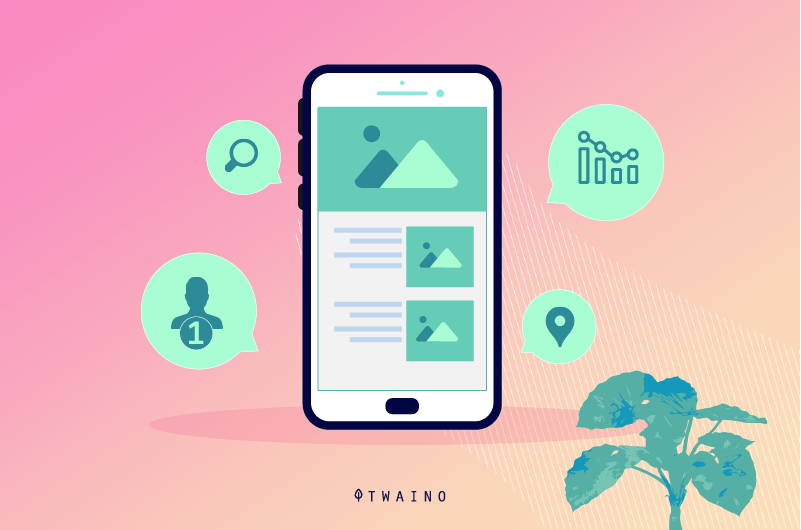 1.1. what do unique visitors mean?
Unique visitors are users who access a website one or more times with the same IP address during a given time interval. They are counted individually, regardless of how many times they return to the site
That is to say, even if the visitor clicks or returns to the same site several times, this number will not increase.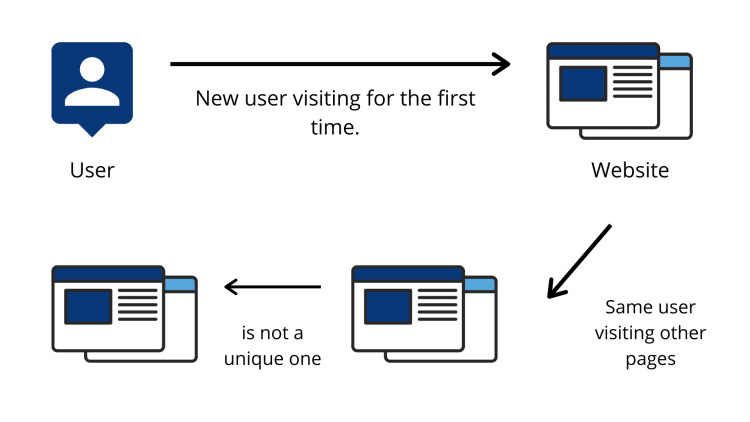 Source Shivansh
For example, if a user visits your web page, then navigates further to 2 other pages, then leaves your website and comes back later to see more pages, they will be counted as one individual user ("unique visitor")
A unique visitor is usually identified using an IP address as well as other identifiers such as:
Cookies;

User agent;

Registration ID;

Etc.
1.2. Why is it important to monitor the size of unique visitors to a website?
Knowing the number of unique visitors that land on a website is a key factor that allows SEOs and marketers to take certain actions that can improve their traffic
But to get a broader understanding of a website's performance, it is often used in combination with measures such as:
The total number of page views ;

Bounce rate;

Duration of visit;

Etc.
Among the advantages of knowing the number of unique visitors to a website, we can see these:
Allows you to have an idea on the evolution of your SEO strategy;

Allows you to measure the impact of your social media channels on the overall growth of your business;

Allows you to determine how much you can charge for advertising on your web page;

Helps design marketing campaigns;

Gives you an idea of your abandonment rate;

Allows you to know the level of popularity of the brand;

Allows the website owner to have a precise idea of its evolution in terms of visibility;

Allows you to identify new visitors and analyze their behavior.
This metric gives you a clearer picture of how successfully you are attracting customers, and can be further analyzed to see how many new visitors end up converting into customers.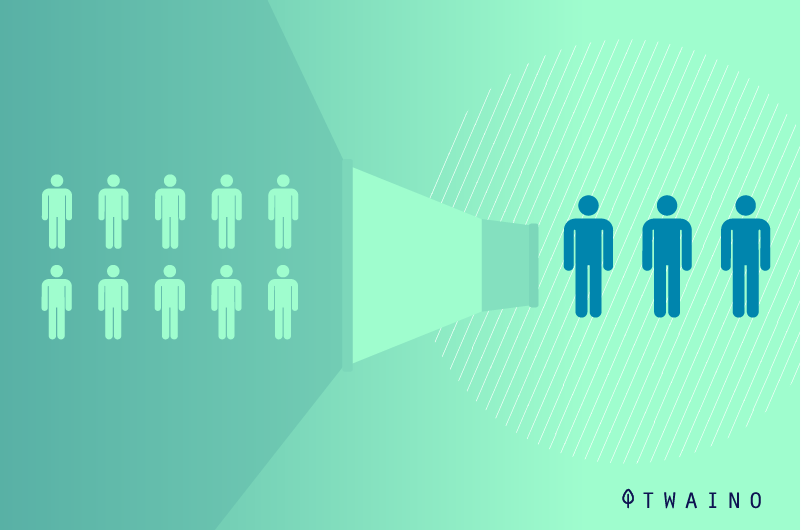 Additionally, as with many web analytics metrics, you can set goals for the number of unique visitors to reach over a period of time
For example, you can simply aim to increase the number of unique visitors to your web page over a six-month period
Or, you can more specifically aim to increase that statistic via a specific channel, such as your company's Instagram platform.
Either way, by using marketing methods to increase the number of unique visitors to your website, you're putting your brand in front of a wider audience.
This increases your chances of attracting new people who may become potential customers.
1.3. What is the difference between unique visitors and visits?
The traffic a website receives during a given period can be measured in two different ways. It can be calculated in terms of visits or in terms of unique visitors.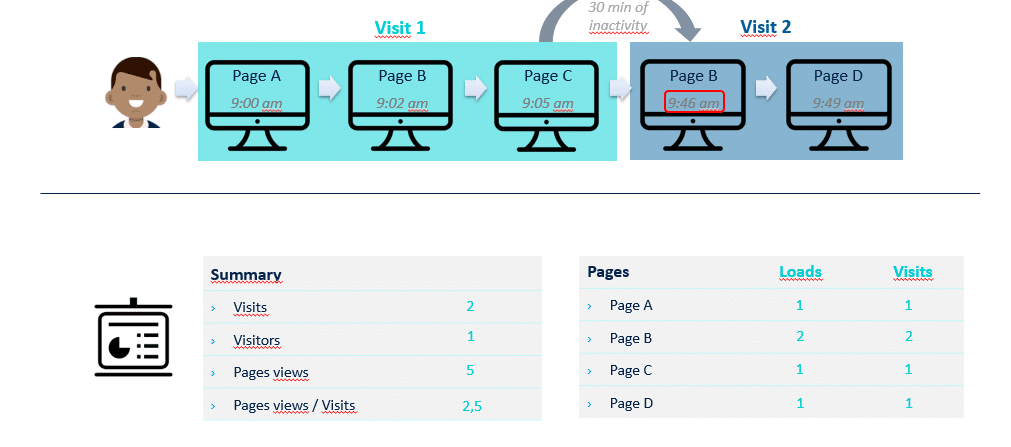 Source atinternet
The number of visits consists of calculating how many times users visit your website. For example, an individual could visit your website once and then visit it again the next day, which would be two visits for that visitor.
While the number of unique visitors is a calculation of the number of individuals who have chosen to access your page, regardless of the number of times they access during the specified time period
As a result, this calculation provides a more accurate picture of the extent of the reach your site has achieved.
1.4. Some use cases for unique visitors
Unique visitor information is used in a variety of ways depending on the purpose of the site being analyzed. Common uses include:
1.4.1. To determine the size of a site's audience
With this metric, you can get a clear picture of how your website's awareness has changed over a period of time
It can also be used to determine the reach you can receive by advertising or publishing an article on this site.
1.4.2. To set an ad price
When selling advertising space on your website, the number of unique visitors you attract is important in order to set a higher price for each spot
Similarly, if you are buying an ad on a company's website, you need to know not only the total number of page views you can expect from your ads, but also the number of unique visitors.
1.4.3. To run A/B testing experiments
A popular method for running advertising and marketing campaigns is to use A/B testing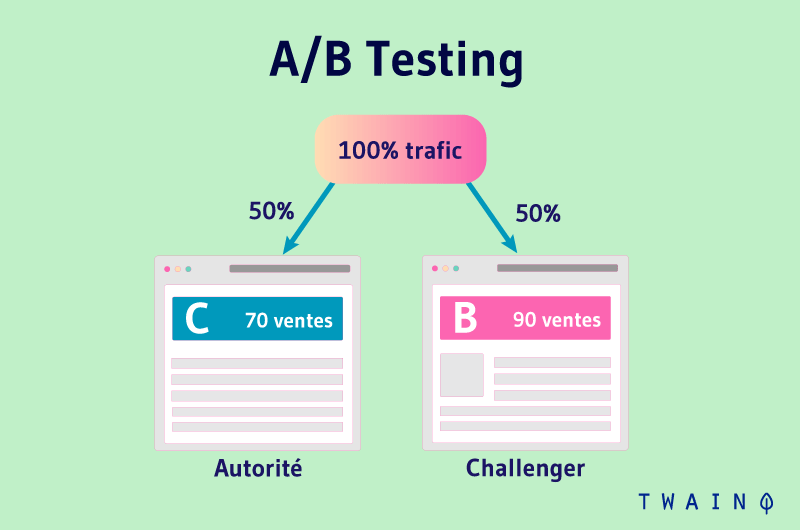 In an A/B test, each visitor to a site is randomly assigned to one of two or more potential landing pages so that the performance of each page can be compared
When reviewing A/B test results, it is essential to know how many unique visitors see each page to ensure you have an adequate sample size
In addition, this metric added to some other types of web analytics can help define the performance of each page in the test.
1.4.4. To track growth over time
Tracking your unique visitors over a series of days, weeks or months allows you to get an idea of its overall growth. This is useful for evaluating the effectiveness of your advertising or content strategies.
Chapter 2: Other measures that make sense of a website's unique visitors
Unique visitors are an important metric for determining the popularity and reach of a website, but other metrics are also used to get a complete picture of site performance
Whether you're trying to develop a larger audience to increase brand awareness or to sell advertising space on your site, here are the other key metrics and terms you should know and track:
Total page views;

Average visits;

Interactions per visit;

Duration of visit;

Bounce rate;

Value per visit;

Cost per lead.
Let's go into more detail now:
2.1. Total page views
The total number of page views on your website increases each time a page is loaded. This can be a single or regular visitor who views one or more pages over a period of time.

This is another important metric, as it demonstrates audience loyalty. For page view totals, a visit from a single visitor ten times is tracked and recorded in the same way as a visit for each of the ten unique visitors.
2.2. Average Visits
Average Visits represents the number of times a unique user has returned to your site in a given time period
This is an effective measure to determine the level of loyalty of your readers, as a high number of visits means that your members are regularly returning to your site in search of new content
2.3. interactions per visit
Every time a user clicks on a link on your site, it is recorded as an interaction. Sites that have high interactions per visit are sites that have engaging content that encourages the visitor to click through multiple pages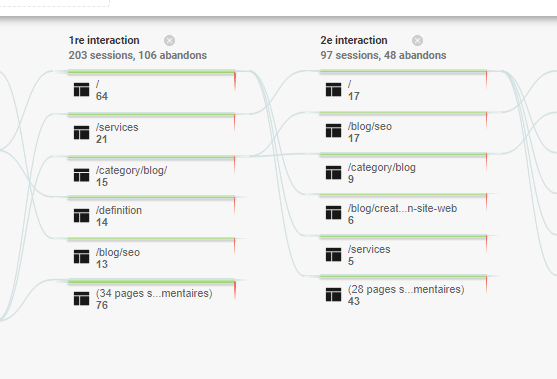 For an example of how all of these metrics interact together, let's consider someone who visits your site three times a week, visiting two, one, and six pages respectively
They would be recorded in your metrics as a single unique visitor with three visits and three interactions per visit, for a total of nine page views per week.
2.4. Visit Duration
While visitor interaction on multiple pages of your site is usually a good sign that you've provided them with interesting content, a lack of clicks doesn't necessarily mean your site wasn't useful to them
For example, on pages that feature interactive content or long articles, a person may spend a long period of time on your site without ever clicking to a second page.

A high visit duration is good for your site's search engine rankings because it shows that you provided visitors with what they were looking for
This is the main goal of a search engine, as it is the reliable results that will make it the preferred search option for internet users.
2.5. Bounce rate
When a user visits your website and then immediately leaves it without clicking or interacting with the links on the page, this is considered a bounce

This is an important measure for search engines because a bounce rate on certain types of sites is a sign that the site is not providing satisfaction to visitors.
If your site was ranking well due to solid SEO tactics, a bounce spike can cause it to fall.
This allows search engines to prioritize sites with high quality content and good user experience
2.6. Value per visit
A site's value per visit is determined by the amount of revenue it generates divided by the total number of unique visitors to the site
This is one of two important metrics used to determine the profitability of a website, page or ad campaign
This metric also helps you understand how much to spend on SEO to attract more new visitors.
2.7. Cost per lead
Cost per lead is determined by evaluating the amount of money spent to develop a site (advertising or SEO) divided by the number of unique visitors the site receives
This metric works with the previous one (value per visit) to determine the profitability of a site, a page or a marketing campaign
If your value per visit exceeds the cost per leadthen the site is generating profit. On the other hand, a negative or low result means that you should consider making changes to improve the performance of your site.
Chapter 3: How does web analytics software measure a single visitor?
The first step is to set a cookie in the user's browser on their first visit. Once the cookie is set, the device is considered a unique visitor.
Whether or not that person is considered a unique visitor the next time they visit the site will depend on the time interval determined
For example, suppose you had 5,000 unique visitors on Monday and 4,700 unique visitors on Tuesday. Some of Tuesday's visitors may have also visited the site on Monday.
So, for Monday and Tuesday together, you may have only had 9,000 unique visitors (because 700 visited both days).
Nevertheless, it is important to note that a unique visitor does not equal a unique visit by a human user. Rather, it equates to a unique visit from a device that has not deleted cookies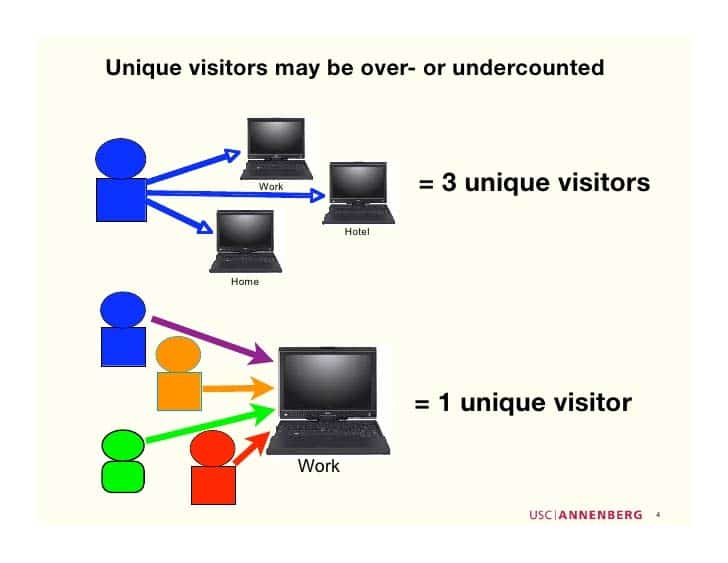 Source Slideshare
Here are the main differences:
Multiple human users can use the same device. A perfect example of this is a home computer shared by a family. In this case, many people will potentially appear as a single visitor.

A single human user can use multiple devices. Many people have computers both at work and at home. In this case, a single user will look like 2 or more unique visitors.

If a user visits your website, deletes their cookies, and then returns, they will be considered 2 unique visitors.
One method to get better data is to require registration. In this case, each human user can have a different account, and more detailed tracking becomes considerably easier
This method is not perfect either, as there are people who share their accounts.
The important thing to remember in analytics is that perfect measurement is not possible. Your goal with an analytics tool should be to effectively measure trends.
So if your analytics software says your traffic went from 100,000 unique visitors last month to 150,000 this month, you'll know your traffic has increased
Whereas the real numbers could be 110,000 unique visitors last month and 160,000 this month, which is really not a concern.
It's hard to get better accuracy, and you have to accept the limitations of these tools. They are still a great resource for growing your business.
After knowing the limitations of these web analytics tools, it's up to you to decide how reliable a metric to assign.
There are several web analytics tools that can be used to undertake this type of data analysis, such as:
Among these last tools, Google Analytics is the number 1, because it is complete and free.
Chapter 4: Everything You Need to Know About Unique Visitors in Google Analytics
Are you having trouble interpreting the data on unique visitors, new users, page views and sessions in Google Analytics ?

In this chapter, we'll discuss what these numbers really mean and how you can analyze them to make better decisions.
Let's start with the basics of GA:
4.1. The basics for new Google Analytics users
First, Google Analytics defines a unique visitor or user as "the number of unduplicated visitors to a website during a given time period."
Google uses a unique identifier (usually based on a proprietary cookie) to track users and identify repeat visitors versus unique visitors over a specific period of time.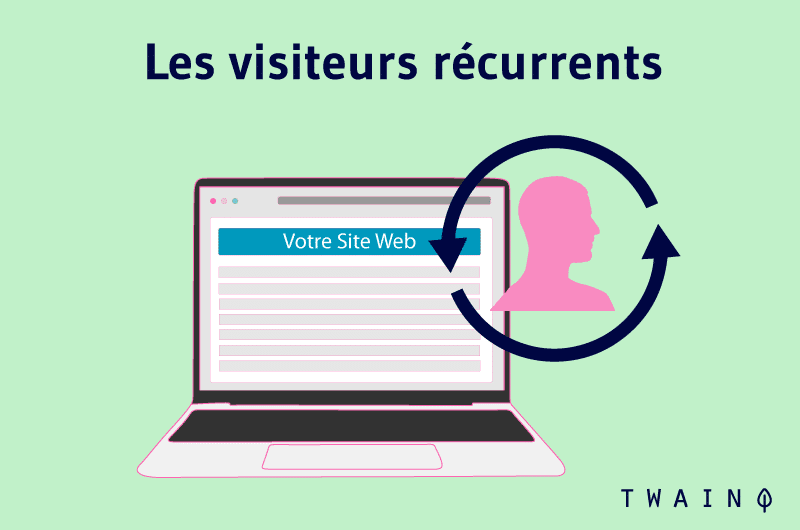 When you open Google Analytics, the first metrics you'll notice are "Users" and "Sessions. Prior to 2014, Google qualified users as as unique visitors and sessions as as visits.
The terminology can be a bit confusing if you're new to Google Analytics, but take a look at the screenshot below to better understand what these metrics mean: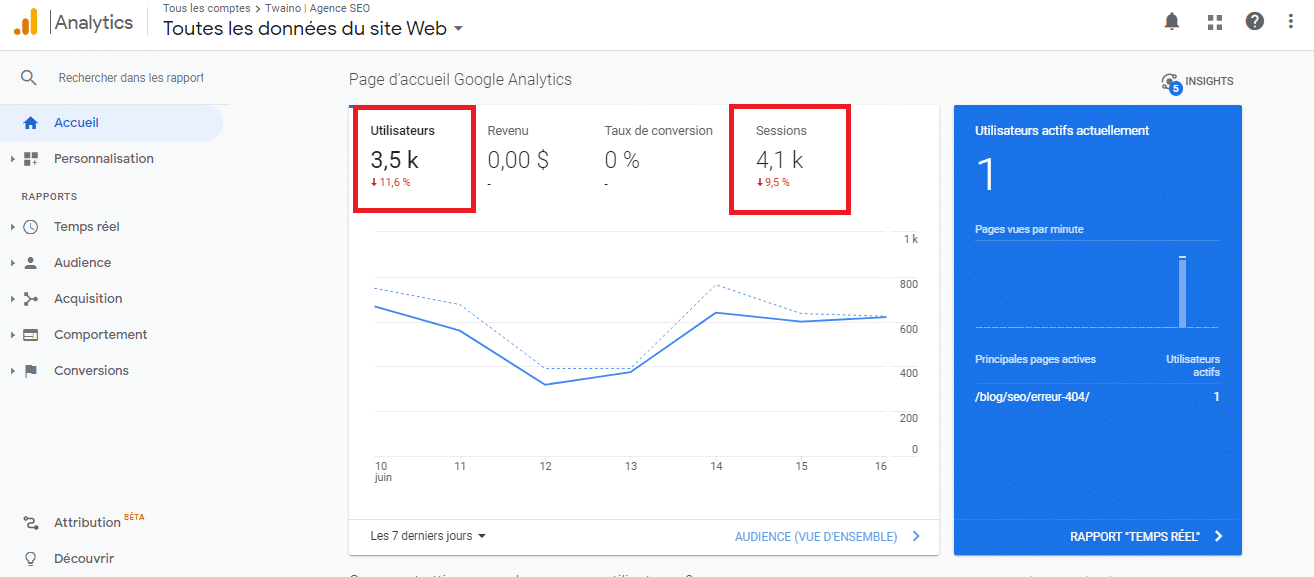 To simplify things and understand unique visitors (users) as well as visits (sessions), let's take the example of four people – Ben, Eva, Matt and Cindy visiting a coffee shop for lunch
In this example, a visit to a coffee shop is a visit to your website. Later in the evening, Ben and Eva visit the coffee shop again for coffee.
Assuming that there are no other visitors, the unique number of visitors to the café that day is four and named Users in GA. The total number of visits is six and referred to as Session in GA
If you want to see an even clearer breakdown of your unique visits, you can view the default report under Audience > Behavior > New/known visitors :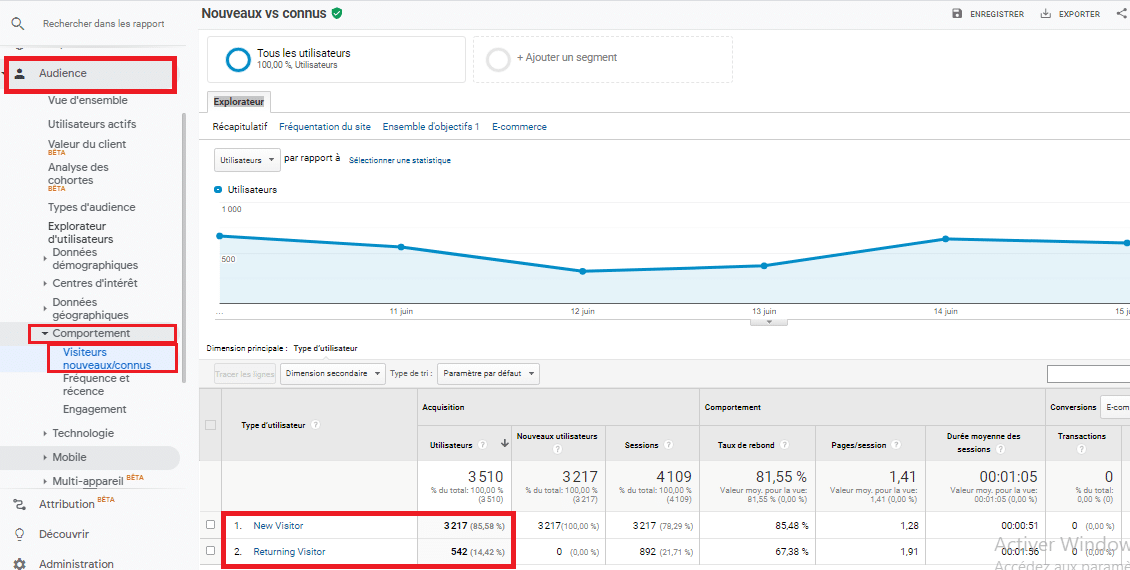 Note that all metrics, including users and sessions, change when the date range is changed
When you first log in to Google Analytics, the date range defaults to the most recent seven days, starting with yesterday's date.
You can easily change the dates by using the date dropdown in the lower left corner.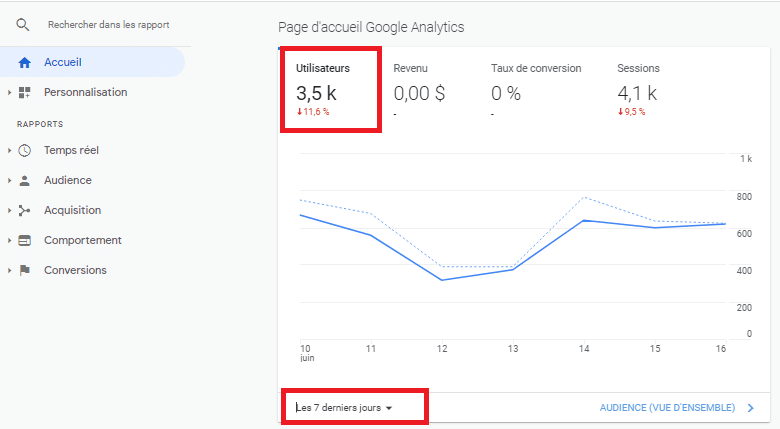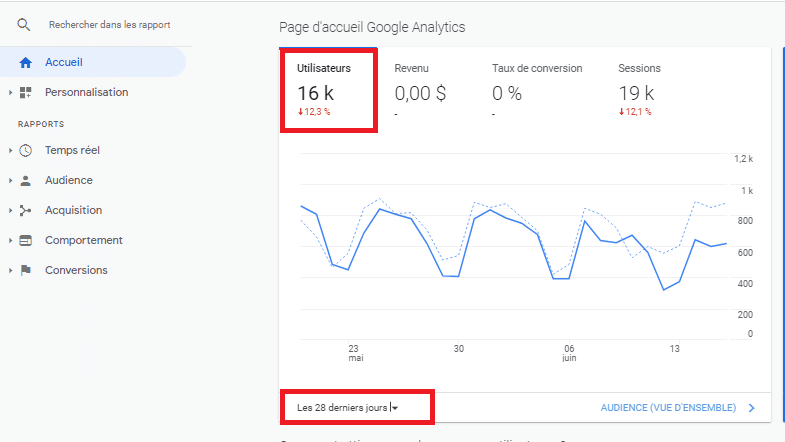 In the sample captures above, you can see that the number of unique visitors in the last seven days is 3,500, while it reaches 16,000 when we increase the period to the last 28 days.
The ability to view visitor data in different time periods allows you to get a deeper insight into user behavior, especially during:
Events

Marketing campaigns;

Vacations;

And special days during the year.
4.2. how to find unique visitors in the Google analytics tool?
The section Home section of the Google Analytics dashboard displays the number of unique visitors or users over a given period. It's nice to know how many unique visitors you have, but it's even more useful to know the nature of the traffic.
The section Audience section of Google Analytics allows you to analyze user data based on several parameters such as:
Traffic source;

Interests;

Demographics;

Operating system;

Browser;

Device type;

Etc.
You can also analyze how website visitors interact with your web pages using metrics such as:
Users (unique visitors);

New users;

Sessions;

Number of sessions per user;

Page views per session

Total number of page views;

Average session duration;

Bounce rate.

In the " Acquisition "option, you can also obtain information on the source or medium of navigation of your :
Unique visitors (Users);

New unique visitors (New users);

Visits (Sessions).
Click on : "Acquisition > All Traffic > Source/Support". Once you have completed these steps, a report will be generated that contains a column for each of the parameters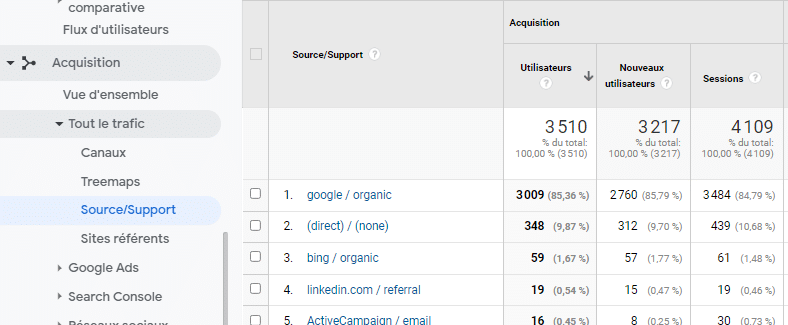 4.3. How does Google Analytics track unique visitors?
When a user visits your website for the first time, a unique string of numbers is randomly generated and stored as a cookie in the user's browser
The information stored in the cookie helps Google Analytics differentiate between a new and old user and track the number of times each user visits your website.
Because Google Analytics uses browser cookies to track unique visitors, there are some situations where user data is inaccurate. Known users will likely be counted as new users if they:
Browse the website in private browsing mode;

Clear the cookies on their browser;

Access the website via multiple devices;

Use different browsers on the same device.
While Google Analytics cannot track unique visitors perfectly, the difference is negligible and should not make a big difference unless you are working with a very small sample size.
4.4. Difference between Users (Unique Visitors) and New Users
Let's always take the example of Ben, Eva, Matt and Cindy who went to lunch at the coffee shop. It turns out that they were so delighted with the food that they brought two other friends, Mike and Jo, with them the next day for a special Sunday brunch.
Since unique visitors are counted for a specific date range, the number of unique visitors to the café on Sunday is six while there are two new visitors
Similarly, new users in Google Analytics are people who visited your website for the first time, regardless of the date range.
Note that new users are a subset of unique visitors or users. This means that unique visitors (users) are the sum of new users and known users starting a new session within a defined date range.

From the above capture, for a 7-day interval, the number of unique visitors and new users are 3,397 and 3,108 respectively.
The data for new users is essential when running a marketing campaign to measure and compare the effectiveness of new user acquisition
This can be for example an influencer marketing campaign or an advertisement on social networks.
The recurring user metric is especially useful when your marketing efforts are focused on your content and you have a large number of newsletter subscribers or social network followers.
4.5. What do page views and unique page views mean in the Google Analytics tool?
When Ben, Eva, Matt, and Cindy visited the coffee shop, each of them ordered a burger and a soda. Ben and Cindy also had a dessert each, while Matt opted for another soda instead of a dessert
Here, the different items ordered in the café correspond to users viewing different web pages on your website.
To view the page views and unique page views for your individual web pages, click on Behavior in the right-hand menu, go to Site Content and select All Pages :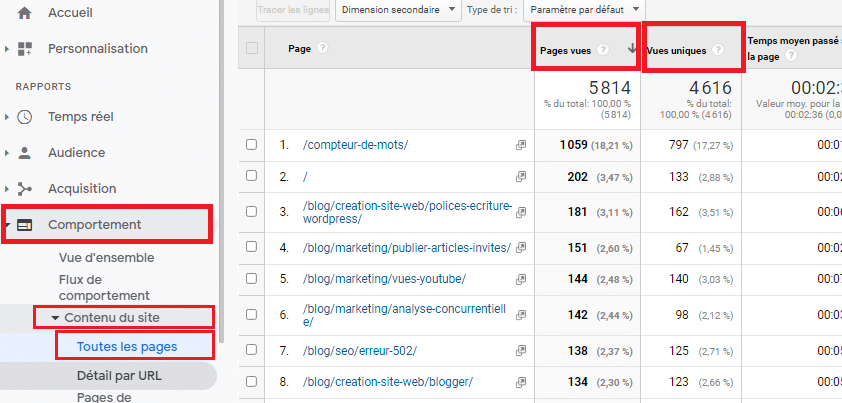 In Google Analytics, page views refer to the total number of individual pages or posts viewed on your site. If the items ordered in the restaurant were page viewsif the items ordered in the restaurant were page views, the total number would be 11 (4 burgers, 4 sodas, 2 desserts and 1 more soda).
On the other hand, the unique page views refers only to the number of unique pages visited by a user during a visit (session). Unique page views do not count page refreshes and revisits for the given period.
In general, new users interact more with your web pages, because the content is, for the most part, still new to them
On the other hand, returning users have already visited your website at least once and have probably read your previous articles.
Therefore, the average number of page views per session is usually lower than that of repeat users.
Bottom line
Unique visitors are just one of many site performance analysis metrics, but extremely useful
By paying attention to unique visitors, you can get valuable data that can help you identify existing and potential problems that need to be addressed!
Do you still have more questions about the concept of unique visitors? Let me know in the comments below.
Thanks and see you soon!