Do you already have a blog ?
Congratulations! You've already taken a step into the digital world. However, as you may have noticed, it is difficult to stand out and have a large audience on a regular basis. If you are in this situation, then you're in the right place because I can help you improve your visibility on the Internet. Indeed, "content is ROI" on the Internet and if you don't have a good strategy about it, you simply won't get any traffic for your blog. And to get it right, you need a secret ingredient: consistency. This comprehensive guide will show you how to be consistent in creating your blog content. So follow along.
Staying consistent in content creation
[knock]
In this video, I show you the best ways to stay "consistent" in creating your blog content:
Find in this presentation, the elements I had the opportunity to talk about in the video :
The importance of the content strategy
In order to get visibility nowadays, it is essential to become your own media by opting for an adapted content strategy. And this by creating all types of content including :
Blogposts
Infographics
Videos
Content for social networks
Product pages
Etc…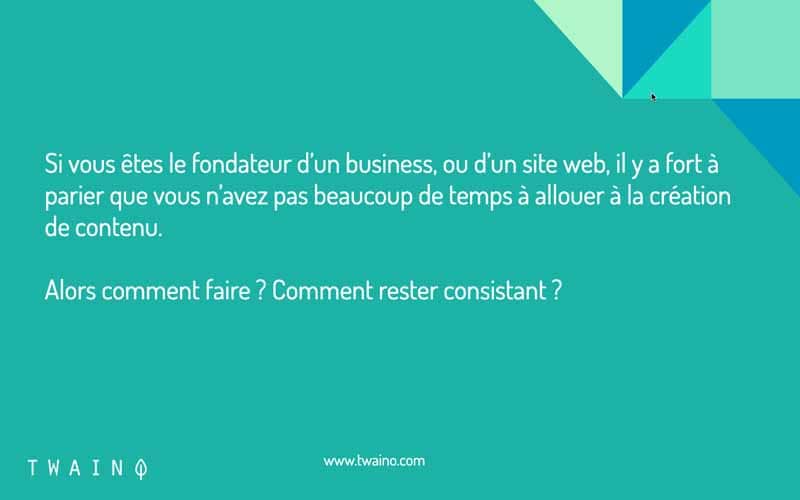 For this, you will certainly deal with your products in your content, but I recommend that you also address other themes. They must be related to your brand's activities, but with a more or less direct link.
Indeed, the objective of such a strategy is to increase the visibility of your company on the Internet. This will allow you to have more leads and therefore orders, contacts (depending on the site) without spending a lot of money with classic digital advertising campaigns such as Facebook Ads, AdWords, etc.
A study shows that a lead generated by these classic digital ads costs 60% more than the one generated by a good content creation strategy. Even better, its impact is on the medium and long term unlike advertising whose benefits disappear once they are stopped.
On the other hand, note that the content strategy is based on the use of specific keywords that allow to appear in the first search results. However, I advise you to consider it as a long-term asset, because you will have visibility over time and not in the immediate future.
Nevertheless, this strategy is of the utmost importance because of the change in consumer buying habits due to technological evolution. The future buyer no longer wants to be disturbed by intrusive ads, but wants to be accompanied in his purchase.
And this is the whole point of a blog content creation strategy with the production of useful and interesting information that will be found on the Internet. Therefore, thanks to search engines and social networks, it can be relevant to make content creation a priority axis of development in order to reach your objectives in terms of visibility.
Prioritize so as not to forget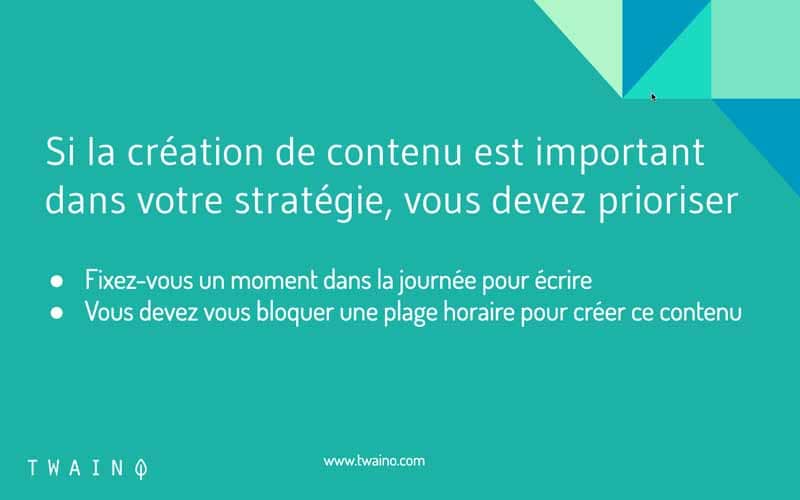 When adopting content creation as an important axis in your strategy to gain more visibility for your brand, you need to prioritize. In other words, you need to get organized and set times during the day to establish a schedule to follow and write the content if you decide to do it yourself (a point to be reviewed later).
I therefore recommend that you set up a time slot that you will respect for the success of your strategy and the creation of your content. This is a very important aspect and you should avoid phrases like "I'll do it as soon as I have time".
This is the best way to fail your strategy as you will surely run out of time at some point. As a result, you'll end up with a blog that doesn't have a regularity in publishing content. However, your blog must be alive and well fed so that you can have a good visibility and a good audience.
To have this consistency, define specific hours to work 100% on it. However, you will have to dig deep enough to always find the right content topics and find inspiration easily.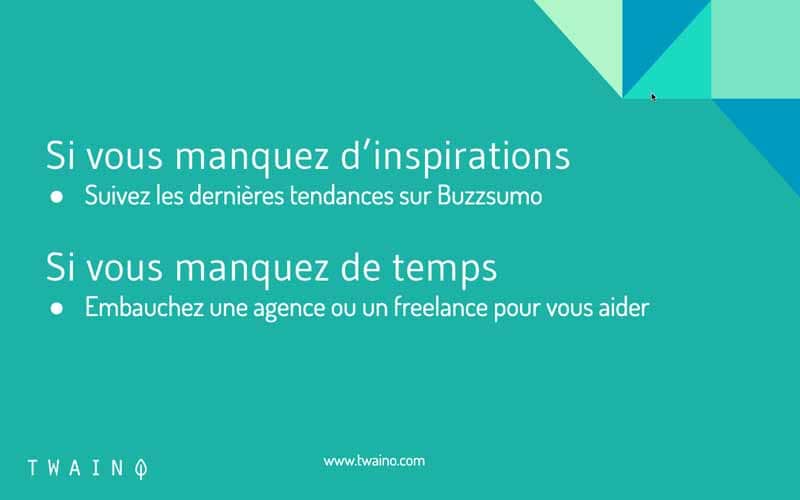 Creating content that attracts is the key to existing and thriving on the Internet in general. But as you may have noticed, finding good topics gets complicated over time. To keep your audience on the edge of their seats, I'm sharing these tips for never running out of inspiration.
Follow the trends with Buzzsumo
To find the most buzzed articles related to a given theme, there is nothing better than Buzzsumo. Simply enter the keywords related to your theme to find the most successful articles. You will then capture the attention of your audience with content that will satisfy them.
Find relevant keywords with Übersuggest
Having relevant keywords is an integral part of successful content creation for a blog. And for good reason, you can easily reach your targets on search engines.
The principle is very simple, enter the theme and you will find a list of keywords that have the privilege to be often entered on search engines. A good way to get good ideas for articles and to easily reach your target.
Set up your monitoring with Feedly
Classify and group all your sources thanks to this RSS feed aggregator. As soon as a new article is published on one of them, you will be informed in real time. The number of views is visible from the platform, which is very interesting since you will immediately know which ones are less popular and which ones are really popular.
Take a look at the competition
Still lacking inspiration for your blog? I recommend you look to your competitors. They may not be short of inspiration at the same time as you. So take the time to analyze the articles published recently without forgetting the number of comments and shares. You will then know which one works and you will surely have ideas to feed your blog.
In the same spirit as the previous tip, I suggest you subscribe to newsletters dealing with the same themes as you. By doing so, you will be able to detect trends and get inspiration to feed your blog
efficiently. And this, of course, thanks to the blog updates that you will receive by email.
To stay informed, Twitter is the social network par excellence and is very popular with its users. Users often relay articles that interest them as well as the results of their research. Hashtags (keywords) are then used to connect tweets to all users.
it is therefore an interesting source of inspiration to feed your blog. By entering a theme like Digital Marketing, I find all the articles shared with the hashtag #DigitalMarketing. Do the same with your theme to find some.
Most interestingly, I have at my disposal the number of favorites, shares and retweets. This allows me to know what works so I can come up with great article ideas that are sure to be relevant to my audience.
Conduct a survey on social networks
Although asking your subscribers to give a theme to be treated works, it is here to ask a key question that will allow to publish an article. This article will, of course, deal in depth with the conclusions drawn from the results.
Be attentive to what is going on around you, this quality will be of great help to you to write effective web content. Get inspired by everything, such as the problems you encounter, the remarks of collaborators or customers, etc.
Build a team (agency / freelance)
The main reason why you might consider forming a team or using external contributors is nothing other than time. However, it is not a question of leaving all the work to them, but you must brief them beforehand on the editorial line as well as the schedule to respect. The idea is that you have the role of editor-in-chief or publication manager.
The second reason is the fact that it is not enough to know how to write to create content. Indeed, the content must be optimized for the web. In other words, it must meet a number of criteria. These include readability, ergonomics, information density, comprehensibility, stylistic quality, "augmented" content and SEO.
In other words, content must be user-centered, optimized for all types of consumption (PC or mobile), rich and readable. A neophyte has no place there, as you can see.
If you do decide to take the plunge, there are good books that cover all aspects of content creation in great detail. Otherwise, build your team by using an agency or freelancers who will do a quality job.
You can then have continuous content, which is a key point to be consistent in the creation of blog
content. But before this step, I recommend you to have a publication schedule.
A publication schedule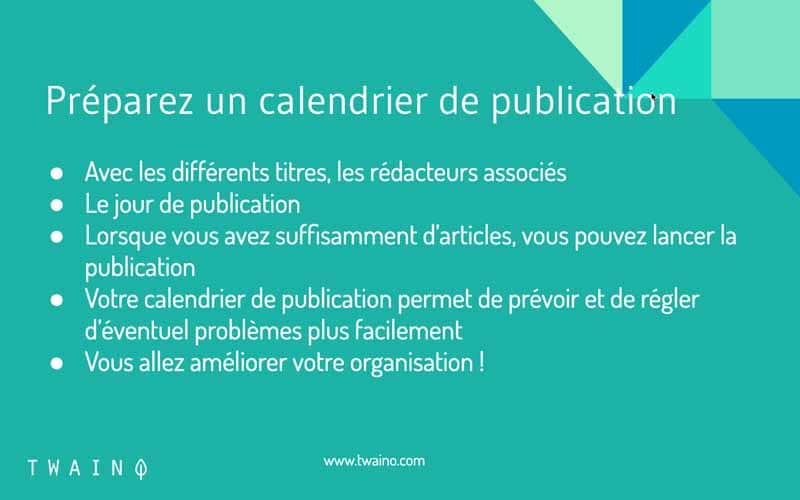 In order not to forget anything, you must establish an editorial calendar. It should summarize the objectives, content, media, distribution, dates and the people in charge of writing or creating content. You will then have a global vision of what has already been done and what you still have to do.
In other words, you will be able to manage the key elements of your content strategy over time by knowing everything you are going to communicate about, how to do it, when and why. All the while keeping in mind your objectives and your audience.
The structure of your content
At this level, you need to define the formats in which the articles written for the blog will be presented, as well as the videos, photos, infographics, etc. Also define what you will talk about to your prospects or community. If it's going to be about them, your market, industry events or others, you need to define that.
It is possible to define specific formats for each topic while considering your preference for writing or recording videos. But it must be included in the editorial calendar that you will establish.
The frequency of publication
Publication rates differ from one medium to another. Thus, you will not have the same frequency of creation with social networks as with a website, a newsletter or a blog. As you probably know, social networks require a permanent publication.
You will then have to set up a watch to have information to share in case you only make one or two articles per month. On a blog.
or a postcast on the other hand, you can be less permanent. Note however that the importance of regularity remains the same for all media.
Also take care to include the dates of publication as well as the key dates of the company (anniversary, launch of a service or product…) and those of your market (national, regional events…). By doing so, you give yourself a framework and you delimit your actions in time. And this, in direct relation with your content strategy.
Republishing your old articles
At this level, don't hesitate to reread all the articles of your blog in order to update them. This is a good way to get more organic traffic for several reasons. Indeed, you will be able to extend their lifespan since unlike social networks where posts have a lifespan of less than 24 hours, a blog post can reach 2 years.
Moreover, you will boost your natural referencing since these contents have already made a place on the web and an update will make them more powerful. There are also other advantages such as the unification of the formatting on the whole site since with time, the editorial line or the design of the site may have been modified.
Planning with tools
There are several tools you can use to build a good calendar.
For example, a simple spreadsheet if you are alone or a drive-based spreadsheet if you are with several people. There is also the project management tool Trello as well as the free option of the American giant, Google Calendar. To go further, Teamup and Calendy are also very good options.
The importance of organization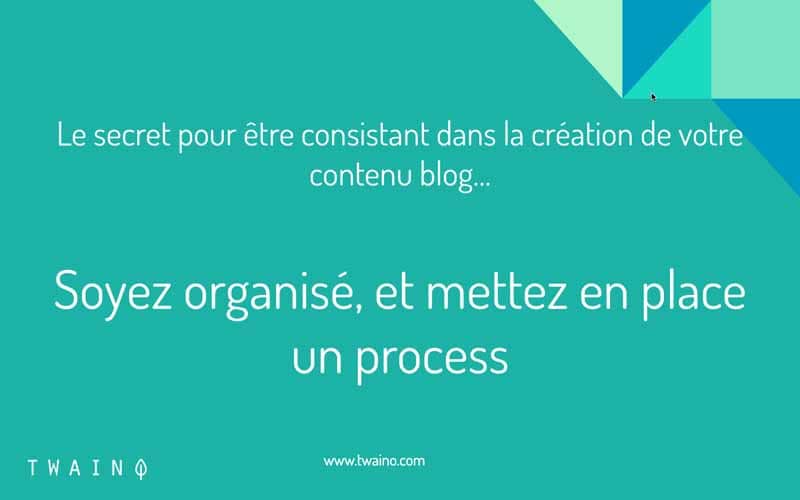 Without a minimum of organization, you will not be able to have consistency in the creation of your blog content. Indeed, to establish a publication schedule, you need to set up a rigorous program to actually work on your strategy.
This organization involves defining schedules, distribution of tasks for each team member to achieve the objectives and many others. Even after establishing the editorial calendar, it is still very important to have a very good organization because it is very easy to lose track.
Indeed, this happens quite often and you risk having failures in your publications and not being consistent anymore. This may cause your content strategy to fail and your audience to drop. For this, it is necessary to set up a good process to complete your calendar.
Putting a process in place
Many people can create beautiful content, but unfortunately this is not enough to get visibility on Google. Indeed, you need to create both quality content, and if possible in quantity to attract the attention of your future audience and stand out from the crowd at the same time.
Hence the importance of having a well-established process. The goal is to have a clear process to identify certain strategic tasks and execute them in order to be able to get a lot of good quality content.
These key tasks include:
Establishing your editorial calendar
Determining your keywords
Creating your content team
Audit your content and optimize your SEO
To help you out, I give you four tips that will inevitably lead to a well-oiled process.
Develop a real keyword strategy
Keywords are essential in a good content creation strategy. You need to be able to find them and they need to be relevant to your business. In addition to using online tools, trust your common sense and don't hesitate to ask your collaborators and friends.
I recommend using Übersuggest or other tools such as Google keyword generator. Try to find the "cream of the crop" which will be the ones that generate the most searches and the easiest to get to the top of the search pages.
Find the best writers
This is an important step that can tip the balance.
Build your team by finding the best writers or those who are most knowledgeable about your topic. Make sure they have the expertise to make sure the content appeals to your audience.
Choose headlines that make people want to click and share!
Obviously, consider your keywords when choosing your headlines, but keep in mind that they need to be good enough to make people want to click, read and share.
Use practical headlines that often work, such as "5 things to know about…", "the guide to…", etc. Stay on top of the latest trends in your industry to get good headlines. Be on the lookout for and learn about the topic that's making the buzz or anticipate the one that will.
Stay focused on optimizing your content
Make a checklist of things you need to check before you think about making posts or shares. Take into account the keywords, the presence of links, the size of the article, the density and quality, etc..
Conclusion
Adopting the content creation strategy is one of the best decisions you can make in order to gain visibility with a limited budget. However, to stand out from the crowd with your blog, you need not only to have quality content, but also a large number of content published on a regular basis. To do this, it is imperative to have a minimum of organization in order to define a publication calendar and to set up a process. Moreover, don't hesitate to get help from an agency or freelancers, especially in the creation of quality content.