Black hat SEO also called "black hat SEO" refers to all practices that go against the instructions for optimizing websites for search engines. Typically, the goal of these strategies is to manipulate search engine algorithms to give a website a higher ranking in the SERPs.
Although there are several SEO, these can be divided into two categories, namely: The category of White hat SEO and that of Black hat SEO.
White hat SEO includes good SEO practices, while black hat SEO only contains those that are considered bad or go against search engine guidelines.
In this article, I will talk about Black hat SEO and you will find out:
What it means;
Why it should be avoided;
The techniques it involves.
Let's start!
Chapter 1: What is black hat SEO?
Here, I explain to you:
What you should understand by the word "black hat SEO";
What distinguishes Black Hat SEO from other SEO practices;
Why You Should Avoid Black Hat SEO Practices.
1.1. What is meant by black hat SEO?
To have a good understanding of what is meant by the expression "black hat SEO", it seems necessary to briefly discuss how search engines work.
 As you can imagine, search engines identify and display a set of results for any query. These results come from their index and are ranked based on a set of criteria.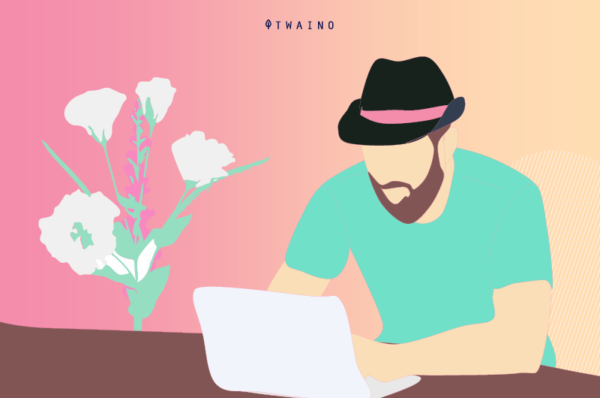 The control and respect of these criteria are ensured by algorithms which are part of the search engine systems.
This implies that:
The sites displayed are those that best match your request;
The sites are displayed by degree of relevance.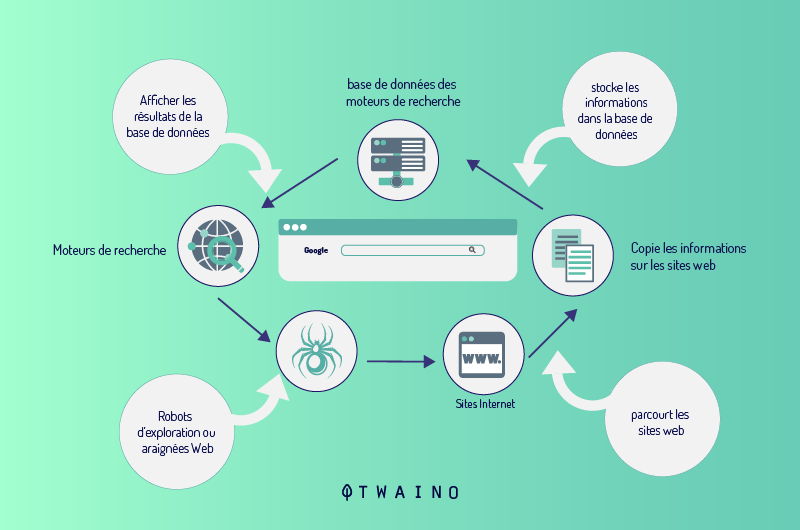 And as you will see, the sites that do not meet the ranking criteria or do not include your query do not appear in the SERPs. 
When they should appear, they only appear at the bottom of the search results.
Faced with such a situation, some webmasters do not hesitate to use unsavory tactics to boost the performance of their site, being aware of the time and energy it takes to rank better.
All of these methods are mostly aimed at tricking search engine algorithms into better positioning their site. To be more precise, these are methods that do not respect the guidelines of the search engine: this is Black hat SEO.
Black hat SEO is opposed to White hat SEO, which is the most ethical way to refer a website.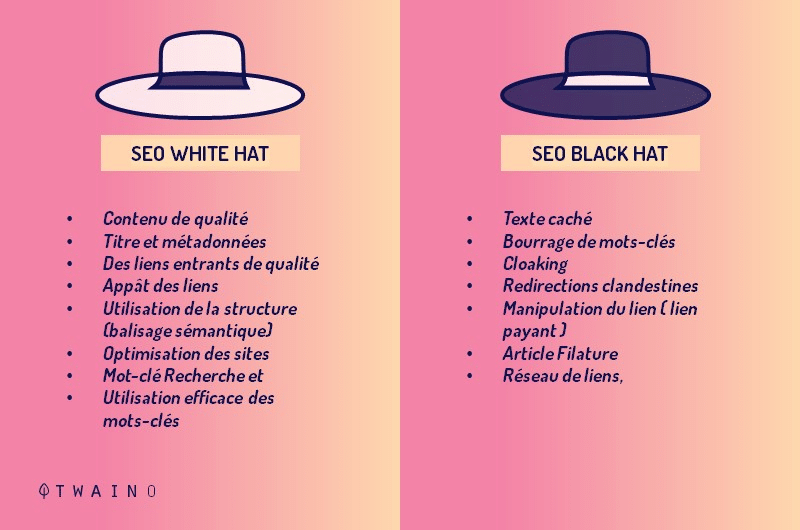 Black hat SEO has a subcomponent that is nothing other than the SEO negative.
As the name suggests, negative SEO allows other people to use tactics to harm a site other than their own.
Among these practices, you can have for example:
The establishment of a strategy of unnatural links to your site by competitors;
Attacks on the site;
Etc.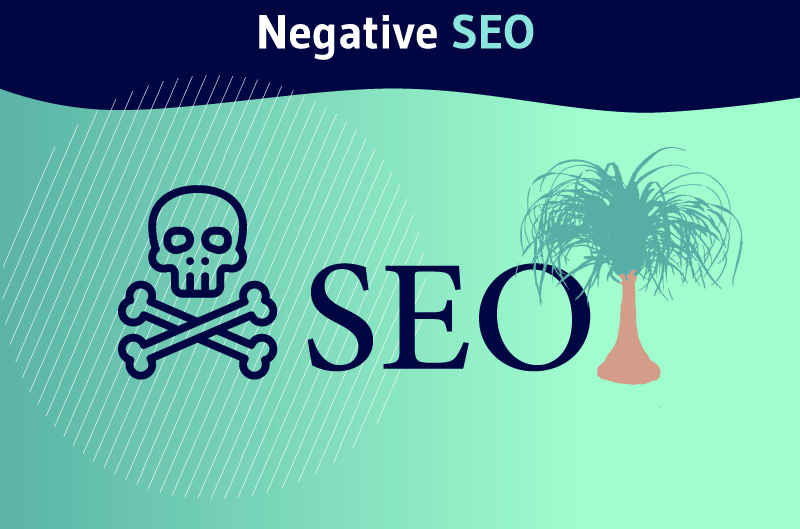 Note, however, that when you are attacked from negative SEO strategies, you do not have not necessarily have an idea of ​​the origin of the drop in performance of your site.
It is therefore up to you to implement the means to analyze your site and find out if the error comes from your backlink profile. To learn more about negative SEO, read our definition of the term.
In addition, note that Black hat SEO is characterized by a number of elements that I suggest you discover in the following lines.
1.2. What are the characteristics of black hat SEO practices?
In general, we can recognize a practice belonging to black hat SEO from the following facts:
The practice is contrary to the guidelines of Google or the relevant search engine;
The practice used has a manipulative purpose. Indeed, unlike white hat SEO which supposes, among other things, the improvement of the user experience, black hat SEO can afford to offer a more or less passable experience;
The practice used usually aims to seek a quick win. That is to say, the strategies that are used lead without too much effort to improving the ranking in the SERPs; 
The last characteristic you can take away is the observation that the results produced by black hat SEO tactics are not sustainable. This is justified by the fact that search engines often modify their algorithm . 
Beyond black hat SEO, there are also other types of SEO practices. Each of these practices is based on a purpose that distinguishes them from each other.
1.2.3. What are the other types of SEO practices
Apart from Black hat SEO, you have:
1.2.1. White hat SEO White hat
SEO or white hat SEO is the set of techniques that webmasters should use to optimize the ranking of their site in search engines.
They respect the guidelines of search engines and produce results that last over time.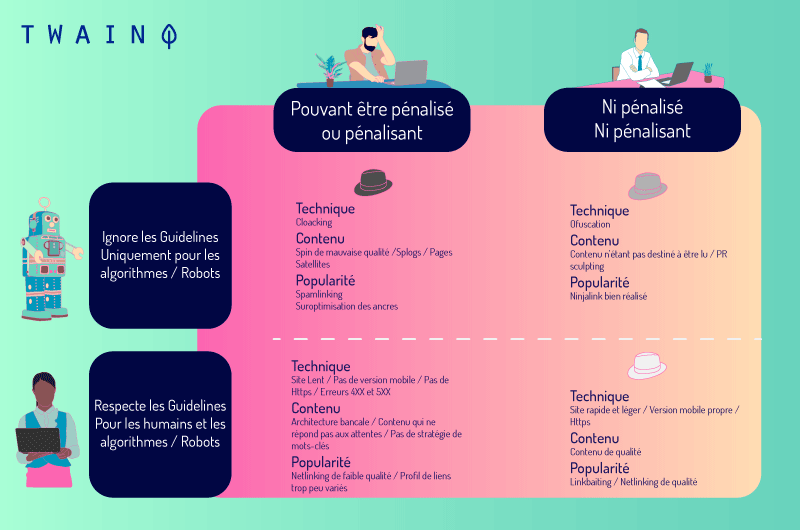 Implementing white hat SEO techniques requires a lot of time and work unlike black hat SEO methods.
With Black Hat SEO, you are sure to get permanent rankings for your target keywords.
This is an SEO topic that I will tackle in another article.
1.2.2. Other categories of SEO practices: Gray Hat and Dunce Cake
Other categories according to which SEO practices can be classified are:
Dunce cake SEO;
And Gray hat SEO.
Still called gray hat SEO, the techniques behind gray hat SEO are neither listed as belonging to black hat SEO nor falling under gray hat SEO.
So these are practices that can either make your site better or hurt its performance.
When it comes to SEO dunce cake, it's not strictly speaking a type of SEO practice category, but rather SEO practices that you're not using in the right way.
Now that you have an idea of ​​the concept of Black hat SEO and know its characteristics as well as other types of SEO strategies, I explain the reasons why you should not resort to Black hat SEO tricks.
1.3. Why should you avoid black hat SEO practices?
Among the reasons why you should avoid black hat SEO practices, I can cite:
1.3.1. The Search Engine Warning
In the Webmaster Guidelines, Google clearly informs webmasters of what they should and shouldn't do when doing SEO. Thus, he recommends certain practices and prohibits others.
For example, Google expressly prohibits webmasters from misleading users or using tricks intended to improve their site's ranking.
He advises them to:
Design quality content;
To create each content by thinking first of the Internet users and not of the search engine;
Etc.
against you manual action. Thereafter, it is quite possible that your site will no longer appear in search results. 
Apart from Google's warnings, you may also have:
1.3.2. The gradual loss of performance of your site
It is no longer a secret that the use of black hat SEO practices has harmful consequences for the site on which they are implemented.
These consequences usually materialize by:
The loss of visibility of your website;
loss of traffic;
The decrease in conversion rates and income that the site can generate.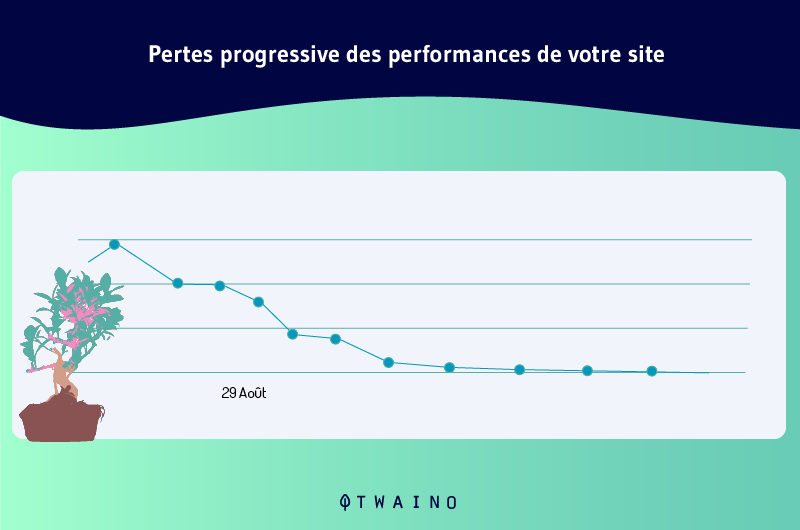 Still with regard to performance, it should be noted that this becomes more serious when manual actions are implemented at your site. 
Because, it is the last straight line during which you can see your site definitively leaving the index of the search engine.
In addition, even if it depends on the size and weight of your site, the decrease in performance can lead to:
Loss of employment;
Bankruptcy and closure of the business;
Etc.
1.3.3. The Results of Black Hat SEO Practices Are Not Lasting
While it is entirely possible that the site using black hat SEO tactics will see a rapid performance boost, it does not last.
In reality, this lasts until the search engine discovers or becomes aware that sites are using such tactics to deceive it.
When this happens, annoyance against the affected sites is inevitable. So the question is, what's the point of getting results and seeing them disappear overnight?
1.3.4. The bad user experience on your site
Since these are strategies that aim to manipulate search engines, it is worth remembering that one of the immediate problems this can cause is the loss of user experience. .
As you know, one of the pillars of the natural referencing of sites is the user experience.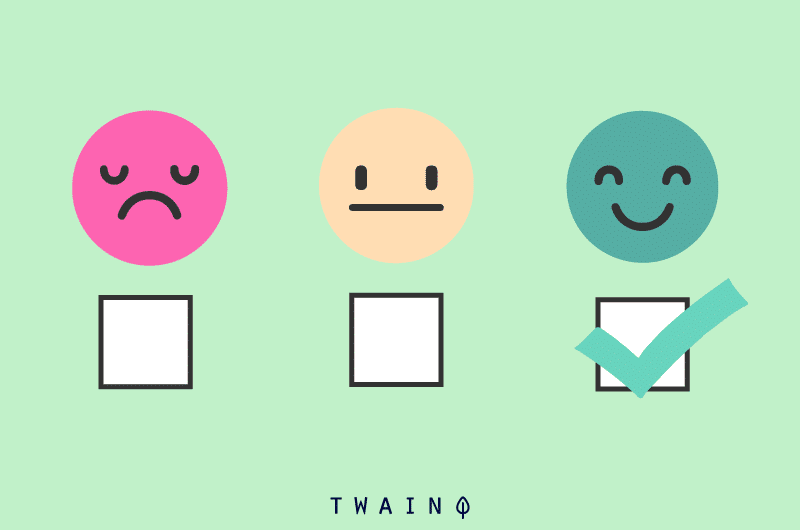 It is realized thanks to the efforts that each site provides to present its users with results that suit them.
It is precisely for this reason that you often hear that a good SEO strategy is one that is user-driven.
However, contrary to this ultimate objective which is the user experience, black hat SEO sometimes ignores this very important factor.
1.3.5. Competitors can report your site to Google
Another argument that justifies the idea that you should avoid black hat SEO is the fact that users or other webmasters can report you when they find your black hat SEO practices.
In order not to make this possibility a means for competitors to harm your site, certain rules must be respected.
Here are two situations in which you can report black hat SEO tricks:
Either your website has been the subject of a malicious attack caused by a virus or a negative SEO based on links containing spam;
you have spam results on a .,competing keyword your site is ranking for 
If you face these events, you can file a spam report through Google search console.
However, falsely reporting spam can be considered black hat SEO.
In view of all this, it seems useful to identify the practices that are considered black hat SEO tactics. Such identification will certainly allow you not to apply them on your site.
This will allow you to situate yourself in relation to the type of SEO strategy you use to optimize your website.
Chapter 2: What are the different black hat SEO techniques?
As I just mentioned, it is important to know the practices of black hat SEO in order to protect yourself from them. This chapter is intended for that.
Note, however, that Google's algorithm is constantly evolving and certain practices that could cause you to undergo manual action or an immediate sanction may no longer be. In fact, Google manages to ignore certain practices, and therefore does not take them into account. These are, for example, spammy links that are generally ignored or no longer considered by Google.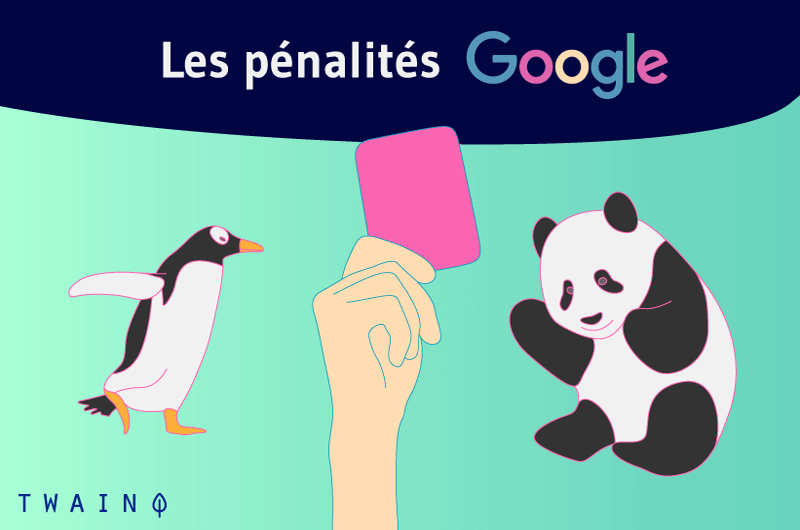 This implies that all Black Hat practices using spammy links will not be systematically penalized and that they will only waste your time, since Google will not take them into account.
That said, the risk of being penalized is still very present and wouldn't it be frustrating if instead of your efforts bringing you results, they are ignored and penalize you?
Black hat SEO techniques can be classified into several categories, namely:
2.1. Techniques of over-optimization of the site
Among these over-optimization techniques, you have:
2.1.1. Keyword stuffing
As its name suggests, keyword stuffing is the practice of stuffing the content of a site or page with the keyword for which that page is optimized.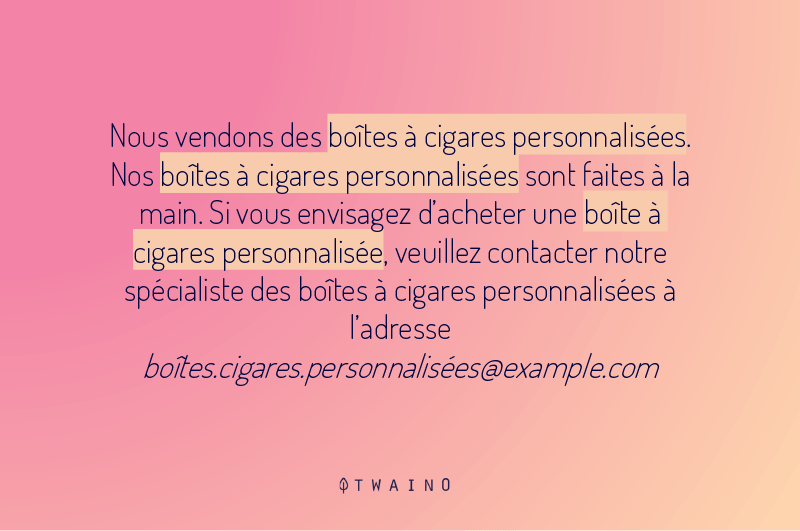 It is the fact of repeatedly using the same keyword in a text. This may concern:
The content of an article;
Site tags;
The anchor text;
Etc.
Keyword stuffing or hoarding is a strategy that worked in the early days of search engines.
But as these have started to evolve, they have started to fight against certain practices that they consider dangerous for the user experience.
The accumulation of words is one of them. Therefore, the use of this technique is not at all relevant for Internet users who visit your site.
Because, it not only decreases the user experience, but can also have consequences that would lead to the downgrading of your site.
This is because instead of healthy, readable and accessible content, keyword stuffing causes users to stumble upon content they cannot fully understand.
To better understand everything behind the concept of keyword stuffing or to avoid it, I invite you to read the article Keyword stuffing which delves deeper into this subject.
2.1.2. Alt Tag Over-Optimization
Setting up an ALT tag allows you to provide a description of the images you use in your content.
It is often used to appear when the image is slow to load.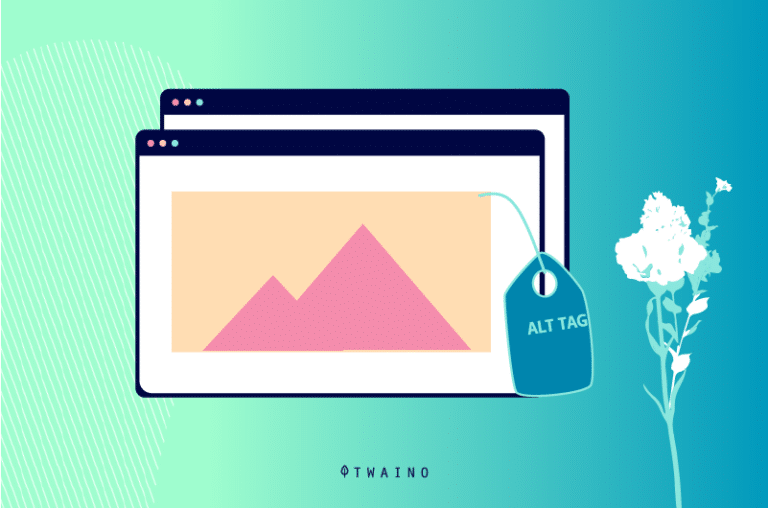 Although it is recommended to set this up for images on your website, the content of this tag should not be over-optimized.
When you do, you're sort of jamming, which is not allowed.
To learn more about ALT tags, read the Alt text/Alt Tag/Text attribute.
2.1.3. Using Irrelevant Keywords
Another black hat SEO technique is to seek to rank for keywords that are irrelevant to your site.
When you do, you risk attracting people other than your target audience.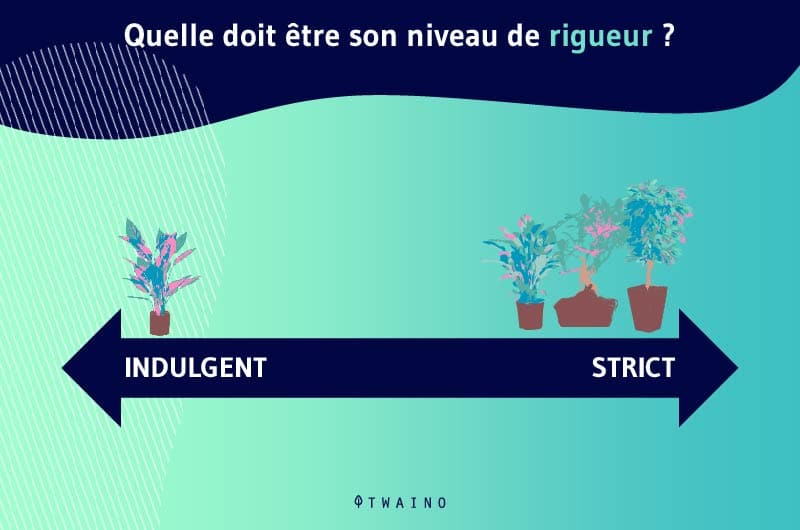 This will certainly be the cause of an increase in your bounce rate. Subsequently, this could cause your click-through rate to decrease. 
Ranking on irrelevant keywords is a cheating technique, which will be sanctioned by Google once it finds out.
It may also cause you to lose potential customers to competitors.
2.1.4. Use of hidden/invisible
text or links Hidden text and hidden links are things that you display on your site, but which are invisible to users. They are considered by Google as deception techniques.
Hidden content comes in a variety of forms:
A manipulation of the font property of your content. Content on your site may be hidden when you set the size to "zero";
It can also happen when you decide to make the color of some text the same as the background;
Hiding elements from the CSS file of the site by introducing commands therein so as not to display the content of the site to users;
This can happen when you decide to hide content behind images;
It can also be special characters or a single character that you use to connect a link.
Not all hidden text and links are bad for your site. For example, it is possible to use:
An alt description for images on your site;
A script for Java;
Or even a code for Flash files is acceptable.
2.1.5. Using the same title tag more than once
When you write an article, you must respect the rules of structuring web content.
That is to say, the format as well as the layout of the different parts and sub-parts of your site.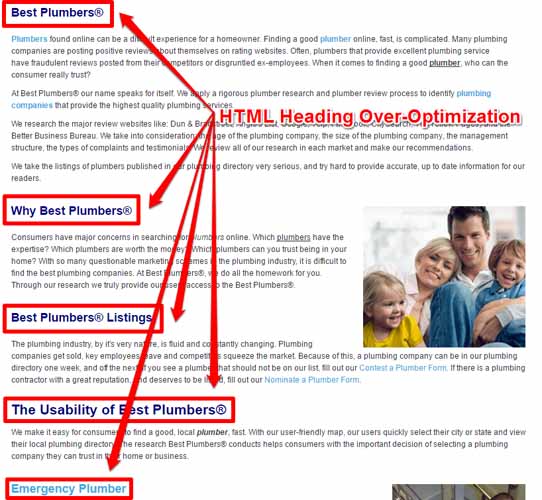 Source : cognitiveseo
For example, using multiple H1s on a page is a tactic that can influence your site's SEO.
Using this strategy on your site makes it look bad. When it comes to title tags, you should use them to structure your content without overdoing it.
2.2. Content-Based Black Hat SEO Techniques
Among the techniques that webmasters often use in this context, you have:
2.2.1. Duplicate content
Unlike this time when duplicate content did not have a great influence on websites, it is now an important element that can cause their downfall.
Duplicate content is content found on multiple websites. Which may mean that the content has been stolen.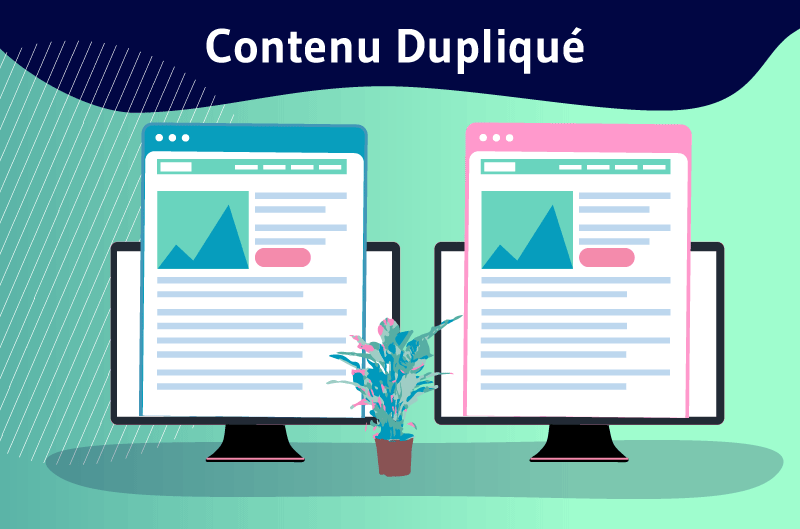 Anyway, this type of content is considered a black hat SEO practice.
The reason is that faced with a plurality of websites offering the same content, the search engine has difficulty choosing which one to display.
Although it often solves this situation, by displaying only the oldest content, sanctions can be pronounced against other sites.
This is essentially why it is recommended to check your content for plagiarism before putting it online.
2.2.2. Automatically generated content
This technique consists of using certain software or specific scripts to automatically generate content on a site. 
When these contents are published effortlessly, you have to keep in mind that they will be of low quality and at any time your site might struggle with search engine algorithms.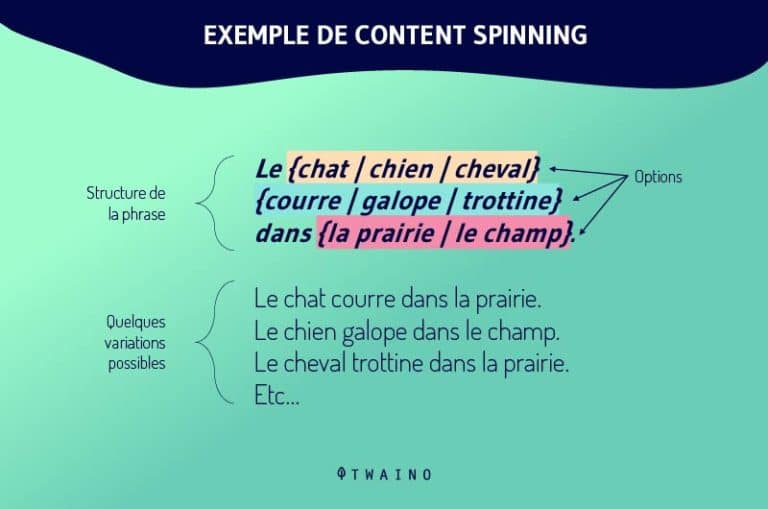 Instead of trying to automatically generate content, I suggest that you entrust the creation of your content to professional writers.
2.2.3. The "Bait and Switch"
This isaBlack hat SEO strategy whose objective is to change one content of your site to another, after the previous one has been well positioned in the SERPs.
This technique is implemented in two steps:
The first step consists of writing content according to Google's guidelines, optimizing it on keywords and having it rank in the search results;
The second step comes after page ranking. Once this classification is done, the author modifies the same page with another content or product.
As you can imagine, this is a brilliant idea to fool the Google search engine.
However, when you do, expect serious penalties. It is even possible that you will be the subject of a lawsuit, as was the case in 2011 with the "Groupon" site.
The Groupon to use the Bait and Switch strategy in search ads. He was then charged with conducting false and misleading commercial/advertising acts by a bus tour company in San Francisco.
Indeed, the keyword used was "inclined village snow playground".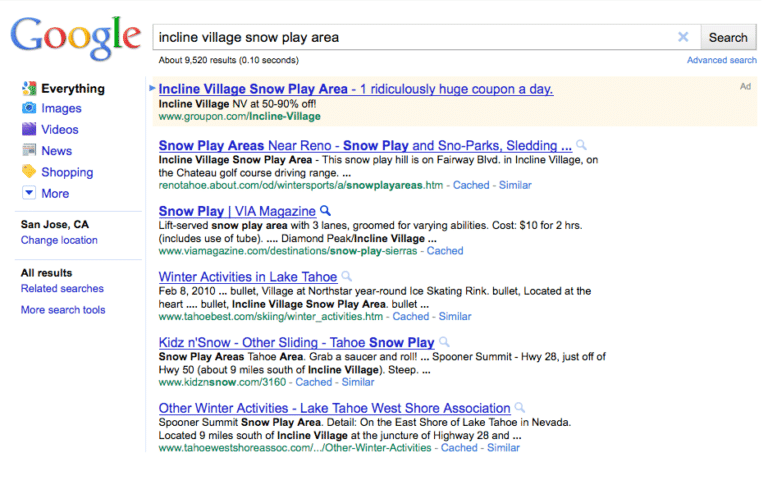 But when you click on the link, you will see this on the site:

2.2.4. Scraped content
This is a trick that involves taking:
All or part of the content belonging to other publishers;
To modify it manually or with the help of scripts;
And publish it on your website.
This practice may be subject in certain situations to infringement of the copyright of the original owner.
This type of content is not only prohibited, but also illegal in the United States and other countries.
2.2.5. Cloaking
This is a practice used by those who do black hat SEO. It consists of not displaying the same content to Internet users and search engines.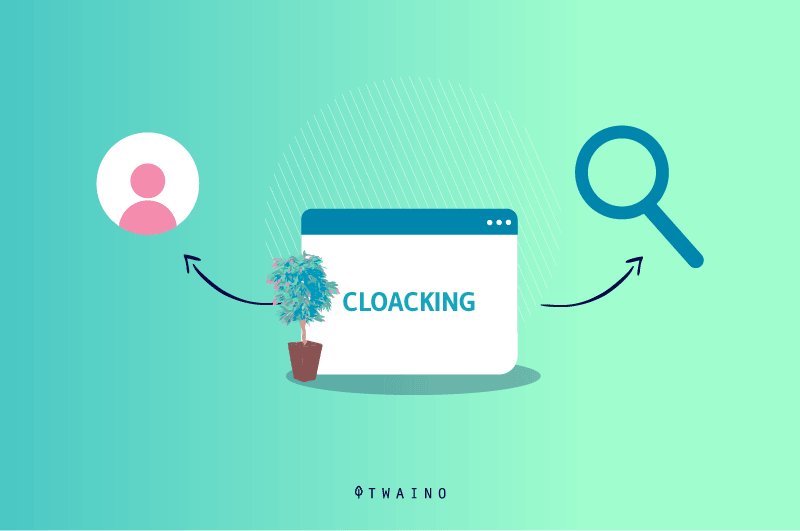 Webmasters use two different content here:
One is designed for bot crawlers;
The other is written for users.
To better understand what it is, read this article by twaino to learn more about cloaking.
2.2.6. Malicious active content This
isthe act of creating and posting content that contains malicious software. This software can be installed via:
An animated website;
JavaScript applications;
Flash content;
The site may also rely on browser plugins to display corrupted videos or audio files. In some cases, it can even unknowingly download files containing viruses or some malware to your computer.
The most commonly used malware programs are:
Adware;
Spyware;
Trojan horses;
Computer viruses and worms;
Etc.
In addition to being against search engine guidelines, the use of these types of content may result in penalties for your website.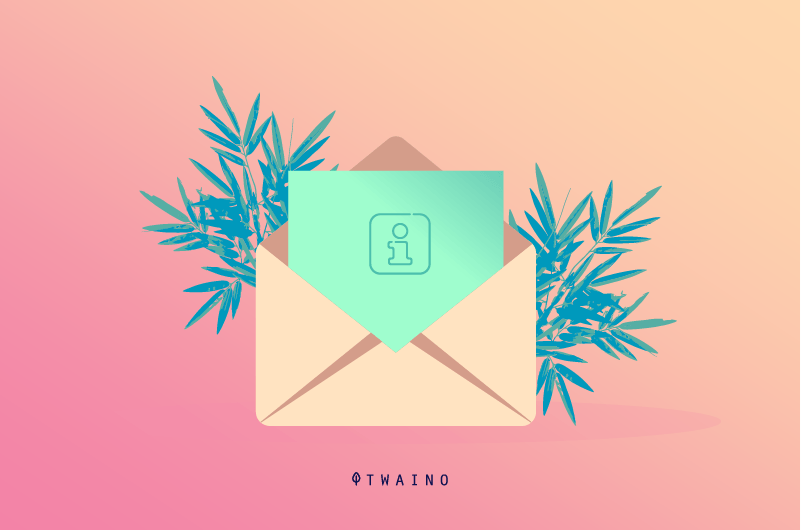 This is why users are often recommended to adopt certain strategies so that they no longer fall victim to this strategy.
As part of these strategies, I recommend that you:
Have an antivirus and update it regularly;
Avoid downloading files from unknown sites;
To stay away from shady sites or click on advertisements that seem too good to be the truth.
2.2.7. Clickbait
Clickbait is the practice of using a catchy and misleading title to encourage Internet users to click on a link.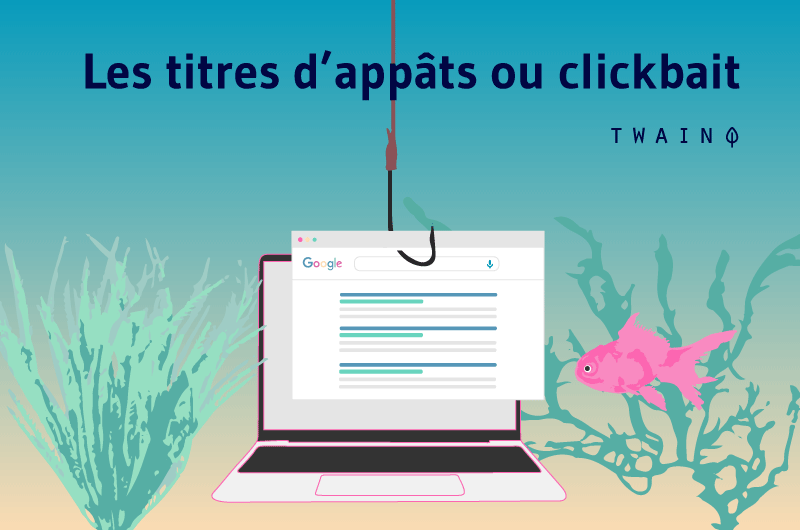 These headlines are designed to entice you to click on them. They say one thing, but you'll find something else once you click on the link.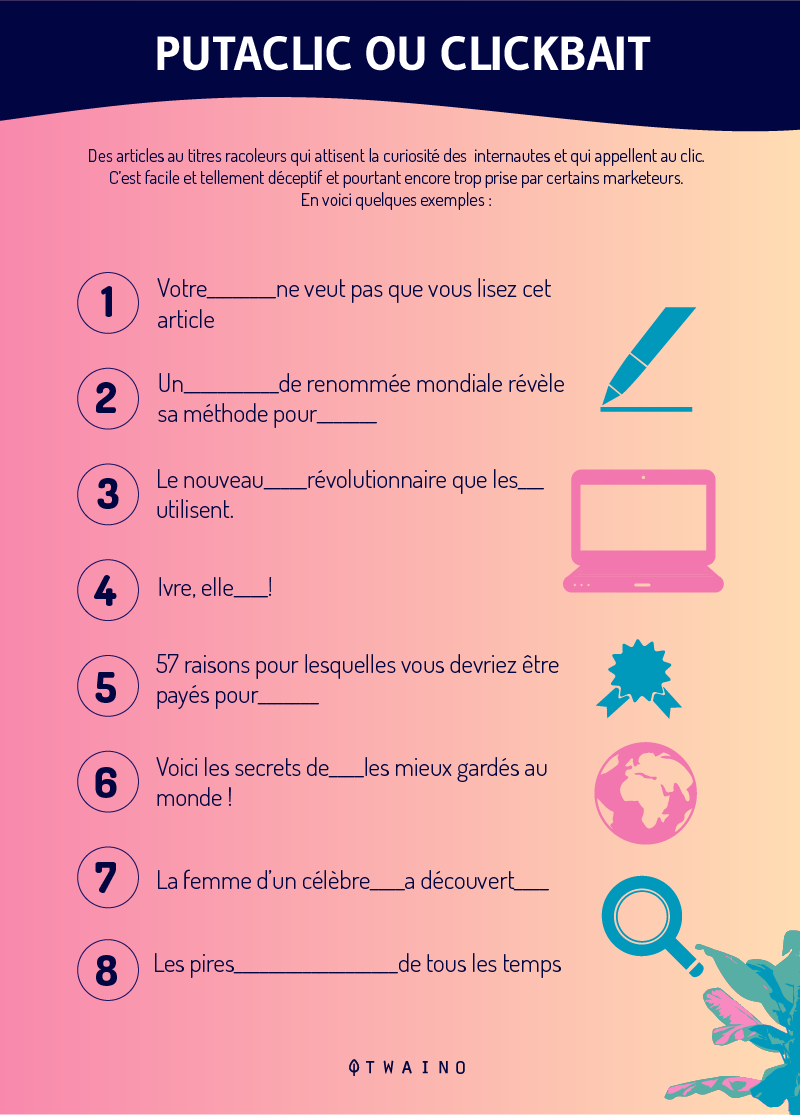 Some expressions are even used to seduce you:
"You won't believe…",
" Important news about…",
"Shocking!! You must see this…"
Etc.
However, remember that the clickbait technique is not bad practice in itself. deceiving Internet users.
Thosewho use clickbait hope to generate revenue based on the number of clicks. But in terms of performance, it is a deceptive technique of fraudulently increasing the click-through rate CTR. Which is 2.3
SEO
Techniques
Black Hatmanipulation of links
Here are the techniques used sed by black hat SEO adepts to manipulate links:
2.3.1. Webrings
Web can be defined as a set of sites connected together in a link production system. The goal is to get ranked and get traffic from related websites creating a webring.
The creator of this trick is Sage Well. He developed this technique from a script designed in 1994.
To be part of a webring, you must receive approval from a webmaster.
2.3.2. Spam Guest Post
This is a common practice that many people use to get backlinks.
The technique consists of sending messages to bloggers so that they publish an irrelevant article with a link which is often a dofollow link.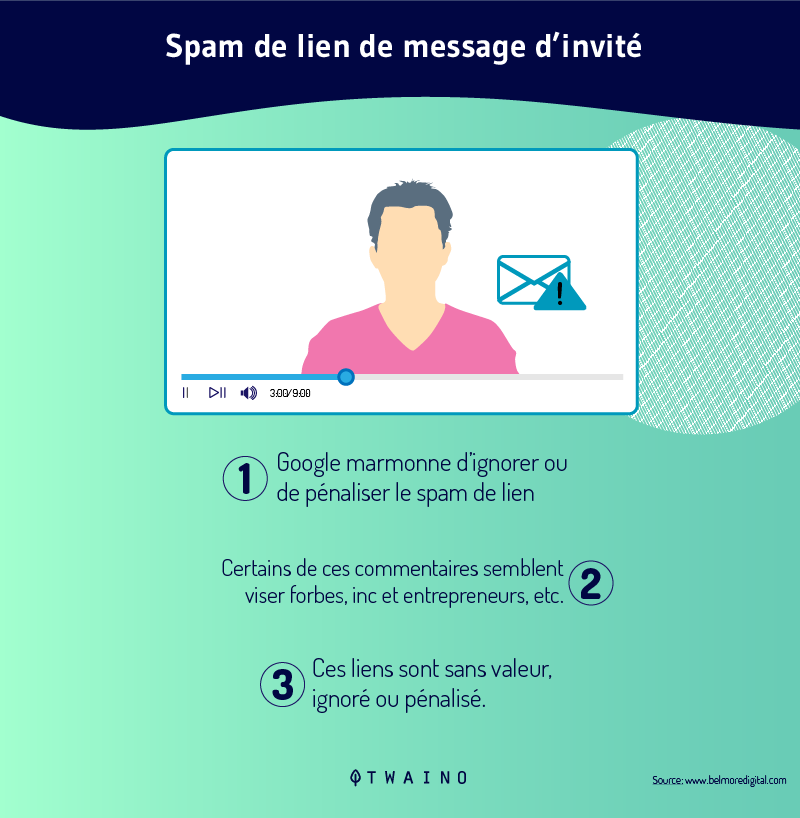 It is important to be careful with guest posts to sites that provide a poor user experience, as this can harm not only your SEO, but also your authority. 
You need to offer information that will help the audience to come back another time.
2.3.3. Having a link
A farmis a group of websites that are connected to each other and manipulate the link profile by increasing the number of inbound links.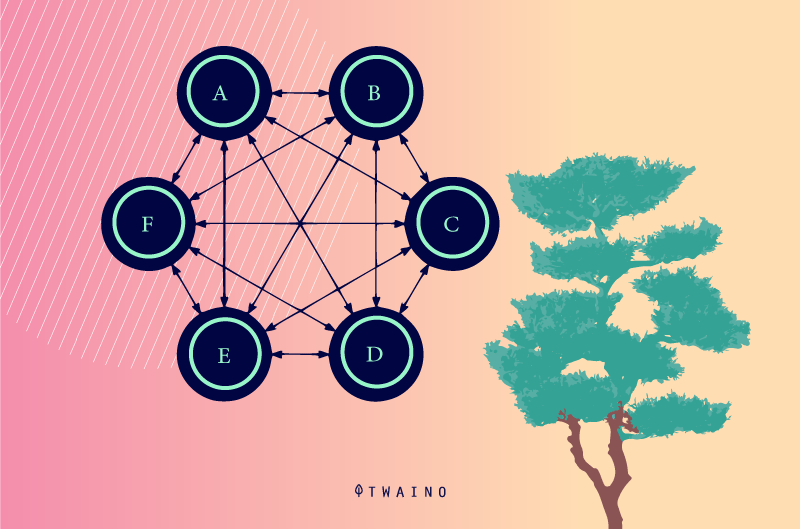 This affects SEO in a negative way because for Google link culture is an undesirable way to get links.
These links are irrelevant and often lead to low quality sites.
The use of this linking method has been around since the days when Google Page Rank was public. But over time, Google has changed its algorithms and this practice may penalize you, because the links generated are considered unnatural.
2.3.4. LinkBait and Switch
This strategy happens when you turn your content into commercial content.
The trick is to get links for a particular article and then change it entirely with a commercial article that has no connection to the first topic.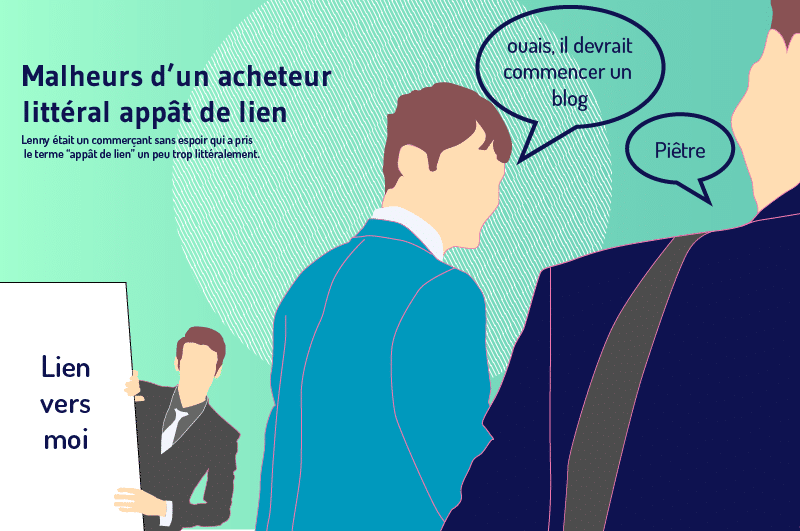 Even if the content for which you you ranked was unique/qualitative and the links were natural performing , great changes suggests that you are trying to manipulate the search engine to gain traffic.
2.3.5. Buying reviews with links by offering free products
As the search engine invents new ways to get rid of people who try to manipulate it, black hat SEOs are getting more and more creative.
They too are creating new techniques to manipulate the search engine. This is how this practice of black hat SEO appeared, which consists of buying reviews and links with free products.
What is prohibited here is not the fact that you ask for reviews, but it is more the fact that these reviews contain links.
When you use this technique excessively, it could send manipulation signals to Google that will penalize your website. The same thing can happen when Google finds out that the reviews you're getting are fake.
2.3.6. Link exchanges
This is an agreement between two sites to rank in Google. This technique is identified as a link system Google-levelOnce discovered, your site will have difficulty appearing in the SERPs.
On a quick search on the Internet, you will find many sites and directories offering link exchanges.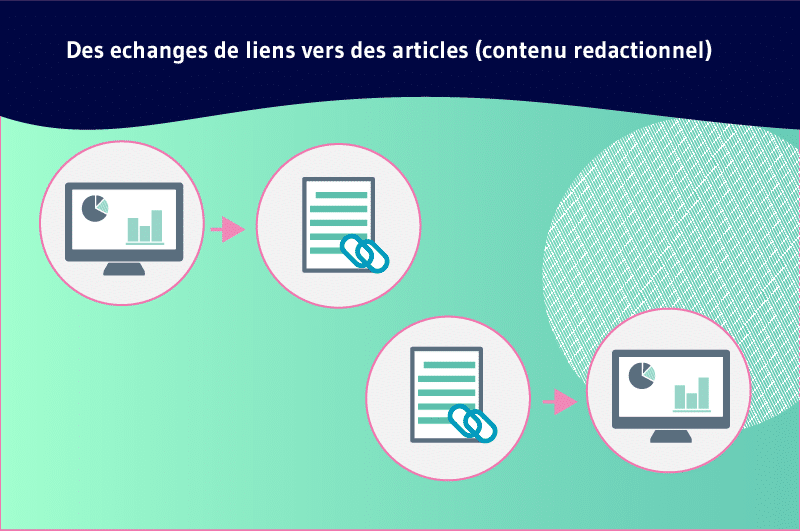 They even make big promises such as links free, quality links for your niche, no footprints and you can even earn money through their affiliate program.
It's easy to do link exchanges and rank afterward, but you risk getting penalized just as easily.
2.3.7. Comment Spam on Other Sites Comment
spam occurs when you try to generate links in the comments section of other blogs and sites in order to direct people to your site.
Simply commenting to easily get a large number of backlinks is considered a black hat SEO technique.
However, if it is your site that receives this type of spam, you can simply try deleting it.
Another more effective technique to deal with this is to find a way to accept comments on your site only after approval.
This will prevent you from polluting your site with links that could penalize you. This is even more true when these links come from bad sites.
2.3.8. Doubtful redirections
In general, redirection allows you to redirect your Internet users to another URL address when the one they are trying to access is unavailable.
The most commonly used redirect is the 301 redirect.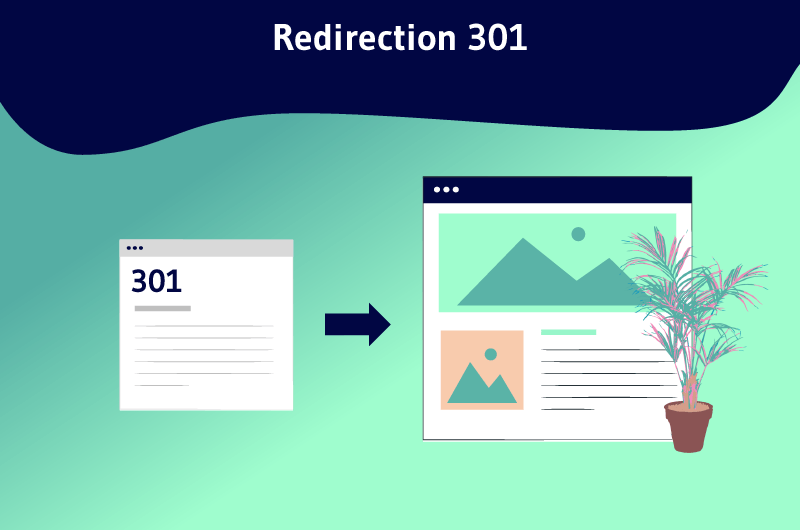 It is typically used to send a user from one URL to another if the originating page has been moved or modified.
This allows you to guide Internet users and not waste their time. It is therefore a good SEO practice, but it can happen that this practice is misused.
This happens when webmasters try to take advantage of expired domains so as not to lose the traffic that certain links generate.
In this case, using 301 redirects is seen as black hat SEO.
Another form of dubious redirecting results in the fact that when you click on certain links, these redirect you to several other types of sites, most of them unrelated to the original promise.
2.3.9. The sale or the purchase of link
The sale and the purchase of links are also practices which go against the instructions of Google. If you sell links, it may de-index your website or reduce your internet traffic.
Matt Cutts also addressed this subject by stating that if your site is identified as a seller or buyer of links, you will lose all the value of this link.
The consequences of selling links aren't that far removed from what you get when buying links. Even if the sites you buy links from say they are inconsequential, don't be fooled.
This will certainly waste your money, but also time for ranking.
2.3.10. The list of directories
The fact of registering or buying places on directories of poor quality is not a practice that you should privilege.
Instead, opt for effective solutions such as the following platforms:
The other question you need to ask yourself is whether paid directories are considered the same as paid links.
To answer this question, Matts Cutt explains, "The Google team looks at the value of the directory and the amount of work that goes into it.
If there isn't a lot of work and it looks like the directory is more of a link system, then paid directories will be considered the same as paid links. "
2.4. Techniques to spam the SERPs
The techniques used to spam the SERPs are as follows:
2.4.1. Hosting parasites
This is an illegal way that allows the black hat SEO specialist
: access a site;
Create a page on the site;
And inject it with many keywords as well as links pointing to its website.
It is a parasitic hosting system that allows you to take advantage of authoritative domains on the Google search engine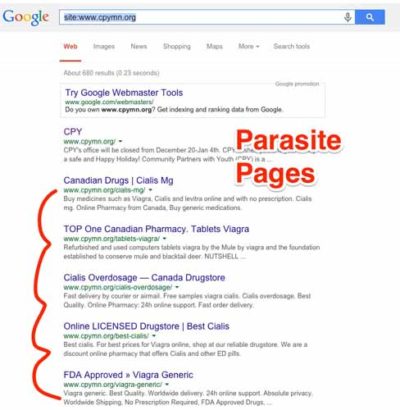 Source : cognitiveseo
By doing this, webmasters receive traffic to their site.
If it is a commercial site, they can also receive money from those who want to buy.
Usually this happens without the knowledge or consent of the person who owns the authoritative domain.
2.4.2. Google Bombing
This is a way of influencing the rank of a page by artificially increasing the number of links to it and the anchor texts used for this.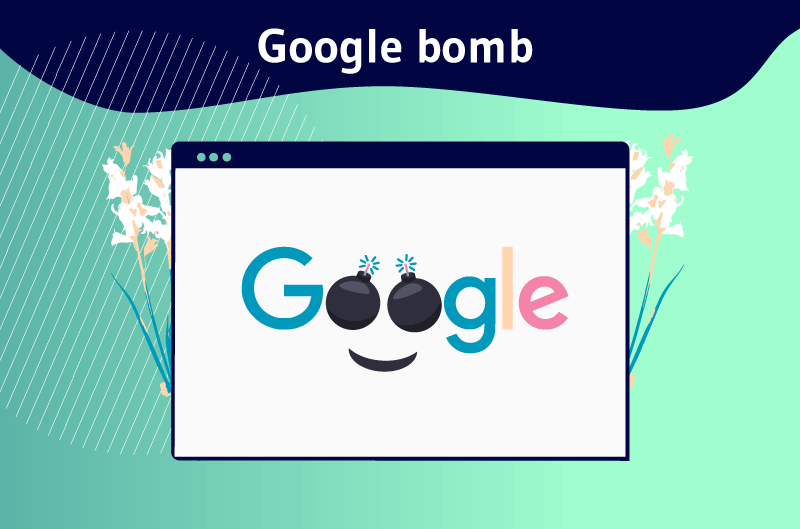 A black hat SEO specialist manipulates Google's algorithm and causes a page to rank for an entirely different keyword.
This happens because it's the same anchor text used for elements linking to that particular page.
2.4.3. The door pages or gateway pages
This strategy consists of optimizing a site for a particular query in the SERPs.
Then, to use camouflage to send the Internet user to a site that has nothing to do with the request.
By using this technique, you can create a path for your site to rank higher in the SERPs. But as you know, it is not natural.
Moreover, in March 2015, Google launched an algorithm that specifically fights for this technique.
Here is an example given by the cognitiveSEO. It concerns the query "prednisolone without prescription", you will find this result in Google.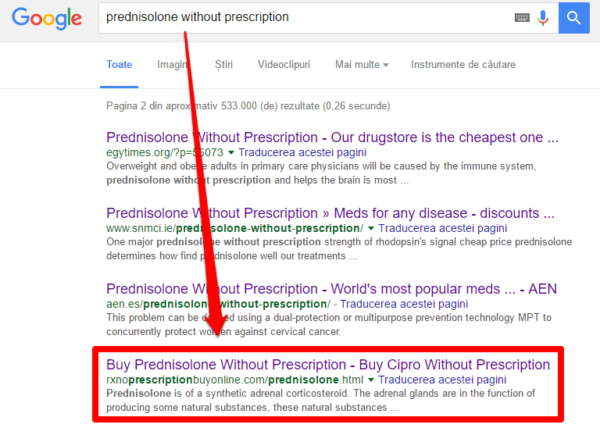 And when you go to the site, you discover a doorway page. That is, a list of the best online pharmacies.
2.4.4. Spam Rich Snippet Markup
Structured markup data is considered a great way to enhance your site's display in the SERPs.
However, if you create irrelevant rich snippet markup, you risk being manually penalized by Google.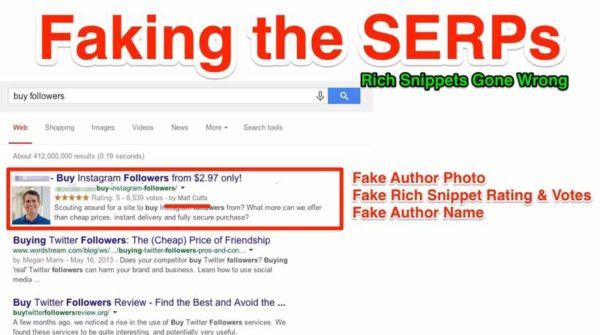 Source : cognitiveseo
For example, if you use snippet markup for reviews and you don't have a review policy on your site, it will be considered spam and you will be penalized.
2.4.5. Google's Automated Queries Automated
queries involve using software to increase the number of searches for a keyword to better rank you for that keyword.
This is an unnatural trick.
If you adopt it to position your site higher in search results, Google may inflict heavy penalties on you.
2.5. The use of cross-linked websites
These are strategies such as:
2.5.1. Mirror sites
As the name suggests, this trick translates to creating a site to mirror content from another.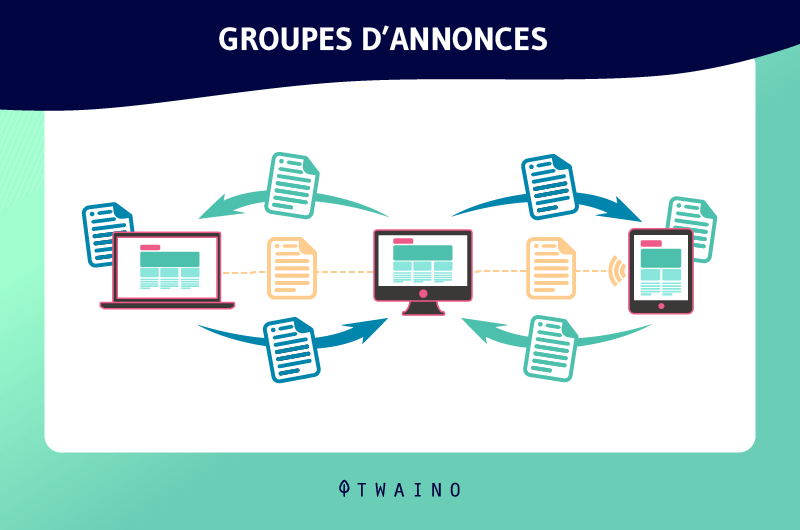 Sometimes this technique is used to help a website manage the flow of traffic, but it is used much more by black hat SEOs.
Some SEOs may convince you that they use this technique for one reason or another, such as to prevent DDoS (Distributed Denial of Service) attacks.
But unless there is a really relevant reason, it should be avoided since it has several disadvantages that can harm your SEO.
To better understand the concept of mirror sites, take a look at my guide which briefly explains this expression.
2.5.2. Setting up Private Blog Networks Private Blog
Networks ( PBNs) are a collection of blogs created by one person to generate links to a site and help it rank in Google.
This is a powerful way to build a massive number of links from different domains to a site.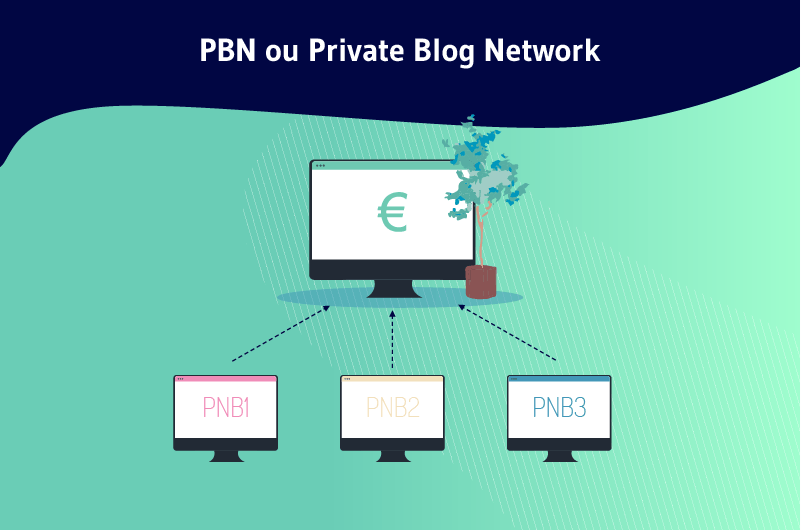 The owner of the network has the ability to modify the content as desired, add the number of links he wants and manipulate the content according to his own wishes to increase the ranking of a site.
Usually, PBNs are created using expired domains that already have link juice and this can be useful when trying to pass authority to another site that doesn't have much.
To learn more about GNPs, I invite you to read this article
2.5.3. Typosquatting or URL
hijacking This hijacking method is based on typographical error to create malicious domains to look like well-known brands.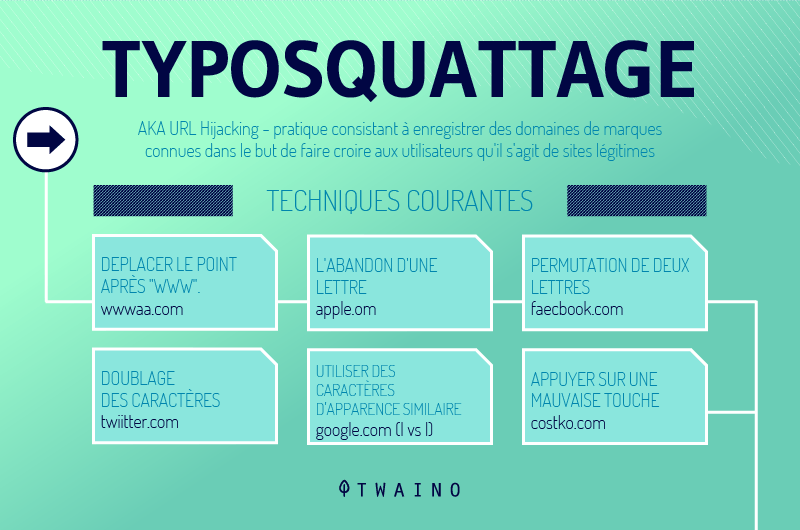 This error is considered a common misspelling, unnoticed foreign spelling, abuse of top level domain of the country code.
The reason for this practice is to take advantage of the brand name and brand awareness.
Here is an example with the Cartier brand.
This may be considered an attempted URL hack by Carter: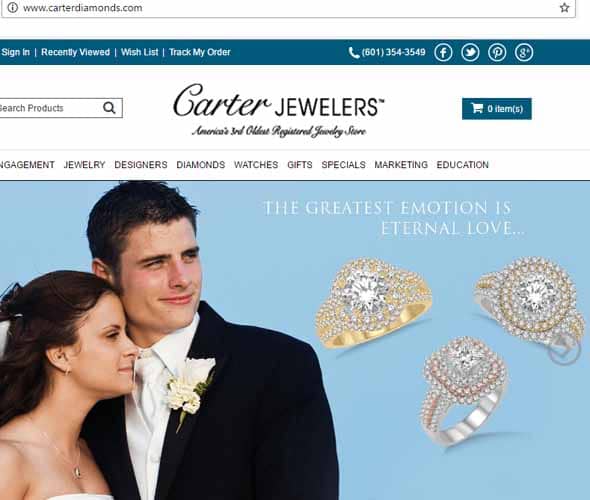 The downside of using this practice is that it puts the reputation and brand of the company under attack at risk.
2.5.4. Toxic Sites
If a site is created for the sole purpose of building links and has one of the link problems named in the image below, we may be talking about toxic sites.
These link issues are just a few of the possible issues you can come across on the web.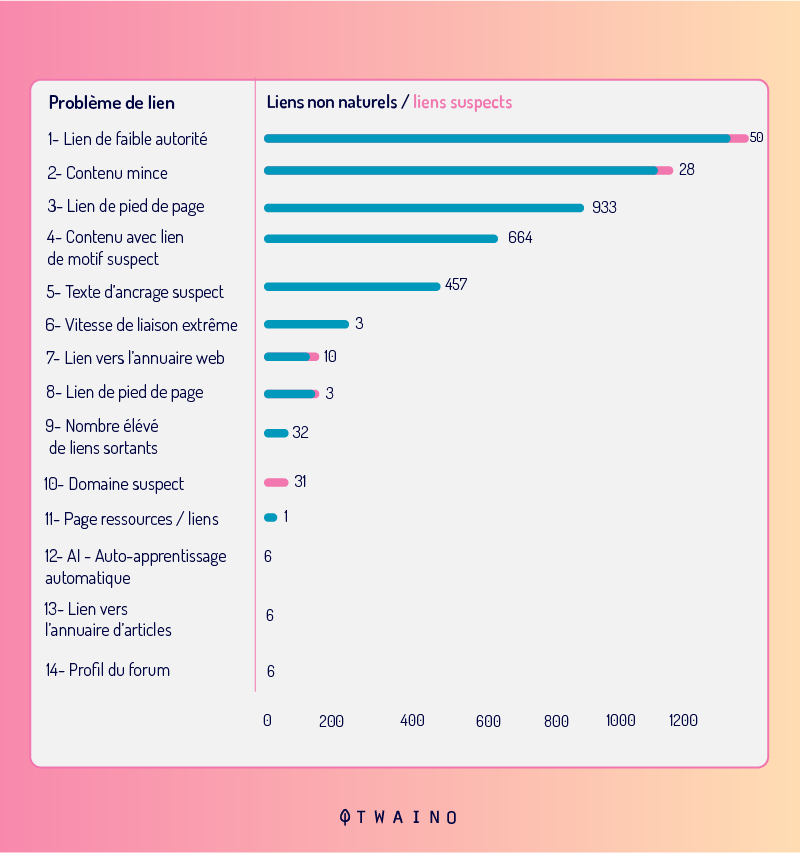 If you have links on toxic sites, they can harm your business.
Since having bad links from toxic sites is bad for your website, you should regularly review your link profile with tools like ahrefs or semrush.
Here is a non-exhaustive list of various practices belonging to the category of Black Hat SEO. It is up to you to avoid them so as not to have difficulties with your website.
Given the consequences that these strategies can have on your site, I show you in the following lines some tips to avoid them and boost your SEO.
Chapter 3: How to optimize your website for search engines without resorting to black hat SEO tactics?
Here, I first offer you some tips to avoid the use of black hat SEO tactics, and then some best Google-compliant SEO techniques.
3.1. Four Basic Tips to Avoid Using Black Hat SEO Tactics
As mentioned from the start of the guide, black hat SEO is a high-risk activity. Here are four (04) important elements that you must take into account when optimizing your website for search engines :
Be aware of Google's guidelines;
First create your site for the users and then for the search engine;
Avoid black hat SEO practices and favor only white hat SEO strategies;
Analyze your website regularly.
Finally, let's talk about some practices you can use to hope for a good ranking in the SERPs without facing any risk of penalty.
3.2. Some White Hat SEO Techniques
guidelines state that developing quality content and strong backlinks is key to increasing search engine rankings.
Here are four (04) effective White Hat SEO recommendations:
3.2.1. Aim for high-quality inbound links
A high-quality site that links to your site is like a "vote" that search engines can cast in your favor.
3.2.2. Create original and valuable content
Focus on helping your customers or prospects with the most asked questions or solving their problems, and they will continue to visit and then share your site.
3.2.3. Do a keyword analysis
Get to know the words your users search for most often and include them in:
Titles;
Headers;
And your site's meta descriptions.
3.2.4. Structure your website
To ensure that crawlers easily crawl your website, make its architecture easy to understand. 
In addition to crawlers, a good architecture will allow visitors to your site not to get lost and to easily find content related to the content that brought them.
If you're new to SEO or want to learn more about best practices for getting high rankings fast, you can take a look at this in-depth guide from Google.
Chapter 4: Other Questions Asked About Black Hat SEO
4.1. What is the difference between White hat SEO and Black hat SEO?
Black hat SEO refers to techniques used to gain higher search rankings and break search engine rules. This strategy is only put in place to deceive search engines.
In contrast, White hat SEO refers to using honest techniques and strategies when optimizing a site for search engines.
4.2. What does black hat mean in marketing?
In marketing, this practice refers to the use of unethical (and sometimes, but not always, illegal) strategies to promote online commerce. Unlike ethical white hat strategies, black hat strategies use deception and manipulation to achieve their goals.
4.3. What SEO practices are considered black hat?
Here are some SEO strategies considered black hat by Google:
stuffing or Keyword ;
Automatic content creation or content spinning ;
Hidden text or links;
Penalize a competitor through negative SEO ;
Hiding redirects;
Cloaking ;
Guest article publishing networks;
Buying links;
Link networks or link farms ;
Rich snippets markup spam;
Automated queries to Google;
Creation of pages, domains or subdomains with duplicate content;
Pages with malicious behavior, such as viruses, phishing, and other malware.
4.4. Does black hat SEO still work?
Black Hat SEO still works for some people, but often for a short time. In fact, with the latest updates from Google, the algorithms have gotten smarter at detecting sites that engage in these kinds of practices.
And if there's one thing we should remember, it would be: it's not worth trying to play games with Google or any other search engine using this bad tactic. The resulting consequences are serious.
4.5. Why not use black hat SEO?
Implementing black hat SEO tactics can cause penalties for your website (either through algorithms or manual action), which means falling rankings and, most likely, a drop in organic traffic.
In some cases, this goes as far as site from the search engine index.
4.6. What are the best SEO strategies?
Here are some simple tips for creating a good SEO strategy:
Research the best keywords in your industry;
Write high-quality content (naturally);
Use your main keywords in the URLs, titles and meta descriptions of your web pages;
Don't overlook page titles;
Examine each page for additional keyword placement;
Improve the user experience;
Hire an SEO expert or agency if possible to save time.
Summary
As you have seen throughout this article, Black hat SEO is a set of SEO strategies. But since they don't respect search engine recommendations, their use is likely to create problems for your site.
In this article, I explained the danger it poses to websites. I have also exposed some of these black hat SEO techniques in order to draw your attention to these practices. But also to take away from you the idea of ​​applying them one day.
I hope that this pleased you. If you have any suggestions or know of other black hat SEO techniques that haven't been covered here, feel free to share them in the comments.
Thank you and see you soon!