The manual action is a Google penalty. It is imposed by the team in charge of evaluating the quality of searches to sites that do not respect the guidelines of the search engine and / or that try to manipulate the algorithms in order to obtain a better ranking in the search results.
Some web designers continue to use practices that Google disapproves of to increase their site's visibility and rank high in search results
Knowing that this impinges on the user experience and overshadows sites that respect the recommendations, Google does not hesitate to penalize them.
To do this, it undertakes through its quality assessors manual actions on the sites concerned.
So:
What are these actions?

What is their interest?

Why are they implemented?

How to get rid of them?
These are all questions that will be answered in the following lines.
Chapter 1: Manual actions – What you need to know
In this chapter, I will present you some general information about manual actions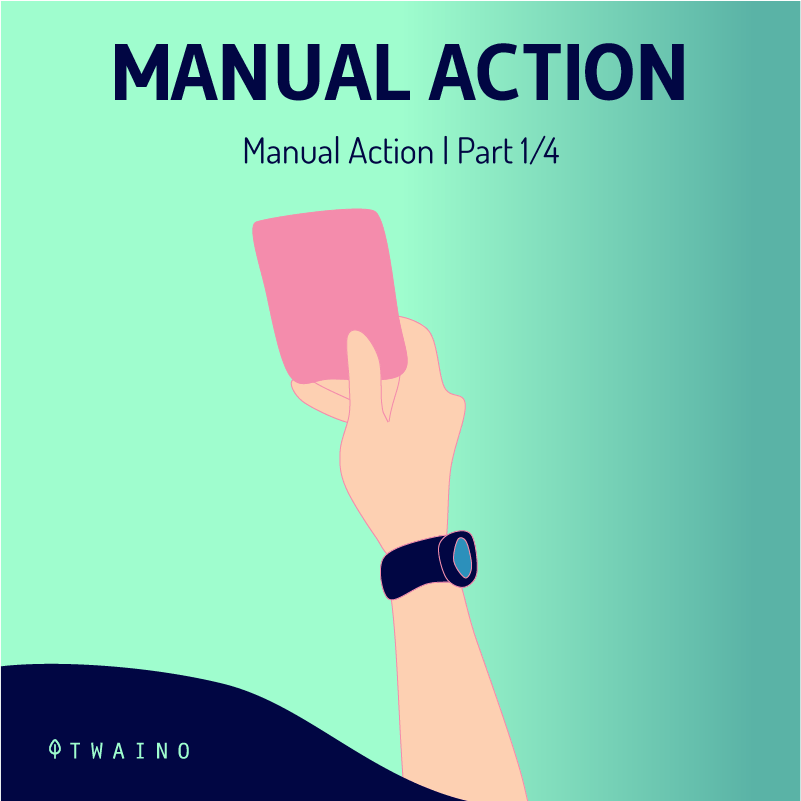 1.1) What is a manual action in SEO?
As I was reminding you, manual actions are penalties that Google inflicts on websites that do not comply with the guidelines it imposes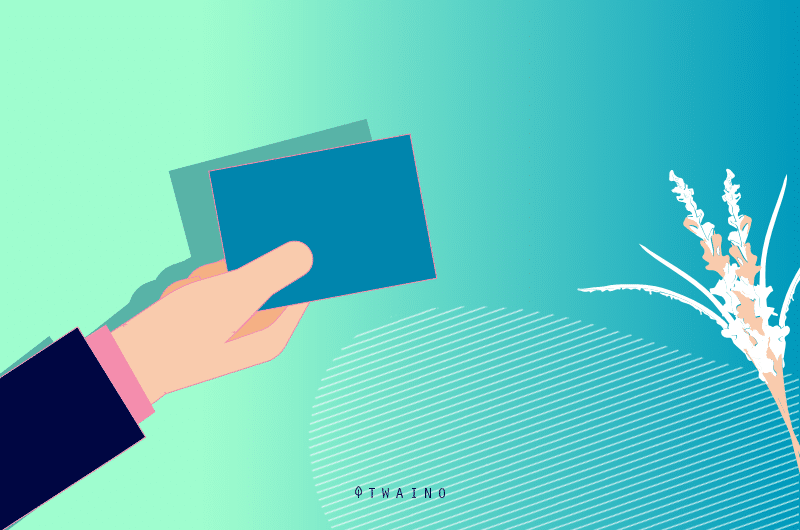 To put it simply, these sites engage in behaviors that do not prioritize the user experience, but also, prevent sites that meet Google's guidelines from being easily found by web users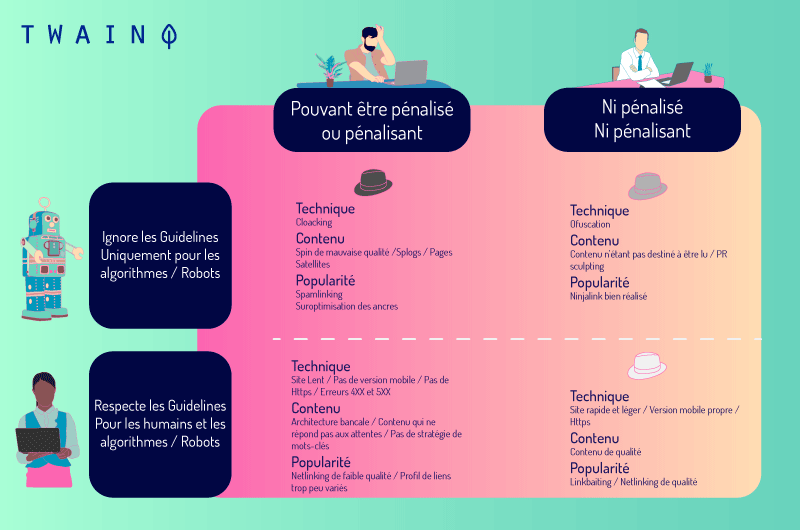 Manual actions get their name from the fact that they are performed by physical people and not algorithms
Indeed, it is the Google team team in charge of search quality who proceeds to the implementation of these actions taking into account of course the information collected about the websites that are targeted.
1.2. The life cycle of a manual action?
Since manual actions are not automated and are implemented by people, it is quite useful to question the process of their implementation
Here is how it happens:
The alert

from the information collected on sites, user complaints and thanks to the alert systems in place, Google teams receive alerts on the quality of sites that are online

Decision-making

from the information of alerts, Google teams will look at the sites to determine if manual actions should be applied or not

Notification to the site owner

notification to the site owner: When the team decides to apply manual actions on a platform, it informs the owner through a report sent to his account in the Search Console;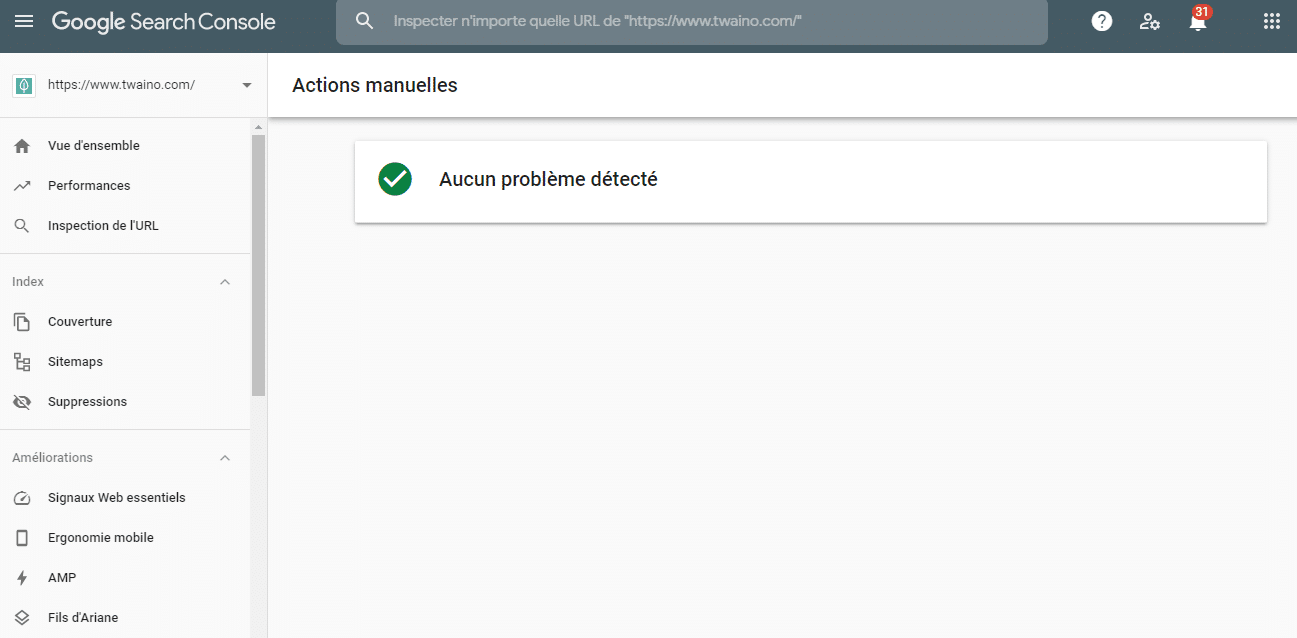 The correction and the request for reconsideration

once informed, the owner is required to improve his site. When he feels he is done, he can now send a reconsideration request to the Google team

The lifting of the action

the lifting of the action: Once the Google team receives the reconsideration request, they will conduct another check and when they find that the site is in compliance with Google's recommendations, the penalty can be lifted
1.3. The different types of manual actions that exist at Google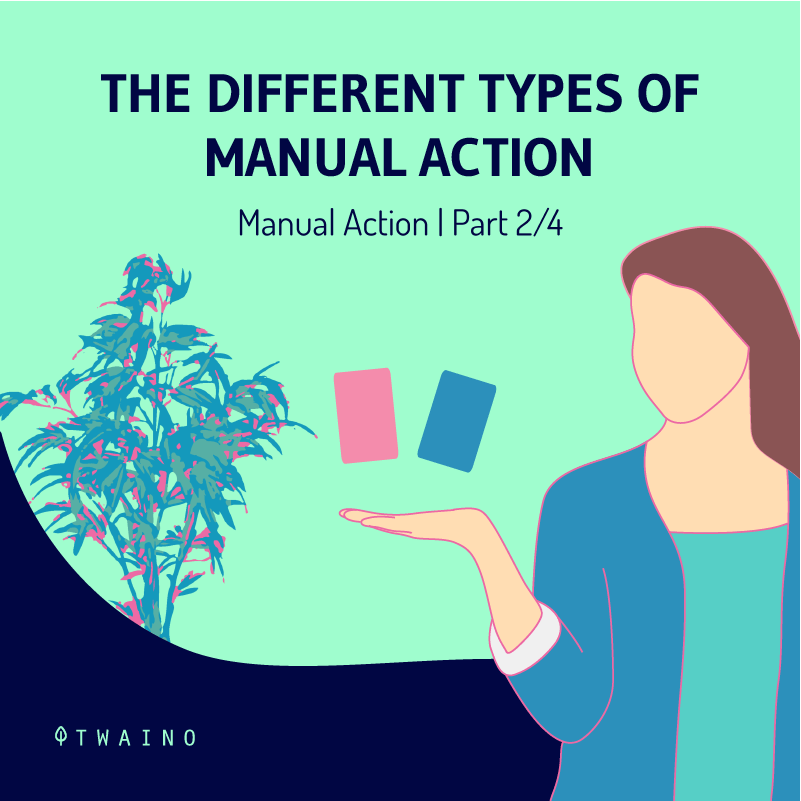 The manual actions can be declined according to the consequences they produce at the level of the sites that are subject to them
According to this consideration, you can distinguish two types of manual actions
The manual actions that have consequences of partial de-indexation

And the manual actions that cause a total de-indexation of the site.
1.3.1. Manual actions that cause partial de-indexation
You face a partial penalty when it is only a part of your site that does not comply with the recommendations of Google. It can be
A page;

A sub-domain;

Or a specific section of your platform
This assumes that webmasters still have their domain working. They can also receive traffic to their site
Nevertheless, they must make the necessary corrections and take action as soon as possible to benefit from the full potential of their web platform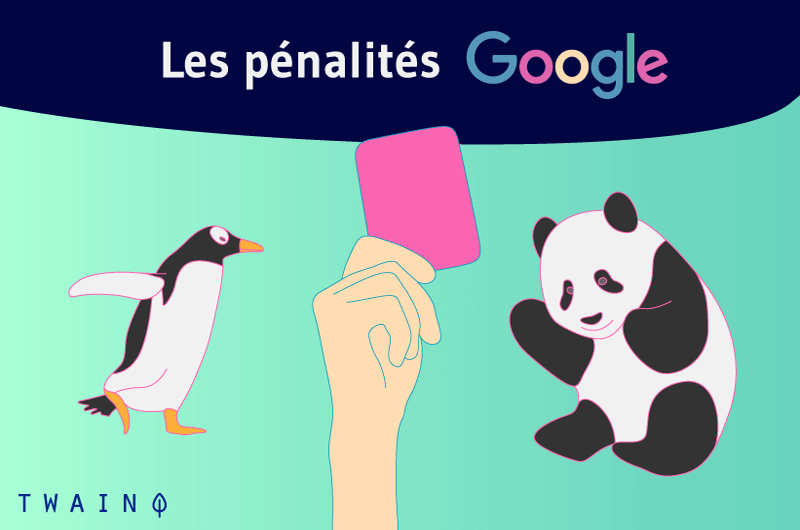 1.3.2. Manual actions that cause a total de-indexation of the site
We speak of a total penalty when the violation of the recommendations concerns a large part, or even all elements of the website. Generally, the total penalties can affect a site when it
Blatantly ignores the guidelines;

Conceals content;

Redirects users to questionable links that expose them to malicious content.
In such a situation, Google can then proceed to a total de-indexation of the domain and ask the designer to make the necessary corrections. Otherwise, it is no longer possible for the site to be displayed in the SERPs.
1.4. What are the consequences of manual actions on your site?
Manual actions imply a high risk of decreasing the performance of your web platform. Indeed, when you are subject to a manual action, it affects your visibility in the organic results.
This usually results in a drastic drop in organic traffic to your site.

source Thenextscoop
Note however that this consequence is not automatic. Because in some circumstances, it can happen that the manual action that hits your site only concerns pages that are not important, neither for you nor for the good functioning of the platform
In this case, it will be enough to delete just the pages in question.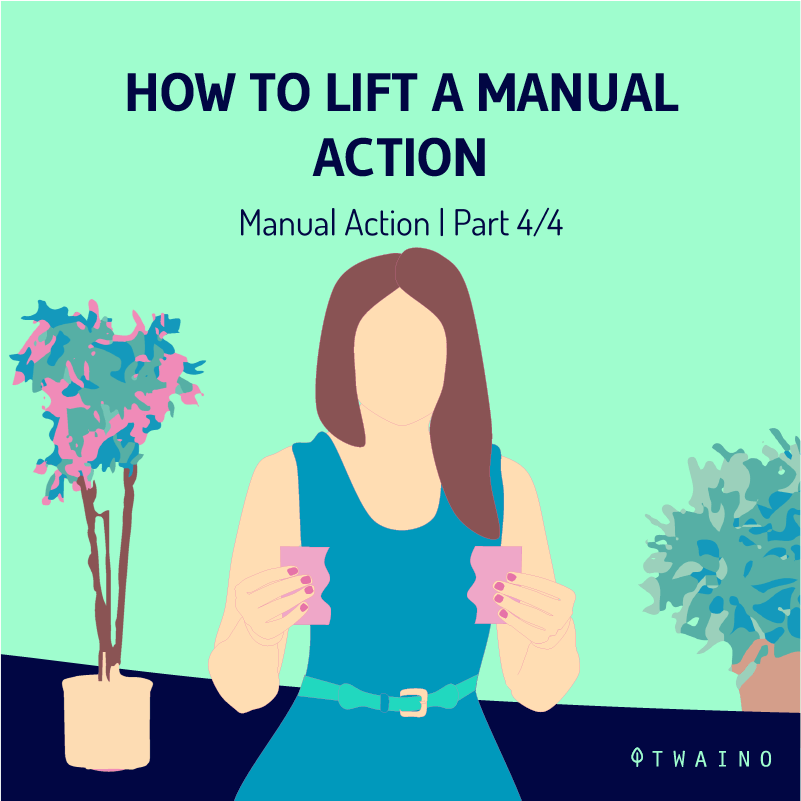 1.5. How to lift a manual action?
To lift a manual penalty, follow these steps
Solve the error for which you have been penalized on each page of your site;

Make sure that Google has access to the pages of your site;

Go to the manual actions report and select "Request a review";

Send the report and wait patiently for the Google team to return;

Resume the process if it is denied.
When it comes to requesting a review, Google recommends that you follow these three key steps
Explain the quality issue that has been identified on your site;

Describe the process and steps you took to resolve the issue;

Prove the work you did by presenting the results of your efforts.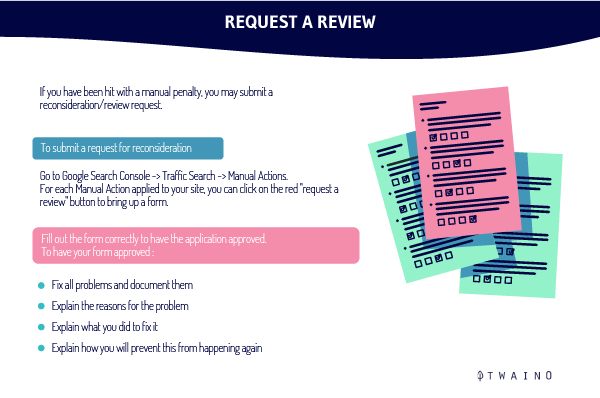 For the question of the timeframe for lifting the penalty, the site searchengineland has concluded based on the experiences of several sites in requesting reconsideration that there is no fixed deadline and that there is no way to predict this time frame
1.6. How do I access my site's manual action information?
To find your manual action information, you just have to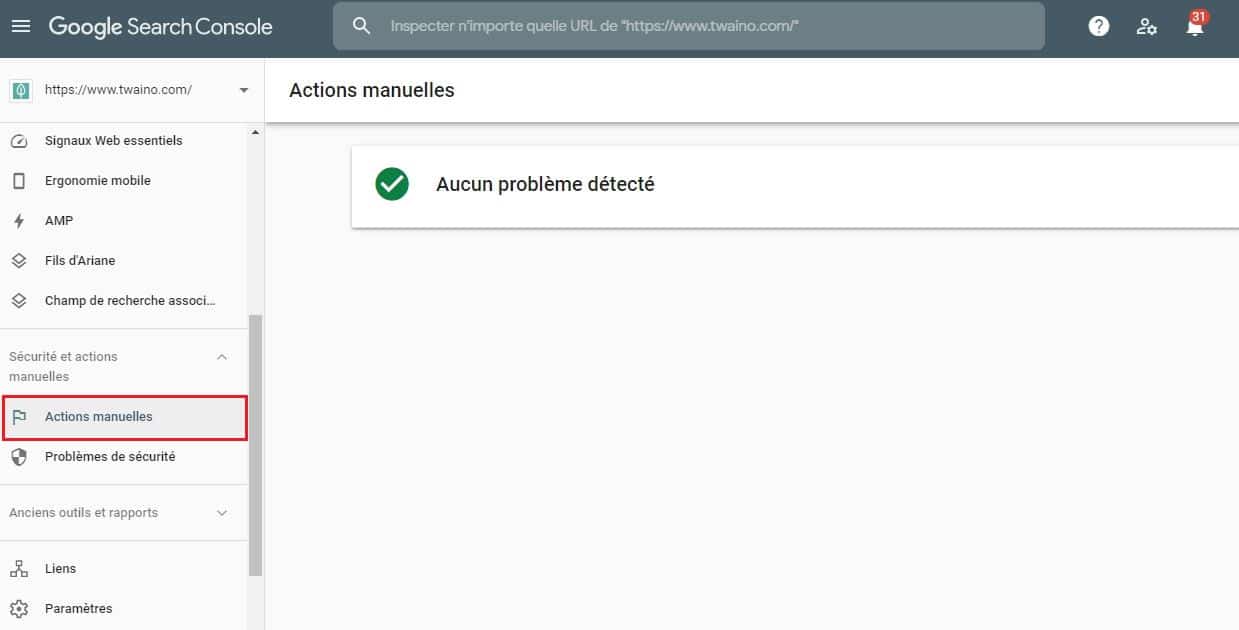 The window that appears will show you a list of manual actions that have been inflicted on your site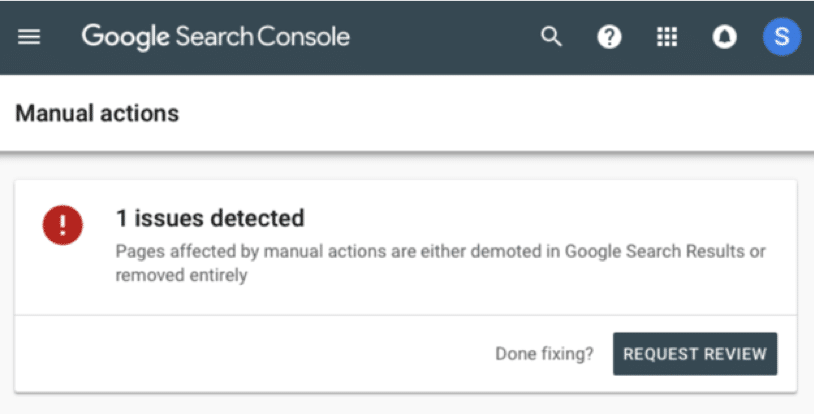 You have the opportunity to learn more about each of these actions. Indeed, once you click on each action, you have a small description as well as the list of pages that are affected
You also have a "learn more" link that will allow you to get useful information to correct the error.
When the Google team manually performs an action on your site, you may receive an email in which Google explains that you have been penalized.
Now that you know what a manual action is, its life cycle and the penalties it can cause, find out what practices cause it.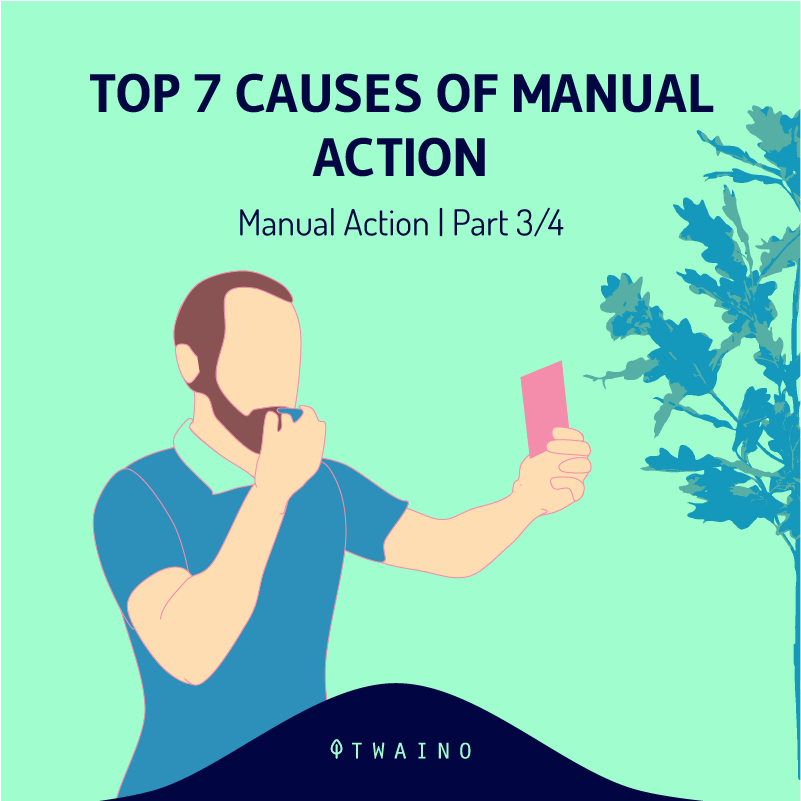 Chapter 2: The different causes of manual actions and how to get rid of them
In this chapter, I present you the different practices that can cause a manual penalty and how to get rid of them
2.1. User-generated spam
Among the reasons that can push Google to penalize a site, there is not only what the owner of the site intentionally does. There are also the users
Indeed, when they are in bad faith, they do not hesitate to place content considered as spam in certain sections of the site they visit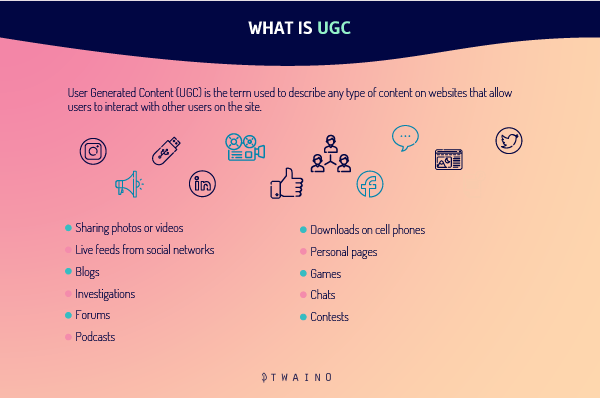 This problem arises particularly on sites that have sections where users can create content.
These are for example
Forum sites;

Discussion sites;

Or sites that have commenting areas.
Also, because user-generated spam is likely to pollute search results, Google asks you to prevent it on your site
Here are some tips that will help you combat user spam
Regularly monitor the public areas of your site to detect and remove posts that contain spam

Look for and remove user profiles that contain advertisements, off-topic links or chaotic text, commercial names or that appear to be automatically generated;

Check for updates to your forum software;

Add a verification mechanism such as a captcha to your site;

Block suspicious behavior;

Use the Site Operator to search your site for spammy content and remove it;

Etc.
2.2. Spam generated by sites on free hosts
When you offer a free hosting some spammers may want to take advantage of this to create and host several sites that do not meet the requirements in terms of quality and do not provide anything to Internet users
Even if we agree that the actions should be against these sites and not concern the host site, it can happen that Google takes actions that include the hosting service as well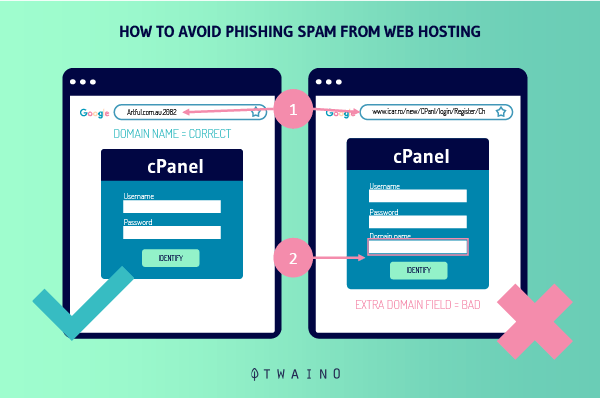 To avoid this, Google recommends that you
Search for and remove all existing accounts that are causing or generating spam on your service;

Publish clear abuse policies so that users are aware of them;

Prevent automatic account creation by both automated scripts and users by implementing validation tools

Monitor redirects, ads, keywords that are related to spam

Monitor the registration log to identify and remove accounts that show signs of spam
2.3. Structured data
Structured data refers to information on the pages of your site that allows search engines to understand or properly exploit the content of your site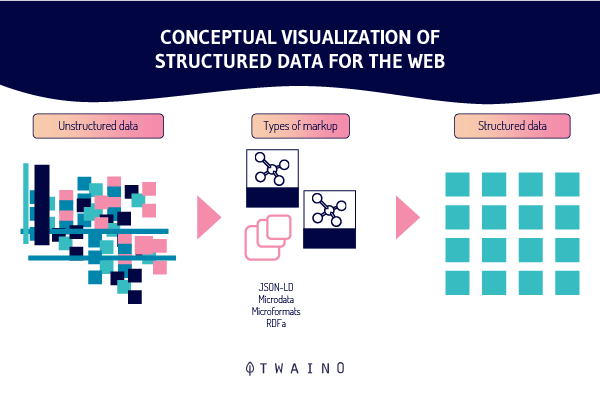 This data can be subject to manual action when you try to manipulate it to appear in the search results
Indeed, when you want to set them up, you must respect a certain number of guidelines provided by Google
When these guidelines are not respected and Google teams notice for example that
the content of your page is different from the structured data or vice versa;

the structured data have been put for contents that are not visible;

the structured data that you put in place does not respect Google's guidelines in this matter.
You may be subject to manual action. That's why I recommend you to
make sure that the markup of your site respects the guidelines in this area;

remove and update the markup that does not respect Google's rules
2.4. Dummy links to your site
According to Google
"The best way to get other sites to link to your site in a relevant and quality way is to publish unique and relevant content…"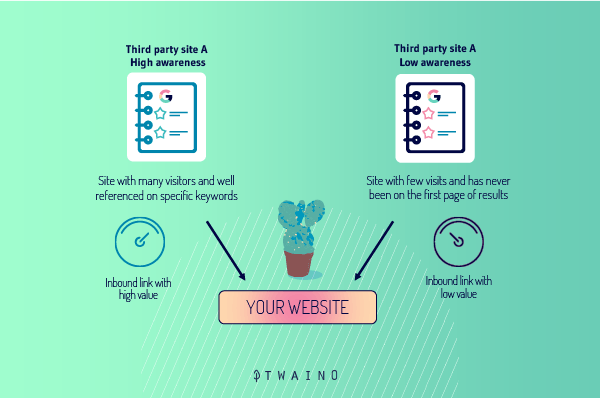 Therefore, it fights against link schemes that are set up to manipulate search results or to allow a site to rank higher in the SERPs.
Here are some examples of link schemes that have a negative effect on your site
Link buying;

Link exchanges;

Marketing campaigns with blog posts containing keyword-rich anchor text;

Linking to a site through automated programs.
In any case, when Google initiates a manual action against your site because there are bogus links to your site, you can solve the problem by first taking the trouble to read Google's recommendations for links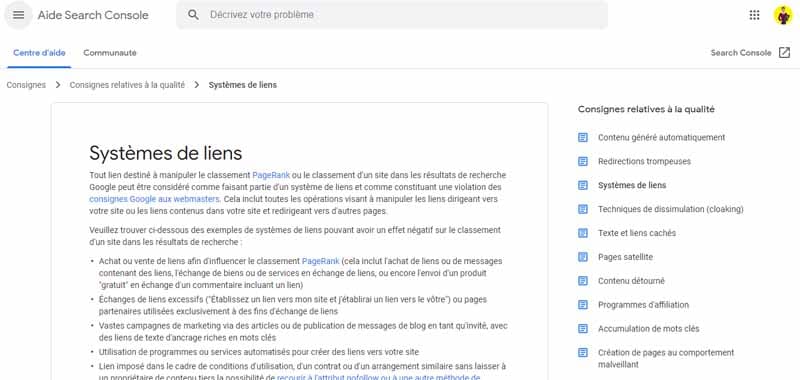 Then, you can try to solve the problem by following these steps:
Make a list of all the links pointing to your site from Search Console;

Inspect each link to detect which one(s) do not follow Google's link building guidelines;

Contact the author of the link and ask them to remove or add a nofollow attribute.
If you don't have any way to contact them, disavow if you have no way to contact them, disavow the link yourself by using the link deactivation tool in the search console
2.5. Unconventional links on your site
In addition to inbound links, links on your site can also be subject to manual action if they are designed in violation of Google's link building guidelines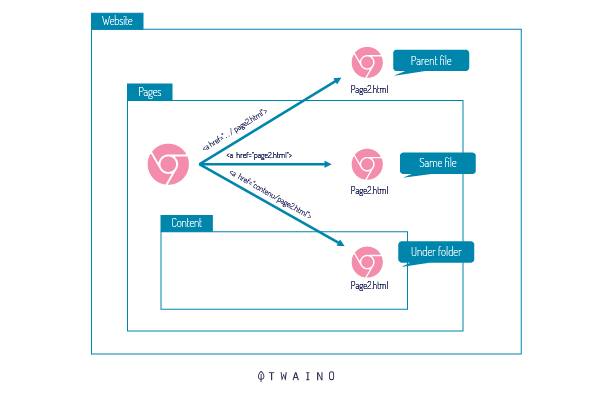 In this case, Google recommends that you
Identify all the links on your site

Remove or modify the links that affect the ranking more

If possible, block the links by redirecting them or blocking them with robots.txt files.
2.6. Low quality and poorly detailed content
Low quality and poorly detailed content can also lead to manual actions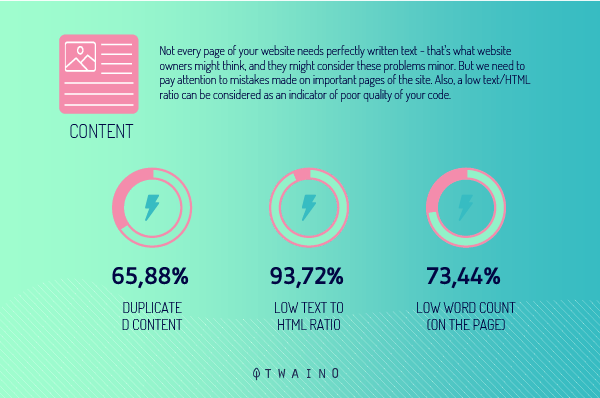 Is considered as low quality and poorly detailed content
Content that is automatically generated;

Duplicated or misappropriated content;

Content that is of no interest to the Internet user
On the other hand, the quality content is content that
Addresses in detail the subject matter and offers something concrete to users

Is original, meaning that it has not been copied from another site.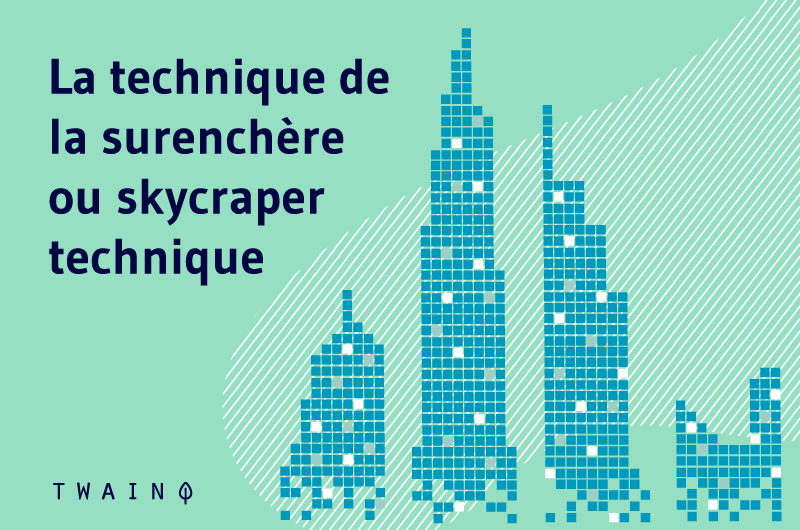 When Google considers that your content is not of quality and penalizes you, you can lift this penalty by respecting the following steps
Find out if your content has not been copied or duplicated;

Search your site for uninformative content;

Identify content that is

automatically generated

identify content that is automatically generated, such as

satellite pages

;

Try to improve them so that your site is more interesting for the Internet users
2.7. Cloaking and dubious redirects
You should avoid
Presenting different contents to users and search engines;

Redirecting your visitors to unsavory content in order to deceive them or to ask them to install a fraudulent program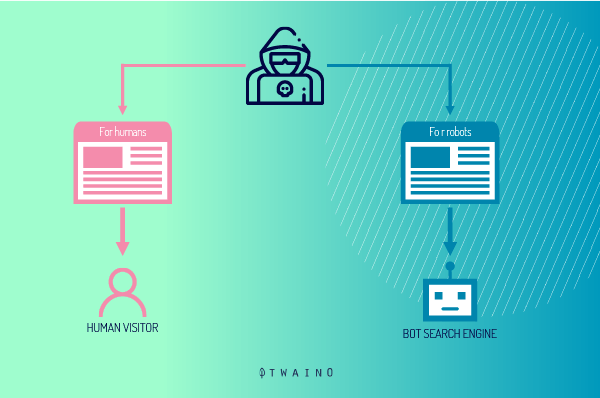 When you do not respect these recommendations, it is quite natural that Google will consider you as a spammer. It will not hesitate to punish you.
Moreover, you will need to comply with certain rules before you can take full advantage of your site's capabilities.
To avoid being penalized for cloaking, you can
Read Google's guidelines for cloaking content;

Use URL inspection tools and search console to remove bad redirects from your site;

Compare what is displayed on your page with what Google displays. If the content differs at any point, remove it

Look for and fix links that redirect users to somewhere other than where they expected to go
2.8. Hidden images
Image hiding is seen as a violation of Google's guidelines since it gives users different results than they expect
It therefore causes a bad user experience when searching for images in Google
Indeed, it causes a mismatch between the thumbnails presented in the search results and the images that are on your site.
Here are some actions that are considered image hiding:
Broadcasting images that are hidden by another image to Google;

Displaying different images to Google and visitors.
To solve the error related to hidden images, make sure that your site displays exactly the same images to users and Google search engine
However, it is worth remembering that images can be hidden when you want to disable embedded links
2.9. Aggressive spam
Aggressive spam is when you use techniques like
Camouflage;

Automatically generating content;

Plagiarizing content from other websites.
Pure spam indicates that you have committed serious violations of Google's quality guidelines. You must therefore remove all these contents and update your site to lift the manual penalty that has been applied to you.
2.10. The mismatch between the AMP version and the web version
The web page and its AMP version must: Address the same topic and users must be able to perform the same actions.
There is a mismatch between the AMP page and the canonical one when the content of the AMP page is different from that of the web page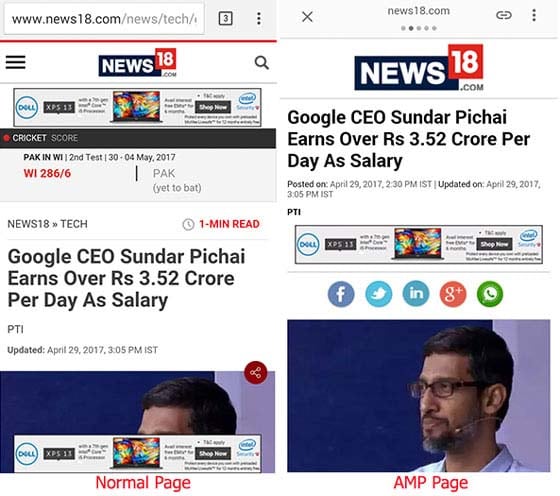 Source MonsterInsights
For this, if you are subject to a manual penalty, you can try the following actions
Check that each AMP page refers to the correct web page;

Make sure that the content on both versions of the page is identical;

Check that Google and the user have the same perception for each version;

Check that the robots.txt file does not block important URLs on either the AMP version or the canonical web version
The search console allows you to perform all these checks
2.11. Accumulation of keywords and use of hidden text or links
This is another reason why the Google team may inflict a manual action on your site
It is a practice that consists of filling the content of your site with keywords in order to influence the search engine rankings.
Here is an example of keyword stuffing :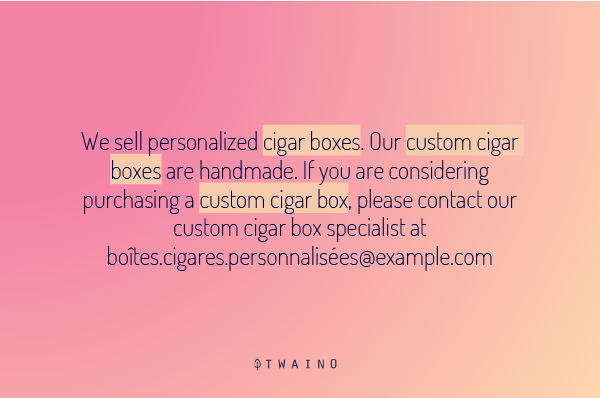 On the other hand, we talk about hidden text when
you use white color text on a white background;

you place the text behind an image;

you hide a link by anchoring it to a character in a sentence.
When you get hit with a manual penalty for hiding link text or flooding your content with keywords, here's a solution you can take
In your Search Console look for content that is accessible to Google bots, but not to users;

Identify your texts that have the same color as the background of the page where they are located;

Delete texts or modify their styles;

Look for keywords that are repeated in an unnatural way or that have nothing to do with the content and remove them. Do the same for titles.
2.12. Mobile redirects underhanded
Very often, Google allows sites to to display slightly different content on their on their AMP page. But, that's no reason for you to consider setting up a deceptive redirect.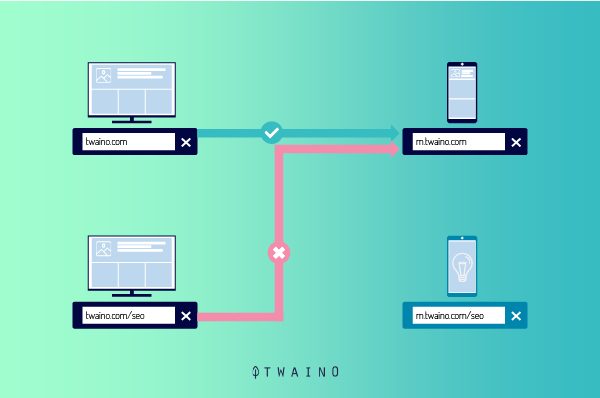 Is considered as deceptive redirect
adding code that creates redirect rules for mobile users;

adding a script that displays ads and redirects users;

adding scripts that redirect users to secure sites.
To resolve this situation, you should
check your site's problem reports to determine if your site is secure or not

check the third-party elements and make sure they are not the cause of the redirects. If they are, remove the ones that are causing the redirects

correct the pages in your AMP version and see if the problem persists
Now that you know the errors that are causing the manual actions and how to deal with them, discover in the next chapter some useful tips
Chapter 3: 3 Tips for Dealing with Manual Actions
Here are some tips on how to better cope with manual actions
3.1. know the Google quality guidelines
Of course the first thing you have to do to reduce the risk of being sanctioned by the team in charge of quality research at Google is to read the Google quality guidelines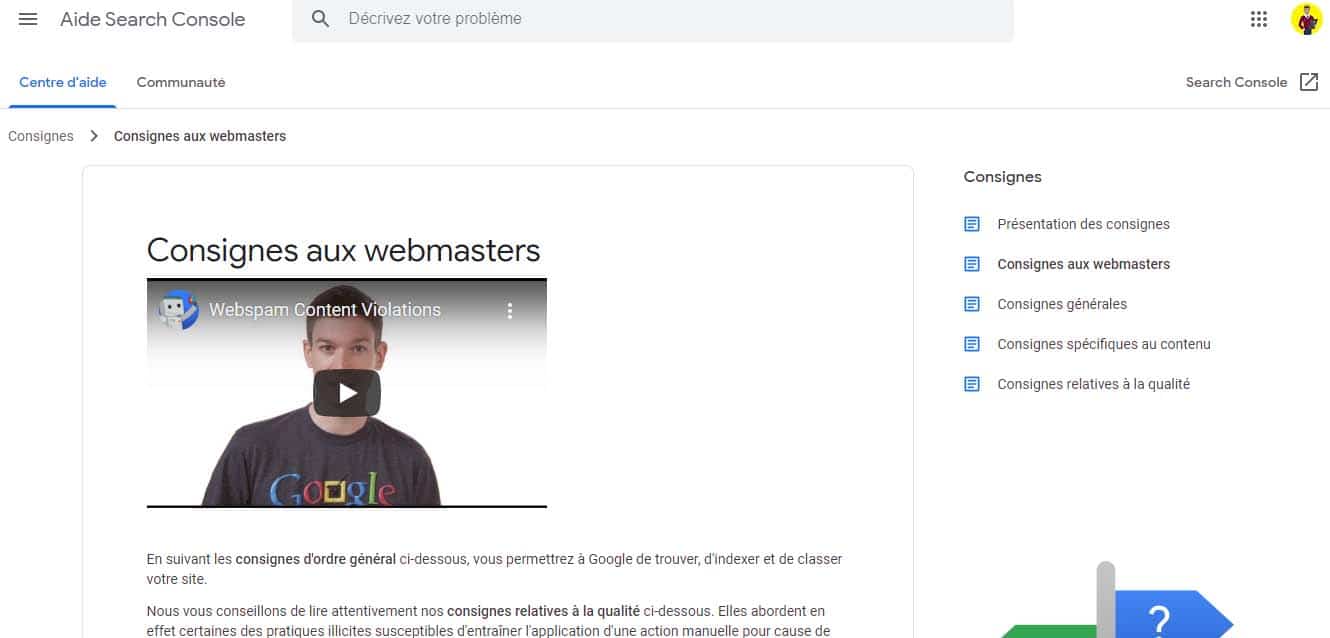 These guidelines inform you of the principles that should govern your content. Also, you will find in these guidelines a list of techniques that you should absolutely avoid as well as some good practices
Ignoring or not following these guidelines is enough to expose your site to manual actions
3.2. set up your analytics alerts
You can create custom alerts to track your Google analytics data
Take advantage of this feature to keep an eye on your site's data and be alerted in real time when your site has a problem.
To create Google Alerts, you can follow these steps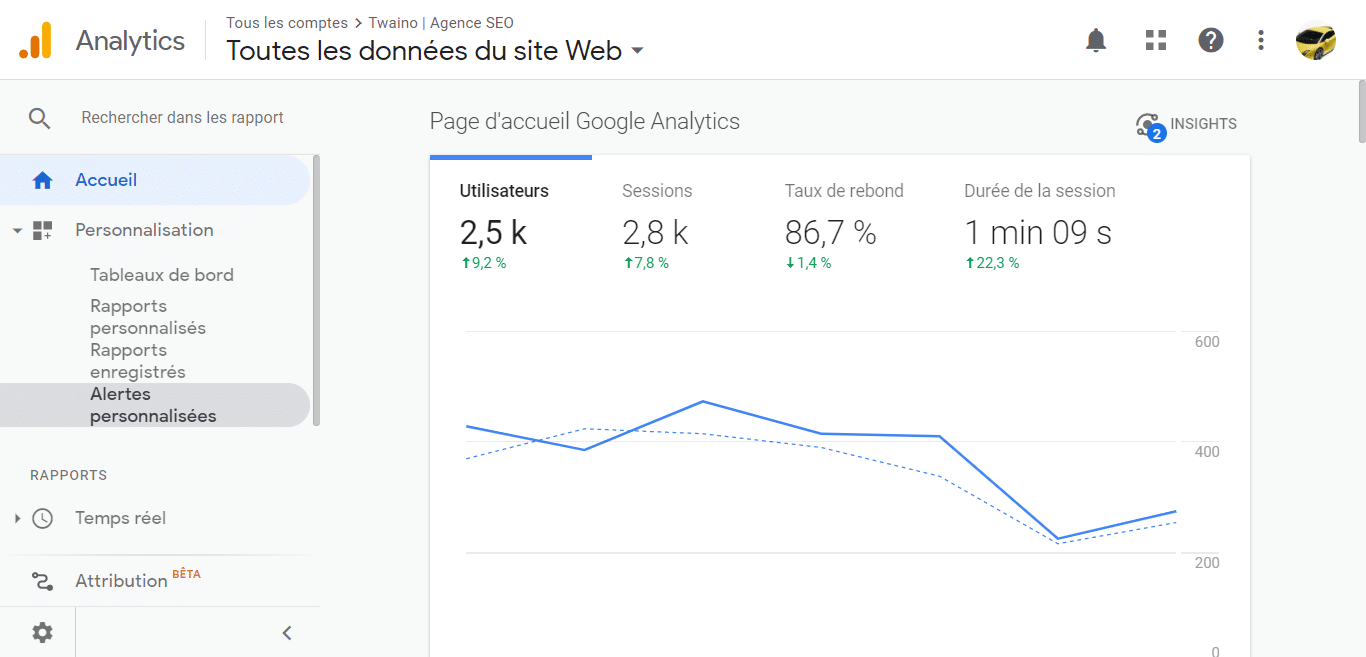 Click on the customization tab and select custom alerts;

Wait for the window to load and click on manage custom alerts;

In the new window that appears click on "new alert" and fill in the information related to the name of the alert, the reports to which you want to apply the alert, the period, the conditions of the alert as well as the email account on which you want to receive the alert;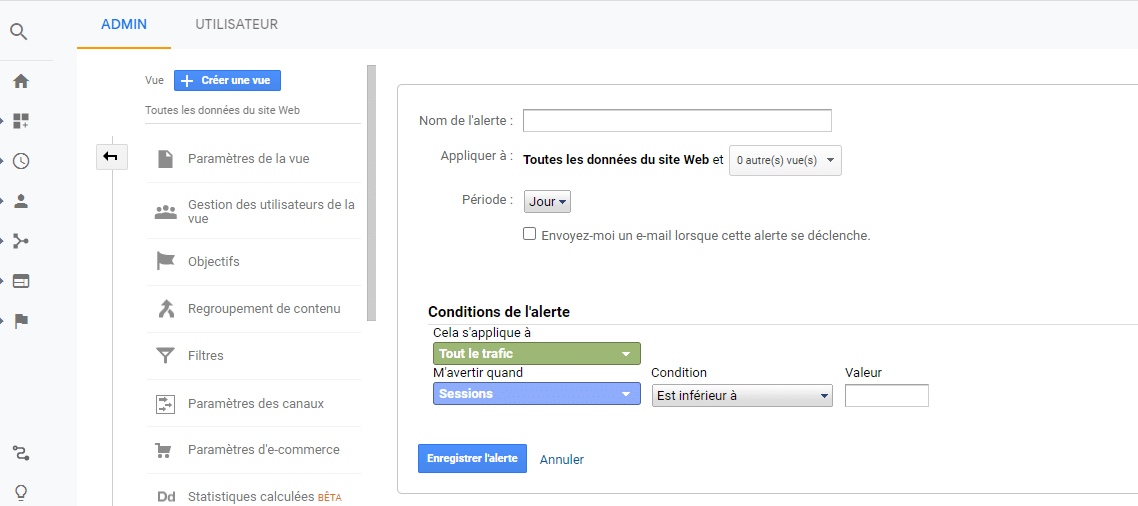 Your alert is ready and you can now be aware of what is happening on your site
For example, alerts about user behavior on your site can alert you to user experience issues.
3.3. Clean up your site regularly
When sanctions are issued on your site, the pages or site lose all authority. You have to start from scratch in order to move forward
To avoid this situation, it would be best if you yourself regularly undertake a Inventory of fixtures to see if there are any problems with your site in order to correct them in time
This form of prevention will not only allow you to avoid being sanctioned, but also to obtain good results with your site.
In summary
Manual actions are penalties that are applied to your site when the Google search quality team believes you have used practices that violate Google's principles.
The affected part of your site is removed from the Google index and you must not only comply with Google's rules, but also request a review of your site before the penalty stops
In this article, I have outlined the actions that are subject to manual action. You will also find tips on how to correct them as well as some advice on how to avoid them as much as possible
I hope this article has helped you understand what manual actions are!
See you soon!