Creating a site for your brand is probably the first step, but far from the only one to ensure visibility and authority on the Internet.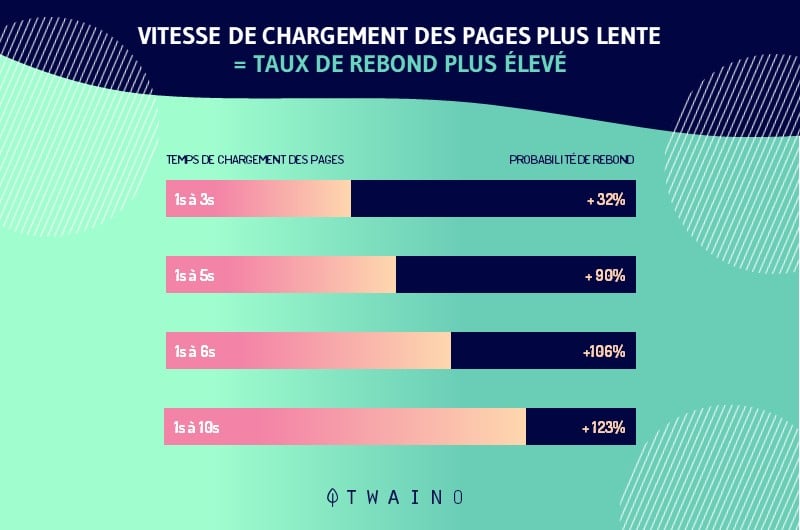 Every website created should be maintained with SEO to increase its organic traffic and generate revenue.
Hence the importance of the SEO campaign which is a set of strategies for a more complete and more effective natural referencing.
Why is an SEO campaign important for your website and online business?
What are the different steps to follow to lead a successful SEO campaign?
How to measure the success and performance of your SEO campaign?
So many questions that we will address in this guide to master the tricks of an SEO campaign from top to bottom.
Chapter 1: What is an SEO campaign and how does it benefit your business?
Before presenting the different steps necessary for a successful SEO campaign, we should agree on its definition.
1.1. What is an SEO campaign?
Also called a SEO campaign, an SEO campaign is an organized optimization strategy for a site or web page to improve its ranking on the SERPs and help it generate better conversion.
Typically, an SEO campaign spans a long timeframe with the primary goal of driving more traffic to the website based solely on organic search results.
Therefore, an SEO campaign is a long-term project that is part of an ongoing process of referencing a Web site (or page) supported by a series of SEO strategies.
If successful, an SEO campaign effectively increases the number of customers who visit a website to consume a service or product, which implies an increase in brand authority on the web.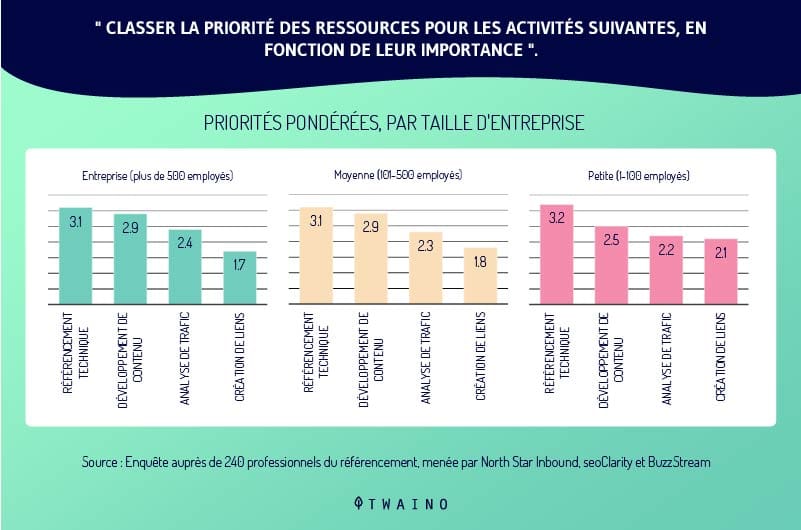 Any company operating in any sector of activity can indeed launch an SEO campaign, from the smallest company in a region to the largest multinational company.
1.2. A List of the 15 Biggest Benefits of an SEO Campaign SEO
is the core strategy in digital marketing with a host of benefits that all work together to improve your business authority, generate more leads and earn more business. significant income online.
Here is a selection of 15 of the greatest advantages of an SEO campaign:
1.2.1. An SEO campaign increases the return on investment of your digital marketing
The return on investment, ROI in English, is used to calculate the gain or loss on the money invested in a marketing strategy. As a web entrepreneur, it's clear that your overriding goal is to get the greatest return on investment possible.
An SEO campaign remains the best option and you will better understand why.
Generally, search engines offer each SEO campaign a closing rate of around 15% on new potential customers that the company can register.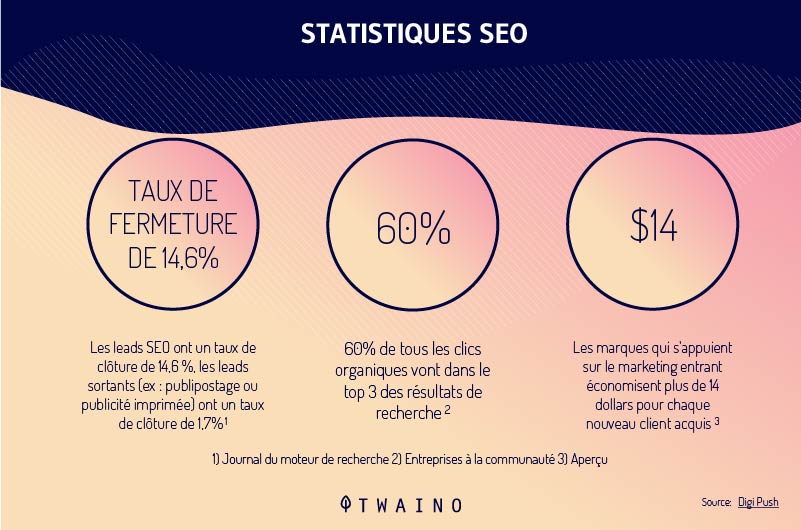 Admittedly, this may seem small to some, but did you know that traditional marketing (cold calling, billboards, etc.) only generates 1.7%?
In other words, through an SEO campaign alone, you have the potential to increase the lead conversion rate by approximately 13% for your business.
Let's imagine for a moment that a lead is worth an average of $700 and that you register 20 new leads each month.
And that in addition to marketing, you join an SEO campaign.
Applying this statistic, you will end up with 23 new leads each month.
This saves you an additional €2,100 each month, or €28,000 in additional income each year.
ROI is one of the biggest perks that drives business owners to run an SEO campaign, and as a web entrepreneur one can well understand that.
Obviously, all this would only be possible when the campaign is successful and the site actually occupies one of the first places in the SERPs.
We agree that a site that appears on the second or fourth page of Google has very little chance of being seen by Internet users.
This implies a fairly low lead conversion rate from the search engines Google, Bing, Yahoo, etc.
1.2.2. An SEO Campaign Builds Your Brand's Credibility
The other benefit of an SEO campaign, which website owners may not realize at the time, is the credibility it provides to their brand with consumers.
Indeed, a website that manages to appear on the first page of search engines is perceived as an indicator of trust among users, but also among these same search engines.
Looking back, you might notice that you, too, give more credit to the results that Google delivers on its first page. The same is true for the vast majority of the rest of the users.
In fact, 75% of Internet users stick to the first page of search engine results to search for a service, product or information.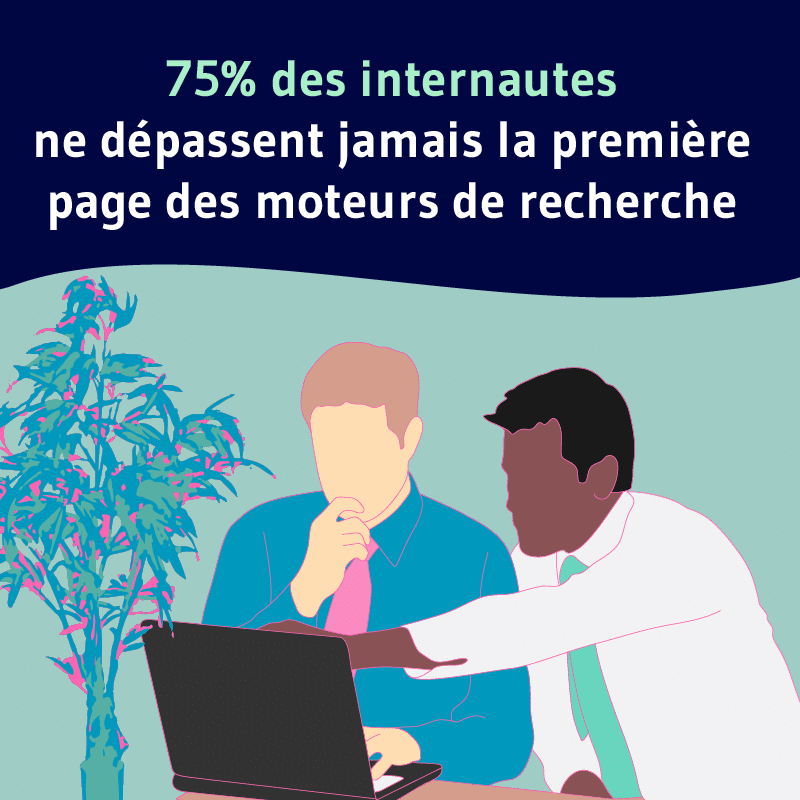 As you can contact on the infographic, almost all Internet users trust the sorting of results that Google does. And it's not just Google, other search engines have figured this out and also work the same way.
Clearly, they will study some SEO criteria on the internal and external aspects of the website before deciding the ranking it deserves. These aspects are examined and best improved respectively in the on-page and off-page optimizations of an SEO campaign.
Among these SEO criteria, we have:
The quality of your content;
Good link management;
The loading speed of your web pages, etc.
All of these are indicators that demonstrate to Google that the site in question is reliable and credible.
Thanks to SEO referencing, your site will therefore be well referenced as soon as a user launches a query such as "how to properly maintain your iPhone?" ".
Of course, this is an example and you will be referenced according to queries related to your sector of activity.
But that's not all, optimizing your Google My Business, during an SEO campaign, also helps improve your credibility with your audience.
This is a card that provides more details that Google ranks in its proposed answers when a user performs a local search or a specific search on your industry.
This sheet also presents the opinions of other Google users, which certainly constitute proof of trust with your future customers.
Il s'agit d'une fiche qui fournit plus de détails que Google classe dans ses propositions de réponses dès qu'un utilisateur effectue une recherche locale ou une recherche spécifique sur votre secteur d'activité.
Cette fiche présente également les avis d'autres utilisateurs Google, qui certainement constituent une preuve de confiance auprès de vos clients à venir.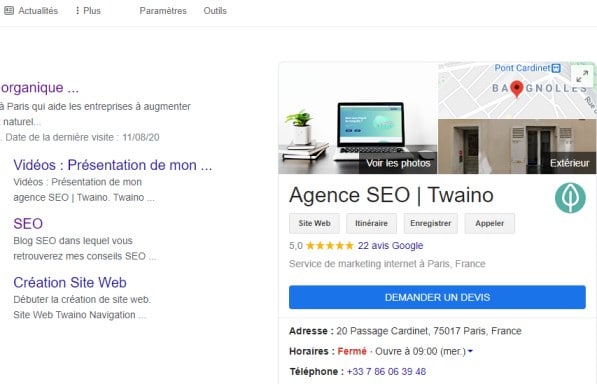 Your position on the first page of Google results and the optimization of your Google My Business listing are two of the important factors that build your brand credibility which leads to more online sales.
The majority of customers attach great importance to user reviews before consuming a product or service online.
Statistically, 80% of consumers on the Internet admit to having changed their decision on the purchase of a service or a product by consulting the opinions of Internet users on its quality. Which is immense and can dramatically impact your business sales.
1.2.3. An SEO campaign generates high quality traffic to your website
Today, digital marketing is equipped with powerful and advanced tools unlike traditional marketing. These tools help drive more high quality traffic to websites.
Indeed, instead of sticking to a few old-fashioned billboards, SEO increases the chances of your site being visible to your target audience.
No matter the time or their current occupations, they can indeed search and find your site.
In the car, at work, at sports or in the kitchen, the reach of an SEO campaign remains limitless and you have the full attention of your audience wherever they are.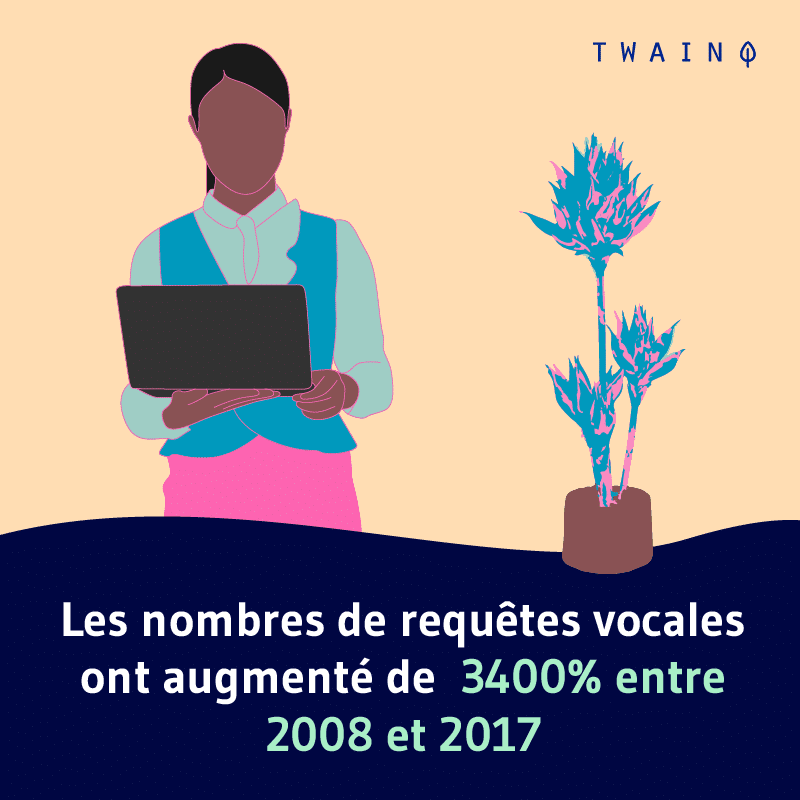 This involves reactions to your calls to action (CTA) such as a request for consultation, a subscription to your newsletter, a request for a quote or a Like on your social network pages.
This ability to reach more audiences across nearly every communication channel on the internet is one of the reasons 89% of marketers agree that SEO is a successful digital strategy.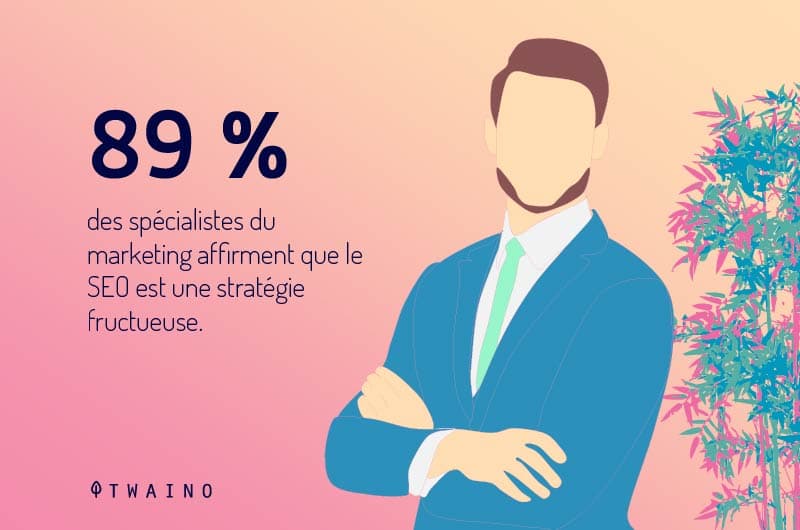 1.2.4. An SEO campaign accurately measures the success of your investment
Every entrepreneur always wants to know the impact of his investment in both advertising and marketing. This explains the fact that digital marketing is so much in demand, especially natural referencing.
Indeed, you have the possibility to follow the success of each strategy employed during the SEO campaign of your website. Best of all, you can access accurate campaign data in real time with powerful SEO tools.
In particular, Google Analytics andmany other SEO tools that allow you to measure the performance of your SEO techniques.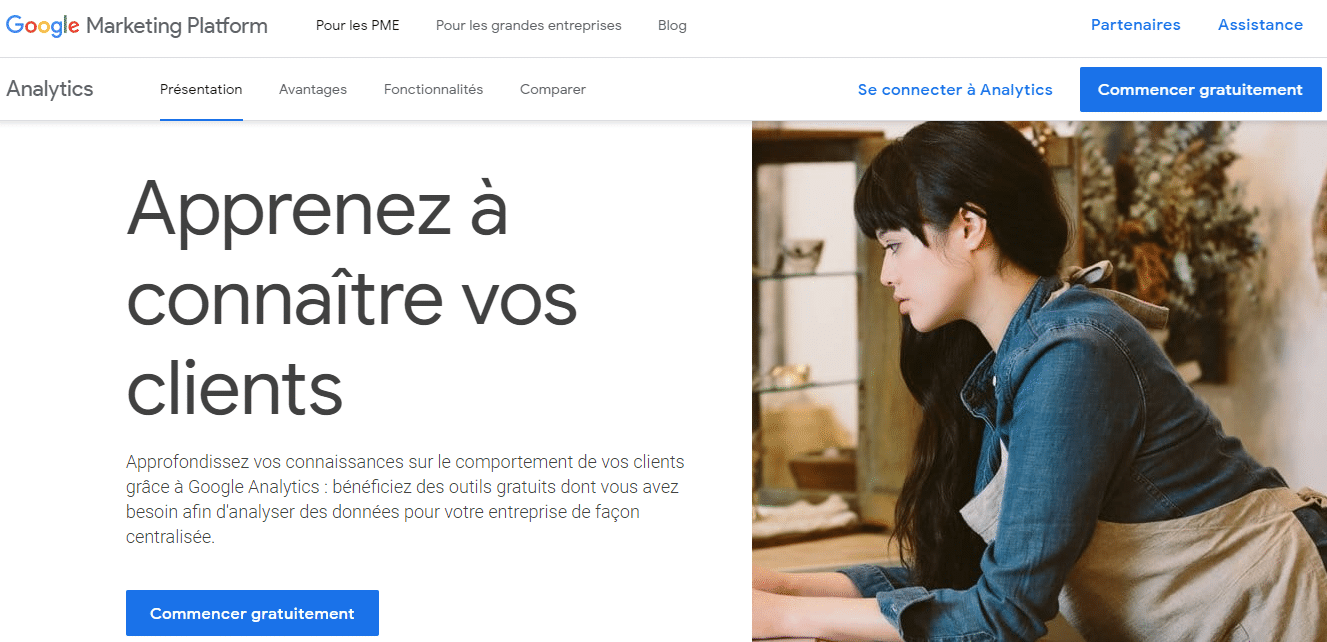 Source : Google Analytics
Among the performances to be evaluated, you have:
Thetraffic of the Web site;
The duration of each visitor's session;
The bounce rate;
The conversion rate, etc.
These tools make managing an SEO campaign easier and more methodical. You therefore have the possibility of targeting the strategies that perform well or those that need to be reinforced.
1.2.5. An SEO campaign promotes your brand all day, 7 days a week
Many industries can offer 24/7 service. By operating in such a sector, it would be a shame to see that your promotion on the Internet is limited to only a few hours of the day and may even be unavailable on weekends.
SEO comes to change this dependence over time and allows continuous promotion of your business, all day and every day of the week.
This ubiquitous availability of your online services becomes almost a necessity to stay one step ahead of your competitors when you know that Google processes more than 63,000 searches in one second !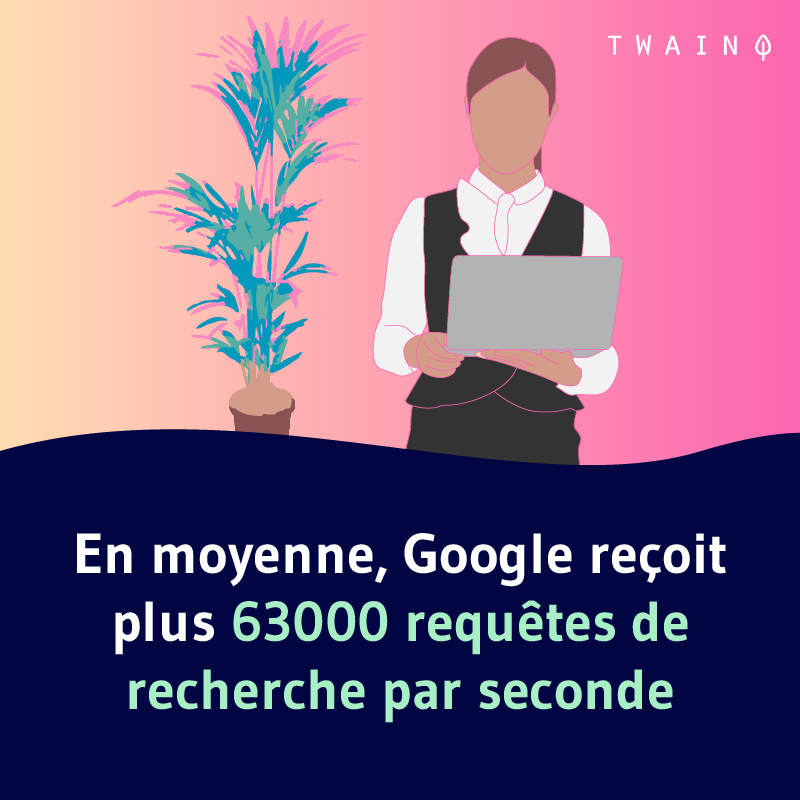 It's an astronomical figure that proves that Internet users don't "sleep" and that for the smooth running of your business you shouldn't too. Finally, if your sector of activity allows it of course.
Thanks to digital marketing and especially SEO you can stay close to your audience all the time.
This advantage is by far more beneficial than a billboard positioned at the corner of a street that internet users barely notice when leaving town for a weekend, for example.
This proximity and availability of your services increase the value of your brand with your audience since you respond right when they are in need.
You could even say that an SEO campaign goes way beyond that definition we all know of promotion. Indeed, unlike a classic promotion, an SEO campaign is not limited by a short duration.
1.2.6. An SEO Campaign Targets Every Stage of Your Marketing Funnel
Since the advent of content marketing, SEO has become even more coveted by business leaders of all stripes. For those who don't know what it's all about, content marketing, as its name suggests, consists of creating and distributing quality content on the NET.
This content exists in several forms such as:
An infographic;
A guide ;
A video ;
A blog post;
A podcast;
Etc.
SEO links each form of content to a specific stage in your marketing funnel.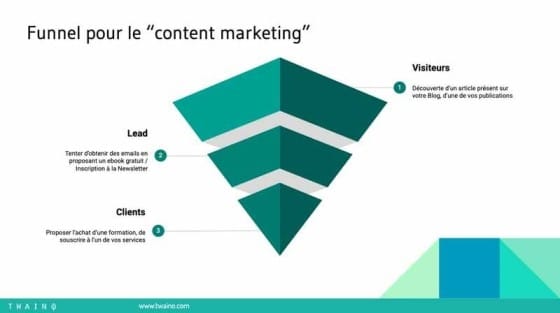 This makes it possible to target a given audience with the type of content that would suit them.
During the SEO campaign, we can direct infographics to a given audience layer and podcasts to another and so on until we go through all the stages of the marketing funnel.
This strategic way of specifically targeting each layer of prospects is all the more effective since it generates more than 54% more leads than traditional marketing.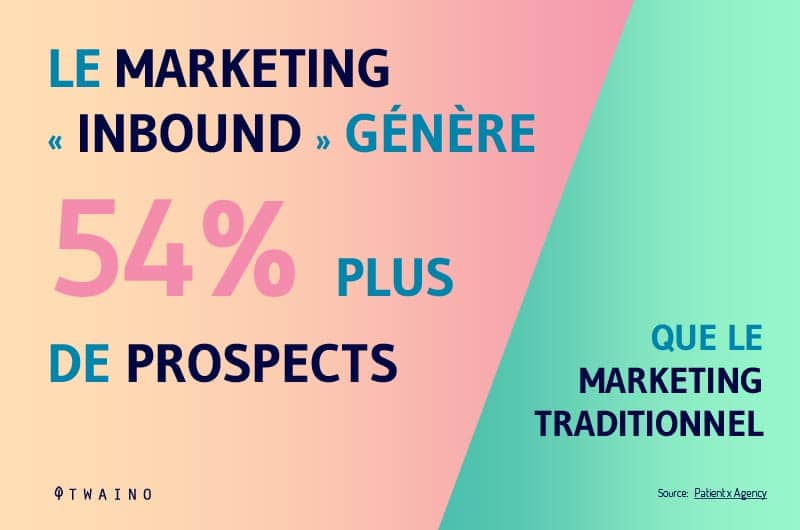 The fact is that this way of "serving" each type of user seems to please them. Indeed, more than 60% of consumers on the Internet admit to appreciating when a company offers them only original content.
So a successful SEO campaign that manages to distribute the ideal content for each type of prospect can also retain a mass of Internet users for the company. A great way to meet the challenges of the company while satisfying its consumers.
1.2.7. An SEO campaign builds brand awareness among high-value consumers.
Gradually as a user moves through the marketing funnel, their needs also change and they conduct new searches.
If your company always appears in the best response items offered for each of their searches, the user will certainly get into the habit of consulting your site for similar needs.
If a good part of the users manage to live this experience, it is clear that you have gained the trust of these Internet users, which will increase the notoriety of your company on the NET.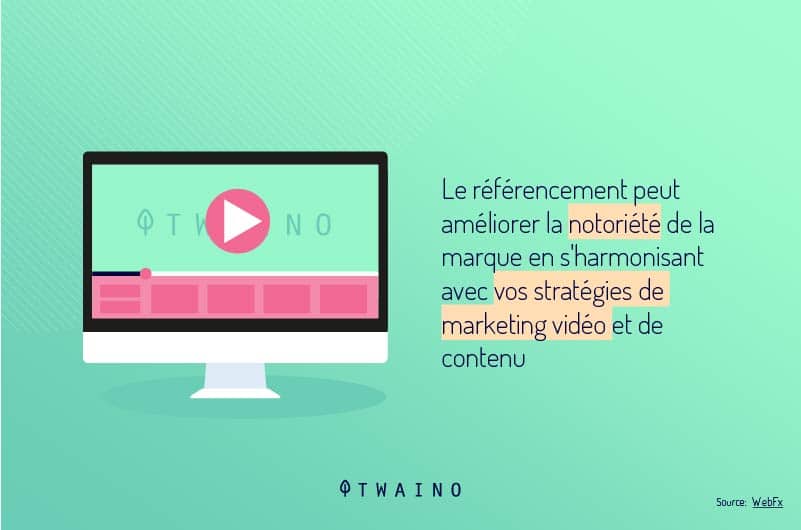 So thanks to content marketing, a strategy included in an SEO campaign, you convince your visitors that you are more than just a seller of products or services.
But also a reference to provide them with all the information they want to know in your sector of activity. All of this adds value to your business in the eyes of your audience.
In addition, video marketing, always included in an SEO campaign, further boosts this notoriety and it has been proven.
According to WebFx statistics, the distribution of video content would increase the attachment of Internet users by nearly 140%. And it's quite understandable when you know that video content will occupy 80% of all global Internet traffic by 2021.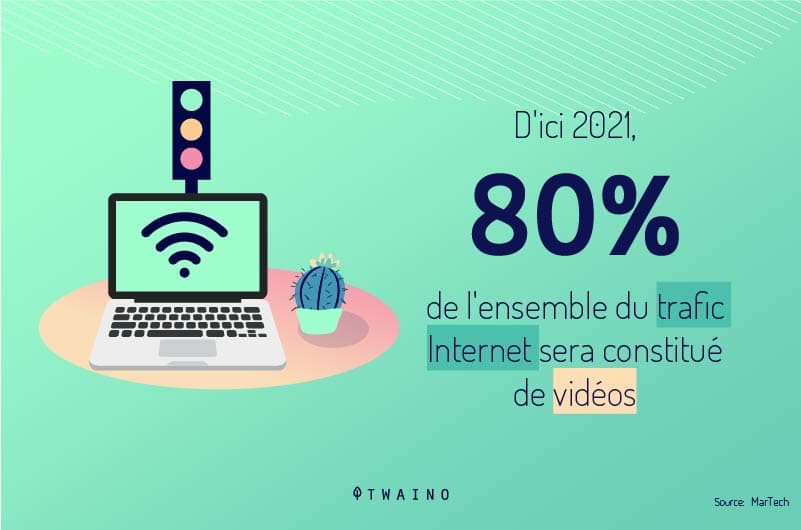 And that's the importance of an SEO campaign. It will not simply be a question of publishing videos on your site or on platforms in the hope of attracting more visitors.
What you have to do is optimize these videos for better visibility on the web. What is also included in an SEO campaign.
1.2.8. An SEO campaign generates more leads, sales and market share for your business
An SEO campaign is also about increasing your leads for more sales and more market share. As soon as the campaign starts bearing its first fruits, you will see more and more buyers entering your physical stores every day or you will receive more online orders.
And all this is easily explained if your site ranks well on the search results pages thanks to an SEO focused on the important keywords that your audience often uses to carry out their searches.
This implies gaining clicks and traffic that will convert into sales. To prove to you that it's not just lip service, let's take the first line of results from any Google search.
Studies have proven that it alone holds 34% of all the traffic that the search in question can receive.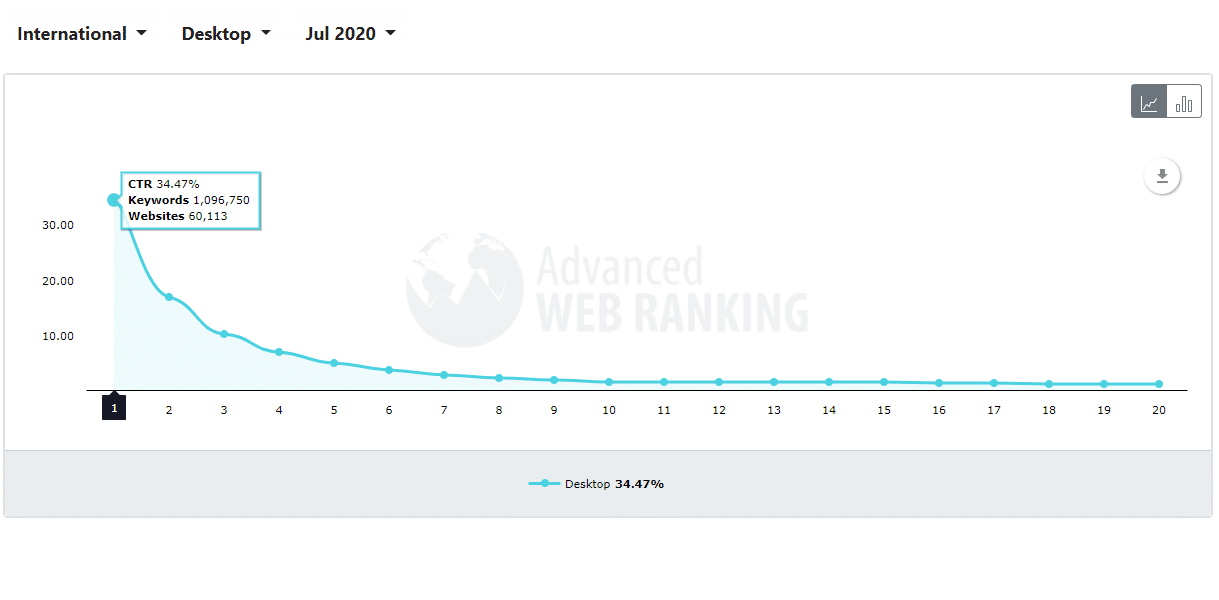 Now, let's say it's your website that occupies that first line of results and responds to, for example, the search "how to fix a leak in the kitchen". If this search is requested 1,500 times per month, your first position on the search engines will bring you about 500 visits per month.
Well, it is clear that we cannot claim that these 500 visits will automatically turn into sales for your business. But one thing is certain, some visitors will test your product or service and adopt your site if this product (or service) is effective.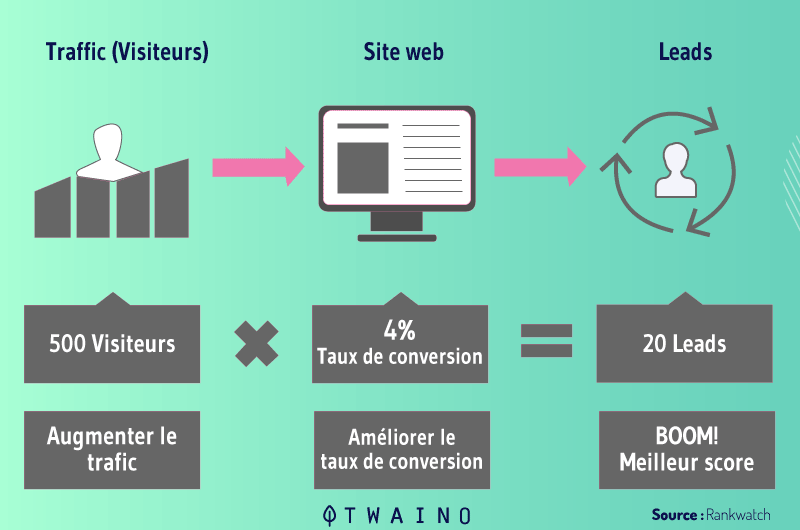 So either way, a successful SEO campaign really does lead to more leads, more sales, and more market share.
1.2.9. Maximize the success of your PPC campaigns further with SEO campaigns
If you include digital marketing in your business strategy, it is possible that at some point you will resort to PPC advertising to have more effect. Although PPC advertising is paid unlike SEO referencing which remains a non-paying strategy, the two form a powerful duo.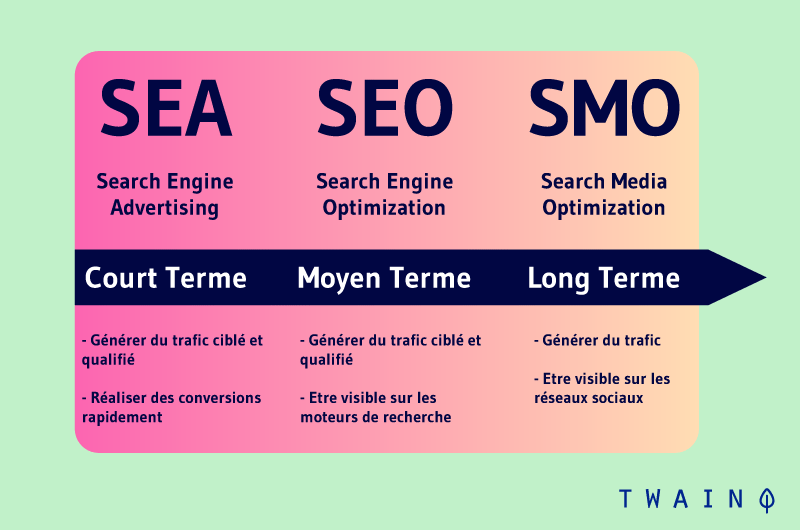 It is therefore not excluded that you consider in the future to associate PPC advertising with your SEO campaign. But how does an SEO campaign benefit a PPC campaign?
To begin with, an SEO campaign complemented by a PPC campaign strengthens your presence on the NET since you will be at the top of organic and paid search results.
These two possibilities of accessing your website will be well perceived by your visitors since you break the record for the best ranking on both counts.
Additionally, you can apply data from your SEO campaign to PPC ads. Indeed, a web page that is already generating traffic and conversions through SEO can be more profitable for the company if you integrate it into a PPC campaign.
Even better, the cost per click (CPC) strategy to target a keyword is relatively less costly to the company.
1.2.10. Outperform your competitors by launching an SEO campaign
Did you know that 80% of the 4.33 billion Internet users connect to search for a service or product to buy?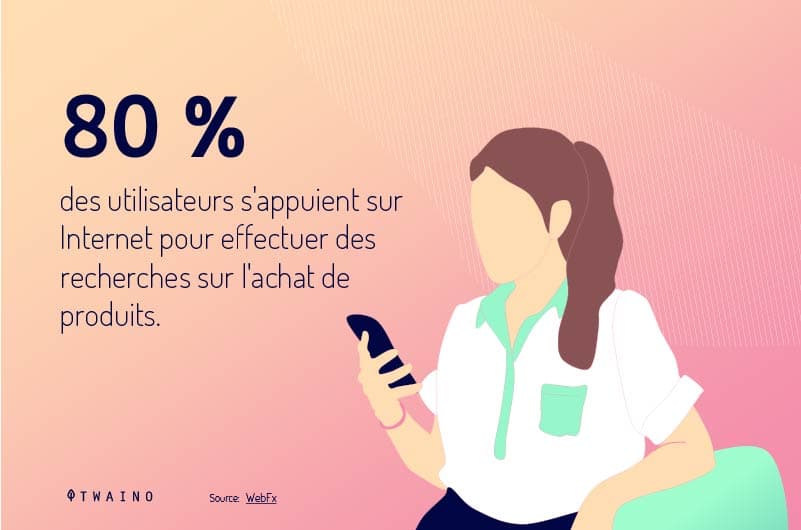 With such high demand from Internet users, it is clear that your competitors will not hesitate to invest in SEO and other digital marketing strategies to convert as many Internet users as possible.
The thing is, while the demand is there, only companies that manage to rank on the first page of the SERPs get the big chunk of the pie.
As a result, SEO referencing remains a great asset to stay in the race and even stay ahead of your competitors who still rely solely on traditional marketing.
It is estimated that 75% of web users do not go beyond the first page of Google in their searches. So ending up on the second or third page of Google is sure to lose you potential leads and sales.
Therefore, an SEO campaign is a powerful ally to defeat the competition and grow your business. Think of an intelligent SEO strategy and you offer every chance of overtaking your competitors, even the most influential ones.
It is true that certain sectors of activity have quickly devoted themselves to referencing more than others. If the players in your industry aren't yet using SEO to grow their business, isn't it a good time to get started and widen the gap on your competitors now?
1.2.11. Further strengthen your digital marketing strategy with SEO campaigns
If you are already using digital marketing to improve your visibility on the NET, it is likely that SEO is one of your strategies. But can you appreciate the true value of an SEO campaign in your overall marketing campaign?
SEO in itself improves your authority on the internet while boosting other types of marketing such as content marketing, social media marketing, and video marketing.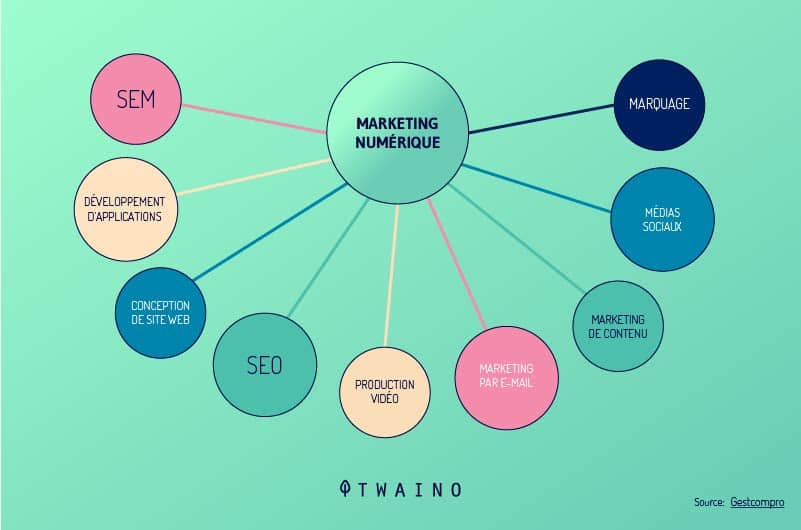 Thus, associating SEO referencing with your digital marketing strategy makes it more complete and sustainable to improve your competitiveness in services or online sales. This is a major asset for your business in this increasingly popular online market.
In addition, a digital marketing strategy reinforced with an SEO campaign becomes more effective with a greater return on investment. This represents enough financial resources that can be reinvested in the success of your company.
They can be used to improve your SEO strategy, to improve your internal team, or simply to increase the means of the company.
In short, you have understood it, SEO can bring you enough funds that you can use to improve the quality of the services or products that you offer to your consumers.
1.2.12. An SEO campaign attracts all layers of your target audience
One of the most popular benefits of an SEO campaign is its ability to target and attract all consumer profiles within a target audience. And this despite the fact that the number of consumer profiles can vary from one sector of activity to another.
Take the example of a company specializing in the maintenance of swimming pools. This company has the ability to offer residential and commercial services to its audience. In this specific case, we have two very different consumer profiles who can contact the company: Business leaders and homeowners.
Although these two audience profiles are looking for a pool maintenance company, their buyer journeys are not necessarily the same.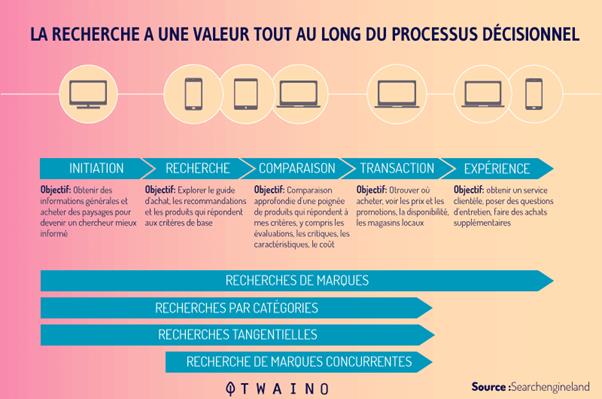 When we take our two customer profiles, a business manager probably has a series of questions related to swimming pools and their maintenance. These questions may also be different from those of the homeowner.
Indeed, the entrepreneur may want to know more about more comprehensive services that do not necessarily meet the needs of the homeowner. For example, he may want to know how the maintenance of a large swimming pool works.
An SEO campaign allows you to reach each of these consumer profiles by strategically using keywords specific to each profile's needs.
To better illustrate all this, a first page of service can be created and optimized by targeting the keyword "maintenance services for residential swimming pools" and a second on "maintenance services for commercial swimming pools".
1.2.13. An SEO campaign saves you money on your advertising costs
Aside from its direct effectiveness on your website, an SEO campaign also allows you to make significant savings by reducing your company's advertising costs, and even marketing expenses.
The goal of an SEO campaign is to successfully bring a website to the first page of search results through optimization for valuable keywords. Aside from the increased traffic and all the other technical benefits, notice that this website won't need much advertising anymore.
This considerably reduces your advertising expenses, known to be expensive sometimes. So instead of committing to 6 PPC campaigns, you can stick to just 2 and reinvest the rest of the funds elsewhere.
Thanks to this comparison conducted by Profit Works From the image below, it can be clearly seen that SEO saves up to $40 on PPC.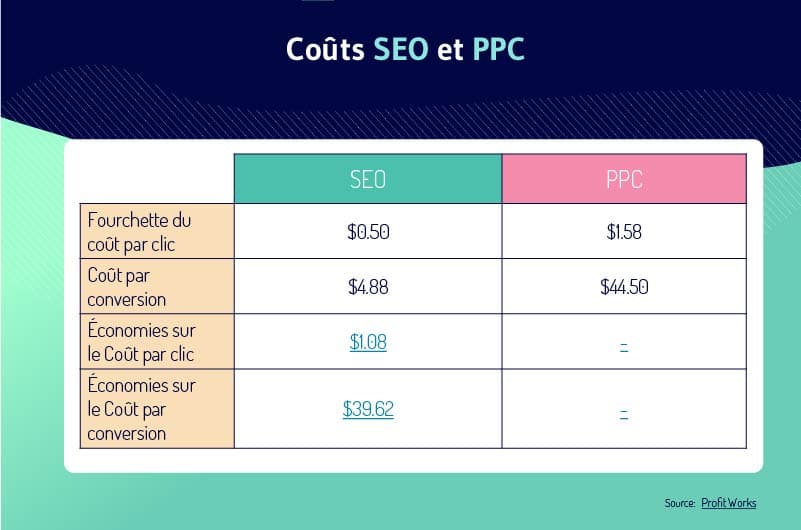 And that's not all. An SEO campaign also reduces your advertising costs associated with traditional marketing. After 1 year of investing in SEO, many business owners realize that SEO is more profitable than traditional marketing and advertising. Without forgetting its results which remain the best.
1.2.14. Strengthen your local marketing with natural referencing
Some people think that referencing is only for big companies that offer services or sell online. But that's all wrong, a local business that only offers offline services can indeed benefit from SEO.
Since the explosion in the number of Internet users connecting via mobile devices, local searches have become increasingly frequent. And the advantage is that 80% of local searches are converted.
Figures that will drive up your store's customer base if you launch your own SEO campaign.
Not adding natural referencing to your marketing will make you lose a good number of Internet users ready to consume your product. Easily stay ahead of your competitors with local SEO.
1.2.15. Achieve long-term sustainable results with SEO SEO
is a long-term process unlike traditional marketing which is limited to a short time. Thus, an SEO campaign launched today can bear fruit for years.
Of course, you will have to work on your campaign and wait a while before seeing the first results. So running a campaign requires continuous effort to see your return on investment increase.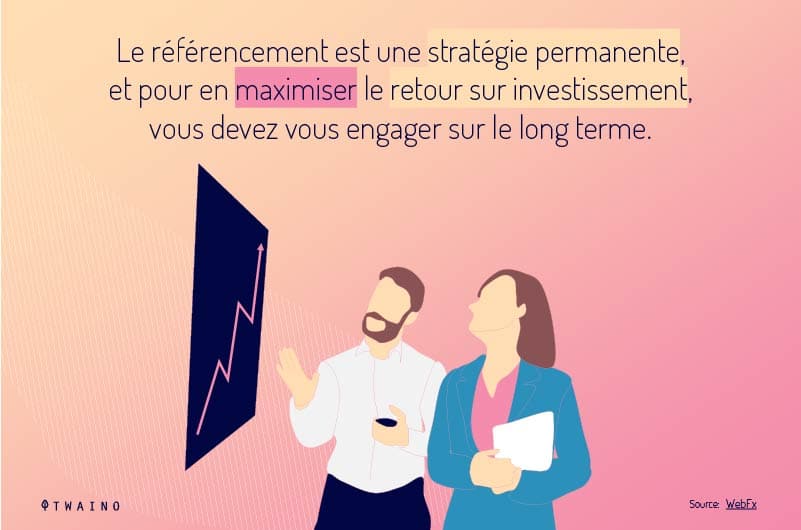 There you have it, the 15 biggest benefits you can get from starting your own SEO campaign. But, an SEO campaign is only really beneficial when it is successful.
Before showing you the different steps to follow, I would like to point out that SEO is not too complicated when you have mastered the basics.
Mastering these basics means focusing your campaign on three essential points:
The keywords and the quality of your content;
Optimization of website pages;
Link management.
Succeeding in mastering these three essential points means making a success of your SEO campaign to achieve your objectives.
To better understand these basic concepts, we are going to sequence them in different steps to follow to properly build your SEO campaign:
Chapter 2: Define your target audience (Step 1)
It is important to know exactly the potential customers who may be interested in your activities before launching an SEO campaign. Which audience will be more likely to become productive leads for your business?
Stop for a moment on this and ask yourself the following question: "Who are my products (or my services) intended for?". Think about it clearly.
If the answer that comes to mind is that your products or services are for EVERYONE, then you need to change that belief for the success of your SEO campaign.
Because there is at least one type of customer profile for whom your services or products are really intended. And you'll have a hard time attracting them if you start your campaign thinking your activities are for everyone.
This is a fairly common mistake that many people make, but which unfortunately can ruin their business or exhaust their resources without bearing any real fruit:
Their community on social networks may not grow;
Their website may generate less traffic than necessary;
Their blog posts may be less viral;
Their marketing strategies may not be effective;
Their email campaigns may not yield the expected results;
Etc.
All because the company failed to target its audience. But how do you find your target audience? Well, quite simply by defining its personas and redirecting the ideal content to each persona.
It may seem simple when summed up like this, but in practice it is a bit complex.
2.1. How to define your target audience using personas?
The principle here is to go exactly in the opposite direction. That is to say, instead of focusing on everyone at the same time, our goal will rather be to target a customer profile that brings together all the traits needed to consume our service or our product.
Or a customer profile to whom we can adapt these traits: we speak of "defining personas". So what is a persona? Well, let's see it a bit like a representation of an actual customer that we're looking to target.
Some call it "ideal client", others "archetype", it's just different terminologies, but all mean the same things.
So, to build our persona, we are going to use real information, that is to say information that we find in the daily life of a real customer.
This information can be your own information or the result of research, but the important thing is to see the persona really as a physical being who has a lifestyle, needs, beliefs, preferences, etc.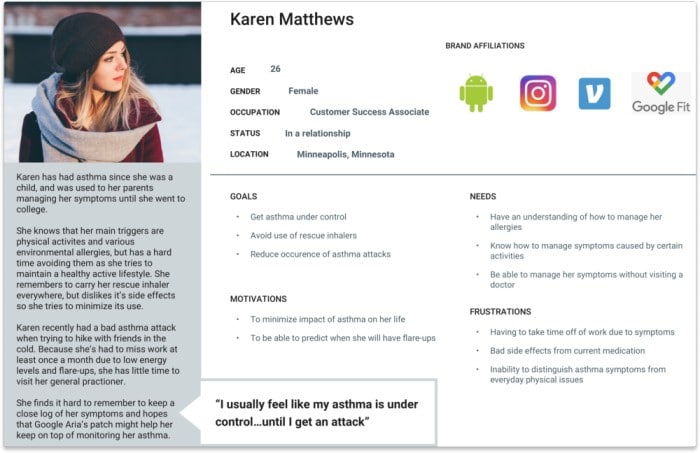 Source : Nahabalse
To easily identify and better understand the desires of your persona, you must first make it alive and relevant. The best way to achieve this is to project oneself into an empathetic approach, that is to say, to project oneself into the consumer's skin.
This is a highly valued quality in marketing that allows you to anticipate customer needs. To apply it here, here are some tips to guide you:
2.1.1. Naming your persona
Naming your persona is the first step to humanizing it. This name is a way to bring it to life, not only for you, but also for others in your company to easily associate products with it internally.
In choosing the name of your persona, you can go so far as to find a nickname for it to make it more original. Take for example Edouard the industrious or Marie the young mother.
2.1.2. Identify your persona in a social context
Since it is a question of making our persona as real as possible, it would be necessary to imagine it in a population. This therefore amounts to representing it, no longer with a simple name, but this time, to attribute very concrete characteristics to it such as:
Its age: It is not a question of giving an age range such as "between 18 and 25 years", but to attribute a very specific age to it;
His address ;
Their marital status;
His financial situation;
His professional situation;
His monthly income;
Its environment ;
Owner or tenant.
2.1.3. Assigning your persona a personality
Next, build a personality of your persona by splitting it into qualifiers on several levels:
Analytical or Inventive;
Active or passive ;
Solidarity or Individualist;
Reserved or Open;
Integral or Corrupted;
Conservative or Liberal;
Etc.
2.1.4. Invent a story for your persona
All of us belong to a group and your persona should also have its group.
Here, you will give free rein to your imagination and invent a story that retraces important events that your persona has experienced with his community:
Work;
Hobby ;
Education level;
Center of interest ;
Activities ;
Etc.
Let's say you own a daycare center and also offer other additional services to help women better balance work life and life as a mother.
Your persona could be a young single mother of 25 who is preparing her master's degree in IT Security and who works in a software programming firm.
If you can't write a story for your persona, you can interview people or do a little survey to get more ideas. Here are some questions that should help:
What are your persona's brand preferences?
What are his vacation spots;
What course is he studying in?
Is it on top of the news?
What city does your persona live in?
Does your persona have one or more hobbies?
Etc.
If you can, do a full biography of your persona if possible, it should help you anticipate their needs.
2.1.5. Assign values, goals and fears to your persona
To finish creating your persona, try to identify the possible reasons that motivate him to act or that hold him back. Generally, this means focusing your research on three fundamental elements which are:
It must be recognized that this last step of the creation of persona is not an easy thing. But the game is worth the effort since it will allow you to better understand the motivations of your customers and the difficulties they face every day.
It is especially at this stage that you must involve your sales staff and if possible your customer relations department, if you have one of course.
Here are some questions you can try to answer with your team to understand your persona's fears, values ​​and goals:
What bothers him at night?
What are his biggest challenges in life?
Who are his sources when he needs information or advice?
How does he experience change?
What are the factors that prevent him from being open to change, or on the contrary motivate him to change?
What impressions should a customer have after purchasing a service or product according to your persona?
If you want to master the creation of personas for your business, do not hesitate to consult my article on the semantic cocoon.
2.1.6. Adapt your content according to your persona
Now you have an idea of ​​your customer's journey, personality, difficulties, needs, fears, etc. All this information will help you easily create the ideal content to retain all customers who share the same characteristics as your persona.
You can intelligently draw up in your contents the practical, emotional or economic advantages which bring your products or your services, of which this customer profile is in search.
Also, it is important to note that a company can have several personas. In this condition, it will be necessary to produce enough diversified content and distribute it on several Web channels to serve everyone.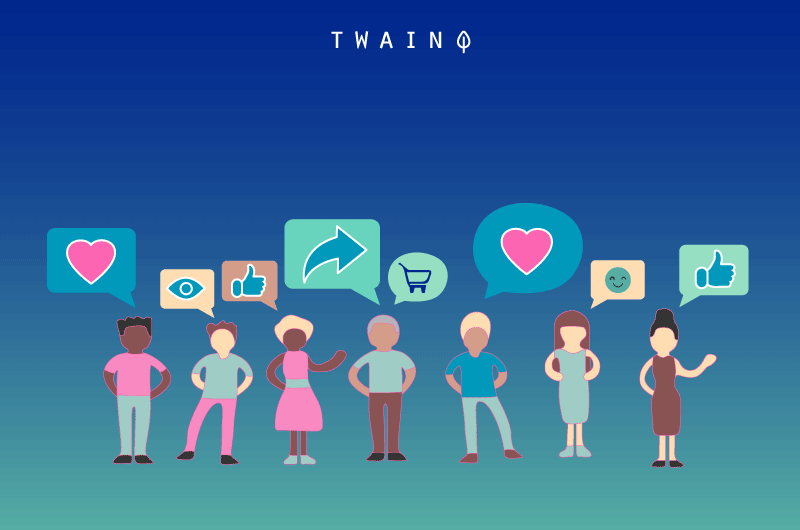 For example, a young persona would naturally be more inclined to consume content rich in visuals and will connect very often on social networks.
To attract this kind of customer, you can for example regularly publish Tweets briefly describing your products and services or make a video and post it on your YouTube channel.
The problem is that this strategy, although it is effective, it must be recognized, requires enough time and work.
Fortunately, there is good news for those who already have a website with published content and readership.
The advantage is that you can simply take your old blog posts, especially the very successful ones, and repurpose them into other types of content like:
Infographics;
Webinars;
Podcasts;
Etc.
These new articles can therefore be quickly redirected to the appropriate customers without having to recreate them from a blank sheet: this is called content reassignment.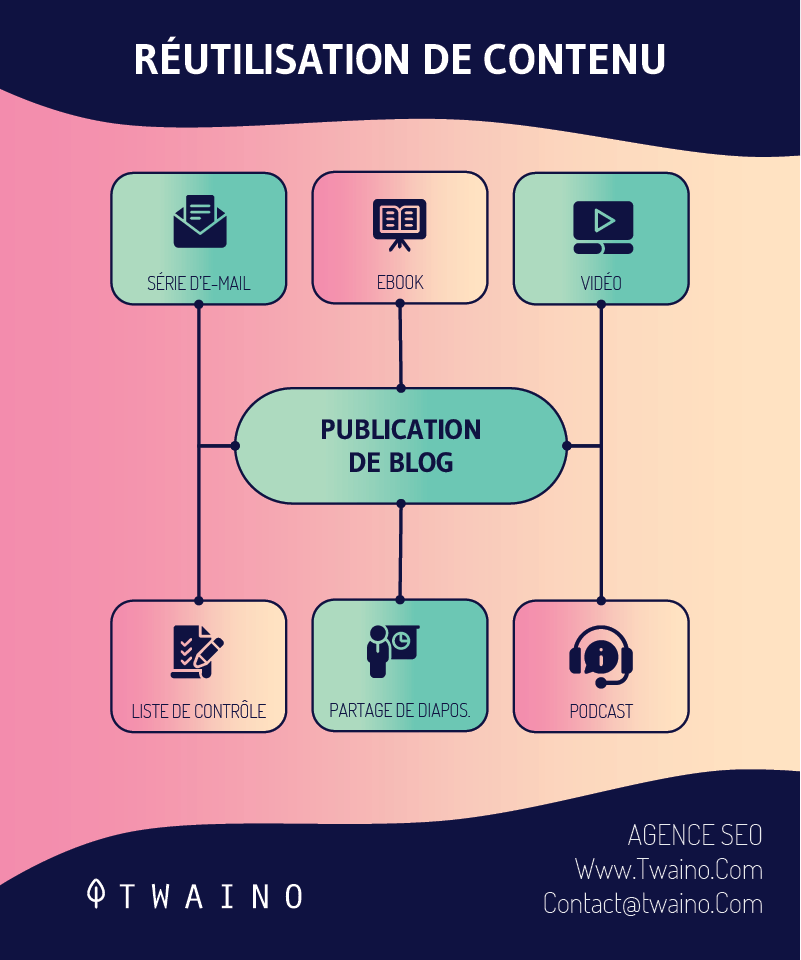 This is a strategy widely used by SEO specialists to target as many customers as possible on different platforms and thus bring traffic to the site.
To learn how to do content repurposing and reuse your old blog posts, I invite you to consult my complete guide on repurposing content.
Chapter 3: Set Goals for Your SEO Campaign (Step 2)
Before starting your SEO campaign, it's important to define the goals you want to achieve by the end of the process.
A company that does not know what its success looks like, has no way to assess the effectiveness of the SEO strategy it adopts.
Also, you risk launching a futile campaign with poor results if you start with vague goals. It is therefore important to keep in mind a clear understanding of what you want to achieve (reasonably of course) with your efforts.
Defining clear and precise objectives must be the first step in carrying out a successful SEO campaign. These objectives are in a way benchmarks and checkpoints for evaluating the progress of the campaign.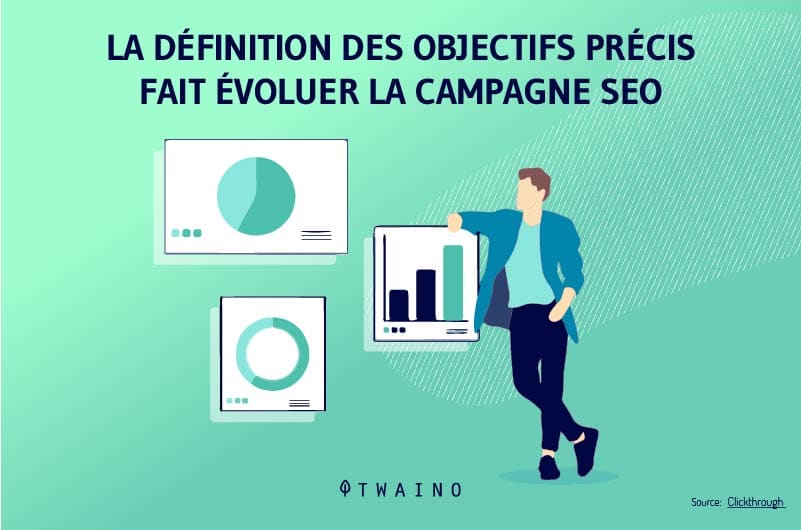 The objectives of an SEO campaign can therefore be diverse, of all shapes and sizes. They can vary from one company to another and according to the aspirations of each of them.
The majority of business owners probably want their website to rank first in search results whenever a user queries their industry keywords. And this, regardless of the generality of these keywords.
So it's not uncommon to see people come up with such vague goals as "winning". I'm not specifically condemning these kinds of goals, but just pointing out how ambiguous they are and need to be reviewed thoroughly for clarity.
Not only would these goals be difficult to achieve, but they risk generating low-quality traffic for the site, i.e. traffic with a very low conversion rate.
However, setting your goals effectively requires a few rules that you need to know.
3.1. The 3 rules to know before setting realistic SEO goals
Setting realistic goals for an SEO campaign should follow certain rules to be successful. Here are the 3 rules to know before defining your objectives:
3.1.1. Consider the resources you have.
It's important that your SEO goals match the means available to you so that you can truly achieve them.
This may seem obvious to some, but the fact is that many entrepreneurs and even beginners in SEO find achieving goals a bit like a switch: either it works or it doesn't.
The truth is that in SEO things don't work that way. Instead of believing in this received wisdom, you must understand that it is the amount of effort and the type of effort that you put in that determine the nature of the results of your campaign.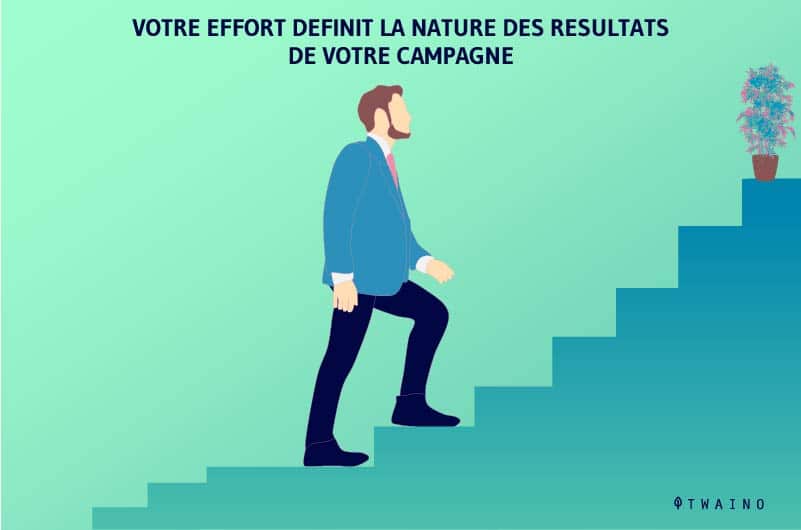 Concretely, what does this mean? Well, it's about realizing that if you're only putting in a few minutes of work a day on your campaign, that's going to have to be taken into account when crafting your goals.
It would be a bit of a stretch to set goals the size of a big company that has a team of SEO experts working tirelessly for it all day. So the time you spend on your SEO campaign is very important.
If you want ambitious goals, then you have to put in enough effort:
How many hours do you work on your campaign per day?
Do you do it yourself or have you delegated it to a person or a team?
Are these people qualified enough to bring you good results?
How many outlets or agencies have you set up in conjunction with your SEO campaign?
Also consider the quantity and quality of the content you publish on your site, the creation of links, the number of social networks you join your campaign…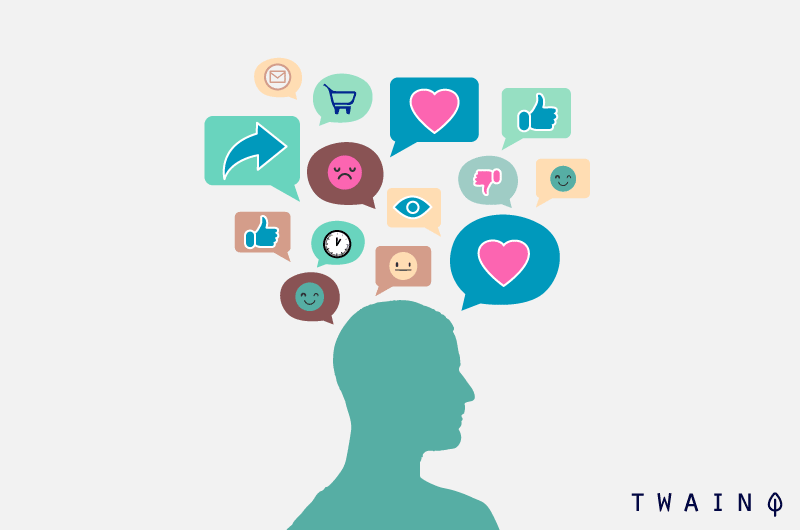 Finally, also take into account your expertise. If this is your first experience with SEO or your first venture, I think it would be reasonable for you to be careful and realistic in setting your goals.
Goals can vary from company to company, so it would be a good idea to moderate your expectations based on your efforts.
Otherwise you will be able to misjudge the results which nevertheless seem to be a success for the size of your company and the efforts you have made.
3.1.2. Define long periods with relative measures for your comparisons
. You could almost say that they are two rules rolled into one because of their close relationship. Indeed, in SEO it takes time to measure your progress.
Do not seek to have results from the first days or the first weeks of the start of your campaign. SEO is a fairly long process that requires consistency in work.
So if you put yourself in the mindset of someone who wants to see their first results within a few days, it could frustrate you and discourage you from going all the way.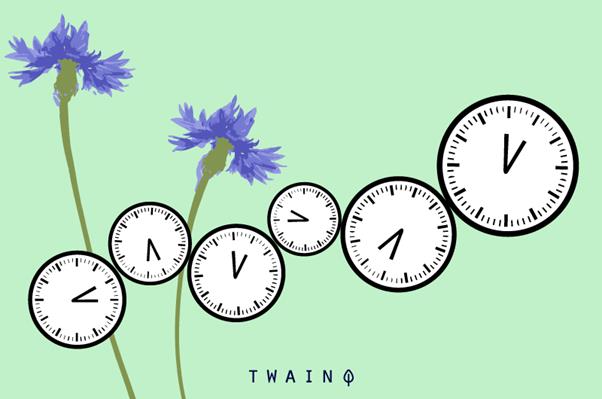 So, if you need to analyze the behavior of your strategies over two different time periods during your campaign, it is advisable to use long time periods.
This means, for example, comparing the period from January-March to March-May rather than comparing January to February.
It is recommended to use these large time scales since rankings and traffic are two elements that depend on several factors, sometimes even random.
Let's say for example that you have integrated a new technique into your SEO strategy and you set yourself the goal of obtaining 100 additional visitors in one month.
Within a month, even before the technique bears fruit, a global event could occur and upset all your predictions. This does not mean that the technique is ineffective.
This is why, in addition to the notion of temporality, it is also important to associate relative measures with it. Instead of aiming for 100 new visitors in 1 month, you can aim for a less concrete goal, such as an increase of at least 10% in your traffic rate.
So clearly, using exact numbers in your goals can give you a false sense of your campaign's real progress.
3.1.3. Make adjustments to your goals
Generally, a goal cannot be changed before its trial period. So if you have set a goal for a certain period, you must follow it until the end of the period.
In the SEO industry, things don't always happen that way. Moreover, it is quite normal to make readjustments throughout the process of a campaign, as long as the adopted SEO strategy is still in progress.
SEO is a fluctuating process that changes almost regularly. As a web entrepreneur, you must therefore continually readjust your goals and expectations to keep pace.
For example, suppose you have set a goal to grow your organic traffic rate by 25% each month for the entire first quarter of your SEO campaign.
Then, in the second month, you decide to hire an independent consultant to help you publish content on your site and on social media. At this level, it would be reasonable to revise your goal expectations upwards.
Then suddenly, in the 3rd month, Google announces an update to its algorithms. Which gets you rankings for certain keywords you have targeted. We agree that this time, you need to revise your expectations on the bass.
Moreover, I would add in parentheses that Google has regularly updated its algorithms in recent years.

As we can see, SEO is part of a continuous process. So throughout the SEO campaign, you must also set continuous and dynamic goals.
These objectives can, if not must, be in line with changes in the positioning of your site and the evolution of your SEO strategy. Thus, at each period of evaluation of your progress, you can confirm your current data to the targeted objectives and obtain reliable conclusions.
However, don't summarize your campaign as "success" or "failure". Think instead of identifying the elements responsible for the achievement or not of your objectives. Thus, you can study these factors and better correct them for the next period of your campaign.
Gradually, you will acquire a certain understanding of SEO that will allow you to objectively assess your results and have the ability to set realistic goals.
But first, you will need to know the different types of possible objectives in SEO, which we will discuss in the next section.
3.2. The different types of objectives for an SEO campaign
Personally, I advise you to set your objectives at least according to the following main points and if you wish, you can go even further.
3.2.1. Type of desired conversions
Setting your campaign objectives by type of conversion comes down to defining the actions you want your visitors to perform once they log on to your website.
These actions can be of different orders such as:
Filling out a prospect form;
Subscribe to your newsletter;
Contact your support service;
Buy a product directly on the site;
Etc.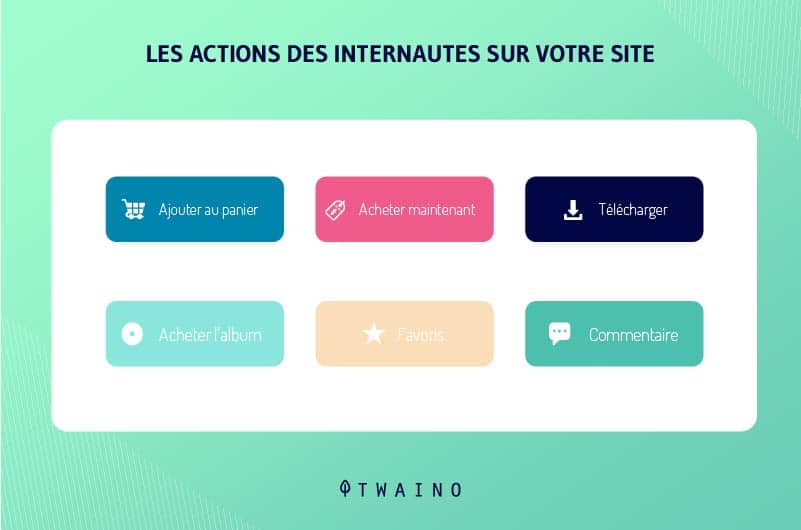 From these "basic" objectives, several others can flow in many directions. However, be sure to at least consider the following goals which are important for almost any website:
3.2.2. Goals related to the state of your website
These goals depend on the actual data of your website. What metrics on your site do you want to improve? Speaking of these statistics, you have many SEO tools to analyze the number of visitors who come to your site. So if you already have a website with a community and you don't use any tools to get an overview of current and past site data, you can start with Google Analytic.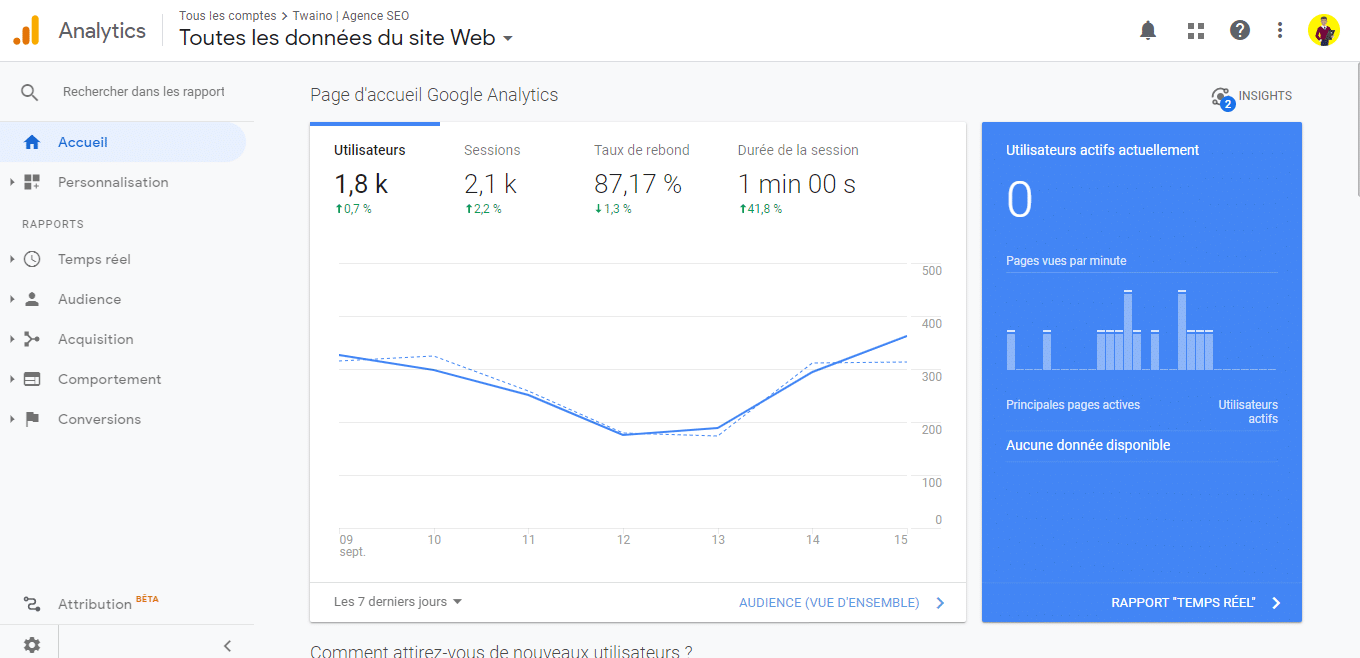 It is a web analytics program initiated by the online search leader that is widely used in the SEO world.
3.2.3. Goals related to the ranking of your site in the long and short term
These ranking goals are related to the criteria of quality traffic and many other factors. But it is essential to keep in mind two specific objectives which are "short-term objectives" and "long-term objectives".
The long-term goals are to define the classic keywords that can generate a lot of traffic for the website, but are quite competitive. While the short-term goals are to establish long-tail keywords that are less in demand with low competition.
We will come back to these two notions in a section devoted to the creation of keywords for a winning SEO campaign.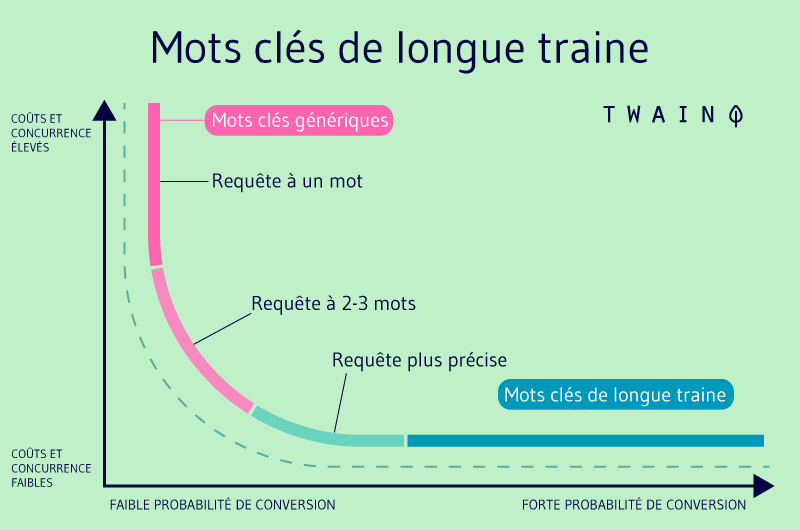 Finally, it is important to remember that you must give enough time to gather all the data important to your objectives and that the objectives are not necessarily set in stone.
A goal can change over time, so don't be afraid to modify some of them if necessary.
Chapter 4: Perform an SEO audit (step 3)
The SEO audit is a practice of great importance for any company wishing to operate on the Web.
Normally, each company should carry out an SEO audit most often: at least with each new campaign or every 3 months. If you are an SEO specialist, it is recommended to do so with each new project.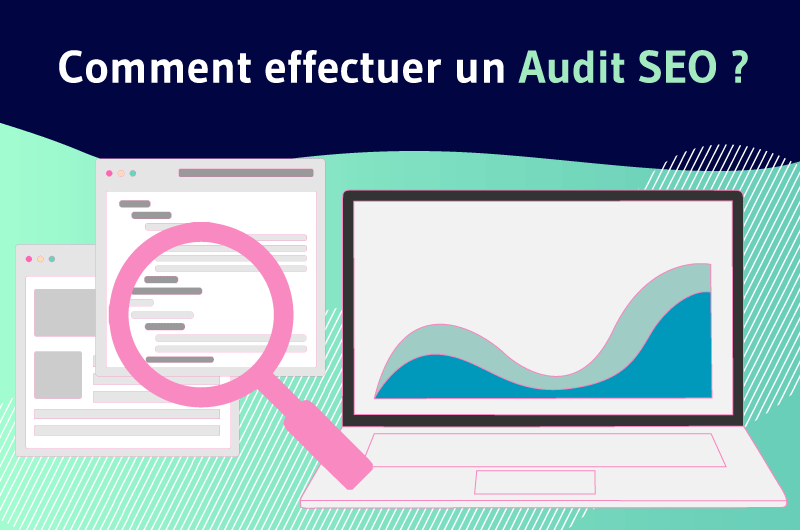 Performing an SEO audit consists of carrying out a complete diagnosis of a website. This is the first step in an SEO campaign that needs to be mastered to get good results.
The objective of an SEO audit is to identify the weaknesses that undermine the SEO performance of the site. Based on the results obtained, you can define the ideal strategy to adopt to correct these weaknesses and improve the ranking of the site on the search engine results pages.
The SEO audit also makes it possible to identify the strong points of the site in order to improve them for more efficiency. To carry out the audit of your site, you have several tools available online in particular, SEMRush, Google Analytics, Moz, Ahrefs, etc.
Here are the different steps to follow for a successful SEO audit:
4.1. Analysis of targeted keywords
The SEO audit begins with a review of all the targeted keywords in your marketing strategies and an analysis of the behavior of your users. The idea is to draw conclusions that allow the relationship between these keywords, the content disseminated and the general theme of the site to be assessed.
Are the right keywords chosen? Should I change them or find new ones? So many questions that will find answers in this first step of the SEO audit.
So to start, we are going to look at all the keywords targeted on the site to assess the relevance and quality of each of them. The aim is to verify whether the strategy currently adopted is effective and in line with the objectives and the current situation of the site.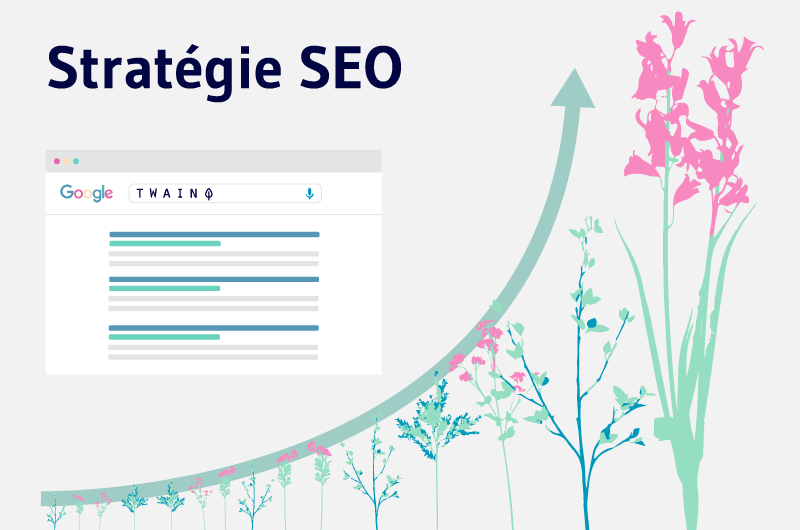 A common mistake people make at this stage is wanting to target high-competition keywords at all costs. Unfortunately, these keywords are difficult to reach and are often a waste of time, energy and resources.
What would be wise for the start of an SEO campaign is to focus instead on so-called "long tail" keywords.
So how do you know if the targeted keywords on the site are really the most effective? Your keywords must meet 4 criteria to have a positive impact on your campaign:
Accessibility: You must prefer keywords with low search volume, therefore long-tail keywords, especially if your site is recent and that it has not yet achieved a good positioning on Google;
Relevance: We agree that your keywords must be in line with the activities you offer;
Specificity: You should focus your efforts on a short list, but one that performs well. This amounts to reducing your list according to your means, that is to say ten, twenty or a hundred keywords at most;
Measurement: You must be able to measure the results of your main keywords. To do this, you have dedicated SEO tools such as Pro Rank Tracker.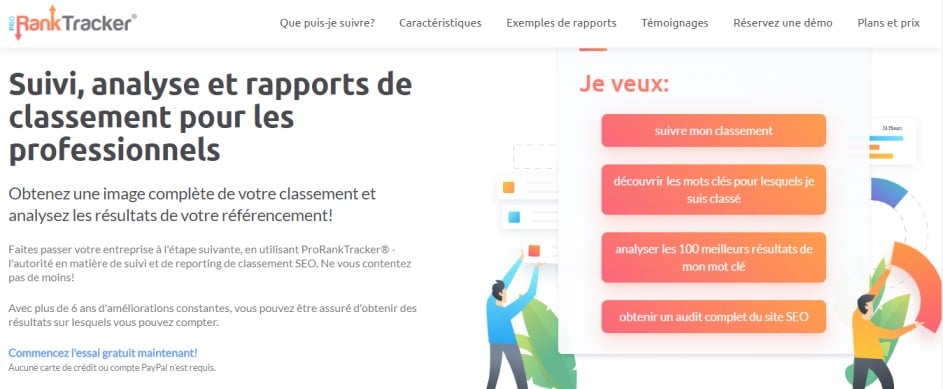 Source : Rank Tracker
Finally, you have to give an estimate of the time needed to be well ranked for these keywords and a deadline. This approximate timeframe will serve as a benchmark for tracking the progress of your strategies.
4.2. Analysis of your competitive environment
In SEO, it is important that you continually keep an eye on your competitors in order to overtake the biggest and maintain a lead over the smallest. This is an essential step in an SEO audit.
Thanks to this in-depth analysis of the competition, you will be able to have an idea of ​​the real challenges of the market. And thus, to have an idea of ​​the efforts and the means to be mobilized to achieve the desired ranking on the SERPs of Google.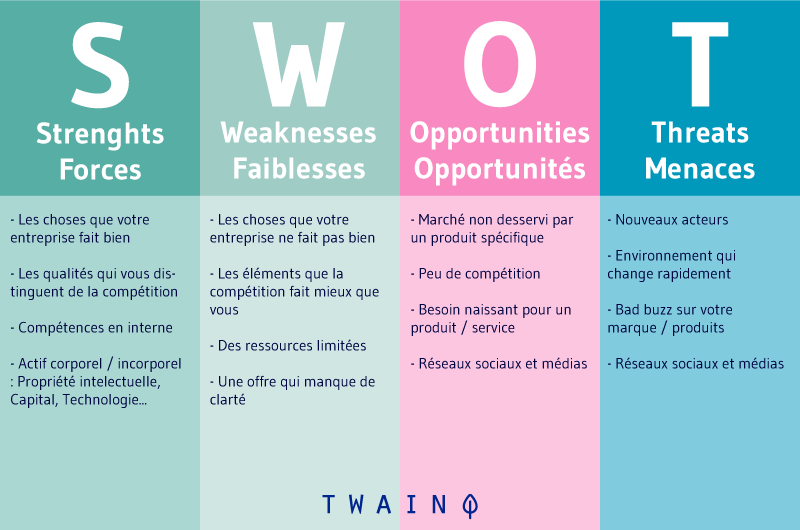 In SEO, each step is important and contributes to a more global success. Even if you respect good SEO practices, without a study of your competitive environment, you will move forward a little blindly, without really knowing who your "challengers" are.
To carry out the competitive audit, here are the steps you will need to follow:
4.2.1. Target Your Most Important
Competitors Targeting your competitors is not about looking for the identity of business owners operating in the same industry as you. Your competitors in SEO are nothing more than the pages that appear on Google for the keywords you have targeted.
So to identify your competitors, you will just need the main keywords that you have previously targeted in your SEO strategies. Enter these keywords into the Google search bar and note the sites that occupy the first page.
Even if you enter variations of your keywords, it is quite possible that the same sites will appear again and again. Accurately record the domain name of these sites, you have just discovered your SEO competitors.
However, I would like to draw your attention to an important detail, without which you can miss this first step of your competitive analysis.
It is important that you enter the right right keywords, not those that are too generic, but those that specifically designate a service or a product.
Il est important que vous entrez les bons bons mots-clés, pas ceux qui sont trop génériques, mais ceux qui désignent précisément un service ou un produit.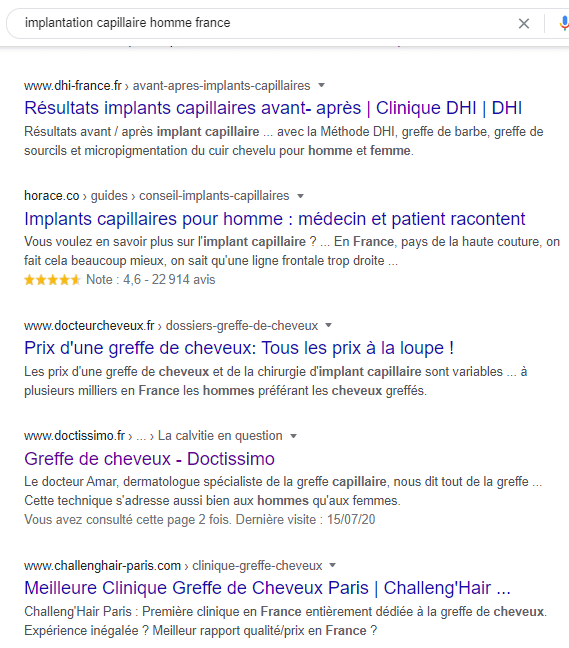 Take the example of the capture above, which can help a structure specializing in hair transplantation to identify its competitors.
As can be seen, the keyword sought is an expression of 4 words which clearly designate the intention of the Internet user, which is to have information on the implantation of hair for men in France.
A search for "hair implantation" will not necessarily return the same results.
4.2.2. Check the authority of your competitors
Once you have established your list of competitors, it is time to compare their strength and authority. Fortunately, there are effective SEO tools to get an idea of ​​the current strength of your competitors.
You can consider one of the following indicators:
The Trust Flow for Majestic SEO or;
The Domain Authority for Moz.
It must be said that since Google's PageRank is no longer accessible, SEO experts have turned to these indicators to measure the popularity of a website.
To do this, you can go to the official page of these two tools (Majestic SEO, Moz) and enter the domain name directly.
Let's take our hair transplant clinic example, and check the Authority and Trust Flow of one of its competitors.
Source : Moz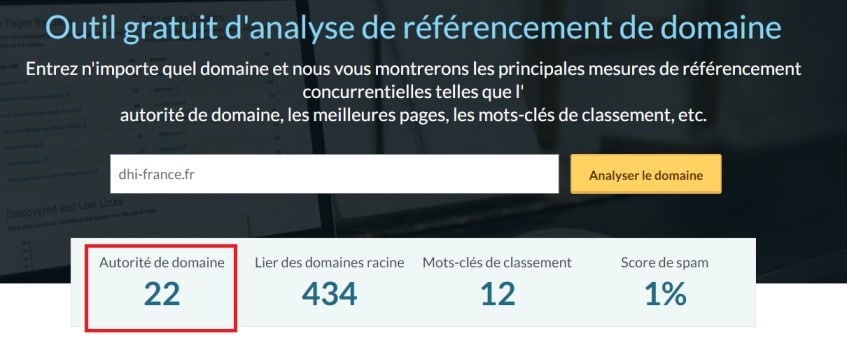 Source : Majestic

These values ​​are the result of an advanced link analysis algorithm. You can take advantage of this to measure the authority of your website.
To make your task easier, you can directly integrate the extension of each of these tools into your Google Chrome browser:
Thanks to these two extensions, you will be able to see the indicators of your competitors directly from the search results of search engines.
Now you have an overview of the authority of your competitors, so we can dive deeper into their strengths and weaknesses.
4.2.3. Analyze your competitors' on-page optimization
This step consists of analyzing the efforts that your competitors make to manage the on-page optimization of their site.
This essentially amounts to analyzing elements on their site:
Check the presence of the targeted keyword in the Title tag of their content, but also in the Hn subtitles (H1, H2, H3, etc.);
Check if the content of each page positioned on Google is of good quality and long enough.
Sometimes you may come across pages that are not well optimized for certain keywords. These pages ended up on the first page of Google simply because Google has nothing better to offer.
Which is good news since it will be relatively easier for you to overtake this competitor.
Conversely, you can also come across pages whose content is carefully optimized with a good writing style. In this case, you must improve the quality of your content to be able to compete with this competitor.
The so-called Skyscraper or one-upmanship method is an excellent method that has proven itself and can help you improve the quality of your content: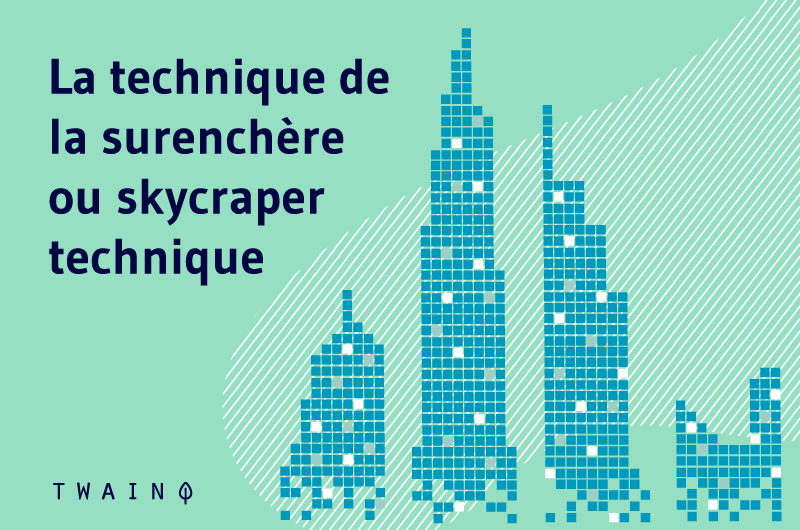 4.2.4. Analyze the netlinking techniques used by your competitors
Netlinking is still relevant and remains a decisive factor in SEO. Indeed, search engine algorithms are essentially based on the quality and quantity of backlinks pointing to a site to measure its popularity on the web.
We cannot therefore claim to do a complete analysis of SEO competitors without analyzing their link profile. This is probably the most important step in a competitive analysis.
Here too, there are a number of tools such as Moz Link Explorer or Ahrefs to help you have the link profile of your SEO competitors which contains:
The set of links used;
All anchor texts used;
And the domain authority.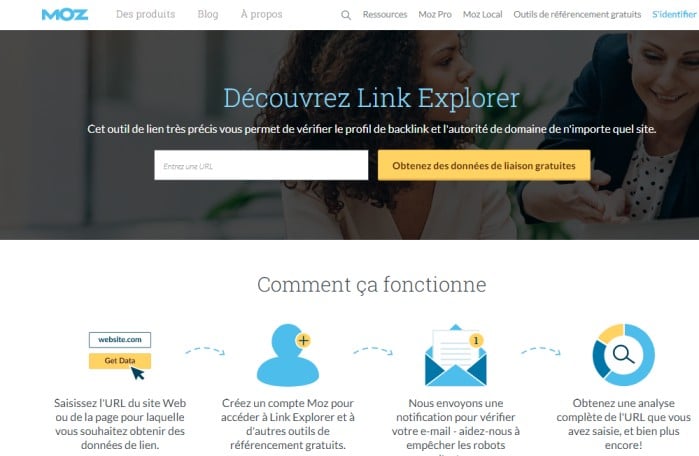 Source : Moz Link Explorer
Thanks to the link profile obtained, you will have a more global idea of ​​the netlinking strategies used by your SEO competitors. Once the link profile has been obtained, ask yourself these few questions: Do
my competitors have a significant amount of backlinks? Are these links coming from a proportional number of domains?
Have my competitors used fraudulent SEO methods such as Spammy techniques or even Black Hat-SEO?
Do they use directories?
Or have they worked according to SEO requirements and search engine recommendations to earn those backlinks worthily?
Are their anchor texts over-optimized or created naturally?
Thanks to this analysis of your competitors' netlinking techniques, you can better adapt your netlinking strategies by strengthening their weak points and thus be able to compete and win the competition.
4.2.5. Continue analyzing your competitors on social networks
Even if the presence of a brand on social networks impacts just a little bit on search engine algorithms, it is still an interesting point to complete your competitive analysis.
It is therefore important to continue your analysis by checking the presence of your competitors on the biggest social media such as Facebook, Instagram, Twitter, YouTube, Pinterest, LinkedIn, etc.
The ideal would be to devote this step only to your biggest competitors. With all the data collected, you will easily be able to name your toughest competitors.
To better gauge their influence on social networks, here are some questions to ask yourself when visiting their profile on each social platform:
How many followers do they have on each social network?
What is their engagement rate?
How often do they post new content?
What types of content do they most favor on their diary?
The principle remains the same for the previous steps: spy on their strategies to do better and stand up to them.
To facilitate the task in this analysis on social networks, I recommend using BuzzSumo which is a tool designed for these kinds of analysis.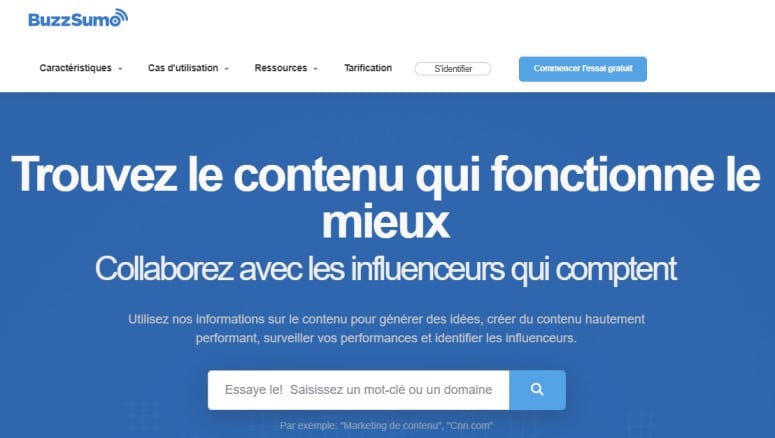 Source : BuzzSumo
This tool allows you to easily track important metrics about competitors' activities on social media. Thanks to these indicators, you will be able to easily answer these questions:
Which social networks should you focus on in your sector of activity to quickly develop a community?
What types of content should you focus on to have more impact on social networks?
Which user profiles share your competitors' content the most?
The answer to these questions should allow you to target "influencer" Internet users who are more interactive with the content of your competitors. These same influencers could do the same with your content, which would quickly boost your brand authority.
So make a list of these influencers and contact them to partially promote your content on social networks.
In addition, the analysis of your competitors on the networks can serve as an index to target clear and achievable objectives on social networks.
A little reminder, the ideal would be that you repeat all these steps regularly so as not to miss any of your competitors' strategies and always be one step ahead.
4.3. Auditing the technical parts of your website
Next comes the stage of auditing the technical parts of the site. Here, the objective is to have an overall idea of ​​the current state of the site's foundations. Is the site easily accessible to Internet users?
Are search engines able to easily interpret the content and source code of the site? All these technical aspects are also important for the optimization of the site.
To audit and improve the technical parts of your site, the SEO audit offers some factors to take into account:
4.3.1. The domain, the host and the IP location
The hosting of your site is the first technical aspect to take into account. For those who have had a bad experience or who have not yet hosted their site, you must make sure to choose a quality, efficient and accessible host 24 hours a day. Avoid free or low-cost hosts that regularly bug.
The older a domain name is, the better it should be known to search engines. If you've had your website for years, it would be a good idea to maintain its domain name. For those who want to create one, avoid over-optimizing it like "discover-meilleur-de-referencement-a-paris.com". This does not mean that you should choose a domain name that has no connection with your sector or with the name of your company.
You also need to consider the location of your web host. A host located in the same country as your customers will make access to your site faster. Even if you insist on choosing a local host, make sure they have a well-developed CDN network to quickly serve customers abroad.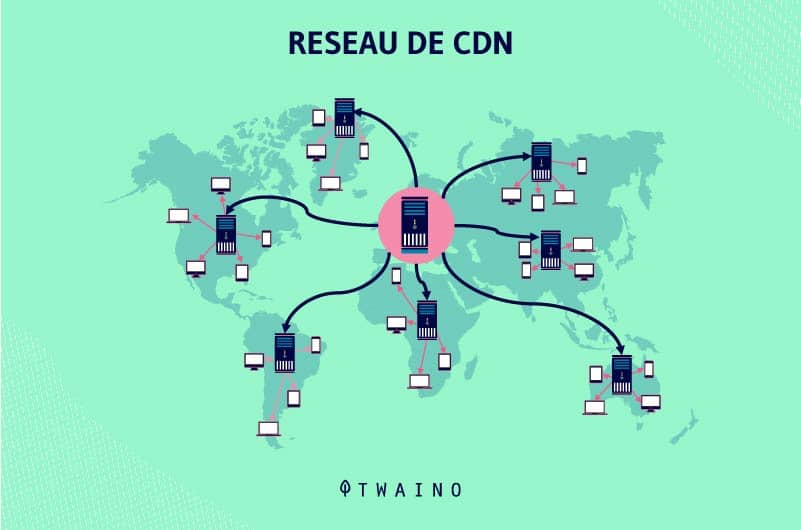 But if you only target local customers, you can settle for a local host.
4.3.2. Multilingual for visibility abroad
If your sector of activity allows you to target customers abroad, it is important that you make your site multilingual to allow customers from other countries to contact you.
For this, you must take into account 3 important points:
4.3.2.1. Arrange your site and its content for international
use If you have successfully targeted a keyword in France, it is not enough to translate this keyword into a foreign language to automatically have the same success.
Each language with its jargons and each region with its way of expressing itself. It is therefore up to you to repeat the keyword targeting procedure for each new language. Multilingual SEO requires specific strategies for each language.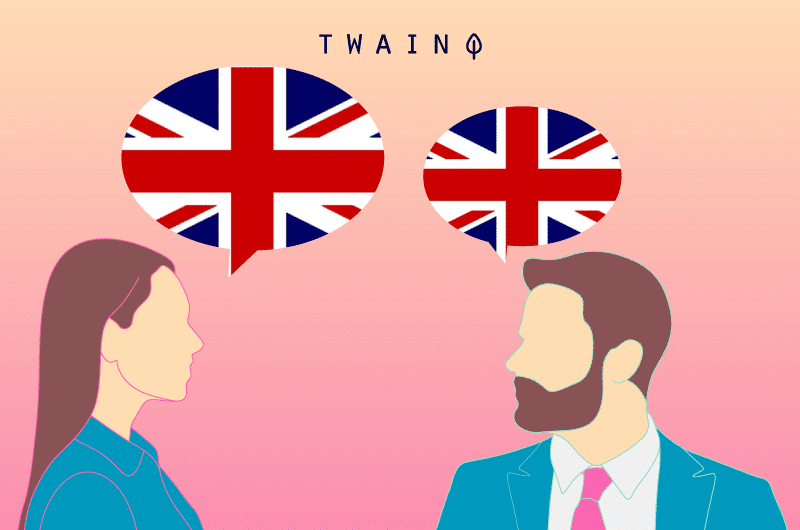 Then you need to design a site for each different language you are targeting and come up with a domain name for each site.
To achieve this, you have several methods to determine the URL format to apply for each domain name:
Make a translation in each language, accessible in a file in the root of the site. For example, you can use www.nomdedomaine.fr for the French version and www.nomdedomaine.fr/en/ for the English;
Assign a different domain name for each language. For example: www.nomdedomaine.fr, www.nomdedomaine.uk, www.nomdedomaine.de, etc;
Add each different language to the domain name as a parameter. For example: www.domainname.com?lang=en for English.
Generally, the first two options are the most used, however I would like to point out that having several domain names is not very beneficial for your brand.
4.3.2.2. Insert the "hreflang" attribute in the HTML structure of your site
The "hreflang" attribute is very important for your multilingual SEO since it is an indicator that allows search engines to be notified of the region or language used. As soon as a user connects to your site, he will be automatically redirected to the appropriate version for his search.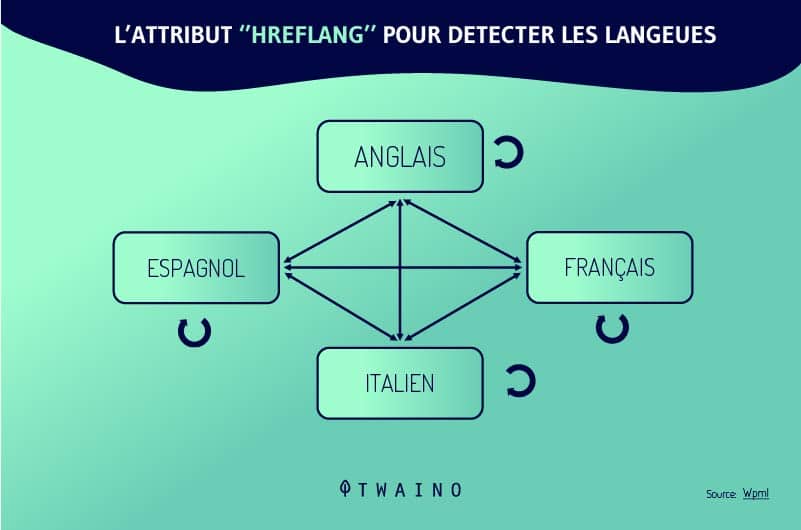 To use the "hreflang" attribute on your site, you have 3 options:
Create a sitemap.xml file containing all the language variants of all the pages of your site;
Integrate the hreflang tag into each page of your site;
Directly modify an Http request header of the site by inserting a code that indicates the language of the pages.
4.3.2.3. Improve your SEO techniques for international search engines
It is clear that Google dominates the online search market in Europe: 90% of all searches are provided by the American giant.
However, this hegemony is not always verified abroad.
Indeed, internationally, Google has two sizeable competitors:
Baidu (Russia);
Yandex (China).
So if you want to be referenced in China for example, you must adapt your SEO strategies according to the realities on the ground.
For example, for several years now, the "meta-keywords" tag has been deprecated for Google, while it continues to work for Baidu.
While Google recommends webmasters to migrate their sites to the Https protocol, a few years ago Baidu didn't even crawl them. As for the Yandex search engine, only sites with a domain name ending in .ru are the most valued in its algorithms.
As you can see, you need to study the specifics of each search engine for a successful multilingual SEO strategy.
Finally, the distance that separates your server from Internet users is an important criterion used by search engines to position your site.
So, if you have an e-commerce store and want to attract customers in a foreign country, you must have a server on site.
4.3.3. The loading time of the pages of the site
The ideal for a powerful site would be that it manages to load at most in 1 second. Well, I admit that it is difficult to achieve such a loading speed, especially with all the media that a website has.
But the fact that people hate websites that take forever to load. In a recent Host Review, a website's probability of bouncing increased by 32% when its load time was between 1 and 3 seconds.
Bounce rate refers to the percentage of visitors who connect to a website and who immediately close their session without even loading a page or clicking on a link on the site: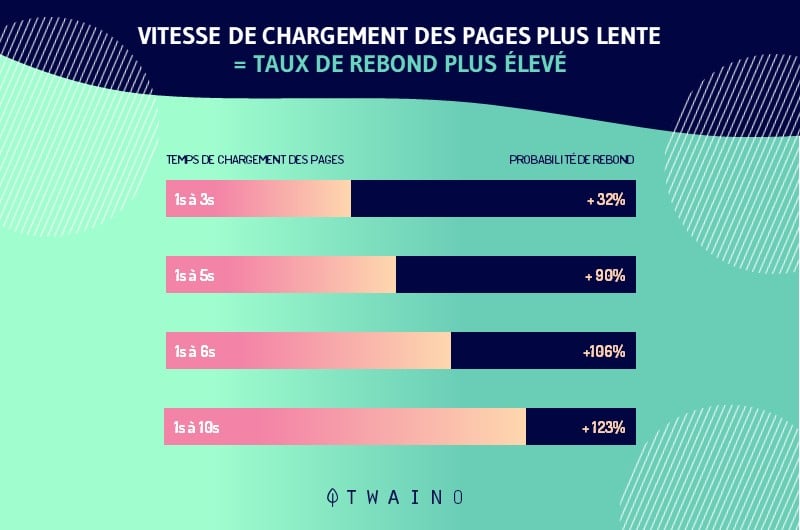 Therefore, to succeed in keeping Internet users who visit your site and provide them with a better user experience, be sure to increase the loading speed of your pages as much as possible.
4.3.4. The mobile version of your site
It is important that your website be responsive, that is to say that it manages to adapt automatically to all screen resolutions, including those of mobile phones.
Since the explosion in the number of mobile users worldwide, Google clearly announced in 2015 that the quality of navigation on mobile devices now counts in its algorithms as a referencing criterion.
Indeed, according to Broadband Search statistics, 51.9% of all global internet traffic came from mobile phones in 2019 compared to only 0.7 in 2009.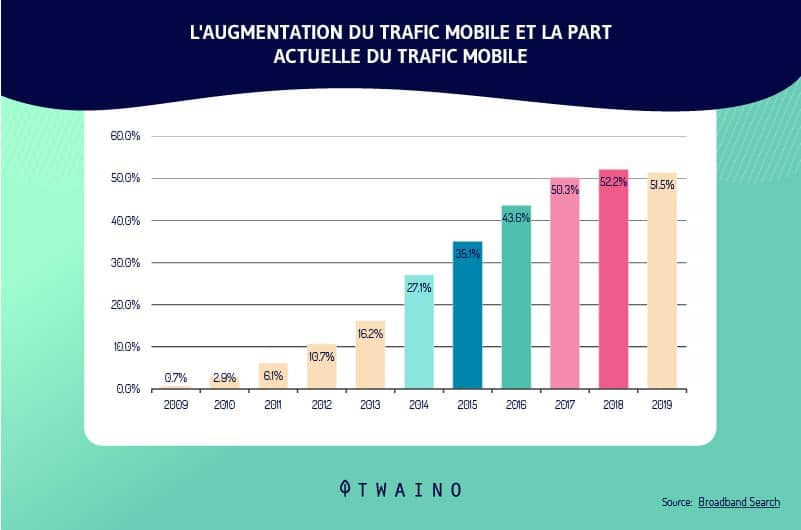 Faced with this galloping increase in the number of mobile users, we understand better why Google requires websites to be mobile. It is therefore very important that you improve the mobile version of your site.
This amounts to organizing its structure to offer more fluid navigation and responsiveness on mobile devices.
4.3.5. The security of your site
Internet user data security is a sensitive aspect that search engines defend at all costs.
In order not to be downgraded by indexing robots, as the owner of a website, you have the responsibility to ensure the data protection and privacy of your users.
This comes down to at least using the Https for your website, especially if it is an e-commerce store.
The protocol may be a simple installation, but it is the first thing that an informed user checks before making purchases with his card on your site for fear of having his bank details extorted.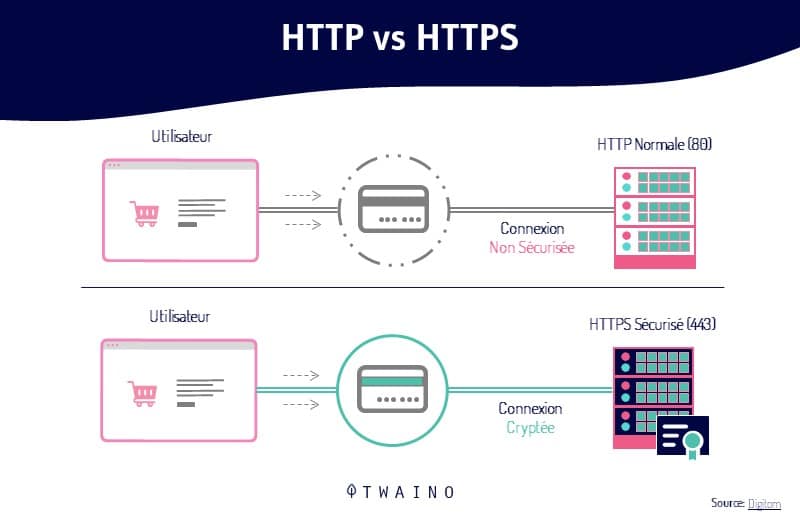 On the one hand, having an Https protocol will make you occupy a good position on the pages of search results because you have complied with the requirements of search engines.
But on the other hand, you reassure your users and increase the chances that each visit will lead to a purchase.
4.3.6. 404 errors and redirects
Have you ever clicked on a link and ended up on a blank page with the only inscription: 404 error ? Those who have had this bad experience can testify how often it can be disappointing.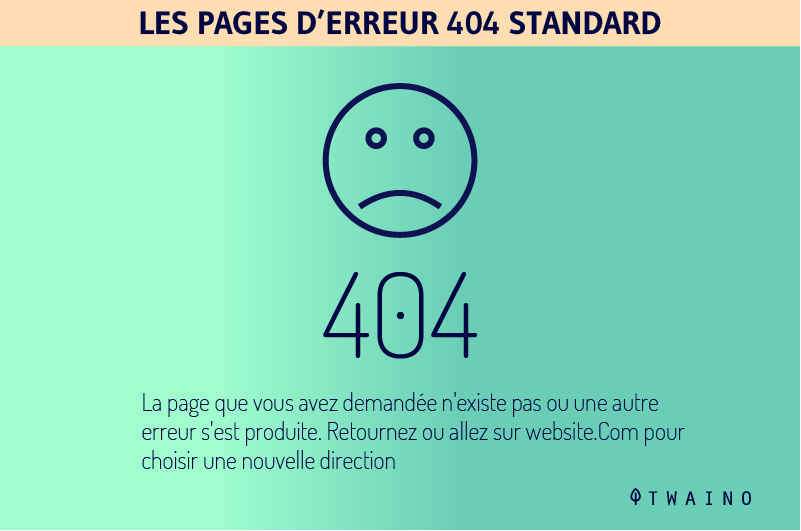 In fact, these errors appear when the address you want to visit is no longer available on the server. Already, every website needs to customize its 404 error page to make a difference.
But this is not a good thing in itself since Google does not appreciate 404 errors and can cause you to lose your ranking if some of your pages return these errors. It is therefore important that you make sure that the audited site no longer contains 404 errors.
301 and 302 redirects, on the other hand, redirect Internet users to an address other than the starting address. The 302 redirect is temporary while the 301 is permanent.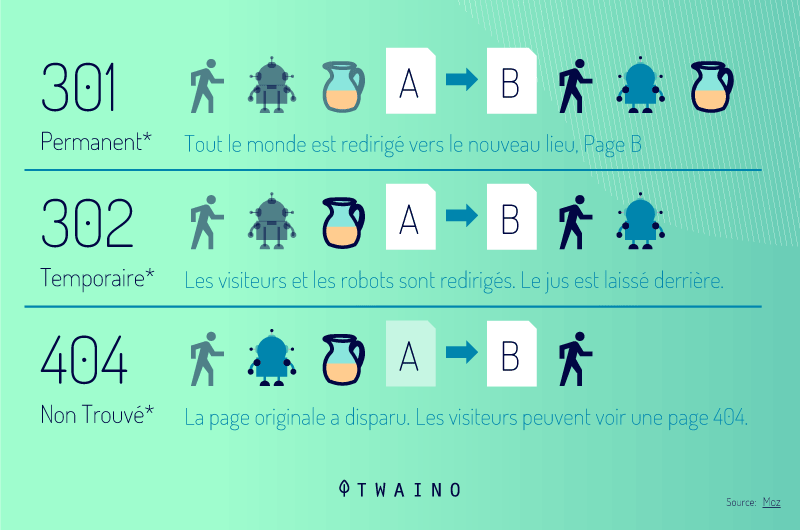 It (301) is therefore the most recommended redirect when a page is inaccessible and you still want to direct your users to another page.
On the other hand, the 302 redirect should only be used when it comes to content that is temporarily unavailable.
4.3.7. Indexing your pages
Sometimes certain pages are not crawled by search engine crawlers. As a result, these pages, regardless of the value of the information they contain, will not be able to be displayed as soon as a user launches a request.
This could harm the activities of the site and its referencing. But how do you know if some of your pages may not be indexed by search engines?
There is an advanced search formula you can use to find out: "site:mysite.com".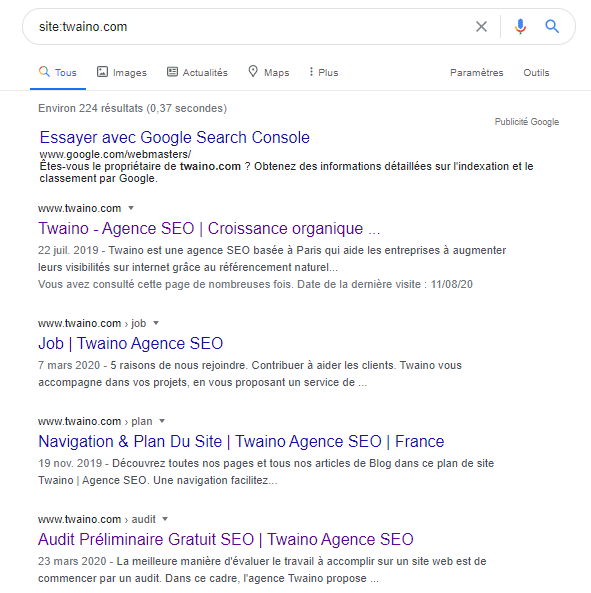 On the capture, all the elements of answers proposed are only articles written and published on the site of the Twaino. With this formula you can compare the number of pages listed to the number of pages on your site.
If the difference is too high, there is a problem preventing indexing robots from crawling all of your pages. In this situation, the first thing to do is to check if uncrawled pages are important to you.
If so, move on to optimizing those missing pages to be indexable by Google bots again.
4.3.8. The Robots.txt file
The file is a file in text format found in the root of an Internet site. This file contains lines of code that tell crawlers which parts to ignore when crawling the site. It can be a page or an entire directory.
To check if your website does indeed have a Robots.txt file, add the instruction "/robots.txt" to the end of your domain name and run the query.

To prohibit access to indexing robots on a content, enter the root of the site and write in the Robots.txt the instruction "Disallow: /" accompanied by the content concerned.
The Robots.txt file is not required for a website, so it's not that bad if you find it missing from your site's root.
4.3.9. The sitemap
Sitemap in French, the sitemap is a file generally in XML form whose content presents the overall architecture of a website. It is intended for search engines and makes it possible to list all the addresses of the content distributed on the site.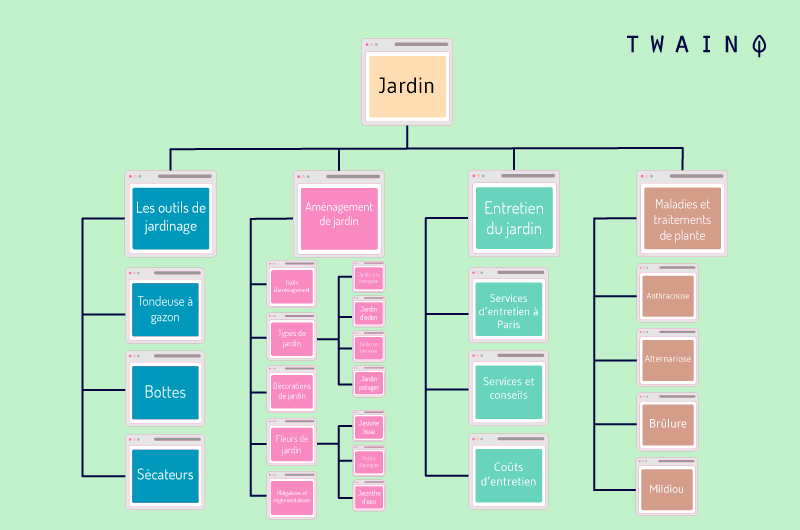 Each URL can be supplemented with additional information such as the frequency of updates, dates, level of importance and others, to help the bots in their duty of indexing.
However, make sure that your sitemap only includes URLs that you consider indexable and that the file capacity does not exceed 50 MB
. 4.3.10. URL addresses
The form of your URLs is also an aspect that you must take into account when auditing your site's SEO. It is recommended that the URLs of web pages be as short as possible and contain at least the main keyword of the page.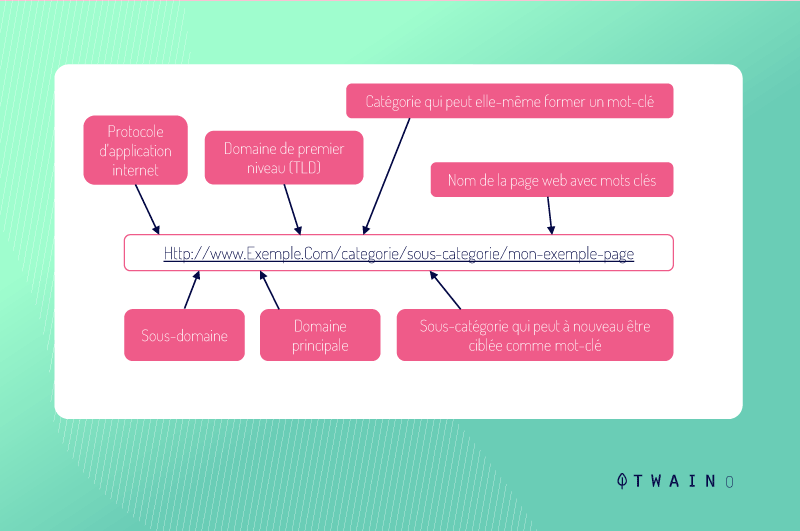 However, you should not abuse it and avoid stuffing your URLs with keywords. Google's algorithms quickly spot the over-optimization of URLs, especially when they are too long.
4.3.11. Site
architecture The architecture of your site must be coherent and well structured to provide a better user experience and also allow Google bots to be able to crawl all the pages of your site.
A poorly organized and too deep architecture with pages located more than 3 clicks from the home page makes it difficult, sometimes even impossible, to index these pages.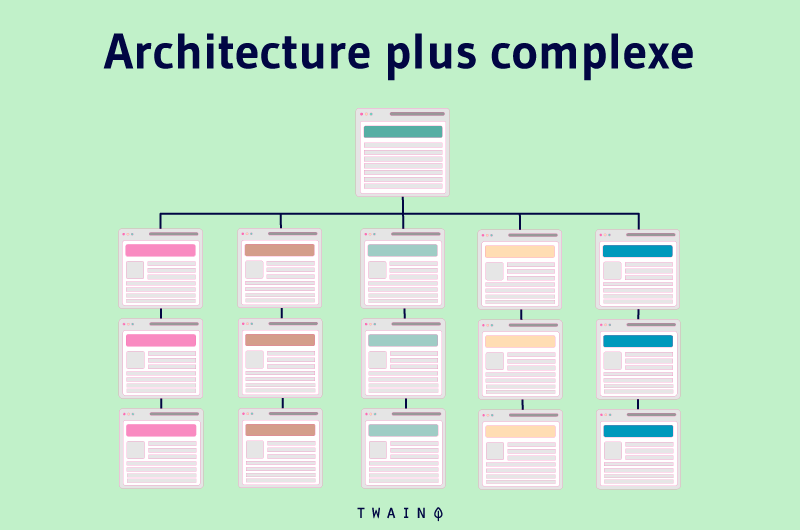 On the other hand, a well-structured and slightly flat site architecture facilitates access to bots.
The pages of this site will therefore be quickly indexed and can be referenced as soon as a user launches a request containing the keywords on which these pages have been optimized.
Site architecture is therefore a fairly important step in an SEO campaign and requires certain rules to be successful.
You will find the tools and the steps to follow to properly structure your architecture by consulting my complete guide on the information architecture of a website for a better user experience.
4.4. Technical audit of site content
During the SEO audit of your site, you must also check the quality of the content that is broadcast on the site. This is all the more important since the quality of a site's content is a major factor in natural referencing.
Without good content, it will be difficult for you to retain users who visit your site. Google will deduce that the site is not useful enough for Internet users because of its low retention of prospects and therefore, you will be downgraded in favor of a site that offers more qualitative content.
To offer ideal site content, you must respect certain SEO rules which are:
4.4.1. Check and take care of the content of the Title and Meta-description tags
During the SEO audit of the site, you must ensure that the audited pages have a Title tag containing the main keyword of the page or at least a variant. The content of this tag must be quite explicit and give an overall idea of ​​the content of the page.
Each page must have its own Title tag, ie the content of a Title tag cannot be used twice on the same site. Also, the Title tag must be clear and concise and must not exceed 70 characters.
For the Meta-description tag, you can reach 160 characters, but beyond this limit, its content will be truncated on the search results pages and can cause you to lose traffic.
4.4.2. Check the structure of your content
The content written on each page of your site must follow certain very specific formatting rules to be SEO optimized. To start, each page must contain one and only one H1 tag, unique to it.
Then can follow the other tags (H2, H3, H4, H6, etc.) to serve as subtitles in the article.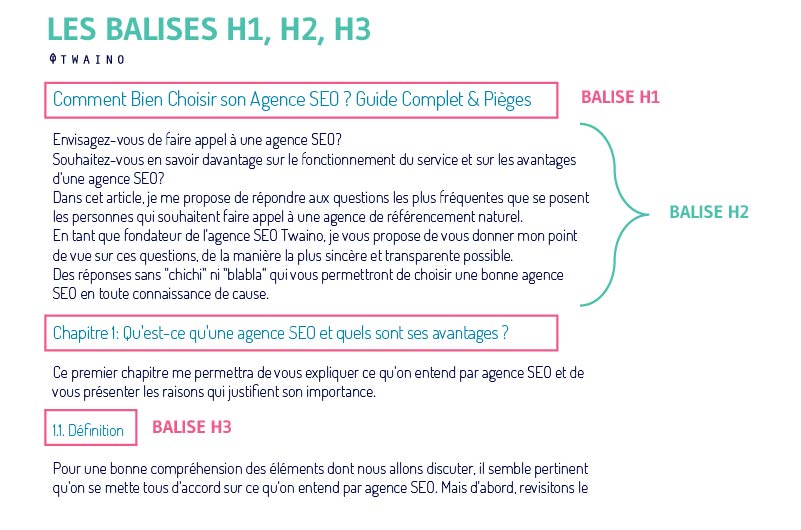 If you follow this framework for all written content published on your site, they will be able to follow a well-organized hierarchy that helps Internet users, but also search engines, to find each other easily as soon as they browse your articles.
4.4.3. Check the quality of your content
In addition to a good structure, it is important that your content is relevant and brings real value to your visitors. This is the very first criterion that Google's algorithms look for to reference a page.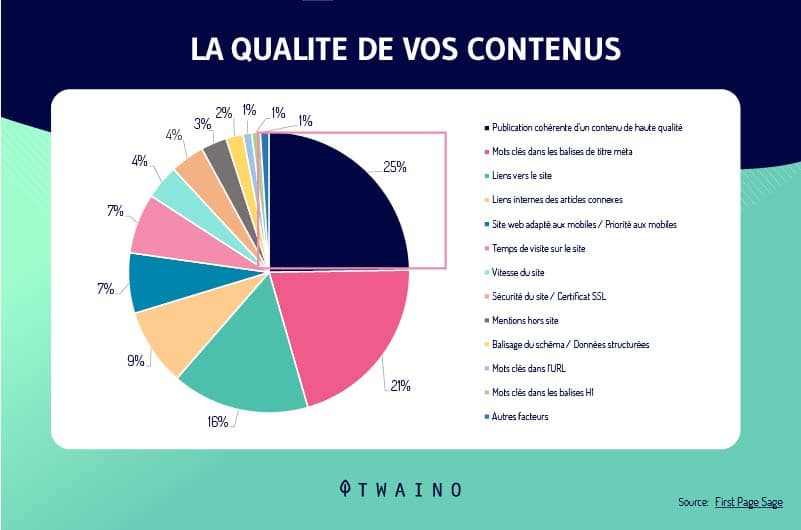 So make sure that your content is well written, without spelling mistakes and clearly answers the questions of Internet users. To do this, reread your content to ensure that it does not contain any shell that taints its quality.
Finally, include images in your content to enhance its quality and make it more enjoyable to read.
4.4.4. Spot and Fix Duplicate Content on Your Site
You may not know, but search engines hate duplicate content, whether it's on your site or elsewhere on the Internet.
So how do you know if you have duplicate content on your site? There are certain SEO tools designed to identify this content such as SiteLiner for example.
Don't worry if the tool just identifies a few identical phrases on your site, it's not that bad.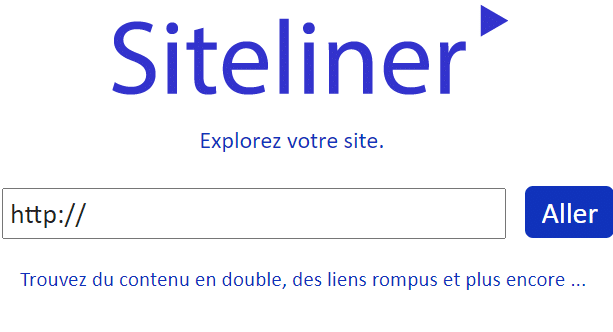 Source : SiteLiner
It may happen that a Web plagiarizes your content, in this case check if the site has taken care to mention at least the source by pointing a backlink to your site. Otherwise, it would be difficult for Google to differentiate the original author and both will lose visibility.
To learn more, you can visit this article published by Google to understand its duplicate content management policy.
4.4.5. Internal linking
The internal linking audit does not require a large number of indicators to be checked, the main thing is to be able to interpret them correctly in order to better improve them.
First, you need to compare the ratio of links entering your site and links leaving your site. Let's say you have 5 incoming links and 20 outgoing links, we could say that your internal linking is rather well optimized.
The comparison can be done individually per page or together per group of pages. It's up to you to see which method would work best for the site.
Then it will be a question of checking the internal PageRank of the pages of the site. Technically, this amounts to setting the ratio Incoming links / Outgoing links to measure the performance of the internal linking of the site.
Thus, you can identify the pages of your site that have more link juice than you need and those that lack it.
Chapter 5: Optimizing existing content (step 4)
Optimizing the content of your site is a very important and essential step for the smooth running of your SEO campaign.
If you have a website with already published content and a community, that's a great start to improving your site's ranking.
And for those who are still at the very beginning of their site, this is also a good thing. Since you have the opportunity to start with good practices and successful SEO strategies to create your content.
5.1. Create concise and succinct URLs using your main keyword
The value of URLs is of great importance in search engine optimization. To ensure you create the correct URL for your pages, it should be short and clear.
The URL must also contain the main keyword of the page by positioning it as close as possible to the beginning.
Let's take the example on the capture below which is the URL of an article on the reassignment of content.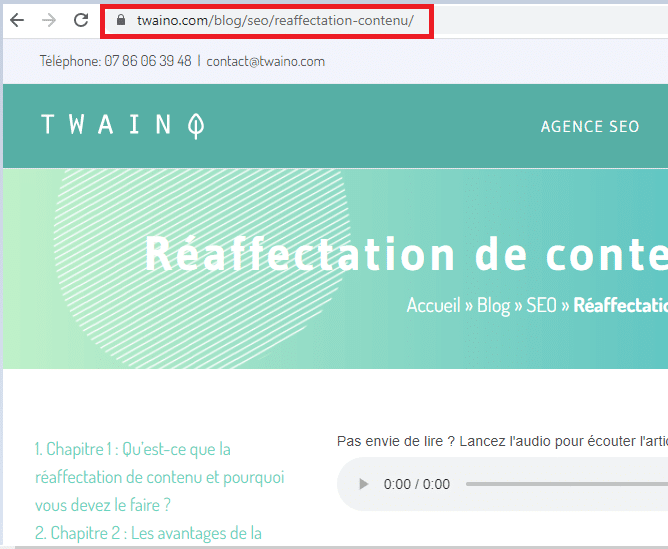 When we look closely at the structure of the URL of this page, we can notice that after the domain name of Twaino, we have the different sections in which the article is nested (BLOG and SEO sections).
Then comes the main keyword of the page, separated by a hyphen (reassignment-content). So for the creation of your URLs, be sure to opt for this structure.
Next must follow the main keyword of the page. If the keyword is a phrase of several words, don't forget to separate them with a hyphen. A small important note: avoid inserting numbers in your URLs.
Some people insert numbers in their URL, either to designate yet another step in a process or to recall the total number of an enumeration list or even to mention the year of publication.
For example, it is not uncommon to come across URLs like:
www.example.com/campagne-seo-partie-2;
www.example.com/les-10-outils-pour-campagne-seo;
www.example.com/methods-seo-2020.
The fact is that this way of creating URLs becomes problematic when in the future you decide to update the contents of the page. This may include, for example, updating outdated information or modifying one of your past offers.
In such circumstances, you will have to change the Url as well, since it contains data that may no longer be relevant to the new content. The old Url will therefore return a redirection error. This is very badly seen by Google's indexing robots, but also by users.
5.2 Insert your main keyword in the Title and Meta description tags
The Title and Meta-description tags are very important for the visibility of your site since they are the first thing that a user will see when your site page appears on the Google search results pages.
The content of these two tags must be explicit and catchy enough to distinguish itself from other articles and encourage users to click on your URL.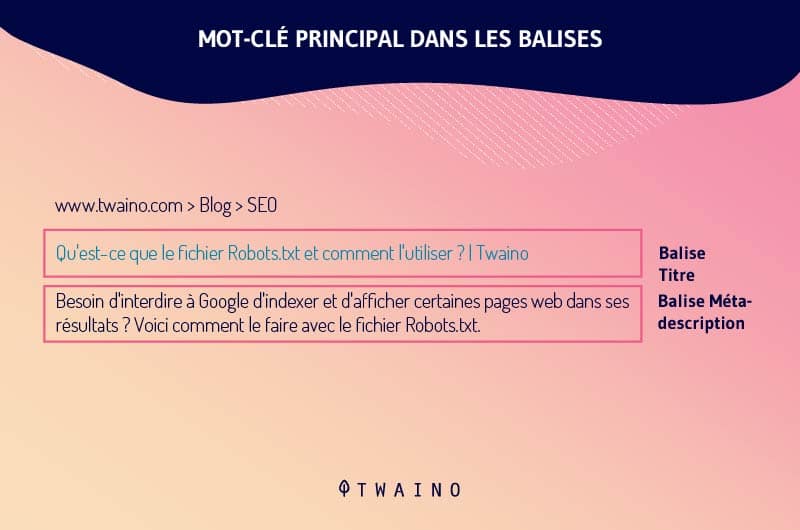 The image above is a capture of my article on the Robots.txt file. As you can see, the main keyword of the article (Robots.txt) appears in both tags.
At the same time, you should know that the absence of a meta-description tag limits the criteria on which Google should base its ranking of your site. This decreases the chances of your content to be well referenced.
On the following graph, we can notice how much the presence of the meta-description tag on a page influences its click rate: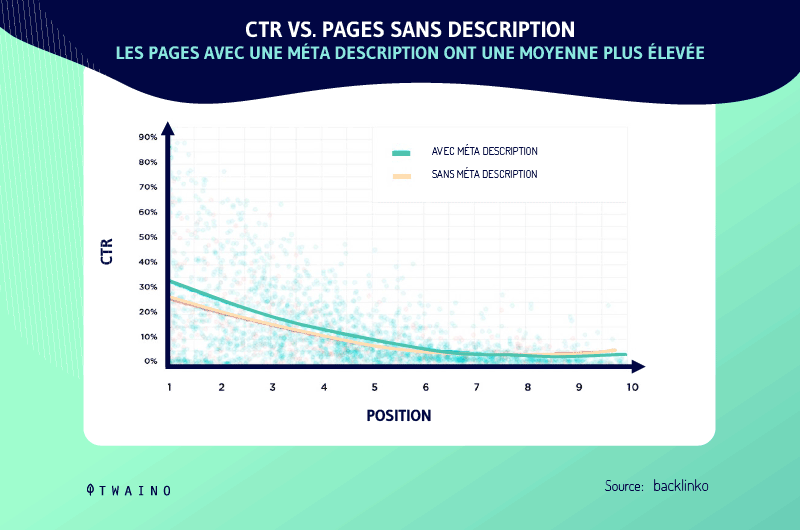 5.3. Make sure to insert the main keyword in the first words of your content
To reinforce the importance of the main keyword of the content in the eyes of the indexing robots of Google, you must make sure to use it in the first paragraph.
Of course, the insertion of the keyword must be done naturally and not give the impression of being forced. When we go back to the article on the robots.txt file, we can see that indeed the main keyword comes back in the first paragraph.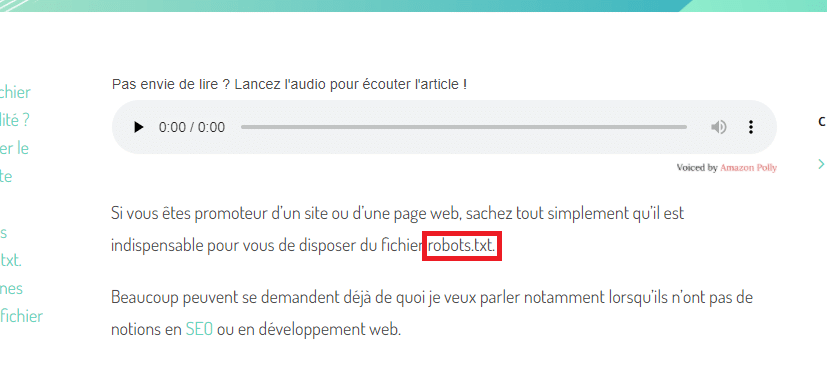 However, it should be noted that Google search is becoming more and more semantic and chances are that the search engine will ignore this practice.
5.4. Keyword research
Identifying the right keywords to insert into your content is essential for the success of your SEO campaign. This step also allows you to better familiarize yourself with your target audience by discovering their most frequent needs.
But how to succeed in listing all the keywords of your theme? Although the most difficult thing is to be able to classify them according to the values ​​and impacts that each word generates for your site.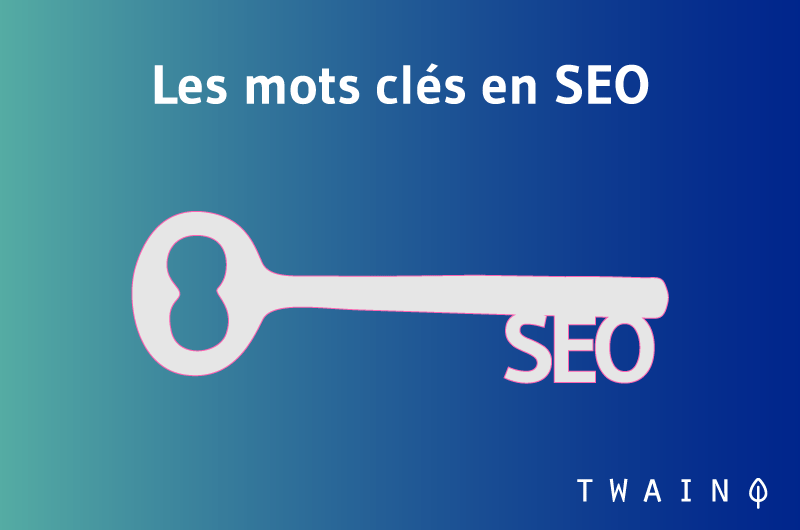 Luckily, there are a bunch of SEO tools developed to help you track down the most in-demand keywords in your industry.
These include:
With these tools, you will notice that certain keywords hold a higher search volume than others. These keywords represent a lot of value for your website since they are the terms that your target audience asks for most often.
But how do these keyword research tools actually work?
Together, we'll learn how to use Google Keyword Planner, formerly known as Google Keyword Tool, to research important keywords for your industry.
Before starting, I would like to remind you that Google Keyword Planner has a little problem: recently, Google removed from the tool the possibility of consulting the exact volume of monthly searches for free.
The site now offers a range to have an estimate of the search volume of a keyword.
But all the features of the tool are available if you launch a paid AdWords campaign.
In this section, we are going to opt for classification by ranges in order to offer everyone the possibility of trying keyword research at home without having to subscribe to a paid campaign. And also because Google Keyword Planner is a powerful and reliable tool.
In case you prefer other, less burdensome options, check out my article on the 21 Best Keyword Tools.
Note that most of the time the tools provide the same data and work almost the same.
5.4.1. How to access Google Keyword Planner for FREE?
Google Keyword Planner is a completely free tool, however since it is a Google product, you must have at least a Google account before you can access it.
If you don't already have a Google account, you can create one and an Ads Google Keyword Planner.
Since I'm only focusing on SEO for now, I don't have an active Ads account yet to access GKP features. I will therefore draw inspiration from the Ahrefs to guide you.
After creating your account, it sometimes happens that Google displays the page below as soon as you try to access the tool:

Source : Ahrefs
This is actually a configuration panel with three options to choose from to start an AdWords campaign.
To allow everyone to follow and experiment with keyword research without necessarily having to broadcast an Adwords ad, we will skip this step and access the tool directly.
To do this, go to this link and click on the "Access Keyword Planner" button.
Source : Ahrefs
Sometimes Google asks you to enter your password a second time for a simple routine check.
Then you will be redirected to the Adwords setup page again. This time, do not click on any of the three options offered. Instead, click on the small blue link with the inscription "Have you ever used Google Ads? " .

Source : Ahrefs
In the event that this link does not appear on your screen, try resizing the page by making it larger, the link should be able to display correctly and you can go to the next step.
On this new page, click on the link "Create an account without campaign" which is also a small link at the bottom of the panel: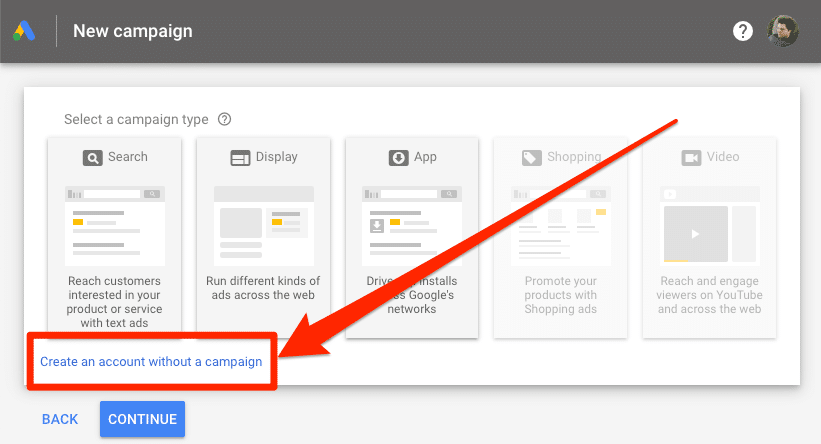 Source : Ahrefs
The system will redirect you to a form to provide some information. Scroll down each field of the form then choose the options that correspond to your business.
Then click on the "Submit" button to validate. Do not worry, Google will not require your credit details for the rest.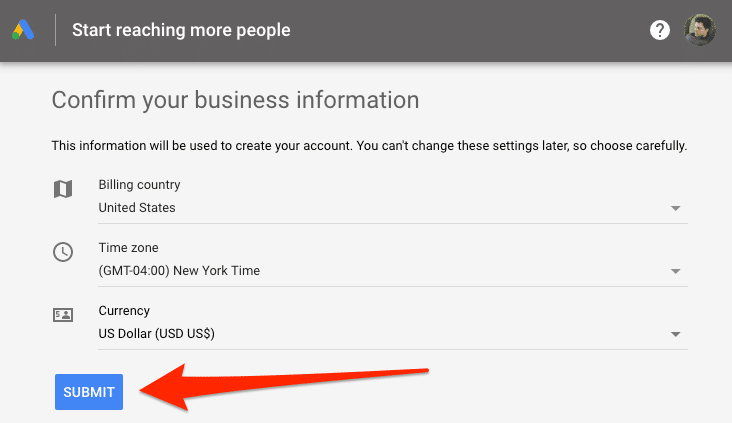 Source : Ahrefs
Once this is done, you should see this new page appear with a success message: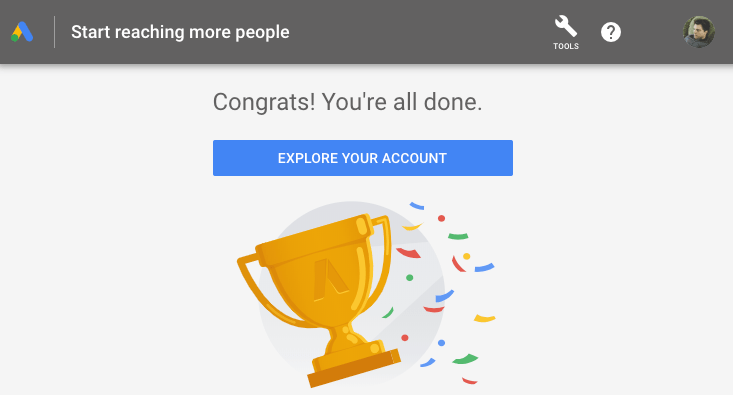 Source : Ahrefs
Click on the "Explore your account" button to continue. Then click on the "Tools" icon located in the menu bar and choose the "Pass" option. r in expert mode".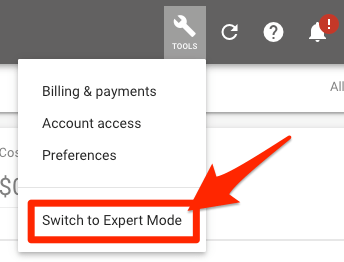 Source : Ahrefs
Follow the prompts to confirm that you do want to switch modes. If it's done, click on the "Tools" icon again and then on the link to the "Keyword Planner" located on the left of your screen.

Source : Ahrefs
Now you're well and truly on Google's Keyword Planner tool without having to choose a billing plan or run an Adwords ad. Now, let's learn how to use this tool.
5.4.1.1. How to use Google Keyword Planner?
Before starting, I would like to remind you that Google Keyword Planner offers two main features on which its use is based:
Do a keyword search: With this feature, you will receive a list of suggested keywords to help you to attract people who are really in need of your products or services;
See search volume and other additional stats: With this feature, you can see search volume and other important data for your keywords. You can also view projections of their future performance.
Now, let's explore each of these two features:
Do Keyword Research
So, are you looking for new keyword suggestions related to your industry? Get ready to have a stack of suggestions with Google Keywords Planner.
The procedure is very simple: enter words or groups of words related to your business. Here are the suggestions obtained with the word "SEO":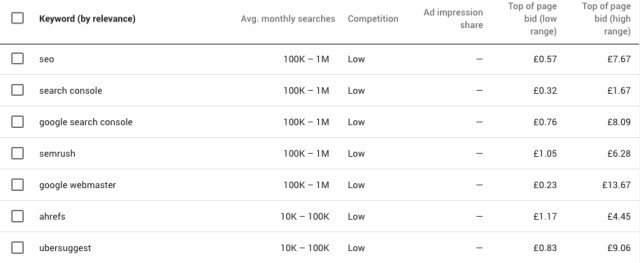 Source : Ahrefs
All in all, there are 1,106 keyword suggestions.
For each proposal, you can see:
The average number of searches per month;
The competition ;
The top of page bid (low range);
The top of page bid (high range).
For the little tip, you can enter a complete phrase that can contain up to 10 keywords.

Source : Ahrefs
You can also enter the URL address of a page or website to start the search as in the screenshot below:

If you wish, you can combine the URL address with 10 other words- keys at a time in the search bar.

Source : Ahrefs
However, it is important to know that accumulating so many keywords in a single search will not necessarily increase the number of suggestions to obtain in results.
For example, the result of the combination of URL address and keywords always returns a few thousand suggestions, 4,715 to be exact.

Source : Ahrefs
View search volume and predictions for each keyword
Now, which keywords should you choose for your SEO campaign? With this feature of Google Keyword Planner, you can view the statistics for each keyword and spot the ones that represent value for your website.
Paste a selection of keywords of your choice into the search bar and click "Get Started" to access the "Forecasts" section.

Source : Ahrefs
In this section of Google Keywords Planner, it will no longer be a question of making keyword proposals.
But rather to have an estimate of the number of clicks that each of the checked keywords could bring you if you broadcast Google Adwords ads over a period of 30 days.
You can also have an estimate on the cost, CPC and CTR rate of each keyword. It must be recognized, if you do not want to undertake AdWords ads, this data will not be of much use to you.
For us, here's yet another trick to seeing the data we really care about:
Click on the "Historical Stats" tab and you can see the average search volume for each keyword per year.

Source : Ahrefs
As explained above, the volume of each keyword is listed in a range of data. It can be seen from the image above that the volume of the word "SEO" is between 100,000 and 1,000,000,000.
Now it is up to you to understand the search intent behind each keyword .
This should guide you in how you plan to attract customers. Make a list of 20-30 keywords, find the search intent behind each one, and insert them properly into quality content.
5.4.1.2. Add secondary keywords to your content
Adding secondary keywords or related keywords to your content is of great importance for your SEO campaign.
Indeed, content that contains main keywords and other variant keywords makes it easier for Google's indexing robots to understand.
It is also a way to diversify the keywords you use in your content to make reading more enjoyable for your visitors. It is therefore easy to have a mass of keywords from those you have targeted on Google Keywords Planner or any other keyword research tools.
To have additional keywords, you can use Google's autocomplete. To do this, start typing a term into Google's search bar and let the system automatically give you suggestions: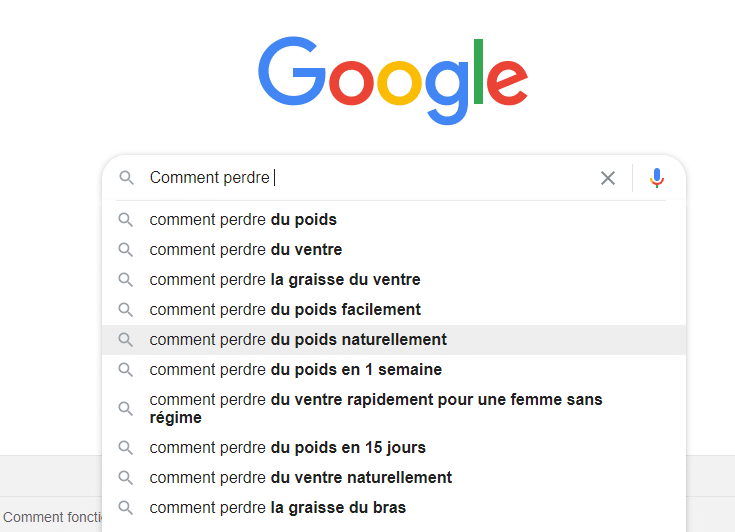 So if you were preparing content on how to lose weight, now you have a ton of new ideas. in every aspect of the weight loss theme.
All these keyword proposals can enrich your content and reach a wide audience.
5.4.1.3. Also consider long
-tail keywords Long-tail keywords are often used by people who already have a clear idea of ​​the service or product they are looking for on Google. These keywords are therefore expressions of at least 3 to 4 terms specific to a specific product, service or subject.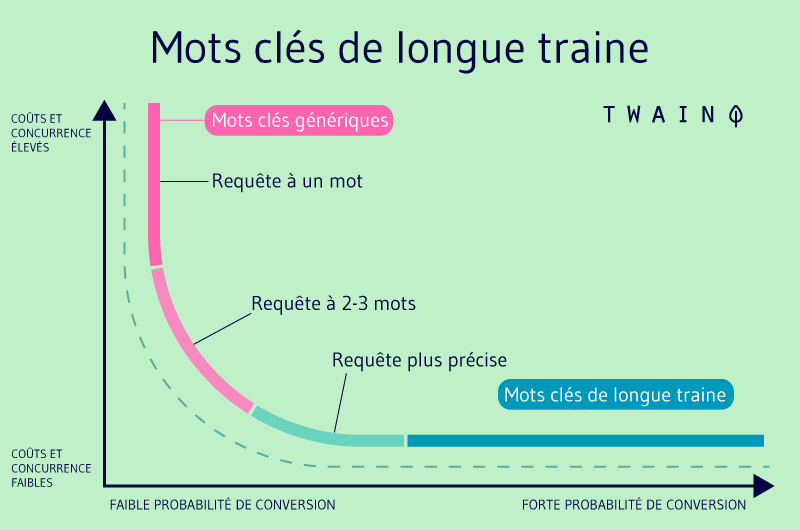 Long-tail keywords are also important for an SEO campaign and are known to last unlike others. Also, their search volume is not high enough like that of other keywords, which makes their rankings easier to achieve.
Here are some examples of long tail keywords:
How to gain muscle without weight;
How to gain muscle in the legs;
How to gain muscle at home.
On the other hand, a more general keyword on the same subject could simply be "gain muscle?" ". Which makes it a bit vague and much more competitive than long-tail keywords.
So engaging in an SEO campaign based on a general keyword amounts to competing, in terms of traffic, with large influential sites on the NET.
For fledgling small businesses that are still in the early stages of their content marketing strategy, it would be smarter to avoid these big hitters for now. The best would be to focus all their SEO campaign efforts on targeting long-tail keywords and creating quality content.
Thus, they will already be able to successfully break out of the great mass of websites before seeking to compete with their biggest competitors. This time, the SEO campaign can focus on targeting keywords with high search volume.
Check out my complete guide to keyword research to better understand the concept.
5.5. Create high-quality content
With your list of keywords already well developed, you can now start creating your content. In order not to undermine all the efforts you have made so far, it is important that you make sure to create only quality content. Technically, what would that mean? It will be a matter of following certain SEO rules that will help you offer the best possible content that you can.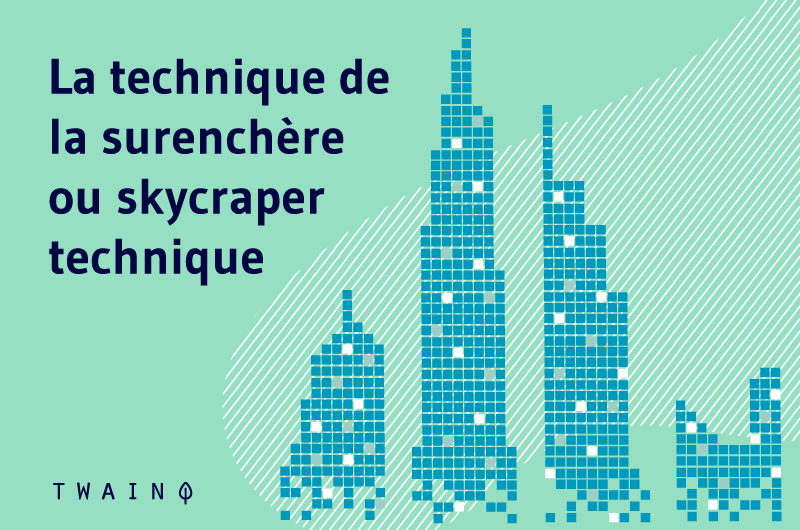 It is important that you only write about topics over which you have some degree of mastery.
So if you are an expert in mechanics, it is recommended that you only produce content in this area to better explain the concepts.
Since a quality article, it is first of all a well-written, well-detailed article, which brings value to your readership even before following the rules of SEO referencing.
5.6. Write long content
It is proven that relatively longer articles are better positioned on Google. Here is an infographic from Backlinko that shows the correlation between the total number of an article and its ranking on Google: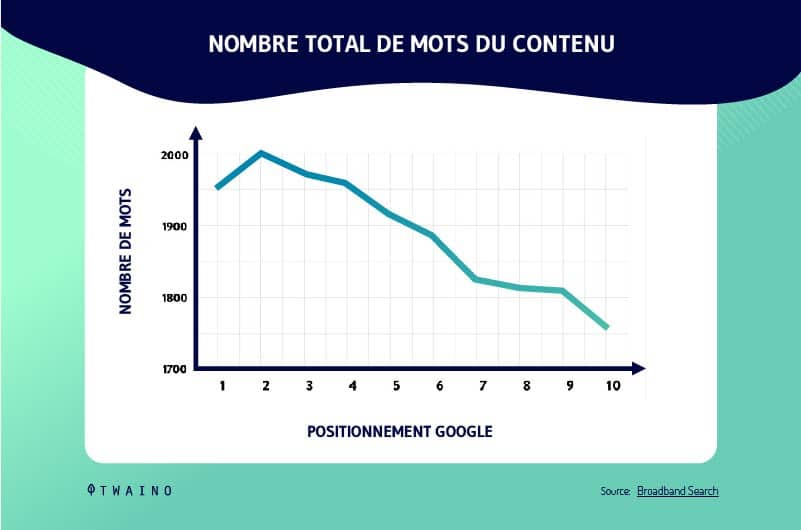 If a 3,000 word article can be enough to explain a concept, a 5,000 word article will do it even better approaching it in its full meaning.
Let's take the example of the article you are currently reading, I could simply list the main lines. But I found it would be more helpful to you if I go into each point in detail.
So for your content, do not hesitate to give everything, from simple obvious details to the most subtle details, to try to cover the theme in its entirety and bring value to your readers.
Google will appreciate the value of your efforts, and your users for that matter.
5.7. Use Rich Media to make your content more interactive
It is clear that the majority of Internet users appreciate visual content, especially when it is well done. They represent a somewhat playful way of conveying an idea, which makes it easier to understand.
In addition, an article rich in visual content easily stands out from the others and seems to appeal to Internet users, since they are able to read it more easily. If you pay attention, you will notice that I have inserted enough images in this article to reinforce an explanation or statistics. And I do this for all the articles I publish on my blog.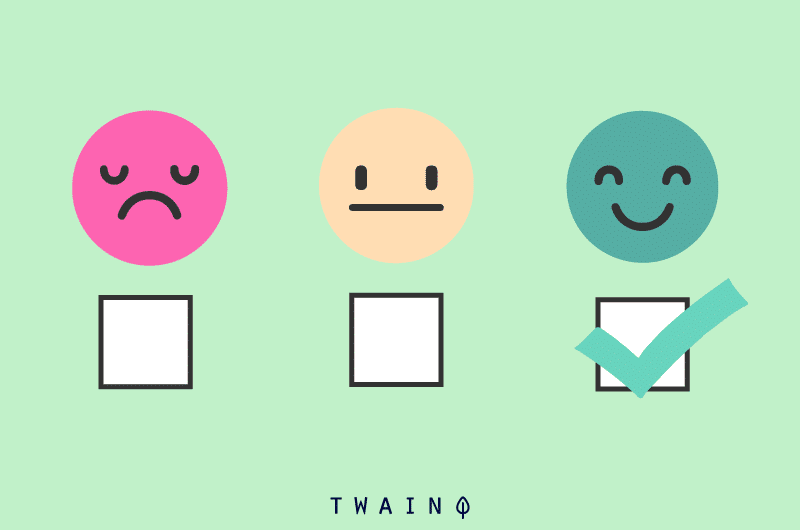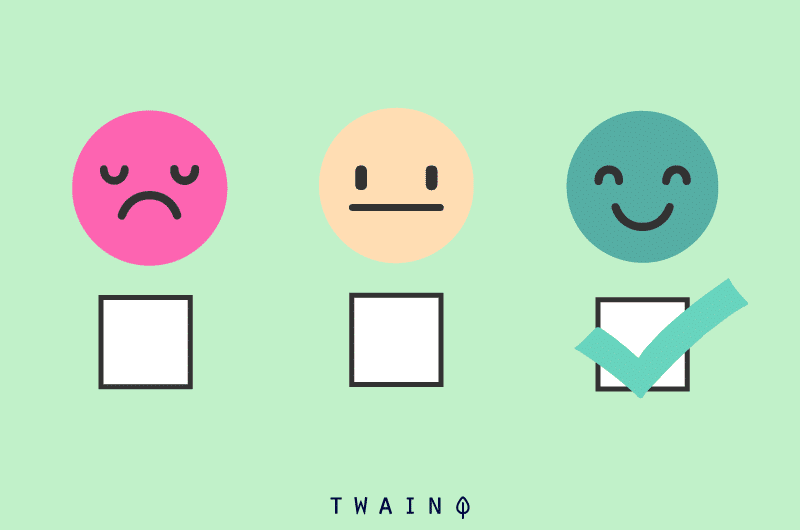 Not only does this help users better understand the idea conveyed, but all these inserted images also allow you to rank well on Google Images.
Certainly, to hope for a ranking on Google Images, you must first add a brief description of the image in the ALT tag.
So for each image inserted into your content, do not forget to insert a keyword in the ALT tag. It also helps people with reduced mobility to understand the context of the image.
5.8. Email Outreach to Get More Links
Email is one of the oldest digital communication channels. However, it is always topical and above all effective for having links.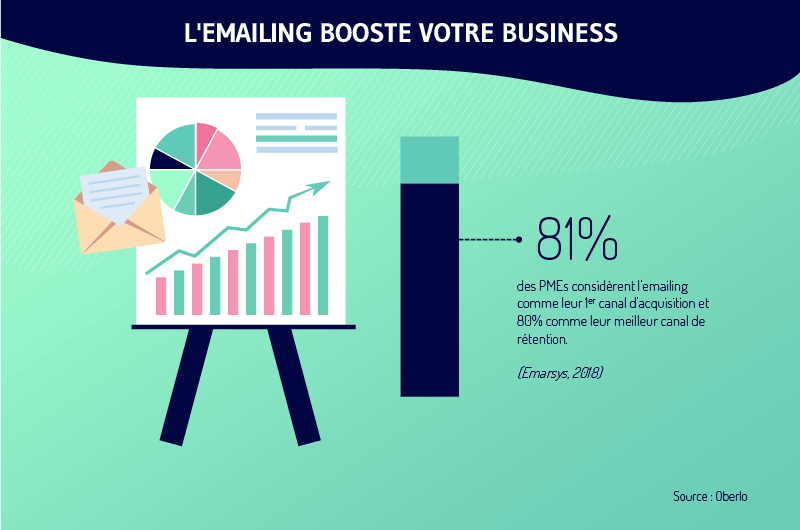 Of course, a site will receive more links when its users gradually share the URL or content of the site with other users. This will make it gain visibility. But in the beginning, you should not sit back and wait for these users to come to you.
What you need to do is go find those users yourself and drive them to your site. And to do so, one of the most effective ways is to promote the content you create.
Do not hesitate to promote by email each quality content that you create. Target certain people with whom you can share the content and who you think may bring you links.
These can be influencers or business leaders in your field who might be interested in the content. However, there is one important aspect that you need to pay close attention to when attempting email outreach : Always prioritize value in your messages.
Your emails should not ask for a favor, the recipient might feel harassed. Every week, there are thousands on the web who want to promote their content by email, but do not do it in the best way.
Suddenly, business leaders are invaded by hundreds of emails. Here is a typical example of the kind of message that you should avoid sending to your potential customers: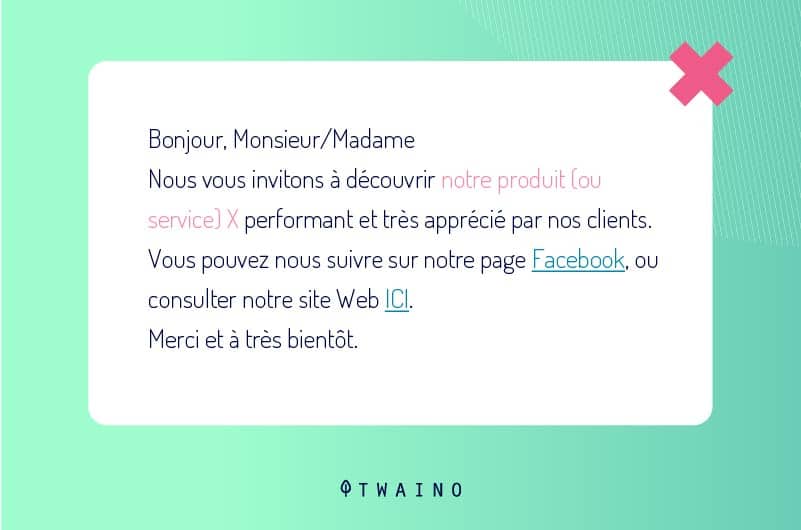 As you can see, this is quite annoying and no business owner would probably react to this email.
What's the point of sending that email, if you don't even bother to know at least the person's name?
In such a circumstance, your priority should be to build a relationship with the person to whom you are addressing the email. So do your research on him, his activities and how you can help him effectively.
Depending on your results, you can write a rather original pitch that will attract his attention. No automation in sending your emails like the majority of other people do.
Tailor each message to each destination based on their work environment and potential needs.
5.9. Successful netlinking of your content
Also called link building, netlinking is an important step in an SEO campaign. It represents a basic criterion that allows Google to assess the popularity of a site and the relevance of its content.
It is therefore a step to be taken seriously and favor the quality of the links rather than the quantity. To achieve this, several points must be taken into account:
5.9.1. Building high-quality
backlinks Building backlinks is an essential strategy for any SEO campaign and is one of the SEO criteria used by Google's algorithms to rank a website.
The principle of backlinks (or backlink in French) is to insert hypertext links in content directing Internet users to another quality site. It appears a bit like the opposite of the internal link, which has the particularity of directing Internet users to other content on the same site.
At first glance, one might wonder what is the point of directing its users to other sites, which may even turn out to be competitors. But the fact is that the more you use these external links pointing to influential sites, the more credit you bring to your content in the eyes of your audience.
They will trust you more when they realize that your explanations are corroborated by other content from other quality sites. It's a way to prove that you know your subjects and that they can verify the veracity of your statements on other sources.
Conversely, if your contents are of quality, other Web sites will appreciate them and can also insert external links pointing towards your site. Each backlink to any page on your site is a few extra clicks on your regular traffic.
The more you are "solicited" on other websites, the more your authority on the web will grow.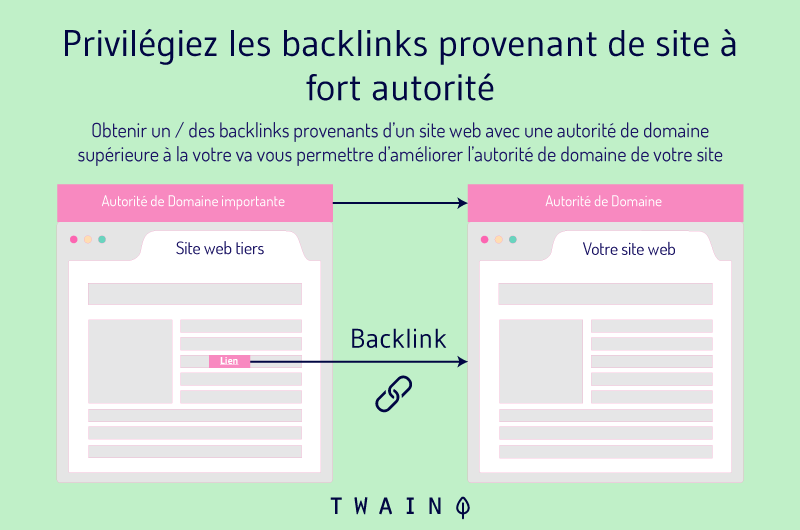 And if you may not know, the authority of a website is very decisive for its SEO.
A site that has authority on the Internet can easily target even the most competitive keywords in an SEO campaign and obtain good results.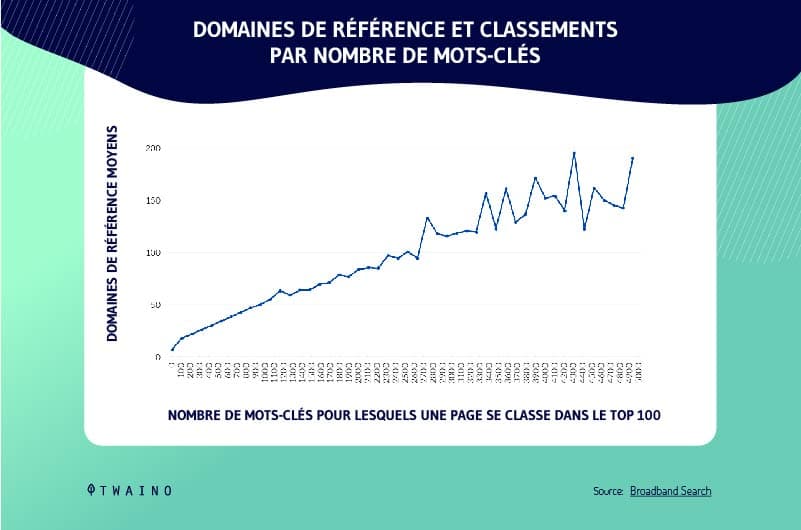 Suddenly, the quality of a backlink depends heavily on the quality of the site to which it refers. Let's say your business operates in finance.
If you insert 5 quality backlinks pointing to influential sites like Forbes, Bloomberg or Entrepreneur.com, you will get more good results than if you insert 25 backlinks from sites without authority.
Let's take this example from Rock The Ranking to better illustrate the importance of a site's authority for backlinks:
Prepory is a structure that offers professional and academic guidance, located in Florida: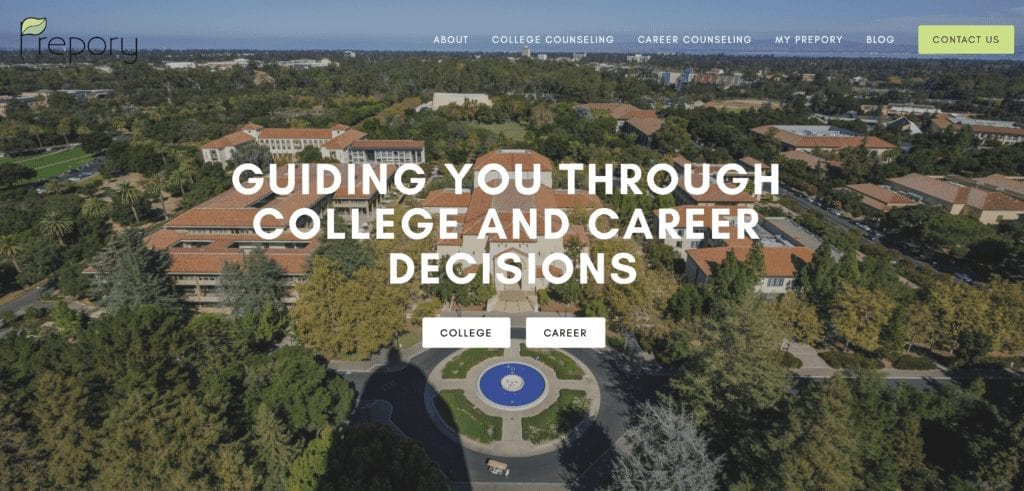 Source : Rock The Ranking
Au In the beginning, Prepory's SEO campaign did not have enough backlinks.
Then, using the same backlink building strategies developed earlier, the company gradually began inserting executive backlinks to authoritative, reliable and reputable sites.
These include Discover, American Express and Teach for American Express. After a while, the site's organic traffic grew, increasing its authority in its industry as well.
Today, the company has become a reference in its field with a community that continues to grow.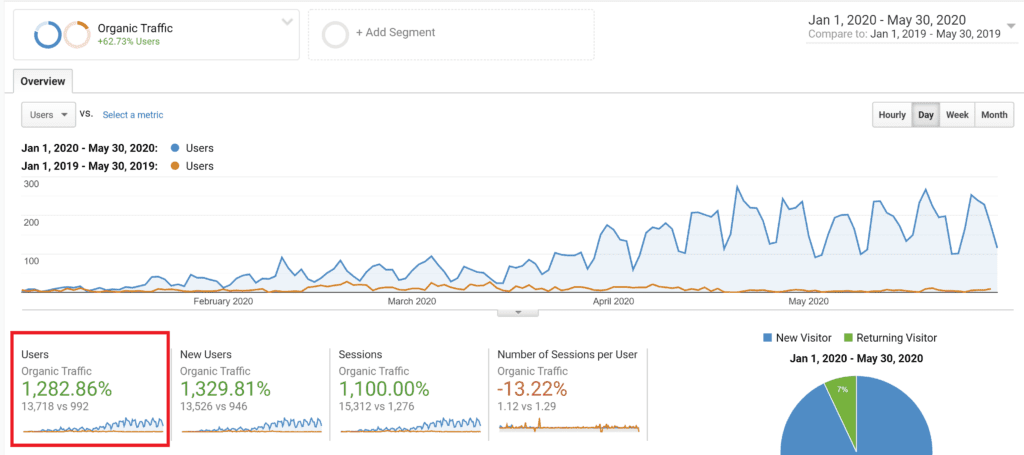 Source : Rock The Ranking
So you have to be quite selective when it comes to choosing sites for your backlinks.
Always prefer authority sites that are already viral on the web to improve the quality of your links.
5.9.2. Creating links to other relevant internal content
A good insertion of internal links is a smart way to lead users to discover other content on the site and to spend more time there. The more the session duration of your visitors increases, the more Google realizes the value that your site takes on Internet users.
And so, he will deduce that you offer a good user experience and can only position you well to encourage your efforts and at the same time offer a quality site to its users.
If you have quality content that addresses other aspects of the same theme, do not hesitate to insert a few links to these articles in your content.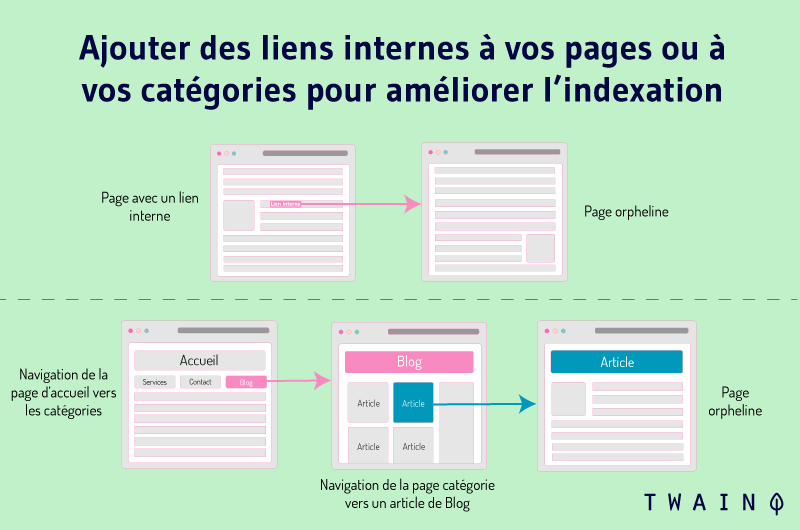 But before benefiting from the advantages of internal networking, it is obvious that you first manage to effectively create your internal links. It is therefore important that you know the factors that influence the quality of an internal link:
5.9.2.1. Do not force the insertion of links
When creating your internal links, be careful not to exaggerate or force the insertion too much. For example, avoid inserting links in almost every sentence of your content.
Links should come naturally and follow a certain consistency. Otherwise, Google might see it as link stuffing and punish your site.
To better illustrate the insertion of internal links, let's take the example of the article on the robots.txt which this time shows the highlighted word SEO redirecting to a complete guide on SEO:

The interest of internal links is not just an SEO game. It is also a way to encourage users to discover other interesting content on the same theme.
5.9.2.2. Contextual relevance
Next, you need to make sure your link has contextual relevance. The link must at least be related to the subject of the content in which it is inserted.
In addition, its insertion context must be relevant and clear enough for the user. Inserting links indiscriminately into a paragraph can be confusing for users.
It may also look like a blatant attempt to insert links in an effort to gain good rankings. This is not lost on search engine robots and they will soon sanction the practice.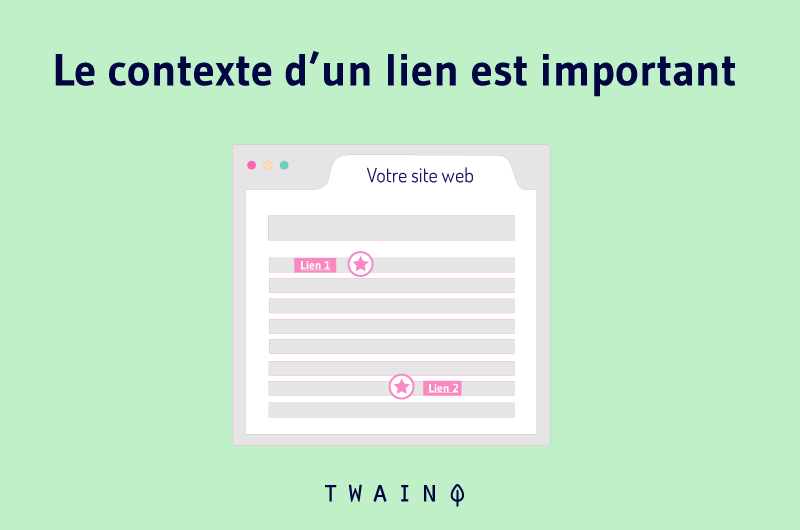 Ideally, you should insert a link to reinforce the explanation of a concept or for an obvious purpose. For example, say you have reported a statistic and you insert a link to allow the user to view the source.
In such a context, the user will realize the importance of this link in this specific passage.
Another way to insert your links while respecting the contextual relevance is to offer your users the possibility of consulting other content on your site that deals in depth with an additional notion to the theme treated.
I have published a complete guide on building backlinks on my Twaino blog. It is a way for example to insert the link of the guide and invite you to read it if you want to know more about the creation of the links.
5.9.2.3. Relevant anchor text Anchor
text refers to the word or group of words in which the link is incorporated. In the previous example, the anchor text is "Complete guide to building backlinks".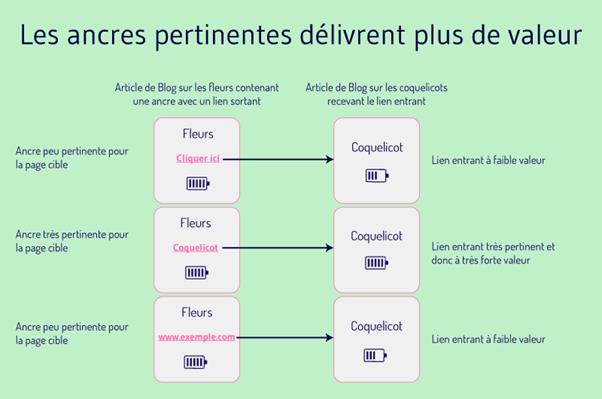 It is important that your internal links are embedded in relevant anchor text that if possible contains the main keyword for which the landing page was targeted.
5.9.2.4. Compelling anchor text
There may be times when you want your visitors to click on the link and discover content that is of great interest to you. We agree that this link must have anchor text that is catchy enough to encourage users to click on it.
Same for the rest of the sentence in which it was inserted to really make Internet users want to discover the targeted content. The more compelling your anchor text, the more likely your users will click on it.
5.9.2.5. Maintain proper spacing
There is no set convention for the number of internal links to fit on a page. However, this is not a reason to abuse it. It would be better to stay reasonable and insert your links sparingly.
For example, if you write a 2,000-word article and insert 200 internal links, this could be considered an exaggeration. Between 2 to 6 internal links for the 2,000 word article would be good enough.
And of course, this all depends on the context, so I can't limit you to 6 links if you have enough important statistics to insert. Finally, the main objective of an article is to offer useful content for users, but also for indexing robots.
Just remember to insert your links in a natural way and not give the impression of having forced.
5.9.2.6. Your links must redirect to quality content
What would be the use of a link if the content to which it refers does not bring anything enriching to Internet users?
A user who clicks on one of your links and comes across semantically poor content with typographical errors and gratuitous assertions will likely not return.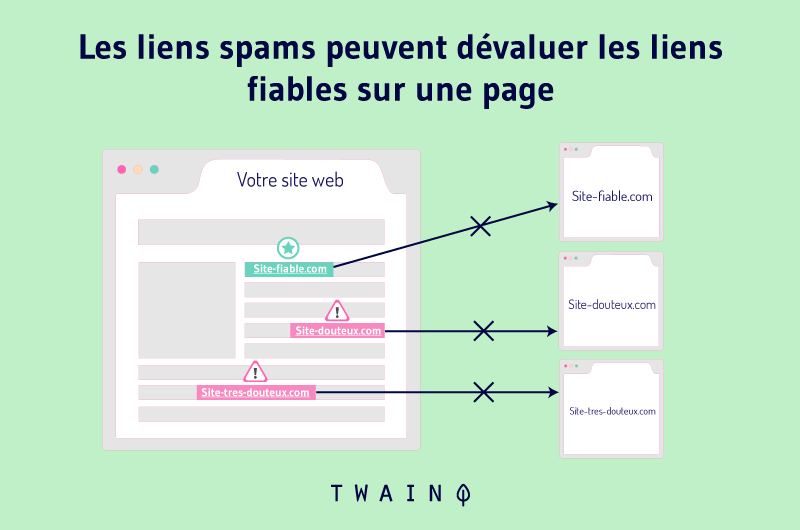 So the quality of your content and internal link building strategies are two things that go hand in hand.
5.9.2.7. Look for diversity
When creating your links, you also need to think about the URLs you insert and how often you insert them. If a page is quite rewarding or of interest to your activities, we agree that you should create links to this page.
But that's no excuse to use the same URL on all the internal links you create. If you have enough pages on your site, why not branch out and look for other URLs to embed as well?
If you're not sure which pages to choose, you can do a content audit to find the most important URLs that are really worth using for quality link building.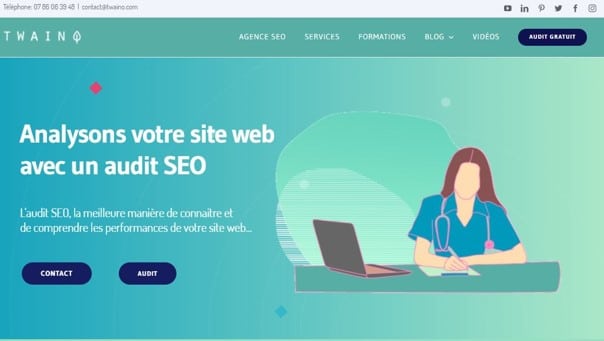 Not all pages are created equal and some are more important than others. Perhaps they are more decisive for achieving your goals. Or maybe because they contain quality content.
Anyway, diversifying the creation of links to these pages would undoubtedly be more beneficial to you, since their success represents more traffic to the targeted pages. This contributes to the improvement of the ranking of these pages on the search engine SERPs.
5.9.2.8. Automatic or manual link creation
To go faster, there are many tools that can help you create internal links faster. For those who have a website created with WordPress, they can for example use the SEO Auto Linker.
This plugin is designed to automatically detect words and phrases on your pages that could potentially serve as anchor text and link to other internal pages.
They can also use Link Whisper, which also automatically offers suggestions for creating internal links. Both of these tools are quick and stress-free solutions for building your internal links.
However, they have a flaw that you should be aware of: These tools tend to repeat the same suggestions and can stray from your site's objectives.
Personally, I recommend that you create your internal links yourself and by hand.
Although this is a slightly more time-consuming method, it allows you to be more specific in choosing your anchor texts.
5.10. Write guest articles
In SEO, it is not uncommon to see bloggers write and publish articles on blogs other than their own: we speak ofguest articles or guest blogging.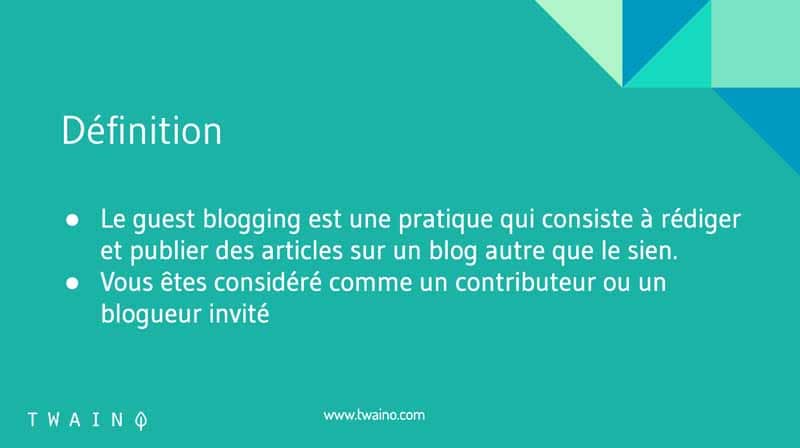 The principle is to first write for a site and then take the opportunity to insert backlinks to your own site in the written article. Finally, guest blogging is not such a disinterested practice as some people think.
In recent years, it has become more common, especially to retrieve links. And it must be recognized, the concept seems to work well since it is a win-win collaboration and everyone wants to have more quality content on their blog.
On the one hand, the "host" website supplements its list of blogs with quality content and on the other hand, the guest blogger receives traffic in return. Of course, we agree that all of this will only really work if you target quality sites that are already influential on the web.
Additionally, the site must also be in the same industry as you, or be related in some way. An interior decorator does not write articles for a blog specializing in the sale of coffee, for example.
So, target companies that provide similar services to yours and offer to write an article for them for free.
If you can apply our instructions on creating quality backlinks, you will get good results and your traffic rate may increase.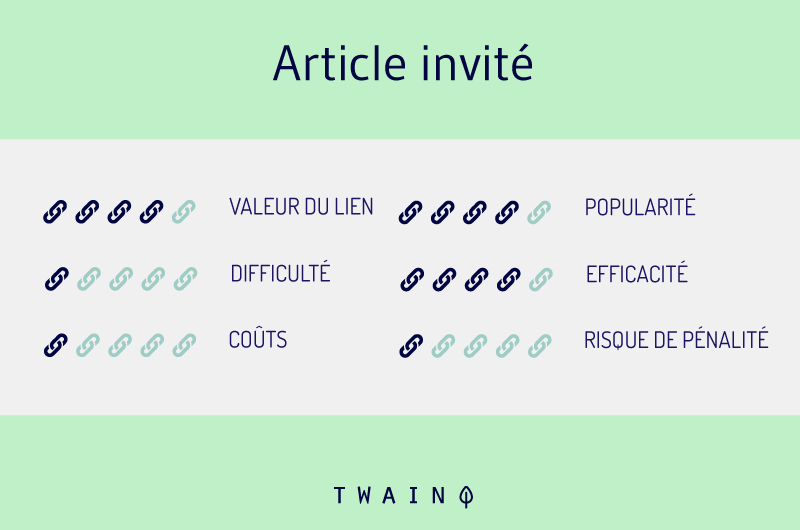 But where to find sites that accept guest blogging? I presented in this article, a list of +144 French-speaking blogs on which you can publish your guest articles.
Chapter 6: How to track the performance of your SEO campaign? (step 5)
Once your SEO campaign is launched, it is important that you learn how to track its performance to have a measure of your progress. So where to start ? What are the criteria to analyze?
These are questions that business leaders often ask. So I thought I'd address them at the end of this guide.
Here is a list of SEO KPIs that you can start applying to your site:
6.1. Ranking for your keywords Keyword
ranking is one of the most important factors for monetizing a website. Indeed, a good ranking for your keywords can increase your organic traffic and lead to more sales for your business.
Paradoxically, a poor ranking implies a loss of traffic, number of leads, conversions and revenue.
To monitor your keyword rankings, you can use other rank trackers such as SEMRush, or Ahrefs. These tools offer setup of your keywords for organic and local SEO tracking.
But, we are going to use Google Analytics to assess the impact of each keyword on your organic traffic because of its reliability and the many features it offers.
To start, you need to connect to your Google Analytics. For those who do not yet have a Google Analytics account, you can create one by following these steps:Go to the official Google Analytics page here ;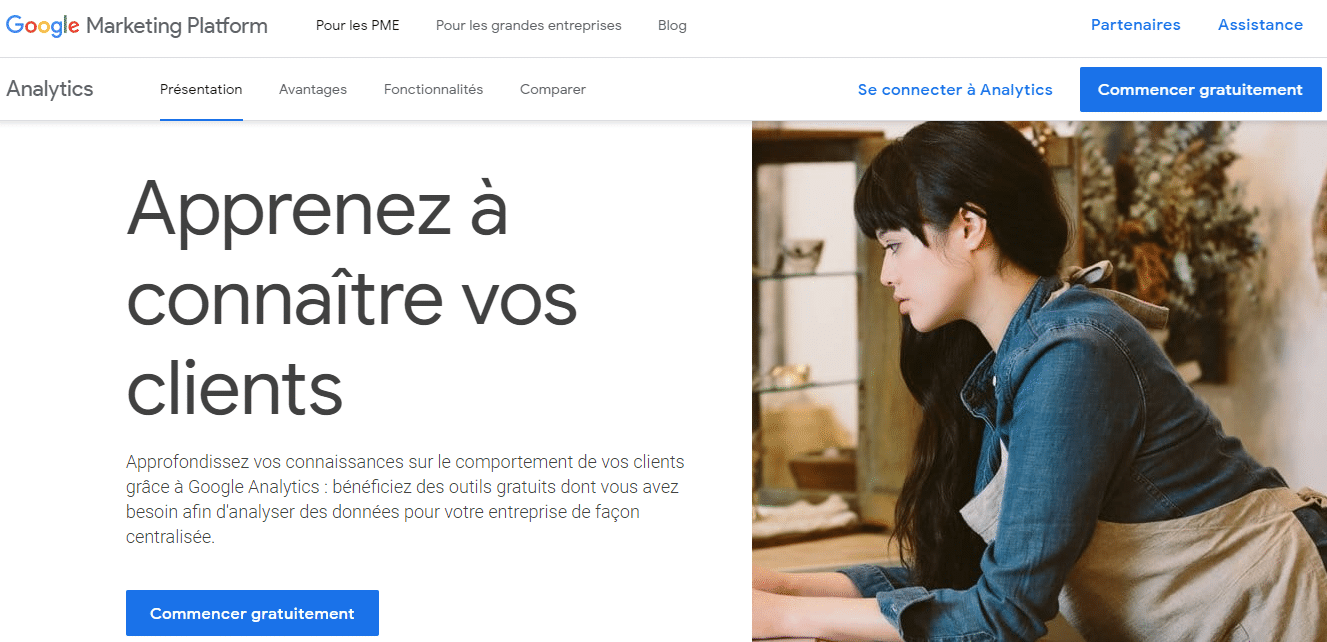 Those who have a Google Analytics account can click directly on CONNECT, otherwise click on Create an account;
Once logged in to Google Analytics, click the Start using Google Analytics button to continue;
Then click Start Measurements to set up your account;
Fill in the Account Name;
Choose the nature of the program you want (Website, iOS or Android mobile application, Beta version of your program);
Fill in the Site Name, Site Domain Name, choose the appropriate Sector Category and Time Zone used for the reports and click Create;
Check the boxes and click the Accept button to accept Google's policy;
To have the list of your keywords which generate the most traffic, click on O Queries:

Explanation of the terms on the table:
Query : The list of your keywords;
Impressions : The number of times pages from your site have been shown as answer proposals on search engine SERPs;
Clicks : The number of times pages on your site have been clicked on from search engine SERPs for a given keyword;
Average Position : The average position your site's pages occupy when displayed on search engine SERPs for a given keyword;
CTR : The click-through rate your pages earn when they rank for a given keyword on the search engine SERPs.
All of this detailed information makes Google Analytics really handy for exploring your keywords and knowing which ones are bringing you the most traffic.
6.2. Compare Trust Flow and Citation Flow
There are several tools you can use to measure the quality of your links, but we'll focus on Majestic's Site Explorer.
To get started, go to the Majestic Site Explorer then enter your site's URL in the search bar and run the query.
Source : Majestic
Once the research has been launched, Majestic will send you a summary of all the essential data to evaluate the performance of your site's backlink.
Among these data, two are particularly important:
The Trust Flow;
And the Quote Flow.
Trust Flow refers to the reliability score of your site based on the quality of backlinks pointing to your site.
The Citation Flow, meanwhile, refers to the score of the authority of your site according to the quantity of your backlinks.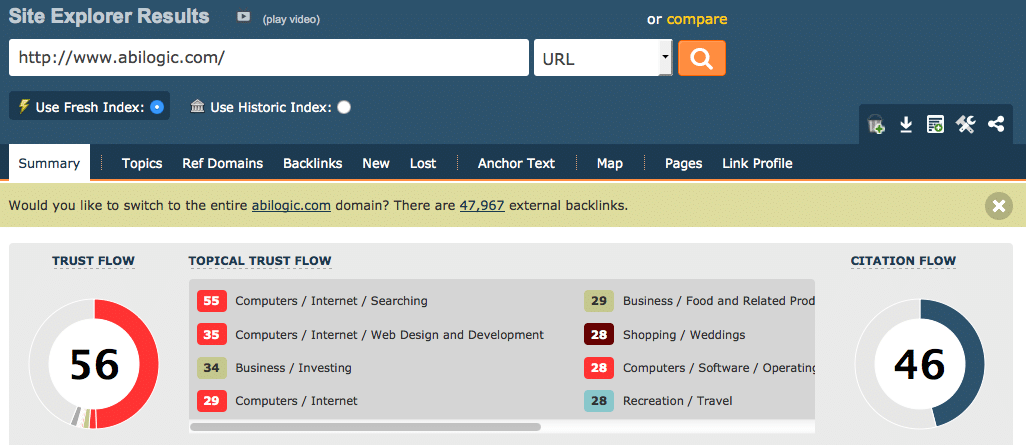 Source : GotchSEO
With these two metrics, you can calculate the Trust Ratio of your site using this formula: Trust Ratio = Trust Flow ÷ Citation Flow.
Obtaining a high Trust Ratio means that your site has a formidable backlink profile. It's an effective way to assess your site's link profile and see how you can readjust your strategies to better improve it.
A little further down, you have a summary of your link performance over a long period of time. You also have the Topical Trust Flow which offers you a list of categories and influential websites that are potentially related to your site.
Each suggested site is followed by a compatibility rate, the higher this rate, the faster you must link to this site to increase your authority.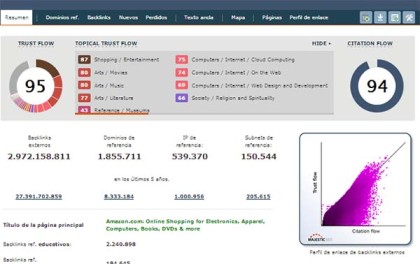 Source : Content Media
Next, Majestic shows you a more global view of your outbound link history and referring domains in the form of a graph to give you a visual representation of your evolution.
The Anchor Text section lists all the anchors you have used for your site's internal linking.

Source : Monitor Backlinks
Beyond all this data, you have other sections on the menu bar of the site to deepen the analysis of your link profile.
6.3. Organic Research
The purpose of keyword ranking and backlink quality is to bring in more organic traffic. Indeed, the rate of organic traffic is the most important factor in generating revenue.
Google Analytics is still the best choice for effectively tracking your site's organic search performance for free. Most other tools are paid.
With Google, you'll just need your GA account to directly access your site's organic session data.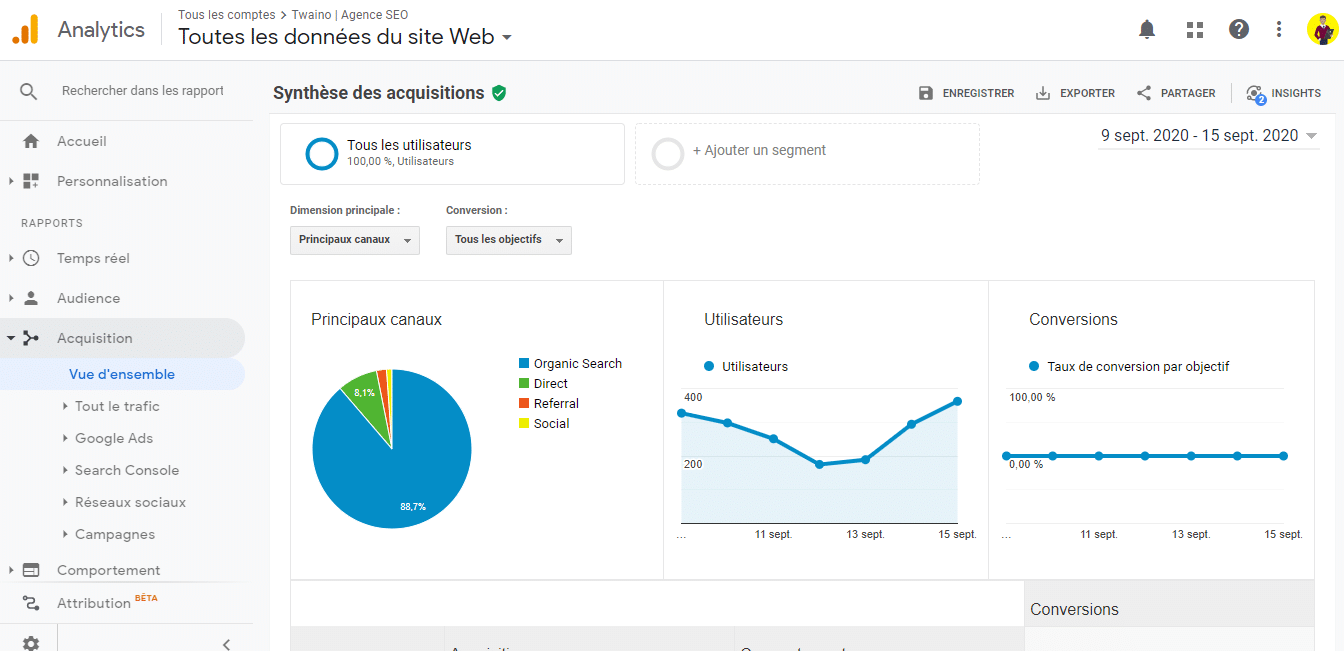 To find this organic data, you need to click Acquisition > All Traffic > Channels. Then either click on Organic Search or scroll down the options at the top of the report and choose Organic Traffic.
6.4. Identify your content that generates the lowest rates of organic traffic
If you already have a site with old content, you can target those that did not last long and repurpose them to win new leads. Maybe they contain outdated information or some issues like invalid images or links that you missed.
In any case, thanks to Google Analytics, you can identify them and give them a few facelifts.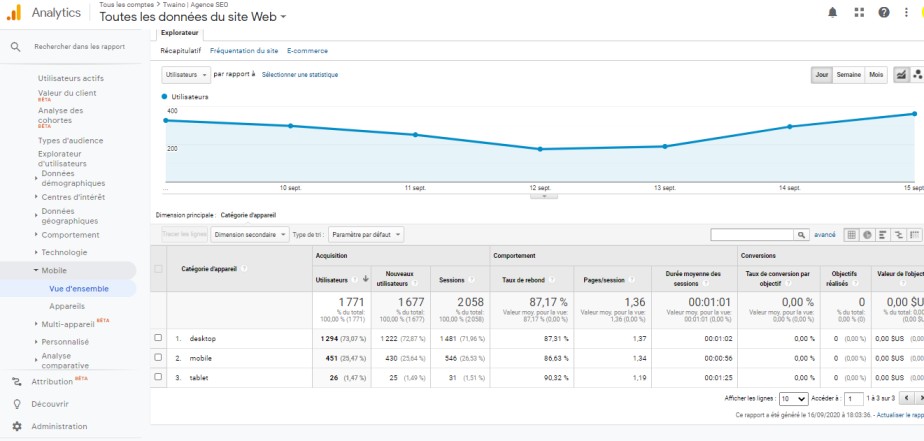 To do this, log in to your Google Analytics account and click on Behavior > Content > Landing Pages. Next, choose the "Organic Traffic" option and filter the pages.
You can now identify the pages with the lowest session rates. Check out these pages to understand why they aren't generating enough traffic and suggest an appropriate solution.
But if you find a page not worth it, you can delete it and redirect the URL to a more interesting page.
6.5. Follow the conversions of your site
The conversion rate is one of the first criteria that business leaders are eager to know after an SEO campaign. This is also one of the most important factors used to measure the success of an SEO campaign.
Indeed, what good would organic traffic and ranking for keywords be if they don't result in conversions. If you notice a low conversion rate on your site, you need to find the problem and revise the site for the smooth running of your business.
Your conversion pages might be poorly structured or contain technical errors that would prevent people from continuing to browse until they made a purchase or signed up.

Source : Loganix
Before tracking your site's conversion rate, you must first register your goals and calls to action on Google Analytics. To do so, click Settings > Admin > Goals.
Next, set goals for your CTAs such as newsletter sign-ups, quote request, or online purchases.
Thus, with this information filled in, Google Analytics can help you identify the landing pages that actually lead to conversions.
6.6. Track behavior flow Behavioral
flow is a report provided by Google Analytics to provide a general overview of user behavior on a site. This report is all the more important since it allows you to review the journey of prospects who have been able to buy a product or order a service on your site.
It also allows you to see the path taken by those who could not lead to a conversion because of an impasse.
On the dashboard of your Google Analytics account, go to the sidebar on the left and click on Behavior then on Behavior feed.
You can also customize the Behavior Feed based on landing pages, traffic source, and more.
So you can see the pages where the majority of your visitors crash and log out without placing an order.
You can then decide to improve these pages or redirect Internet users to a similar page, but which works well.
6.7. The session time of your visitors
It is clear that you need certain metrics such as the ranking of keywords to assess your ability to retain prospects? But it would be even more interesting to also be able to evaluate the behavior of your visitors once connected to your pages.
How long their session lasts on a page is also another metric you can add to conversion rate and behavior flow.
Generally, a user spends more time on a page when he finds interesting useful information that answers his questions before connecting. It is also a good sign that proves that this visitor is likely to convert during his session.
To consult this data, log in to your Google Analytics account, click on Behavior > Site Content > All Pages.
On the data table, look for the column of time on page averages.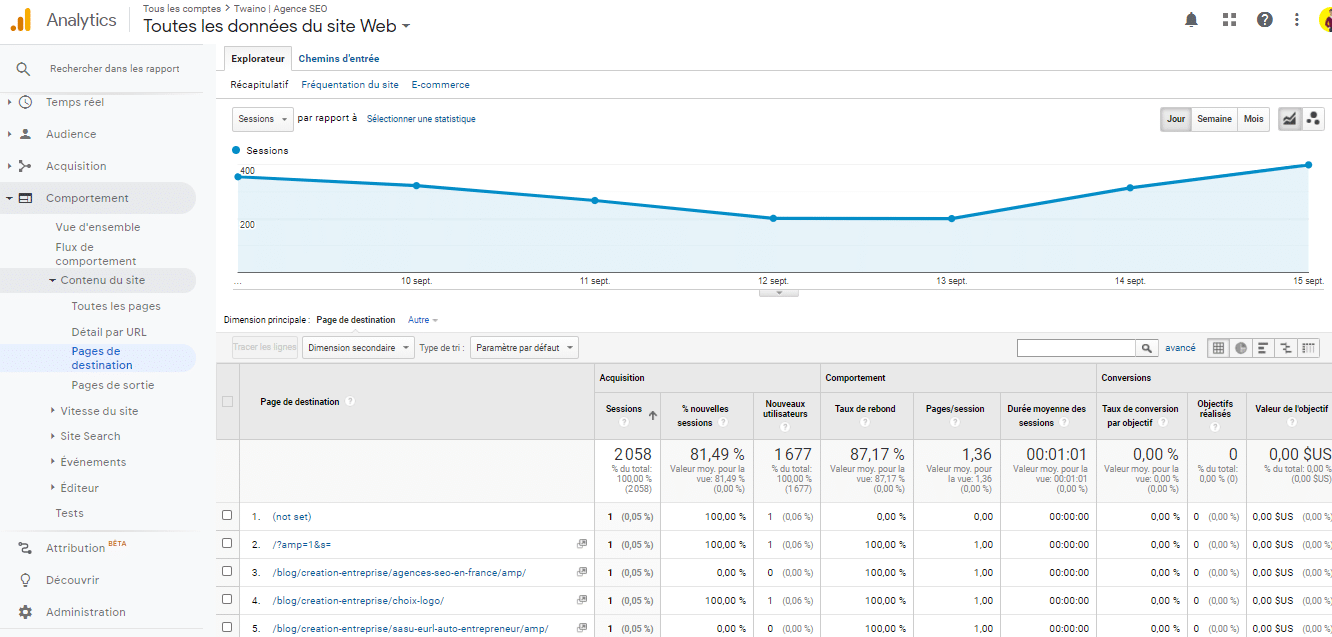 Now you can compare the statistics of each page to see which of your pages have the least visitors and can then correct them.
6.8. Monitor your site
The bounce rate is an excellent criterion for evaluating the performance of your SEO campaign. It allows you to know the percentage of visitors who connect to your site and immediately close their session without even the page loading entirely.
If your bounce rate is high, it's a bad sign for your business. This is a key indicator that allows you to assess the quality of your pages. You can add it to the Average time spent on a page to better assess its quality.
For example, let's say you've written a guide on a given concept. Then you look at his data and notice that he has a high Session Time AND a high bounce rate.
Is this page a success or failure for your site? We could deduce that Internet users find the information they are looking for before disconnecting. The page will be a success if it is entirely intended to inform visitors and it is rather successful.
On the other hand, if it was a form page or an e-commerce site that has a high session time and a high bounce rate, that's a bad sign.
Since the ultimate goal of these pages is to convert visitors, which seems not to work because of the high bounce rate.
If you notice pages with such situations on your site, be sure to fix the problem.
6.9. Mobile traffic to your website
The number of users connecting to the Internet from mobile devices is growing. To attract all this mass of mobile users, you must therefore optimize the version of your site.
However, it is not a question of repeating the same SEO strategies that you adopt on the desktop version of your site, but rather of applying strategies specific to mobile SEO.
The difference in resolution, navigation style, and interaction between these two versions of your site is too great for you to apply the same strategies to them.
You can evaluate the mobile referencing of your site on Google Analytics. To do this, after logging in to the platform, click Audience > Mobile > Overview.
Then compare statistics related to user behavior such as bounce rate, conversion rate, etc. from the mobile version to the desktop version.
If the performance of the desktop version literally crushes that of the mobile version, there is a problem.
6.10. Return visitors and direct visitors
The goal of all businesses is to retain their customers, succeed in satisfying current customers so that they convert many times over. Google Analytics offers two metrics to gauge your site's ability to retain customers: direct and return visitors.
To check your return customer rate, click Audience and then Overview. Its data is represented as a blue and green colored graph.

If you have a high number of repeat visitors, that's a good thing. However, also consider attracting new visitors for faster growth of your business.
So-called "direct" visitors include Internet users who connect to your website directly from the URL address bar or who have saved it as a favorite on their browser.
To view the number of direct visitors to your site, click Acquisition > All Traffic > Channels and then choose the Direct Traffic option.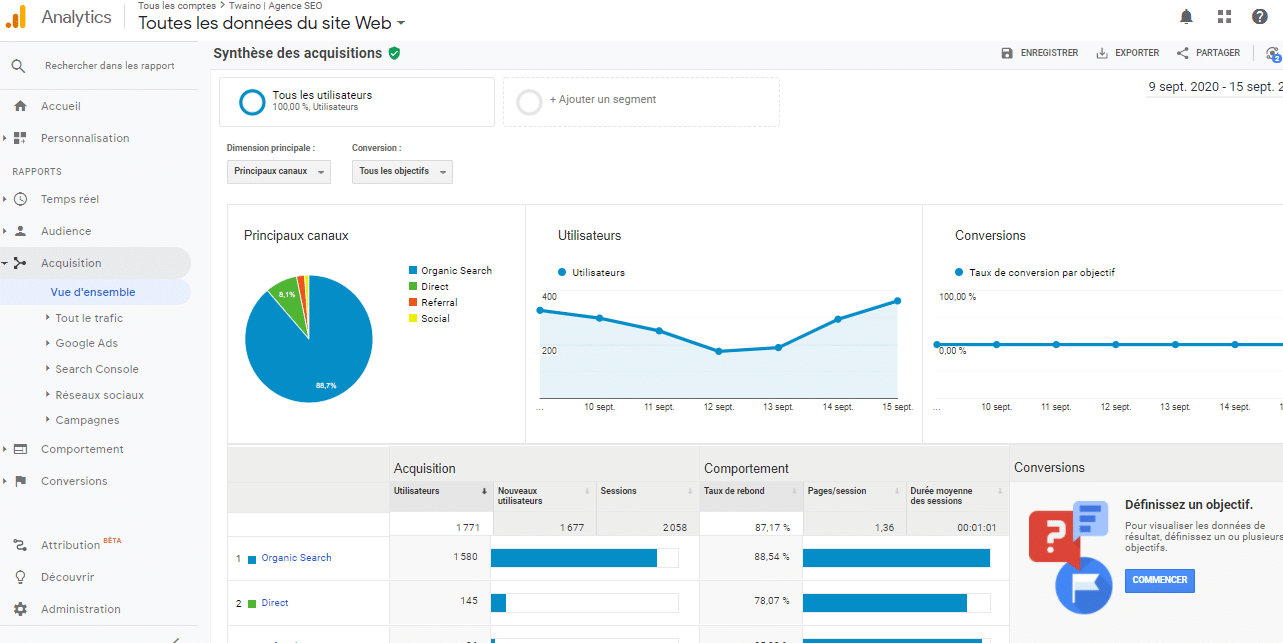 Chapter 7: Are you looking for an SEO agency to assist you during the natural referencing campaign of your site?
As you will no doubt have understood, SEO is a dense and sometimes difficult practice for companies that are new to it. For these companies, it would be wise to be assisted by a competent SEO agency so as not to fall into rookie mistakes.
Also, busy with work responsibilities, many business leaders do not really have the time to learn SEO strategies and carry out the SEO of their site themselves.
Although setting up your own team of in-house SEO experts is relatively more expensive, the best option would be to entrust the SEO campaign to a competent agency.
agency Twaino is an experienced SEO firm based in Paris that is committed to helping companies gain visibility and increase their income on the Internet.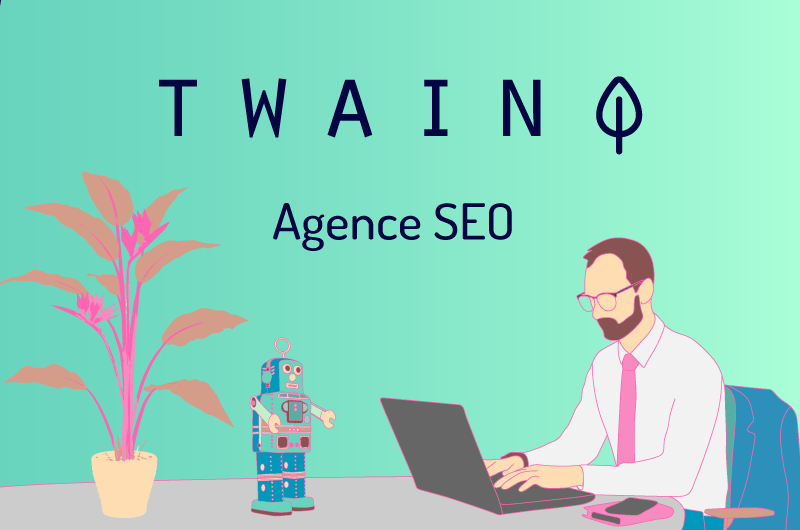 Composed of a team of expert consultants in SEO, the Twaino agency offers its clients a cutting-edge service to carry out their SEO campaign with long-term sustainable results.
The agency also has experienced trainers to offer quality training in SEO to anyone wishing to learn or strengthen their knowledge of natural referencing.
In summary
We agree on the importance of an SEO campaign for visibility and business success on the Internet. However, you should manage your campaign well.
A successful SEO campaign requires a certain amount of effort with a methodology to move forward.
To start an SEO campaign, it is important to identify your target audience and set goals to achieve. These initial objectives can gradually be revised according to the progress of the site and the resources mobilized.
Then, it will be a question of carrying out a complete audit of the site in order to identify its strengths and weaknesses. The complete SEO audit includes:
Keyword audit;
Competitive audit;
The technical audit;
Content Audit.
Once the diagnosis of the site has been established, the next step will be to optimize the site by strengthening its strengths and improving its weaknesses with effective SEO strategies.
Finally, it is important to measure the success of the SEO campaign through SEO tools such as Google Analytics, Majestic SEO, SEMRush…
I hope I have guided you in your quest to launch your own SEO campaign.
Goodbye !