The development and survival of a business depends on its ability to generate revenue and therefore customers. On this subject, I think you will agree with me, it is not an easy task, especially when you have just launched your business. Fortunately, there are many marketing practices that can help you, including an email marketing strategy.In fact, according to a survey conducted by OptinMonster, 21% of marketers across all industries said that email offers the best return on investment. But to get there, you must first collect your visitors' email addresses. If you're wondering how to do this, you've come to the right place as I reveal in this article the best methods and tips that will make a difference.
Collect more emails
Today, I show you in this video how to get more emails:
Find out in this presentation how the methods to collect more emails:
Why collect emails?
Before we go any further, here are some aspects that make email marketing a very important lever for business and that are likely.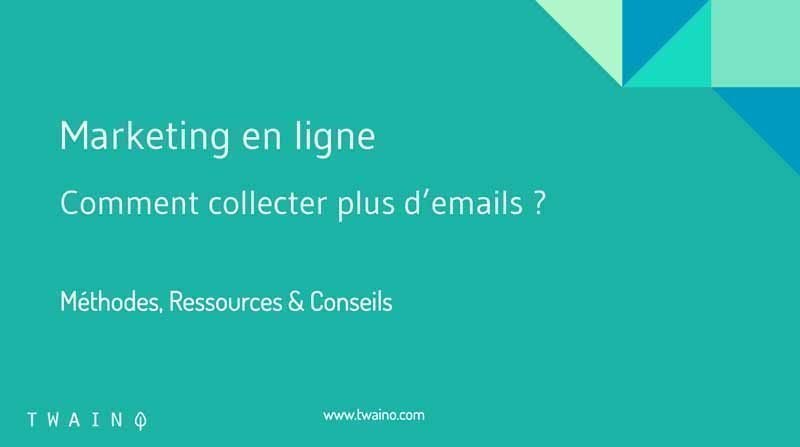 Email: A direct and personalized tool
Email is one of the most personal most personal means of communication online. Indeed, Internet users tend to take care of their inboxes by preventing emails from piling up, for example. Therefore, if someone allows you to send them an email, you can interpret it as a sign that they trust you and appreciate what you have to offer.
In addition, the emails can be more related to business and business activities, unlike social networks that allow you to stay in touch with family and your box, business promotions and other offers.
In fact, one study suggests that 72% of people prefer to receive promotional content via email compared to only 17% who prefer social media.
Email has a wide reach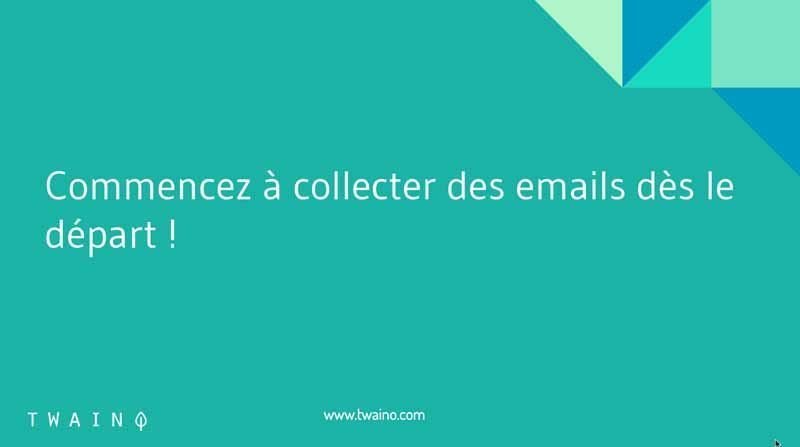 Although the number of people registered on social media is quite impressive, with for example Facebook having over 2.3 billion monthly active usersthe number of people who use email is even more impressive. In fact, this is one of the first things you need to provide when you sign up for these platforms.
In fact, note that the the number of e-mail users is twice as high as that of the than that of the aforementioned site. Therefore, it is a large user base and you are much more likely to find your target audience than with other marketing channels.
A very cheap and profitable way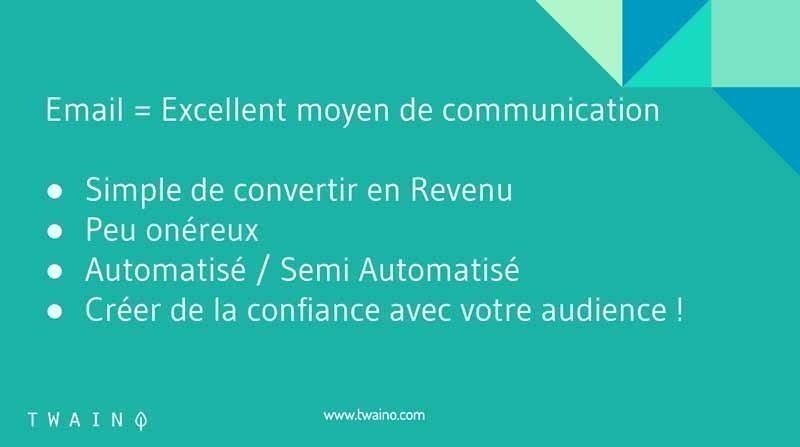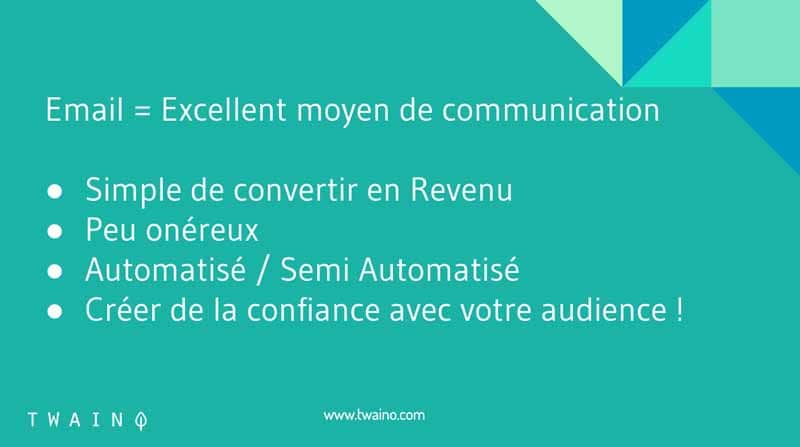 Even if you have to spend some money, email is still one of the cheapest options in the marketing industry. Just take a look at the statistics about the average marketing spend of American businesses:
Email: $1.5 billion;

Television advertising: $64 billion;

Print media: $34 billion;

Internet advertising: $39 billion.
The difference is quite large and in addition to requiring very little expense, email marketing is considered to be one of the most cost-effective ways to market. In fact, Campaign Monitorstates in one of its reports that for every dollar spent on email marketing, you get an ROI of $44.
Email isn't going anywhere
The use of email dates back to the 1960s and for decades they have remained the the communication medium used by the majority of Internet userseven when other channels come and go.
Imagine spending time and money to establish your presence on a platform and then having it disappear. This is not likely to happen with email marketing and focusing on building an email list is a strategy that will be profitable for your business in the long run.
Email offers measurability
When you use email, tracking the results of your marketing campaigns is much easier to do. This is for the simple reason that you have a large amount of very reliable data that you can use in your analysis. These include for example:
The opening rate

the number of people in your mailing list who have opened or viewed your email;

Click-through rate

the proportion of recipients who clicked on a link or a Call To Action;

Bounce Rate

the proportion of emails sent that were not delivered to subscribers' inboxes;

The email sharing rate

the number of recipients who shared your email on social media platforms or forwarded it to a friend;

Delivery rate

the percentage of emails that were actually delivered to the subscribers' inbox;

Unsubscribe rate

the proportion of people who unsubscribe from your mailing list.
These different data will allow you to make more informed decisions based on the functioning of your marketing strategy.
Maintain your visibility and increase customer purchase opportunities
Do you know the saying "out of sight, out of mind"? ? It's actually one of the factors that drives brands and businesses to run ads even if they have nothing new to offer.
This principle also applies here and is an important reason to collect emails. This is because if you send emails regularly, your subscribers will constantly have you in mind and will turn to you when they need the services you offer.
The idea is to stay in touch with them, and even if you don't have anything to sell, you can send them newsletters like your latest articles, tips, advice… in short anything that adds value to the lives of your recipients.
Besides, don't forget that with every email you send, you increase your chances of making sales and to succeed every time, there are certain practices you must respect.
Good practices to collect emails efficiently
There are several methods to collect emails from your website visitors. But don't forget that the principle is to arouse their desire to give you this information and it would be wise to opt for a good strategy and the right tools so that your conversion rate is optimal.
1) Offer added value in exchange for the email address
When the Digital Marketer team offered a gallery of Facebook ad templates for their visitors, they generated over 35,000 leads in 60 days ! This shows that in exchange for the email your visitors will give you, you have to offer them something of value.
But still, this magnet must be able to add value to their experience in order to work well. To do this, you have several options when it comes to content format including:
Videos;

PDFs;

Images or illustrations;

Etc..
Keep in mind that the video remains the preferred choice for many people since it attracts attention quickly. In fact, HubSpot has found that its video resources were its best lead magnets. Simply place a link to the promised video in the first email your website visitors receive after signing up. You can include for example:
Free Course;

Templates ;

Quick Start Guide;

A list of resources;

Free trial ;

Etc..
2) Multiply the methods of collecting emails
There are several methods to collect emails, as we will see in the next chapter. For multiply your chances of getting as many emails as possible from your prospects, don't focus on just one method. So make a mix of a few methods and make sure you find the right balance so you don't annoy your visitors.
3) Position the capture form correctly
The capture of emails from your website visitors will be done through a form and to be effective, consider position it well on your website. Obviously, you will not be able to attract the attention of your visitors by drowning them in a bunch of advertisements or by placing them in the footer of your website, especially since many Internet users will not scroll all the way down.
To do this, identify the strategic areas of your website and simply proceed to tests. Then make an analysis and find the position or the timing that allowed you to have the most registrations. You have several options at this level:
Pop-ups at the top or bottom of the page;

Forms at the top of the page, at the bottom of the page;

Forms on the left or on the right;

Forms inside your blog posts;

Etc..
4) Present a compelling capture form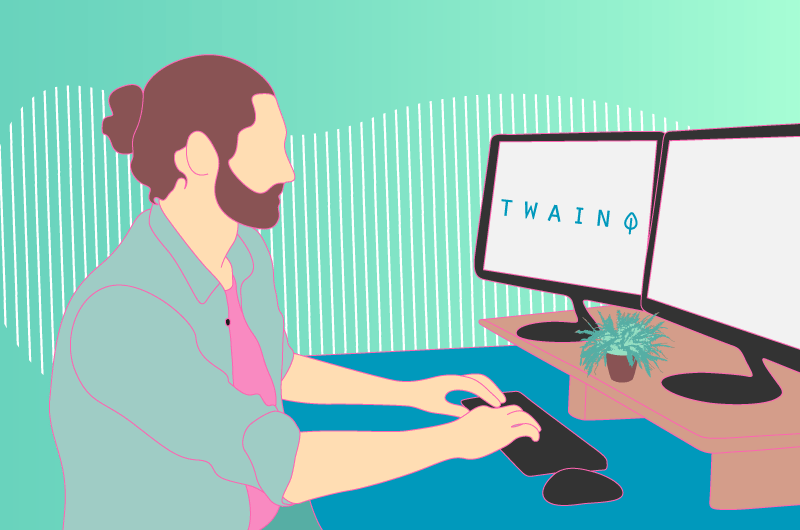 Before someone gives you their email, they need to want to do it and you need to convince them with a captivating form. To do this, pay close attention to:
Design

you have more chance with a form that has a very nice look and that fits perfectly into the decor of your website;

To the ergonomics

in addition to the design, the registration process must be very easy and simple with at most one click;

The catchphrase

the ideal catchphrase: Find the ideal catchphrase and also test a handful of phrases to see which one increases the number of registrations;

To the quid pro quo

visitors are likely to give you their information if you give them something in return that is really worthwhile.
There are some mistakes that I invite you to avoid when you are about to create your form:
Too many fields to fill

too many fields to fill out: Internet users don't like to give out too much information and often consider it a waste of time. Make it easier for them and just fill in the email address, but you can also collect the first name.

Too much text

be clear and precise without using too many words. Visitors should be able to know the benefit at a glance. But if you develop a long sales pitch, you risk automatically turning everyone off.
5) Choose a suitable email collection tool
An efficient toola powerful email collection tool is what you need to be effective in collecting emails. Currently, there are several tools with very advanced features
style="font-weight: 400;">. These will allow you to automate the process and do it in different ways. At this level, you have several solutions including :
While some collection tools are totally free, others are paid and it will be up to you to make the choice according to your needs.
The best methods of collecting emails
There are several methods that will allow you to collect emails, but they are not all equal. Their efficiency depends a lot on your target audience and also on the way you use them. For this, I invite you to proceed to an upstream analysis in order to identify the means that are the most relevant for your campaign. Also consider doing some tests if possible to find the alternative that brings you the most registrations.
1) Use pop-ups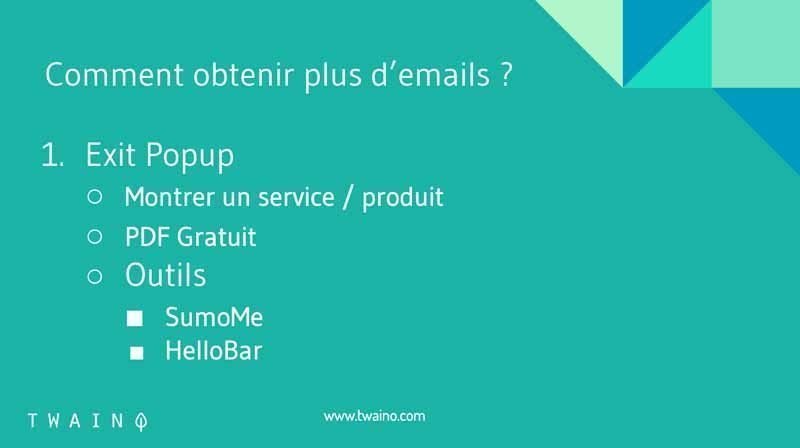 This is one of the most common methods of capturing email addresses. They can be very effective if you use them correctly especially since Neil Patel, co-founder of KISSmetrics and Crazy Egg, says that pop-ups have improved conversions by 17% on his website.
To get good results quickly, consider your marketing goals and make sure you design those pop-ups and position them well. Most pop-up design tools offer several options including:
Customization

customization: You can upload and use your own images, change colors, fonts and add animations to make the window fit properly into your website;

Targeting

targeting: Allows you to display them based on various parameters such as country, traffic source, device, new or returning visitors, etc..

Smart triggers

give you the possibility to make them appear according to parameters such as the amount of scrolling, a defined period of time, etc..
2) Offer coupons to new subscribers
According to a study by Blippr, coupon users spend 46% more at checkout than regular shoppers. You can take advantage of the buzz this method generates to collect new emails and increase your sales at the same time.
To implement this solution, you can use pop-ups to let visitors know that there is such a promotion and then you send the coupon code in the welcome message.
There are several ideas to exploit here:
Free shipping;

A discount within a specific time frame;

A discount on certain products.
3) Create a quiz to collect emails
Did you know that an online quiz canincrease lead capture by up to 500%? ? In fact, this is the discovery that the LeadQuizzes team has made. By the way, everyone loves quizzes and it would be interesting to integrate this tactic into your strategy.
Airbnb Trip Matcher is a great example that allows its visitors to answer some questions to find out their personality and the cities they should visit.
4) Host free webinars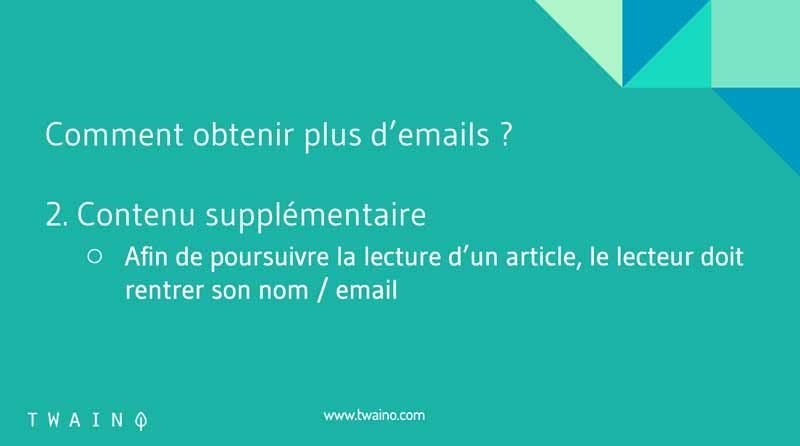 Hosting a webinar allows you to accomplish several things at once:
Provide valuable information to your audience;

Collect email leads;

Promote your products or services.
To expect a large number of participants, you can simply make the webinar free.
5) Drive social media traffic to a landing page
Social media offers many opportunities to many opportunities to generate traffic and you can take and you can take advantage of them to direct your followers to your homepage or a landing page.
Instagram
This platform allows you toadd a link to a web page in the biography. You can take advantage of it to insert a landing page URL in addition to a call to action to encourage people to click on the link.
Facebook
The platform allows you to add a sign up" button at the top of your Facebook pages. There is also the option to run an ad campaign, which allows you to embed a link to a landing page to capture email addresses.
The same goes for other social networks and you can use them to drive users to your website's homepage or to a landing page. But when you launch campaigns from social networks, I strongly recommend that you track them in order to test your landing pages for example.
If you do, your conversion rate can reach 300%as shown in a steelhouse study.
6) Use Exit pop-ups to convert visitors who abandon their visit
Exit pop-ups are capable of converting exiting visitors into customers much more effectively, but only if they are used correctly. This is because other pop-ups that appear on arrival or midway through the site are sometimes seen as disruptive
But the exit pop-up is different as it is the last attempt to retain visitors. To do this, it usually contains an offer that they can't resisteven if they were about to close the web page.
A typical call to action for this kind of pop-up can be for example "Take advantage of a 20% discount before you leave".
7) Organize contests or sweepstakes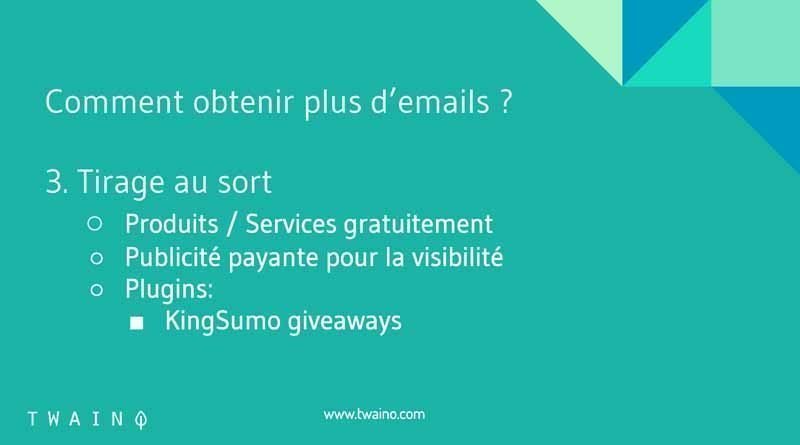 Organizing competitions or sweepstakes are other interesting ways to generate leads easily and at the same time create a community around your website. You have several options to exploit at this level, but you must take care to choose the one that will really resonate with your audience. You can choose between:
Giveaway contests;

Photo and video contests;

Sweepstakes;

Sweepstakes;

Etc..
To have a lot of participants, think not only to propose very attractive prizesbut also to make the way to participate and the rules simple and understandable for the Internet users. Moreover, use all the levers to promote your contest without forgetting of course the social networks.
The choice of a good tool is also very important and you have plugins like KingSumo giveaways, Gleam… Indeed, they will allow you to add a form to collect the email addresses of participants and then take the winners at random.
9) Offer a free tool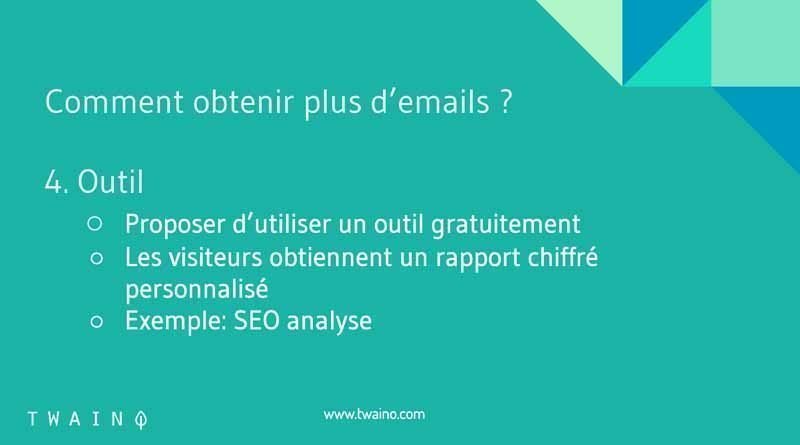 Imagine that you need toimprove the visibility of your website and someone offers you a free SEO audit with one of their tools, just in exchange for your email. Will you agree to give your email address for this valuable information? You will agree with me that the exchange is really worth it.
Indeed, this formula is one of the best since it allows you tobring real value to your visitors' experience. The idea is simple: offer a relevant tool that your visitors will use for free in exchange for their email address.
For example, I plan to integrate an SEO analysis tool into my website that will allow visitors to get a sort of mini-audit by simply using their website URL. In exchange, I will have their email address that will allow me to send them the report.
Conclusion
As soon as a business is launched, the first steps to be taken for its success remain the implementation of strategies to make it visible and strategies to make it visible and to get customers. In this regard, there are a large number of techniques including email marketing which is among the most important and most used because of its many advantages. Indeed, in addition to being an essential means of communication, it is one of the most profitable marketing levers. In this regard, I invite you to quickly set up a strategy to collect email addresses of your website of your website's visitors. To increase your chances and collect as many emails as possible, consider choosing the right tool and respecting good practices.
See you soon for more tips!