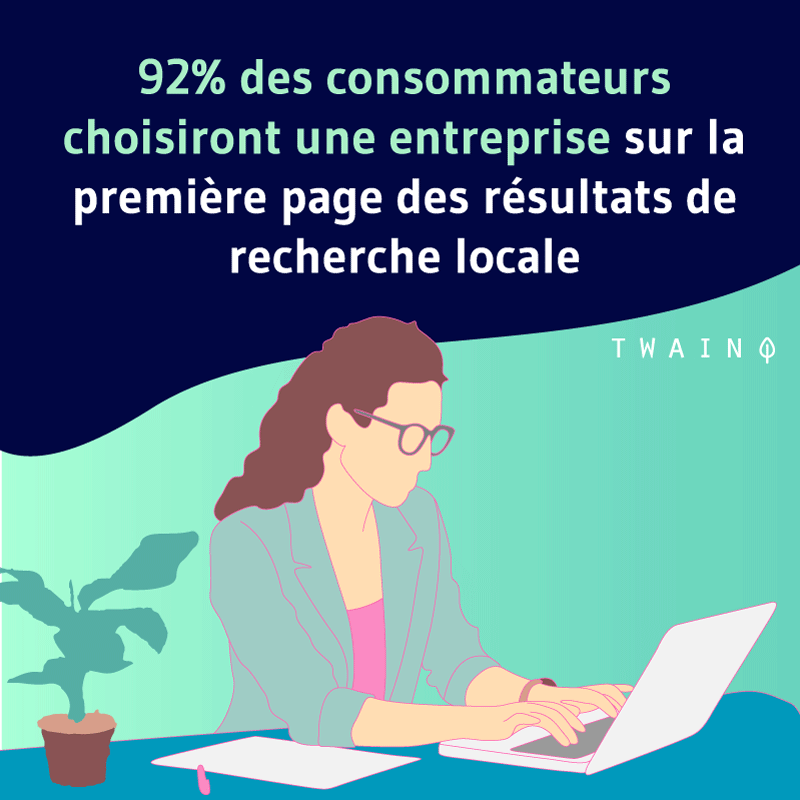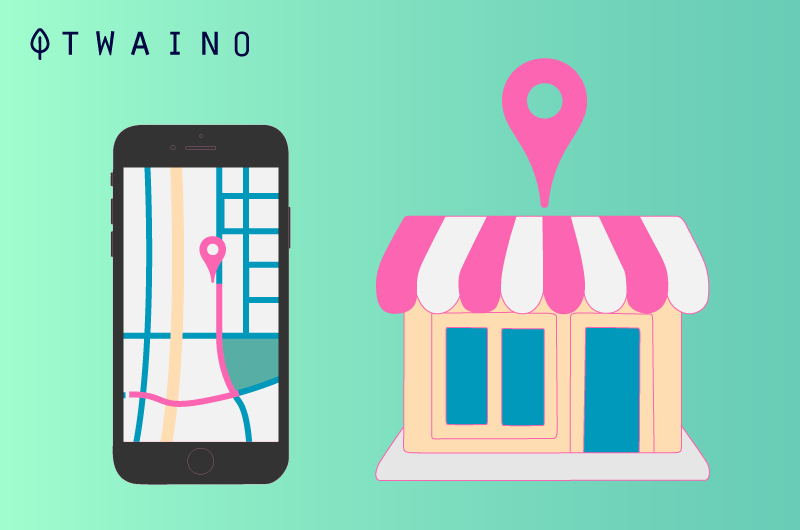 What is Local SEO and why is it important?
Who is Local SEO for?
What is the local package?
What are the different strategies to optimize local SEO? 
Chapter 1: What is Local SEO and who benefits from it?
1.1 What is Local SEO?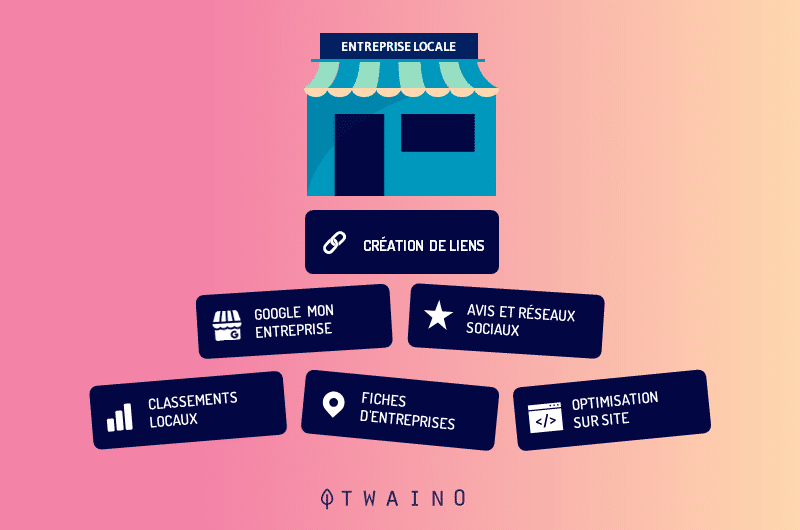 Local SEO is one of the most important parts of SEO that focuses on optimizing a business to improve its performance in local search. 
When well executed, it allows to put the site in front and sometimes in the local pack when the words of the search are relevant. 
Restaurant near me ;
Lawyers near me ;
Plumber near me ;
Gardener in [name of city] ;
Glazier in [name of city] ;
Etc.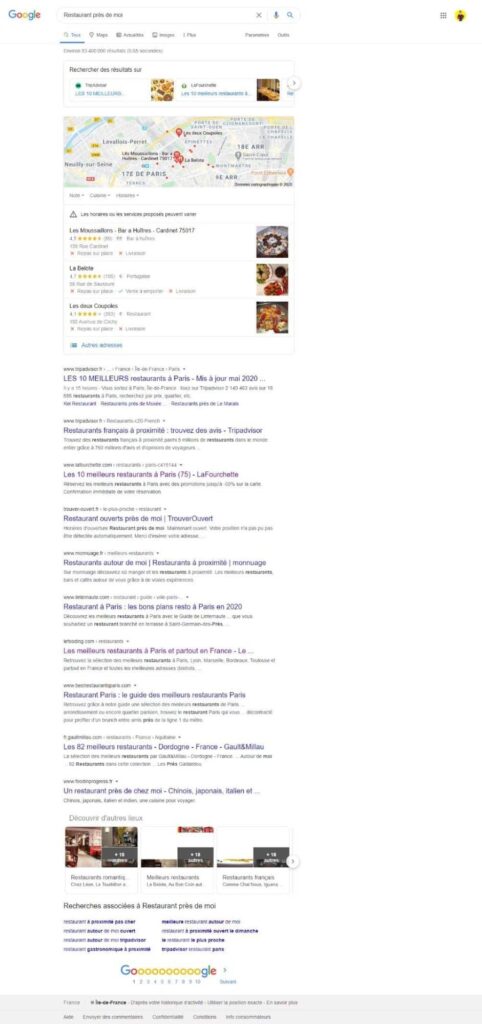 Optimizing a company's Google My Business profile; 
The creation of citations; 
Managing reviews.
The location from which the person is searching;
The presence of the Google My Business listing;
The keywords used in the Google My Business listing;
Business quotes;
Online reviews;
Keywords used in online reviews;
Actions on social media;
Etc.
1.2 Who benefits from local referencing and why?
1.2.1. The restaurants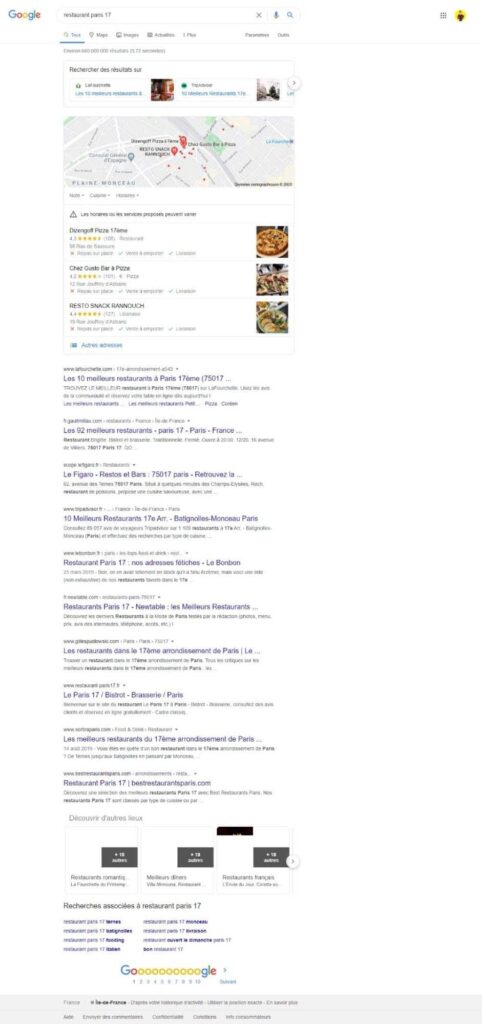 1.2.2. Lawyers and law firms
Local SEO for lawyers is a real gold mine.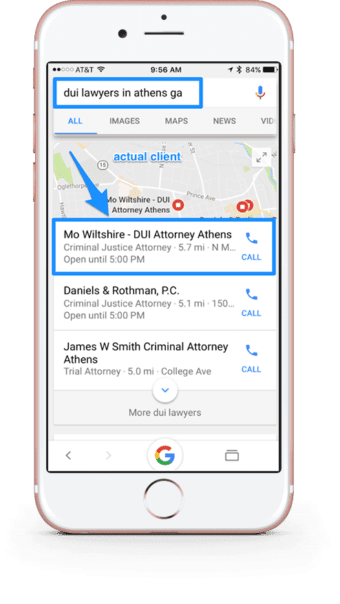 1.2.3. Physicians and medical practices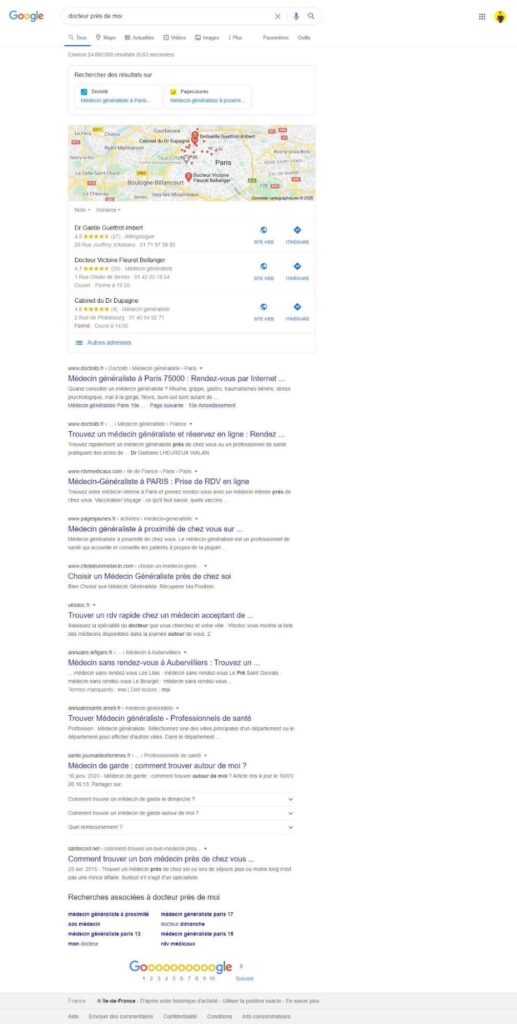 1.2.4. Plumbers

Stores that only have an online location;
Companies that don't want to share their local information;
Local authors;
Private online sellers who want to keep their information private;
Etc.
1.3. Local SEO: A question of size?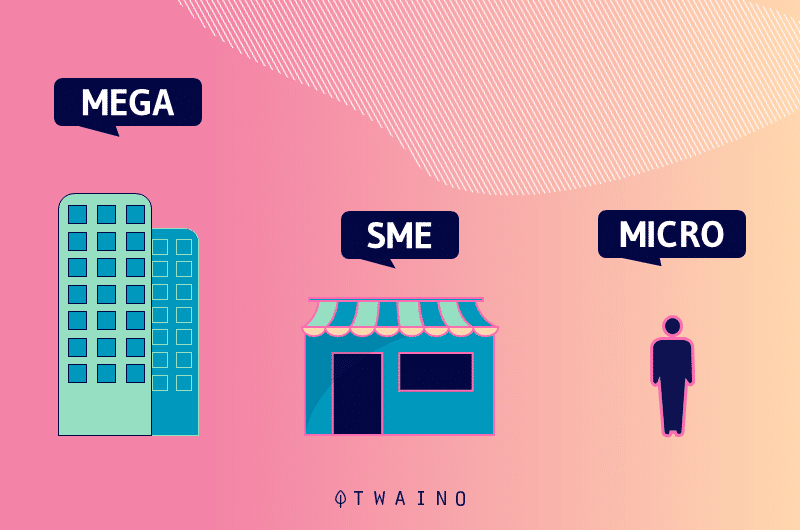 Chapter 2: The 11 undeniable reasons why Local SEO is so important
2.1. Local consumers use the Internet to find information about businesses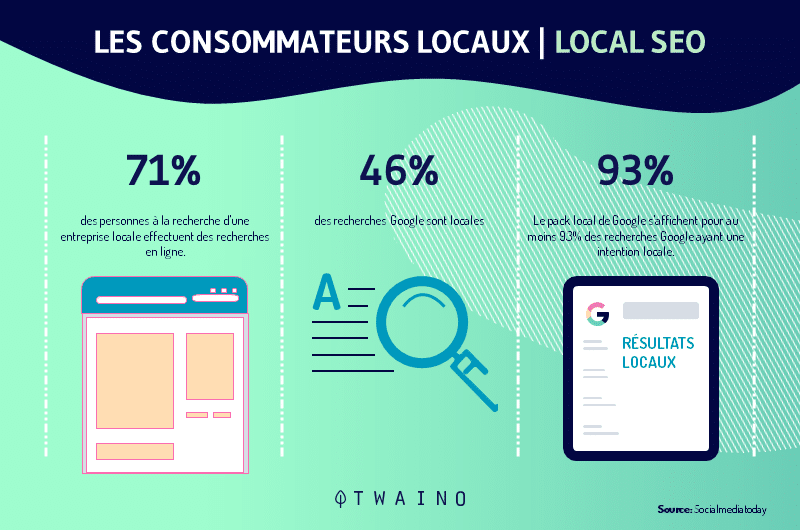 In addition, 71% of people believe they look for the location of a business to confirm its existence before visiting it for the first time.
2.2. Local research is highly targeted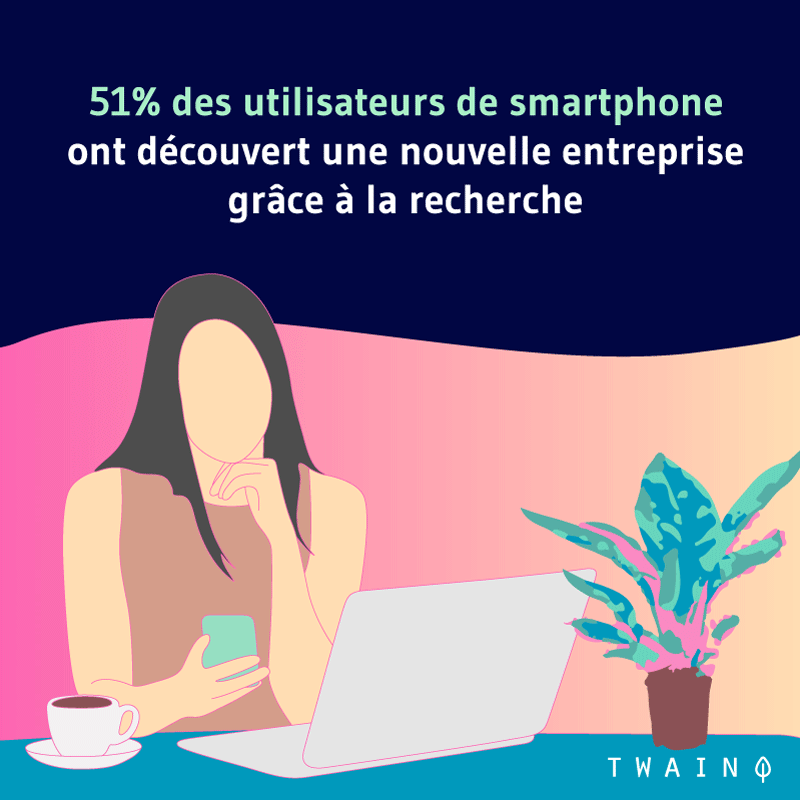 2.3. The cell phone is becoming more and more important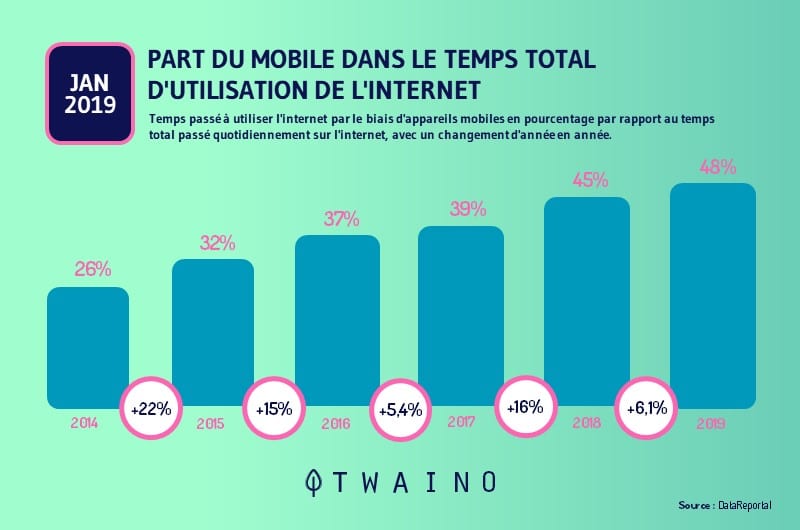 Google has estimated that searches for "….near me now" have increased drastically in recent years: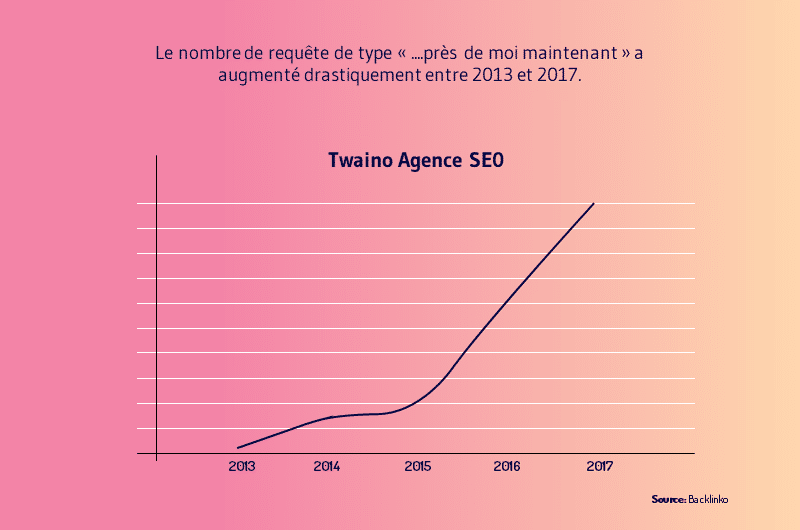 It should also be remembered that there are more and more smartphones today that use voice search.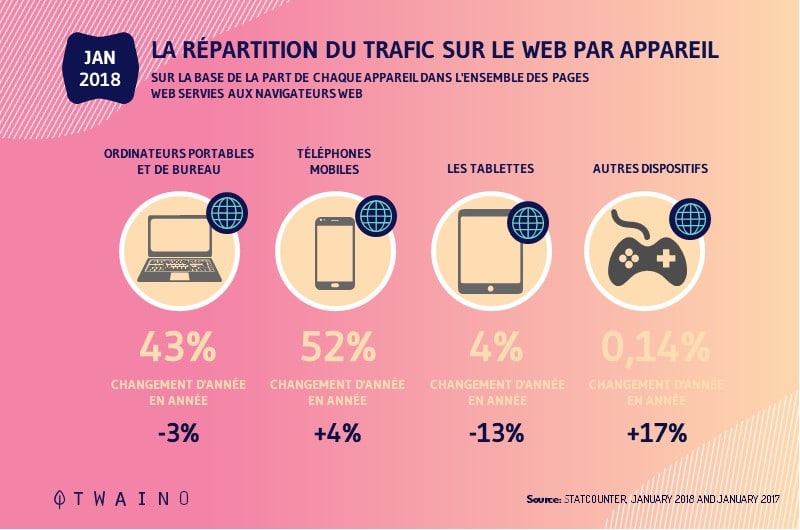 2.4. Internet users tend to search online for better options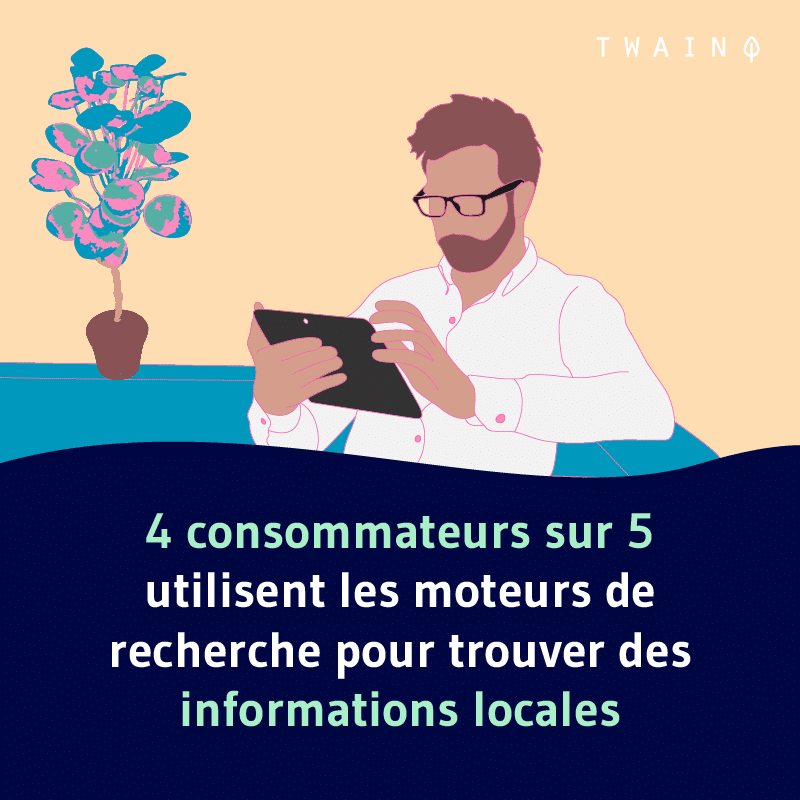 2.5. Not all local businesses have claimed their Google My Business listing
Only 44% of businesses have declared their listing in Google My Business :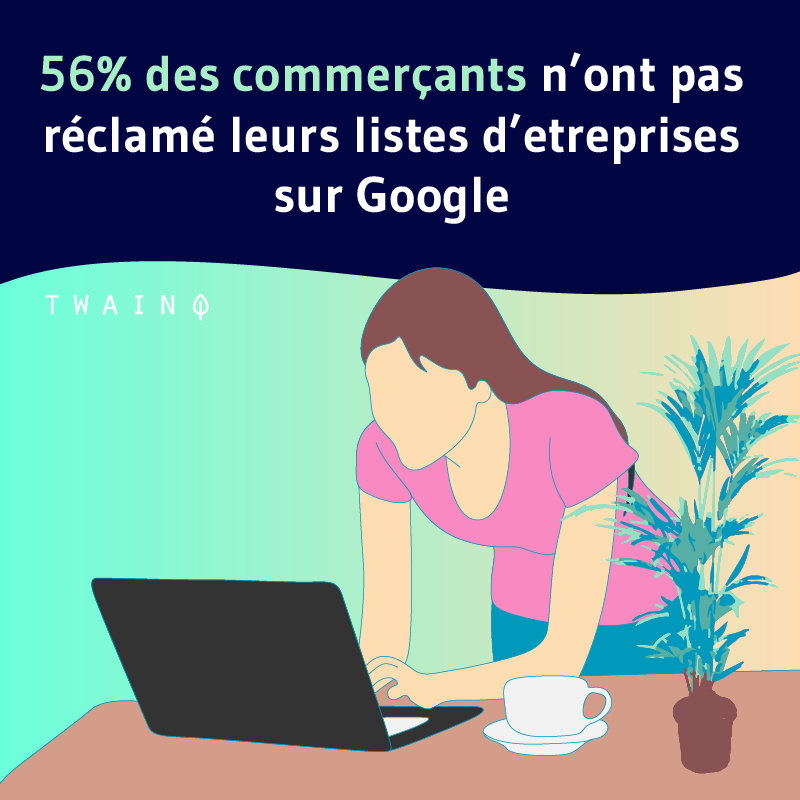 Google My Business is a free listing that Google makes available to almost every business. By listing your business on Google My Business, you increase your chances of appearing prominently in local search results on Google.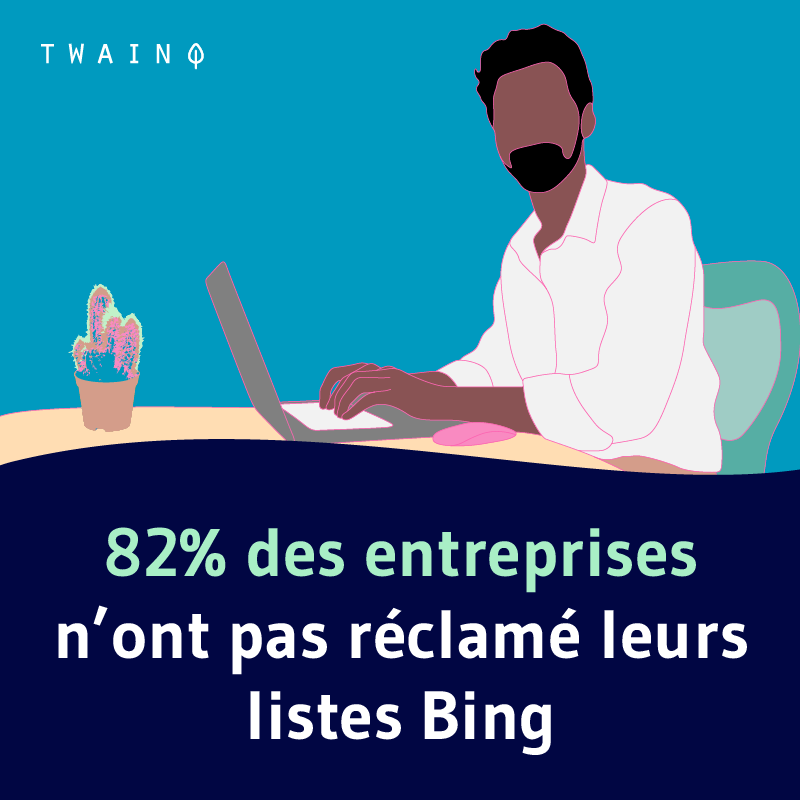 2.6. Local SEO helps optimize your brand image
Platforms like Google My Business allow you to provide several pieces of information about your business profile.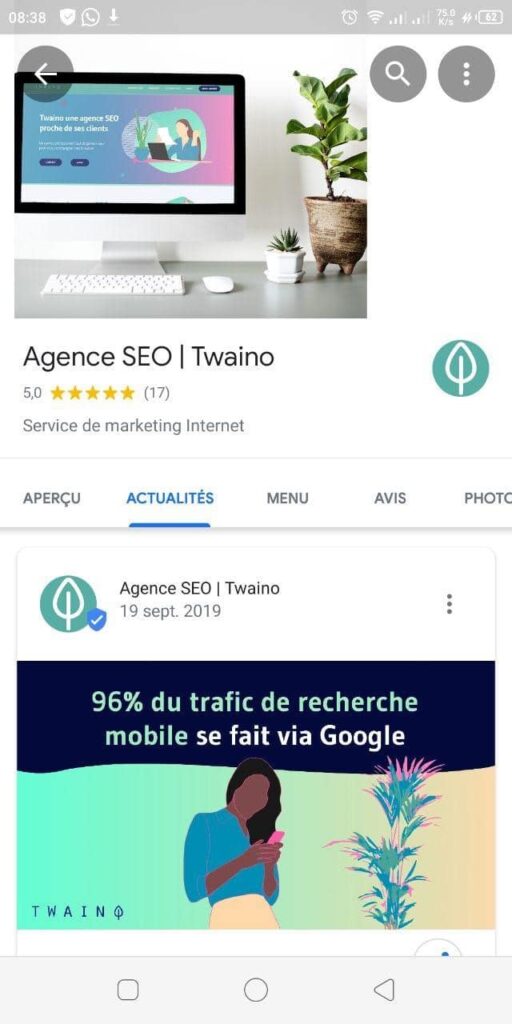 2.7. Positive reviews make most consumers more likely to use a company
2.8. Local SEO can help businesses expand
2.9. Staying ahead of the competition
2.10. Local search has a very high conversion rate
On the other hand, Esageit shows that a conversion rate of 50% is achieved through marketing on local directories:
2.11. Google supports local businesses
And 29% of all Google SERPs contain a local pack in the results:
2.12. Local research is conducive to startups and SMEs
Chapter 3: How does local search work?
If you have no idea how search engines work, I invite you to take a look at my guide on SEO :
3.1. Presentation of local results: The Local Pack?
The Local Pack, also called "The Local Pack", is a set of 3 local business results with a map of their locations from Google Maps.
The Local Pack is the boxed area that appears on the first page of results when an online local search is performed via the Google search engine. 
According to a Moz study, 33% of clicks go to local pack results, and 40% to organic results.
The local pack will result in increased traffic to websites with better SEO performance.
"It's not uncommon for a small business listed on a few local listings without much traffic to beat out the big chains that have a site in that area: that's how strong the effect of your presence on a listing site can be. That's because Google wants to give searchers a good experience by focusing on results that are truly local, and it uses these sites as a good way to determine that."
In addition to the local package, it is also very beneficial to rank for local organic results, and local SEO can be a big help. 
3.2. The main ranking factors of local search
Proximity;
Prominence;
Relevance.
3.2.1. Local ranking factor 1: Proximity
Name;
Address, city, region, postal code;
Telephone number.
3.2.2. Local ranking factor 2: Relevance
Your website;
Your blog posts ;
Your GMB list;
Your social media profiles ;
Etc.
3.2.3. Local grading factor 3: Prominence
Ratings and evaluations;
Social signals;
Backlinks;
User engagement;
Overall domain and website authority;
etc.
These are the 3 most important ranking factors for Local SEO, but let's not stop there.
Indeed, there are several sub-criteria that come into play that are worth knowing. Instead of letting you go through Google's 200+ ranking factors looking for those specific to Local SEO, I'll give you this list of the ones I've unearthed.
3.3. The 21 ranking factors of Local SEO
The first publication on this subject was made in 2008 by David Mihm :
3.3.1. Ranking factors related to Relevance
Local citation signals
2.

Appropriate category associations
3.

Product/service keyword in the company description
4.

Amount of citations from locally relevant areas
Local information sites;
Local trade association sites;
Local blogs that publish content about your industry;
Events in your community.
Etc.
5.

Number of citations from industry-relevant fields

This is an example of Alexia for law firms:
6. NAP on website corresponding to NAP on GMB
7.

The relevance of the content published on your website
Your title tags: A title tag is a great way to incorporate the target keyword of your page;
Your meta descriptions: Your meta description allows you to expand on your title tag and add more context to what your page is about. Again, be sure to include your target keyword;
Your body tags (H1, H2, etc.): In your content, you can create headlines to draw users in and encourage them to read on. This is another great way to increase your relevance. Search engines detect these tags and give more importance to what they contain.
8.

Outbound links
3.3.2. Ranking factors related to prominence
9.

Quantity and quality of reviews on Google My Business
10. Quantity and quality of evaluations on other platforms
In short, the search engine evaluates your reputation on the entire web. So, if you have collected very good reviews on Tripadvisor, you will have an extra point for your performance in the SERPs.
11. Quality and authority of directories
12. Amount of structured citations
13. Domain authority of the website
There are many ways to check the "strength" of a website. For example, Moz offers an extension called MozBar that makes it easy to see the domain authority of any website.
14.

Google My Business listing verified by the owner

It is best to seek the help of an SE

O for the verification steps, however, this must be done with your own Google account. It is up to you to have direct control of your page and no one else.
15.

Quality and authority of incoming links to the domain
Local business indexes;
Local business association websites;
Local newspapers;
The best blogs in your niche;
Etc.
16. Local landing page authority
3.3.3. Ranking factors related to proximity
17.

Proximity to the physical location of the search point
18.

Proximity of the address to the centroid

According to Referencement-local :
"The centroid is defined by Google, not as the center of a given city, but rather as the geographic area where the most businesses operating in the same industry are located."
"If you read their (Google's) patents, they actually discuss the center of industries … as defining the center of research. So if all the lawyers are on the corner of Main and State, that generally defines the center of research, rather than the center of the city…it's not even the center of the city that matters. What matters is that you're close to where other people in your practice area are."
19.

Physical address in the search city
20. Local code on the company form
21.Geographical terms in the content and title tags of the site
The home page ;
The contact page;
Service description pages;
The biography pages.
Chapter 4: How to optimize a site for local SEO?
Keyword research,
Content creation;
The creation of backlinks;
On-page SEO;
Google My Business;
Bing Places;
Apple Maps.
To make it easier for you to read this guide, I'm going to break down the different Local SEO practices into chapters.
Let's start with one of them, which remains paramount, regardless of the type of SEO campaign:
Chapter 5: Audit Your Local Results Rankings
Specifically, you should see where you stand in the local pack and also track rankings over time.
The problem here is that with local SEO, the Map Pack results can be completely different from mile to mile.
Therefore, if you only track your local rankings from one location, you are only seeing a small sample of your actual rankings.
That's why you need to get very accurate information about your local rankings. This way, you can see your ranking in your entire city or region.
To do this, you will use paid tools such as :
To use these tools, you must therefore have a Google My Business profile already configured since the data comes from the tool of the American giant.
Then, you need to enter the information related to your business, the area you want to cover and the size of the grid that gives you an excellent idea of the position of your business in the whole area.
The tool allows you to have your ranking for each geographical position as in the image above.
If you are wondering if it is possible to use the tool in France, the answer is yes:
With these tools, you get an interactive map that shows you where you rank in many different places in the city.
You may have better rankings in some places and worse rankings in other places.
Note that this is not necessarily a problem since if a competitor is ranked higher than you, Google will consider them to be the best choice for their users.
That said, you should use the tool to find places where you "should" be ranking well, but are not.
If there are competitors in positions that you would like to have, you should go and take a look at their listing.
This will give you an idea of what you need to do to rank well.
Apart from your ranking in the local pack, you should not forget your positioning in the organic results.
It's important to understand that most local searches have incredibly strong commercial intent. In other words, users want a few more things to take action on.
In most cases, a comparison is the best type of content to satisfy that intent. As is the case for this example:
You can see that most of the pages present in the previous SERP are comparisons of the best restaurants in Paris.
In addition to ranking in the local pack, it makes sense to rank in the local SERPs as well.
And unlike the Local Pack results, local results are basically the same for all Google SERPs.
That's why to optimize your site for local organic ranking, you'll use traditional SEO practices:
Creating authoritative content;
Optimize the technical side of your web pages;
Use your keyword in your title tag, in your URL….
Etc.
If you would like to know where you stand at this level, you can perform a full SEO audit of your website.
By doing this audit, you will be able to detect any other technical problems that are penalizing your optimization efforts.
Once you know exactly where you stand, you probably have some ideas about what to do next.
Let's continue with the most appropriate action:
Chapter 6: Conduct Keyword Research for Local SEO
Keywords are the foundation of SEO, especially since they are what the search engine uses to determine search intent and suggest results.
Local keyword research is not really different from natural referencing: It is just specific.
In fact, local searches generally take the following forms:
…. near me;
What time does it close… ?
How long will it take to walk to ….?
…. phone number ;
Etc.
SEO agency near me ;
Twaino;
What time does Twaino close;
How long will it take to walk to the Twaino agency ;
The number of the Twaino agency ;
Etc.
But what about the more "traditional" keywords? How do you know what they are and what you should optimize your site for?
You will not limit your efforts to your Google My Business account, you will also have to intervene on your website.
The local referencing wants to have as much as possible in the publications of the site, references to the targeted region. These contents help a lot in local referencing through their performance on the web.
Here are a few tips to adopt to help you out:
6.1. Brainstorm your "Service in Location
Keyword research for local SEO is not an exact science. For most businesses, the main keywords to target will be fairly obvious.
Restaurant in Paris ;
Italian restaurant in Paris ;
Pizza in Paris ;
Etc.
The format remains the same: Keyword + location. This is Service in Locations (SiL).
All you have to do is make a list of all the services you offer and the locations you serve. Then you'll merge them together to create a bunch of potential keywords.
At this point, you can also play around with the plural or different variations of the words to get a bigger list.
For example, you can add "Restaurants in Paris" and "Restaurant Paris" to your list, instead of just "Restaurant in Paris".
On the other hand, avoid trial-and-error selection of keywords specific to local searches.
To make the best choices, you can use tools like Ahrefs or Ubersuggest to get metrics on your different keywords:
These tools make it easy for you to get the keywords and questions that people often ask that are locally focused.
If you choose your keywords so carefully, you may well be surprised by the volume of searches you get.
To go further, check out these two guides:
That said, we must nevertheless pay attention to Google's global search which is becoming more and more natural.
Indeed, Google has become smart enough to display some results even if there are no specific keywords.
As you've already noticed, Google doesn't just show local results for keywords that contain a specific city or state.
If Google thinks your search requires a local result set, it will show you that, even if the keyword is not local.
For example, when I search for "garden", Google gives me this local pack:
6.3. Google Autocomplete
Google Autocomplete is a very good tool to generate more keyword suggestions.
Just enter your main keyword in Google and take note of the suggested searches.
Let's do it for "Restaurant Paris":
You will notice that I did not have the idea to use the expression "Restaurant Paris 8" which is much more precise than the initial "Restaurant Paris".
Note that these suggestions come from the millions of queries that users keep making. If Google offers them, it's because it believes they come up all the time and are therefore popular. It's up to you to know how to use them.
Now, I have other ideas for keywords such as :
Restaurant paris 8 cheap ;
Restaurant 8eme paris ;
Etc.
6.4. Spy on the keywords on which your competitors are positioned
Ahrefs found that pages in the top 3 on the first page of Google also rank for 1,000 other relevant keywords.
To know the keywords on which your competitors are positioned, you should use keyword research tools.
Chapter 7: Claim your Google My Business, Bing Places and Apple Maps
Claiming and optimizing your Google My Business listing is probably the most important part of local SEO.
7.1. Google My Business
As Google itself says:
According to Moz, GMB is the most important local ranking factor for both local results:
I've published a comprehensive guide to Google My Business that you can use to claim your business listing.
7.2. Steps to claim your listing on Bing Places
Bing only has a small market share of 7.81%, which means it is clearly less important than Google. But given that there is still a portion of Internet users who use it, it makes sense to claim your profile.
Step 1: Make sure you haven't been listed!
To do this, go to Bing Maps and start typing your business name in the search bar.
Step 2: Import your data from Google My Business
Step 3: Create a Bingplaces listing manually
Small or medium-sized company (1 to 10 sites);
Chain business (more than 10 locations);
Online business (no physical locations): Online businesses are not actually eligible for Bing Places listings;
I manage business listings on behalf of my client.
United States;
Australia ;
Austria;
Brazil ;
Canada ;
China;
Germany ;
India; Italy
Italy;
Mexico ;
Spain;
Switzerland;
United Kingdom.
Importing Google My Business profiles should solve this problem.
If you are in one of the countries accepted by Bing Places, enter the name and location of your business:
Bing will then search for your business. But as we have already checked, it should not find it.
Then, please choose the "Create a business" option.
Step 4: Enter your basic information
Step 5: Choose an industry and category
Bing's list is not as comprehensive as Google's. But unlike Google, you can choose multiple categories (up to 10) and then select a "primary" category later in the process.
It will then display the categories and sub-categories in a more logical way.
Just because you can select 10 doesn't mean you should.
Just pick the ones that are really appropriate for your business. This is usually one or two categories.
Then you can choose a main category from the categories you selected.
Step 6: Add email and links to your website, Twitter, Facebook, Yelp and TripAdvisor
Step 7: Add photos
Bing has some rules in place that are pretty important to know before you start uploading your images:
7.3. Steps to claim your listing on Apple Maps
It is important to note that in the US, the Apple iPhone has a 32.9% share and in France 21.1%:
These numbers show that tens of millions of people use Apple's IPhone. Yet iOS users always use Apple Maps, since it is the default mapping application on the iPhone.
In addition, Apple Maps is integrated into Siri and Spotlight searches. This means that it is Apple Maps that opens when you ask Siri for directions.
Note that Siri is the most used voice assistant:
To do this, simply go to Mapsconnect and follow the instructions as with the others:
Then follow this guide to optimizing your SEO or watch this video:
Chapter 8: Audit and create local citations (NAP)
"In Local SEO, a citation refers to the mention of a local establishment in an online directory. It comes in the form of a listing that presents key information about a business such as its business name, address and phone number."
Structured;
And unstructured.
Author profiles;
Blog posts;
Newspaper websites;
Etc.
8.1. Why are NAP citations important?
8.1.1. Citation signals are one of the main factors in local ranking
According to a Moz study, citations rank 5th with a weighting of about 10% when considering local ranking factors:
This is true for both Google's "local pack" results and for regular organic search results. In the latter case, the weighting is 8.41% with the fifth position out of a total of 8.
This is most likely due to the fact that consistent information in NAPs on the web serves to confirm the data that Google has in its files (GMB) for a particular business.
On the other hand, inconsistent information in NAPs only serves to confuse and mislead Google as well as potential customers.
This leads to a bad user experience, which Google tries to avoid as much as possible.
8.1.2. Citations serve as validation and show that you are part of a community
Citations serve as validation, which is probably the number one reason why Google's algorithm takes them into account.
Anyone can create a website and say they are an expert in a particular niche, but a citation can prove to search engines that the company is actually something real.
Citations also show that you are part of a community, which will greatly improve your ranking in local search engines.
In this sense, you are confirming to Google that you are real. So it's not just another validation, but also a way to get your name out to your community, which Google appreciates.
8.1.3. Google is not the only place where people search for businesses
Social networks: Facebook, LinkedIn, Instagram, Twitter…
Directories;
Etc.
Having an accurate NAP on these sites will allow potential customers to find your business, which translates into more customers and revenue.
In summary, make sure that your existing citations are correct and consistent for better local SEO.
The more Google can see that your business is consistent online, the better.
Contact information is always changing. So citations are a great way to prove that you are a solid business and if users like that, so does Google.
Now let's come to the case where you want to move your business.
You will need to do what is called "Citation Cleaning".
This means updating all of your information to match your new location. There are also those cases where even without having to do anything, some companies have their data incorrect.
So, to make sure you have your data correct, you have to go and do a search on your company name yourself.
That way, you check each of your company's listings to see if the data is true. If not, you will just have to modify them, which brings us to one of the most important practices:
8.2. Conduct a corporate citation audit
8.2.1. Check my record with Moz Local, Semrush, Ahrefs…
If you are in the United States, Canada or the United Kingdom, Moz Local is a great way to quickly check your record:
On the other hand, its direct competitor Semrush is available in France and you can determine and manage your different citations:
8.2.2. Manual audit of NAP citations
The basic procedure is to search for these citations in Google using advanced search operators.
To find incomplete NAP citations:
"Company name" + "partial address" – "correct phone number": This operation allows you to find citations with your company name and address without taking into account the phone number ;
"Company name" + "correct phone number" – "partial address": This one forces Google to consider the name and the number without taking into account the address of the company;
"Correct phone number" + "partial address" – "company name": Like the previous operators, this one does not take into account the company name.
To find incorrect quotes from NAP
"Company name" + "partial address" + "old/incorrect phone number"
"Company name" + "correct phone number" + "old/incorrect partial address
"Correct phone number" + "correct partial address" + "old company name"
8.3. Create more citations for your company
8.3.1. Find more directories and local directories
Local business associations and directories (e.g., local networking events) ;
Community centers
"Every SEO should have a master list of search operators that they can use for link prospecting. A good search operator contains two things: The root operator (i.e. "suggest site") and Search modifier/keyword (e.g. Miami). For local link building, we want the modifier to contain local keywords. Be specific – instead of just using your city (e.g. Miami), dig into neighborhoods, counties, cities, etc."
"Visit the website"
"Website"
"Visit the website"
"Click here
"See the website
[free URLs]
8.3.2. Rules to follow for your local citation campaign
In 2018, Brightlocal conducted a study that gave them interesting data on how SEO experts interact with local citations.
The importance of citations decreases over the years
"The fact that your business is more prominent and stable online, is important. When a search engine can see that you have more mentions than your competitors, it makes sense that it could affect how the algorithm views you as an entity. Ultimately, getting citations is a necessary evil. They're not as important as they were a few years ago, but the same is true in the 90s. If you can get a link or mention on a relevant website that would interest your customers, then go for it. The worst that can happen is that you gain traffic."
Conclusion: Although citations are important and give a boost to your local SEO, you should not spend all your time and budget on them. They are becoming less and less powerful with all the opportunities available today such as ratings and reviews.
2.Accuracy and consistency are the key words for citations
Conclusion: It's like I've been saying for the previous chapters. You need to make sure your citations are accurate and consistent across all directories where your business appears.
3. Quality remains more important than quantity
As Bernadette Coleman, known as The Queen of Local SEO, puts it:
"Remember, quality is always better than quantity. For businesses trying to cultivate a strong local presence online, building a collection of quality citations is essential. Authoritative citations can improve a company's visibility and help it stand out from its competitors in search results."
Conclusion: Focus your efforts on high authority directories that are really relevant to your business.
4.

Relevance is the most important factor in choosing a directory
Industry relevance;
Relevance to location;
Domain authority.
"We view each citation site as an opportunity with goals that go far beyond helping businesses rank in Google's local results. In most cases, we choose directories that have been created to provide a good customer experience, which can also send potential buyers to deserving sellers."
Conclusion: Once you have compiled the list of directories you have found, you should try to rank them according to criteria to ensure the quality of your company's local citations. In this process, relevance to your industry remains the most important criteria.
5. While building new quotes, correct old ones
"Our approach to citation management is to make sure there are no glaring issues of consistency between NAPs. Then we make sure that most of the first 30 to 50 local citations are covered and then we can look at some niche citations. After that, we don't spend too much time thinking about it, other than making sure the directories that come up for a brand search are accurate and optimized."
Conclusion: It is important to create new citations for your company. But it is equally important to correct the existing one that contains inconsistencies. When you want to launch a campaign, you should aim for both of these tasks.
Chapter 9: Manage your customer and prospect reviews
9.1. Stay active on Google My Business
Respond to customer/client reviews;
Look for incorrect changes;
Use Google Posts to keep your customers informed.
Learn more;
Sign up;
Get the offer ;
Etc.
9.2 Stay active on industry-specific review sites
[your industry] reviews/ratings
[your competitor name] reviews/ratings
9.3. How much advice do you need?
The result could be, at best, that these reviews are ignored and, at worst, that your ranking drops.
Therefore, you should avoid treating the acquisition of reviews as a one-time task, or as an activity that needs to be dedicated to every month.
Or contacting all your customers at once by sending them a mass email asking for reviews.
Instead, build the process of getting reviews into your business and always be on the lookout for any review opportunities that come up.
This approach also makes your review requests more personal and timely, which increases the chances that people will respond positively.
9.4. How do you collect your customers' opinions?
To collect reviews from your customers, you can integrate your Google My Business review link into your email marketing campaigns. For example, you can simply use your email signature to ask your customers to leave reviews.
In this case, it's important to write personal emails asking for reviews. The context of the personal email should make it clear that the email is not mass produced.
This shows that you value them, and they will return the favor by leaving reviews.
Also, it's helpful to segment your audience and ask for reviews from people who are most likely to be long-term customers. This is one of the best ways to get reviews.
That's why you may want to instruct customer-facing staff to ask customers for feedback, especially when customers seem satisfied.
Sometimes you will have to deal with customers who don't know how to leave feedback. In this case, you can create a ready-made document to teach customers how to leave reviews.
However, don't pay anyone to post reviews while posing as customers.
Customers should always post their own reviews directly on third-party platforms. Also, don't set up a review booth at your workplace to ask for reviews.
A single IP address shared across multiple reviews on a given platform can result in those reviews being flagged and removed.
Speaking of reviews and building trust with your audience, you need to think:
Chapter 10: Use social networks in your local SEO strategies
10.1. Why is social media important for business marketing?
10.1.1. Promote your brand
10.1.2. Communicate your expertise and authority in your niche
10.1.3. Show the authenticity of your brand
10.1.4. Provide support to your audience
Create a system for tracking customer comments, questions and complaints on social media;
Respond to questions and concerns as quickly as possible;
Be positive and helpful;
Listen to criticism and make customers feel heard;
Know when to resolve public conversations into private messages.
10.1.5. Improve your natural referencing
10.1.6. Off-line sales
10.1.5. Track trends in content creation for your audience
With time, you will get used to it and will be able to better understand the preferences of your subscribers.
In general, we are more tempted to create text content than video content.
But you should know that video content is much more followed and just as easy to make.
All you need is good lighting, a smartphone and a tripod.
It should also be noted that it is important to always test before going online. This allows you to make sure that your internet connection is fast enough to avoid interruptions and delays.
10.1.6. Grow your business at a lower cost
Marketing is an area that is both very essential, but also requires a bit of money.
As a result, not all companies can afford huge campaigns. But there is an alternative with social networks.
Indeed, with a simple dollar your company could get a great value. And that's through ads on networks like Facebook and Instagram.
However, you should make sure that you have very specific goals for your advertising campaign. This way, you don't waste money on unnecessary ads.
So, how do you take advantage of all these benefits?
10.2. How to leverage social efforts for local SEO?
Local SEO with social network marketing is a pretty tough exercise even though it is also very important. It allows you to improve your ranking in the list of search results and therefore increase traffic to your social pages.
Before starting the exercise, make sure to take a moment and think about your objectives. Then, analyze the platform that would allow you to achieve them according to the type of business you run.
The question always arises, which of the social media is most suitable for local businesses to reach potential customers.
You can consider which networks have the highest priority with content creation that best fits your business objectives
10.2.1. Manage your presence on Facebook
Also, it solicits its users much more than other networks. So it would be Also, it solicits its users much more than other networks. So, it would be wise to hang on to Facebook right now, since it offers great opportunities for local businesses.
These are opportunities that marketers know how to use to their advantage.
For example, they can take advantage of Facebook's New Local Insght feature.
It helps marketers learn more about the people near their store.
For example, if you own a merchandise store and you recently ran a "Christmas discount season" ad campaign on Facebook, you can see the percentage of people who saw that ad near your store. That's just impressive!
Also, with the new changes to Facebook's newsfeed algorithm, marketers need to get users to engage with photo/video content.
Therefore, they should be more timely, relevant, trustworthy and original. This way, they manage to win the favor and comments of the internet users.
Marketers can take advantage of Facebook by announcing their events and special promotions.
People love to find "good deals" and local discounts are one of the favorite search phrases for customers.
You can take advantage of this by sharing your coupons on Facebook.
10.2.2. Manage your presence on Twitter
10.2.3. Manage your presence on Linkedln
LinkedIn is a platform unlike any other. However, it is just as important especially for businesses.
It is the largest online professional platform in the world and also a great networking platform for local B2B organizations.
Users visit it most often to check the credibility of the company.
There is very little complicity and exchange on this platform, but users visit LinkedIn to assess the validity and authenticity of companies.
10.3 Developing relevant local content
The most important thing becomes the positive engagement rate you get.
However, you have to be realistic. You can't achieve great results with just a few successful publications.
You have to keep in mind that the most successful publications are those that are original and interesting.
If many people like your content, it will be shared on the web, which will allow you to have more backlinks to your website.
10.4. Customize your social strategy based on your business
Restaurants ;
Hotels;
Doctors;
Real estate professionals;
etc.
Special discounts;
Offers;
Product updates;
and more.
Marketers can tweet weekly about their store's "top picks", offer exclusive deals or inform their fans/subscribers about what's new in their stores.
Also, when organizing events, invitations can be tweeted about activities or prizes that could be won.
For the business category such as real estate professionals, Facebook or YouTube might be better options.
With these two networks, it is very easy to create and publish visual content. They allow you to promote a new product/service in the most appreciated way.
Twitter can be a secondary option to support the above activities on YouTube and Facebook.
In summary, this is what social networks can do for you.
Now let's look at the strategies you can develop through your website to optimize your local SEO.
Chapter 11: Create quality backlinks to optimize your local SEO
11.1. Create and promote a useful local resource
You should remember that the best way to gain someone's trust is to help them very often. So the more you help, the more likely you are to get potential customers.
Local resource pages serve as a sort of guide that provides links to the best local businesses – like restaurants and plumbers.
It turns out that the best tactic for requesting a backlink is to link to their business first.
Once you've invested in building a resource page, it's your turn to ask for a favor in return.
11.2 Keep an eye on local influencers
This practice produces a return on investment 11 times greater than traditional advertising, such as banner ads.
11.3 Guest Blogging
Local blogs and publications;
Industry-specific blogs.
[place] entitled: "write for us";
[place] intitle: "write for me";
[place] "write for us";
[location] "guest article" ;
[location] "guest author" ;
Etc.
11.4. Creating authoritative content with the bidding technique
The best of… local: You can create a guide to the best establishments: restaurants, bars, hotels or anything else in the city.
Local calendars: Here, you need to create a calendar that includes all the important or significant events in the city in the coming months. If these events are directly related to your business, even better.
11.5. Develop your network and visit your prospects
Suppliers;
Manufacturers ;
Associations ;
Chamber of Commerce / Rotary clubs;
Local meetings;
Networking Events;
Conferences and trade shows;
11.6 Search for mentions of your company online
11.7 Stealing links from your competitors
11.8. Create a useful tool to attract local traffic
When it comes to creating a useful tool, the key is to remember that you are doing it for local link building, so it needs to provide local information.
It doesn't have to be a very technical tool, but you can shape it into something that brings value to your local audience.
Developing such a tool may even allow you to get some links from Wikipedia.
The only drawback is that for companies that don't have programmers will have to spend a small fortune to have a tool.
11.9. Provide free testimonials to other companies
Chapter 12: The importance of content in your local SEO efforts
12.1. Why you should focus on creating local content
You need to become a real original, unique, and above all local content machine.
Your local content must be relevant and useful. Every piece of content must have a reason to be on your website.
Not creating content for your sites is risky. It's a bit like expecting and hoping for guests at a party they weren't invited to.
Having already discussed several times how you need to create content that engages your audience, I won't go over those points again.
However, here is a list of content types that work well with Local SEO.
12.2. The 7 Types of content that will help you in your local SEO
12.2.1. A web page dedicated to your city
12.2.2. The "Best of…" or "best of…."
12.2.3. Frequently Asked Questions (FAQ)
12.2.4. Special offers and discounts
12.2.5. Organize local events
12.2.6. Partnering with local people
12.2.7. Having an active Blog
To product announcements;
Laws if you are in a sector with strict regulations;
The best plans;
Interviews and testimonials;
New location announcements;
and more.
Chapter 13: Best Practices for Complete Local SEO
13.1. Have a mobile friendly website
13.2 Integrating a Google Map to your "About" page
Conclusion: Local SEO – An opportunity for local businesses