When a website is subject to a manual action or security issues, the reconsideration or consideration request is a step that allows it to end the penalty or security issue. Indeed, the site submits this request to Google's Search Quality Team after correcting the errors and mistakes found by the firm. The review process is usually long since a request can take 1 to 3 weeks before having an answer, so it is wise not to be subject to a penalty.
Writing a strong and relevant reconsideration request is necessary when trying to get Google to remove manual actions assigned to your site.

Indeed, the search engine can sanction a website by downgrading it in the results when the Search Quality team detects practices that do not comply with its guidelines.

To resolve this issue, you must submit a reconsideration request to ask for the manual actions to be removed.

What is a reconsideration request? Why is it important in SEO?

In this article, you will find the different steps to follow to write and submit a reconsideration request to Google.


Chapter 1: What is a reconsideration request and what is its importance in SEO?
To remove a manual action applied to a website by Google, the site administrator must necessarily go through the drafting of a reconsideration request or reconsideration.

1.1 What is a reconsideration request?
When you do not respect the requirements of Google in your various marketing practices, your website may be penalized. This penalty inflicted on websites by Google is called Manual actions. They are well known by webmasters.

However, you have the possibility to make an appeal to ask the Search Quality Team of Google to reevaluate your website. This action is called a reconsideration request and allows Google to reconsider the site in order to lift the penalty if eventually the errors are corrected.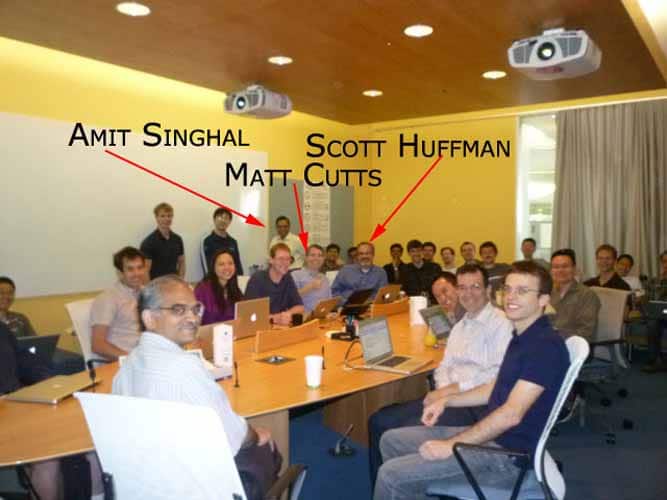 Source Searchengineroudtable
The SEO of the site or the Webmaster formulates the request for reconsideration from the interface of the Search Consoleinterface, after having corrected the elements or defects that led to the penalization of the site. Thus, Google can lift the penalty after processing the request if it finds that the cleanup has been done.
Otherwise, Google maintains the manual actions and sends a negative response to the site editor. The latter will have to resume the corrections and make a new request for reconsideration.
Following a manual action by Google, it is recommended that webmasters and SEOs clean up their site before submitting the reconsideration request to Google in order to avoid the process being repeated.
1.2 What are Google's manual actions?
When Google's SQT (Search Quality Team) receives signals that websites are manipulating the algorithm, it can make a unanimous decision to impose a penalty on the offending site. Very often, this penalty is the loss of positions on one or more queries in the SERPs.
At Google, instead of "Penalty", we use the group of words "Manual actions". The manual actions refer to all the restrictions put in place by Google to punish a site that has tried to manipulate its algorithm.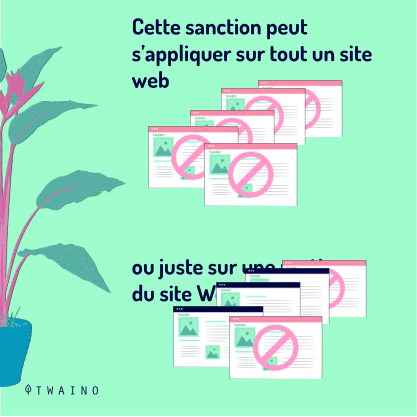 Among Google's restrictions, manual actions are the most affordable and easiest to manage type of penalty. Indeed, there is a procedure for dialogue with the SQT team called reconsideration request.
This process, while sometimes lengthy, usually results in the penalty being lifted once the site is properly cleaned up. However, the site may subsequently lose ranking due to the fact that the fraudulent actions taken are cleaned up.
1.3. What causes manual actions?
Most of the manual actions assigned to websites by Google are due to the different kinds of practices that are not compliant with the algorithm detected by the SQT. These practices are mostly bad techniques used by SEOs to get one or more pages of their sites indexed.
When a website is subject to a manual action, Google informs the webmaster of the charges against him through a message sent in the message center of the Search Console. Among the many reasons for manual actions, we can remember :
1.3.1. Spam generated by users
Google has explicitly described in the Guidelines for webmasters the practices to be avoided in order not to have your site subjected to a manual action. However, violations do not only concern the strategies used by webmasters or SEOs.
Users or visitors can carry out certain voluntary or involuntary actions that harm your website. Spam generated by some of your users may cause Google's SQT team to take manual action against your site
This problem often happens to sites that offer their visitors the possibility to place pages on the site and produce content.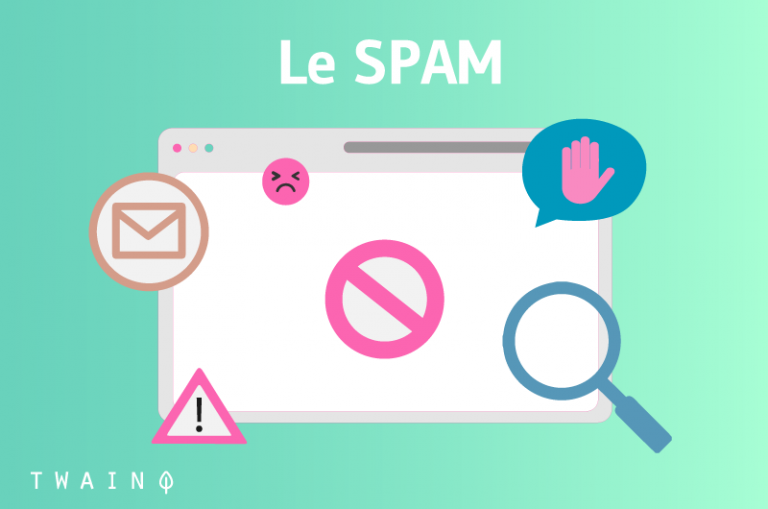 This type of spam is usually found in comments on blogs, accounts hosted on free hosts, messages in a forum thread on the site, etc.
Google's Search Quality Team only takes manual action against a site in such circumstances when it is a lot of spam. This spam tends to pollute the search results and therefore it is important to clean it up
To prevent users from generating spam, I suggest you to avoid mismanagement of the public areas of your site public areas of your site.
1.3.1. Cloaking or deceptive redirection techniques
Cloaking is one of the practices forbidden by Google. It is a strategy that consists in redirecting visitors and Google's indexing robots to different pages.
In SEO for example, a website with a Cloaking system can redirect visitors to a page of content and the indexing robots to another page more optimized, but less pleasant to the human eye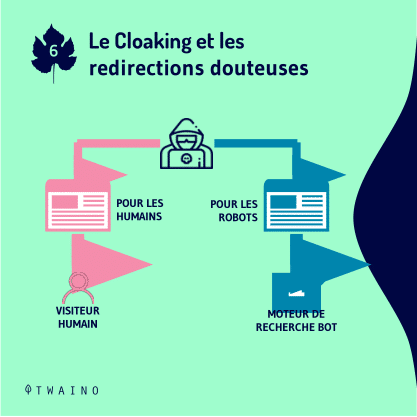 This technique used to deceive Googlebot in order to index the pages of a website and to position itself in the search results may be subject to sanction if the SQT team discovers the maneuver.
1.3.3. Hijacked content or accumulation of keywords
Aware of the fact that having a lot of content on a website is a means of referencing and a source of traffic, some SEOs steal or duplicate the content of another more reputable website
This practice is not only a copyright infringement, but also affects the reputation of your company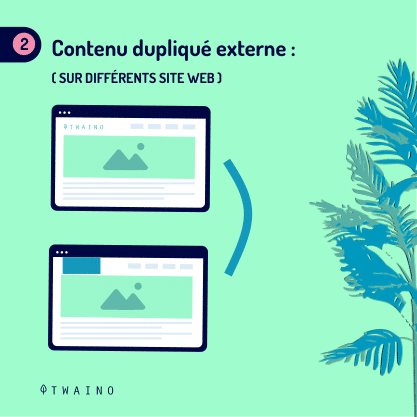 Google hates duplicate content and may downgrade some pages of your website when the indexing robots find plagiarism.
As for the accumulation of keywords, it is a practice consisting in filling a web page by contents stuffed with keywords. The objective behind this practice is to make this page appear in the ranking of search results.
1.3.4. Free web hosts associated with spam
Free hosting services have one advantage, that is to help beginner webmasters to create their own site and reduce the cost of hosting. However, some people, spammers, abuse free hosting services by creating dozens of sites that violate Google's guidelines.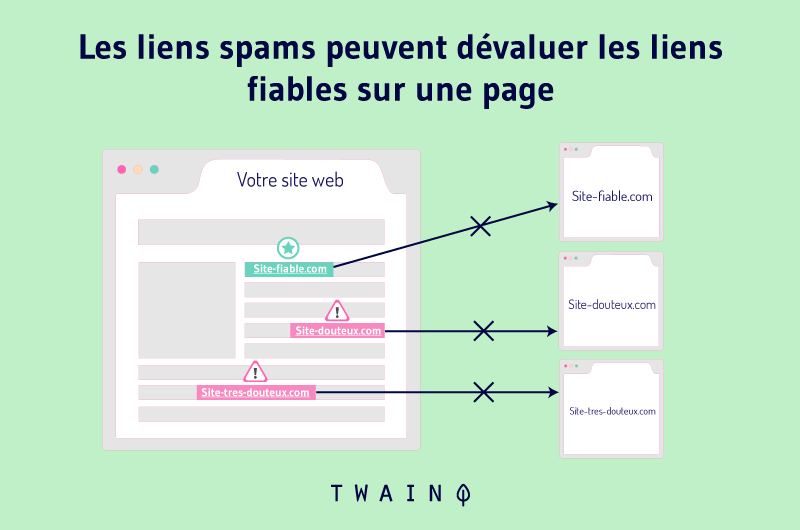 In this case, the SQT team only penalizes sites that contain spam. However, if the spammers occupy a large part of the hosting company, Google may take action against all the sites hostedall the sites hosted on this same server
1.3.5. The use of bad backlinks
Google relies more and more on its algorithm to evaluate spammy links. These links are generated to trick Googlebot and boost the position of a site's web pages in search results
Contributing your site to unregulated link building or purchasing would be a violation of Google's policies.
1.3.6. Mismatch between AMP content and the canonical page
The content of the AMP page must be the same as the canonical page. Indeed, AMP (Accelerated Media Page) is a website page that loads very quickly. It is available only on mobile devices and tablets.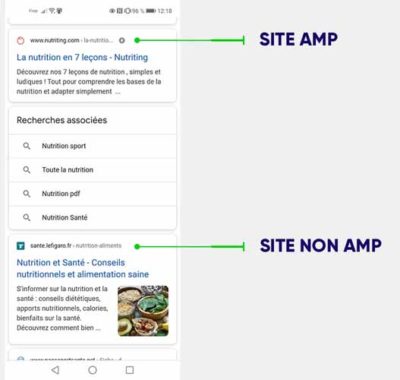 Some people try to fool Google by arranging different content on AMP and the normal version of the web page. If Google detects any manual actions on the AMP pages of your site, all the AMP pages will be removed and replaced by the canonical pages in the search results.
Note that the list of reasons why Google may take manual actions against a website is not exhaustive. There are other reasons such as:
Masked images;

Pirated sites;

Low quality content;

Structured tags hosting spam;

Aggressive spam;

Etc.
Generally, Google's manual actions can be applied to your site in two forms. They can be partial, affecting a specific web page, or general, putting the whole site at risk.
1.4. The reconsideration request, a lever of transparency in SEO
The reconsideration request is a powerful strategy and allows webmasters to revoke manual actions assigned to their sites
Indeed, Google controls the transparency of websites in their various SEO actions through the manual actions it inflicts when the SQT detects a violation of its algorithm
Thanks to this method, Google can now inform webmasters when a manual spam action is reported on their site.
The communication between Google's SQT team and webmasters or SEOs has become increasingly easy.
On the other hand, the reconsideration request allows webmasters to draw Google's attention to the fact that their web pages are not appearing in search results despite the fact that they comply with the guidelines.
This gives them the opportunity to request a re-evaluation of their site. After the site is re-evaluated, Google will tell you if there are really no errors found.
In the reconsideration report sent by Google, you can find the causes of the non-positioning of your site in the SERPs
In the most common cases, it may be a blocking problem that prevents the indexing robots from accessing your site. Find here the reasons that can prevent your site's pages from being ranked in the search results.
Chapter 2: How to write a reconsideration request?
A reconsideration request always responds to one or more manual actions by Google against a website. In most cases, the manual actions result in the downgrading of a web page or the entire offending site in the search results.
The immediate consequence of this penalty is the loss of traffic that will make the profitability of the website fall. Thus, the webmaster or the SEO of the site is obliged to detect the reasons of the manual actions and to make the necessary cleanings.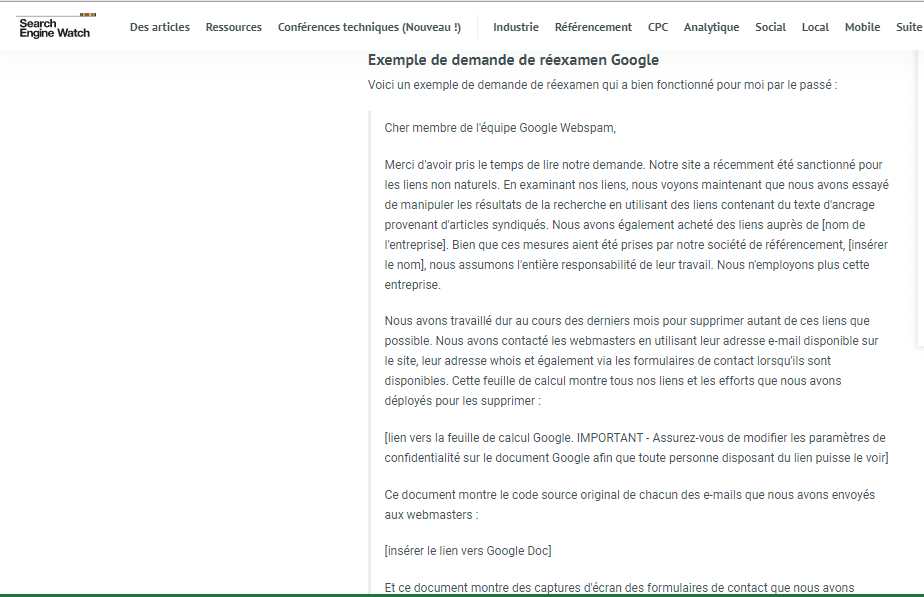 2.1. How to clean up a website in case of a penalty?
Before writing the request for reconsideration to ask for the removal of the penalty, it is important to correct the penalized fault and to make a cleaning of your site
Before Google imposes a manual action on a website, the Search Quality team must first find irregularities during the manual evaluation of the pages of this site
It is therefore essential to correct what is wrong. To do this, we must :
2.1.1. Know the reasons for the manual actions
After the evaluation and the sanction of your site, the SQT sends an email in the Google Search Console. This message contains the details of the different actions reproached to your website. You can also find a sample list of URLs of the pages on which the manual actions were imposed.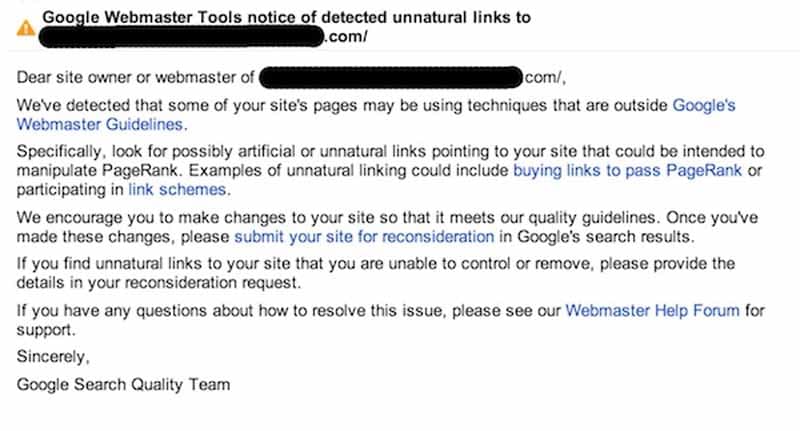 Source Searchenginewatch
To insert the corrections, you must take into account all the pages mentioned in the example of the manual report as well as the other pages of the site affected by the same problem. It is advisable to do a complete audit of your site in order to diagnose all the affected areas.
If you don't have the website auditing skills, it would be better to pay a penalty recovery specialist to do the work. Indeed, this is a rather complex type of diagnosis that you should only entrust to people with experience in the field, like an sEO expert.
On the other hand, if you only correct the examples cited in Google's manual report to submit your reconsideration request, it is unlikely that the penalty will be lifted
It may sound trivial, but you will have to spend a lot of time before you see the manual actions removed on your site, because your request will be rejected every time you submit it without completely cleaning up the site.
2.1.2. Correct other shady actions you've taken on your website
It is not enough to correct only the problems detected by the SQT. The cleanup of your site must be complete and take into account other alleged problems that you are aware of.
So this is the best time for you to review the Webmaster Guidelines and remove any shady actions you are taking on the site to circumvent Google's requirements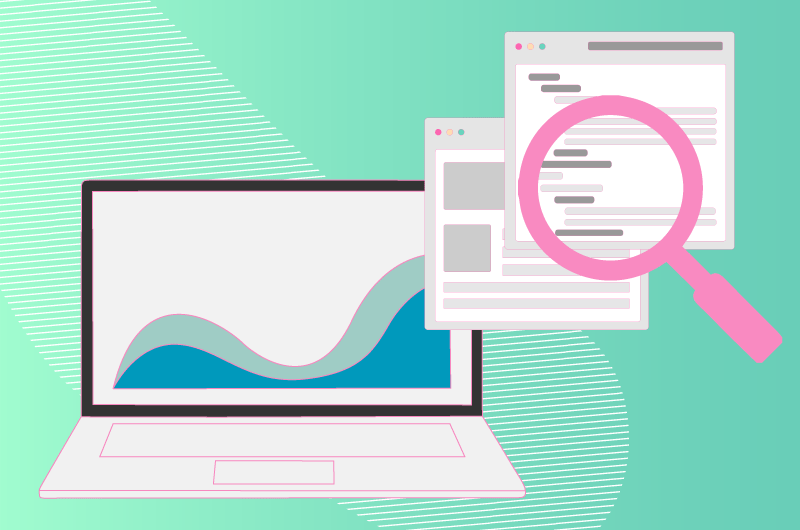 Note that the SQT team will still perform a manual assessment when you submit your reconsideration request. Therefore, it is likely that questionable actions that were not detected during the first review will be detected this time around.
To avoid having your site go through additional manual actions, it is critical to anticipate and remove all incorrect things before submitting a reconsideration request
2.2. Rules for writing a reconsideration request
The next step after ensuring a complete site cleanup is writing the reconsideration request. When your site is manually actioned, the reconsideration request form will appear in the Google Search Console.
Otherwise, you can find it in the monthly action report in Search Console.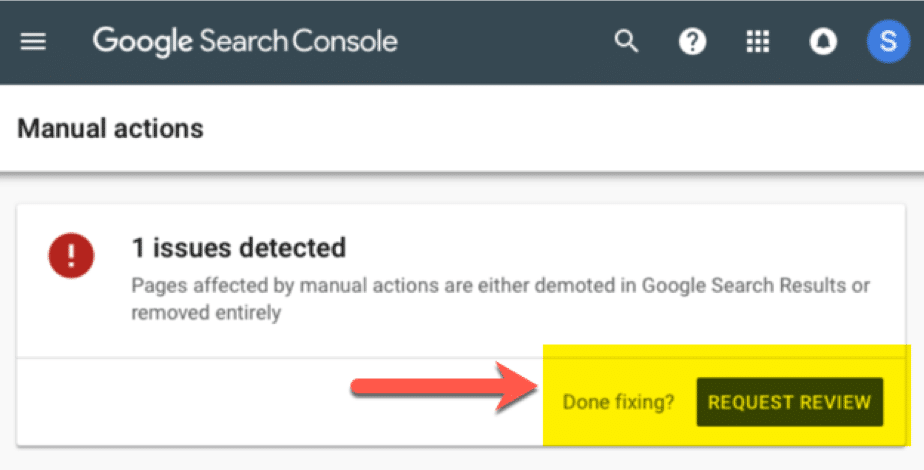 Source Searchenginejournal
To begin with, it is important to note that there is no fixed method of writing that everyone must follow. Everyone is free to write with their own method. However, there are some standard rules you can follow to make sure you submit a good review application.
2.2.1. Indicate mistakes and clean-up efforts
It is good to mention in your request all the causes of the manual actions held against your site as well as the corrections you have made
You should indicate in your application the fault and the actions you took to correct it. If you have spent weeks auditing your site and removing all the problems, now is the time to say so.
It's one thing to say what you've done, the other is to give concrete proof. It is better to use the links of Google docs or Google sheets to present the evidence of your claims
Indeed, Matt Cutts, the distinguished engineer of Google has made clear in a video that the SQT team will never visit an unknown website for fear of being attacked by aggressive software. Be very neat when you make your reconsideration request.
The more thorough you are in your request, the better you allow Google to evaluate your website at once
2.2.2. Mention who is in charge of your website's SEO
If you are the SEO of your website or if you have hired a specialized SEO agency to do the work, it is important to mention it in the application. Google asks to include all the information about your site's SEO. mention if you have :
Purchased backlinks on a paid blog network ;

Create spam links in your name;

Etc.
It is important to mention if it was the SEO you hired who made the mistakes you are paying for, but you must take responsibility for their actions
Also mention the agency that helped you with the audit and cleanup of the site. If it is a well-known person or agency, you can mention their name in the reconsideration request.
2.2.3. Adopt a respectful and pleasant tone
After wasting a lot of time cleaning the website, most webmasters tend to adopt an angry tone when it comes to writing the reconsideration request
Considering the investment and time spent on the SEO of a website and also the expenses that can be incurred by manual actions, it can be said that it is normal for you to be upset.
But, note that your anger or even threats will not intimidate the members of the Search Quality Team. It is therefore pointless to adopt an angry tone when addressing the team that reads your request for review.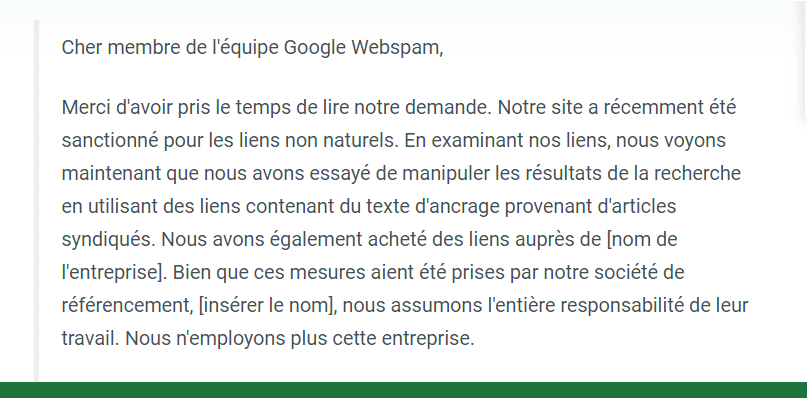 Moreover, the team has nothing to do with your thousands of dollars spent on Google Ads or your SEO efforts. All they care about is seeing your website reformed.
Therefore, it is advisable to adopt a pleasant tone and write the reconsideration request as an apology.
Take responsibility for the faults held against your site and indicate your decision making to prevent these same problems from happening again.
2.2.4. Submit your disavow.txt file and reaffirm your commitment to Google's guidelines
Mention in your report if you have submitted a disavow.txt file and apologize. Google wants to be convinced that you have learned your lesson and that you will not make the same mistakes again when trying to manipulate its algorithm.
So try to document your request for reconsideration with evidence of the cleanup efforts you've made on the site even if it's not necessary. In fact, it represents a show of good faith.
Finish your reconsideration request by making a statement and commitment to follow the webmaster guidelines and Google's quality guidelines from now on.
After you file your reconsideration request, Google will process it and send you a response. In most cases, you will receive a response within two weeks. But sometimes, it can take up to six weeks.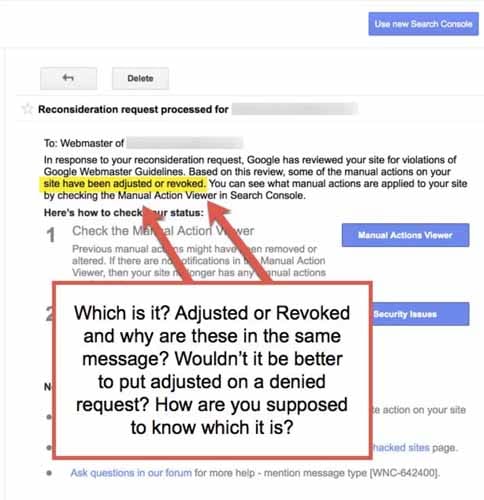 Source Searchenginejournal
Above all, don't stress and send another request without getting a response from Google in the Google Search Console. If your request is a result of a manual action, it will be read by a human being and you will get a response indicating whether the penalty has been lifted or not.
But, if you have no manual action, you will also receive an automated response indicating that no manual action was reported on your site.
Summary
Many people think of Google's manual actions as penalties to downgrade their website from search results. But beyond that thought, manual actions are meant to advocate transparency in various SEO practices.
You can have the manual actions assigned to your site revoked by submitting a reconsideration request to the SQT team following a thorough cleanup of the errors detected.
However, it is best to avoid any actions that would cause Google to penalize your site, as the reconsideration request process is quite long.