Discover the list of my favorite Business Podcasts in French and in English. A digest of added value in your ears…
"Podcasting is great. Total freedom." : Bill Burr
If you love audio content, you've probably noticed: Podcasting is probably the marketing content format that offers the most freedom. You won't need your eyes like you do with text, infographics or video.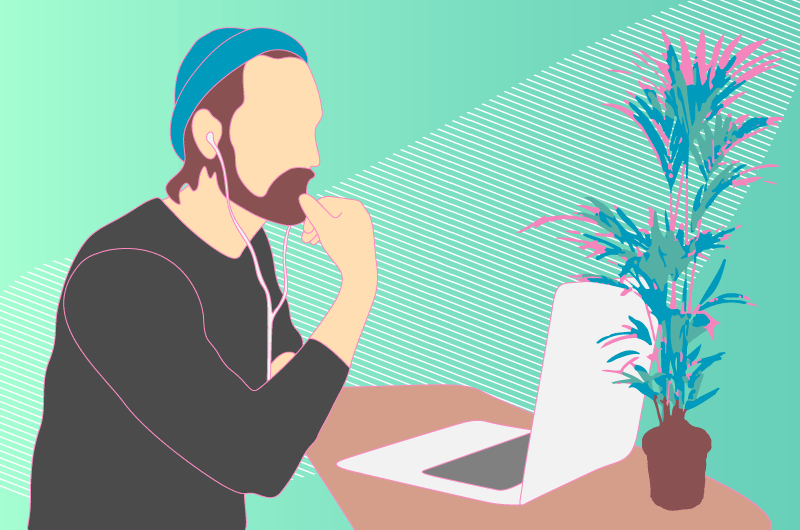 You just have to use your ears, which gives you a lot of freedom to do other things at the same time. That's why 22% of people listen to them while driving: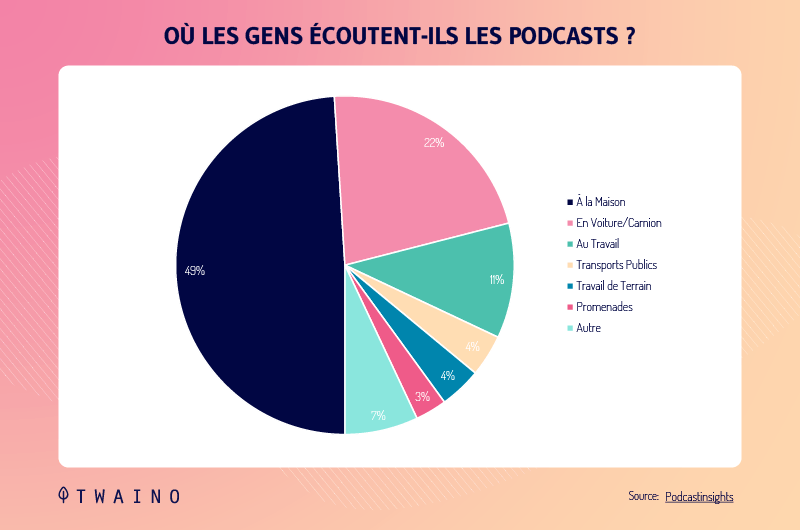 Others listen to them while doing other types of work. In short, you have great autonomy with podcasts.
Being a fan of content creation, I couldn't resist this format which has come back to life in recent years. It is in this logic that I present to you the best podcasts to add to your favorites when you are an entrepreneur.
Ps: Find in first position the podcast of Captain Marketing in which I was a guest.
Also note that this is not a ranking list from best to worst podcasts. Therefore, you will simply have a list that includes podcasts that I find interesting to listen to.
Obviously, the list is not exhaustive and I urge you to share yours with me.
Finally, I took care to add some data that is only valid at the time of writing this article. Therefore, data like follower counts may not be the same at the time you view this article.
The 14 best French-speaking podcasts to absolutely follow
1. Tame Growth Marketing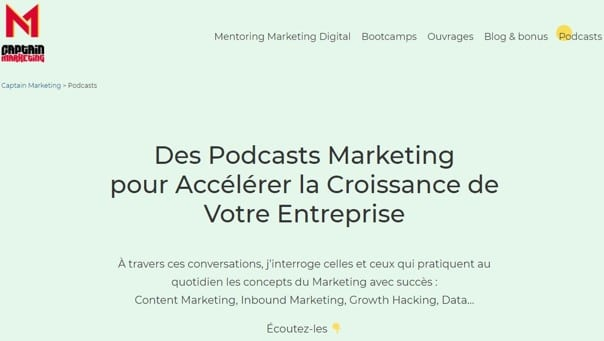 As you might have guessed, Stéphane mainly deals with digital marketing and strategies to accelerate the development of any online business.
He had taken a break after starting in 2018 and he came back with a huge frequency of publication: Already 3 publications for this month of January 2020.
This excellent marketer invites other experts in the field to reveal the secrets that can serve as real levers for your business.
I had the privilege of being part of his guests and we had a rich 49-minute interview that you can listen to directly here:
<iframe width="100%" height="300″ scrolling="no" frameborder=" no" allow="autoplay" src="https://w.soundcloud.com/player/?url=https%3A//api.soundcloud.com/tracks/746013826&color=%23ff5500&auto_play=false&hide_related=false&show_comments=true&show_user=true&show_reposts =false&show_teaser=true&visual=true"></iframe>
As the title suggests, it was about knowing: "How to succeed in the digital jungle". I had the opportunity to deliver all the challenges that I encounter as an entrepreneur in SEO and the steps that I take to overcome them.
As usual, I try to be as transparent and sincere as possible. This is perhaps what prompted Stéphane to introduce me with the following words:
"Alexandre Marotel is a summary of the values ​​that make it possible to succeed on the Web: transparency, sincerity, passion and effort."
Is it fully deserved? I won't claim it, but a few people liked the podcast when I communicated on LinkedIn:
IF you listened to it, I'd be happy to have your opinion😊
Finally, note that his podcast is of excellent quality as this review shows:
"Concrete advice. Whether on the Captain Marketing blog, in his books or podcasts, Stéphane Truphème always manages to give us many examples and practical advice for our digital actions.»
Find all the episodes of Stéphane on:
2. Marketing Mania: Conversation of entrepreneurs
Marketingmania is a library of very informative podcasts to understand the contours of marketing and especially web marketing. As Stanislas Leloup of Marketing Mania puts it:
"The Marketing Mania Podcast is an audio show that helps web marketers convert more visitors into buyers. We talk about marketing strategy, persuasion tactics and innovative hacks with guests at the forefront of their field.
You want to have concrete strategies to get your business off the ground, this is one of the best French-speaking podcasts.
Stanislas is no longer unknown in marketing, especially since his main YouTube channel has over 300,000 subscribers:
other hand, his YouTube channel which hosts his Podcasts is less popular with just over 6.22k subscribers:
His episodes are generally long sometimes going up to 1h to more than 1h30. Note that on iTunes, Stanislas obtains a note of 5/5 on more than 660 evaluations. This denotes in particular the quality of its content and interviews/
You will be entitled to Podcasts such as:
Jacquie and Michel: the secrets of their business;
Live from his coaching – with Léo des Philogynes;
Cognitive bias HS#1: Accusing an innocent person;
Etc.
Find them on:
3. The entrepreneur's podcast
Morgane Juillet is one of the rare women to share their experiences and knowledge and to talk about ENTREPENARIAT on podcasts.
Whether you are new to entrepreneurship or already running a business, you will find useful advice and tips.
You will find topics such as:
How to develop your cognitive abilities? Interview with Jérôme Hoarau;
How to become a successful entrepreneur? Interview with Johann Yang Ting;
How to validate your business idea?
Etc.
It already has more than a few hundred episodes to its credit and you will have secrets delivered by its guests, all leaders in sectors of the future such as:
Technology;
Internet marketing;
Entrepreneurship and many more.
She was regular in her publications, but the last episode dates from August 2, 2019. I had the opportunity to see some podcasts make their "comeback" and since I did not notice any message indicating a definitive stop, chances are she will come back.
Overall, she gets a very good review. Even if some opinions are much less positive.
You can check out the episodes already available onApple Podcasts.
4. Digital Revolution
Recognized as the "podcast for new entrepreneurs", Révolution Digitale offers very interesting content to assist young entrepreneurs wishing to make their idea prosper.
Judging by the success of this podcast, this nickname seems to be well deserved.
Indeed, François Paul Lambert offers his Internet users interviews with successful entrepreneurs in order to allow them to refine their business strategy.
Guests will be called upon to reveal their secrets and techniques for winning and carrying out an entrepreneurial idea in the current context.
The particularity of Révolution Digitale is to interview mainly young entrepreneurs of the moment, including a large number of women entrepreneurs.
Because of the high quality of their content, they have only had 5-star reviews so far:
The last episode of the second season dates from August 2019, but François plans the third season very soon:
Find the episodes of his podcast on:
5. LE GRATIN
Pauline Laigneau carefully chooses her guests and her Podcast is rightly called: "Conversation with success by Pauline Laigneau".
Indeed, we find among his past guests:
Cédric Doumbé who holds 9 world champion titles in kickboxing;
Natanael Wright who is the President and Founder of Wall Street English France.
Etc.
As she indicates:
"I dissect with my guests their journey, mistakes, successes, tricks or philosophies.
What could be better than learning directly from successful people?
It is particularly rich in content and covers many topics.
Its "Keyword Search" section is a testament to this:
In addition, I have noticed that it publishes a lot of podcasts with a total of 8 podcasts for this month of January 2020.
You will notably find Podcasts of the style:
Xavier Mufraggi CEO Club Med EMEA – The Art of Consideration;
Cédric Watine from Outils du Manager – You are not born a good manager, you become one:
Natanael Wright, CEO of Wall Street English France – Being a creator does not mean being a developer;
Alexandra Recchia – Karate World Champion and lawyer – "Hard is not enough";
Etc.
To listen to them and find out much more, go to:
6. The voice of the Side Hustle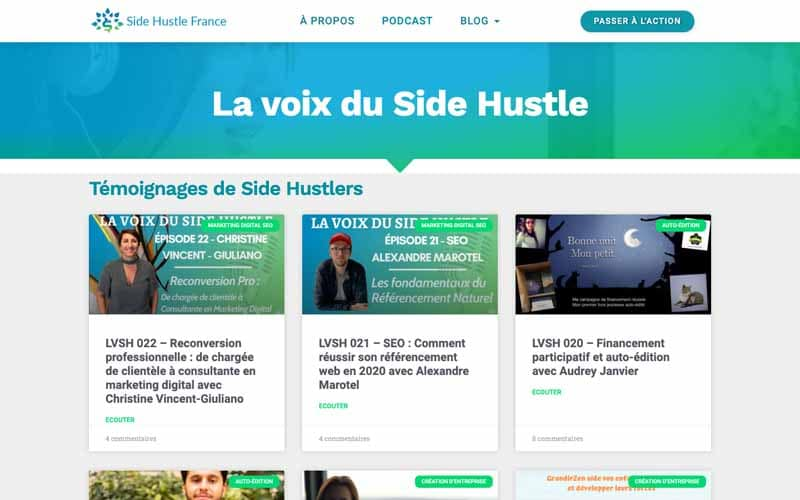 Dimitri Carlet is a serial side hustler, entrepreneur, writer, SEO and in constant search of new ideas to experiment with in the fields of entrepreneurship and digital marketing.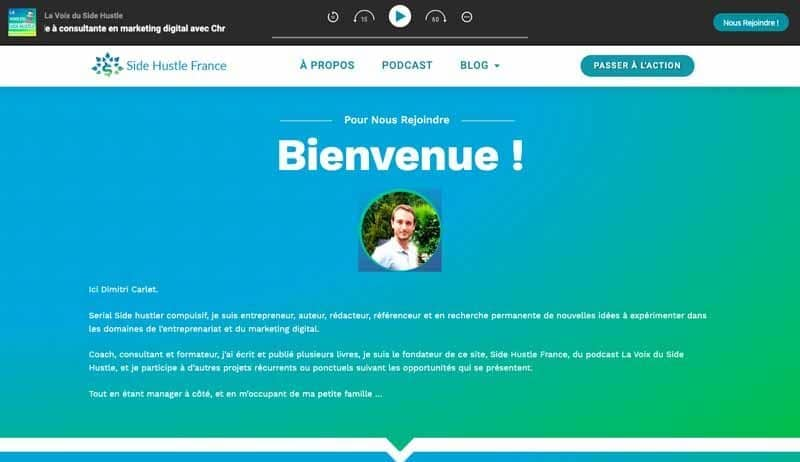 I had the chance to be interviewed by Dimitri in his podcast: The fundamentals of SEO.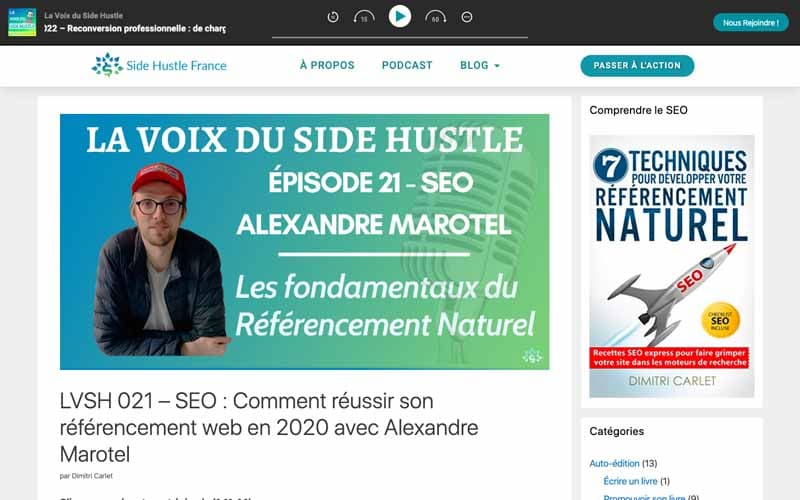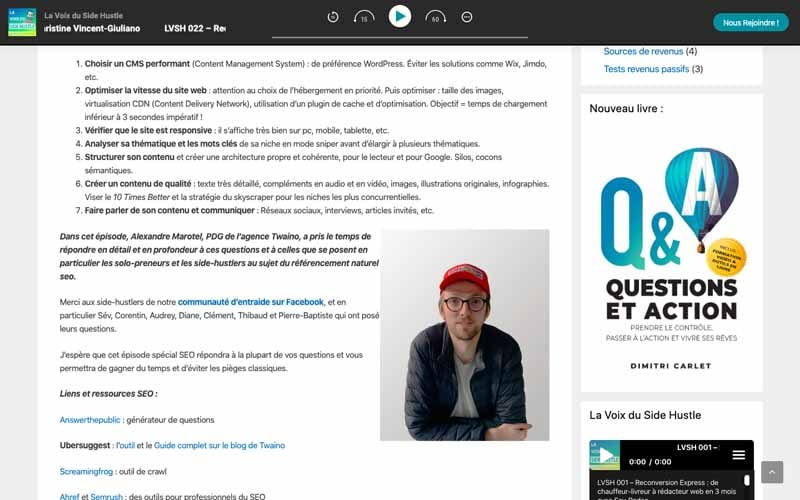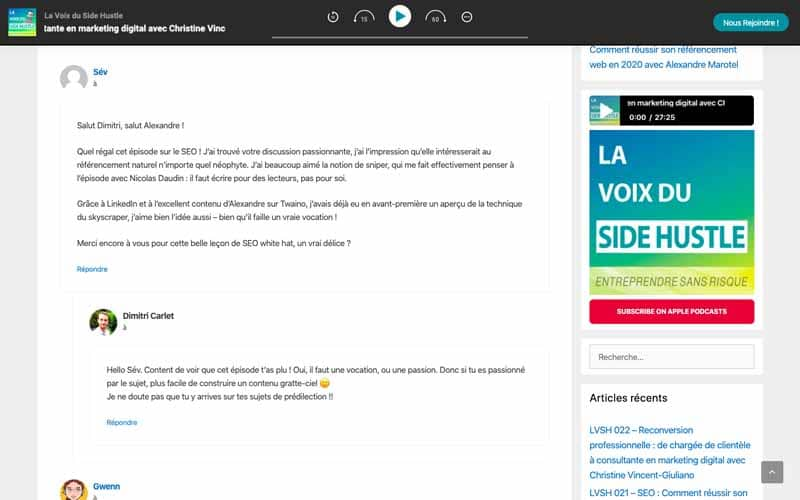 7. TheBBoost: I CAN'T I HAVE BUSINESS
The podcasts Aline Bartoli are mainly about entrepreneurship in general. She named it with humor: J'peux Pas J'ai Business. Which denotes the relaxed nature of this podcast which allows you to easily learn concepts that may seem complicated.
On average, Aline's podcasts are 30-40 minutes long. She therefore takes care to go into detail in order to treat her subjects in depth.
For example, you have podcasts like:
7 mistakes on your site that are costing you customers;
3 Strategies to develop your online business;
Expert syndrome: The enemy of your business;
Etc.
Very interesting, isn't it? You will find his podcasts on most platforms, namely:
If you know the blog MyTrendyLifeStyle, then you probably know Safia and her Podcasts.
She mainly focuses on entrepreneurship and personal development. Isn't that a very good combination to succeed? Obviously and as she says:
"This podcast is here to help you create a better life with the means you currently have.subjects
Covered are very relevant and we have for example:
Boosting your business thanks to LinkedIn with Pauline Sarda;
What if someone is already using my idea?
5 mindsets to adopt to develop your business;
Create and sell your first training;
Etc.
Find the list of all his Podcasts on Buildyourself and expect to have new content every Wednesday.
You have just seen the podcasts that mainly focus on entrepreneurship and related topics. Now, here is a list of French-speaking podcasts that do not necessarily address the topics related to entrepreneurship that I discovered during my research.
9. Niptech
Ben and Mike are 2 Swiss "podcasters", all passionate about everything which is a technological novelty, particularly in computing, the net and robotics.
They have been sharing this passion with Internet users for more than 10 years through well-detailed podcasts in French.
Their podcast content is appreciated in particular for their openness and their ease in bringing together trends from Europe and also from the world in general.
You will find that most of their episode usually exceeds thousands of streams:
Overall, they have a 5-star rating out of dozens of reviews on iTunes. If you too find yourself through these 2 tech lovers, find the episodes of their podcast on:
10. Vlan
Host: Grégory Pouy with 29.2k followers
Sector: Society
Average length: 30 minutes
Listen here: Vlan
Want to better understand the challenges of our current society by moving from marketing, sexuality to the environment? Nothing more concrete than Grégory Pouy's podcasts.
In just a few minutes, with its expert guests, discover future trends that will undoubtedly influence sectors such as artificial intelligence, web business, human relations and many more.
The number of his followers testifies to all the interest around the questions addressed by the "podcaster". You will find topics such as:
How the design of our everyday objects can change our impact?
Redefining and cultivating anti-ambition with Paul Douard;
Feminization, sexuality, sacredness: understanding how our society with Michel Maffesoli.
The quality of its content seems excellent according to the 5-star reviews that Grégory has received so far:
11.See You Soon
Funny and offbeat interviews of almost an hour of time that are filmed each month on stage. The noise of the audience is what automatically sets this podcast apart from others of its kind.
Sophie-Marie has guests of choice including:
Apple (The artist, not the fruit:));
Benoit Hamon;
Vincent Delerm;
Penelope Bagieu;
Etc.
Apart from a few less than positive reviews, it has garnered enough excellent 5-star ratings to be considered a podcast to follow!
Find the episodes of his podcast on:
12. Floodcast
This is probably about one of the best podcasts if you're looking for humor. Florent and Adrien invite friends with whom they discuss "headless" subjects such as:
Trump he is Orange;
Fingering a cat;
They stole my chocolate the bastards;
etc
With more than 11,000 subscribers on Soundcloud, you are guaranteed to have a great time listening as evidenced by the number of plays:
Head over to their Soundcloud page and enjoy!
13. In the name of the worst
If you like humor, you will definitely love this podcast hosted by Thomas and Benoît. Every Tuesday, the 2 in the company of their guests share the misadventures of the listeners.
For the moment, you will be able to know:
Le Pire Noël;
The Worst Roommates;
Worst One Night Stands;
The Worst Tourists;
The Worst Ex;
Worst Kills Love.
There is enough to spend your free time while learning about society and human relations. If you too have a worse experience to share, Thomas and Benoît will be happy to broadcast them on "Au nom du Pire".
On iTunes, the podcast only gets 5 star ratings:
Discover realities near you but that you would never suspect by visiting:
So what was your delirium? Or your worst dilemma? We're listening to you !
14. Super Ciné Battle
If you are a cinephile, this podcast will allow you to have the ranking of the best films according to the decades. The principle is quite simple: Listeners send them films and they take care of making a final ranking of the best films according to the decades.
Note that each listener has the right to send 3 films and for the moment, you still have the possibility of sending your selection for the 2010s:
The opinions on iTunes testify to the quality of what they offer:
Find the episodes of their podcast on:
15. After Hate
Daniel and Benjamin talk here about films, series, video games…
In about an hour, they take the time to give their favorites and what they don't. did not like (hate).
Outside of their site, you can find their safe episodes:
The 8 BestPodcastsWatch English to
If you're adept at Shakespeare's language, here are some great podcasts to listen to as an entrepreneur:
1. The Tim Ferriss Show
This is probably one of the most listened to Podcasts and the numbers are clear:
He won 3 times the title for the best podcast of the year, not to mention the 400 million episodes downloaded.
And to get a 5-star rating out of over 8,000 reviews, you have to be "damn good." Tim has a real impact with his content which gives a lot of practical advice as evidenced by these two opinions:
"This podcast has shaped my life in many positive ways. He offered me extremely valuable advice on business, daily habits, creative ventures, health, and even advice on how to overcome depression. Thank you so much Tim!!!"
"Thank you! Tim, I don't know how you do it. Your ability to get to the bottom of things and explore out-of-the-ordinary areas with your amazing guests is unreal, and it makes the experience so enjoyable for your listeners. In a world of endless possibilities, thank you for investing in this great content. It enriches my life.guests
His guests include:
Arnold Schwarzenegger;
LeBron James;
Edward Norton;
Tony Robbins;
Maria Sharapova;
Peter Thiel;
Amanda Palmer;
Etc.
What great figs, aren't they? It has to be said to be the cream of the crop and as far as what you can get out of it, Tim himself says:
"Each episode I deconstruct world-class artists from eclectic fields (investment, sports , business, art, etc.) to extract the tactics, tools and routines you can use. This includes your favorite books, morning routines, exercise habits, time management tips, and more.
You are proficient in the language of Shakespeare, I definitely advise you to be one of the millions of people who regularly listen to his episodes that you will find on:
We all agree that the survival of a company today depends on its ability to gain visibility on the web. The only problem currently plaguing many fledgling companies is their web communication policy.
Amy Porterfield is committed to overcoming this problem by trying to show, in the easiest possible way to grasp, the secrets of web marketing.
Fittingly, she is considered one of the top 50 social media influencers by Forbes.
Amy is arguably one of the most followed podcast creators and the numbers of her social media subscribers bear witness to this:
On Facebook, her community has over 310k subscribers;
On Twitter, she has over 153.5k followers;
She has already published nearly 300 Podcasts:
And as she reports:
"Expert interviews, mini execution plans, and insider behind-the-scenes secrets from my biggest launches…all tied together by my mission to make EVERYTHING you listen to as actionable and profitable as possible.".
Because of the exceptional quality of its content, it has a 5-star rating out of nearly 2,000 reviews:
An example of a review:
"Such rich content! Amy is so generous in the amount of information and education she is willing to share. No matter where you are in your business, or if you just dip your toe in the water, you'll come out of it learning so much more than you could ever imagine…and gaining the confidence to step forward in the direction which makes the most sense to you. Highly recommended!»
Find his Podcasts on:
You can also download his Podcasts directly from his blog.
3. Marketing School
Marketing School stands out from the podcast routine and refrains from introducing you entrepreneur models to copy.
If you regularly consult my articles, you probably know Neil Patel. I quoted Eric Siu less, but it should be noted that they are marketers with great popularity.
In this podcast, Neil Patel and Eric Siu decide to cut to the chase and reveal tips and step-by-step procedures to help you grow your business.
You will have the opportunity to walk through topics such as:
How to stay consistent with your content production;
The easiest way to make your WordPress blog SEO-friendly;
How to take advantage of unfair advantages in your marketing;
7 Lethal Growth Strategies for Leading Companies.
As you can see, SEO is also one of the topics covered. Which makes this podcast one of the most comprehensive in the industry.
It should also be noted that the frequency of publication is daily! Every day you have practical tips and advice to grow your business.
That's why their episode volume is so high!
Also note that out of several tens or even hundreds of opinions, this podcast mainly receives 5 stars:
To find their podcast, go to:
4. The Business of Story
Do you find your beginnings in entrepreneurship too hard? Do you think you won't measure up? Do you think you have already given too much?
Read the stories of the big brands of the moment and you're likely to see things differently. There is nothing more motivating than being inspired by the stories of people who have experienced the same challenges and who have overcome them.
Park Howell, advertising professional, understood this and established The business Story.
Indeed, his podcast allows him to retrace the stories of brands for the purposes of advertising communications.
As strange as it may seem, Park Howell shows through his podcasts, how to rephrase his story to attract the attention of Internet users and encourage them to prefer your brand.
Each week, he leads strategic debates on the subject with guests specializing in storytelling, entrepreneurship or advertising communication.
You will be entitled to topics such as:
How to tell a brand story that works;
How to use "Brand Storytelling" to boost your start-up;
How to tell powerful brand stories with video.
Park Howell already has 84 reviews with an excellent 5-star rating, quality content that is well rewarded.
Also, teach your rephrased the story of your brand or company and you will be pleasantly surprised with the result. To do this, consult its content on:
5. Entrepreneur on Fire
Entrepreneur on Fire is a successful English-language podcast.
The figures speak of more than 2,000 programs on diverse themes that contribute to entrepreneurship. Every Monday, Eofire receives great figures who tell their success with the general public through its 3 traditional sections:
Their big failure;
Their biggest stroke of genius;
Their best sources of motivation.
We find as guest:
Barbara Cocoran;
Tony Robbins;
Tim Ferris;
Etc.
On Thursdays, John Lee Dumas receives questions that his guests will have to answer live. You have topics such as:
How to Buy, Grow and Sell a Franchise with Erik VanHorn;
The CORE Marketing Method: Grow your business, reduce risk and attract new customers with AJ Rollsy;
Building a business on sleep with Matteo Franceschetti.
Note that this is a heavily moderated professional podcast. Especially since its programs and content are made to offer the best of podcast experiences to listeners.
6. Support Is Sexy
As you can already imagine, this podcast is hosted by a woman for the advancement of women.
The idea of ​​Elayne Fluker, host and entrepreneur is to present the story of women who thrive in entrepreneurship. This, in order to inspire those who are hesitant or struggling to get their business off the ground.
Each week, the facilitator receives up to 5 women entrepreneurs who chart their course through difficulties and success.
Today, the podcast has become a bit like a great bookstore to assist and nurture women's entrepreneurial ideas in today's environment.
Recently, Elayne Fluker addressed topics such as:
How to move forward after failure;
How to support the spirit of entrepreneurship in children;
How to apply the prices you are worth with confidence;
Etc.
So many crucial topics to assist you day after day in entrepreneurship. His efforts have allowed him to have several positive opinions on iTunes:
Including this opinion for example:
"Here for diversity! When I say this show is stream-worthy, I'm not kidding. Elayne has amazing, casual conversations with a wide range of guests who really provide insight and inspiration with everything they share on their journey as an entrepreneur. My new favorite go-to for my morning walks – thank you Elayne»
Want to listen to his episodes, find them on:
7. The Duct Tape Marketing Podcast
The Duct Tape Marketing Podcast is an extension of the marketing firm of the same name.
Indeed, John Jantsch, consultant and founder of the brand, wants to share his marketing knowledge to help promoters of small businesses.
The topics covered tend to help fledgling companies gain visibility on the web through webmarketing.
It covers topics such as:
What is the relationship between podcasting and marketing?
Use personalized video to build relationships;
Strengthen relationships with colleagues and customers;
Etc.
Through these podcasts, John tries to provide rich content with his guests. We find in particular:
Simon Sinek;
Ann Handely;
Carson Tate;
Jonah Berger;
Sally Hogshead;
Bernadette Jiwa.
The most interesting, the podcasts are short of about 20 minutes in order to allow the listener to assimilate a single concept at a time.
So far, it's only garnered 5-star ratings:
If you're a small business developer, you're sure to find tips and tricks here to grow your customer base.
To listen to his episodes, see:
8. The Reboot Podcast
It's pretty easy to find a lot of content about managing a company's logistics. But as you can imagine, it's not enough to make a business successful.
Besides the logistical and organizational aspect of a structure, the psychological effects for a complete and successful management of a company are missing.
A leader who is psychologically balanced and in harmony with his staff will certainly make good turnover. It is this little-known aspect that Jerry Colonna strives to share through his podcasts.
Recently, he has covered interesting topics like:
Women's Conversations: Making Room for Your Own Truth;
The Duties of the Past and the Anxieties of the Future – with Shizu Okusa;
Investing in Being Yourself – with Bryce Roberts & Chris Marks;
Etc.
The quality of its content has earned it excellent reviews:
Want to listen to episodes of its podcast? Visit:
Conclusion: Podcasts – A format that promotes freedom
Although the format has been around for more than 20 years, it's only now that they've become more popular. The main reason: They offer unparalleled freedom!
Indeed, the amount of content published on the web is astronomical: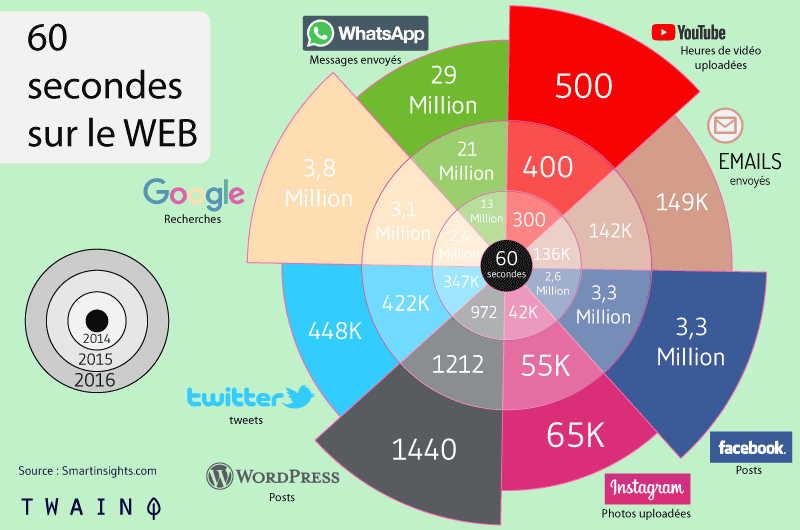 Most of this content requires the use of sight and a high level of concentration. These include content in the form of:
Text;
Pictures;
Videos;
Etc.
You will not be able to cross the street while reading a text or looking at pictures. This is exactly why the podcast is a content format favored by 25% of French people: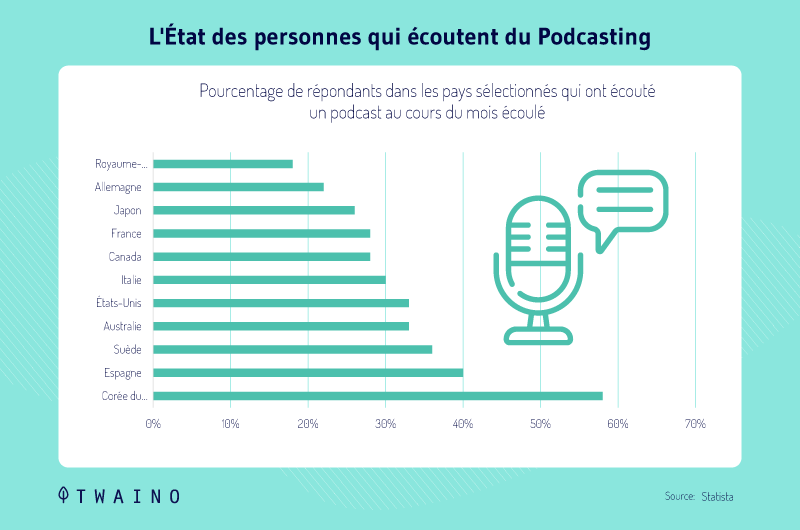 One of the strengths of this type of content is also its availability in most sectors. If you have a laugh, you will find perfectly hilarious podcasts. And if you're into entrepreneurship, you can find some great podcasts that share valuable tips for growing your business.
I am therefore making this list, which will certainly be completed, in order to make you discover these podcasts that I think are interesting to follow.
Do not hesitate to let me know your preferences and favorites!
N'hésitez pas à me faire part de vos préférences et de vos coups de cœur !