The Link Farm is an SEO practice that consists of creating a website or a group of sites specifically to converge links to another site. The idea is to provide a maximum of links with the intention of improving its ranking in search results. It is a technique classified as Black Hat, penalized by Google and other search engines
The search engine optimization (SEO) industry is constantly changing and the way search engines organize results has evolved a lot in the last few years
Once popular methods such as Link Farm have become obsolete, and even penalized due to the change in thealgorithm algorithm
But in concrete terms
What is Link Farm?

Why is it forbidden?

And then what are the recommended practices?
We shed light on all these questions to help you have a good understanding of Link Farm
Chapter 1: What is Link Farm and why not use it?
In this first chapter, we will provide a detailed definition of Link Farm and a description of how it works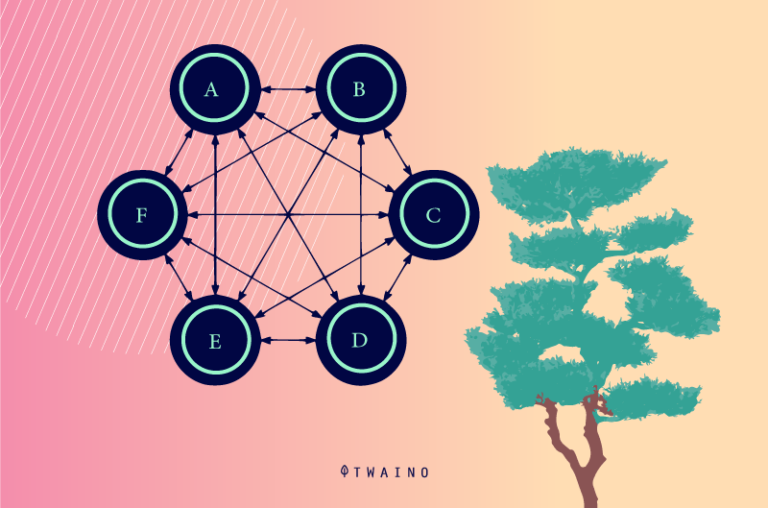 1.1. Link Farm: Definition and Operation
Link Farm can be defined as a fraudulent SEO technique in which a network of websites artificially redirects a large quantity of links to another site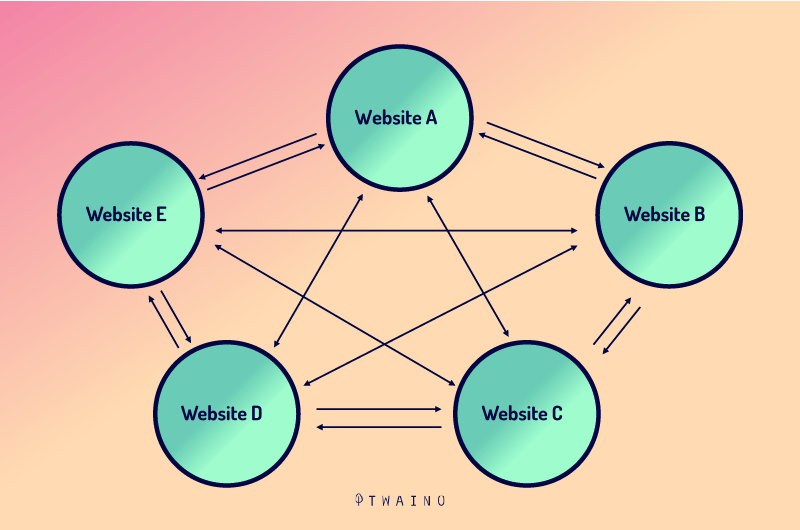 The purpose of such a practice is to force the search engines to improve the ranking of a website regardless of the quality of its content and the experience it offers to its users
Indeed, many practitioners confide that Link Farm is one of the fastest ways to acquire backlinks every day and improve the link profile of a site
But, why is the technique banned?
1.2. The reason why you should not use the Link Farm technique
To understand this need to acquire by all means (even fraudulent) links on his site, we must go back to the concept of backlinks and its importance in SEO
You may not know it, but Google also takes into account the number and the quality of the links a site receives from other sites to give it a place on its SERPs
The higher the number of incoming links, the more valuable the site is in the eyes of Google and will therefore be well positioned in the results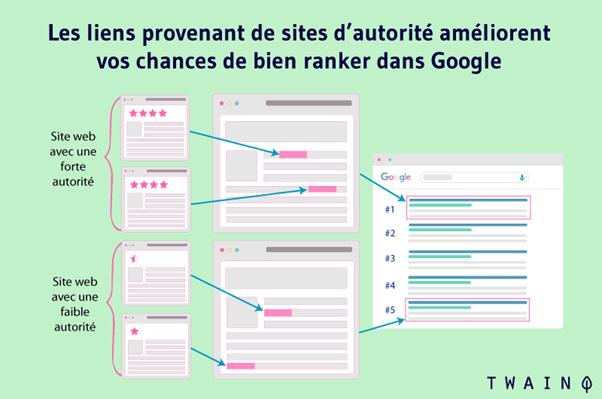 What is criticized in the use of the Link Farm, is that the links are not sent in a natural way
That is, it is no longer a question of a site owner who appreciates the quality of an article from another site and decides to mention it in his content by inserting the page link
Even if several years ago, the Link Farm technique could go unnoticed and push Google to better reference a site, today things are not so simple
In the last few years, Google has improved a lot and is becoming more and more efficient at spotting techniques that try to manipulate its algorithm and bypass its restrictions
Since the update of the Google Penguinalgorithm, any link from a Link Farm is recognized and considered as a spam link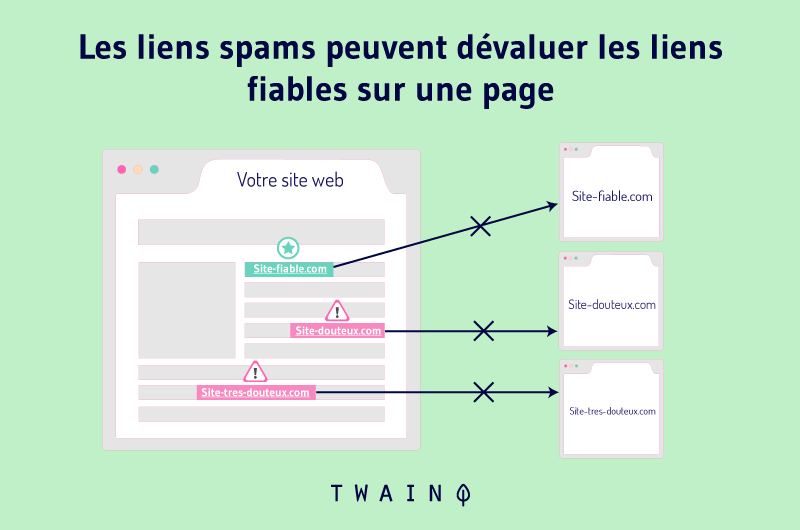 Thus, the sites involved will be penalized by Google, even if they are removed from the index of the search engine.
You may wonder how Google can recognize a link from a Link Farm from an incoming link natural link
Well, the answer is quite simple. First of all, what would you think of a site that was receiving almost no links, but suddenly starts getting them, and in large quantities and over a short period of time?
Obviously, you would suspect that the site is using a technique to generate links quickly. Google also understands this, which is why the search engine monitors the link flow of each site
An unusual spike in link flow will be investigated and possibly lead to penalties for the sites involved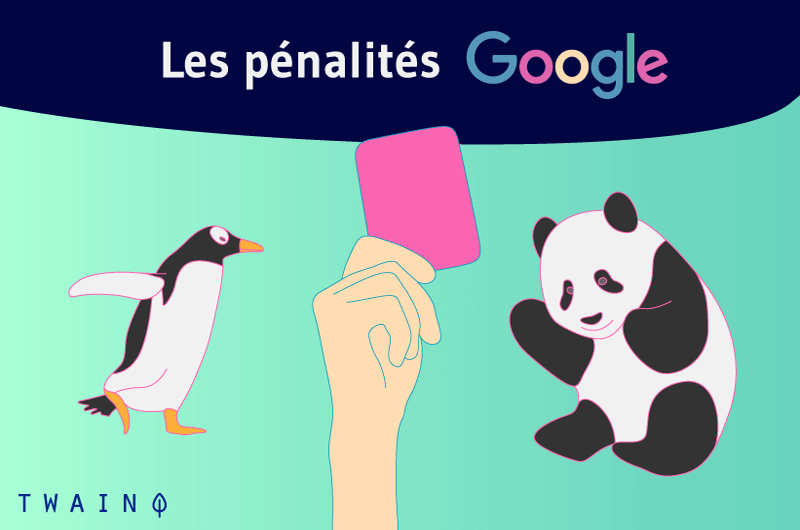 Google's goal is to provide only useful and relevant results for its users. To achieve this goal, it penalizes sites that produce poor quality content and engage in fraudulent techniques
Conversely, "good" sites will be encouraged by obtaining a better positioning in the search engine results
But if Link Farm is forbidden, what are the authorized practices in terms of inbound link building?
Chapter 2: Good practices for link building
It must be said that for new sites, the Link Farm technique can be a bit tempting
Of course, it can be very expensive, but it is by far the fastest compared to other ethical methods of link building. However, it is not without consequences
What would be wise for any website, old or new, is to comply with search engine guidelines. This is the best solution to have a quality referencing and long term
If you are proud of the quality of your content and want to follow the SEO rules, there are many ethical, yet time consuming, methods to get good quality links
The natural referencing itself is a strategy that requires a lot of time and effort before it pays off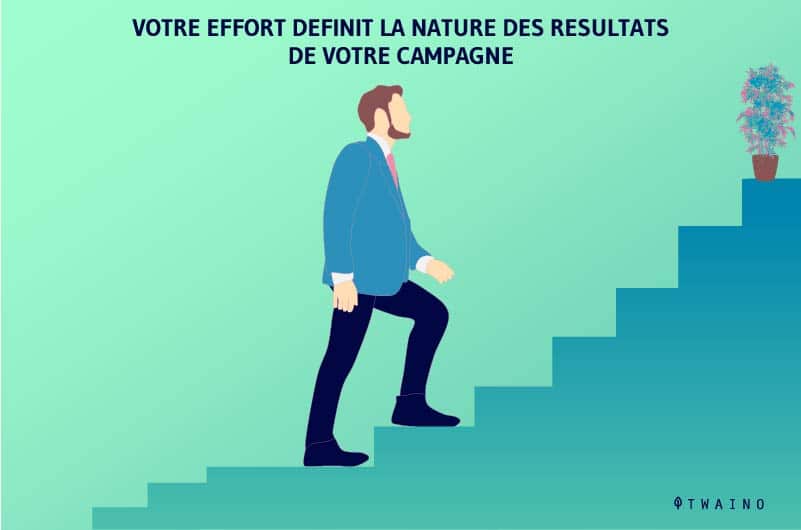 So don't give up on a method because of the time it will take to produce results
In fact, it turns out that in SEO, it's these time-consuming methods that give perennial traffic that really lasts over time.
When it comes to link building, here are some best practices to use to receive quality links in good quantity
2.1. Participate in discussions on forums on your topic
There are a lot of FAQ's or forums in almost every field, where people get together to discuss professional issues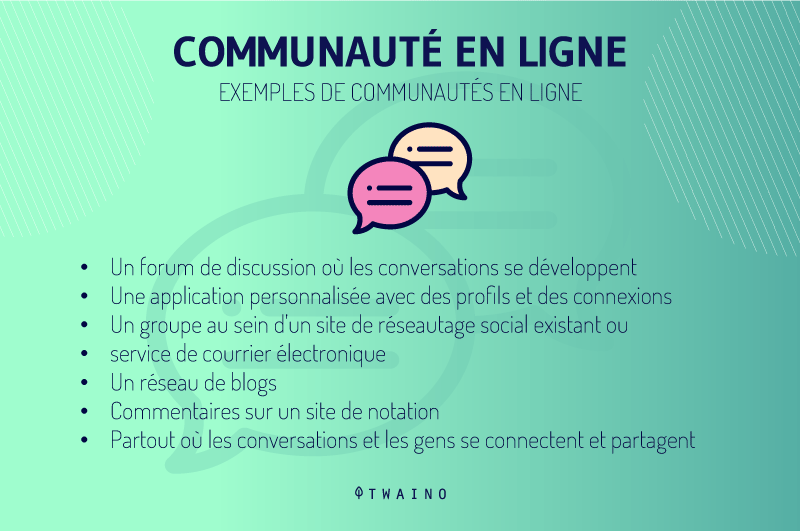 We have for example Quora which is an excellent channel to create links to your site. For example, let's say you are a veterinarian with a small site on which you often publish content on general dog care
While browsing on Quora for example, it is likely that you will come across users that you can help. It could be someone who is looking for techniques to effectively train their dog.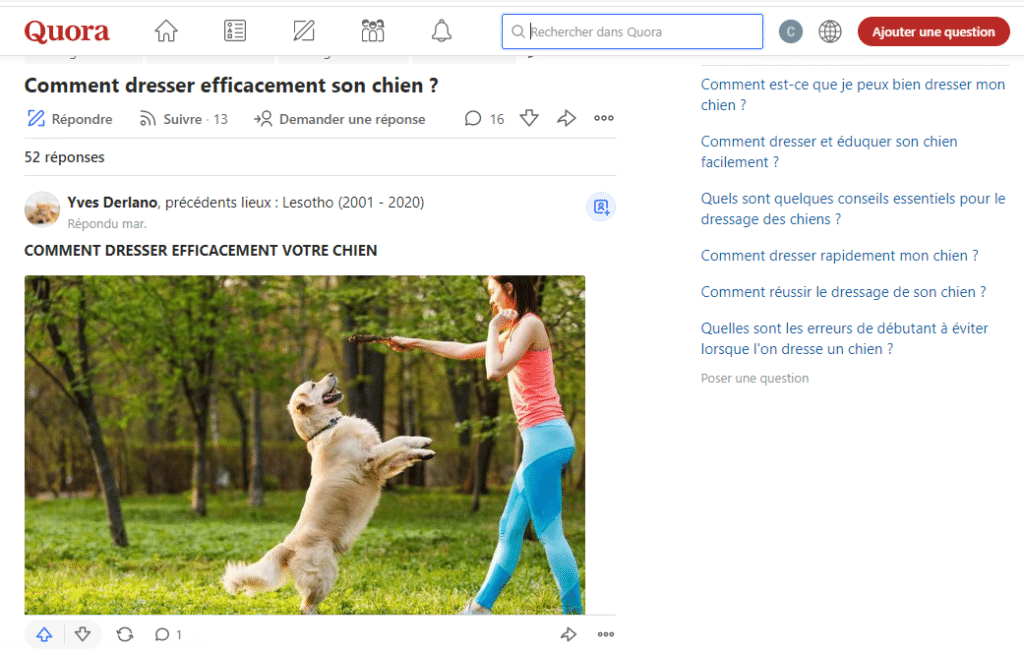 In the comments, you can give a short answer to his question and suggest him to visit one of your pages that actually deals with dog training for more clarification
If your answer is credible and well formulated, the user will not hesitate to consult your page and if possible buy your services. Other Internet users who find themselves in the same situation can also contact you.
This constitutes more visitors on your site and probably more prospects for your veterinary practice. However, it is important to choose the right platforms on which you post reviews
If you drop your site's link into comments on less-than-recommended forums, Google may consider that link a spammy link and disregard it
2.2. Develop a community on social networks
Just like discussion forums, you can also use social networks to create inbound links for your site
Especially since the number of Internet users present on social networks is becoming increasingly high and each user spends an average of 3 hours per day on the networks and messaging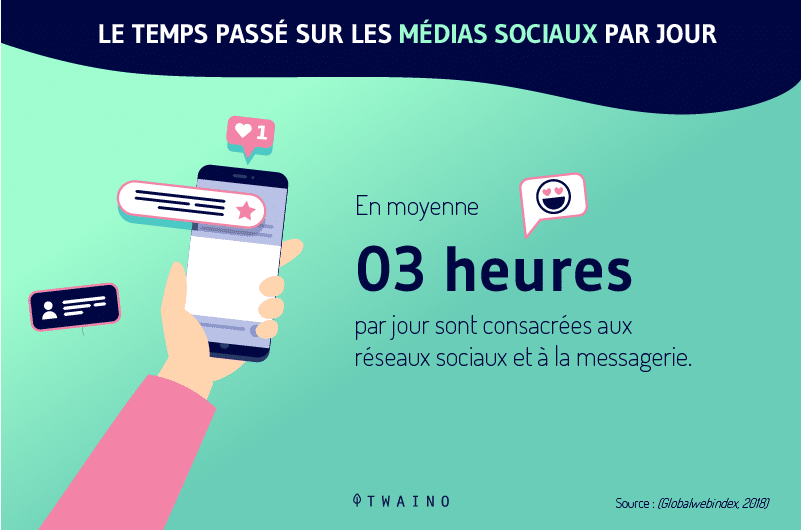 Therefore, by regularly publishing content on networks such as Twitter, Facebook, Google+ and LinkedIn, you increase the number of quality backlinks pointing to your site
However, it is important to note that content published on social networks must be of high quality and relevant enough to really engage readers
Also note that the success of a publication on a social network is reflected by a large number of shares
So if you post an infographic on Twitter or an impressive article on LinkedIn, people will not hesitate to share it on their page or on other social networks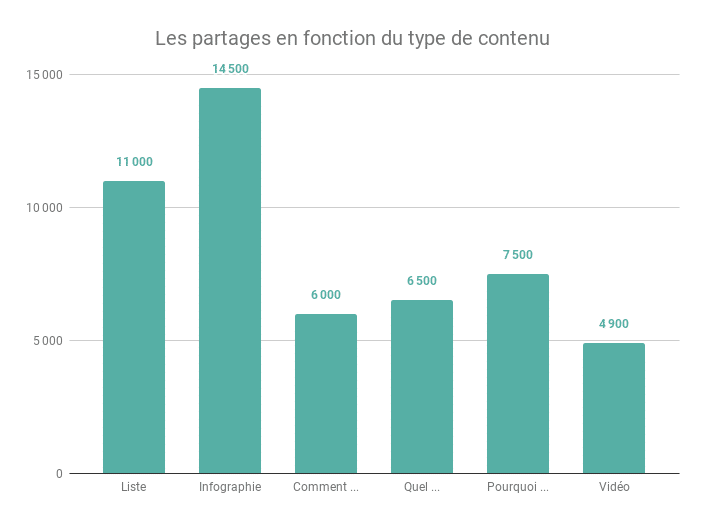 This means more inbound links, more traffic and certainly more conversions
To help you find ideas, you can make polls, propose challenges or special offers to encourage more people to react on your posts and get more links in return
2.3) Write guest articles
Write guest articles is also a good strategy to create links to your site. Although this is a method that can take a little time, it will help you build quality links and develop new audiences for your site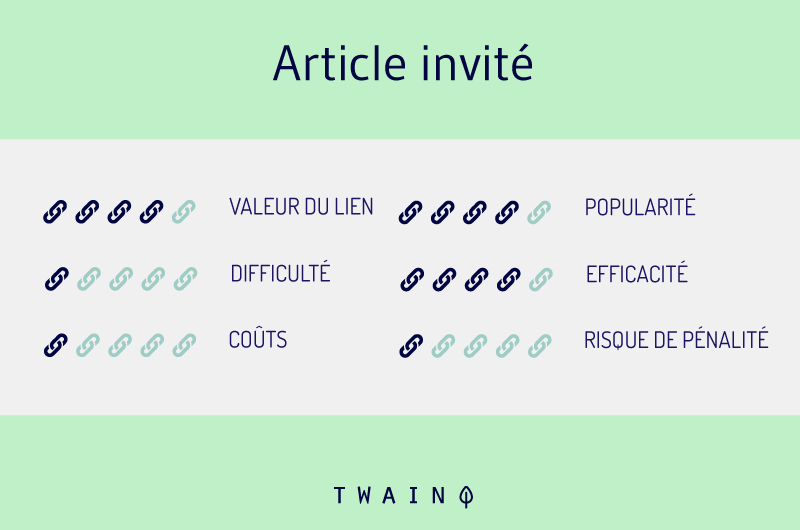 If you can impress users by writing a quality articleif you can impress users by writing a quality article, they will probably look for your site to read other articles and find out what you have to offer internally
In addition, if you can afford to produce your own infographics, this is also a great way to build links and engage users
There are also other techniques for getting quality links to your site. If you'd like to learn more about them, I invite you to read my complete guide on how to create backlinks
Chapter 3: The Link Farm and Negative SEO
While the Link Farm technique is obsolete and banned in SEO, it continues to be relevant in Negative SEO
For those who don't know what it is, Negative SEO is a form of SEO that consists of attacking a competitor's site with prohibited SEO practices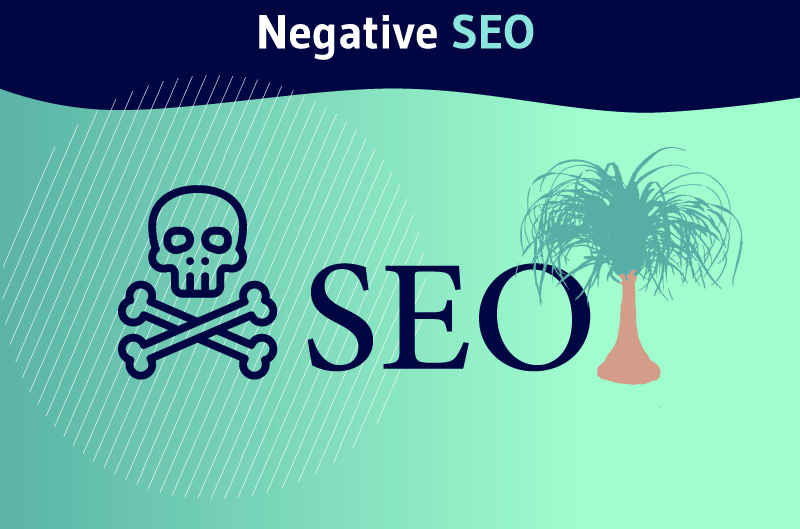 Knowing that Link Farm is punished by Google, dishonest SEOs will create a link farm and intentionally direct a huge amount of low quality links to the attacked site
The idea is to make Google believe that the site is involved in a Link Farm network and hope that the search engine penalizes it. It will then lose its place in the ranking and the competitor can hope to quickly overtake it
But it must be said that Google reassures website owners that its algorithms are able to recognize the links coming from such an attack and that they remain harmless for the referencing of the site
Nevertheless, there are many testimonies of owners who confide in noticing a peak in the flow of incoming links on their site and then a loss of position in the following days
For more information on the subject and the measures to take, you can consult my article on Negative SEO
Now, let's take a look at some other Black Hat practices that you should avoid at all costs.
Chapter 4: Other Black Hat SEO Tactics to Avoid
Black Hat SEO tactics don't stop at link building. There are dozens of others that unscrupulous website owners looking for an easy way out engage in without knowing
Below, I will just rely on the two (02) that are common and punished by Google:
4.1. Keyword stuffing
When we talk about " keyword stuffing ", we are referring to the practice of people using their site's keywords in a way that is not at all natural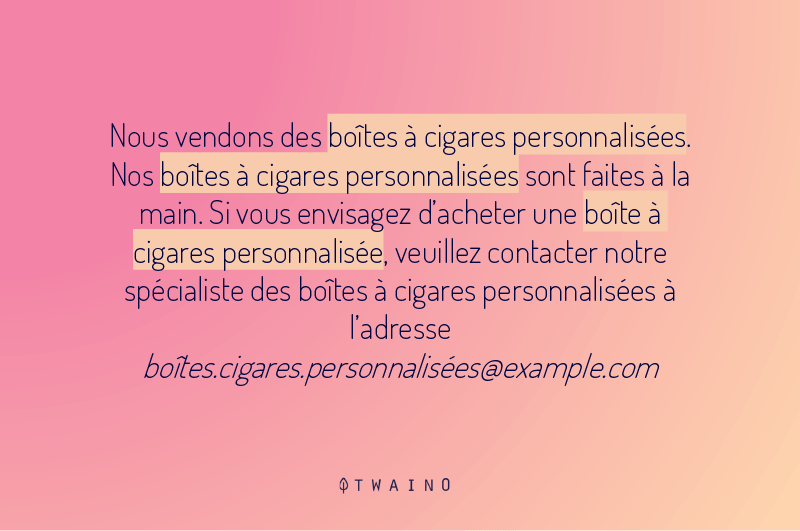 The original idea behind this practice is that the more keywords you can fit into a page or article on your website, the more likely your site will be found
However, it was found that this practice had the effect of distorting the meaning of what you were trying to communicate
Since then, search engines have begun to penalize sites that engage in this practice, as it provides a poor experience for readers.
4.2. cloaking
Another black hat SEO technique is called cloaking
It is a technique that consists of preparing two different contents for the same query. This involves showing the user a different piece of content than the one shown to the search engine robot on the same page
This results in providing the search engine with well optimized content, but the reader with content that is not necessarily user friendly. Search engine algorithms have evolved a lot to detect this kind of practice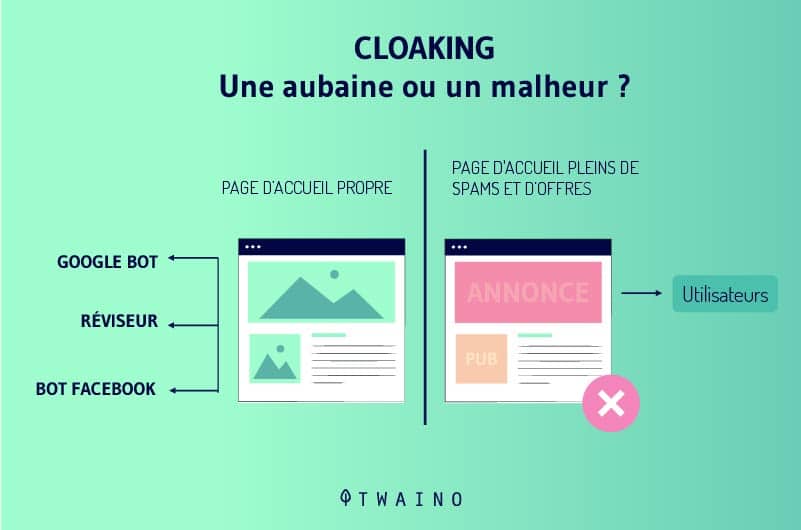 Like other bad practices, the consequences of this are enormous. For this, you must write your web content for the reader as well as for the search engine at the same time
Link farm and other black hat SEO techniques are extremely dangerous to the health of your website. So, to keep it healthy, you must avoid such techniques.
To get an idea of all the existing black hat techniques, feel free to take a look at this guide Definition of Black Hat SEO.
Chapter 5 : Other questions asked on Link Farm
5.1. What is a link farm?
In the most technical terms, a link farm is a website (or group of websites) designed for the express purpose of making another site or page more popular by providing regular links to it
In the past, search engines like Google placed a high value on hyperlinks. Today, excessive linking, and especially link farms, are considered "Black Hat" tactics, and the consequences of this can be enormous.
5.2. How does Google handle link farms?
Once Google recognized how link farms are created to manipulate search rankings, it quickly improved its algorithm to detect them
Now, Google penalizes sites that use this technique to try to trick it. Moreover, these sites could even be removed from the search engine's index. The latter also considers these links as spam.
5.3. Why are link farms bad for search engine optimization?
Google and other search engines consider link farms to be a ploy rather than a site offering information that visitors can actually use
Therefore, if Google detects such a practice on one of your pages, it can cause you to lose your place in search results, or even cause the page to be de-indexed.
5.4. Why are links important?
First, you need to understand that a website has two types of links. Internal links and external links. To rank websites well, the search engine looks at the quantity, but also the quality of links pointing to pages to determine its search rating
It used to be based on the principle that the more links a website had, the better its content was and the more traffic it received. Now, the concept of quality has come into play, and all links, no matter how many, must be of excellent quality
Links are important for SEO and webmasters need them to increase the popularity of their websites.
5.5. How can you tell a good link from a bad one?
Not all links are treated the same way by search engines
Links that come from relevant authority sites are considered as quality links for the referencing of a website
On the other hand, links from spammy sites, or those that the search engine considers irrelevant are considered bad for SEO.
5.6. What do we mean by quality and quantity of links?
Having a lot of links used to be the norm, as they were often rewarded by search engines. Over the years, this has changed and quality of links versus quantity has become the new norm
In fact, Google's emphasis on quality links can be seen as an extremely positive step forward for the Internet as a whole
By establishing these types of guidelines, websites around the world are encouraged to provide links that offer real utility and value to the page's readers
Conclusion
Inbound link building from a Link Farm was once heavily used to influence a site's ranking on search results pages
Today, thanks to the updates of the algorithms of Google and other search engines, this practice does not improve the SEO of a site
On the contrary, it is sanctioned and negatively affects the visibility of the websites concerned
The search engines have put in place recommendations that must be respected for a healthy and sustainable SEO
I hope this article has helped you understand the term Link Farm
If you have any questions, don't hesitate to ask me in comments. I will be happy to answer them
Thanks and see you soon!