A SEO audit is a health check to analyze the ability of a site to rank in the SERPs. It consists of seeing how well your online presence meets the requirements of search engines. The SEO audit also evaluates your SEO strengths and weaknesses so that you can improve the weak points and capitalize on the strong ones to move up in the SERPs and generate more traffic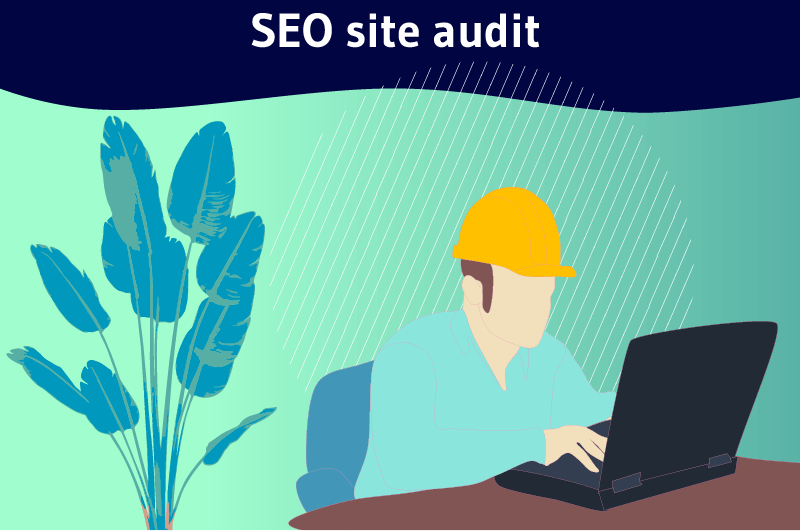 About 90.63% of pages never get their organic traffic from Google, that's 9 out of 10 sites. This statistic indicates that very few sites, or 1 in 10 sites receive traffic from search engines.
These numbers sound scary, but they are just the realities of the SEO world. Contrary to what many people think, it is not enough to create your site and publish content to generate traffic.
Sites need to align with Google's standards and offer high quality content before they can climb the SERPs and expect more traffic.
If your site is not yet generating traffic to match your efforts, it's important to evaluate all aspects of your site and see if it is indeed search engine friendly.
It will be a matter of doing an SEO audit to detect the various errors, problematic and weak sides of the website that can be points of growth.
Through this article, you will discover the definition of a site audit, its different parts and the tools that can help you conduct your site review.
Chapter 1: SEO Audit: What is it and why implement it on your site?
This chapter will focus on what an SEO audit means as well as why and when to implement it.
1.1 What is an SEO site audit?
Site SEO audits are a deep dive into your site to examine the various factors that impact your ability to rank in SERPs.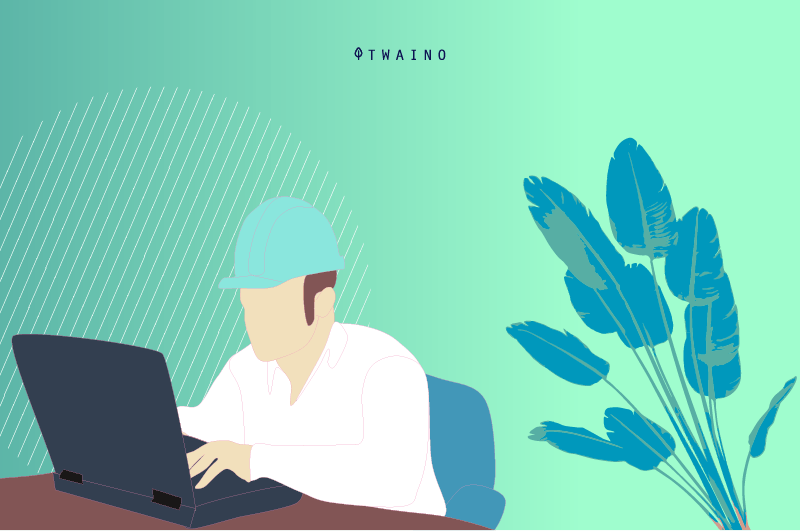 This often includes both on-page and off-page SEO elements of your site, as well as technical SEO performance.
To some extent, it also includes your content in general and your ability to show up in local search results.
It is also defined as the process of evaluating the search engine friendliness of a site. Its main objective is to help optimize a site for better ranking in the SERPs.
1.2) What should an SEO audit be?
First of all, an audit must be complete. That is to say, it should take into account both structural and content elements that influence in one way or another your visibility in terms of SEO.
When done correctly, the audit provides a comprehensive overview of what is going on in your current situation. But when it doesn't cover all aspects, each missing element can lead to unnecessary or inappropriate recommendations.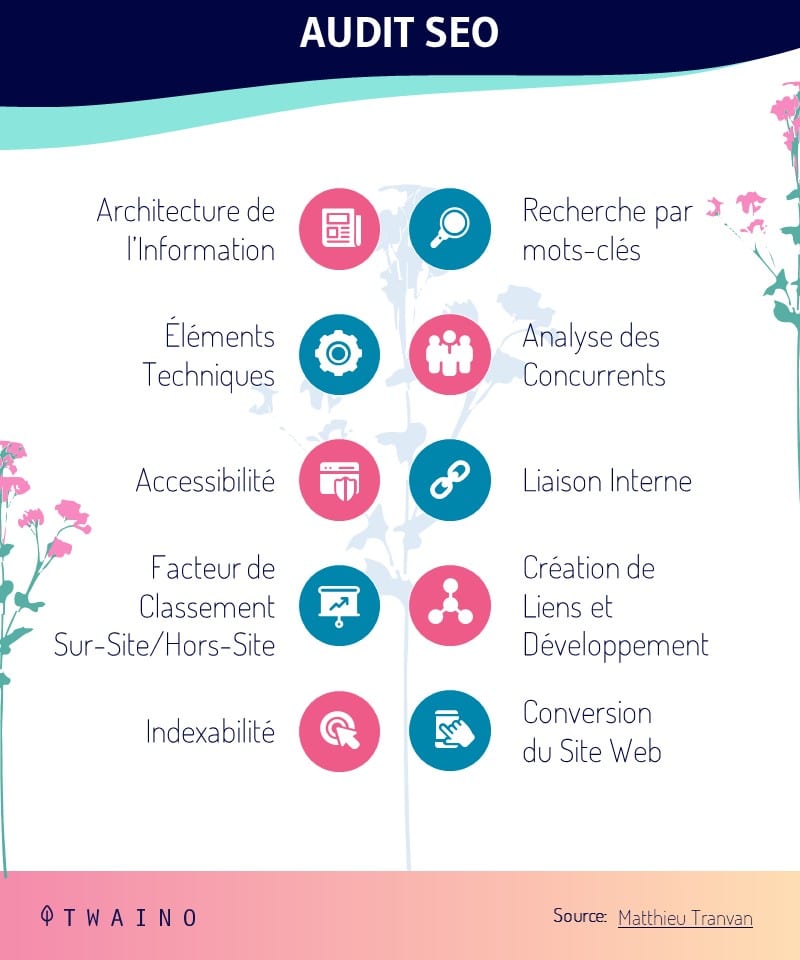 Second, your SEO site audit should be easy to understand so that business owners can understand how SEO issues are affecting their priorities, goals or online revenue.
That said, the recommendations from an SEO audit should be clear and align with the business goals of the companies.
Ultimately, the recommendations from an SEO audit must be actionable. It's about mapping out a clear path to completion, with prioritization and projection of the effect and effort associated with each item. In other words, the results of your audit should result in a simple roadmap to follow.
1.3. Why do an SEO audit?
If you're looking for the fundamental reasons to do an audit of your site, know that it's important for good SEO and a good customer experience.
In fact, if you are running an organization, you certainly know that you need a website. It is your company's showcase and the first impression potential buyers may have about your business comes from it.
That's why it's important to keep your website beautiful and functional. However, a functional site does not necessarily mean that it is perfect.
And that's where an audit comes in. It helps you identify the flaws or weaknesses of your site and correct them before they start to impinge on your business.
Now let's find out these 5 reasons why an audit is necessary for you.
1.3.1. Improves SEO
An SEO site audit will highlight flaws such as missing page descriptions, alt text for images, meta tags, etc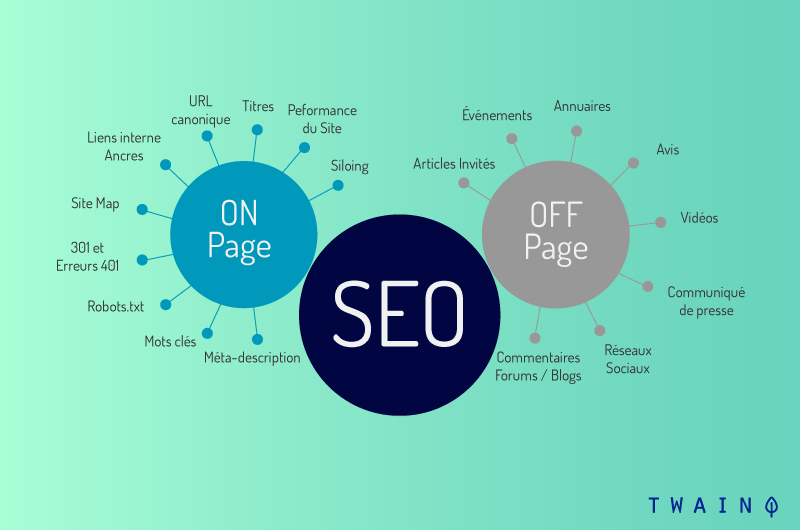 These are all important elements whose absence can affect the performance of your site on search engines and reduce your ranking if they are not corrected quickly.
1.3.2. Improve the performance of your site
The audit also highlights problems such as pages that take too long to load. Not only does this put visitors off, but it can also affect your SEO.
In fact, the statistics on loading speed are mind-boggling. For example, pages that finish loading in two seconds have an average bounce rate of 9%, while others that load after five seconds see their bounce rate soar to 38%.
Given this, a page should load in a few milliseconds, especially since you don't know the nature of the connection of potential customers accessing your site.
1.3.3. To make sure your site is adaptable
Purchasing decisions are made via mobile devices these days. So imagine you own a ready-to-wear store and someone is looking for recommendations for a clothing store to find a suit for their wedding.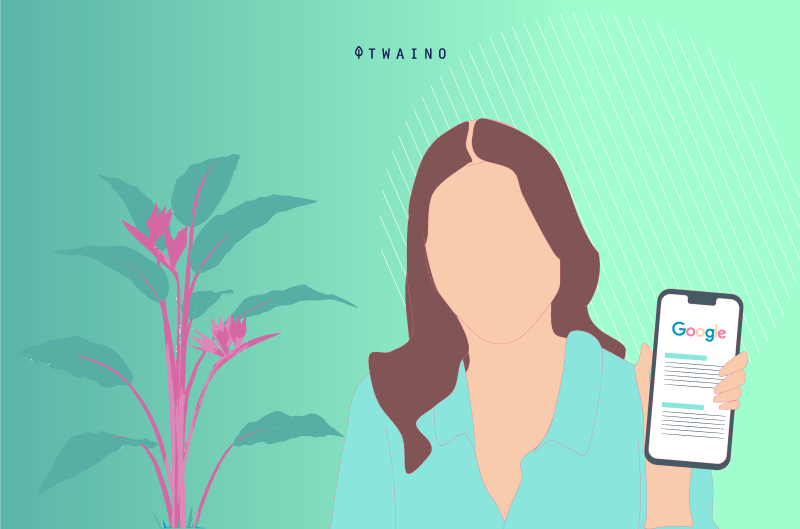 Let's say he posts a message in a WhatsApp group and a member shares a link to your site. Obviously, you're going to lose that potential customer if your site isn't mobile-friendly.
A website audit would have revealed this shortcoming, giving you enough time to remedy the situation.
1.3.4. For increased security and privacy
As a website owner, it is your responsibility to protect your customers' information. In fact, a security breach could cause damage to your website, your business, your customers and even your partners.
From an SEO audit, you will have an idea of what you need to prioritize to ensure the security of your site.
1.3.5. Find out which pages receive the most traffic
It's helpful to know which of your content is performing better than others. This can help you make better decisions about how much budget to allocate to your content marketing and get an idea of how you can improve the rest of your content.
Knowing which pages are performing the best will furthermore help you determine the right keywords to use, your writing style, and even the audience you're attracting.
1.4. When you need an SEO audit
While it is recommended that you audit your site on a certain frequency, there are certain situations that are signals that you need to look at different aspects of your site.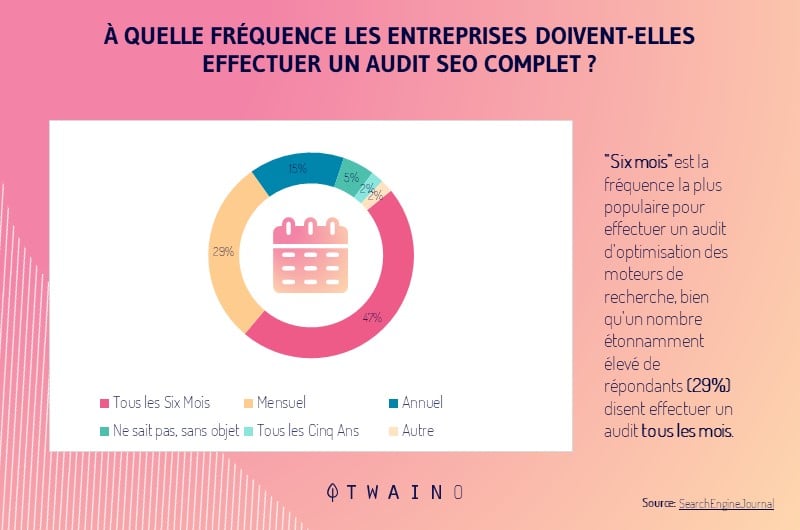 For example, when your site becomes less user-friendly for visitors and they can no longer navigate it properly, you need to do something.
The same is true when your site is not properly optimized or when you have trouble climbing in the rankings.
As an example, you should look to see if you have thin content that needs updating or outright unavailable pages.
In some, it may be necessary to audit your site to see your link profile or if your site has benefited from black listing methods. When this is the case, your site may suffer from Google's thunderbolt through penalties.
As we also mentioned earlier, when your web resources take time to load, it is also a signal to take quick action.
On the other hand, if you want to analyze the competition in order to stay ahead in your industry, you can do an audit to determine your position in relation to them.
By auditing their sites, you will discover their strengths as well as their weaknesses, data that can help you optimize your SEO strategy in order to surpass them.
Chapter 2: The Different Parts of an SEO Audit
Now that you know what an SEO audit is, let's get down to business 😀. Let's look at the parts to consider in an SEO audit, namely:
On-page SEO
Off-page SEO
Technical SEO.
First of all, let's tackle the on-page part of your SEO audit.
2.1 On-page SEO audit, part 1: On-page SEO
Your on-page SEO audit is about the elements of your site that you have control over and can optimize. Content is a big part.
2.1.1. Keyword Research
There's nothing like keywords to get your content ranked. But before you create content for your keywords, it's important to understand why your content is currently ranking and what people really mean when they search for a keyword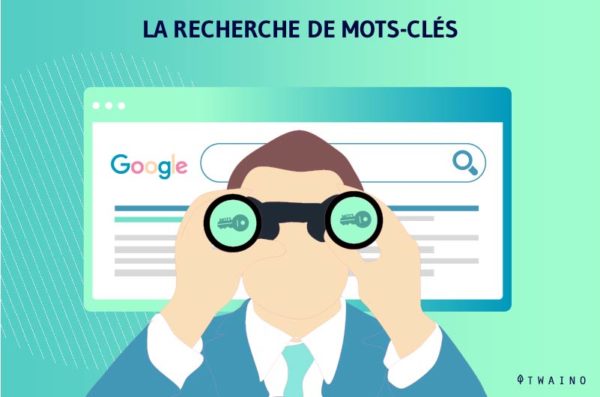 You'll be able to browse your competitors' top ranked sites on Google to see what they are focusing on in their content. The idea is to see if there is an area where they are ranking well and you are not.
From then on, you need to make sure you are offering content that meets the search intent of the users.
Another way to do this is to search your keyword in Google to see what comes up. Try to find out what other top-ranked sites are doing to get users to click on their resources.
Also note that sometimes a keyword may start with "what is", but the searcher is actually looking for a "how to". An SEO keyword audit will help you discover these subtle, but important nuances that will help you rank.
2.1.2. Keyword Usage
If you've figured out why users type in a certain keyword, now it's time to use it in your content.
The idea is to use the keywords in a natural way in the parts of your pages such as: headers, body content, title tag and meta description
For example, if you want to tell visitors why they should use your affordable cleaning services, you could start that section of your site with a bold header that tells them "why you should use our affordable cleaning services".
After that, you can move on to "affordable cleaning services for your home" and other similar variations of that keyword where it really makes sense in the body of your content.
Also, don't put your keyword everywhere or it will hurt your SEO. That's why you need to vary your keywords and make sure you place them in a natural way.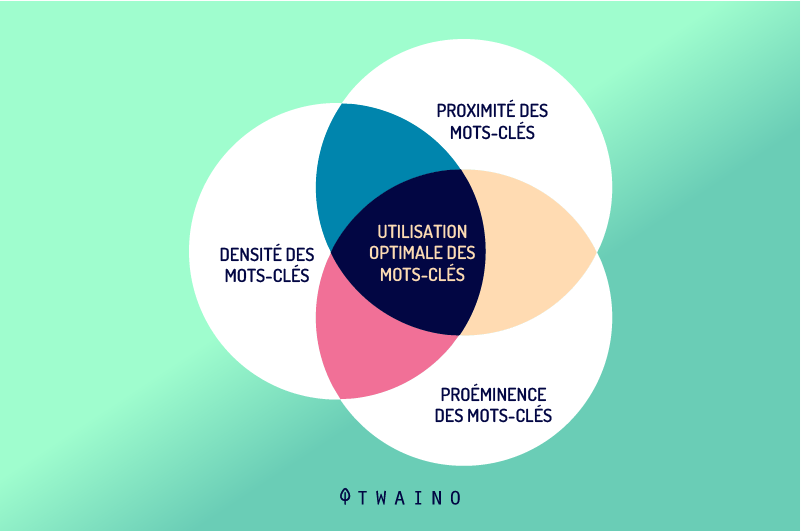 The audit can also reveal related keywords that you can include in your content to help search engines understand the context of your page.
On the other hand, your site audit should help you determine if your keywords are actually in the title tag and meta description.
In fact, these elements appear in search results and can give searchers and crawlers context about what your page contains.
In addition, optimizing these elements with keywords can play a role in improving your pages in the SERPs.
2.1.3. Internal links
One of the most important aspects of SEO is to help crawlers find your pages more easily. And only internal links can ensure this.
To put it more clearly, when you create new content, it is crucial to create links to other pages on your site within that new content
These so-called internal links make it easier for both search engines and visiting users to discover pages on your site, which improves your SEO.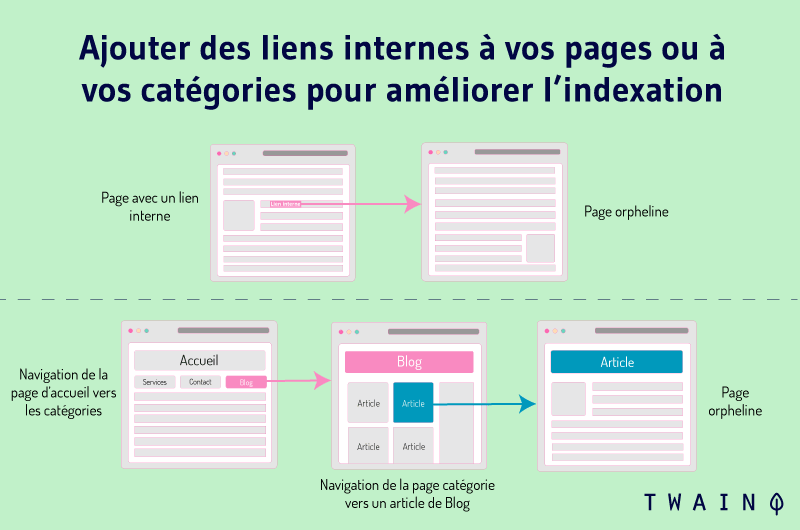 For example, if you create a blog post about the best wedding suits and you have a page on your site that is dedicated to these types of outfits, you should definitely link to that page
By doing so, you are contributing to your SEO and driving traffic to another page on your site.
2.1.4. Sitemaps
Another important element of on-page SEO is the existence of sitemaps that allow crawlers to find pages on your site.
During the audit, you should check the HTML and XML sitemaps. HTML sitemaps contain links to every page on your site and can help visitors and crawlers find pages that may not have internal links pointing to them.
XML sitemaps are purely for search engines. They are very useful to help spiders find new pages to crawl.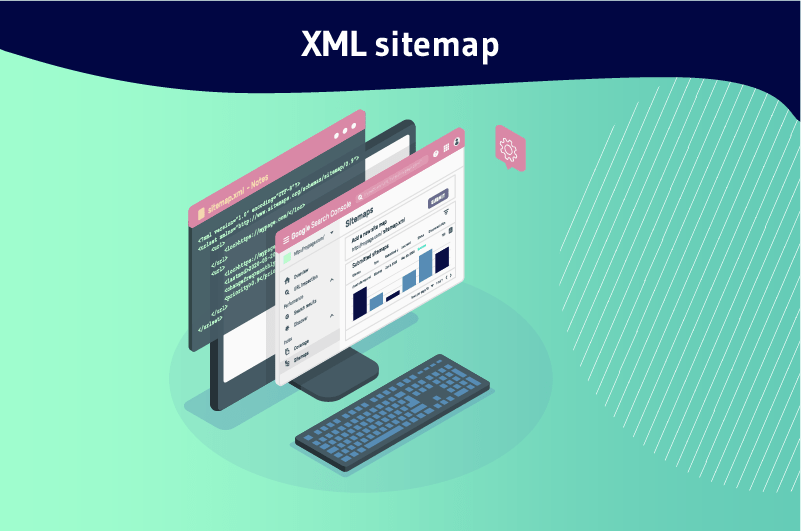 If you don't have this file, it is quite easy today to generate a sitemap containing all the URLs of your website from online tools.
Once you have an XML sitemap, it is submitted to Google Search Console so that Google spiders can crawl it.
If you are not technically proficient enough to submit it, you can use an SEO expert because of the importance of this file.
Now that we have covered the on-page part of the SEO audit, let's find out what you need for an off-page audit.
2.2. SEO Audit – Part 2: Off-Page SEO
Off-page SEO refers to SEO elements that you don't directly control, but that you can influence.
When we take backlinks, i.e. links pointing to your site from other sites, they are a key element of SEO.
If a site with a good reputation adds a link to your site on one of its pages, it transmits part of the value of its site to yours.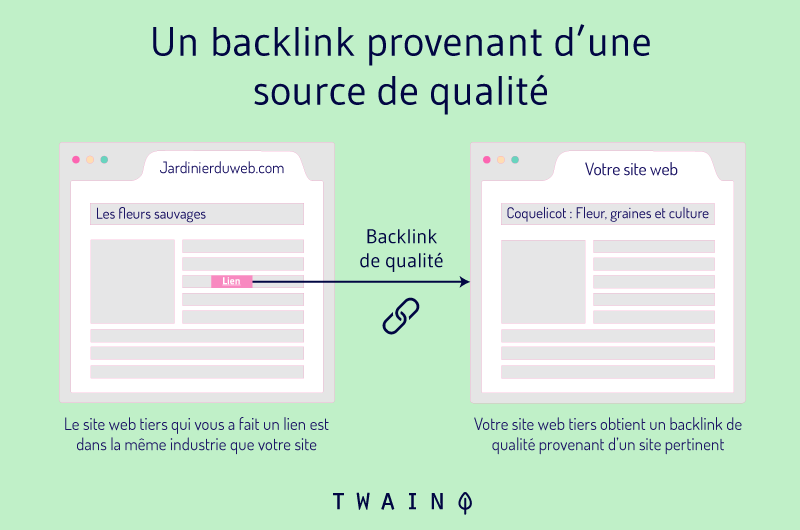 This is enough to make your pages more valuable. Better yet, readers of the other site may click on the link on the page to land on your site.
In general, backlinks can help you rank higher on the keywords that matter most to your business. And as you already know, the better you rank in the SERPs, the more valuable traffic you can get to your site.
It's important to remember that this traffic can translate into qualified leads, and then into actual sales.
As for the off-page SEO audit, it helps you know your backlink profile and that of your competitors as part of the SEO audit.
Also, sites that link to your competitors may link to you as well. So an SEO audit is important to find out who is linking to your competitors.
From then on, you will be able to implement different kinds of strategies to get link from their sites as well.
The other advantage of off-page SEO is the fact that allows you to clearly see your link profile in order to discover the good links, but also the bad ones that can harm your site.
In fact, Google punishes sites that are linked to spam sites or site farms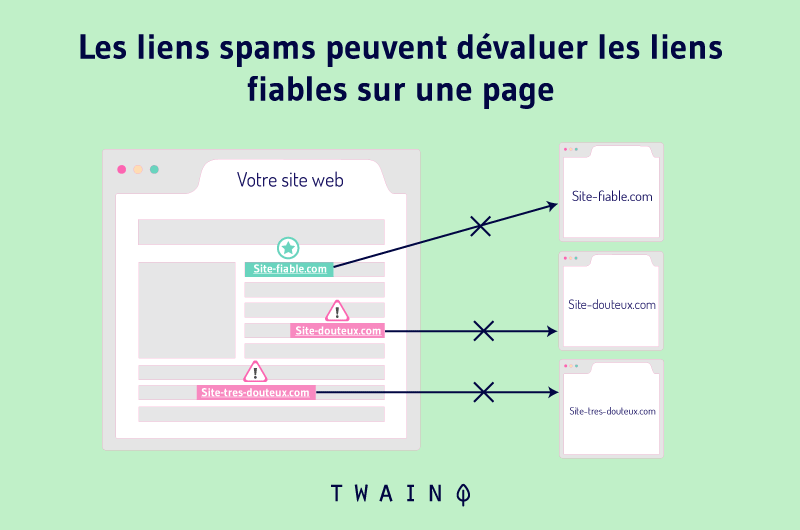 Since you have no control over the sites that link to your pages, malicious sites can also link to you.
An off-page audit helps you to see more clearly into your backlink profile so that you can take adequate measures to preserve your site and keep your link profile clean.
2.3. SEO Audit – Part 3: Technical Audit
For your technical SEO, there are many things to consider, and it can get quite complicated. This type of audit allows you to dig deeper into the mechanisms of your site.
2.3.1. Page speed
Does your site load quickly to create a good user experience? As mentioned before, most websites load in a few seconds these days and users are used to this.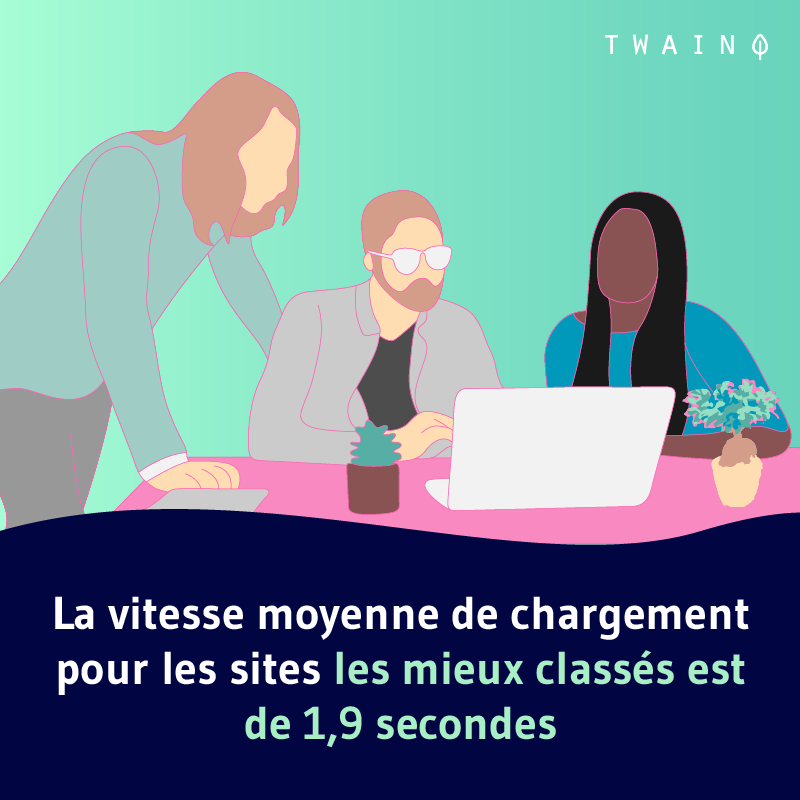 The attention span of Internet users has decreased a lot and about half of the Internet users will not even wait for your site to load if it takes more than three seconds.
This is why one of the objectives of the technical audit is to check the elements on your pages that make your site not fast.
2.3.2. Mobile usability
Is your website (and all its pages) adapted to mobile devices? How well do your pages switch between desktop and mobile versions?
Over the past few years, the use of mobile devices has exploded and will account for more than half of all web traffic by 2022. According to Ahrefs, 58.99% of all site traffic comes from cell phones.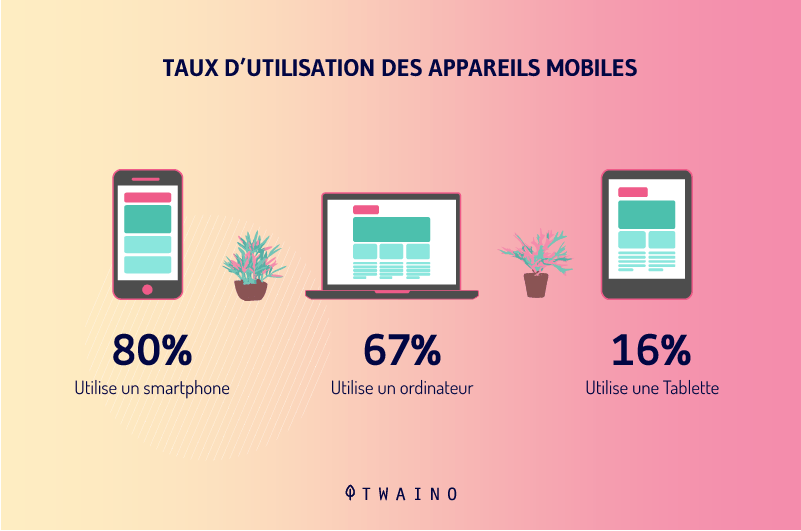 And that's not all! People are also spending a lot more time on their smartphones. To that end, Google is now focusing on mobile-first when crawling and indexing new sites.
Also, if a visitor is using their phone and sees the desktop version of your site, some parts will be cut off and the text may be less readable.
Since your site is not mobile-friendly, you will lose this valuable web traffic to other sites that have a mobile version or that are adapted to the users' screen size.
2.3.3. Site security
This part of the audit consists of checking if your site is secure. Whether you believe it or not, site security is also a ranking factor.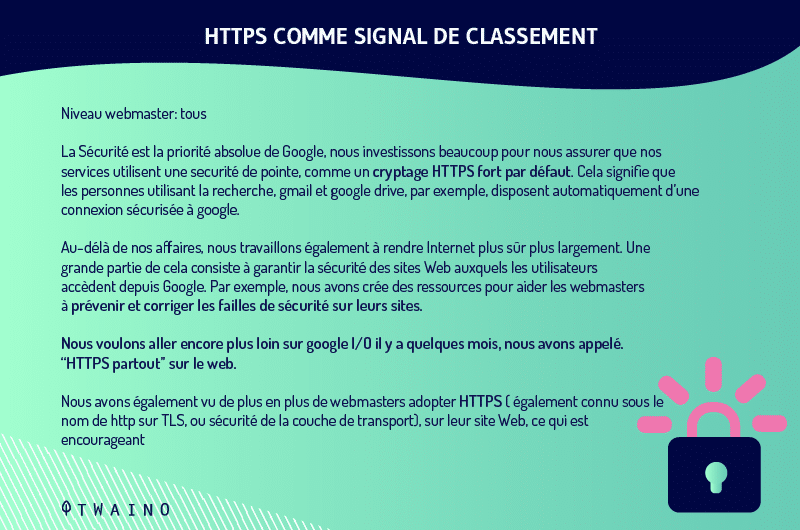 It is not for nothing that browsers indicate whether a page is secure or not with a padlock next to its URL.
When a site is not secure, any visitor who enters his or her information risks having it stolen. On the contrary, a secure website encrypts and protects the site's data.
This helps your site's SEO and tells the user that they can trust your site.
If we take the example of two companies that both sell shoes. If one company's site is secure while the other is not, it is obvious that you are more likely to enter your credit card information on the secure site.
Internet users think in a similar way and find a company that offers a secure site more credible.
To learn more about site security, you can read our guide on how to secure your web pages.
Chapter 3: SEO audit tools
Using SEO auditing tools is nowadays a must even if you are an SEO expert. In fact, auditing is a lot of things to keep track of and it is best to leave the heavy lifting to SEO auditing tools.
These are specialized enough to dig deep and reveal any SEO issues that might be compromising your web pages.
In this chapter, I've put together a few tools that can help you implement an audit on your site.
3.1. Google Search Console (GSC)
Otherwise known as Google Webmaster Tools, this tool offers several performance measures.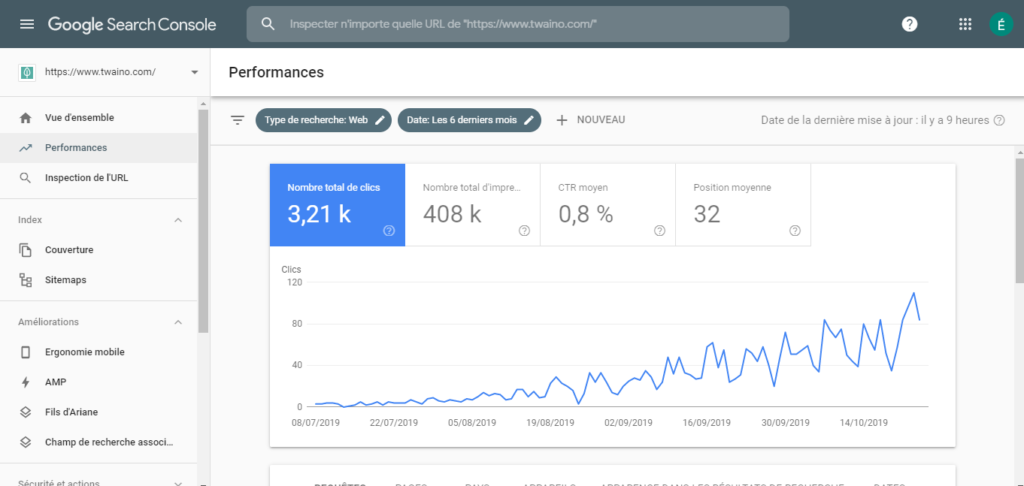 Using this tool, it is even possible to go back in time 16 months to identify SEO issues.
By quickly reviewing information provided by GSC, it can give you a good overview of your site's indexing and accessibility flaws.
You will also get information about your structured data, HTML files, accelerated mobile pages, broken links and the quality of your content.
In general, GSC :
Monitors, tests and tracks your AMP pages;
Examines your index coverage;
Helps you understand your keyword performance;
Provides a keyword tool to analyze the performance of your key terms;
Reveals all pages that have been indexed by Google;
Generates customized audit reports;
Covers user experience issues;
Sends email alerts when Google detects a problem on your site;
Highlights failed indexing attempts and pages with 404 or 500 errors;
Provides information about the queries that drive traffic to your site.
3.2 Google's Schema Markup Validator
This structured data tool from Google is an SEO audit tool developed specifically to examine your website's schema markup.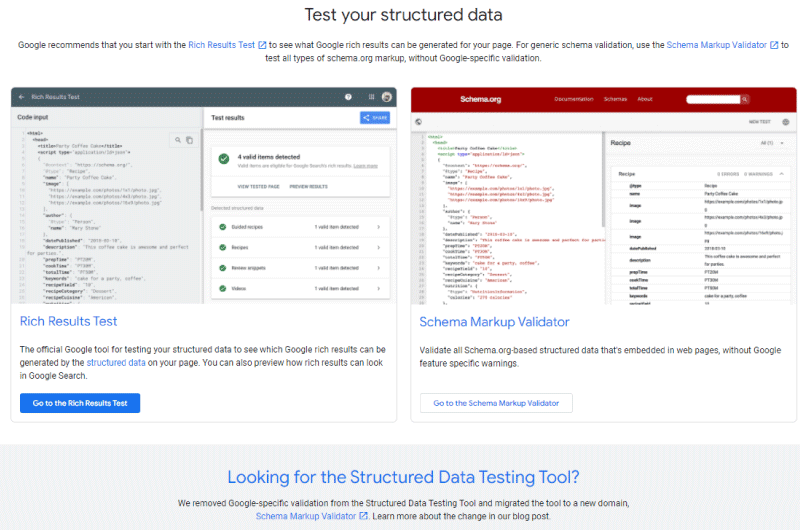 Recall that schema markup is a type of structured data or code that provides the search engine with context about your site's content.
That said, running your site through Google's Schema Markup Validator will help you identify any possible code errors that could make it difficult for Google to crawl, organize and index your content.
This Google Schema Markup Validator is completely free. Specifically, it :
Provides an overview of your site's structured data;
Displays the precise number of schemas on the page/URL;
Gives a detailed report of schema errors.
3.3. PageSpeed Insights
PageSpeed Insights is also an auditing tool provided by Google for free. SEOs use it to run tests on a site's URLs to get scores based on their performance on mobile and desktop devices.
PageSpeeed Insights analyzes not only the loading speed of the pages submitted for testing, but also the corresponding user experience. In its results, this tool classifies the data into three categories:
Successful Audits: It refers to page parameters that performed relatively well;
Diagnostics: These are the issues you will need to work on to improve the overall performance of your page;
Opportunities: It gives an overview of your page's adherence to web development best practices.
In addition, PageSpeed Insights: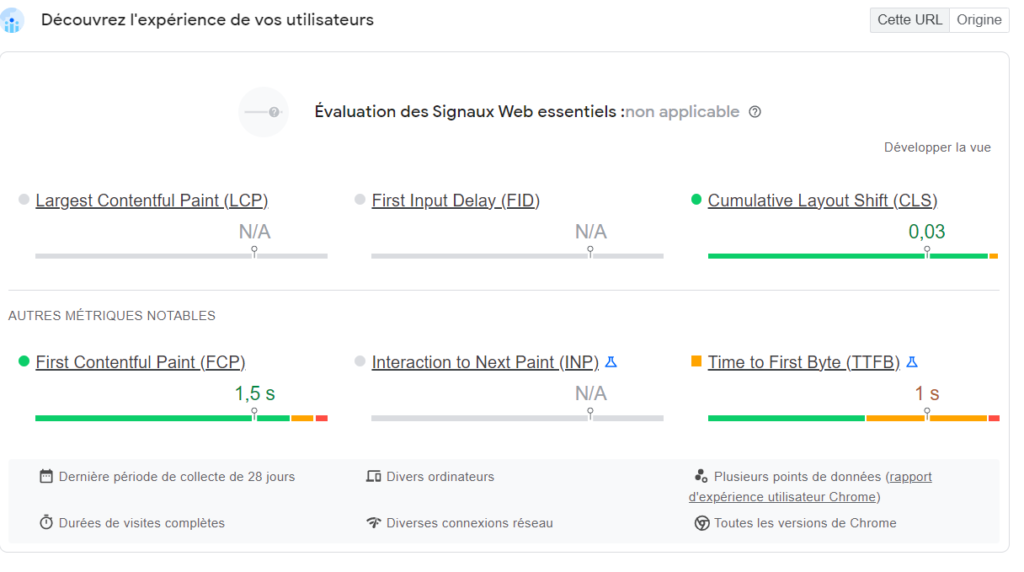 Examines a page's performance along various metrics, including; First content table, Total blocking time, Largest content table, Interaction time, Speed index, and Cumulative layout shift;
Offers suggestions on how to make your pages load faster;
Documents the performance of a page on mobile and desktop devices.
3.4 Google Analytics
Google Analytics is an indispensable tool for conducting SEO site audits. As its name suggests, if a tool with which you do different kinds of analysis, whether it is analysis of trends and audience of your website (Trends & Analytics).
It also allows you to check the speed of the site (Behavior – Site Speed). It also has a great feature that provides information about geographical data.
It displays the geographical data of your audience by city, country or continent so that you can align your sales and marketing strategy to the respective regions.
All you need to do is implement a small piece of code on your website and it's done. This free tool works automatically and can help you save time and effort.
3.5. Google Mobile-Friendly Test
Google Mobile-Friendly Test is a free tool to see how the search engine picks up your mobile site. It simply indicates whether or not a site meets its mobile-friendliness standards.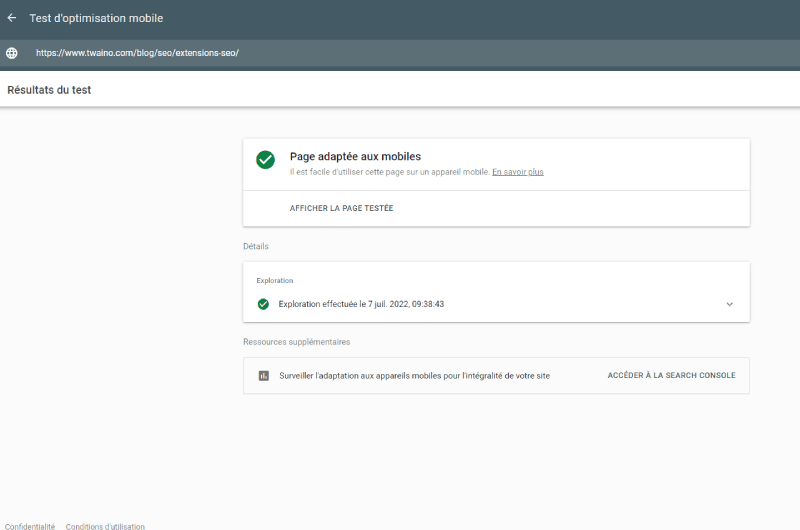 You can find the data from this tool's test in detail in a report that you can download.
To help you format your site so that it is mobile-friendly, you can also consult our guide on mobile-friendly.
3.6. Screaming Frog
Unlike the previous tools, Screaming Frog SEO Spider isn't really a cloud-based software.
It's an installable piece of software that crawls your site while pulling data from the site, checking for SEO issues, and analyzing the results in real time.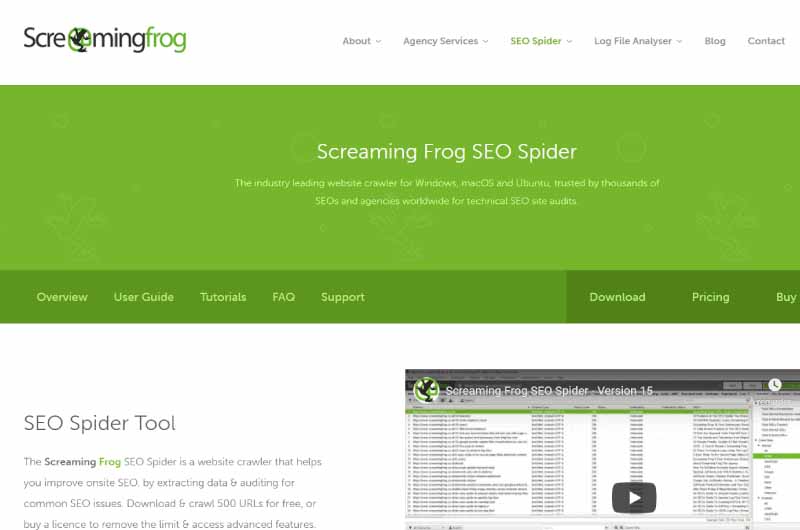 As part of an SEO audit, it can be used to:
Extract data from the HTML code of your pages;
Track server errors and broken links;
Analyze meta descriptions and titles;
Report blocked URLs;
Identify temporary and permanent redirects.
As for Screaming Frog's features, it:
Evaluates page titles and meta descriptions;
Integrates with Google Analytics, Google Search Console and PageSpeed Insights APIs.
Identifies duplicate content and elements;
Finds broken links (404) and server errors;
Evaluate your internal links and URL structure;
Implements XML sitemaps and XML image sitemaps;
Extracts data from any HTML page using CSS Path, XPath, and regex;
Discover temporary and permanent redirects, as well as redirect chains or loops;
Reveals URLs blocked by robots.txt, meta robots and X-Robots-Tag directives.
Note that Screaming Frog is not completely free. It only allows you to crawl 500 URLs, beyond that you need to use a paid version which costs $209.00 per year.
3.7. SEMrush
SEMrush became one of the leading veterans in the SEO space a few years ago. It is an all-in-one SEO suite that integrates over forty tools specializing in:
Keyword research ;
Competitive intelligence;
Paid ad research;
Content Optimization;
Ranking tracking;
Social media monitoring.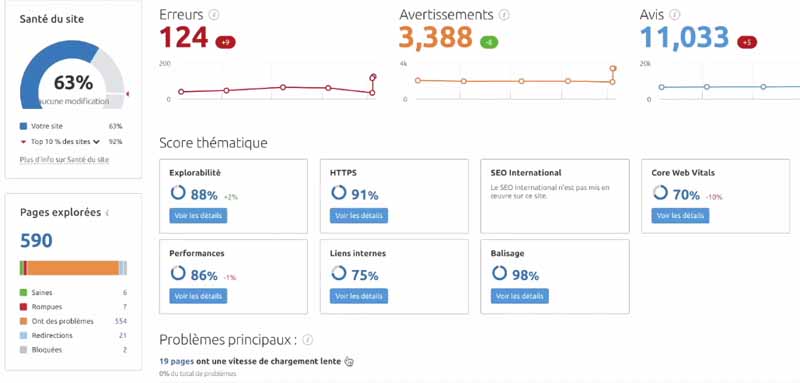 When it comes to site SEO auditing, this site auditing tool scours your pages to point out issues with your implementation of:
AMP;
JavaScript and CSS;
Site crawlability;
HTTPS security protocols;
Meta tags;
SEO Content;
Internal links ;
Page loading speeds;
As for SEMrush's features, it:
Displays SEO audit results via intuitive graphs;
Scans websites for over 130 technical and SEO errors;
SEO issues are categorized into three groups, based on severity (Errors, Warnings and Advisories);
Runs thematic reports;
Compares crawls to analyze the results of different SEO audits;
Provides actionable information on problem resolution;
Sorts pages and audit results using advanced filters;
Integrates with your Google Analytics.
SEMrush is also a paid tool and you will have to pay at least $99.95 per month for 100,000 monthly page crawls. However, it does perform free SEO audits for 100 web pages.
3.8. Ahrefs
Like SEMrush, Ahrefs is also a suite that presents itself as an all-inclusive SEO toolkit. It offers:
Site Explorer;
Keyword Explorer ;
Rank Tracker ;
Content Explorer;
Site Audit.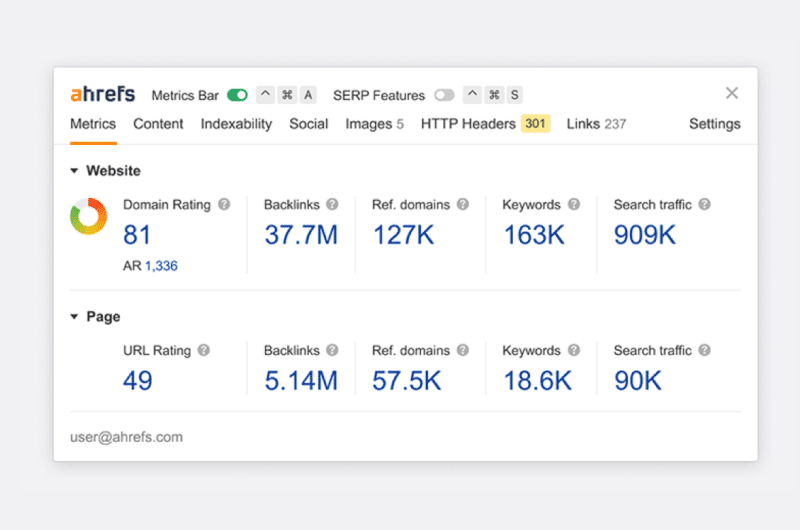 This last tool is where the magic of SEO auditing happens. With its audit tool, you will discover problems related to :
JavaScript and CSS resources ;
Nofollow links and orphan pages;
Poorly optimized HTML tags;
Hreflang tags;
Broken pages and redirects;
Duplicate pages and low word count articles;
Incomplete or missing social tags,
External pages on your site;
Page performance issues.
Speaking of Ahrefs features, it:
Provides practical recommendations on how to fix SEO issues;
Renders JavaScript generated content on any web page;
Covers over 100 pre-configured SEO issues – including; inbound and outbound links, hreflang, pagination, duplicates and resources;
Schedules automatic, daily, weekly and monthly site crawls;
Allows for custom filters based on multiple parameters;
Crawls desktop and mobile versions of your site;
Shows you a real-time crawl log.
Note that you will be able to use the Site Explorer and Site Audit tools if you sign up for Ahrefs Webmaster Tools. Ahrefs also offers a premium version that starts at $83 per month and goes up to $999 per month.
❓FAQ:
What is an SEO audit tool?
SEO audit tools help identify SEO errors that can ruin a site's ranking. The tools mentioned in this content are just a drop in the bucket compared to the auditing tools that exist. You can also find other tools that also offer free plans.
What are the best SEO audit tools?
It all depends on what you are looking for. The tools presented above are great starting points for a comprehensive on-page, off-page and technical audit.
What happens after an SEO audit?
The SEO audit will tell you what is wrong with your site. As soon as you finish the audit of your site, start prioritizing the recommendations and implementing them.
Consider starting with the easiest tasks to manage, then move on to the more difficult ones. You can also set a timeline for implementing the recommendations.
Why is an SEO site audit important?
SEO audits are essential since they uncover opportunities for improvement on a site.
And when SEO issues are resolved, you'll enjoy greater visibility, more traffic and more leads or sales.
What is an SEO site audit?
The SEO audit can vary depending on the site being audited. Most of the time, audits include a review of technical compliance, on-page elements, and a high-level content analysis
To take it a step further, a site SEO audit includes competitive intelligence and link intelligence.
How often can a site audit be performed?
It all depends on the size of the site being audited! In general, you should perform an audit about every 6 to 12 months. But when you are planning a redesign of your site, it would be ideal to do the audit both before and after the launch.
How long does it take to complete an SEO audit?
This also depends on the size of the site. The audit of a site with a large number of pages will tend to last longer than that of a site with few pages. It can take two to three weeks.
How much does an SEO audit cost?
The cost of an audit can vary depending on many elements. The best thing to do is to ask a professional for a quote for your site audit.
In summary
The bottom line is that an SEO audit should be a priority for anyone investing in building a site and its content.
No matter how good your site looks, if it doesn't work optimally, it's not likely to attract visitors, leads and get a better conversion rate.
Performing an SEO audit allows you to check for errors and problems that can be solved. A detailed audit also allows you to get to the root of the problems so that you can make changes to improve the visibility of your site.
While a website audit may seem complex, the various tools presented in this content can help you perform a comprehensive SEO audit to get your site back on track.
And if you want to entrust your website audit to an SEO expert, you can start by booking a call to discuss with a Senior SEO Consultant