The XML sitemap works as a kind of roadmap for a website. This guide takes care to lead Google to all the important pages appearing on the site. The XML sitemaps can participate in the referencing, because it helps Google to find quickly and easily the main pages of a website, even in spite of its faulty internal links.
Many SEO techniques exist and can be effective for every website. But generally speaking, these techniques take time to show a favorable result.

Since SEO itself is the act of getting your pages ranked at the top of the search results, then it is important to present them to Google.

In order for Google to analyze and index them, XML sitemaps are used. These are a marker for Google, making your pages buried for any reason, visible to Google.

So:

What is an XML sitemap?

What benefits does it offer for websites?

What tools can be used to create effective XML sitemaps?
You'll find answers to these questions in the rest of this content.


Chapter 1: XML Sitemap : What is it about?
In this first chapter, I will have to introduce you :

What does an XML sitemap mean and its advantages ;

The web sites on which it can be applied;

The pages which must appear on the sitemap;

As well as the difference between an HTML and XML sitemap.
Let's start with the first one without further ado.
1.1. what does an XML sitemap mean ?
Commonly called XML sitemap, the XML sitemap isa file that lists all the essential pages of a website, which allows Google or crawlers to find and browse them in their entirety
The XML sitemap also allows search engines to understand the structure of your website.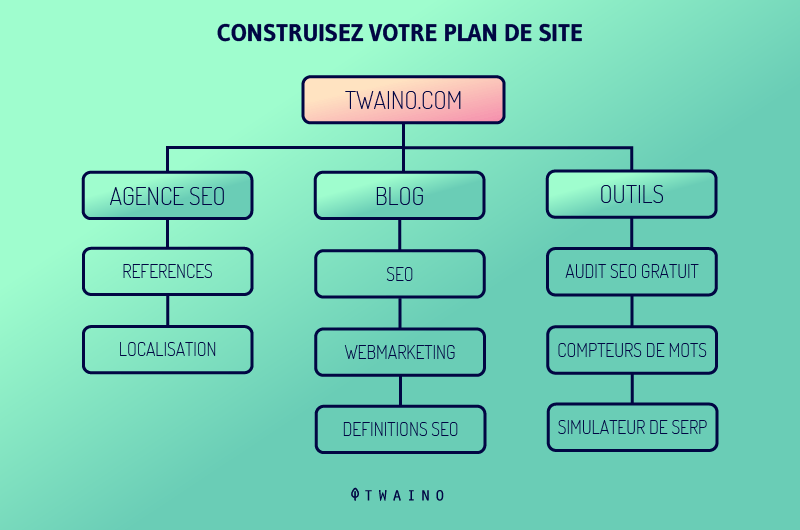 You probably want Google to explore each of the main pages of your website, but it may happen that these pages have no internal link leading to them, so that they are difficult to find.
In these conditions, an XML sitemap can help indexing robots (crawlers) of search engines to quickly find your content and index it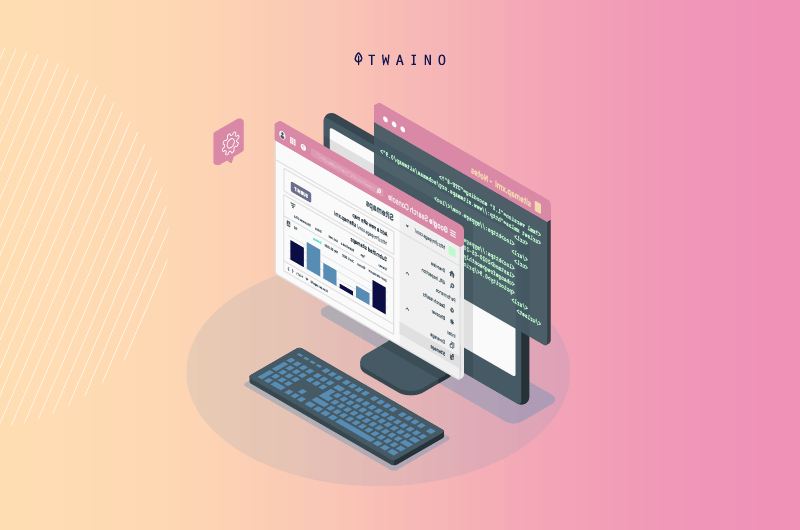 Once this work is done by the crawlers, your website has a better chance to rank among the first pages of results.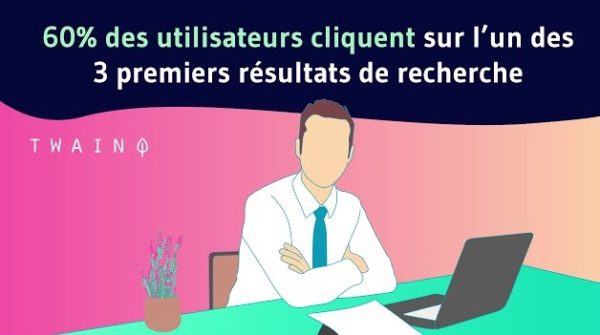 But a sitemap can mean even more, if it is properly done.
A sitemap can tell search engines:
When pages were updated;

How often pages are updated;

The relative value that each page of the website carries;

How to find and index a page that is very far down in the site structure.
Here is an overview of how the information on an XML sitemap looks like:
The location of the page on the website: http://www.example.com/mypage ;
The date the page was last modified: 2021-10-10 ;
The frequency of modification of the page: monthly ;
The degree of priority that the page carries with respect to the rest of the pages on the site: 1.
These functionalities find all their importance, when we realize the considerable number of syndications without authorization of the contents which is currently operated.
But what it is especially necessary to retain with the sitemap, it is that it constitutes a tool allowing to be quickly indexed by Google. Thanks to a sitemap, you have the possibility to say to Google: "Here is my site and here are the pages I would like you to index".
Generally, within minutes, Google's indexing robots will analyze your site and index the contents.
1.2. what are the advantages of the XML sitemap ?
You may still wonder: do I really need a sitemap?
It is yes ! Not only does it take no time to create, it also has huge advantages.
Here are some advantages that a sitemap can offer:
It allows Google to browse and explore your content;

It tells Google which pages it should crawl on your website;

It tells Google when your content was updated. This indicates that your content is

fresh and SEO friendly

;

It lets Google know what kind of information is on your site;

It tells Google how often your content is updated and its importance;

The XML sitemap allows your website to benefit from an immediate indexation for the pages produced in an effective way;

It allows to break the barriers caused by

internal links

failing

;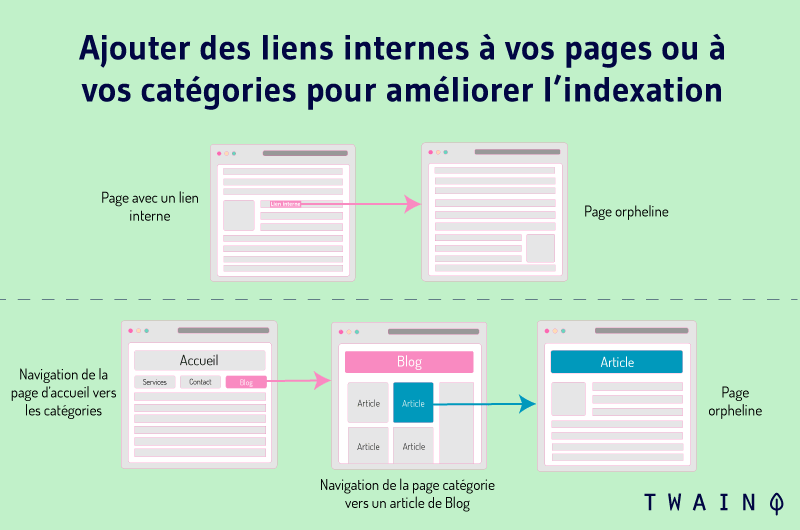 It allows your site to strengthen

its external external link

;

The sitemap offers to large websites, a better organization and a more complete indexing;

It reveals to Google all the pages of your site that are buried in the architecture and are difficult to explore.
But while robots.txt files files allow you to prevent certain pages of your site from appearing in search engine rankings, sitemaps will do the opposite.
They help search engines find new pages, even if those pages are not related to the main site.
Sitemaps are available in XML format which means eXtensible Markup Language. It is a language that Google understands, which allows it to analyze as quickly to find new URLs to index.
XML is a data storage format that is very lightweight and easily transportable from one device to another
1.3. The sites for which it is necessary to make an XML sitemap
As I mentioned above, sitemaps are useful for large websites. But it is also beneficial for websites with the following criteria:
Websites with large archives ;

Newly launched websites with just a few external links pointing to them;

And websites that use high quality multimedia content.
While I believe that these sites will most likely benefit from having an XML sitemap, I am also convinced that sitemaps will be useful for all websites without exception.
Indeed, each website must allow Google to identify the most important pages and when they were last updated.
This is why it is important to know which pages should be included in the sitemap.
1.4. Which pages should be included in the sitemap?
You would not be wrong if you asked yourself : how to choose the pages to be included in your sitemap ?
To answer this question, I would advise you to always think at first about the relevance of a URLby asking yourself these two questions:
When a user accesses a specific URL, is it a good result?

Do you wish users had landed on that URL?
If the answer is no, then that URL should not appear on your sitemap.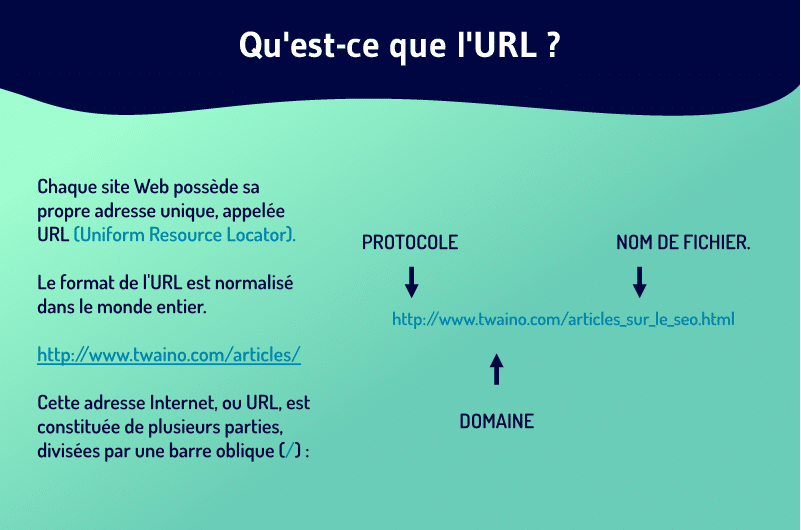 However, if you don't want this URL to appear in Google's search results at all, you should use a "noindex" tag.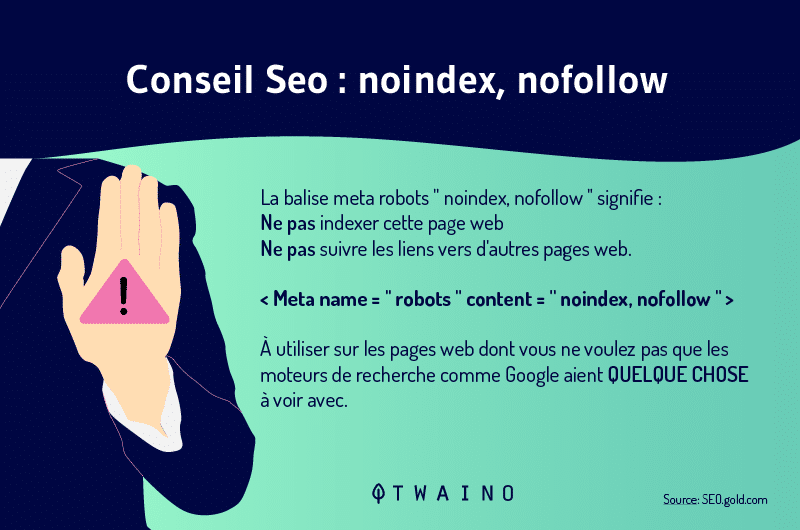 Indeed, the fact of not including a URL on your sitemap does not mean that Google will not index it. Because if Google manages to find the page by following the links, it could well index it.
You will find below a few cases that illustrate perfectly what is said :
Case 1: A new blog
Let's say for example that you have just set up a new blog. You would surely like Google to discover very quickly the articles you have recently published so that your blog is visible to your audience in the search results.
It is therefore important to create an XML sitemap already at the launch of the blog. At first, you can produce a few articles and classify them into categories.
Case 2: Images and videos
The XML sitemap of images or media is not useful for most websites. Indeed, you probably use your images to create your pages and articles so that these images are already included in your page sitemap.
So I would advise you not to use a media or image sitemap separately, because it is really useless. The only compromise to this rule is when your main activity is image based.
Photographers for example, do not have to follow this rule. They all have a great interest in providing Google with a separate sitemap for the media and for the image.
1.5. How to make Google find your sitemap ?
To make it easier for Google to find your XML sitemap, it is important that you submit it to your Google search console. Go to the sitemap section of the latter, to check if your XML sitemap has already been added.
Adding your sitemap will ensure that Google has indexed all the web pages listed on it.
If you notice a huge difference between the amount of pages "presented " and those "indexed " on a specific sitemap, I advise you to take a closer look at the problem.
It may be an error that is preventing the pages from being indexed. The other possibility is that there is lacks links to to the contents not yet indexed.
Here are the search engines you can submit your sitemap to:
Google

;

Go to the sitemaps tab in Google search console ;

Then go to the sitemaps report ;

Then go to add new sitemap to submit your site maps.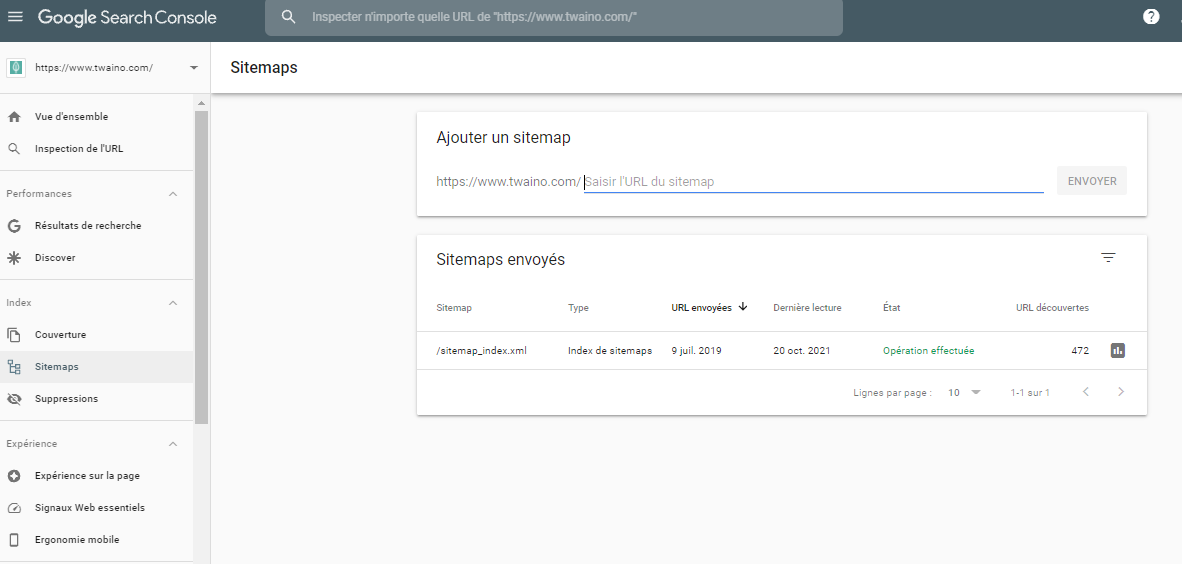 Baidu

;

Bing

;

Go to the sitemap tab of the bing webmaster tool ;

Then go to sitemap report ;

Then on add new sitemaps

You can add a new one or find an existing sitemap on the site.

Source Semrush
For most search engines, they check for the presence of the "Sitemap: " element in your site's robots.txt file.
1.6. Difference between HTML and XML sitemaps
There are two types of sitemaps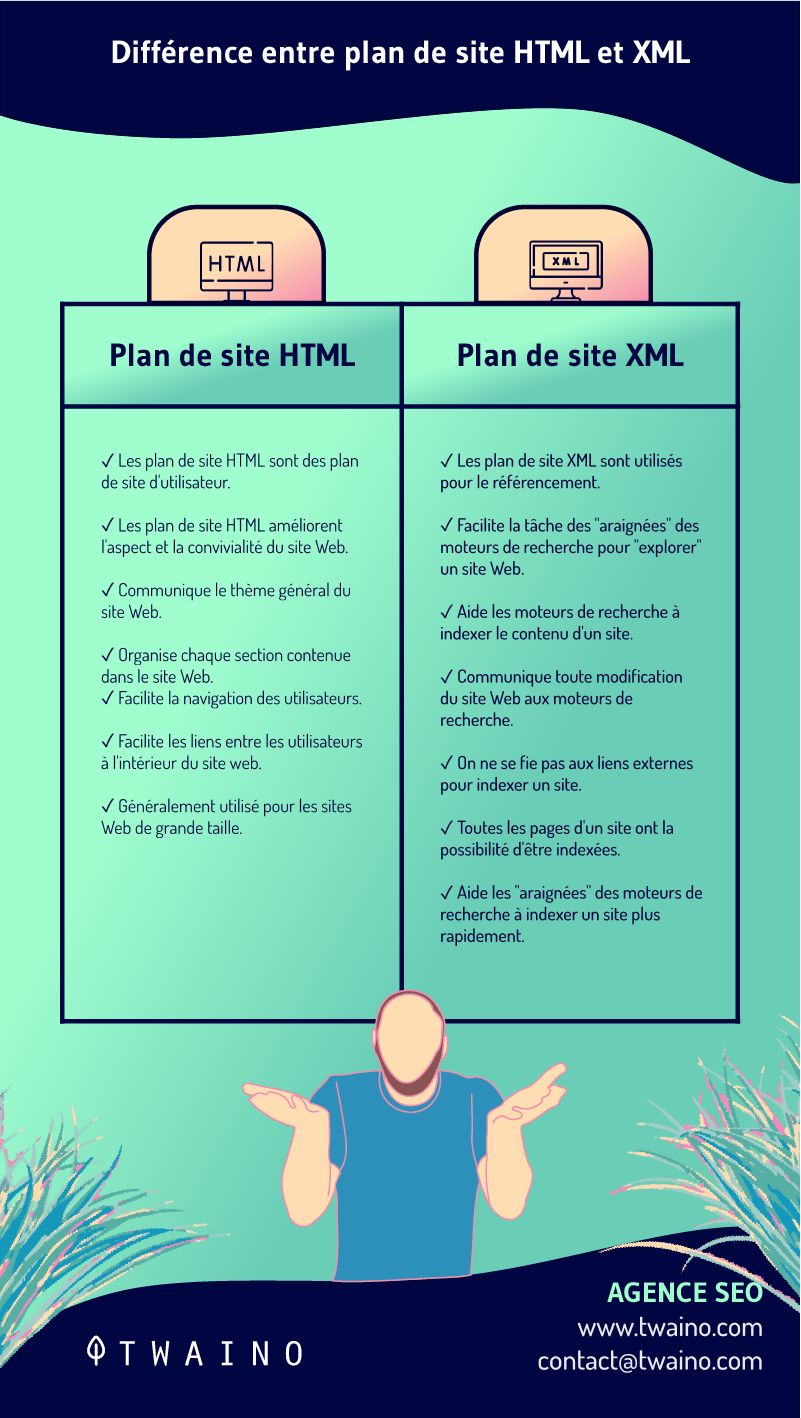 Here is the difference between the HTML and XML sitemaps.
1.6.1. The format
The format of the HTML sitemap and the XML sitemap are totally different from each other, but it goes further than that. Indeed, while HTML sitemaps are perceptible to users, XML sitemaps are designed specifically for search engines.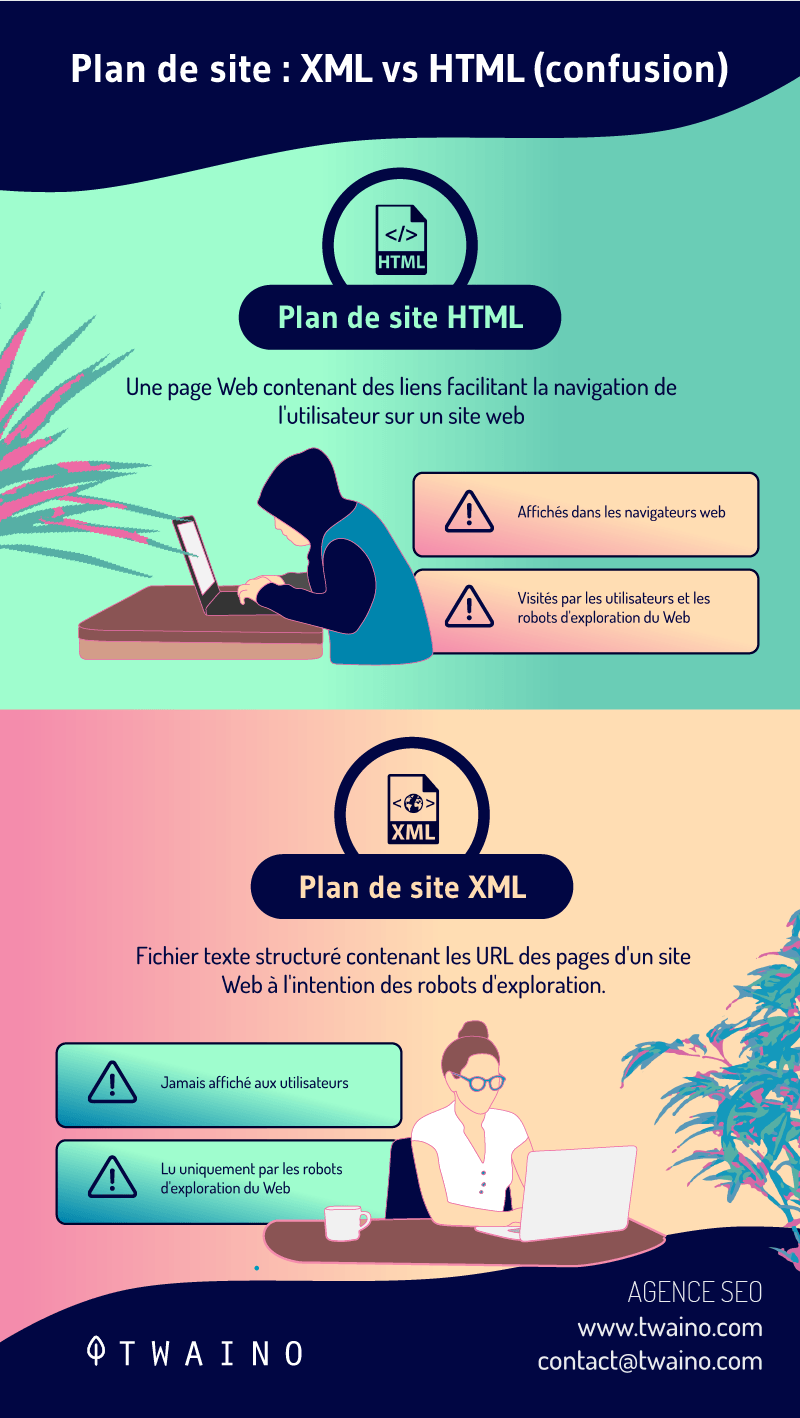 Some would say that XML sitemaps are also created for search engines, but as far as being useful for users, this is clearly not the case.
1.6.2. The same goal, but stated differently
Whether XML or HTML sitemaps, they all have the same purpose: to make the search engine discover pages, images or videos.
XML sitemaps are specialized files that allow search engines to know which URLs are important to crawl, the rate at which they are modified and which URLs have been added to the site.
HTML sitemaps, on the other hand, also allow search engines to know which URLs are important or newly created, but this is done through the discovery of the links they contain
In other words, HTML sitemaps are an excellent means of URL discovery only if they are crawled and the links they contain are updated.
1.6.3 They have different secondary benefits
XML sitemaps have meta attributes such as or that allow you to indicate how the state of the URL is changing. These sites also have extensions for videos, images, and news.
HTML sitemaps distribute pagerank across a site, and that's what they're primarily used for these days, aside from the navigation function that web users enjoy.
Since HTML sitemaps are usually found in the footer of a website, they are usually attached to all pages and are likely to distribute pagerank to other pages with weaker internal links.
Now you know what a sitemap is, its benefits and the various other factors it presents for your site. Now let's take a look at the best tools that will help you generate XML sitemaps for your site.
Chapter 2: 10 powerful tools to create XML sitemaps
As a reminder, an XML sitemap is the ideal way to indicate to Google, the pages that are important for your site so that the robots explore and index them
It is also important to keep in mind that an XML sitemap does not automatically guarantee that your pages will be indexed and can be displayed in the search results. But it can help you a lot.
Because without a sitemap, it would be complicated to index all your pages. If you are reading this chapter, it is assumed that you know all the advantages that sitemaps can offer, and you are surely waiting for the tools that can help you generate them.
Below I will give you 10 XML sitemaps generating tools. They will be divided into 3 main subcategories including :
The excellent tools for creating visual sitemaps ;

And the WordPress XML sitemaps creation tools.
2.1. Effective visual sitemap creation tools
If you like visuals, you will appreciate visual sitemap creation tools much more, which will allow you to get a visual representation of the site's page structure.
These tools are mainly beneficial when you are working with clients. They allow them to see and better understand the site map
The other advantage of visual XML sitemaps is that they are easy to apply, especially with their "drag and drop" optionsdrag and drop" options.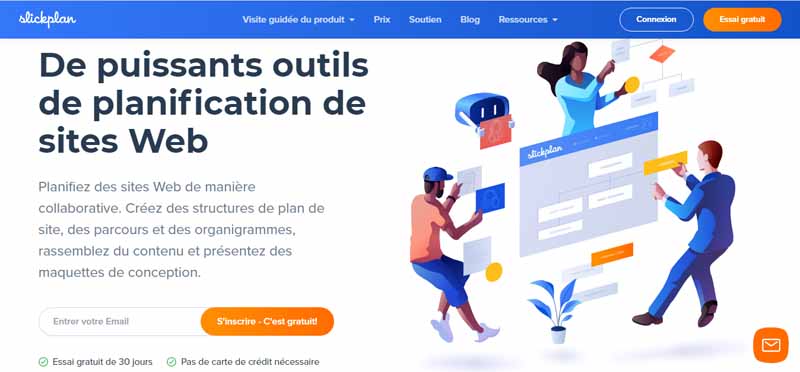 Slickplan is a very user-friendly tool that will allow you to create simple attractive sitemaps attractive with professional rendering.
It has an interface that makes it easy to create sitemaps by dragging and dropping templates, which you can customize with colors and photos.
The finishing features include a scale vectorfor client demonstrations. They also include simple text or XML files.
Furthermore, Slickplan can be perfectly integrated with Basecamp and offers a wordpress plugin. This will allow sharing and collaboration between several users and editors.
This tool is not limited to the simple fact of generating sitemaps. Indeed, it can be useful for many other things like the creation of web sitesand to developing an information architecture for all kinds of projects.
Some of the features of Slickplan include:
Drag and drop design;

Insertions of different types of personalized pages;

Possibility of importing a text file;

Ability to duplicate;

Batch editing of files;

Advanced customization;

Access for webmasters;

Customizable brand image.
Slickplan offers a free 30-day trial and then a rather affordable paid package.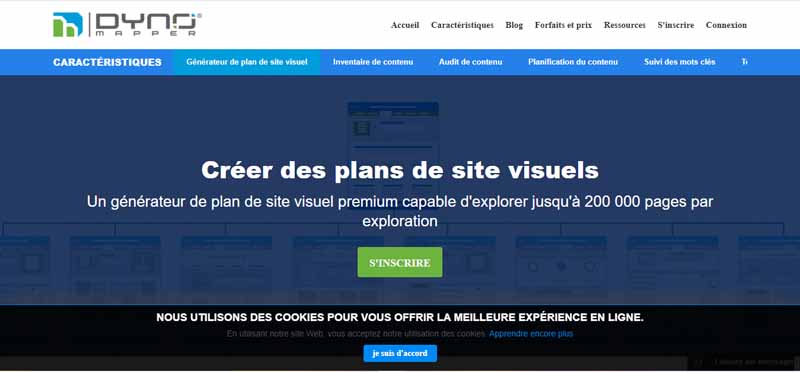 Dynomapper is a powerful visual tool that can help you create interactive sitemaps. You can choose from three different styles of sitemaps Default, circle and trees.
It is possible to customize these styles with the logo as well as the themes of themes of your company. Sitemaps don't just display URLs. Those who use them are able to communicate and insert :
Comments ;

Analysis data;

Categories.
Drag-and-drop functionality, various advanced drill-down options, and easy integration of analytics data make Dynomapper an excellent visual sitemap tool.
Dynomapper features include:
Tracking sitemap URLs within Google Analytics;

High customization capability;

Choice of custom page templates;

Workflow or workflow management;

URL tagging;

Filtering sitemaps;

Customizable brand images.
Dynomapper also offers 14-day free trials and then monthly packages at a more or less affordable price.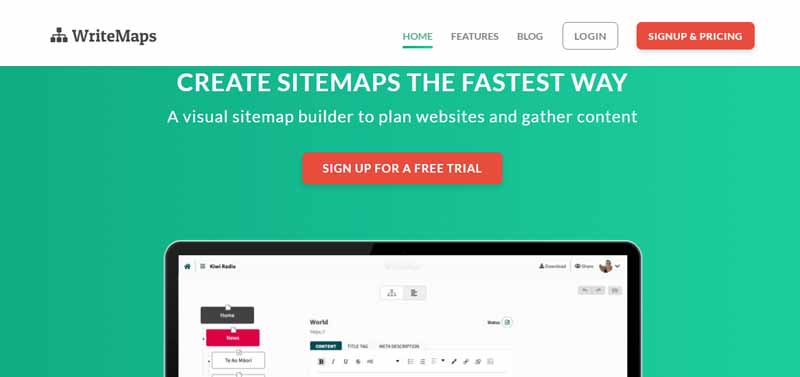 Like the other tools mentioned above, Writemaps has an easy-to-use and customizable interface with color choices. It allows you to map and group the contents of a page.
You have the option to archive old sitemaps to stay organized or to share these sitemaps with internet collaborators and clients. It is also possible to easily transfer your final product in PDF or XML sitemaps format.
The features of Writemaps are as follows:
Creation of customizable sitemaps;

Drag and drop creation.
This tool offers you the possibility to create 03 sitemaps for free, or to do a 15 days trial period for the paid packages.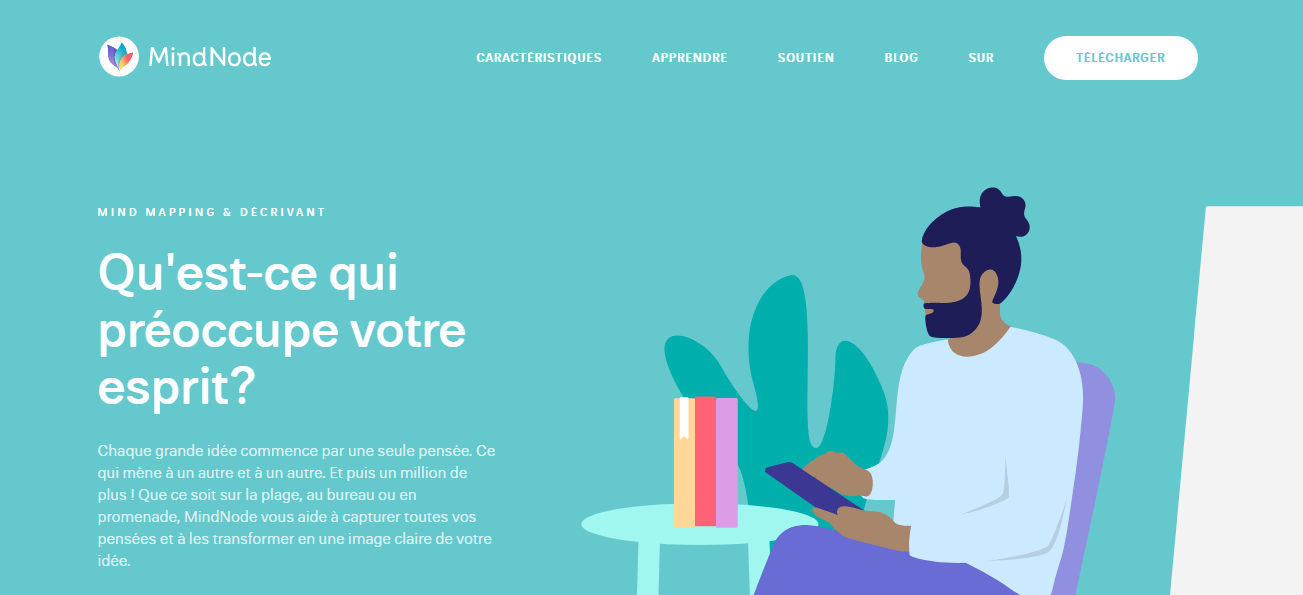 More than a sitemap tool, Mindnode is a mind mapping tool that you can use to plan a project on a visual medium.
This feature allows you to design sitemaps for websites, and can be very useful if you like to make your sitemaps through a visual approach.
Of course you don't have the possibility to export your visual sitemap as an XML file, but you can simply benefit from a text or PDF version in order to present them to your clients.
Here are some features of this tool:
Customizable templates;

Drag and drop capabilities;

Ability to export files as plain text, PDF, XML, CVS or PNG.
Mindnode is an application that can only be downloaded for Macs, iPhone or iPad devices along with a free editor version
The pro version of mindnode offers a free 2-week trial, after which a flat-rate pricing plan will be applied.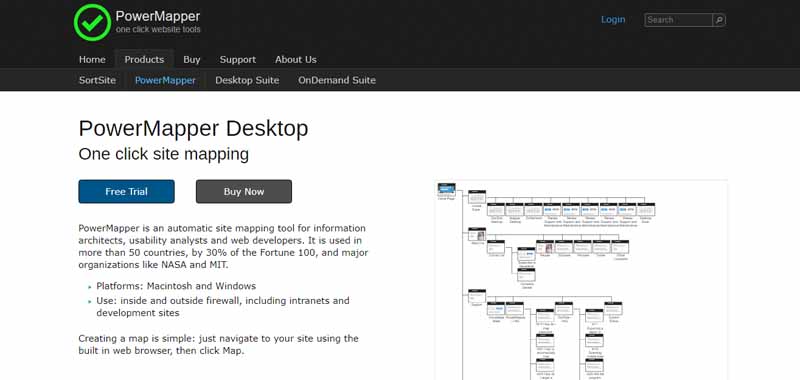 The PowerMapper tool offers a one-click automatic site mapping system. This allows you to save time needed for the manual design of a sitemap.
This tool is useful for designing a website as well as for identifying :
The possible errors in the sitemaps;

Compatibility problems;

And usability problems.
PowerMapper is presented as a visual sitemap design tool, but it is quite limited for this task unlike the other tools mentioned in the previous paragraphs.
The sitemaps created here are exportable in XML or Excel CSV format
Here are some features of PowerMapper:
One-click creation ;

Possibility of customization;

Possibility of exporting in XML or CSV format.
PowerMapper offers a 30-day money back guarantee with a single user license at a rather reasonable price.
I present here, some ordinary sitemaps creation tools. There are quite a few to consider, I'll take the time to introduce you to the most useful ones. Here they are: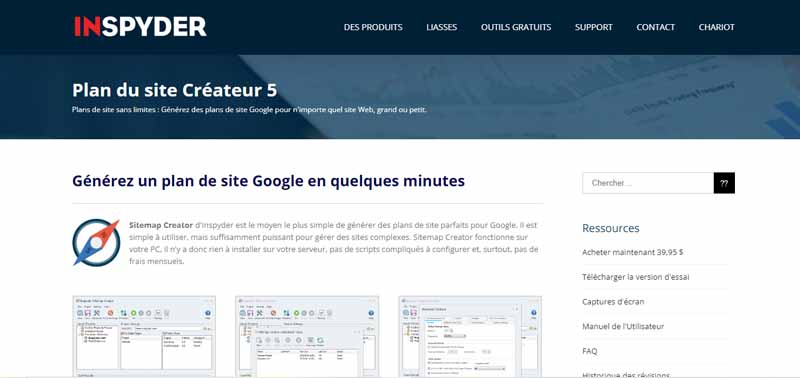 The Inspyder Sitemap Creator 5 is a quick and easy to install on a desktop for a one-time fee. It allows you to produce quality sitemaps as well as sitemaps suitable for :
Mobile ;

Images ;

And videos.
This tool allows you to automatically generate a Google sitemaps. You can download it on your server, check its status through a ping command and send you notifications by email. This makes this tool one of the most practical and powerful.
Sitemap Creator 5 also offers you some non-paying options such as a uRL/HTML encoder encoder, which is very useful. It is also possible to take a package in order to have more powerful tools.
Here are some features that define Inspyder:
It is customizable;

Ability to create mobile, image or video sitemaps;

Scheduled sitemaps creation;

Built-in FTP/FTPS/SFTP client software;

Email notification;

An automatic ping command for search engines.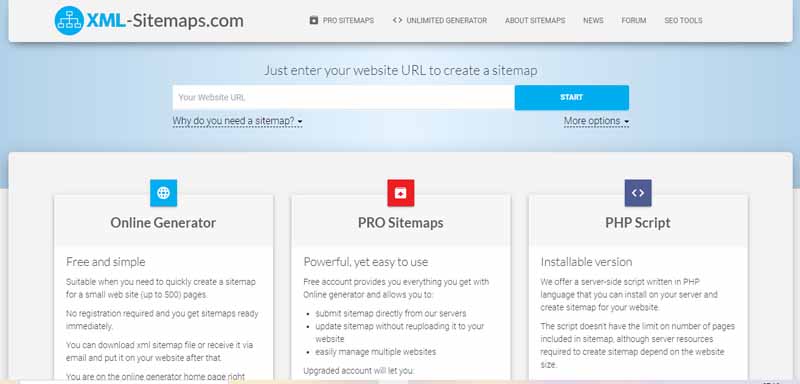 XML-Sitemaps is a tool that offers not only a free sitemaps creator, but also a pro version with much more in-depth features.
You only need to brave 03 steps to generate a free sitemap in a quick way. You will just have to :
Set the frequency of modification of the content of the chosen URL;

Insert the date when it was last modified;

Use the priority analysis option to automatically define the important pages among the other pages of the site.
XML-Sitemaps also provides several SEO tools including:
An XML sitemap checker;

A competition analysis tool;

A keyword density calculator;

A tool to verify the page ranking in the SERPs.
XML-Sitemaps platform features can include:
Image or video sitemaps design ;

Mail notifications;

Available for mobile application;

Broken link detection features.
2.2. WordPress XML sitemaps creation tools
Since the beginning, the creation of XML sitemaps by WordPress requires the use ofan external plugin.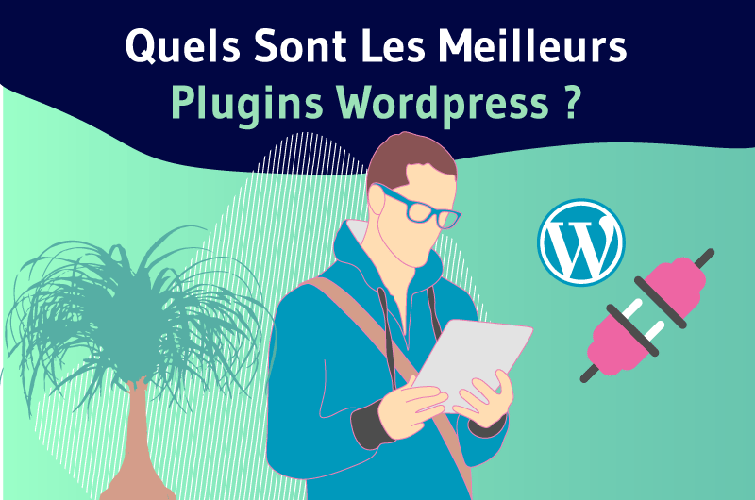 It is only in June 2020that the XML sitemaps feature was finally launched and declared as a component of WordPress 5.5 Core.
In case you still want to have more control over your sitemap, the following list of WordPress plugins are among the most popular.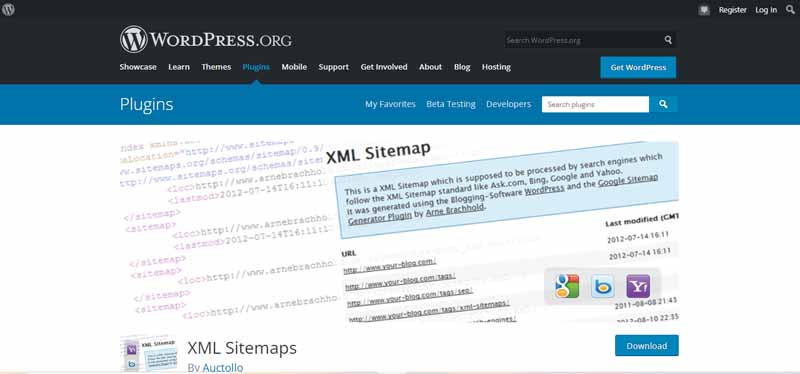 It is important to know that this tool is different from all official Google toolstools, and it would be wise not to confuse them. Indeed, it is just an independent plugin associated with WordPress.
However, it has a high rating on WordPress with a total of over 2000 reviews. Google XML Sitemaps is able to to build strategic and quality sitemaps across all kinds of WordPress pages as well as custom pages.
This WordPress sitemap builder plugin is totally free.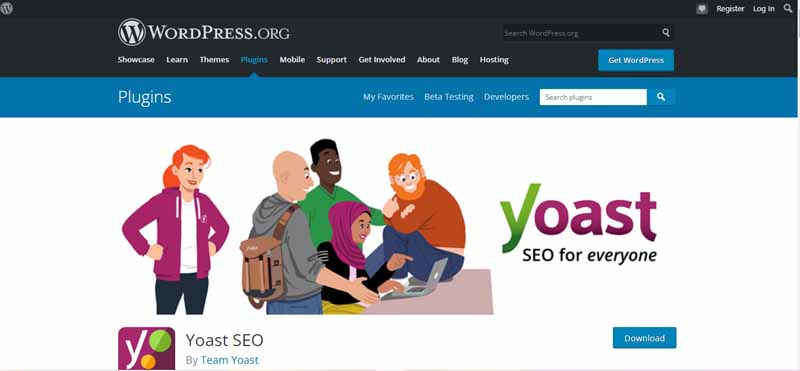 Yoast SEO is obviously the most famous WordPress sitemap generator plugin. Known for its basic SEO ability, it has unknowingly more than 25000 reviews earning it its 05 stars.
This tool has become the first choice tool for many WordPress site owners, as it allows them to quickly and easily set up an XML sitemap.
Yoast SEO is a basic tool, but it is very operational and allows you to create dynamic sitemaps. This plugin is free and also has a pro version offering more in-depth SEO features.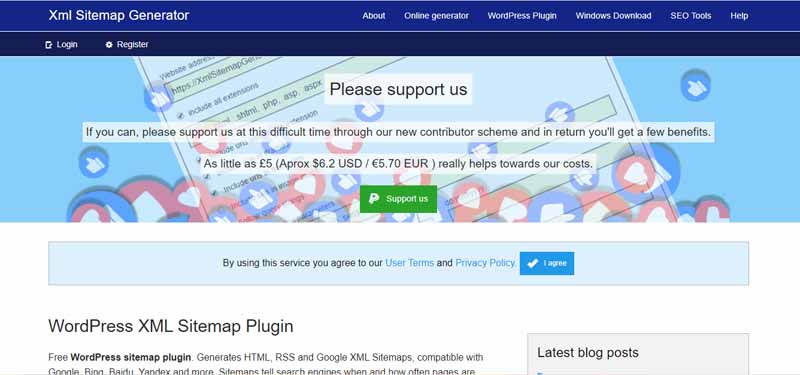 XML sitemap generator is a plugin that has robust options used to generate sitemaps on WordPress in xML, HTML and RSS format.
This WordPress plugin makes it easy to configure your sitemap settings. It also has a ping command which is automatically activated when you update your URLs (page or post).
It offers advanced customization options, not to mention that it is free to use.
These were the 10 sitemap generation tools that you can use to efficiently create your sitemaps
But these tools applied alone are not enough, you also need to know some essential points in order to be able to configure your sitemaps and make them very efficient.
Chapter 3: Configuring the different XML sitemaps
Before we get into the nitty-gritty, it's worth reminding you that while XML sitemaps can be in the form of RSS, mRSS, Atom 1.0 or text files, their basic profiles relate to their content or media types:
You can therefore create sitemaps that include only one particular media type, or associate them with your classic XML sitemap. I will go into more detail in the following paragraphs.
3.1. minimum requirements for XML sitemaps
If you want your sitemaps to work optimally, it is important that you follow some requirements. A sitemap must meet the following criteria:
It should not contain any canonical URLs with a 200 status code;
A sitemap must contain a maximum of 50,000 URLs per sitemap and a maximum of 50,000 classic sitemaps for each sitemap index;
It must be mentioned in the Robots.txt file ;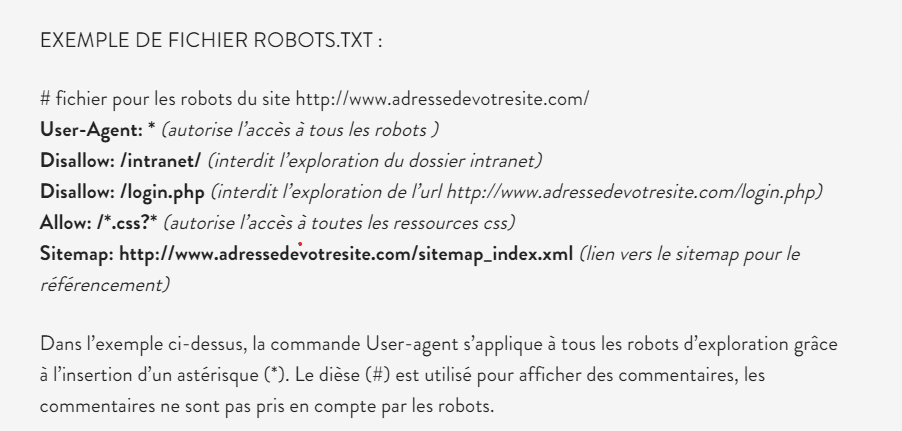 It must be coded in UTF-8 (Universal Character Set Transformation Format – 8 bits);
The sitemap must be compressed in a .GZ format;
It must not weigh more than 50 Mb or must contain at most 50 000 URL. Choose according to what you found first;
However, there are also other steps you should take to take full advantage of XML sitemaps
It is possible to tell Google which URLs are essential by including only the pages that are important in the XML sitemaps, not forgetting to update them often.
The CMS (Content Management System or content management system) have in most cases a function that helps to update the sitemaps. This can be done automatically when a new URL is added or an old page is modified.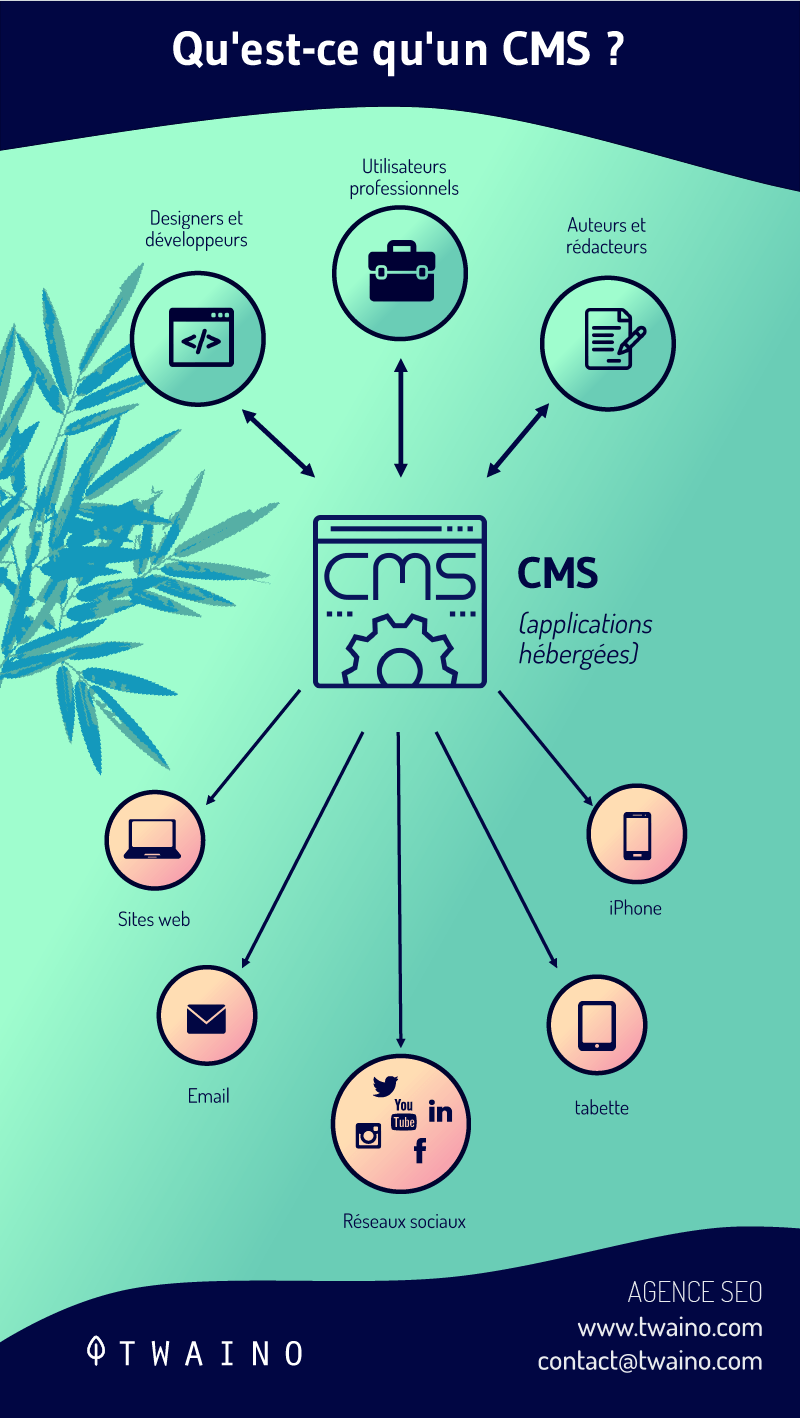 Google may consider the rate of updating of sitemaps or lastmod tags of pages as an indicator of freshness. Whether this is important for its ranking may indeed depend on the page itself or its context.
Think of an XML sitemaps as a city map for visitors, assuming that the city represents your sitemap and the visitors represent Google
So you have to make sure that the map includes only the main monuments or buildings and not all the addresses of the city.
Only for this reason, pages that are not worth much should be excluded from the sitemaps. We have for example:
Pages about privacy policy;
Or the "about us" and "about us" pages.
Even though these are pages that should also be indexed, they don't often require Google to crawl them. Besides that, they don't really contribute to SEO.
3.2. The management of XML sitemaps by large websites
Beyond the minimum configurations to observe, there is more to do to improve the quality of your XML sitemaps.
Large websites, such as those of press publishers, are advised to use index sitemaps. These can contain a maximum of 50,000 classic sitemaps and their size should not exceed 50 MB.
The index sites represent the mother ships of the XML sitemaps, which carry a multitude of small sitemaps. Large sites must use them because they cannot be contained in a single a single ordinary sitemap.
In any case, I don't recommend trying to fit everything into a single sitemap.
To get the most out of these sitemaps, you can group them by page type or by theme.
Specifically, you will have to make specific XML sitemaps for each subdirectory or for each type of page in order to better understand the technical functioning and the indexing problems of your website.
Source Semrush
Some specialized XML sitemaps are designed for specific uses. Sites whose content is strongly focused on rich media such as Pinterest or YouTube benefit greatly from image and video sitemaps.
As for publishers, they need to have news sitemaps.
Image sitemaps allow your site to increase its chances of showing up in Google's image search
But you don't have to create sitemaps exclusively for images. There are image extensions that you can use in your regular sitemaps.
Here is how the image extensions image extensions look like in XML :
xmlns:image="http://www.google.com/schemas/sitemap-image/1.1″>
http://example.com/sample.html
http://example.com/image.jpg
http://example.com/photo.jpg
Video sitemaps use the same principles. You can either create a dedicated sitemaps or add to your regular sitemap a video extension :
But you have to be careful with the metadata that you embed in video sitemaps or their extensions.
Google chooses to use the text provided on the video landing page than the text provided in the sitemap, if it notices that the text on the page is more important than the text contained on the sitemap.
This is the text that is provided in the description. Apart from the description, it is possible to provide Google :
A thumbnail;

The duration of the video;

The ranking level;

Its compatibility with the needs of Internet users;
This can be really useful for websites that use videos massively and would be optional for the rest of the websites.
News site maps differ from the others in that one should always have a separate news XML sitemap. In this context, Google does not suggest the use of extensions.
News sitemaps allow Google to identify and position new articles. This is a particular challenge for publishers, who produce a lot of content.
Although Google says publishers who use news sitemaps don't have an advantage, it does help to rank important, fresh news faster in Google News.
News sitemaps have special requirements:
Do not add articles older than 2 days;

No more than 1000 pages should be added to an existing news sitemap at once;

Update existing sitemaps to reflect article updates.
It is also possible to use XML sitemaps to determine and indicate to Google certain meta tags. Consider the example of hreflang, which can be used as an extension to a sitemap:
http://www.example.com/english/page.html
rel="alternate"
hreflang="de"
href="http://www.example.com/deutsch/page.html"/>
rel="alternate"
hreflang="de-ch"
href="http://www.example.com/schweiz-deutsch/page.html"/>
rel="alternate"
hreflang="en"
href="http://www.example.com/english/page.html"/>
Google does not take into account the priority attributes that appear on XML sitemaps, but does take into account lastmod. Indeed, Google itself sets the priority of your pages, based on their degree of popularity and their authority.
However, lastmod is part of the tags that allow to know when the URL has been modified the most recently, which is a very useful factor for Google.
Summary
Most people get anxious just hearing the notion of XML sitemaps
It often makes them think of a lot of code, or very complicated computer configurations. But it's not, and it's easy to do.
For those who may not have remembered it yet, the XML sitemaps is a site map that guides search engines to the important pages of your website to explore. It is a file in which you can list all your pages that you want to be indexed quickly.
The XML sitemap has several advantages for a website and must be generated in a certain way, with really adapted tools
With this in mind, in this article I have presented 10 powerful tools that can help you generate quality sitemaps, as well as some configuration tips to better improve and benefit from your XML sitemap.
I hope you enjoyed reading this article. Please leave comments.