Even if the profession of the SEO consultant was born a long time ago, it must be recognized that it only really took off when the search engines began to make their different algorithms more complex.
The difficulties of optimization which followed coupled with the competition at the level of the sites then made it more than necessary the presence of these experts at the bedside of the websites which hoped to survive.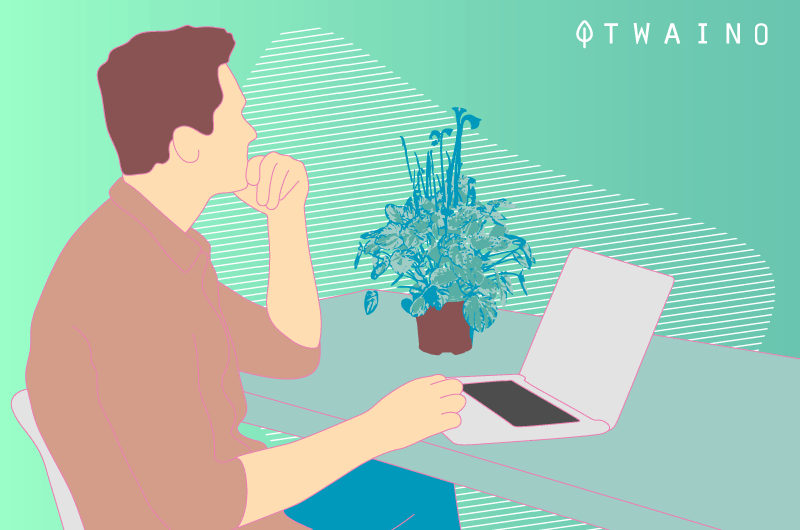 They then become the most reliable resources to consult to understand and optimize a website.
In this article, I propose to have all the details on the job of the SEO consultant.
Let's go!
[TOC]
Chapter 1: The SEO Consultant
In this first chapter I will explain what an SEO consultant is and why it is useful to call on him for the optimization of your website.
You will also find notions on:
The profile of the SEO consultant;
His work ;
Its difficulties;
Its formation ;
His earnings;
1.1. What is an SEO consultant?
The SEO consultant is an expert in web referencing that you ask to guarantee good results with your website.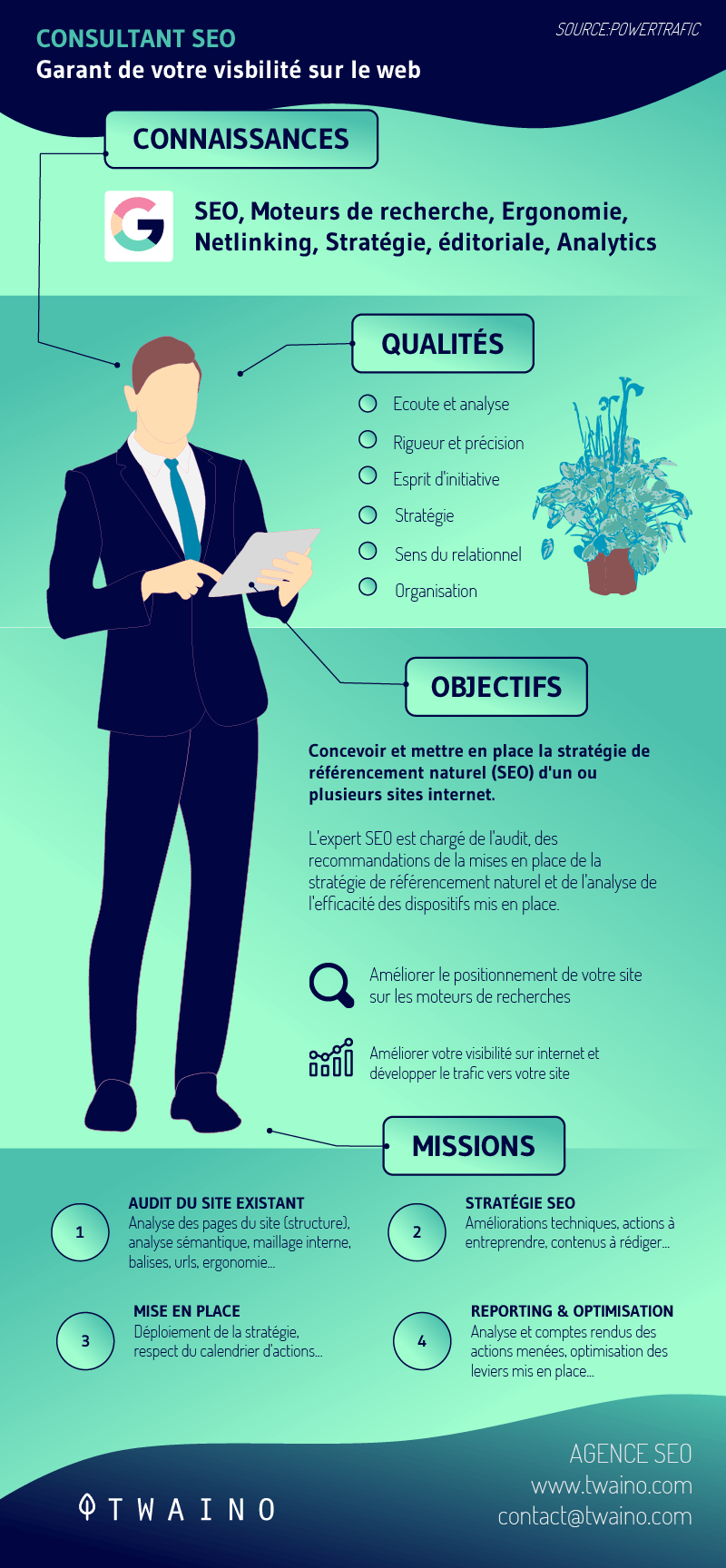 Its role is to analyze, examine and improve the websites submitted to it to increase their performance in search engines.
It is also responsible for providing advice, recommendations or supporting the owners of these sites in setting up an effective web marketing strategy.
1.2. Why hire an SEO consultant?
Among the reasons that justify the fact that you seek an SEO consultant, I can cite:
1.2.1. Saving time
If you don't have the necessary skills to do the referencing of your site yourself, it would be better to entrust it to a professional.
This saves time for you and your business since you can then take care of other aspects of its development.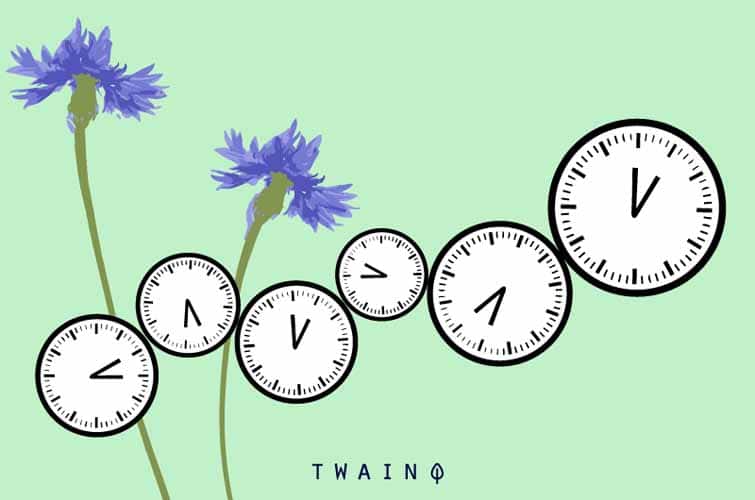 Likewise, when you hire an SEO expert to take care of your site's visibility problems, you are sure not to make mistakes that will take more time to correct.
1.2.2. The prospect of a better result
By recruiting a consultant for the referencing of your site, you necessarily expect to have positive results.
Indeed, the SEO consultant is in the best position when it comes to applying the best practices for optimizing a website.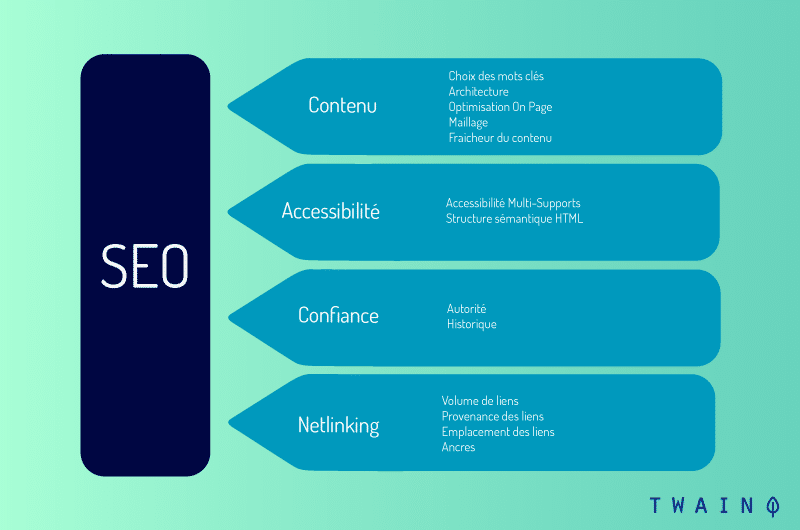 In addition, it has the knowledge and better follows the new changes made at the level of the search engine.
This allows him to be better prepared and to know how to make your site more visible.
1.2.3. A good understanding of your site
As an SEO technician, the consultant studies the structure and elements of your site.
Next, it provides a more detailed analysis of the issues that are blocking its full potential.
It also helps you understand the various reports generated by the analysis tools on the functioning of your site.
1.2.4. Reduced Cost of Ad
Spend Your lead generation spend can be reduced by 61% if you get a lot of leads.
Indeed, when you optimize your site correctly for search engines and have a good ranking, you no longer have to spend a lot of money on advertising.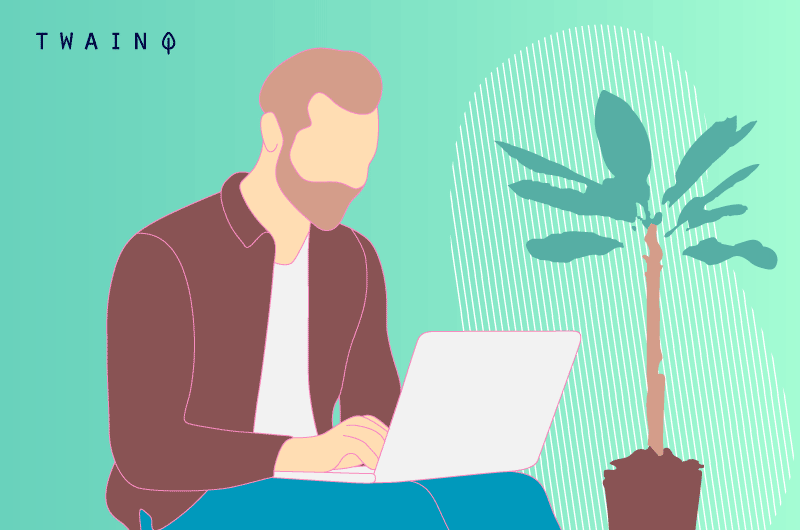 This is justified by the fact that Internet users find your site more quickly.
Therefore, the number of people clicking on it is higher than what you get when the site was not optimized.
This then allows you to generate more traffic and therefore a lot of prospects.
1.2.5. SEO strengthens your credibility and your notoriety
A good position in the search results gives the impression to Internet users that you are a major player in your sector of activity.
Users then feel that they can trust you completely.
Similarly, when your site appears in the first search results, it implies that your products or services are sought by a large audience.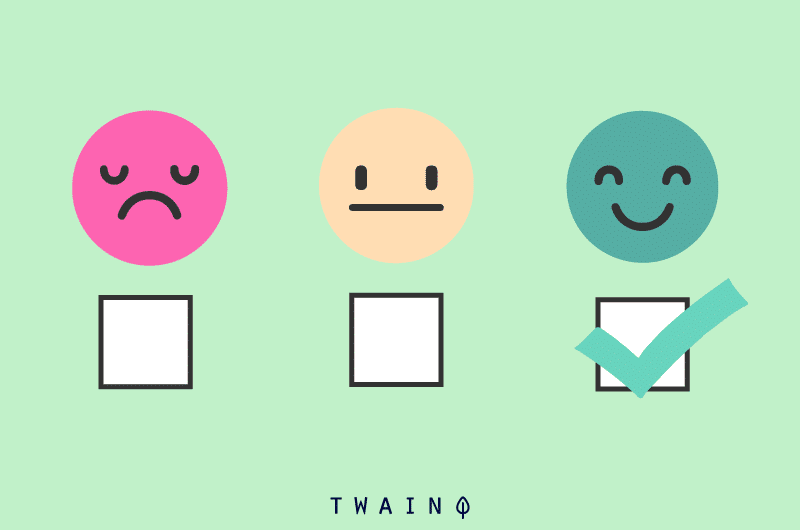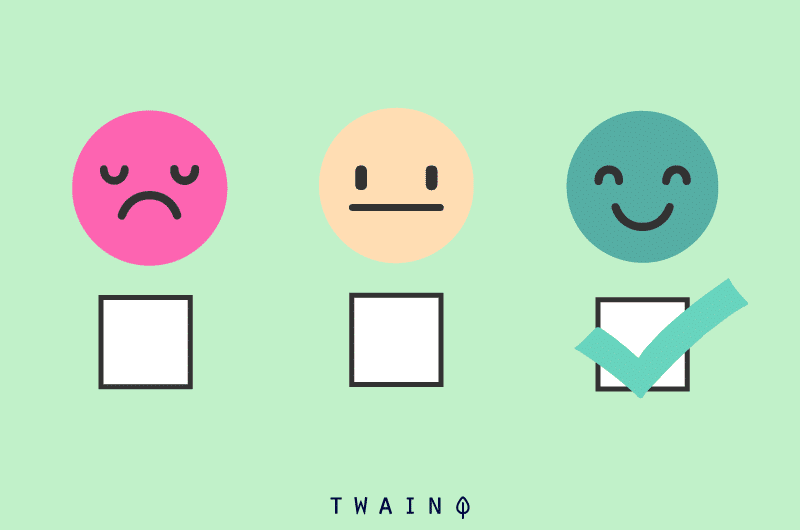 This encourages even more Internet users to discover you.
1.3. What is the profile of an SEO consultant?
Here are the different elements that must constitute the profile of a web referencing expert:
1.3.1. What are the qualities of the SEO consultant?
The SEO expert must have several qualities:
Q 1: He must integrate the objectives of your company
When you seek to recruit an SEO consultant, you must make sure that he understands why you hired him.
That is to say, the objectives and the direction you want to give to your SEO strategy;
Q 2: The SEO expert must have good communication skills
The SEO expert must be able to express themselves correctly and clearly explain the problems encountered by your website.
He must also be able to explain to you the changes that they recommend made to improve it.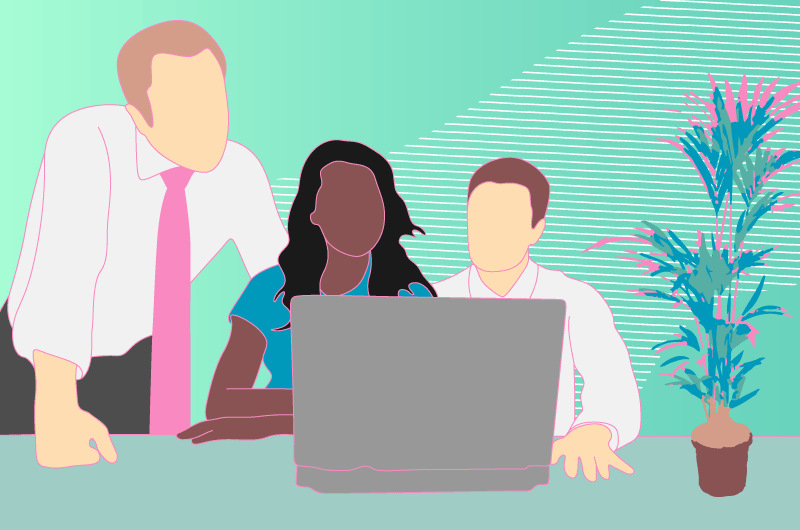 The SEO expert must also be able to work with all members of your team.
Nor should he judge the people who call on him based on the decisions they made in building their websites.
Q 3: The SEO expert must be rigorous and organized
The SEO expert must be someone you can trust. In other words, you must be able to rely on him when he says he will do such and such a thing.
Besides confidence, he must be a person who manages his time well.
Q 4: The SEO expert must not hide his results
In terms of SEO, the only elements that can attest to the effectiveness of an optimization strategy are the statistics collected using analysis tools.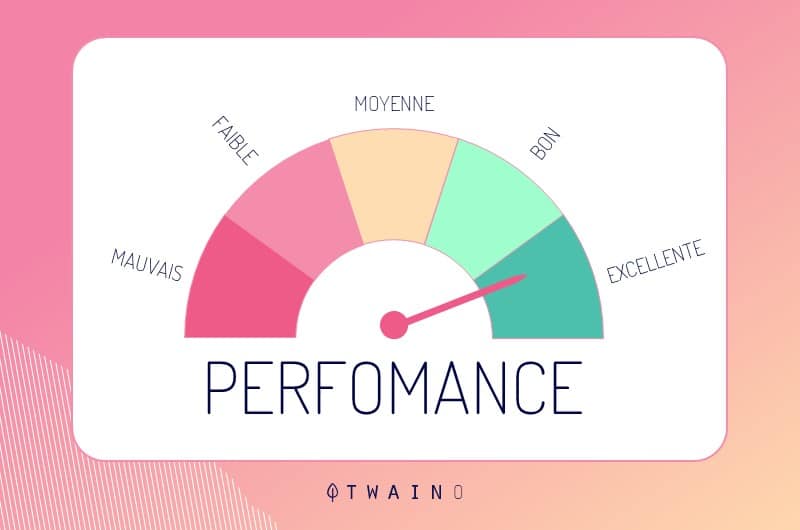 A good SEO consultant should be able to show you their numbers so you can see how their actions are having an impact.
Q 5: The SEO expert must be curious by nature
The serious SEO expert must be interested in many things. First, he must seek to understand your sector of activity, the difficulties you encounter, the different types of customers you receive, etc.
He must also be curious to seek out and learn new skills.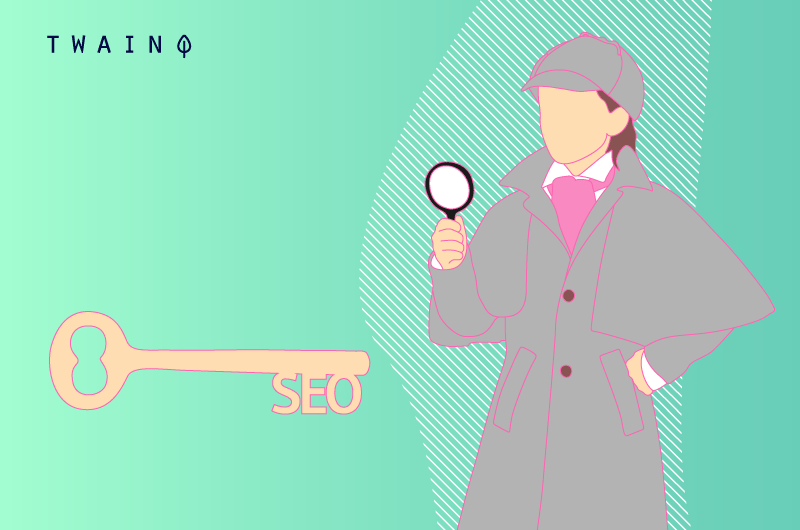 If he has a well-developed curiosity and uses it to enrich himself with new SEO skills, he will have the means to help you find the solutions you need to achieve the objectives you are pursuing with your site. Internet.
Q 6: The SEO expert must be able to demonstrate good SEO experience
The expert or consultant is someone who has acquired know-how in a field through experience and practice.
Therefore, the SEO expert must be able to justify a certain year of experience.
This for two reasons: The first is that web referencing has several aspects which, to be mastered, require several years of practice.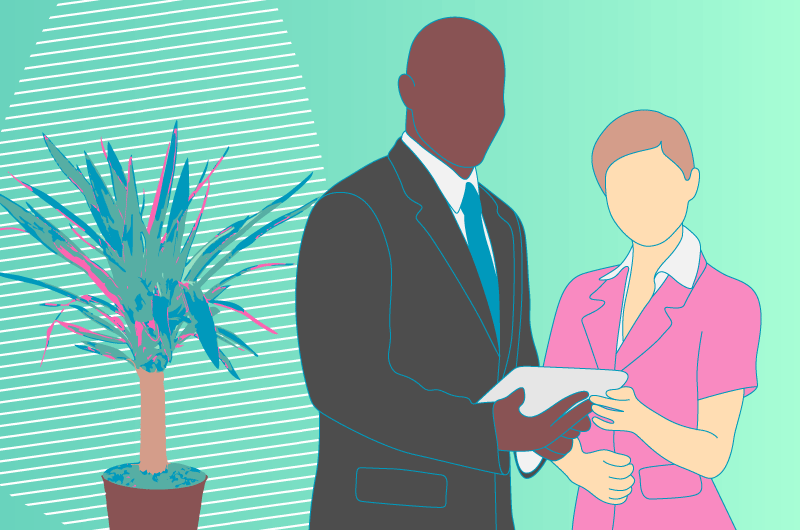 The second reason is that through experience, the SEO expert has a know-how that allows him to easily consult several categories of site knowing in advance what to do to enhance their capabilities.
Q 7: The SEO expert must fit into the culture of your company
If the SEO consultant is recruited in a company, he must be able to communicate and interact in the style of the company.
Thus, you must take into account their way of organizing themselves, their personalities or their integrity before hiring them.
This will allow the consultant to be on the same wavelength as the other sectors of activity of the company.
Q 8: The SEO expert must have a technical mindset and a critical mind
Because SEO referencing is a complete mechanism involving several activities, the SEO expert must have in-depth knowledge of these mechanisms.
He must also be willing to explore new methods that come his way.
1.3.2. What are the skills of the SEO consultant?
Speaking of the skills of the SEO expert, he must:
C 1: Have a great analytical capacity
In addition to the ability to collect data, the SEO expert must be able to process it.
This will allow him to formulate hypotheses on the functioning of the site and to put in place effective solutions.
C 2: Knowing how the internet and search engines work
As an SEO expert, you must learn/understand:
How servers communicate with a browser;
The process of posting a website;
The different communication messages of the HTTP protocol.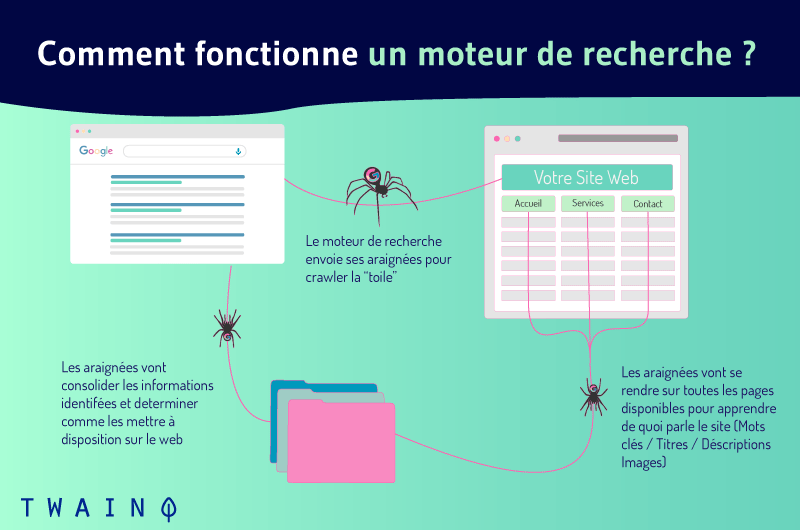 He must also be interested in the way search engines display the results of a query.
For example, at the search engine level, the SEO expert must be able to find trends in his sector of activity.
C 3: Have a very good knowledge of HTML
Since the implementation of an SEO strategy also requires actions at the level of the pages of the website, the SEO consultant must know HTML to a certain extent.
If possible some knowledge of CSS, JavaScript or PHP, because all these languages ​​are now used in the design of websites.
C 4: Have editorial skills
The implementation of an SEO strategy is often focused on the content of the site.
The SEO expert must be able to optimize the content on a site himself.
Similarly, the research and integration of keywords must be done in a natural way.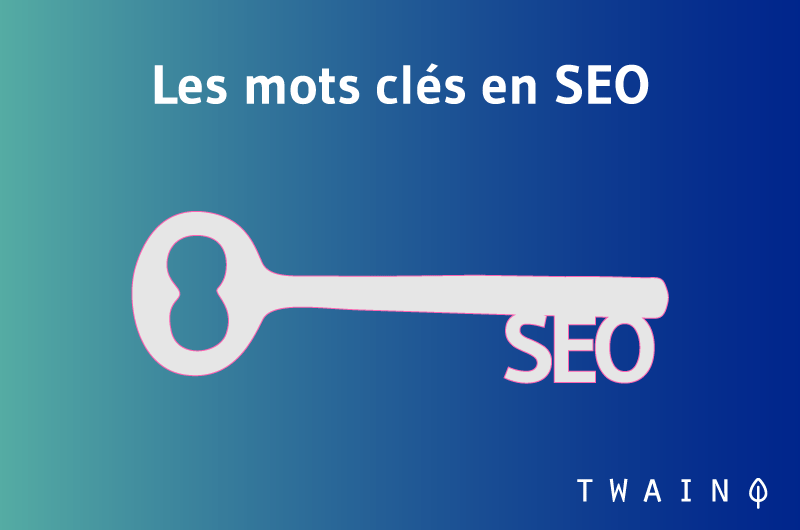 It must also be able to identify content that is more likely to produce better results.
This aspect of his work therefore requires him to be equally competent in the field of web writing.
C 5: Have the ability to use software such as Excel
Beyond his ability to collect data, the SEO expert must be able to master tools that allow him to manipulate them easily.
One of these tools is Excel or Google Sheet, a tool that makes it easier for him to manipulate data.
Indeed, thanks to this tool, the SEO expert can easily group the data by category, by class.
He will also be able to use the multiple functions of the spreadsheets to create models which will be of great use to him and will save him precious time.
1.5. How much does an SEO expert cost?
There is no specific answer to this question.
Indeed, the cost of SEO work will depend on the different elements on which the work of the SEO expert relates. It may therefore depend on:
The size of your site;
The number of pages to optimize;
The amount of content that needs to be created;
The level of competition;
The number of backlinks to create;
Etc.
This will therefore mean that when recruiting your SEO consultant, you define with him the work he must do on your site.
Similarly, depending on the consultant or the agency you have in front of you, you may have to pay for the SEO work:
Fixed price: In SEO, you can find consultants/agencies who will offer you to work on a fixed price. Therefore, for an amount established between the client and the consultant, an agreement is put in place, with an amount fixed in advance for a given service.
At a daily rate: Personally, I work at a daily rate. This means that as part of an SEO campaign, I do a pre-audit which allows me to establish how many days I will likely be working for the client to accomplish all my SEO tasks.
1.6. SEO Challenges for Consultants and Businesses
Whether you are an SEO expert or just a business, you may face some challenges when it comes to SEO for a website:
1.6.1. SEO Challenges for Consultants
Among the challenges facing SEO experts are:
D 1: False Beliefs
Many people don't believe in SEO.
They think it's a scam, a trick to make quick money by deceiving.
Others think SEO is unnecessary.
Still others think it is very technical and complex work that is not accessible to everyone.
D 2: Managing customer expectations
Customers can sometimes have unrealistic expectations for an SEO campaign.
The SEO expert must therefore be able to inform them more about the concept of SEO and manage the client's expectations on the basis of clearly defined objectives.
D 3: Sudden changes in Google's algorithm
The search engine can modify its algorithm at any time.
This can then cause a drop in the effort provided and upset the work already done.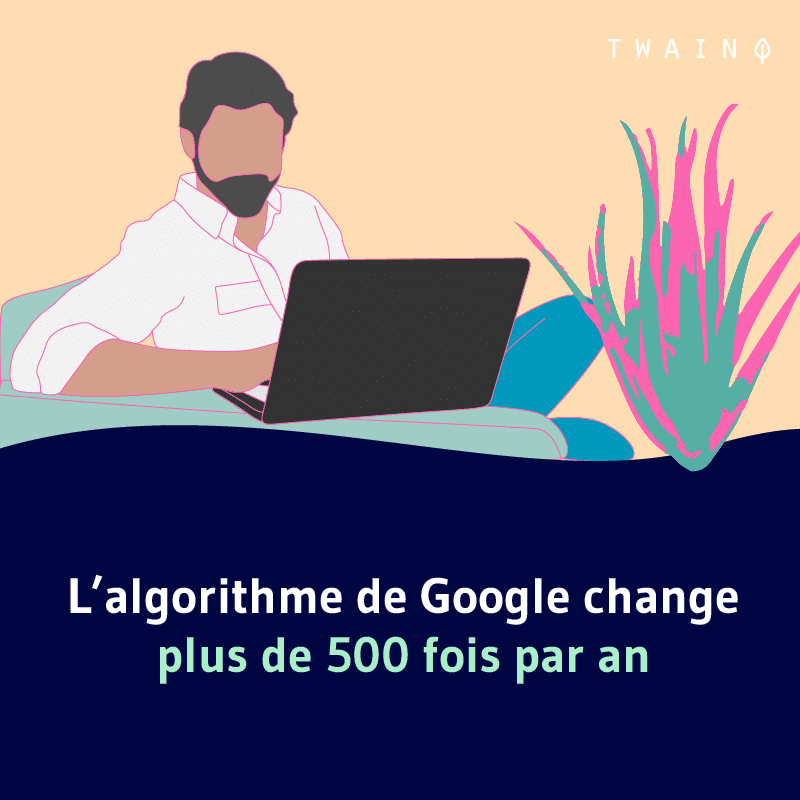 The seo expert must therefore remain attentive and never be limited to a given strategy.
When he notices a drop in his results, he must rather seek to adjust his strategy to adapt to the new requirements of the search engine.
D 4: The choice of tools to use
There are several tools to help SEO experts in their activities. But often, the SEO expert has difficulty choosing the tools he should use.
In some cases, the tools chosen have the same functionalities. The expert therefore pays for tools that look alike and may risk mismanagement.
Like the experts, businesses face certain challenges when it comes to SEO.
1.7.2. SEO challenges for businesses
Here are the different challenges that businesses face when it comes to SEO.
D 1: The realities of web referencing
Because they entrust the management of their optimization campaign to an SEO consultant, companies hope to see results quickly.
They forget that good results take time and often depend on several other factors such as:
The investment of competitors;
Changes to Google's algorithm;
Etc.
D2: Fake SEO Companies
As seen in most online industries, there are many SEO services that live off the scam.
You will recognize them by their SEO practices which are based on dubious techniques.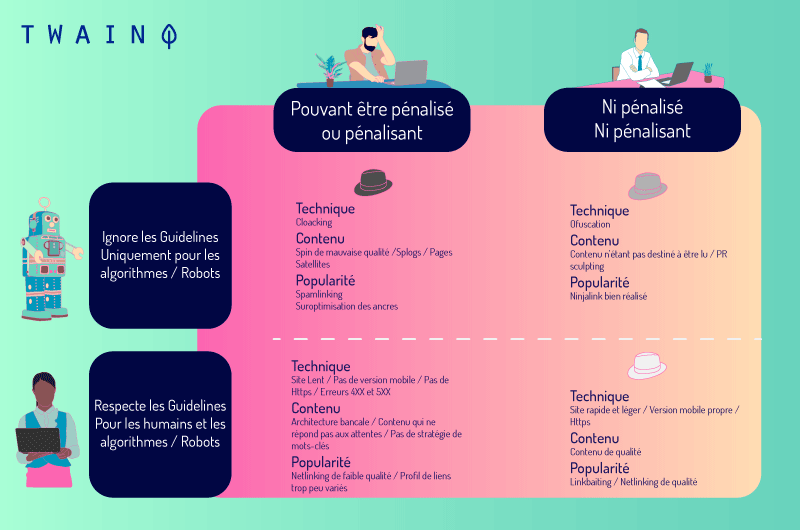 Likewise, they offer very low prices and provide you with fabricated proofs.
It is therefore important to take your time and carefully analyze the different offers available to you before choosing an SEO consultant.
D 3: Lack of setting up a budget for SEO
The other challenge that SEO companies face is the lack of setting up a budget for their SEO strategy.
They neglect to define a budget to follow their strategy, forgetting that the success of the latter depends on the allocated funds.
Companies should therefore learn how to plan an SEO budget for startups and use it for the various SEO activities you plan to do on your site.
Chapter 2: How to choose your SEO consultant?
The choice of an SEO expert must be guided by certain information. This information is to be collected from the SEO consultant.
Indeed, to hire a good SEO consultant, you must be interested in several elements.
In particular:
2.1. How your site's ranking will be improved
Without a proper SEO strategy in place, your site will have no chance of appearing in search results.
It is therefore important to ask the SEO expert from the start about the different strategies he intends to put in place to improve your site.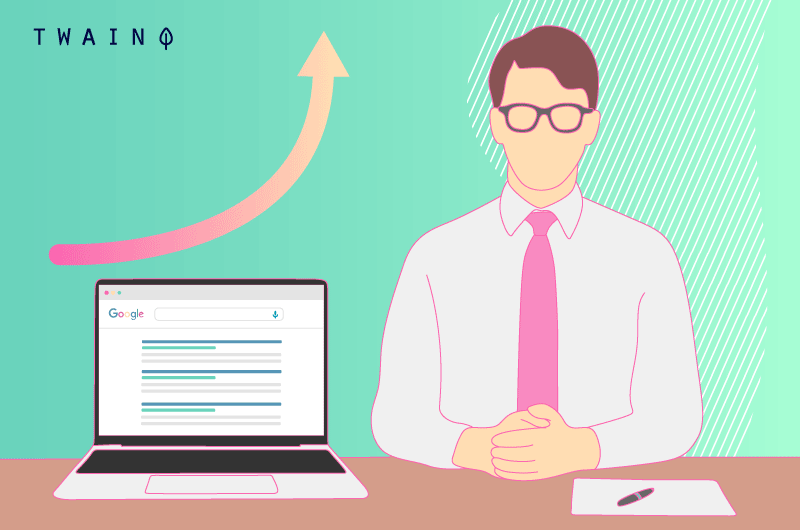 This approach will allow you to have an idea of ​​the optimization process that he wants to use.
2.2. The means by which you will be made aware of changes to your site
As long as you give the SEO consultant full access to your site, they must regularly inform you about the changes they make and how these changes improve your site.
You must therefore seek to know the frequency with which it will send the various analysis reports concerning the site.
2.3. Past results obtained
Past clients and past results obtained by the SEO expert you want to hire are important.
These elements give you an idea not only about who these customers are, but also about their effectiveness in solving the problems they pose.
2.4. The tools used by the SEO expert
You may also be interested in the different tools that the SEO expert will use to optimize your site.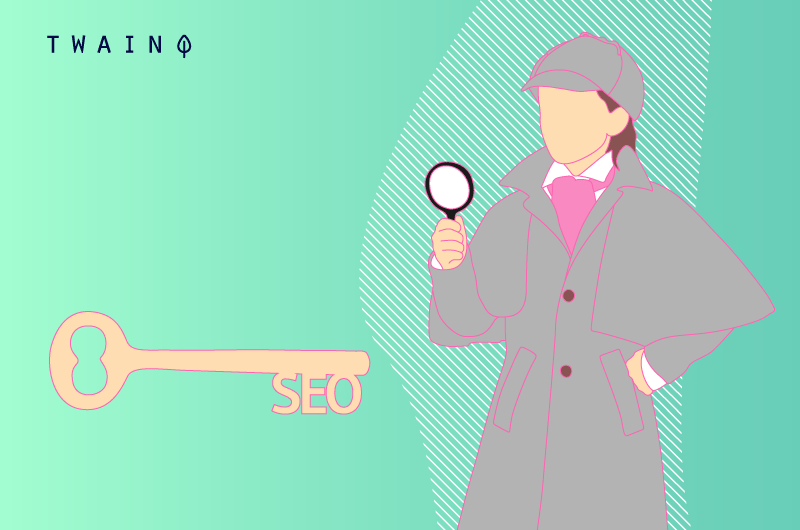 A research on these different tools will allow you to identify which ones are good or not.
2.5. The results he guarantees you
Ask the SEO consultants what results he will guarantee you at the end of his SEO work.
You will be able to identify those who sell dreams from those who are serious.
For example, if an SEO expert guarantees you the #1 position in the SERPs, you should be wary of this for the simple reason that he risks doing a job based only on the short term.
2.6. The way in which he plans to adapt his work to your company's marketing efforts
We see more and more that the referencing of a website is no longer separated from marketing actions.
Although they are different processes, SEO and digital marketing seem to be related.
This even justifies the fact that today most SEO agencies also offer digital marketing services.
2.7. The way he measures his success
Since you recruit your SEO expert and you expect results that go in the direction of the objectives set, you must agree with him on the mechanisms by which you will follow and see the evolution of the work that you entrust to him.
Chapter 3: What are the areas of intervention of the SEO expert?
In this chapter, I present to you in a global way the different aspects covered by the work of the SEO consultant.
But first, I invite you to discover the different compartments of SEO as well as the three categories under which optimization techniques can be classified.
3.1. The different compartments of the referencing of a website
The referencing of a site for any search engine includes:
3.1.1. On Page SEO
It includes the various changes you make directly to your site to improve its performance.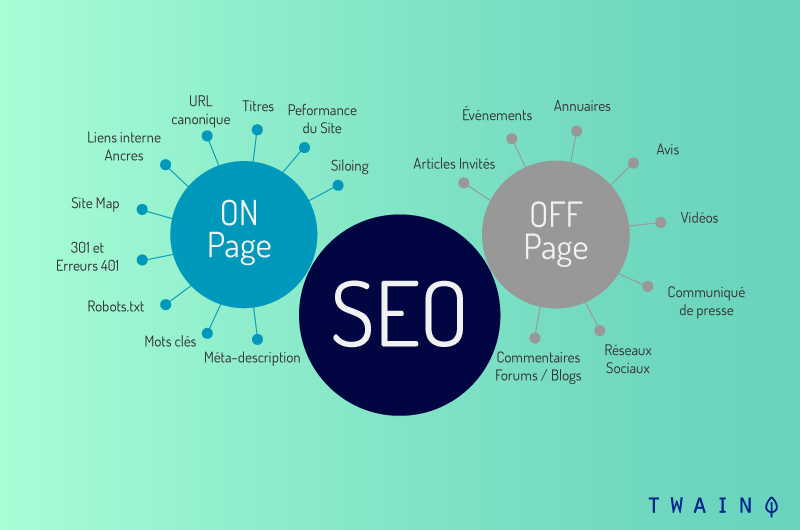 On-page SEO is the most common strategy businesses focus on for their sites.
The most common optimizations that can be observed are:
O 1: Keyword optimization
Since people's search results are keyword-based, you need to accommodate this by finding the most effective keywords for your industry.
Then you place these keywords in the most important places on your site (title, meta-description, headings).
You can also organize the content of your articles around these keywords.
This way, you have a better chance of appearing in search results, which will lead to more traffic and revenue.
O 2: Optimizing the URL structure
You must allow your visitors not to get lost and to remember the names of the pages on your site.
Therefore, implement a custom URL structure. Unlike a URL with only numbers, the personalized URL allows your prospects to know what your page contains, but also to easily keep the address.
O 3: Optimization of the technical elements of your page
Whatever the beauty of your site, users will find it difficult to navigate on it if the technical elements are not optimized.
This is for example the loading speed of your page.
Loading speed is very important for your site. Slow loading will likely scare away your prospects.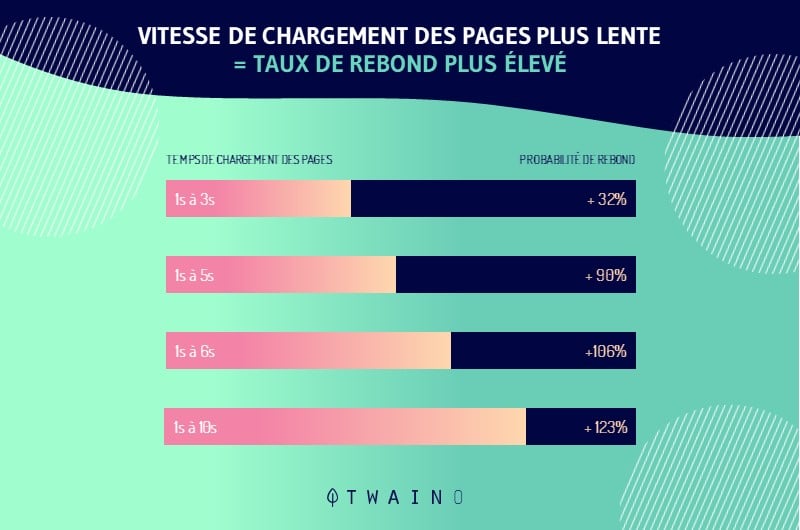 Beyond loading speed, mobile friendliness is also a very important factor for your site's SEO.
The importance of this factor is justified by the fact that the vast majority of those who connect to the Internet use their smartphones.
The resulting increase in mobile searches therefore forces you to adapt to mobile users
. Optimizing your site for mobile media guarantees correct display on users' screens and gives them a better experience.
O 4: Optimizing your site for users of smartphones or tablets
SEO consultants must master the tactics that make it possible to optimize a site for mobile since:
61% of all Google searches are carried out from mobile devices;
Google now ranks its results based on the availability of the mobile version of the page.
From this information, it is important that you focus on optimizing your site for mobile first.
This optimization can be done by the following means:
The use of the "m" redirection: This configuration allows you to have a mobile version of your site. So when a user connects it detects the device and redirects it to the "M" URLs;
A dynamic website: Creating a dynamic website means that your site is on the same content, but displays different HTML/CSS code depending on the device you are using;
A responsive design: The implementation of a responsive design ensures that your site adapts to the medium used by each Internet user and this without redirection or display of different HTML/CSS code.
To go further, do not hesitate to consult my guide on SEO. 
3.1.2.Page SEO Off
SEO includes optimization strategies that do not take place at the page level of your site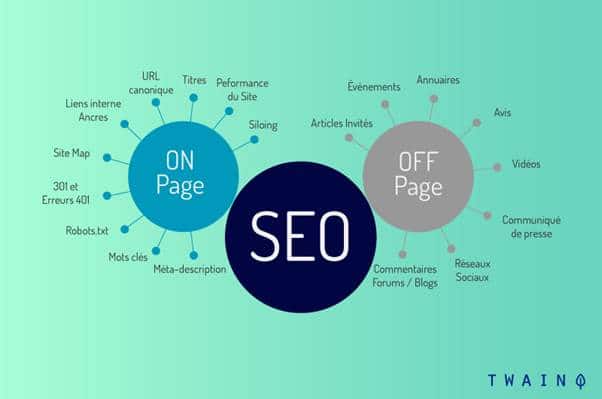 It concerns the external elements that have an influence on the performance of your site.
Among these actors, you can have:
Sharing on social networks: Sharing on social networks has no effect on the ranking of your site in the results. But only it provokes certain behaviors on the part of Internet users that are beneficial for your site. For example, when you share on social networks, you can gain more traffic, people can also share your content and earn you inbound links;
Reviews and backlinks: These two elements drive authority and traffic from other sites to your site. It's not about things you can do on your site to optimize it, but rather external factors that influence your rankings.
3.1.3. Voice Search SEO
According to 99firms, 20% of all searches are voice searches. In addition, with the existence of devices like Alexa, google home, siri, etc. we see a rapid evolution and it is rightly expected that 50% of all searches will be voice this year.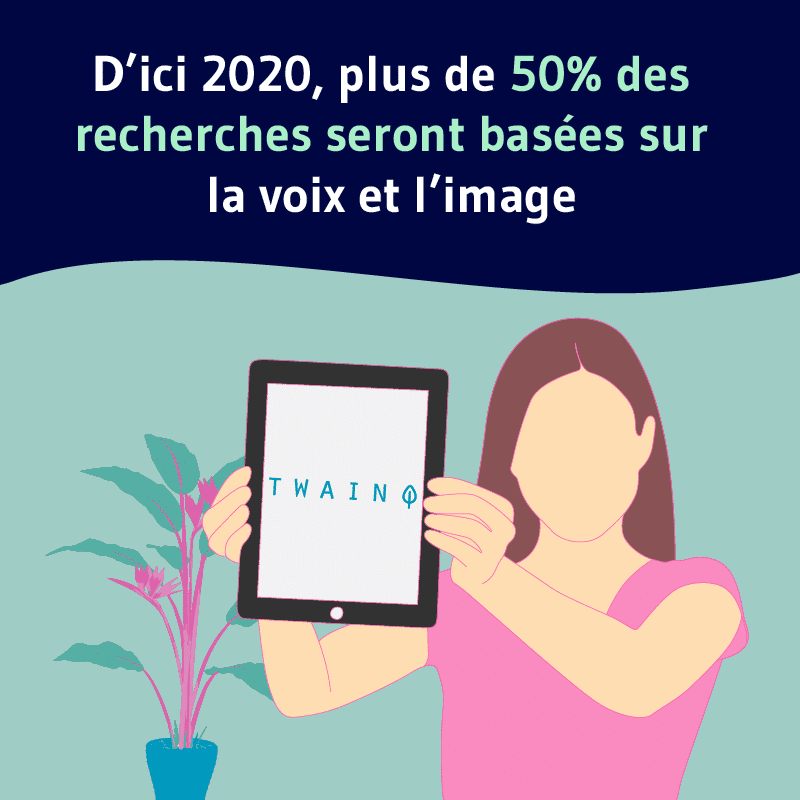 This information is proof that you should also optimize your site for voice search.
Optimization for voice search is much more focused on keyword optimization. You need to optimize your site for the words your audience will use verbally. This includes slang words.
When optimizing for voice search SEO, you need to optimize to deliver insights quickly.
Users perform voice searches to get quick answers.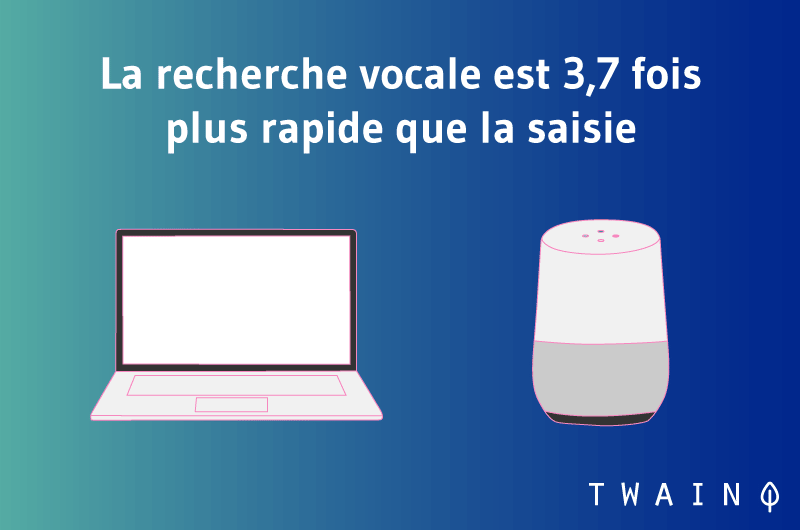 This means that you need to structure your content to make it easy for Google to extract the information.
Among the various techniques that you can use for voice referencing, you can retain:
The creation of bulleted lists to facilitate the display of information;
Putting the most important information on the front line to answer the questions of Internet users;
Taking into account the way in which Internet users carry out their research;
3.1.4. Local SEO Local
seo can be defined as all the techniques that you implement to increase the visibility of your site in the area of ​​its geographical position. 
The importance of this optimization for your site is mainly justified by the fact that 46% of Google searches have local intent.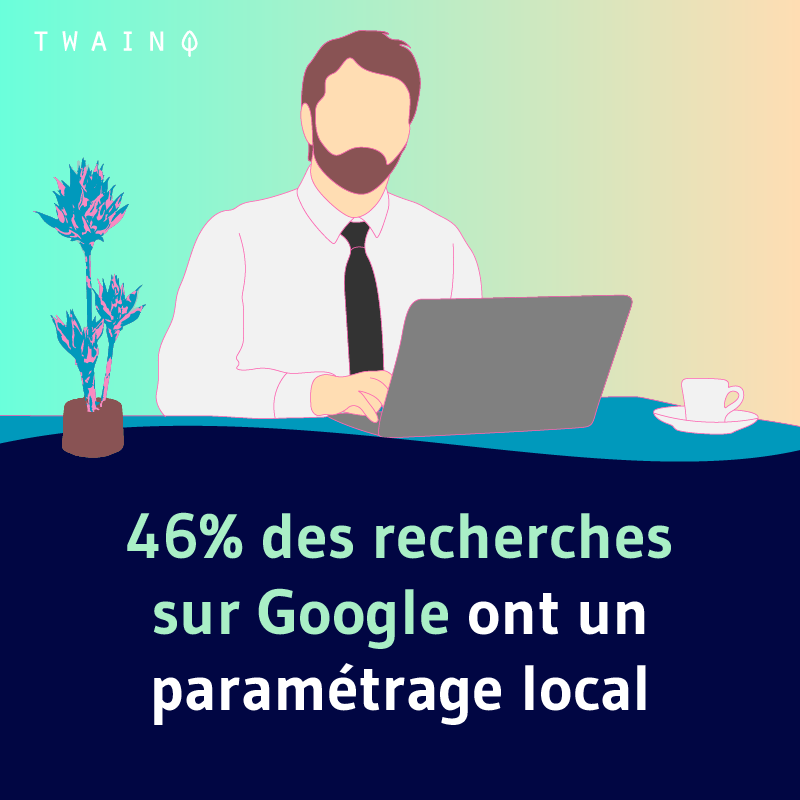 Local SEO is not separate from Google search, rather it depends on a set of factors that when recognized, further promote your site's display in search engines.
Among these factors, you have:
The existence of a my Google business file for your site;
The presence of the keywords used when creating your my business profile;
The place from which the Internet user performs his research;
The opinions of Internet users;
The presence of the name, address, telephone number of your company;
Etc.
3.2. The categories according to which the different SEO practices are classified SEO
practices can be classified into four categories, namely:
3.2.1. White hat SEO or White HAT White
hat SEO techniques are the most likely to improve the ranking of your site in search results.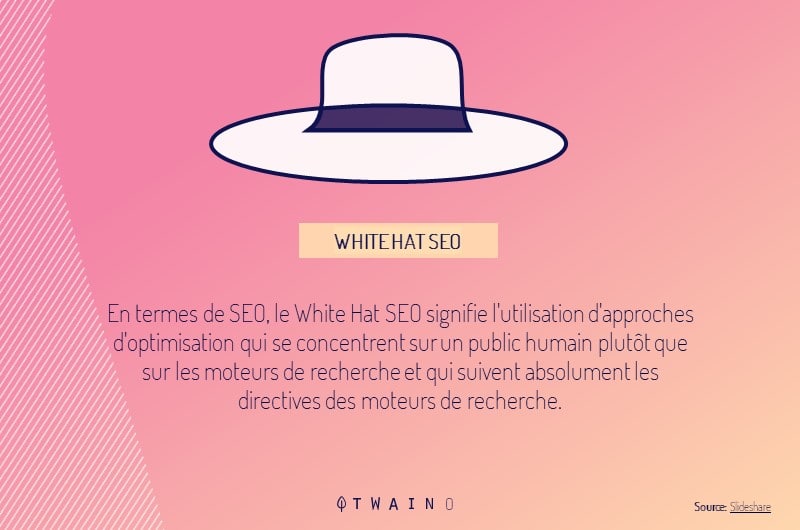 They are based on Google recommendations and search engine guidelines.
Even if these techniques take time to produce results, remember that once they start to arrive, they last in time.
White hat SEO techniques include:
Creating high-quality content: These are the types of content that bring you leads and improve your site's position in the SERPs;
Optimizing your site's codes: Removing unnecessary lines of code and white spaces contributes to the better functioning of your site;
Sharing on social networks: The implementation of social sharing buttons on your site, the sharing of some of your content on your social accounts will allow you to generate even more traffic to your site;
The user-friendliness of your site: An attractive design, fluid and well-structured navigation, images and videos, the automatic adaptation of your site to the screen of Internet users are all means that will allow you to retain your prospects.
If you use white HAT SEO techniques correctly, your site's ranking will be impacted every time Google updates its algorithm.
Indeed, you will see your site drop in search results each time the search engine improves its algorithms. You must therefore readjust your site.
3.2.2. Black
Hat SEO Black Hat SEO is a set of SEO techniques that exploits the weaknesses of the search engine to obtain better results.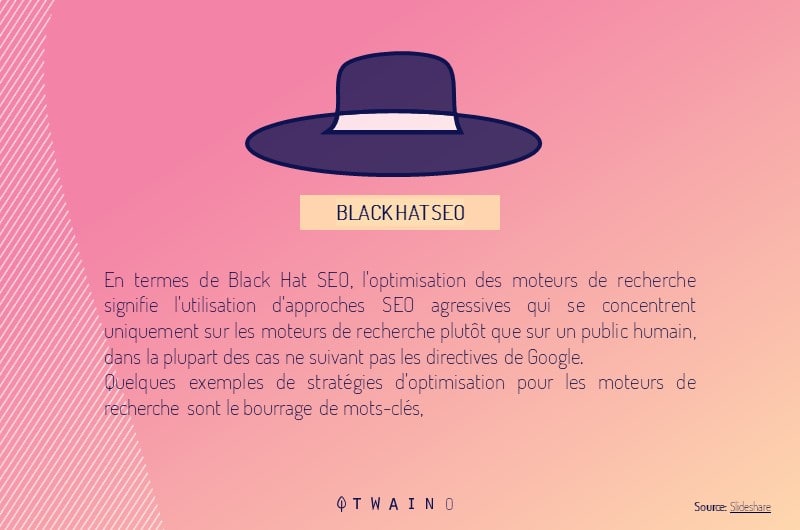 Some SEO experts use it for the simple reason that it provides good results quickly. However, remember that the results obtained through black hat SEO techniques are not sustainable.
Likewise, most sites that use these practices experience long-term problems. Here are some of the black hat SEO techniques:
Link spamming;
Keyword stuffing;
Cloaking;
Hidden text/links;
Use of popular and irrelevant keywords;
Overoptimization of HTML headers;
Plagiarism of content from another site;
Buying links;
Multiple pages with similar content.
While it may work, it puts websites at huge risk of being penalized or de-indexed and has ethical implications. Penalized websites have put businesses out of business.
And it is precisely this reason that justifies the need to be very careful when choosing an SEO expert or agency.
You basically have to stick to search engine guidelines and user intent.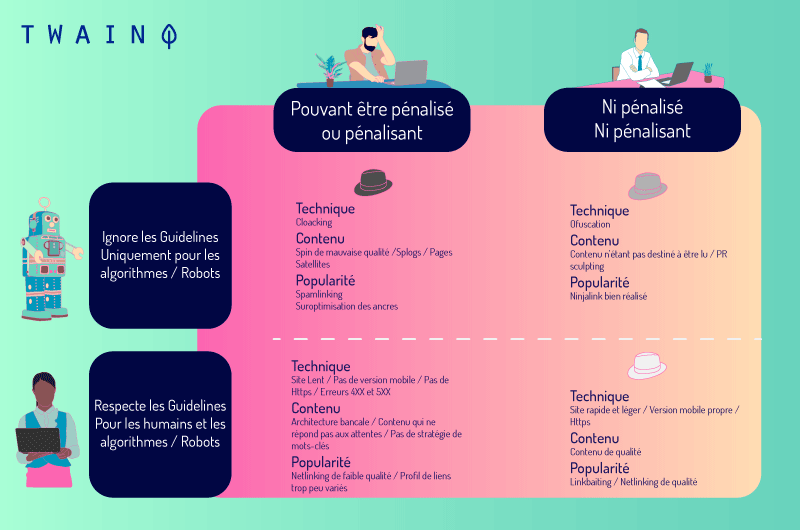 It will therefore be a question of not misleading your users.
For this, you need to avoid bad tricks meant to improve search engine ranking.
Similarly when you create your content, you must be able to be as clear as possible for your users. Also check if the content you create is useful to them.
In addition, you must absolutely avoid:
Using automatically generated content;
Participate in link schemes;
Create pages with little or no original content;
Practice Cloaking, the practice of showing search engine robots content that is different from that of visitors;
To create hidden texts and links;
Create pages to rank well for specific searches to funnel traffic to your website.
3.2.3. Gray hat SEO or Gray HAT seo
These SEO techniques are not listed as good or bad for your website.
They are not banned by Google, but they are not the right solution to improve your website either.
Indeed, although they can bring positive results to your site, these techniques are likely to harm your site.
Speaking of examples of gray hat SEO techniques, you can have:
Content slightly modified for reuse;
Content that has no value and whose sole purpose is to get the Internet user to click on a link;
reviews Paid
Link exchanges;
Etc.
3.2.4. The dunce cap or dunce cap
Unlike other types of SEO practices, the Dunce Cap is not the result of an explicit choice.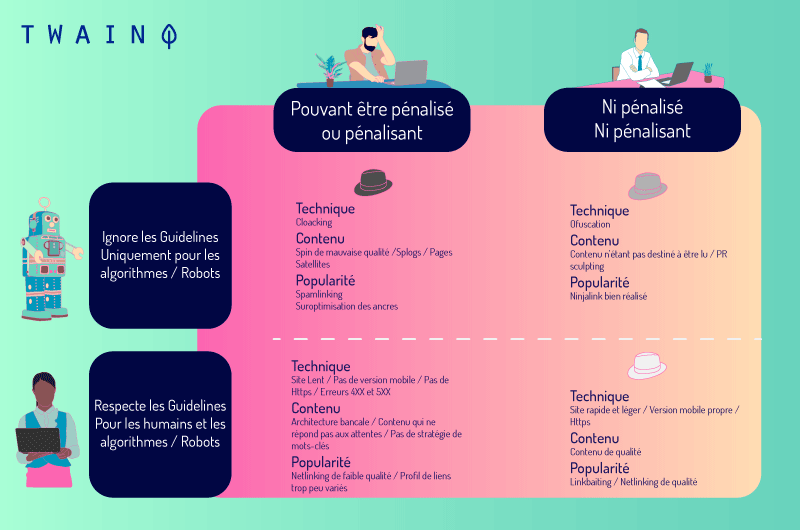 Rather, it refers to SEO practices that are subject to:
Misused;
Of under-exploitation;
Of non-exploitation.
3.2.5. Negative
includes SEO Negative SEO techniques used by sites and their competitors.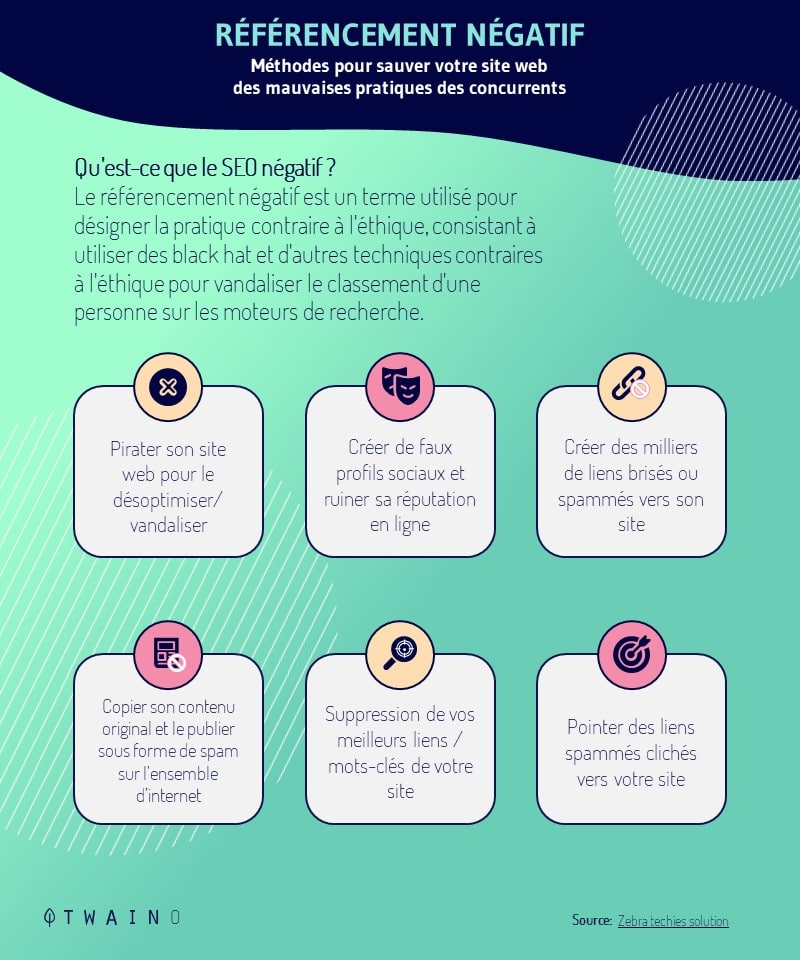 These are indeed practices of bad faith perpetrated by a site with the aim of harming another competing site.
These practices are therefore intended to reduce the rank of competing sites to easily put themselves in their place.
Among the practices of negative SEO, you have:
Creating unnatural links to a competitor
's site Posting negative reviews
Hacking competitors' websites to modify the content
Etc.
As you can see, the intention of this type of SEO is to harm another site for personal gain.
This is how to map the SEO techniques used to optimize a website.
3.3. The areas of intervention of the SEO expert
When you call on an SEO expert, here are the different actions he can perform on your site:
3.3.1. The on-site audit
One of the requirements of referencing is to ensure that websites comply with Google's best practices.
The SEO expert therefore verifies this compliance by making a detailed analysis of all the elements of your website. 
It checks:
The presence and level of optimization of markup (meta description, title, etc.);
The way snippets are integrated;
The HTTP response provides for each page;
The adequacy between the structure of the site, the editorial line and the marketing strategy of the company;
The loading speed of the pages of the site;
The structure and construction of incoming or outgoing links;
The optimization of the images of the site;
Construction and use of keywords.
The pages of the site that appear in search results. In particular, he must examine the keywords for which these pages are classified and the position at which they are displayed;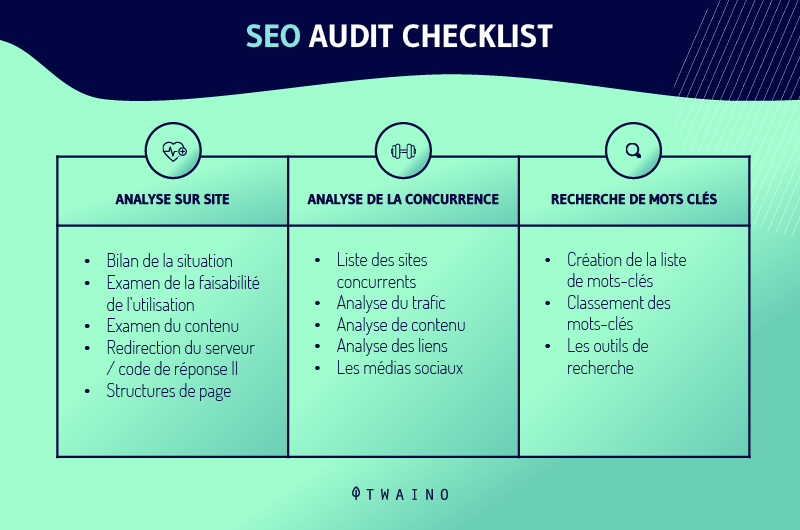 Verification of all these elements makes it possible to offer a website that is easy to read and understand for GOOGLE robots.
3.3.2. Off-site audit
Once the on-site analysis has been carried out, the SEO expert must now move on to analyzing the external factors that have an impact on SEO. This for the simple reason that the technical quality of the site is not everything.
The SEO expert must take a look at:
The way the links pointing to the site are built to eliminate those that are toxic and keep the links that are profitable for your site;
Competing sites that manage to position themselves better for the same keywords.
The study of these different elements allows him to find the best opportunities for his site.
3.3.3. Content strategy advice
Due to his different experiences and his work on keywords, the SEO consultant necessarily has knowledge of how they are used by the GOOGLE search engine.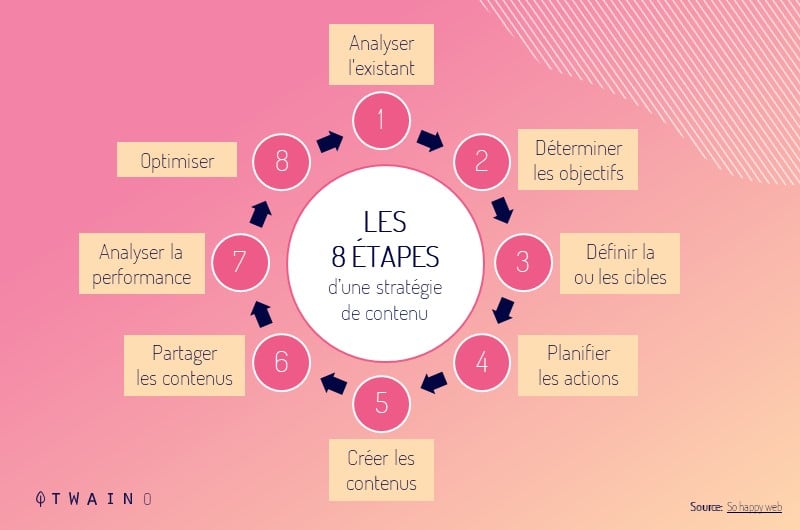 Thus, it can offer the most relevant keywords or semantic expressions for a given topic.
These skills therefore allow the SEO expert to follow the keywords that bring traffic and propose corresponding content strategies.
It can also help web editors by providing them with the most suitable semantic field for understanding by the search engine.
In this way, interesting content will be offered to Internet users, but also Google will have the impression that the content offered is well mastered.
3.3.4. Advice in creating and redesigning a website
The work of the SEO expert is to help create a website that:
Attracts Internet users and on which they spend time
Offer content or articles relevant to the Internet user
For this, the SEO expert must participate in discussions concerning the creation of websites.
In particular, he brings his expertise to the definition of the editorial line of the site:
What is the main theme of the site?
How often will content be published?
What format is suitable for the content?
What keywords used m, etc.)?
Likewise, it helps to design relevant menus that facilitate navigation on the site.
This will allow Google to understand your site well from its creation and to better display it in search results.
As you will have understood, having an SEO consultant work from the design stage of your website is beneficial.
This not only allows you to create a site well understood by Google, but also saves money.
3.3.5. The netlinking
The SEO expert intervenes at the level of the links by working with partners, networks and by finding sites which could make a link towards your pages.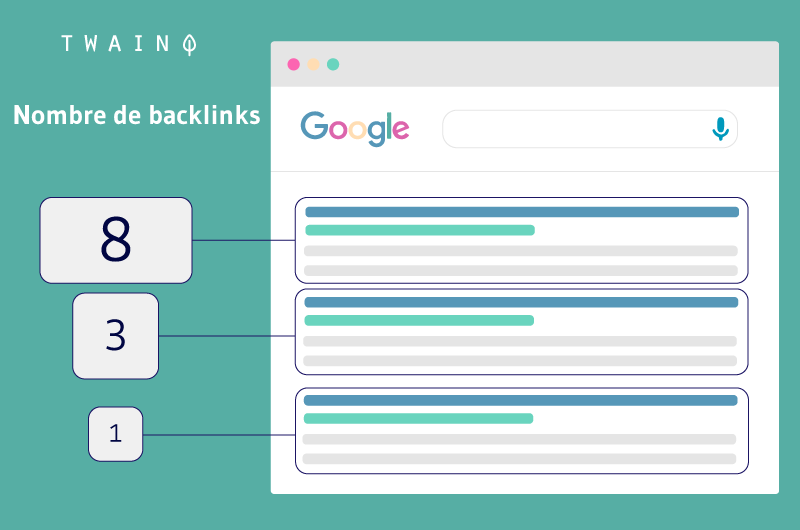 However, he is careful not to exceed the limits to comply with Google's guidelines.
The use of links has several advantages and you have for example:
The increase in the relevance of a page in the eyes of Google: The idea here is that if you offer good quality content on a theme, your site will be quoted by several others when they approach the same subject.
Increased traffic: Using your site's link by a high traffic site will allow your site to receive a lot of traffic as well.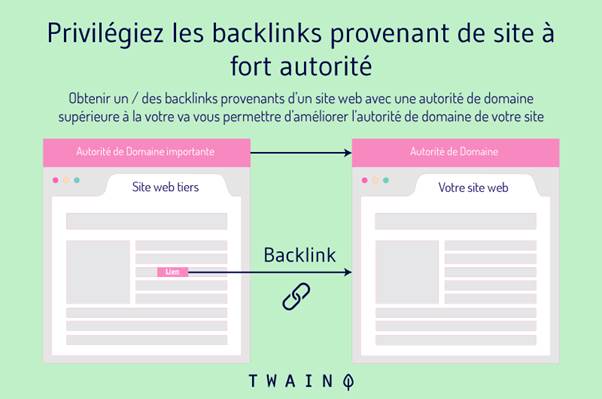 3.3.6. SEO monitoring and reporting
As soon as the SEO consultant implements SEO actions, he must measure the results and the progress made.
To do this, he must be able to access Google's analysis tools: The search console and Google analytics.
Once the data from these different tools has been collected, he must use his interpersonal skills to transmit and make his client understand the results obtained.
For example, he will have to:
Make a comparison with the results of the site before his arrival;
Explain to the customer the data relating to the positioning of the site;
Show the pages that have received the most visits;
Informed about the keywords that are the most efficient;
Indicate the rate, quality and source of incoming links to the site and their performance.
3.3.7. SEO TRAINING
Beyond SEO work, the SEO expert can be called upon to improve the optimization skills of a team.
Thanks to these experiences and his know-how, he is able to teach others the process of referencing.
Even if all SEO consultants do not offer training, the SEO expert is still a trainer since he must ensure that the client understands and knows how to use the information he makes available to him.
As in other sectors, the field of web referencing also presents its challenges. A good understanding of these challenges makes it easier to deal with any difficulties that may arise.
Now that you have an idea of ​​the different areas of intervention of the SEO expert, I suggest you discover the tools he uses in his work.
Chapter 4: The SEO expert's toolbox
In this chapter, you will find the different tools that can be useful for SEO.
4.1. Google Tools Google
has made several free tools available to experts, here are a few:
4.1.1. Google analytics
Google analytics is a free tool made available to webmasters to collect and analyze data relating to the operation of their website.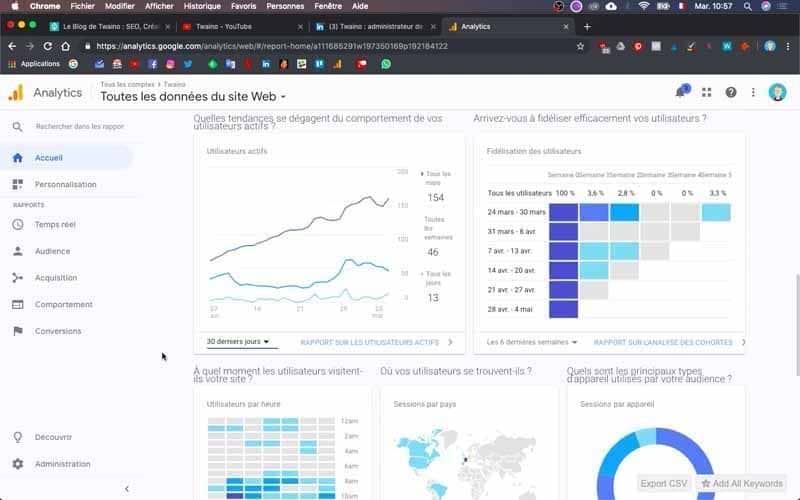 With Google analytics, you have access to several features:
You receive alerts concerning changes or news in relation to your data;
Reporting on audience, ads, acquisitions, user behavior, conversion, etc.
Analysis and visualization of your site's data
You can also integrate other tools with your Google analytics.
These are tools like:
Google ads;
Google adsense;
Google datastudio;
Google SearchConsole.
4.1.2. Google Search Console
With this free tool, you can check and control the indexing of your site by Google robots and therefore optimize its performance in search results.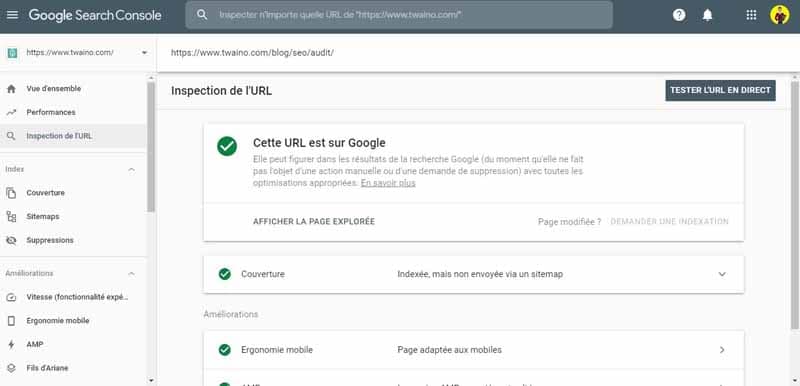 Concretely, the Google Search Console allows you to: 
See the statistics of visits to your site by the indexing robots;
Set up the robots.TXT file for your site;
Submit your sitemaps;
To inspect the URLs of your site;
Identify the keywords that attract more visits to your site;
Etc.
With all its features, the search console helps you understand how Google and its users see your website.
To use it, however, you must add your site. Find out everything there is to know about the search console in this article. 
4.1.3. Google trends
On Google trends you will find the frequencies at which Internet users carry out a search.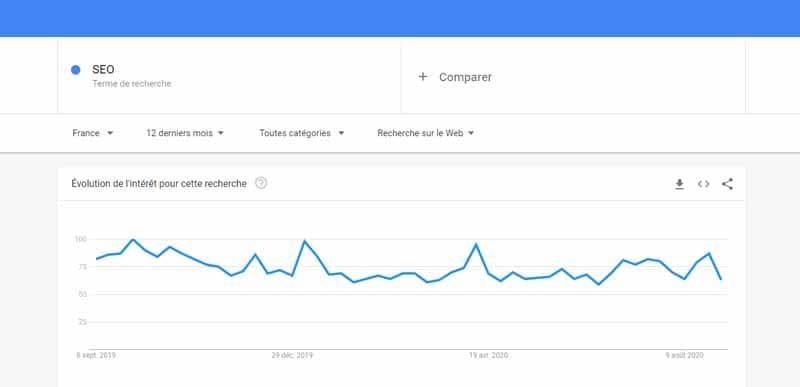 You also have the opportunity to see how these different searches are carried out in each region of the world.
When you type a word in this tool you will see the curve of the evolution of the interest of Internet users, but also the distribution of interest by region. You will also see related topics and queries.
Let's not forget the possibility for you to display the interest of the search over a given period as well as the fact that it is possible to carry out a comparison with another query.
4.1.4. Google sheet
The Google sheet tool can be very useful for the SEO consultant insofar as it promotes the processing of data.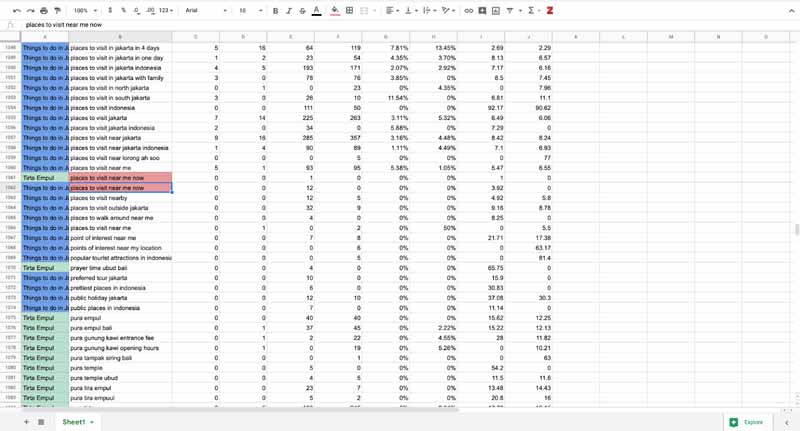 source : smartsinsights
In reality, Google sheet integrates functionalities like IMPORTHTLM, IMPORTXLM which allow the SEO expert to:
Extract online elements;
To manipulate URL addresses;
To carry out tests;
To connect to APIs;
Etc.
4.2. Keyword research tools
To find effective keywords, SEO experts often use:
4.2.1. KWFinder
Kwfinder is the SEO tool that helps you find long-tail keywords that have a low difficulty level. Kwfinder has been on the market since 2014.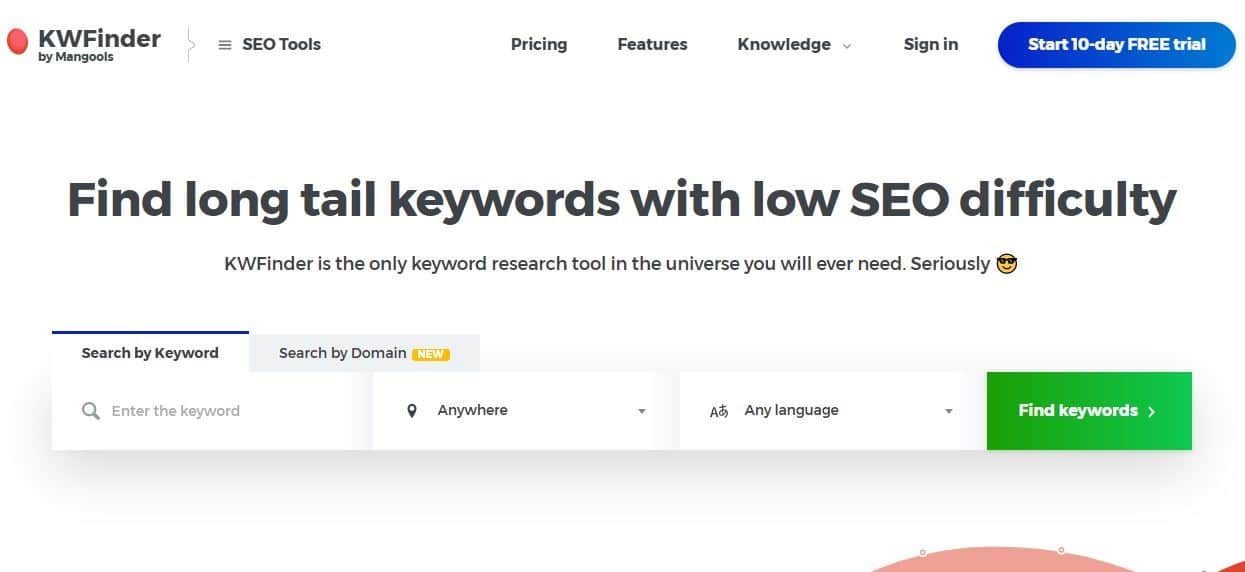 It allows you to:
Do ​​keyword research for both organic and paid search;
Find the keywords competitors are ranking for;
To find suggestions of competitors to analyze according to the location;
Get keyword stats based on metrics like trend, search volume, cost per click, difficulty level, competition level, etc.
4.2.2. Ubersuggest: Keyword
Tracker Ubersuggest is a free keyword research tool. It allows you to find the keywords as well as the search intent behind them.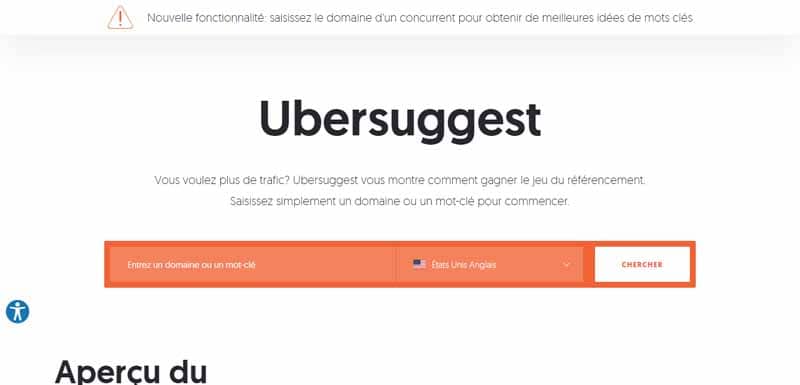 Regarding the operation of the ubersuggest tool, it should be remembered that it is similar to other keyword research tools.
All you have to do is enter your query in the tool's search bar and launch the analysis.
The results obtained are adapted around the semantic field and are in an easy-to-analyze format.
Keyword search results include several elements such as:
The volume of keywords;
Competition;
The cost per click;
Periodic trends.
4.2.3. Answer the public
A tool like answer the public makes it easy to come up with ideas for your next blog posts.

It collects questions from Internet users regarding a keyword and displays them to you according to the inverted pyramid method.
You will also find in this tool the commercial intentions of Internet users, comparisons between several terms as well as related subjects that you can work on.
4.2.4. Keywords everywhere
Keywords Everywhere is also an SEO Chrome extension that intervenes in SEO.
They work through a combination of free SEO tools that simplifies the process of determining the best keywords for your website.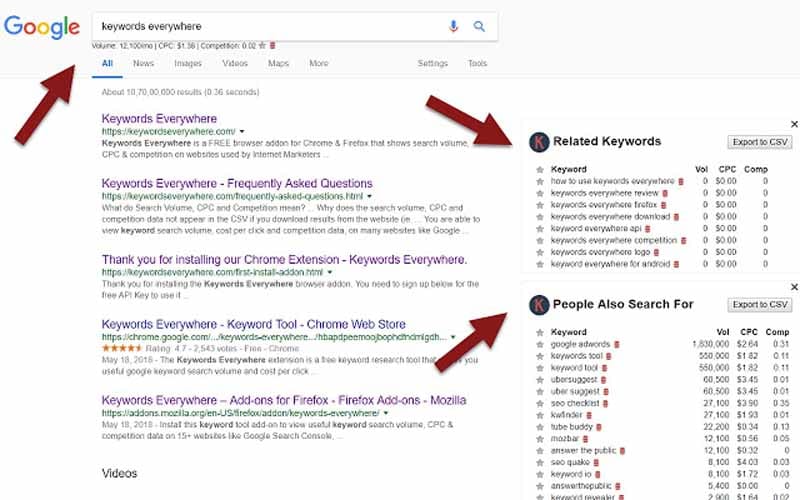 The measurements used come from sites such as Google analytics, Google Search Console, Google trends, YouTube insights, Google ads, etc.
You no longer have to browse several websites before finding your data to be collected.
This allows you to move forward much more quickly in implementing your strategy.
With such a tool, you see:
The trend graph and associated keywords;
The estimated organic traffic for a given query;
The top 5000 keywords for all Google search pages.
Premium users have an idea of:
The monthly search volume;
The cost per click;
Competition;
Etc.
4.2.5. Soovle
Soovle is an online platform that offers you to extract several keyword suggestions for a query.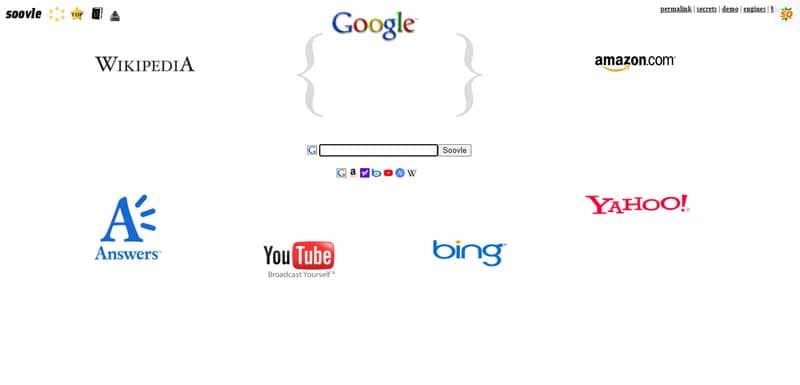 The results offered come from several popular sites such as
Google;
Yahoo;
Bing;
eBay;
Etc.
4.3. SEO
tools Here are the tools used by SEO experts to perform SEO actions on your site:
4.3.1. Ahref
Launched since 2011, ahrefs is an SEO support tool. It allows you to optimize your SEO strategy by analyzing the different parts of your site.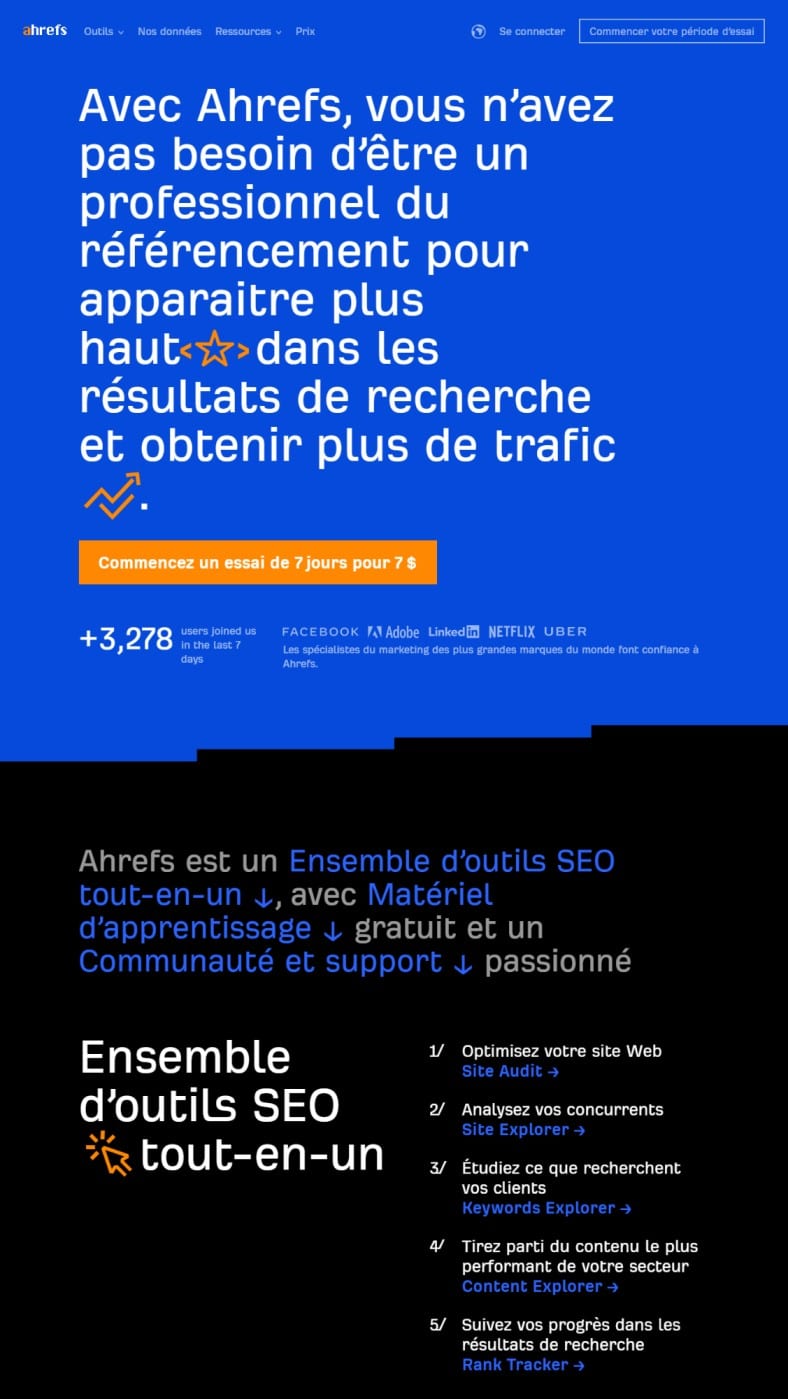 It also allows you to check and analyze the links pointing to your site.
As for the cost, ahrefs offers two plans:
The lite plan which costs $99 per month;
And the standard plan which is $179 per month.
Whichever plan you plan to take, the tool offers you a 7-day trial period for $7.
With regard to the functionalities ahrefs allows you among other things:
To carry out the audit of your site;
Analyze your competitors;
Analyze customer keywords;
Track your position in search results;
Find top-performing content by keywords and topics.
Etc.
4.3.2. SEMRush
Semrush is an all-in-one solution that offers a set of tools to help you build an SEO strategy that outshines the competition.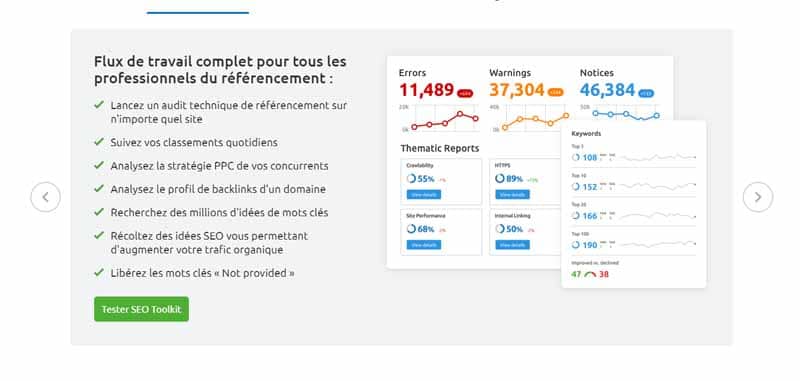 Aimed at both website owners and SEO consultants, the semrush tool allows you to:
Analyze and improve your paid advertising efforts;
Find an effective strategy for social networks;
To have an overview of the competitors' strategy;
To carry out the technical audit of your site;
Find the relevant semantic expressions for your content;
Compare your website to that of competitors.
4.3.2. SpyFu
SpyFu is the tool that allows you to analyze the seo strategy of your competitors.
For only $33 a month, you have unlimited access to all of this tool's features.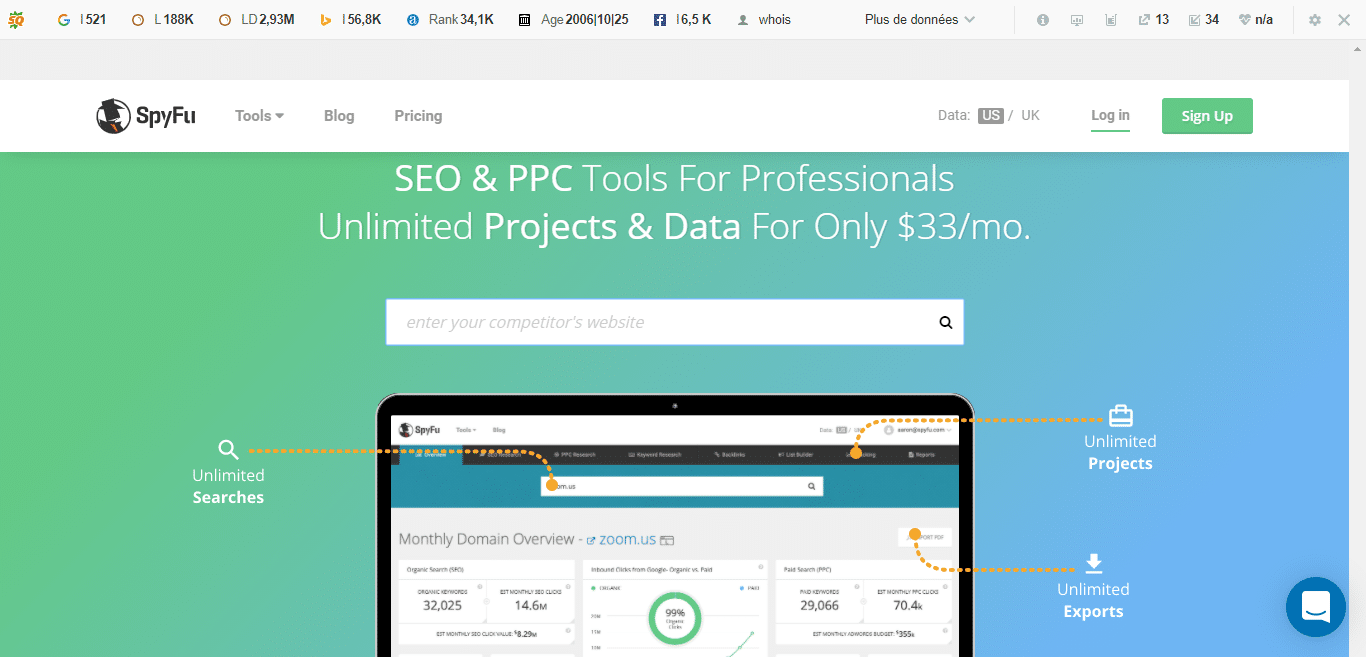 succeed in your strategy.
As for the features of the tool, you can:
Search for a competitor and find the keywords they use for both their paid searches and for organic SEO;
Show the number of times a keyword is searched for over a given period;
Easily determine the ranking difficulty for that keyword;
Analyze your site and find information about the number of organic or paid keywords it has, the clicks generated by these keywords, the competitors;
Have personalized SEO reports on your competitors;
Check and track your ranking in the serps;
Etc.
4.3.3. Woorank
With the woorank, you analyze your site and discover the different factors that block its ranking in search engines.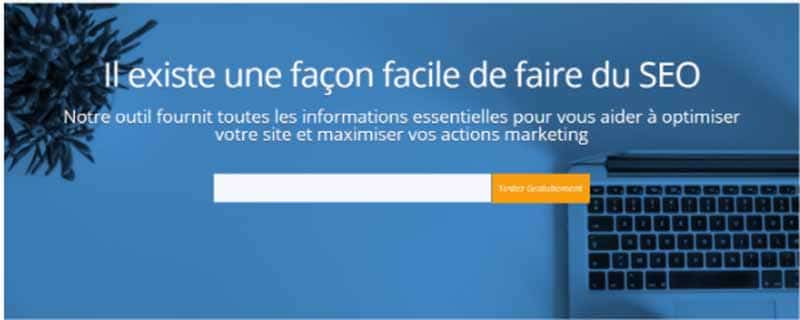 Beyond the analysis, woorank allows you:
To follow and analyze the elements of your SEO;
Improve your strategy to attract and retain even more prospects;
Adapt your marketing strategy to outperform competitors;
To see the priority actions you have taken to optimize the referencing of your site;
To understand the different causes that prevent you from having a good position in the search results;
Visualize your progress with regards to the SEO of your site.
Using the tool requires a monthly subscription. You have three plans:
The pro plan which costs $59;
The premium plan which costs $179;
The business plan which allows you to obtain an estimate according to your objectives of use.
4.3.4. CORA
CORA is an advanced web referencing tool.
Considered by many as the best tool, its use is recommended to companies for a good understanding of the weak points and opportunities of their website.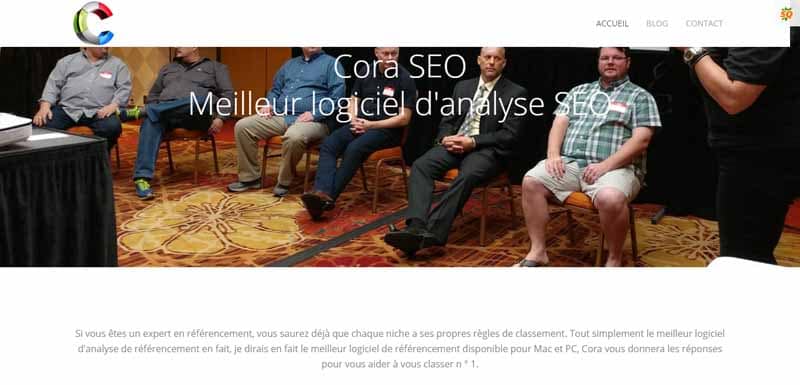 It provides a detailed and comprehensive analysis of your site.
Indeed, it performs the analysis of your site on the basis of more than 2000 ranking factors and provides you with a set of data as well as a roadmap to improve your SEO.
4.3.5. Fat Rank
Fat rank is a performance analysis tool for your website. Thanks to it, you can follow the ranking of your different keywords.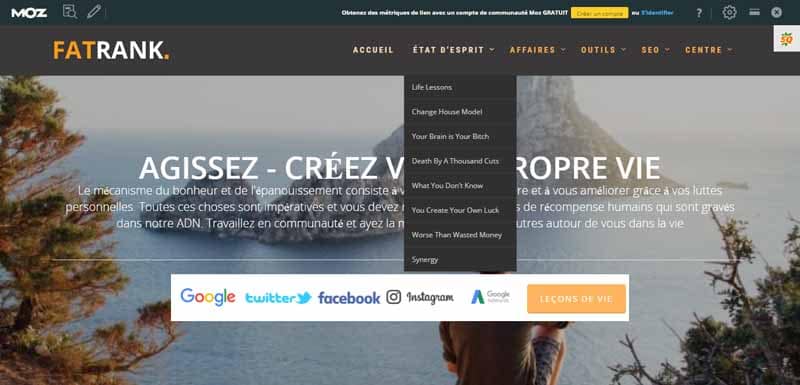 You can also add other keywords to your queries to identify your ranking level for each page of your site.
The tool also has a Google Chrome extension, which promotes ease of use.
With this tool, it's your chance to discover the keywords you're not ranking for and adjust your strategies to change that.
4.3.6. Zadroweb
Entirely free, the zadroweb provides an analysis of the different elements of your site.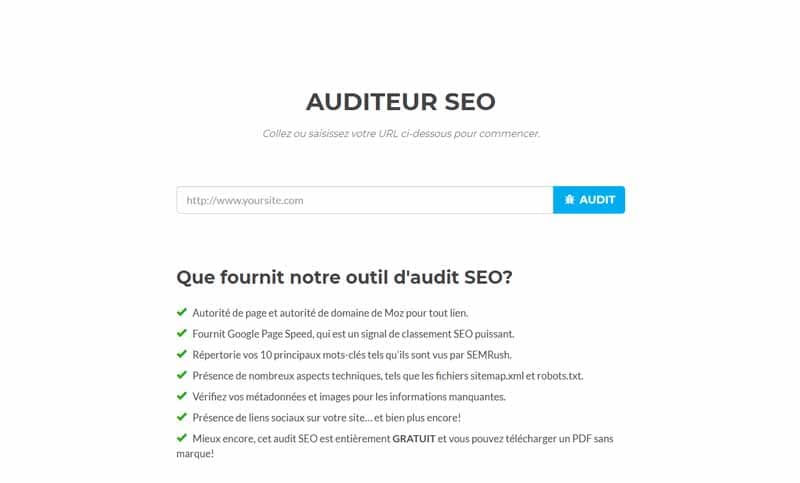 Concretely, you get:
Page authority and domain authority from Moz for any link.
Provides Google Page Speed, which is a powerful SEO ranking signal.
Lists your top 10 keywords seen by SEMRush.
Presence of many technical aspects, such as sitemap.xml and robots.txt files.
Check your metadata and images for missing information.
Presence of social links on your site… and much more.
4.3.7. majestic
Majestic crawls the web to give you information about the incoming or outgoing links you have on your website.
Similarly, you can analyze the links that are on the sites of your competitors.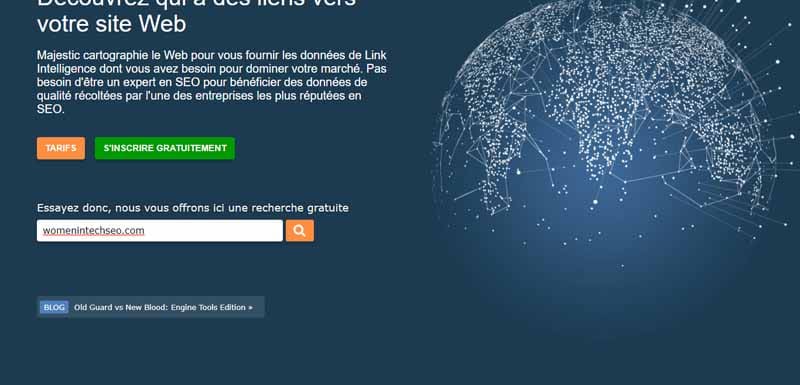 The tool has several features that are mostly accessible following payment of a subscription.
Majestic also works as a keyword research tool.
Which then allows you to find the best keywords to rank for while having features geared towards site comparisons and tracking your rankings.
4.3.8. SEOQuake
SEOquake is a free Google Chrome extension that is used as an SEO tool.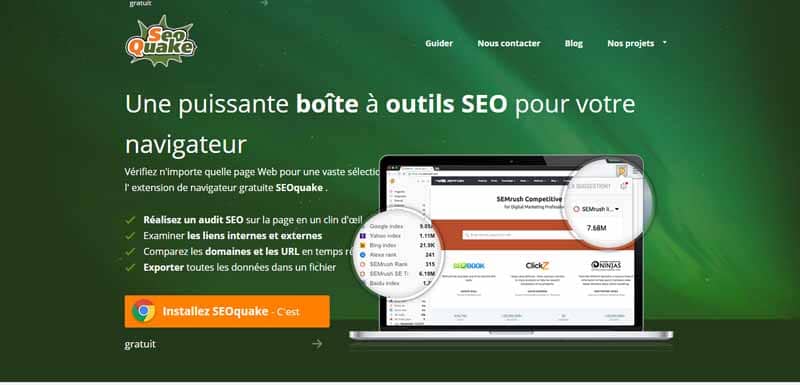 Thanks to this tool, you can:
Perform site audits on your pages;
Evaluate the external and internal links of your site;
Make comparisons between sites to see your performance;
You can download and send analytics data to important people in your business.
SEOquake also includes a tool for checking your site's internal and external links.
4.3.9. screaming frog
Screaming Frog is designed to quickly carry out audits of the websites you submit to it.

This robot crawls your site and:
Looks for broken links;
Analyze redirects;
Analyze titles and metadata;
Identifies duplicate content;
Analyzes the code of your site;
Reviews bots and directives;
Evaluate the architecture of your site;
Displays your sitemaps;
Shows insecure parts of your site;
The size of images and pages;
Etc.
Besides, it should be noted that the screaming frog tool exists in two versions.
A basic version which is free and another paid version worth 149 € per year.
4.4. The other tools of the SEO expert
Here are some tools that the SEO expert can use in the implementation of his referencing:
4.4.1. Siteliner
Since Google punishes websites that offer identical content to other sites, SEO experts can check whether the content of their websites is duplicated or not with Siteliner.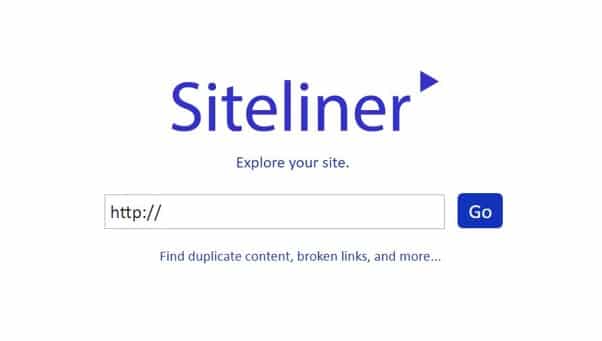 This SEO tool analyzes your website and displays information relating
to the pages of your site. You will find the total number of pages and the different difficulties they encounter;
Duplicate content on your site. You will find the percentages of unique content, duplicate content and common content that you have on your site;
A comparison of your site with other sites analyzed by siteliner. The goal is to show you the strengths or weaknesses of your site.
The services offered by siteliner are of two types:
A free service that allows you to analyze websites with up to 250 pages;
And a premium service that allows you to analyze, save and download up to 25,000 website pages.
4.4.2. Animal Revive
Animalz revive performs an analysis of your Google analytics data and notifies you of the publications on your site that you need to optimize.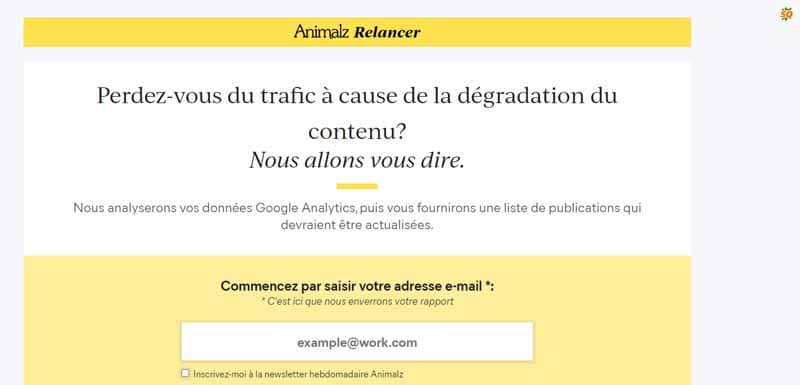 To use it, just connect your Google analytics account and wait for the tool to analyze the data to show you the items you need to improve.
Allows you to generate site maps for your website that you can submit to search engines:
Google;
Bing;
Yahoo;
Etc.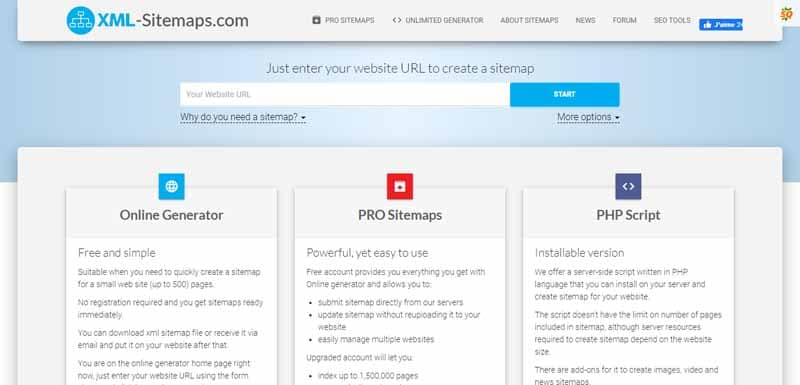 Sitemaps can be in XML, HTML or text format.
4.4.4. Browseo
Browseo shows you how Google's crawlers perceive your website.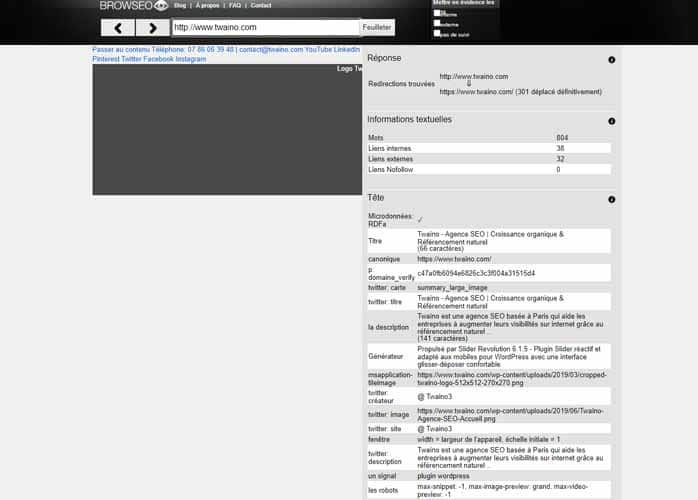 The preview of your site on Browseo allows you to see:
The redirections present on your site;
Text information;
The title the metadata;
The preview in the serps;
The structure of the content according to the subtitles h1….h2. h3…
Now that you know most of the SEO expert's working tools, find out how he conducts and implements an SEO strategy for your site.
Chapter 5: How to set up an SEO campaign?
In this new chapter, I discuss: How
search engines work;
The implementation of a referencing strategy;
Monitoring of a referencing strategy;
The evaluation of a referencing strategy.
5.1. Principles and functioning of search engines
Being the one who is in charge of ranking your site well at the level of search engines, the SEO expert must know the basic principles of search engines, but also the process by which they display search results. 'a request.
5.1.1. The basic principles of search engines
As you know, search engines provide answers to queries from Internet users.
To do this, they scan several billion pieces of content that they evaluate according to predefined factors.
They then determine the content most likely to respond to the user's request and display it.
The results they display to Internet users can be classified into two categories.
On one side you have the organic search results: They are the most important and easy to spot. Organic search results are earned through effective SEO, not paid.
On the other side, you have paid search results. They come in the form of ads that appear in the results.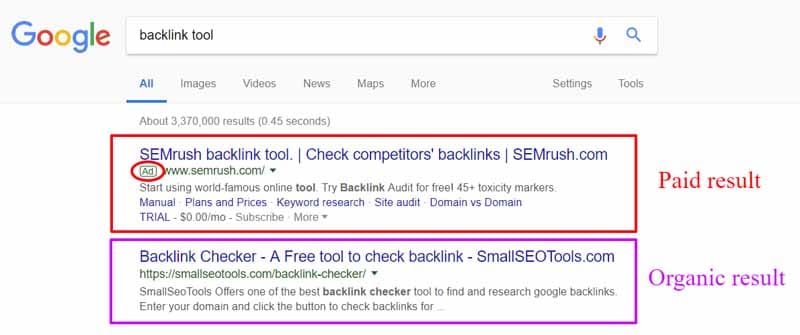 It's important to remember that search engines aim to better resolve searchers' queries in the SERPs in order to keep them coming back.
This therefore assumes that they favor the best content and leave out the poor quality content.
5.1.2. How does a search engine work ?
In general, the functioning of search engines boils down to the fact that they browse the Internet to find content (crawling).
Then, they store and organize this content in their index to respond in a relevant way to a query by displaying it in the search results (indexing).
Finally, at the time of display, the elements are classified by degree of relevance.
That is to say that the search engine first displays the elements that best respond to the Internet user's queries.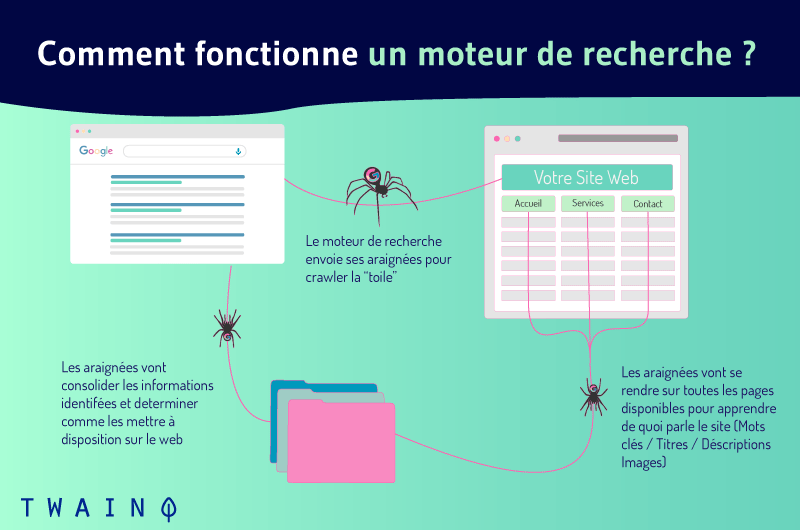 Let's take a closer look at the different stages in the operation of the search engine.
F 1: Crawling
Crawling is a process that allows the search engine to browse the web using robots (they are commonly called crawlers).
Their role is then to find new content or updated content.
Speaking of content, keep in mind that it can be:
A web page;
From an Image;
From a Video;
From a pdf file;
From a blog post;
Etc..
The various contents are first discovered by Googleboots. When they contain other links, googlebot robots follow these links and may come across other content.
F 2: Indexing
The index is Google's database which receives and stores all the content extracted during the exploration carried out by the googlebot robots.
However, indexing your page at the search engine level is not an end in itself since the pages of your site when they are no longer adequate can be removed from the index when:
The URL of your site returns a "not found" error (4XX) or a server error (5XX) – this can be accidental (the page was moved and a 301 redirect was not set up) or intentional (the page was deleted and 404 modified in order to remove it from the index);
A meta noindex tag has been added to the URL – This tag can be added by site owners to instruct the search engine to omit the page from its index;
The URL has been manually penalized for violating the search engine's webmaster guidelines and has therefore been removed from the index;
URL crawling has been blocked with the addition of a required password for visitors to access the page.
If a page on your website that was previously in Google's index is no longer showing up, you can use theInspection tool URL
You can also use the search console which has a feature to submit individual URLs to the index. When you use this feature, you get a clear idea of ​​how many pages Google has in its index and how likely they are to appear in search results.
Additionally, Search Console allows you to:
Add your site to Google;
Submit sitemaps for your site;
To monitor the number of pages that have actually been added to Google's index;
Etc.
Another solution to check the status of your pages would be to use the search operator "site: yourdomiane.com" to check the number of pages of your site present in Google search results.
If despite all these manipulations, you have no idea why your site is not in the search results, the problem may be due to the fact that:
Your site is newly created and has not yet been explored;
Your site is not linked to any external website;
Navigating your site is difficult for the robot explorer to understand;
The robot txt file. contains crawler directives that block search engines;
Your site has been sanctioned by Google for spamming tactics.
Either way, remember that you can control how Google's robots index your site with robots.txt files and robots meta directives.
The robots.txt file
file robots.txt can keep Googlebot away from certain pages and sections of your site.
They tell googlebot what parts of your site search engines should and shouldn't show and how fast they can crawl your site.
Robots.txt files are located in the root of your website. You can therefore check their presence by typing the address of your site followed by robots.txt. in your browser's search bar.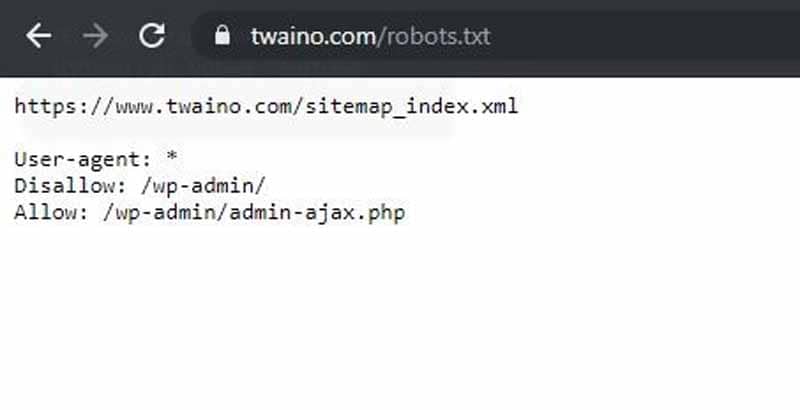 Beyond Google robots, there are robots that robots.txt files cannot control.
You should therefore protect the sensitive pages of the site by using the no-indexer function and the login forms rather than the robot.txt file.
The Robots Meta Tags
The robots meta tag can be used in the <head> of the HTML code. It can be used to exclude certain search engines.
Here are the most common meta directives, and the situations in which you can apply them:
Index/noindex attributes: These tell engines whether the page should be crawled and kept in a search engine's index for retrieval.
If you choose to use "noindex", you are telling crawlers that you want the page unindexed.
By default, search engines assume they can index all pages, so there is no need to use the value "index".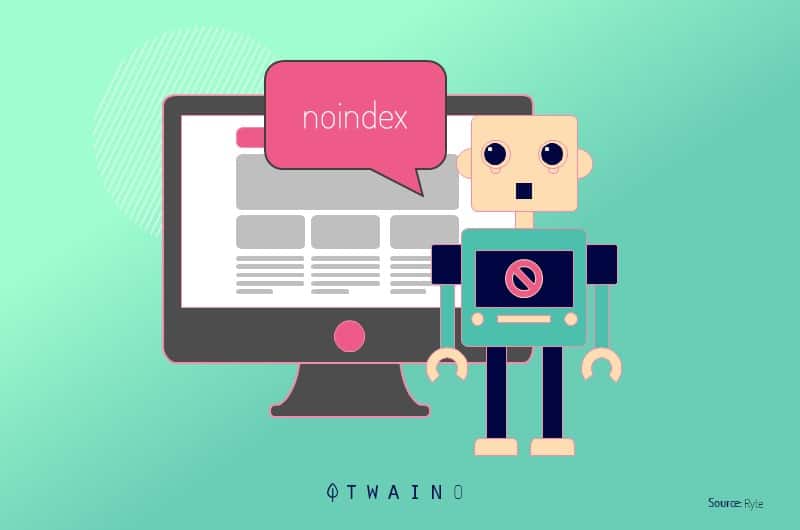 You might choose to mark a page as "noindex" if you're trying to clip thin pages from your site's Google index (e.g. user-generated profile pages), but still want that they are accessible to visitors.
follow/nofollow attributes: follow/nofollow tells search engines whether links on the page should be followed or not.
"Follow" allows bots to follow the links on your page and pass link equity to those URLs.
If you choose to use "nofollow", search engines will not track or pass any link equity to links on the page.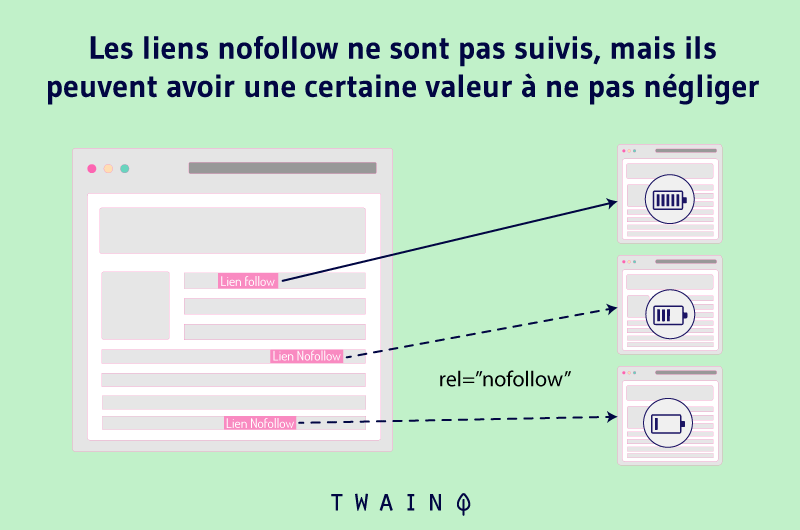 By default, all pages are assumed to have the "follow" attribute.
Nofollow is often used with noindex when trying to prevent a page from being indexed and preventing the crawler from following links on the page.
Noarchive is used to prevent search engines from saving a cached copy of the page.
By default, engines will keep visible copies of all the pages they have indexed, accessible to searchers via the cached link in search results.
If you run an e-commerce site and your prices change regularly, you might consider the noarchive tag to prevent people from seeing outdated prices.
F 2: Classification by the search engine
When an Internet user makes a request, the search engine scans its index and searches for the most relevant information that corresponds to it.
This information is then presented in the first position to the Internet user, with the aim of satisfying him.
However, it is important for you to know that showing your site in search results is a process that can be conditioned.
The determination of this relevance is based on algorithms. It is a set of automated formulas by which stored information is retrieved and categorized in a meaningful way.
Algorithms undergo many changes over the years. This improves the quality of Google search results.
The reasons for these changes are not always mentioned by Google.
However, the objective pursued is undoubtedly the improvement of the user experience.
Frequent algorithm updates can affect your SEO. For this reason, you need to keep an eye on the SEO strategies you adopt and find ways to improve them.
However, you can use guidelines to control how your website is crawled by search engines.
5.2. Set up a SEO strategy for your site
The SEO strategy for a site is a process of:
Planning;
Definition ;
And implementation of actions designed to improve the display position of a site at the level of search engines.
With regard to this definition, here is a list of the different steps that can be carried out by your SEO consultant to carry out a referencing campaign:
5.2.1. Defining your target audience and their interests
The target audience can be defined as the category of individuals among whom it is believed to be most successful in marketing a product.
This is usually the first step in SEO campaigns. This step consists of identifying:
Age;
sex;
The geographic location ;
The needs of who you think is the most qualified person to request our services.
Concretely, we can ask ourselves questions about their real needs and collect information to define how we can create content to convert them.
Check out my article on the semantic cocoon to learn how to create buyer persona your audience's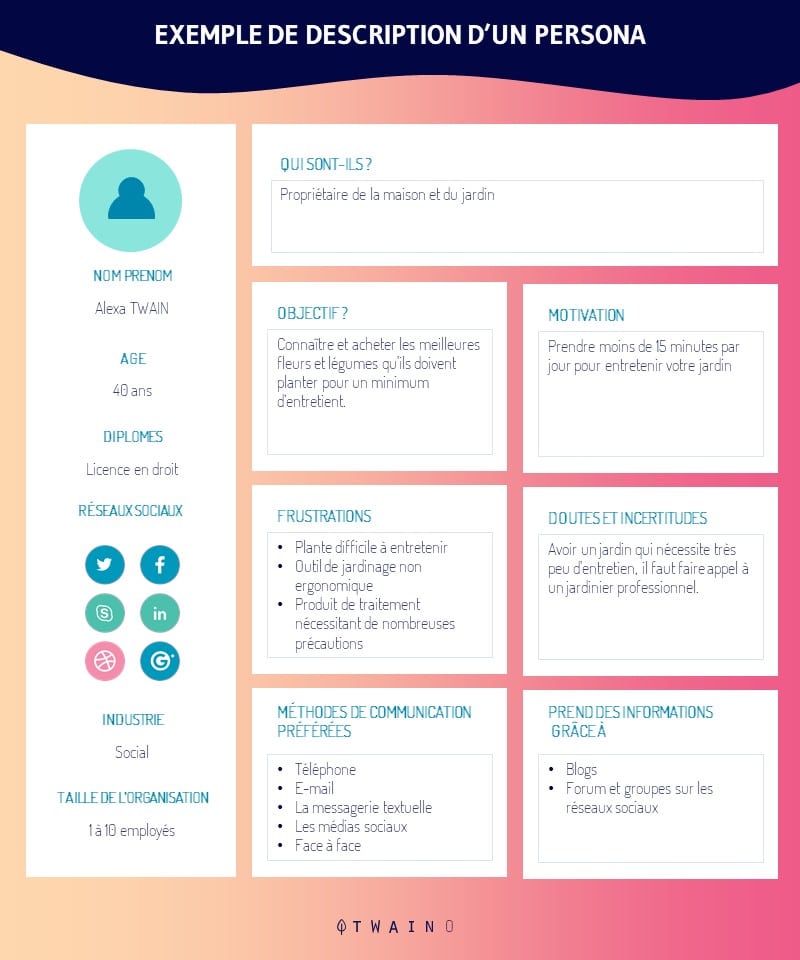 5.2.2. Creating a list of relevant keywords for your industry
Keywords are an essential part of any optimization process. They are the ones who determine the results displayed in the search results.
It is therefore important to find the keywords that potential visitors can type in the search bar.
This work will not be so difficult since there are many tools to research and find relevant keywords.  
Also, beyond keyword research, don't forget long-tail keywords. This will allow you to optimize your site for semantic search and rank for low difficulty ranking words.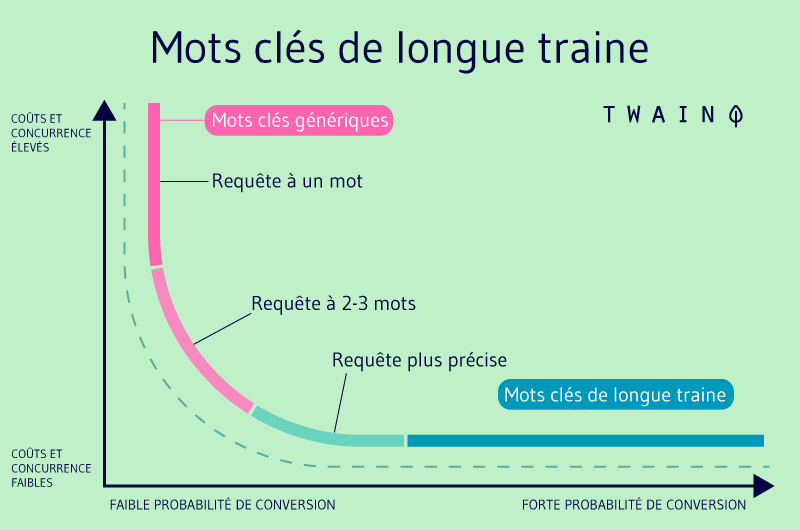 Once you have found your list of keywords, LSI and long tail, you can start optimizing pages and content  
. 5.2.3. Analysis of the first pages of Google
The next step in your SEO strategy is to check your keyword list manually in the search results.
To do this, go to your Google search bar and start by typing the keywords to have a perception of the types of content that facilitate positioning.
For example, if it's the articles in list form that perform better, it would be unwise to create a guide.
5.2.4. Creating Different and Better Content
Once you've seen how other sites have covered the topic you're about to cover, it's now your job to do better than them.
For this, your content must be both different and better, as with the one- upmanship :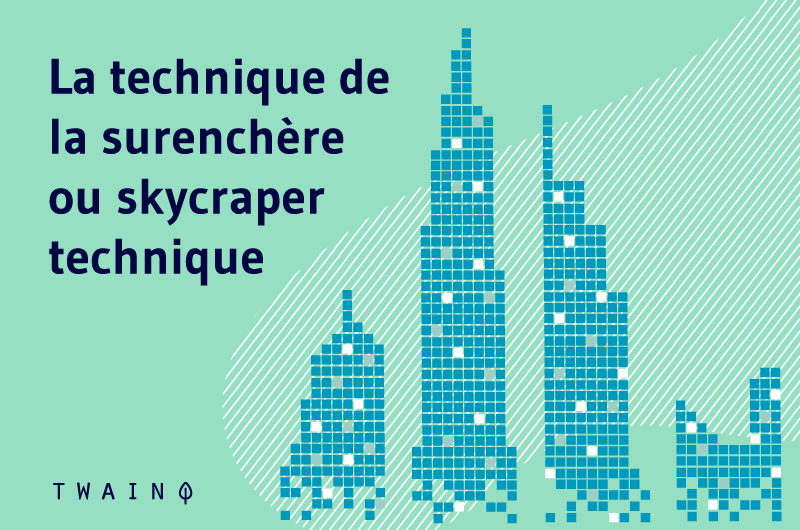 The content you are going to try to create must stand out from that of others. Additionally, you need to consider the search intent of internet users.
The search intent can be perceived as what the Internet user is looking for when he makes a request in the search bar.
The reason for this factor in web referencing can be justified by the evolution of algorithms at the level of search engines.
A web user's search intent can be classified into four categories:
Informative: The web user is looking for information about a subject;
Navigational: At this level, the Internet user tries to find information that he already knows;
Commercial: That is to say that the information sought by the Internet user relates to a product that he could buy;
Transactional: The research carried out by the Internet user will result in the purchase of a product or service.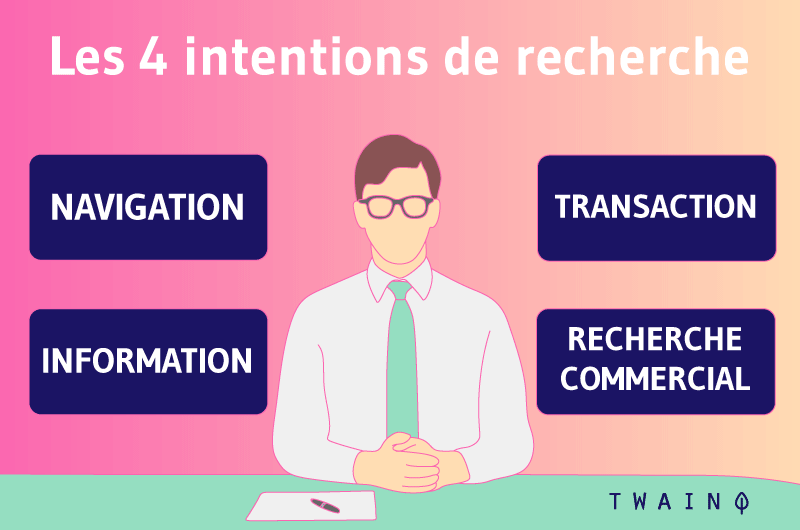 The search intent allows the SEO consultant to respond correctly to the request of the Internet user and to position himself as a reference. This allows you to gain even more traffic.
5.2.5. Creation of backlinks
Links are always decisive in obtaining a good ranking in Google search results.
Getting backlinks is therefore important for anyone who wants to improve their ranking in search results.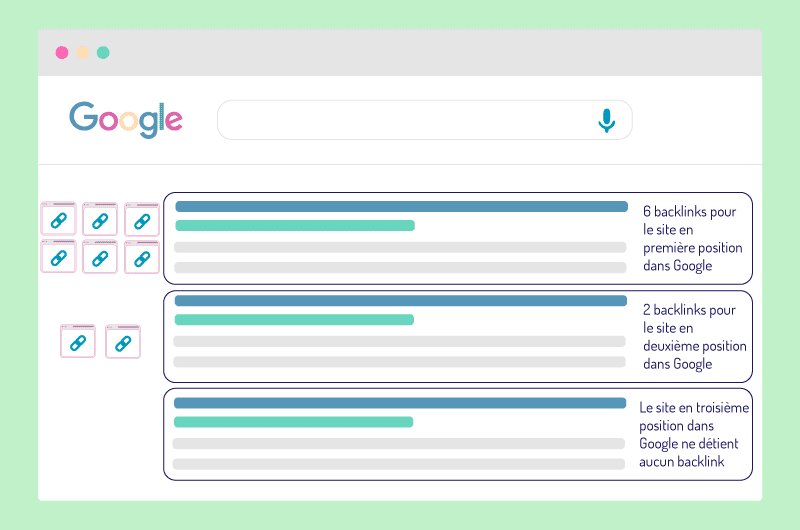 But the question that arises regarding backlinks is how to create them effectively.

Here are some strategies to get links to your pages:
Analyze your site's broken links: It consists of looking for broken links on a site whose theme is identical to ours and offering your content as a replacement. The goal of this tactic is to find a place on the third-party site where your link will make sense;
Analyze the competition: This strategy consists of finding a site that ranks better for the same keyword on which you would like to rank. Then, it would be necessary to analyze their backlinks to find where your link will be beneficial for this site;
Submit your articles to blogs: This strategy is more for people who run blogs in your industry. The strategy is to write a quality article and submit it to these blogs.
Create and publish models: providing your Internet users with models that facilitate their various tasks is a very good way to generate incoming links on your site;
Designing infographics: Because they are easy to read and contain a lot of information on a subject, infographics are very popular with Internet users. Creating an infographic will therefore allow you to get links each time it is shared
5.2.6. Optimizing your site for on-page referencing
This is about optimizing the elements that are on your site for referencing.
The referencing on the page concerns several elements among which one can quote:
The use of the good keywords;
The creation of content that fits with the search intentions of Internet users;
Using quality anchor texts to link pages to new content you create;
Good writing of the meta description and title tags to allow Google to have an idea of ​​what it has on your page;
Website speed optimization;
Adaptation of the website to mobile;
Etc
2.8. A user-friendly website
Often when it comes to websites, webmasters do not give importance to design.
Some Webmasters underestimate its value and forget that it is what promotes quality display.
So you need to invest in designing a good quality design for your website.
For example, you can add graphic elements to the content of your website
By doing so, you will facilitate the reading of the articles that you write as well as a good understanding of the ideas that you develop.
For example, it is often interesting to create graphs for the different statistics we are talking about or to take screenshots to show the progress of a process we are explaining.
Beyond the understanding they promote, Internet users can use these images and thus create links to your content.
The SEO Consultant will therefore have to help you in your quest for a more user-friendly website.
5.2.10. Improve and Update Your Content
Another strategy to increase the chances of success with these SEO efforts is to update old content.
Updating your content involves correcting various errors.
When you reread content that you created a short time ago, you not only get new ideas to improve it, but also you may come across mistakes.
Instead of leaving these faults, it would be better to correct them.
It would also be an opportunity to adapt the content of this old article to new information by:
Removing tips that no longer work;
Adding new information;
Adding graphics.
Adding new content and deleting old content that is no longer suitable will allow your article to find a new freshness.
This will improve your click-through rate, as the content will be republished and perceived by Google as new.
This will also allow you to often fix broken link issues that may appear in your articles.
5.3. How to track your SEO campaign
Once the SEO consultant helps you set up your SEO strategy, you need to track the improvements they have brought you.
To do this, establish KPIs (key performance indicators) from the beginning, which you will then check using the analysis tools.
Here are some examples of indicators to check to follow the evolution of your site:
5.3.1. Check the classification of keywords
When the Internet user carries out a search, the search engine displays the most relevant results that it has in its index.
Thus, if your site is well optimized for a keyword, it will appear faster in the search results.
And this will allow you to get more organic traffic for your site.
Checking your rankings will therefore help you determine if your strategy is working well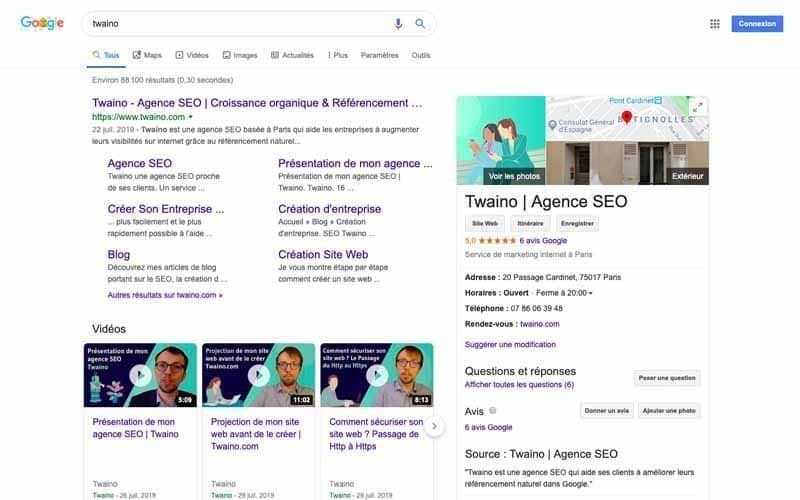 Checking your site's keyword rank can be achieved through tools like semrush, ahrefs, etc.
On the other hand, you should also keep in mind that keyword ranking alone cannot indicate the performance of your SEO campaign.
5.3.2. Check your conversion
rate The conversion rate tells you how many visitors followed your call to action.
It could be buying a service or product, signing up for a list or signing up for a free trial.
If you have high conversion rates, it means that your conversion rate optimization (CRO) practices have been successful.
You can directly track your conversion rates via Google Analytics.
5.3.3. Check your backlinks
As you know, backlinks are an essential part of SEO.
The number of sites that have links pointing to your site gives you a better chance of appearing in the top SERPs, especially when they are relevant and have a high domain authority.
Indeed, when sites with high domain authority link to your site, you can have a big advantage over competitors and rise to a good position in search results.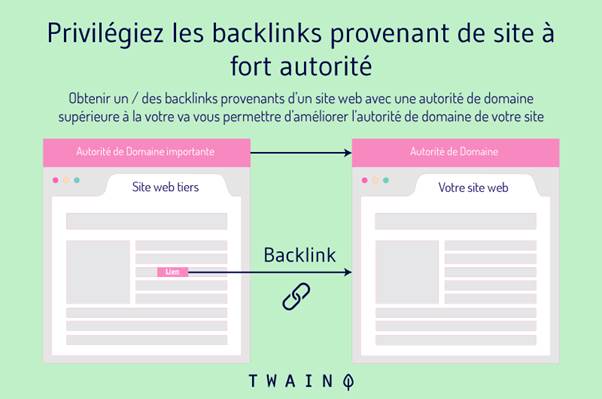 These sites give you some credibility and show how useful your content is for everyone.
5.3.4. Check the quality of your traffic
It is not only a question of checking if your traffic increases each month, you must also check if this traffic is of quality for your site.
That is, studying your site's traffic to better understand it and identify which SEO campaigns work for your site.
You should normally monitor the behavior of Internet users who arrive on your site and identify the bounce rate of your site.
For example, if your website is generating traffic and your bounce rate is high, this could be a problem.
The quality of your site's traffic can be identified by the average number of pages visited per session.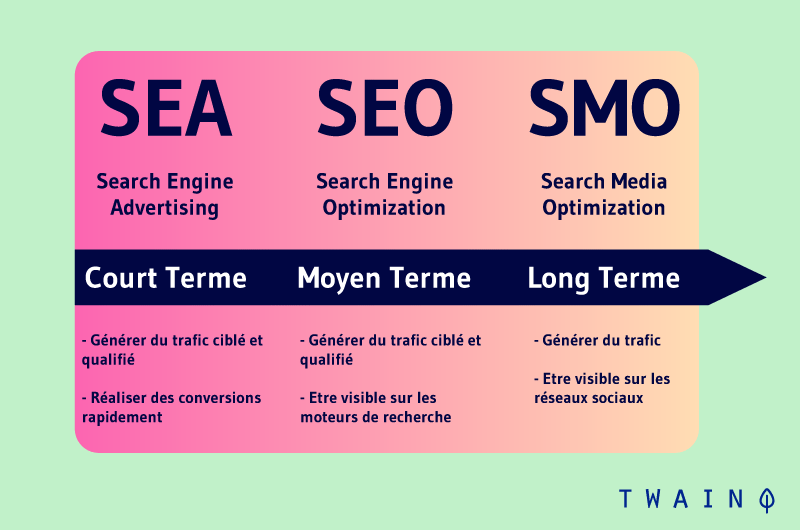 Low-quality traffic can mean the keywords you're using aren't working.
Google analytics will allow you to easily track this factor.
So you have to keep in mind that when it comes to SEO, it's necessary to be on the lookout for what works and what doesn't.
This will allow you to adjust your strategies accordingly.
5.3.5. Check your spam
score The is scored on a scale of 0 to 17. It can lower your site's domain authority. It thus affects the ranking of the latter in the search results.
The lower the score, the more trustworthy your site is perceived to be.
The spam score can also affect your backlinks and result in penalties from Google.
Among the factors that negatively influence the spam score, you have:
Inbound links from sites with low domain authority;
Outbound links going to sites with a high spam score.
When you see that your spam score is high, it is imperative that you work to reduce it by, for example, eliminating all the poor quality links that point to your site.
Chapter 6: How to evaluate your SEO Consultant?
Here are different methods that will allow you to analyze the work of an SEO expert:
6.1. Examine the quality of his communications
According to the Moz site, the communication that the SEO consultant maintains with you is an important aspect of his SEO work.
You should therefore take a look at:
The frequency with which it sends you updates and reports;
On his attention to detail and the way reports are rendered.
Once you receive the reports from your SEO consultant, you should also take a look at their content.
You must indeed evaluate the content of the reports you receive on the basis of:
Its format;
Of its quality;
The importance of the information contained therein;
The degree of accessibility of the report.
6.2. Evaluate the keyword
strategy The keyword strategy is an essential step in any work of optimizing a website.
So ask the consultant which strategy he will use and try to see if this strategy respects the recommended methods.
A good strategy must in particular:
Be based on keyword research and competitive analysis combined with Google Analytics data from your website;
Include a list of keywords that apply to your various products and services;
Be relevant to your industry;
Use keywords that contain less common terms with low competition. This will reduce the amount of unqualified traffic and provide a higher return on investment;
Include long-tail keywords or phrases that drive more targeted traffic and often attract much faster conversions.
6.3. Review website rankings
The goal of SEO campaigns is to make your site more relevant to users and boost its visibility and authority in search results.
Therefore, evaluating the site means looking at:
The Quality of the content;
Adapting the content of your site to mobile;
Improved Link Building Strategies;
The use of keywords;
The traffic generated by organic search and compare it with that of paid search.
Reviewing the ranking factors will help you gauge how your site optimization is progressing.
Similarly, the analysis of these factors will give you an idea of ​​the impact of actions taken by SEO experts.
6.4. Measuring Changes in Revenue vs. Traffic
Another way to assess the SEO expert is to identify the improvements your site has seen since implementing SEO tactics.
Monitoring the various measures put in place would therefore be a good way to observe these improvements.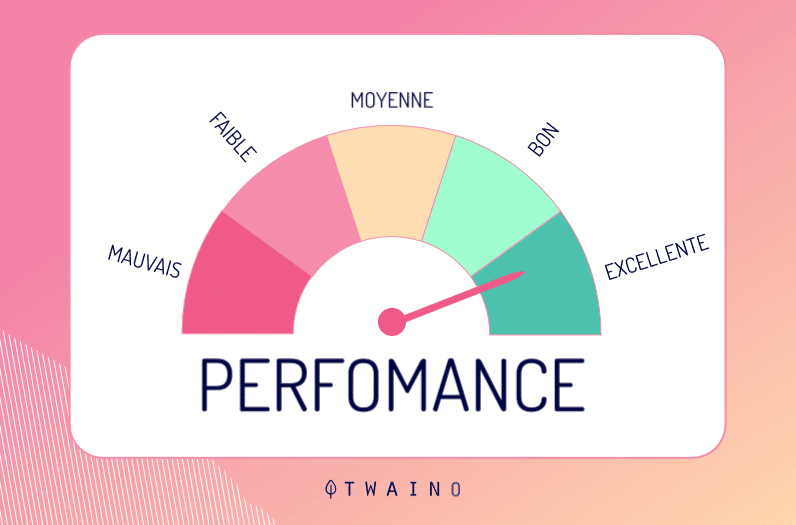 But that assumes you need to correlate changes in your revenue with changes in your website traffic.
Otherwise, you obviously won't be able to say conclusively whether the SEO tactics are working or not.
This is for the simple reason that SEO actions often take a bit of time to work.
6.5. Look at local optimization
Google has introduced ways to optimize online content to enable location targeting for establishments.
SEO agencies or experts must therefore take this aspect into account in their SEO strategy.
You can evaluate your local referencing by evaluating:
The number of phone calls;
The number of appointments;
The number of reviews you receive;
The quality sheets in the directories;
Etc.
6.6. Analyze social signals
Google recently upped the ante on the importance of social signals in an SEO strategy. Because the level of social engagement is an obvious validation of the quality of a website.
Here are some things you can keep an eye on when evaluating your SEO consultant.
Chapter 7: The good practices of the SEO consultant
In this chapter, I present to you the good practices that the SEO expert must adopt.
Here is a list of good practices that you can try to apply in your SEO strategies
7.1. Prioritizing Your SEO Fixes
In order to effectively prioritize SEO fixes, it's essential to first have specific, agreed-upon goals between you and your client.
Although there are a million different ways to prioritize SEO, we suggest you rank them in terms of importance and urgency.
7.2. Planning and Executing Your SEO Strategy
Much of your success depends on effectively mapping and planning your SEO tasks.
Free tools like Google Sheets can help you plan your SEO execution. But you should use the method that works best for you.
Some people prefer to schedule their SEO tasks in their Google calendar, in a scrum board, or in a daily planner.
7.3. Use what works for you
Use the various information in this article to define and implement indicators to measure your SEO progress.
This can also let you know where to direct your SEO efforts when something goes wrong.
For example, you may optimize elements of your site and find that the results produced are not as satisfying as when you use the old strategies.
From this observation, you must understand that all the SEO strategies you have will not necessarily work.
Likewise, once you have a strategy in place, you need to give it time to express itself before you start to assess its weaknesses and strengths or seek to modify/replace it.
7.4. Creating content taking into account the search intent of Internet users
The best way to optimize your site would be to know exactly what Internet users are looking for and how they are looking for it.
So start thinking like them by noting down the phrases and keywords they're likely to use when they search for your business.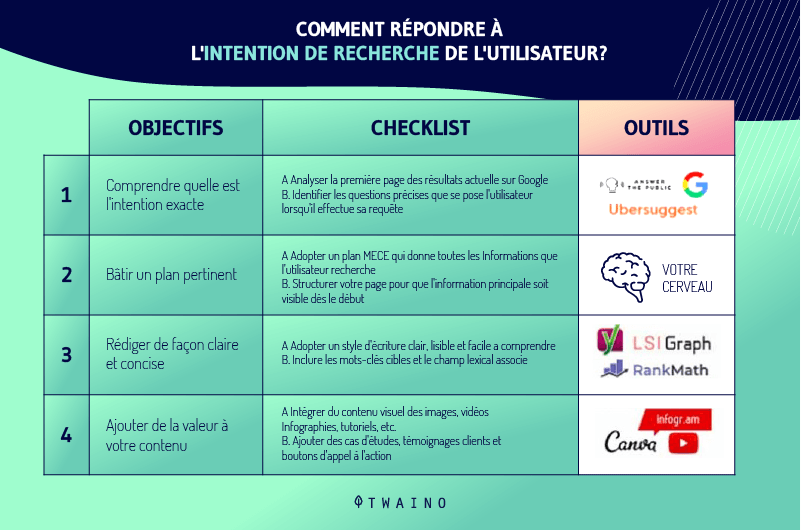 While it's true that you won't find all the expressions they will use, the important thing is to find what the majority will do.
Then it's up to you to optimize your site for that phrase through building a list of keywords and producing content on interesting/popular topics.
7.5. Evaluate your site with an SEO website
audit With an audit, you will be able to better discover SEO opportunities by having an understanding of certain aspects:
Its current position in search;
How researchers interact with it;
Its performance;
The quality of the content;
The overall structure,
etc.
You can also take advantage of search engine analysis tools to identify opportunities, as well as potential problems.
7.6. Build Effective Page Titles and Meta Descriptions
When it comes to your page title and meta descriptions, you need to ensure that they are written in a way that will entice searchers.
In addition, they must summarize the content of the page of your website.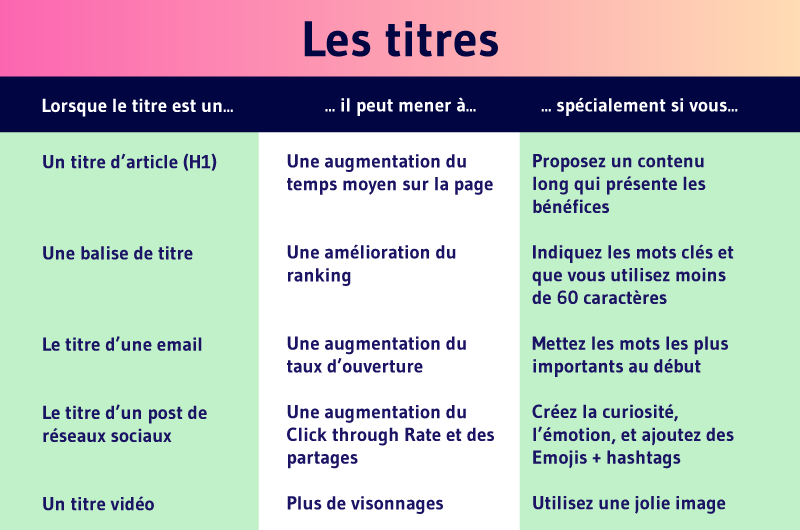 Use the search console to analyze their effectiveness by looking at their click-through rates in search results.
7.7. Pay attention to loading
speed Loading speed is an important part of your SEO strategy.
You wouldn't want people who click on your links to wait a long time to get to your page.
Check out my guide to Gtmetrix for lots of information on the best strategies to improve the speed of your websites.
7.8. Prune the website to improve overall quality
In an SEO context, pruning generally refers to the removal of low-quality pages to improve the quality of the site as a whole.
Removing thin, old, low-quality, or rarely-visited pages from your site can help improve the perceived quality of your website.
Performing a content audit will help you uncover these pruning opportunities.
7.9. Check that your site is displayed correctly on mobile devices
According to the statista, more than 60% of Internet users carry out their searches from their smartphones.
This statistic is enough proof to convince you of the need to optimize your site for mobile devices.
Start checking this aspect of your site now by testing it withGoogle's mobile testing tool.
Chapter 8: Some Resources to improve your SEO performance
In this chapter, you will find various resources that will help you improve your SEO strategy.
I will not fail to mention a few personalities recognized as experts in the field of SEO.
They regularly post tips and tricks to make SEO easy and accessible to everyone.
8.1. Resources to learn SEO
Here is a list of resources that will help you improve your SEO strategy.
8.1.1. SEO training
For a long time, there was no academic course in the field of SEO.
Most SEO experts have learned the rules of SEO on their own through their different experiences.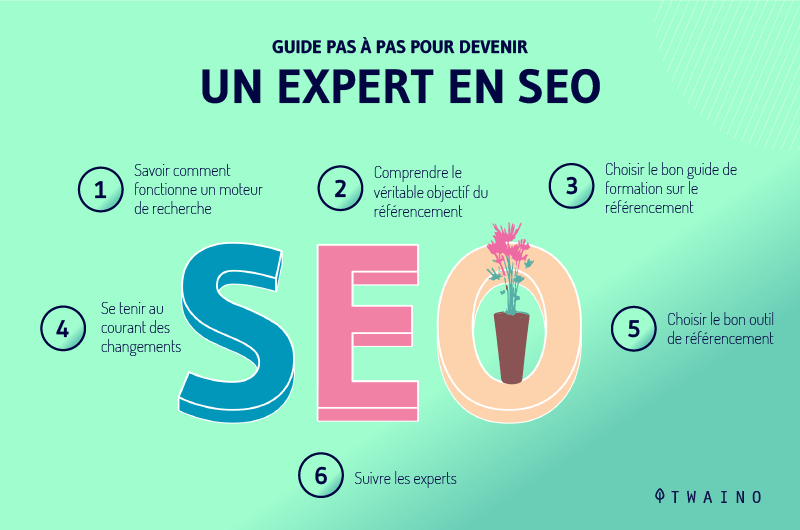 Currently, you will find many courses in the field of SEO on the web. 
Even if these certifications manage to give more credibility to new SEO experts, it should be kept in mind that only the experience and the results obtained really count.
As you will see, most of the training offered is a mix of free and paid options.
Likewise, some courses are for beginners, while others focus on more complex aspects of SEO.
Anyway, here are some certifying trainings that will allow you to become certified SEO experts:
8.1.1. SEMrush Training
SEMrush has been around since 2008, before the boom and popularity of SEO as we know it today. He is a major player in the world of SEO.
Indeed, it is a SAAS company that specializes in the sale of software for online visibility, digital marketing and SEO.
The company started by offering an SEO tool and a browser extension before delving into the SaaS model.
With such a history in SEO, it's no surprise that SEMrush Academy offers some of the best SEO courses.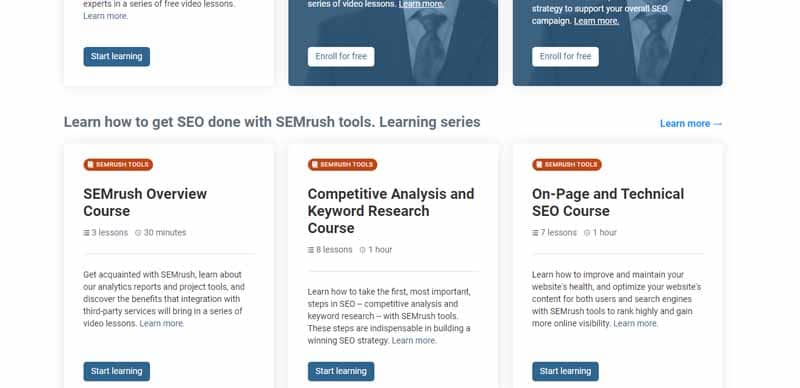 They have just under 20 courses focused specifically on SEO. Nevertheless, these courses cover several areas.
For example, you have courses on:
The SEO Toolbox;
The site audit;
Keyword research;
competitive analysis;
On-page and technical SEO;
The creation of links;
The Fundamentals of SEO.
Classes and exams range from 10 minutes to 5 hours. So there is definitely a lot of variety.
SEMrush Academy teaches SEO with a series of video tutorials and lessons. In addition to courses, they also offer several different SEO certifications.
You can take an exam and get certified if you pass.
It's a great option for marketers, agencies, and SEO wannabes.
These certifications can be used to show potential clients that you are an expert in different areas of SEO.
SEMrush Academy also offers courses and exams on social media marketing, content marketing, affiliate programs, and PPC.
While you're on the site, check them out as well since courses and certifications are free.
8.1.2. Udemy
With over 100,000 online courses, it's safe to say that education is their specialty.
To learn something new, Udemy is definitely the platform to visit first.
In addition, it presents the courses on the site in a way that you see the opinions and experiences that others have told. Indeed, each course has ratings and reviews.
You also see the number of people who registered on the day.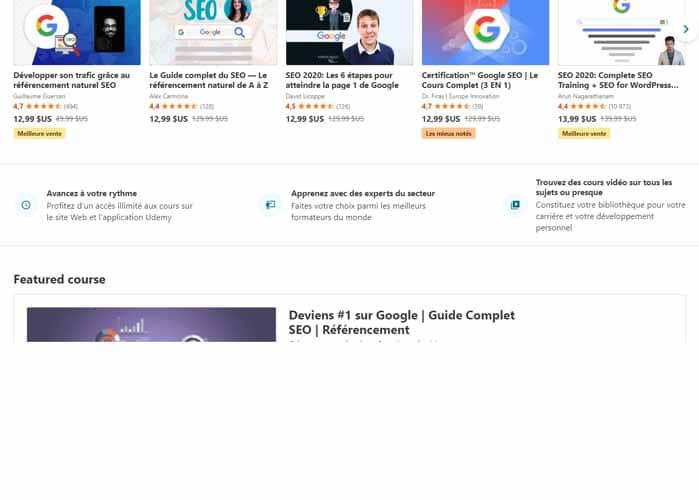 it comes to SEO, the courses you'll find mostly include the following:
SEO for WordPress;
SEO for local businesses;
Keyword research;
Site audits;
Link building.
You will also find advanced courses on SEO. For these advanced courses, you will find the experiences you must have before starting.
A way to allow you to choose the courses for which your level corresponds. So be sure to take these courses and progress gradually.
As for the cost, courses on Udemy start from $10.99 and can also be accessed on your mobile device.
When you buy a course on the Udemy site, you get lifetime access to it and you also receive a certificate of achievement.
Udemy also specializes in courses for teams. If you want training for five or more people, check out Udemy for Business.
It's a great choice for those of you who run an agency. You can get your whole team certified at the same time.
8.1.3. Yoast Academy
Yoast is a name that many of you may already know.
Especially wordpress users who definitely have the plugin : A plugin that was voted as the best plugin for general SEO.
When it comes to SEO training, Yoast Academy offers SEO training courses for beginners, content SEO, technical SEO, and bundles.
Here are some of their most popular SEO courses:
SEO Copywriting;
Keyword research;
The Structure of the site;
Content SEO;
Structured data;
Multilingual SEO.
The vast majority of courses are paid, but they also offer free training for beginners.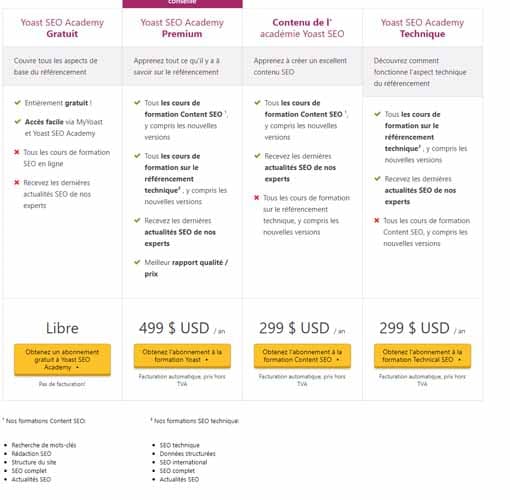 The cost of the trainings ranges from $39 to $349 and most courses are between $150 and $250.
But there is the bundle which allows you to have access to all the courses for an annual subscription.
For $41.58 per month (billed annually) you will get access to all SEO courses.
If they offer new SEO courses while you are subscribed, you will also have access to those.
8.1.4. Hubspot
HubSpot is another well-known name in the digital marketing industry.
They offer CRM marketing and sales software for businesses.
In addition to their great products, services, reputations, and blogs, HubSpot also has an academy that offers educational tools for various topics.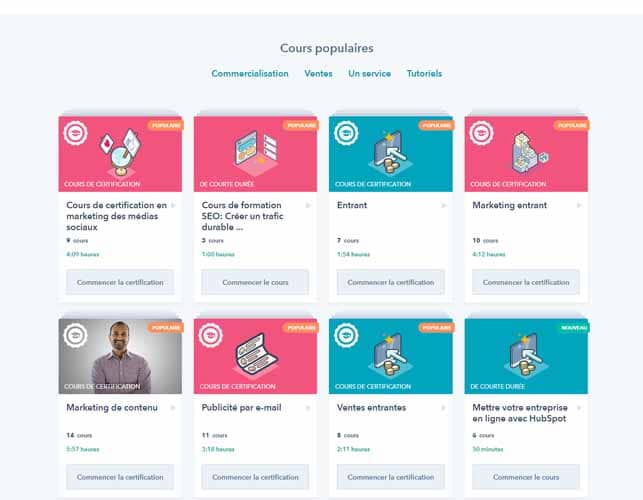 Although HubSpot doesn't offer a wide variety of SEO courses like other sites, they do have a course that covers several components of SEO.
In total, the course contains 21 videos, four lessons and three quizzes.
Total completion time is less than two hours. The lessons are divided into the following categories:
Find the SEO strategy that fits your business;
Scale your backlink strategy;
SEO for blogging;
Guest blogging.
By completing lessons, you will be able to assess and improve your website's SEO with a fresh perspective from experts who know how to rank on Google.
This course offered by hubspot is much appreciated since it focuses on the creation of backlinks. The course is free so there is no reason not to take advantage of it.
8.1.5. The Blueprint
Training The SEO Blueprint includes 13 SEO courses. Among the 13 courses, 4 are accessible to you free of charge.
The courses are designed more specifically for agencies and this is what justifies the somewhat high costs unlike other sites.
Indeed, the courses range from $99 to $999, with an average price right in the middle of these two numbers.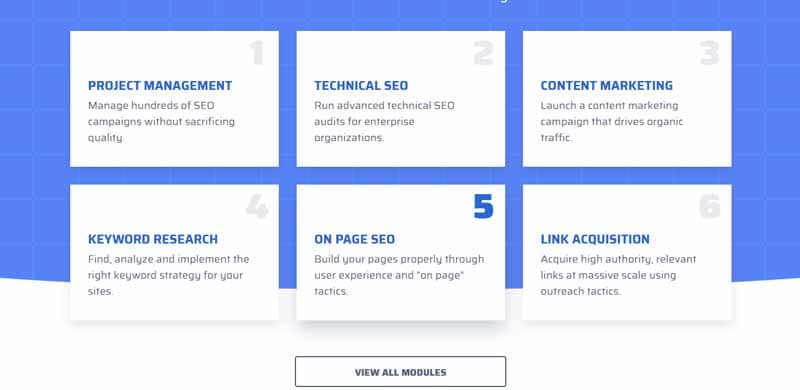 Since the course is geared toward agencies, it also includes helpful educational guides on staffing, client onboarding, and project management.
Rather than buying each of them individually, you have the option of buying all of the courses.
With $2,999, you get full access to all the courses that are offered. Regarding the content of their training, you will find programs on:
Agency sales;
Content audit;
On-page SEO;
competitive analysis;
Link acquisition;
Keyword research;
Technical SEO.
For more information on how to become an SEO expert, here is a comprehensive guide that tells you even more about SEO training.
8.2. Text resources
Here are some text resources that deal with SEO:
8.2.1. The Glossary of SEO Terms
Whether you like it or not when considering optimizing your site for a search engine, you need to implement an SEO strategy.
As a result, you will encounter terms or expressions that may seem difficult to you if you are a beginner.
For this reason, it is important to have a guide on hand that can help you understand the meaning of the different words used in SEO.
You will find most of the acronyms and technical terms of SEO in this guide that I had to create.
Moz also has good content regarding SEO terms and phrases.
You will find the meaning of the words that are part of the lexical field of SEO.
Words like:
Crawling : Mechanism by which search engines discover your web pages;
Featured snippets : Organic response boxes that appear at the top of SERPs for certain queries.
Advanced search operators: special characters and commands you can type in the search bar to further refine your query;
Index Coverage Report: A report in Google Search Console that shows you the indexing status of your site's pages;
Local queries: A query where the user searches for something in a specific location, such as "nearby cafes" or "gyms in Brooklyn";
Long-tail keywords: Longer queries, usually those containing more than three words. Indicative of their length, they are often more specific than short-tail queries;
Search volume: Number of times a keyword has been searched. Many keyword research tools show an estimated monthly search volume;
Keywordstuffing: A spammy tactic involving the overuse of important keywords and their variations in your content and links.
AMP: Often described as "diet HTML," Accelerated Mobile Pages (AMP) are designed to make the viewing experience super-fast for mobile visitors.
Qualified traffic: When traffic is "qualified", it usually means that the visit is relevant to the intended topic of the page, and therefore the visitor is more likely to find the content useful and convert it.
8.2.2. Twaino's SEO
guide Twaino's SEO guide explains the different concepts of SEO in a down-to-earth way.
It provides answers to various SEO questions and mainly informs you about the following elements:
The definition of SEO;
SEO and paid referencing techniques;
The importance of SEO;
The functioning of search engines;
SEO optimization;
The search intent;
Keyword research;
SEO performance tracking.
8.2.3. Google's Search Engine Optimization Getting
Designed by the Google team, the Optimization Getting Started Guide is addressed not only to SEO consultants who already have very good experience, but also to the novice.
It tells you how you can improve your site to show up in search results.
The guide teaches you about:
How you should integrate your site with Google
How you can control the crawling of your site
How to create content understood by Google and Internet users
How to optimize the elements of your site
Activating your site for mobile devices
Etc.
8.3. Blogs on SEO
Here are some blogs that I suggest you browse to learn more about SEO:
With particularly well-detailed articles, Twaino's blog regularly provides you with articles on:
SEO;
digital marketing;
The creation of websites;
And on entrepreneurship.
You will also find various videos that explain in detail the concepts of SEO.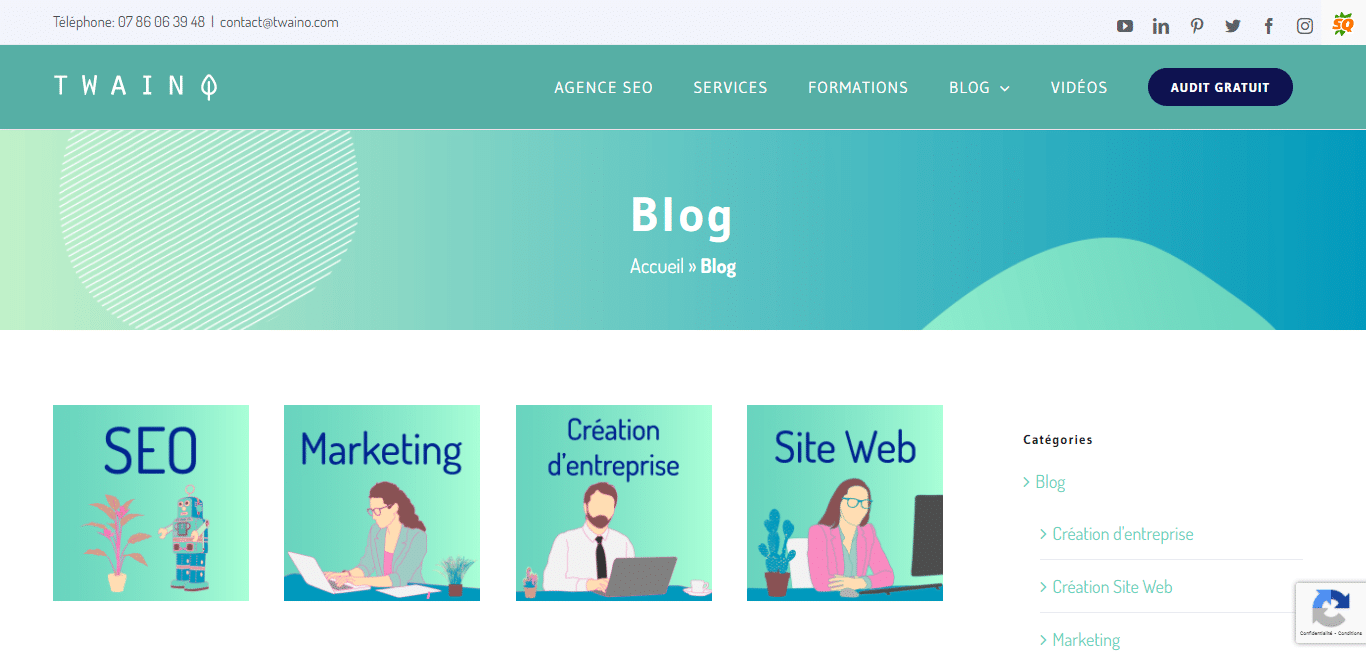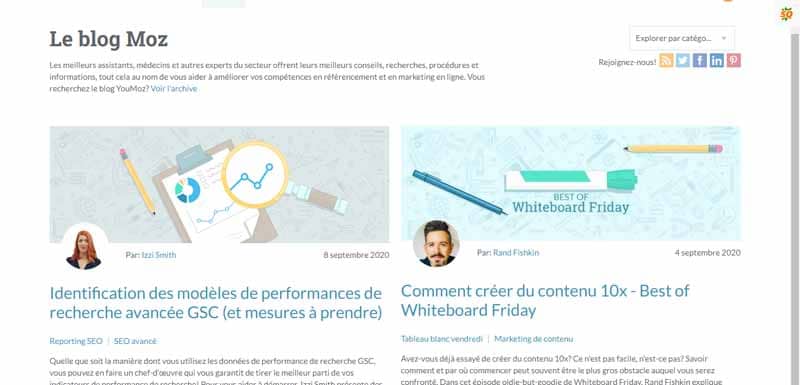 The blogis a real resource for SEOs since they will find several tips, information and research work carried out by experts in the SEO world. This should allow them to improve their efforts when it comes to marketing and SEO.
You also have sites like
On this site you will find almost essential articles on how the Google search engine indexes and displays the pages of your website. The biggest feature of this site is that you will find more articles on Google patents.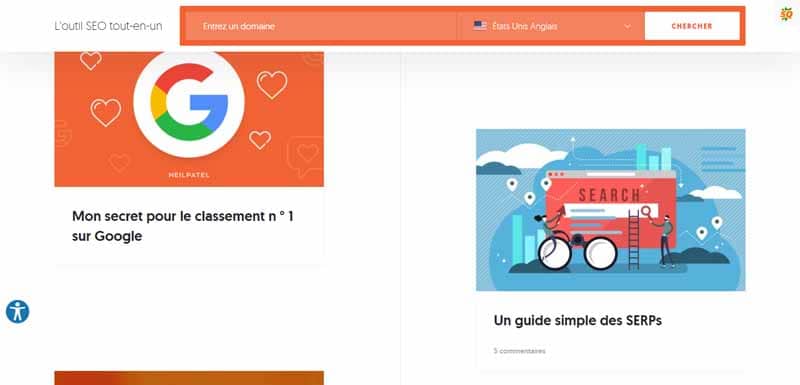 Neilpatel is a site that deals with several topics such as SEO, e-commerce, content marketing.
You will find a blog rich in content, but also tools like ubersuggest.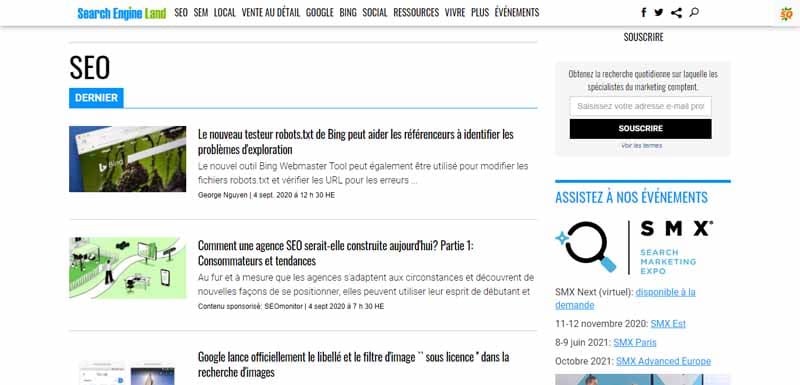 Created in 2007 by Danny Sullivan, a web SEO expert. This site to follow the news of referencing. Along with a variety of experts, it also features articles that touch on different aspects of the search industry.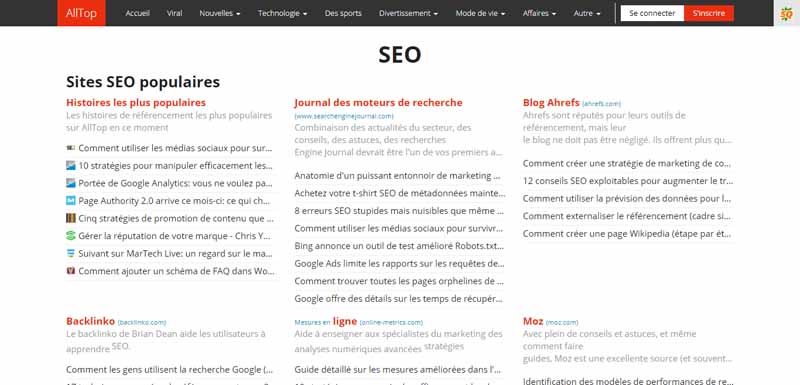 Here is a site that saves you several hours of research by offering you a list of sites, blogs and forums that deal with search engine optimization.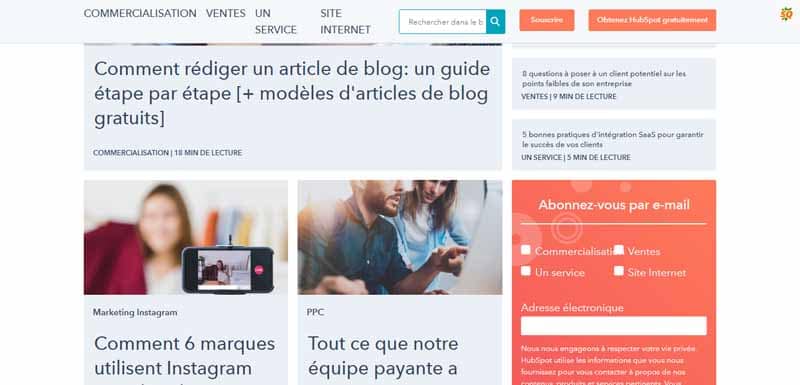 Specially intended for companies and marketers, you will find several articles on the hubspot blog divided into several categories including SEO.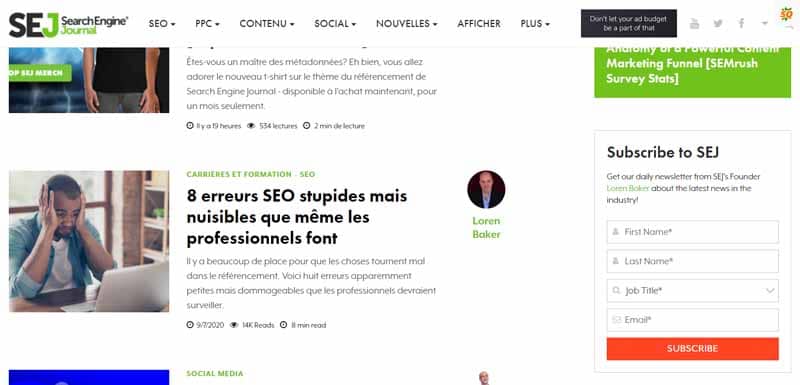 Established since 2003, Search engine Journal covers search engine optimization and marketing issues on a daily basis. It provides you with guides, trend tips and news.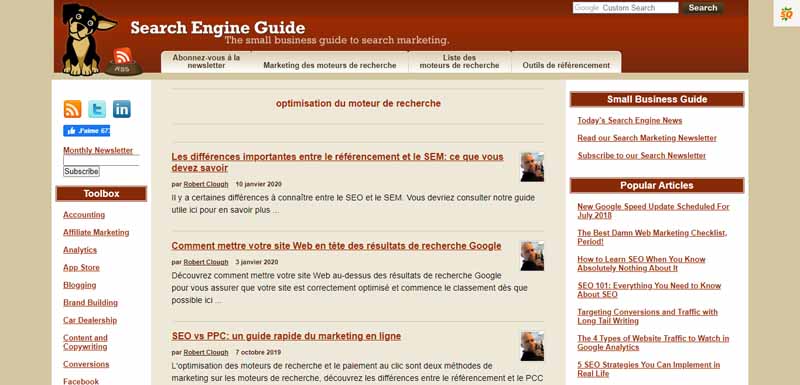 Search engine guide offers several articles that cover different aspects of SEO.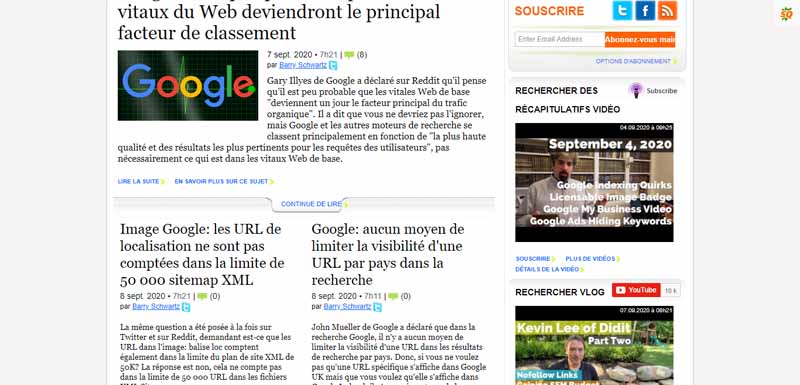 The SEO ROUND TABLE site provides you with articles that cover updates and news on search engines like Google, Bing, Yahoo. You will also find on the site the main conferences on search engines.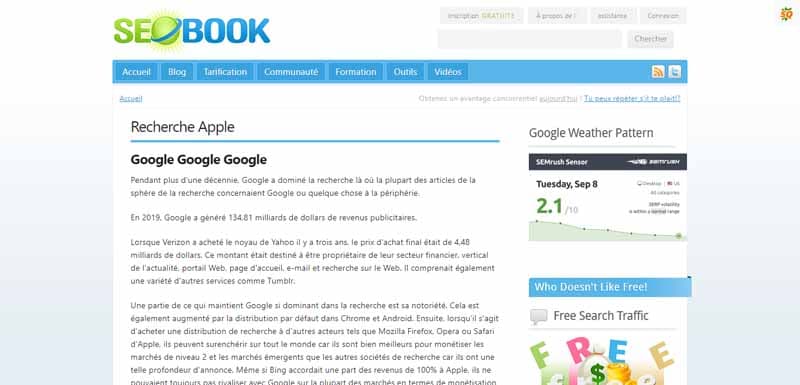 They offer rich content and give more details on the different SEO strategies.
The HTML guide
As I have already reminded you, the SEO consultant must master the main language of the web: HTML.
So here is a guide published by hotspot that talks about it. To go further, you also have this guide published by the whatwg.
You can check out my article on how to train in SEO for even more resources. 
8.4. Some big SEO names you need to follow
Here is a list of SEO experts you can follow to improve your SEO strategy.
Indeed, beyond the textual resources that I proposed to you in the previous chapter, it is important that you also follow some experts in the SEO field.
This is for the simple reason that they have a wealth of experience in SEO and regularly publish content to aid in the SEO process.
8.4.1. Brian Dean

He is the founder of backlinko a site created in 2012 and specialized in link building, SEO, marketing, conversions, etc.
The objective pursued by Brian Dean is to teach those who wish it the tricks, techniques and methods to obtain a good ranking.
He has helped sites like Amazon, Apple, IBM, Disney, etc.
Here is his twitter
8.4.2. Neil Patel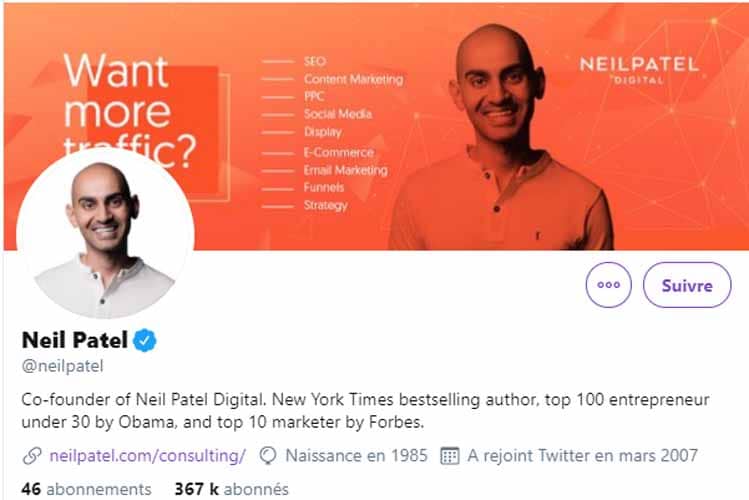 Neil Patel is a web entrepreneur who has co-founded several successful businesses.
It has helped companies like Amazon, NBC get more traffic and increase their revenue.
He has a blog on which he regularly offers and posts articles that deal with web referencing and marketing. You can follow him on Twitter.
8.4.3. Matt cutts
Matt cutts is the head of Google's webspam team.
He therefore has a certain proximity to Google which allows him to communicate with the SEO community about information and news from the search engine.
With several thousand subscribers on his account , he is undoubtedly the person to follow for all questions related to SEO.
He also shares this knowledge by publishing videos and advice on the subject of SEO on his blog.
Here is the link to his blog.
8.4.4. Rand fishkin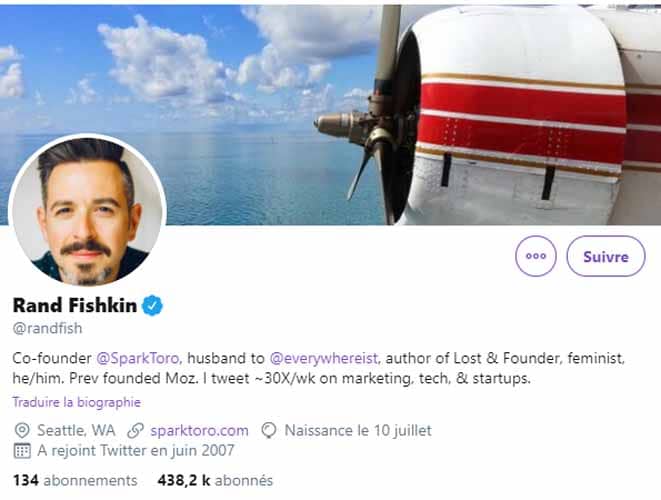 The Founder of one of the best SEO and online marketing sites is also an SEO expert that you can follow to improve your performance.
He had to make public presentations in several big companies like Facebook, Google, Microsoft.
You can also follow him on Twitter or Facebook
8.4.5. Danny Sullivan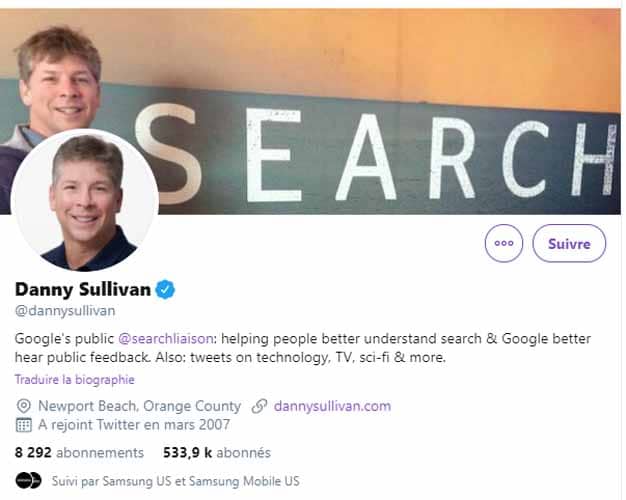 Danny Sullivan has created several well-known and authoritative sites on the web.
He has been working on search engine optimization since 1996 where he wrote and covered many aspects of search engines.
He often referred to as the godfather of SEO.
He created sites like: search engine Land
Marketing Land and Search engine watch which he sold for several million dollars.
To know more about him, here is his twitter account.
8.4.6. Bruce clay

Bruce Clay is also an expert in the world of SEO. Specialist since the 90s.
He led a company global marketing
SEO;
Training ;
The tools ;
Marketing ;
Web design.
He is also the author of the book Search engine optimization All in one for dumies.
He publishes on his blog several contents on search engine optimization.
8.4.7. Larry Kim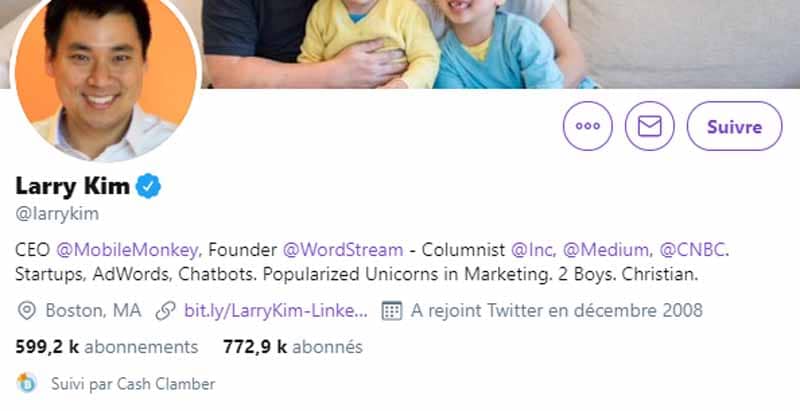 Nominated as the most influential PPC expert of 2013, 2014 and 2015, Larry Kim is the founder of WordStream, a company that offers PPC management software.
He worked as a columnist in the magazine inc and at search engine land where he was the number 1 columnist.
His blog receives more than a million visits per month.
Here is his twitter
8.4.8. Stephan Spencer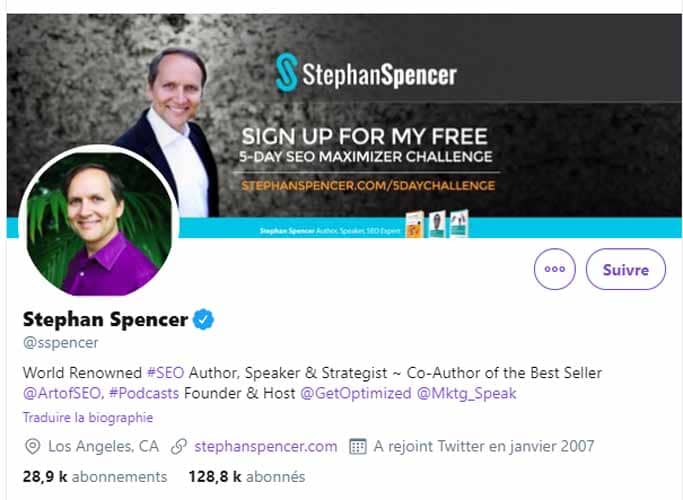 Stephen Spencer is a world renowned SEO speaker.
He is the author of books like Google Power Search, co-author of Social eCommerce and co-author of The Art of SEO.
He is the inventor of the specialized software RIO SEO Website Optimizer and has been a contributing columnist to Search Engine Land, The Huffington Post and Multichannel Merchant.
He also offers a free guide on his website covering SEO myths.
8.4.9. Éric Ange
Eric Ange is the CEO of stone temple consulting, an agency specializing in content marketing, SEO and social media. He contributes to sites like Forbes, Moz, etc. He is also the lead author of the book Art of the SEO.
8.4.10. Bill Slawski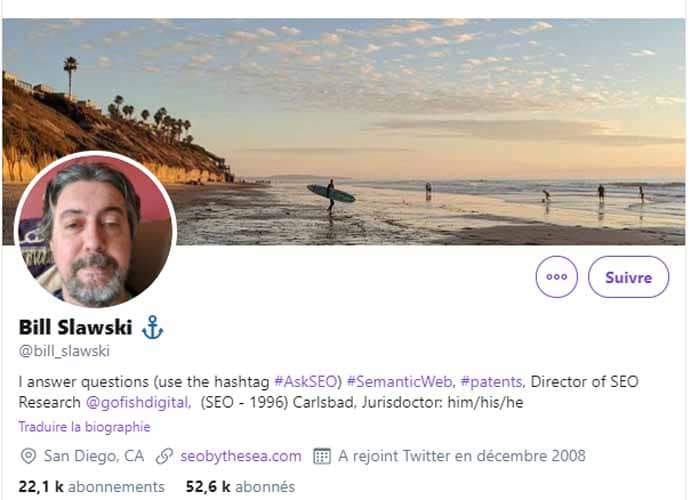 Bill Slawski is also a big name in SEO.
He is an SEO specialist and has therefore been offering SEO and Internet marketing advice since 1996.
On his blog Seo by the sea , launched in 2005, he provides resources on how search engines work.
It also offers several SEO services to help websites rank better in search engines.
8.4.11. Lee Oden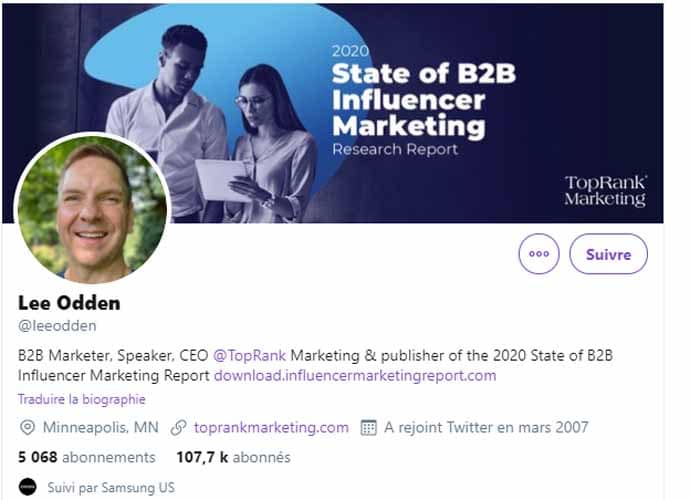 Lee Oden is the CEO of Top Rank marketing, a digital marketing company that specializes in search and influencer content marketing.
The top rank team has good expertise in setting up successful marketing programs for several a variety of companies.
They've helped businesses improve site traffic, increase engagement, attract new customers, and increase brand visibility online.
Similarly, the top rank blog is an adequate space to search for information on SEO and especially on
8.4.12. Aaron Wall

Aaron wall is the founder of SEOBook, a website launched since 2003 that offers leading training in the field of SEO.
With various tools, videos, a private forum, and additional resources, the site focuses on providing users with marketing advice, online business advice, research analytics, and more.
In summary
Since he has the know-how and experience that allow him to understand how search engines work, the SEO expert is the one you need to improve the performance of your site at Google level. .
However, when you decide to get in touch with him, it is important that you know a little more about his profession. This will allow you not only to gauge him, but also to follow him throughout his work.
In this article, you will find what an SEO expert is and what his job really consists of.
I have gone further by providing you with several information on how it does its job.
Moreover, if you are interested in learning more about SEO, you will find different kinds of resources to improve your own knowledge.
Good luck and goodbye !