In the SEO industry, there have been many changes over the years. Originally, search engine optimization was just based on adding specific keywords to a page to improve its ranking
However, over time, search engines have become smarter and more complex, allowing them to show users exactly what they are looking for and everything that goes with it
So when you type a phrase, question or topic into the Google search bar, you'll likely see some very relevant results
So how exactly does Google understand what you're asking?
The answer to this question leads us to cover the following points:
What semantic analysis is and why you should implement it in your SEO strategy;
How has the web evolved with this new approach to SEO?
What is the future of semantic SEO?
What changes do we need to start implementing to prepare ourselves in advance?
How to do a semantic analysis in SEO and position yourself with semantic searches?
What tools should we use to perform an effective SEO semantic analysis?
These are just a few of the many relevant topics around semantic analysis that we will cover in this guide!
Let's get started!
Chapter 1: What is semantic analysis and why is it important?
1.1 What is semantic analysis in SEO?
Through concept matching, synonyms and natural language algorithms, search engines understand language as a human would.
Therefore, semantic analysis, also known as semantic SEO, aims to improve the accuracy of search results by understanding the user's intent through the contextual meaning of their search.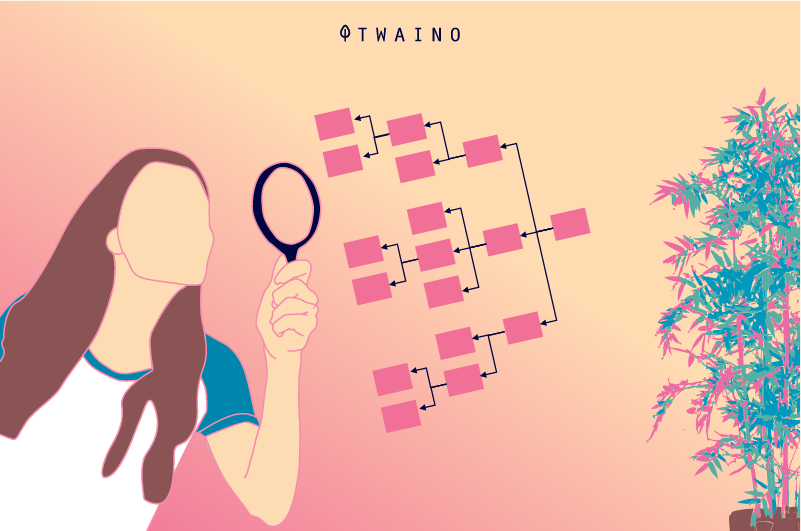 In other words, semantic SEO is the process of creating content around topics, instead of one or two keywords. That is, the content should focus more on a general topic rather than a specific issue
To be more specific, it looks at the relationship between individual words in a search query to create meaning or context.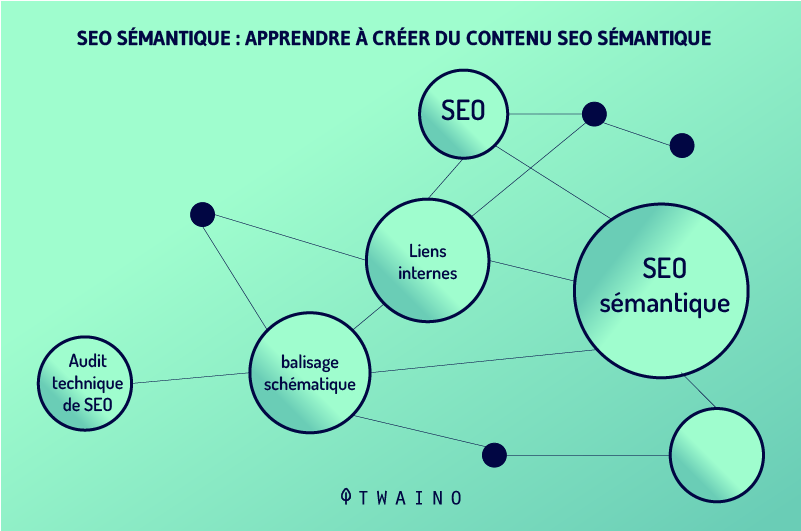 Semantic SEO takes content one step further by proactively answering additional questions your visitor may have.
This involves thinking about your readers' true intent and how the different landing pages on your website are interrelated
In this way, you need to create content that perfectly matches what the user is looking for on the Internet in relation to your products, services or industry
A properly semantically optimized piece of content will not only answer the question a user is asking now, but will also answer the second, third and fourth questions they might ask after reading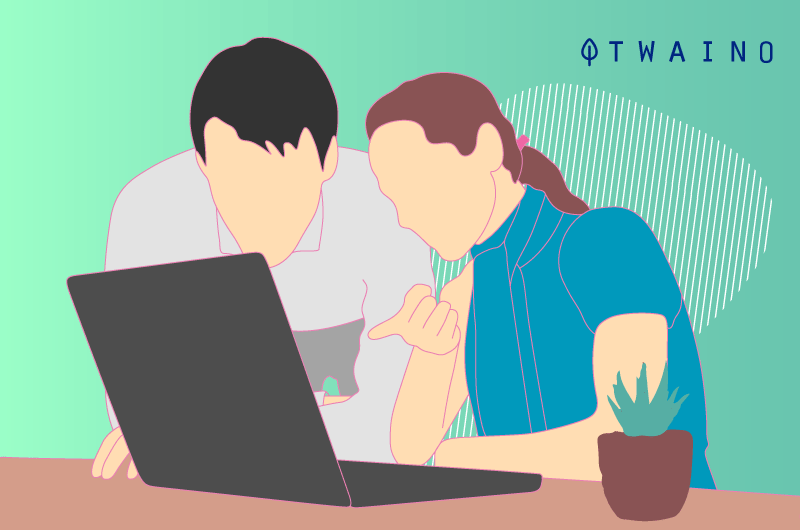 It's about adding more depth, meaning and reason to your content.
Content creators typically run into 3 problems when dealing with content on a search engine:
Google is smart, but it's still a robot. Many of Google's algorithm updates are designed to help Google's crawlers understand human language. However, they are robots. Although their machine learning is quite advanced, they are not capable of actually speaking with human language. This is where semantic writing can be useful.
Other brands are competing for your target audience. With more content fighting for the top SERPs of search engines, it's hard to stand out to a searcher. Google uses authority, quality and page experience to determine if your content is more valuable than your competitors.
Google can promote your content, but you have to do the rest. Search engines can usually figure out what your content is about. But it's up to you to answer consumers' questions before they even ask them and lead them to conversion.
The concept of semantic SEO can help solve these 3 problems
1.2. Why is semantic SEO important?
On one hand, for users, it's very frustrating to have to go through several different articles to gather all the information you need from a simple search
So, in terms of user experience, semantic search optimization and providing in-depth quality content is of great importance.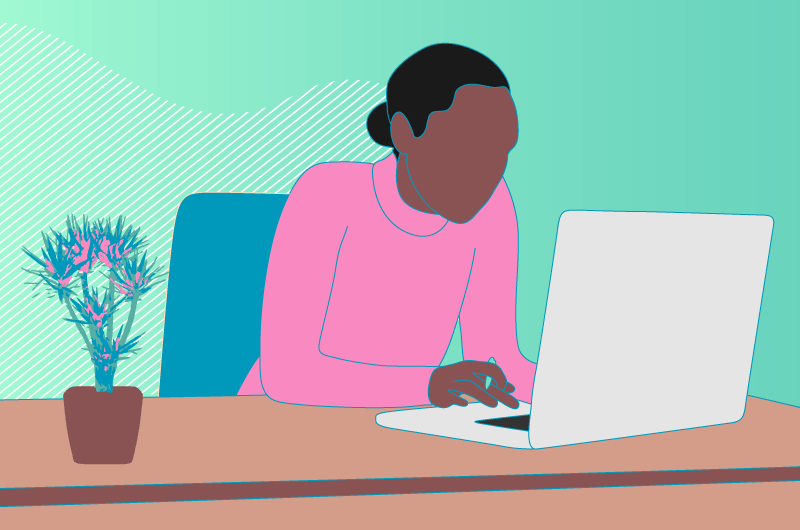 On the other hand, search engines already know what is good for users and make sure to rank pages accordingly. They become smarter by using machine learning to understand the context and meaning of each page
This allows them to better provide users with relevant results. Indeed, since the Hummingbird algorithm update and BERT technology, Google is moving more and more towards semantic analysis
Without going into the details of these updates, the result is that Google now understands topics and search intent better than ever and does not rely solely on keywords.
Simply put, semantic SEO is essential to rank well in the SERPs, and it will be even more so in the future.
1.3. traditional web vs semantic web
The W3C defines a semantic web as: " An extended, more meaningful web in which any Internet user will be able to find answers to their questions more quickly and easily with better-defined information ".
The traditional web (before the Hummingbird boom) relied on the structure of links between different documents, and search results were reduced to the relationship between the query inserted in the search engine and the keywords that a document incorporated
In other words, the search engine was not able to interpret the content in its entirety, which is why the websites created had no semantic context, but rather focused on the inclusion of keywords without following any logical information structure.
With the advent of the semantic web, this is changing. Search engines create entities based on facts that define them and hence the importance of semantic context within a website.
The semantic web connects concepts. For example, if a user searches for " Say, say, say ", Google already interprets that the user is looking for information about a song, including the composer is Paul Mcartneywhich appears on the Pipes of Peace album and is performed by Michael Jackson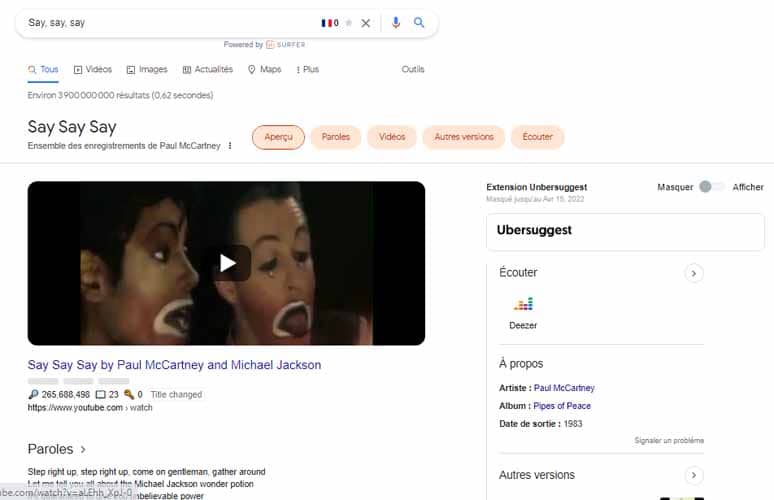 Google, thanks to its learning, knows that a user who searches for the title of this song will want to see the video clip, get information about the performers or the album and continue browsing similar songs.
In other words, what it does is generate a relationship between all the entities and display it with the Knowledge Graph.
1.4. Semantic SEO and the Hummingbird algorithm
Search engines have changed with the arrival of Hummingbird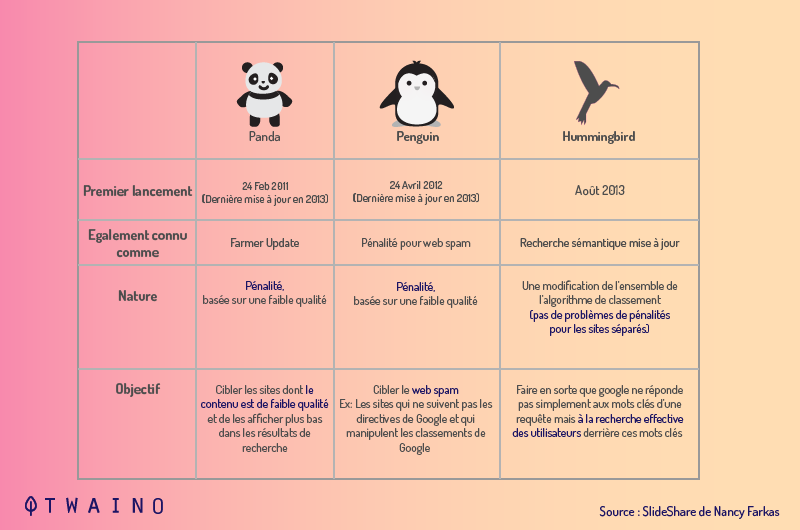 Gone are the days when Google did not understand the meaning of the content of our blog or website
Today, Google's algorithm is able to generate more human responses and take advantage of semantic SEO.
Since its inclusion in Google's structured data, the search engine has started to take into account the position of keywords in addition to other words and their relationship to each other to create entities
An entity is an image, person, thing or place, which can be related to a date, actions or other entities.
With this algorithm from Google, complex voice searches could have a fruitful answer.
For example, if you want to know what are the cheapest restaurants in Paris, you can ask "where to eat in Paris cheap" and get an exact result to your query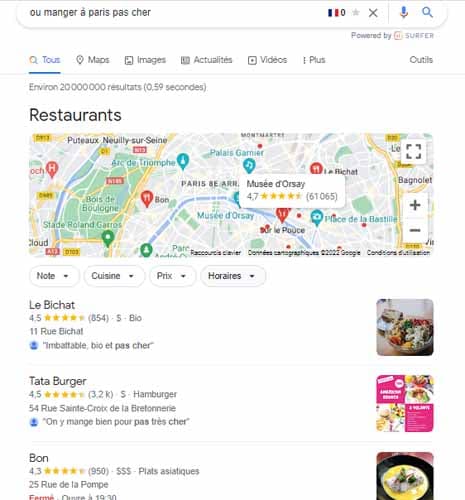 This evolution of search engines has allowed us to improve the Knowledge Graph and rich snippets.
Chapter 2: Google and semantic search
2.1. Where does semantic search come from?
Web searches have evolved remarkably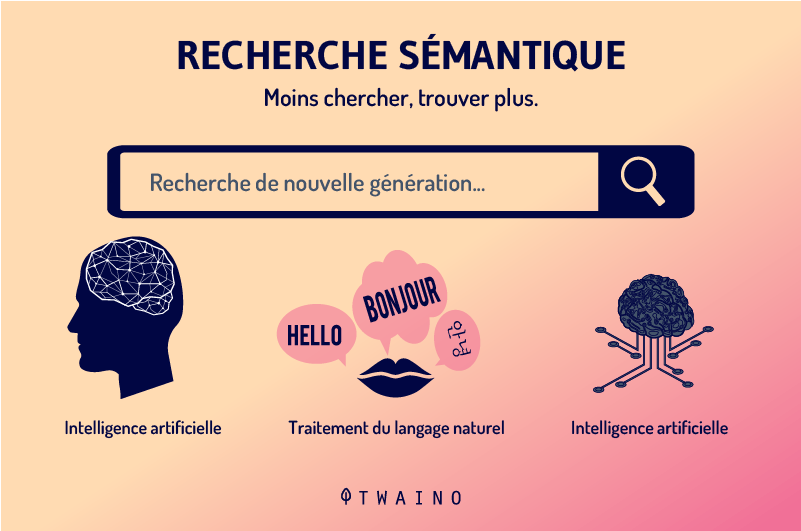 Think about how you used to search for information a few years ago, your searches were probably more general, whereas now we all constantly use the Web to find specific information
For example, if we want to search for an organic coffee shop near us, we put words like " where to drink cheap organic coffee in the neighborhood of… in Marseille " in the search engine
In other words, we use a more natural and specific language in the search because we know what we want to find.
This is exactly what led to the emergence and consolidation of semantic SEO, which seeks to pay attention not only to the signifier but also to the meaning of searches.
And as Techopedia defines it: << Semantic search is a data retrieval technique in which a query seeks not only to find keywords, but also to determine the intent and contextual meaning of the words a person uses to search. >>
In other words, search engines no longer just consider the keywords we enter into their bar, it also values other factors such as:
Our previous search history
Our physical location
The type of device we are accessing
And so on
Its goal is to provide its users with the best possible results and for that it needs:
More information than just a few keywords
To know the context in which we insert them to know what we want.
This technique required a new approach to SEO
Instead of focusing on specific and exact keywords, you should start creating content that meets the user's needs, using more semantic phrases and synonyms for your main targets.
2.2. does Google offer semantic search?
The short answer is yes. Google uses semantic techniques because it updates its search formula for greater user satisfaction.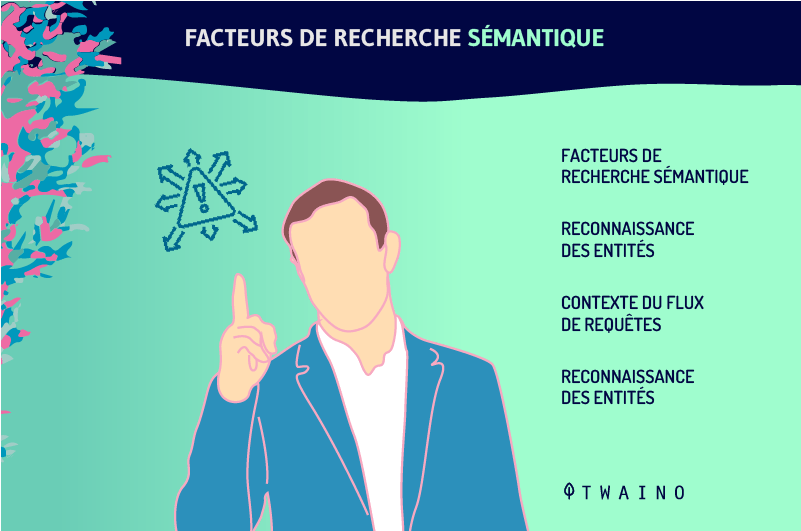 Google uses artificial intelligence (AI) as well as machine learning to provide the best SERP results and improve the UX
They are also important to maintain a successful semantic search. Therefore, Google is constantly updating its algorithms.
There are 3 main updates to Google's semantic search
Hummingbird (2013) – Interprets the meaning of different words in the query to understand the context and provide results that match the searcher's intent.
RankBrain (2015) – Works as a machine learning system that understands the meaning of queries and serves up associated search results. This is part of the Hummingbird algorithm and also works as a ranking factor.
BERT (2019) – Uses NLP technology to even better understand search queries, interpret text and identify relationships between words, phrases, etc.

All of these updates are made to optimize bots' understanding of the context behind search queries. It's a deep mechanical analysis of words and intent
To provide the best search results, Google also takes into account bounce rate and time spent on page. These affect the ranking of pages in the SERP.
2.3. Why does Google use semantic search?
Google uses semantic search to:
Understand websites by topics covered and not only by keywords used;
Better understand the user's search intent;
Separate poor quality websites from high quality ones;
Provide quick answers to questions (e.g., featured snippet, knowledge graph);
Integrate Google technologies, such as RankBrain, BERT and Hummingbird;
Improve user experience (taking into account Core Web Vitals signals).
2.4. What are some examples of semantic search in Google?
There are a variety of common semantic searches that you encounter every day. Here are 7 main examples:
Conversational queries and results
Pretend you type this question into Google: "How long is summer vacation?"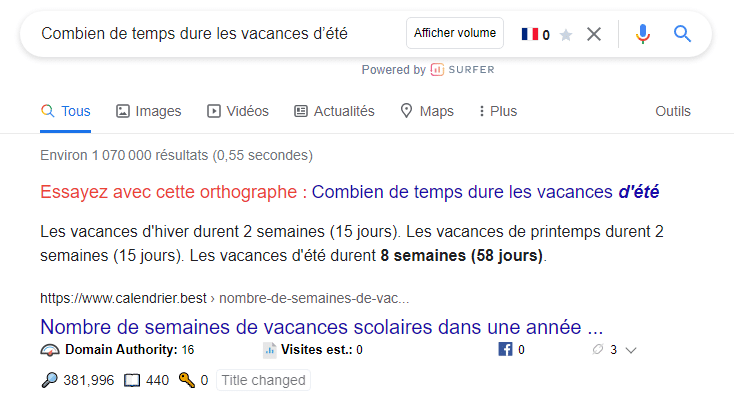 Google will give you the answer in your search, without even visiting a website.
Auto-corrected spelling
If you misspelled a word in what you're looking for, auto-corrected spelling gives you other options you may be looking for

This allows you to correct your search to what you originally intended it to be.
Trending topics
A semantic search gives the user trending items that connect to a search. For example, if a word or name like "Cristiano Ronaldo" is entered into the search, trending information will appear.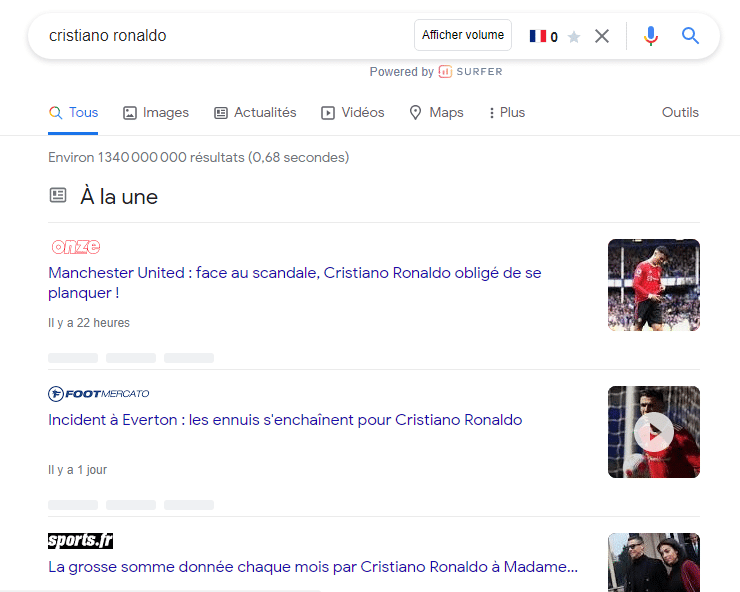 That is, the latest viral information about him.
Knowledge Graph Response
Are you searching for a broader query like "famous athletes?"

A knowledge graph answer is handy because a search engine will have stored the most popular searches on that topic to give you a grouping of images and websites for more information.
Searching for a person
If you decide to search for "Tom Cruise", not only will the top-ranked websites be displayed, but on the right side of the screen, you will see an image of that celebrity, as well as the knowledge panel.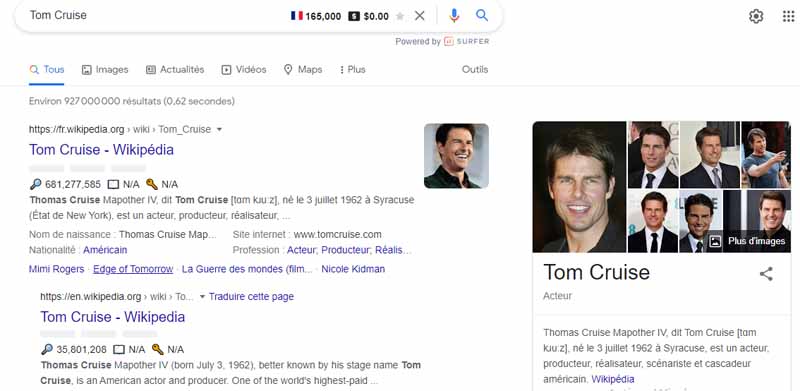 Concepts
When using concepts, a search may offer an image graph instead of website options. For example, if you search for traffic conditions in Paris, a map will appear first showing road conditions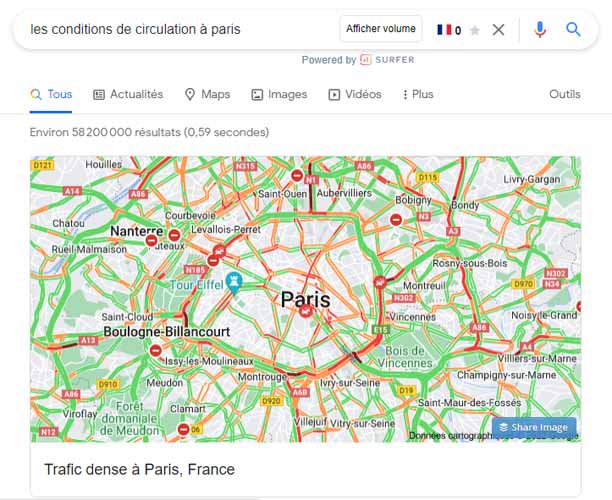 Green means the roads are clear and red means there is stopped and congested traffic.
Natural language
Instead of stringing words together, natural language looks at the whole question to help provide an answer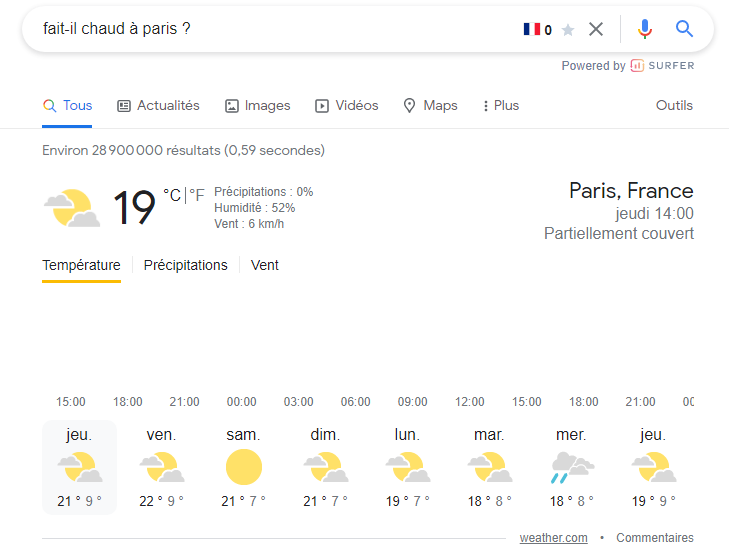 For example, if you ask howhot it is in Parisright now, semantic search will display the temperature results instead of comparing the literal meaning of all the search words to provide search options.
Chapter 3: What are the benefits of semantic SEO?
3.1. Identifies the needs of your target audience
By generating content that interests your audience every time they interact with your brand and that fits their intent, you will create a high-value relationship for them (customers or prospects)
This will result in brand recognition and disclosure and, of course, influence future sales.
You will also be able to better identify and know your Buyer Persona, the evolution of their intentions, tastes, desires… in order to be much more relevant at each stage of the cycle wheel or sales funnel.
3.2. Enable easy conversions
The goal of content writing is to get some sort of conversion, whether it's a phone call, an email subscription, or a purchase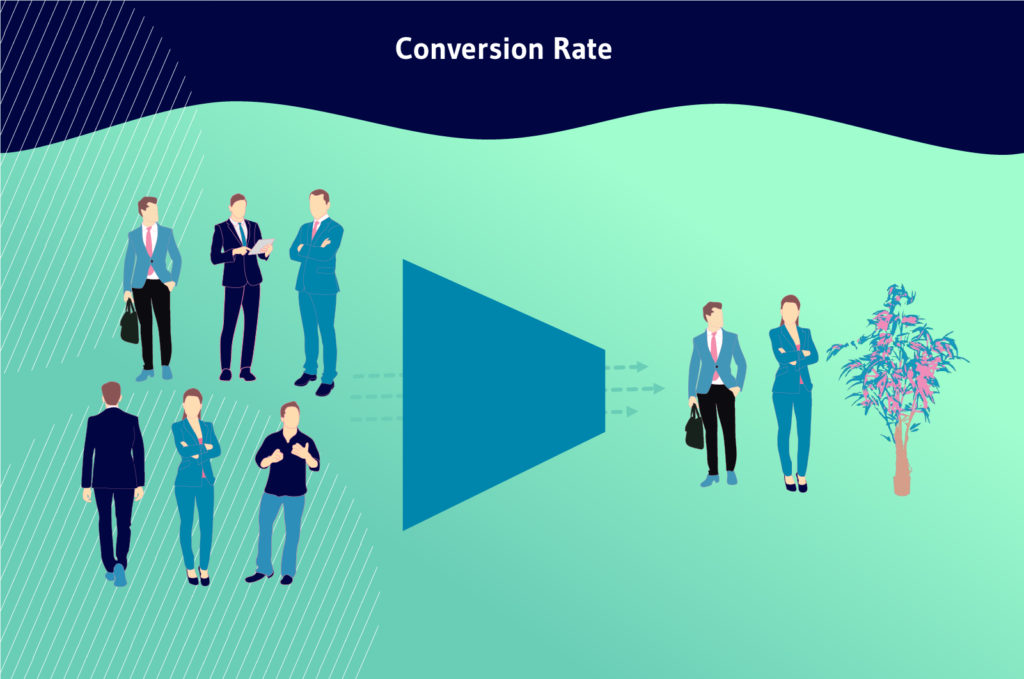 So each piece of content you create will need to serve its own purpose. If your content is stagnant and doesn't inspire users, then what's the point?
Content connects all of your marketing efforts, and fantastic content will lead to easy conversion
When users find content that is in-depth and answers all their questions, they are more likely to buy. They will also more likely see your brand as an industry authority.
3.3. Enable ranking for more keywords
Even if you only want to rank for one main keyword, Google usually ends up ranking your web pages for multiple keyword phrases. So why not kill several birds with one stone when writing your content?
Content pieces with topical depth tend to explore more subtopics and issues related to the main keyword target. This broadens the reach of the content in the SERPs
The idea is simple, the more you write about several different subtopics, the more likely you are to improve your visibility in multiple search results
Above all, optimizing for multiple keywords will guarantee more opportunities to drive traffic to your website.
3.4. Decrease bounce rate and increase scroll depth
Not only does Google read the content you promote on your website, but it also looks at how people consume it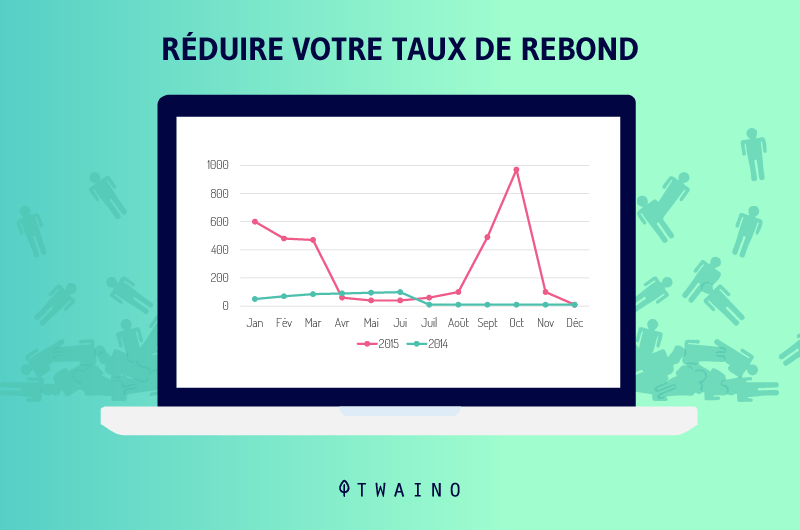 In a quest to ensure the best possible user experience, Google only wants to promote high quality web pages
If it sees that consumers bounce off your website almost as soon as they land on it, it will believe that your website is not relevant or useful.
Since in-depth content requires longer landing pages, your visitors will scroll further and spend more time on the page. That is, as long as the text, images and rich media load quickly.
Thematic depth allows you to dive very deep into a certain topic at your fingertips
But when you add thematic depth to the page, make sure you don't sacrifice other key elements of the user experience. This includes site architecture, links, and easy navigation elements such as skip links.
3.5. Improve readability
Have you ever read web content filled with keywords that the site owner just wants to rank for? Not only is it hard to read, but it devalues the entire experience.
As mentioned earlier, semantic SEO is not hyper-focused on one keyword. By writing and thinking about semantic SEO, you actually improve the readability of your content.
When you use words related to your main topic, you can give the reader more context, which improves readability tenfold. Readability is important from both a user intent and SEO perspective, as it improves engagement with the page
Engagement is one of the most important metrics that Google pays attention to, and it is directly related to improved rankings and search volume. And who wouldn't want that?
3.6. Other key benefits of using semantic SEO
Improved content quality: By focusing on the broader topic term, you are more likely to provide users with all the necessary information and make their search process easier.
Increased average time spent by users on a page: If users find your content interesting and useful, they will stay on your page longer.
Improved domain authority: In-depth research on the topic includes a factual analysis of the subject, bringing more quality to your content
Internal linking opportunities: When you delve into a certain topic, you'll find that it can be linked to other topics you cover. This gives you the opportunity to insert internal links organically
Get a better positioning in Google (Hummingbird) and Bing since both search engines introduce semantic context in their results pages.
Obtaina better positioning in the results of voice searches.
Obtaininga presence in search history, devices, location..
Chapter 4: The relationship between semantic SEO and other techniques
4.1. Relationship between semantic SEO and natural language processing
To better understand what exactly semantic SEO is, it is important to understand how the data behind the language is processed
Natural language processing (NLP) is the way computers work to understand human language and deduce the meanings behind what is said
NLP models are building blocks for communication between humans and computers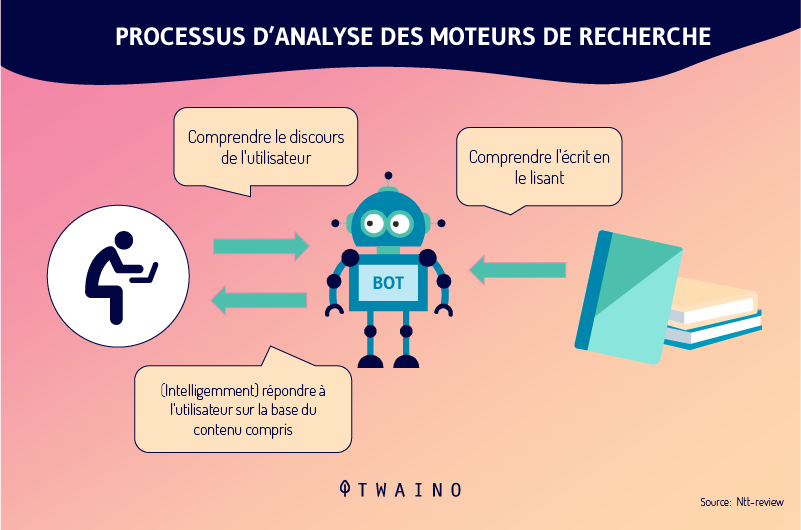 New advances in NLP happen all the time, such as with SMITH and GPT-3
With each new algorithm update, search engines such as Google understand human language better.
4.2. semantic SEO, artificial intelligence (AI) and natural language processing (NLP)
Like natural language processing (NLP), artificial intelligence (AI) is an important concept for SEO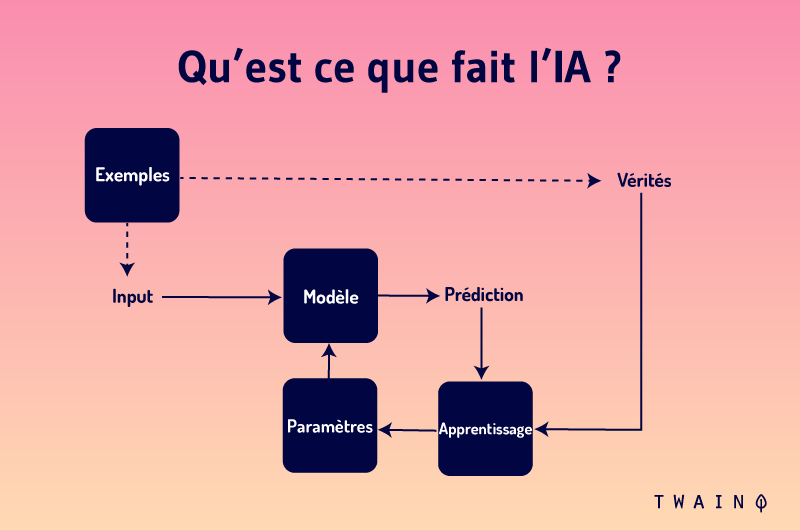 In its algorithms, Google uses both to:
Rank queries;
Give them a meaning; and
Link them together
Understand the quality of pages;
And compare the SERPs generated between them
Natural language processing consists in interpreting and categorizing content
For this reason, knowing the new technologies developed in NLP methods and artificial intelligence will be beneficial to improve semantic SEO
4.3. Relationship between synonyms, different query formats and TF-IDF analysis for semantic SEO
There is a connection between Semantic SEO and different spellings of words, their synonyms. Users may use different words to search for the same topic
Therefore, it is important to naturally use synonyms or similar words in a topic to satisfy all users in the context of the search intent, and to ensure that the search engine can reconcile difficult concepts
While TF-IDF analysis is not of great importance in SEO studies, it can reflect the approach of different content publishers to a topic
With TF-IDF analysis, we can understand based on certain criteria which concept or word has the most importance in an article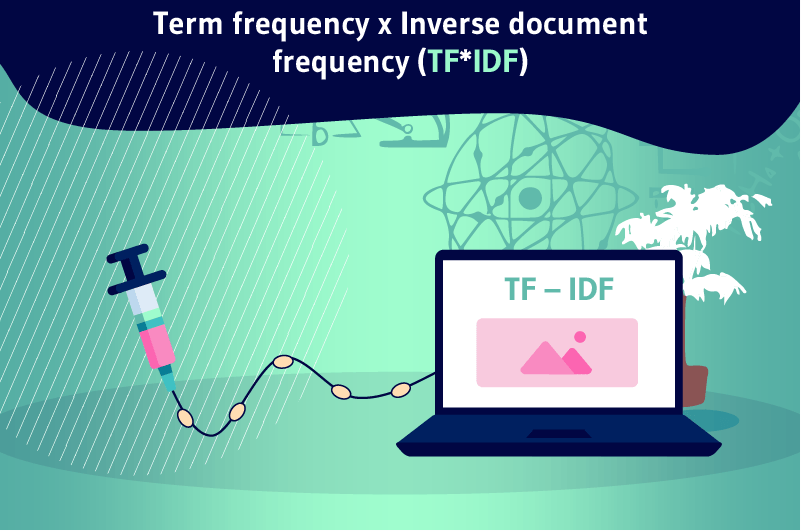 Different articles that mention the same topic may use different versions of the same concept
Using different variants of the same concept for search engines helps the algorithms to better understand the topic and associate it with specific search intents.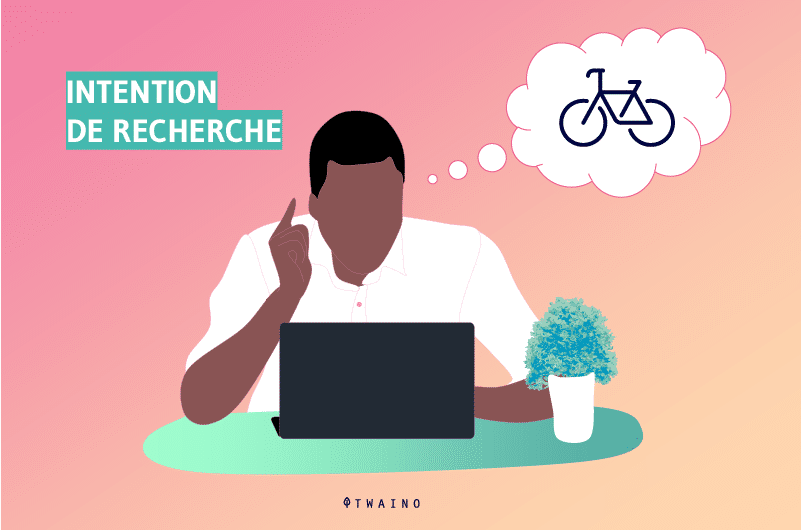 For a better understanding of what TF-IDF analysis is, you can read our article.
Writing different forms of keywords will help get more visibility for different types of search terms and will also improve the relevance of the content to the topic
When using different forms of keywords, the natural structure of the content and other beneficial aspects should not be overlooked. The content should always be created for the users rather than for the search engines.
4.4. Relationship between On-Page SEO elements and Semantic SEO
On-page SEO elements are closely related to semantic SEO
These on-page elements to be used on a web page must be organized semantically to better serve the purpose of the content
This change in the internal structure of the content should be indicated in the header tags to include the relevant part of the associated concept
Words in URLs, breadcrumb navigation, internal links, anchor text, images in the web page, image alt tags, and image URLs should accompany the relevant topic with the same approach in this context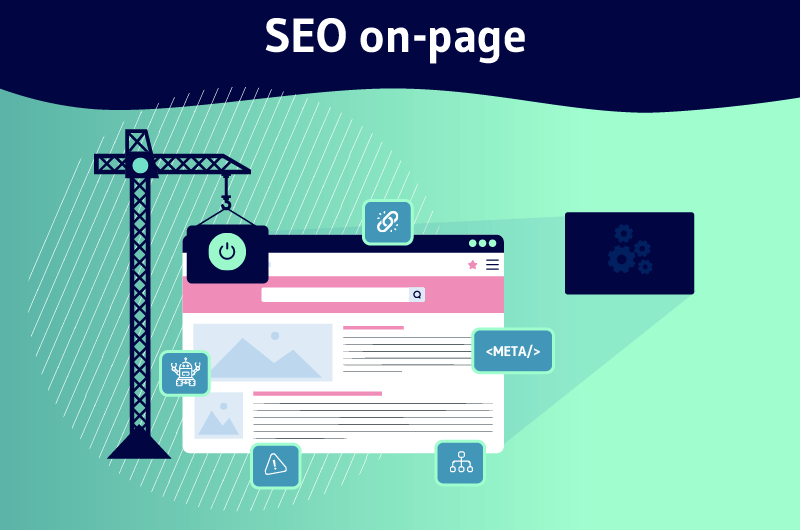 Elements such astitle tags, meta descriptions should also be written in accordance with semantic SEO
Thus, the content structure can be understood more easily by the search engine and the user.
4.5. Relationship between semantic search and voice search
Google's main goal in incorporating machine learning AI into its search engine algorithm is to try to make search more conversational
We're seeing voice search become more and more popular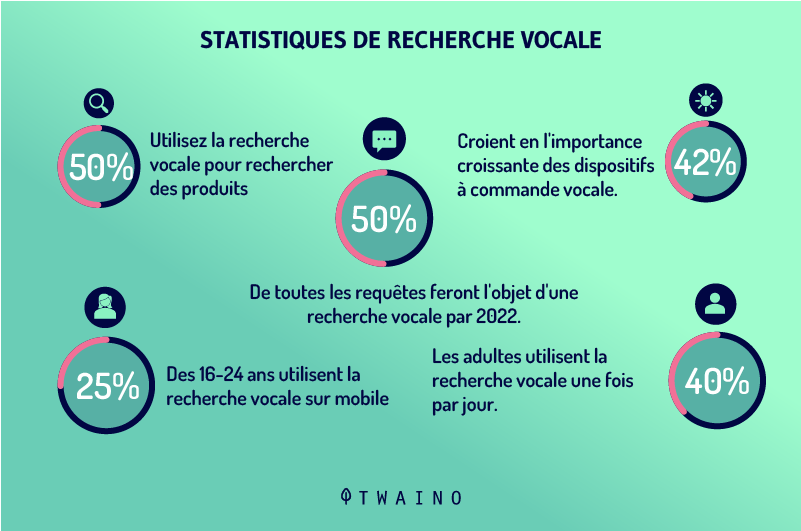 For this, it is really important to apply it when writing content for a web page or resource article. Therefore, it is recommended to use "more verbal" phrases.
Indeed, one of the main points to remember about the connection between semantic search and voice search is that keywords are often "more verbal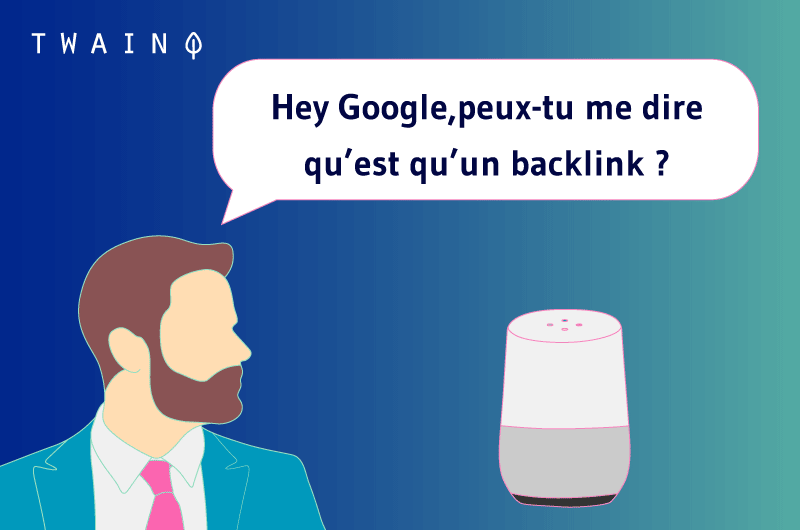 The way someone searches for something on their desktop is very different from the way they would search verbally. Voice search "keywords" are more question-based and conversational
Chapter 5: Latent Semantic Indexing (LSI)
Latent semantic indexing is a concept used by search engines like Google to discover how a term and its content work together to define the same thing
In other words, a search engine is smart enough to identify the context of content and synonyms around a keyword.
By integrating LSI keywords (synonyms, related concepts…), you will give your content a greater semantic richness, without falling into the error of accumulating keywords.
Let's take a closer look in the sections below!
5.1. What is latent semantic analysis?
Latent Semantic Analysis (LSA) is based on a few different concepts that analyze the relationships between a set of documents (or web pages) and the terms they contain by understanding a set of concepts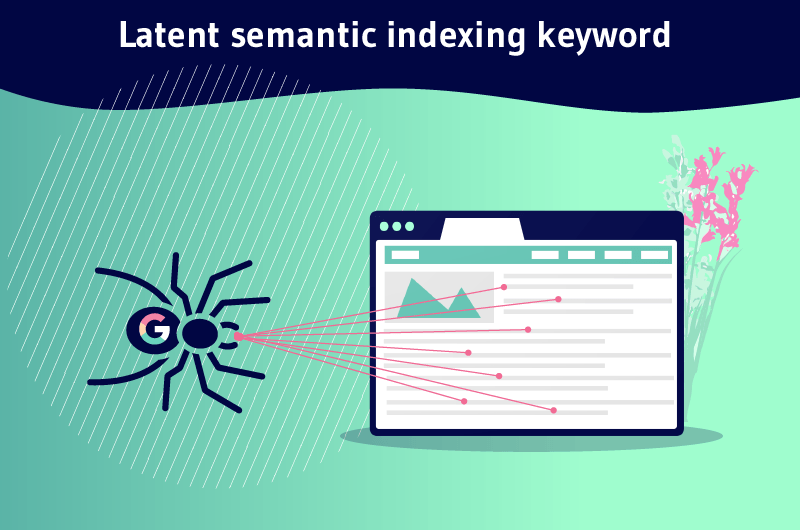 LSA uses the technique of natural language processing which is a field of computer science, artificial intelligence and computational linguistics that compares the interaction between computers and human languages.
The main goal is to process anatural language corpusor real-world text samples
The challenges of natural language processing of course boil down to machine learning and understanding the meanings and context of a specific set of terms.
For example, if you are a person from France searching for cars in Paris and you type in "auto", an LSA will know that car and automobile (auto) are similar terms.
5.2. does Google use latent semantic analysis in its algorithm?
The short answer is yes. Google uses machine learning to process all queries and get the best possible results for that query
Google has named this machine learning feature "RankBrain"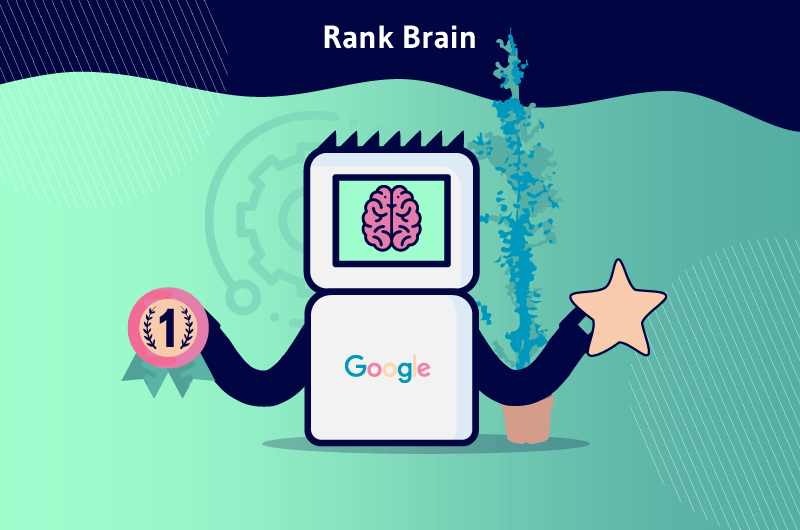 Andrey Lipattsev, a senior search quality strategist at Google, came out and said that one of the three main ranking factors is content, links and RankBrain.
Google is very secretive about its algorithm and what it incorporates, which is understandable. This makes our SEO job more difficult of course, but who doesn't like a challenge.
Understanding Rank Brain and the importance of content is key to creating web pages that add value to the user and are properly indexed.
5.3. Latent semantic indexing process via TF*IDF
With the TF*IDF formula, you can analyze the importance of certain words on a page.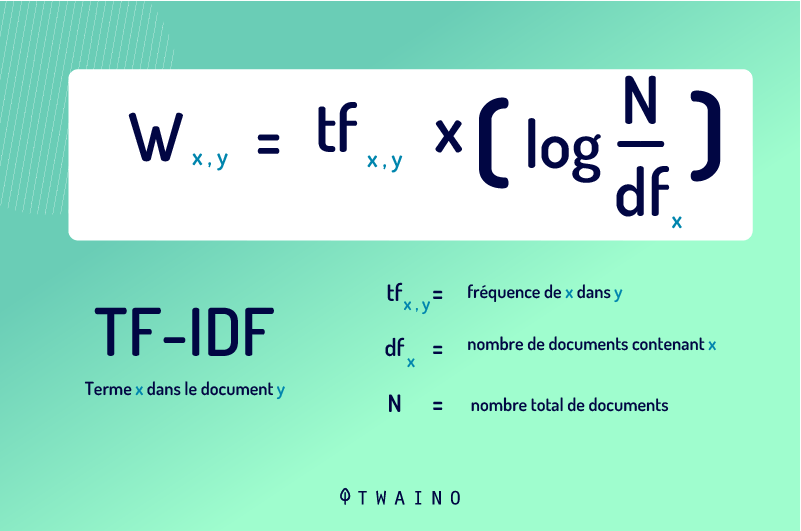 TF (Term Frequency) – Determines the frequency of a term or word in a document. How many times does this term appear on a page?
IDF (Inverse Document Frequency) – Calculates the frequency of specific terms by comparing the number of documents available with the number of documents containing that term.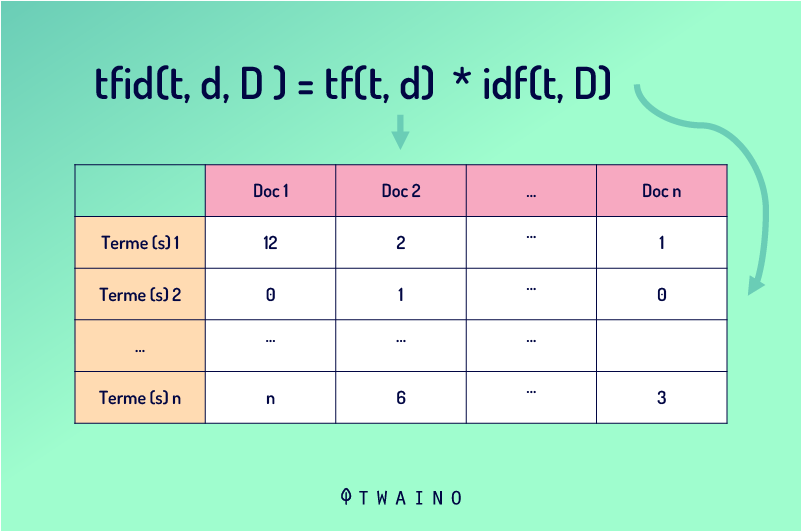 This method attempts to weight a keyword to identify its importance in a document. In addition, it compares a keyword to a group of documents and gives a fairly limited estimate of the importance of that word on the page.
Chapter 6: Keyword Research and Content Creation for Semantic SEO
6.1. Keywords – How to perform keyword research for semantic SEO?
Semantic SEO is an important concept because it allows you to focus on an entire topic rather than a single keyword. For this reason, keyword research studies also differ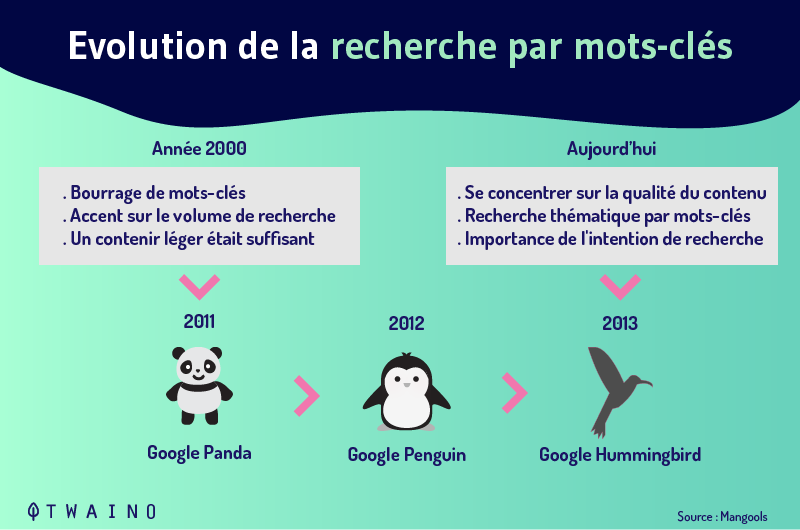 At this point, instead of focusing on a single query, one should focus on many interconnected queries.
Therefore, LSI keywords should be incorporated from three different levels in your content, with each level performing a specific task:
Level 1: Keywords that are fairly similar to the initial target keywords;
Level 2: Topical words that, while not synonymous with the target and main words, have related concepts;
Level 3: Radical words that answer users' questions after locating your page, such as " find affordable housing in Vermont " instead of " affordable housing in Vermont."
These three levels work together in targeted keyword searches to help users not only find what they want, but also provide relevant content that answers their questions.
In addition, for semantic SEO keyword research, the following steps should be followed:
All tools such as Google Keyword Planner , LSI Graphahrefs Keyword Explorer, SEMRush Keyword Magic Tool, Moz Keyword Research can be used for semantic SEO research.
Google autocomplete, Google People Also Ask, Google Suggested Queries, Google Knowledge Graph, Google Knowledge Panel Semantic can be used for SEO search.
Resources such as Wikipedia, Wikidata, Wikihow can be used for SEO keyword research.
YouTube autocomplete, YouTube video titles, comments, threads and call center questions or news sources can also be used for semantic SEO keyword research.
6.2. Content – How to write content using semantic SEO?
Semantic content writing is the term used for content creation for the principle of semantic SEO
To be successful with semantic content writing, you need to follow these steps:
The terms used to search on the topic should be listed in a hierarchical manner.
The search intent of these terms should be analyzed.
Entities such as people, institutions, laws, countries, places, cities and dates in the topic should be listed.
The amount of distinct content that will be created on the topic must be determined.
The hierarchy in which the contents will be linked to each other and their anchor texts must be determined.
It must be specified to the search engine with the meta tags, headers, keywords and anchor texts of the URLs to be created, which content corresponds to which search intent.
Half of the main content and half of the additional content of a URL must be done correctly to avoid the problem of keyword cannibalization.
The layout, functions and content of competitors' pages in the SERP for the most important queries must be examined.
The content should be created in a fully specialized language, to benefit the user and ensure that it is easily understood by the search engine.
Chapter 7: Semantic Analysis – 8 Best Practices for Ranking with Semantic Search
First, you need to make sense of your web pages, so that Google knows what kind of services you offer to users
For this, it is very useful to use rich snippets as they add detailed information about the web pages and help to better catalog their content.
Also, keywords will have a secondary use, because in semantic SEO the most important thing is the content of the article, which should be written in natural language
In fact, users no longer tend to write like robots but ask the search engine as if they were talking to a friend, which will increase with the expansion of voice searches. Therefore, your content must be adapted to this trend.
On the other hand, you have to be careful with the use of
Synonyms;
Polysems; and
Fixed sentences
Gender variations
Different verb conjugations or linguistic changes
The relationship between paragraphs
Links
The structure of the article
Semantic fields
Abbreviations
Etc.
Semantic SEO analyzes all these elements.
If your content is centered on a keyword that may be ambiguous, make sure you clarify it. For example, if you talk about exercises, Google needs to know if you are referring to physical exercises or exercises in English, literature, etc
In this sense, the use of synonyms and related keywords can be of great help, although it also needs to be given proper context.
Let's take a closer look at these SEO best practices for semantic SEO in 8 sections:
7.1. Adding structured data markup
Google wants site owners to add structured data to their website so that it can better understand their content
If you're trying to promote specific products, events, or job postings, there's no reason not to add the appropriate markup.
This will give your content more visibility and improve your web positioning.
An example of this is cooking recipe pages, where there is a star rating for recipes. These rich snippets are very attractive to users and Google bots.
In fact, the purpose of adding rich snippets to a web page is to provide the bot with more semantic clues. Depending on the type of website you are auditing, it will be appropriate to use one or the other.
For example, if it is an e-commerce site, it will be interesting to insert fragments such as :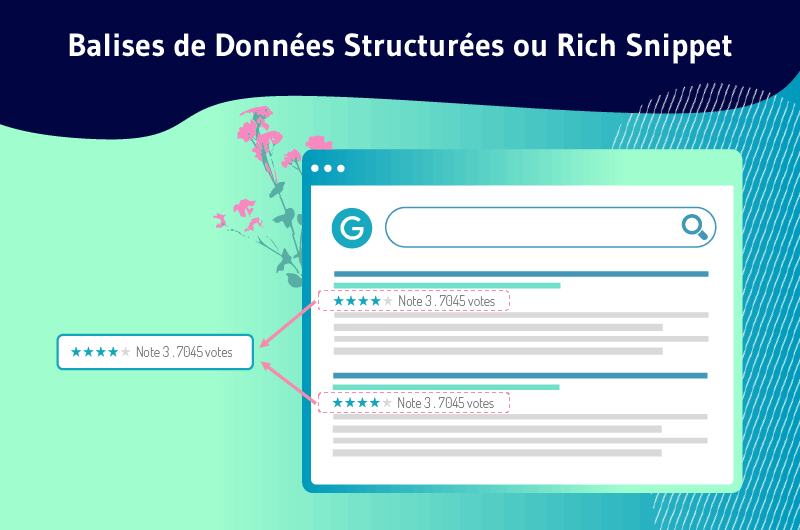 Documentation on the rich snippet typology and its implementation can be found on schema.org.
On the other hand, to check if the rich snippets are correctly implemented, you can use therich snippet test tool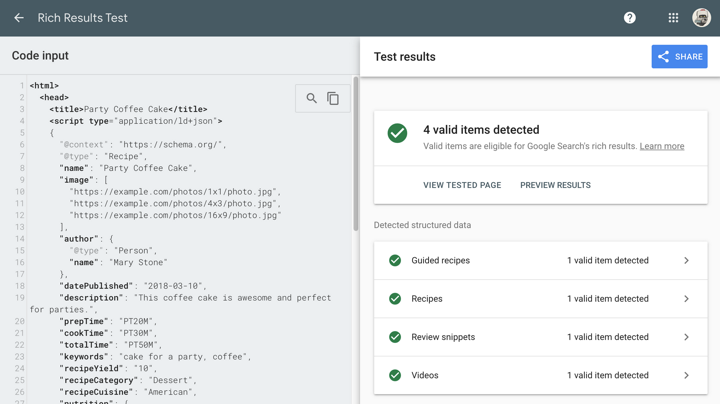 By inserting the URL of the product page or embedding the code, you can see if there is a rich snippet and if there are any errors in the implementation.
7.2. Using internal links with contextual anchor text
When a user clicks on your website, he wants to find a solution to his problem. They are looking for the simplest and best answer to their query
If they have to spend time searching for information, they will probably move on to another website.
That's why you should provide them with as much relevant and contextual information as possible as soon as they arrive on your website.
This means not only using content to create meaning around a particular topic, but also to include useful internal links with anchor text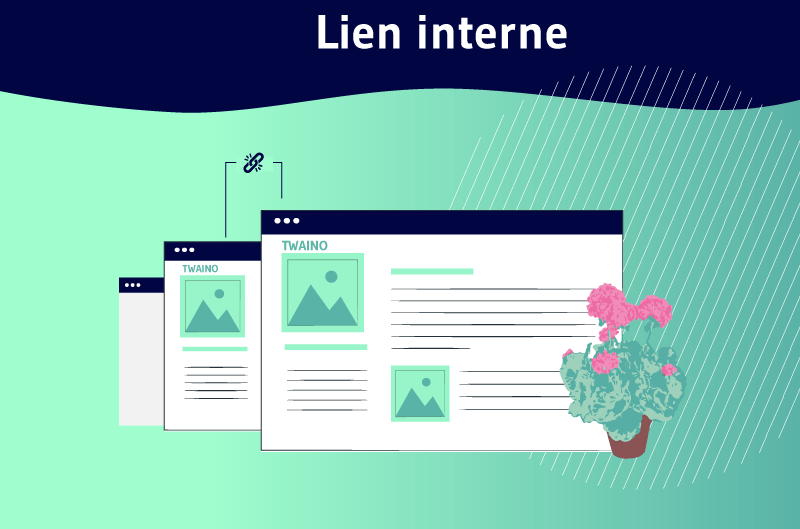 You need to think about your customer's journey. Instead of putting all the information they may need on a single web page, a solid internal link structure can work wonders
It both answers users' questions and boosts your own SEO. However, you should create links with anchor text that is relevant to the reader, to ensure they click on it!
7.3. Collective keyword research
Keyword research is, in a word, complex. Most digital marketers simply perform keyword research on individual keywords relevant to their products and services
But think about how many different types of words there are in the French language! Your keyword research should really aim to capture all the different ways users can search for products or services like yours
For example, use the Chrome Search Atlas LinkGraph extension to better understand other ways users search for similar queries.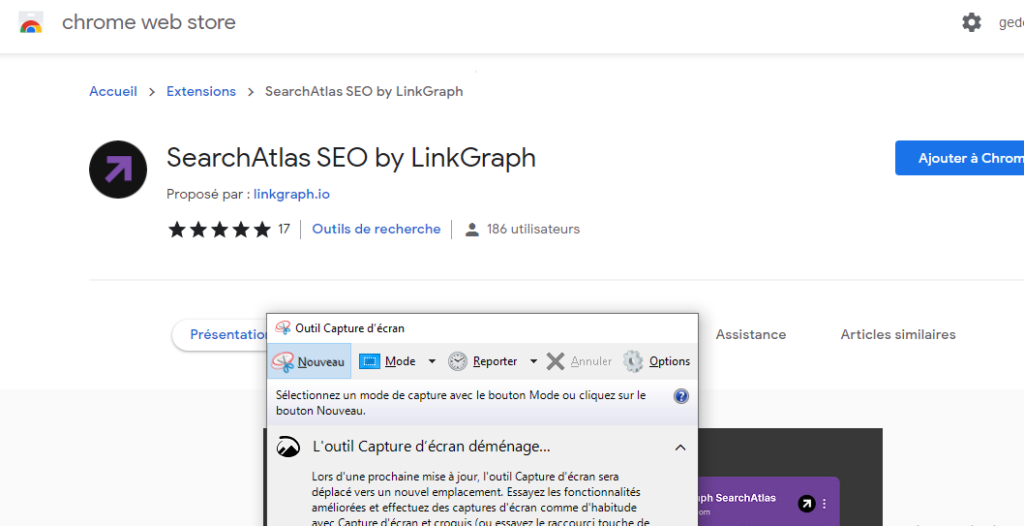 This includes:
Verbs;
Adjectives
Questions and related phrases
Subtopics;
And LSI keywords
LSI keywords, also known as latent semantic index keywords, are search terms relevant to the main keyword you are targeting.
When you improve your keyword research, you will succeed in creating relevant content. This content will also appear higher in search results for more relevant keyword phrases.
7.4. Organizing content into topic groups (Contextual Clusters)
Organizing your content into clusters will help search engines better understand the main topics your website is about and thus help build your thematic authority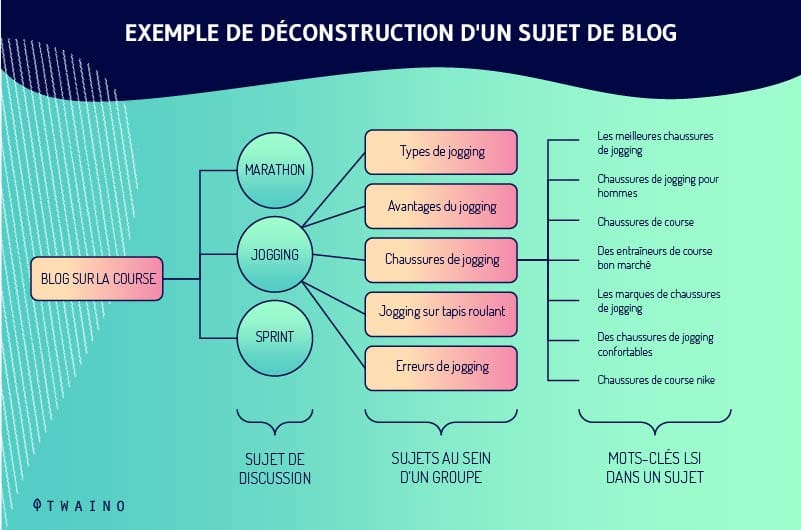 This will also help readers find what they are looking for easier and faster. You want your articles to work together rather than serving a single purpose.
One way to do this is to use the pillar-cluster model.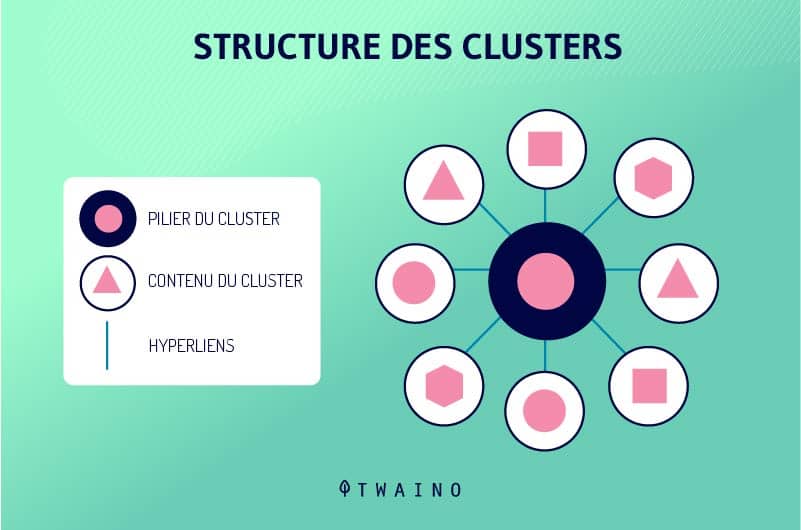 The basic steps to your action plan are as follows:
Think about the main topics you cover on your website;
Plan the content so that each article can be associated with one of these topics;
Don't repeat information, each article should cover a new and unique angle on that topic;
Connect relevant pieces of content on the same topic through internal links.
This should be an important part of your content strategy.
7.5. Look for depth of content
Content depth is one of the key differentiators in semantic SEO.
While longer content is not technically a ranking factor, the benefits of creating deeper content are clear in SEO research and rankings.
This refers to the amount of detail your content covers on a given topic.
To estimate the depth of your content, you can check the number of H2, H3, H4 of the top ranked content for a specific query. To facilitate this process, you can use a browser extension, such as Detailed.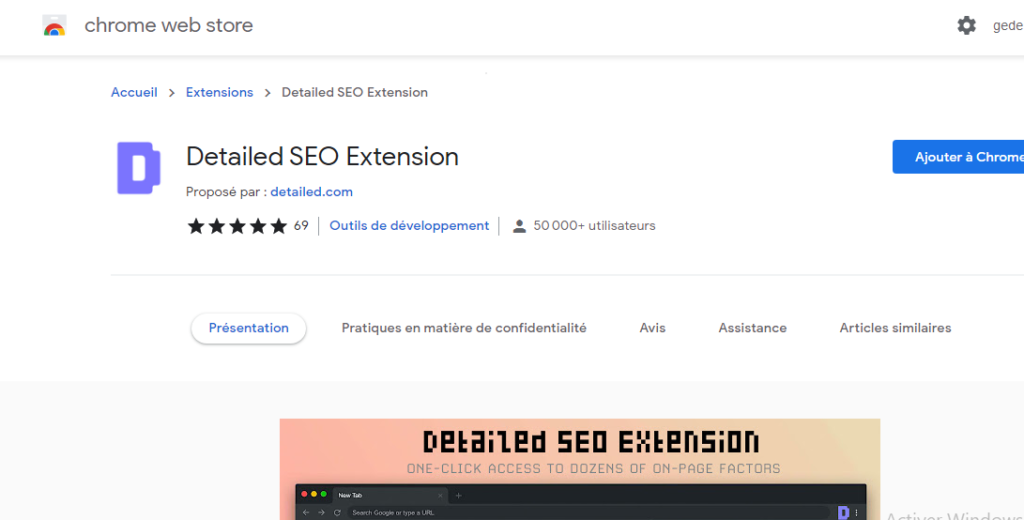 7.5.1. How to identify subtopics?
To find the subtopics you can cover in your content, you can:
Look at the top-ranked pages;
Look at the "Other questions asked" section for a specific query;
Look for questions people are asking on forums and social networks.
To identify sub-topics, you can also use TF-IDF, which will be discussed in detail later in this article.
7.5.2. How to determine the content formats for each topic?
In a world of data, there are many ways to present information. And users also have their preferences
For example, they prefer tables when it comes to comparisons, and if we look at some recipes, the ingredients are usually in a list.
You can check how competitors present different types of information, look up a Wikipedia article on the subject or think about it yourself
But in any case, pay attention to the variety of content formats, because it's not enough to just use paragraphs of text for everything.
7.6. Page optimization for TF-IDF
As mentioned above, TF-IDF stands for " Term Frequency – Inverse Document Frequency ". This is a technique that can help search engines understand the context of your content
This can also help you know what to cover and mention in a piece of content.
A TF-IDF analysis can measure how often different terms are mentioned in the SERP results ranking for a specific query and their importance.
For example, if you have an article about "Queen"Google needs to understand whether it is about Queen Elizabeth II or about Queen, the rock band
To facilitate this process, you can use key phrases, specific to each of these entities. "Freddie Mercury", "music", "Bohemian Rhapsody"… are terms that would certainly help the search engine know that you are talking about Queen, the band.
You can also use TF-IDF to find content angles to cover.
To perform a TF-IDF analysis, you can use a tool such as WebSite Auditor.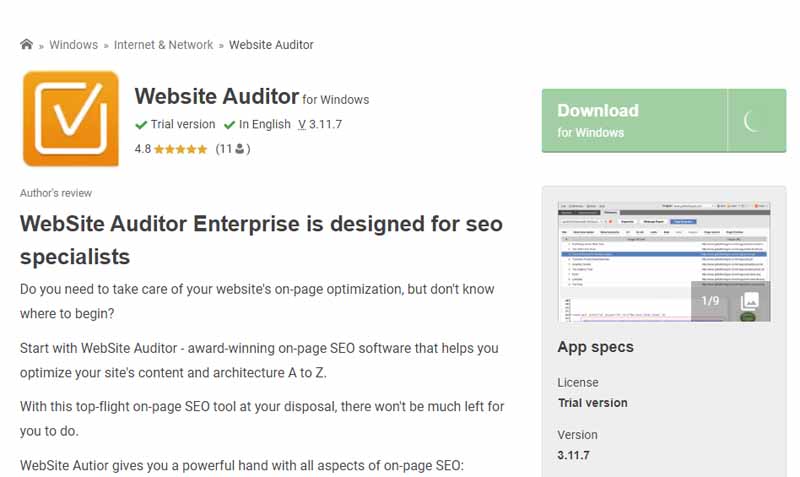 If you want to learn more, you can read our article on TF-IDF.
7.7. Understand the meaning of entities
Although Google is getting better and better at understanding topics, it is still not as smart as a human brain. The search engine does not consider a topic as anything that humans consider a topic.
To provide semantically relevant and useful results, Google keeps a database carefully organized, widely known as Knowledge Graph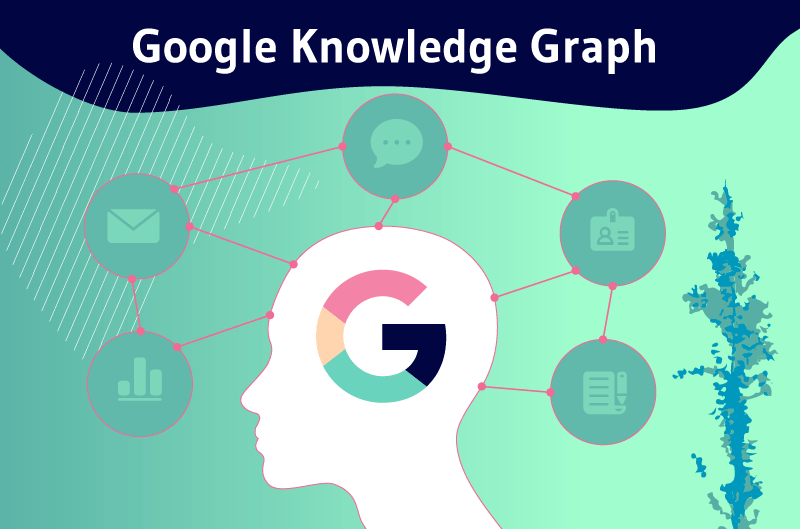 The main function of this database is to match unique pieces of information to specific entities (e.g. what Google considers a topic).
Unlike keywords, Google knows the meaning of each entity, if and how it is related to other entities. Using keywords can therefore help the search engine to better understand what your content is about.
To quickly check whether or not Google considers something an entity, you can:
Check if there is a Wikipedia page about it. Wikipedia acts as a primary dataset for the Knowledge Graph, so you can safely assume that the subjects of its articles are entities.
Type the topic into the search bar and see if a knowledge panel appears.
7.8. SEO applications of LSI keywords
There is no point in having super interesting keyword groups if we do not apply them later in the SEO optimization of our website
So let's see how you will use these terms.
7.8.1. Meta title tag
The title of the page is one of the most important elements to optimize from the SEO, because :
It appears as a clickable link in the organic results, which directly impacts the CTR.
Google takes it as a differentiating element between pages, therefore, it must always be unique for each indexed page.
This is one of the main elements of SEO, therefore, it is important to include the main terms you want to rank for:

If the query includes one of the keywords in our title, it will appear in bold.
Google will give importance to the words that appear in this element of the page.
Nevertheless, this meta title tag must be properly optimized for search engines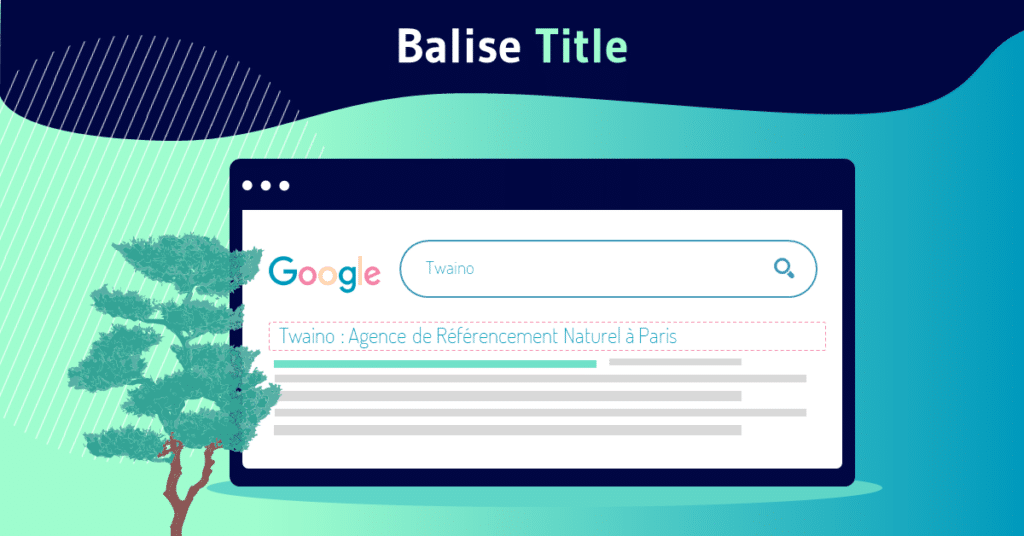 For this, the following factors should be taken into account:
The title tag must be unique: As we mentioned, Google considers it as a differentiating element between pages;
Its length should be about 55-60 characters: To check the length, you can use thefollowing tool. It should be noted that you should not only focus on the length, but also on the fact that the title is optimized and oriented to the user's search;
The main term should appear as close to the root of the tag as possible because it will be the first thing that Google will read;
In general, the brand name will be included at the end of the title (separated by a hyphen "-", or a pipe bar "|").
7.8.2. Meta description tag
The meta description tag does not have too much validity at SEO level. However, being very important for the user and CTR, you should not neglect it.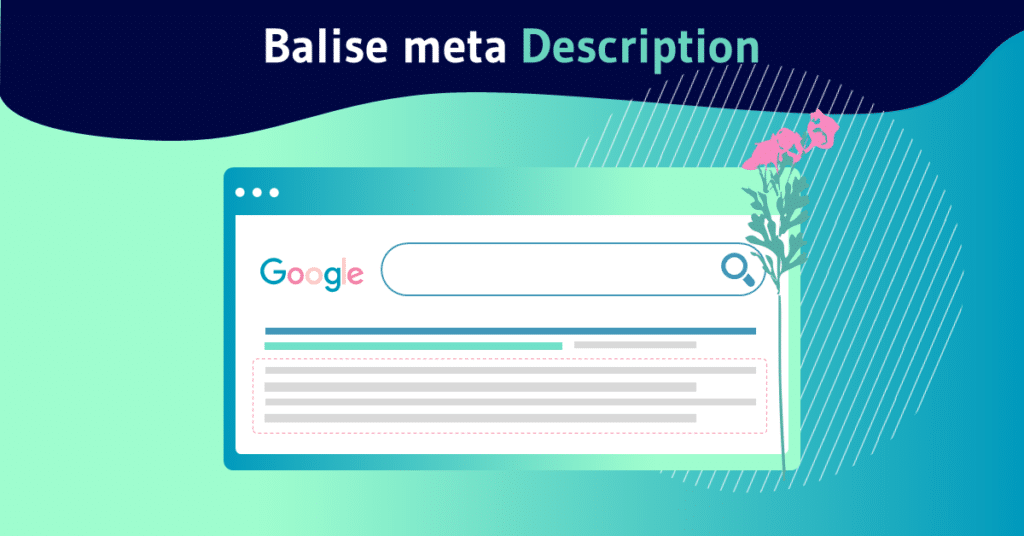 When a user performs a search for which a page of your site appears as a result, if the search term is present in the meta description, he will not hesitate to click on it.
Nevertheless, there are a number of recommendations around this tag:
As for the meta title, it is recommended that it be unique for each page;
Its length should be 160 characters maximum;
Its content must be attractive to the user, including a CTA or call to action to invite the user to click on the result and visit your website.
7.8.3. Hx tags
The use of these tags aims toestablish semantic levels within the page and thus optimize certain groups of keywords.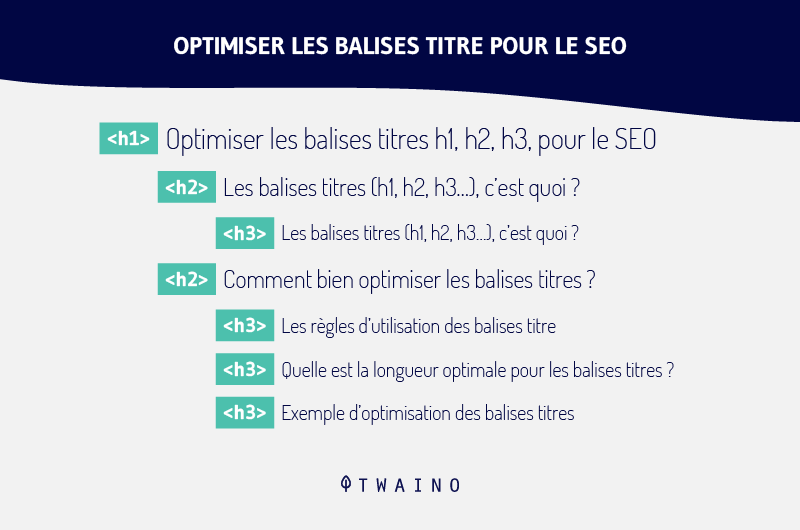 In terms of SEO, the most important header is the
.
However, to properly optimize it for SEO, the following points must be respected:
It must be unique within the same page.
Avoid repeating the same in different URLs.
It is recommended toinsert the main term.
In addition to
, it is important to use other hierarchical levels such as and . It is recommended to use some of the secondary keywords in the group of terms associated with each page
These secondary keywords will be semantic variations of the main keyword and, therefore, help you add more semantic value to your content.
One of the aspects to take into account when implementing this type of tags is their hierarchical relationship. This means that you will avoid using
instead of or you will not jump from to , for example.
….
….
….
….
….
….
….
..
..
..
….
7.8.4. Process of including LSI keywords in the content
To include the LSI keywords that we saw earlier, it is advisable to select the strategic pages as categories and subcategories.
In fact, the process would be as follows:
For each page, choose a group of keywords with a main term and other secondary terms that will support the content and other headings.
That is to say, you will have on the one hand, a main term (the most important and for which you want to rank) and, on the other hand, a group of secondary keywords that are semantic variations of the first
Normally, the secondary type keywords will be less competitive and with a lower search volume.
Both in the meta-title tag and in the
header,
you should include the main term for which you want to rank, because as we said, these are two of the most important elements for search engines.
For the rest of the headings (
, , …)
and the content that will accompany these subheadings, you should try to include the secondary keywords.
You should repeat this process for all strategic web pages you edit.
Chapter 8: Some semantic analysis tools
Fortunately, in the world of SEO, we are surrounded by hundreds of tools (some useful, some not so useful) that make our lives easier. Therefore, there are also a series of tools to audit the semantic part of a website.
A semantic analysis tool will especially allow you to easily discover the most frequent expressions and the frequency of words on a page.
Here is a list of 6 semantic analysis tools: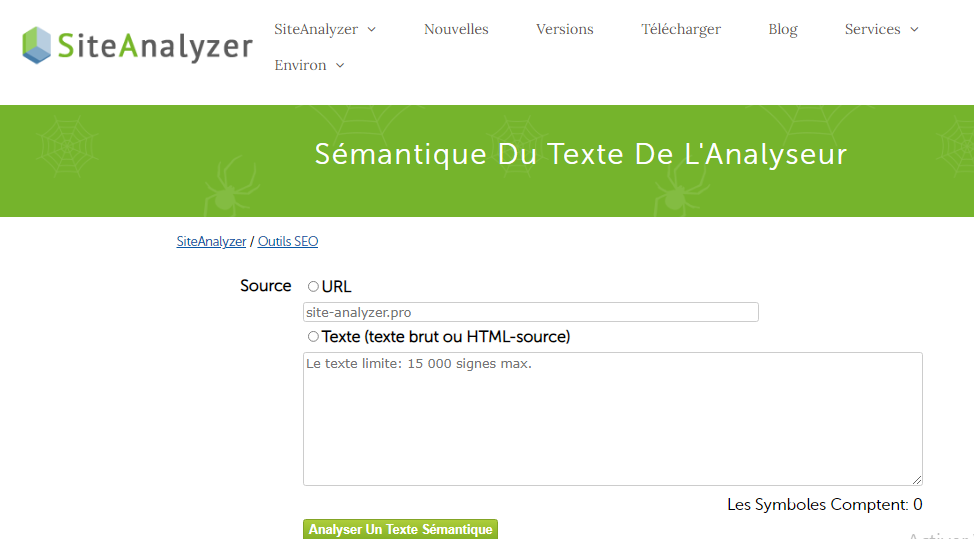 This tool analyzes the essential parts of the text for SEO purposes, such as
The length of the text
The number of words in the text
Keyword density analysis;
Etc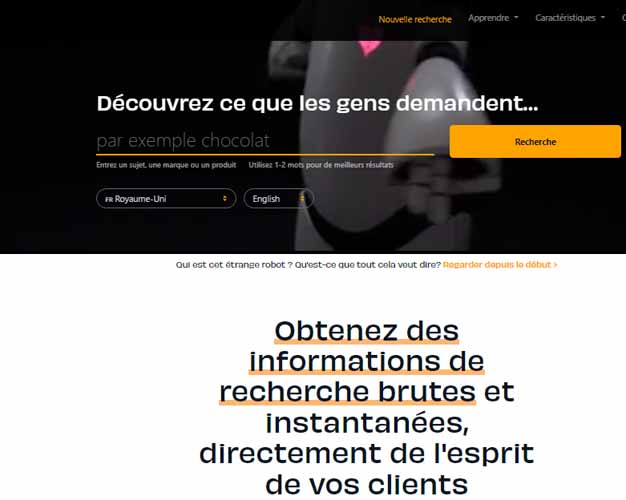 Probably one of the most useful tools for studying semantic keywords and planning semantic content
It is based on the "Search Listening" of questions that users ask in search engines (Google, Bing…) and generates multiple options for long tail keywords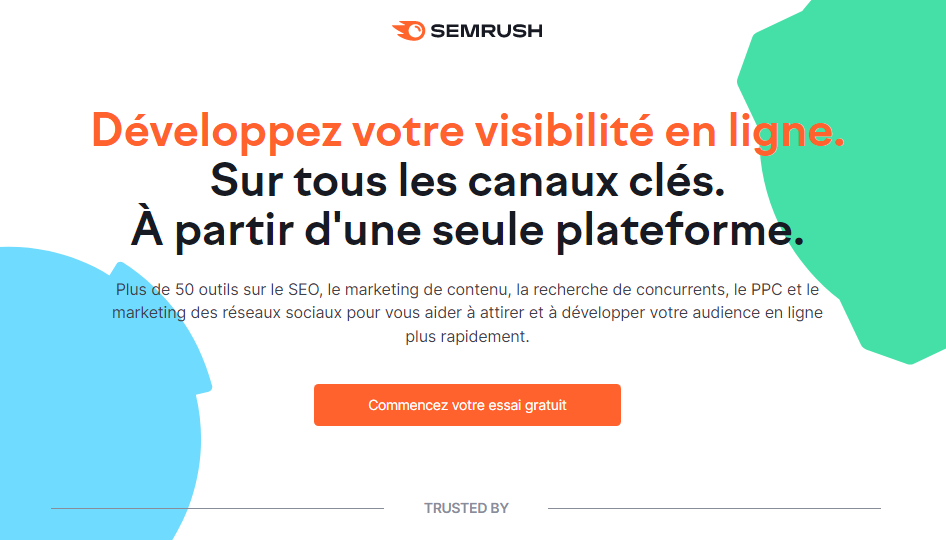 This is one of the best all-in-one marketing tools. It takes care of the study, audit and planning of keywords, organic traffic, backlinks, content…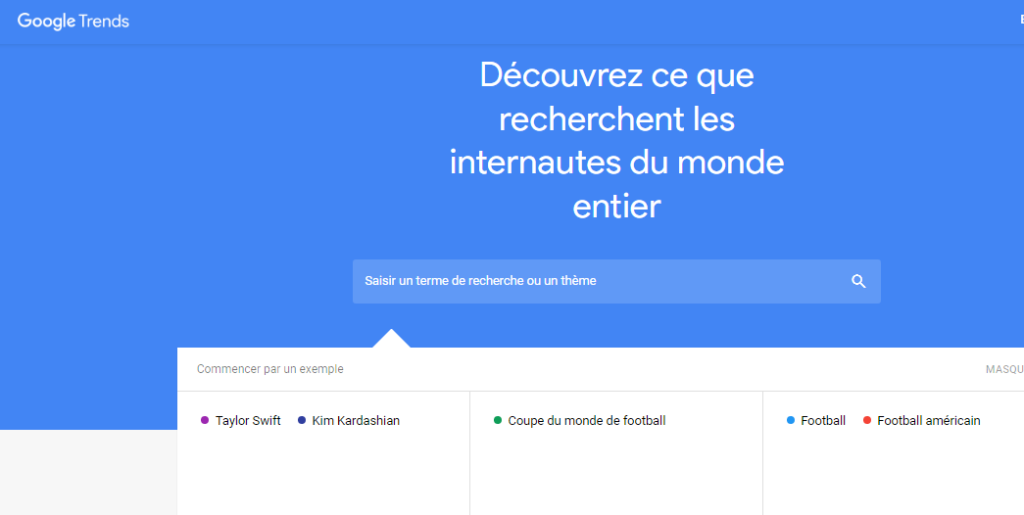 Allows you to study the trend of keywords by year, region, country, and to make comparisons between several of them to determine which words or keywords will be relevant.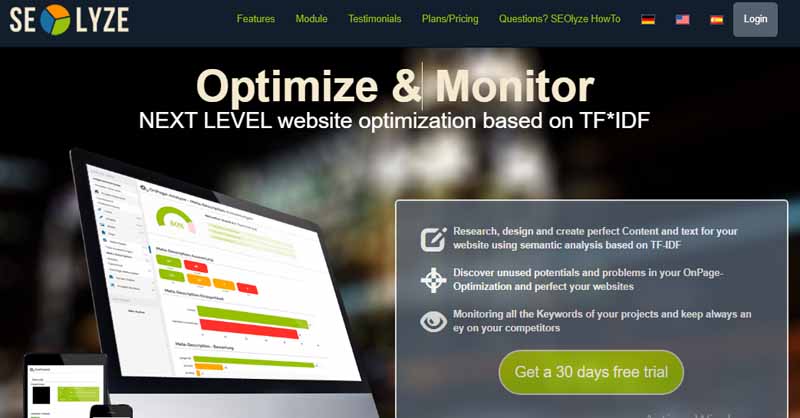 This tool is based on the TF/IDF function we saw earlier
Unlike other tools that only analyze the keyword density of your page, Seolyze analyzes the density of all related terms and words used by the content of the 10 competitors that rank on the first SERP of Google.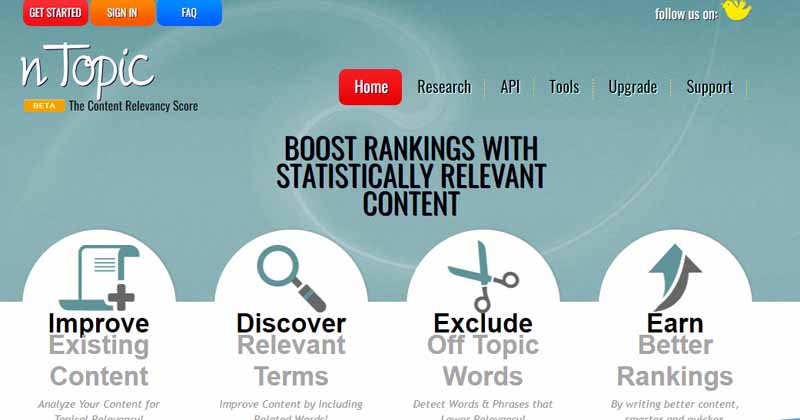 This tool gives you a quick score to know if your page is content relevant for a certain keyword
Like any tool, it gives a "free" percentage so you can then take out a subscription and find out how to improve that page around that keyword.
In summary
Semantic SEO is a fantastic tool for both search engine optimization, but also for really capturing your users at the perfect time for conversion
Thanks to the natural language processing behind Google's Hummingbird algorithm, it's here to stay. Today's marketing strategies require attention to detail and what users are looking for, but semantic searches go beyond that.
You also need to understand and anticipate what users will ask and answer those questions using layers of carefully crafted keywords and value-added content.
Do you want to enhance your existing content with semantic search? We can help you if you need help.
Thanks for reading this guide! Feel free to share it if you liked it.
See you soon!