The expression "Content Marketing" often comes up in the words of SEO.
If you have never heard of it before, know that 86% of B2C companies practice Content Marketing. And you absolutely must understand this notion if you want to have visibility on the web.
This concept, which can sometimes seem vague, has become absolutely essential.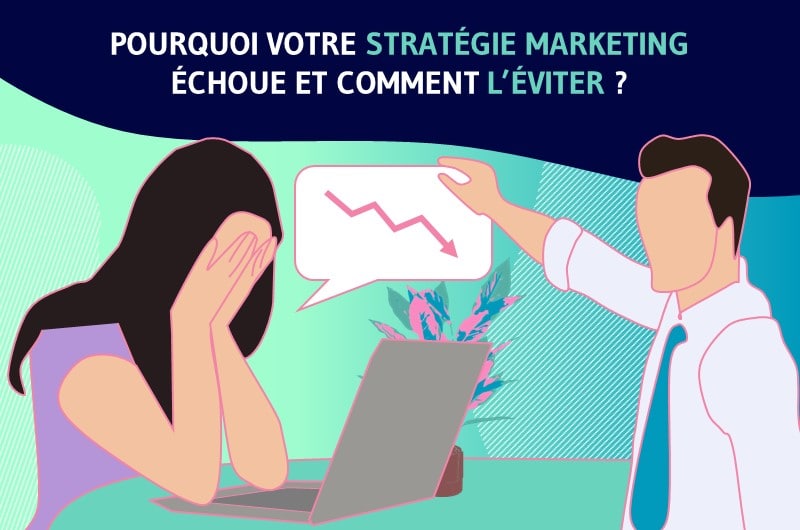 In this article, I'll tell you in great detail everything you need to know about content marketing and how to make it your own.
For this, I will address points such as:
What is Content Marketing;
The reasons for using it;
How to use it and why content marketing can fail.
Fasten your seat belts, because the crossing will be long, but exciting.
Chapter 1. What is Content Marketing?
As strange as it may seem, content marketing is not from the 21st century. Its appearance goes back much further than the event of the internet, the computer and even cell phones.
Indeed, its origin dates back to 1732 with the founding father of the United States Benjamin Franklin who promoted his business with the publication of the Poor Richard Almanack: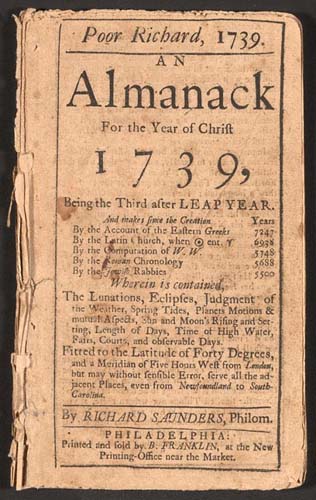 Source : Wikipedia
Content marketing has evolved over time and here is an infographic that shows us presents the first companies to have done content marketing since its origins:

So what is content marketing really?
1.1. Definition of Content Marketing
According to Wikipedia, is:
" A marketing discipline that involves the creation and distribution, by a brand, of media content in order to develop its business. This informative, useful or entertaining content can be presented in the form of news, videos, white papers, digital books, infographics, case studies, practical guides, question-and-answer systems, photos, forums, business blogs ,
etc. content which literally translated into French means content will correspond to any message produced and published in any form whatsoever. It focuses on the use of digital channels such as blogs, websites and social networks.
And as we all know, the number of people using the internet and digital channels is constantly growing. This is why, if your content marketing is well done, it will allow you to attract a lot of people and thus potential customers.
In short, I would say that Content Marketing is a technique that consists of creating and distributing informative, valuable, but above all useful content.
1.2. Why Use Content Marketing?
1.2.1. Content marketing is effective and many companies use
According to ledigitalab, 70% of users like to discover brands through blog content rather than through advertisements. And according to 1min30, 60% of users are more likely to purchase a brand-related product after reading or seeing content about it.
In addition, 91% of B2B companies and 86% of B2C companies use content marketing as shown in the infographic below: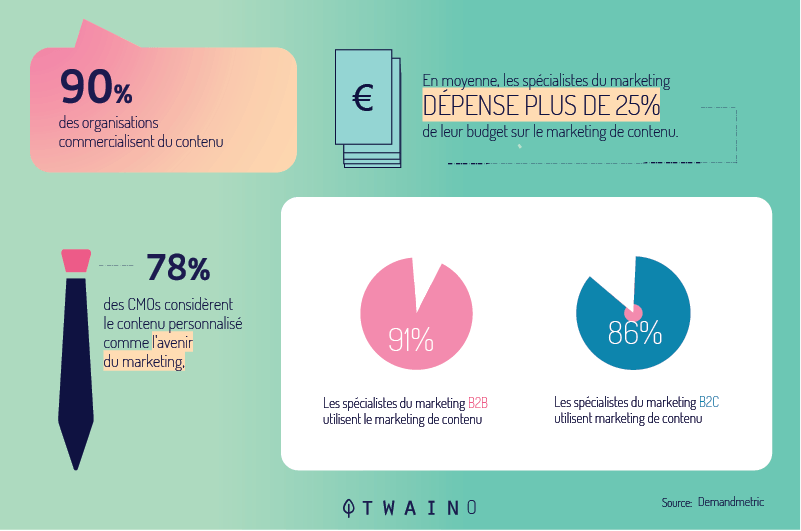 So you must follow the trend by practicing content marketing to promote your activities .
What mainly differentiates content marketing from its ancestor traditional marketing is on the one hand that the latter does not care about customer needs, but only to sell its brand.
Unlike traditional marketing, content marketing keeps you from boring customers and interrupting their business. They will only see what they choose to see.
Because showing the consumer what he wants is more beneficial than forcing him to see what he doesn't want and to necessarily adapt to what you impose on him.
On the other hand, content marketing makes your customers grateful to you. For the simple and good reason that you teach them new things through your content, they will want to return the favor by buying from you.
This establishes a relationship between you and your consumers.
This capture shows us that 78% of consumers perceive a connection between themselves and the company if they use personalized content marketing: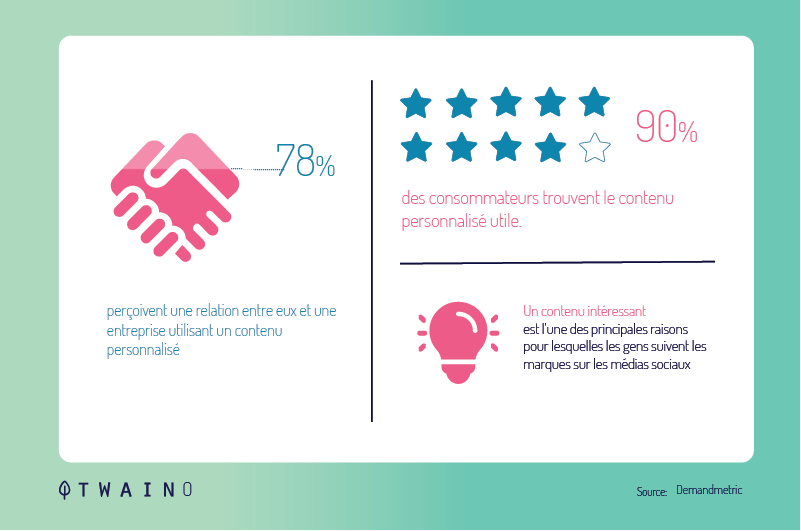 There are many other reasons why you should use content marketing
1.2.2. Content marketing, a powerful inexpensive ally against the competition
Comparison is what human beings do. Before buying, we compare the various products and the various prices.
By producing quality content based on the promotion of effective products, there is no doubt that prospects will prefer you to your competitors when they make a comparison.
Yes, content marketing costs less, much less than traditional marketing.
Indeed, since content marketing is focused on digital channels and content creation, it requires less expenditure than TV, radio or display ads.
As you can see from the infographic, content marketing costs 62% less than traditional marketing: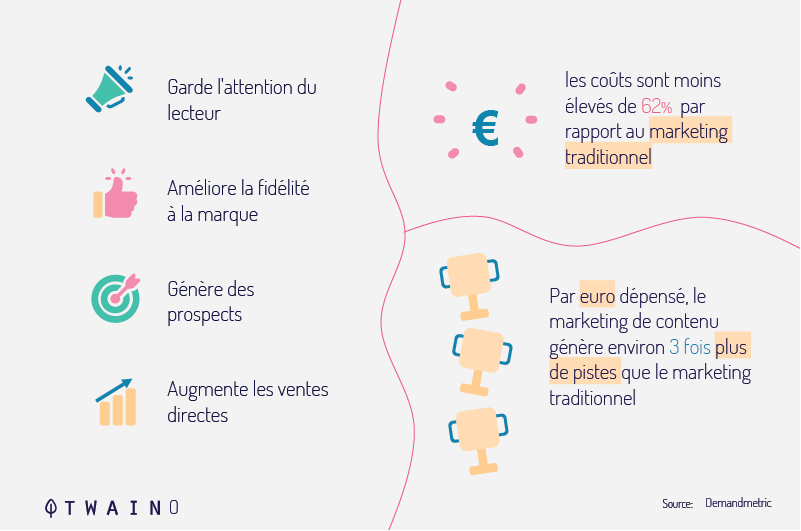 It just takes a good internet connection and time to produce useful, sought-after and quality content.
It's just an appetizer, the best is coming. If you associate a website with your content marketing strategy then:
1.2.2. Content marketing allows you to have more traffic
The more you take care of and vary your content, the more your site will be animated. And the livelier it is, the more your customers will want to come back and stay.
They will also have the opportunity to learn more about your products and services. Your traffic will thus considerably increase as well as the number of your subscribers. You will have more conversions of prospects into customers.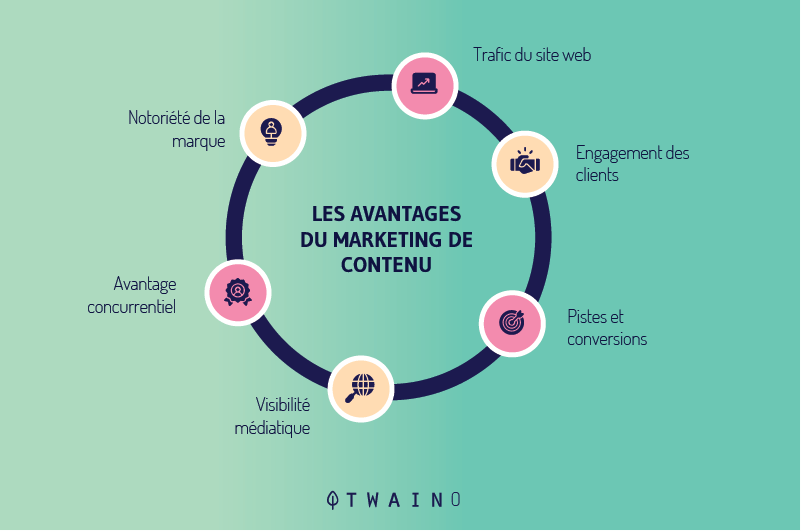 1.2.3. Better referencing thanks to Content Marketing
Referencing is very important because according to Optinmonster, 95% of Internet users limit themselves to the first page of results displayed by search engines.
Indeed, thanks to the regular publication of effective content, you will improve your ranking in search engines. You will be better indexed, ranked among the ten (10) best results during searches by Internet users and your products will therefore be highlighted.
In addition, by creating content on the various existing social networks, you improve your visibility. Because the more content you create, the more you will be referenced and the more visitors you will have on your website.
Content marketing also allows you to establish relationships of trust between you and your customers.
They may contact you via the networks to submit concerns and obtain further information on products.
Your customers will feel that you are listening to them.
Chapter 3: How to use Content Marketing?
In this part, we will talk about how to define your content marketing strategy and the types of content you can produce.
3.1. Define your content marketing strategy
Yes, it's very important. Before starting any project, you need a plan.
3.1.1. The Prerequisites for Defining a Strategy
Let's first define the term content marketing strategy:
A content marketing strategy is a plan to build an audience by publishing, maintaining and delivering frequent and consistent content that educates , entertains or inspires to convert strangers into fans and fans into customers.
Once you've won over your audience, you'll have the reliability you need to convert your prospects into customers. The strategy must mainly answer three 3 questions:
Why this strategy?
Who is this strategy for?
How to make it?
First, why do you want to define this strategy. You must set objectives, goals, results to be achieved.
Next, you need to determine the people you want to reach, your potential customers. Those that match the criteria your company is looking for.
Finally, you must decide how to carry out this strategy. The means you will need and the way in which you will proceed to ensure good results and stand out from your competitors.
3.1.2. The actual definition of the strategy
The ideal would be to use a content marketing strategy thorough and documented
Do you know why it is important for your content marketing strategy to be documented? There are several reasons for this.
First, those who have a documented marketing strategy are likely to be more effective in the field and better master joint management with social networks.
Next, 39% of the most effective B2C marketers have a documented content marketing strategy.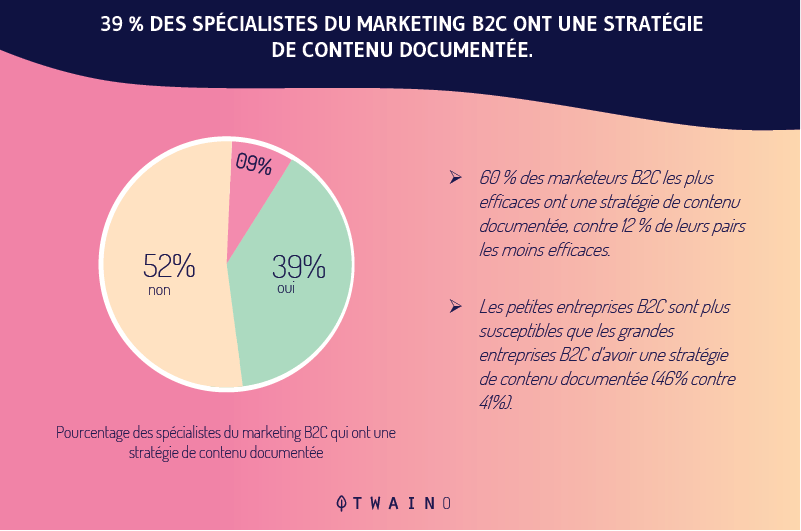 And according to Semrush, 84% of the least effective content marketing companies don't have a documented strategy.
Finally, a written, organized and planned strategy is easy to implement. Here's how to do it:
3.1.2.1. Your target audience
You need to determine who you want to speak to. This is an essential step, because if you decide to address your message to everyone, it may not reach the people it should.
To do this, you need to define your buyer persona and my guide to the semantic cocoon can help you do this.
You will then be able to draw up a descriptive sheet of the customers you have targeted and you will create content adapted to each of them. Rest assured, when I say for each of them I mean for each category of people.
3.1.2.2. Find a big idea for your strategy
For a good, documented strategy, you need to explore a big idea. This is the idea on which your strategy will be based. It must summarize your products and be captivating, with a certain and beneficial impact on your targets.
This idea must be able to stay in their minds. For greater reach, you can add a few other strong ideas to it. Together, they will form the backbone of your strategy.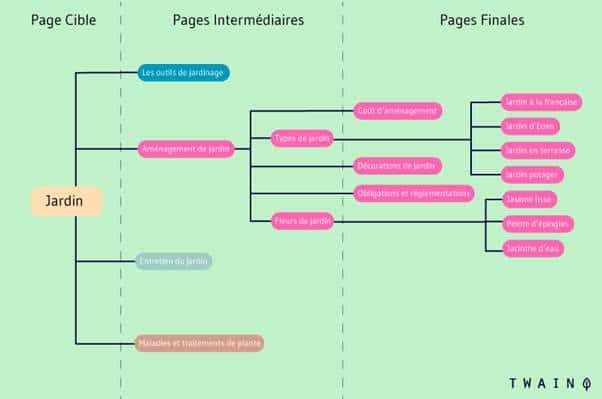 In each idea, people must be able to identify your products, to refer to them.
3.1.2.3. Plan the different channels through which you will distribute your content marketing
These are mainly social networks and mailings.
Social
networks Social networks have occupied for ages a place of choice in content marketing and in the world. They are certain channels for the success of your strategy.
According to Neilpatel, 87% of content marketers use social networks such as Facebook, Twitter and Linkedin to spread their content.
The main networks to favor are:
Linkedin :
Linkedin is Facebook in a more professional way. It's a network that looks like Facebook where you can register, see other people's accounts and see advertisements.
According to Toprankblog, 91% of B2B companies use Linkedin to share their content.
Linkedin has other advantages that make it special, since with it you can see everyone who has viewed your profile or your page.
In addition, you have a wide range of categories to search for profiles: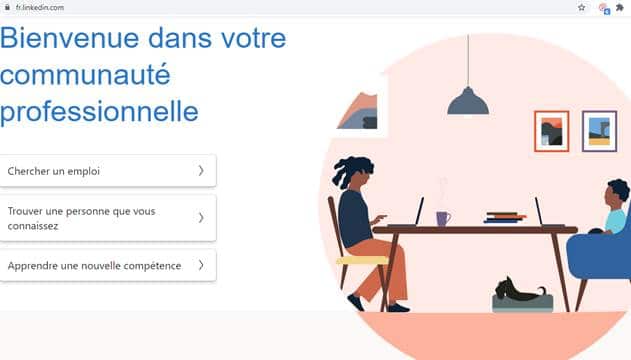 You can search for them according to the school or university they attended, their level of study, their job and even their professional experience.
Linkedin is very suitable for the professional sector!
By creating content there, you already have a defined category of prospects: Professionals. You can target those who meet your expectations.
Twitter :
This social network was created in 2006 by four 04 people and it is used to send short messages called Tweets on the Net by SMS or instant messaging.
According to Toprankblog, 85% of B2B companies use Twitter to share their content.
This network is also called the celebrity network because they are more frequent there. This is a significant advantage.
Facebook
Who does not know Facebook? Even children know this social network which is the most popular in the world with more than 2 billion active monthly users.
On Facebook, there are all categories of people.
Adults, young people and professionals. All sectors of life and business are represented.
This is a significant asset for the expansion of your content marketing: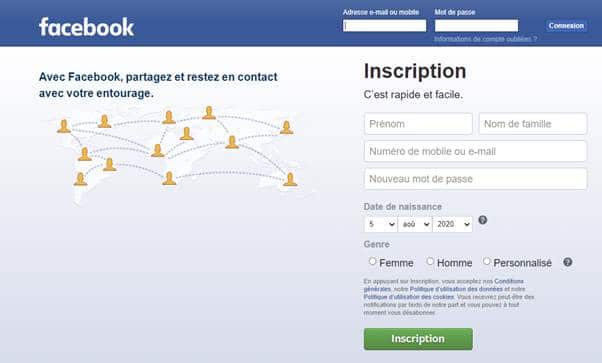 According to Toprankblog, 81% of B2B companies use Facebook to share their content.
YouTube :
The network par excellence for sharing and watching videos. It counts a lot of subscribers and represents a major asset for your strategy.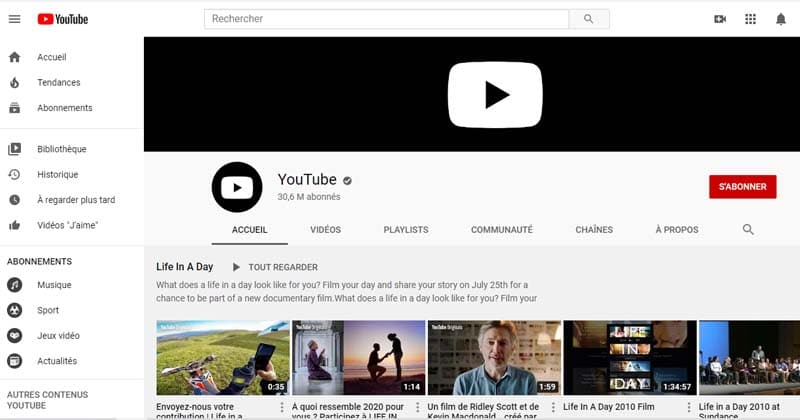 According to Toprankblog, 73% of B2B companies use YouTube to share their content.
These are not the only social networks on which you can engage. But it's best to start with those first before expanding to others.
Attention ! It is imperative to assess beforehand all the stakes of these different social networks. You need to be financially ready and available before you start creating content there.
It's not good to start and then quit or not post regularly. This will rob you of all credibility with your subscribers.
E-mailing
E-mailing is a technique that consists of sending mass advertisements to a person by e-mail or electronic mail.
It is direct marketing that allows you to reach not a group of people in general, but rather one or more people in particular, and this individually.
In addition, it has several advantages:
E-mailing is less expensive and very profitable;
E-mailing allows you to track the results of your marketing campaign.
According to Optinmonster, 90% of American adults and 95% of professionals use email.
All you have to do is collect emails from your prospects.
3.1.2.4. Anticipate opportunities for content reuse
Creating content takes a lot of time and work. You can analyze options for reusing content already created for other uses.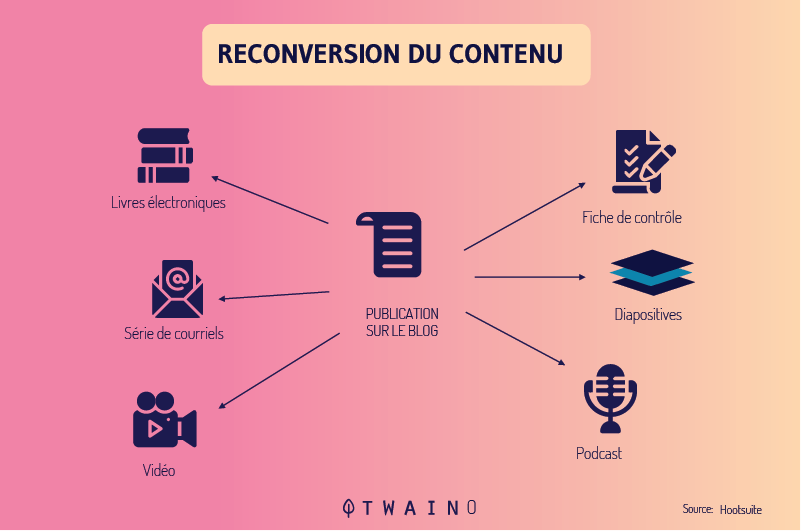 Whether it's articles, videos or podcasts, find ways to reuse them.
3.1.2.5. Define effective keywords
An essential step in your strategy, the research and choice of keywords must be carried out with care.
Indeed, the keywords when they are well chosen, promote the good referencing of your website.
The latter will be better indexed by search engines and will be ranked among the top 10 and best search results.
According to Elisedopson, more than 35% of content marketers rely on keyword reviews to come up with content ideas.
To do this, one of your best allies is and remains Google Trends.
This is a tool provided by Google that shows the popularity of a given term relative to the term's total popularity in a region, or over a period of time.
For marketers, you can use this tool to make keyword research easier by uncovering valuable information about the targeted keywords.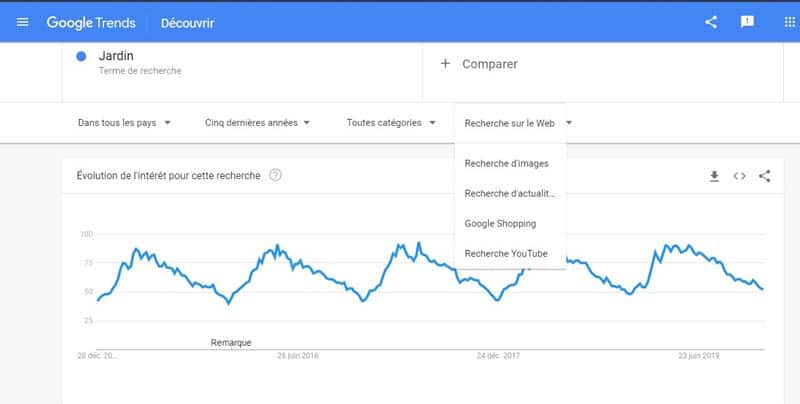 Yes, Google Trends allows you to see what is highly sought after and where?
You must certainly think that this strategy requires a lot of work. I'm not going to tell you otherwise, but you also know that there are no benefits without effort and that you have to work twice as hard to outperform the competition.
For this, you need the contribution of all the teams in your structure.
3.1.2.6. Involve the majority of your teams in the strategy
The more you are, the better, they say. Or again, unity is strength.
Organize meetings, conferences or work sessions where they will all be involved in the development of your strategy.
This will guarantee maximum control of the strategy by your teams and their involvement. And it will increase your chances of outperforming your competition.
3.1.2.7. Study your competitors' strategies
In the business world, it's important to know what you're getting into and who you're going up against.
canStudying your competitors be very helpful. Not to copy them, but to take inspiration from them. You see the weak spots in their strategies and use them to bounce back.
Don't forget to periodically update your content marketing strategy to adapt to changes and realities on the ground.
However, the main objectives of your strategy should not be modified since they form the basis of your strategy.
Knowing how to use content marketing without knowing the different types of content you can produce is clumsy, isn't it?
That's why I'm going to tell you about the various content you can produce.
3.2. What are the various contents that you can produce?
There are many types of content in Content Marketing. I will show them to you. These are:
3.2.1. Blog articles
A blog is a website that is used to regularly post personal articles, which report on news around a theme.
According to Outgrow, 80% of content marketers create blogs as part of their content marketing strategy.
In your case, your business blog is going to be used to post high-quality articles, videos, or podcasts on the various areas you've already targeted.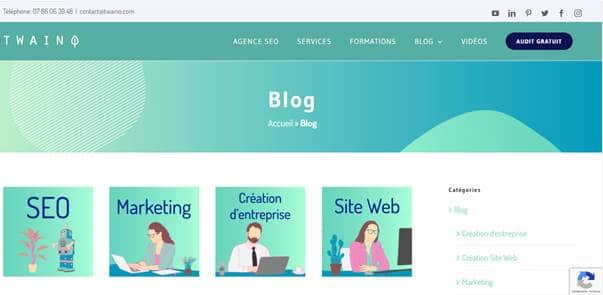 It will also be used to promote your activities. It is very important that you moderate it regularly, choose fixed days of the week when you are going to publish content.
This will help attract prospects.According to Optinmonster, 77% of Internet users read blogs: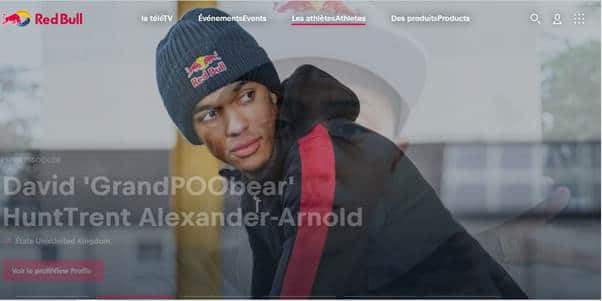 Do you see how beautiful and attractive the homepage of these blogs is? Yours should be the same.
3.2.2. E-mails and Newsletters
E-mails represent a direct means of contacting prospects and individual contact. Take care of your email ads so that they are attractive and captivating.
From the graph above, email as content has a strong return on investment: It's $40 for every $1 invested: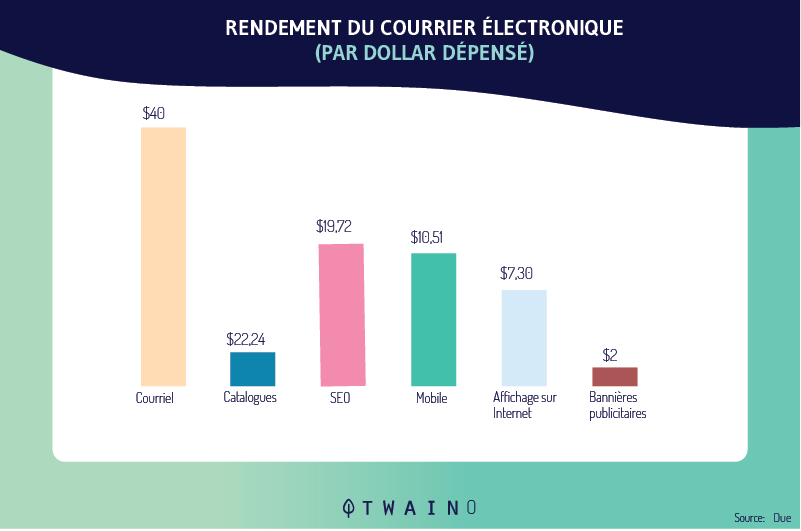 Newsletters are messages sent by email to customers in order to inform them, to inform them about subjects in which they are interested or even about the news of your company.
Like emails, they are more personal.
According to Outgrow, 83% of content marketers use newsletters as content in their content marketing strategy and according to Optinmonster, 95% of professionals use their email inbox regularly.
3.2.3. Ebooks
Still called "white papers", "electronic books" or "digital books", Ebooks are books in digital format. That is to say books edited and published in digital version.
They are often found in PDF format and can also be found in other formats and names such as "checklist", "mini-book", "nano-book"….
According to Semrush, have a 67 % buyers when they want to make purchases.
They have several advantages. They are particularly easy to access, as all it takes is a download and you can be anywhere in the world. Ebooks represent a significant asset in your content.
3.2.4. Podcasts
are Podcasts digital audio and video files made available on the Internet for download to a computer or mobile device.
They are usually available in series, new installments of which can be received automatically by subscribers.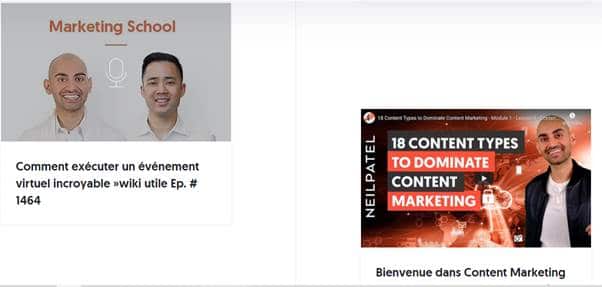 According to Optinmonster, 45% of Internet users between the ages of 25 and 34 listen to Podcasts.
3.2.5. Visual content A
lot of people don't really like to read, and to keep them from avoiding your site, create visual content.
You must have thought of videos when I mentioned visuals. But it's not just them.
There are infographics which are digitally created images and according to Forbes, 84% of content marketers who use infographics find it effective.
There are also comics which are suites of drawings that tell stories with characters. They are still called illustrated books.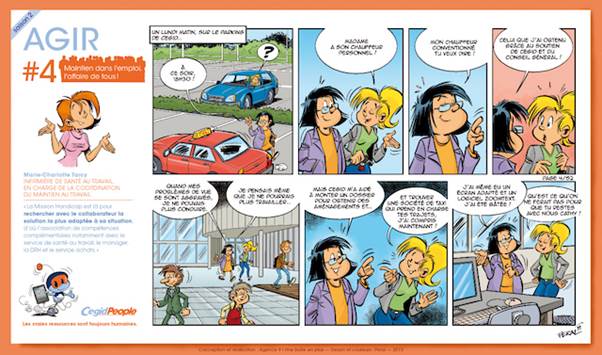 Source : rédacteur.com
3.2.6. Webinars
Briefly, webinars are interactive seminars organized and held remotely via the internet. Internet users appreciate them enormously.
According to the graph below, 61% of businesses use webinars as content for their content marketing.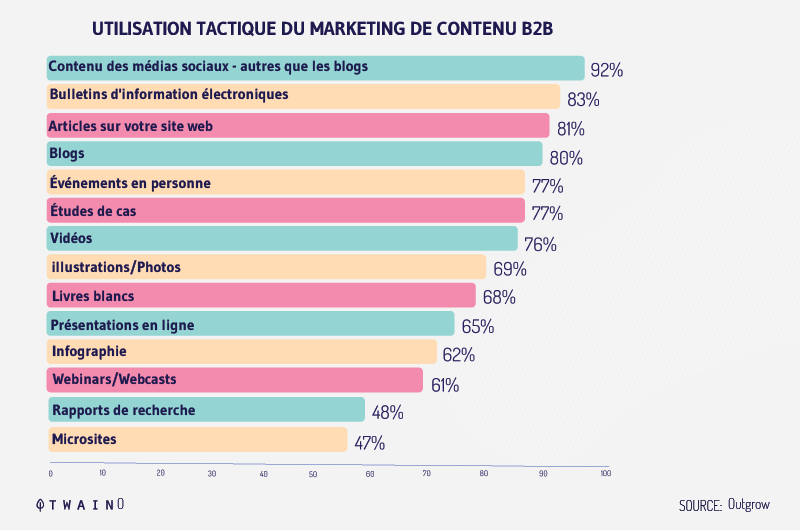 According to Optinmonster, 69% of webinar registrations occur the week before the webinar takes place and 33% of registrations occur on the day of the webinar.
3.2.7. Videos
The visual content par excellence, it's always nice to watch a video to learn and understand. It's even more so for those who don't like to read a lot.
The majority of companies that do content marketing also create video content on their blogs, on other social networks and especially YouTube.
According to the graph below, 76% of companies use videos in their content: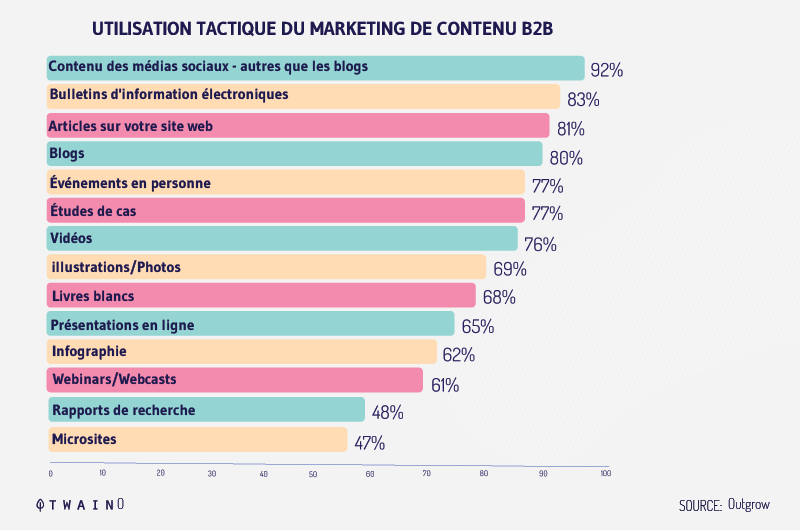 According to Optinmonster, 84% of people say they were convinced to buy a product or service by watching a brand's video .
Also, 48% of content marketers focus on YouTube videos and 46% plan to focus on Facebook videos.
3.2.8. Case studies and surveys
Case studies are content produced by taking inspiration from real events and aiming to draw a lesson from them in order to make them an experience for customers.
According to the graph, 77% of content marketers use case studies in their content marketing strategy.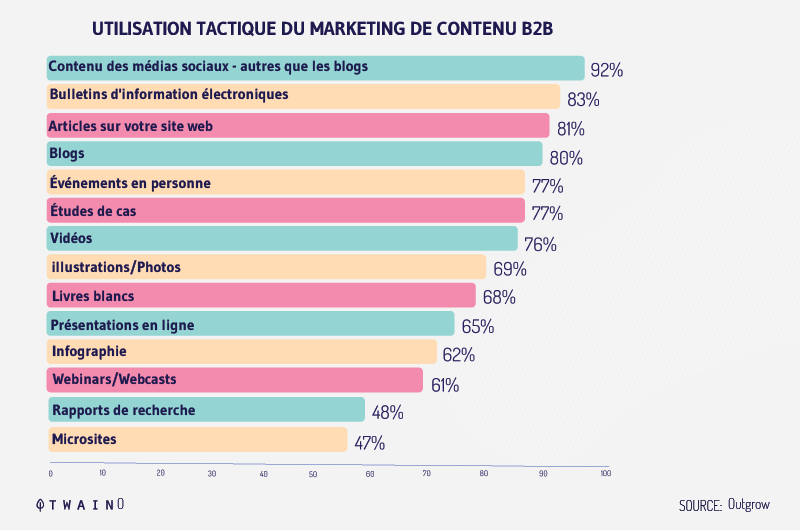 Investigations are meticulous searches based on questions and reports or testimonies. These two contents are quite popular with Internet users.
After its implementation, it may happen that your content marketing strategy fails. I will tell you why.
Chapter 4: Why Business Content Marketing Can Fail
Is your content marketing strategy not working for you? You are not alone in this. Many people fail in content marketing and they don't know why.
94% of B2B companies practice content marketing and only the remaining 6% do not.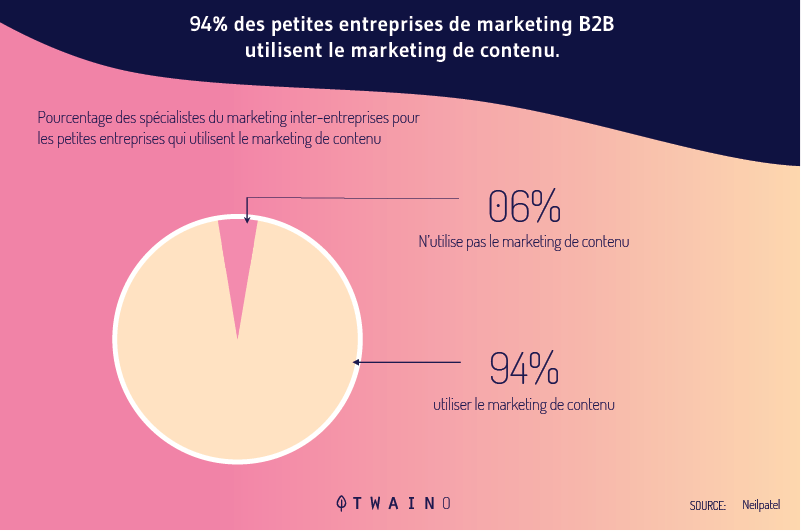 But how many of these companies manage to commercially exploit the content? Not enough. In reality, not all of them fall into the category of those who succeed.
Among B2B marketers, only 9% consider their organization to be high performers in content marketing. Ouch!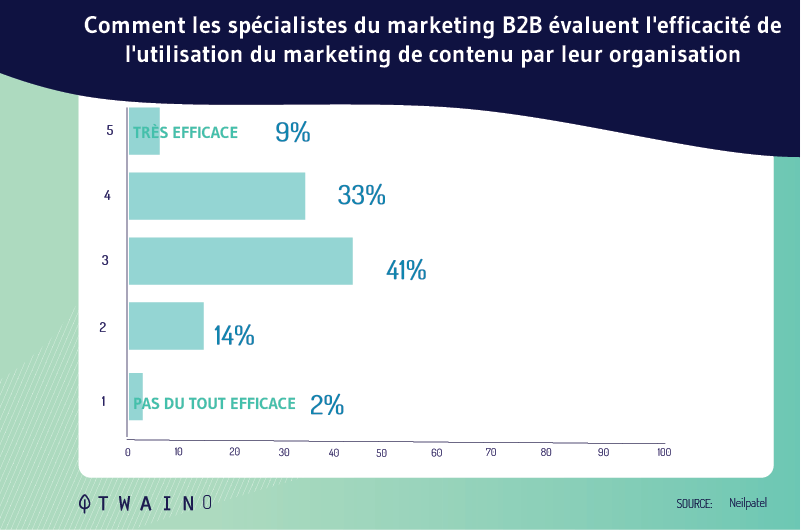 Clearly, B2C content marketing is not yet successful. This observation motivated me to do some research in this direction and I ended up finding a few reasons that could explain why these companies are not successful in content marketing.
For many of them, it wasn't their content marketing that failed, but rather their content marketing strategy. We can't rule out the possibility that they don't even have a strategy.
This last point leads me to the number one cause of dismal business failure in content marketing:
4.1. Lack of strategy
You fail in content marketing because you don't have a strategy. Yet it is essential to the success of content marketing.
While designing your strategy, observe your competitors who have already succeeded, their successes and their failures. We can learn a lot from others.
Why did their content succeed? Take inspiration from them.
Through which channel did they share their content? Imitate them.
Who is sharing their content? Do like them.
The success of your content marketing is directly linked to the development of a strategy and the achievement of your objectives.
According to the Content Marketing Institute, 66% of companies that rated their content marketing accomplishments as successful had a documented content marketing strategy.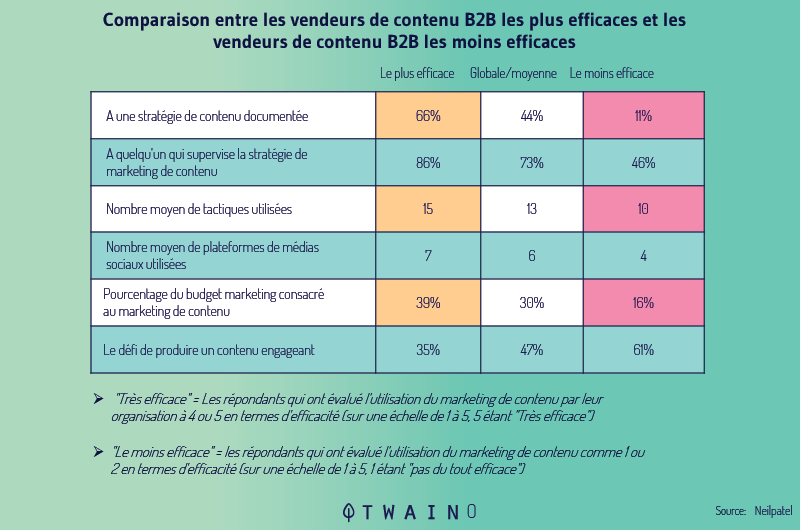 This image also shows us that top performing B2B content marketers use an average of three social media bases and more marketing tips than the bottom performing marketers.
Having a targeted strategy can make a huge difference between a failed and a successful content marketing strategy.
4.2. You are not investing enough in your content
It is true that I said that Content Marketing does not require investing a huge amount of money. But I didn't say it's free.
Indeed, it is not a question of investing all the funds of the company in it, but you must still invest in it.
In content marketing, no investment equals failure. In a survey, 48% of content marketing experts surveyed said they were considering increasing their content marketing budget for the next 12 months: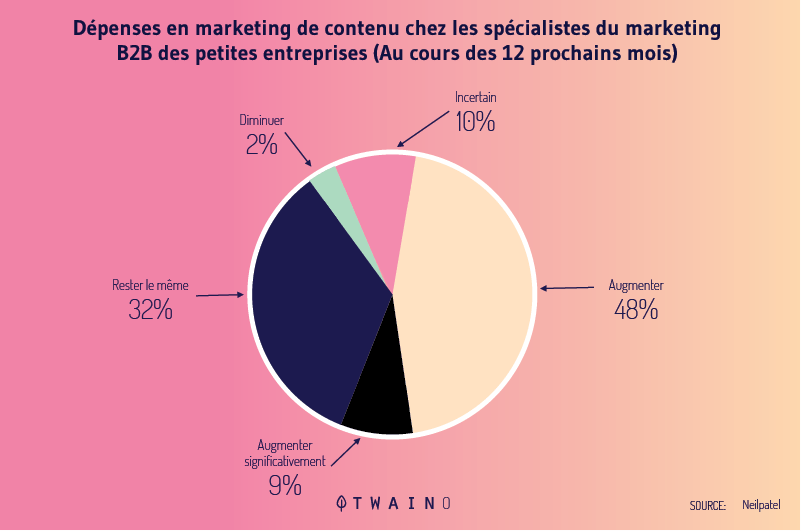 Since its advent, content marketing has been seen as the magic bullet in the field of marketing and this belief continues to take root as many companies continue to succeed in the field.
The graph shows us that only 9% of companies plan to reduce their content marketing budget. It is then obvious that content marketing is effective and that it will not disappear any time soon.
If I were you, I would immediately get trained in the field.
Statistics have shown that B2B companies dedicate31% of their budget to content marketing.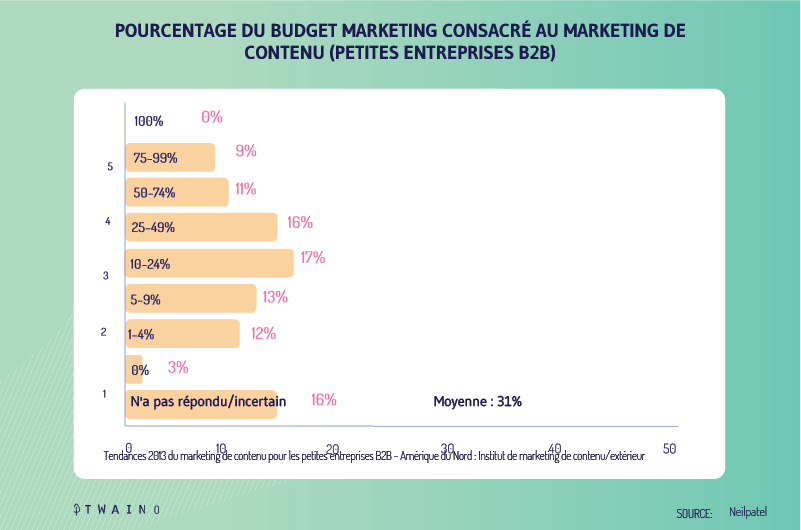 Statistics have shown that companies that spend the most on their marketing strategy are successful. Do not hesitate to invest in it, because you will get your money's worth. This is called Return on Investment ROI and there are no profits without investments.
4.3. Your content is uninteresting
content Uninteresting is not read or shared. You need to produce engaging content for your content marketing strategy to succeed.
Whatever the subject, you do have the opportunity to produce interesting and actionable content.
Ecologist? Why not write an article about life on earth without oxygen in 100 years?
Insurance specialist? Why not produce an article on the question of whether singer Taylor Swift had her legs insured? (It seems that she really did and for a sum of 40 million dollars).
I would read such articles because my curiosity might be piqued.
By keeping your articles interesting, you will ensure the influx of readers to your site.
But creating content is just the first step in creating content for your content marketing strategy, because it's not enough to just create "good content".
Your content must have a great positive impact on those around you. Attractive content that drives readers to your site should encourage discussion.
There can be several reasons why companies create uninteresting.
They do not know what type of content to produce : there are several types of content that you can produce (articles, e-mails, videos, etc.). The challenge is to determine which of them is suitable for your strategy.
They don't know their target audience: if you don't know the tastes and expectations of your target audience, then how do you create content that will match and attract them? It is not possible.
They have inexperienced content managers : generally, the majority of companies hire writers who, most of the time, know nothing about the business sector of the company.
If you can't do your own content, find writers with experience in the field and check their work before posting it to your blog.
Having quality content can make a huge difference between a failed and a successful content marketing strategy. Quality often has to be prioritized over quantity.
4.4. You're not promoting your content enough
The best way to nip your content marketing strategy in the bud is not to promote it. It is not enough to produce content and publish it hoping that it will be seen enough.
Content Marketing includes two (02) main parts: Content Creation and Promotion of the content created.
If you create less content, but promote more, your strategy will certainly pay off better than that of a company that creates more content and promotes less.
Ideally, the two should be in balance. As much as you create content, you promote it.
You have several ways to promote your content.
4.5. You didn't wait enough or you expected too much
Content marketing doesn't deliver instant results. It takes time and you have to be very patient.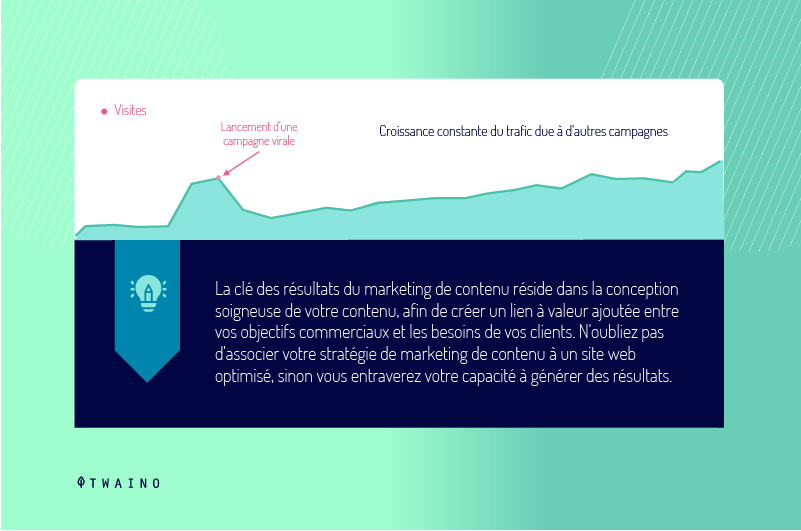 See that dip right after the "viral campaign launch"? This is often when a business dismantles its content marketing strategy. And this is the worst time to stop!
In the majority of cases, a lot of businesses will see a peak in interest in their business collapse at some point. And unfortunately, they immediately become discouraged and give up. But that is what should not be done.
When they see a drop in interest, companies need to work harder to get it back up. As the analysis of the graph shows us, the traffic is starting to rise again. Which means the strategy will eventually succeed.
Don't expect results in days or weeks. The Great Wall of China was not built in a day. So be patient.
You should not expect too much from your strategy either. Do not overestimate it and aim for average.
Many companies that have done content marketing will tell you that the results were poor at first.
They will tell you that the strategy was struggling to take off, but with time, work and determination, they achieved more than satisfactory results. "Satisfactory results" does not necessarily mean "great results", either.
So you need to understand that your goals and metrics need to be reasonable and match your business and what you want to achieve.
4.6. You do not do analyzes
Analyzes are very important because they will allow you to know what is working in your strategy. For no reason should you ignore them. You need to measure analytics to measure your success.
The majority of small B2B businesses rely solely on the intensity of traffic to their website to measure their content marketing success. However, this is not the only way to measure success in content marketing and it is not advisable to measure it only one way.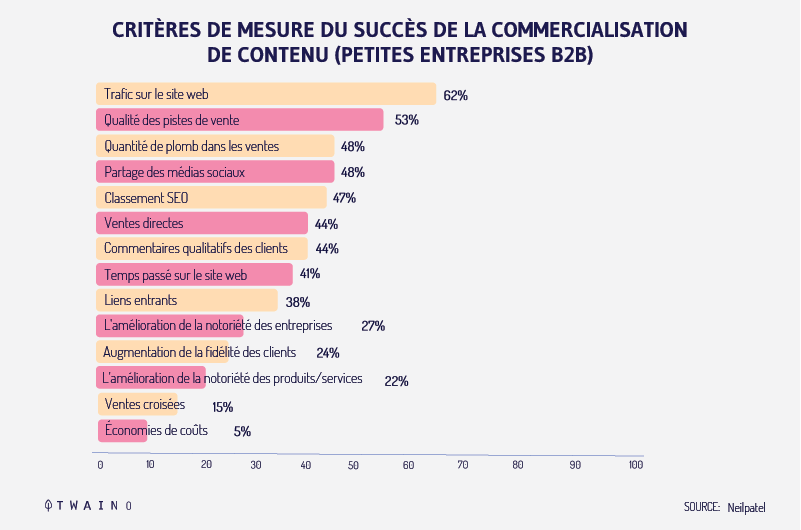 You must have several ways to measure the success of your business.
You can do this by monitoring KPIs such as:
Traffic to your site;
The time spent by readers on your website;
The growth of customer satisfaction;
Ranking in search engines;
The share rate on social networks.
By mastering your end goal, you must be able to properly monitor your content marketing work and thus be able to ensure that it leads to the results you are aiming for.
What are you aiming for then: More email sign-ups? More sales? More responsiveness from customers? Or new customers?
To measure your success, the metrics you choose should depend on your content marketing strategy, the promotions you use to promote your content, and the metrics you can measure.
Your content marketing can also fail because:
4.7. You have chosen your target audience poorly
Before developing your content marketing strategy, you must necessarily target your audience. You must know his tastes, his expectations, his desires, his fears.
You need to determine who you want to reach with your strategy.
Will your content appeal to them? Who are those who buy your products? Will they recommend it around them?
If you don't know your target audience, you won't know where or how to commercially exploit your content.
Of your customer base, you need to know characteristics such as gender, age, income, purchasing power, and anything else that may be necessary and useful for your content marketing strategy.
Building buyer profiles is one of the important steps in developing your content marketing strategy.
You should also ask yourself on which channel your target audience is more present.
As the graph below shows, on the one hand, young people are more likely to use certain social networks such as Snapchat and Instagram: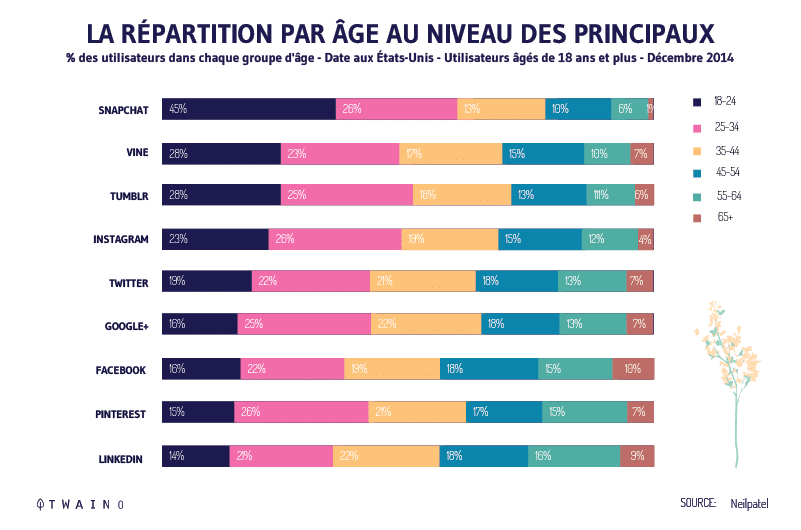 On the other hand, Facebook has a greater age distribution among users.
This information is very important and very useful for targeting and locating your audience. So you know where exactly to direct your strategy.
4.8. Your domain is difficult to challenge
Your company may be in a difficult niche. Customers are hard to find, they don't connect, or your industry is unknown to the general public.
Unfortunately, I have no magic remedies to offer you. Opt for a good, fairly communicative strategy that will help tell the story of your domain and your brand to the public.
Try to think of content that will be useful to your audience – not just interesting.
You can also try storytelling. Tell your readers about your business to gain their trust and let them know that humans work there, not just robots.
Why not make comics or visuals to tell your story in an illustrated way?
This technique will certainly be conclusive.
4.9. You have a strong competitor(s
) It happens quite often, you are new to the field and you have veteran competitors with high-level strategies. A bit like David facing Goliath, only that David is you.
But don't be intimidated, your competitors didn't become so powerful overnight. They also started low, they overcame the difficulties.
The first thing to do is to continue producing and publishing content. Above all, don't stop, you must retain your audience.
The second thing to do is build an audience for your cause. Create content based on their preferences, give them attention. They must feel important to you.
I've told you before that attention is the key to winning over the audience.
The third thing to do is to detect flaws in the content and strategy of the competitor(s. No one is perfect, there will always be an area or a part where they fail to deliver.
You will then have to succeed where they failed, this will make you unique.
4.10. Your SEO leaves something to be desired
SEO and content marketing go hand in hand. You can create the best content in the world, but if your site isn't ranking, there's no point. It's as if you are creating invisible content.
Take a look at the table below. Only 16% of traffic comes from social media.
The rest, ie the remaining 84%, comes from searches and direct traffic.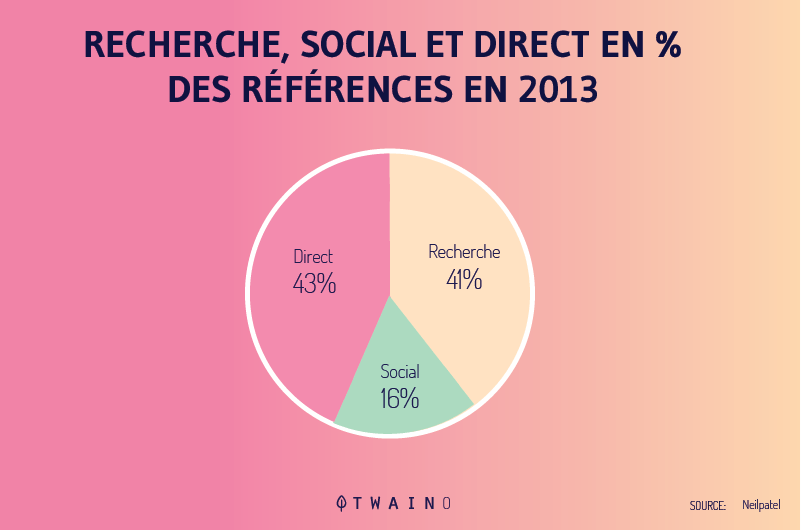 To put it simply, SEO is an integral part of content marketing and your site must therefore be correctly referenced.
You need to learn the basics, and if you're having enough trouble with your website's SEO, contact an SEO expert to help you out.
But there are ways to prevent your strategy from failing. What are they ?
Chapter 5: How to Avoid Content Marketing Failure
Here, we'll look at the different ways to turn content marketing failures into success.
Means 1: Use SMART
objectives SMART objectives are:
Specific
Measurable
Achievable
Relevant
Time-
bound Creating your strategy around SMART objectives will allow you to avoid vague and unreachable objectives. SMART goals give you clear direction: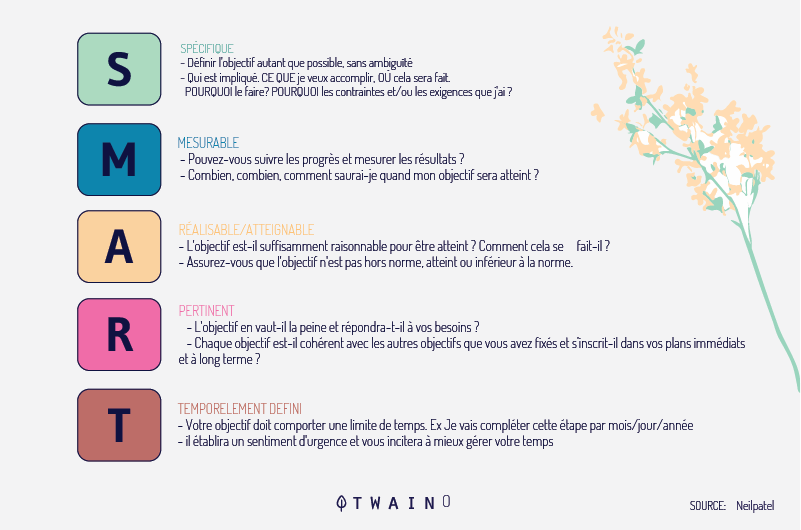 Developing SMART goals creates a basic content marketing strategy.
If developing a strategy scares you, focus on setting SMART goals. This will help you get started.
Way 2: Have fun Just
because creating a content marketing strategy is hard work doesn't mean your content has to be boring. By creating fun content with your company's personality coming through, you're likely to attract more people.
Highlight what differs you from your competitors, the culture of your company. Your audience would like to feel that you look like them, that they have things in common with you. On a human level, he wants to identify with you.
Do as the founder of Apple for example, Steve Jobs. Telling his audience that he founded this great brand in the garage of the house where he grew up brought him closer to people.
They identified with him through this simplicity.
Way 3: Build a community
Building a community is one of the crucial steps in content marketing because it requires patience. You need to identify your community, locate it, and then attract and retain its members.
While building your community, you need to identify the different types of channels it uses and also the different types of channels used by B2B companies to do marketing.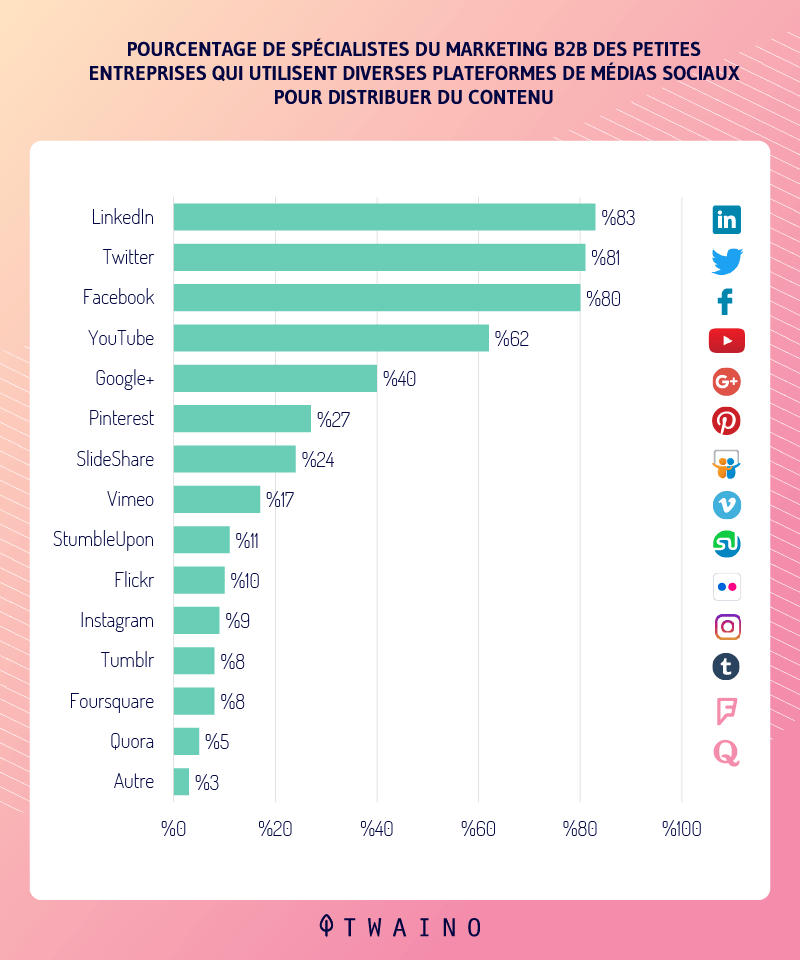 As you can see, the majority of small businesses focus their content marketing strategy on LinkedIn, Twitter, and Facebook.
On YouTube also their presence is significant.
Knowing which channels your competitors are focusing their content marketing strategy on can maximize your chances of creating a successful strategy.
Way 4: Craft good headlines
Your headline is the first thing people will see of your content. If it's not appealing, then they'll think the same about the content. The title is arguably the most important part of the content.
10 people will read your title but only 3 will click on it to read the rest. Why? Because your title is not catchy.
The length of the title is just as important: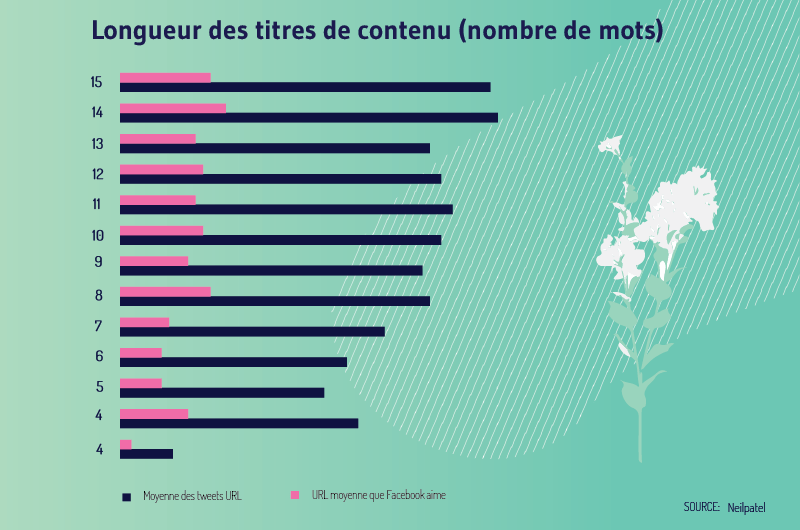 Your title should be neither too long nor too short. From this image, you can notice that the most successful titles on Facebook are between 12-14 words and the most shared titles on Twitter are between 8-12 words.
If the title is too short, it won't be descriptive enough, and if it's too long, it may not make you want to read on. You need to write punchy and catchy titles.
To rank high in search results, your title must be less than 70 characters. When developing your strategy, be sure to analyze the types of titles that best fit your field.
Be creative and catchy in your titles, it's the key to enticing the audience to stick around. Favor the use of adjectives and whenever possible, insert the year of creation of the content in the title.
Way 5: Don't be focused on your business
It's true that you create content to maximize the marketing of your brand, but you also need to focus on customers. You must find a balance between promoting your brand and the well-being of your customers.
Create interesting and funny content for them, inspiring stories, funny videos or even tips, tutorials.
It all depends on your industry.
Method 6: Leverage various types of content
For a successful content marketing strategy, you must use several types of content. You certainly don't want to overload your content creation department.
However, you want to diversify your content to better meet the expectations of your audience. Because each of them has preferences. Some may prefer articles and others YouTube videos or even Tweeting.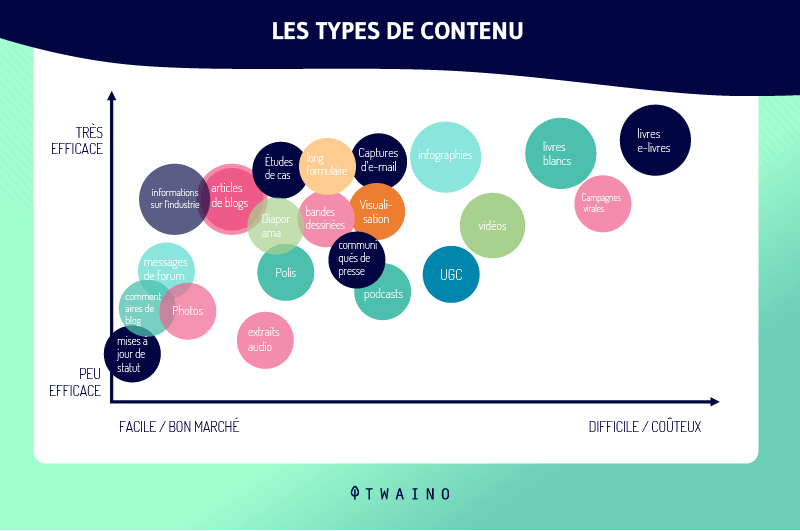 There are various types of content:
Articles
Audio
Blogs Blog
Comments
Press Releases
Ebooks
Emails
Case Studies
Images
Industry News
Podcasts
Text
Video
developing your marketing strategy, identify in advance the appropriate channels to reach your target audience.
In case of failure, above all, do not succumb to discouragement. A momentary failure is acceptable, as long as you get up immediately to continue the battle.
Provided that you make a complete diagnosis of your strategy to identify and flaws and to be able to correct them.
All of today's great content marketers will tell you they've failed at one time or another.
But they knew how to transform their weaknesses into strengths to evolve and succeed. It means they are creative and they never get tired of trying.
Do like them, never give up. Temporary failure can work to your advantage if you know how to learn from it.
Method 7: Use a call to action
A call to action or Call to action (CTA) in English is the note that appears on an e-mail or a web page and which aims to push the recipient to take an action accurate. It can be a download, a purchase, a vote, a click or even a registration.
Calls to action are not complicated, if you want your customers to do something just ask them. Call them to action with mini-phrases like this:
Sign up;
Add an email;
Download this e-book ;
Click this button or
Buy here;
Etc.
The call to action occupies a prominent place in your content marketing strategy because it allows you to keep your audience informed about content that might interest them. It also allows you to maintain their attention and interest in your content.
Chapter 6: Brands that Failed and Successful in Content Marketing
In this chapter, I'm going to show you some brands that failed in content marketing and why they failed. You will also be entitled to a few brands that have succeeded in content marketing.
6.1. Brands that failed in content marketing
It always feels weird when you hear about other companies that failed in content marketing, because it can happen to anyone.
Take the example of two well-known brands: Carrefour and Apple.
6.1.1. Carrefour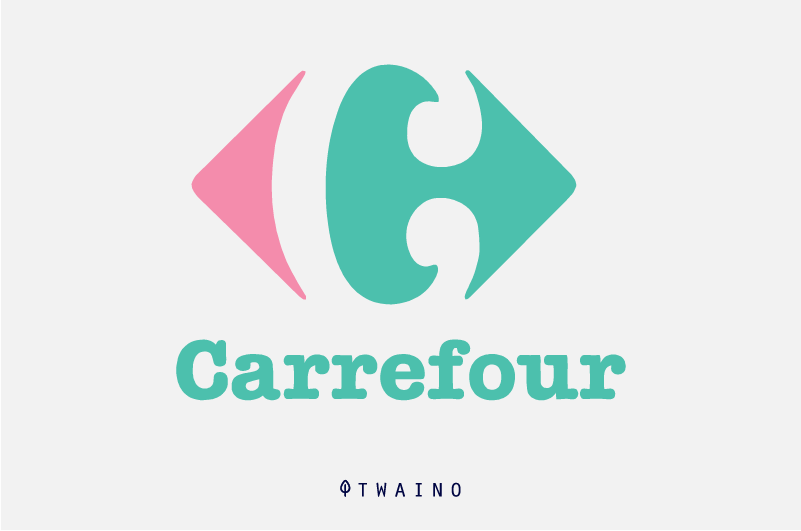 Carrefour is a global chain of supermarkets based in France. A few years ago, Carrefour instead of keeping up to date and following new marketing trends, continued to invest in billboards and printed advertisements.
The good old method, but which turned out to be a total fiasco.
Meanwhile, rivals such as Giant and FairPrice have moved into digital advertising, phone apps and QR code scanning purchases.
As a result, buyers have practically forgotten the existence of Carrefour.
The moral of the story is that you have to watch your competitors and you have to evolve with the times.
Fortunately, Carrefour caught up afterwards.
6.1.2. Apple
Apple thought it would be a good idea to stream free music to everyone's devices, regardless of taste or storage space. It was overwhelming, scary and ridiculous.
Also, the music wasn't that great.
It was a monumental mistake that created such drama that you will certainly remember it.
Moral of the story, know in what proportions to offer specific content for promotions. Do not force.
I'm now going to tell you about the nicer things, about brands that have succeeded in content marketing.
6.2. Brands that have succeeded in content marketing
It's always pleasant and encouraging to learn that there are brands that have been very successful in their content marketing. Here are the examples of Colgate and Red Bull.
6.2.1. Colgate
The essential oral health magnate has created a website on which he regularly provides advice, illustrative videos and guides on the subject of oral and dental health.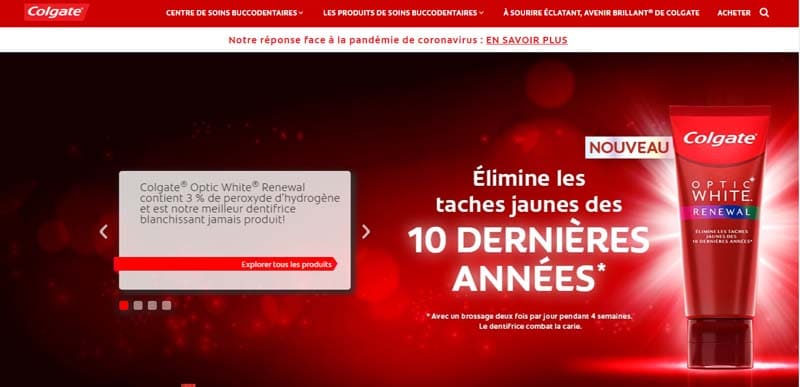 There are scrolling images with various recommendations.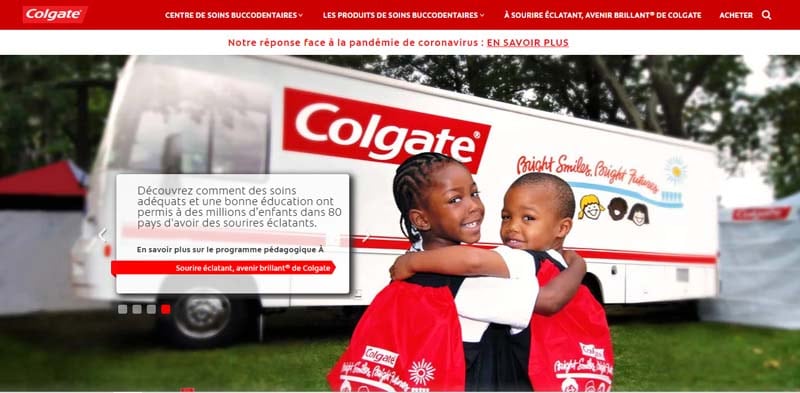 Colgate highlights its expertise in this area to attract its prospects.
If you ever had a concern about oral health and couldn't reach a dentist, what would you do?
Knowing the existence of such a website, aren't you going to rush to visit it?
This is how Colgate attracts new prospects.
Finally, we are going to talk about another giant who is also one of the recognized pioneers of Content Marketing.
6.2.2. Red Bull
This brand needs no introduction. This energy drink giant is one of the pioneers of Content Marketing.
He began by sponsoring sports activities before starting to buy stables, sports clubs, and organize his own activities.
This brand has even created a Red Bull TV.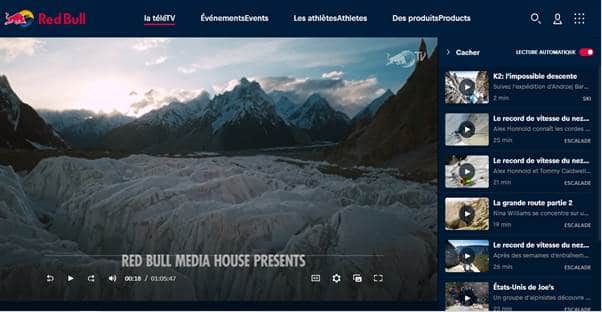 The Red Bull company is very active on social networks, particularly on Twitter where it has 2 million subscribers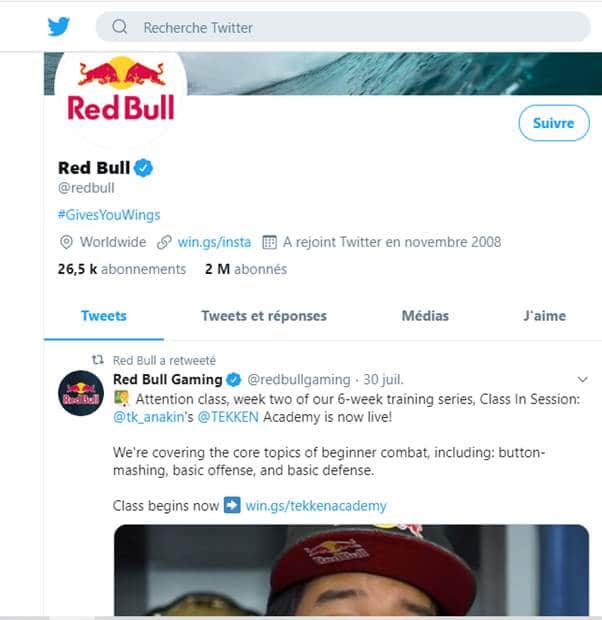 On Facebook 48,350,252 subscribers.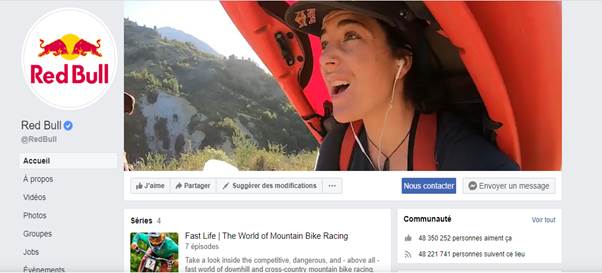 And on YouTube, more than nine 09 million subscribers.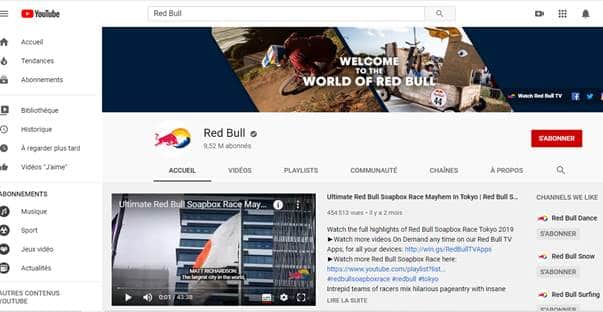 You have seen with me that Red Bull invests heavily in the creation of content on social networks.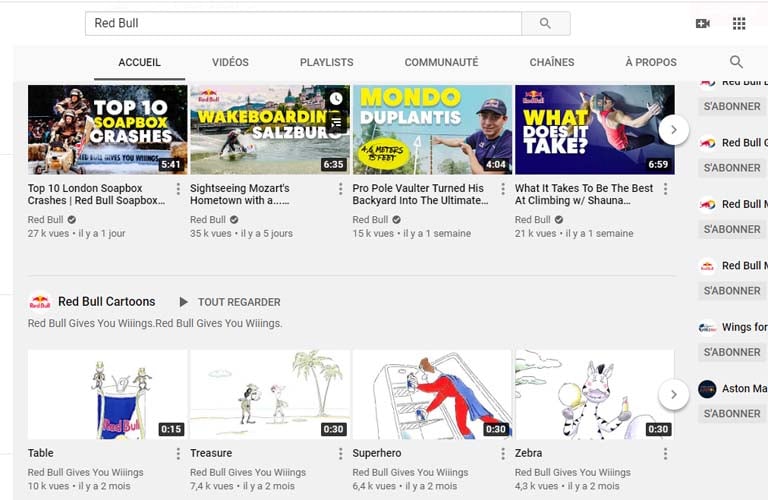 In this image, you can see that the company regularly posts videos of high-risk activities and even cartoons. High-risk activities require a lot of energy and cause adrenaline to spike.
What type of drink is suitable for filling an energy gap? A sure energy drink.
And the first one that pops up when I search for the term "energy drink" is Red Bull.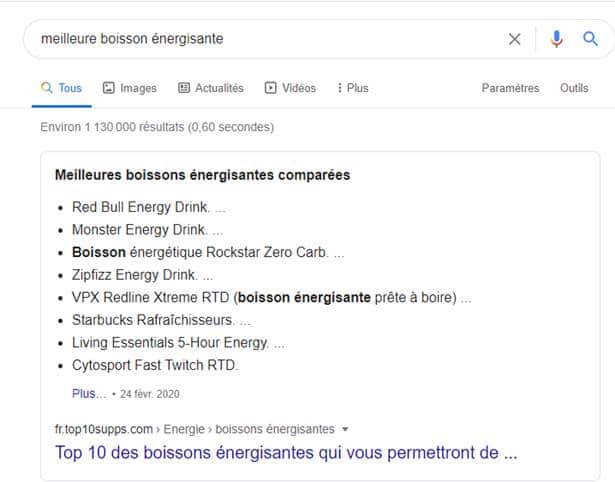 Proof that this company's Content Marketing strategy works wonders.
Chapter 7: What are the main inclinations of Content Marketing in 2020?
There are several emerging trends for content marketing in 2020.
7.1. The expansion of user-created content
Some brands involve their users in the creation of their content. Known as "UGC User Generated Content" in English and "CGU" "Contenus Générés par les USERs" ​​in French.
User Generated Content means a collection of different types of user-generated content that is intended for television broadcasting.
This content comes in different formats such as photos, videos, podcasts or texts.
The particularity of this technique lies in the fact that it is totally authentic. Pure user product without any touch of professionalism.
This technique is a significant asset for your business. Because the majority of buyers rely more on the advice of their close relatives and friends when they want to make purchases.
They give more credit to it than to your ad sheets, surveys and tests.
According to Hubspot, 90% of consumers say user-generated content (UGC) has more influence on their purchasing decisions than promotional emails and even search engine results.
Encourage your users to do indirect advertising for you. That is to say, to creatively promote your products on their social networks.
They can make photos, videos or write small descriptive texts with links that will direct to your site.
Also according to Hubspot, 42% of content marketers say that user-generated content is an important part of their marketing strategy.
Example of a company that uses
user-generated content Coca Cola, for example, uses user-generated content in its advertising campaigns.
This company started with its "share a coke / share a coke in 2011" campaign in Australia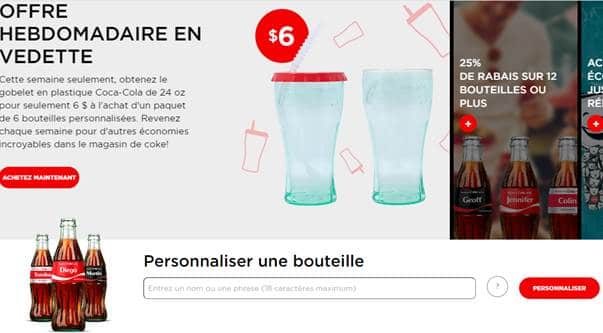 Indeed, consumers share their images with Coke bottles personalized with their name.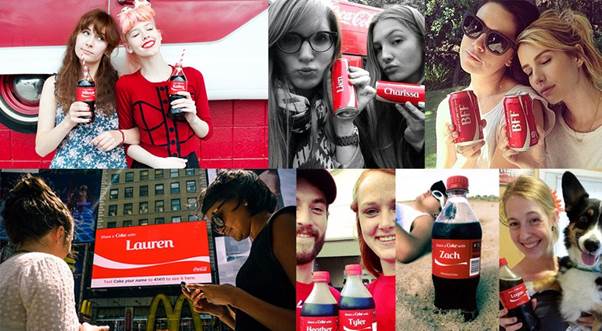 Source : Medium
7.2. The expansion of live
video Live video whether on YouTube or Facebook has already grown. You need to learn how to make live videos.
According to the graph below, the rate of companies using live video has grown steadily from 2016 to 2020: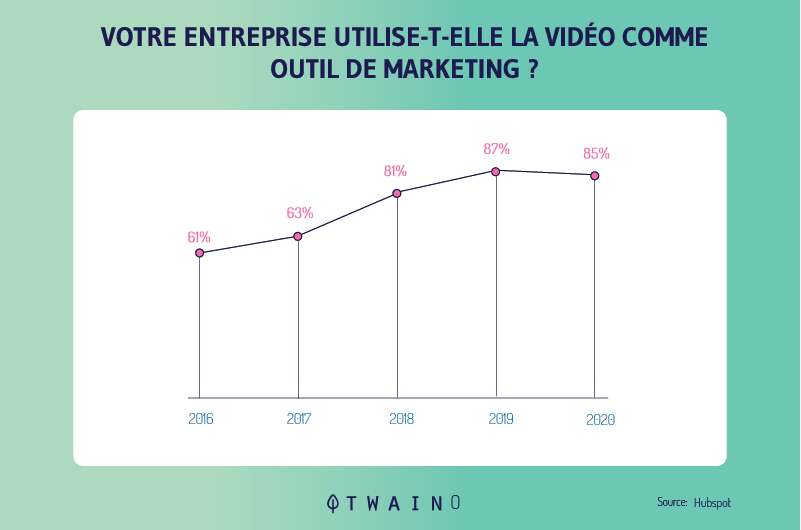 In 2020, 92% of marketing experts who use live video consider them to be an important part of their strategy.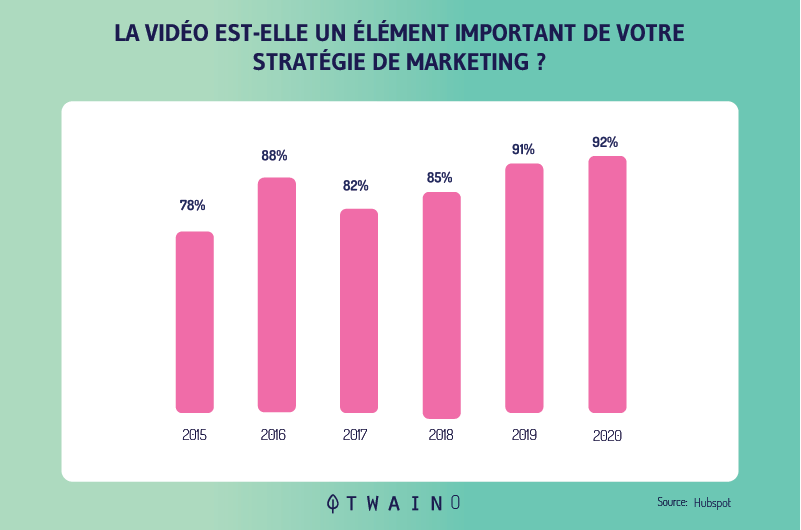 What's even more awesome is that 88% of marketers said that live video content brings them a good return on investment and even increases their turnover.
The graphic below tells us: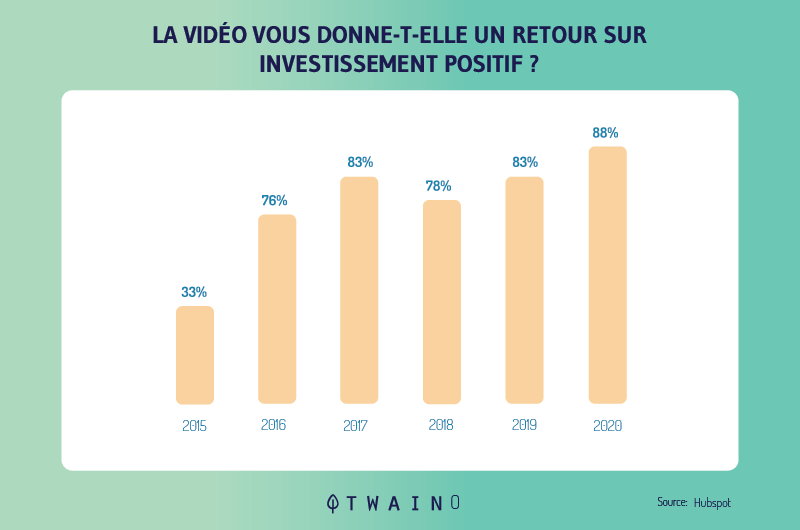 There are basic rules to follow when making a live video.
First, prepare the subject of your video. You must choose a current subject, in line with the needs of your customers and interesting.
Also choose the right time to make the video. A moment when your Internet users will be reactive!
Next, prepare the video sequence. You choose your own location and the distribution channel adapted to your strategy.
You need to check the video hardware, check the sound volume is good and set the format of the video.
Also check that your internet connection is working well, because it is essential.
7.3. A bright future is emerging for the Podcast
People don't always want to read all the time. This is why many appreciate audio content and are moving towards Podcasts. Likewise, several sites have started to create podcasts in their content. But what is a podcast?
The word Podcast was coined by chance by combining the words "IPod" and "Broadcast". It refers to digital audio content that can be downloaded and listened to anywhere.
Above all, do not hesitate to create podcasts, be on the lookout for the slightest change.
According to Optinmonster, 45% of Internet users between the ages of 25 and 34 listen to Podcasts.
In the United States, one in five Americans listens to audiobooks.
40% listen to podcasts and 15% of Americans listen to a podcast at least once a week.
In summary
Content Marketing is vast and constitutes the ally of choice for the promotion of your business. Prepare yourself properly before you start.
Because we have seen it, it is a technique that looks easy, but which can very quickly confuse you when you do not master it.
Remember, the easiest way to fail in content marketing is to have no strategy. If you have a content marketing strategy, you're ahead of your competition and on your way to success.
Don't forget the documented content marketing strategy either, it represents the foundation for a successful strategy.
You now have everything you need to master this technique.
Clearly, a great future is on the horizon for content marketing. What are you waiting for? Get on track and see you soon!