Nowadays, having a good online visibility is very beneficial for any business, whether it is a physical brand or one that is fully available online
In a research conducted on this topic, 87% of buyers confided that they start searching for a product to buy via digital platforms
So every time someone searches for your products/services online and doesn't find you in their results, you are potentially losing a customer. And this is where Joomla SEO can be useful.
Even if we have to admit that it is not necessarily the best CMS in terms of SEO features, Joomla is still one of the best alternatives to WordPress with more than 2 million websites created to its credit
If you too have chosen Joomla for the creation of your website, here are the steps to follow to optimize your site and improve its ranking on search engine pages
Chapter 1: Joomla SEO – Definition and importance for your website
Before discussing how to perform the actual SEO of your Joomla site, let's first discover the platform
1.1 – What is Joomla?
Joomla is a content management system (CMS) that allows you to freely develop websites and dynamic applications of all kinds. It has a user-friendly design that allows you to make the most of its features
The platform has gained incredible popularity in recent years and is undoubtedly one of the most popular content management systems (CMS) in the world today
Since its inception in 2005, Joomla has gained a wide audience and now has over 99 million downloads to its credit.
It works with the PHP programming language and uses the MySQL database management system for storing information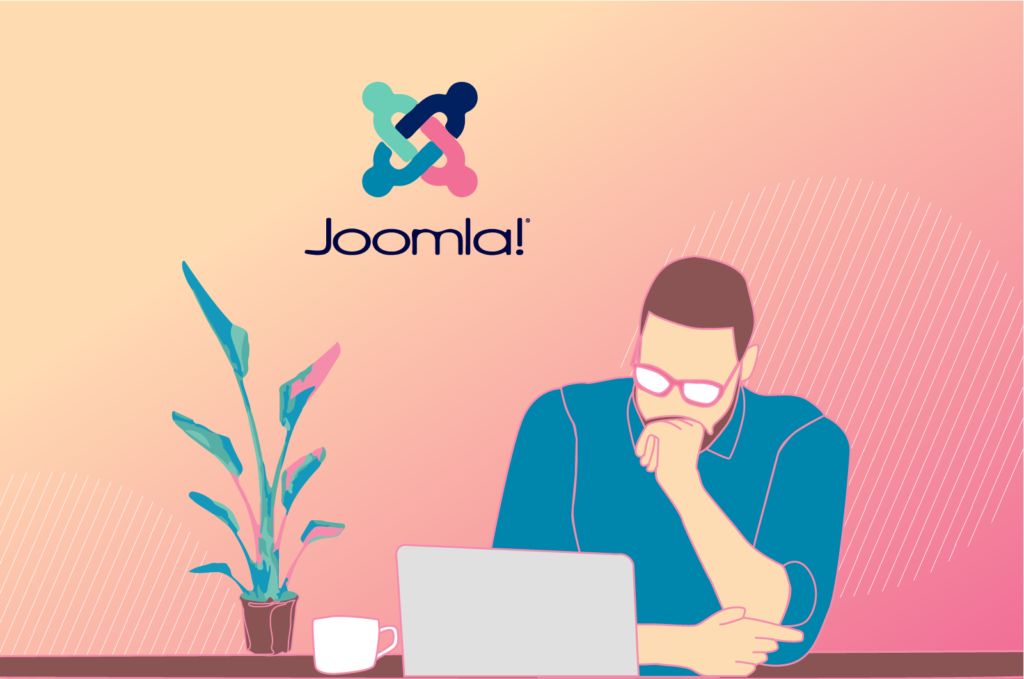 The CMS is fast and can be easily installed in just a few clicks thanks to the many hosting services available on the market.
1.2) What is Joomla SEO?
First of all, SEO in general is the process of improving the ranking of a website on search engines
This means that Joomla SEO is the process of optimizing a Joomla website exclusively for search engines. This includes optimizing site content, metadata and URLs, as well as developing an effective link building strategy.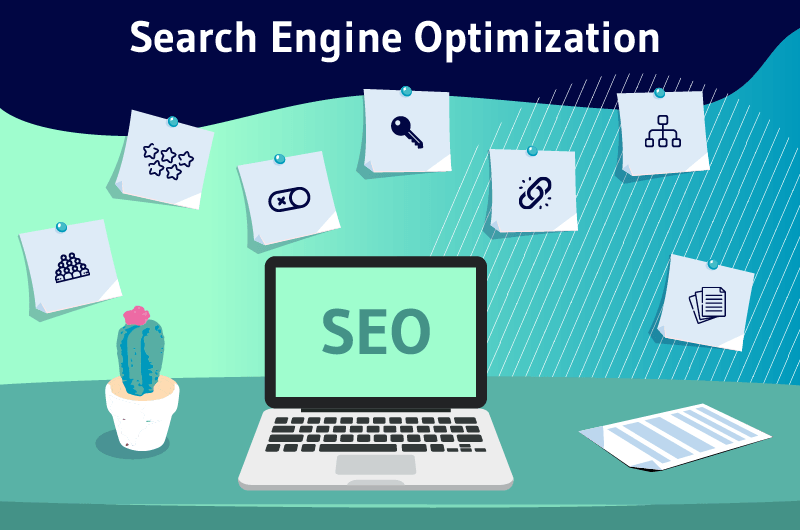 This is a time consuming and quite complex job because search engine spiders are becoming smarter and more sophisticated every day
1.3. Why is Joomla SEO important for your business?
Here are 4 main reasons why, regardless of your industry and the size of your business, you should do Joomla SEO
1.3.1. Organic search is the main source of traffic for a website
It is true that Google uses more and more no-click results to answer the queries of Internet users, especially specific queries. However, organic and paid search still attract more clicks than any other channel, especially more than advertising on social networks
Statistically, 53% of website traffic comes from organic search and it alone generates more than ten times more traffic than organic social media.
However, all SEOs are unanimous on the fact that SEO is the best way to rank well in the organic results of search engines
Clearly, when you do Joomla SEO, you will attract more traffic to your website than any other marketing solution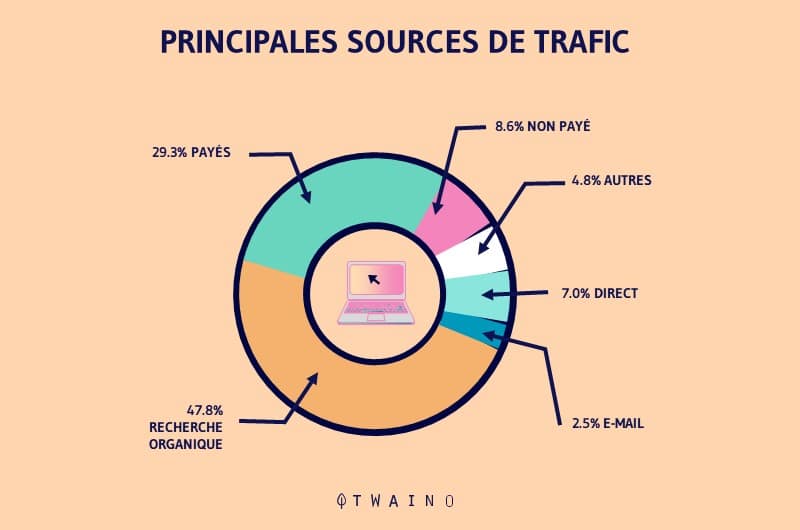 In addition, with a thorough keyword research, the Joomla SEO will be able to generate quality traffic that can convert into customers for your business
1.3.2. Doing Joomla SEO is also about providing a better user experience for your visitors
The first places in the organic results are highly prized by web marketers because of the visibility that brands can enjoy. But of all the criteria required to occupy these positions, search engines give a particular importance to the user experience
Indeed, Google and other search engines have always prioritized a good browsing experience for Internet users and encourage all websites that meet the means for the satisfaction of their visitors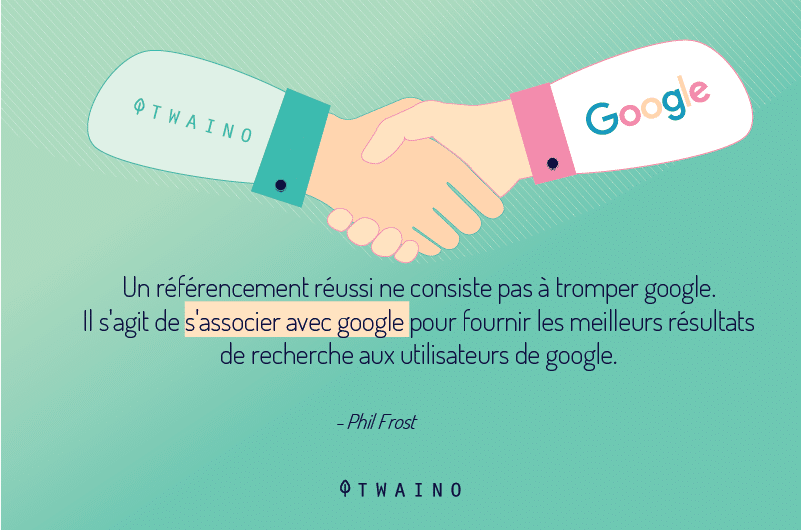 This is a situation that has a double advantage for you. First, by doing Joomla SEO, you improve the visibility of your website on the pages of search engines such as Google, Bing, Yahoo!
But in addition, this good experience that you offer to Internet users will make them more naturally loyal
Indeed, when a user appreciates the quality of navigation of a website, there is a strong chance that he will return frequently to the same site. This will make your audience grow and at the same time your activity
1.3.3. SEO is relatively cheap and offers a better return on investment
SEO is an inexpensive marketing technique, but it still gives excellent results
According to recent studies, it offers the best return on investment (ROI) for many companies and in many industries.
For example, in this recent Search Engine Journal survey, nearly half of the companies surveyed said that organic search gave them the best return on investment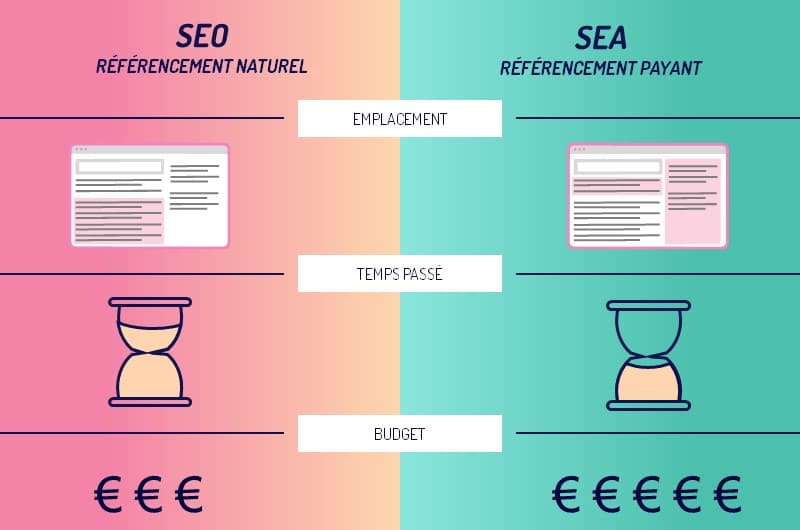 In contrast, only less than 20% of these companies reported a positive ROI using paid search.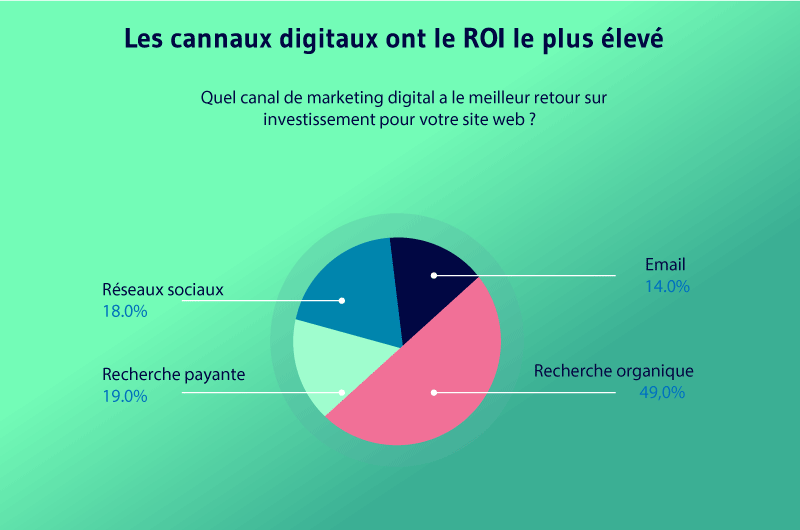 Clearly, you get a better return on your investment in Joomla SEO than in any other digital marketing strategy
Plus, unlike other marketing solutions that generate short-term results, SEO can continue to attract customers and sales for months even after the SEO campaign is over.
1.3.4 Keeping an edge on your competitors
Although search engine results pages (SERPs) offer greater visibility, only the top spots really take advantage of it
According to studies, the first 3 results receive up to 75% of all clicks, which is why it is so important to be at the top of the list
At the same time, SEO is no longer a new concept and many companies in your niche are already at the top of the organic results when potential customers search for your services on Google
Being able to rank among these results is a great way to reach the top sites in your industry and widen the gap between you and some of your competitors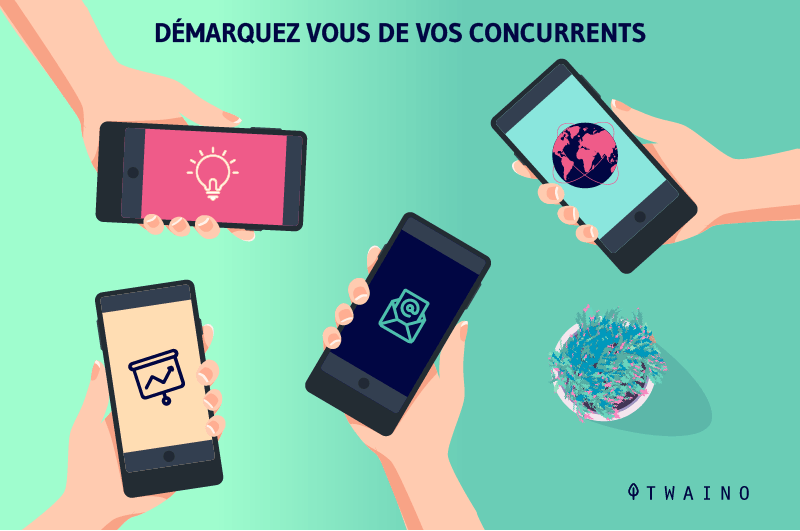 A competitive gap that will be even more beneficial to you on a local level. Indeed, thanks to local SEO Joomla, you will be able to attract Internet users who are close to your establishment and who are looking for your products or services online
Chapter 2: Configuring Joomla SEO Settings
SEO is a complex task that requires a lot of time and consistency. But the advantage with Joomla is that the platform offers default settings that you can easily activate to greatly improve your site's SEO
Here are some default Joomla SEO settings to use
2.1. Enable SEF URLs in Joomla
First of all a SEF URL is an SEO Friendly URL, that is to say URLs that are easily readable and understandable for Internet users like for example: www.monsite.com/catégorie/produit
It must be said that having an SEO friendly URL is among the criteria for ranking by Google, so it is important to activate them for your website
To do so
Connect to your Joomla back office
Then go to System and click on Global Configuration.
Scroll down to the "SEO Settings" module
And choose the "Search Engine Friendly URL" option to activate SEF URLs.

Source : Themexpert
Once enabled, your URLs will change from this default form
"domain.com/index.php?option=com_content&view=section&id=3&Itemid=90" to a URL form that is more understandable to web users
2.2. Rename the htaccess.txt file to .htaccess
After enabling SEF URLs on your Joomla site, it is also recommended to change the name of the htaccess.txt file to .htaccess
To do this
Go to the root folder of your website
Identify the htaccess file and rename it to .htaccess: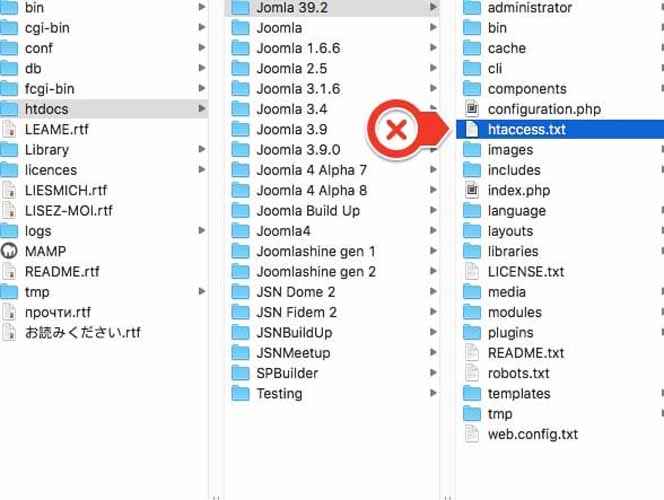 Source : JoomlaShine
2.3. image optimization from the robots.txt file
The robots.txt file is used to inform search engines about the contents of your site that you do not want to be indexed and those that must be indexed first
By default, Joomla automatically generates a robots.txt file for each site created on its platform. This is not a bad thing in itself, quite the contrary
But the problem is that this robots.txt file contains instructions that prohibit search engines from not indexing the images contained on the site
Now, seeing your images indexed by Google can be an additional source of traffic for your website, especially from Google Images results
That's why it is important to lift this ban on image indexing in the robots.txt file
To do so
Go to the root folder of your Joomla website
Access the robots.txt file
Then delete this line of code: /images/
Use the keyboard shortcut Ctrl + S to save the changes made and then close the robots.txt file
Thus, your images can now be indexed by search engines and ranked on SERPs
2.4. Enable Gzip compression in Joomla
Enabling Gzip compression helps to increase the loading speed of your Web site. Thanks to this compression, the resources that your visitors request from your server will be automatically compressed before being sent
This will make the files sent smaller and improve page loading speed
To activate Gzip compression on your Joomla site
Go to System and click on Global Configuration
Then click on the "Server" tab;
Then click on "Server Settings"
Then choose the "Gzip Page Compression" option

From now on, your Joomla pages will load much faster.
2.5. Fill in the metadata for Joomla pages
Still in the default SEO settings of Joomla, do not forget to use the metadata for your pages. These are small additional information that you can add to your pages to enhance their display in search results to attract more attention from Internet users
When this metadata is well filled in, it can generate traffic and improve your ranking on the SERPs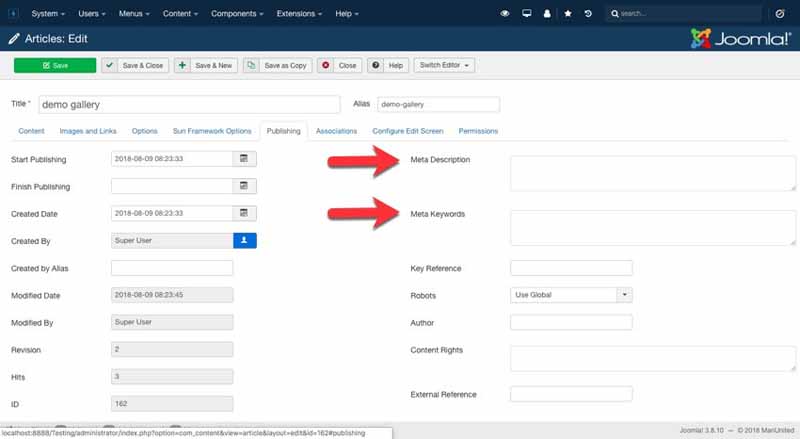 These were some of the basic settings offered by default by Joomla to improve the SEO of your website on search engines
But configuring these basic settings is only a small part of what Joomla SEO is all about. To really rank well on Google, you need to take into account other aspects of SEO and that's exactly what we'll discuss in the following chapters
Chapter 3: Prepare your website for Joomla SEO
Before starting the actual SEO of your Joomla website, it is important to install tracking tools to monitor the overall status of the site and analyze it for continuous improvement
Of all the SEO analysis tools, Google Analytics and Google Search Console are the most used and reliable
3.1. install Google Analytics on a Joomla website
With Google Analytics, you can access important details about the behavior of website visitors through metrics such as
The number of visits ;
The average duration of visitors' sessions
The bounce rate
And so on
But before using it, you need to create an account first
3.1.1. Create a Google Analytics account
The installation of GA on your Joomla website requires first the creation of an account in order to receive a tracking ID code that will be useful later in the process
To create your Google Analytics site
For those who already have a Google Analytics account, go directly to the "Administration" section and choose the "Create an account" option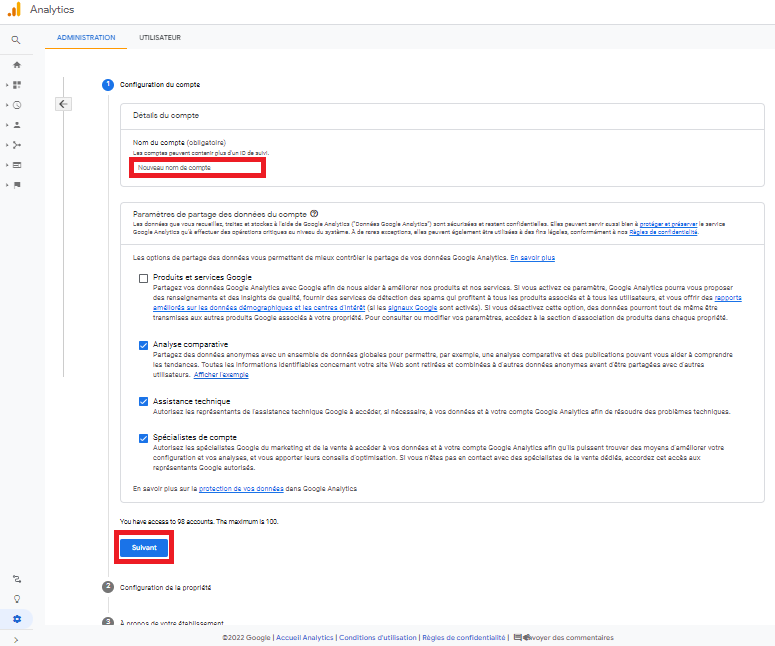 Add a property name, i.e. the name of your site, then define the time zone of your country and the currency used: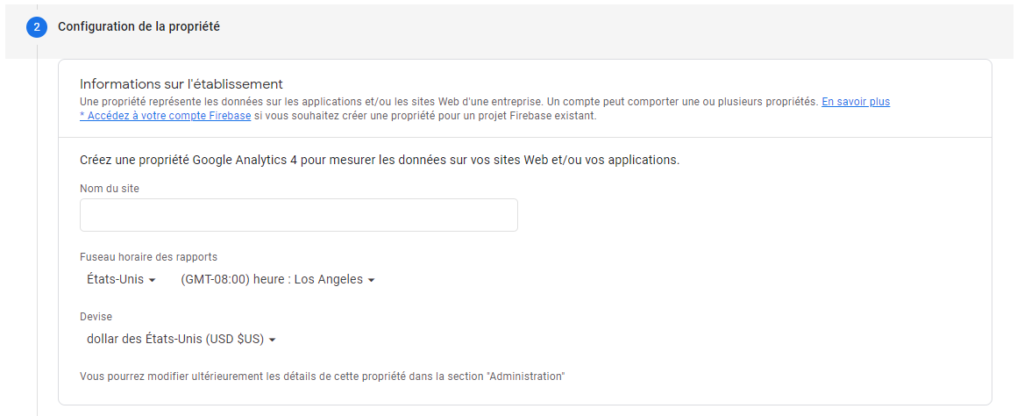 Scroll down the page and click on the "Show advanced options" button
Activate the toggle in front of the label "Create a Universal Analytics property"
Enter the URL of the website
Click on "Next" to continue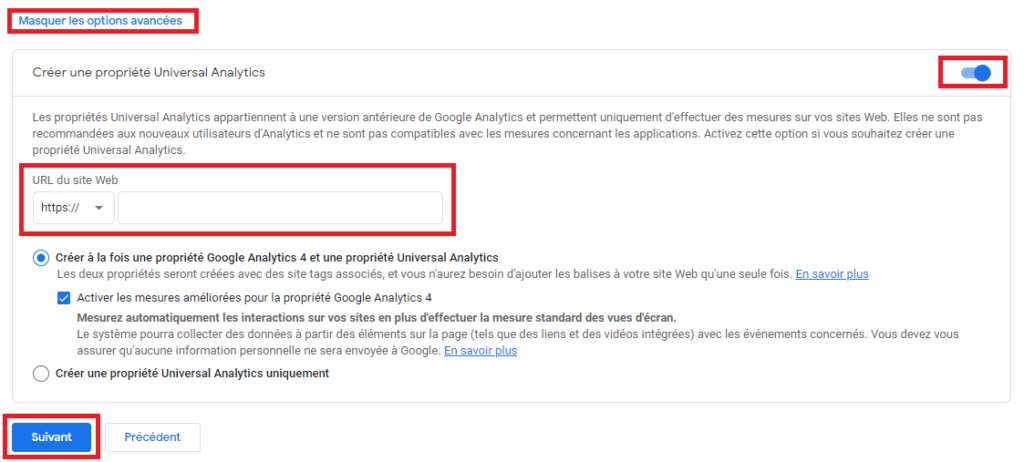 Then fill in the requested information about your company and click on the "Next" button: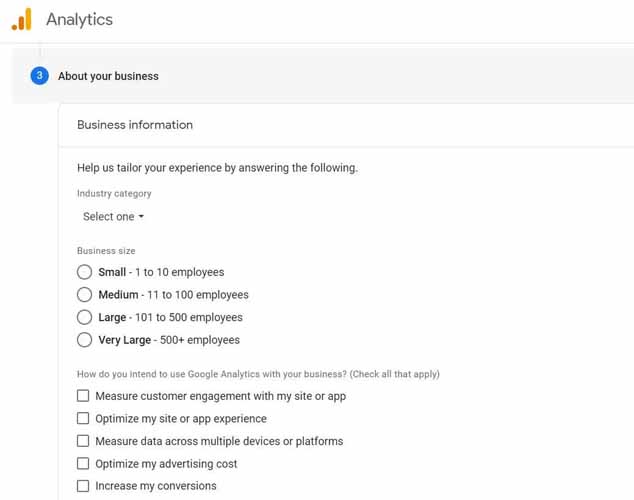 Accept Google's terms and conditions and then choose the email communication options according to your preferences.
Your Google Analytics account has now been created and the platform will generate an integration code and a tracking ID code
It is thanks to these codes that the tool will be able to identify your website and track its performance
3.1.2 Installing Google Analytics on a Joomla website
Once connected to your Google Analytics account
Click on the Administration menus "Tracking Information" and Tracking Code

Note the ID and the embed code located a little below. Both can be useful depending on the method you choose to install Google Analytics on your website
Indeed, there are several ways to install Google Analytics on a Joomla website. In this guide, we will only present one method, that of modifying the index.php file of the default Joomla template
If your site works with a basic template such as Beez3 or Protostar, it will be necessary to paste the code directly into the index.php file by following the steps below
Go to the platform menu and click on "Extensions";
Select the default template that is currently running on the site
Once you have accessed the files that make up the template, open the one entitled "index.php" by clicking on it
The wizard will present you with a code editing window. Identify the line of the tag then paste the previously copied integration code into it
Click on the "Save" button to save the changes you made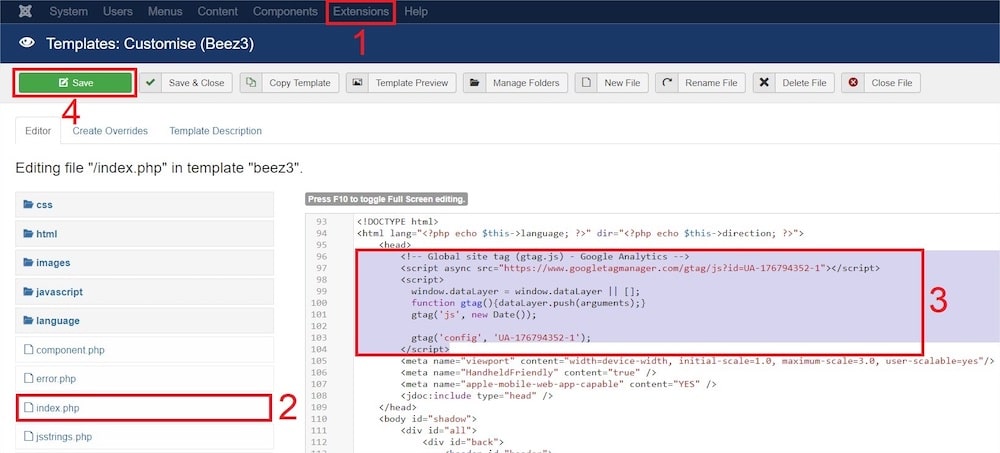 3.2. Add Google Search Console to your Joomla site
GSC is a tool offered by Google to allow webmasters to check the indexing status of their websites on the search engine
The tool provides information on important criteria of a web page such as
The page title
The meta description
Internal links
The URLs
Etc.
Here are the steps to add Google Search Console to your Joomla website
Go to the official Google Search Console website and create an account
If you already have an account, go directly to the tool by clicking on the "Start now" button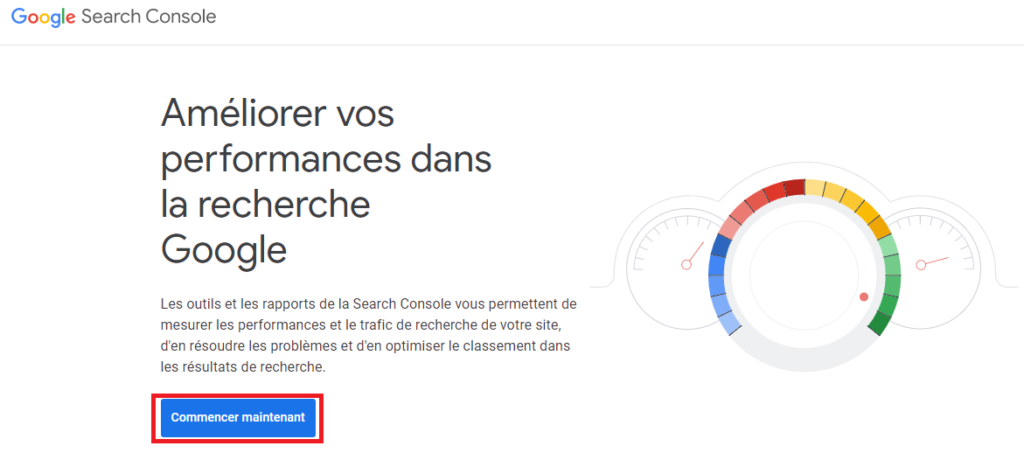 The next step will be to add a site to the GSC account. And for this, if you have already logged into Google Search Console on your computer, you will be directly redirected to the dashboard
You can choose to add a new site by clicking on "Add a new property"
The tool will then offer you two options for adding
Fill in a URL prefix to add the site URL with the HTTPS prefix
Or fill in a domain name to enter the site's URL without necessarily preceding the "www" or a subdomain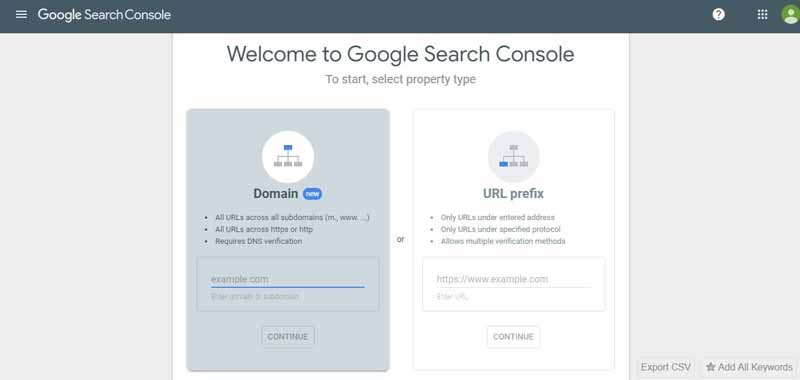 After choosing one of the two options, click on the "Continue" button and the tool will check the status of the entered website
The next step is to check the ownership of the website and for that, if you had chosen the Domain option , it will be just necessary to provide information about your DNS record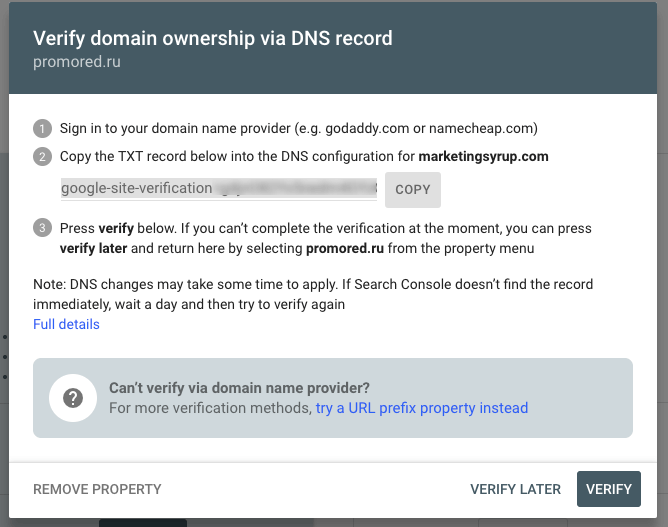 If you had chosen the URL Prefix option, the tool offers you 3 possibilities to verify the ownership of the website
Download an HTML verification file located at the root of the website
Embed the meta tag generated by the search console in the tag of your Joomla website.
Or add the TXT record from the DNS provider
Once you choose the method and complete the verification process, the tool will process the information you filled in and send a success message if it is correct.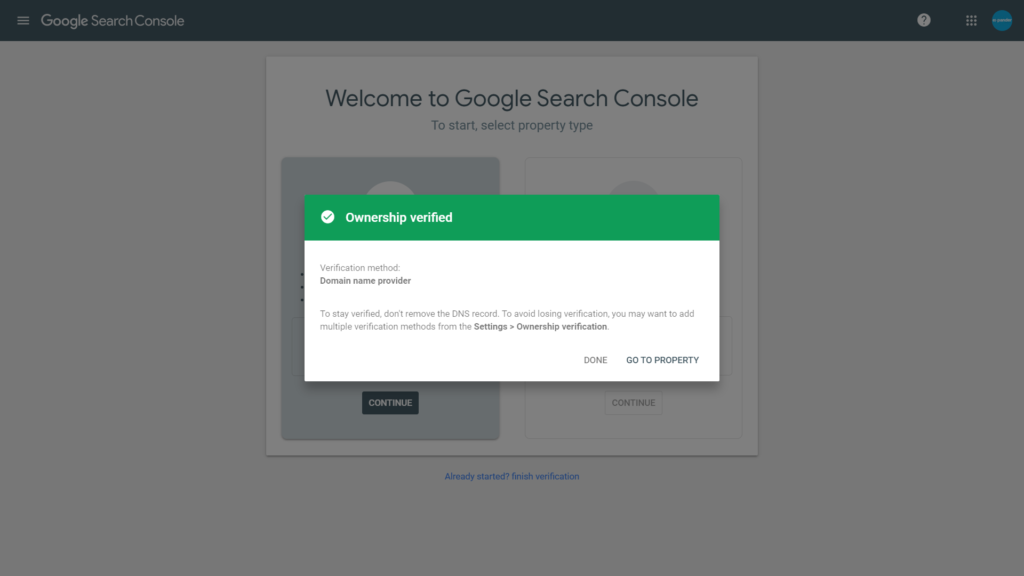 If you receive this message, congratulations! You have successfully installed Google Search Console on your Joomla website
Now we can continue with our SEO preparation process, the next step will be keyword research
3.3. The research of keywords for your Joomla web site
Joomla SEO also involves thorough keyword research. This is an essential step for an effective SEO campaign
It allows you to identify the best terms and expressions used by Internet users to search for your products/services on Google
The idea will then be to optimize your site for these keywords in order to attract quality visitors likely to convert into customers for your company
To succeed in your keyword research, here are a few rules to observe
To learn more, I invite you to read this complete guide on keyword research
Chapter 4 : On-page Joomla SEO
On-page Joomla SEO consists of optimizing the content and structure of a Web site to improve its visibility in search engines
This includes improving title tags, meta descriptions, header tags, images and other elements that help Google and other search engines understand the content of the site.

Here are some factors to consider for a successful on-page SEO of your Joomla website
4.1. focus keyword optimization
The "focus keyword" is the main keyword for which you want a web page to be ranked on Google
The optimization of the focus keyword remains easy to do on Joomla thanks to its new SEO feature QuixRank
To optimize your focus keyword on a Joomla page
Access the page using Quix
Then go to Settings then SEO setting;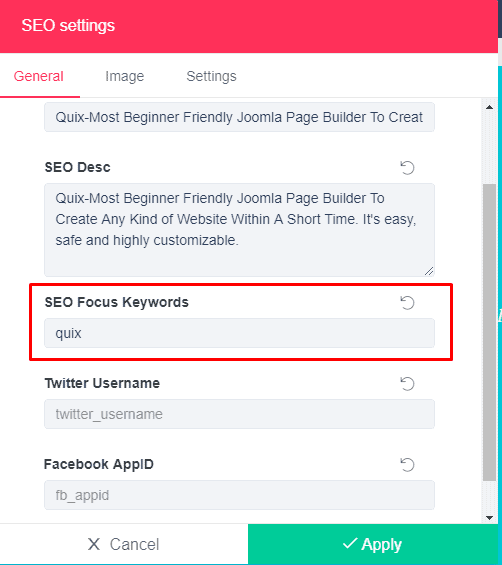 Source : Themexpert
Once the keyword is entered, access QuixRank to check if it has been well inserted from an SEO point of view
If the lights are red, try to take into account the recommendations generated by the tool until you get green lights. This is the proof that the focus keyword has been well optimized
4.2. page title optimization
Page titles are those clickable titles that are found in search results
To help search engines better understand the context of your pages to better rank them in the results, it is also important to optimize your page titles by inserting at least the focus keyword of the page
Still with the new QuixRank feature of Joomla, the optimization of Title tags becomes very easy
After creating your Joomla page, go to QuickRank
Then click on Settings then SEO settings
Propose a page title in the SEO Title field, making sure to insert at least the keyword focus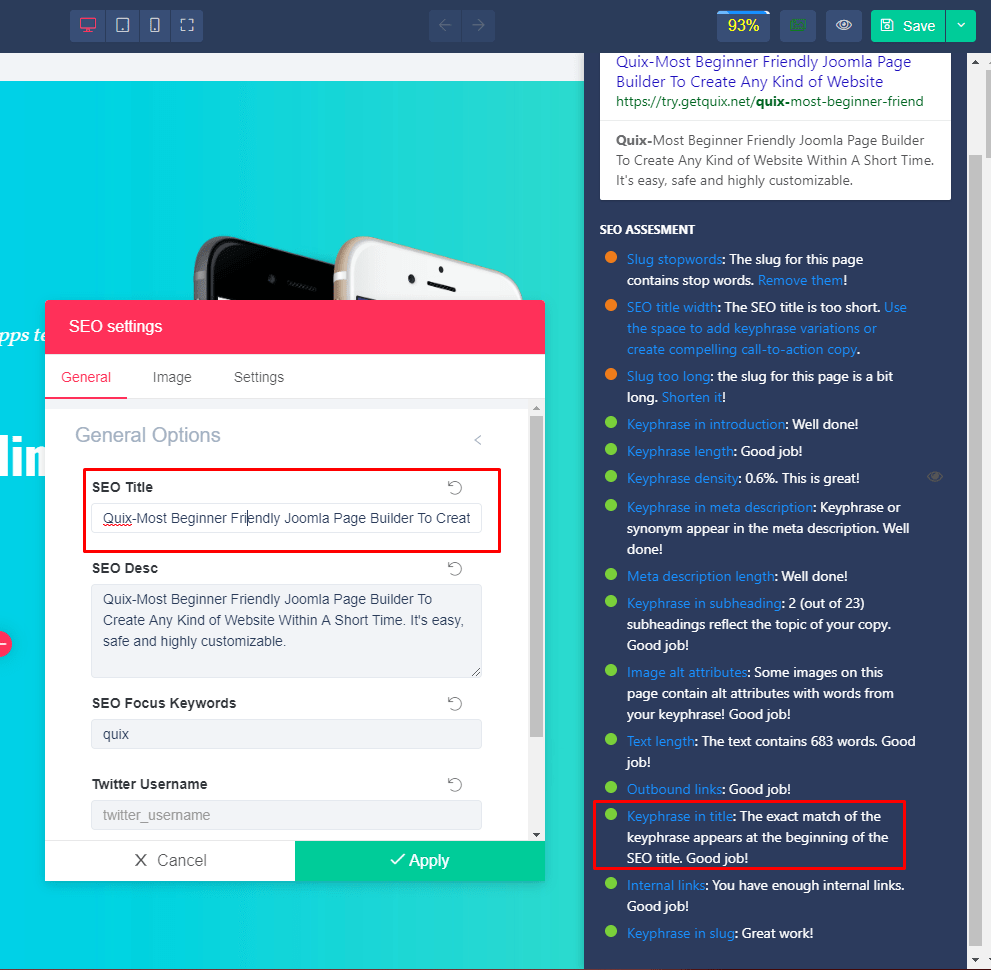 If the proposed page title contains the keyword focus, the corresponding indicator should turn green.
The standard length recommended for a complete display of the page title is 65 to 70 characters.
4.3. Optimization of the meta description
The meta description is the short description found below the page titles in search results. When it is well written and catchy enough, the meta description can improve your click-through rate.
But for this, it is important that it also includes the main keyword of the page and if possible other secondary keywords. This way, search engines will be able to better understand what the page is about and better rank it in the results when users launch related searches
Just like the optimization of the previous elements, the optimization of the meta description tag is also easy with Joomla
Click on Settings and then on SEO settings ;
Then write the description of the page in the field entitled "SEO Desc" always making sure to insert the main keyword: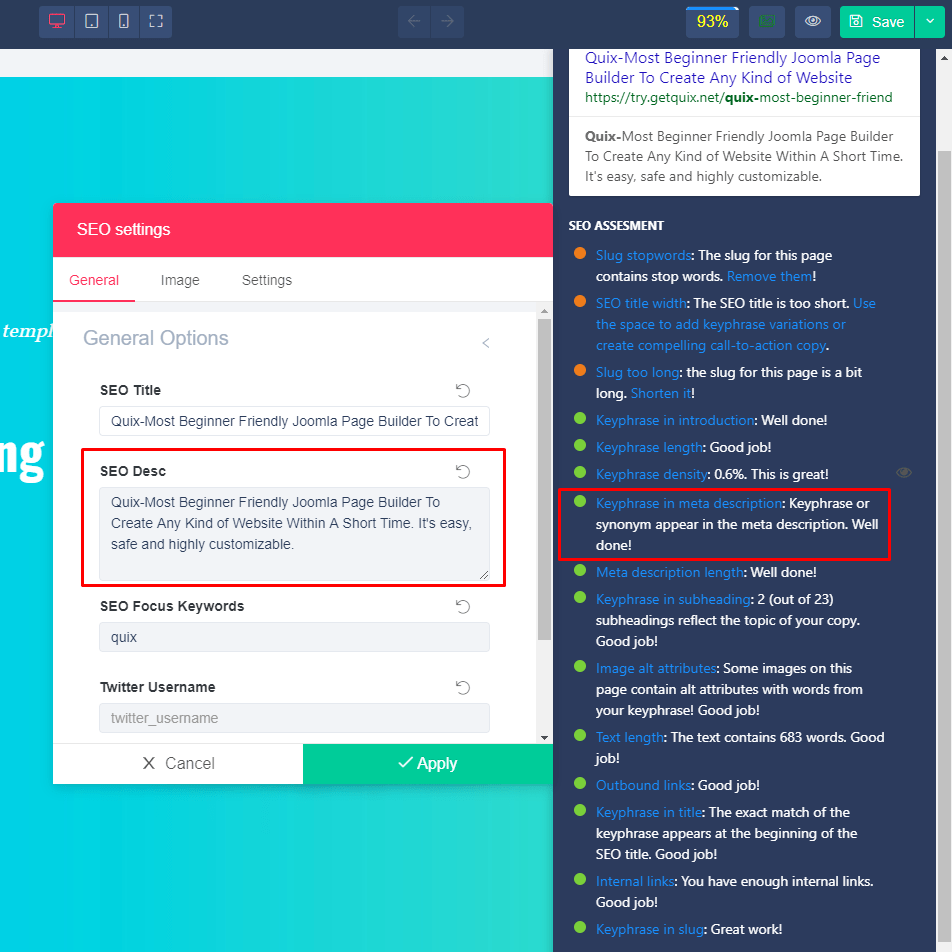 Once the description is added and the corresponding indicator is green, click on the "Apply" button to save
The ideal character size recommended for a better display of meta description is between 120 and 160 characters
You can use Twaino's SERP Simulator to preview the size of your page titles and meta descriptions before publishing your content
4.4. permalinks optimization
Still called "permanent links", permalinks are links that redirect to a specific page and permanently
It is advisable to also place the main keyword of the page in the permalinks for a better on-page referencing. This will help Google's robots to better understand the theme developed in the page's content. This will improve the ranking of the page on SERPs
However, it is recommended to place the keywords in the permalink link before the publication of the article. The fact is that any modification of the permalink link after publication could result in the opposite effect, i.e. a decrease in the page's ranking
To optimize permalinks on Joomla
Go to QuixRank;
Enter the permalink and preview the final result
If the slug doesn't work for you, you can change it several times until you get the result you like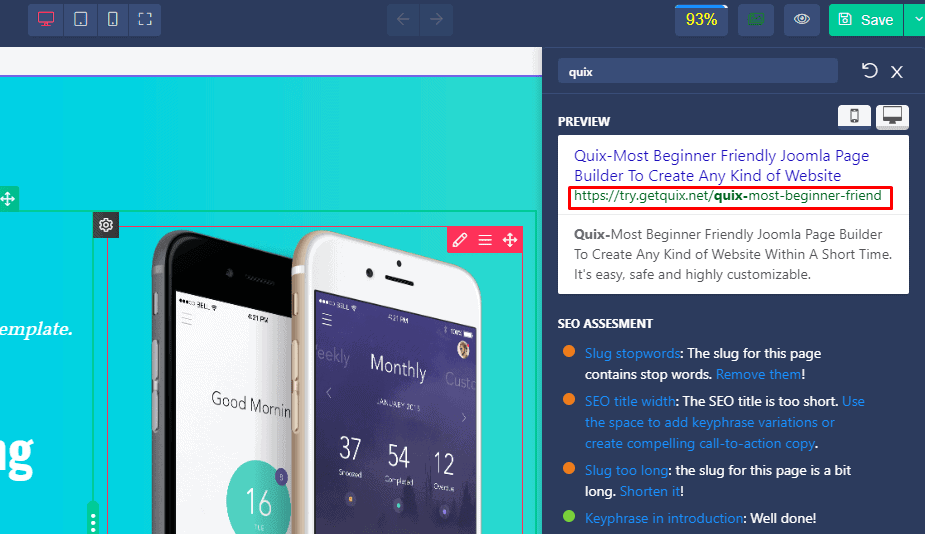 4.5. Maintain a good density of keywords on your Joomla pages
It is true that keywords contribute significantly to improving the rankings of your web pages in search results
However, this is not a reason to stuff your content with keywords without taking into account the understanding of Internet users
This is a practice classified as black hat SEO and could cause you to lose your page's current ranking
For a better optimization of your site, you must use keywords in a natural way in your content
The recommended keyword density is 0.5-2%. So try to insert keywords in your content while respecting this margin
How to do it? Well, if you have for example produced a text of 2,000 words on a page, the targeted keyword should appear between 10 and 40 times at most
But in practice, it can be difficult to count the number of times a keyword has been inserted in a text
To make it easier, Joomla offers to check the keyword density of your content with its QuixRank tool
To optimize the keyword density of your Joomla pages
Go to Quix
Click on Settings then on SEO settings
Enter the focus keyword of the page
Then click on the "Apply" button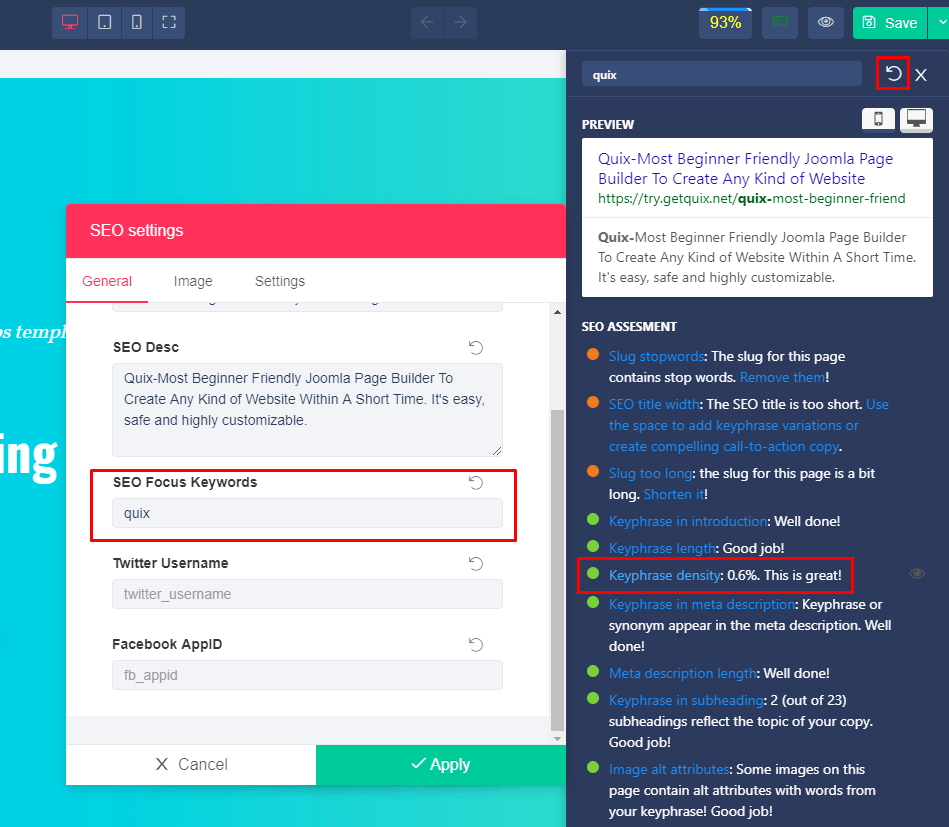 The tool will tell you the density of this keyword in the content of the page
If the density exceeds the recommended margin, you can reduce the number of times the focus keyword appears in the text. If not, you will have to increase the number of times the focus keyword appears in the text to reach the ideal density rate.
Refresh QuixRank by clicking on the loading icon in the upper right hand corner of your screen to save the changes and display the new density rate
When it comes to the size of the textual content on a page, it is recommended to provide at least 300 text for the content to be truly considered by search engines
4.6. Optimize Alt Image tags
Although search engines are getting smarter and smarter, they still haven't acquired the ability to interpret the content of an image exactly as a human user would
And it would be difficult for a search engine to properly rank your images if it doesn't understand their context
This is why it is always recommended to include a short descriptive text in the Alt tag of your images. Google will then be able to better reference them in relevant results.
The optimization of your Alt tags is very easy with Joomla
Go to the Quix module
Click on the image in question and then on the edit icon
Enter the alternative text in the field entitled "Alt Text"
And click on "Apply" to save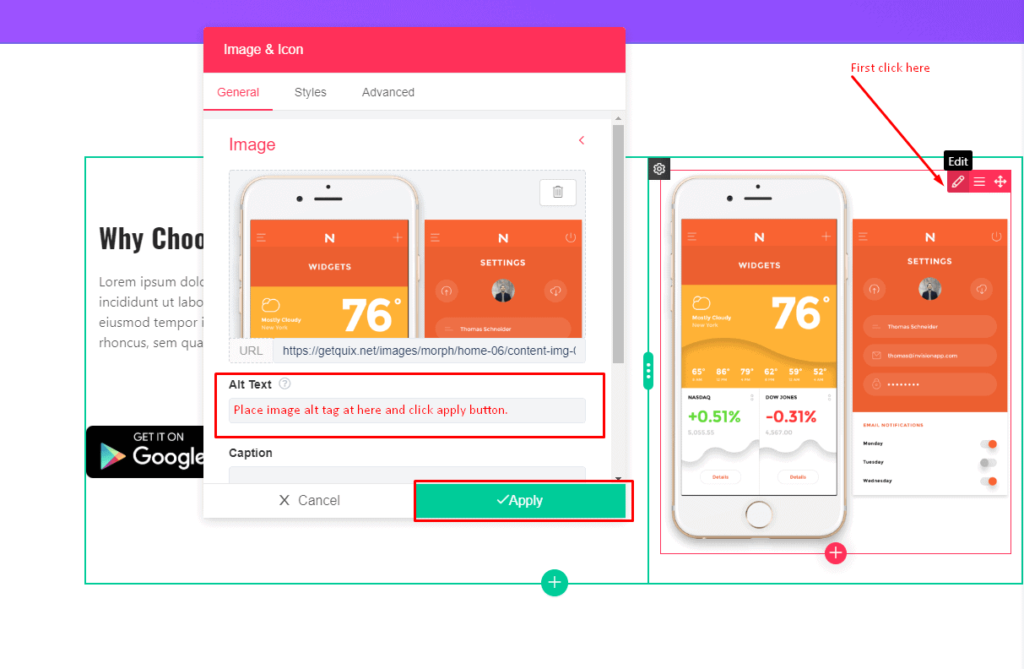 4.7. Adding Open Graph metadata in Joomla
Sharing content remains an effective strategy to attract new visitors and build brand loyalty. But sometimes, after a content sharing, the title, URL, image and description can take less attractive forms on the screen of the Internet users
Metadata tags are a great way to overcome this problem. When you fill in the Open graph metadata, you can control how certain elements of the content you post to third-party sites such as Facebook, LinkedIn, etc. are displayed
With QuixRank, you can add Open Graph metadata to your Joomla site in just a few steps. To do so:
Access QuixRank
Go to Settings then SEO settings
Propose an optimized title and description in the different corresponding fields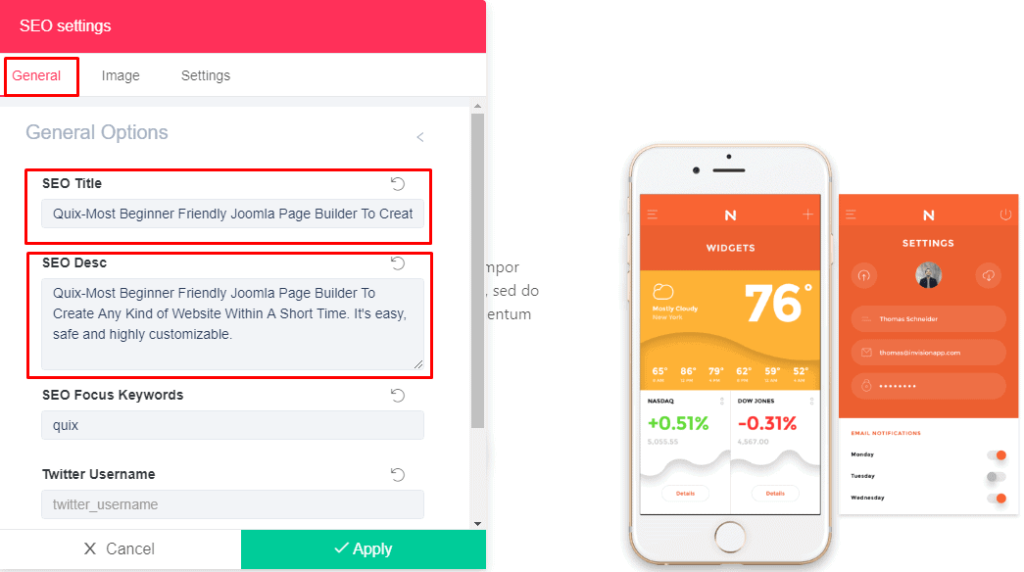 In the image section, add a highlight image and click on the "Apply" button to save
4.8. Add videos to your content
In addition to being a more captivating way to convey a concept, including videos in your content will also greatly increase your visitors' session time
This is very beneficial for your site from an SEO perspective. But at the same time, you have to admit that producing unique and original videos is not an easy thing to do
However, you can always insert on your site the links of relevant Youtube videos from other sites. This will always be a little extra for your SEO
4.9. Add internal links in your content
Using internal links in your content has a double advantage. First of all, it is thanks to internal links that search engine robots can move from one page to another on your site. This facilitates the exploration process.
Then, still thanks to internal links, human visitors will be able to gradually discover all your related content that also deals with their search theme
The fact of discovering new pages will increase the session duration of your visitors. This will be perceived by Google as a positive ranking factor
However, despite all these benefits, you can only really take advantage of internal links when the insertion is successful. An abusive insertion without taking into account the satisfaction of the users will only ruin the ranking of your pages on the SERPs
So, to succeed in inserting your internal links, here are a few tips to follow
Create natural internal links for the visitor: It is not a question of forcing the insertion of links, but to use them in a context that is really useful for the Internet user
Use relevant anchor texts: Anchor texts are the clickable word or group of words on which the landing page link is inserted. It is important that this text is relevant to the content that the visitor will discover
Use Dofollow and Nofollow links depending on the quality and priority you give to a page
4.10. Provide good navigation on your website
There are a lot of websites that look good with great colors and animations
Unfortunately, some of these sites may have a poorly organized architecture that can confuse visitors. This could scare away visitors and undermine all the efforts you have made
The advantage with Joomla is that it is possible to easily create a well structured site thanks to its simplified and clear menu system
To help you come up with a good structure for your site, here are some details to consider
Map out your structure before you start
Propose at least 2 categories in your structure and 7 categories at the most
Do not place pages more than 3 clicks deep.
These were some of the techniques you can apply to the on page SEO of your Joomla site. Now let's focus on off-page SEO
Chapter 5: Joomla Off-page SEO
The off-page SEO gathers the SEO techniques applied outside a website to improve its visibility on SERPs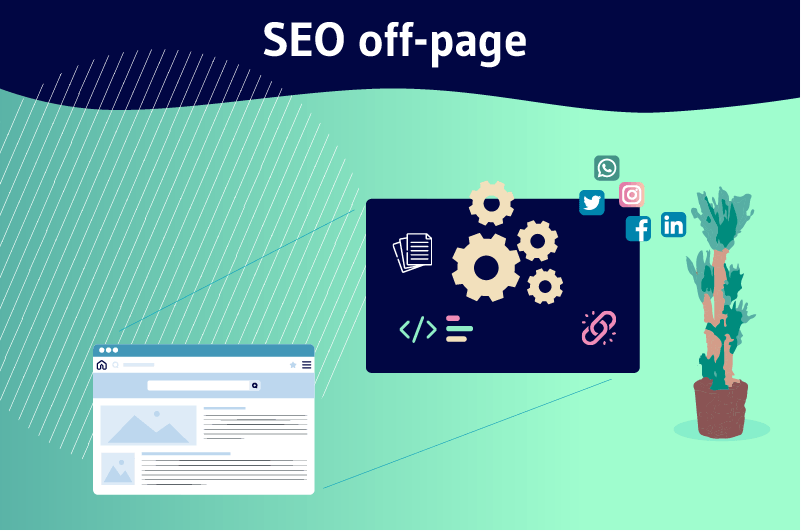 This can be done through backlinking, social media engagement and article syndication
To help you succeed with off-page SEO for your Joomla website, here are some tips to follow
5.1. Participate in discussion forums
The idea is to participate in professional discussions on blogs, forums or social networks in order to gain traffic and backlinks.
You can start with Quora or Reddit. These are two of the most popular discussion forums, but you can also use other platforms in your industry or region
But to really attract the attention of others in a community and gain backlinks, you need to make the effort to offer interesting answers with real added value
However, it is important to remember that you must also respect the other members of the forums as well as the conditions and policies governed by the platform lest you be removed
5.2. Sharing on social networks
In addition to your website, creating a community on social networks such as Facebook, Twitter, Instagram… is also a great way to attract quality traffic
So when you publish content on your Joomla website, it would also be wise to publish the same content on other platforms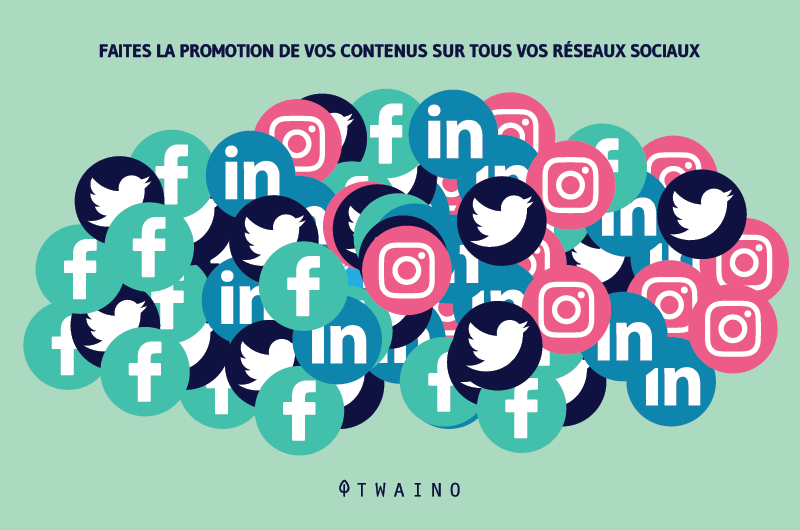 This could be blog posts, custom illustrations, infographics, videos, etc
If your content is useful and eye-catching enough, users will look to visit your website to discover other content you publish internally
5.3. Guest blogging
One of the effective practices used in off-page SEO is guest blogging. It consists in writing and publishing articles on other websites' blogs in order to gain a new audience and quality backlinks.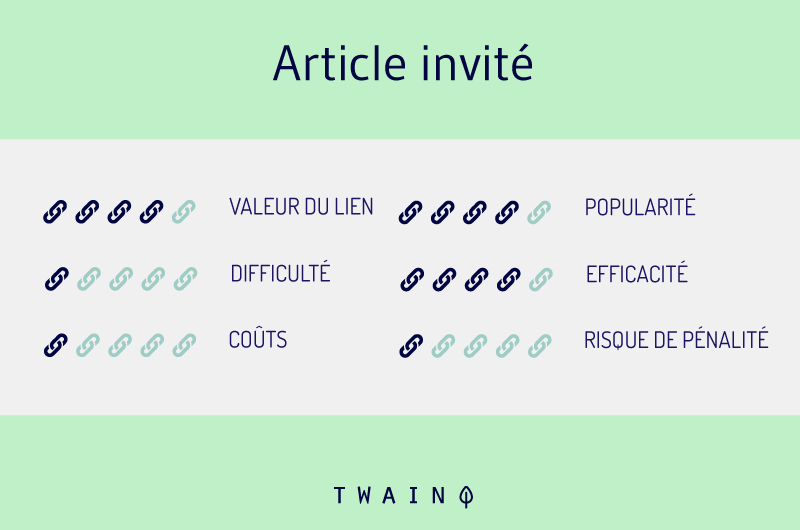 But to really benefit from your guest blogging strategy, it is important to: Offer well-written and fully SEO optimized articles: The goal of guest blogging is to appeal not only to the owner of the host site, but also to its audience. And for that, the content you offer must be impeccable
The host blog must be in the same industry as you or at least be associated with it: You can't, for example, have a blog about bedding and propose guest articles for a company selling tires
Submit your articles to reliable and authoritative sites: It is not enough to submit your articles to every site you come across. The fact is that it is proven that one backlink received from an authority site has more value than 10 backlinks received from a site with a low Domain Authority
But concretely how does guest blogging work? Here is a summary of the different steps to follow
Find a blog that accepts guest articles
Contact the site and formulate your request for a guest article
If you receive a positive response, write the article
After publishing the content, track the results
Here is a complete guide on "Why and how to write a guest article?". You can check it out to learn more about guest blogging
Chapter 6: The technical referencing Joomla
After the on-page and off-page referencing, we are going to approach in this last chapter the technical part of SEO for a complete referencing of your Joomla web site
For this, here are the different factors to consider
6.1. Configure SSL/HTTPS on your Joomla web site
It's true that Joomla takes care of a lot of the security of its users' data and anticipates problems that might arise. But that doesn't mean you don't have an up-to-date role in maintaining that security
To greatly improve the security of your Joomla site, you can install SSL/HTTPS. This will prevent your website or your visitors from computer attacks
It is possible to set up SSL/HTTPS manually, but there are also many web hosting services that offer a one-click Joomla installation with the built-in SSL certificate
If you are not a programming buff, it would be better to opt for this faster and easier solution
6.2. Create a sitemap for your Joomla site
Another easy way to improve your Joomla SEO performance is to incorporate a sitemap.
As a reminder, a sitemap is a file that contains information about your web pages and how they relate to each other.
It lists all the pages of your website so that search engines can use them to browse, explore and index them.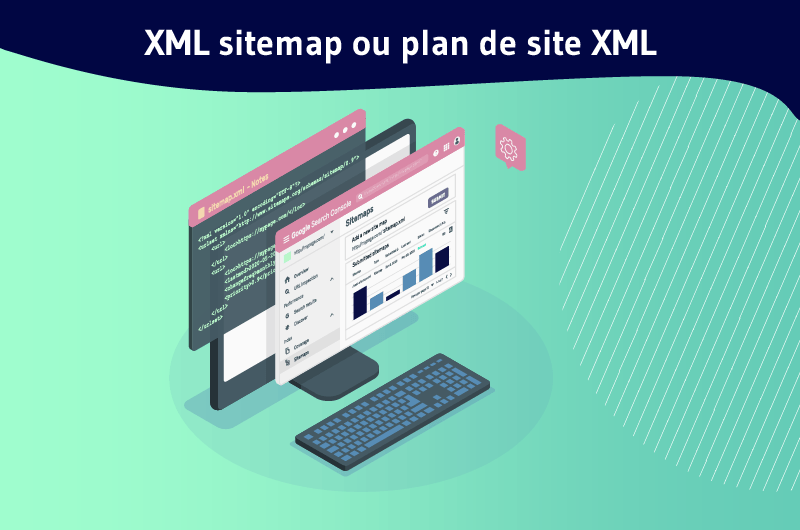 How can this improve the SEO of your Joomla website? Well, firstly, sitemaps allow search engine spiders to access your pages and evaluate their relevance to user queries
Secondly, sitemaps also allow you to improve the user experience of your website
These are two of the important criteria that search engines look for to rank a website in their top results.
So how do you create a sitemap on your Joomla website? Well there are several methods. But to go faster, you can simply use dedicated tools to automatically generate a sitemap
You can for example use extensions like OSMap or JSitemap to create a sitemap for your Joomla site
6.3. Submit your sitemap to Google
After the creation of your sitemap, it is important to submit it to Google, otherwise it will remain without useful value for you. But before starting, it is always convenient to name the sitemap file : "sitemap.xml"
Thus, once it will be added to the root folder of the website, the sitemap can be directly accessible at the address monsite.com/sitemap.xml
In case you have several sitemaps on your site, you can number them so as to have : sitemap_1.xml, sitemap_2.xml..
To submit your Joomla XML sitemap to Google
Go to Google Search Console
Click on Sitemaps
Enter the address of your sitemap
Then click on Submit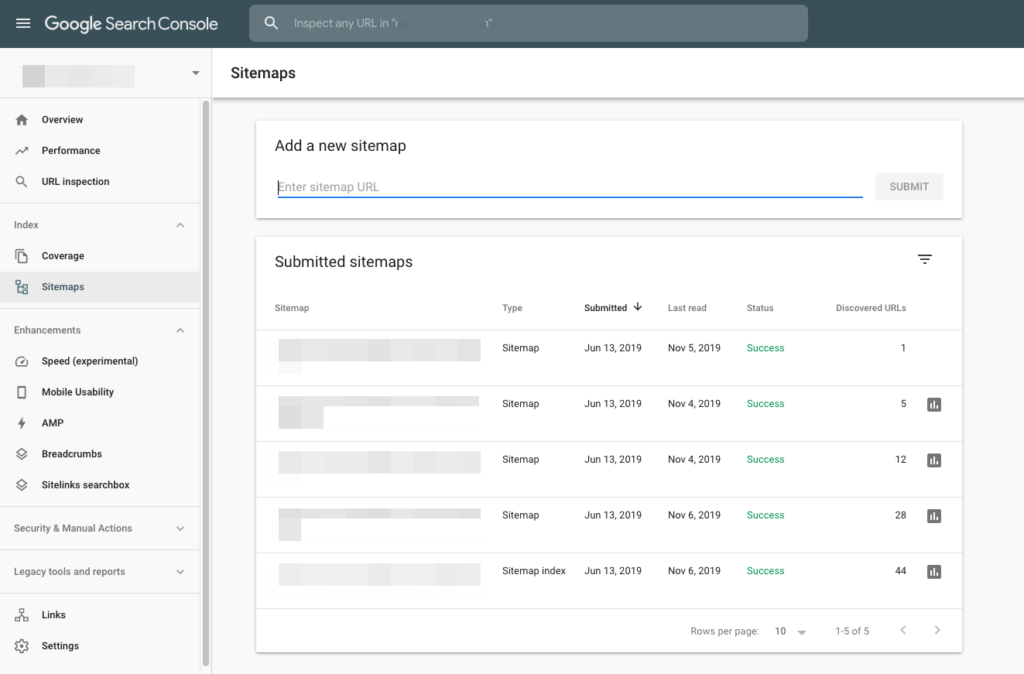 You have just submitted the sitemap of your Joomla site to Google. For more visibility, you can submit your site to other search engines like Bing for example
To finish this section dedicated to the creation and submission of a sitemap, there is a trick that you can use to take full advantage of your sitemap. It is to add the URL of the sitemap in the robots.txt file of the website
The robots.txt file is located in the root folder of your web server. Access it then paste this piece of code
Sitemap: https://www.monsite.com/sitemap.xml
6.4. AMP Joomla
AMP defined as Accelerated Mobile Pages, is a project supported by Google that aims to make the web faster for mobile users. AMP pages are therefore simplified and lightweight versions of ordinary web pages that load quickly on mobile devices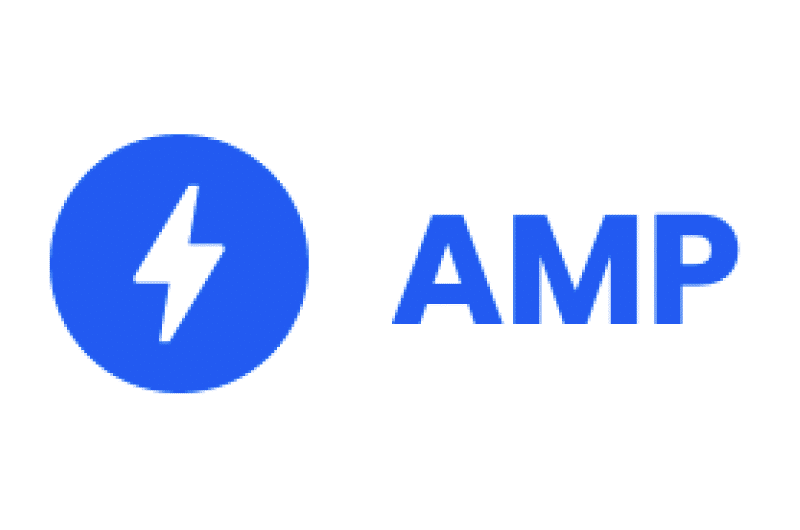 If you are looking to create an AMP page for your Joomla website, there are several AMP Joomla extensions you can use such as
6.5. The duplicate content
Duplicate content generally refers to large blocks of content, within the same website or between several sites, that correspond entirely to another content or are very similar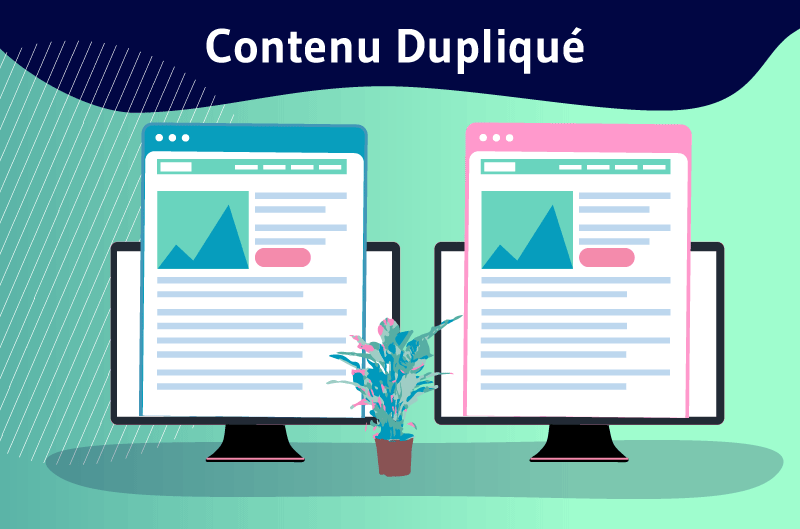 It is a practice classified as black hat SEO contrary to the guidelines of Google for webmasters. It can therefore have a negative impact on the ranking of your site on the pages of search engines
The problem of duplicate content is often noticed on Joomla sites because of certain features of the CMS such as the fact that a page is accessible from several menu items.
For users, this is not a big problem, but for search engines, it means two different URLs pointing to identical content, hence the duplicate content problem
Here are some solutions you can use to solve the problem of duplicate content on your Joomla site
Provide a better configuration to your site to avoid some pages being accessible from multiple menu items
Set up 301 redirects to redirect users and search engine spiders to a single address
Use canonical tags to tell search engines which of several duplicate content items is the original so that they can index only the original version;
Use meta robots tags to tell search engines outright not to index pages you deem to be duplicates on the site
Use a 301 redirect extension if your site has a large number of pages.
Frequently asked questions
Are there any SEO extensions to improve the SEO of my Joomla site?
Yes, there are many SEO extensions available in the Joomla library, as well as on other platforms. But although most of these extensions are very useful, it is important to use them sparingly
Indeed, when you install a large number of extensions, it could affect the performance of your website and even your ranking on SERPs. This is why you should only install an extension when it is really useful
How can my web hosting provider help me improve my Joomla site's Google ranking?
The choice of your web hosting provider is very important in SEO because the responsiveness, availability and security of your web site depend mostly on the quality of service of your web hosting provider
A good web hosting provider must provide you with the necessary tools to ensure the availability of your website and facilitate its referencing on search engines
How can my Joomla template affect my site's SEO?
More than half of the Internet users today use mobile devices to connect to the Internet. So if your Joomla template is not responsive to adapt automatically on small screens, you will inevitably lose many visitors
Moreover, this lack of responsiveness on smartphones and tablets would be perceived by search engines as a sign of a poor user experience. The consequence is that it could affect your ranking on SERPs.
Conclusion
The SEO industry is constantly evolving with search engines becoming more and more intelligent. That's why it's important to stay on top of the latest SEO trends and tools in order to stay on top of things
Together in this guide entirely dedicated to Joomla SEO, we have reviewed all the important factors to help your website improve its visibility on Google and other search engines for sure
I hope that the content has been useful to you indeed to improve the ranking of your website
If you have any questions or experience to share related to Joomla SEO, feel free to leave a comment
Thanks and see you soon!