Success is the accumulation of failures, mistakes, false starts, confusion, and the will to keep going despite everything
Nick Gleason
When I launched Twaino, I was really confused and had no idea what the future held. Was it a mistake to start in a competitive industry like SEO ?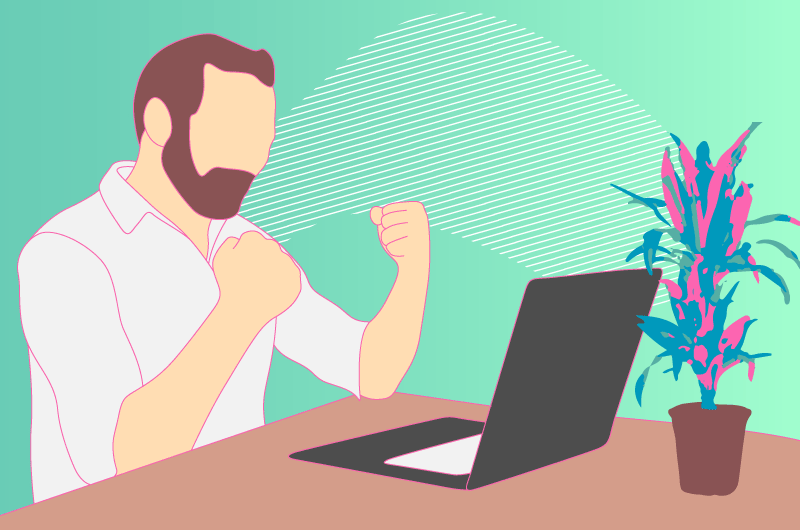 9 months later, I have no regrets at all about relying on this " will to continue despite everything ". On January 27, my Twaino website passed the 5,000 monthly visitors mark and it didn't take two weeks for me to pass the 6,000 mark.
Moreover, I am receiving more and more moving messages like this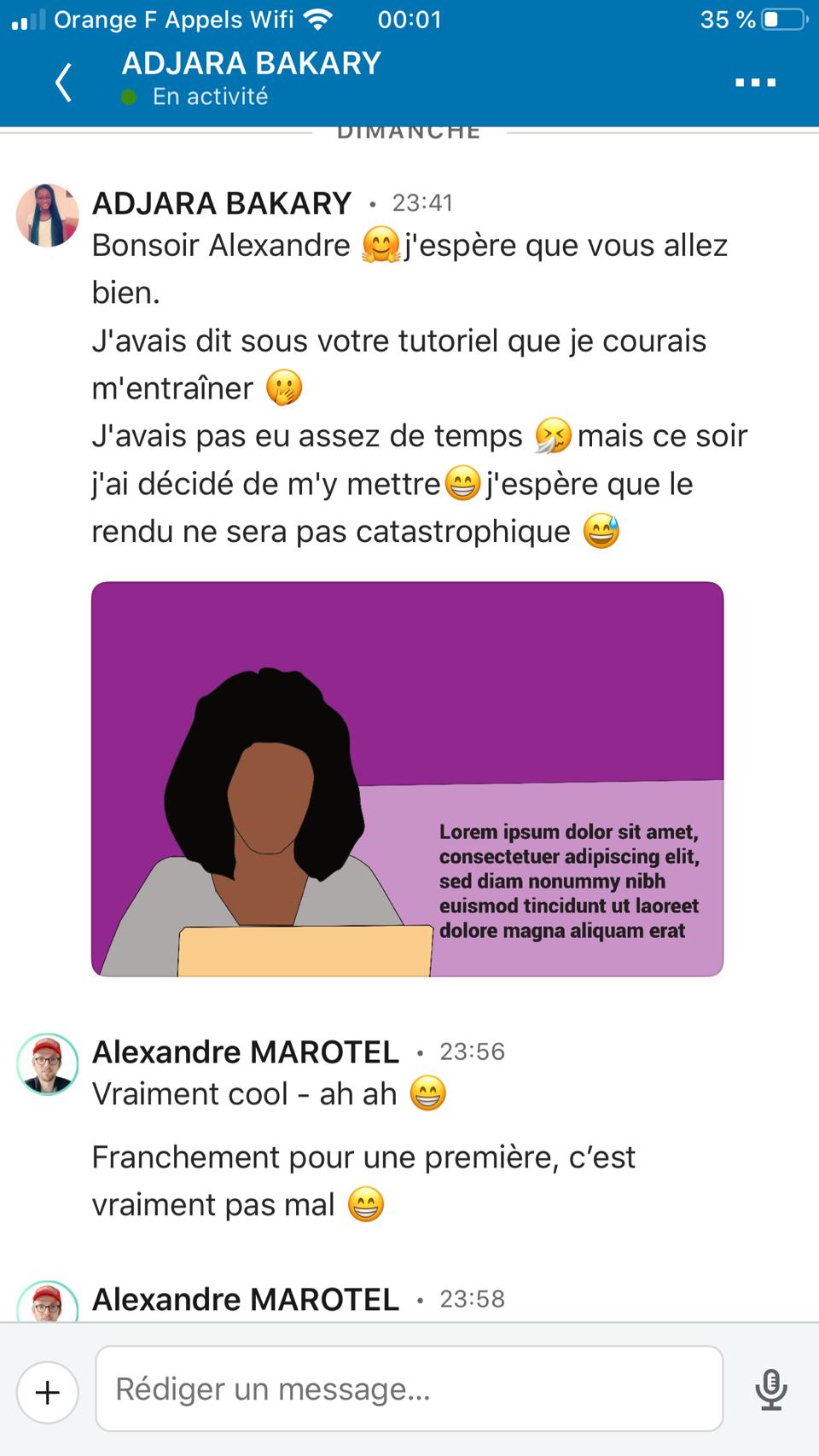 It must be said that my long sleepless nights have started to give results. And yes! To reach this level in my field of activity, it takes a substantial investment.
I had to describe them in my articles of the same series
It's time to complete this series that traces my journey with Twaino. As usual, we will go through all the results and strategies I used.
Chapter 1. Twaino Numbers at 9 Months of Launch
As I had to mention in my previous articles, I launched my website in April 2019. Therefore, it's been a little over 9 months since I've been trying to optimize the visibility of Twaino.com.
My strategy has clearly not changed and I am still SEO White Hat, without the use of paid advertising
To give you an overview of my performance, let's go through :
1.1. what is my performance with Google Analytics after 9 months?
Let's start with a small history of my traffic
1.1.1. History of Twaino.com traffic evolution (& the increase from 5 000 to 6 000 in less than 2 weeks)
In the previous article of the same series, I described how my traffic has evolved since my first 1,000 visitors
Here's a little recap
September 21, 2019 is

5 months

after the launch – 1 000 monthly visitors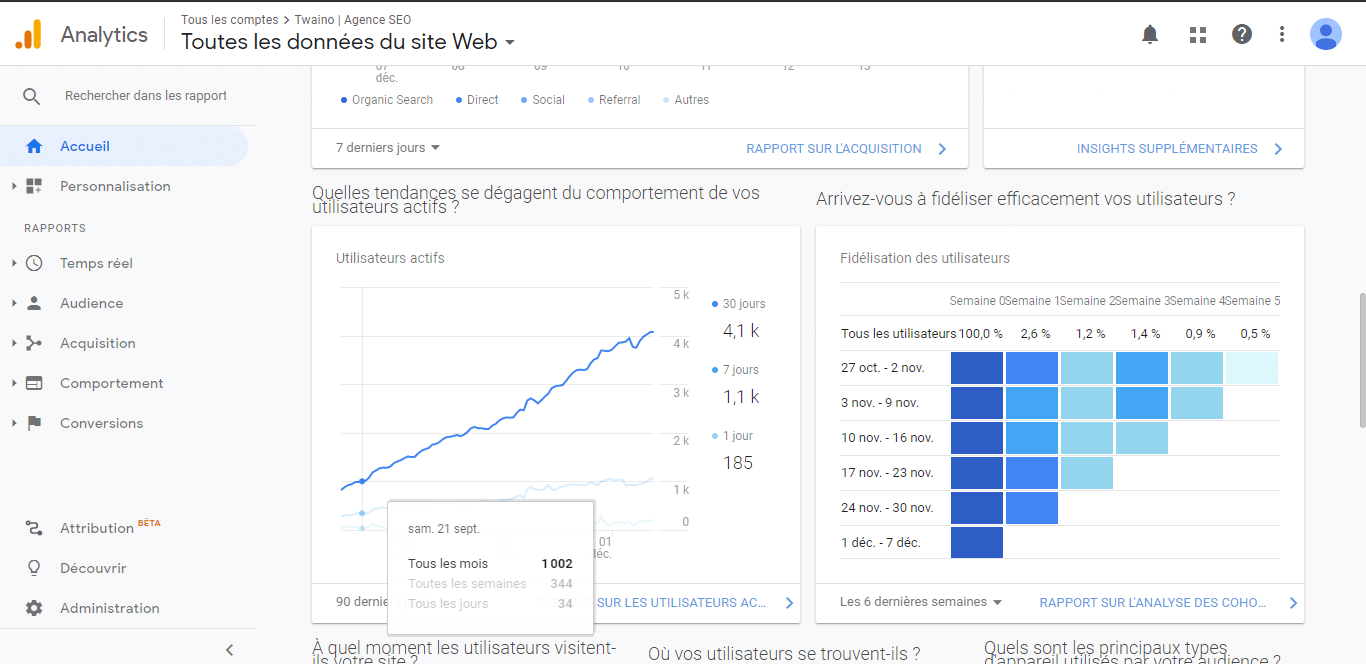 October 21, 2019 or 6 months after launch – 2,000 monthly visitors: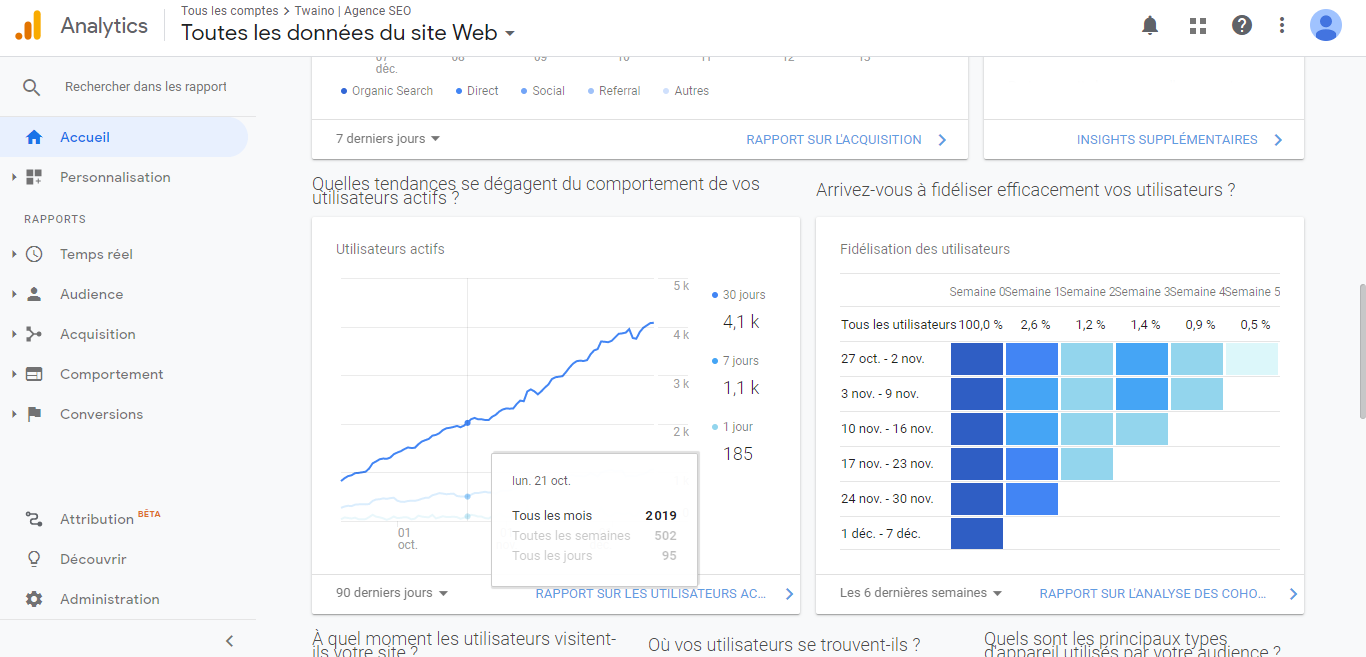 November 18, 2019 or just under 7 months – 3,000 monthly visitors: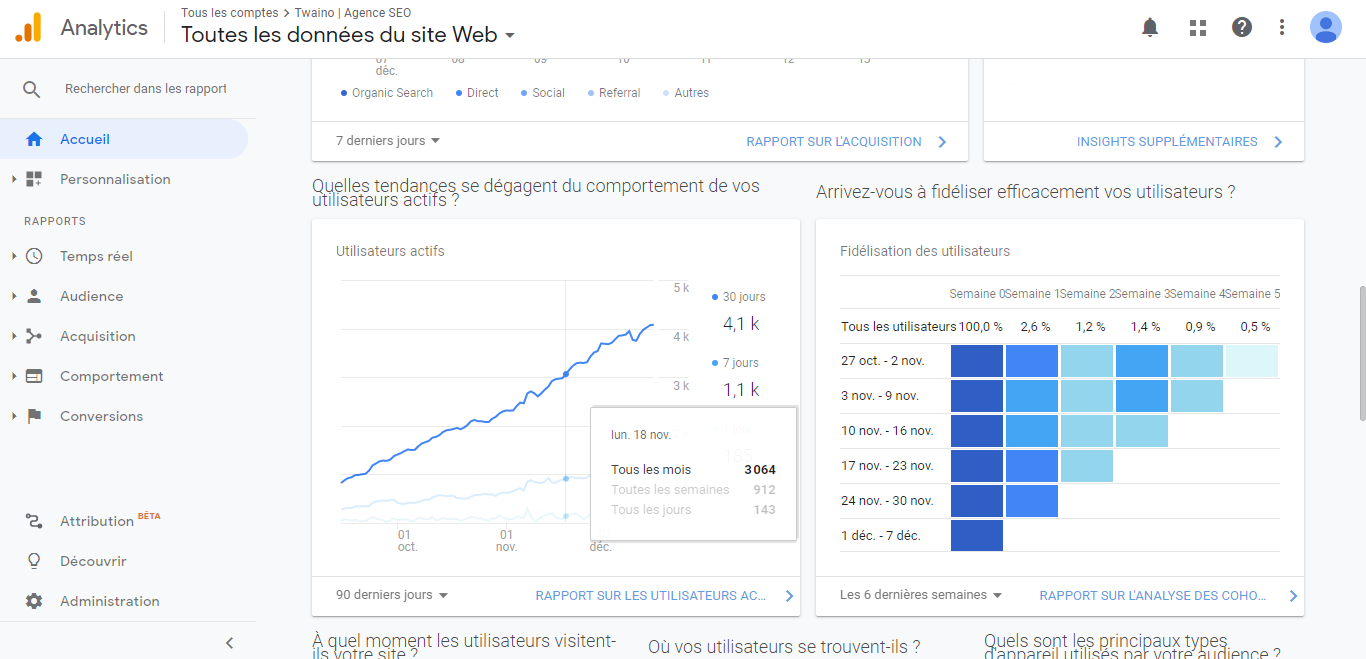 December 11, 2019 or just under 7 and a half months – 4,000 monthly visitors:
We were at this level!
To reach 5,000 monthly visitors, I took a little over a month. This will be on Monday, January 27, 2020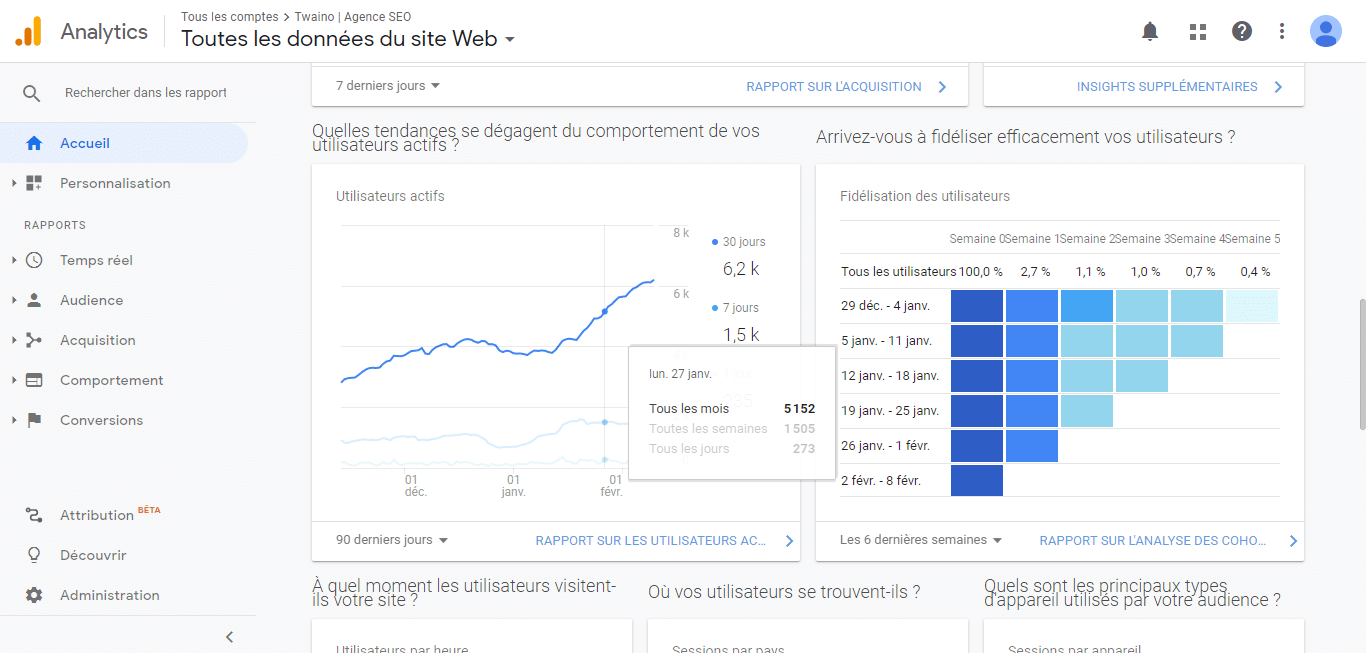 As I had to explain, this is due to the holiday season. You can see the "remarkable" drop in my website traffic in the image
But this slight bad performance will be quickly compensated by reaching 6,000 visitors in less than two weeks
On Thursday February 6th, there were exactly 6,039 monthly visitors on my website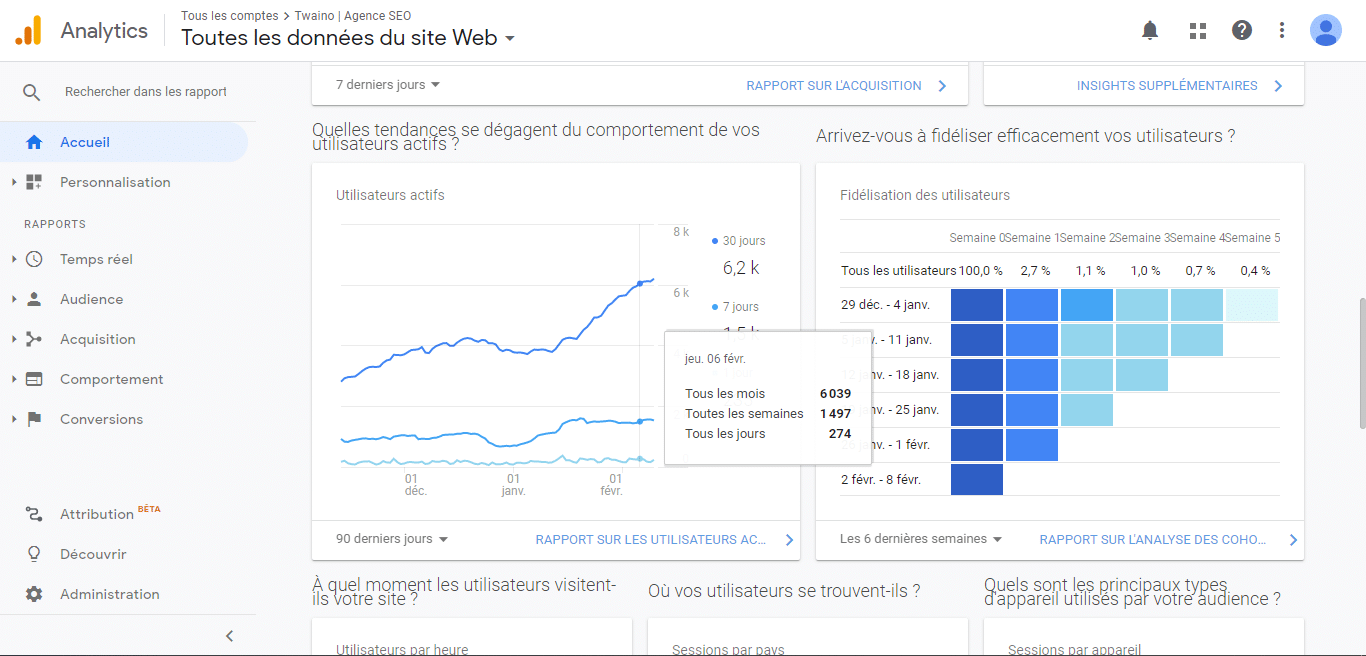 To be more precise, I went from 5,000 to 6,000 monthly visitors in the space of 10 days.
This shows that the growth of my website Twaino.com is accelerating once again.
It looked like everyone had a great holiday season ?
1.1.2. The channels through which visitors arrive on twaino
Since I started, search engines remain my main source of traffic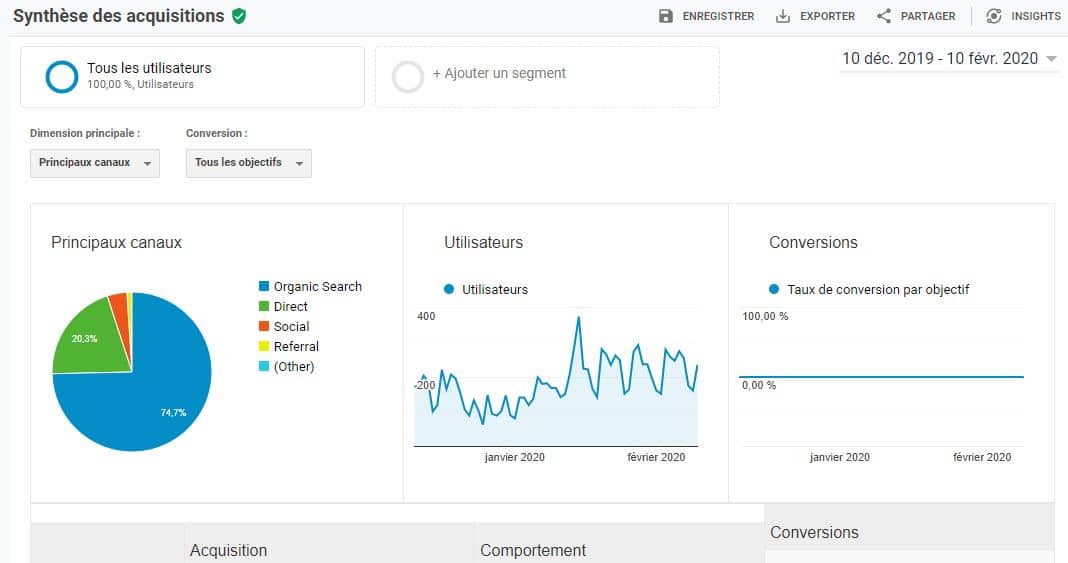 Over the two-month period, search engines generate almost the same proportion of traffic: 74.7%
However, the proportion of direct traffic has increased considerably
It was 12.2% when I passed the 2,000 visitors mark and now it is 20.3%: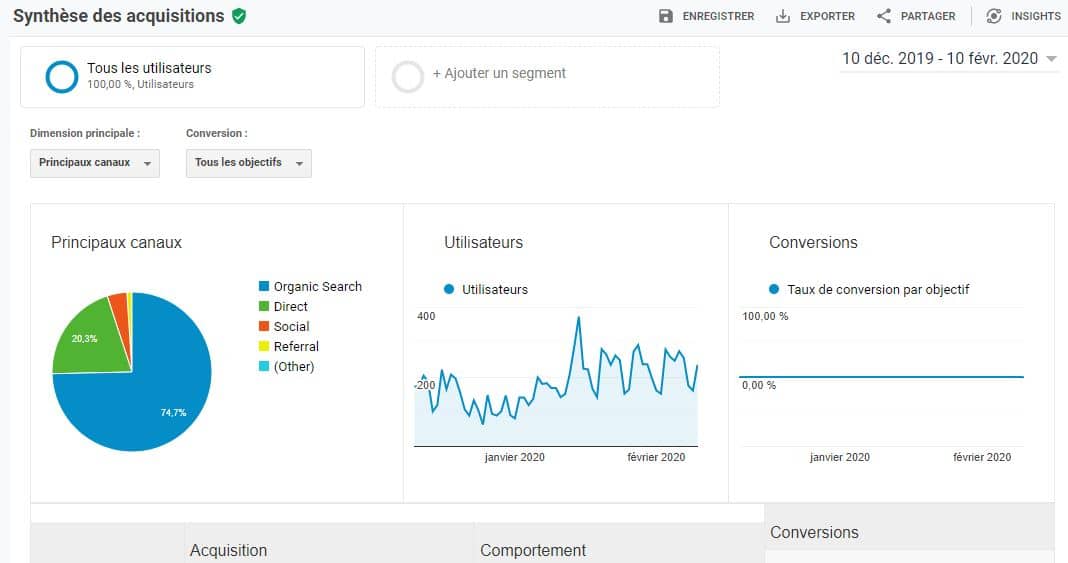 There is a clear shift in the number of people using the URL to get to my website
The other two channels, social and referral, have performed much less well
1.1.3. Geographical location of Twaino's visitors
France remains the country that brings me the most traffic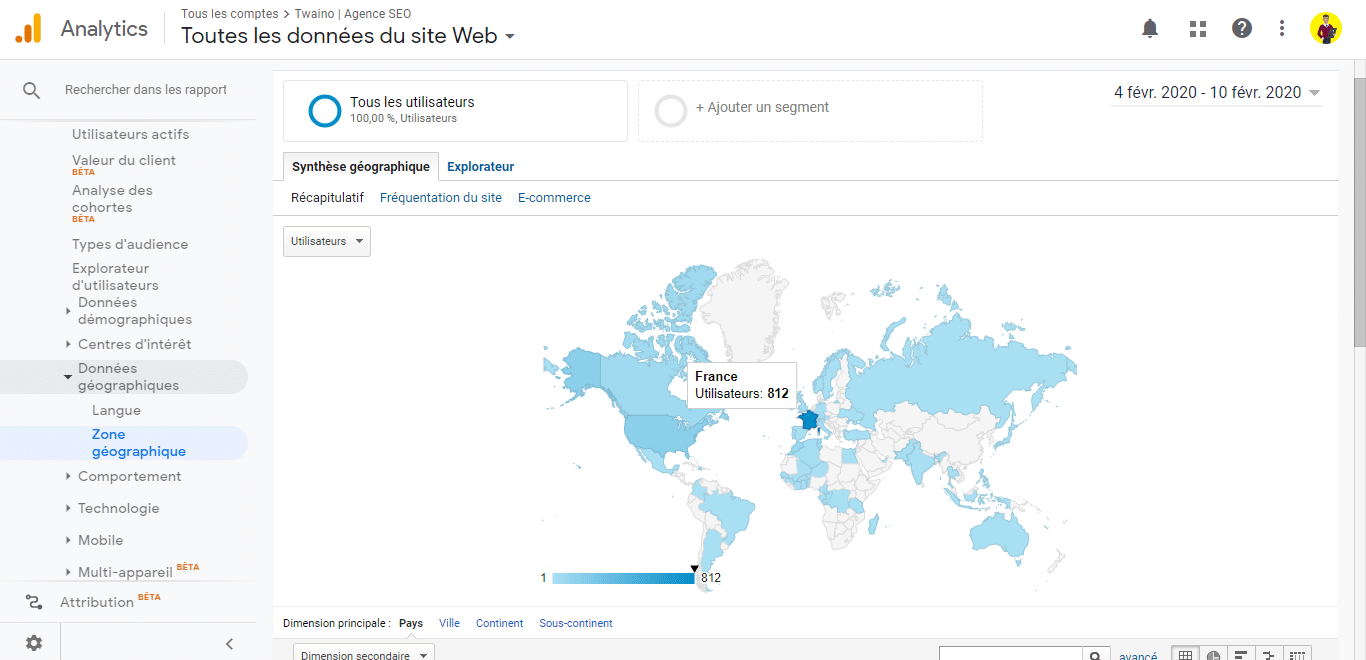 Surprisingly, the United States still ranks second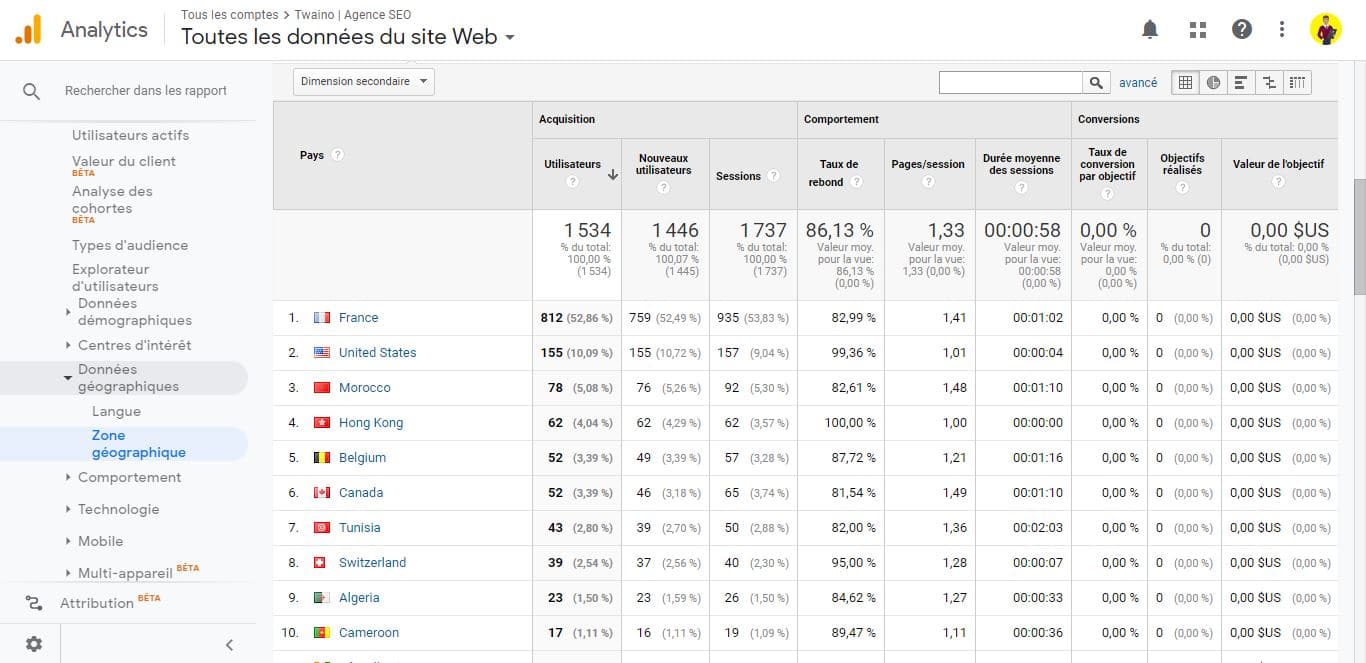 1.1.4. Classic visitor behavior on Twaino
I always focus on building a good audience before implementing other strategies.
From October to December, that is, in three months, here is what it looked like
The number of Page views

The number of unique views

Average time spent on the page;

The Percentage of exits

Bounce Rate.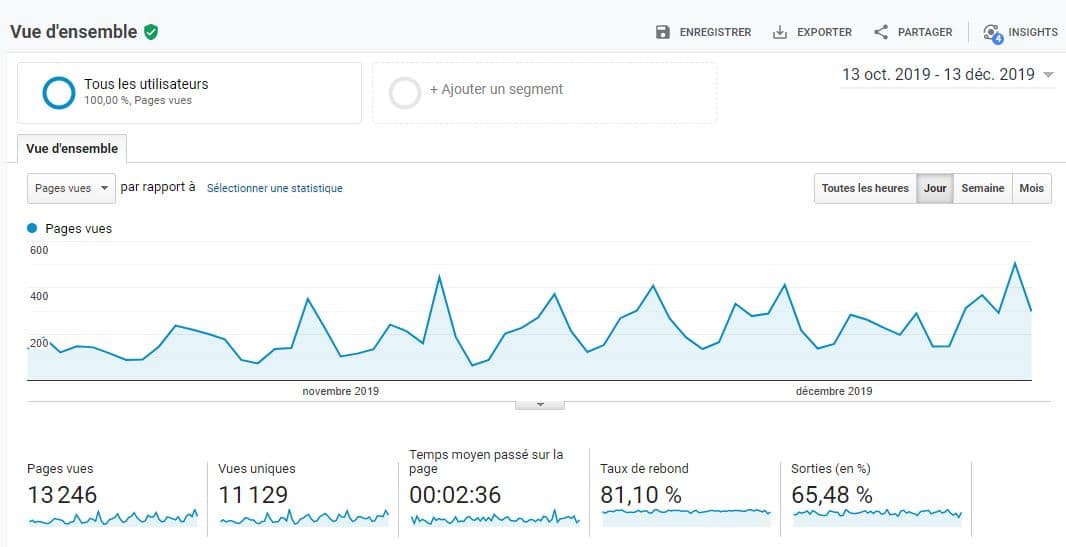 There has been a clear evolution in the space of two months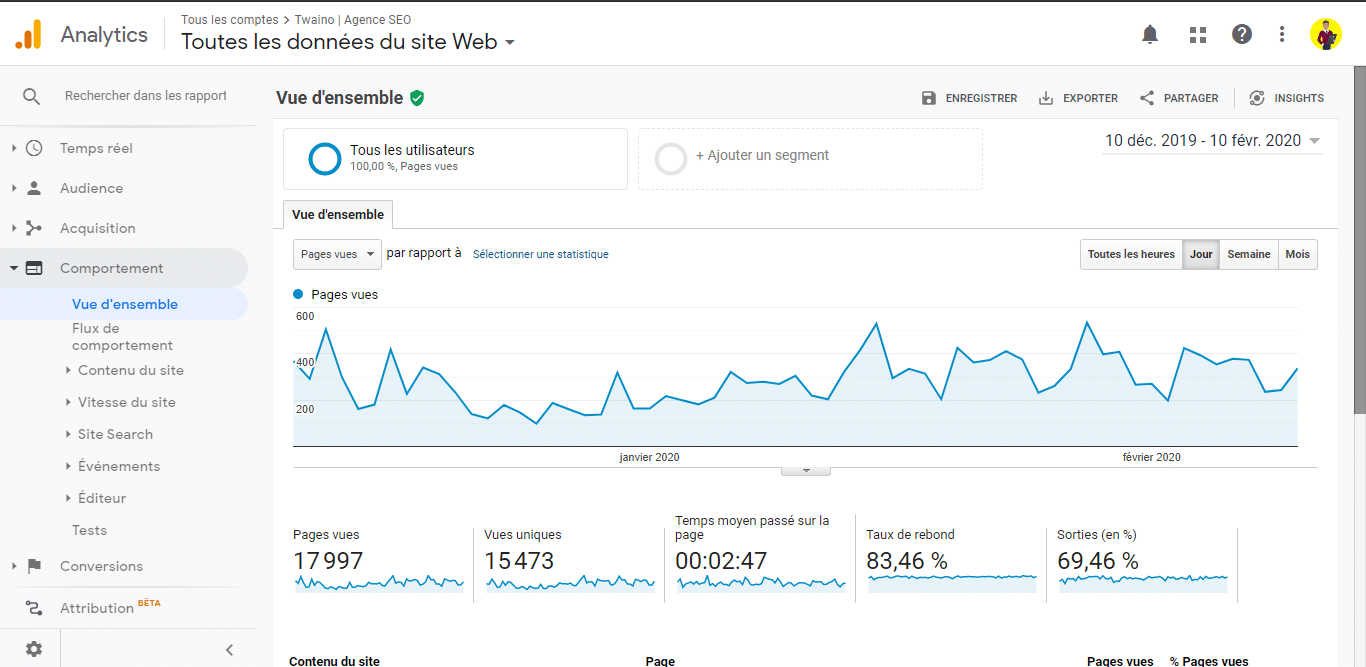 Bounce Rate and Exits on the other hand have increased, which I will correct soon
In addition to the home pagethe word counter and my article on blogger are the most visited pages on my website: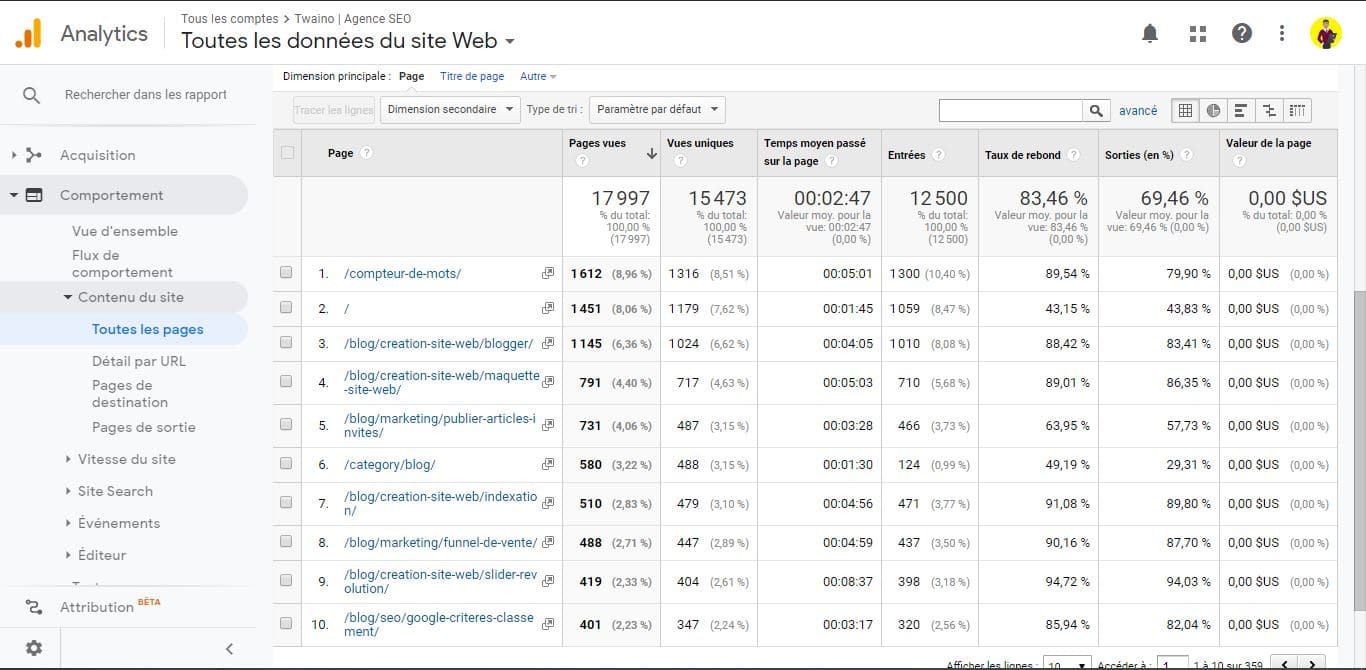 Moreover, please note that Twaino is experiencing an interesting evolution in terms of traffic hours
At the beginning of December, Twaino was less visited in the evenings: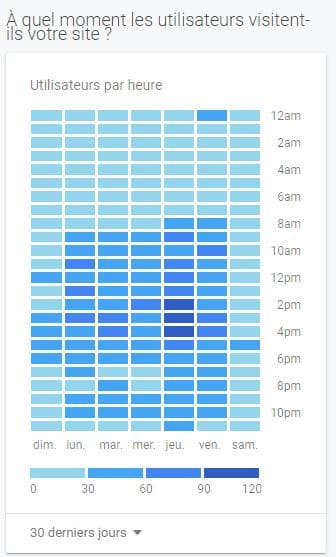 Now, my website is consulted even after 10 pm: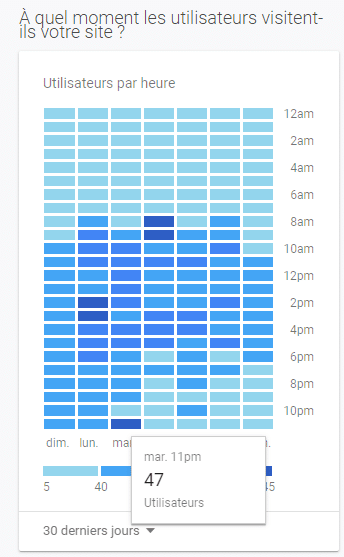 1.1.5. The most common electronic medium used to access Twaino
The computer remains the main electronic medium for accessing Twaino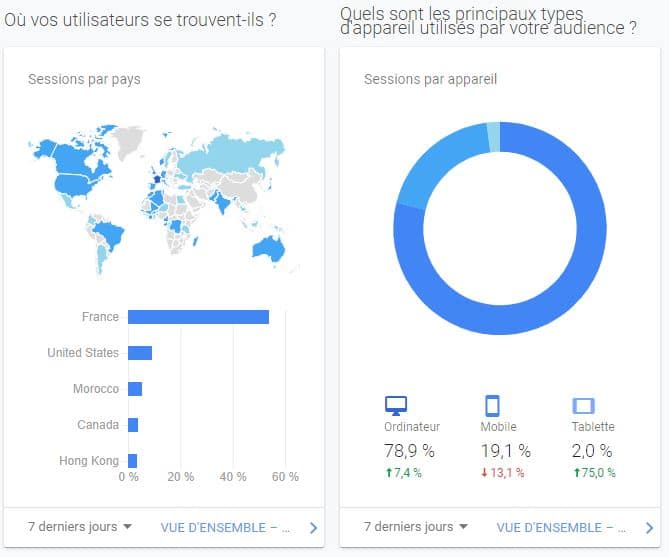 Smartphones perform less than last time!
And here are my numbers with Google Analytics, let's move on to the second tool:
1.2. my numbers with Google Search Console
As expected, the trends in Search Console are not much different from those in Google Analytics.
1.2.1. Overview of my performance on Google Search Console
We can clearly see an improvement on several levels: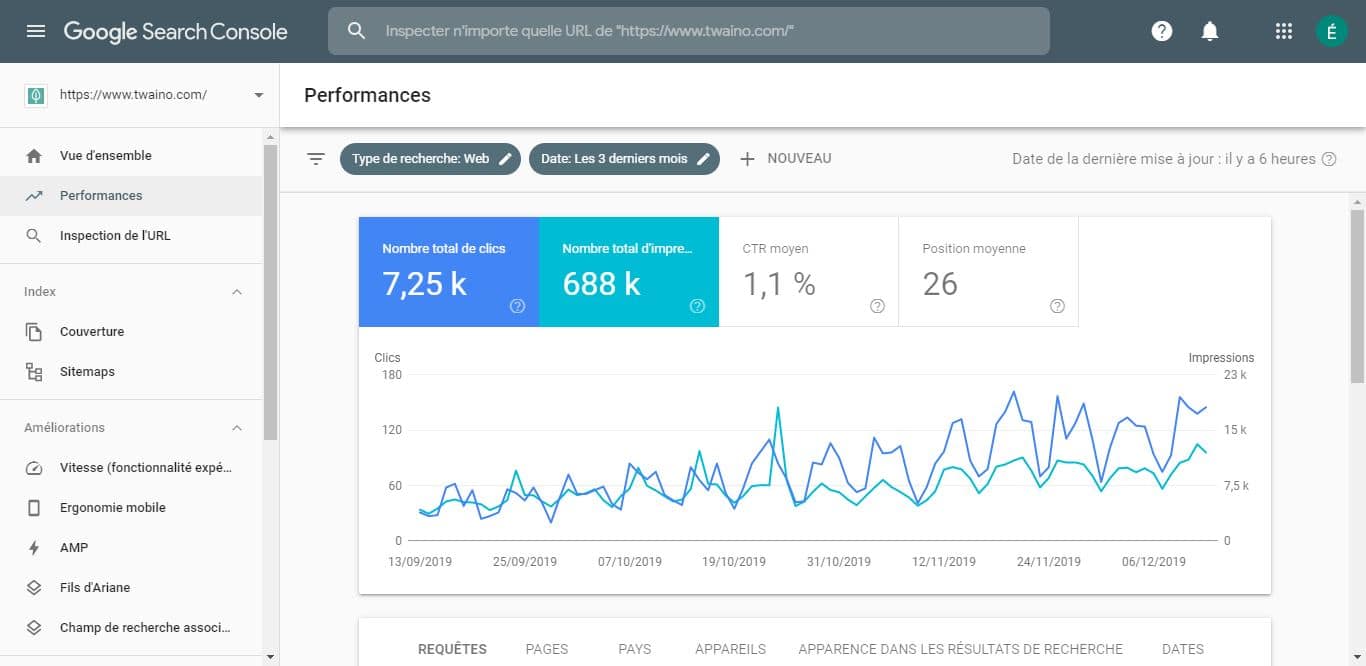 VS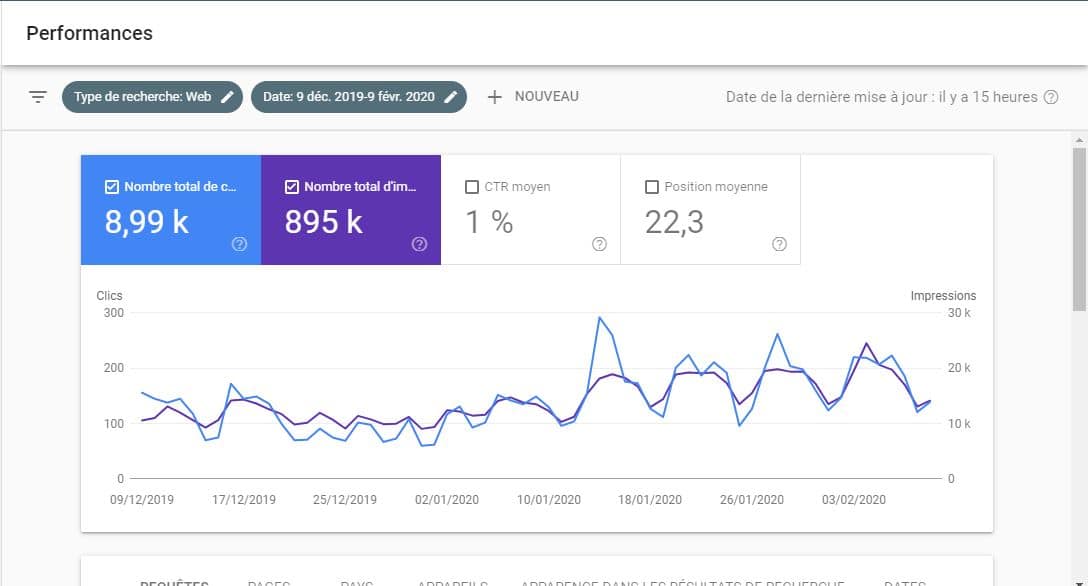 We can see that :
The number of clicks has increased by almost 2k in the last two months vs

The total number of impressions has increased by more than 200,000

The click-through rate does not seem to have changed much;

Average position has improved from 26 to 22.3.
This time, it is no longer "Twaino" that is the most used term in search engines to find my website
It is now " blogger "Google's free platform for creating blogs:

In second place, there is the query "Twaino" which confirms the fact that a significant number of people access my website directly using the name of my website in search engines.
As for the pages with the highest number of clicks in the search engines, we have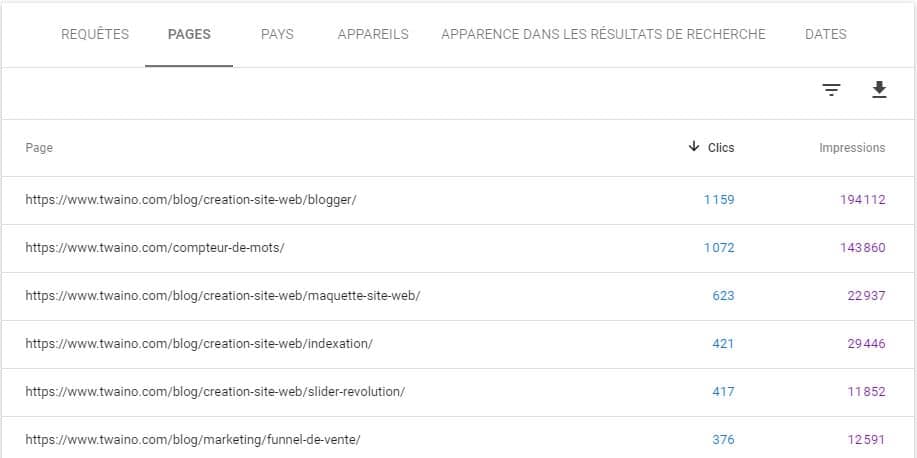 The other parameters that follow have not really changed since Google Analytics.
1.2.2. Twaino's technical performance
From a technical point of view, my site currently has only one problem with the Coverage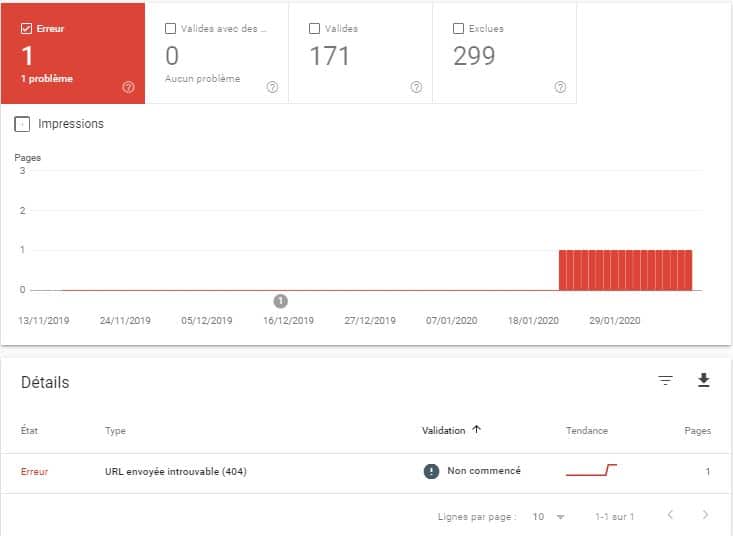 It is a 404 error that I will take care ofi'll fix it as soon as possible.
On the other hand, at the level of the speed, I clearly have "work to do":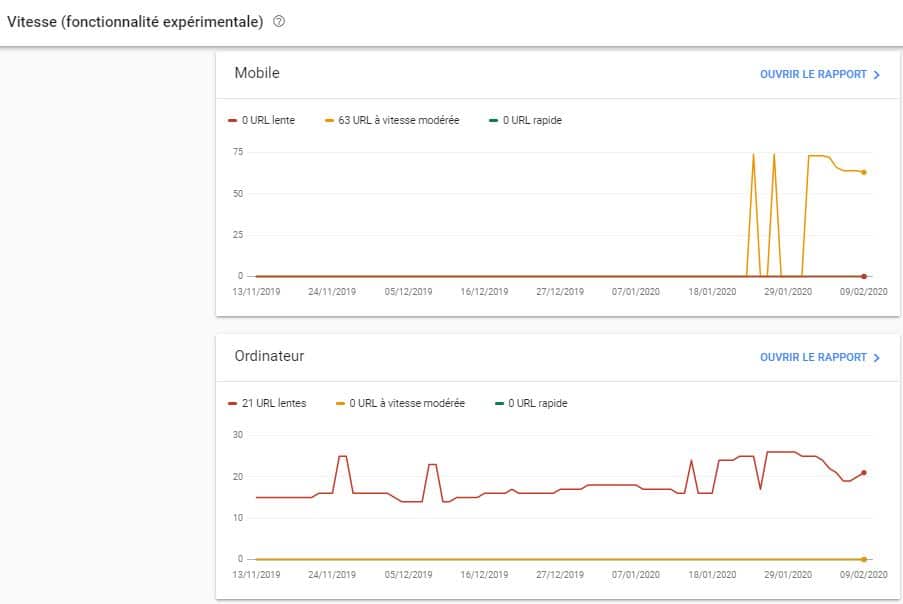 The security of my site seems to be pretty good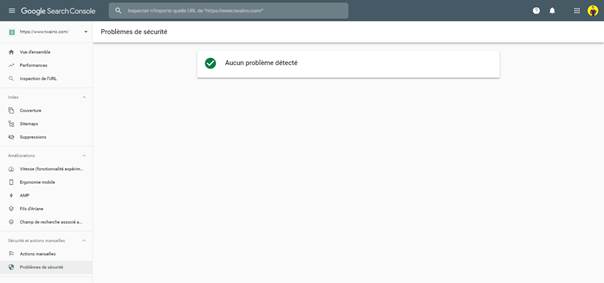 Moreover, I have now gone from 719 backlinks to 1,237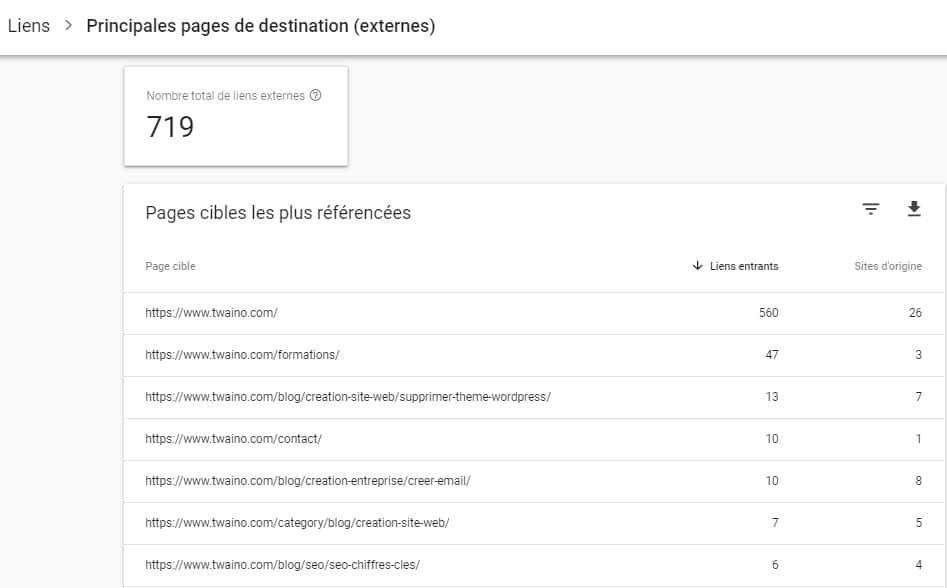 VS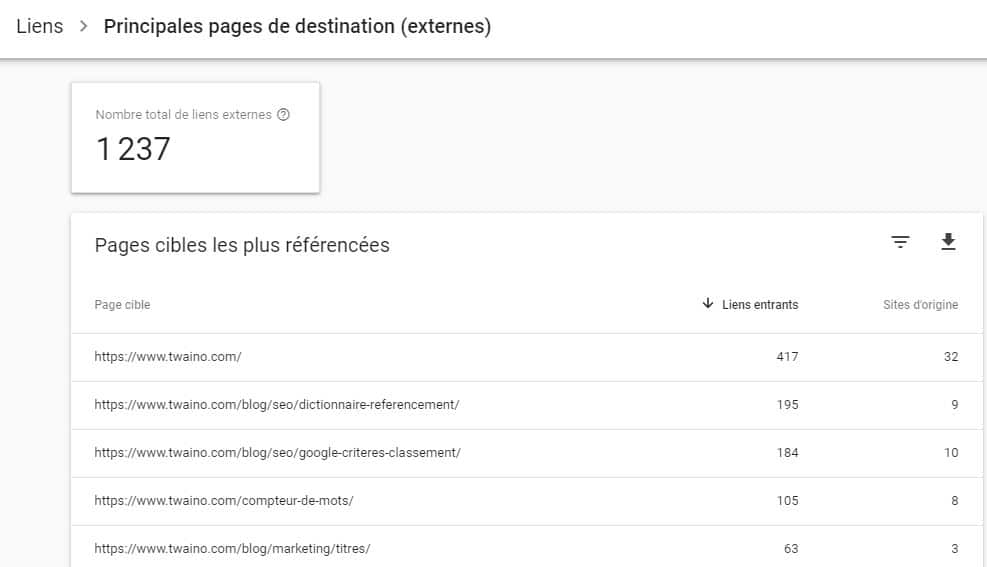 On the other hand, I think there are quite a few spammy referrer domains and I don't know if it's still thenSEO attack attack that I have been under that continues.
However, I have already disavowed some links and I think I am safe from Google's penalties.
In short, note that it would be very difficult for me to give you exactly how many backlinks my website has acquired.
1.3. my results with Google My Business
On Google My Business, I didn't evolve much since I had only one more review since last December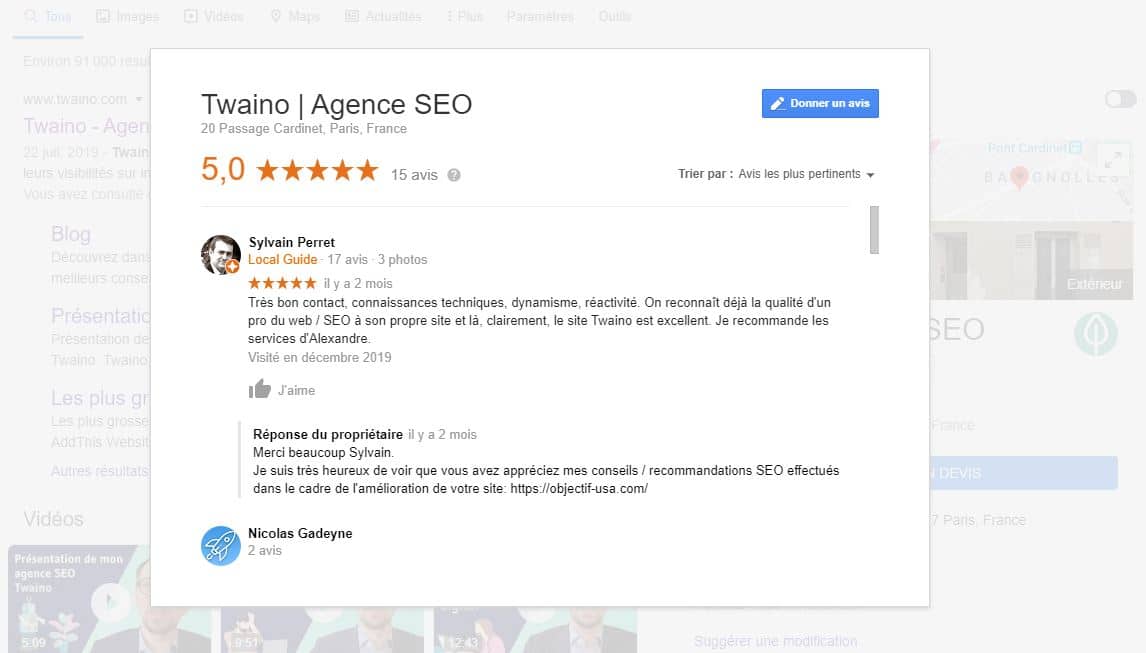 The most interesting thing is the rating which is 5 stars on all the reviews I received so far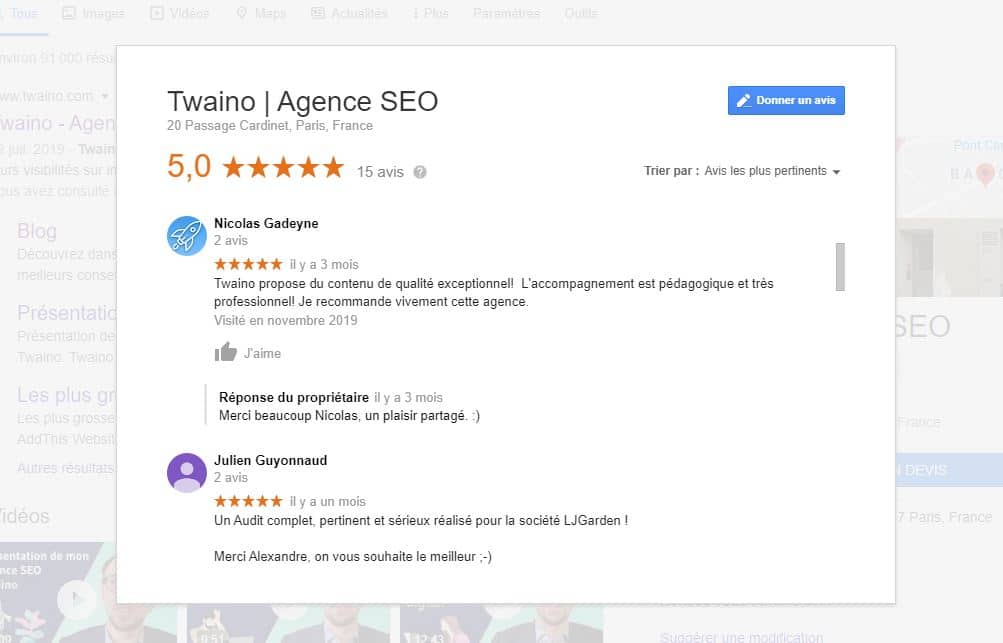 I love reviews, so feel free to visit my Google My Business profile to express what you think about my services or my content. I'll be glad to hear it ?
1.4. How does Twaino perform in the SERPs?
The essence of SEO, my job, is to allow a website to have visibility in the SERPs. That's why talking about my results in the SERPs is a must
A few months ago, I was totally invisible in Google's organic results. Of course, that's without counting the queries with the name of my SEO Agency.
9 months later, the results are clearly noticeable and my website is showing up on several queries
If you have read my previous articles, you probably know that I was in the featured snippet with my article sales funnel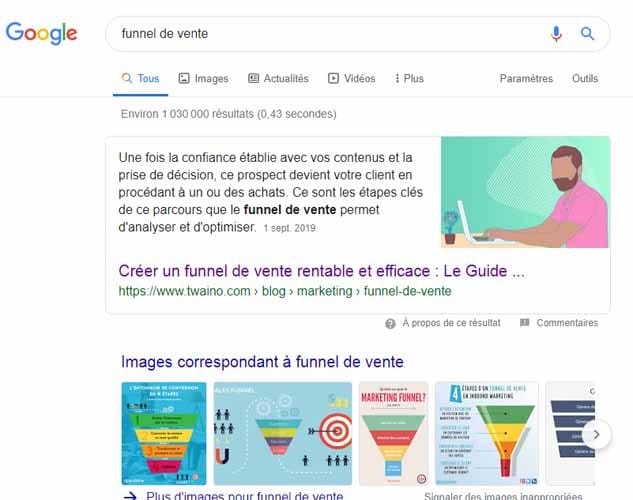 Although Google no longer shows featured snippet for this query, I remained in the first position after the images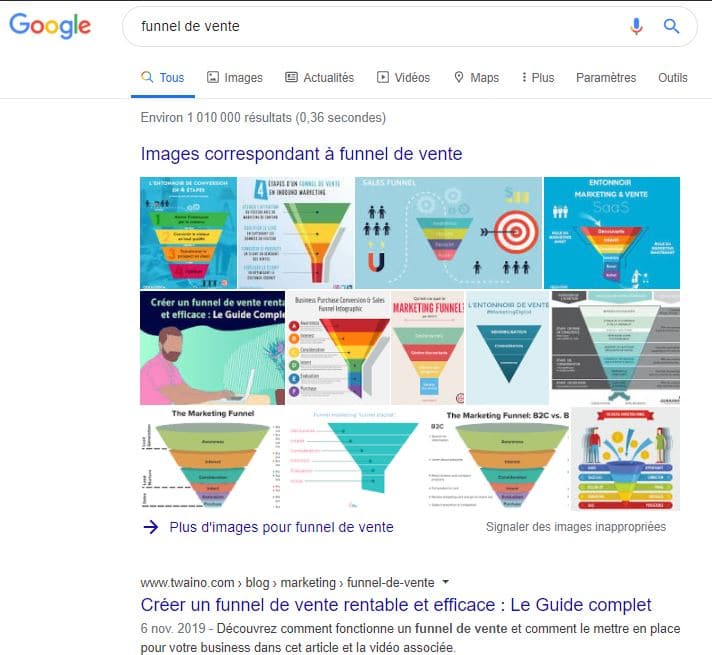 This time, I'm in the featured snippet for a typical SEO query (FINALLY ?) with my article on 89 SEO statistics :
Even if the answer offered in the featured snippet is not very relevant to the query, we can agree that it is good content. Otherwise, I doubt that Google would rank it at this level particularly.
Fortunately, this is not the only SEO query my website ranks for. I am in third place for another SEO query with my article on google's ranking factors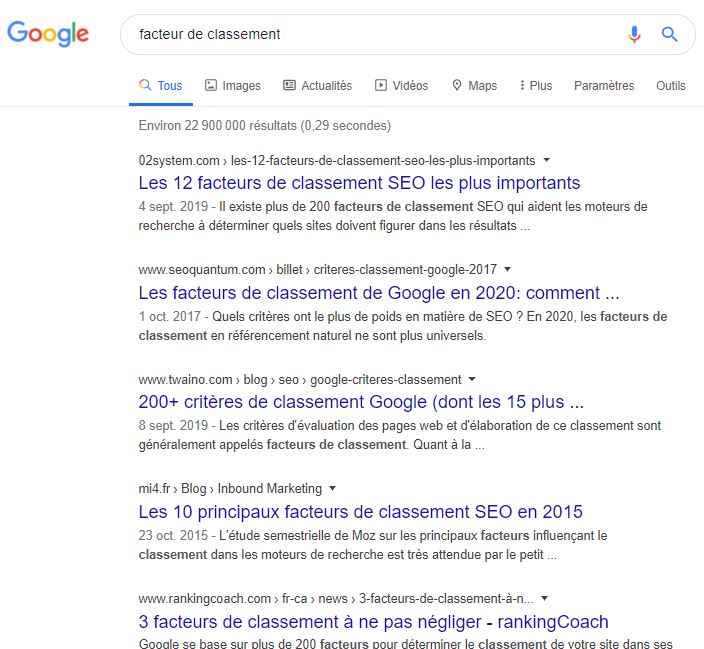 Also for SEO queries, my dictionary performs well in second place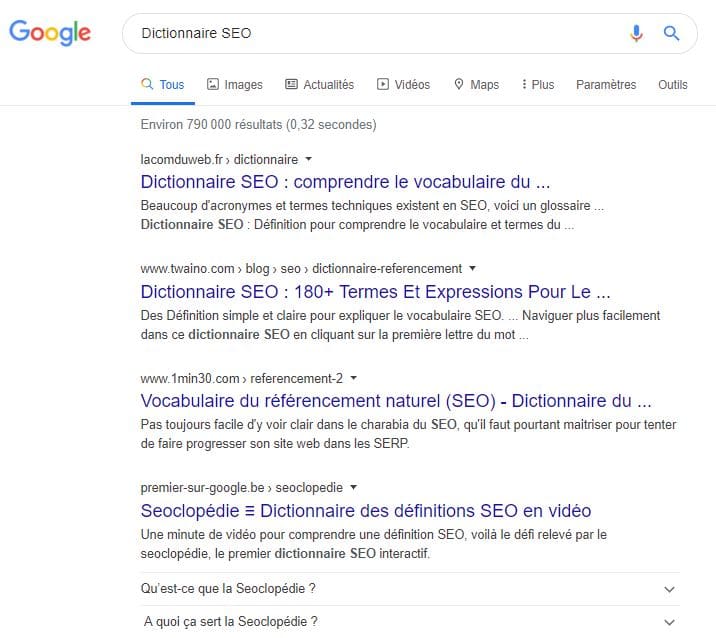 Also, my article on +144 blogs to publish guest articles occupies the second position in the SERP: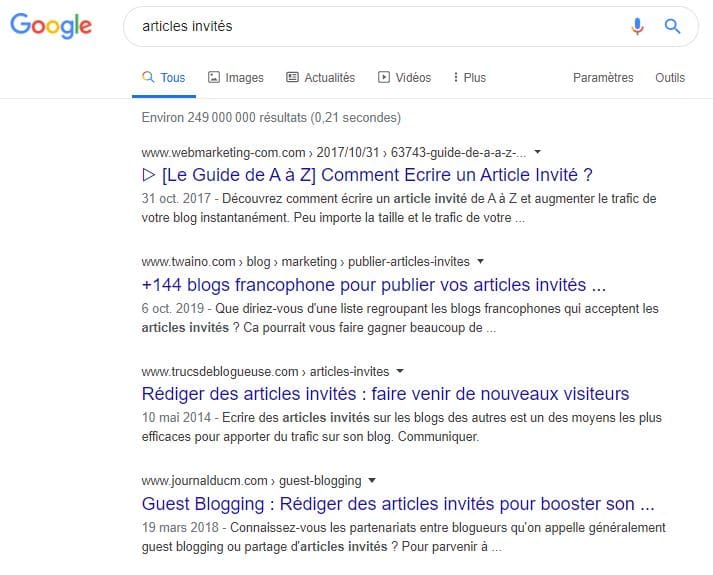 Not to mention that my videos appear in the SERPs for some queries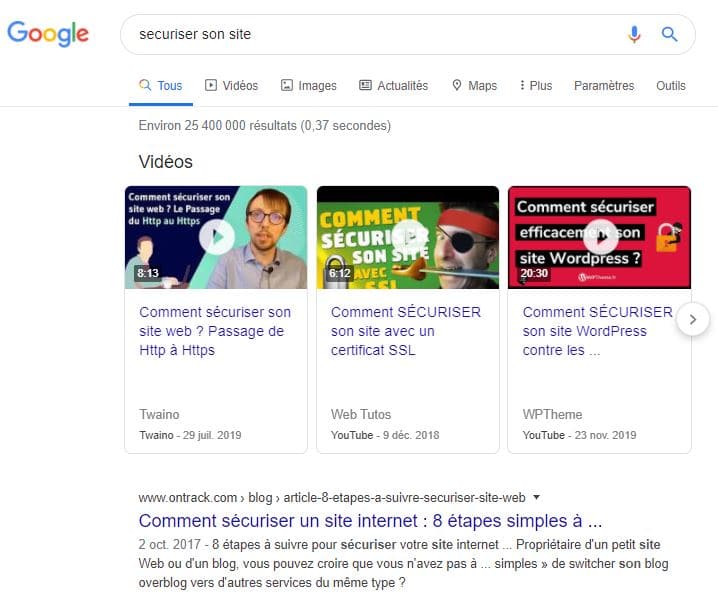 &amp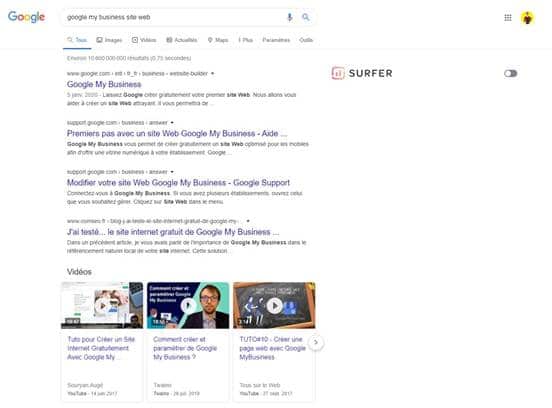 These are some of my performances in the SERPs that clearly indicate that my efforts are starting to pay off.
When I consider Moz Keyword explorer, I notice that I am now positioned on 74 keywords instead of 53 last December

VS

Most interestingly, my domain authority has increased by one point to 17.
In addition, here is the distribution of keywords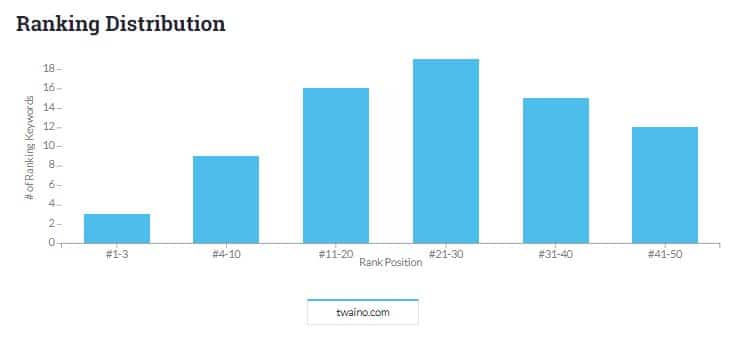 It should be noted here that Moz Keyword Eplorer is not very accurate since it did not allow me for example to know that I was ranked for most of the SEO queries I mentioned above.
But the conclusion is clear Twaino's overall performance is changing !
Chapter 2: What strategies did I use to go from 0 to 6,000 visitors?
This time, my strategies for making Twaino visible have changed slightly. Or rather, I adopted other tactics in addition to the ones I already use.
2.1. My basic strategy
Through the previous articles in this series, you know that the three pillars that allow me to grow Twaino are
We are now in month 9, but I have not yet used advertising campaigns: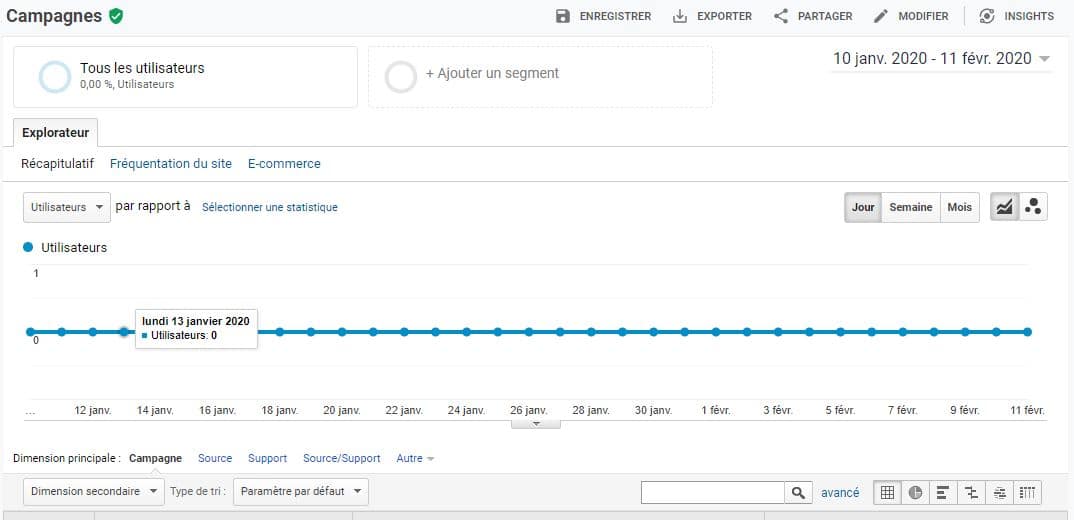 I have not yet set up conversion goals as well, which will be soon :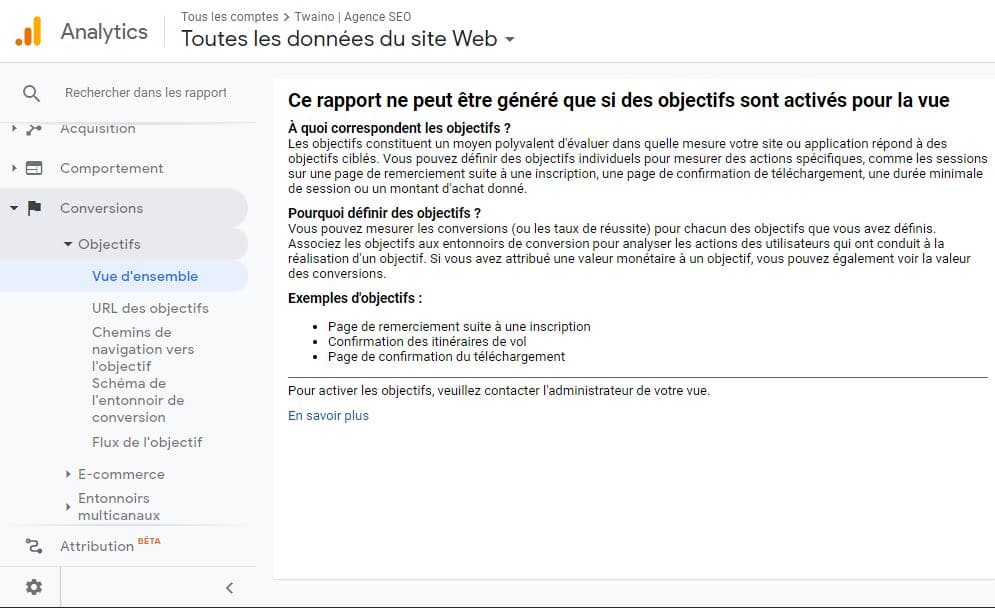 2.2. The new "ingredients" of my strategy: Outings & meetings
In order to make Twaino known, I have taken several steps that can be classified as traditional marketing.
Indeed, I no longer limit myself to my blog or my LinkedIn account to share my experiences
I meet a lot of people and I don't hesitate to attend conferences.
In this logic, I had the opportunity to participate in two different podcasts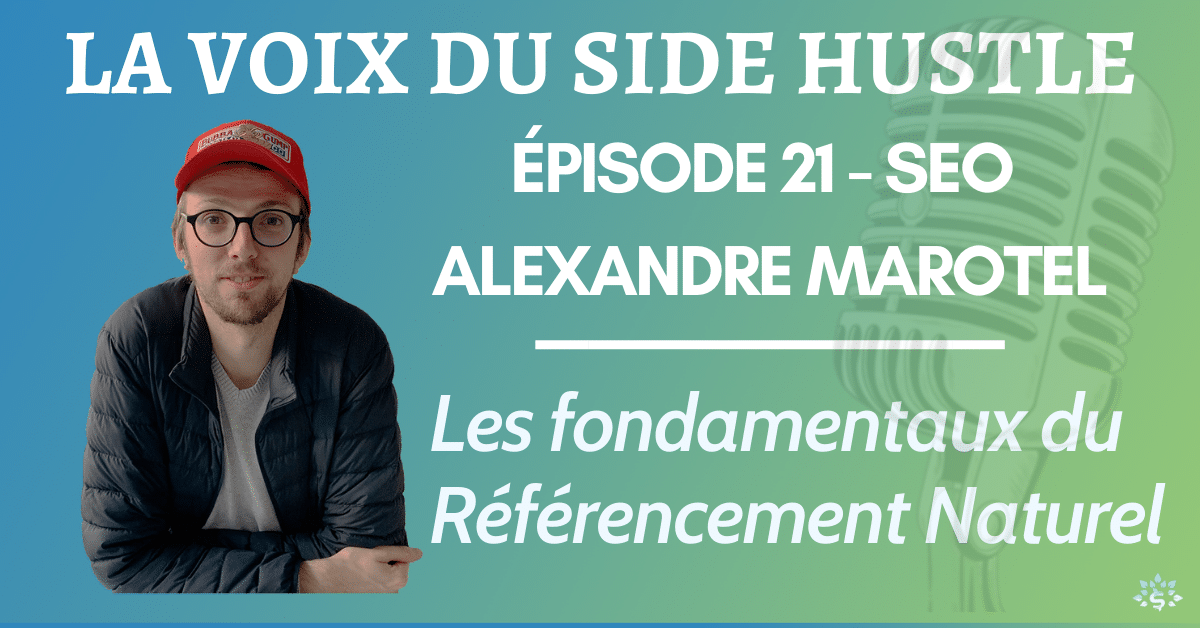 I also had the privilege of being a speaker at one of the major events of the year: Les Impériales 2020 in Casablanca, Morocco: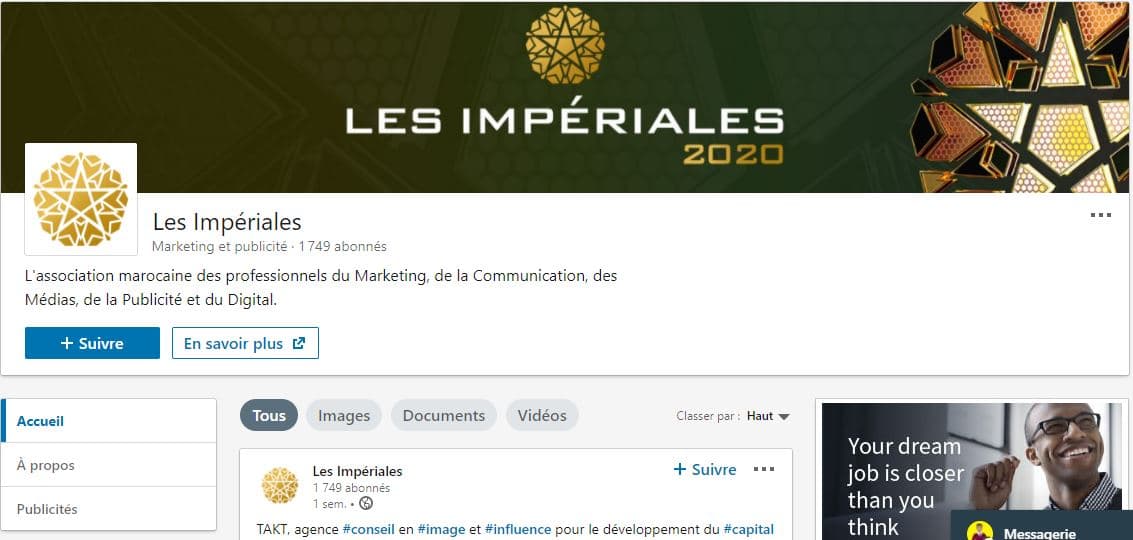 During this event, I had the opportunity to address:
During a keynote: The "digital native brands" oriented SEO;

In a more detailed 3-hour workshop: SEO strategies that work in 2020.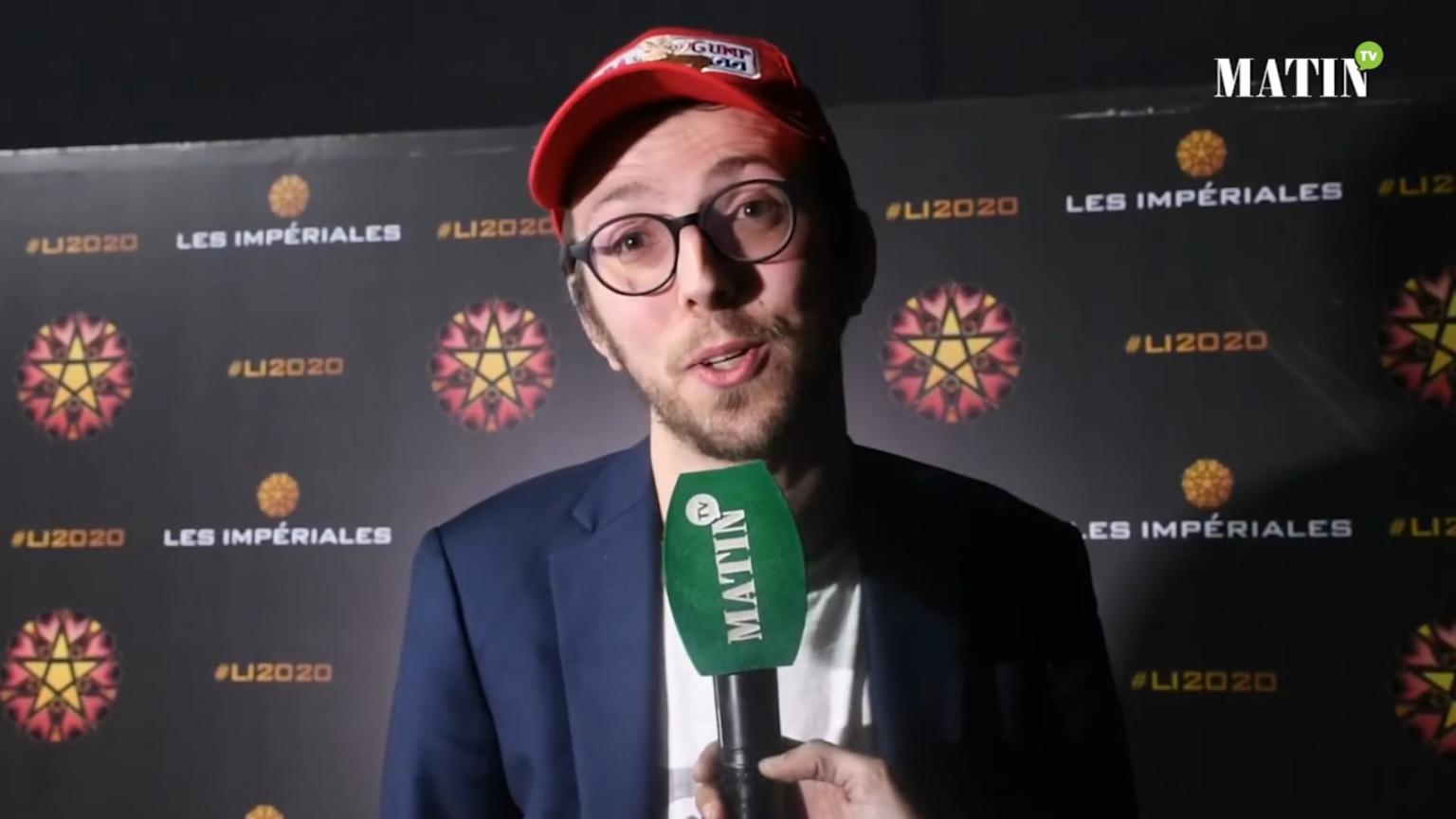 &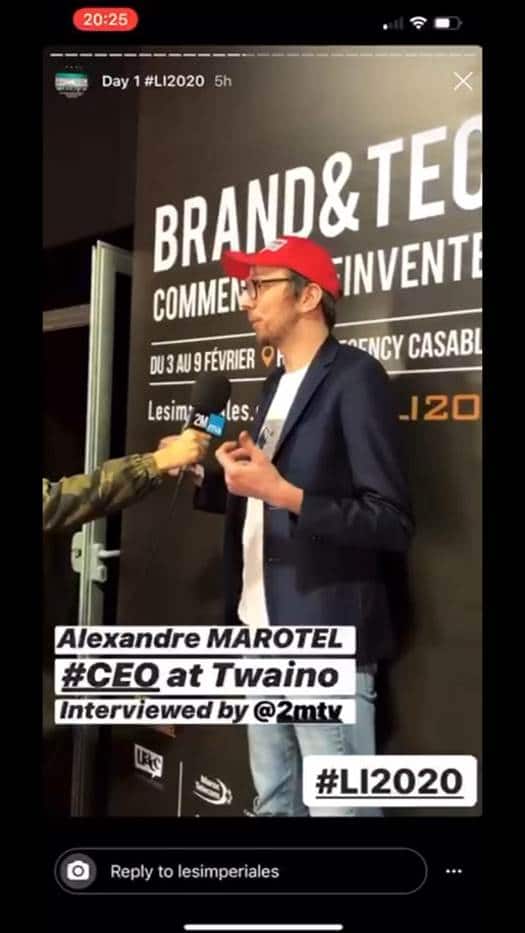 &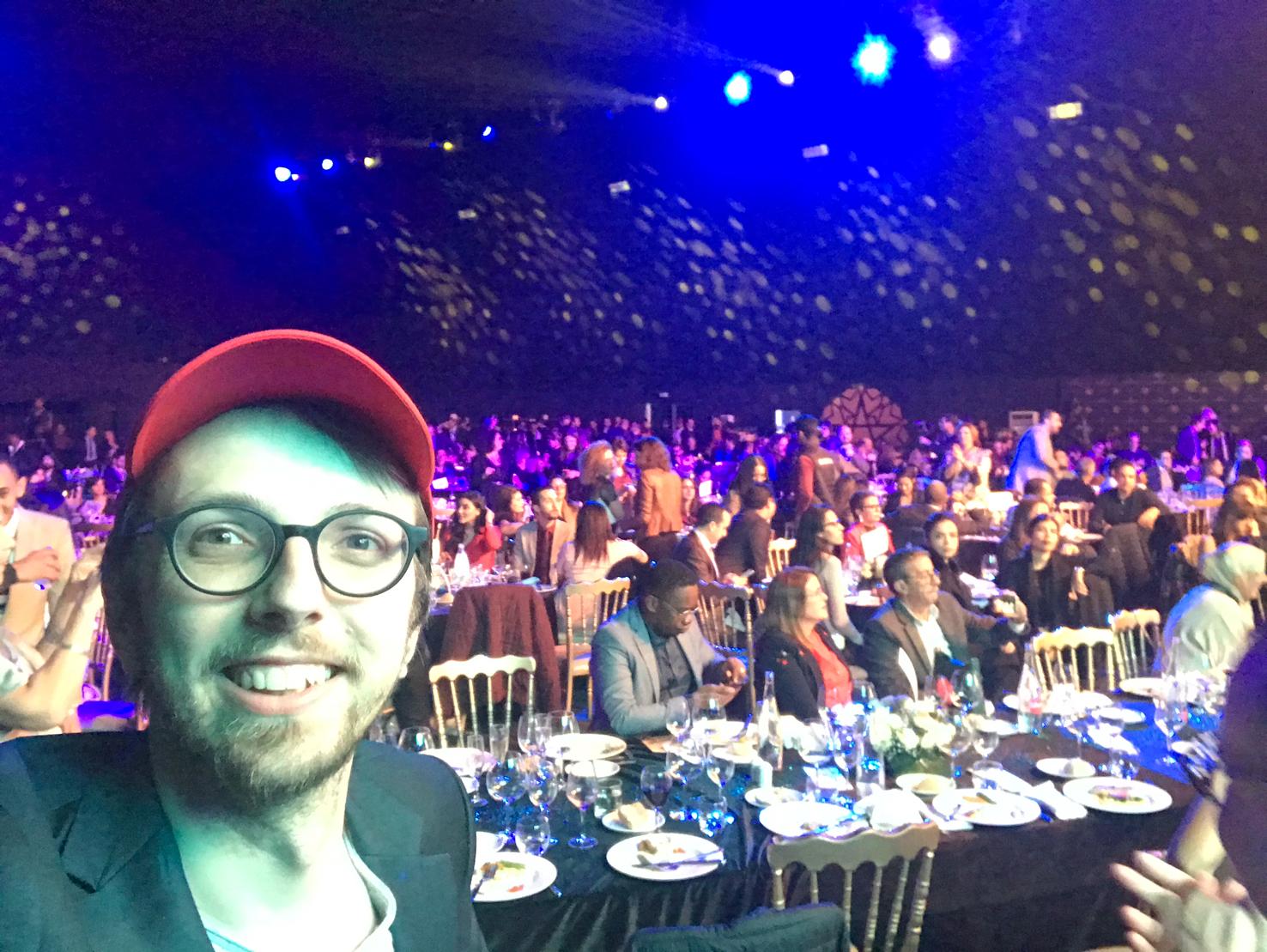 During 6 days I had the great opportunity to meet very talented speakers such as :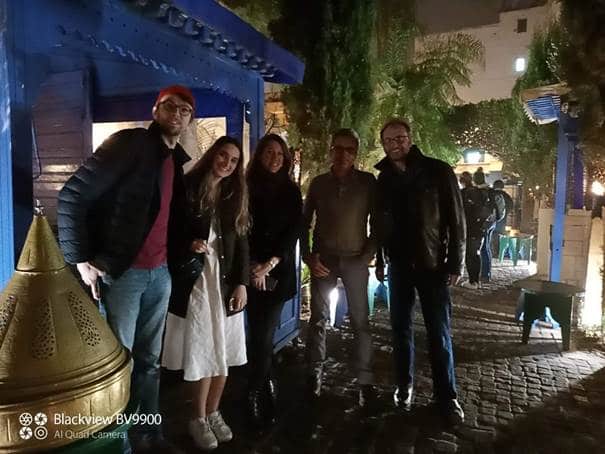 &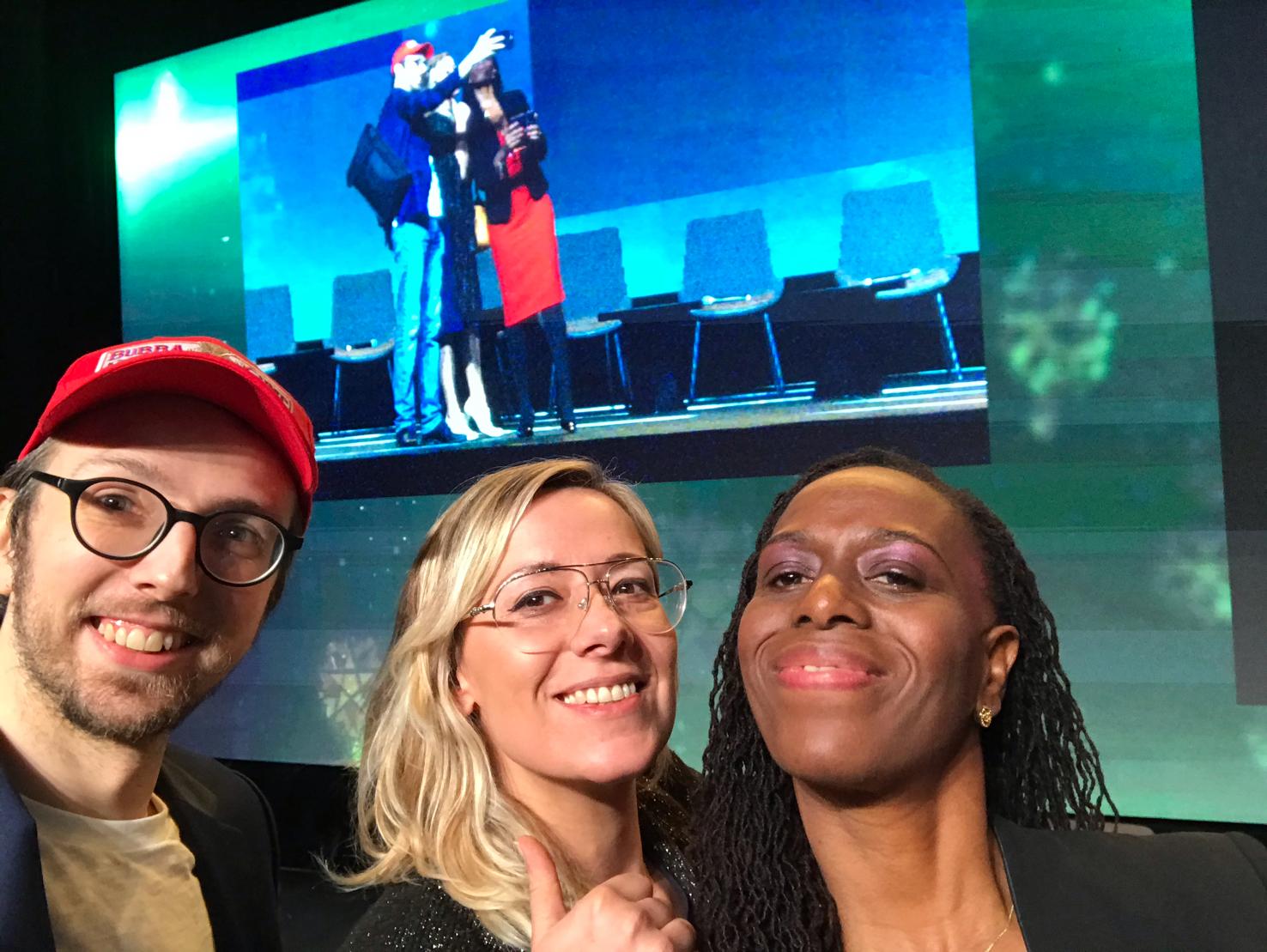 Does this allow my agency Twaino to have more visibility? I think the answer is obvious
I go further by organizing my first event the " LinkedIn Local Paris "for February 27th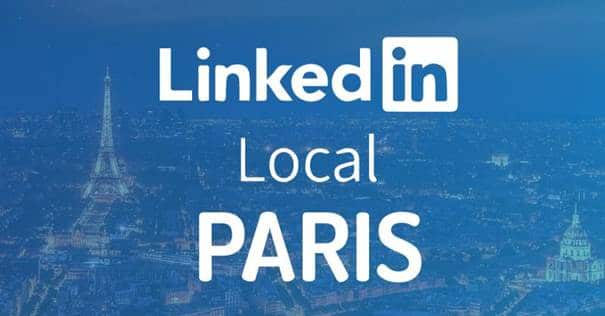 As I write this, there are already 119 registrations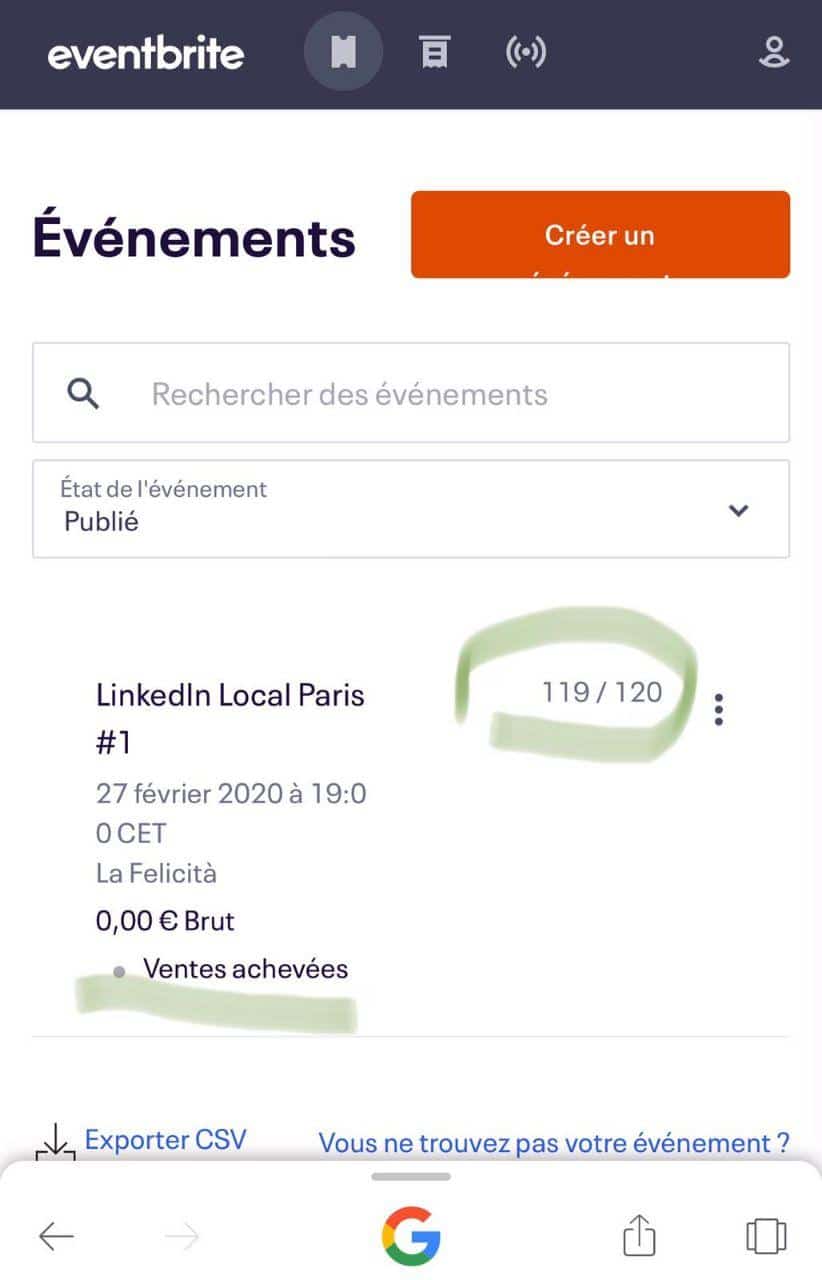 To register, you can use this link Eventbrite to get your free ticket.
Feedback on LinkedIn are very encouraging for the moment: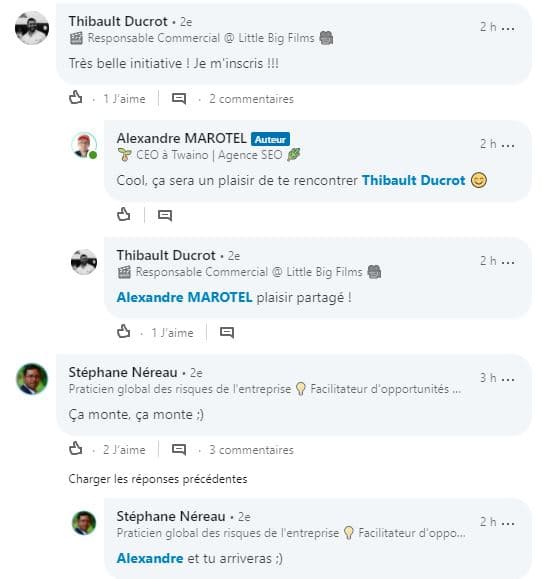 &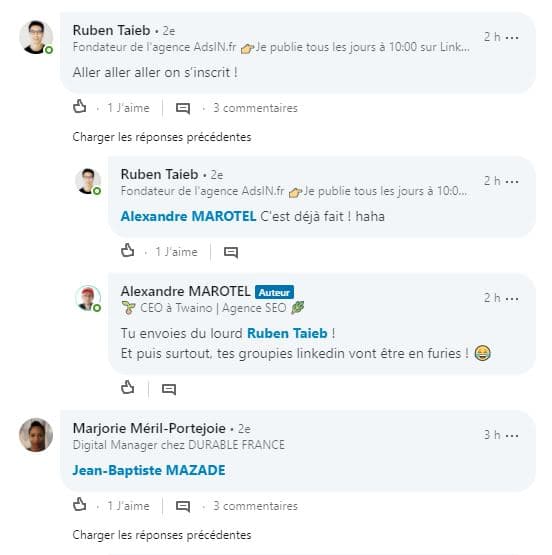 And unfortunately, some people are too far away to participate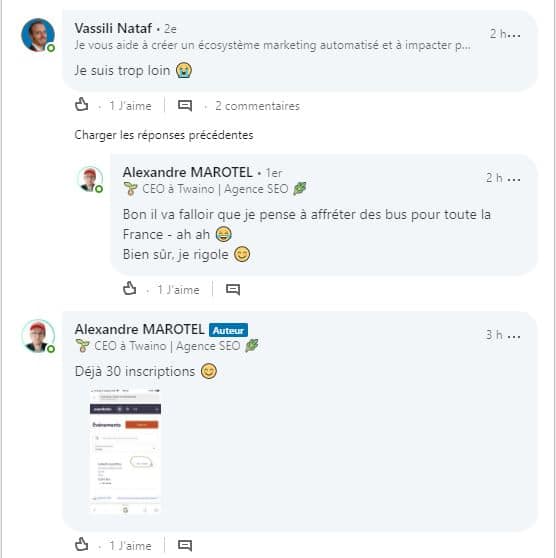 &amp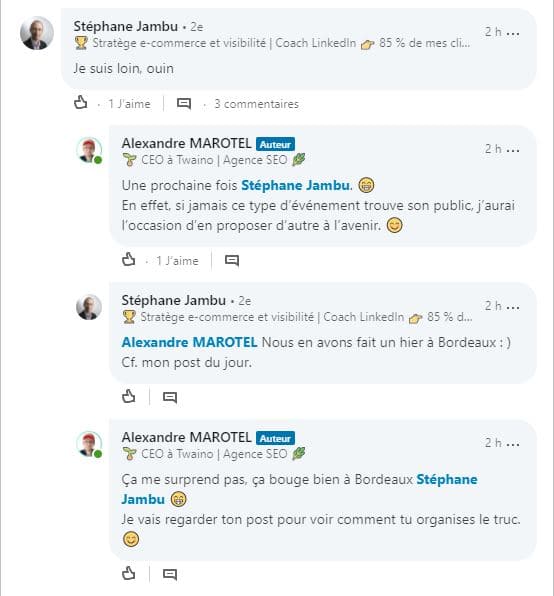 The idea is quite simple: Create a moment of exchange without headache, to talk
Business

Partnerships ;

Opportunities

Etc.
So, don't forget
Event Date: 2/27/2020

Start Time: 7:00 PM

Location

Felicita
If you live in the area or if you want to meet us, don't hesitate!
And here you have everything I've been up to lately and where you'll find me soon ?
Far from being real strategies, these meetings and outings allow me to share rich experiences with other professionals in the field
Obviously Twaino always comes out of it better, especially at the EAT level!
2.3. Fascinating feedback on LinkedIn
I continue to maintain my linkedIn account with new posts daily
For example, I had to make a post about my growth from 5,000 to 6,000 visitors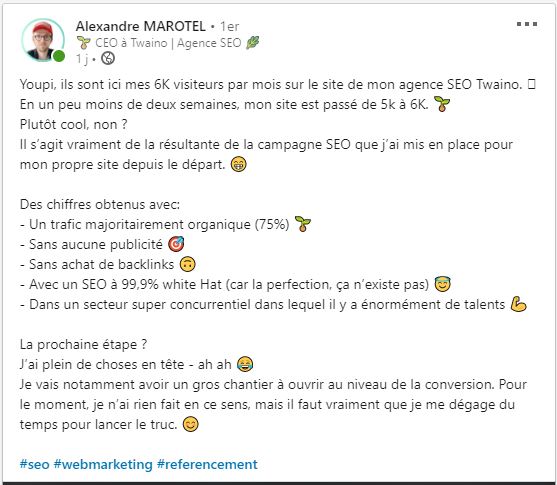 I had the pleasure to have nearly a hundred comments and a few thousand views :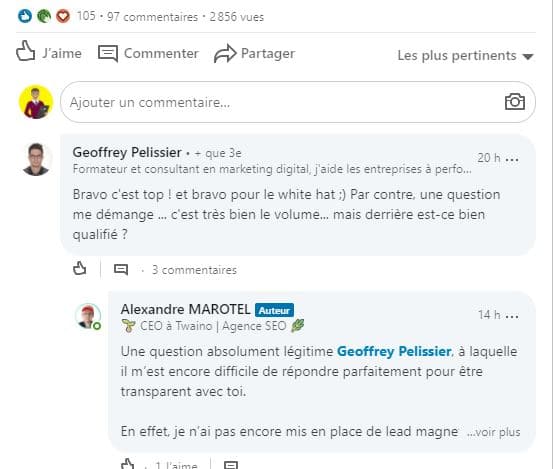 Besides very rich exchanges, I had the privilege to receive some congratulations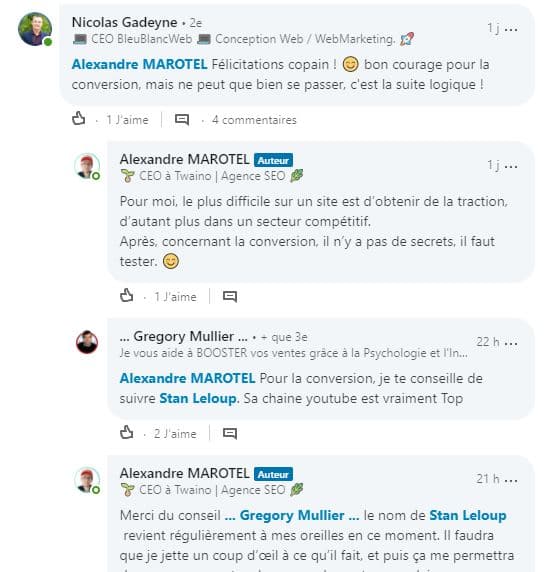 There is also this post which allowed me to make many people discover the possibility of planting trees from their homes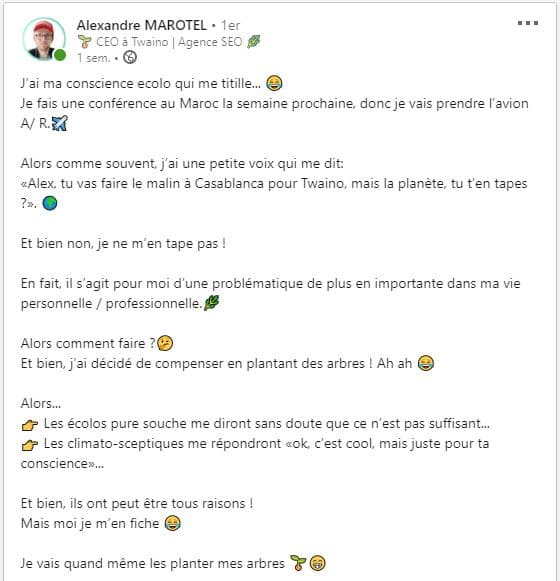 Here are a few exchanges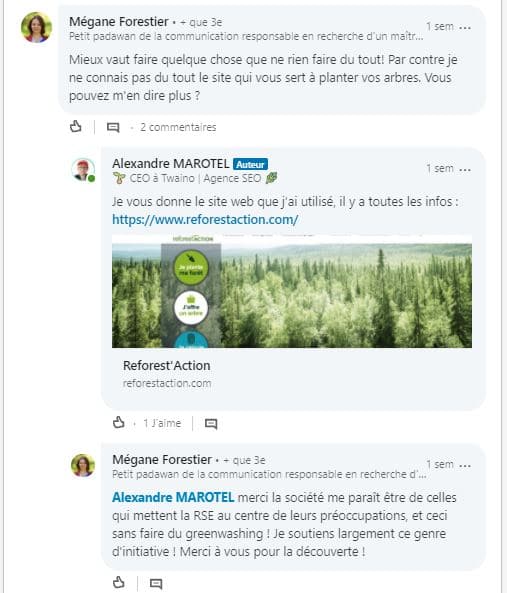 Not forgetting the other posts on creating illustrations that also have a lot of interaction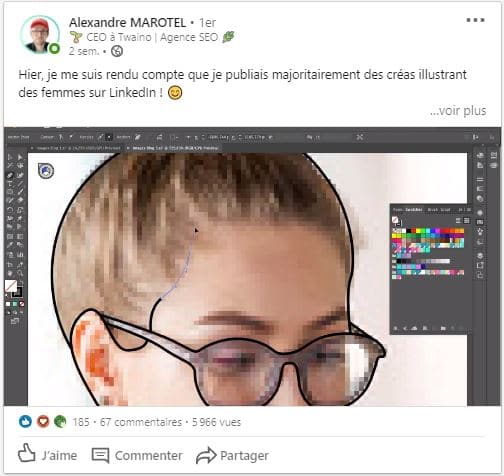 To finish this section, here is a selection of some feedbacks that encourage me to continueto finish this section, here is a selection of feedbacks that encourage me to increase my efforts tenfold
1.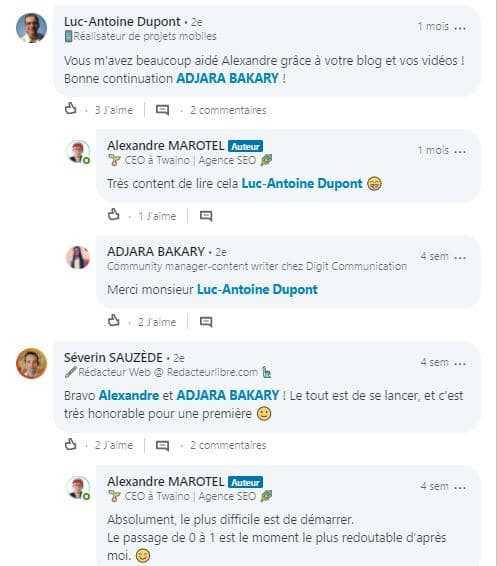 2.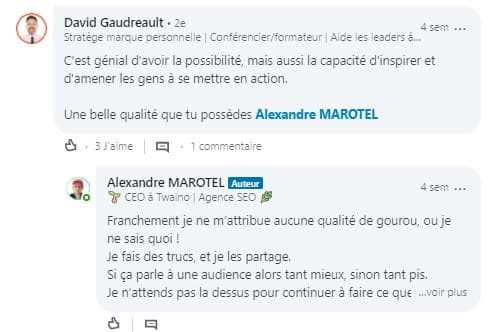 3.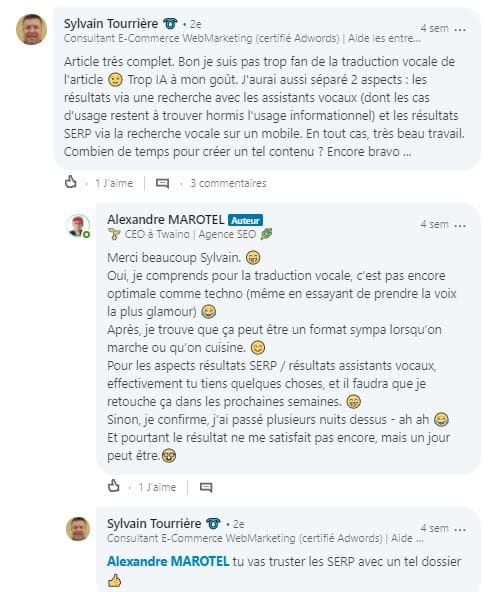 4.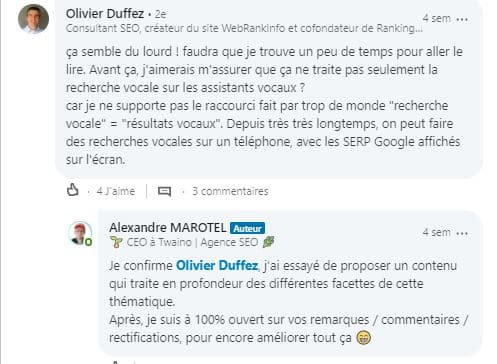 5.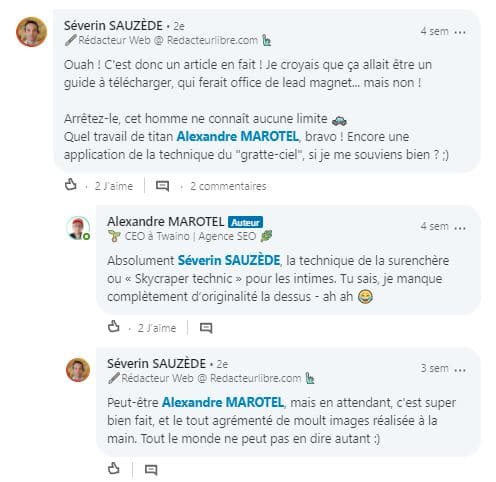 6.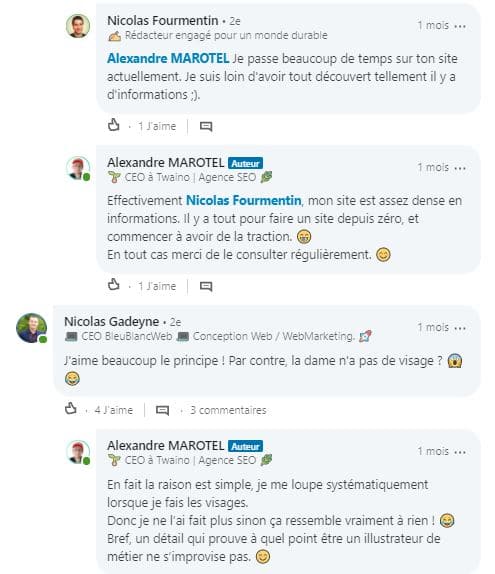 7.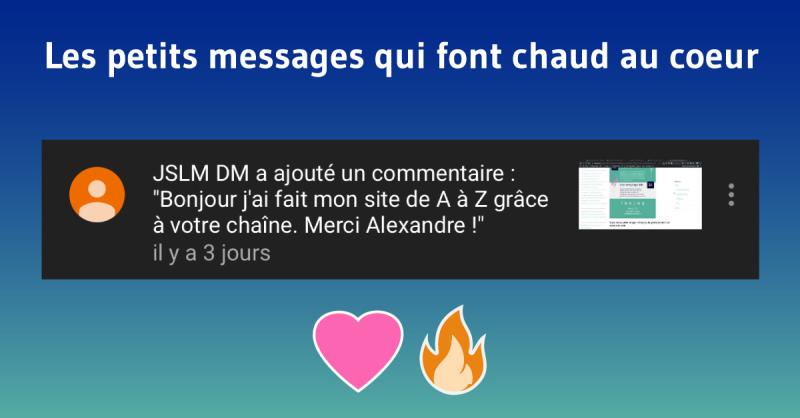 Conclusion. SEO & sharing: The winning combination
Nine months ago, I was the only visitor to my website Twaino.com. Today, I have the privilege to have more than 6,000 visitors per month and the trend seems to be even stronger.
In terms of statistics, I'm breaking my own records and becoming more and more visible in the SEPRs for typical SEO queries
These are certainly very good performance signals, but to limit myself only to the numbers would be a mistake
As an entrepreneur, I think it's also important to track the impact of our actions on the audience
With Twaino, the numbers are not more important than the value I add to everyone I come in contact with
I continue to hold this axiom of William A. Feather in high regard: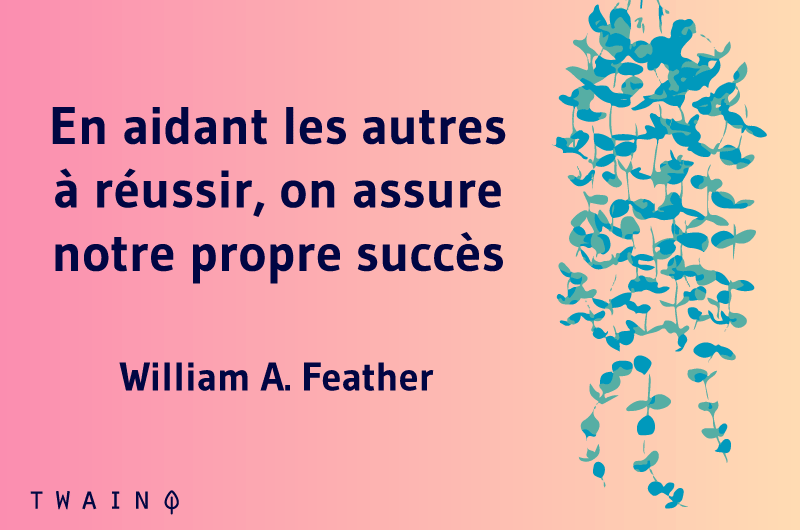 This is one of the reasons why I multiply my outings and meetings with other web marketing professionals
My wish remains the sharing of knowledge to allow everyone to get through the digital jungle.
If you have difficulties to understand some concepts, do not hesitate to contact me via Twaino or LinkedIn
See you soon!