Potential traffic can be defined as the potential amount of organic visits that a page or website can receive from the search engine results pages (SERPs), according to its niche and over an average period of one month.
Many webmasters want to see their websites at the top of Google's results page rankings in order to generate maximum organic traffic. But they ignore an important aspect that could allow them to achieve this goal.
It is their ability to reasonably estimate the amount of organic traffic they can attract to a page or website.
If you can estimate the amount of traffic available in relation to the keyword you want to rank for and know how much that traffic can be worth to your site, then you can get a better handle on SEO for your site.
So:
What does potential traffic really mean?

How to evaluate it on a site with the tools?

How to evaluate it on a site with target keywords?
Follow this article until the end to get explanatory answers to these questions. Let's start!
Chapter 1: Traffic potential: what does it mean?
In this first chapter we will discuss what a traffic potential means, and how to evaluate it thanks to adapted digital tools.
1.1) What is potential traffic?
Potential traffic is what we can consider as "a desired trafficbut not yet generated on a website
It can essentially represent the number of organic traffic that a site could generate if it was if it was at the top of the ranking or if it was ranked high in the Google SERPs.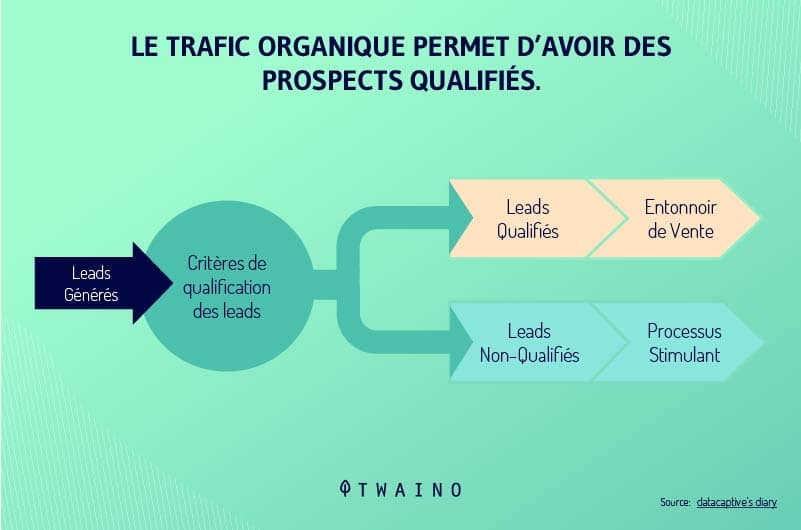 The potential traffic can also represent the amount of traffic available for the keywords you are searching for and for which you can be positioned
Also, it is the volume of potential visitors you can generate in your niche, category or sector of activity.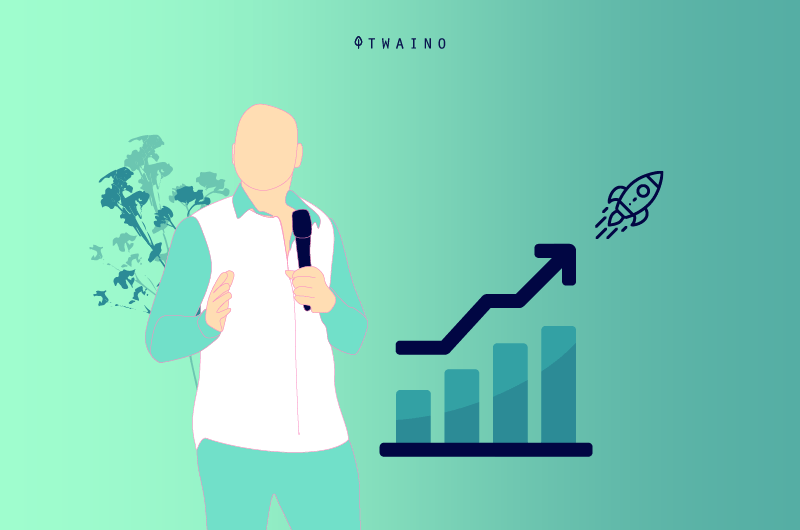 When considering a site that niches in cosmetics for example, this traffic can take into account the following criteria:
All the people who are interested in cosmetic products or who have skin concerns ;

The keywords that these people use to find what they are looking for on cosmetics;

The number of times these people come to search over a one-month interval;

And so on.
Through all this information, we can deduce that the potential traffic is only an anticipated evaluation of the traffic that a site can acquire.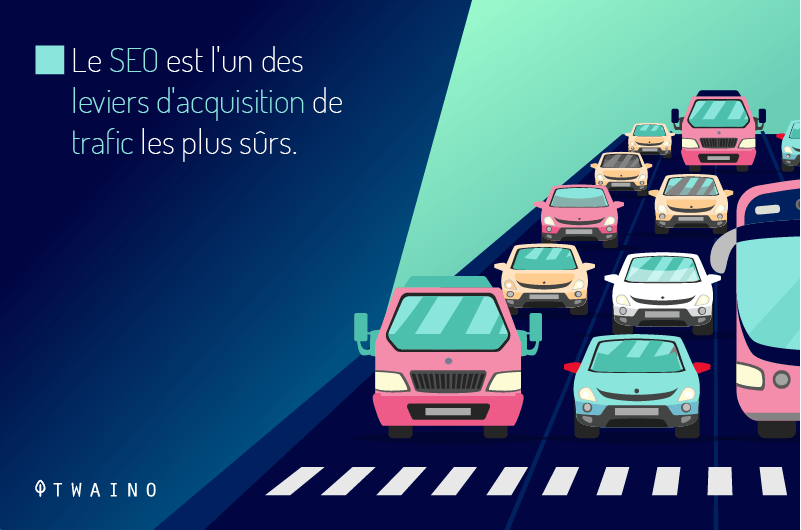 However, the evaluation of traffic acquisition is not something that is done randomly. Just like many strategies in digital marketing, it is important to be aware of appropriate tools for evaluating traffic potential.
The traffic potential evaluation tools that I will present to you in the following paragraph will be of great use to you. They will help you to evaluate the popular terms in the search engines and the capacity of the market.
These tools will also allow you to obtain a general traffic forecast. This includes information on:
The projected number of impressions;

The likely number of clicks when the site is elevated to the top of the search engine results pages;

Seasonal queries related to the keywords searched.
1.2) Evaluating potential traffic with the Ahrefs tool
In this section we will explain how to use Ahrefs to measure potential traffic and describe the necessary statistics so that you can make adjustments.
1.2.1. Identify the main keywords you want to use
To start, make a list of the keywords you would like to rank for.
To evaluate the potential traffic, it is advisable to use a single keyword, i.e the main or primary keyword for each page or article you intend to create. It is not necessary to include secondary keywords.
The goal here is to pull the keyword with the highest number of clicks on Ahrefs. Let's say, for example, that we want to create a content that explains to visitors "how to write an ebook ".
Here are the keywords we attached to this topic:
How to write an ebook;

How to write an ebook ;

Write an ebook ;

Write ebook.
Insert these keywords into the Ahrefs Keyword Explorer, then choose the keyword that gets the most clicks as the "main keyword".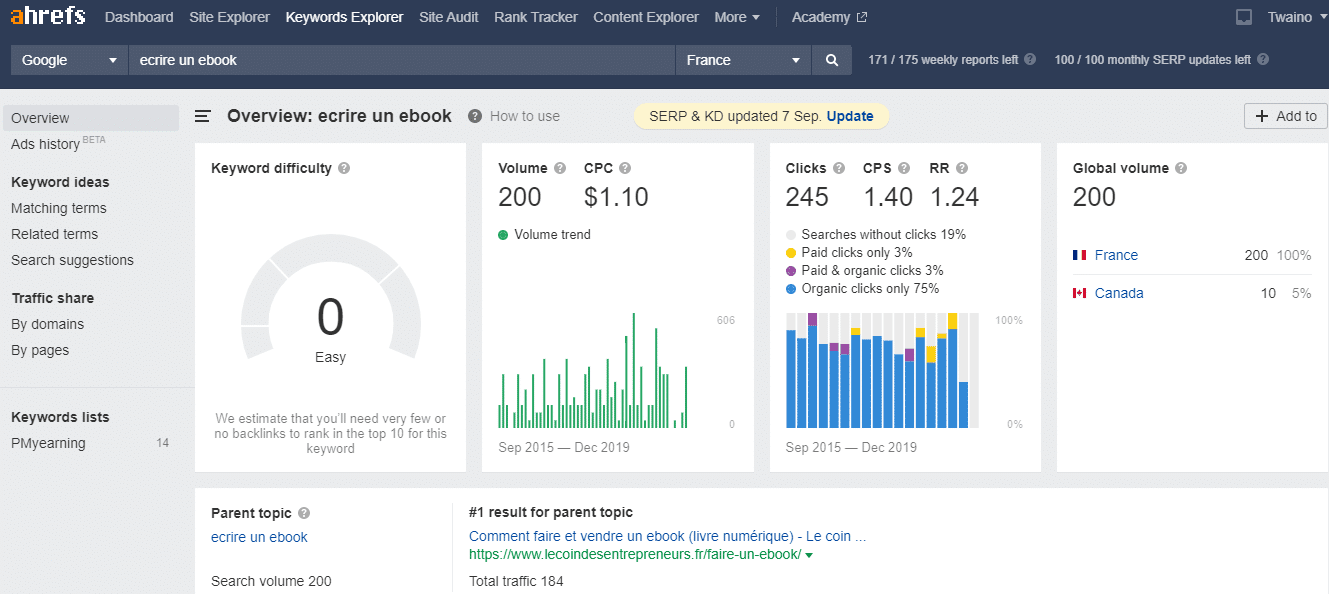 In the previous example, the main keyword is "write an ebook". Do this for all the pages you plan to set up, then export these keywords from Ahrefs into Google sheets.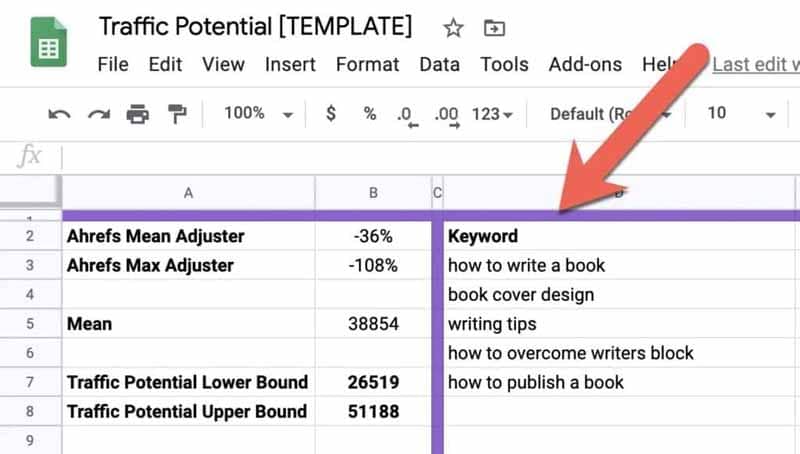 Source money growth
1.2.2. Find the top-ranked URL you can compete with
After defining your top keywords, the next step is to find out where you can rank in the SERP for those top keywords.
To do this, there is a semi-automatic method, but you can easily do it manually with the Keyword Explorer tool from Ahrefs.
Start by downloading the Ahrefs Keyword Explorer tool, if it is not already installed. Then, use Google to search for the first keyword in the main keyword column
Then, analyze the SERPs to define the position you think you can realistically occupy realistically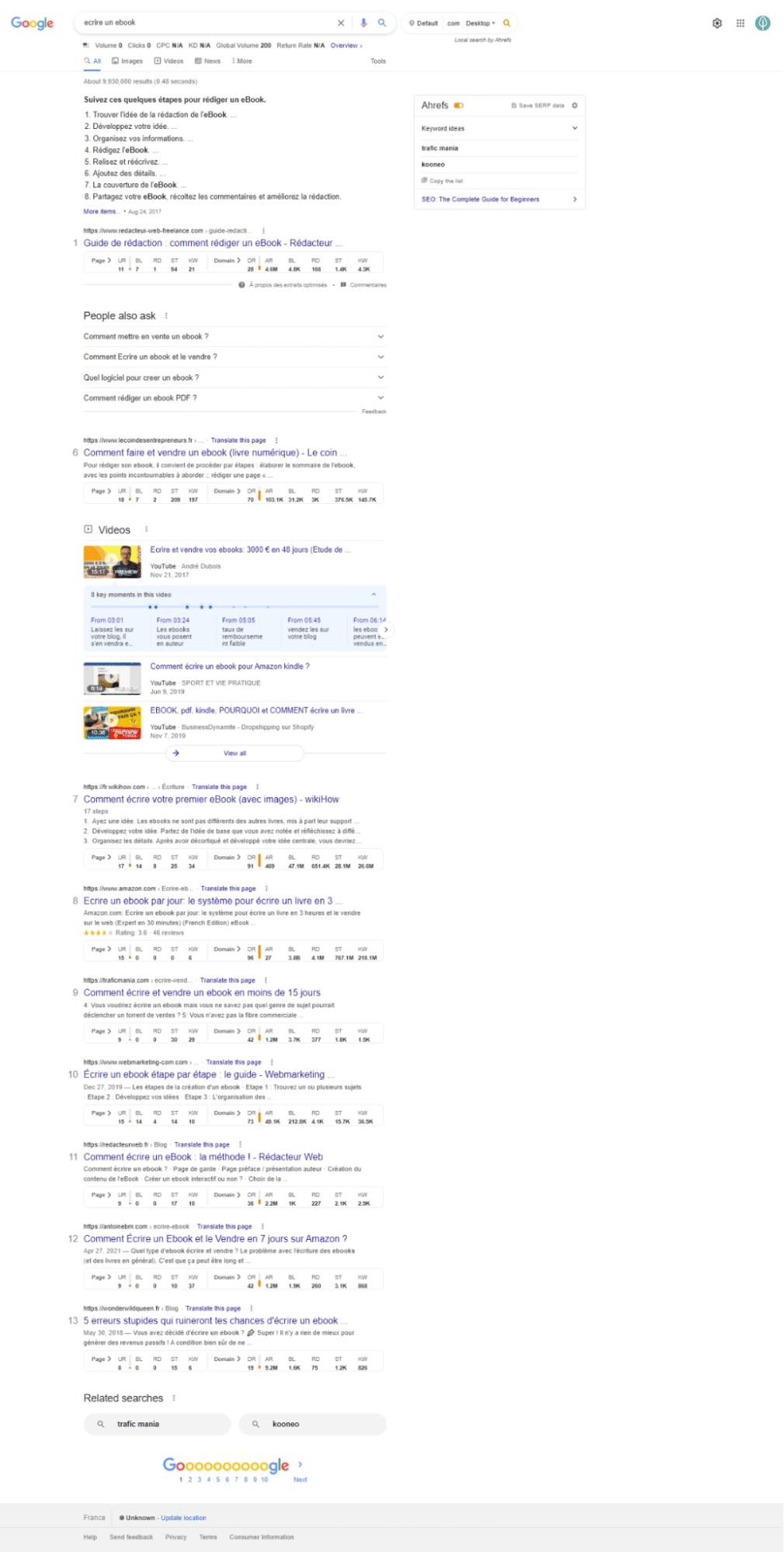 I advise you to consider the following:
What domain ranking gap exists between your website and the sites that are ranking ;

How are the intentions and page profile of the ranking websites different from the pages you are trying to rank?

How many referring sites do the ranked sites have?
After identifying the position you might rank for, make a copy of the URL that currently occupies that position currentlyand paste it into column E of the Competing URL section.

Source ardent growth
Do the same for all the main keywords in column D.
1.2.3. Get an evaluation of the traffic potential from Ahrefs
Now that you have a list of competing URLs for all your main keywords, make a copy of the first 200 and paste them into Ahrefs Batch Analysis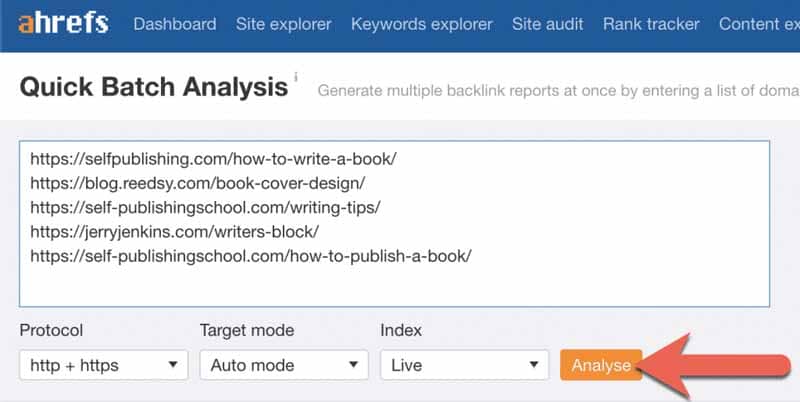 Source ardentgrowth
Then transport the results as an Excel file, and delete all the columns except the following:
Paste the data into the section entitled ahref batch analysis data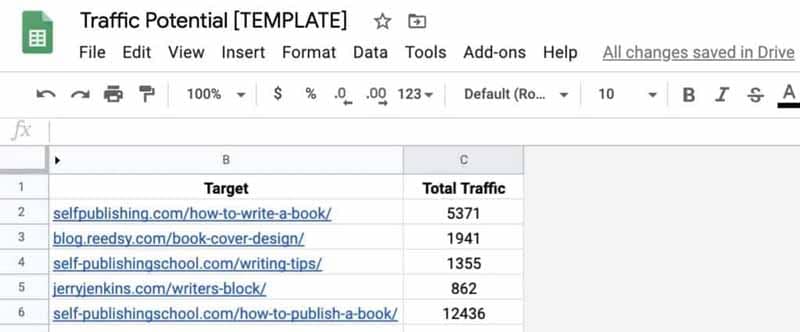 Source Ardentgrowth
1.3. Evaluating traffic potential with Google Trends and Serpstat
In this section we will discover how to evaluate the traffic potential with Serpstat and Google Trends thanks to some factors.
1.3.1. Estimating the popularity of the query in Google Trends
To evaluate the level at which the popularity of a query has increased during a given period, you just have to use the Google Trends service.
On this site, the information is available in a kind of graph, which shows the evolution of the popularity rating of a query in percentage
Knowing of course that 100% corresponds to the maximum value of the interest that Internet users have for the expression entered.
If we analyze the query "Coat over a period of 5 years, we can see permanent seasonal fluctuations in the popularity rating of the search term: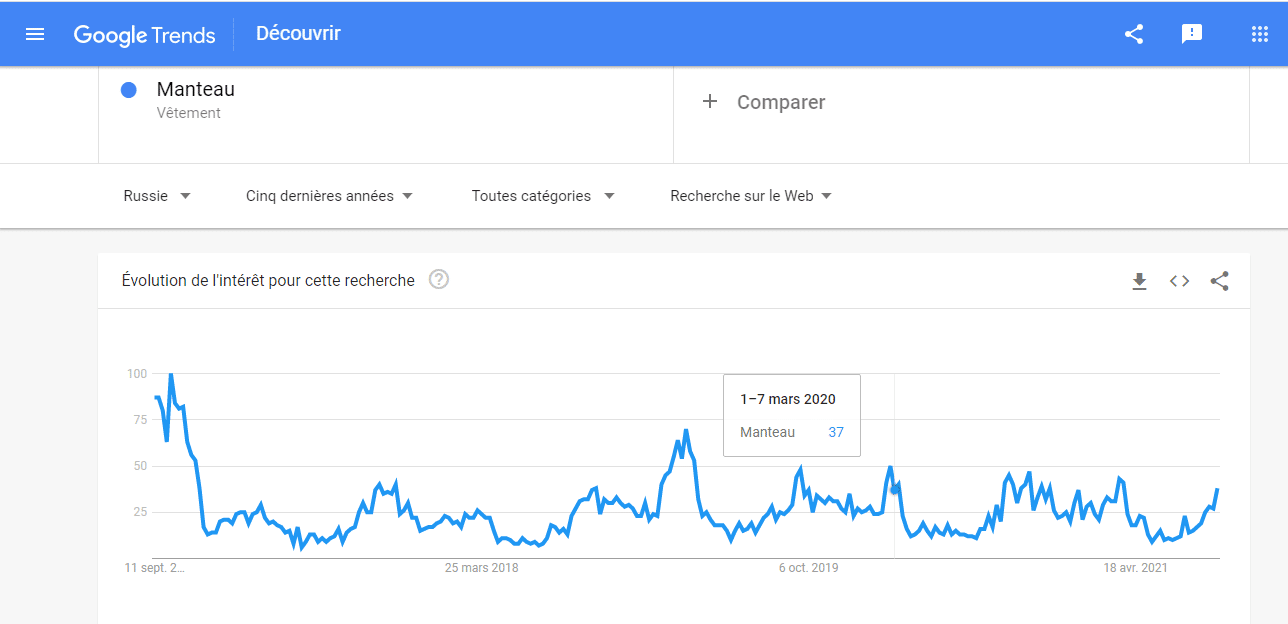 Analyzing seasonal variations on the popularity of a specific query can allow us
Make an objective assessment of current performance;

Or make a prediction of future results on the evolution of sites.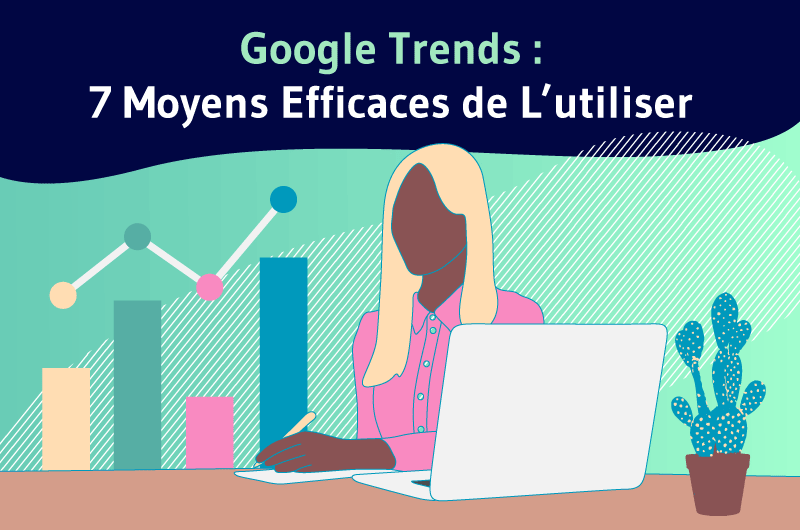 Follow here, 07 ways to use Google Trends effectively for keyword research.
1.3.2. Analysis of potential traffic in Serpstat
The potential traffic according to Serpstat represents the amount of unique users who have visited a web page during a month, while assuming that this page occupies the first place for the selected keywords.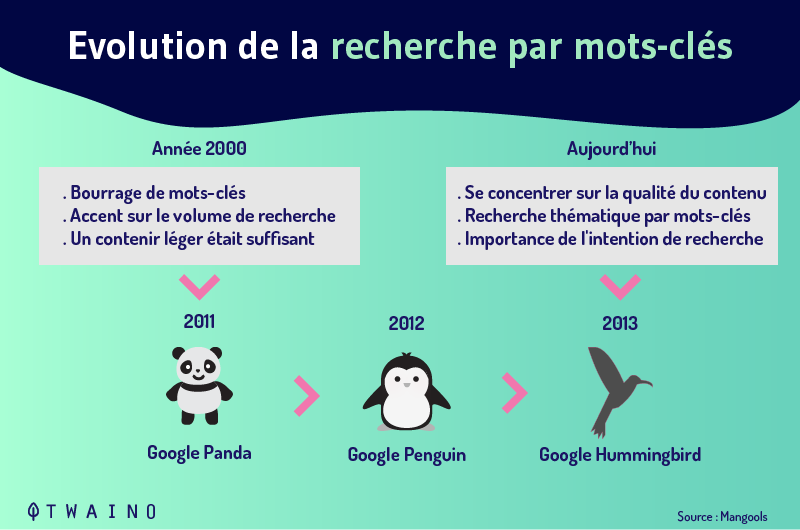 This data can be calculated by considering the current number of visits and the maximum number of visits that the site can generate.
This calculation will allow us to obtain an analysis result that represents an estimate of the number of organic clicks to the site from the search results for the selected keywords. This analysis is made taking into account:
The age of the site;

Optimization issues;

Current traffic.
To evaluate the potential traffic, go to the section "Keyword analysis " section in the Serpstat tool
Then choose the SEO search
Then start by indicating the search keywords by selecting the search engine and the region.
In the section "Top page " sectionsection, you will see a list of the top ranking sites or pages in the SERPs.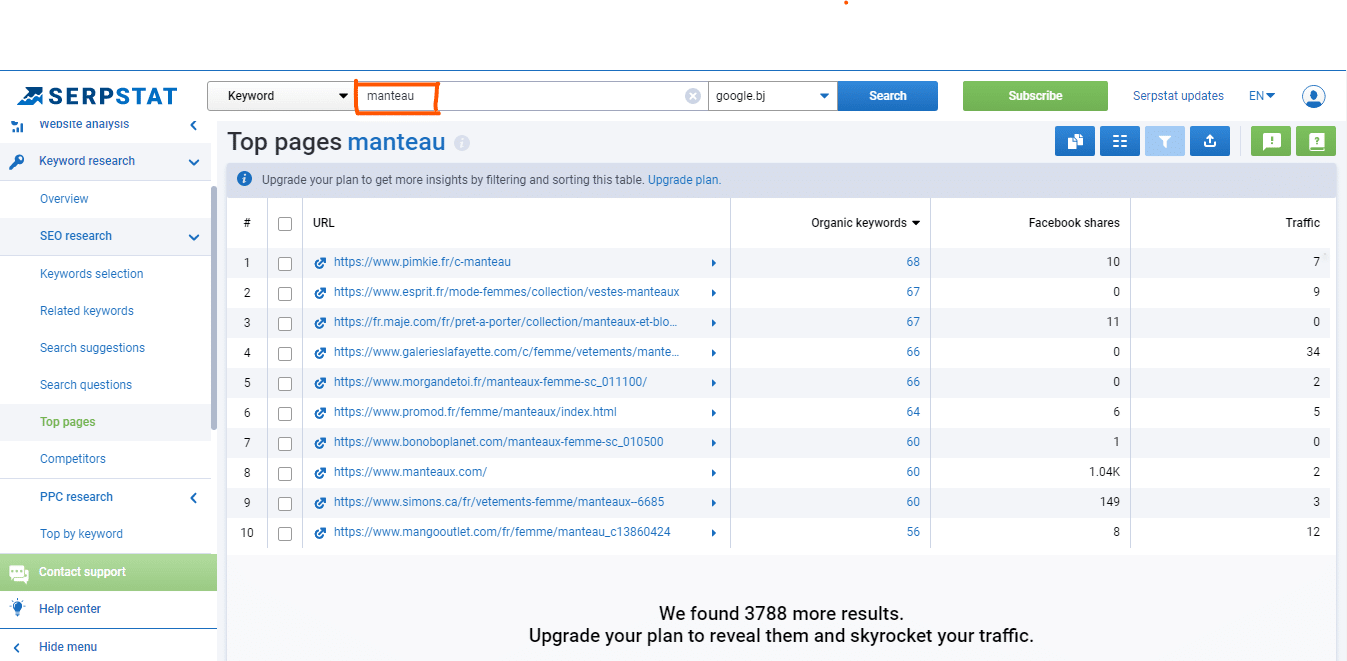 The above report contains the following information:
The number of search keywords contained in the targeted query;

The number of pages

shared on social networks

(Facebook or LinkedIn);

The traffic potential of the sites.
For each search that contains the chosen keywords, you will see several sites displayed. In the ranking, you can see your own site and evaluate its position compared to your competitors
It is usually the market leaders that appear in the first 10 pages of the search results.
If your website is in the Top 30, it has a chance to quickly eliminate internal flaws and use external optimization to improve its position in the SERP. Thus, the traffic it generates can increase.
On the other hand, if the site is not in the list, it probably means that this site is new and has not yet undergone an indexation. It may also mean that it is still under the filter of search engines.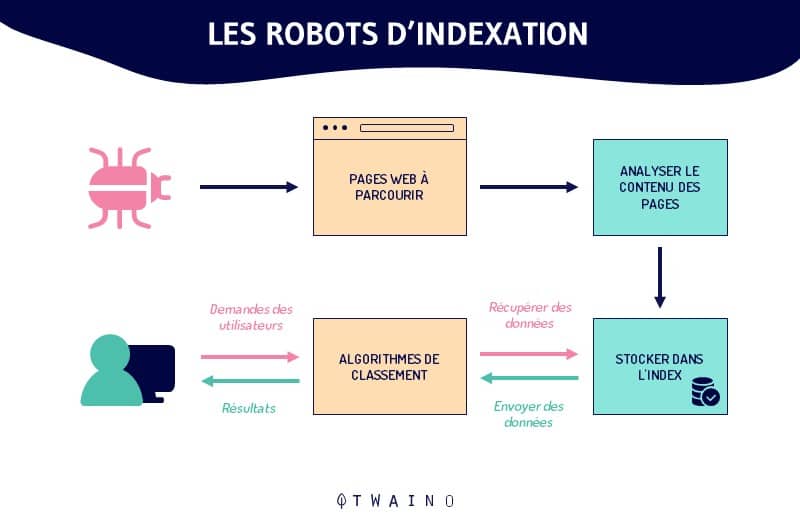 Thanks to the SEO analysis functions of the Serpstat tool, it is possible to evaluate the search engine attraction potential for each page of your site.
To do so, you just have to :
Enter the domain name;

Select the search engine;

And then the desired region.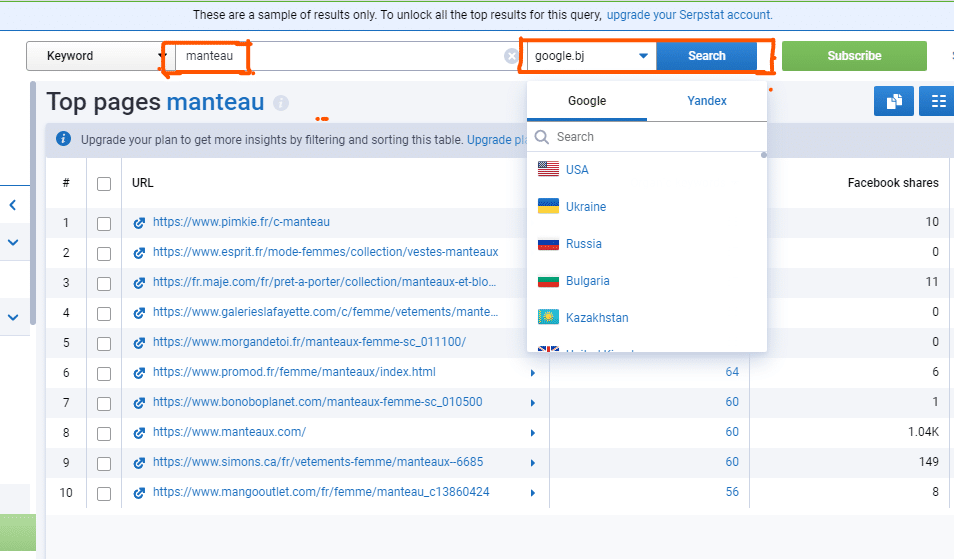 In the "Top page" tab, you can see a list of pages that have been optimized to attract high traffic as well as the potential monthly traffic forecast for each page.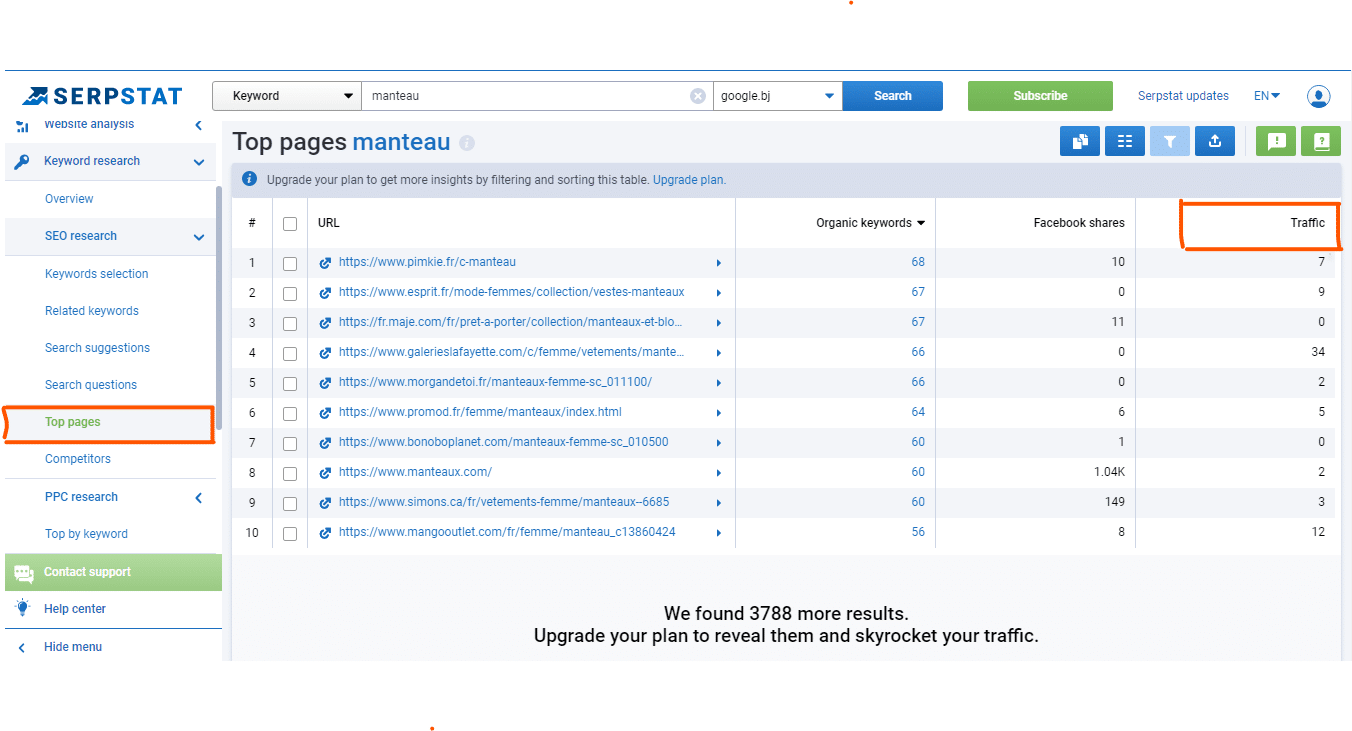 By clicking on the "Keyword Selectionby clicking on the "Keyword Selection" tab under the keyword search, you will find detailed information on all the keywords searched:

In the report displayed above, you will find the following indicators:
The number of volumes searched per keyword;

The average number of queries per month;

The cost per click in Google AdWords contextual advertising in USD;

The degree of competition (PPC) in a keyword in contextual advertising, the limit being 100%;

The number of results for that query displayed by search engines.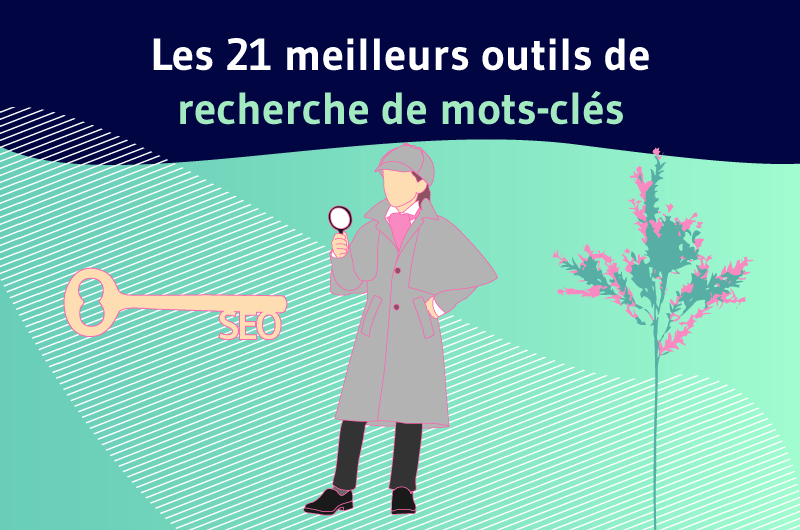 Read our guide on the 21 best keyword research tools to find out about several other tools.
Evaluating traffic potential can take many forms, now let's see how to do it with keyword analysis
Chapter 2: 04 tips for evaluating potential traffic with keywords
In this chapter, I will present you with a proven method to optimize keywords for SEO and get found for the right search terms. You will be able to analyze the traffic potential of any keyword in your niche.
Here are 04 effective tips to discover profitable keywords for your site.
2.1. Term formulation and semantic keywords
To rank well in Google today, it is important to create rich and diverse content.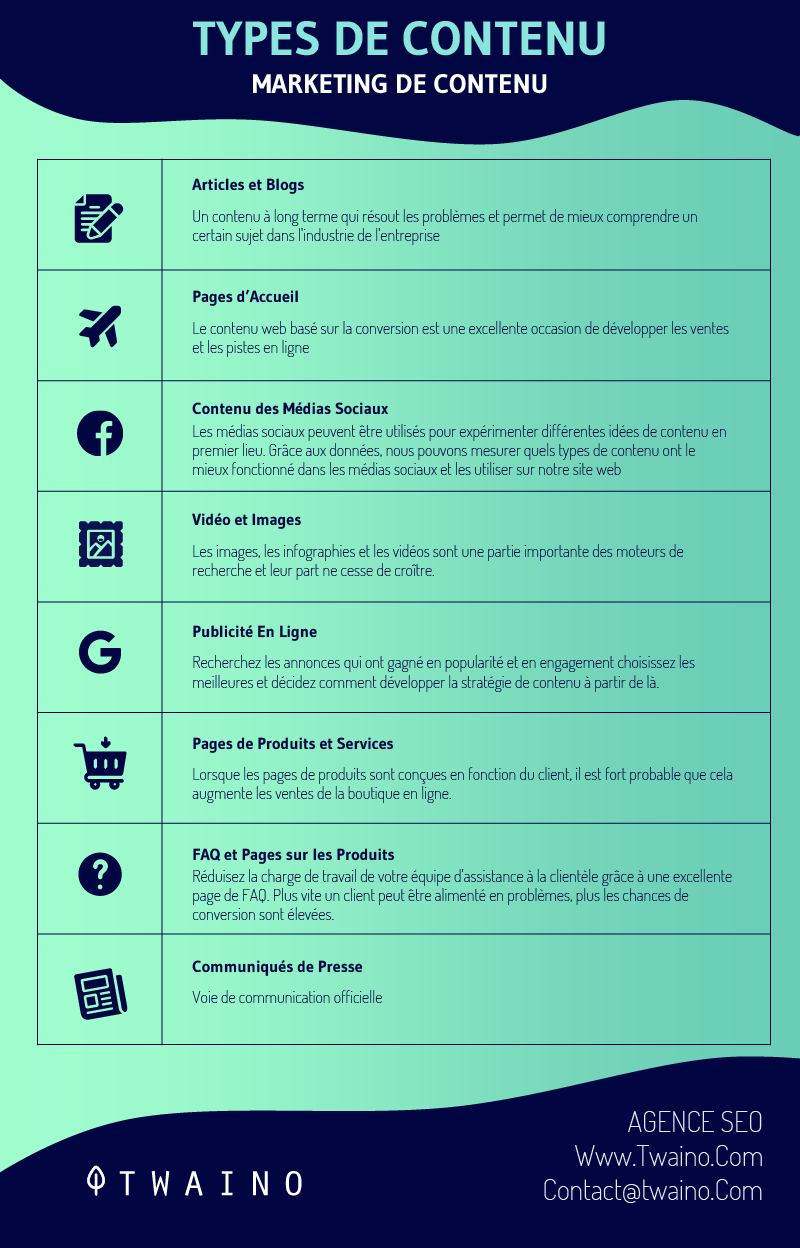 Since the update of its algorithm, Google is able to understand the links between words and topics
Indeed, Google does not only go around the billions of web pages to search for keywords. Its referencing algorithm also searches for related words (notion of semantic).
When you create semantically related content, it is possible that you will rank for hundreds of keywords in your niche. This will help you determine the real traffic potential available for your niche site.
To do this, you can create content using a topic model. Topic modeling is simply a matter of grouping similar topics and keywords together.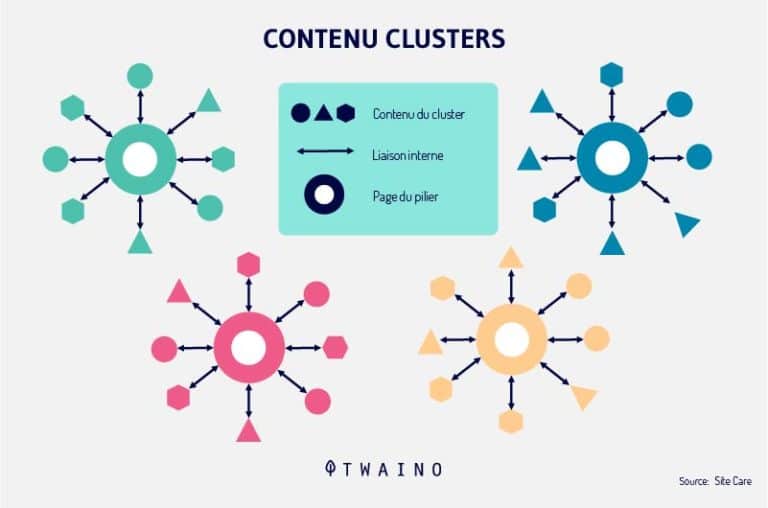 We are dealing here with a strategy that is based on the cluster topic (topic group) and not on specific keywords.
Here are 04 steps to create a topic model for your content:
2.1.1. Think about your main keyword and visitor intent
The basic keyword you have chosen is the main theme of your article. The most effective way to find your keywords is to determine the researcher's intent.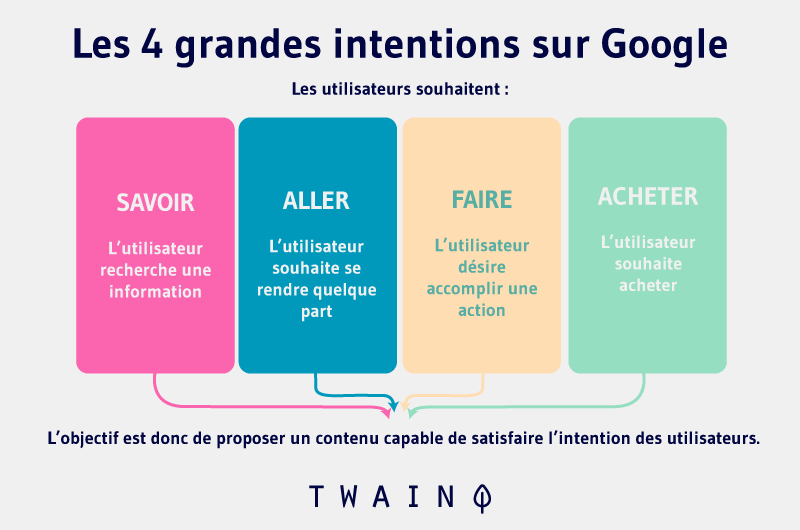 Source pinterest
Here is some question you should ask yourself:
What are users thinking when they perform a search?

What kinds of questions do they have?

Why do searchers use specific search terms (keywords)?

How do you distinguish backpacking from hiking, for example?

What difference do people expect when they search for "hotel" and "resort"?
It's during these reflections that you need to think deeply about the keywords you'll be using. We'll go into more depth in the following paragraphs.
2.1.2. Brainstorm related keywords with the Semrush tool
The keyword analysis tool Semrush is used to find a wide range of keywords.
Let's consider a main keyword "vegetarian diet " and let's see what related keyword ideas we can find: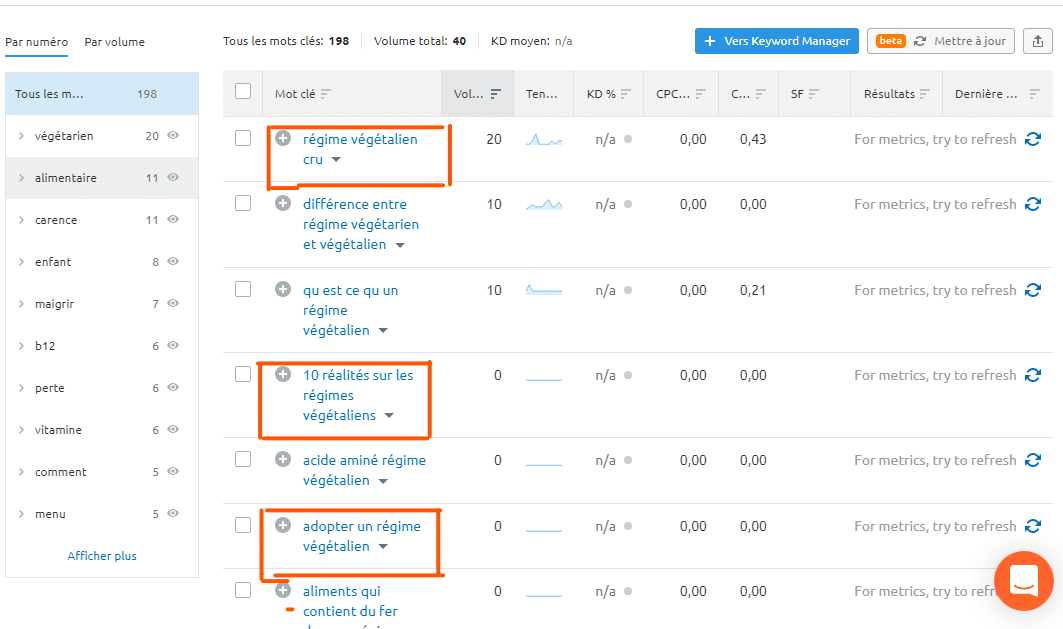 These related keywords that Internet users add to the main keywords "vegetarian diet" allow them to be more specific about their intentions or goals.
We can observe associated keywords like:
Raw vegetarian diet ;

Amino acid vegetarian diet;

Adopt a vegetarian diet ;

etc.
We discover through these associated keywords several motivations and goals that users may have. This means that the general terms are not necessarily the ones these users are thinking about.
2.1.3. Evaluate your keywords
Go to Google Keyword plannerand find the number of searches per month for your list of keywords.
Of course, your main keyword is the one with the highest search volume as opposed to long tail keywords.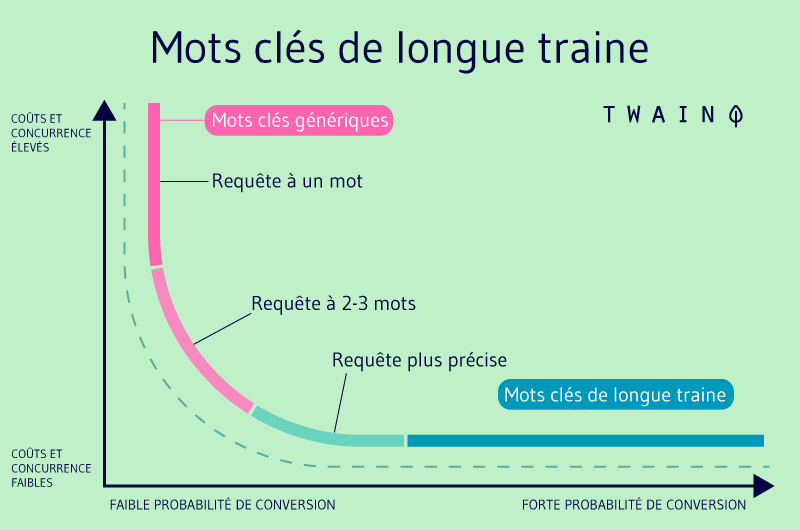 Go through your keywords from largest to smallest. Then, remove those with a search volume of 0 à 10.
After that, you can move to another dimension in your keyword strategy by conducting a search trend assessment.
2.2. Develop your keyword universe
A keyword universe is the total amount of keywords that are available for your industry.
I've explained how a single website can be positioned for several keywords at once. Let's keep this concept in mind when developing our keyword universe.
The term "universe" seems to fit the context. Your keyword universe is the total volume of keywords and search terms you want to rank for
These are keywords that bring potential, targeted traffic to your site that can guarantee you a substantial ROI.
To do this, I would advise you to divide your keyword universe into two groups: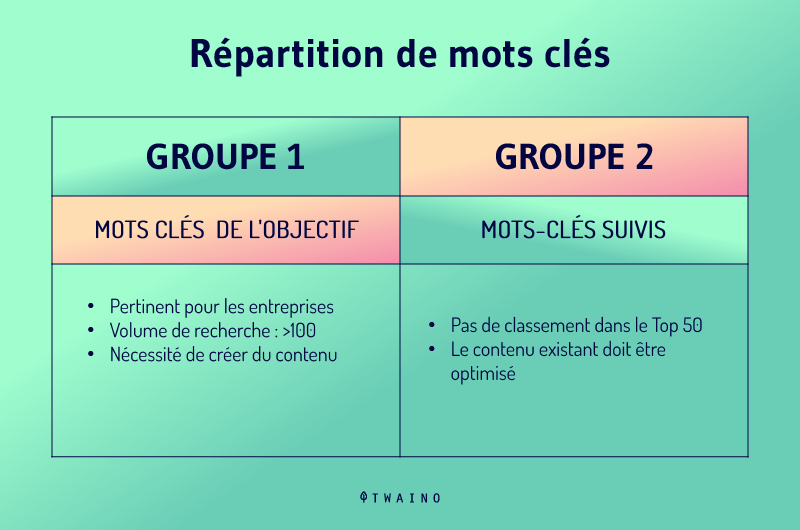 The first group named the objective keywords represents the keywords for which you would like to be ranked. These are:
New keywords that you have not yet chosen, but that are very important for your sector of activity;

Keywords with a considerable search volume, with an average of 100 queries per month;

Keywords for which no content has yet been created.
The second group is called followed keywords represents the keywords for which you are already positioned. These are existing keywords for which you are already tracking. They may already be ranked, but are not on pages 1-5.
It is important to know that you need to optimize existing content to improve your ranking.
2.3. monitor your current keyword rankings with Google Search Console
Google Search Console allows you to find out which keywords you are ranking for and which pages are driving traffic to your site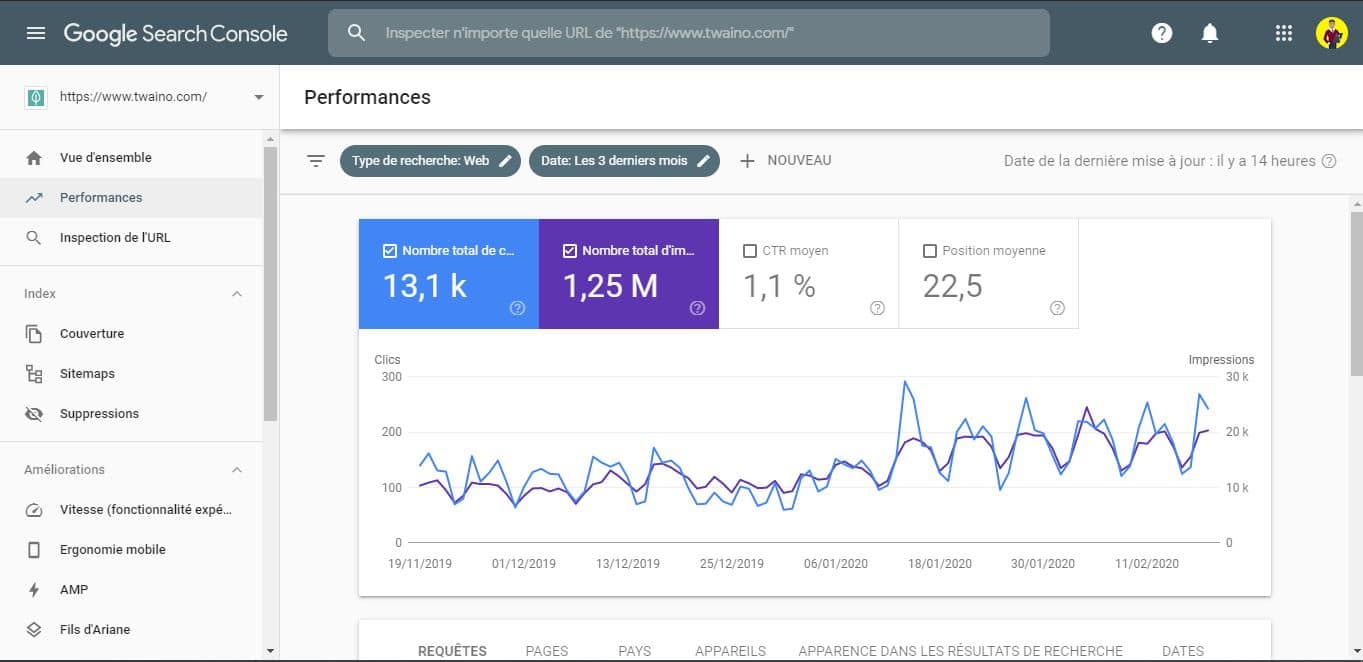 Google Search Console is a goldmine for keyword information
Here are 03 of the most significant information you can get about your website through Google Search Console:
The search queries that bring people to your site;

The search queries for which you appear;

And the successful pages that drive traffic to your site.
2.4. Tailor keywords to intent
If you are marketing products whose need is not well expressed by your prospects, it is important that you create content that would be adapted to the different maturity level of your future customers.
In short, you need to create content that appeals to the following traits:
The intentionalists

the intentionalists: These are the Internet users who want a solution to a problem and know exactly the solution that would best suit their problems;

The interested

these are people who are interested in the product you are offering, but rather remain focused on their problems;

And the ignorant

these are the prospects who think they don't need anything. They don't even take the time to look for solutions to potential problems they might encounter.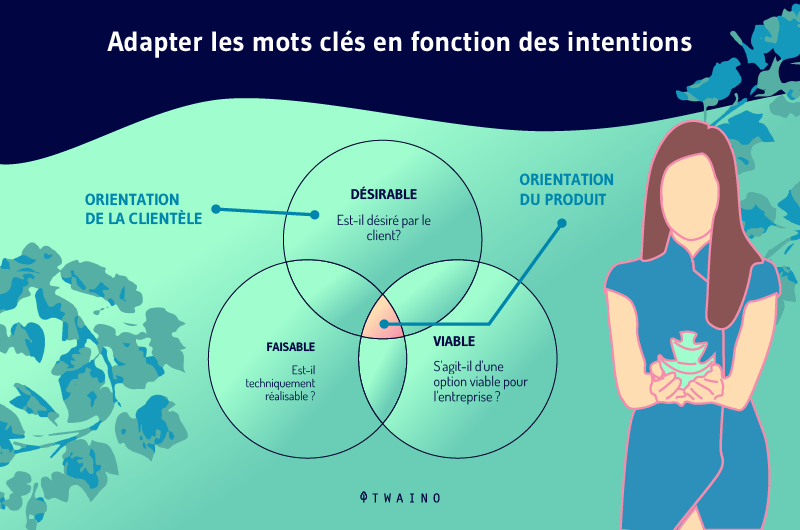 In reality, the keywords in your content are much more in line with the maturity level of your product's intent.
Therefore, it is necessary to evaluate the potential of a keyword based on its degree of relevance to intentionalists and based on its volume
Here's the why:
Let's say you market beer glasses, for example, and you choose to do an article on beer brands. It's a good idea, but it's a less of a priority than writing content about all the words related to beer glasses.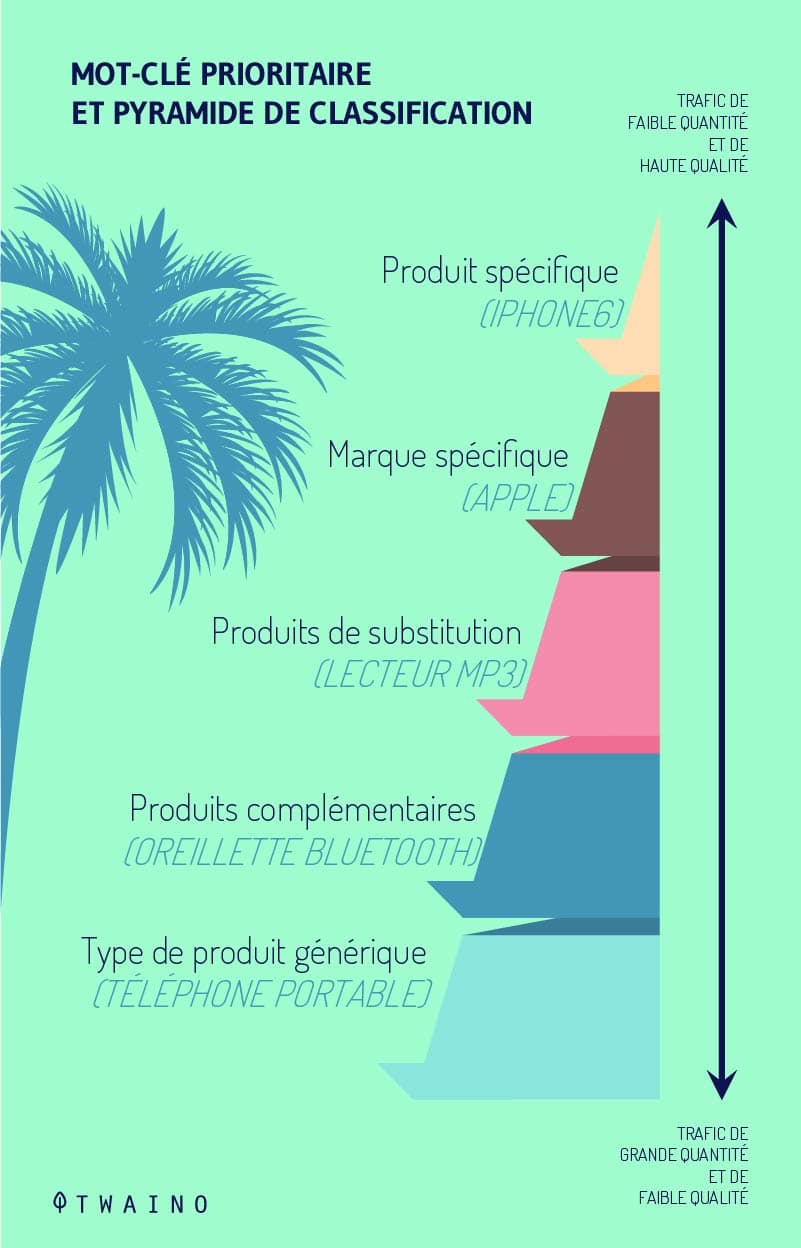 But let's assume that all of these topics have already been covered on your site and now you want to incorporate a page that talks about beer brands like the "Salamander" brand into your content strategy.
But after our analysis with the tools, you will realize that this keyword attracts a very low volume of searches on the internet.
So you should probably try to write content about beer brands that attract a high search volume and on which you can have a chance, depending on the degree of authority of your site to be positioned in the first SERPs.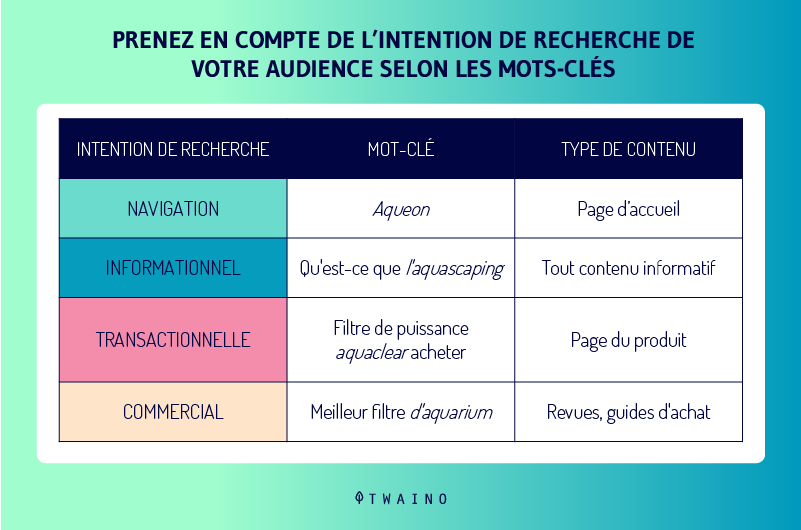 Thus, a keyword is evaluated according to three criteria:
Its ability to remain in the search intentions of your intentionalists, i.e. your target audience;

Its degree of competition;

And its sufficient search quantity.
Chapter 3: Other questions about potential traffic
3.what tool should you use to calculate the potential traffic for a topic or keyword?
One of the most reliable solutions for traffic volume estimates is to use keyword research tools like Ahrefs
3.2. For how many keywords does a page rank on average in the top 1 of Google?
Ahrefs has conducted a study of more than 3 million Google searches to on Google to answer this question.
They concluded that a page that ranks in the top 1 ranks for about 1,000 related keywords. The search volume for a single keyword is a poor indicator of the total traffic potential an article can get.
3.3. how do I rank my website?
You will need some intuition, but not only that. You will need to use the tools that the Internet provides. Google provides you with free tools such as Google Trends, Google Keyword Tooletc.
When identifying keywords, you will need to find three main pieces of information
Variants of the already identified keyword: Example of variants of the keyword "car": "buy cars", "cheap cars", "cars for sale", "used cars", etc.

Terms related to our keyword, but not containing it: "dealers", "automobiles", etc.

A ranking of the most used ones to know which ones have the potential to bring us more traffic.
3.4. What to do after the definition of potential keywords?
Once the keywords for which we want to position ourselves have been defined, we must make sure that :
Google is able to understand your website;

Google considers that you are not cheating;

Google understands that when someone searches for the chosen keywords, your website is the most descriptive of all the millions of pages it has indexed.
3.5. How long does it take to see my content rank for the chosen keywords?
It will take more or less time depending on the keywords to be positioned. Do not expect anything good in less than three months. What you need to do is to analyze the results and restart the process by modifying the selection of keywords or by widening the selection.
3.6. What are the best practices to rank well on Google?
Try to make your website add value to your visitors;

Try to make your website accessible to visitors;

Try to make your website code compliant with W3C standards;

Try to get websites similar to yours to include you on their website using a valid link for search engines;

Try to make sure your website is not made with Flash or other technologies that are unreadable by Google.
3.7. Why choose long tail keywords?
Long tail keywords represent 70 % of search traffic on the Internet, and this is expected to increase as users' searches become more natural language, with longer, more structured sentences
For example, someone who wants to lose weight may type a specific phrase into the search engine, such as "how to lose weight fast" or "how to lose weight the healthy way," instead of just typing the term "lose weight."
Long tail keywords convert more, as they are more specific and effective for online search.
3.8. How do you choose keywords for your business?
Keywords should not only attract visitors, but they should come from your potential customers. For this reason, they should define your website and business model, but also answer the questions your potential customers have.
For example, if you are a grocer in Paris, you need to work on content with keywords such as "grocer in Paris", "organic grocer in Paris", etc
On the other hand, it is also a good idea to analyze your competitors to know what keywords they are using.
In summary
The potential traffic is a very important indicator for the SEO of a website. It represents the potential amount of traffic that a site can acquire in relation to the keywords for which it is positioned.
Since the potential traffic is not yet held by the companies, it is a kind of aspiration for them. To achieve such an objective, it is important to use appropriate tools.
Several tools are available online to help you evaluate the amount of potential visitors that your site can acquire. By comparing the data obtained from these tools through the analysis of keywords and pages, you can effectively estimate the potential traffic of your site.
I had to mention some of these tools in this article
I hope you found this article useful. Thank you and see you soon.