Interstitials are defined as a type of "web page" that appears before or after the page (in a website or application) expected by the user. They block access to the main content of the website or application. Marketers often use interstitial pages as a promotional tool to display advertisements, surveys, sign-up forms, newsletters, coupons and other calls to action.
The use of interstitials remains the flagship way on many websites to draw visitors' attention to advertising content.
According to research conducted on popups, they increase the number of subscribers by more than 10 times. In addition, the click-through rate for popups is 6 times higher than for traditional ads.
These figures show that interstitials can hold users' attention and lead them to adopt certain behaviors.
However, Google declared war in 2017 on web pages that contain interstitials and harm its users' experience. The web giant now penalizes certain interstitials that prevent visitors from accessing a content they are looking for.
Through this article, we will discover the definition of interstitials and those that are targeted by Google's penalties. We will then discuss the penalties against interstitials and their impact on the SEO efforts of a website.
Finally, I will present some tips on how to use interstitials on your site without attracting Google's thunderbolt.
Chapter 1: What is an interstitial?
Interstitials are common on most websites and there are different kinds. We discover in this chapter,
The definition of an interstitial;
The different types of interstitials;
The impact of interstitials on SEO.
1.1) What is an interstitial?
Interstitials are overlays that partially or totally hide a content for a few seconds. They make the content inaccessible until the user miraculously manages to touch the tiny "X" to remove them.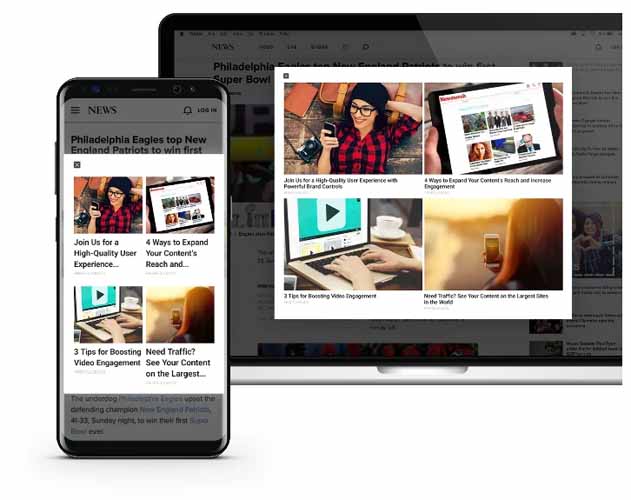 Source : propellerads
Interstitials often contain
Newsletter sign-ups
Calls to action
Ads
Coupons..
Interstitials appear unexpectedly on visitors' full screen and can lead to a frustrating experience for desktop and mobile users.
In fact, some so-called intrusive interstitials tend to block most or all of the content users are looking for. These interstitials are often placed at natural transition or break points, such as between activities or game levels
Interstitials can be:
Text
Images;
Video
At times, users click on the ad or move from one ad to another. When they are not interested, they close the ad and go back to what they were doing before.
But sometimes users fail to close an interstitial until the time set for the close option to be enabled has passed.
This is often the case for interstitial video ads, which may offer a close time after 5 seconds.
Interstitials are less annoying on computers, but they can ruin the entire experience when they make content inaccessible.
On mobile devices, screens are small and users often have a hard time identifying the location of the close button or the button that indicates to continue on the site.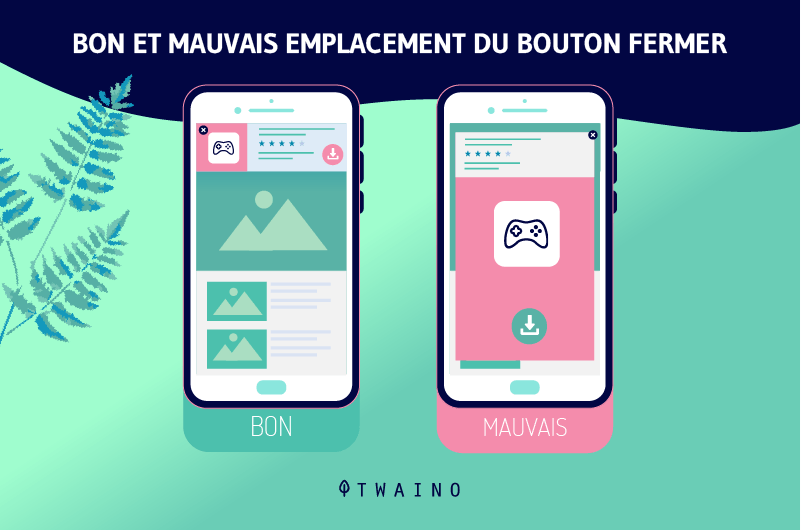 When these buttons are visible, they are often difficult to access due to their size and location. So while the desktop version is annoying, mobile interstitials can ruin the user experience on a page.
To that end, Google began in 2017 to discourage the use of anything that would prevent users from reading web page content at any time on mobile.
For this purpose, the search engine has defined which interstitials are acceptable and which are intrusive, this gives rise to the different types of interstitials.
1.2. The different types of interstitials
1.2.1. Intrusive interstitials
As mentioned before, these interstitials prevent users from accessing the requested page and are displayed entirely on the screen. These are popup windows that mostly block the content of a page.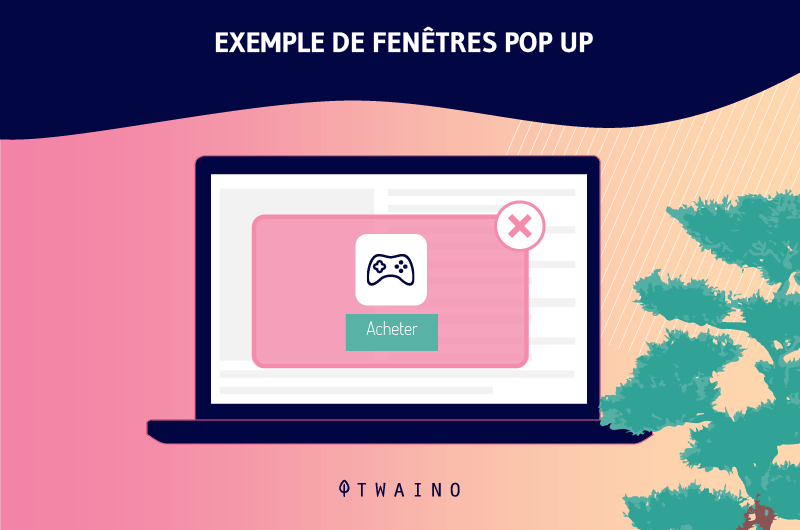 Standalone interstitials that do not allow visitors to easily access content are also considered intrusive as are ads that require a referral before disappearing.
All these interstitials that make content less accessible for visitors and that do not fulfill a legal or "responsible" obligation can be penalized by Google, as they harm the user experience.
1.2.2. Acceptable interstitials
Some interstitials are acceptable and do not trigger a penalty. These are interstitials that are put in place for legal or ethical reasons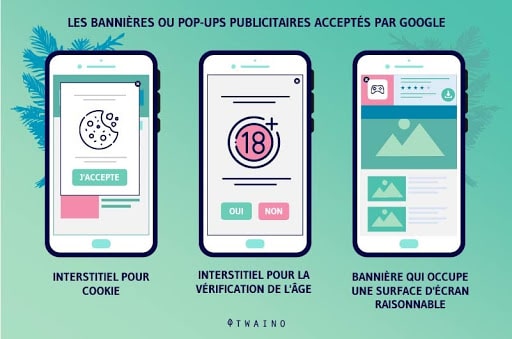 Examples include:
Notifications to verify age for adult content
Cookies that use popups as consent notifications, as required by the European Union
Any other type of popup required by law
Banners that can be easily removed and do not take up a large amount of space on the page.
1.3. The impact of interstitials on the referencing of a website
1.3.1. Interstitials harm the user experience
User experience is about how users feel when they browse your site or experience your site. A good user experience means that your visitors access your content easily, regardless of their device.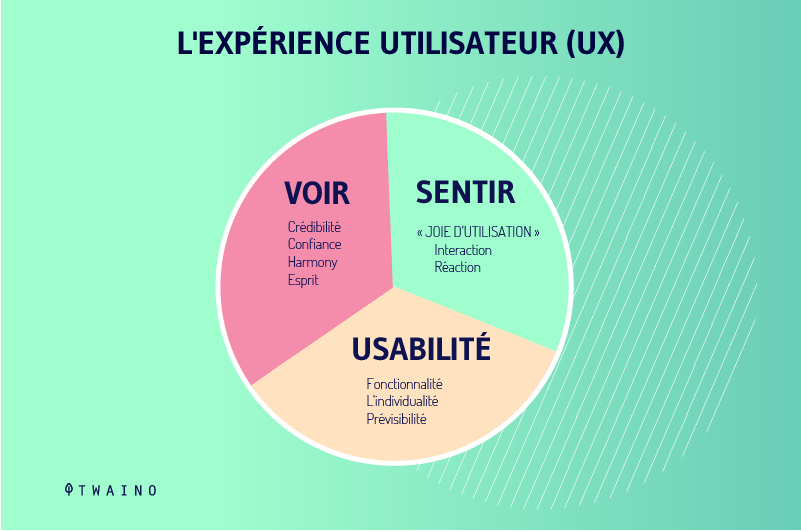 Interstitials go against this principle and thus deeply degrade the user experience especially when they prevent users from accessing what they are looking for.
This goes against Google's goal of displaying results that are relevant to users' queries. Using RankBain, which is its third ranking factor, Google measures the user experience on a site through certain elements.
These include
Bounce rate
Visit time
Organic CRT.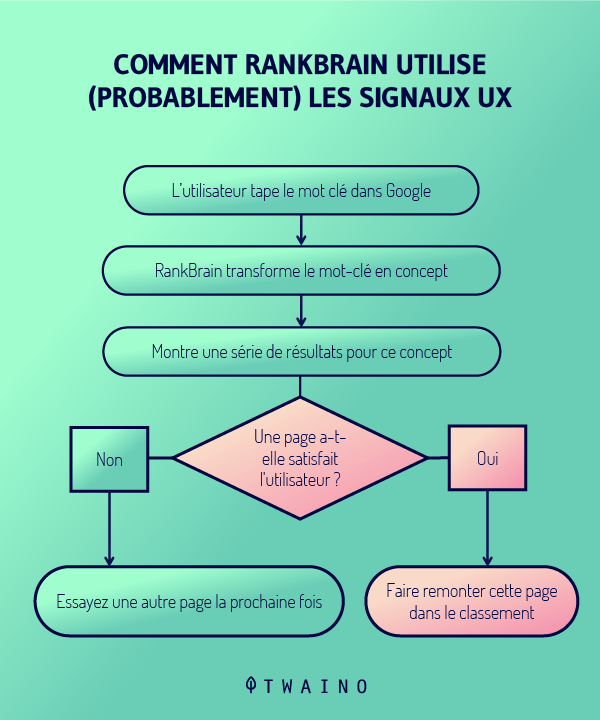 To this end, sites that users like the least can lose rankings and lose other opportunities such as customer conversion.
Indeed, 55% of visitors spend less than 15 seconds on a site and you generally have less time to capture their attention
1.3.2. Interstitials increase bounce rate
The measurement of user behavior is focused on the bounce rate as we just mentioned. This rate is the percentage of users who quickly leave a website.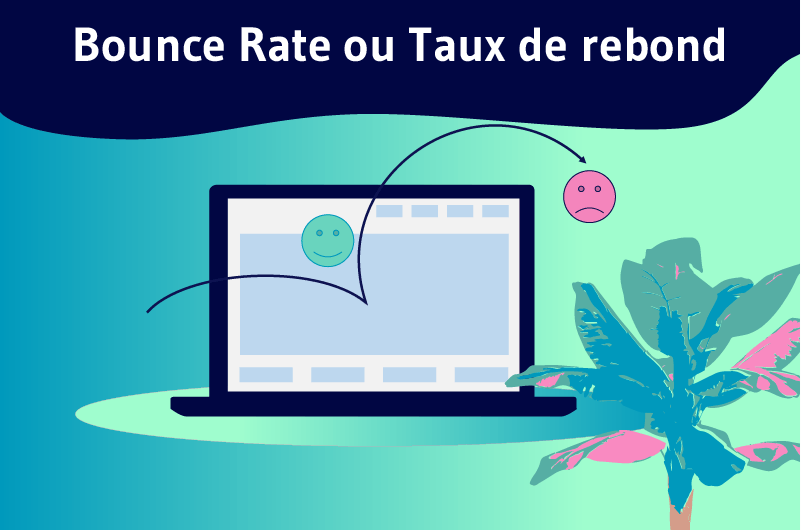 Interstitials increase the bounce rate to the extent that visitors are unable to access the content they are looking for. An increase in this rate is a signal that Google has misranked the page in question for the query in question.
Therefore, the search engine may make adjustments that will negatively impact the page's ranking.
1.3.3. Do all intrusive interstitials affect sites in terms of SEO?
It should be noted that not all interstitials affect the SEO of a site. The ones that are likely to hurt a site's SEO efforts are those that completely cover the content users are trying to access.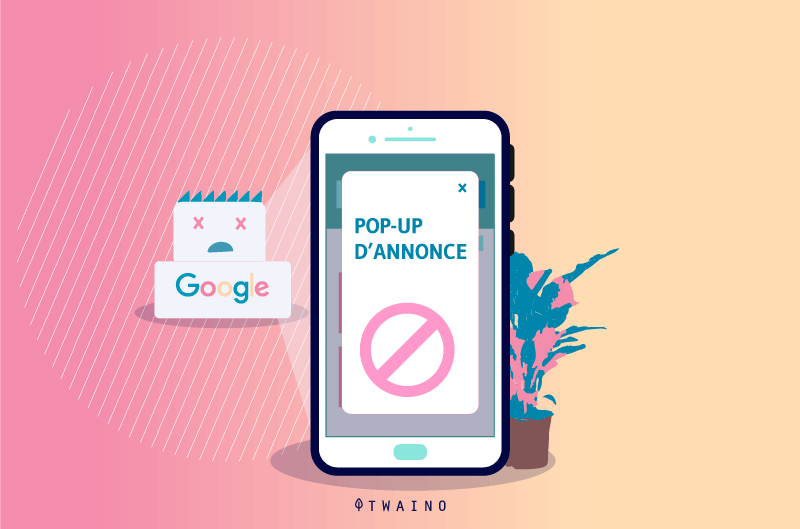 The same goes for interstitials that direct visitors to another web page. These can even trigger Google's penalties and your site can suffer fluctuations in the SERPs or disappear from the results completely.
Chapter 2: What are Google's penalties?
Google is cracking down on interstitials that degrade the user experience. This chapter is dedicated to Google's penalties against intrusive interstitials.
2.1. Improving the user experience is at the heart of Google's policy
Google's policy to improve user experience dates back to 2012 when the firm began devaluing pages that display too much ad space.
In 2015, the web giant announced that it would downgrade pages that display ads covering the main page to entice visitors to install an app on their phones
That's when the giant ad penalty went into effect in November 2015. However, Google has not stopped monitoring other ad formats on the web.
It especially monitors those that negatively impact the user experience. In 2017, Google made a new update that penalizes sites whose content is not accessible to visitors from mobile search results.
This update is intended to help visitors easily access web resources on mobile. In fact, more than 60% of Google searches are conducted from cell phones and 90% of online purchases are made on mobile.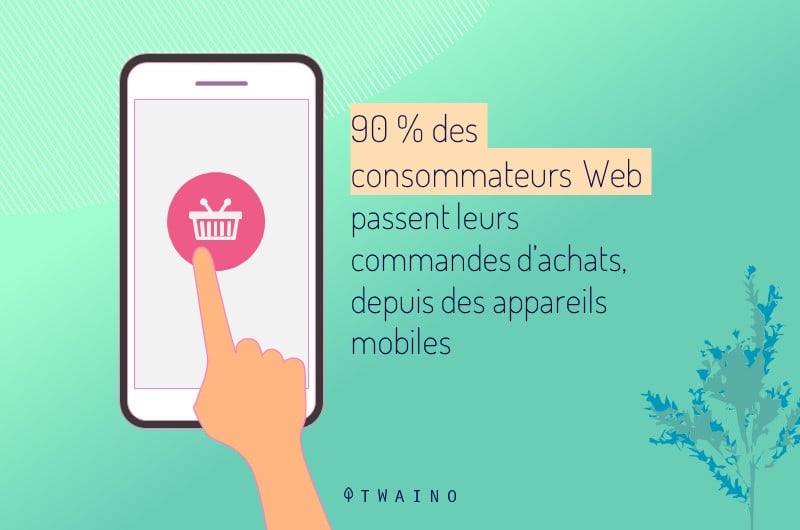 In other words, algorithms based on the desktop version of web content do not understand the real relevance of web pages for the vast majority of users.
Google has announced to this effect, the update of the Mobile First Indexing algorithm to use the mobile version of a content for indexing and ranking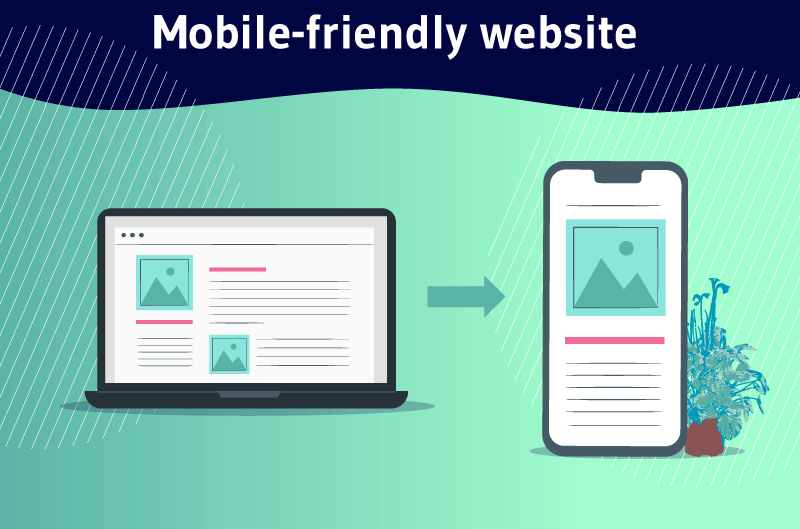 This allows to better assess the relevance of a page to users' queries and to significantly improve their experience.
As a result, Google penalizes extra pages like interstitials that can hurt their experiences on mobile devices
2.2. Penalties for intrusive interstitials
Google has taken steps to penalize sites that violate its rules. The penalties are for sites that practice questionable SEO strategies or where users have bad experiences.
Either way, Google's penalties hurt a site's SEO, and in some cases, your pages or your entire website may be removed from the results
When it comes to pages with interstitials, Google does not consider them to be mobile friendly. Therefore, these pages are likely to suffer penalties.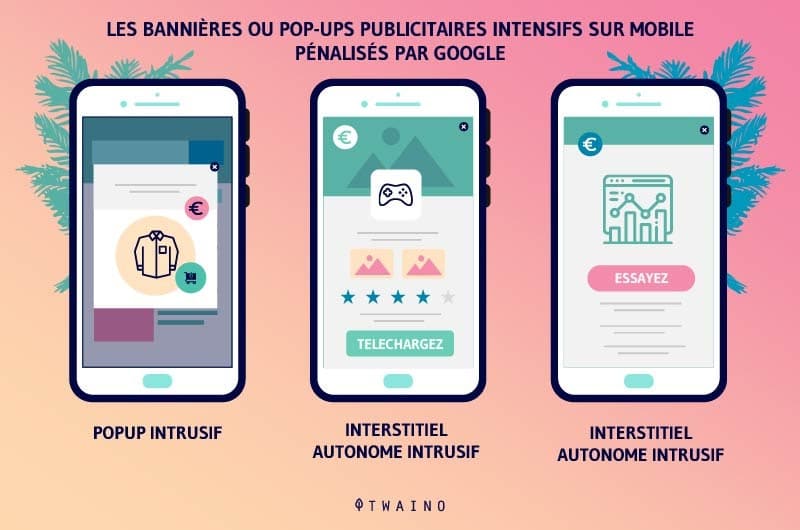 These pages may be demoted in the Google ranking. According to the American firm,
"pages with content that is not easily accessible to users from mobile search results are likely to rank poorly."
However, the penalties do not affect the entire site, but only the pages that have intrusive interstitials.
2.3. when are interstitials still allowed?
Google's objective is not to penalize all pages that contain intrusive interstitials. Interstitials that occur on a site later as users navigate from one page to another are not penalized.
In addition, interstitial penalties only affect pages that users are trying to access through search results on a mobile device.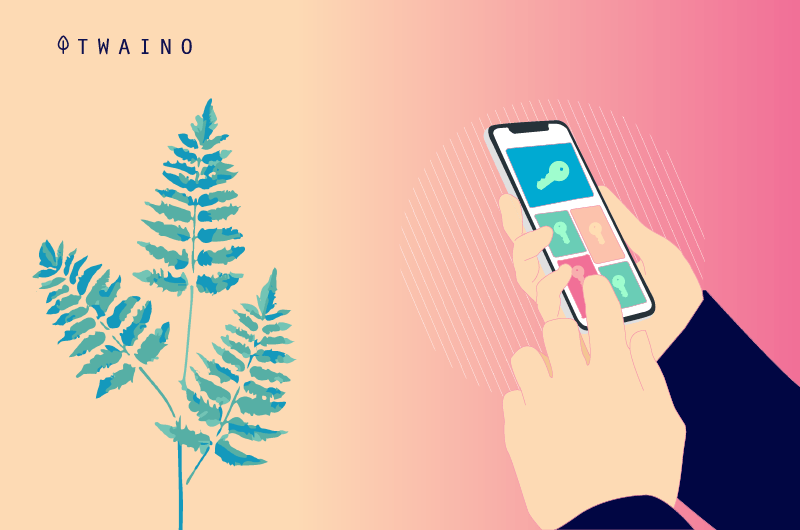 Therefore, the penalties do not affect web pages that visitors access from search results on a desktop. In simple terms, intrusive interstitials are accepted on DESKTOP.
Google also does not punish interstitials that are displayed as a result of an exit intent. This is what John Muller explains in the following paragraph:
"Rightnow, they don't count. What we're looking at, in fact, are interstitials that are triggered during the page visit from the SERPs and the content display.
So that's kind of where we look for those interstitials. What happens when people click on elements of a site or close the tab, that's all about the site and its visitors."
2.4. How to identify intrusive interstitials on a site?
Identifying intrusive interstitials on your site will allow you to bring them into compliance before you suffer Google penalties or recover from a penalty.
The excellent way to do this is to audit your popups to determine if your mobile website is compliant. To do this, look at mobile popups and instead of large interstitials, use small messages such as
Banners
Inlines
Slide-ins.
The audit of your popups consists of:
Identify the mandatory interstitials including age verification and cookies;
Identify all other popup windows and evaluate the space that each of them occupies;
Noting any third-party scripts on the website that might trigger popups. These scripts are common on sites that run on a CMS. These often install plug-ins to display popups.
2.5. How to recover from a penalty?
Webmasters should get into the habit of constantly checking the performance of their web pages that include interstitials in order to immediately detect those that are possibly suffering from Google penalties.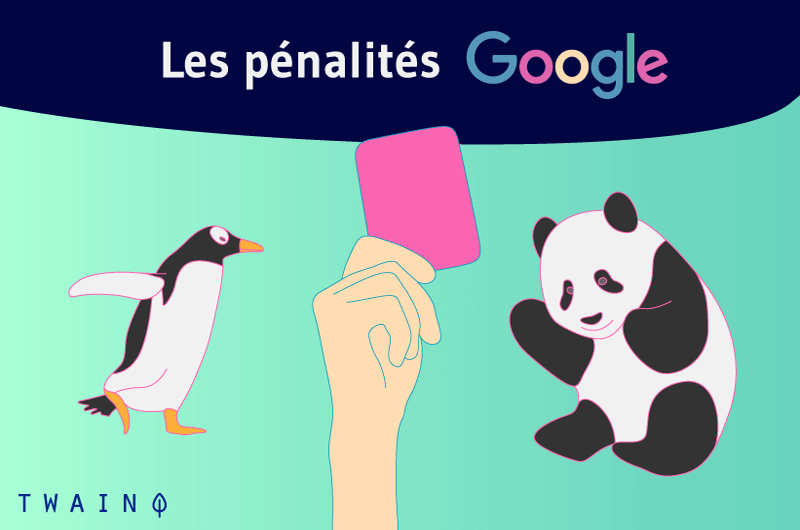 You must then remove the intrusive interstitials on these pages. When crawling your site, the spiders retrieve the pages that have been modified and this is enough to remove the penalties.
It is also possible to submit the URLs of the pages in question via the "fetch and submit" tool in Google Search Console to jump-start the recrawling effort a bit.
These actions allow Google to reexamine and reindex the pages to remove the mobile ranking demotion inflicted on your website.
2.6. How to remedy the removal of revenue-generating interstitials
Deleting interstitials can recover from penalties and protect you from losing organic traffic, but it will hurt your revenue even more when it concerns revenue-generating interstitials.
For this, webmasters and online marketers can find other non-intrusive ways to generate revenue.
They can leverage content marketing to guide users through the buying process. It's about moving away from interruption marketing to content marketing.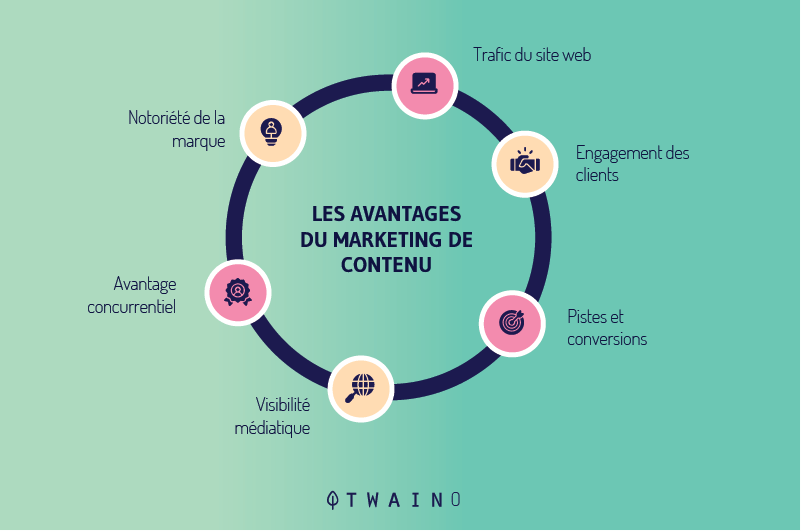 Also, the penalties only affect pages that appear in search results and contain interstitials
If interstitials are still the best way to convert users on your site, you can use the Noindex directive to tell the robots not to index pages containing harmful interstitials.
However, be aware that the affected pages will not appear in the SERPs and you will lose organic traffic.
Chapter 3: How to display interstitials without being penalized?
The potential of interstitials is enormous in terms of conversions. Stopping the use of interstitials to avoid penalties is not the best thing to do
In this chapter, we discover some tips to keep displaying them without triggering Google's penalties.
3.1. Why should you keep using interstitials?
Interstitial ads are still one of the advertising formats that marketers use the most. This is because these ads have a high impression rate and help increase conversions as well as revenue.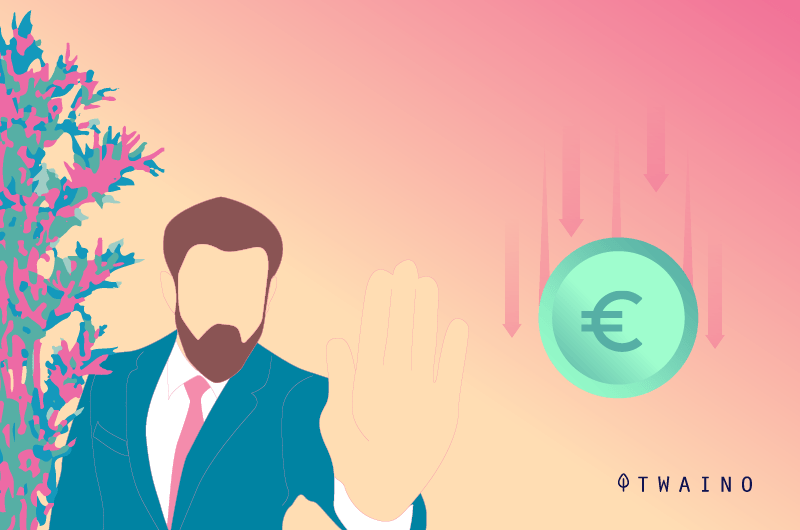 Optimizing interstitial ads has allowed companies like Pinterest and Airbnb to significantly increase app installs by 100% and 300% respectively.
So it appears that using interstitial ads is a great way to get users to take an action to get a high click-through rate. It also allows you to have a very high conversion rate.
Avoiding the use of interstitials because of Google's penalties is to deprive your site of a valuable asset. The ideal is to optimize interstitials in order to avoid penalties while taking advantage of its many benefits.
Penalties do not target interstitials that occupy a reasonable amount of space on a website and comply with Google's rules. Although Google has not issued an official statement, the recommended size for an interstitial is 15% or less of the screen.
At this size, interstitials allow visitors to access multiple lines of text even when the screen is in landscape mode.
3.2. Uses of Apple and Google's smart banners to drive application installation
Apple and Google offer smart banners that you can embed on your site or in an application. Google has stated that the penalties for intrusive interstitials do not apply to smart banners.
Compared to other types of interstitials, these banners significantly improve the user experience. They are consistent across web pages and remain user-friendly.
Users know that when they click on the banner, they are accessing the App Store or Play Store and not a third-party ad. In addition, the smart banners are unobtrusive and are placed at the top of the page, which does not affect the user experience.
The close button also remains visible and users can easily dismiss the banner. Smart banners do not reappear when users return to the page.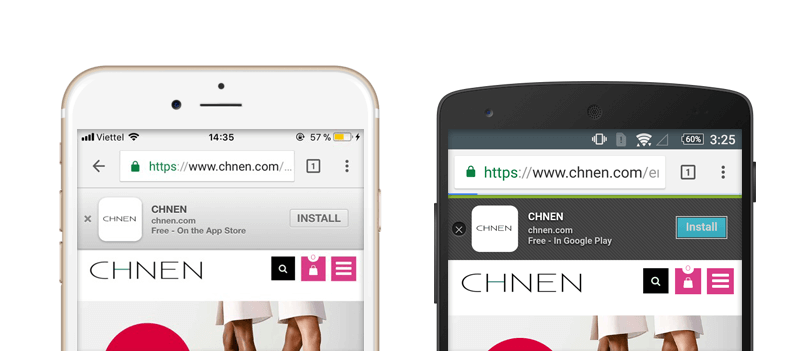 Source: simicart
With a large and prominent Close button, a banner is easy to reject. When the user returns to the web page, the banner does not reappear
On the other hand, when a user already has the application on their phone, banner ads change the action and turn the banner button into "Open".
However, webmasters who choose to use these banners to promote the installation of applications will not be able to fully understand their campaigns.
This is because smart banners do not discern the sources that led to the download of a given application.
Furthermore, smart banners remain the same for all users on all pages of your website and webmasters will not be able to customize them according to the visitors coming to their sites.
3.3. Best practices for creating your own interstitials
Webmasters can develop their own banner ads in compliance with Google's rules. The advantage is that they can customize their banners to ensure that the right audience sees the given banners.
However, creating interstitials on your site can affect your site's ranking when not done correctly. Here are some best practices that will help you place interstitials on your site correctly.
3.3.1. Create a seamless flow between page content and interstitials
It is true that the positioning of an interstitial on a web page can trigger penalties. But it also affects the user's behavior and experience on the page.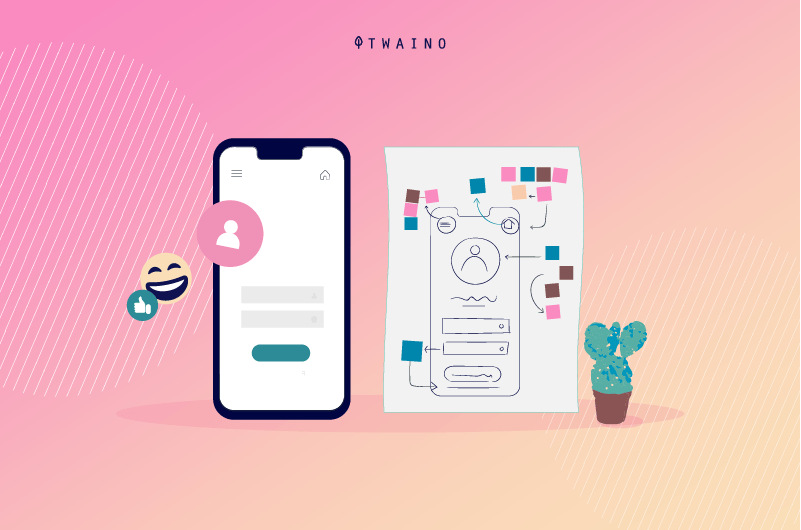 When interstitials appear at certain stops and breaks, they affect the user experience much less.
Interstitials that are placed immediately after a button should be avoided, as they can lead to accidental clicks and inflate the conversion rate.
It's also important to pause all actions like audios when interstitials are displayed. This will optimize the loading speed of your interstitial, especially when it is a video.
3.2.2. Take into account the frequency and timing
The display of intrusive interstitials that occur untimely is one of the reasons that lead users to leave a web page or uninstall an application. For this, frequency matters when it comes to displaying interstitials on your site.
Interstitials detract from the user experience when users can't fully enjoy your content. The timing of interstitials is also important to avoid accidental clicks.
3.2.3. Forwarding interstitials to post-click pages
Post-click landing pages help convert users. These pages often contain persuasive elements such as optimized text and social proof.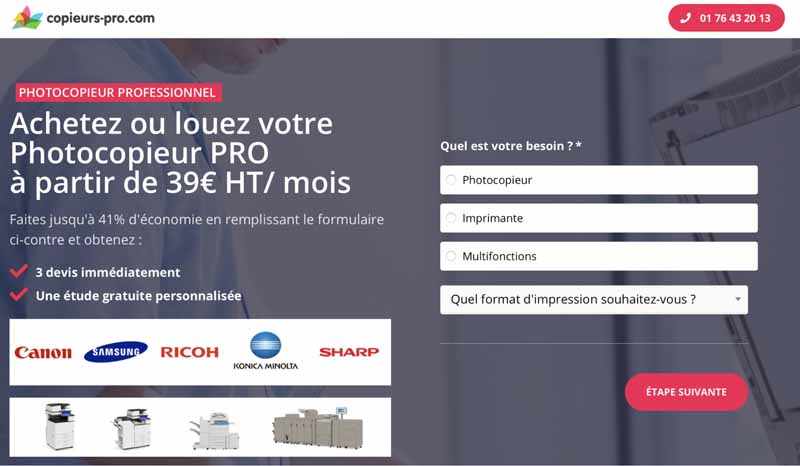 Source: comexplorer
By testing different copy for your ad, you'll find out which one is best for your audience and can increase click-through rates. As for social proof, it builds trust and testimonials and reviews increase click-through rates.
Landing pages are also often distraction-free and get the full attention of prospects.
In summary
All in all, interstitials are a great way to get website users to take a certain action. They allow websites to easily convert their users.
However, they can harm the user experience of a web page when they are intrusive and prevent users from enjoying the page's resource.
In this case, they also trigger Google's penalties and the affected pages may be demoted in the rankings
Fortunately, Google does not prohibit the use of all interstitials and penalties are only taken into account for interstitials that degrade the user experience from mobile search results.
The best practices cited in this article allow you to continue to leverage the potential of interstitials in the best of ways
If you frequently use interstitial ads on your web pages, tell us how you avoid Google penalties.