What is the best solution for creating ecommerce sites between Shopify and WordPress? This is a recurring question that many people ask themselves.
We can understand this interest that people give to these two platforms, especially since they are the two at the top of the list for the creation of ecommerce sites.
But:
Which of the two really offers the best solution for doing business online?
What are the strengths and weaknesses of each of the two platforms?
And which of them would be the most suitable for your needs?
We talk about it in this guide, so follow along.
Chapter 1: Discovering WordPress and Shopify!
Before presenting the differences that can be observed between the two platforms, it would be useful to make a separate presentation of each of them.
1.1. What is Shopify ?
Shopify is a web application developed exclusively to help people who want to get started in e-commerce to create their own online store in just a few clicks.
With Shopify, you have the possibility to:
Present your products (physical and digital) on your online store;
Market these products;
And send them to the customer.
Although there are several other e-commerce site creation platforms, the particularity of Shopify is that it does not necessarily require coding knowledge before using it.
A hairdresser or a florist for example can easily create their own fully functional online store with Shopify without much difficulty.
To allow such accessibility to everyone, the platform adopts a fairly flexible operation.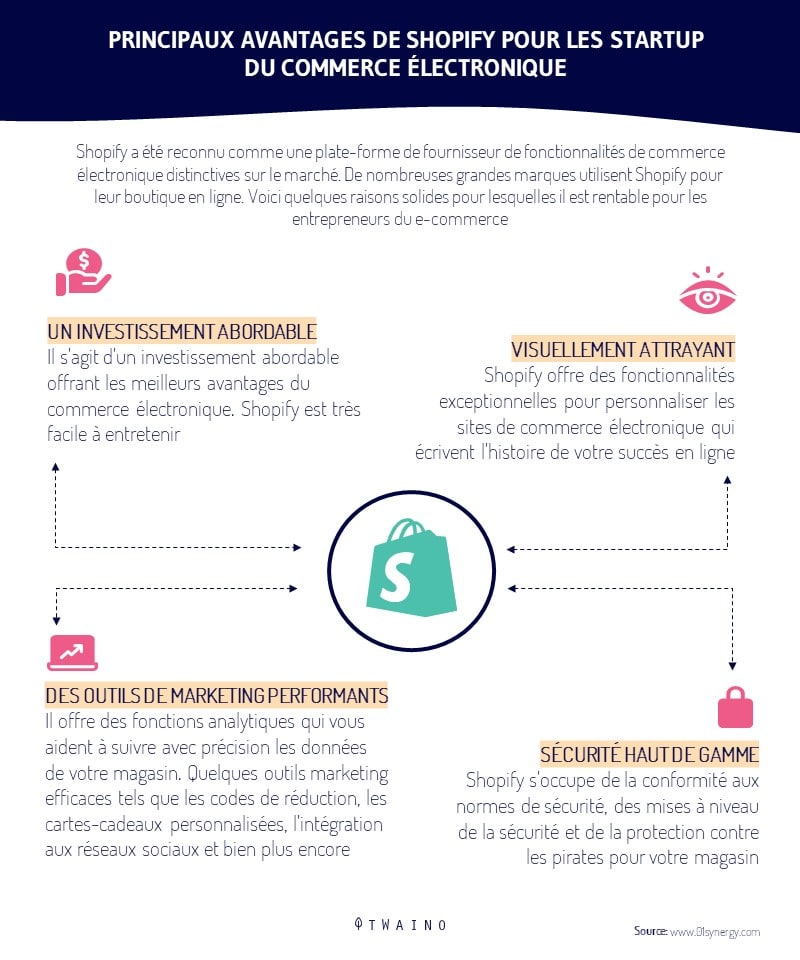 Shopify is a Software-as-a-Service (SaaS) solution. say that all the features of the platform are already hosted on a server and are ready to use.
So, if you opt for Shopify to create your online store, you no longer have to worry about hosting the site or installing any software. Everything is already integrated and works perfectly.
Shopify's policy is to bring together in a single environment everything you will need for the complete creation of your site, a kind of all-in-one solution that is really ready to use.
But if Shopify does almost everything for you, it's because the brand imposes a monthly subscription and we must admit that we could expect it. Hosting and all support for an e-commerce site requires enough infrastructure and resources.
Everything should be saved on the Cloud so that you can access and manage your e-commerce site at any time even on the other side of the world as long as there is an Internet connection.
But let's also add that this flexibility of the platform does not prevent you from making changes that you deem useful to your site. These include changes to bring the design of the site to your liking, we will come back to this in more detail.
Without any coding skills, it must be recognized that you will be slightly limited in the creation of your Shopify site.
The fact is that the platform reserves space to make changes to the HTML and CSS code of the site for more advanced customization.
Of course, you can create and operate your online store without any programming knowledge, but you will have a little difficulty in customizing the site in a remarkable way.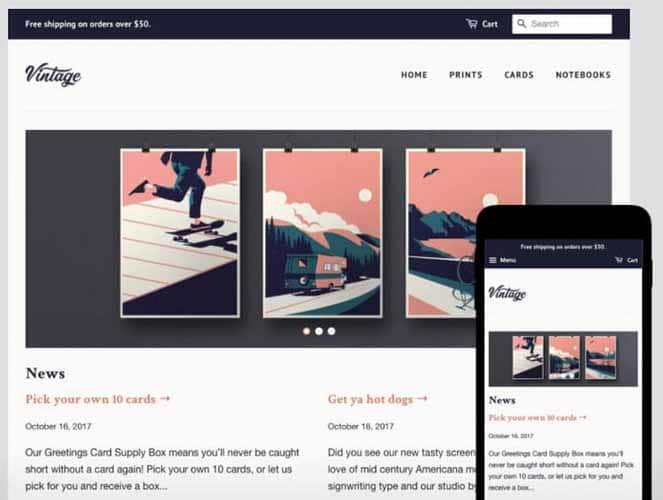 Source : Style Factory Productions
For modifications, the platform has a variety of customizable templates that each company can readjust according to their preferences.
1.2. What is WordPress?
Before offering a definition, it is important to point out that WordPress exists in two different forms:
1.2.1. Hosted WordPress
This first version of WordPress is distinguished by its domain name wordpress.com and operates in SaaS mode.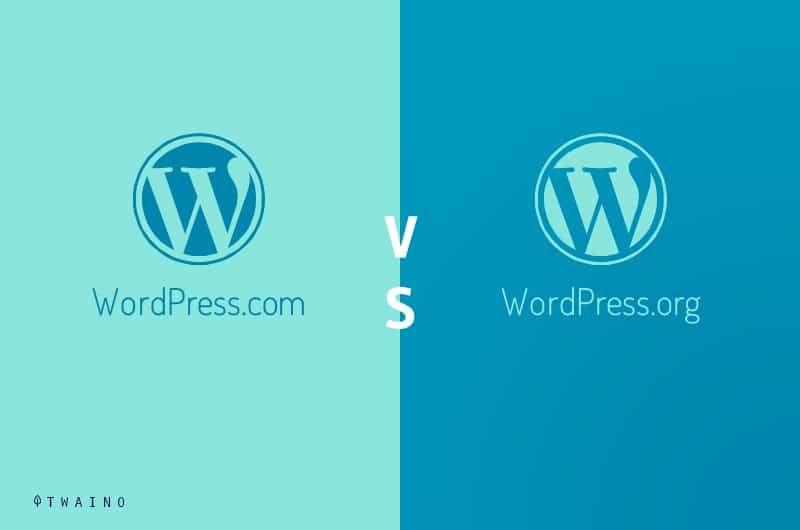 That is, companies are not required to install this version of WordPress on their hardware before they can use it, everything happens remotely.
However, this privilege has a cost, interested companies must take out a subscription to take advantage of a wide range of features and easily create their site.
However, this version of WordPress is not a complete and complete solution.
To create an e-commerce site for example with the hosted version of WordPress, users are forced to complete the service with other tools like WooCommerce, Ecwid, etc.
1.2.2. Self-hosted WordPress
The self-hosted version of WordPress is a web application available for free download at wordpress.org. So to use it, you have to download it and install it on a web server.
Even if the download is free, you must buy a domain name with hosting costs before having a functional e-commerce site.
There may also be times when you need the paid themes or plugins or even hire a developer if you don't have enough website building skills.
Indeed, one of the peculiarities of WordPress is that you can easily access the source code and modify it as you wish: We are talking about open-source software.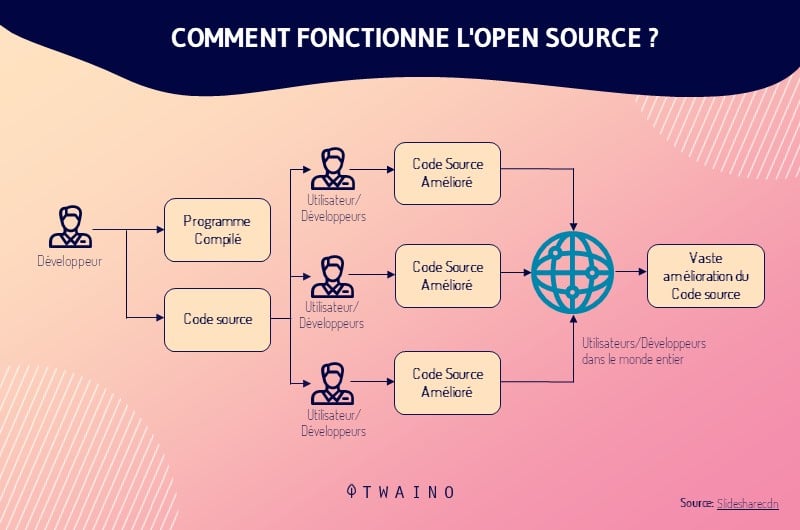 Which means that a website created with WordPress can be personalized in every possible way.
It is quite a malleable tool with which a good programmer can carry out all kinds of web design projects.
The platform has a wide range of plugins and themes that really "do it all". We will come back to this in more detail in later chapters.
For the rest of this article, we will focus on the self-hosted version of WordPress to better highlight its difference with Shopify.
The idea is to show you by contrast the difference between an all-in-one hosted service (Shopify) and an open-source solution that requires a number of configurations (WordPress).
1.3. Which user profiles are WordPress and Shopify intended for?
As explained a little above, Shopify is quite open in terms of users and mainly prioritizes two types of users, those who lack:
Knowledge of web development;
Means to set up a physical store.
And we can say that the policy of the platform has really hit the mark. Indeed, Shopify owes its success in large part to users who have no web development skills or who do not have a high enough initial investment to start their business with a physical store.
With WordPress, it's almost a whole different story. The platform is quite selective and targets other user profiles such as:
Beginners in web programming;
Senior web developers;
People who have enough means to hire a developer for the creation of their site.
Nevertheless, users who don't have a particular fondness for technologies can well create a WordPress site without even having to write a single line of code just like Shopify.
For example, we have the WordPress Divi which allows people with little programming experience or even developers who do not want to code, to easily and quickly create a fully functional website.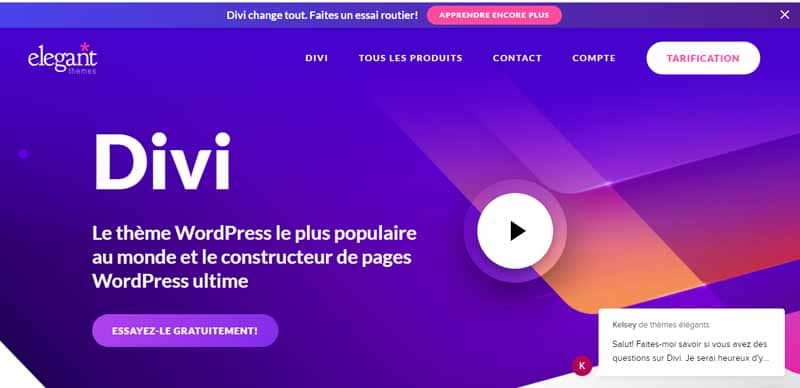 The only difference with Shopify at this level is that WordPress requires to be installed and configured before create a website.
The second profile of users targeted by WordPress includes those who already have a certain level of web development. These users can operate the platform 100% and create all kinds of websites.
Finally, the third wave of users includes those who have a budget large enough to hire a team of WordPress specialists to create their e-commerce site.
With such a means, they can order a truly "tailor-made" site and host it on the best servers available on the market.
Chapter 2: Shopify Vs WordPress: Comparison on 10 criteria
As you may have noticed, the comparison between Shopify and WordPress can be summed up in one sentence: One (Shopify) is an all-in-one solution hosted on a server Web and specialized in the creation of e-commerce sites while the other (WordPress) is a CMS designed to create all kinds of websites.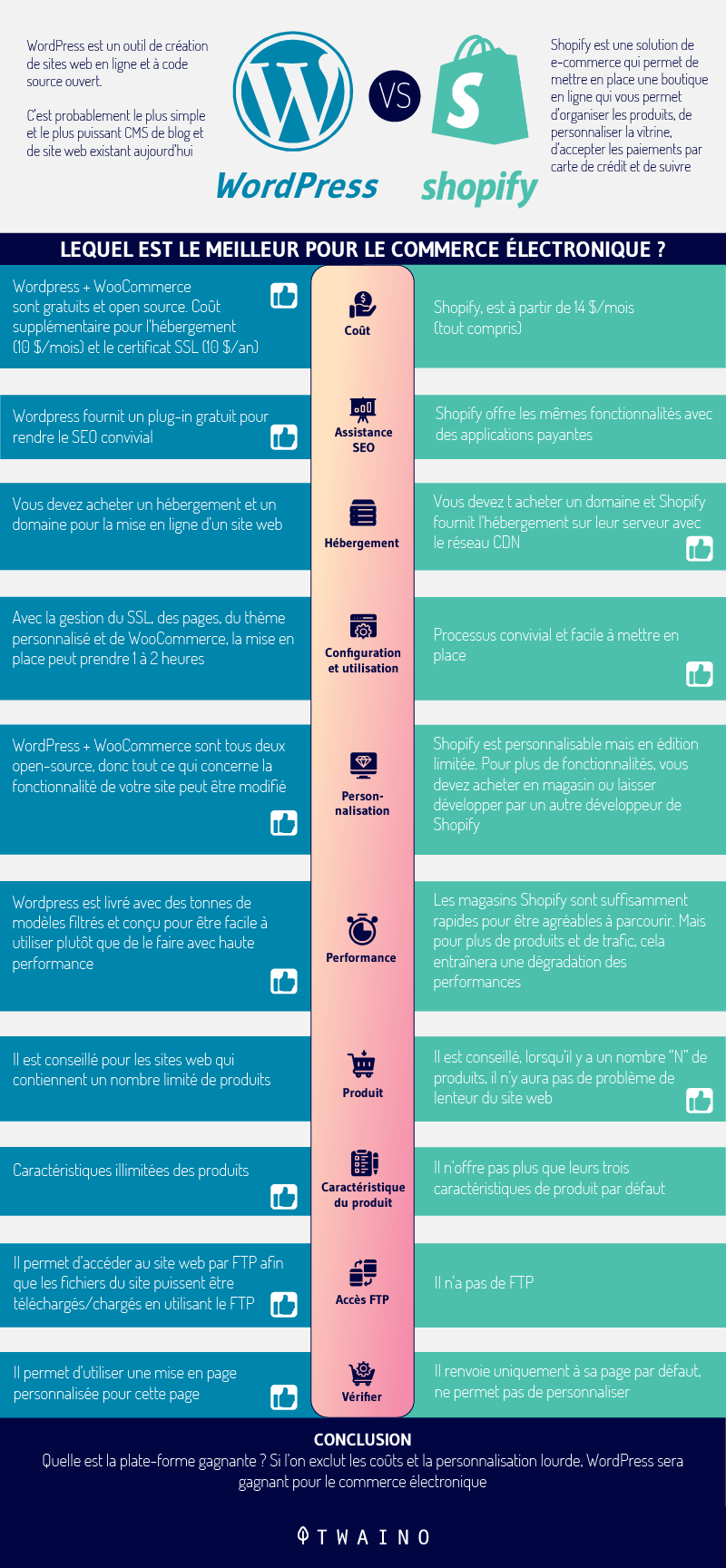 So when you think about it deeply, why can you compare these two platforms if not is to gauge their different functionalities in order to see which one suits you best for the creation of an e-commerce site.
Between Shopify and WordPress, which one to choose to launch your online store and market your products or services serenely? We have listed 10 criteria that should help you decide.
But before getting to the heart of the matter, I would like to point out a small detail. WordPress works with plugins. So just as there are plugins to create a blog site or a showcase site, there are also plugins to create an e-commerce site with WordPress.
The most complete and excellent plugin that you can find in the WordPress library to create your online store is WooCommerce.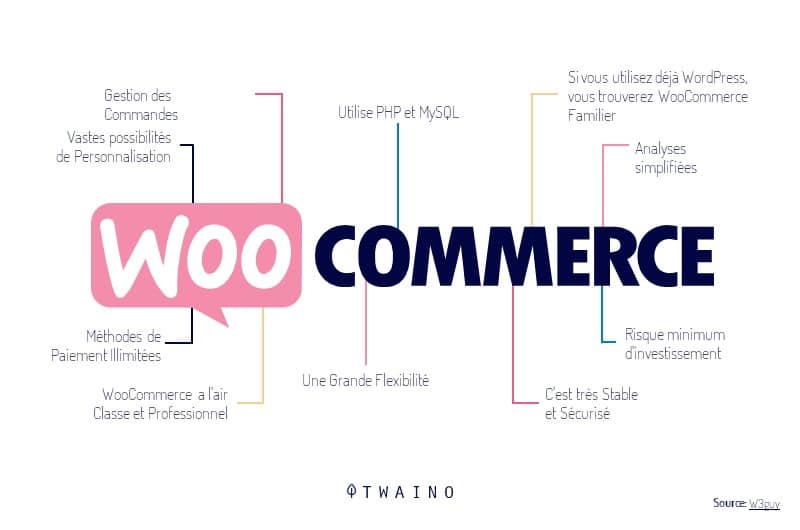 So comparing Shopify and WordPress in terms of best e-commerce solution is basically comparing Shopify to WooCommerce .
Okay, now that the basics are cleared up, we can start the comparison without any ambiguity.
Let's go !
2.1. The design
If you want to create a website, especially an e-commerce store, it is important to know that your main priority must be the design of the site.
Consumers don't feel comfortable on an e-commerce site that has an "awful" design and an unstable navigation system.
So our first comparison between Shopify and WordPress starts with the "design" aspect on both platforms:
2.1.1. Design on Shopify
One of the best selling points that Shopify proudly brandishes is the quality and beauty of its themes. Personally I must admit, a "Shopify" site is absolutely superb when it is well finished.
The platform has more than fifty different themes directly applicable for the design of online stores. And at least a dozen of these templates are free and ready to set up.
In addition, each template that Shopify offers is also available in different sub-templates. That is to say, with a Shopify template, you can get other more or less similar "sub-templates".
Technically, the platform offers over a hundred different templates for designing your e-commerce store.
Even better, all these templates are perfectly compatible for creating the mobile version of your site with a palette of superb colors at your disposal.
All Shopify themes are elegant and razor sharp. Enough to create modern and trendy sites for the real pleasure of your customers.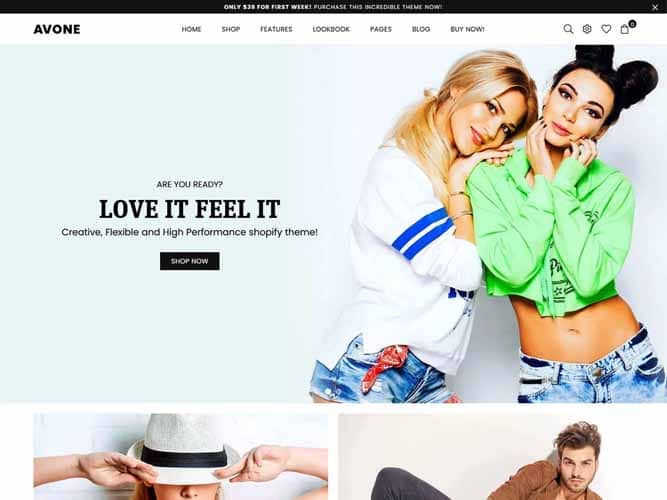 Source : ATheme
As can be seen on this Shopify template, the images are of impeccable quality. The brand's secret is that it does not design its own images.
She had the ingenious idea of ​​outsourcing the choice of images to a professional team of website designers.
We can say that the idea is rather successful since it allows users of the brand to choose between a wide variety of images of very good quality intended for commerce.
However, the problem with this partnership is that the themes come back a bit expensive for customers. Indeed, a Shopify theme can reach $180.
But compared to the quality of the work, we can say that it is really worth it. Fortunately, the platform also offers free templates with the same quality.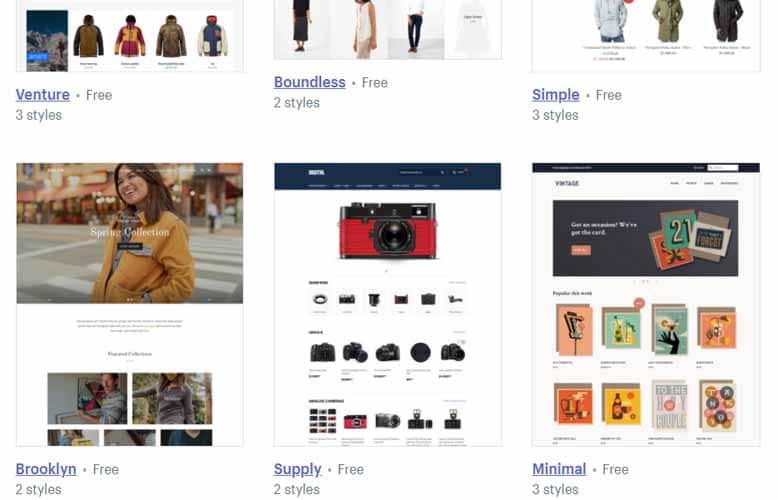 Source : Shopify
In all of this, there is an obvious little hitch that would have certainly crossed your mind. If everyone draws from the same stock reserve, wouldn't the majority of sites look like two drops of water?
The truth is that some Webmasters have actually complained that their website looks a bit too much like other existing sites on the web.
Personally, to overcome this problem, I would recommend that you customize your site as well as possible to have something really unique, original.
Luckily, modifying shopify themes is easy to pick up. The platform offers an easy-to-use control panel that allows you to quickly adapt the colors, font, and styles of your choice.
Users can go a step further by changing the site language and other more advanced details to really make their site unique.
Even better, Shopify provides webmasters with a theme editor that they can use to fine-tune customization. Developers can choose, for example, to hide an entire section without having to remove it from the template.
These hidden sections may still be editable in the editor, but will no longer be visible on the client side of the site.
A way to remove similar sections or to reserve some of them for future versions of the site. This is a problem that most Shopify and WordPress developers face.
2.1.2. Design on WooCommerce
As explained above, WooCommerce is a WordPress theme and is not in itself a specific design tool.
The particularity of WooCommerce is to bring together the necessary functionalities to perform services and online product sales on your website.
It is a program initiated to work with the majority of themes available on the market, provided that these themes respect the recommendations and good practices in terms of online commerce.
Everything related to the design of your website is managed from the WordPress theme you have chosen.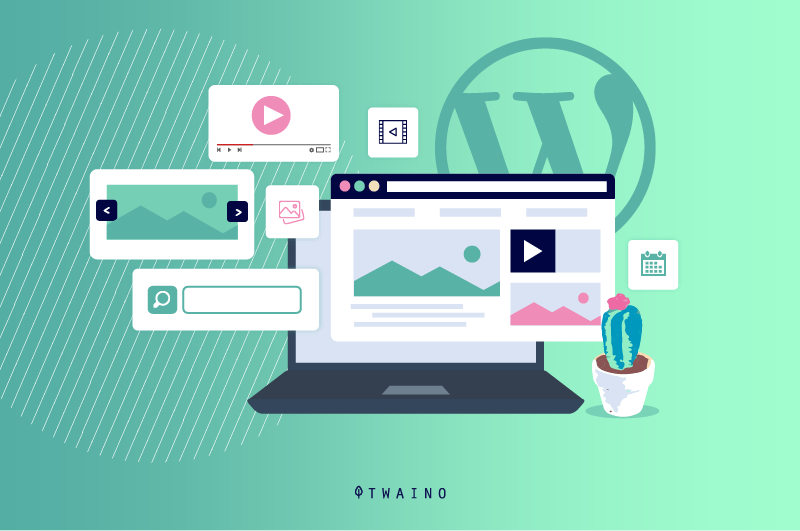 Clearly, you can start from any WordPress template and associate WooCommerce with it to make it your e-commerce store.
However, it is important to note that there are themes which have been designed by default with WooCommerce and which are therefore entirely dedicated to the sale of products or the provision of services online.
So, if you care about the design of your e-commerce site, logic would dictate that you start with a theme specially designed with WooCommerce.
You can start for example with Storefront which is a free theme and comes by default with WooCommerce already installed.
Storefront is a practical and efficient theme that brings together all the important features for the proper functioning of your e-commerce site.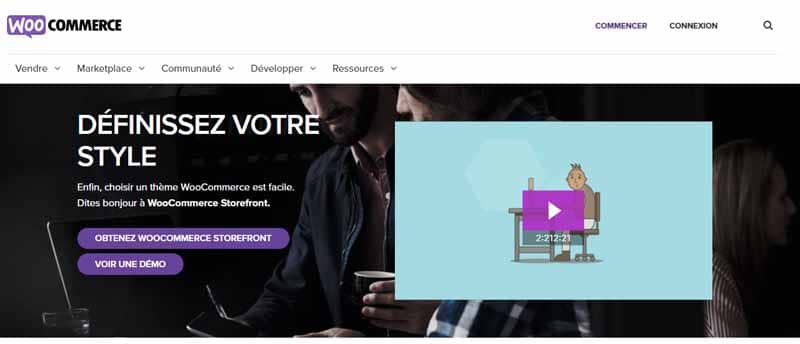 But if you want to personalize your WooCommerce store, you also have a wide range of Storefront derived themes for bring more colors to your site.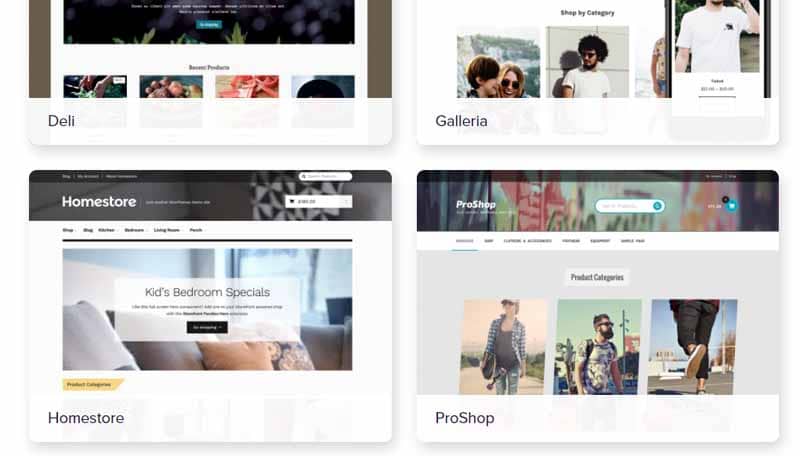 Source : WooCommerce
The majority of these "child" themes are relatively cheaper, with $39 you already have a theme for your site. However, there are also other WooCommerce templates that can even go as high as $119.
If you are a developer and receive enough orders for creating e-commerce sites, you can choose to take a complete package which includes all the themes available in the WooCommerce library. The platform also offers you the possibility to choose from other themes available on the market. For example, we have ThemeForest which offers hundreds of templates directly compatible with WooCommerce.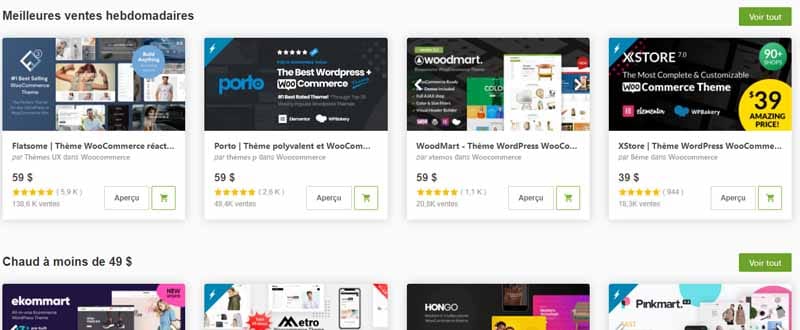 Source : ThèmeForest
So what do you think of the comparison of Shopify and WooCommerce in terms of design, design?
Personally, I find WooCommerce trumps Shopify when it comes to site design.
Admittedly, Shopify has wonderful themes in its library, that we cannot deny, but compared to WooCommerce, this library is a little too limited.
Indeed, thanks to the open policy of WooCommerce, customers have a very wide variety of themes for the design of their e-commerce site.
In addition to the themes offered by the brand itself, there is a community of developers who design amazing themes and integrate WooCommerce into them to meet the needs of customers in all industries.
So no matter what industry you are in and what purpose you want to use your e-commerce site for, you will always find a stack of WooCommerce themes to use.
2.2. The price
Whether you are a website owner or a developer, everyone always wants to get the best possible return on investment.
So, for a better return on investment on the creation of an e-commerce site, what to choose between Shopify and WooCommerce?
To begin with, you should know that the two platforms do not share the same policy in terms of pricing.
With Shopify, you have a clear and simple idea of ​​the price at which the creation of the site would cost you and the same cannot be said with WordPress.
Shopify tries to offer an all-in-one solution, ready to use and available in just a few pricing plans.
You register on the platform, then you directly access your new e-commerce store with all the necessary features already included. With WordPress, things are a bit different.
It is true that WooCommerce is an open source program and WordPress is also free.
But that doesn't always mean that building your online store with WordPress won't cost you a penny.
You need to consider factors like:
The cost of accommodation;
The price of the theme (if it is a paid theme);
The domain name of the site;
The SSL certificate;
The cost of certain extensions for the SEO referencing of the site (optional);
And many others.
Here is a table proposed by e-Commerce Platforms which presents all the prices associated with each platform.
Please note: Shopify and WooCommerce both offer diversified solutions adapted to each company according to its needs, sales, etc.
This table just takes into account the lowest rates offered by each platform. So the minimum you need to prepare to have your e-commerce site on both platforms.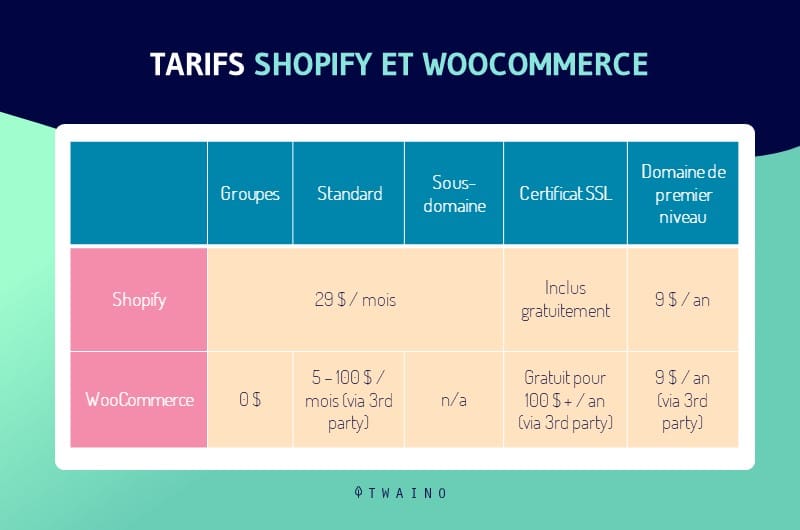 TheTheinterpretation of the table is summarized as follows:
lowest level of creation of a Shopify store is: $29 per month.
A WooCommerce site can be created with $5 per month without including hosting, domain name and SSL certificate fees.
As we can see, although WooCommerce is a free plugin, creating an e-commerce site still requires some costs.
In addition, an online store made with WooCommerce may also need other additional extensions to manage, for example, its referencing or increase its payment gateways.
The cost of these additional extensions can vary between $49 up to $79, payable only once.
So technically, it can be argued that WooCommerce is the most affordable option, but setting it up takes quite a bit of work.
However, beware, although WooCommerce is considered the most affordable solution, the paid plugins that you add optionally can reverse the trend.
Indeed, if you invest in plugins that are not necessarily useful for your site, you are likely to exceed the budget you have reserved for the creation of your site. Especially since every add-on you install is worth a cost.
Eventually, your WooCommerce store will take you more time and more work for almost the same dollars with Shopify, if not more.
Shopify offers a well-tiered and known-in-advance pricing policy. The platform offers a more or less flexible price list that you can consult before committing:
Formula Lite : For $9 per month;
Basic Shopify: For $29 a month;
Shopify: For $79 a month;
Shopify IIoT Gateway: For $299 per month.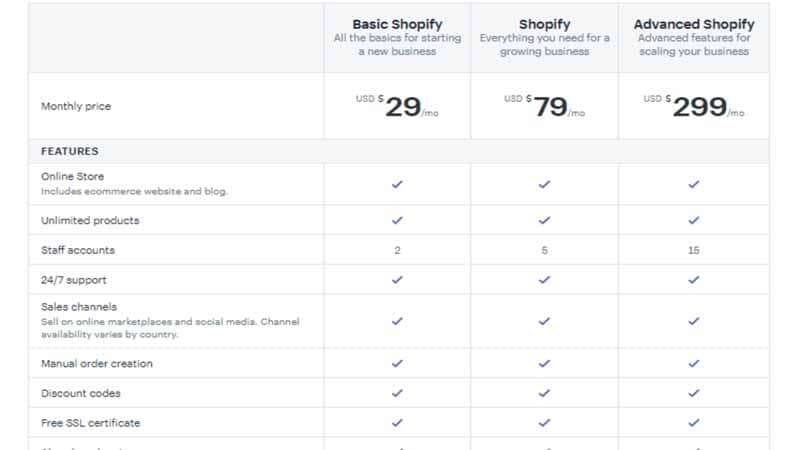 Source : e-Commerceceo
Since prices are discussed in this section, I take this opportunity to draw your pay attention to an essential point. Whether Shopify or WooCommerce, both platforms charge transaction fees on each e-commerce store.
Which would mean that each time you sell a product on your site, a small transaction fee will be calculated for you.
These fees are charged to handle the processing of the customer's payment, the transaction of the amount in your account and many other processing.
Transaction fees vary quite often, so it would be a bit complicated to give you an exact amount.
But what you need to know is that generally these fees are around 2 to 3% of the overall cost of each transaction made on the site.
So, be sure to take all the information related to the transaction fees of each platform before you embark.
2.3. The Features
Although Shopify and WooCommerce offer different pricing plans, it seems like the two platforms speak almost the same language when it comes to giving you everything you need for your e-commerce site.
If you had once used other platforms like BigCommerce for example, you will better understand how Shopify and WooCommerce are complete platforms with all the basic features already integrated.
However, they offer other extensions that you can install to have additional functionality.
So what are the core features built into each platform?
2.3.1. The basic features integrated into a Shopify store
It is true that you can install additional extensions to have more features, but your Shopify site comes with several free features for purchase:
An unlimited number of products to market ;
Unlimited storage to back up site files;
Automatic fraud analysis;
A mobile version of the site;
An Oberlo integration for dropshipping;
Manual creation of your orders;
The possibility of using discount codes for promotional campaigns;
A blog module;
A drop shipping;
A free SSL certificate for transaction security;
Optimization of M-Commerce (commercial transactions carried out on the mobile version of the site);
Payments authorized by credit card;
A multilingual site;
Flexible shipping and taxes;
The ability to save customer profiles;
A site architecture adapted to SEO;
The possibility of authorizing consumer reviews on each product marketed;
A Facebook sales module;
Print commands;
The possibility of modifying HTML and CSS codes;
Inventory management;
Integration of social networks (including recently Instagram);
Inventory management for tangible and digital products;
The ability to support unlimited traffic to the online store;
Daily backups of site data;
Gift cards (Shopify and Shopify Advanced);
Access to sales statistics and reports;
Access to detailed reports (Shopify Advanced);
Abandoned cart recovery (Shopify and Shopify Advanced);
Importing products from files in CSV format;
The possibility of managing the different variations of the same product (color, pattern, sizes, gender, etc.).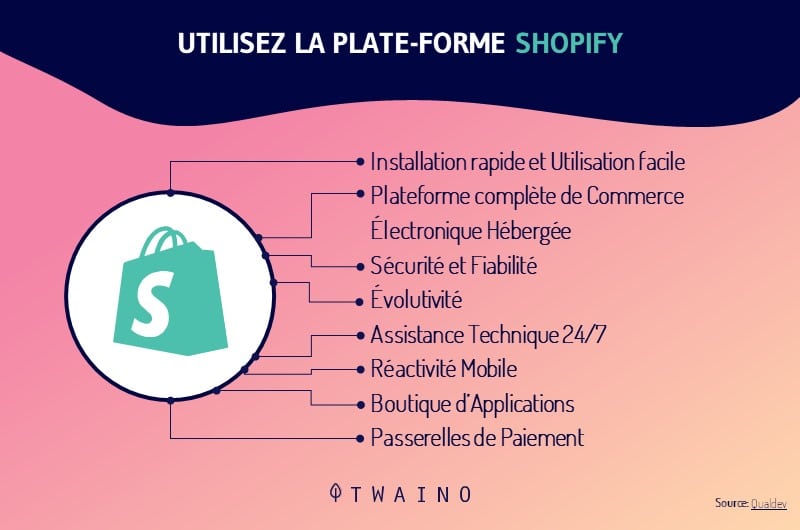 When we take some of these native Shopify features such as CSV file import, reservations and shipping solutions, a Shopify store can save you between $500-600 than a WooCommerce store.
2.3.2. The basic functionalities integrated into a WooCommerce e-commerce site As
we already know, WordPress is open source software that allows developers to create plugins and extensions to enrich its platform. Associating your site
with WooCommerce will give you incredible and interesting features on your WordPress store.
Whether designing the appearance of the store, selling on Facebook, integrating email marketing methods or analyzing the behavior of your visitors, you really have everything to manage your online store.
Here is the list of features you get with your WooCommerce site:
You have the ability to sell all kinds of physical and digital products (including computer programs) and even do affiliate marketing;
Payments are authorized by PayPal and Stripe as well as other interesting payment gateways;
Compatibility with all WordPress themes ;
The infinite number of articles and categories of articles to market;
Stock management ;
Flexible shipping and taxes;
A mobile-friendly architecture (optimized for mobile devices);
A Facebook ad offered as well as an extension;
Control panel to manage store data;
Hundreds of ready-to-install extensions for even more cool features like WPML to make your shop multilingual, EWWW image optimizer if your site has too many images or Yoast and Yoast WooCommerce SEO for SEO of your store on Google pages.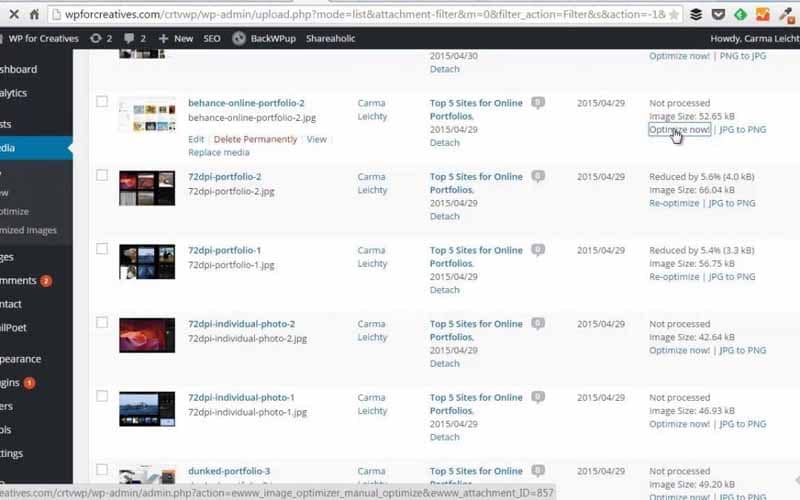 Source : Dieno Digital
So what does the comparison between Shopify and WooCommerce say in terms of features?
2.3.3. Shopify Vs WooCommerce: Features
To wrap up everything listed so far for both platforms and make it easier to differentiate, here's a comparison of essential features between Shopify and WooCommerce: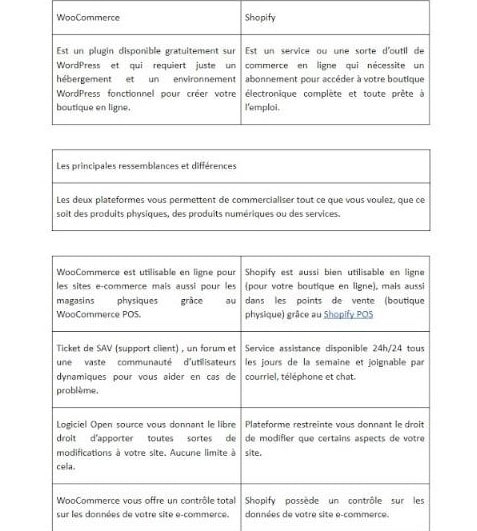 As can be seen, there is almost no significant difference between the two platforms.
Overall, choosing one of these comes down to personal taste or perhaps the "open source" side of WordPress that is not found in Shopify.
But there is quite a remarkable difference between the two platforms when we get into the details. It is clear that Shopify tries to offer a complete solution to make the use of e-commerce stores as easy as possible.
It also cannot be denied that with WordPress you also have very interesting native features for managing your online activities.
However, you must install and configure additional plugins to make your store as complete as possible and adapt it according to your needs.
This complicates things a bit, especially if you don't know much about site creation.
In the end, we will remember that there is no real winner between Shopify and WooCommerce in terms of functionality.
Both platforms are standard and clearly strive to bring together all the features you will need to effectively run your business online.
2.4. Ease of use
The comparison seems a little tight between the two platforms, but we'll see if one of them stands out in terms of "ease of use".
So what do we mean by ease of use? Well, it will be to assess the level of ease at which a user can set up and manage their e-store on Shopify and on WooCommerce.
2.4.1. The level of ease to use a Shopify store
The main particularity of Shopify is that it is a platform that works with a subscription system. Basically, if you want to use a Shopify store, you start by going to the brand's official website, www.shopify.fr.
Then you register on the platform. It's a pretty easy step, just a few clicks following the setup wizard and you're done.
During this process of setting up your Shopify store, you will be asked to answer a series of questions related to your business such as the nature of your store, the nature of the products or services you intend to market, etc.
Gradually, Shopify's setup wizard will give you tips to guide your first steps on the platform.
Once you've completed registration and setup, you'll be taken to the main dashboard where you access the basic functionality to create your new Shopify store.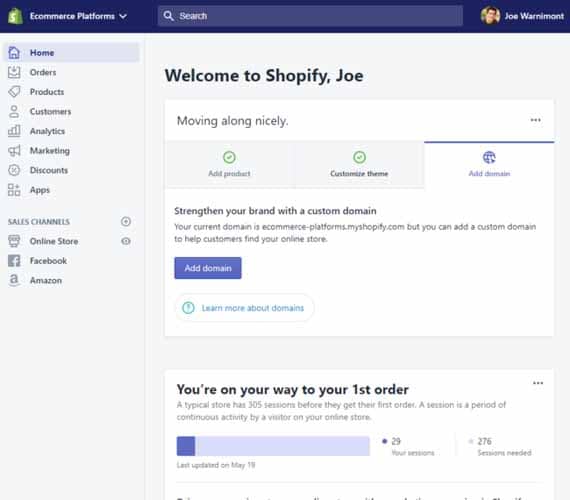 Source : Ecommerce Platforms
So you can add images of your products, prices, descriptions… In short, you can start the actual creation of your online store.
All in all, it can be said that the process of creating a Shopify store is relatively simpler and does not require any design or website building skills.
After creating your Shopify store, you have access to all the important features accessible on the sidebar of the dashboard.
You will have interesting features that should make it easier to manage your store on a day-to-day basis. Adding a new arrival of products, managing sales and ordering products is done in a rather intuitive way.
No need to search separately for the section dedicated to adding the name of a new product, the one intended to record its sale price, assign it an image, define its current stock, etc.
To better illustrate all this, here is what the new product addition page on Shopify looks like: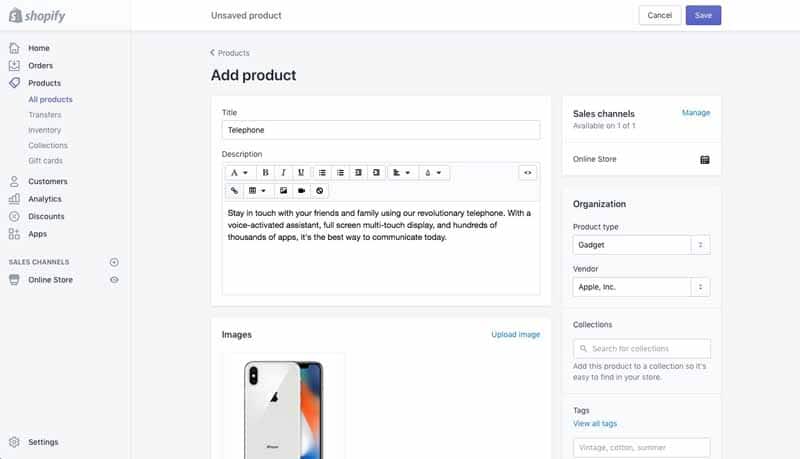 Source : Zapier
Basically, Shopify offers a solution for quickly creating your e-commerce site without the hassle and without any special skills.
2.4.2. The level of ease of using a WooCommerce store
In a way, we can say that WooCommerce is also easy to use, or even easier to use than Shopify, but there is a small downside.
The fact is that although the day-to-day management of your WooCommerce store is easier, you would first have to successfully install it. Which can be complicated, especially if this is your first experience.
In principle, WooCommerce does not work with a subscription system like Shopify, it is a WordPress plugin. Which would mean that you have to go through a number of steps first before using WooCommerce itself.
Essentially, these preliminary steps boil down to:
Obtaining a domain name for the site;
Registration with a web host of your choice;
Installing WordPress;
The search for a WordPress theme of your choice for the design of the site;
Installing this theme.
It is after completing these steps that you can move on to installing and configuring WooCommerce to finalize the creation of your e-commerce store with WordPress.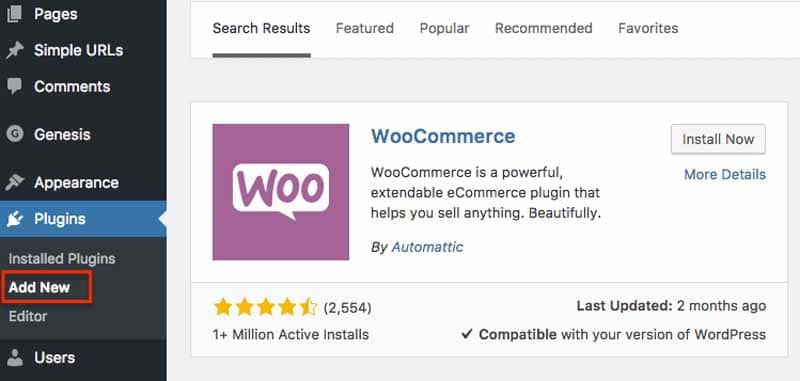 Ça peut sembler facile quand on résume le processus de la sorte, mais la pratique est tout autre.
It may seem easy when you summarize the process like this, but the practice is quite different.
You must first choose your host well, then associate your domain name with the server of the host before properly installing WordPress and moving on to creating the site.
As you can see, there are quite a few steps to follow, all of which require specific knowledge. Luckily, there's an easier way to shorten things up a bit.
It would be easier for you to choose a web host specialized in WordPress to take care of the WordPress installation and the domain name of the site. All you will have to do is install and configure WooCommerce on the site and finalize it.
Anyway, it is clear that this procedure seems much more complex than that of Shopify which is limited to a few clicks only, without counting of course the design of the site.
You already know that WooCommerce does not have a design directly applicable to an e-commerce store. So, after its installation you must also install a theme of your choice from the WordPress library.
And what about WooCommerce itself?
As I announced at the very beginning, WooCommerce is easier to use than Shopify. Right after its installation and activation, you are redirected to the control panel. Setting up WooCommerce takes place in 5 guided steps.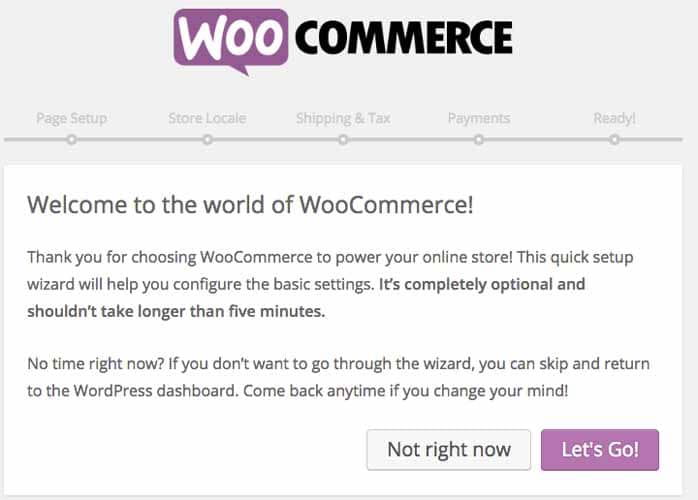 Essentially, it is about defining the essential parameters of the store to really adapt the platform to your sector of activity.
For example, during the configuration you will be asked to enter the currency of your country, your delivery policy and the associated taxes as well as the payment gateways that you authorize.
Once you have completed these configuration steps, you can start using your store by adding your products to market.
The Add Products page on WooCommerce looks like this: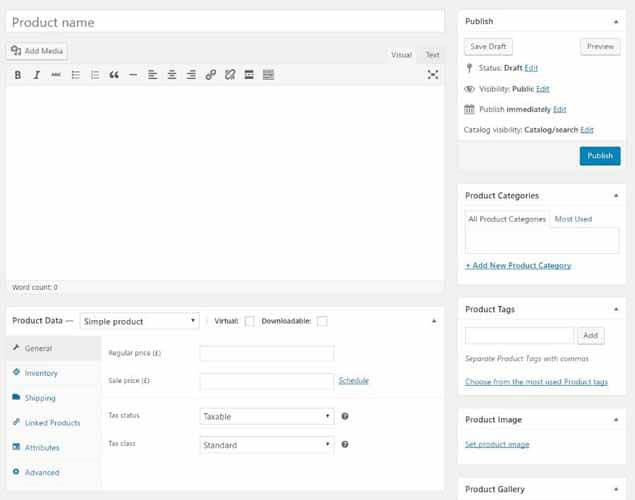 When looking at it from soon we realize that this page is not so different from that of Shopify, just a few features that are presented differently or under other names.
2.4.3. Shopify and WooCommerce, which platform is easier to use?
When we review all the steps to follow before setting up a WooCommerce store, we can say without bias that a Shopify site is easier to create.
Admittedly, it's pretty impressive to just click a Sign Up button, follow the setup wizard to access a Shopify fully functional
However, it must be added that in terms of ease of use, it is just the step of installing and configuring WordPress that differentiates the two platforms. After this step, whether Shopify or WooCommerce, the two platforms offer a similar degree of ease.
2.5. Technical support
For a good comparison between the two platforms, it is important to gauge the quality of customer service of each of them.
Here, Shopify is quite famous for the responsiveness of its customer service available 24 hours a day, every day of the week.
So as a customer, in case of difficulties or questions to ask, you will always find a customer advisor available, no matter if it is in the middle of the night or on a public holiday.
You also have the option of contacting Shopify customer service in several ways:
By email;
Via Twitter;
By chat or;
By phone call.
In addition, you have extensive documentation to find answers to frequently asked questions.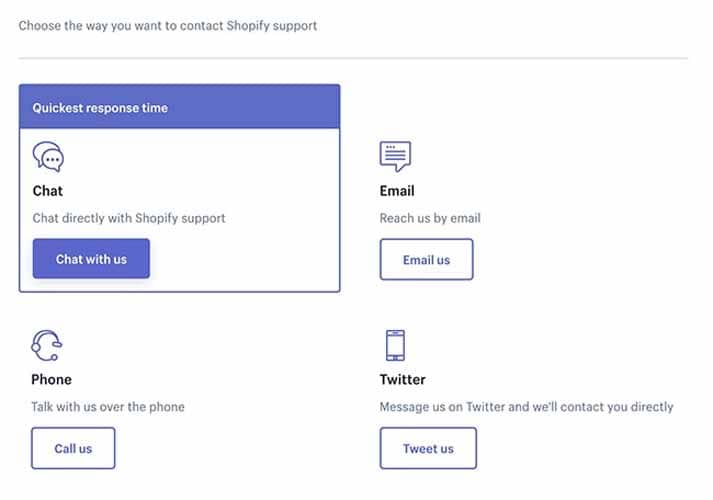 Source : ecommerce Platforms
As for WooCommerce, since it is a free WordPress plugin , in case of assistance or clarification, you can find help on the WordPress forums. It should be noted that WordPress has a large community of programmers and users on the Internet.
It is after all the most used CMS in the world with 40% of all websites to its credit, i.e. more than 455 million self-hosted sites inthe world have been created with WordPress: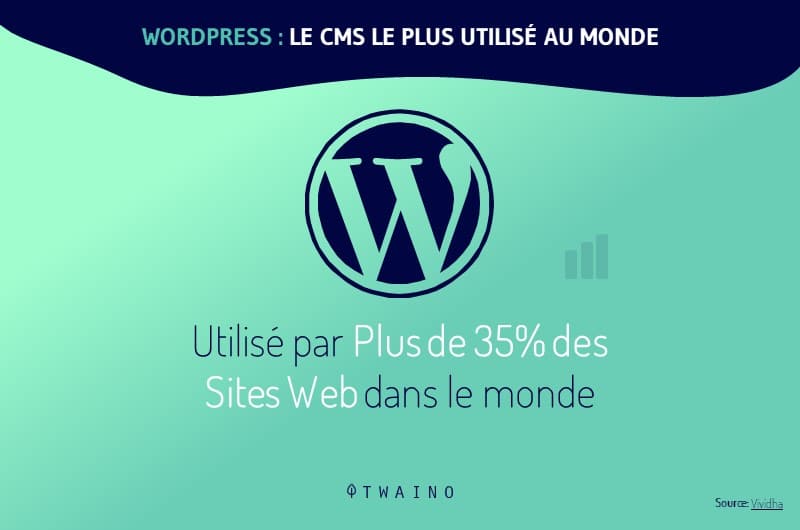 There are therefore thousands of users helping each other every day on the WordPress forums and the majority of the questions you are looking for namely will probably already be asked and answered on these heavily animated forums.
WooCommerce also has technical support that you can contact if needed by creating a user account on the official website of the platform.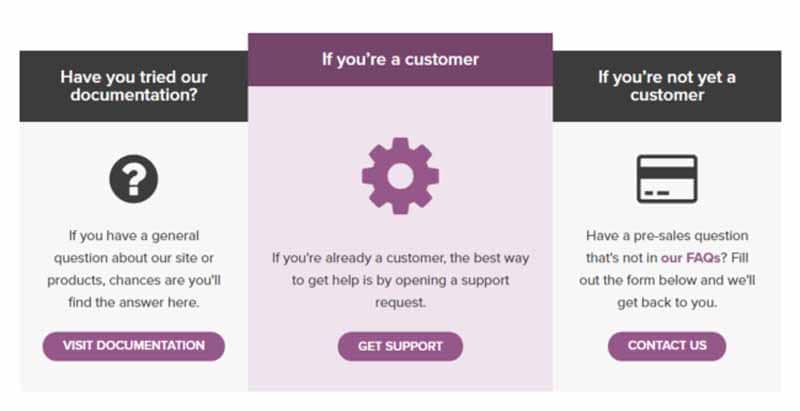 In addition, there are a good number of blogs available on the NET which cover all topics to create and maintain its WooCommerce store.
So, if you're self-taught, you'll enjoy working with WordPress because of its documentation and community that provide solutions to any issues you may encounter while using your WooCommerce store.
If you prefer to speak directly with a customer service representative, Shopify is probably the best option.
2.6. Shopify VS WordPress: SEO
The purpose of any e-commerce store is to attract more visits and a better conversion rate, which is why all e-commerce sites must be conducive to SEO practices.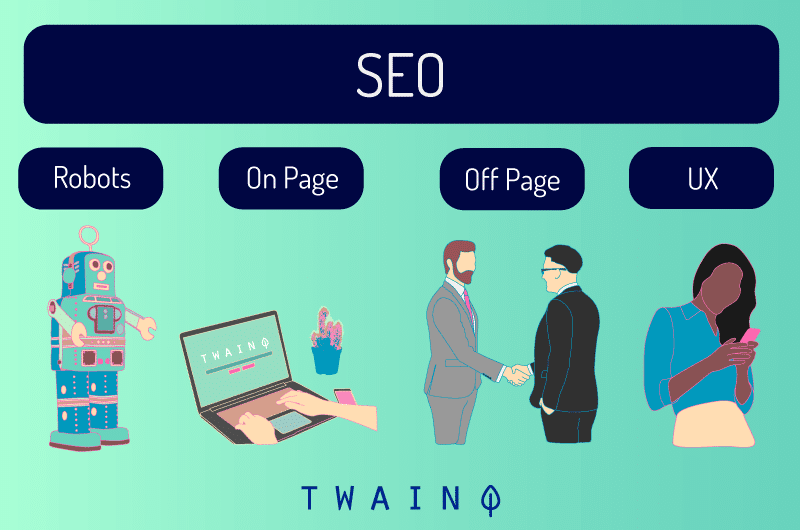 Fortunately, whether Shopify or WooCommerce, both platforms seem to be making remarkable efforts in this direction.
2.6.1. Shopify and SEO
Even if Shopify is less blessed in terms of SEO features, its structure is no less organized to reference Shopify stores on search engines. The platform also handles some basic SEO techniques such as metadata configuration.
So, if your Shopify e-commerce store contains quality content, there is no reason that prevents it from being well referenced on the first pages of search engines.
Additionally, many developers acknowledge that the Shopify source code is carefully crafted, which provides a good user experience.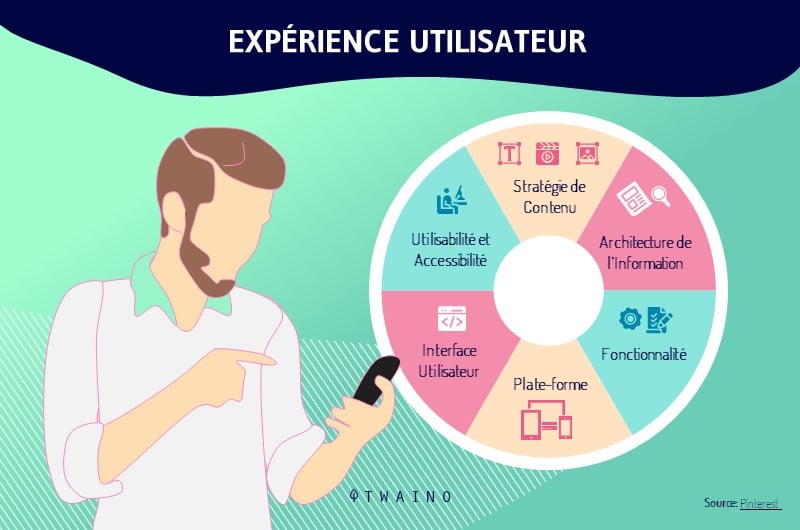 However, Google attaches great importance to the user experience of a site. It is a very influential SEO criterion in Google's algorithms.
Moreover, the platform is fast due to its quite huge hosting infrastructure.
Your Shopify store will therefore be fast with a fluid navigation system, which reinforces its user experience and its chances of being well positioned on Google.
2.6.2. WooCommerce and SEO
In terms of SEO practices, WordPress remains a benchmark. The platform is often acclaimed by SEO experts who remain unanimous on the fact that WordPress is one of the most reliable solutions because of all the features they offer and which facilitate the natural referencing of its sites.
Indeed, it is very easy to add or modify content on your WordPress site and to optimize it for SEO.
You can also define the metadata for each page of your WordPress store and thus give them every chance to be referenced for the targeted keywords.
You also have plugins such as Yoast SEO that provide access to all SEO features on your WordPress e-store.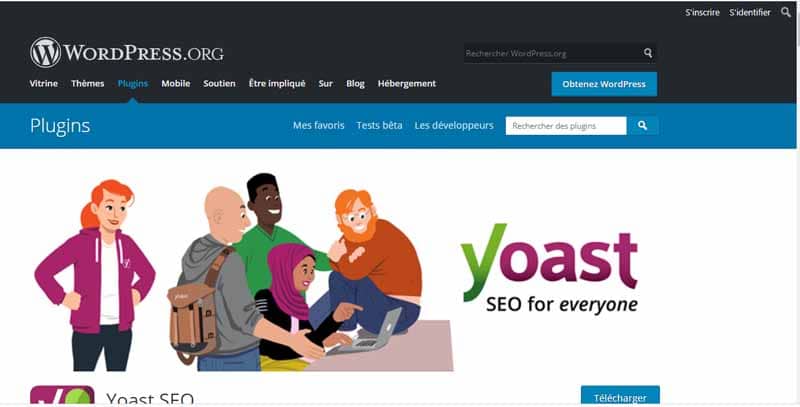 Although SEO is a bit complex field, dedicated SEO plugins make it easier and more accessible on WordPress sites.
In just a few clicks, you can highly optimize your content down to the smallest detail.
So it can be said that WordPress trumps Shopify in terms of SEO practices.
However, WordPress does not always guarantee that your site will rank well on Google's search results pages.
Indeed, there are other factors such as the quality of your host that can ruin the SEO of your site.
2.7. Payments and Fees
We all agree that payment processing is key to the smooth running of your online business.
Regardless of the type of product or service you market on your site, the end goal is always to successfully convert your visitors into customers and facilitate transactions as much as possible.
Fortunately, both platforms offer a wide range of tools and features to facilitate payment processing for its users.
However, Shopify and WooCommerce have quite different policies in this area. The two platforms have developed very different systems and pricing.
Which of the two platforms offers the best payment processing solution?
2.7.1. Payment processing with Shopify
Shopify offers enough payment processing features that you can offer on your online store, including the Shopify Payments who handles the sales part of the shop.
It's a system that sits at the heart of the entire Shopify environment, much like the brand's default processing processor. Already, you can notice that it is a native functionality and which is accessible from the dashboard.
But like any processor, Shopify Payments needs other complementary tools to make payment processing work on your Shopify store. So since it is a core program, transactions on the platform are also processed in the background by Stripe.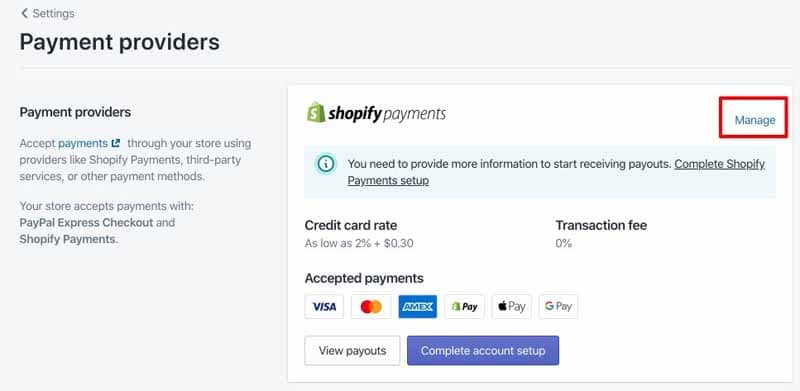 Source : Community Shopify
A real synergy between these two systems that make Shopify a sales and marketing platform. fully secure purchases.
For those who do not yet know Stripe, it is an American company that has specialized in online payment services for almost 10 years already.
This makes Shopify Payments an efficient payment processing service that accepts multiple cards.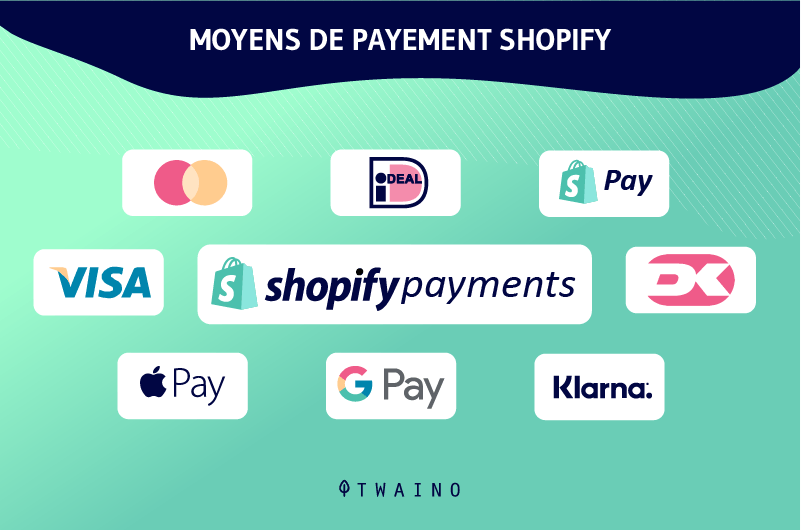 In other words, you can easily authorize purchases for almost all types of card payments on your site e-commerce.
To do this, the store owner needs to go to their Shopify account and then make new payments to their bank account.
He can then start accepting payments on the site without worrying about how to configure the security systems.
It must be said that this policy of Shopify on the processing of payments is rather successful since the brand is recognized and certified PCI DSS Level 1.
This is a security standard recommended in the payment card sector in order to limit Internet fraud. So by using Shopify, you protect your customers' data against possible online attacks.
But that's not all, Shopify offers much more than online transactions. You already know that you can supplement your online business by creating a physical store and managing it with Shopify POS.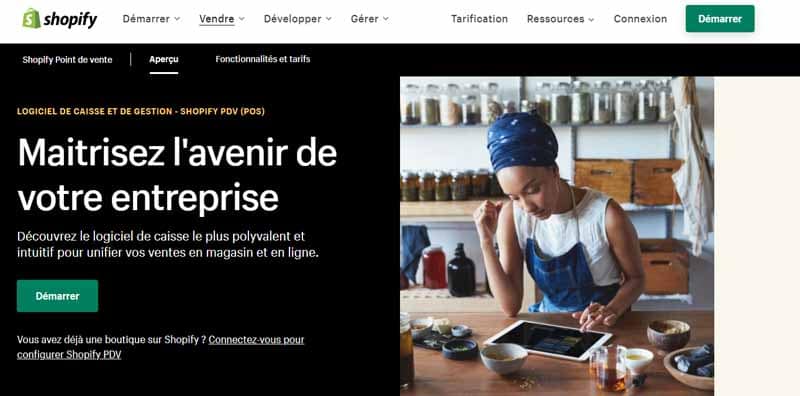 Well, when it comes to card payments, you can always use Shopify Payments to manage purchases from people who visit your physical store. Best of all, you have the freedom to take your cash register wherever you go.
Thanks to the portability of Shopify Payments on mobile devices, sales management becomes easier and above all faster. With the mobile app, you can access sales records any time of the day and accept payment even when you're across town.
But the catch in all of this is that technically you're not that free that much.
Although Shopify Payments has incredible advantages, the tool only works for sellers located in 15 countries:
Yes, the program allows merchants to accept payments without even having to stay in their stores, but unfortunately it is not a global payment solution. Not yet in any case, since it excludes a lot of countries in its list. To learn more, you can check out this official Shopify.
Aware of this limitation, Shopify remains rather generous and accepts a whole range of other reliable payment processing processors available in the market.
So although it is a native and default program of the platform, you have the possibility to change it and choose the program that suits you best.
In this regard, I think it is useless to remind you that you must choose a secure payment solution that is compatible with the Spotify platform.
In particular recognized payment providers such as:
Amazon Pay;
PayPal;
WorldPay;
Authorize.net;
And many others.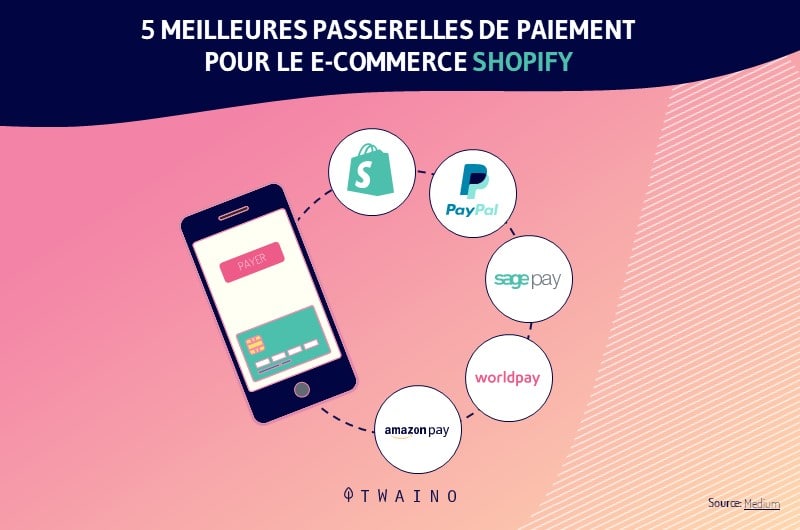 With an international provider, you will have no difficulty exercising and extending your activities to foreign countries. However, processing fees are applied and vary from provider to provider.
It is an investment that can become heavier in the long term depending on the price list of each supplier. So take care to study the respective offers of the different suppliers before subscribing.
However, I would like to point out that choosing a payment gateway other than the one offered by Shopify is subject to additional fees ranging from 0.5 up to 2% on each transaction made on the gateway.
When you really think about it, opting for a gateway other than Shopify Payments is more expensive in the long run.
2.7.2. Payment processing with WooCommerce
Regarding payment processing on WooCommerce, the platform does not have its own gateway.
But it offers reliable external solutions, probably the best in the online payment card industry: Paypal and Stripe.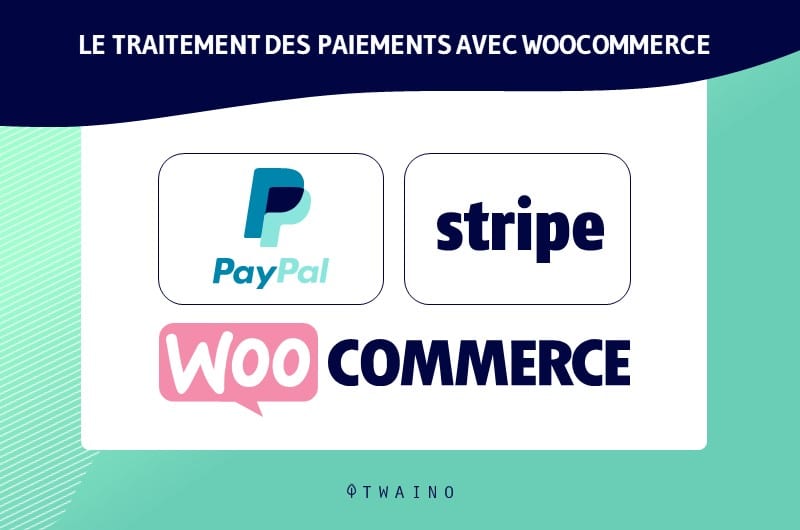 So, for your WooCommerce store you have the option of using either PayPal or Stripe as payment gateway.
Since these two payment systems are offered by default on your WooCommerce store, you will no longer have to redirect your customers to external payment pages to complete their purchases.
Also, the reliability of PayPal and Stripe is well established, they are probably the best payment gateways that continue to prove themselves. They are especially preferred for their security side and the freedom they offer.
For example, you are not even required to have a merchant account before using one of these gateways on your e-store.
But if you still want to try something else, WooCommerce remains quite open and lets you freely choose the payment gateway of your choice.
After all, that PayPal and Stripe are the first two in the field does not necessarily mean that the other gateways are of poor quality, so the choice is up to you.
And here too, WordPress does not abandon its operating system: the use of plugins.
Yes, if you want to use other payment gateways other than those offered by default on the platform, know that most of them are in the form of plugins that you will simply install and activate on your site.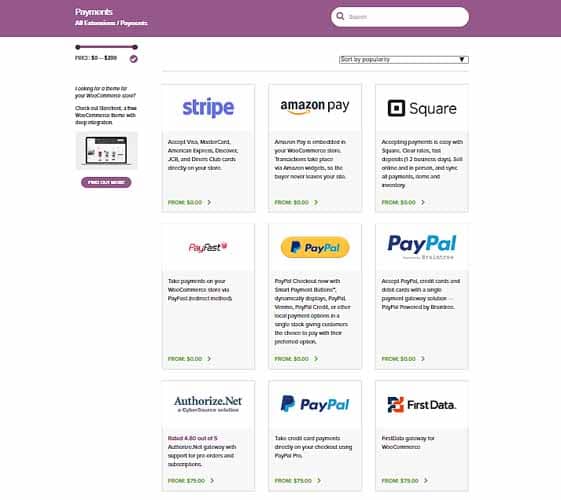 The advantage with a WooCommerce store is that you have almost an infinity of suppliers to choose to ensure transactions on your site.
Moreover, WooCommerce also allows its customers to attach a physical store to their online business and manage it very easily.
It must be said that having a real warehouse where you can store your products or an agency to offer your various services is an effort that puts customers online in a certain confidence.
If you offer guarantees, they know, for example, that they can come and change a product or get a refund. Thanks to WooCommerce POS, you don't really have to worry about managing the transactions you make in your physical store.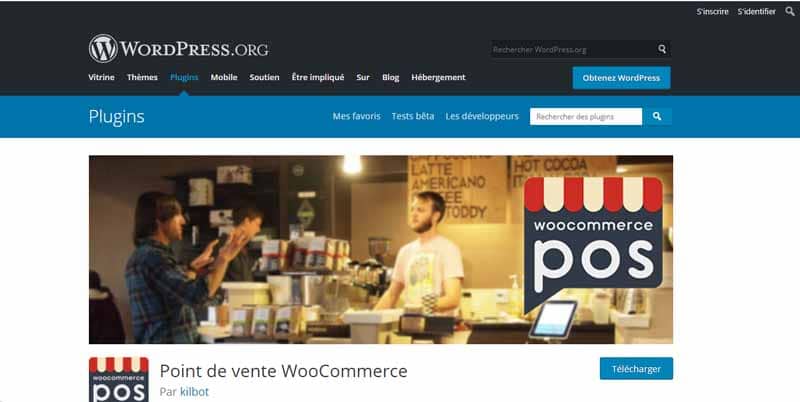 It is quite a powerful module that integrates all the suppliers that offer card processing solutions between real people .
So, do your research, choose an external gateway of your choice, and install it on your Shopify store. Then just connect the processing service to your bank account to get it up and running.
The great thing about WooCommerce is that the brand really lets you freely choose whichever payment processing service you want without incurring additional penalties or taxes.
Once the external gateway is installed and linked to your bank card, you can start your first transactions without paying anything to WooCommerce. On the other hand, transactions are not entirely free since your supplier will receive fees on your transactions.
These fees vary from provider to provider, so always take the time to read and understand your provider's pricing plans before committing.
2.7.3. Who offers the most affordable transaction fees? WooCommerce or Shopify?
In terms of payment processing with the two platforms, it must be said that it is a bit difficult to make the comparison since both seem very flexible and reliable for an online activity.
Shopify Payments is a brand default processing module with some very cool features. On the other side of WooCommerce, we have PayPal and Stripe which are offered as default services.
Also, the platforms are quite generous and collaborative by giving the user the possibility of choosing his own supplier for the processing of his card processing.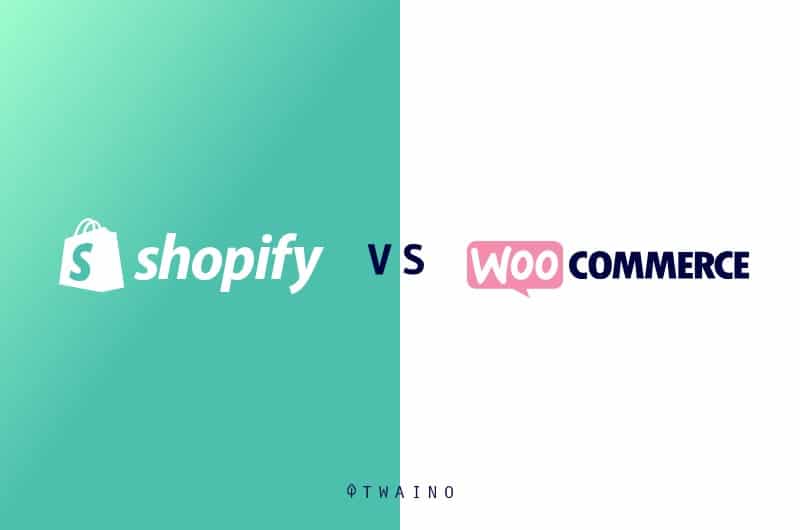 WooCommerce offers the largest collection of external vendors to choose from when it comes to Shopify, the choice is a little limited.
Anyway, no matter which platform you choose, you will find good external payment services that you can attach to your online store.
Aside from this slight disparity in the range of providers offered, the big battle here is at the level of transaction fees. Although the majority of payment gateways offer roughly the same prices, the leaders in the sector are relatively the most expensive.
When it comes to the complementary transaction fees of the two platforms, the comparison would result in a tie if Shopify did not charge additional transaction fees.
On this point, accepting card payments on a Shopify store would cost you more than on a WooCommerce store.
2.8. How to manage security on your Shopify store and a WooCommerce store?
The issue of security is a key issue for the reliability of transactions via e-commerce stores. As the owner of an e-commerce site, you are responsible for securing your site so that you do not have problems with your customers.
You must ensure the security of transactions and protect your customers' data to avoid fraud and prevent them from having their bank details extorted.
Technically, WooCommerce does not offer any security measures. It is a plugin that allows you to have the functionalities to run your online store, but unfortunately does not integrate the security side.
So you have to take care of most of your site security yourself. This amounts, for example, to:
The SSL certificate (Secure Sockets Layer) is essential for any website, especially online stores. This certificate provides most of the security of a website against hacker attacks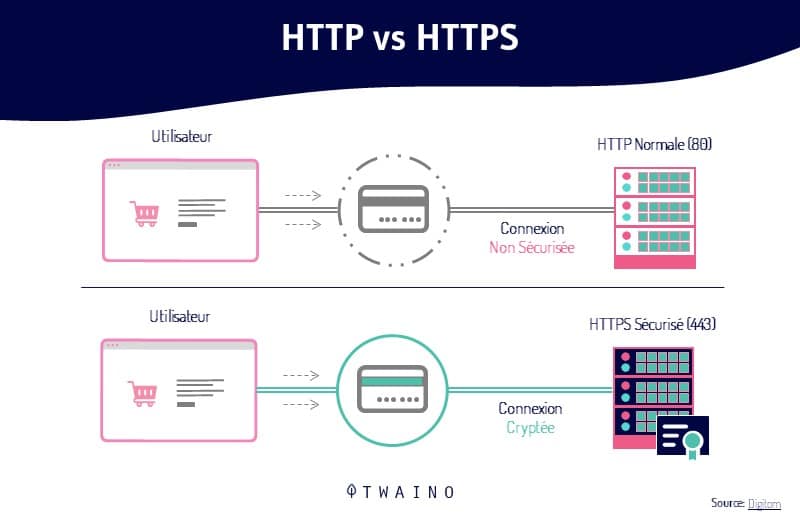 The presence of the SSL certificate on a site is represented by the small padlock positioned just at the beginning of the URL address field.
Aside from the security that SSL brings to websites, it also represents a significant advantage in SEO.
On the one hand, Google requires it and on the other hand, this certificate is the first element that many customers check before placing an order on an e-commerce site.
Since WordPress is open source, you have to look for your own SSL certificate. If it can reassure you, web hosts include an SSL certificate in their packs.
Even better, some hosting companies offer the SSL certificate for free.
With Shopify, on the other hand, managing the security of your online store seems less stressful. Shopify exempts you from managing all these security measures yourself and takes full responsibility for them.
You no longer have to worry or bend over backwards for the security of transactions and the protection of your customers' data.
The only effort you will have to provide for the security of your online store would simply be to create a fairly strong and difficult to guess password.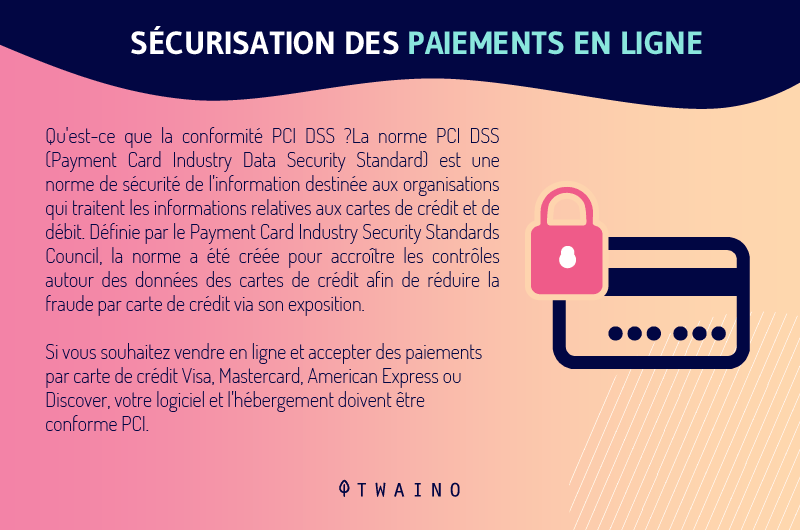 Another aspect of online store security is PCI compliance -DSS. This is a security standard related to the payment card data that you authorize on your site.
As a web entrepreneur, this is also your responsibility. PCI-DSS is recently required to securely make credit card payments through a website.
Shopify complies with this standard, so you don't have to worry if you have a Shopify store and you can start trading as soon as you open your site.
Your Shopify store is PCI compliant from the start. On the other hand, with WooCommerce, you must first gather the right security tools to comply. Compliance is not systematically acquired.
Not because the platform does not allow it, on the contrary WordPress has all the features to comply with the PCI-DSS standard for your site.
The problem is that you are forced to do everything alone. From the choice of effective tools to their implementation on the site.
In addition to SSL certificate and PCI-DSS, you can add security badges to both your WooCommerce store and your Shopify store, to further strengthen the security of your site.
Anyway, it would be easier for you to manage the security of your Shopify site than if you were on WordPress since the security service is taken care of by Shopify.
2.9. Shopify vs Woocommerce: Creation time
Before, the creation of websites was exclusively reserved for developers and required a relatively longer creation time.
But since the advent of WordPress with its drag-and-drop functionality and Shopify with its all-in-one service, building e-commerce sites has gotten much faster.
These two platforms are probably the two quick solutions to create an e-commerce site and which are more or less accessible to people without particular skills in software programming.
However, even between these two solutions, there must be one that offers a much faster creation time.
Let's start our comparison with Shopify. The platform offers a complete approach to offer a ready-to-use site to its users.
The Shopify workspace consists of all the tools needed to build your store across multiple channels. It also takes into account hosting and selling side management of the business.
With WordPress, things are different, a WooCommerce store works a bit like a free shopping cart where you gradually choose the tools for creating your e-commerce site, but without any web hosting service offered.
So in practice, which of the two options is faster and more reliable? Shopify or WordPress?
2.9.1. The creation of e-commerce sites with Shopify
Although Shopify offers a ready-to-use solution, it should start with one step. The first step with Shopify is to pass the authentication by filling in your registration details.
You will need to enter your email address, the name of your store and some additional information before you can continue with the creation process.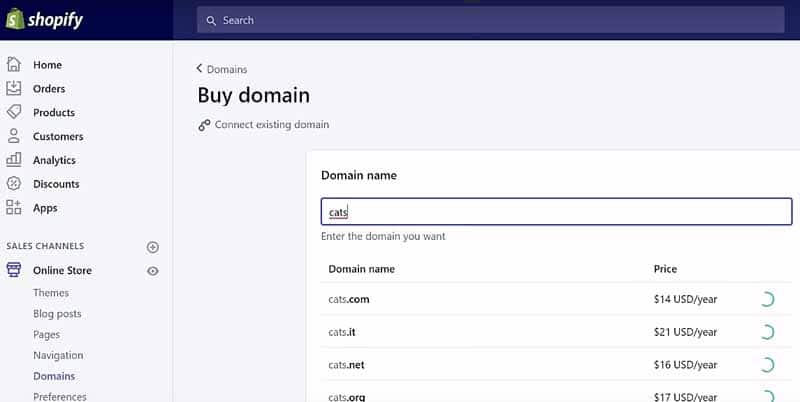 In practice, this authentication step should only take you 2 minutes at most. It remains quite simple, you just enter your personal data, a bit like if you wanted to create a Gmail account for example.
Once this step is completed, you are redirected to the platform's dashboard with all the tools at your disposal for the creation of your online store.
The next step is to choose a Shopify theme from the platform's library. This is the theme that will define the appearance of your site on the screens of your visitors. As explained a little above, you have a collection of a hundred predefined themes compatible with the most popular sectors of activity.
It would surely be easy for you to find the right theme for your online store and business. The themes are available in paid and free plan with crisp image quality and modern design.
Once the theme is chosen, the next step is to move on to its customization. Shopify gives you the opportunity to use its theme editor to perfect the layout and better adapt the theme to your tastes.
To facilitate this step, the platform offers drag and drop functionality. This makes customization more flexible without having to disrupt the basic architecture of the theme.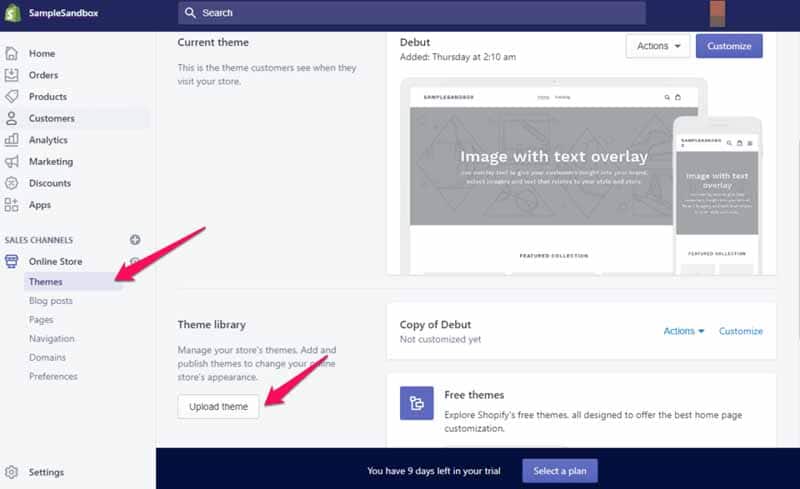 Source : Getshogun
However, it would be a bit difficult to give an exact estimate of how long it takes to customize a Shopify theme . The fact is that the customization time depends on other factors such as the size of the site, the level of customization, etc.
Let's say it's a showcase site, complete customization of the site can take 5 to 10 minutes.
Once the theme has been readjusted to your liking, you can move on to adding products to market from the Shopify dashboard. This step is also very easy to manage:
Go to the product page;
Fill in the description of the products;
Add the properties of each product;
And save.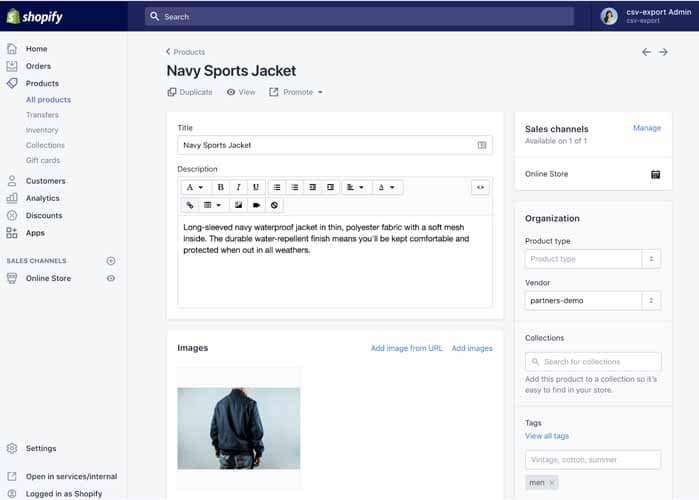 Source : Shopify
And that will be all to create your fully functional Shopify store. Roughly, a quarter of an hour should be enough to create a basic showcase for the site and an hour if you need to customize its layout.
2.9.2. Creating e-commerce sites with WooCommerce
The creation of a WooCommerce store begins with the configuration of WordPress on your domain. To get there, the first step should be choosing a web host.
The ideal would be to choose a competent supplier and above all specialized in WordPress and WooCommerce hosting. The idea is to find hosting services that take the most steps out of installing and configuring WordPress and WooCommerce.
Indeed, there are many specialized WordPress hosts that offer a pre-installation of WordPress and WooCommerce. For example, you can choose SiteGround or DreamHost.
Typically, these providers offer a cPanel followed by a program that allows one-click WordPress installation. What facilitates the installation of WordPress: You just click on an INSTALL button then the program unpacks and the installation is done automatically.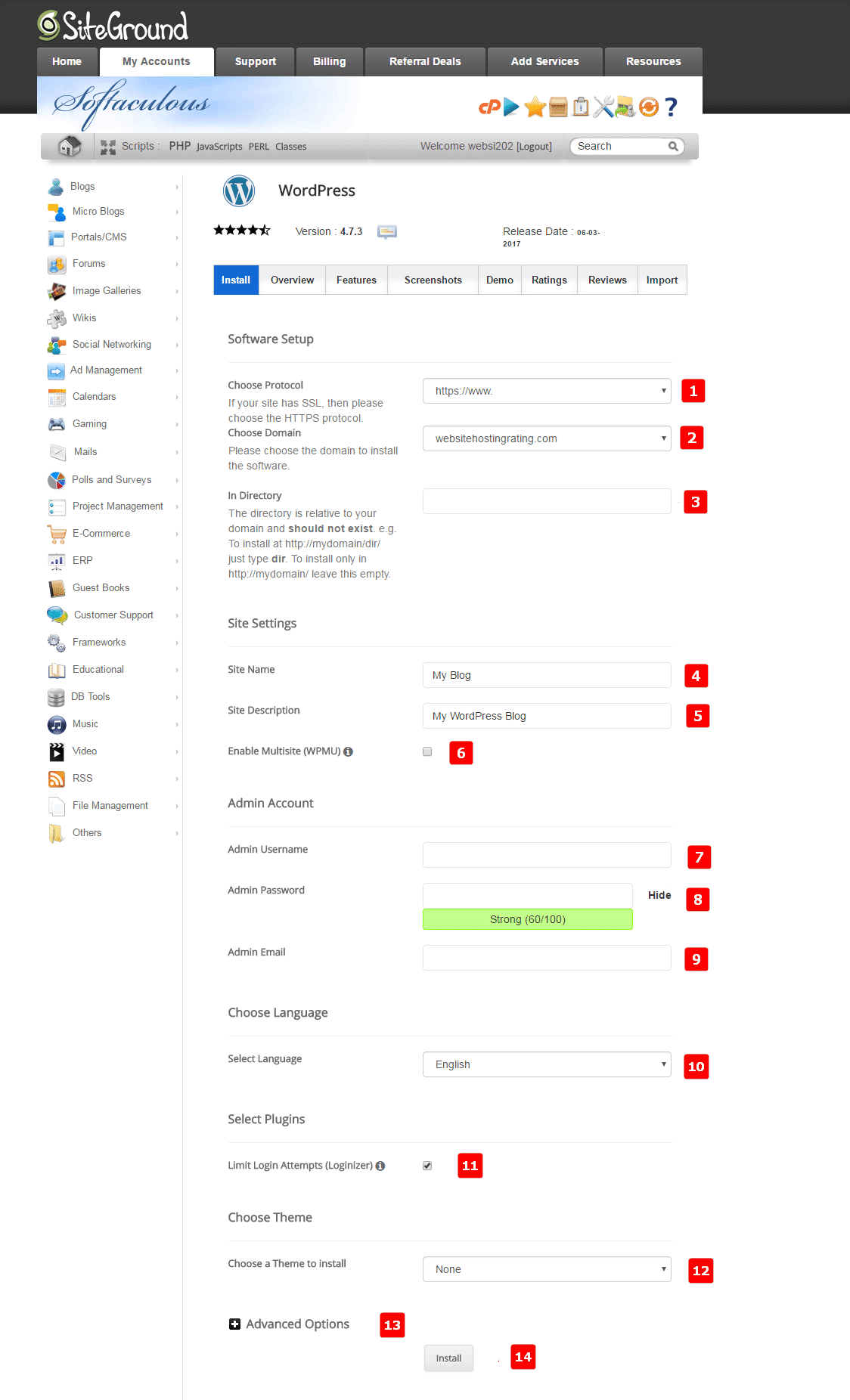 Source : Webhostingrate
The installation does not last and after a few seconds WordPress is launched and fully operational on your domain.
Once logged into your WordPress, you can now switch to WooCommerce integration from the dashboard as a new plugin. The stage remains quite easy.
You just enter the term WooCommerce in the search bar for plugins and then launch its installation.
Once the installation is complete, the plugin will be available on the site but will not yet be activated . You have an Activated button to start the activation of WooCommerce.
Once activation is complete, the setup wizard will kick in to guide you.
You will be asked to fill in the specifics of your store, in particular the pages it will contain, the products in your sector, the payment methods you authorize, etc.
Finally, your e-commerce site will be complete with all the product sheets configured after a few hours.

2.9.3. Which platform offers the fastest creation time between Shopify and WooCommerce?
Creating an entire e-commerce site with WordPress can take a few hours. Compared to software programming, this delay seems to be a record.
Coding from an empty editor to create a fully functional e-commerce site can take a few days even for a senior developer.
Taking just a few hours to build a fully functioning e-commerce site on WordPress with a user-friendly and easy installation system really speeds things up.
However, this "record time" is even longer when compared to that of Shopify.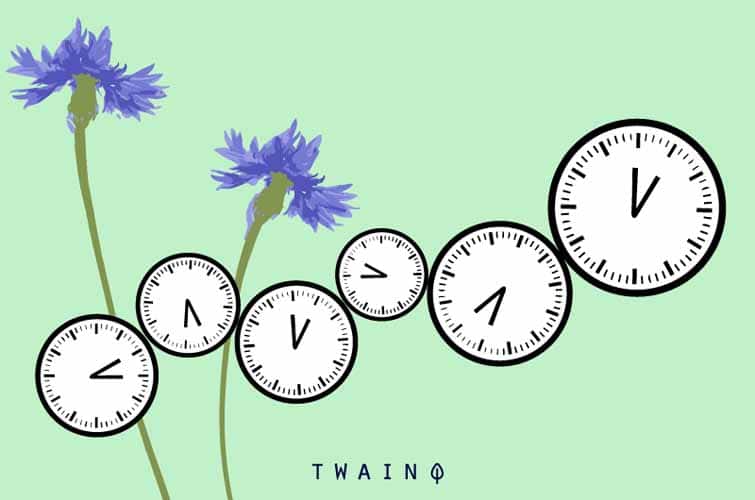 When we analyze the steps of the two platforms, we realize that the process of creating Shopify is done in few steps and is more streamlined than on WordPress.
Indeed, creating an e-commerce site with WordPress involves several systems and therefore more steps. First, you need to subscribe to a web host to configure the domain of the site, proceed to the installation of WordPress, activate the WooCommerce plugin and finish with the customization.
However, the time to create e-commerce sites on both platforms depends on the size of the site and the skills of the person. Either way, it would be faster to build on Shopify than on WordPress.
2.10. Content creation and management
So how is content management going on both platforms? Right off the bat, you should know that anything you post on your WordPress site is generally up to you.
On the other hand, Shopify may decide to remove some of your content or even all of your content from your site, if it does not comply with the platform's terms of use.
It is also true that if your content violates the policy of your web host, it may also decide to remove your site from its infrastructure. But the fact is that you have more "freedom" to create your content on WordPress than on Shopify.
Additionally, WordPress offers more opportunities to pull content from your site. The platform provides you with a number of export tools to easily export and save your content.
Shopify also allows you to export, in particular your products which you can recover in CSV format, but you cannot export static pages or blog articles for example.
If you stick with it with your Shopify site, you have to take it the traditional way of copying and pasting all the text, which is a bit outdated. However, the platform has paid applications in its library to circumvent the situation.
Ultimately, WordPress gives its users more freedom to control their content much more than Shopify. You must therefore take this aspect into account depending on the nature and scope of your site.
2.11. Shopify Vs WordPress: What to Remember
Finally, we will remember that between the two platforms, WordPress is undoubtedly the best established and the most flexible. It has more users and has the largest collection of themes and apps.
If you have the right skills and significant resources, you can create any type of website with WordPress.
But that doesn't mean that WordPress wins out over Shopify every time and is the most beneficial option for all user profiles.
There are many aspects where Shopify remains the best choice, especially in terms of small budgets or lack of web design experience.
If you feel the need to produce and manage your content more, perhaps for a magazine for example, WordPress is surely the best option in this context.
The blog features offered by the platform such as content archiving, its content management system… are more flexible and more convenient than what Shopify offers in this area.
It must also be recognized that WordPress has excellent advantages in terms of SEO. The fact of using plugins such as Yoast to manage the optimization of your pages, having the choice of choosing your own host and offering your own URL structure gives WordPress some points in natural referencing.
But on several other levels, Shopify can be appreciated for the simplicity of its services which easily meet the needs of users, particularly in terms of e-commerce.
This is explained since Shopify is originally a tool exclusively reserved for the creation of e-commerce sites and we can only appreciate all the efforts that the platform provides to satisfy its customers.
Moreover, Shopify surely offers the best technical support with its 24/7 operational customer service.
This is a great relief and frees you from having to take steps to ensure the security of your site, its maintenance and everything related to the technical side of the store.
Finally, if you are not very keen on programming and technologies, Shopify remains the shortest and easiest method to create your site without any fuss.
It is true that WordPress also allows you to create sites without entering any line of code, in particular thanks to its drag and drop functionality. But installing plugins and extensions can be a hassle for someone who is taking their first steps in building websites.
So if you don't know how to code and you have enough resources to hire a developer, you can get something really good with WordPress, a "tailor-made" site that really meets ALL your needs.
Otherwise, Shopify is probably the best option to create your e-commerce site without bothering you too much.
Chapter 3: 10 important statistics of WordPress and Shopify (2020) to strengthen the comparison between the two platforms
To further highlight the difference between Shopify and WordPress, nothing better than to browse the numbers. Here are ten of the most important statistics of the two platforms:
3.1. Important WordPress Stats
The digital marketing industry has never been so disrupted as WordPress has been in recent years.
With its free and amazing features, the platform has made website building accessible to everyone more than ever. Anyone, even without any computer knowledge, can create a complete, responsive website with an impressive design.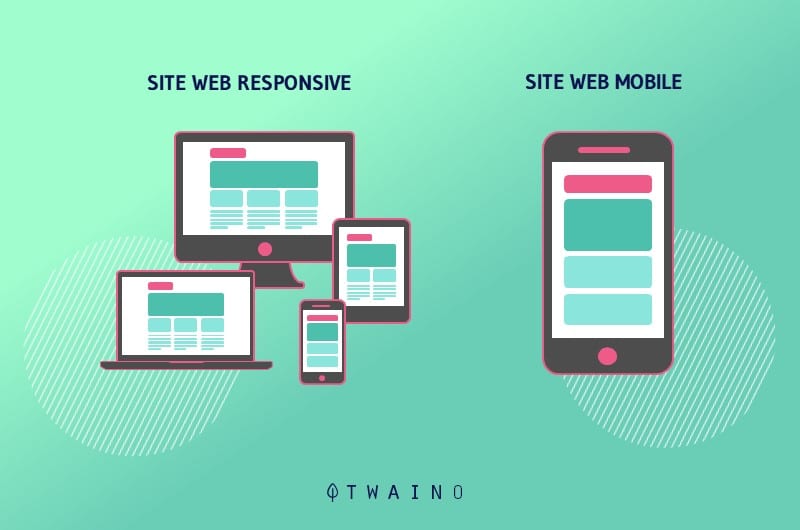 The platform has played a leading role in the world of e-commerce and has changed all the old game rules. WordPress has offered the chance to all companies, small and large, to embark on e-commerce.
Today, a small local business with limited financial means can well and truly compete with a giant with big marketing campaigns.
This accessibility to the general public is made possible thanks to the almost unlimited library of plugins and themes available to WordPress.
To better understand what it's all about, here's a selection of the most important WordPress stats this year.
While some of these statistics testify to the popularity of the platform, others provide a better understanding of how it works.
Together, let's find out!
3.1.1. WordPress powers 42% of the Web (Source WordPress)
When we know that a few years ago, the platform was still unknown to everyone, and that today it claims to have " propelled 42% of the Web, whether blogs to the biggest online news sites",. we realize how much WordPress has experienced a remarkable rise.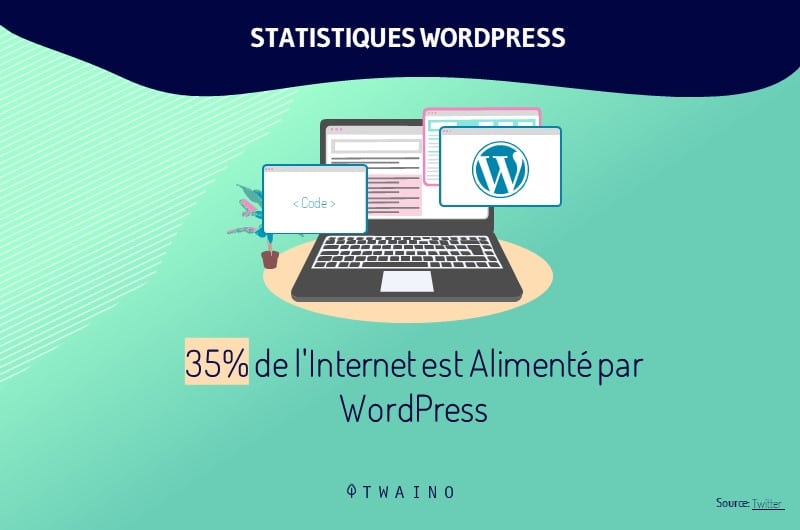 This ability to bring everyone together is due to the versatile nature of the platform which has been able to adapt to the needs of both large and very small companies respectively.
3.1.2. 59% of CMS-based websites preferred WordPress
In terms of a content management system, WordPress is literally grabbing global market share.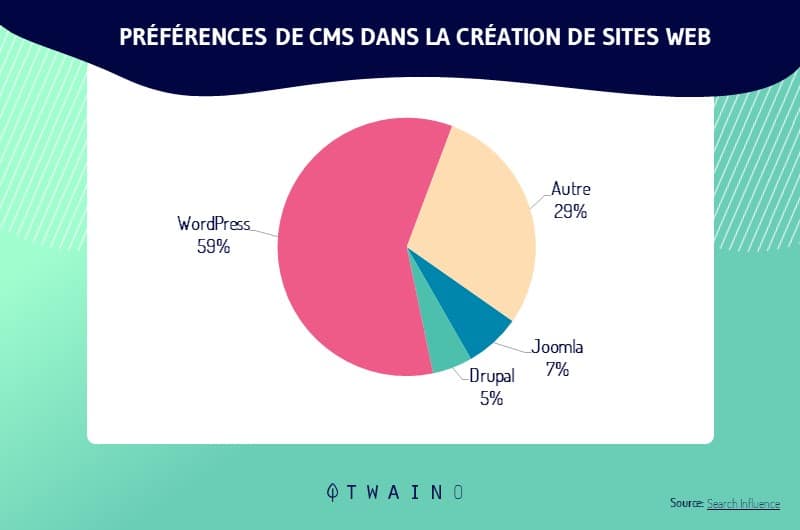 Although 41% of website owners worldwide do not use WordPress, the platform alone accounts for more than half of the sites created with a CMS.
3.1.3. +455 million websites use WordPress.com worldwide
As of 2020, WordPress.com has over 455 million websites around the world. Compared to past years, the platform had an increase in market share of 4% in 2018 and 2% in 2019.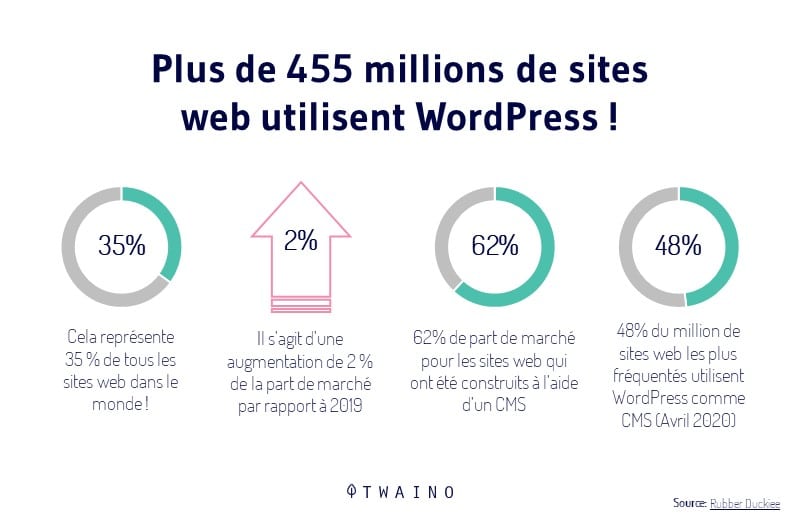 In addition, more than 20% of self-hosted sites use WordPress, making the platform the most widely used content management system on the Internet.
3.1.4. WordPress has allowed 1.1 million add-on domains to be registered every 6 months
It must be said that this is a statistic that still dates from 2015 and it is likely that the real figure has increased today especially as the number registered domains increased as well as the market share of WordPress.
3.1.5. Of the top 10,000 websites, 34% are built with WordPress
We already knew that WordPress occupies a large part when it comes to bringing together all the sites without any distinction. But when you get down to the sorting and just stick to the most popular sites on the web, the WordPress numbers get even mind-blowing.
Among the popular sites that use WordPress, we have:
TED;
Etsy;
Whitehouse.gov;
Reuters;
Yelp;
The New Yorker;
TechCrunch;
People;
Etc.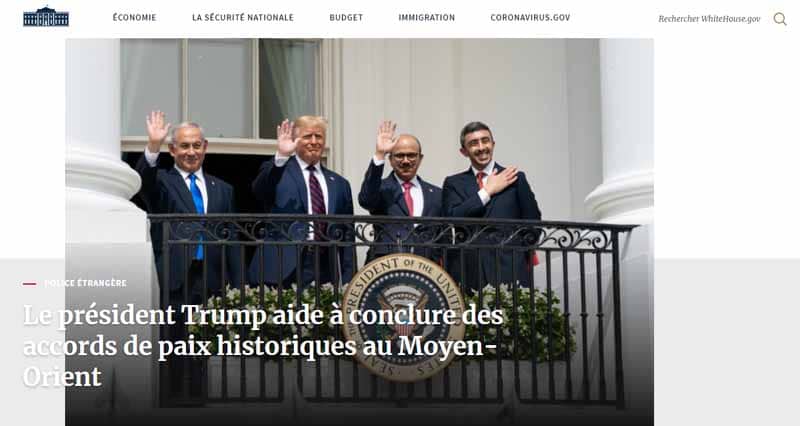 Source : Maison Blanche
Among the world celebrities who use WordPress for the creation of their sites, we have:
Jay Z;
Justin Bieber;
Stephen Fry;
Snoop Dogg;
Katy Perry ;
Etc.
3.1.6 Joomla is the 2nd most used CMS in the world with only 6% of the market share
It is common to see the leader of a domain have competitors, but it is rare to see a leader of a domain outrun its competitors by such a large margin.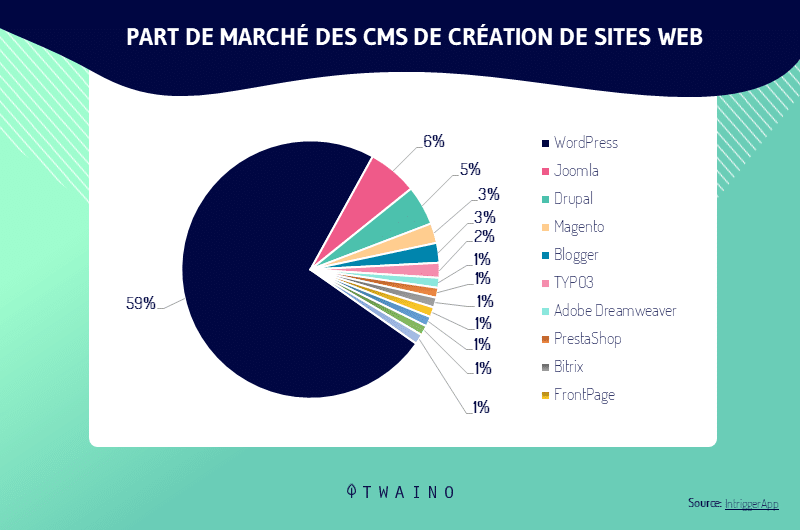 It is true that there is no objective answer to the question "What is the best CMS"? Each user will probably give an answer based on their personal experience.
But the fact is that the numbers are there and can give us an orientation on the most used CMS in the world. Statistically, we have:
Joomla with 6% from the market;
Drupal for 5%;
Magento for 3% market share.
3.1.7. WordPress version 5.2 has been downloaded +16 million times worldwide
WordPress is one of the most downloaded applications in the world. Right now, it likely that the platform's counter will keep ticking.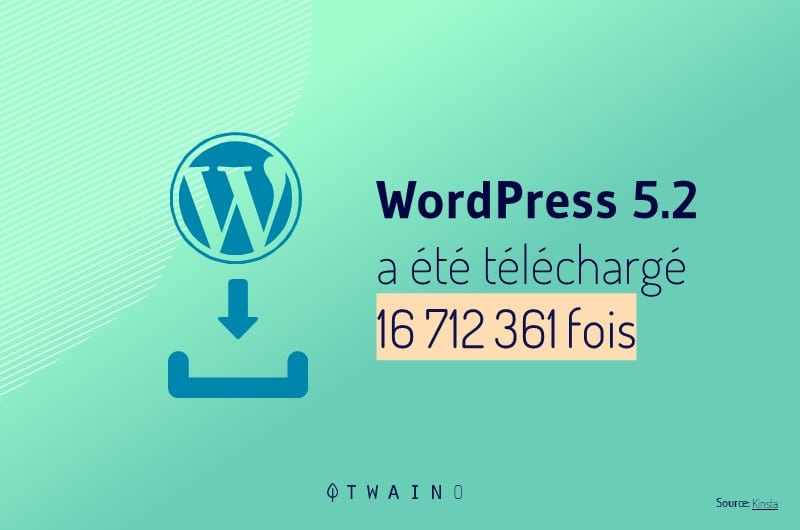 On the official page of the platform , you can check this number in real time and realize how fast it is rising. The latest release of WordPress is its version 5.8 released on July 20, 2021.
3.1.8. WordPress has almost the same number of visitors per month as Twitter
You probably know that Twitter is a pretty viral social network these days. The blue bird brand registers 152 million visits each month in the United States alone. Well, WordPress is just as viral with 149 million monthly visits.
For the little parenthesis, it was only recently that Twitter and Amazon (199 million) were able to overtake WordPress. With these numbers of astronomical visits, we realize the extent of the activities that these three platforms carry out.
3.1.9. The WordPress community is truly a machine for producing web content: 70.5 million new articles and 52.1 million new comments published each month on the web.
When it comes to blogging, WordPress.com are also mind-blowing. Designed to facilitate the publication of Web content and the animation of blogs, WordPress continues to attract a large number of bloggers around the world who regularly publish articles and feed discussions in comments.
3.1.10. They are more than 409 million Internet users to visit more than 21.1 billion Web pages each month on sites created with WordPress
Blogs have become almost anchored in everyone's daily life. Every day we browse blogs looking for information, a service or a product. And most of these blogs are made in WordPress.
These figures are obtained thanks to the WordPress counting system integrated on each WordPress blog.
3.2. Important Shopify stats
"You have the will. We have the way.'s motto to encourage users to set up their business on its platform.
So, the currency was enough to attract users? What do the numbers say about Shopify in concrete terms?
We talk about it right away!
3.2.1. Shopify served as a gateway for 218 million online orders in the last 12 months
When we take the latest statistics published by Shopify (June 2019), we can see that the platform occupies a really important place in the online sales market.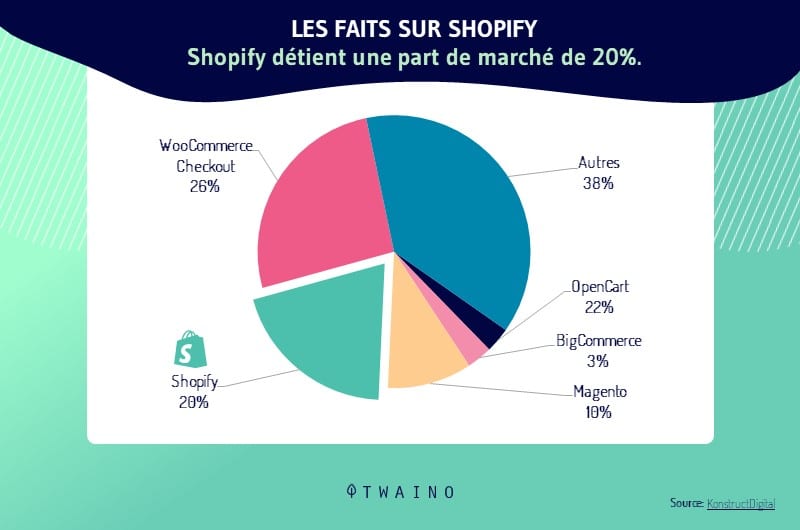 In 2018, the platform was at 41.1 billion dollars as a figure of business done. And when we go back to the creation of Shopify, it's a surplus of 100 billion dollars that passed through the stores of the platform.
3.2.2. There are 46.45 million visitors to Shopify sites in the last 6 months
When we go through the website analytics tools, Shopify recorded +46 million visits in the last half year.
The great mass of these visits are more concentrated in America, ie 39.93% of visits in the United States when only desktop Internet users are considered.
They follow:
The United Kingdom with 4.80%;
Canada with 4.77%;
Australia with 3.93%;
Brazil with 3.90%;
And many other countries.
3.2.3. Building a store on Shopify gives you an average of 1.5% conversion rate according to 2020 Little Data research
According to recent research by Little Data, the conversion rate a small business can have on Shopify is from 1.5% up to 2% sometimes.
However, it should be noted that some exceptions were observed. Indeed, some companies hosted on Shopify have rather flourishing businesses and reach a conversion rate ranging from 10 to 20%.
With the previous statistics, we can say that the platform receives a lot of visits. But, more than 50% of its visitors close their tabs right after viewing a single page.
This does not systematically question the quality of the platform, and there are probably no websites with a 0% bounce rate, even the NET giants also have their bounce rate.
It is estimated between 26 and 41%, the excellent bounce rate for a website. So with its 53.23%, Shopify is rather average.
3.2.5. Shopify hit 1 billion order in first half of 2018
Shopify hosts hundreds of thousands of stores on its platform and more and more people are shopping through these stores. The Shopify team had to really work to meet the expectations of all these users.
During the second half of 2018, the brand published having served 1 billion orders on its platform.
3.2.6. Shopify is more than 1 billion dollars in revenue in 2018
Not only has the platform managed to rise among the largest e-commerce platforms, Shopify has also recorded impressive revenues.
In 2018, the platform already had hundreds of thousands of new merchants on its platform.
This allowed it to generate a turnover of 1.073 billion dollars in the same year.
In 2019 Shopify announced that it achieved $1.578 billion in annual revenue.
3.2.7. Shopify gave more than $850,000 to hackers
Following its hacker attack in 2006, Shopify invested a fortune to strengthen its security and protect its users' data during the various transactions on the platform.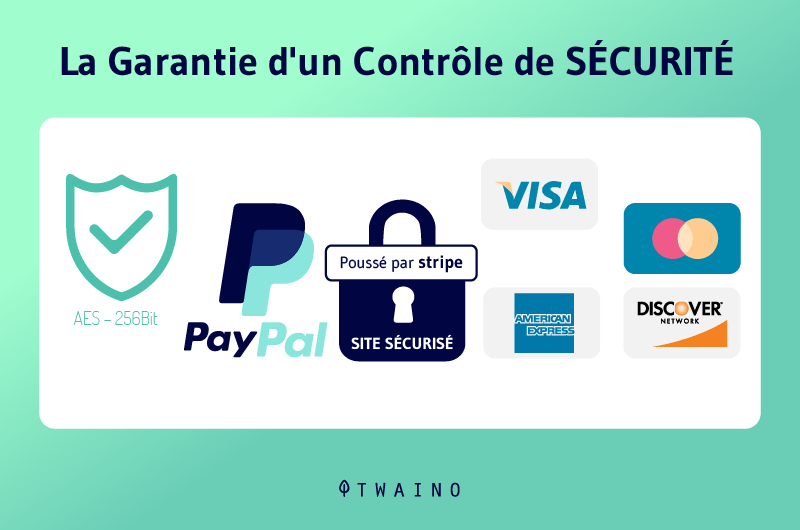 She paid over $850,000 to ethical hackers to comb through builds its desktop platform as well as its mobile version and identify any flaws.
3.2.8. More than 7,000 companies have chosen Shopify Plus for managing their activities
As developed in one of the previous chapters, Shopify Plus is a functionality initiated by the platform to offer e-merchants the possibility of automating certain tasks of their routine daily.
It also allows you to personalize the store and increase its efficiency. It must be said that the solution has pleased companies, more than 7,000 of which we will particularly remember:
Victoria Beckham;
Lorenzi Milano;
Bremont;
The Wool Company
And many more.
Better still, they are more than 820,000 e-merchants to favor Shopify to carry out their activities online.

Among these merchants, there are also big names such as:
Tesla;
Unilever;
Nestlé;
Pepsi;
Etc.
In recent years the number of mobile users has literally exploded and many websites derive a good part of their traffic from mobile devices. Shopify also confirms the trend with almost all of its traffic coming from smartphones and tablets.
This is rather good news for the platform and Shopify merchants since according to digital marketing statistics, 90% of web consumers place their purchase orders from mobile devices. :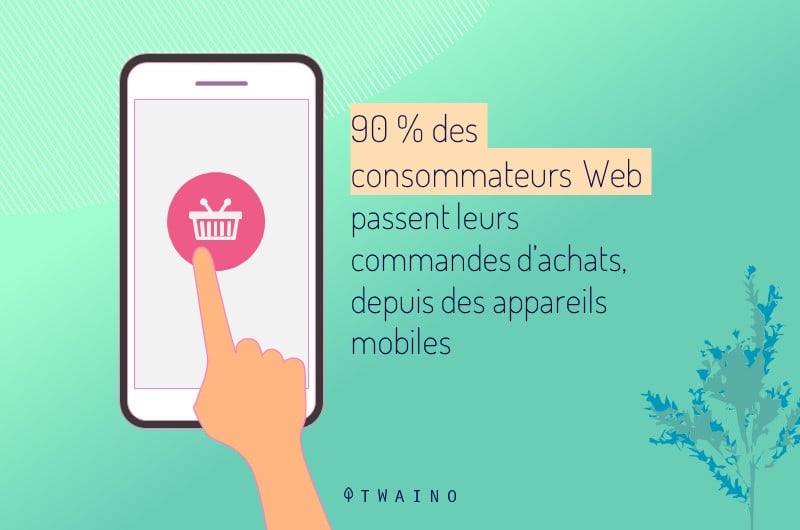 3.2.10. Shopify belongs to the Top 3 of the best solutions and innovations in e-commerce.
This is probably one of the best testimonials that attest to the quality of service that the platform provides.
The first place is for the WooCommerce WordPress plugin with 26% market share and 3.8 million sites under its belt.
Next comes Shopify for second place with 20% and Magento for third place with 9% market share.
In summary
In view of the advantages and limitations of both platforms, the best solution for someone who has little financial means would be to start their online business with Shopify. Especially if the person knows nothing about web design.
She will be able to take advantage of Shopify's customer service by just paying for her subscription. The platform will take care of security, payment processing and all other technical procedures.
Thus, the interested party can invest the rest of his means in other things such as the purchase of products or a campaign of his shop for example.
But if on the other hand you have programming knowledge, or have enough means to hire a programmer, choosing WordPress is probably the right option.
You can design your e-commerce site in your own way without any limits and enrich it with all the plugins and extensions that you deem useful.