Did you know that 93% of all online experiences start with a search engine and that Google alone receives 3.5 billion queries per day?
Statistics that prove how much demand on the Web is available regardless of your sector of activity.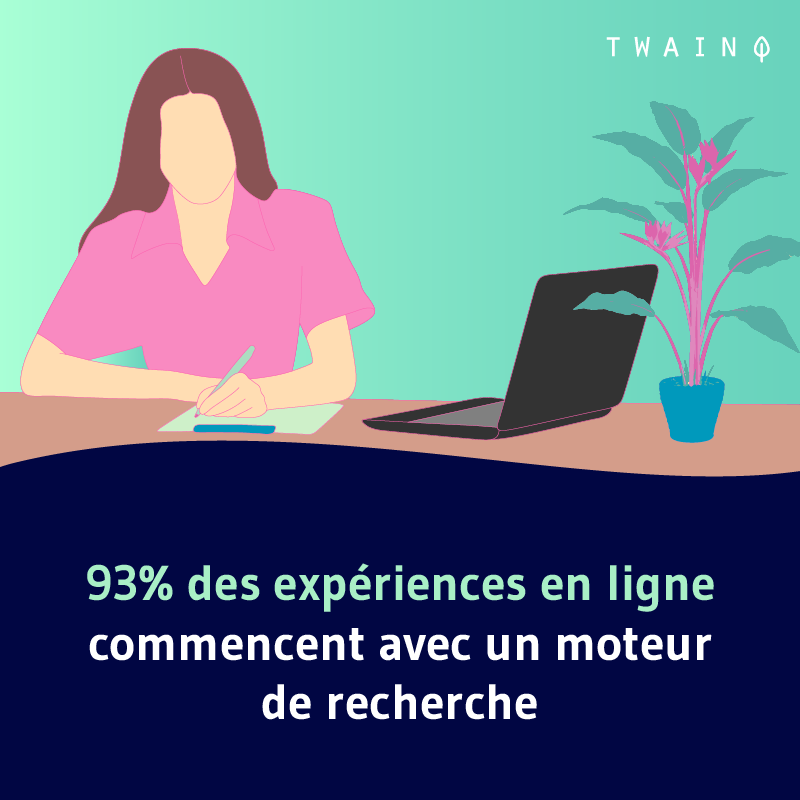 But what do you do to make your site appear in the first results when someone searches for your products or services on Google? If you have no SEO strategy or are not proud enough of the one in place, this business case will be of great use to you.
It's a kind of case study that retraces from A to Z and in chronological order, all the SEO strategies that I used to help the ready-to-wear website Eole Paris to improve the visibility of its brand on the Web.
Together let's follow!
CHAPTER 1: PRESENTATION OF MY TWAINO AGENCY AND THE EOLE PARIS CLIENT
I am Alexandre MAROTEL, SEO referrer and founder of the Twaino marketing agency.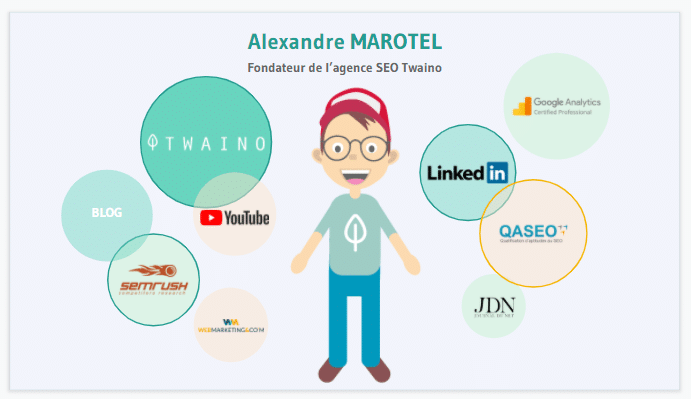 If this is the first time you have visited the Twaino site, I invite you to quickly discover my agency and the services I offer internally with my teams.
1.1. The services we offer within our agency Twaino
Located in the 10th arrondissement of Paris, Twaino is a natural referencing agency that supports French companies and elsewhere to improve their visibility on the Web.
Whether you are in agribusiness, telecommunications, commerce or provide services to individuals or other businesses, Twaino has a team of SEO experts capable of generating new customers for you, especially from search engines. research.
Since realities can vary from one sector to another or from one company to another, we have set up a series of diversified services to meet all of our clients' needs in terms of visibility on the Web.
At Twaino, you benefit from:
An SEO campaign;
An SEO audit;
An analysis of your competitive environment;
Writing new SEO optimized content;
Optimization of your old content;
Creation of custom illustrations and infographics;
Online training in natural referencing;
Etc.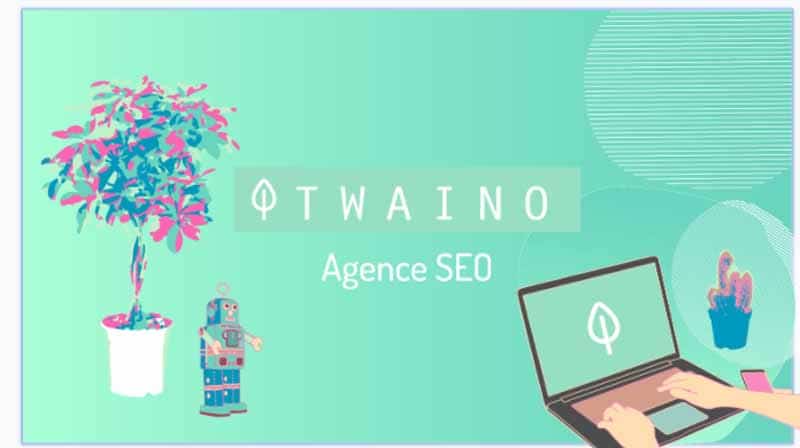 Also, it must be said that to stand out from other SEO agencies that you will find on the market, Twaino remains faithful to a certain number of principles which testify to all our seriousness and our know-how:
A 100% SEO oriented SEO service. Unlike 360 ​​agencies that pride themselves on doing a bit of everything, at Twaino, we decided to focus all our resources on what we know how to do best: attract quality traffic for businesses from search engines thanks ONLY to natural referencing techniques. That is to say that we do not buy backlinks or advertising space to improve the ranking of your site on Google.
An ethical White SEO SEO service reflecting the requirements of search engines. In SEO, there are fraudulent strategies used by some SEOs to gain websites an apparent and punishable ranking by search engines.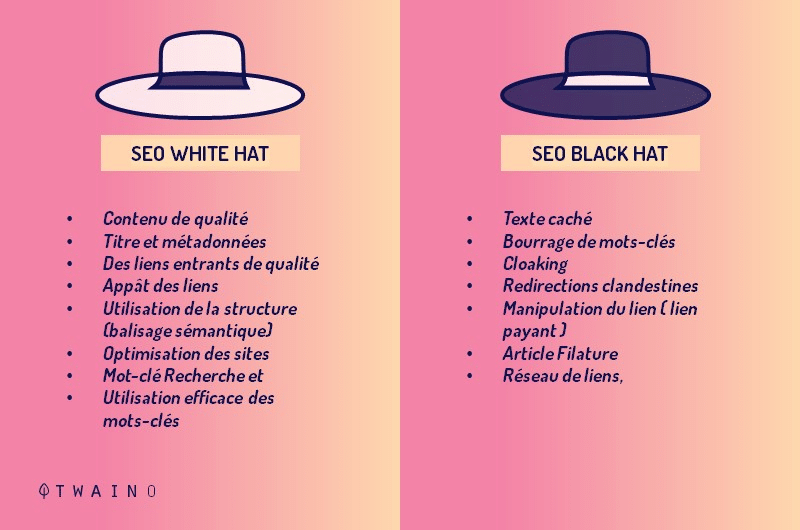 At Twaino, we are committed to using only ethical SEO strategies to guarantee our clients a long-lasting ranking free of any possible penalties.
A personalized and tailor-made approach to meet the expectations of our customers. Many SEO agencies are quick to consistently recommend the same SEO strategies for all clients. At Twaino, we realize that challenges and difficulties can vary from company to company or industry to industry. This is why we remain at your disposal to learn about your expectations and carry out an SEO audit before proposing any strategy to implement on your site.
An easily measurable methodology for frank and transparent collaboration with our customers. Instead of bragging about our qualities and making sugary promises, we prefer to let the numbers of our SEO campaigns speak for themselves. By working with Twaino, you have access to our analytics tools to track in real time the new performance we are achieving on your site through our branding efforts.
A simple and inclusive approach for a participative collaboration with our customers. Since we are talking about your company and your objectives, we consider it useful to keep you informed, through periodic analysis reports, of all the strategies that we are implementing on your site. After reading these reports, we remain open to any suggestions you may have.
1.2. Free SEO tools offered by Twaino
Twaino is also SEO tools available free to the general public that you can use freely to optimize certain tasks of your marketing strategy.
These are: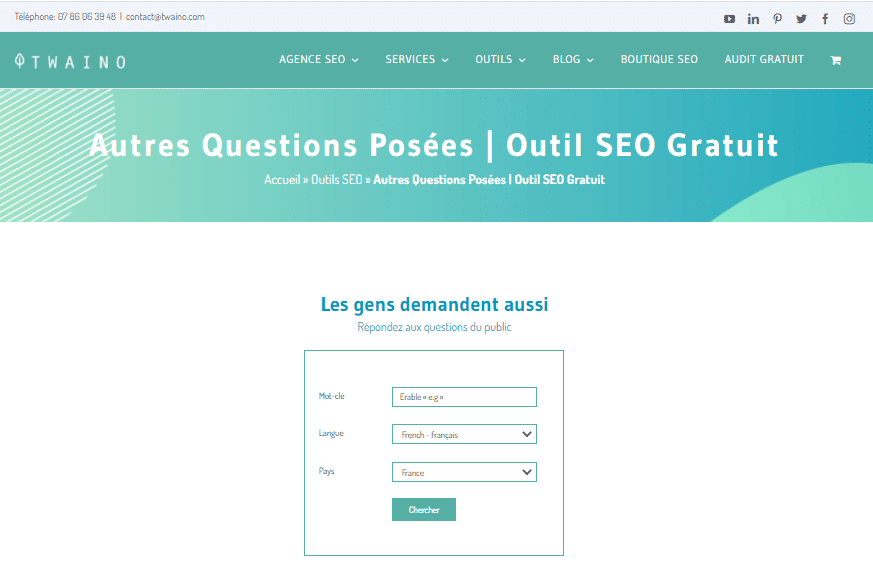 People Also Ask Twaino is a tool developed by our agency to allow you to quickly access all the questions asked by Internet users on a given theme in the same space.
This is a useful and reliable source for content marketing, since our tool pulls its suggestions directly from Google's "Other questions asked" box.
People Also Ask Twaino helps you:
Find new ideas for creating engaging content that really grabs your audience's attention.
Finding relevant and timely topics to enhance your existing content.
To collect questions frequently asked by Internet users to create and feed an FAQ section on your site.
Get ahead of your competitors in terms of content creation.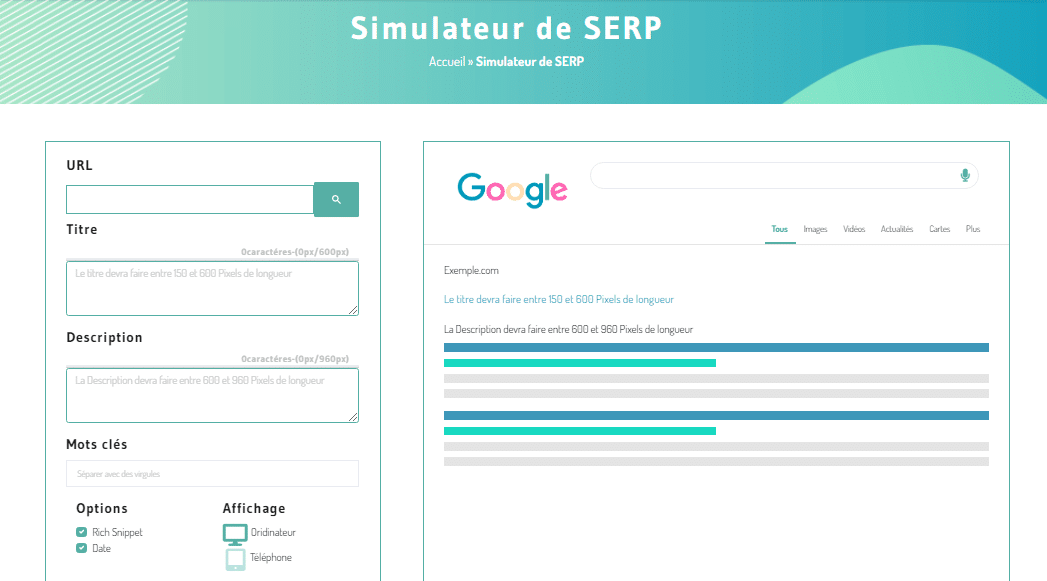 We have also developed a SERP simulator to allow you to repeatedly test the display of titles and meta descriptions of your articles before they go live.
With Twaino's SERP Simulator, you can: Fine-tune
the number of characters your page titles and descriptions should contain for better display on search engines.
Simulate the display of your titles and meta descriptions on computer and mobile phone screens.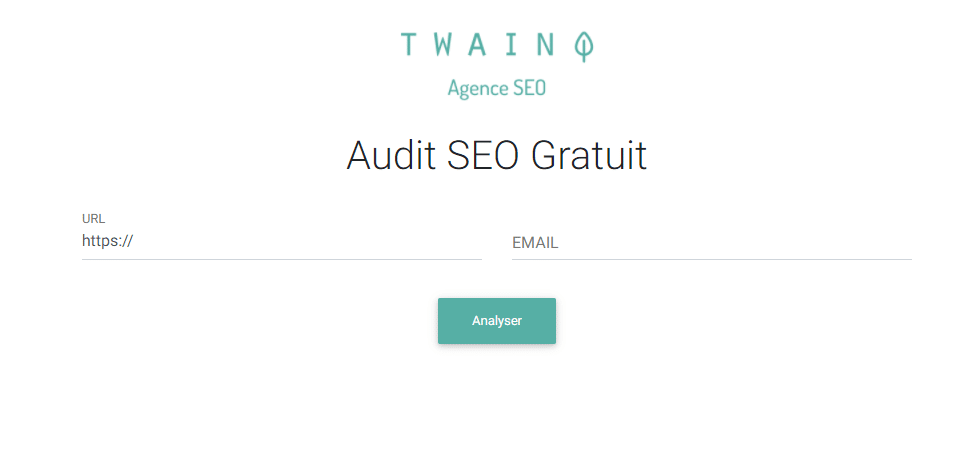 Just as a vehicle needs a regular technical visit, your site also needs to be audited periodically in order to diagnose any problems that could slow down its performance.
Even before entrusting us with the complete audit of your site, you can use our tool to generate a pre-audit and have an overview of the state of your site.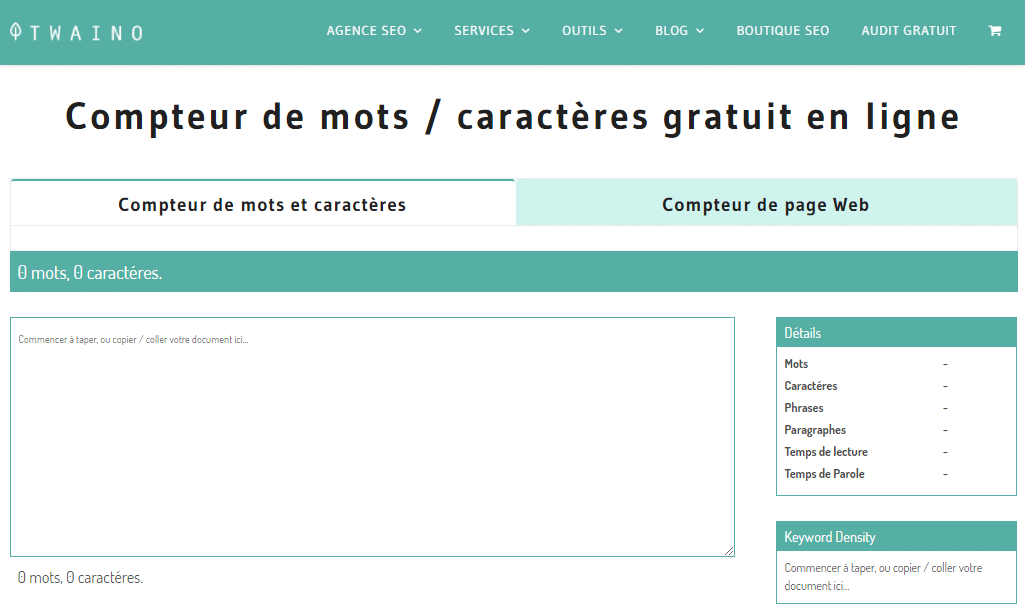 apart from the tools of the Microsoft suite and the Google workspace, it is a bit difficult to accurately assess the number of words or characters that you enter in a text.
Our word and character counter tool overcomes this problem by providing you with information as you go:
The number of words entered;
The number of characters entered;
The number of paragraphs created;
Reading time;
speaking time;
And the density of each word in the whole text.
You can also paste the link of a page and have all this information about the text that this page contains.
1.2.5. A free YouTube channel and blog
Because all that is not shared is lost, Twaino also has a blog on which I make the effort to publish a few contents per week to share my knowledge in SEO and digital marketing with my users.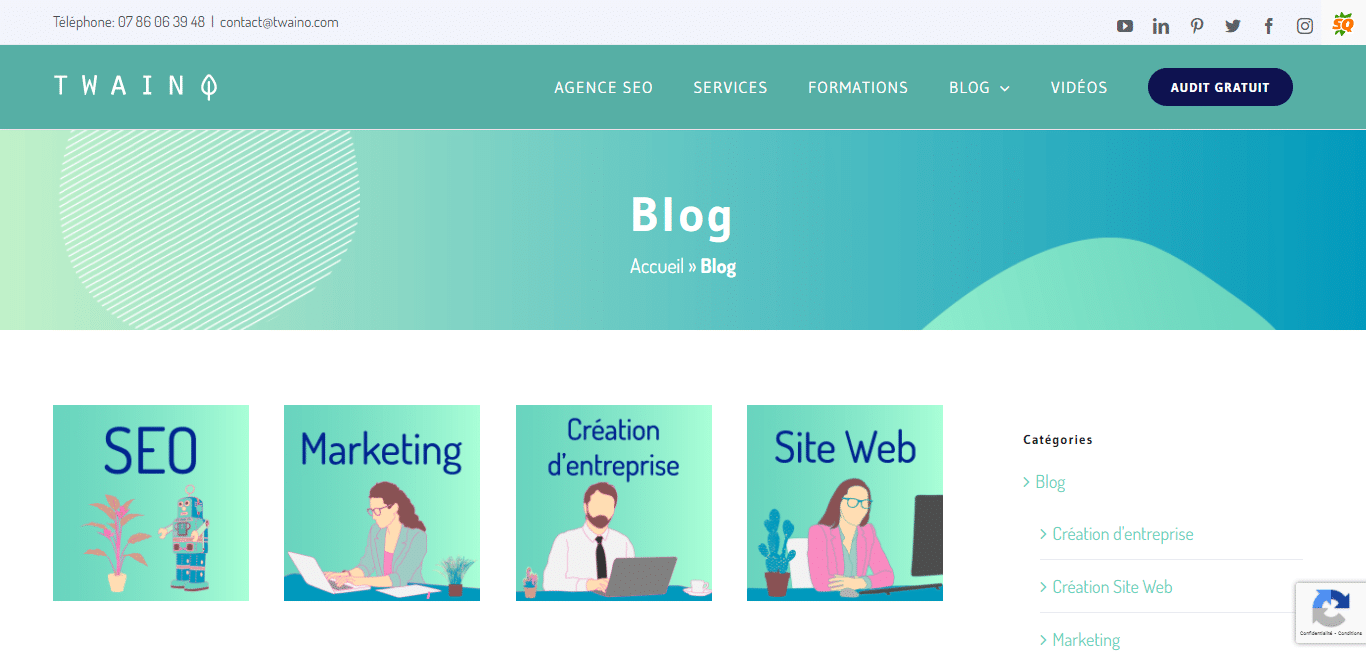 Twaino's blog and YouTube channel, you will find free advice and tips on:
Take a look, you're sure to discover new marketing concepts and tips to try.
1.2.6. A gallery of free SEO images
You may have noticed that Twaino uses a particular style of images in its content. These are actually images created by our team of graphic designers to enhance our content and make reading more enjoyable for our visitors.
We also make this library freely available to the general public. You can therefore access our images for free and use them freely in your content.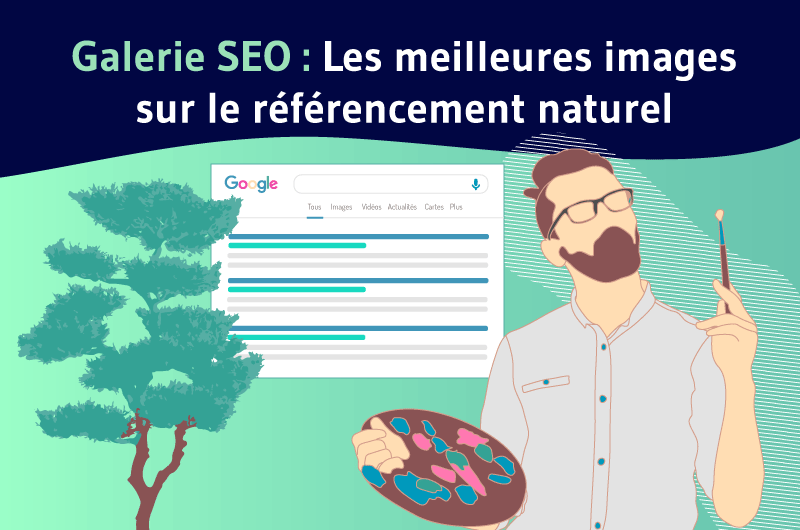 However, we ask you not to forget to specify the source of each image used by simply adding under the image the mention of our brand, Twaino, as well as the link which redirects to our home page. It would be a nice way to encourage us to produce more images?.
1.3. Presentation of the Eole Paris website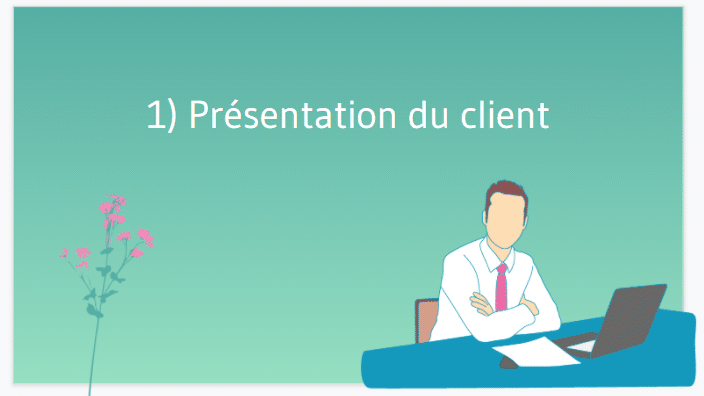 This business case concerns Eole Paris, a workshop for the creation and sale of fashion items. The brand wants to be "of quality" by bringing together "freshness", "relaxation", "sincerity" and "style" in all its creations.
Original creations made in France, made on demand from the brand's premises, right here in the 17th arrondissement of Paris.
Eole Paris is inspired by the current trends of 3 major cities, Japan, France and Brazil to work on the design of its creations.
This makes its ready-to-wear shop particularly rich in attractive colors and patterns with superb items such as:
T-shirts;
Sweatshirts;
Hoodies;
And tank tops.
As a natural referencing consultant, my role is to help this ready-to-wear brand to rank on the pages of search engines and in return obtain quality traffic likely to buy its creations.
The particularity with this business case is that our collaboration with Eole Paris began simultaneously with the creation of the brand.
The Eole Paris site was therefore nascent with performance counters at zero at all levels:
Website : https://www.eole.co/ ;
Sector : Ready-to-wear brand and a fashion blog for men;
Type of Business : BtoC;
Domain Authority : 0;
PageAuthority : 0;
Content Management System : WordPress;
Site age : 0 months.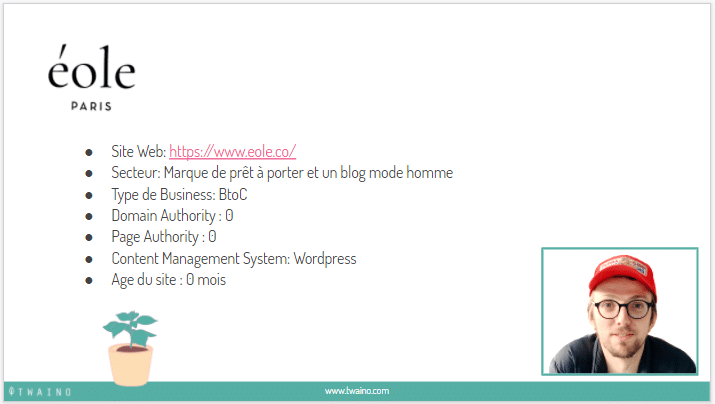 The big challenge here will then be to establish a solid foundation in terms of SEO strategies to improve the brand's visibility on the Web and generate its first visitors within a reasonable time.
Chapter 2: Eole Paris SEO Pre-Audit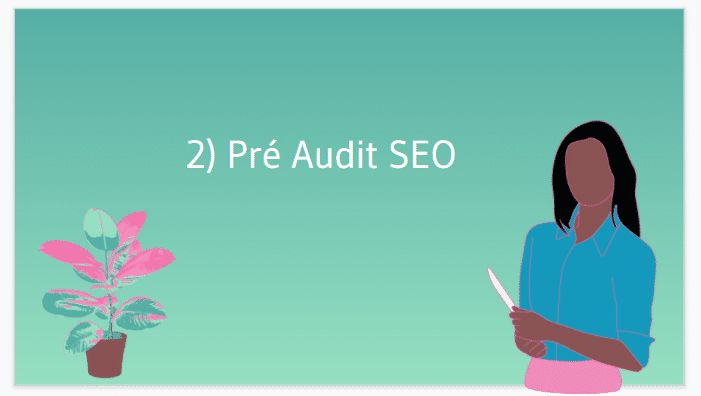 In order not to make decisions blindly and to remain consistent in your branding strategy, it is important to make an "inventory". In SEO, it starts with a pre-audit which represents in a way a summary diagnosis of the state of the client's site.
For the Eole Paris site, here is what the results of the pre-audit reveal:
2.1. SEO support during the creation of the website
Since I was involved at the very beginning of the Eole Paris project, this was an opportunity to provide my skills in website creation.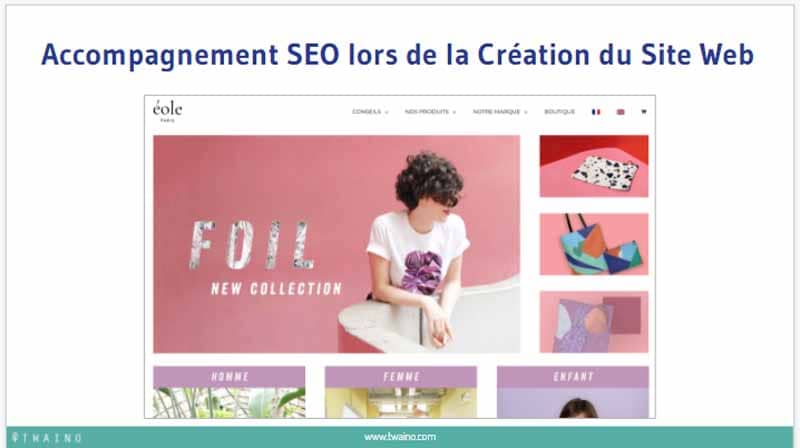 My support for the creation of the Eole Paris site essentially consisted of:
2.1.1. Defining the type of site to create
First of all, it is important to agree on the type of site to create. Eole Paris is a brand specializing in the creation and sale of ready-to-wear. So, the type of website that should be created is an e-commerce site.
But I also suggested the creation of a blog part to share tips with readers on how to dress better, but also and above all to use blog articles as bait.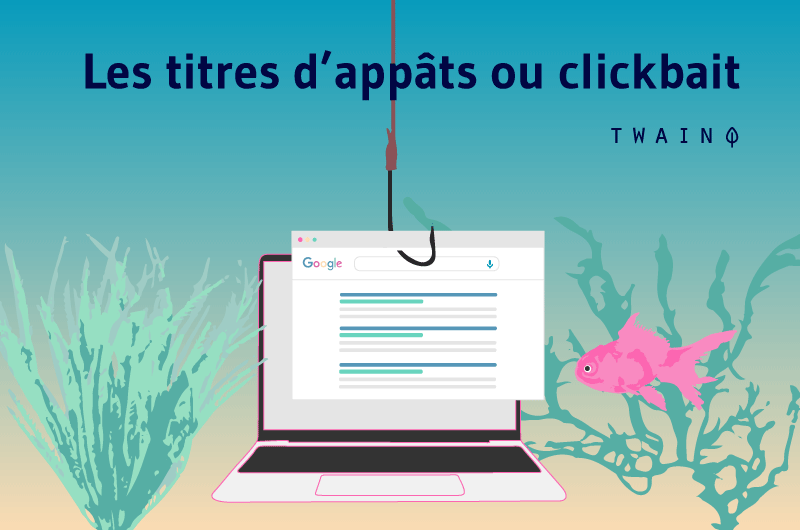 In SEO, blogging is of great importance and 72% of marketers agree that creating relevant content is the most effective SEO tactic.
Note that an Internet user who intends to do his little research on how to choose and wear his suspenders before buying will be more inclined to buy them on an e-commerce site which has taken care to write a complete guide on suspenders before presenting its Product Pages.
2.1.2. Defining a general theme and a target audience
Search engines have not yet acquired this ability to interpret images to the point of deducing the theme addressed on a page or on a site. This is why it is important to define from the start, a theme that will be used regularly on the important pages of the site.
Thus, search engines will be able to explicitly understand Eole Paris' sector of activity and will not risk classifying the site in response proposals linked to a law firm, for example.
Then, it was a question of determining the user profiles likely to be interested in the chosen theme and who will be able to consume the brand's products.
Eole Paris is a BtoC company, its target audience is therefore essentially end consumers, that is to say simple individuals.
Potentially, everyone can buy Eole Paris products. But in order not to waste our resources in vast unsuccessful SEO campaigns and to target the right layer, I proceeded to some sorting in particular:
Professional categories;
Age groups;
And social classes.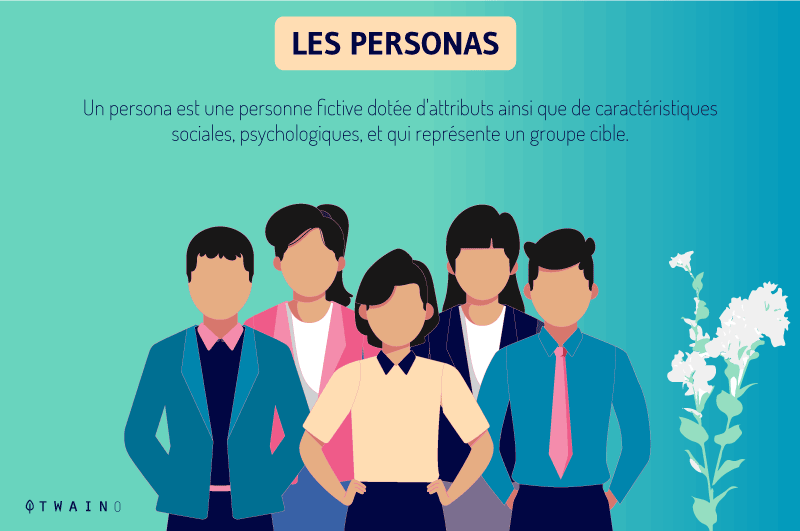 Moreover, although the headquarters of Eole Paris is in France, the brand does not want to target only the French population. She also wants to reach the international market.
As a result, the site must be multilingual. For a start, I therefore suggested that the Eole Paris site be available in two versions:
This seems a good start to allow all Internet users to easily find themselves on the site. Then gradually, depending on which foreign countries are interested in the brand's products, other languages ​​can be added.
2.1.3. Conduct market research
As with any marketing project, it is important to conduct market research. Here, my work has therefore essentially been to try to assess the demand for the purchase of clothing and fashion accessories on the Net.
And for that, I had to use two SEO strategies namely:
Keyword research to get an idea of ​​the search volume of important keywords in the fashion sector and an estimate of the market share that we want to win soon.
A competitive analysis to find out who are the main competitors of Eole Paris on the pages of search engines.
This is a rather special and important step, since the brand's competitors in real life are not necessarily the same on Google.
It will then be necessary to dig and find the sites that Eole must outclass to occupy the first page of Google.
A section will be dedicated to each of these strategies to present to you in detail how I organize myself to carry them out.
2.1.4. Choosing a domain name
The choice of a site's domain name should not be taken lightly, since once chosen, it cannot be changed.
A good domain name must meet a number of criteria, namely:
Be easy for visitors to keep;
Be easily repairable;
Be concise with ideally a main keyword of the site's niche;
Be catchy.
It must be said that with Eole Paris, I did not look far. My proposal was simply to use the name of the brand, it was available and we therefore chose it www.eole.co.:
2.1.5. Choosing a web host
The technical performance of a site can be influenced by the quality of service of the hosting server chosen. A site hosted on a fast server will generally take less time to load when a user tries to access it.
Conversely, a site's loading time can take forever if its server is overloaded or running with limited infrastructure.
Generally, there are 4 types of hosting, namely:
Shared servers;
virtual servers;
Dedicated servers;
Free servers.
Since Eole Paris is a nascent and rather "small" site, the wisest choice would be to take a shared server. So I proposed the shared Siteground server, a server that I personally tried.
My agency Twaino's website was hosted on this server a few years ago and the least we can say is that I didn't encounter any major problems at the time.
Then I switched to OVH, but a few months ago, part of the host's infrastructure caught fire. Which made my Twaino site unavailable for a few days like all the other sites hosted on the same OVH installations as me.

Fortunately, I have always taken the habit of periodically backing up a version of my site.
The last saved version was therefore restored with some readjustments when the company repaired the damage caused by the fire. Today, my site is functional again with the joy of finding my visitors?.
2.1.6. The graphic design
The next step was to propose a model for the site. The models make it possible to establish in a way the visual identity of the site. It was at this stage that we were able to discuss together:
Colors;
Typography;
Of the logo;
And many other aspects.
2.1.7. Choosing the work environment
Creating a site can be done in two main ways. The first consists in coding the site from A to Z. That is to say, creating each of the pages of the site with only HTML code (and CSS) then linking them to a database management system to make everything dynamic.
The second possibility is the one I recommended for the creation of the Eole Paris site. It consists of using a CMS and remains by far the fastest and most used for the creation of e-commerce sites.
As for the CMS, I preferred to use WordPress because of its "drag and drop" functionality and its vast library of themes which offers more freedom to personalize your site.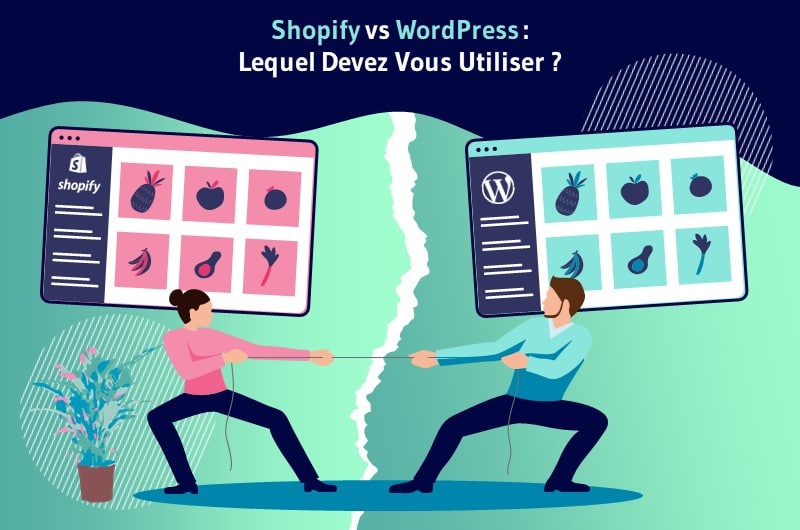 2.2. Overview of the Eole Paris site
After the creation of the site, it is important to identify certain performance indicators to better compare and better appreciate the new performances that will be acquired after my SEO campaign.
When it was created, the Eole Paris site recorded:
Traffic of 0 visits per month;
An average visit duration of 00:00;
0% user connection from computers and phones;
And 0 traffic source.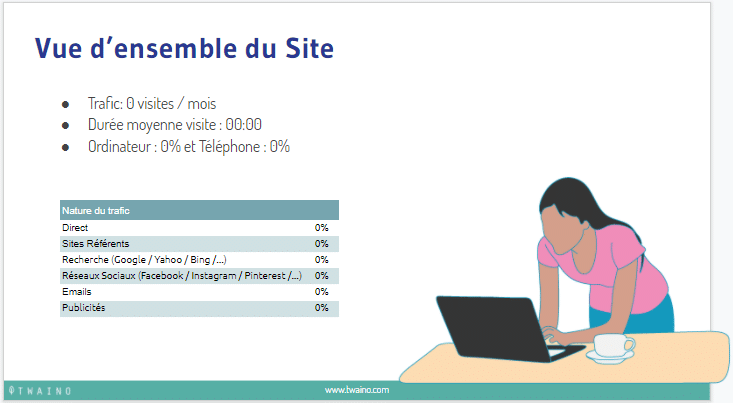 With a low performance table at all levels, I immediately started my SEO campaign to try to help the site generate its first visitors.
Chapter 3: Methodology of an SEO campaign
The objective of my SEO campaign with Eole Paris and with all my clients is to succeed in making real changes capable of improving their visibility and attracting new clients.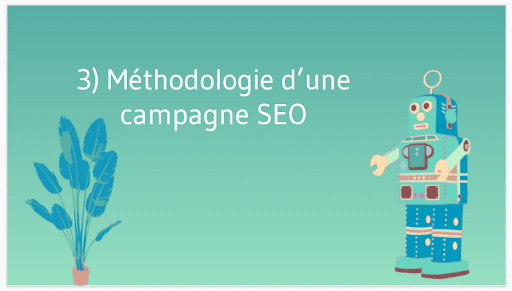 But it must be said that with the complexity of SEO, it is easy to mix things up and end up with a sterile campaign without much result.
To remain precise and effective in my branding strategy, I have therefore implemented a 3-step process to be strictly followed for all my SEO campaigns: SEO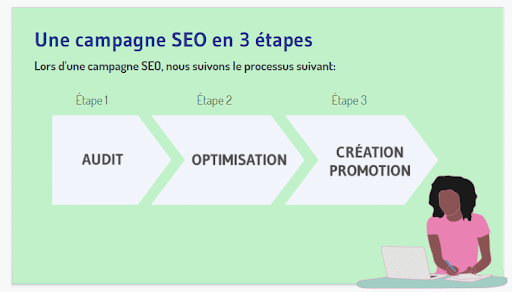 audit;
Optimization;
Content creation and promotion.
Here is a brief description of the tasks I performed during these 3 stages in my Eole Paris SEO campaign.
3.1. SEO
audit The SEO audit remains my first intervention step, since it allows me to identify any problems that could block or slow down the referencing of the site.
The aim of the SEO audit will therefore be to repair all the problems encountered in order to have a technically sound site.
Just as a gardener must clear his land before cultivation, it would be counterproductive to apply strategies directly on a website plagued by technical problems.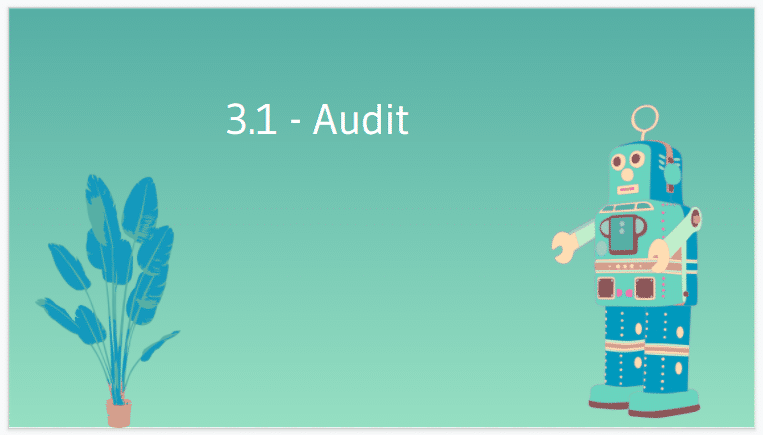 But it's not all about looking for problems. It is also during the audit that I list the strengths of the site that could be exploited to obtain more performance.
With Eole Paris, the SEO audit essentially consisted of:
Conducting a study of the competition;
Review the architecture of the site;
Identify On Page opportunities.
3.1.1. Study of the competition
The strategy which will propel our SEO campaign and which will generate the most customers in Eole Paris could well be a strategy copied and improved on a competitor's site. That's why when looking for opportunities, I don't miss any leads.
The fact is that if an SEO strategy has been successful with a competitor, there is also a good chance that this same strategy will be very successful on your site, if not more.
But concretely, what benefit can be drawn from a study of competition? Well, in this step, I get to:
Find out which trends are working and which aren't working in the client's industry;
Identify and exploit the weak points of competing sites to be able to outrank them on search engines;
Identify and copy the strengths of competing sites even if it means reproducing something more competitive;
Evaluate the difficulty of winning the competition in my client's niche;
Learn unsuccessful strategies from the competition and avoid repeating the same mistakes on my client's site.
But generally, there is a problem which arises during the study of the competition and which was also repeated with Eole Paris.
In 2020, France was ranked 2nd European e-commerce market with more than 200,000 merchant sites created.
Note that all the websites that sell ready-to-wear clothing online are potentially competitors of Eole Paris.
Imagine my exhaustion and the waste of resources wanting to spy on each of the thousands of e-commerce sites specializing in the sale of ready-to-wear clothing in France alone.
What you need to do is target competitors who are really important and who already have good positions on search engines.
I therefore first created a provisional list of sites that could potentially compete with that of Eole Paris on the first pages of search engines.
Then sift through each of these sites taking into account the following filters:
Site authority;
The backlink profile;
The different sources of traffic;
Site building.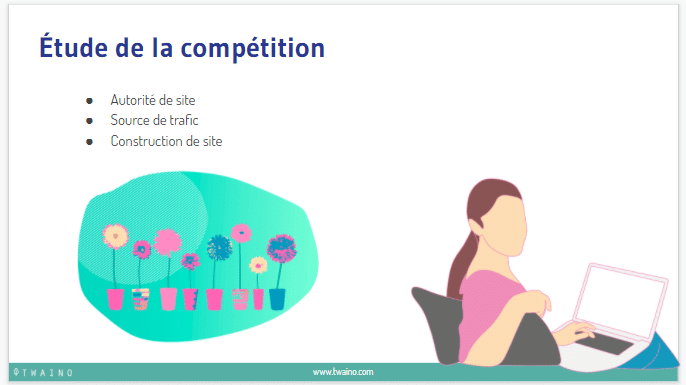 Will definitely be considered strong competitors, sites that have managed to have a high Domain Authority score, a diverse source of traffic and good construction.
3.1.2. Site architecture
Whether it is a small site or a large site, an e-commerce site or a blog site, site architecture is always an important element for SEO. On the one hand, it influences the user experience in terms of accessibility and usability.
And on the other hand, it facilitates the exploration of search engines for rapid indexing of important pages of the site.
But to really benefit from all these advantages, the architecture of a site must respect a certain number of criteria such as:
Explicitly presenting the services and products offered by the company;
Make these services and products easily accessible to Internet users;
Clearly display all the contact details of the company;
Facilitate subscription to the newsletter;
Do not make any page of the site more than 3 or 4 clicks from the home page;
Offer an SEO friendly architecture;
And many others.
To respect these criteria on the Eole Paris site, the work was to:
Propose an SEO friendly architecture;
Adapt this architecture to meet business needs;
And categorize content.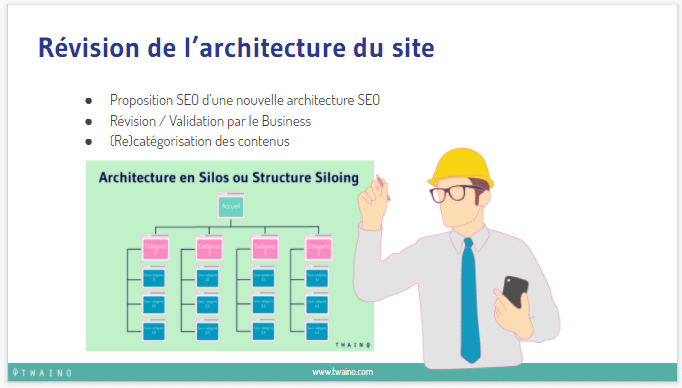 Concretely, here are the different tasks I performed during these steps:
3.1.2.1. Proposal for an SEO friendly architecture and its adaptation to business needs
When you quickly browse the home page of the Eole Paris site, you discover a site with a clean design, pleasant to see, fluid and easy to visit.
Although I recognize that there can be an infinity of possibilities to organize an e-commerce site, Eole Paris is still the kind of site on which the user can quickly discover the products of the store, add his choices to the basket and finalize your purchase in just a few clicks.
Far from questions of appearance, I find that the purpose of an e-commerce site should be for this: to make the products available easily accessible to visitors.
Now, let's take a closer look at the architecture of the Eole Paris site, to analyze how information is organized there.
On the home page, we first discover a horizontal menu bar that includes:
The brand logo to return to the home page regardless of the location of the user on the site;
4 Modules (Advice, Our products, Our brand and Shop);
2 Icons in the shape of a French and English flag to represent the French and English versions of the site;
And a shopping cart icon to add selected items to cart.

Without looking any further, we discover just after the menu bar one of the brand's important collections with some accessory products lined up just on the left side: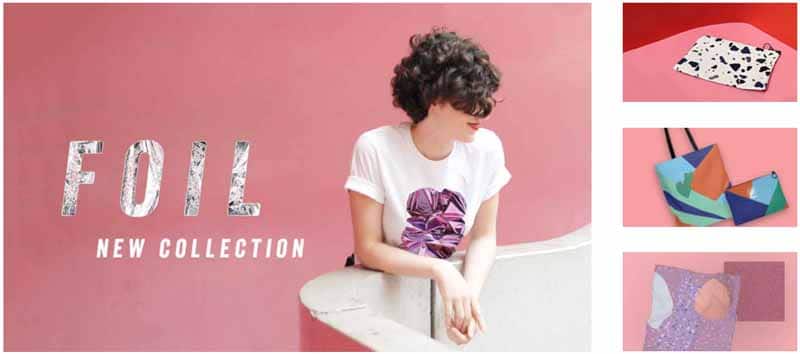 By scrolling the page a little lower, the user can continue to discover other products of the brand, but this time, categorized into 3 main classes:

I then thought of taking a break from images by adding a small description of the brand and its corporate mission.

…Before continuing with other product categories and the rest of the collections available.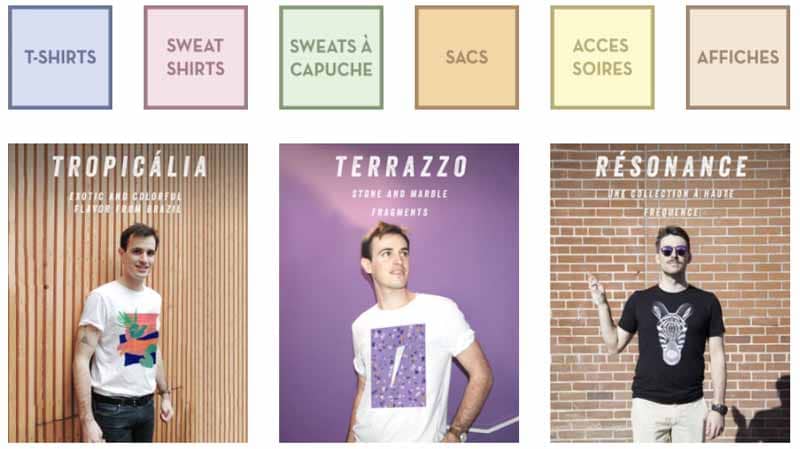 As previously announced, Eole Paris has an e-commerce site for the sale of its products, but for reasons of attraction I proposed to add a Blog section to it.
The user therefore discovers this Blog section just after the latest collections, with the possibility of consulting "the most recent posts" and "reading more articles".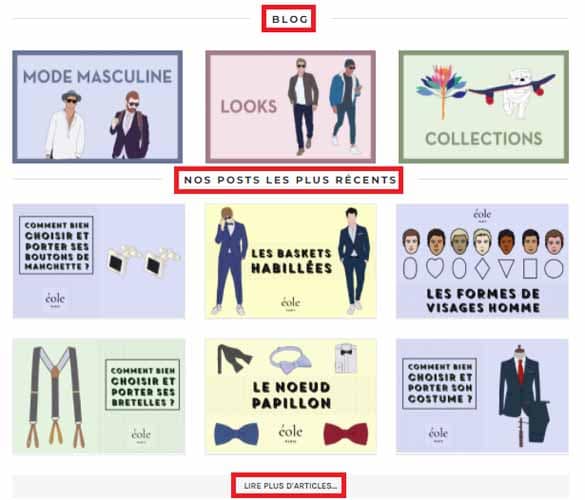 I also thought of adding another section, "Top sale", to present the best-selling products at Eole Paris. If these products sell faster, there's a good chance that they will interest other customers, so you might as well put them on the first page.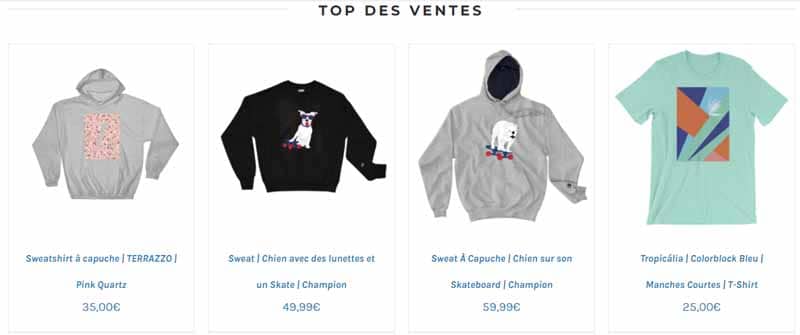 I also thought it useful to complete a last section before the footer of the page. For this last block, the user can:
Check what's new : Frequent visitors to the site will be able to save time by consulting the "News" section and quickly discover the latest items added to the store.
View Top Rated Products : Here the visitor can view the products in the store that have the highest ratings in terms of positive reviews. Statistically, it has been proven that 88% of consumers trust online reviews as much as recommendations from loved ones. Given that Eole Paris receives glowing comments, it would be a shame not to turn these positive reviews to our advantage and inspire the confidence of new visitors.
Add comments : Internet users also have a "comment" space to leave their own opinions on a given product or to express other concerns.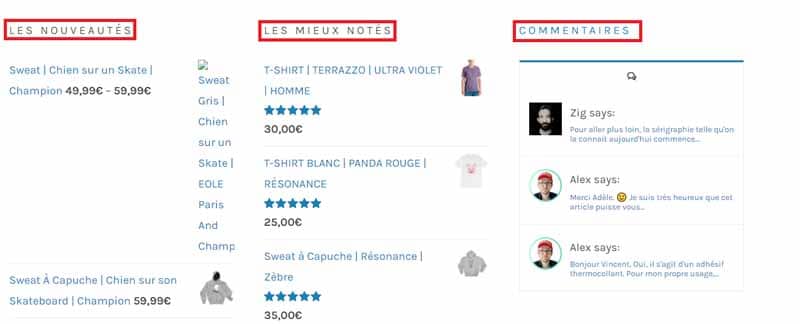 Finally, we have a footer which essentially presents the following elements:
A 10% reduction offered to all visitors, but subject to subscription to the site's newsletter;
The various Eole Paris accounts on social networks;
An FAQ;
Company details;
The means of payment accepted;
The security software used by the site to protect the banking data of its customers;
And the two icons in the shape of a flag for the French and English versions of the site.

3.1.2.2. Categorization of content
It is true that I proposed the idea of ​​creating a blog on the Eole Paris site, but the site will only be able to take full advantage of it if the articles published are well organized.
You may not know it, but publishing content anarchically on a site could make it unfindable for both search engines and Internet users.
Imagine all the disappointment of working hard to create quality content with all the best SEO practices, but which ultimately becomes untraceable on the Net or is little visited.
This is why it is important to also offer an architecture for blogs and one of the most popular models at the moment is the silo structure or clustering.
The principle of the silo structure is to divide all the information developed on a blog into several categories so that each category groups several pages. And that each page is linked to the other pages of the same category.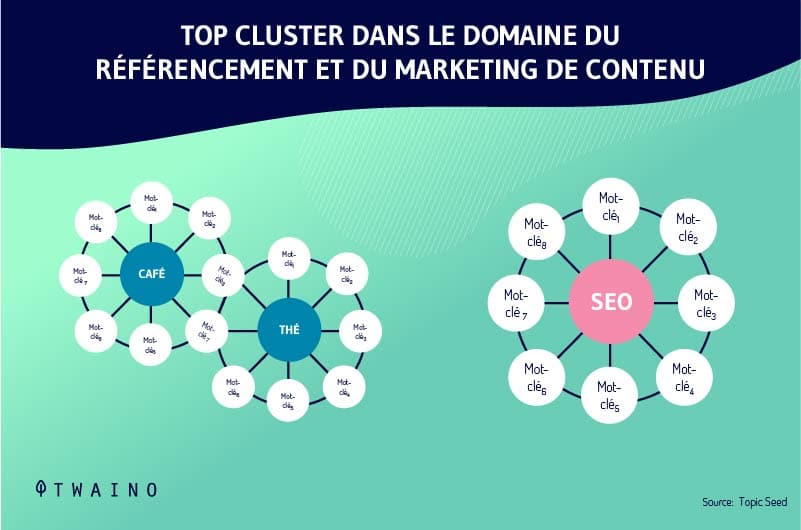 It is a sort of mesh-like organization of content that improves the user experience of the site.
The silo model encourages the reader to deepen their understanding by gradually discovering articles that address other offshoots of the same starting topic.
And during his "journey", the company's products will be subtly presented to him according to the reading context. If he is really in need, the user can fill his shopping cart without feeling harassed or overwhelmed by a slew of offers.
With the Eole Paris blog, the categorization of content led me to obtain 4 main categories subdivided into several subcategories:

Advice : Bottoms – Tops – Shoes – Accessories – Morphology
Look : Seasons -Styles
Trend : Culture Fashion – Arts & Exhibitions – Lifestyle
Tips : Miscellaneous
Now it will be easier to know where to add a new article and with which existing articles to link it.
The advantage is that regardless of the amount of content written, the silo model can be completed gradually and users (both human and machine) can find each other without difficulty.
3.1.3. Identification of On Page opportunities
The term On Page is used to designate all the SEO techniques applied to the pages of a website in order to improve their ranking in search results.
Since Eole Paris is a nascent site with virtually no content, the work at this level will not be to identify On Page issues, but rather opportunities.
That is to say, constantly keeping in mind the best practices for successful On-Page SEO.
Technically, this amounts to succeeding:
The internal linking of the site;
And the creation of titles and meta descriptions.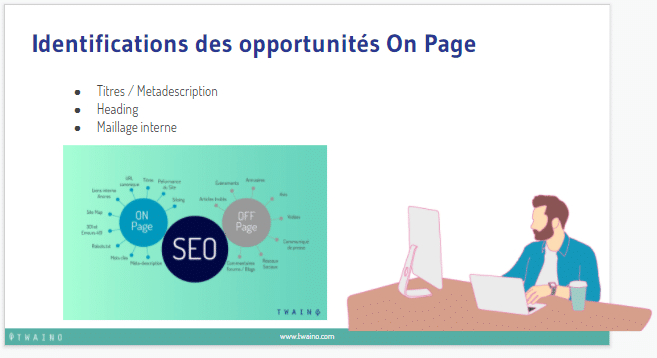 3.1.3.1. Good practices for successful internal
linking Internal linking can be defined as a way of organizing the internal links of a website. As previously explained with the silo architecture, internal links make pages easily accessible to Internet users and crawlers.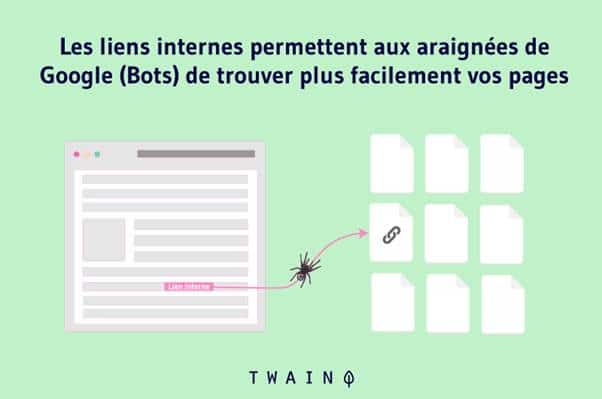 Conversely, incorrectly inserted links can ruin the referencing of the pages even if it means exposing the site to Google sanctions.
To ensure that I succeed in the internal networking of my clients, I always keep in mind a few good practices, namely:
3.1.3.1.1. Create enough content
To succeed in its internal linking, it is necessary for the site to have many pages that can be linked together. A good netlinking strategy starts with a good content creation strategy.
On the Eole Paris site, I have implemented a content creation strategy that we will discover in the next section.
3.1.3.1.2. Avoid links to home pages
Many SEO beginners make the mistake of redirecting internal links to the home page of their site. This is a mistake since generally, the home page already naturally receives too many links.
Note that if another site were to cite your brand, it would likely use a link to the home page. In addition to your existing links already pointing to that same homepage, that might be too much.
If there must be netlinking efforts, you might as well concentrate them on other pages of the site that are less likely to be seen by Internet users.
3.1.3.1.3. Don't Forget the User
Inserting internal links should focus on the value they bring to users. There is no point in rushing to line up links that do not provide any useful information to the user.
The purpose of internal linking should be to improve visitor engagement. When the reader comes across an informative and relevant link with the context of the content, they are more likely to click on that link.
3.1.3.1.4. Use a reasonable amount of internal links
You don't have to create an astronomical amount of internal links in a single content before benefiting from the advantages of internal linking. Google recommends creating a reasonable amount.
What do we mean by a reasonable amount? Well, no one really knows. There is no rule that states to use a specific number of links in a content. It's all a matter of judgment where user satisfaction must be the priority.
3.1.3.2. Best practices for successful creation of titles and meta descriptions
The titles and meta descriptions of pages are the first impression that a site gives to Internet users even before discovering the content of its pages.
So to gather all the chances and really encourage Internet users to click on a website, it is important to offer irreproachable titles and meta descriptions.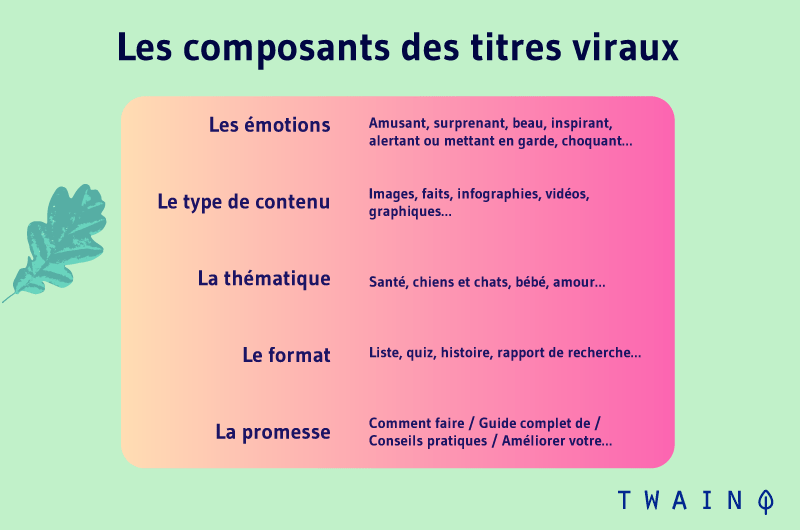 Apart from the attention of Internet users, search engines also take into account titles and meta descriptions to understand the theme addressed on a page.
An inconsistent title and meta description could be misinterpreted by search engines to the point of ruining its SEO.
With Eole Paris, the work will be to respect a certain number of rules to propose titles and meta descriptions which effectively contribute to the referencing of the site.
These include:
Avoiding the use of duplicate Title and Meta Description tags : When faced with multiple titles or meta descriptions that are partially or word-for-word identical, search engines are left with an embarrassment of choices and no longer know which version is registered in their index. In the end, all the pages concerned are downgraded since only unique content can be indexed. This is an aspect on which I have been particularly vigilant with Eole Paris, since it is a recurring problem with e-commerce sites. Note that many product sheets end up with almost identical titles or descriptions. At Eole Paris, for example, you can have two separate sheets, but which bear almost the same title: "WHITE T-SHIRT | RED DOG |MEN" and "WHITE T-SHIRT | RED DOG | CHILD ". Depending on the context, I can decide to use canonical or robots noindex tags, set up a 301 redirect, or simply rewrite the text.
Avoid titles and meta descriptions that are too long or too short: The space a site has to present its titles and meta descriptions on search engine pages is limited. A title that is too long will be truncated with a part hidden from Internet users. A title that is too short will certainly be visible, but cannot be catchy enough. It is therefore necessary to find the right balance to convey a captivating message while remaining within the recommended number of characters.
Avoid missing Title and Meta Description tags: We agree that if titles and descriptions must meet a certain number of criteria to contribute to the SEO of pages, not creating them at all would be even worse. A page without a title or description will have even more difficulty ranking on search engines.
It is all these good practices useful for On Page SEO that served as a benchmark for me when creating content for the Eole Paris site.
3.2. Content creation and promotion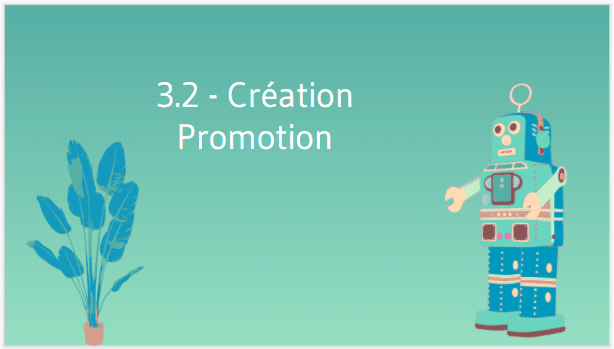 You've probably heard this phrase before: "content is king". And that can be understood when you know that 90% of B2C marketers use content marketing in their strategy.
Content marketing was perhaps once seen as a way to try a new strategy and stand out from competitors. But today, it has become a necessary solution for any modern business to improve its visibility on the web.
By regularly creating content on a site, this:
Improves the reputation of the company;
Contributes to the improvement of the referencing of the company's site;
Helps to improve the conversion rate;
Represents an affordable solution to attract new prospects;
Demonstrates the expertise of the company;
To maintain relationships with customers;
Allows you to stand out from the competition;
Works with almost any other digital marketing strategy.
But as with any SEO strategy, content creation requires a certain number of criteria to be met before truly benefiting from the aforementioned advantages.
Writing poor quality content can tarnish a brand's image and undermine its SEO efforts.
This is why, when creating new content for a client, I remain particularly vigilant in the execution of the various tasks so as not to leave typos lying around.
For the Eole Paris site, the work was to: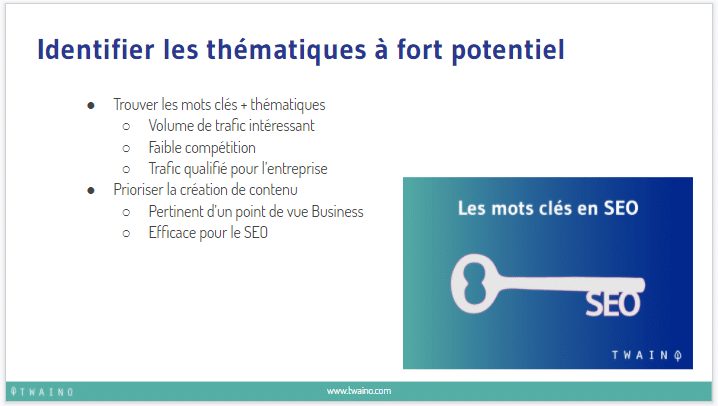 Identify profitable themes for the company;
Create new content;
And provide customer support.
3.3.1. Identifying profitable topics for the business
For many people, succeeding in identifying profitable terms simply comes down to identifying the keywords most entered by users. However, not everything is so simple and this method does not always work.
First of all, it is important to understand that behind each competitive keyword, hides an SEO difficulty score noted on a scale of 100.
The closer the Keyword SEO Difficulty of a keyword approaches 100, the more it will be difficult for websites, especially the "smaller" ones, to rank for this keyword.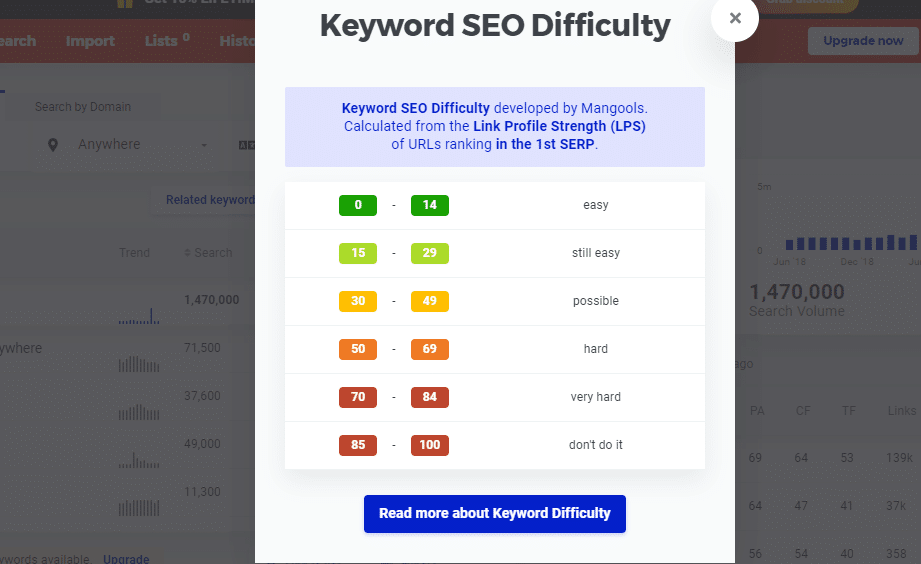 To illustrate all this, let's say that in my search for keywords, I find that the term "men's jogging" is highly sought after by Internet users. And without any in-depth analysis, I decide to target this keyword in my SEO strategies.
For this, I create product sheets for "men's jogging pants" that are properly optimized for search engines.
Then, to put all the odds on my side, I go even further by writing content on "how to choose jogging pants".
What do you think would happen if notoriety sites such as Nike and Adidas were already positioning themselves for the term "men's jogging"? Well, it will be more difficult for me to rank on this word since I come into direct competition with big, sharp sites.
Which would be difficult to win despite all the good SEO techniques I could have used because SEO strategy being equal, the site with the highest domain authority wins.
It would therefore be wiser to target keywords that have an SEO difficulty score proportional to the domain authority of my site. Thus, I will have a better chance of winning this duel and then gradually target other more competitive keywords.
Moreover, although it may seem paradoxical to some people, ranking first on Google for a given keyword does not always guarantee an increase in sales for the company.
The fact is that in SEO, there are basically two types of keywords:
Generic or short-tail keywords;
And long-tail keywords.
Short-tail keywords are generally the terms with the highest search volumes, but the lowest conversion rates.
When I find out, for example, that the keyword "jogging" is searched for 1.6 million times a month, that may sound exciting, but what is really the search intent behind it all?
Among these 1.6 million searches, there are many users who type "jog" on Google to:
Know what a jog looks like;
Discover how to properly maintain a jogging;
How to recognize a men's jogging;
When to wear jogging;
And many other intentions.
But when we take a less generic, so-called long-tail keyword, such as "cheaper jogging" for example, it is true that its search volume will not be as high.
But most Internet users who search for "cheaper jogging" have probably already taken the time to learn about the product and are more or less ready to buy. They are just looking for a good deal to start ordering their jogging.
This is why a long-tail keyword usually offers the best conversion rates.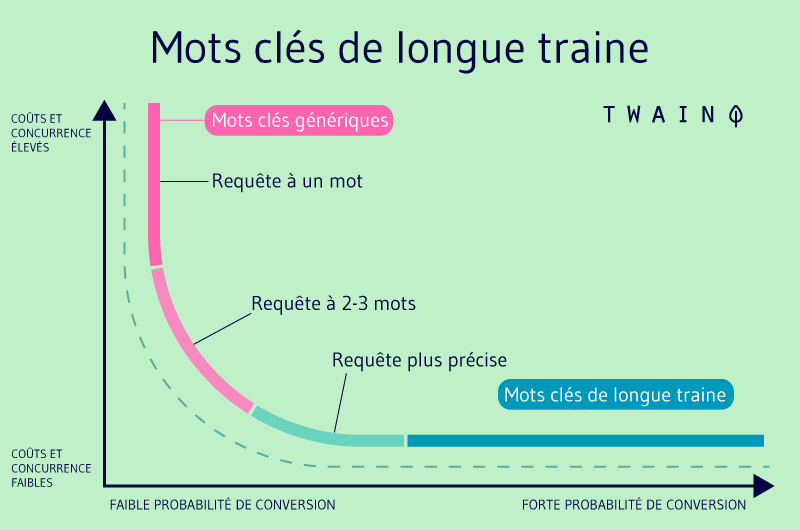 Now, in your opinion, should a site target only long-tail keywords? Well no.
Sure, you need conversion to make your investments profitable, but you also need traffic to stay in the game and succeed in ranking in the first place in Google.
It really all depends on the company's marketing goals. With Eole Paris, I focused much more on long-tail keywords to help the company achieve its first short-term goals.
Clearly, search volume is not the only criterion to consider when it comes to evaluating the relevance and profitability of a keyword.
To ensure that I only target themes with high potential for the Eole Paris site, my search for keywords essentially focused on 3 filters:
An interesting volume of traffic to attract new levels of visitors;
An affordable SEO difficulty score to help the site rank quickly on search engines;
Quality traffic capable of converting into loyal customers for the brand.
Each keyword that manages to combine these criteria can really help the site obtain a good ranking and attract new customers in a reasonable time.
3.3.2. Offer support
Once the high-potential keywords have been chosen, it was necessary to support the client in understanding the strategies implemented on his site.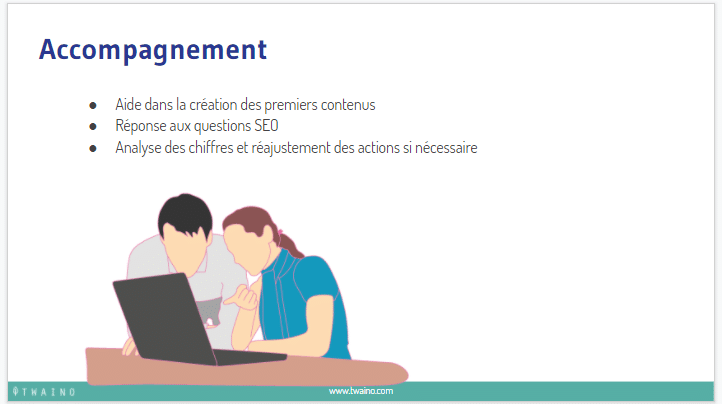 For this, I therefore:
Help the company to create its first SEO friendly content;
Provide answers to all SEO questions asked;
Analyze site performance with occasional readjustments.
But concretely, what are the tasks that I carried out during the creation of the articles?
3.3.3. Creating articles
We have largely discussed the importance of creating articles on a website, but in practice, here are the tasks that I carried out for the creation of articles on the Eole Paris site: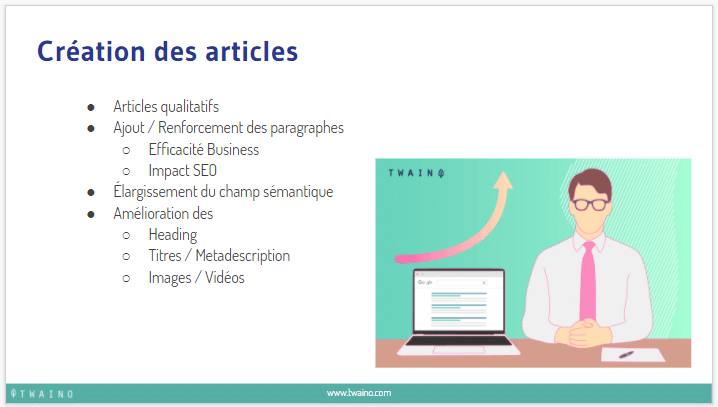 3.3.3.1. Submit quality articles
It is true that creating the most articles would be beneficial for a website, but this is not a reason to produce low quality articles. With Eole Paris, the work at this level has been to focus on the quality of content.
3.3.3.2. Add paragraphs to reinforce the business efficiency and SEO impact of articles
Generally, blog articles are for informational purposes, even if it means sometimes not showing any commercial intention. However, in the current context things are a little different. We want to help users dress better by producing detailed and highly informative content. But since it's an e-commerce site, our idea of ​​creating blog posts for free isn't that disinterested at all. In each content, regardless of the quality of the text produced, we subtly insert some offers and products from the company to enhance the business efficiency of the content. All this while of course respecting good SEO practices so as not to miss the SEO impact of the articles.
3.3.3.3. Expanding the semantic field
15% of all queries that Google receives are terms and expressions never used to perform searches on its tool. Faced with these figures, we realize that one of the major challenges to be met when creating content is to succeed in covering as many terms as possible used by Internet users to designate the same theme. But that seems easier said than done because it won't be a matter of mechanically aligning keywords or even synonyms. Such a practice could pass for stuffing or over-optimization which are black hat SEO strategies punishable by search engines. With Eole Paris, my work at this level was to choose secondary keywords to broaden the semantic field of the article.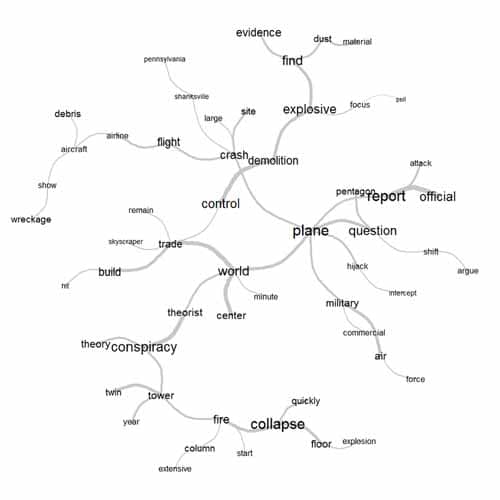 It is not a question of reducing the density of the main keywords, but of reinforcing it with secondary terms to cover as many queries as possible without falling into keyword stuffing.
3.3.3.4. Optimize images
It is important to image the content created so as not to bore the reader and encourage him to go to the end of the article. But using images in an article without bothering to optimize them for search engines is a big loss for the site, since optimized images can also improve the SEO of the page. Moreover, since Eole Paris is an e-commerce site, you already realize how important images are for the site. Each product sheet must contain a clear, attractive image cut to the right size so as not to slow down the loading of the pages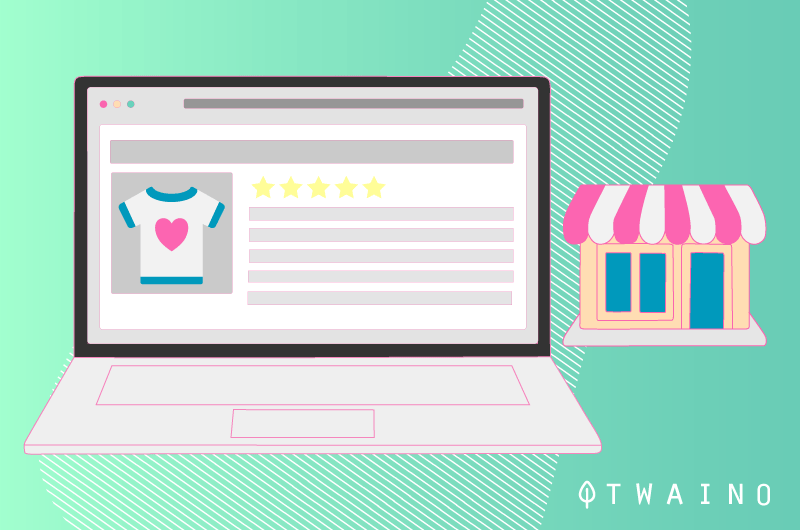 For the optimization of the images of the Eole Paris site, I had to:
Resize the images;
Optimize image file names;
Optimize image titles;
Include captions;
Use unique images;
Add image structured data.
3.3.3.5. Improvement of Headings, titles and meta descriptions
It is important to improve the titles at various levels of the articles, but also the page title and the meta description. These are elements that all play a double role: to encourage the engagement of Internet users and to contribute to the referencing of the page.
To improve the titles and meta descriptions of the pages of Eole Paris, I essentially insisted on the insertion of the company's brand and action words to encourage Internet users to react to the CTAs.
The creation of the articles was the last step of the SEO campaign that I carried out for the Eole Paris brand. But concretely, have my SEO efforts paid off?
Let's find out together in this last chapter of our business case.
Chapter 4: SEO results recorded after the Eole Paris SEO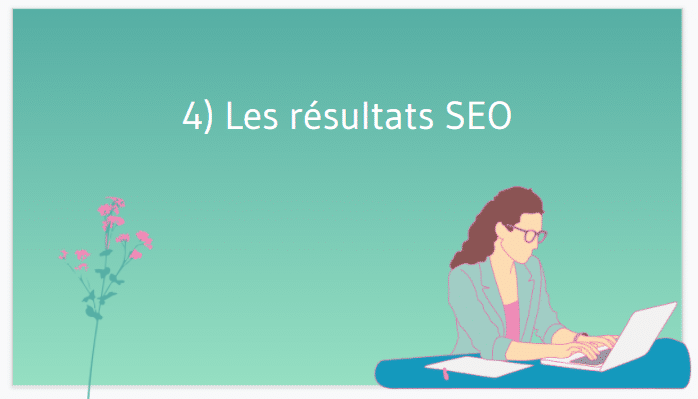 campaign After an SEO campaign, it is important to measure the performance of the SEO strategies used.
It is a step that allows to identify with precision the tactics which proved to be insufficient or unsuccessful and those which really improved the traffic of the site and made it possible to increase the income and the number of prospects of the company.
To measure the performance of my SEO campaign, we will use the tools:
Google Analytics;
And Ahrefs.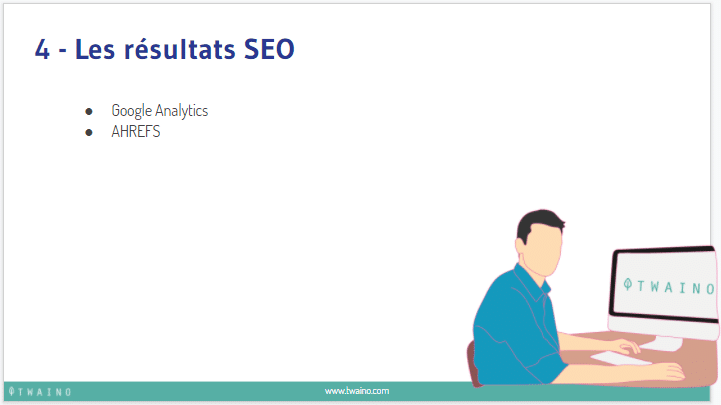 Without further ado, let's discover the figures that the analysis reports of these two tools reserve for us.
4.1. Google Analytics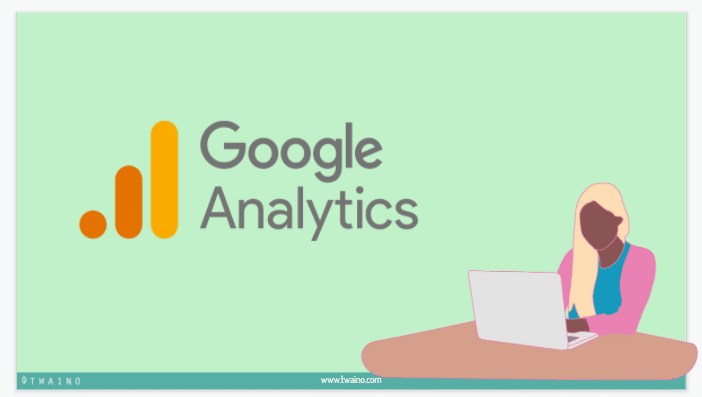 With Google Analytics, we will mainly focus on the "Number of active users" report to get a clear idea of ​​the number of visitors we have been able to obtain.
As can be seen in the capture above, my campaign with Eole Paris was held from January to May 2018, i.e. over a period of exactly 6 months.
But the Google Analytics data collected, even 3 years later, revealed that the Eole Paris site went from 0 to 24,000 active visitors per month thanks ONLY to SEO strategies.
That is to say that the site did not need to buy backlinks or pay advertising fees before attracting all these visitors. Everything was the result of the different SEO strategies that were presented to you in this business case.
To go further, we will try to find the source of these 24,000 active visitors per month.
For this, we will need the Google Analytics "Acquisitions Report" which reveals the following: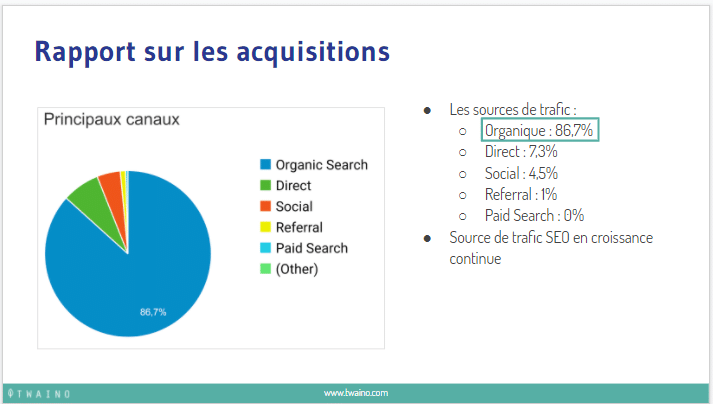 Organic Traffic: 86.7%;
Direct Traffic: 7.3%;
Social Traffic: 4.5%;
Referring Sites: 1%;
Paid Traffic: 0%.
For a little interpretation, we can say that the 24,000 users who visit the Eole Paris site come from almost everywhere:
Search engine results;
Word-of-mouth recommendations or direct entry;
Social networks;
And backlinks.
We can also notice that organic traffic prevails over all other sources of traffic, which means that SEO remains the main source of traffic for the Eole Paris site.
But the paid traffic is 0%, which testifies that indeed, I did not use any paid marketing strategy during my SEO campaign.
The case of Eole Paris is a typical example of one of the reasons for which I do not pay advertisements on search engines to work on the referencing of my clients' sites.
Note that an advertising campaign systematically stops generating traffic when it ends, which is not the case with an SEO campaign.
With the first Google Analytics report, we were able to notice that even 3 years later, the Eole Paris site is still receiving traffic thanks to my SEO campaign.
It is clear that natural referencing remains unquestionably the best marketing strategy for attracting quality traffic over a long period.
Now, let's consult the "Session by country" report to discover the geographical location of Eole Paris visitors: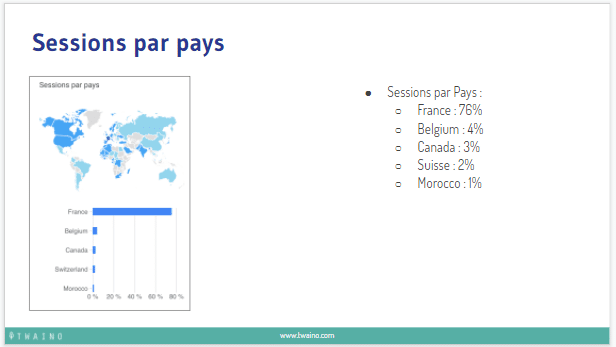 France: 76%;
Belgium: 4;
Canada: 3;
Switzerland: 2;
Morocco: 1.
Unsurprisingly, most visitors connect to the site from France with a few others from America and Africa. We can say that thanks to my SEO campaign, the Eole Paris brand is gradually becoming known in France and around the world.
It must also be said that my SEO campaign enabled the Eole site to have a good architecture, that is to say: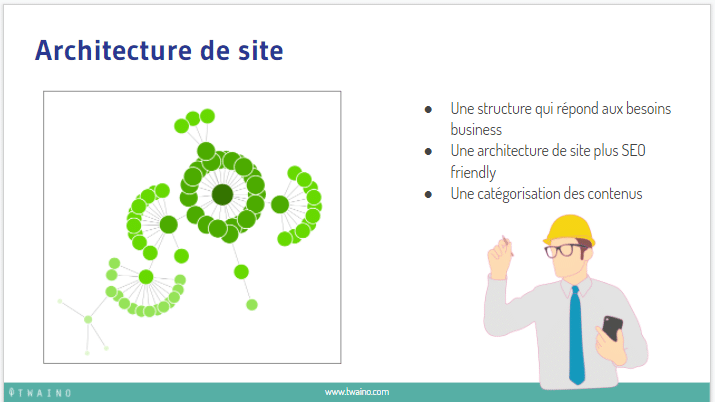 A structure that meets business needs;
An SEO friendly site architecture;
And a categorization of site content ordered according to the silo model.
These are the important figures to consult on Google Analytics, let's now discover the trends to observe on Ahrefs.
4.2. Ahrefs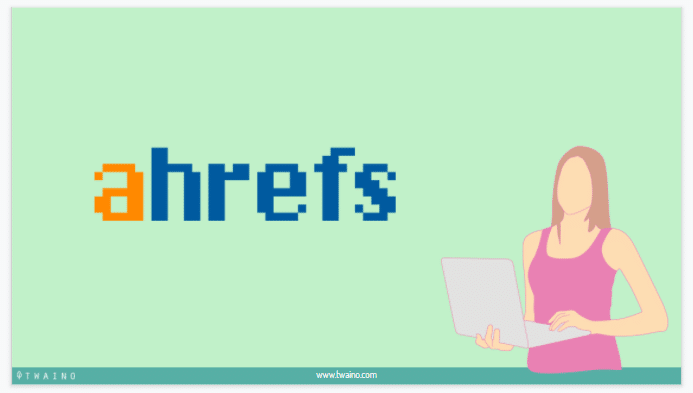 With Ahrefs, we can indeed see a gradually increasing traffic that started in January 2018: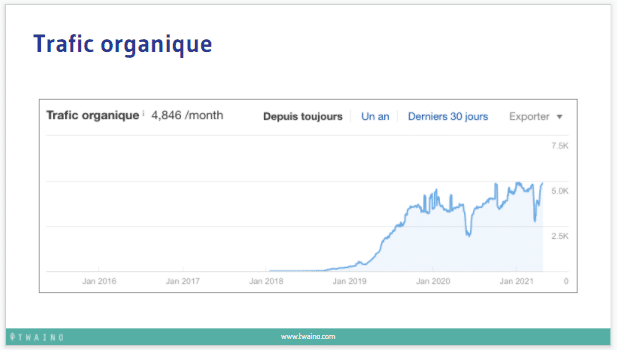 The same trend is observed on the curve of organic keywords which also experiences growth from the beginning of January.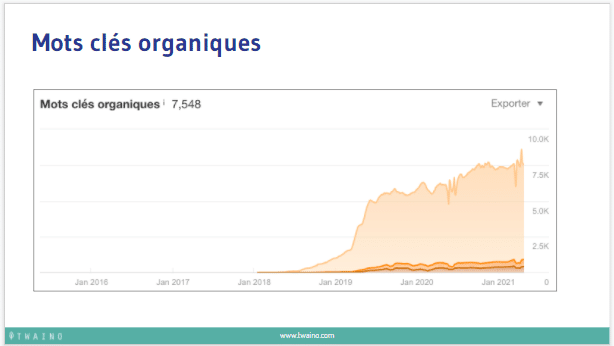 Clearly, we can see that the Eole Paris site has made good progress since its creation and according to the analysis reports from Google Analytics and Ahrefs, it is a continuous progression which is not ready to stop.
In summary !
This business case with the Eole Paris brand is coming to an end. I thank you for having read it in the hope that it has been useful to you and allowed you to grasp all the effectiveness of a natural referencing campaign.
As you have seen, SEO is a discipline that requires rigor and above all consistency before producing results on the surface. But like a fruit tree, the results of an SEO campaign can last for a long time.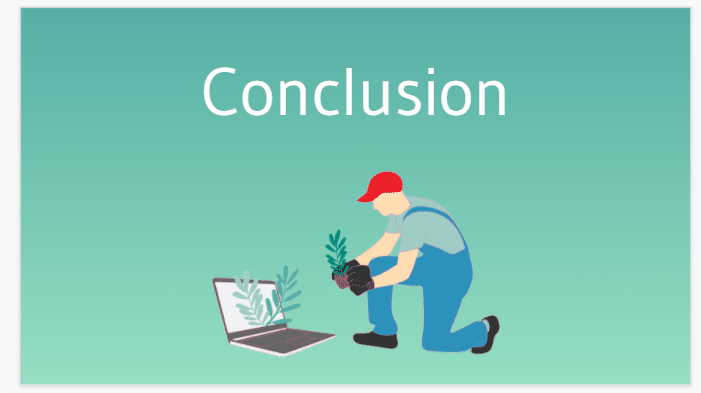 If you have difficulty ranking on search engines or attracting new customers, the natural referencing agency Twaino remains available to support you in achieving your goals.
Regardless of your sector of activity and the state of your site, we will be able to make the necessary strategic readjustments to improve the visibility of your brand on search engines.
Contact Twaino
If you have any concerns, you can contact us at the following addresses:
PARIS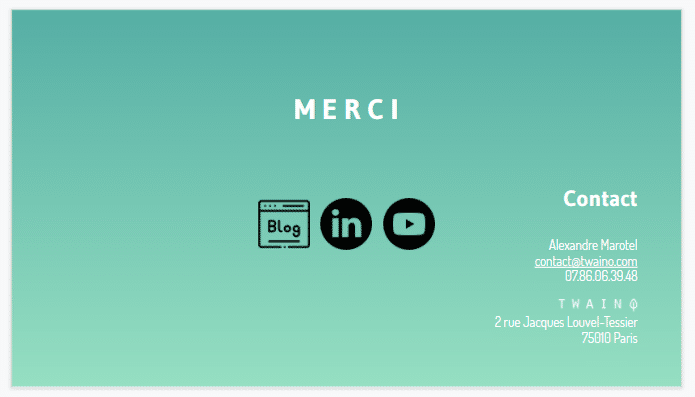 Thank you and see you soon!