Buzzsumo : Complete Guide
Digital marketing experts know one thing: content is essential. Without good content you don't get traffic, if you don't get traffic you don't rank, and if you don't rank you are invisible.
Content marketing has proven to be one of the best strategies to attract customers in all types of businesses
To properly execute your strategy, it is necessary to plan taking into account the topics that interest your target audience the most and to know what content they demand the most on the web.
For this, companies need tools like BuzzSumo.
Do you want to create better content on your blog?
Do you sometimes get stuck and don't know what will work well and what won't?
In this comprehensive guide, we will see how this tool can guide you when creating your blog posts and attract customers to your website
Let's get started!
Chapter 1: What is Buzzsumo and why use it?
1.1 What is Buzzsumo?
Buzzsumo is a software used by marketers.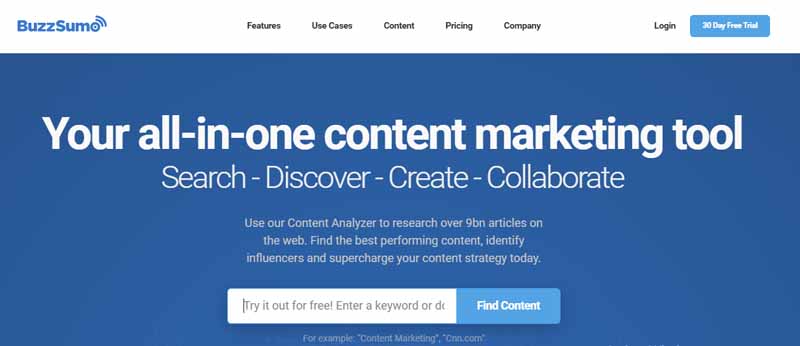 This software has many different options through which you can improve your communication with customers.
As we will see later, in Buzzsumo you can do many things. For example, you can:
Find popular content on the net;
Find influencers on a certain topic or niche;
Put in the web address of a page and the software will automatically analyze the quality of its content and links.
In addition to being useful for an internal analysis of your own site, it also helps to analyze the competition. With Buzzsumo, you will get a lot of information that will help you improve your marketing campaigns.
It's also a great tool for bloggers and community managers. If you are one of them, you will surely always be looking for new ideas and content to share on your networks or write on your blog
1.2. Why use BuzzSumo in your business?
If you really want to rank with your content on the internet, don't just rely on keywords, SEO and everything else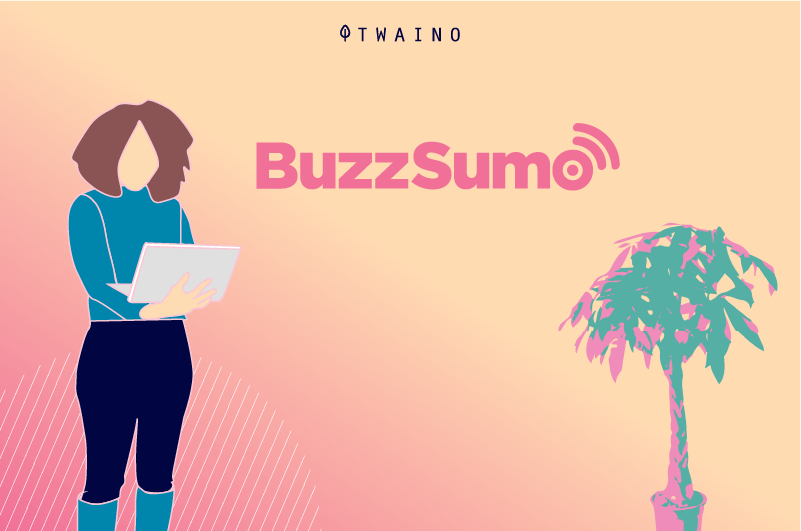 While they are part of the process and as a whole give you good results, without good quality content, your efforts will be in vain
If Buzzsumo shows you the most shared and liked content, use it, it's not about copying it but about contributing and doing better.
Because to be competitive in this Internet world, quality is the first thing to aim for. Internet users are people who want to see and read content that really contributes, not keywords to get to the top of the list.
Use keywords, but do it with style and intelligence, so that they are well integrated into the text and that it is really punchy and substantial.
Chapter 2: What are the features of Buzzsumo?
In Buzzsumo, you can perform a number of different tasks. All of these options are performed via the main page and are separated into different sections
Basically, depending on what you need, just go to the appropriate option and follow the steps.
Let's take a look at some of the most common options marketers use when using Buzzsumo:
2.1. Content discovery
With Buzzsumo, you can discover new content that may be interesting for your business. It is able to discover current trends, topics or issues that are on the lips of Internet users.
Being able to identify this new content can help you get an idea of what the market is demanding. You are likely to find consumers talking about different products and this can serve as an idea to meet their needs.
All this discovery is structured by different sections and each of them has its respective metrics
This way, you will not only discover new content, but you will also be able to know how relevant it is on the internet and understand things like the online reputation around that topic.
2.2. Find backlink opportunities
BuzzSumo is used to analyze which sites are sharing the most content in your market. Once located, you can contact them and try to reach agreements. You can suggest adding a link to your blog on their site, or perhaps exchanging guest posts.
BuzzSumo also helps you find the domains that are most willing to partner with you, making your link building job easier.
Remember to evaluate each backlink and the reputation of the site as a whole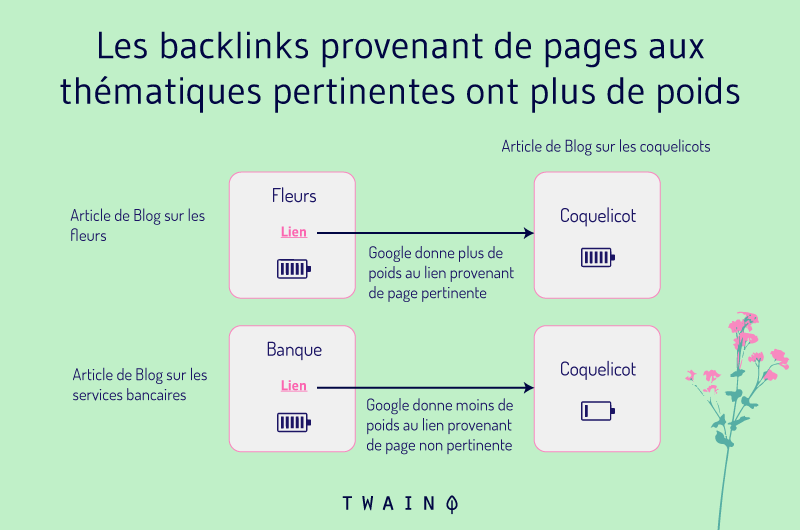 It's important to partner with sites that have a well-founded content strategy.
2.3. content search
Through content research, you can find out how successful any of your products or campaigns are. In this case, you can get information from different sections, both from web pages and social networks.
You can ask for keywords and thus know their popularity on the Internet according to the number of clicks they receive. Of course, in addition to the keyword, you can enter a phrase in the search field.
Once you've entered what you need, Buzzsumo will show you an updated database of websites with articles that talk about or mention that content
This research can also help you study the competition and find out how well their products are accepted.
All of this information is obtained in real time and, as the section itself states, you can analyze and investigate everything you need to get feedback on which you can make different decisions.
2.4. Search for influencers that relate to your niche
Using influencers in marketing campaigns is becoming more and more common
It involves looking for important personalities in the field you are working in. In addition, they should be aligned with your brand values in order to be spokespeople for your content.
There are actually a lot of content creators on the Internet, so it's important to choose the right one.
Buzzsumo can help you with this task, as the solution is not to choose the influencer with the most followers, but rather the one that connects best with your audience.
A simple example to understand is that if you have a sports store, you will surely be more accepted by the followers of an athlete than those of a creator of humorous content.
Buzzsumo again scours the entire net recommending influencers based on their different metrics
Find your favorite topic and study their followers, page authority, response rates… in short, any aspect that serves to identify and evaluate the influencer's own influence.
This is really important, because many of them have inflated statistics.
An influencer who has more interaction with the audience will be valued more than an influencer who has more followers and makes less noise. After all, it's important to remember that some people buy followers to increase their numbers.
It is always important tohave a profile of your client beforehand and tocarefully analyze the influencer's style. These two aspects are crucial for the efforts to bear fruit.
2.5. Monitoring and alerts
With Buzzsumo, you have the possibility to monitor everything you want on the net. This way, you will know at any time when your company or brand is being talked about and especially what consumers think about your company. It is similar to Google Alerts.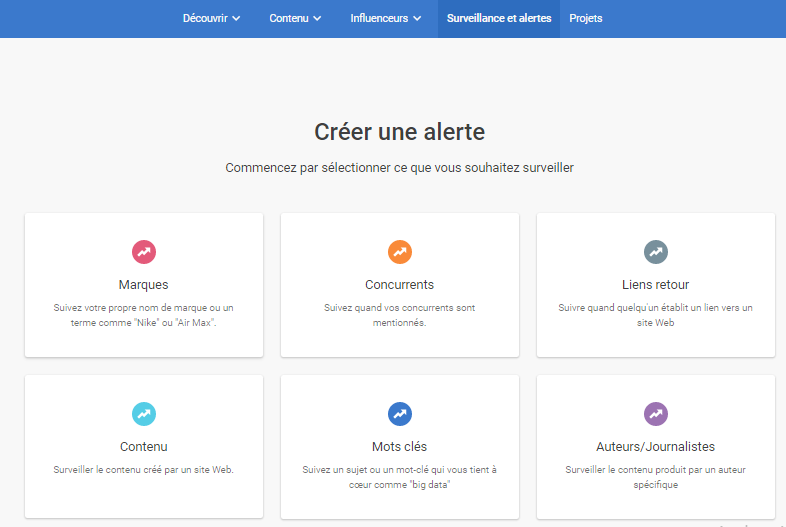 You can also monitor articles and see how they evolve over time or the degree of acceptance they have with consumers.
In all, this tool allows you to set alerts for: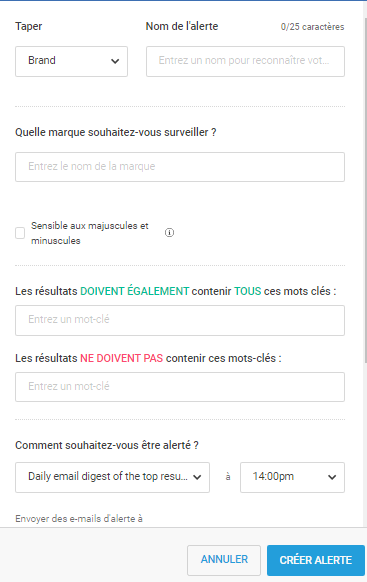 Your competitor's mentions;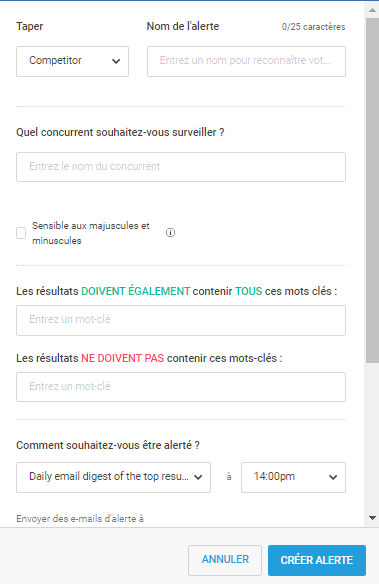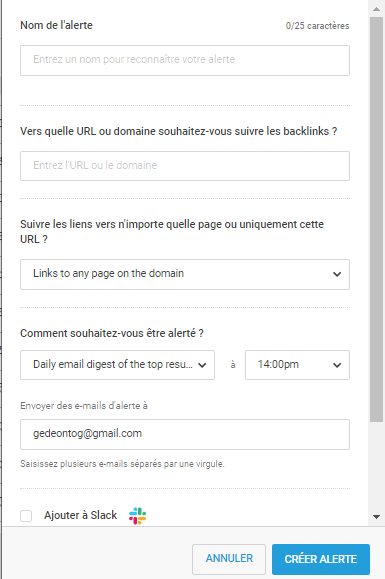 Content created by a website;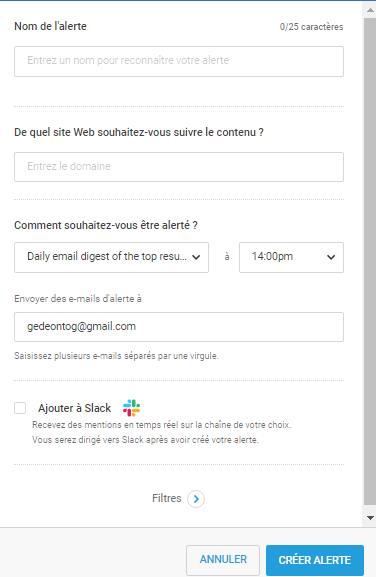 The keyword or topic you want to be alerted with;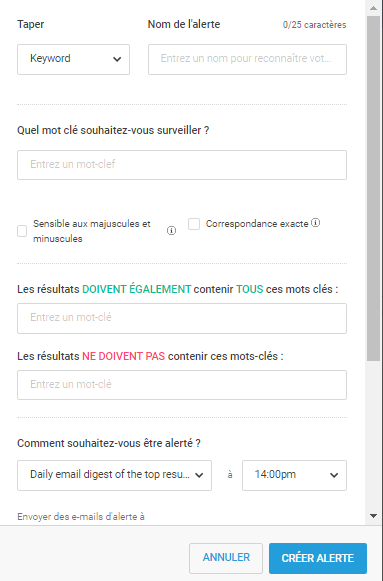 Content produced by a specific author.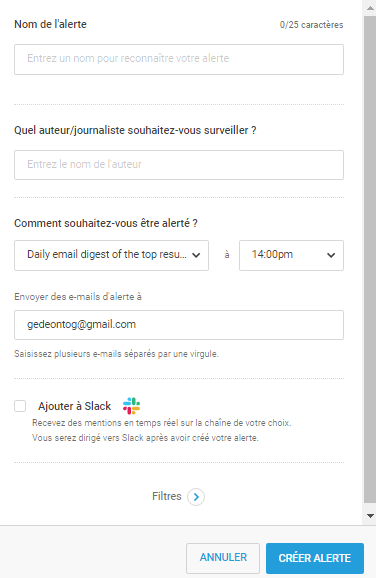 2.6. Find out which social networks share the most links on the topics you want to cover
Social networks are nowadays one of the most effective ways to distribute content, since they have a wider reach and allow direct interaction
But it is also well known that not all platforms are ideal for all topics.
In other words, to have strategies with the best results, you need to see which topics are profitable and on which platform they will be shared the most. Even the format of the content is one of the deciding factors in getting your message across.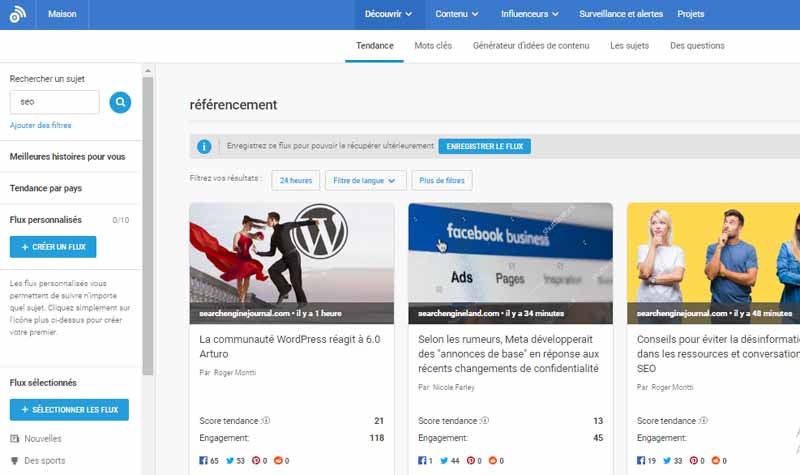 Buzzsumo has a tab called "Trending" with which you get the number of interactions that certain content has, whether it is on Facebook, Twitter, Pinterest or LinkedIn.
2.7. Analyze the competition
It's never a bad idea to look at what the competition is doing and see what can be adapted to your brand
In fact, knowing what your competitors are doing and finding out what works for them and what doesn't can be a big help to your strategies.
The idea is not to copy but to refer to best practices to get the most out of them.
With the Buzzsumo report, you can compare domains. It shows the reach of your topics and those of your competitors. This way, you can evaluate what works and how those in your niche are doing it
This is one of the keys to successful content marketing.
To use this feature, you need to enter all the necessary information, which is:
The domain;
Its type of content
Its keywords
Etc
The tool generates an infographic with data such as:
Number of times certain content is shared;
The platforms on which the content is most shared;
The social networks where this brand is more relevant.
Note that this can apply not only to your competitors, but also to your brand.
2.8. Analyze the issues in your editorial calendar
If you already have some content planned for the month, you can use the platform to assess whether it will really be appreciated by users
This way, you will know, before producing them, if they will be successful or not. Result: Saving time and money.
Now that you know the main features of the Buzzsumo tool, let's see how to use it to find better content
Chapter 3: How to use BuzzSumo to find popular content on the Web
Using Buzzsumo is relatively easy. The first thing you need to do is create an account to take advantage of the free 30-day trial. You can do this from the main page at the top right
Once you've created your account, you'll be able to use the BuzzSumo search engine to find all kinds of content with different criteria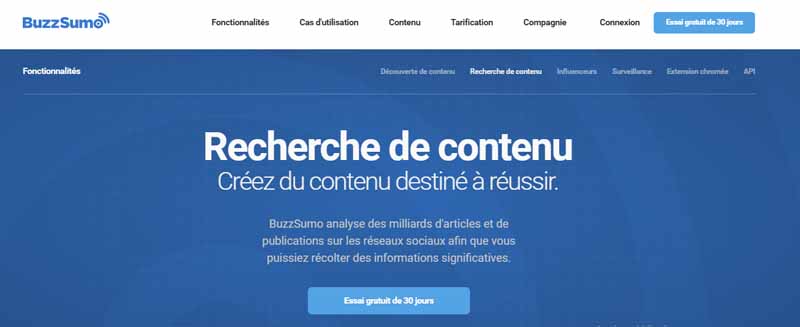 Here are a few steps to use BuzzSumo, do your research, find the best content and get more results
3.1. search by domain or keyword
To start, go to the section of your choice in the top menu.
Enter the keyword or domain you want to search in the BuzzSumo search bar and click "Go!
On the next screen, you'll see your search results organized from most popular to least popular. In other words, the links are ranked in descending order, with the most shared content on the topic being the first
3.2. filter the search according to your purpose
In the menu to the left of the results, you'll find several filters to customize your search. To see what each filter option means, click on the exclamation mark (!).
Filters include:
Search results from the last 24 hours or up to 5 years. BuzzSumo also offers a custom time period search, perfect for evaluating seasonal trends.
Evaluate popular content in French or other languages. You can evaluate direct competition in your market or find international references for your content. But without copying, of course!
Works the same way as language and helps you find popular content by region.
Want to find the most comprehensive content in your market? Only select the "Feature Articles Only" option for content over 2,000 words.
Analyze specific content from a competitor or a particular website. You can evaluate your performance on social networks or use this option for Benchmarking.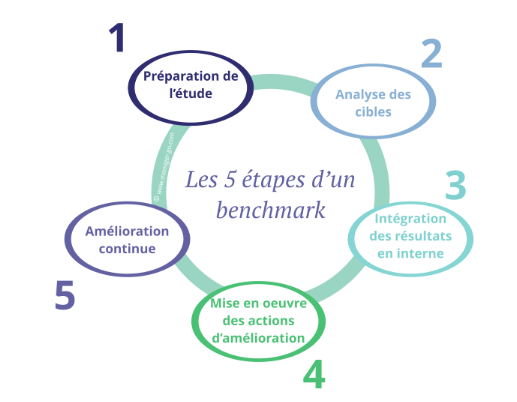 Source: Manager-Go
Content types (photo, video, interview…)
Find out which content formats are most popular on social networks. This filter helps you find opportunities to evolve your content production and produce the formats your audience prefers.
Take advantage of each of the above segmentations and create reports based on your goals.
When you're done refining your search, it's time to browse the results
3.3. Evaluate results and discover opportunities
You just need to know how to leverage this information and discover opportunities for your content marketing.
Look at the most popular content and evaluate the options to discover the secret to going viral
Next to the title of the content, there is a counter that shows how many times it has been shared on Facebook, Twitter, LinkedIn, Pinterest and Google+, as well as an overall counter of how many times it has been shared
If you want, you can sort the results by the number of times it has been shared on a certain social network.
Then, analyze the content language, format, title, structure and depth. This way, you can find out what works best for your audience and go with that.
If you want to analyze these results, you can do it in Excel with its export function.
3.4. Share your content
Now that you have the most shared content on a topic, you can do two things:
Work on the most successful articles to improve them (not copy them) and publish them on your blog. With BuzzSumo, you can find hundreds of ideas and clues for what content works best online.
Share them with your social networks as well, keeping in mind that some content works better on some networks than others. The ability to sort by time-share on social networks is very useful for this.
Now that you know how to use BuzzSumo to find content, put it into practice. Investigate and find opportunities for your company's content marketing.
So far, you know what BuzzSumo is, its features and how to use it as a powerful SEO and content marketing tool. Now let's take a look at its pros, cons and price.
Chapter 4: Pros, Cons, Pricing and BuzzSumo Reviews
4.1. Advantages and disadvantages
Pros:
Hyper-intuitive interface;
Efficient, there is no content leakage;
Really useful for generating content and for your SEO team;
Great for discovering which content generates more engagement;
Great for finding relevant content and good ideas for your editorial team; Perfect for discovering influencers who are getting more engagement;
Perfect for discovering influencers that help you with your business.
Disadvantages:
Free trial with many limitations;
Can be expensive for small businesses.
4.2. how much does Buzzsumo cost?
Buzzsumo is not free software, but you can try it on a trial plan. As for the price, depending on the plan you choose, it ranges from $99 to $299 per month.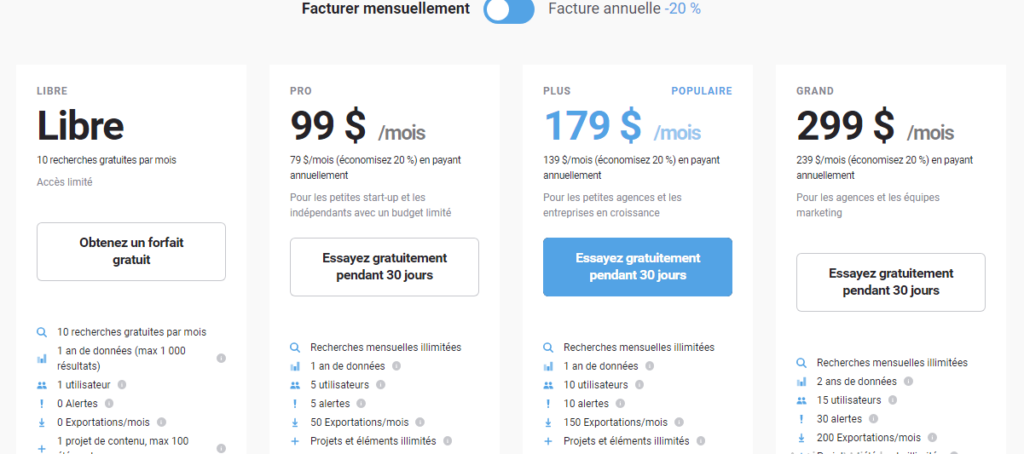 Depending on the options you need, one plan may be more attractive than another.
If you don't want to invest so much money in this tool, choose to use it with the limitations.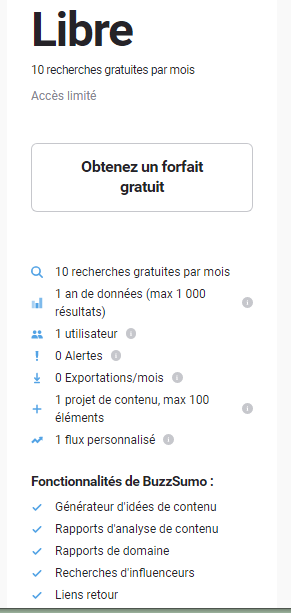 4.3. What does Buzzsumo's free plan offer?
You have 30 free days linked to each of the plans.

With these trial plans, you will have access to all the features of Buzzsumo itself. Considering the fact that the trial is free, it is advisable to do it with the highest plan to have a greater number of features.
However, it's important to note that this free plan is limited to 30 days or 100 searches, whichever comes first
These test days will help you analyze pages, social networks, find influencers and more of the options we mentioned earlier.
4.4 Buzzsumo's feedback and reviews
Buzzsumo has a large network of users who praise the effectiveness of the tool. Perhaps the only drawback that would really make you think twice about buying it is the price
With a monthly subscription fee of almost 100 euros, it's hard to get access to the full version of this tool.
They commit their features, but you have to weigh whether your work is worth spending 100 euros a month
Chapter 5: Top 14 alternatives to Buzzsumo
Marketers and content creators use many tools to research, produce, monitor and expand their online content
And, if you are someone directly or indirectly involved in any of the above processes, you know Buzzsumo.
BuzzSumo offers social listening, content search, link search and influencer search all in one place. That's why the tool is popular and highly sought after. But Buzzsumo's pricing is not very economical.
Here are 14 Buzzsumo alternatives that are relatively cheaper and contain more than Buzzsumo features (some even contain additional features that are only useful):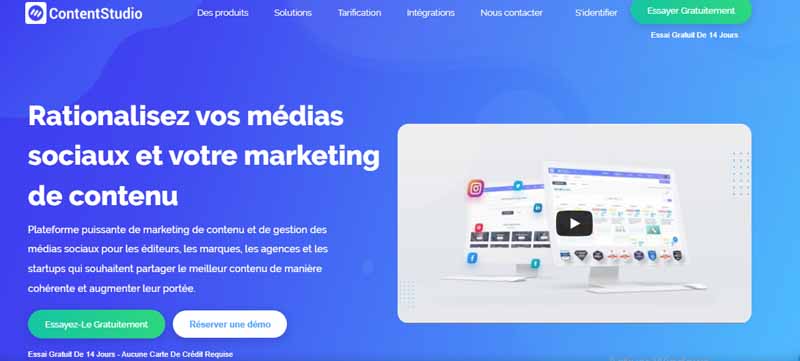 Content Studio does most of what Buzzsumo can do and also has other additional features like a place where you can add RSS feeds and a media planner
This is one of the cheaper alternatives to buzzsumo that actually incorporates a social media planner, a post composer, and content marketing features.
Main features:
Content discovery and curation
Viral content forecasting
Editorial calendar
Automatic scheduling
Price: $49 to $299/month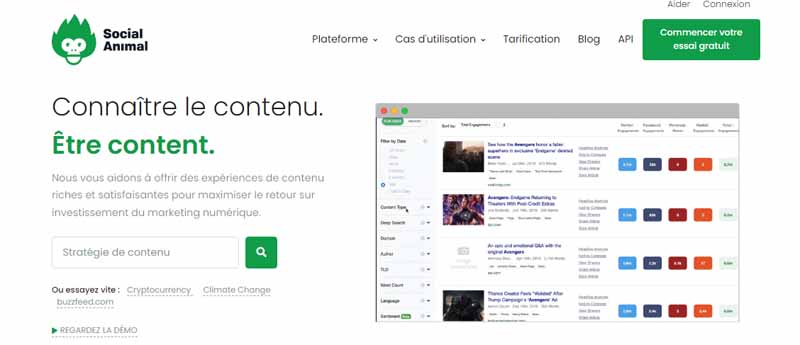 Social Animal is the closest alternative that can boast almost all the features of Buzzsumo. It's cheaper and outperforms Buzzsumo in terms of content search
While Buzzsumo lists popular articles based on social shares for any keyword (find the keyword in its header), Animal Social searches for keywords in the article body and headlines, allowing you to see a wide range of results.
Key Features:
Content information detailing the performance of any keyword or domain over a given time period;
Trending content;
Engagement data;
Facebook search;
Headline Analyzer;
Sentiment analysis;
Content search ;
Content curation;
Finding when, how and where to publish;
Influencer Research;
Monitoring keywords and competitors;
Creating professional content and social media strategies;
Get daily emails with top articles, influencers, competitor posts and mentions.
The price: starting at $41
It offers a free 14-day trial.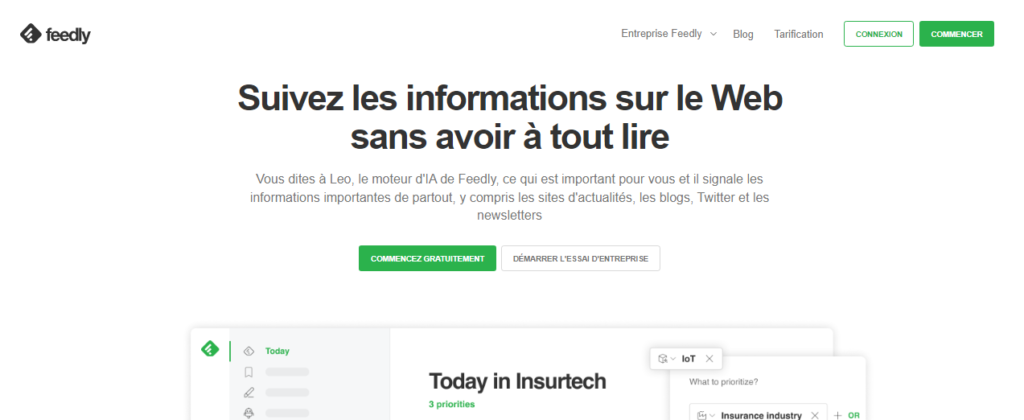 Feedly powered by Google Alerts helps users filter text from feeds, blogs and online magazines based on the topics and publications you specify
It's essentially like an RSS feed, but with additional integrations. Feedly is a free alternative to Buzzsumo, but you may not get all the features you are looking for
The most convenient feature of this tool is that it takes a piece of content and removes ads, popups, other distractions and obstacles until you only have words and images associated with the actual content
Marketers can also use Feedly to monitor social media for brands mentioning other keywords
Feedly is great, but not perfect when you want a satisfactory alternative to Buzzsumo.
Key features:
News aggregator;
News customizer;
Monitoring of mentions and keywords.
Rate: $6 to $8 per month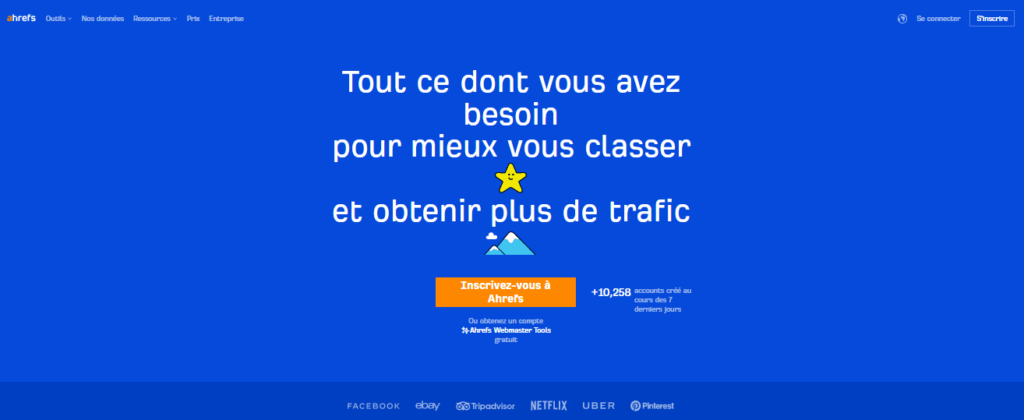 Ahrefs is one of the best Buzzsumo alternatives and is ideal if you want to:
Improve backlinks and keyword positions ;
Monitor content and mentions
This tool has several large indexes for
Keywords (5.4 billion) ;
Backlinks (4.1 million pages crawled per minute);
And content (5 million articles discovered per day).
Ahrefs' content explorer, similar to Buzzsumo, allows you to find thousands of trending topics in your industry
Ahrefs does more for SEO (search engine optimization) than Buzzsumo because it is primarily used to analyze:
The link profile of a website;
Keyword rankings;
And SEO health.
Main features:
SEO Audit;
Keyword research ;
Ranking tracking
Content Explorer
Backlink monitoring ;
Customized reports;
Competitive Analysis;
View organic keywords and organic traffic
Price: $99 – $999 / month
This is one of the best Buzzsumo alternatives, but with many additional features.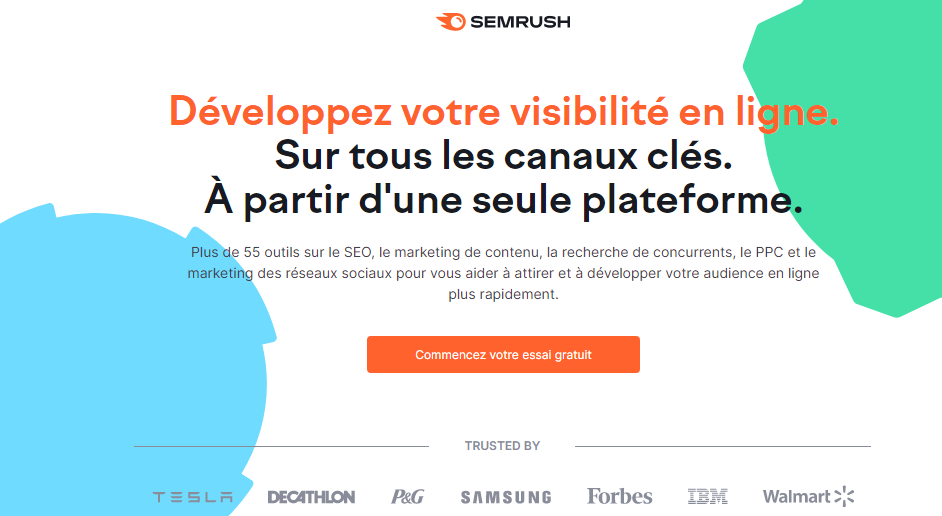 This all-in-one SEO tool has similar features to Buzzsumo, but more. It is a must-have tool for most marketers and professional bloggers for keyword and competitor research
One of the most useful features of SEMrush that attracts alternative searchers to Buzzsumo is link building
Nevertheless, it's still a very expensive tool
Key features:
Keyword research;
Backlink analysis;
Competitor control;
Organic search
Traffic analysis.
Price: $119.95 to $229.95/month

Ninja Outreach is an influencer marketing software that can be used as a prospecting and outreach tool.
This tool is perfect if you want to drive traffic to your blog and reach bloggers as well as influencers in your niche
One of the main outreach features of this tool is to send an email to your contacts and build relationships with them.
The tool also provides email templates to help beginners get familiar with Blogger outreach
By clicking on "Download a pre-written template" in the menu, you have access to many email templates, from blog post promotion to conversation invitation.
Key Features:
Find influencers, bloggers, journalists… ;
Find anyone's email address;
Personal sales templates.
Price: $155-$259/month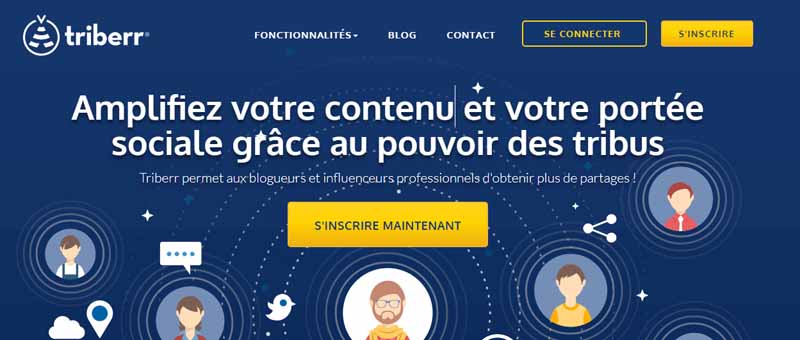 Triberr is a social media platform where bloggers join tribes, in which tribe members' RSS feeds display their posts, and people decide whether or not to share them
Triberr is ideal if you want to:
Amplify the reach of your content;
Connect with people in your niche
It's easy to use and a good alternative to Buzzsumo's discovery of new and popular articles. But it does more in terms of promoting content and getting people to share your content.
Key features:
Content discovery ;
Content Amplification.
Price: $20-$50/month
It also offers a free option, but very limited.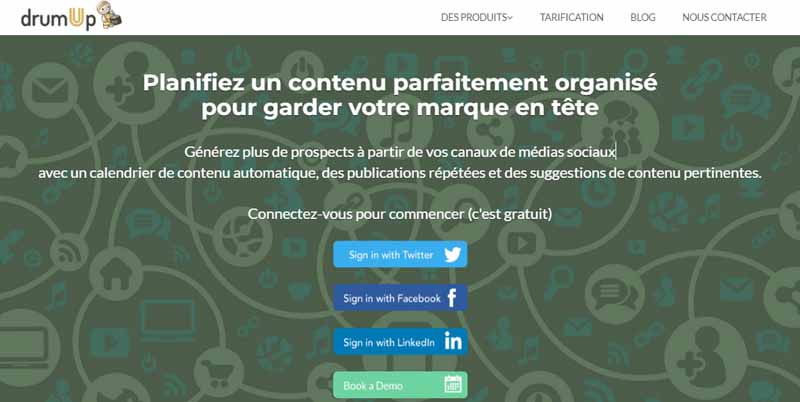 DrumUp discovers and helps you share quality content on your social media accounts. The tool recommends new stories that are more relevant to your audience
It even has a chrome extension to schedule social media posts and discover new content.
Content marketers also track and measure engagement on Twitter, LinkedIn and Facebook using Drumup's intuitive and in-depth social media analytics
Some of the tool's elements are similar to Buzzsumo, but its capabilities are very limited if you want it to be a full-fledged alternative to Buzzsumo.
Price:$15 to $39
It also offers a free option, but very limited.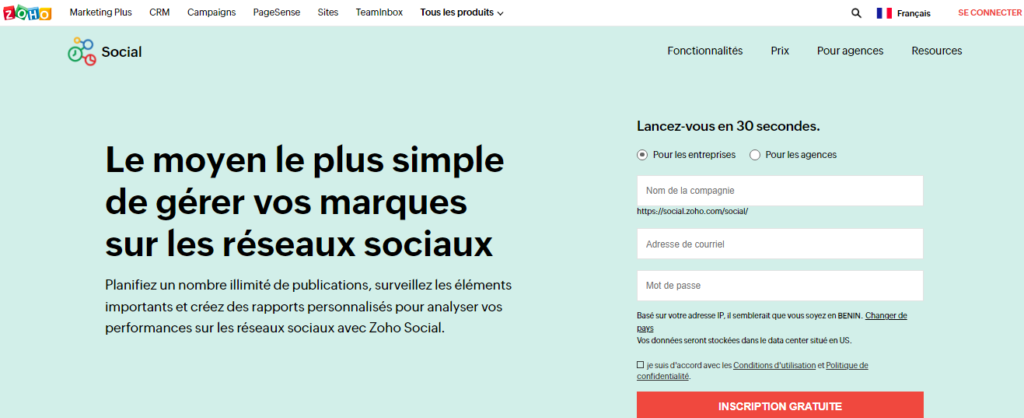 With Zoho Social, you can easily:
Schedule content in different ways
Monitor mentions
Analyze your brand's performance on social networks
The interface works like a brand newsletter on social networks. Zoho's algorithm monitors social media and suggests the ideal time to publish a post
Zoho Social is quite limited when you consider it as an alternative to Buzzsumo, but it is very useful if you combine it with any of the above mentioned tools.
Key features:
Posting time;
Monitor;
Performance analysis.
Price: Starting at $10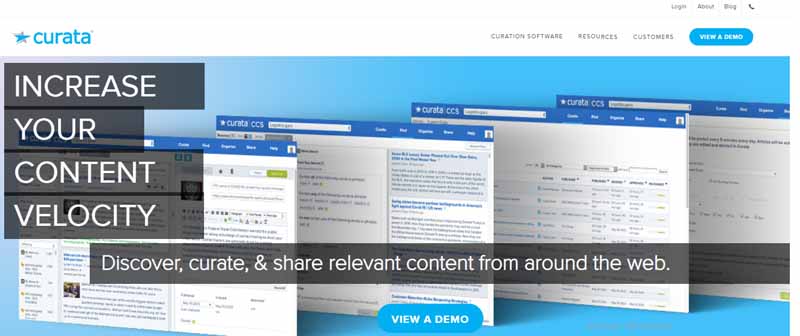 Curata is a content marketing tool that provides content curation using:
From keywords;
News sources; and
Authorship;
Tagged or shared content
Etc
It suggests content and prioritizes by relevance. While it is a great tool for discovering content, it is at a disadvantage compared to Buzzsumo. But it can be paired with an influencer discovery tool to provide you with a comprehensive report.
Key Features:
Content discovery;
Automatic content publishing
5.11. other (free) alternatives
If you don't want to spend money on Buzzsumo or can't afford it, there are completely free alternatives you can always try.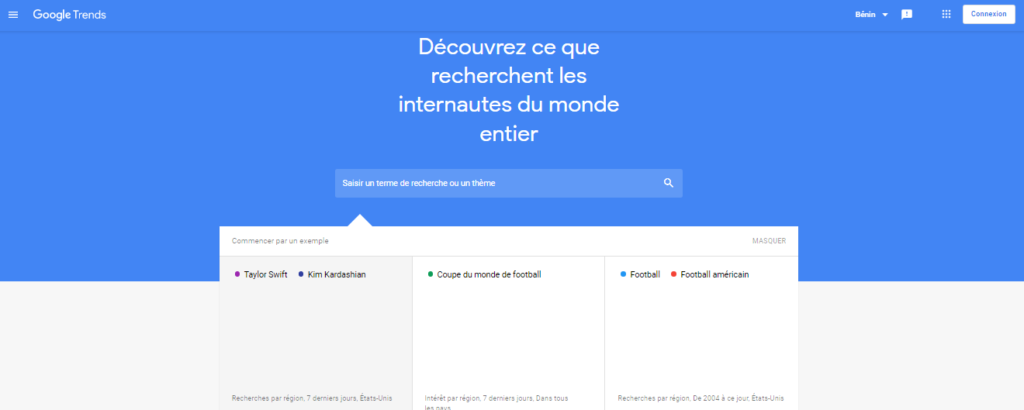 Google Trends is a free service from Google through which you can find out what's trending and what people are talking about in general.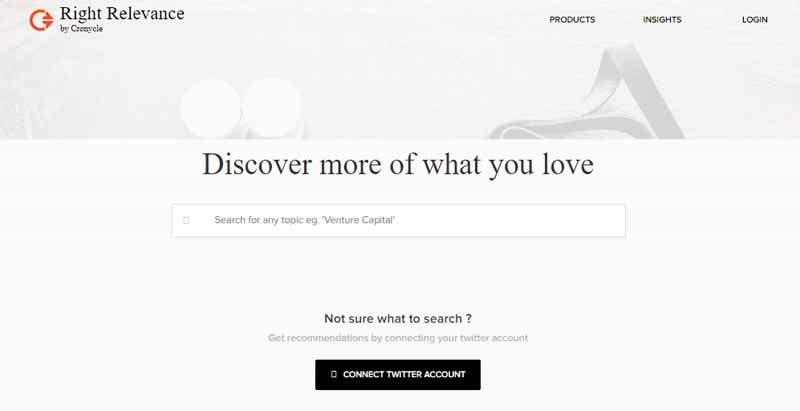 Right Relevance is a free platform that specializes in personalized content discovery. It has many of the features offered by Buzzsumo, but entirely free
Alltop stores all the most important headlines of popular topics on the web. Here your search criteria will be different because Alltop already has a categorized list
For example, if you want to search for a topic/blog related to "crypto-currency", you can go directly to alltop.com/crypto-currency and see the titles listed.
Alltop checks every link/article before listing it and you will rarely find broken links.
It's a good alternative to buzzsumo if all you want is to get trendy articles and ideas.

Anders Pink is a content curation app with which you can find interesting and trending content to work on
This list ofalternative tools to BuzzSumo will help you achieve your goals. Of course, some tools cannot replace all the features of BuzzSumo in their entirety. However, all of the above tools are effective and have low-cost (or sometimes even free) solutions.
In summary
As with all content marketing tools, the best way to use BuzzSumo will depend on the characteristics of your business and what you are looking to achieve with your content strategy
I hope that after reading this guide, you now know a lot more about this tool. It's up to you to make a decision based on your needs. Either way, it's worth a try.
Thanks for reading and see you next time!