Google Pirate is an update to the number one search engine's algorithm to punish or penalize websites that violate copyright law. This update specifically affects the ranking of piracy sites that violate the Digital Millennium Copyright Act (DMCA). Instead of these sites, Google highlights legitimate search results when a search query with illegitimate keywords is entered.
Online piracy is on the rise and is a major problem for those involved in the entertainment industry. Statistically speaking, between 230,000 and 560,000 jobs are lost due to digital video piracy in the United States in 2021.
In addition, piracy causes a reduction in the gross domestic product in this country of $47.5 to $115.3 billion per year. To combat this phenomenon and clean up the web of copyright infringing content, Google has launched the Pirate update.
But in concrete terms,
What is Google Pirate?
What is the impact of Google Pirate on SEO?
What is the difference between Google Pirate and other updates such as Panda and Penguin?
These are some of the questions that are still being debated in the SEO community.
Through this article, I bring quite explicit answers to each of these questions as well as the different ways to protect your resources from online piracy.
So follow along!
Chapter 1: What is Google pirate?
Google pirate is a solution from Google against piracy that has become a big concern in the entertainment industry. In this chapter we discover:
How Google Pirate works;
Its impact on websites;
Its criticisms.
1.1 What is Google Pirate?
The entertainment industry has been fighting against piracy for years and search engines are good places to get illegal copies of movies and music for free.
Aware of this scourge, which is a flagrant violation of copyright, Google has taken steps to ensure that sites with pirated and stolen content do not benefit from its platform
Thus, the search engine had launched the Google Pirate update in 2012, an update that targeted pirate sites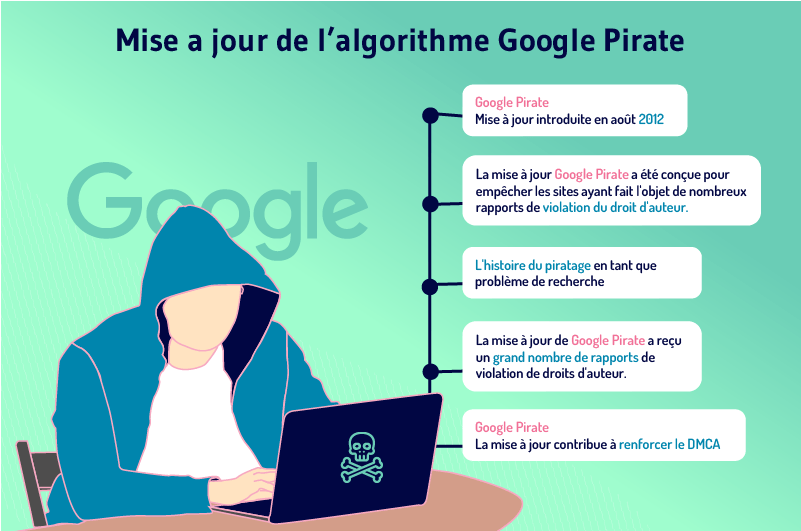 According to the American firm, it would penalize any website identified as doing or supporting piracy in any form.
Google's goal is to penalize websites that violate copyright law. The penalty consisted of lowering the ranking of a given site on the search results page, which is a major blow to the site involved.
The penalty is on search rankings, because search pages are where people generally discover websites. By moving or removing these sites from search results, they will lose organic traffic.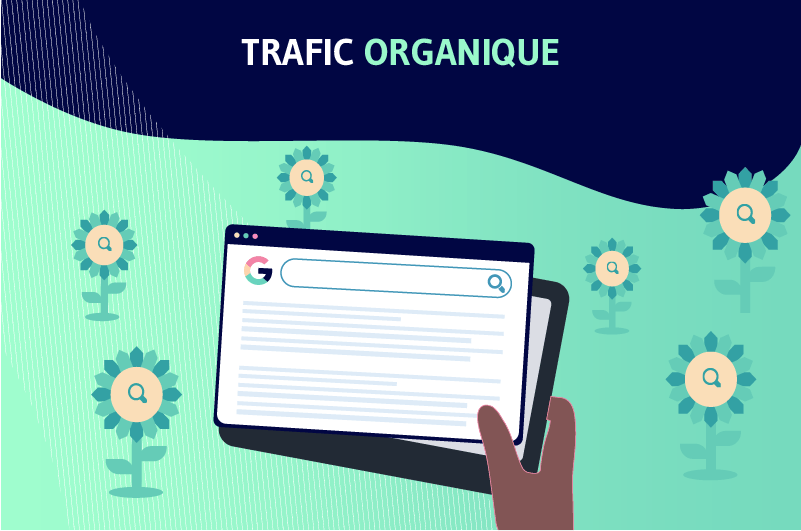 When Google discovers an illegal website, even if the page ranking is quite high, it will lower the site's ranking or even ban it completely. This benefits the site that follows the search engine's copyright guidelines.
Although some sites still manage to fool the search engine, it still strives to ensure that pirate sites are punished and that authors do not suffer from illegal distribution.
1.2) How does Google Pirate work?
The Google Pirate update specifically targets sites that violate the DMCA. To do this, Google Pirate issues penalties for websites that have received a higher report of copyright violations filed through the DMCA system.
First, the search engine identifies individual sites with multiple copyright violations. It then lowers the ranking of those sites that provide piracy content.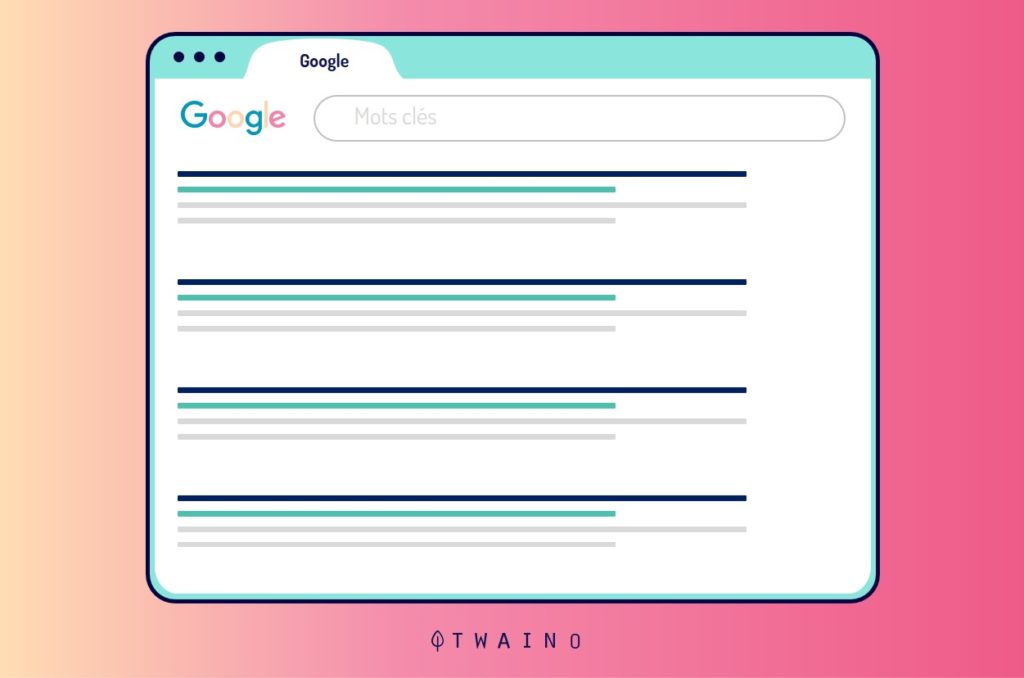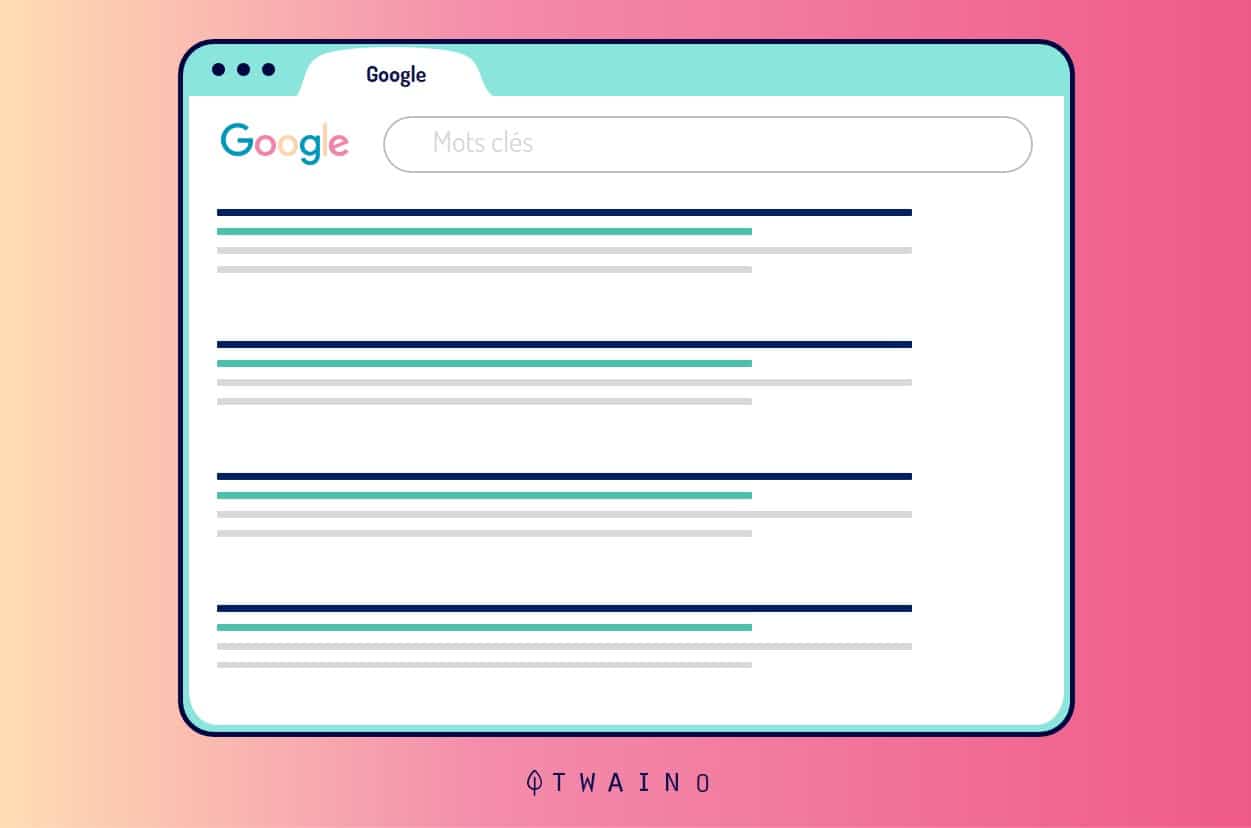 Google Pirate can also identify new pirate sites and release sites wrongly accused of piracy. Before Google Pirate was deployed, a user searching for a movie would be offered pirated content because of its high ranking in search results.
Now, the user is offered standard, non-piracy content at the top of the search results even if they use terms that refer to piracy.
For example, if a user searches for "[name of movie/music] to download for free," he or she might be offered a few new features in the search results such as:
Ads that appear for the legitimate content of that movie or music;
A sidebar with information on how to buy, listen to or watch the legitimate content of that movie or music.
In its drive to fight piracy, Google has also removed autocomplete suggestions that return results with sites removed from the DMCA list.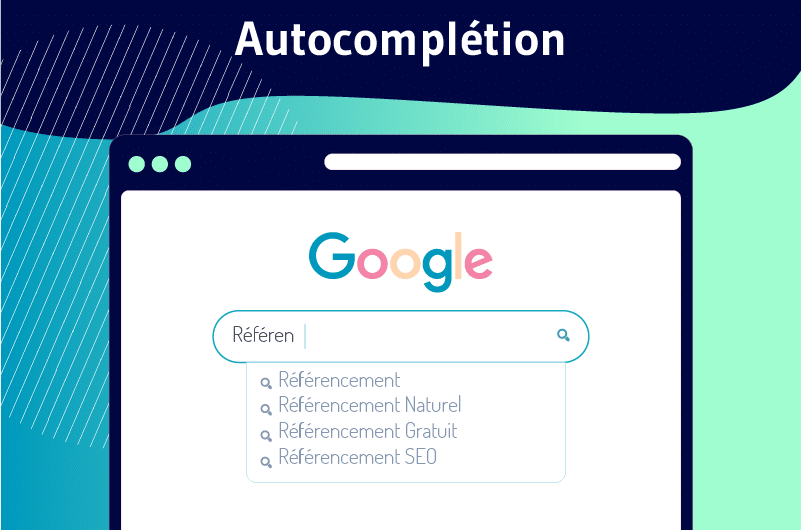 However, the Google Pirate update does not mean that all pirate sites are removed from Google's index. Users can still find these sites when they search for specific names of pirate sites on Google.
1.3. Which sites have been affected by Google Pirate?
The Google Pirate algorithm works to lower the ranking of websites that violate the DMCA. This update only targets a certain section of the Internet, namely pirated content.
Initially, these sites receive notices, and then Google acts accordingly. The search engine reportedly received just over 224 million DMCA requests for search results in 2013
Eventually, Google removed about 222 million sites, which meant that about 2 million pirate sites remained in the search results.
The search engine believes that these remaining 2 million were not infringing or that it simply needed more information.
According to a study, the visibility of many pirated search results dropped by more than 96% in search results.
Among the most affected sites, we have torrent sites that were a global platform for sharing illegal content such as movies and music were banned by Google.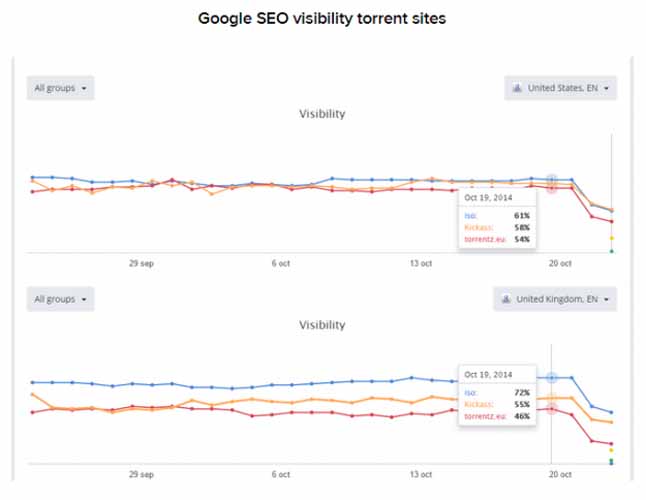 Source : edit
If you own a torrent site and host pirated content for Internet users, you should definitely be worried.
Apart from torrent sites, the Google Pirate update has also affected other sites that illegally promote pirated content such as
rapidgator.net ;
uploaded.net ;
4shared.com ;
vmusic.e.net ;
thepiratebay.cr ;
wnruder.eu
pleer.com
etc.
A month after the update, Google had reported receiving more than 38 million removal requests from various websites
The Google Pirate update, however, has little impact on sites that do not rely on organic search. This is the case for Pirate Bay, one of the main torrent sites.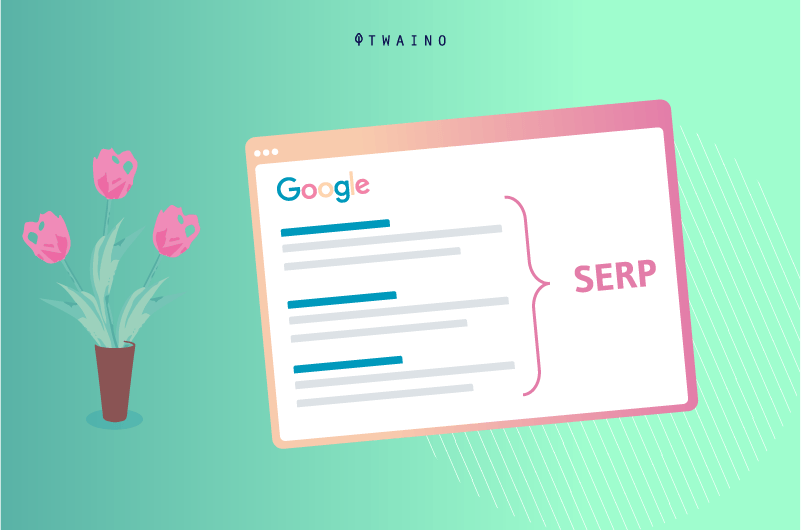 This site had not reported any significant loss of traffic due to the launch of this algorithm update. It has even become the recourse for Internet users who can no longer find free content on search engines.
Let's also remember that the majority of sites that suffer from Google's sanctions change their domain and continue to provide free content.
1.4. Criticism of Google Pirate
As soon as it was deployed, Google Pirate was praised by the authorities and the entertainment industry. This update has enormously strengthened the position of authors.
On the other hand, free Internet advocates accuse Google of taking advantage of the so-called copyright protection to strengthen its revenue streams from the entertainment industry and advertising.
In fact, instead of censored content in the SERPs, the search engine displays paid legal content promoted through Google AdWords first.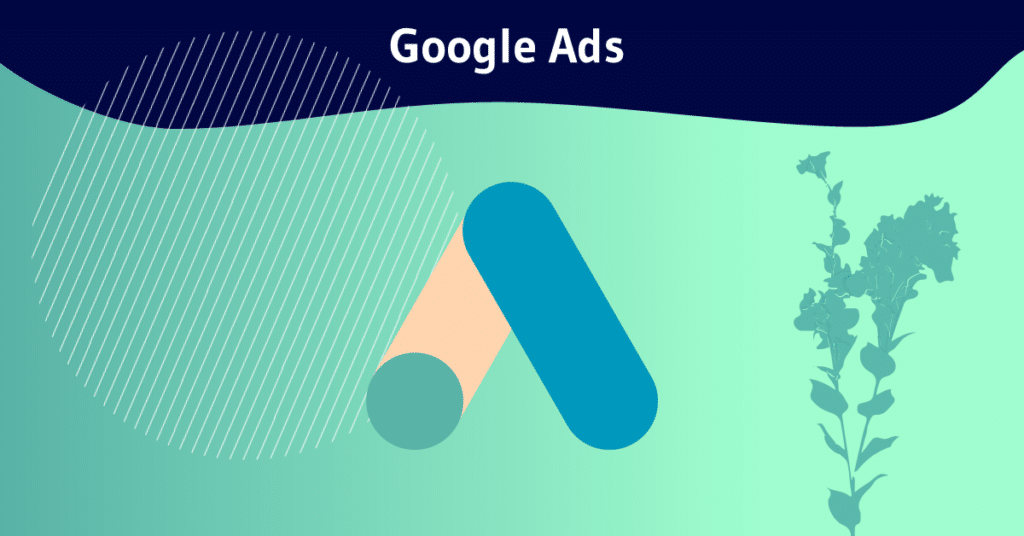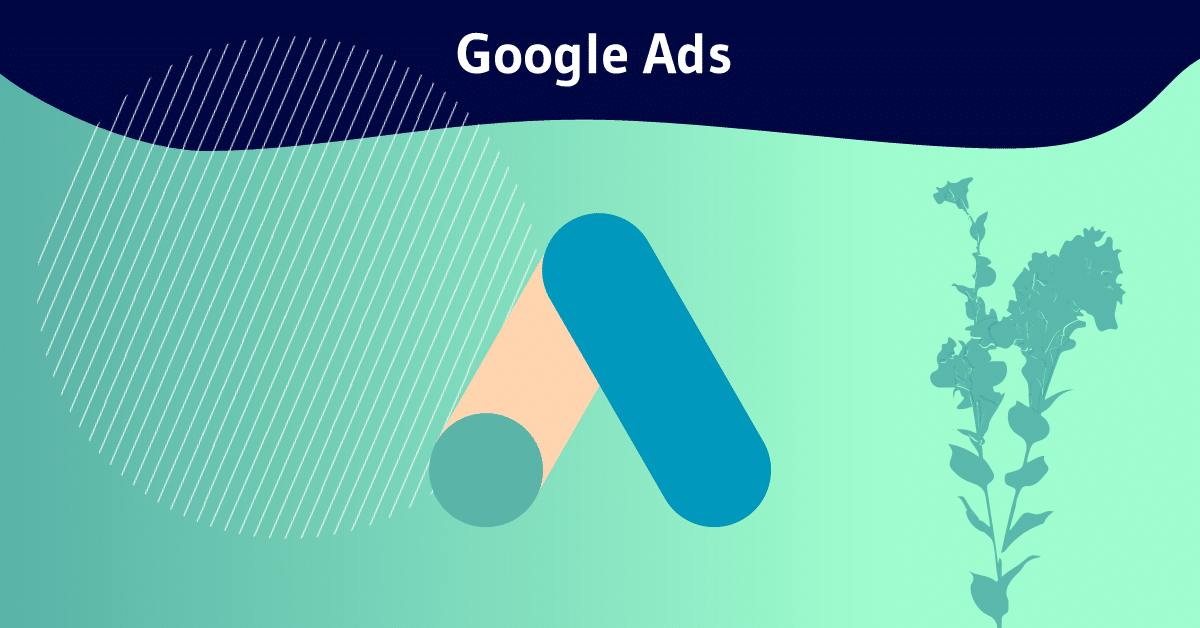 At the same time, copyright infringements can be reported not only by the copyright holders themselves, but also by other users.
That said, malicious people can exploit the Pirate update for negative SEO to harm their competitors.
Another possible point of criticism of Google's Pirate update is its relatively imprecise execution.
While the filters already pull many results from illegal torrent providers from the SERPs, especially for the film and television industry, there are obviously many flaws.
It is true that Google can reliably determine the names of movies, actors or characters.
But when users perform a search with a combination of terms specifically targeting illegal content, copyright-infringing content can be displayed
This is especially evident since the server and URLs under which copied and illegally provided content is accessed change quickly.
On the other hand, the Pirate update does not prevent the content from being created and accessed, only the SERPs are cleaned. Therefore, when a user knows the correct address where he can download or distribute pirate copies, he will not need Google.
Chapter 2: What do you need to know about the DMCA?
On the Web, users often forget about copyright. This is due to the increasing search for free content and the high number of plagiarism on the web.
However, there is a law that governs intellectual property on the Internet. In this chapter, we learn about this law and its provisions on copyright infringement.
2.1. What is the DMCA?
The DMCA is a United States law passed in 1998. The full text of this law, which protects digital copyrights, is available on the DMCA's official website and on the website of the US Congress.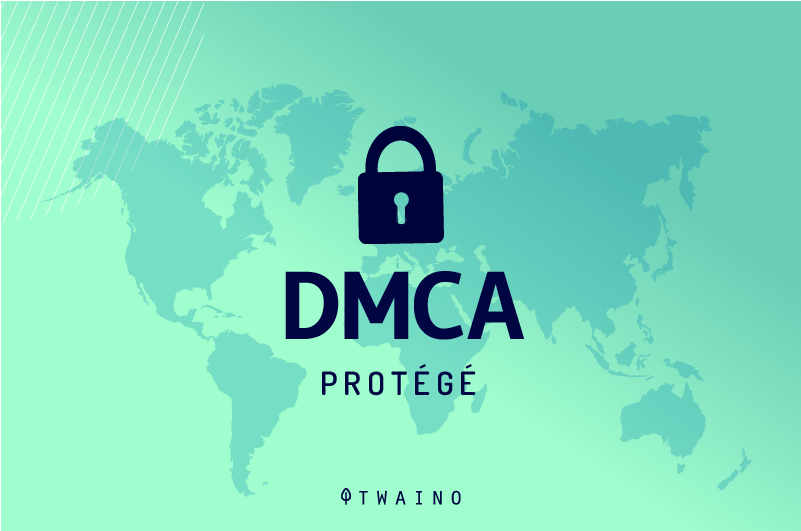 In general, the DMCA shifts the responsibility for copyright infringement from providers to users.
It also introduces liability for producing technologies that help circumvent copyright protection tools.
It also addresses liability for direct copyright infringement in the digital space, such as illegal copying and distribution of material.
The DMCA protects all types of digital content, including:
Text;
Multimedia content;
Owners of that content.
That said, when you publish an article on your blog, it is automatically protected by the DMCA. You can file a complaint if you notice that someone has copied your article on their site and is impersonating the author.
But before filing a complaint, you must first register your site with the service. So, if the service finds out that the article is published illegally, it sends a notification to the webmaster about a complaint with the obligation to remove the content.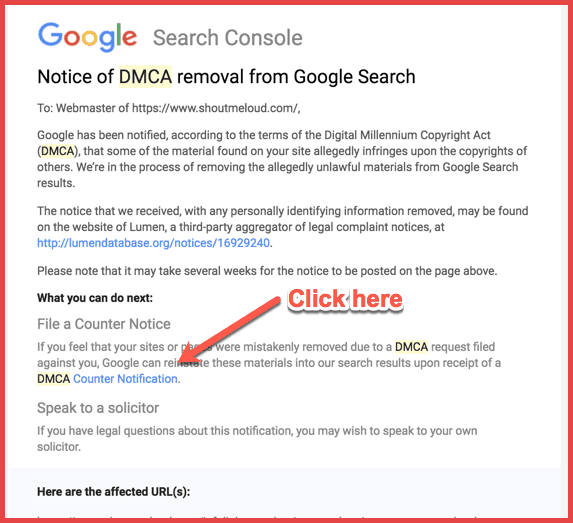 Source : shoutmeloud
When the person refuses to remove the article in question, he or she will simply be subject to civil or criminal liability. Some platforms, such as YouTube, for example, remove videos that infringe on copyright on their own.
Although the DMCA is part of U.S. law, the service handles complaints of illegal content distribution regardless of the country.
In fact, the DMCA also applies to the member country of the World Intellectual Property Organization. The DMCA can be used as a basis for suing a citizen of any country that is a member of WIPO.
2.2. What has changed with Google's DMCA Algorithm
In the past, copyright infringement claims were filed on the official DMCA website and this could take some time
The rollout of the Google Pirate update is important to eliminate the need to file a complaint on the official DMCA site when content is stolen and published illegally.
Webmasters can directly submit a takedown request for their content and Google will simply demote the site in search results.
To report a copyright infringement, you will submit a removal request in Google Search Console.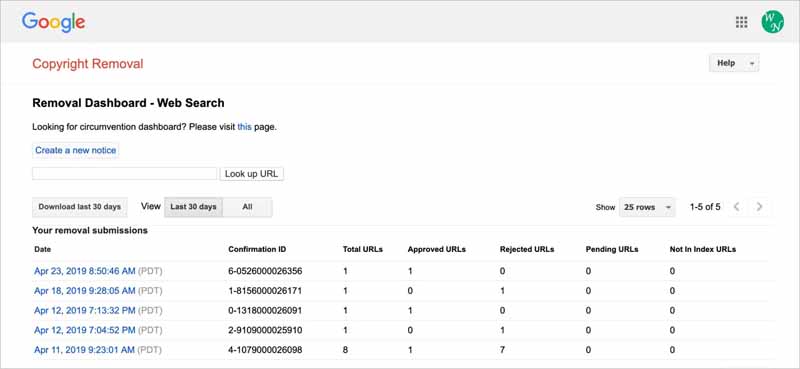 Source: webnots
In your request you must indicate:
Which Google product your request relates to: This can be the search engine, but also Maps, Google Drive, YouTube, etc.
What Google should do in response to your request: The system cannot remove pirated content from a third party's site by itself, but it can send a notification to its webmaster. It is also possible to complain about the dissemination of your personal information on the site or request removal from search results.
Violation Type: In this section, content and brand are treated as separate categories. You can also select the Broadcast Technology category to help circumvent copyright.
Are you an author? If not, unfortunately you will not be able to file a complaint.
Overall, Google processes copyright notices within an average of 6 hours.
2.3. how to protect yourself against content theft?
It is obvious that content creators need to protect their creations to prevent copyright infringement. Watermarks on images and software that prevents copying of text are part of the solution to achieve this.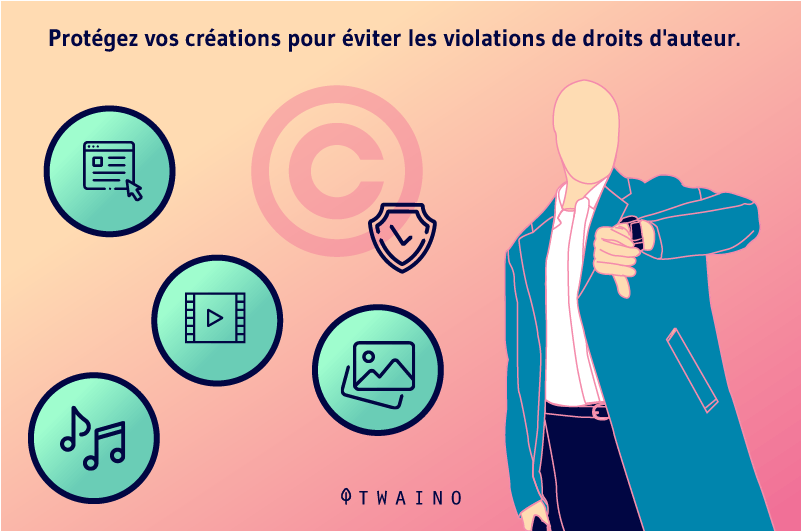 But they only prevent automated copying and do not guarantee 100% protection of content. Moreover, they are not often applicable to the film and music industry.
These techniques can also scare off your users, as watermarking for example alters perception. To effectively protect yourself against copyright infringement, officially register your trademark.
This way, you will have proof that the name and logo belong to you alone and that their use by third parties is illegal.
Contact law firms that deal with intellectual property to have a certificate issued confirming that you own the content.
Unfortunately, this method is only suitable for original material, i.e., material you created yourself, not material you are licensing.
Sign contracts with all creators who create content for you so that they cannot resell the finished work.
Apart from these measures, it is recommended to regularly check your content for theft.
You can check your content often for copyright infringement on a monthly, quarterly, or according to the drop in traffic or popularity of a resource.
Indeed, the more popular a resource is, the higher the probability of theft, because its content is easier to find.
To check for copyright infringement, you can proceed as follows:
Google search: You need to search for your content, regardless of the type on Google to find the site that offers it as you do.
Anti-plagiarism tools: This technique is adapted to text type content, because anti-plagiarism tools find sites that have stolen your content;
Google Images or TinEye: this technique is adapted to image content.
There are also advanced techniques to protect your content against illegal copying. These are :
2.3.1 Digital Rights Management (DRM)
Digital Rights Management is a defense mechanism often used to protect content against digital piracy.
DRM restricts unauthorized copying of content and allows copyright holders to impose licensing requirements.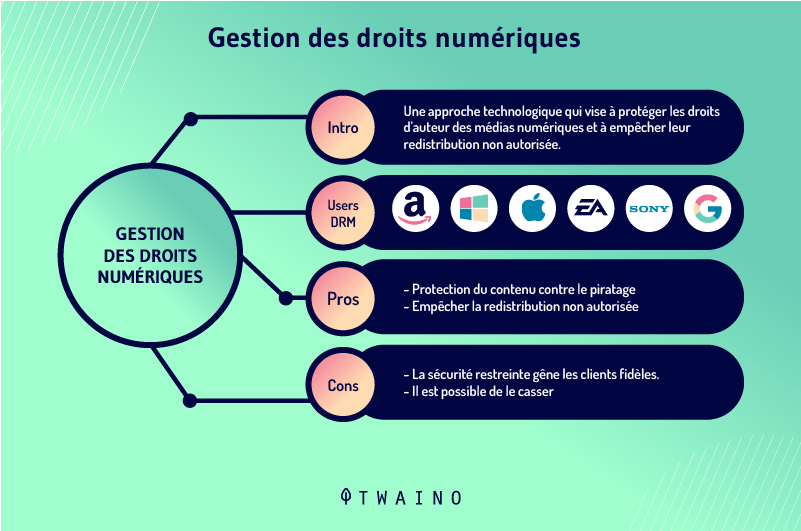 It consists in putting an embedded code in the content. Thus, it prevents unauthorized distribution of content. In addition, it restricts the means by which a consumer can obtain the object.
2.3.2. Forensic watermarking
While visible watermarks are not very practical for protecting content, an invisible watermark will help stop illegal distribution.
Invisible watermarks embed unique data in media files such as video and cannot be seen by the naked eye.
However, they can be detected by a watermarking solution system. The same content can be embedded with different watermarks to identify which piece of content has been copied and distributed.
2.3.3. Fingerprinting
It allows authors to define whether their content has been illegally downloaded from websites.
For example, if a video has the fingerprints of its original owner, YouTube's fingerprint identification system can detect it automatically.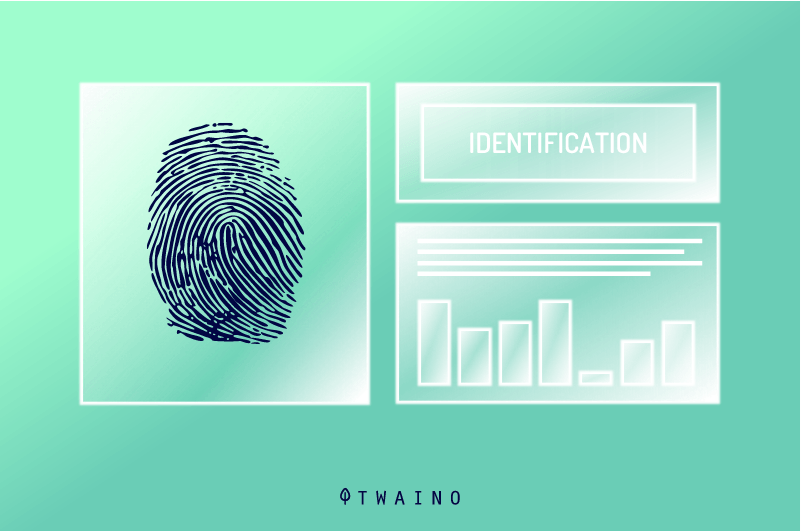 However, fingerprints are not the same as watermarks. Watermarking is the implantation of identifiable marks into content.
Fingerprinting is the result of analyzing the video or audio file to create a digital fingerprint, like QR codes.
2.3.4. Website blocking
This is another commonly used tool to combat digital piracy. Authors work with Internet Service Providers (ISPs) to block access to unauthorized torrent websites.
The three main methods of blocking websites are:
Internet Protocol address blocking;
Domain name server blocking;
Uniform Resource Locator blocking;
Removal notices.
But some users can bypass this method by using a VPN to hide their IP address.
2.4. What to do when you are the subject of a DMCA complaint?
As mentioned earlier, sites that are subject to a DMCA complaint are likely to see their rankings drop in search results.
When you log into your Search Console account, you will immediately receive an email informing you that a complaint has been filed against you.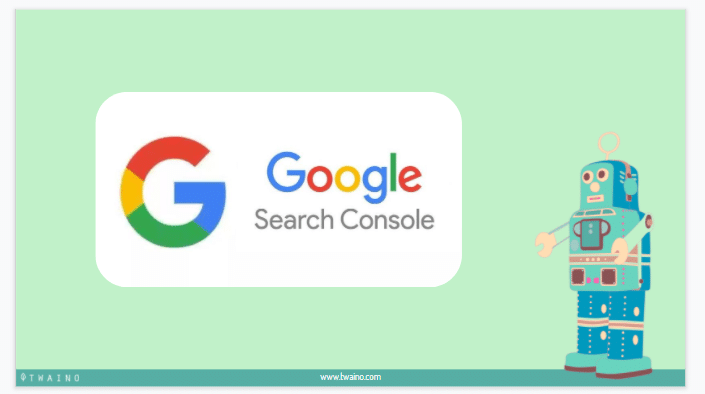 At this point, you should check everything to determine which resource you are infringing on. You will then simply delete the resource. Thus, there is no more illegal content and the Pirate update will not mark you and will not impose any penalties.
Indeed, sites that lose ranking due to copyright infringement have difficulty recovering their place in the SERPs.
Moreover, if your site is subject to numerous takedown requests from various sources, Google will remove it from its index without giving you time to modify the content.
For sites that allow users to add content to their web pages, webmasters should keep the main site domain separate from the domains of user-created web pages.
Since you will never really know what users will post on your site, it is best to be safe in separating their content from yours.
Also, because DMCA complaints have a negative impact on a site's traffic, competitors can exploit them to harm you. In this case, it will simply be called a false complaint.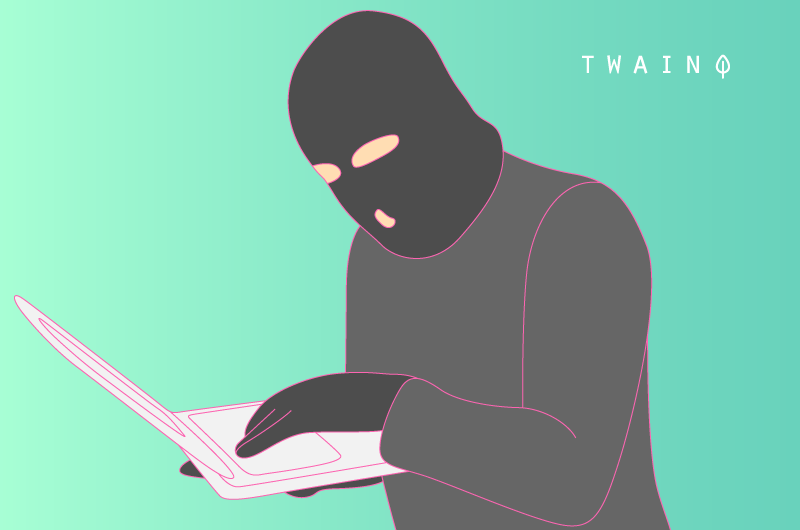 When you have evidence that the complaint is erroneous, respond with a counter-notification. This is to prove to Google that you have not infringed copyright as alleged in the complaint.
The link to the counter-notification form is often included in the complaint notification. In the "Details" column, provide any evidence that you are the owner of the original content.
Chapter 3: Google Pirate, Google Panda, Google Penguin: What is the difference between these three updates?
It's not uncommon for people to confuse the Pirate update with the Panda and Penguin updates. But there is a fundamental difference between these different updates.
In this chapter we will discuss these different updates and the fundamental difference between them
3.1 What do I need to know about the Google Panda update?
3.1.1. What is Google Panda?
Google launched Panda one year before the Pirate update. It is a search results algorithm that filtered out sites with very light and low quality content.
The rollout of Google Panda was the beginning of a series of significant quality checks. Google Panda rid search results pages of poorly constructed content that does not benefit users.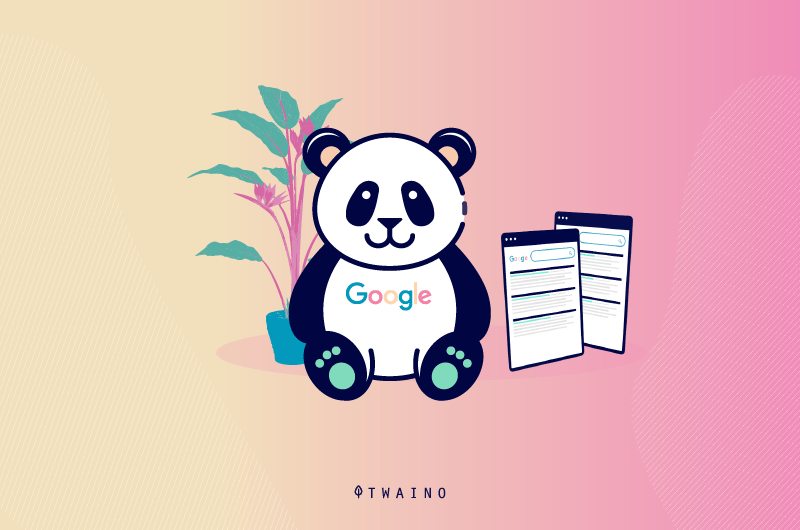 This obviously allowed higher quality websites to rise to the top of the SERPs. One of the main targets of Panda was content farms.
These are the sites that published low quality content and still managed to rank in the SERPs using over-optimization techniques.
For Google, which always strives to provide high quality results for an optimal user experience, this is of course a major concern.
Thanks to the Panda algorithm, Google has managed to control poor quality content and remove content farms.
Since its launch, Panda has even become an integral part of the search engine algorithm and is a ranking signal.
3.1.2. What are the targets of Panda?
The Google Panda update particularly targets sites with the following characteristics:
"Thin" content on the site: Sites that offer quality content on many pages tend not to offer a quality user experience.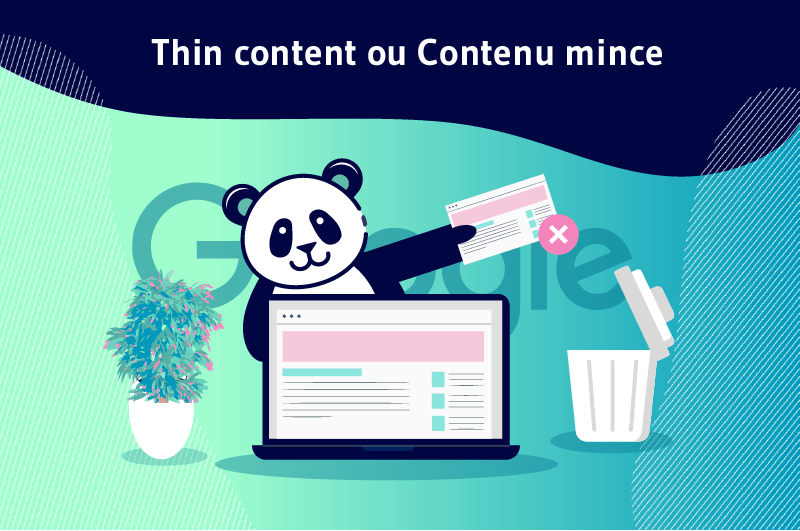 This can be pages with only a few sentences or pages with an inarticulate mass of words.
Duplicate content: The search engine perceives a high volume of duplicate content (pages with very similar or exactly the same content) as an attempt to manipulate its system.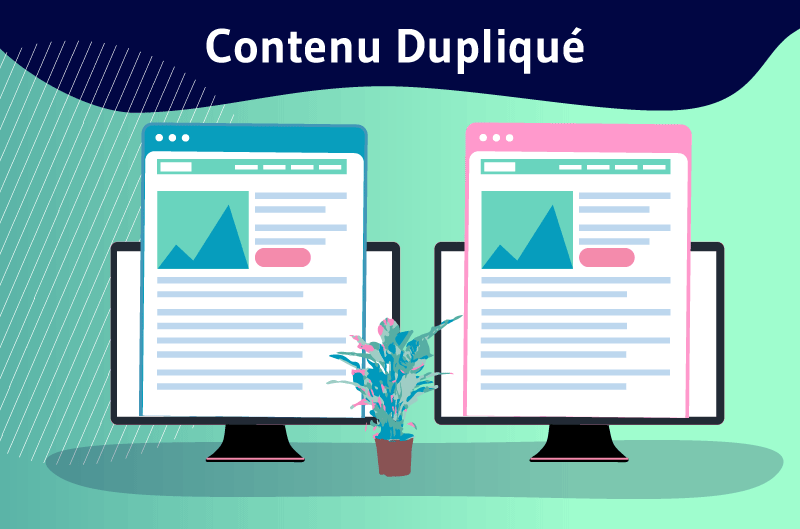 In the past, domains may have tried to duplicate pages that targeted the same particular keyword to try to increase their chances of ranking for that term. But those days are over and Google is cracking down on duplicate content.
Machine-generated content: Also known as "spun content," this is text that is automatically produced using software to fill web pages with keyword-rich, but ultimately poor quality information.
Excessive ads on the site: Pages that are flooded with ads compromise the user experience, especially interstitials.
3.1.3. Panda and Google Pirate update: What is the difference?
The fundamental difference between these two updates is that each one concerns a distinct aspect of the Internet
The Pirate update fights against online copyright theft while Google Panda seeks to rid search results of bad web pages in order to optimize the experience of Internet users.
It is also important to remember that Google Panda is not a penalty of any kind. It simply demotes individual pages to a lower rank in the SERPs in favor of high-performing pages.
The Pirate update on the other hand can completely remove a page that is subject to copyright infringement claims from the SERPs.
3.2 Google Penguin: What is it?
3.2.1. Google Penguin
Penguin is an update rolled out by the number 1 search engine in 2012. It was a major initiative to fight against black hat link building techniques.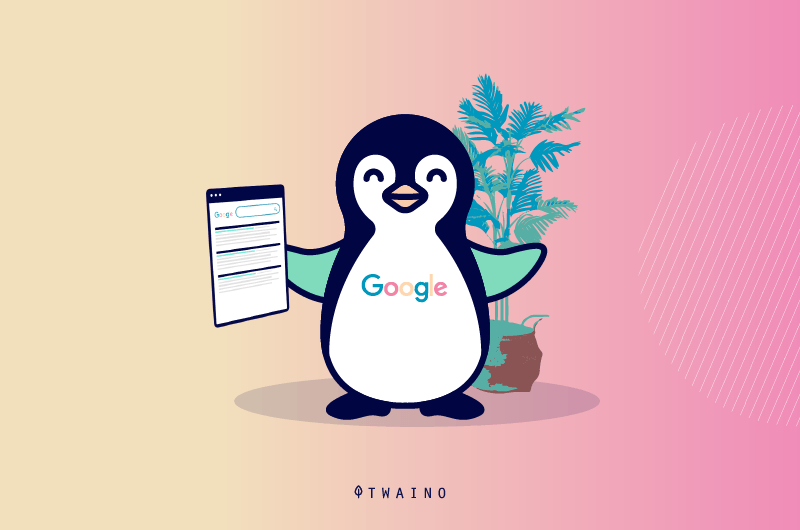 Penguin has been modified several times since 2012, and in 2016, it was integrated into Google's main algorithm. While the Pirate update primarily addressed copyright infringement, Penguin targeted manipulative link building practices
These are tactics used to artificially inflate the quantity and nature of links pointing to a site.
Indeed, it is well known that inbound links are an important ranking factor in Google's algorithm. Google considered these links as a strong indicator of the authority of a page
So, if the page was good enough for other websites to link to it, then the content must be good enough for the search engine users.
This estimation of a page's value was a solid concept until malicious people started creating massive numbers of links using questionable tactics.
This manipulation of Google's algorithm was taken to the extreme where SEOs were filling the anchor text of these links with the same or very similar keywords. It is in this context that Google deployed the Penguin update.
3.2.2. What are the targets of Penguin?
Among the problems that Google sought to solve with Penguin, we have the artificial creation of links and keyword stuffing.
The first problem is obviously the creation of links in an artificial way. For this, Google targets "link farms" and websites whose sole purpose was to place links or sell links.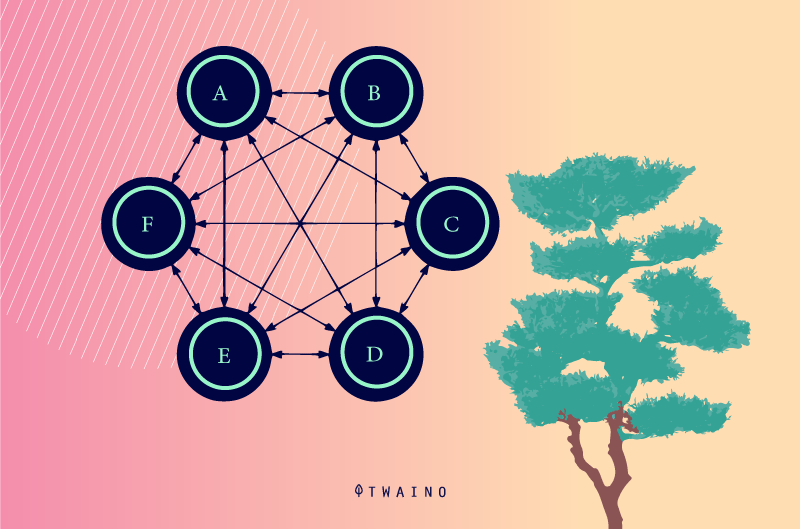 This also includes links that were created by robots or tools, and therefore did not indicate that humans found the content of the target page useful.
The same is true for sites that engage in reciprocal link exchange programs where the sole purpose is to increase link volume for members.
The second problem the Penguin update addresses is keyword stuffing. Sites that engage in this practice fill web pages with a large number of keywords
In the past, stuffing was used to manipulate rankings by giving the impression that the page in question is relevant for the targeted keywords.
3.2.3. The Pirate and Penguin updates: What are the differences?
It is clear that Penguin targets sites that seek to manipulate Google's algorithm in order to fraudulently obtain a higher ranking in the SERPs.
Therefore, Penguin differs from Pirate, which focuses more on the respect of online copyrights.
Chapter 4: Frequently asked questions about Google Pirate
In this section we will answer the most frequently asked questions about Google Pirate.
4.1) What is Google Pirate?
It is a measure taken by Google to ensure that sites with pirated and stolen content do not benefit from its platform.
The search engine ensures that these sites are punished and that copyright holders do not suffer from the illegal distribution of their content.
This update reinforces the U.S. law protecting copyrights on the web, the DMCA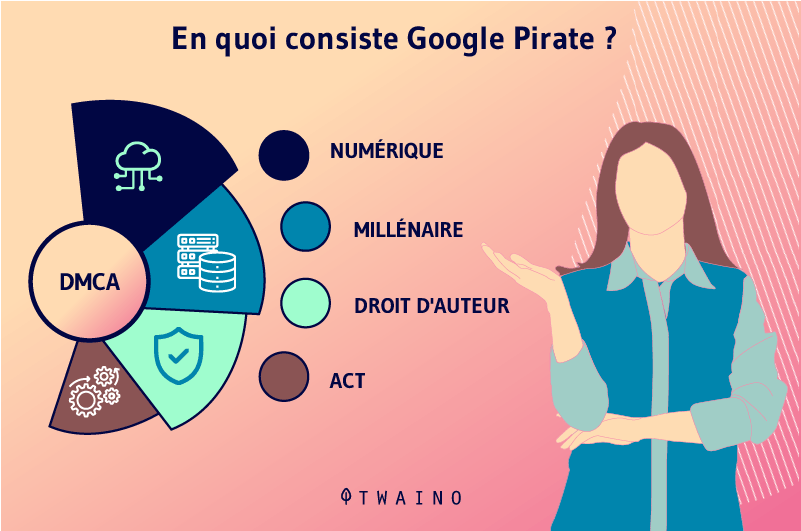 The DMCA makes it a criminal offense to provide stolen or pirated media of any kind.
Google allows authors to file copyright infringement reports against sites that contain pirated content. Not only will these sites that are the subject of complaints be ranked poorly, but they may be removed from the SERPs.
4.2) How do I file a copyright infringement complaint with Google?
You can file a DMCA report with Google from your Webmaster Tools account. In this tool, follow these instructions:
Access the Copyright Removal Dashboard;
Sign in with your Google Account;
Select "Create a new notice";
Fill out the contact information;
Fill in the details of the copyrighted work;
Add details of the infringing work;
Select Affidavits;
You can then submit your notice and Google will review your removal notice and take action as it sees fit.
It is advisable to check the deletions dashboard regularly, as Google will not send you any updates after a deletion notice is filed.
Alternatively, you can also file a DMCA takedown notice with the web host/provider that hosts the domain that infringes your copyright.
You may also request removal from an Internet service provider to make the connection to the site inaccessible from that provider.
4.3. How to protect your content from piracy?
It is always better to make your content difficult to pirate. As an example, there are tools that allow you to do the watermarking process perfectly.
Visible watermarks are relatively easy to make and you can do it from Photoshop.
4.4. what to do if you are affected by Google Panda?
If your site is affected by the Pirate update, you will notice a drop in visibility in the SERPs. It may be a very obvious copyright violation such as offering a free movie or music to site visitors.
You must then remove the illegal content from your site that violates the DMCA. But when you are wrongly accused, you can justify yourself by providing evidence through the complaint notification you will receive in Google Search Console.
Conclusion
Google is constantly changing and updating its algorithms in order to provide better content to users and to reward sites that do not do anything illegal.
The Pirate update is part of this dynamic, with which the search engine penalizes sites that violate copyright.
This update particularly targets sites that intentionally offer pirated content, especially piracy or torrent sites.
By downgrading and removing them from organic search results, Google helps keep the Internet clean and free of illegal media.
However, the Pirate Update did not allow Google to remove or address piracy completely. Some piracy or torrent sites still remain accessible to users looking for free media content.
Nevertheless, it is commendable that Google has taken the initiative to tackle piracy and copyright infringement.
In this article, we have discussed the different techniques that webmasters can use to protect their online properties.
As for sites that have been sanctioned by Google, we have also discussed the different techniques that can help them recover from these sanctions.
In addition to the ways of protecting online properties that we have presented in this article, tell us in comments how you protect your content.