Formerly called Google AdWords, Google Ads is a subsidiary of Google that sells advertising space to advertisers. The word "AdWords" comes from "Ad" or "Advertising" which means advertising and "Word" is only the meaning of "words" in English. In addition to ads, you can also find banner ads on Google Ads. Note that all these broadcasts are made according to the words typed by the Internet user or the behavior he has during his navigation
According to the statistics of Google Adsstatistics, the purchases of 90% of consumers are influenced by the ads they see
Therefore, to reach their targets and increase their sales, companies create relevant advertising campaigns using Google Ads
Indeed, this platform offers a return on investment of 8 out of 1 dollar provided that the right strategy is used.
In order for you to better understand this advertising network, the following points will be discussed throughout this definition:
The concrete meaning of Google Ads;

How it works;

The different kinds of ads;

How to use Google Ads;

The necessary budget for this advertising network.
Let's start!
Chapter 1: The Google Ads concept – definition
In this chapter we will discuss the details concerning:
The meaning of Google Ads ;

The bids and the pay per click system;

The appearance of ads on the first page of search engines.
1.1 What is Google Ads?
Google Ads is the platform of paid advertisements through which a company can expand its traffic and the number of its users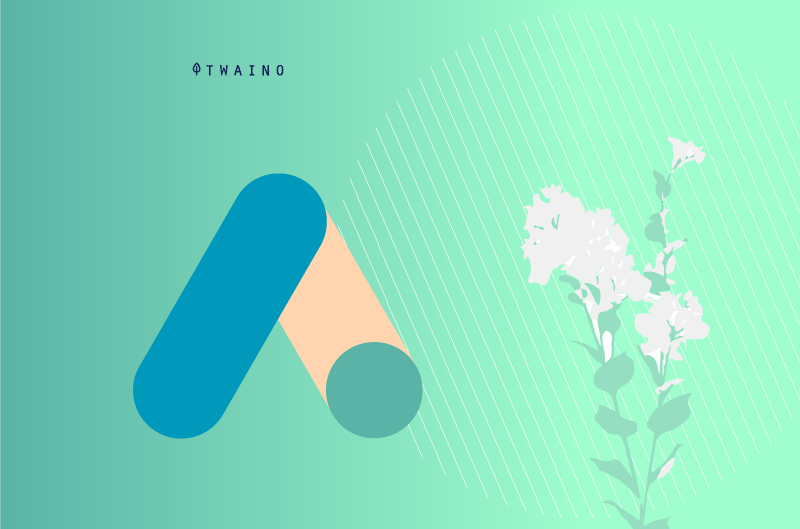 You can post videos, images and texts in order to make your company, products and services better known. In the long run, your traffic will increase and your brand will gain popularity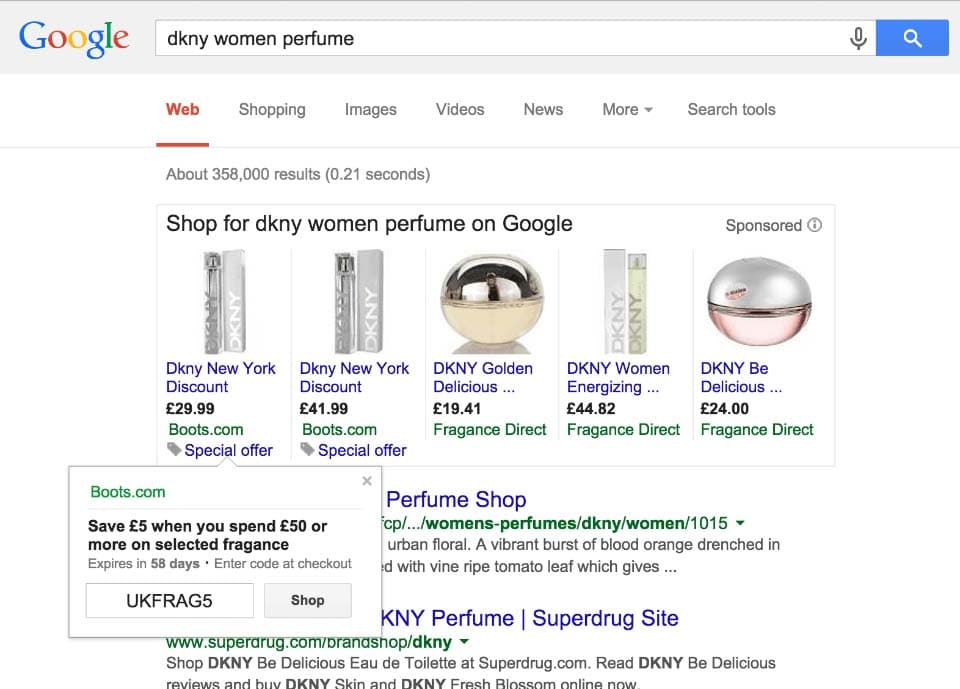 Source Consultant-adwords
The ads that are made can appear in the search engine results. They can also be displayed on applications, in the form of videos or rich media through the Display network
Note that these ads appear only at the precise moment when Internet users are searching for keywords related to your ad
1.2. The pay per click system and the Google Ads bids
The Pay-Per-Click (Pay-Per-Click) of Google Ads is a system based on a kind of auction that takes place as follows:
First, the advertisers establish a list of keywords that they think are relevant enough for the Internet users. They take into account that the keywords must have a direct relationship with:
The needs

The context of the customer;

And the products they offer.
Then, they raise the bids on the keywords within the amount they are willing to pay for a user to click on their ad. This amount is called CPC or Cost Per Click and is calculated as follows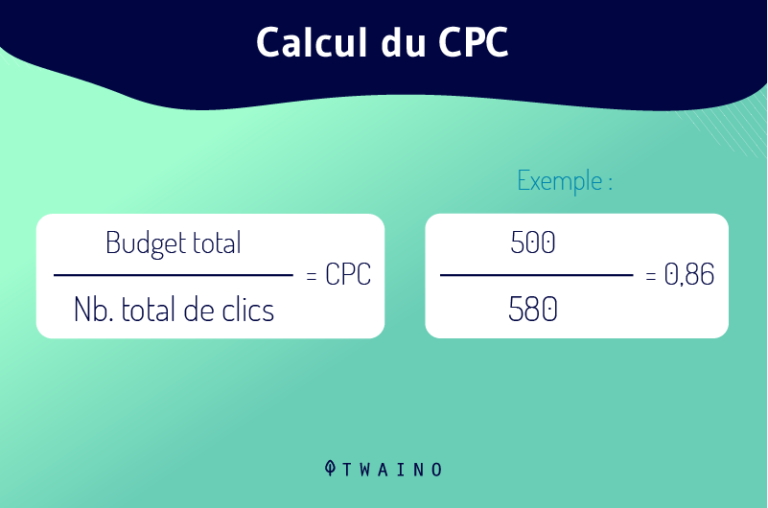 This is where the term Pay-Per-Click comes from
1.3. The appearance of ads on the first SERP
1.3.1. What are the factors that determine the ranking of an ad on the first SERP?
The bids and the quality score that Google assigns are the ones that determine the position of an ad on the SERPs. Note that the SERP or Search Result Page represents the results pages of a search engine.
Thus, to guarantee the place of your ad on the first page of search engines, it is necessary to produce a quality content and to pay a substantial amount
It is also this condition that allows you to win the bids you make on Google Ads. The higher the quality of your ad and the higher your bid, the better your ad will be positioned
1.3.2. What are the factors that determine the quality of an ad for Google?
Several elements are taken into account to establish the quality of your ad. Here are some of them:
Among other things, the relevance of your ad to the various queries of Internet users

The main keyword you choose must be perfectly suited to your ad group. Ad groups are where the keywords of your search marketing campaigns are grouped
Here is an example by way of illustration:

Source Ledroitdereussir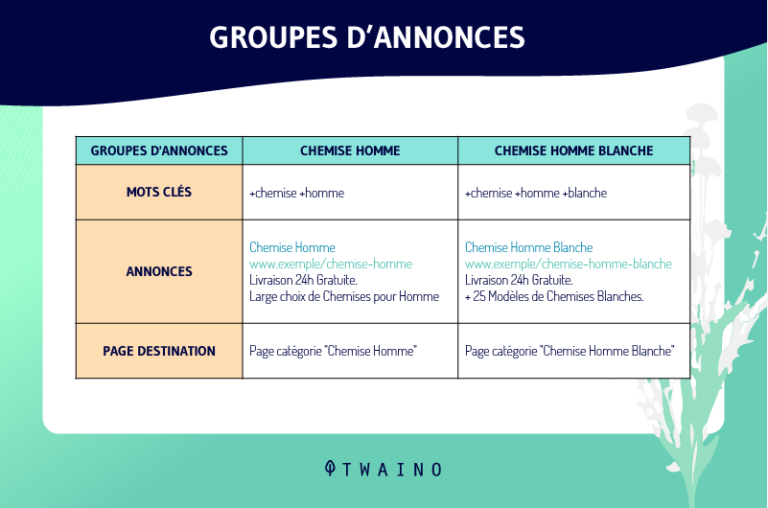 It is also necessary that your ad is perfectly appropriate to its landing page

Google judges the relevance of your ad according to the history of its CTR (click rate)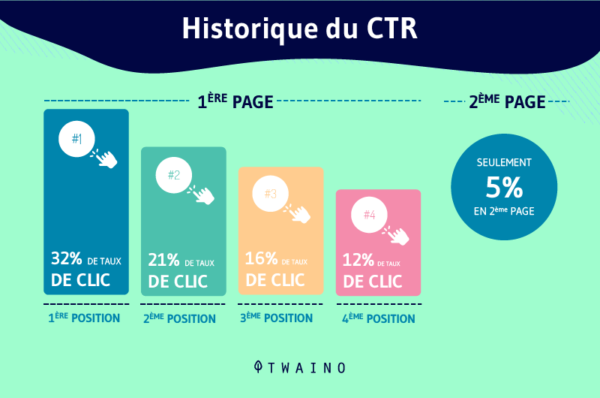 Finally, the place of your ad on the first page also depends on the total performance of your Ads account
Chapter 2: Google Ads advertising campaigns and their advantages
Google Ads works with advertising campaigns that aim to make your business appear at the top of Google search results. In this chapter, we will understand more about these campaigns, but also go through their objectives.
2.1. The Ads account and the advertising campaigns
Google defines ad campaigns as
"a set of ad groups that share a budget, geographic targeting and other parameters."
Ad groups are made up of ads, keywords and bids
When you create an Ads account, you can have access to one or more advertising campaigns. Each of them includes one or more ad groups and gives you the possibility to set :
The budget ;

The language ;

The distribution for the Google network;

The location;

Etc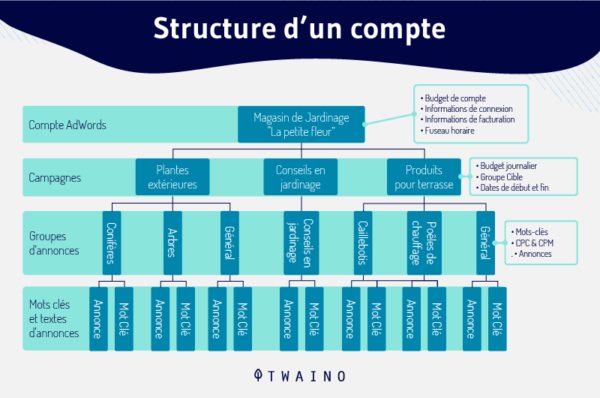 Advertising campaigns can also be designed separately. In this way, they can be used to display ads for specific geographical areas
Note however that the budget also becomes different for each of them.
2.2. The objectives behind the launch of Ads campaigns
There are many objectives behind launching Ads campaigns for a website. Here are some of them:
2.2.1. Increase the visibility of a site
The main objective of Google Ads campaigns is to increase the notoriety of websites as quickly as possible. They generate more traffic in search engines
They are therefore very useful for businesses and companies that want to be known quickly
2.2.2. Improve the company's profits
The second objective of advertising campaigns is to enable companies to sell more and increase their revenue. However, advertisers are required to ensure that they buy much more specific and sometimes very competitive keywords
2.2.3. Amplify advertising done on other media
Generally, brands or companies advertise on radio or TV to increase their visibility. You can do the same and use the internet (Google Ads) to strengthen your presence on other media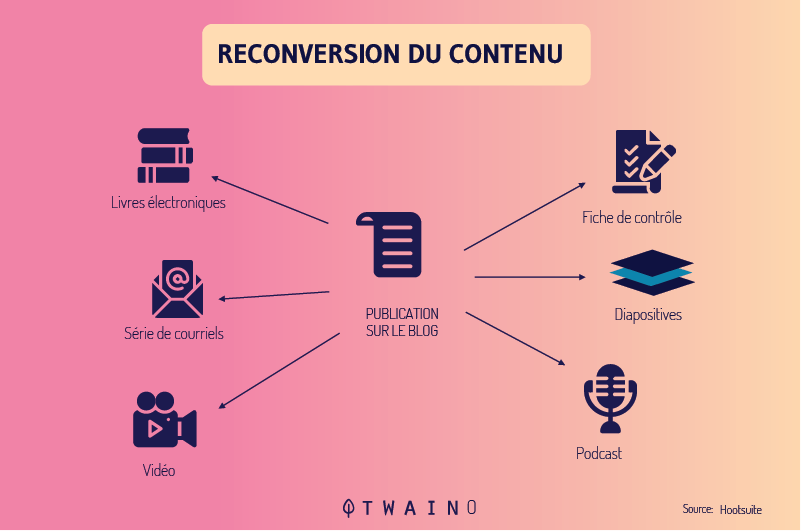 In this case, it is better to choose keywords that translate your brand name and product name. This way, your page is more easily found.
2.2.4. Promote a product or an event
You can also use advertising campaigns to promote the launch of one of your products. The promotion of a product launch often requires reaching a maximum number of people in a relatively short time.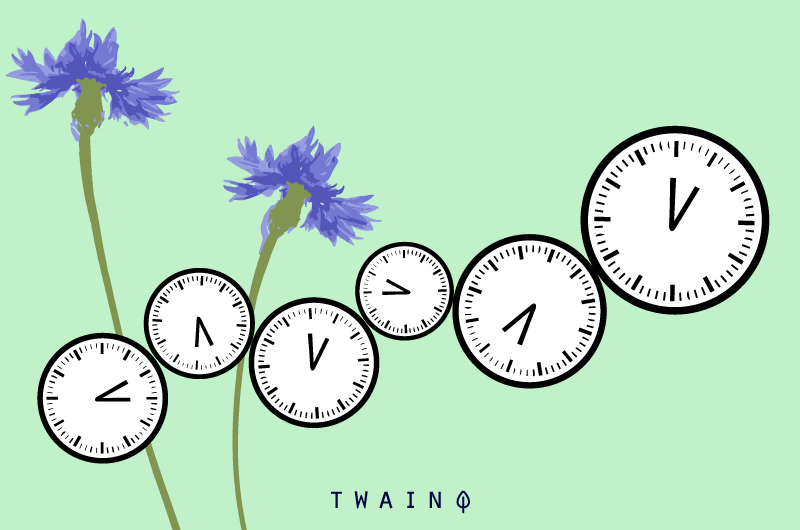 For this kind of advertising, SEO is less useful. It takes too much time that you cannot afford in this kind of situation.
2.2.5. Reaching a specific audience
Above all, Ads campaigns allow you to promote your brand or products in a targeted way. After signing up, you can choose keywords based on data such as
The language of the user ;

The location;

User preferences;

Etc
2.2.6. Allow the establishment of a daily budget of diffusion
If you don't know it, Google Ads also gives its users the possibility to set a daily budget of diffusion. This is to give them full control over their advertising costs
Thus, as soon as the number of clicks reaches the pre-set budget, the ad stops being displayed for the day. The next day, the broadcasting resumes and can exceed by 20% the limit of the budget of the day before
Chapter 3: Display of ads and daily budget of diffusion on Google Ads
As you already know, two types of results appear when you launch the searches on Google
Those at the top of the page called sponsored links or ads and the natural results coming froma natural referencing. Each of these two types of referencing has its own mode of operation
Here is the one of Google Ads.
3.1. The display of publications
Ads on Google Ads can be displayed on various networks.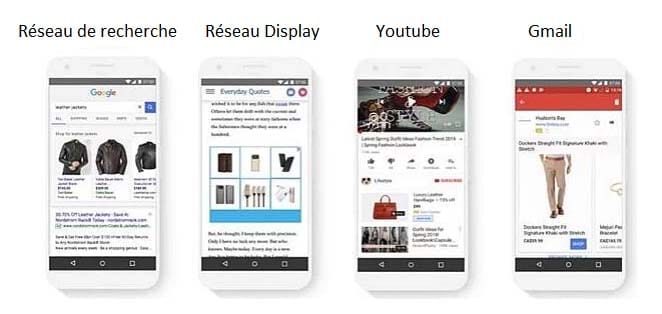 Source Agence90
3.1.1. On Google search pages
First of all, Ads can be displayed on Google search pages. In this case, they will be in direct connection with the previous searches of the Internet users on a precise topic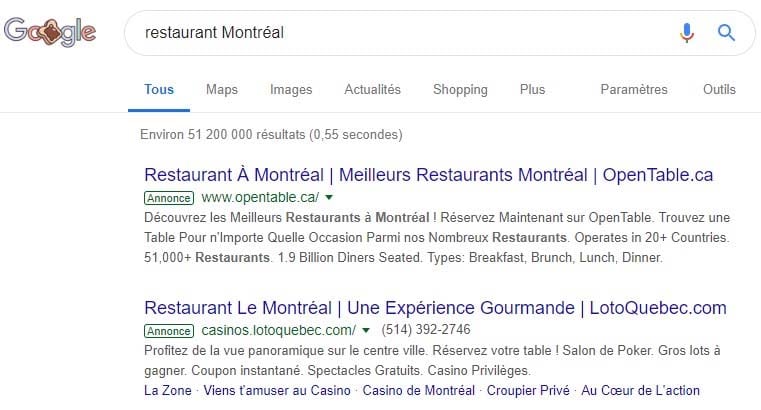 Source mylittlebigweb
For example, when you enter a keyword like refrigerator, all the ads related to this word will be displayed on your screen.
3.1.2. Through Gmail
Ads can appear on your smartphone depending on the exchanges on Gmail with correspondents
They are often related to a keyword mentioned during conversations or searches on the net. However, the privacy of Internet users is never exposed to third parties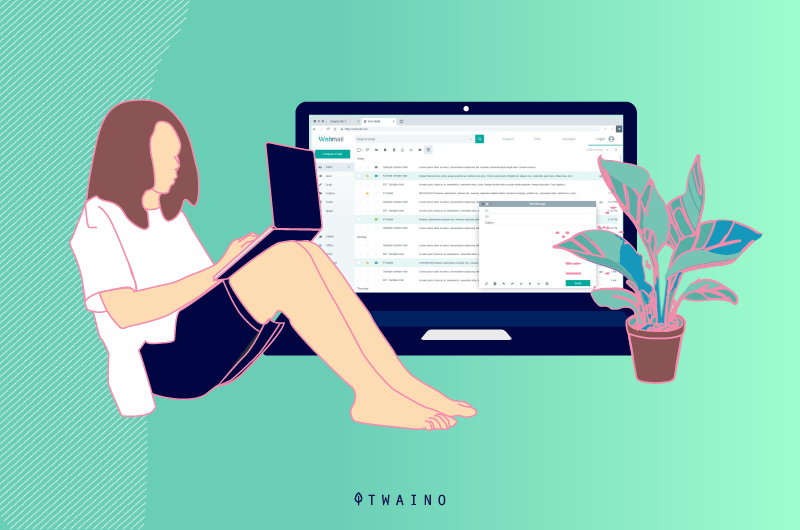 On search engines, advertisements are very often directly related to Google's partners: Amazon for example
3.1.3. On the Display network
For networks like Display, on the other hand, the ads are associated with the subject that the websites are talking about. In this case, the owners of the sites get a percentage according to the number of clicks that the page has allowed to have
However, this practice, which is nothing more than the subdomain niche, is no longer under the jurisdiction of Google Ads since 2015
Its advanced option, however, allows you to group sites together simultaneously and target
Specific pages;

A directory of sites;

Subdomains.

Source expertisoft
These will be used as a means of broadcasting Google Ads on the Display network
Finally, the ads can be done through the applications of smartphones thanks to AdMob
3.2. The daily budget of diffusion on Google Ads
If you don't know it, Google Ads also gives its users the possibility to set a daily budget of diffusion. This is to give them full control over their advertising costs
Thus, as soon as the number of clicks reaches the pre-set budget, the ad stops being displayed for the day. The next day, the broadcast resumes and can exceed the previous day's budget limit by 20%
In addition, in June 2018 Google Adword changes its name to Google Ads, which has led to the creation of new services that are specifically aimed at small businesses and artisans.
Chapter 4: Types of ads or campaigns present on Google Ads
There are several types of ads or advertising campaigns on Google Ads and these are grouped into two categories
Google search networks

;

Display networks
4.1. Campaigns on Google search networks
When you decide to opt for the diffusion of ads on Google search networks, your target becomes the Internet users who make searches on search engines
As Google search networks, we have
Google services (Maps, shopping);

Google search engine sites (Google.fr, Google.com, etc.);

Search engines associated with Google (Free, Orange, etc.)
Advertising campaigns on search networks are the best known. When they are well designed and are relevant to Internet users, they allow to have a high number of audiences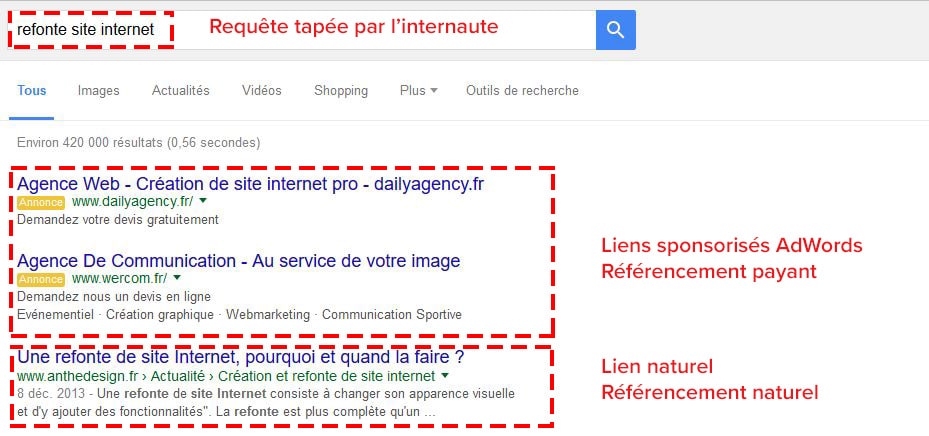 Source: anthedesign
Here, the two most important factors are keyword targeting and geographic area(s)
The display on the search networks of the ads is in the form of text
They appear on the results page as soon as a user searches with related keywords. They are often displayed in the first position (but not only) and are accompanied by the symbol "Ad".
4.2. Advertising campaigns on the display network
Display is a network that has a high traffic and includes several million blogs and sites with specific themes
It also includes Google services (YouTube, Gmail, etc.), but also partner sites that use AdSens. It is also a network through which you can reach a large number of Internet users around the world
It differs from the Google network in the way you reach or touch the Internet users. Here, you reach your target through their searches: it is not the appropriate network for sales or contacts

For the publication of ads, you use not only text content, but also images and videos
The Display network does not always provide a high return on investment, i.e. you may have an audience that is not necessarily interested in your products and services
That is, they may just want information without actually buying. This makes Display a good network to get known and to reach a certain notoriety
The return on investment is therefore slower, but the costs are lower
But thanks to features like remarketing or audience targeting that Google has, Display campaigns work just as well as Search
Here are some specific campaigns on the Display network:
4.2.1. Google Shopping campaigns
These campaigns are specially designed for online stores and are on Display as well as on the Google search network. As an e-merchant, you can display ads for your products
The display of these campaigns on Google and on display includes the following elements:
The name of the product ;

Its image ;

Its price ;

Its description;

Promotional offers if any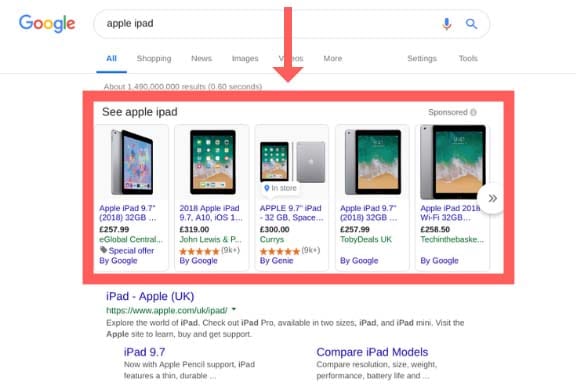 Source acquisio
4.2.2. Remarketing campaigns
A remarketing campaign is a particular message to people who have already surfed on your site
It generally requires a fairly large amount of traffic, but offers enormous possibilities for personalization. First, you can rank your users based on their actions on your site
When your company offers products for example and some customers are interested in certain products without finalizing their purchase, you have an option
That of making a specific remarketing campaign to propose a promotional offer to this same customer in two or three days
4.2.3. Advertising on YouTube
YouTube is one of the most visited platforms in the world and is one of the best places to advertise. For this reason, Google allows you to advertise in video and other formats.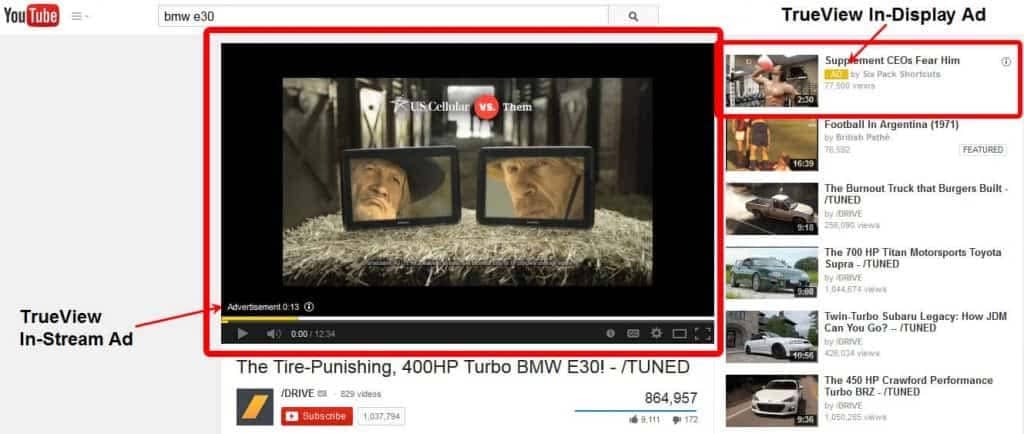 Source netoffensive
In fact, there are several advertising formats on YouTube that can attract the attention of visitors.
4.2.4. Ads on Gmail
With Google Ads, you can offer ads on Gmail in the form of reduced or full page text ads. This kind of advertising is still called Gmail Native Ads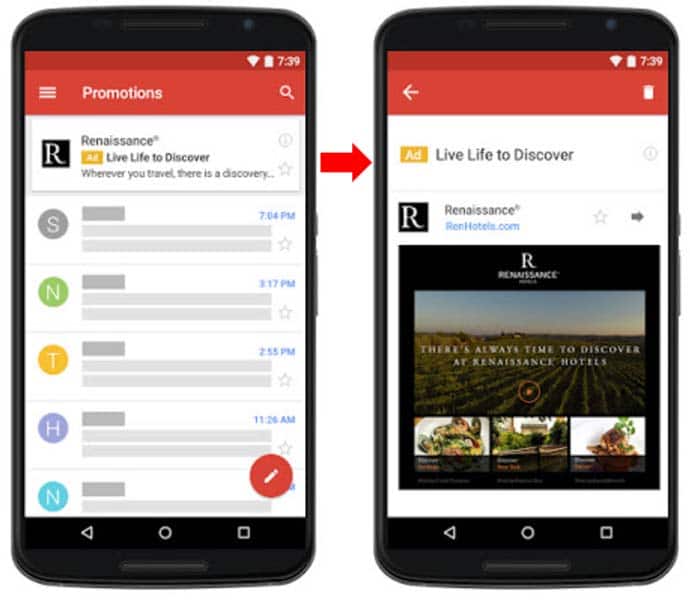 Source marketingland
Gmail ads allow you to reach a large number of people, since nowadays everyone is connected to their email through their smartphone. They appear on Gmail in the inbox and often in first position
Chapter 5: The method of using Google Ad
s
The first thing to do before any ad broadcasting on Ads is to create a Google account. If you don't have one, you can quickly create one by consulting this link proposed by Google
Once your account is created, you will just have to follow and respect some steps for the creation of the ad
But before starting, it is important to note that Google offers 2 methods to create an advertising campaign or an ad
Google Ads

Google Ads Express
5.1. How to create a Google Ads campaign
Here is the procedure to follow to launch a Google Ads campaign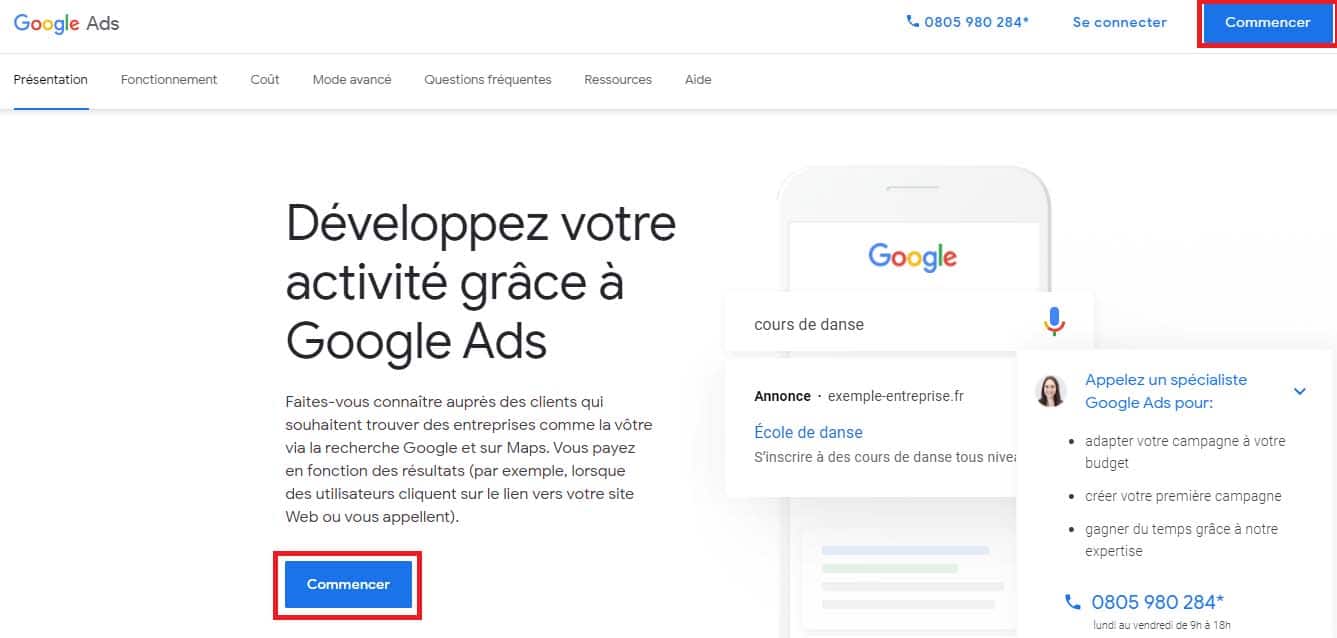 When you perform this action, you will be immediately redirected to a page to choose the objective of your campaign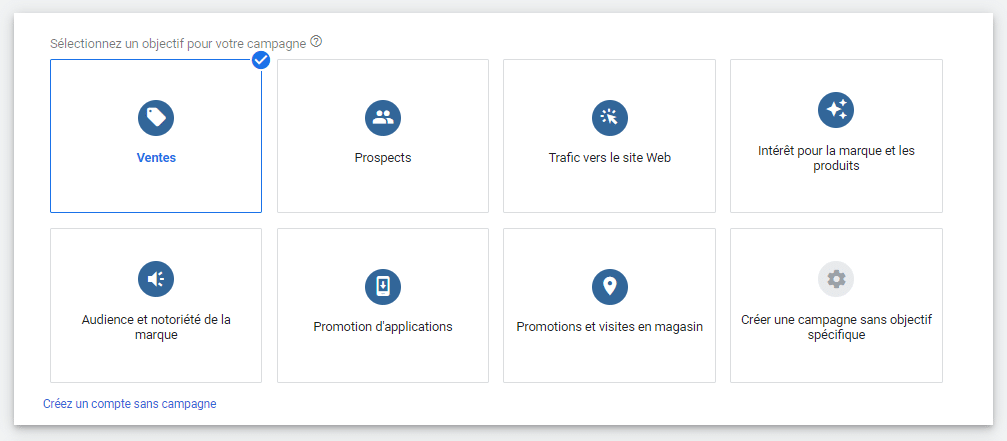 Then choose a campaign type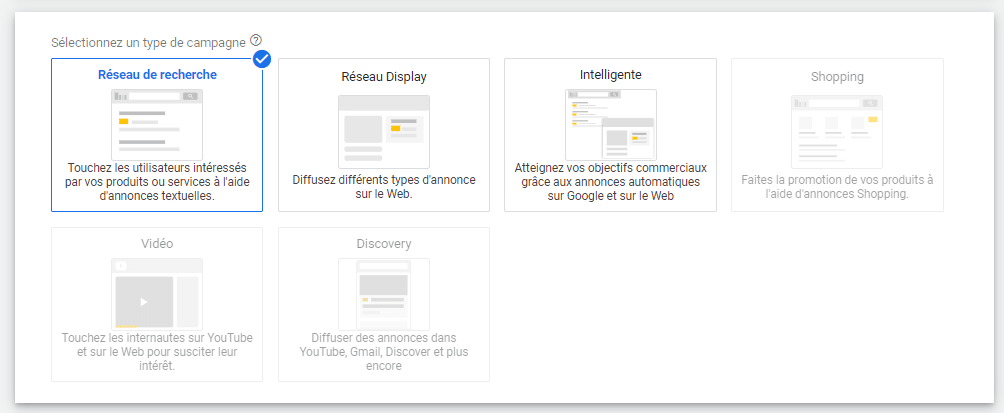 Check one of the boxes to indicate how you want to achieve the goal you have chosen for your campaign and then click on the "Continue" button

The tool will redirect you to a page to define the geographic location of your audience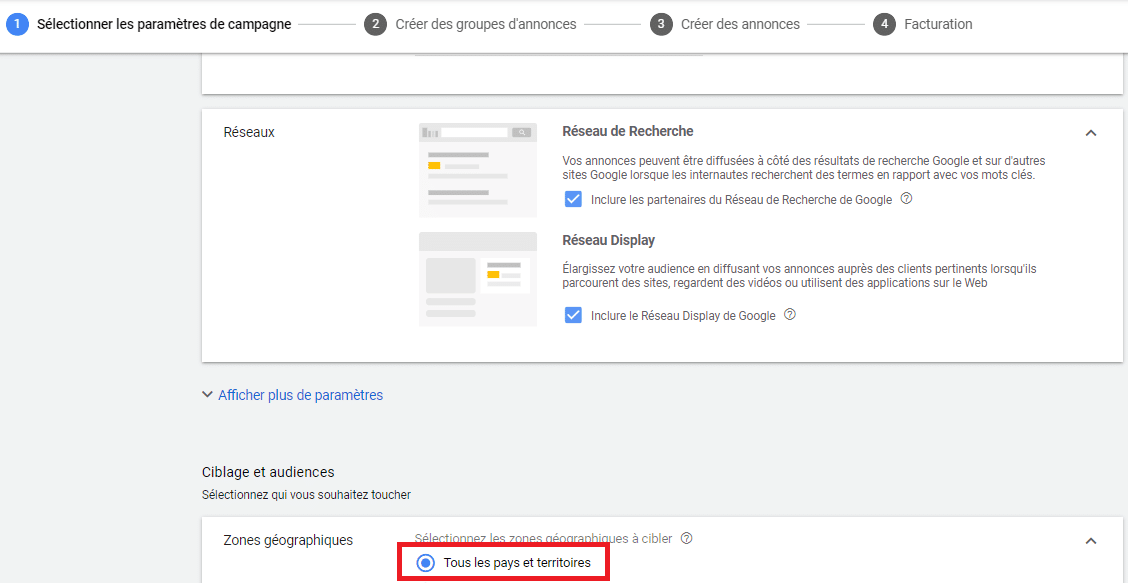 Next, select the languages spoken by your customers

Choose the audiences to add to your campaign. By default, Google offers audiences that you can choose directly on the tool by clicking on "Browse"
But if you want to define your own audience, click on "Manage Audiences" to create one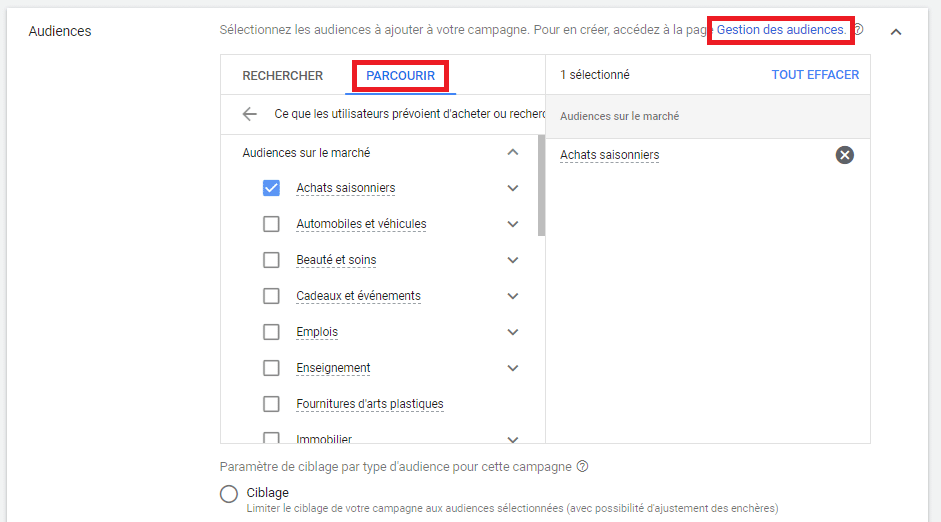 Once you have chosen the audiences, define how much you want to invest and in what way
To do this, choose a currency and then enter the amount you want to allocate to the campaign

Then scroll down the list of options in the "Auction" section to choose an auction strategy.

Finish this first part of registering your Google Ads campaign by adding additional information in the "Ad extension" section and then click "Save and continue"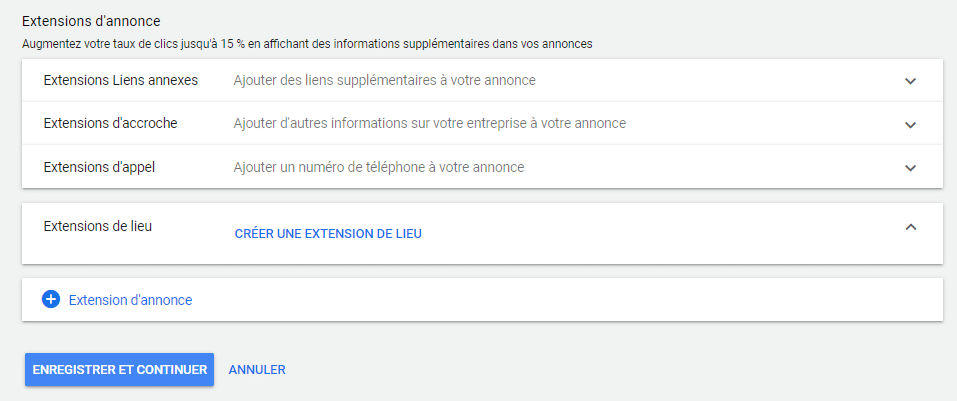 Once this step is over, we can continue to the creation of ad groups
To do this, scroll down the list of types to choose an ad group type and then assign a name to the chosen ad group

Then fill in the URL of a related page, the products or services you offer and a list of keywords you want to target during the Ads campaign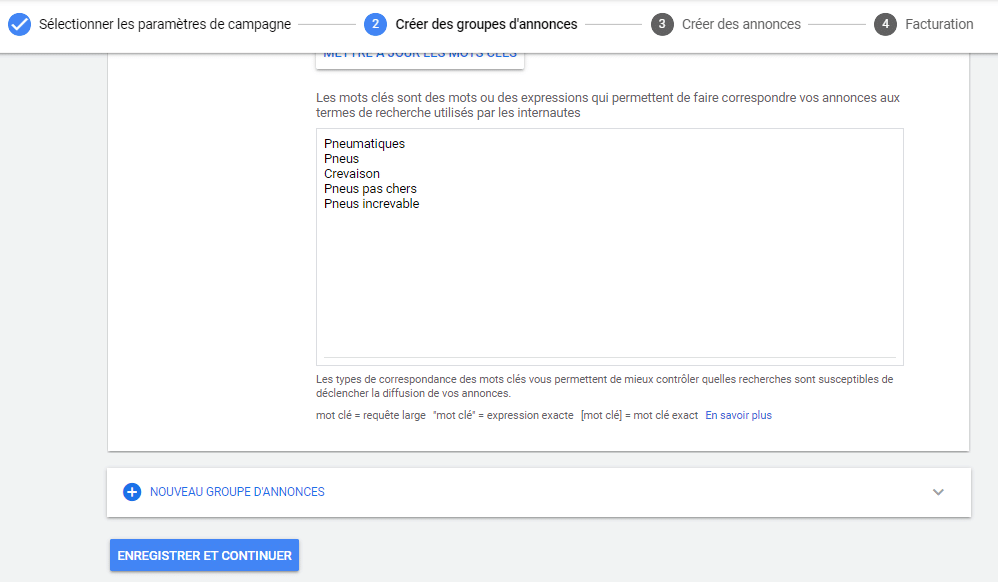 Once you have filled in the data, click on "Save and continue" to go to the next step
It consists in adding other ads if you want to complete the ad that is being recorded
To do so, please
Fill in the fields in the "New Text Ad" section and then click "Finish and create the next ad" to add a new one or "Ok" to finalize the addition

Whether you have added new ad(s) or maintained the original one, click "Save and Continue" to move on to the next and final step in the process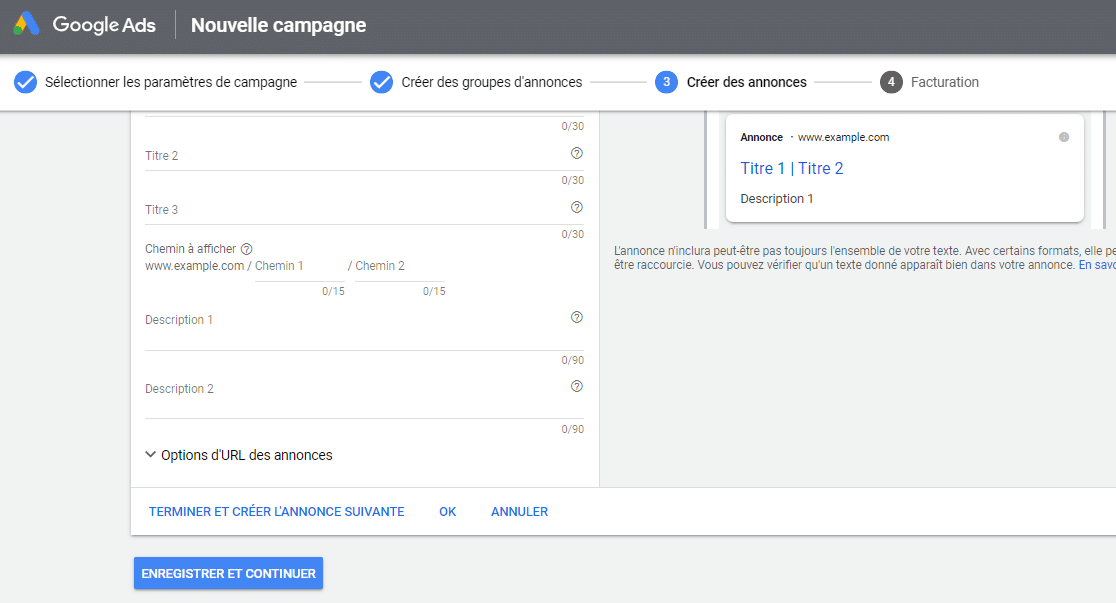 For the last step, we will move to the billing configuration. To do this, fill in the various fields requested on the page
Basically, you will have to fill in personal data such as your company name, payment card information, billing address, etc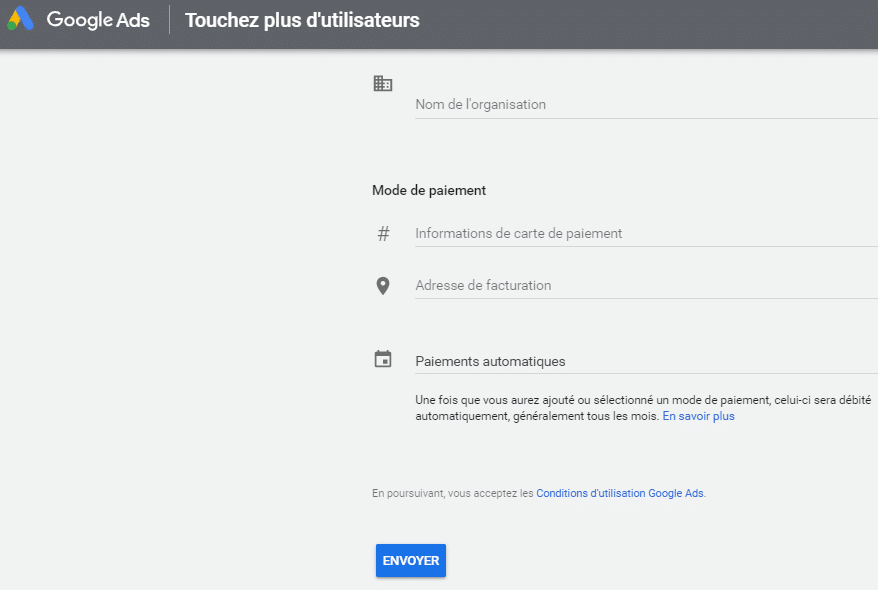 Once you have filled in all the information, click on "Submit"
Congratulations! You have just created your first Google Ads
Discover the second method, the Google Ads Expressby watching this video
But it is not finished, you will have to follow the behavior of your users to measure the success of the campaign
5.2. The follow-up of the ad
After the creation of your ad on Google Ads, you can track it using Google Analytics. It is important to underline that the tracking step is essential to reach your goal
Without it, you risk attracting very few people to your page. The analysis and tracking of data allow you to get to know your users and better understand what they want from you. This way, your next campaigns will be more effective
To conduct an effective tracking, it is advisable to link your Google Ads account to Analytics. To do so, you can follow this video proposed by Google itself which presents the procedure step by step.
This association allows you to check some indicators such as the different costs or the clicks you generate. This will allow you to improve your next campaigns
Chapter 6: The budget for an Ads campaign
Here we will talk about bids, cost per click and daily budget.
6.1. The cost per click and the bids
Once you launch your Ads campaign, you must then define the maximum cost per click. This represents the threshold of the amount that you will not exceed for a click
As you already know, you have to participate in the bids so that Ads can determine how much you are willing to pay. There are two types of bids on Ads
Manual bidding

in which you choose yourself the threshold not to cross

Automatic auctions

which is a system that sets the bids and the maximum CPC by itself
However, you must first define a daily budget
6.2. Setting a daily budget
Whether you choose the manual or automatic auction, you will have to establish a daily budget. Ads will then broadcast as many ads as possible without exceeding your daily budget during a day
Note that after one month your budget will not exceed 30.4 times the daily budget. Thus, if you have a daily budget of one euro at the end of the month, the budget invested will not exceed 1 euro × 30.4, i.e. 30.4 euros.
Chapter 7: Other questions about Google Ads
7.1. How do Google Ads work?
The functioning of Google Ads is based on a bidding system that takes place every time a user performs a keyword search. To "win" the bidding on Google Ads and have your Google ad appear for relevant keywords, you must optimize your quality level and bid amount.
7.2. What are the advantages of Google Ads?
The advantage with this platform is that you can:
Target your ads and reach people with specific interests;

Have full control over your costs;

Clearly measure your success;

Manage your campaigns efficiently.
7.3. How much does a Google ad cost?
For the Google Search Network, the cost per click (CPC) on Google Ads ranges from $1 to $2, but for the Google Display Network, the cost is less than $1. The amount spent by small and medium-sized businesses typically ranges from $9,000 to $10,000 per month on Google Ads.
7.4. How does Google charge for ads?
Google Ads is a pay-per-click advertising program that only charges you when someone visits your website as a result of a Google search. You will only be charged when an interested customer clicks on your ad!
There is also the CPM or cost per thousand impressions where Google charges you every time you reach the 1000 views mark for your ad.
7.5. Is Google Ads worth it?
Absolutely if you can afford it. Google Ads are worth it because they offer businesses of all sizes a cost-effective way to reach a virtually unlimited targeted audience. They are extremely flexible and you can start, stop, suspend or even adjust your bids at any time.
7.6. What is the minimum budget for Google Ads?
There is really no minimum budget on Google Ads! The important thing to remember is that you don't have to put all your money into Google Ads before you generate sales. In fact, low budget campaigns can dominate your results in some cases.
7.7. Does Google Ads work for small businesses?
Google Ads are worth it for small businesses. Google advertising is ideal for small businesses that need to reach a targeted audience and want to be able to track their ROI quickly
If you learn how to use Google Ads, especially local listings, Google Ads can be one of the most cost-effective ways to get new customers.
7.8. What is a good cost per click?
In summary, a good cost per click is determined by your target ROI. For most companies, a cost per acquisition of 20or a 5:1 ratio of revenue to advertising costs would be acceptable.
7.9. What happens if you don't pay Google Ads?
Google will suspend your account pending payment. This credit card and your contact information will also be reported. Google will not allow you to create new AdWords accounts or use this payment method until you pay for them.
7.what is the difference between Google AdWords and Google Ads?
In simple terms, AdWords (now more commonly known as Google Ads) is a system that allows businesses to bid for advertising space in Google search results and on other affiliated properties and on other Google-affiliated properties. AdSense is a system that allows publishers and website owners to sell advertising space to businesses.
Conclusion
Google Ads is an effective platform through which you can produce specific ads for a cost. The advertising campaigns you make to be effective require the use of relevant keywords
You must also have a great control of your budget. Your ads can take the form of written material, but also the form of multimedia content. After their creation, you need a follow-up to know more about your users and produce more effective campaigns in the future.
As a final tip, don't hesitate to hire a professional to supervise your Ads campaign.
I hope that this guide has provided the necessary answers to your various concerns.
Thank you and see you soon!