Did you know that the first 3 Google results get 75.1% of all clicks that the search engine receives against only 0.78% of clicks recorded on the second page?
These figures show how important it is to have a good ranking on the pages of Google, especially on the first page to generate more traffic to your website.
And to achieve this, SEO is undoubtedly the best marketing solution, not only to occupy a good Google position, but especially a position that lasts over time.
However, despite all the content that abounds on the net to learn SEO, many people still have difficulty in getting a practical idea, a step-by-step path of how to apply SEO strategies.
In this article, I share with you a chronological action plan that I proposed and applied specifically on the site of one of my clients, Swott, an online CSR training center.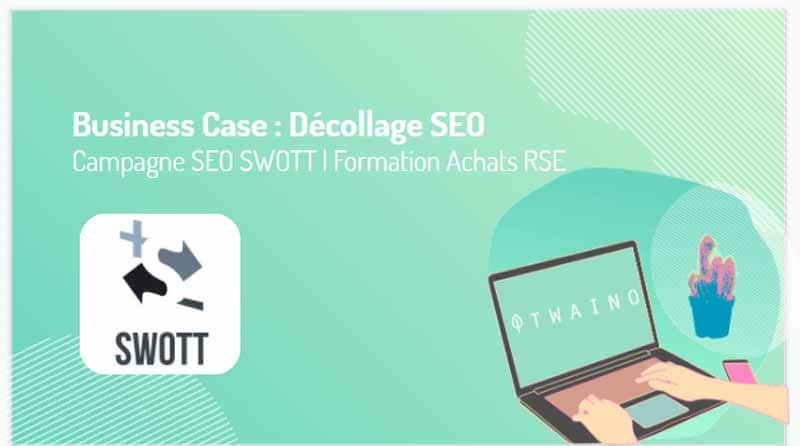 It's a kind of business case through which I show, with pictures, how I manage to optimize the SEO performance of my clients' sites thanks to SEO strategies alone.
To show by contrast all the changes I had to make on Swott's site, some key performance indicators have been captured before and after my SEO campaign.
Of course, these are the captures that were previously authorized by my client before being disclosed, so as not to violate our confidentiality agreement.
But, enough chit-chat, let's take a closer look!
Chapter 1: Introducing my agency Twaino and client Swott
For those who discover my site for the very first time, allow me to briefly introduce myself and the services I offer in my agency ?
1.1. Presentation of the Twaino agency
Twaino is a digital marketing agency specialized in natural referencing and located in the 10th district of Paris.
We are also present in several other cities in France with the same objective which is to help companies of all sizes and all sectors to get more attractions on the Web, especially from search engines.
Whether you are a startup, a craftsman, a merchant or the head of an industrial company, we have within our agency a team of talented and experienced SEO consultants to help your company gain visibility on the Net.
For this, Twaino offers a range of diversified services such as
An SEO campaign ;
An SEO audit;
An SEO analysis of competitors;
The writing of Web content;
Design of custom illustrations;
Online SEO training;
and so on.
In addition, we have a few special features that differentiate us from other agencies:
A SEO service focused 100% on SEO strategies. That is, we do not offer search engine advertising or any other form of paid marketing.
Green infrastructure for a more responsible environment. At Twaino, we believe that it is possible to achieve great SEO performance while limiting your carbon footprint to preserve the environment.
Ethical SEO strategies in accordance with search engine guidelines. To guarantee our clients a healthy and penalty-free SEO, we scrupulously respect Google's recommendations.
A personalized and tailored approach to effectively achieve our clients' goals. Because each company has its own resources, its own difficulties and its own challenges, our SEO services are readjusted according to the realities of each client.
A transparent and easily measurable methodology. Because a good performance is better proven with exact numbers, our clients can access in real time the performance acquired on their site to better evaluate the success of our SEO campaigns.
A didactic and inclusive approach to listen to our clients. Because it's your business and your project, we feel it is essential to send you periodic analysis reports to keep you informed of the changes made on your site and to take into account your suggestions, if any.
1.2. Alexandre Marotel: SEO expert and founder of Twaino
I am Alexandre MAROTEL, SEO expert and founder of the SEO agency Twaino.
If I had to summarize my career so far, I would say that it all started after I graduated from business school.
Fresh out of college, I had the opportunity to start a professional life working for large international companies such as General Electric, Danone, Alstom and IBM.
It was a particularly enriching career that allowed me to travel a lot, especially in America where I spent 3 years in the USA, Canada and Brazil for professional reasons.
But very quickly, I decided to stop this adventure of salaried work to launch my own SEO agency, Twaino. I have to say that like any young entrepreneur, the beginning was difficult, especially in such a competitive sector as SEO in Paris.
But with discipline and consistency, I was able to stand out and make a place for myself in the market.
Today, my agency is making its way with more than 20,000 active visitors every month and is ranking high on Google on several queries.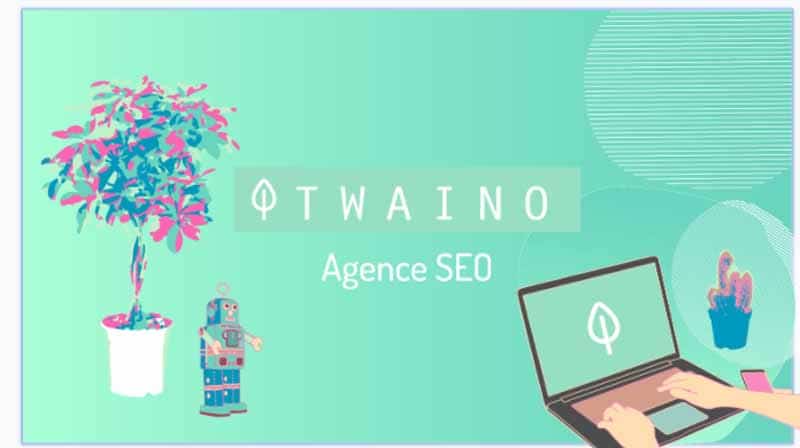 Moreover, because of the good quality of my contents, the search engine chooses some articles of Twaino to answer queries of the Internet users directly in Featured Snippet :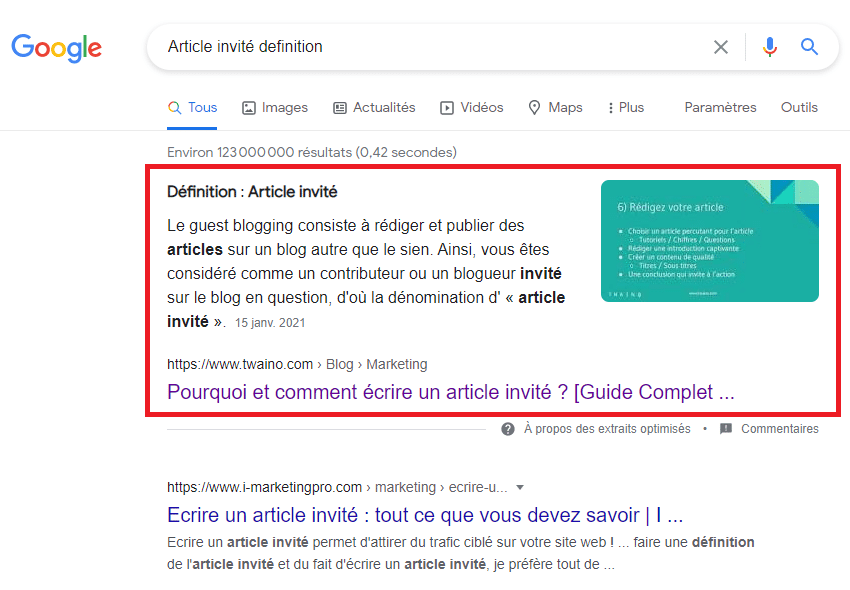 Of course, it's not about claiming to have achieved any kind of success. Besides, not all of my content is ranked first on Google and I am always learning about SEO and the search engine algorithm.
This allows me to be aware of the new trends announced in the SEO industry in order to guarantee a current SEO service to my clients.
Moreover, despite all the challenges that can fall on an entrepreneur, I have remained true to my spirit of sharing with my users.
For me, everything that is not shared is lost and to set an example I decided to share my knowledge by creating a blog accessible for free public .
Every week I try to publish a few articles on entrepreneurship in general, to allow many people to improve their marketing strategy.
Also, because not everyone has the same penchant for reading, I have also created a YouTube channel, again to share free tips and tricks.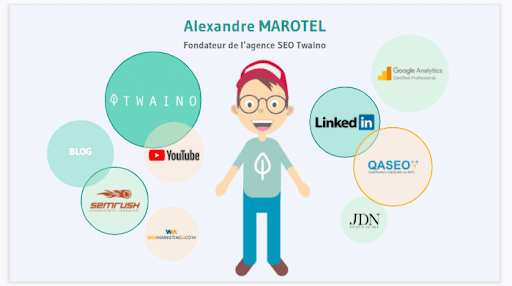 Twaino is also a free image gallery that you can use freely to enhance your content.
I'm going one step further by creating some free SEO tools to help website owners optimize some of their tasks. These tools are:
As you can see, it's not about boasting behind the qualifier of SEO Consultant and not bringing anything extra.
Beyond my personal interests and my status as a consultant, I am a true enthusiast of natural referencing with always this desire to help companies to rank better on Google as it was the case of the Swott center that we are about to study.
1.3. Présentation du client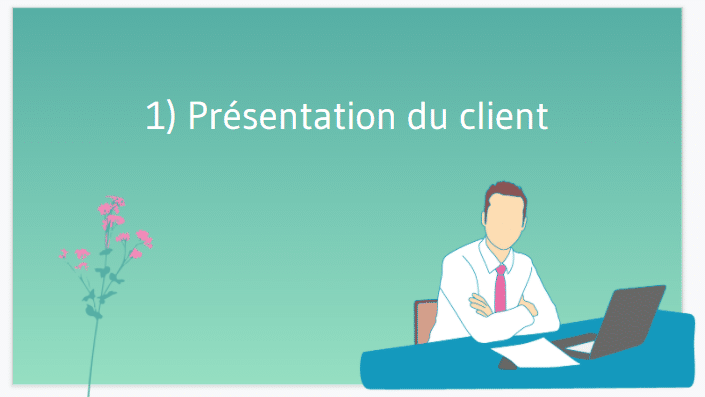 For those who do not know what it is, CSR, defined as Corporate Social Responsibility, is a concept that advocates good management of resources to integrate social and environmental concerns into the company's expenses.
Today, the CSR policy has become a legal obligation for all companies, small as well as large, without distinction of sector of activity to give more value to the social and environmental aspect in the business environment.
As a training center, Swott wants to be an advocate of this good cause by teaching entrepreneurs how to strategically manage CSR purchases without getting bogged down in exorbitant false costs.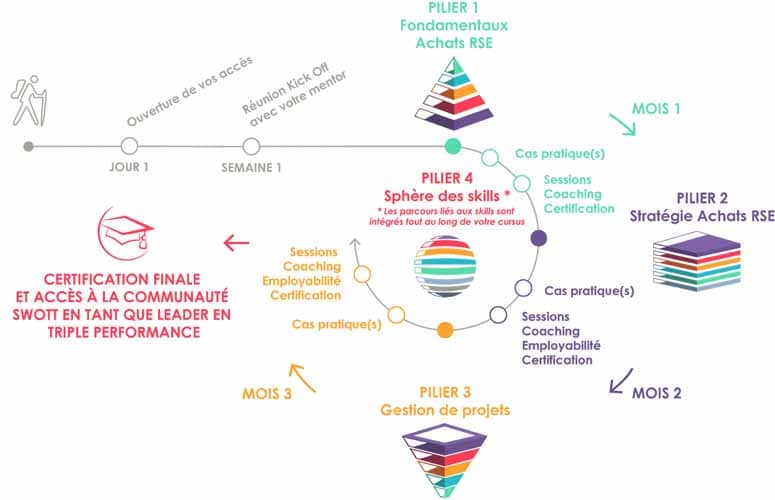 Source : Swott
In short, the Swott Center offers training courses through which you will learn to better manage your purchases for a triple economic, social and environmental performance.
The center remains convinced that it is possible to achieve good economic performance while fully assuming its social responsibility and ecological commitment.
My role as an SEO consultant is to help this training center to strengthen its visibility on the web and succeed in generating traffic from Google pages to expand its address book.
Indeed, despite the good quality of the trainings, Swott has a website that is unfortunately not very often visited because of its low domain authority.
Here is an overview of the state of the site before our collaboration:
Website: https://formation-achats-rse.fr/ ;
Sector : Purchasing training ;
Type of business : BtoB ;
Domain Authority : 2 ;
Page Authority : 3 ;
Content Management System : Shopify ;
Age of the site: 3 months.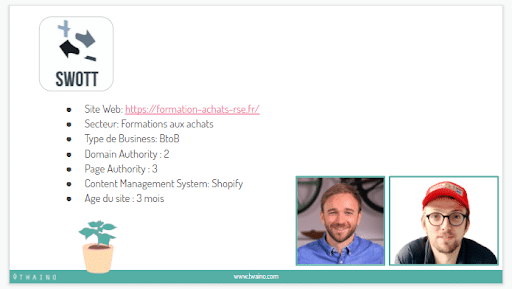 That's when we agreed to launch an SEO campaign to try to review the company's SEO strategies and try to attract customers.
Chapter 2: SEO Pre-Audit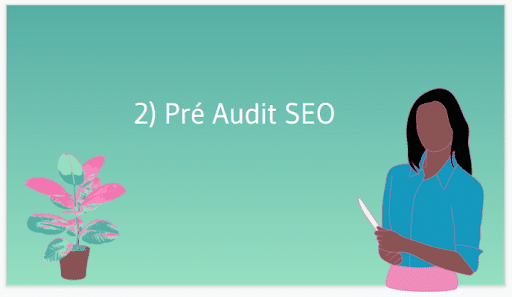 Just as a doctor needs to diagnose a patient's condition before offering effective treatment, I also diagnose all my clients' websites before deciding on strategies.
In Swott's case, here is the data I collected during the SEO pre-audit:
2.1. State of the site before the redesign
It is agreed that before starting an SEO campaign to improve the performance of a site, I must visit the site in question to appreciate its architecture and user experience.
Before the redesign of the Swott Center website, we could notice on the homepage the brand logo, but also 4 modules in the menu bar namely:
Our Training;
Educational proposal ;
Our Company;
Blog.
In the upper right part, we could also notice 3 buttons respectively for :
Launch a search on the site ;
Log in to your Swott account;
And buy products from the center.
We also have a close-up message and a "Sign up and start right away" button, all on a somewhat abstract background.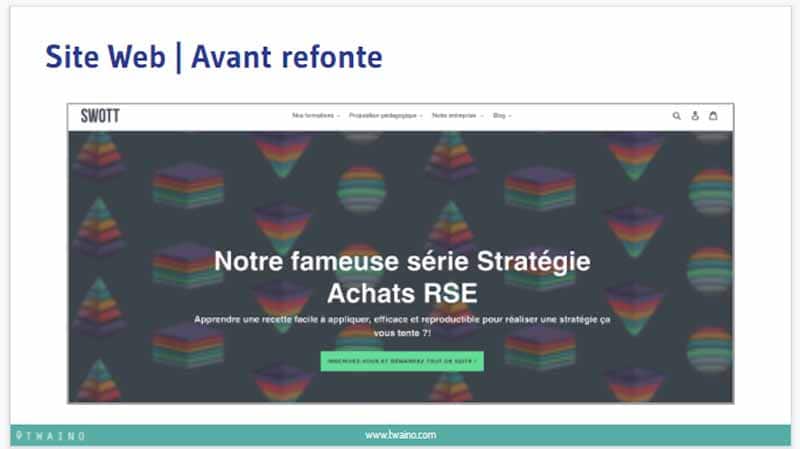 2.2. Overview of the Swott site
After this first contact with the site as a simple visitor who discovers the site for the first time, I pushed my inspection a little further.
But this time with SEO tools to accurately evaluate some important metrics of the site.
These are:
Traffic : 3 visits / month ;
Average visit duration : 00 : 12 ;
Computer : 100% ;
Phone: 0%.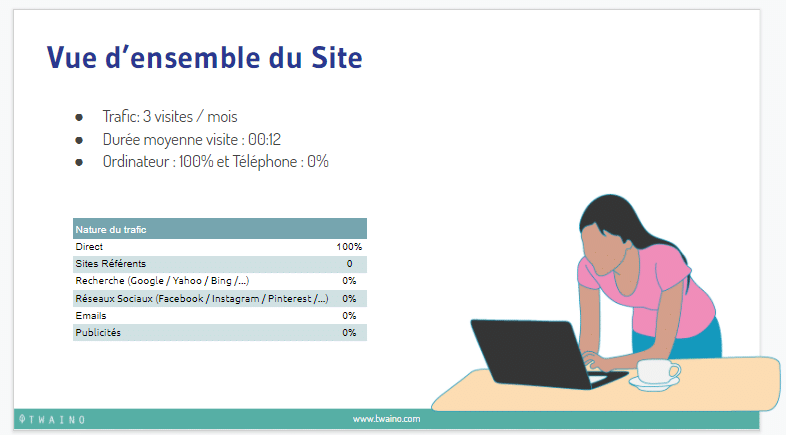 The translation of this data reveals that only 3 people visit Swott's site in 1 month and the average time these visitors spend on the site before leaving is 12 seconds.
Furthermore, the 3 visitors who log on are using computers only. That is to say, no one accesses the Swott site with cell phones.
This pre-audit also allowed me to look at the different traffic sources of the client:
2.2.1. Direct Traffic: 100%.
Direct Traffic is a measure provided by Google Analytics. It essentially determines the percentage of people who access a website by directly entering the domain name of the site in the address bar of a browser.
Swoot records 100% Direct Traffic, which would mean 100% of its users enter its domain name, formation-achats-rse.fr, directly into their browser.
2.2.2. Referral sites: 0
The referring sites form the channel that is commonly called in SEO, the Referral Traffic. It is the set of websites that redirect backlinks to another site to cite it.
The traffic that Swott receives from the referring sites is 0 and therefore no website has redirected backlinks to the company.
2.2.3. Organic Traffic: 0%.
The organic traffic includes all the Internet users who reach a website by clicking on a link from the search engine results. Swott seems to receive no clicks from search engines, its organic traffic is 0%.
2.2.4. Social Traffic: 0%.
As the name suggests, social traffic refers to the number of visits a website receives from social networks. The results of the SEO pre-audit show that Swott did not receive any traffic from social networks.
2.2.5. Email Tracking: 0%.
We all know those pop ups that appear on the screen when we move the cursor to leave certain pages. Generally, these pop-ups present free offers that you can benefit from, but only if you subscribe to the site's newsletter.
This is a strategy used to collect visitors' email addresses in order to broadcast the company's paid offers and services later in inbox.
Swoot has not implemented any email collection strategy, so the site does not receive any traffic from emailing.
2.2.6. Paid Traffic: 0%.
Literally translated as "paid traffic", this is a source of traffic somewhat contrary to the organic one. Here too, users connect to the site from search results.
But unlike organic traffic, the owners of the websites concerned must pay a fee to Google (or any other engine) before their site is ranked in the search results.
Swott does not receive any clicks from these sponsored results, so its paid traffic is 0%.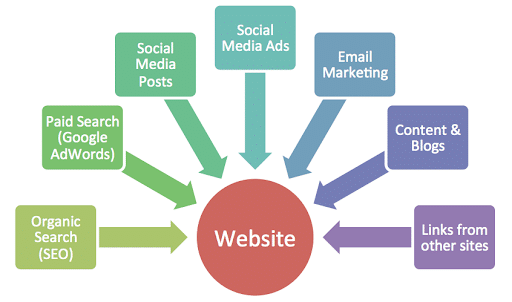 Source : Online Uprising
We can see that Swott's only source of traffic is organic traffic, which is not a problem as such. Besides, 100% direct traffic is the result of a good word-of-mouth campaign.
But as you may have noticed this seems to be insufficient to attract a large number of visitors to a website.
This would be easier to achieve with a mixed traffic that comes from everywhere, especially from organic traffic which remains the best source to generate a large number of visitors continuously over a long period.
Of course, I shared all these explanations with my client and, as mentioned above, we agreed on starting an SEO campaign to diversify Swott's traffic sources and thus bring him more visitors.
So, I want to remind you that for Swott and for all my clients, I always maintain the same process for all my SEO campaigns.
Chapter 3: Methodology of an SEO campaign
As an SEO consultant, it is my responsibility to provide quality SEO that can make a real difference to my clients' websites and achieve their goals.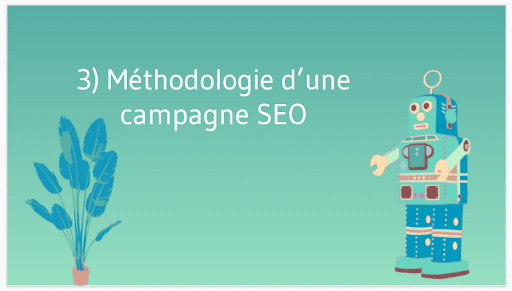 It must be said that SEO is a vast and somewhat complex discipline. As a result, in order to remain effective in the execution of the different strategies, it is crucial to follow a previously developed methodology lest you get confused and end up with a useless or counterproductive campaign.
Furthermore, even if in an emergency situation, you have to improvise and come up with a strategy for the situation, it would always be easier to make a few adjustments to your current methodology than to start with an empty sheet of paper.
At Twaino, we have a methodology divided into 3 main steps that we follow for all our SEO campaigns: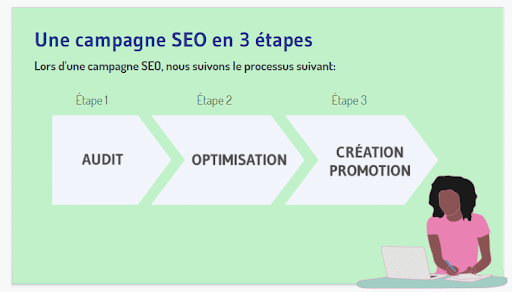 SEO Audit ;
Optimization;
Creation and Promotion.
But concretely, what do I do during these 3 steps?
3.1. SEO Audit
My SEO campaigns invariably start with an SEO audit, in order to unearth the problems that are eating away at the performance of the client's site.
My goal during this first step of the process is to understand the cause of all the problems encountered in order to propose effective solutions that are truly adapted to the client's realities.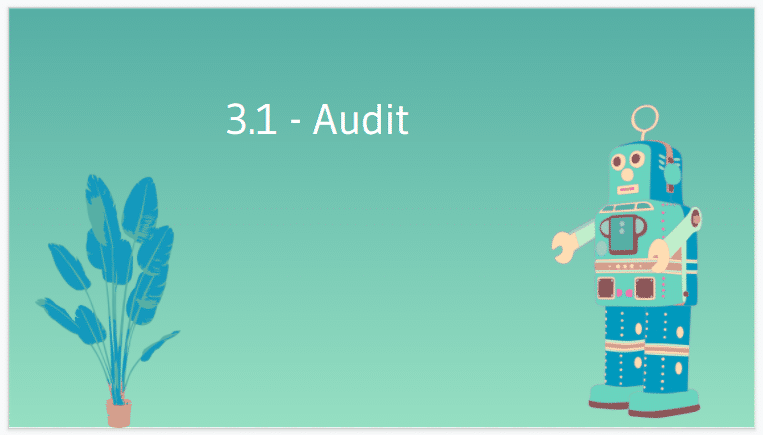 During the SEO audit, it is also an opportunity to discover the strengths of the site and try to strengthen them to get better results. It is not just a matter of focusing on problems and letting opportunities slip away that can be exploited.
The SEO audit is therefore a complete diagnosis through which I can accurately assess the strengths and weaknesses of a website.
And to do this, no aspect of the site should be omitted, from simple color or font size issues to the most important technical problems.
During the SEO audit of Swott's website, here are the different tasks I had to perform:
Crawl of the site with creation of the working file;
Analysis of the competition or Benchmark;
Duplicate content : 67% ;
Review of the site architecture ;
Identification of On Page problems ;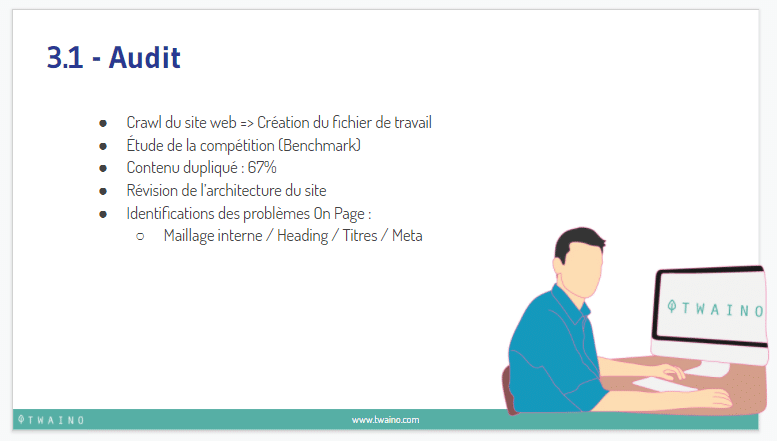 3.1.1. The website crawl
The crawl is an expression used in the jargon of SEO to simply designate the process by which a website is explored in search of data.
It is commonplace when we take the operation of search engines, since before a page is displayed on a SERP, the crawlers must first crawl it and then index it in the engine database.
SEOs also use crawling during an SEO audit to identify the origin of the problems found on the site.
In the current context, the crawl consisted of looking for common problems such as:
Broken internal links;
Images without alternative text;
Pages with long titles and meta descriptions;
Duplicate content;
Etc.
It must be said that if Google has a special robot for crawling sites, I as an SEO consultant I have other tools to crawl the site of customers.
These are :
Google Search ;
Google Analytics ;
Screaming Frog ;
And Ahrefs.
These tools are very popular in our sector because of their efficiency and the reliability of the reports provided.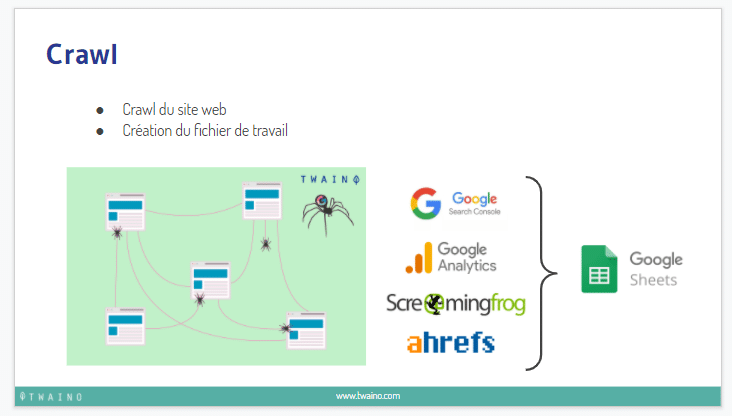 Once the crawl is over, it will be a matter of consolidating the collected data on a medium in order to better exploit it for the rest of the campaign.
And for this, I like to use Google Sheets because the tool offers interesting features such as cloud storage, teamwork, etc.
3.1.2. Competitor analysis or Benchmark
Your competitors are your best allies. Of course, when you look at it from a more general point of view, this may seem a bit paradoxical, I grant you. But in SEO, this sentence makes sense and you will understand better why.
Reverse things and imagine spying on a competitor's strategies to identify their weaknesses and strengths in order to produce something more competitive and outperform them. That's the beauty of an SEO benchmark.
Through Swott's competitive environment analysis, I was able to find out:
Who are the company's real competitors on the SERPs?
Which keywords bring in the most traffic for the competitors?
What are the competitive strategies that bring in the most backlinks?
What are the mistakes made by other CSR training centers that I should avoid repeating on Swott's site?
As you can see, the purpose of a benchmark is to keep an eye on what's happening on the other side of the competition so that you don't miss anything from successful strategies used to failures recorded.
But imagine my exhaustion trying to sift through the strategies of all the sites operating in the same industry as my client.
Not only will it take an inordinate amount of time, but I'm also likely to waste resources on competitors that aren't really important.
To avoid all this, I will have to make a selection of sites that could really be considered as important competitors for Swott.
So I filtered all the potentially competing sites with these few metrics:
Domain authority;
Quality and number of referral sites obtained;
The different sources of traffic;
And the architecture of the site.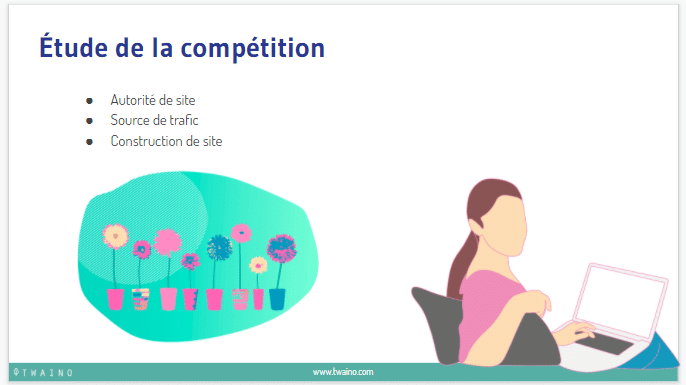 Sites that have achieved a good result on all of the above metrics will be classified as important competitors.
3.1.3. Reviewing the site architecture
The architecture of a site is also an important aspect that I do not fail to take into account during my SEO audits because a well-structured architecture can help increase the traffic of a site.
But conversely, a bad organization of information on a site can drive away its visitors.
To better understand this, let's assume that an entrepreneur comes across one of the articles written by the Swott Center.
This article was excellently written and succeeded in making him see the importance of CSR purchases and especially how to combine these purchases with a good economic performance.
He then decided to subscribe to one of the training courses offered by the center to better manage his purchases in the company.
But despite his desire to use the company's services, he unfortunately keeps going round and round without really finding a page or a button to sign up, or even a "Contact" section to ask his concern.
Desperate, he logs off and goes back to Google to look for another CSR procurement training center that has organized its site well.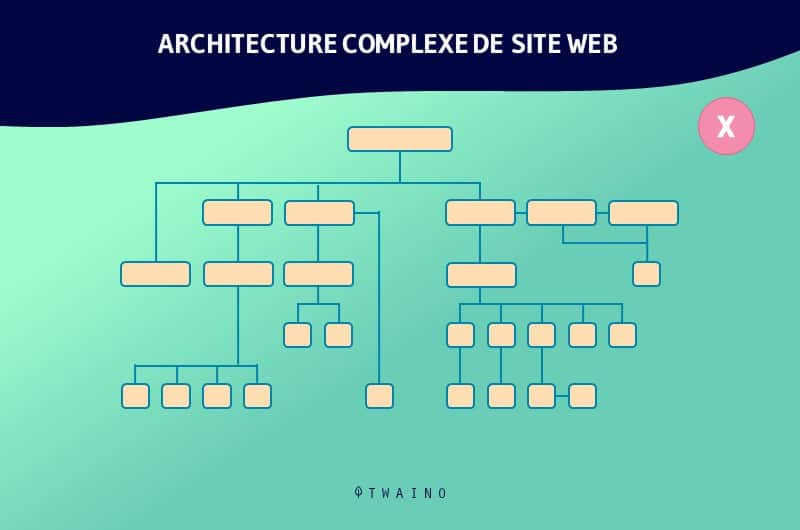 As you can see, this is a bad experience that could cause a company to lose customers. And that's why architecture review is important to prevent companies from getting to that point.
A good architecture should:
Clearly show the services and products offered by the company;
Easily access the company's services and products for a possible purchase;
Present all the contact information of the company so that it is easily reachable;
Facilitate the registration to the newsletter;
Do not find pages more than 3 clicks from the home page;
And so on.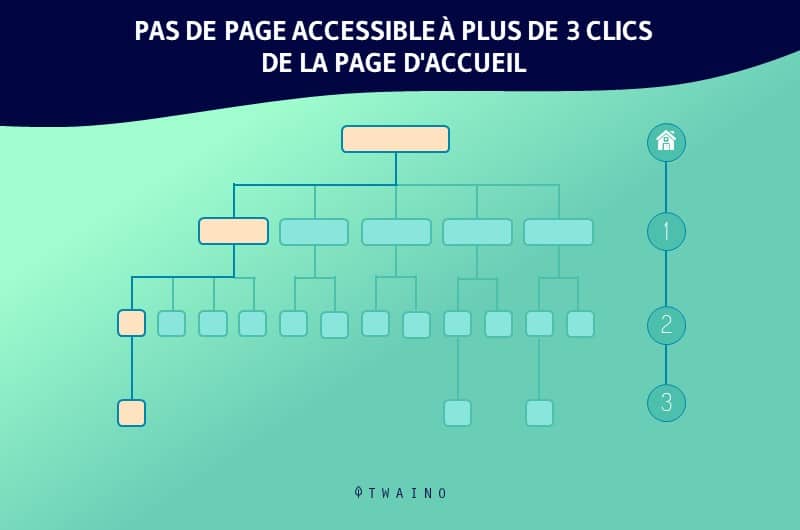 Of course, it is not a question of making these changes to a client's site without first presenting him with your proposed redesign ideas.
With my client, I had to propose some ideas of restructuring the current architecture as well as the advantages and disadvantages they could have on his site.
By mutual agreement, the following were retained:
3.1.3.1. Adding a call to action button
I thought it would be useful to add a call-to-action button with the words "Make an Appointment" to make it easy for site visitors to schedule a meeting with a Swott team member.
The button is a bright red color so it's easily noticeable and then attached to the top right corner of the screen so the user has a clear view of it.

So no matter if they scroll down the home page or end up in the Blog section of the site, they will always be able to "Make an appointment".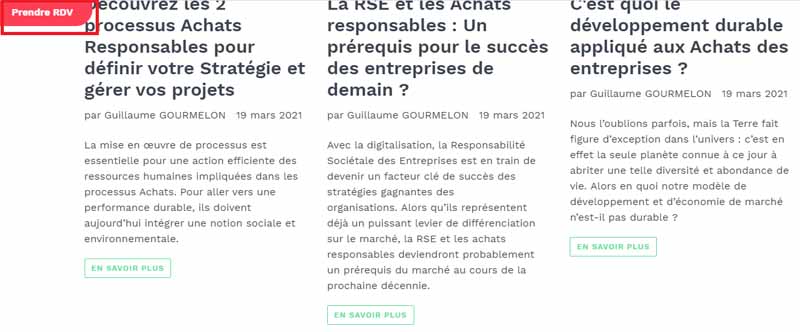 3.1.3.2. Setting up a newsletter
Next, I tried to set up a kind of green banner with the words "Employability & Performance thanks to CSR Purchasing".

This is in fact an email collection device that links to a form where the user can subscribe to the site's newsletter before being able to download a free guide on CSR purchasing.
This policy was previously announced: to brandish an interesting and free offer, but in return for a subscription to the newsletter.
The idea is to collect as many email addresses as possible to create a mailing list and periodically send special offers directly to the inbox of Internet users.
3.1.3.3. New structure of the site's menu bar
I also proposed a new composition for the menu bar of the site. Indeed, let's recall that before the redesign, the menu bar of the Swott site included these 4 modules below:
Our trainings ;
Training proposal ;
Our company;
Blog.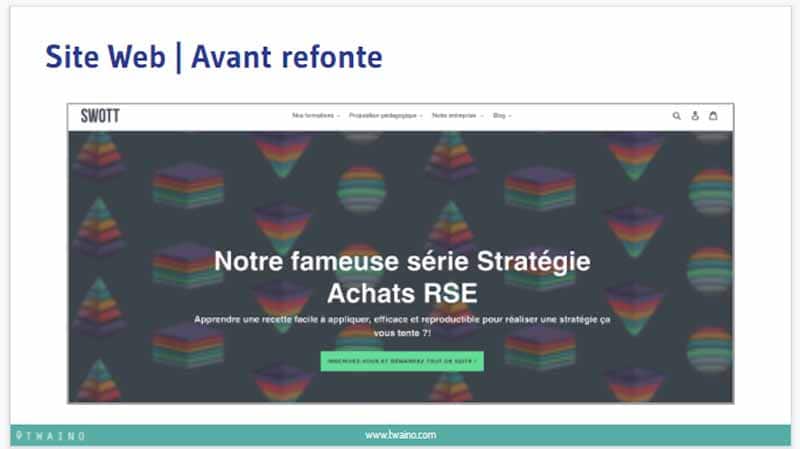 For the redesign, we kept the "Blog" section and replaced the other modules by more interesting ones. Currently, the site has a menu bar with 5 modules in total:
Private Sector;
Public sector ;
Our A la Carte Courses;
Our company;
Blog.

It should also be added that each of these modules is a drop-down list that ranks the information related to the parent module.
The idea is to refine the architecture of the site so as not to flood the visitor with a flood of information.
3.1.3.4. Create a slider for a more lively and engaging page
Personally, I found the old background image a little too bland for my taste. But tastes and colors are not debatable, so the problem is not really there.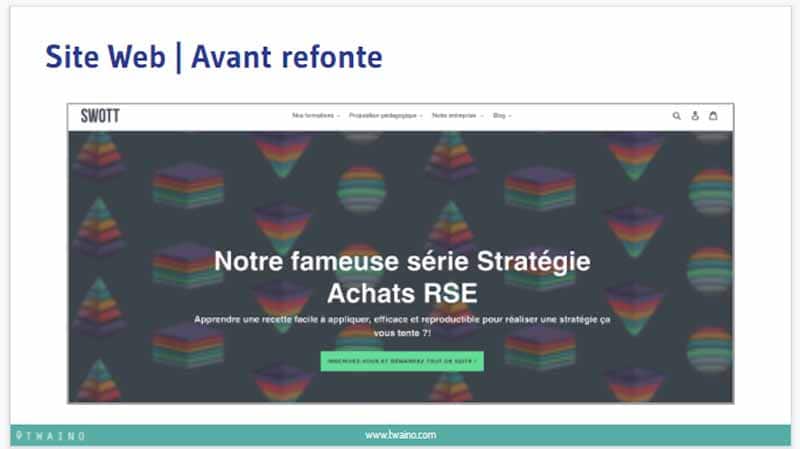 The reason I proposed to change this image was mainly because it was too abstract for an uninformed public.
So I convinced the owner of the site that we should choose images that were a little more meaningful. So I set up a slider of 5 images to make the homepage more lively and attractive with each time an engaging message and a call to action button:
1.

2.

3.

4.

5.

Now we can say that the images are more or less in line with the message conveyed.
3.1.3.5. Displaying the Google Avis score of Swott
As part of the redesign of my client's site, I added a button in the bottom right corner that shows the Google Reviews score that Swoot's site gets.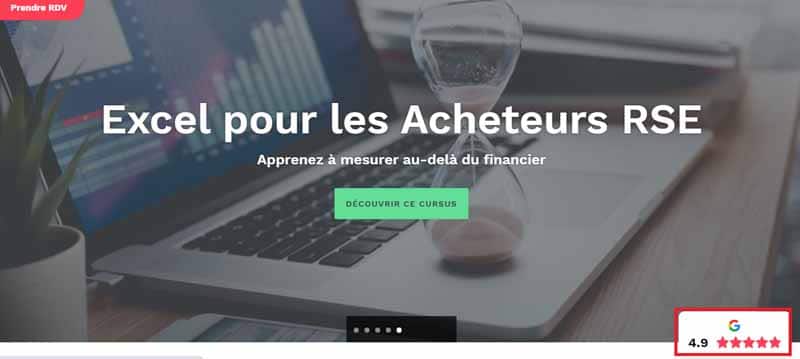 This is a program launched by the search engine that allows consumers to leave reviews about their shopping experience.
Since Swoot receives glowing reviews from its customers, I thought it would be useful to leverage this to inspire confidence in new visitors.
Statistically, it is proven that 88% of consumers trust online reviews as much as they trust the opinions of family and friends. Yet, we can see from the previous image that Swott has a better score of 4.9 stars out of 5.
It would be a shame to pass up this opportunity, as it can easily lead to new customers.
But not to sound boastful, I offer the possibility for Internet users to access the list of reviews obtained by the company. This way, they can check the comments left and at least be reassured that it's not all smoke and mirrors.
So just click on the Google Reviews button to access this page: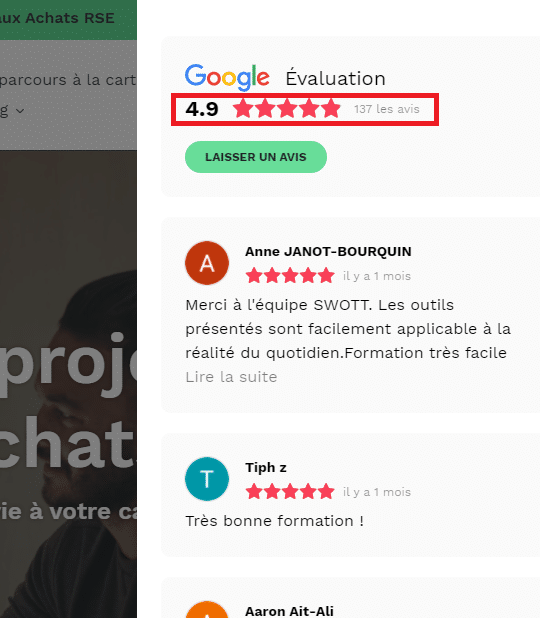 As you can see, the page lists Swott's 137 Google reviews as well as the number of stars received per review.
3.1.3.6. Add a separate section for each of the first 3 modules of the menu bar
It must be said that Swott's site is not like those big websites with a lot of elements that can be presented on the homepage. As a result, I'm a bit limited as to how to organize the items on the home page.
So I thought of creating a separate section for each of the first 3 modules of the menu, just below the slider to fill the gaps. But that's not all.
I also thought of adding this section especially to allow users who would not have noticed the menu bar at the top, to find the missing content in a more easily locatable section.
Thus, the three modules in question are
Our study programs for the private sector ;
Our Public Sector Curricula;
Our A la carte courses and tools.
The sum of these sections looks like this:
1.

2.

3.

As you can see, a good portion of the home page has been taken up by these sections. In addition, each section is dynamic and automatically scrolls through the different elements.
This makes the section more attractive and practical unlike the old style which remains static and requires the section to be scrolled before seeing more elements.
I know that with screenshots, it can be hard to appreciate this dynamic aspect of scrolling elements, but when you look at the last screenshot, you will notice that the ends are slightly truncated just like a scroll.

You can also visit the Swott Formation site to see for yourself how the home page looks.
3.1.3.7. Add an explanatory section
Next comes another section, but this time a static one that just presents a diagram that explains how to "Become a CSR Buyer and Bring Your Career to Life."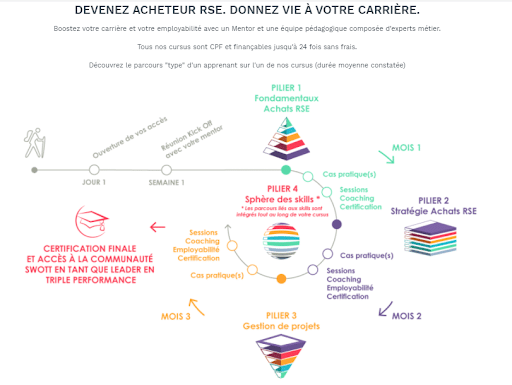 3.1.3.8. Complete a list of customers who have trusted the company
This is also a technique that builds confidence in new visitors. By discovering that major brands such as Lacoste, Airbus or L'Oréal have already used the company's services, visitors will be more confident about the quality of the services provided and the seriousness of the company..

Swoot claims to train more than 1,000 participants per year from 400 companies. These figures will probably make skeptical customers feel more confident.
3.1.3.9. Review the site footer
The Swoot website already had a footer before my service. So the work here was to revise the old structure and to propose something much more recapitulative.
With the new footer, you can discover on a single space :
The training courses offered by the Swott center ;
The mission of the company, its approach to learning and of course its contact information;
Blog posts;
Credit cards accepted;
Links to join Swott on Facebook and YouTube.

3.1.3.10. Propose a new architecture following the Silo model for blog posts
Blogs are a great way to attract visitors to a website. Although it requires continuous effort to keep it alive, it is well worth the effort.
The Swott website already had a blog space before we worked together. Something I would have recommended without hesitation if it wasn't for the many benefits a company can get from a blog.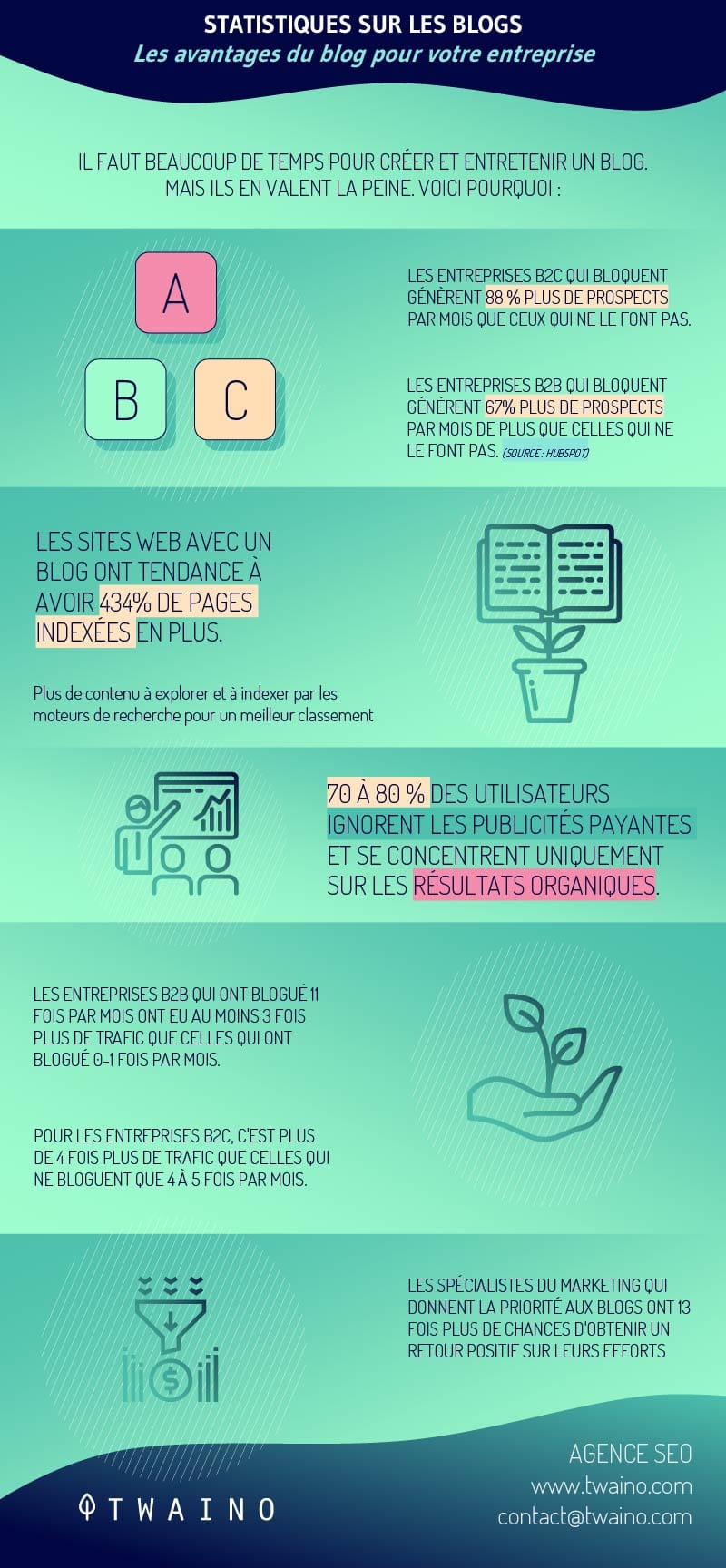 So the fact that Swott thought of setting up a blog on its site is a commendable effort. On the other hand, on the structure side, I think there is some effort to be made.
The best structure for a blog is the Silo model also called siloing structure.
The particularity of this model is that it advocates grouping blog posts by general theme thanks to internal linking.
The advantage of the Silo architecture is that it allows the user to discover progressively all the articles related to his search theme. Thus, he will be able to spend more time on the site, which is perceived as a good sign by Google.
The search engine will deduce that you offer a better user experience on your site and will encourage you by improving your ranking on its SERPs.
The Silo architecture also makes it easy for crawlers to find their way through your pages. This makes the crawling process faster with a good portion of your pages indexed in a relatively shorter time.
Simply put, the siloing structure offers a better experience to your visitors and also contributes to the indexing of your pages. A double advantage that makes this model the current trend in the SEO industry in terms of blog structure.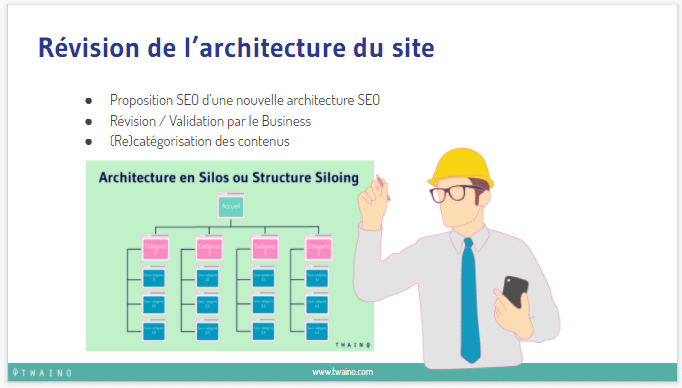 For Swott, the work has been to implement this model and organize the articles around 4 general themes namely:
CSR Purchasing and Triple Performance;
Training area ;
Leadership;
Mastering Excel at work.

3.1.4 Identifying On Page issues
On-page SEO refers to all the strategies used directly on a page in order to improve its position in search results.
These are strategies applied to the content published on the page, but also to all the technical aspects that contribute to improving the quality of the page.
For a productive SEO campaign, my audit also takes into account the On Page issues.
Technically, at this stage I try to identify all the problems that could affect :
The internal linkage of the site;
The titles and meta description of the pages.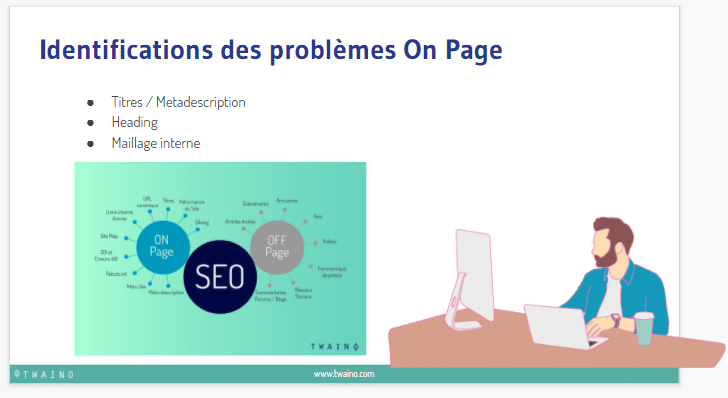 3.1.4.1. Problems encountered in the Title and Meta Description tags
Page titles and meta descriptions represent the first element that an Internet user will see on search engine pages. It is in a way the first impression that you offer to the user.
They must therefore be attractive and error-free enough to encourage the user to visit the site. In addition, search engines draw a correlation between the title and the theme addressed on a page.
So an incoherent title or one that has errors will have difficulty ranking on the pages of search engines.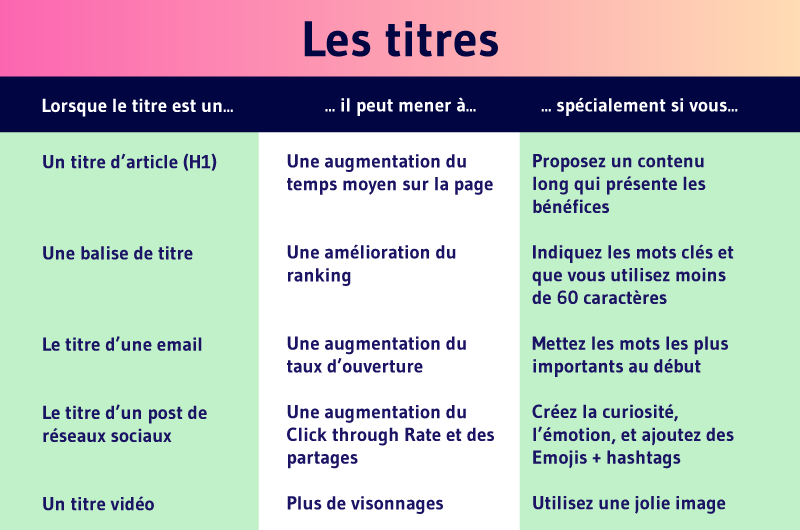 My job here was to make sure that the titles of the pages and the meta descriptions of my client do not contain any error that could ruin the SEO of the site.
To do this, I reviewed certain factors such as:
Duplicate Title and Meta Description tags: Search engines require unique content to be offered as answers to users' queries. It would be difficult to be eligible if Title and Meta Description tags were duplicated on Swott's site.
Title tags with a number of characters too long or too short: The space that a title has on the SERPs is limited. A title that is too long will be hidden, but this does not mean that all titles should be too short. It is therefore necessary to identify all the titles that are not of a "normal" size and try to correct them. The same will be done for the Meta Description tags.
Missing Title and Meta Description tags: If titles and descriptions contribute to the referencing of a page, it is obvious that a page that lacks a title or description will lose even more chance of being referenced. It is therefore necessary to identify these pages without titles and meta descriptions and to assign them others while respecting the appropriate number of characters.
3.1.5.3. Problems related to internal linking
The internal mesh refers to the way in which internal links are organized on a website and plays a dual role. On the one hand, it allows the user to quickly find the information he is looking for and on the other hand it contributes to the referencing of the website.
But it must be said that a site can only really benefit from these advantages when the linkage is successful with well inserted and quality internal links.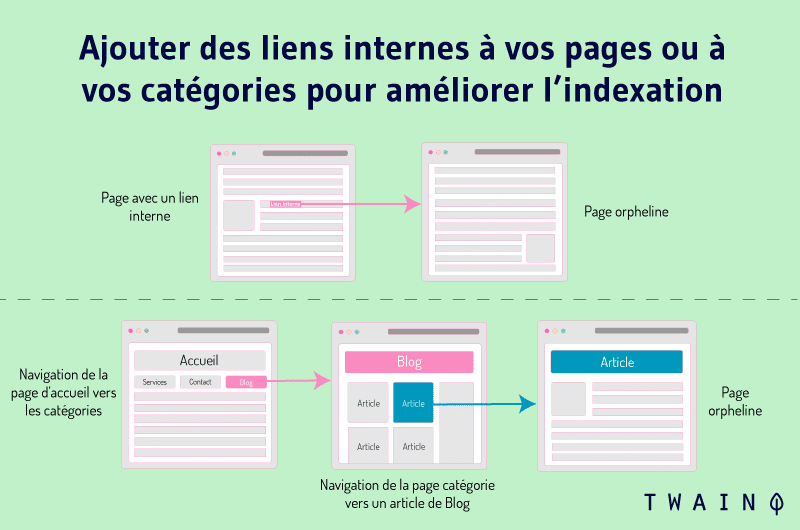 With the process followed so far, you would surely suspect that the best way to check if Swott's site has any problems related to its internal linking would be to conduct an audit.
Well yes, in order to make sure of the quality of the links inserted on the pages of Swott's site, I had to proceed to a link audit and build up its link profile as I went along.
After the audit report, all the links that are of poor quality will be removed or replaced by more relevant ones.
3.1.2. Duplicate content
Duplicate content is content that is similar or partially similar and is found on several pages of a site or even a third party site.
This is a serious problem for your site's SEO, since duplicate content confuses the search engines in some way.
When you have several versions of the same page online, the crawlers don't know which one to index in order to display it as soon as a user makes a request related to the page's content.
Technically, this would mean that each copy of the original version would compete with each other and with the original version. A real mess that could cost you a downgrade on search engines.
Moreover, if it is a stolen content from another site, you could be subject to a penalty.
In short, you have understood, duplicated content is dangerous for the referencing of a site.
But how to know if a site has duplicate content because we can unintentionally plagiarize passages from other sites.
It can also happen that one deliberately duplicates pages of his site, especially those that present similar services.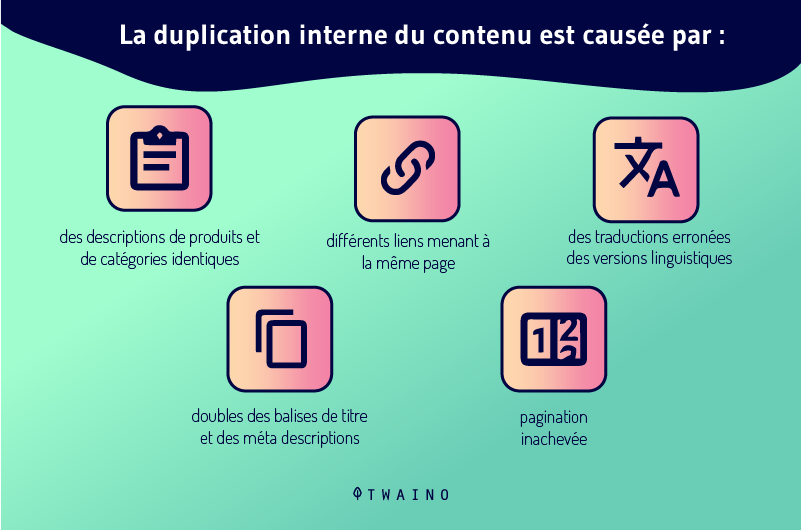 This is the second case that I noticed on the Swott site. My audit reports revealed that 67% of the content on my client's site was duplicate content.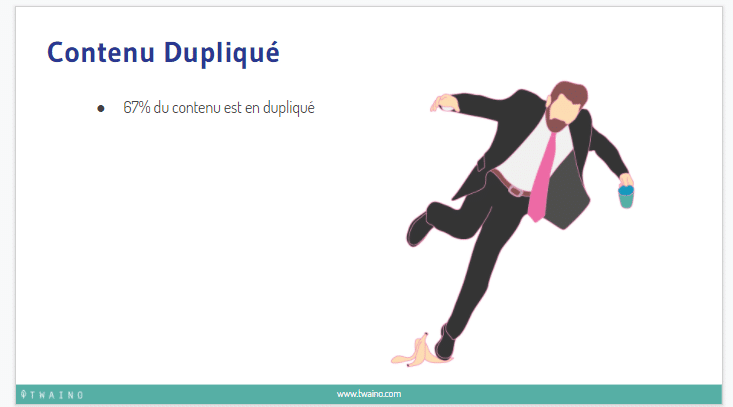 A relevant aspect that I might have missed if I hadn't audited the site. With tools like Siteliner, Screaming frog and Quetext I was able to identify all the passages within the pages that were duplicated.
3.2. Optimization
The second major step of my campaigns is the optimization. It just follows the SEO audit because it depends mainly on the analysis reports collected.
This would mean that the strategies proposed during the optimization phase for the Swott site for example will be quite different from those proposed for another site, since it is not very obvious that both get the same audit results.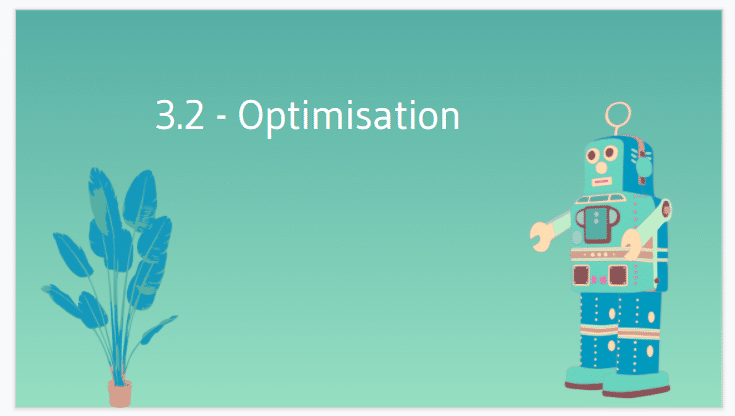 And to propose these strategies, the priority will be on the problems identified on the site. The idea is to rush an SEO action plan before the problems gain more ground and worsen the condition of the site further.
Once these issues are resolved, the optimization is not over. It is now the opportunity to exploit the opportunities of the site.
In concrete terms, this means working on the content that attracts the most traffic to the website so that it attracts even more traffic. After all, why settle for the little if you can get even more.
And this can be done in many ways. The first way is to check if the information provided in the content is not obsolete. If it is, I quickly update the information to ensure a current article.
Then, the successful article can be reused in other content formats to reach new users. As you may have noticed, each platform has its own type of user.
A blog post that is currently working can be repurposed into an infographic to try to reach a new community on Twitter or Instagram, for example.
The outline of that same blog post can be used as a topic for discussion around a few minutes webinar and attract users who like to listen to podcasts.
With Swott, the optimization phase involved improving the pages by offering:
A restructuring of all the pages of the site;
Adding some paragraphs to make the pages a little more commercial;
The reinforcement of some paragraphs to obtain fully SEO optimized pages;
Expanding the semantic field by using secondary keywords;
Optimization of images;
Improving titles, meta descriptions, images and videos.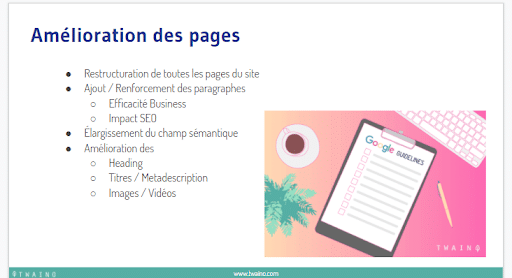 The optimization does not only take into account the improvement of static pages. I also looked at the articles already written.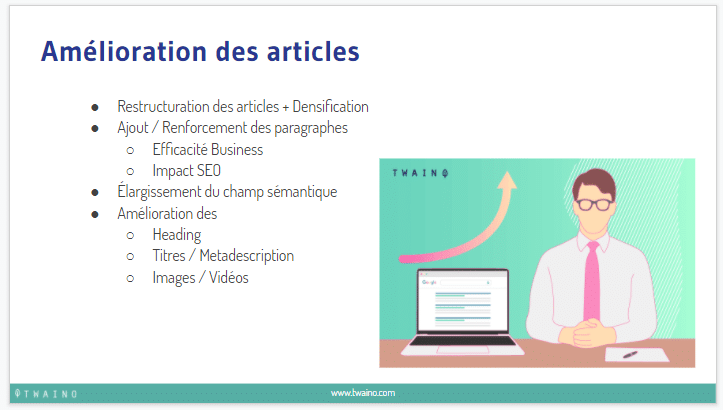 The process of improving the pages remains almost the same as the process of improving the articles:
Propose a new writing structure;
Add or strengthen some paragraphs to make the articles a little more commercial;
Expand the semantic field by using secondary keywords;
Optimize images;
Improve Title, Meta description and Hn tags.
All of the above tasks contribute to the creation of fully optimized articles for SEO. These are the articles commonly referred to as SEO friendly and which provide a better experience for both search engines and users.
Here is an example of SEO friendly content published on Swott's website that you can check out: "Creating a powerful dashboard [ Excel ]".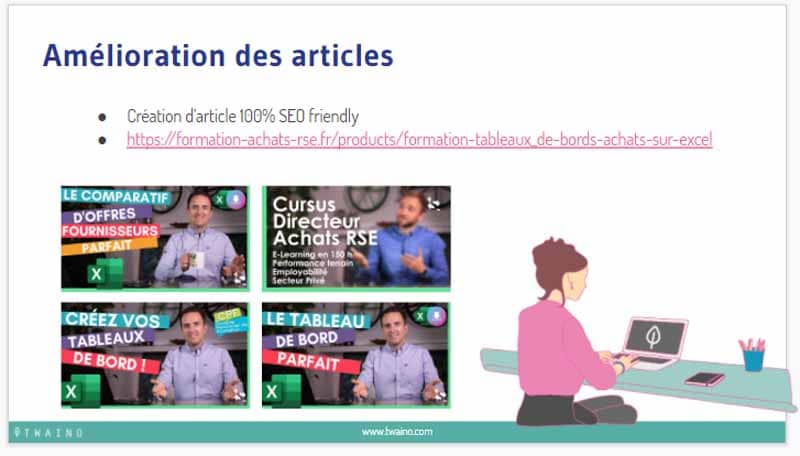 By now, the site's problems have been identified and corrected and the existing content has been reviewed for improvement.
You would think that my SEO campaign would end at this stage of optimization. But no, there is still one last step, the creation of new content.
3.3 Creation and Promotion
The goal here will be to try to nourish and make grow the performances acquired on the site. This is an important step in the process, without which the current performance of the site may stagnate or even regress.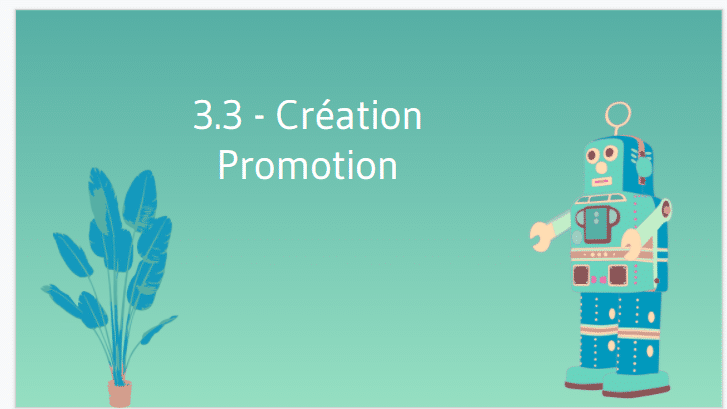 It's a bit like the gardener who must continue to water his nursery after plowing.
And in SEO, one of the effective solutions to maintain and develop a permanent site is to continuously create new content.
The fact is that the Web is a media of the moment with a flood of content poured out every second.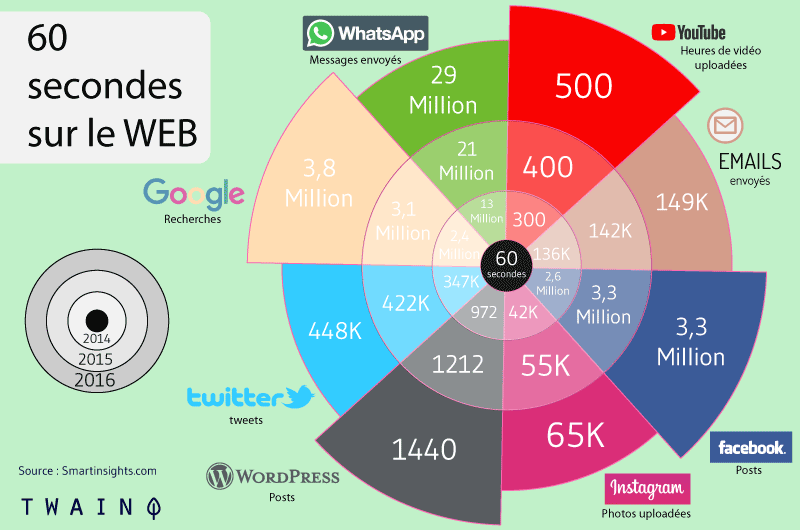 This is why a ranking on a search engine should not be taken for granted. Other contents on the same theme could be published with more recent data and downgrade your old content.
This is why it is important to regularly update old content, but also to create new content to rank on new keywords and strengthen your presence on Google.
But it must be said that it is not a question of creating articles in any way to hope to improve any performance. On the contrary, the slightest mistake during the creation of content can be fatal for the SEO of the site and undermine everything that has been built.
This is a particularly sensitive stage that requires delicacy in the execution of tasks while scrupulously respecting the recommendations of search engines.
For Swott's site, here are the different tasks I performed:
Identify high potential themes;
Create new content;
And propose a support to the client.
3.3.1 Identifying high potential themes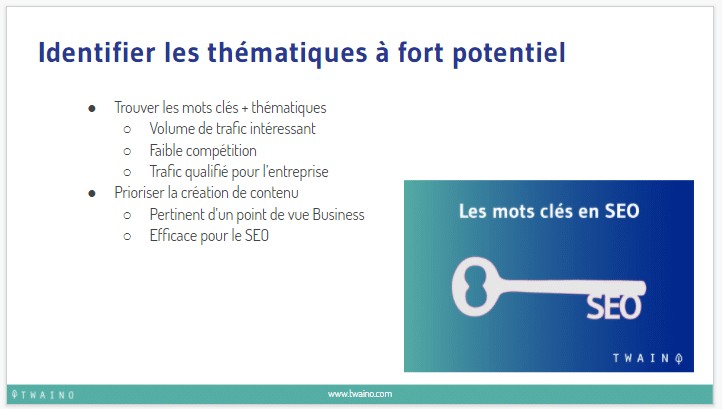 Identifying the high potential themes can sometimes be a difficult exercise because just as there may be high potential keywords, there are others with low potential.
A site can occupy the first place for certain queries with good traffic and end up almost without conversion. It's one thing to attract visitors, but it's another to attract visitors who are actually likely to consume your products.
And this is a common mistake in SEO. Many people jump on the first keyword that people search for, hoping to get more sales.
But a high volume of searches is not enough to determine the relevance of a keyword. The most typical example to illustrate this is that of small businesses.
Despite all the good SEO strategies applied to a freshly created website, it will still be difficult to compete with giants such as Amazon on high volume themes.
To avoid making the same mistake with my clients, I push the keyword research even further by looking for 3 criteria for each keyword to target:
Interesting traffic volume ;
Low competition;
Quality traffic for the company.
By targeting keywords that meet these 3 criteria, Swott's site will have a better chance of ranking on Google and getting its first results in the short term.
This is our first priority, then gradually depending on the authority of the site, more competitive keywords will be targeted.
3.3.3. The accompaniment
Once the right keywords were chosen, the next step was to accompany the client to have a better follow-up of the changes made on his site.
For the accompaniment of Swott, I :
Assist the company in producing its first SEO friendly content;
Give clear and precise answers to all the SEO questions asked;
Analyze the evolution of the site's performance and make adjustments if possible.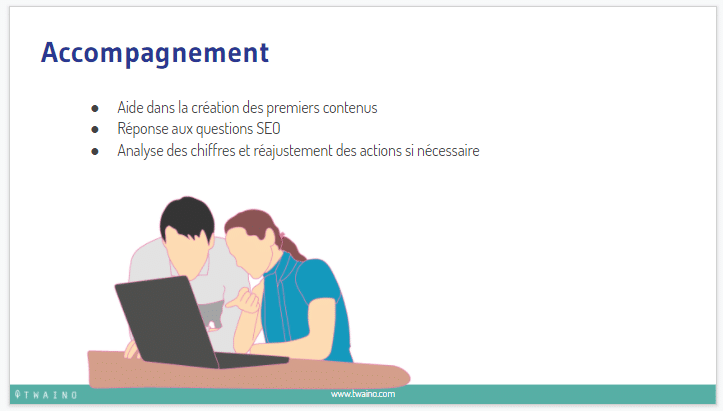 This stage of content creation and promotion is the last one of my SEO campaign methodology with the CSR training center – Swott.
But what about the concrete results obtained after my SEO campaign?
Did the site actually notice an improvement in traffic?
What has really changed from a "performance" point of view?
We'll find out in the next chapter!
Chapter 4: The SEO results obtained after the SEO campaign
As promised at the very beginning of this article, the last chapter of our case study will be entirely dedicated to presenting the results I was able to achieve at the Swott site thanks to the efforts of my SEO campaign.
It must be said that in my industry, the best tools to evaluate the success of an SEO campaign are:
Google Search Console ;
And Google Analytics.
As their names already indicate, these are two programs initiated by the search engine Google.
But to diversify and compare the trends obtained on Google tools with other tools, I chose Ahrefs which is also a very popular SEO performance analysis tool.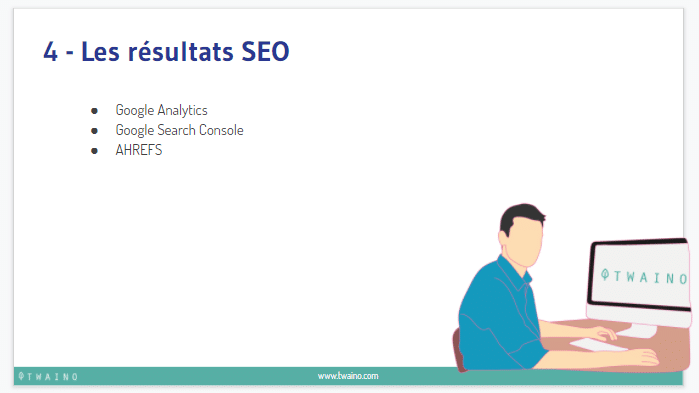 So without further ado, let's take a closer look.
4.1. Google Analytics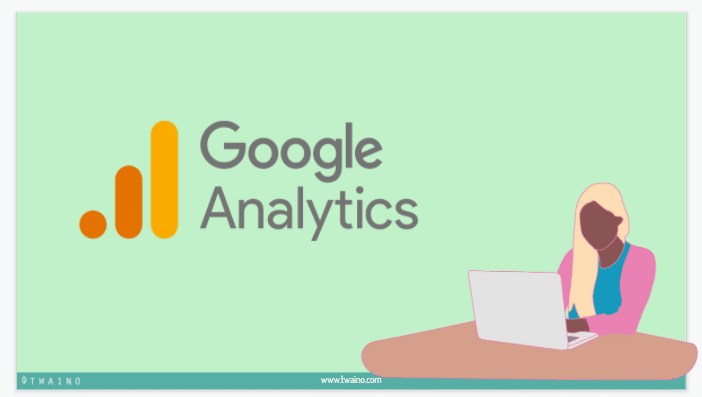 Looking back, you probably remember that in the first chapter, we saw an "Overview" report on the state of the Swott site before my performance. This was actually a report obtained through Google Analytics.
As a reminder, here is the data revealed by this report:
Traffic: 3 active visitors per month ;
Average visit duration of 00 : 12s ;
Connection of visitors 100% from computers;
Traffic source: 100% direct.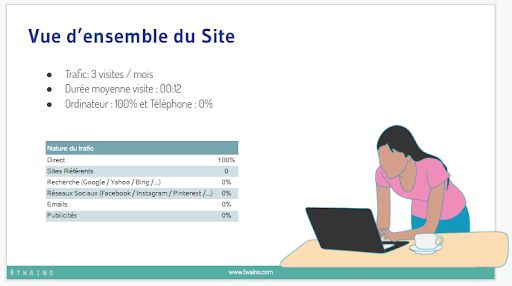 With only 3 months of work (March – May 2020) done as part of my SEO campaign, here are the results revealed this time by the Google Analytics "Overview" report 1 year later:
0 à 1 0 00 active visitors per month
As you can see, Swott's traffic went from 0 to 1,000 monthly visitors with ONLY an SEO campaign that lasted only 3 months.
A traffic that has gradually improved and continues to rise.
Also, remember that 100% of Swott's visitors came from direct traffic, but after the SEO campaign, the site is receiving traffic from all sources:
Paid Traffic 39.1% ;
Organic traffic: 19% (continuous growth);
Direct Traffic : 10,8% ;
Social traffic: 9,6%;
Other: 17.1%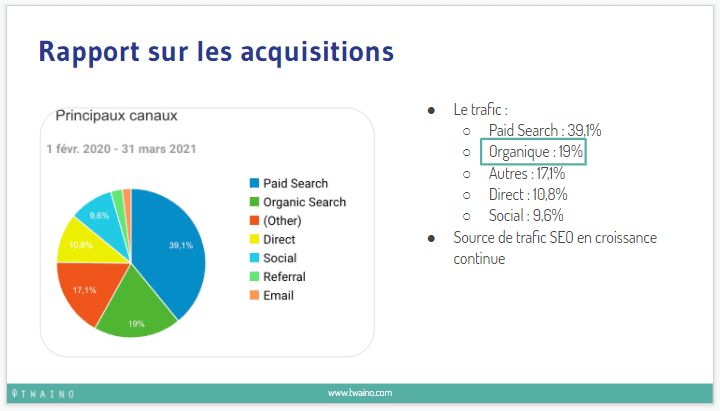 We can see that Swott's traffic is now diversified, which proves that the company is increasing in notoriety little by little on the Net.
For the interpretation of the different percentage rates, the organic traffic (obtained thanks to SEO strategies) takes the second place after the paid traffic.
But it is important to note that paid traffic stops generating traffic as soon as the advertising campaign is cut off. Organic traffic on the other hand still continues to generate traffic to the site even though the SEO campaign is over.
As a proof, we have my SEO campaign for Swoot that lasted only 3 months, but still generates traffic to the site even 1 year later. And from the looks of it, this growth is not going to stop.
And that's where the advantage of SEO lies. It is undoubtedly the best solution to get quality traffic and especially over a long period.
Let's now look at the "Session by Country" report. This is always a report provided by Google Analytics that breaks down the site traffic by country.
With the figures obtained, we can say that the Swott training center is known from all over the world:
France: 66% ;
Morocco: 8%;
Algeria: 4%;
Tunisia: 3%;
USA: 3%.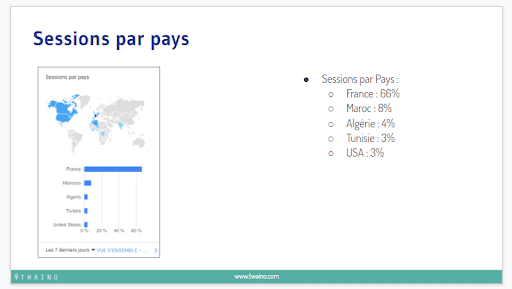 These are the important data that we can observe from Google Analytics, let's continue now with those proposed by Google Search Console.
4.2. Google Search Console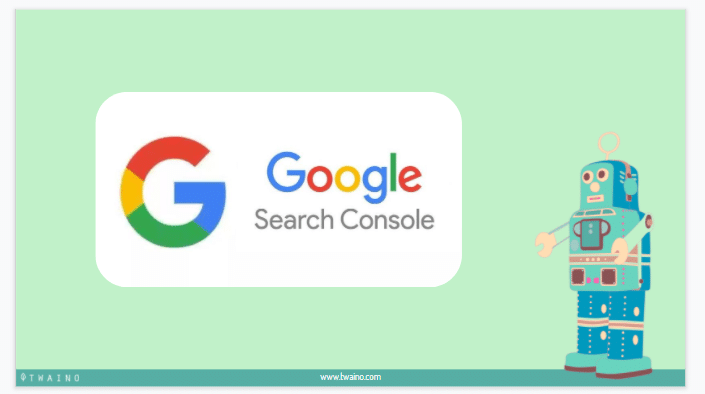 The analysis report provided by Search Console confirms the trends observed in Google Analytics.
The first important report here is the "Total number of clicks":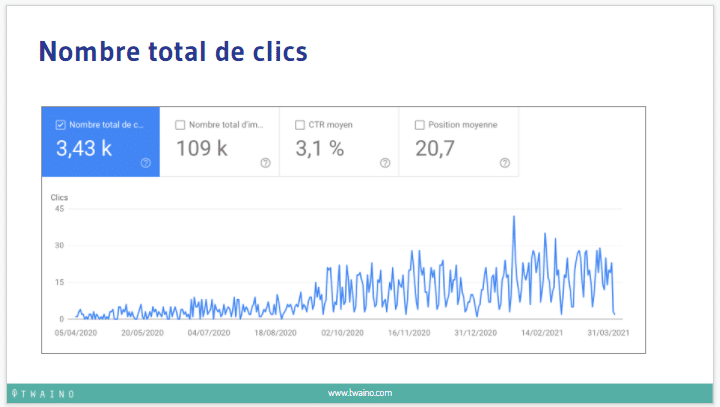 As mentioned in the capture below, the curve representing the number of clicks observes a progressive growth since 05/04/2020 with a cumulative 3,043 total clicks.
Progressive growth also for the "Total number of impressions" which exceeds 109,000.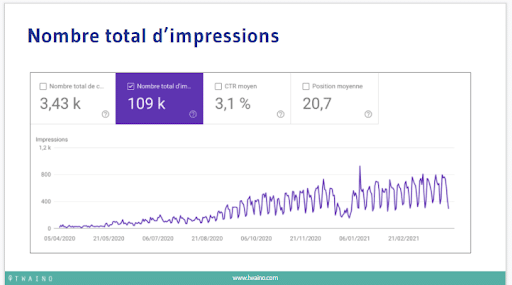 As we can see, Google Search and Google Analytics show an overall growth in performance of the Swott site in recent words.
But it would be interesting to check the performance of the site with other tools than those proposed by Google.
4.3. Ahrefs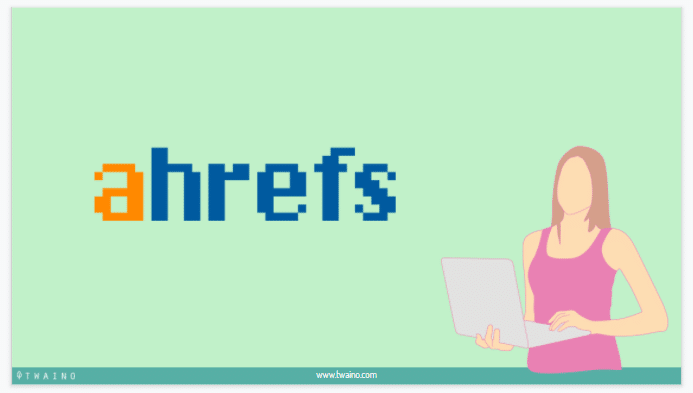 Ahrefs montre un trafic organique totalement inexistant avant Janvier 2020 et juste après on observe une montée progressive.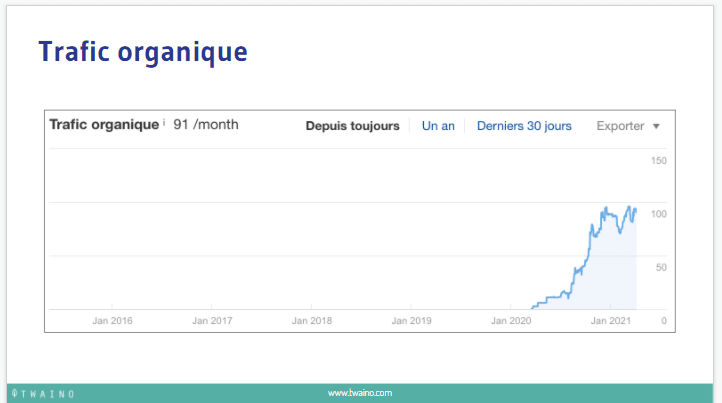 The same scenario is also observed for the number of organic keywords targeted on the site. We can see that at the beginning of January 2020, Swott was at 0 targeted organic keywords, but currently, Ahrefs counts 164.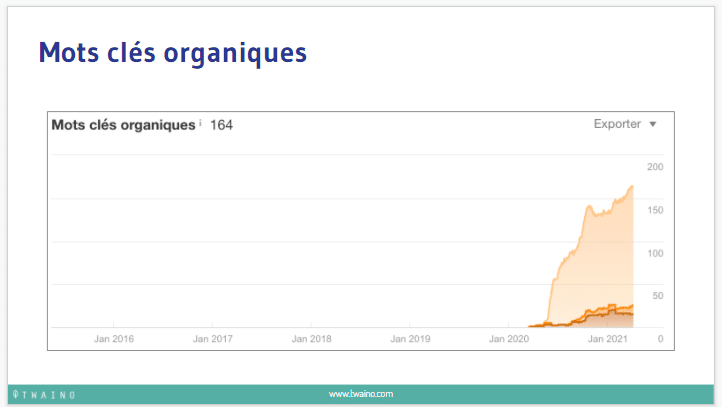 All in all, it's safe to say that the SEO performance of Swott's site has improved greatly since my SEO campaign.
Whether it's the number of visitors per month, the number of clicks, the number of traffic sources or the number of targeted keywords, Swoot is experiencing progressive growth that doesn't seem to be stopping anytime soon.
Also, I would like to remind you that all these data were acquired only through a White Hat SEO campaign free of any fraudulent strategy. You may not know it, but there are strategies that are contrary to the search engine guidelines.
They are usually used by some less scrupulous SEOs who do not hesitate to bypass the search engine algorithms in an attempt to get a higher ranking in the search results.
But the fact is that search engines are getting smarter and smarter and can spot these fraudulent strategies. In particular, we have Google's algorithms which have improved considerably thanks to the latest repetitive updates.
Today, such practices are sanctioned by the search engine and a website that is scammed can be a victim of a penalty ranging from a simple loss of position to its permanent removal from the index of the search engine.
In order to guarantee a healthy and penalty-free referencing to my clients, I exclusively use the good SEO practices called White Hat SEO.
As was the case with my SEO campaign with Swott where all the results acquired were hard earned without any purchase of backlinks or any other form of practice not recommended.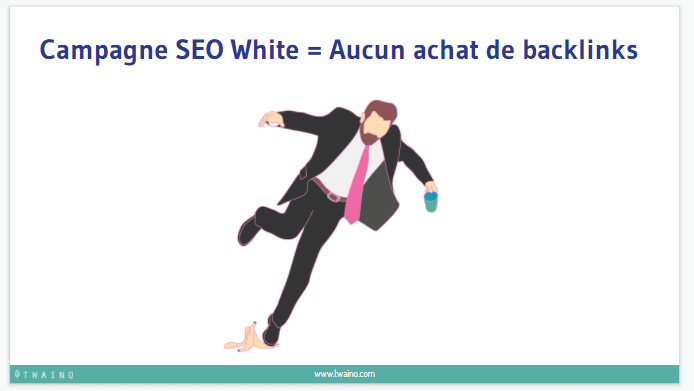 A rigorous and methodical work that does not fail to fill me with joy because of all the positive feedback that my client enjoys.
To sum up!
Here we are at the end of this business case which I thank you for having followed until the end, hoping that it has made you realize all the effectiveness of an SEO white campaign.
I don't claim to have achieved anything. These are results that are within reach of everyone as long as there is discipline and a consistent methodology in the implementation of the various strategies.
And to give the example of the well-shod cobbler, these are the same strategies with perhaps a few adjustments that I use on my own Twaino site.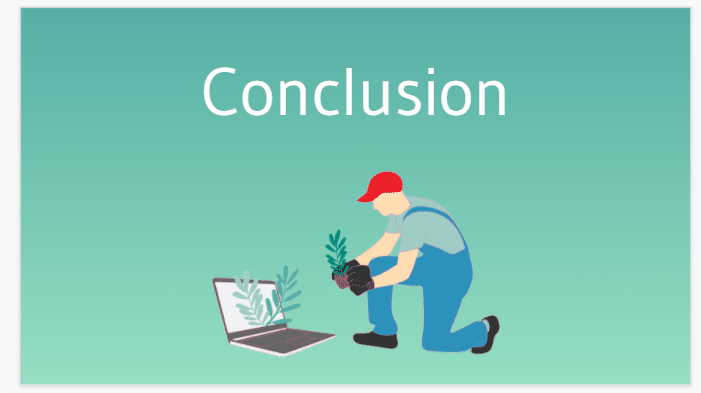 Today, thanks solely to natural referencing techniques, my agency's site exceeds 20,000 active visitors per month.
A traffic that was not obtained overnight, but rather is the result of constant and strategic work.
If you also want to improve the visibility of your site on the Web and get more customers, Twaino agency offers its services of high quality SEO for the effective achievement of your marketing objectives.
With an SEO audit, I will be able to take note of the current state of your site and propose an SEO action plan to be engaged during a campaign to fix the identified problems and optimize your existing content.
Contact me
If you have any concerns, please feel free to contact my agency at the following addresses:
PARIS
20 passage cardinet, 75017 Paris
Téléphone: 07 86 06 39 48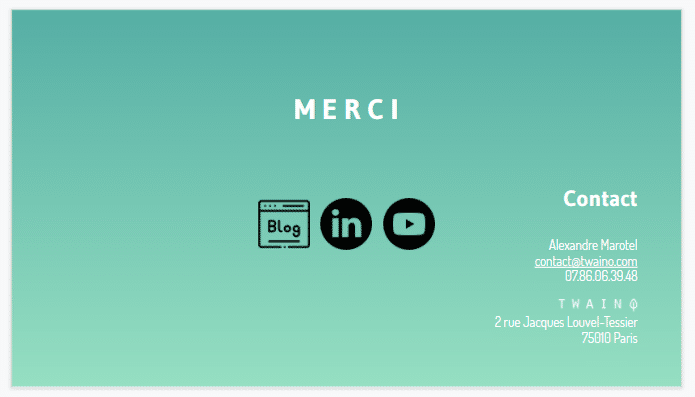 Merci et à bientôt !