According to studies, the majority of users, up to 60%, consciously or unconsciously prefer to click on one of the first three search results of the SERPs.
This clearly shows that the further your online store website is from these positions, the less organic traffic it gets. This calls for a consistent effort by online store owners to optimize their websites for good search engine page rankings.
However, having a good ranking does not mean improved revenue if your store does not offer a good experience. In fact, 58% of global shoppers very quickly terminate their relationship with a company that doesn't provide the comfort they deserve as a customer.
In addition, another 90% of global buyers confirmed that they often base their purchase decision on the customer support experience
It is therefore important to optimize your online store not only for search engines, but also for human users.
So let's discover in this guide, the best practices of SEO for E-Commerce!
Chapter 1: What is ecommerce SEO?
A simple way to optimize your online store is to write long, keyword-rich descriptions on each product page.
In addition, backlinks from authoritative sites can also boost the performance of your ecommerce site.
So, if you want your ecommerce site to rank higher on Google, Bing, Yahoo and other search engines, you need to optimize it for SEO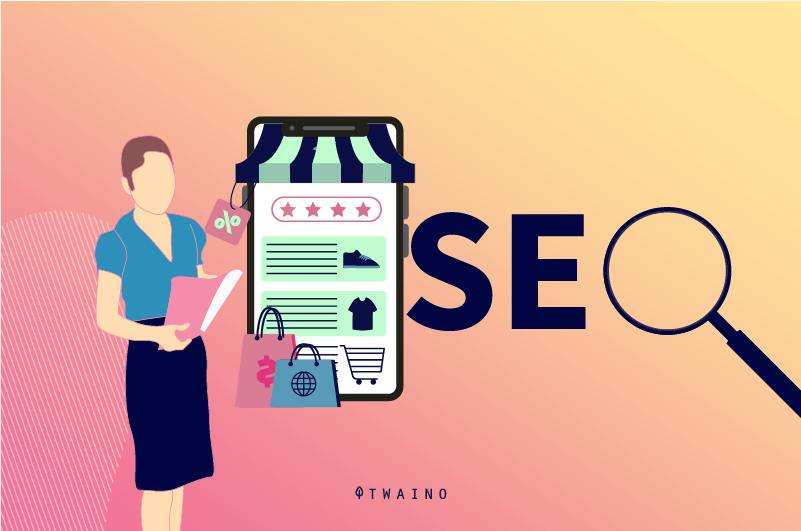 This process ensures that your online store is relevant so that the search engine bots deem it worthy of appearing at the top of the search results lists.
The goal of SEO for e-commerce is to increase organic, or non-paid or free, traffic from search engines like Google to your online store.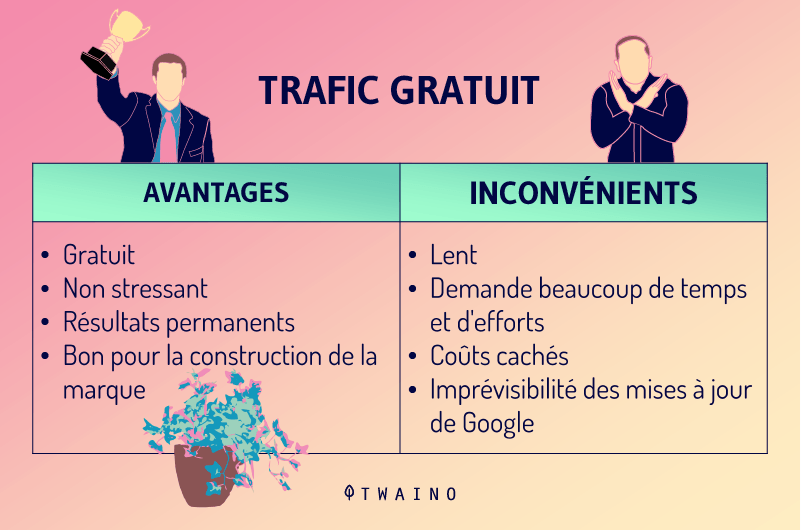 For example, when you perform a search on Google, you are immediately directed to a search engine results page (SERP).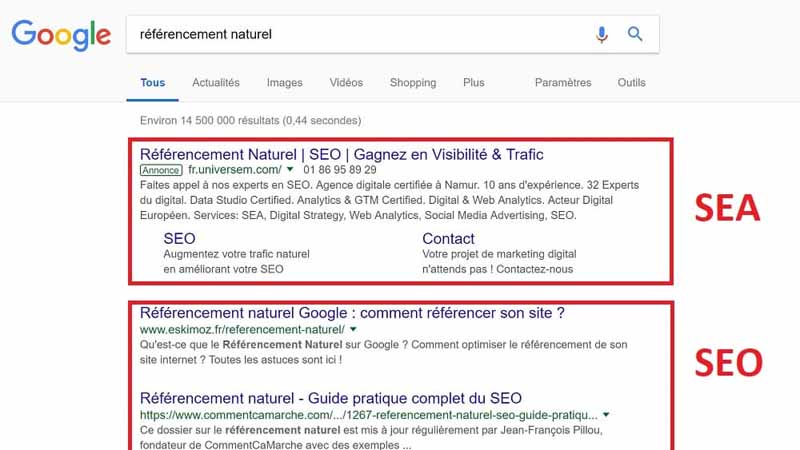 Normally, non-paid search results appear among Google Shopping ads and paid ad results.
SEO for ecommerce is all about getting your product pages to appear on the first page of organic search results
It's also worth noting that there are more pages of results for visitors to explore.

But, you should also understand that a website's traffic drops significantly when it has to move up the search results pages to find it. That is, when it is on pages 2, 3, 4, etc.
Since according to studies, 75% of people searching on search engines never go beyond the first page of search results.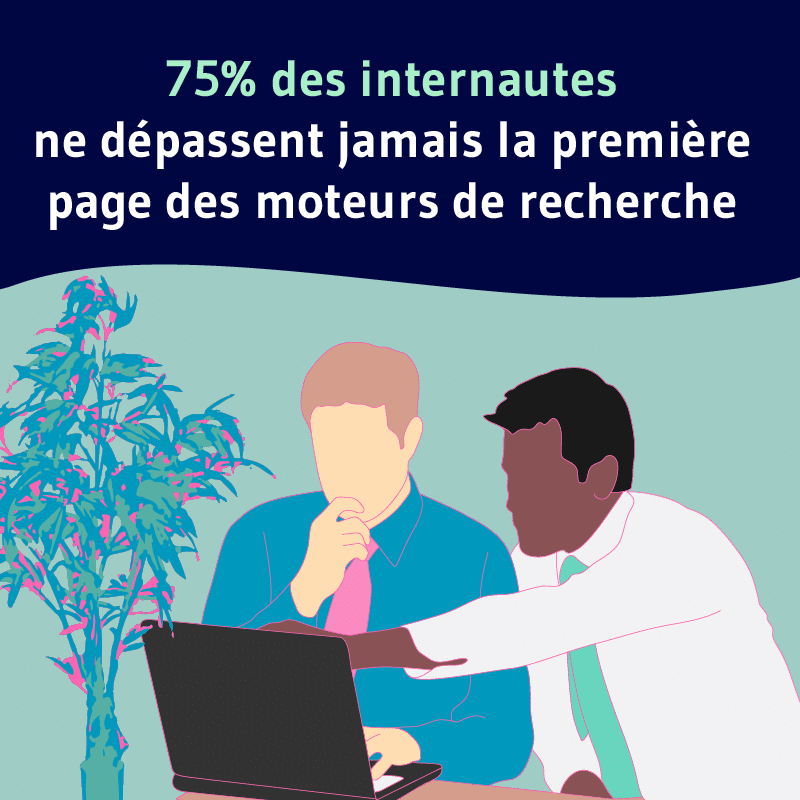 Moreover, according to a Backlinko study, only 0.78% of Internet users click on a link found on the second page of search results.
Here are the benefits you can get from optimizing your online store:
1.1. Ecommerce SEO helps generate quality traffic
Keyword research is an essentially important step in the process of optimizing an ecommerce website.
It usually involves searching for short and long keywords that are extremely relevant to your online business.
If you are able to locate and target these keywords effectively, you can more easily attract potential customers interested in your products to your site.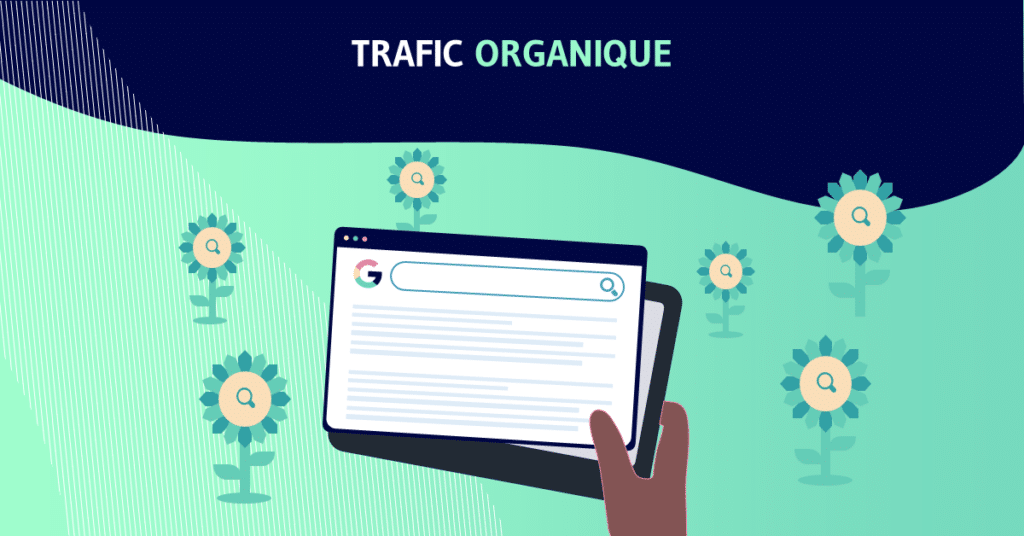 Let's say you have an online business that sells houseplants, you can try to get top rankings for a particular phrase, such as "buy cheap houseplants.
To put it bluntly, e-commerce site traffic increases when you use more special keywords for your audience, which also helps you find visitors who are ready and willing to buy your products.
1.2. Ecommerce SEO helps generate sustainable traffic
These days, there are a number of strategies to drive traffic to your website. Paid social media and search engine advertising, for example, can drive large numbers of people to your site very quickly.
However, paid methods can be more expensive to maintain since you'll still have to pay the ad provider, and you'll likely have to spend more over time to generate the same amount of traffic as your competitors.
If you want your website to have continuous traffic, it is essential that you invest time and energy into optimizing it.
Much of your investment comes at the beginning, but the result pays off in the long run through increased traffic.
1.3. SEO for ecommerce makes your brand more visible
Ranking high in search engine results pages not only encourages users to click through to your website, but it also keeps your brand top of mind when customers are about to make a purchasing decision.
Even in the event that a person clicks on a competitor's website on the search results list, they subconsciously register you as an alternative when they see your website on the same results list.
Thus, if your competitor is not meeting the expectations of the customers, you are in a prime position to attract their business.
1.4. SEO for ecommerce offers a better experience
Search engine optimization is not only important for driving traffic to your site, but it also makes it easier for customers who already know your brand to find you. This can be helpful if your URL is hard to remember or easily misspelled.
Plus, by placing you high in customers' searches, you're more likely to generate sales and reduce any hesitation they may have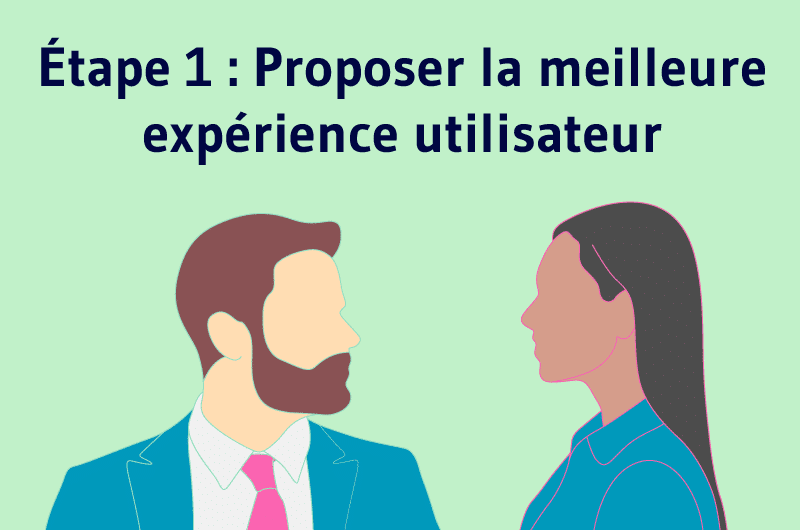 In fact, only 0.78% of users click on websites that appear on the second page of Google results.
Likewise, when searching for a specific company or brand, many individuals consult Google rather than typing in the URL directly, so SEO allows them to quickly discover your online store.
1.5. SEO for ecommerce builds customer trust
Unlike physical stores, ecommerce businesses have a harder time building trust with their consumers. Yet, it is crucial that customers feel confident in your site in order to make purchases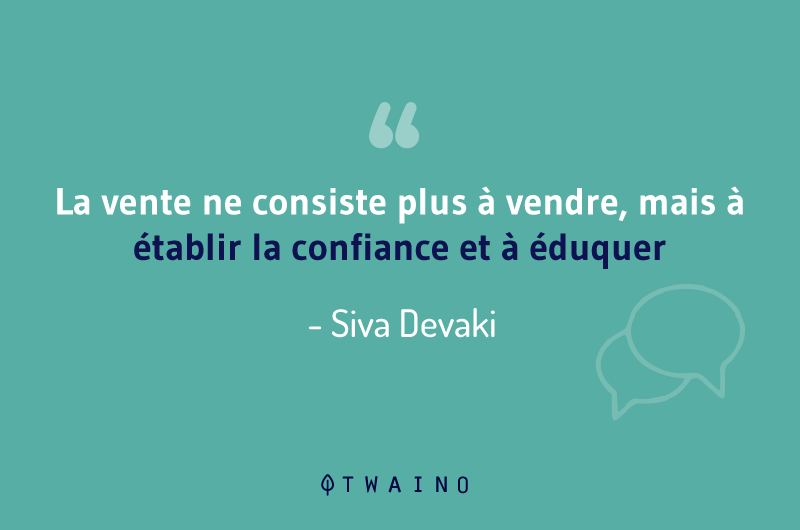 Trust plays a huge role in the success of any business, whether online or offline.
There are many methods today to increase customer confidence in your online store, and one of them being to improve your search engine ranking.
First, Google places sites it trusts at the top of search results, which creates a sense of trustworthiness for users searching for businesses.
If your website ranks high in a search engine, it will seem more credible and trustworthy to potential customers.
A high search engine ranking indicates that you are a reputable business that consumers are likely to trust.
1.6. SEO for ecommerce influences purchasing decisions
High search engine rankings allow your online store to be part of the discussion at the right time.
Consumers look to search engines like Google to help them find the best products for their needs.
By ranking high in searches related to your store's niche, you increase the chances that potential customers will find your store and consider it a viable option
This is especially true if you have created useful and informative content to help consumers make their buying choices.
There are more and more newbies today searching for NFT information via search engines, they can easily access your site and purchase your training if it is optimized.
1.7. SEO for ecommerce enriches the user experience with the help of schema markup
Schema markup is an important aspect that tries to be included in the SEO process.
There are two different types of schema markup that benefit ecommerce tremendously:
Product Schema Markup: Product schema markup is primarily concerned with optimizing your product pages so that they appear as snippets on search engine results pages. Product schema markup attempts to provide imported information such as your product name and price directly to searchers on the SERPs. You can also include features such as images and brand names in the description;
Review Schema Markup: Review Schema Markup is formatting your pages to display your customer reviews on the SERPs when users perform searches related to your products.
In short, by using schema markup, you can make your website more informative on Google's results pages. This allows you to use rich snippets, which can improve click-through rates and help your site stand out from the competition.
1.8. SEO for ecommerce ensures your website is protected with SSL
Your online store may contain personal information of a large number of customers who buy from your site. This data can include credit and debit card numbers, passwords and other sensitive information
SEO ensures the confidentiality of this data through encryption so that third parties cannot access it.
You can therefore communicate securely via HTTPS (Secure HyperText Transfer Protocol) if you enable this option. This encrypts and secures your data so that it remains private.
1.9. SEO for ecommerce improves brand awareness
Optimizing your online store for search engines can increase brand awareness in a cost-effective way.
You can improve the reputation of your business by displaying it on the first page of Google's natural search results.
Websites that appear in the top ten results of a search are more convenient to visit for customers looking to purchase a specific product.
Many Internet users view high rankings for an online store as a solid vote of confidence, which encourages them to visit your brand's website
1.10. SEO for ecommerce provides a rich funnel
Search engine optimization for ecommerce is not only about improving the ranking of your product pages, but it also strengthens the content at the bottom of the funnel.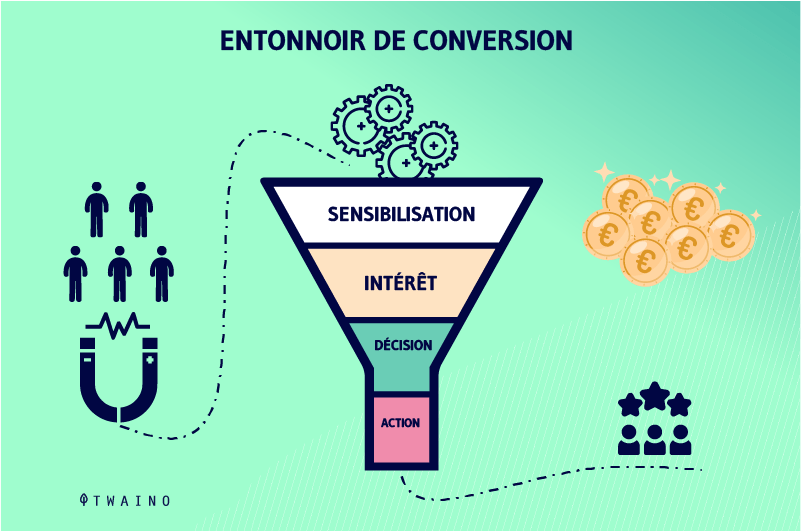 Targeted content will engage potential customers at each stage of the buying journey, from awareness to interest and finally desire.
By optimizing your content for each stage of the buyer's journey, you dramatically increase the chances that someone will choose your brand over others when they are about to shop online.
Your website should appear for all relevant queries, as people's keyword choices change depending on whether they are looking for information or ready to make a purchase, so you will increase your chances of making a sale.
Now that you are aware of the benefits, we will develop in chapter the best tips:
Chapter 2: How to do keyword research for ecommerce SEO?
If you want more people to find your website when they use search engines, it's important to include keywords that match what users might be looking for. This will link your site to the terms and topics they are looking for.
Before people can find your site, they enter terms into search engines such as Google. Then the search engine provides a list of websites that match the keywords used in the initial query.
The search engine examines hundreds of thousands of pages to find the most relevant results to what the user has requested
The algorithms used by the search engine aim to give each user results that are both relevant and useful.
That's why your keywords must be carefully selected to ensure that your online store is displayed prominently in the search results.
As you can see from the graph below, the position of your online store plays an important role in the traffic that the website receives.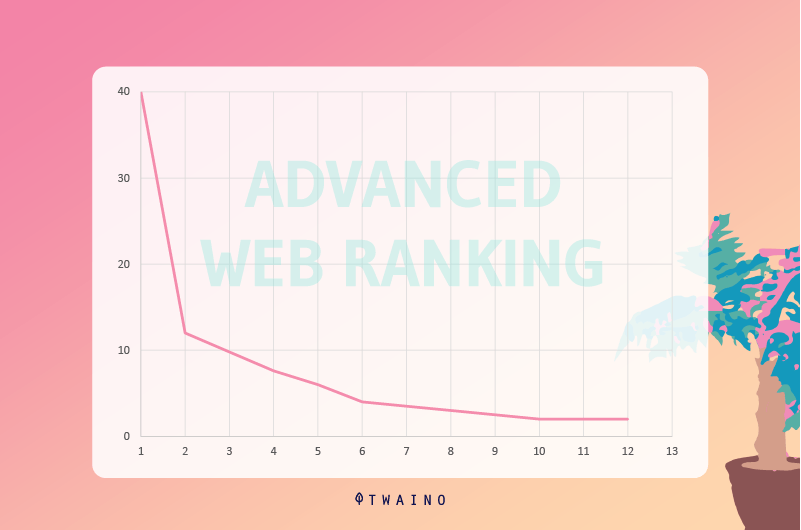 Source: advancedwebranking
Before we get into keyword research practices, here are some terminologies to know:
A long tail keyword is a phrase made up of three or more words that allows buyers to be more specific when searching for something.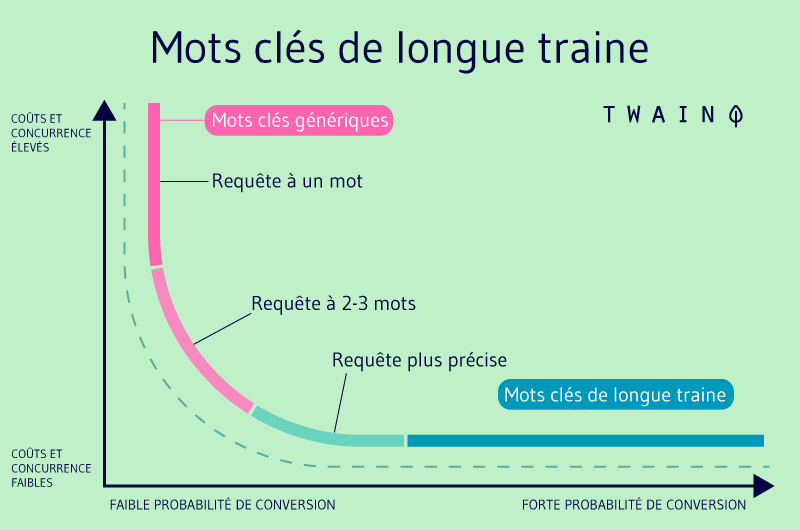 If you've ever bought something online, you know that a few words aren't enough to find the perfect Mother's Day gift for your mom. You need to be more descriptive in your query.
Long tail keywords are important because they make it easier for potential customers who are already interested in what you are selling to find your website
Since customers who use these terms are generally interested in the product or service, they are likely to become loyal customers.
Businesses need to pay attention to these more generic search phrases, as they are much less competitive. As a result, these keywords lead to a higher conversion rate.
Main or short keywords are highly searched, with 1,000 to 100,000+ searches per month. On the other hand, long tail keywords are not as popular, with only 100-1,000 searches per month.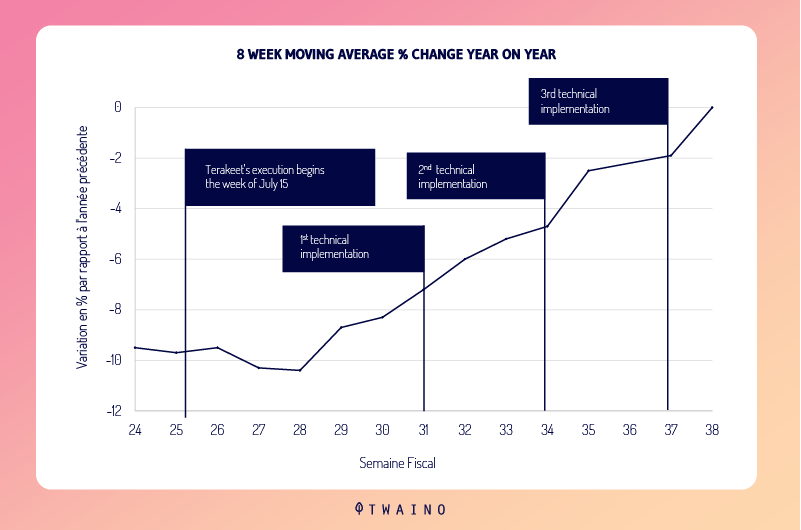 Unfortunately, there is no single magic number for appropriate search volume, it depends on the type of business and industry.
To improve your product titles and descriptions, start by selecting relevant core keywords. Then, add a variety of modifiers and long-tail keywords into the text.
When creating blog content, it's best to choose target keywords that are neither too broad nor too specific. A general rule of thumb is to find keywords that are searched for 2,000 to 8,000 times a month
Once you have your main keyword, try to include several long-tail keywords related to the topic in each article.
Another important aspect in the process of selecting target terms for your online store is keyword difficulty.
Also known as "keyword competition", keyword difficulty refers to a measure that evaluates the difficulty of ranking for a term on Google. In other words, it is the competitiveness of a particular term.
A Backlinko study found that one measure of keyword difficulty reported by SEO tools is not accurate. If you want real results, look at other factors such as the number of referring domains and the domain authority score (DA / DR)
If you want to know how hard it is to rank for a keyword and how relevant it is to your pages, consider all these factors.
Let's move on to tips:
2.1. Think about your keywords
To start, you need to make a list of search terms that have a high monthly search volume but low competition
The keywords should match what your customers are likely to type when they search for the products you sell. That way, they'll be more likely to find your store among many others.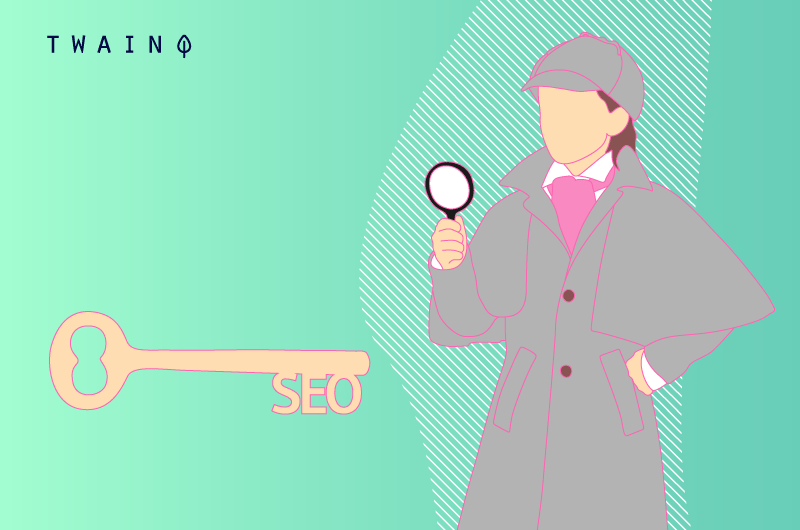 You can conduct a contextual survey, which is a form of observation and questioning about how potential consumers use your items
You can generate contextual questions and submit them to user session participants.
Here are some questions your survey can cover:
Why did you choose this option or click this button?
What suggestions do you have for improving the product?
What aspects of the product did you like and what aspects did you like less?
The goal is to use the research method to understand how customers perform certain online activities and how long it takes them to complete and exit user sessions
You need to assess user emotions and behaviors, and then analyze the results to determine what terms your customers are likely to use when they search for your products on search engines.
You can also improve your understanding of how potential customers interact with your website by asking friends and family to search for terms related to your products
Once they find your online store, note the specific keywords they used and the links or buttons they clicked.
2.2. optimize your website for long tail and LSI keywords
In general, long tail keywords will give you a better return on investment. Many well-known and reputable websites, such as Amazon, occupy the top spots for short-tail keywords in the market, which can make it harder for your online store to rank well.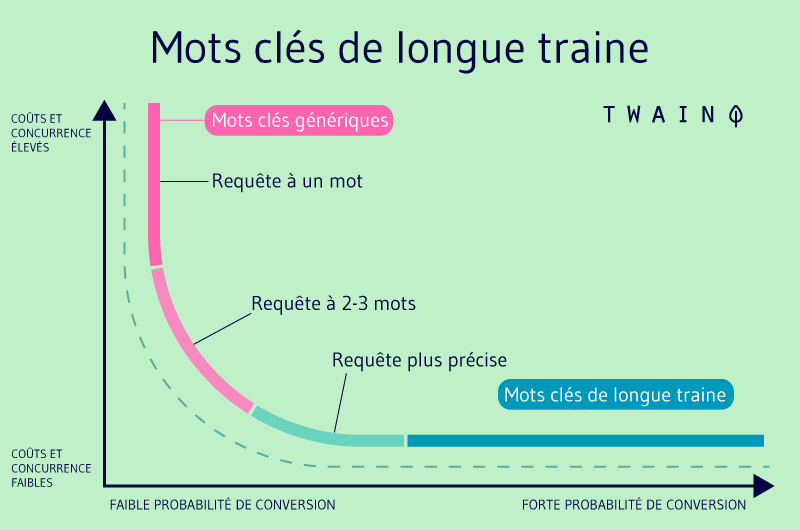 You should prioritize long-tail search terms when trying to rank for a term like "shoes", for example. In this case, if you optimize your content for phrases like "buy baby shoes online", your chances of success will increase dramatically.
Focus more on medium and long tail keywords when optimizing your website content, category pages and product pages.
On the other hand, if you want Google to improve the ranking of your website content, you should also use related keywords and SIFs
This way, Google will have a better understanding of the context surrounding your website and products. As a result, you will likely rank higher on search result pages.
2.3. match the user's intent
You need to be specific with your keywords to ensure that they actually match what the searcher intends to find. This way, you will avoid attracting irrelevant traffic to your online store.
Users will find your e-commerce site if you use keywords that are informative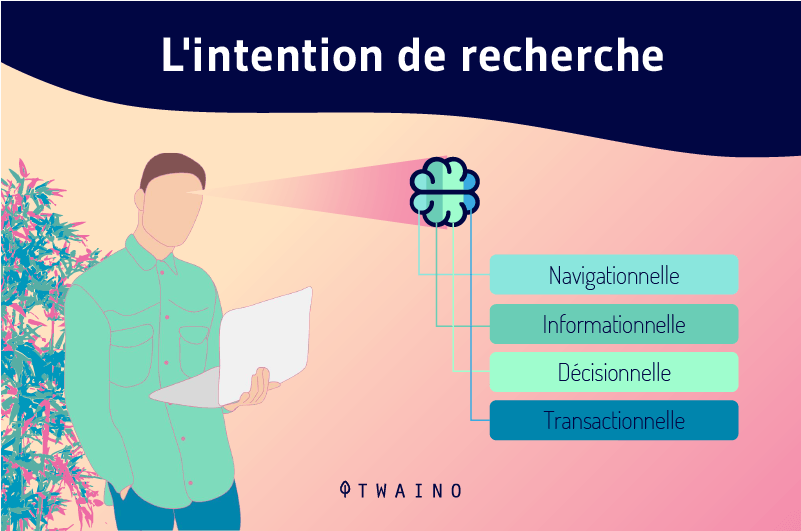 Google's search quality standards assign a specific categorization to these keywords which is "I want to have".
If your website is a trusted source of information for users looking for answers to questions beginning with words like "how," "what," "where" and "why," you can use informational intent keywords.
While optimizing for these terms won't always result in conversions, you can still interact with your potential consumers to educate them about the solutions you offer and eventually convert them into buyers.
Optimizing for informational intent allows your website to rank high in search engine results, which tells viewers that you are an expert in the field. This is a compelling way to get people to sign up for your online courses or purchase your ebooks.
As for investigative intent, people who search for this type of content are trying to compare product features and prices, or they are doing general research
You can increase your website's traffic by optimizing it for keywords that customers looking for product comparisons or reviews would use
By doing so, you are tapping into a market of potential customers who may not be ready to buy right away, but could convert after learning more about the benefits and solutions your product offers.
Make your content more interesting by using experiential keywords to show potential consumers that you are better than the competition.
Also, searches that include phrases such as sale, buy, price, coupon, discount, free shipping, etc. are linked to transactional intent.
This is the most lucrative form of user intent, as this research shows that searchers are more likely to make a purchase.
Customers who are looking for a specific product, such as the iPhone XS or looking to purchase branded products are ideal targets for transactional search phrases.
2.4. insert keywords naturally based on their relevance
At this point, you should have 5-7 target keywords that closely match what customers are searching for online. Group and segment your keywords on your website in a similar way to how physical stores present their products.
Your keywords should help customers and search engines easily find your products or services, so buyers can make purchasing decisions quickly and easily
For example, if you sell weight loss items, be sure to include keywords that are relevant to your product pages
To prevent customers from being directed to the wrong category and getting lost in the buying process, make sure the keywords are a natural fit for your website or the page in question.
On the homepage, you can use general keywords and more targeted phrases on more specialized product pages
2.5. Research your competitors
Another great way to research high-potential keywords is to look at the top results for competing products on Google and Amazon.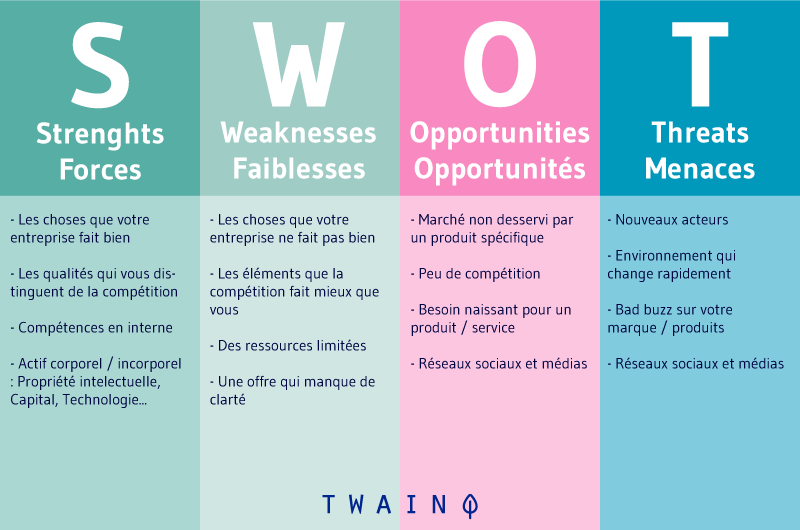 For example
To find products related to your niche, look for keywords in product titles and descriptions;
Examine competitors' goals;
By reading customer reviews of your competitors' products, you can get an idea of the benefits their customers are testifying to. You can then use these keywords in your ads to attract more customers;
Consider the keywords they use in their product page URLs;
Once you have a list of target keywords used by your competitors, you should be able to see what your ad is missing
This analysis is similar to a content gap review that an SEO professional would perform on your site.
2.6. Use Amazon for keyword research
Even if you don't use the world's largest Marketplace to sell your products, you can still find useful keywords for your website.
When searching for a product on Amazon's e-commerce platform, the site offers you a list of auto-fill suggestions

Amazon's suggestions in its search bar can help you find better modifiers for your keywords.
Things like type, color, and features can take some time to research if you do it by hand. Use a time-saving tool, like Amazon Keyword Tool, to export a list of keywords.
Customer reviews on Amazon are a great way to discover long-tail keywords that your competitors may be overlooking.
By reading the pros and cons on competing products, you can get an idea of what customers are really looking for.
2.7. Check Wikipedia for e-commerce related keywords
Wikipedia is one of the most comprehensive sources of valuable information on the internet. It is a collaborative platform with content covering a wide range of topics
For almost all interesting terms, it is in first place.
You may wonder how you can get interesting keywords for your online store from this source.
The "Content" section of Wikipedia is one of the best places to search for fairly specific keywords for your online store
Let's say you have a lot of general phrases on your website, you can discover more specific words in the Wikipedia content if you are looking for particular phrases.
By targeting long tail keywords from this source, you can create content that has a better chance of ranking in search engines.
2.8. Check Google Trends for currently trending keywords
Many e-commerce products are seasonal, such as winter clothing that people only buy at certain times of the year.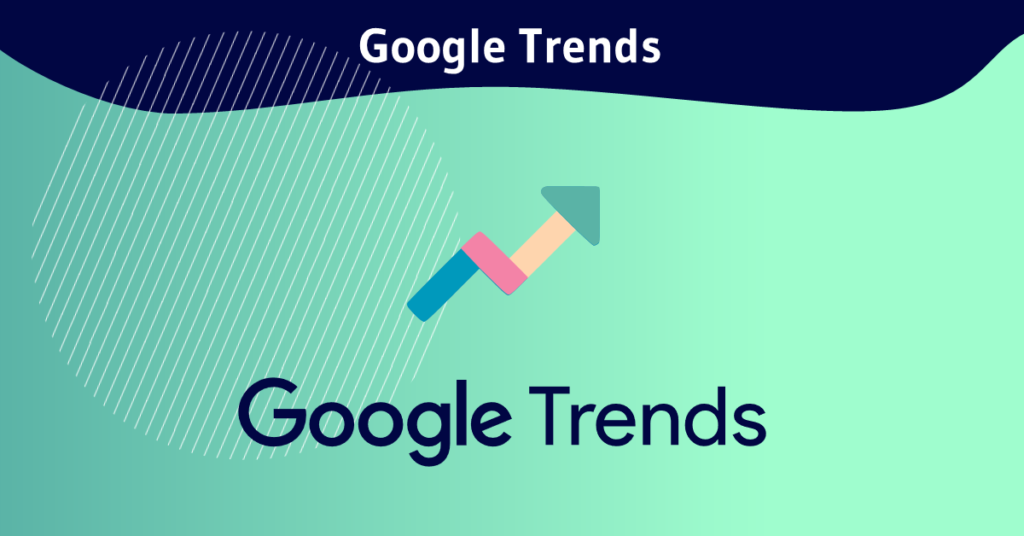 Some items gain popularity at the same time, while others are popular for an entire year. The demand for "face masks" during the pandemic is a fantastic example.
You can use these trends to find and compare keywords. This allows you to increase your chances of ranking on Google.
With just a few clicks on Google Trends, you can detect which keywords are currently popular in your area
By optimizing your ecommerce website for these terms, you can quickly accelerate in the SERP rankings.
2.9. Leverage Pinterest to find more keywords
While Pinterest is best known as a source of inspiration, it is also frequently used to help customers decide whether or not to buy something
According to figures, the platform is used by 89% of U.S. users with purchase intent.
The term "promoted pin" refers to the sponsored pins on Pinterest
It is similar to Google's keyword planner in that it shows you relevant keywords for your product
You can use the sponsored pin planner on Pinterest by entering your product name. The keywords that people are searching for on the platform will be displayed for you to sort through.
In addition, Pinterest's search bar is also a good way to search for terms that people frequently search for
The purchase intent of Pinterest users is quite high, which means you are likely to get more keywords with transactional intent.
2.10. Use keyword research tools
Here's a list of the best tools:

SEMrush is an all-in-one SEO solution that has a powerful keyword research feature and allows you to examine keywords in many ways.
With the Semrush Keyword Overview tool, all you have to do is enter one of your target keywords to get complete information about that term.
With Semrush, you can easily export lists with virtually any information you need. Additionally, their competitive research tool allows users to discover the organic keywords their competitors are ranking for, making it easy to know where to start.
Additionally, the recent acquisition of Sellzone by Semrush, an Amazon SEO software, means that Semrush can now help you optimize your product pages with relevant keywords to generate more sales.
Overall, Semrush is the best keyword research tool for discovering the keywords your target consumers use to search for items similar to yours on Google and Amazon.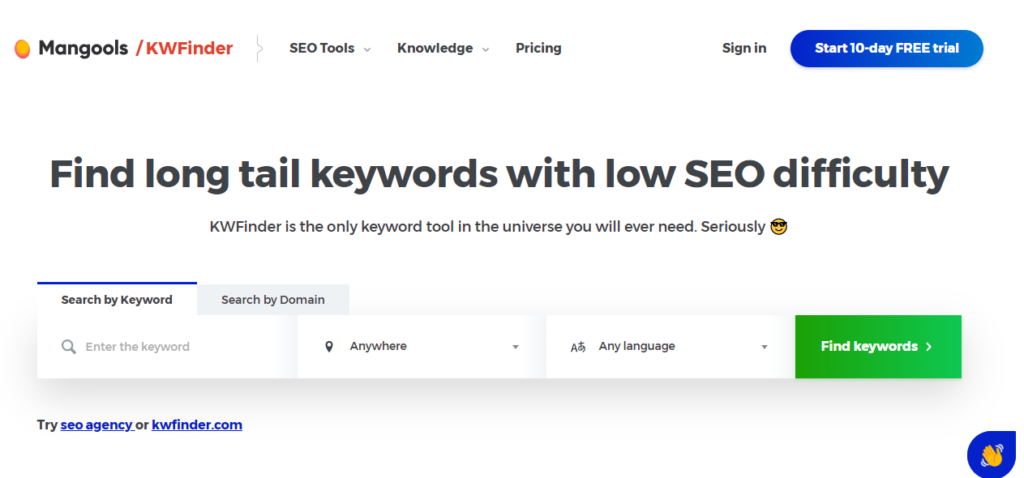 KWFinder is a great keyword research tool for people on a budget. It is created by Mangools, a pretty popular name when it comes to SEO today.
KWFinders discovers keywords in two ways, by keyword and by domain
In other words, you can use your company's main keywords or your competitors' keywords to discover related search terms.
To search by keyword, simply type in one of your target keywords and select a location. You'll then get a comprehensive list of organic and sponsored terms, KCIs and other important metrics.
You can also find out which keywords your competitors are ranking for by searching by domain.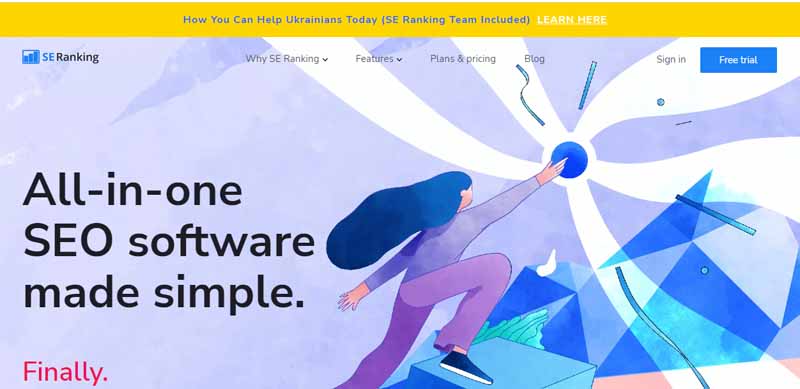 SE Ranking is a cheaper alternative to SEMrush, with one of the most powerful keyword research tools available. It contains a large database of keywords that can help you identify lucrative keywords for specific countries.
To discover keywords for your online store, use the tool's keyword feature by entering a target term and then choosing a target country.
SE ranking, like Semrush, provides a keyword difficulty score as well as search volume and CPC for different locations. However, what sets SE ranking apart is its competitive analysis tool
With this feature, you can discover the keywords for which competing sites are ranking well. To perform this search, you can enter either a domain or the URL of a specific page of your competitor.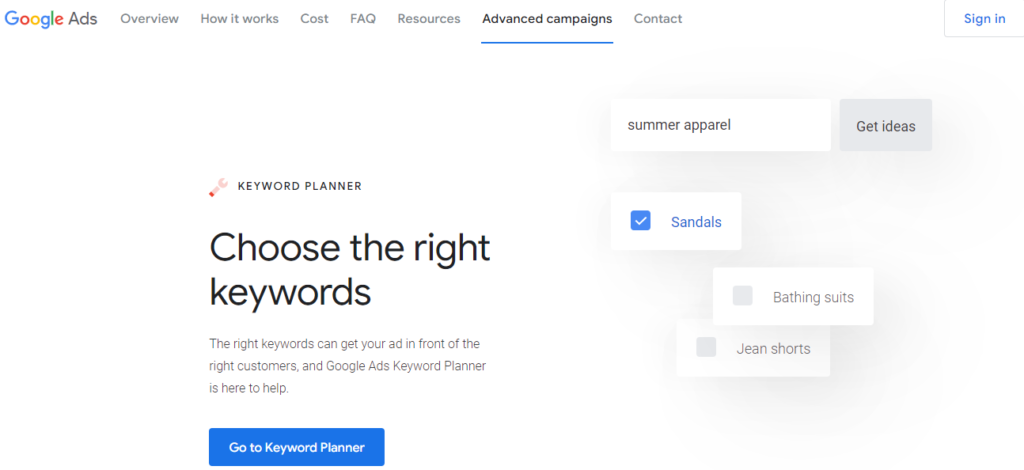 Not only does it allow you to do your own keyword research by simply entering your main keywords, but you can also discover related keywords that your competitors are targeting.
Google Keyword Planner is designed for Google Ads, but you can use it to build a list of high-demand keywords for your organic SEO strategy
By focusing on these keywords, you'll get better organic rankings and save money.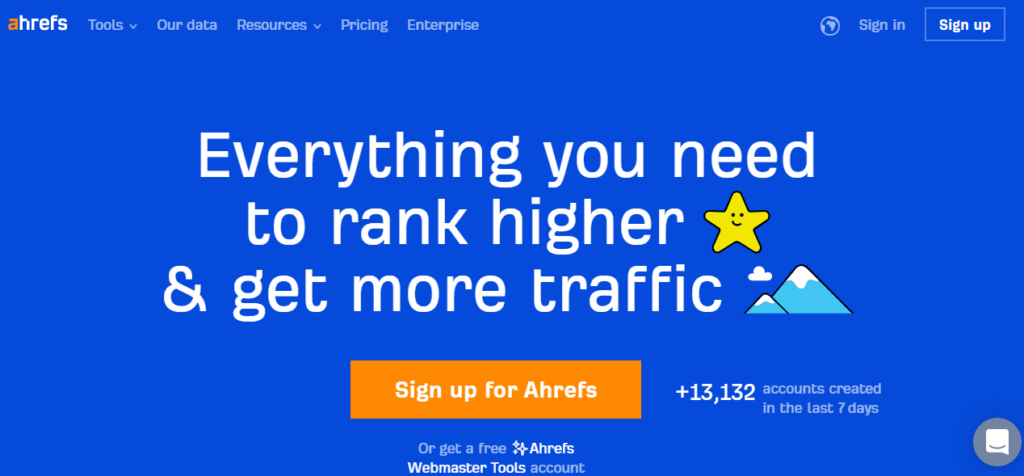 Ahrefs is an SEO tool with a keyword research feature called Keyword Explorer. It provides you with searched and suggested keywords that can help you choose the best search terms for your online stores.
Just like Semrush, Ahrefs offers an easy way to search for suggested keywords related to your target keywords. You can enter the keyword of your choice into the search field, which will give you a comprehensive list of potential keywords
At this point, you can filter the results and export them for further analysis.
The Site Explorer tool also allows you to discover which search terms are helping competitors achieve high rankings. It provides data on organic and paid keywords, as well as the most successful PPC ads
Ahrefs provides a variety of useful data for SEO, including search volume, keyword difficulty, trending, CPC and click-through rates.
Click-through rate measurement is a unique feature provided by Ahrefs. It displays the average number of monthly clicks received by the target keyword, which can be a good way to find high converting keywords.
Chapter 3: How to do content marketing for Ecommerce?
Content marketing is a strategy that aims to attract potential customers by providing useful and qualitative content that they can easily find online
Thus, search engines, social platforms, product review sites are all excellent places to present your informative content.
The goal of a content marketing campaign is not to persuade potential customers to buy right away, but rather to provide useful and relevant information that will engage and entertain readers.
If you can consistently provide your audience with useful information, you'll have a good chance of improving organic traffic, conversions and customer retention.
The fact that more than two-thirds of marketers currently use this type of marketing is a testament to its effectiveness.
If you're still in doubt about the effects of this strategy on your online store's success, here are some benefits: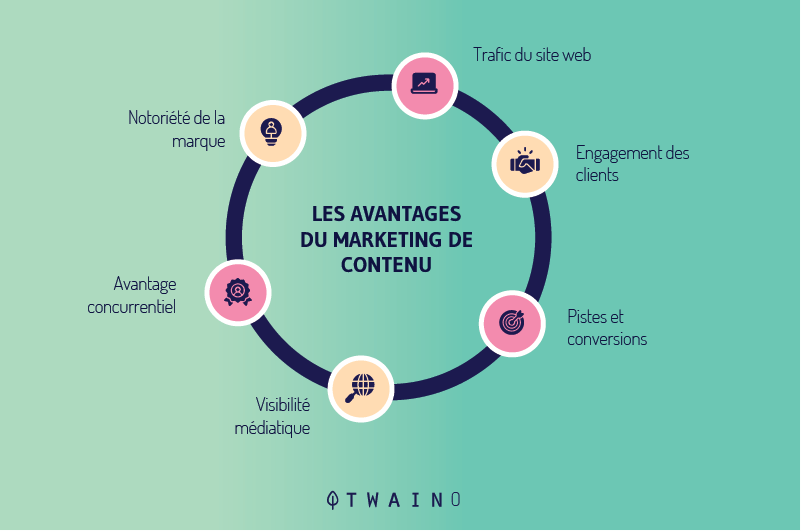 E-commerce content marketing improves SEO performance
E-commerce sites that use content marketing have a significant SEO advantage.
When you create and optimize high-value content focused on relevant keywords, you can attract organic search traffic that would otherwise have to be purchased through advertising
Since the ROI of SEO is higher than that of advertising, this translates into significant savings.
In addition, a well-executed SEO strategy increases organic traffic over the long term, which translates into more customers
Paid media, on the other hand, stops generating traffic for you as soon as you stop buying ads.
The benefits of SEO go beyond search engine rankings, traffic and cost savings. According to Forrester Consulting, SEO has a broader business value for e-commerce companies:
"Marketers often find that customers who access their sites via SEO tend to be more loyal, resulting in greater lifetime value. They engage more and spend more time on their sites."
E-commerce content marketing makes the customer journey easier
E-commerce companies that want to succeed with content marketing need to create a strategy that covers the entire customer journey, from the moment they become aware of a problem, to purchase and even retention.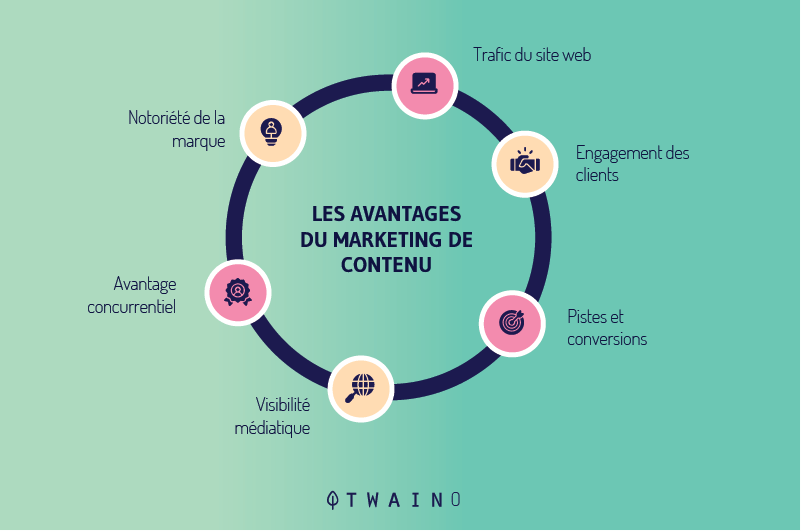 If you create content that solves specific problems or offers valuable information, it makes your brand present at every stage of the customer journey.
If your content is only on product pages (as is the case for many e-commerce companies), your customer touch points may be limited to the final stages of the consumer journey. As a result, rivals will be able to step in and help fulfill potential consumers' requests throughout their buying journey.
Content marketing makes your brand unique
Differentiating your product from those of your competitors can be a difficult task in the e-commerce industry, unless you offer something unique.
If you want to gain more visibility on search engine results pages, you need to adopt a fairly distinctive content strategy.
By sharing your brand's personality and values through different types of content, you can attract customers who may not be loyal
Content strategy helps you stand out from the competition by showing what makes your business unique.
Ecommerce content marketing optimizes your conversion funnel
Today, most ecommerce companies often compartmentalize their content, disassociating it from the brand and its business. As a result, potential consumers encounter friction during the buying process, which reduces your conversion rate.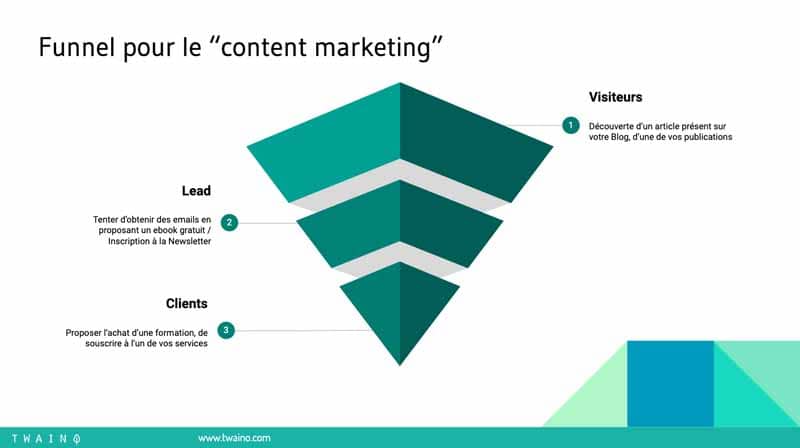 Ideal content marketing methods for e-commerce, on the other hand, guide consumers through your conversion funnel until they are ready to buy. It's important to note that not all visitors to your website want to make a purchase. That's why you need to maintain a positive relationship with your audience at all times.
For example, B2C marketers can encourage new website visitors to subscribe to emails to get access to the latest offers
In B2B, you can encourage users to download a white paper from your site, check out recent case studies and customer testimonials that show the value they can get by working with your brand.
Content marketing for e-commerce amplifies brand loyalty
With so many brands to choose from, it's hard for any one brand to gain true loyalty. In fact, a retail customer experience study found that nearly 50% of respondents abandoned a brand they were loyal to after having a better experience with another brand.
By providing your consumers with content that is either educational or enjoyable, you are able to create a bond that closely ties your brand to its customers.
As a result, they look forward to the next piece of content you produce since your content adds to their lives by solving their problem in some way.
Now that you have discovered the reasons why you should undertake a good content marketing strategy, here are some tips on how to implement it well:
3.1. create a content hub
Content hubs are one of the most effective forms of content marketing for e-commerce
A content hub is a place on your website where there are different types of content focused on a particular topic. It can be blog posts, videos, social media content or printable checklists. The key is that all of this content is related to the same topic.
If you offer dietary supplements, for example, you can create a content hub around the best energy boosters, health solutions or any other topic relevant to your target market.
You will benefit from content hubs in several ways. The benefits to the brand include:
Significant increase in organic search traffic levels;
Strong engagement with your audience;
More social shares;
A thought leadership space.
On the other hand, content hubs offer your visitors a superior user experience on your website. They gather the best information on an important topic in one place by making it easily accessible.
Here are the best ways to set up a content hub in a few steps:
Step 1: Determine the goals
It may take six months or more for content hubs to produce results. And to do that, you'll need to update and create content regularly.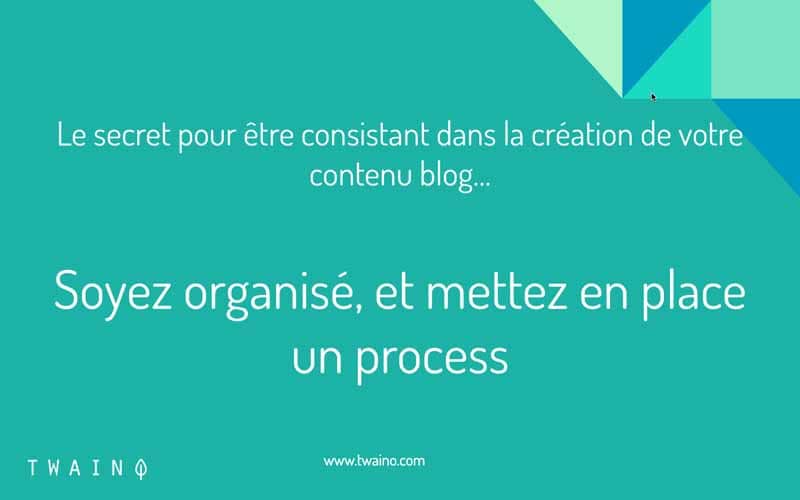 Setting clear expectations up front will prevent your management team from expecting immediate results.
To do this, define what success looks like with your stakeholders before you begin. This will help you determine some steps to take, such as:
Awareness: By monitoring metrics such as brand mentions, inbound links, rankings for various keywords and visits, you can understand how content affects brand awareness and perception. These metrics can help with content creation based on how people consume it. This understanding can then be used to guide the development of your future content.
Conversion: Content is a long-term investment, but you should also note that it supports your short-term business goals and sales metrics in that it helps move users through the funnel by keeping them engaged with your brand. Conversion, click-through and bounce rates can all be affected by your content marketing strategy. A well-executed program should have a direct positive return on investment.
Retention: When you track key metrics on your site, you'll be able to see if users are enjoying your content and coming back for more. This way, you can identify which pages, content types and topics are working well with your target audience. Metrics that can be tracked include new versus repeat visitors, top performing article categories and articles, as well as top performing social media posts and influencer content.
Step 2: Know your audience and what works
Once you have a clear idea of your desired outcomes, it's time to focus on who your customer is and how best to connect with them.
The first step to improving your business is to learn about the market and the competition. Take the time to study the content produced by your competitors to determine how you can perform better and stand out.
To better understand, we need to look at both quantitative and qualitative metrics:
Examples of quantitative metrics are the number of pages of content, keyword rankings, estimated traffic, quantity and quality of backlinks, frequency and pace of posting, and how well others are sharing your content on social media;
Examples of qualitative measures are quality of writing, ease of navigation, breadth and depth of information, author authority, and types of content.
Developing buyer personas for your target audience helps you stay focused on a certain group of individuals when writing content or designing web experiences from their perspective.
The buyer persona refers to a fictional representation of the people you are targeting. It allows you to focus on that target audience and gather their perspective when creating content and online experiences.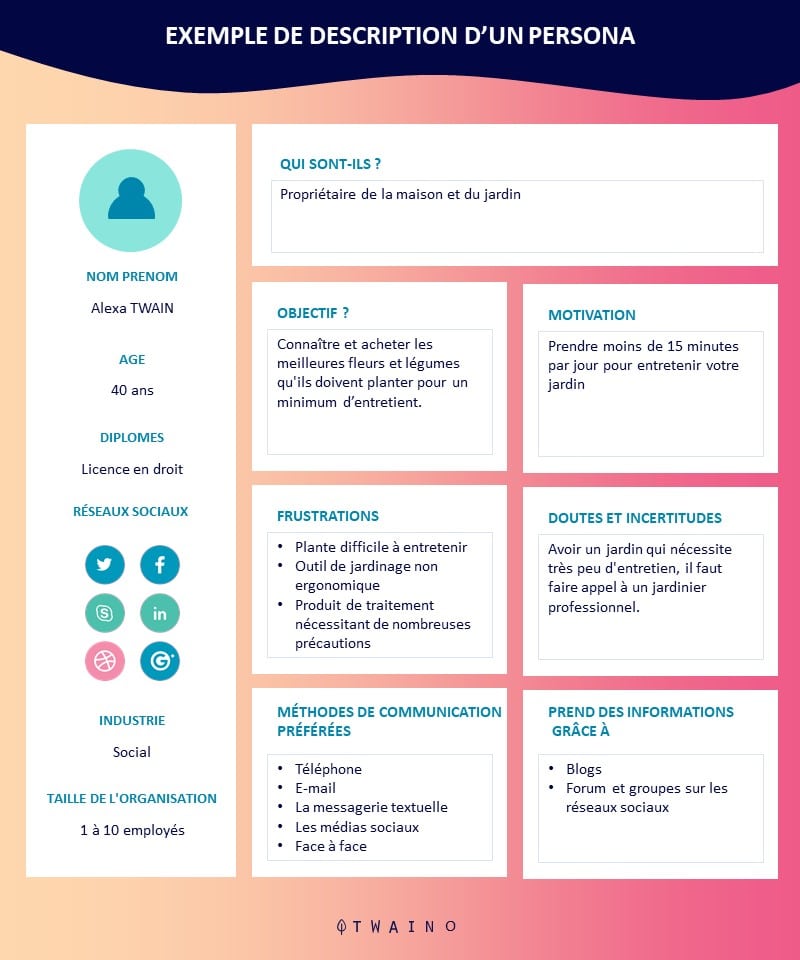 Designing a fairly credible buyer persona requires extensive research and analysis. This involves primary research methods such as interviews, surveys, focus groups and quantitative evaluation of online and offline behavior.
The number of buyer personas depends on the different types of customers identified in your research.
Demographics: This includes age, gender, location, education level, income level, employment, etc;
Psychographics: This includes interest, main reasons for buying or doing business, core values ;
Behaviors: Buying styles and hesitations, how they use social networks and technology.
The customer journey is another better way to understand how your customers search for solutions on the Internet.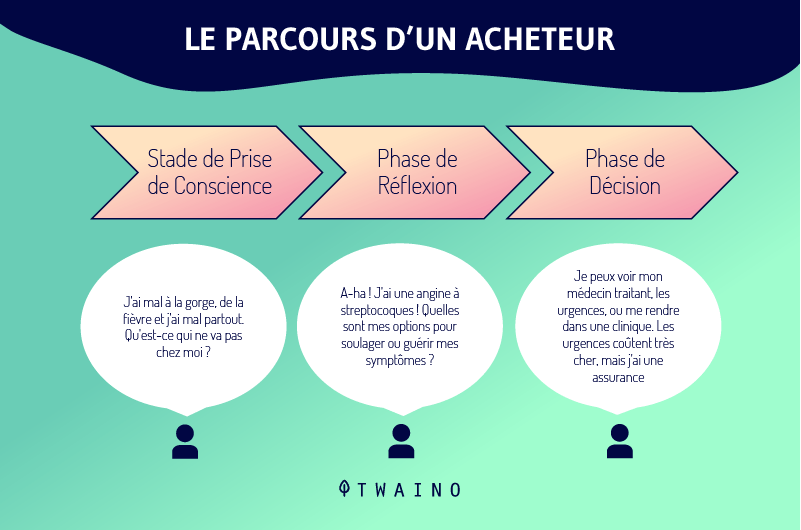 The buyer's journey is the set of steps a potential customer takes from becoming aware of a need to fulfilling that need, selecting an option, and living with the chosen selection.
The buyer's journey is the series of steps a potential customer takes from awareness of a need, through purchase, to retention, to consideration of options to meet that need.
This is important to consider, as it can help you understand how customers interact with your brand before making a decision to engage in a relationship.
Depending on the type of persona and the complexity of the offering, you'll likely need multiple journeys.
Step 3: Come up with content ideas
You can use your journey maps, personas, competitive insights, and audit results to develop a content framework.
We often start our content frameworks in the same spreadsheet as the buyer's journey, adding additional rows at each stage of the buying process for topics and content types.
The types of questions your content should answer are defined by the content themes. For example, in the awareness phase, you can create content on terms that gain the trust of the potential customer.
The content you include in the awareness phase can come in many forms, such as articles, infographics, social media posts and videos.
Step 4: Define the architecture
Organizing your content strategically makes it easy for users and Google to find what they need, engage with it and convert.
For better search engine optimization, we suggest you establish a clear hierarchy of the content hub and use terms people search for frequently to enhance the user experience.
To maximize the value of the page, the content hub should be one click away from the home page, if possible. It's also a good idea to naturally incorporate priority keywords into the URL.
Main hub page: example.com/content-hub ;
Category page: example.com/content-hub/category ;
Article page: example.com/content-hub/category/keyword-rich-page-title.
The way you have structured your website is equally important
If you want people to be able to find what they are looking for easily, make sure you have a logical structure with tools like breadcrumb trails, related resources, tables of contents, tags and tabs. This way, readers will be able to move freely and explore all the content you have to offer.
Be clear and concise in your language so readers know exactly how to navigate your writing.
3.2. Use thematic clusters
Thematic clusters are a very effective approach to improving organic search rankings and conversions.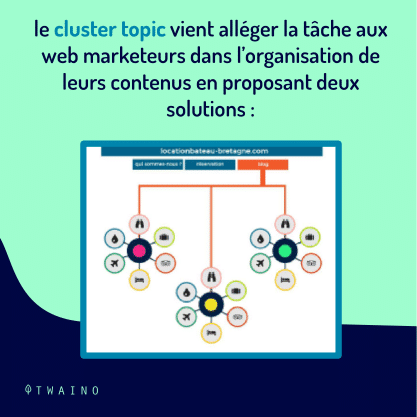 A thematic cluster is a type of content template that focuses on a main theme. The anchor page serves as the hub for all other pages in the cluster, which are usually blog posts on related topics.
The anchor post summarizes the many topics in the group in a comprehensive way and links all the supporting pages in the topic group. Each support page links to the pillar page as well as to other pages in the cluster, and each contains internal connections to other cluster sites.
3.3. Leverage customer reviews and comparison pages
Your audience will be more likely to buy your products if they see that other people have reviewed them positively online. In fact, 93% of consumers say that online reviews influence their purchasing decisions and 82% of them make an effort to read these reviews before buying anything.
It's clear that providing customer reviews on your e-commerce site can improve your conversion rates.
Customer reviews and ratings are important signals of social proof that can help build trust with your target audience.
3.3.1. Using customer reviews
You can also use customer testimonials to encourage potential consumers. You can conduct interviews with people who have left good reviews and use their stories to create eye-catching images and engaging videos for your website. These media are very engaging and tend to perform better than text-based content.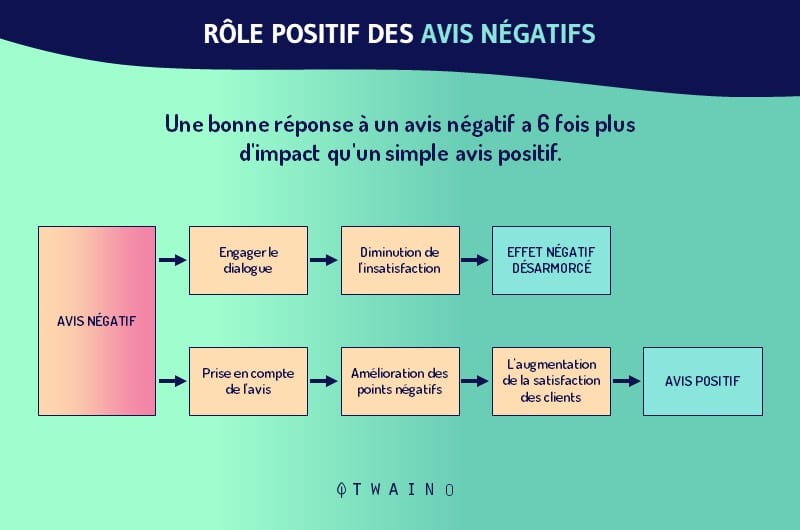 Customer reviews still have many more benefits:
Reviews improve your business: Customer reviews can be used to gain valuable knowledge about your items and website. It is the best approach to know if something can be improved;
Customer reviews make positive SEO effects: Customer reviews on your website can significantly improve your SEO levels by generating new and unique content for your page. Consumers who leave a review are more likely to use the same keywords as those who search for the product, which is critical in SEO;
Even bad reviews can be good: Having a mix of good and bad reviews will give your site a better reputation. A website with only great reviews looks manipulative. Of course, you want more positive reviews than negative ones, but even negative reviews can be used to your advantage, depending on how you respond to those who had a bad experience. Responding quickly to customer feedback, especially complaints, is a great way to show your excellent customer service. Responding to complaints immediately shows that you value your relationship with them. A professional and courteous response can also turn a negative review into positive marketing content.
Here are some ways to implement customer reviews on your ecommerce site:
There are several applications that collect customer reviews on your website, such as Reevoo, Yotpo and Ratings Widget. Most of them work with any ecommerce platform and some are free, so setting them up shouldn't strain your budget.
Instead of spending time and money contacting customers individually to get product reviews, many large ecommerce sites use these apps to add reviews directly to their site. This is a great way to create reliable and consistent customer reviews.
Plus with these apps, all reviews are verified, so your potential customers can be sure that positive reviews are coming from authentic sources
A comparison page is a form of e-commerce content marketing that involves a review. It may seem contradictory, but creating pages on your site where you review and compare your product to a competitor's can be an effective strategy for gaining new consumers.
Use emailing to get reviews
It's important to contact your customers via email shortly after purchasing one of your products and ask for a review
If you wait too long, they may have forgotten about their purchase or not had time to use the product
But if you contact them too soon, they may not have received the product yet or be able to form an opinion about it. So, it's important to find the perfect time balance.
Since attention spans on the internet are getting shorter by the day, you need to make sure that your customer feedback forms are short and easy to fill out so that your customers don't spend too much time filling them out
A good way to do this is to ask for a rating out of five, as this requires minimal effort and thought.
You can ask them to give a general review or rate specific product features, such as ease of installation, price and delivery.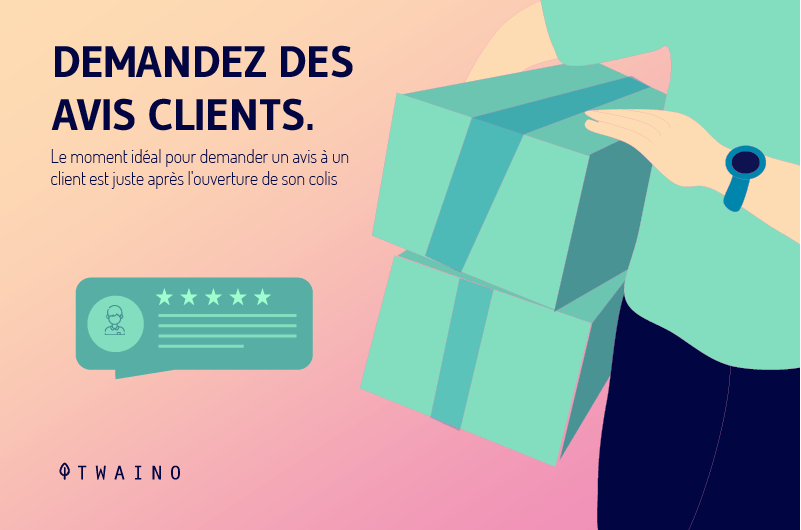 To provide potential customers with additional information to consider, offer them the opportunity to leave more detailed feedback text.
3.3.2. Using Comparison Pages
Customer reviews add legitimacy to your website and products. So it's important to take into account what they say about the quality of your items, delivery time, refund/return policy, etc.
A product comparison page typically includes the following:
Product description and details: You should indicate how the specifications of this product compare to similar products. For example, one vacuum cleaner may be cordless and smaller than another.
Product Features: You should also mention the unique features that the product offers that other similar products do not. For example, a vacuum cleaner may have six separate heads for various cleaning applications.
Product Benefits: A comparison page is supposed to indicate how the product will benefit the consumer and how it differs from competing products. A good example might be a vacuum cleaner with a specially designed suction head for pet hair. This feature can completely rid homes of hair, which would be highly valued by many consumers.
Product comparison increases conversions by helping customers quickly and efficiently identify the product that is best for them.
Here are a few things to address when it comes to setting up product comparison pages:
When comparing products, don't just describe their sizes as well as their design, instead compare the hidden features and benefits that each product offers to consumers.
Here are some of the important details you should look to include:
Product dimensions;
Color options;
Specific product information;
Extras and add-ons provided with the product;
Price;
Materials or ingredients used.
With these details, you'll be able to convince the customer why your product is right for them.
Find the Unique Selling Point
When reviewing products, think about what sets them apart from other similar items on the market. Almost all products have a unique selling point (USP).
A product's USP can be identified in several ways:
Read customer reviews to see what is mentioned the most ;
Compare prices to see if the USP is the lowest price;
Identify what a product has that other similar items do not;
Look for special features, such as a unique material;
Understand key benefits;
The purpose of a product and its main uses;
Any additional benefits, such as durability.
To stand out from the competition, you should try to incorporate the USP into your product comparison page. By understanding the needs of customers, they can then make an informed decision on which product is best for them.
Build your product comparison table
With this data in hand, you can start building your product comparison table by focusing on what your consumers want
You'll make sure to include important information in the chart so they can make a quick choice, which will result in higher conversions.
To make your information easier to digest, try to prioritize it and divide the table into sections.
Speaking of sections, here are some examples;
Dimensions;
Materials;
Features;
Benefits.
By organizing your information in this way, potential customers will be able to quickly find what is most important to them.
3.4. Build FAQ pages
While not the most exciting type of content in content marketing, FAQ content is always beneficial for online stores.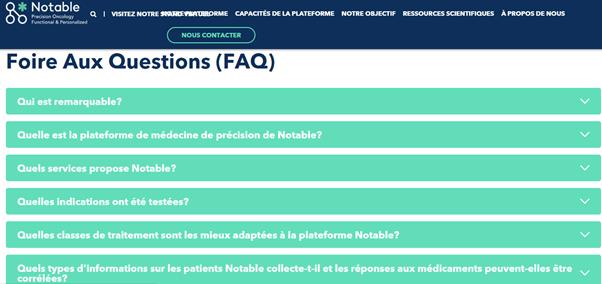 A FAQ page is essential for any e-commerce website, as it allows you to effectively address the concerns of potential buyers and support your existing customers, which arguably gives you a better chance of closing a sale.
If you receive the same questions about a specific product over and over again, you should answer them directly on the product page. Other questions about shipping, returns, etc, should be answered on your FAQ page.
3.5. Work with influencers in your niche
Using influencers as part of an e-commerce content strategy is becoming increasingly trendy.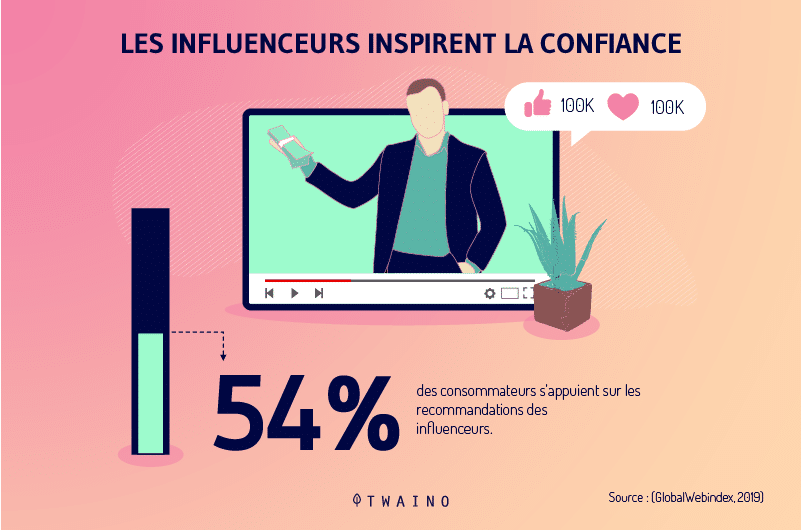 While the term "influencer" may make you think of celebrities with millions of followers on social platforms, you don't have to invest all your resources to hire one.
Working with a micro-influencer that fits your brand will have more beneficial results than paying for a celebrity blogger and it will cost less.
In fact, a study of 14,000 people conducted by Collective Bias found that 70% of millennials would rather receive recommendations from their peers than celebrity endorsements.
Start with your own subscribers: If you can find a large enough audience that is already interested in your brand, that's a great place to start;
Stay in your niche: Be strategic when choosing an influencer. It's best to find someone who fits what you're selling, rather than choosing the popular one. If you don't do this, you risk creating the wrong situation;
Look for consistency and commitment: To find an influencer, look for someone who posts content often and see how many interactions their posts get. An influencer whose posts receive regular comments is more likely to engage your target audience.
After identifying an influencer, it's time to talk more about content strategy for ecommerce. Make sure everyone is aware of the content marketing goals, policies, brand voice, and payment terms for ecommerce
3.6. Make a statement with your landing page
If you want to do content marketing for ecommerce sites effectively, optimizing your site's landing pages is essential
This is because the people who view the landing pages are usually already interested in what you're selling.
A well-designed landing page strengthens the connection between consumers and your brand and provides a streamlined experience
Additionally, high-quality landing pages tend to have higher conversion rates, which makes investing in high-quality content for e-commerce sites all the more worthwhile.
Here are some key actions to take to improve your landing page:
Direct traffic through the organization: The purpose of a landing page is to attract visitors and drive them to other sections of your website. It's like a landing point, as this is where visitors gather before moving on to other parts of your site, e.g. product pages, FAQs, contact information. You can use clever structuring and simple link layout to make it easy for consumers to navigate your site in order to generate sales;
Provide an overview of your brand: A landing page is a website that allows you to target your audience and increase conversions. It is possible to include elements that you want in a custom landing page. Adding testimonials, reviews, current discounts, and navigation links can give visitors an immediate sense of the values your business exudes;
Develop exceptional e-commerce content: e-commerce landing pages offer a great opportunity to improve both customer satisfaction and search engine visibility. Writing engaging, search engine friendly content is, to this end, essential. By developing easy-to-read content, you can ensure that your customers are satisfied and that your site receives a lot of traffic from organic searches.
With so many e-commerce brands out there, it's important to make a good first impression by having a website with an impressive design and exceptional content. This is especially important because customers often make snap judgments about companies and wonder if they can do business with them. A high-quality landing page can help you achieve conversions and impress your potential customers.
Chapter 4: How to optimize the crawl of your online store?
The goal of SEO is to help search engines find URLs in the most efficient way possible. Relevant sites should be easy to reach, while less important sites should not create crawl traps to allow websites to take full advantage of the crawl budget.
Speaking of crawl budget, this is the limited number of URLs that search engines can and will crawl in a day.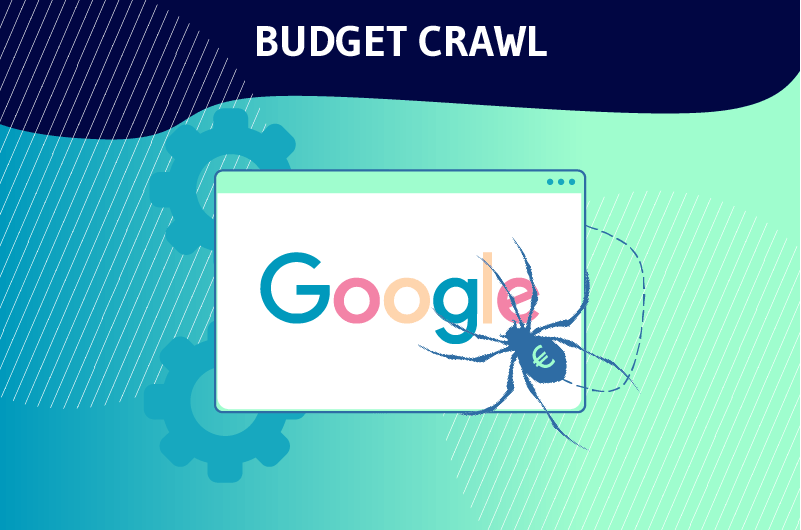 Your crawl budget is generally influenced by the amount of authority Google gives to your site.
The concept of a crawl budget is crucial for e-commerce sites, as they often have a large number of URLs.
If the website architecture guides search engine crawlers in an endless cycle, they will use their allocated budget for pages that are not essential to users or engines. As a result, essential pages may be excluded from the indexes.
Crawl optimization is the process by which large websites ensure that their indexed pages are of high quality, and that their low PageRank pages are also crawled frequently.
After the launch of its Architecture Percolator, Google's ability to index web pages has improved dramatically
The "affine" update, for example, added a new parameter called "Noindex", which allows search engine crawlers to access certain URLs that were previously limited by the specific tag.
Crawling involves retrieving files from websites, while indexing involves analyzing the retrieved files and determining if they are valuable for appearing on the SERPs
Although a search engine can crawl a page, it does not necessarily mean that this page will be indexed.
So here are some tips to optimize your website crawling:
4.1. keep a constant watch on bots
Popular bots, such as Googlebot, Yahoo, Slurp and Bingbot, obey the crawling guidelines contained in robots.txt files
And since these bots identify themselves to web servers, you can control how they crawl your site as you wish
In addition, the requests of these bots are recorded in your log files for later analysis.
While webmaster tools, such as those offered by Google and Bing, are useful to some extent, they only provide data on a small part of what the bots do on your website
For example, they may show the number of pages crawled by the bots or the bandwidth usage
However, this information is not quite enough to understand how your website is being crawled.
To get valuable information, you need to examine traffic log files, you can extract data from them that can help you identify major problems that would prevent proper exploration of your online store.
Traditionally, the analysis of log files was done using the grep command with regular expressions
However, today there are desktop and web-based solutions that make this type of technical review less difficult and more accessible to marketers.
Monthly log files from e-commerce sites are often huge, terabytes or even gigabytes of data
However, it is not necessary to keep all the log file data to track and monitor search engine spiders
To do so, you can simply request that only the rows of the robots' requests are kept. This way you can significantly reduce the size of these heavy logs by using only the rows generated by the bots' requests.
For example, you can use the Linux command line below to extract only the lines containing "Googlebot" from one log file ( access_log.processed ) to another ( googlebot.log )
access_log.processed > googlebot.log grep Googlebot access_log.processed > googlebot.log
To get similar data for Bing and other search engines, use different names for these bots instead of "Googlebot".
Then you can create an excel file to enter your data.
To quickly spot any problems with Googlebot crawling, graph the visits for each category. This is where user-friendly category navigation and an effective URL structure come in handy.
4.2. make your online store accessible
As mentioned above, the amount of traffic your website can handle is called the "crawl budget" and is determined by the speed at which your server responds to requests from robots.
If the layout of your website does not allow search engine spiders to reach URLs, those pages will not be indexed
Any URL that is already indexed, but cannot be reached after a few tries, can be removed from the search engine index.
At first, Google crawls new websites slowly so as not to cause problems for your users or your server. Then, gradually, the crawling speed increases.
So here are some problems that prevent access to your website URLs:
4.2.1. DNS and connectivity problems
If you use the free intodns tool to check for DNS problems, any data that appears in red or yellow should be given special attention even if it is just an MX record.
You can resolve any DNS and connectivity issues using your Google or Bing webmaster account.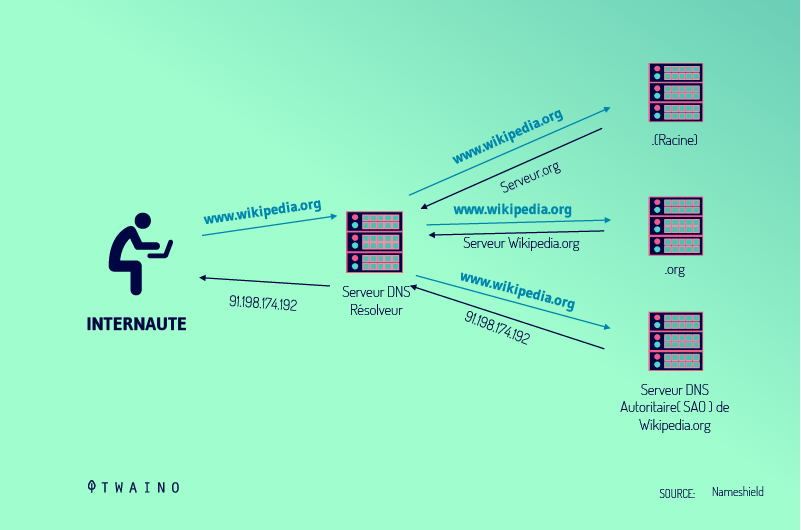 One DNS problem to be aware of is the generic DNS record which states that the web server responds with a 200 OK code to any sub-domain request, even if that domain does not exist.
If you have more than one country code top-level domain, host each ccTLD on a unique IP address, making sure that the IP addresses are from countries where you want your website to be visible. In addition, check how the domain names resolve.
Obviously, if your web servers are not working, no one will be able to visit the website, including search engine spiders. To avoid this, you can use server monitoring tools like Monitor.Us, Scoutt or Site24x7.
4.2.2. Host load
The host is the maximum number of simultaneous connections a web server can handle. Each time a Googlebot, Yahoo, Slurp or Bingbot requests to load a page from your website, it counts as one connection.
If multiple search engines are trying to access your website at the same time, you risk reaching connection limits and crashing your site, especially if you have a shared hosting plan.
There are tools like loadimpact.com that allow you to check how many connections your website can handle.
4.2.3. Page loading time
Reducing page load time not only makes it easier for search engines to crawl your online store website, but also improves its usability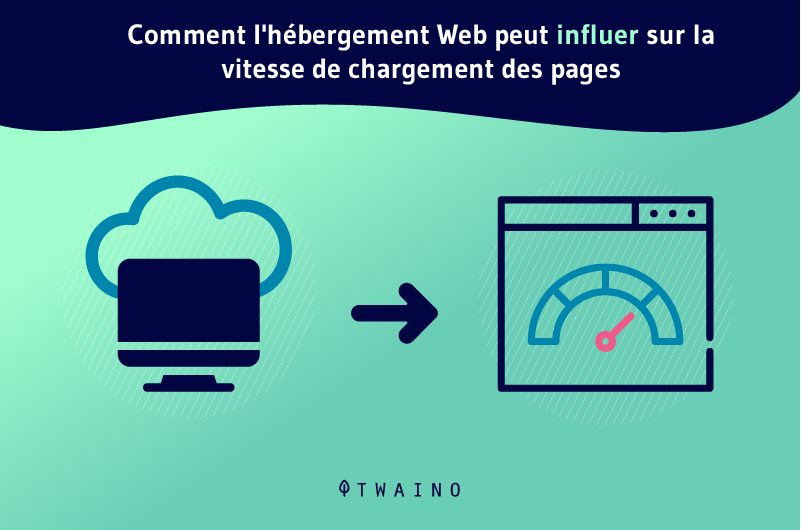 According to Amazon, for every 100ms of improved loading time, revenue increases by 1%. Shopzilla has seen even greater results, with a 7-12% increase in revenue after reducing page load times by just 5 seconds
If you want to improve their website speed, here are some tips:
Load images only when they need to be displayed in the browser out of necessity;
Use CSS sprites;
Content delivery networks are ideal for storing multimedia and other static files that do not require regular updates;
Optimize the speed and performance of your website by implementing server-side caching;
Enabling HTTP compression and implementing conditional GET can help improve your website's performance;
Improving image quality for better viewing;
By ensuring a fast and responsive design, you can reduce the time to first byte (TTFB). Using http://webpagetest.org/ , you can measure TTFB and see if there is a correlation between lower ranking and increased TTFB.
If your website's URLs are taking a long time to load, this can give search engines the idea that there is a connectivity problem. As a result, they will stop crawling URLs associated with problem areas on your site.
The number of pages crawled by Google can be influenced by the amount of time it spends on a page. The shorter the time it takes to download a page, the more pages it will index.
4.3. Optimize your sitemaps
There are two main types of sitemaps
4.3.1. HTML sitemaps
If you're having trouble with crawling or indexing your site, sitemaps can help you solve deeper problems such as duplicate content, lightweight content or inappropriate internal links.
HTML sitemaps are an additional type of navigation usually found at the bottom of websites, in the footer section. They offer people and bots another way to access information on your website.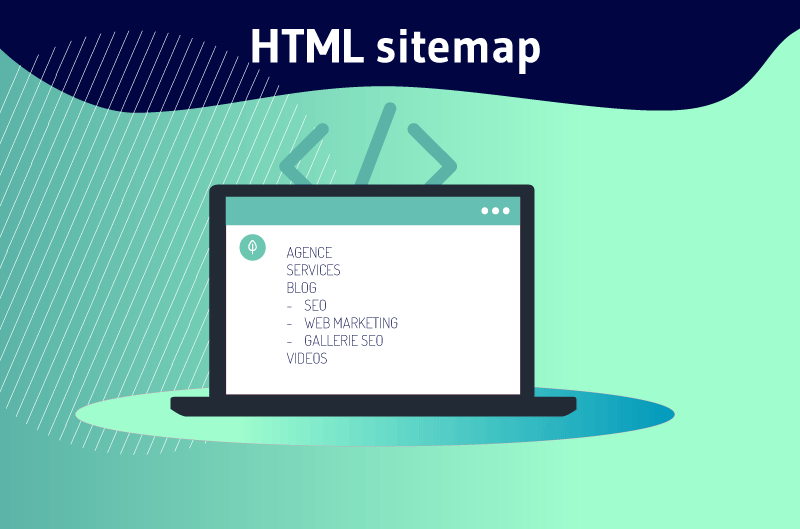 A usability study of various websites, including e-commerce pages, showed that people rarely use HTML sitemaps.
The percentage of users who looked at a site map to understand its structure dropped from 27% in 2002 to only 7% in 2008.
Yet, using HTML sitemaps has many benefits, including better website visibility and improved indexing.
Here are some good ways to implement HTML sitemaps:
Use segmented sitemaps: It is essential to understand that PageRank must be shared among all links on a page when optimizing HTML sitemaps for crawling. Splitting the HTML sitemap into smaller elements is a great approach to creating more search engine friendly pages for large websites. Instead of having one large sitemap page that links to every page on your website, create a main sitemap index page and link it to smaller sitemap pages. You can divide your HTML sitemaps by topics, categories, departments or brands. If you don't know where to start, try listing your main categories on the index page. The number of pages you have will depend on the number of subcategories and products in your catalog;
Do not link to redirects: If a URL is linked to a sitemap page, it should lead the crawler directly to the final destination URL, rather than being redirected;
Enriching sitemaps: Not only is adding additional data by annotating links beneficial for users, but it can also provide some relevant context for search engines. By including additional information such as product thumbnails and customer reviews, you can give users a better experience while helping your site rank higher in search results.
4.3.2. XML sitemaps
While many e-commerce platforms automatically generate XML sitemaps, the default file produced is often not conducive to effective crawling.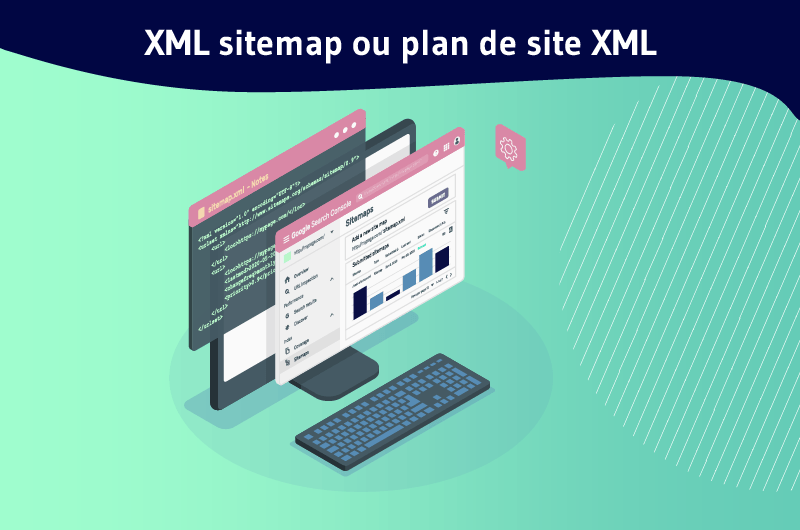 It is advantageous to specify the path to the XML Sitemap file in the robots.txt file, unless you are concerned that your competitors will understand your URL structure.
Search engine bots request a robots.txt file every time they start a new crawl session on your website. This file is examined to see if it has been updated since the last time it was crawled. If no changes have been made, search engines will use the previous robots.txt cache file to determine which URLs can be crawled.
If you do not specify the location of the XML sitemap in the robots.txt file, search engines will not be aware of its existence unless you have specified it in the webmaster account. Notifying Google Search Console or Bing Webmaster also allows you to discover more information, such as the number of URLs submitted and received, as well as any errors in the sitemap.
Using XML sitemaps seems to have a positive influence on the crawl rate.
If you have a large website, here are some tips to optimize your XML sitemaps:
To keep the sitemap valid, remove hyperlinks that return a message other than 200 OK from your sitemap. Search engines will stop trusting your sitemaps if you include incorrect URLs;
Do not link to duplicate content and no URLs that canonicalize to several different URLs, but rather to final URLs ;
Create different sitemaps for videos, news and mobile devices. To include videos, you can use video sitemaps or RSS formatting;
Once the crawl is complete, create sets of sitemaps for each topic or category or subtopic or subcategory. For example, you can have a camping.xml sitemap file for your camping category, a cycle.xml sitemap file for your cycling category, and a run.xml sitemap file for your running shoes category;
While XML and HTML sitemaps can be useful, they should not be used to solve other fundamental problems related to web crawling or architecture;
Examine all paths for crawlers to access all key pages on your website.
Here are the factors that can impact a website's crawl budget:
Popularity: If a crawler finds more external and internal links pointing to a page, it will request that page more frequently. Many e-commerce sites struggle to link to category pages and product detail pages, but it is essential to do so. Link building can be facilitated by a number of strategies, such as guest posting, direct link requests in confirmation emails, ambassador programs and category pages ;
Crawl Speed Settings: You can change Googlebot's crawl speed using your Google Search Console account. However, it is not recommended to change the crawl speed unless the crawler is affecting the performance of your web server;
Content freshness: Recently updated content should be accessible to search engine spiders fairly quickly if you set up feeds for your product and category pages. The "Explore" feature of your Google Search Console account allows you to update less than 300 URLs per month. You can also create and submit a new XML sitemap regularly for updates or new pages. There are several other methods to keep your content current. For example, on product pages, you can include a short excerpt of about 100 words from related blog posts. The excerpt should ideally contain the product name and links to the main category pages. Update the excerpt on the product detail page whenever you mention a product in a new blog post. Also, managing user-generated content, such as product reviews, is another great way to keep your site content fresh.
Domain Authority: The more sites that link to yours, it means it has a fairly high authority. Search engine spiders visit sites with high domain authority more often, making it easier for your site to be seen;
RSS feeds: RSS feeds keep search engines informed of new products, categories or other types of content on your website. This allows them to crawl and index your pages faster. For example, if you write blog posts that link to product or category pages, the search engine will follow those links and crawl those pages as well.
Chapter 5: How to optimize the homepage of your online store?
Generally, home pages have the most authority of all pages on a site, because of the way PageRank is distributed and because the majority of backlinks lead to them.
All the important categories and sections of your website are trying to link to the homepage. This not only makes the page confusing for users, but also causes search engines to penalize the site.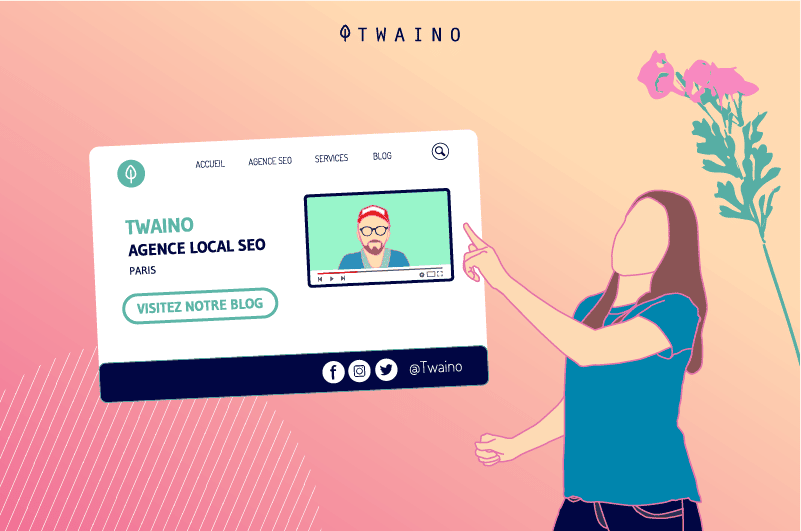 However, the most notable advantage of home pages is that they pass a large portion of PageRank to the website's taxonomy. Thus, search engines give more importance to pages that are directly related to the home page.
For example, if you want to improve the authority of your best performing or most profitable pages, it can be helpful to link to these pages from your home page.
Remember to maintain a balance between SEO, user experience and business goals when optimizing your homepage. The same goes for all other pages on your website.
The most crucial aspect is to consider your users when adding or removing links on the homepage. Search engines must be considered after considering what is best for those who will actually use the site.
Here are some things that regularly appear on home pages out of necessity:
Your brand's logo: Usually on the home page, an area is specifically reserved for the logo and possibly a tagline;
User account: This is an area reserved for links to register, log in, your account, order tracking and other pages requiring a login;
Site Customization: This area is dedicated to links to country or currency selectors, store locator, color theme, etc;
Search field: This is the area reserved for internal searches of the site;
Main Navigation: This is the global navigation area;
Shopping Cart Area: This is where you list links to the shopping cart, checkout page or other similar links;
Marketing and merchandising areas (e.g. carousels, internal banners, featured products, main categories, most popular offers/brands, etc.)
Help Zone: Includes, for example, the FAQ, live chat, contact us form and help center;
Footers.
To go into detail, here is how you can implement each element of your homepage:
5.1. Primary Navigation
The term primary navigation is also used to refer to global navigation, while local navigation refers to secondary navigation.
The primary navigation is usually located at the top of a web page, but it can also be located on the left side in a sidebar. Since it is always in the same place on the website, the main navigation is easy to find.
The labels in the main website navigation represent the most important sets of information for e-commerce websites.
Labels can be used to categorize data by departments, topics, categories, target market, alphabetical order or other methods.
Navigation menu items can be displayed vertically when there are a lot of items to list, and a horizontal layout can be a good choice when all important labels are placed at the top of the design.
5.2. The number of links in the main navigation
The number of links that can be placed at the top of the layout is limited to five or twelve depending on the length of the tags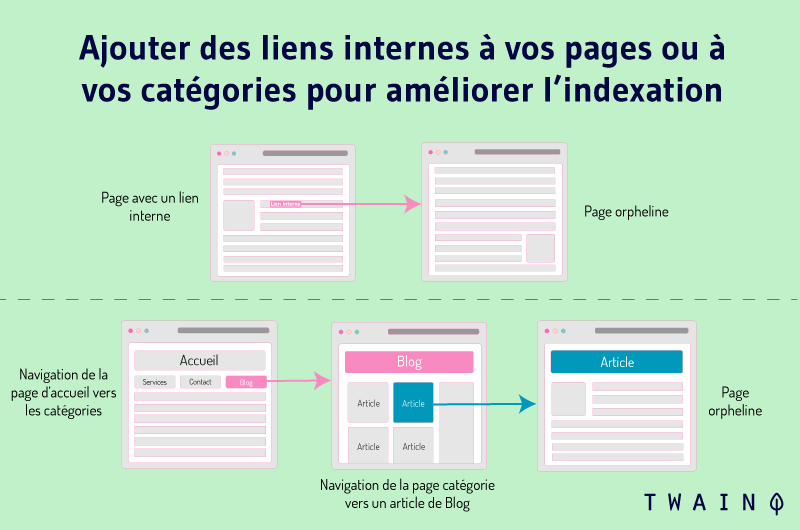 A vertical navigation bar is more adaptable and allows more important elements to be displayed.
However, the main navigation of e-commerce sites is often supplemented by sub-navigation, such as drop-down menus, fly-outs, and mega-menus. This navigation can significantly increase the number of links on a given page.
When it comes to search engine optimization (SEO), you may hear that experts recommend limiting the number of links on a web page
The logic being that by doing so, you send more authority to other pages that are potentially more important
However, this approach does not take into account user experience and usability which are two key factors in website design.
A common SEO practice is that the entire menu should be optimized for SEO, which means that search engines should be able to crawl all the links in it
In practice, some e-commerce sites that don't allow crawlers to crawl sub-menus may benefit more in the long run.
While you should offer as many links as possible to your visitors, you can also make sure that some of them are not accessible to search engines.
While it may not seem like a good SEO practice, limiting the search engine crawlability on your homepage can be a great approach to optimizing the site for both usability and SEO. Users will be able to discover what they need, while search engines will have access to valuable links without having to waste the crawl budget.
If you have a small number of main categories on your website (five or fewer), each with only two to five subcategories, you can list them all in the main navigation. On the other hand, if you have many categories (twenty or more) with several subcategories each (ten or more), you need to focus more on organizing your main navigation.
The more links on a page, the less authority each link has. This also means that users will have a harder time finding what they are looking for and will be more likely to be overwhelmed. So it's important to reduce the number of options and improve the user experience by minimizing decision paralysis.
To do this, you can use metrics like the most clicked links by users to identify your most useful links.
The "Browser Summary" report in Google Analytics can help you analyze your website's clicks by identifying the browsers and operating systems most often used by your visitors. This information can then be used to improve the design of your website and make it user-friendly for as many users as possible.
The purpose of using click analysis tools, such as CrazyEgg or ClickTale, is to identify links that could be removed or added to the menu.
Landing pages that link to a site's best-selling and most profitable products are beneficial to both users and search engines
If you're concerned about the number of links on your homepage, try grouping links to pages such as the "About Us" page, the "Contact Us" page, or even the "Terms of Service" and "Privacy Policy" pages.
5.3. The navigation labels
First, it is important to consider your business goals and user testing when organizing categories and subcategories in menus
For example, if 20% of your categories generate 80% of the revenue, you can make those links more prominent in the main navigation
You can also use other decision indicators, such as the most searched terms on the site or the most visited pages.
But when it comes to labels, i.e. the wording of the navigation links, some experts think they should include target keywords and for some others it won't help.
The reality is that your primary and secondary navigation should be focused on the user experience first.
However, natural keywords in the website's navigation can contribute to ranking. For example, if an e-commerce store that sells musical instruments wants to rank for "guitars," having a "Guitars" tag in the navigation menu will be beneficial.
A better way to include longer keywords in the main navigation menus is to use images to create the menu and add short text tags for customers, while adding longer tags as keywords in the image alt text for search engines.
The goal of an effective navigation menu is to make it easier for users to reach their ultimate goal on your website. Since these image tags are short, users will be able to quickly browse through them and more easily find what they need on your ecommerce site.
5.4. The search field
On ecommerce sites, the site's internal search is usually enhanced by a suggestion feature or autocomplete that displays items from a list of popular searches or product names and categories.
While users may find the autocomplete feature interesting, it is implemented using AJAX, which means that search engines cannot access the suggested links.
However, simple HTML links to popular searches can be added below the search box to help users and search engines. You will need to measure internal site searches using analytics tools to identify which links are most convenient for visitors.
You can also include product filters as links, such as a link to a page that sorts products by size or type of shoe.
5.5. Text boxes
Since most landing pages don't offer much room for plain text, you'll find very few contextual text links coming out of them. But, many e-commerce sites have tried to overcome this problem by adding text at the bottom of the page, near the footer area.
Some websites use CSS to position sections of text as at the top of the source code, while visually the text is at the bottom of the page. However, this method doesn't work as well as it used to because of changes in the way search engines index pages.
It should be noted that search engines can read a page and identify the position of the text on the page before returning it to users
For example, Google stops rendering a page after 10,000 pixels, which means that if your SEO content is below that threshold, it may not be considered by the search engine.
Tabbed navigation is a great way to include more text on your homepage while creating contextual links. While tabbed text may not seem important today, it will become increasingly relevant when Google mobile-first indexing goes into effect.
If you want to use tabbed navigation in the main content area, you need to understand that people often overlook tabs. Therefore, you need to have strong conceptual cues to help them understand that there is additional content behind this navigation element.
5.6. The marketing space
Static banners, sliders, carousels or more popular products are some elements that are part of the marketing area of a homepage

The merchandising section can highlight products, categories, most popular offers or even major brands.
Carousels are still present on many e-commerce sites, although they seem to have caused many usability and conversion issues.
For SEO, carousels can be problematic in two key areas:
5.6.1. JavaScript is not user-friendly
The ability to use JavaScript or AJAX to design custom carousels can cause SEO issues
To do this, you should run your carousels through SEO testing by placing them on a public domain, subdomain, or test page and then examine the cached version of the page after Google crawls and caches it.
If you notice notifications like "loading" or "waiting for content", or if the carousel content is not present, this indicates that the carousel implementation is not very SEO friendly.
5.6.2. Embedded text and links
Basically, it is possible to use CSS positioning and image replacement to place text above the background images so that search engines can index it more easily. In addition, you can also create carousels or banners in HTML and CSS.
But when replacing images or carousels becomes more complex for you, you can use the alternative text of the image with and
For example, clothing websites that feature dressed-up mannequins can allow users to click on the hat, pants, or any other part depicted in the image to direct them directly to product pages
This would make the buying experience for users smoother and conversion rates could increase.
5.7. Merchandising areas
Products and categories that are linked from homepage areas, such as special offers, best sellers or top brands, usually receive more internal link authority than products linked using structural links. Therefore, you can use these areas to give more SEO importance to the products and categories that matter most to your business.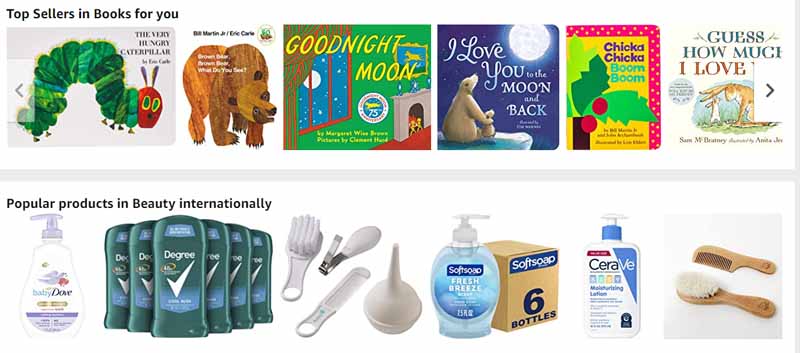 Sometimes the products described in these areas are presented using carousels. In this case, it is important to make sure that users can easily know that they are in a carousel and that the carousel functions (play, pause, next and previous) are easy to control.
The other important point is to distribute the PageRank to the carousel elements in the most SEO-friendly way to get the best results.
5.8. The logo area
A company's logo is a visual symbol that represents the company's name and brand. It is often used on letterheads, business cards, websites and products as an identity.
Logos are typically used as images, but some may also include the company's slogan, tagline or unique selling proposition.
Today, there is a lot of discussion about how to properly use logos, not only from an SEO perspective, but also in terms of HTML markup.
Some SEO experts say that using alt text on the logo image is sufficient, while others advocate the technique of replacing the image on the homepage
As far as HTML markup is concerned, some think that logos should be in H1 format, while others think that they should be an H2 tag and for some the logo without any header tag is even better.
In SEO, your website will not be considered authoritative just because you use your main keyword in the alt text of the logo. However, this method can be useful if you are in a niche with fairly stiff competition.
Image replacement is a great technique to use for your logo if it can be done so easily.
Keep in mind that image replacement won't be considered spam as long as you don't overuse keywords.
Chapter 6: How to boost the EAT of your online store?
Not surprisingly, the quality of a web page is one of the main factors influencing its ranking in Google's organic search results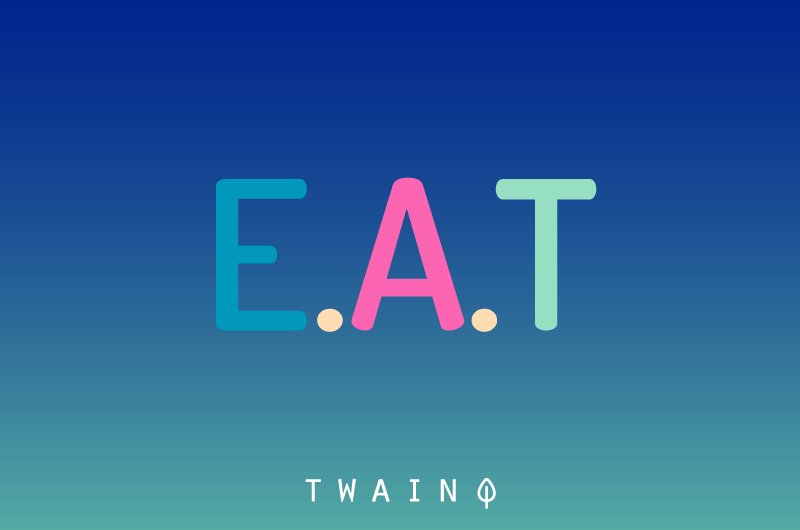 The most important elements considered when evaluating the overall quality of a web page are described in Google's guidelines:
The purpose of the web page;
The authority and trustworthiness of the page;
The quantity and quality of the page's main content.
In simple terms, the more expertise, authority and trustworthiness a page demonstrates, the more likely it is to rank high on the SERPs.
To put it more clearly, the three main elements that are mentioned in the Google Search Quality Assessor guidelines are:
The expertise of the main content creator;
The authority of the website, the main content and the owner of the site;
The reliability of the information published on the website and the trustworthiness of the owner and his site.
Here are some ways to implement EAT for your ecommerce site:
6.1. EAT Optimization: Content Factors
It is possible to use the content of your website to demonstrate expertise, authority and reliability in your target market.
6.1.1. Entrust the writing of your content to experts in the field
The quality of your website content can have a significant impact on how people perceive your brand. Visitors, especially first-time visitors, can quickly notice any spelling or grammar errors
This means that your text should be free of spelling and grammar errors.
If you are in a specialized field, use a subject matter expert to create your content. Otherwise, it will be obvious to visitors and search engines that your content was not written by someone knowledgeable in the field.
Generally speaking, the best approach to creating quality content is to use a professional writer.
6.1.2. Provide follow-up content for the product
When marketing expensive products, offering useful follow-up material is a better way to demonstrate your experience and authority
Show your consumers how to take products you provide, maintain them and get the most out of them
Make this information available to your consumers on your product pages.
If you want to demonstrate the relevance and usefulness of your product, include video tutorials and how-to guides in your content strategy
A quality product tracker will show search engines that you are an expert in what you are selling.
6.1.3. Create an engaging "About" page that brings your brand to life
Another important aspect of EAT is proving that there are real people behind the site they are supposed to trust.
Since professional websites are run by a team of people and the authors of deceptive websites try to hide their identity, "About" pages are good indicators of the credibility of sites.
To do this, create excitement and interest by telling the story of your company:
What was the cause of the company's creation?
What makes it different from other companies?
Are you a values-driven organization with certain principles?
What is your purpose, objective or business goal?
This probably doesn't work in a straightforward way, but it demonstrates the legitimacy of your website as part of a larger plan.
6.1.4. Show off your team of experts
Your website, as a reliable and trustworthy e-commerce site, should provide complete details about your business.
For customers to get in touch with your company, it is best to have a "Meet the Team" section containing photos and bios of the staff.
In addition, having industry experts on your team not only shows authenticity, but also makes potential customers feel more confident about doing business with you.
Visitors to your site will be more likely to trust you if they see that there are authentic people behind the scenes.
Having real people working behind the scenes is key to the success of an online store website, as it gives visitors the confidence that they are browsing a reputable site.
6.1.5. Publish blog content at the top of the funnel
Most consumers go through a research phase before making a purchase online. They look for information to make sure they are getting the best deal, read reviews to learn more about the product they are considering buying.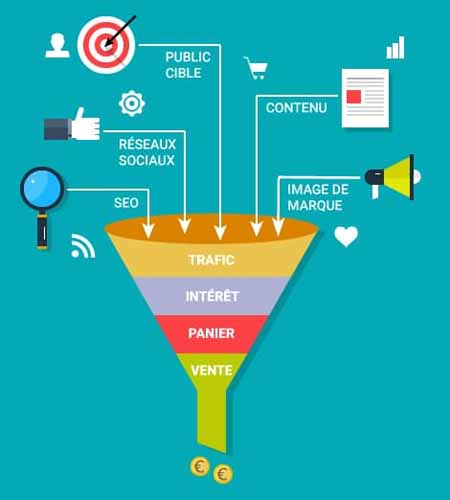 To attract customers in the research phase, your site must include valuable and informative content. By creating this type of content, you can show potential buyers that you are an expert in your field.
Wherever your customer is in their journey, make sure your brand values are on their mind every step of the way.
6.1.6. Create timely content that demonstrates thought leadership
When you become a thought leader, people look to you as the go-to source for information in your area of expertise.
Consistently publishing new and relevant content will help strengthen your relationship with your product and your audience.
Your news content will be much more reliable and trustworthy if you avoid using clickbait headlines.
If you are lucky enough to appear in Google News or Discover, you have the potential to receive a large number of visitors.
6.1.7 Provide detailed and useful customer service information
As an e-commerce business, customers need clear and transparent customer service information.
A QRG (Quality Reference Guide) allows reviewers to search for shipping and return information on e-commerce sites.
So make sure your customer service information is complete, thorough and answers all consumer questions.
This content should also be visible to both visitors as well as search engines
One problem we frequently encounter on e-commerce sites is a table containing shipping information presented in an image format
Instead, create an HTML table so that Google can crawl it and understand that it is shipping information.
You can also use schema to tell search engines that your FAQs are really answers to frequently asked questions.
6.1.8. Make it as easy as possible for customers to contact you
Any e-commerce business that wants to succeed needs to have clear and useful contact information.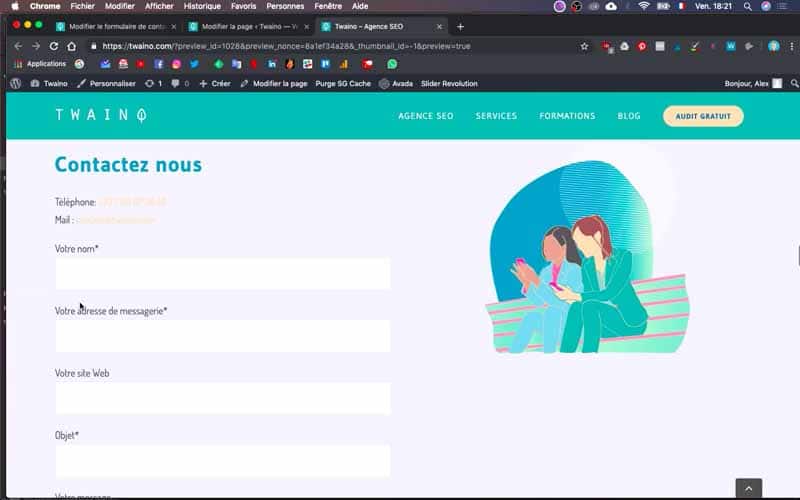 If you want people to trust your brand, make sure it's easy for them to get in touch with you. Search engines see this as a key factor in determining the trustworthiness of a website.
Highlight your contact information on your website and make it easy for users to reach you when they need to
Include as many ways to contact you as possible, such as a phone number, email address and live chat
By making it easy for them to contact you, they will be more likely to place an order on your site again in the future.
6.2. EAT Optimization: Technical Factors
Here are some technical factors to improve:
6.2.1. Secure your website with HTTP/s
It is obvious that an e-commerce site should operate all its pages in HTTPS.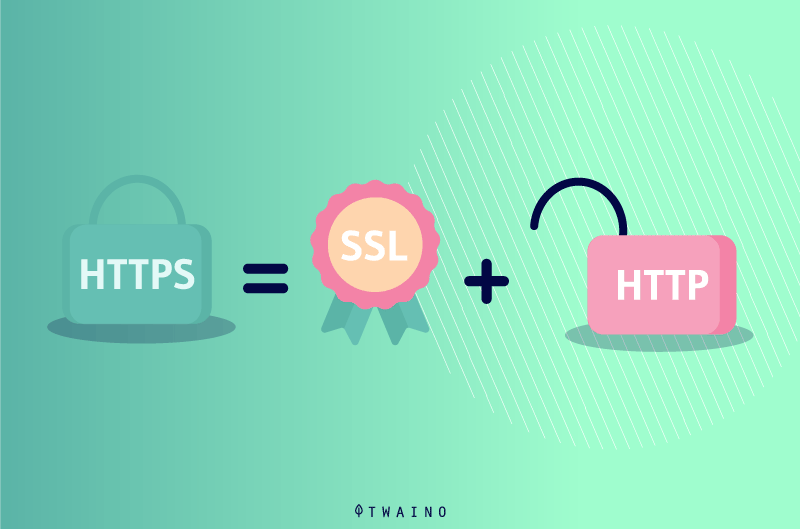 Not only does this method provide a more secure connection than standard HTTP, but it also ensures that data is not compromised during communications between the browser and server.
Customer trust is essential for any e-commerce site, and SSL certificates are one way to help build that trust.
Google even warns users when they visit an unsecured website, suggesting that it does not trust the security of the site.
In addition to gaining the trust of your audience, HTTPS pages will rank slightly higher on Google. Since SSL certificates are not too expensive, it is definitely worthwhile to acquire them.
6.2.2. Fix broken links
Broken pages and links are a good indication that your website lacks trust.
To keep yourself safe online, no one will want to visit a page with a broken link and neither will the search engines. This suggests that you are not taking care of your site, which causes visitors to worry.
While it's not uncommon for a link to break from time to time, you need to make sure you find it quickly and fix it.
The Screaming Frog crawler is excellent at finding broken links or pages on your website, so you can fix them quickly. We recommend that you audit your site regularly with this tool.
6.2.3. Design a first-class user experience
A professional design is essential for any e-commerce website that wants to build trust with its visitors.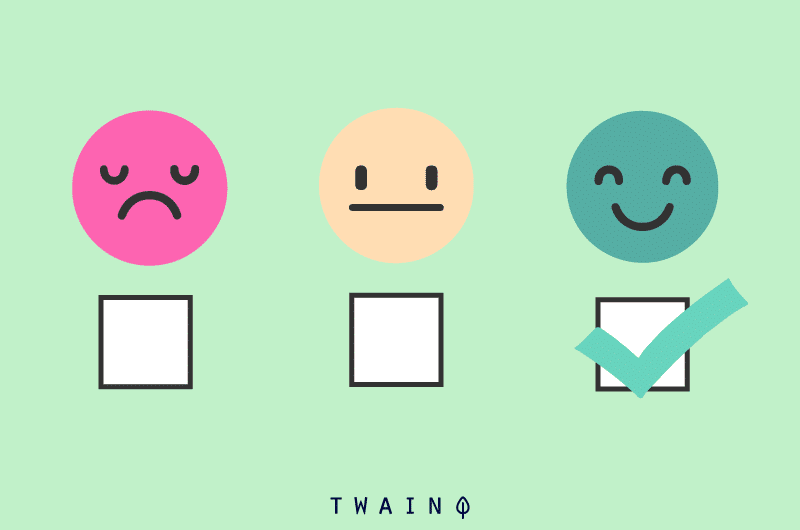 It is essential to design your website with the target audience in mind, especially since mobile-friendliness affects search engine rankings.
Professional photography, easy navigation, and helpful product filters are all important elements of good UX design.
While it may be hard to hear, most website owners' sites are not as good as they think. If you want to improve your site and get constructive feedback, we recommend conducting user testing.
Always test your site with people who match the demographics of your key customers to find areas where the user experience can be improved
6.2.4. Check your site's indexed URLs
Remember that every time a page on your site is indexed, Google sees it as an indication of the quality of your site.
When you have too many low-quality indexed URLs, you risk having the quality of your site diluted. A high number of unnecessary links in Google's index can hurt the overall quality of your website.
E-commerce sites should be careful with their category pages, as they are prone to index bloat due to features such as filters and pagination.
Any page with a URL parameter is at risk of being indexed by Google.
Make sure that low quality URLs on your site do not appear in Google's index. We recommend that you pay attention to the Search Console coverage report to see if there is a problem.
6.3. EAT Optimization: Marketing and Reputation Factors
When it comes to the marketing and reputation factors of your brand to gain trust and authority, here are some things to touch on:
6.3.1. Monitor your reputation on the SERPs
The QRG provides reviewers with guidance on how to find independent sources of reputation using Google search operators.
By searching Google, you can not only find pages that talk about your brand, but also get an idea of what other external sites think about you.
If, when searching on your brand name, you find mostly pages that speak poorly of your company, that's a strong sign of a bad reputation
While we don't think this can have a direct impact on search engine rankings, it is generally an accurate measure of how others feel about your brand.
If the majority of results are negative, chances are there are many more. If this is the case, think about the main reason. Don't try to hide these results by employing spam reputation management techniques
You should strive to improve your public image and truly enhance your reputation.
6.3.2. Gain trust by earning amazing backlinks
Links are one of the most essential SEO ranking signals, no matter what anyone says. They definitely have a bigger impact on SEO than anything else.
Google takes links into account when evaluating the popularity and importance of websites. It is their foolproof technique to determine trust and relevance.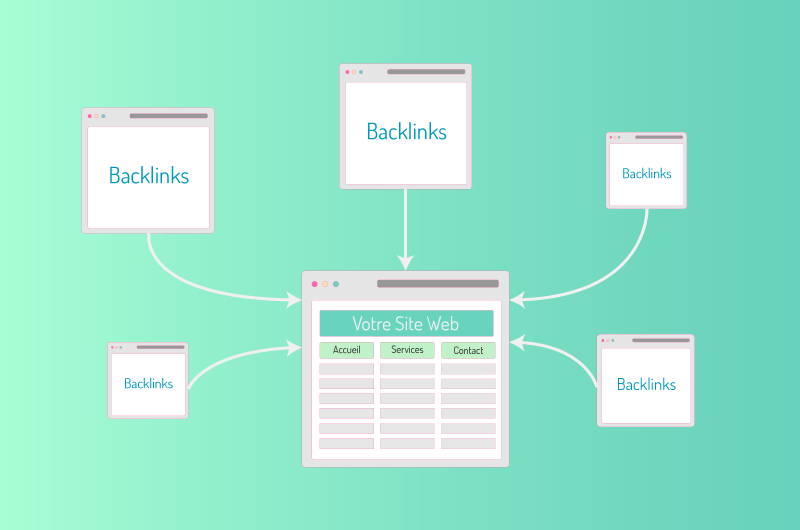 If you want your website to be more successful, make sure it is linked to other popular and trusted sites
Also, try to get natural backlinks from well-known websites, as this will help improve your reputation. Although PageRank has seen enough evolution in the past, the underlying concepts are probably still the same.
Likewise, there will be places you'll want to avoid. According to the Penguin 4 update, search engines will not consider low quality backlinks when evaluating pages for rankings
Therefore, there is no need to disavow anything, as these links are not included in the link graph.
However, if you have used some form of unnatural link building, there will most likely be a trail leading back to you. In this case, always disavow the links you don't want.
6.3.3. The importance of contextually relevant backlinks
Although this is a test, it seems that Google wanted to improve the value of a backlink based on the likelihood of it being clicked.
Several factors, such as the location of the link on the page, the type of anchor text, the font style or color, can have an influence.
We can assume that this reasoning has reached a much higher degree of complexity over time. It is very likely that Google recognizes which links are trustworthy and which are not. The best backlinks are probably those that bring genuine visitors to your site.
So it's important to note that the pages that link to you play an important role in how Google associates you with topics
You need backlinks from trusted sources, but the context of the pages and their content should be relevant to your topic.
The best way to invest is in traditional PR that will display your brand on the websites you want to be affiliated with
Product reviews can be compelling, but they don't generate many backlinks. Instead, you should focus your efforts on coverage that builds your credibility as a reliable and trustworthy brand.
6.3.4. Promote your site with Google My Business
Google My Business is an amazing tool that can help improve your brand's search engine rankings while promoting your e-commerce business. You can use GMB to add rich and informative content that will strengthen your brand image.
GMB is a way to communicate with consumers and build trust in your website, but it does not directly impact rankings.
Adding photos of your staff and store, posting the latest products, and sharing blog posts help convince potential customers that the website is run by real people.
6.3.5. Let your customers promote your site
The terms people use to search for your brand can be very telling to search engines. For example, Google may consider these terms as reliable indicators of expertise and authority.
If customers use different terms with your brand name when they search, it tells search engines what topics to associate you with
Likewise, if the search volume for your brand's term is higher than your competitors', it suggests that you are more popular.
People perform a variety of searches before and after they search for your brand. Google, again, most likely uses this data to some extent to evaluate your connection to key topics.
The best way to do this is to market your brand so that your target topics are the first thing potential customers think of when they see your website.
6.4. EAT Optimization: Operational Factors
Speaking of operational factors, here are some good ways to practice:
6.4.1. Differentiate your site from the competition
To differentiate yourself from your competitors and become an expert or authority in your niche, you need to offer something that other similar websites do not
If being an expert or an authority is measurable, it can be measured by the number of people who possess these qualities.
Work on how you can best describe the unique aspects of your business online.
If you have sales and objection handling processes in place for consumers visiting your physical stores, you need to think about how these methods could be applied to a website.
Keep an eye on your competitors, if there is one that is improving their customer experience and you are not, they will have an advantage over you.
6.4.2. Offer an honest, transparent and reasonable pricing policy
One of the most common reasons for low conversion rates is unexpected expenses
The reality is that people don't like to pay more than what they expected. So as an e-commerce site, it's important that your prices are clear and honest.
Deceptive methods such as hiding shipping costs or raising the actual price of your items will only irritate potential consumers.
It is far better to be completely honest, and you will gain more customers and keep their trust.
6.4.3. Awards and achievements
If your company has won an award or has made some remarkable achievements, don't forget to mention it.
Post blog content and display award badges to show everyone your remarkable achievements
Reviewers will be looking to see if you have received any business or industry awards, which is a sign of a positive reputation.
So, to increase your brand awareness and differentiate yourself from the competition, simply participate in relevant business awards.
Chapter 7: How to generate more sales with visuals?
Visual content will continue to grow in popularity as Internet users love them
A recent study found that 91% of people prefer visual content to text-based content. And it's no wonder, given that 93% of human communication is based on visual elements. Adding visuals to your website will increase engagement and sales by grabbing customers' attention.
So here's how to use them:
7.1. use infographics to generate interest
Our first suggestion is to use infographics to grab readers' attention and increase their interest in your copy.
Infographics are an extremely useful way to communicate data and information in a visual and easy to understand way.
The search term "Infographics" is becoming more and more popular and fascinating for many people around the world, as we can read on the Google trends graph below.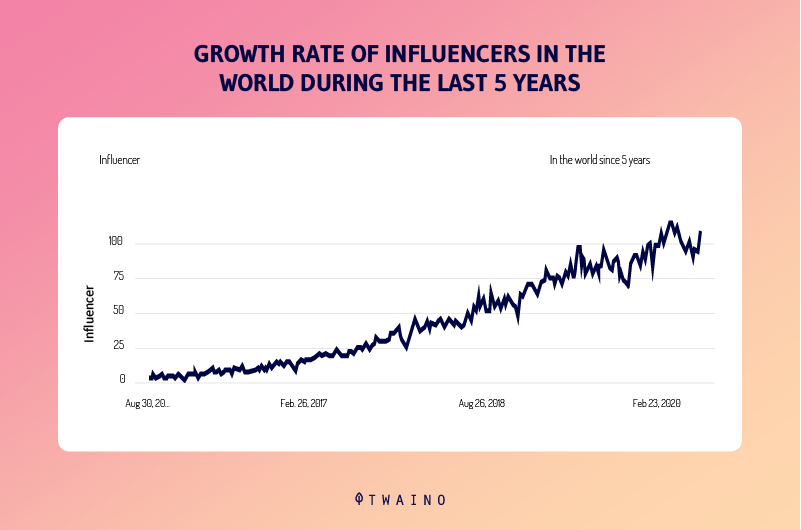 Source: Google Trends
The term has undoubtedly become more popular in 2020, as the graph shows.
The infographic below details not only the benefits of visual content, but also its ability to convey data and knowledge on the internet.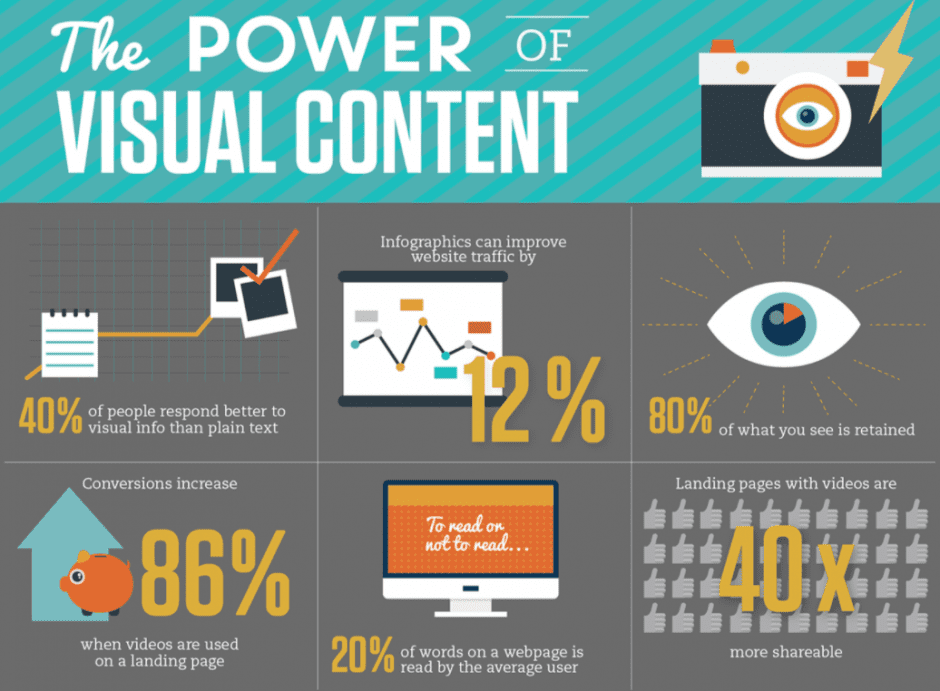 Source: demandgenreport
As can be seen, more people, up to 40%, are more likely to respond to visual information rather than words.
We can also read that infographics also have the potential to increase organic traffic by 12%. When you analyze the level of competitiveness on the Internet today, that's a pretty significant number.
In a nutshell, infographics make your content more eye-catching and easier to share on social platforms.
However, businesses should also remain aware of the need to effectively create and share high-quality infographics, as well as any other type of visual content for the success of their online store.
Otherwise, you should avoid publishing infographics that don't fit your business' goals
In short, interesting visual content is more likely to drive online purchases than narrative text.
Let's look at an example of successful companies that use visually appealing content, such as infographics, to share information and build awareness of their products in their markets.
For example, here are three back-to-back posts from Yahoo Finance on Instagram.

Source : Instagram
As we can see, the company excites their audience to engage with their visual content in an entertaining and direct way. We can see that this has performed very well in terms of audience engagement.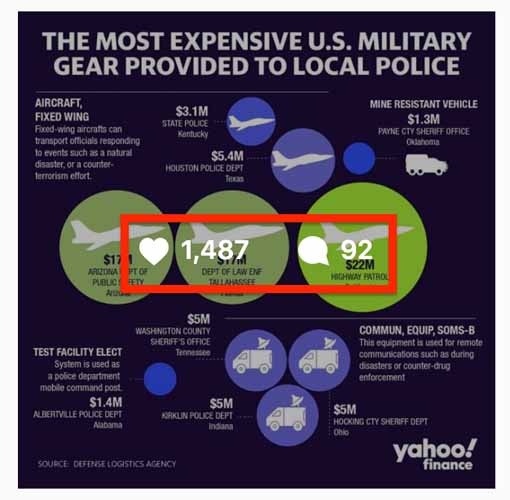 Image source: Instagram
7.2. Use user-generated content to build social proof
The second strategy for leveraging visual marketing to drive online sales is to use user-generated content, which will help you build social proof and increase your content.
With the huge amount of content published every second, it can be difficult to stand out, your content needs to be unique to get noticed.
If you want to stand out in your target market, start by creating original content that captures the essence of your brand.
So use content generated by your audience with the sole purpose of driving more organic traffic to your pages.
Your content will be far more trustworthy and relevant if your subscribers are actually interested in it.
In other words, publishing content generated by someone in your audience will improve your credibility with the rest of your audience, or at least a significant portion of it.
7.3. Use data visualization that will get you shares and social links
This is a technique to get shares and social engagements using visual data.
According toNeil Patel, "There are millions of blog posts published every day, so the competition for traffic and attention makes it pretty hard to get noticed. But you need those social shares if you want your blog post to generate more inbound traffic."
In other words, social media shares and backlinks can help you drive traffic to your site and boost your popularity and sales.
This type of content is simply easy to share and promote because it is visually appealing.
Publishing visual data has become increasingly popular in recent years, as it is an effective way for companies to share their insights and establish themselves as leaders in their industry
By using visual data, companies can increase their sales and traffic by ensuring that their content is widely shared across the internet.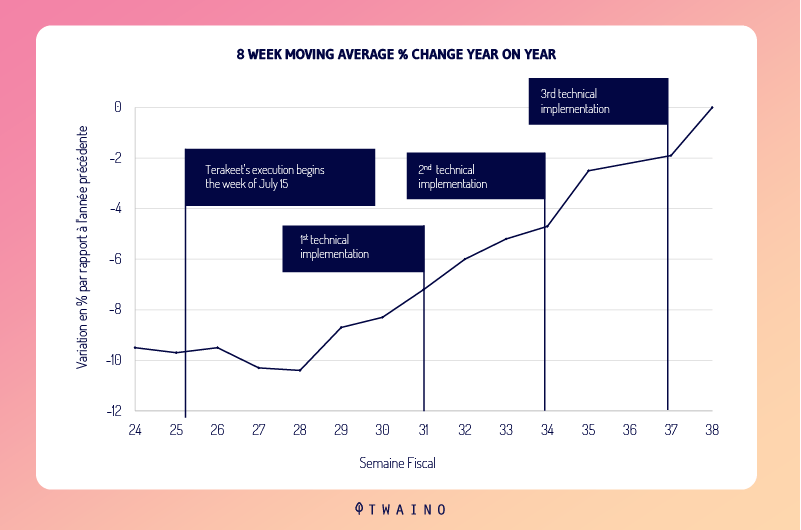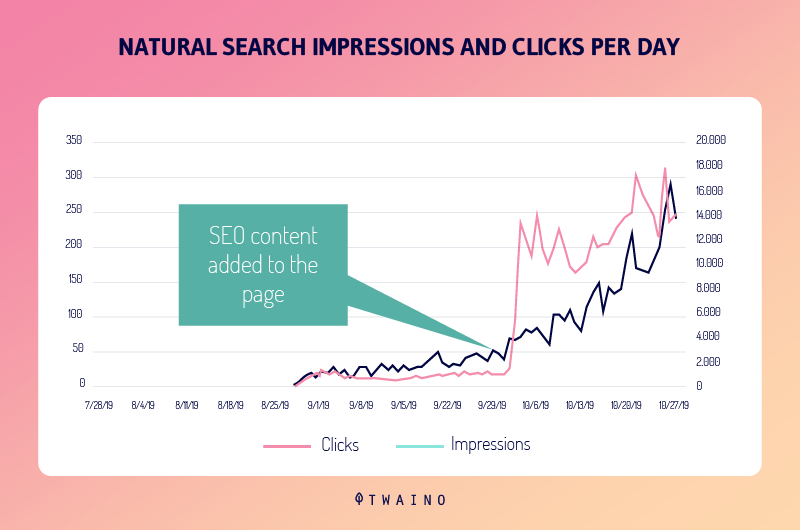 Image source: Tidio
Once again, we get proof from a Backlinko blog post on marketing that includes lots of visual data.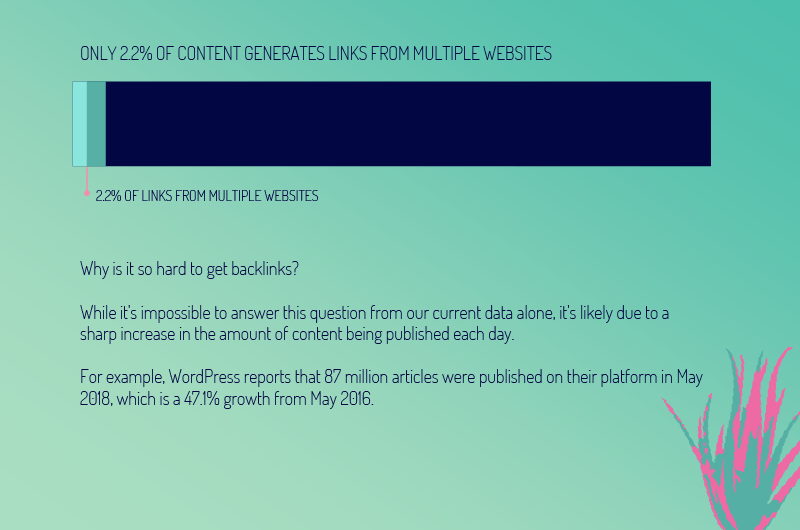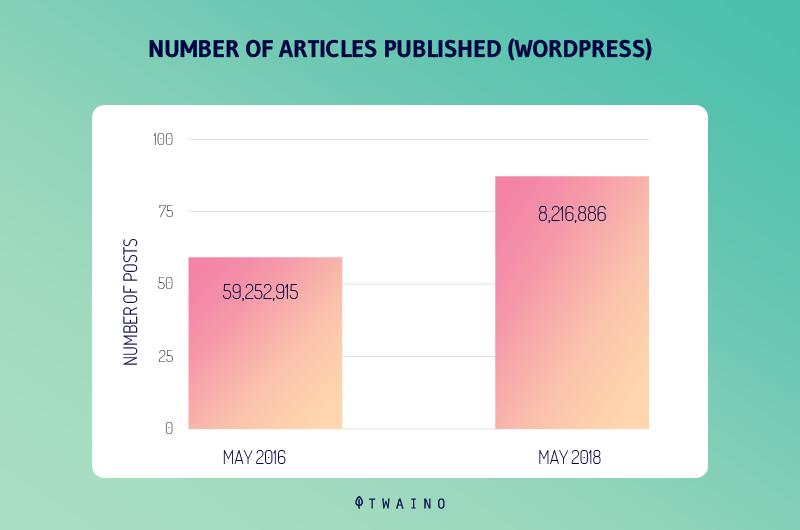 Image source: Backlinko
Without a doubt, if the content of the post was simply textual information rather than with some visual data, the engagement would certainly be less.
However, that doesn't mean that textual content without visual data won't receive significant engagement.
It just means that when you use visual content for visuals to back up your arguments, it makes your texts more persuasive and shareable.
When readers are persuaded by your arguments, they feel they should share this content with their friends and family to help spread all the useful information it contains.
The screenshot below is from Ahrefs and highlights the number of shares of a blog post that contains visual content that communicates data visually with extreme quality.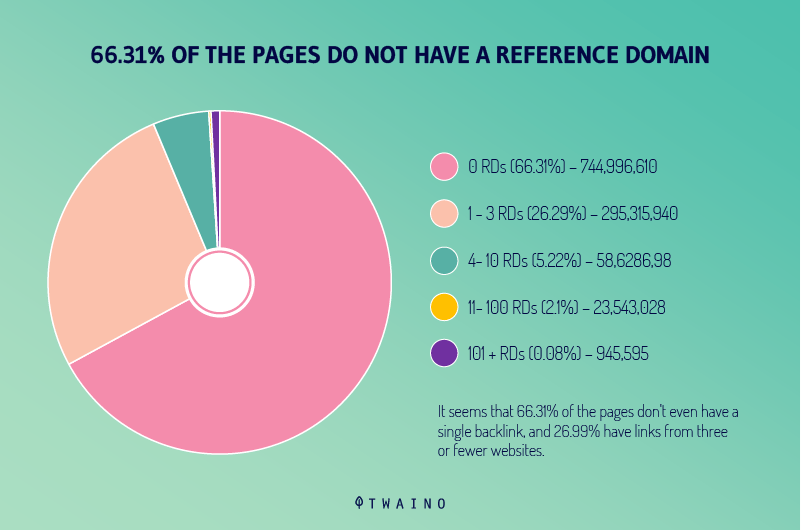 Image source: Ahrefs
First, it's important to note that Ahrefs is known for its drive to provide data in a visually appealing table or graph when they want to share the results of their research or studies.
Because of the uniqueness of their material, they gain a lot of links and shares.
The statistics of these articles show that data visualization not only makes your content more popular, but also brings traffic and sales to your online business.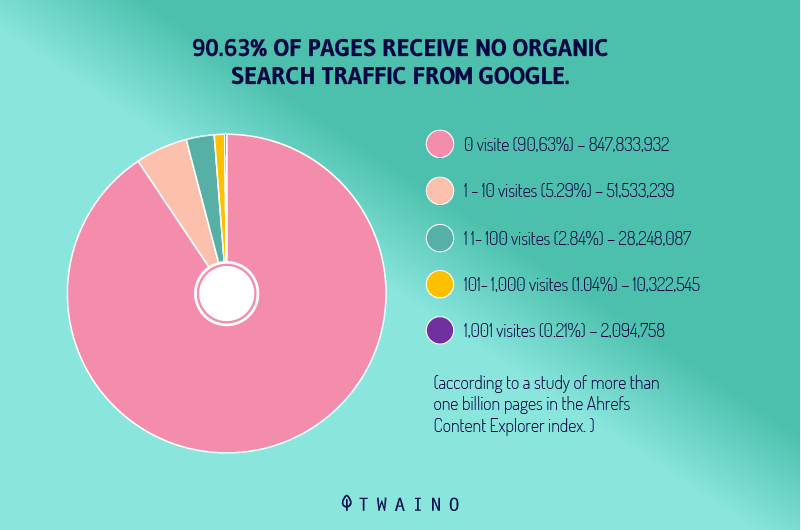 Image source: Ahrefs
It has become quite clear that data visualizations are gaining popularity because they can help improve the quality of content.
7.4. Hire influencers for branded covers to get their audience as well
Working with influencers to extend your brand's reach is a great way to increase ecommerce sales.
It's a good idea because it will also allow you to indirectly benefit from the influencer's audience.
In other words, it will help you increase your brand recognition and grow your customer base.
Influencers are people who have a large online audience, and with this reach, they can effectively promote your business and products. The simple reason is that people are more likely to listen and engage in conversation with someone they trust.
When influencers use and recommend a product, it reassures potential customers about the quality of the products.
People trust recommendations from influencers more than those provided by a less reputable online source.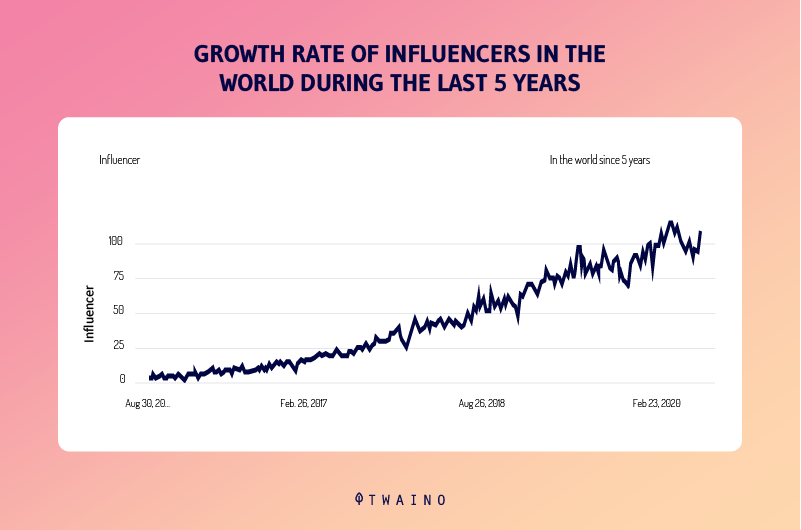 Image source: Google Trends
As the graphic illustrates, the term "influencers" has been gaining interest in recent years.
After all, consumers prefer to buy from people they like and trust.
In this ideology, offering gift packages or loyalty cards run by influencers can be a great way for brands to connect with their audience on an emotional and personal level.
7.5. Enhance your product images to generate more sales
To increase conversions and boost sales, you need to start by improving your product images.
Items that include images or other visual content, such as videos, tend to perform much better than those that do not.
For this reason, the best quality should be the only option when it comes to visual content, as it builds trust with customers, who are more likely to buy your products.
For e-commerce, product photos are essential because they give consumers all the information they need about a product.
Because first impressions are so important, it's essential to make sure your website looks exceptional.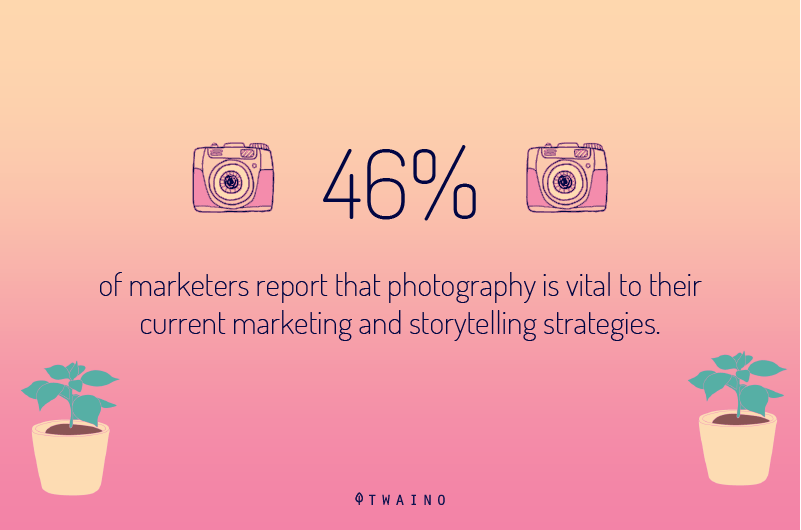 Image source: PointVisible
Simply put, photography is a way to tell stories and interact with our audience.
When businesses take and post photos of their items online, there are a number of factors to consider. Some of these factors to consider are composition, brightness, clarity and contrast.
All of these factors are quite important in producing a successful image that showcases the greatest qualities and most compelling aspects of a product.
An example of this is the ability of product photos to engage the reader at Starbucks.
The company's posts are well organized with photos that showcase the beauty of their products.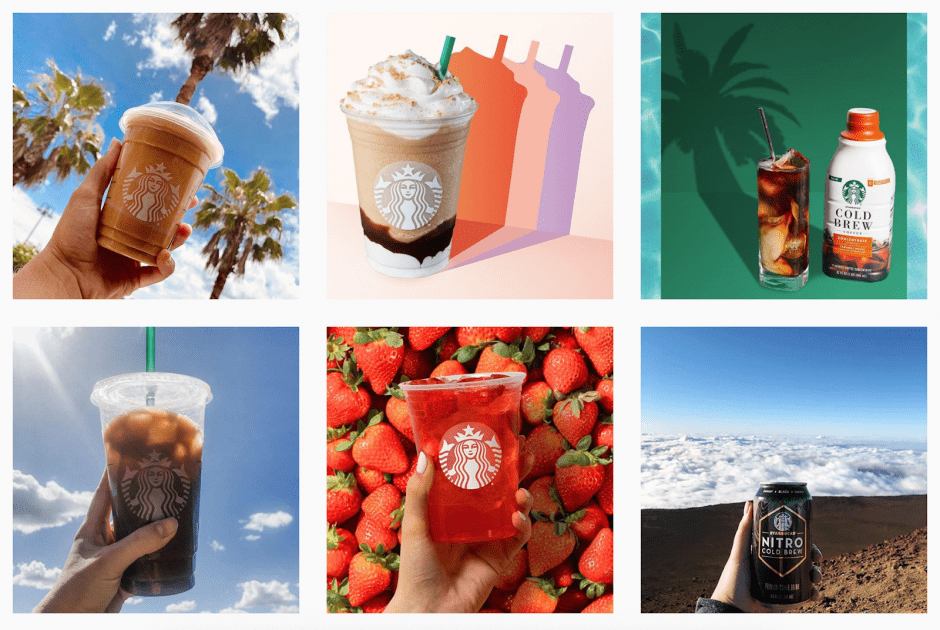 Image source: Instagram
All of the product images are well-lit, so you can clearly see the shape and colors of each item. The items are also well positioned and are the focal point of each photo.
Samsung, a South Korean multinational, is another great example of a company using high-resolution images to market their products and drive traffic as well as online sales.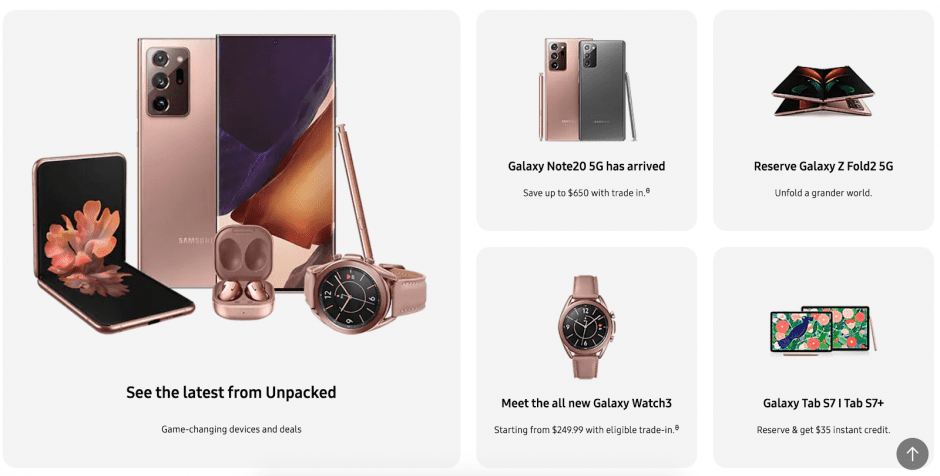 Image source: Samsung
7.6. Use graphic design tools with templates and resources to save time and money
The last tip I have for you, and I think it will be very beneficial for your business, is to use a graphic design tool that provides you with templates and resources. This will save you time and money.
In other words, when choosing a graphic design tool, keep in mind that the cost, time, and level of expertise required for the user to use the tool is extremely important.
First of all, unless you are a graphic designer who is very comfortable with complex graphic design tools, you should opt for a tool that is designed for non-designers, or easy enough for non-designers to use.
You want one that will provide you with templates that can help you save time, because you won't have to start creating a design from scratch.
The great thing about ready-made templates is that you can modify them to fit your style and/or subject matter.
In terms of saving time, most design tools today offer their users collaborative design functionality.
This is fantastic for remote teams and can certainly help teams and project managers save time giving and receiving feedback, comments, etc.
When I say that graphic design tools can help you save money, I mean that in the context that they are generally very easy to use; they give you the ability to do some design work yourself.
In other words, when expertise is not needed, such as when you create social media posts, graphics and infographics, you can take advantage of the tools available and use them yourself.
In short, a design tool can help you improve your content.
Chapter 8: What are the best tools for optimizing your Ecommerce site?
Here in this chapter is our list of the best paid as well as free SEO tools for ecommerce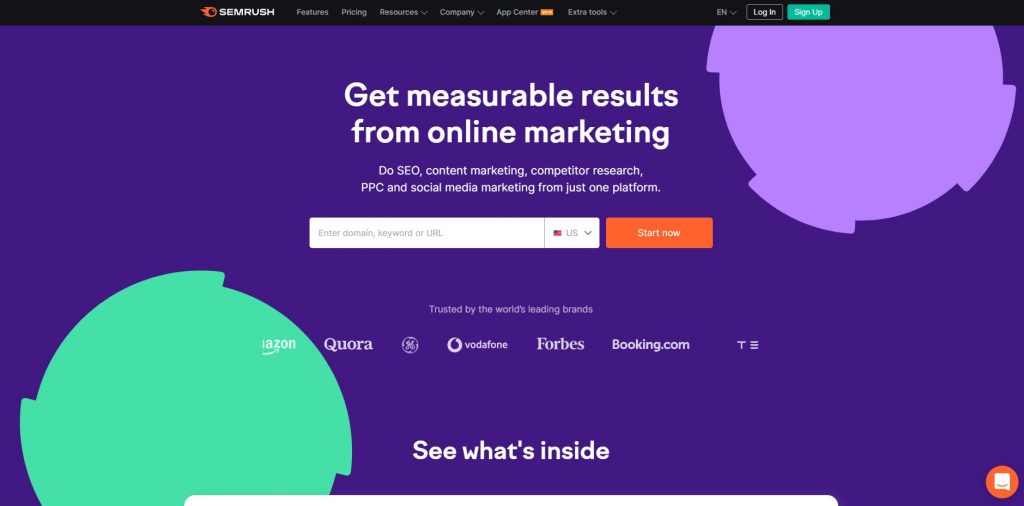 SEMrush is an effective tool for content marketing, SEO, social media marketing, competitive research and pay-per-click advertising.
The SEO tool offers 26 key features, including keyword research, on-page optimization, local SEO, ranking tracking, link building, and competitive analysis.
For example, its Keyword Overview feature is designed to help you find the value of any keyword and understand how it can help you achieve your goals. With this tool, you can instantly assess the estimated value and competition for a keyword to make informed decisions on how to target that keyword.
Their organic search tool provides you with an in-depth analysis of your competitors' organic keyword rankings and pages, allowing you to discover the best performing keywords for your niche and find new ways to optimize your SERPs.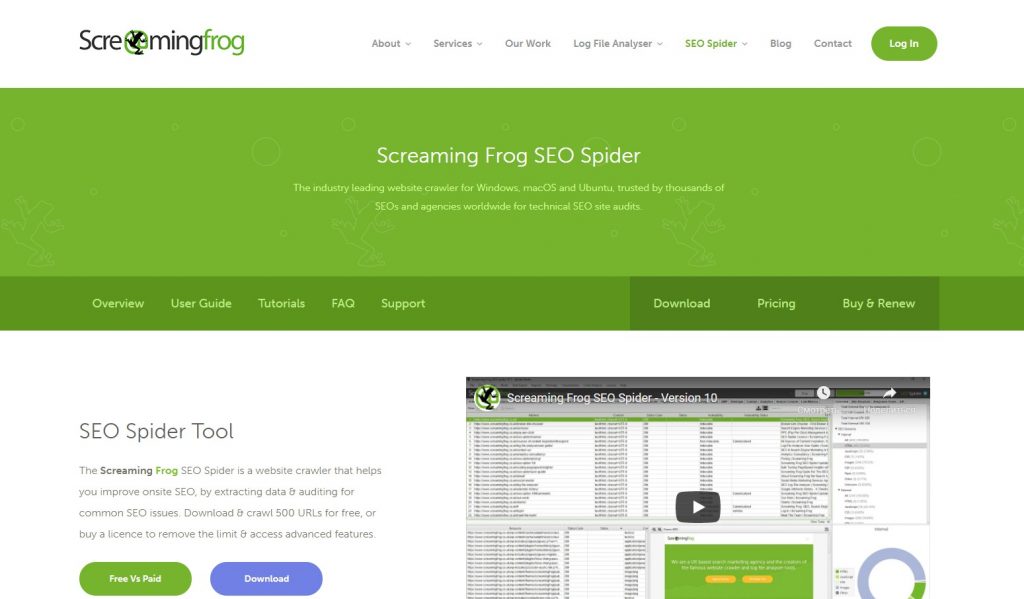 The Screaming Frog SEO Spider site crawler is a useful tool that can be used to improve on-site SEO. This tool allows you to extract data and check for common SEO issues. There are free and paid versions of this tool, with the paid version offering much more features than the free version.
For example, its SEO Spider feature is a website crawler that allows you to check for broken links (404), server errors and analyze titles and descriptions in real time. With this program, you can also find out which pages are missing information or have duplicate content.
Their free domain crawler allows you to scan up to 500 URLs per crawl, but it doesn't give you access to certain features such as extended configurations, saved crawls or advanced features
If you want to take advantage of these features, you need to subscribe to their paid version.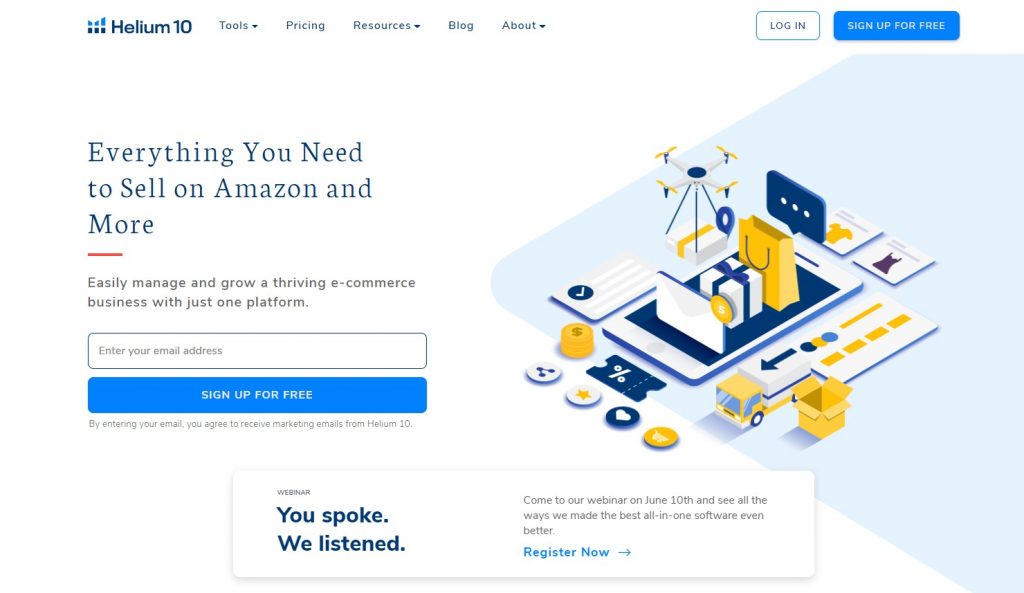 Helium 10 is a game-changer for e-commerce businesses that sell their products on Amazon. Using a range of powerful tools, Helium 10 can help with product research, keyword research, listing optimization, operations management, analytics and marketing.
If you want your product page on Amazon to rank well on search engine results pages, keyword research is essential
Helium 10 provides a game-changing tool that allows users to easily find high-volume keywords and competitor data at their fingertips. This type of keyword aggregation has never been seen before
If you sell products on Amazon, their Magnet tool allows you to quickly find high volume search terms that are relevant to your listing.
It has a feature of incorporating keywords into your listings is just as important to SEO success. For them, this technique is called list optimization.
When you use the Helium 10 ad optimization tools, you take the guesswork out of performance by ensuring that your ads always perform perfectly. With the Helium 10 ad evaluation tool, you can quickly see areas that need improvement.
Helium 10's Scribbles tool makes it easy to write your ad and see at a glance the target keywords you've used
The index checker ensures that buyers will be able to find your ad when they search for your target terms.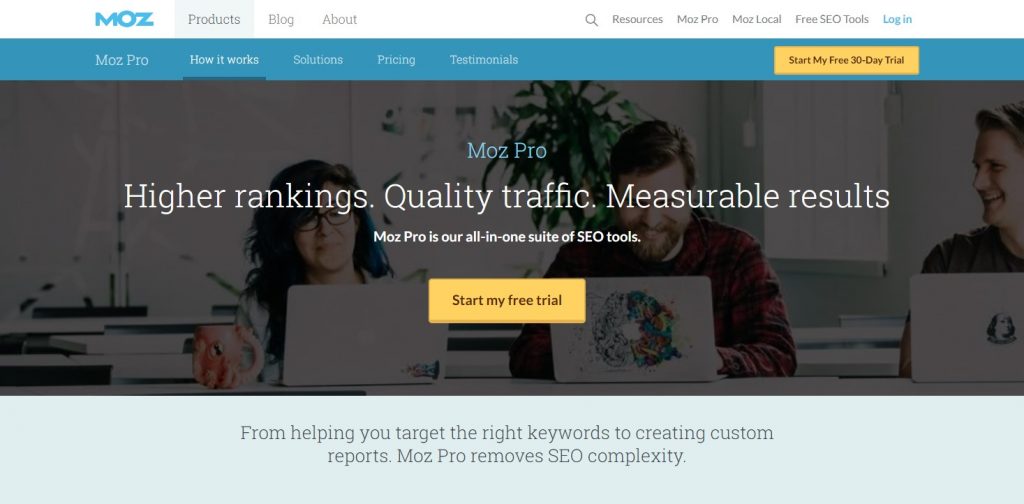 Moz provides useful tools to optimize the SEO of your online store. Its main product is Moz Pro, a simple suite of SEO tools
You can start your SEO journey by using Keyword Explorer to understand what keywords are being used and what questions people are asking. The Moz Pro tool is a great way to track your progress against your competitors for keyword rankings.
You should regularly use their Site Crawl to check for issues that prevent search engines from fully crawling your site
You can also use Moz Pro to prioritize on-page optimization recommendations and spend your time more efficiently.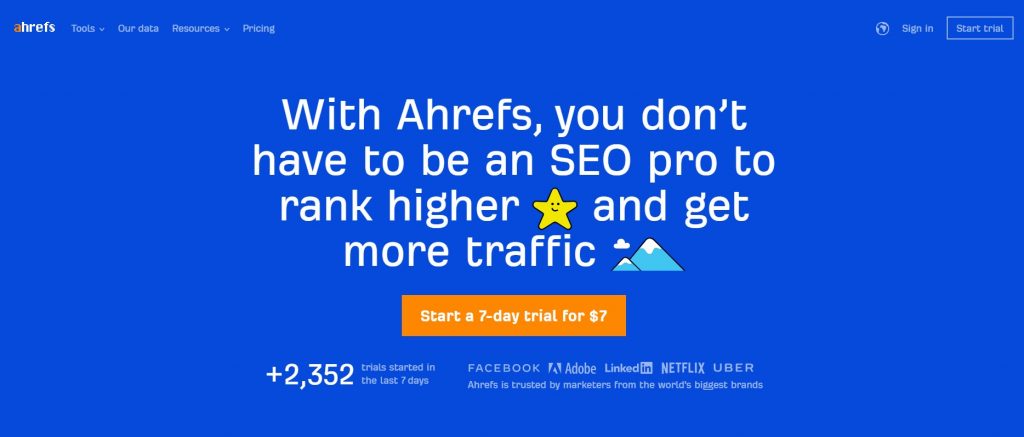 Ahrefs is a website that offers many different tools to help with SEO, such as Site Explorer, Keywords Explorer, Rank Tracker and Content Explorer
These tools allow you to study backlink profiles, research keywords, check content, and more.
With their site audit tool, you can check your website for potential SEO issues and track its progress over time
Similarly, Rank Tracker allows you to track your ranking for certain keywords, while Content Explorer allows you to discover the most widely shared content on social media channels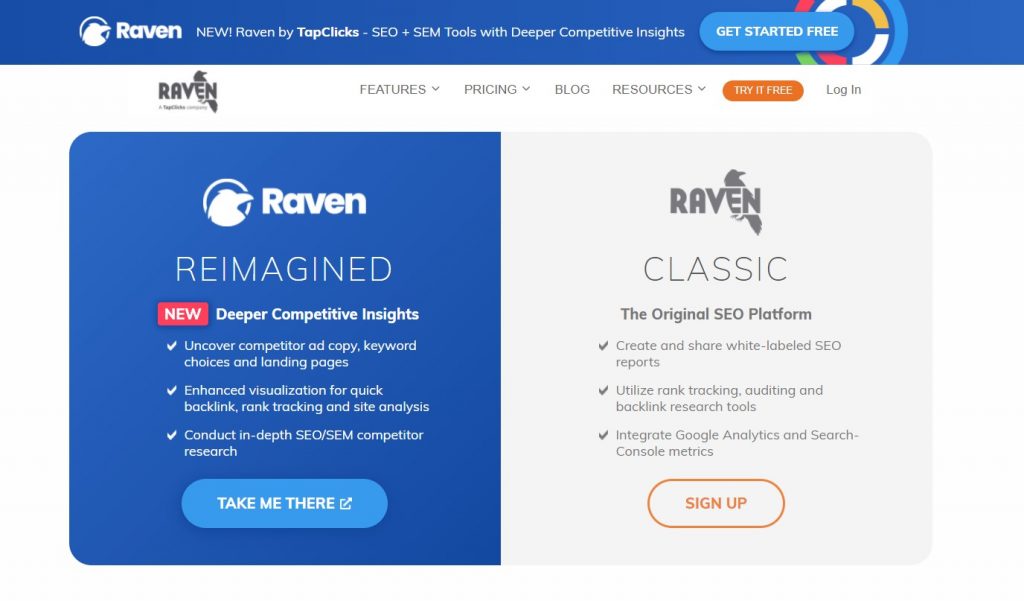 There are two versions of Raven, the original Raven Classic platform version and the new Raven Reimagined version. Both can be used for your e-commerce, but each has its own advantages.
Raven Tools Classic is an SEO platform that offers website audits, backlink tools, marketing reports, competitive research, a link manager and a keyword ranking checker.
TapClicks' new Raven SAS (Search Ads Software) is an all-in-one SEO and SEM platform with a suite of SEO research tools that makes it easier for users to access actionable information, increase visibility, generate leads and close more business.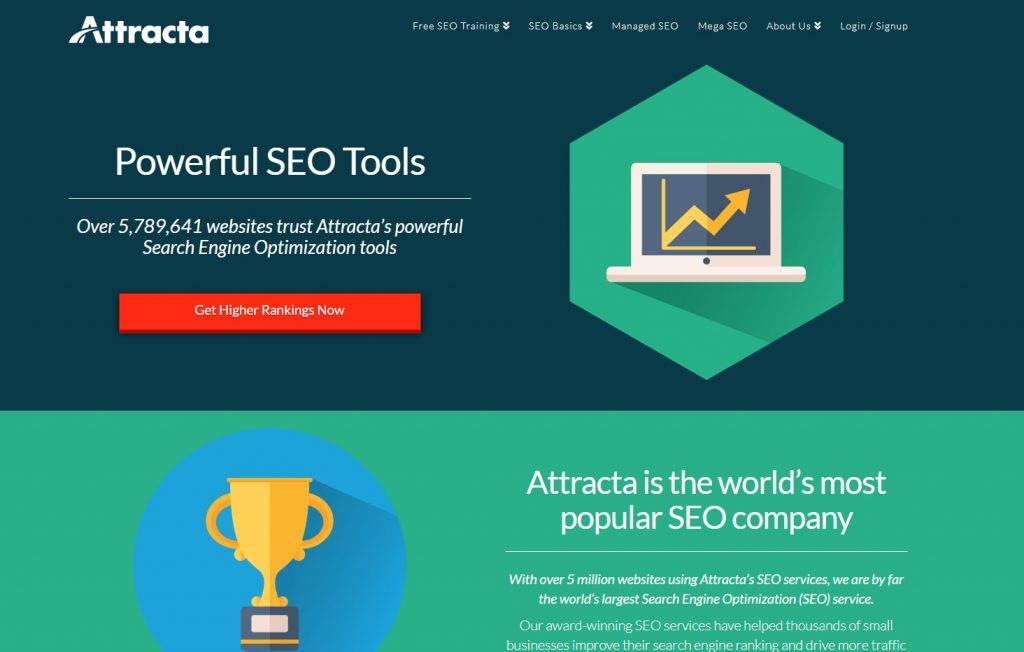 Attracta is a search engine optimization company that offers a wide variety of services. Whether you want someone to manage your SEO for you or you prefer to do it yourself, they can handle both needs
Their Mega SEO service is their all-inclusive premium package, but they also have several lower level options and individual tools available depending on exactly what you need.
Their system offers five easy steps to improve your search engine rankings, including sitemap generation, backlinking, content production, SEO audits and local SEO services
You can use their 5-step SEO approach on as many websites as you want.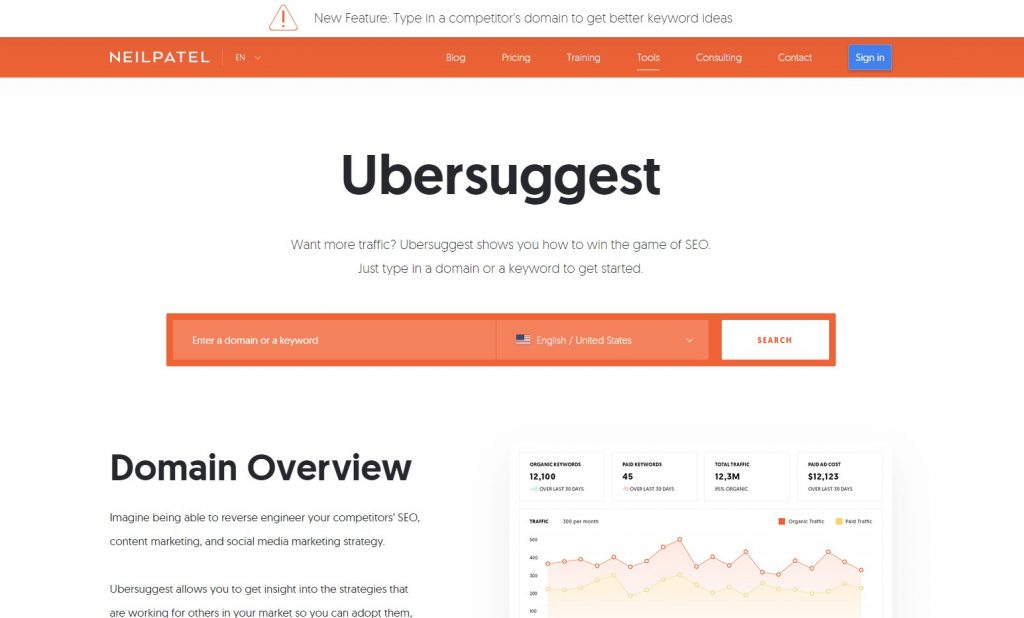 Ubersuggest by world-renowned marketer Neil Patel, is the tool you need to dominate the SEO field
All you have to do is enter a domain or keyword into Ubersuggest and click generate. Then select your target country or city or multiple regions if your target market is not limited.
Ubersuggest provides a list of keywords that you can track automatically, while allowing you to add others that interest you. It displays your ranking over time for both mobile and desktop devices.
You can use Ubersuggest not only to improve your SEO score, but also to get tips on how you can make changes that will help you rank high. Your goal should be an SEO score of 90 or higher.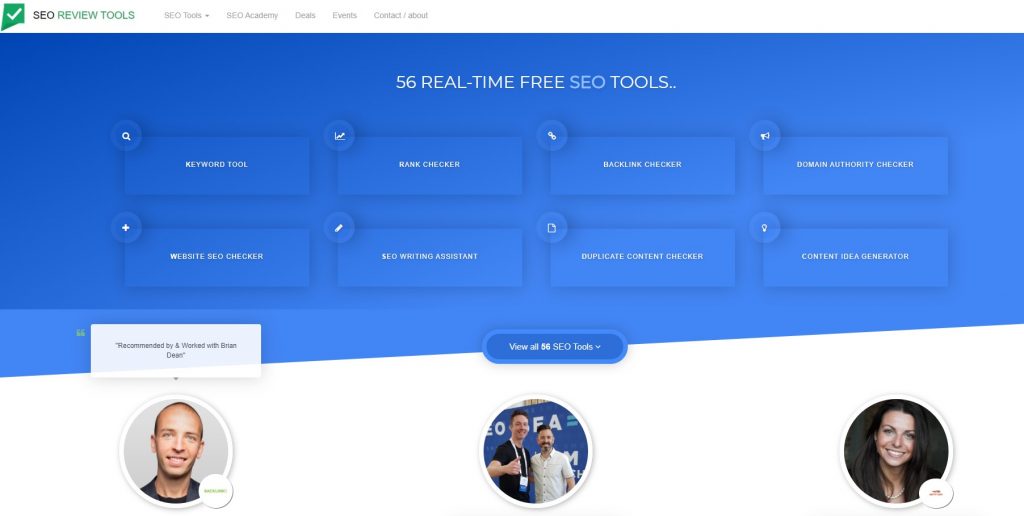 Jasja ter Horst started SEO Review Tools (SRT) after realizing that another SEO tool-related project was a big disappointment. SRT offers 56 free real-time tools to help improve your website's search engine ranking.
Its tools are divided into four categories namely SEO Authority, SEO Technique, SEO Content and Webmaster
Some of these specific tools include Fresh Backlink Checker, Broken Link Checker, Domain Rank Tracker, FAQ Schema Generator, Page Experience Checker, Website SEO Checker, Search based Keyword Density Checker, and SEO Content Editor and Keyword Sourcer.
8.10. free Google tools
Most webmasters and e-commerce site developers rely on Google's free tools to optimize their SEO.
These include: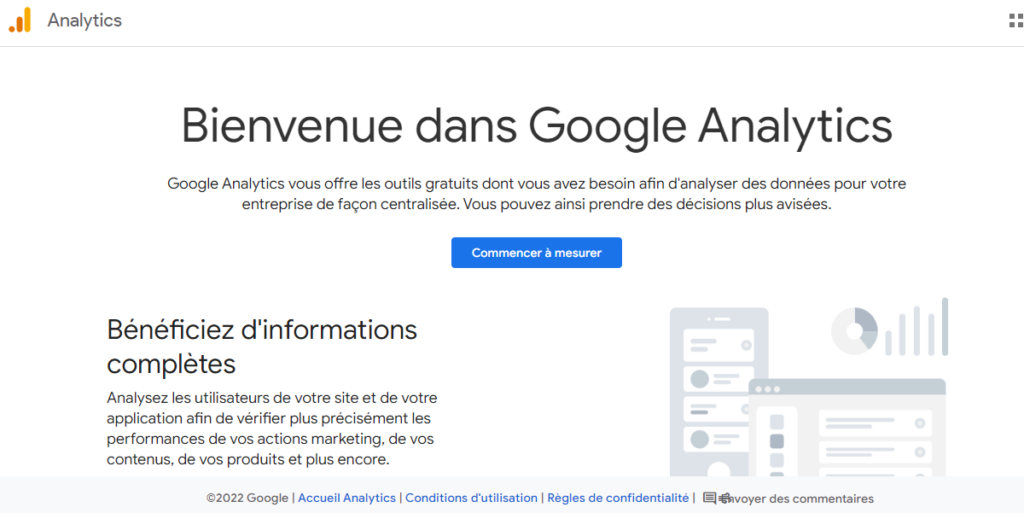 Google Analytics is an essential resource for SEO analysis because it provides data that helps you track and improve your performance
You can also use Google Analytics to create goals, such as tracking specific views and conversions on individual pages, or tracking interactions with forms on your website.
Not only can you build reports that reveal your most successful pages, but you can also take steps to improve them.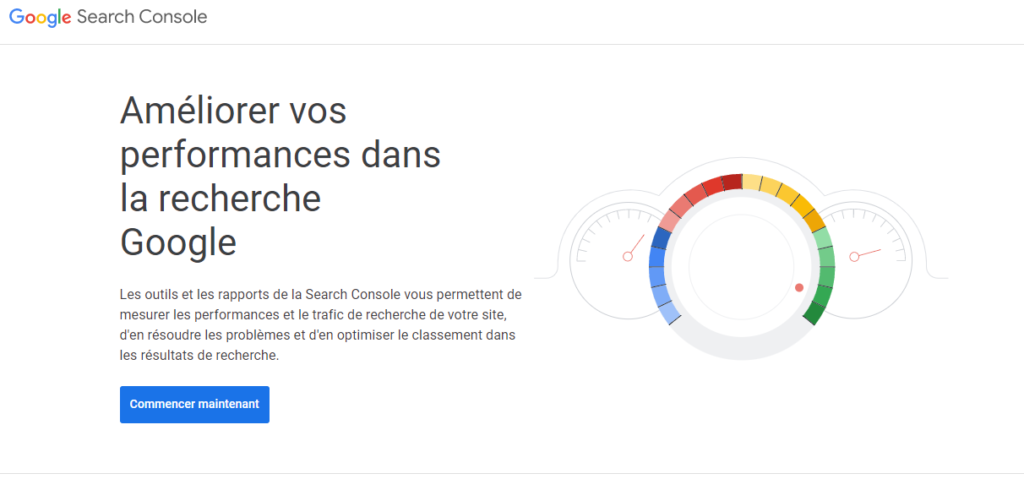 If you want to get the most out of your Google Analytics, connect it to your Google Search Console. By linking these two tools, you'll be able to see all queries and identify opportunities for keyword improvement.
Google Search Console helps you understand what keywords people are using to discover your content
It offers comprehensive data on landing pages and search queries based on clicks, impressions, CTR percentage, etc.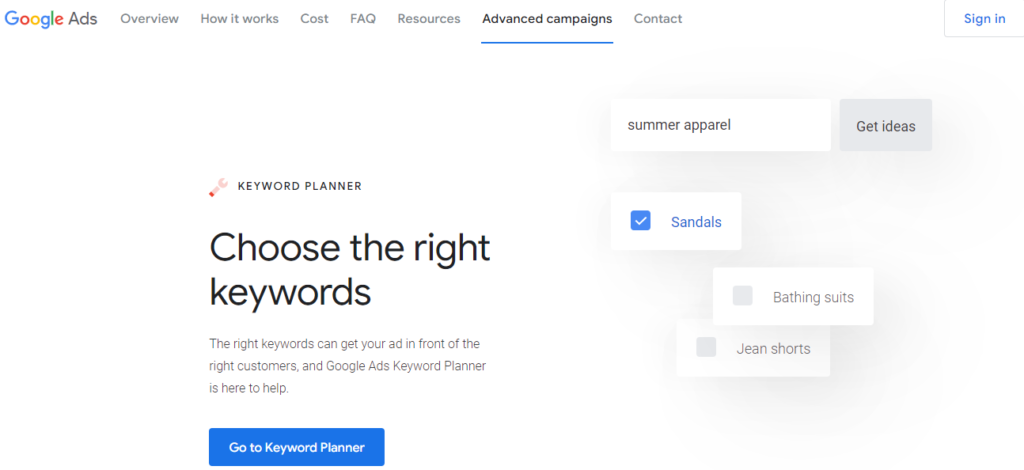 Google AdWords Keyword Planner is a great tool for creating ads or doing general keyword research, although its use has been limited by Google.
This tool not only provides data on the popularity of certain search terms and how that popularity changes over time, but it also gives you an estimated bid for each keyword. This allows you to plan your advertising budget accordingly.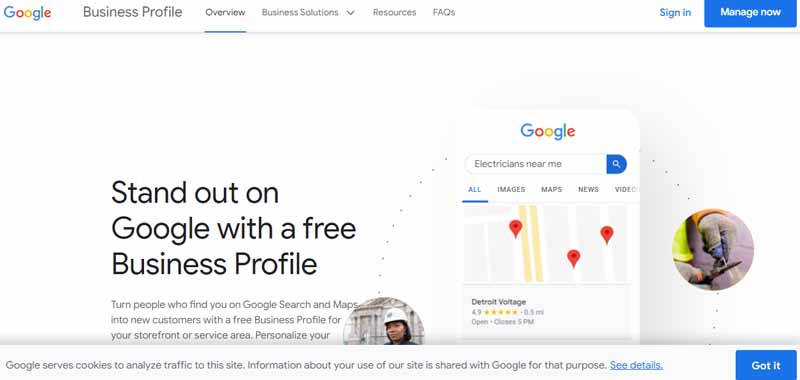 Google My Business is a free service that allows businesses to create profiles that appear in Google search results
With a business profile, you can connect with customers via Google Search and Maps.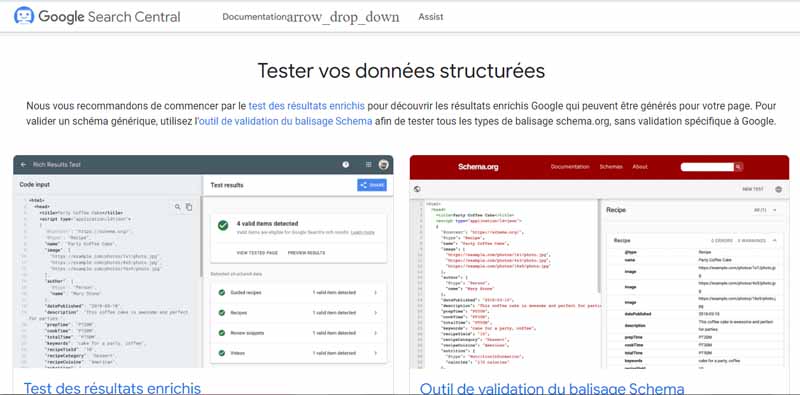 Google's structured data testing tool can be used to create and optimize new web pages, as well as to check the accuracy of existing pages.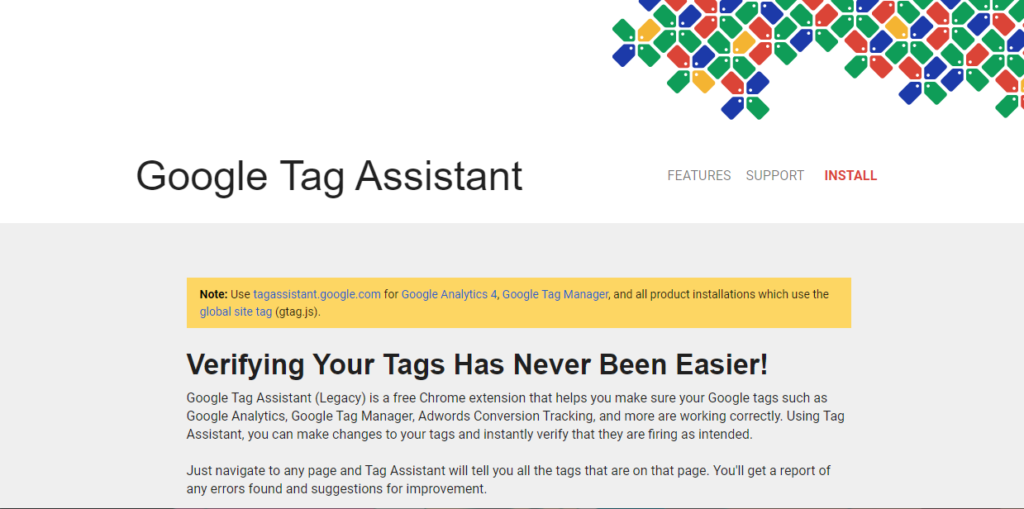 Google Tag Assistant is a valuable tool for troubleshooting issues with various Google tags, including Google Analytics and Google Tag Manager
It will tell you what tags are present on your site, report any errors it finds, and suggest improvements to your implementation.
Google Tag Assistant's logging feature allows you to record a user's journey through your website. This way, you can immediately identify and correct any issues with your Google Analytics implementation.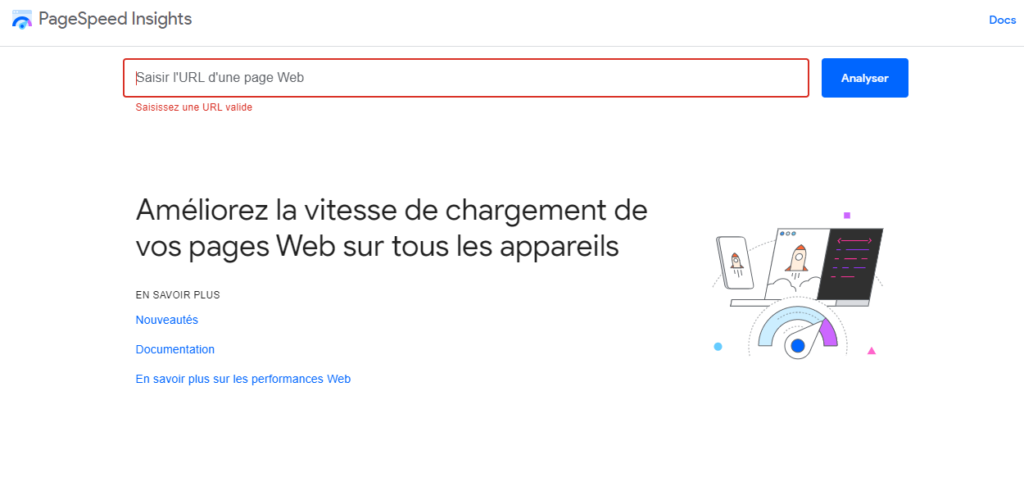 Google PageSpeed Insights is an excellent tool to evaluate the speed of your
website. It provides suggestions on how to make your pages load faster and also offers performance reports for mobile and desktop devices.
PageSpeed Insights provides a score that summarizes your page performance at the top of the report. Google determines this by running Lighthouse to collect and analyze data from the lab. A score above 90 is considered good.
Conclusion
Overall, optimizing your online store allows search engines to deem you brand worthy of appearing at the top of SERPs and users to easily discover you to make a purchase. In this article, we have developed in detail several points to prioritize if you want to optimize your store site.