Whether you are a business owner, a service provider or an online store, one of your biggest challenges is probably how to attract qualified traffic to your website
Discover in this article, the strategies that I have personally experimented on my own website Twaino and that allowed me to exceed the 40,000 visitors per month mark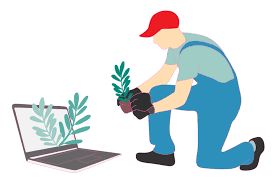 These strategies are 100% SEO, that is to say based ONLY on natural optimization techniques, without having to invest a penny in advertising or buying backlinks
Moreover, this content is a continuation of a series of articles in the same format that I had to publish previously
It is a format quite different from the blog articles, a kind of "Business Case" through which I try to trace, with captures, the major phases of my website's traffic since its creation
The goal of these contents was never to pretend to achieve something exceptional, but to bring you to realize all the efficiency of SEO, even in a niche as competitive as mine
Without further ado, let's find out all about it!
Chapter 1: Twaino's current statistics on Google Analytics
Before presenting my strategy, it would be more credible to show you the current performance of my website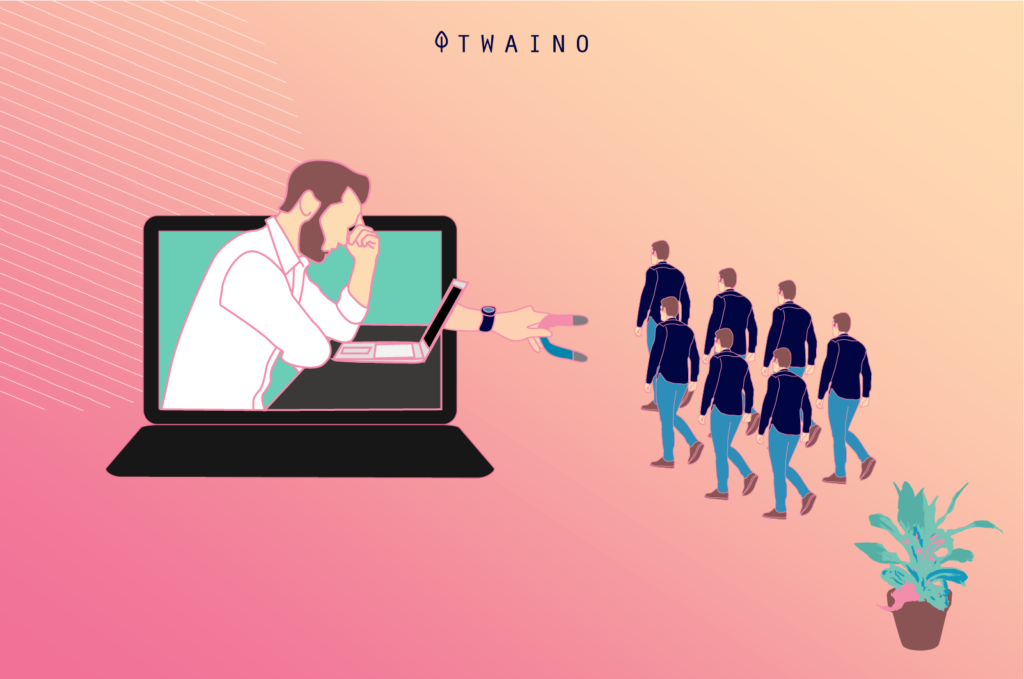 For this, we will rely on reliable data analysis tools such as Google Analytics, Google Search Console and Ahrefs
On Google Analytics, here are the important reports to present
1.1. The "Overview" report
For a better comparison, let's take a quick look back. On the screenshot below, dated March 09, 2021, the "Overview" report of Google Analytics announced 20,143 active visitors per month on the site Twaino :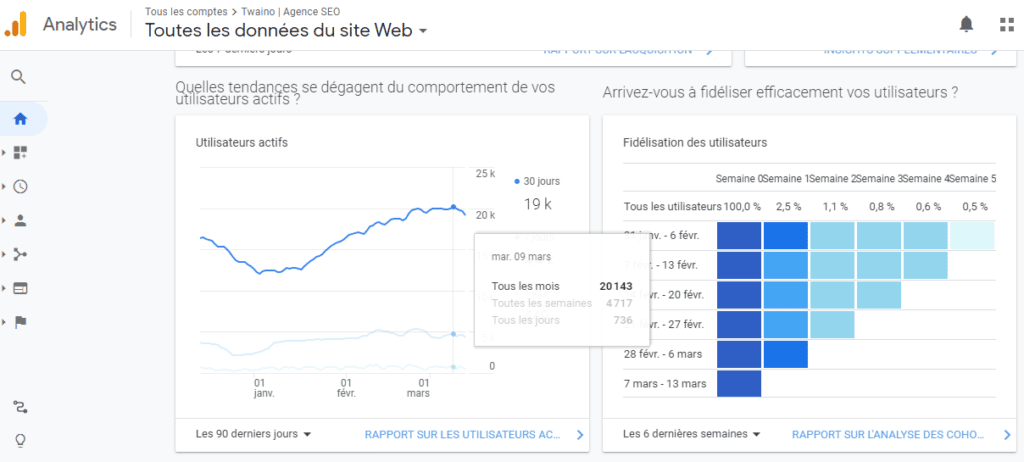 Currently, on October 21, 2022, we can see that the curve representing traffic has evolved significantly and has just reached 41,161 visitors per month on the Twaino site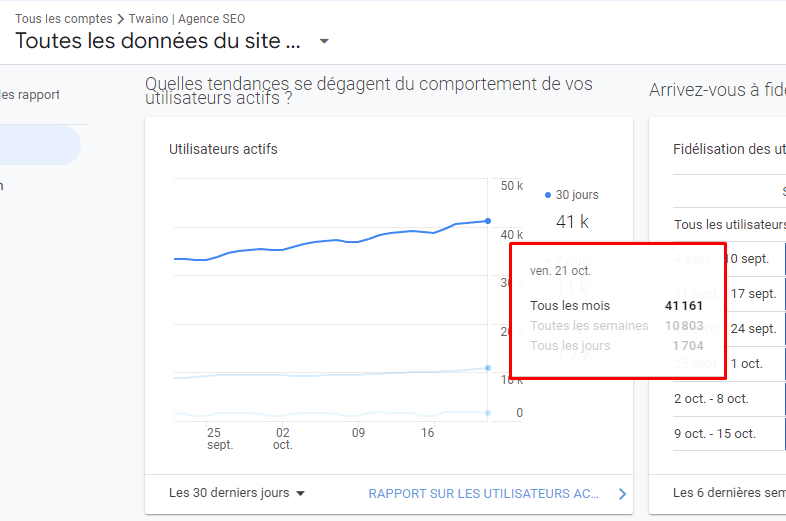 A nice progression that has been built up progressively over time and that has now reached the double of its level a few months ago
This is a very encouraging figure that shows once again how a good methodology and a constant effort always pay off in natural referencing. This makes you want to continue and reach even higher performances
1.2. where does Twaino's traffic come from?
With a 100% SEO oriented strategy, search engines are logically the channel that generates the most traffic to my Twaino website.
On the Google Analytics "Traffic Channel" report, we can see that Organic Search does indeed outweigh the other channels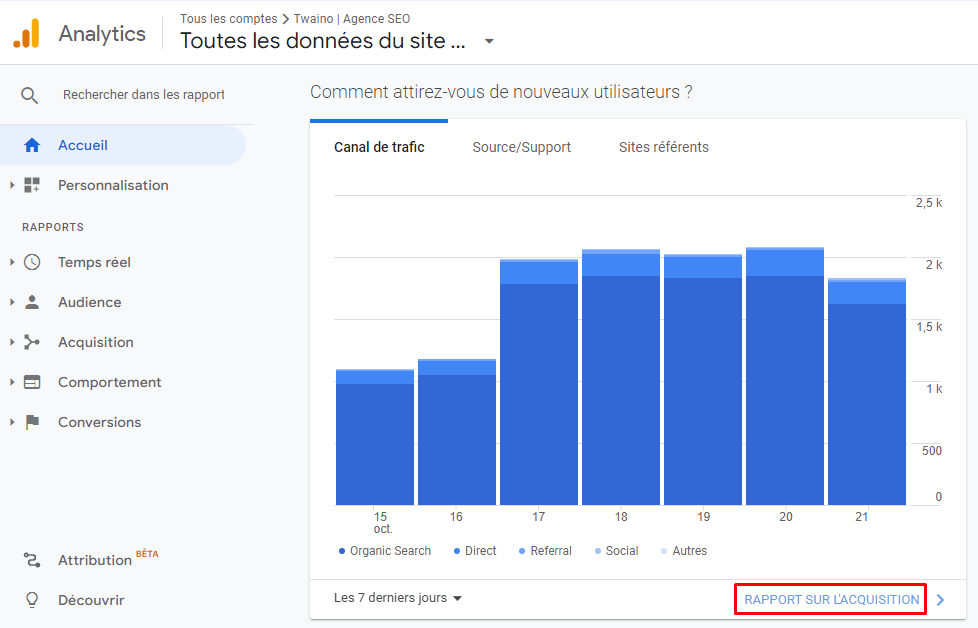 By clicking on the link "Acquisition Report", we can access more precise data
1.2.1. 90.2% of Twaino site visitors come from organic traffic
As a reminder, organic traffic refers to the number of Internet users who visit a website by discovering it from the free results of Google and other search engines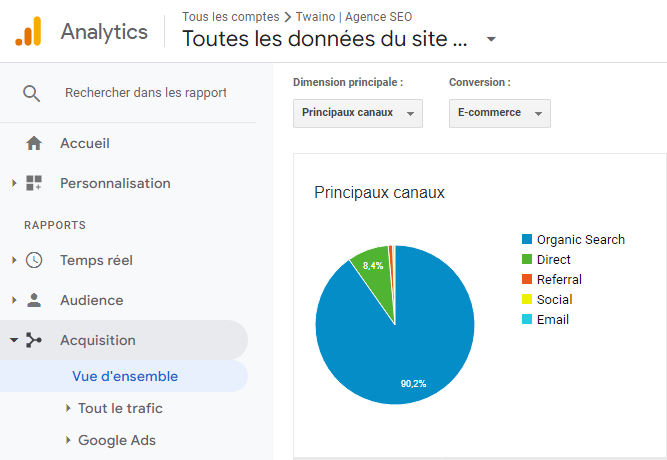 On the Google Analytics account of the Twaino website we can see that, Organic Search represents 90.2% of all the traffic of the website
As I had to say before, this is a pretty consistent figure since I only do SEO
You will certainly find me less credible if I claim to only do SEO, but most of my traffic comes from Google Ads for example.
1.2.2. 8.4% of Twaino's visitors come from direct traffic
The second important source of traffic for the Twaino website is direct traffic. In concrete terms, it refers to the percentage of visitors who type www.twaino.com directly into their browser without going through search engines or social networks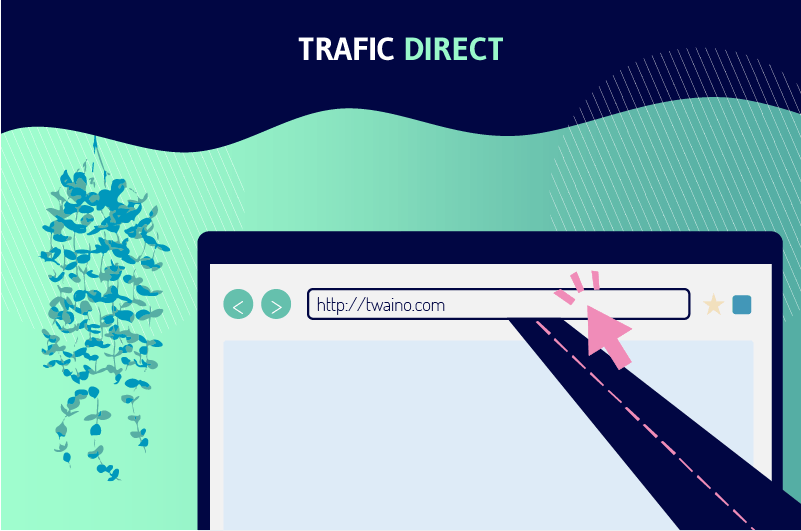 These visitors are probably regulars of my blog to the point of keeping in mind the domain name of the site
In the direct traffic, we can also find some word-of-mouth recommendations. Maybe a satisfied customer or a visitor who appreciates the quality of the content and recommends it to a friend
In any case, this is also a rather encouraging number in the sense that it reflects better branding. This proves that the name Twaino is growing in notoriety among Internet users
1.2.3. The remaining traffic (Referral, Social and Email)
The remaining 1.4% of Twaino's traffic is made up of a bit of "Referral", "Social" and "Email"
After that, I have to admit that my traffic is mostly dominated by Organic Search
This is not a point that bothers me personally, since it works. My idea is to really show consistency with the services I offer in my agency and the results I get on my own website
But in an SEO campaign for clients, I don't necessarily apply that approach. For a client, instead of putting all the eggs in one basket, I'll instead recommend a diverse traffic that comes from organic, but also from other channels
Here is a description of each of the other traffic sources
1.2.3.1. Social Search
Social Search or Social Traffic is the percentage of users who visit a website from social networks.
To get more traffic, I also try to be visible on social networks, especially on LinkedIn and YouTube
LinkedIn
Even though in terms of publishing, I've been much quieter in the last few months, I recently made a fun post on LinkedIn related to the 40,000 visitors that fell right on my birthday, kind of like a birthday present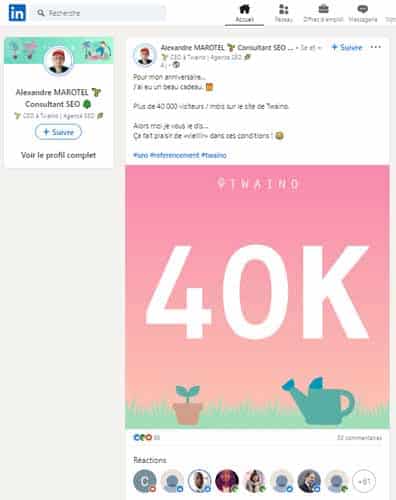 You can take a look at that publication here. It's a post that has gotten a lot of responses, including encouragement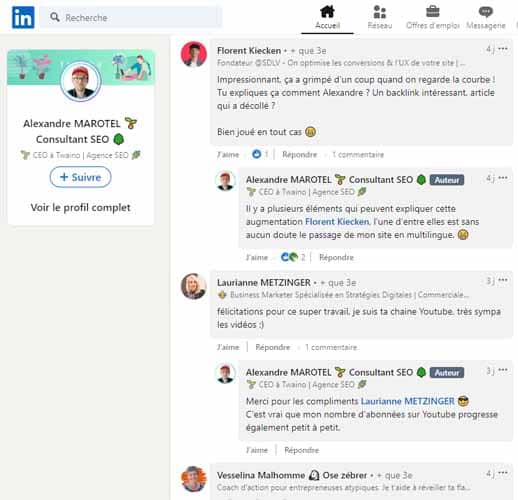 As you can see in the above capture, I received encouragement, but also questions about the strategy that helped me get my traffic curve up
As usual, on LinkedIn I share with my community this kind of professional discussion that I find very interesting. I should try to be more frequent on the platform.
YouTube
I also have a YouTube channel with over 1,500 subscribers on which I try to share videos as often as I can, despite my busy schedule. You can discover for example
You'll also discover a lot of other interesting videos and if you're not yet a subscriber to the Twaino channel, I'll be really happy to count you among my subscribers 😊
1.2.3.2. Referral Traffic
My traffic also includes a bit of referral traffic. Referral Traffic represents the percentage of visitors coming from other sites, not including social media of course
1.2.3.3. Emailing
Emailing represents the percentage of visitors who connect to a site from my email list
And on this point, I keep a rather soft approach. I simply set up a pop up on the Twaino site that invites visitors to subscribe to my newsletter
Once subscribed, no spam, just 1 or 2 mails per week in which I essentially share good SEO practices to adopt for a better webmarketing strategy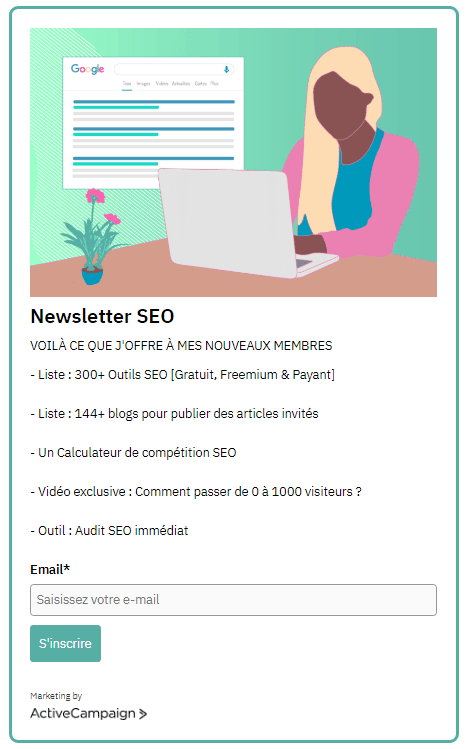 Now, let's look at the geographical location of the visitors to my website
1.3. The geographical location of Twaino's audience
Twaino is an SEO agency based in Paris and also works with clients in several other French cities. So logically, most of my visitors are in France
As you can see on the map of geographical data provided by Google Analytics, France tops the list of countries that generate the most traffic to the Twaino site
After that, we can see other European countries such as Italy, Spain, Belgium or Russia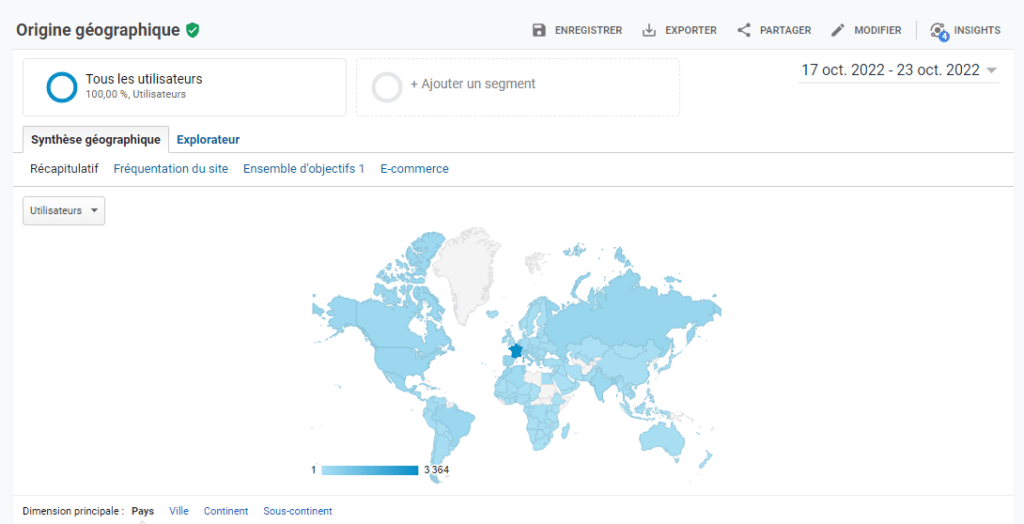 Twaino also receives visitors from all over the world. For example, I have users who connect from the United States, Canada, Mexico, Brazil..

This geographical diversity of my audience is explained by the fact that my site is multilingual. Indeed, the Twaino website is now available in French, but also in English, Spanish, Italian and Portuguese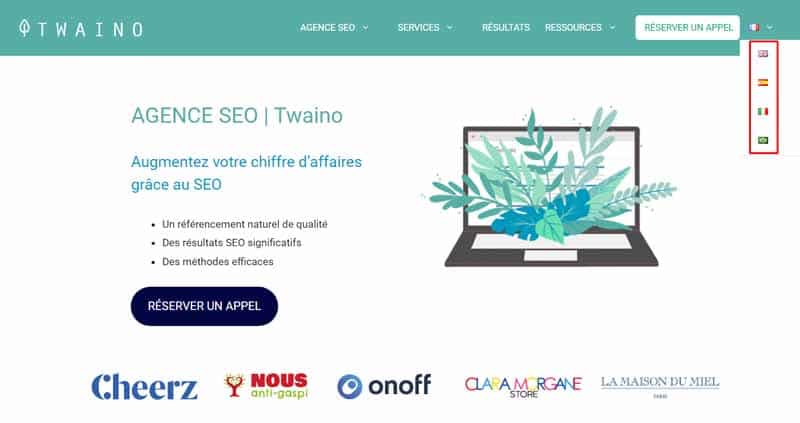 We can say that this move to multilingualism is bearing fruit and is leading my brand to become more and more known abroad
Chapter 2: Twaino's current statistics on Google Search Console
The data obtained from Google Search Console is in line with the trend observed in Google Analytics. Here are the important reports to look for on Google Search Console
2.1. The "Overview" report
Over the past 12 months, the "Overview" report in Google Search Console shows that Twaino's site has gotten 263,000 total clicks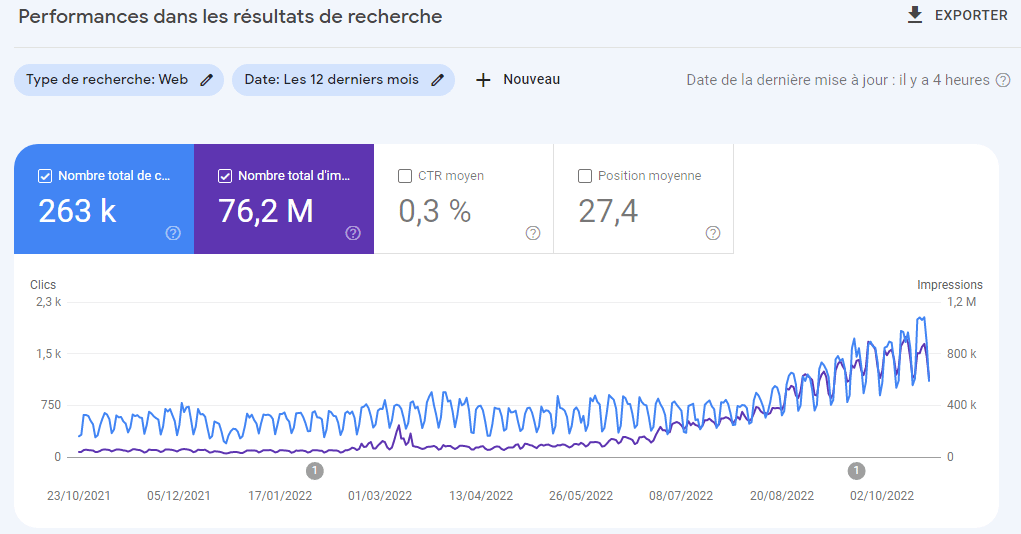 The report also shows us a curve that illustrates the trend of the number of clicks obtained over time
When we go back to October 23, 2021, we can see that Twaino's site got 301 clicks on that day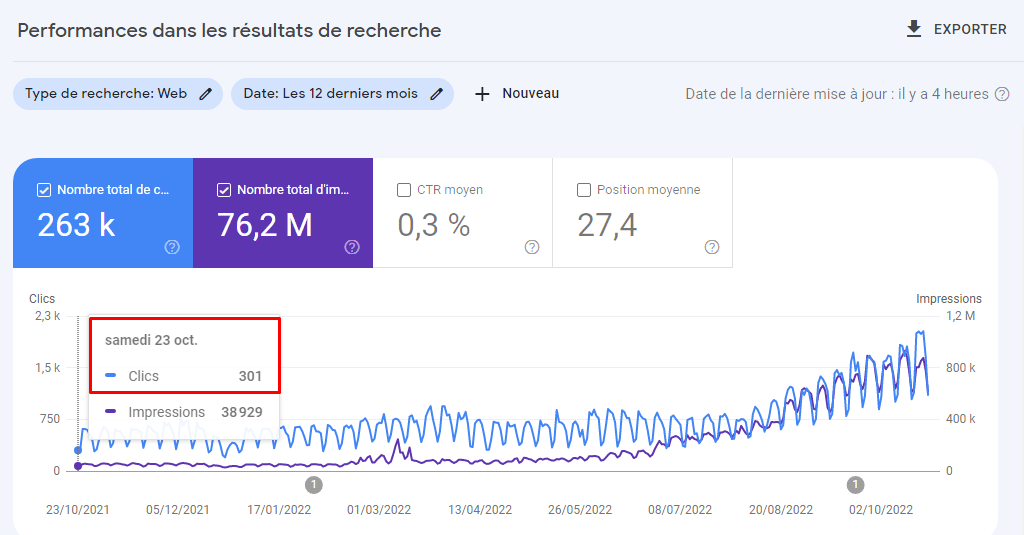 On October 18, 2022, the site went from 301 clicks to 2,025 clicks recorded in one day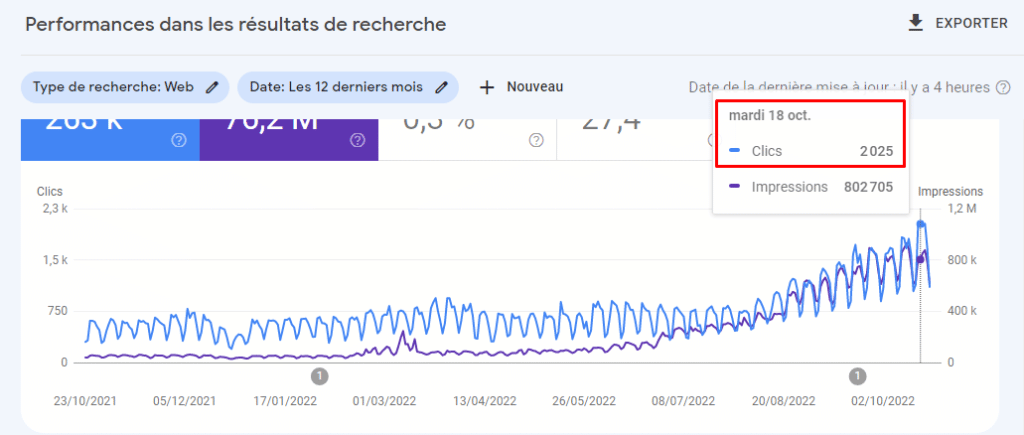 After that, it must be said that the site does not record such performance every day of the week.
You will also have noticed that the curve observes a sawtooth pattern with lows often recorded during the weekends. This is explained by the fact that my visitors are generally in the B2B sector and therefore rest from Saturday to resume activities on Monday
When we also analyze the curve in its entirety, we note a drop in clicks during the holiday season before gradually picking up around mid-January. This can also be explained by the fact that my sector is often off during the December period
2.2. The keywords for which Twaino is positioned on Google
Twaino's site appears for several queries on Google, sometimes as an answer element proposed by Google at position zero, sometimes among the organic results.
The keywords on which my site is currently getting better positions include
Word Counter
Twaino
Blogger
Error 502
Answer the public
Etc
A few months ago, the highest number of clicks obtained on a single keyword was 997 clicks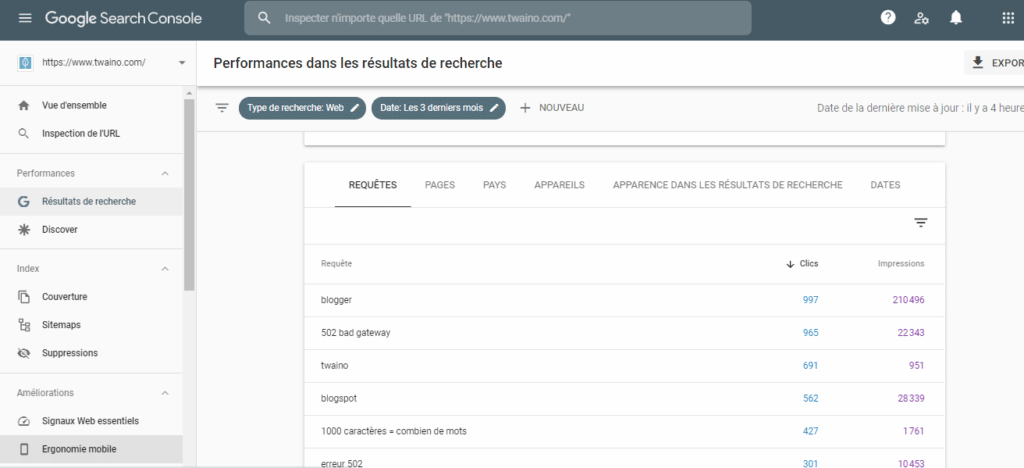 Currently, this number has increased to 2,328 clicks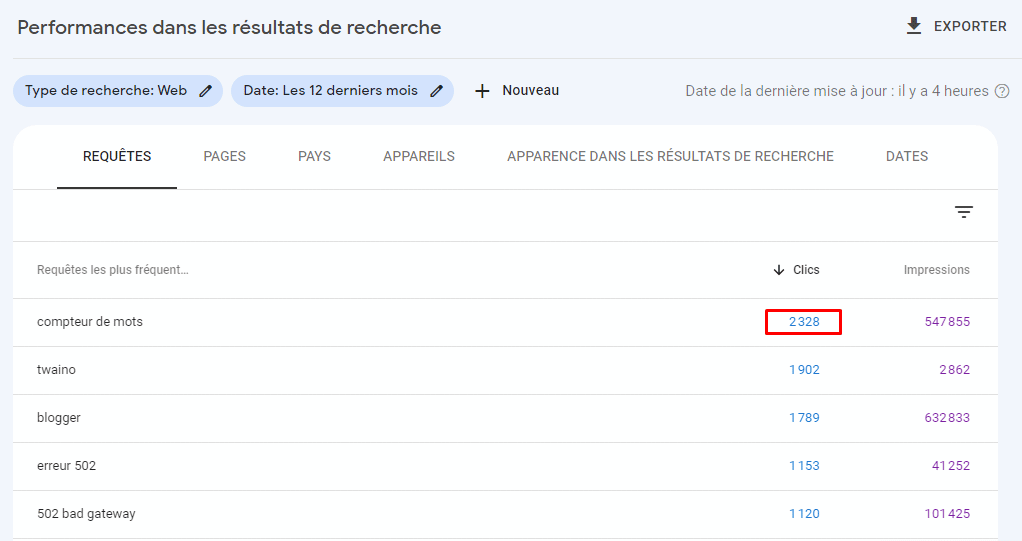 In addition, the number of clicks my site gets on the keyword "Twaino", my brand name has also evolved. We went from 691 to 1,902 clicks. A sign that the name "Twaino" is becoming more and more known.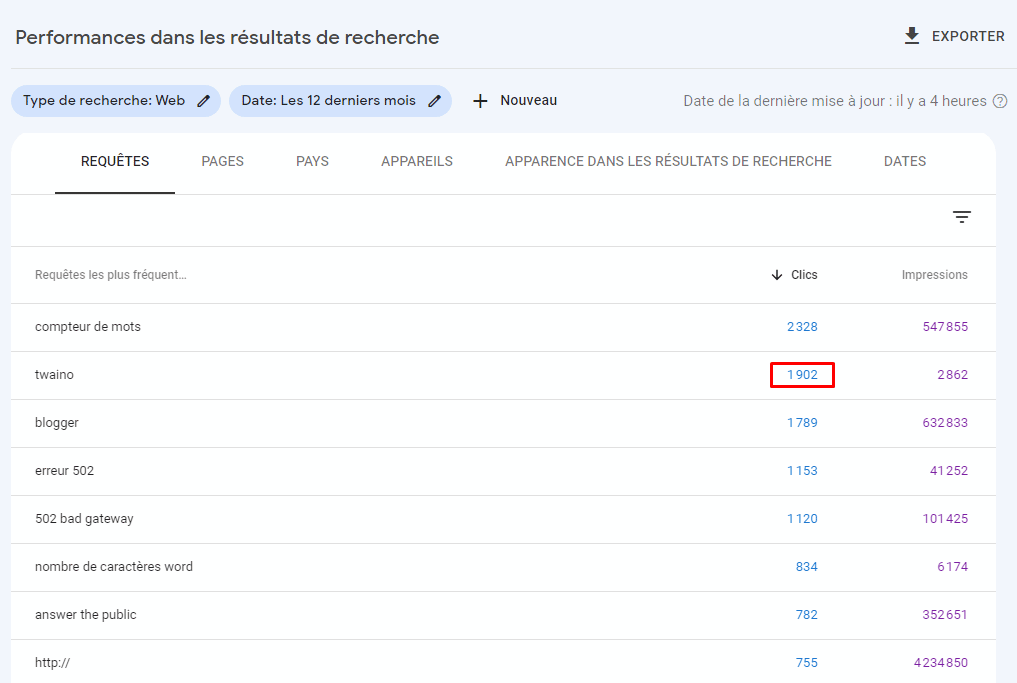 If in terms of number of clicks, the signs are quite good, what about the positions I occupy on the Google pages? This is what we will see in the next section
2.3. Twaino's ranking on the Google SERPs
On Google Search Console, it is also possible to consult the rankings of a website on Google pages. To do this, the tool offers a first overview report which is the "Average Position"
As the name already indicates, this measure represents the average position of all the rankings that a website occupies on the Google pages
The current "Average Position" of the Twaino site is 27.4. A "
"Average position" quite high I must admit, but I remain confident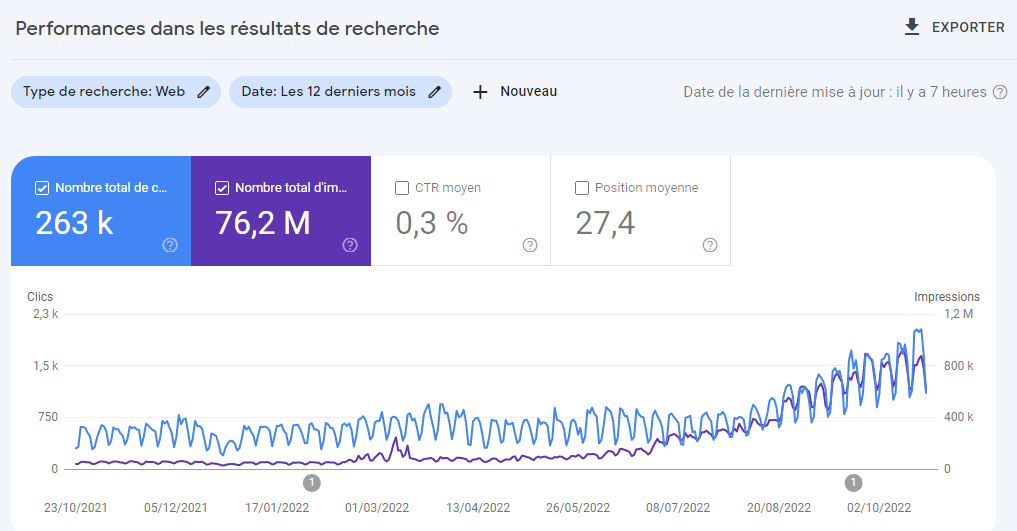 The fact is that I have recently published an important wave of articles that still need some time before emerging to the first page of Google
For the moment, these new contents "pollute" my "Average Position" score, but everything should be back in order very soon.
2.4. Which sites link to the Twaino site
Links are an important factor in SEO. The "Links" report of Google Search Console allows to have an idea of the backlinks profile of a website
In October 2021, this report counted 1,262 external links and 21,954 internal links on the Twaino website
At the time, I thought the link count was a bit low. So I promised to start a real backlink campaign to increase the number of external links pointing to my site
Even if since then I haven't really implemented a real proactive approach to gain backlinks, I still managed to double the number of backlinks, 3,302 external links and 164,016 internal links currently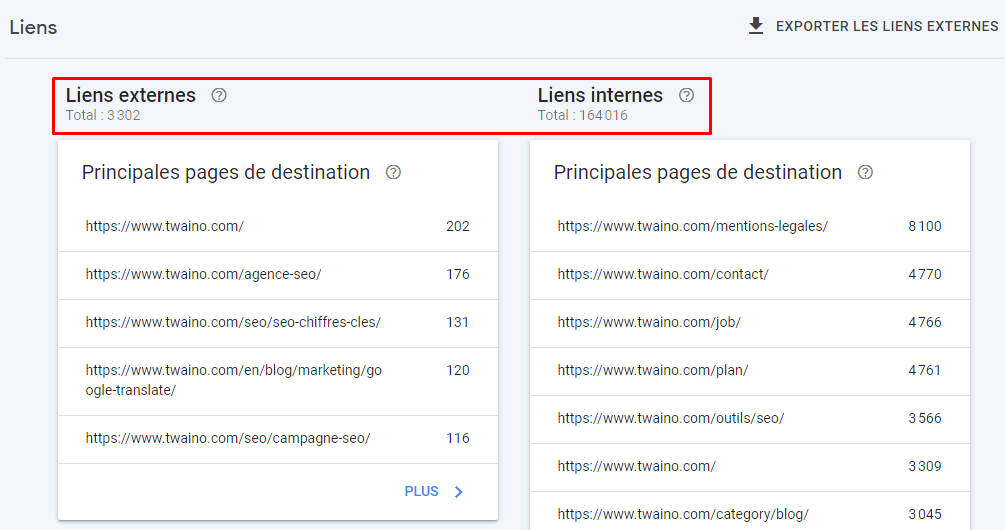 These backlinks have been earned really naturally. They are simply the result of other websites that cited me on their platforms because of the quality of my contents
On the other hand, I would like to remind you that I could have well bought backlinks to speed things up
But as I had to mention it several times, I try to keep the most natural approach possible without advertising costs, nor buying backlinks or any other paid marketing strategy
The idea is to really prove that it is possible to get great performance with only natural optimization techniques
2.5. Is my site subject to manual actions by Google?
A manual action is a penalty inflicted by Google on a website for violating one or more of Google's webmaster guidelines.
The practices punishable by the search engine are duplicate content, keyword stuffing, link farm, etc
The sanctions imposed can range from a simple loss of position to a total removal of the site concerned from the Google index. So far, Twaino's site has never had to take any manual action from Google

This proves that I am using good optimization practices according to the search engine guidelines, but also that I am not under negative SEO attack.
Chapter 3: The current statistics of the Twaino site on Ahrefs
In this chapter, we will present the latest points in terms of SEO metrics obtained this time on Ahrefs
On Twaino's Ahrefs account, here are some SEO metrics to present
3.1. Domain Rank
The Domain Rank of a website on Ahrefs is a metric that evaluates its authority on the web. This metric is basically based on the number of backlinks that the website in question earns. The higher the domain rank of a website, the greater its authority on the web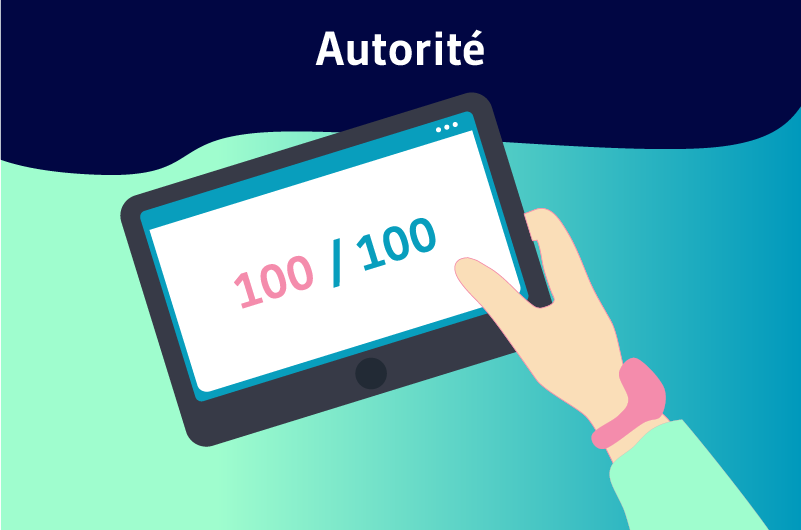 In terms of Domain Rank, I've evolved quite a bit and that's a pretty good sign. Currently, Twaino's Domain Rank is at 47. A number that allows us to say that my site is growing in confidence and authority with Google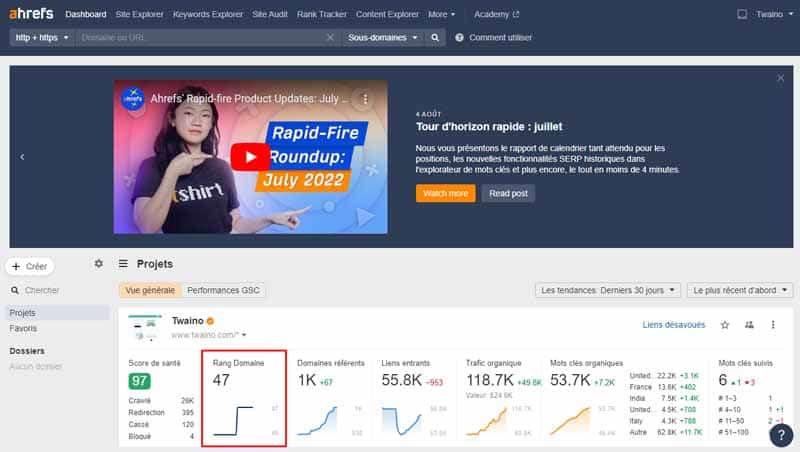 After that, it should be noted that the Rank Domain is a data to be taken with care because it is not provided by Google itself and can be easily manipulated.
Generally, to improve the Rank Domain score of your domain, you must
Gaining quality backlinks from high Domain Authority sites
Ensure that your site's content is high quality and relevant to your target audience
Use Ahrefs' tools and features to help you track your website's progress and optimize your SEO strategy.
Personally on Twaino's website, as I had to say before, I have hardly implemented a real strategy for months or even years for backlink acquisition.
I focus much more for the moment on the creation of quality content and on the best practices to optimize the technical aspects of my site
3.2. Referring domains
Referring domains are the number of websites that link to your own site. This is an interesting metric because it indicates how much other websites trust your site enough to link to it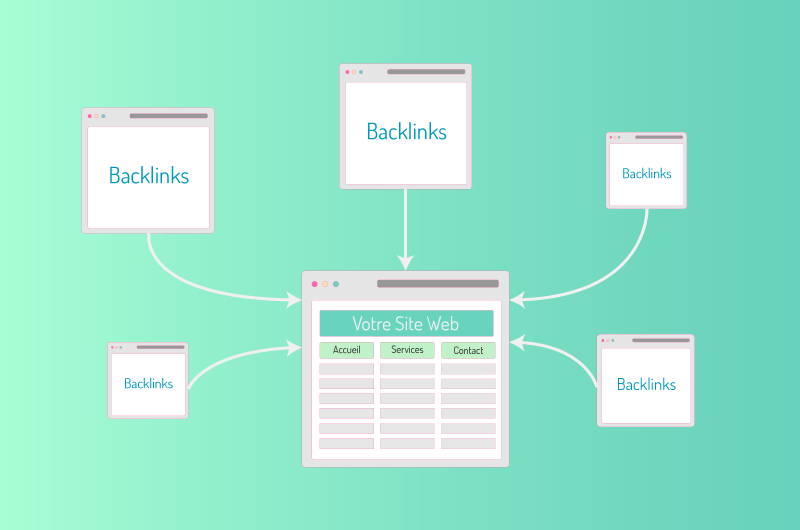 You can see the referring domains on Ahrefs by looking at the "Ref. Dom." column in the "Backlinks" report. For the Twainio site, you can see that I am in the green with +67 backlinks gained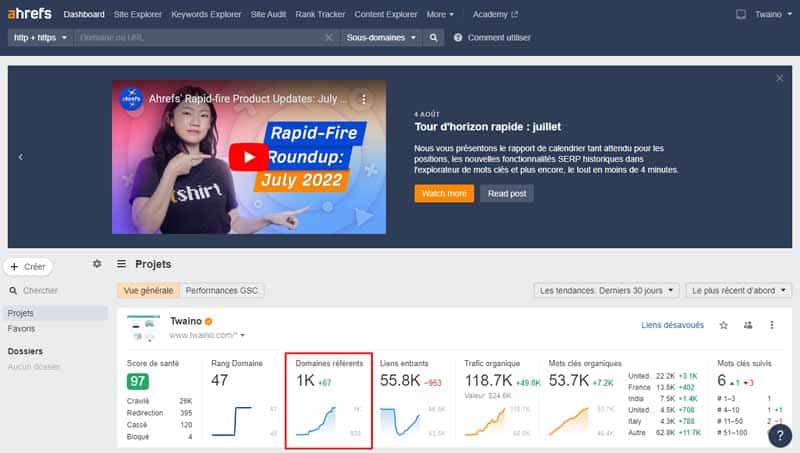 3.3. Inbound links
The Ahrefs report on inbound links on the other hand is in red with nearly 1K lost links
Again, it must be said that this is a metric to put into perspective because on the one hand I have my Domain Rank increasing with more and more referring sites that point backlinks to my domain, but at the same time my site is suffering a considerable drop in backlink loss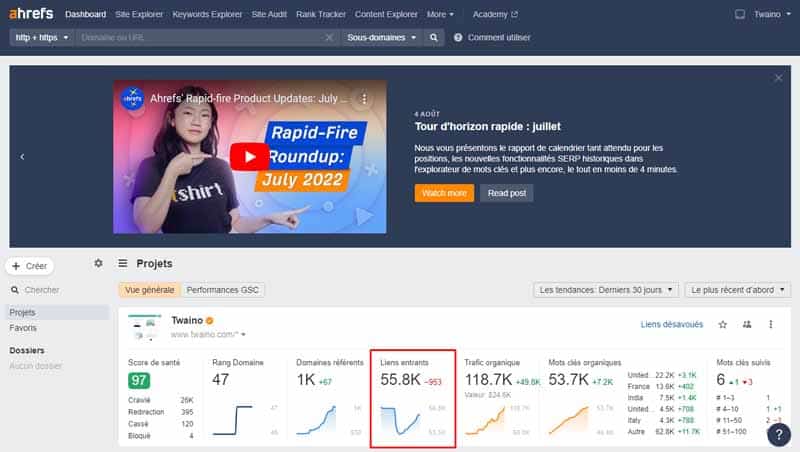 With this Ahrefs data, it can be a little difficult to clearly understand what is going on underneath
Personally, I think there are two scenarios that can explain this
Either it's links that aren't necessarily of good quality, especially links from India, a country in which I don't have professional relationships
Or the loss of inbound links is the consequence of a Negative SEO attack (less likely) launched against my website
Finally, maybe these unwanted links have simply been disavowed by Google itself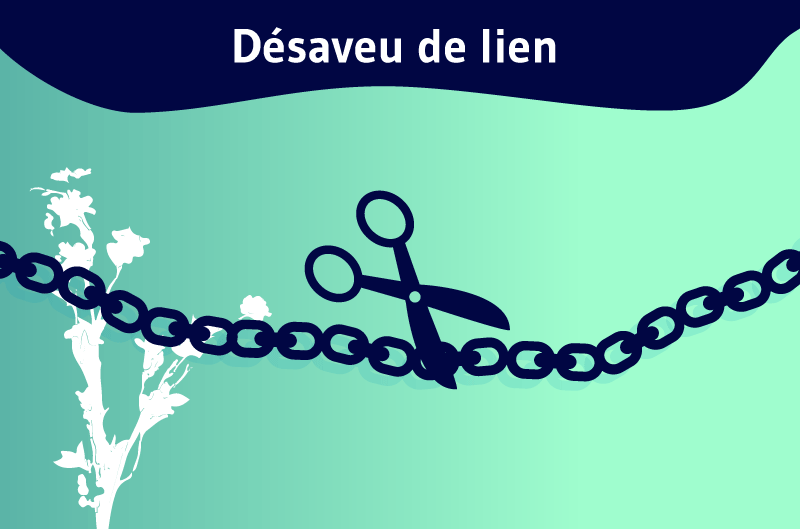 As my site grows in authority, the search engine takes care of ignoring poor quality backlinks.
By the way, I haven't really done a disavowal campaign (campaign to ask Google to remove spamming links) for a very long time. And it probably doesn't affect my traffic
In any case, this drop in inbound links announced by Ahrefs is something I'll try to keep an eye on to prevent it from affecting my traffic or ranking
3.4. Organic traffic
Unsurprisingly, in terms of organic traffic, my site has been making good progress according to Ahrefs' data as well
In fact, the traffic displayed by Ahrefs is almost triple the 40,000 visitors counted on Google Analytics. Indeed, on Ahrefs, we can see that Twaino's organic traffic has increased to 118.7K visitors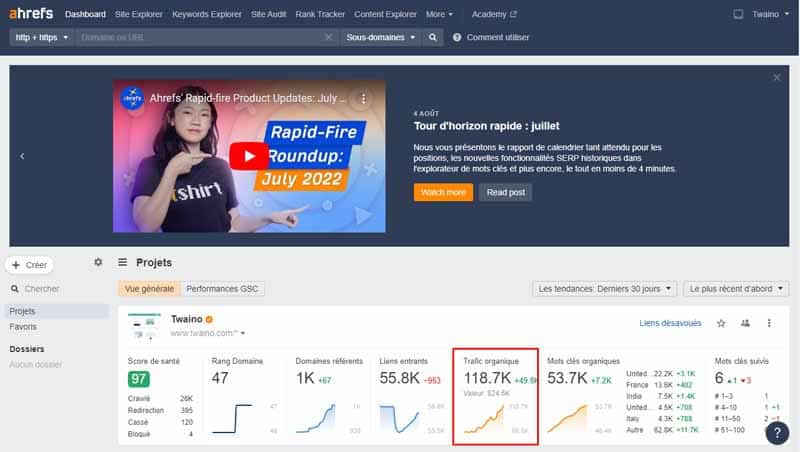 After that, I don't necessarily try to understand the difference that it can have concerning the same metric on these two sources. The calculation criteria certainly differ from one tool to another
What I am really interested in is to see the confirmation that indeed my traffic observes an increasing trend on both sources
3.5. Organic keywords
Another aspect that interests me is my evolution in terms of organic keywords. On Ahrefs we can see that I am positioned on 53.7K organic keywords including +7.2K new keywords.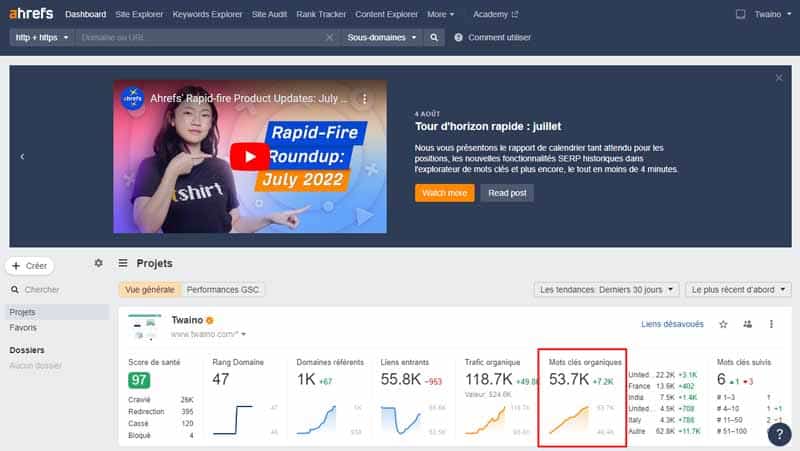 And this seems quite logical insofar as I create more and more content, which leads me to position myself on more and more keywords
So, they are not necessarily highly competitive keywords. I am rather in a "long tail" approach.
Instead of only going after highly competitive keywords, I also target a lot of low competition keywords that are commonly called in SEO, long tail keywords.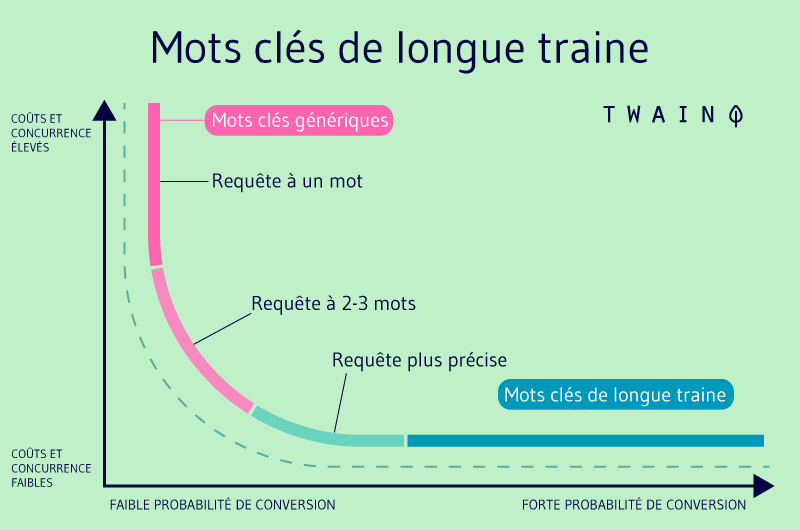 A long tail keyword is a keyword that is more specific and less competitive than more general keywords. For example, "poodle grooming" is a long tail keyword that is more specific than "grooming."
In my niche, by offering quality content on long tail keywords, I will be able to establish a certain authority with Google and thus gradually claim to obtain better rankings on highly competitive keywords
Chapter 4 : My strategy to reach 40 000 visitors per month on my website
So, what are the strategies that allowed me to reach 40,000 visitors per month on the Twaino website?
Well, as they say, you don't change the team that wins, so I continue to use the same approach that allowed me to generate my very first 1,000 visitors.
It is an extraordinarily simple strategy that is not very complicated. However, what makes it so effective is the consistency of the efforts on a regular basis
4.1. Optimizing the technical aspects of my website
Before starting, if you don't have a professional website for your activities, you should think about it. It is an essential step of the strategy. And for that, make sure you have a clean website from a technical point of view.
In SEO, the technical performance of a website can greatly influence, for good or bad, the ability of the website to attract and retain visitors
Statistically, 75% of Internet users admit that they judge the credibility of a company according to the design of its website. And 88% of Internet users are less likely to return to a website after a bad first experience
The idea is not necessarily to have a perfect website, but to at least make sure you have these essential criteria
Have web pages in Google AMP format: Activate the Google AMP technology on your site to improve its responsiveness on mobile devices (smartphones, tablets)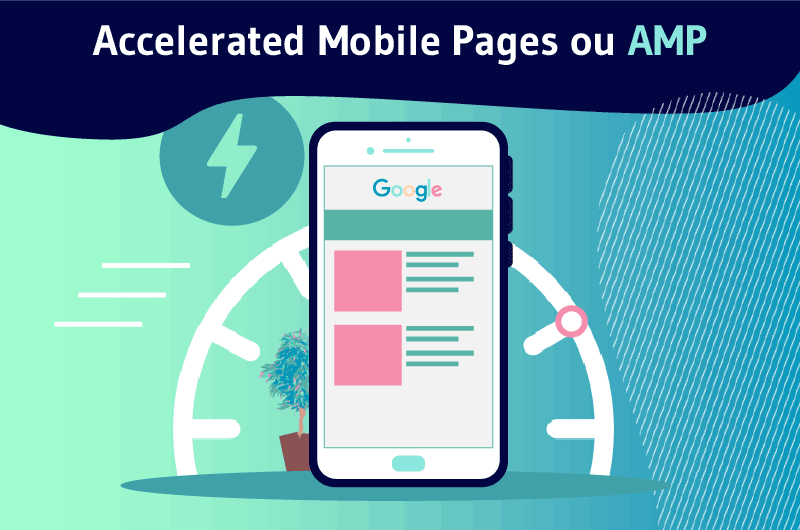 Have a consistent graphic charter: Offer a unique graphic charter for the mobile and desktop versions of your website
Have a website that is crawlable and indexable: You need to make sure that the source code of your website is clean, that you use meta tags correctly and that there is nothing on your website that could prevent search engine crawlers from indexing your pages.
Optimize your website speed and performance: You need to optimize your images and make sure your site loads quickly for users.
Improve your backlink profile: It is important to acquire links from high quality websites and also make sure that your internal links are properly structured.
On-Page Optimization of your website content: This means making sure that your titles, meta descriptions and content have been properly keyword optimized and are relevant to your target audience.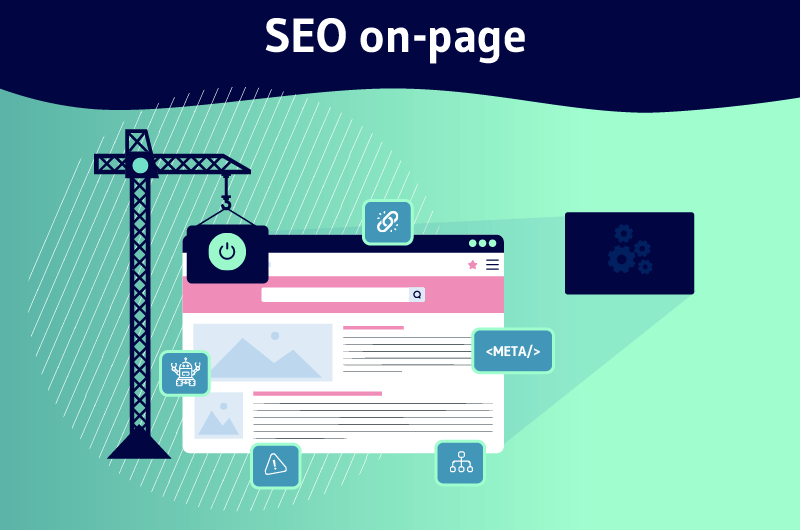 Track your website analytics: This means determining how much traffic is being generated from organic search, which keywords are driving that traffic, and which pages are generating the most conversions.
To learn more, you can check out my mini guide on Technical SEO
4.2. implement a good content marketing strategy
Content marketing is a strategic approach focused on creating and delivering valuable content to attract and retain a clearly defined audience and ultimately drive them to profitable customer action.
Simply put, content marketing is about creating quality content to attract visitors and potentially convert them into customers.
For a better content marketing strategy, it is important to consider the following aspects
Define your target audience: Who are you trying to reach with your content? Knowing your target audience is essential to creating content that resonates with them and delivers results.
Develop a content strategy: Once you know who you are targeting, it's time to develop a content strategy that will help you reach them. This strategy should include the topics you will cover, the tone of your content and the frequency with which you will publish new content.
Create quality content: Once you have a strategy in place, it's time to start creating quality content. It should be high quality, engaging content that your target audience will enjoy.
Promote your content: Don't forget to promote your content! For this, the first channel that I recommend and that I favor on the Twaino site is the creation of a blog section
I think that no matter what industry you're in, your visitors will appreciate the idea of sharing useful blog posts on interesting and timely topics. Then you can repurpose these blog posts into other more digestible types of content, including infographics, carousels
These types of content are more suitable for social networks. If you also have a newsletter, you can also create an email list and share your content
Monitor your content marketing strategy: For a successful strategy, you need to set up a monitoring plan in order to better appreciate the results obtained and make adjustments if necessary
After that, I really want to insist on the "quality" aspect of the contents because for me, it is really the factor that allows you to attract traffic and improve your ranking on the SERPs
Personally, I first analyze the best of the competition and then I try to produce a 10x better content. Although this requires more work, the result in the medium/long term is worth it
The current state of Twaino's content marketing strategy
Currently, there are on the Twaino site
228 SEO definitions
192 blog posts
11 guest articles
51 infographics
And 72 videos (YouTube channel)
To make it easier for the users to navigate, all these contents are carefully categorized
As you can see on the picture below, I deal with SEO on my blog, but also with other related topics such as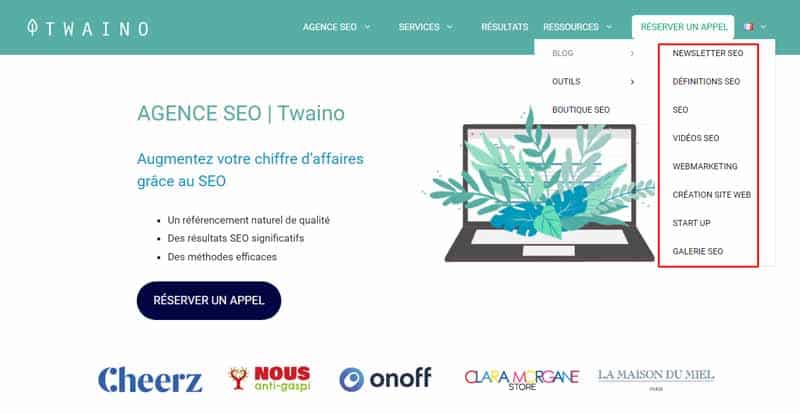 Marketing
Business creation
Website creation and management
4.3. Set up a backlinks acquisition strategy
Backlinks are one of the most important aspects of SEO because they contribute greatly in improving a website's ranking on SERPs and increasing the website's traffic.
One of the ways in which backlinks can improve a website's ranking is by increasing the authority of the site. When another website receives a backlink from another website, it tells search engines that the site is reputable and trustworthy
As a result, the site will rank higher in the search engine results pages
In addition, backlinks can help improve click-through rates (CTR) and organic traffic.
But I must admit that on my Twaino site, I didn't really implement a proactive strategy to gain backlinks. I simply had to write some guest articles also known as guest blogging
It's a strategy that is still a great way to promote your content to new readers, build relationships with other bloggers in your niche and ultimately earn backlinks
In concrete terms, you write an article that will be published on someone else's blog and you take the opportunity to insert a backlink that points to your own blog
This is a pure White Hat SEO strategy approved by search engines that you can also experiment without fear on your own website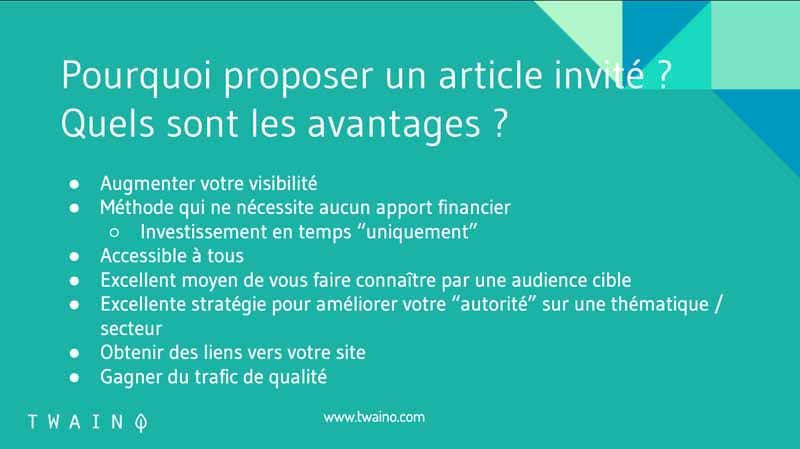 To do guest blogging
Identify high quality websites that are relevant to your business or industry.
Then contact these sites and submit your request to write a guest article
If they are interested, the content written will be published on their website with a backlink to your website
Finally, monitor the results and adapt your approach if necessary.
To learn more about this strategy, you can read my guide on guest posting
To make it easier for you, I have also provided a list of +1156 English and French blogs that are willing to accept guest blogging requests
4.4. The transition of Twaino's site to multilingual
Another important thing I want to mention that has also contributed to the improvement of my traffic is the switch of the Twaino site to multilingual. Currently, the site is available in French, English, Italian, Spanish and Portuguese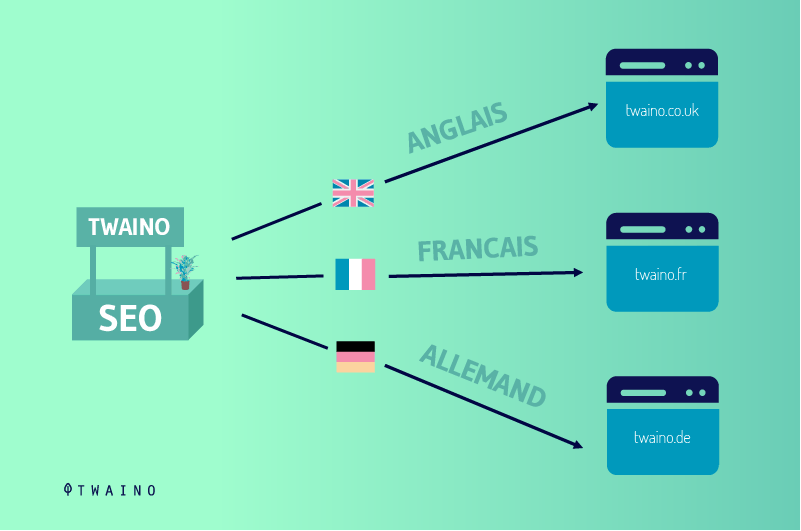 The fact is that multilingual websites offer a significant SEO advantage over websites available in one language
By translating your website into multiple languages, you can target a larger number of search engine users and logically increase the visibility and traffic of your site
In addition, multilingual sites are more likely to rank higher in search engine results pages (SERPs) because they offer a better user experience and are perceived as more reliable and authoritative.
On the other hand, I also want to add that I made the decision to go multilingual because I noticed that a lot of my content was simply translated by other sites into other languages
Of course, for Google this is unique content, but in reality it is content that has been stolen
When you analyze all the resources that have been mobilized for the creation of these contents that are simply translated in a few seconds, it becomes unacceptable in the long run.
This is also one of the reasons why I decided to go multilingual in order to own the first, linguistic versions of my contents and thus prevent them from being reused by other sites
4.5. The creation of a new "SEO Tools" section on the Twaino site
Another action that I did and that also played in the improvement of my traffic, is the creation of a new section "SEO TOOLS" which gathers for the moment more than 400 SEO tools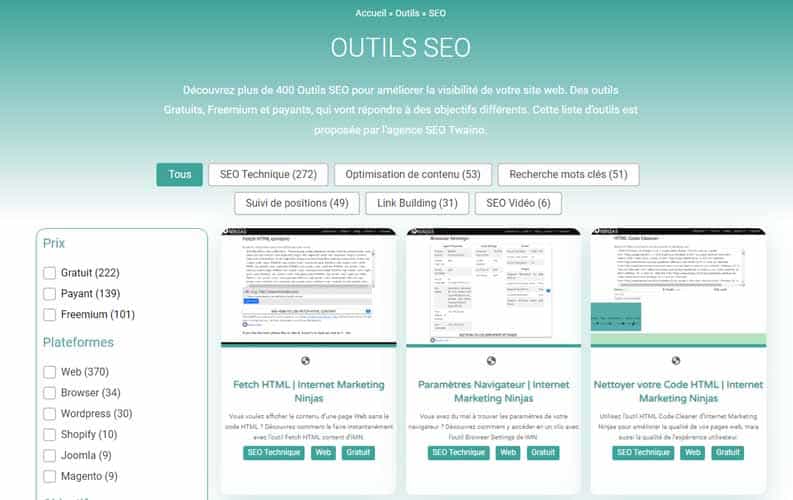 And behind it, it's really a meticulous work that has been done. Each tool has been carefully presented to allow you to have all the necessary information that can help you to know if the tool in question is really adapted to your needs before using it
When we take for example the WP-Optimize plugin, you have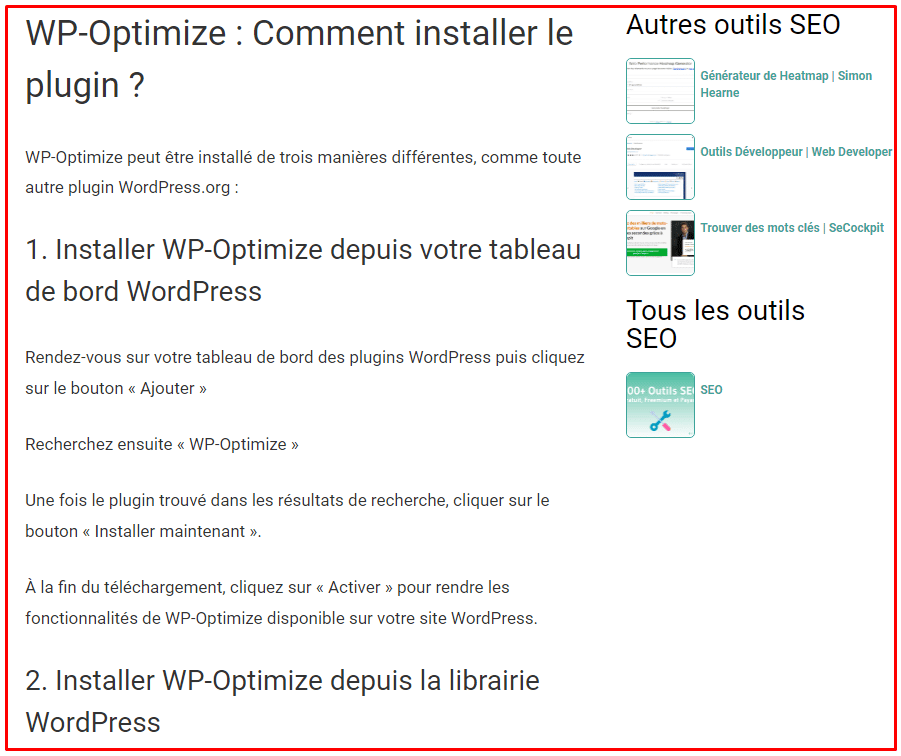 A short and long presentation of the tool
A concrete definition of the tool
The available features
An installation guide
The pricing
The advantages and disadvantages
Presentation videos copied from the official page of the tool
A gallery with some captures
A presentation of the company that owns the tool
The link of the company's website and the links of its social network accounts
And finally a selection of other related tools that might interest the visitor
In addition, to make it easier for visitors to find the tools they are looking for, I have set up a filtering system to help them refine their search.
For example, you can check the boxes of the "FREE", "WORDPRESS" and "TECHNICAL SEO" filters in order to get only free tools on WordPress that allow you to perform the technical SEO of a site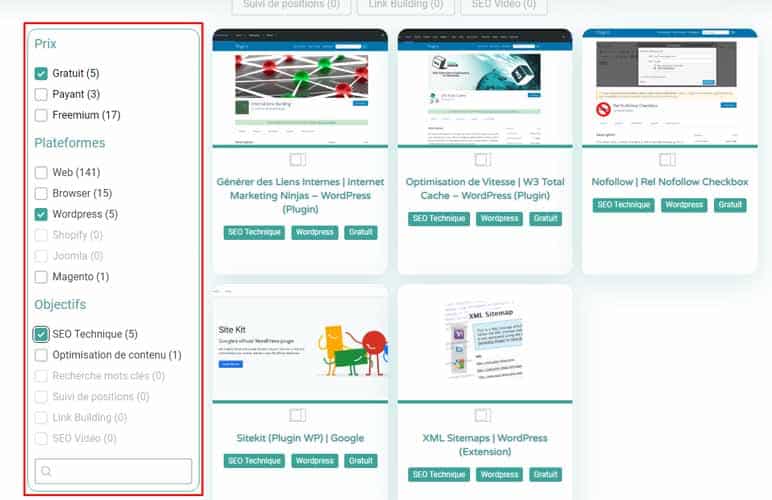 As you can see, it's a real content creation project that has been set up. And once again, I also plan to translate them into other languages to prevent my content from being stolen.
Conclusion
Internet and especially search engines are nowadays an invaluable opportunity for companies to get known and to increase their clientele. However, the visibility of a company online depends greatly on its ability to attract qualified traffic.
Whether you are a new or established brand, acquiring online visitors is a common challenge for all businesses
In this content, I've presented you with the number of visitors I've managed to generate on my Twaino website. It was also an opportunity to share with you the different steps I had to take to reach this traffic
Keep my website clean from a technical SEO point of view
Propose better content than what is done by the competition
Implement a strategy of acquiring backlinks
Stay active on social networks, especially YouTube and LinkedIn
Make my site multilingual
Whatever your sector of activity, I am convinced that applying at least the first 3 steps above should also help you generate more traffic to your site
As for me, I will probably continue in the same direction with some adjustments if necessary to achieve even higher results
On that note, I wish you lots of traffic and see you soon for new performances to share!